I spent last weekend and early this week in China, which was a lot of fun. I enjoyed both Chengdu and Xiamen, and the highlight was being able to play with pandas outside of Chengdu. What flippin' adorable animals. Shortly Ford and I are off to Hawaii for his birthday, which should be a fun trip as well.
On the points and airline front, this week we saw some great credit card offers end and others introduced, a cool Alaska promotion for college students, new restrictions on redeeming partner airline miles for travel on Etihad, and much more.
With that out of the way, here's a recap of this week on the blog:
Featured Stories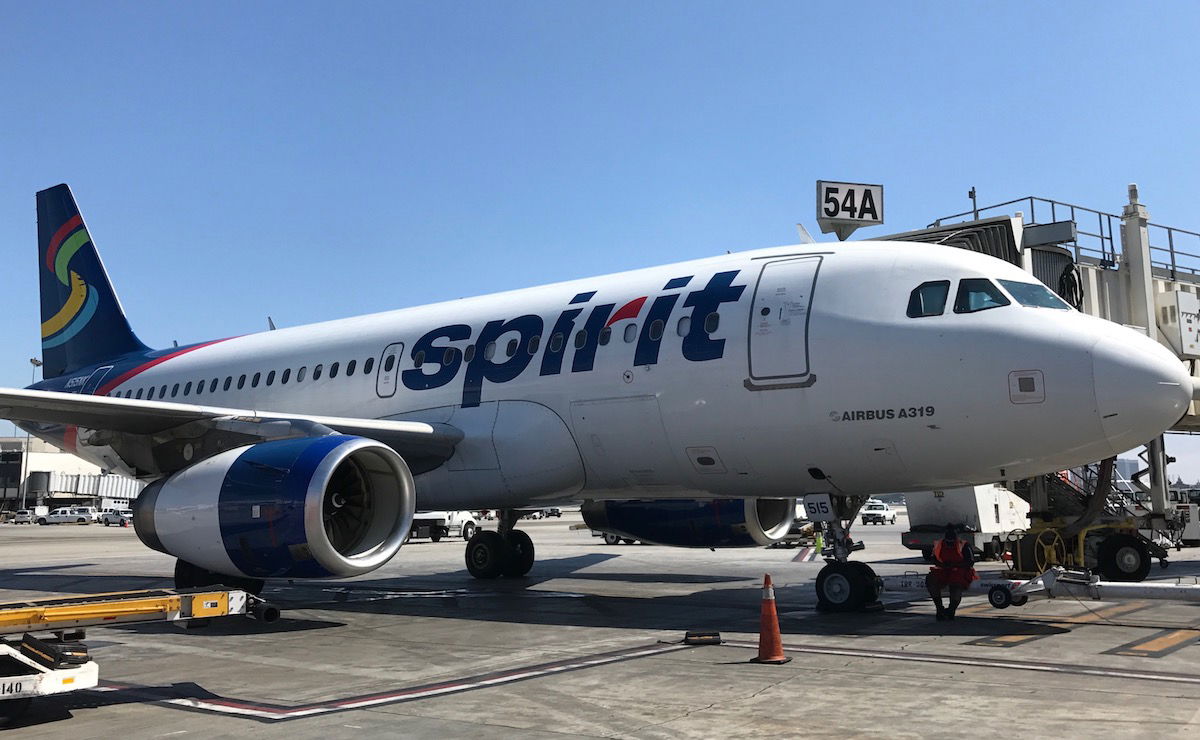 I recently purchased a ticket for my mother-in-law on Spirit, and booked it at the airport to save the passenger usage charge, which on this ticket was $18.99. So I paid $24.10 for the ticket, instead of $44 which is what it would have cost online. I got lucky and arrived during a lull so there was literally no one else in line while I was there.
The process truly couldn't have been easier as I was in and out in under five minutes. But there may have been a catch when it comes to bag fees.
---

Shopping portals can be a great way to maximize the miles & points you can earn, as you can earn points for purchases you'd make anyway. So I always like to share any lucrative shopping portal bonuses that I think people could benefit from.
Through October 8, 2017, the British Airways shopping portal is offering double Avios on almost all purchases. This is available either with their US or UK shopping portal, so if you want to use the US portal, visit this link, and change your country to the US at the top right of the page, and then click on "Offers."
---

TIPS: Earning Miles & Promos
$1,200 China Eastern Roundtrip Business Class Fares To The US
Get A Free ShopRunner Membership With Mastercard
Earn Double Alaska Mileage Plan Miles For Travel On Qantas
Get A Third Night Free (And More) At Starwood Hotels In Paris
SPG Business Amex 35K Sign-Up Bonus Returns
How Much Are The Delta Amex Sign-Up Bonuses Worth?
British Airways Is Offering Double Avios Through Their Shopping Portal
British Airways Is Not Honoring Cheap First Class Fares To Ecuador
Alaska Offering Bonus Miles & Elite Status To College Students Based On Their GPA
This Is The Ideal Time To Request An Alaska Status Match
IHG Rewards Club Card 80K Offer Expected To Be Pulled Today
Great Fares In Delta's New Business Class Suites To Beijing
Earn Bonus Points For Mobile Wallet Payments With Chase Sapphire Cards
Bank Of America's New Restrictions On Credit Card Applications
Last Chance: Buy Alaska Miles With Up To A 50% Bonus
Don't Forget: Shortcut To Earning The Southwest Companion Pass Ends Today
Don't Miss Out: Last Day For Big Sign-Up Bonuses On Hilton Amex Cards
Save $35 On A $175+ Hampton Or Hilton Garden Inn Stay With Amex Offers
Get $50 Off A $300+ Stay At Select Hotels With Hyatt's Credit Card
Earn 5,000 Bonus Hilton Points After Two Stays
CRAZY DEAL: $1K British Airways First Class Fares From London To Ecuador
How The Amex Platinum Card Can Save You Money On Airfare
Review: Amex Business Gold Rewards Card
American's October 2017 Bonus On Purchased Miles
Earn 5x Points At Walmart & Department Stores Starting Today
TRICKS: Redeeming Miles
You Can Now Redeem British Airways Avios For Virgin America Flights
My Experience Redeeming Avios For Aer Lingus Business Class
Why Virgin America's Flight Number Changes Are Great News For Redeeming Alaska Miles
Is Etihad Restricting Partner Award Availability?
British Airways' Clunky New Award Search Tool
Singapore Award Space Returns To United.com
You Can Now Redeem Delta Upgrade Certificates On Aeromexico
Air France-KLM FlyingBlue Promo Awards October 2017
TRAVEL With Ben (Lucky)
BOOKED: Delta One Suites To Beijing!
Buying Spirit Tickets At The Airport — An Unexpected Gotcha
OMG: Luxury Hotel "Hard Selling" Off-Menu Spa Services
REVIEWS & Trip Reports
6 Things To Do In Maui When You're Done With The Beach
Review: Fairmont Kea Lani
Review: Hawaiian Business/First A330 Los Angeles To Kahului
Introduction: A Brief Aloha
Review: Virgin America Main Cabin Select
Xiamen Air 757 Business Class: Not What I Was Expecting
Review: Emirates A380 And 777-300ER Economy Class Zurich To Dubai To Delhi
Connecting To Air India First Class At Delhi Airport: An Interesting Experience
Review: Ritz-Carlton Laguna Niguel
My Experience With Keycafe: A Cool Way To Exchange Keys
NEWS & Updates
Garuda Indonesia Is Considering Discontinuing First Class
Virgin America Flights Will Get Alaska Flight Numbers As Of April 25, 2018
Kenya Airways Faces "Imminent Collapse," Planes At Risk Of Being Repossessed
INSANE Emirates A380 Crosswind Landing Video
Ridiculous: Air Canada Flight Has To Declare "Mayday" Four Times Before Being Allowed To Land
Aer Lingus Plans To Launch Flights Between The US & Mainland Europe
Soon You'll Be Able To Earn & Redeem Hyatt Points For House Rentals
Further Details On Amex's Centurion Lounge Miami Expansion
United Delays Opening Of New Polaris Lounges (Again)
Ultra Low Cost Carrier Scoot Will Fly To Honolulu
A Look Inside The New England Patriots' New Private 767
Icelandair Introduces New Economy Light Fares
Inspiring Updates From The AvGeek Airlift To Puerto Rico
It's Official: Air France Is Returning To Seattle In March 2018
Emirates & FlyDubai Introduce Codesharing & Reciprocal Benefits
EgyptAir Rumored To Be Ordering 6 Boeing 787s
Aer Lingus Will Start Flying To Philadelphia In March 2018
FlyingBlue To Become Revenue Based In 2018?
Meridiana To Become Italy's "Real" National Carrier, According To Qatar Airways
---
I hope everyone has a great rest of the weekend!