Southwest Airlines offers their famous "Companion Pass" to Rapid Rewards members who earn 125,000 points in a calendar year. This allows you to bring someone along on your flights for just the taxes and fees, so it's a great deal for Southwest flyers.
What is the Southwest Companion Pass?
Basically, if you rack up 125,000 points in a year you'll earn Companion Pass with Southwest, which allows someone else to travel with you for the entire year.
You still have to pay the taxes on their ticket, but the companion pass is valid on both award and revenue tickets.
That means if you've accumulated 125,000 Rapid Rewards points, you have over $1,500 worth of "Wanna Get Away" fares at your disposal. Factoring in the Companion Pass, you're looking at over $3,000 worth of airfare.
You can change your designated companion three times in a year, so this is a no-brainer for travel within North America. Keep in mind that you're not trading 125,000 points for the Companion Pass. You earn the 125k points (which you then get to spend on award flights) and you get to bring someone along for just the taxes and fees. Even on award tickets.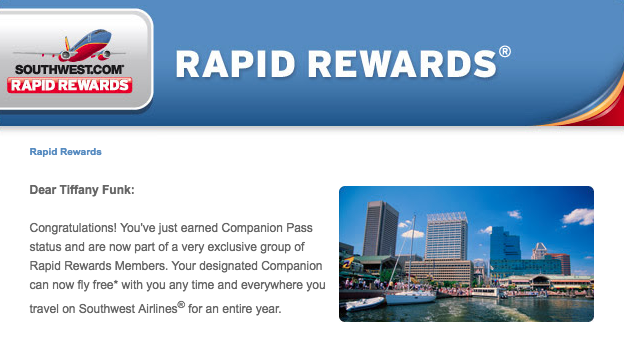 I had the Companion Pass a few years ago, at a time when we were doing more domestic travel than we do currently, and it saved us a tremendous amount of money. It's a ridiculous deal.
When you earn the points matters
As mentioned above, you need to earn 125,000 points for the Southwest Companion Pass. And you need to earn all of those points in a single calendar year. Not a rolling 12-month period, just January 1st – December 31st.
Southwest, like all airlines, awards Rapid Rewards points after your flight. So if you buy tickets today for travel next February, the points will be credited to your account in February, and would count towards your 2022 Companion Pass qualification.
Similarly, if you're earning points through hotel or rental car partners, or Southwest Credit Cards it doesn't necessarily matter when you make your reservation, or your purchase. What matters is when the points post to your Rapid Rewards account.
Once you earn those 125,000 points, you'll automatically receive your Companion Pass.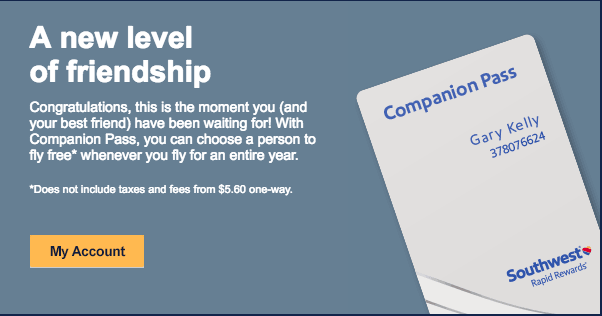 Your billing date matters too
If you're using the Southwest credit cards, the points will post to your account shortly after your statement closing date. In theory, it can be a few weeks, but in my experience, it happens pretty quickly. The timing of your billing cycle can also vary quite a bit — I've received cards where the first statement closed a week after receiving the card, where other cards the first statement period was five weeks.
For the Companion Pass, you want to make sure that all the points you're earning from your credit card spend post in the right period. If you were to pick up a Southwest credit card today, for example, you'd have three months to meet the minimum spend to earn the bonus points.
The optimal time is to have all those points post right at the beginning of a calendar year. If, for example, your statement closes on December 15th, only points that you'd earned prior to the 15th would be posted to your Southwest account in December. Points earned the 15th through the 19th would not post until your January closing date, and would then count towards the 2022 Companion Pass.
Alternatively, if your statement closes on the 1st of the month, the timing is a bit trickier. You'd still want to meet that minimum spend by roughly December 19th to be on the safe side, but if you want the points to post in 2021, you'd want to complete all of your spend before November 30th. If you instead want the points to post in 2022, you would want to wait to do any spend until December 2nd. Personally, because again I'm cautious with these things, I would make sure to not finish my minimum spend until January, just to be on the safe side.
Chase will also let you move your statement closing date. If your statement closes on the 30th of a month, you should be able to ask to move it by a week or so. In practice most people seem to have better luck in moving it to be later than earlier, with some reporting getting an extra long billing cycle instead of a shorter one, so factor that in as well.
The big caveat: there are reports of points posting as soon as you've met the spend. I haven't experienced this — my points have always posted with the statement closing date. But again, I would make sure I was hitting that minimum spend target in the right calendar year, just in case.
You want to keep all of that in mind when deciding if you want to qualify in 2021 or 2022.
So when should I apply?
At this point, you're fine applying any time before October 4th. If you want to wait until the first few days of October to apply to ensure a later closing date, that's fine. Chase bases bonus offers on your application date, so you could technically wait all the way until the 4th, but that strategy tends to make me nervous.
The important thing is to time your spend (and thus when the points post to your account). If you want the points to post in 2021, you'll want to have your spend completed before the closing date of your last 2021 statement. If you want the points to post in 2022, you'll want to wait to meet your minimum spend until all your 2021 statements have closed, so that all your points post in 2022.
Technically you just need the last few dollars to complete the minimum spend to be timed properly, but personally I would do 100% of my spending on the card in the appropriate statement period, just in case. That's easier for me to keep track of, and you'll probably want the ~2k points from your spend to count towards the Companion Pass as well.
Southwest Cards to choose from
Southwest Airlines has multiple cobranded cards, so you can choose the one that best suits your situation. All will earn Rapid Rewards points that count towards the Companion Pass.
Earn Southwest Rapid Rewards points with these cards:
Who is eligible for these increased Southwest offers?
You can potentially pick up both of these cards (and you'd earn Companion Pass after completing minimum spend, which is awesome), though the bonuses aren't available to those who currently have the card, or those who have received a new cardmember bonus on the card in the past 24 months.
Furthermore, do note that these cards are subject to Chase's 5/24 rule, meaning you generally wouldn't be eligible for these cards if you've opened more than five new card accounts in the past 24 months.
Bottom line
If you have plans for travel in North America, the Southwest Companion Pass is an incredibly good deal. The welcome bonuses on the Southwest Credit Cards make earning those 125k points downright easy, so if you consistently travel in North American with another person, there is just tremendous value here.
Any other questions or experiences with the Southwest Companion Pass?