---
Our flight to Maui left from LAX Terminal 2 (Hawaiian Airlines now uses Terminal 5), and since we tend to be early risers anyway we arrived at the airport well in advance of our 9AM flight. We weren't checking bags, and had mobile boarding passes, but the check-in area seemed relatively quiet at the early hour.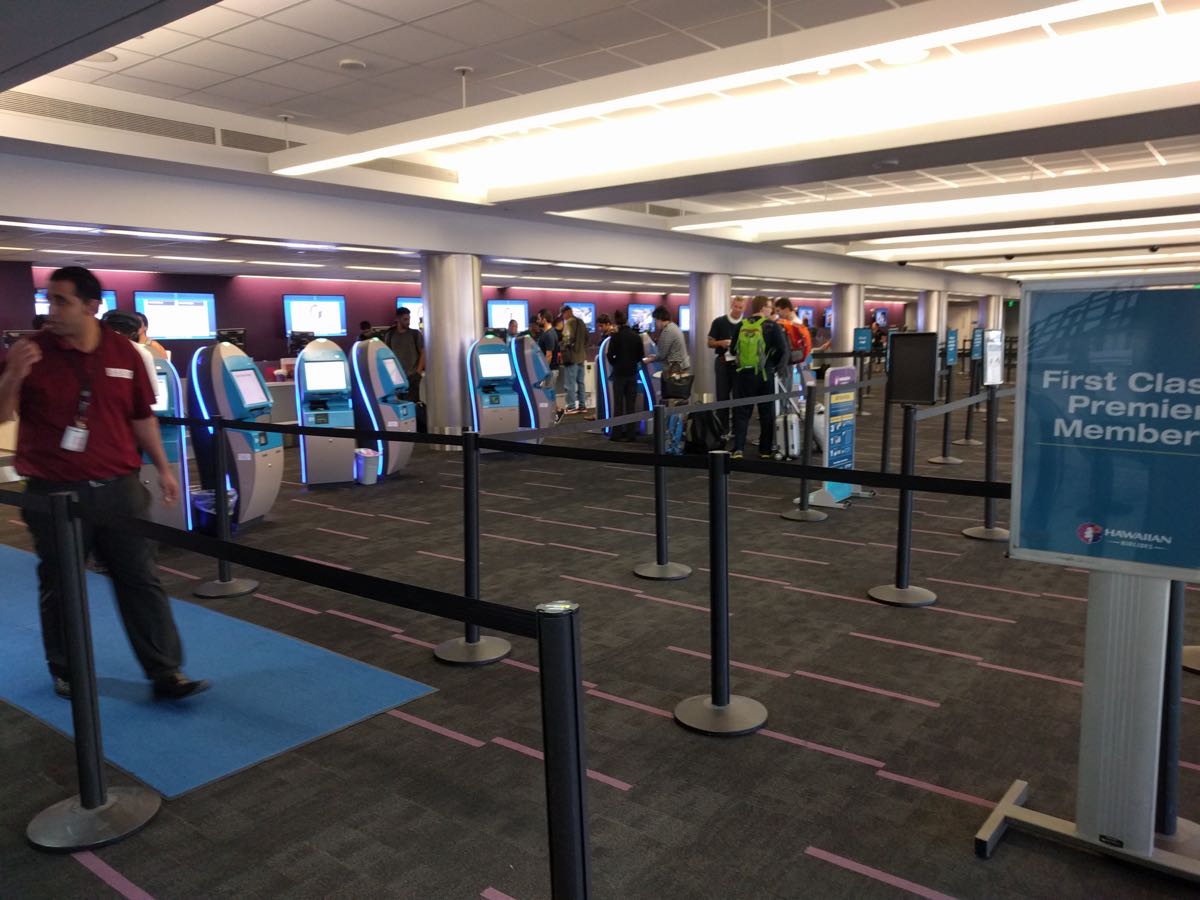 Hawaiian Airlines check-in LAX
The old Air Canada Maple Leaf Lounge had lovely tarmac views, and there are worse ways to spend a morning than plane-spotting, so we spent an hour or so looking out the window, syncing inboxes for offline use, and just enjoying the views.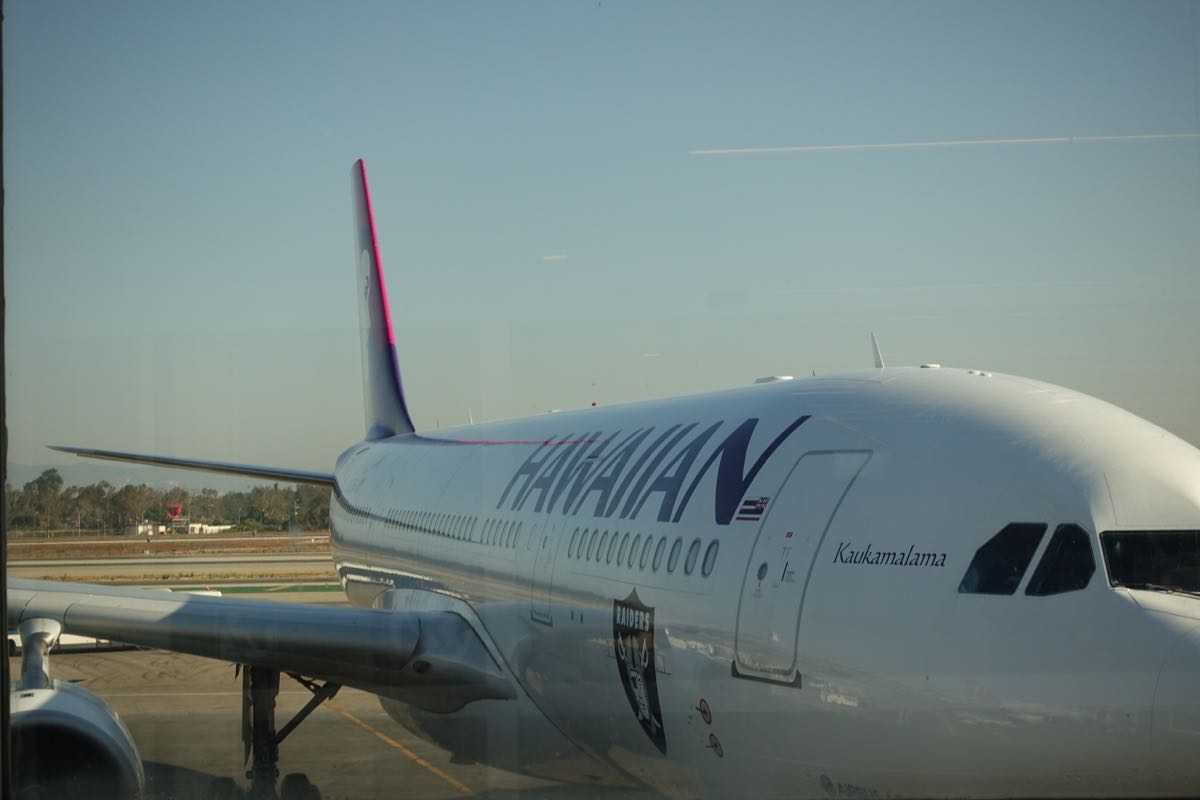 Hawaiian Airlines A330 Kaukamalama
Boarding was scheduled for 8:15, but started a chaotic few minutes later. The crowd was… as one would expect for Maui in August, and there was quite a bit of confusion surrounding boarding order. While I like to be one of the first ones onboard for picture purposes, I'm not going to crowd out retirees that are really excited about their vacation.
Hawaiian 33
Los Angeles (LAX) – Kahului (OGG)
Depart: 9:05AM
Arrive: 11:55AM
Duration: 5hr50min
Aircraft: Airbus A330
Seat: 2J (Business/First)
We were met at the door with big smiles from the Los Angeles-based crew, who seemed super excited for their day. At the time this frequency was being operated as a direct turn, which seems like a really long day to me, but at 8:45 in the morning everyone was in good spirits.
The cabin was really pretty, with a fun vacation vibe. The blues, creams, and whites seemed appropriate for Hawaii, with a slight throwback to Hawaiian Mid-Century design.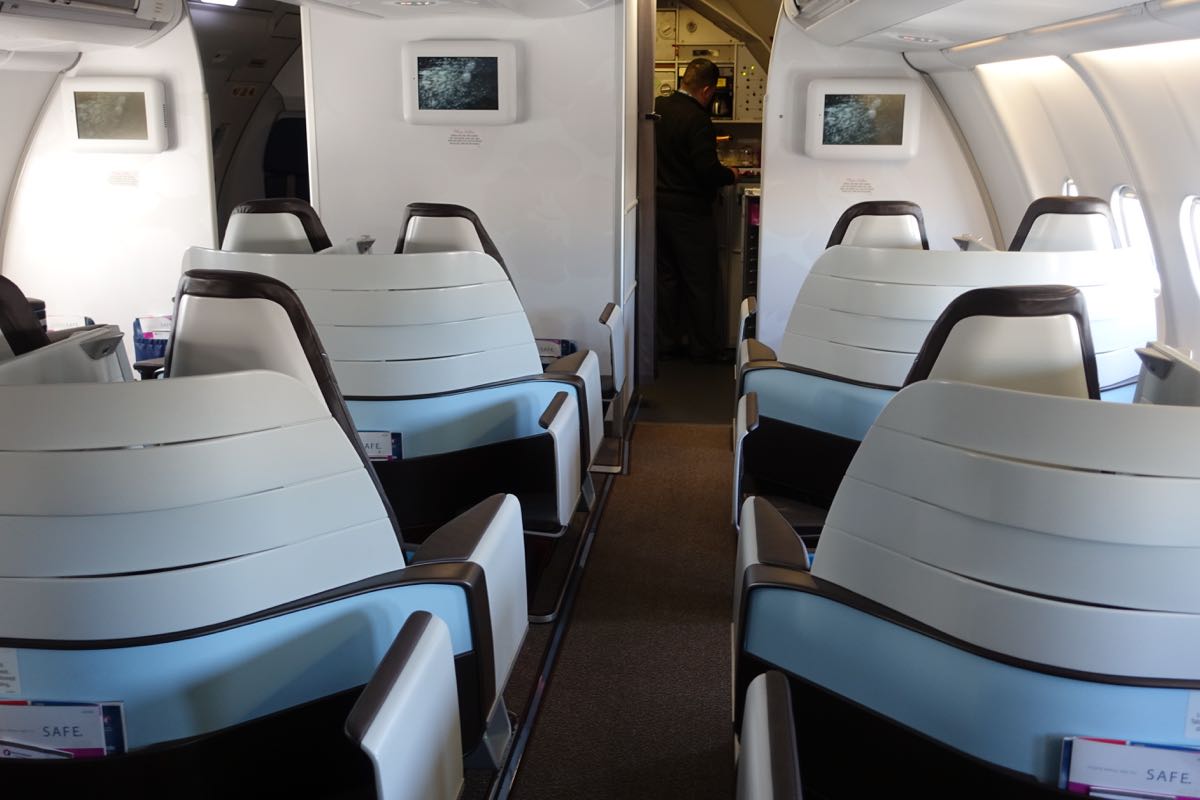 Hawaiian Airlines A330 First/Business
I'm not sure how well the white will hold up long term, and I have concerns about the functionality and longevity of this seat in general, but it is pretty.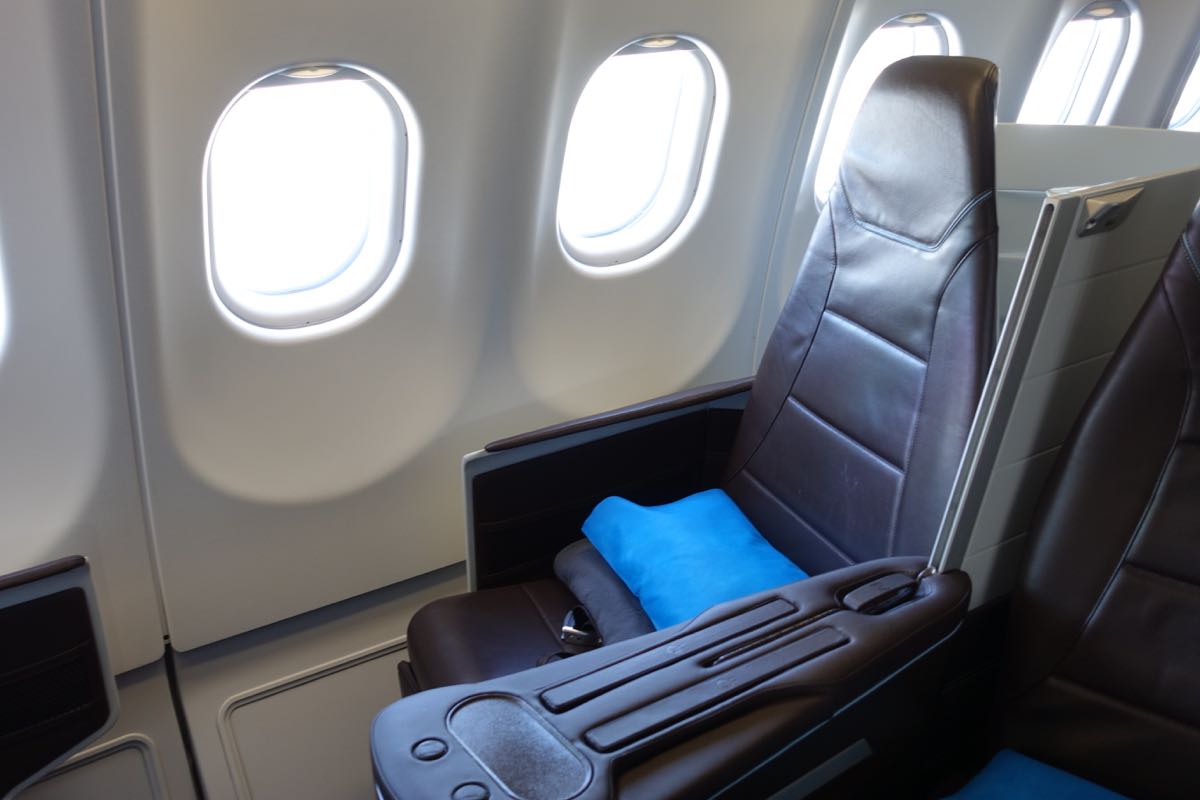 Hawaiian Airlines A330 First/Business
As we settled in our flight attendant Josh offered us a choice of prosecco or a signature cocktail; we selected one of each, and both were good, though very sweet.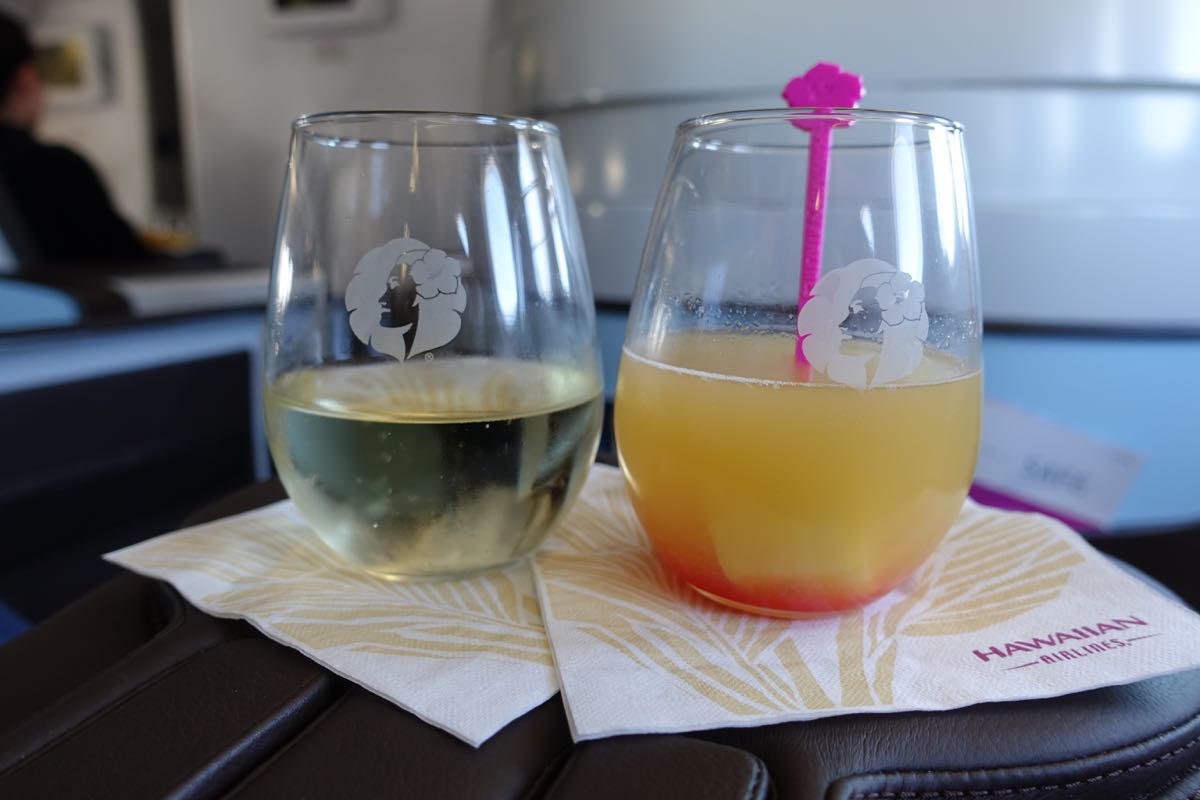 Hawaiian Airlines prosecco and cocktail
Printed cardstock menus were distributed, which were helpful in explaining the various dishes, though there wasn't actually a choice of items.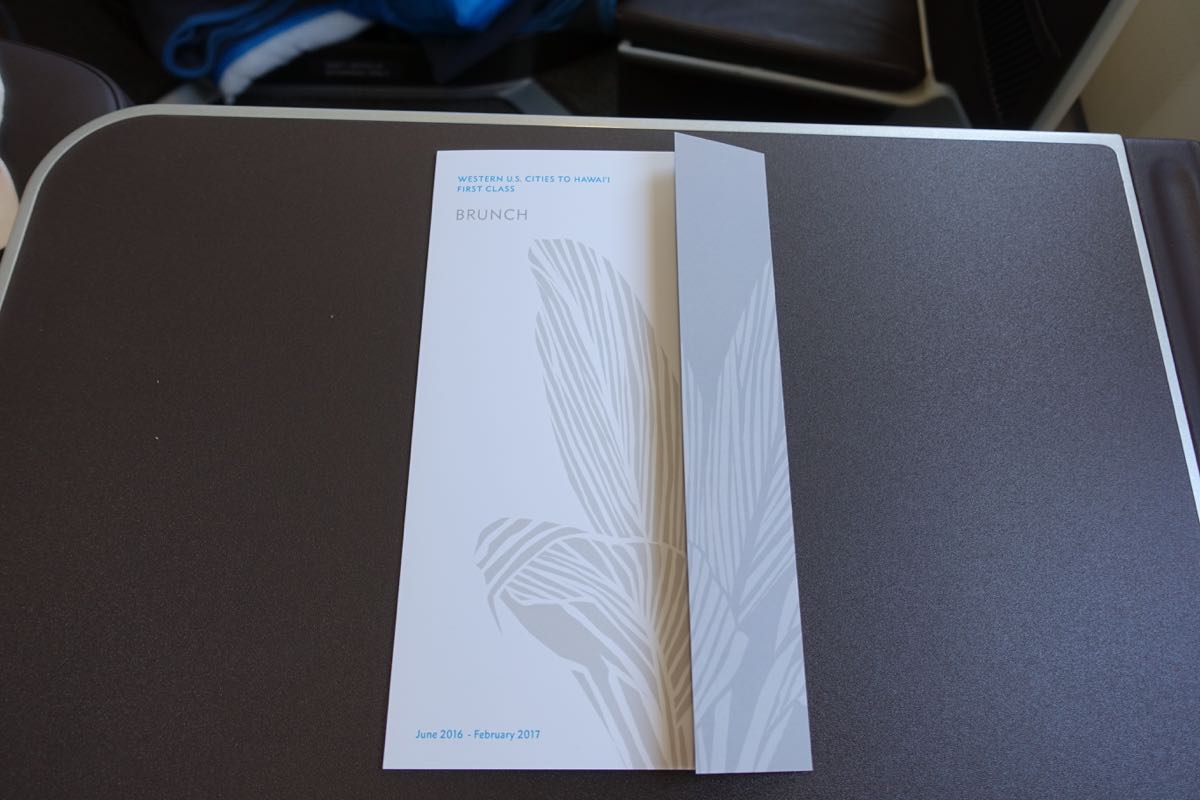 Hawaiian Airlines brunch menu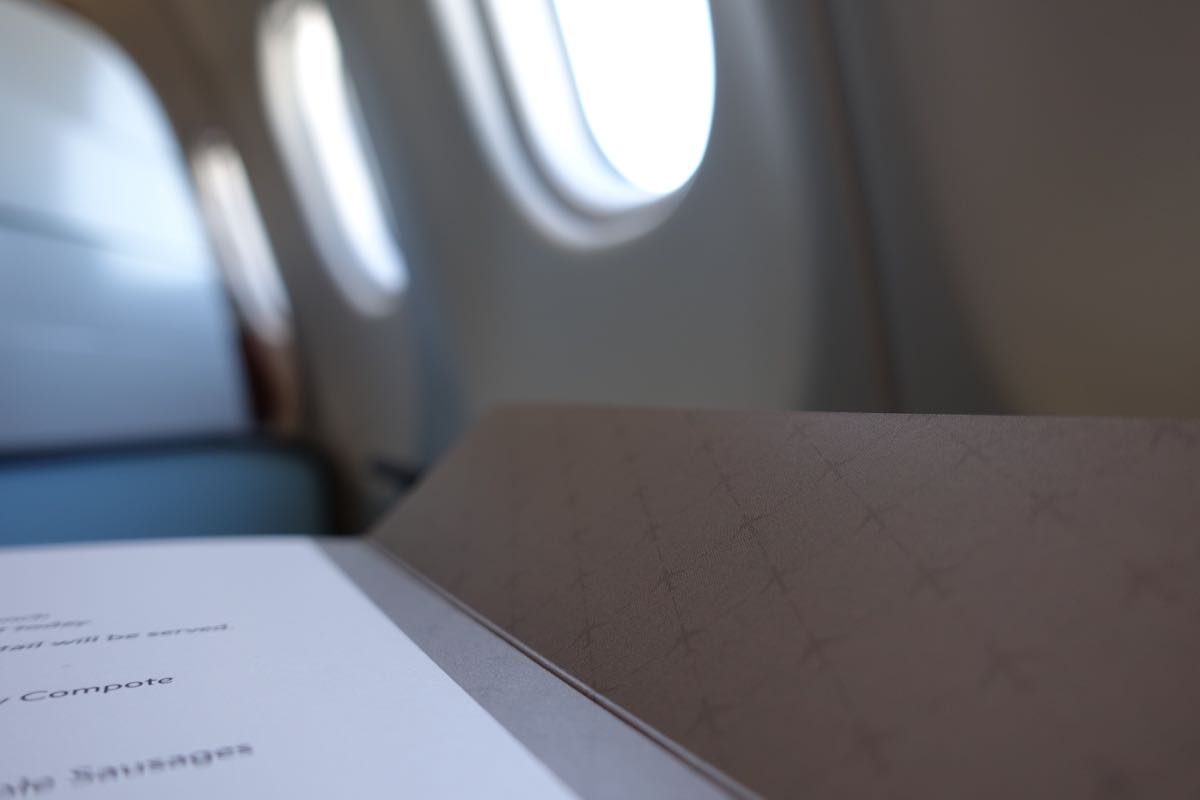 Love the airplane detail!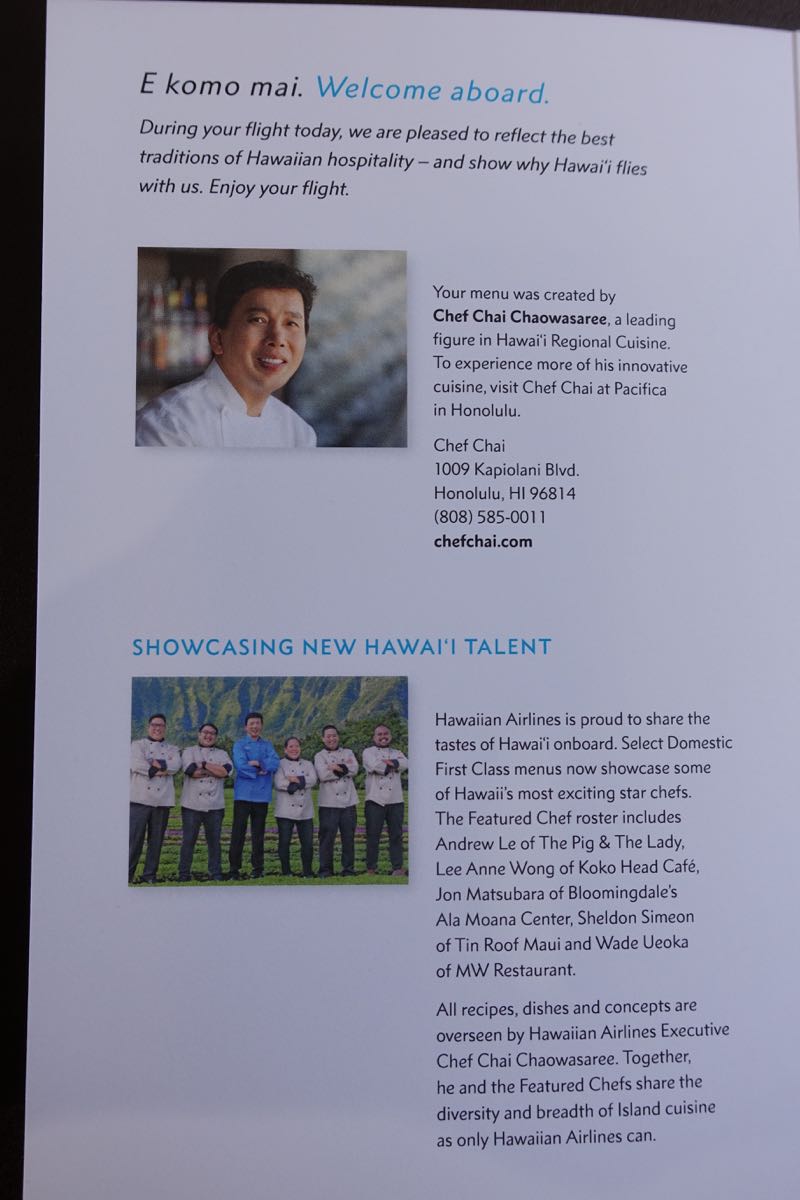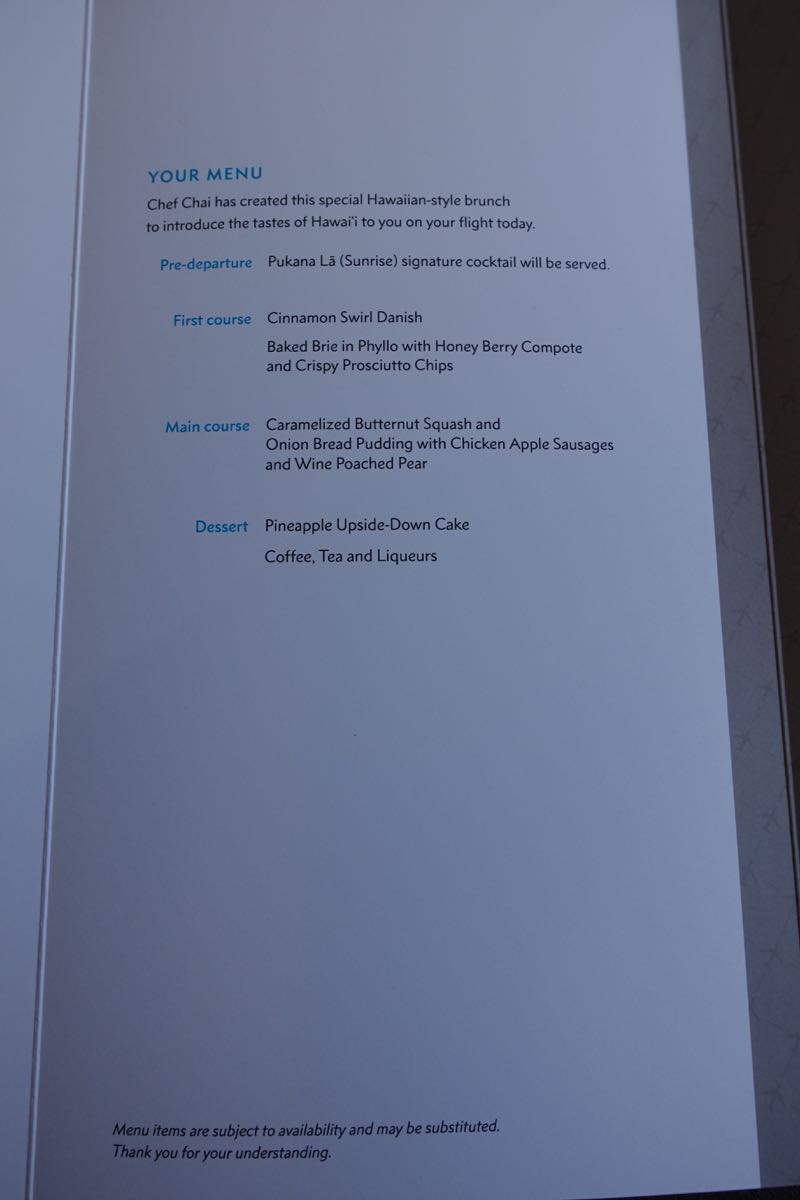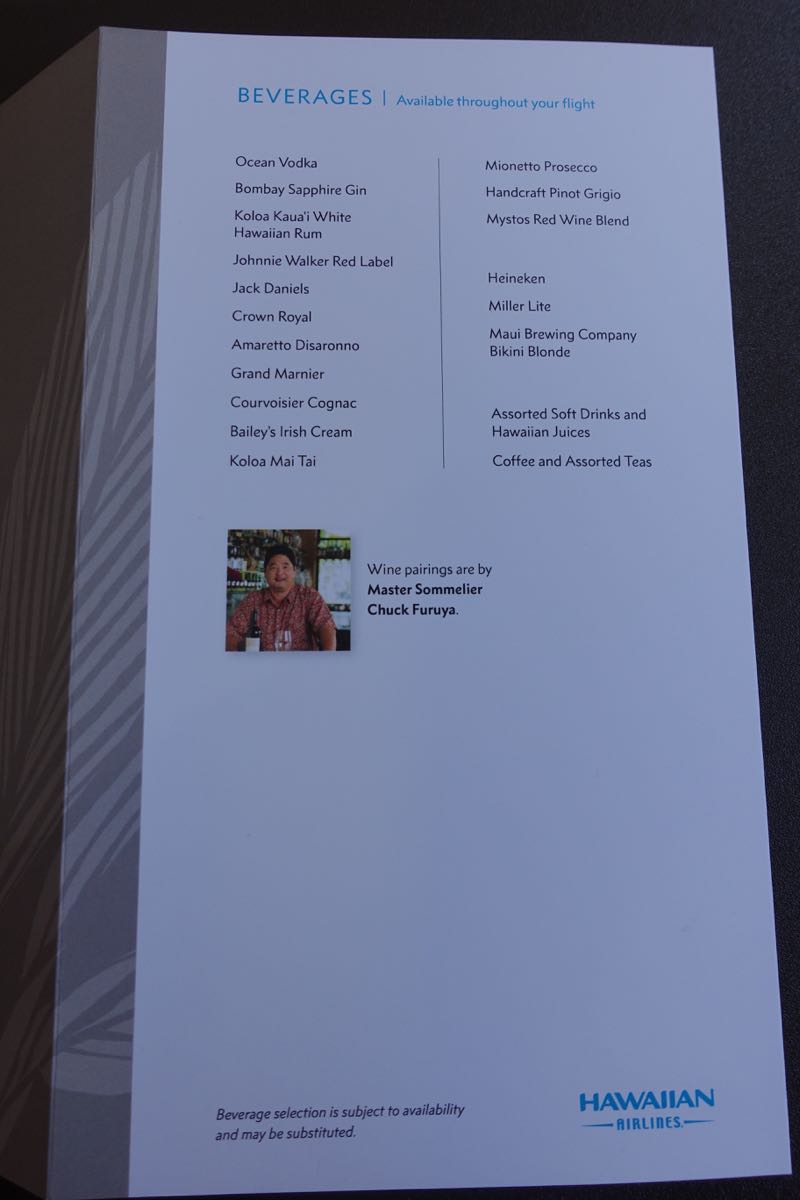 Despite the delay in boarding, we pushed back on time, and enjoyed the always-beautiful climb out of Los Angeles. As soon as we reached altitude, the flight attendant assigned to the first class cabin started distributing the iPads for the in-flight entertainment.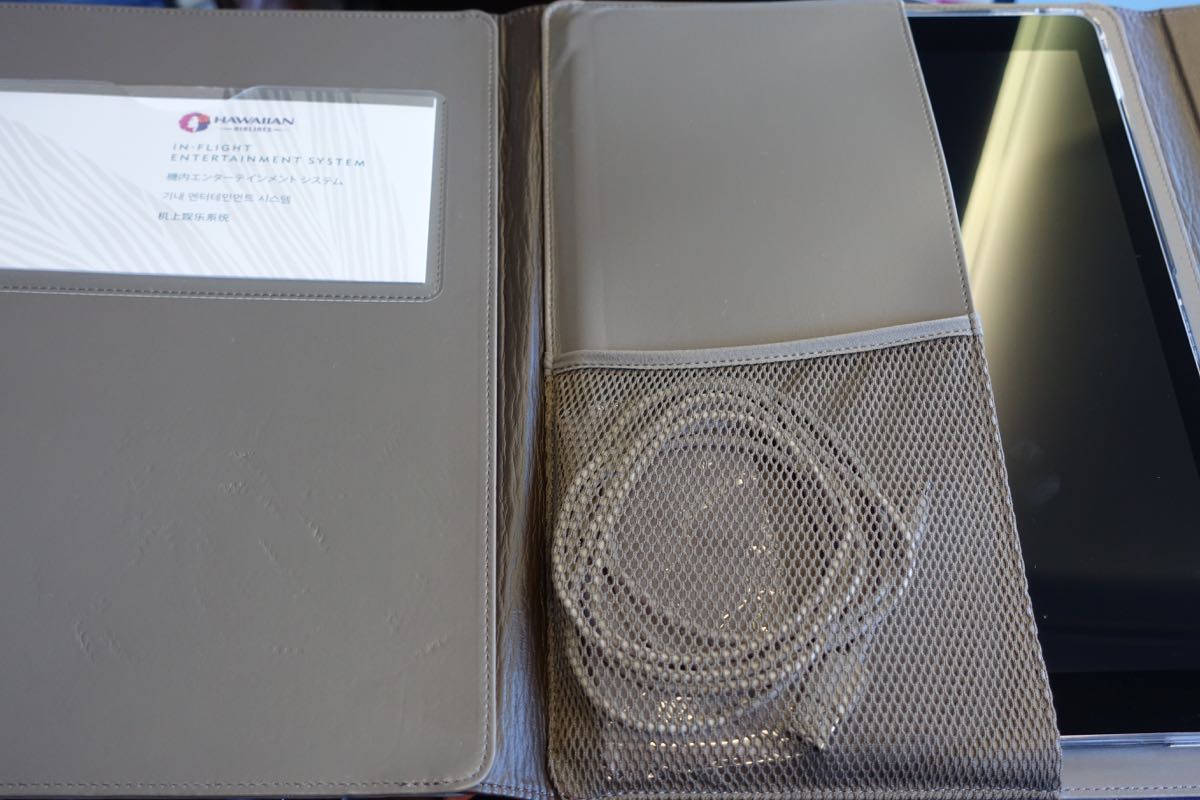 Hawaiian Airlines IFE
This took an exceptionally long time.
For starters, Hawaiian really needs to staff more than one crew member for first. The cabin only seats 18 passengers, so I can see how it would seem reasonable to only have a single flight attendant. The IFE situation on these reconfigured planes is very labor-intensive, however, and the dual-aisle configuration means a lot of time maneuvering the cart.
Beyond that, everyone needed help, so it wasn't just a matter of dropping off the tablets and moving on. The stands are tricky to deploy, things needed to be plugged in, people couldn't find the headphone jacks, and then wanted help finding a certain program… it was exhausting just to watch, but Josh handled it with a smile.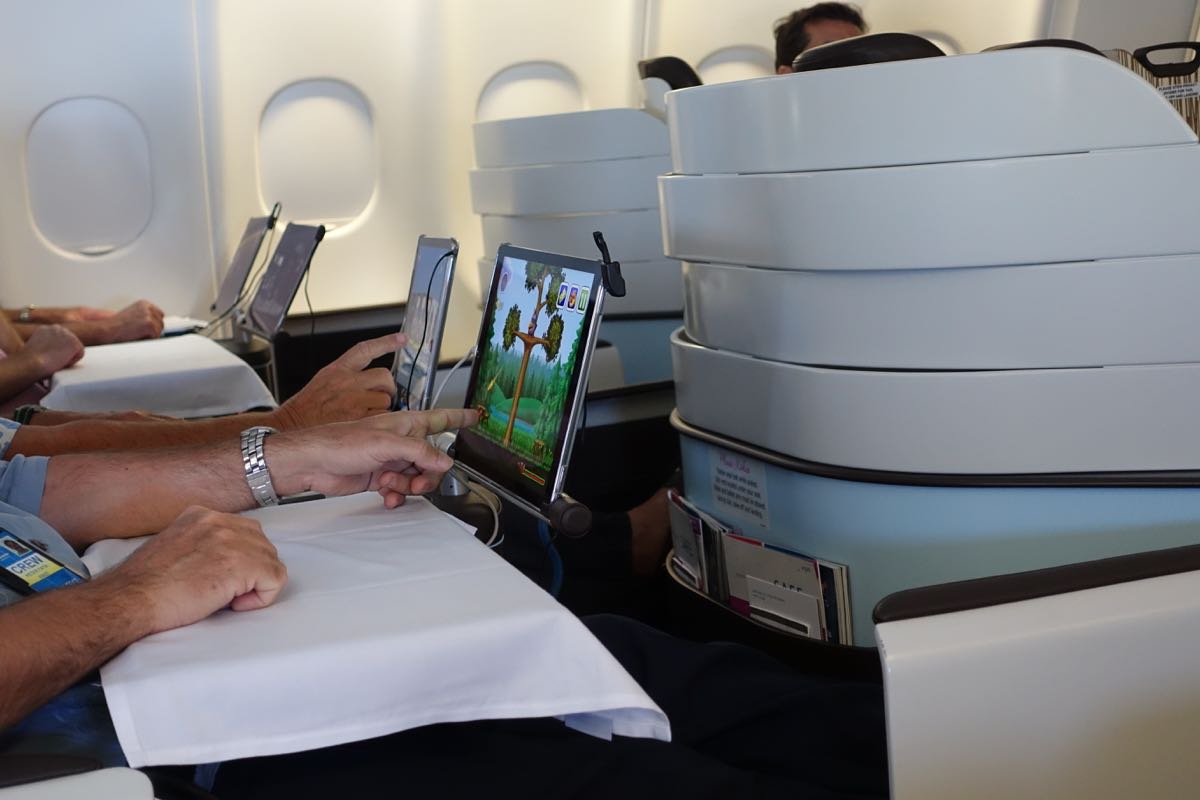 Hawaiian Airlines iPads in action
An hour later (I kid you not), drink orders were taken, then delivered alongside some snack mix.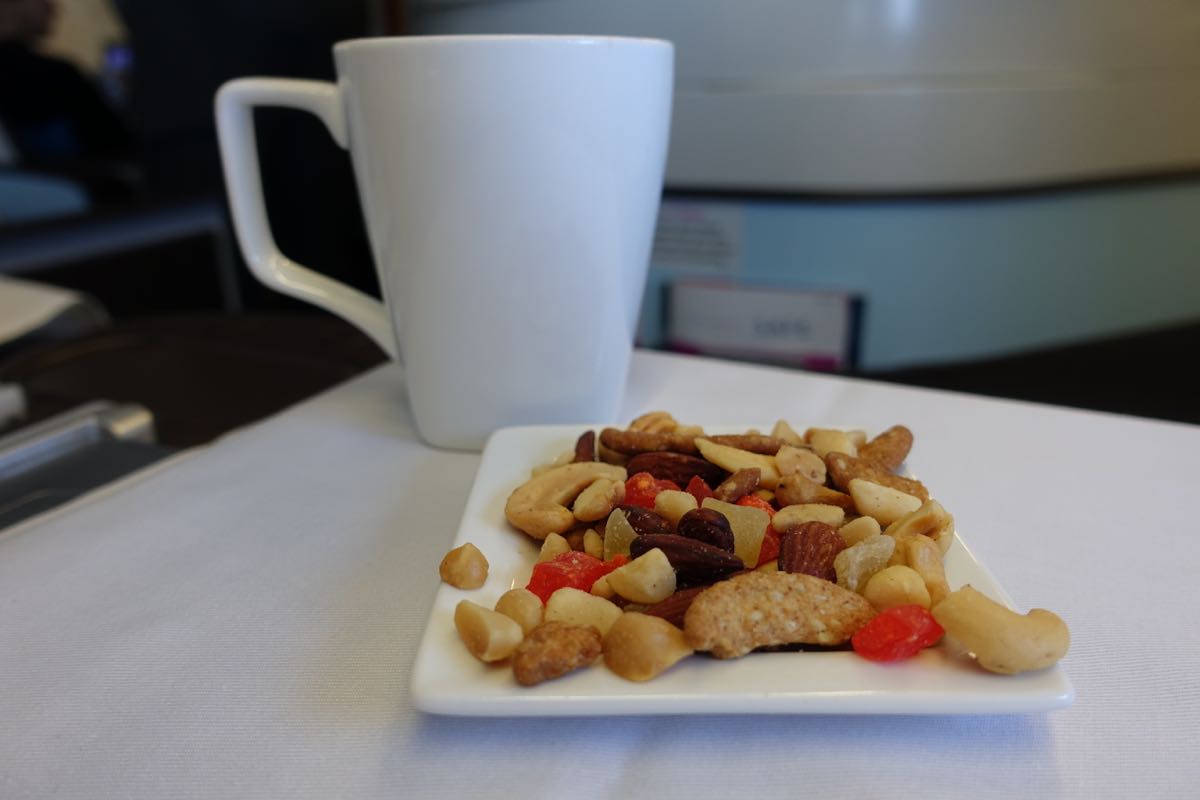 Hawaiian Airlines brunch starter
Shortly thereafter, both the first and main courses were delivered on a tray.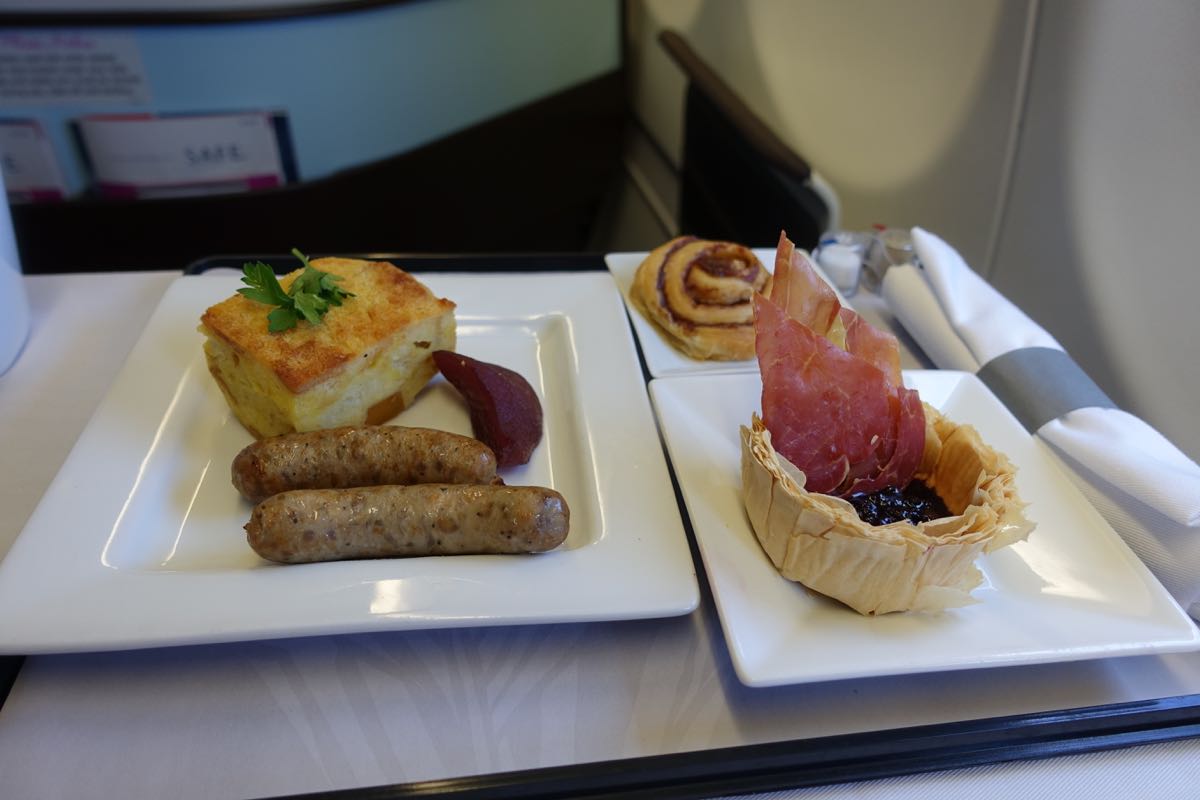 Clockwise from upper right: Cinnamon Swirl Danish, Baked Brie w/ Prosciutto Chips, Chicken Sausage, Poached Pear, Bread Pudding
To say brunch included an abundance of carbs would be an understatement. Fortunately/unfortunately, everything other than the sausages and the pear was borderline inedible, so we weren't tempted to over-indulge. The phyllo dough was so crisp as to splinter when cut, the cinnamon danish was hard as a rock, and everything but the sausages was served chilled.
I will be the first to admit that I don't really have a sweet tooth, and am particularly uninterested in super sugary packaged-tasting snacks, but the sweetness of the food items really did seem excessive. Even the savory-sounding bread pudding had been sweetened.
For those who hadn't had quite enough sugar so far, a pineapple upside down cake followed the main meal, also served cold.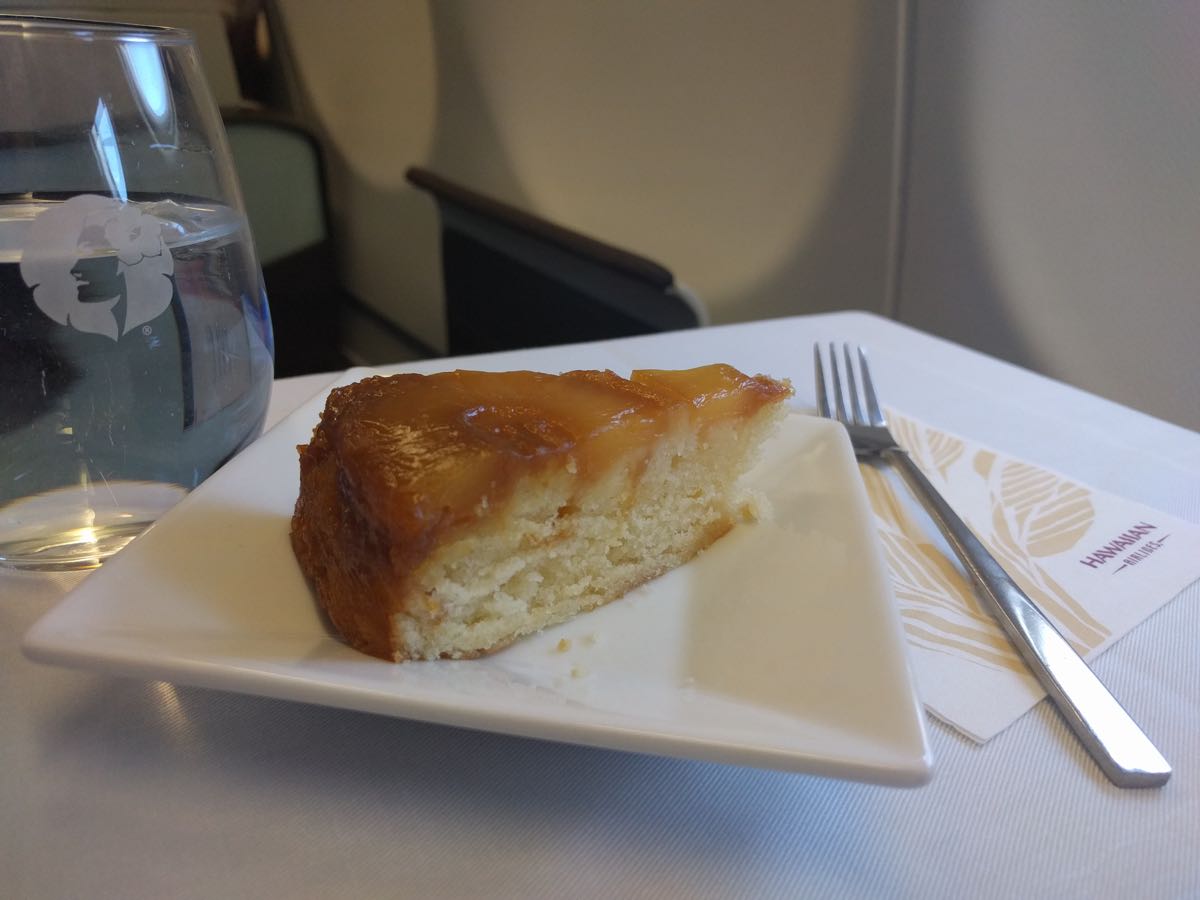 Hawaiian Airlines brunch dessert
The meal service was complete about two hours into the flight, at which point I decided to check out the lav. It was very basic, with a few orchids strewn around for local flair, but otherwise unmemorable.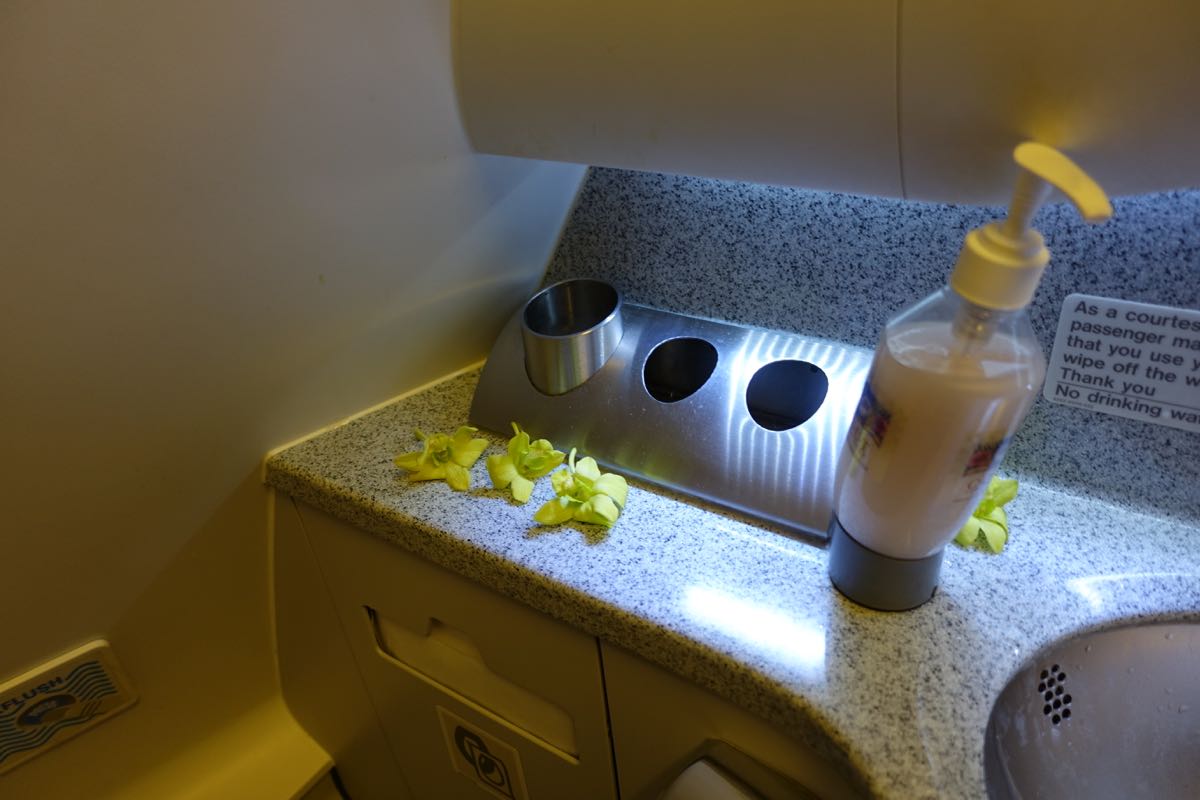 Hawaiian Airlines A330 lavatory
I spent most of the flight playing with the seat controls and making notes (you can read more of my thoughts on the seat in this post). The remainder of my time was spent responding to emails in offline-mode and boggling at the comically horrific display of parenting coming from 1A and 1G.
And before the "you entitled Millennial, you don't have kids, how dare you criticize children on a plane" crowd starts up, I would just like to ask three things:
Do you, as a parent, feel like Spiderman web-shooting guns are an appropriate airplane toy?
What are your thoughts on creating a landing pad out of pillows and trying to see who can jump the furthest off the ottoman?
If one parent is going to have their privacy screen up (separating them from the kids), with headphones and eyeshades on, how many cocktails per hour is appropriate for the other parent to consume?
The flight crew tried to talk to the parents and were snarled at, and eventually the copilot came out and spoke to the boys directly, which distracted them for a few blissful moments, but was otherwise ineffective.
So it was a spectacle, to say the least.
About an hour before arrival Josh came through the cabin with Mai Tais, and some (sweet, obviously) onion chips.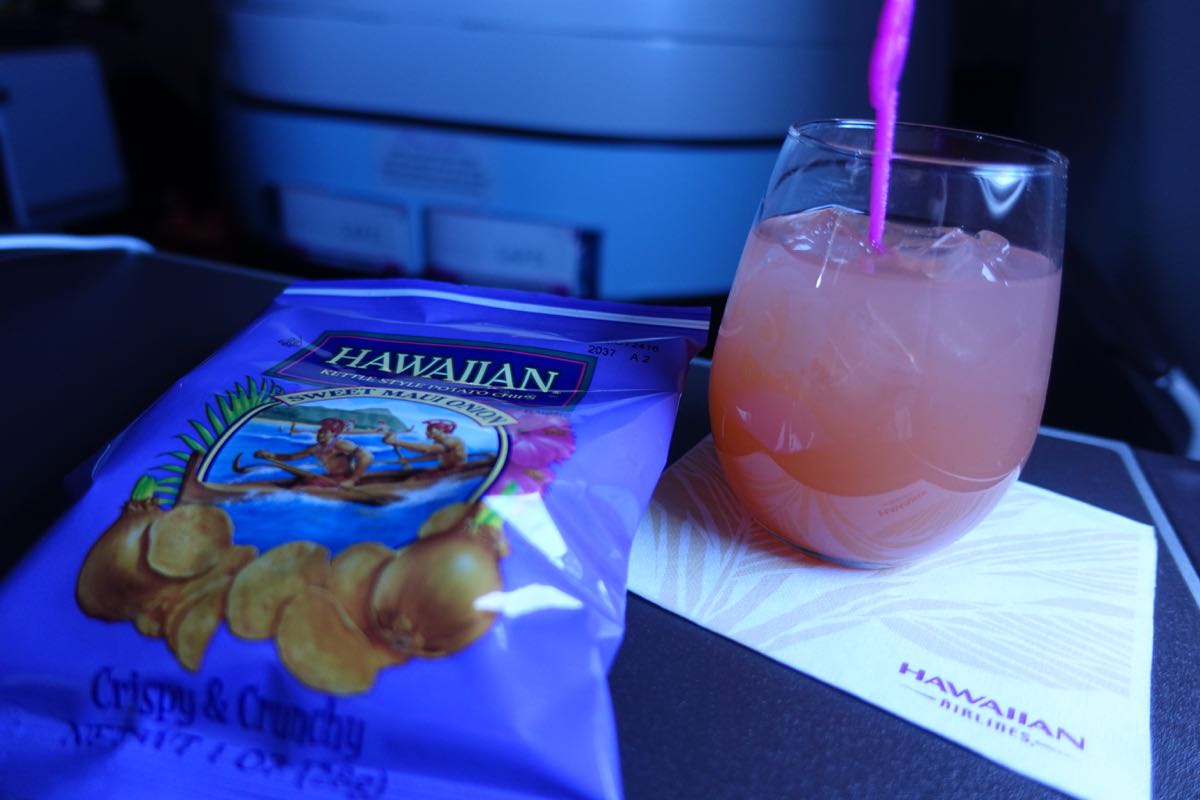 Hawaiian Airlines pre-arrival snack
There's always a bit of turbulence when arriving in Maui, but we touched down smoothly, and taxied right to an open gate.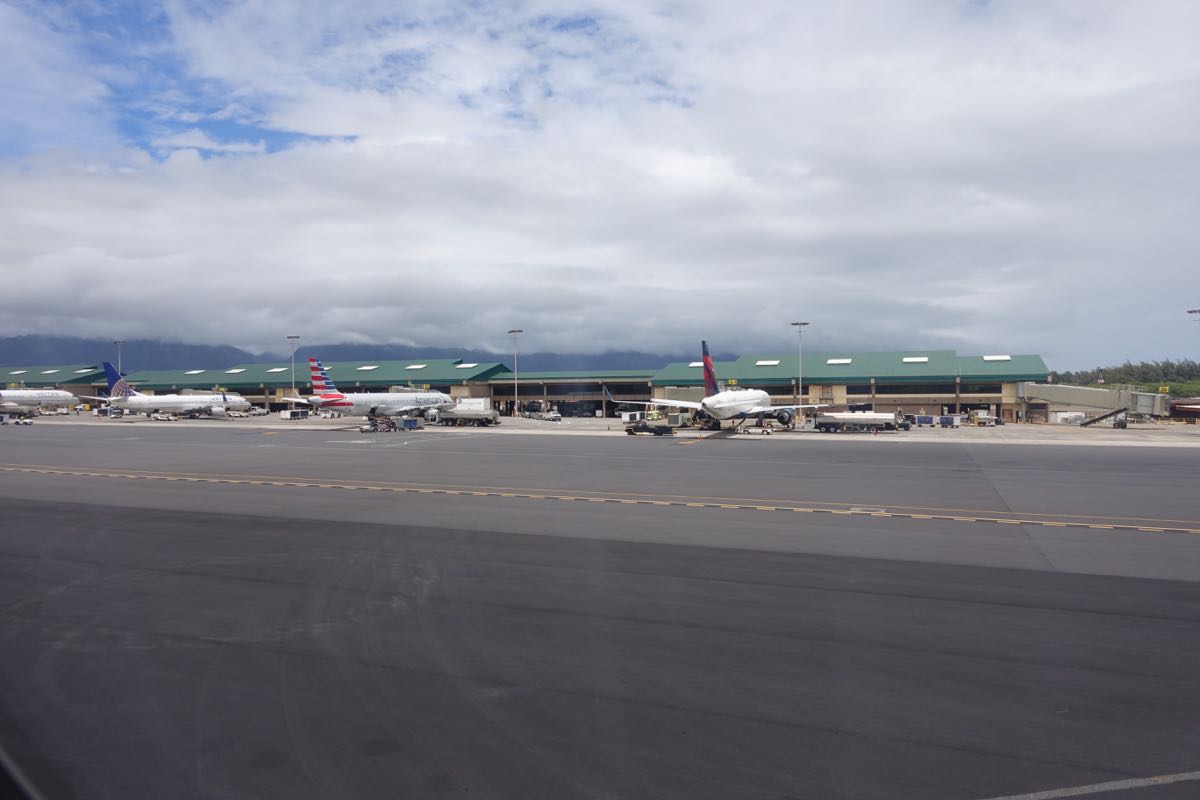 Kahului Airport
One thing about the timing of this flight that I hadn't considered is that many flights arrive in Kahului in the early afternoon, and depending on the day a cruise ship could be docking nearby as well. The airport terminal was packed, and we were very grateful to not have to wait for luggage. As it was, we still had to wait for two trips of the rental car shuttle, so that's something to keep in mind.
How to determine if a Hawaiian A330 will have lie-flat seats
Hawaiian hasn't made this terribly easy, as both the old and new versions have the same number of seats in first. The Hawaiian website is also a bit misleading, as it only lists routes where every frequency has the new seats, even though some routes (like some flights out of Los Angeles) have lie-flat seats on one or two flights a day.
To determine which version of the aircraft you have, you actually want to look at the economy cabin. On the old version, you'll see a row 13: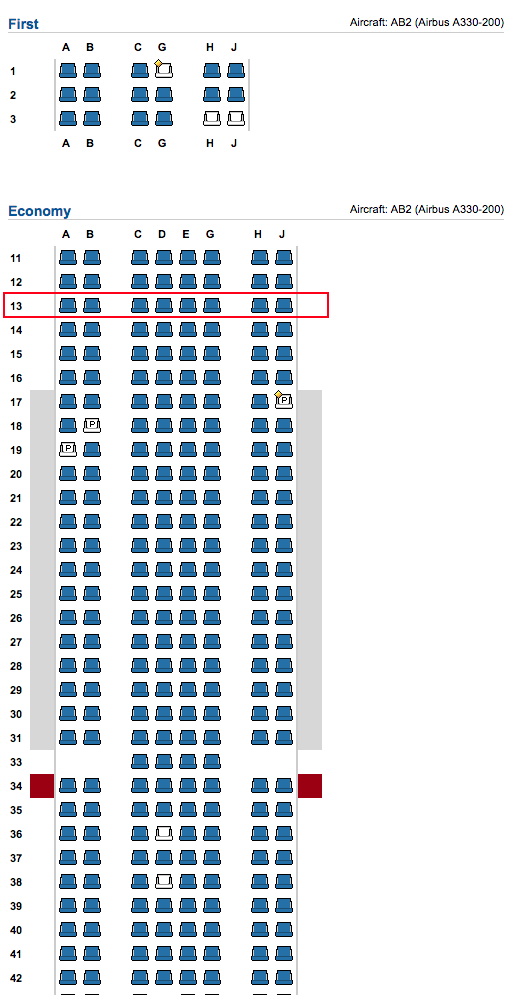 Hawaiian Airlines old A330
On the new version, however, Extra Comfort has been reconfigured in such a way that there isn't a row 13: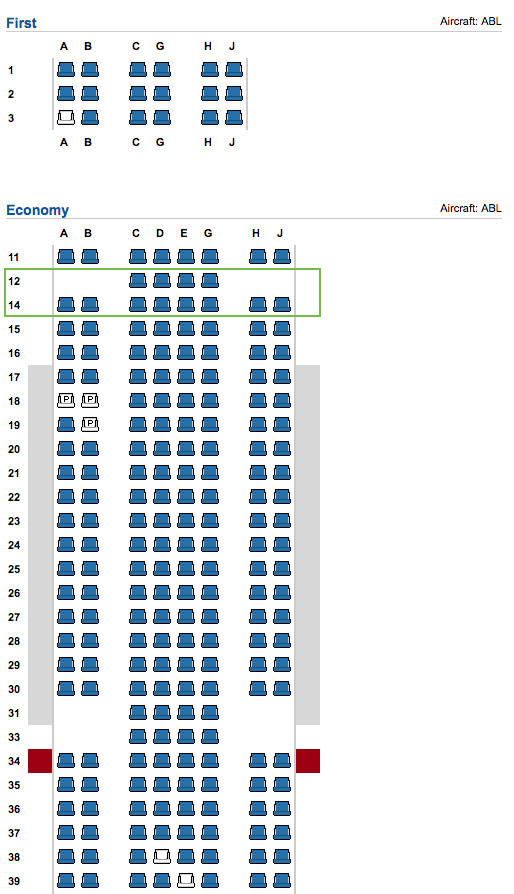 Hawaiian Airlines new A330
Once you know what to look for, it's pretty easy.
Bottom line
Despite, or maybe because of, the quirks, I did enjoy the flight. The crew couldn't have been more friendly, and experiencing a brand-new aircraft interior is always fun for me. I don't know if I'd go out of my way to fly this plane again (there are so many alternatives from the West Coast that it's hard to justify), but it was nice to do once.
Have you flown Hawaiian's new business/first class? What did you think?