British Airways' award search page used to be the place to go when searching for award space on oneworld airlines. Now that American lets you book most partner awards online, the BA search tool isn't as vital as it once was. Despite this, the tool can still come in handy.
If you're transferring points to a frequent flyer program to book an award ticket, it's always smart to reconfirm the availability first. The BA search tool is very handy for this. It's good for not only confirming space on British Airways, but for most of their partners as well.
If you're searching for award space more than 330 days before departure, you'll want to use the BA tool to search for availability. British Airways will display award space up to 355 days before departure.
Using the BA award search tool can feel clunky at first. After a few searches you'll quickly get the hang of using it. Here's what you'll need to do:
Step 1: Sign up for a British Airways Executive Club account
You'll need to have a British Airways Executive Club account to search with the BA tool. Signing up for an account is free. You don't need any Avios in the account, either. You can register for an account here.
BA's website can feel like a maze, so it helps to keep the BA search page bookmarked. That way you can avoid navigating through the website every time you need to perform a search. Here's the search page for the BA tool.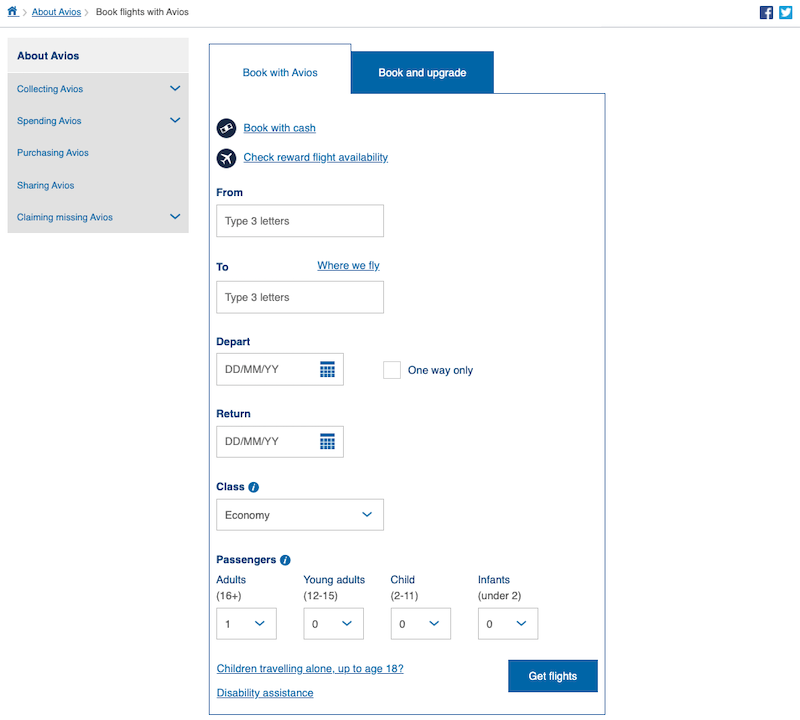 The page where you'll start your search
Step 2: Know what to search for
The trickiest part about searching with the BA tool can be knowing what exactly to search for. Depending on the carriers involved, you'll either want to search segment by segment or from origin to destination.
Airlines often make more award seats available for connecting itineraries than they do for nonstop flights. This is what's called "married segment logic." It's a way for airlines to control inventory and revenue.
Let's say you find four seats in business class with Cathay Pacific from Boston to Hong Kong to Singapore. That same Hong Kong to Singapore segment might show zero award seats if you try to book it on its own. That's married segment logic at work.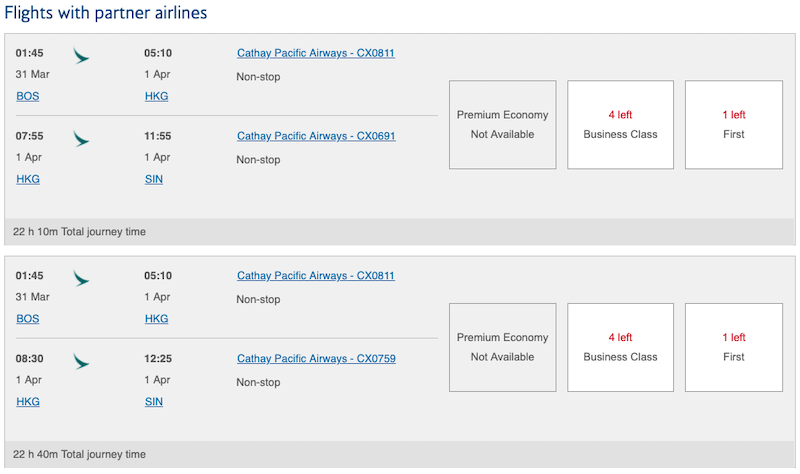 There are four seats in business class from Boston to Singapore via Hong Kong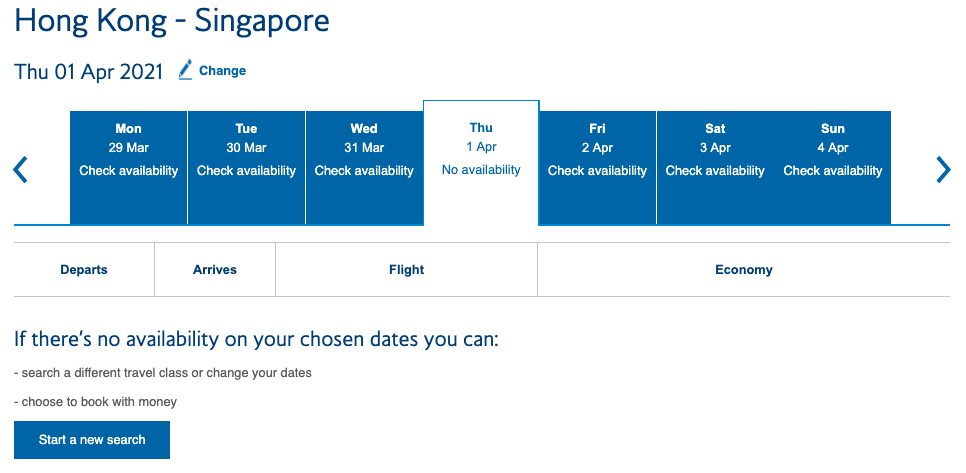 There isn't any award space for Hong Kong to Singapore booked on its own
If you're traveling on Cathay Pacific, you'll usually want to search from origin to destination. For BA's other partners, you'll want to search for award space segment by segment. That will give you an accurate number of award seats for each flight.
Some tips and pitfalls with the BA tool
The BA tool won't show all available connections. It helps to start by looking for space between a oneworld hub and a specific city, and putting your award together from there.
Searches with BA won't always show the best routing options, either. The tool tends to prioritize routings via London on BA metal. A search for New York to Tokyo might show space via London with BA instead of via Boston or Chicago with American and Japan Airlines.
For cities with multiple major airports (New York, London, Tokyo, etc.), be sure to use the airport code for the metropolitan area instead of a specific airport. Using a specific airport code like NRT will only display results to or from Tokyo Narita. If you instead use TYO, you'll get results from both Tokyo Narita and Tokyo Haneda.
British Airways doesn't display award space for Aer Lingus or Alaska Airlines online. If you want to book a flight with either of those carriers, you'll have to call BA to book over the phone.
There are some "point of sale" restrictions with some of their partners. My British Airways account is registered in Spain, and for some reason JAL and LATAM availability is different than it is for accounts registered in the US. If you're using Avios to book that's easy to get around — just change the account address. If you're using partner miles, like Alaska or American miles, the availability may not always line up.
Step 3: Execute your award flight search
You'll want to enter your origin, destination, date of travel, and desired class of service. BA will only display award space for three cabins at a time (either economy, premium economy, and business or premium economy, business, and first).
If you're searching for premium cabin space, you'll want to always search for a first class award. That way space in first, business, and premium economy is displayed.
It makes things easier to search for award space one direction at a time. 😉 I usually check the "One way only" box, even if I'm going to book round trip flights. That keeps results more organized.
The site will ask if you want a stopover in London or another oneworld hub before displaying any results. Unless you're actually using Avios to book an itinerary with a stopover, select "No, I want to continue without stopovers," and continue onwards to the results page.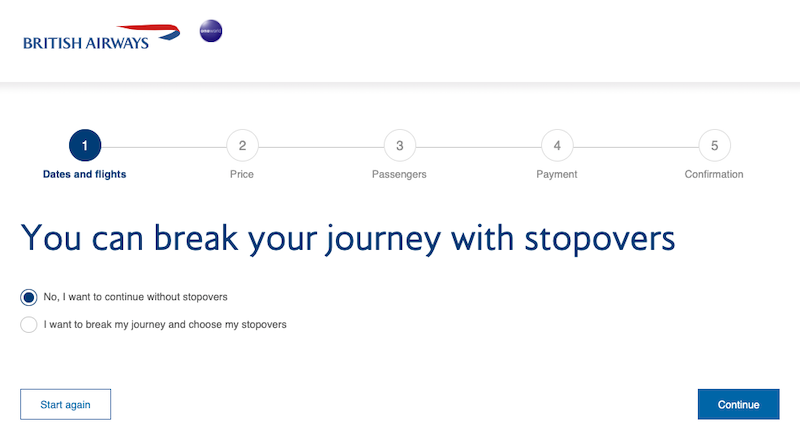 Unless you're using Avios to book an award with a stopover, always select "No" here
Step 4: Read your results
The results page will be organized into a week long calendar, with the date that you've searched for at the center of the calendar. You'll see nonstop flights displayed first, organized by departure time, then followed by connecting options.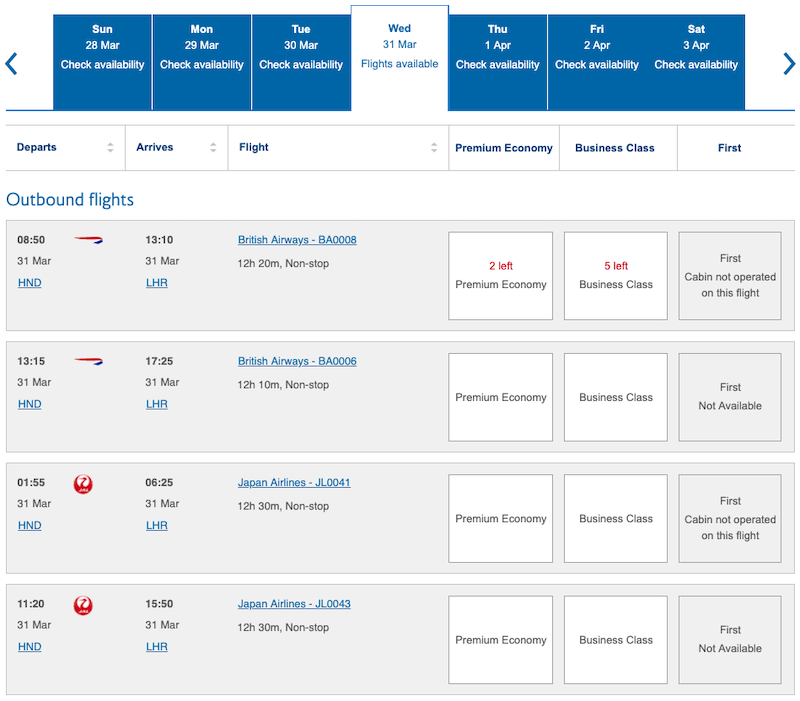 This is what the BA award results page will usually looks like, with connecting options displayed below
BA may display more seats than actually available on routings with connections. This used to be a big problem, but they seem to have fixed it. The error is less common these days. Whenever possible, you'll want to confirm the number of seats on each segment for itineraries with connections, as long as you think married segment logic isn't a factor.
One other thing you'll want to check when looking at an itinerary with a connection: the cabin for each individual segment. When you select the routing, you'll see the cabin displayed under each individual segment.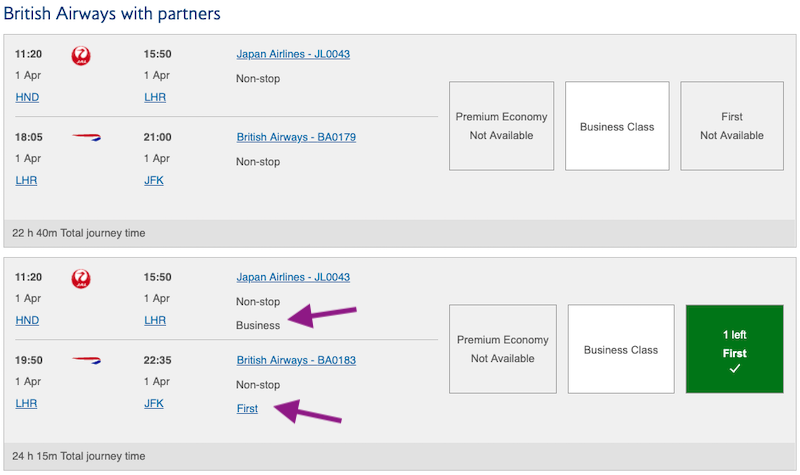 Be sure to double check the cabins for connecting itineraries
If you want to change your search, you can click the "Change" link on the results page. This will let you edit the origin, destination, dates, and class of service. If you need to change the number of passengers you'll need to start again from the main search page.
Step 5: If you're looking for space on BA, use the BA app!
BA has a useful feature on their mobile app where you can search a particular cabin and route for an entire year at a time. This is useful for anyone with a lot of date flexibility that wants to fly a particular route on British Airways. It's important to note that this feature only works for flights on BA metal. You can't use it when searching for partner flights.
Using the app
When you open the BA app you'll want to login to your Executive Club account
Click the menu button in the top right corner for iPhone or the top left corner for Android, and select "Reward flights"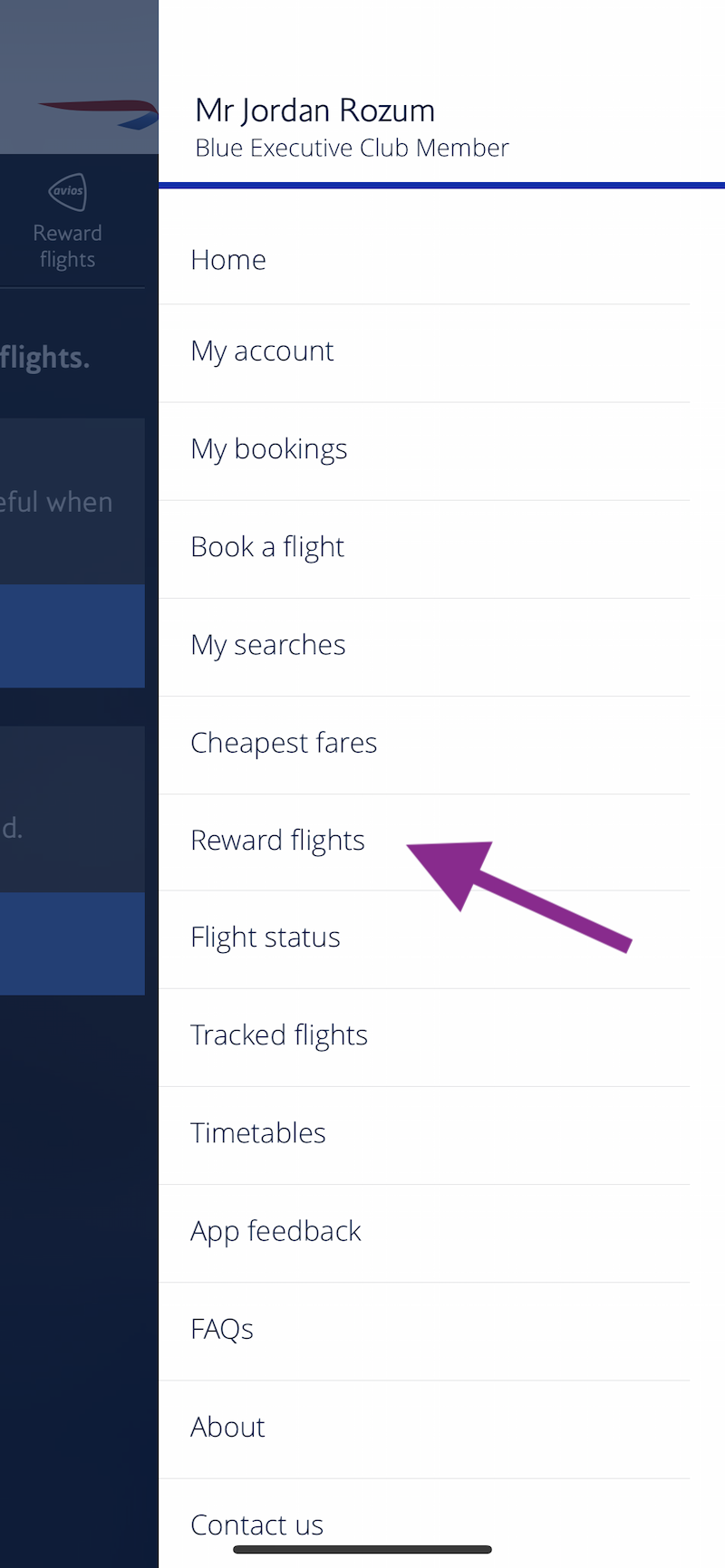 Tap the "Rewards flight" tab to search for award seats
You'll see two ways to find reward flights, tap the "Go" button on the top option called "Reward Flight Finder"
You'll want to enter your origin and destination, keeping in mind you can only search for direct flights
When you tap on the dates, select "Anytime" for your departure, and either "One way" or "Anytime" for the return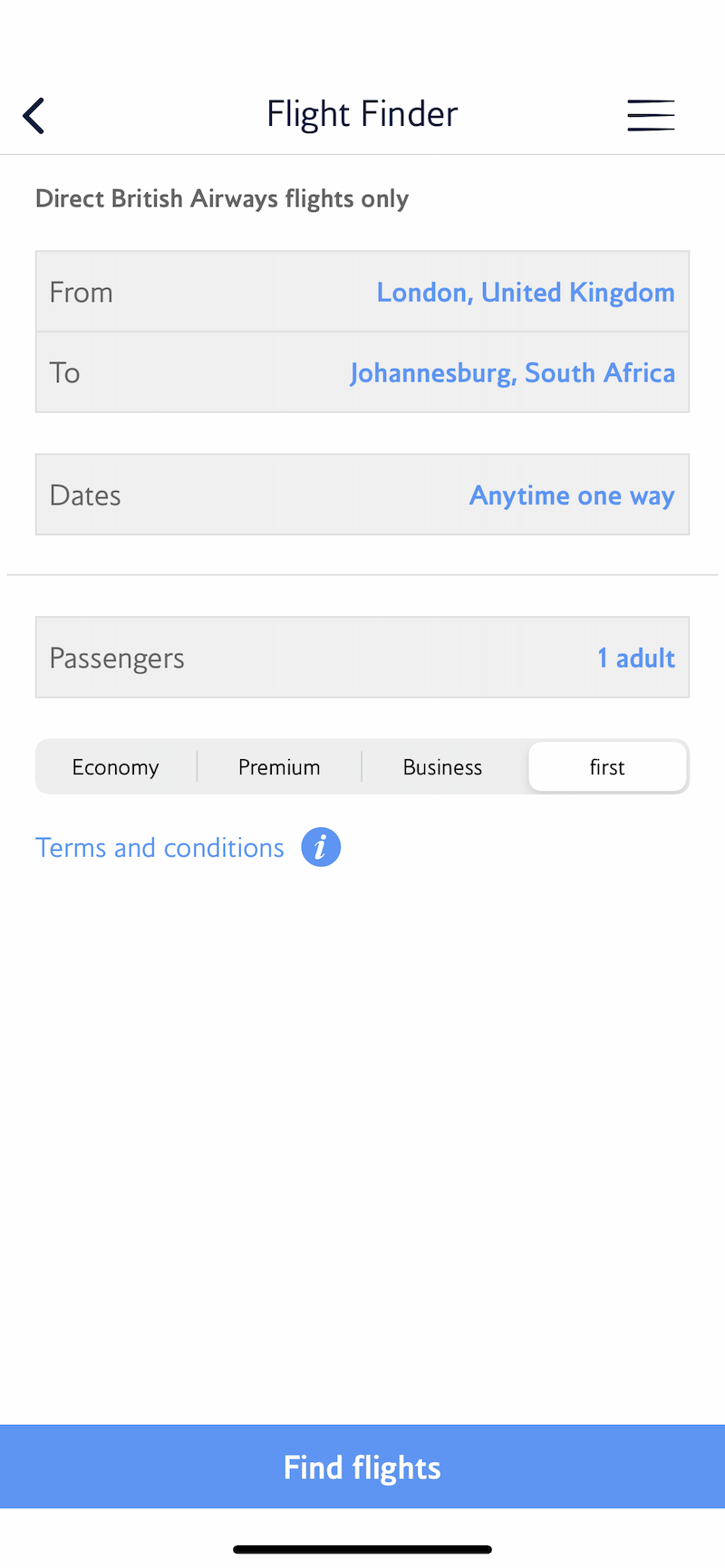 Enter your search parameters here
You'll then want to select the number of passengers and the desired cabin
Tap the "Find flights" button
The first date with award availability will be highlighted with a tall blue icon that says available; if you scroll towards the right, all days with award space for the number of passengers in that particular cabin will have the same blue "available" icon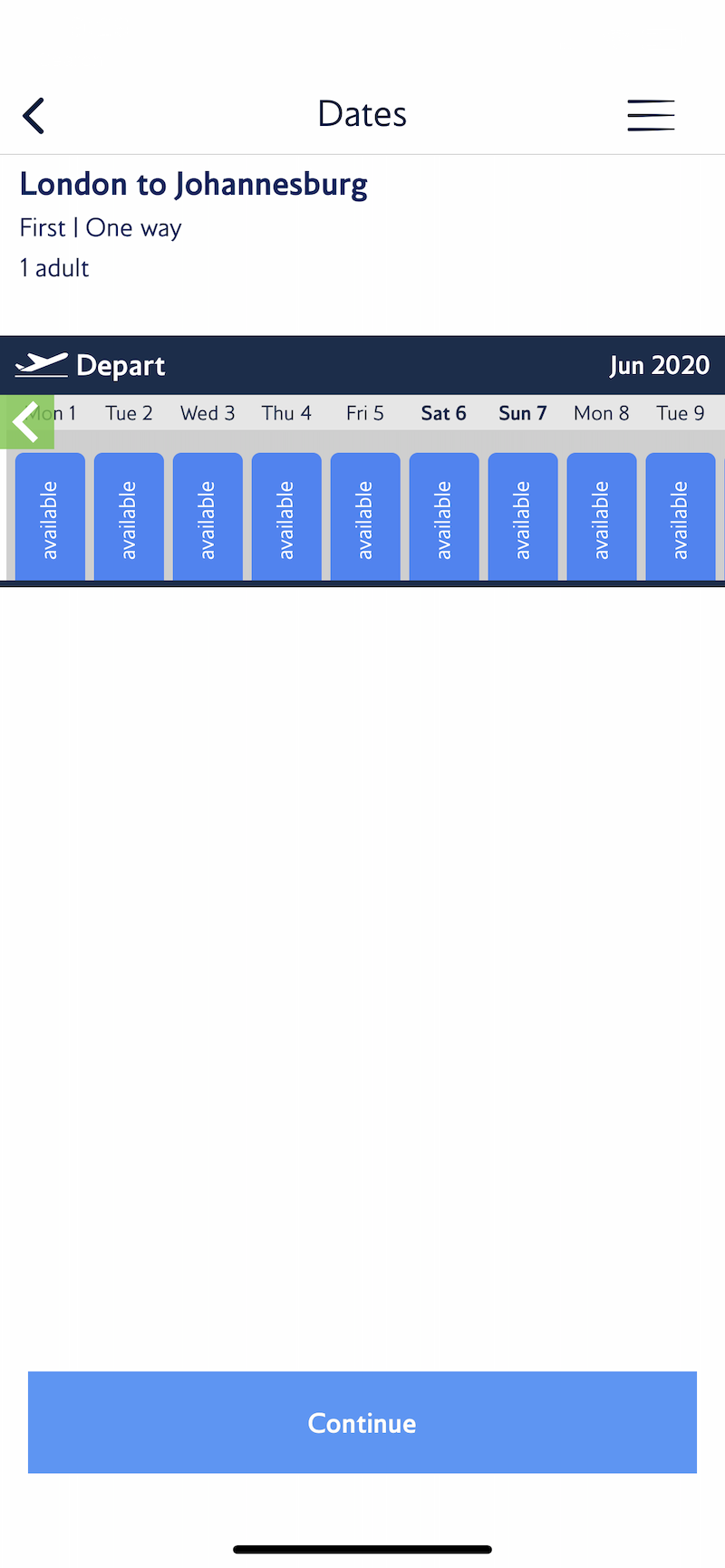 All of the dates with the blue "available" bar have award space
Step 6: Select the flights to price them (if you're using Avios)
If you're using Avios to pay for your itinerary, you'll want to select the flight you'd like to book. The number of Avios and the taxes, fees, and surcharges will be displayed below. Remember that this price only matters when you're booking flights through British Airways Executive Club! The number of miles and taxes, fees, and surcharges will differ depending on what program you ultimately book with.
Bottom line
The BA tool remains useful for confirming oneworld segments, and searching for award space more than 330 days before departure. Even though American makes it easier to book partner flights online nowadays, the BA tool still comes in handy.