Over the past few years we've seen ultra low cost carriers emerge for transatlantic flights, and now it looks like that trend is continuing for transpacific flights.
In February, Malaysian ultra low cost carrier AirAsia announced their first route to the US. The airline began flying between Kuala Lumpur and Honolulu (via Osaka) as of June 2017, and they had introductory $99 one-way fares on the route.
Well, it looks like another Asian ultra low cost carrier is starting a very similar route.
Singaporean ultra low cost carrier Scoot will offer 4x weekly flights between Singapore and Honolulu as of December 2017. For those of you not familiar, Scoot is owned by Singapore Airlines, and primarily operates routes within Asia (their only other longhaul route as of now is to Athens). Much like AirAsia's flight, they'll route via Osaka, presumably to capitalize on the demand for travel between Japan and Hawaii.
Scoot's new route is expected to launch on December 19, 2017, with the following schedule on Mondays, Tuesdays, Fridays, and Sundays:
TR700 Singapore to Osaka departing 10:45AM arriving 5:30PM
TR700 Osaka to Honolulu departing 7:25PM arriving 7:30AM
TR701 Honolulu to Osaka departing 9:35AM arriving 2:00PM (+1 day)
TR701 Osaka to Singapore departing 3:10PM arriving 9:10PM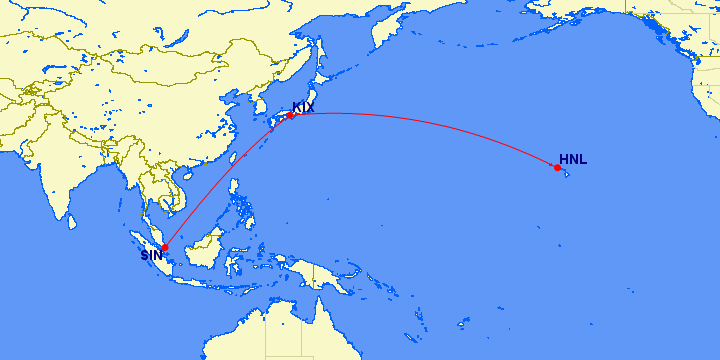 The flight will be operated by a Boeing 787-8, featuring 335 seats, including 281 economy seats, 33 ScootSilence seats, and 21 ScootBiz seats.
The route is now bookable at flyscoot.com. To celebrate the new route, Scoot has special introductory fares for travel originating in Singapore — you can fly roundtrip from Singapore to Honolulu for 555SGD (~407USD), or roundtrip in ScottBiz for 1,555SGD (~1,142USD). Fares are a bit higher if originating in Honolulu, though still pretty attractive.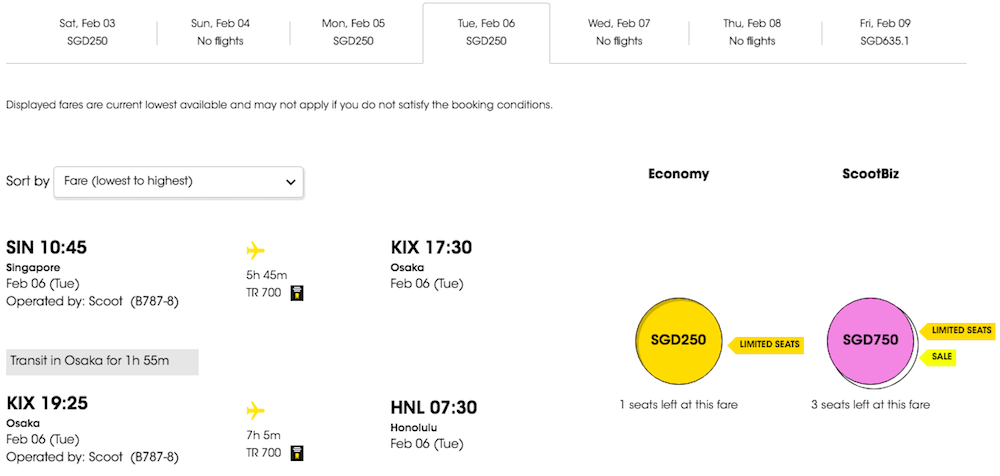 Earlier this year Andrew reviewed ScootBiz on a flight between Tokyo and Taipei, which looks like a comfortable product. I'm not sure it's worth the price premium given the introductory fares, but long term it's certainly something to consider.
I'd say that I wish we'd see some ultra low cost carriers between the US mainland and Asia, though I'm not sure they'd really be able to drive down prices all that much. Nowadays ~$500 roundtrip fares between the US and Asia have become the norm, so how much cheaper can an ultra low cost carrier really be?
Anyone plan on taking Scoot's new flight between Hawaii and Japan/Singapore?