---
The Fairmont Kea Lani is an all-suite hotel in the Wailea area of Maui, in a neighborhood with several other upscale hotels like the Andaz Maui, the Four Seasons, Waldorf Astoria Grand Wailea, and so forth. There's a beach path running between all these resorts, which are interspersed with residential areas. The Fairmont is on the far end, and the curve of the coast means it's a bit more secluded.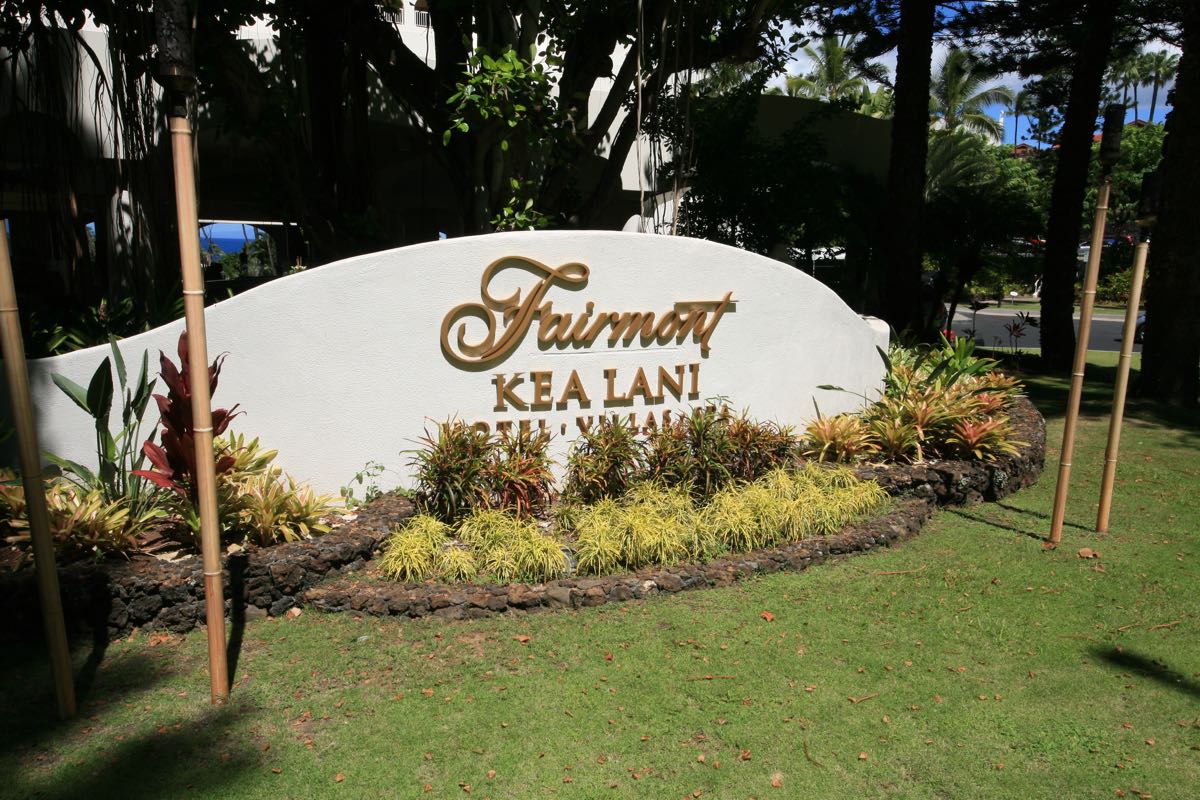 Fairmont Kea Lani entrance
Hotels in Hawaii are a bit complicated, style-wise. There are architectural influences from all over the globe, but most of the executions seem to look fairly dated fairly quickly. The exterior of the Fairmont Kea Lani, for example, is basically a gigantic Moorish-inspired complex, but didn't feel as out of place as one might think.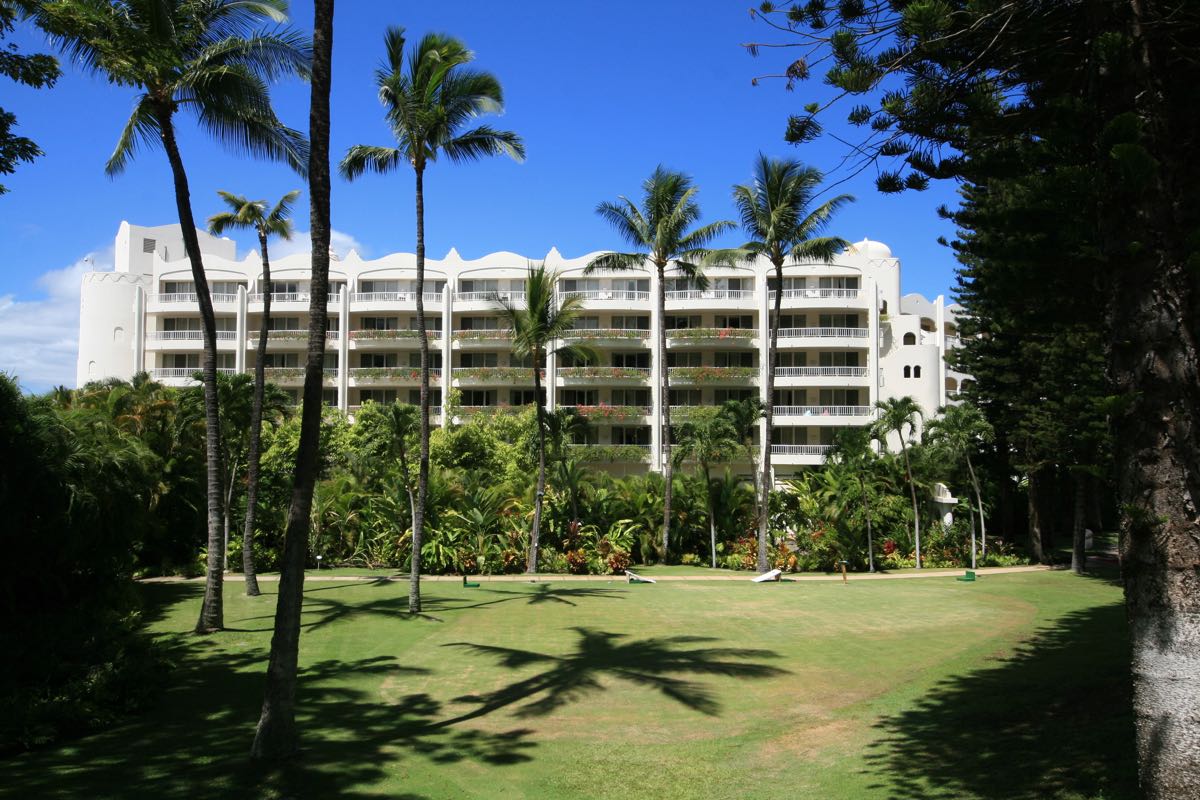 Fairmont Kea Lani exterior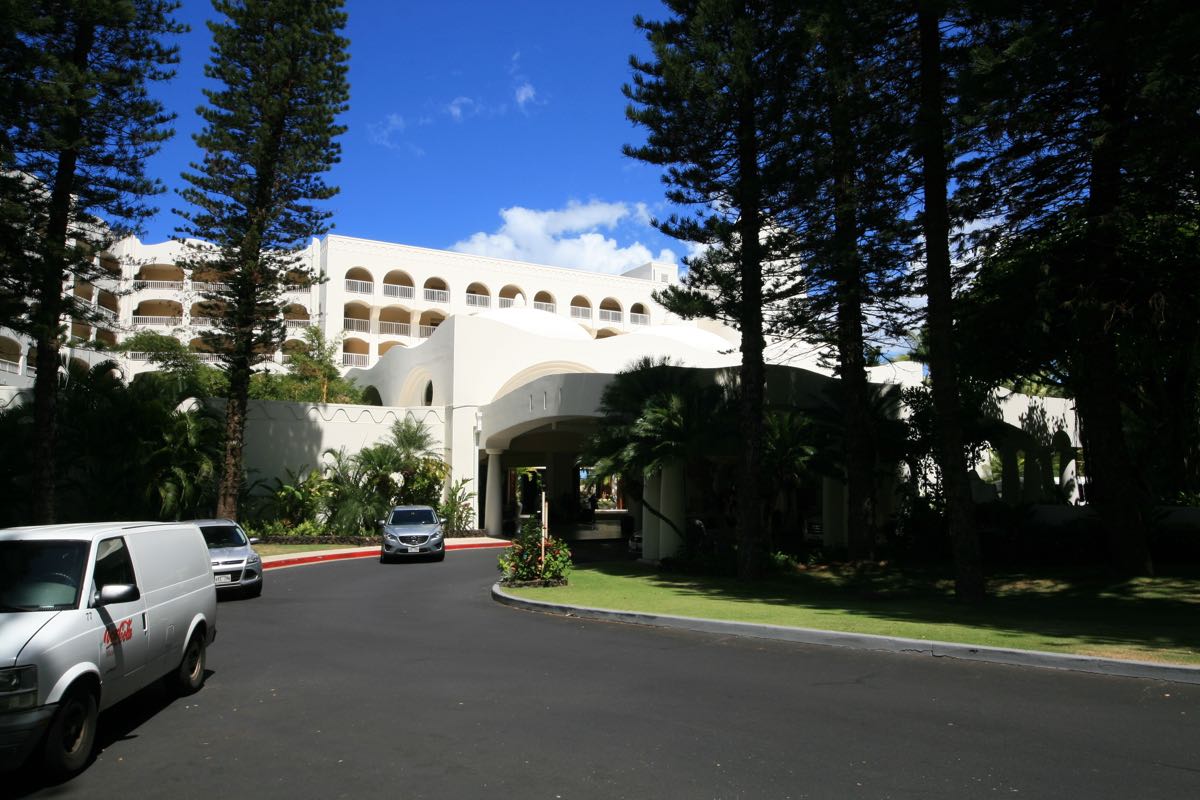 Fairmont Kea Lani exterior
The interior, however, was beautiful. The common areas were all indoor/outdoor, with elegant tropical decor. More on that later.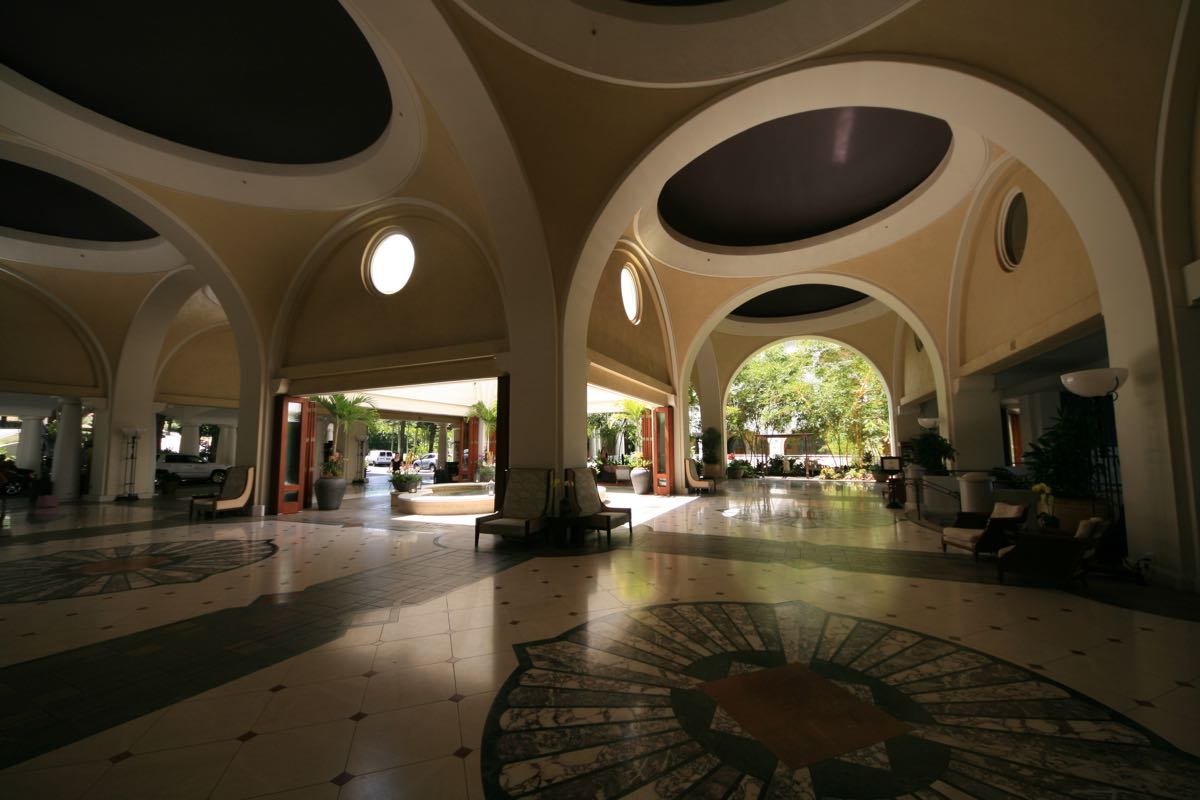 Fairmont Kea Lani lobby
We were immediately welcomed by the valet and bell staff, who greeted us with kukui nut and orchid leis. Self parking is complimentary, so after our bags were unloaded my husband went to park the rental car while I handled the check-in formalities.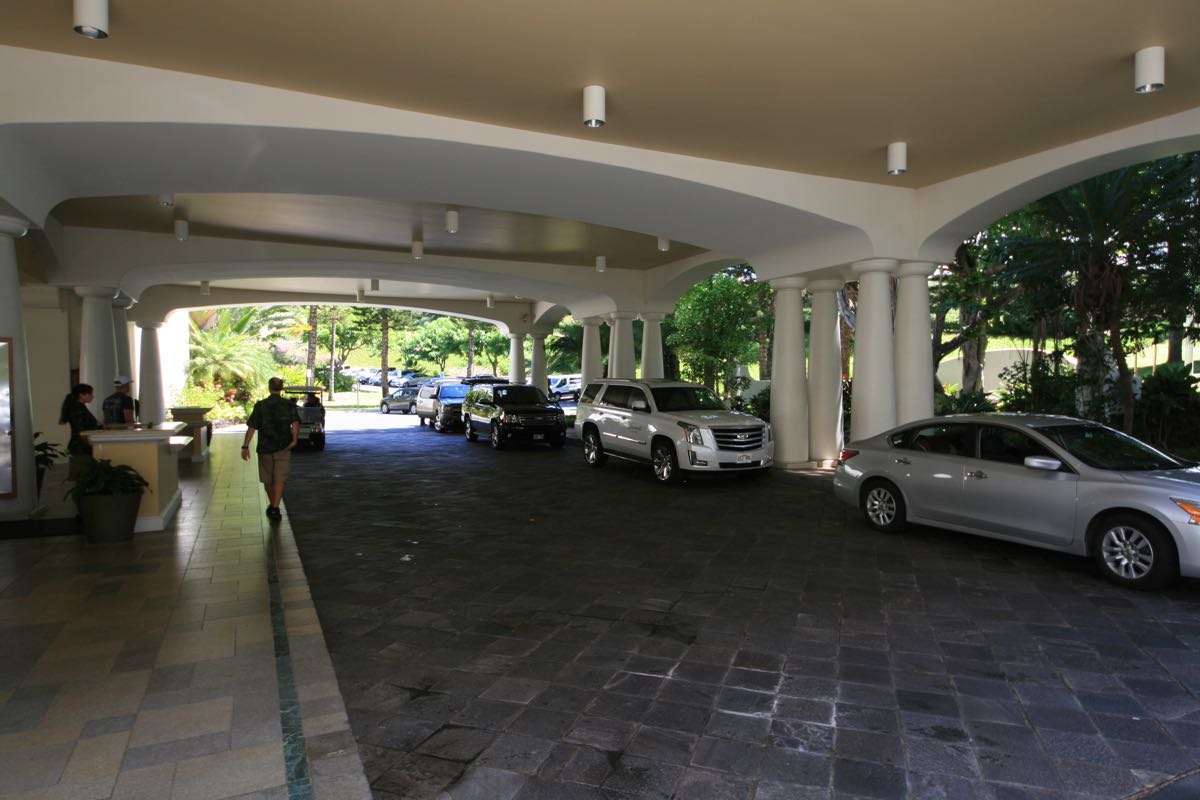 Fairmont Kea Lani lobby
The lobby had soaring arches, elegant tile floors, and an abundance of orchids.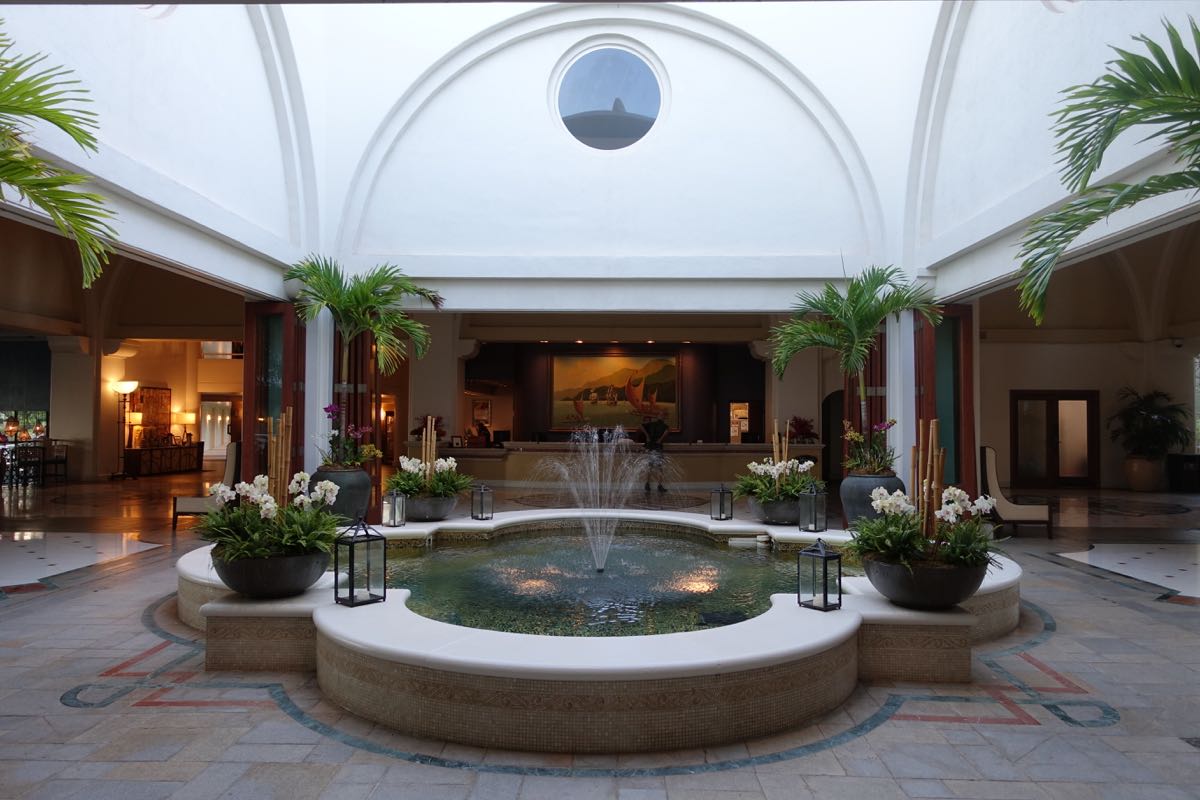 Fairmont Kea Lani lobby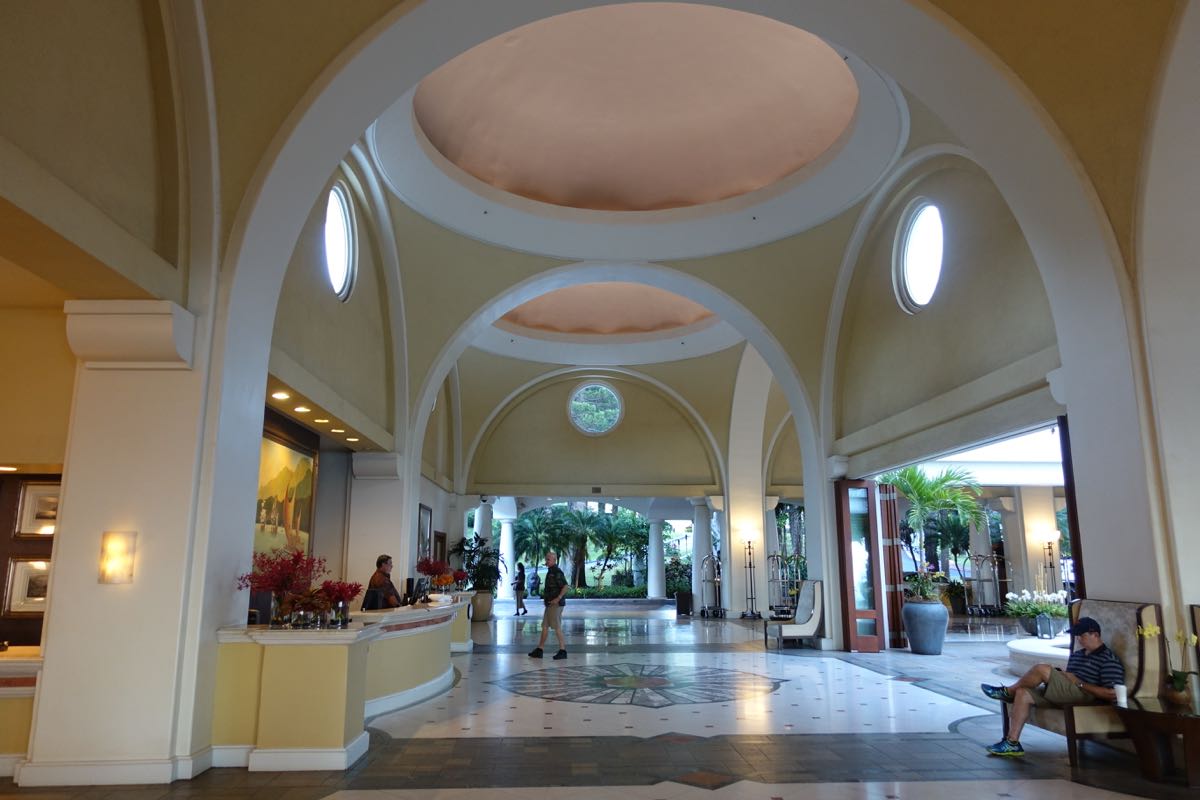 Fairmont Kea Lani lobby
Check-in was…efficient for a resort in Hawaii. I didn't have to queue at all, which is always a plus, but at a large resort there are always a lot of details to go over.
The Fairmont Kea Lani has an option where you can text the concierge, for example, so we had to register our phone numbers. Details of the Hawaiiana experiences were shared, Virtuoso benefits were confirmed, and so forth. It took about 15 minutes, when all was said and done.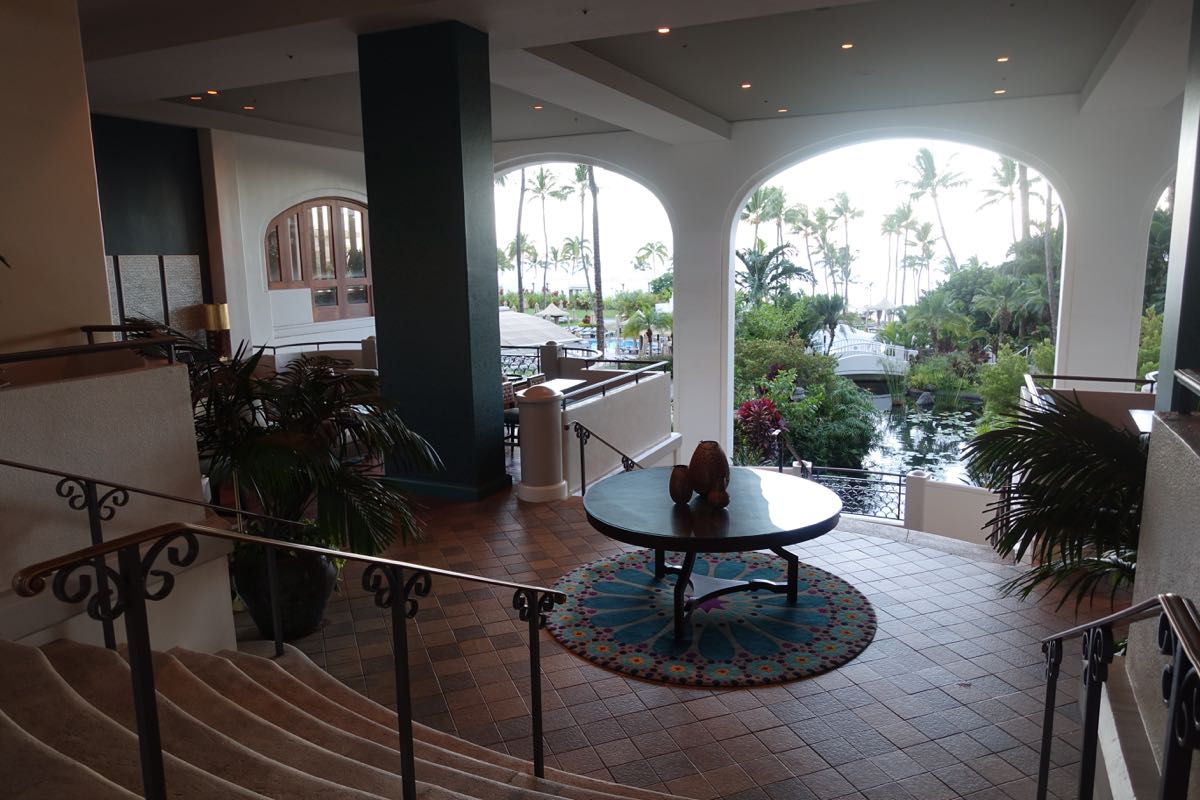 Fairmont Kea Lani lobby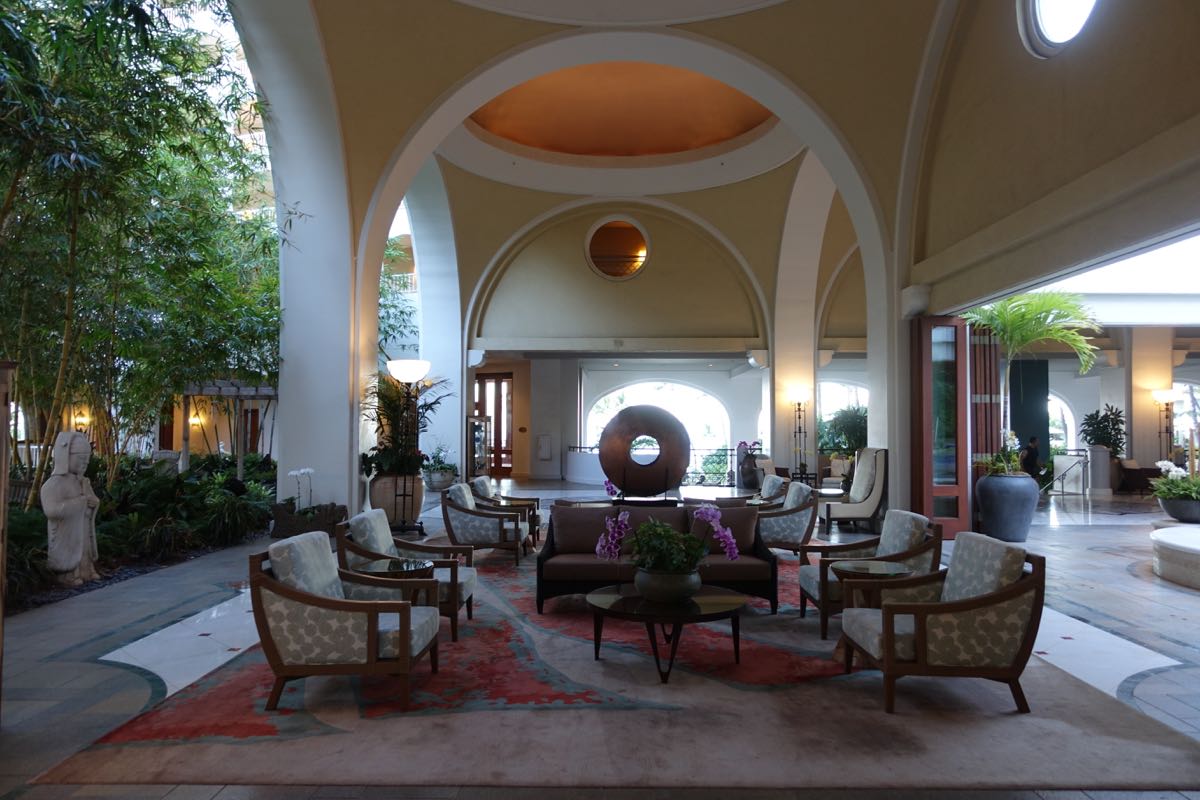 Fairmont Kea Lani lobby
We were given directions to our room, which was down a series of open-air hallways.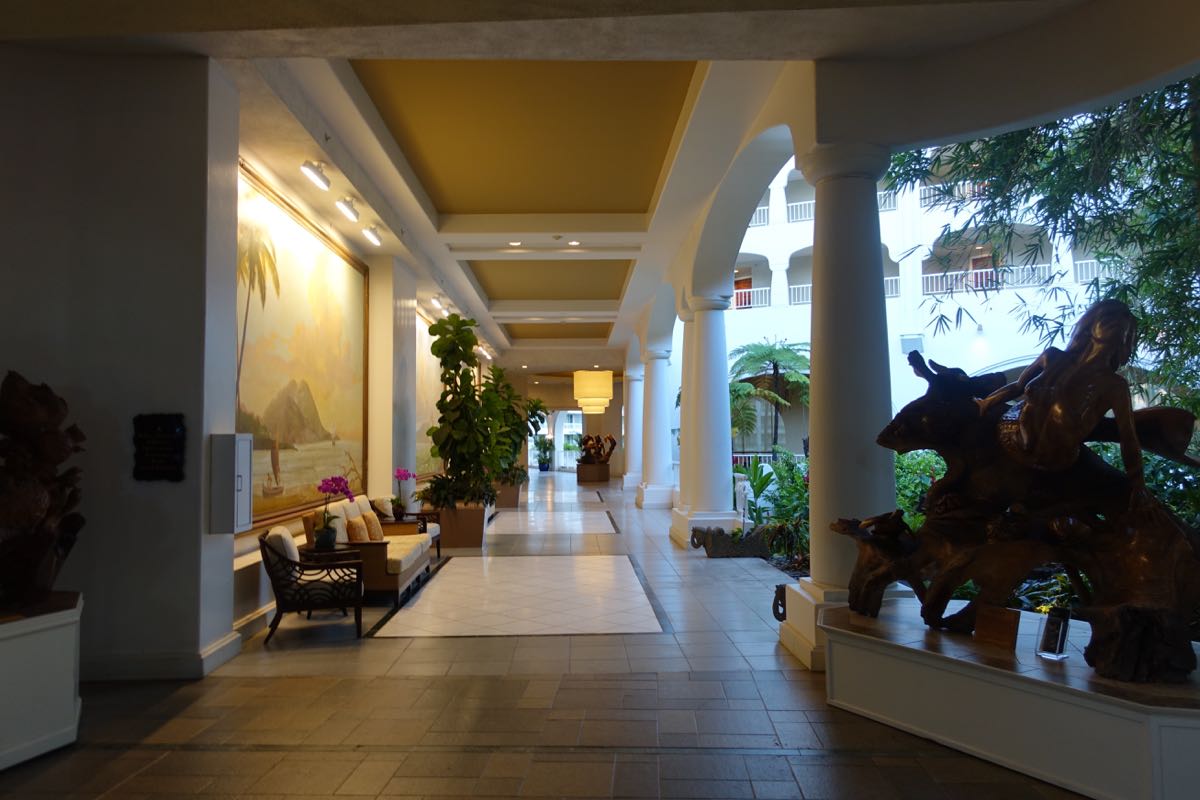 Fairmont Kea Lani walkway
Polynesian-inspired art and garden atriums broke up the architecture, giving a very relaxed and tropical vibe.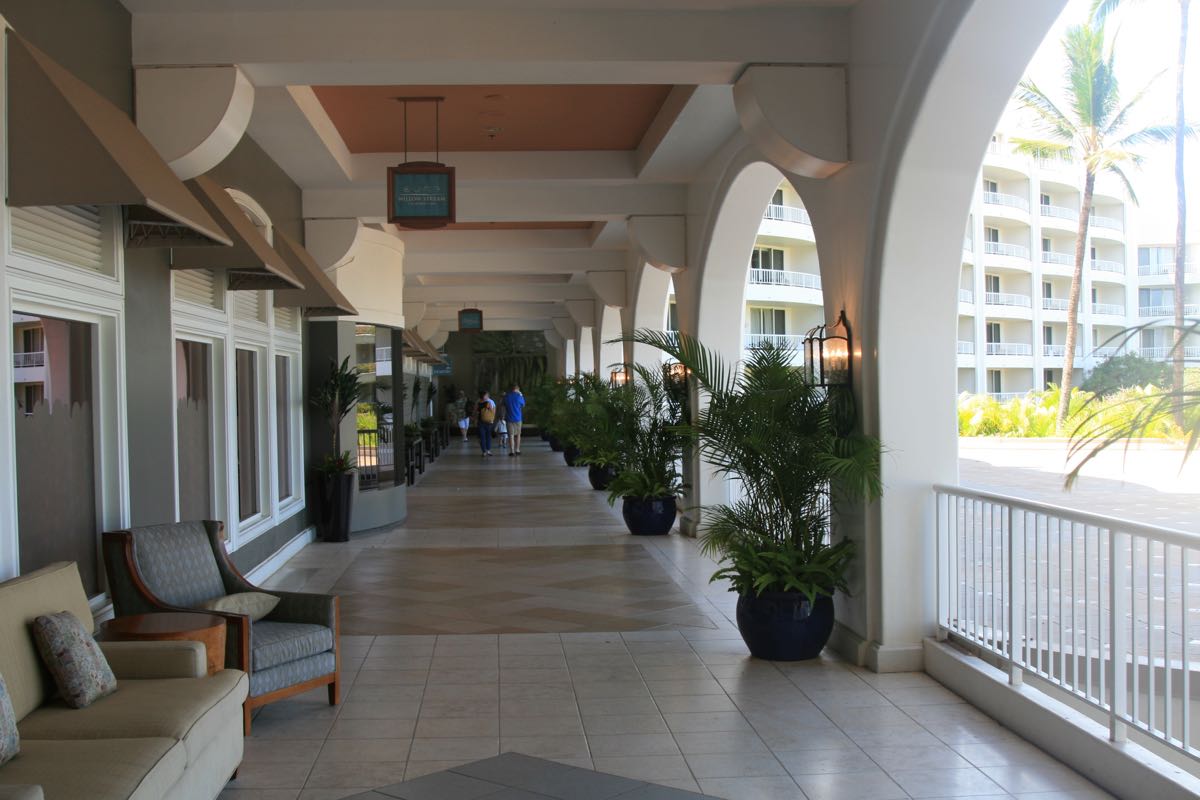 Fairmont Kea Lani entrance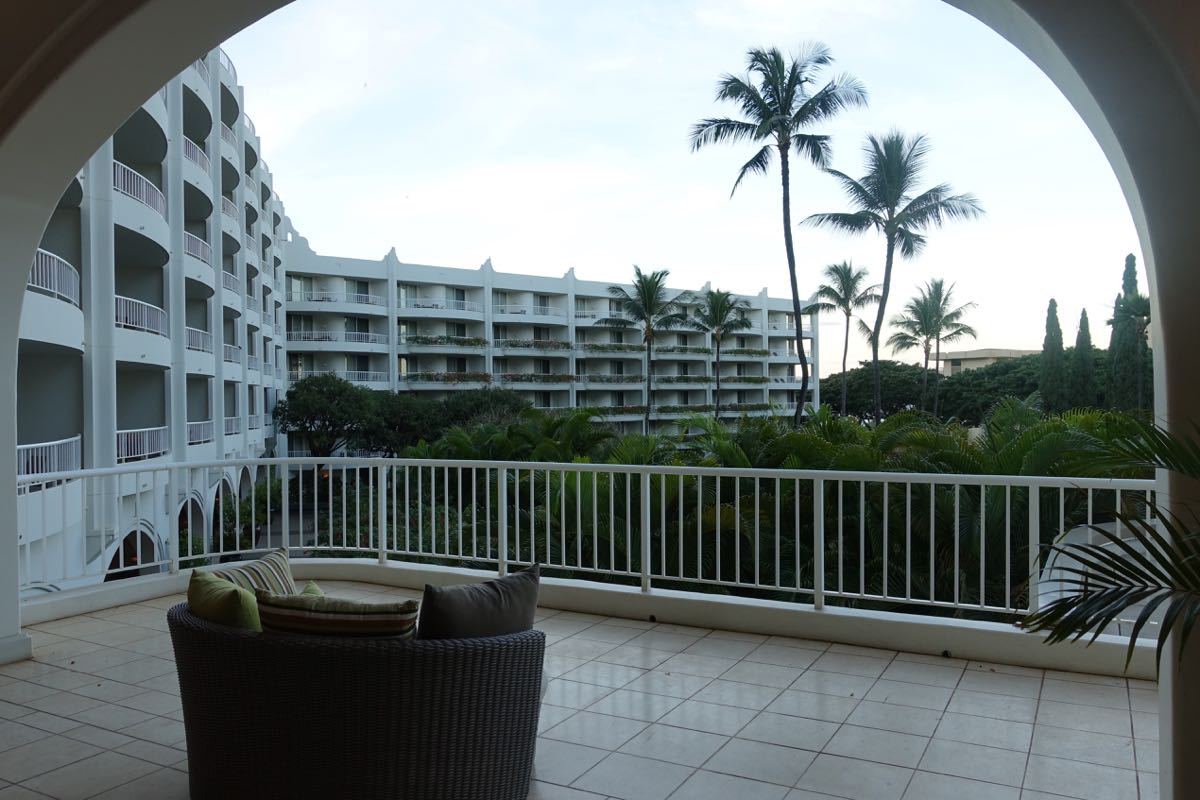 Fairmont Kea Lani terrace
Suites at the Fairmont Kea Lani
We were originally assigned a room on the second floor (the same level as the lobby), on the far end of the hotel, facing "out" from the resort.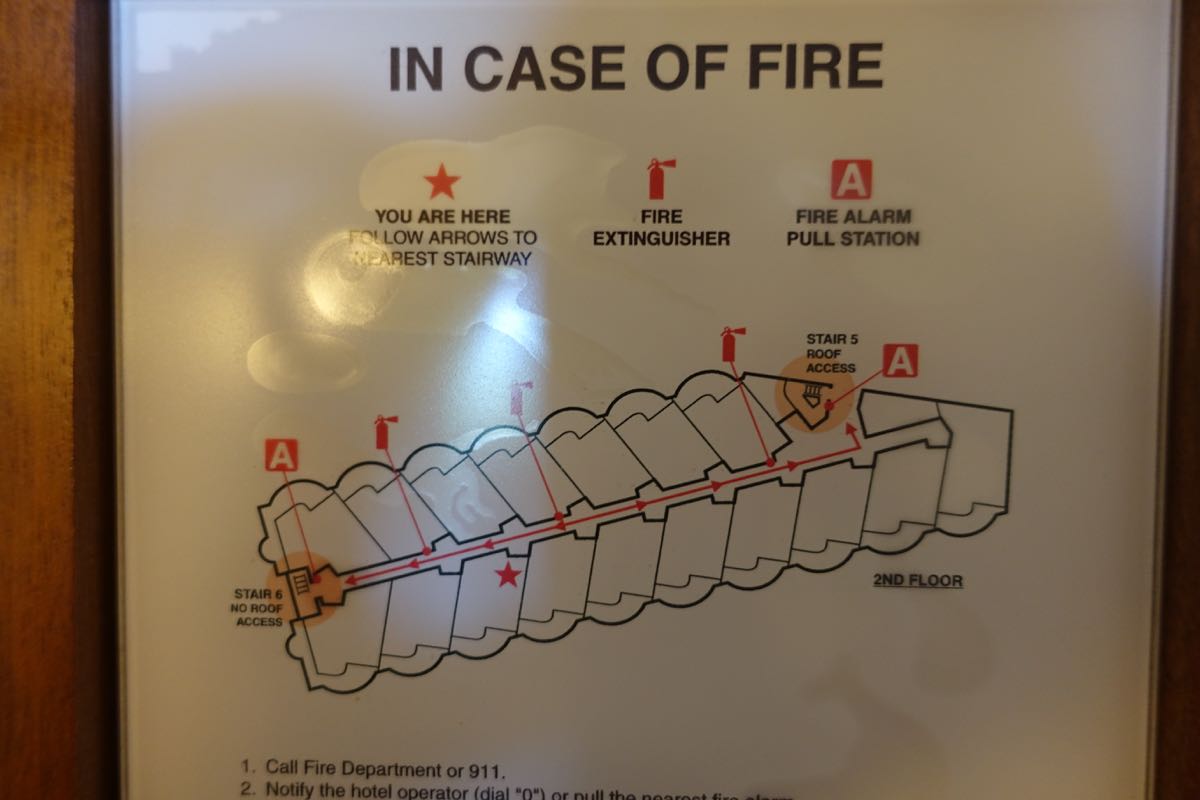 Fairmont Kea Lani floorplan
The room was lovely, but the height of the trees meant that the room was very shaded, and a little dark.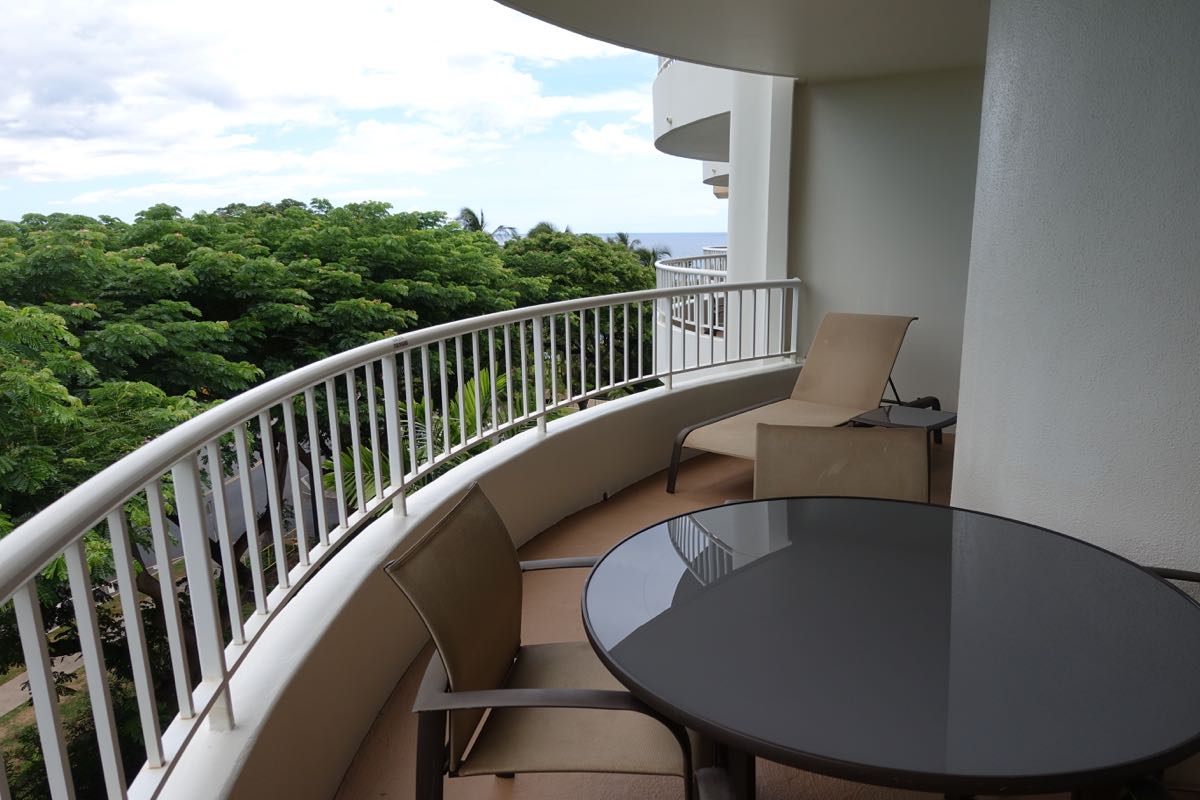 Fairmont Kea Lani second floor lanai
At this point in the trip we could already tell that we'd be spending an unfortunate amount of time in the room (we both had work complications), so called and asked if there was a room available with more natural light, even if it had an inferior view.
The request was happily accommodated — I was given the new room number and told that the bellman would meet us at the new room with our bags and fresh keys.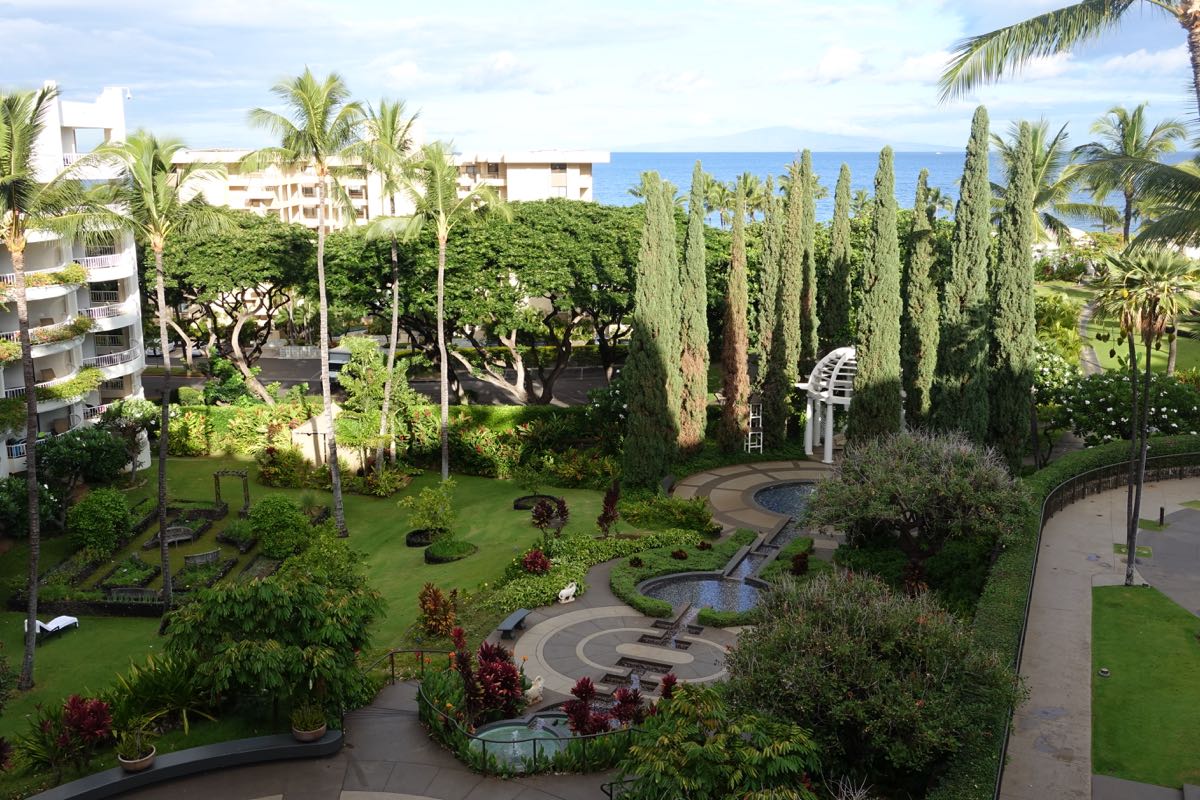 Fairmont Kea Lani fourth floor view
Anyway, both rooms were identical other than the views, but I just wanted to explain that first since my pictures are a mixture of the two rooms.
The rooms at the Fairmont Kea Lani are basically circular, which I thought made for a great floor plan. The foyer featured a bar to the left, an open archway to the sitting room, and then the door to the bathroom was on the right.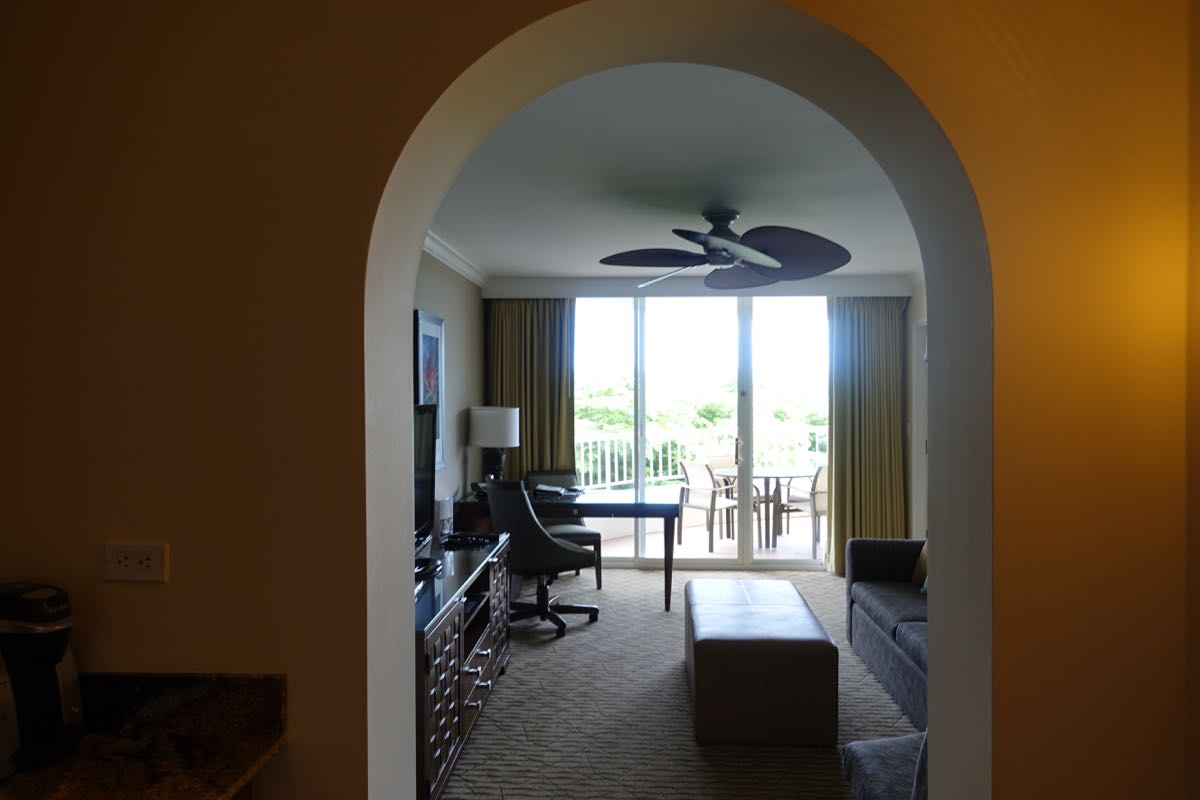 Fairmont Kea Lani suite
The bar area had a tea and coffee station, as you'd expect, but the cabinet also had a mini-fridge (empty except for two complimentary bottles of water), and a microwave. A family could easily keep a few snacks in their room — we stashed fruit and yogurt in here for early mornings. I thought both were a very nice touch, given how expensive food in Hawaii can be.
Many properties on the islands try and nickel and dime their guests, and while the Fairmont was certainly pricey, I noticed several of these small hospitable gestures.
The living room was spacious, and opened out onto the covered balcony.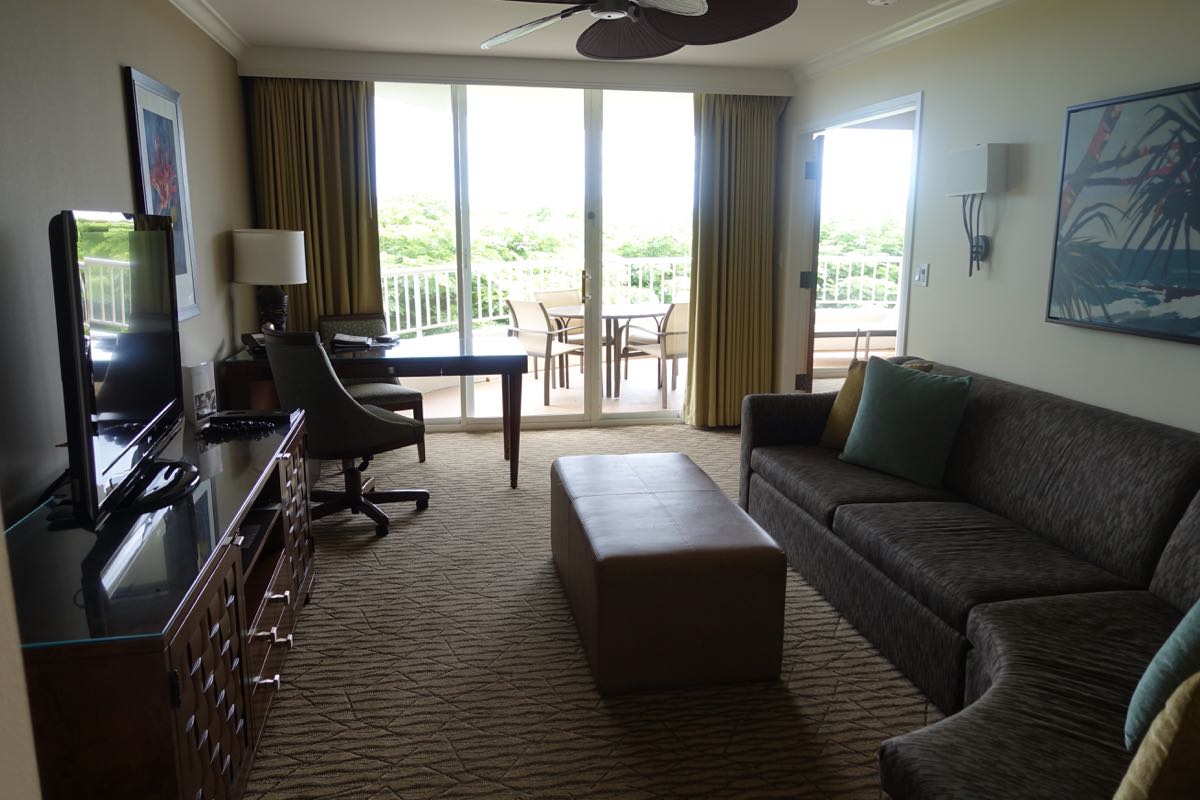 Fairmont Kea Lani suite
The furnishings themselves were fine — everything was in good condition, and the overall style didn't seem particularly dated. And again, Hawaii is a complicated market for hotel styling.
For those traveling in a larger party, it's worth noting that the sofa folds out into a bed.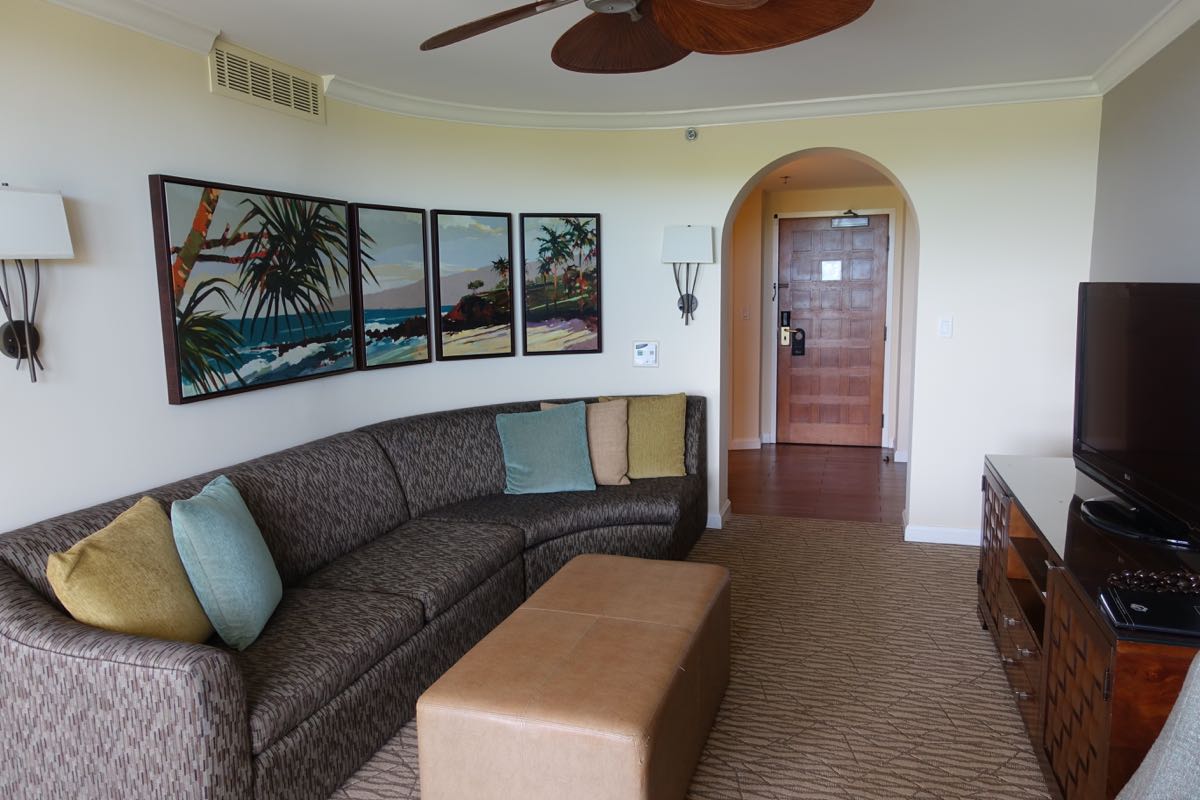 Fairmont Kea Lani suite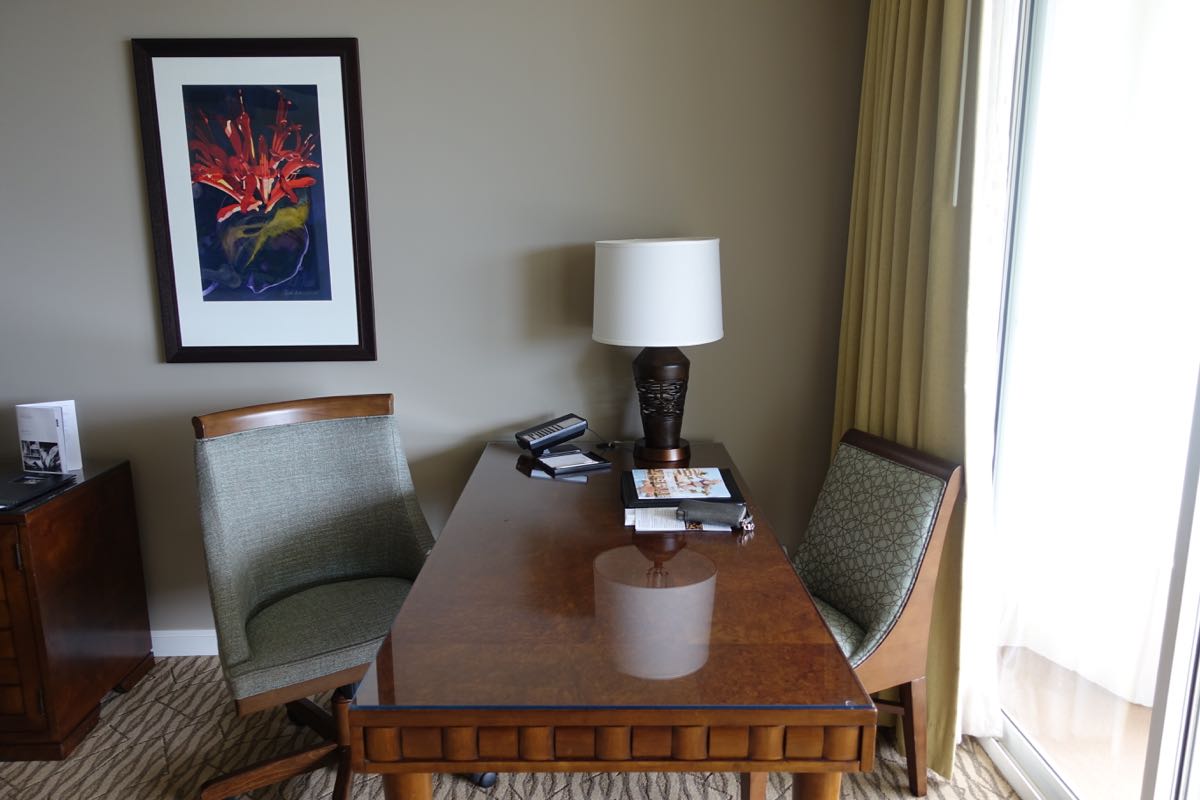 My husband took conference calls from this desk starting at 3AM every morning of our trip, and said the chairs were fine
Both the patio and the living room connected to the bedroom, which had a king bed, and a second ceiling fan (I love seeing overhead fans in the tropics).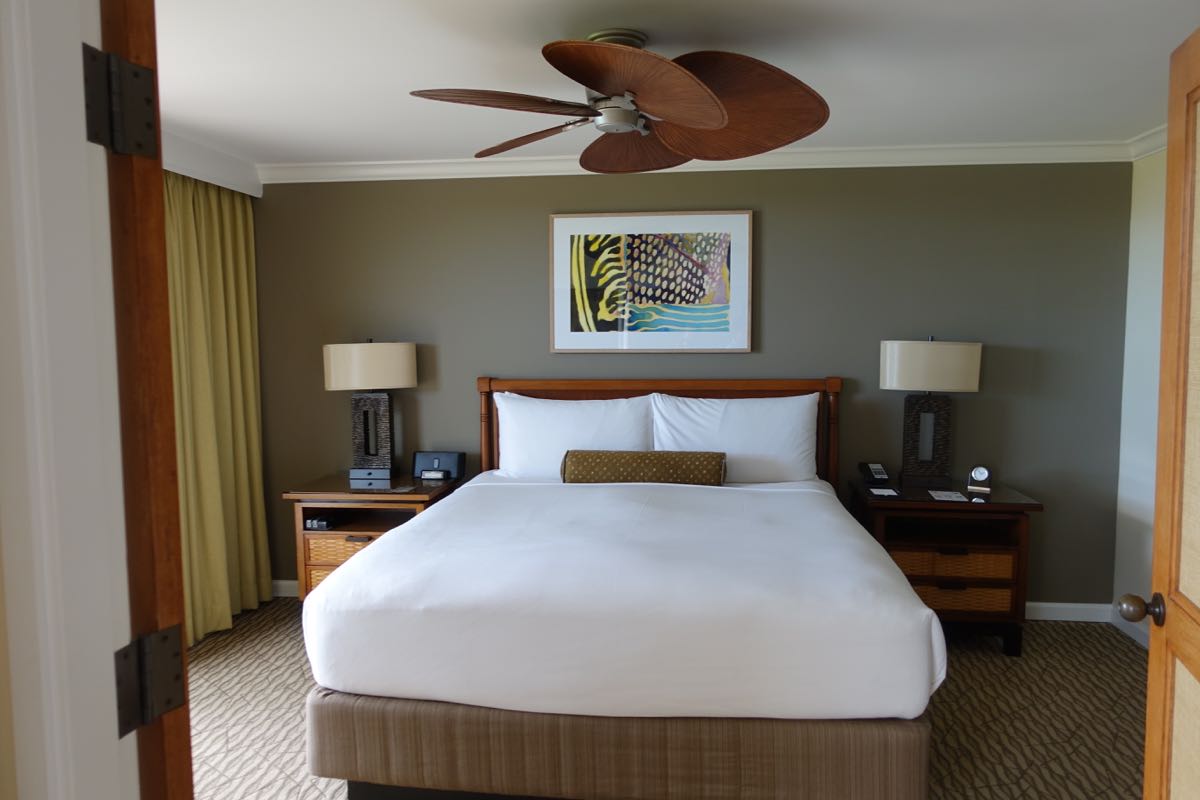 Fairmont Kea Lani suite
A second sliding door in the bedroom provided access to the patio.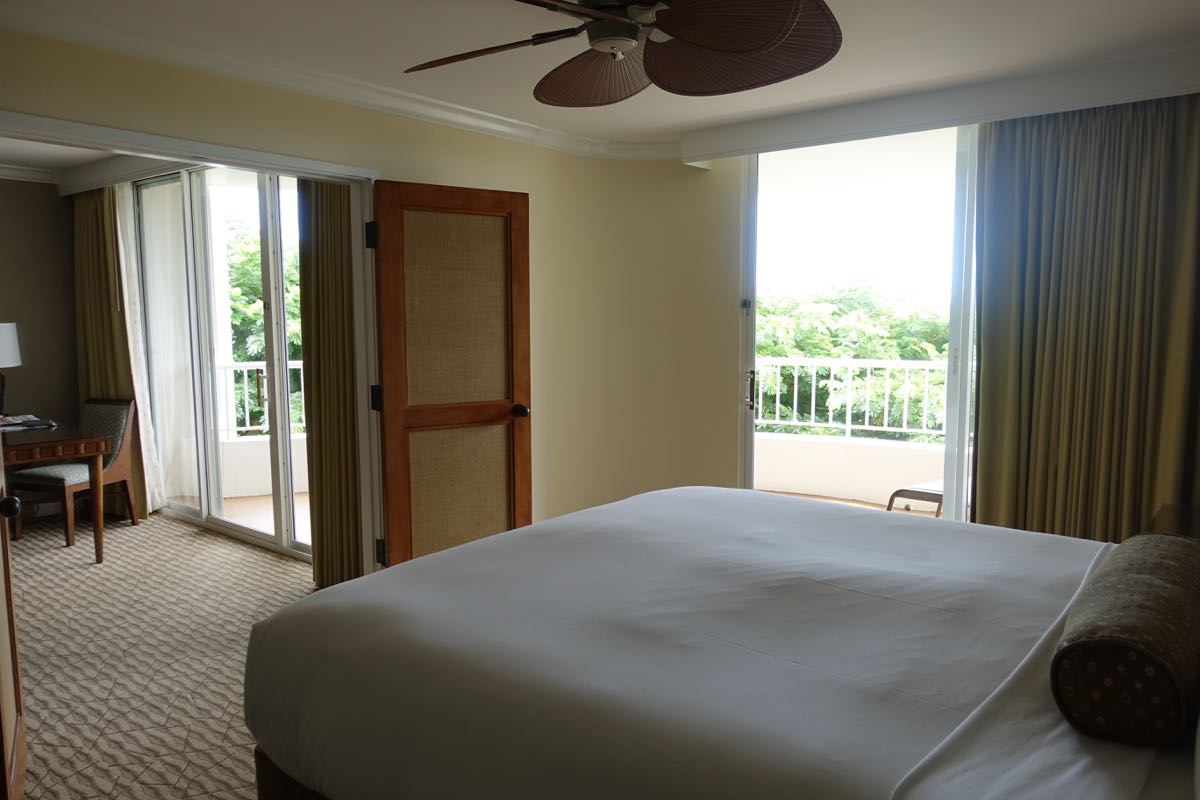 Fairmont Kea Lani suite
On the other side of the room, two closets flanked the entry to the bathroom.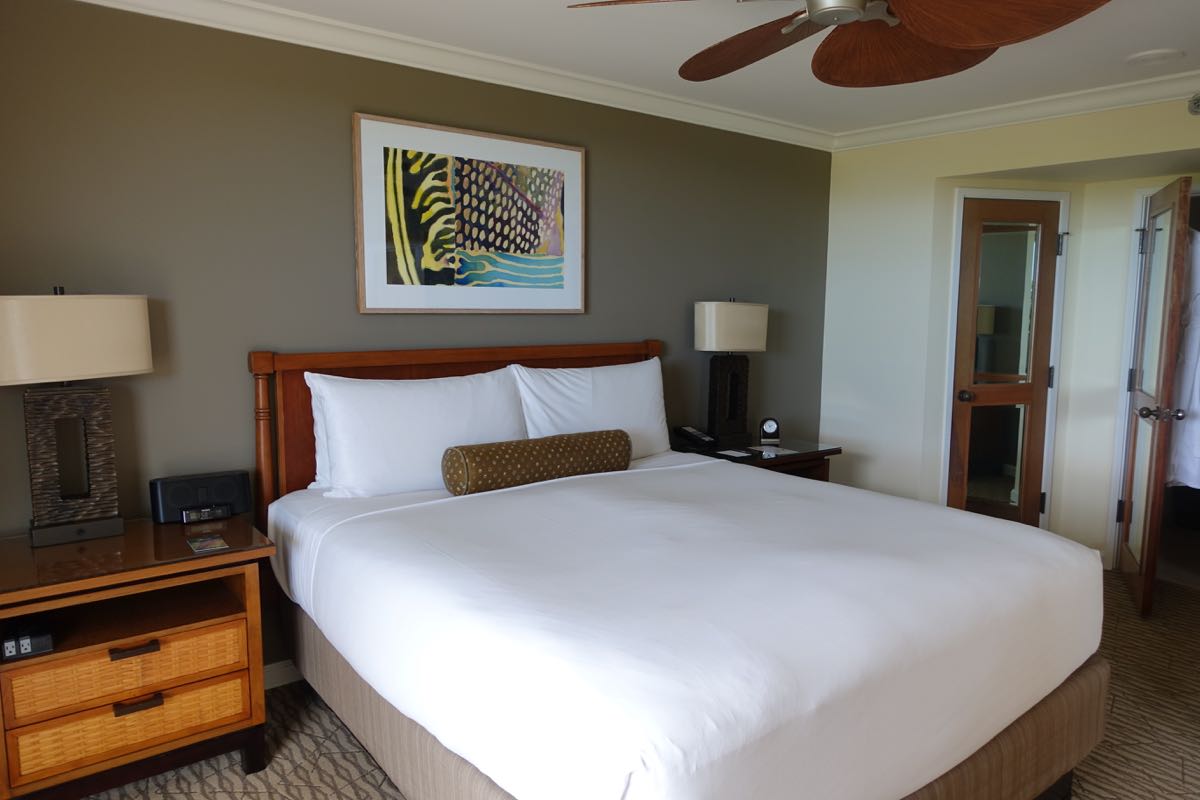 Fairmont Kea Lani suite
I actually loved this split closet setup, as opposed to having a single larger closet. It was very efficient for a couple, and made it easier for both of us to stay organized.
The bathroom itself was spacious, with a soaking tub, walk-in shower, dual pedestal sinks, and a separate toilet closet.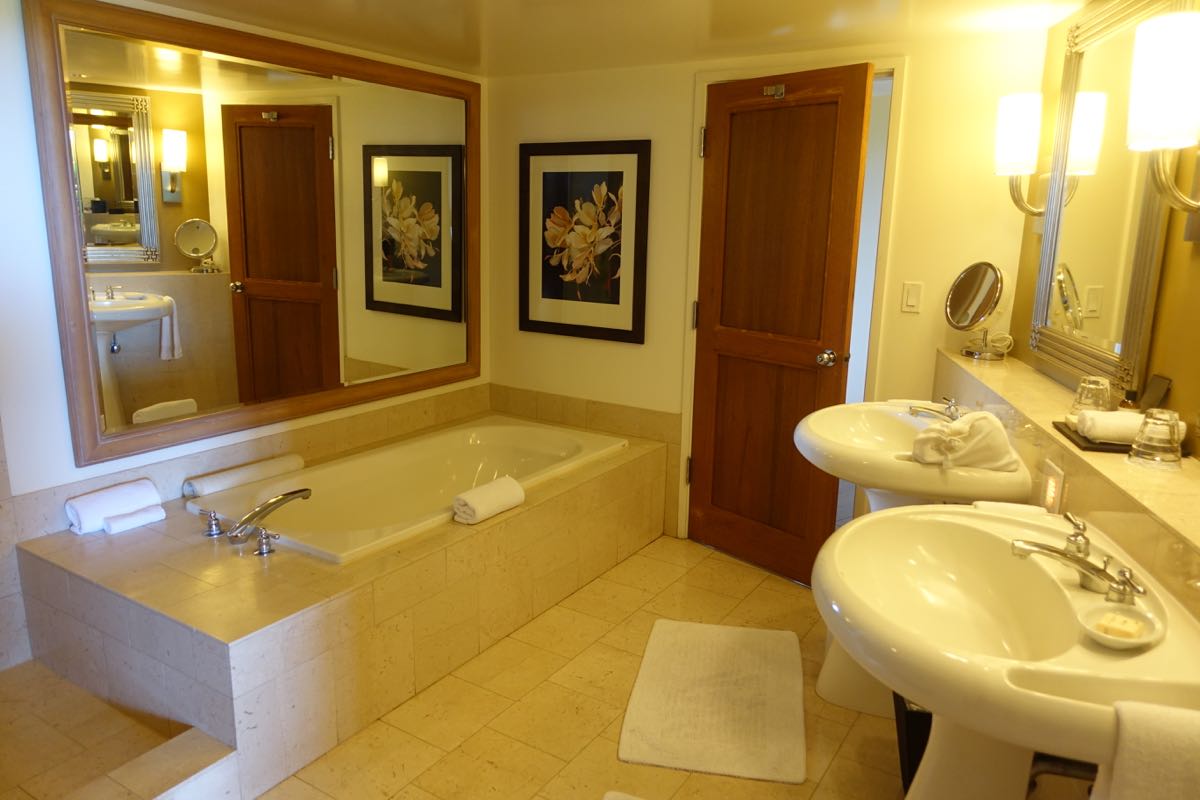 Fairmont Kea Lani bathroom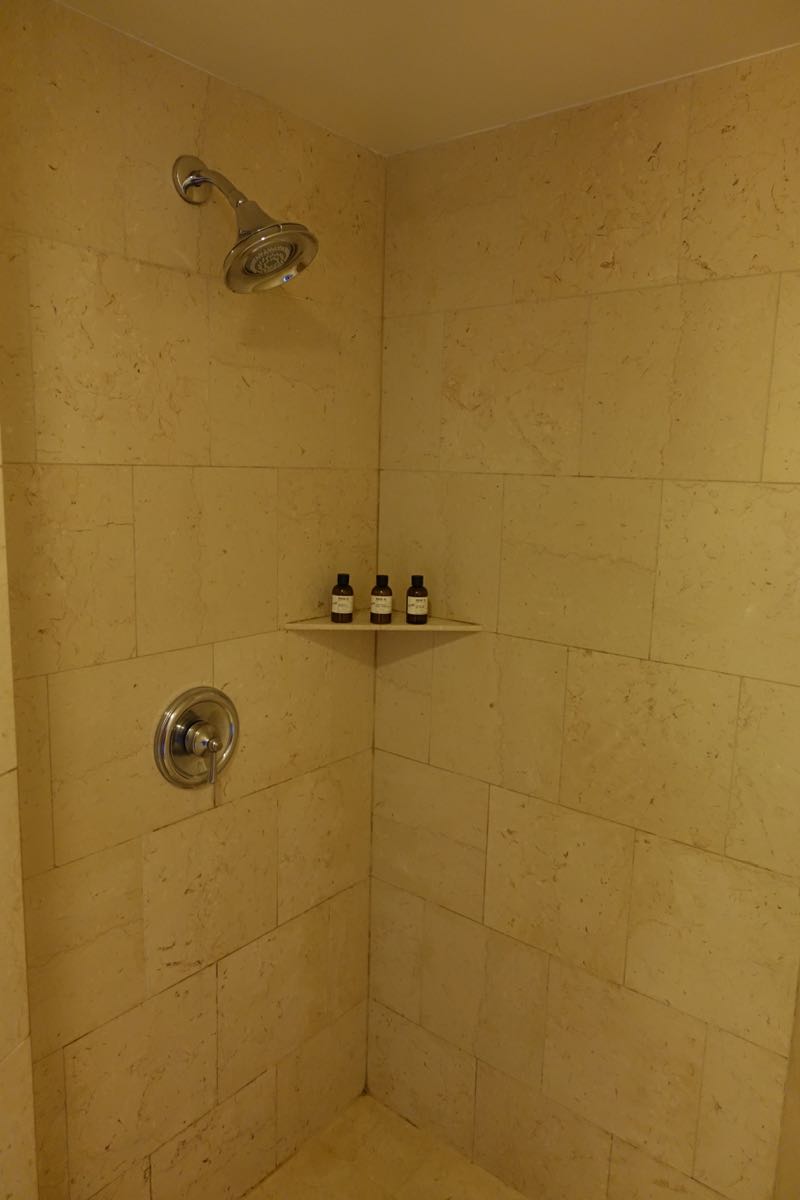 Fairmont Kea Lani shower
The bath amenities were Rose 31, by Le Labo — Fairmont's signature scent.
The bathroom was clean, and the linens were high-quality. Looking at the pictures it seems a bit dingy, but I think that's just a side-effect of the lighting.
We spent a lot of time in the room (my husband had conference calls from 3AM-10:30AM on all but our last day, and y'all know how I work when traveling), and found the layout of the room really conducive to mixed schedules. Obviously our circumstances were driven by work, but I could also see this floorplan being ideal for families, as you had multiple ways to get in and out of every room.
Breakfast at the Fairmont Kea Lani
Because we'd booked through Virtuoso, we received a complimentary breakfast for two each morning. Our routine was generally to wake up early and one of us would fetch coffee from the lobby, then we'd eventually go down for "brunch" around 10:30.
Breakfast was offered in an indoor/outdoor space adjacent to the adult pool — I guess the assumption is that no one is going to use the adult pool prior to noon, because it was very noisy during breakfast.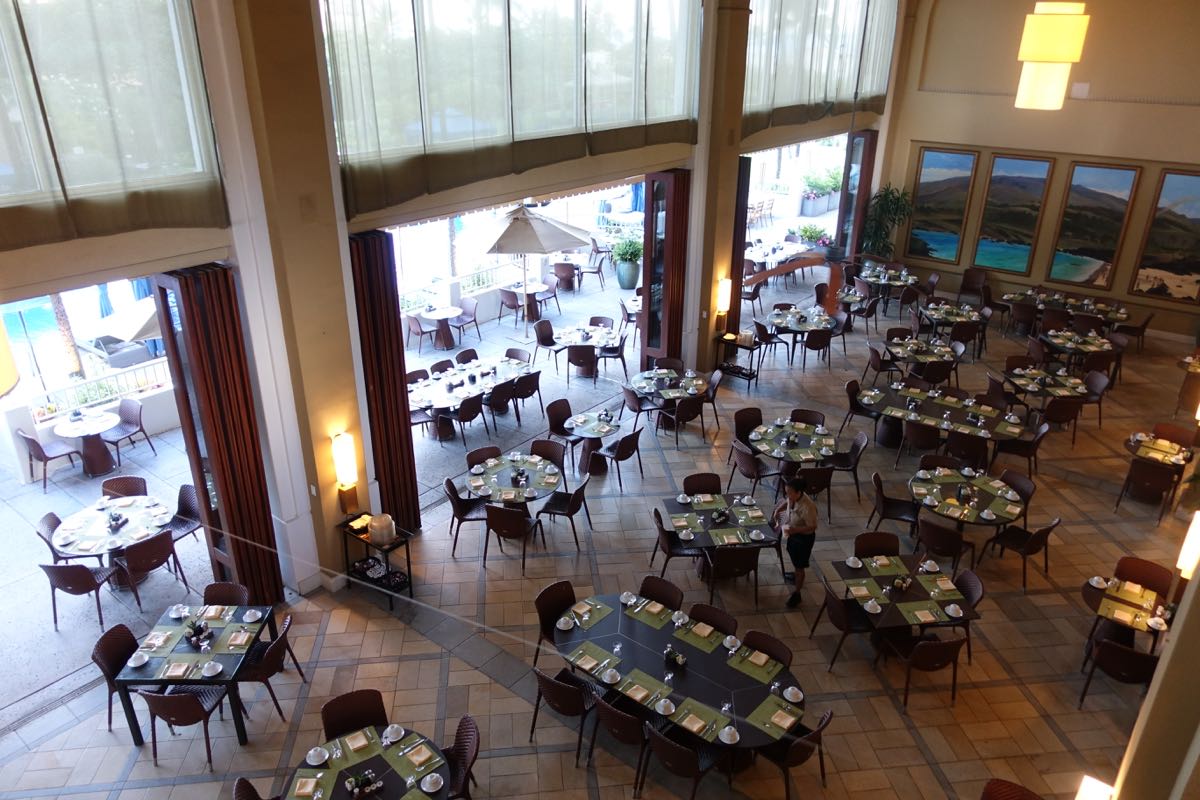 Fairmont Kea Lani breakfast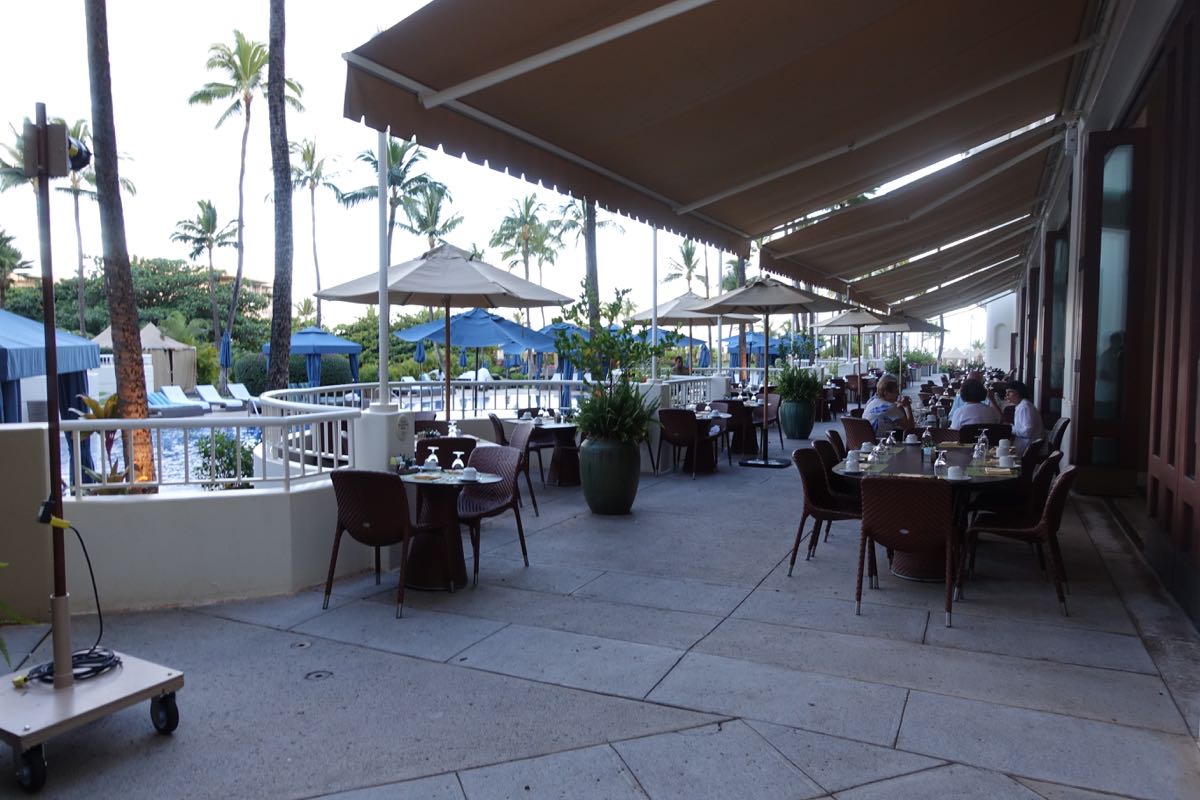 Fairmont Kea Lani breakfast
Our booking included the full buffet, but there was also an a la carte menu: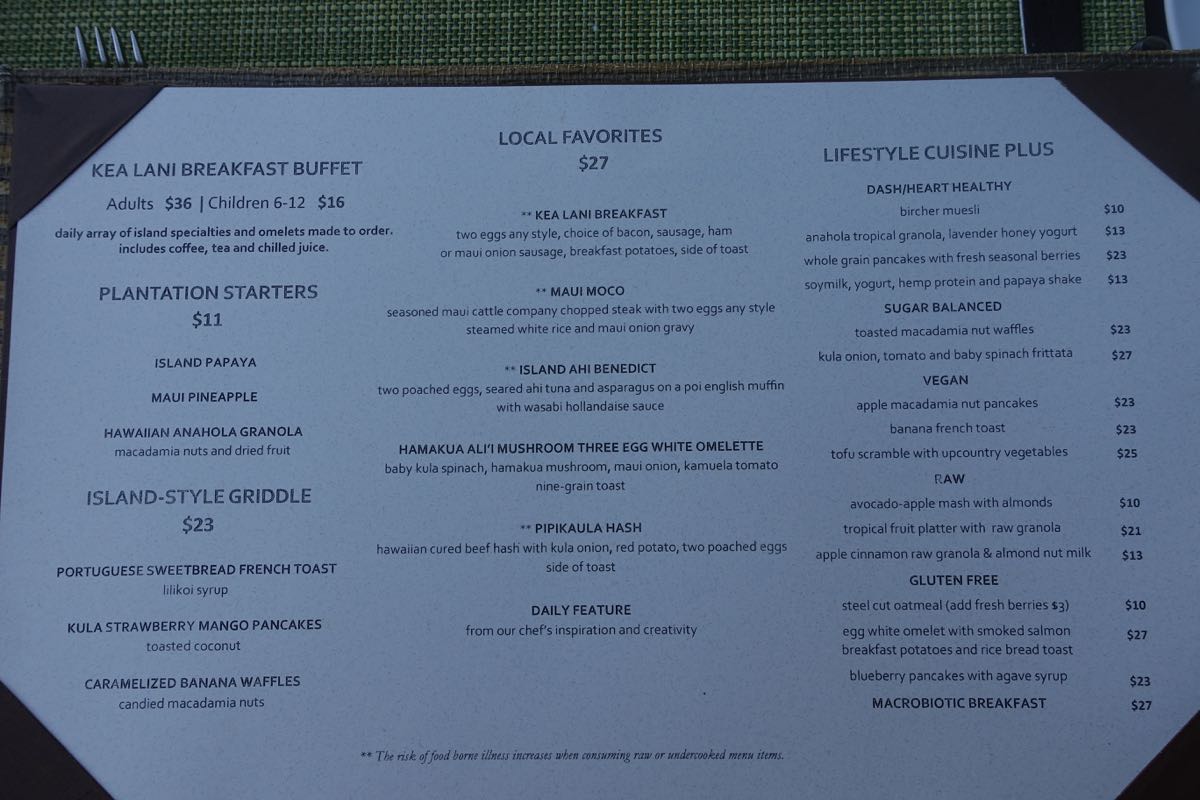 Fairmont Kea Lani breakfast
Unlike most buffet situations, coffee refills were plentiful. And the food was of a good quality as well.
My only real complaint is that the buffet area itself seemed to have been designed by someone who had never been through a buffet line before.
The entrance to the buffet was in the back corner of the restaurant, behind a set of double doors, which created the first bottleneck.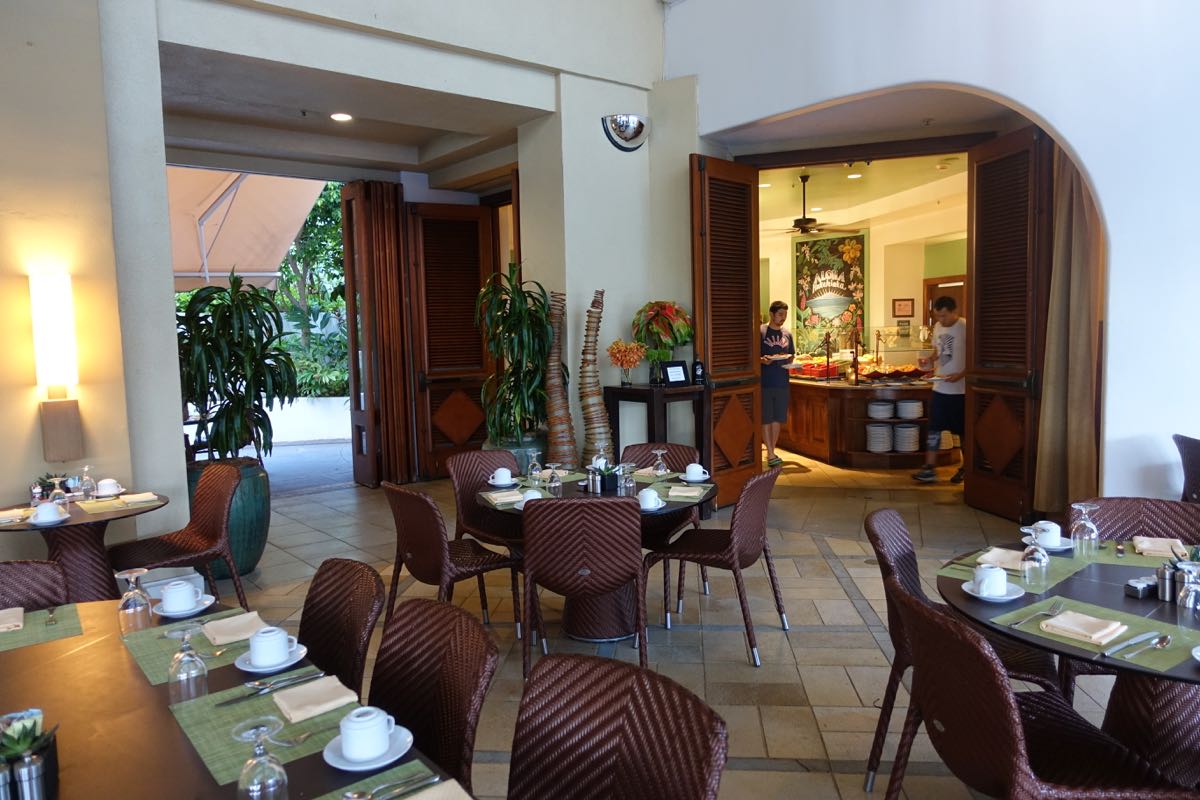 Fairmont Kea Lani breakfast
Once inside, sideboards encircled the room, including two islands, creating a narrow figure-eight. Add in the omelet station, people toasting pastries, and staff coming in and out of the kitchen, and it was very cramped, and extremely chaotic. Considering that the Kea Lani has 450 rooms, and most people are probably not traveling solo, the buffet area needed to be at least twice as big.
The food was tasty, though simple, with a solid mix of fresh fruits, meats, cheeses, yogurts, and pastries, along with Asian-inspired options like miso soup and congee. I have limited pictures, unfortunately, because it was so crowded.
Other dining options
Outside of breakfast each day, we only had one meal on property, at Ko, which advertises "plantation era-inspired cuisine."

Fairmont Kea Lani lounge
The menu was quite interesting, with a mixture of Hawaiian, Chinese, Portuguese, Korean, Filipino, and Japanese influences. We shared a quick sushi roll before heading to the airport, so I can't speak to all of those options, but the service was great, and the fish was fresh.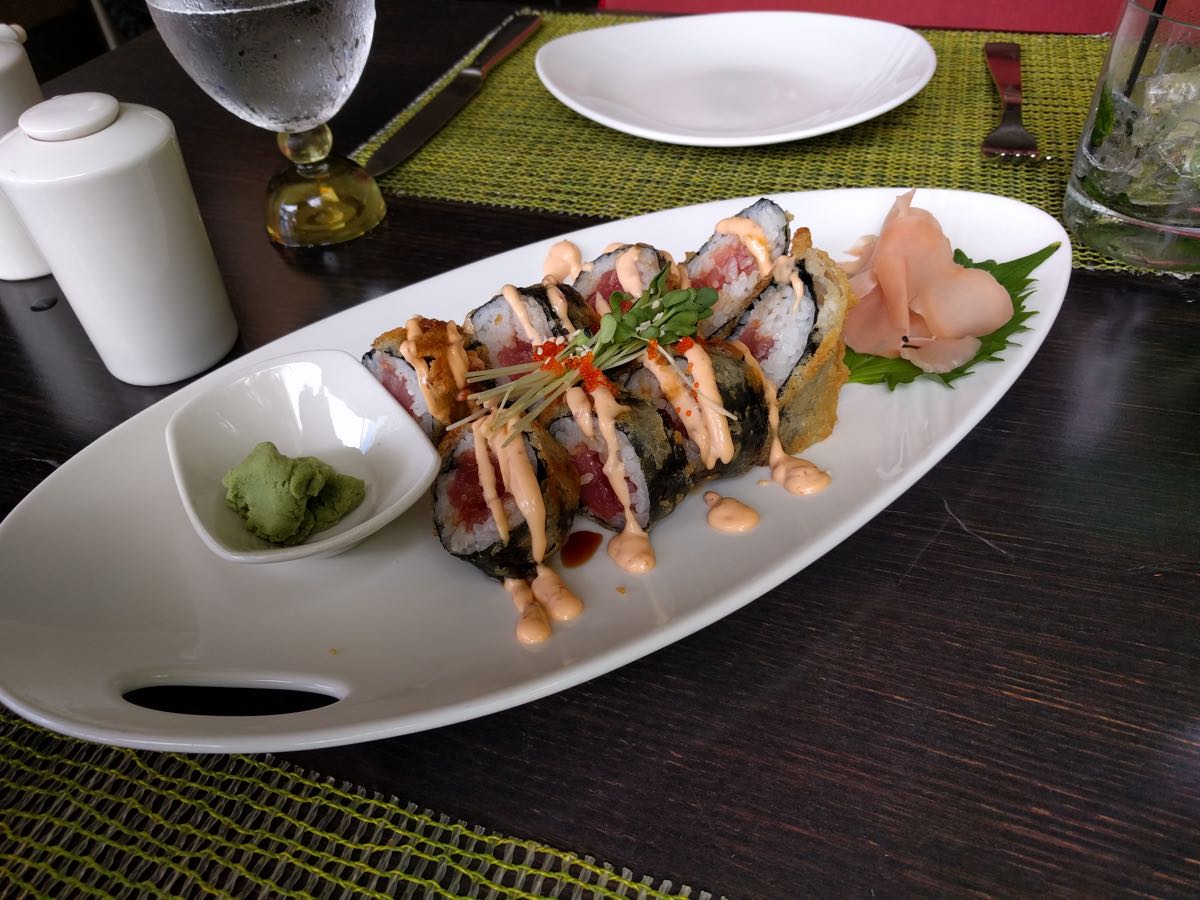 Fairmont Kea Lani sushi
The Fairmont Kea Lani also has an upscale seafood restaurant and a poolside casual restaurant. The nice thing about being on the Wailea side of the island is that you are close to great local spots in Kihei and surrounding areas, but if you don't want to leave the resort, the Fairmont makes that easy.
The resort also has a great coffee shop/bakery/mercantile. In addition to coffees and baked goods, they also had a full deli, and an assortment of grab and go items. So you could get a panini, or gelato, or some deli salads. The selection was really impressive, and the pricing was fair. Whole fruit, for example, was the same price as I'd paid at the Foodland in Kihei.
So again, lots of good options for people who don't want to leave the resort.
Pools and beaches
This is obviously why most people come to Hawaii, and the Fairmont didn't disappoint.
The adults-only pool was in the center of the resort (meaning splashy kid noises didn't carry to as many rooms), and was well-equipped with lounge chairs, towels, the works.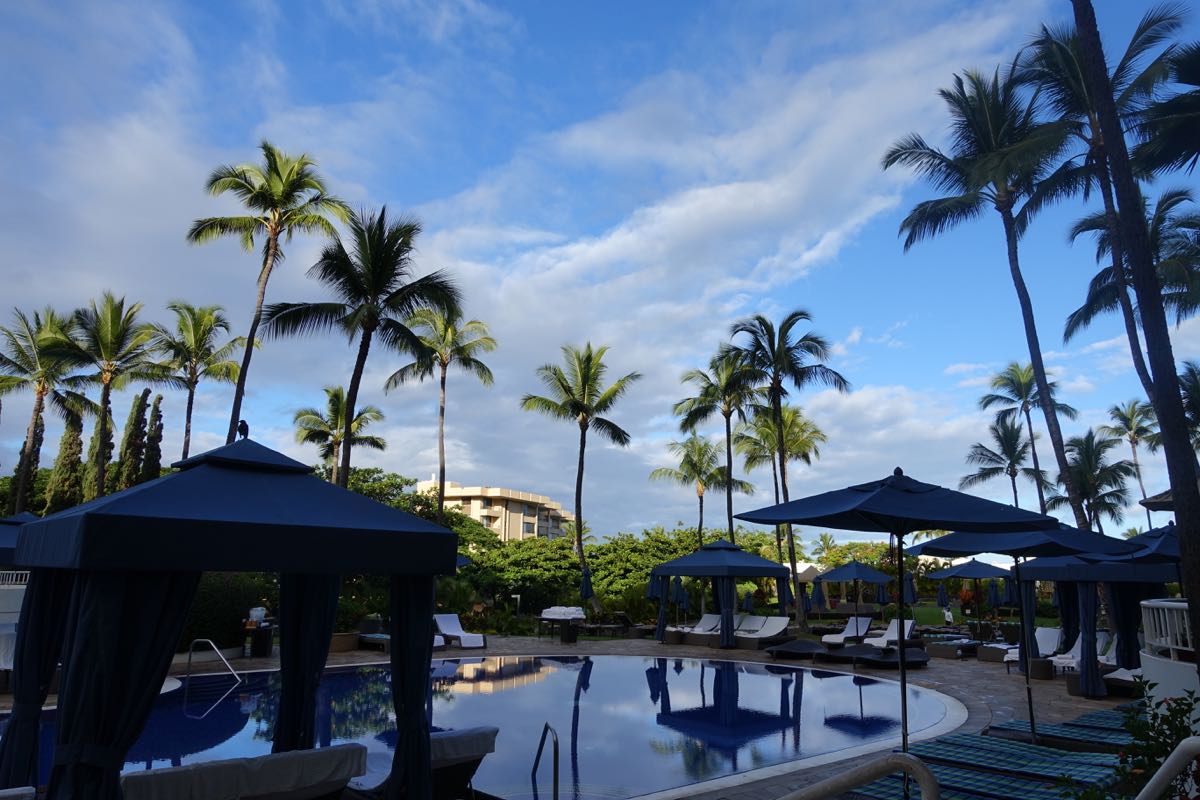 Fairmont Kea Lani adult pool
The Fairmont employees were great about setting up chairs and umbrellas, and managing the towel situation so nothing ever looked too messy.
The afternoons tended to be more crowded, in which case chairs would be added to the lawn areas.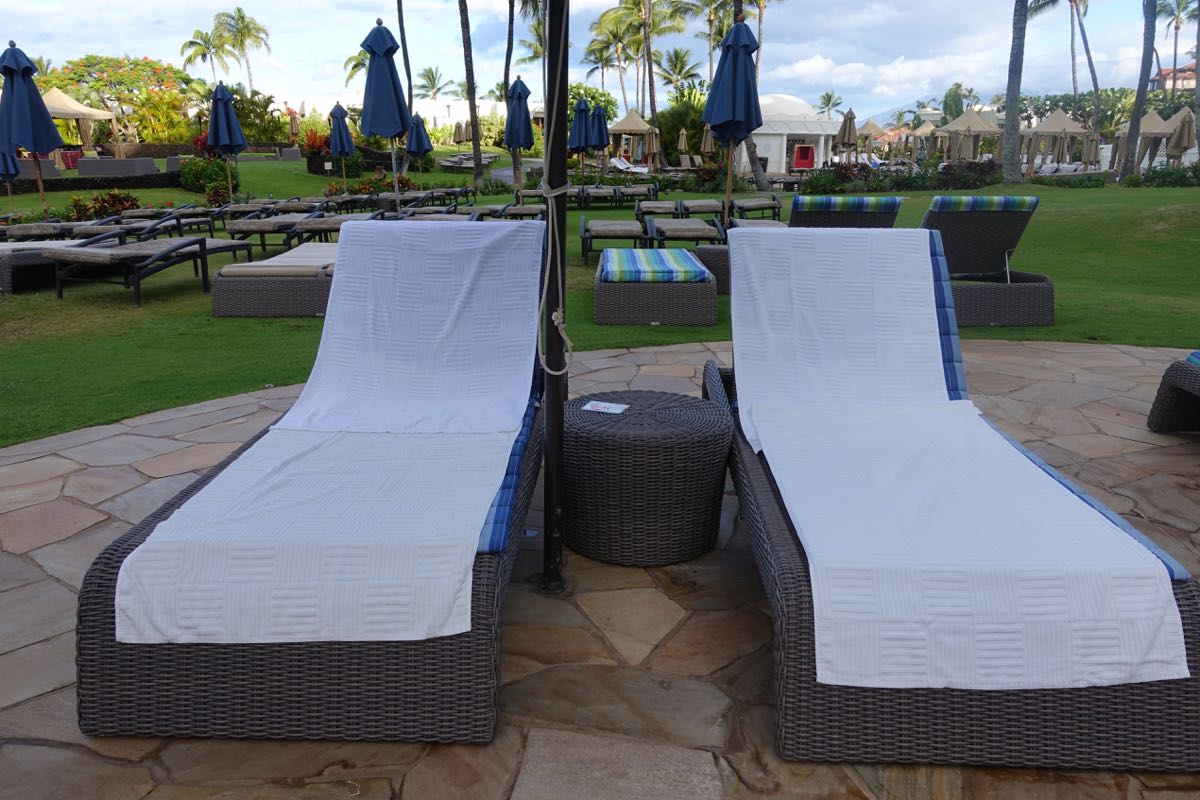 Fairmont Kea Lani lounge chairs
The "main" pool was massive (this is only a small portion of it), and had a lazy river, waterslide, a shallow splash pool for little ones, and even more cabanas.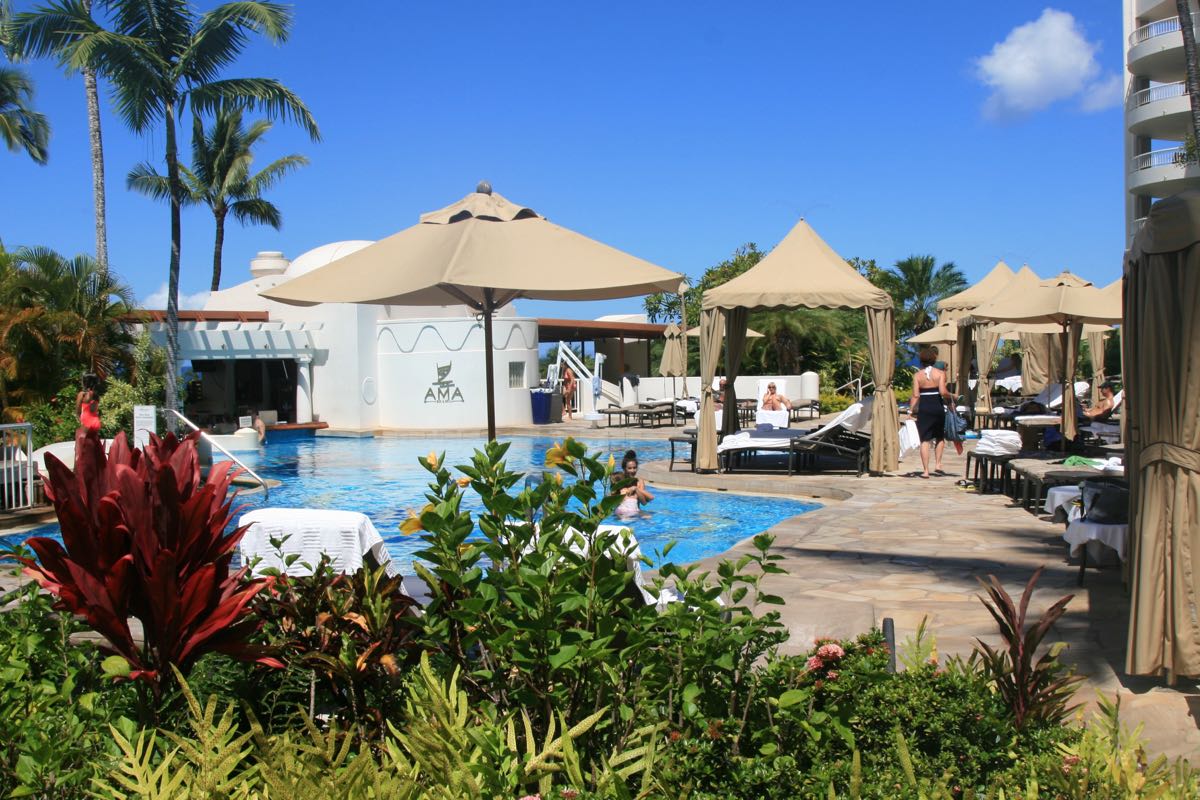 Fairmont Kea Lani main pool
The main pool also had the activities kiosk, where you could borrow or rent various pool toys, get extra towels, sign up for scuba lessons, etc. As usual, the staff was incredibly friendly.
There was a separate hut for beach activities, as the beach is a decent walk downhill from the pools. You stay on the resort the entire time, and everything is immaculately manicured, so it didn't feel like you were going that far, but the effect was that the beach itself felt incredibly private.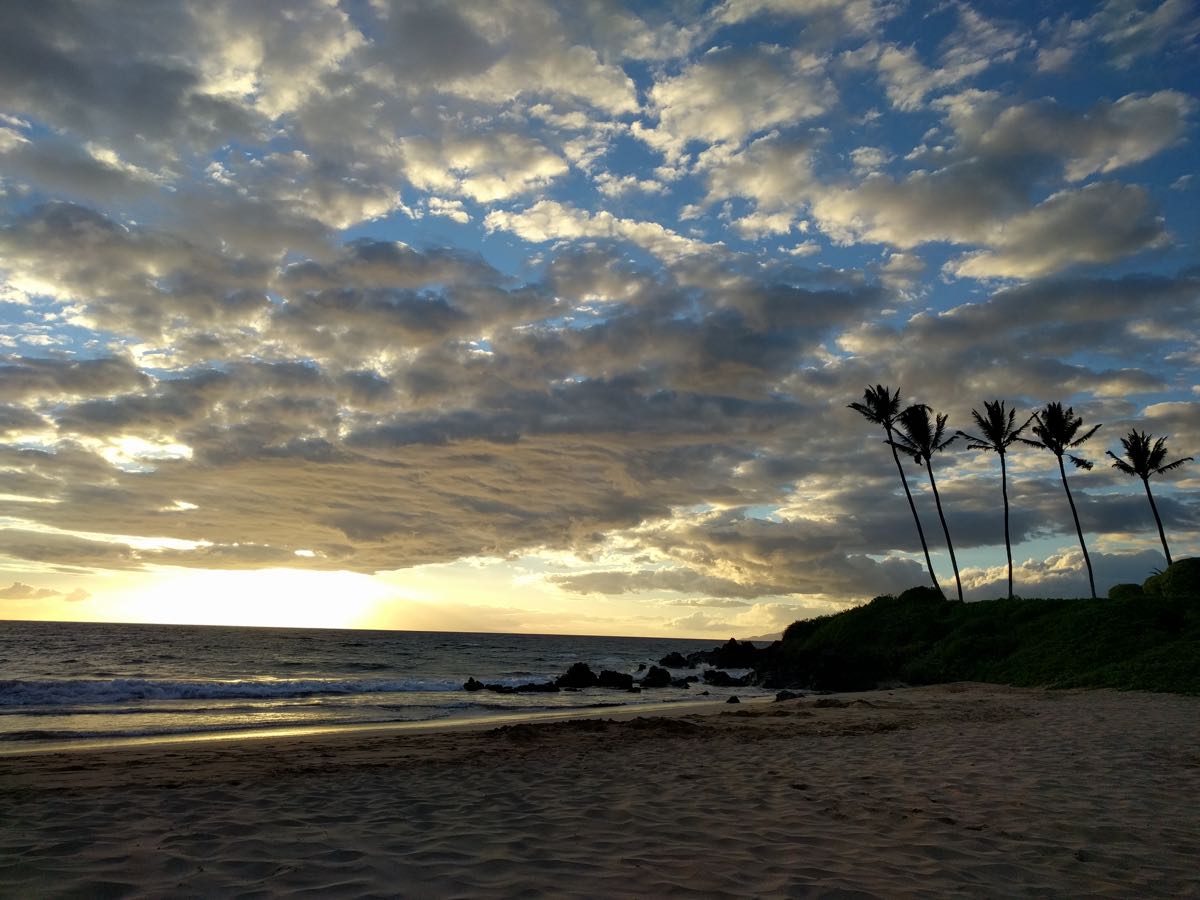 Fairmont Kea Lani beach
We didn't get to spend nearly enough time there, but the beach also played host to one of our favorite experiences at the Kea Lani: outrigger canoeing.
I have no pictures of this (because canoe trip), but it was wonderful, and something you should absolutely do if you're staying at the Kea Lani. There isn't an additional fee, but you do have to reserve in advance, as there are only a handful of trips each morning and the boat only holds four guests. We wanted a sunrise trip (and you do too, as that's when the water is calmest, and the crew sings the Hawaiian chants to bless the boat at sunrise, which is lovely), and when we booked our room the only sunrise boat trip was on our departure date.
I can't express enough how pleasant it was to paddle out on the morning seas. We had a bit of time to snorkel as well, and it was just a delightful experience. A must do, for sure.
Small touches
What I loved most about the Fairmont Kea Lani was the abundance of hospitality. The staff was universally friendly and helpful, and I very much felt like a guest rather than a profit center. I'm so accustomed to being charged for everything at resort properties (the Hyatt Regency Huntington Beach is a classic example of this), and it was dang refreshing to see a large resort offering those small touches that you typically only see at more boutique properties.
Like complimentary early-morning coffee:
Activities for kids and adults:
Complimentary sunscreen and aloe by the pools, and portable device chargers upon request: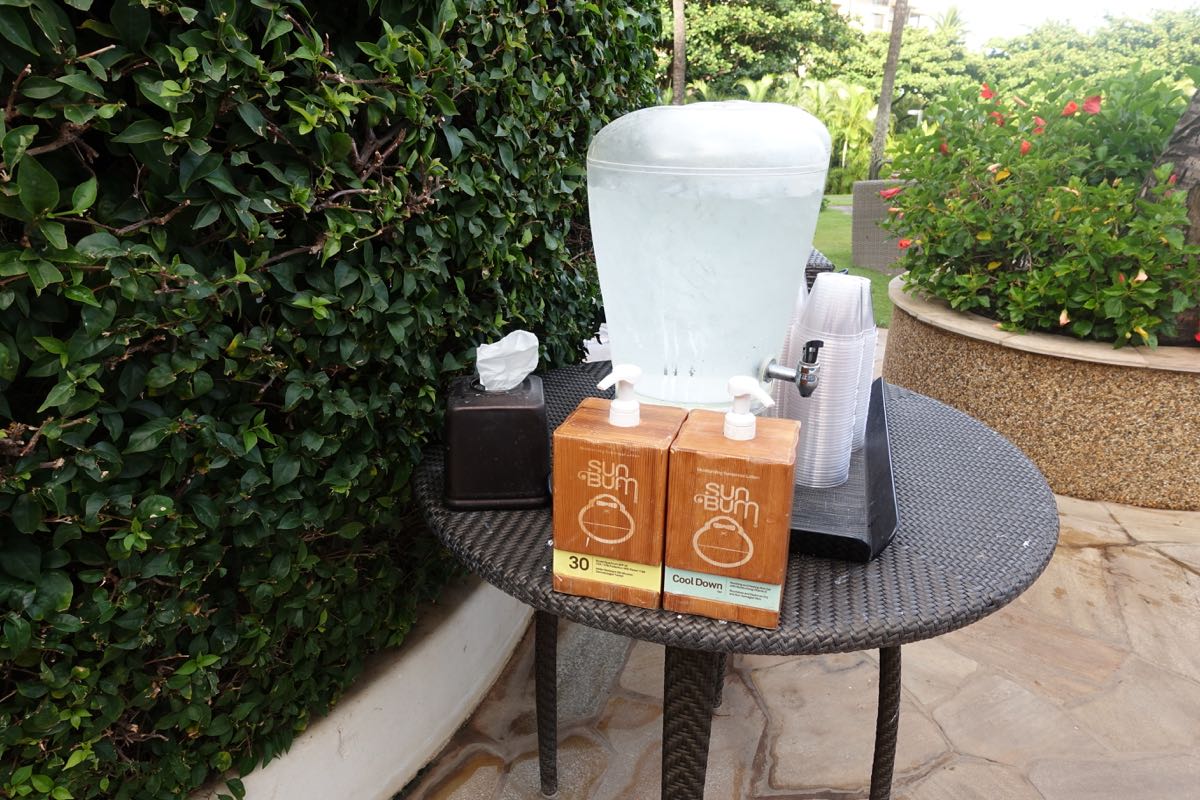 Fairmont Kea Lani sunscreen station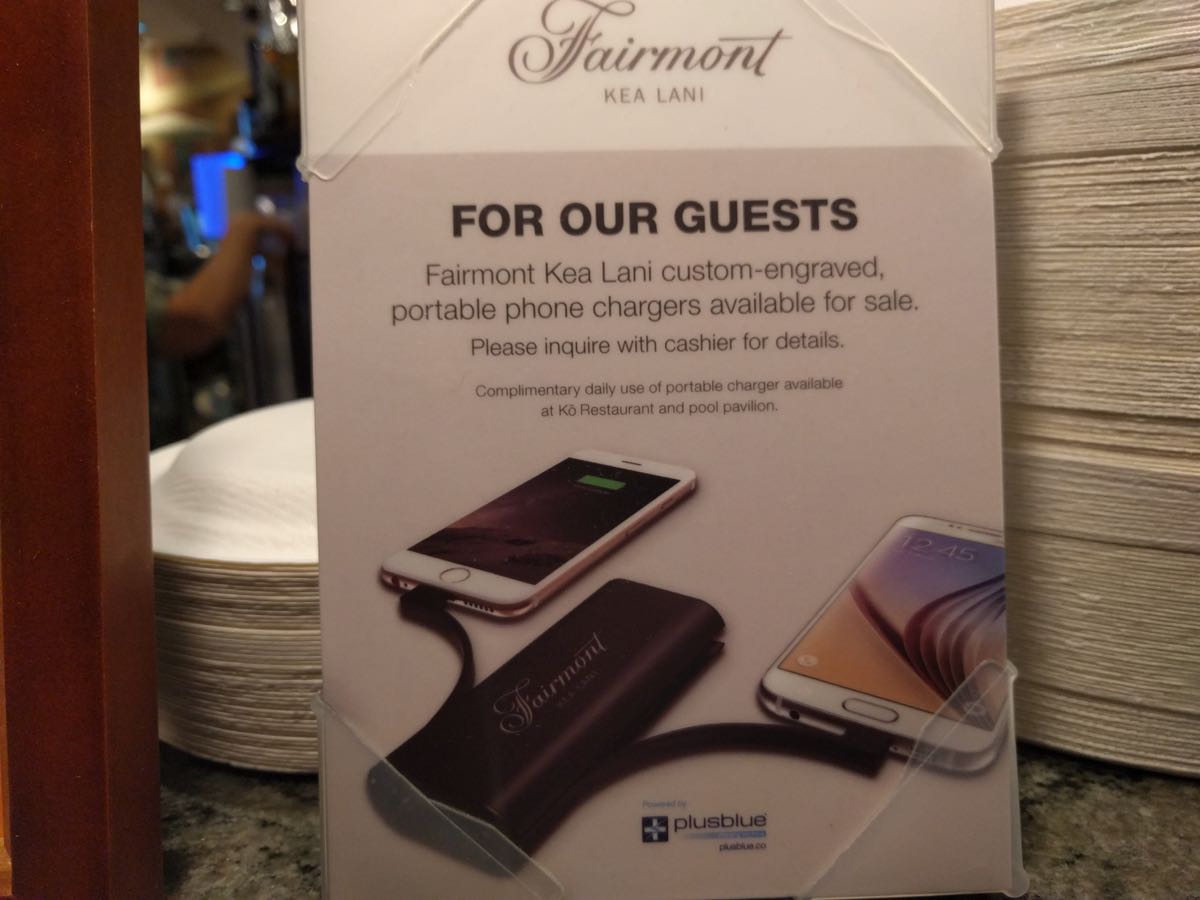 Fairmont Kea Lani device chargers
The resort also offered a complimentary shuttle within Wailea, and internet access for everyone, along with water and fresh fruit in the gym and spa. I don't like resort fees, but this resort at least provided a slew of benefits.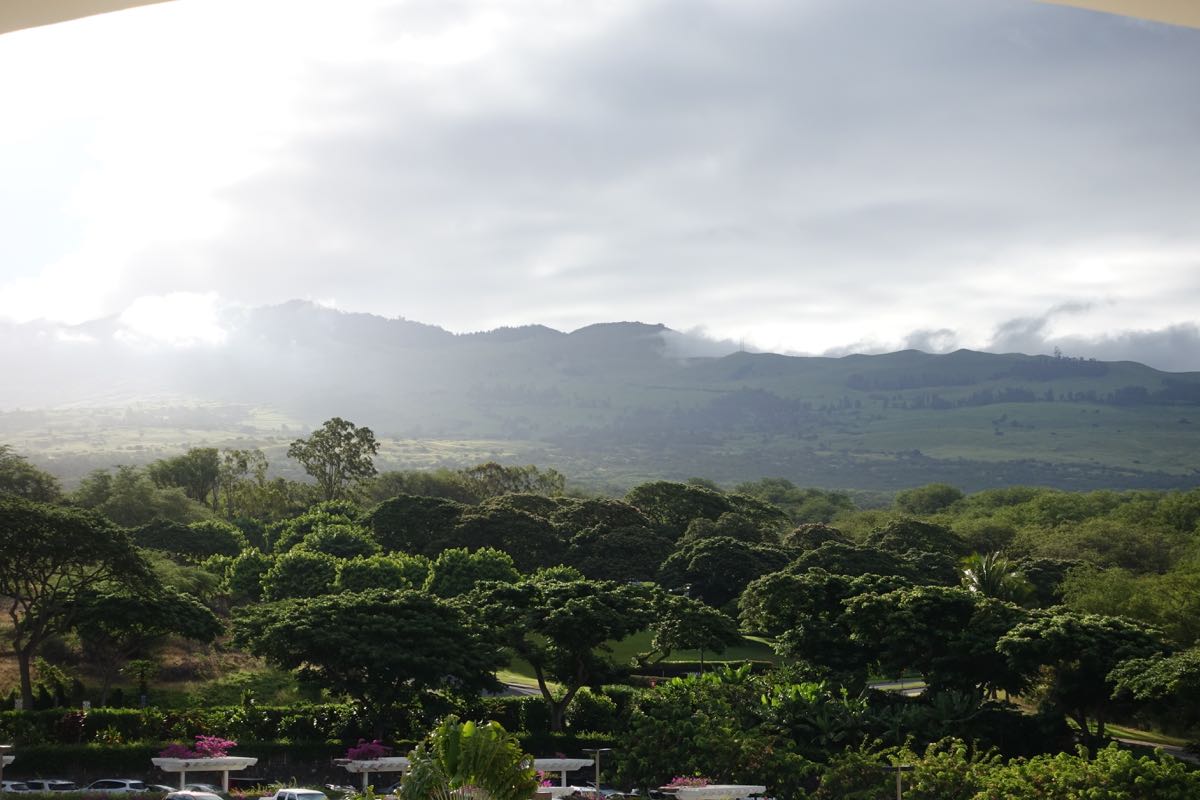 Fairmont Kea Lani mountain view
Bottom line
All things considered, I had a wonderful time here. Had we not been so distracted by work and family, I think we would have enjoyed spending more time by the beach, and taking greater advantage of the resort amenities.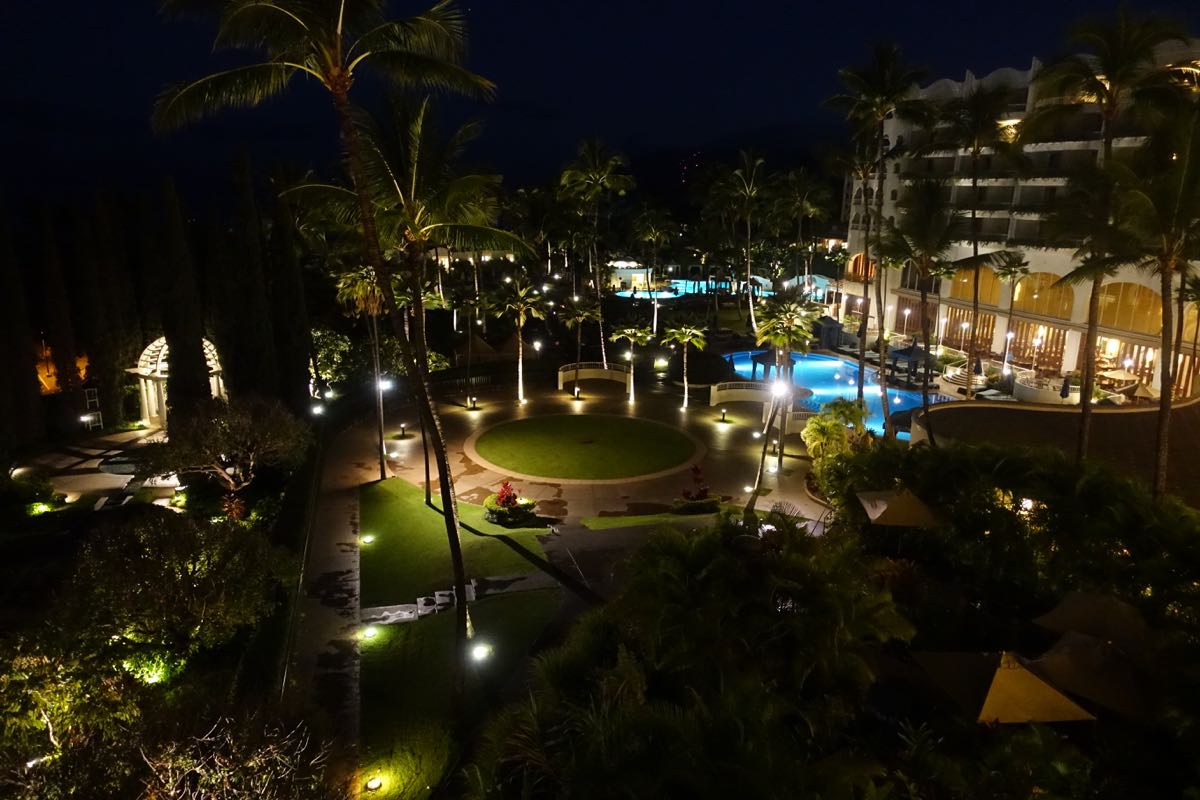 Fairmont Kea Lani at night
That being said, this is still a pretty large property for my specific taste, so I don't know that I'll be back. Given the prices of comparable resorts on Maui, however, I found the room rate to be very reasonable, especially as you're guaranteed a suite.
So if you're looking for a larger room at a full-service resort, particularly for a non-points stay, the Fairmont Kea Lani is a solid option.
Any other resort recommendations for Maui?