I'm soon headed to Israel with my mom, so am just in the process of finalizing my flights. I had already booked EL AL 787 business class from Newark to Tel Aviv, and then EL AL 777 first class from Tel Aviv to London. However, I still needed to get back from London to the US. My goal was to review a new product for the transatlantic flight, and frankly at this point there are a fairly limited number of transatlantic premium cabin products I haven't tried.
So I decided to book Aer Lingus business class from Dublin to New York, and in this post I wanted to share what that process was like, because one aspect of it surprised me.
A few weeks ago I wrote about the general value of redeeming British Airways Avios on Aer Lingus. Back in the day this was a real sweet spot redemption, as you could fly from Boston to Dublin one-way for 12,500 Avios in economy or 25,000 Avios in business class. However, between an award chart devaluation and Aer Lingus deciding to arbitrarily change the geography of the two cities (they have a distance based award chart, and the two cities are less than 3,000 miles apart, but they're now charging as if they're 3,000+ miles apart), the award is now significantly more expensive.
Since I'm traveling in November, Aer Lingus had pretty good award availability to the US east coast, including to Boston, New York, Orlando, and Washington. Here's what my booking experience was like:
Finding Aer Lingus business class award availability
Rather annoyingly, British Airways doesn't show Aer Lingus award space on their website, meaning you have to search availability elsewhere and then book by phone.
There are two ways to search availability. The most accurate and direct way to search Aer Lingus business class award availability is through ExpertFlyer. Aer Lingus uses "U" for business class awards, so if you see any of those seats available, they should be bookable with British Airways.

Alternatively, if you don't want to use ExpertFlyer you can use united.com. They should show the same space. In theory there's the benefit of being able to use the calendar search feature and to look up availability month-by-month. However, for routes where United and Aer Lingus overlap, you'll see availability on both airlines, so it's less useful.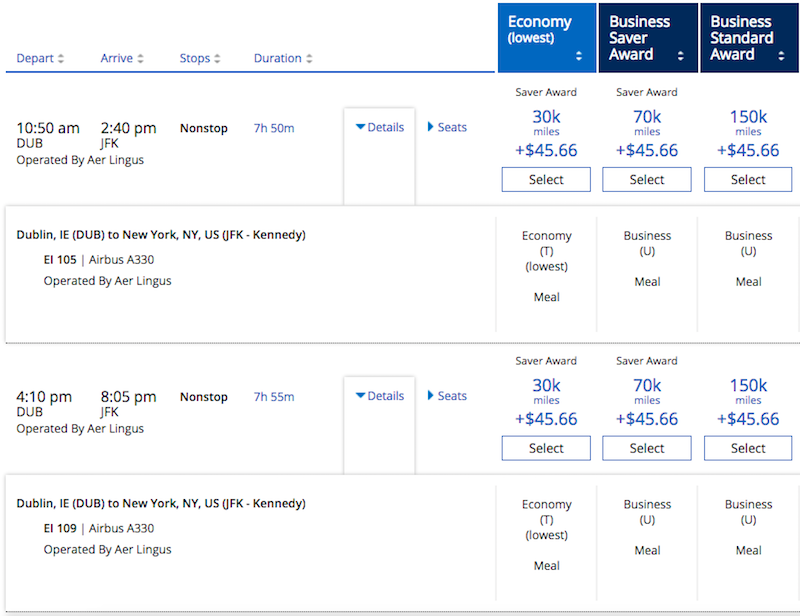 So I found the flight I wanted, and then phoned up British Airways Executive Club.
Booking Aer Lingus business class awards with British Airways Avios
My entire phone call to British Airways to book this seat took six minutes. I was shocked. British Airways is one of the few airlines in the world where I hope to get their outsourced call center. Their Indian call center is phenomenal, and I'll take them over their "local" call center any day. Let me be clear here — when an airline has a bad outsourced call center, I think it's entirely their fault for not providing proper training.
However, British Airways did a damn good job training these employees. They're competent, friendly, and efficient. The agent found the space within a minute, offered to waive the booking fee since it couldn't be booked online, offered me the Aer Lingus confirmation number proactively, etc.
But there was one other thing that surprised me about the experience. I was expecting to pay 60,000 Avios for my one-way redemption, since I assumed all Executive Club redemptions on Aer Lingus had peak pricing:
Aer Lingus flights covering a distance of 3,001-4,000 miles cost 20,000 Avios in economy, or 60,000 Avios in business class (Aer Lingus flights to/from Boston, Chicago, Hartford, New York, Toronto, and Washington)
Aer Lingus flights covering a distance of 4,001-5,500 miles cost 25,000 Avios in economy, or 75,000 Avios in business class (Aer Lingus flights to/from Los Angeles, Miami, Orlando, and San Francisco)
However, I was charged 50,000 Avios, which represents the off-peak pricing. I knew Aer Lingus had off-peak pricing, but I thought that only applied when booking through their own program, and not when booking through British Airways. After all, British Airways' website doesn't even make reference to off-peak dates on Aer Lingus. Did I just get lucky, or…?
Of course the best part of redemptions on Aer Lingus is the lack of carrier imposed surcharges. If I had made the same booking on British Airways, I would have paid $500+ in cash. The same ticket on Aer Lingus cost a total of $86 in taxes and fees.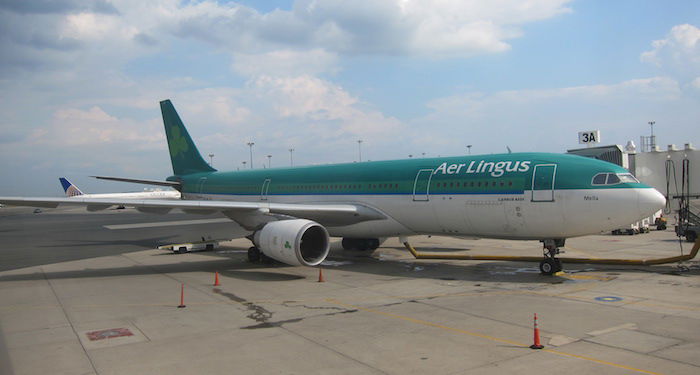 Bottom line
I can't wait to try Aer Lingus' new business class, especially as I managed to reserve one of the "throne" seats. At 50,000 Avios one-way (36,000 Amex Membership Rewards points, since I transferred them over when there was a 40% bonus), I'd consider that to be an excellent deal as well.
Is the off-peak pricing for Aer Lingus awards when redeeming British Airways Avios normal, or did I just get lucky?