Well, it looks like you can add Kenya Airways to the list of airlines on the verge of collapse. They're in good company, between airberlin, Alitalia, and South African Airways. I've known for a while that Kenya Airways is in bad shape, but I didn't realize just how bad their current situation was.
Kenya's Standard Digital has the story of how overseas banks have apparently carried out inspections of Kenya Airways' planes in preparation for repossessing them, should new financing not come through for the airline. Per the story:
In a civil application filed at the Supreme Court of Kenya last month, KQ wants three banks opposed to the debt restructuring process to be compelled to change their mind because it is 'just and necessary to safeguard the rights and existence' of the airline.

"Whilst these lenders are supportive of the company's restructuring proposal, these secured lenders have made preliminary preparations such as airline inspections to repossess such aircraft should the implementation of the company's restructuring be delayed" KQ claimed in the court papers.
Per Kenya Airways' finance director:
"I confirm that the failure to determine this application and to set aside the orders granted to the first applicant (Equity Bank) will mean that the airline will in all likelihood imminently cease to operate as the financial accommodation it has been receiving from its creditors was on the basis of the restructuring being completed by end of August 2017."
The airline also claims that it faces "imminent collapse:"
KQ adds that it faces imminent collapse, with catastrophic consequences to the economy including job losses, creation of an air transportation crisis, loss of Kenya's status as regional transportation hub, and systemic disruption in the banking sector.
Unfortunately Kenya has faced some stability issues over the years (terrorism, ebola in the region, etc.), and while Ethiopian Airlines has been growing, Kenya Airways has been shrinking, and also performing worse financially. The airline presently has debt of Sh142.34 billion, which is equivalent to roughly 1.4 billion USD.
Several years ago Kenya Airways was planning a huge global expansion. For example, in 2011 they published a 10 year plan which saw them more than doubling their destinations and flying to six continents by 2021. Here's what they expected their routemap to look like: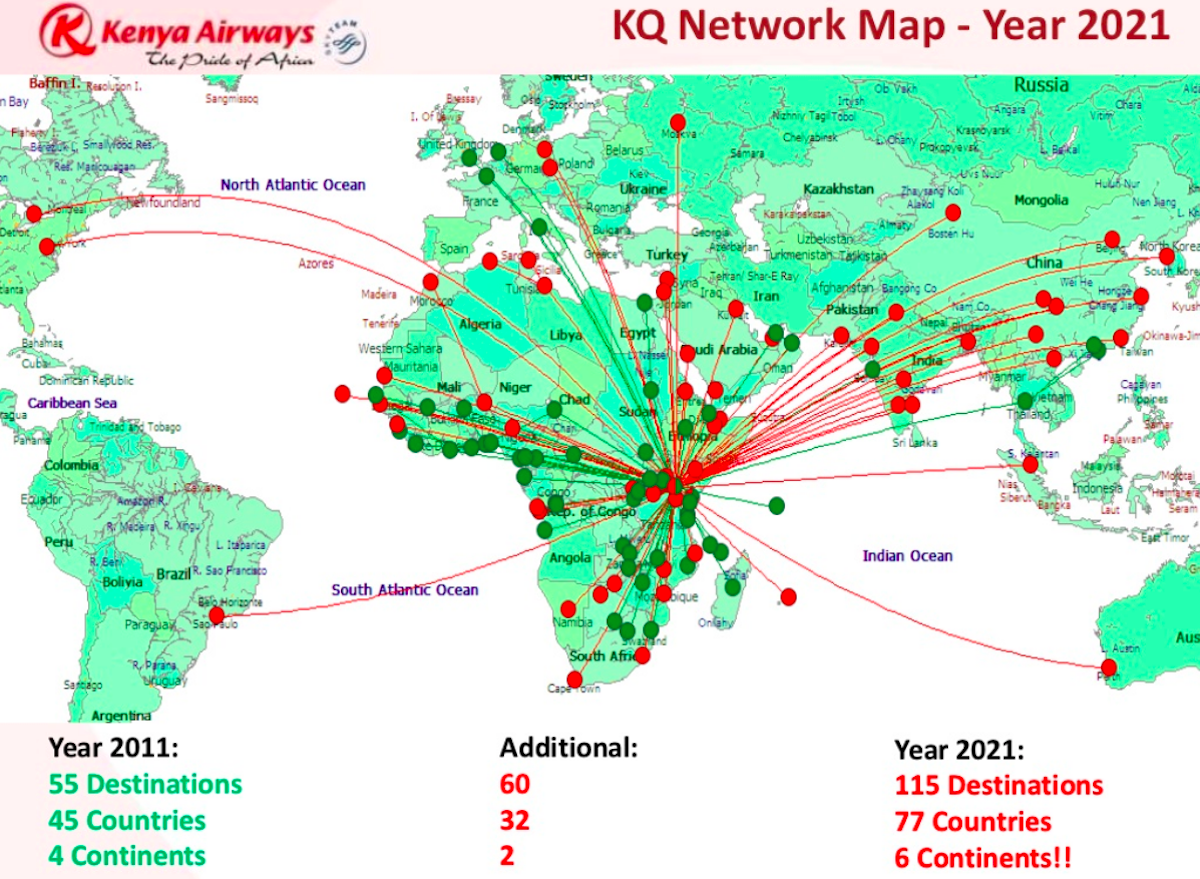 Instead the airline has been leasing planes to other airlines (including Oman Air), cutting routes, and is on the verge of going out of business.
At the same time Kenya Airways is apparently planning on launching flights between Nairobi and New York. The DOT just granted them permission to fly to the US. As if they weren't losing enough money already…