Introduction: Emirates, Etihad, Qatar Economy Class Showdown
Review: Zurich Airport Observation Deck
Review: Emirates A380 And 777-300ER Economy Class Zurich To Dubai To Delhi
The Delhi Airport Ground Experience
Review: Air India 747-400 First Class Delhi To Chennai
Review: Jet Airways 737-800 Economy Class Chennai To Mumbai
Review: Qatar Airways 777-300ER Economy Class Mumbai To Doha To Beirut
Transiting Beirut Airport On Separate Tickets
Review: Etihad Airways 787-9 And A320 Economy Class Beirut To Abu Dhabi To Muscat
Review: Premier Inn Abu Dhabi International Airport
Emirates Vs. Etihad Vs. Qatar – Who Has The Best Economy Class?
---
Zurich to Dubai
Emirates EK88
Zurich (ZRH) – Dubai (DXB)
Depart: 3:25PM
Arrive: 11:45PM
Duration: 6hr20mins
Aircraft: Airbus A380
Seat: 45K (Economy Class)
I took two Emirates flights to start off my comparison between the big three Middle Eastern carriers. The journey started at 9:00am in Zurich after flying SAS from Gothenburg via Copenhagen. Since my flight left at 3:25pm, I spent most of my connecting time on the observation deck, which I wrote about earlier. I eventually made my way through security, took the train to the E Gates and settled down at gate 59, where first and business class board.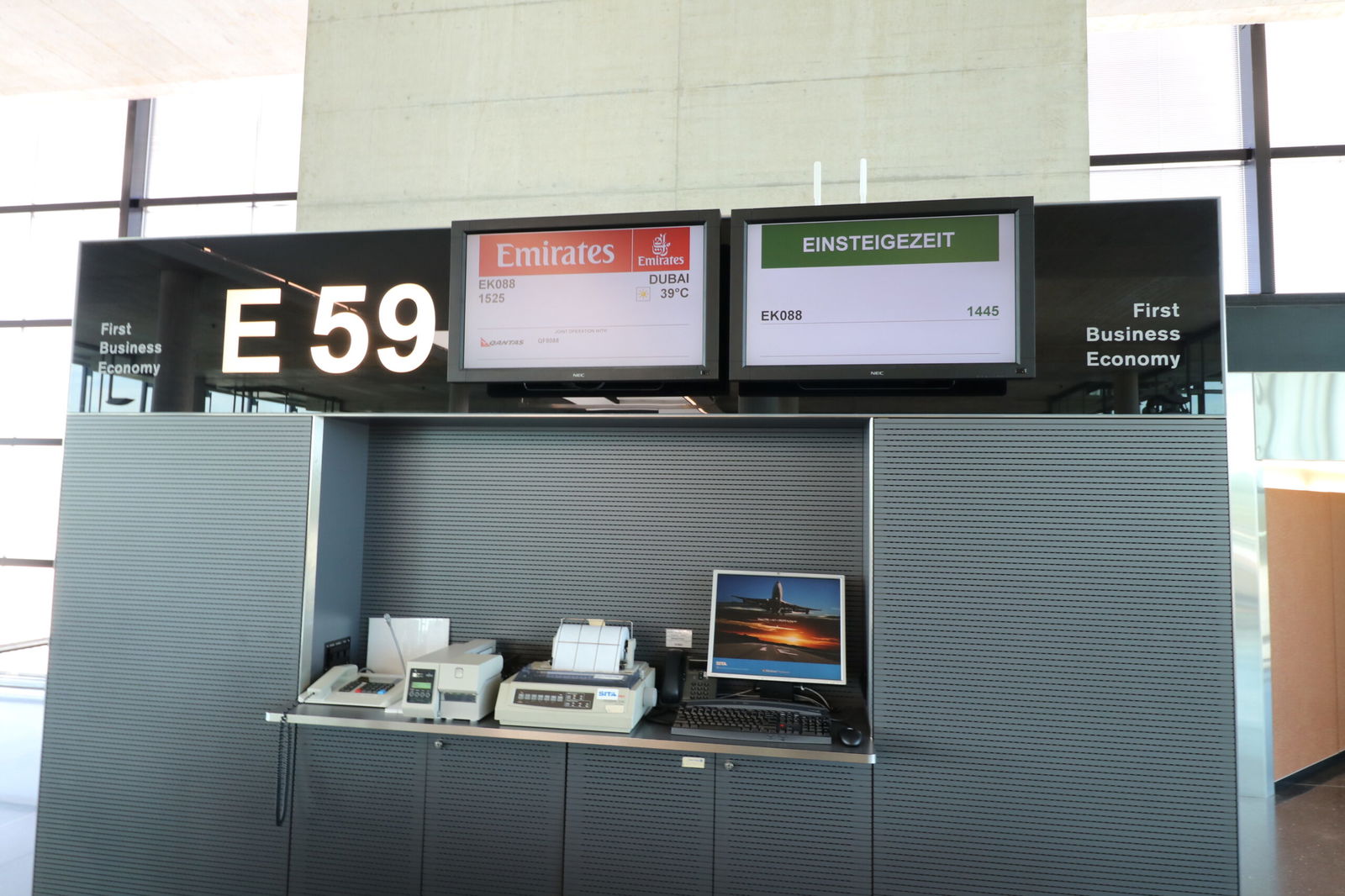 Economy boarding was downstairs at gate 67, but the views and tranquility on the second floor were far superior. I tried to soak in every ounce of luxury I could before my trip. 😉
Once I got downstairs, the scene was quite chaotic. People were queuing already two hours before departure. Boarding an A380 is always crazy, so brace yourself if you're flying on the lower deck.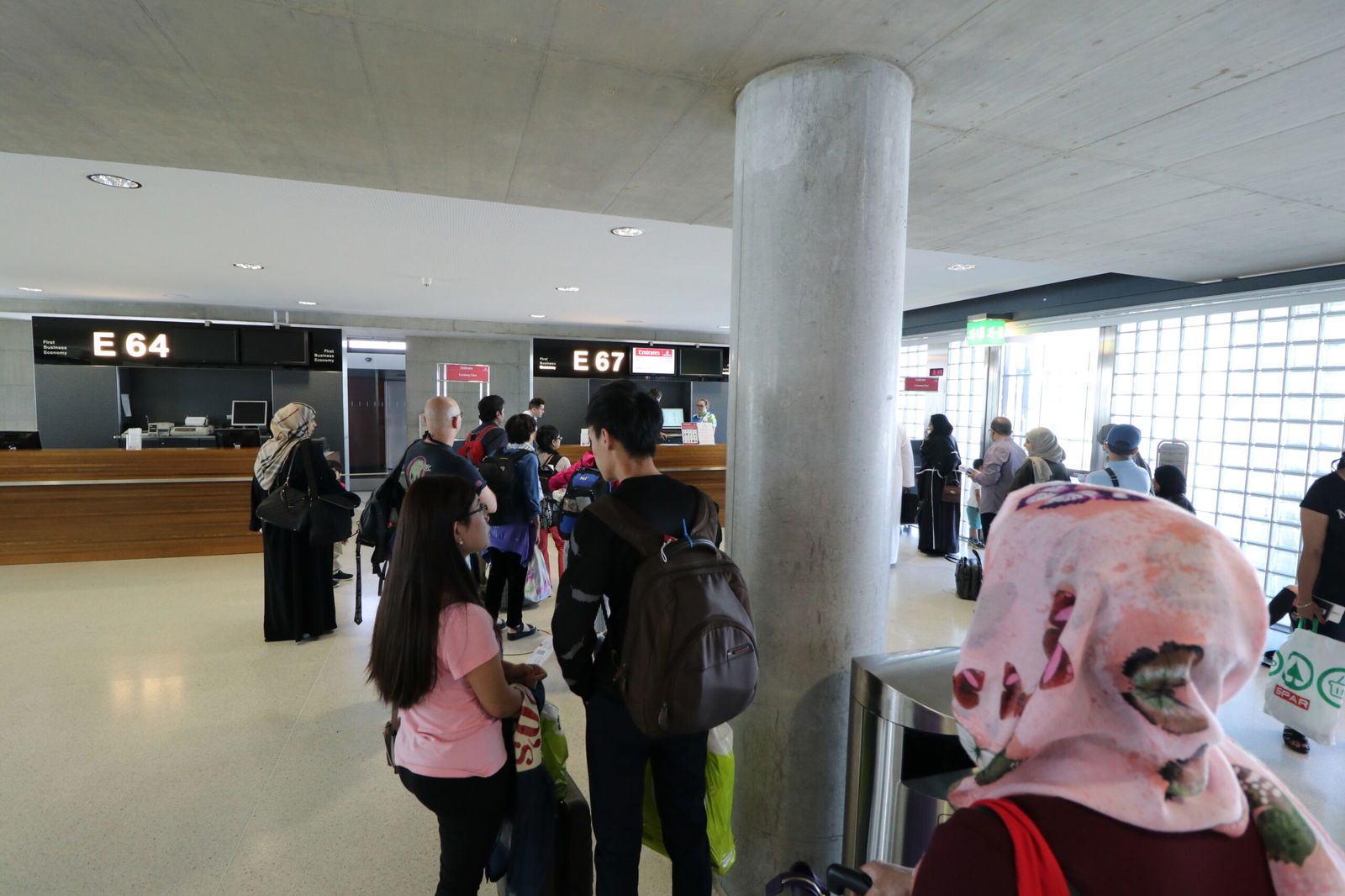 Before check-in I'd spoken to the Emirates employee at their ticketing desk about printing my Indian visa. She rather rudely told me she would bring it to the gate. Surprise, surprise — she (and my visa) wasn't there.
Now that Emirates charges for seat assignments, it's quite exciting to see where you'll get auto-assigned to sit. I was thrilled to discover they had seated me in a window seat next to the stairs in the forward cabin. This is not only the quietest part of the aircraft, but also the most private.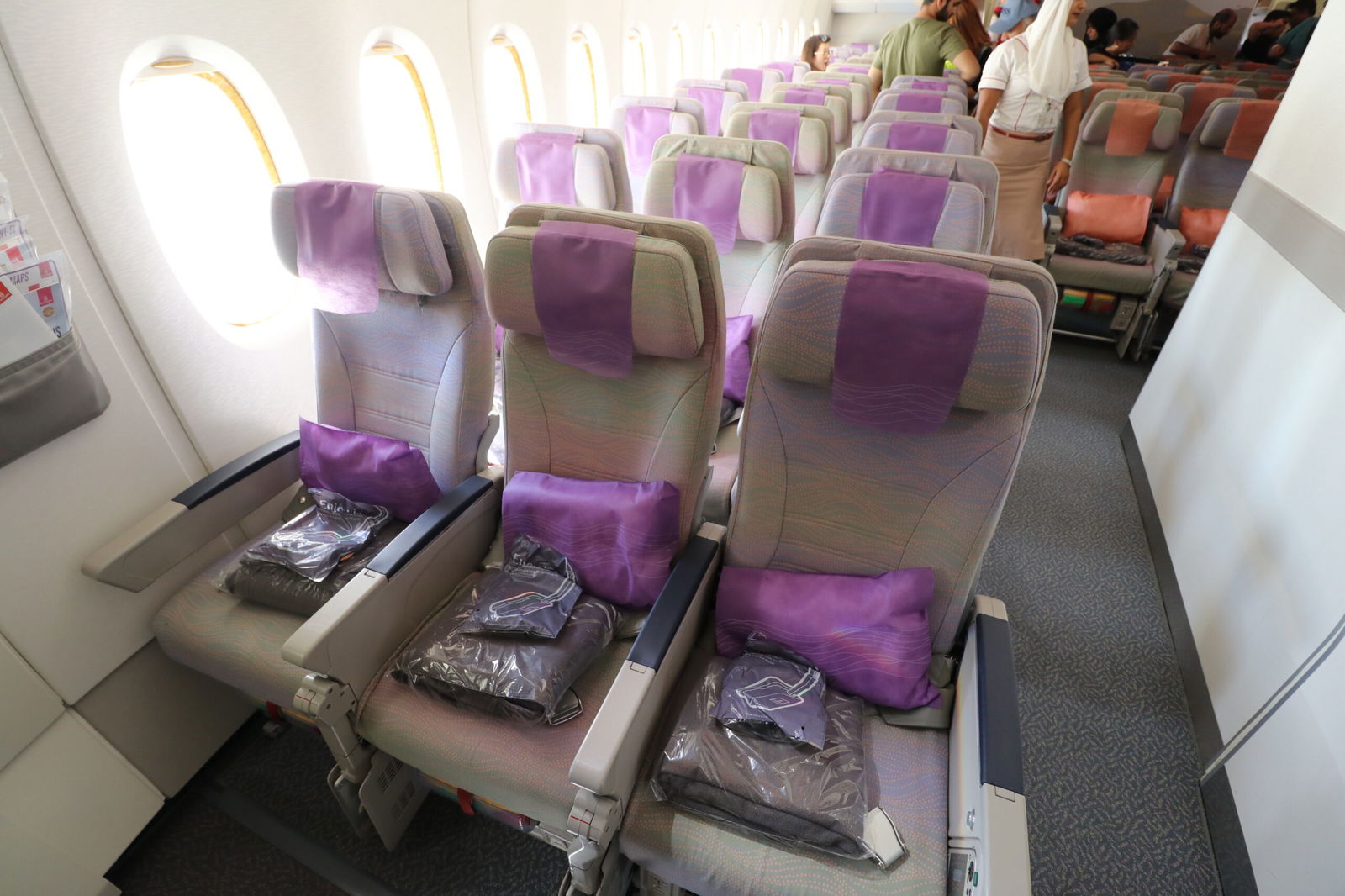 As I got onboard, I settled into seat 45K. The cabin looks stylish and modern. I especially like the faux wood around the windows, which adds a unique Emirates touch.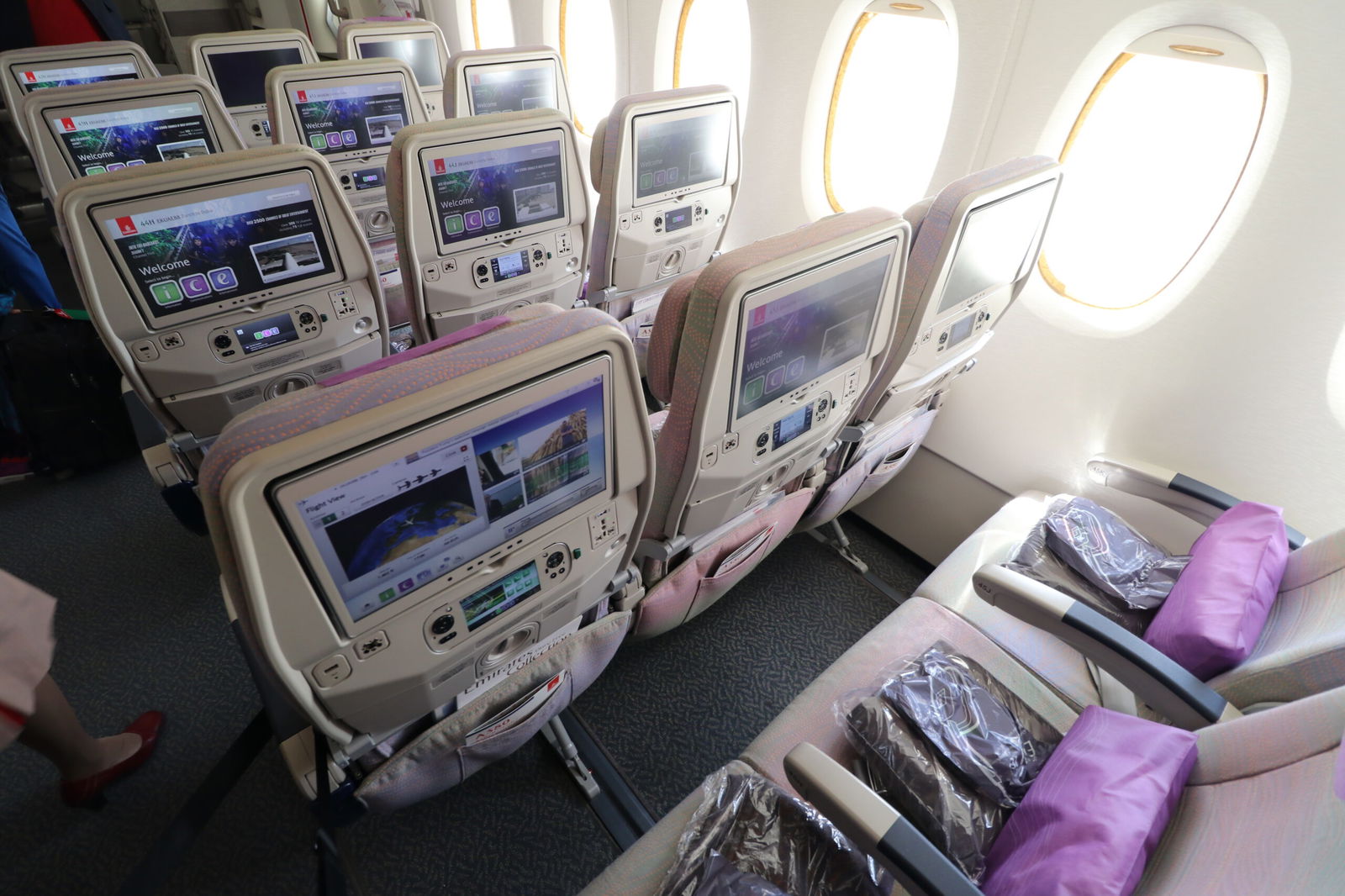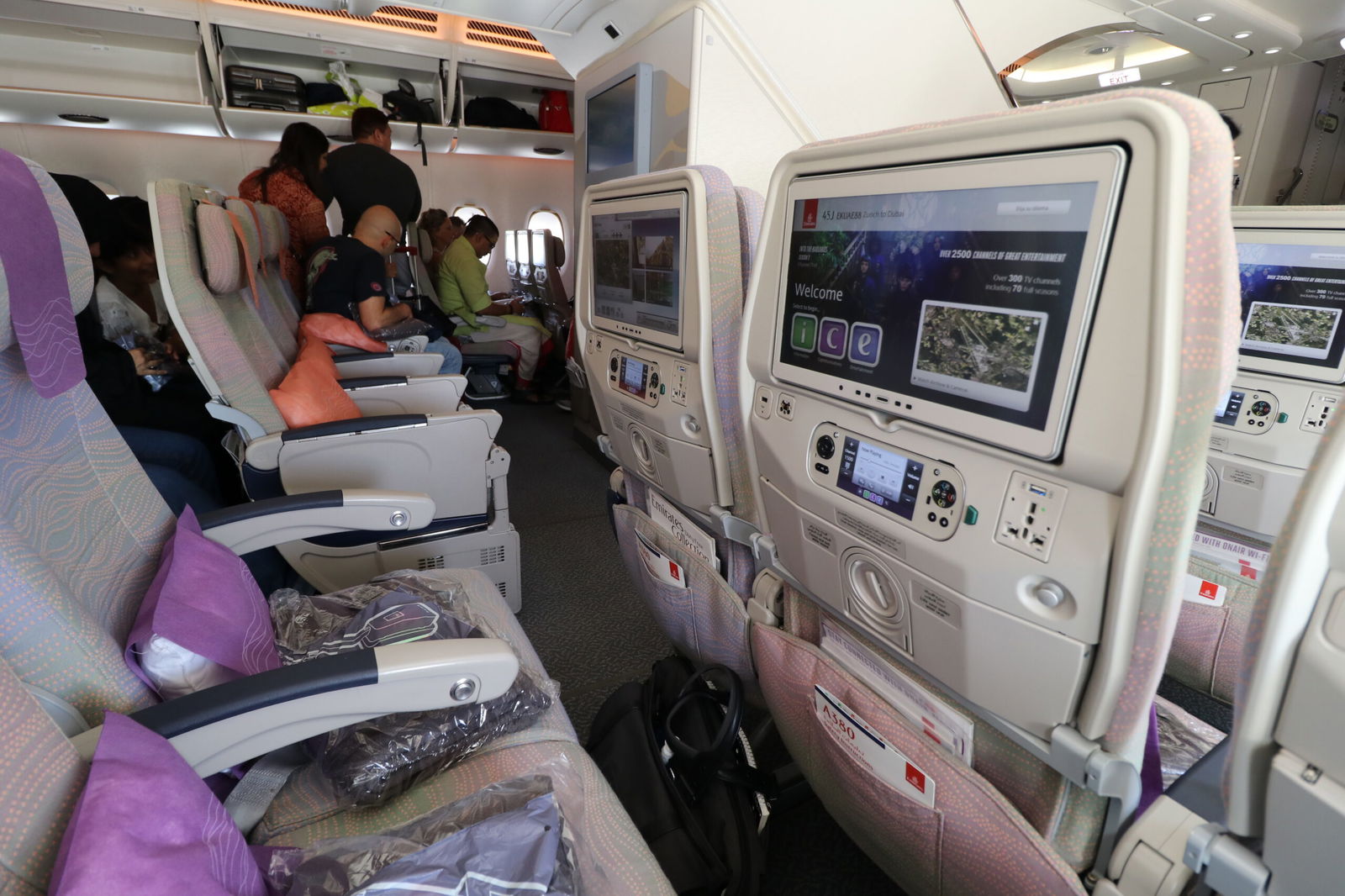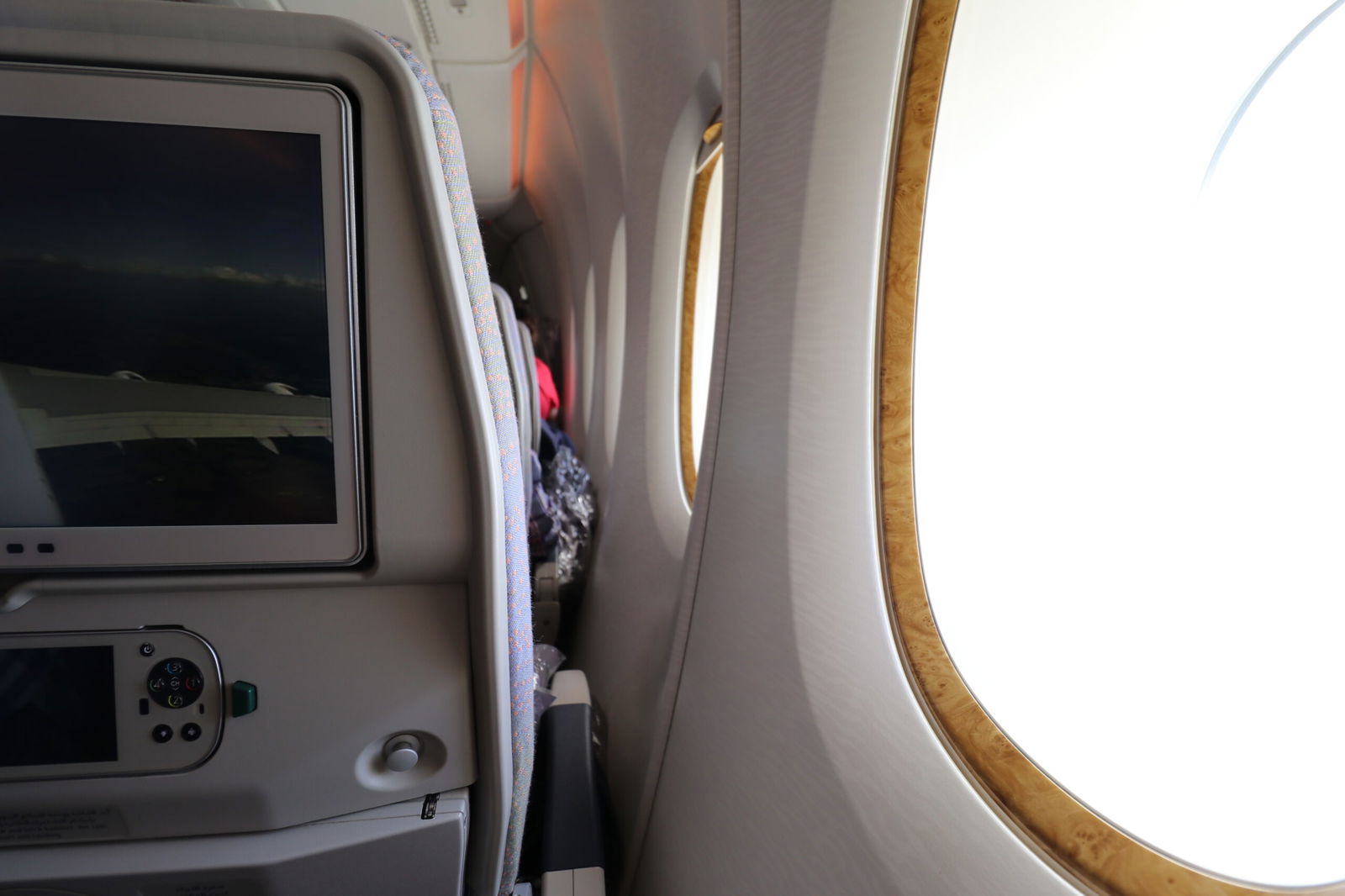 The A380 achieves a level of spaciousness that is simply unparalleled, and sitting crammed in an economy seat isn't nearly as bad when the cabin has such an airy feel.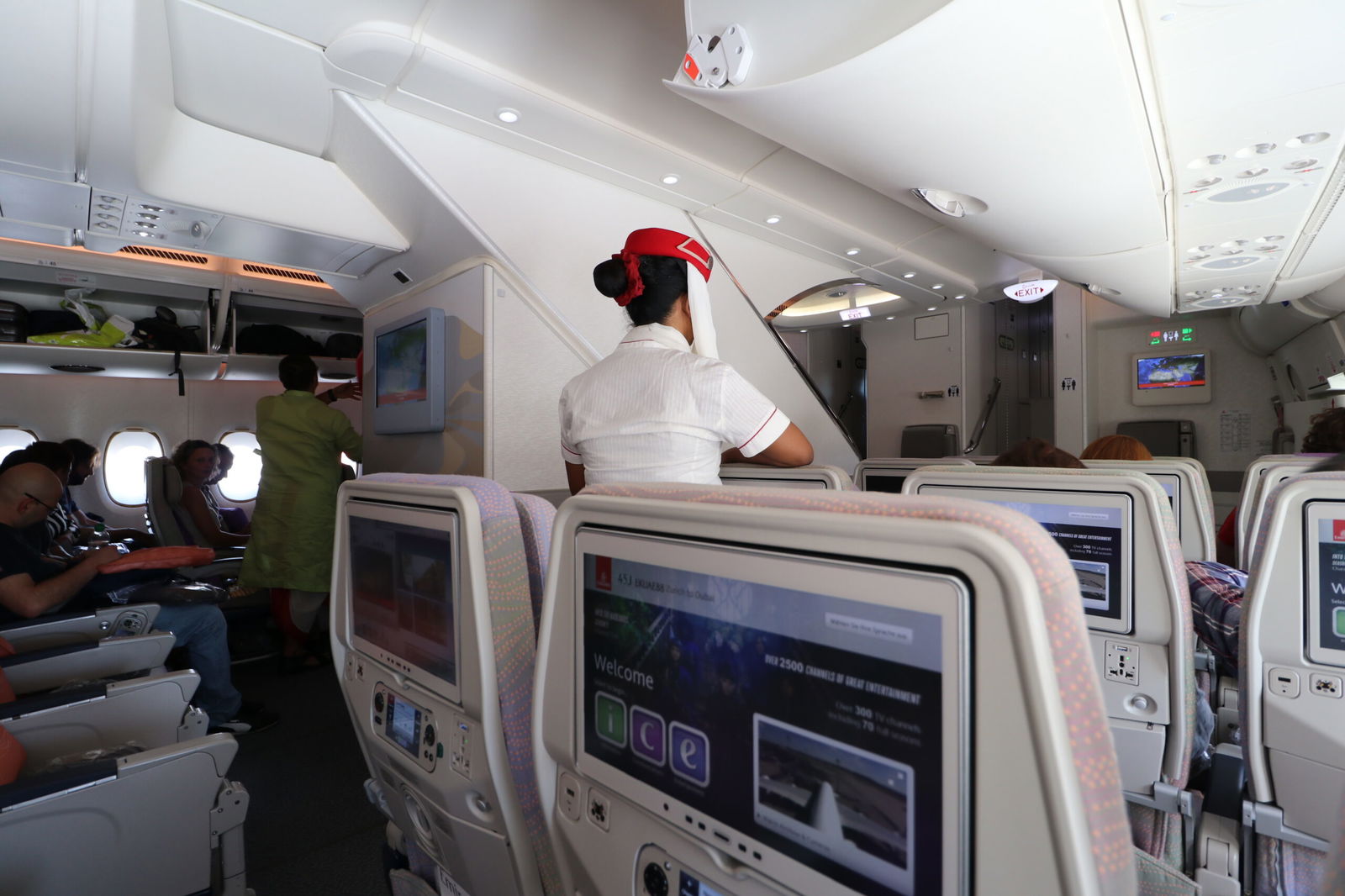 Waiting at my seat was a pair of over-ear headphones, a thick blanket, and a pillow. They were all decent enough but didn't stand out from what some other airlines offer.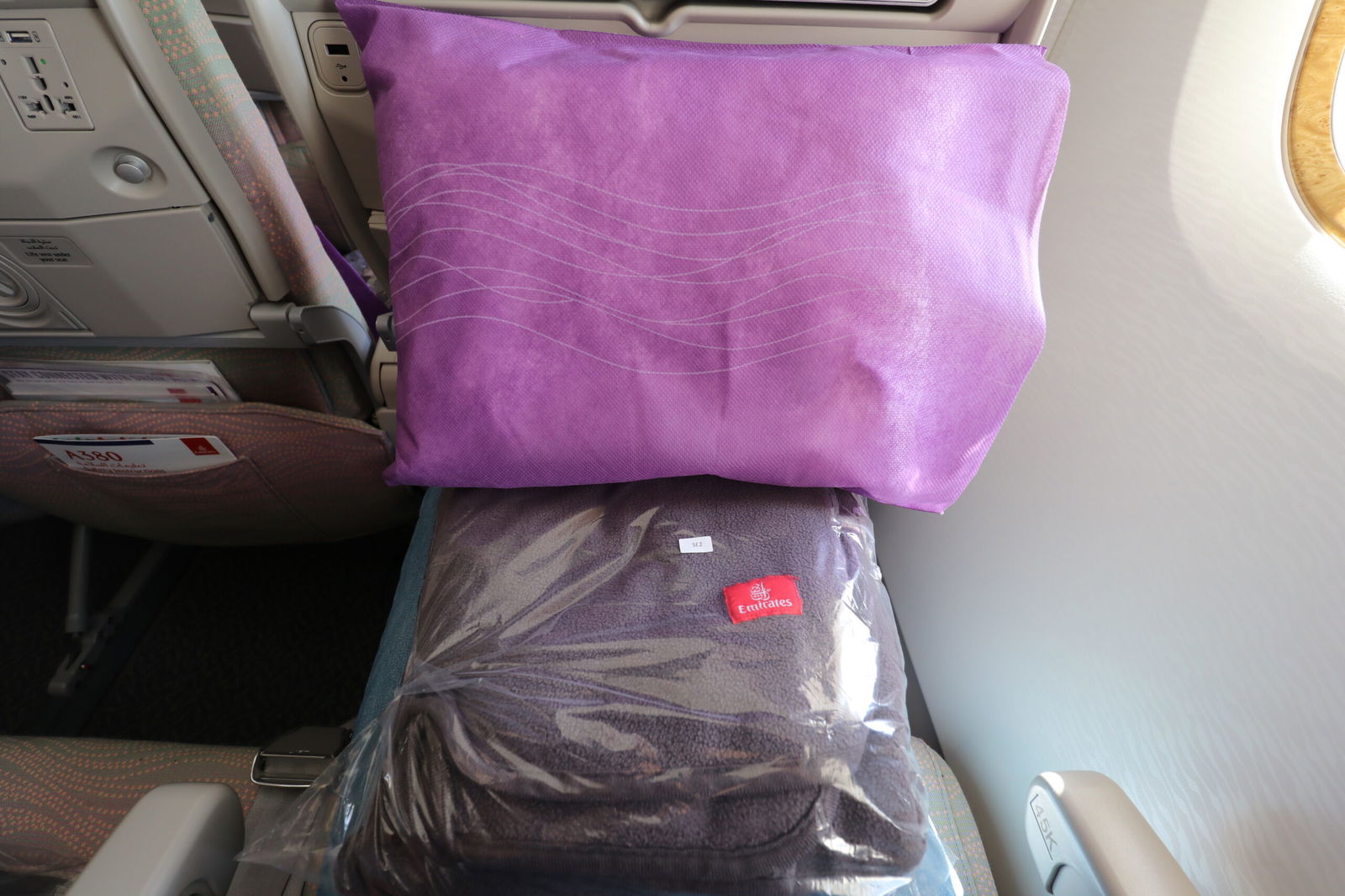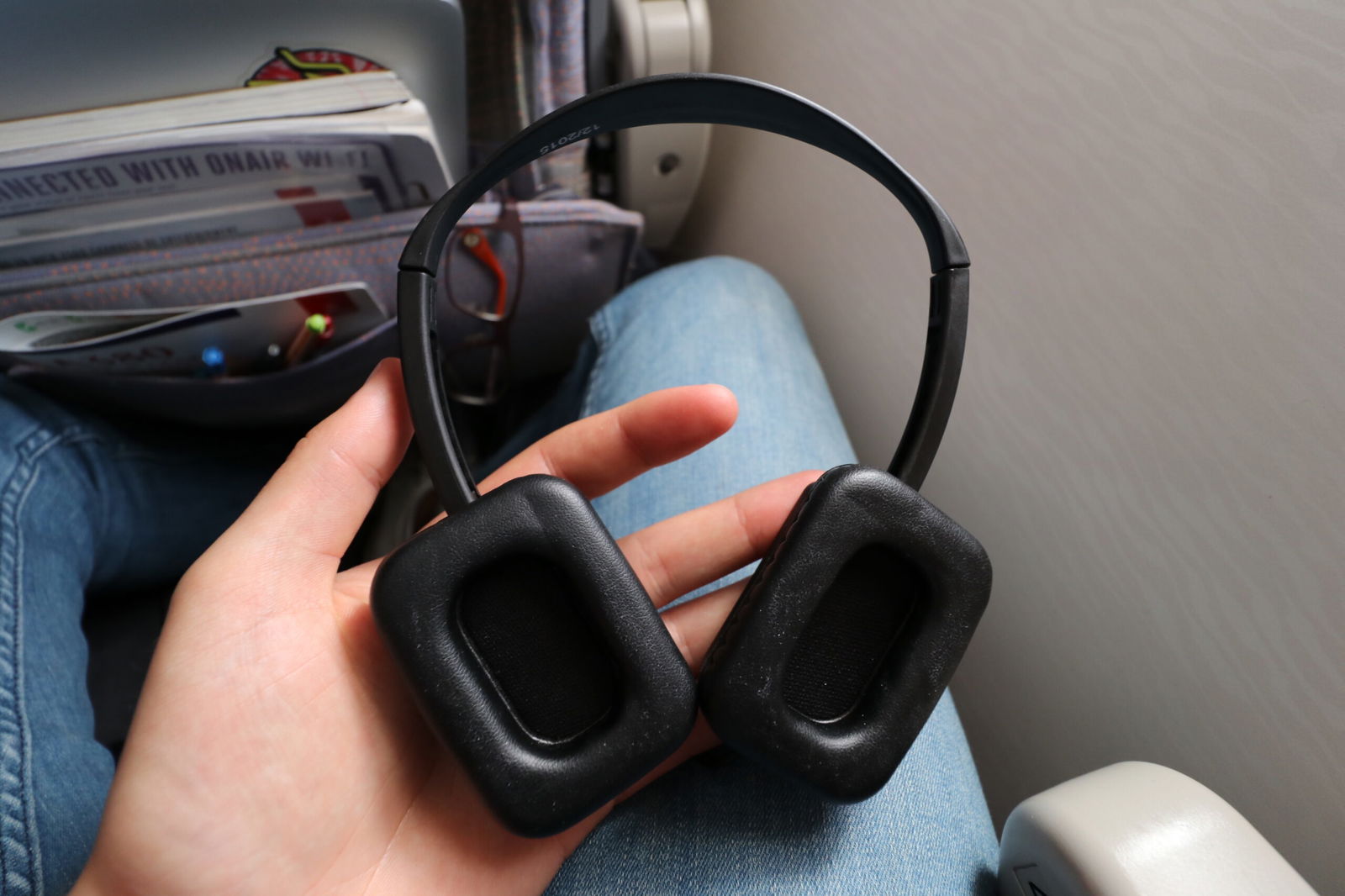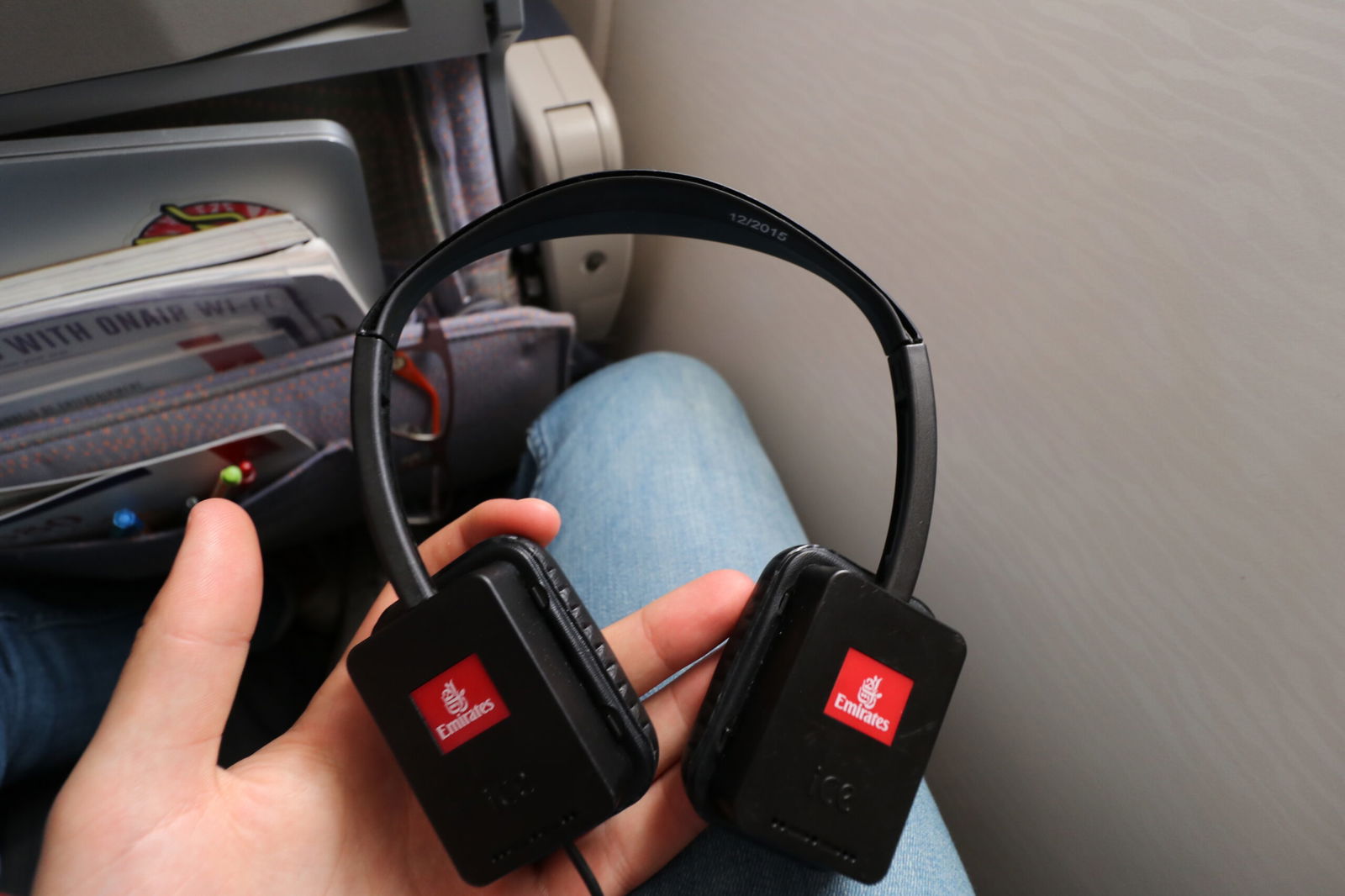 However, I do love the little notification stickers that guide the cabin crew on your sleeping preferences for the flight.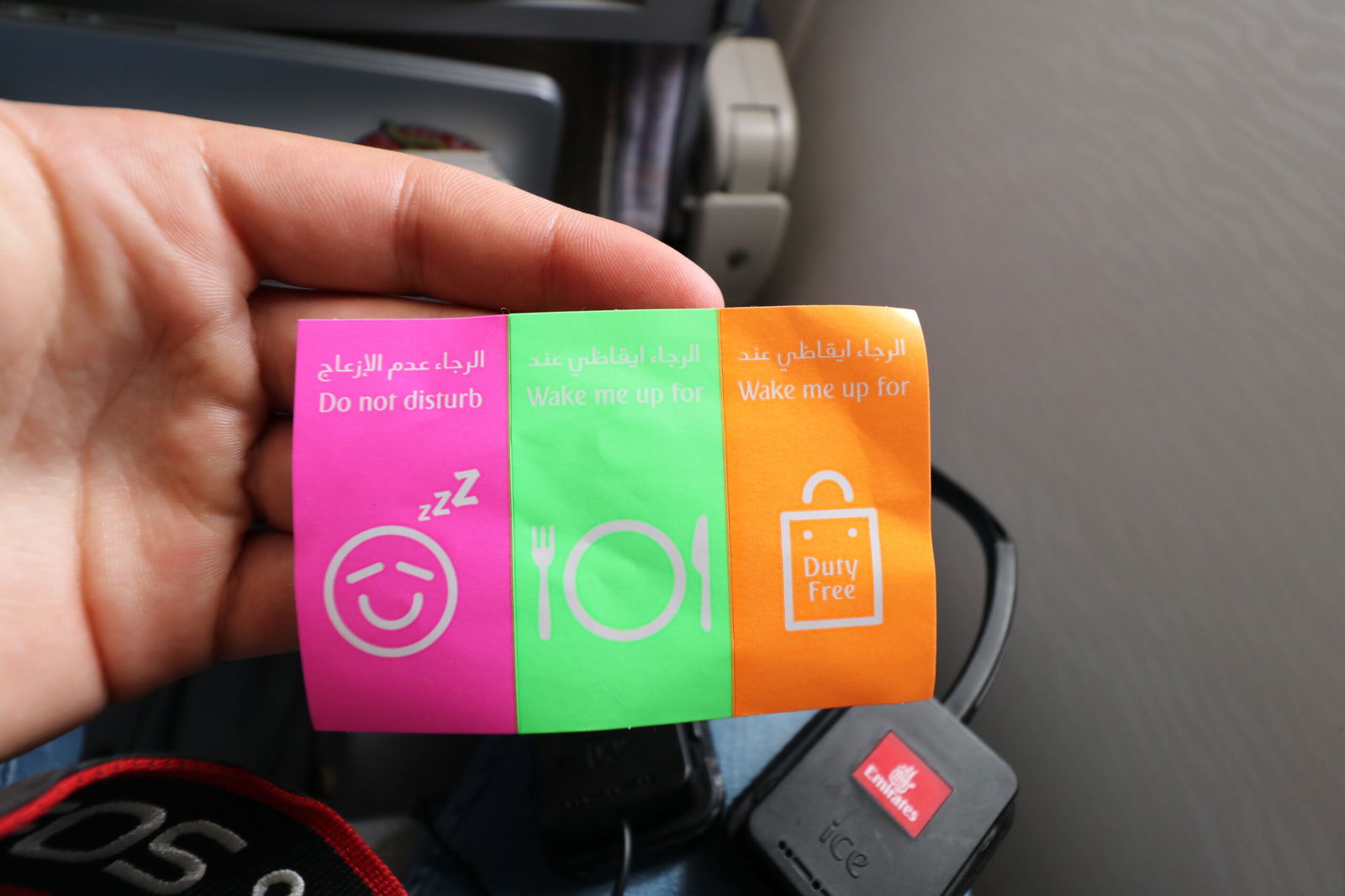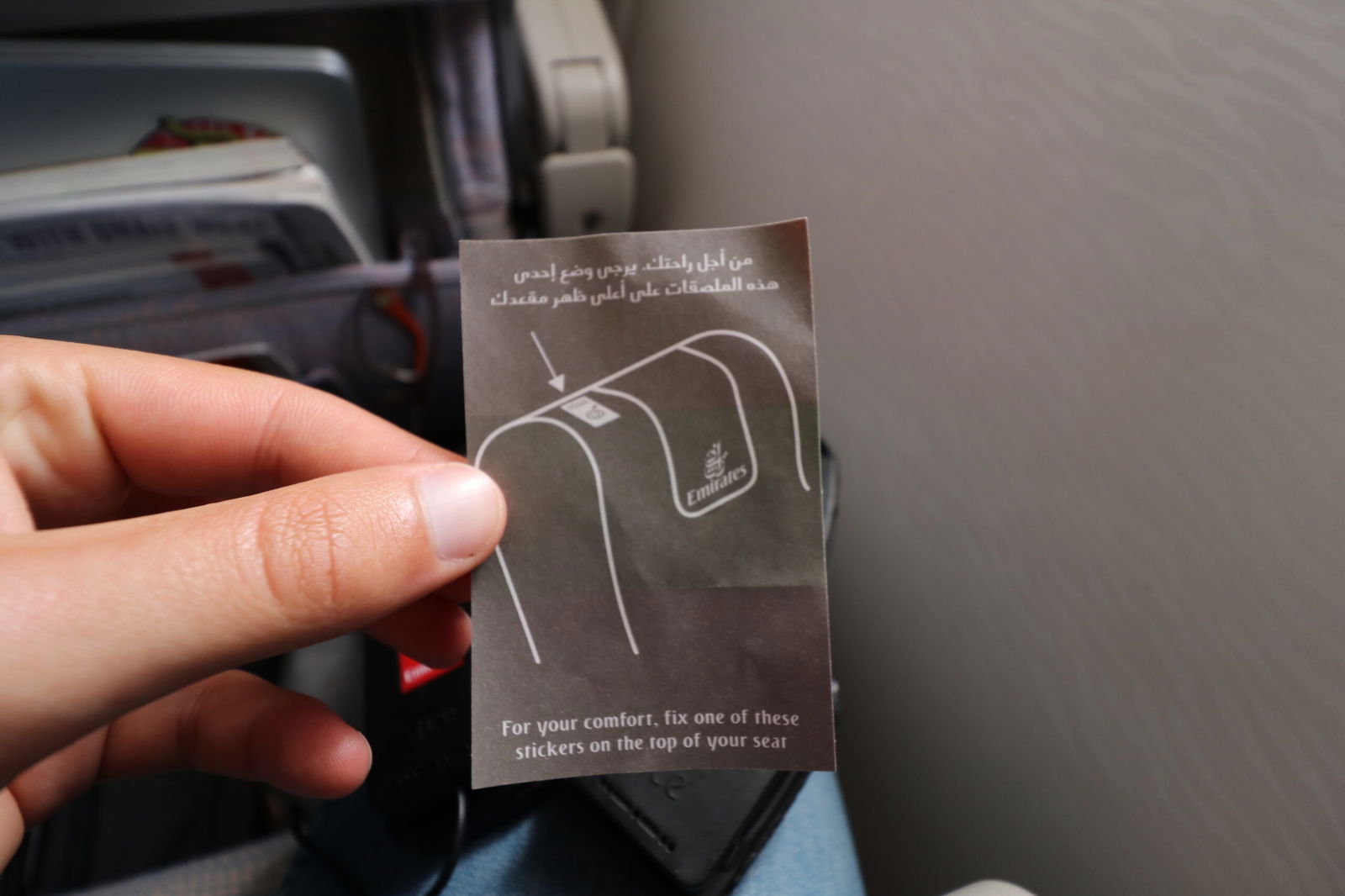 Every time I fly Emirates I'm impressed by the size of the video monitors. The responsiveness is great too, and I like the control that doubles as a second screen. Unfortunately, the window seats only have one USB port, while other seats have two and a power port. Luckily, the lady next to me was kind and let me charge my laptop during the flight.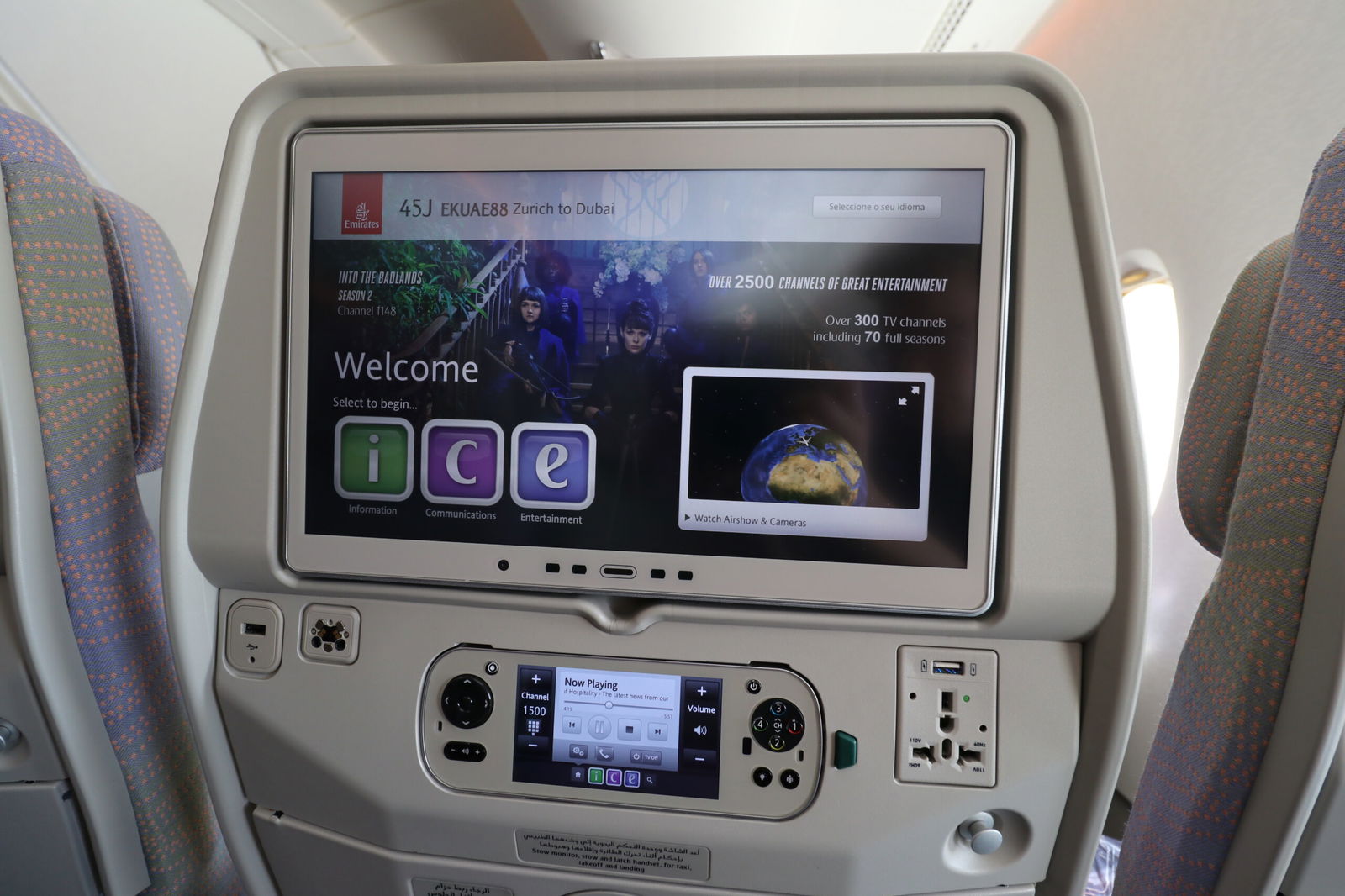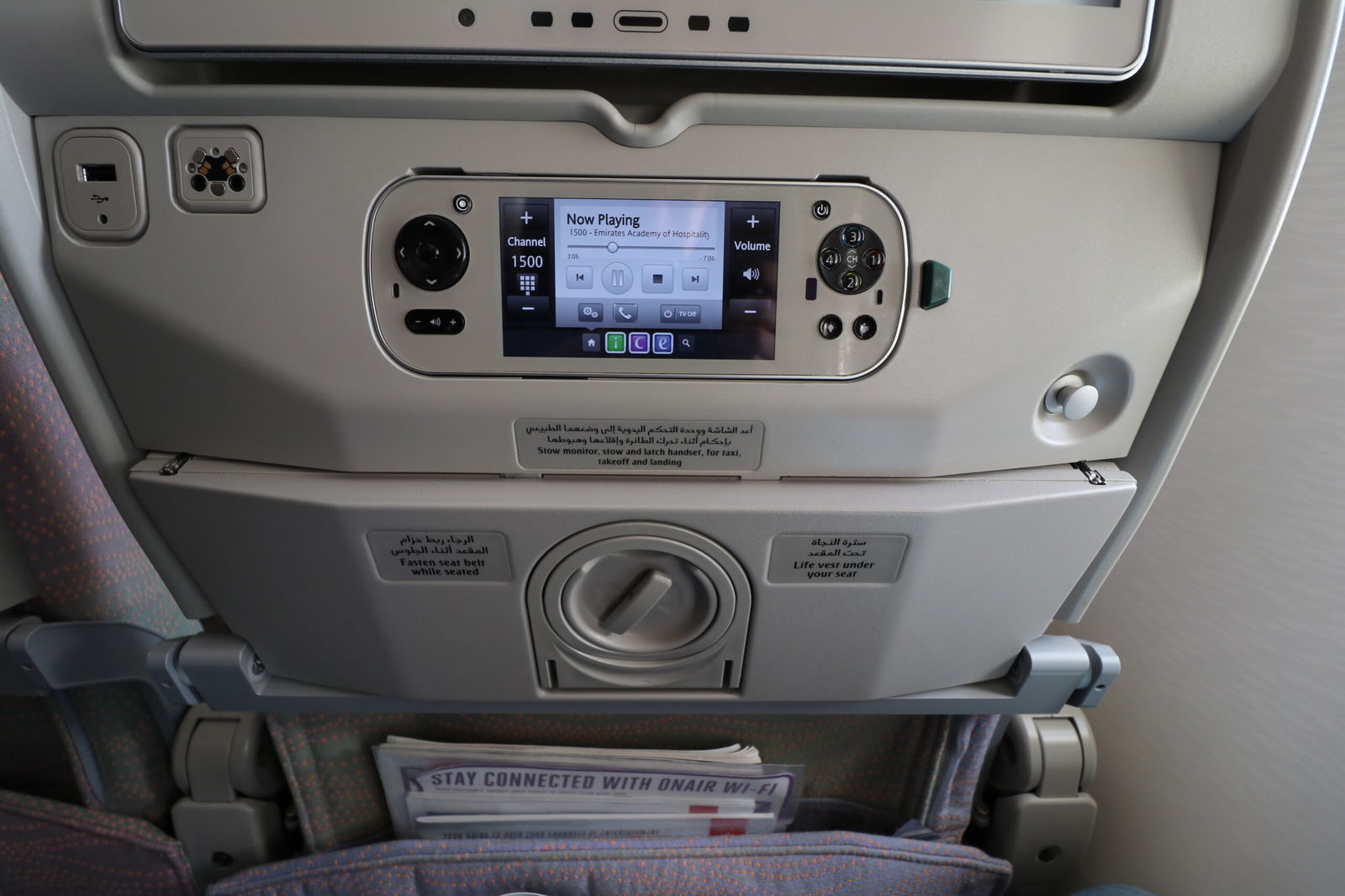 The seat had a great, adjustable headrest.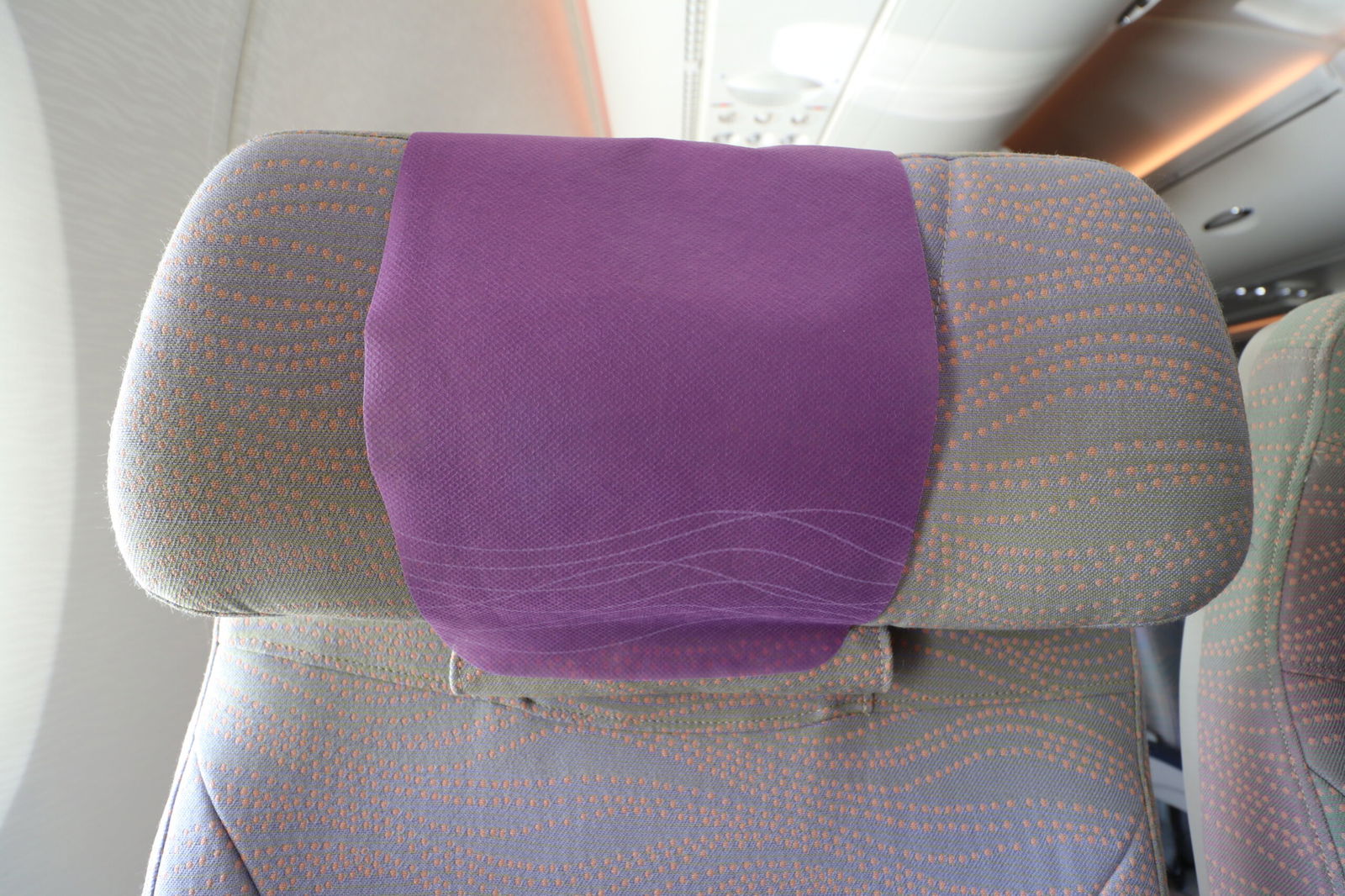 The legroom and the seat width were slightly above average. Sadly, the legroom was a little obstructed by part of the seat in front.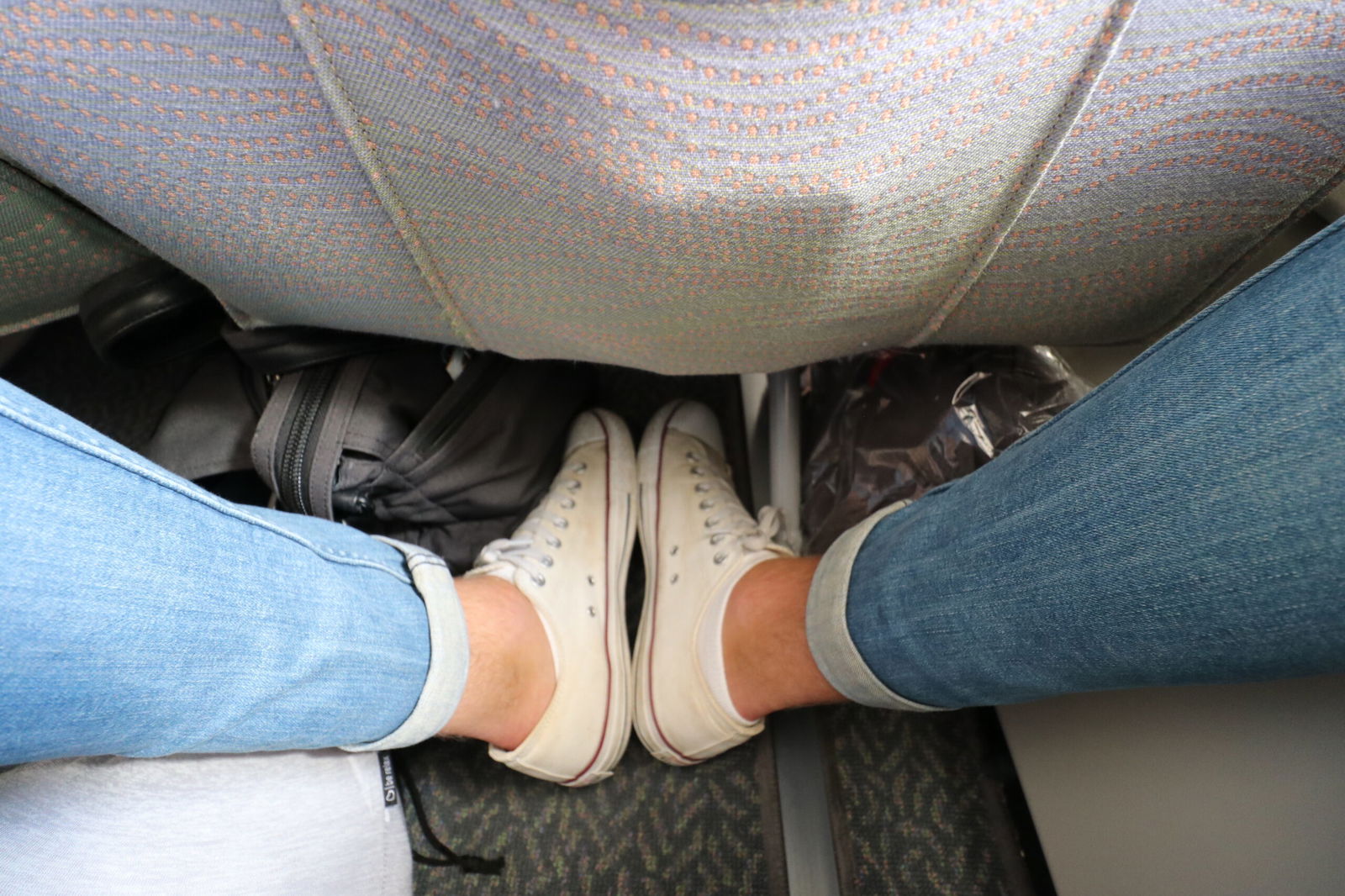 What really impressed me was the recline, which could compete with some premium economy products. It was unobtrusive when fully reclined as well so you could still work on a laptop.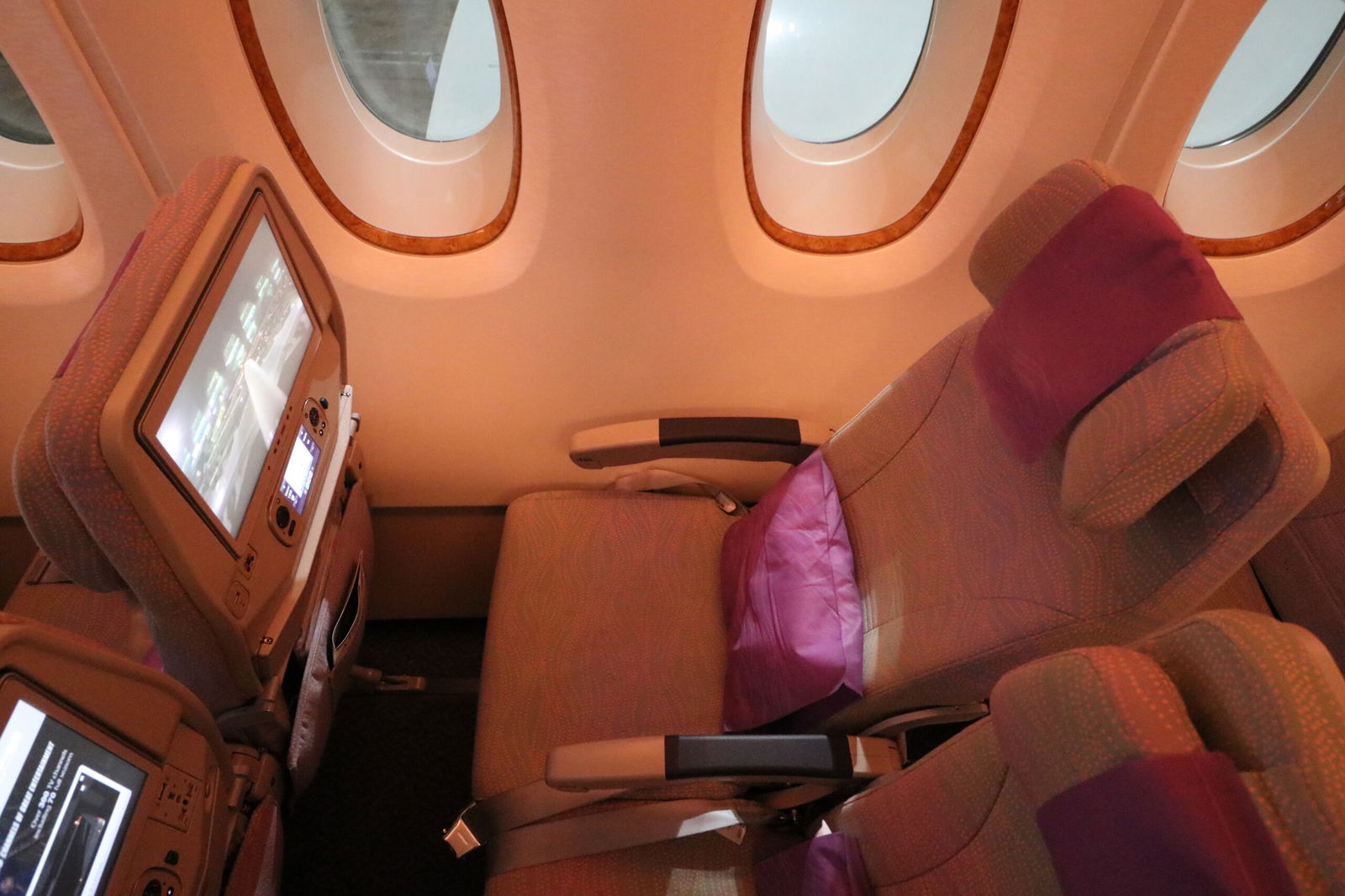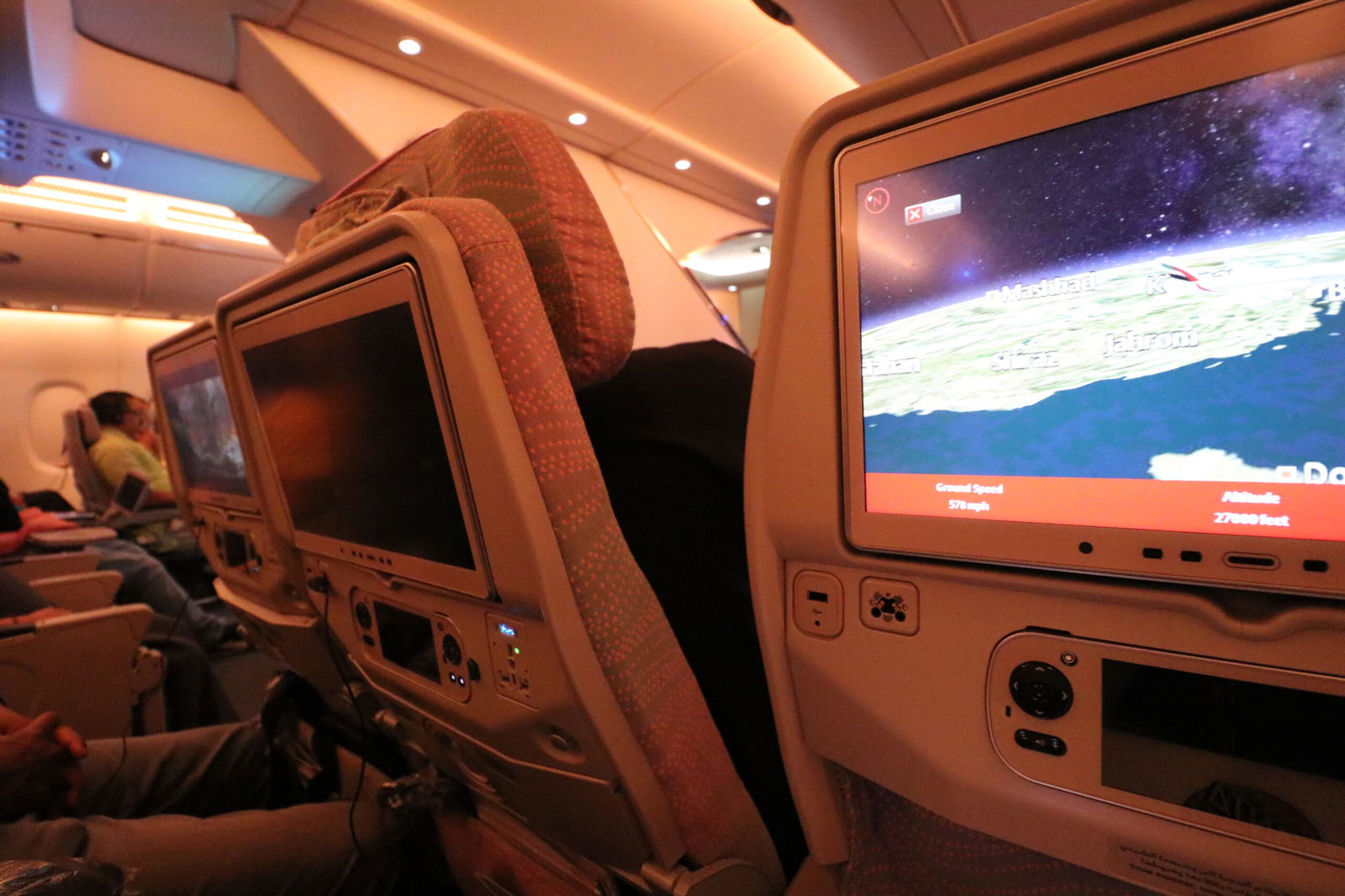 Shortly before pushback, the flight attendant came by handing out menus and welcoming us onboard.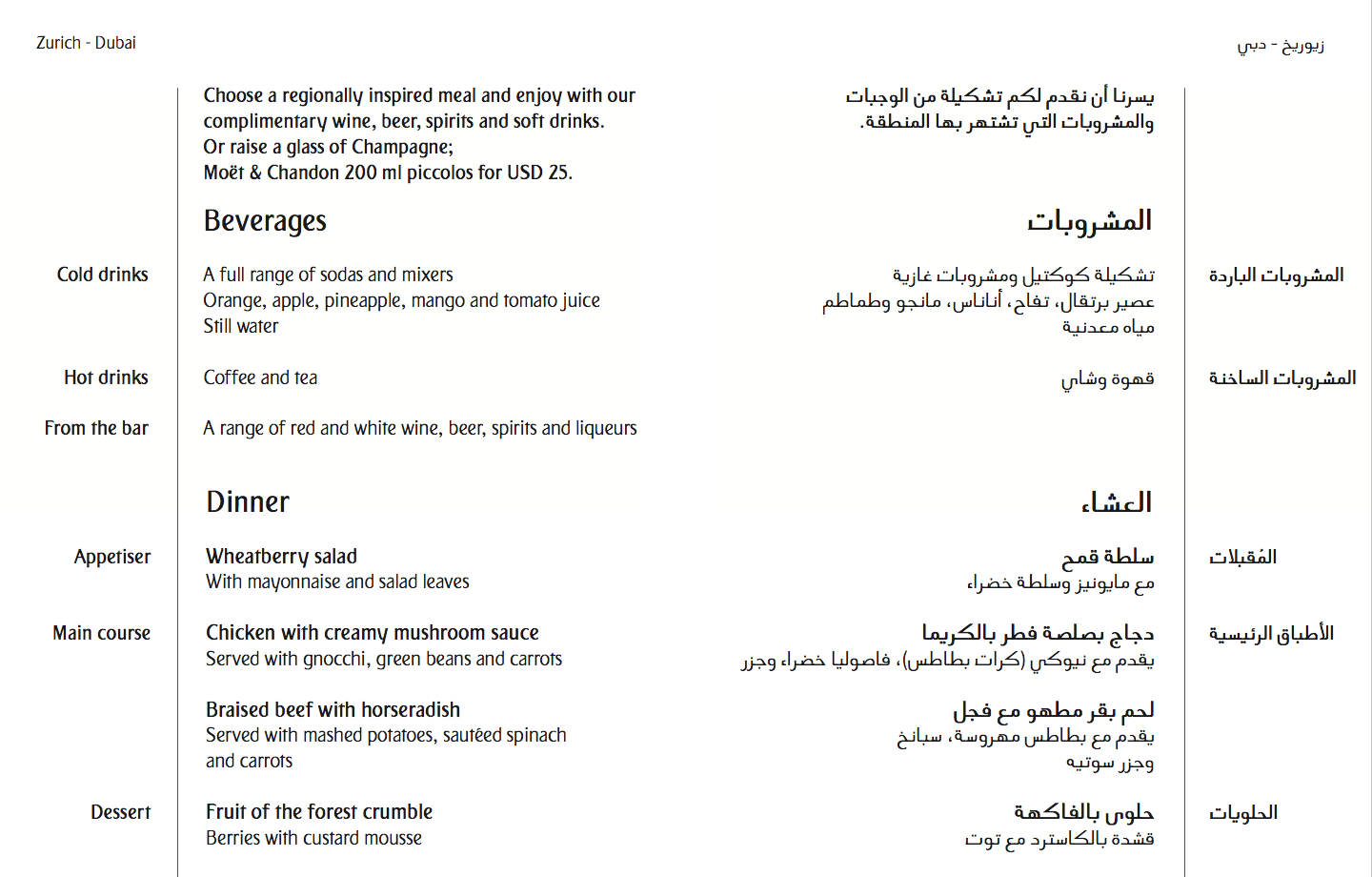 Finding great service in economy is rare, and I could tell this wouldn't be fantastic. The enthusiasm seemed lacking from many crew members.
Pushback and taxi were quick, and before I knew it we were in the air for an on-time departure.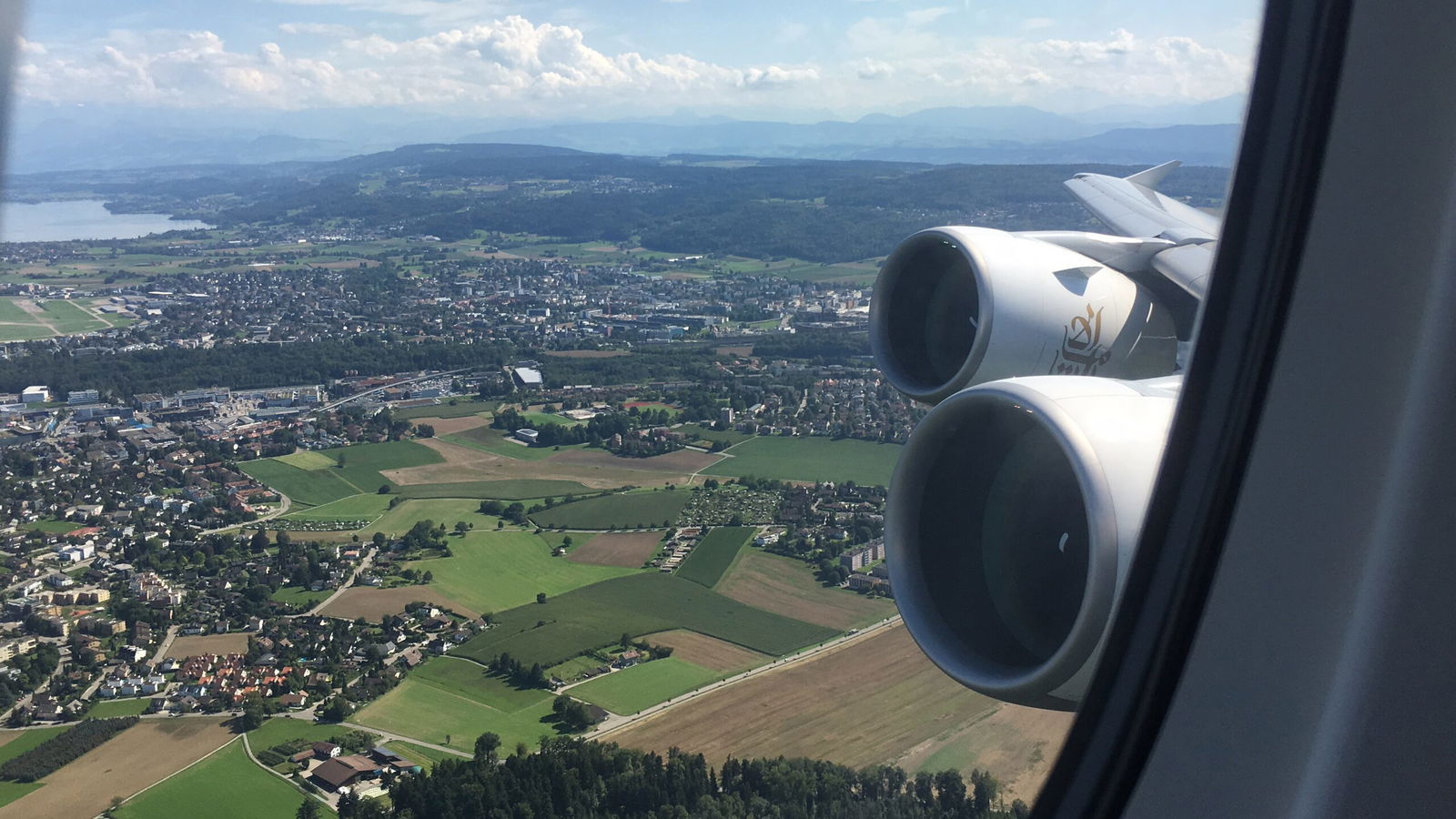 Views on the climb out were stunning.
The seatbelt sign was turned off quickly, and the in-flight service started. As you'd expect from a Middle Eastern airline, Emirates has a relatively extensive selection of juices. They also offer free alcohol to economy passengers, which is cool.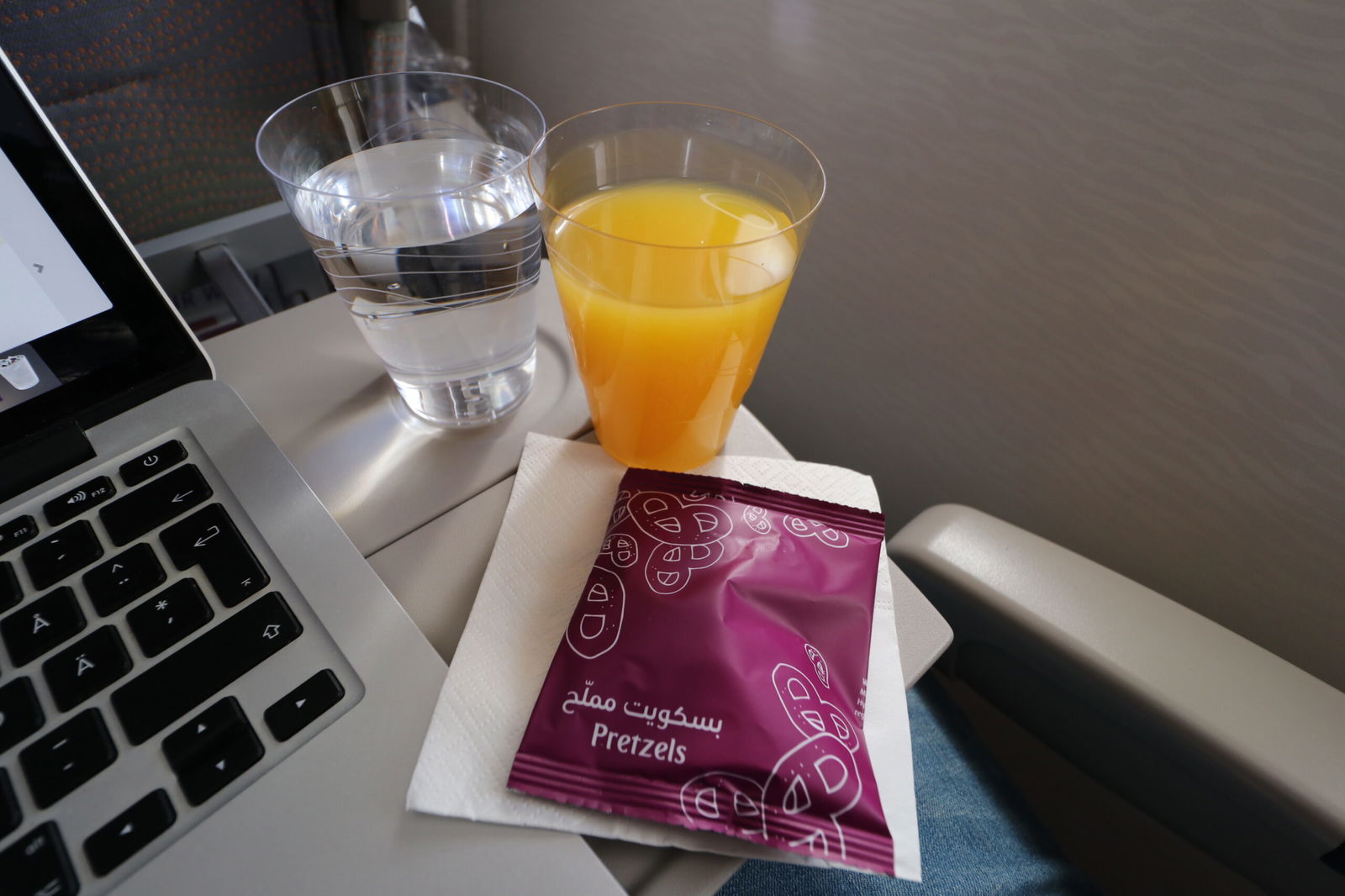 I went for a glass of mango juice and a glass of water. They were served with pretzels and came in high-quality cups.
Emirates recently changed their Wi-Fi pricing. Previously, they offered 500MB for just $1, so the internet was agonizingly slow. I was wondering if that would change. Sadly, the Wi-Fi was still pretty slow and barely worked for long periods at a time. However, I managed to do what I needed. The new fees for this flight ($9.99 for 150MB and $15.99 for 500MB) are still justifiable, in my opinion.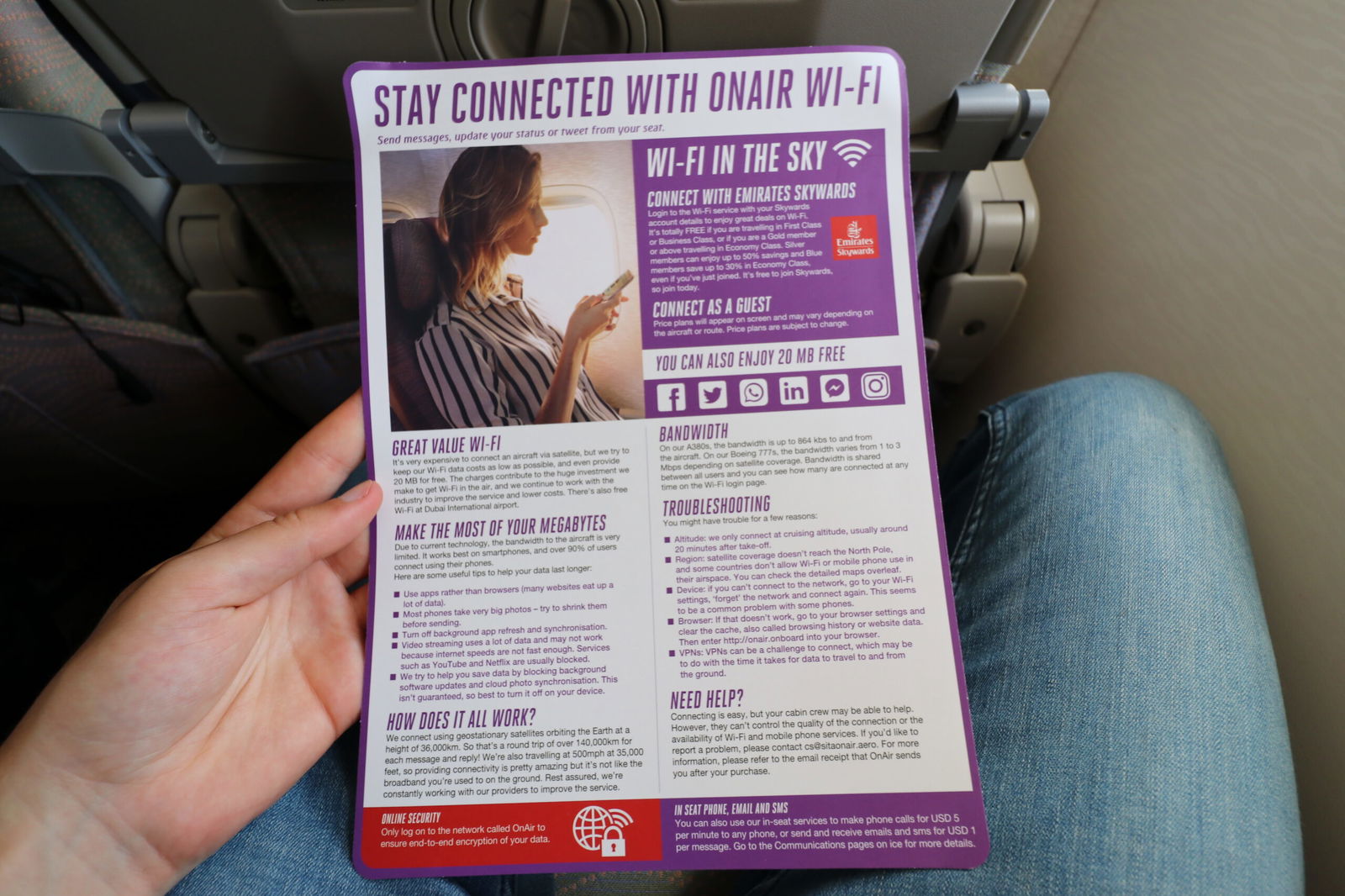 Next up was the meal service. In my experience, the sign of great airline catering is when they invest in their special meals. Finnair is the best I've tried so far, but I must say Emirates impressed me. On all my flights I've ordered vegetarian meals, excited to see what they would come up with given the potentially large variance in quality. There's a big cost difference between serving tofu with rice or grilled vegetables with rice.
Emirates landed somewhere in the middle, with beans, grilled vegetables, and biryani. I enjoyed the meal and its strong flavors and thought the size was reasonable for a 5 hour 30 minute flight.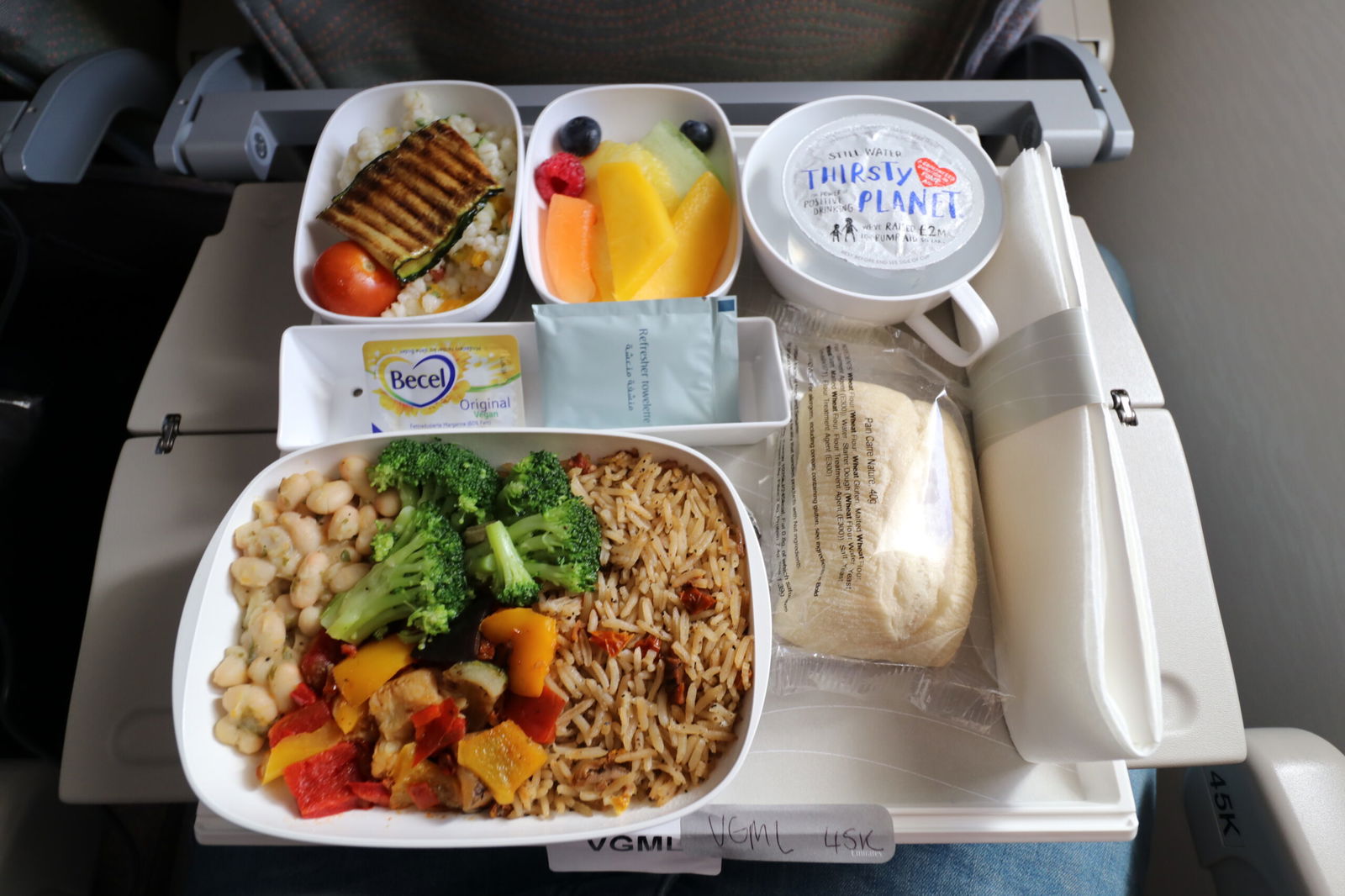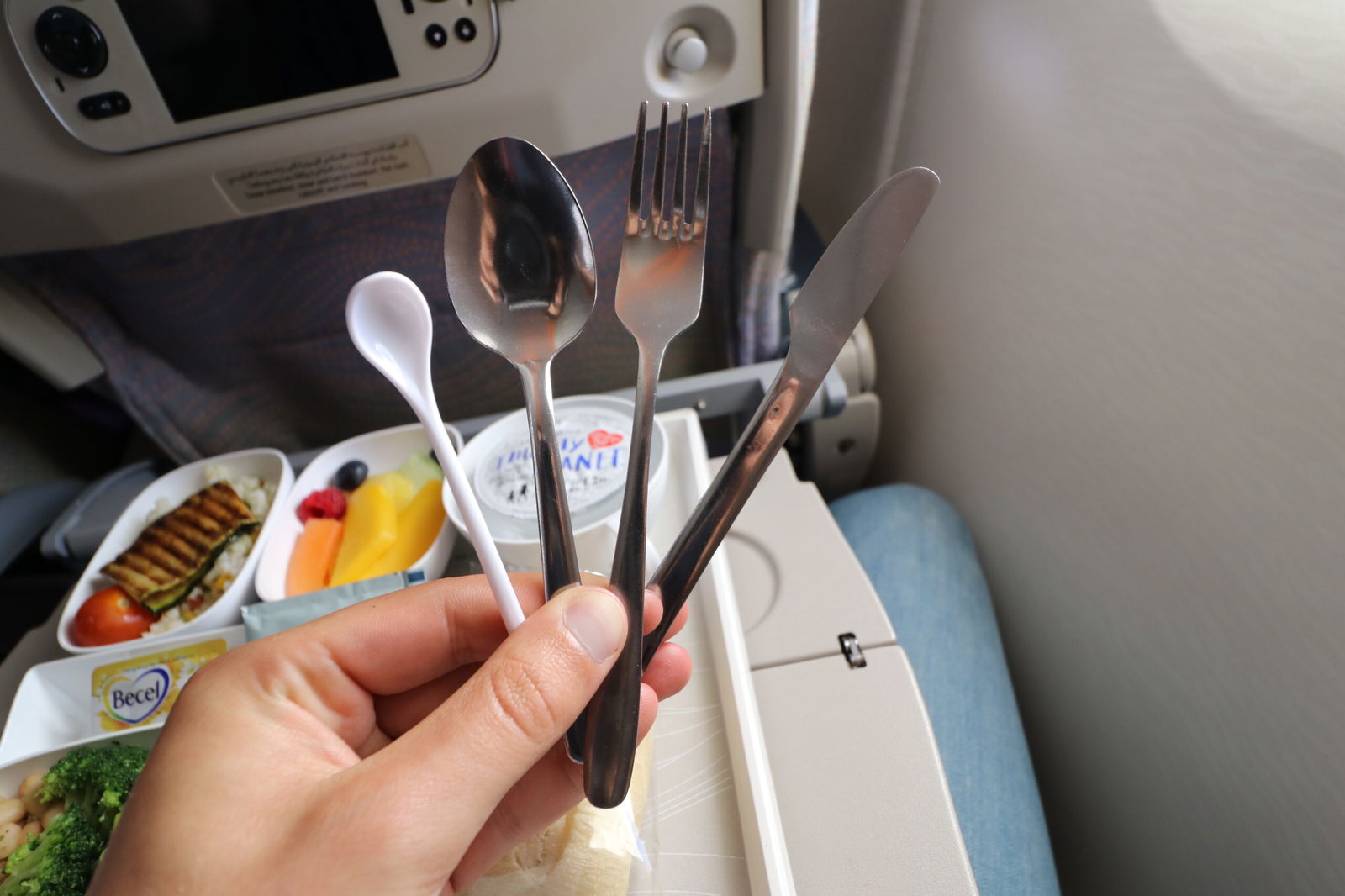 The trays were cleared about two and a half hours into the flight. I went up to check out the lavatories, which also featured Emirates' signature faux wood. I was impressed that they'd folded the toilet paper and kept the lavatory so clean!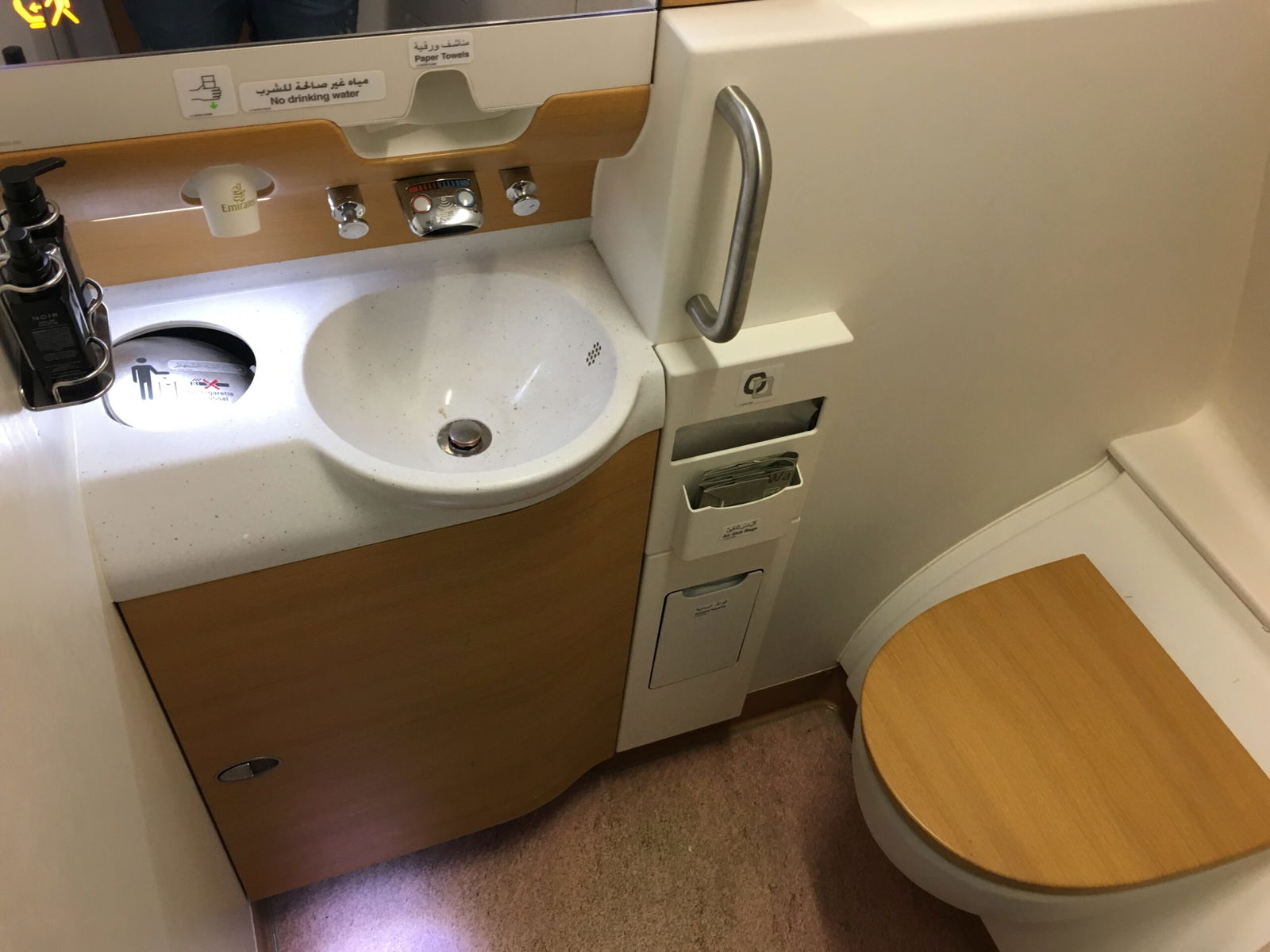 For the remainder of the flight, I worked on my computer, which was charging in the seat next to me. The mood lighting kept things interesting.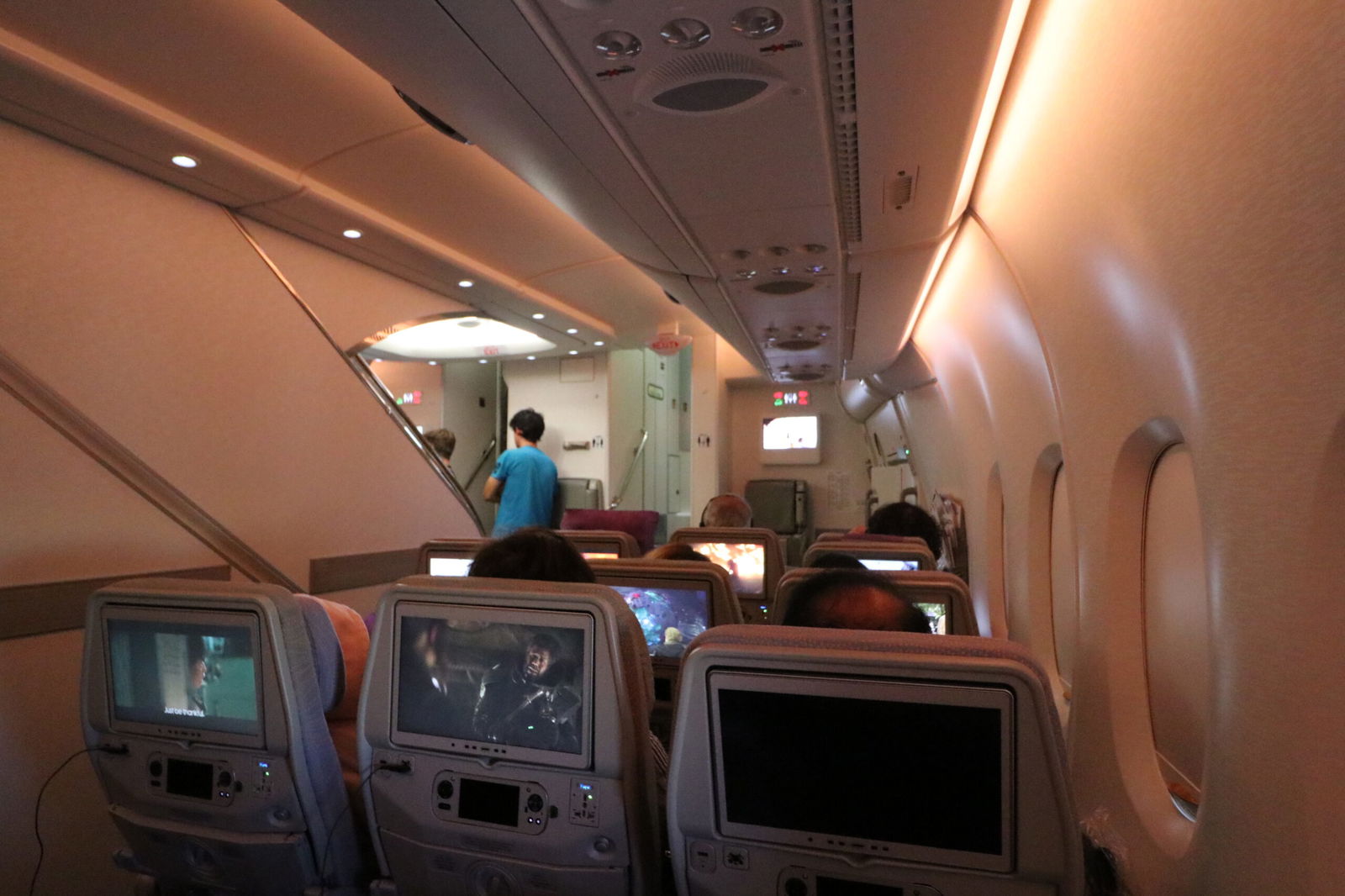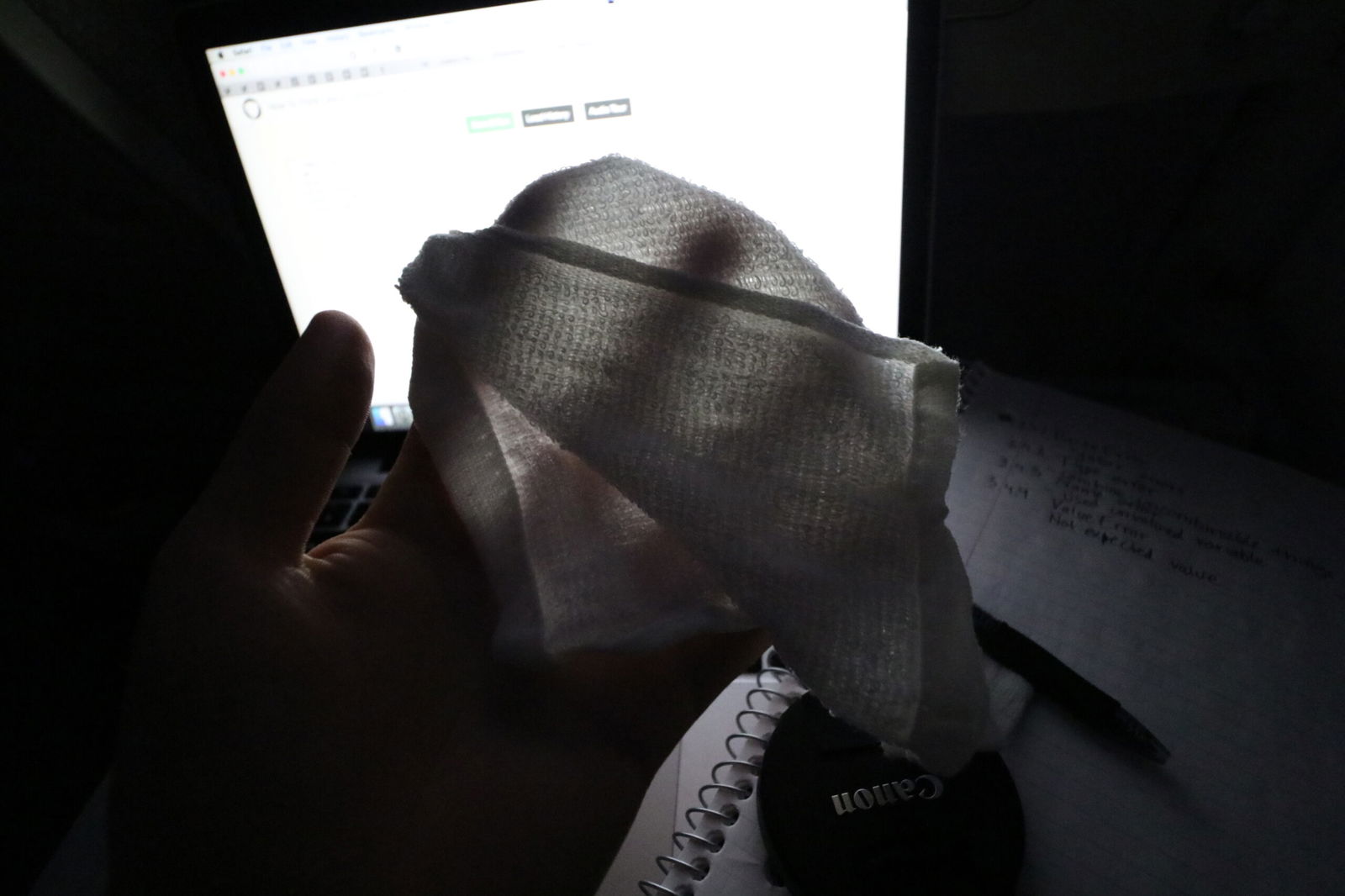 Transit in Dubai from 12am to 4am
After a quick taxi to the gate, I disembarked from door 1L and made my way to flight connections. I had to go through security, take an elevator down to a transit train, change concourses and do some significant walking before I made it to the A-gates. Terminal 3 is HUGE!
Coming into Dubai at rush hour you realize the scale of Emirates' operations. There was an A380 in front of us and two behind us. Somehow it made me feel like being part of an assembly line, and I'm worried about what would happen in the event of irregular operations. I'd rather be dealing with such an issue at Finnair or Oman Air than at Emirates with 20 A380s leaving at once. In a sense, the airline is a lot like IKEA. They have stylish, high-quality products, but they're too mass-produced and generic, making them impersonal.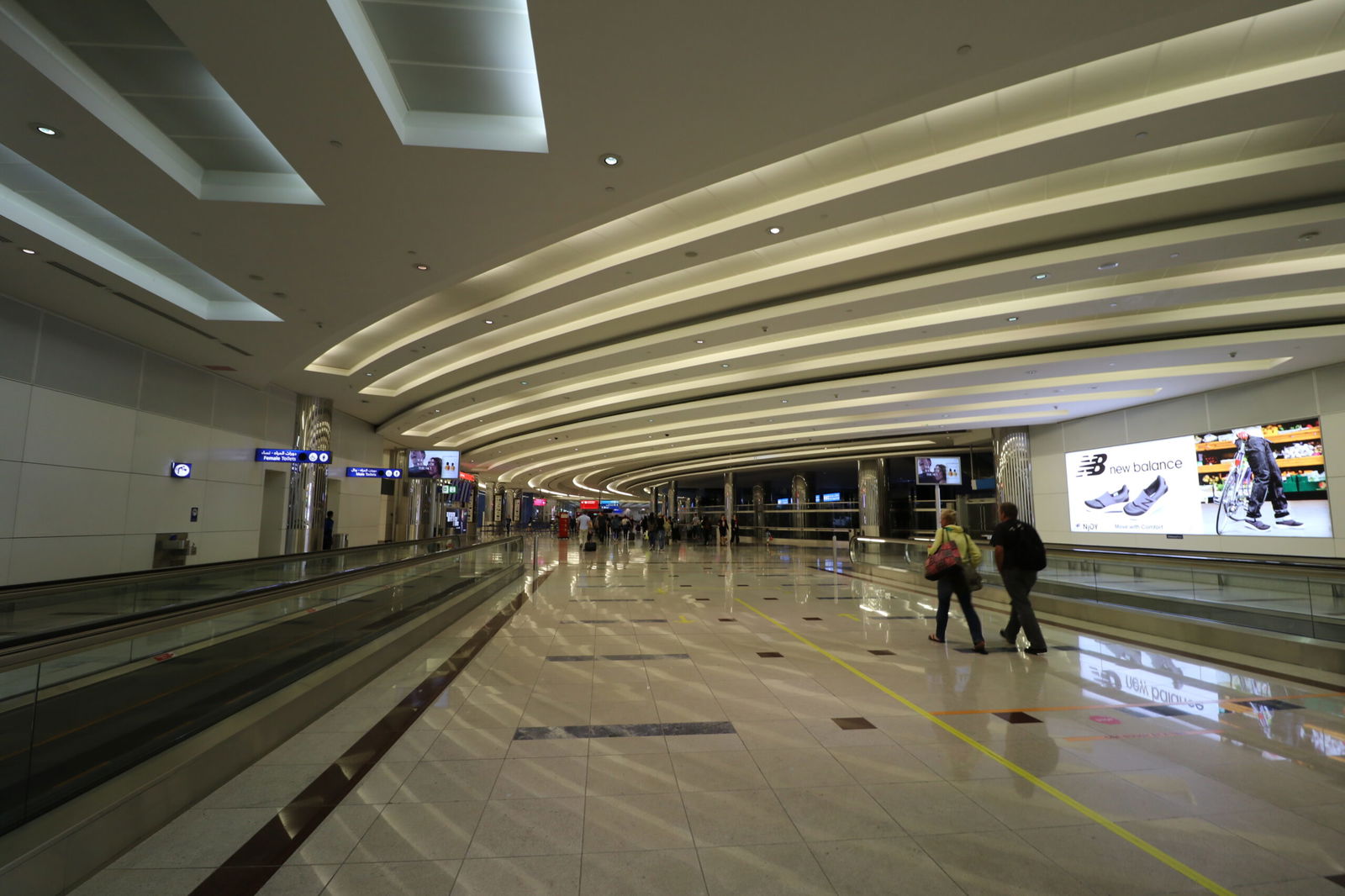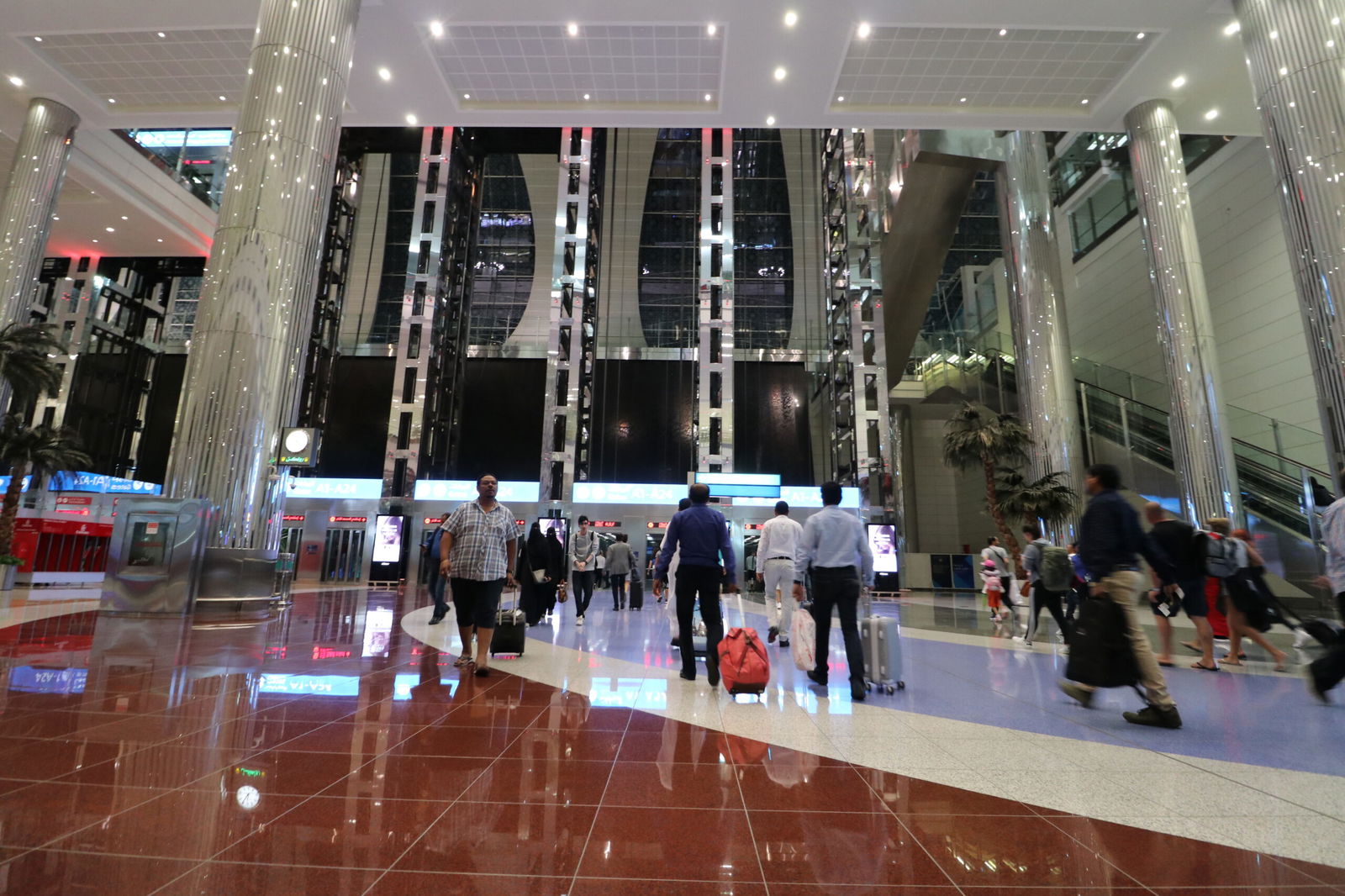 Once there, I realized there were no good places to sleep. There are some for-hire sleeping pods, but they had a four-hour minimum time and my layover was just over three hours. Instead, I figured I might as well stay up. I was surprised by their new concourse. It didn't have the normal airport sterility but rather felt more like a village. I sat down at a Middle Eastern restaurant close to my gate and ended up spending my layover using the free Wi-Fi whilst eating hummus and tabbouleh.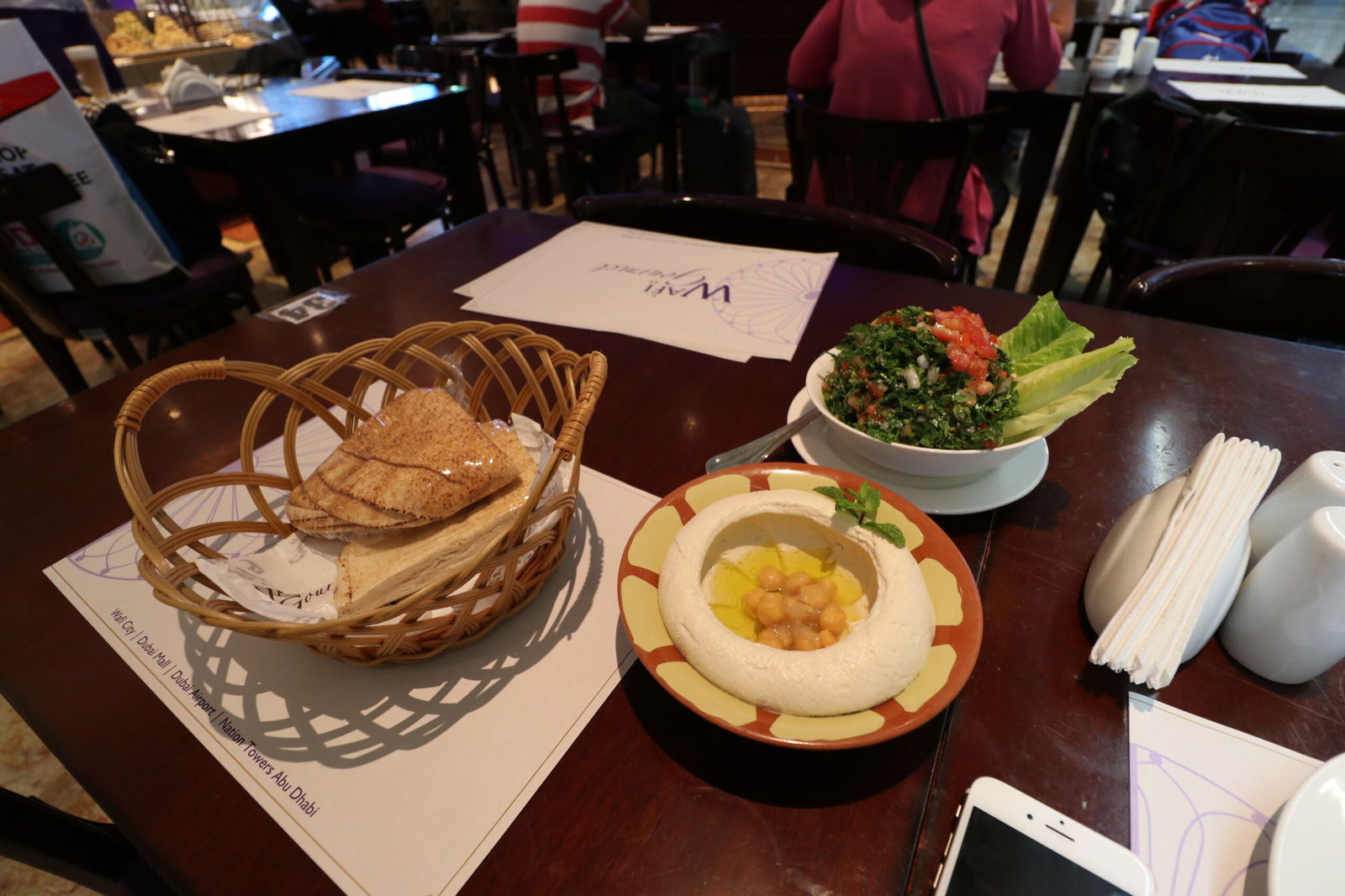 I tried to charge my devices at the restaurant, but no outlets worked and it was hard to find any in the terminal. Overall, Dubai Airport disappointed me from an economy passenger perspective. It felt especially poorly built given how many of their passengers have midnight layovers.
Soon enough boarding was called and I made my way to the gate (which was actually just a holding area where they make passengers wait for 30 minutes without the ability to go out again).
Dubai to Delhi
Emirates EK510
Dubai (DXB) – Delhi (DEL)
Depart: 04:00AM
Arrive: 09:05AM
Duration: 3hr35mins
Aircraft: Boeing 777-300ER
Seat: 33A (Economy Class)
I was welcomed aboard by the crew, who seemed to be mostly Indian. Making my way to my seat, I saw how much more cramped the cabin looks on the 777. Emirates has a tight 3-4-3 configuration with (allegedly) 32 inches of itch. However, it felt incredibly cramped, and I would avoid spending more than three hours in this seat at all costs, especially on an overnight.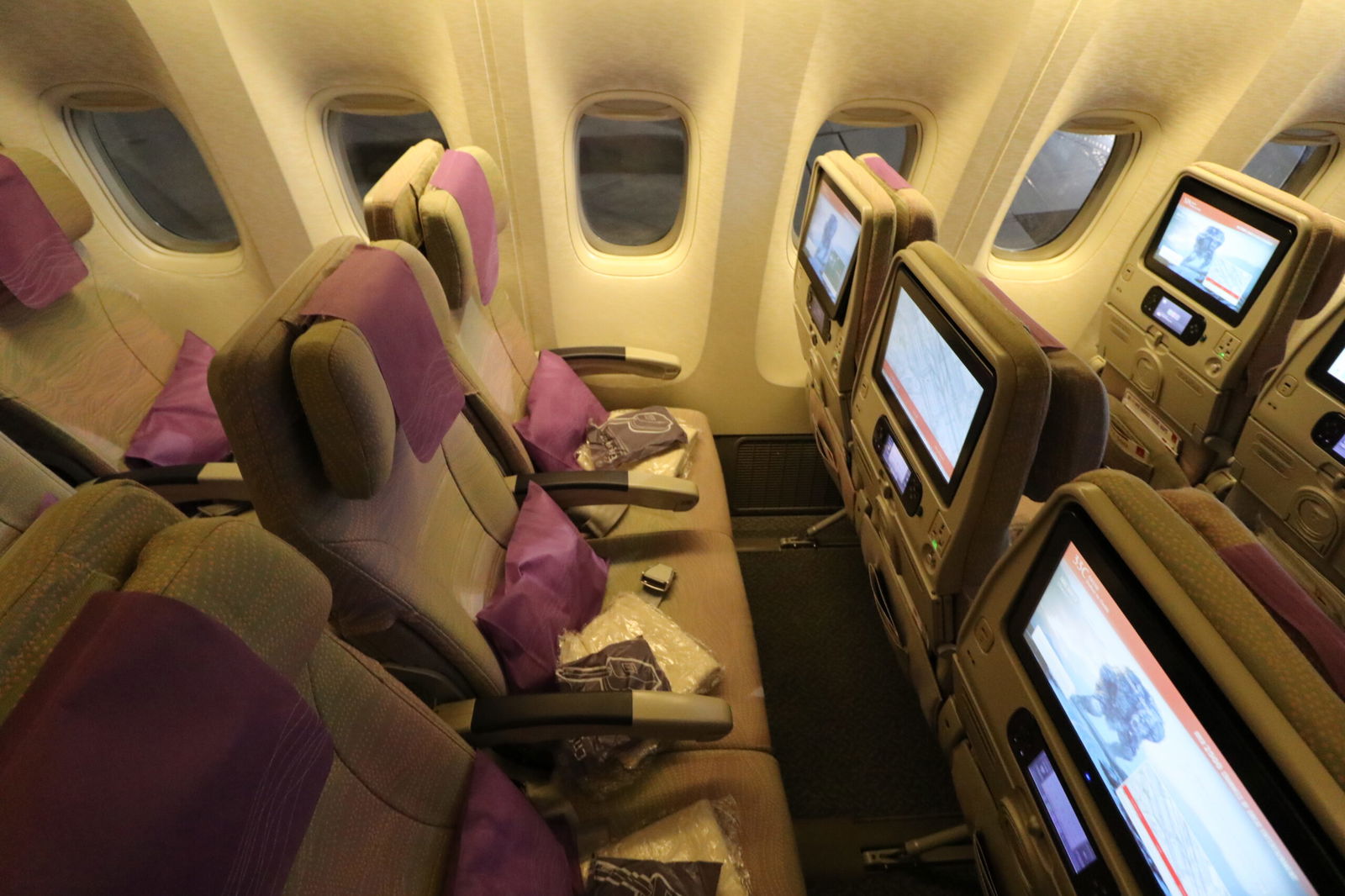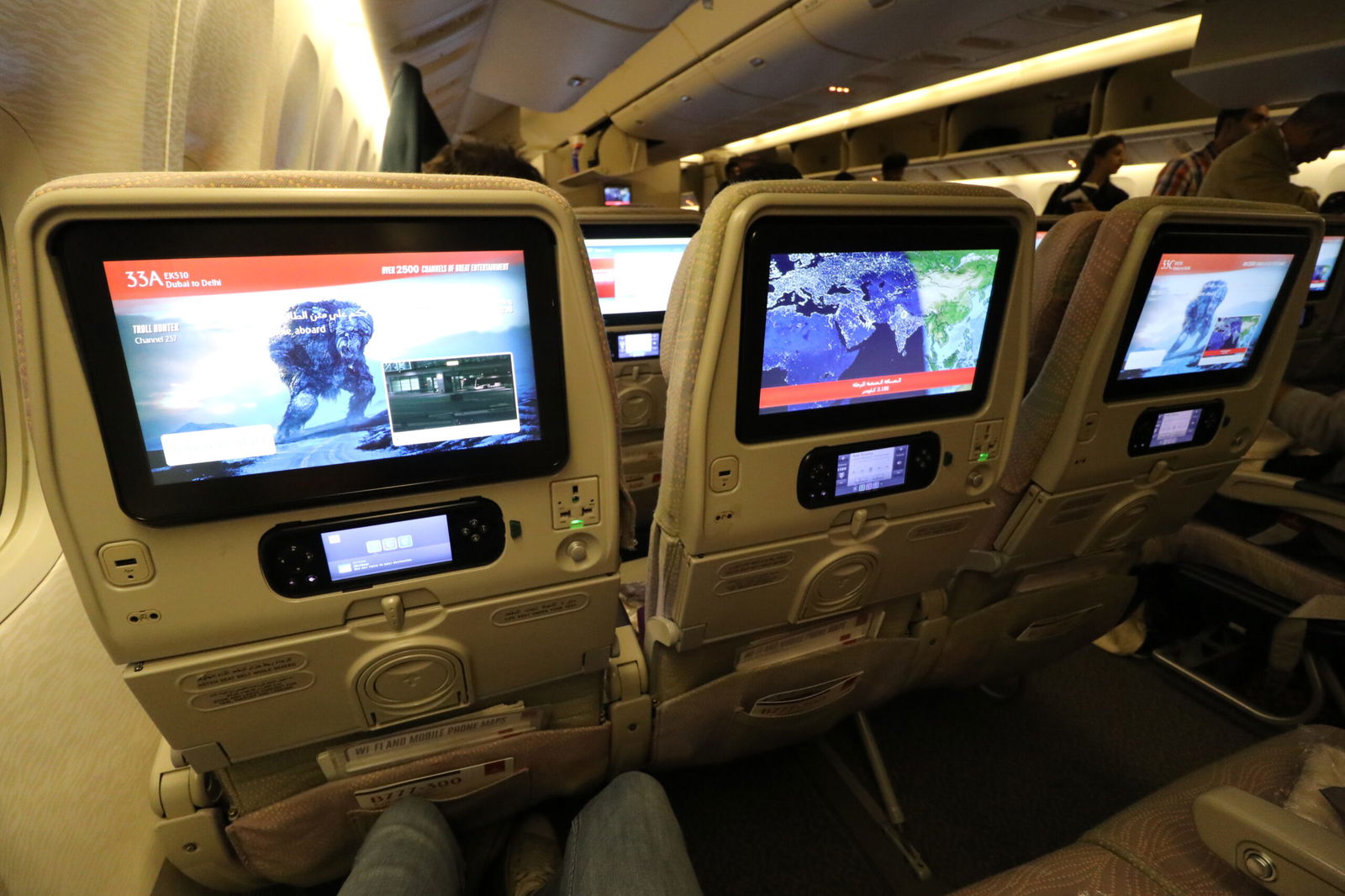 I was happy to see that window seats have their own power ports on the 777-300ER, at least. Other than that, the seat was pretty much identical to the one on the A380.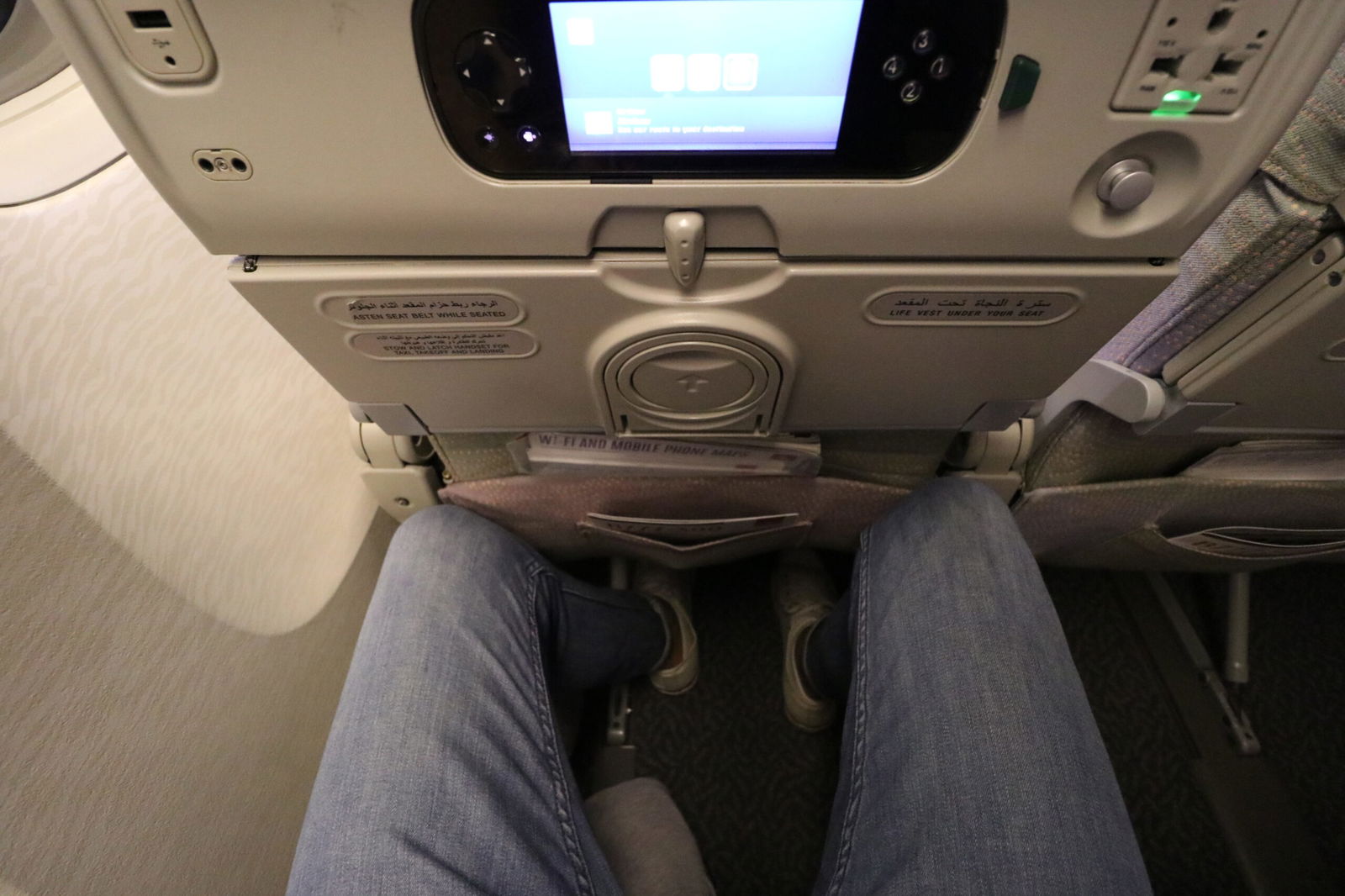 As you can see, the legroom wasn't great.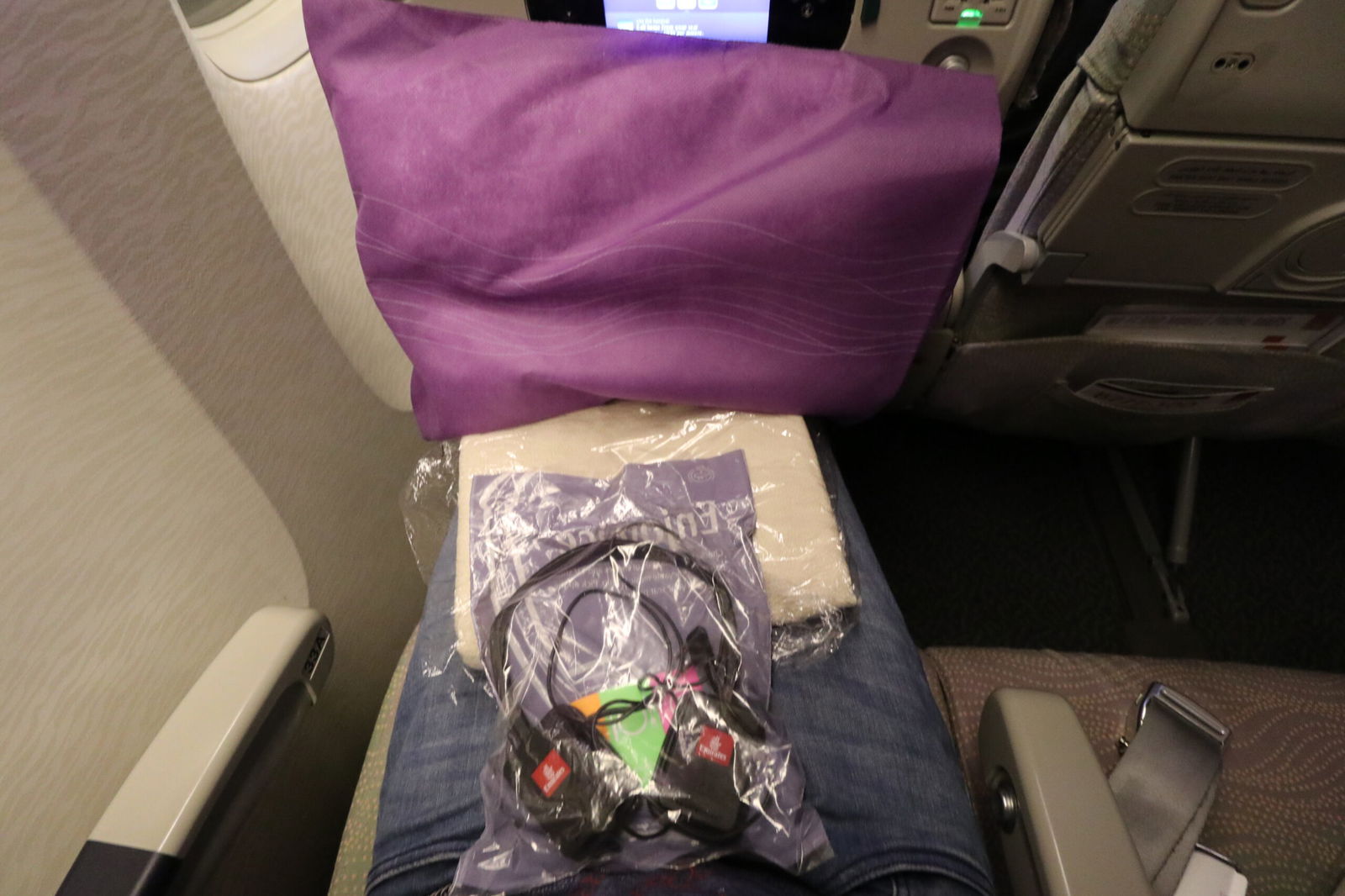 Boarding was relatively quick and we were on our way before I knew it. Again, we had an on-time departure.
Once in the air, everyone went to sleep since it was 4:30am. Strangely, the crew brought the hot meals out 30-minutes later, waking most people up. On a flight like this, wouldn't it be more logical to serve the breakfast right before landing?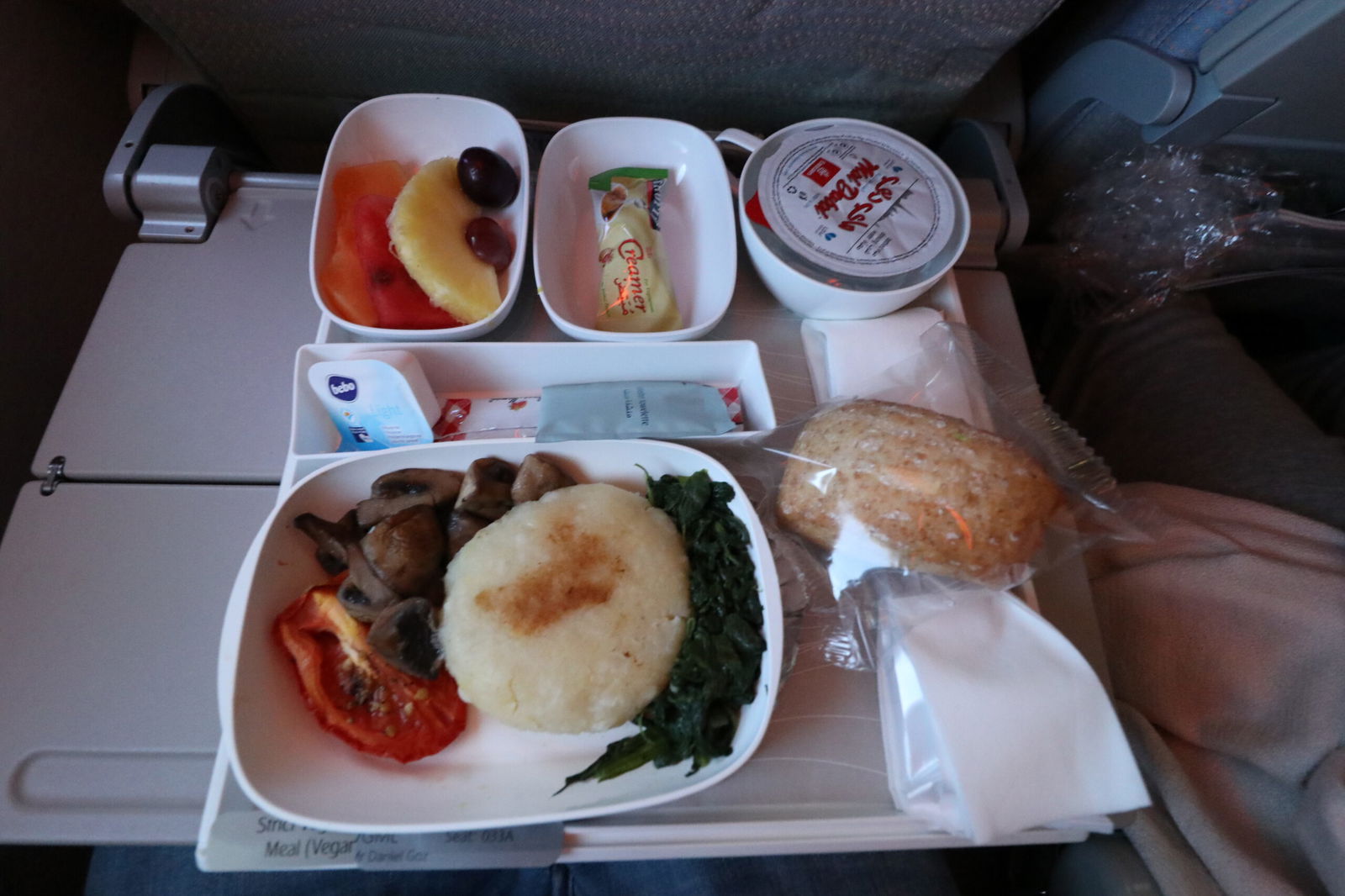 The food was better than it looks though. Here was the menu: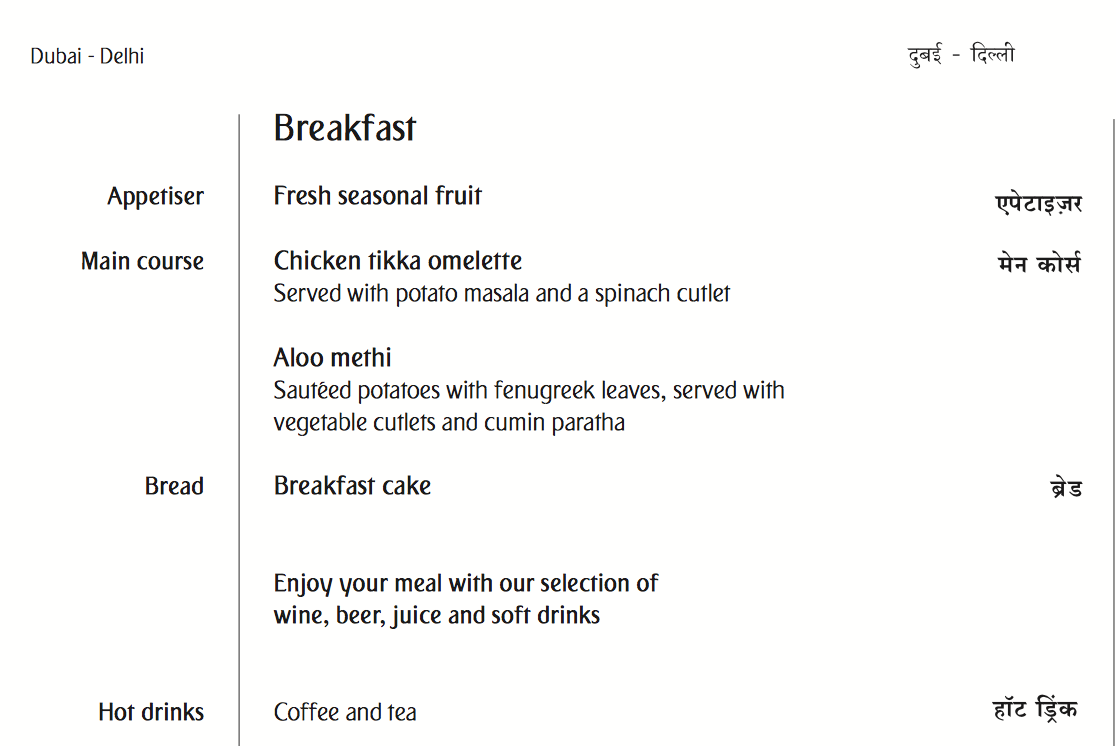 When I woke up from an uncomfortable airplane sleep, the stars were on, which is a beautiful feature on Emirates' fleet.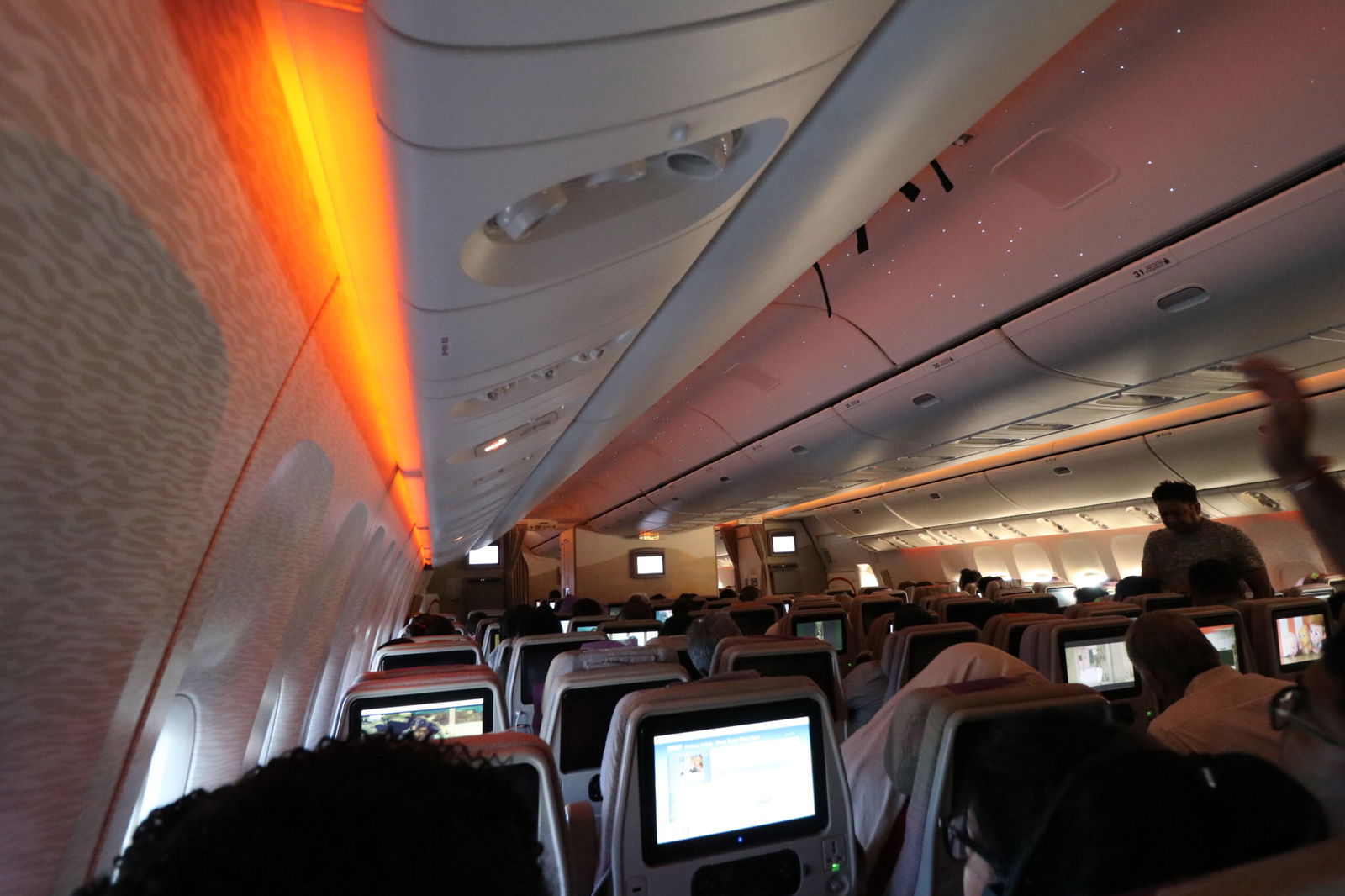 Soon enough we started our descent into Delhi. On both my Emirates flights the cabin attendants started preparing for arrival 45 minutes to 1 hour before arrival by collecting headphones, pillows, and blankets, and requiring seats and tray tables to be upright and locked. This really hurts on a 3 hour overnight flight when you want to sleep…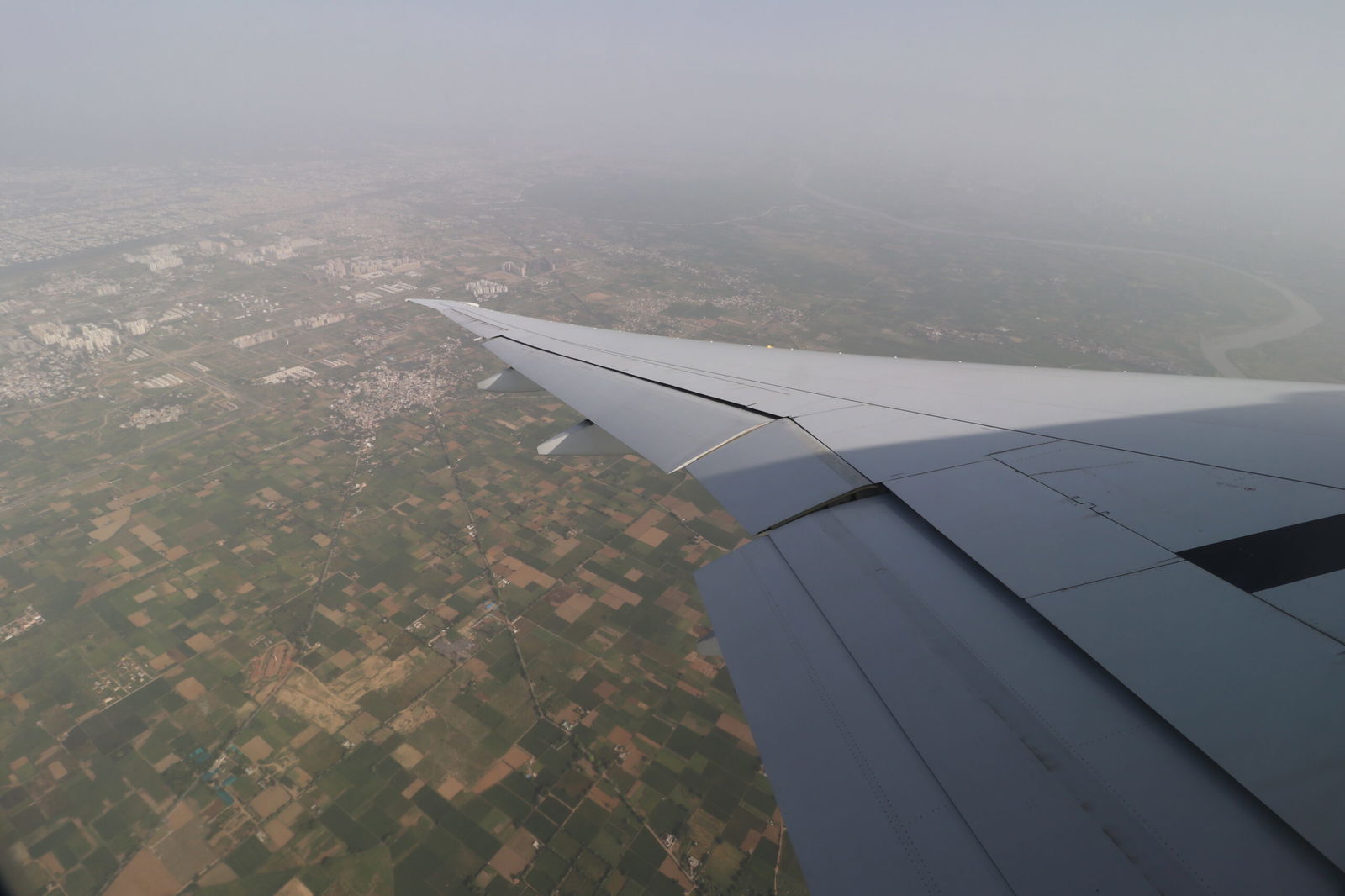 Soon enough we were on the ground and made our way to the gate.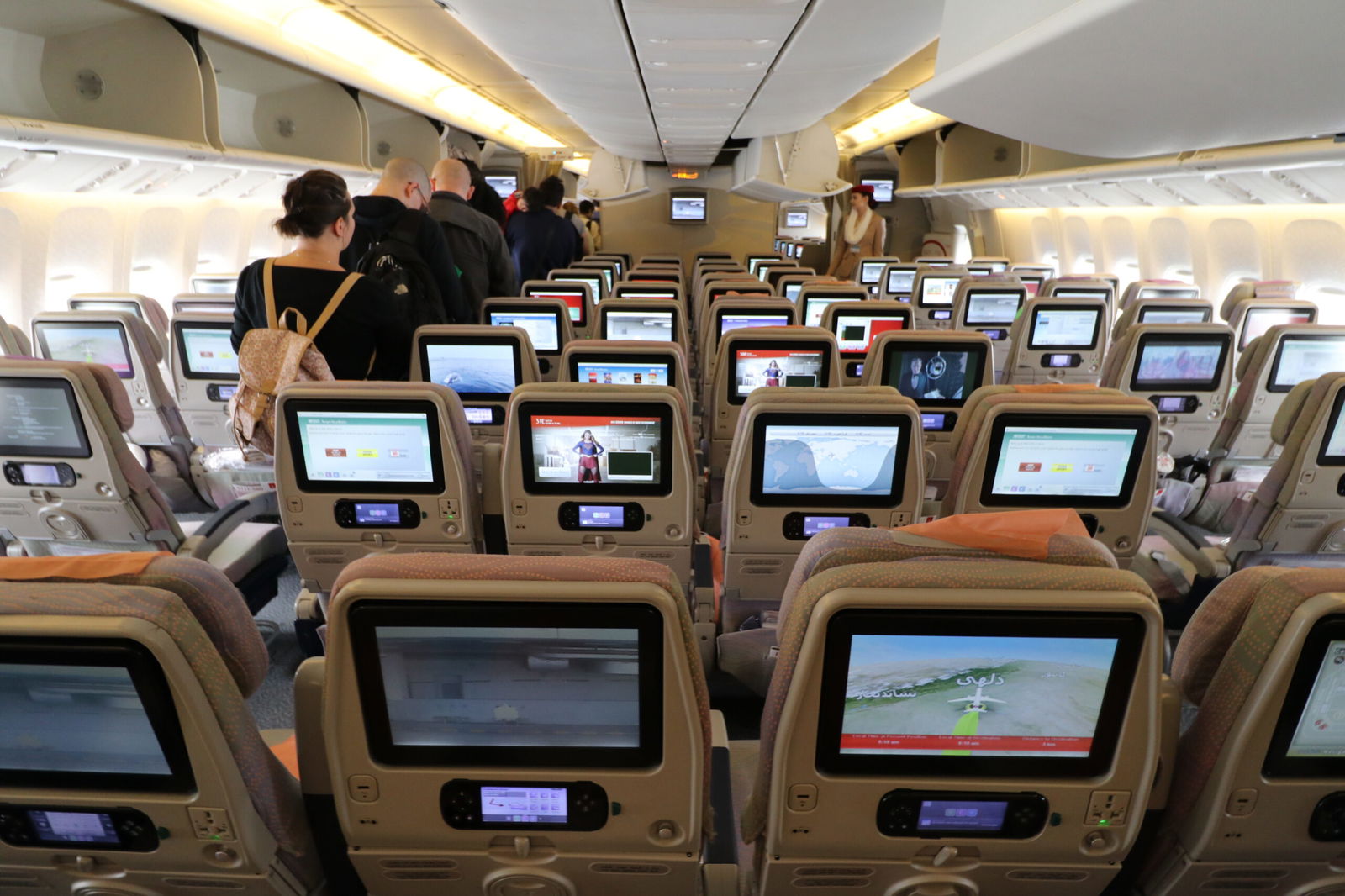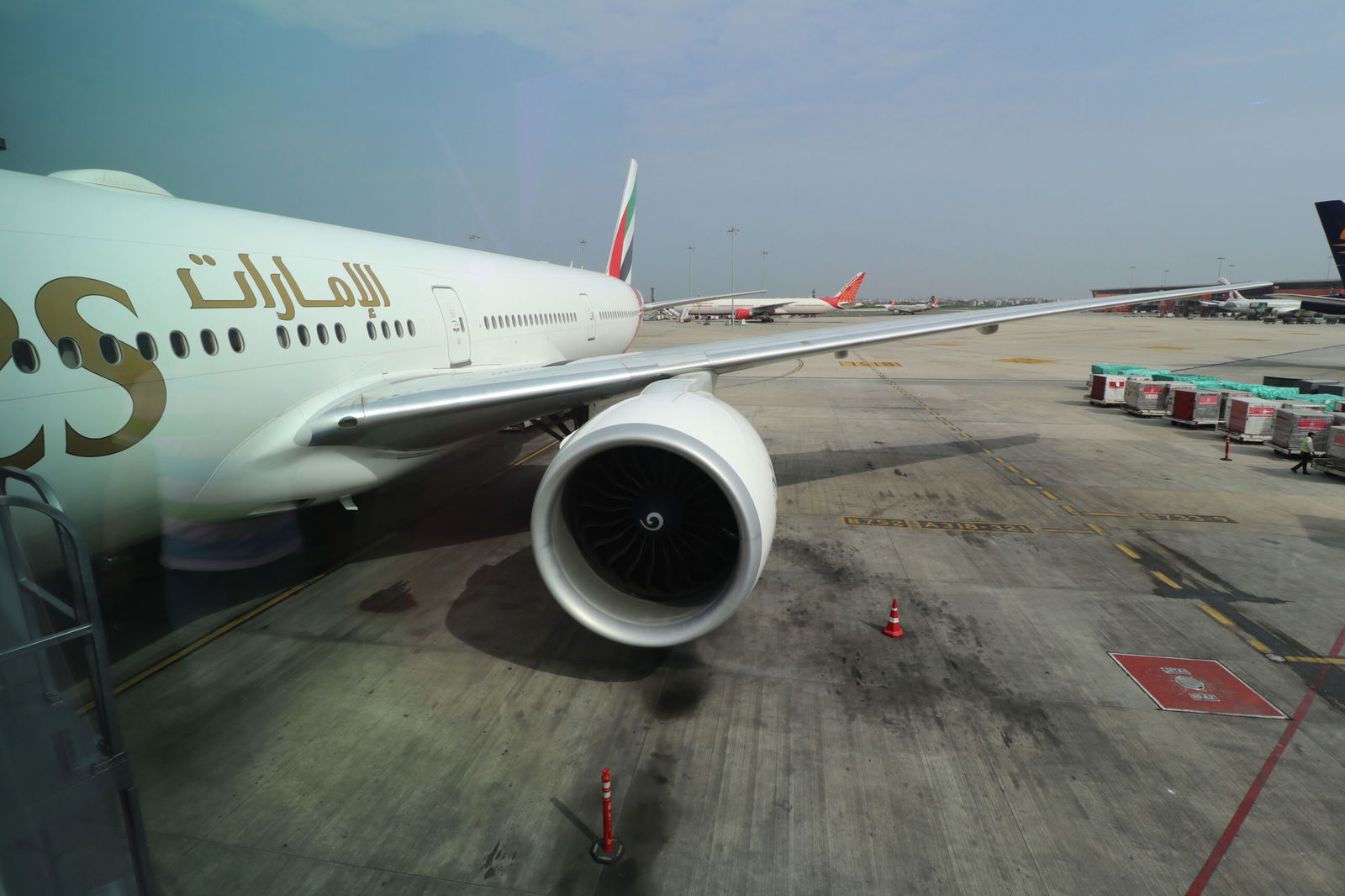 Bottom Line
The biggest point I learned from this experience is that Emirates has extremely different products on their 777s and A380s. This makes a world's difference, especially on long flights. While the A380 was one of the more comfortable aircraft I've flown in economy, I would avoid their 777. I'd also hesitate to connect through Dubai Airport again if flying in the back of the bus. The airport is simply too large for my taste. However, the food and service were good, and I wouldn't mind flying Emirates economy again on their A380 someday.
Want to see more? Here is my video review of the flight:
What is your opinion of Emirates economy class?