In mid-July I wrote about how Emirates & FlyDubai are "joining forces" and introducing a codesharing agreement and reciprocal benefits for passengers of both airlines. This is a perfectly logical development:
Both airlines are owned by the government
While the airlines market themselves differently, they really complement one another — FlyDubai's fleet consists exclusively of 737s, while Emirates' fleet consists of 777s and A380s, so the 737 can fly to many destinations that the 777 and A380 can't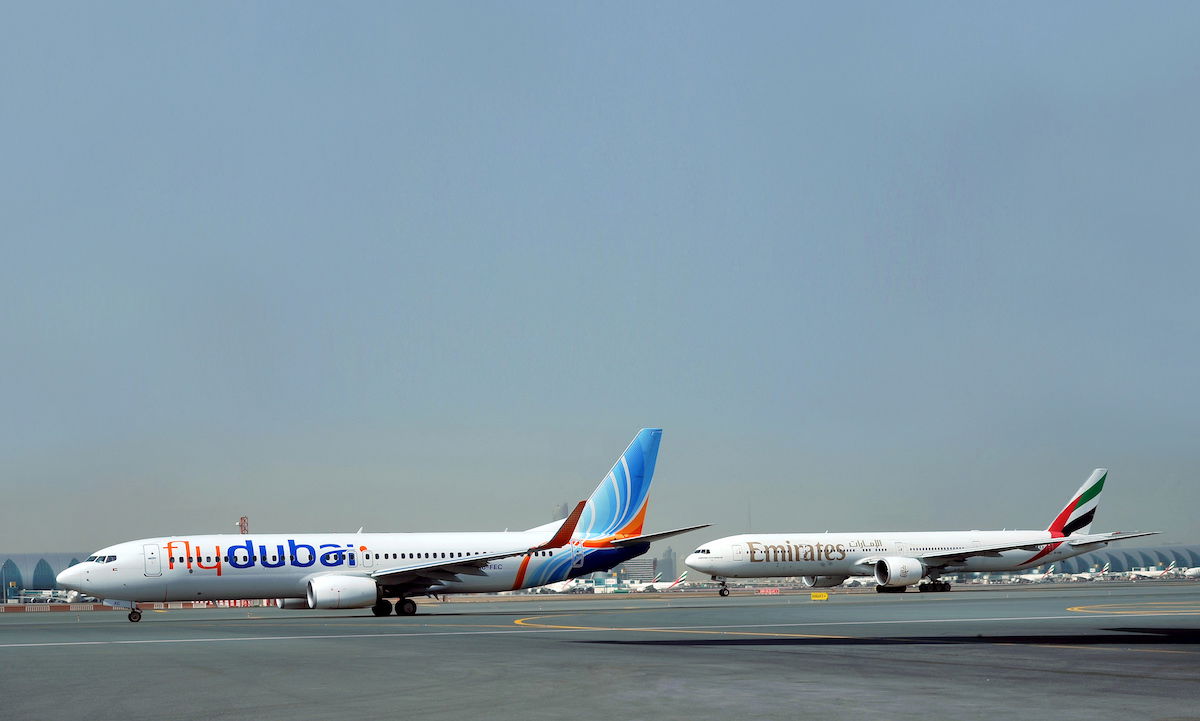 Well, now Emirates and FlyDubai have announced the full details of their first codeshare routes, as well what reciprocal benefits they'll offer.
The new codeshare agreement between Emirates & FlyDubai will be available for bookings as of October 3, 2017, and for travel as of October 29, 2017. To begin, Emirates will codeshare on 29 FlyDubai routes to the following destinations:
Asmara (Eritrea)
Belgrade (Serbia)
Kiev Zhulyany (Ukraine)
Juba (South Sudan)
Krasnodar (Russia)
Samara (Russia)
Kazan (Russia)
Mineralnye Vody (Russia)
Odessa (Ukraine)
Prague (Czech Republic)
Rostov-on-Don (Russia)
Sarajevo (Bosnia & Herzegovina)
Skopje (Macedonia)
Sofia (Bulgaria)
Tbilisi (Georgia)
Kuwait (Kuwait)
Baku (Azerbaijan)
Lucknow (India)
Ahwaz (Iran)
Bandar Abbas (Iran)
Esfahan (Iran)
Lar (Iran)
Shiraz (Iran)
Najaf (Iraq)
Bishkek (Kyrgyzstan)
Muscat (Oman)
Salalah (Oman)
Yekaterinburg (Russia)
Bucharest (Romania)
These are destinations not served by Emirates, so this will give Emirates passengers access to lots more destinations on connecting journeys.
As I mentioned above, the two carriers fundamentally operate different business models, with FlyDubai being a low cost carrier, and Emirates being a full service carrier. As a result, they'll try to align the experience somewhat. Per the press release:
When booked together, as part of the codeshare, Emirates passengers will receive complimentary meals and the Emirates checked baggage allowance on flights operated by flydubai in both Business and Economy Classes.

Connecting in Dubai's aviation hub offers a smooth transfer experience and under the new partnership passengers will benefit from a reduced minimum connection time (MCT) between Emirates' home in Terminal 3 and flydubai's in Terminal 2 of 120 minutes.

Today's announcement is an initial phase of the extensive agreement that will, in future phases, see the creation of additional city pair connections as the codeshare agreement is expanded and both airlines' networks are optimised.
On top of that, frequent flyers will receive reciprocal benefits:
Emirates Skywards members can earn Skywards Tier Miles on codeshare flights
Emirates Skywards elite members can enjoy their extra checked baggage allowance for codeshare flights operated by FlyDubai (20kg for Platinum members, 16kg for Gold members, and 12kg for Silver members)
Skywards elite members traveling on codeshare flights can use FlyDubai's business class check-in and receive priority baggage handling
It's clear that this is only the beginning of a new partnership between the two airlines, so I'd expect the benefits to increase over time. Most notably, I hope they introduce lounge access for Emirates elite members traveling with FlyDubai, which doesn't seem to be part of the initial agreement.
Furthermore, it's interesting that the above benefits only seem to apply when you book a FlyDubai flight as an Emirates codeshare, and not when booking FlyDubai independently, Maybe that won't change for now, since Emirates and FlyDubai do operate some of the same routes.
Regardless, it's great to see this partnership expanded, as it's only logical. I expect to see a lot more cooperation between the two airlines in the future. For example, I'd be shocked if FlyDubai didn't eventually cut the routes which are also served by Emirates, and instead focus on markets not served by Emirates.