Within the past couple of weeks I've mostly been taking domestic flights, following our trip to the Seychelles a couple of weeks ago. Shortly I'll be jetting off on my next international adventure, so stay tuned for the details of that, as I'm very excited.
On the points and travel front, this week we saw the introduction of a couple of new increased credit card welcome bonuses, new promotions from World of Hyatt, China announced they'd eliminate their "one route, one airline" policy, Lufthansa introduced new business class bedding, and more.
With that out of the way, here's a recap of this week on the blog:
Featured Stories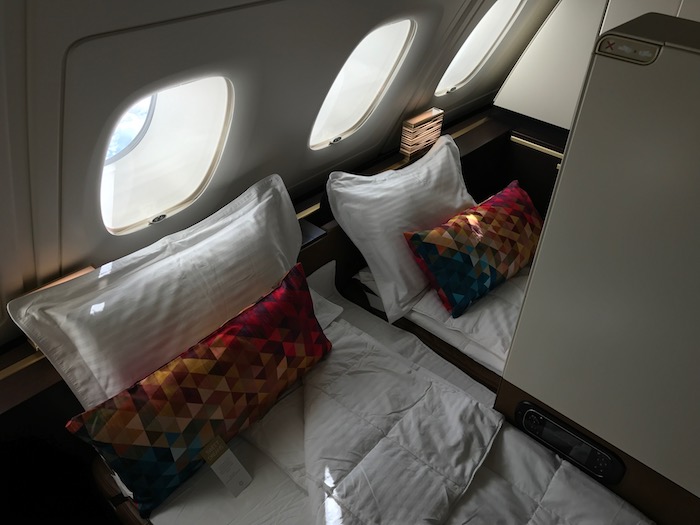 Citi is offering increased welcome bonuses on their co-branded AAdvantage credit cards for a limited time.
For the personal version of the card we're seeing the return of the best ever welcome bonus, for the business version of the card we're seeing a new bonus that's higher than ever before. Personally I value AAdvantage miles at 1.3 cents each, so that means I value the personal and business offers at $780 and $910, respectively.
---
The month of Ramadan 2018 has officially kicked off, and this year it runs from May 15 through June 14. Given that the "big three" Gulf carriers are all based in countries that generally observe Ramadan, I wanted to provide a quick rundown of what people should expect when flying these airlines over the next few weeks.
Those observing Ramadan typically fast during daylight hours, though those not observing are of course free to eat. However, some airlines also adjust their alcohol policies out of respect for this period.
For the Gulf carriers it's an interesting balance between respecting their "roots" while also serving non-Muslim international travelers, many of whom are traveling between non-Muslim countries, and simply using the Gulf as a connecting point.
---
While the Ink Business Preferred® Credit Card has a huge sign-up bonus of 80,000 Ultimate Rewards points upon completing minimum spend, there are several other great cards earning Ultimate Rewards points as well.
In this post I wanted to share some awesome ways you could redeem the 80,000 Ultimate Rewards point welcome bonus on the Ink Business Preferred® Credit Card, to give a sense of just how valuable these points can be.
Here are some of my favorite ways to redeem 80,000 Ultimate Rewards points (of course, some are more practical than others):
---

TIPS: Earning Miles & Promos
How Many Hilton Amex Cards Can You Apply For?
Amazingly Low Rates At The Park Hyatt St. Kitts
8 Benefits That Make The Business Platinum Card From American Express Worth It
Understanding Citi AAdvantage Credit Card Eligibility
You Can Now Earn Alaska Miles For Travel On Aer Lingus
Choice Privileges Is Offering A 40% Bonus On Purchased Points
Southwest Offering 2,500 Points If You Have To Wait In Line At TSA Pre-Check
The Clock Is Ticking On Hyatt's 40% Bonus On Purchased Points
New 75K Bonus On No Annual Fee Hilton Honors Card From American Express
Huge New Bonuses On Two More Hilton Credit Cards!
Instant Approval For 70K American AAdvantage Bonus Miles!
Earn 130K+ American Miles With Two Great Welcome Bonuses
How Long Should You Wait To Apply For A Chase Card After Product Changing?
Special LifeMiles Promo For OMAAT Readers — Buy Miles For 1.375 Cents Each!
Which Credit Card To Use When?
Which Credit Card Should You Use At Hotels?
Amex Offer: 10K Bonus Points For Spending $600+ On AmexTravel.com
SkyBonus University: The Easiest 2,000 Points I've Ever Earned
TRICKS: Redeeming Miles
World Of Hyatt Is Offering Two Great Promotions For Miraval Stays
You Earned 125,000 Membership Rewards Points, Now What?!
The Sad Decline In Virgin Australia's Premium Award Availability
The Best Ways To Redeem 80,000 Ultimate Rewards Points
The World's Cheapest Longhaul Business Class Award Redemption
Tons Of Air New Zealand Business Class Awards In June & July
TRAVEL With Ben (Lucky)
Would You Have Complained To The Hotel In This Situation?
Flying Gulf Carriers During Ramadan 2018 — What Should You Expect?
What Is EU261 Compensation For A Delayed Or Cancelled Flight?
Flying S7 Airlines Through Novosibirsk…
Should I Begin The Process Of Building Credit History In The US?
Tip: Use Free Heathrow Airport Buses Instead Of The "Hotel Hoppa"
When Visiting An Airport Lounge Isn't Worth It
Putting Etihad's New First Class Pajamas To The Test
REVIEWS & Trip Reports
Signing Up For CLEAR – And Some (Minor) Program Updates
Review: Etihad Business Class A330 Paris To Seychelles
NEWS & Updates
New Restrictions On Buying Access To Air France's La Premiere Lounge
Will Virgin Australia Ever Join A Global Alliance?
Hyatt Introduces Advance Purchase Member Rates
Uh Oh: Emirates Cutting Pilot Staffing On Some Longhaul Flights Due To Pilot Shortage
Boeing 737 Crashes After Takeoff From Havana, Cuba
Air Belgium Will Commence Operations In June, With A Catch…
SilkAir Merging With Singapore Airlines & Getting Flat Beds In Business Class
British Airways Joins TSA Pre-Check
British Airways Is Celebrating The Royal Wedding (In Some Unusual Ways)
Las Vegas Rumored To Be Getting A Waldorf Astoria
Open Skies Campaign Shifts Propaganda Focus Towards Presidential Flattery
Video: Alaska Airlines Flight Piloted By Two Female African Americans For The First Time
DFW Workers Arrested For Offering To Ship Drugs & Explosives On Commercial Flights
Details Emerge About Air Tanzania's Fascinating New 787
WOW Air's New Delhi Flights Are Now On Sale — How Good Of A Deal Are They?
United's Newark Polaris Lounge Opening June 4, 2018
American Selling Basic Economy Fares On Transatlantic Flights
China Scaling Back Their "One Route, One Airline" Rule
Delta May Announce Flights To India Soon
Etihad Is Now Selling Access To Abu Dhabi Arrivals Lounge For $30
Lufthansa Introduces New Business Class Bedding & Sleep Shirts
American Airlines Adds Restrictions On Emotional Support Animals
American Will Fly 787s To Cancun 3x Daily This Winter
Ouch: Asiana A330 Knocks Tail Off Turkish A321 In Istanbul
Timeline For Delta 777s With New Business Class Suites & Premium Economy
Nigeria's Azman Air Acquires An Etihad A340-600
Tips For A Smooth Airbnb Experience
---
I hope everyone has a great rest of the weekend!