London's Heathrow airport doesn't allow the neighboring hotels to operate shuttles. Instead, there's a common shuttle called the "Hotel Hoppa" that has a few different routes to the local hotels.
The Heathrow Express used to be the greatest ripoff at Heathrow, advertising 15 minute journeys to Central London (providing, of course, that you want to go to Paddington during the times of day the train runs frequently), but with outrageous pricing. The fares have been adjusted over the past few years, and now can be reasonable if you're booking in advance and/or traveling off-peak.
The Hotel Hoppa is still charging ridiculous rates, however, with tickets priced £4.50 if you book in advance, or £5.00 if you pay the driver.
And those are per adult, each way.
I do appreciate that the lack of individual hotel shuttles helps with traffic, especially as there are so many hotels near Heathrow, but you don't need to pay £9 for the round-trip when there is a FREE option that can actually be faster.
Heathrow Freeflow Free Fare Zone
As Heathrow is so spread out, some of the regular Transport For London buses essentially serve as landside shuttles, running around the perimeter roads of Heathrow.
Of course, as these are still normal public buses, they make stops along the way.
The end result is a zone around and between the Heathrow terminals where the buses are completely free. And you can use these to get to almost all of the Heathrow Airport hotels.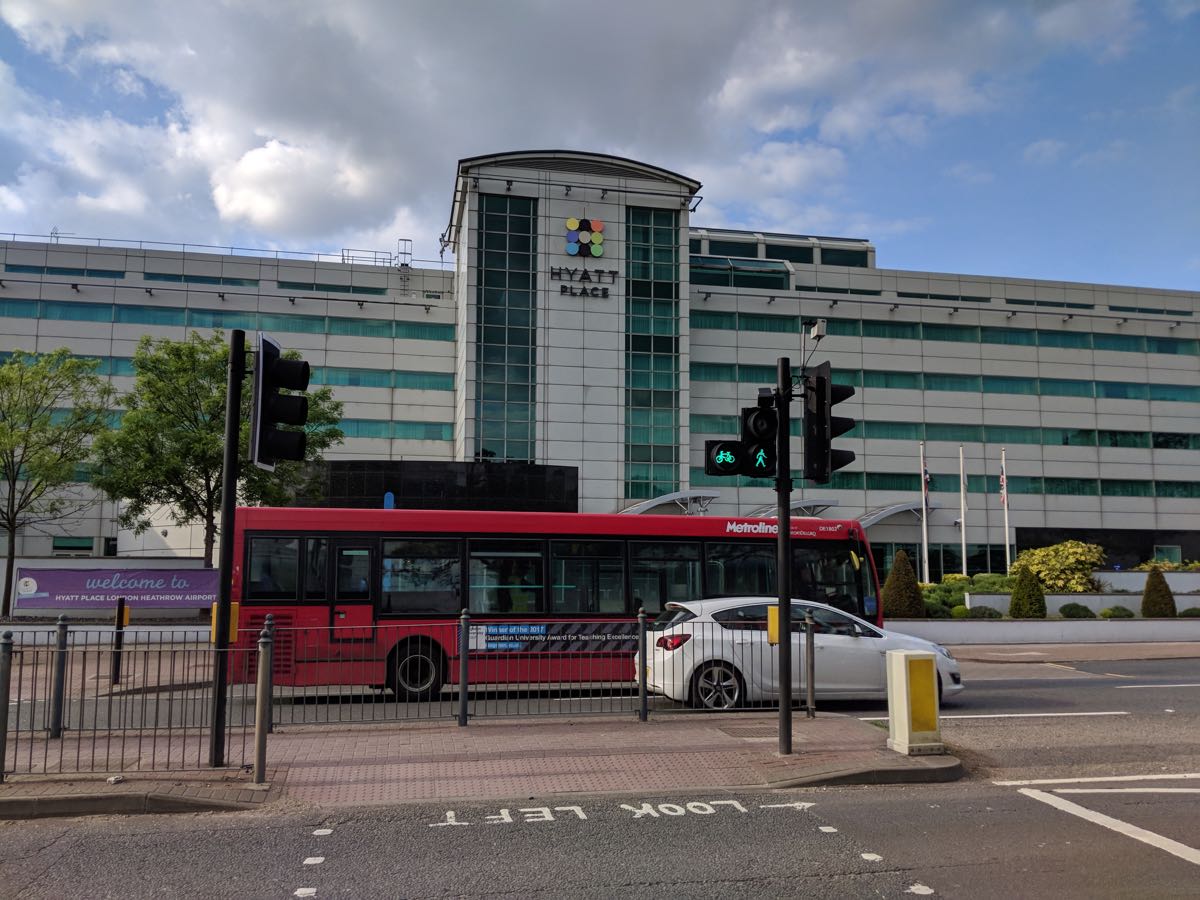 Here's a very rough drawing of the area included in this scheme (I'm not 100% confident of the exact roads the buses use on the East and West of the airport):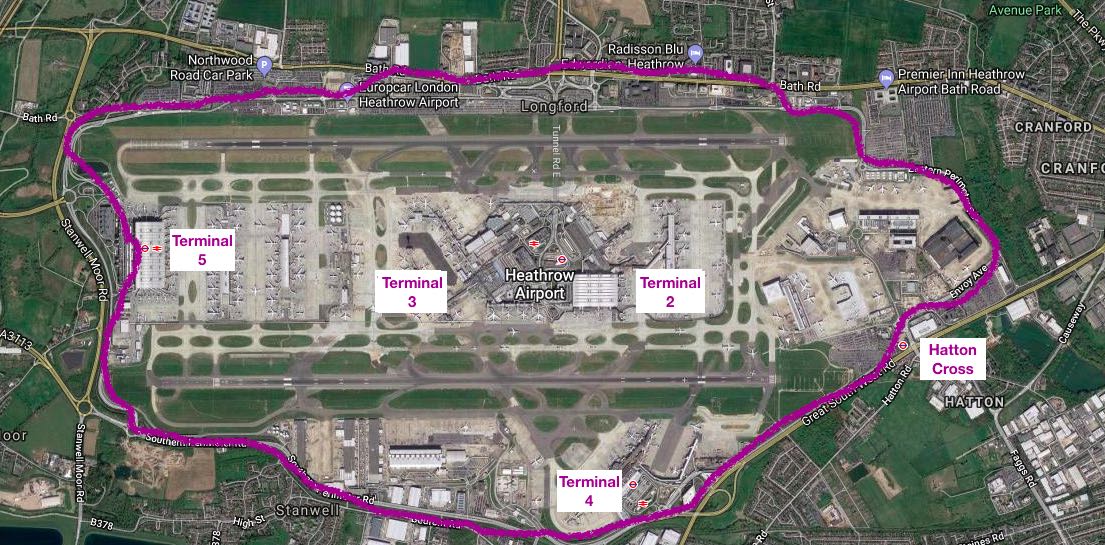 And here's a stylized map that shows the buses and some of the key stops: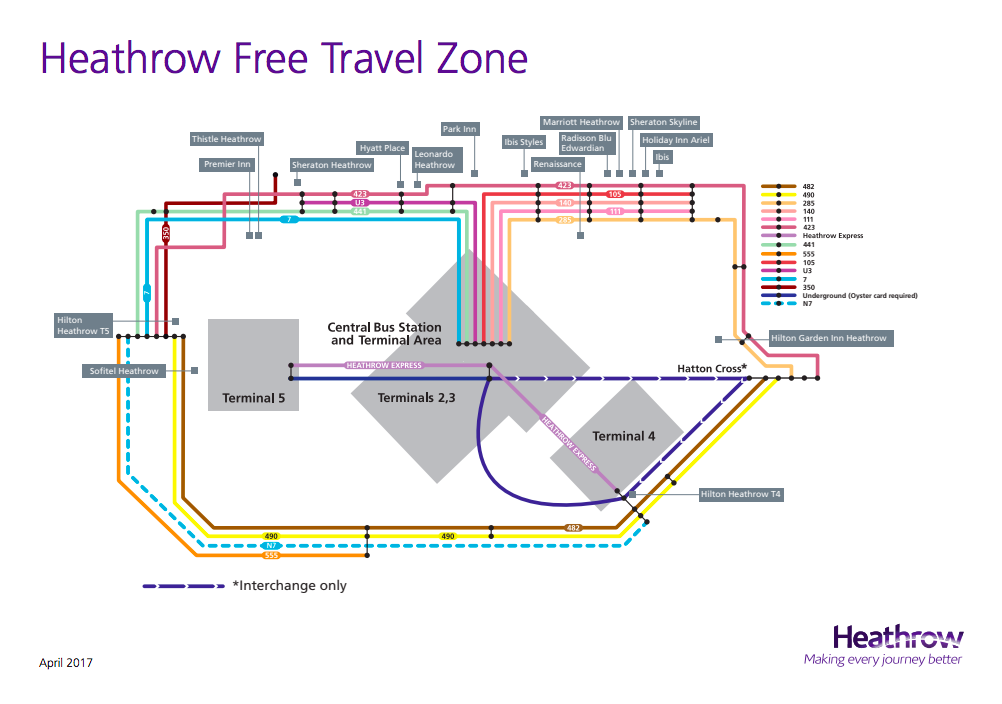 Taking the bus
Depending on which terminal you're arriving at or departing from, the bus setup is slightly different.
Terminals 4 and 5 have bus areas right outside their respective arrivals areas. Terminal 5, for example, uses the same covered area where you'd find a taxi: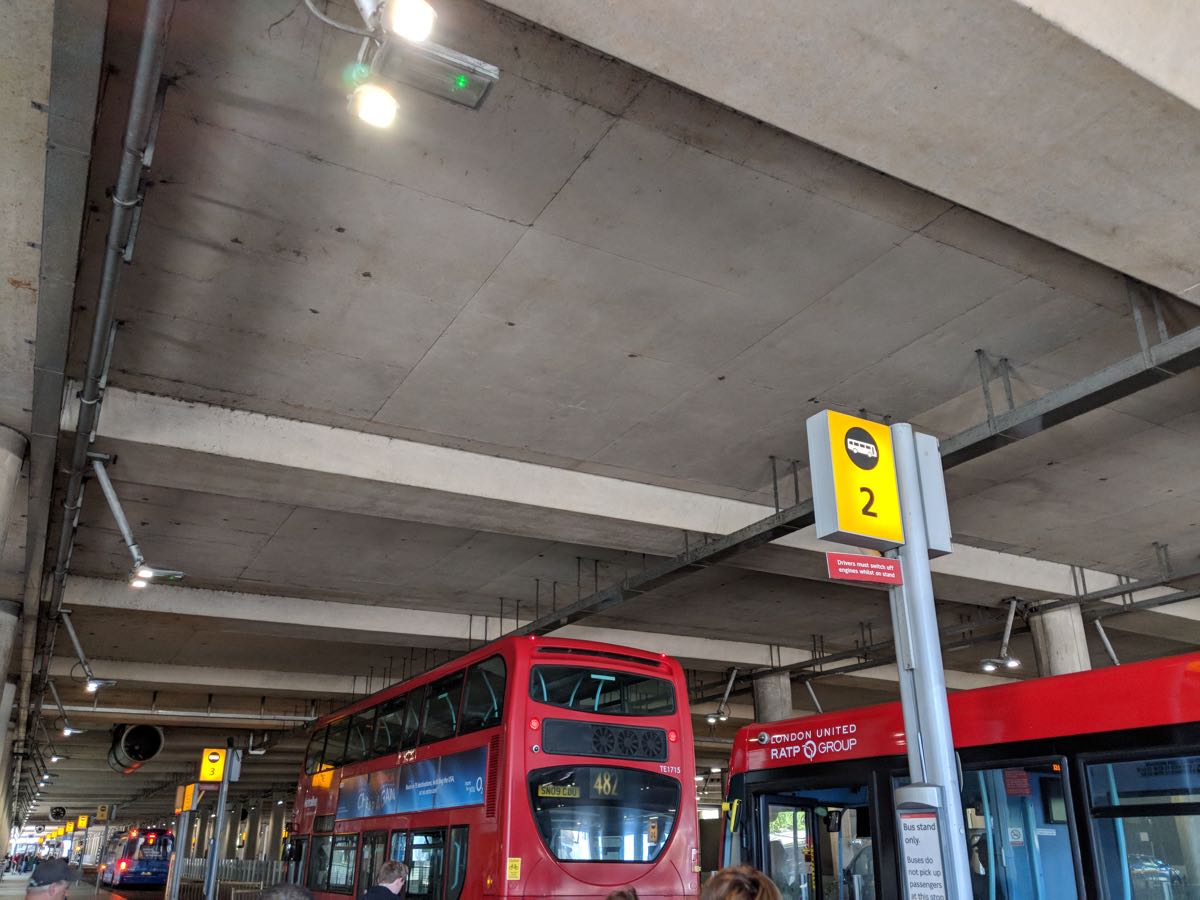 If you're using Terminals 2 or 3, they share a common and centralized bus station, so you have to walk a bit.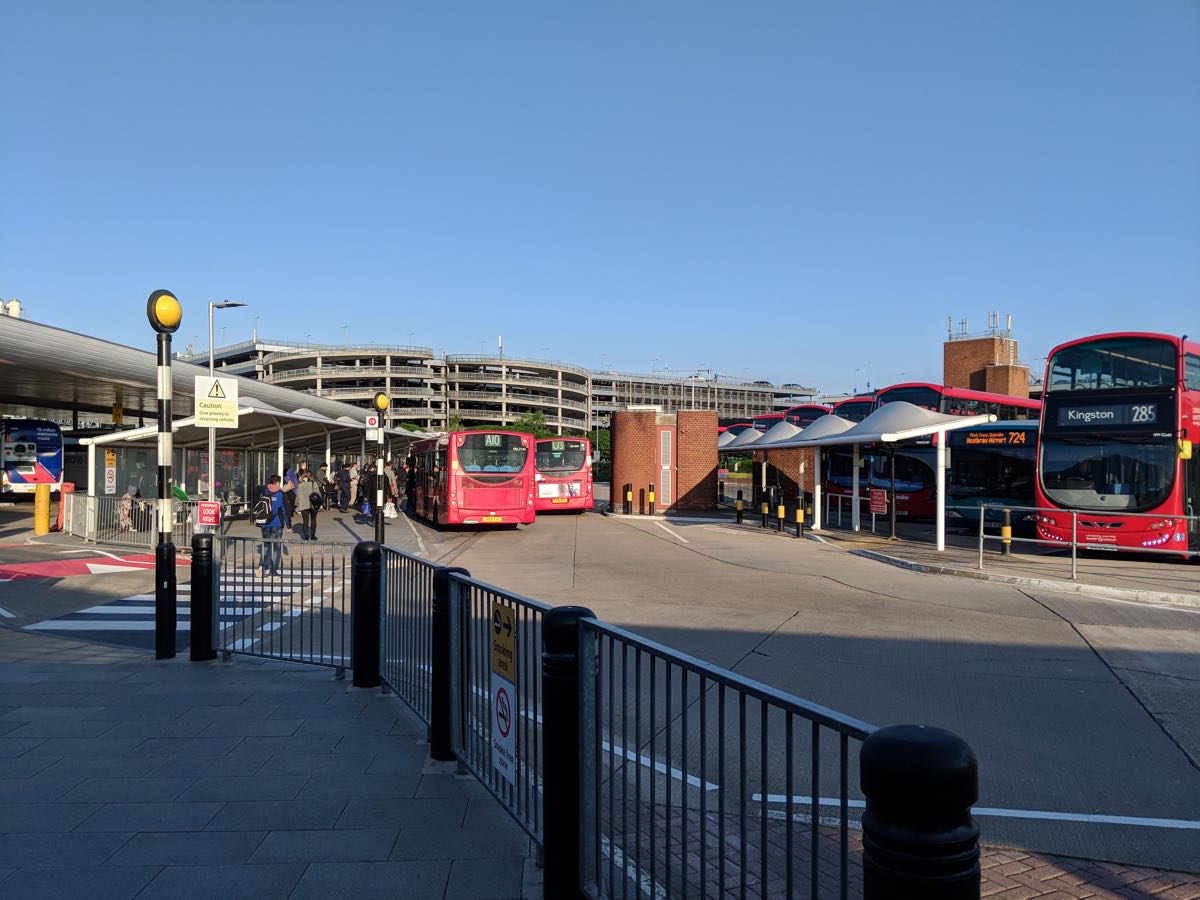 It's right by the entrance to the Underground, and just a bit further than the Heathrow Express, so it's not that far — maybe five minutes walking.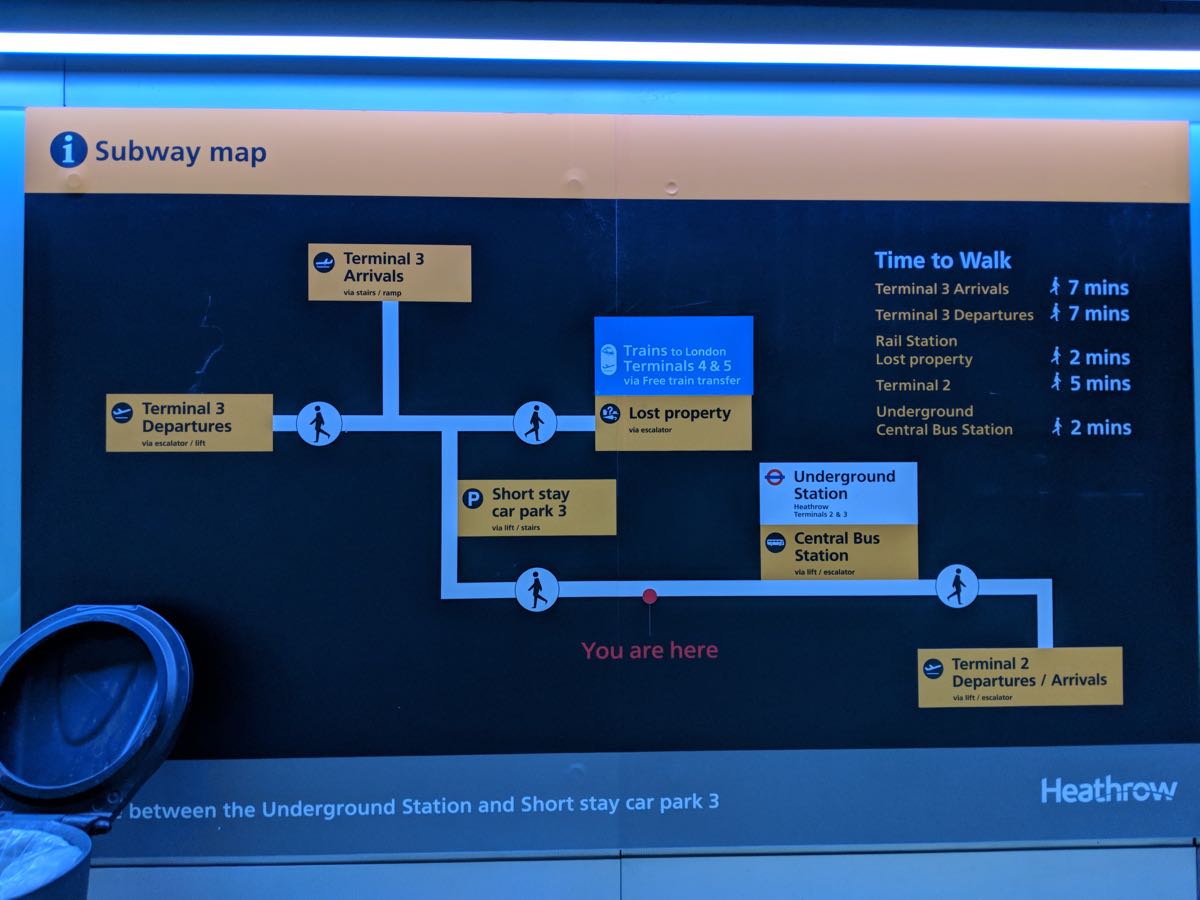 London bus routes are highly organized, and each stop has a letter identifier. Underneath that, the various buses that utilize a given stop are listed.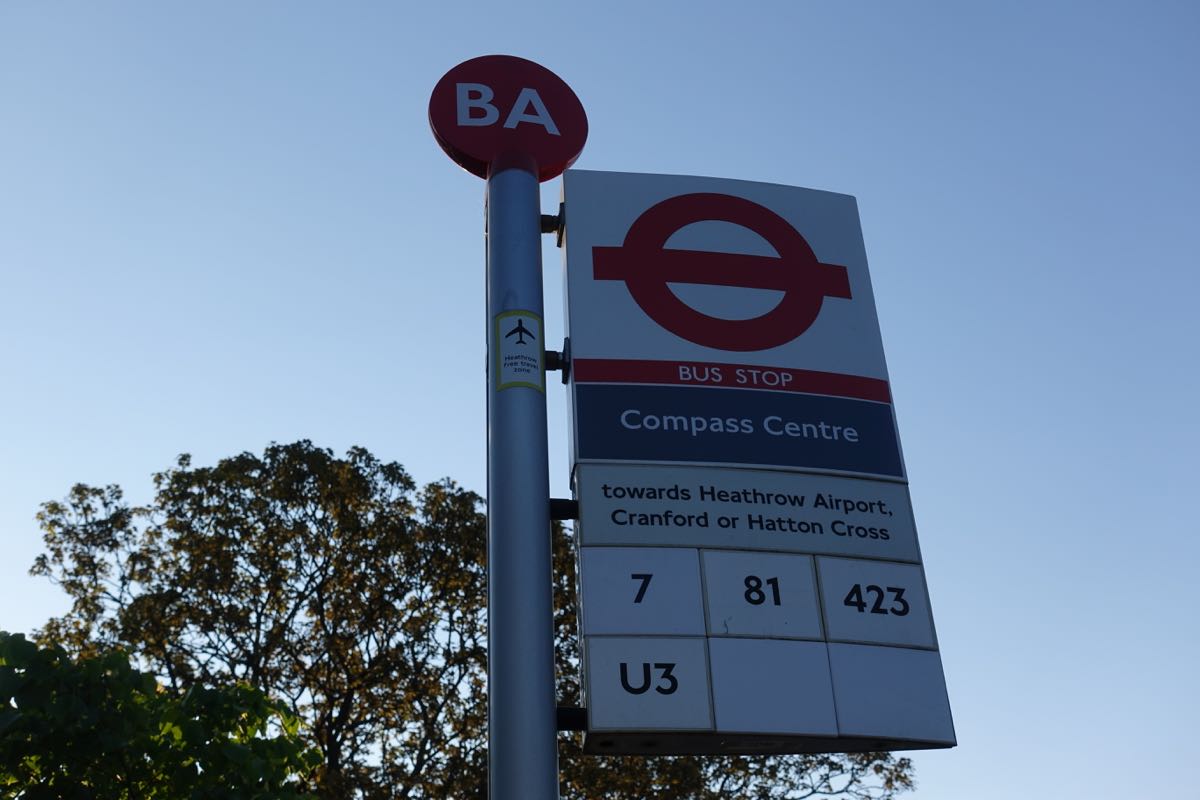 Be careful, however, as some route numbers might use multiple stops at a station, depending on which direction they're going. Bus #7, for example, leaves from both stop 6 and stop 8 at Terminal 5.
Each stop has a full timetable of all the buses that use that post, so you can check the route list and make sure you're heading in the right direction.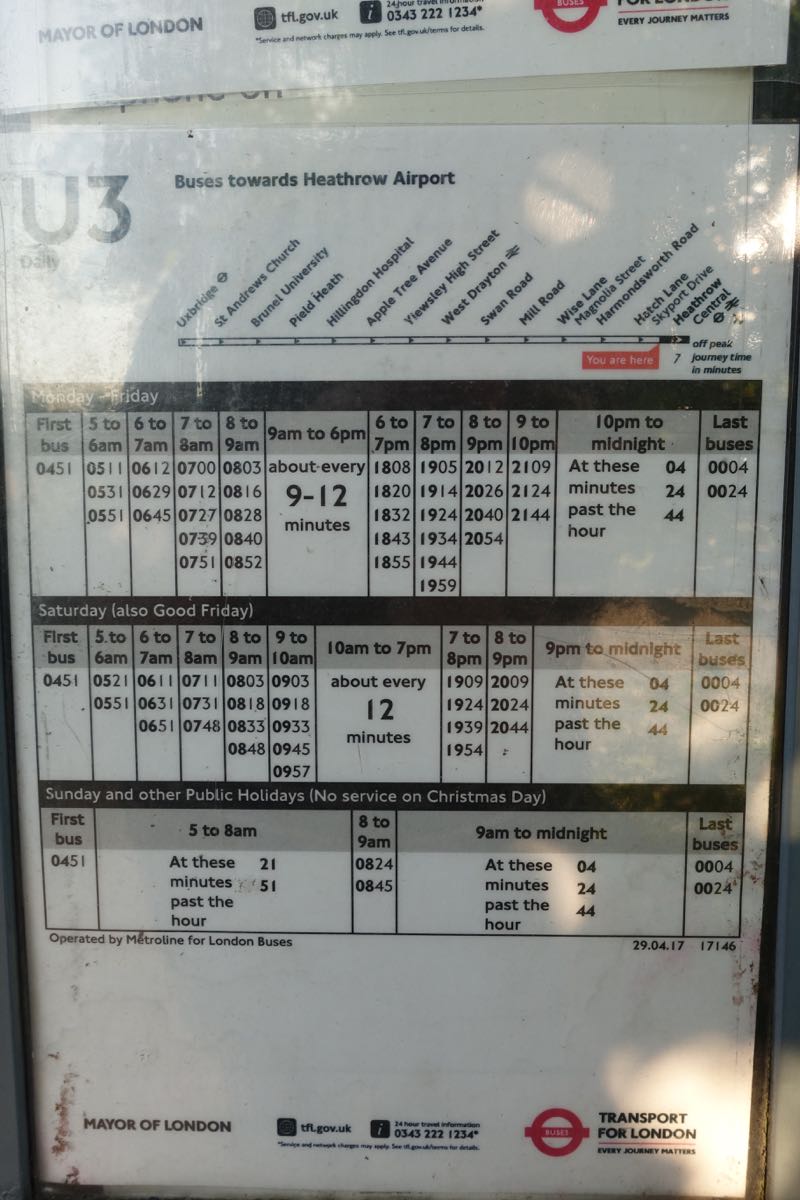 These timetables also show what stops are in the free fare zone, or if a given bus doesn't participate in the scheme.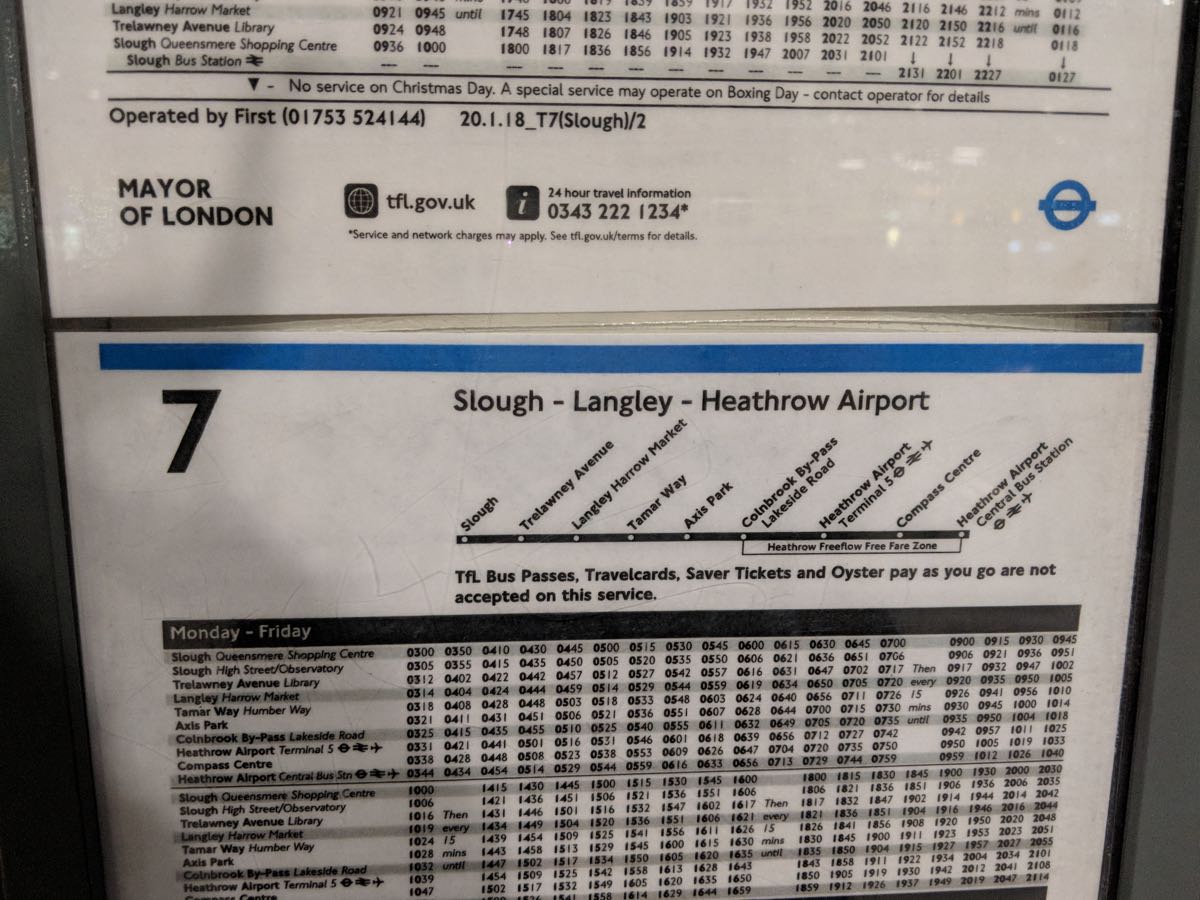 When you board, just tell the driver the stop that you're going to (or that you're going to Heathrow/Bath Road), and you don't have to pay or tap your card.
Then, when your stop is approaching, be sure to press one of the "stop" buttons located throughout the bus. They won't stop unless people are waiting in the shelter or you request a stop.
Cheating with Google Maps
I promise this is easier than it sounds once you actually try it, but if you want to simplify even further, the Google Maps integration with Transport For London is delightful.
Just enter your destination and location, and Google Maps will tell you exactly what your bus options are, including the letter code for the bus stop.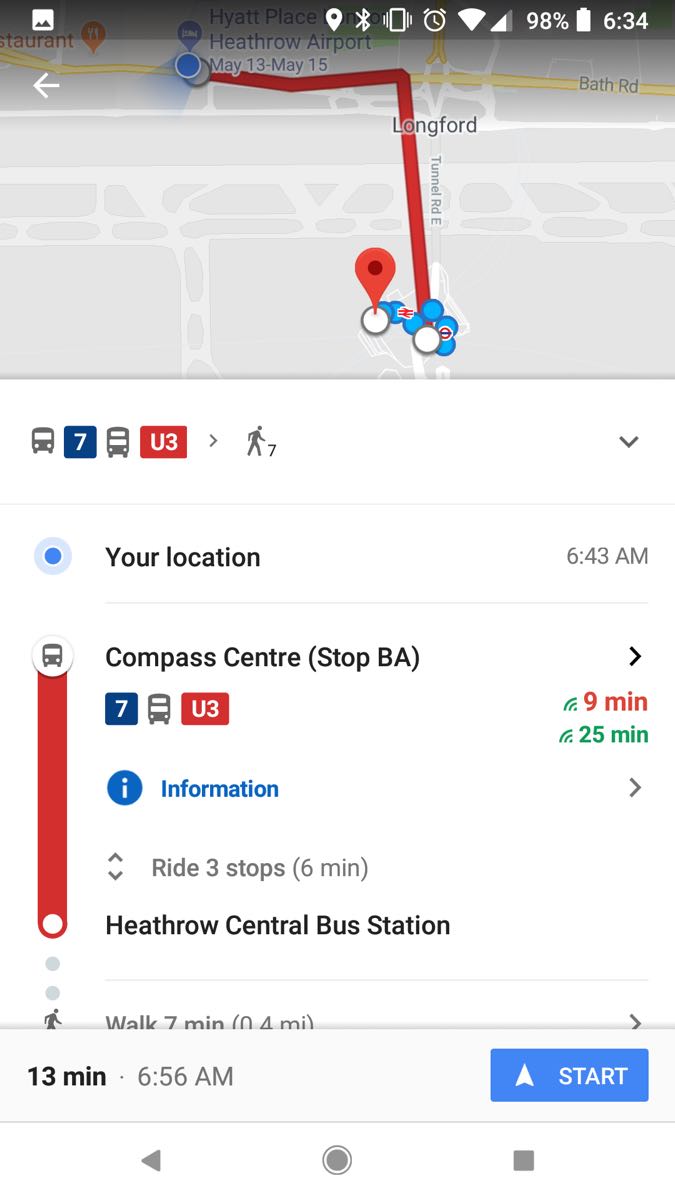 You'll even get real-time updates if the bus is late, and can follow your journey on the map so you know when to request a stop.
It's worth noting that Google doesn't differentiate between free routes and paid routes. And sometimes they'll even recommend the Hotel Hoppa based on departure times (these are designated with an "H" in front of the number) so you'll want to cross reference with the Heathrow map or the posted signs in the terminals.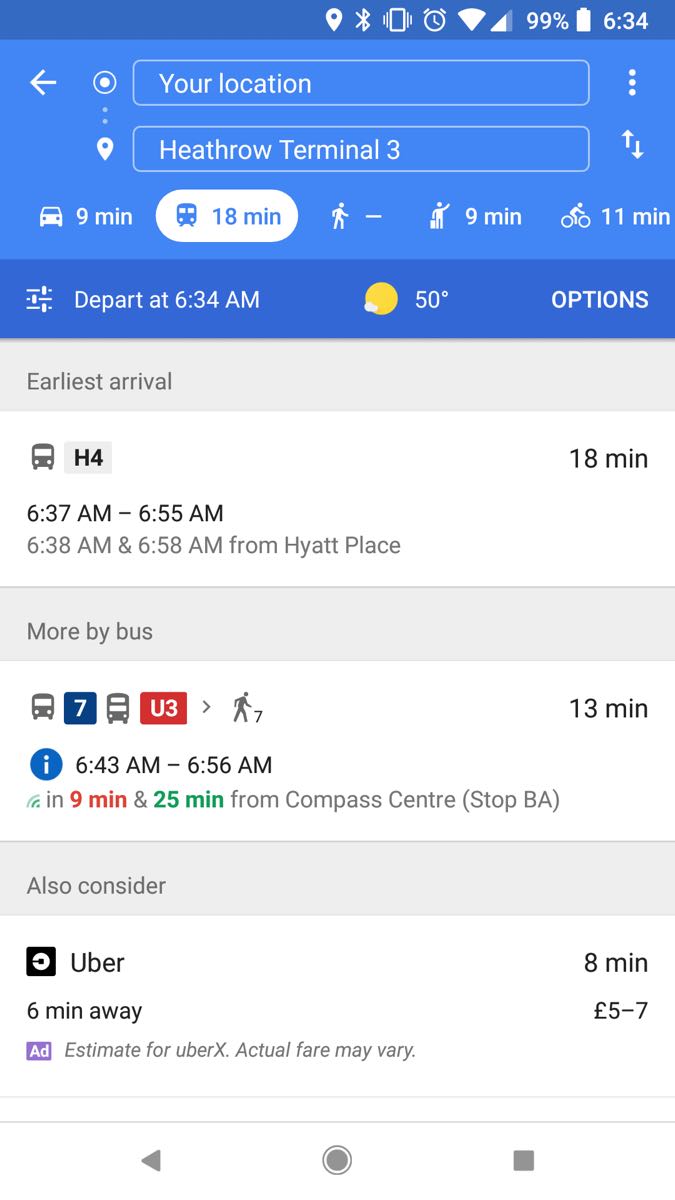 When is using the public bus a bad idea?
Well, if you have a ton of luggage, it's going to be complicated. People use these to get around their neighborhoods as well, and they can get crowded.
I'd suggest that if you can't get your stuff and your person onto the bus in one fluid motion, you may want to reconsider.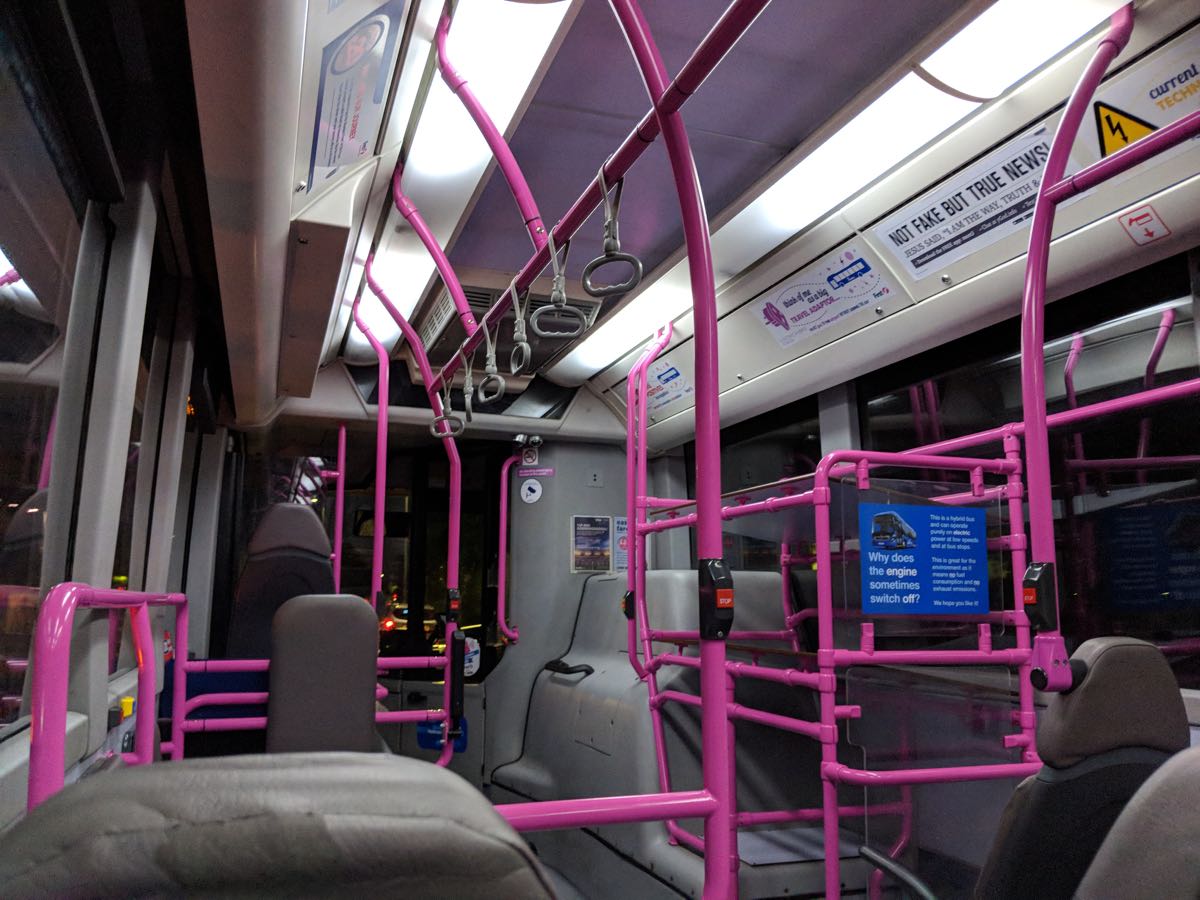 Similarly, the Sheraton Heathrow is located through a parking lot and across a dual carriageway (that doesn't have a convenient or designated pedestrian crossing) from the bus stop. I've crossed that road before when walking to the nearby pub, but it's probably not a good idea at night, or with luggage.
Head for Points notes that the Doubletree Hotel is just outside the free zone, but the excess fare is just £1.50, so it's still a vastly more affordable option than the Hoppa.
But otherwise, it's a great way to get to your hotel, or up and down Bath Road if you want to go to dinner outside of your hotel. And as there are a few good local places, you probably do.
Bottom line
My schedule last weekend provided abundant opportunities to take the bus around Heathrow (between Frequent Traveler University and the way my flights worked out I had four nights in Bath Road hotels).
While I've used the bus to get to and from individual hotels before (and it's my preferred mode of transit in London proper), I hadn't had the opportunity to do quite this much back and forth around Heathrow previously. Understanding how to hop on and off a local bus certainly makes staying at Heathrow more pleasant, as you don't feel as trapped in your hotel if the weather is poor.
And you definitely can't beat the price!
Any other tips for using the buses around Heathrow/avoiding the Hotel Hoppa?
Thanks to all the Londoners who helped me get the bus situation dialed in this weekend, it was much appreciated!