---
Before I get into this review, I just wanted to clarify that this flight was supposed to be operated by Air Seychelles. However, shortly after we booked, Air Seychelles announced a major restructuring, which would include them canceling their Paris to Mahe flight. We were supposed to fly them just a couple of weeks before they discontinued service.
However, Air Seychelles ended up returning their A330s to the leasing company early, so for the last several weeks of the service, Etihad operated an A330 on the route on Air Seychelles' behalf, given that they have a stake in the airline. I had no clue what to expect in terms of the onboard experience, whether we'd have an Etihad crew or an Air Seychelles crew, and what the amenities would be like.
Air Seychelles 17
Paris (CDG) – Mahe (SEZ)
Saturday, April 14
Depart: 9:55PM
Arrive: 10:10AM (+1 day)
Duration: 10hr15min
Aircraft: Airbus A330-200
Seat: 7F (Business Class)
We boarded through door L2, where we were greeted by one Air Seychelles flight attendant and one Etihad flight attendant. As it turned out, the Air Seychelles flight attendant at the door was the only representative from the airline onboard, and everyone else was from Etihad. We turned left into the business class cabin, which featured 22 seats in a staggered layout (these seats were spread across six rows).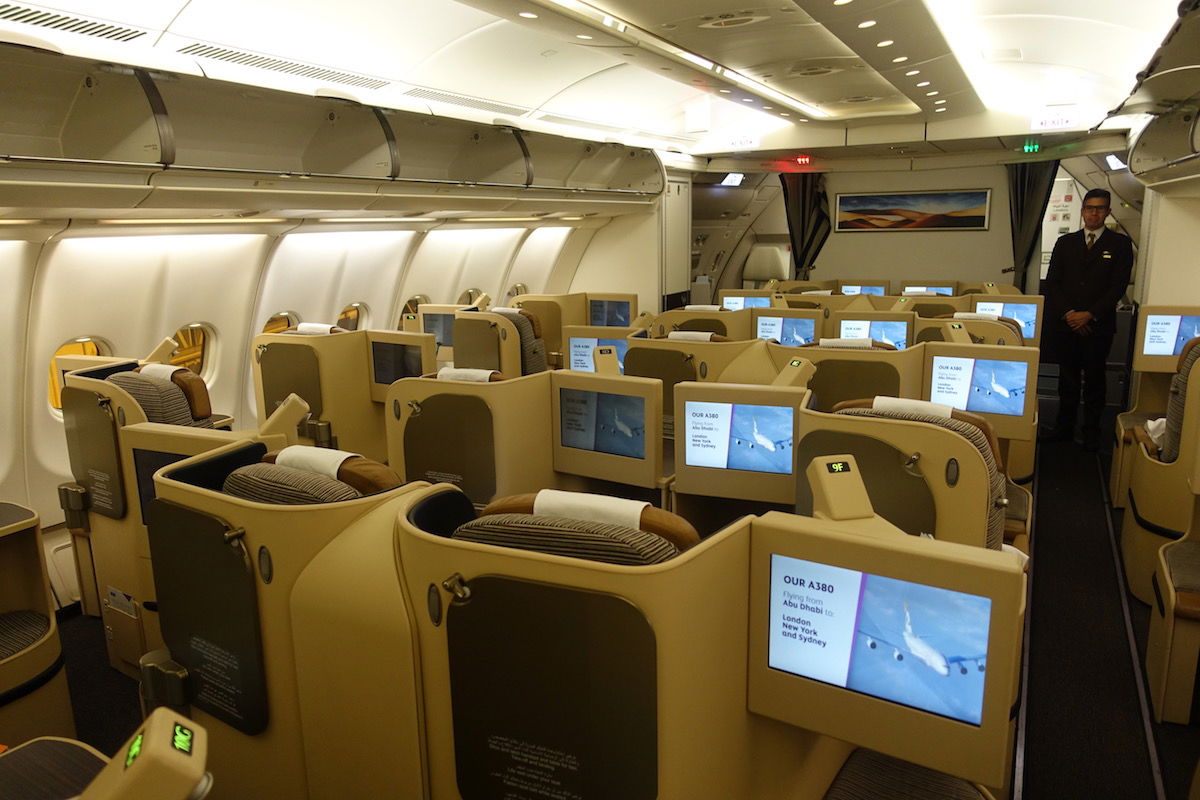 Etihad A330 business class cabin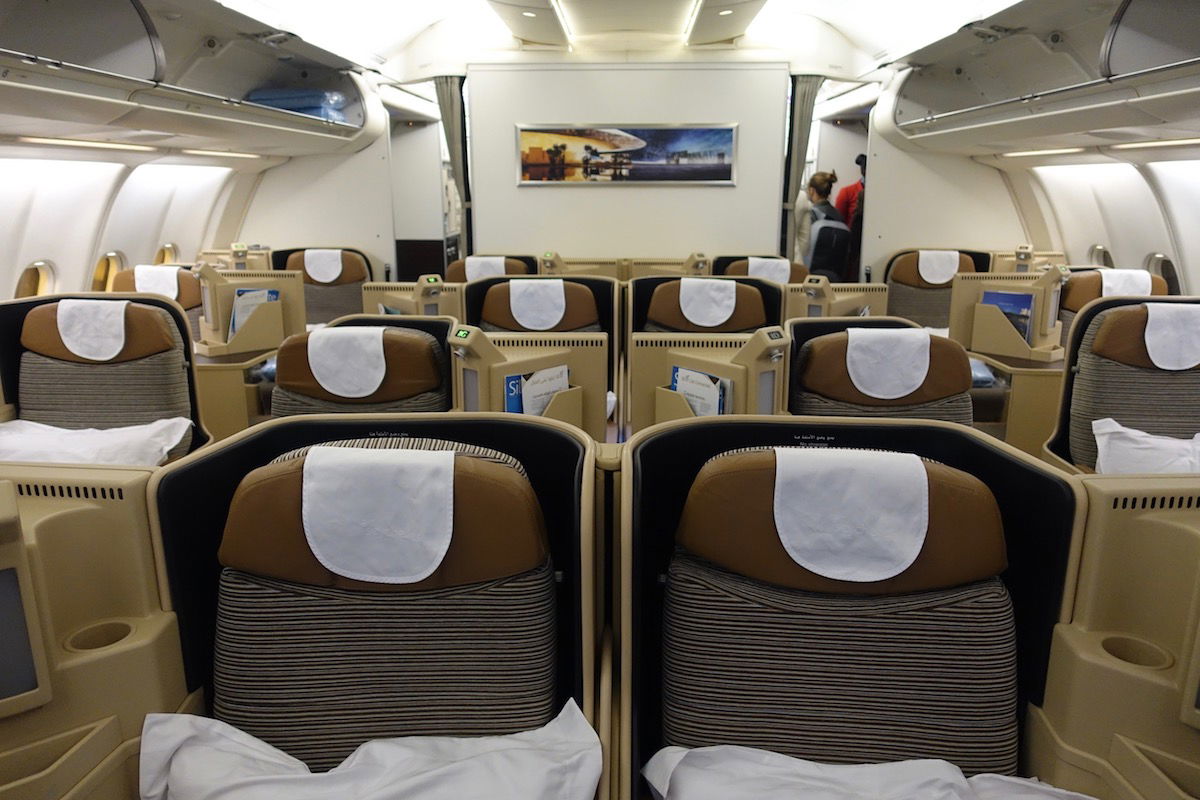 Etihad A330 business class cabin
This configuration has a few different types of seats. Along the windows the seats alternate in each row, with seats either being closer to the windows or closer to the aisle. The seats closer to the aisle feel quite exposed, so I'd highly recommend choosing one of the seats closer to the windows.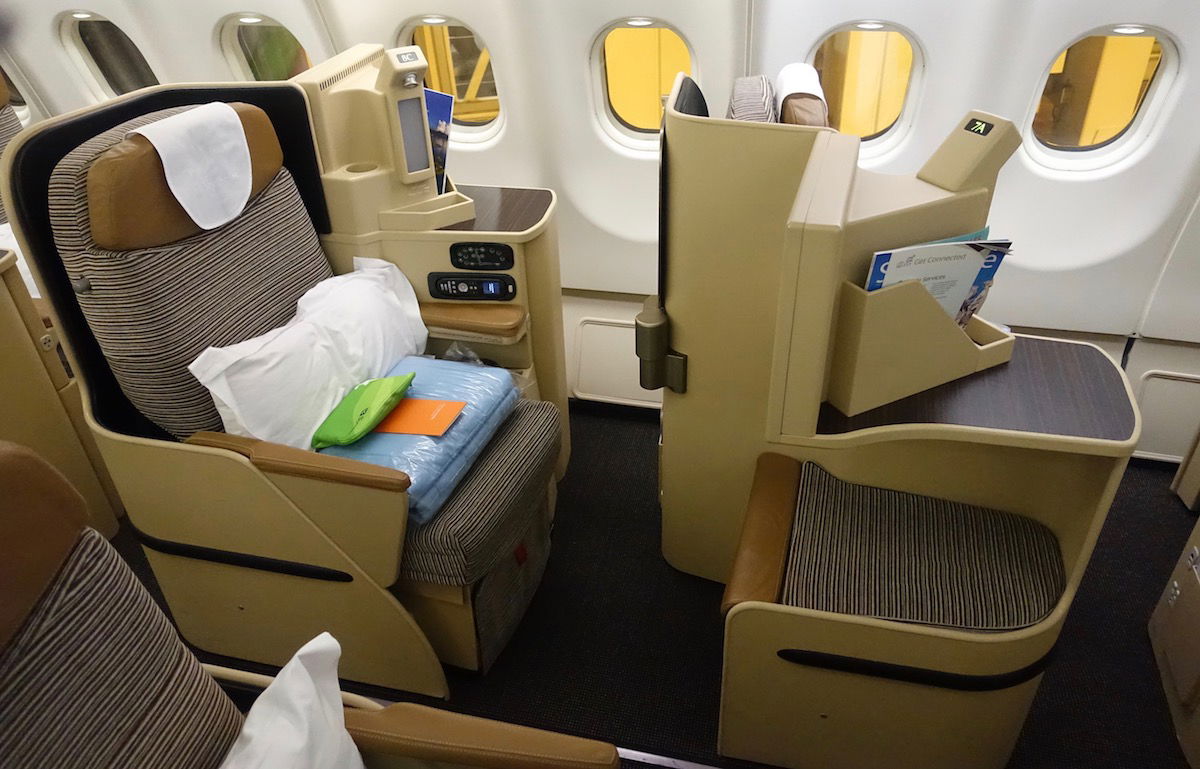 Etihad business class seats A330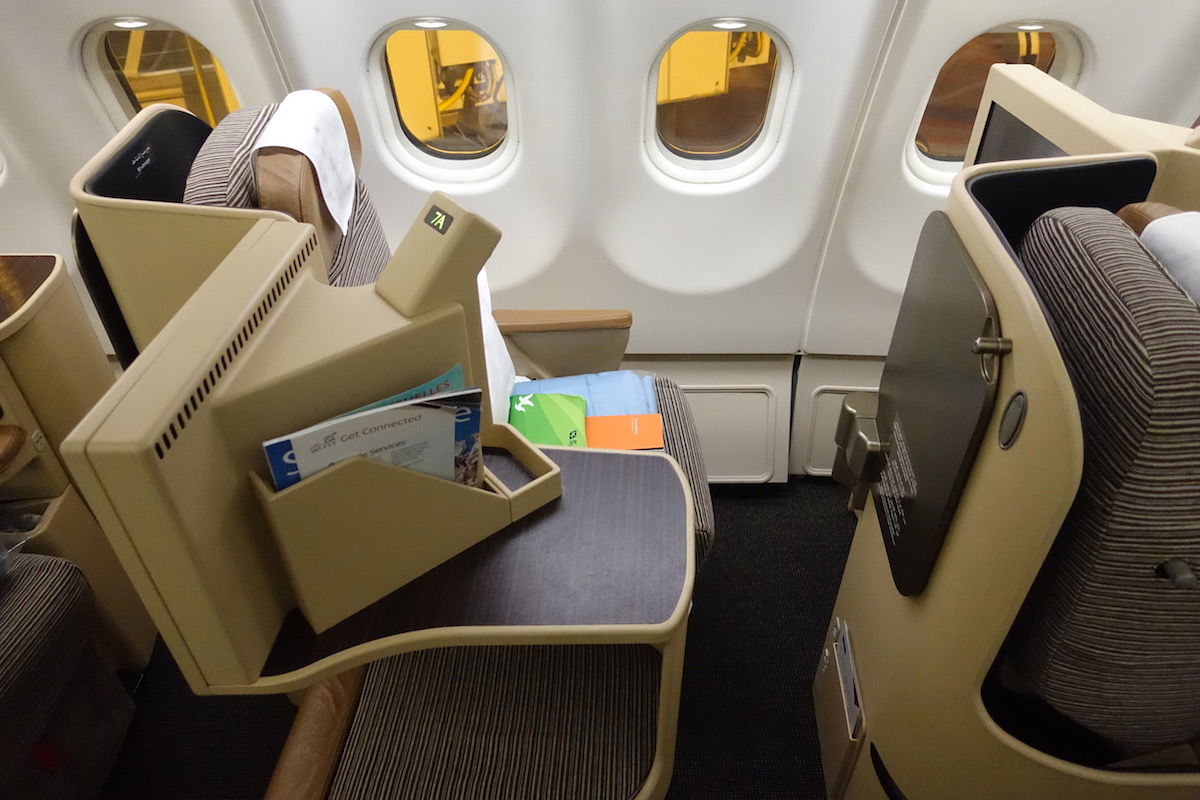 Etihad business class seats A330
Unfortunately when the aircraft swap happened, we didn't have a choice of seats. We were placed in seats 7E & 7F, which are commonly referred to as "honeymoon seats." That's because they're really close to one another, and often preferred by couples traveling together. Personally I don't love these seats. Even if I'm traveling with someone, I still value personal space on a plane, and these seats are nearly as close to one another as economy seats. Over the course of the flight these seats sort of grew on me, though.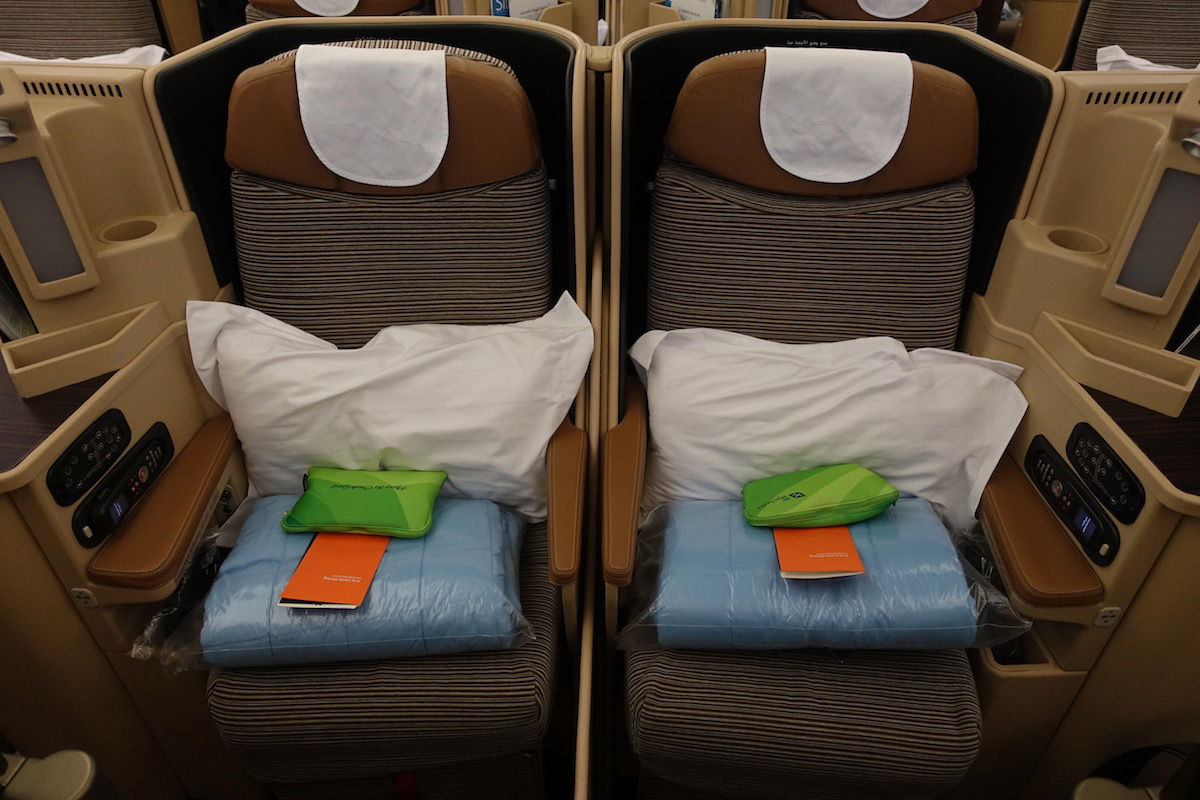 Etihad business class seats A330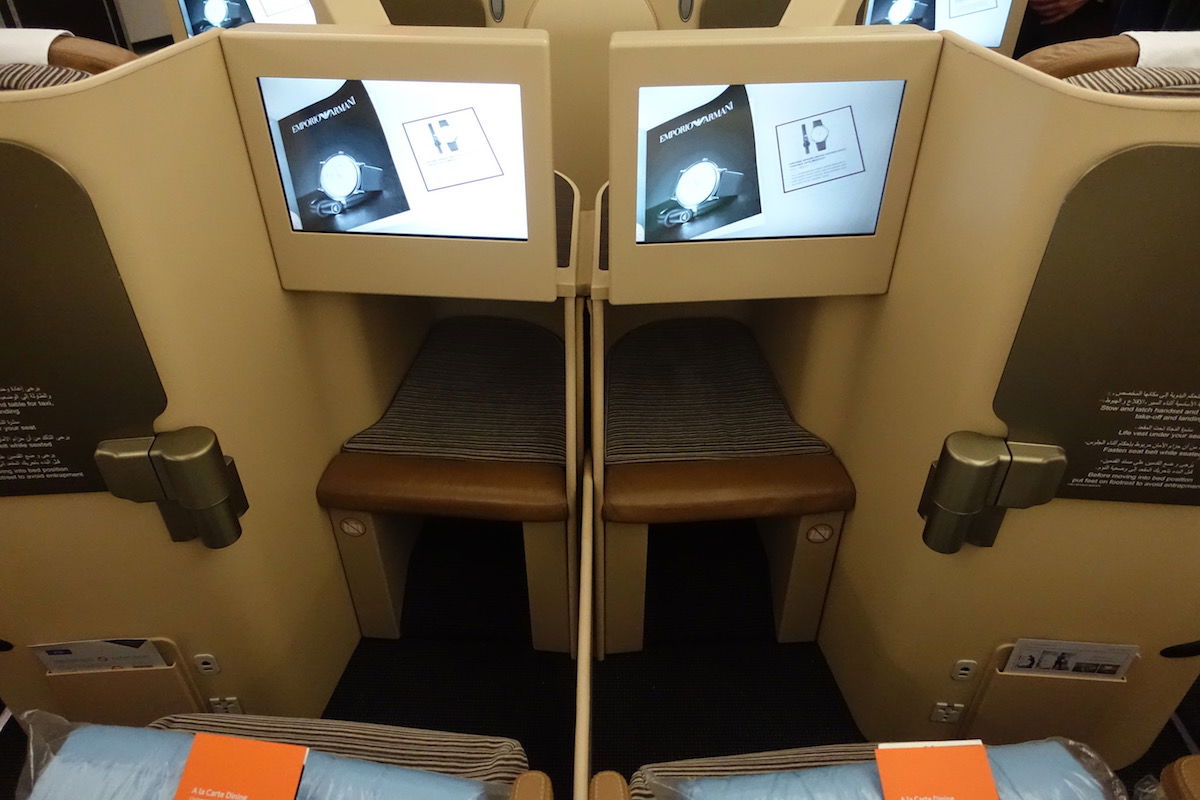 Etihad business class seats A330
To the side of my seat by the aisle was a console, which had a reading light, a bottle holder, and a small area where you could place a phone.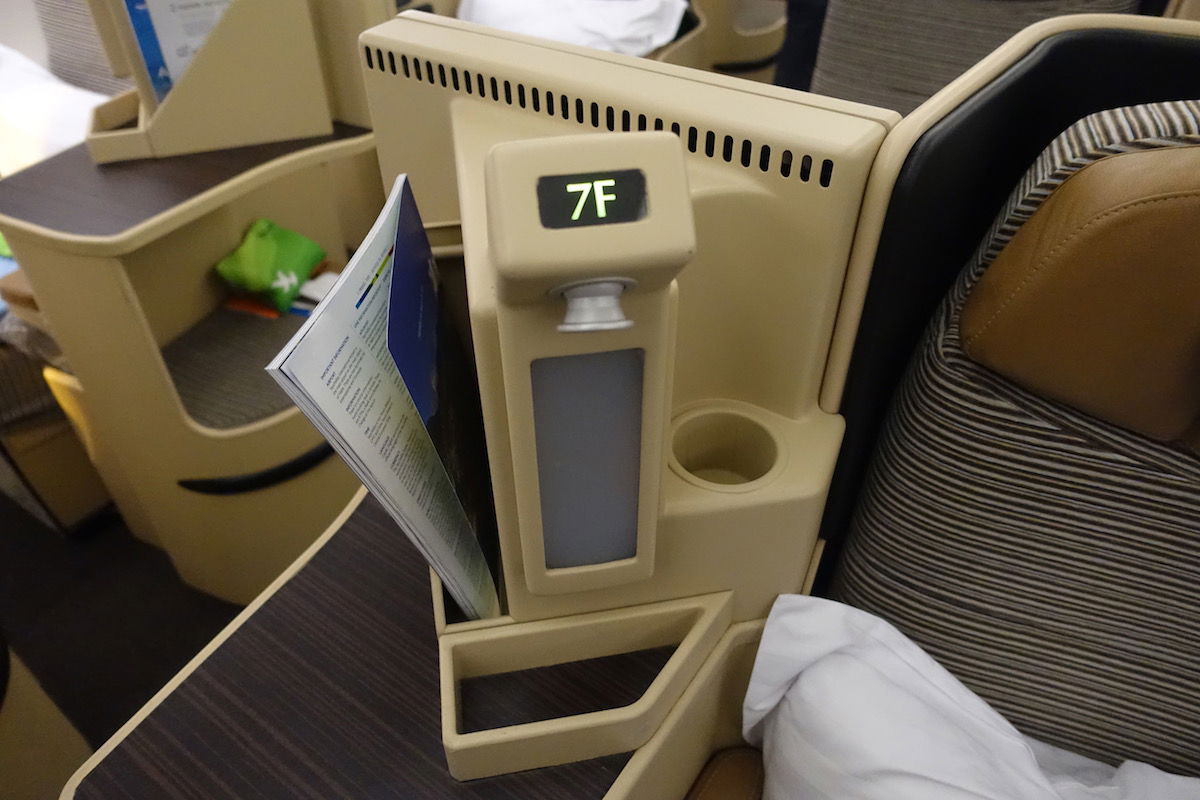 Etihad business class seat console
Underneath that and to the side of the seat were the entertainment and seat controllers.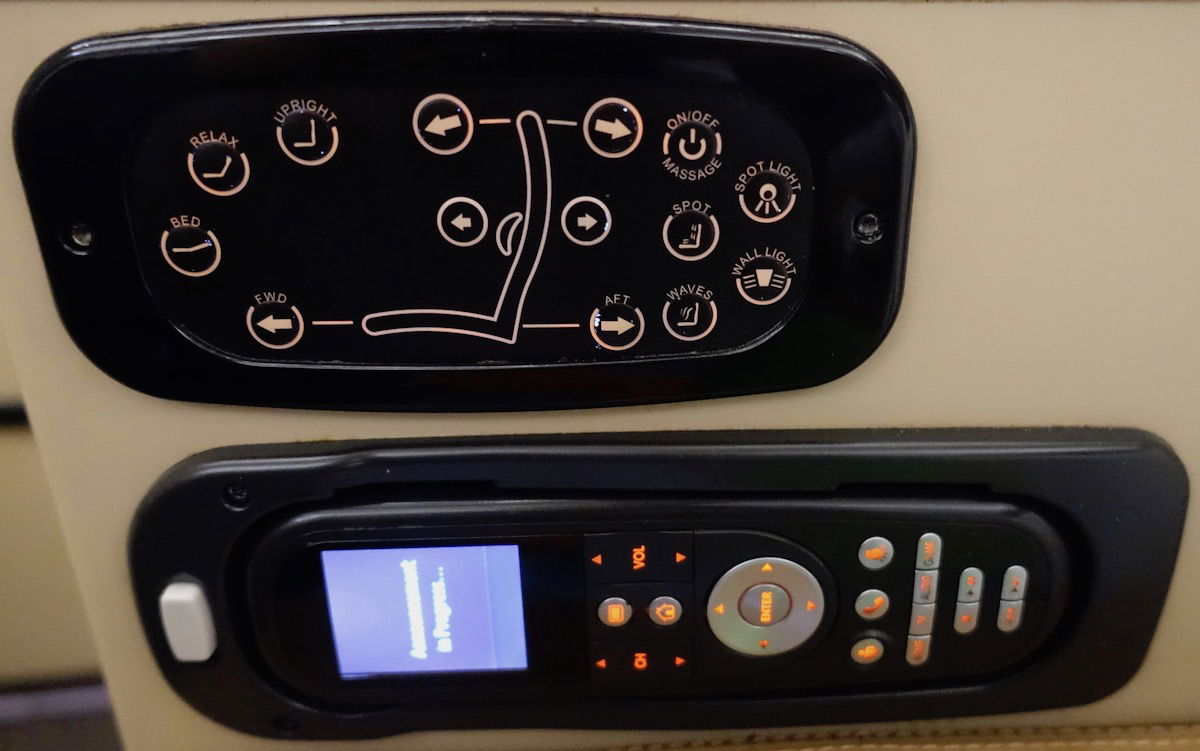 Etihad business class seat & entertainment controls
Underneath that was a small compartment with headphones.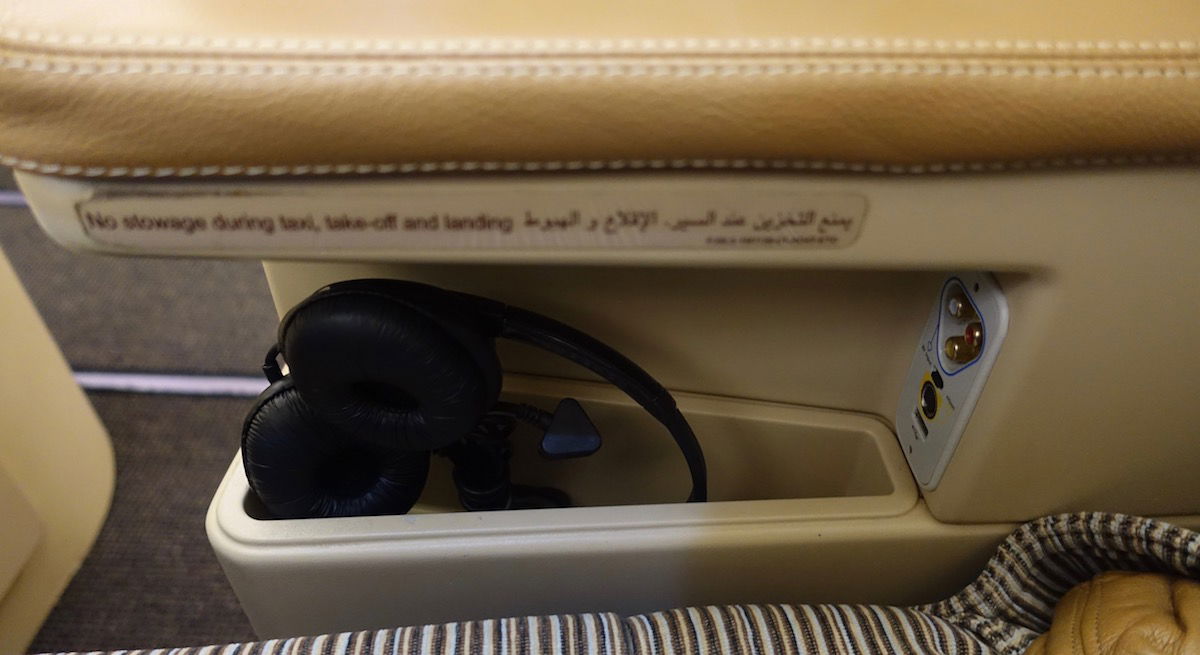 Etihad business class seat storage
The tray table was located on the back of the seat in front, meaning it was to the side of my seat. You could simply unlatch the tray and then pull it down, so it was easy to use.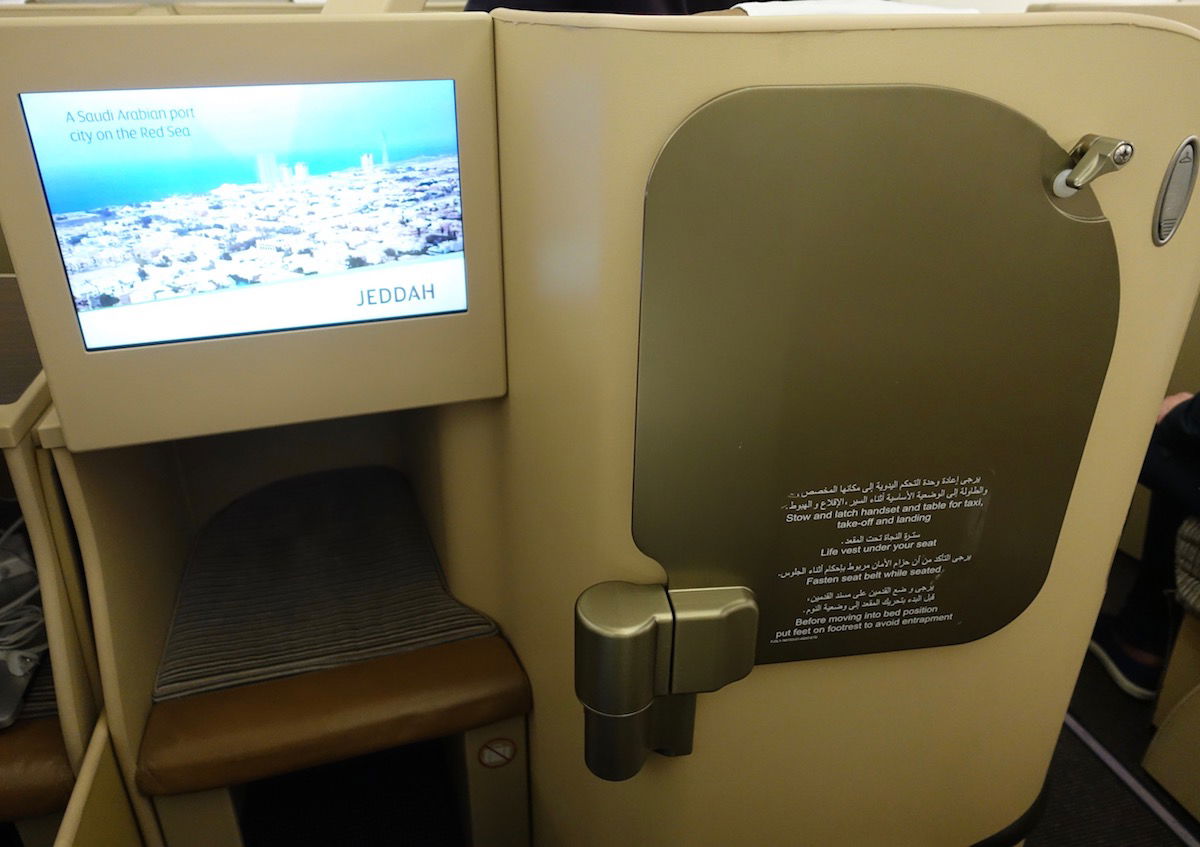 Etihad business class seat tray table
The literature pocket and power outlets (110v and USB) were located underneath that.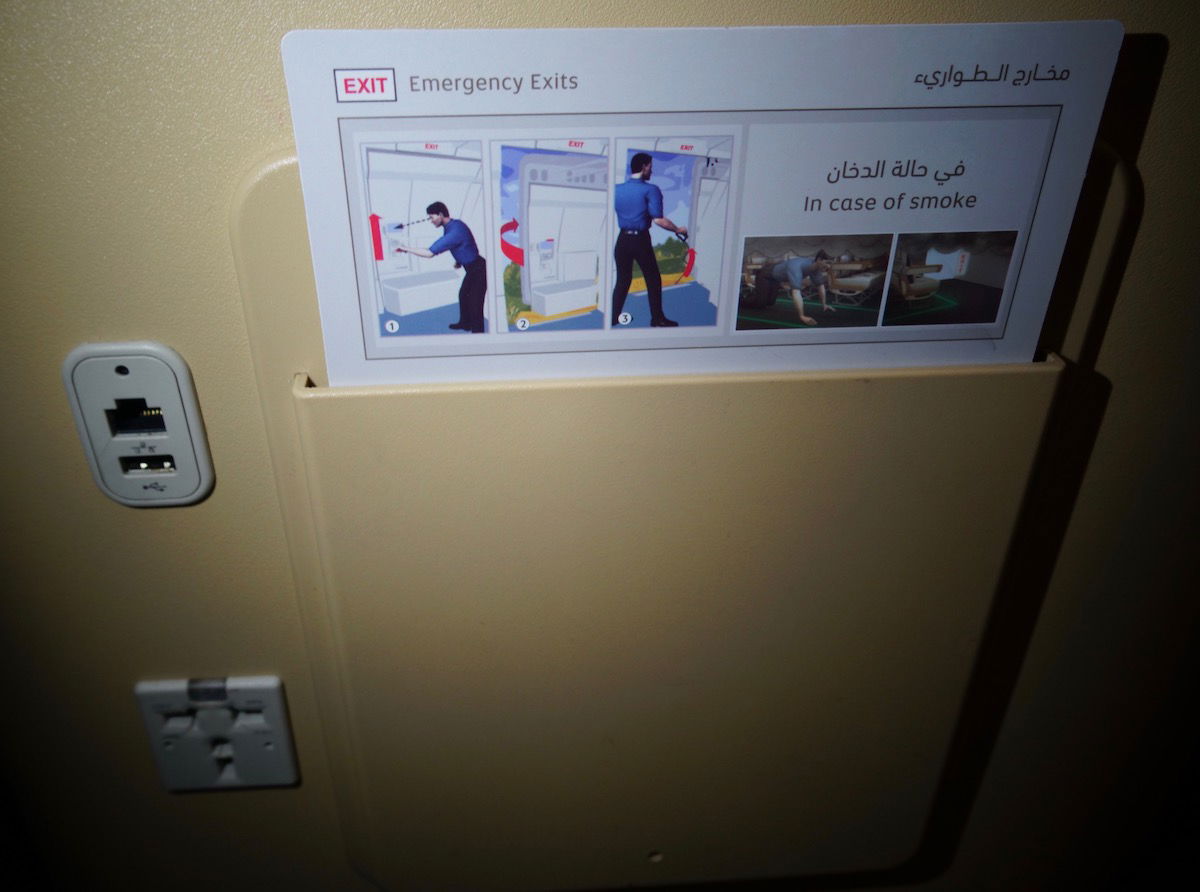 Etihad business class seat literature pocket & power outlets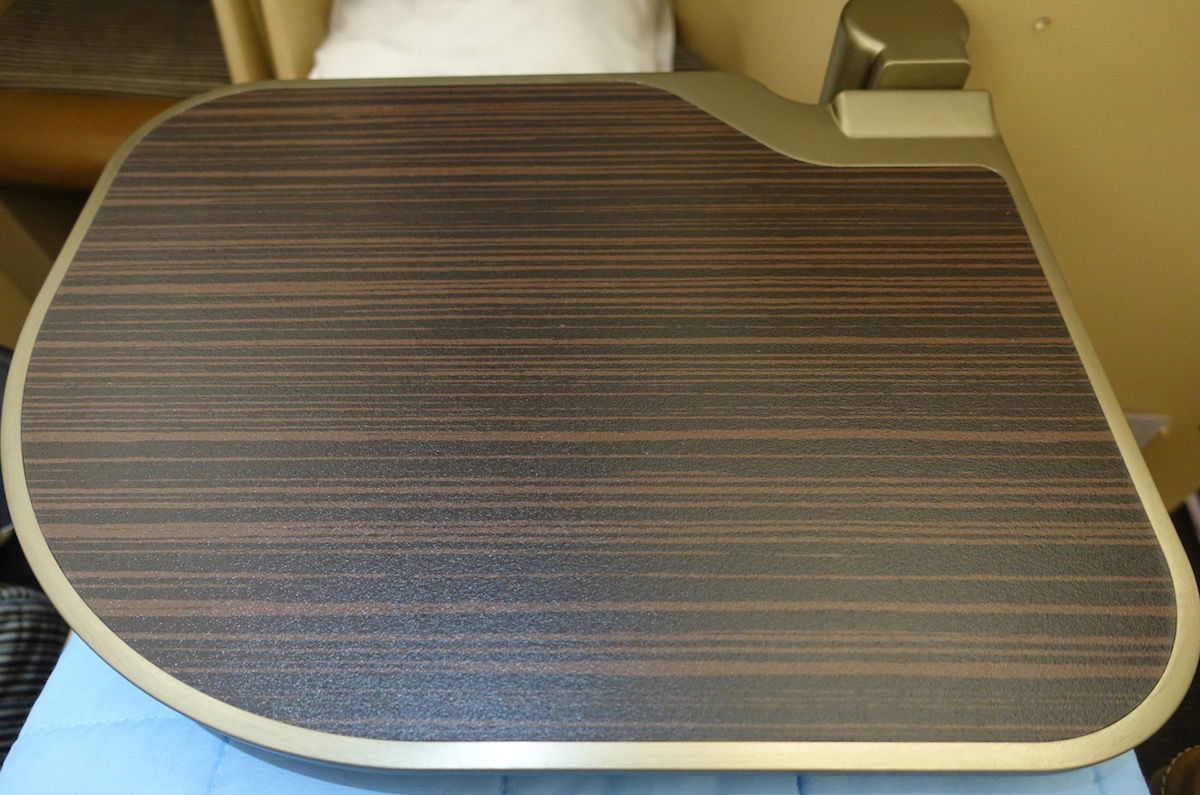 Etihad business class seat tray table
When you recline the seat into bed mode there's a footwell, and it's on the tight side. I found it tough to get really comfortable when reclining my seat, since I had to angle my feet in order for them to be able to fit. Underneath the ottoman is an open area that's big enough to store shoes or a laptop.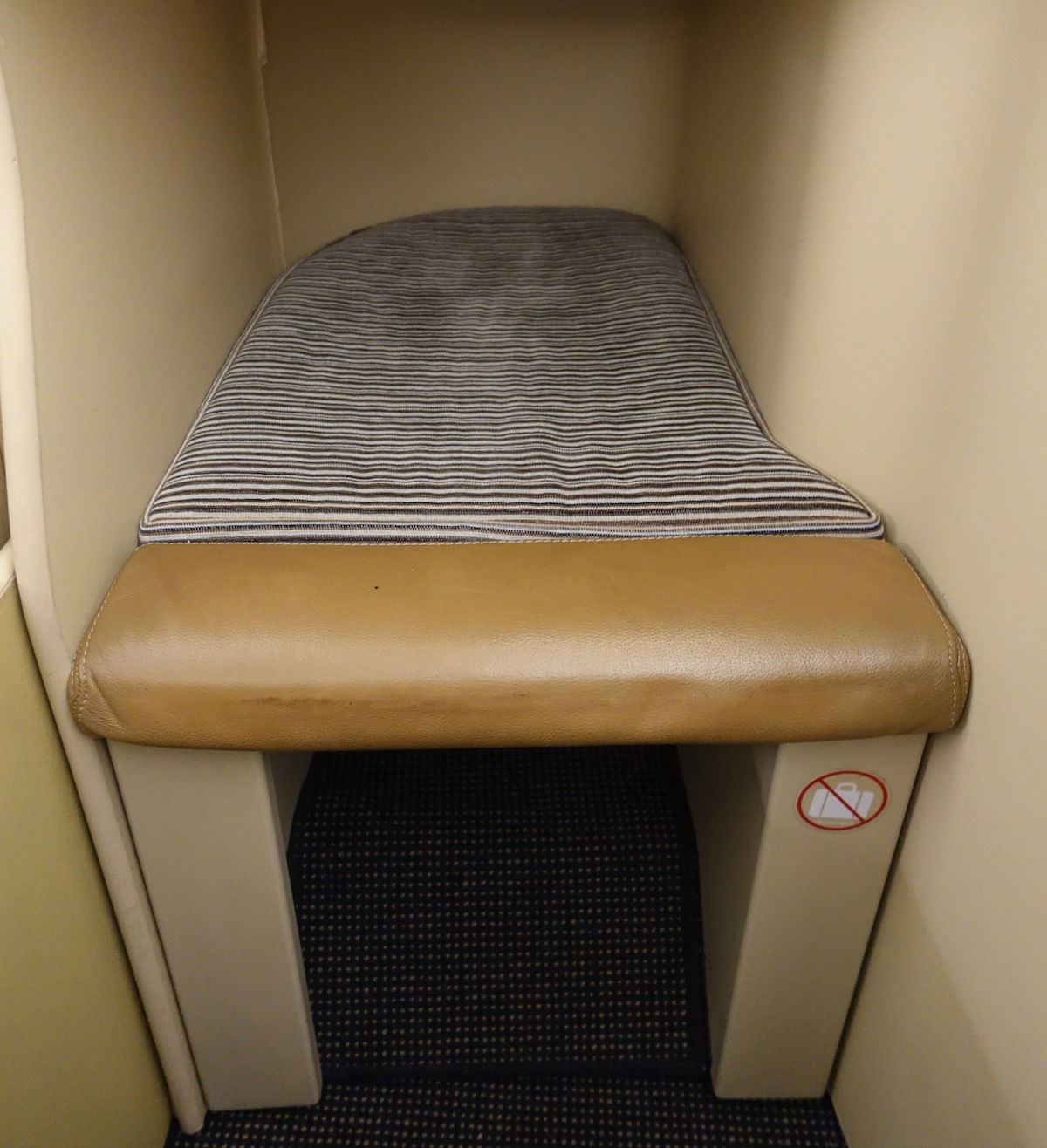 Etihad business class seat footwell
The one other thing I'd note about the cabin is that it feels really dense. In general this was one of the tighter staggered configurations I've flown in, as they really pile in the seats here. The seats in row one were basically in the galley across from the emergency exit doors.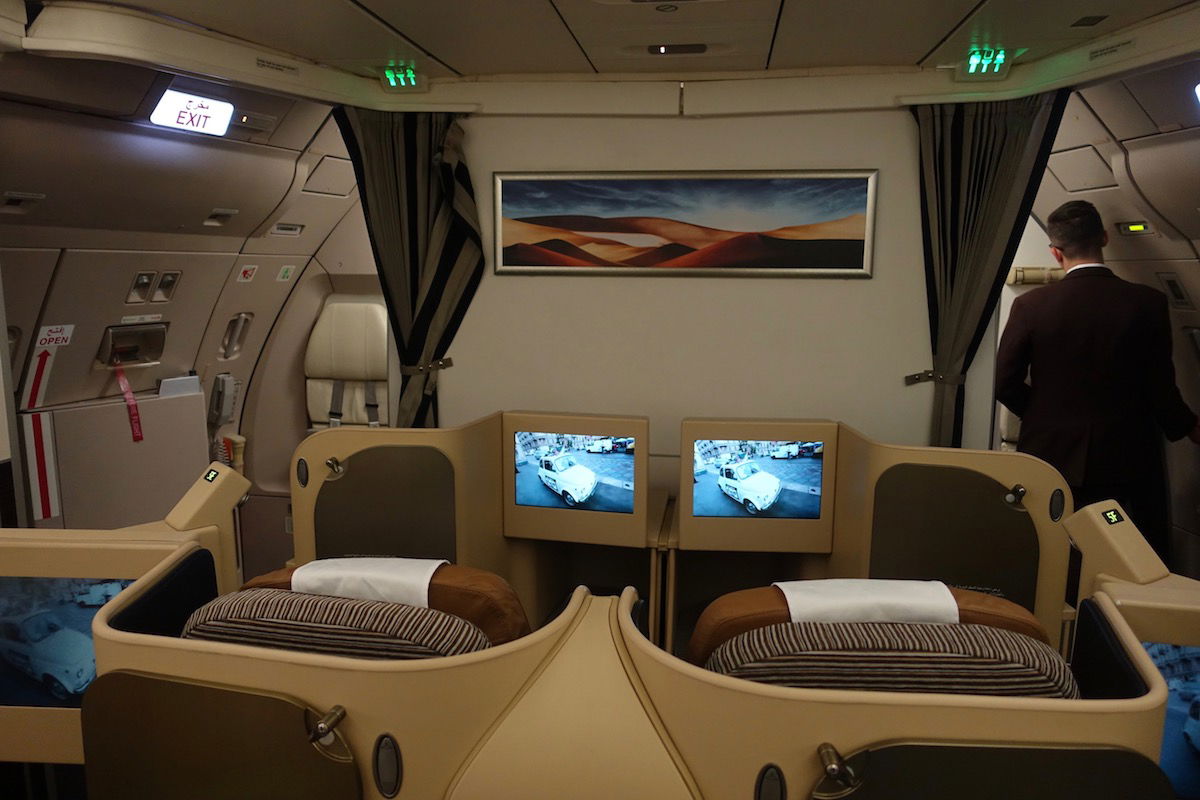 Etihad business class cabin A330
While the crew onboard was mostly from Etihad, the rest of the soft product was from Air Seychelles. That included the amenity kit, which was in a pouch and had a toothbrush and toothpaste, socks, eyeshades, earplugs, lip balm, and lotion. While the kit was Air Seychelles branded, you can certainly tell their connection to Etihad, because Etihad's kits are a similar style.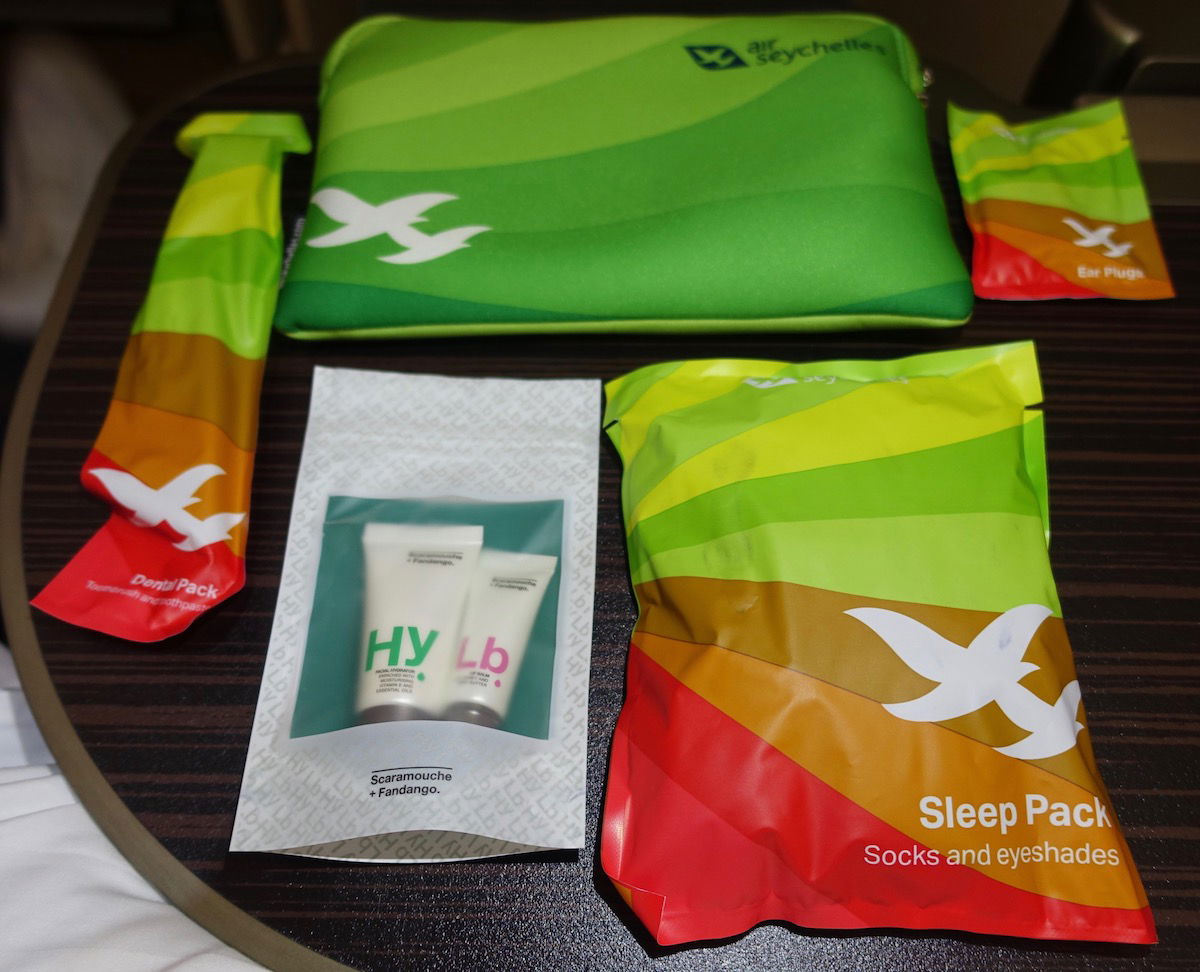 Air Seychelles amenity kit contents
The back of the kit said "Flying the Creole Spirit" on it, which was cute.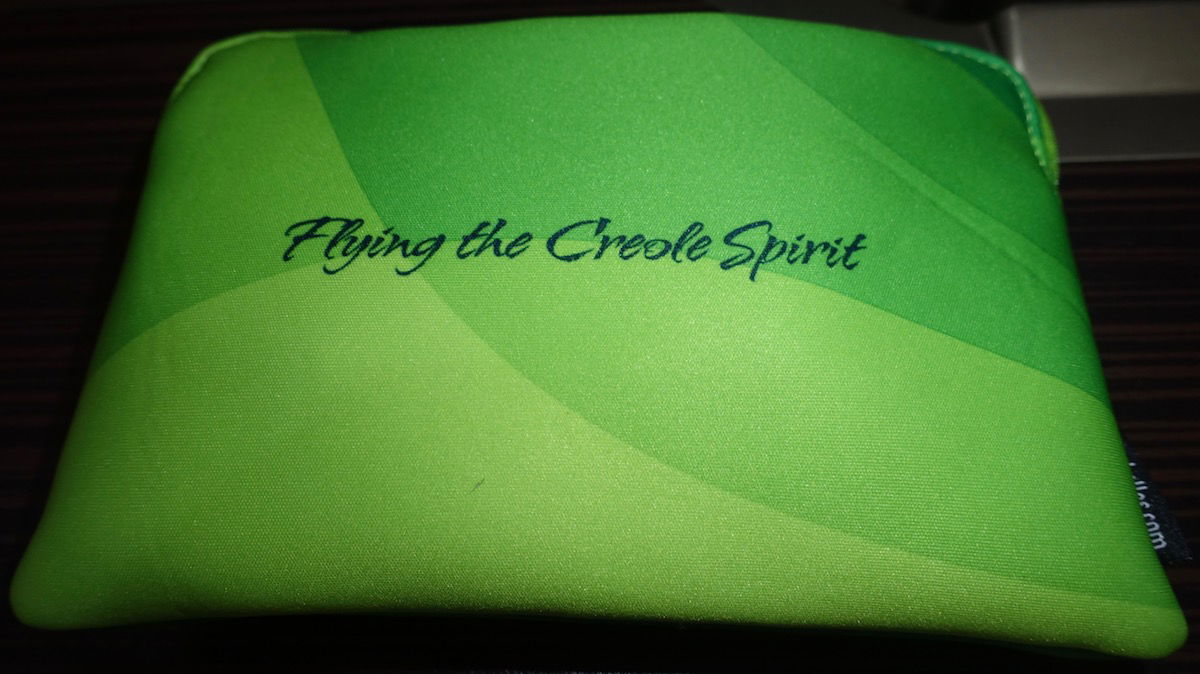 Air Seychelles amenity kit
While not industry-leading, the pillow and blanket were good. The pillow was large, while the blanket was light and plush. I'm almost happy the bedding wasn't more elaborate, since I found the seat to be so snug that I would have probably not had enough room for it.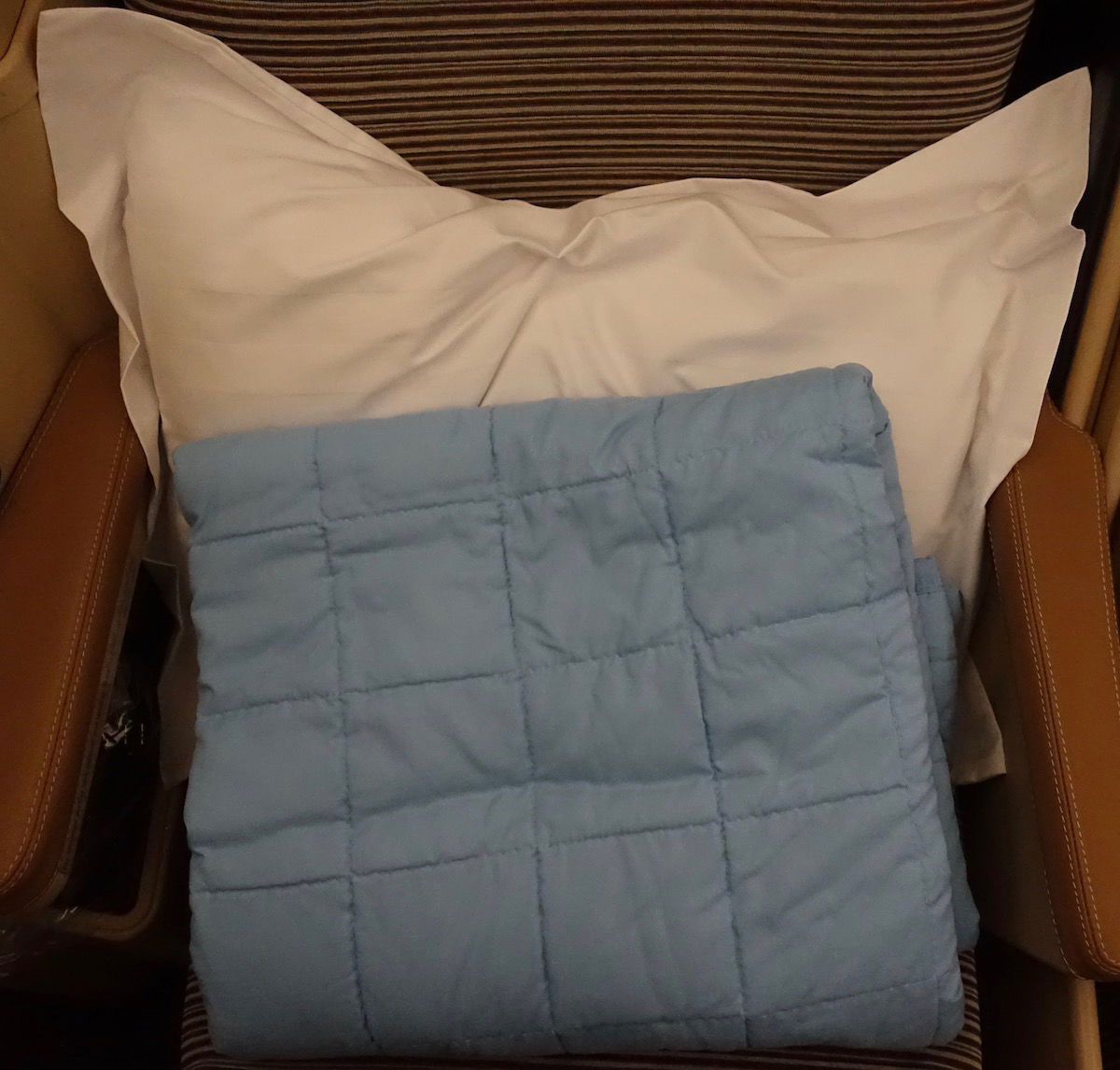 Air Seychelles business class pillow & blanket
Also waiting at the seat on boarding were the menu, wine list, and a special cocktail list highlighting their Takamaka cocktails. Takamaka is a brand of rum in the Seychelles.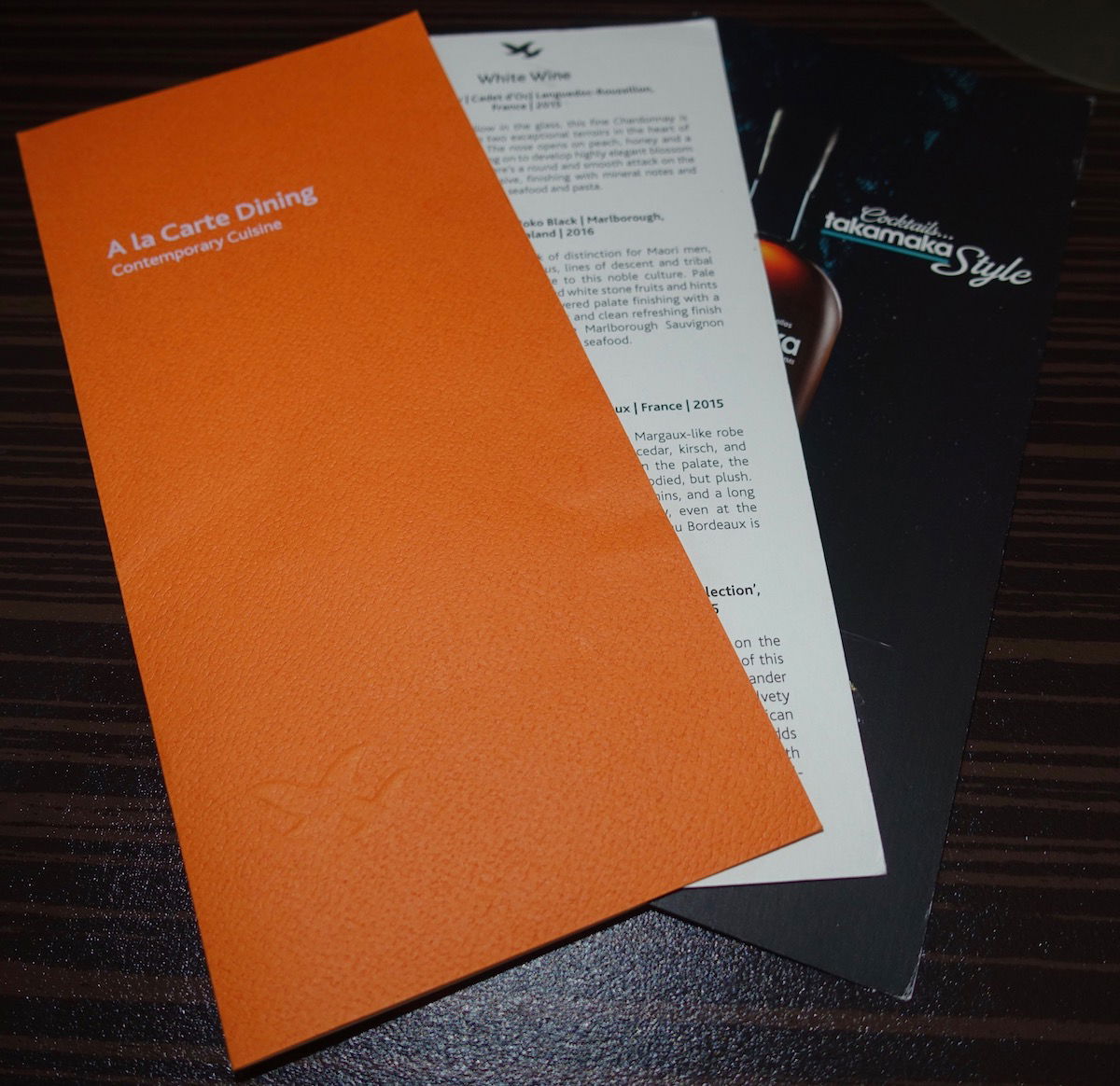 Air Seychelles menu & wine list
There were also a pair of low quality headphones.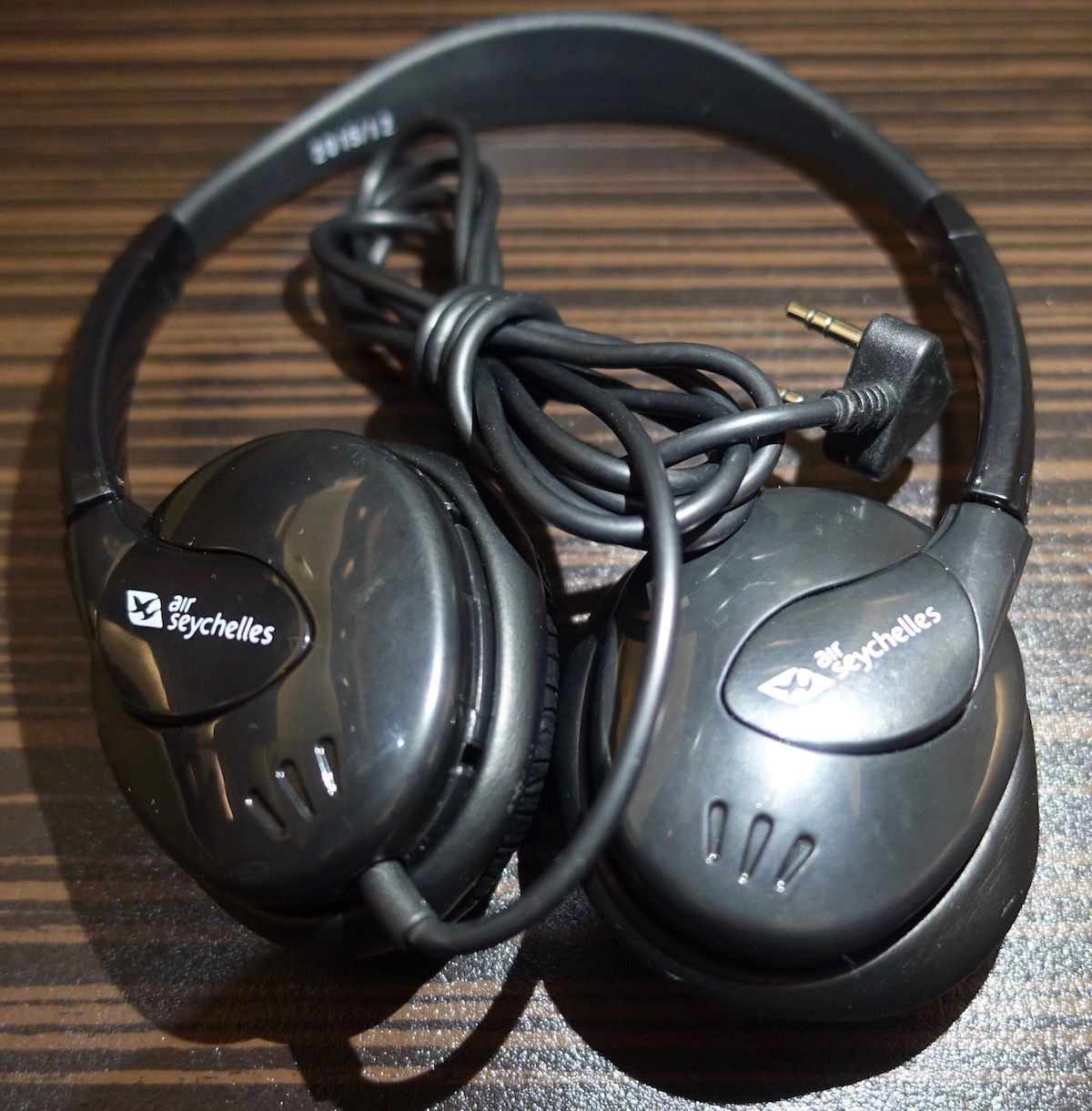 Air Seychelles business class headphones
There were three flight attendants working business class, and they were all excellent. I've had inconsistent experiences with the service on Etihad, but all three flight attendants working business class were so friendly, genuine, and hard-working.
Once settled in a flight attendant named Erika came by to introduce herself and welcome us aboard. The first thing I had to ask them about is what exactly their arrangement is with this flight, since they're based in Abu Dhabi and working a flight between Paris and Mahe.
As I understood it, they operate flights from Abu Dhabi to Paris to Mahe to Paris to Mahe to Paris to Abu Dhabi, meaning it's a long trip for them, and then they get a few days off before doing it all over again. They must have been tired!
We were offered pre-departure drinks, with the choice between champagne, water, and orange juice. I had some champagne (Air Seychelles serves Nicolas Feuillatte), and was offered a warm towel as well.

Etihad business class pre-departure champagne & warm towel
Business class filled up completely within about 10 minutes, and we seemed to be the only non-French people in the cabin. Just about everyone else was French couples and/or families, presumably headed on vacation.
While the inflight entertainment couldn't be viewed on the ground, they did play ads for all kinds of things, including how you can enjoy a private space in their business class lounge for $50, or how you can buy first class pajamas when flying in economy (clearly these were intended for actual Etihad flights, rather than one being operated on behalf of Air Seychelles).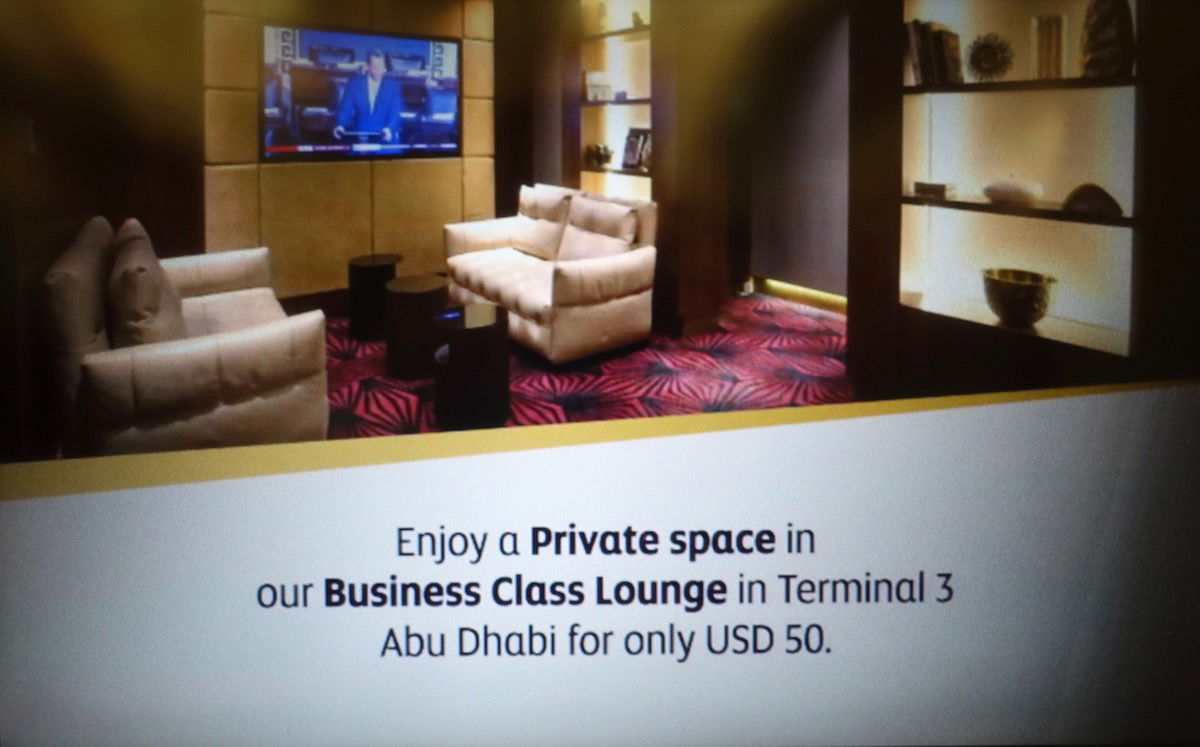 Etihad IFE advertisements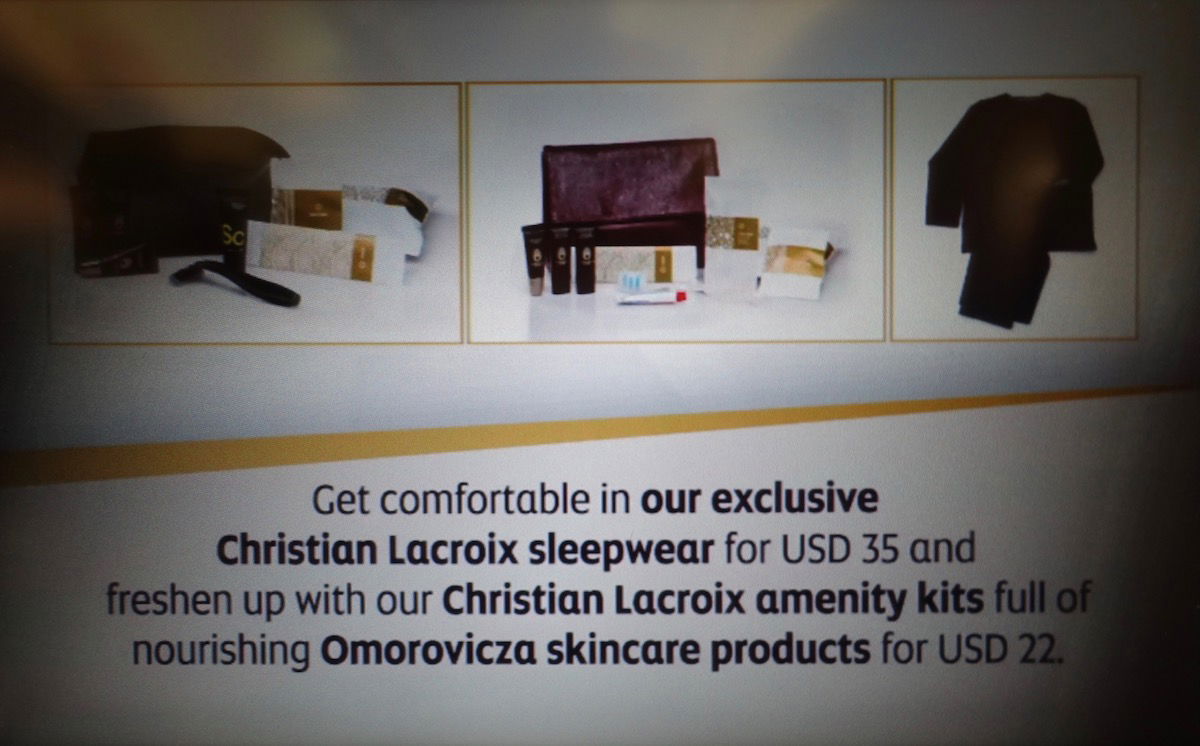 Etihad IFE advertisements

At 9:35PM it was announced that boarding was complete, and five minutes later our dinner order was taken. We were asked what appetizer and starter we wanted, what we wanted to drink after takeoff, whether we wanted still or sparkling water, if we wanted a different drink with the main course, and if we wanted to be woken up for breakfast.
Around this time the captain added his welcome aboard "Etihad flight number 17… I mean Air Seychelles flight number 17." He advised us the flight time would be 9hr30min, and that we'd be cruising at 39,000 feet.
After that the cabin manager, Tatiana, added her welcome aboard "Etihad 17… excuse me… Air Seychelles 17." As you might guess, this was a common theme throughout the flight. 😉
During her welcome aboard announcement she was clearly reading the Air Seychelles script, and said "Air Seychelles proudly has the best business class in the Indian Ocean according to World Travel Awards." That's pretty ironic, given that the airplane that the nomination was based on doesn't belong to their fleet anymore.
At 10:05PM the door closed, and a minute later we began our pushback, at which point the typical Etihad prayer and safety video were screened. During this time the cabin was also sprayed.
Our taxi was very quick, and by 10:15PM we were cleared for takeoff. As we climbed out I browsed the entertainment selection. The number of movies and shows was impressive, though I found the screen to be really low resolution.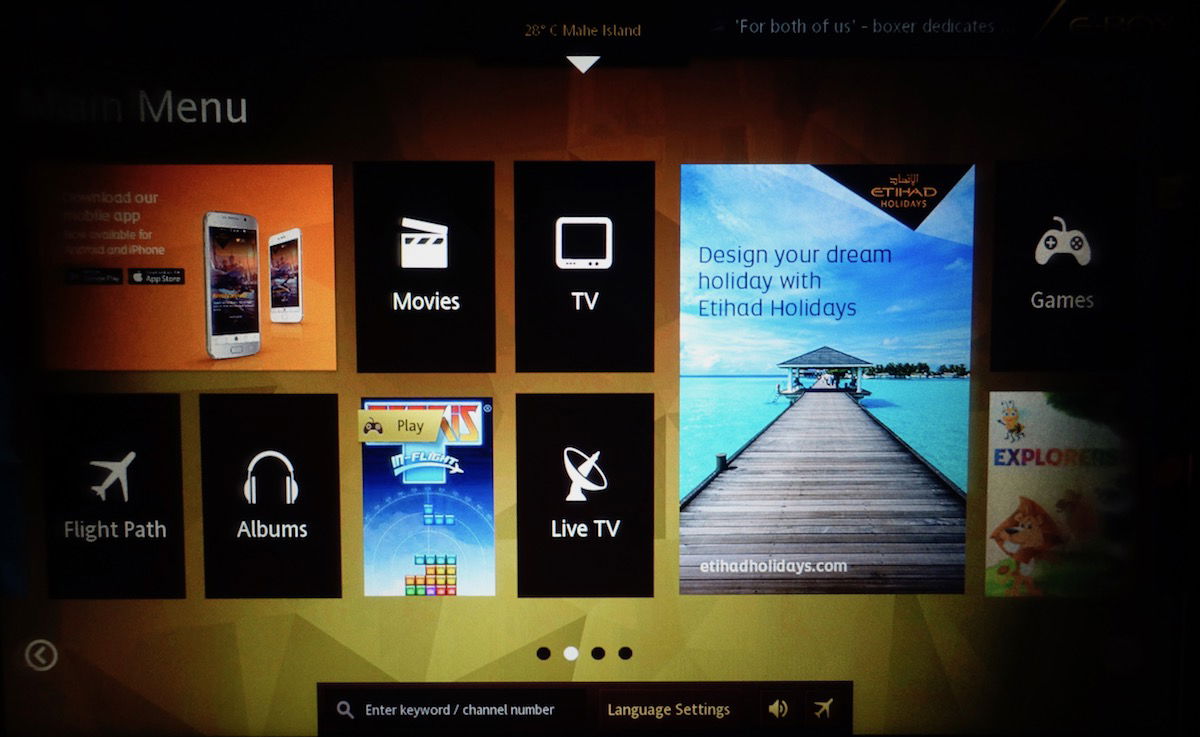 Etihad entertainment selection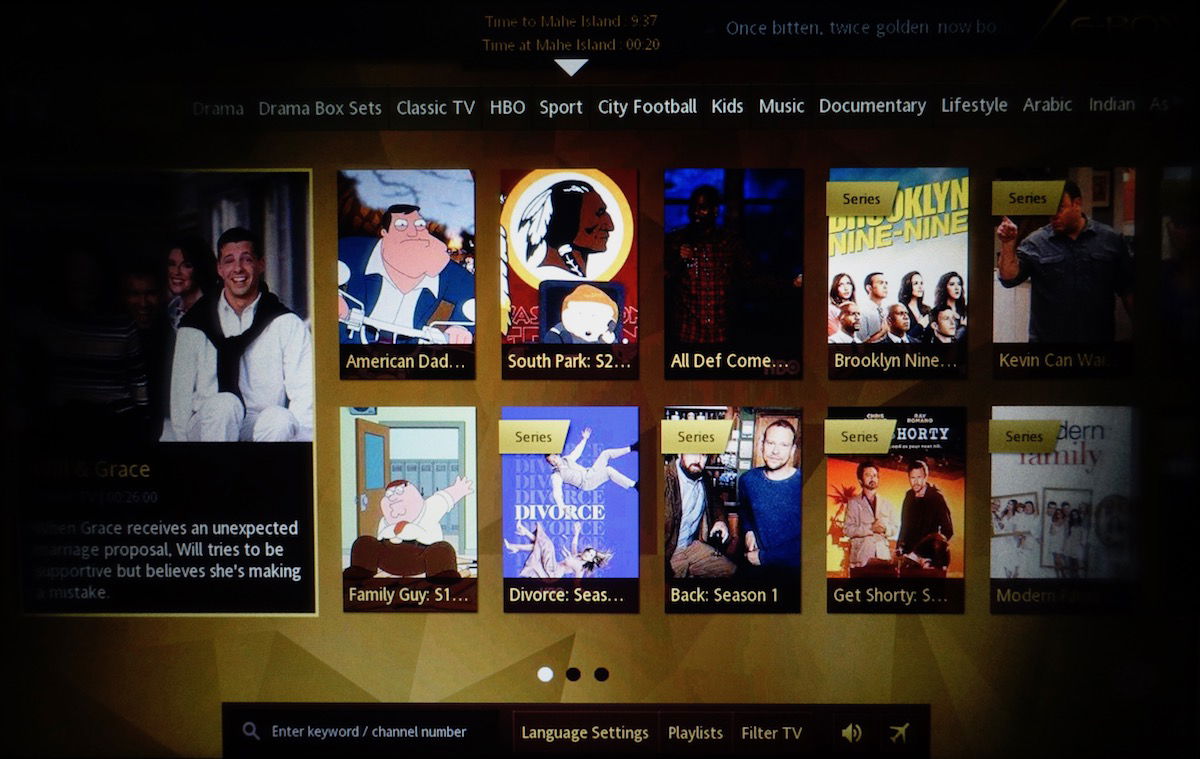 Etihad entertainment selection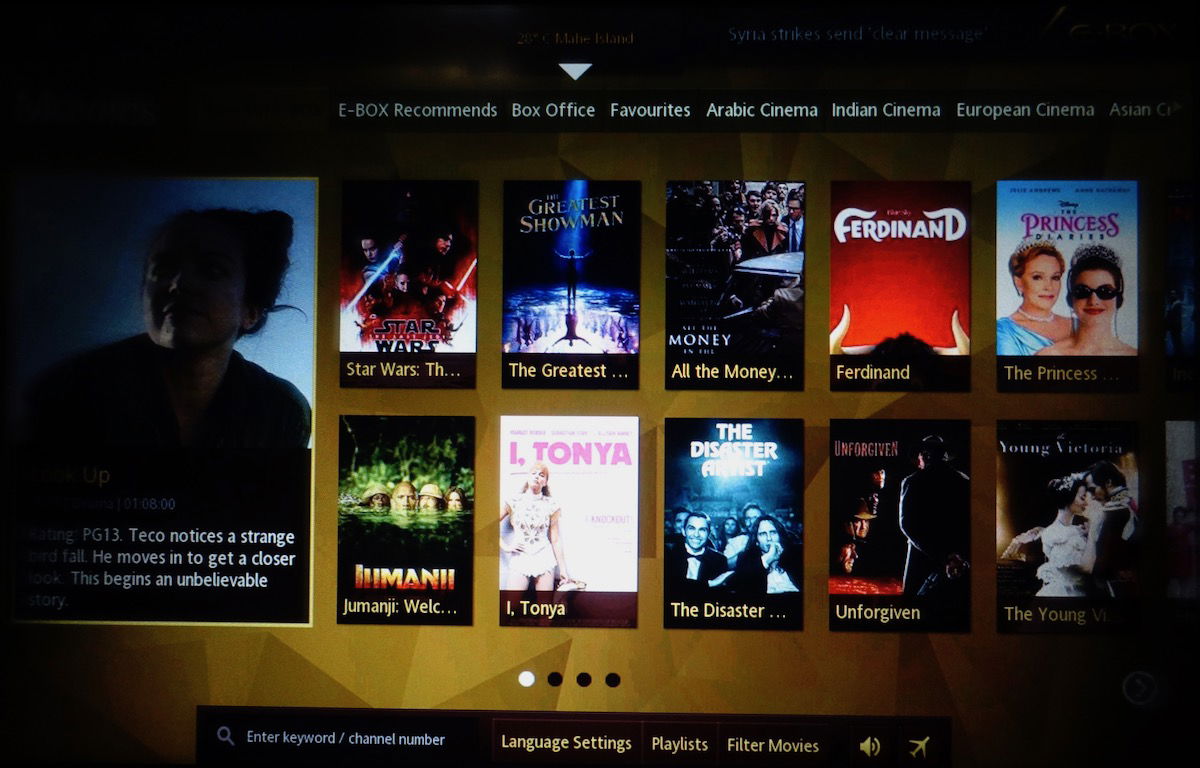 Etihad entertainment selection
For most of the flight I just kept the airshow on, as you pass some interesting airspace flying over East Africa.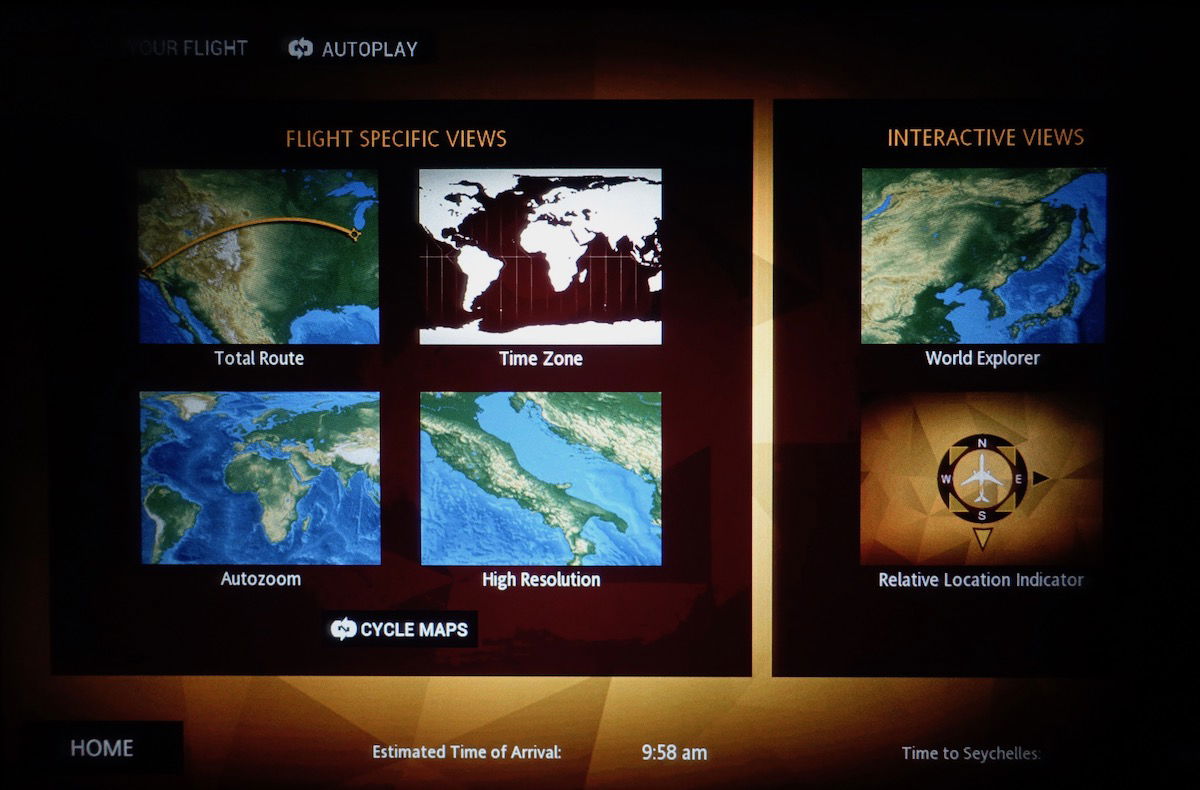 Etihad airshow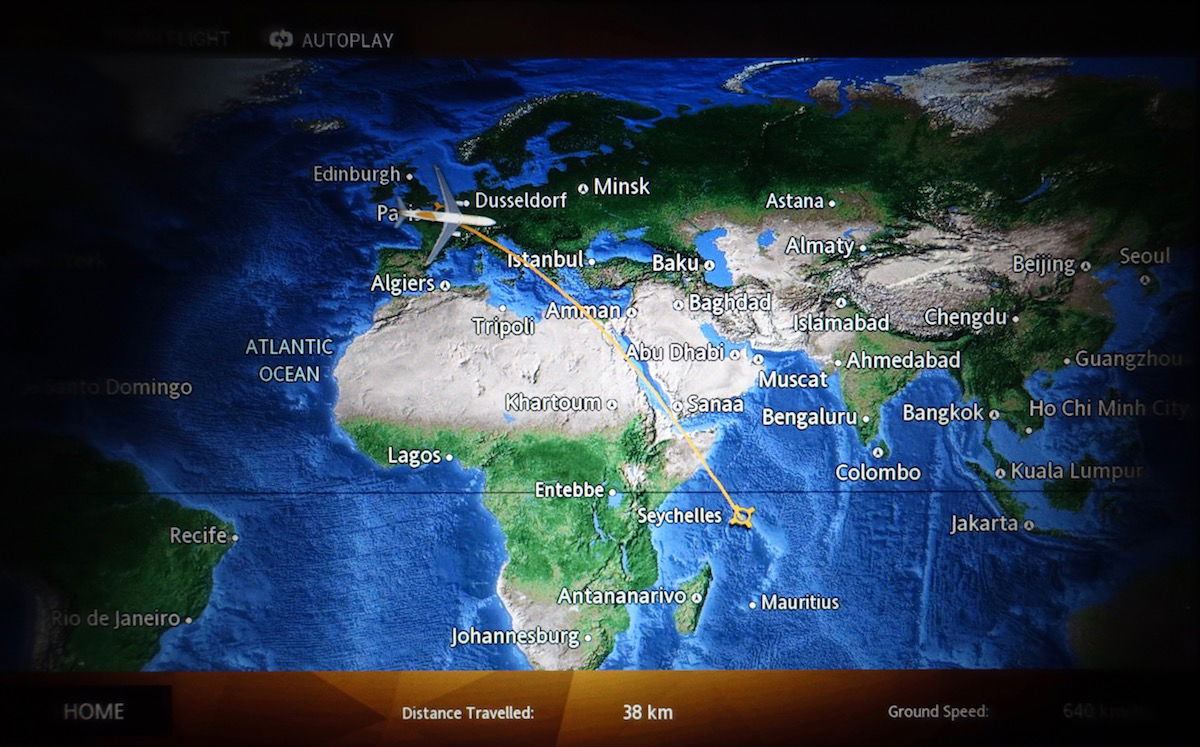 Etihad airshow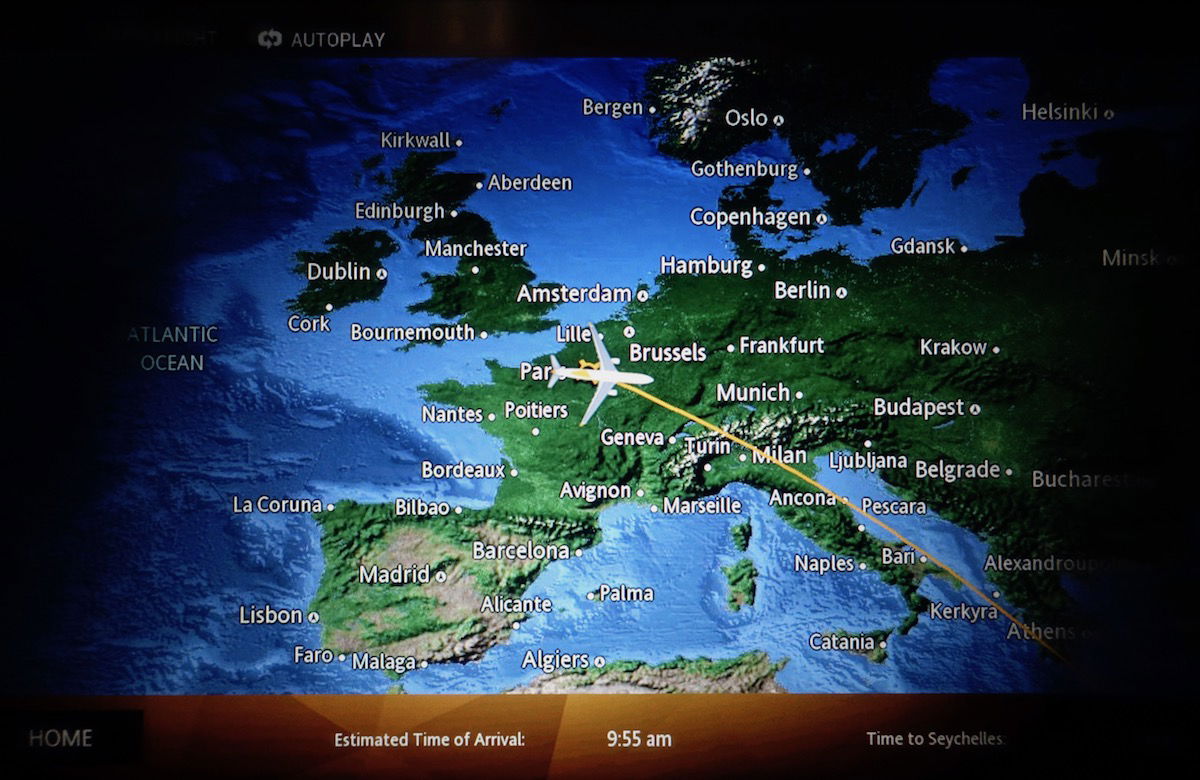 Etihad airshow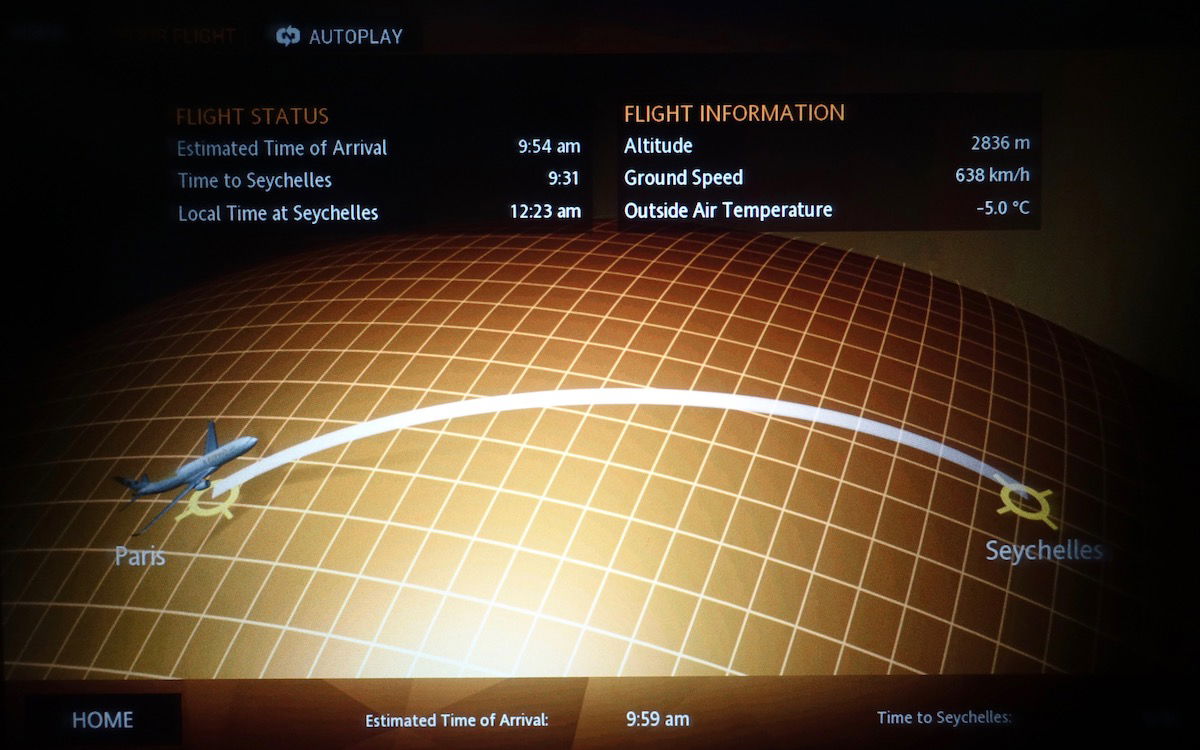 Etihad airshow
Etihad's A330s also typically have Wi-Fi, though I couldn't get it to work on this plane.
About 25 minutes after takeoff the dinner service began. The menu read as follows: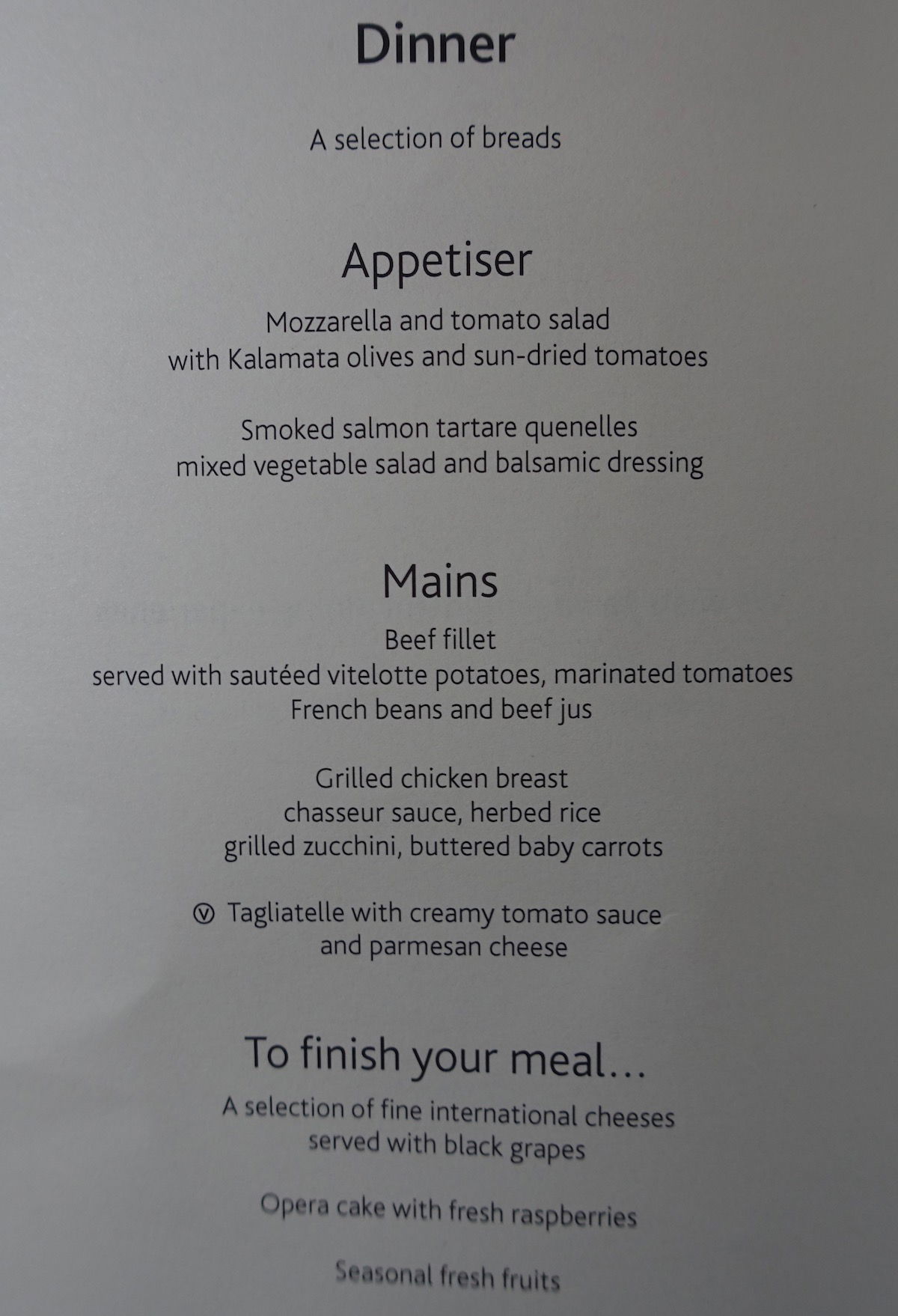 The drink list read as follows: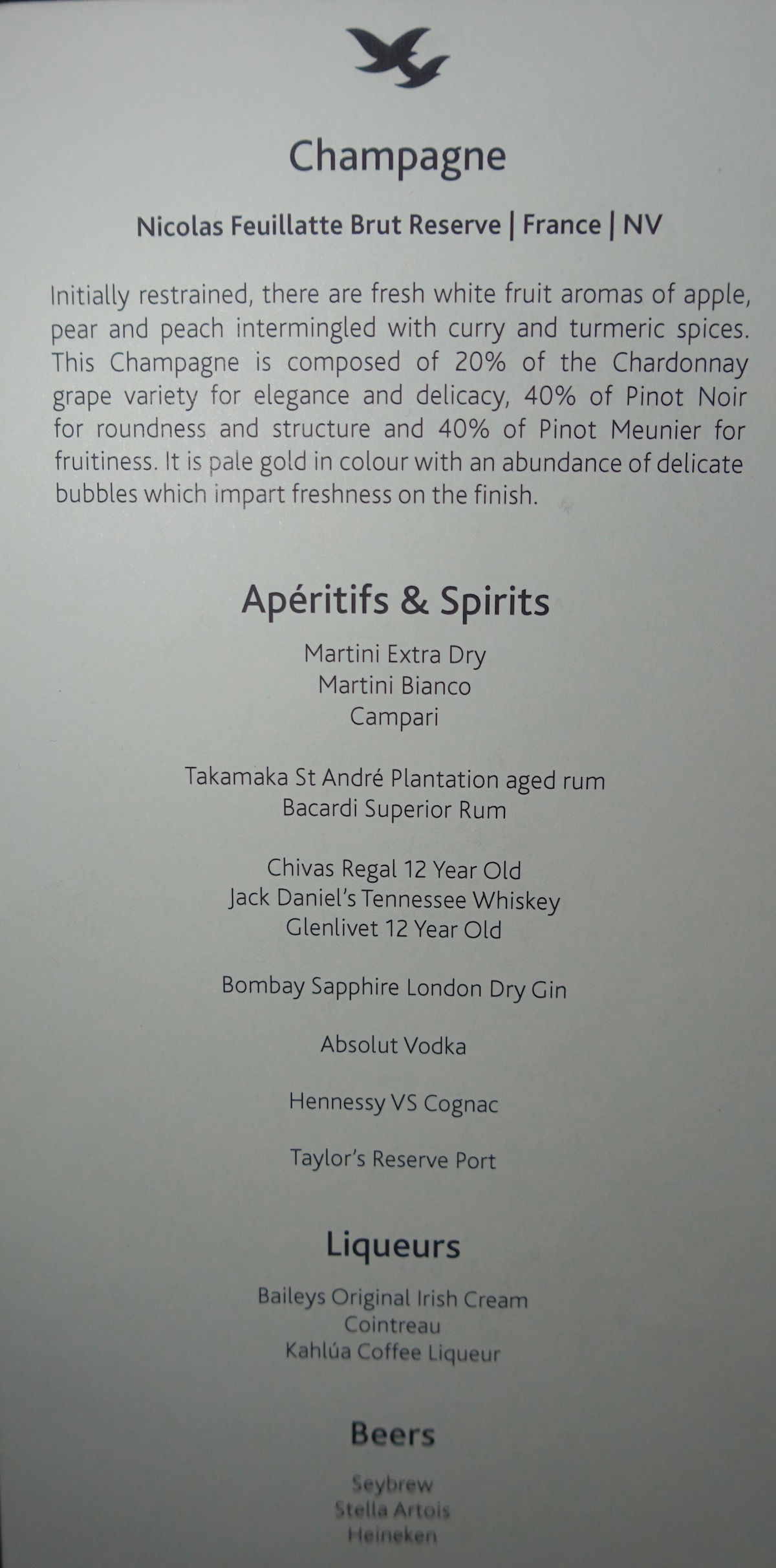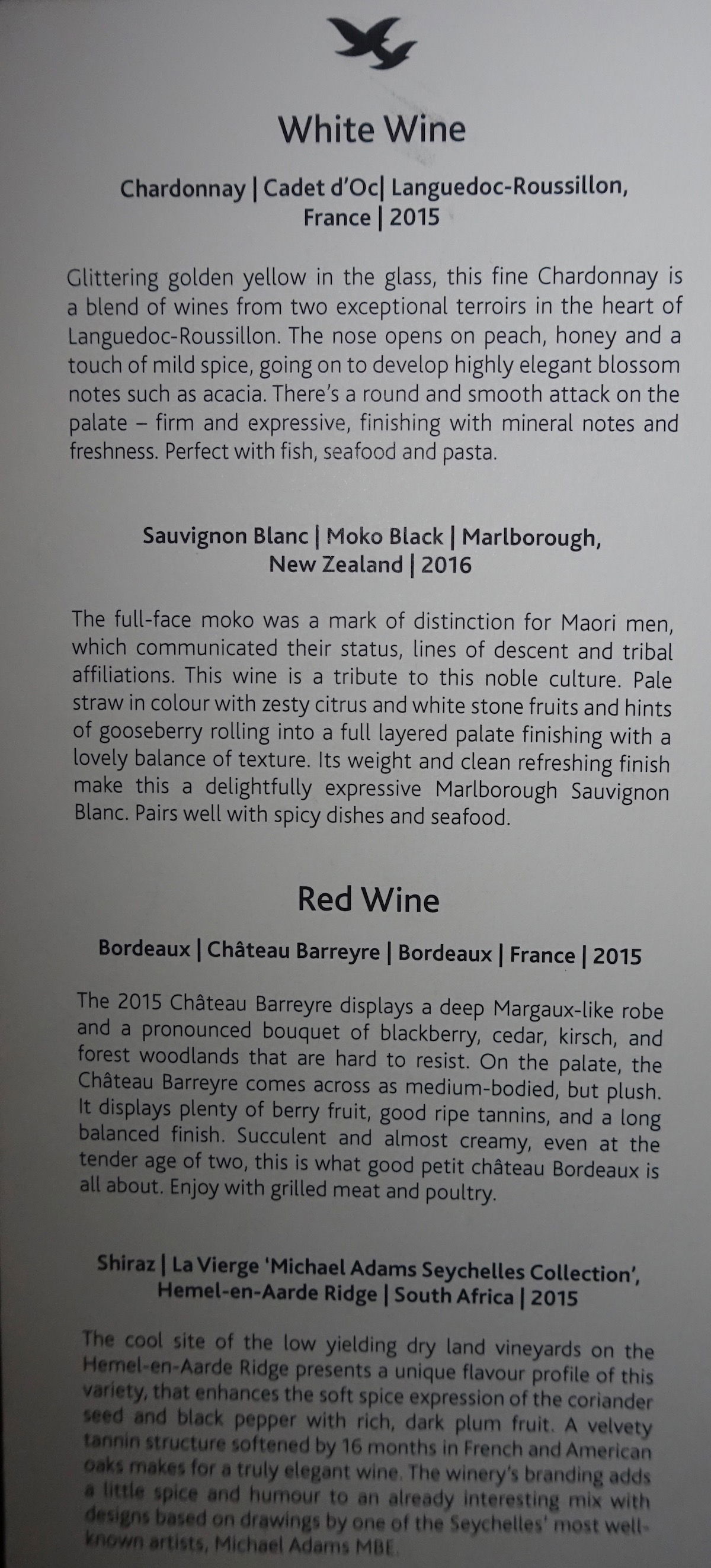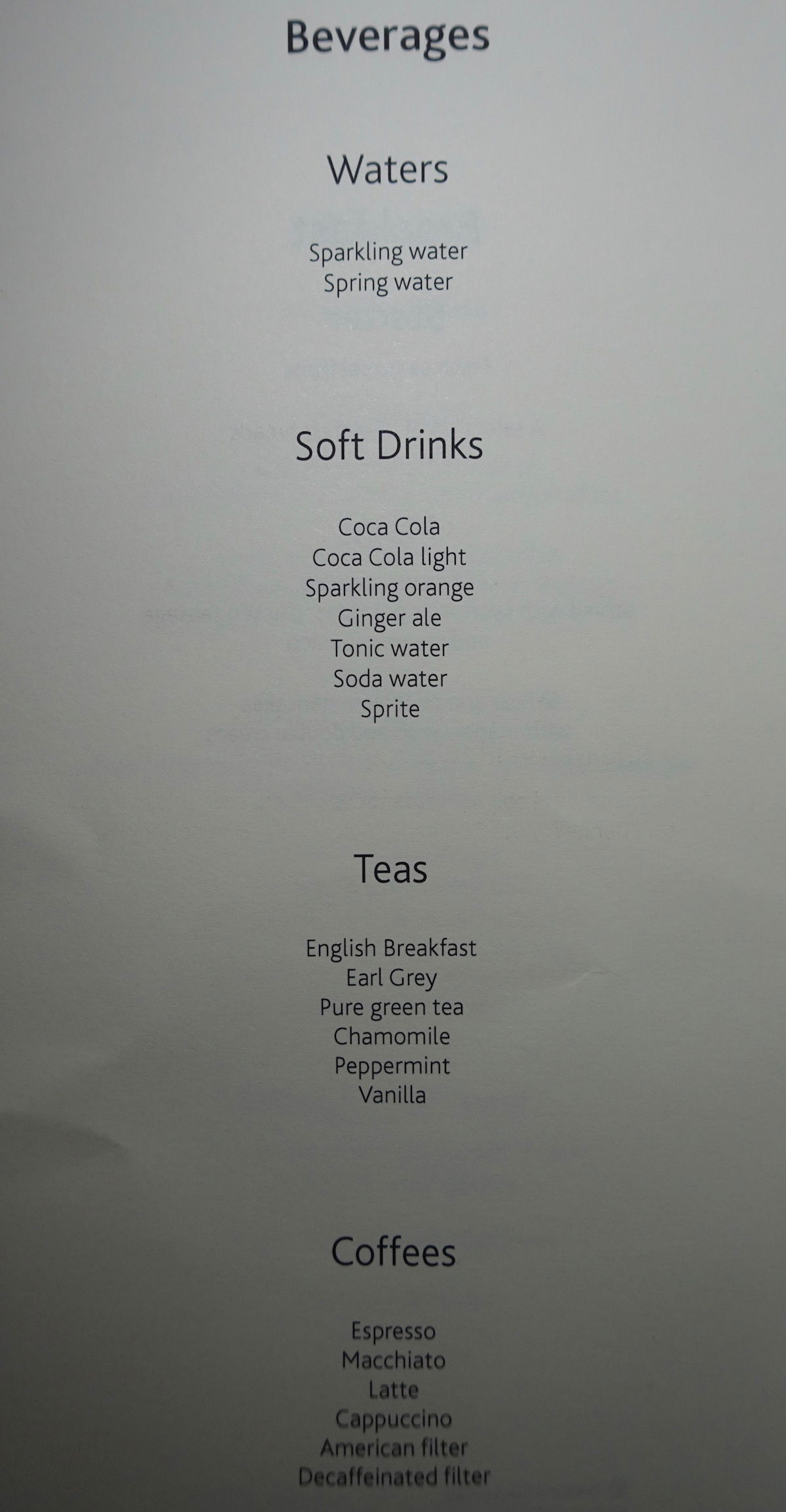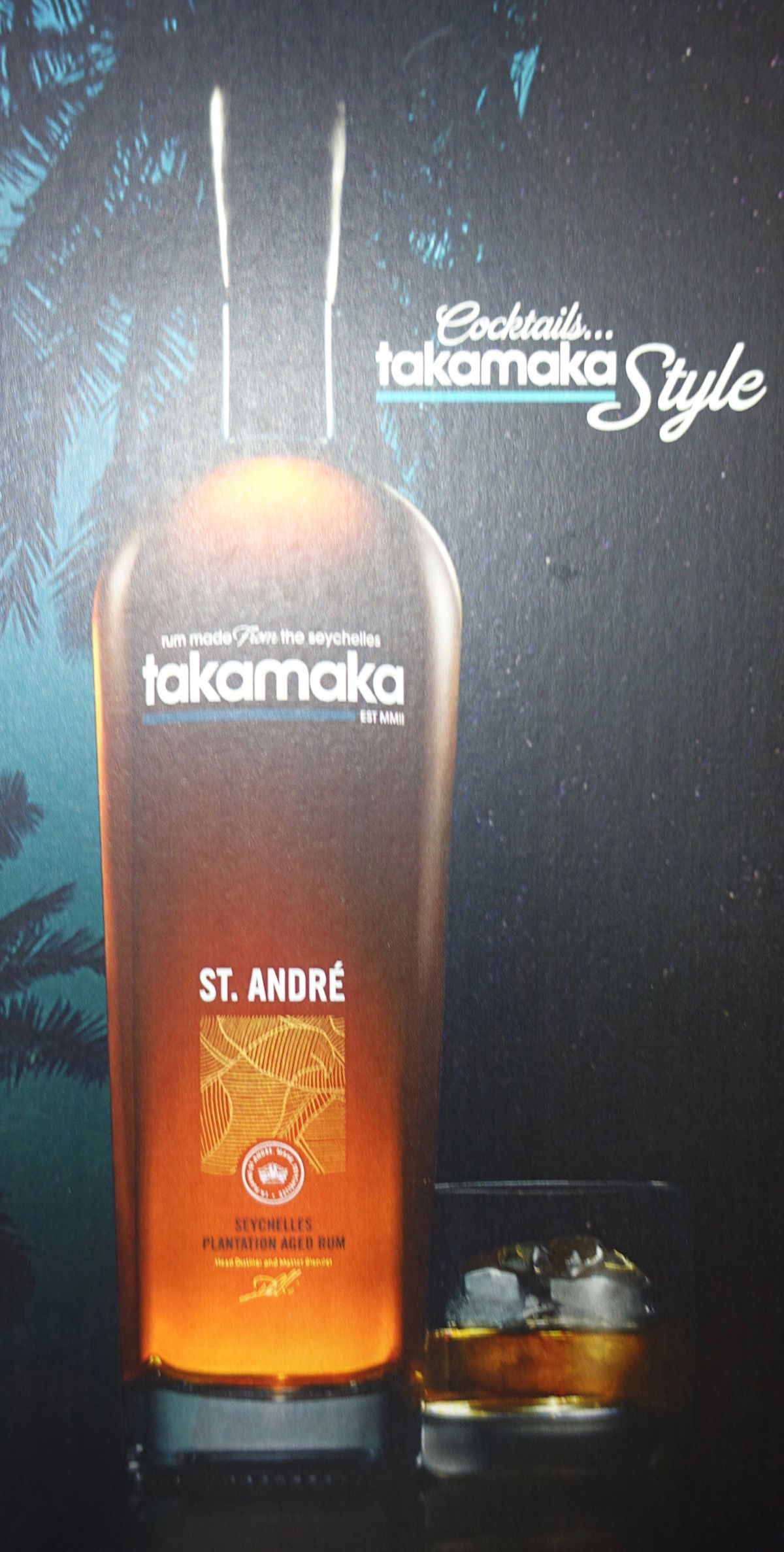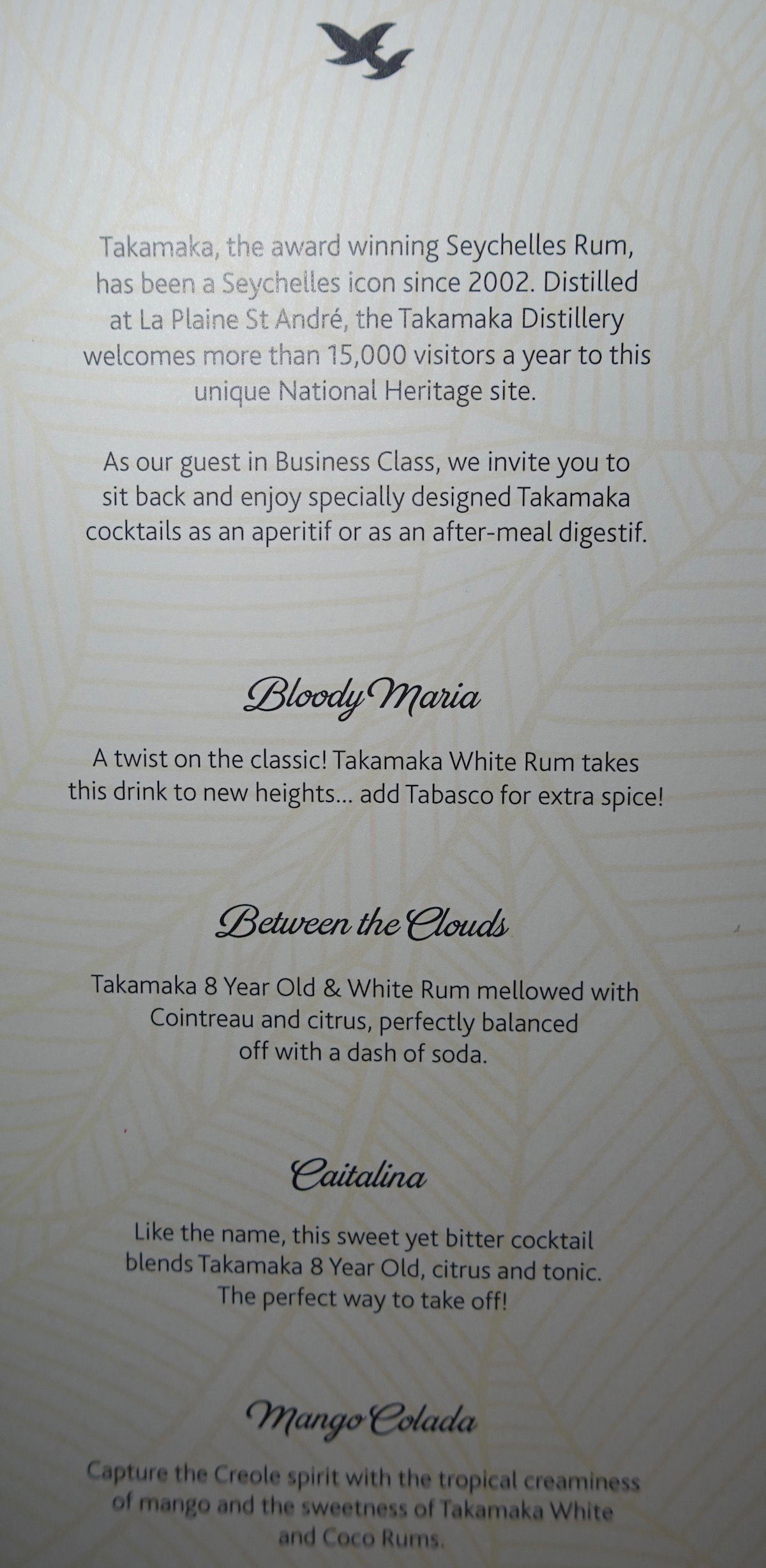 I love when an airline infuses some of the products from their home country into their experience, and in Air Seychelles' case, they did that with Takamaka rum. While I'd almost never otherwise order this, I decided to order the "Bloody Maria" cocktail, which was nice and spicy. It was served with some banana chips.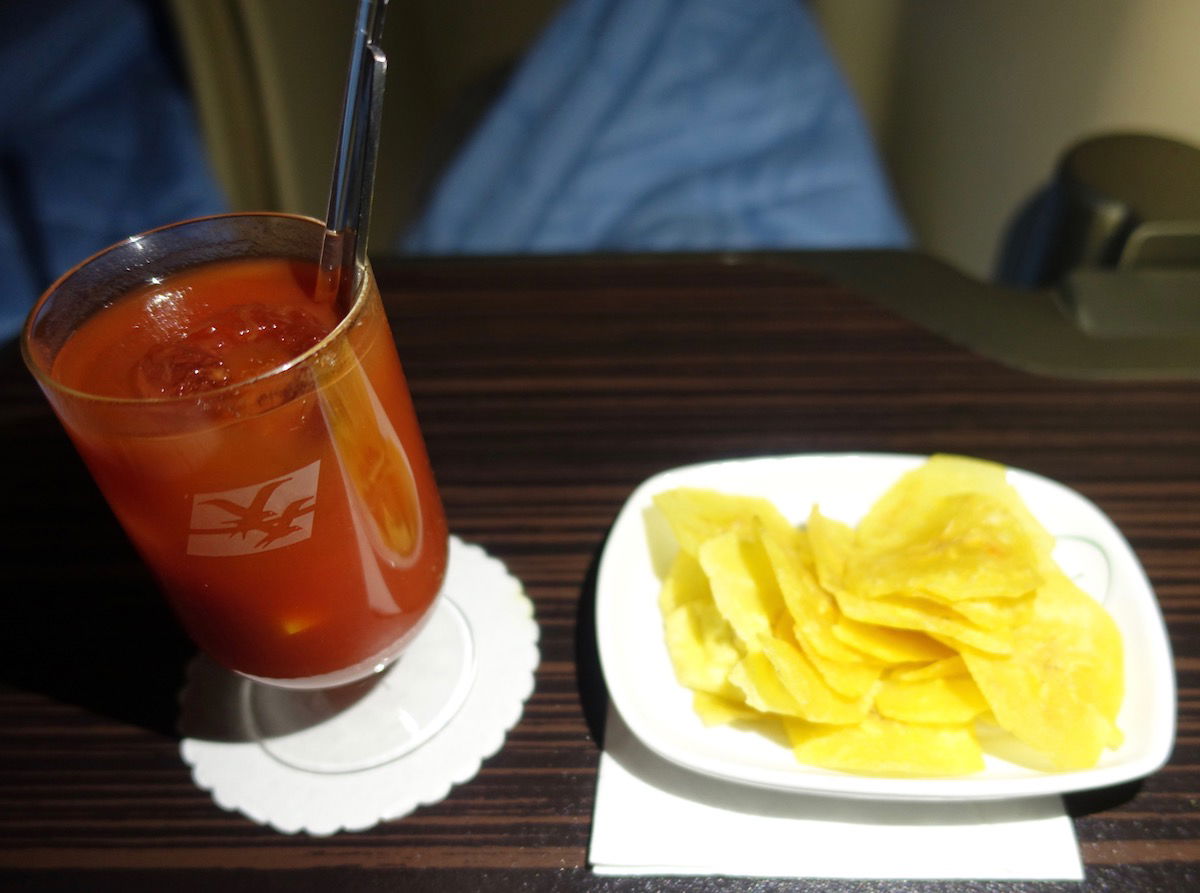 Etihad business class dinner — bloody maria & banana chips
The starter was brought out about 40 minutes after takeoff. I ordered the smoked salmon tartare quenelles, which was excellent. It was served with a side of bread (no choice) and some Beurre d'Isigny butter. To drink I had a sparkling water and some sauvignon blanc.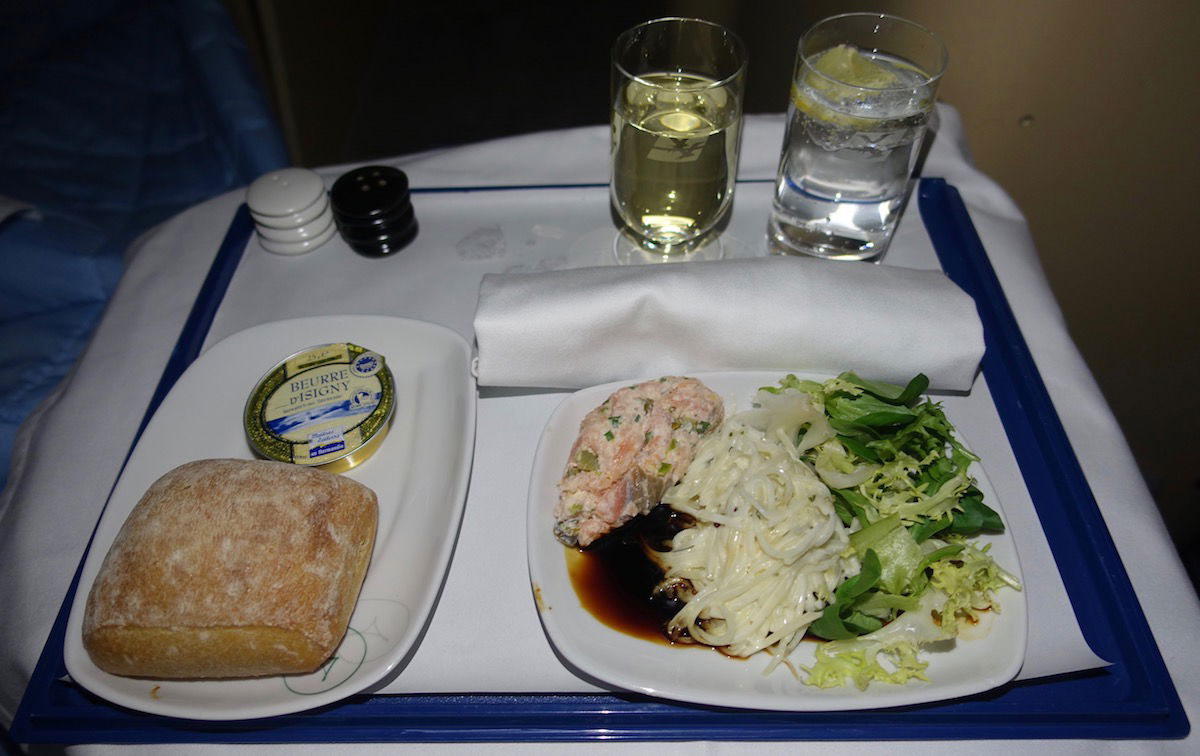 Etihad business class dinner — smoked salmon tartare quenelles appetizer
Ford had the mozzarella and tomato salad as an appetizer, which he enjoyed.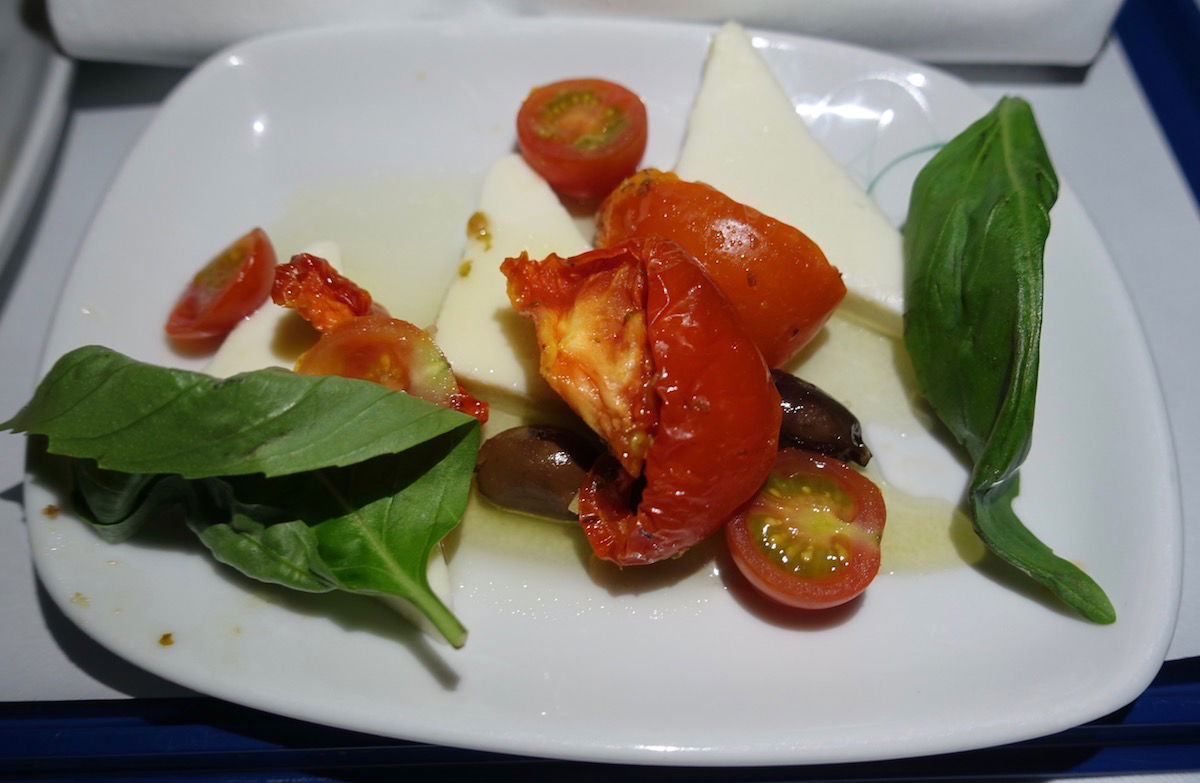 Etihad business class dinner — mozzarella and tomato salad appetizer
I was quite underwhelmed by the main course options. We're flying the national airline of a small island nation, and their options are beef, chicken, or pasta? No fish?
So I ordered the beef fillet served with sautéed vitelotte potatoes, marinated tomatoes, french beans, and beef jus. As far as business class beef dishes go (which I usually avoid), this one was fairly good, though not amazing.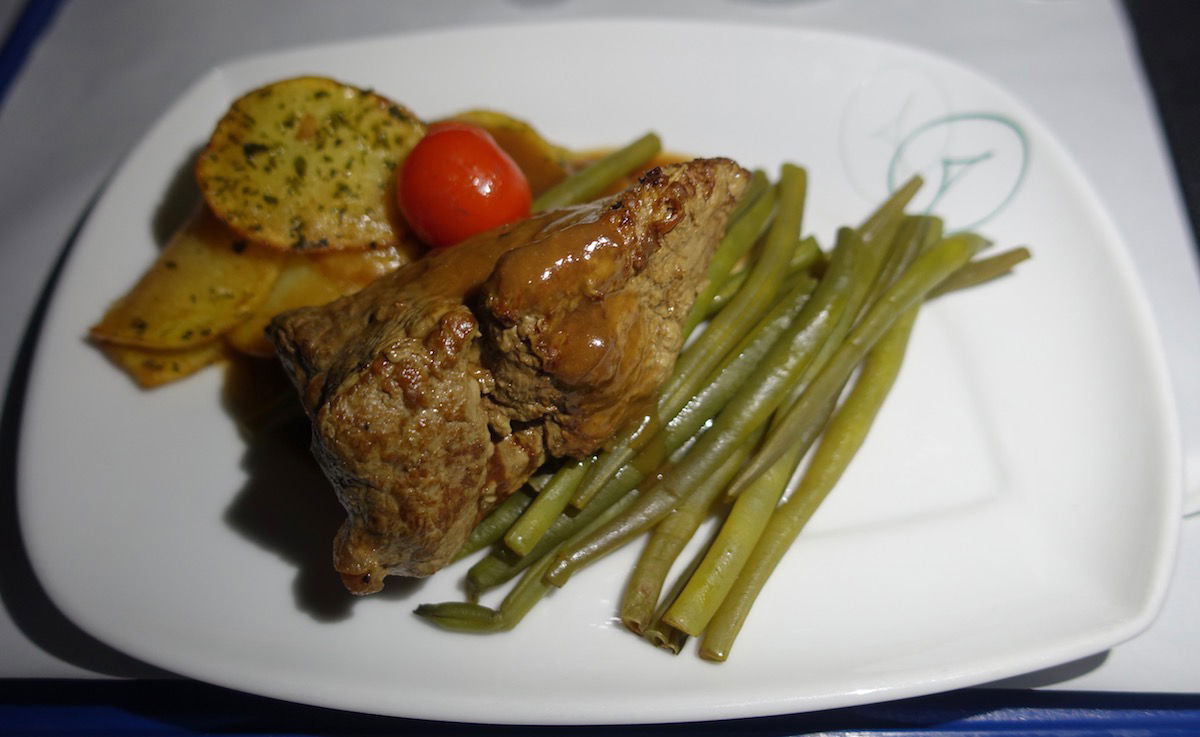 Etihad business class dinner — beef fillet main course
Ford ordered the grilled chicken breast with chasseur sauce, herbed rice, grilled zucchini, and and buttered baby carrots.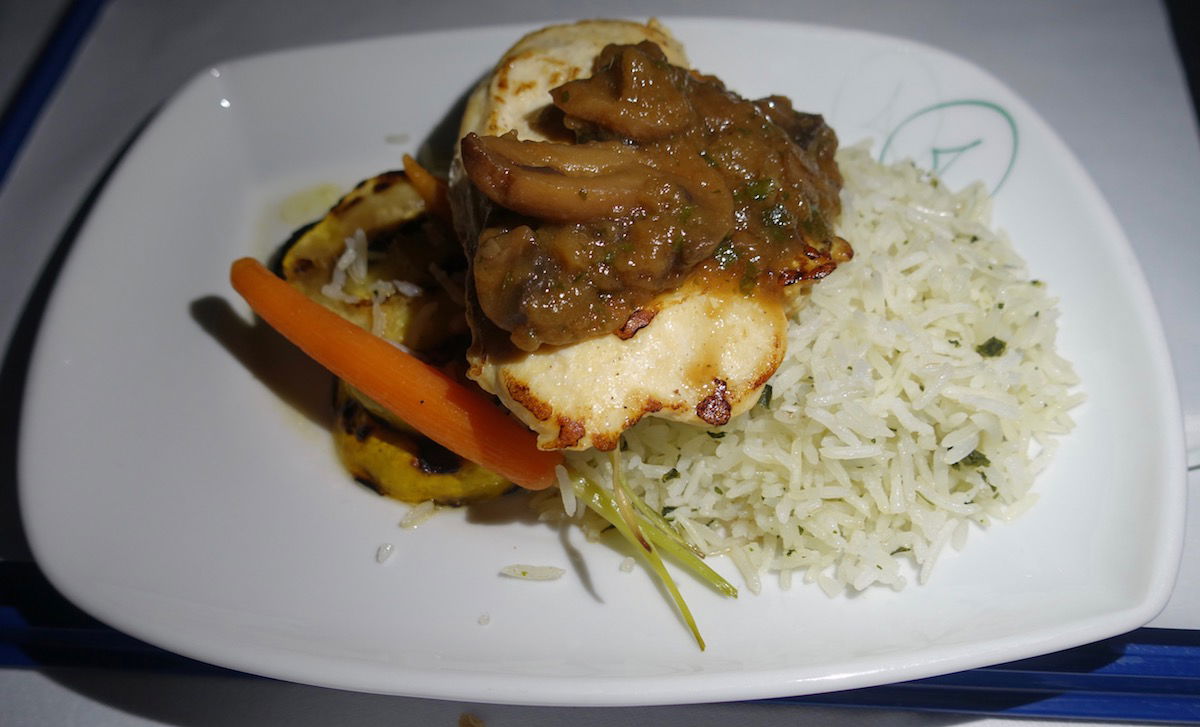 Etihad business class dinner — grilled chicken breast main course
For dessert there was the option between a cheese plate and an opera cake with fresh raspberries. We ordered one of each to share. The opera cake was excellent, while the cheese plate was fairly basic.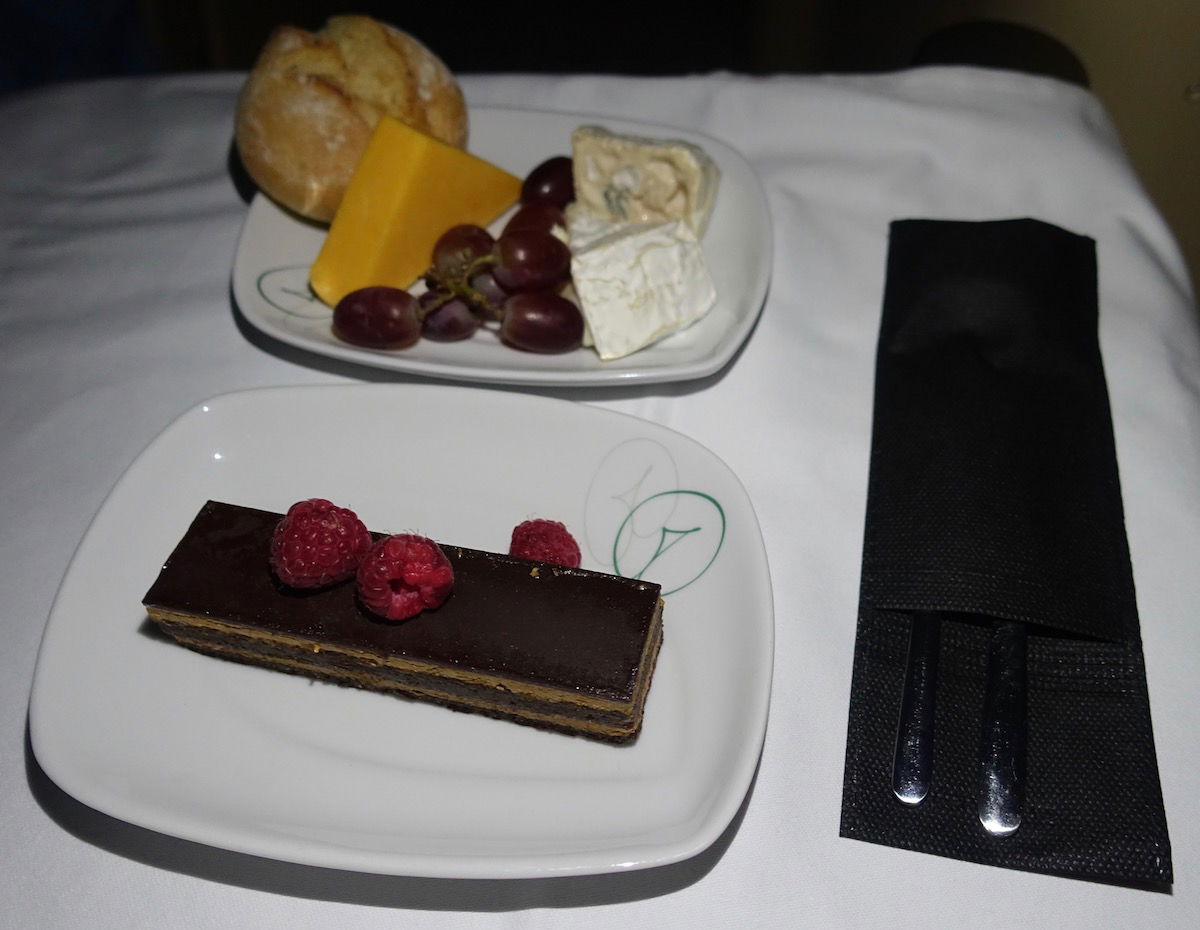 Etihad business class dinner — dessert & cheese plate
To finish off the meal I ordered a cappuccino, which was served with a chocolate and was very good. I'm always impressed when airlines offer proper cappuccinos in business class.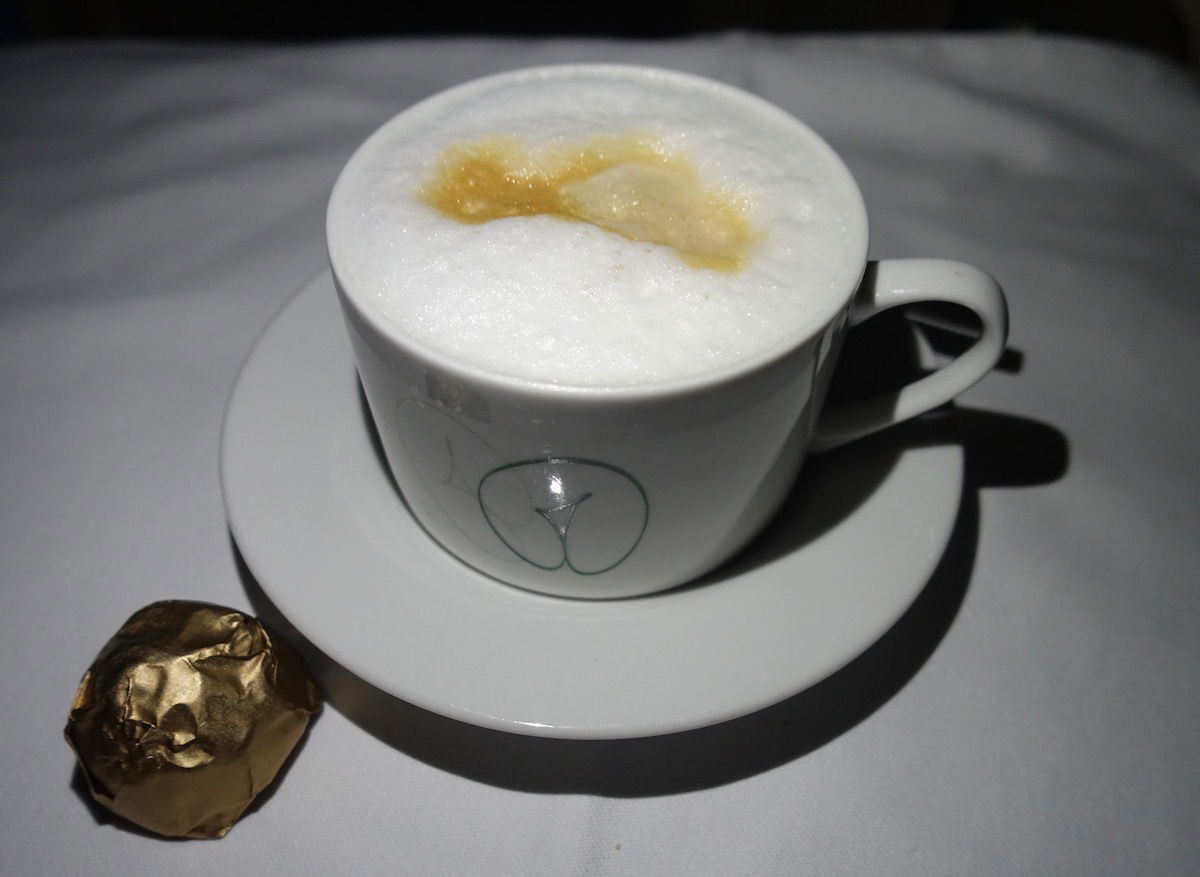 Etihad business class dinner — cappuccino
At the conclusion of the meal we were presented with bottled water from the Seychelles.


Air Seychelles business class bottled water
This was a great meal all around, and I was also impressed by the pace at which it was served. The meal service was done 75 minutes after takeoff, which is ideal on a quick overnight flight. The crew also really hustled. They were attentive and efficient, and performed the service with a smile.
After dinner I checked out the lavatory at the front of the cabin, which was tiny. It was right behind the cockpit and I could barely stand up fully due to the curvature of the fuselage.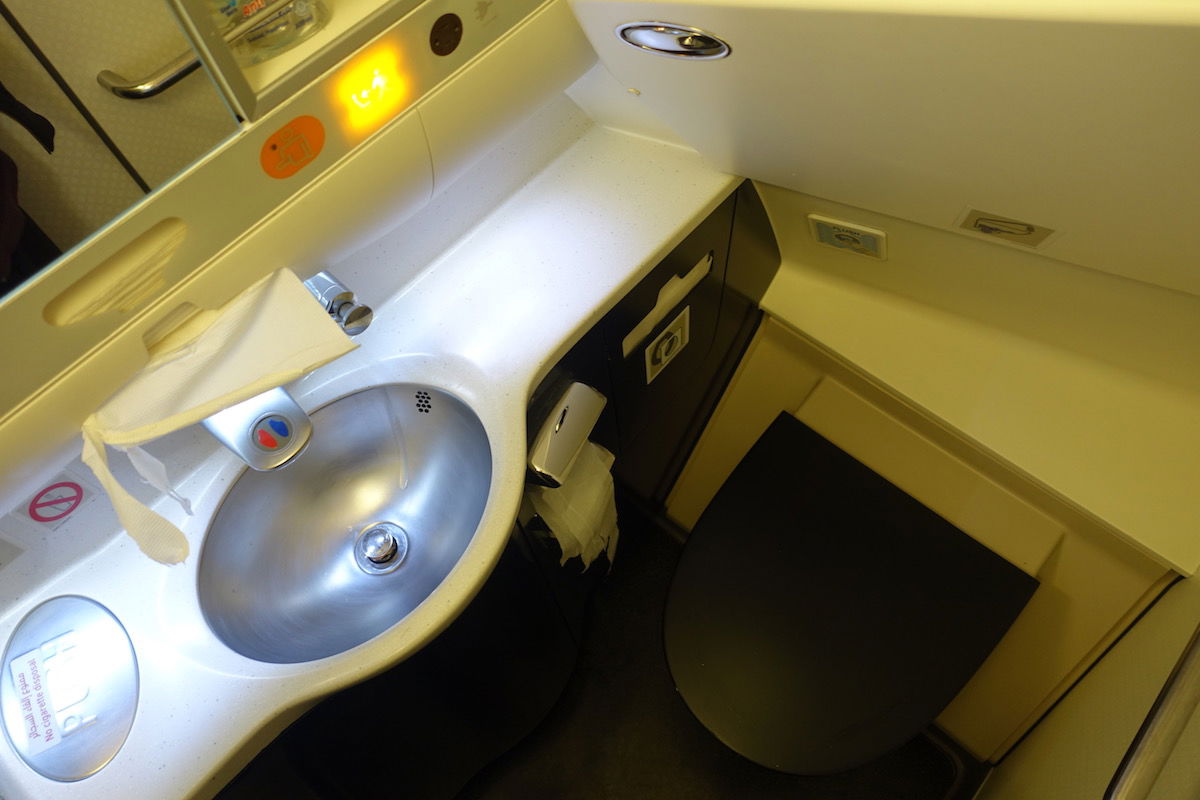 Etihad A330 business class lavatory
By the time I was ready to sleep we were passing over the Adriatic Sea, just near Podgorica (which brought back fond memories of Aman Sveti Stefan).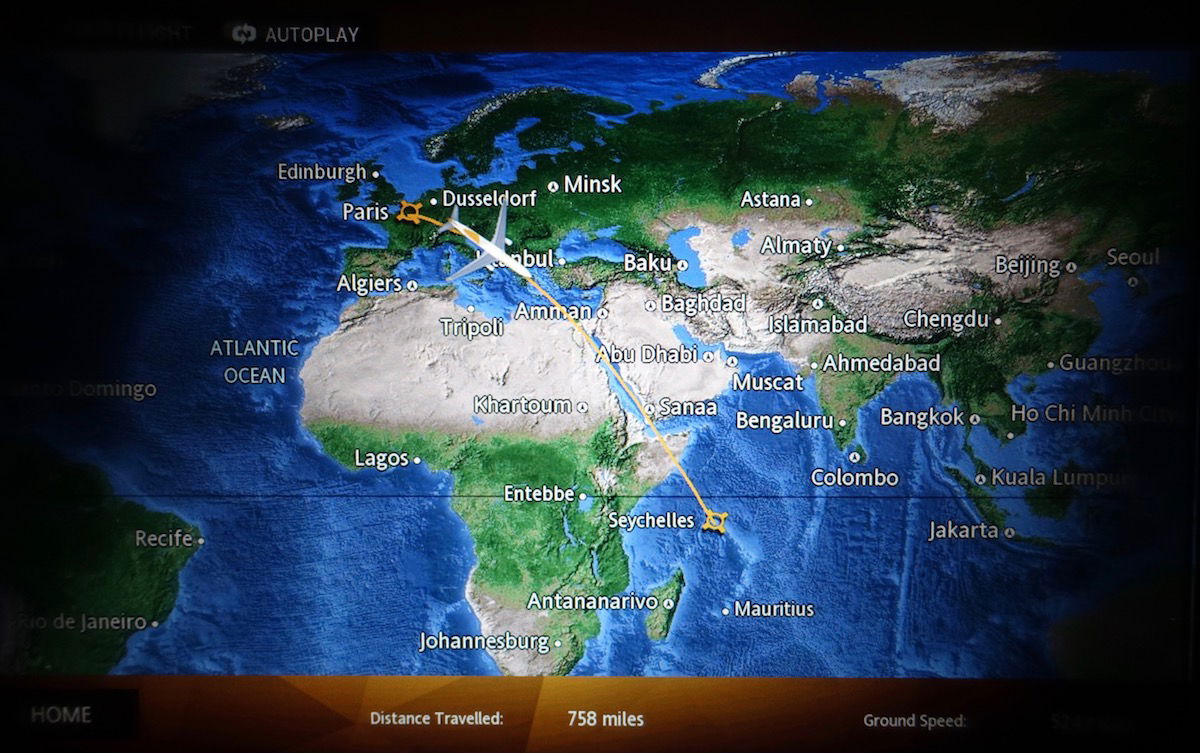 Airshow to Mahe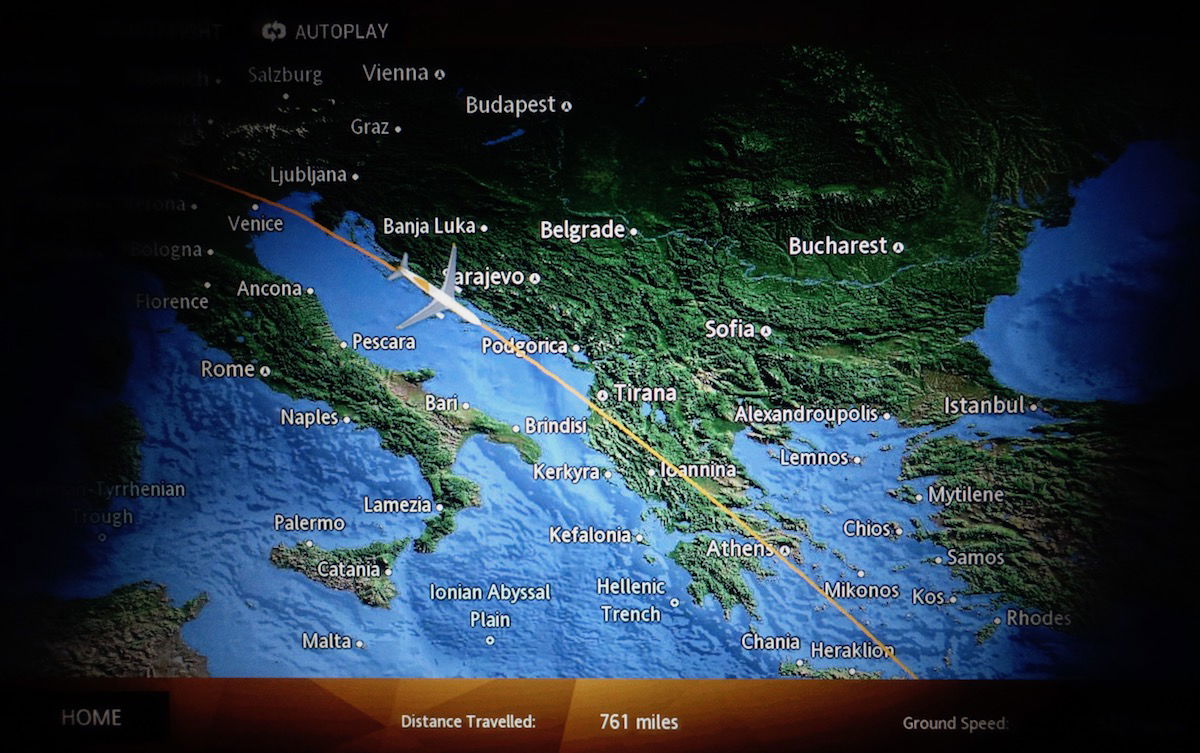 Airshow to Mahe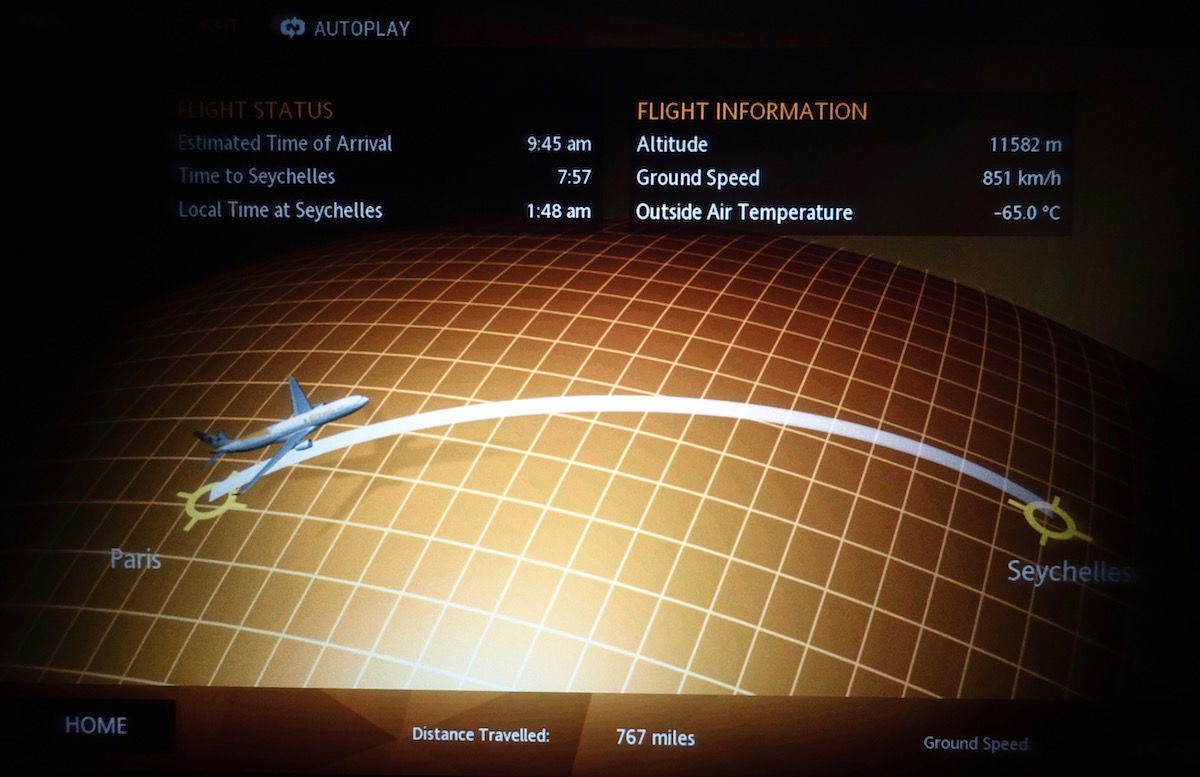 Airshow to Mahe
As I mentioned in the beginning of the post, I wasn't looking forward to these "honeymoon seats," as I find that they're far too close together. However, over the course of the flight they grew on me. During the meal I liked being able to sit so close to Ford, if for no other reason than the ability to easily photograph the pictures of his food. 😉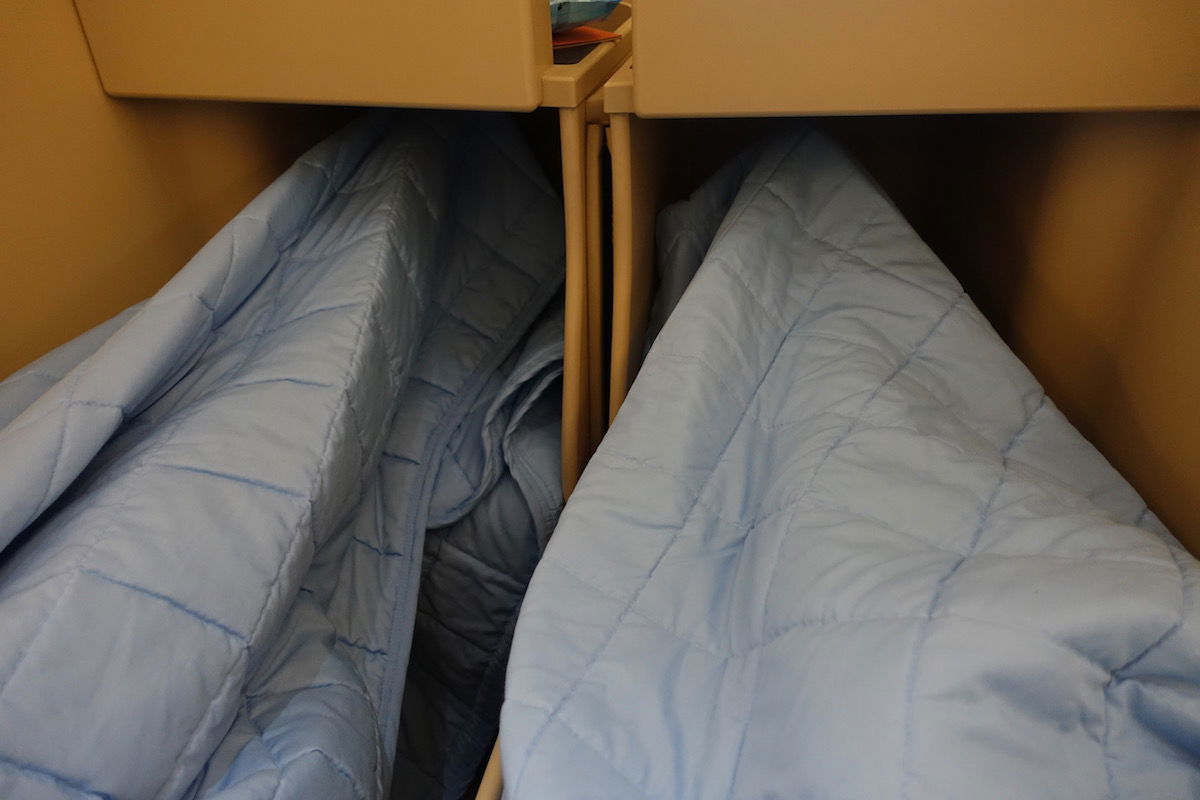 Etihad business class "honeymoon seats"
Then when it came time to sleep, there was a partition that could be raised. I do still think these seats are a bit tight if you're sitting next to a stranger, but ultimately I preferred this to one of the seats closer to the aisle.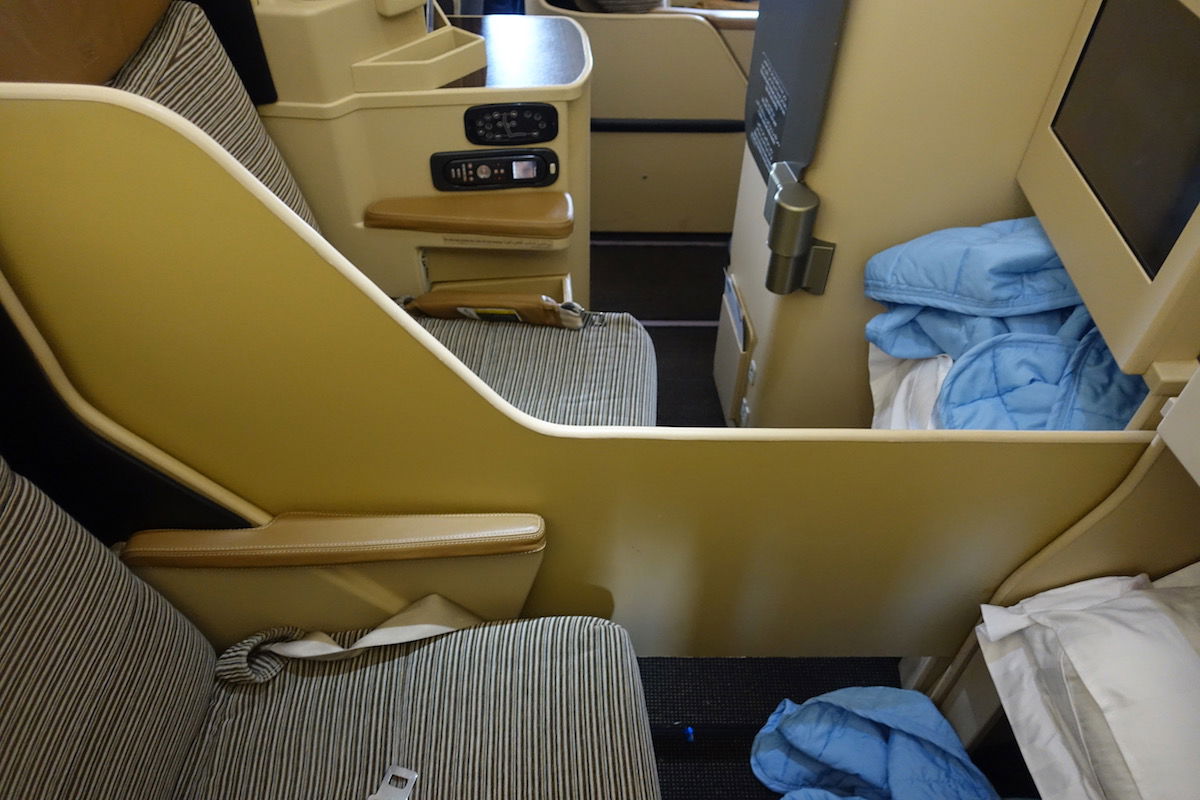 Etihad business class "honeymoon seats"
I fell asleep pretty quickly and then managed to get solid sleep for a few hours, and then I think I tossed and turned a bit for a few hours. While it's nice to have a seat with direct aisle access, these are among the tighter staggered seats out there. That's probably largely because the A330's cabin is quite narrow.
My other big issue is that the padding in these seats is terrible. Etihad really needs to refresh their business class seats, as they feel worn at this point.
Eventually I woke up just over 90 minutes before landing, as we were just leaving Somalia and starting to fly over the Indian Ocean.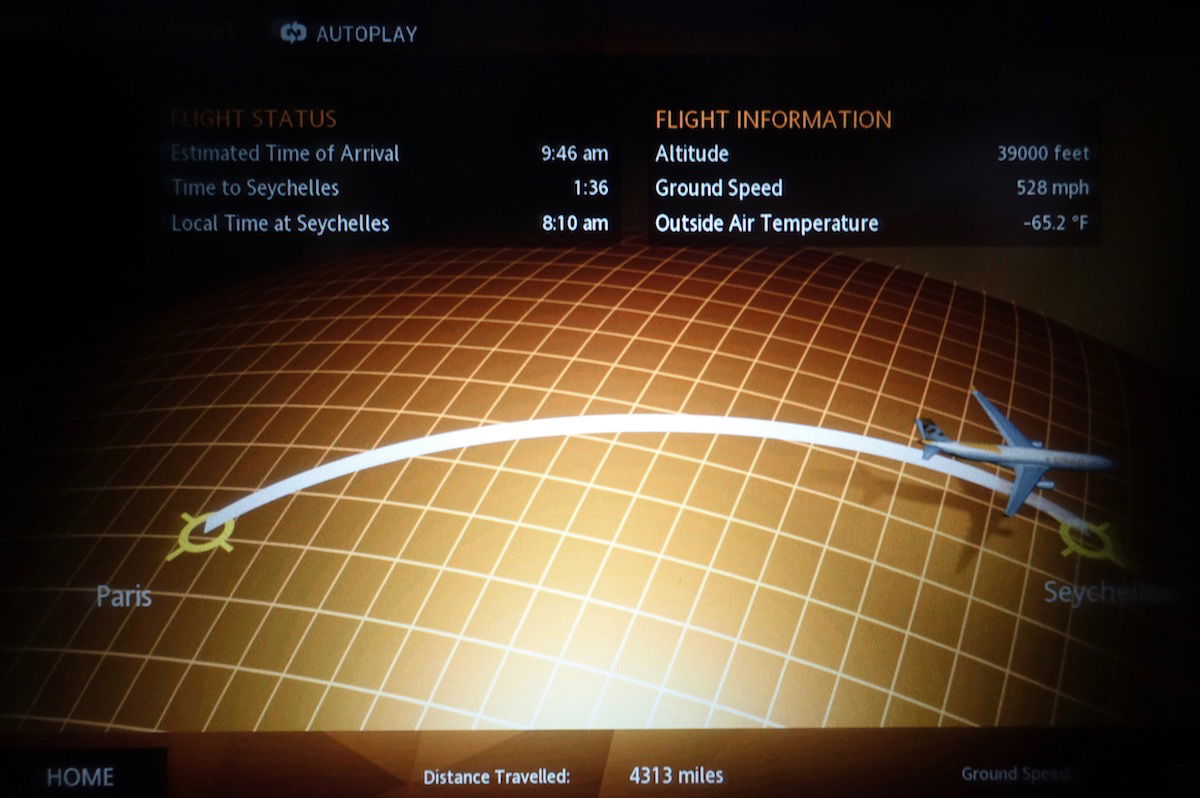 Airshow to Mahe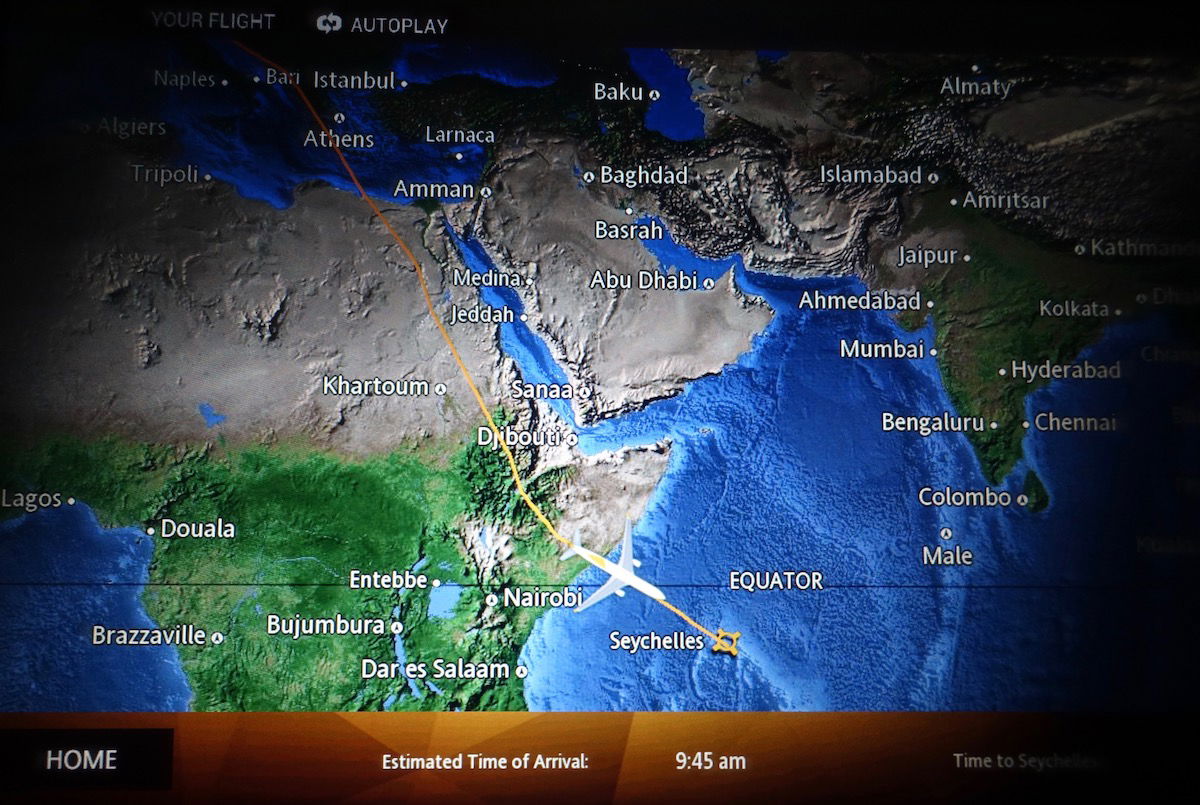 Airshow to Mahe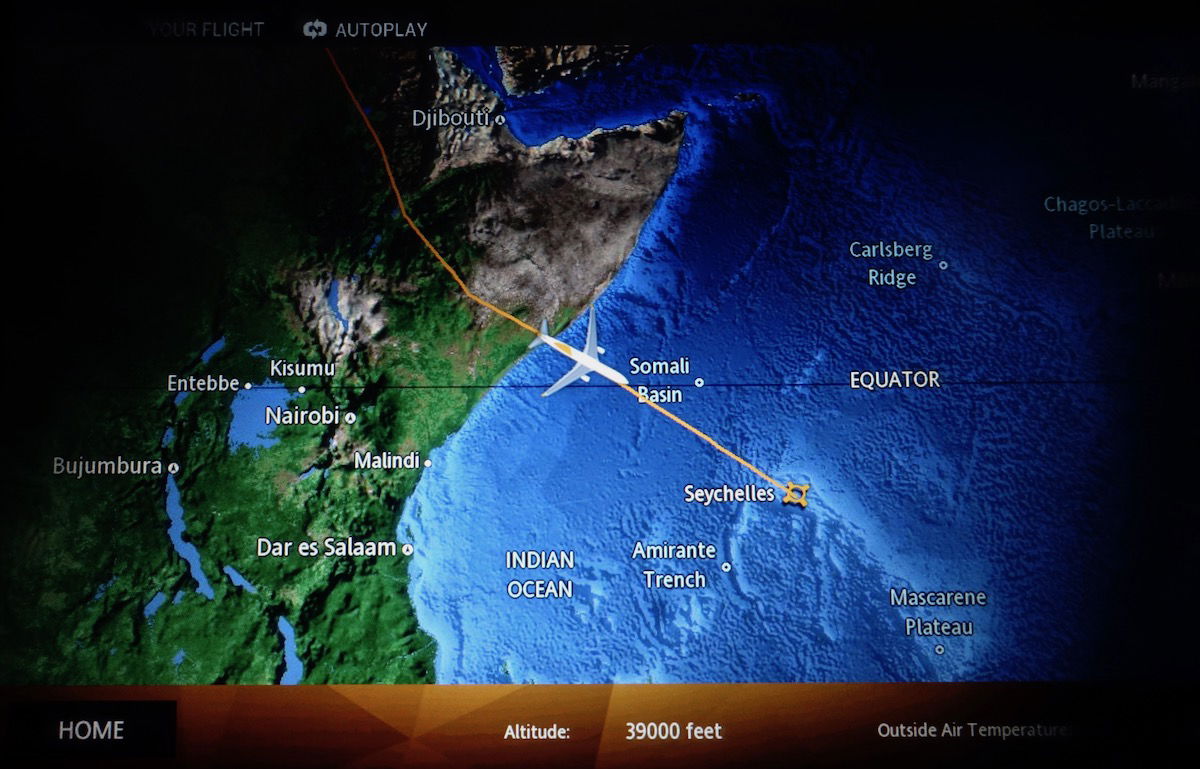 Airshow to Mahe
Within a couple of minutes of waking up the crew was at my seat to ask if I had a nice rest, and what I wanted for breakfast. I was impressed that unlike most airlines they didn't turn up the cabin lights and force everyone to have breakfast at once, but rather they offered each individual person breakfast as they woke up, and in some cases they even still served a full meal as we started our descent.
The breakfast menu read as follows: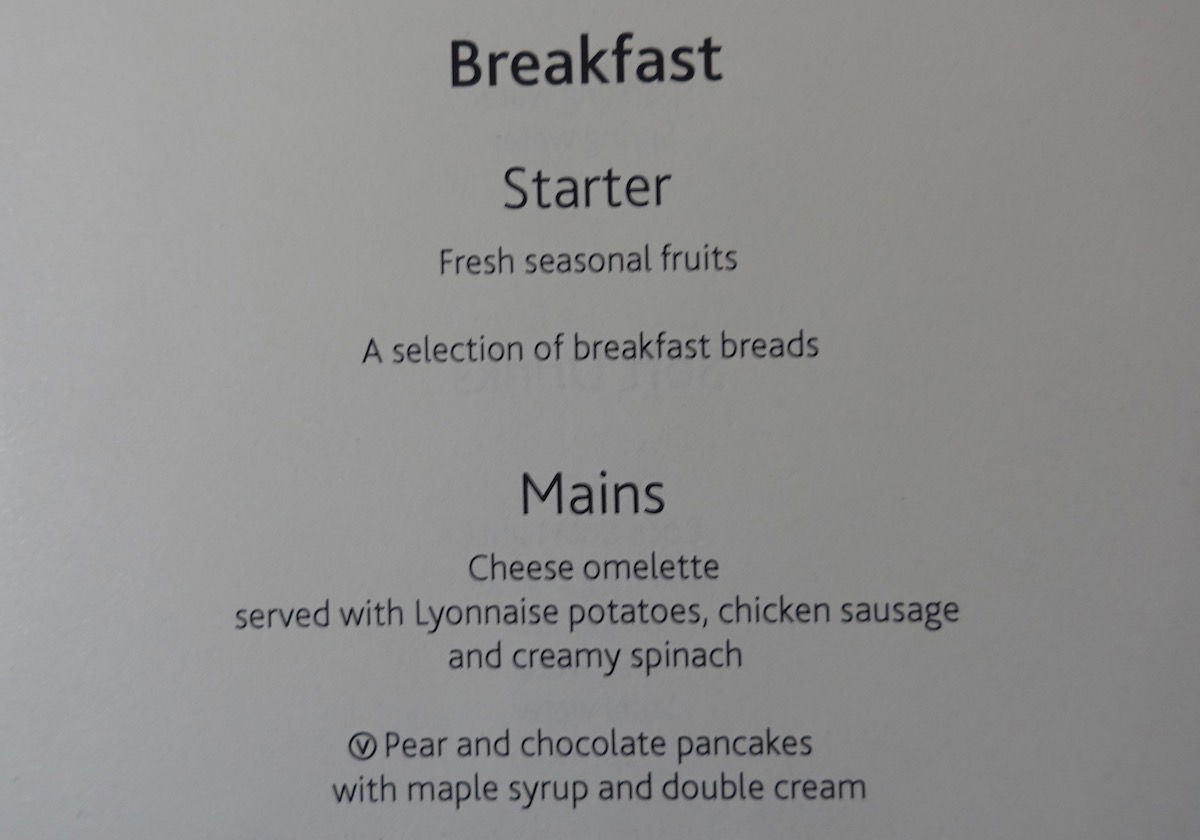 For breakfast I selected with the sweet option, so that we could try one of each. I ordered the pear and chocolate pancakes with maple syrup and double cream (#HealthyLiving). They were ridiculously delicious, but so rich. With breakfast I was offered two croissants and a small fruit plate. I also ordered a coffee, and was proactively served orange juice.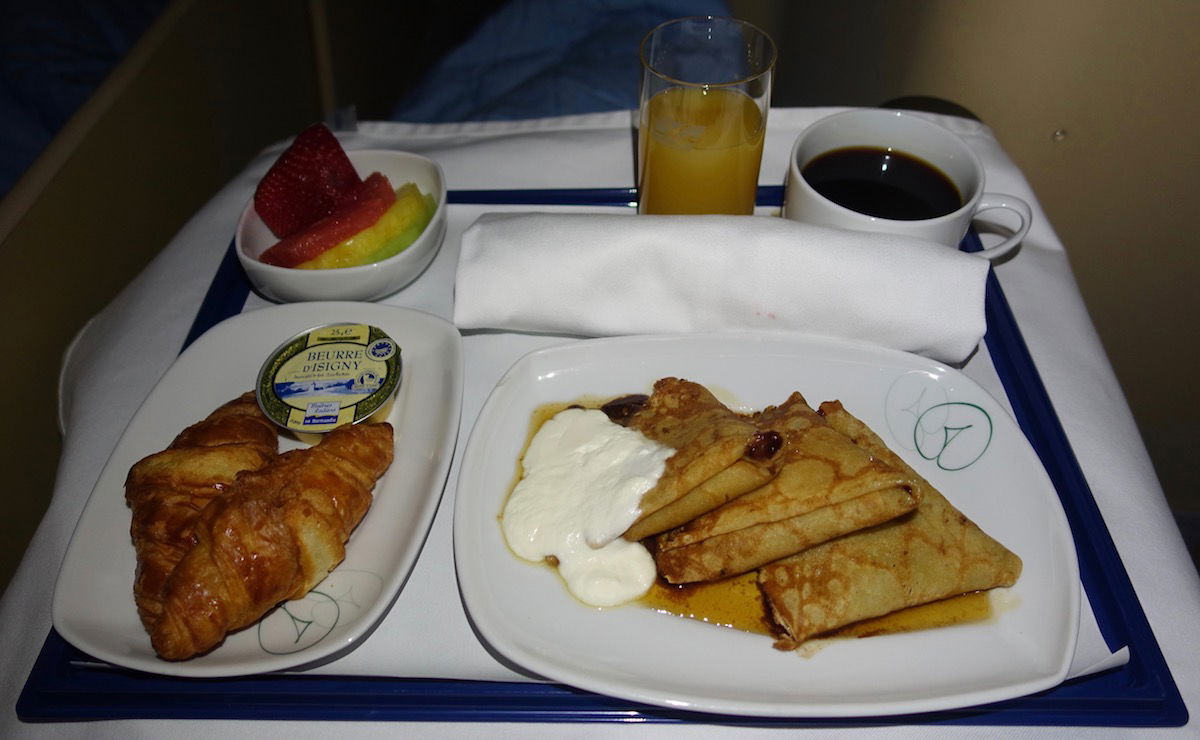 Etihad business class breakfast — pear and chocolate pancakes
Ford had the cheese omelette with lyonnaise potatoes, chicken sausage, and creamy spinach.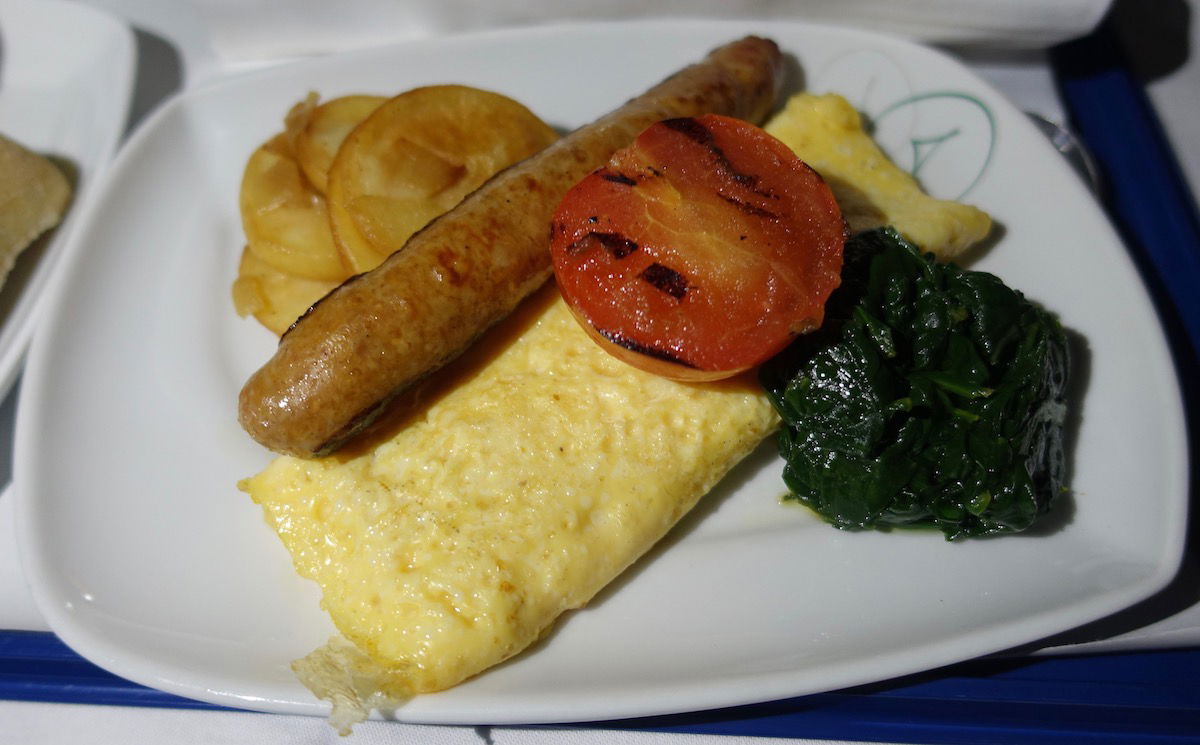 Etihad business class breakfast — cheese omelette
About 45 minutes before landing warm towels and landing forms for the Seychelles were distributed.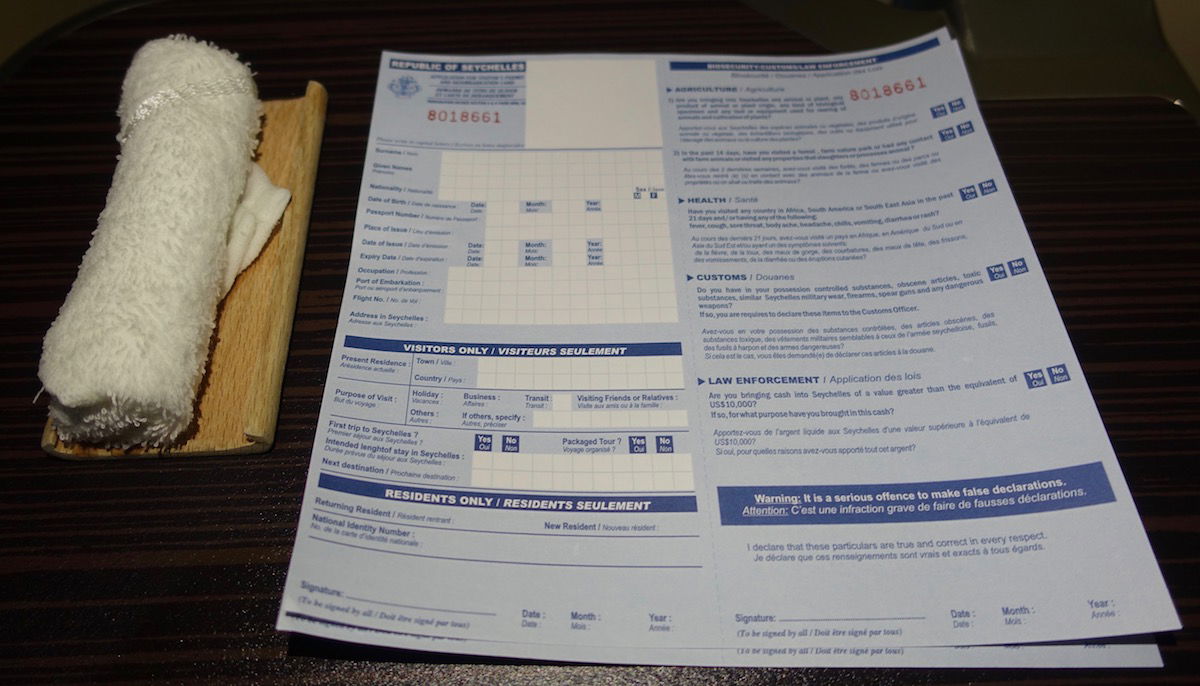 Seychelles landing card and warm towel
35 minutes before landing the captain announced that we'd start our decent in about 10 minutes, and that we'd be landing at 9:45AM.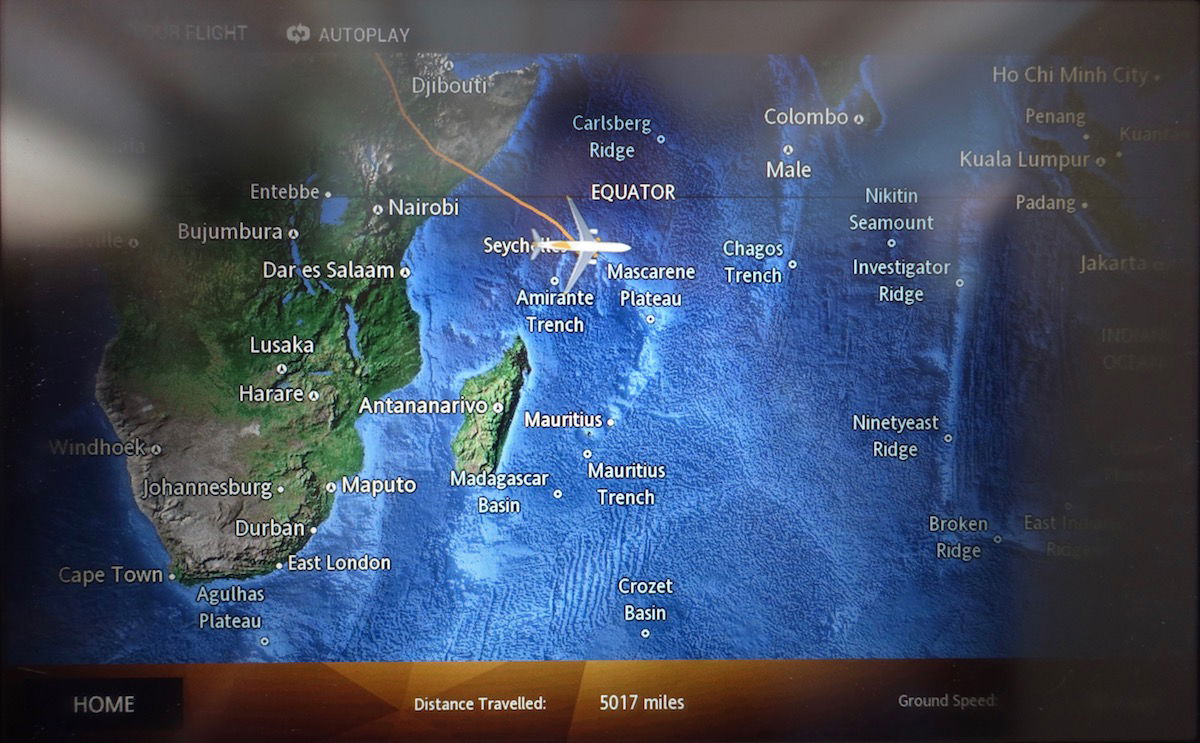 Airshow approaching Seychelles
At that point the crew started preparing the cabin for landing. We had a smooth descent, and the seatbelt sign was turned on only five minutes before landing. The plane has a nose camera, though it was so low resolution that it almost wasn't worth bothering. I was bummed that I didn't have a window seat, given how beautiful the views looked.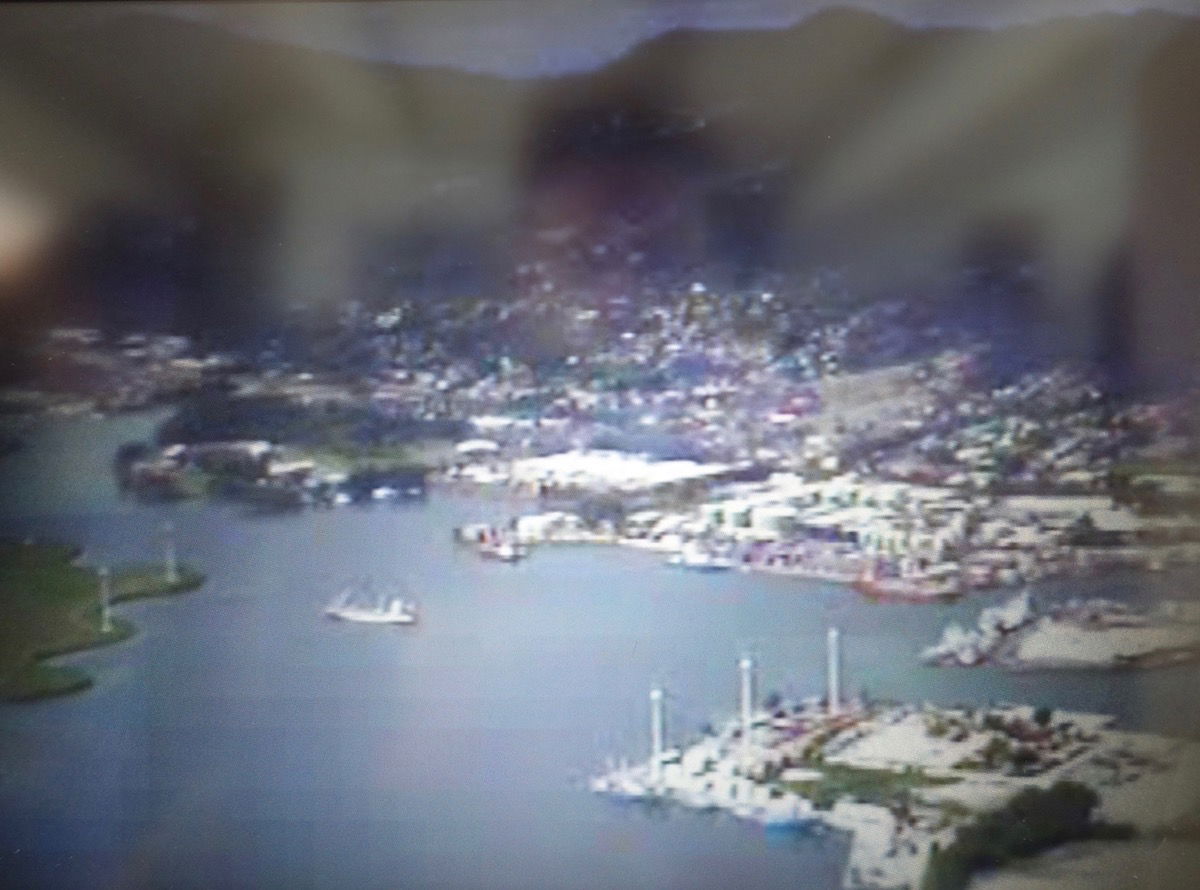 Nose camera Etihad A330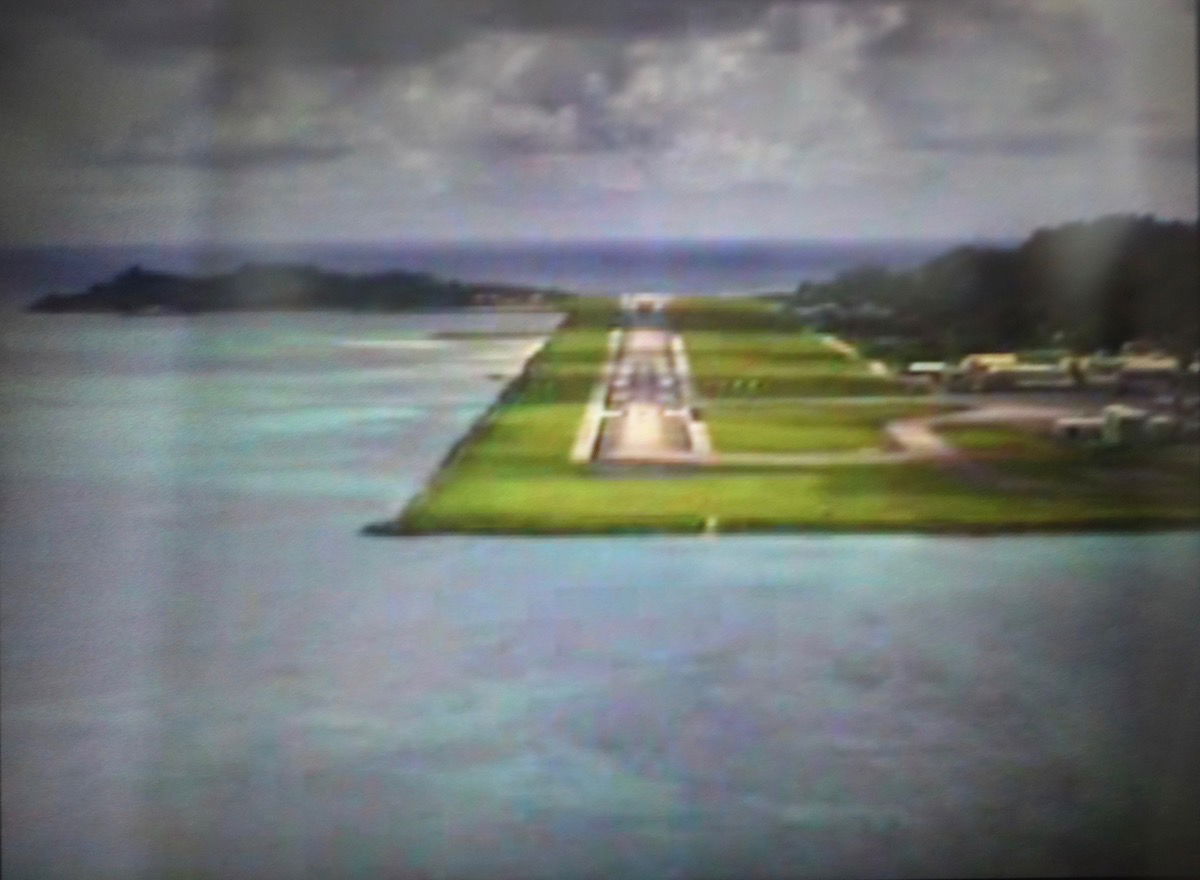 Nose camera Etihad A330
We touched down on runway 13 at 9:50AM.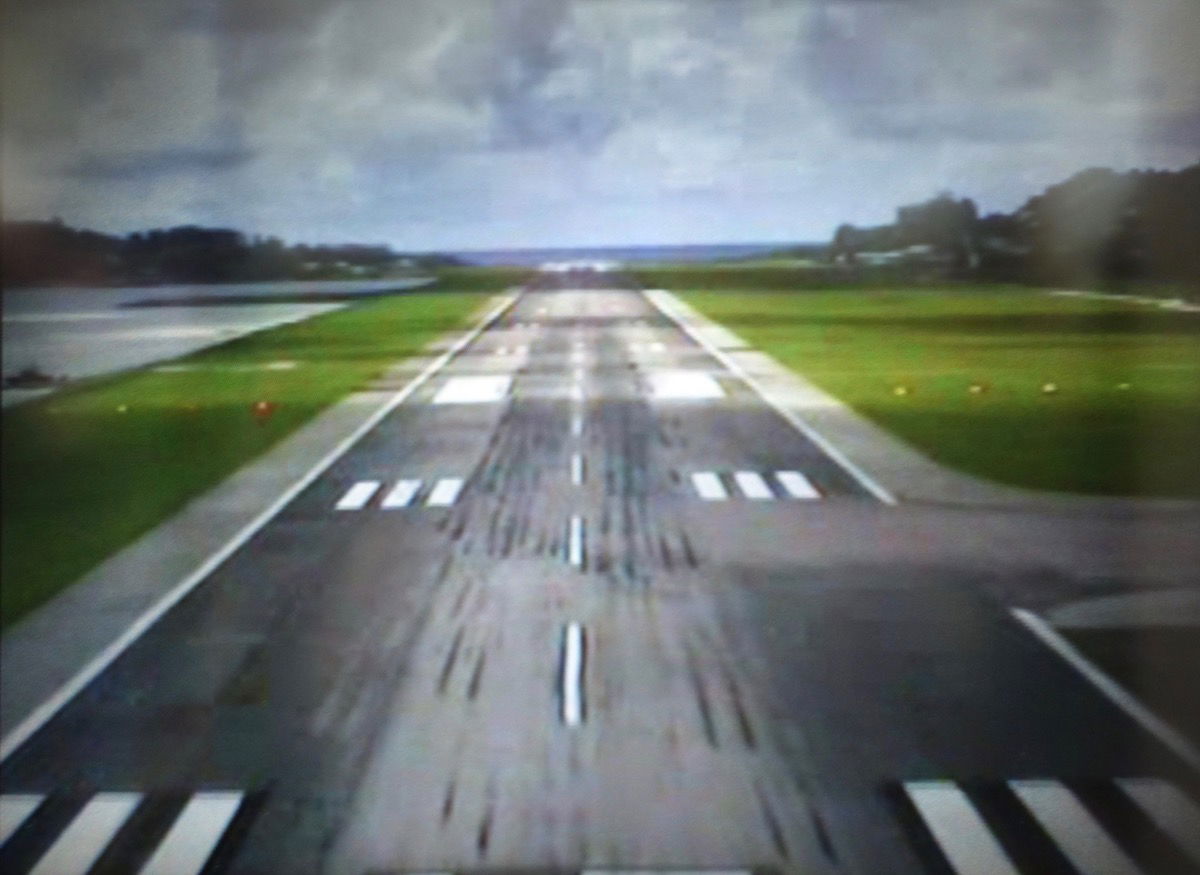 Touchdown Mahe Airport
We rolled down to the end of the runway, and then had to back taxi to get to the main terminal area, where we arrived at 9:55AM.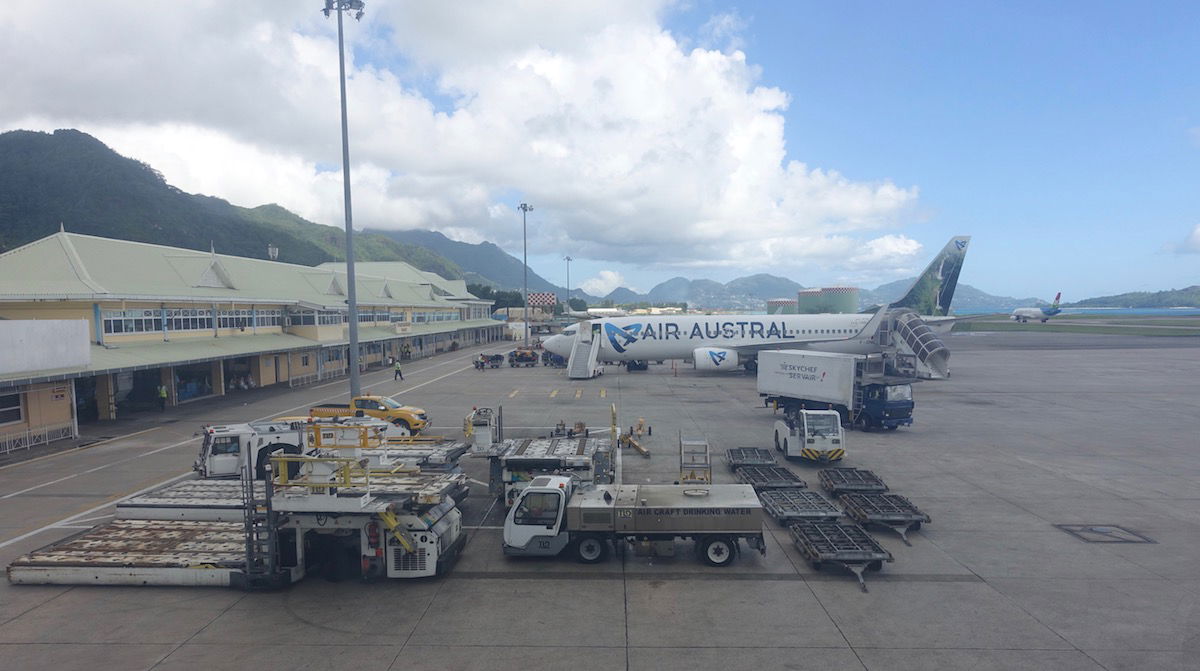 Arrival gate Mahe Airport
We parked next to an Air Austral 737, and deplaned via stairs. While the weather looked nice when we landed, it started pouring the second we got off the plane, though that lasted for only a couple of minutes. That turned out to be a common theme in the Seychelles.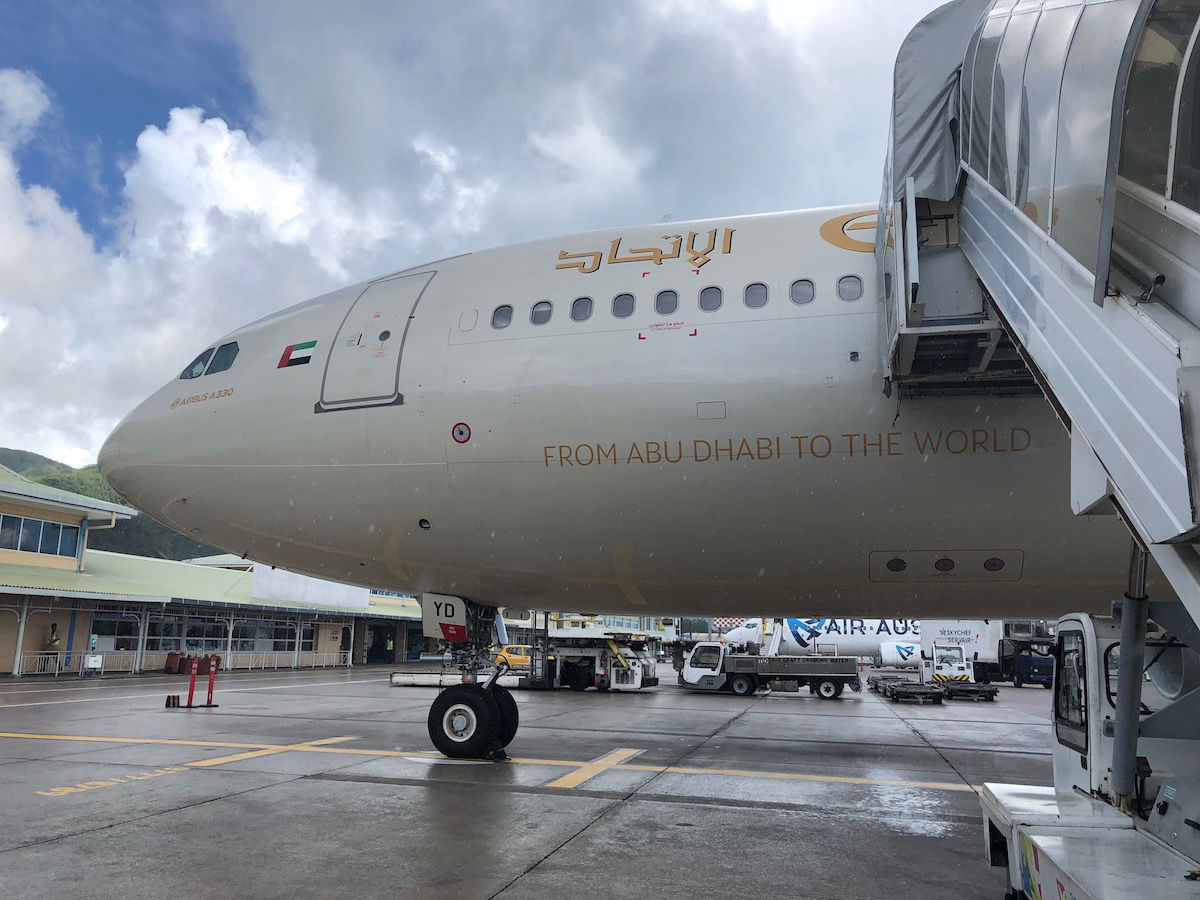 Etihad A330 upon arrival in the Seychelles
The immigration hall was in a cute building, and we had to wait for about 10 minutes, as I guess the Air Austral plane had just arrived shortly before us.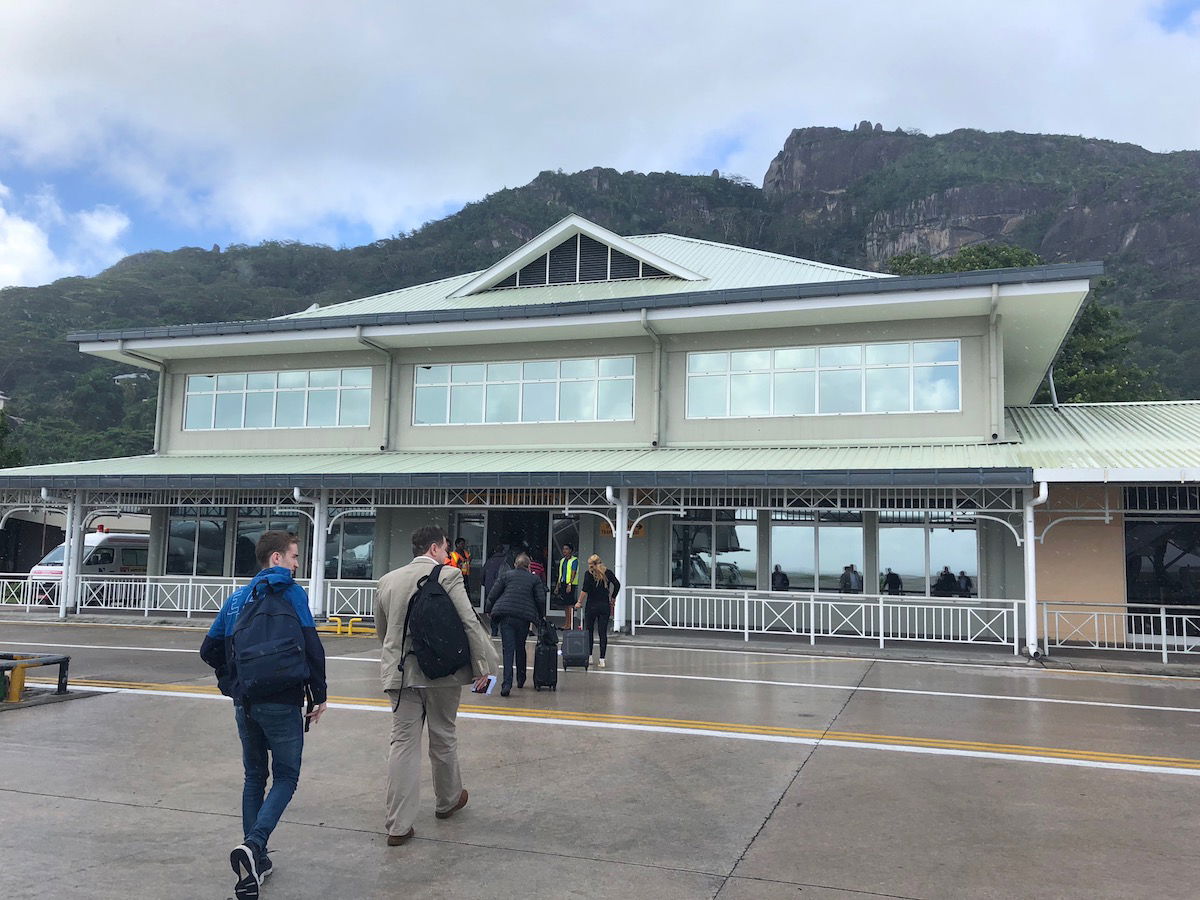 Mahe Airport terminal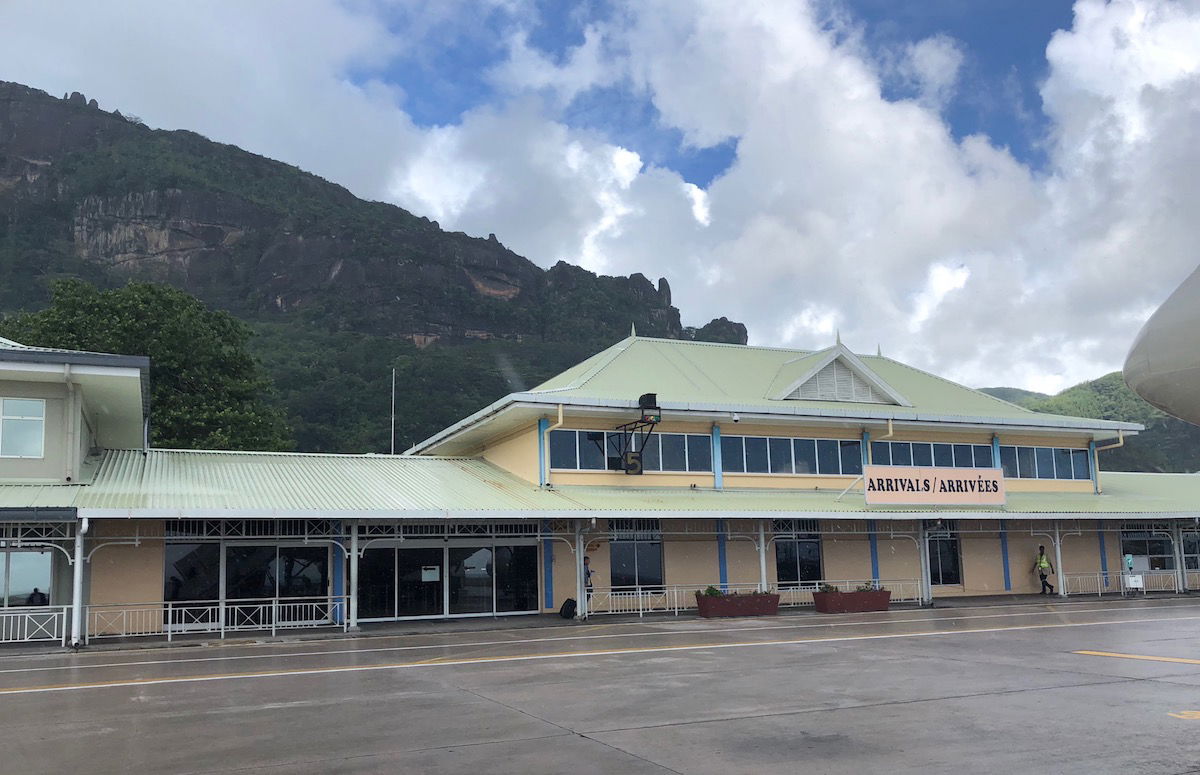 Mahe Airport terminal
Then we found ourselves landside, where our car rental adventure started.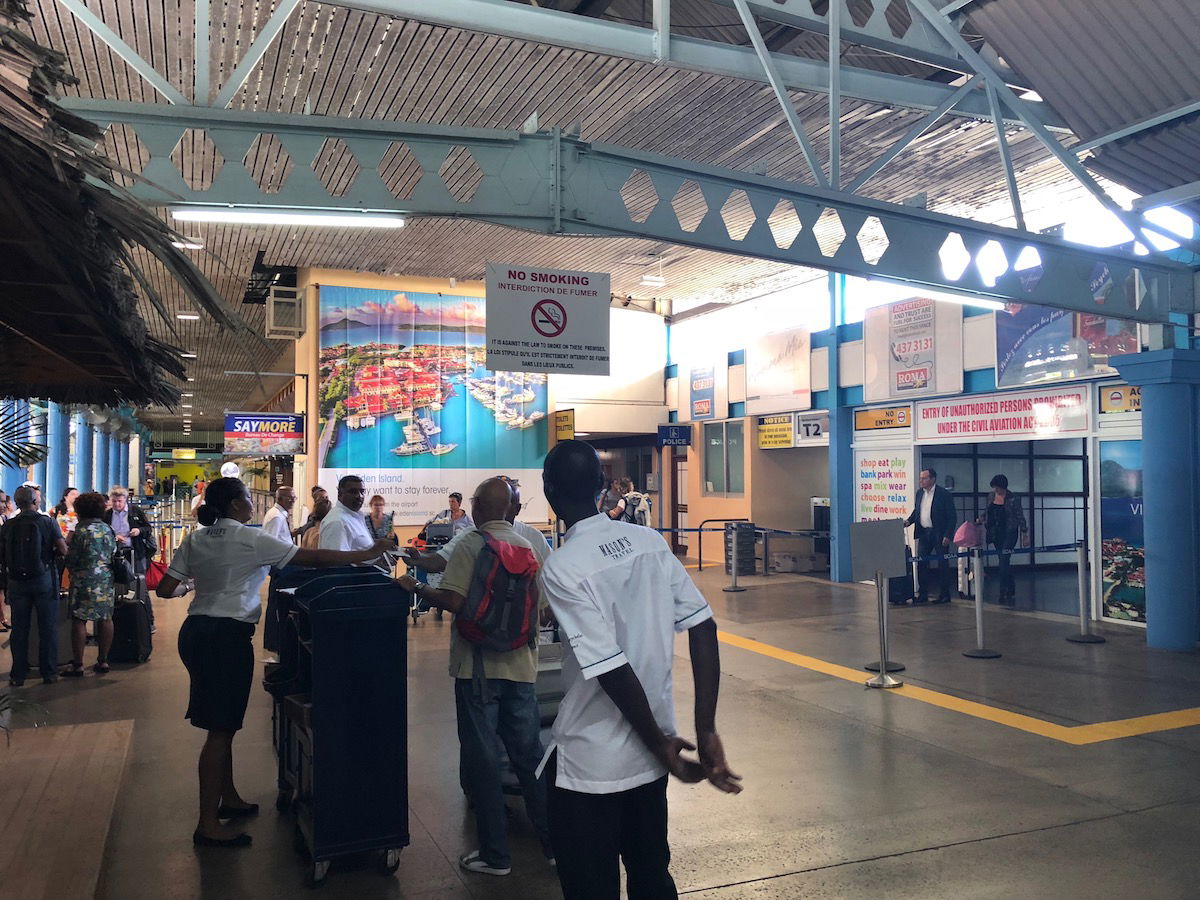 Mahe Airport terminal
Etihad A330 business class bottom line
While I was disappointed that I didn't have the chance to experience Air Seychelles' A330 business class, this was a solid flight. The service was excellent and the food and soft product generally quite good, though not amazing. Etihad's seats are definitely starting to show their age, and I think it's time Etihad think of installing new seats, or at a minimum, reupholstering the existing ones (though something tells me that's not happening anytime soon).