Within the past week the United States and United Arab Emirates have reached an agreement in their Open Skies battle that lasted for several years. The way I view it, the resolution is a victory for Emirates and Etihad, and a loss for the US carriers:
Emirates and Etihad are agreeing to publish annual financial statements consistent with internationally recognized accounting standards
Emirates and Etihad have stated that as of now they have no plans to add additional fifth freedom flights to the US; Emirates currently operates these flights from New York to Milan and Newark to Athens
In other words, it's business as usual for Emirates and Etihad, and they must be thrilled about it, as they should be. The US is doing nothing to stop the "billions of dollars of government subsidies" (as the "big three" US carriers like to call it), and is doing nothing to limit the capacity these airlines can offer between the UAE and US. The "playing field" is no more or less level than it was before.
Of course the "big three" US carriers have spent millions of dollars lobbying for reform, and they don't want to come out of this looking like losers. After all, some middle managers have to justify the way in which they spent money. The deal was structured in such a way that both sides can feel like they won (or at least didn't lose). We haven't heard a whole lot from Emirates and Etihad, while the leaders at the big US carriers have been engaged in a delusional victory lap.
Their latest victory lap was today, as the Partnership for Open & Fair Skies (funded by American, Delta, and United) took out full page ads in the New York Times and New York Post thanking President Trump. My first issue here is that they don't seem to know their audience very well. Is the "failing New York Times" really the place to take out an ad that you want Trump to see?
Here's the full text of the ad:
Thank You President Trump For Standing Up For American Jobs

President Donald J. Trump
The White House
1600 Pennsylvania Avenue NW
Washington, DC 20500

Dear President Trump,

With your new agreement to stop trade violations by the United Arab Emirates, you have shown the world that your administration will not stand for unfair trade deals that hurt American jobs and businesses. On behalf of the men and women of the U.S. airline industry, thank you for taking decisive action.

For over a decade, the UAE and Qatar have provided billions of dollars in subsidies to their government-owned airlines (Emirates, Etihad Airways and Qatar Airways), violating Open Skies trade agreements with the United States, and blocking fair competition with American businesses. By acting to enforce our agreements and restore a level playing field, your administration has again shown that you stand with American workers and will fight for our jobs and economy.

As with your successful agreement with Qatar earlier this year, this new agreement with the UAE will save American jobs. More than 310 members of Congress, more than a dozen governors, and hundreds of local elected officials and business leaders from both parties agree with you that the U.S. must enforce its Open Skies trade deals. Now we look forward to working with you to hold the UAE and Qatar to their word.

Thank you for your leadership and your commitment to the American people.

Sincerely,
The Partnership for Open & Fair Skies
Here's a picture of the ad, which oddly shows a picture of a Cathay Pacific A330 with the tail blurred: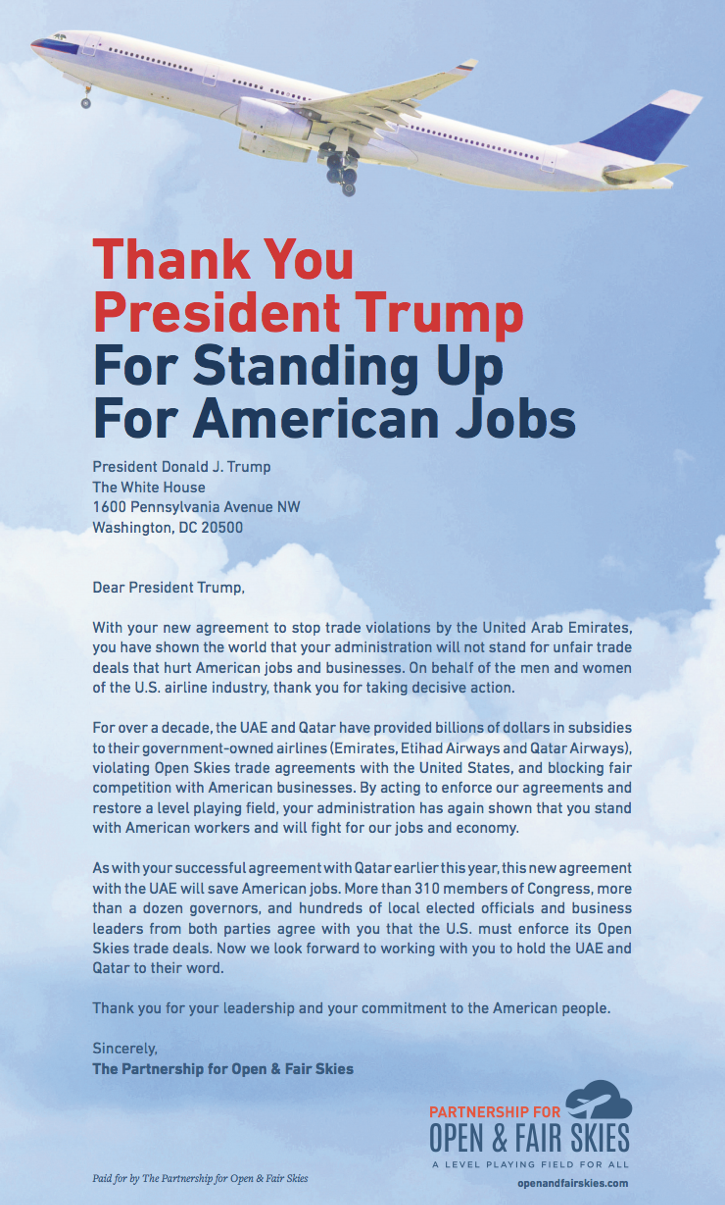 To be clear, this isn't supposed to be a pro or anti-Trump post. Personally I commend the president for not acting on this issue and for continuing to give the Gulf carriers unrestricted access to the US under the Open Skies treaty. It's an area where the Obama and Trump administrations clearly came to similar conclusions. The administration did the right thing, even if the above letter doesn't reflect what the agreement states. But the degree to which the "big three" are rewriting history and self-congratulating themselves is a bit much…