In April 2016, Hyatt introduced member only rates. With these rates, members of their loyalty program could get up to 10% off the best flexible rate by booking direct with Hyatt. Hyatt isn't the only hotel brand that has done this, as most of the major hotel programs have been making a push to get travelers to book directly with them, rather than through a third party (where they have to pay a commission). The added benefit is that it also encourages travelers to join World of Hyatt, which increases engagement.
Today Hyatt announced that they've extended their member rate concept. In the past member rates were only available on flexible rates, while Hyatt has now introduced advance purchase member rates.
Hotels globally will have the option of offering these rates, which will be available when booking at least 14 days in advance. For these rates, full pre-payment is required at the time of booking, and the rates are non-refundable. These rates will offer up to 15% off, though the exact discounts will vary by individual hotel.
As of now, you can find these new member advance purchase rates at the Andaz Mayakoba, Grand Hyatt Playa del Carmen, Hyatt Regency Atlanta, Park Hyatt Buenos Aires, and Park Hyatt St Kitts. Over time these will likely be expanded to more properties, though they may not be available consistently.
Hyatt says that the savings with these advance purchase member rates should be up to 15% off the standard rate, though in some cases it's greater than that. For example, at the Park Hyatt St. Kitts I see a standard rate of $400, a member rate of $340, and an advance purchase member rate of $320, so that's 20% off the standard rate.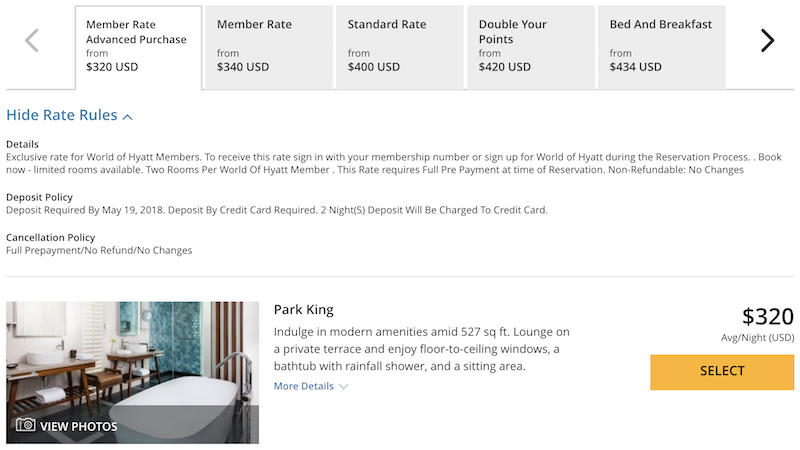 At properties like the Grand Hyatt Playa del Carmen, the advance purchase member rate is exactly 15% off. In that case there's a "spring holiday with breakfast" rate that's only $4 more, though.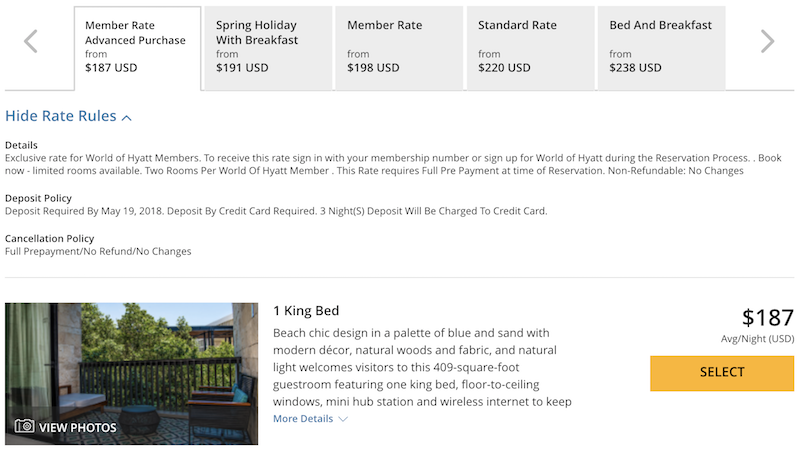 What I find interesting is that for the hotels with advance purchase member rates, I don't see the regular advance purchase rates anymore (which doesn't require joining World of Hyatt). I asked Hyatt about this, and they said that standard advance purchase rates are still available, but it's up to individual hotels to decide whether or not they want to offer them. It sure seems to me like the above hotels are only offering one or the other.
Maybe Hyatt is generally going the direction of only offering many advance purchase rates to members, as a way of increasing World of Hyatt membership.
I think it's once again worth emphasizing that these rates will be non-refundable, so I'd only recommend booking these if the savings are significant. I typically avoid prepaid rates not just so that I have the flexibility to cancel, but also so that I can rebook in the event that a rate drops, which often happens as the arrival date approaches.