Last fall, I joined Delta's SkyBonus program as a way to earn additional award points. As Ben has previously written, SkyBonus is essentially a way for businesses to earn additional points for the flights their employees take on Delta.
These act as a completely separate currency and earn points on top of the SkyMiles earned, so they don't get in the way of employees earning miles. If you're a business owner, it's a win-win.
However, you do need to be an actual business owner to take advantage of the program – and there are some caveats. In addition to needing an Employee Identification Number (EIN), you need to spend a minimum of $5,000 a year on the program in order to stay active, and you need to fly a minimum of five employees.
While my husband and I do hire contractors to fly for us on occasion, our 50/50 partnership LLC isn't exactly the kind of high roller business that I think they are targeting. However, the website specifies five unique flyers, which isn't that specific. In any event, they haven't kicked us out yet, so stay tuned.
My biggest frustration with the program is that there is no place on your Delta profile to be able to save your SkyBonus number, so I have to input it manually. (Every. Time.) I'm not in the habit yet, so I often have to go back and retroactively add tickets after they've been purchased. At least they make that part easy. [Edit – You can update your SkyBonus number by going to My Delta -> Profile -> Flight Preferences – just make sure you're signed in via web browser.]
In any event, I was clicking through the website recently to see if I could find any hacks or special promotions, when I came across SkyBonus University. I clicked on it mainly because I thought that the word "University" might imply "really really complicated program." Maybe there was a chance to learn about some obscure terms and conditions or program rules.
What I found, instead, was a quick and easy way to earn a few bonus points. Essentially the "university" offers four "courses" that have you do a bunch of clicking walk you through some of the program essentials: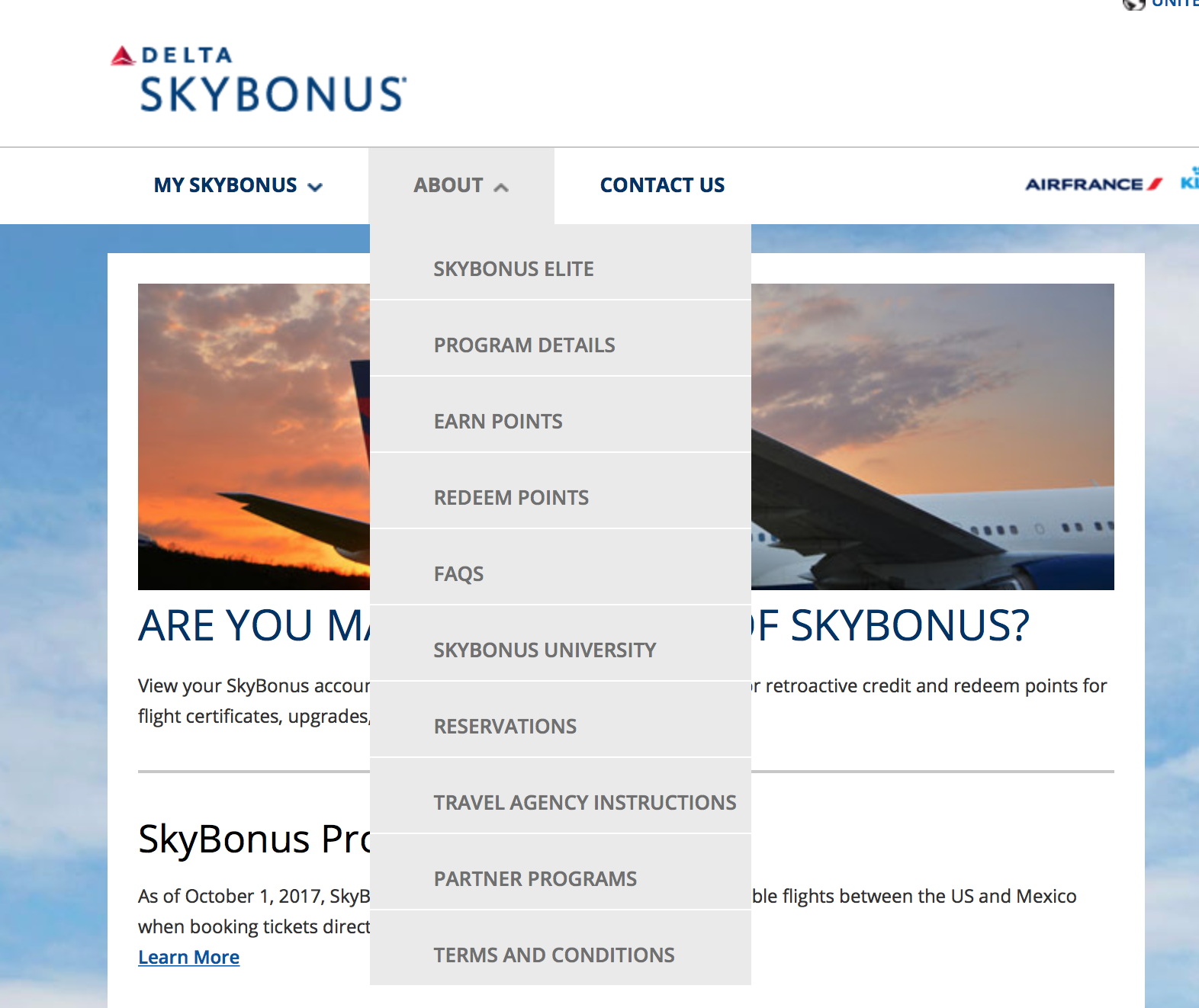 First, you click through some basic instructional pages, walking through a specific section of the program: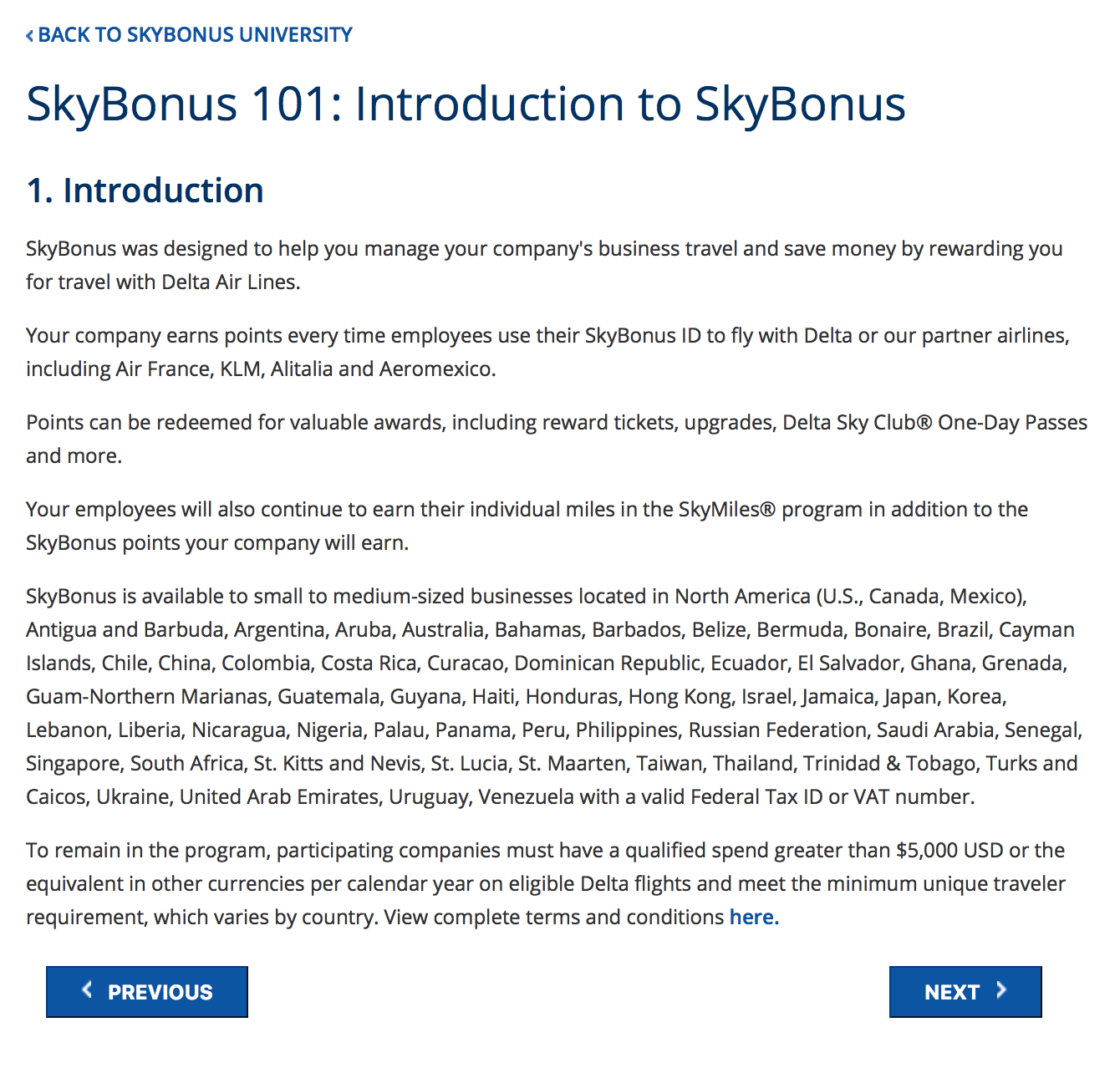 Then, you are taken to a "quiz" at the end of the "course:"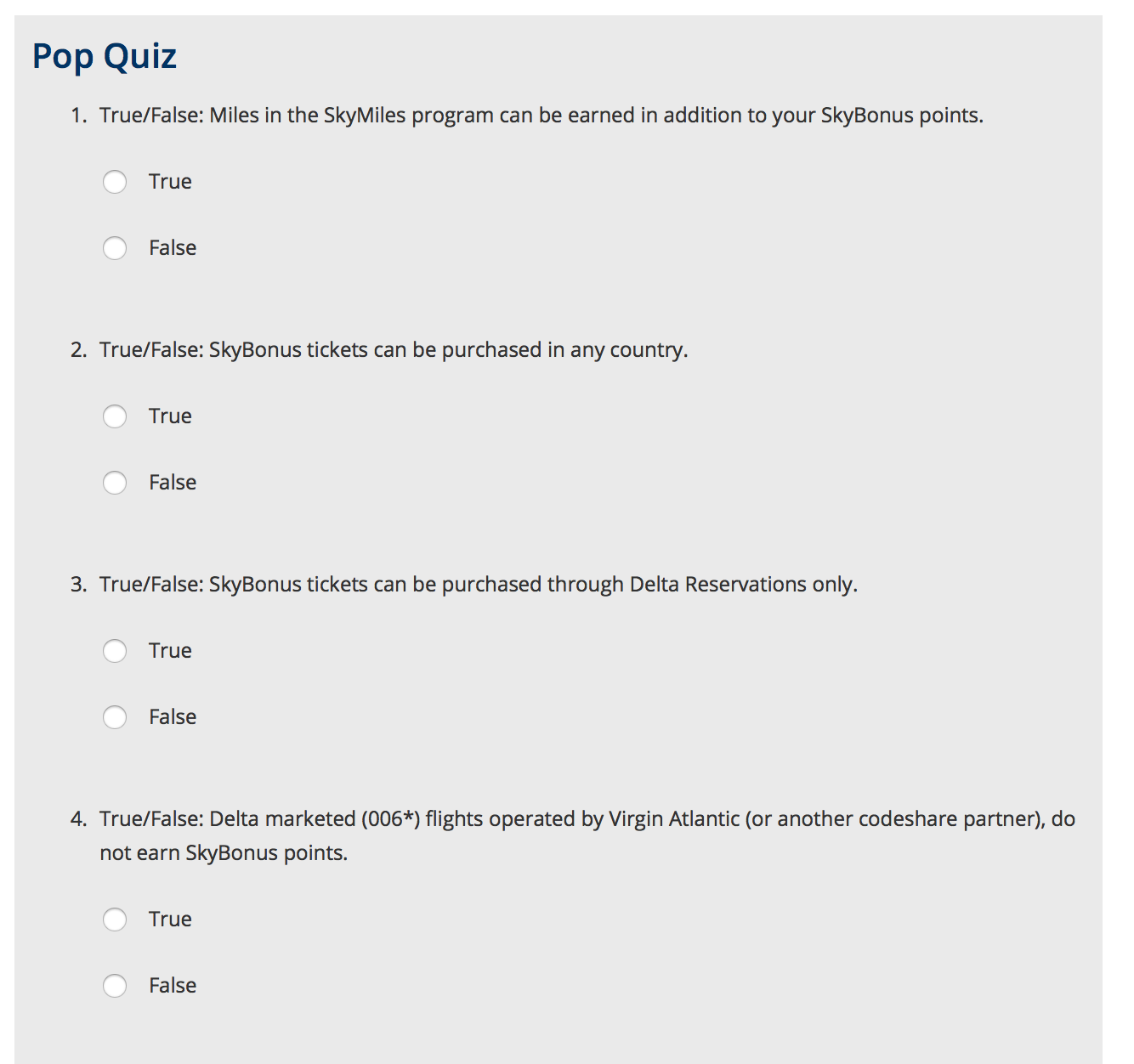 If you've ever taken the SATs, these questions read sort of like the opposite. Short of spoon-feeding you the answer, they make the multiple choice options as obvious as possible.
If you get a question wrong, you even get the chance to try again: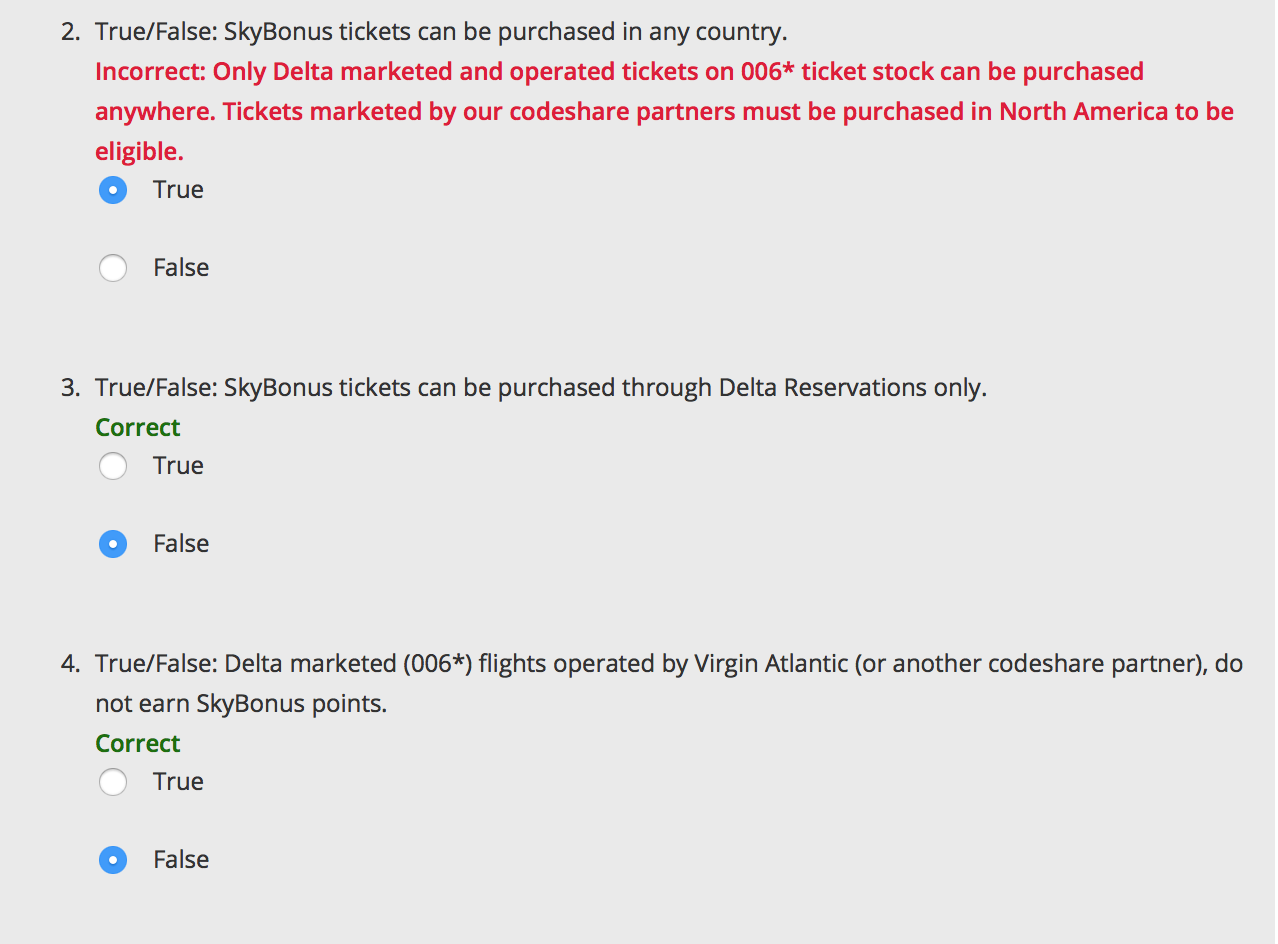 At the end of the quiz, you input your SkyBonus number, and that's that. You can do this up to four times, with the four different courses.
Honestly, the most valuable part by far was the practice that I got from inputting my SkyBonus number four times.
All in all, the whole process took me about ten minutes. I was rewarded with 2,000 points that posted by the end of the week.
The value
In all fairness, these points don't exactly hold the same valuation as some of our favorite currencies out there. Rather than using the points for specific award redemptions, you use them to purchase certificates that can then be redeemed for different Delta or Delta-related products.
For example, at 1,500,000 points, an "Enhanced Availability" Delta One/First Class Systemwide ticket is their most expensive option available.
By contrast, my 2,000 points get me 1/5 of the way to a pack of ten beverage/headset coupons. If I'm looking to maximize the value, their cocktails are their most expensive eligible on-board item at $8 a pop. 😉
At least SkyBonus publish their Rewards Chart.
Bottom line
While this isn't enough points to get us to any glamorous destinations (in first class or in the cargo hold), every little bit helps and I never want to leave any "free" points on the table.
More importantly, I'm intrigued by the program, despite the confusing earning structure, and am looking forward to reporting more as we work through it.
Has anyone else been using SkyBonus? How has your experience been?