Emirates has a pilot shortage at the moment, which is causing the airline to park planes at Dubai World Central and also to cut routes. Emirates pilots are leaving the airline to work at other airlines (especially in China) that offer more attractive compensation packages. There's a global pilot shortage at the moment, and other airlines offer more pay and allow commuter contracts, while Emirates requires all of their pilots to live in Dubai.
Emirates claims they have quite a few cadet pilots in the pipeline and that this pilot shortage will be solved within a few months, though it sure seems to me like that's not the case. Unless they change something, they're going to keep losing pilots. Rather than trying to make things better for pilots, Emirates has just done something that has really ticked off a lot of pilots.
Emirates is reducing staffing (and thereby rest) for pilots on some ultra longhaul flights. As reported by pilots on PPRuNe, as of July 1, 2018, Emirates is reducing the pilot staffing on select ultra longhaul flights from four pilots to three pilots. Specifically, flights between Dubai and Boston, New York, Sydney, Melbourne, Rio de Janeiro, and Sao Paulo, will go from having four pilots to having three pilots.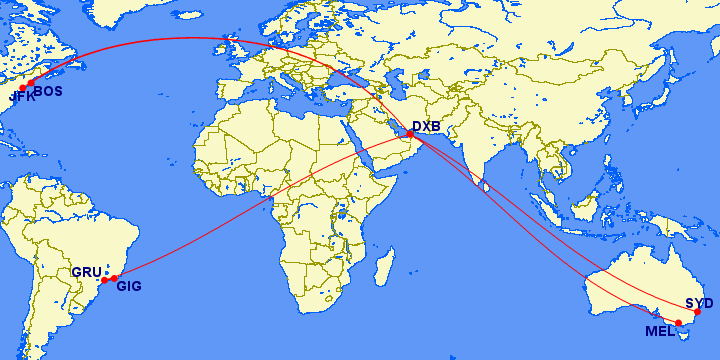 The exact regulations regarding pilot rest vary by country. For example, at US airlines, flights between 8 and 12 hours require three pilots, while flights of over 12 hours require four pilots. This allows pilots to get rest during the flight, to ensure they're well rested and alert. Other countries (not the US) allow "controlled rest," which means that when two people are in the cockpit, one of them is allowed to doze off.
Regulations in the UAE aren't as strict, so what Emirates is doing doesn't violate government regulations, but when the government also owns the airline, that's not terribly surprising.
Some pilots are in disbelief at this move. Emirates pilots already consistently report fatigue issues, given how many hours they fly, their short layovers, and the fact that they often have flights departing in the middle of the night. For example, Dubai to New York is blocked at 14 hours, so pilots could have to work that flight in the middle of the night, then have only a 24 hour layover in New York (where they're spending a lot of time in traffic), and then have to fly back, all with reduced rest nowadays. Previously each pilot may have gotten six hours of rest on the flight, while that's now reduced to four hours (or less).
I don't want to say that I find this to be alarming, though I do generally find this trend at Emirates to be concerning. An airline's primary responsibility is to transport passengers safely, and it sure doesn't seem to me like Emirates is adopting "best practices" here. Airlines should do everything they can to be sure their pilots are experienced and well rested. Not only will their pilots be even more fatigued, but the general trend of putting brand new cadets in the cockpit of widebody jets while more senior pilots leave is problematic.
It's time Emirates either improve pilot pay or conditions (like allowing pilots to be based in London or New York, for example, where they have several daily flights), or else this problem will only get worse.
Are you concerned about Emirates reducing pilot staffing on ultra longhaul flights?