I'm not suggesting anyone ever plan their vacations solely around a specific type of plane. However, occasionally I'll narrow down my vacation choices between a few options based on which destination I can get to most comfortably, where award availability is most readily available, and/or based on where there's a fare sale.
Over the past couple of months American has announced some significant changes to their route network, including changes to their South America and Mexico network in March, and changes to their Caribbean, Hawaii, and Europe network in early May.
One thing I find quite interesting that wasn't included in any of those announcements is that American is planning 787 service to Cancun. We're not just talking about a one-off flight, but this winter American will offer up to 3x daily Boeing 787 flights to Cancun. This includes up to 2x daily flights out of Chicago, and up to 1x daily flight out of Dallas.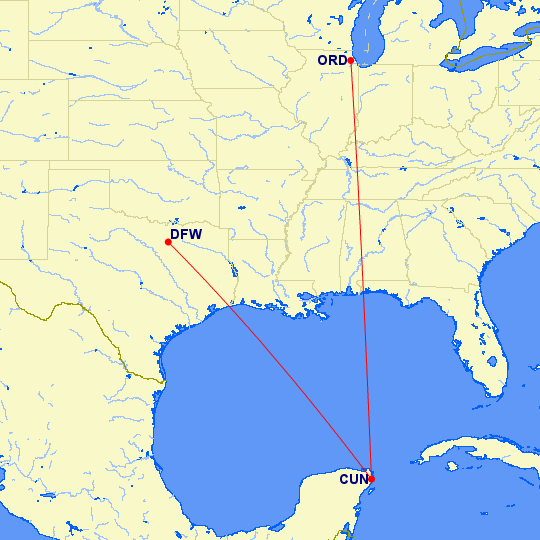 Specifically, the following flights will be operated by 787s:
Chicago to Cancun as of November 4, 2018
AA1417 Chicago to Cancun departing 8:25AM arriving 1:06PM
AA1417 Cancun to Chicago departing 2:00PM arriving 4:57PM
Chicago to Cancun as of December 19, 2018
AA1503 Chicago to Cancun departing 10:05AM arriving 2:49PM
AA1503 Cancun to Chicago departing 3:35PM arriving 6:31PM
Dallas to Cancun as of December 19, 2018
AA2684 Dallas to Cancun departing 12:50PM arriving 4:34PM
AA2684 Cancun to Dallas departing 5:43PM arriving 7:40PM
So what?
Cancun generally isn't a very high yield market, and airlines almost always fly regionally configured planes to Cancun. So it's interesting to me that American isn't just operating a one-off flight to Cancun using a 787, but rather is operating up to 3x daily Boeing 787s there.
American's 787s feature 226 seats, including 28 business class seats, 55 Main Cabin Extra seats, and 143 economy seats. Rather than getting a standard domestic first class seat up front, you'll get a flat bed with direct aisle access, so it's a much more comfortable ride than you'd usually have to Mexico.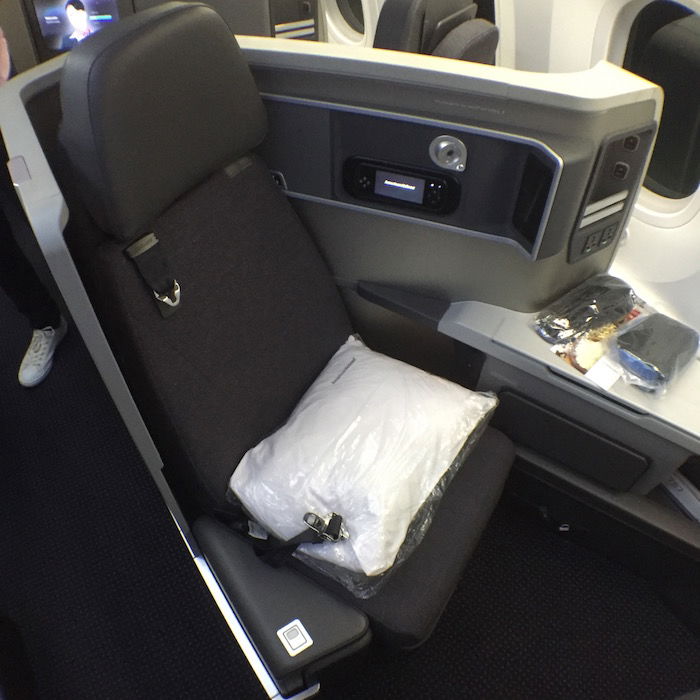 These flights are eligible for upgrades, so if you are an elite member it might be worth specifically seeking out these flights for any travel to/from Cancun. Beyond that, though, the paid first class fares to Cancun are typically quite attractive.
For example, a roundtrip Chicago to Cancun economy ticket retails for over $400:

Meanwhile a roundtrip business class ticket is just under $700, so you're paying a premium of less than $150 in each direction to upgrade.

Fares are similarly good out of other markets, with connections in Chicago or Dallas.
Can I just note how tight they've scheduled these turns, though? They hope to turn a 787 in Cancun in 46 minutes? Good luck with that!
Bottom line
I'm not saying you should go to Cancun because American is flying 787s there. However, if Cancun has been on your radar, it's worth keeping in mind that you can fly there especially comfortably this winter, and perhaps it's worth booking American over another carrier. I've been wanting to check out the Andaz Mayakoba, so maybe it's finally time to get that trip on the books.
Generally speaking I also find this to be a strange route on which to operate 787s. I get that longhaul demand is much lower in winter, so they're probably looking for somewhere to fly 787s. However, the 787s barely have more capacity than the A321, yet have much higher operating costs. Cancun also isn't a high yield market, as you can see based on how cheap the premium fares are. You'd think there would be another regional market where the 787s could be better deployed and a fare premium could be commanded in business class. I guess not, or else they would have put the planes on another route.
Anyone considering booking one of these American 787s to Cancun?
(Tip of the hat to @Singal3)