There are some award redemptions that just seem too good to be true, and this is definitely one of them. It has been around for years, and in this post I wanted to look at it in a bit more detail.
Since Etihad doesn't belong to one of the "big three" global alliances, they have a unique selection of airline partners, and in some cases their partners are quite useful. Rather than having a single award chart for all partner airlines, Etihad Guest has a different award chart for each partner airline. Some partner award charts are distance based, some are region based, and some are priced based on the city pair you're flying between.
In this post I wanted to talk about their single best award value, and for that matter what I'd argue is the single cheapest longhaul business class award redemption out there.
Czech Airlines' Prague to Seoul Incheon flight
Czech Airlines is a SkyTeam member airline that mostly operates regional flights within Europe. The airline has one longhaul route they operate, between Prague and Seoul Incheon, covering a distance of over 5,100 miles in each direction.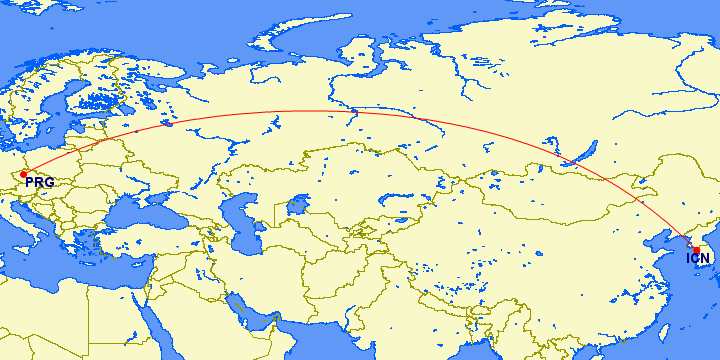 Etihad Guest's award chart for travel on Czech Airlines is based on city pairs, and you'll notice the redemption rates between Prague and Incheon at the bottom of the chart. Specifically, a one-way redemption between Prague and Seoul will cost you 12,805 miles in economy, or 25,610 miles in business class. That's right, a 10 hour flight in business class that costs just 25,610 miles. That's a heck of a deal, eh?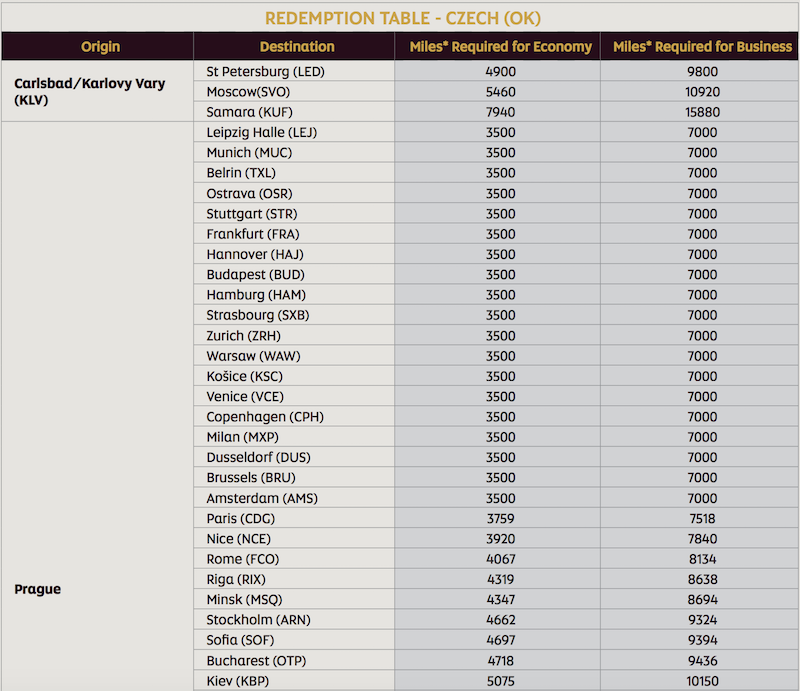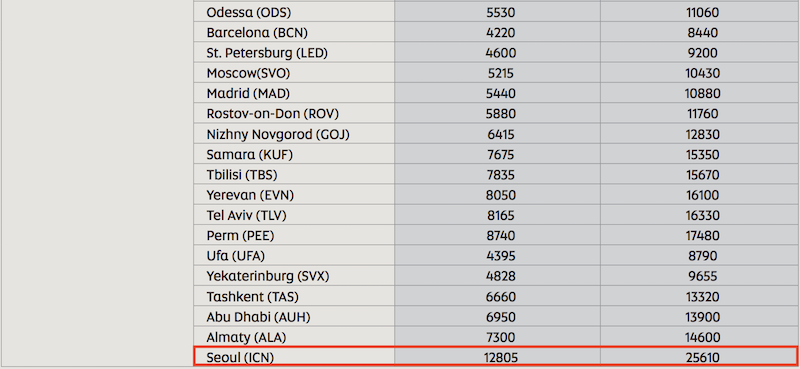 How to search Czech Airlines award availability
Etihad Guest doesn't let you book partner awardredemptions online, so your first step should be to look up award availability for this flight. My preferred method is to use ExpertFlyer, as they show both business and economy award space on this flight. Czech Airlines uses "Z" for business class and "E" for economy class awards. In general it looks like they release up to two business class and three economy class award seats per flight, though they don't release this space on all dates.
For example, availability in the fall and winter seems to be good, while for summer there's very little availability. I imagine much of it has already been booked up.


If you don't have an ExpertFlyer subscription, you can look up availability on the Air France KLM Flying Blue website, as they're a SkyTeam member airline. Whatever availability shows on Czech Airlines there should also be bookable with Etihad. As you can see, Flying Blue charges 100,000 miles one-way for the same award, which is nearly four time as many miles as Etihad charges.

How do you actually book this award space?
Once you've found award availability you'll want to phone up Etihad Guest to book, at 877-690-0767.
They should have access to the same award availability as other airlines. Do note that Etihad Guest agents are a mixed bag, so if the first agent says there's no availability or seems to not be familiar with the booking process, I recommend hanging up and calling again.
You'll be responsible for paying all of the taxes and carrier imposed surcharges on the ticket. Essentially you pay everything except the base fare. As you can see in the above screenshot from Flying Blue, a one-way business class ticket from Prague to Seoul Incheon would cost you about $216 — that includes $190 in carrier imposed surcharges, and $26 in taxes.
Here's a breakdown of that when pricing out a revenue ticket: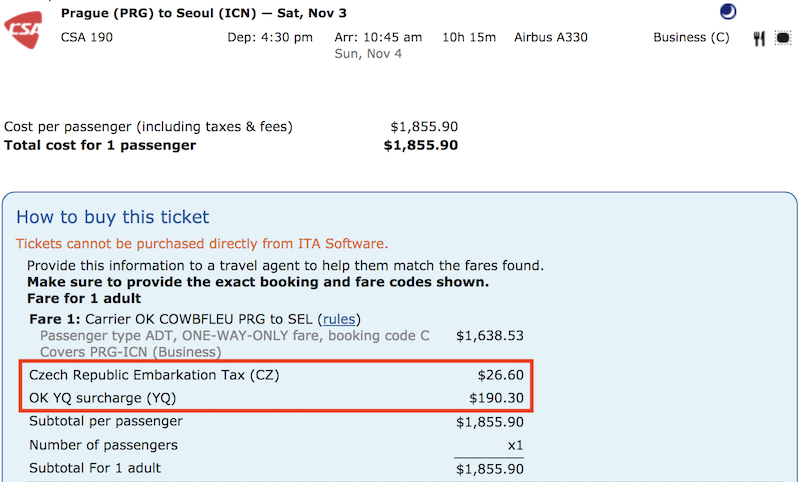 A one-way economy ticket would cost you a total of about $156 in taxes and carrier imposed surcharges.
If you want to position from elsewhere in Europe on Czech Airlines, you'd have to book that segment separately. As you can see based on the award chart, that's still quite affordable, as most flights within Europe cost just 7,000 miles one-way. The bad news is that they typically have to book this on a separate record locator, so if you're positioning you'd be on two separate tickets.
In the event that you need to cancel your flight, Etihad Guest charges a refund fee of 10% of the miles used, which in this case would only be ~2,500 miles for a business class ticket, which is quite a good deal. Taxes and fees would be refunded.
What is Czech's business class product like?
CSA Czech Airlines has a single A330 in their fleet that's used for this flight. They acquired this plane from Korean Air, and it features seats in a 2-2-2 configuration. These seats are fully flat, and based on the one trip report I've read, the service is friendly while the catering isn't great. This looks like a perfectly nice product.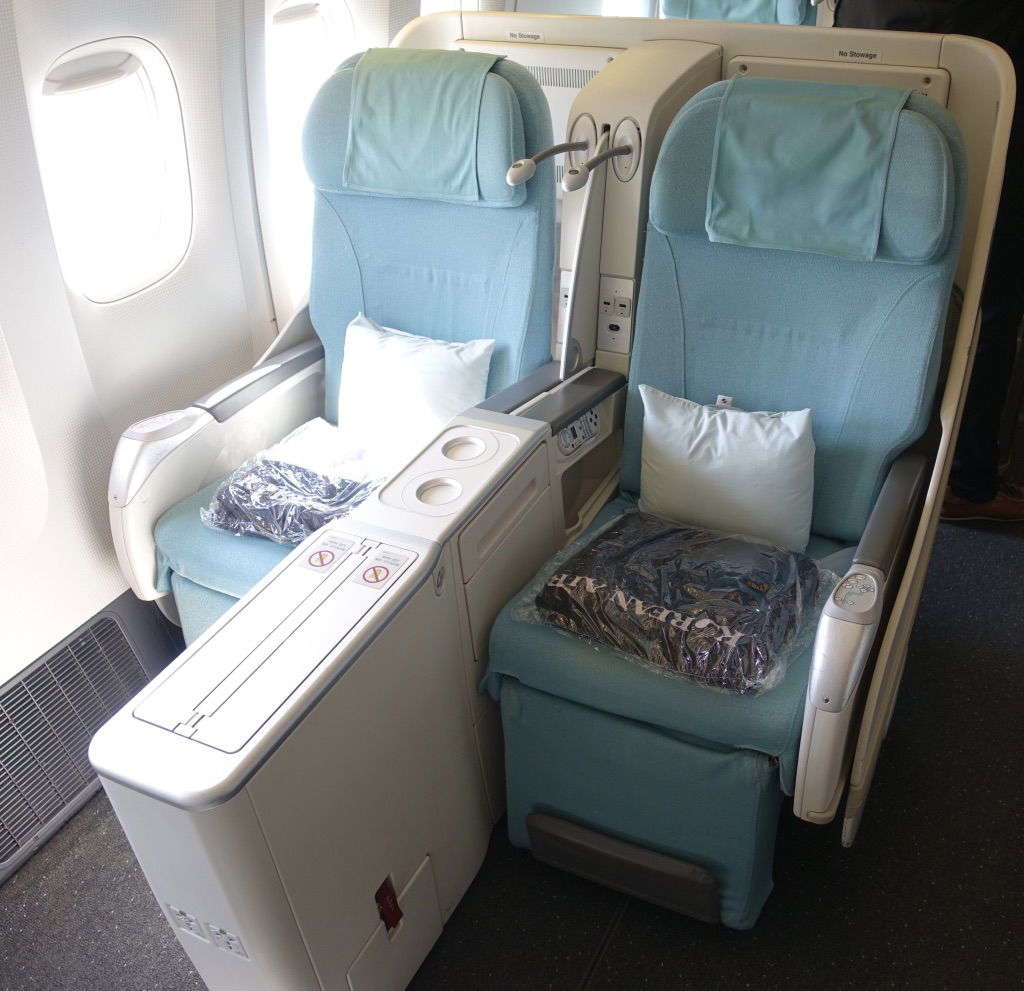 Korean's 777 business class seats, similar to what you'll find on the A330
How can you earn Etihad Guest miles?
Etihad Guest is transfer partners with both Amex Membership Rewards and Citi ThankYou, so there are lots of ways to earn Etihad Guest miles using credit cards. Sometimes we've even seen both issuers offer transfer bonuses to Etihad Guest, so if you can hold off it might make sense to wait, and you might be able to score an even better deal.
Bottom line
Etihad Guest's redemption rates on Czech Airlines between Incheon and Prague are spectacularly low. It goes without saying that this won't be for everyone, but someone planning a trip to multiple continents, or for someone based in Europe or Asia, this is an incredible deal. Before booking this, though, make sure you factor in the "all-in" cost. It doesn't make sense to spend hundreds of dollars or tens of thousands of miles to position in order to take advantage of a great deal.
I hope to take this flight soon myself, given what a good deal it is.
(Featured image courtesy of Gforce800)