We wrapped up our trip to the Seychelles a couple of weeks ago, which was awesome. We had a great time, and splurged and stayed at two Four Seasons properties there (one on the island of Mahe, and on the island of Desroches). I apologize for the delay in the review of these hotels, though I promise they're coming shortly. Before I publish the reviews, I wanted to share an experience we had at the new Four Seasons Desroches.
I'm curious how you guys would have handled this situation, and I feel like it makes sense to write a separate post about it, because the review itself will be long enough without getting into detail on this.
I hate complaining to hotels
There are some areas in life where I'm really passive. I'm trying to get better about that. I just like to avoid confrontation whenever possible, and as an introvert the thought of having to confront someone about what I consider to be a failure makes me feel uncomfortable.
My general approach to hotel feedback is as follows:
If a front desk agent at check-out asks "how was everything?" I'll rarely answer honestly if things weren't good, because I feel like they're going through the motions and aren't actually empowered to do much
If a front office manager or someone comes out and asks me how things are, I'll gladly be honest and share both positives and negatives; that doesn't bother me
If service is bad or I have a terrible experience, I have no problem confronting a manager about it during my stay, so that they can try to rectify it
The area where I struggle the most with complaining is when I find all of the employees at a hotel to be exceptionally friendly, but I still have something about the stay that's making me unhappy. I can't explain it, but it just makes me really uncomfortable to approach people in this situation. I totally get approaching managers is the right thing to do, since you want to give them a chance to correct things while you're still on property, rather than walking away with a bad taste in your mouth.
With that in mind, I wanted to share the situation we encountered at the Four Seasons Desroches Island, where we found all of the employees to be very friendly, but we had one major issue.
How would you have handled this situation?
The Four Seasons Desroches Island just opened in March, and it's on what's essentially a private island. It's like being in the Maldives, only the island is bigger, so you can bike around it, the island has a runway, etc. The stay mostly exceeded our expectations. Everyone working there was so friendly, the villa was amazing, and the island had a lot of natural beauty.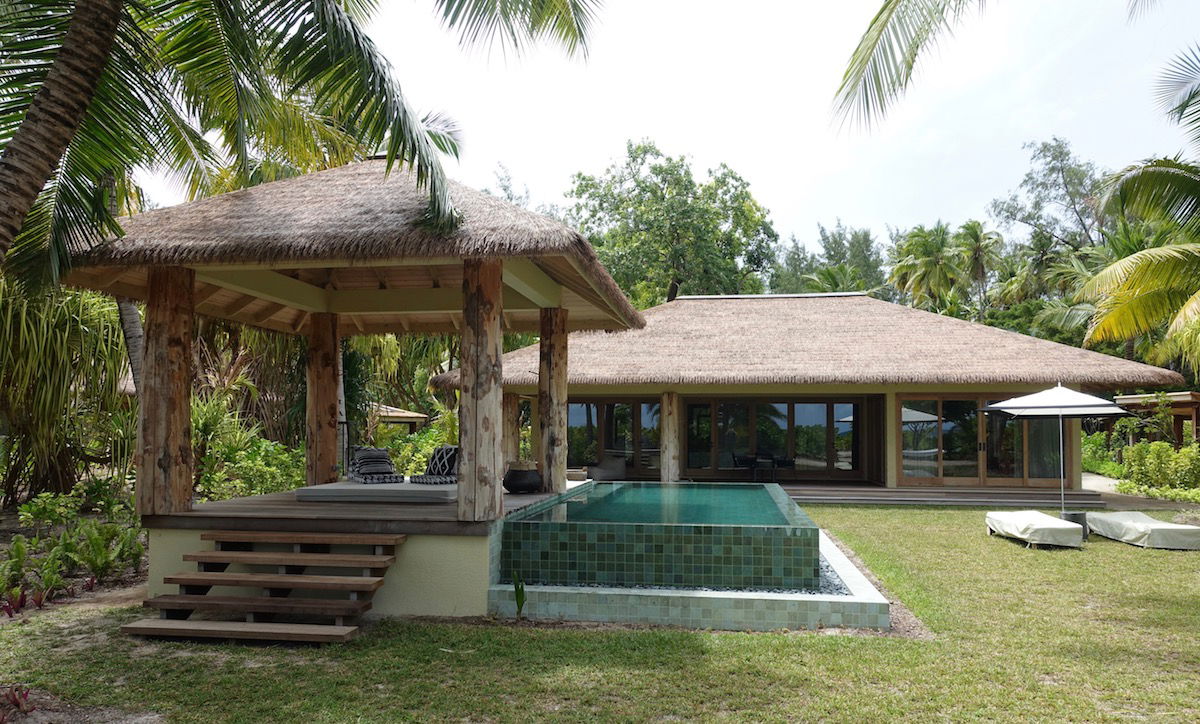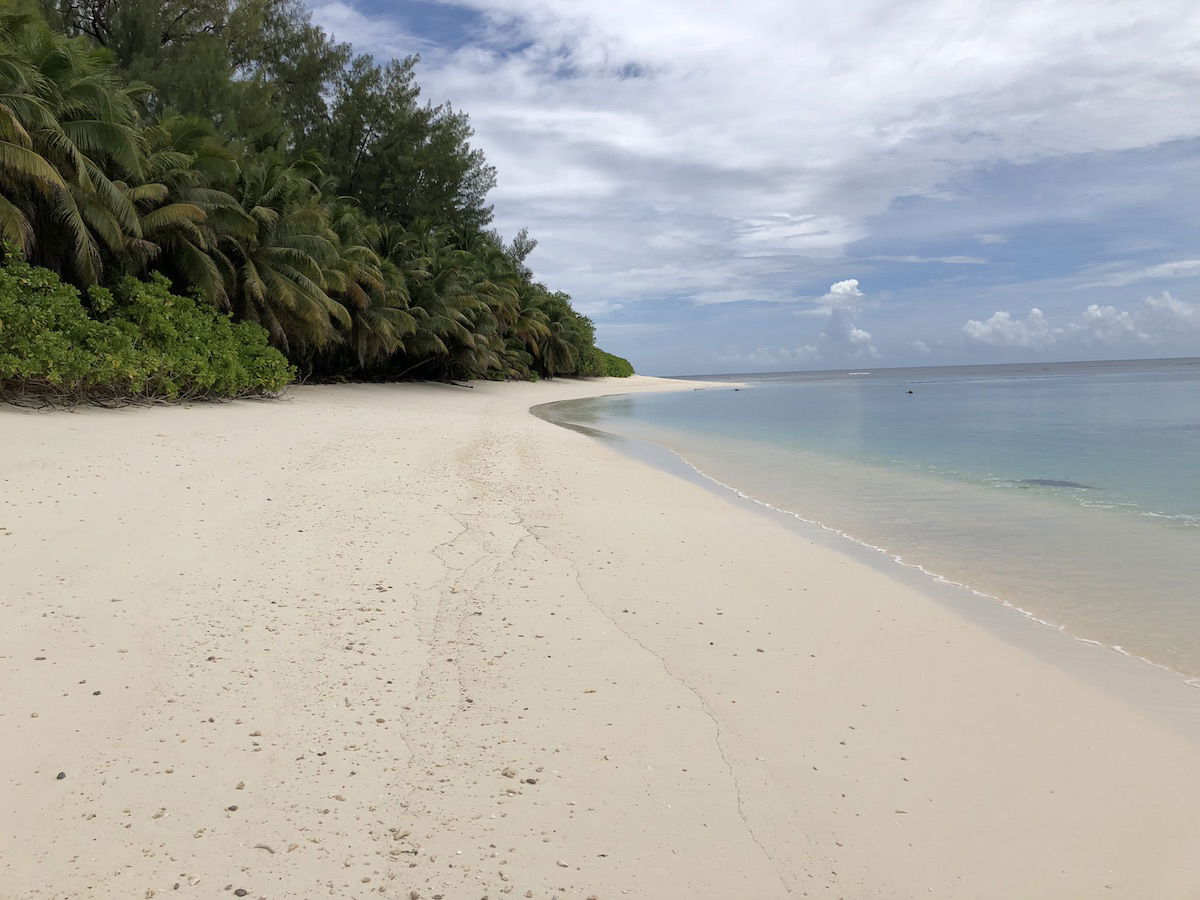 We were there for five days, and on our third day the weather in the region got bad. We were sitting at the bar around lunchtime having some drinks, and suddenly the whole bar flooded. Like, ocean water covered the floor of the bar, and all the furniture was wet. We moved, and that wasn't a big deal.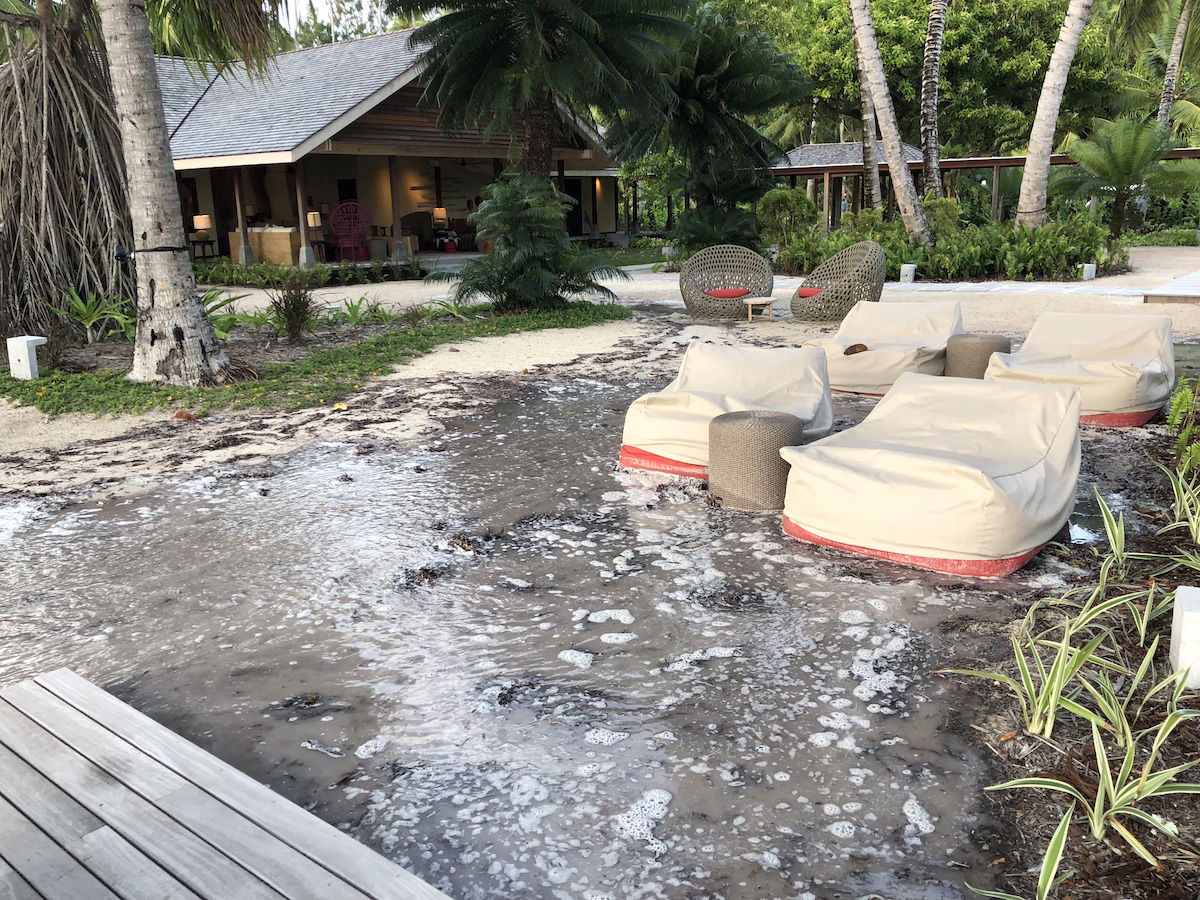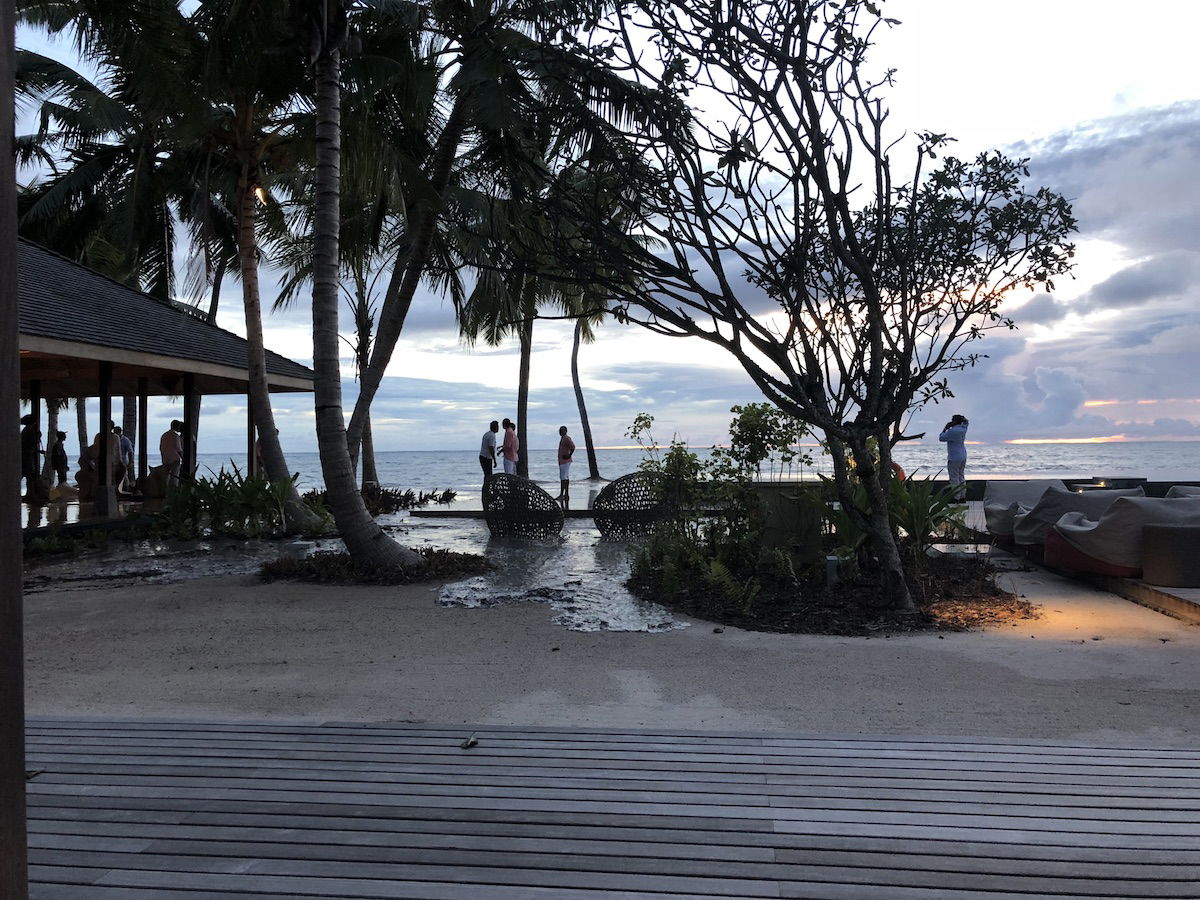 As it turned out, that was only the beginning. The problem is that most of the hotel's public spaces are centered around this area, and almost everything flooded. The pool was full of sand, the restaurant and bar were flooded, the rec area with ping pong tables flooded, etc.
I feel like they should have designed this area differently to begin with, so they then started a massive construction project. They probably have over 100 non-resort employees living on the other side of the island as they're still constructing some villas, and suddenly their job was to reconstruct parts of the hotel.
They drained the pool, they closed down the bar, and they started creating a new barrier along the pool and bar that would prevent this type of flooding from hopefully happening in the future.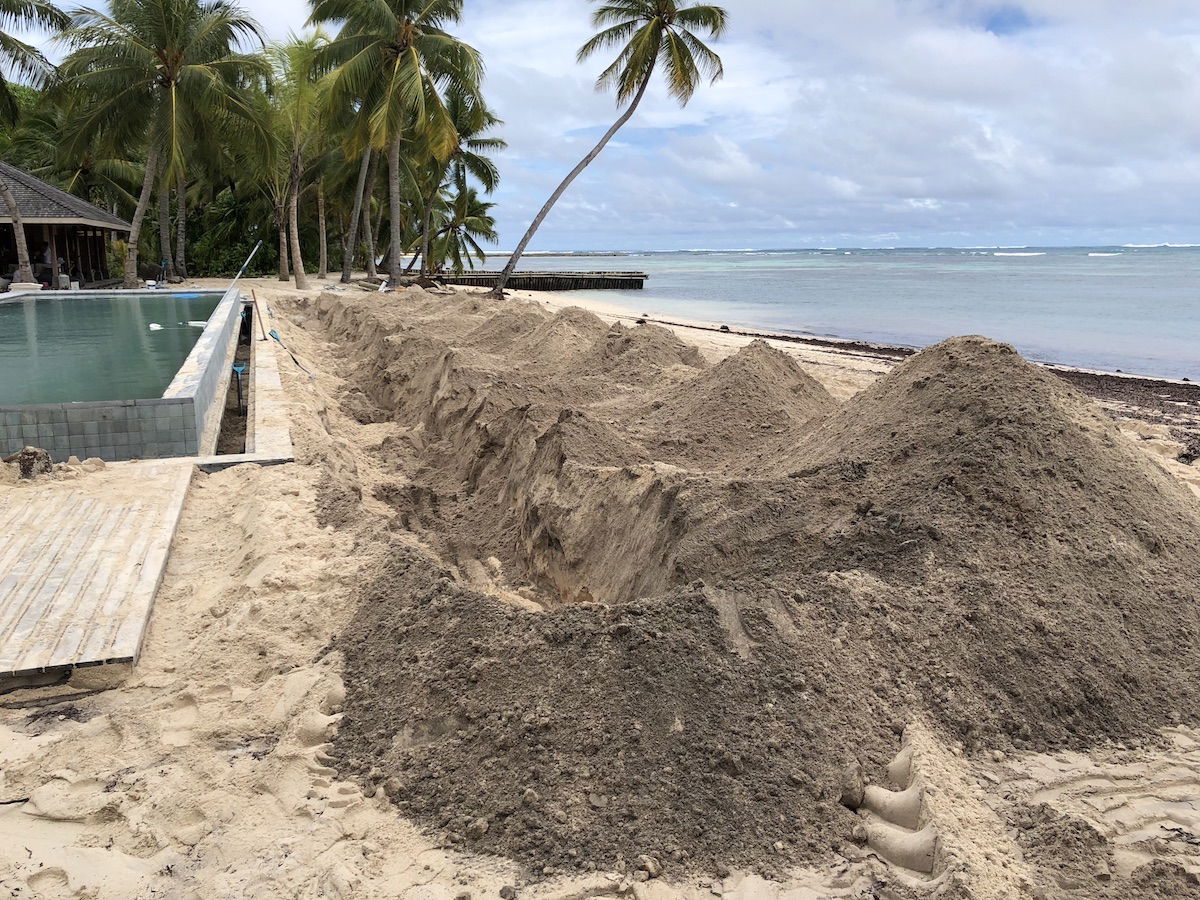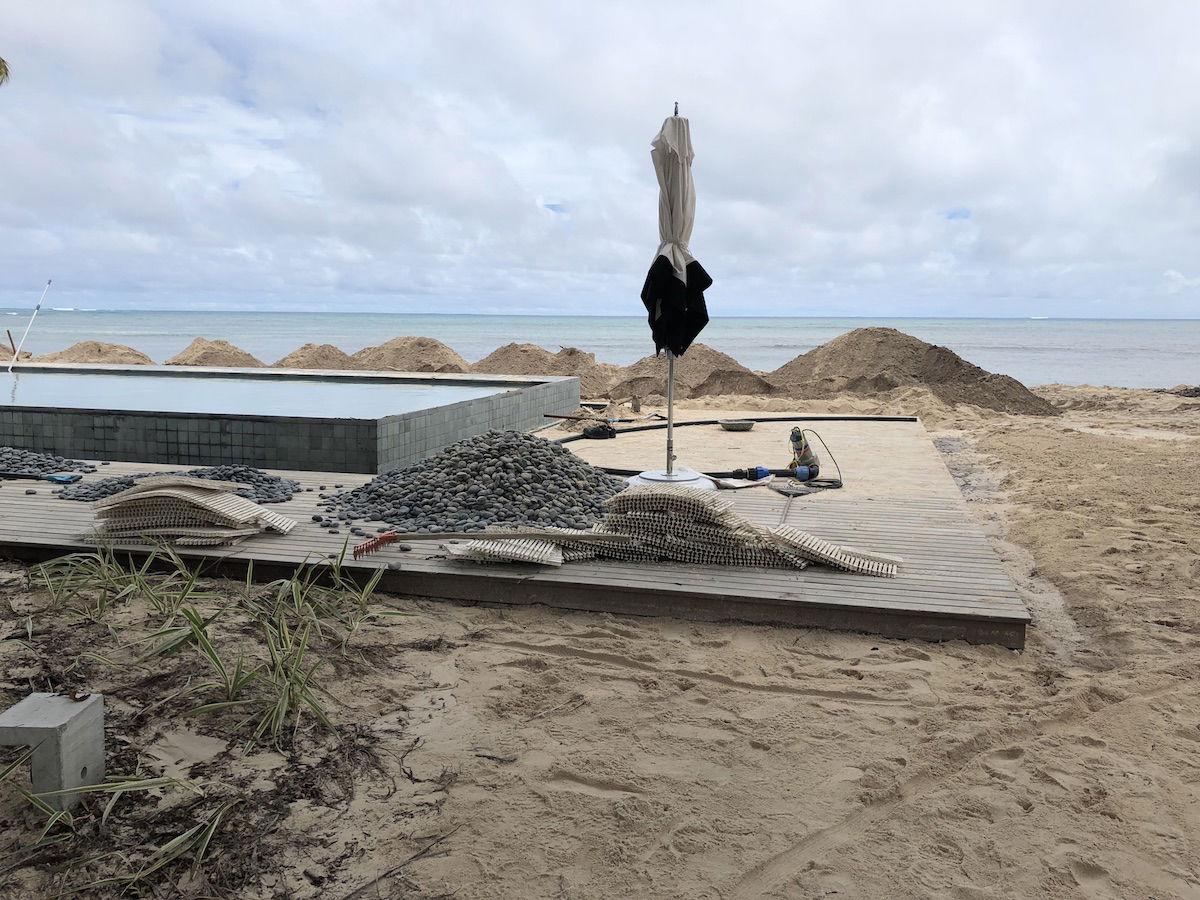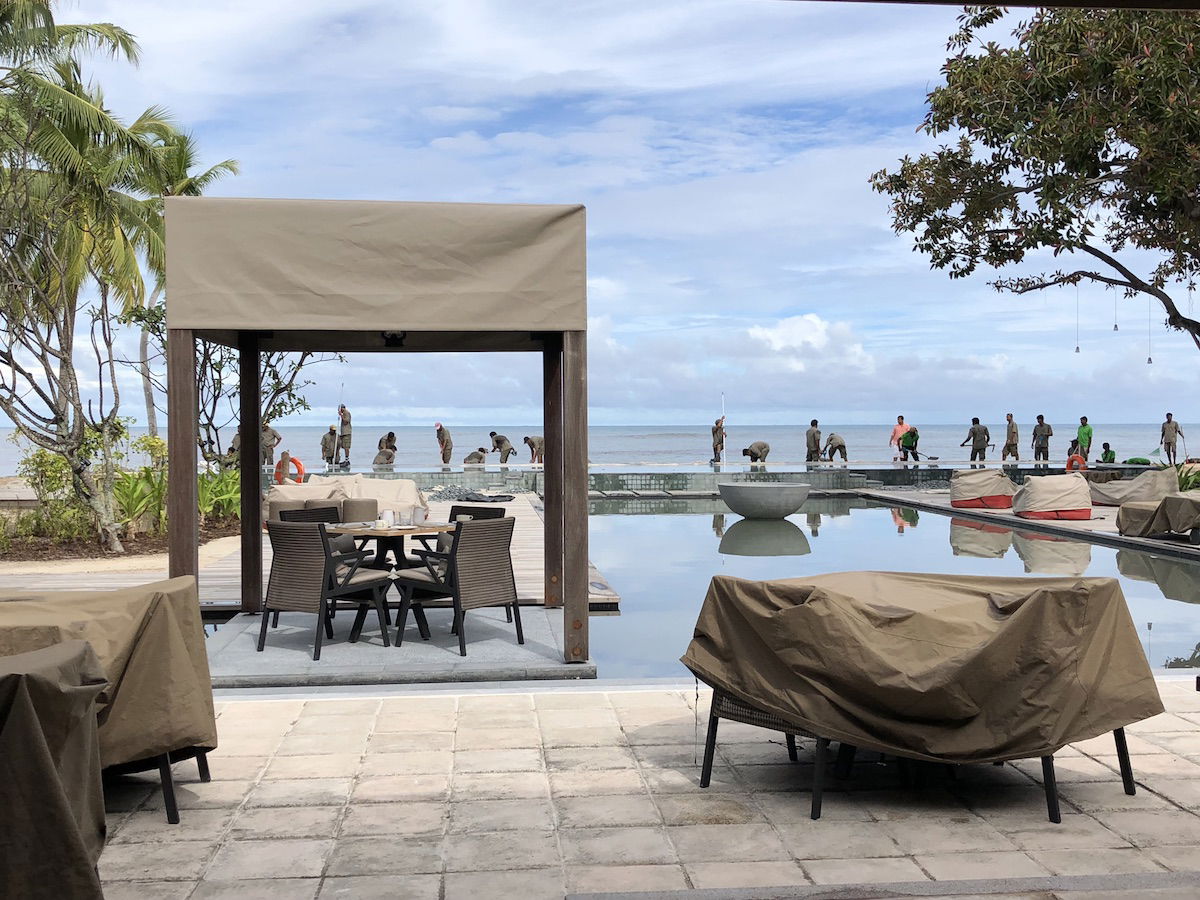 Let me be clear — everyone at the hotel was doing everything in their power to get things back to normal as quickly as possible, and it wasn't the fault of the hotel employees that this happened to begin with.
I'd never complain about bad weather, but for the next three days our breakfast and lunch went from having a serene view of the Indian Ocean, to having a view of a construction site with tractors and dirt and dozens of workers yelling.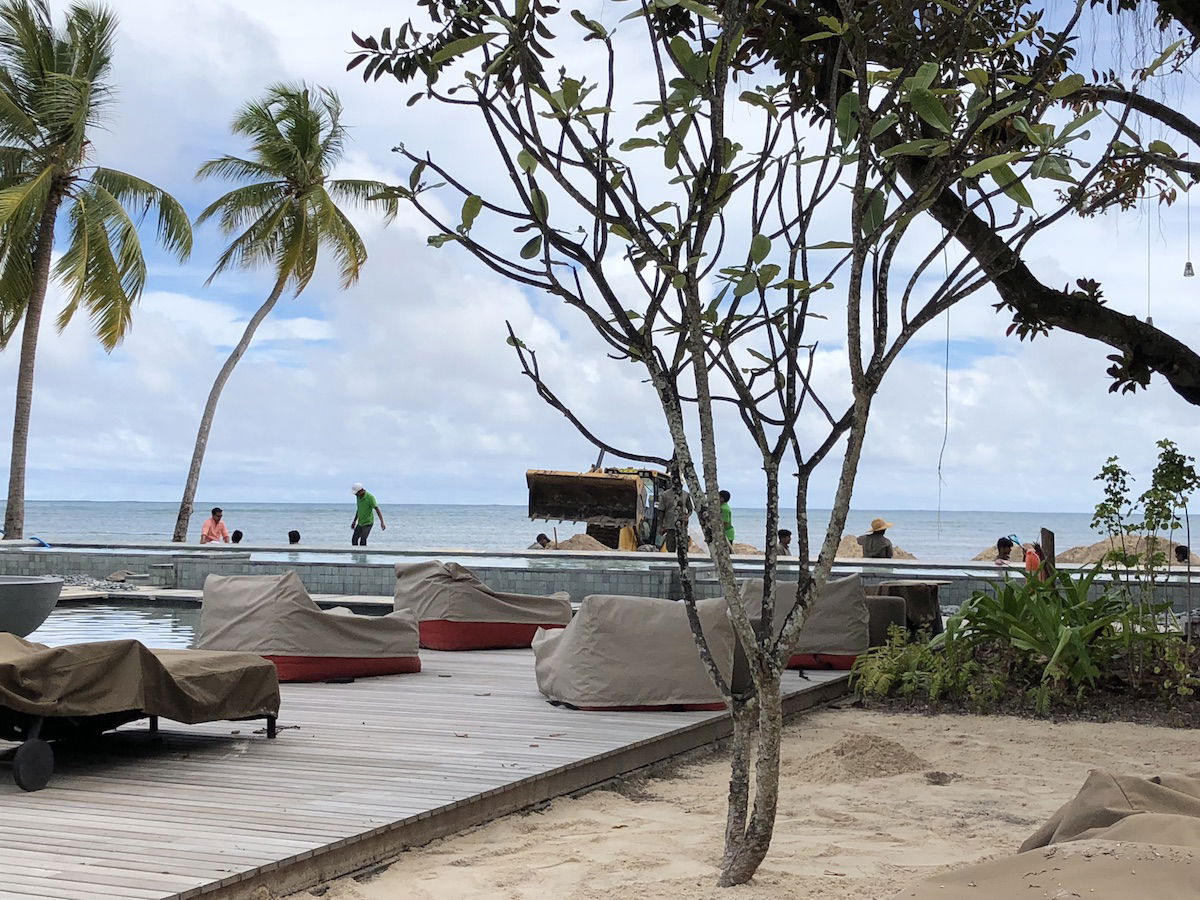 Would I ever blame a hotel for bad weather, or expect them to do anything to make things right? Absolutely not.
But it's also clear that parts of the hotel weren't constructed in a way that considered the impacts of bad weather. Furthermore, we were paying a lot of money to stay here, and virtually all public areas only had views of a construction site. This put a damper on our stay, for obvious reasons.
What did we do?
The management at the hotel was mostly proactive. Every morning at breakfast the resort manager would come by to each group at the hotel and see how things were.
By the last morning (with the construction still going on), Ford said we should say something to them. I knew that was the right thing to do, but it still made me uncomfortable. Everyone at the hotel was friendly, and obviously they were "suffering" a lot more from having to rebuild things than we were, as we're sitting there relaxing. But it doesn't change the fact that we paid a lot of money to stay here.
While management here was so friendly, I was surprised they didn't proactively offer anything. It made me wonder if I was maybe off base for thinking this situation was somewhat within the hotel's control, or at least that they should have done something.
I tried to politely hint at the fact that we were having a great time but that the construction sucked for everyone, and they acknowledged that. The day before we were scheduled to leave, we called the manager and explained everything with our stay was great and the service exceeded our expectations, but obviously the construction was putting a damper on our stay.
He asked if we could maybe meet in person in an hour or so, so we did that. They were very apologetic, and asked if they could maybe arrange a sunset cruise for us with champagne to make up for it. I thought that was a smart gesture on their part. When you give someone a discount (or something), it doesn't necessarily change the impression they walk away with.
We had a sunset cruise that had one of the most spectacular sunsets I've seen in my life, and we even saw dolphins on two occasions. It was absolutely spectacular, and made us walk away with a very favorable impression.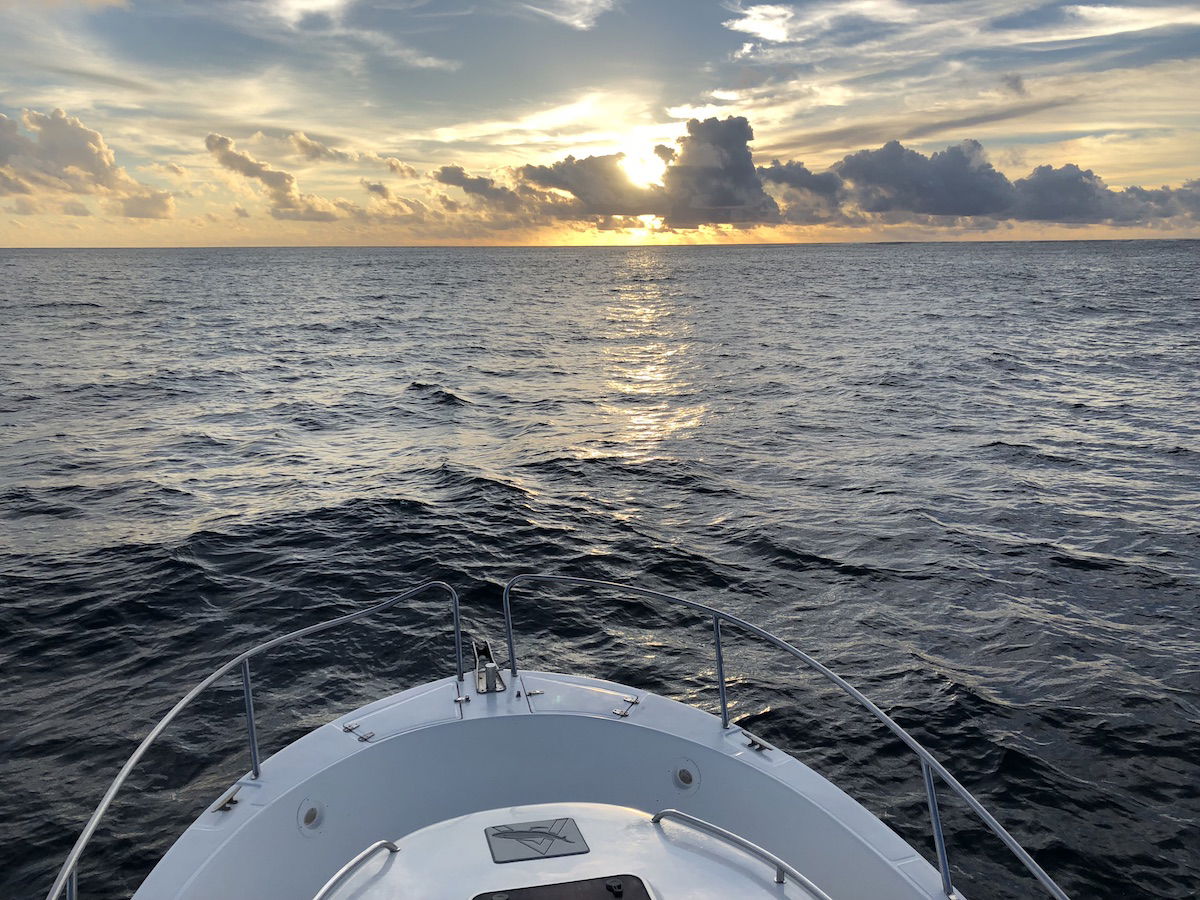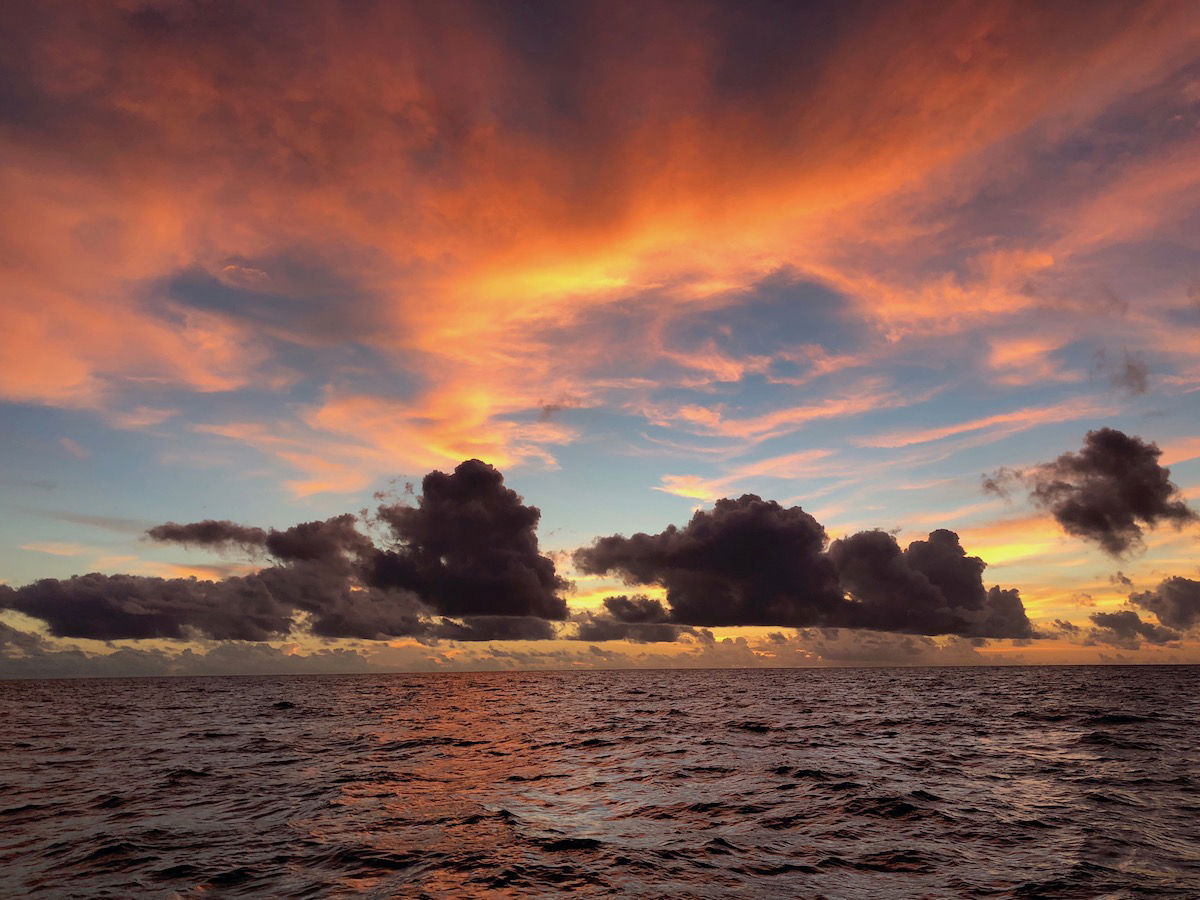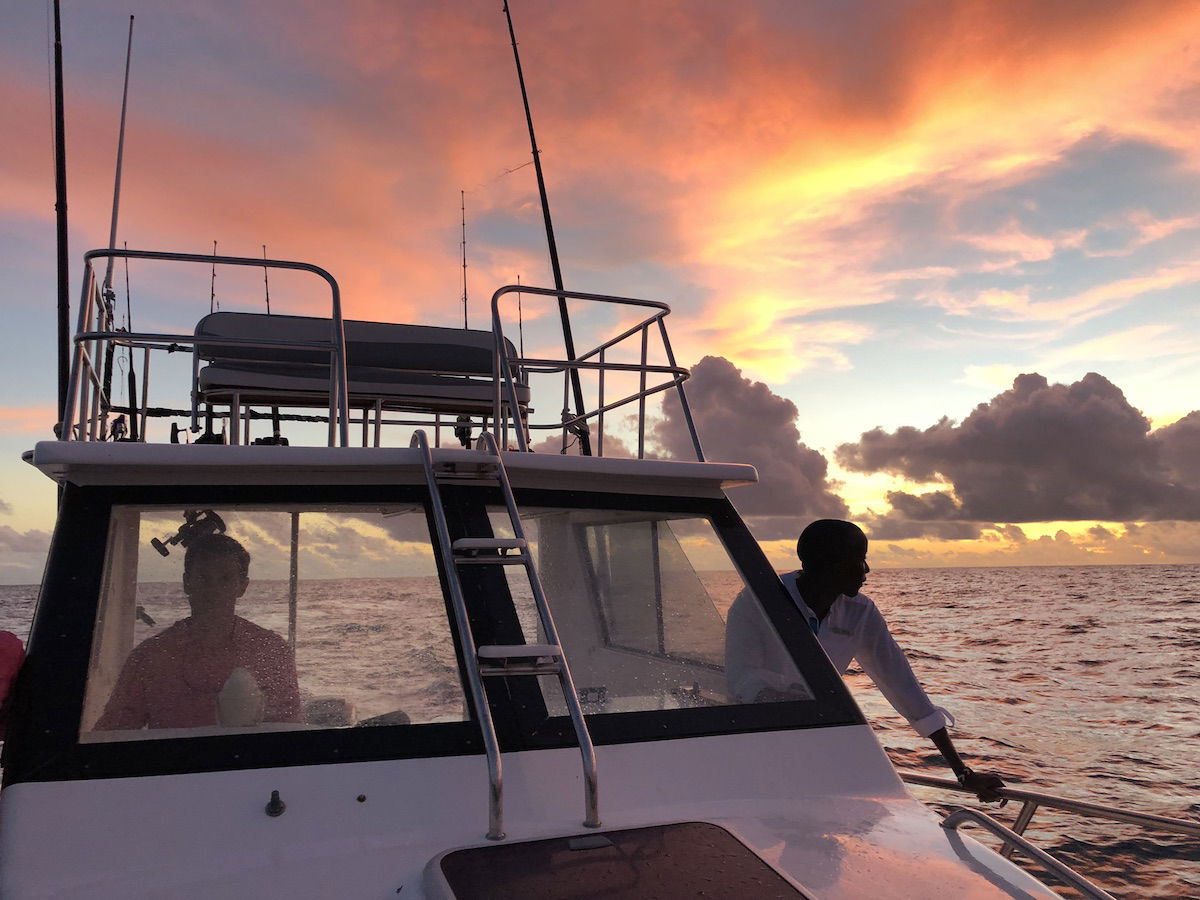 Bottom line
As you can see, complaining at hotels makes me uncomfortable. I really didn't want to say anything, but Ford was the one who said it was the right thing to do. As uncomfortable as it made me, I'm really glad we did it. Not just because we got a great experience out of it, but because it made us both walk away from the hotel with a much more favorable impression, and that's a win-win.
I'm also curious to hear how you guys would have handled this situation. Did we do the right thing, and what do you think of the hotel's response?