To kick off our trip to Europe, we flew Emirates' Airbus A380 first class from New York (JFK) to Milan (MXP).
I know, a travel blogger flying Emirates first class, how original. 😉 But as I explained in a previous post, there was a very special reason we were taking this flight. Our good friend Toby was the purser on this flight, and it was one of his last trips with Emirates after a 15+ year career. It was such a pleasure and privilege to be able to fly with him one last time in uniform (though I know we'll take many more trips together).
How I booked our Emirates first class tickets
Emirates operates two fifth freedom flights between the United States and Europe, with one being between New York and Milan. Emirates first class award availability can be tough to come by in first class on these routes, but we lucked out — just a few days before departure, award availability opened up. So I booked the following for two passengers in first class:
05/31 EK206 New York to Milan departing 10:20PM arriving 12:15PM (+1 day)
The cost for this itinerary was 85,000 Emirates Skywards miles plus $68.10 in taxes and carrier imposed surcharges per person. Emirates has greatly increased carrier imposed surcharges, but fortunately these remain low on flights between the United States and Europe.
You really can't beat the value of this, especially when you consider how easy Emirates Skywards miles are to come by. Skywards is transfer partners with all major transferable points currencies, including Amex Membership Rewards, Capital One, Chase Ultimate Rewards, and Citi ThankYou.
Emirates Airbus A380 boarding
Prior to the flight, we spent several hours in the Emirates Lounge JFK, which I reviewed in the previous installment. Since our flight was departing from gate A6, we could board the plane directly from the lounge, as the upper deck jet bridge is connected to the lounge.
The only downside to this system is that those in the lounge who are in economy need to go down the staircase once onboard, and those in first & business class who skip the lounge need to go up the staircase once onboard. But still, you can't beat the convenience of boarding directly from the lounge.
Boarding started at 9:40PM, 40 minutes before departure. Once onboard we were greeted by the delightful crew (including Toby, of course), and were brought to our seats.
For what it's worth, we were flying on the A380 with the registration code A6-EEX, a roughly eight year old jet that joined Emirates' fleet in 2014. This matters because Emirates has incrementally updated its product over the years, so the newer the jet, the more bells and whistles it has (like a new style onboard bar, bigger tablets, higher definition personal televisions, etc.).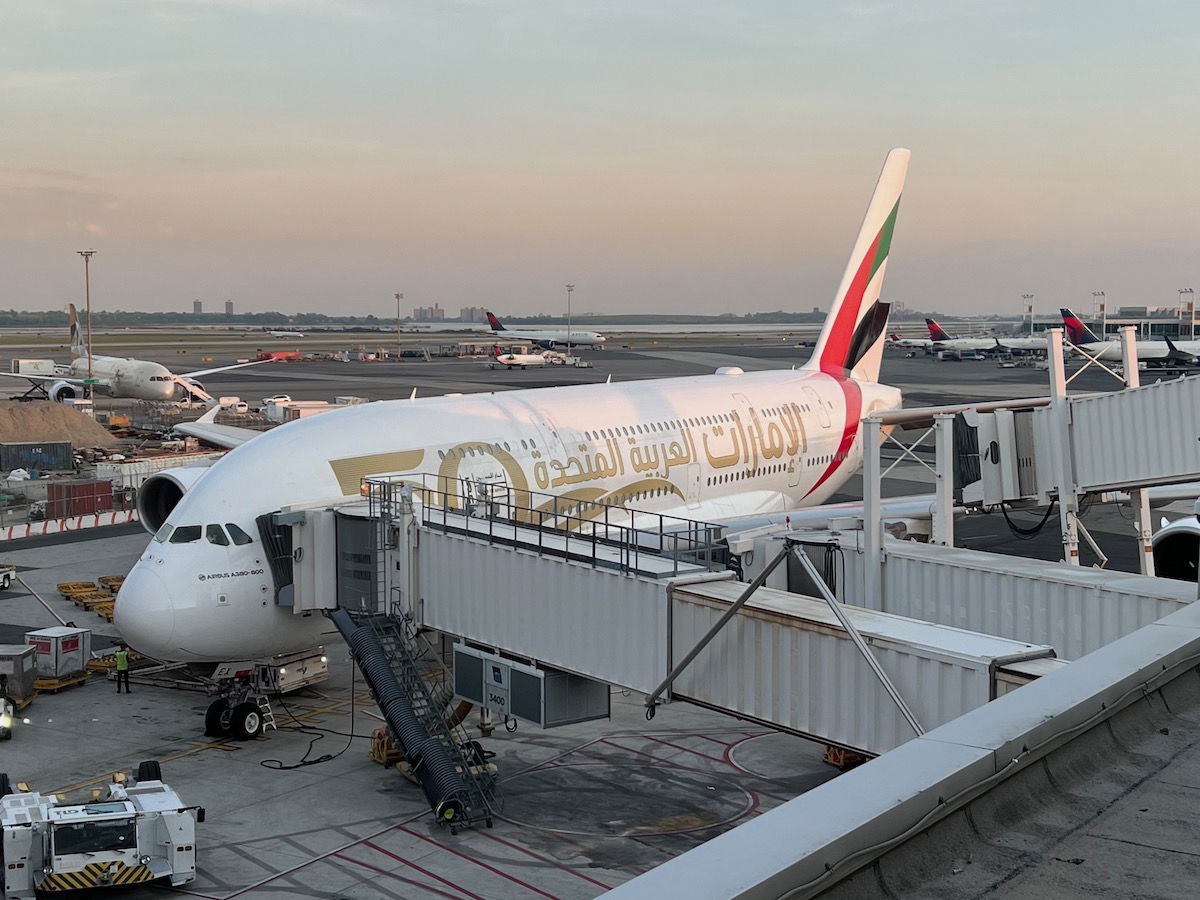 Emirates Airbus A380 first class cabin & seats
Emirates' Airbus A380s have among the largest first class cabins in the world, as there are 14 seats. They're spread across four rows in a 1-2-1 configuration, with there being four rows along the windows and three rows in the center section.
Purely in terms of the real estate allocated to this cabin, it's fairly tight. As a point of comparison, Singapore Airlines' Airbus A380s have six first class seats in roughly the same space. Nonetheless, it's one of my all-around favorite first class products out there. I also have such a soft spot for the design. Would I want my home decorated like this? Heck no. But for a period of up to 16 hours, I do love the 1990s Las Vegas glamor vibe.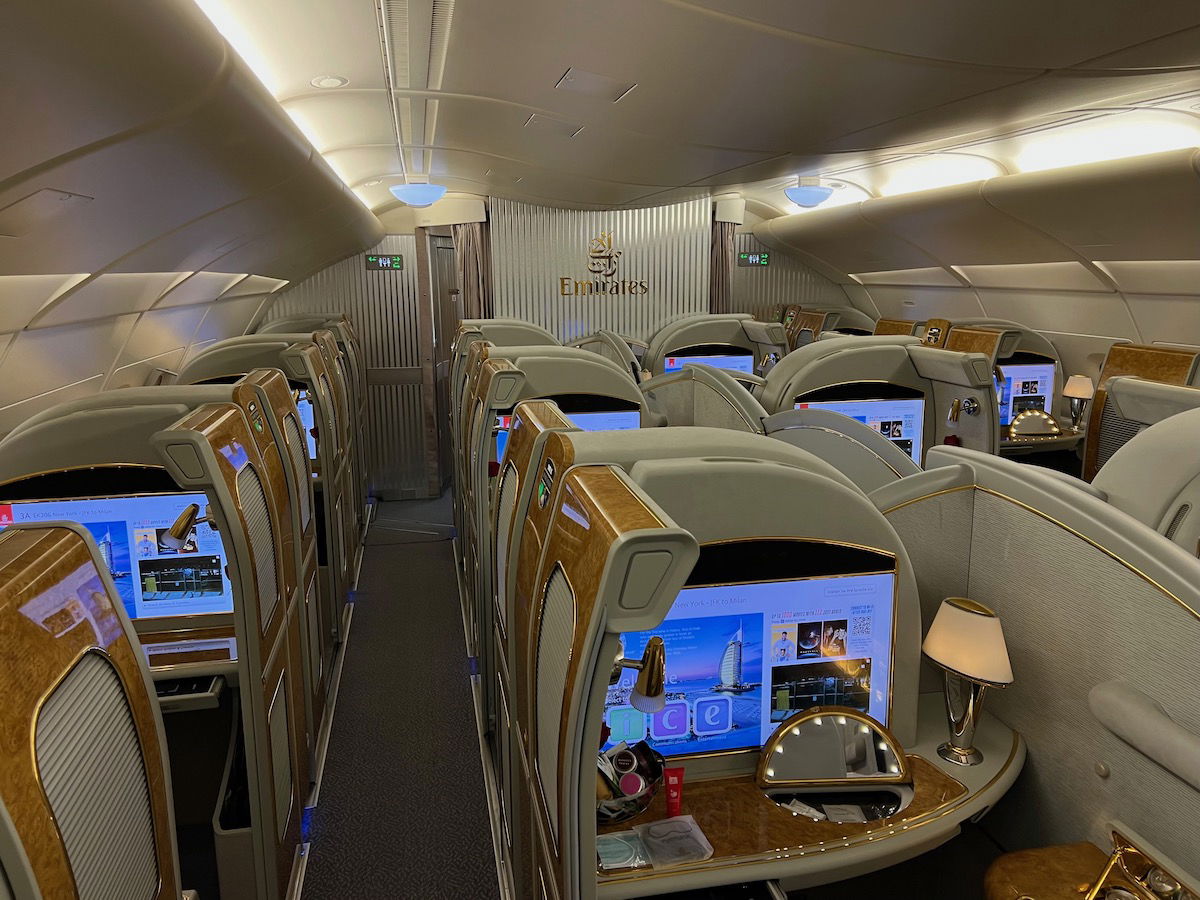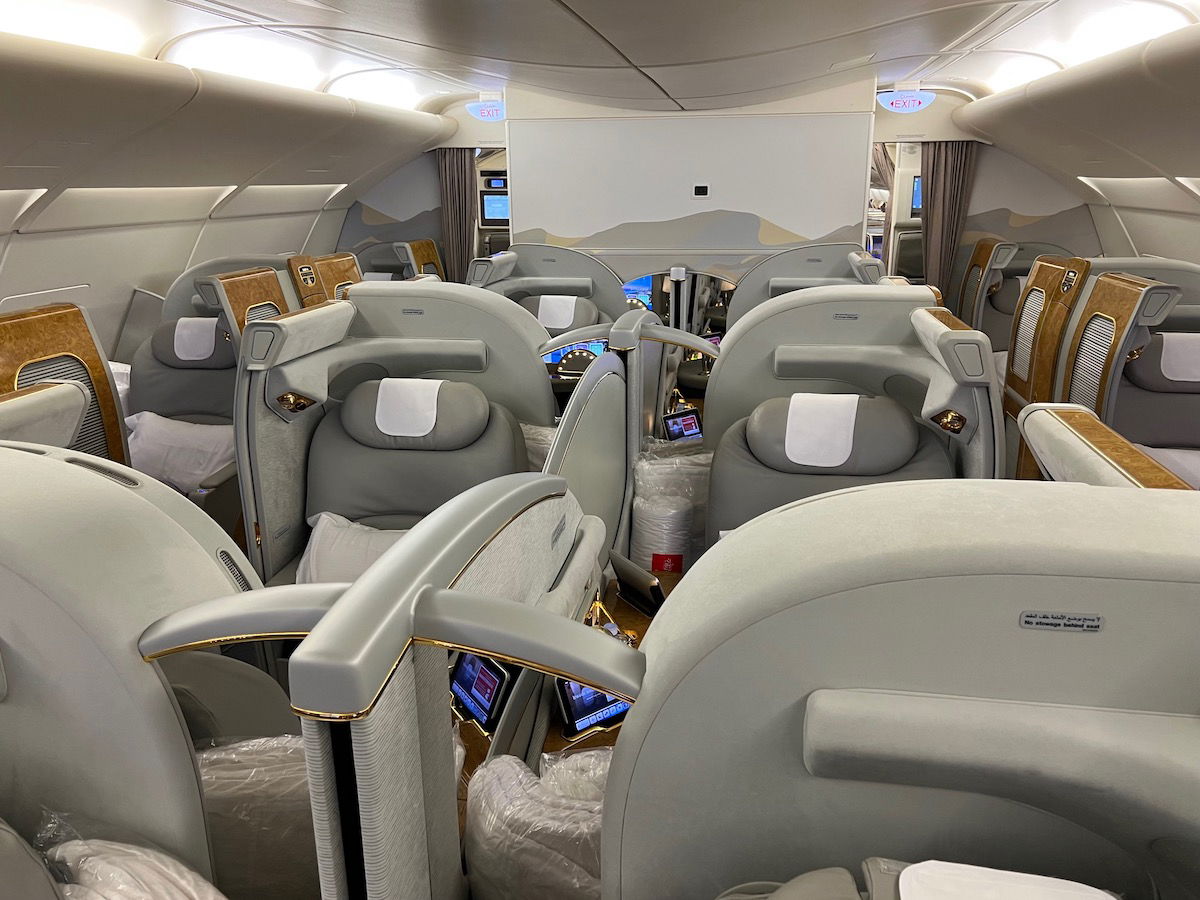 Anyway, if you're traveling alone you'll of course want to select one of the eight window seats, so that you get more privacy and a view out the window.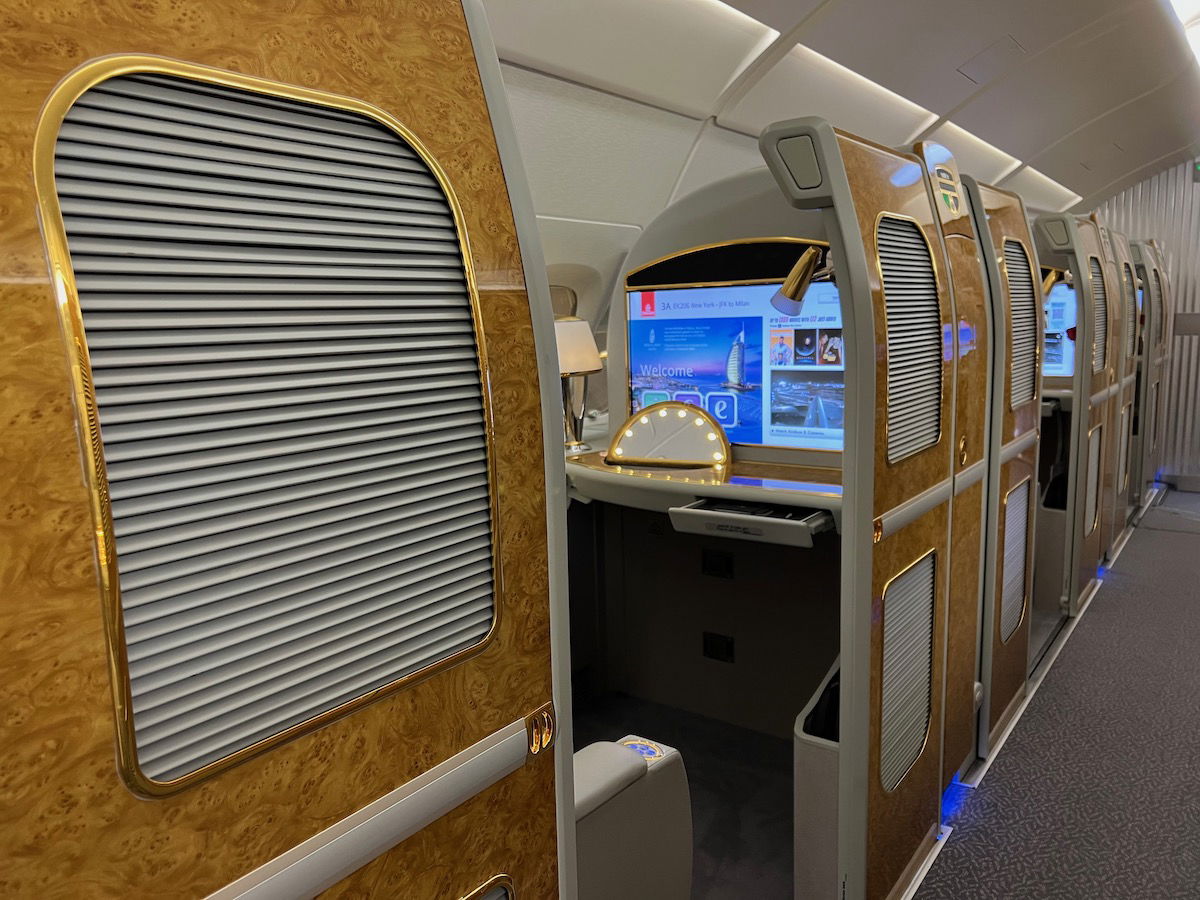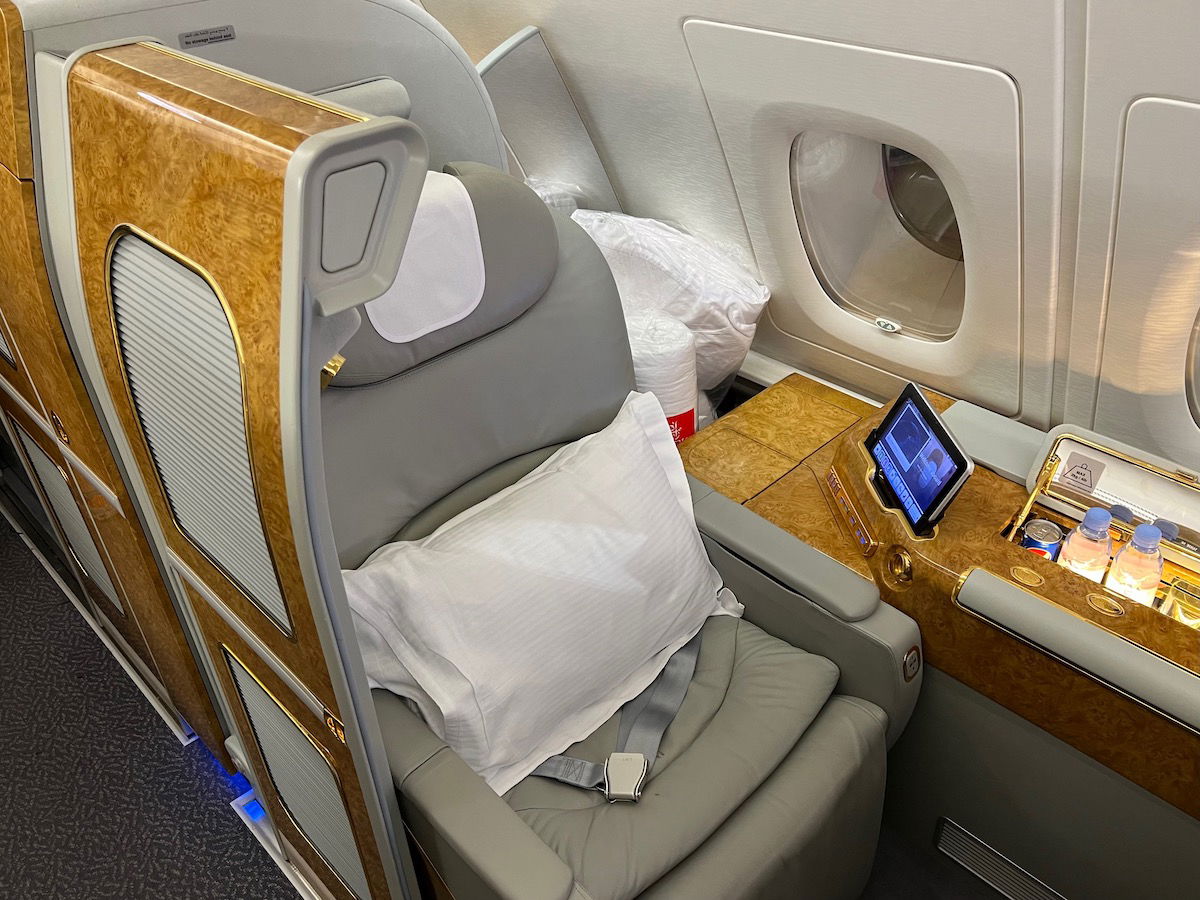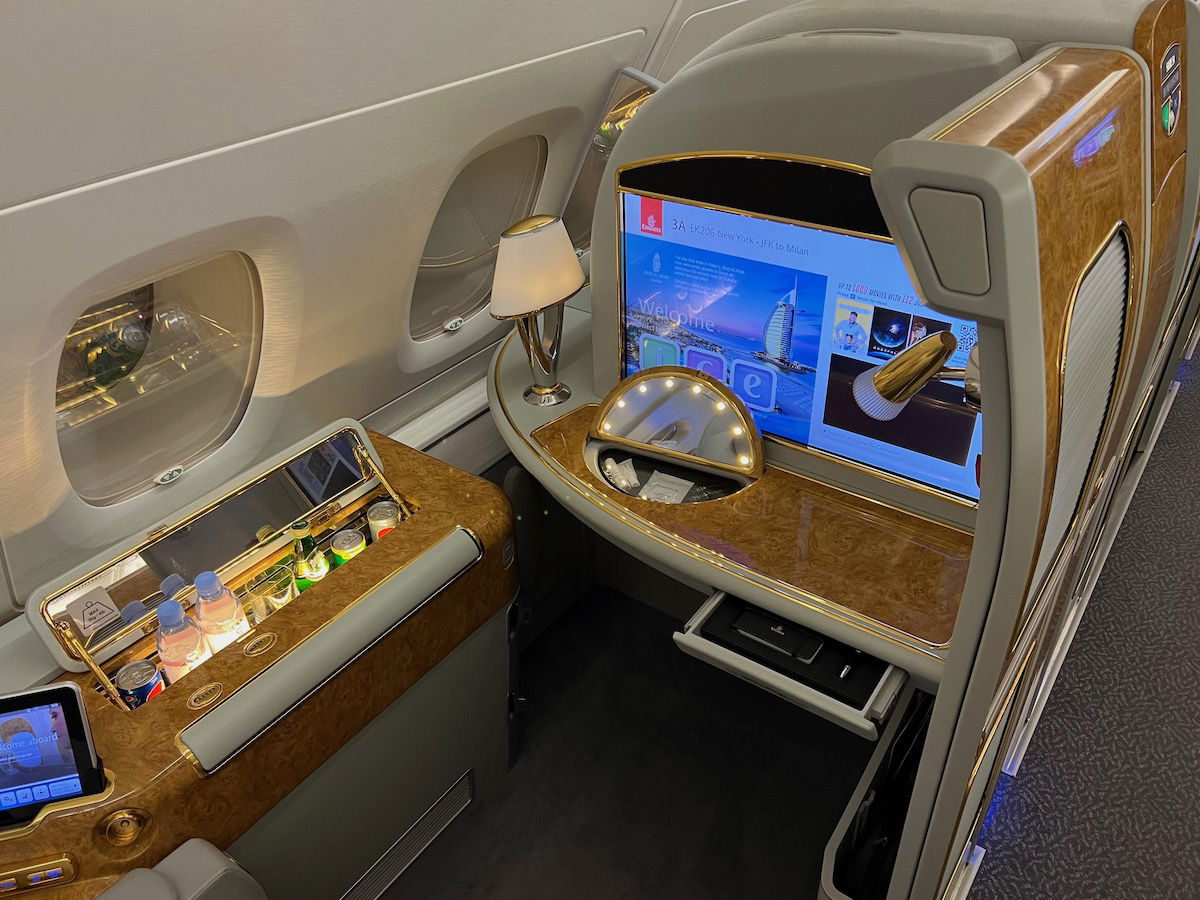 Meanwhile if you're traveling with someone, you'll want to select the center seats. I love how easy it is to enjoy Emirates first class with a companion by being able to sit next to them, which is an issue with some of the most cutting edge first class products out there. Just don't enjoy the flight too much, because that's a camera at the back of the cabin, in the black box. 😉
I assigned us seats 3E & 3F, the center seats in the last row of the cabin. There's a privacy partition between the seats, so if you end up next to a stranger (or get tired of your travel companion), you do have privacy as well.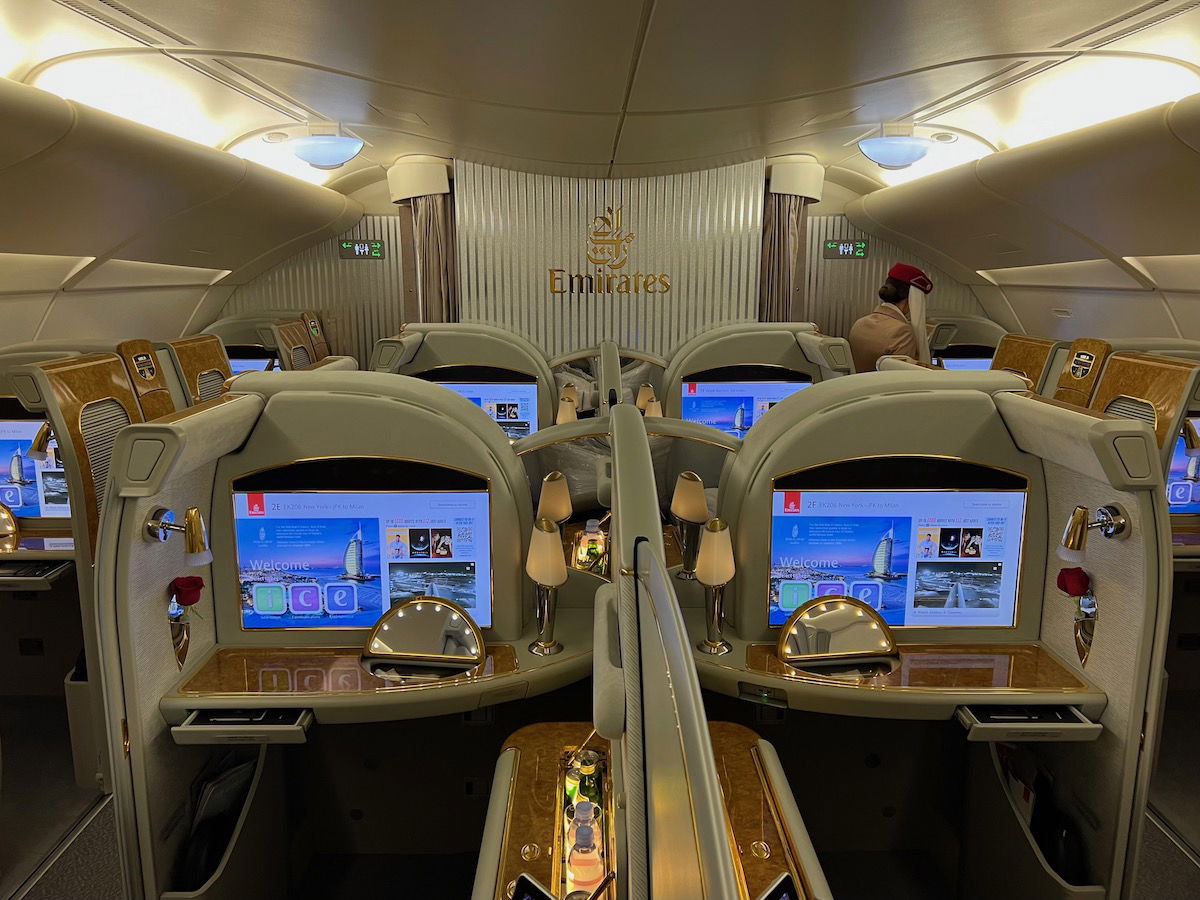 Aside from the few 777s with Emirates' new first class, Emirates' first class product is quite consistent, so odds are that most of you are familiar with it. At the front of the seat is a large entertainment screen, two lights, and a vanity that can be raised or lowered.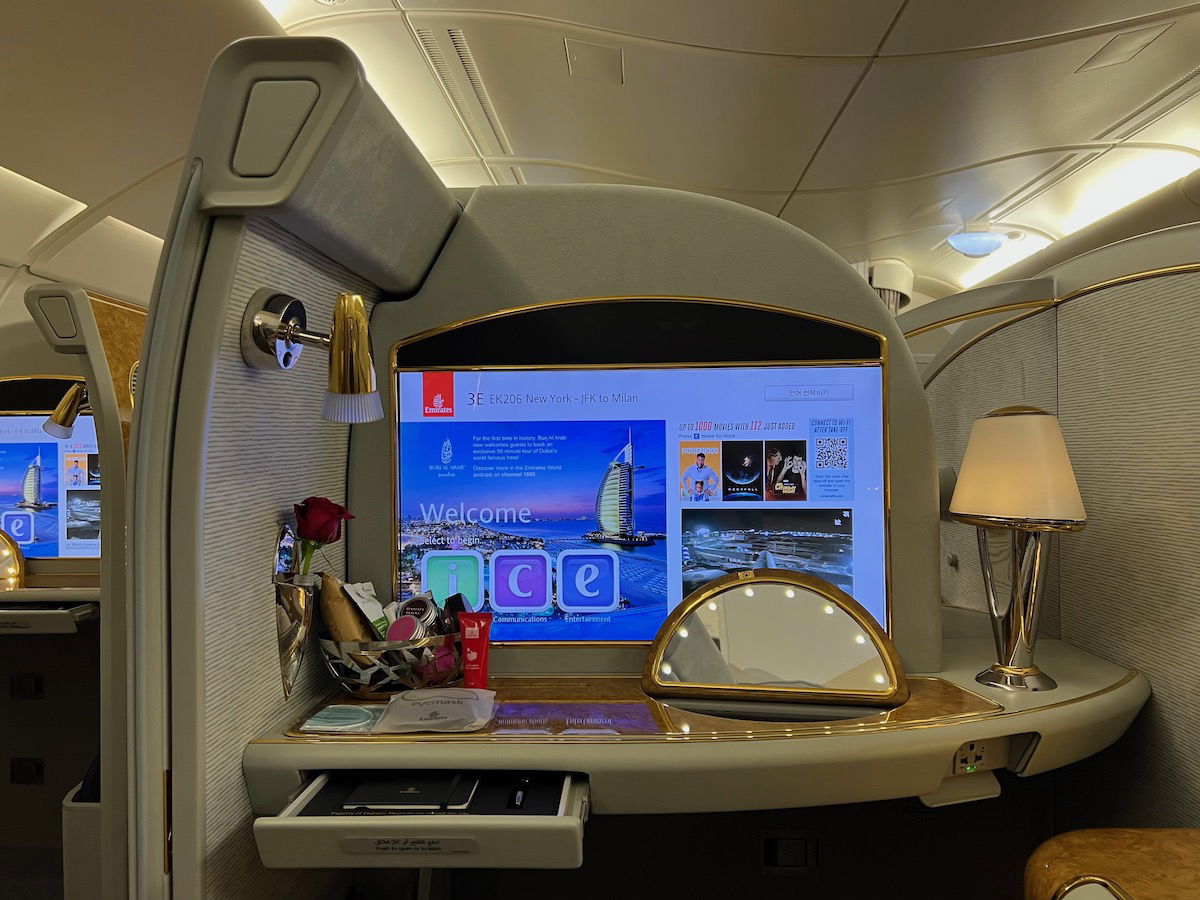 Underneath the vanity are a variety of products from Byredo, including a facial toner, eye cream, pillow mist, and a towelette.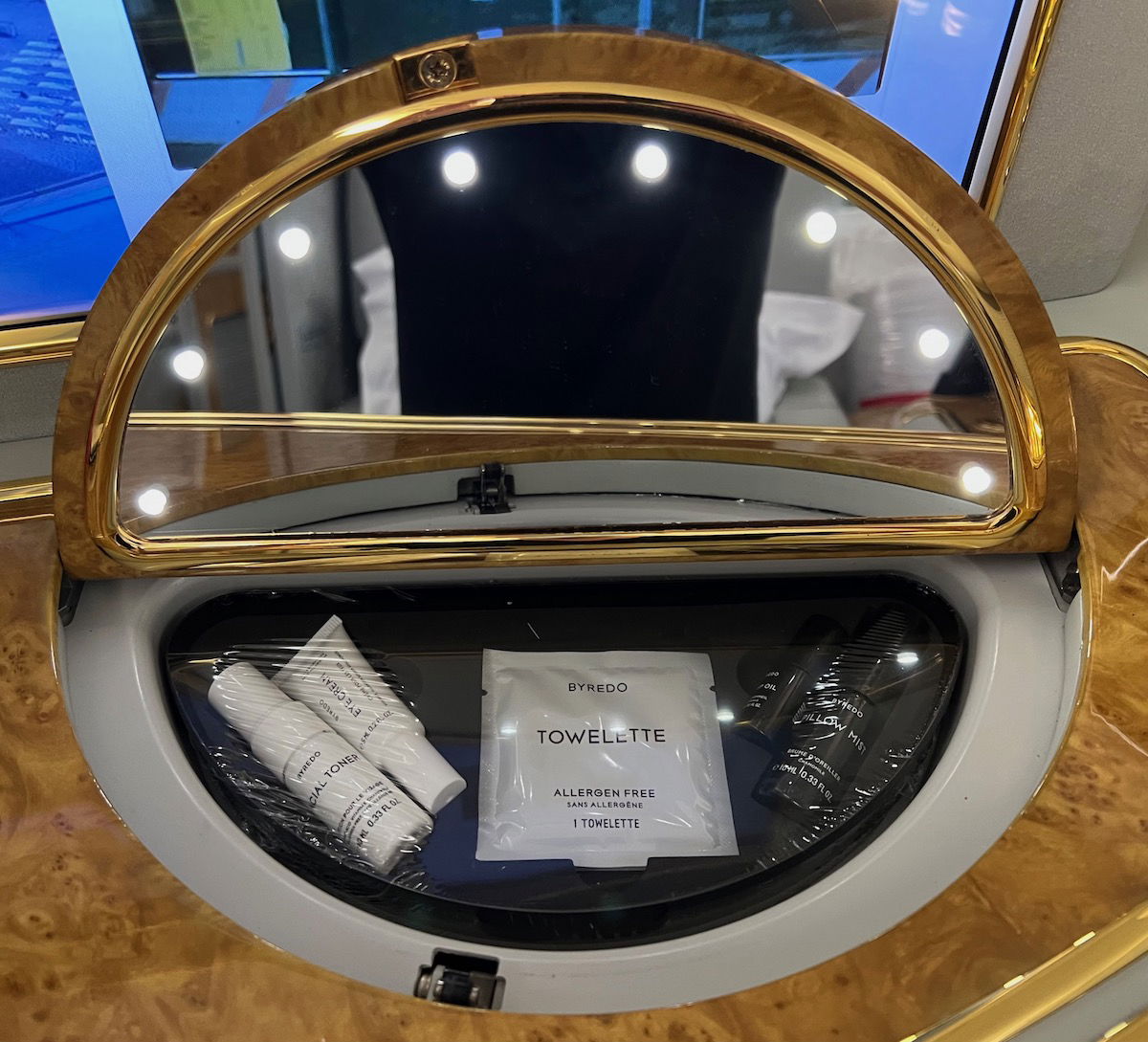 Then there's a stationery set, with a diary and pen. I'm still not sure exactly what purpose that serves, but it's oh-so-Emirates.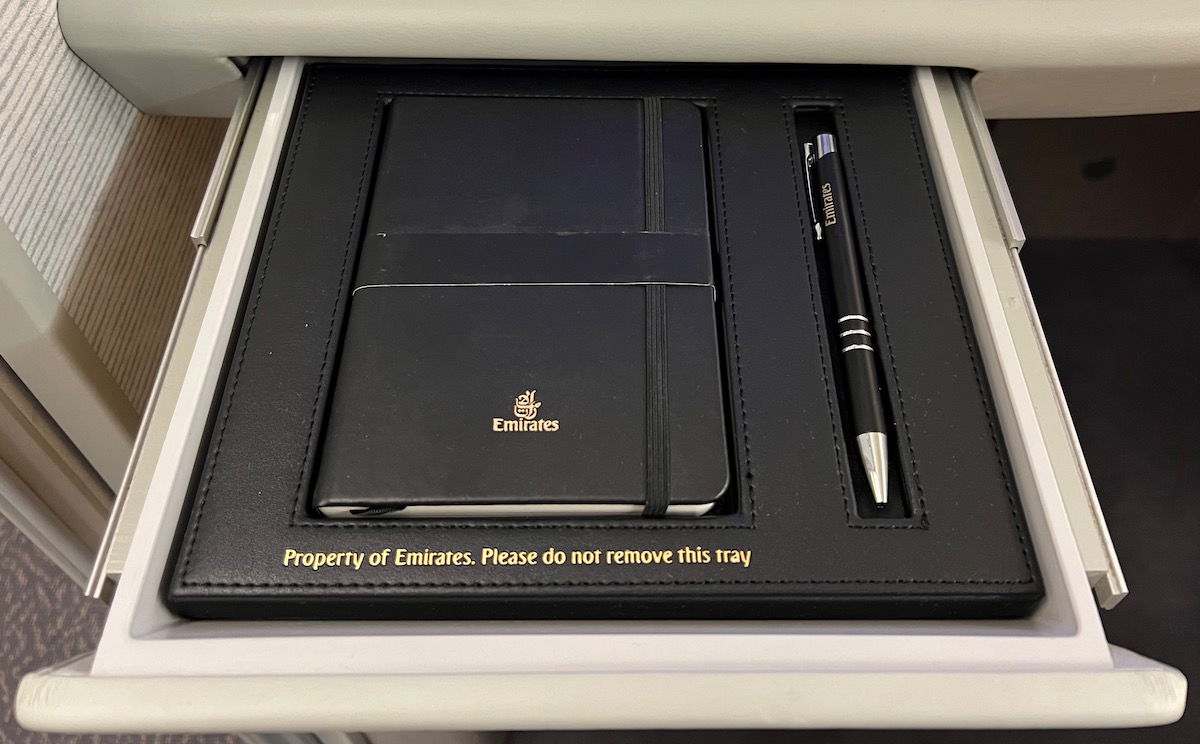 Then there's a snack basket, with a variety of sweet and savory options. This remains at the seat for all phases of flight except takeoff and landing, as it has to be taken away by the crew during those times.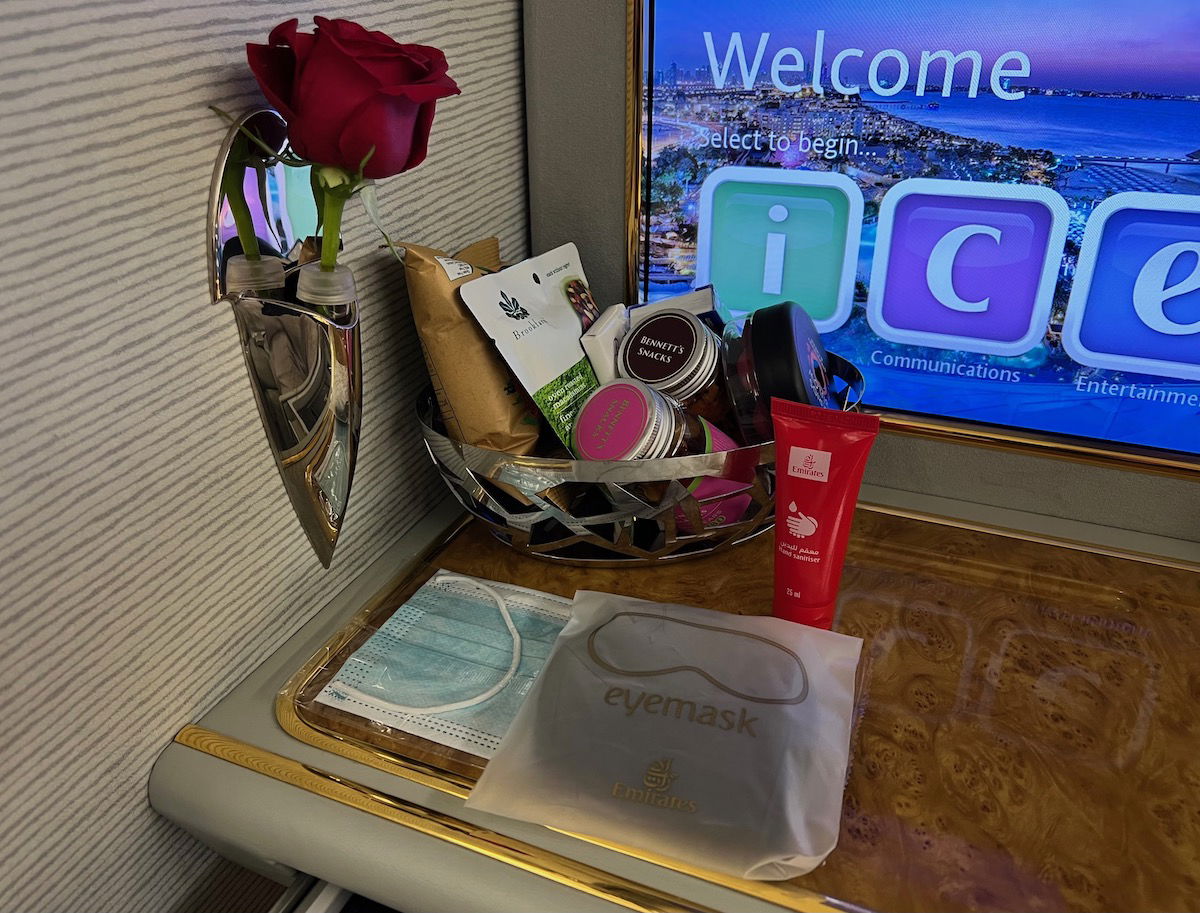 There's also an AC power outlet at the front right of the seat. I appreciate how easy this is to access, since some airlines really hide these.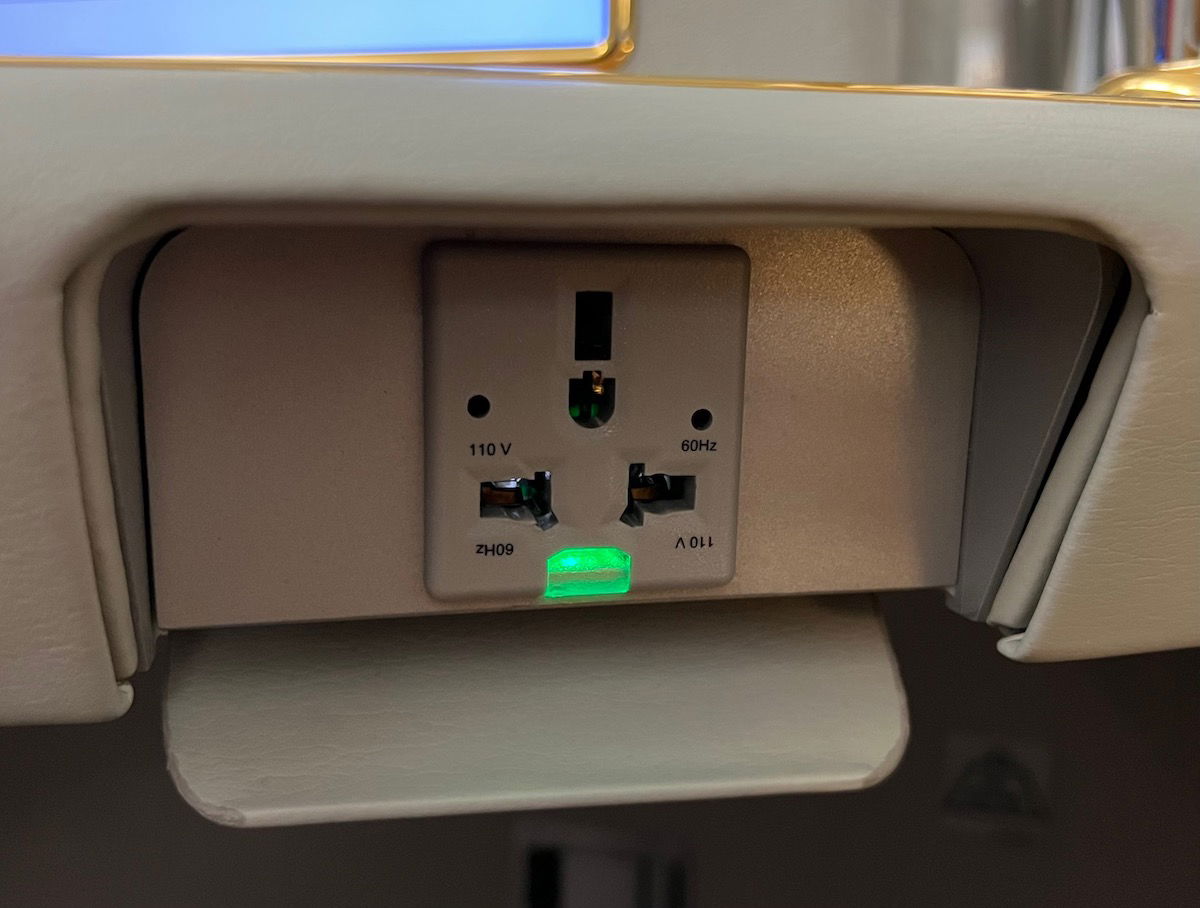 Further down in the suite is the minibar, with water and soft drinks.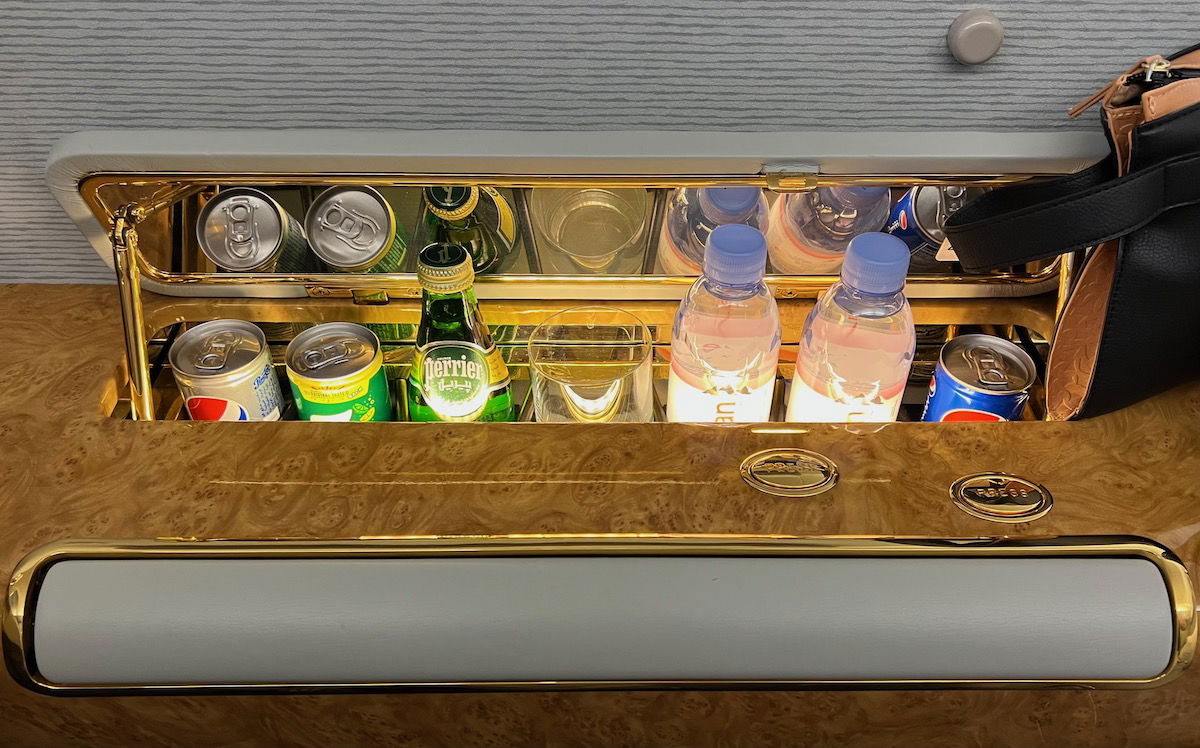 Also in this area is the tray table, which is massive.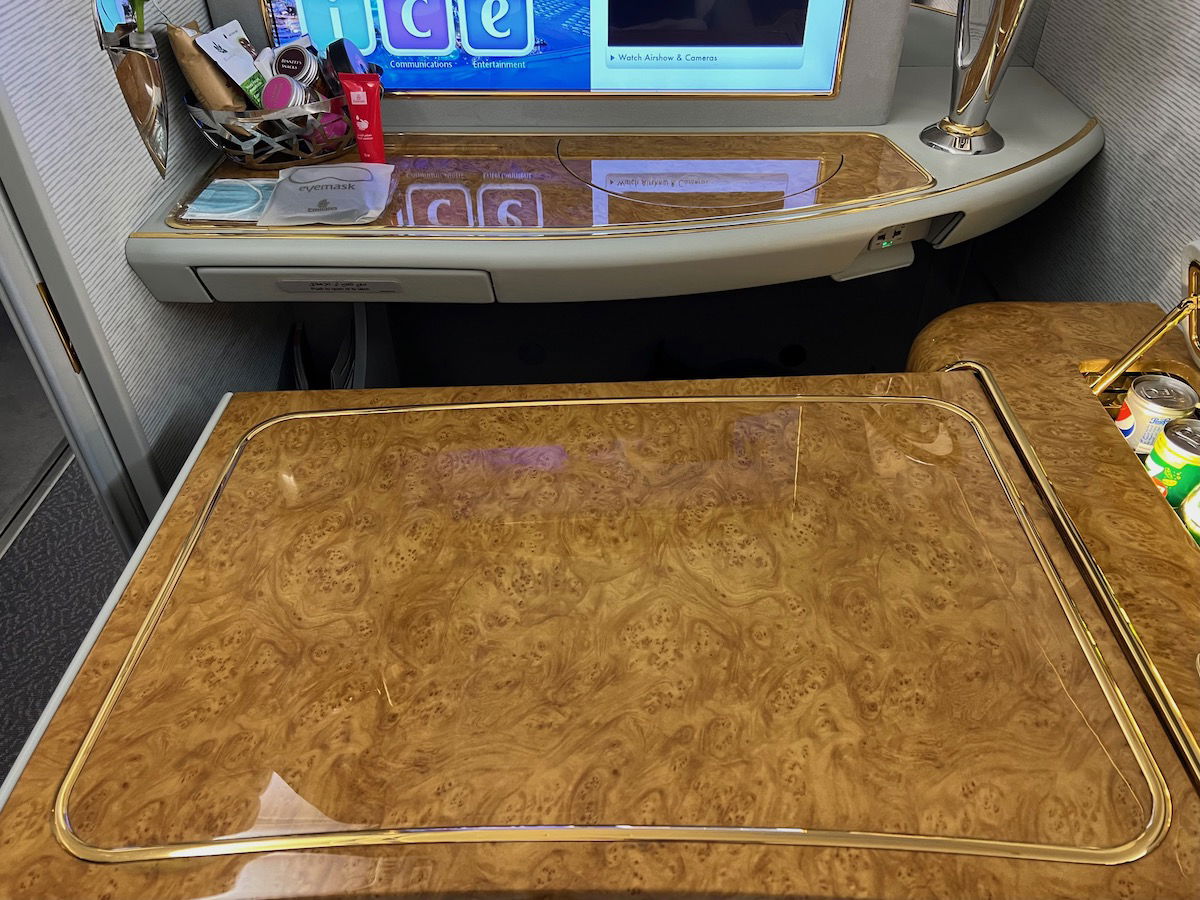 Then in the back corner of the suite is a tablet, where you can control just about all of the suite's functions. You can select entertainment from here, adjust your seat, close your door, or order "room service." There's also an air nozzle underneath this, which is one of the two air nozzles at the seat.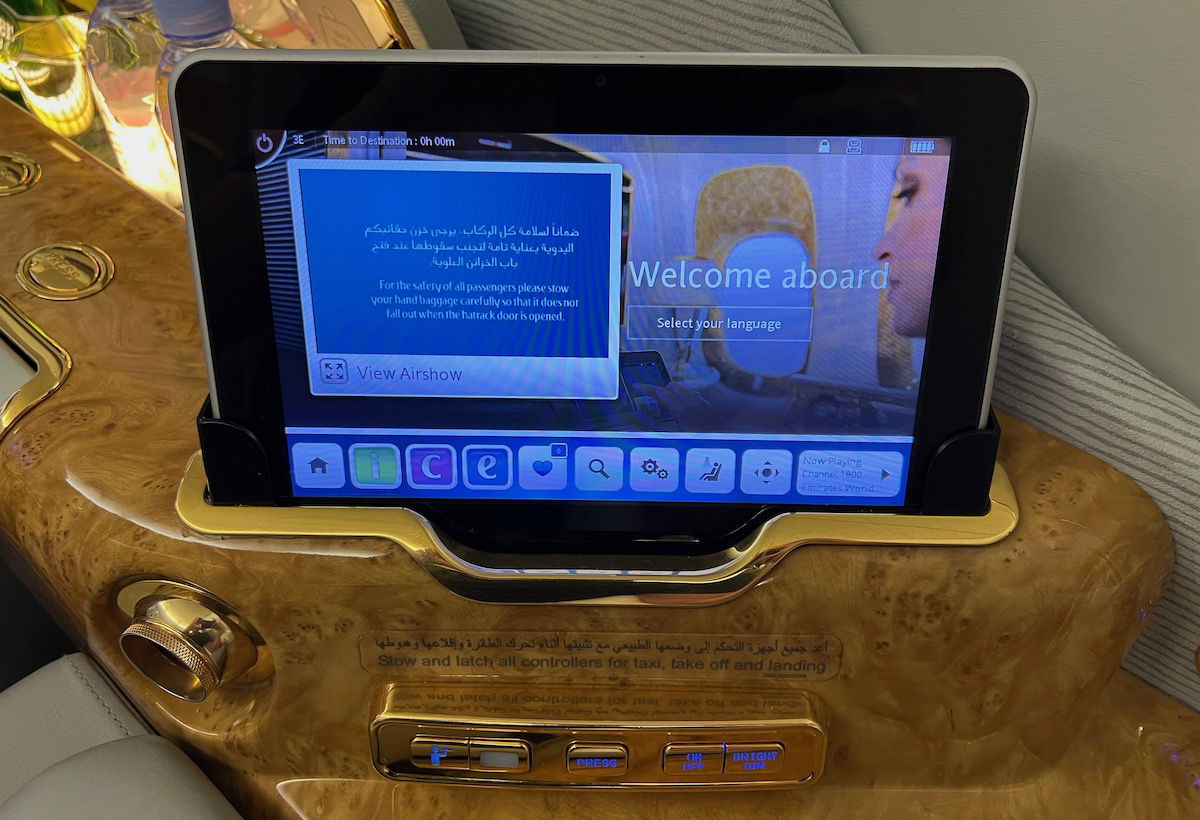 Past that is a large enclosed storage compartment.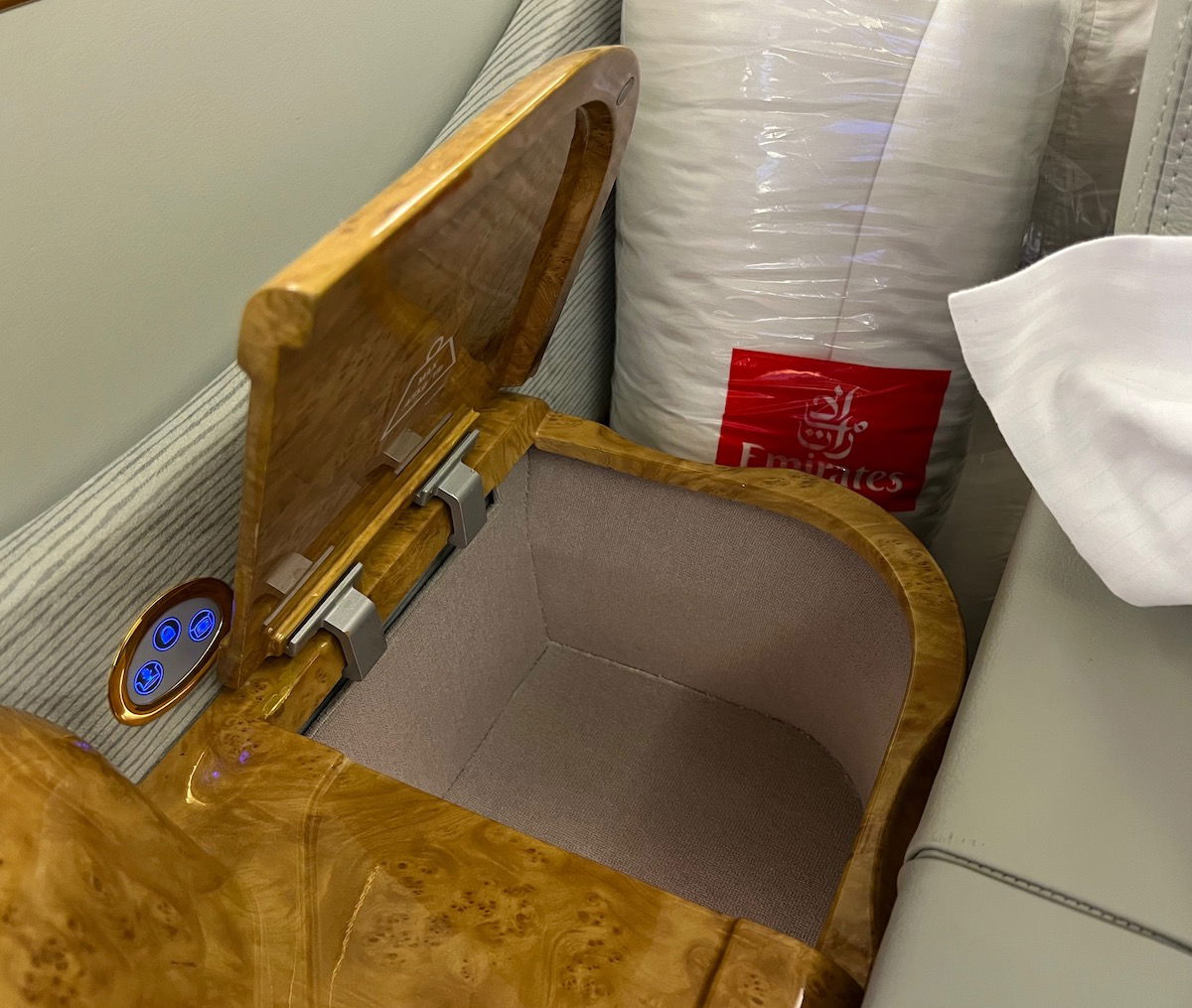 The armrest on each side of the seat opens up as well. On one side is yet another entertainment controller (for a reason I can't figure out), while on the other side is a compartment where you could store glasses. There are also some basic seat controls on this side of the seat, should you want to recline the seat, put it upright, or close the door.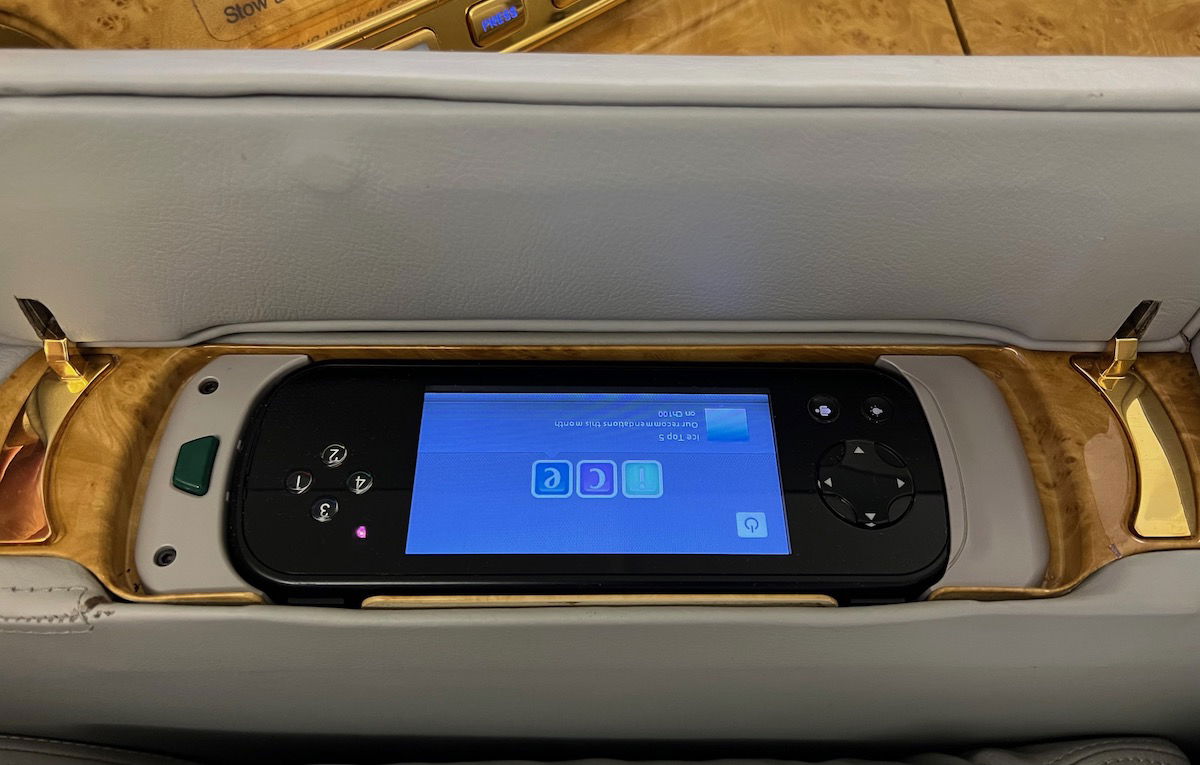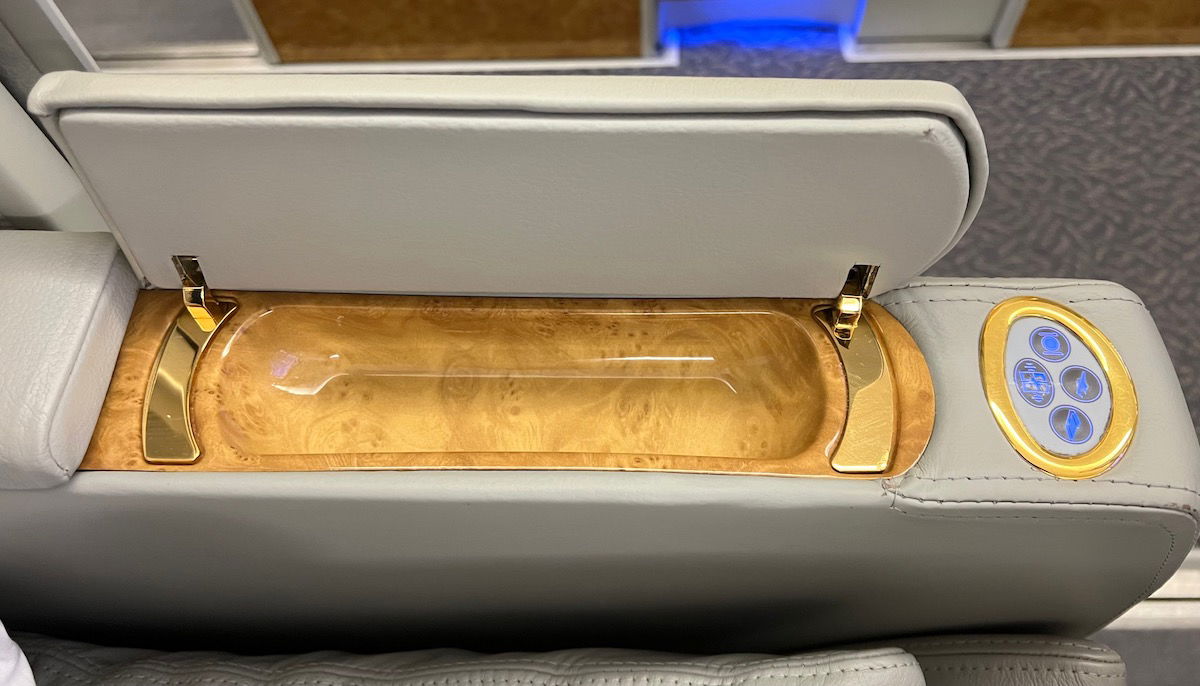 In the top corner of the suite is another reading light and another air nozzle.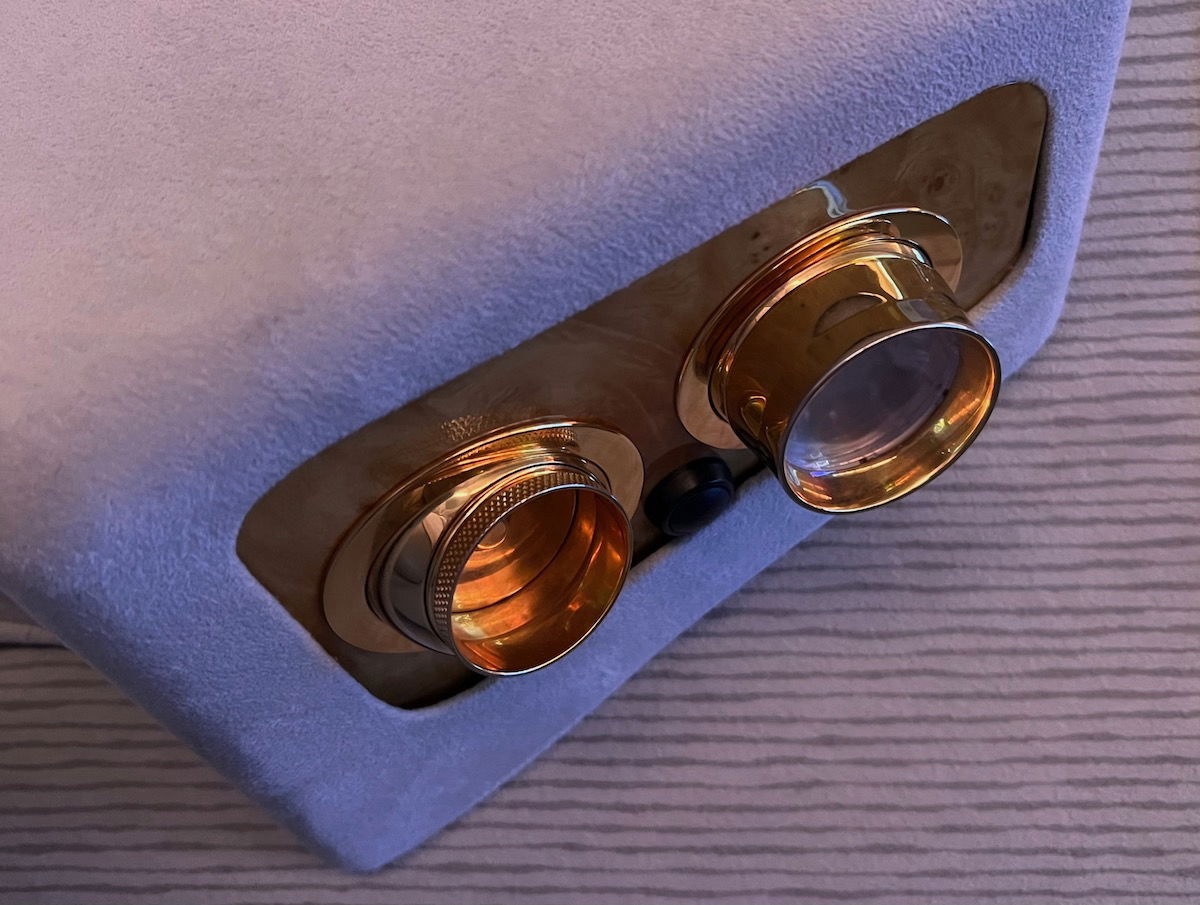 Emirates' A380 first class cabin is sort of lacking when it comes to storage. There are no overhead bins, which makes sense in order to make the cabin feel more spacious. Each seat has a "closet," though in reality this opens up to the space by your feet. You also store any carry-ons by simply sliding them under your seat.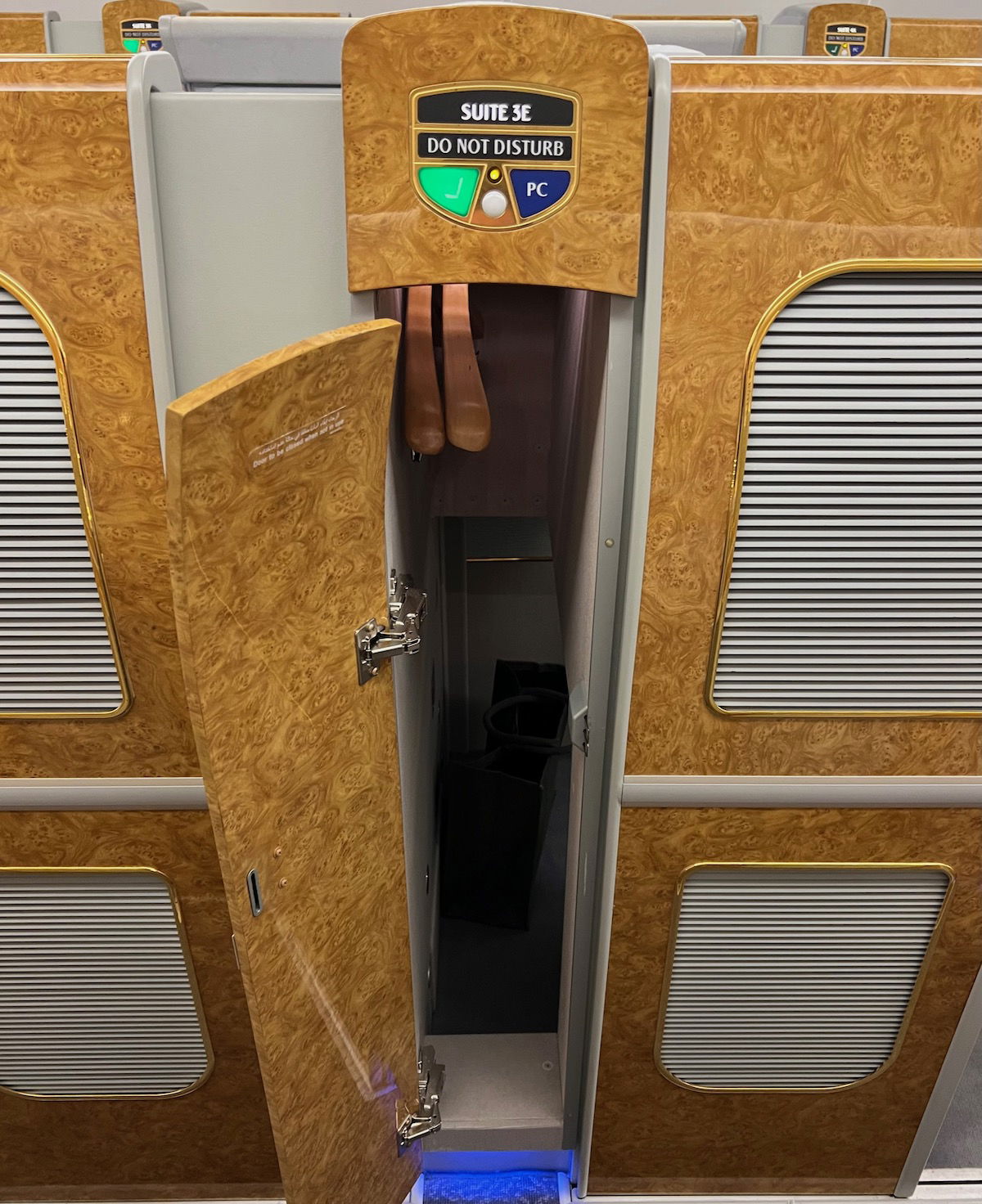 Emirates A380 first class amenities
Once settled in, the lovely first class crew gave us a longer welcome, asked if we were familiar with the suite, etc. There were three ladies working first class, from Japan, Romania, and Ireland, and they were all top notch.
We were first offered pre-departure drinks. Since Emirates doesn't serve Dom Perignon on the ground in the United States (because the airline doesn't want to pay the taxes for it), I instead had a glass of sparkling water.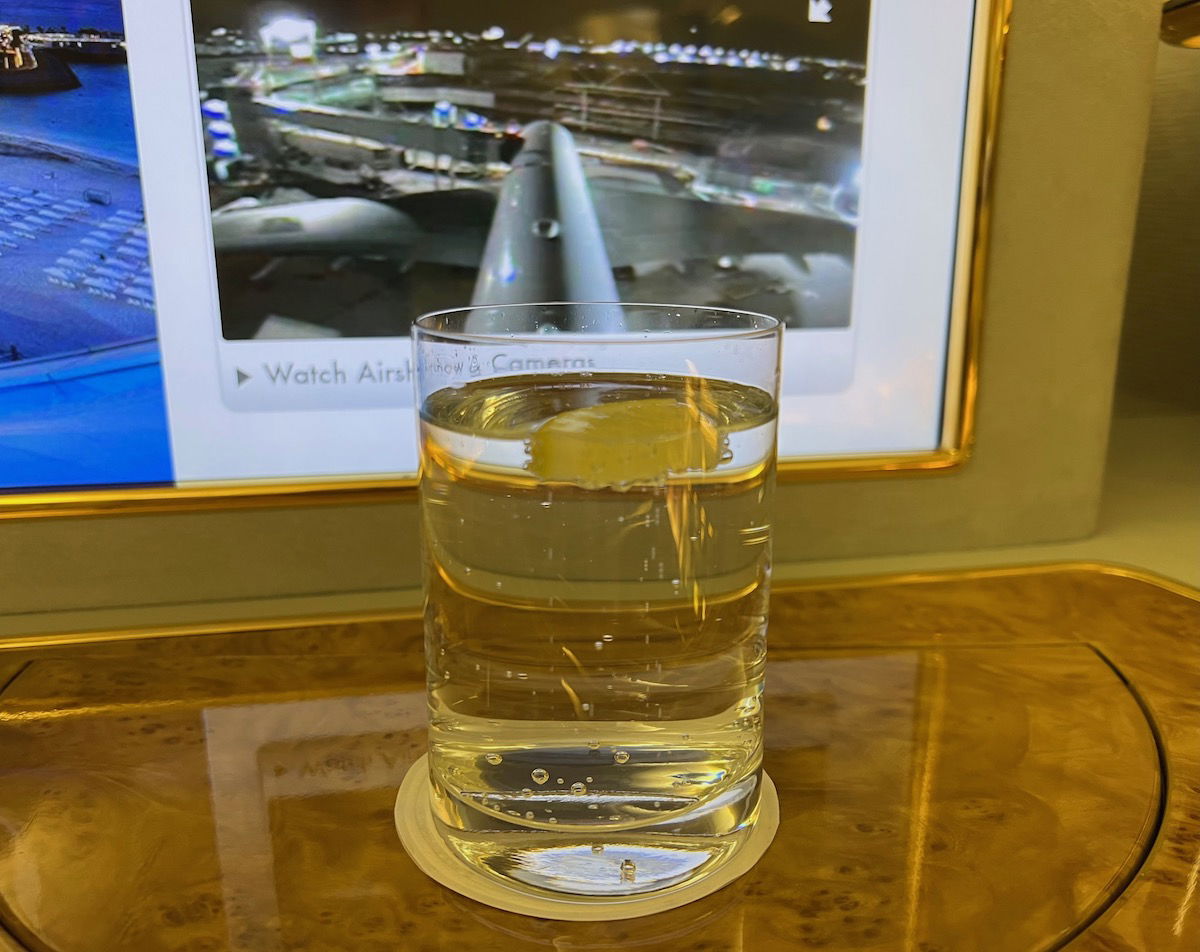 We were then offered the typical BVLGARI amenity kits, which are well stocked, with everything from a comb and dental kit, to a shaving kit, to body lotion and shaving cream, to lip balm.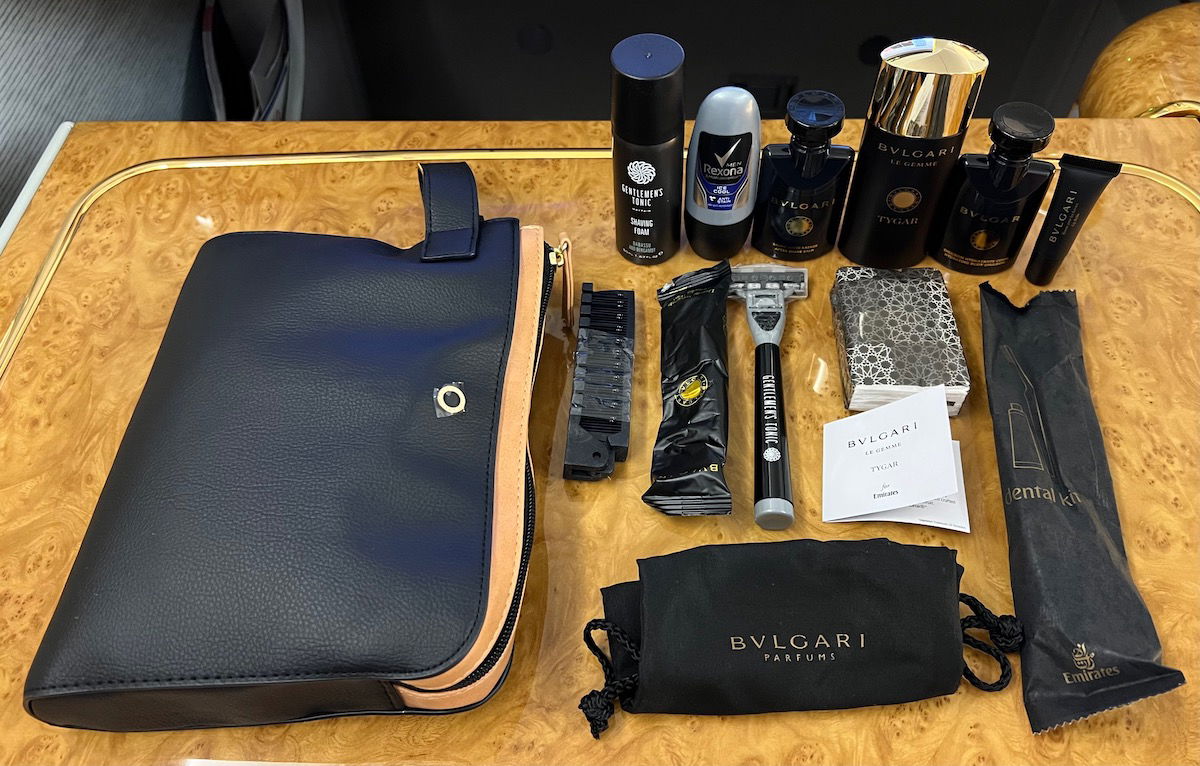 We were then brought a tote, which is exclusively available on the A380. This is intended to be able to transport things between your seat and the shower suite for when it's time to shower.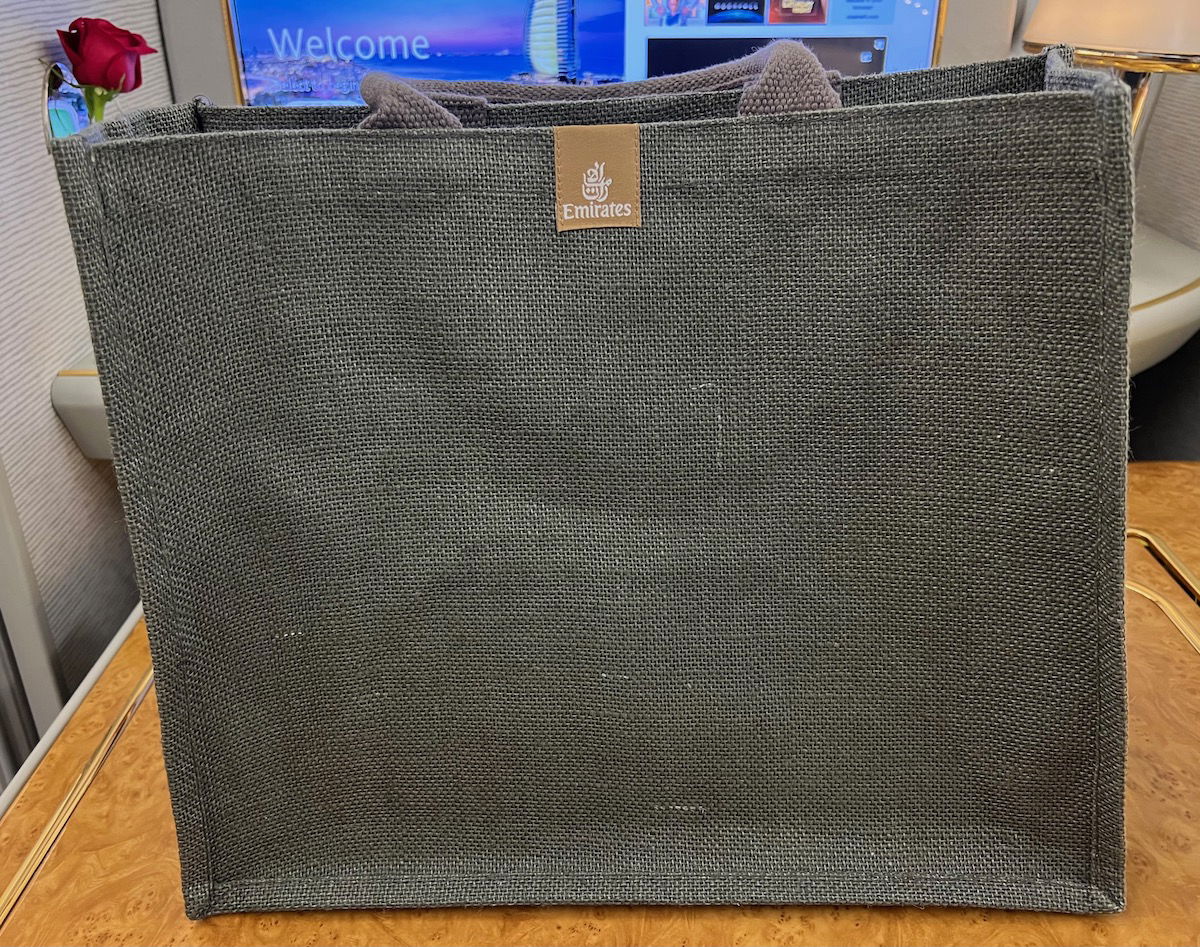 Next, we were offered pajamas, an eye mask, and slippers.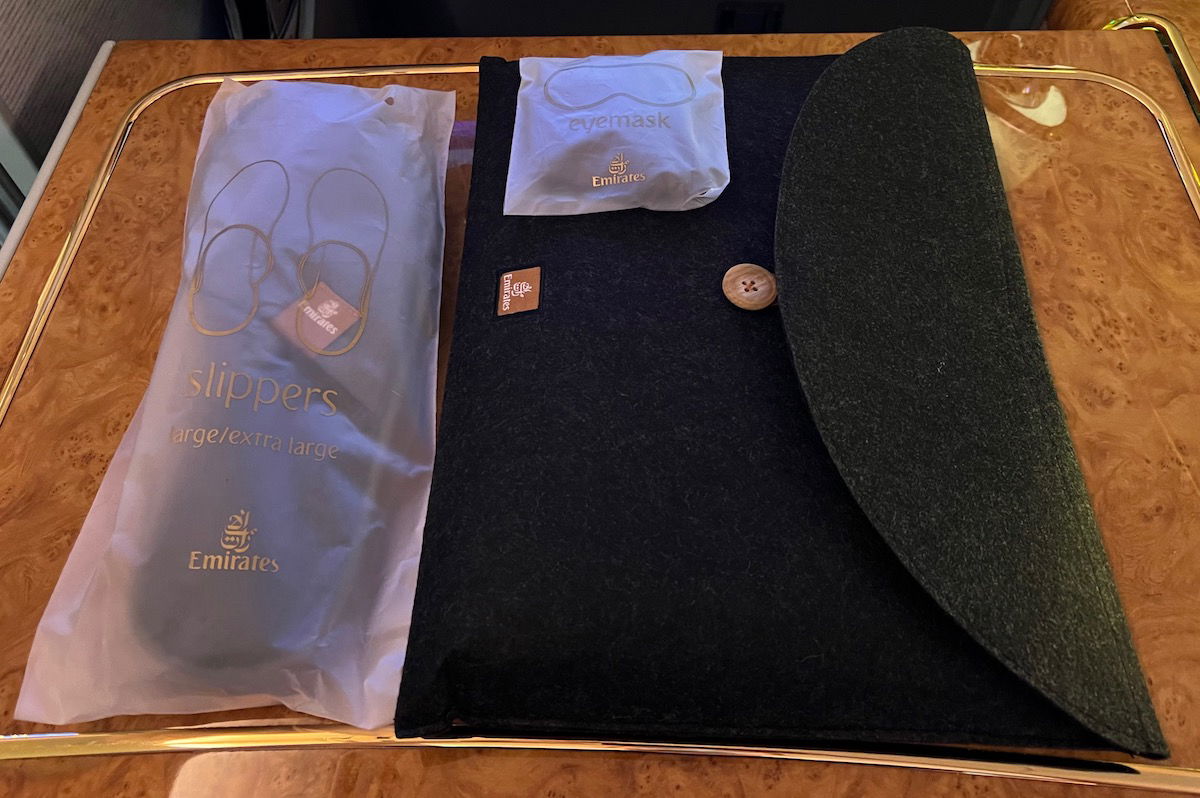 Emirates claims that its pajamas are moisturizing. While I can't say I've ever been able to figure out what exactly that means, I do find them to be pretty comfortable, and also to be fairly breathable (though I can't say I find the fit to be particularly flattering).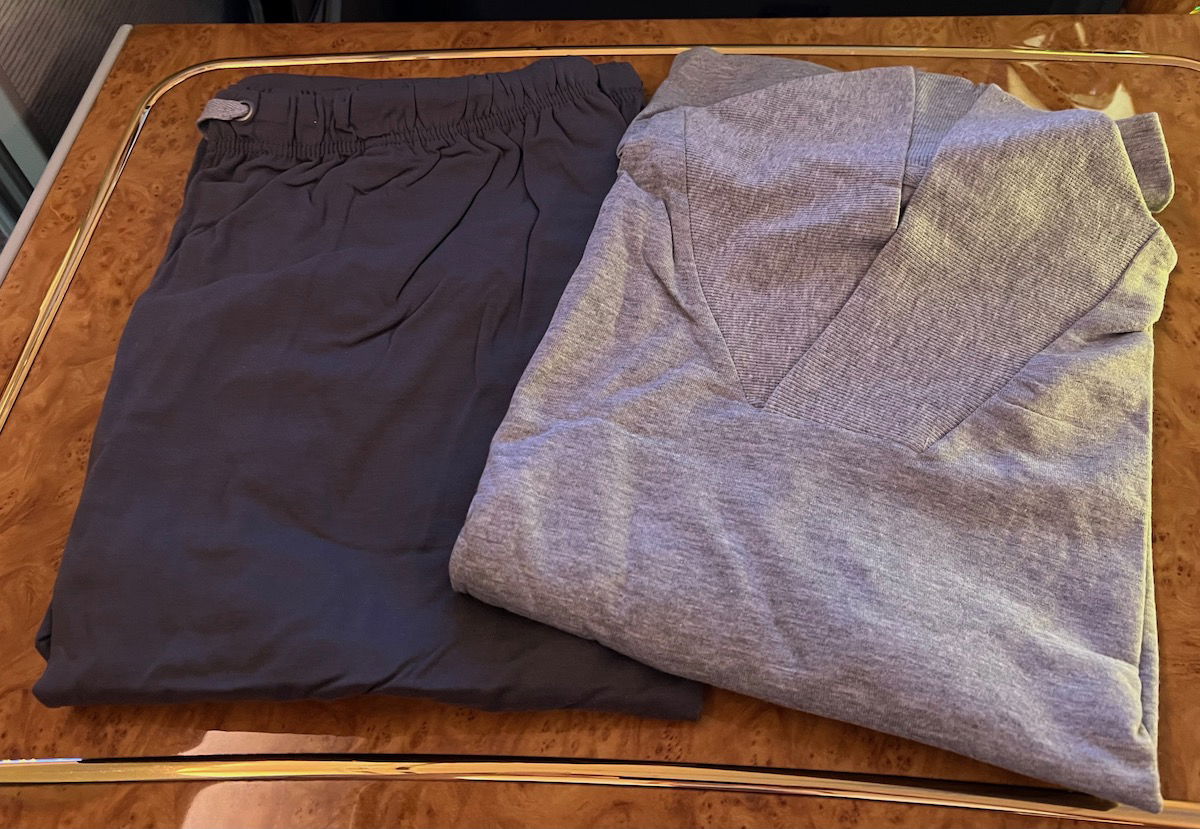 The slippers are also pretty comfortable, as they're sturdy and made of a soft material.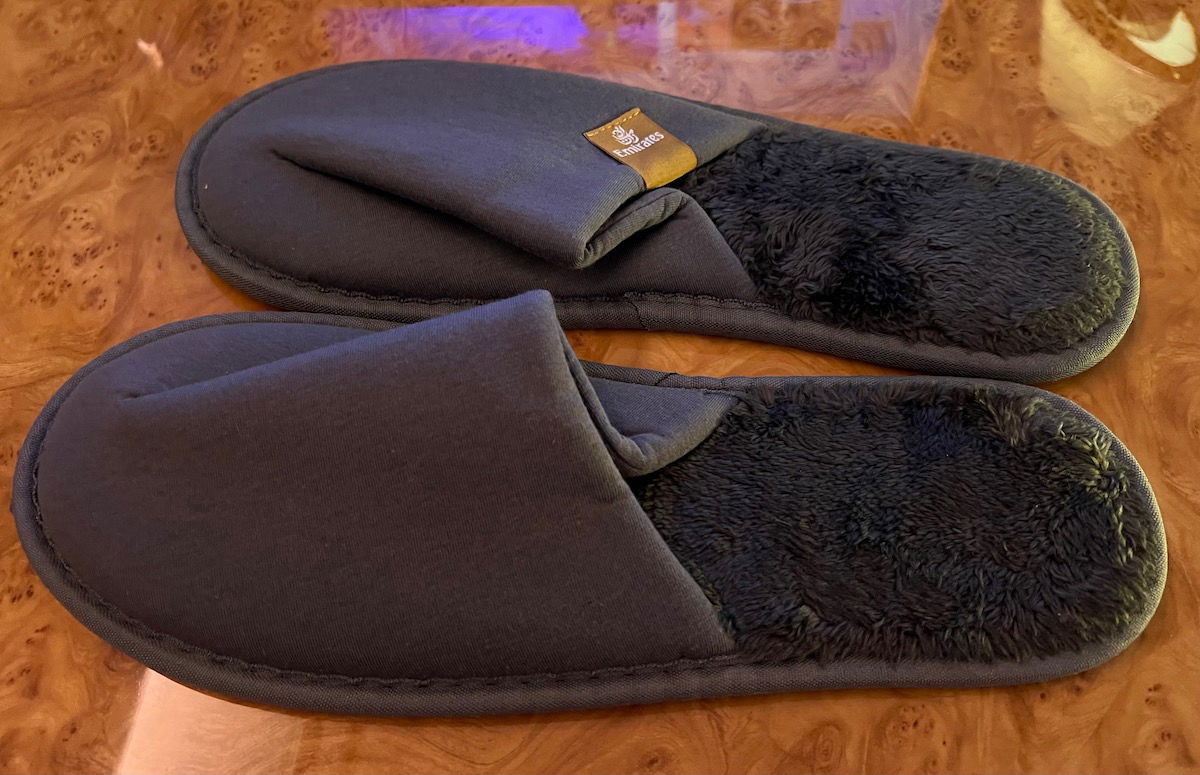 We were also presented with Bowers & Wilkins headphones to use during the flight.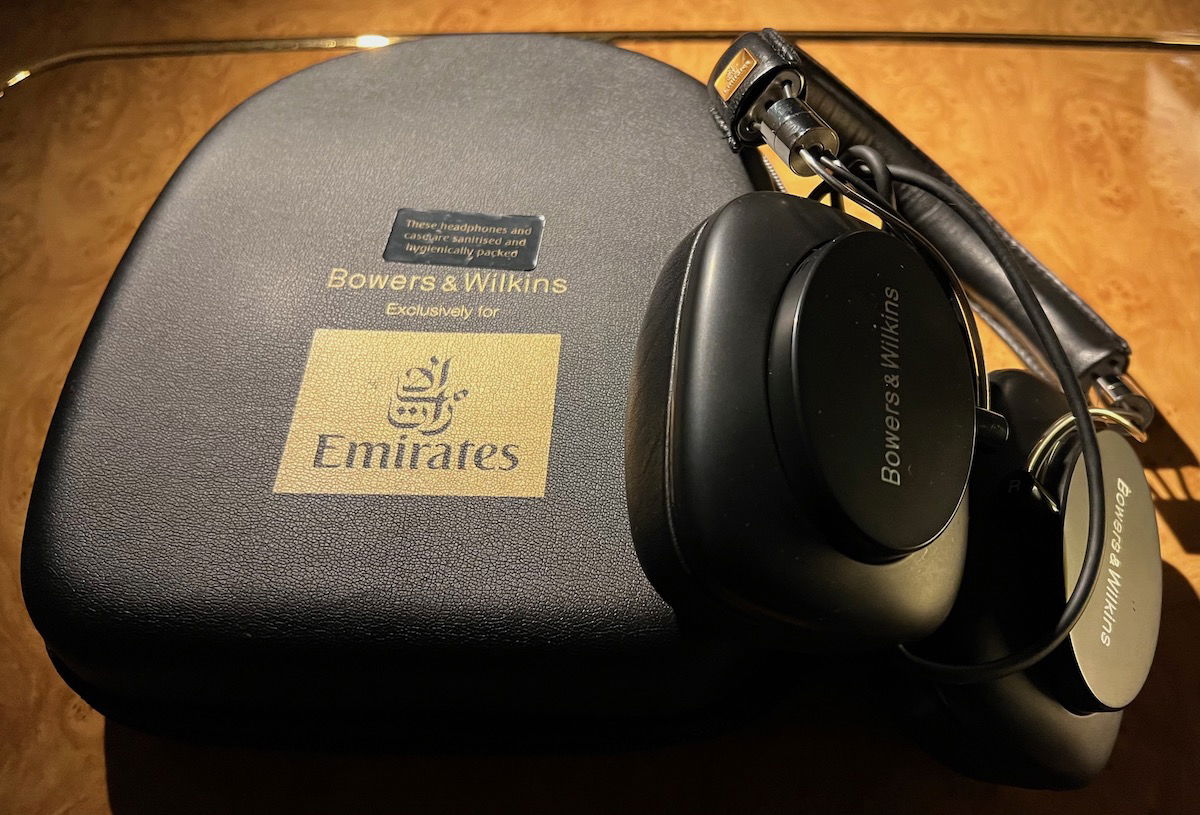 Closer to departure we were offered Arabic coffee & dates, which is a tradition I enjoy on Emirates. We even got a refill, so that we'd have a bit of energy to stay up.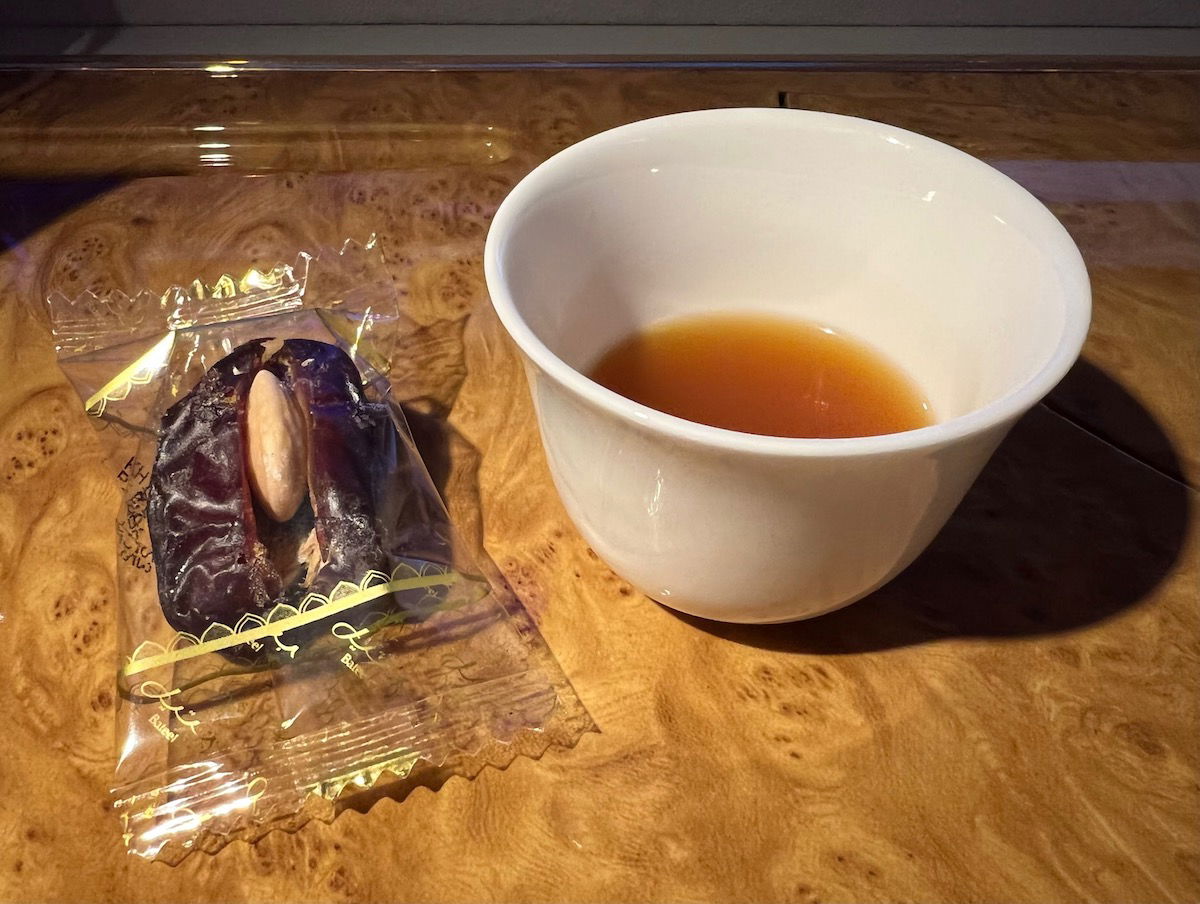 Prior to departure, Toby also came by our seats to welcome us onboard and present us with the menu & wine list for the flight, stored in a nice leather binder.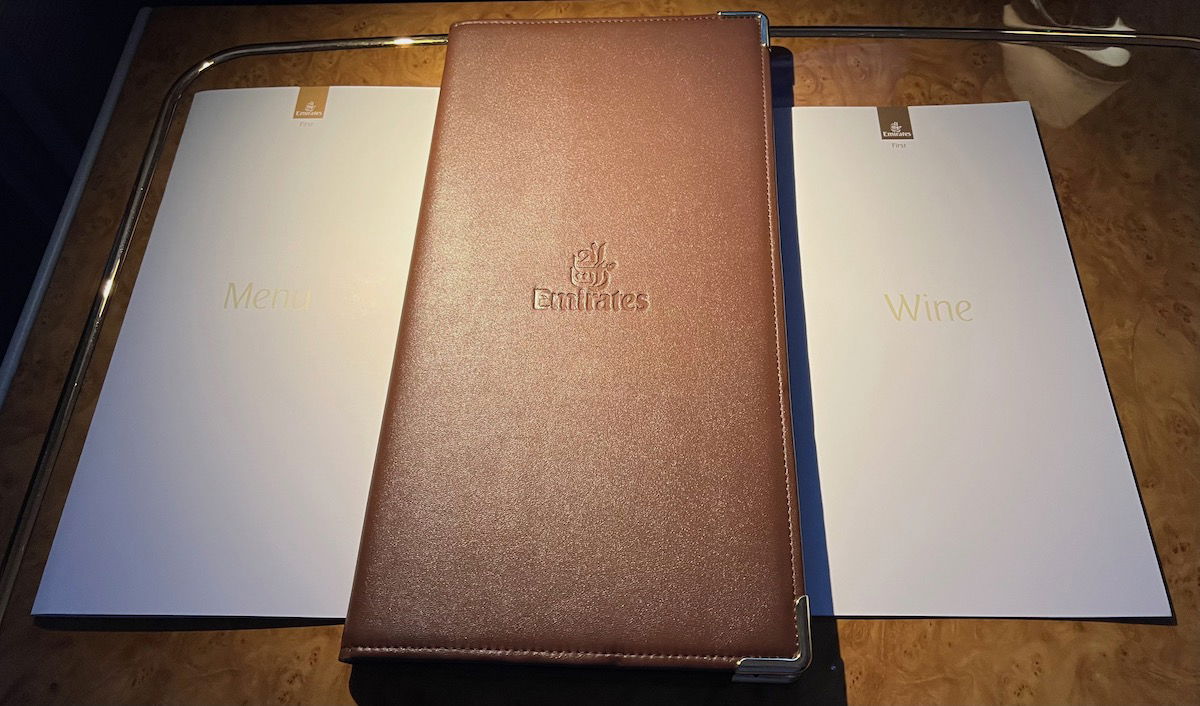 Emirates A380 departure from JFK
Boarding was efficient despite it being a nearly full flight. At 10:15PM the (British) captain made his welcome aboard announcement, informing us of our flight time of 7hr25min. He explained we'd be pushing back shortly, but that there would be a bit of a queue for takeoff.
Interestingly while business class was almost completely full, only five of the 14 first class seats were occupied. The three other first class passengers were seated in the first row, so we had quite a bit of space to ourselves.
At 10:20PM we began our pushback, though we didn't get very far, given the line for takeoff. It's nice to see the return of "rush hour" at JFK, given that this didn't exist for much of the pandemic.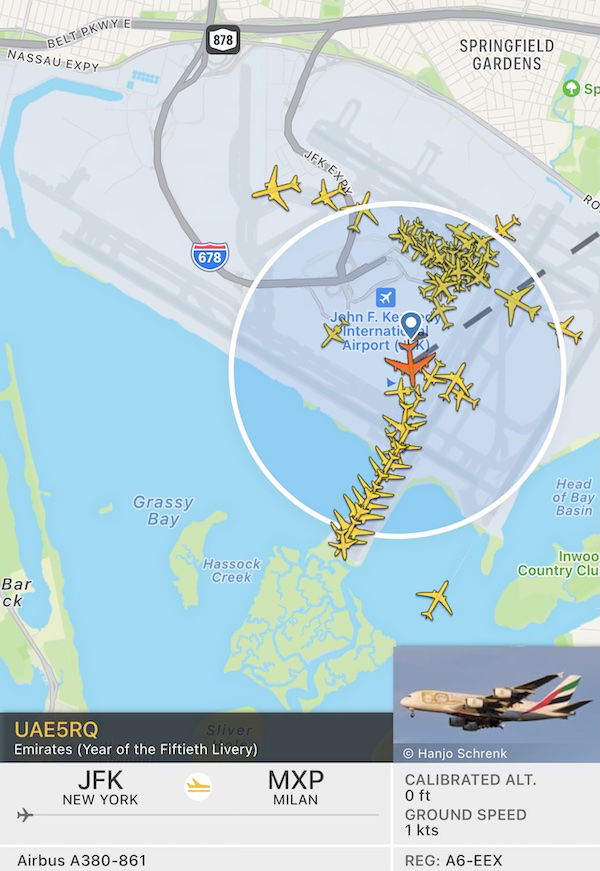 I love how Emirates' A380s have tail cameras, as there's something so incredible about being able to watch this gentle giant in action.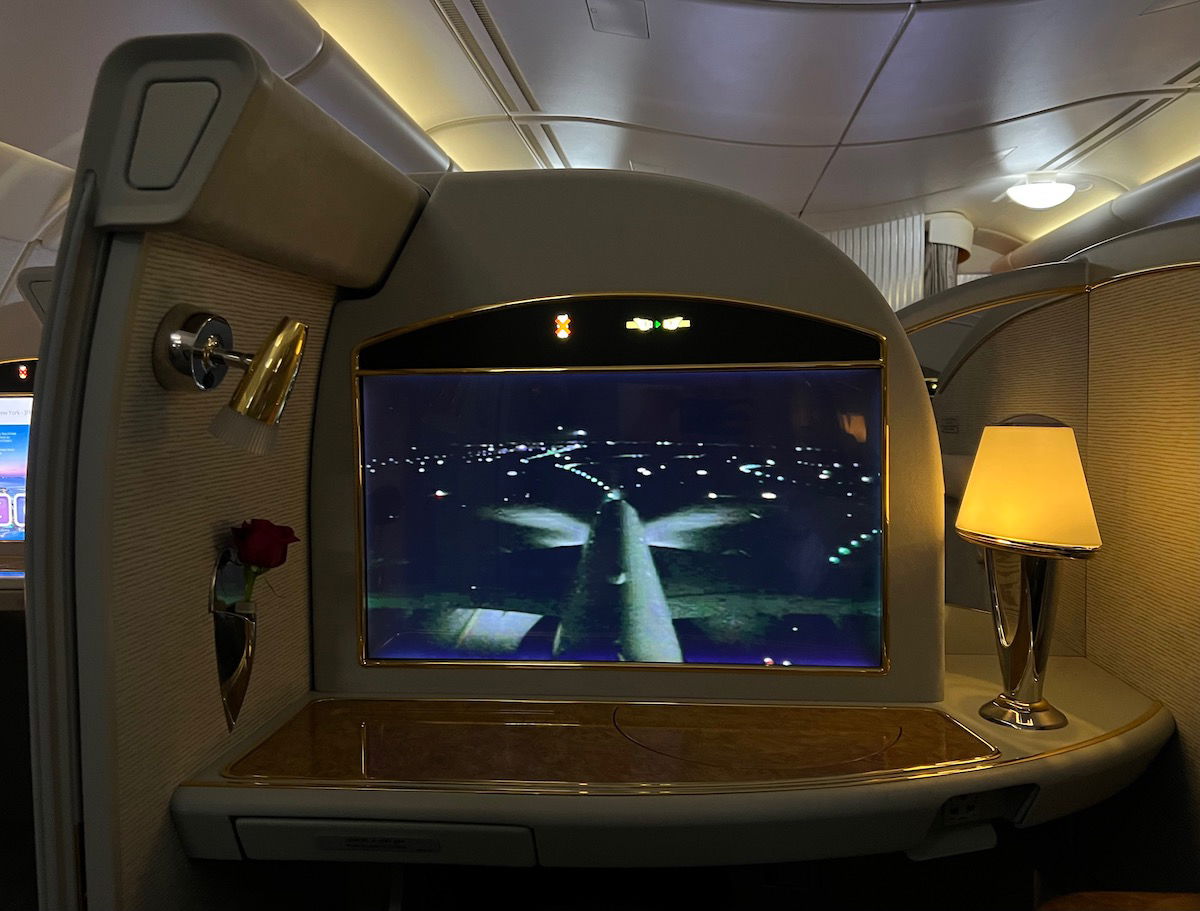 Sure enough, at around 11PM we were cleared for takeoff. The A380 is such a smooth and quiet plane that you almost don't feel like you're taking off. We also had a pretty quick takeoff roll, as I imagine we weren't anywhere close to our maximum takeoff weight.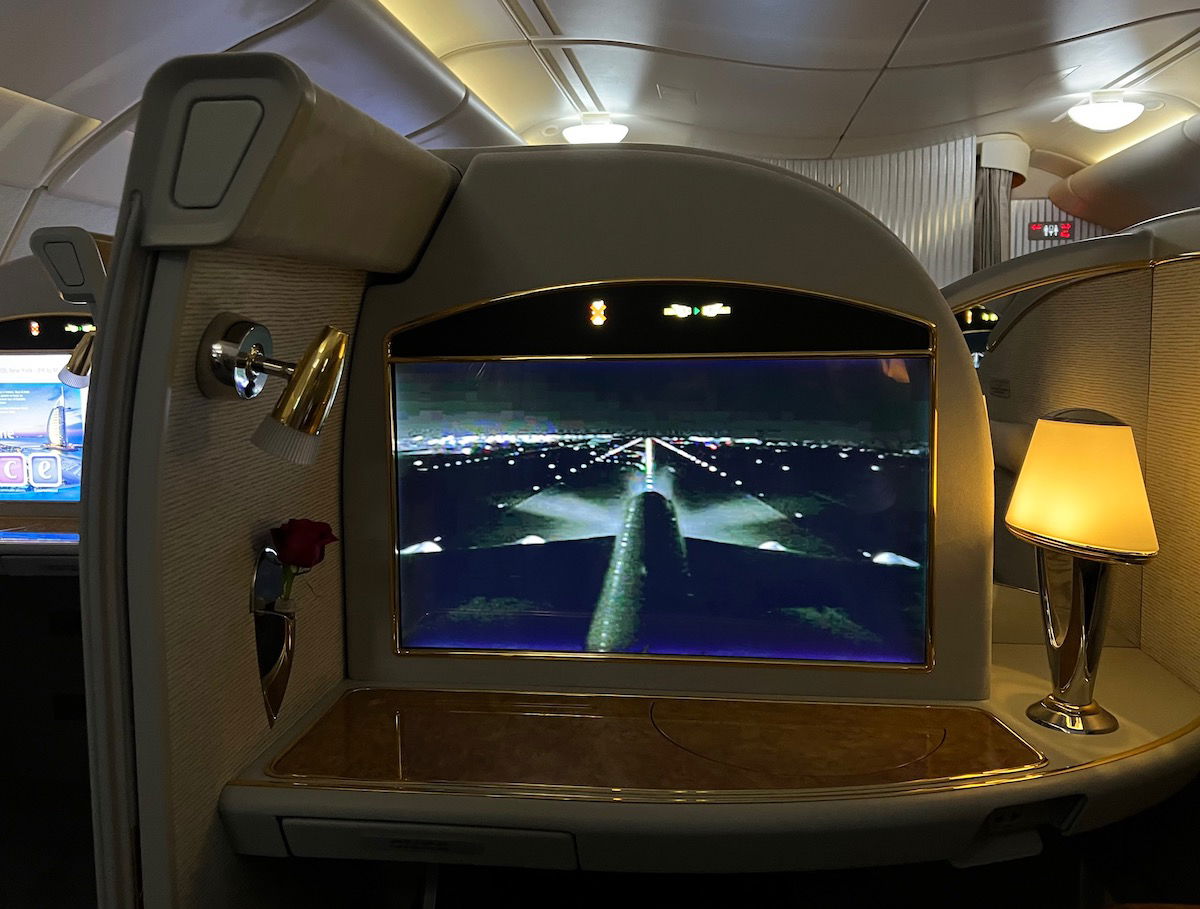 Emirates A380 first class entertainment & Wi-Fi
Emirates' ICE system (with "ICE" standing for information, communication, entertainment) is among the best in the sky, with an endless selection of movies, TV shows, music, and more.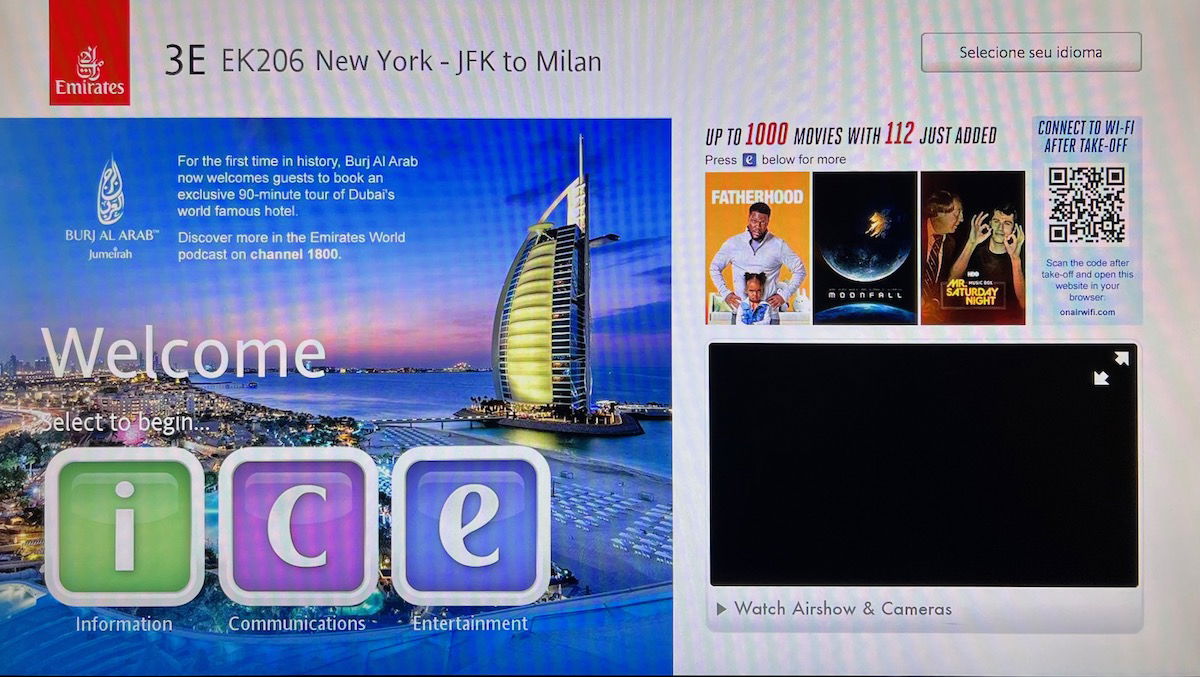 There's truly a never ending selection of movies and TV shows, as there are hundreds to choose from. For those who enjoy TV shows, I also love how there are box sets with entire seasons of shows, so you can binge watch.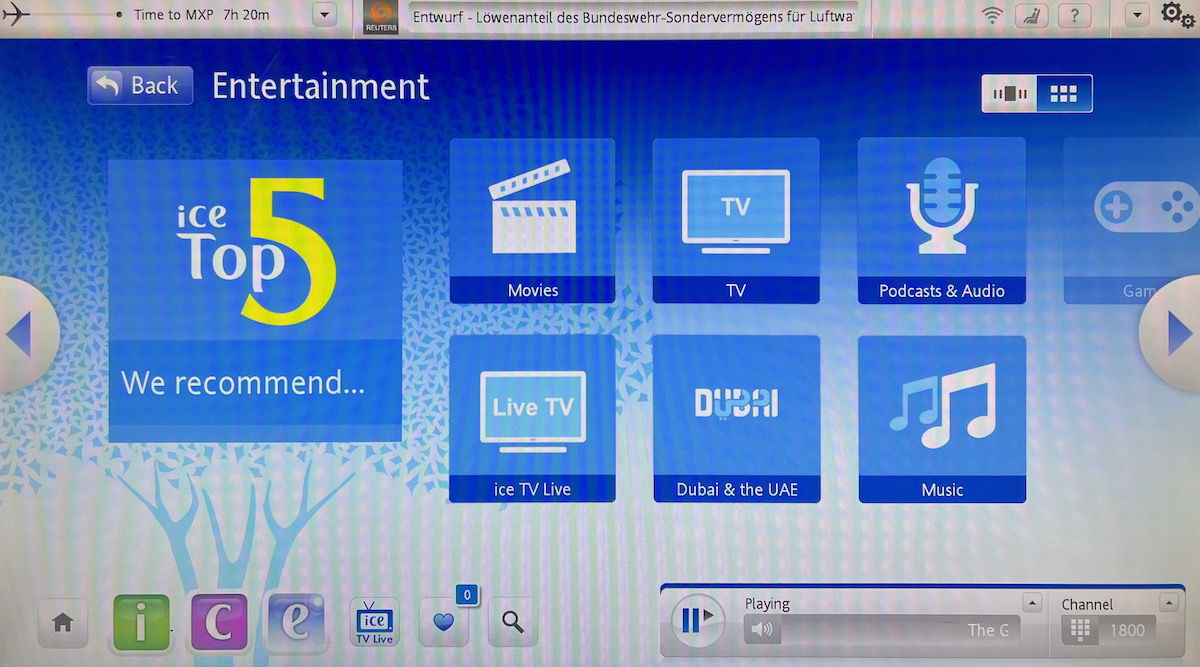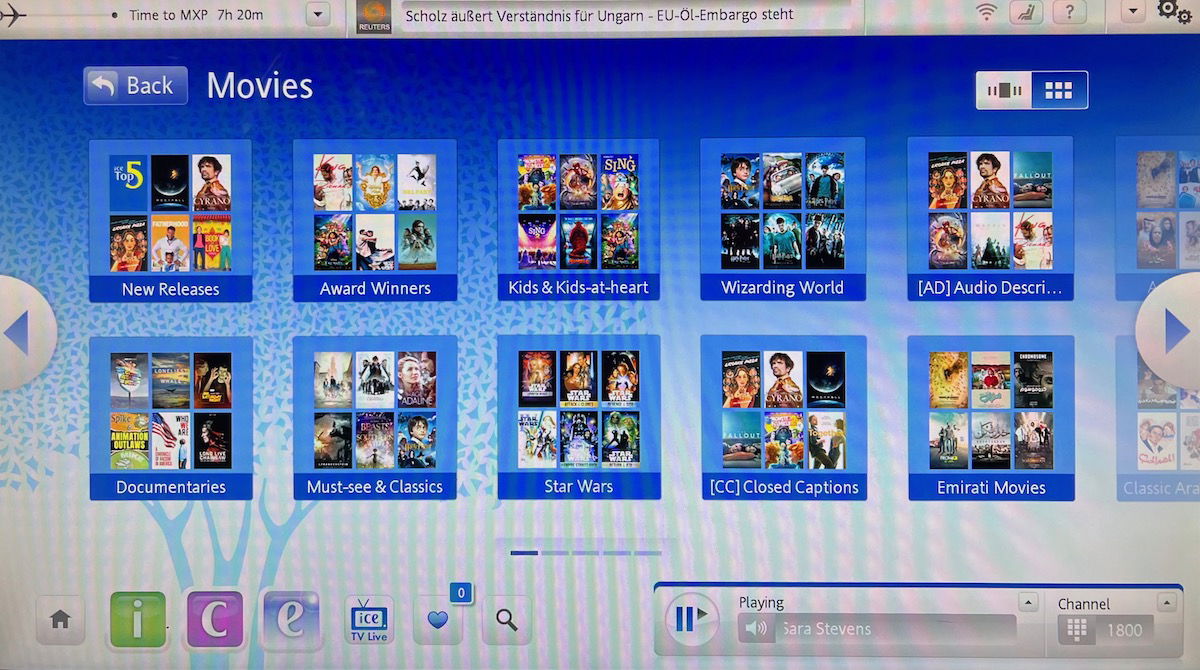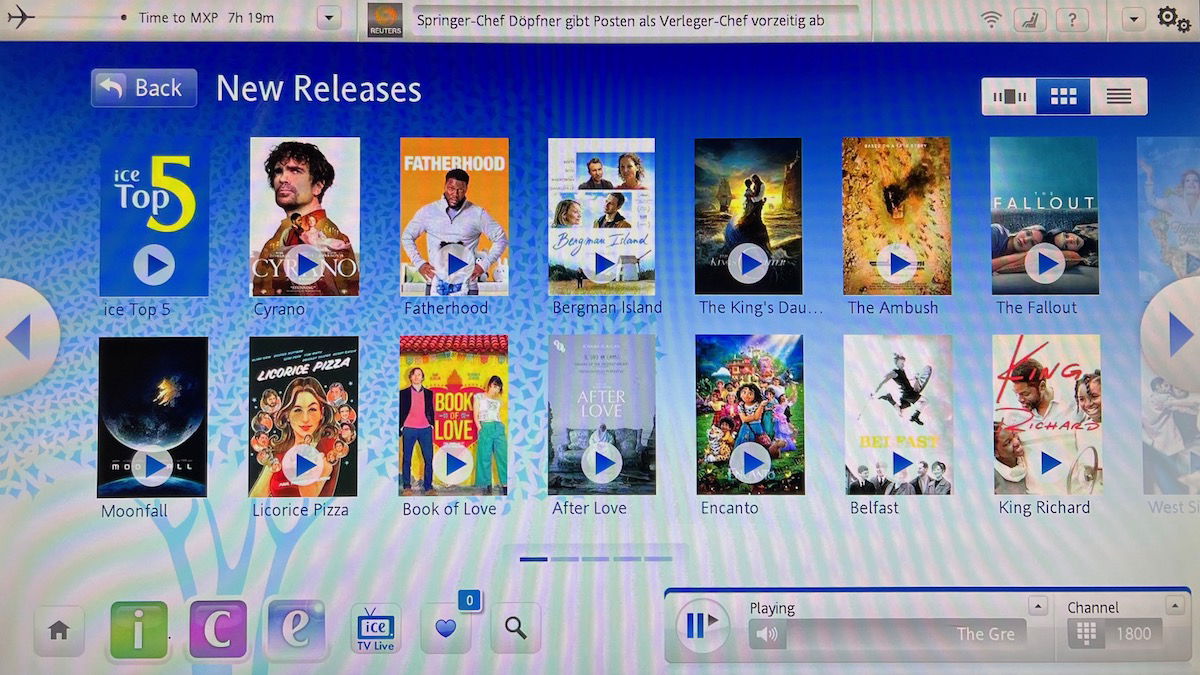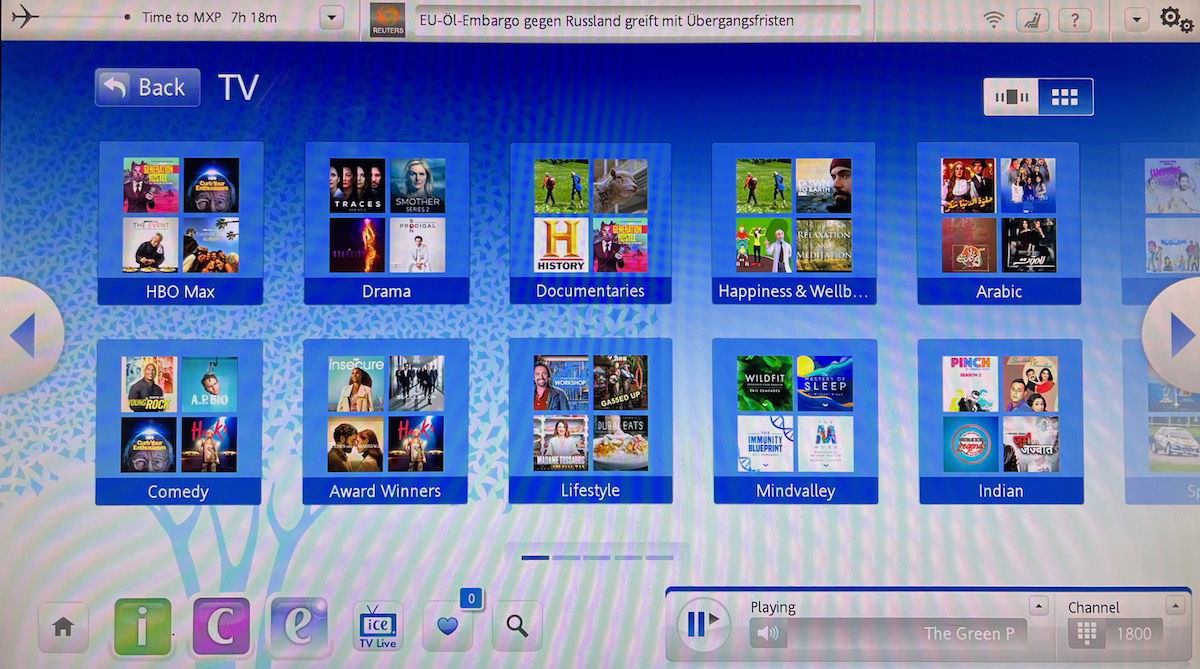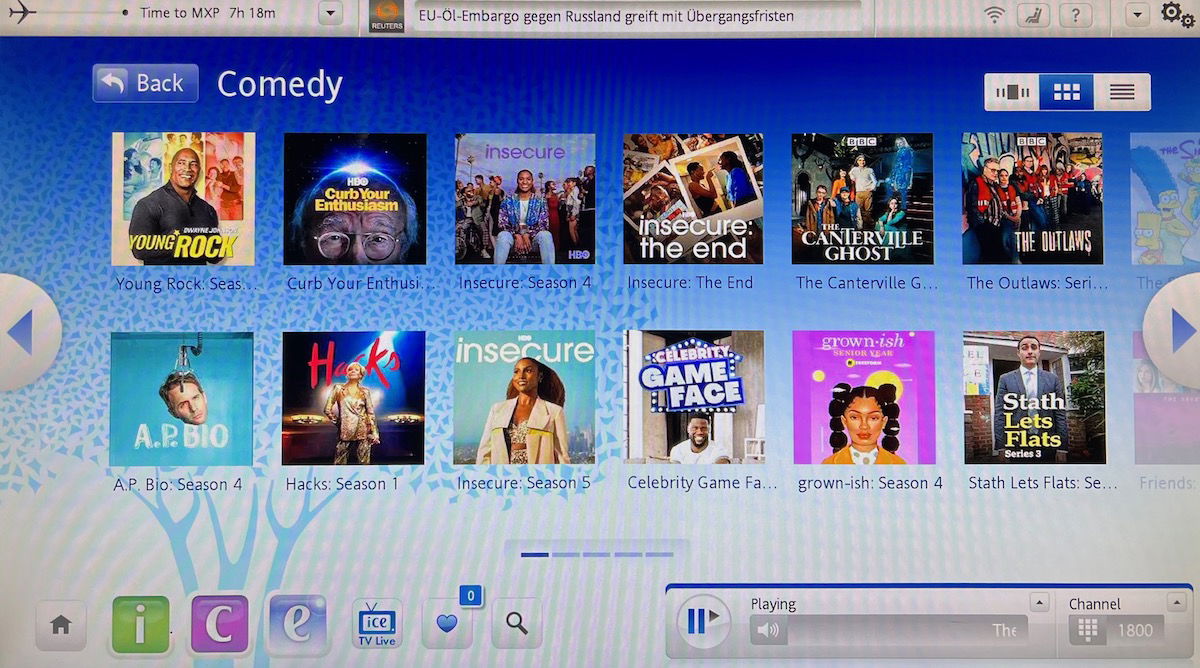 Just as much as the entertainment, I also enjoy the airshow and camera features.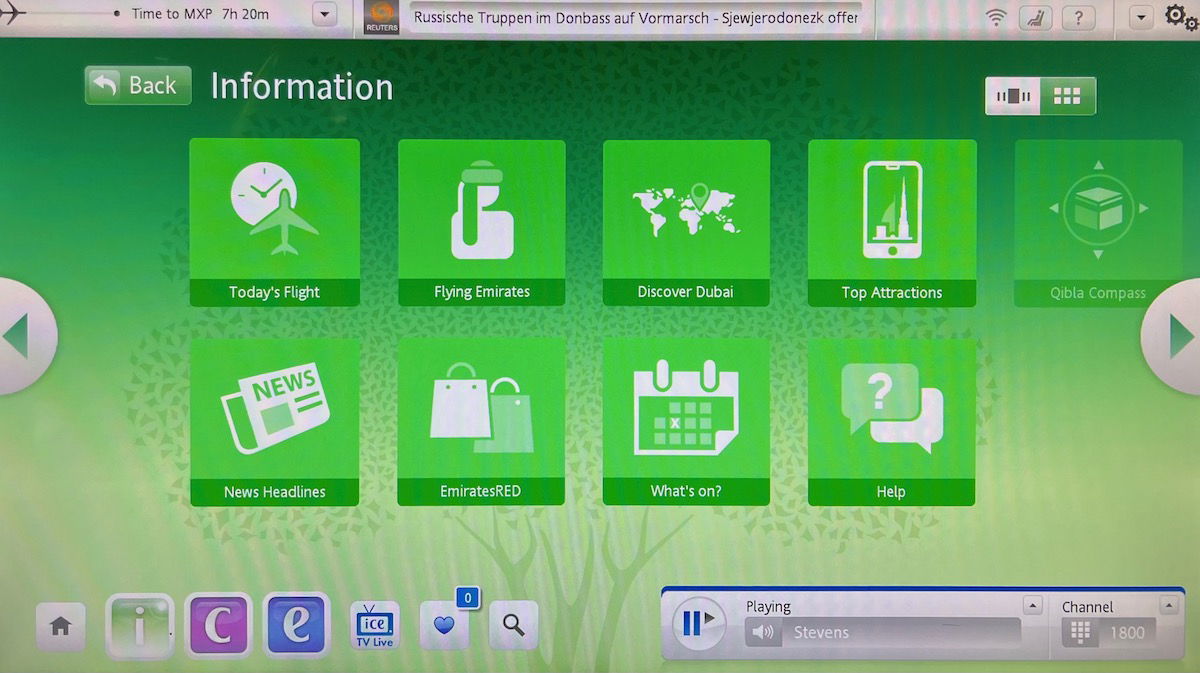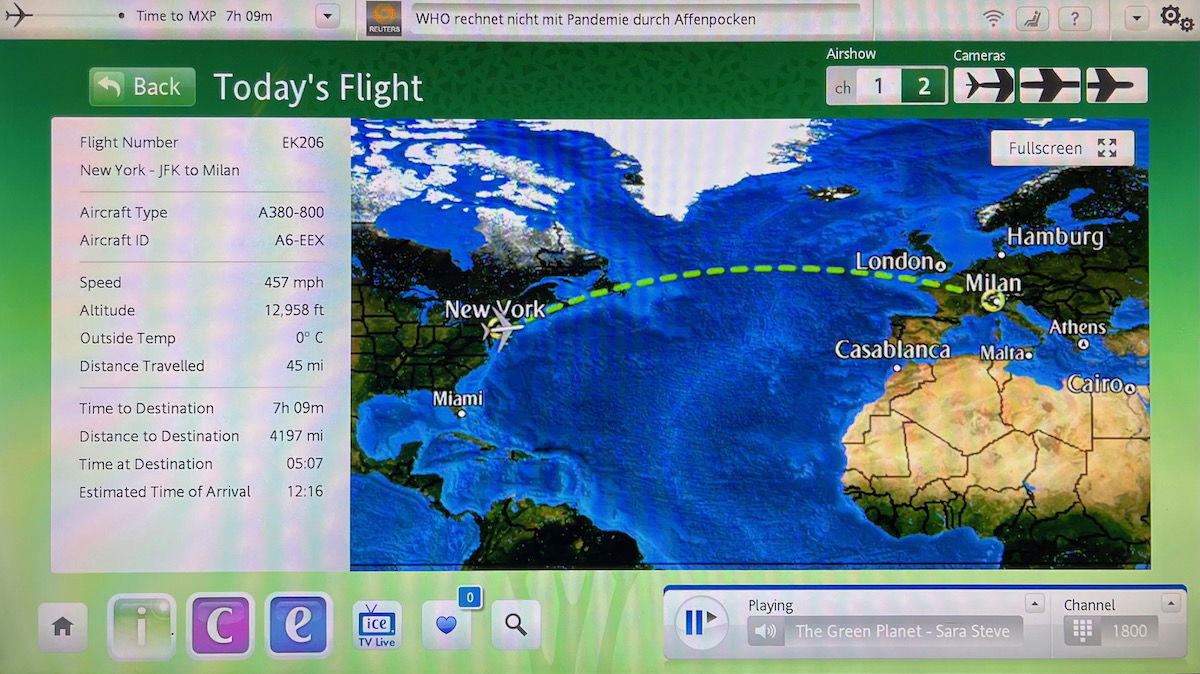 Emirates' Airbus A380s have Wi-Fi, and the normal pricing is as follows:
You can buy a full flight plan for $19.99
You can buy a 30 minute plan for $9.99
You can buy a messaging plan for $5.99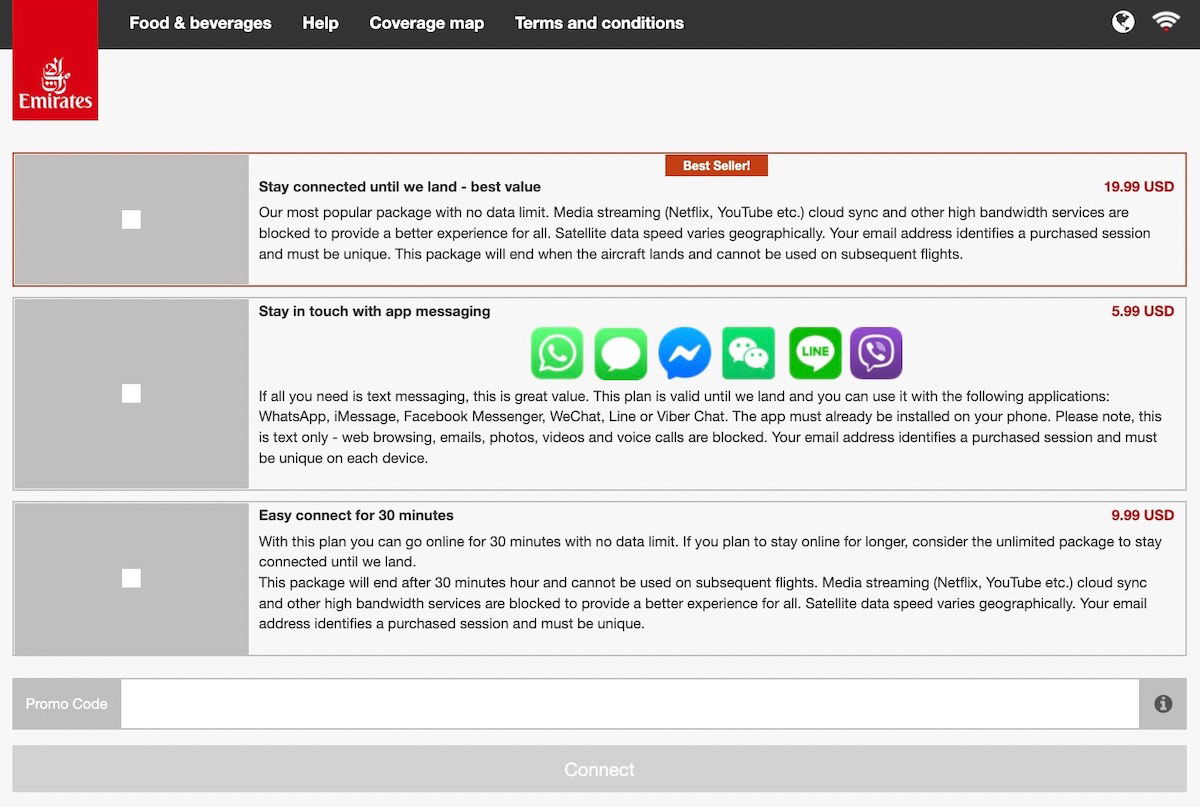 Wi-Fi is free for first & business class passengers, but only if you're a Skywards member (so make sure you have your Skywards number attached to your reservation).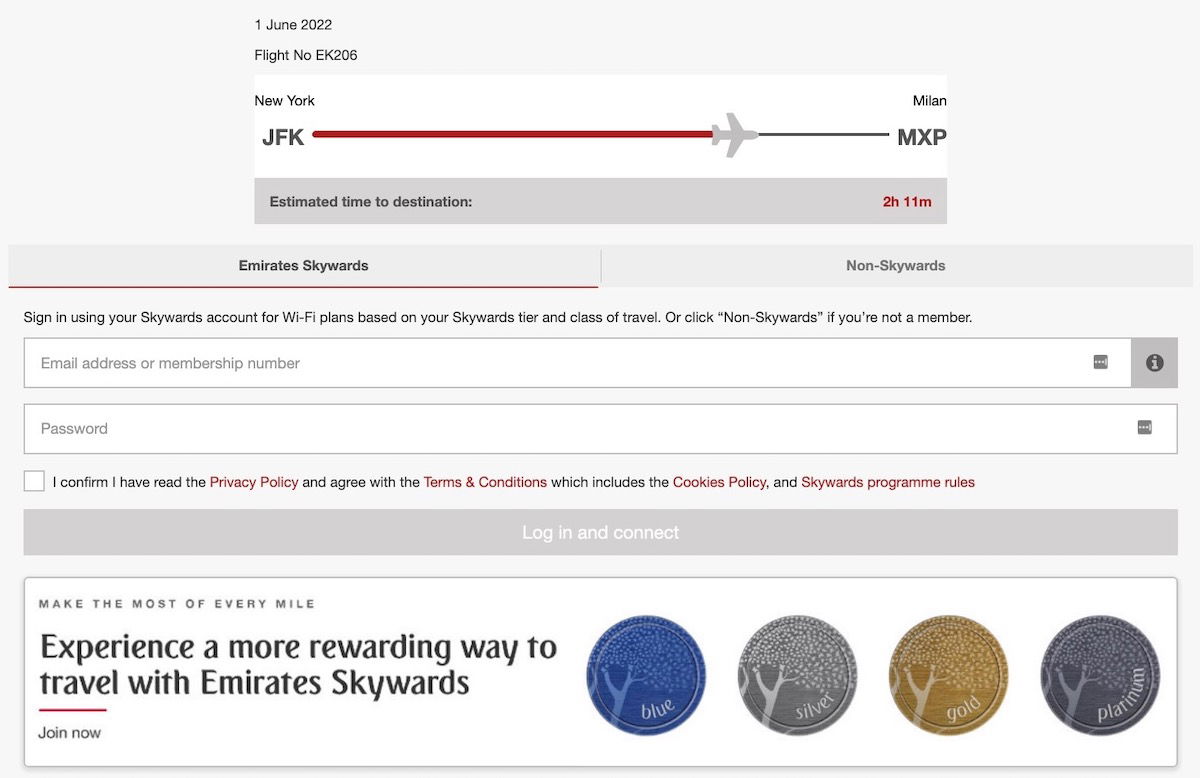 Unfortunately Emirates' Wi-Fi is provided by OnAir, and it's among the slowest Wi-Fi in the sky. Don't expect that you'll be able to get any work done, but rather expect that it'll just be useful for messaging (without pictures), and maybe refreshing your email on your smart phone (but even that is pushing it sometimes).
In a way I suppose this is a blessing in disguise, as it encourages me to disconnect while on Emirates.
Emirates first class menu & wine list
Emirates has a dine on demand concept in first class, so you can eat what you want when you want. As you'd expect on an overnight transatlantic flight, there are both dinner and breakfast options. You can find the full menu below.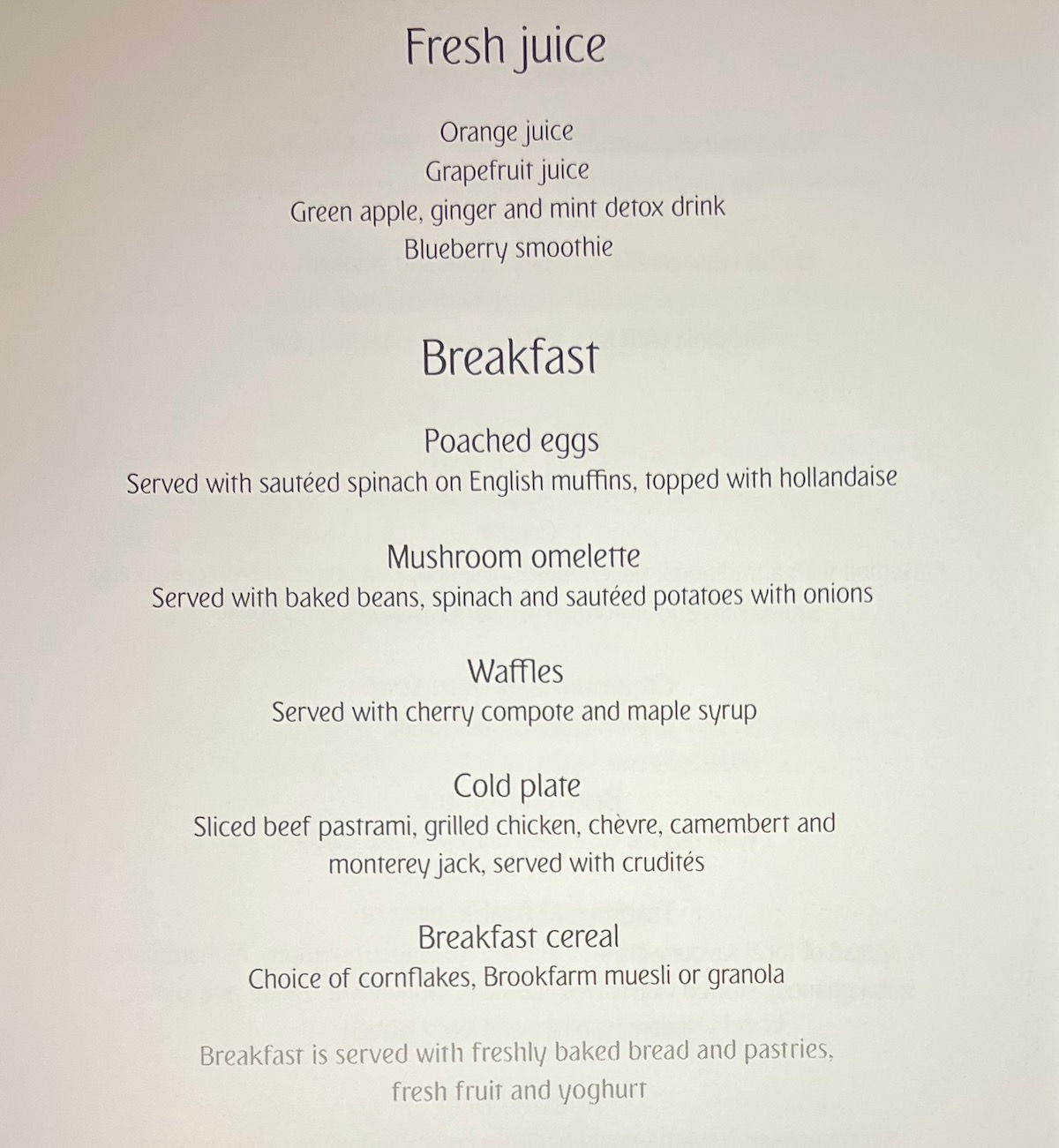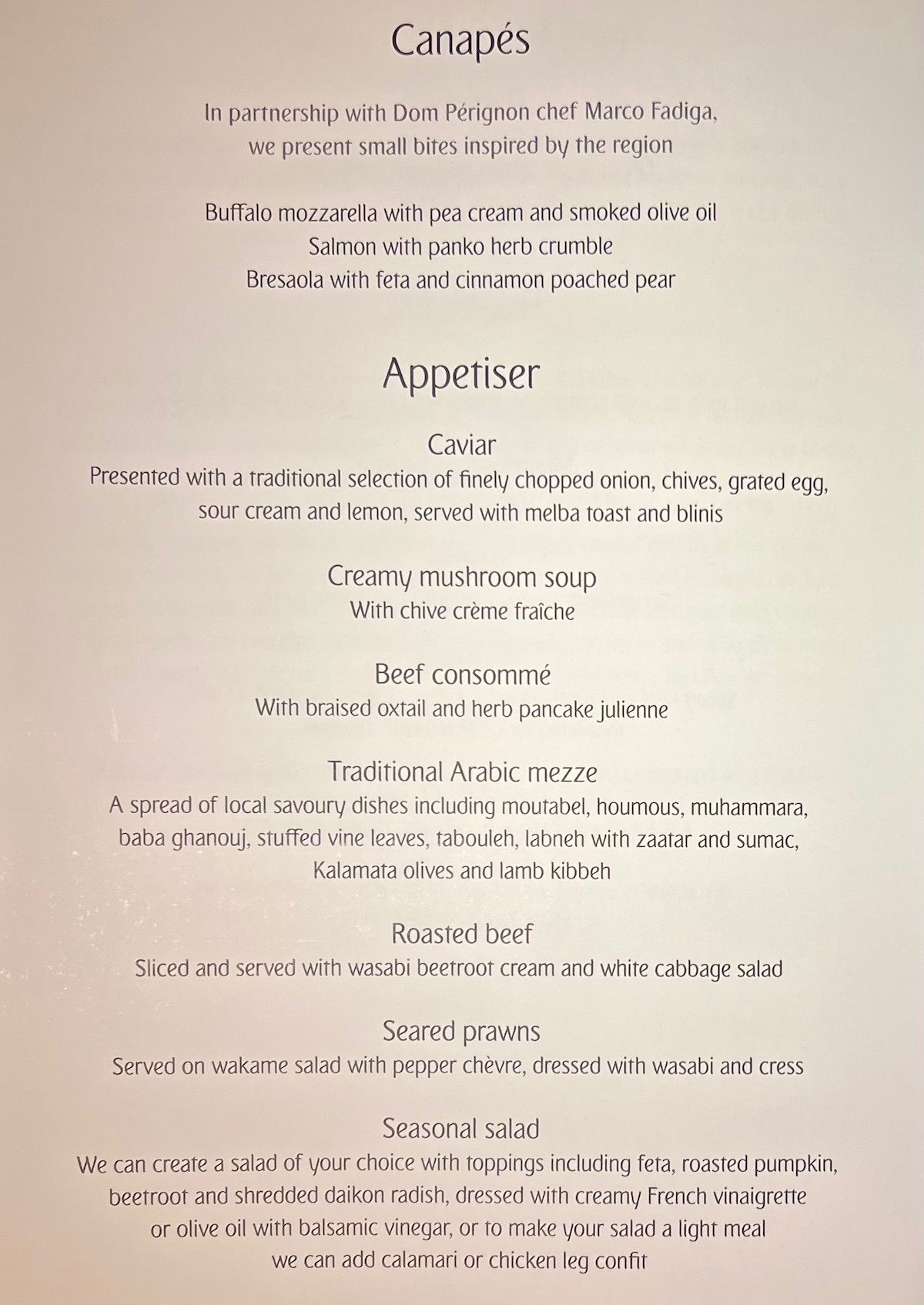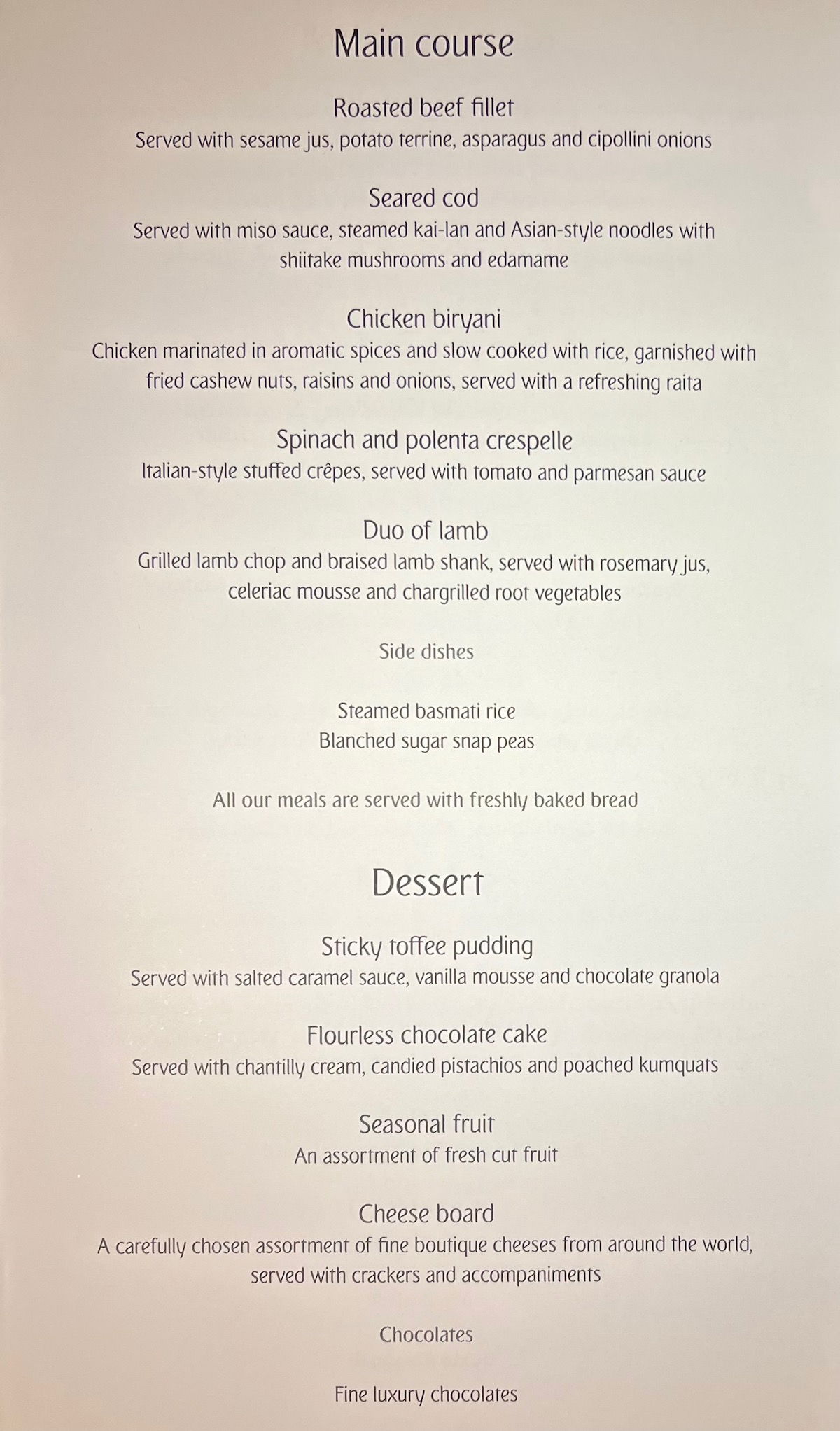 On top of that, there's an excellent drink list, including wine, cocktails, mocktails, spirits, and more.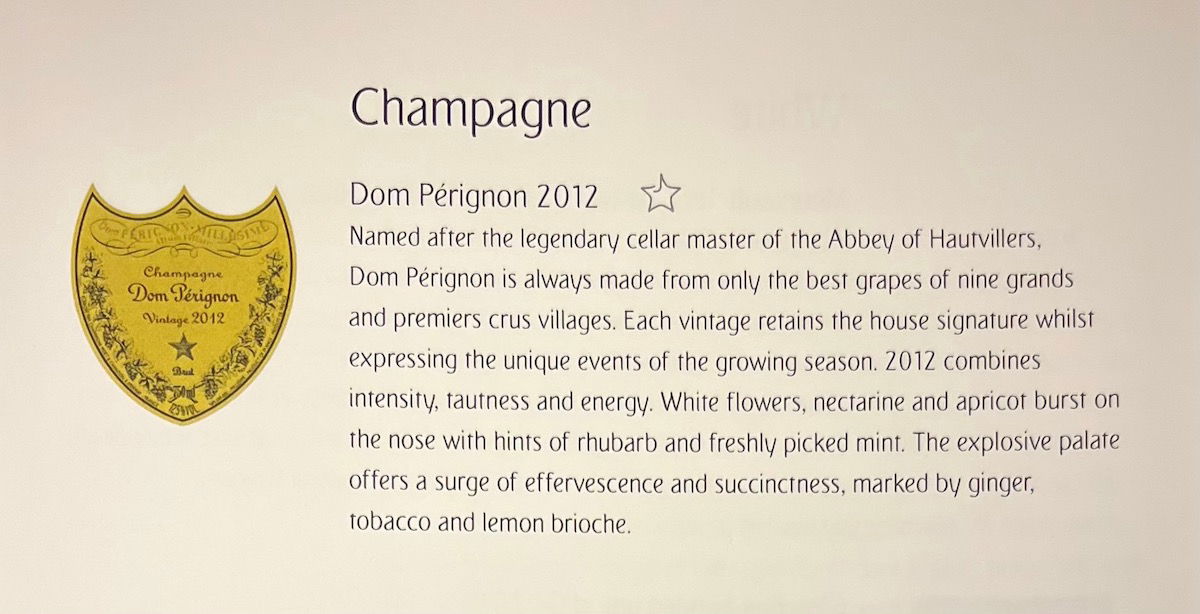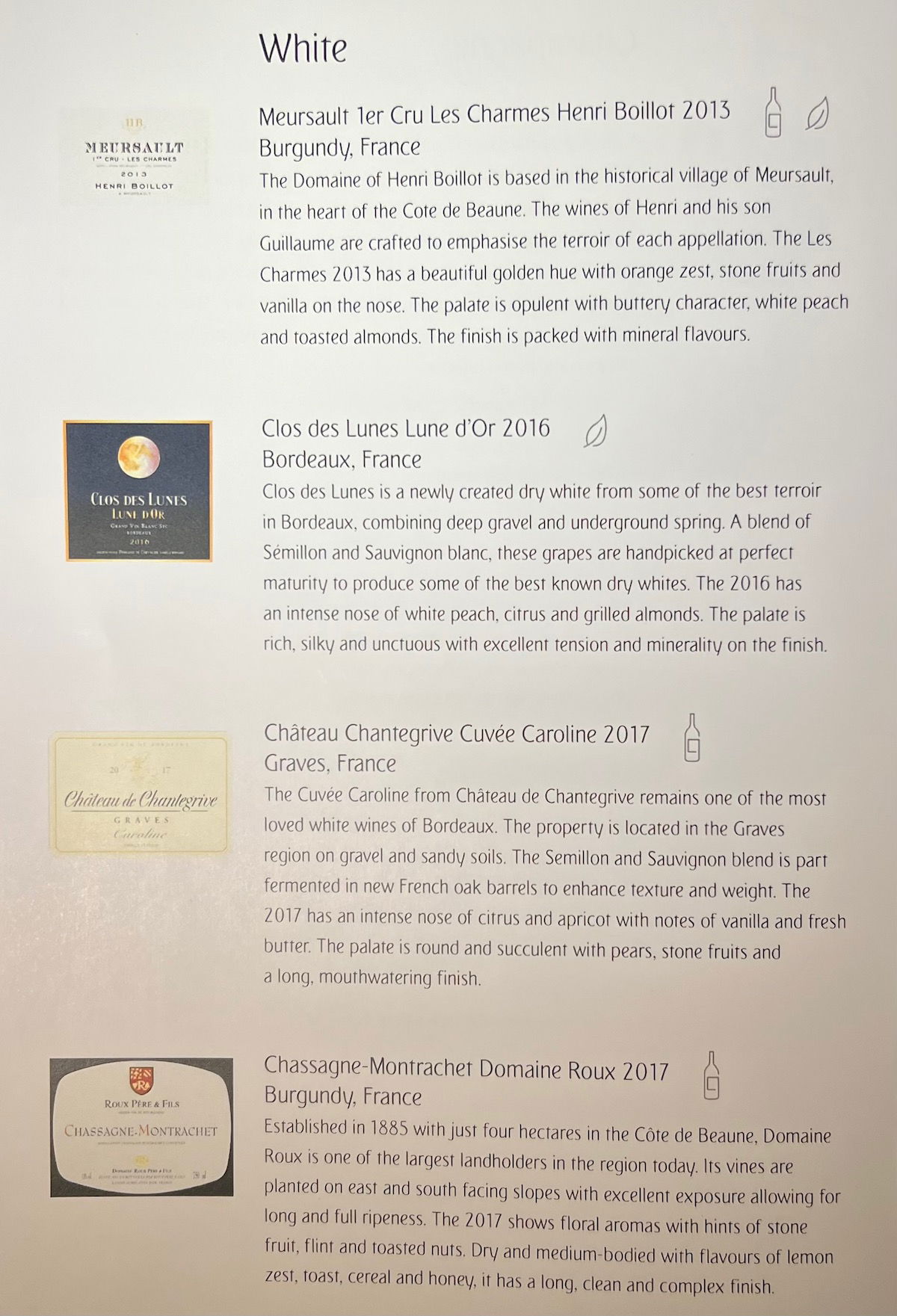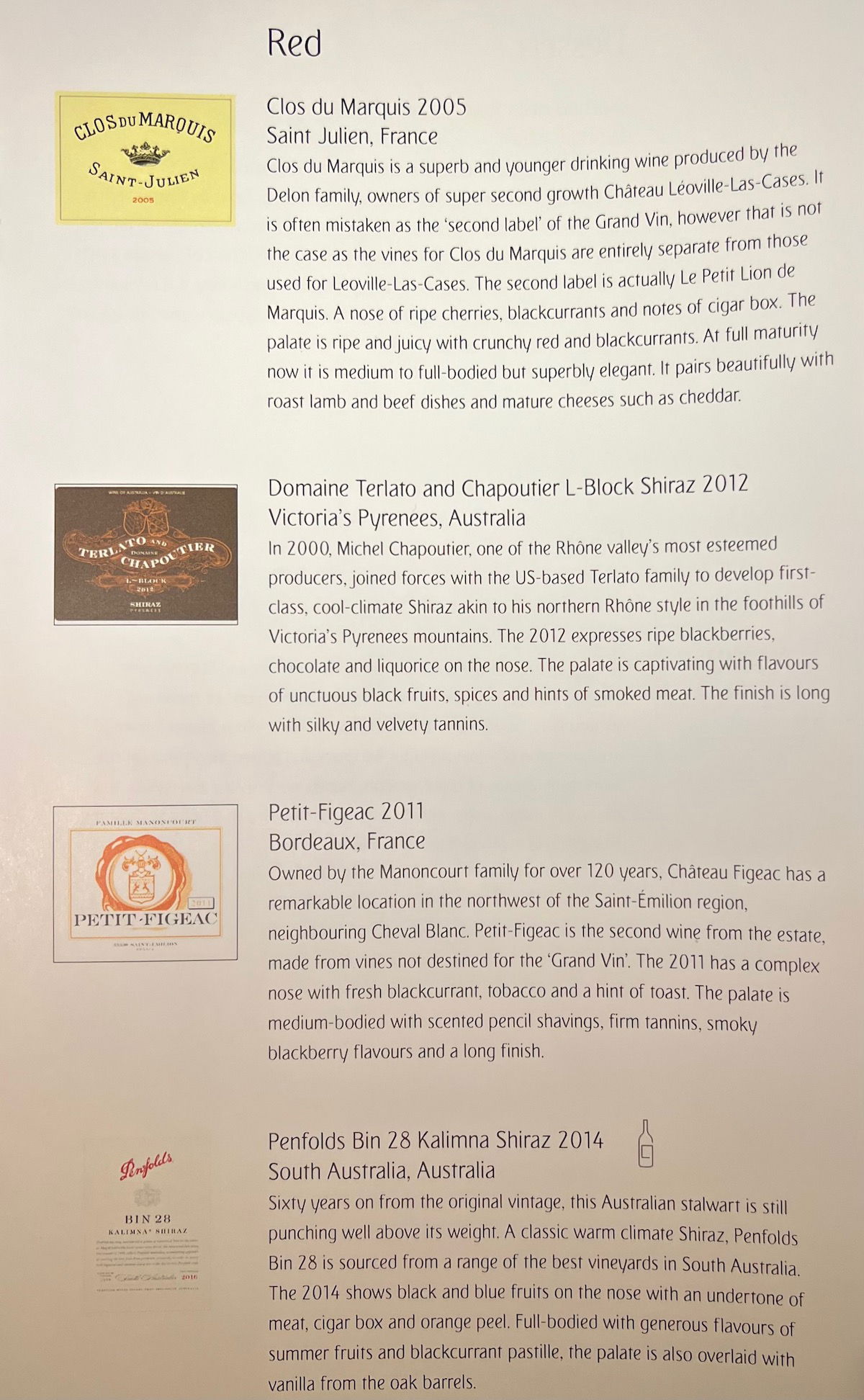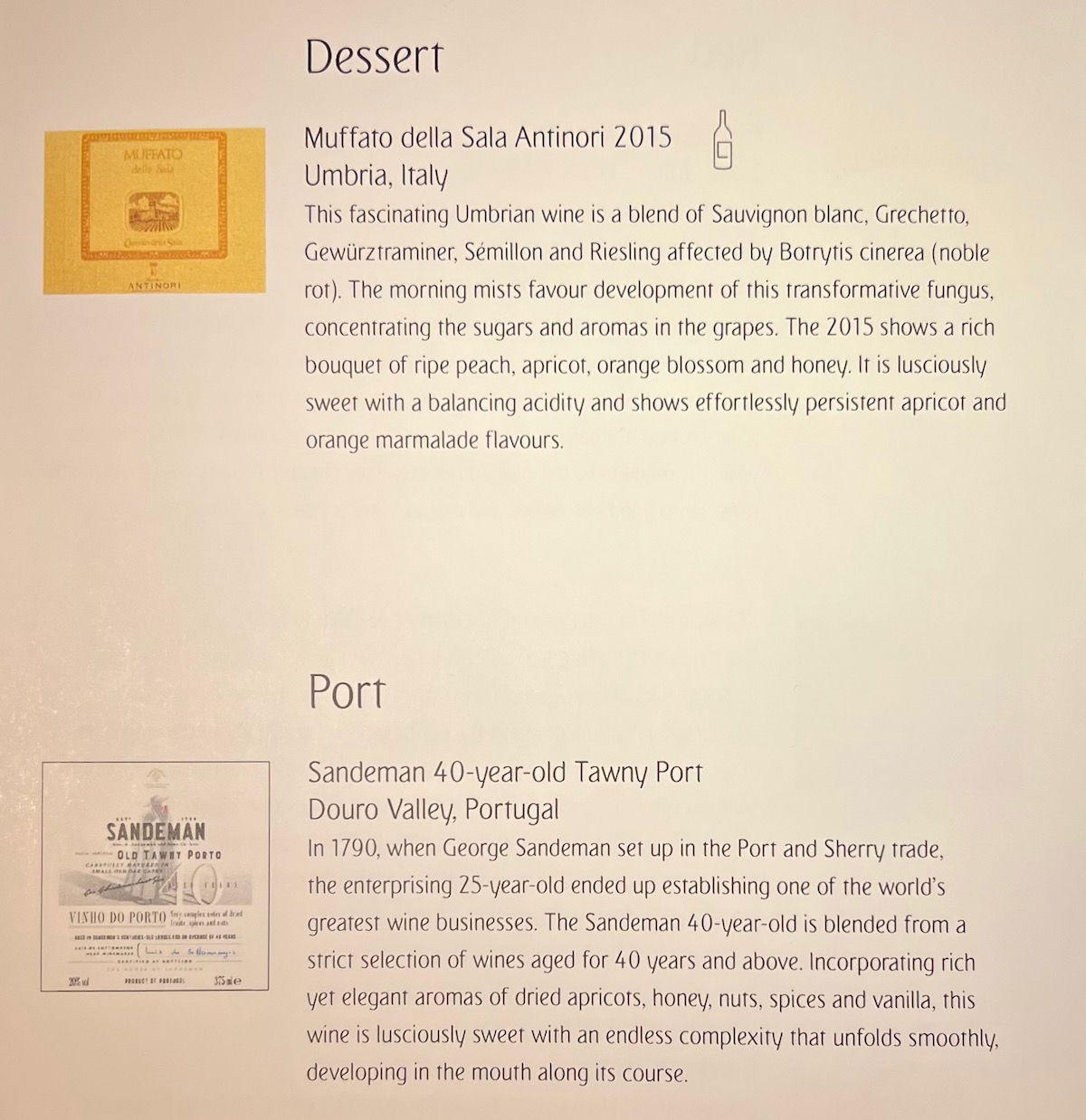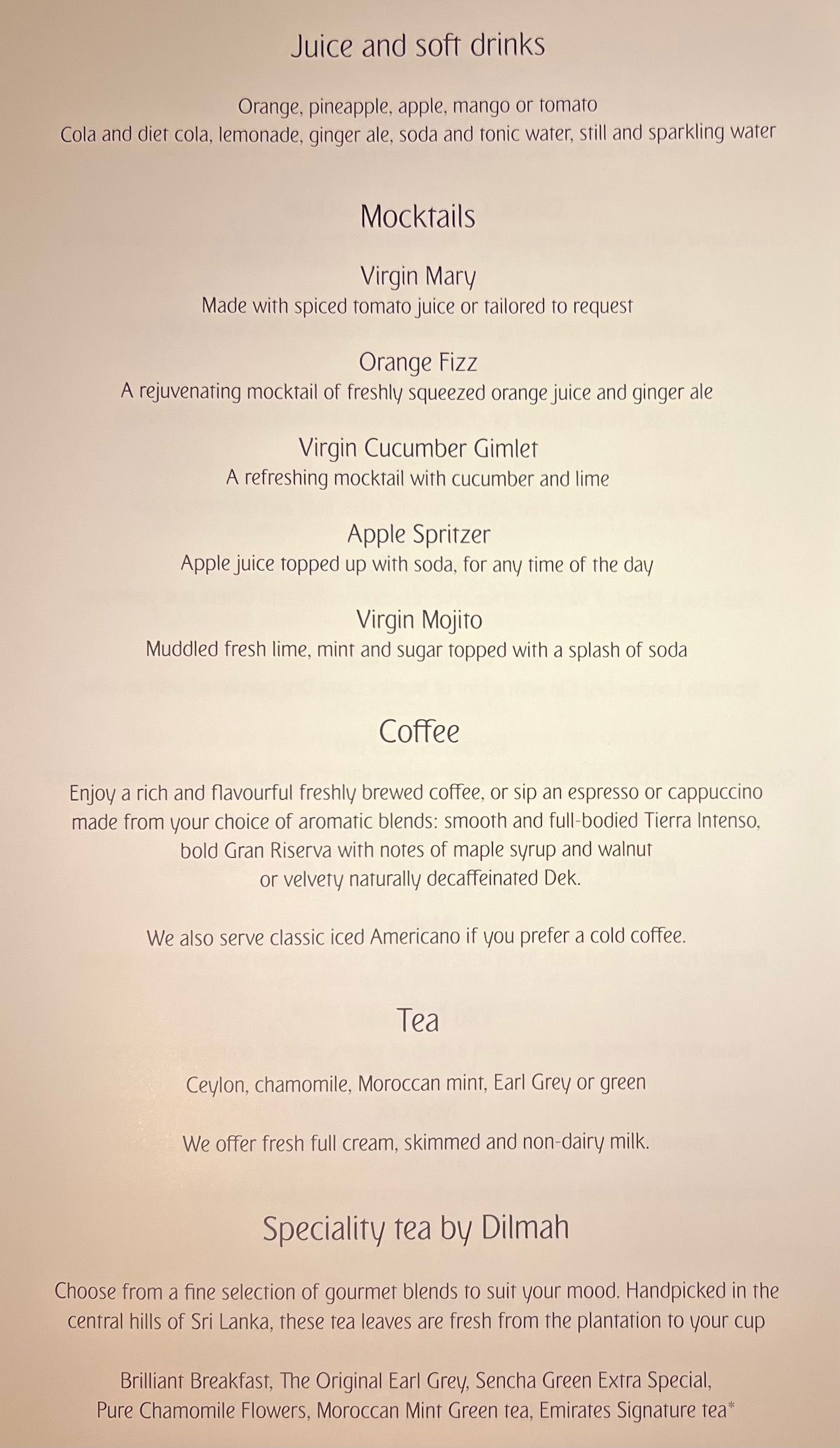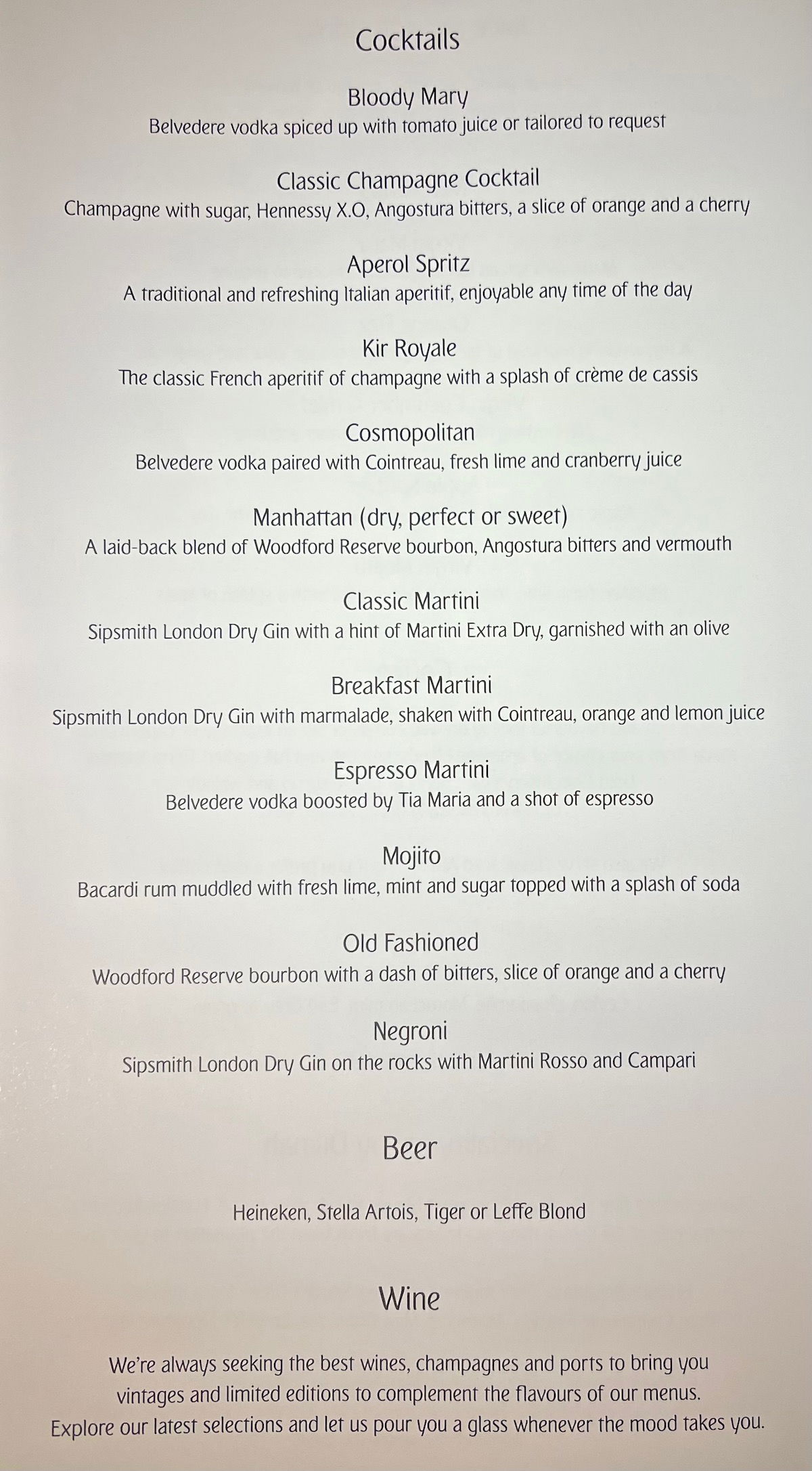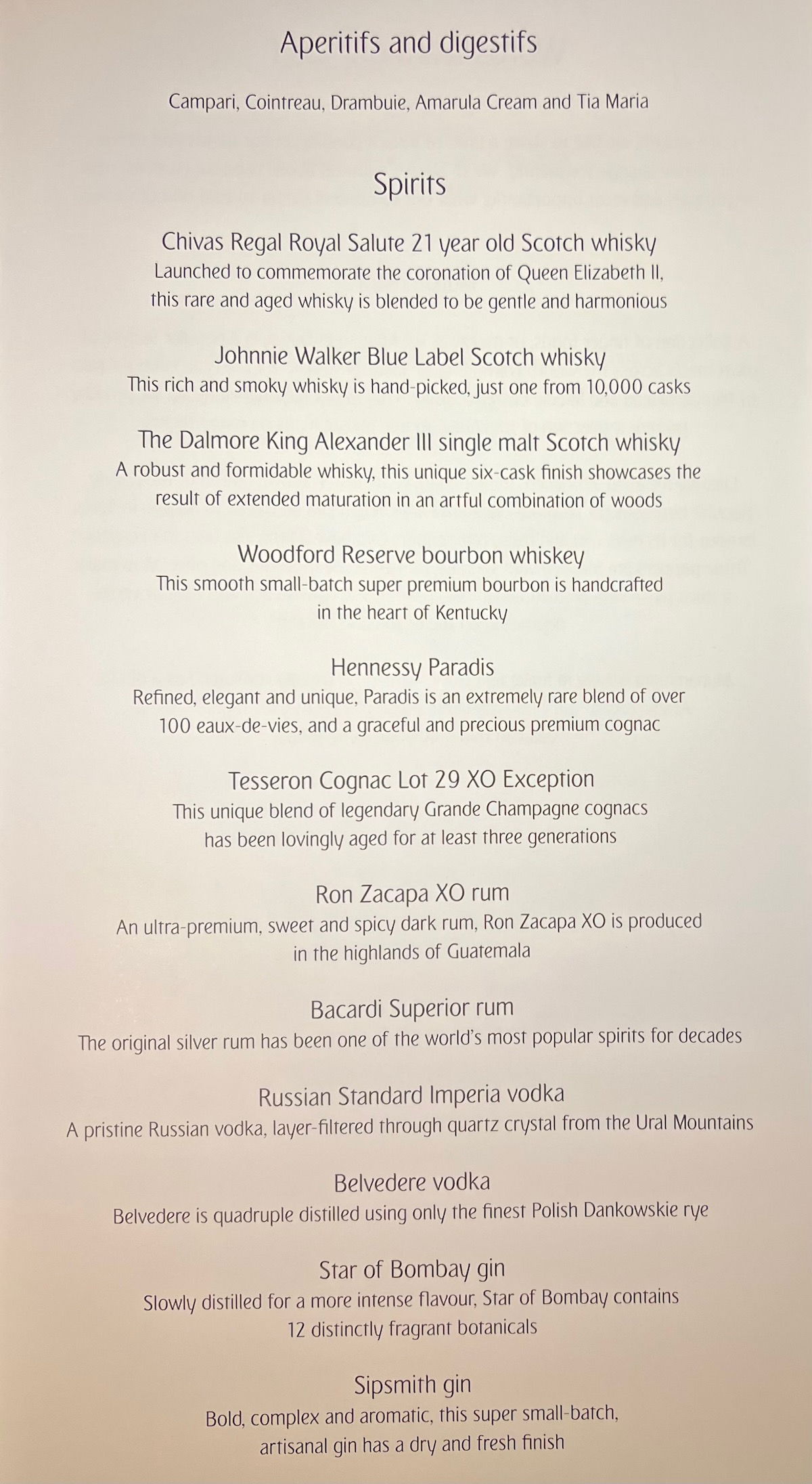 Emirates first class dinner
Maximizing the Emirates first class experience on such a short flight is no small task. After all, you've gotta enjoy the food, drinks, bar, and shower, all while hopefully getting some rest. So we decided to have a light(ish) dinner shortly after takeoff.
To start we ordered Dom Perignon, which was served with the signature canapés. This included buffalo mozzarella with pea cream and smoked olive oil, salmon with panko herb crumble, and bresola with feta and cinnamon poached pear. Yum, yum, and yum.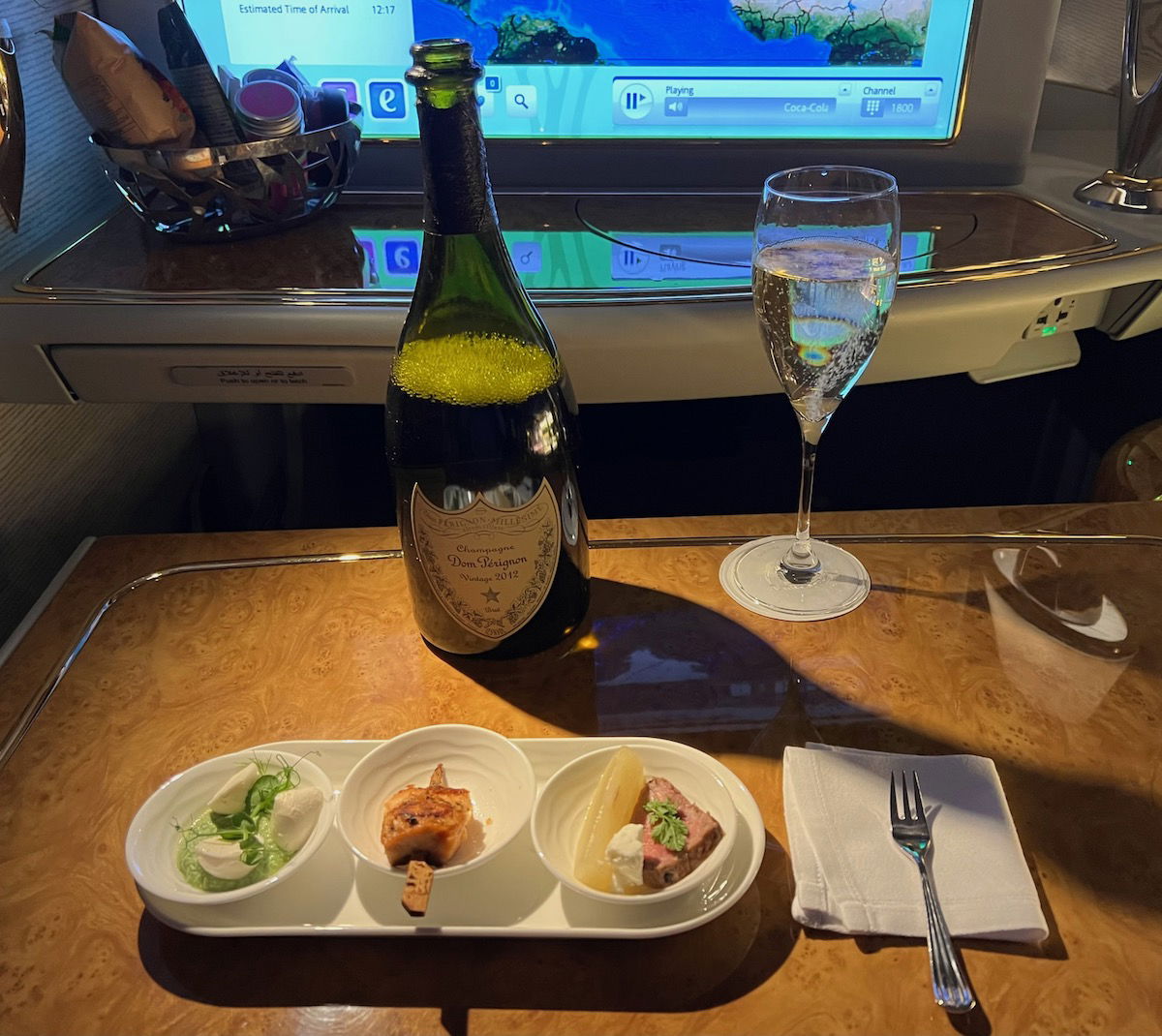 Next up we decided to order caviar (and specifically a double portion, given that this is the best part of the Emirates dining experience, and they had plenty catered). Emirates does a very nice caviar presentation, so we enjoyed this immensely.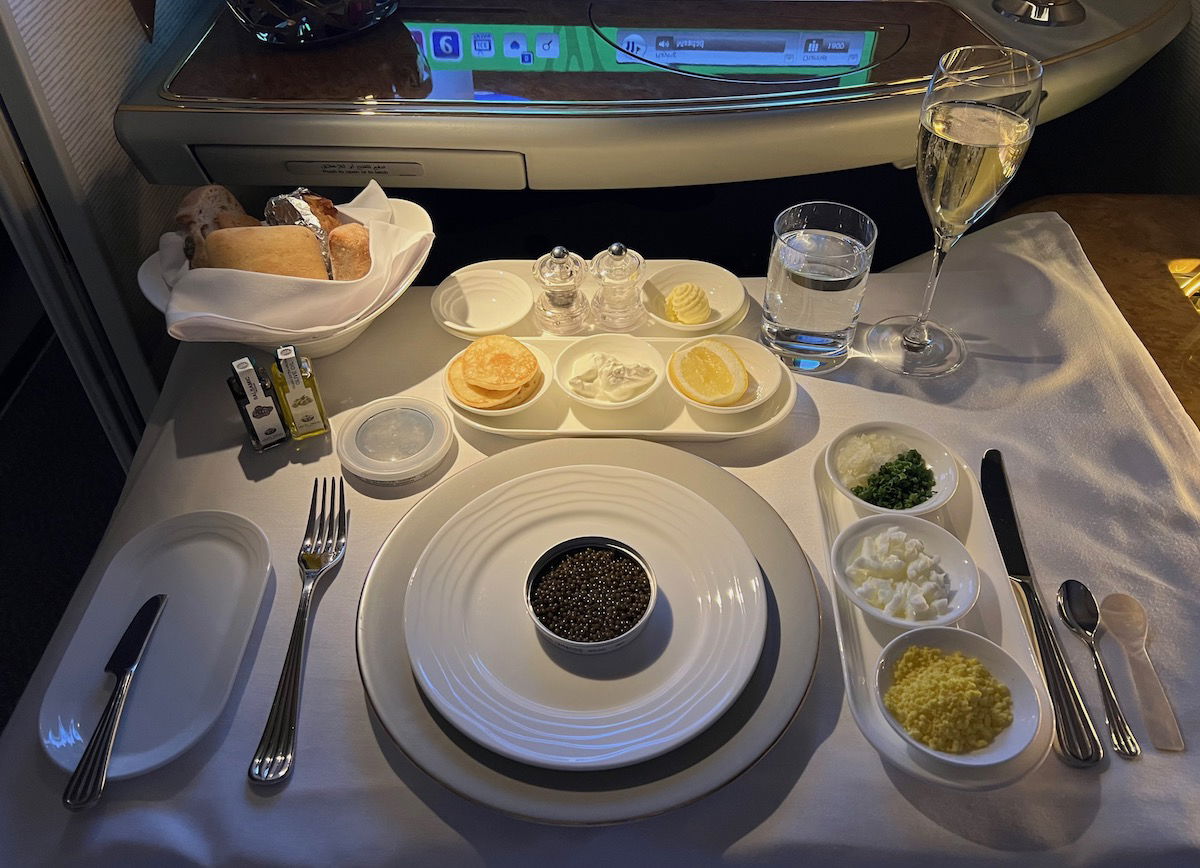 Then Ford and I decided to split an Arabic mezze, with both hot and cold options.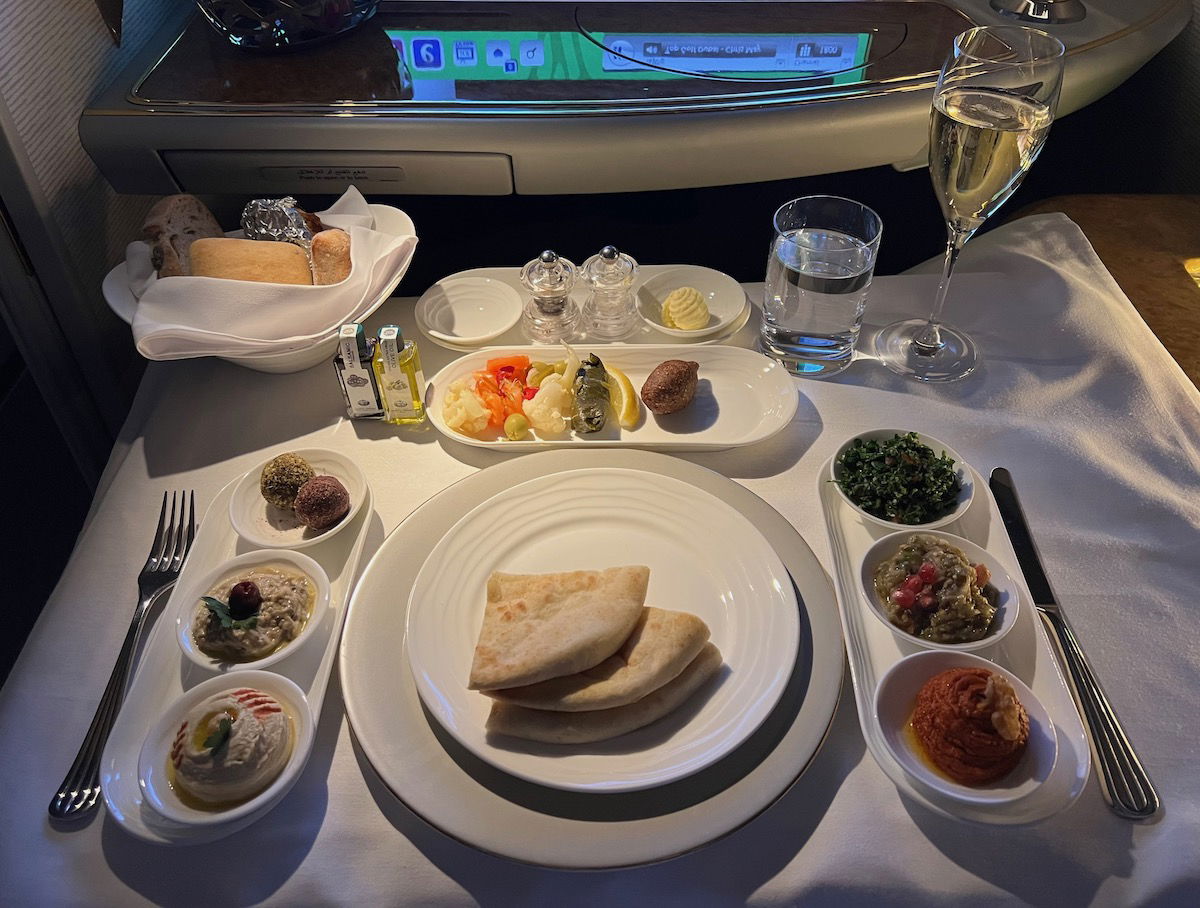 I thought this was the ideal meal. Emirates does canapés, caviar, and the mezze really well, while the rest of the food is often hit-or-miss. At the conclusion of the meal we were offered warm towels and chocolates.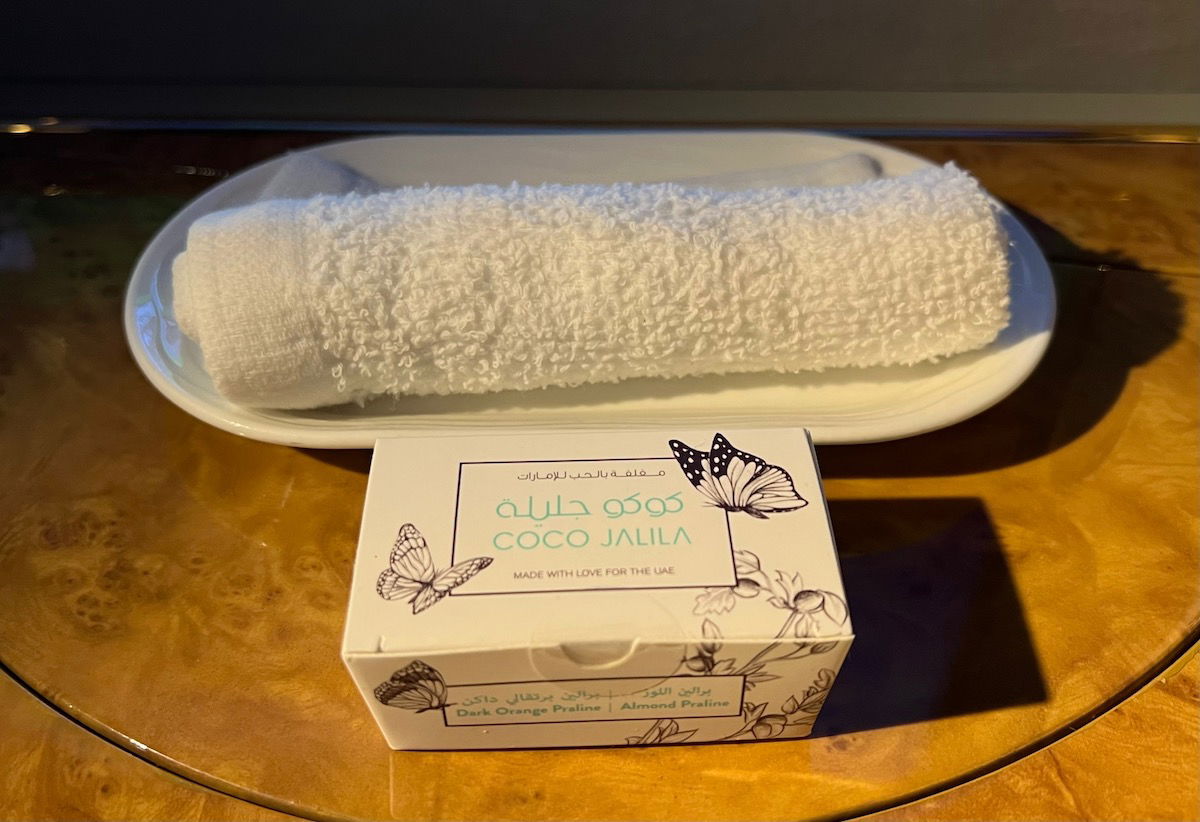 Emirates A380 onboard bar
No trip on the Emirates A380 is complete without a visit to the onboard bar. This often presents a challenge as an introvert, since I don't actually want to socialize with strangers (especially on this route, where the bar talk is basically "what, you also live on the Upper East side? You're also going to Lake Como? No way, what a small world, what are the odds!").
So we timed our visit to the bar — Emirates doesn't have dine on demand in business class, so we went to the bar when the meal service was underway in business class. Emirates' A380 business class cabin is huge. There's the one main cabin…
…and then there's a mini cabin at the very back.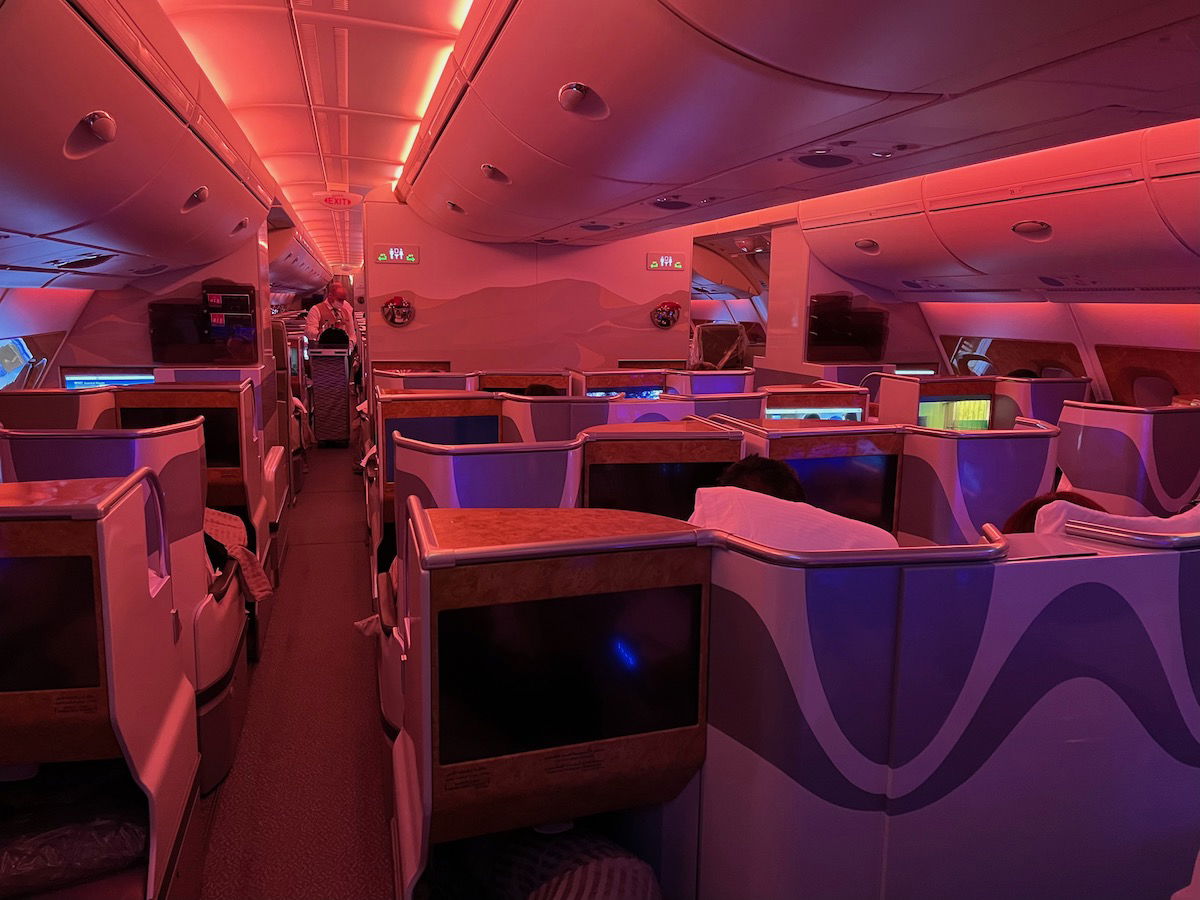 The A380 bar is such a cool space, with a bartender always on duty, and a couch on each side of the bar.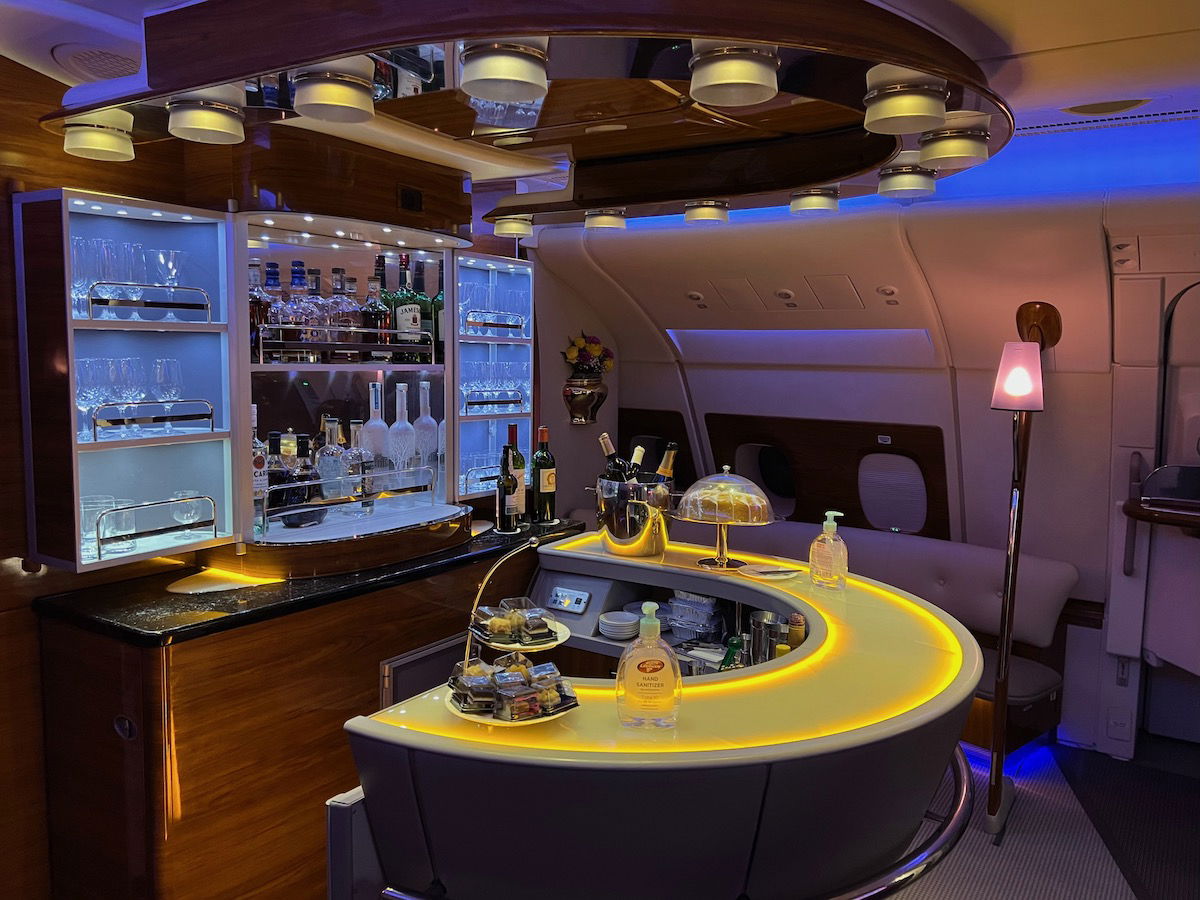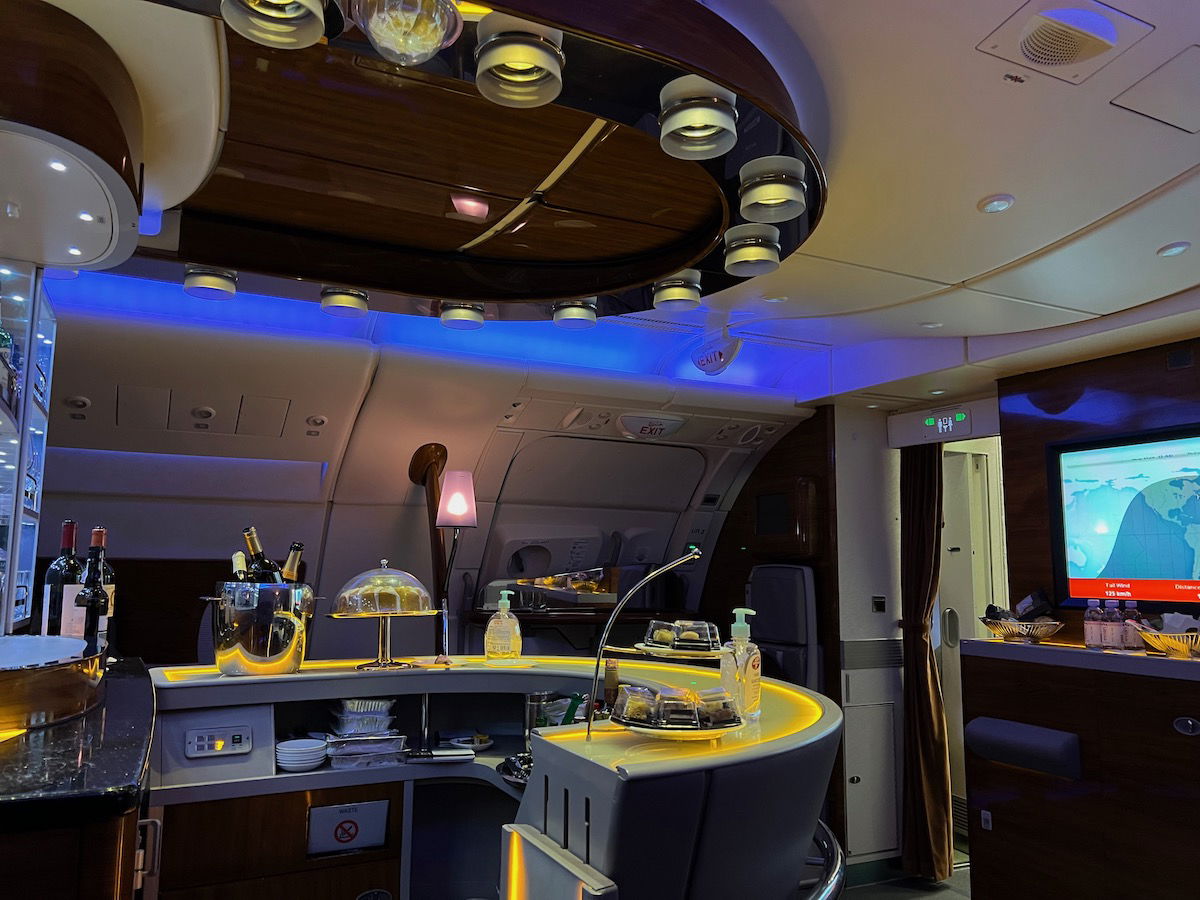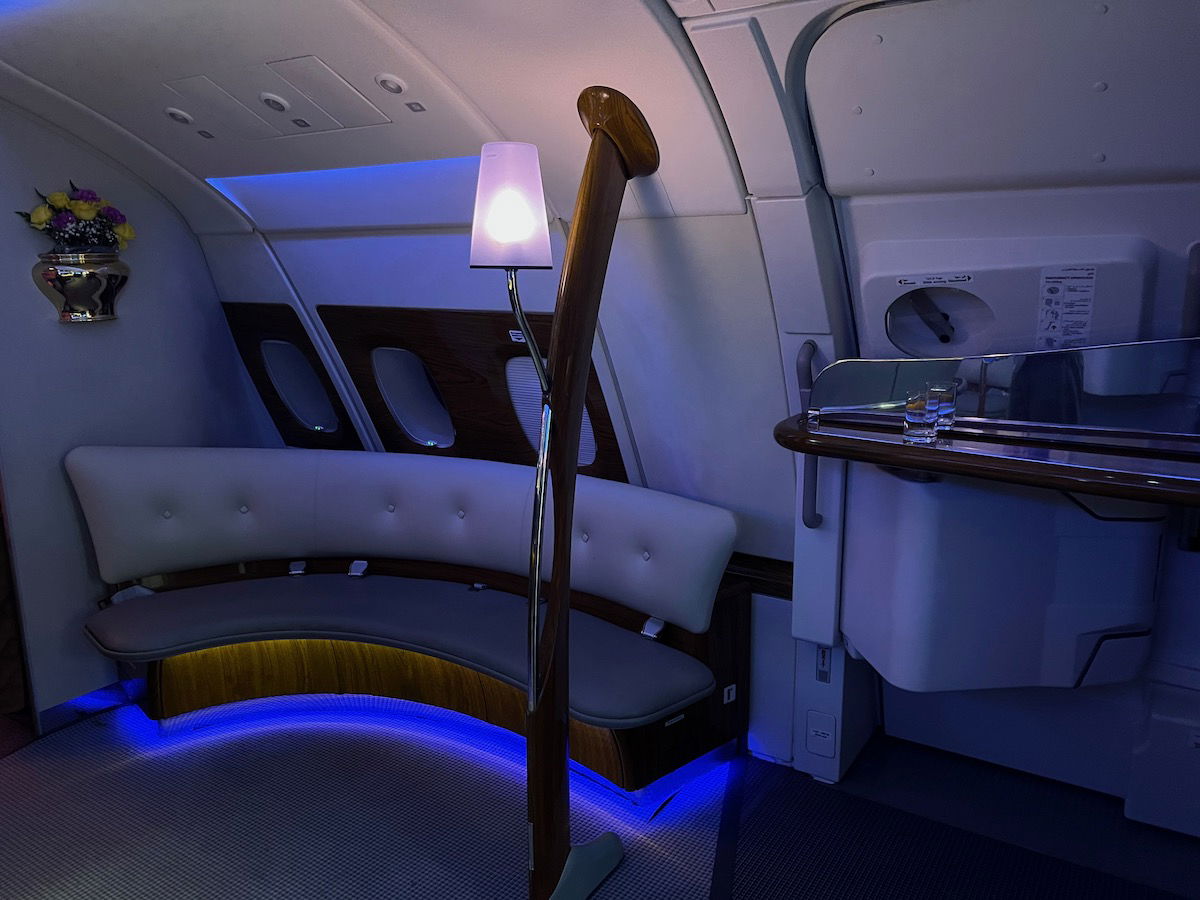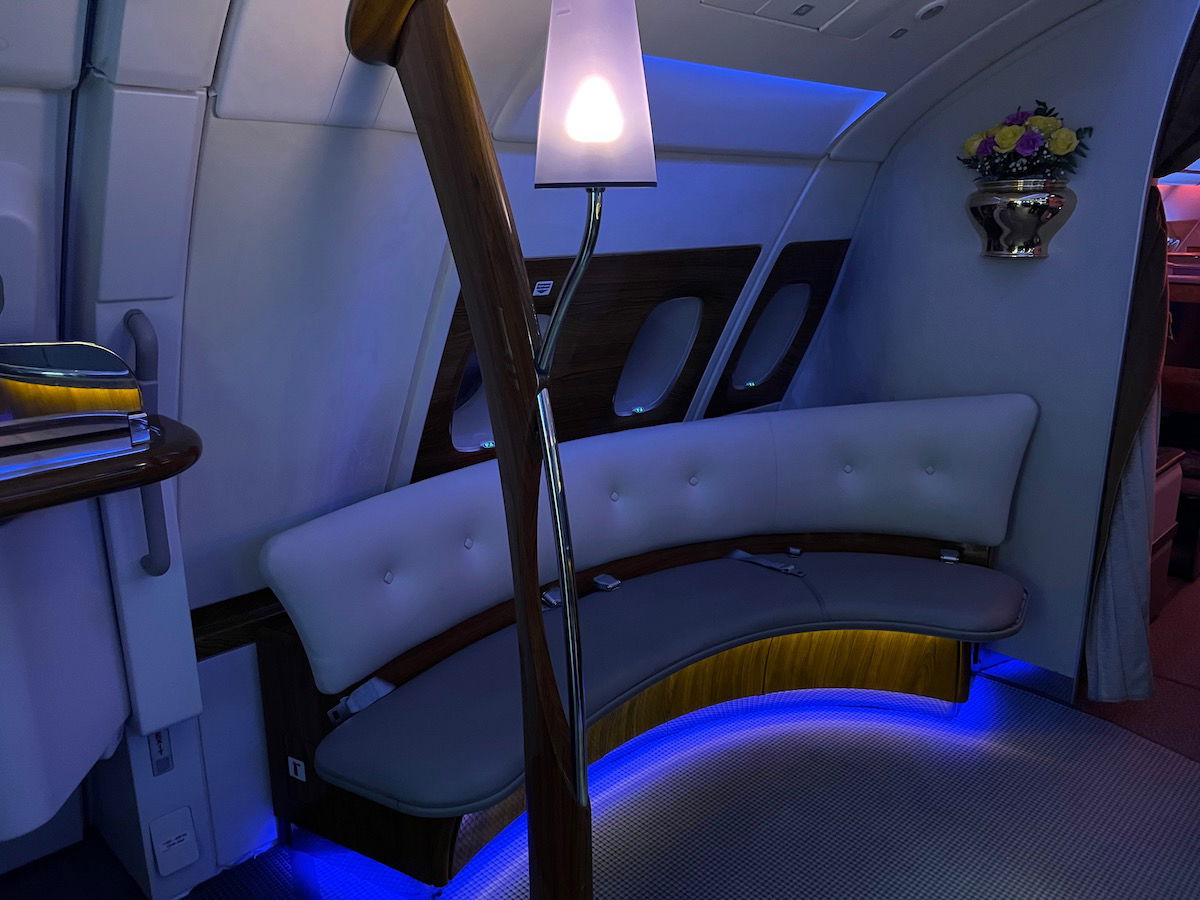 There's also a large television on the rear bulkhead, where you can monitor the progress of the flight. There is quite a bit of foot traffic through the bar, though, since all the business class service is performed from the rear galley, and there are also lavatories there.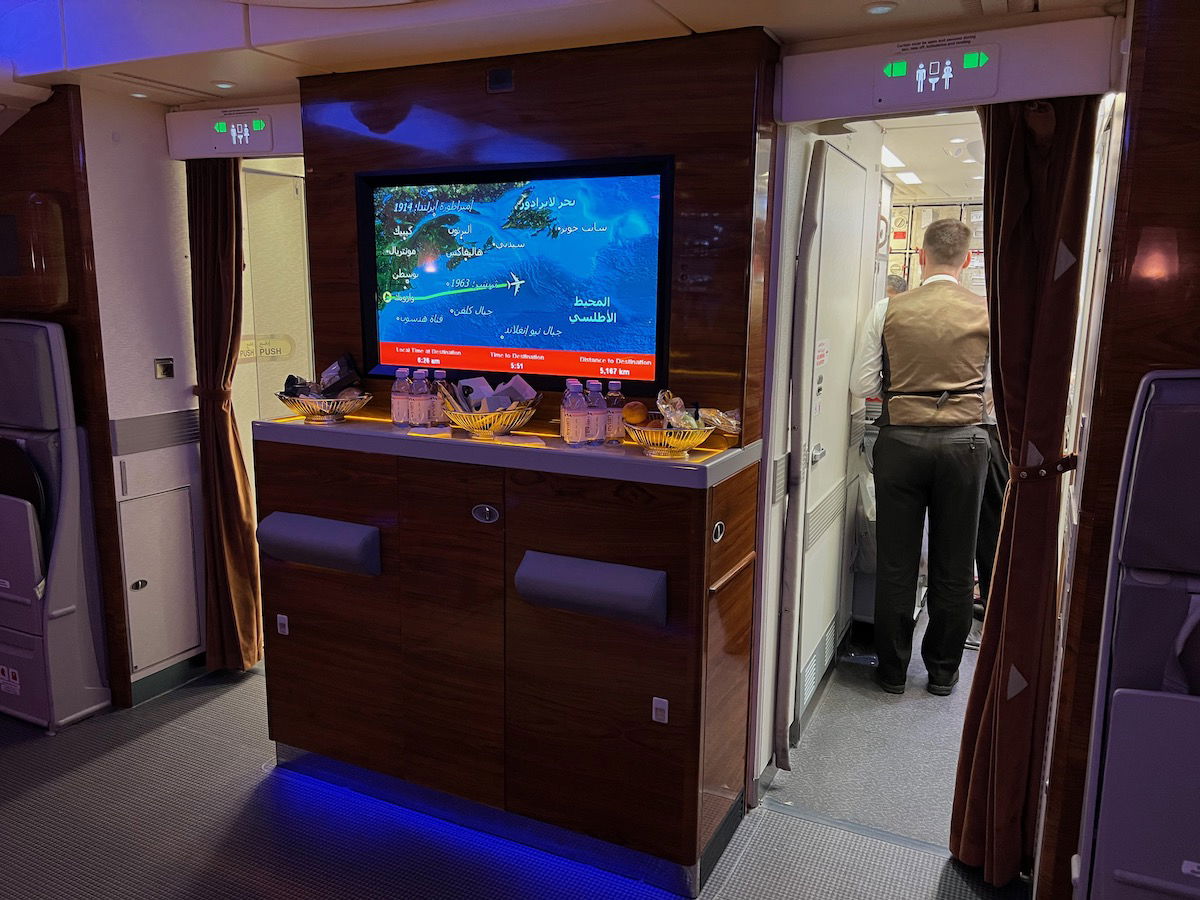 The bar has a variety of self serve snacks, including everything from nuts, to sweets, to sandwiches.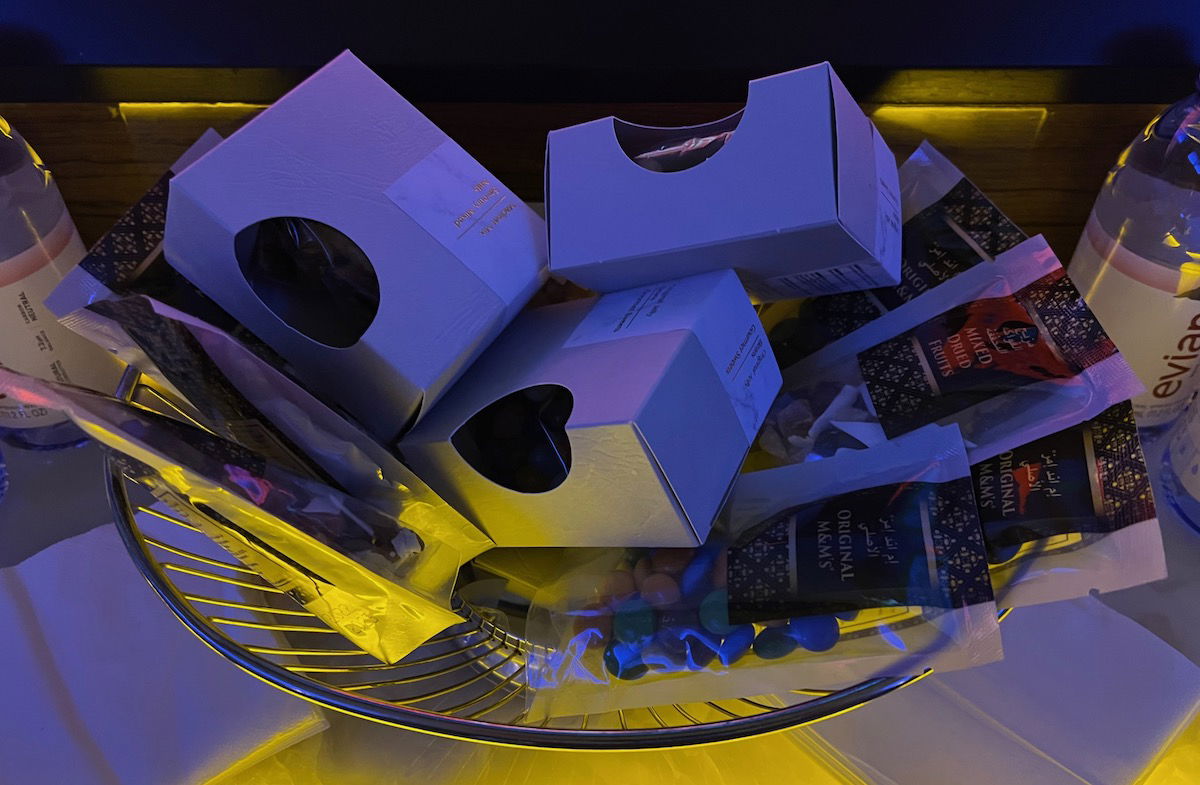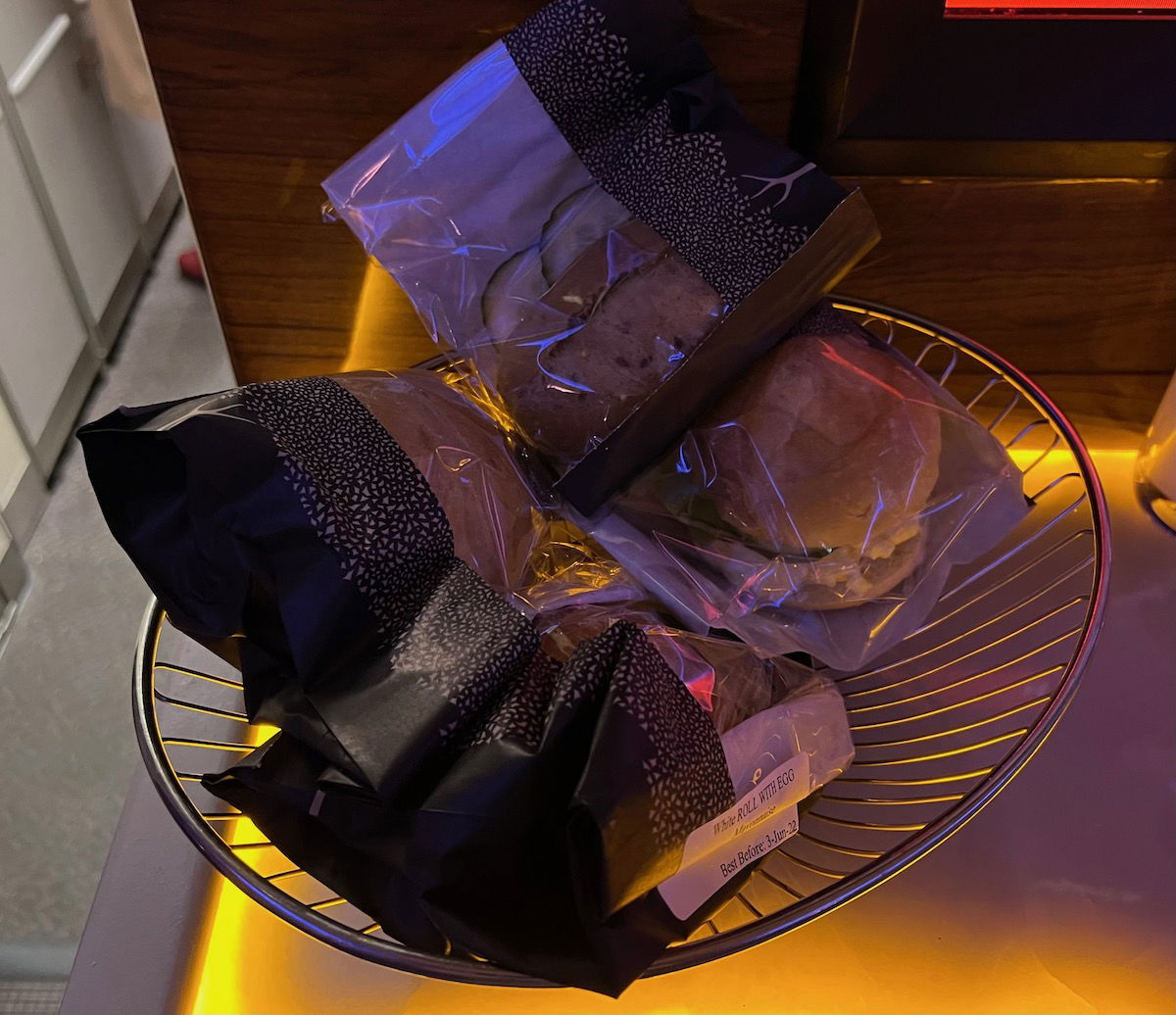 In particular, the cake that's on the main part of the bar is surprisingly tasty, and Ford and I shared a slice.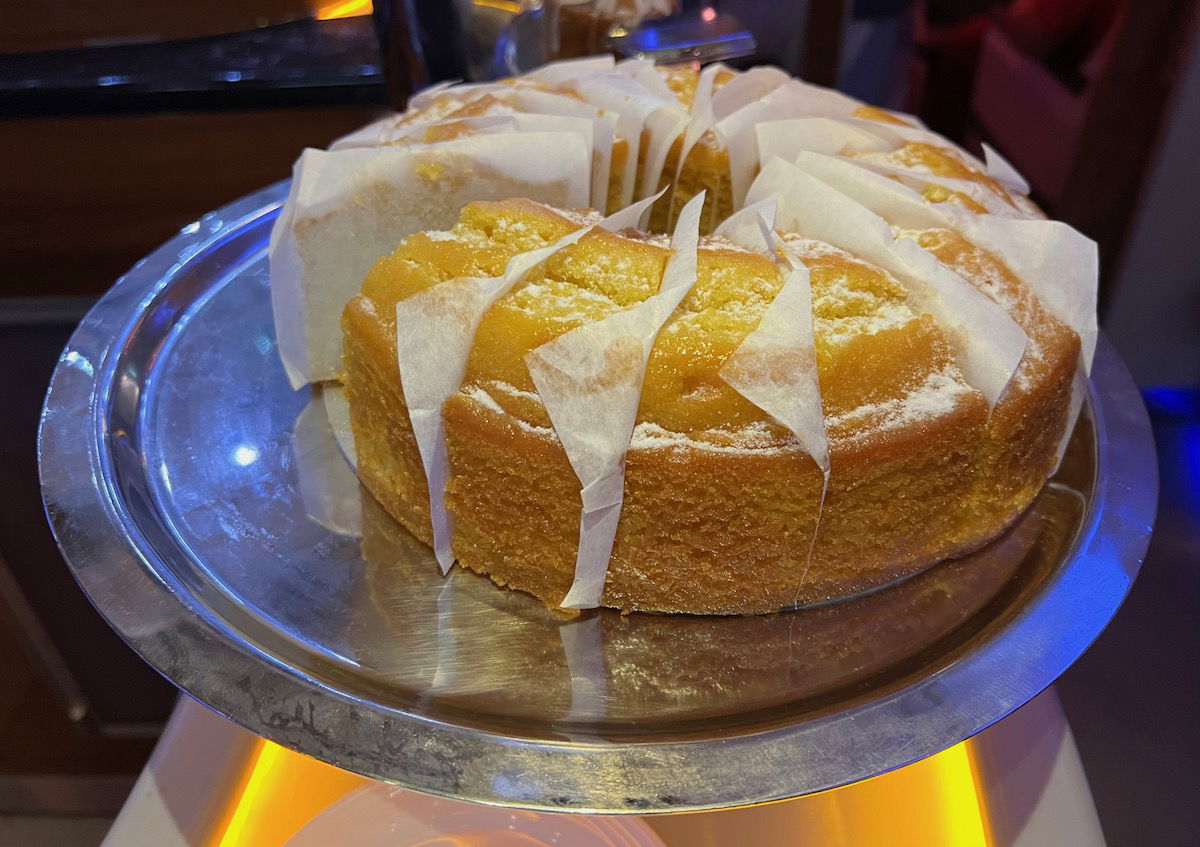 To drink we figured we had to have one champagne cocktail, with Dom Perignon and Hennessy Paradis. Yum.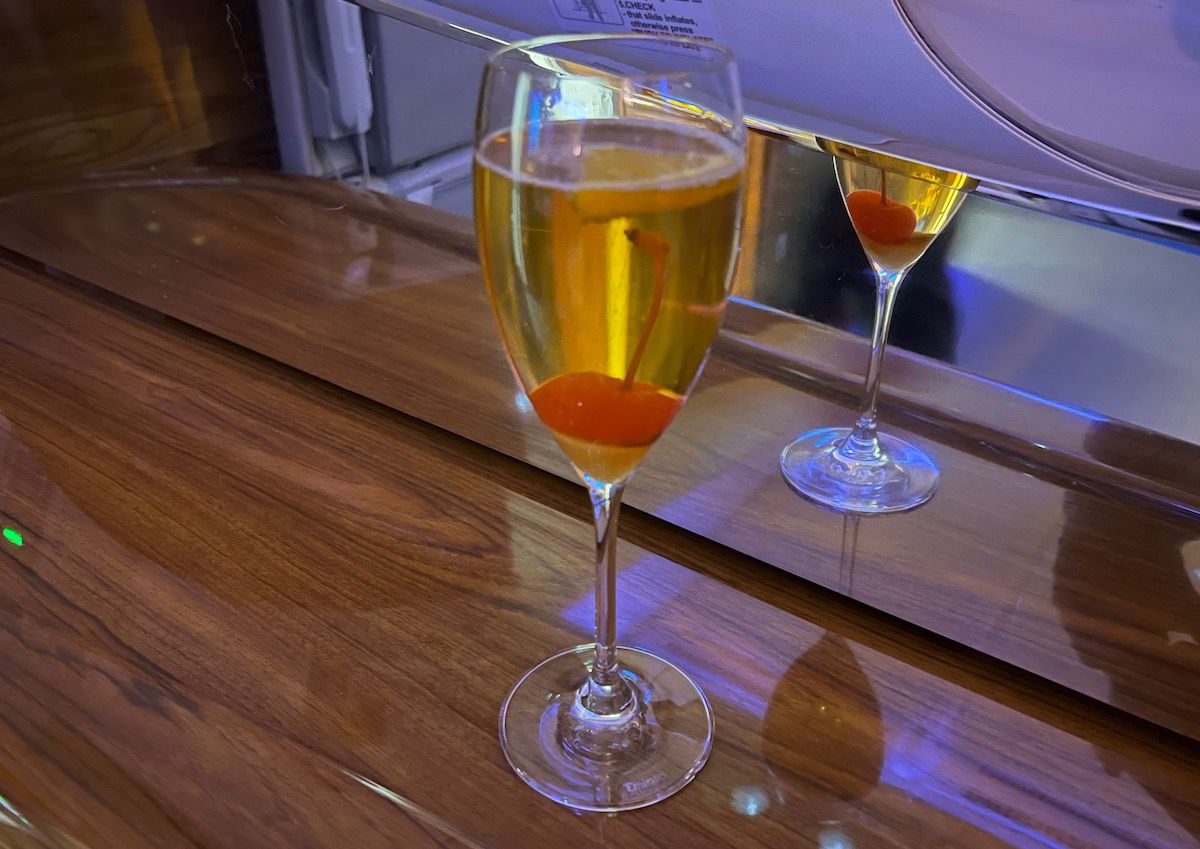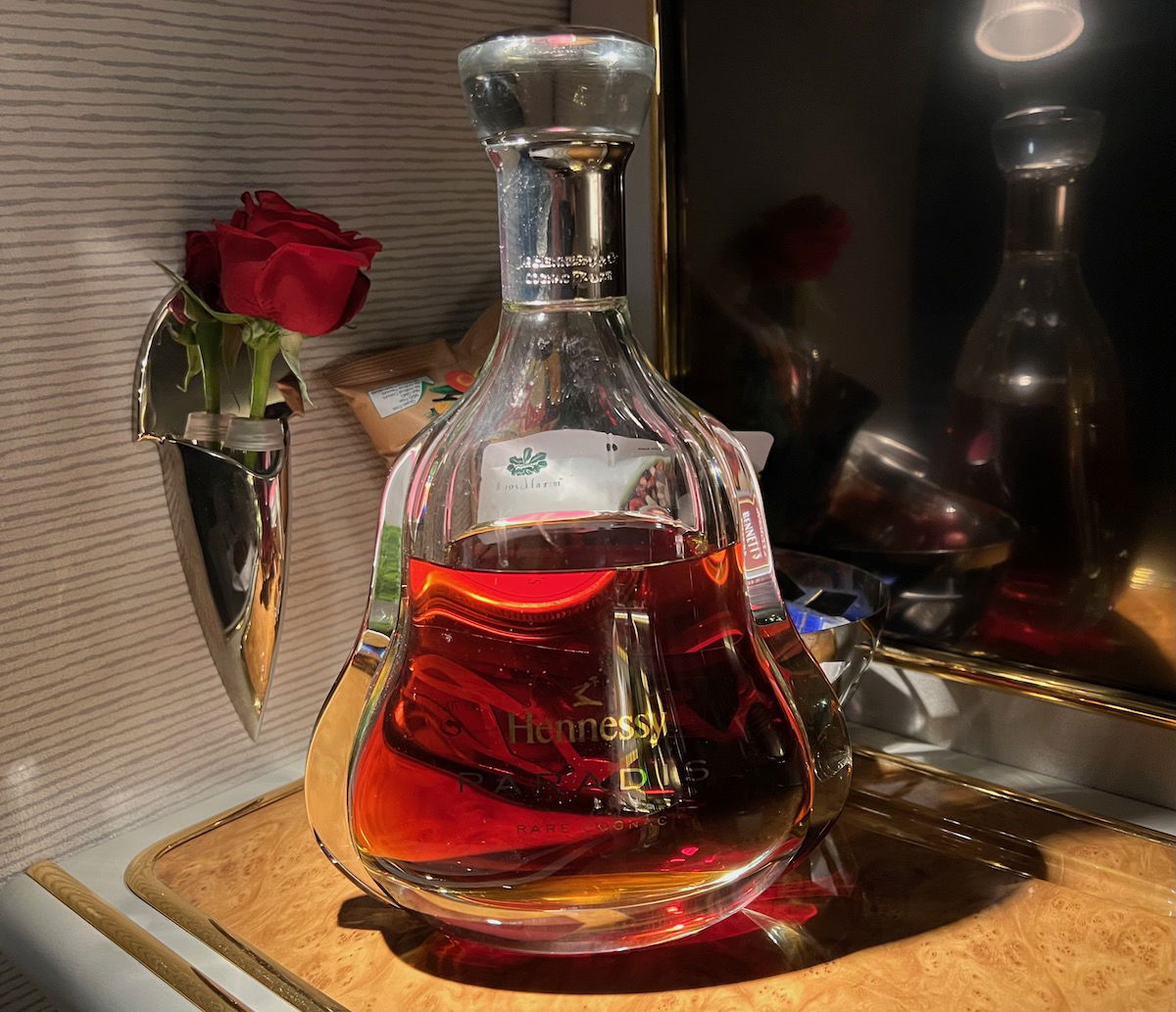 There was a friendly South African flight attendant at the bar that we chatted with briefly, and then it was time to head back to our seats to get some rest.
Emirates A380 first class bed
By the time that we returned to the first class cabin our beds were already made. There are definitely more spacious first class suites out there, but I find Emirates' to be extremely cozy. The bedding is excellent, I appreciate that there are two air nozzles, and I love the "stars" on the ceiling.
I consistently sleep well in Emirates first class (at least as well as I can sleep on a plane).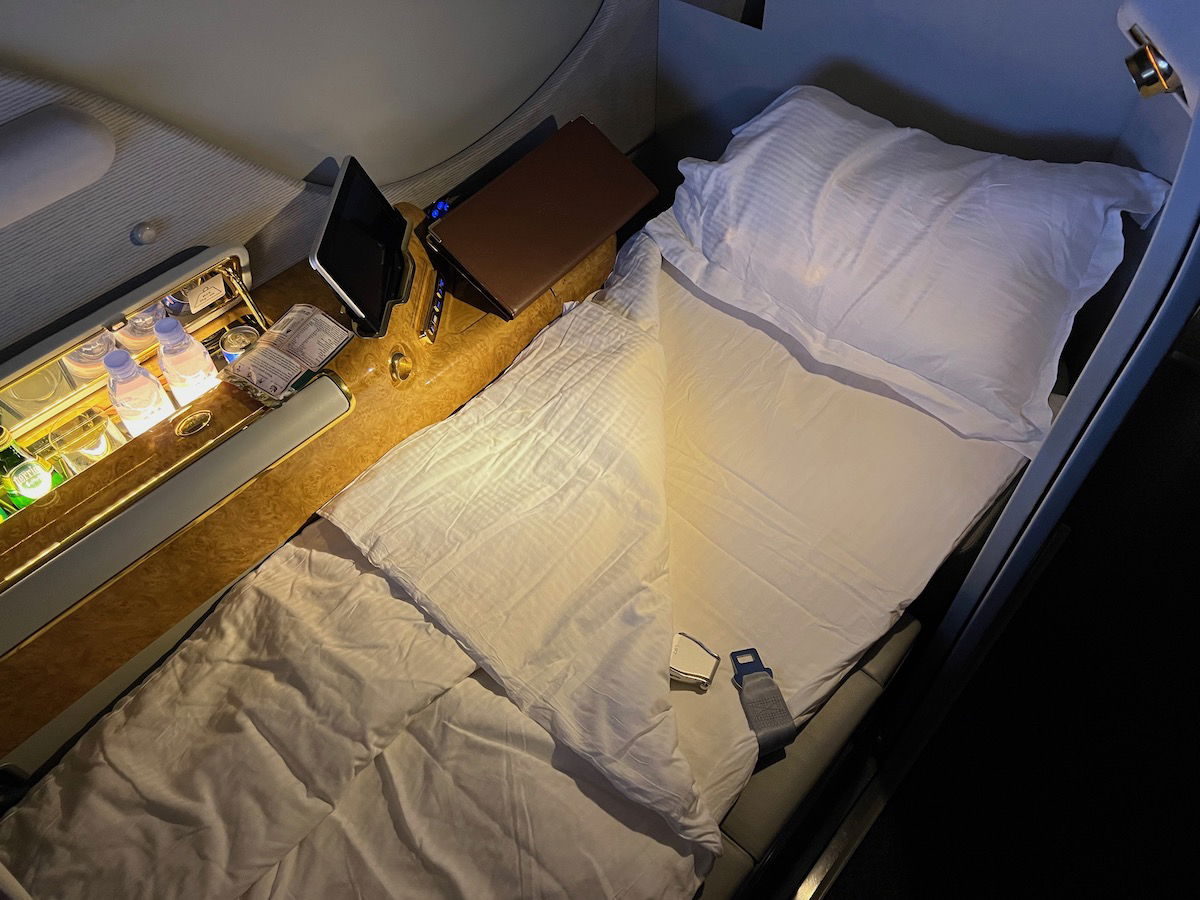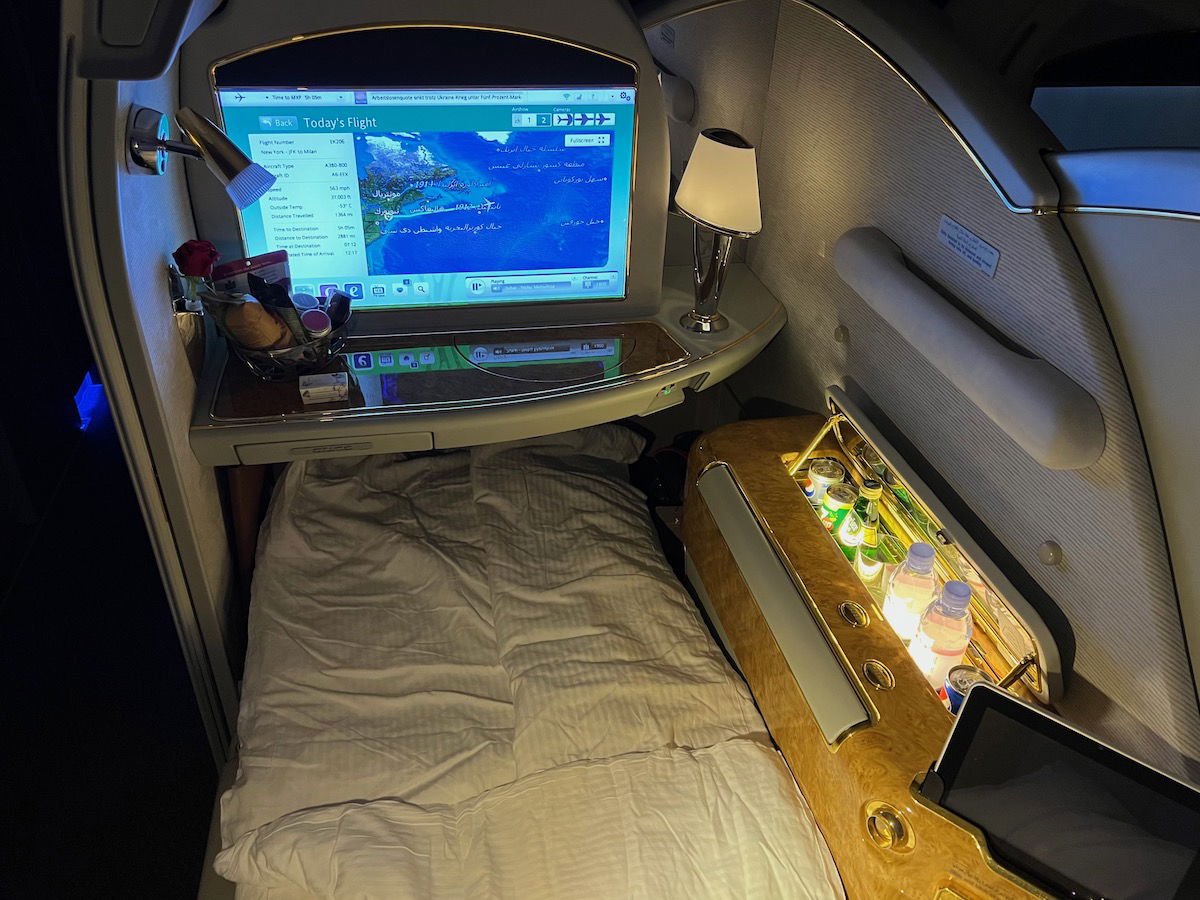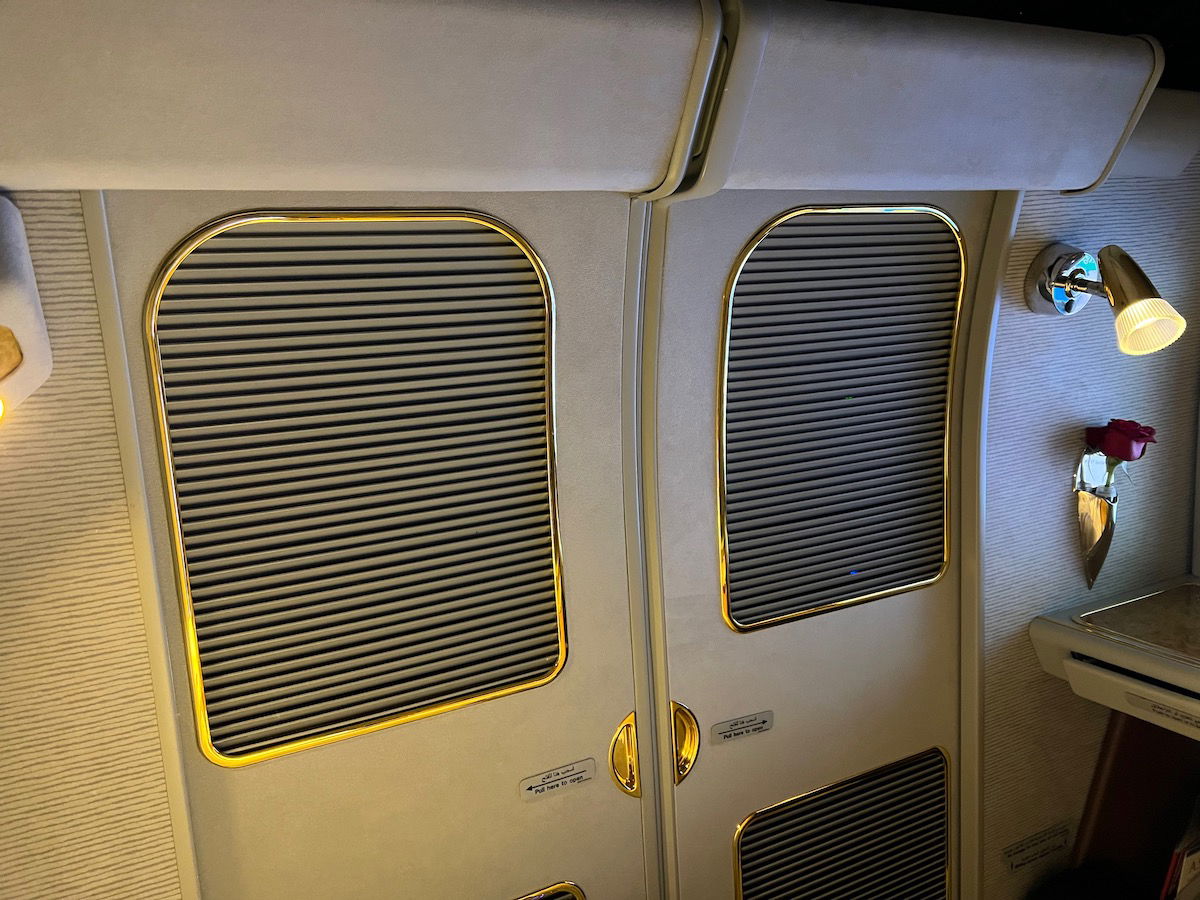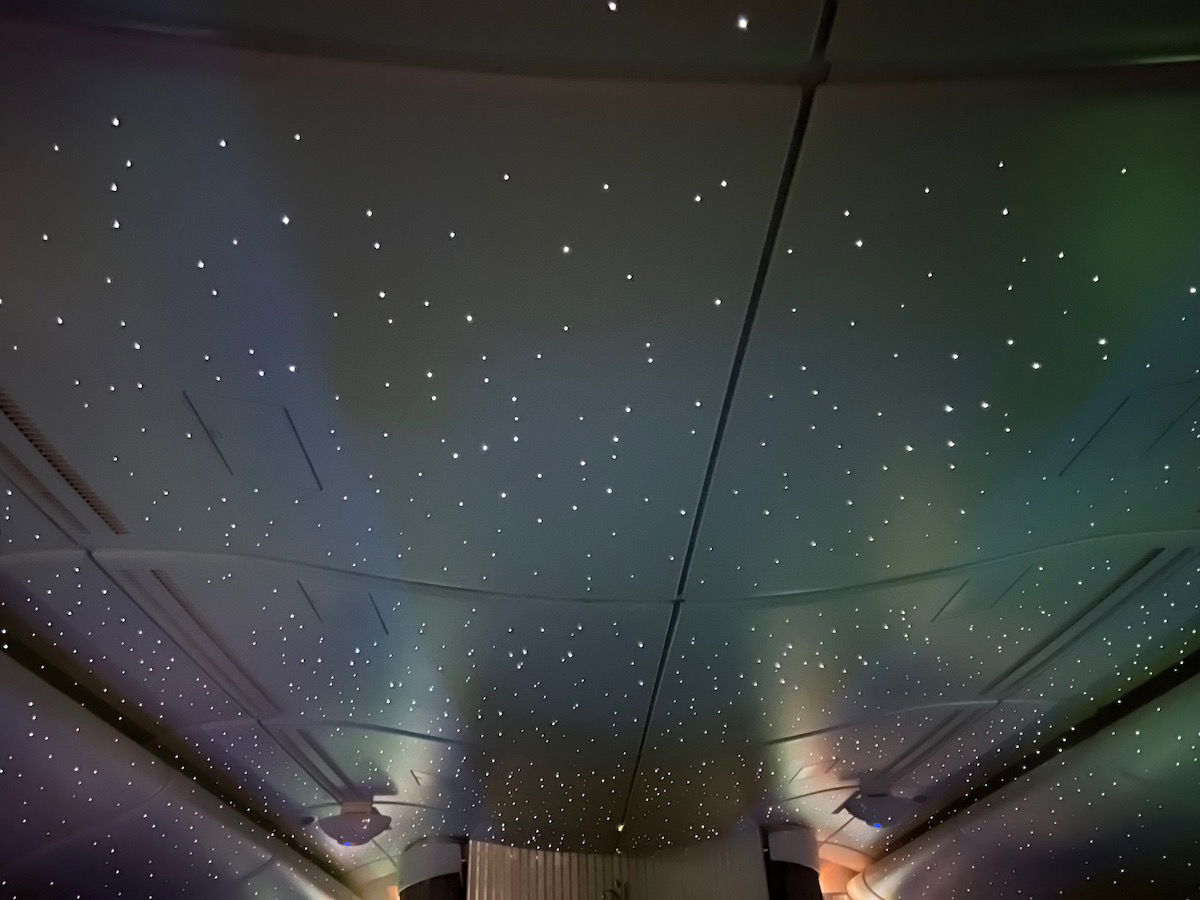 Also, since this is something that other crews sometimes don't get right, I appreciate how the crew turned off all the entertainment screens in the cabin, and closed all the window blinds, to keep the cabin as dark as possible. That's much appreciated.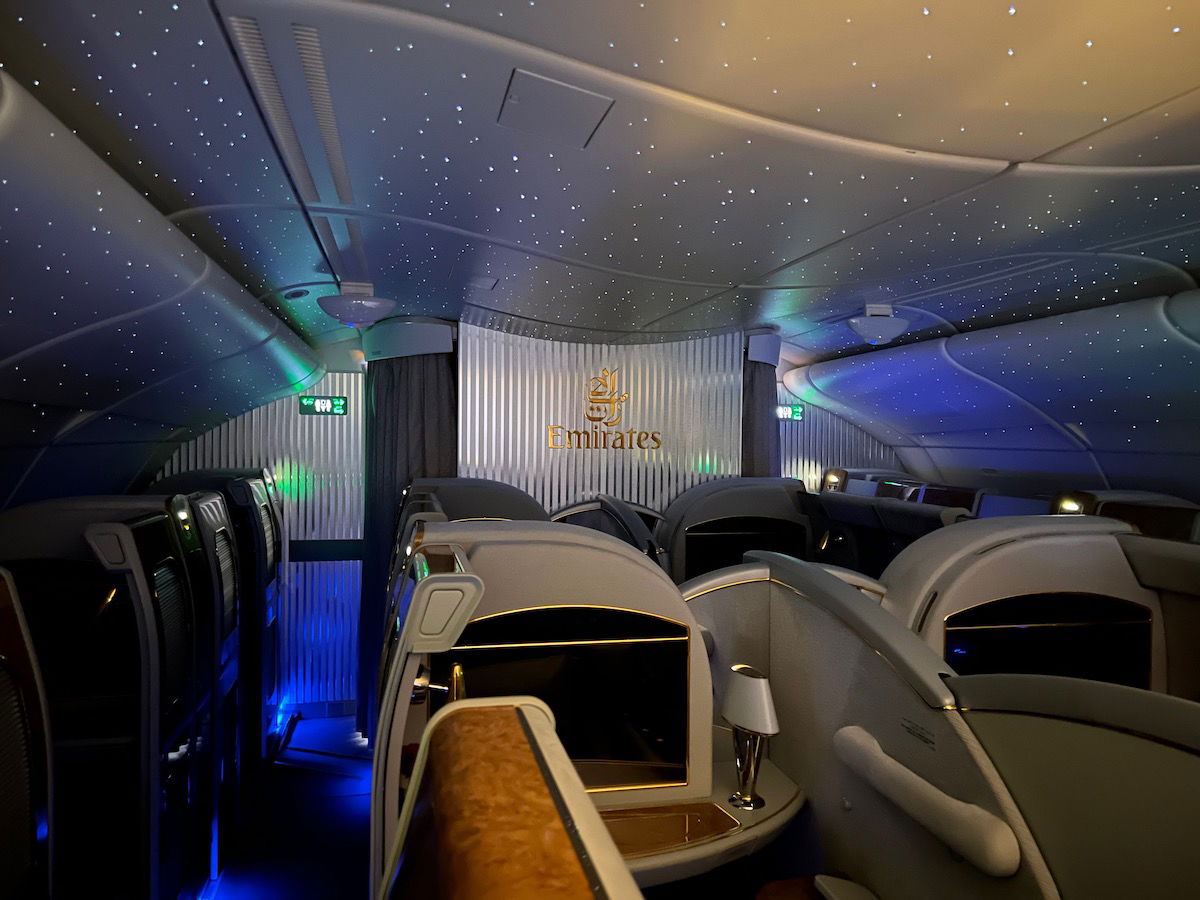 I fell asleep around five hours prior to arrival in Milan, just over two hours after takeoff.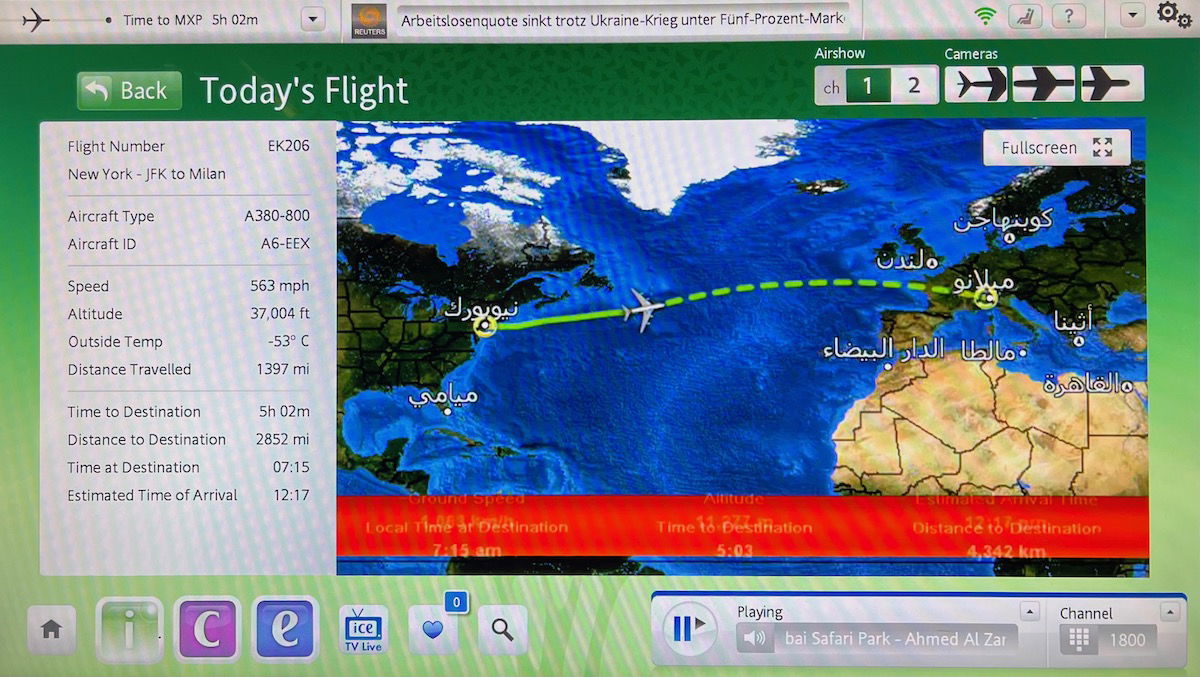 Then I woke up about 2.5 hours prior to landing. While that's not the longest night of sleep, I did get 2.5 hours of very solid rest.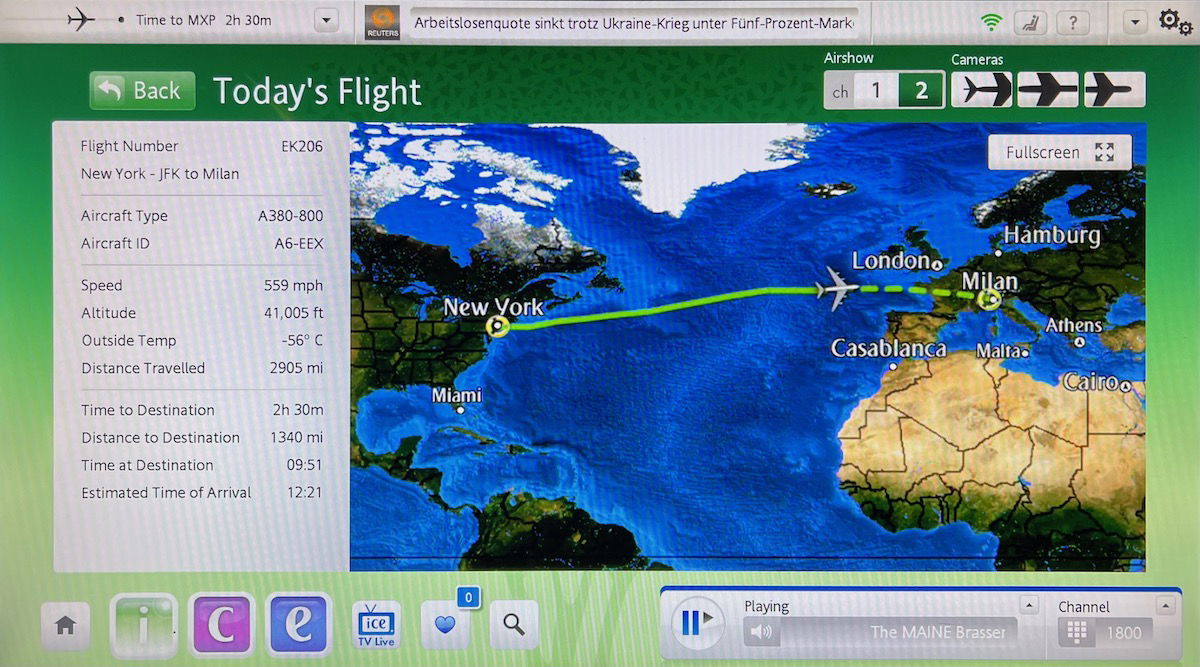 Emirates A380 first class bathrooms & showers
After getting some rest, it was time to shower. While I had initially "reserved" a shower appointment for just prior to landing, the crew was happy to move that forward when I was awake. Emirates' A380 shower suites are located at the front of the upper deck, with one on each side of the staircase.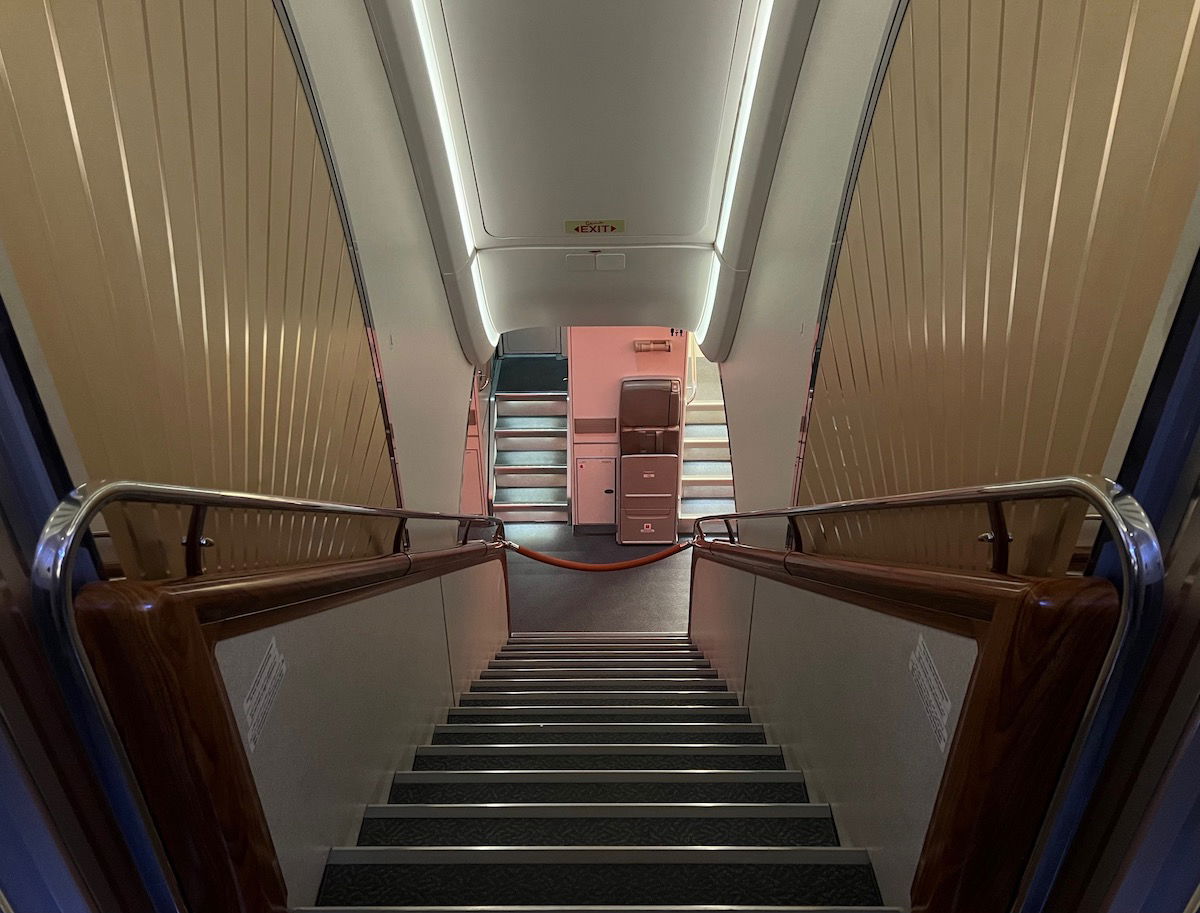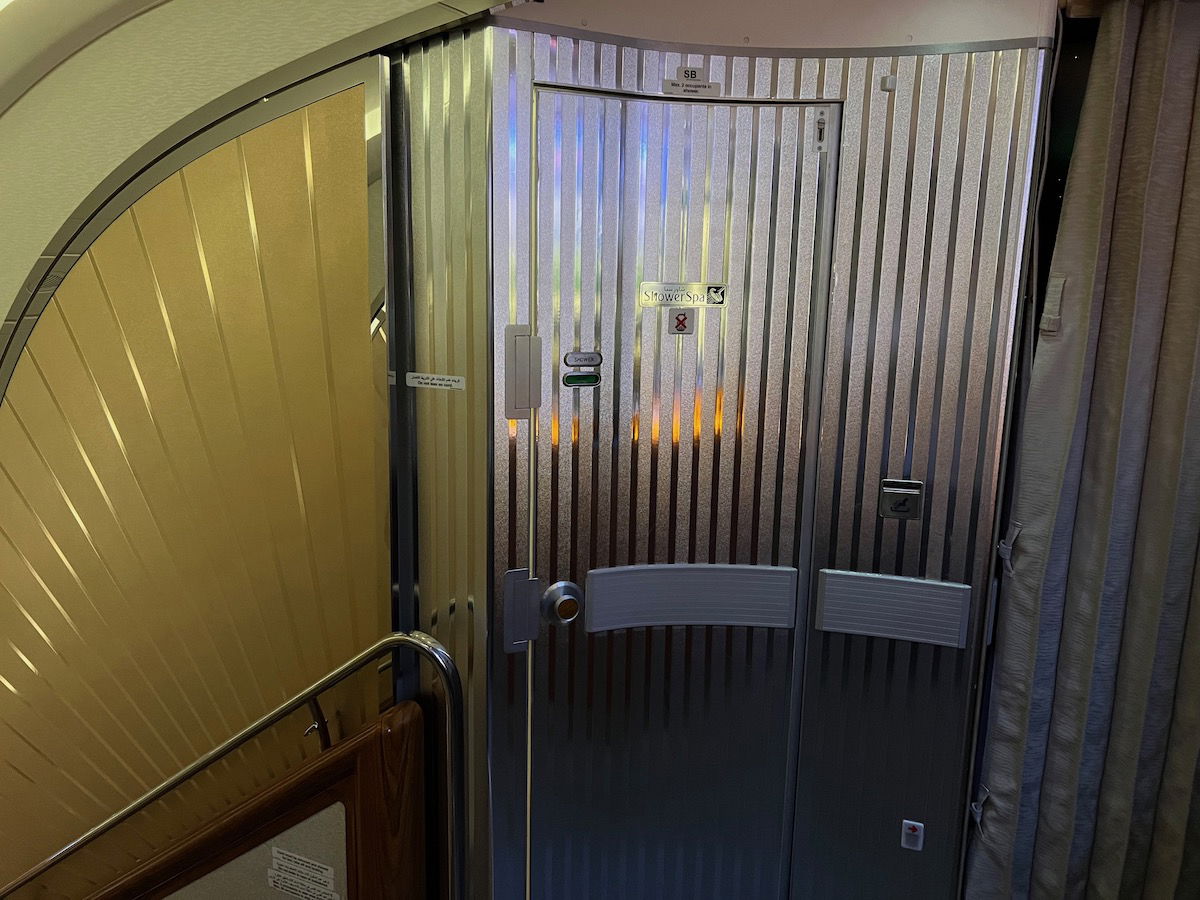 I've written a separate guide to Emirates' A380 shower suites, so I won't go into too much detail on it in this post. These shower suites are so ridiculously impressive, as they have a toilet, a walk-in shower, heated floors, a moving map feature, etc.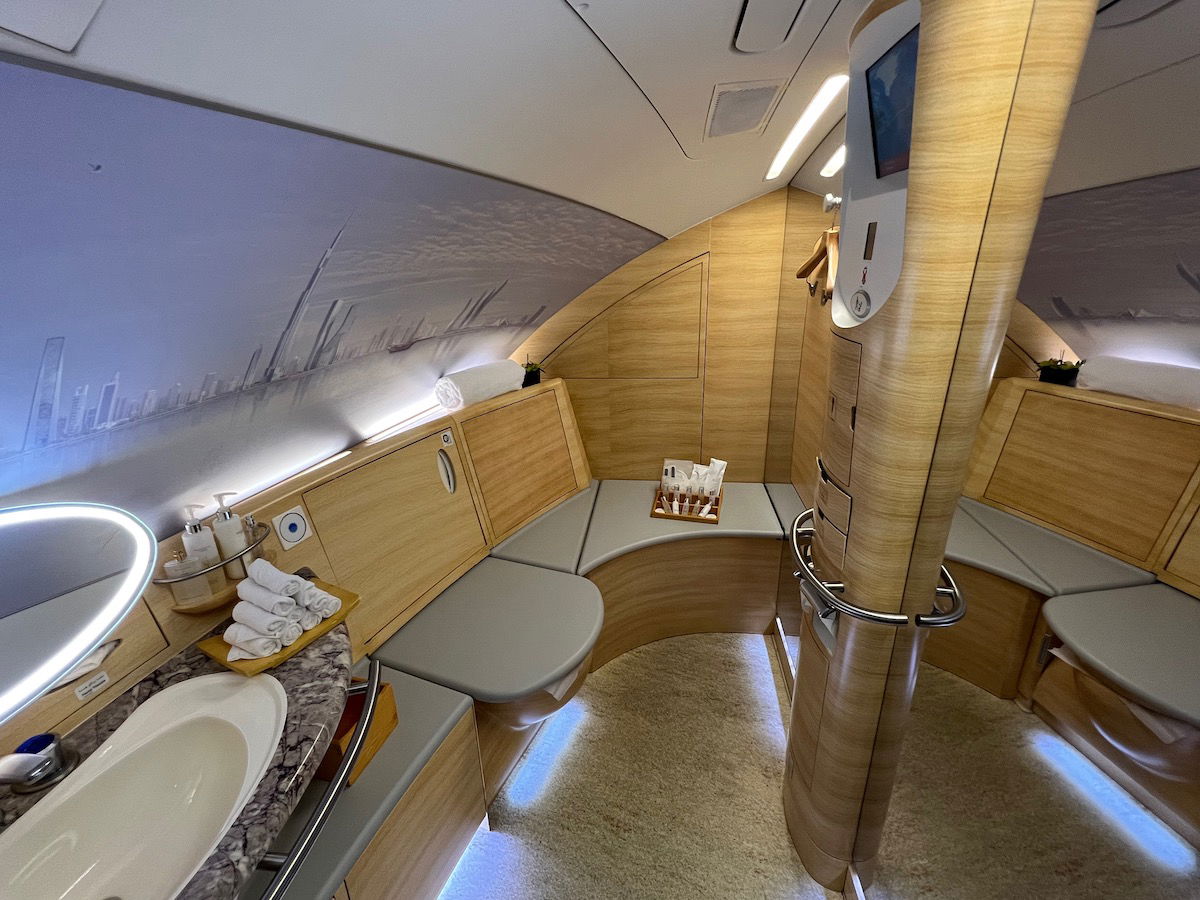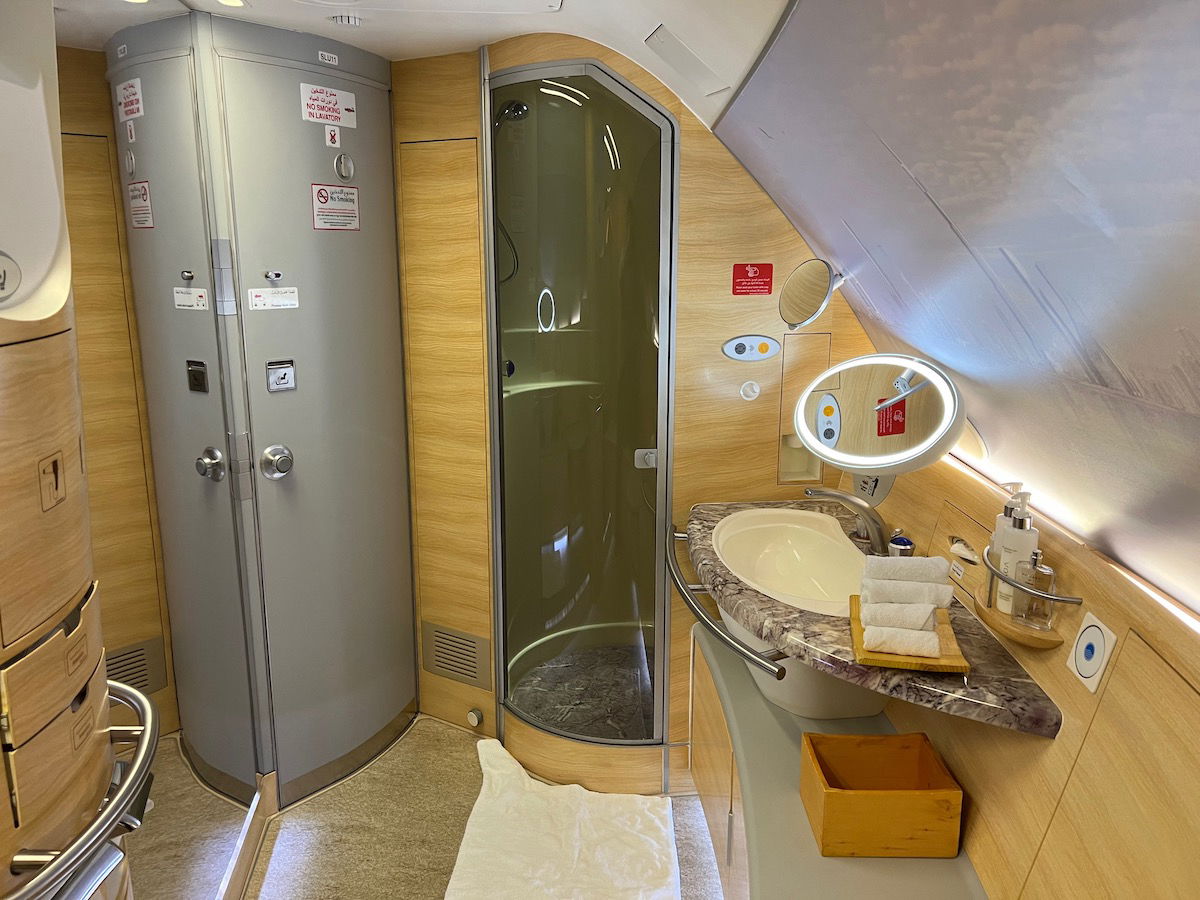 There are also a variety of toiletries, and you have your choice of a huge selection of products from VOYA.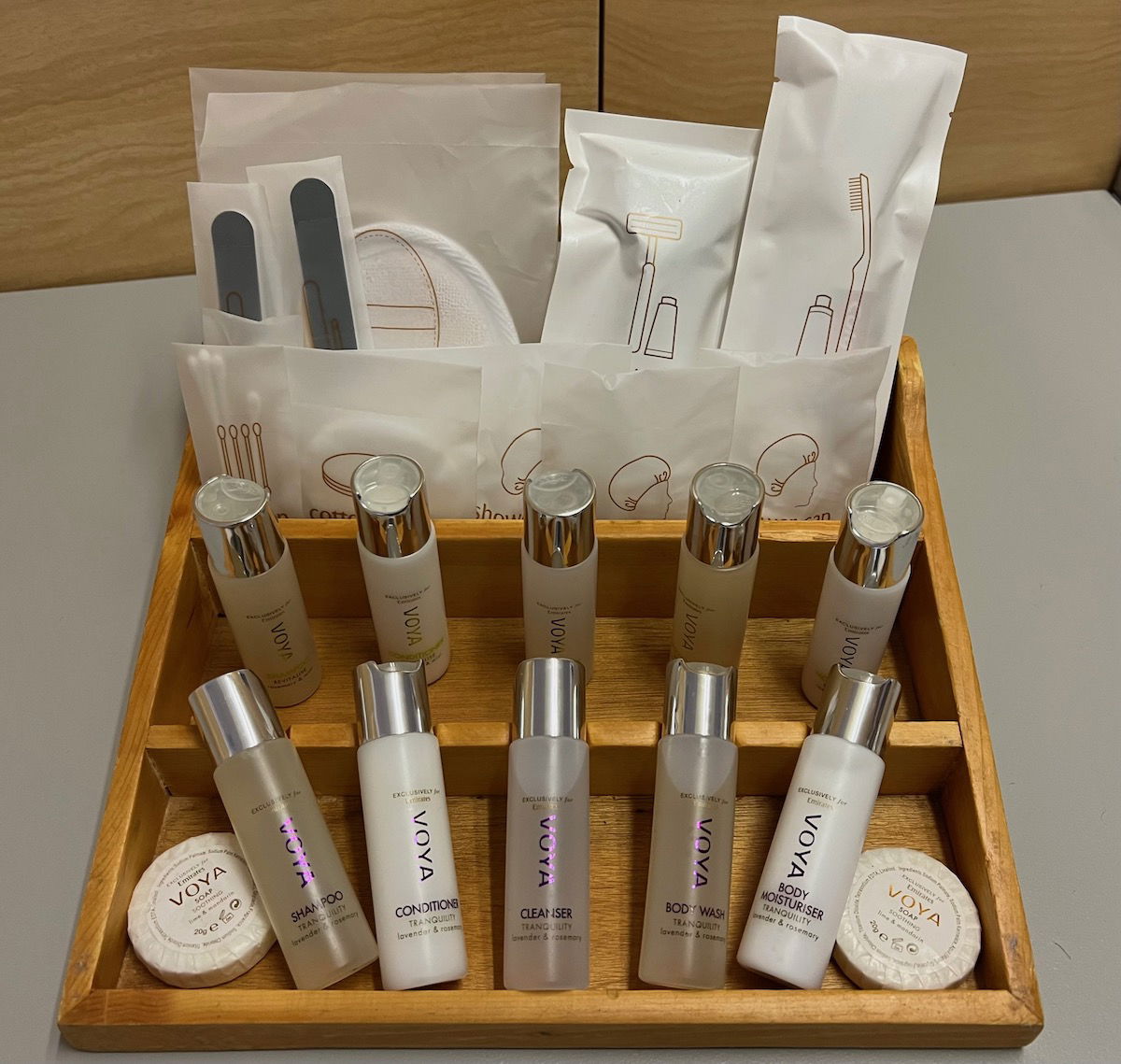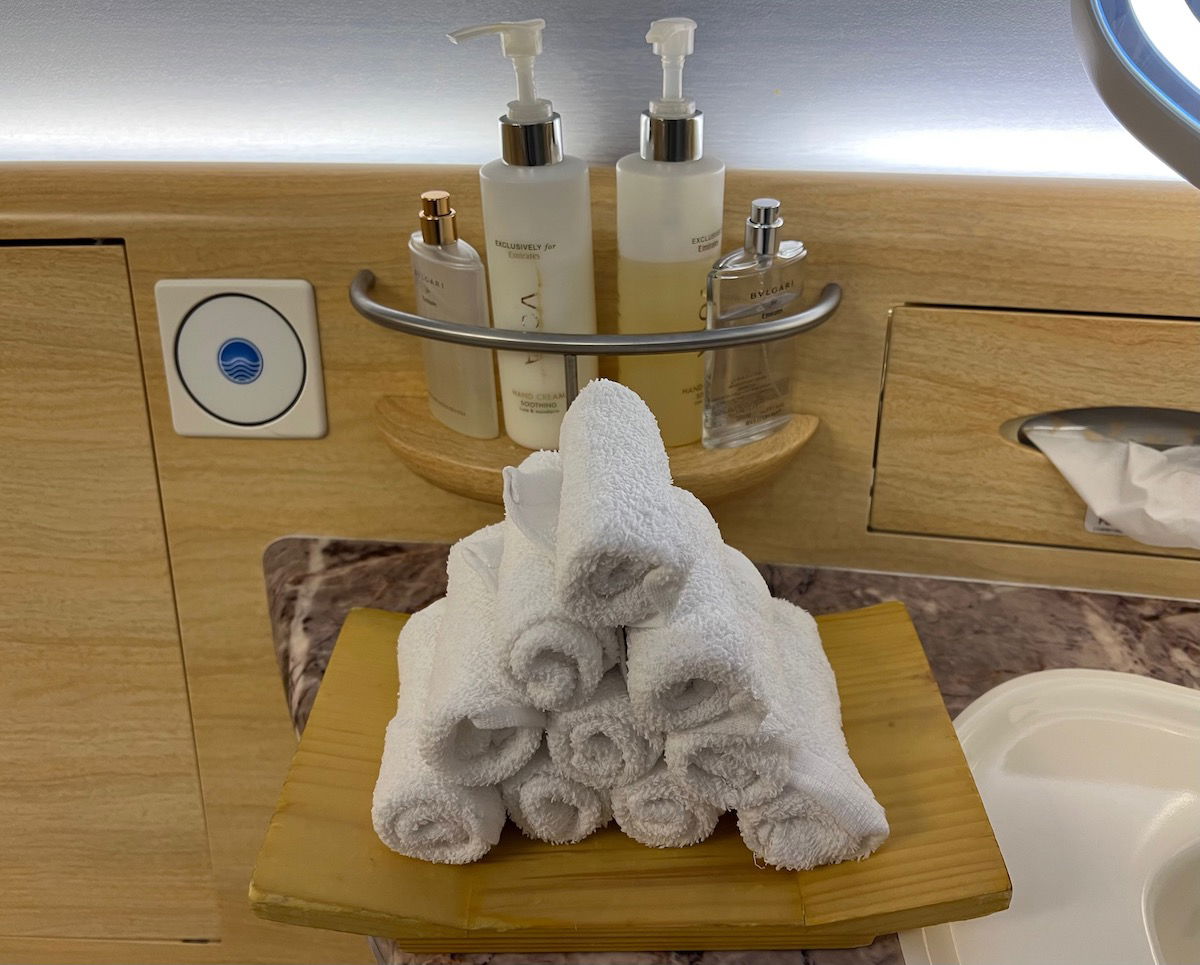 I'm not usually someone who gets excited about showering, but an exception is when I'm on the Emirates A380 — there's nothing quite like showering at 35,000 feet!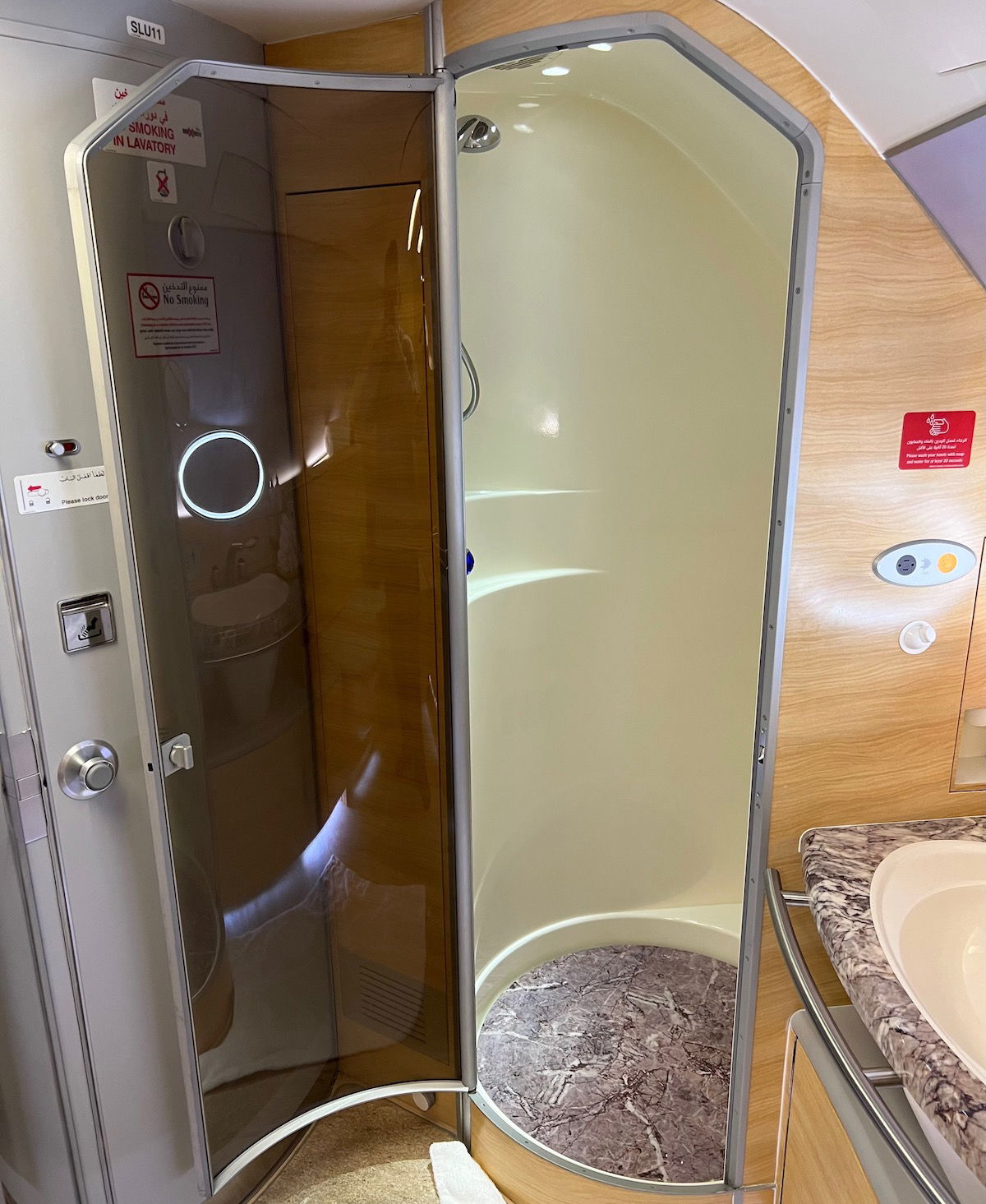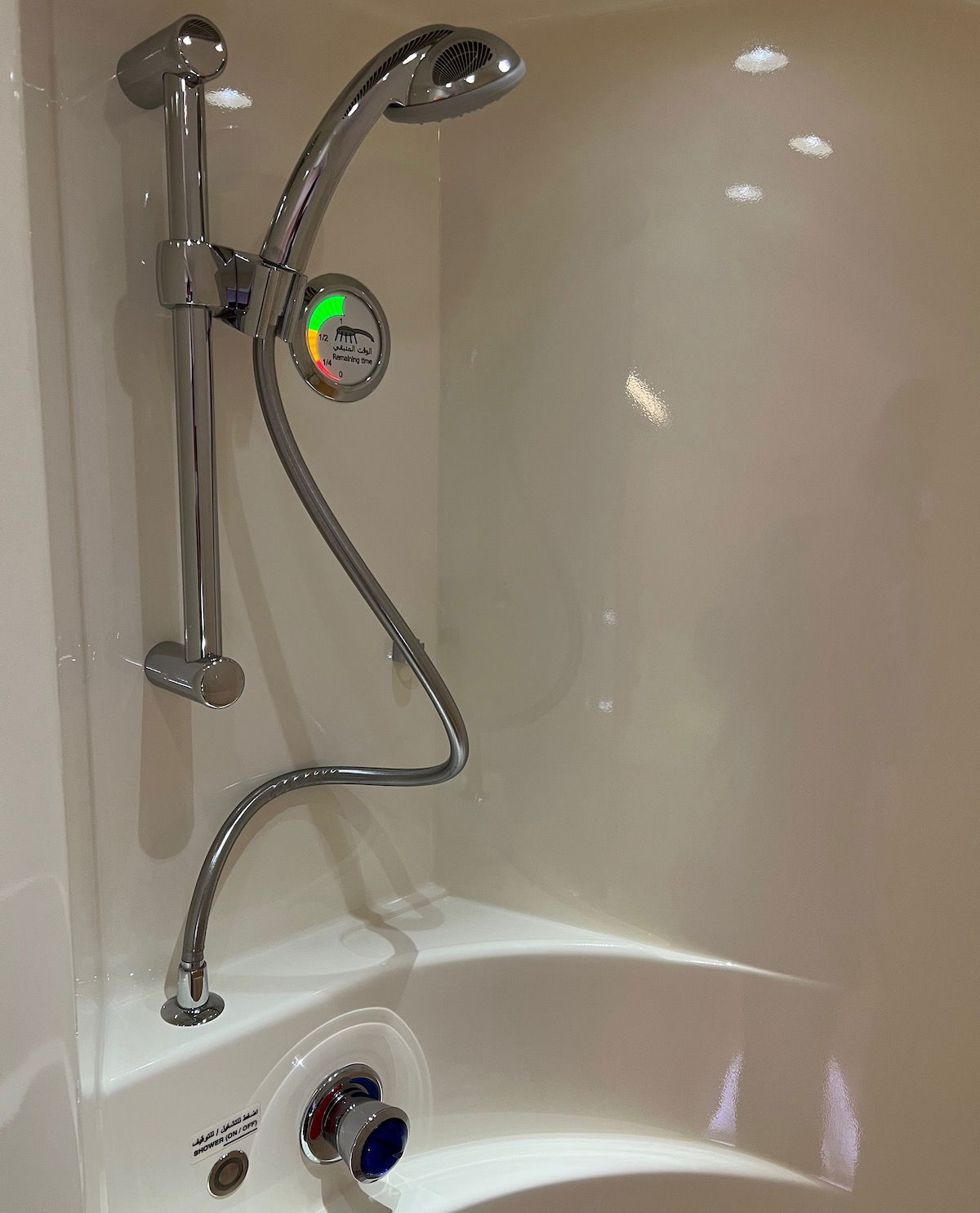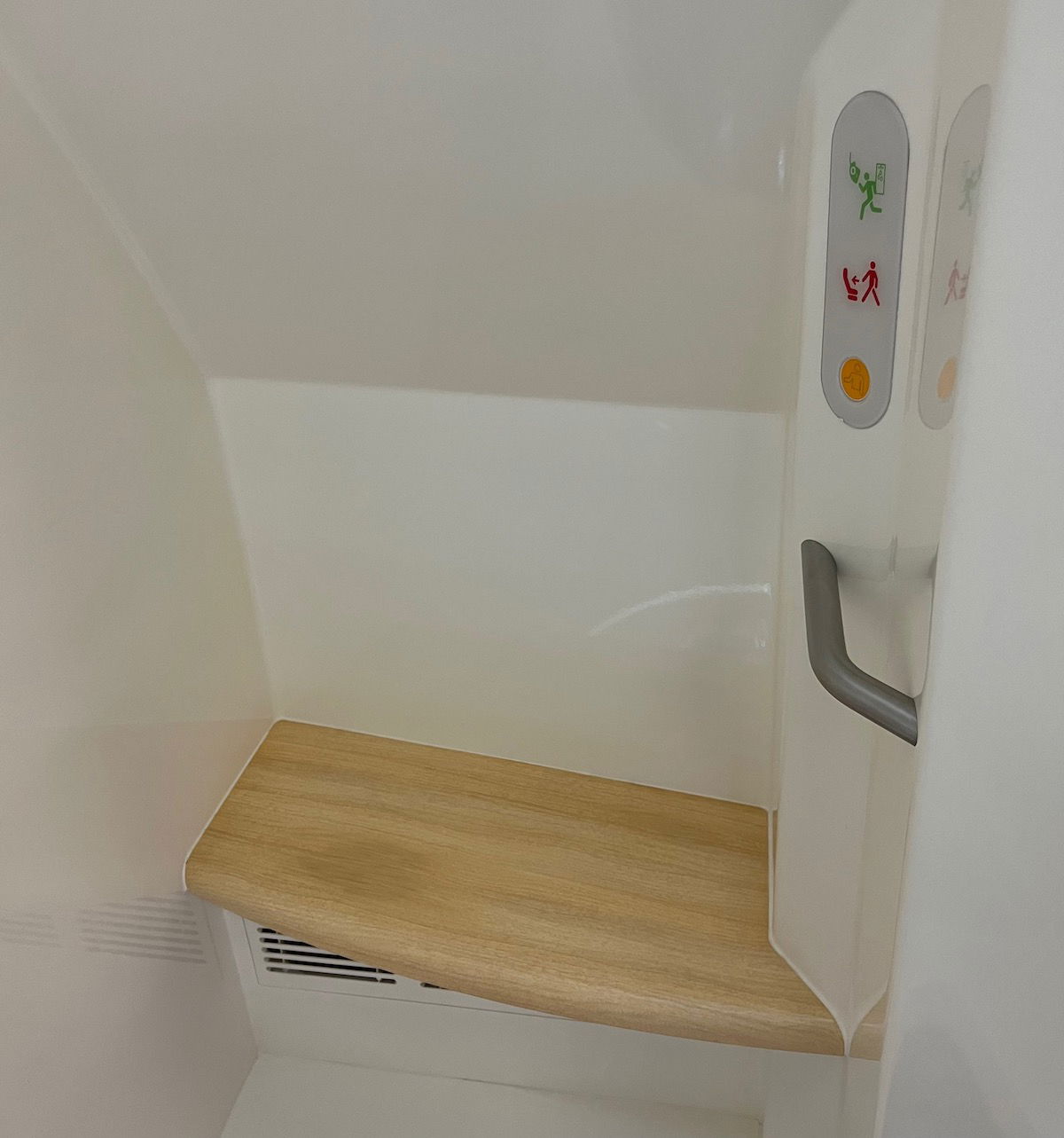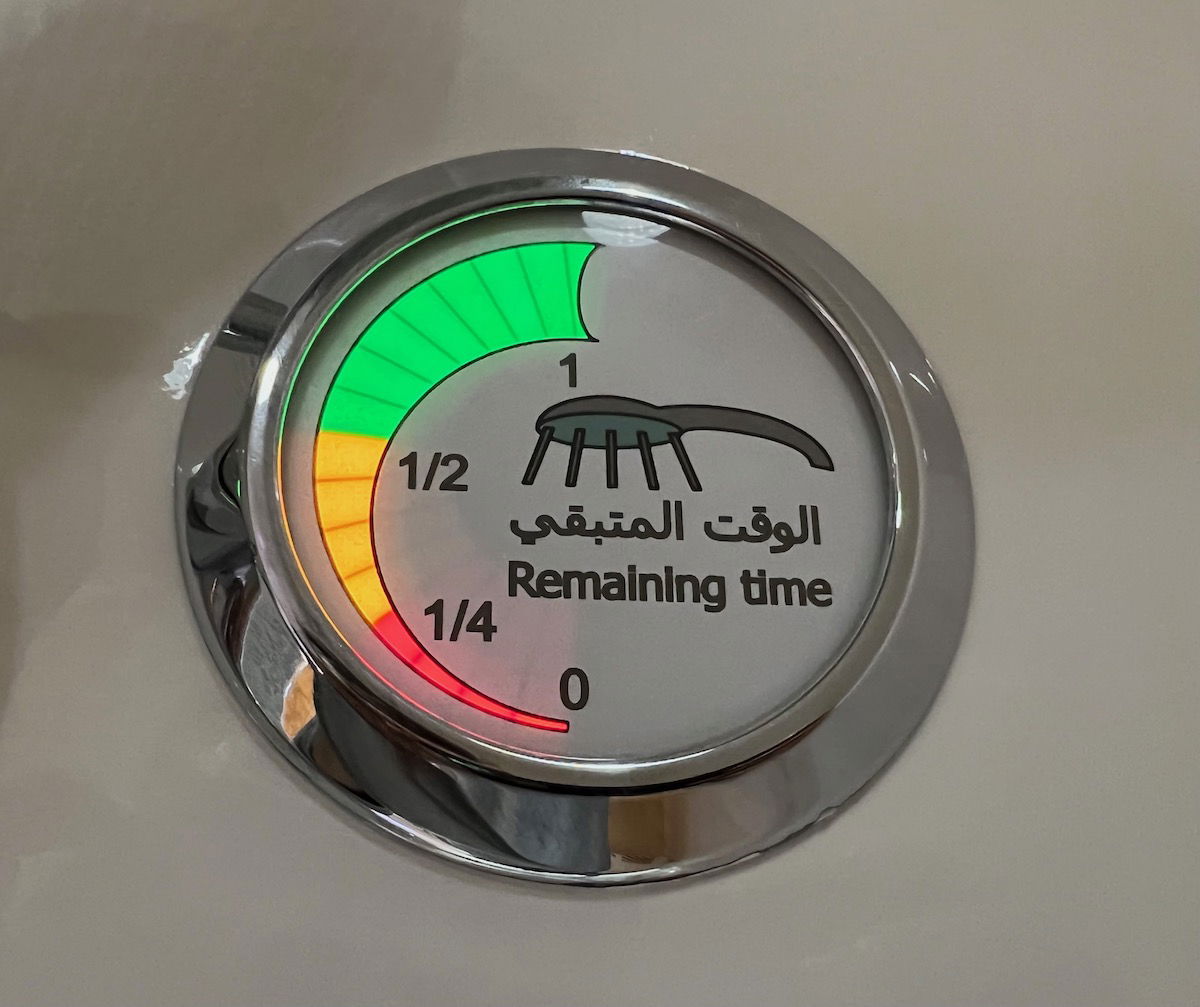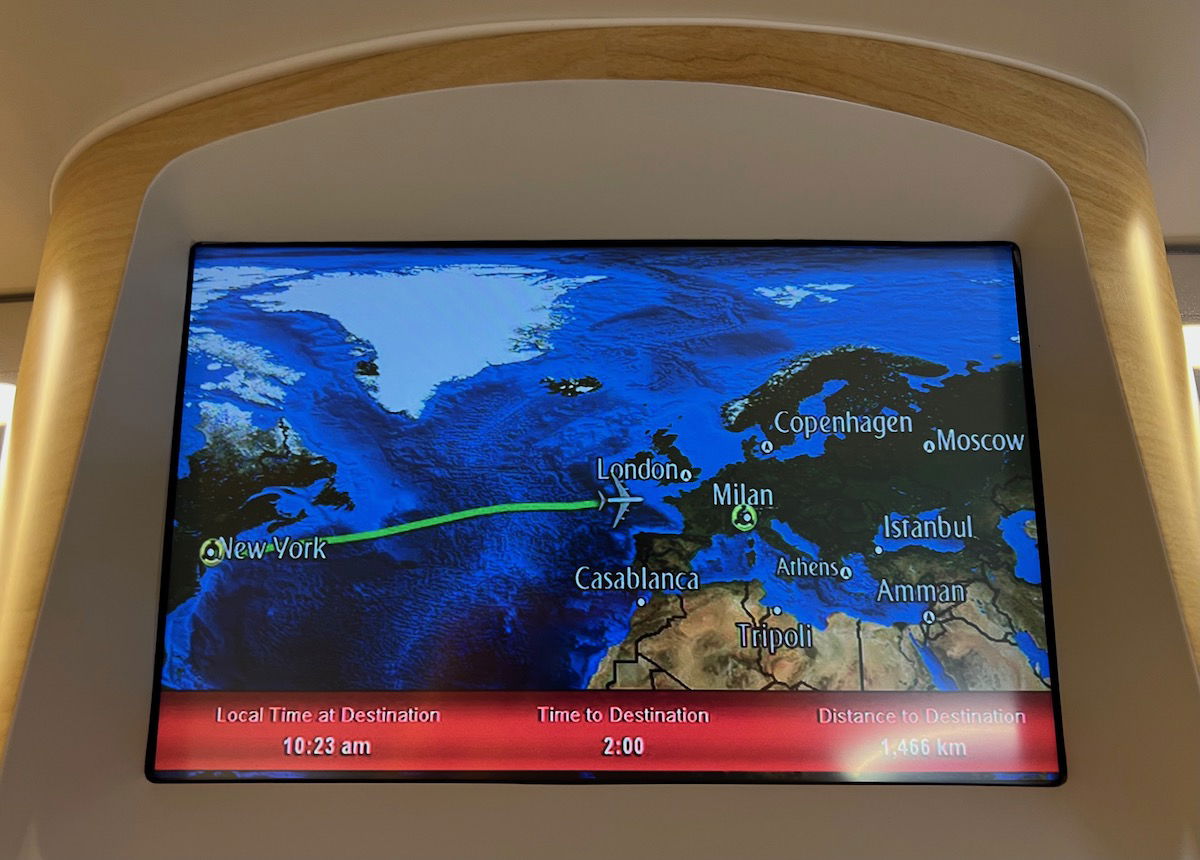 There's also a small bar at the front of the first class cabin right by the staircase, which transforms several times during the flight. Before takeoff it just has a basic water feature.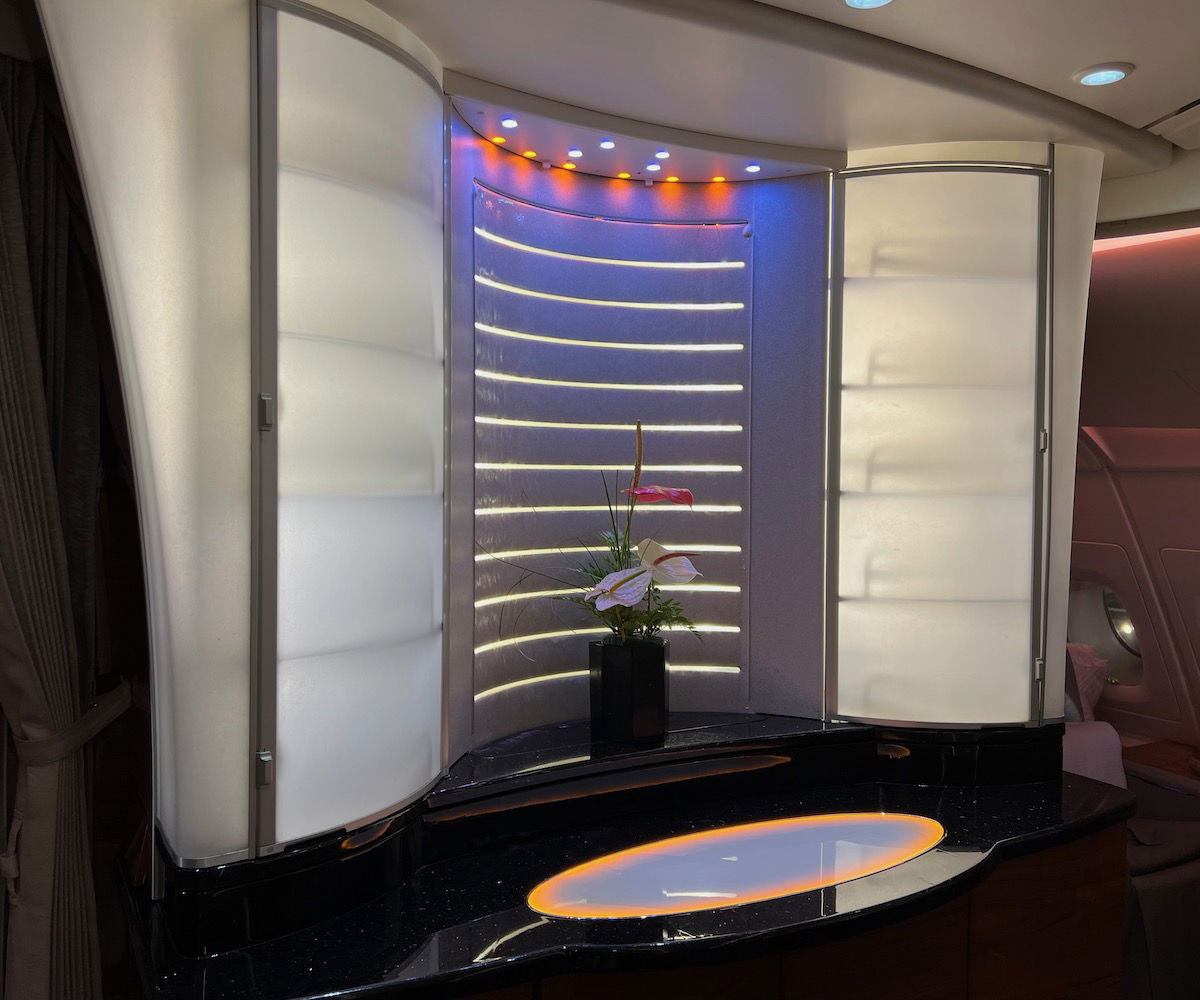 Then after takeoff a bar is set up with all kinds of drinks and snacks.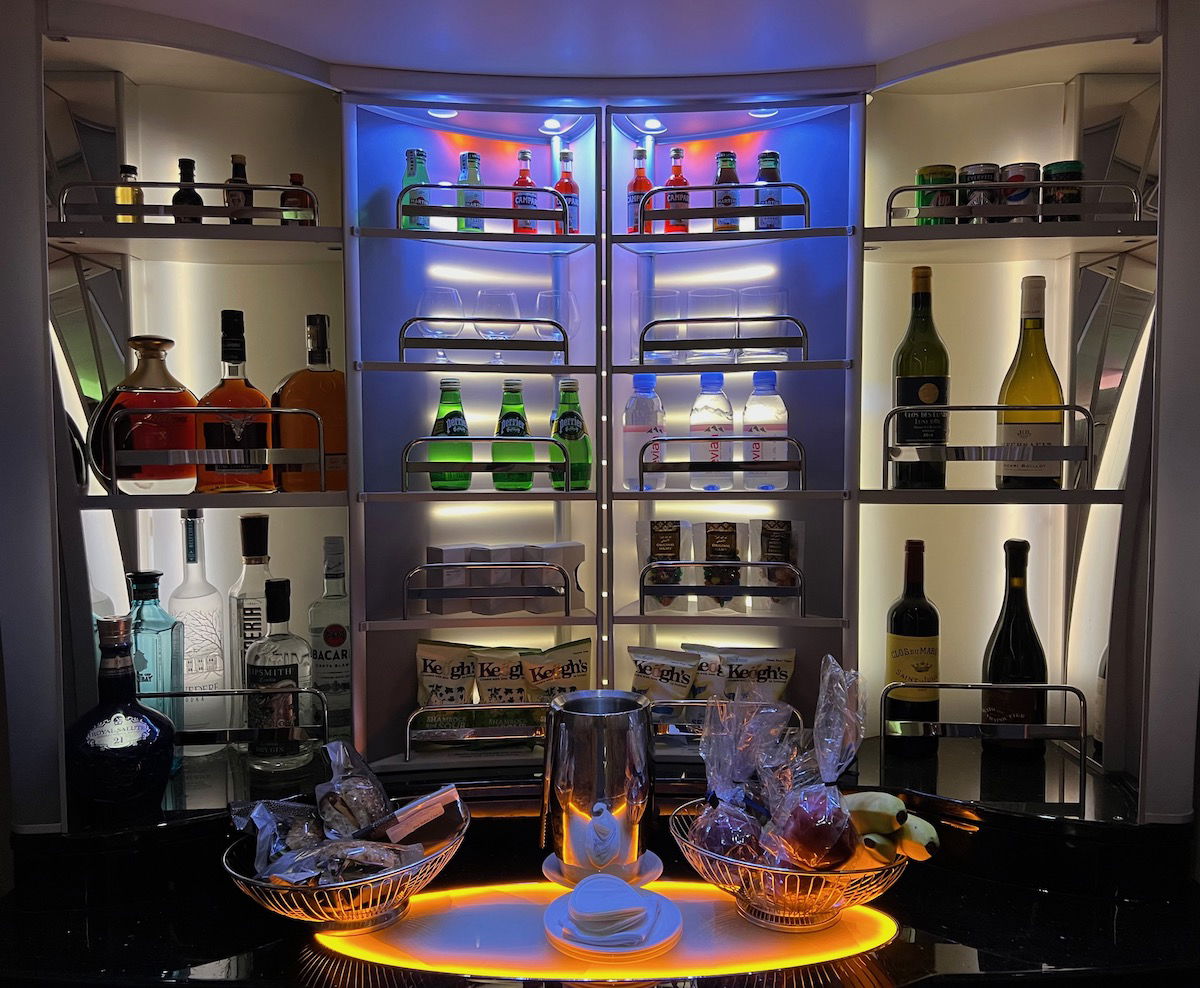 Then closer to landing it's once again transformed into a water feature, since this is when most passengers choose to shower.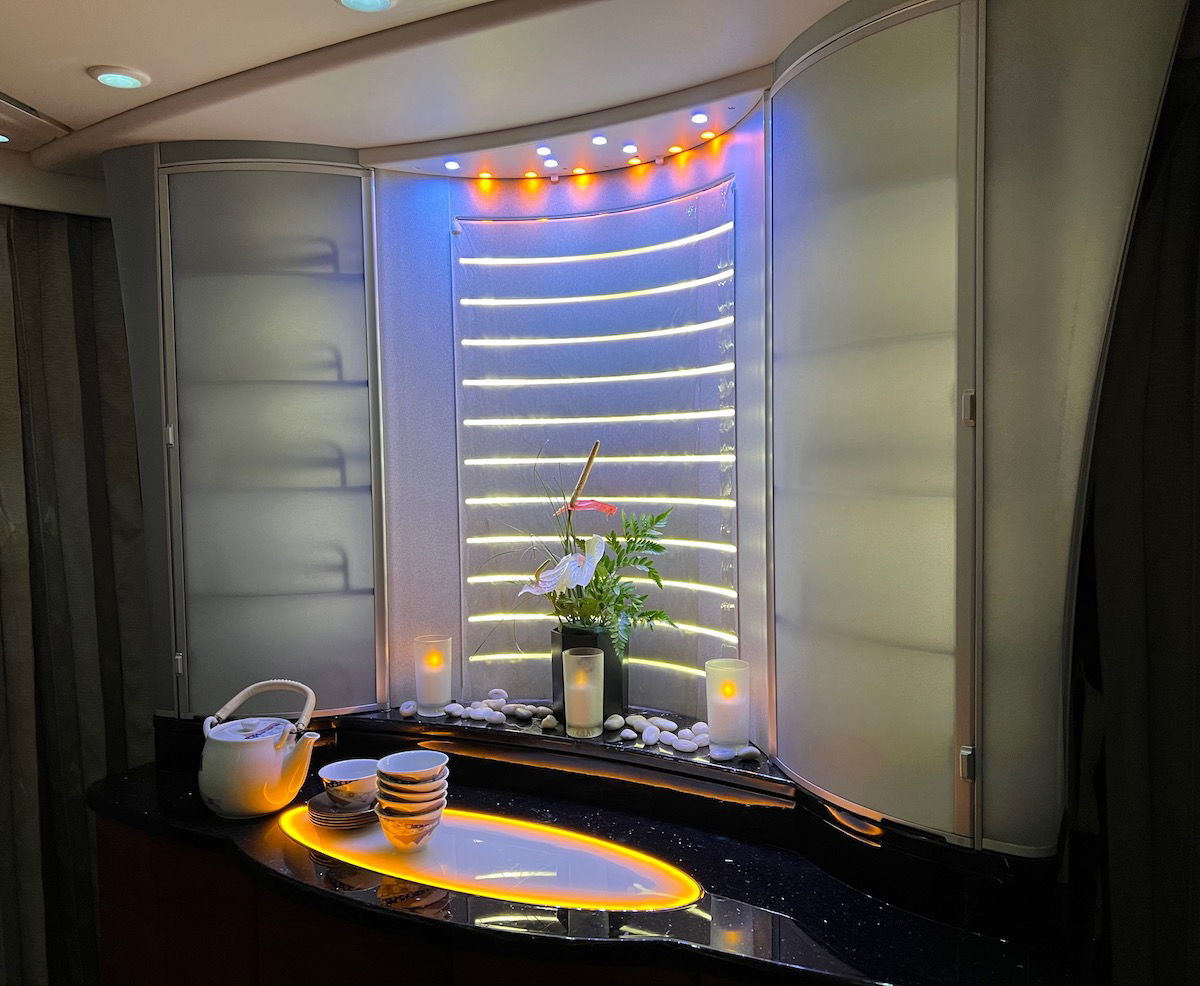 The two shower suites can also be used as lavatories throughout the flight, even if you're not showering. In the event that both are occupied, there's a smaller bathroom behind the first class cabin, which is a little bit less exciting.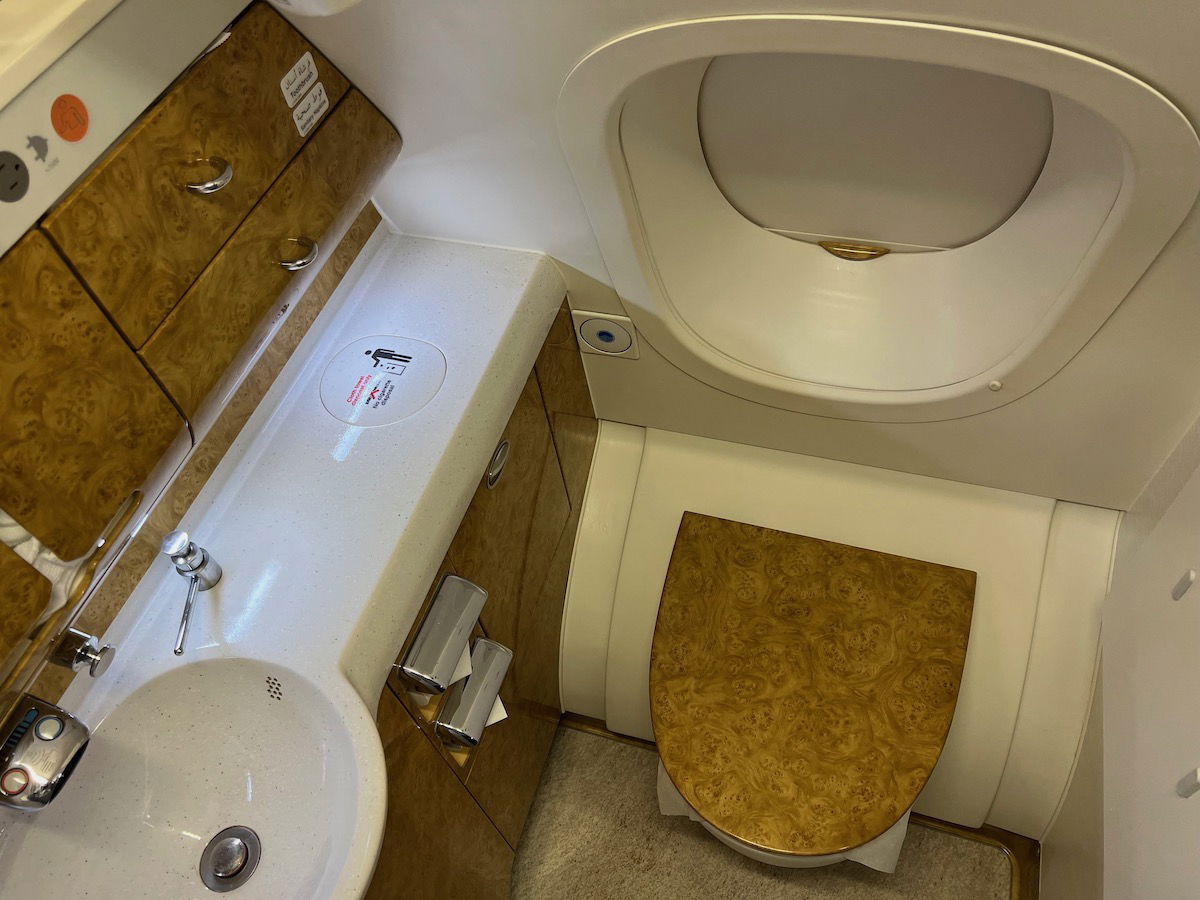 At the conclusion of the shower I was offered a warm towel and fruit plate, which is always placed at the seat after a shower.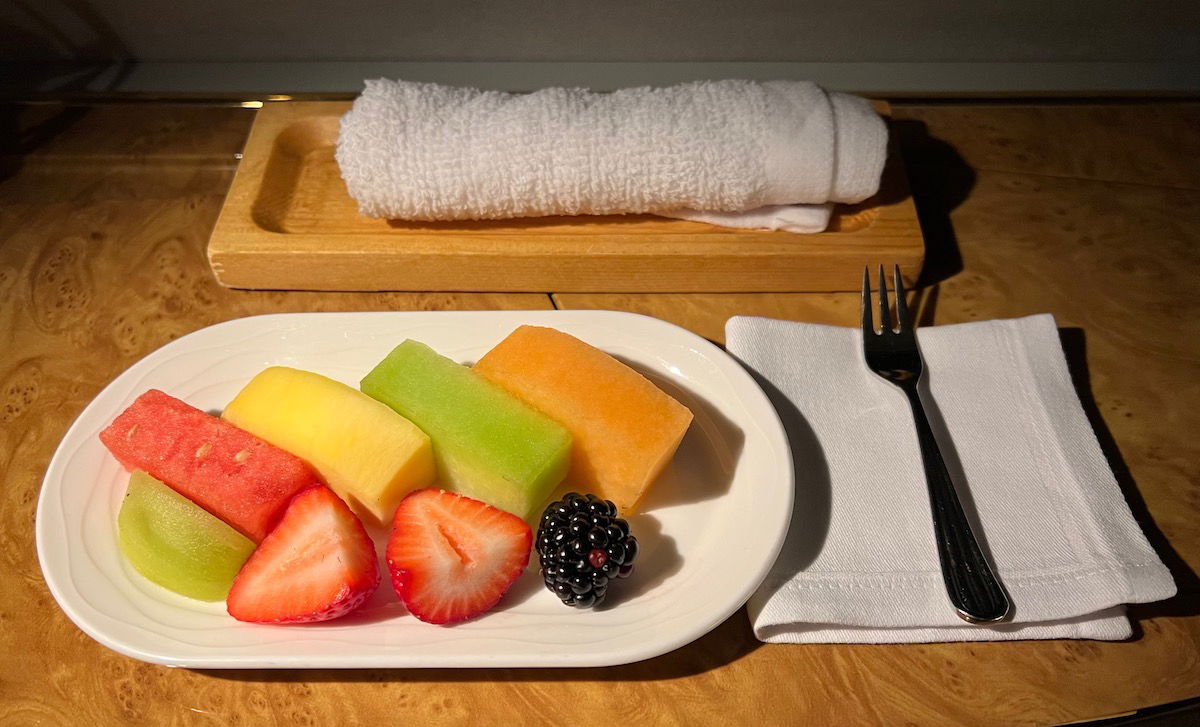 Emirates first class breakfast
After my shower I ordered a cappuccino, which had the Emirates logo stenciled on it — how cute!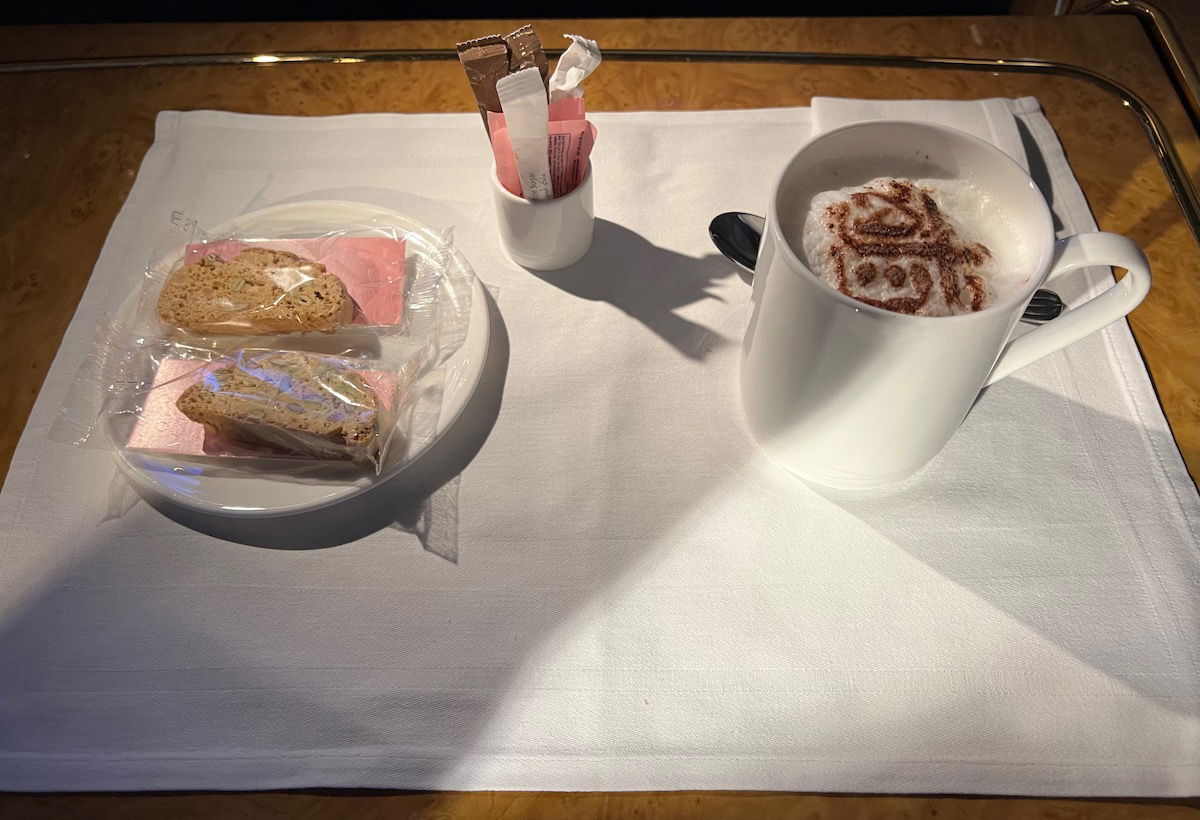 After that I decided to order an americano.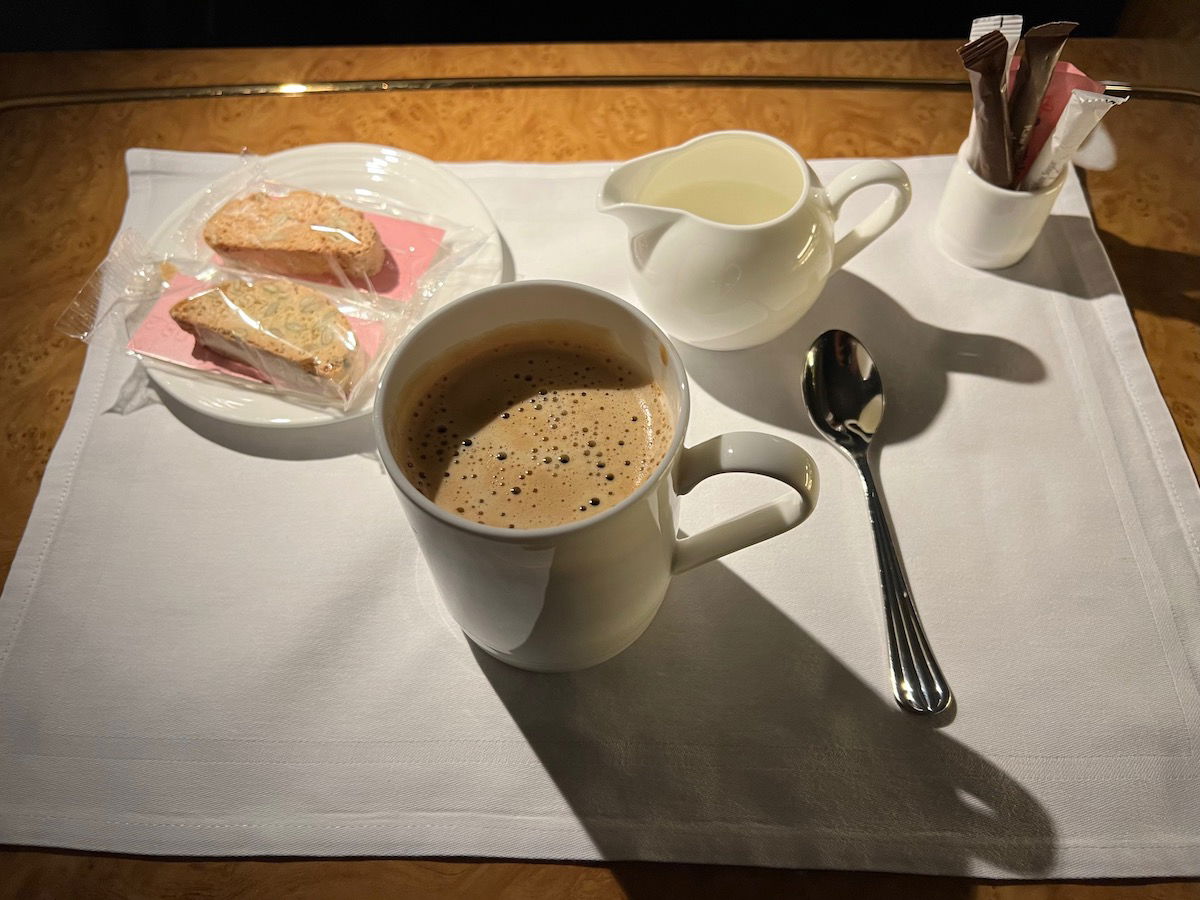 While I most definitely wasn't hungry, I figured I had to take one for the team and order breakfast. 😉 To start I had a fruit plate and some yogurt. I was also served a pastry basket, with a muffin, danish, and croissant.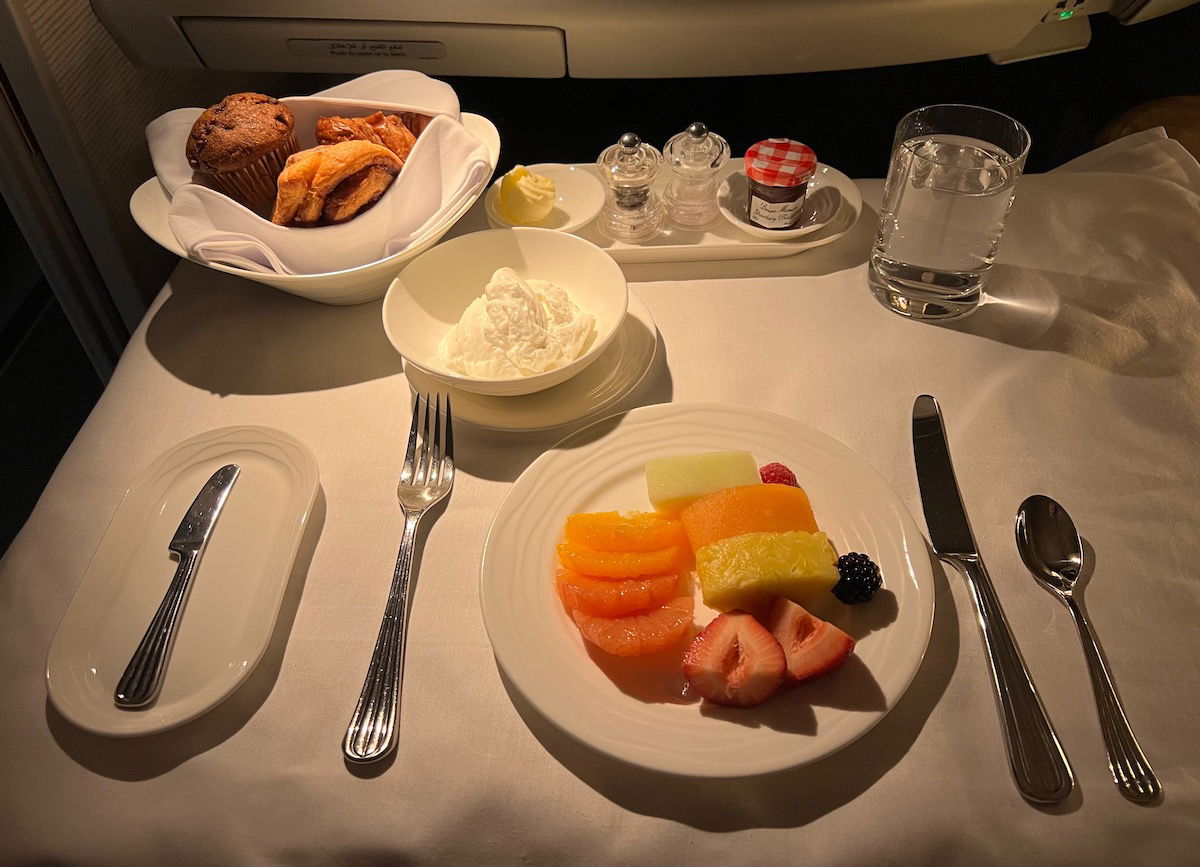 For the main, I ordered the waffles with cherry compote and maple syrup. Frankly this wasn't great, as the waffles were quite hard and dry. That was probably for the better, since it meant I didn't finish them.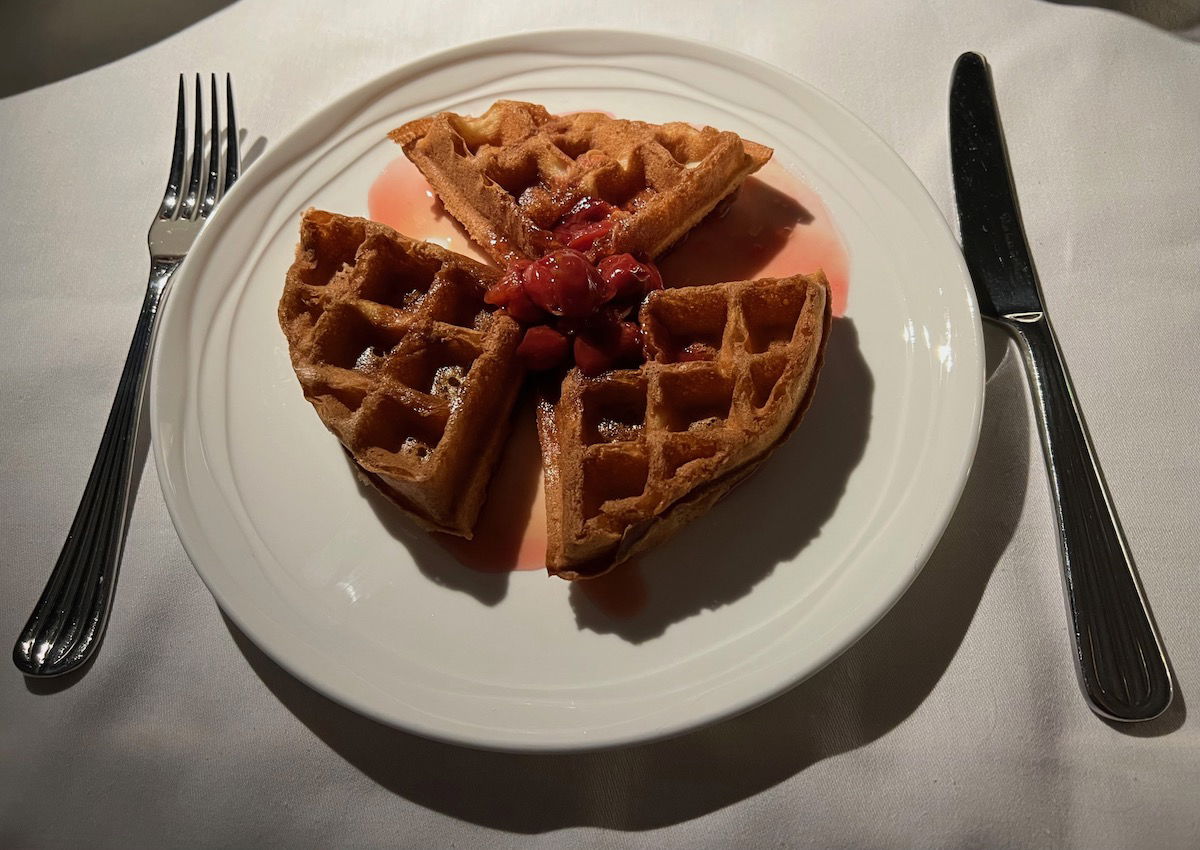 Ford had the poached eggs with sautéed spinach, which he requested to have without hollandaise. That was definitely the better dish.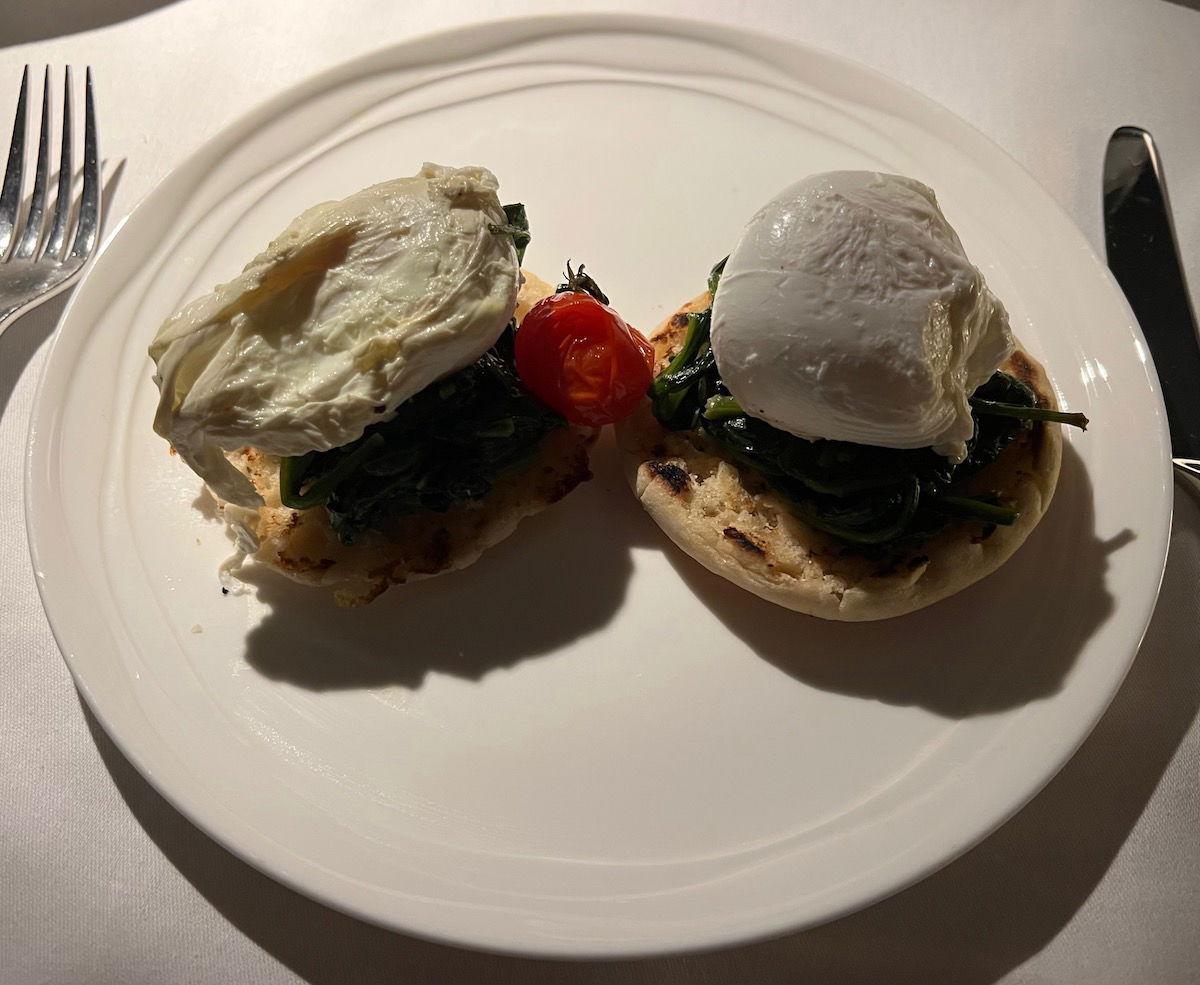 Emirates first class service
Service on this Emirates flight was spectacular. Of course I have to acknowledge my bias, as our good friend Toby was the purser. Keep in mind that I met Toby in the first place because he was the purser on my first Emirates flight nearly a decade ago, and I remembered him for how professional he was.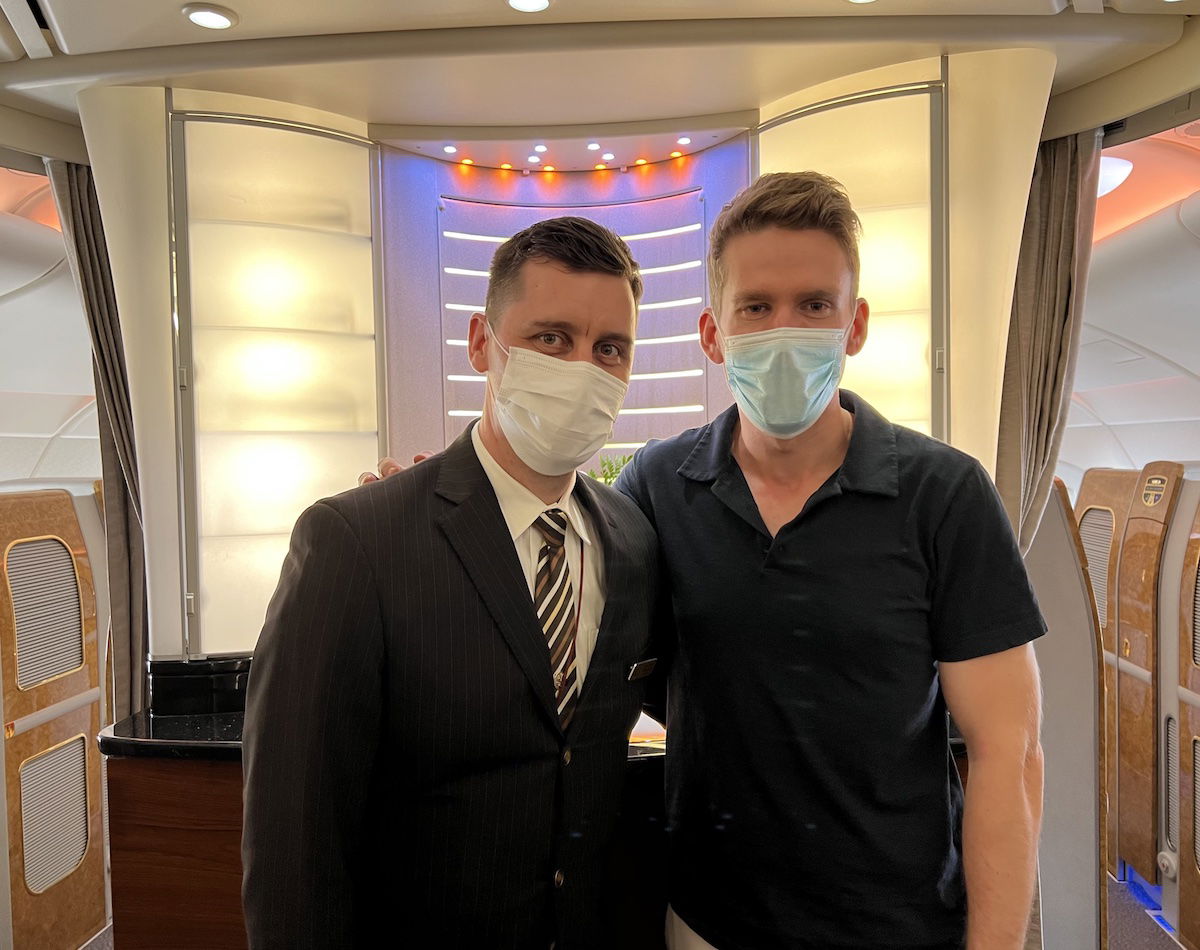 Of course the reality is that the purser primarily manages the entire ~26 person cabin crew, so it's not like he was serving us the entire time. That's why credit goes to the ladies working first class as well, as they were truly professional — they were personable, attentive, and fun. Admittedly it was easy to provide great service with only five seats occupied, especially as the three other passengers in first class more or less slept the entire way.
Emirates A380 arrival at MXP
At 11:35AM local time, the captain announced that we were 260 nautical miles from landing, that we were just passing Lyon, and that we were heading over the Alps toward Turin. He advised we'd be landing in around 45 minutes, and he anticipated a 12:20PM touchdown.
Around 20 minutes later the seatbelt sign was turned on. We beat the predicted landing timeline significantly, as we landed at 12:10PM. Of course I watched the tail camera all the way to the gate.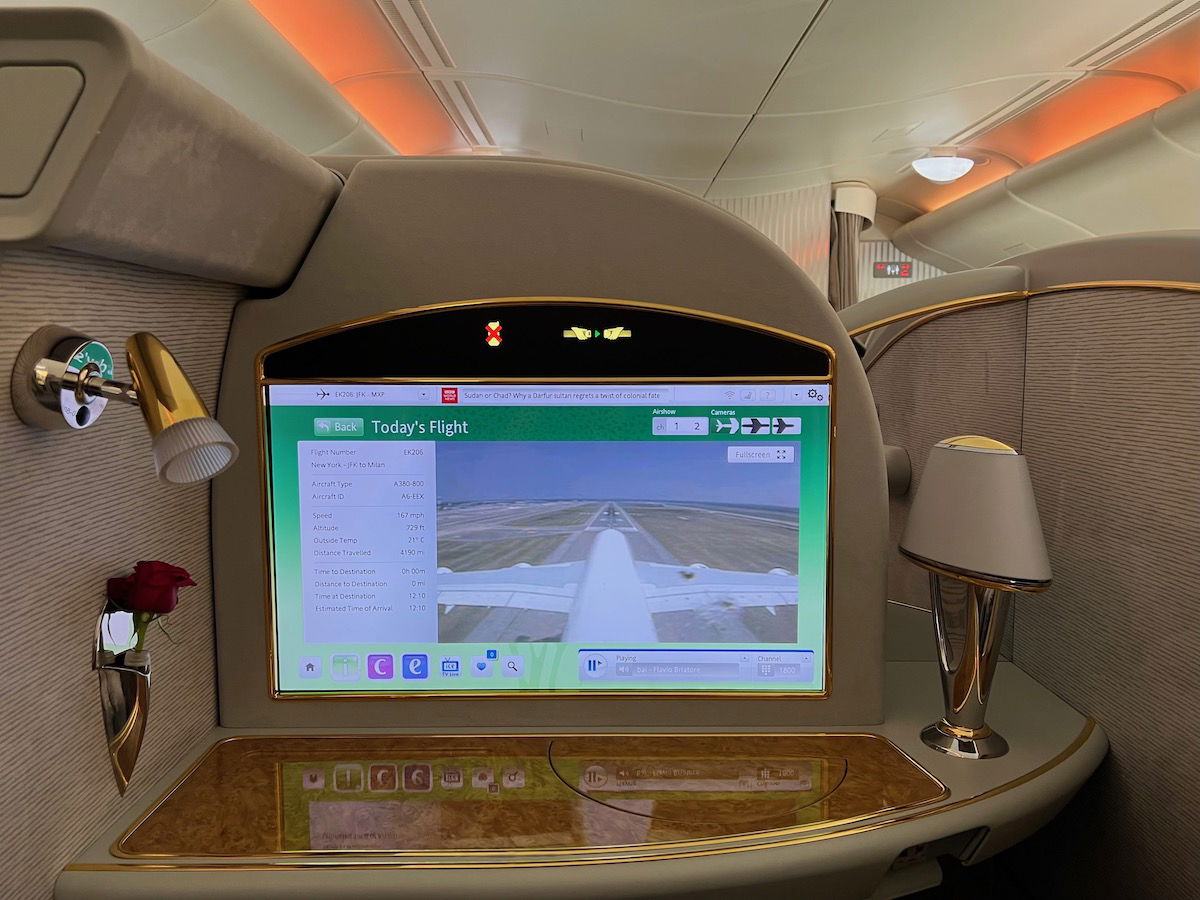 From there we had a 10 minute taxi to our arrival stand, where we pulled in at 12:20PM. We parked right next to an ITA A330 in the new livery, which was my first time seeing the plane in the "flesh."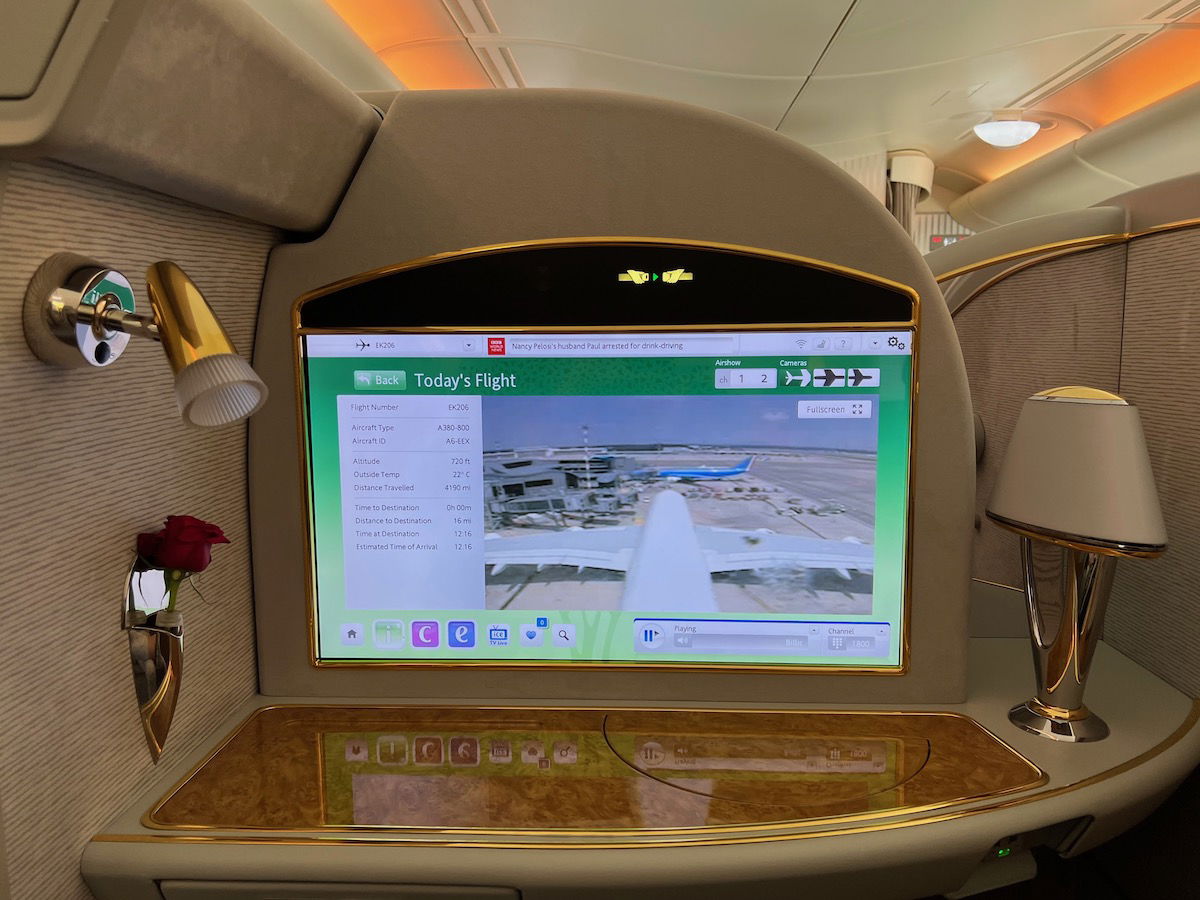 Bottom line
What an incredible flight! Flying Emirates' A380 first class across the Atlantic is such a treat, and what a value it is at just 85K Skywards miles per person in first class. From Dom Perignon, to caviar, to showering, to a visit to the bar, to endless amenities, Emirates first class is amazing. There was also a great crew on this flight, lead by Toby.
My only complaint about this flight is how short it is — it's really not long enough to enjoy all the A380 has to offer!
If you've flown Emirates' A380 first class, what was your experience like?