In the interest of full disclosure, OMAAT earns a referral bonus for anyone that's approved through some of the below links. These are the best publicly available offers (terms apply) that we have found for each product or service. Opinions expressed here are the author's alone, not those of the bank, credit card issuer, airline, hotel chain, or product manufacturer/service provider, and have not been reviewed, approved or otherwise endorsed by any of these entities. Please check out
our advertiser policy
for further details about our partners, and thanks for your support!
After spending some time in Saint-Tropez, our next stop was Sylt, Germany. We flew there in SWISS business class via Zurich. In this installment I wanted to review the first flight, as it was on the A320, which I haven't reviewed before (I won't be reviewing the second segment, since I just recently reviewed SWISS' A220 business class).
How I booked our SWISS business class tickets
I booked the following flights in business class using Air Canada Aeroplan points:
06/08 LX561 Nice to Zurich departing 7:10PM arriving 8:20PM
06/09 LX2570 Zurich to Westerland departing 3:45PM arriving 5:35PM
The cost was 15,000 Aeroplan points plus $92.58 per person in taxes & fees. As a point of comparison, economy would have cost 7,500 Aeroplan points per person, so I figured that was a fair premium to pay for two segments in business class, even if intra-Europe travel isn't much to get excited about.
Since we spent just under 24 hours in Zurich, we could book that all as one ticket (though if we wanted to spend more than 24 hours there, we could have booked a stopover for 5,000 additional Aeroplan points).
Aeroplan points are easy to come by, as the program partners with American Express Membership Rewards, Capital One, and Chase Ultimate Rewards. On top of that, in the United States, there's the Aeroplan® Credit Card (review), which is pretty lucrative.
SWISS business class check-in & boarding
SWISS departs from Nice Airport (NCE) Terminal 1, and shares a check-in desk with all Lufthansa Group airlines, including Austrian, Brussels Airlines, and Lufthansa. There was no line at check-in, and our bags were tagged within minutes.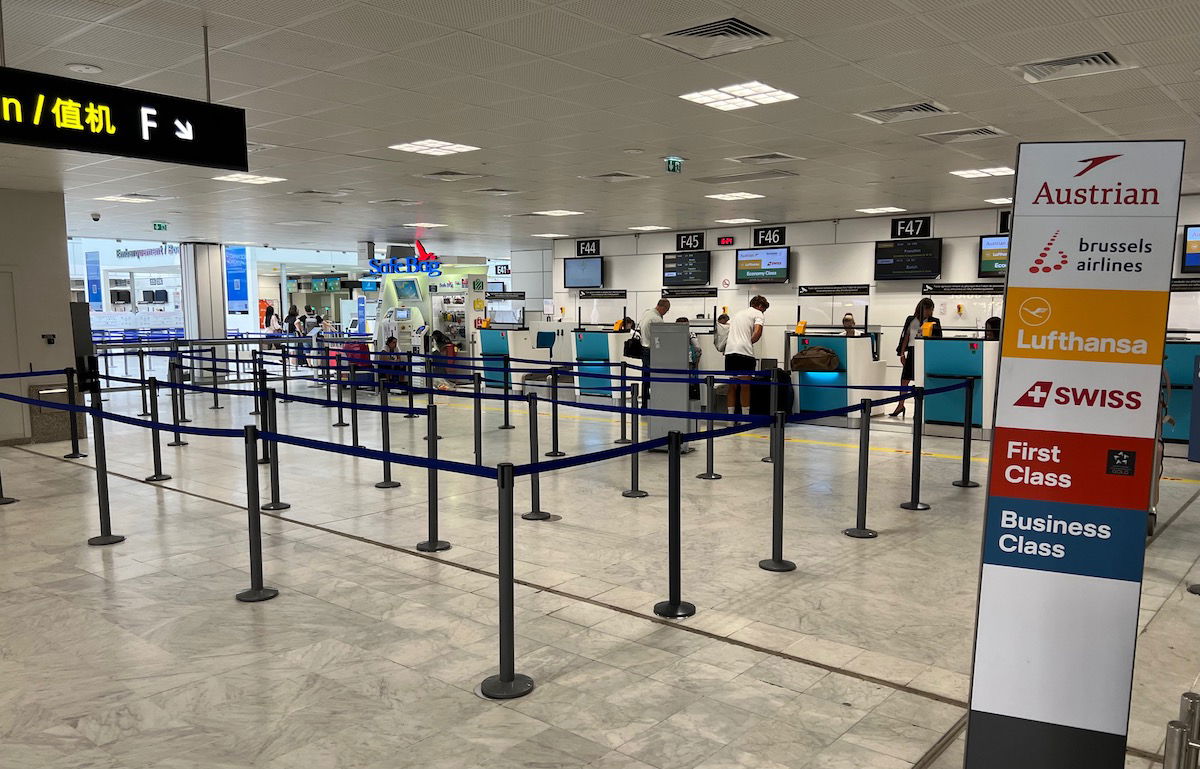 Security only took a few minutes, and we spent a bit over an hour in The Library Lounge, which I reviewed in the previous installment.
Our 7:10PM flight was departing from gate A31, and boarding was scheduled to start at 6:45PM. Boarding was delayed by around 20 minutes due to the inbound aircraft from Zurich being late, but they at least turned the plane quickly. So boarding began at 7:05PM, using automated gates.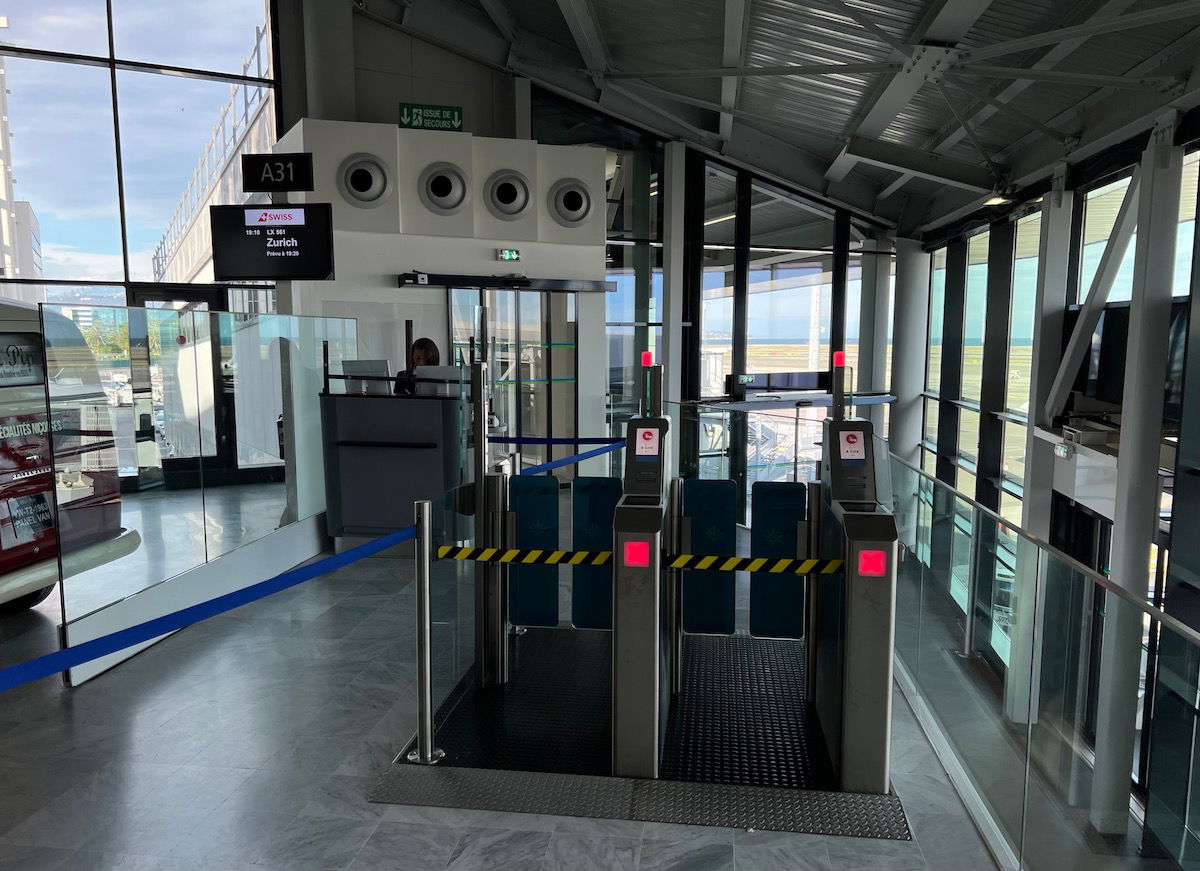 SWISS A320 business class cabin & seats
Our flight was operated by the aircraft with the registration code HB-IJJ, a 26+ year old jet. In that sense, the plane was well maintained. Intra-Europe business class simply consists of economy seats with blocked middles, and that means the size of the cabin can be adjusted with each flight.
On this flight there were four rows of business class, meaning there were a total of 16 business class seats.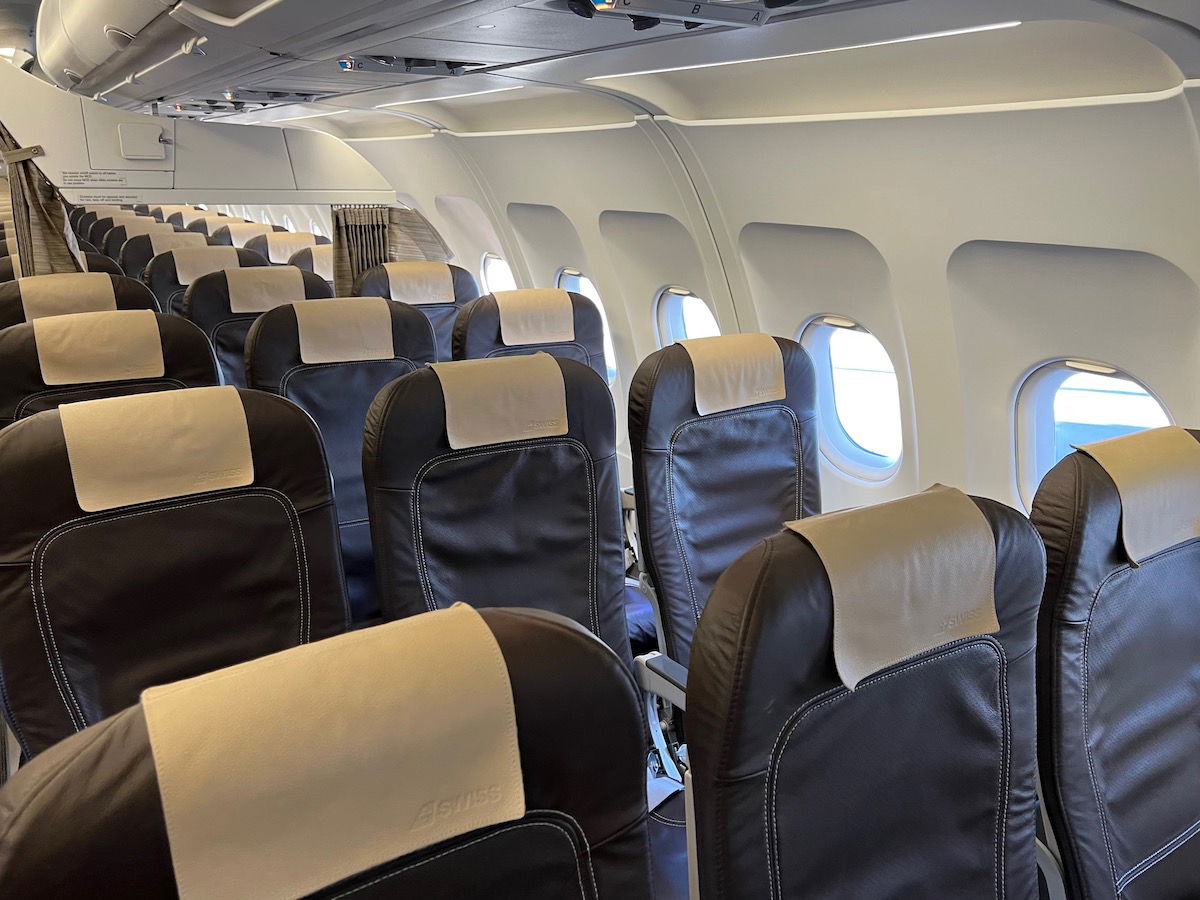 SWISS' A320s have 180 seats, so these planes are really, really dense. This is the same number of seats that you'll find on most EasyJet and Frontier planes.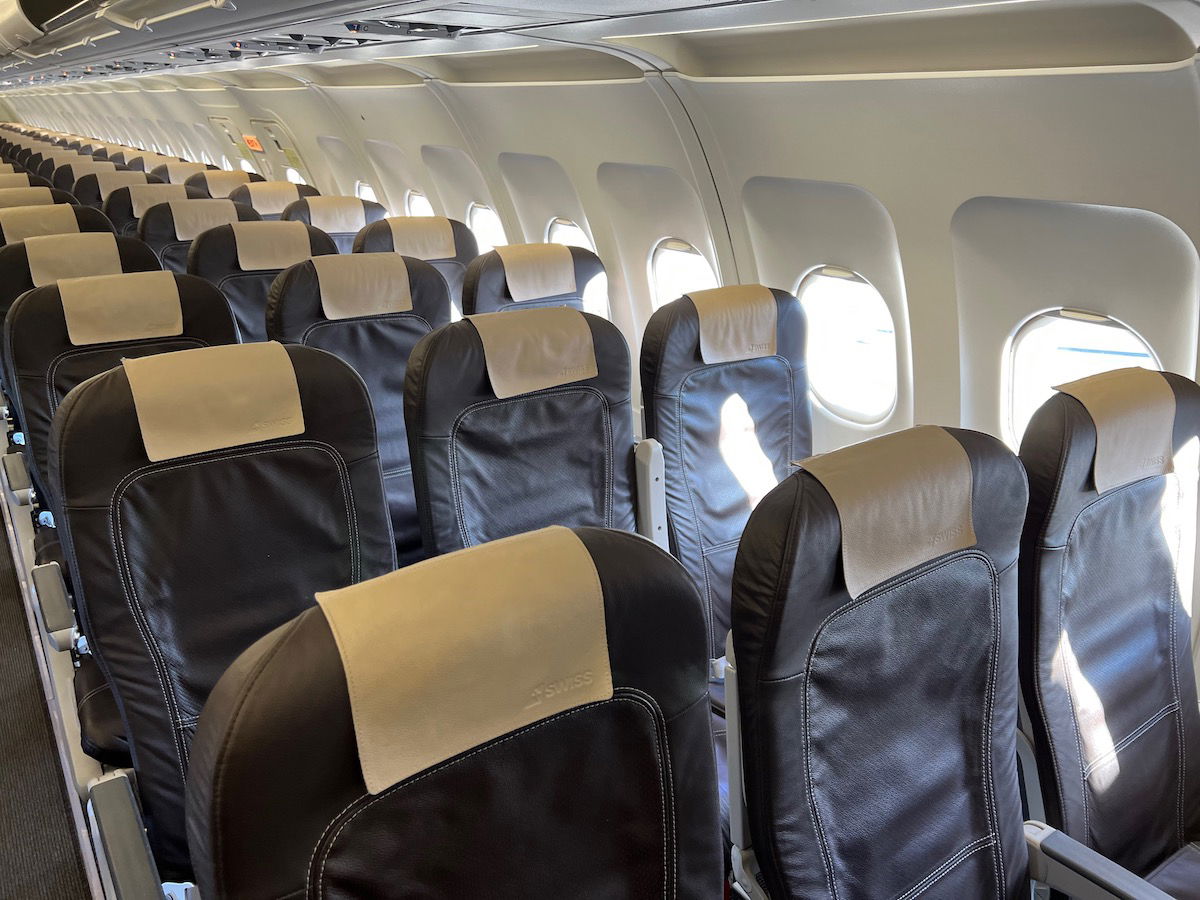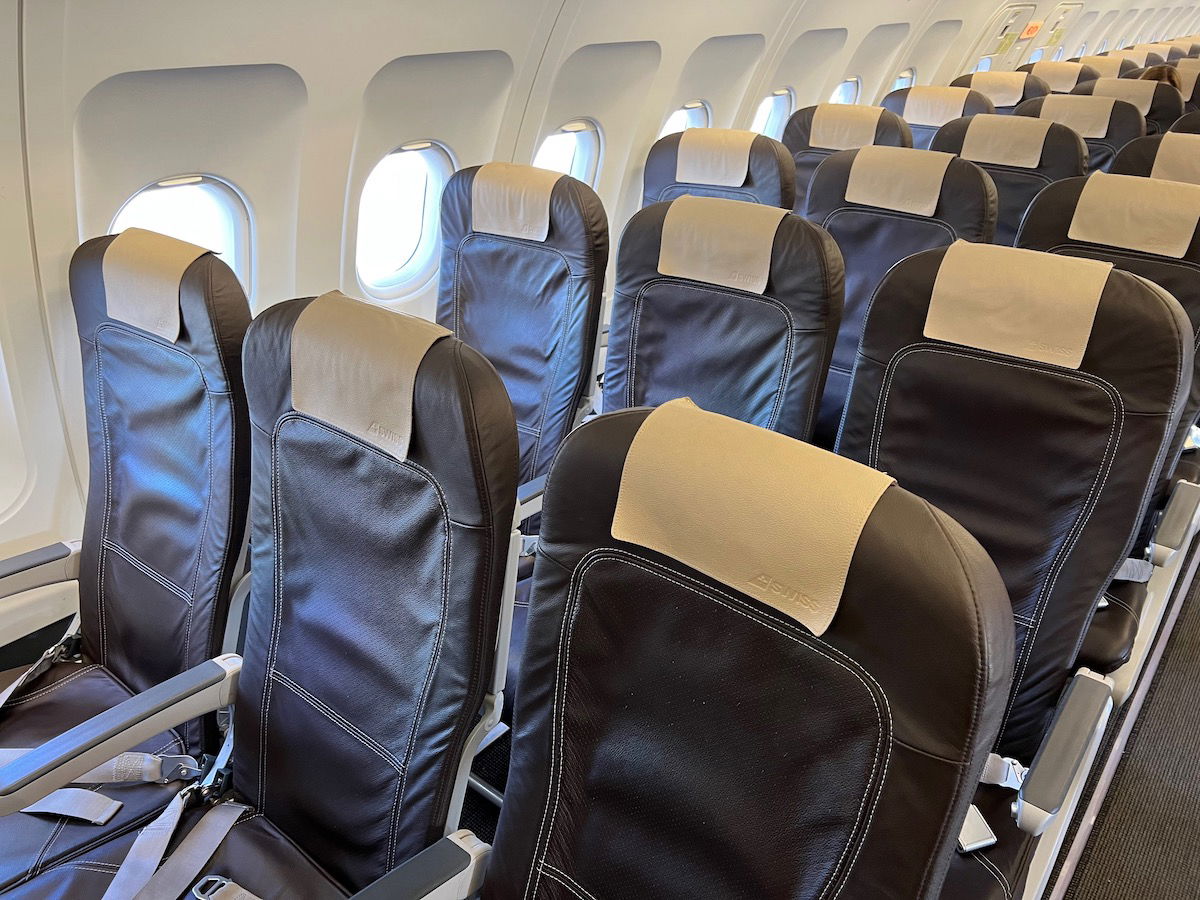 I believe SWISS has a bit of extra legroom in the first several rows. While I wouldn't say legroom was good, it wasn't as terrible as I was expecting for an A320 with 180 seats (if the size of the business class cabin is extended on a particular flight, expect less legroom further back).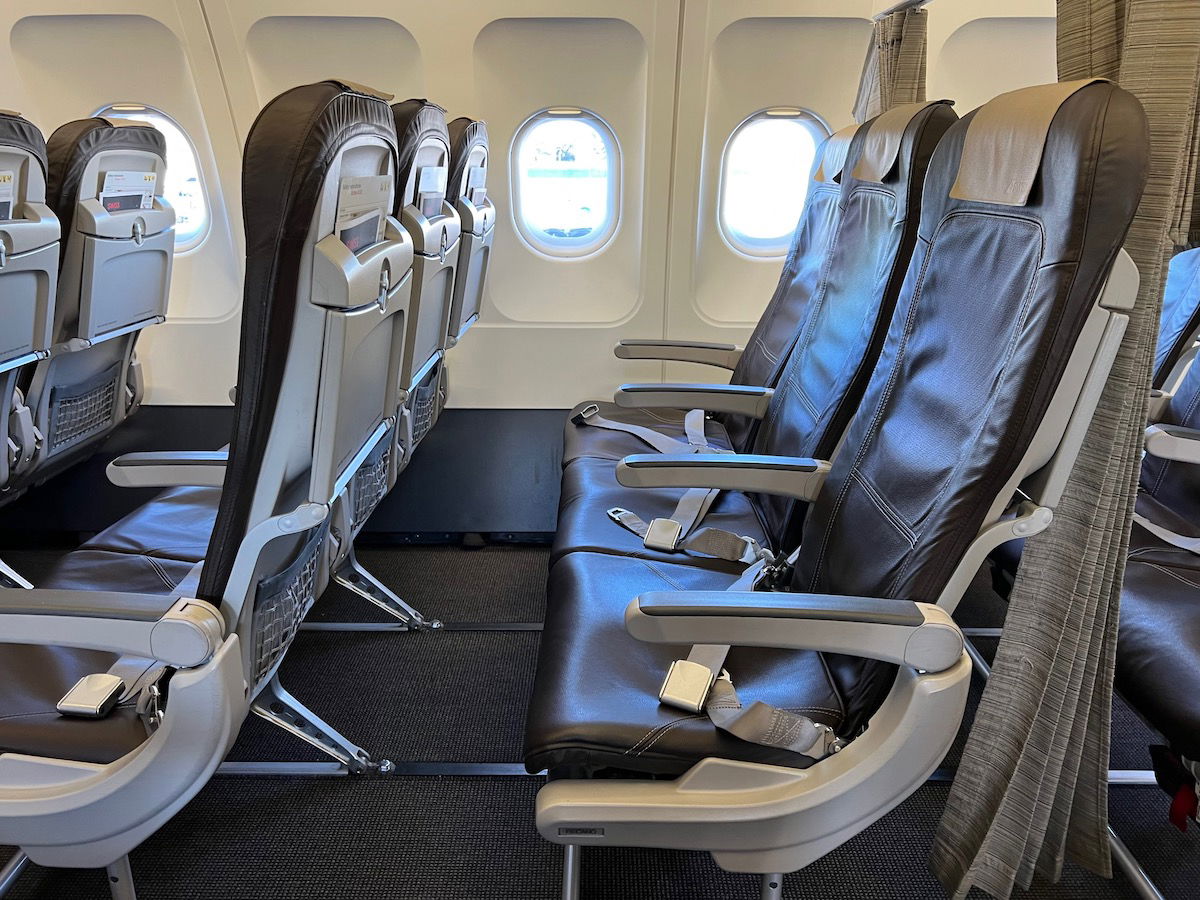 I assigned us seats 4A & 4C, the aisle and window seat in the last row on the left. Unlike some other airlines, SWISS doesn't have a tray on the center seat. The airline doesn't even have one of those headrest covers that indicates that the center seats are blocked (not that it really matters).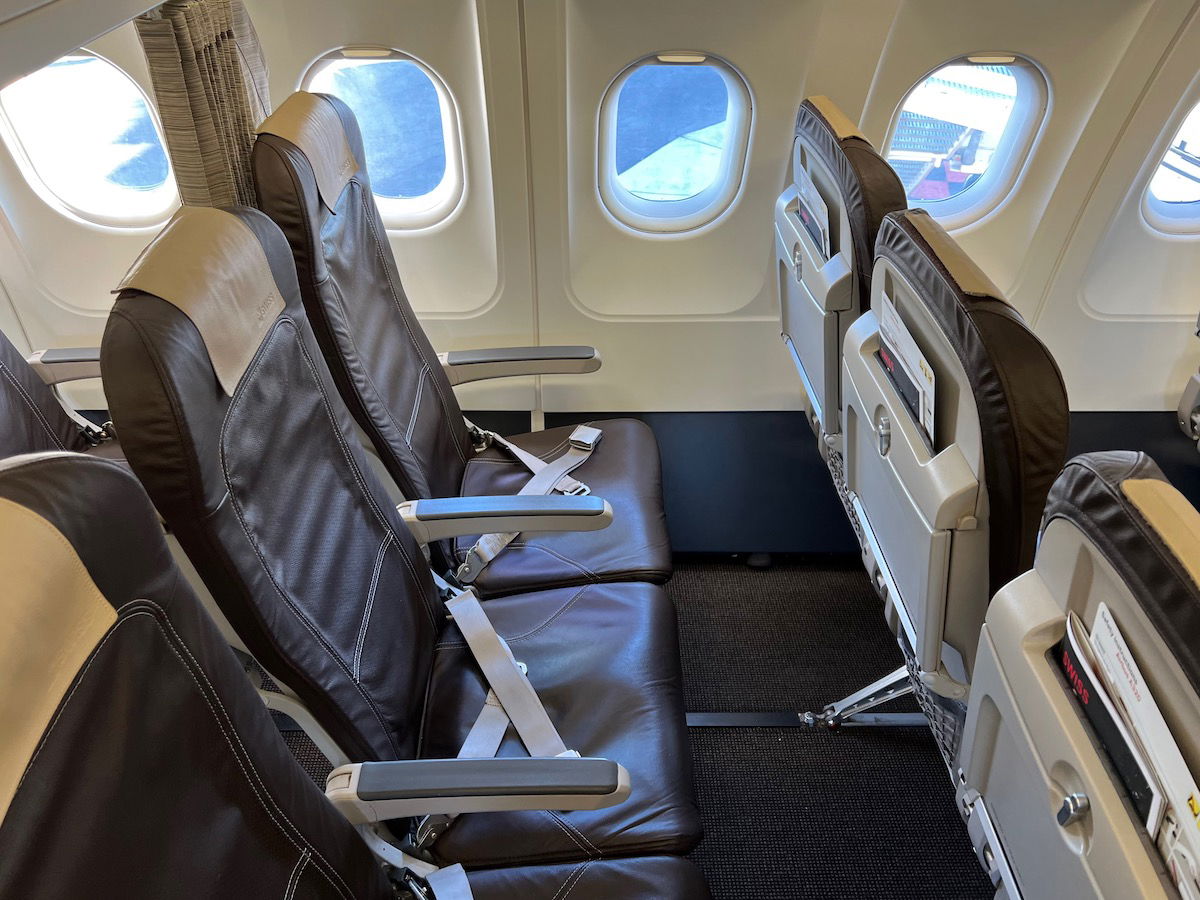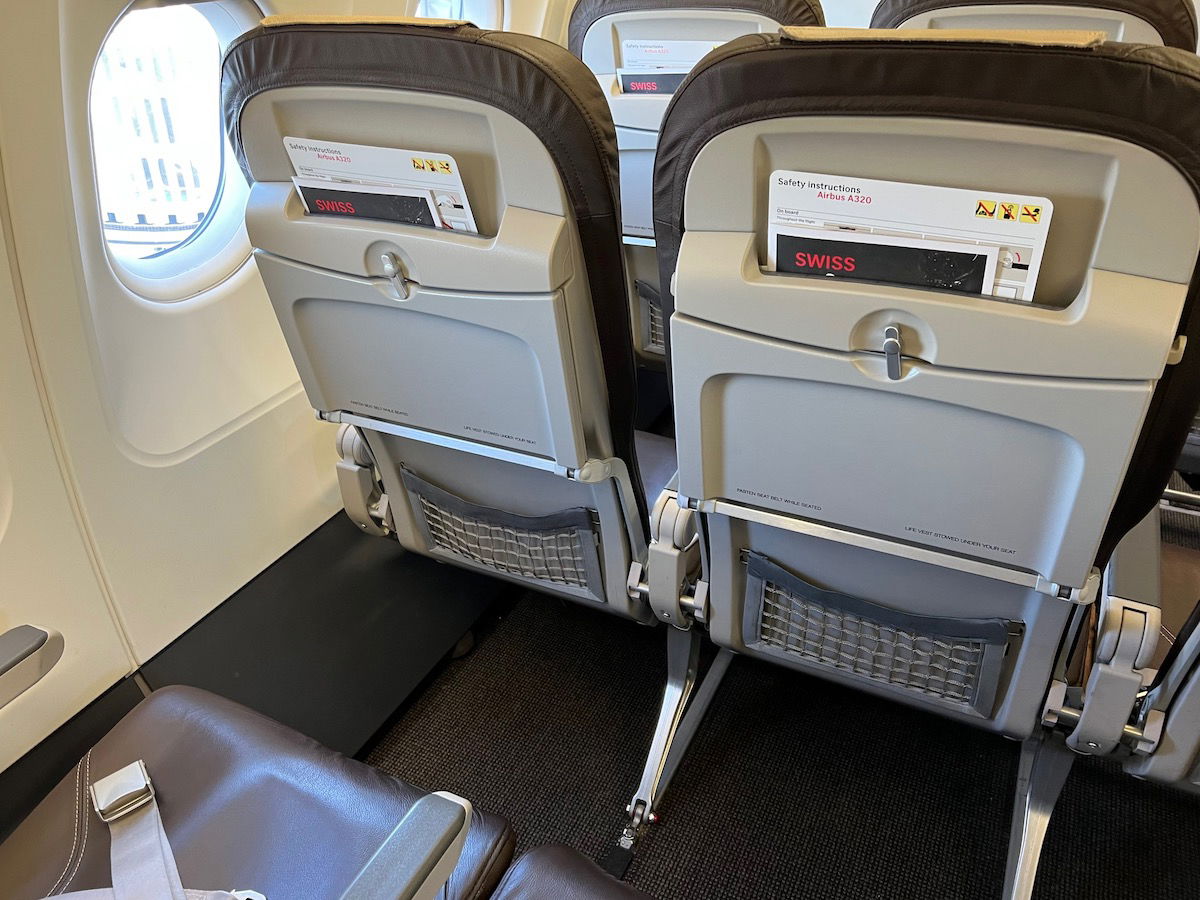 Each seat has a literature pocket and a tray table.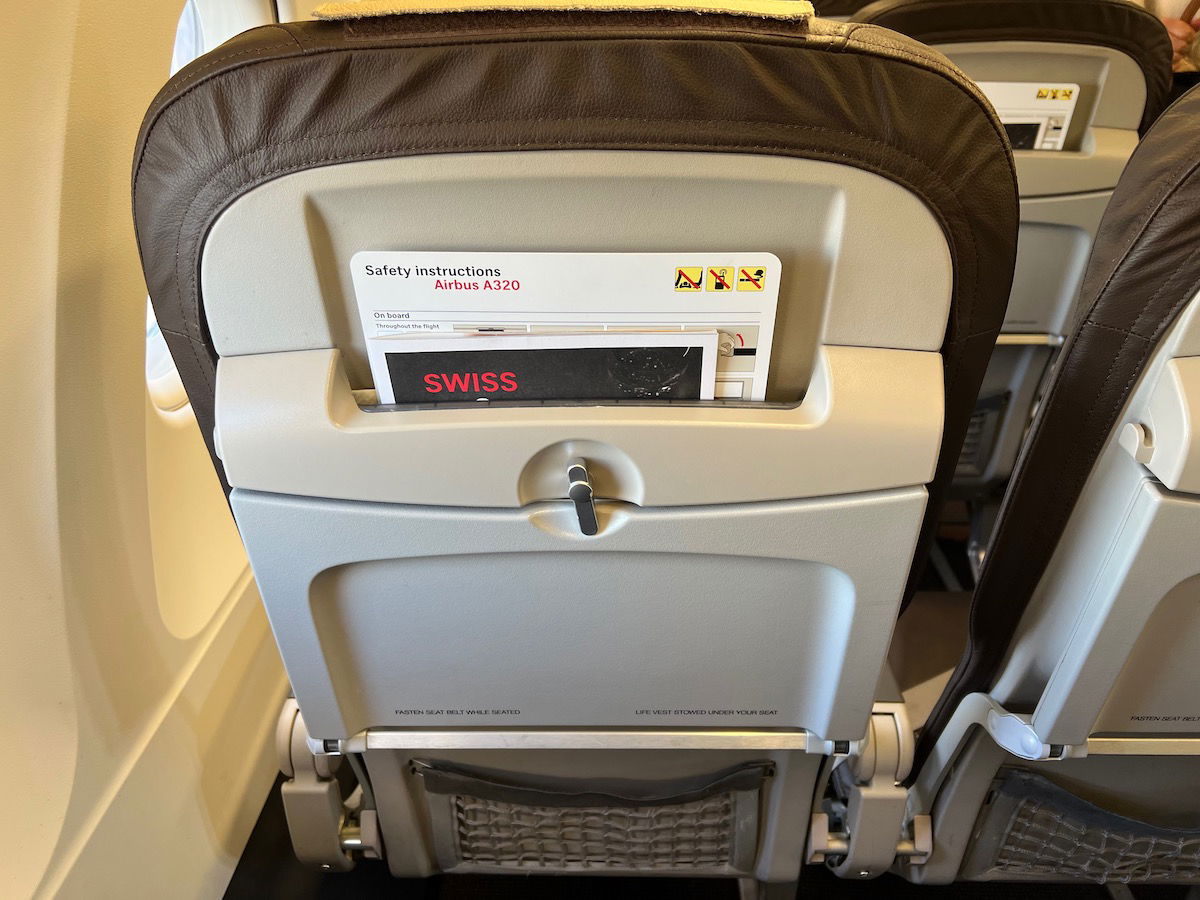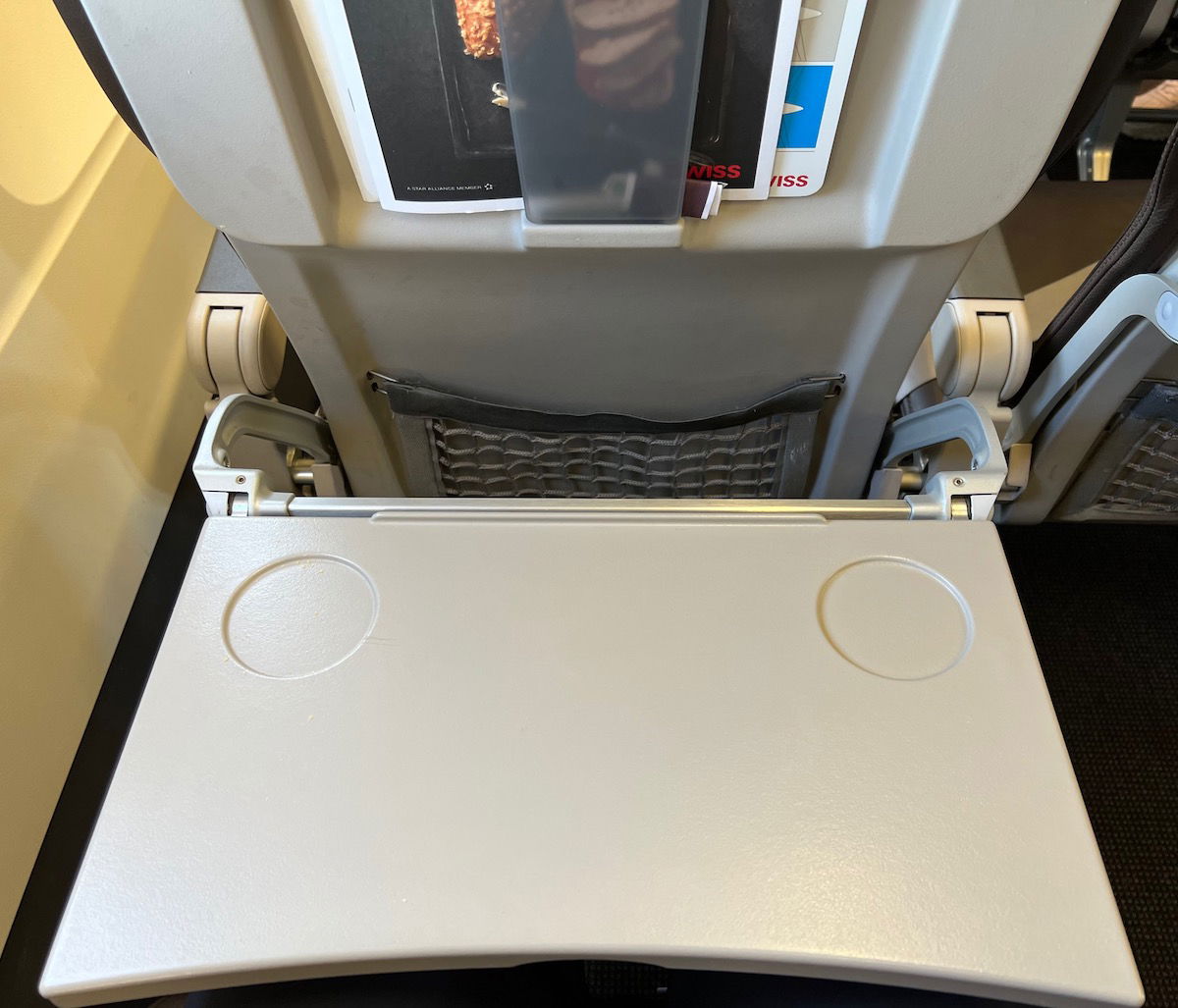 The overhead consoles have reading lights, but no individual air nozzles.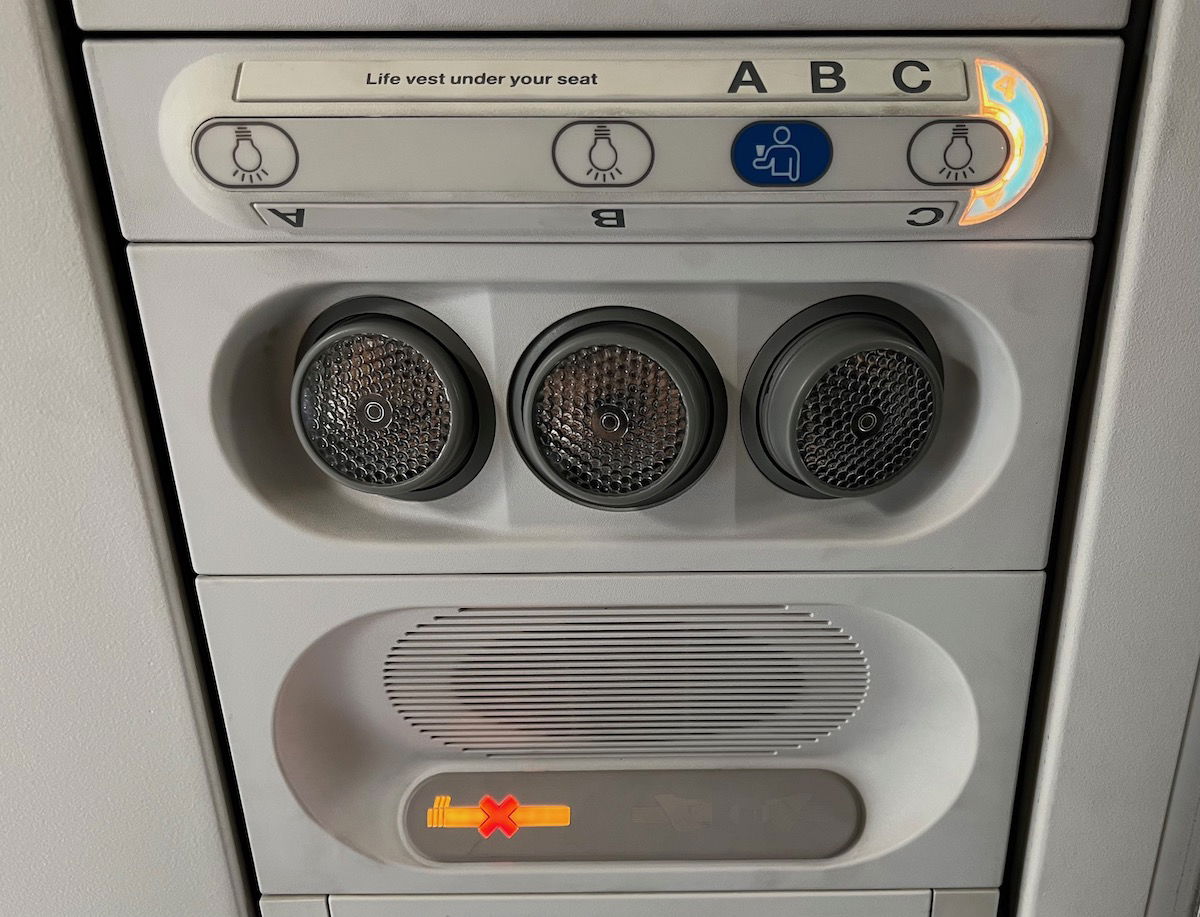 SWISS doesn't have power outlets or Wi-Fi on A320s, so this really is a very basic product. At least Lufthansa has Wi-Fi on most of its short haul fleet, unlike SWISS.
At the conclusion of boarding, business class passengers were offered bottles of water and refreshing towels.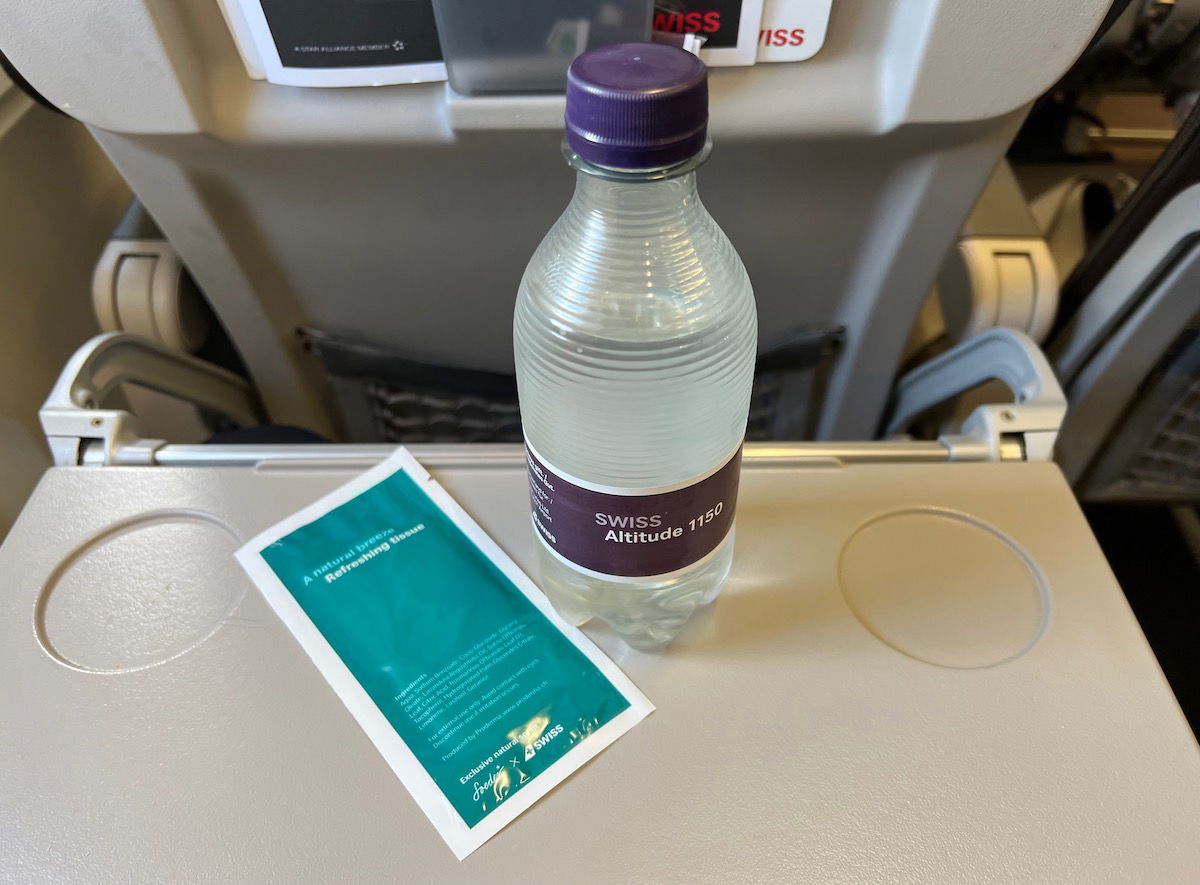 SWISS departure from Nice
Boarding was efficient, and the main cabin door closed at 7:25PM, with 12 of the 16 business class seats occupied.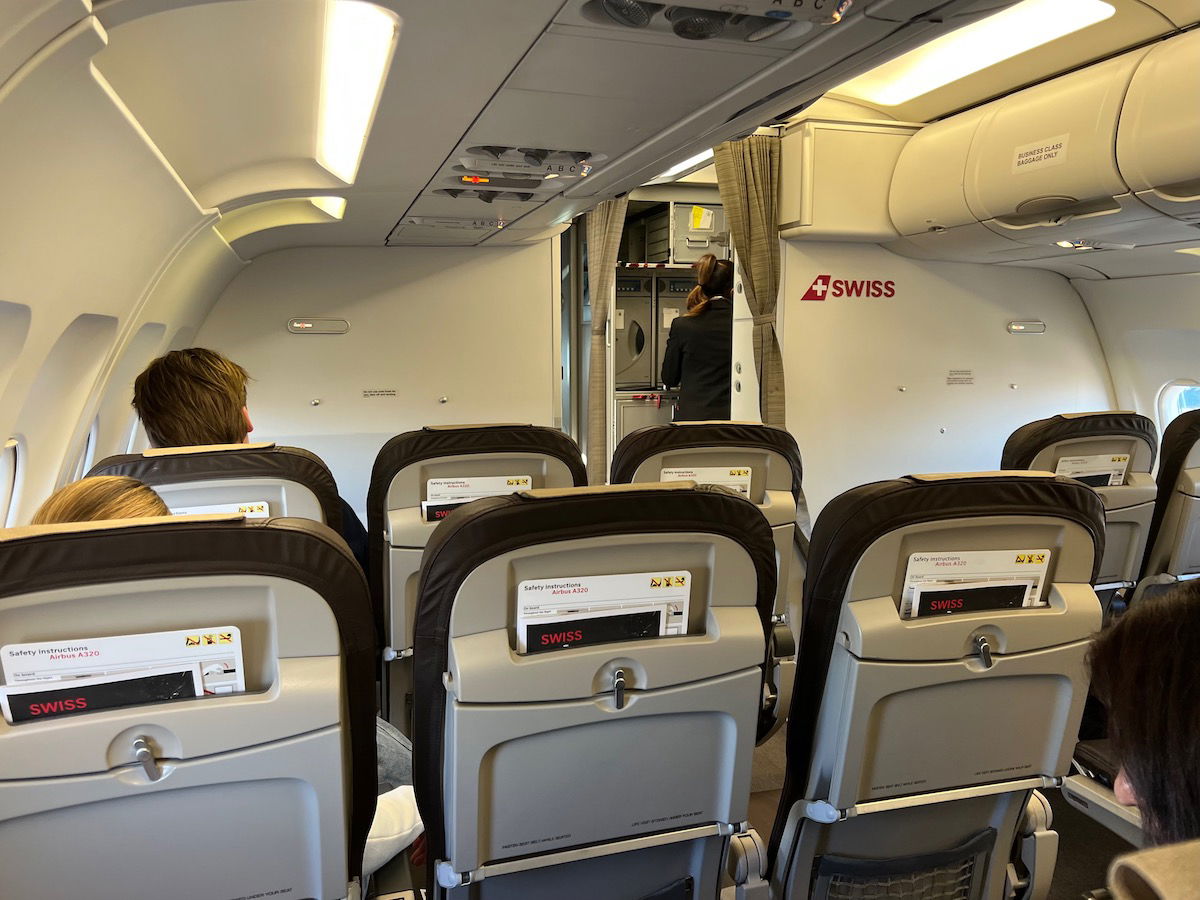 Around this time the captain made his welcome aboard announcement, which he did while standing in front of the cabin — I thought that was really professional. He told us that the flight time would be around an hour, and that we'd hopefully only arrive slightly delayed.
A few minutes later we began our pushback, at which point the safety video was screened (there are overhead monitors on the A320 that raise and lower).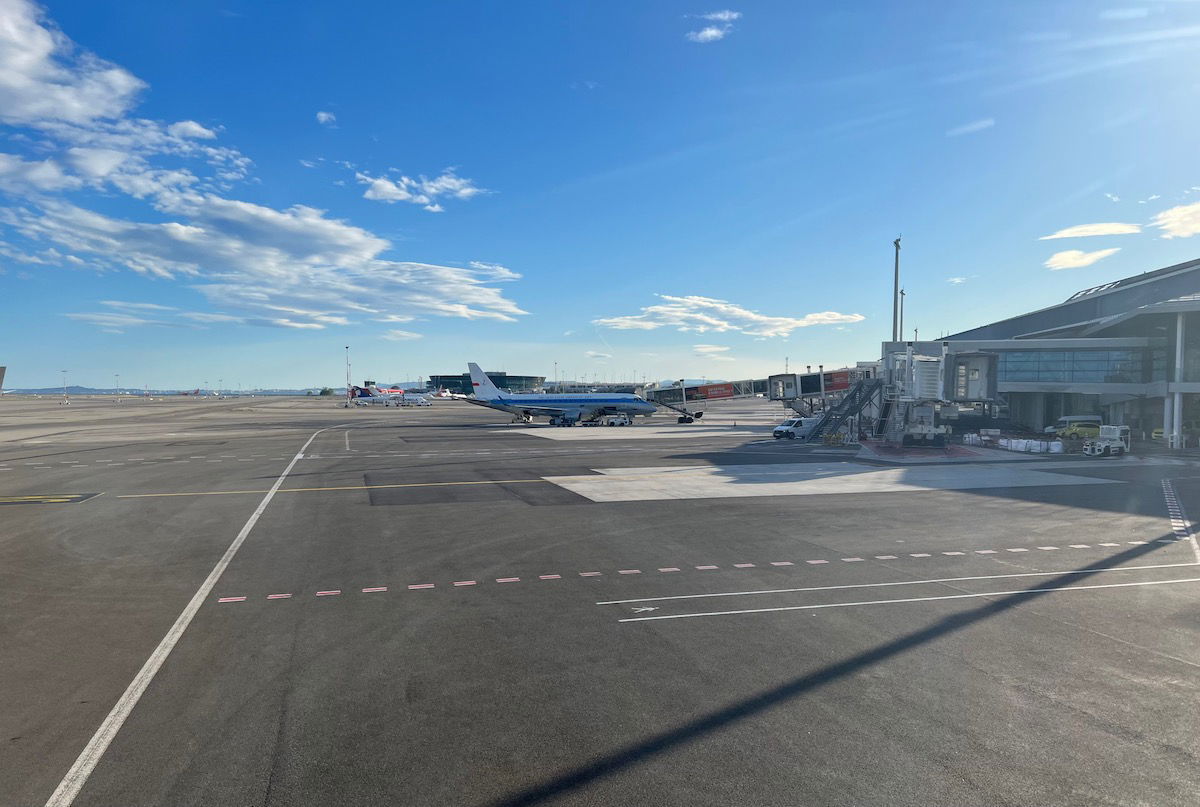 There are always quite some interesting planes when departing Nice…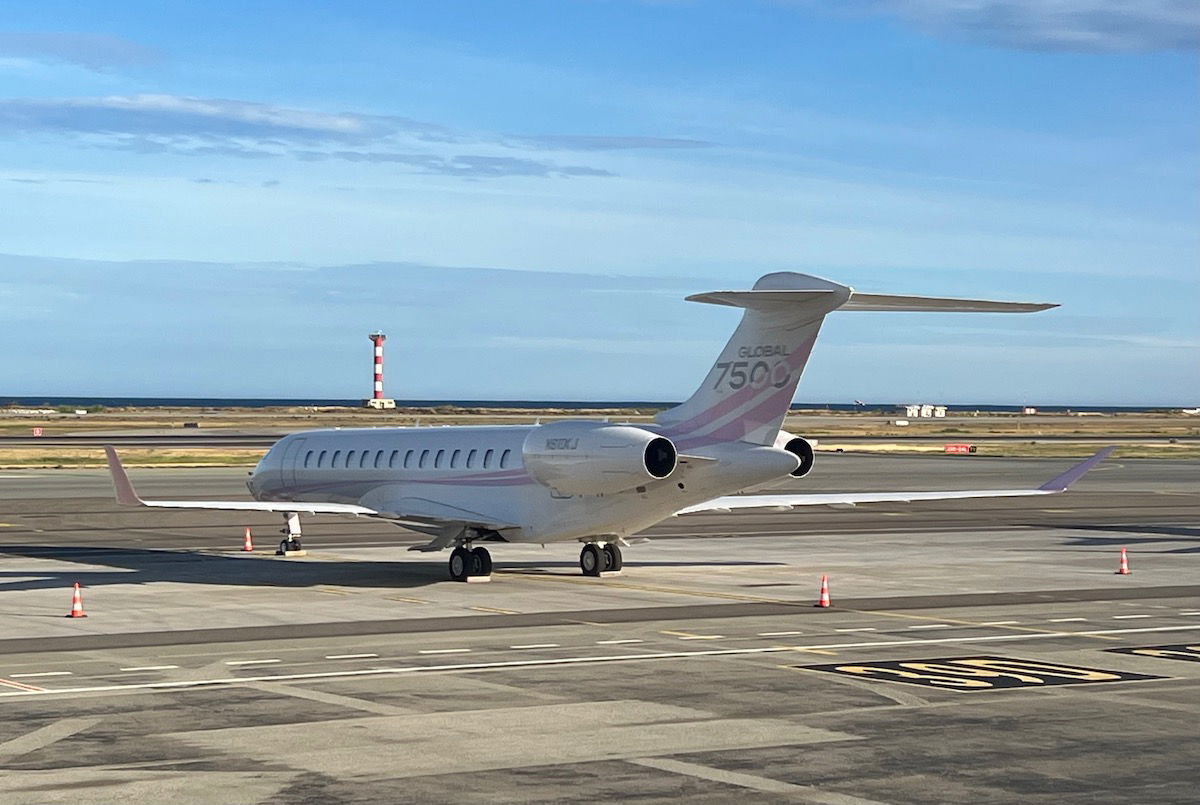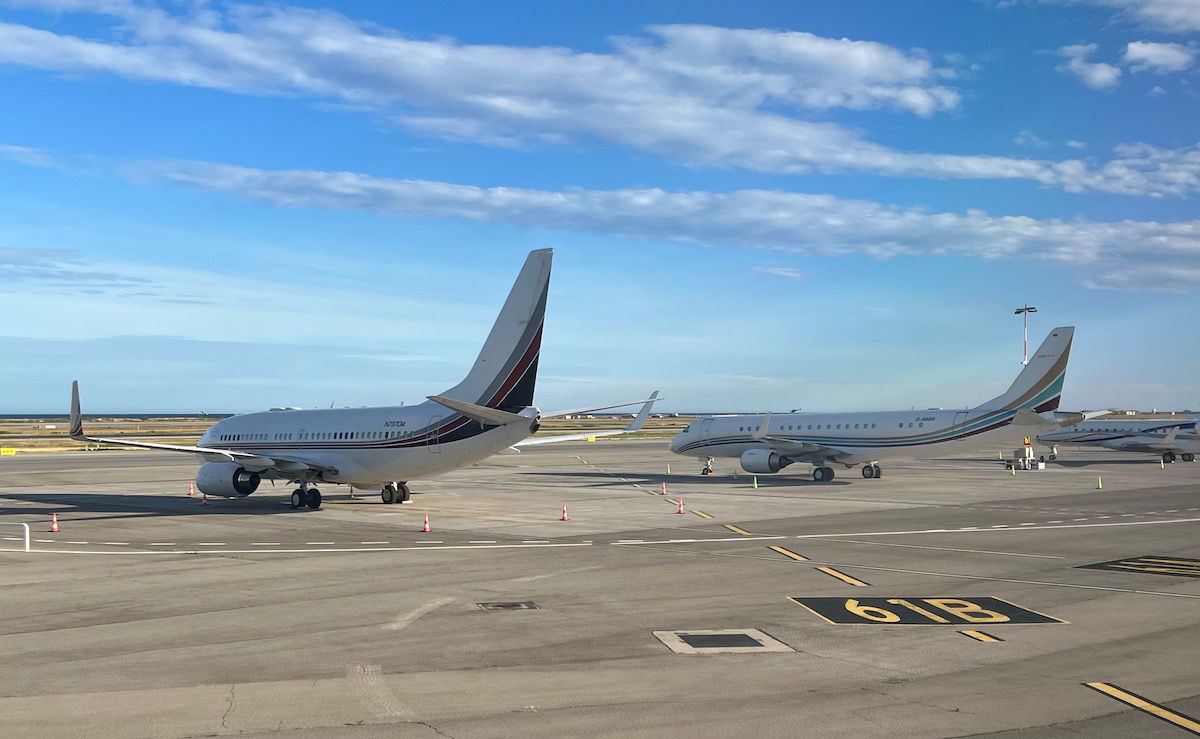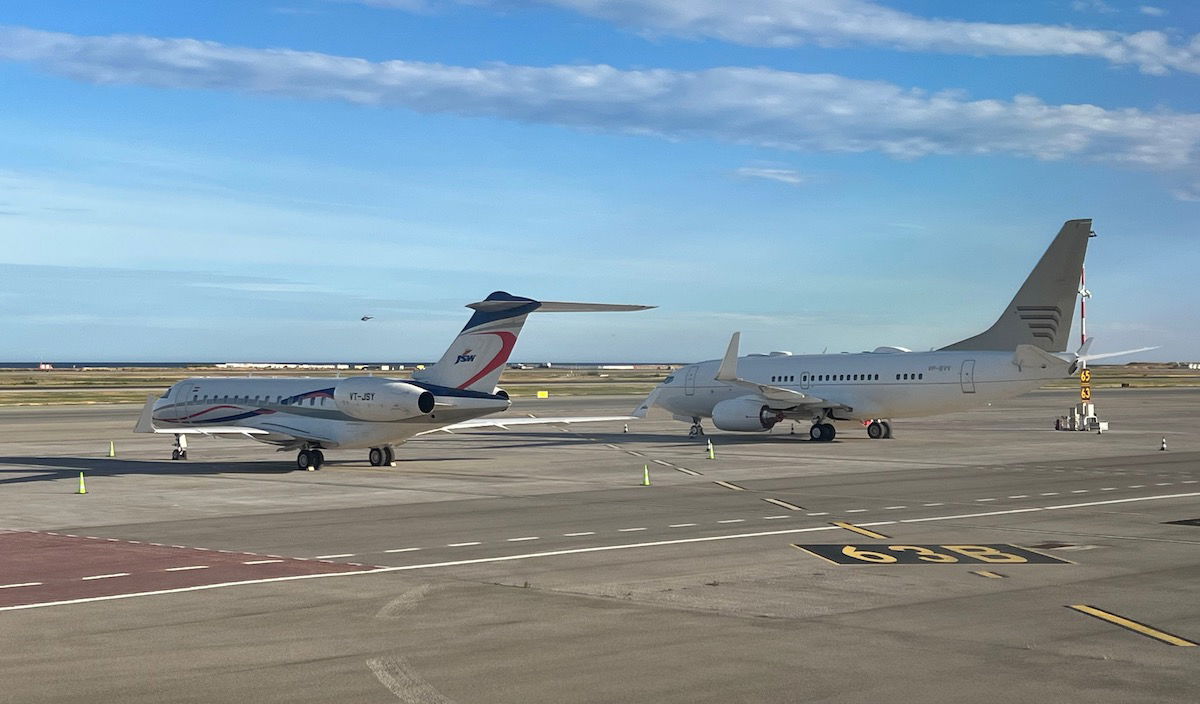 By 7:35PM we were cleared for takeoff on runway 4R. It was a gorgeous evening, and we had lovely views on our departure.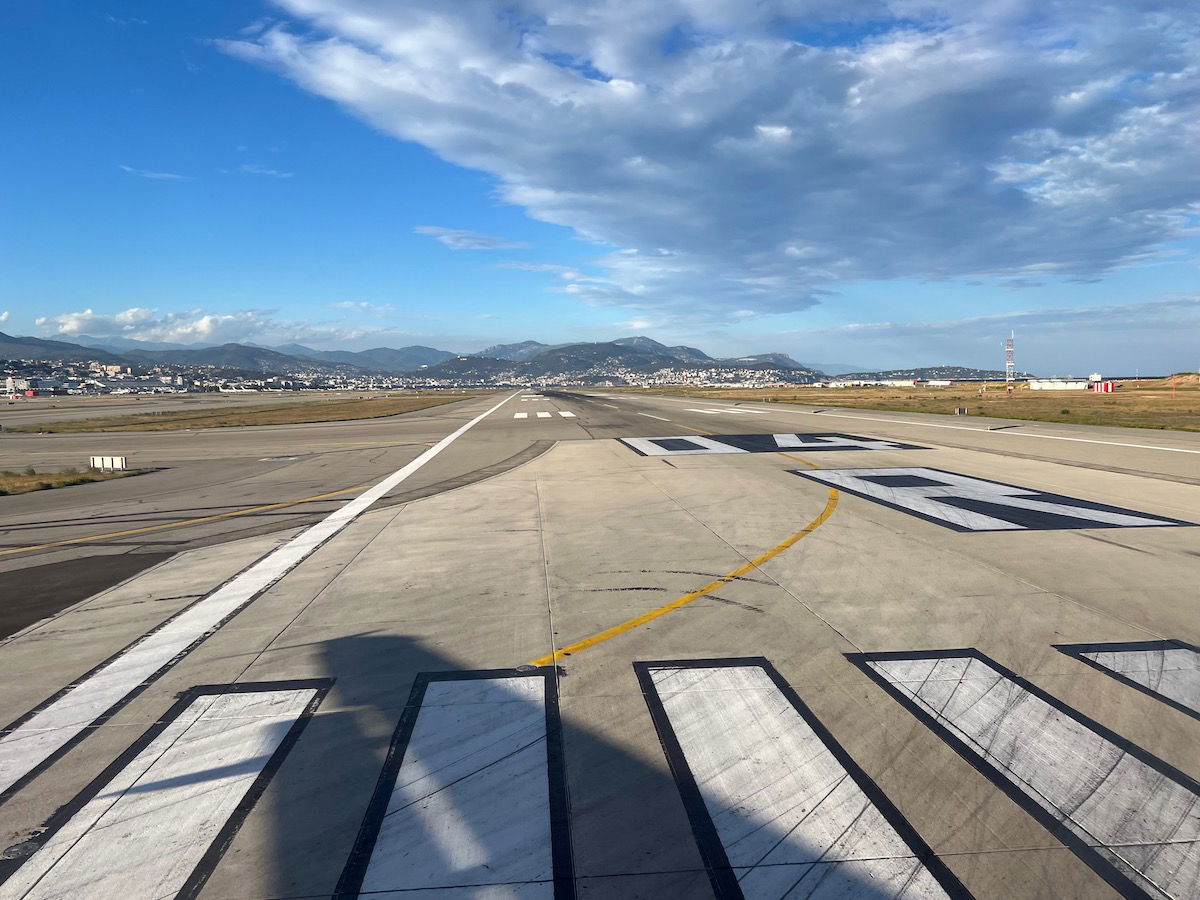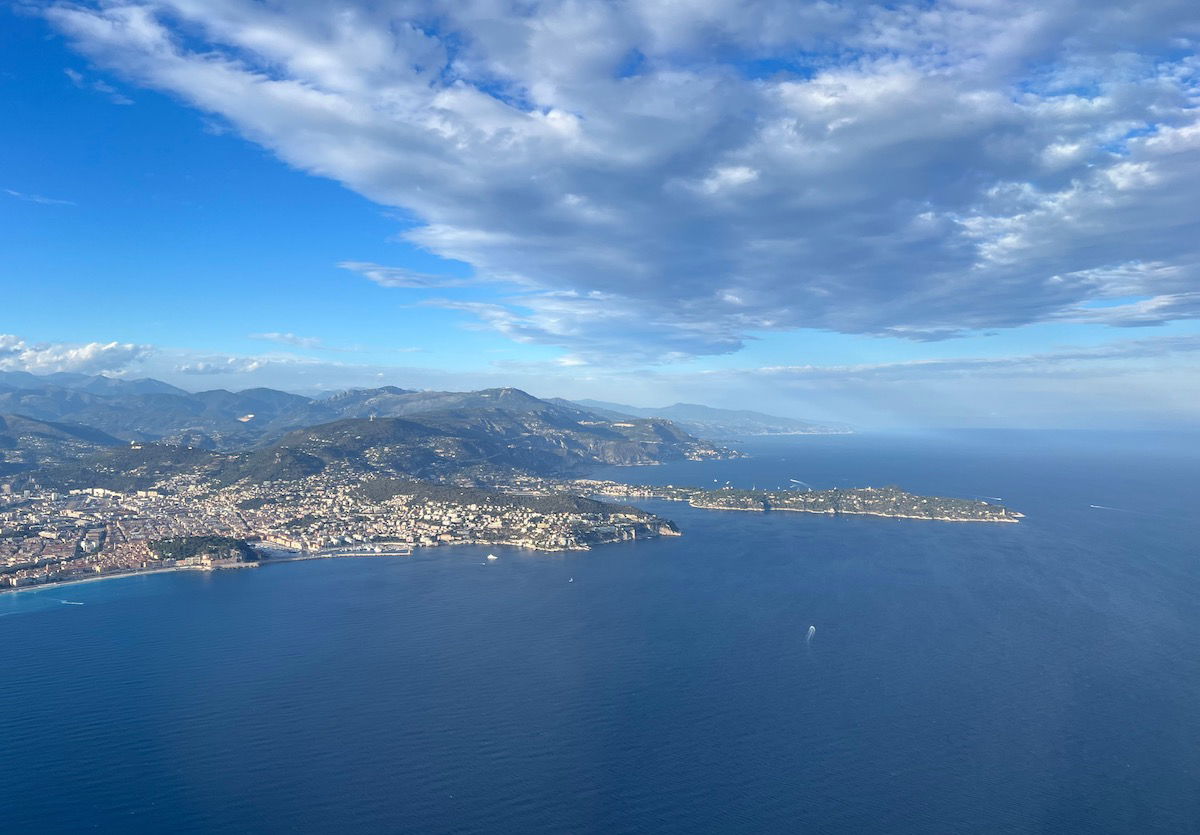 SWISS business class snack service
The seatbelt sign was turned off around 10 minutes after takeoff, at which point the inflight service began. Each business class passenger was offered a snack tray.
It's always a guessing game as to what's being served in intra-Europe business class. On this flight there was some sort of a tuna dish, some sort of other mystery substance, a couple of pieces of cheese, a roll, and a dessert with cream and berries.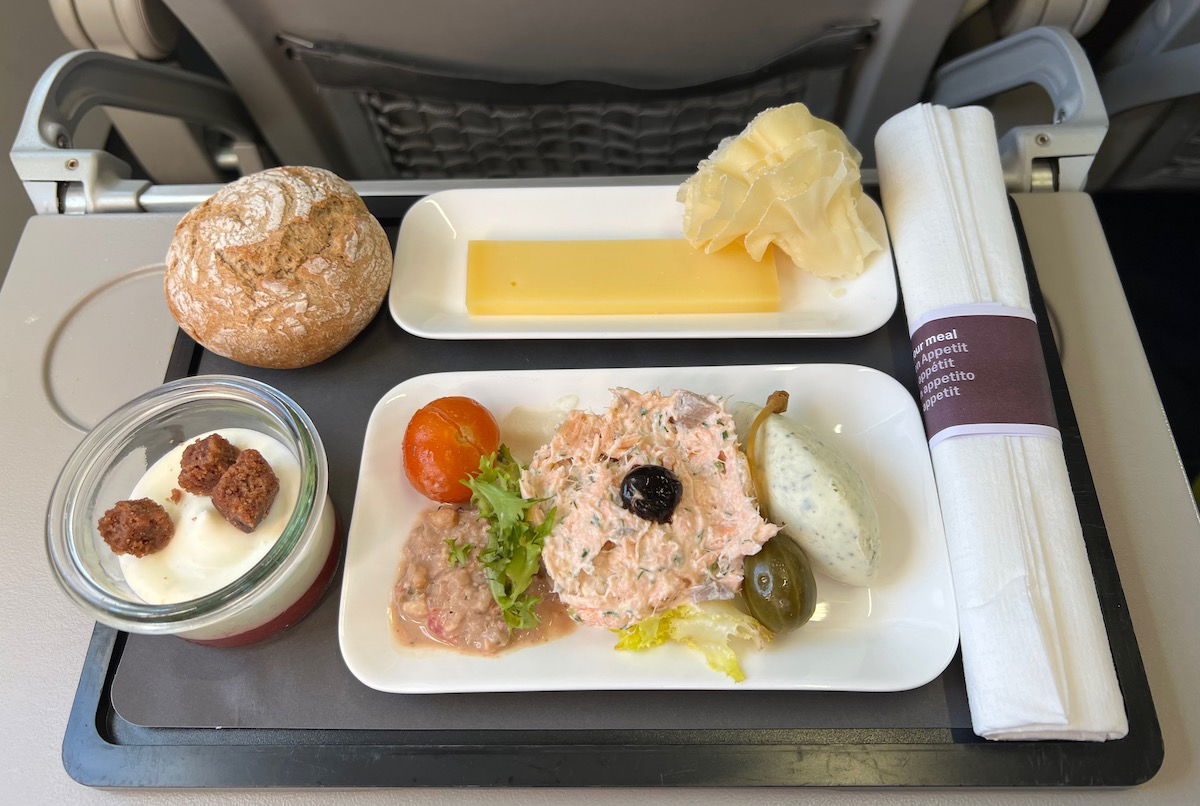 As far as Lufthansa Group business class catering goes, it was one of the better short haul snacks I've had. That's because it at least didn't have pork or elderflower, unlike seemingly every single Lufthansa flight I take (I don't eat pork, and I have nothing against elderflower in theory, except for the extent to which Lufthansa overuses it — elderflower lobbyists must be in the pockets of Lufthansa catering executives!).
Next up a drink trolley was rolled down the aisle. I had a Diet Coke to drink, which was served in proper glassware.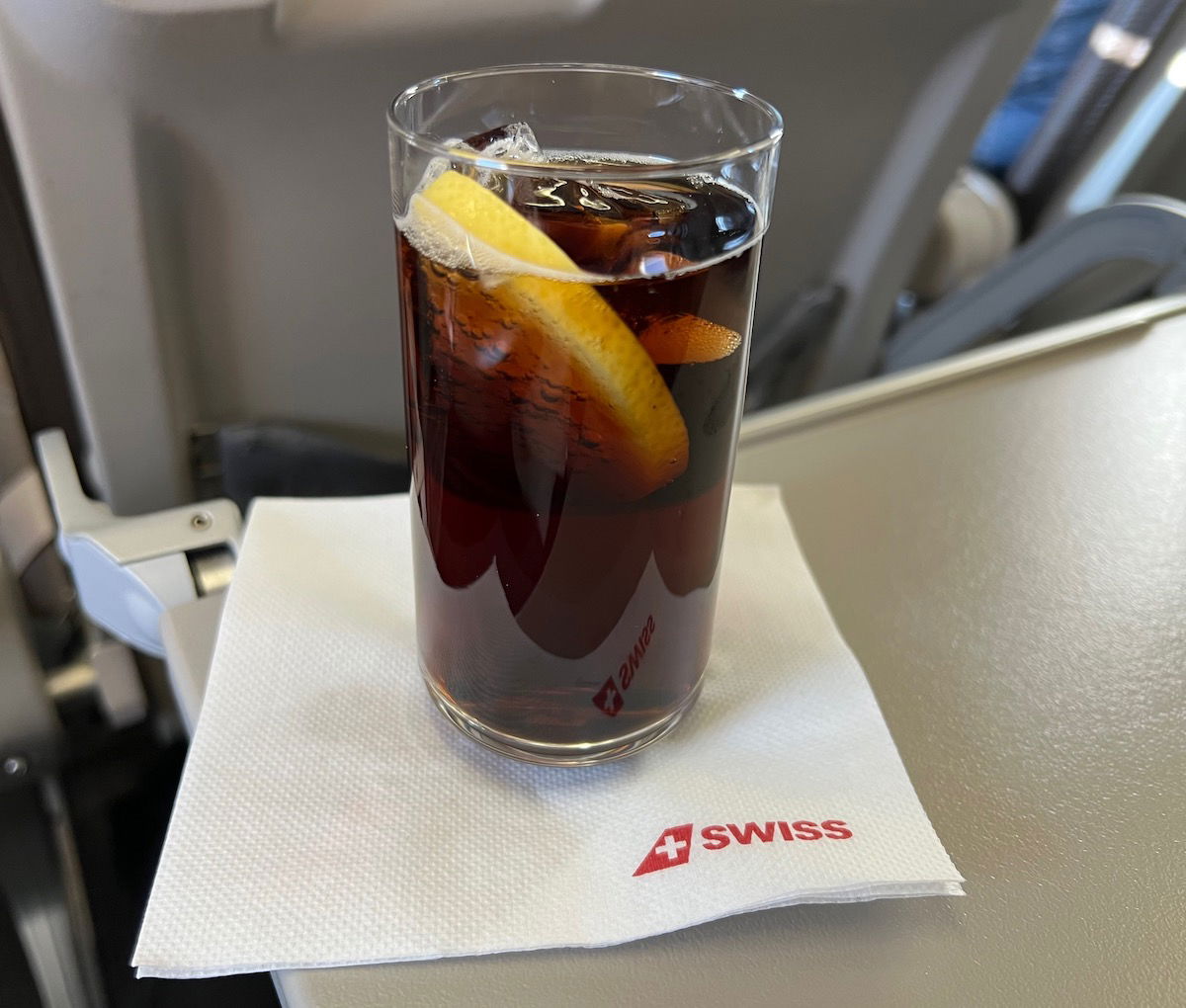 I also ordered a coffee, which had a cute presentation that also included a chocolate.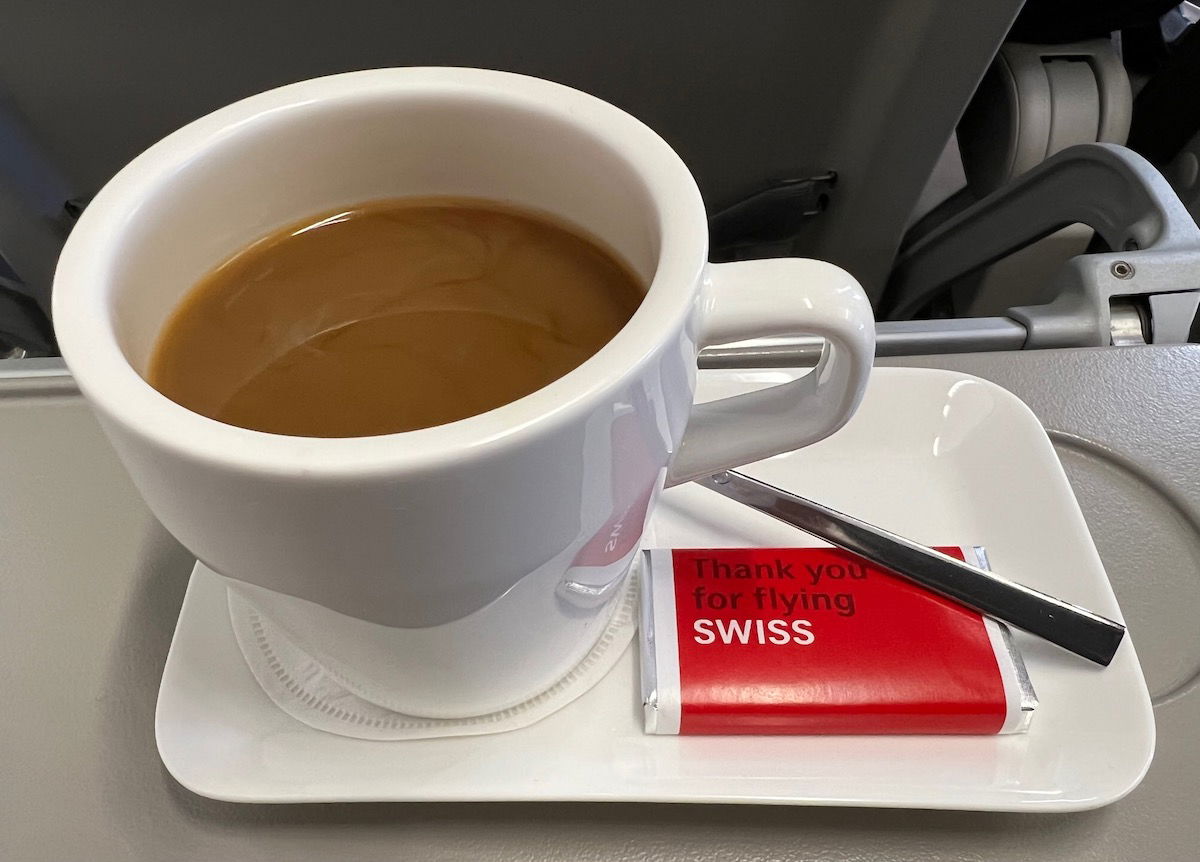 There wasn't a whole lot to do during the flight, so I mostly just watched the map feature and looked out the window.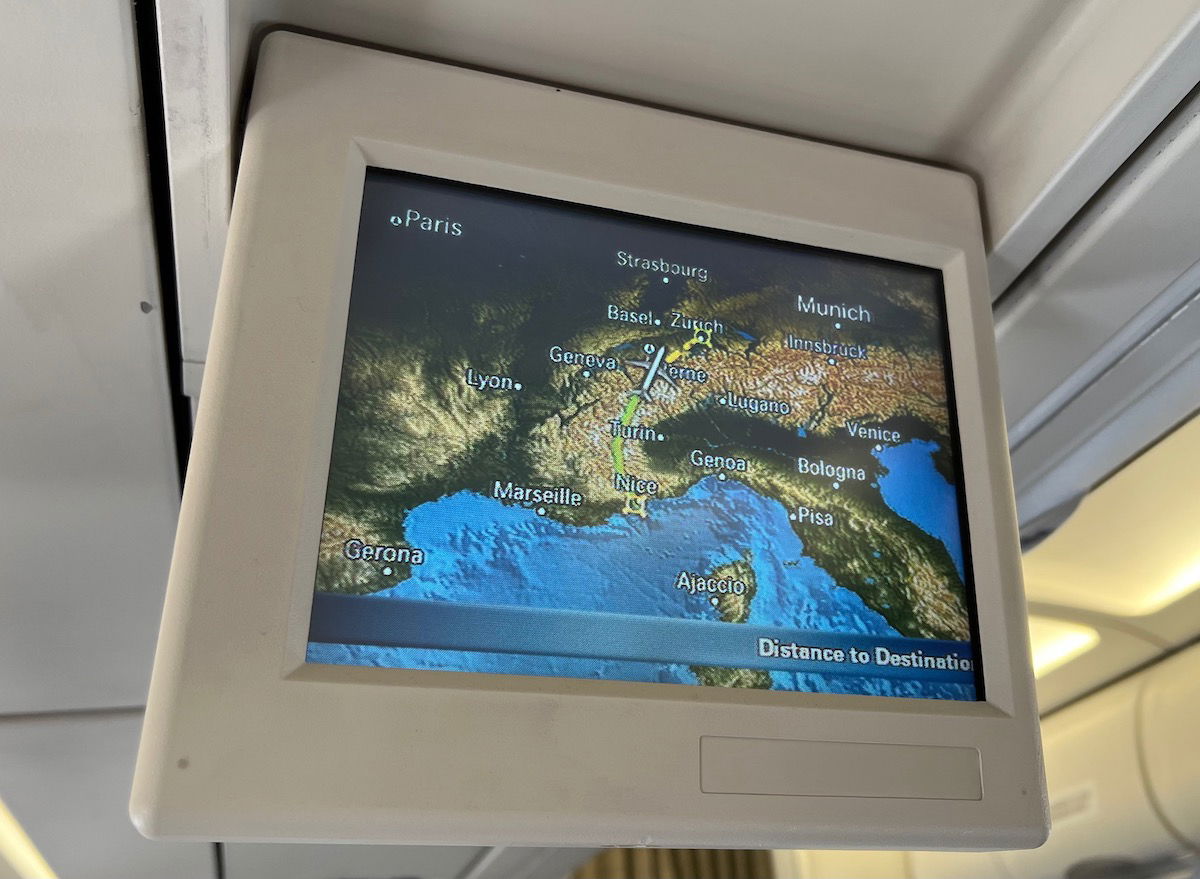 I visited the lavatory prior to descent, and it was reasonably clean but no frills.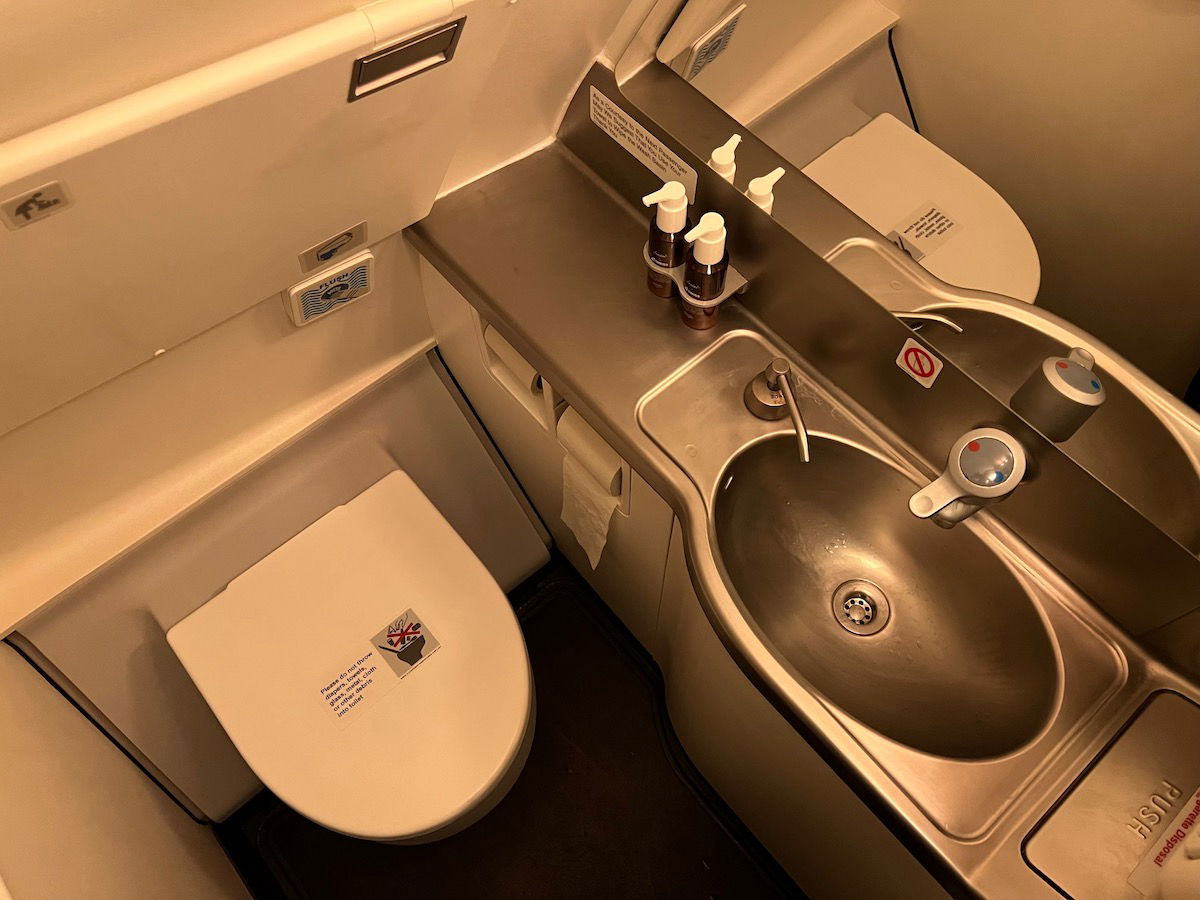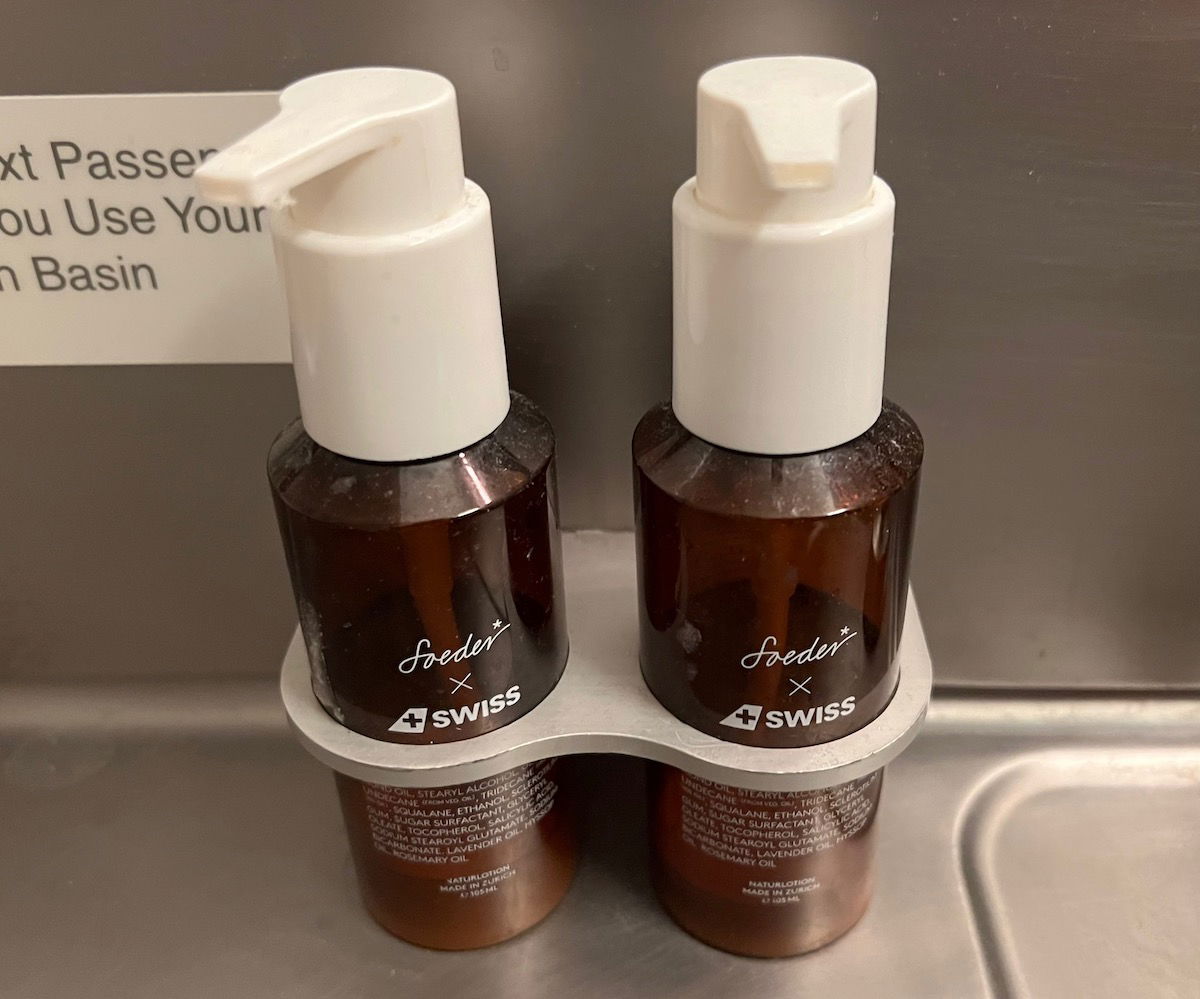 Prior to landing, the friendly crew distributed chocolates to each passenger, which is a tradition on SWISS.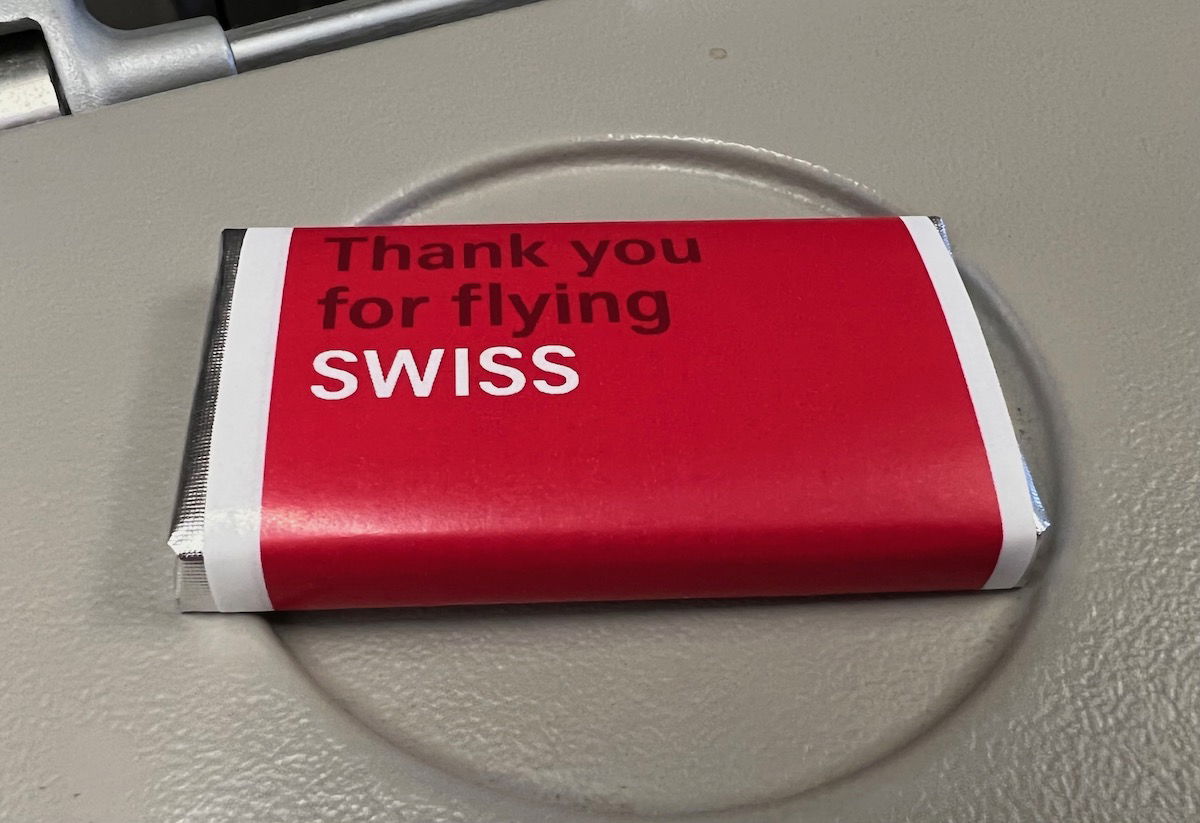 SWISS arrival in Zurich
30 minutes after takeoff, at 8:05PM, the captain announced that we'd be landing in 20 minutes. A few minutes later the seatbelt sign was turned on. The views on approach were breathtaking — I'll let the pictures speak for themselves.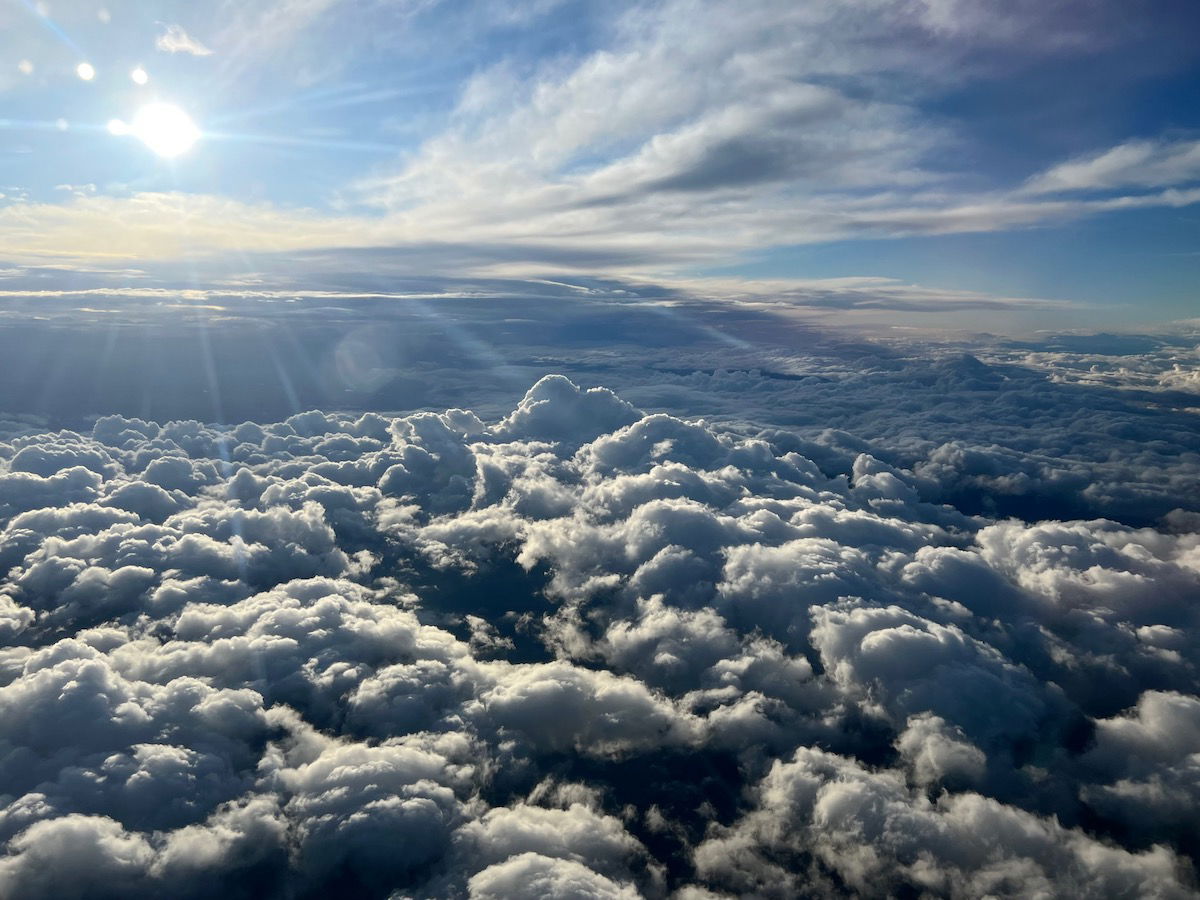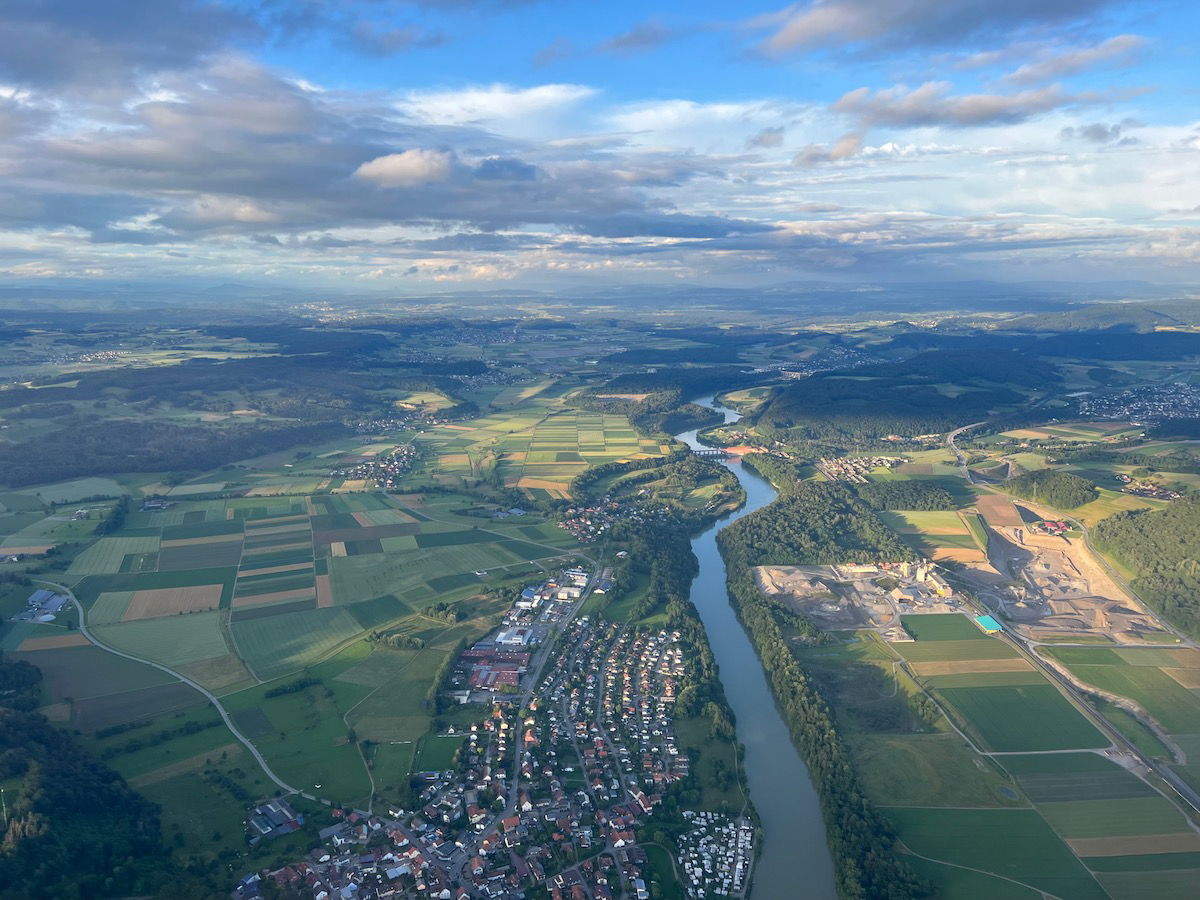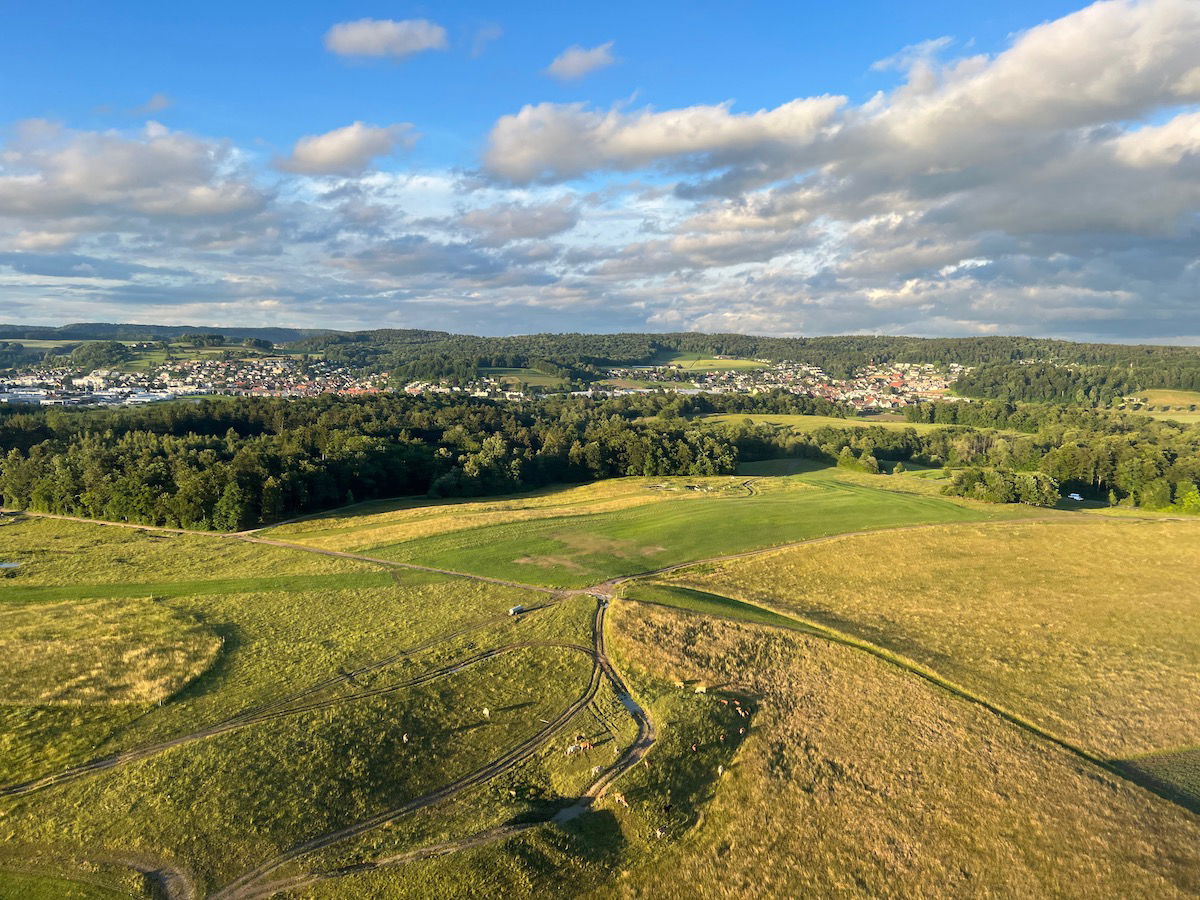 After landing we had a taxi of just a few minutes to our arrival gate. Zurich always looks like a pretty big airport to me, but I'm consistently amazed by how little time SWISS jets spend on the ground taxiing, as they taxi really efficiently. On our previous flight through Zurich, we were at our gate less than two minutes after touching down.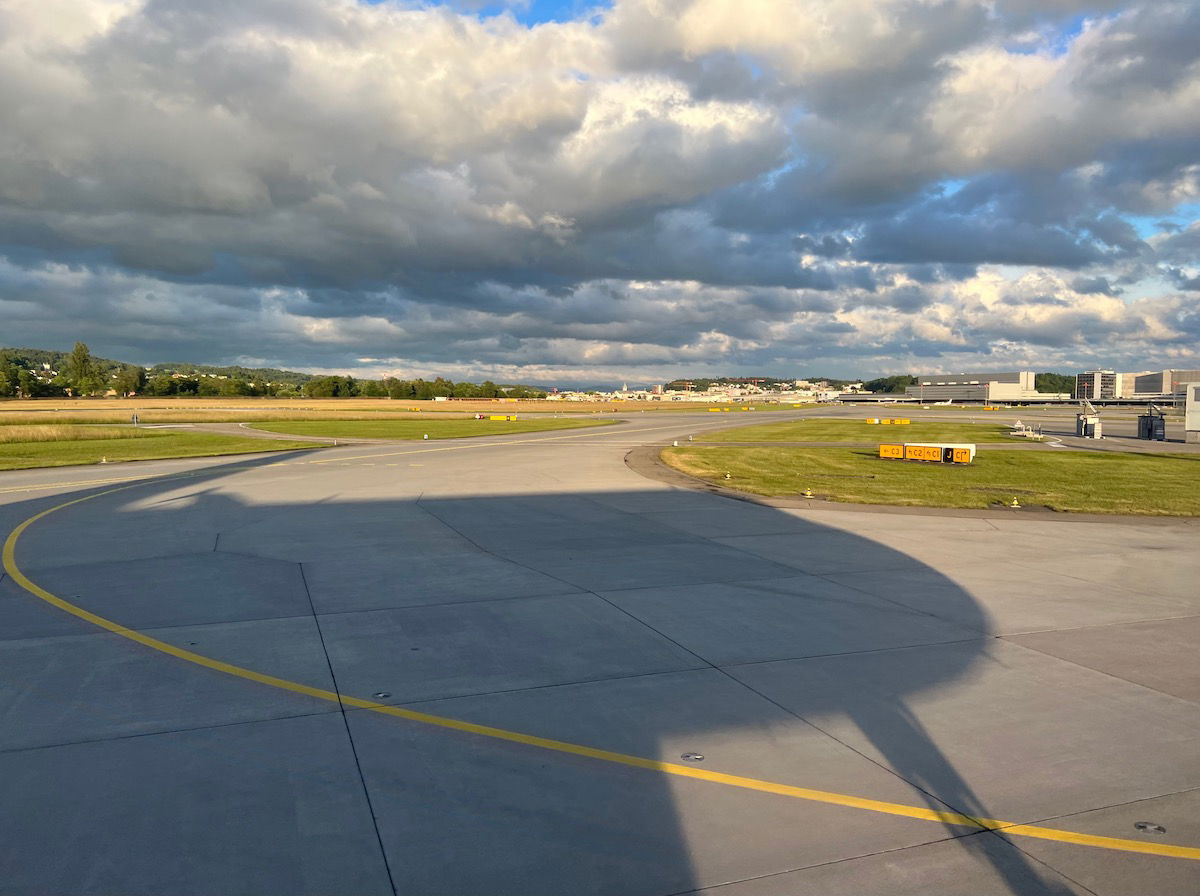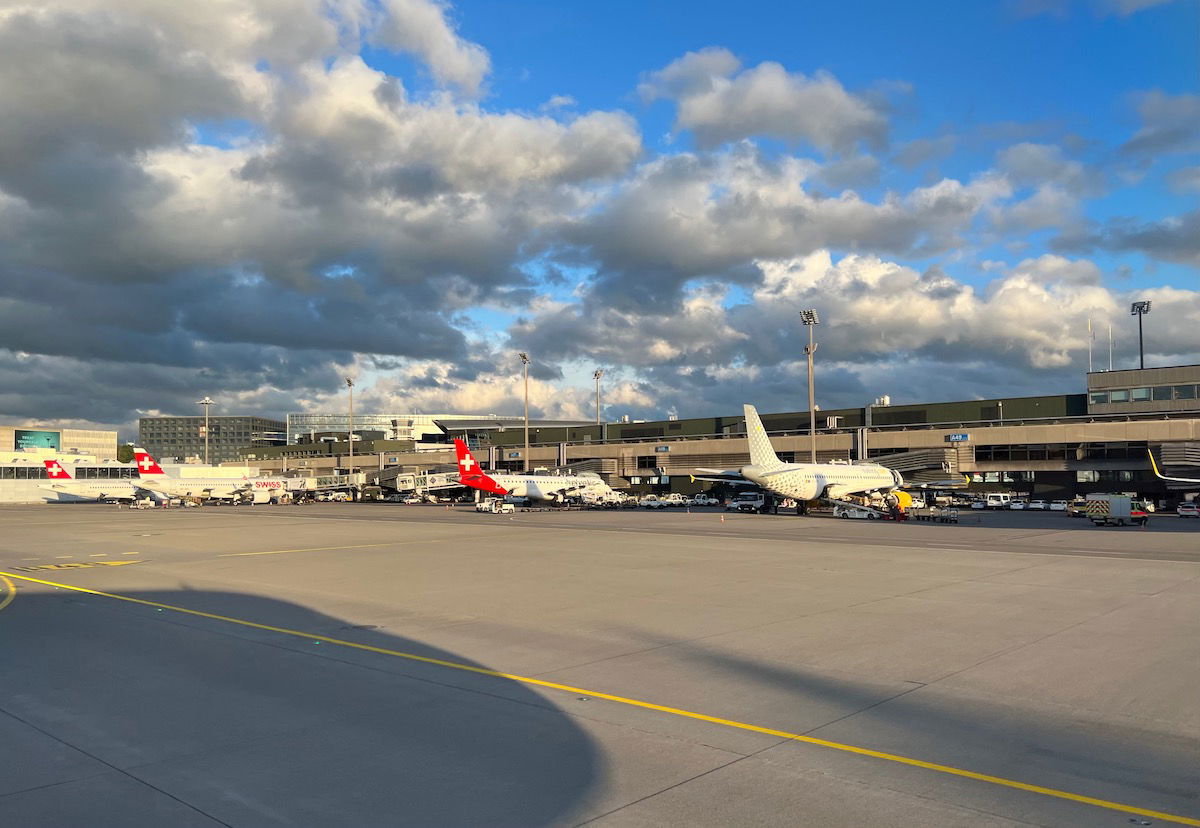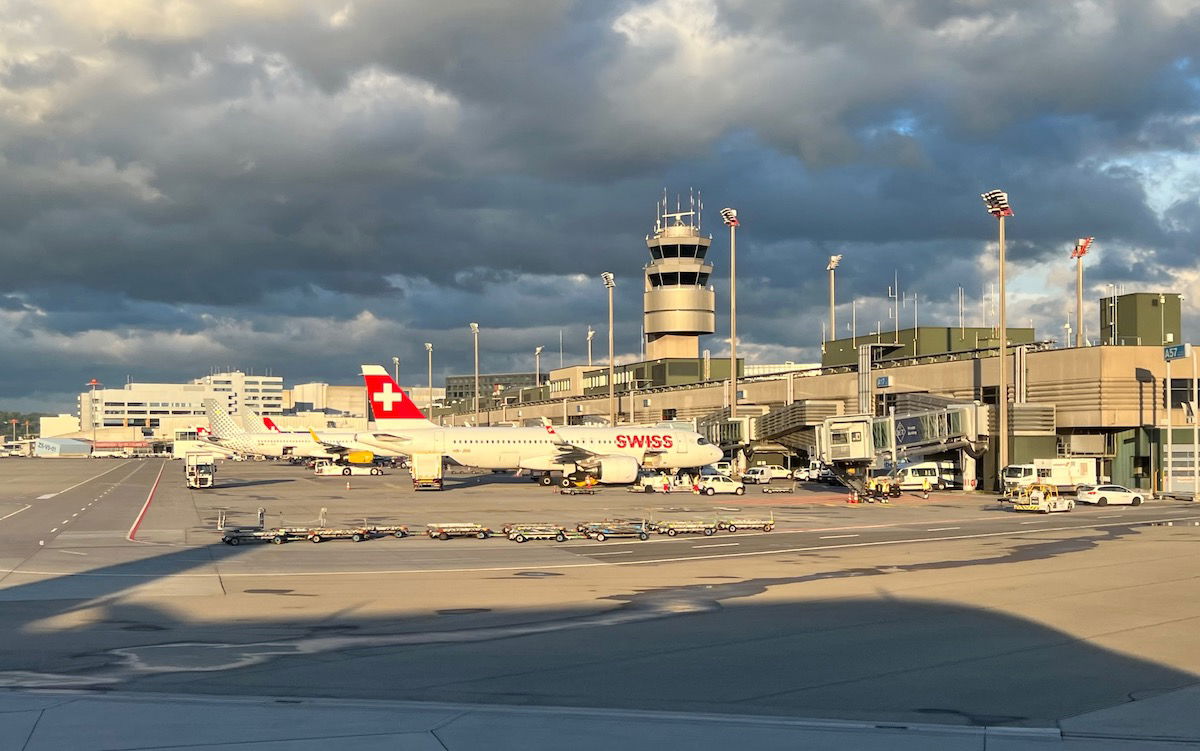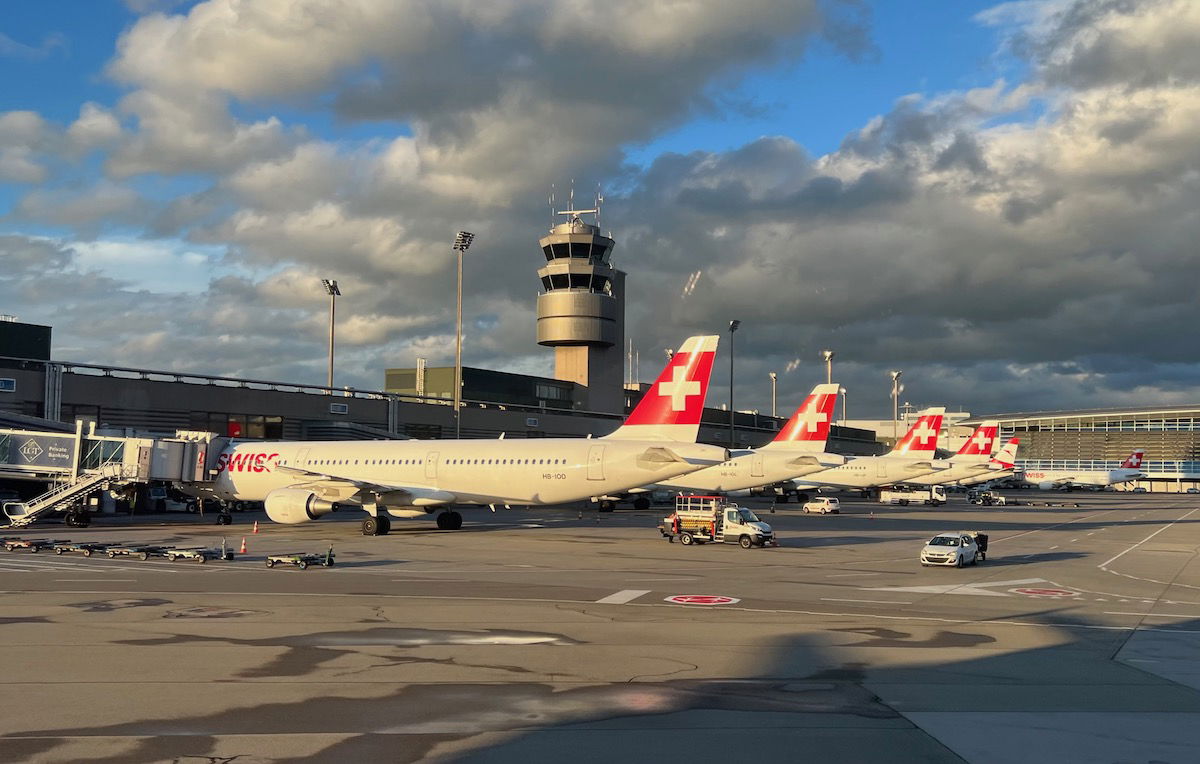 We arrived at our gate at 8:30PM, and our bags arrived at baggage claim just minutes after we got there.
Bottom line
As far as intra-Europe airlines go, SWISS business class is average, or perhaps even a bit below average. On the plus side, the crew was friendly, the snack was pretty tasty, and the flight was nearly on-time.
But at the same time, SWISS' A320s really don't offer a great passenger experience. There's no Wi-Fi, no power outlets, and cramming in 180 seats provides the space you'd expect from an ultra low cost carrier. Of course on a 50 minute flight, no power or Wi-Fi isn't a big deal, but remember that SWISS also operates these planes on much longer routes.
If you are going to fly SWISS short haul, I'd recommend flying the A220 instead. That jet is at least a much more pleasant ride in general, even if SWISS still isn't installing power ports or Wi-Fi on those planes (which I can't really wrap my head around).
If you've flown SWISS' A320 business class, what was your experience like?