After flying Lufthansa Embraer E190 business class from Sylt to Frankfurt, we connected from Frankfurt to Dusseldorf on a Lufthansa A320 in business class.
I've reviewed this plane many times before, but what intrigued me here is that this is one of Lufthansa's shortest flights, at just 118 miles. I was curious about this flight from many angles — was the service modified due to the short duration, do people really take a flight this short, etc.?
This is among Lufthansa's shortest routes, with the shortest being the 98-mile flight between Frankfurt and Stuttgart. It's not even a route that's operated infrequently, as there are often half a dozen frequencies per day.
Why we flew from Frankfurt to Dusseldorf
As I explained in the last installment, we booked an award ticket from Sylt to Frankfurt to Dusseldorf using Air Canada Aeroplan points. There are frequent and easy train connections between Frankfurt and Dusseldorf, and they only take a bit over an hour. So why did we decide to fly this short distance?
Adding the segment cost almost nothing (just a few dollars in taxes), while train tickets between Frankfurt and Dusseldorf are quite pricey, especially since we were only finalizing our plans pretty last minute
With the current state of travel in Europe, particularly with flight delays and delays with baggage, I didn't feel great about booking a separate train ticket, in the event that there were irregular operations, since we wouldn't be covered in the same way we would be on flights that are on a single ticket
Just as there have been horror stories with flying, there have also been horror stories with trains in Germany, given that Deutsche Bahn is offering 9 Euro per month tickets for the entire summer
With the big focus on environmentalism in the airline industry (particularly in Europe), and many routes being cut when there are easy train connections, I was curious what kind of travelers see value in these flights (admittedly I'm part of the problem there by being curious)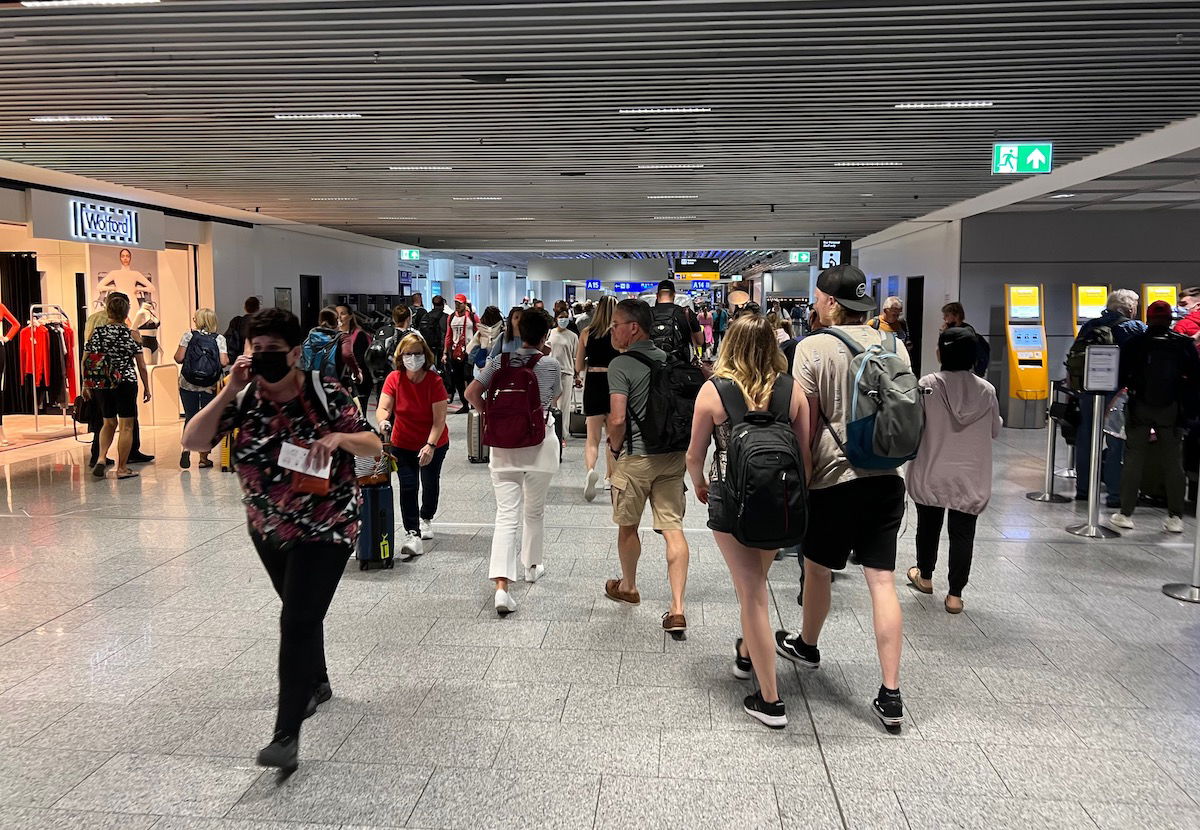 Anyway, that was my logic at the time, though I'll say right now that I regretted the routing we took, since our checked bags ended up getting delayed, which I'll cover in a separate post.
A reader also pointed out that there's a direct train from Sylt to Dusseldorf, which takes around seven hours. We should have probably booked that. Even though it had double the travel time, I kind of enjoy sitting on trains, and can be productive while on them. Somehow that never crossed my mind, though, since I had assumed there would be multiple transfers involved with a train from Sylt.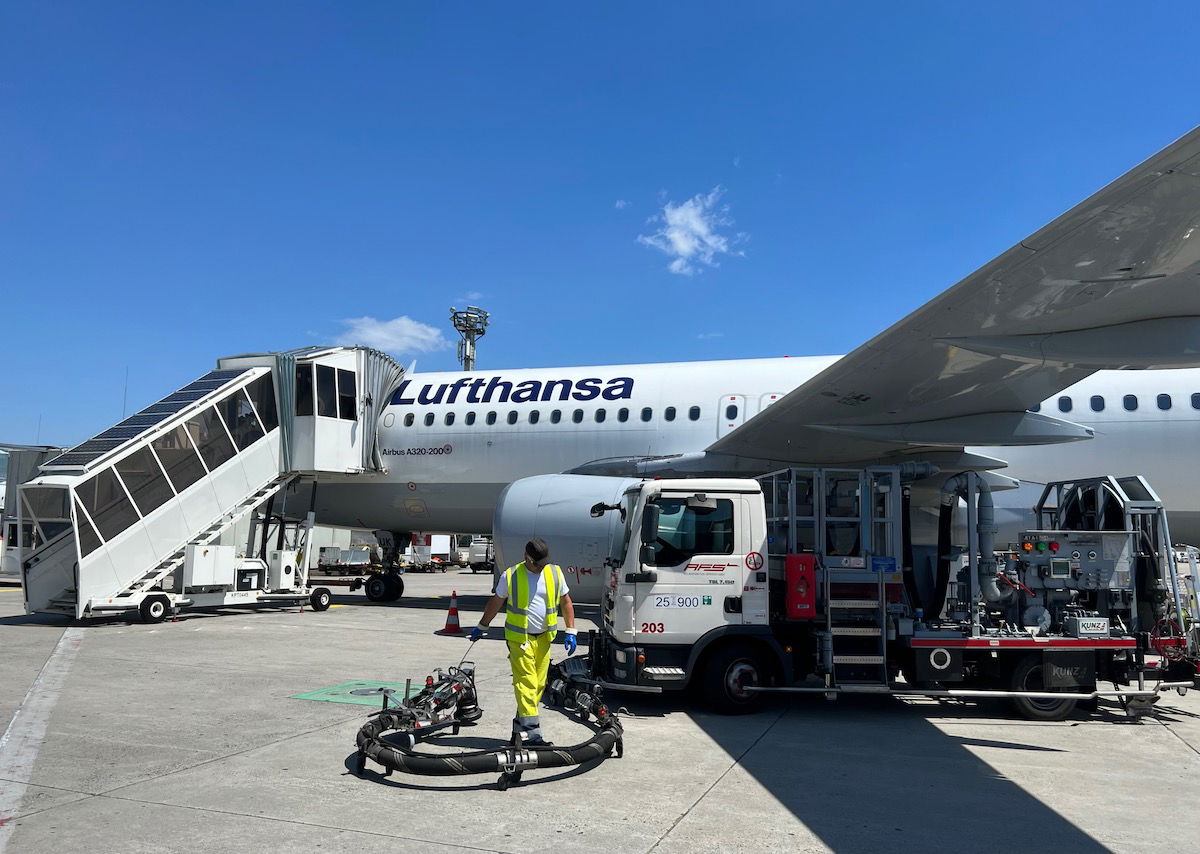 This route ended up being all too familiar
The 118-mile flight from Frankfurt to Dusseldorf has a block time of just 50 minutes. With such a short distance, I assumed the flight time could be as little as 20-30 minutes. While airlines offer very efficient service in business class on short haul flights in Europe, I figured a flight like this was too short for even a snack service.
After all, if you start the service 10 minutes after takeoff and prepare the cabin for landing 10 minutes before landing, that doesn't leave much time. Well, I was wrong…
First of all, our flight time ended up being airborne for 32 minutes, which is quite some time to cover 118 miles. This comes down to planes never being able to fly a truly direct routing, given the direction of runways and winds.
So, what was service like? Before takeoff we were offered chocolates and bottled water, which is more service than I've otherwise received on the ground on Lufthansa. I wondered if that would be the extent of the onboard service.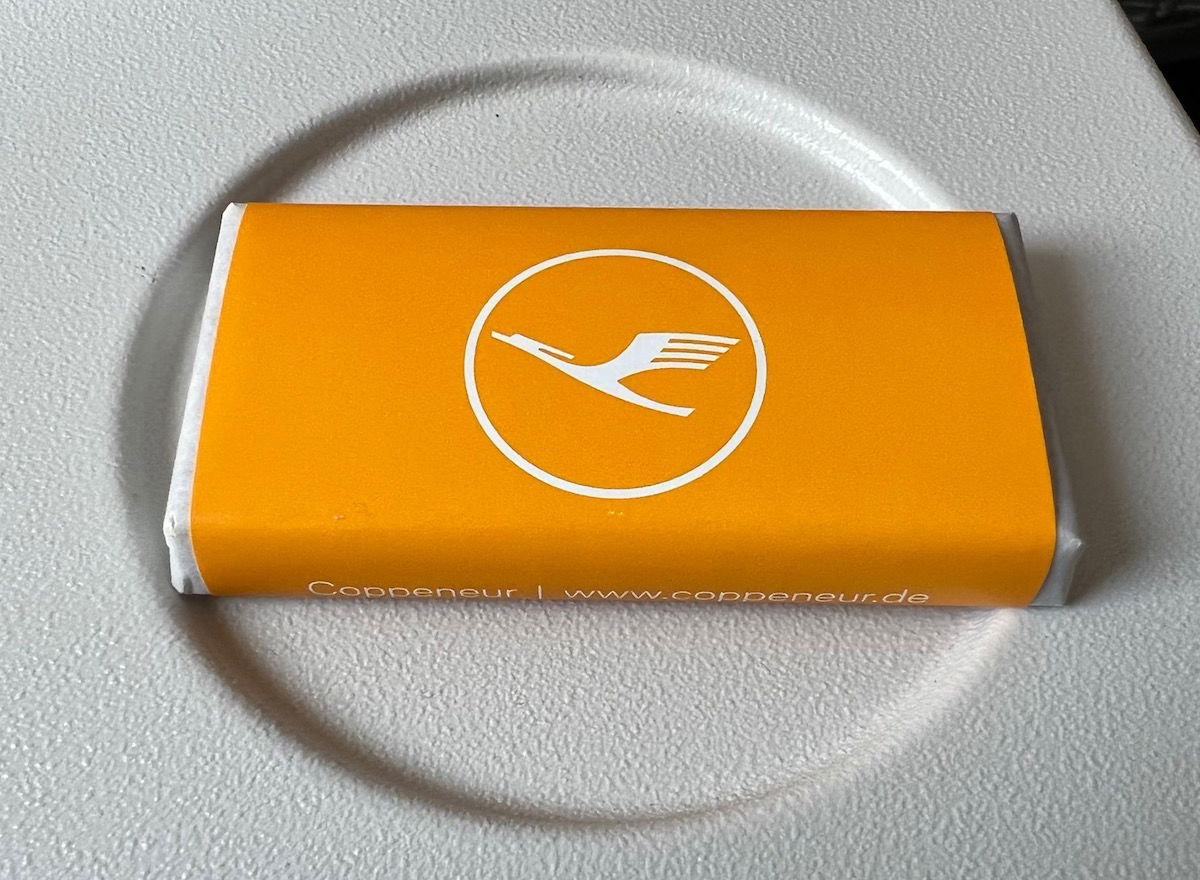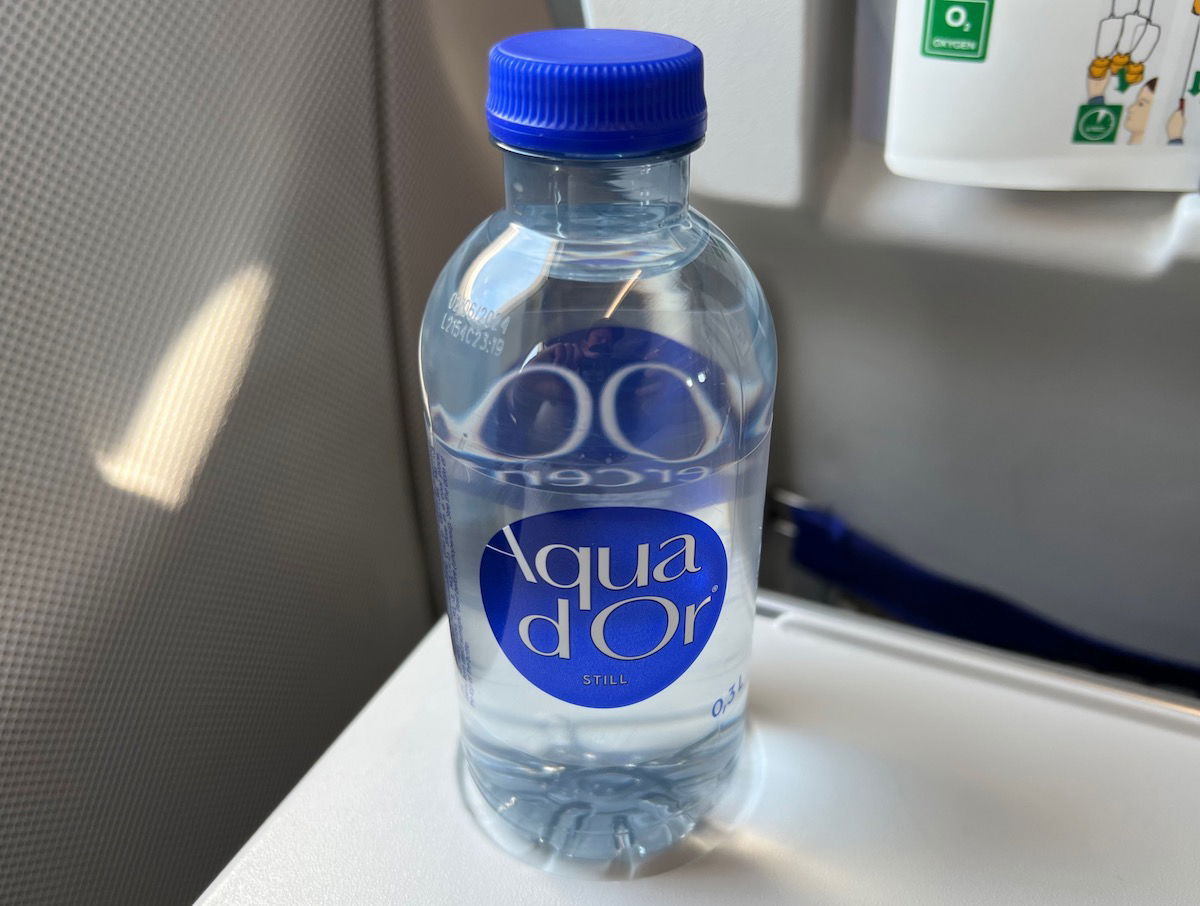 But nope, after takeoff there was still a snack service, from Lufthansa's typical "Tasting Heimat" menu. Flavors from Hamburg were featured on this flight. The snack consisted of a salmon tartare tartlet with cauliflower, plus marinated North Sea shrimp on pumpernickel. Then for dessert was a whole-grain semolina mousse with elderflower jelly, cassis quenelle, and yogurt sponge.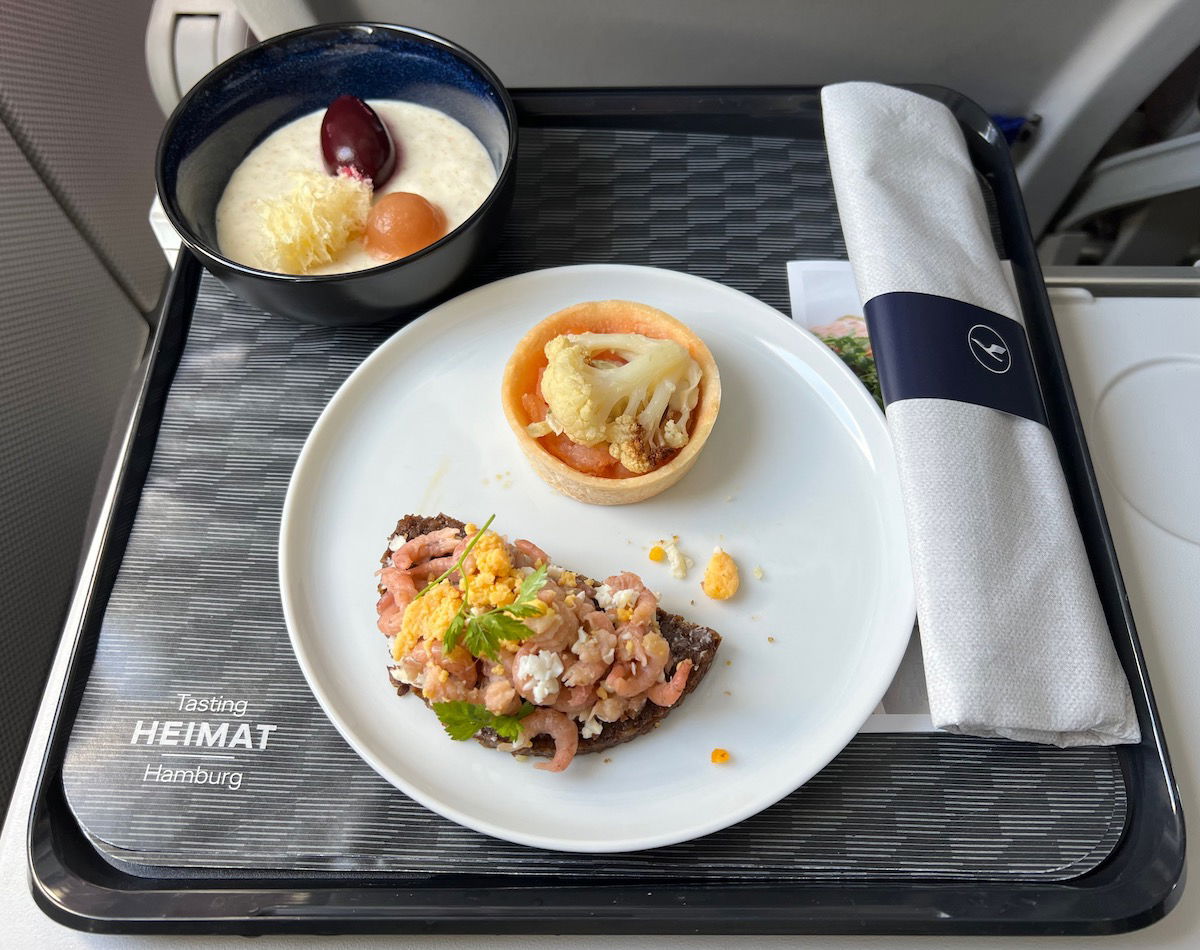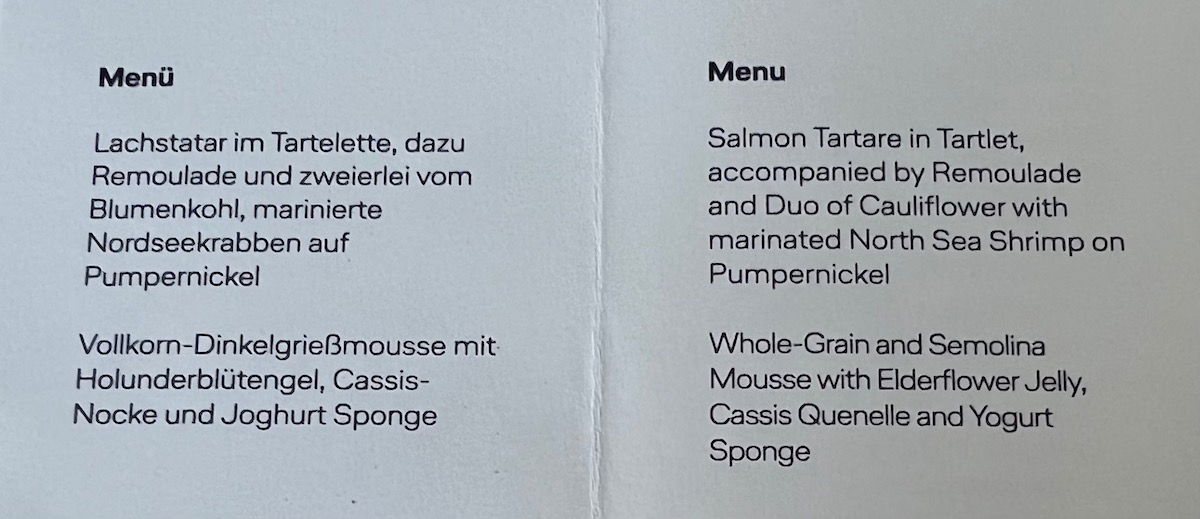 That North Sea shrimp on pumpernickel is what I feared all the food in Sylt would be like, but fortunately that wasn't the case.
I say this frequently when writing about Lufthansa, and I'll say it again — can anyone explain to me the frequency with which Lufthansa has elderflower dishes? I feel like I see elderflower on a menu maybe once a year when not on Lufthansa, while every other Lufthansa flight has an elderflower dish. Please, someone help me understand!
Anyway, back to the service — the only real modification otherwise was that drinks were served in plastic cups, rather than in proper glassware. Lufthansa only has marginally shorter flights than this, so I'm curious, does anyone know if service is modified on any of those? Or does Lufthansa manage to serve a snack in business class on all flights?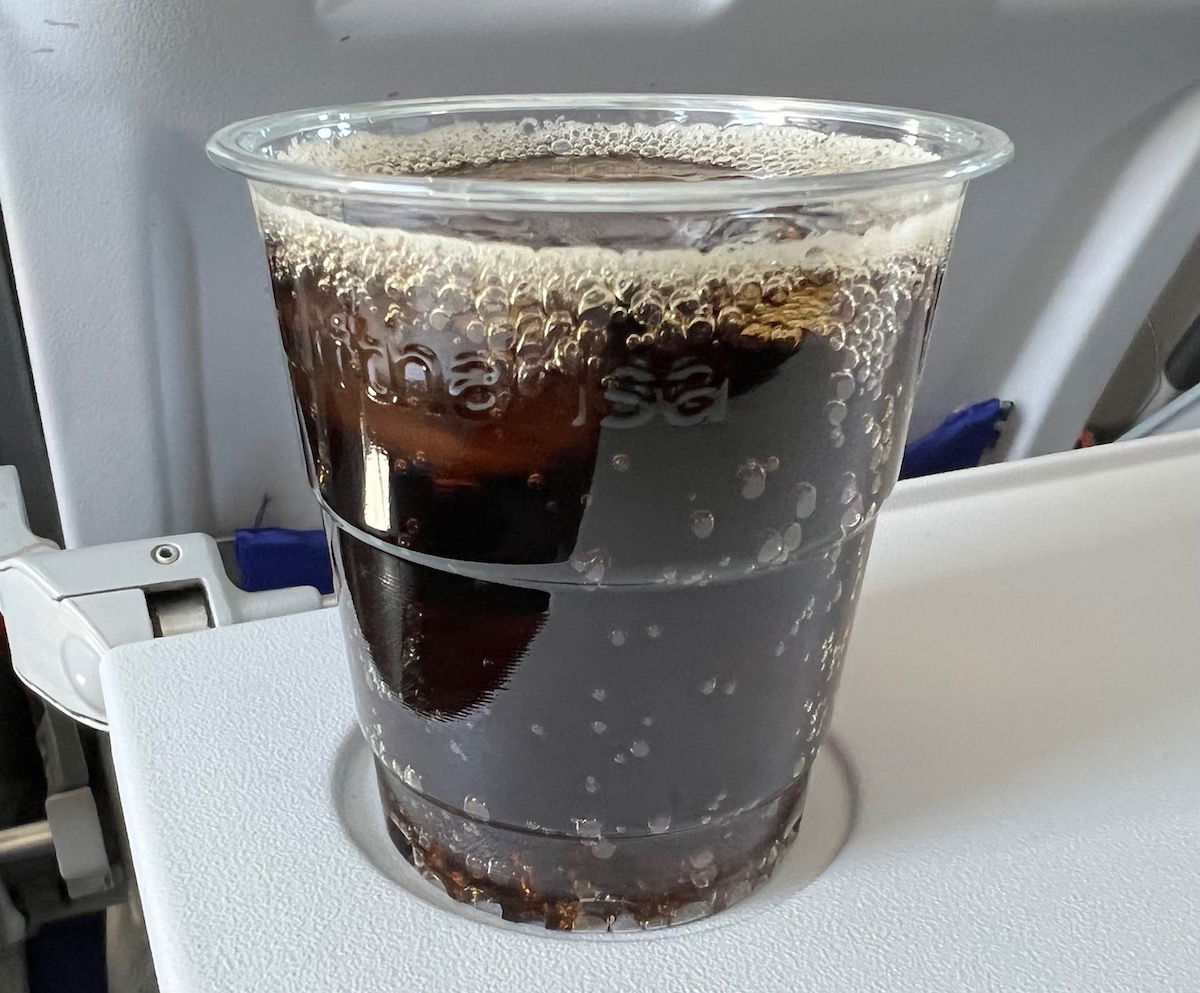 The service more or less felt as usual, and passengers didn't in any way feel rushed. The flight did boast some great views, so I spent the short flight time looking out the window.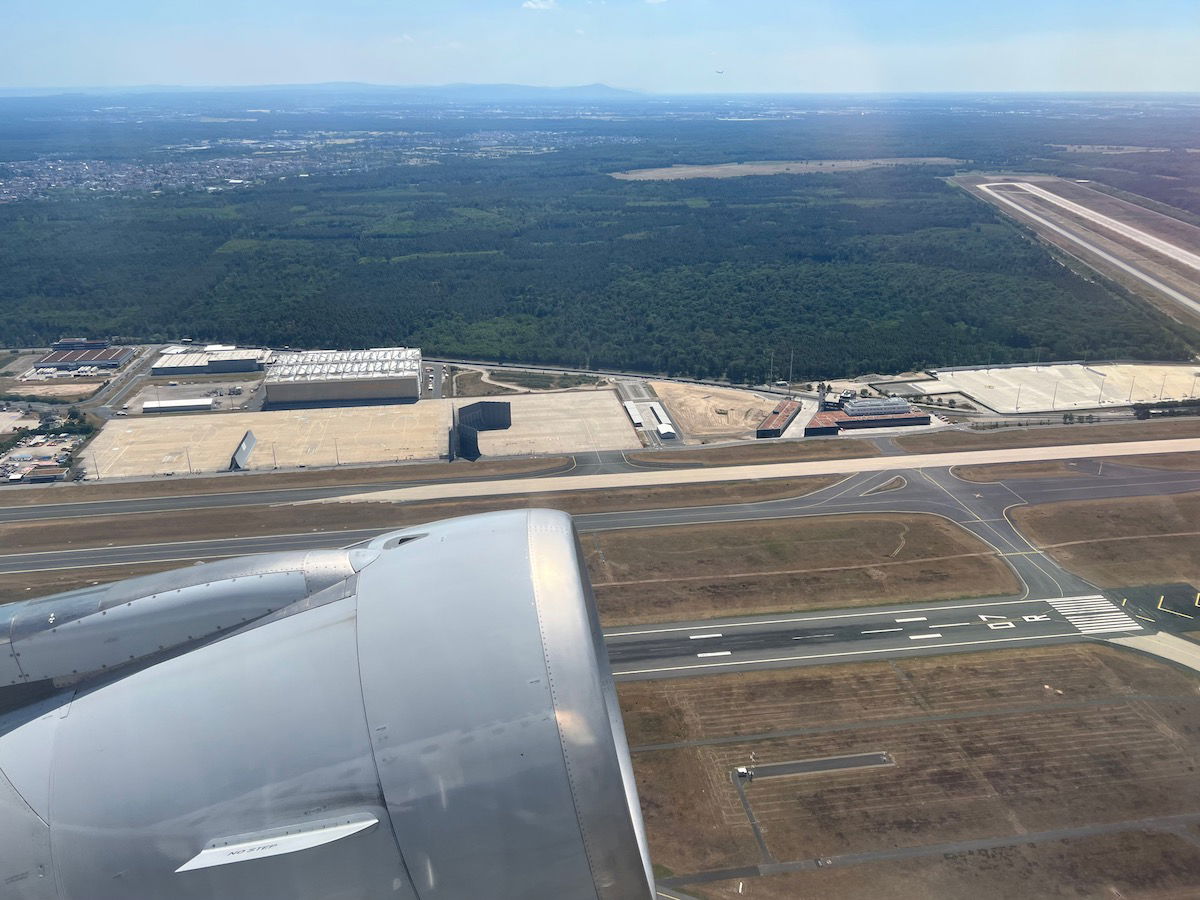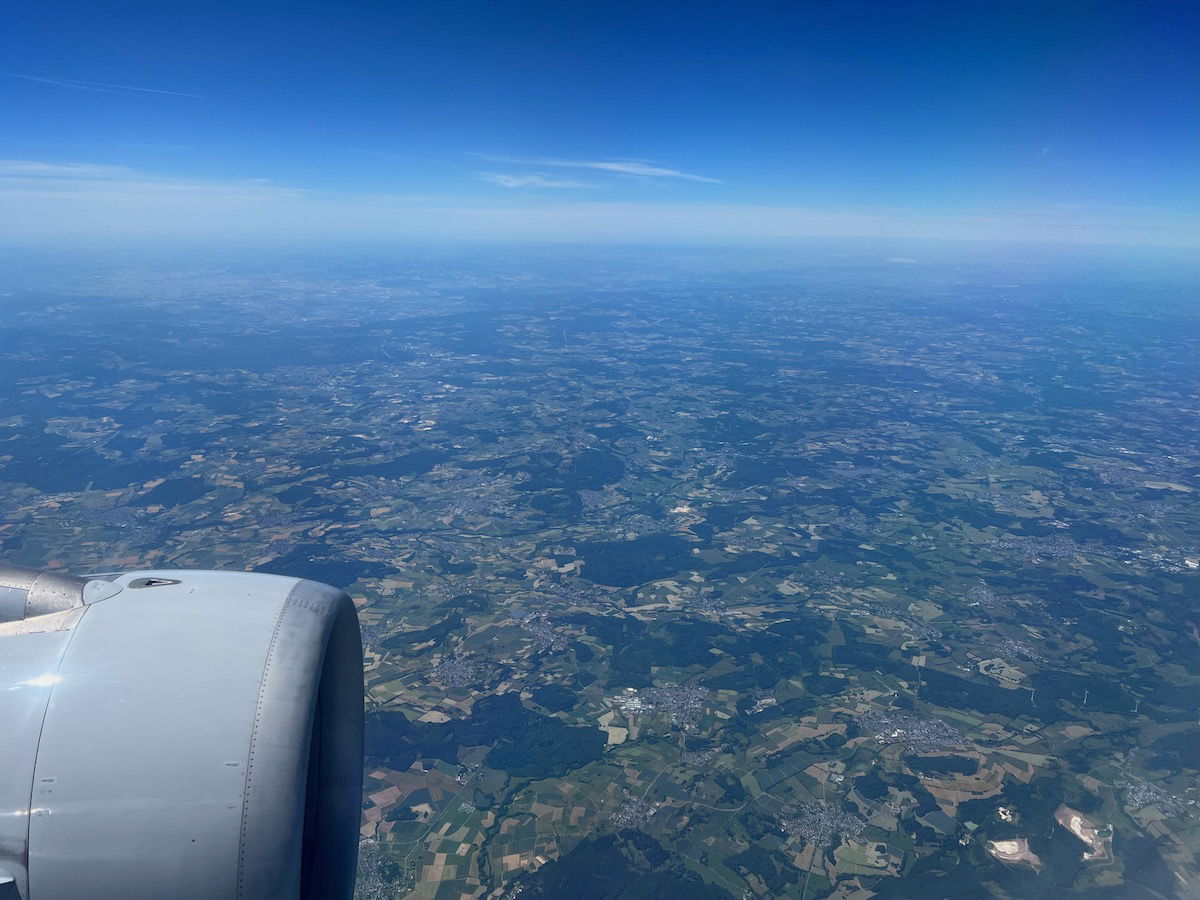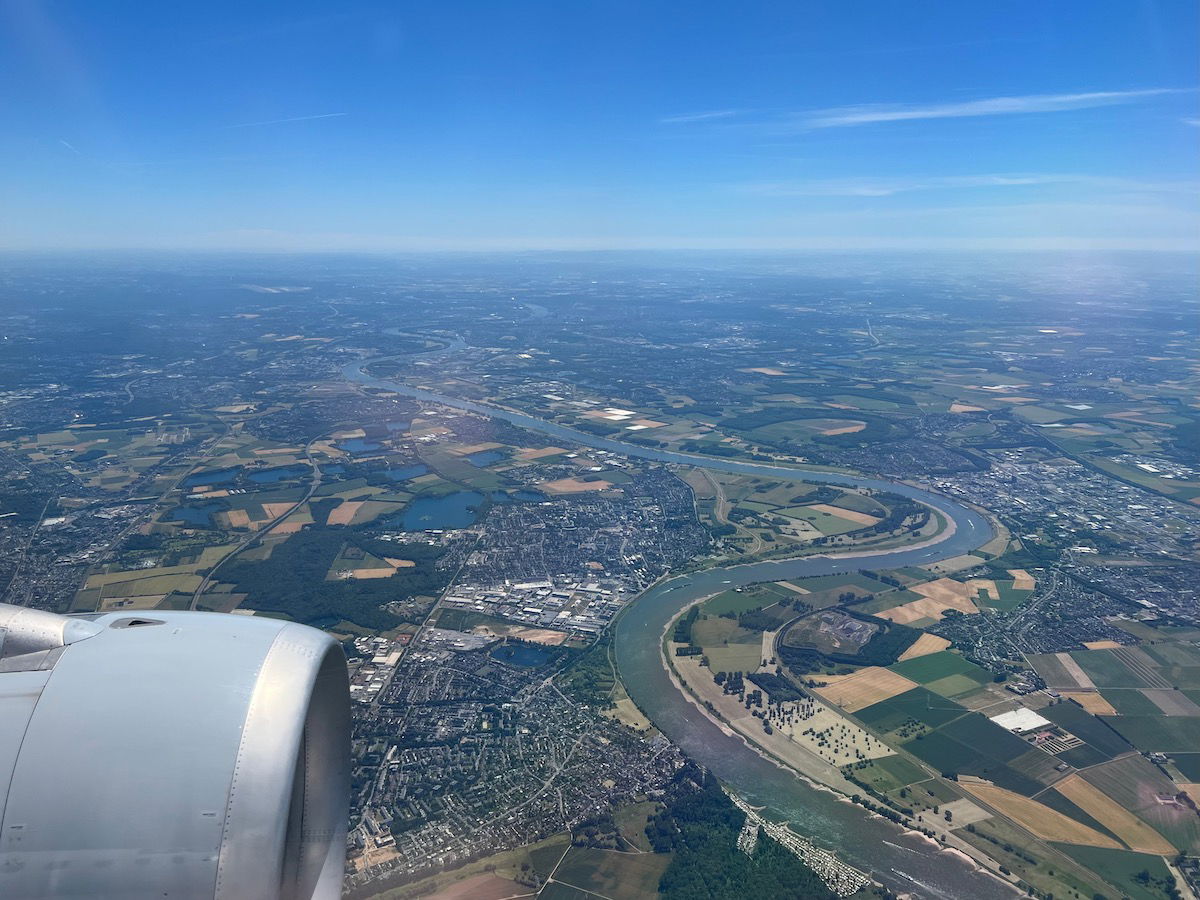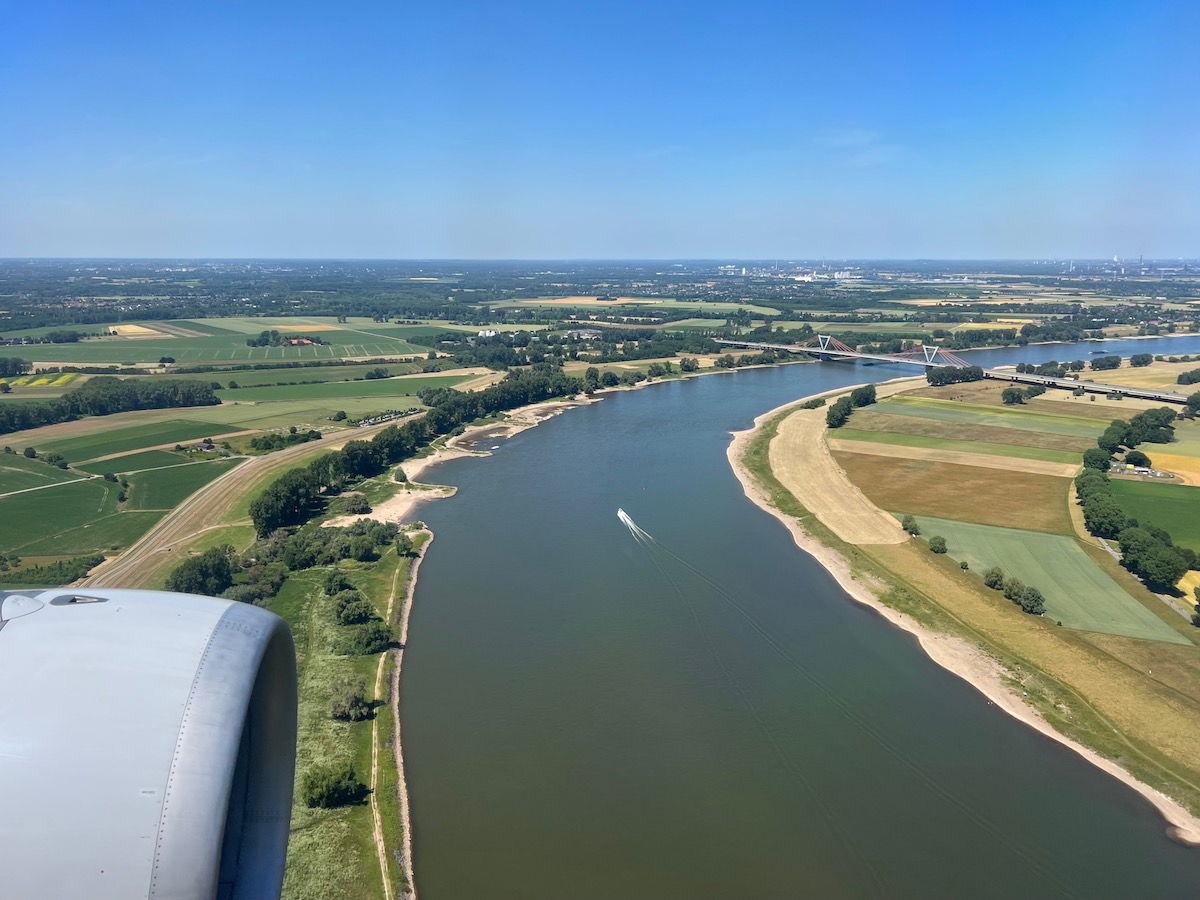 I was surprised by how full this flight was
To my surprise, this flight ended up being quite full in both business and economy, and the business class cabin was even quite large, with seven rows.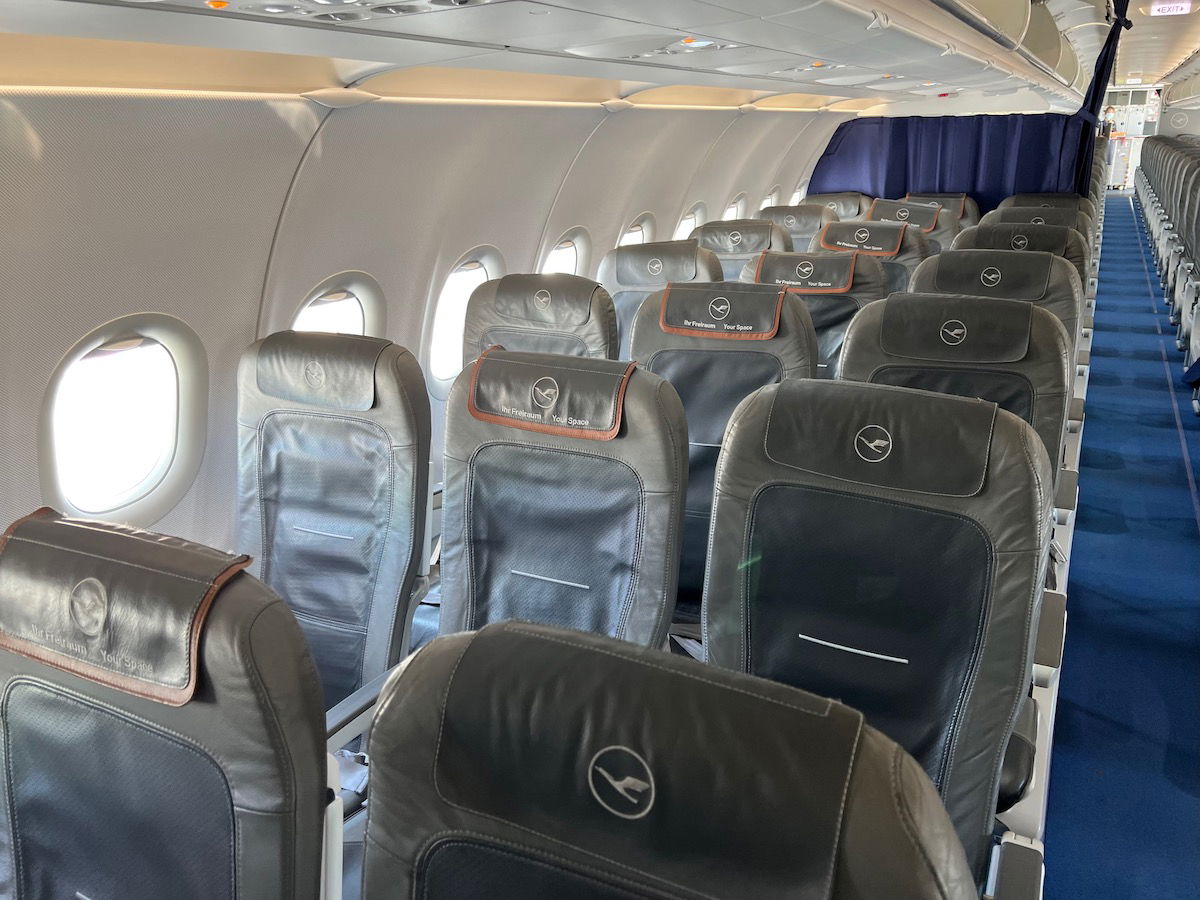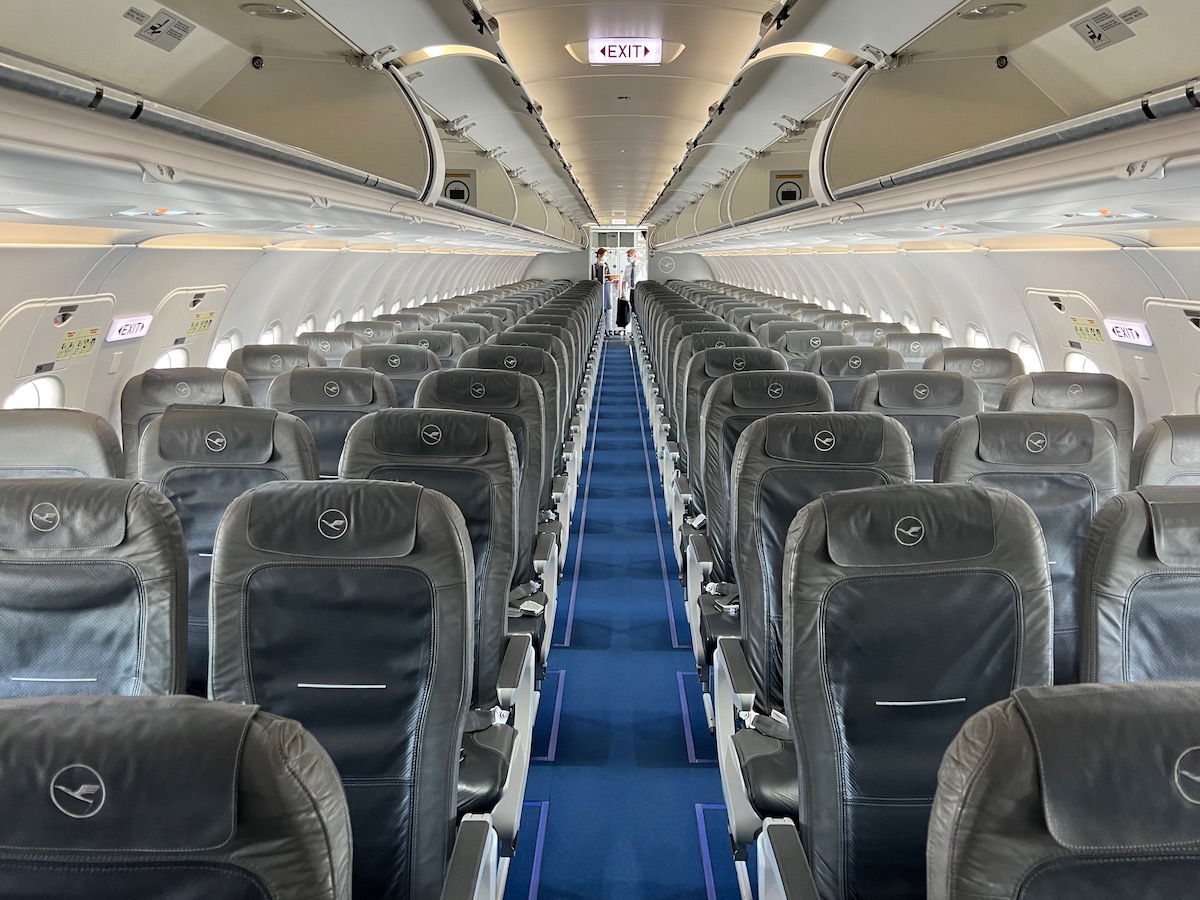 With European countries increasingly adding restrictions on short haul flying with convenient train connections, I couldn't help but wonder why people would take this 118-mile flight? Frankfurt to Dusseldorf has frequent train connections, and the travel times are similar between trains and planes.
Nonetheless the plane was quite full, in both business and economy. It seemed pretty clear to me that virtually everyone was connecting — I'd be surprised if a single person was flying exclusively between Frankfurt and Dusseldorf. So this made me realize a few things:
Airlines are largely incentivizing people to connect; fares are typically lower if you're connecting to Dusseldorf than if you're terminating in Frankfurt (since airlines can charge more for nonstop flights, and Dusseldorf has more low cost carrier competition — see the below screenshot), so in many ways airlines are encouraging people to take these "wasteful" flights
While we are increasingly seeing cooperation between airlines and train operators, the process needs to consistently be even more efficient, so people have more faith in this offering; trains should be sold as "codeshares" on the same tickets, they should be bookable through online travel agencies and show on Google Flights, it should be possible to check bags through (especially when your train departs from the airport), all ticket types (including awards) should give you the option of including a train connection, etc.
I find that existing air & rail tickets often don't have the same attractive pricing you'd see if flying a route like this; in my experience many air & rail tickets have something closer to additive pricing (between the flight and train), rather than potentially lower pricing from connecting, due to how airlines price tickets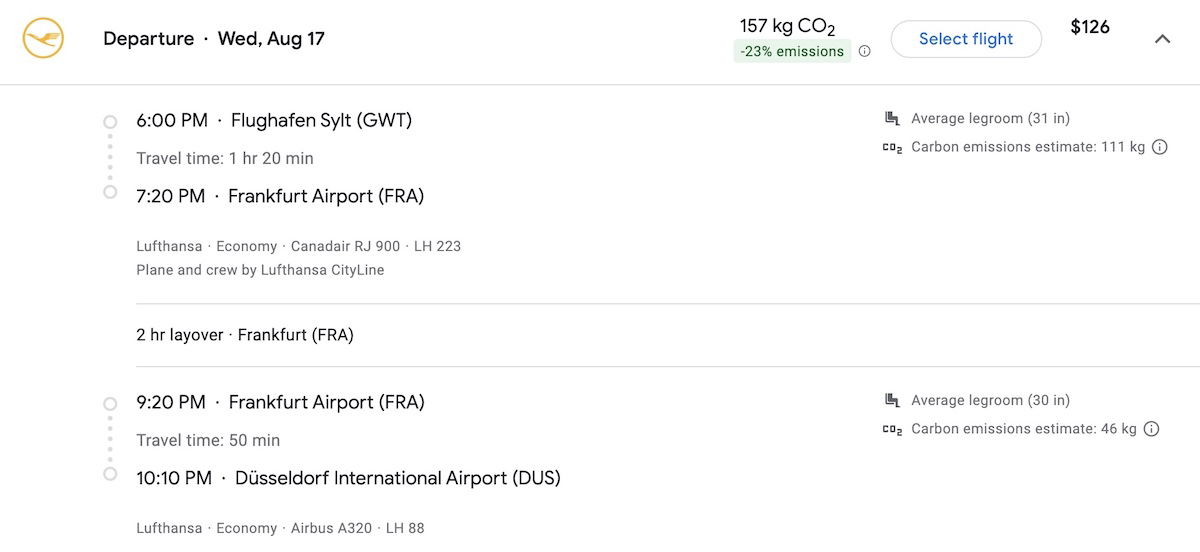 I think Star Alliance is onto something with adding intermodal partners, with Deutsche Bahn being the first one. If connections between flights and trains could be made more seamless, nobody would even want to take a route like this.
Bottom line
I took one of Lufthansa's shortest routes, and was surprised that service was basically the same as on other short haul routes. In Europe, I guess there's no such thing as a flight too short to provide service.
This is also an interesting route in the context of the air & rail concept, which is becoming more popular in Europe. Clearly there are areas for improvement if many daily flights are operating in a market with so much train connectivity. But the reality is that the process of booking a flight with a train isn't consistently available, and even when it is, it's not particularly consumer friendly.
Do you think we'll ever get to the point where flight and rail tickets are integrated smoothly enough so that flights like this don't exist?