EXTRA PERKS AVAILABLE
Enjoy breakfast, upgrades, & more
Want to take advantage of Rosewood Elite benefits, including a space available room upgrade, complimentary breakfast, a hotel credit, and more? Contact Ford ([email protected]) for more details. He may even be able to help if you already have a stay booked.
Prior to starting our trip to Europe, we decided to spend one night in New York. That's because we were flying from New York to Milan, and with how unreliable air travel is right now, we wanted to leave a bit of a buffer, without just sitting at JFK all day
So we decided to fly to New York a day early, and stay at The Carlyle, a Rosewood Hotel. This iconic Upper East Side property has a lot going for it, including recently renovated rooms and famous food & beverage outlets. Let's get into the review.
Booking The Carlyle New York
Rates at The Carlyle fluctuate significantly throughout the year, and also depend on what promotions are available at a given time. In general you can expect entry level rooms here to start at anywhere from $600 to $1,500 per night (give or take), depending on the season, day of week, etc.
Since The Carlyle belongs to luxury hotel group Rosewood, the best way to book a stay here is through the Rosewood Elite program. This is Rosewood's program for select travel agents, and is also the best way to book virtually any Rosewood stay. Those booking through Rosewood Elite receive a room upgrade subject to availability, a $100 food & beverage credit, complimentary breakfast for two, etc.
In general you're better off booking through Rosewood Elite than through programs like Amex Fine Hotels & Resorts, as upgrades and prioritized for those booking through Rosewood's own program. Ford is happy to help with these requests, and can be reached at [email protected]
Entry level rates for our one night stay were around $800. For what it's worth, Ford books quite a few clients here, and we got a travel agent rate, which was around half that. However, it didn't include breakfast or a hotel credit, so for our one night stay the difference wouldn't have been that big.
The Carlyle New York location
The Carlyle is located on the Upper East Seat, on 76th Street between Madison Avenue and Park Avenue.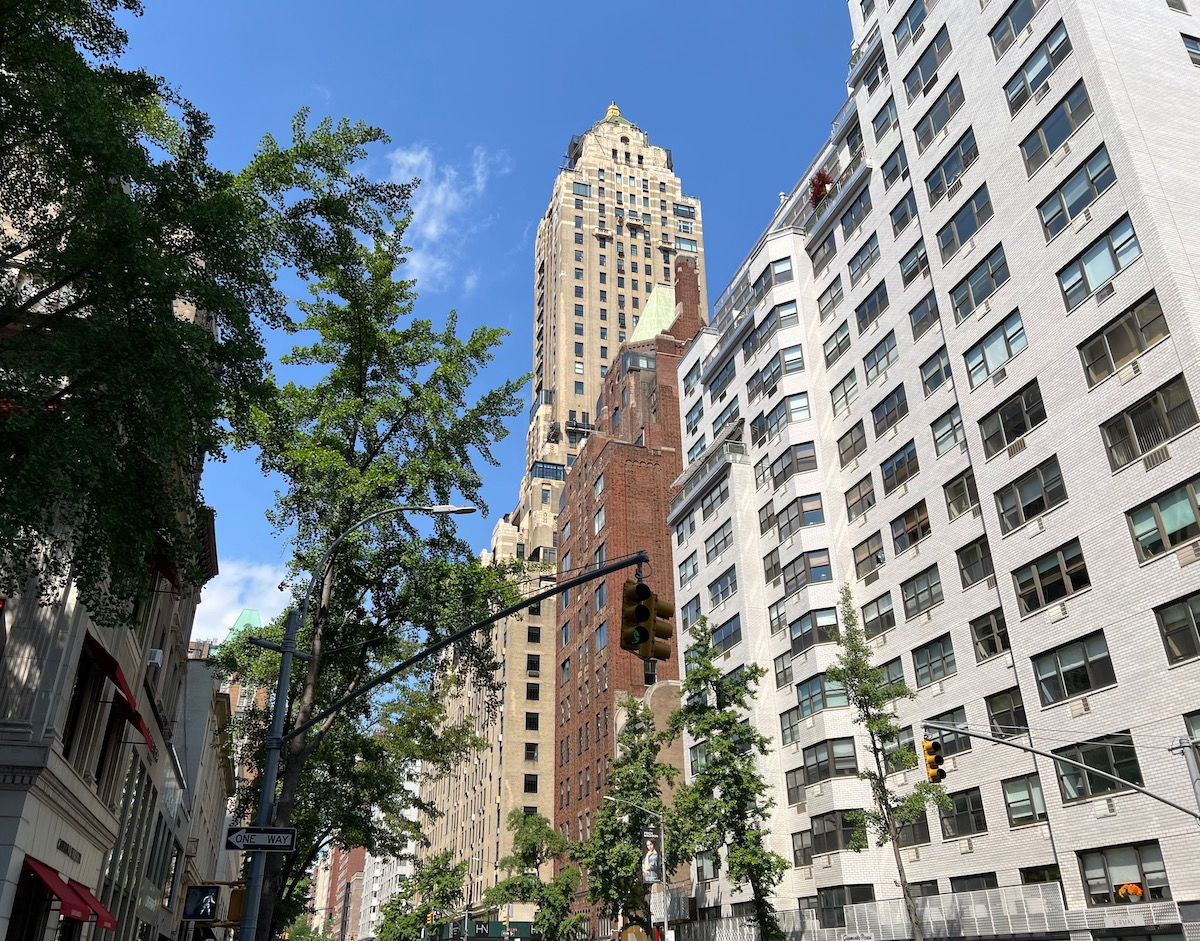 The property has 35 floors, so it towers over most nearby buildings (the hotel has both 189 rooms plus 60 private residences, so all 35 floors aren't hotel rooms).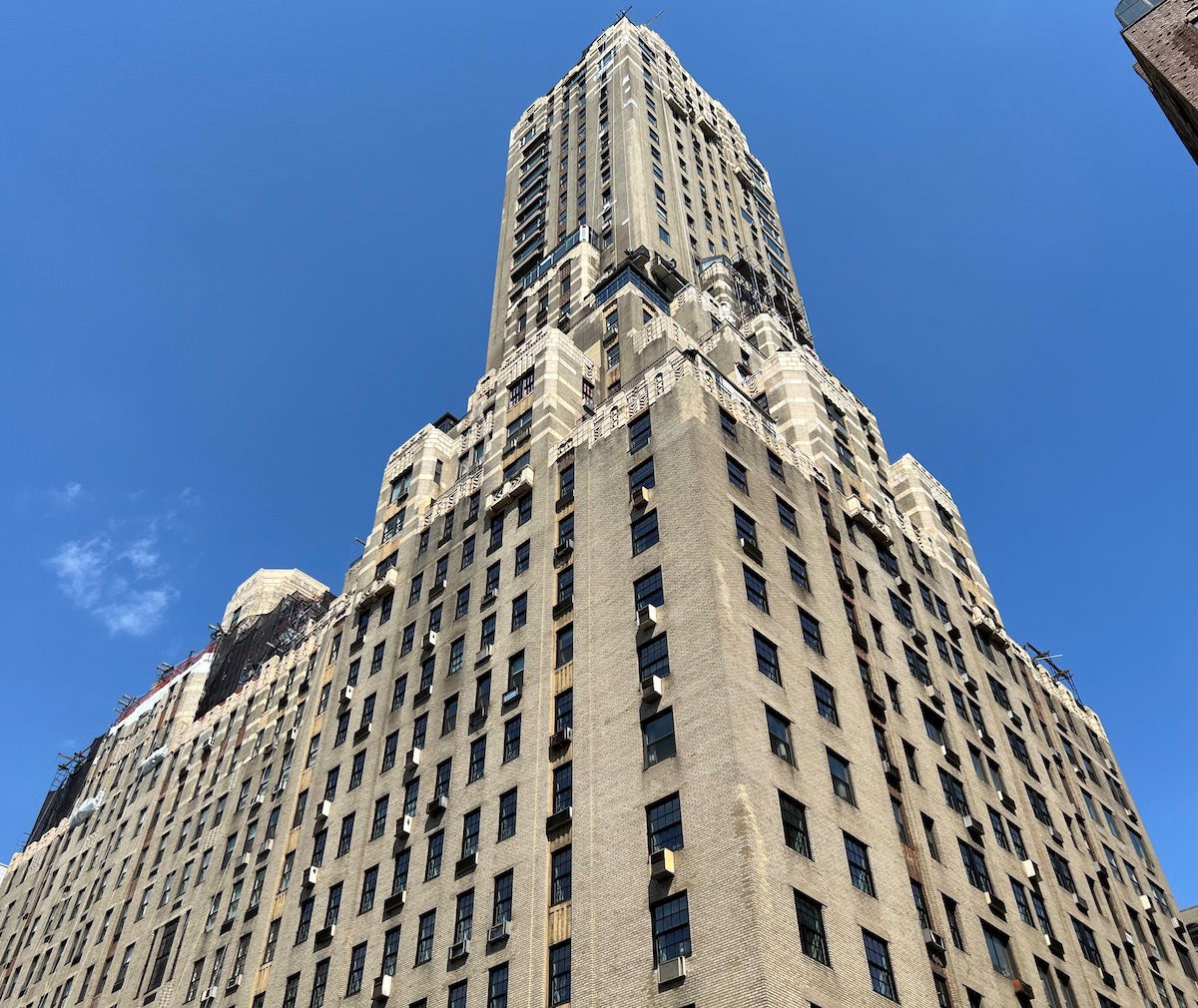 As far as location goes, personally my preference is to be anywhere but Midtown, since it's too chaotic for me. So I'm happy to stay on the Upper East Side, for the quiet area, nice walking opportunities, and proximity to Central Park (you're less than two blocks away). I'm also happy staying Downtown, though. Of course everyone has different preferences there.
The Carlyle New York check-in & lobby
The Carlyle New York has a pretty basic lobby. There's an entrance with the concierge and bell desk to the right, and then down a couple of stairs is the main lobby area. The lobby has a couple of loveseats and then the reception desk.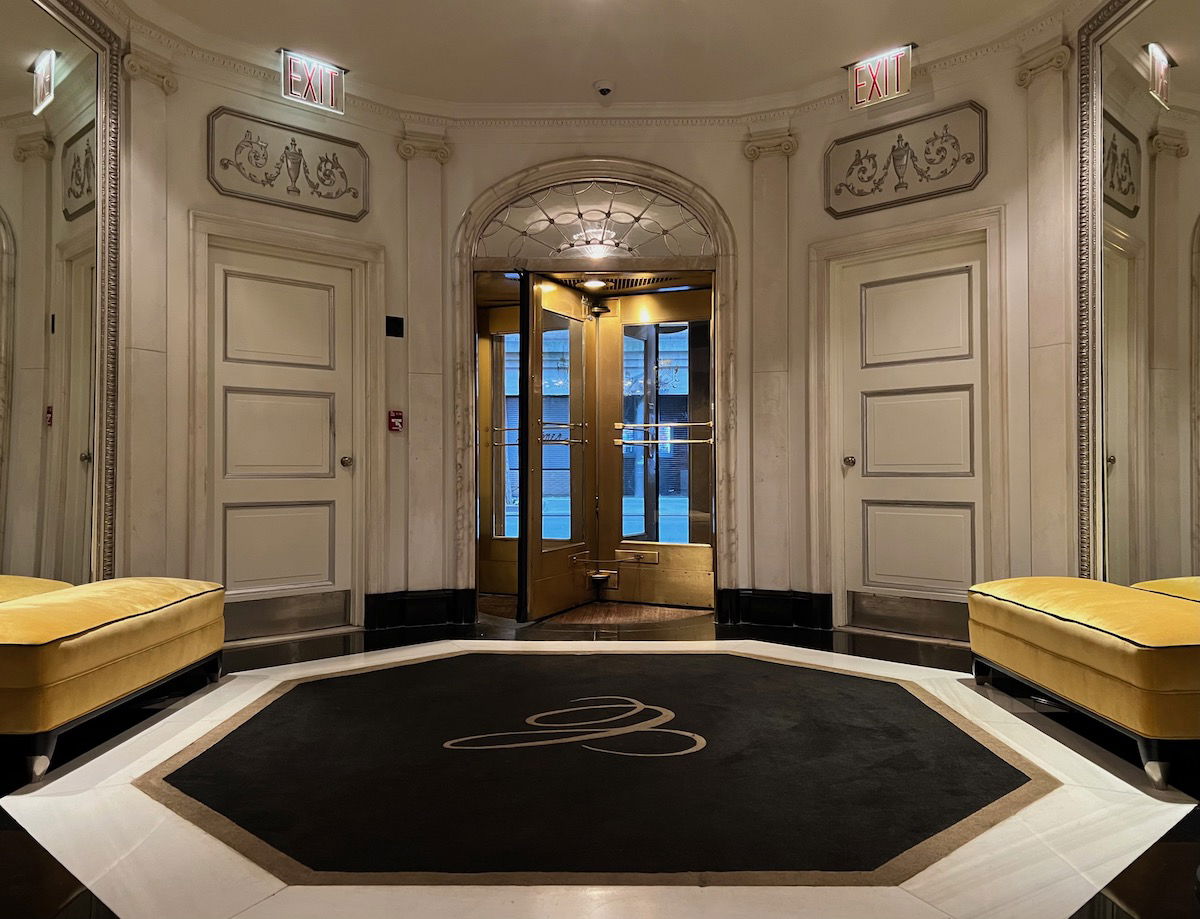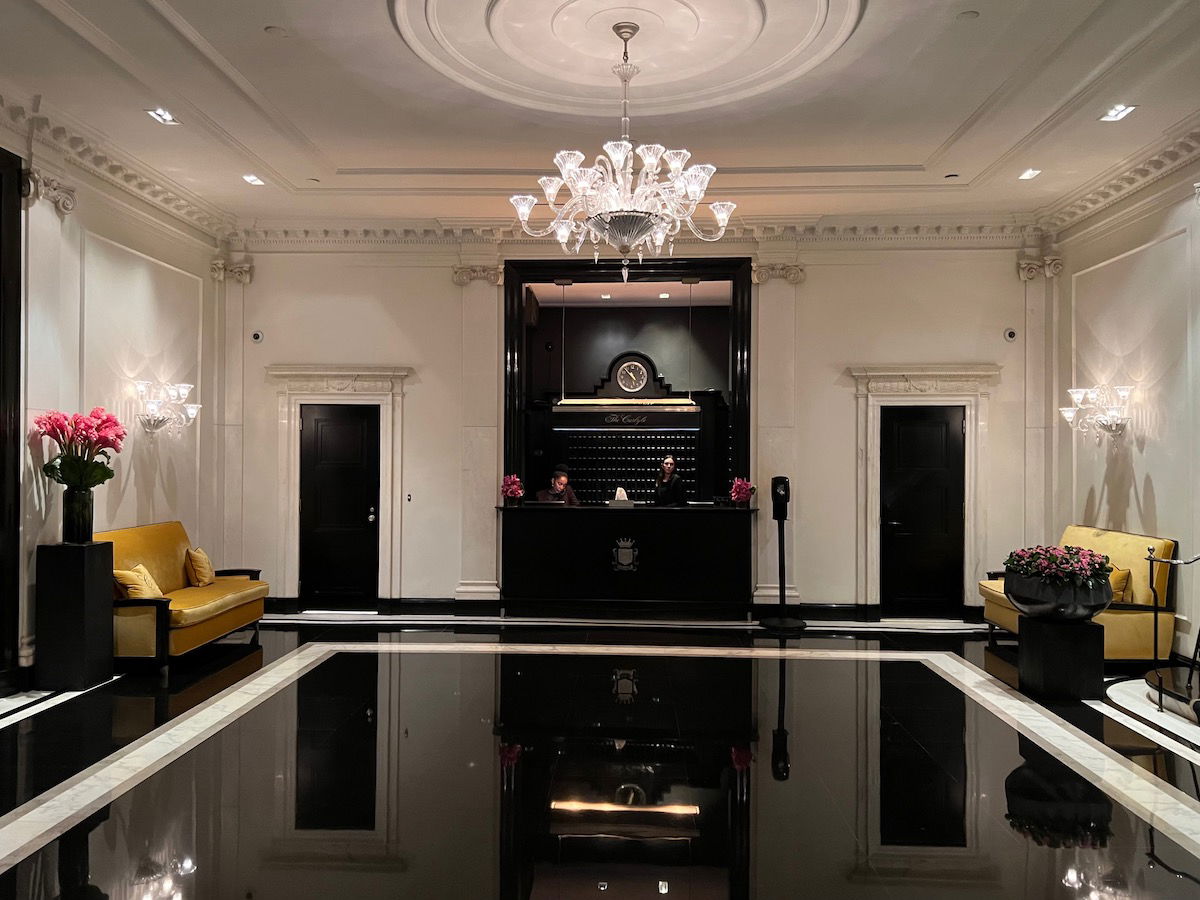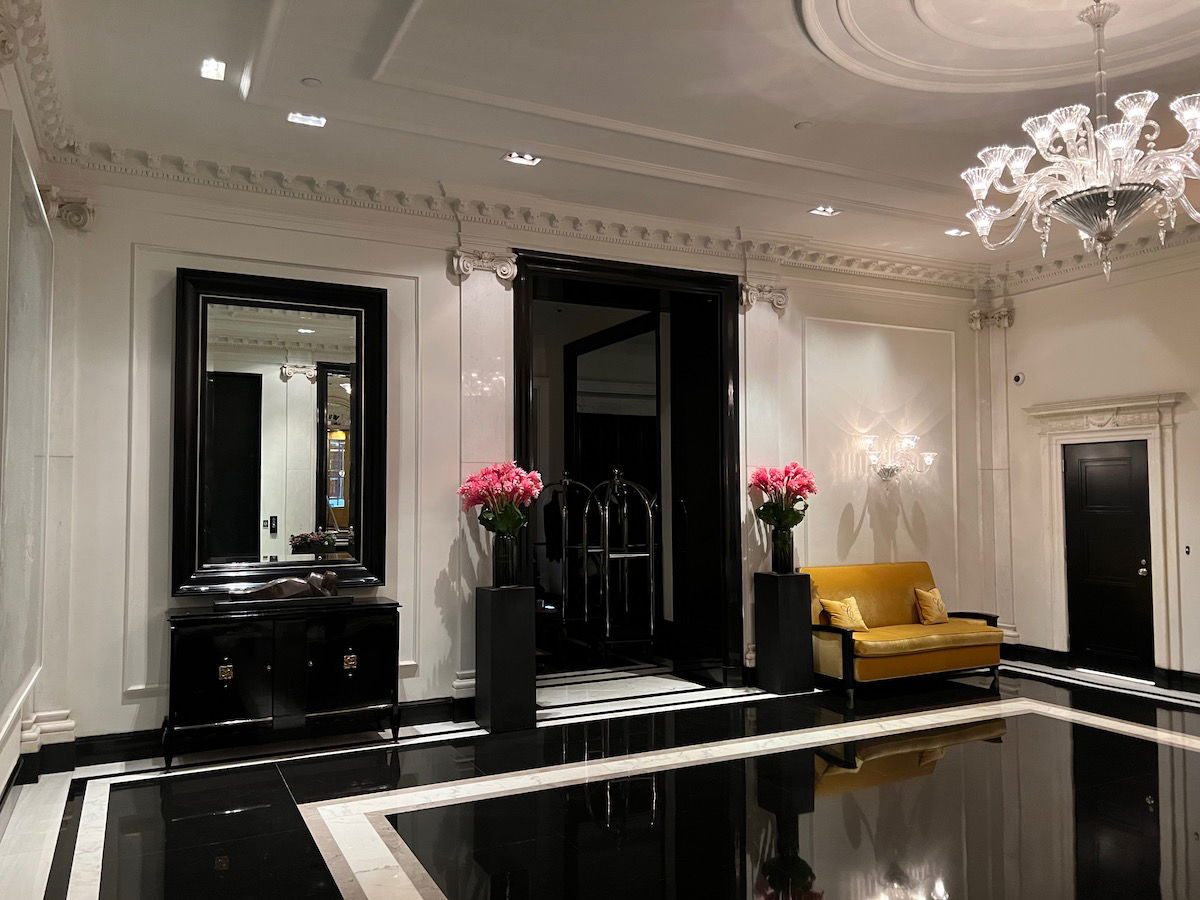 Just down the hall is a small sitting area by the elevators with a fireplace. In the evenings they even had candles here, which was a cute touch.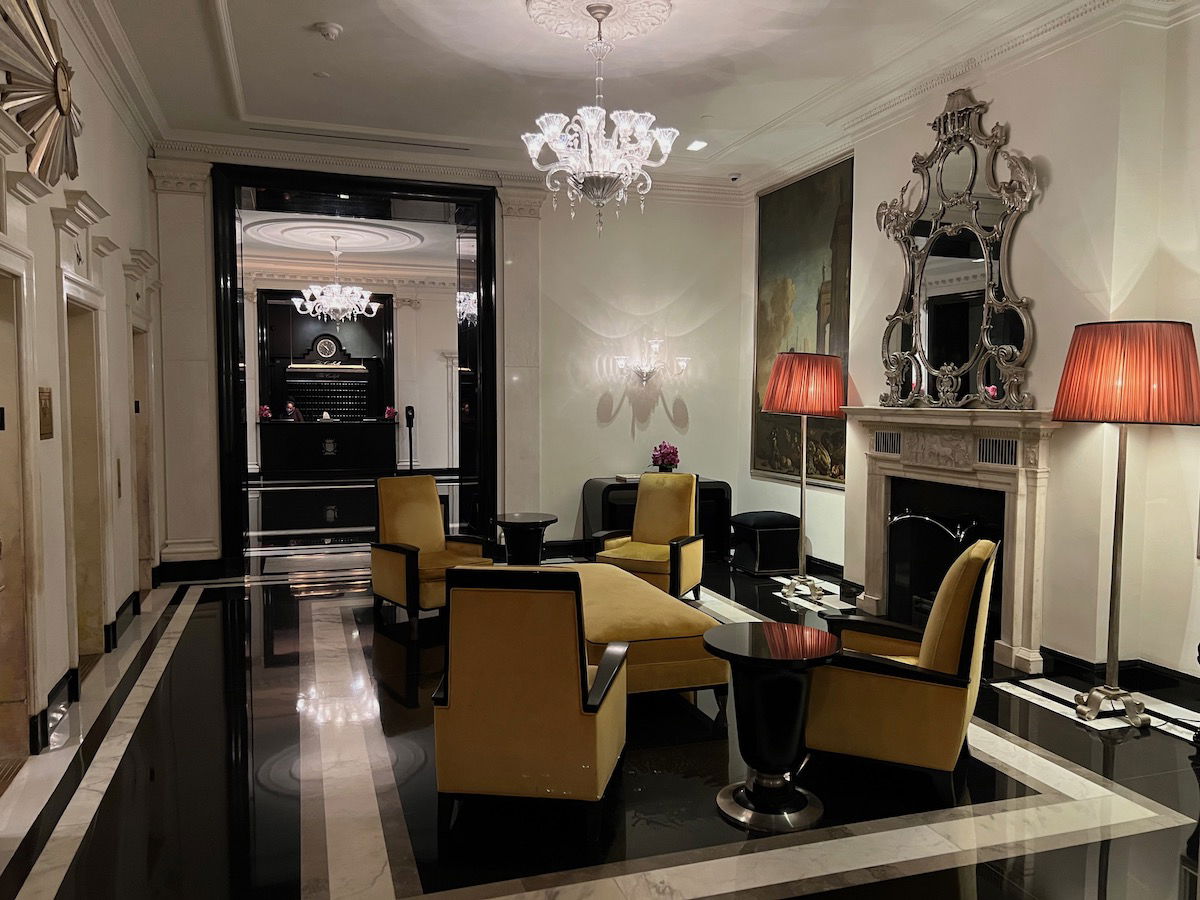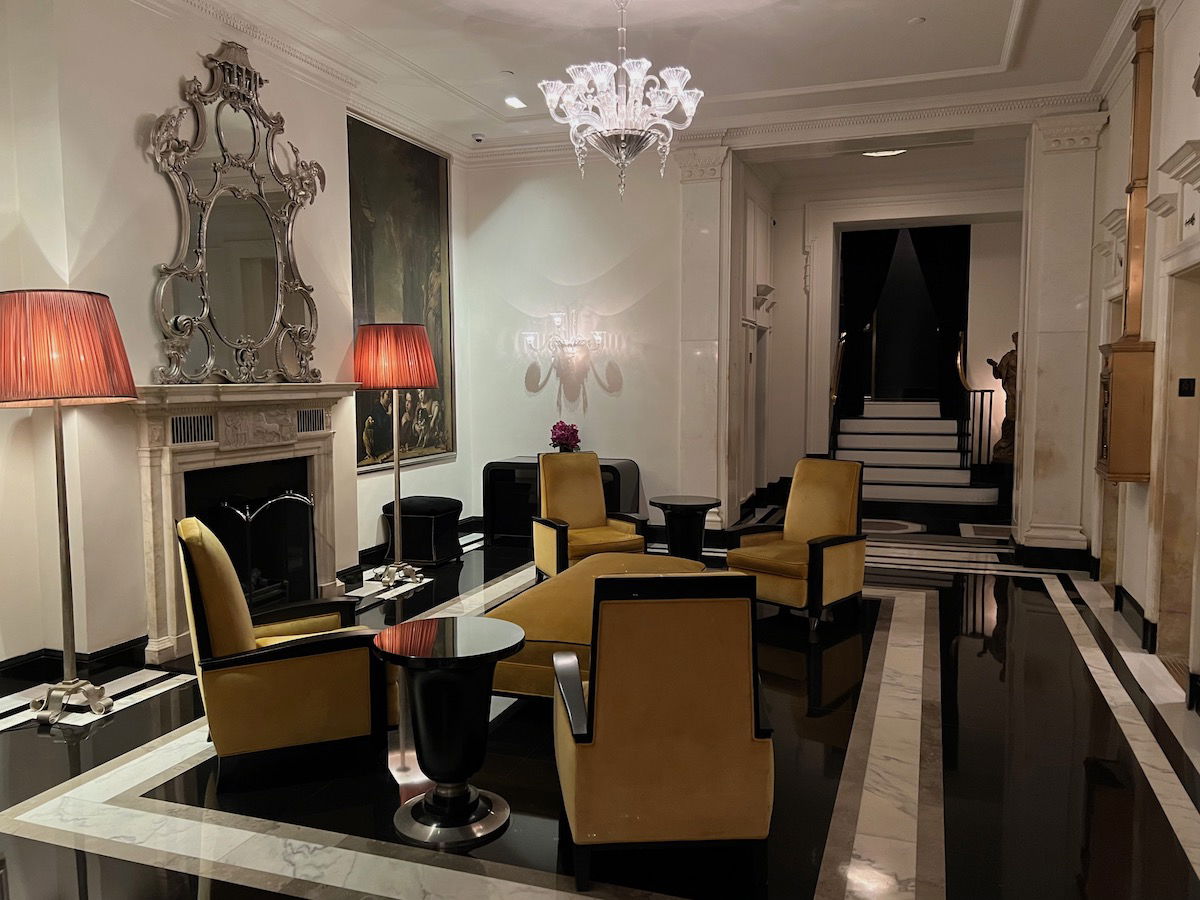 Our check-in experience was quick and efficient, and the front desk agent checking us in was friendly. We were each given a small card, and were told to show this at the property's food & beverage outlets for priority seating.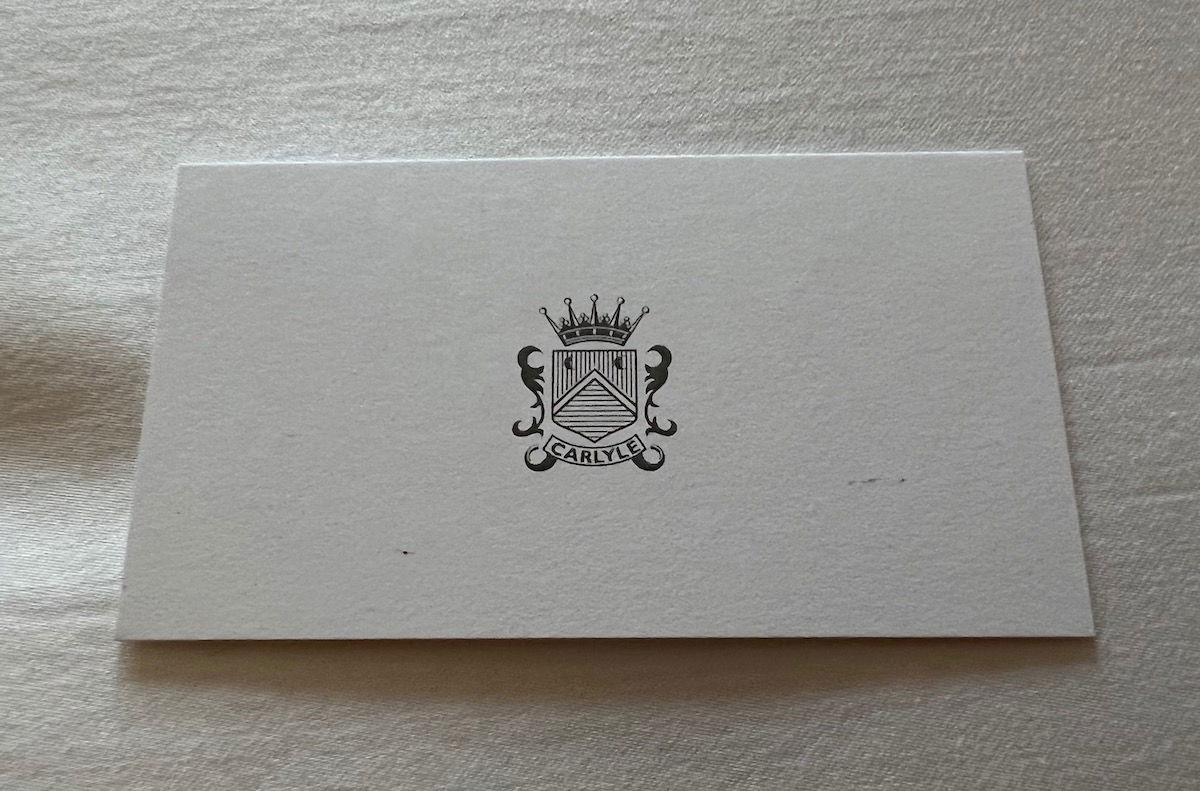 The elevators were right near reception, and were quite fun and old school, and even had seats in them.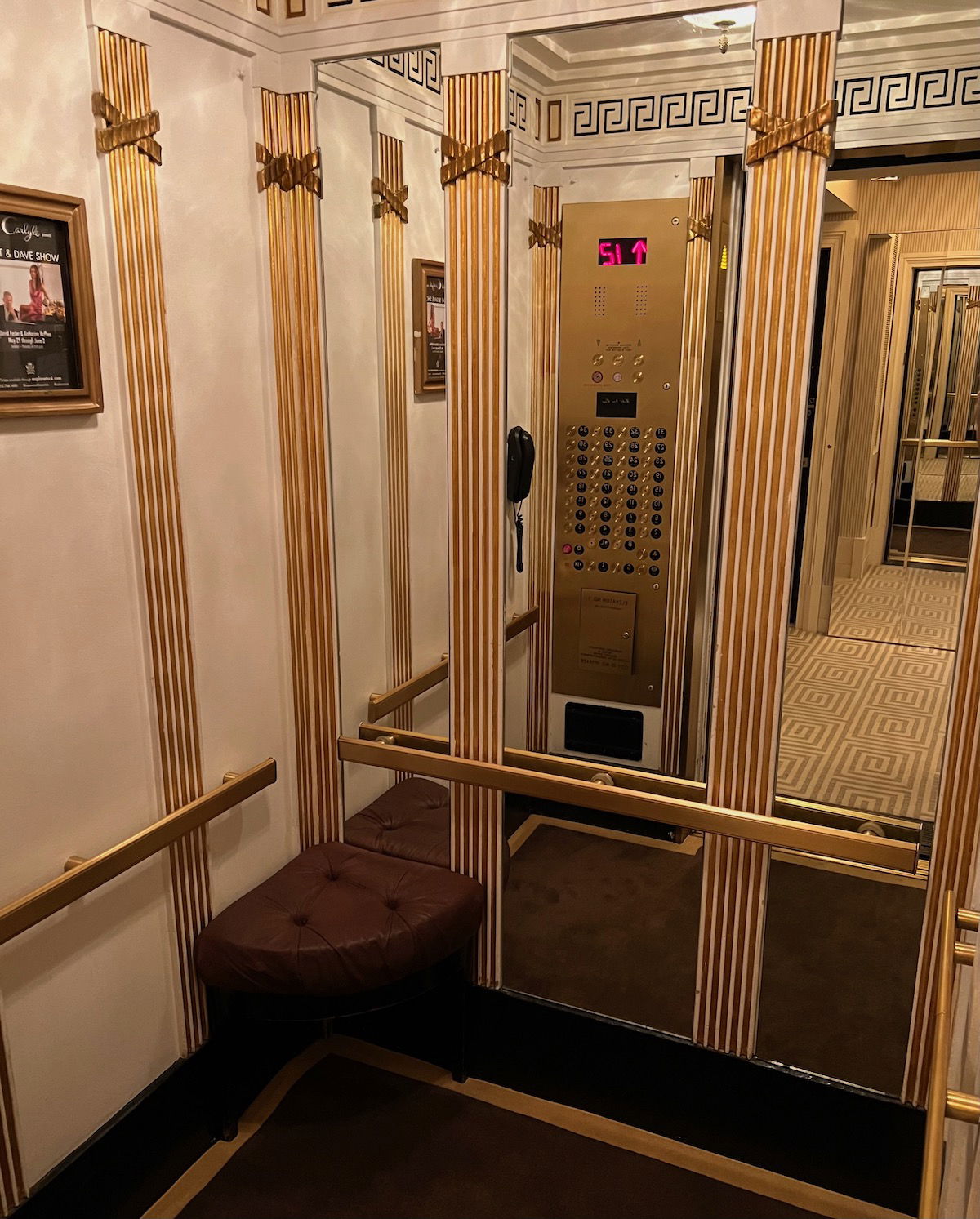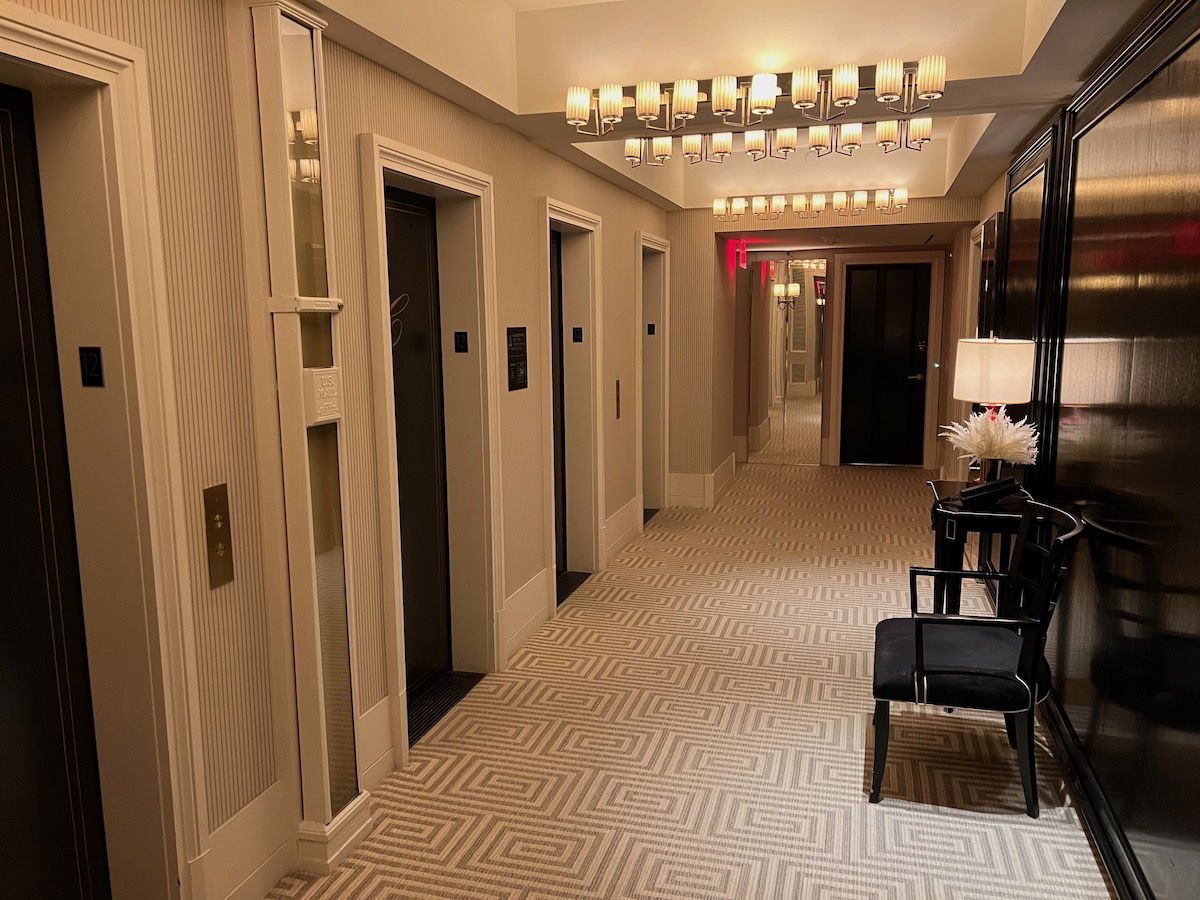 The Carlyle New York premier room
We were assigned a premier king room on the 12th floor. This is two categories above the entry level room, as rooms here go from superior (360 square feet), to deluxe (375 square feet), to premier (450 square feet). All rooms have been renovated as of 2021, after a three year transformation.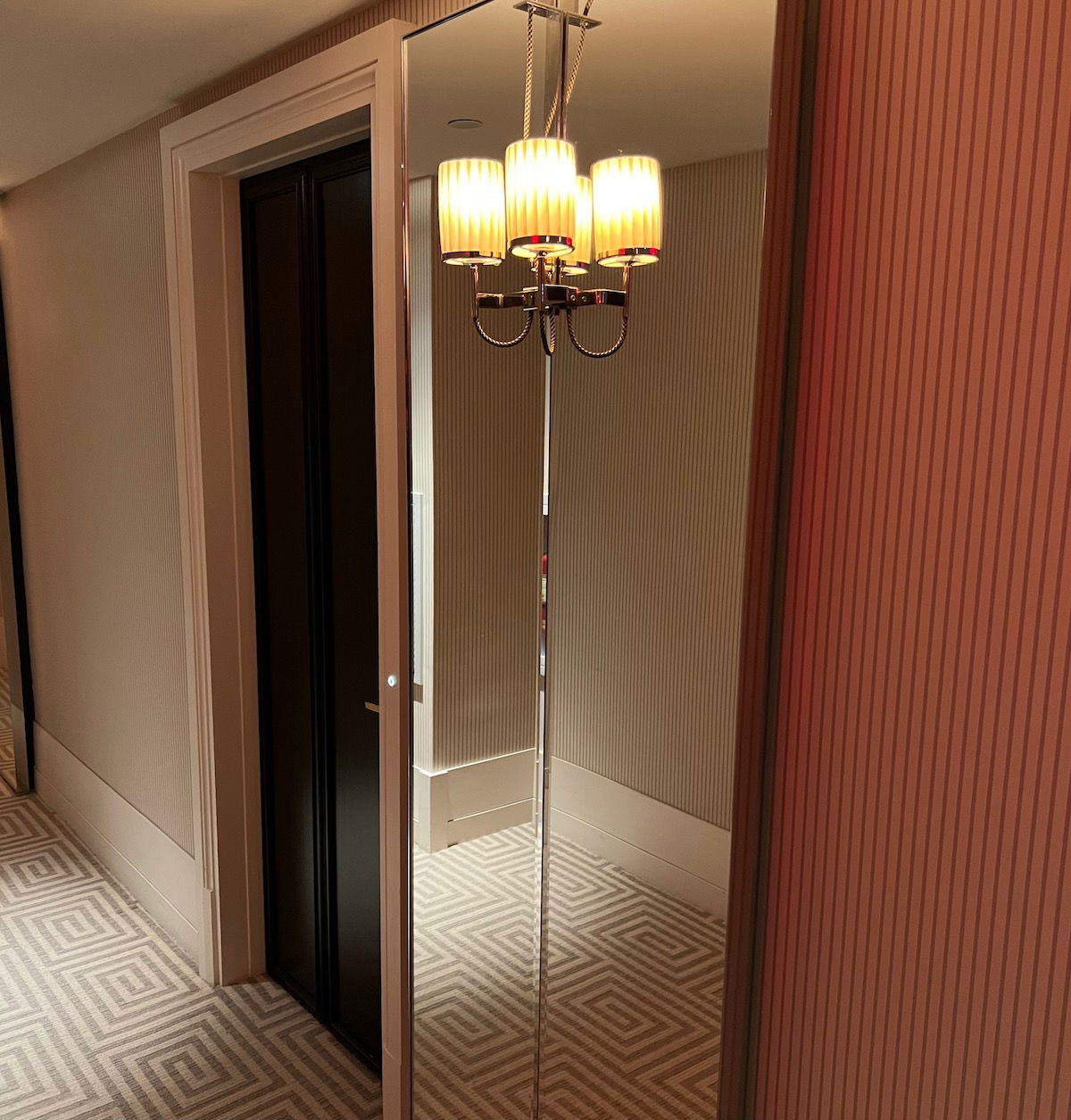 The room was lovely — it was spacious and modern, while still having lots of touches that reminded you where you were. The room had a long entryway with the bathroom to the right, a closet to the left, and the rest of the room straight ahead.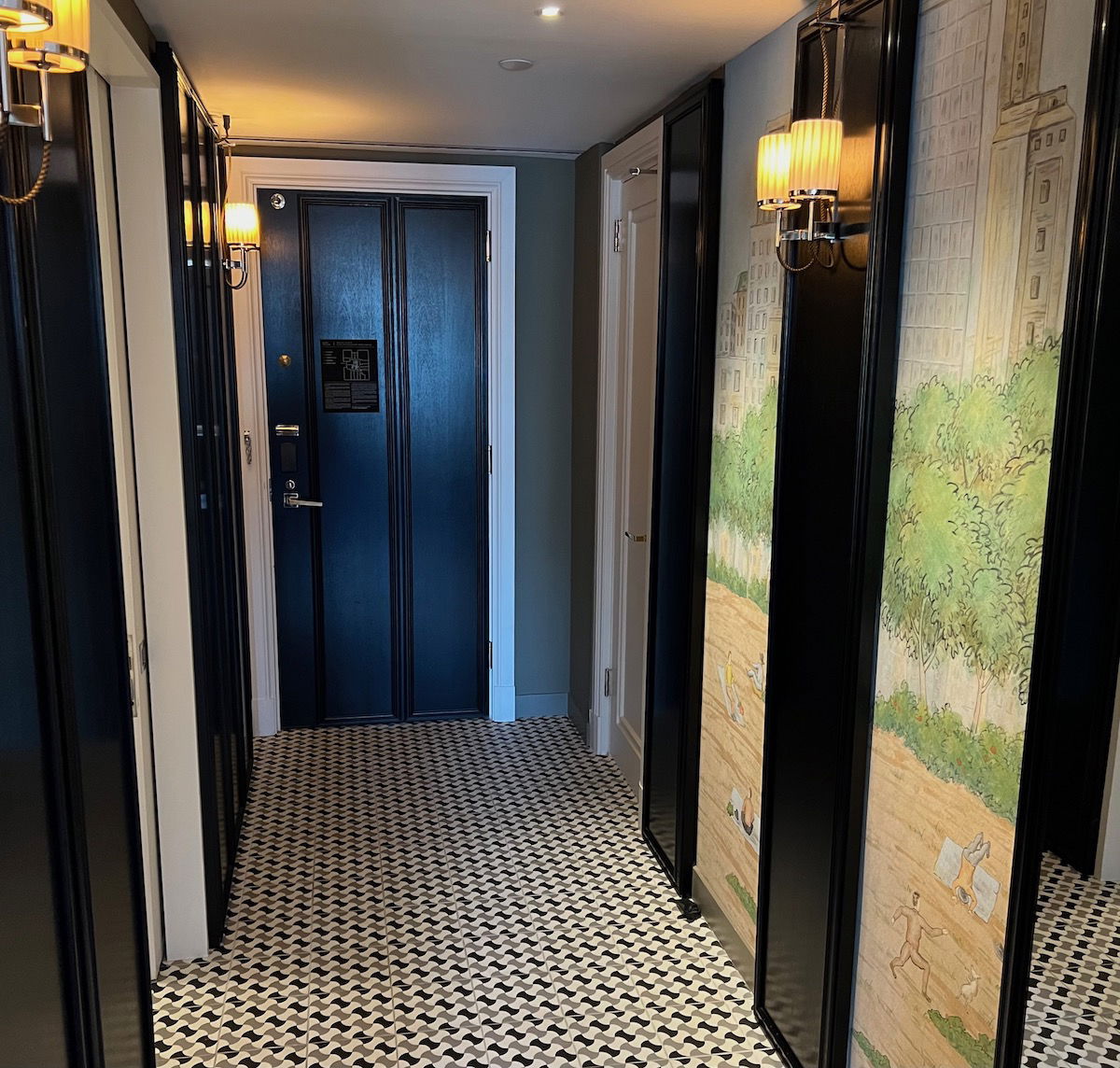 Our premier room had a comfortable king size bed with great pillows, and a desk with a chair over by the window. There was also a stool there, so that two people could potentially dine together if you order room service.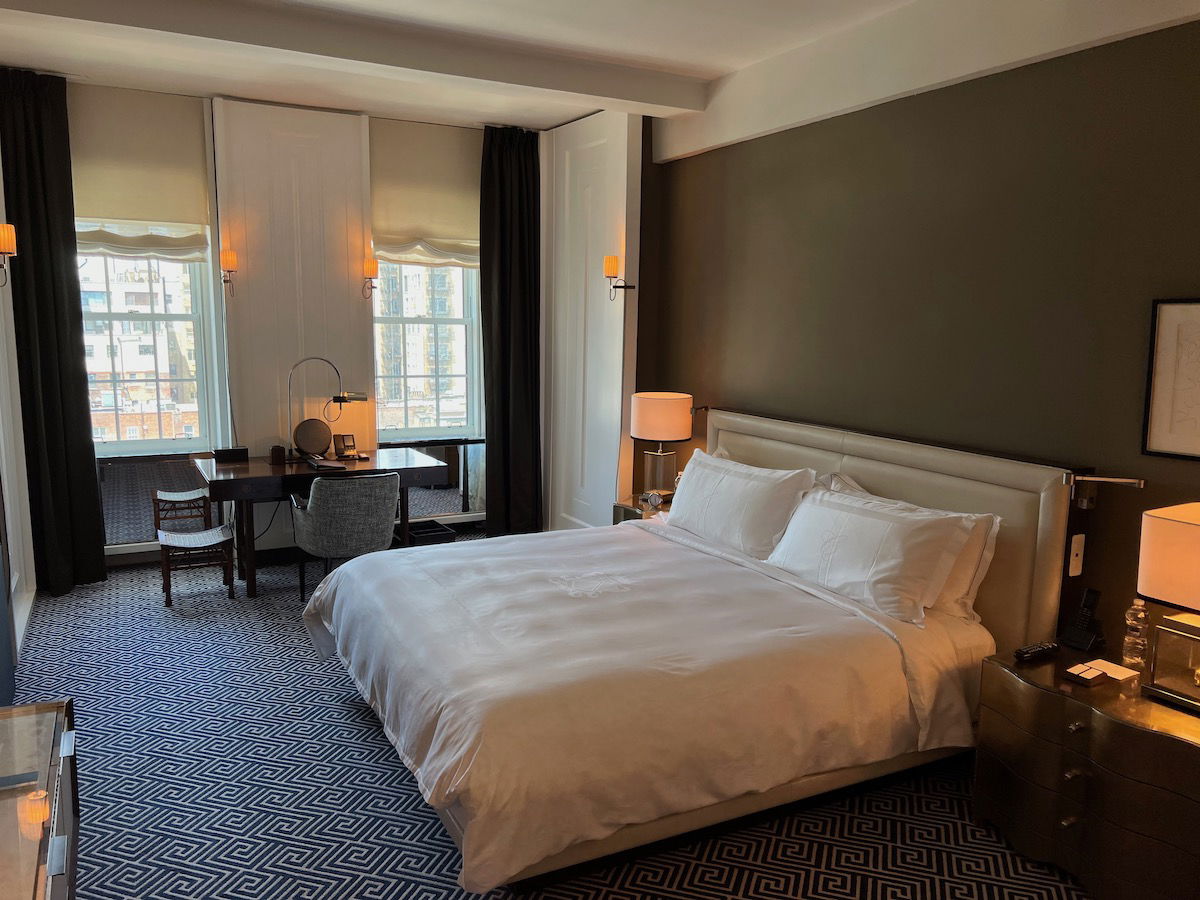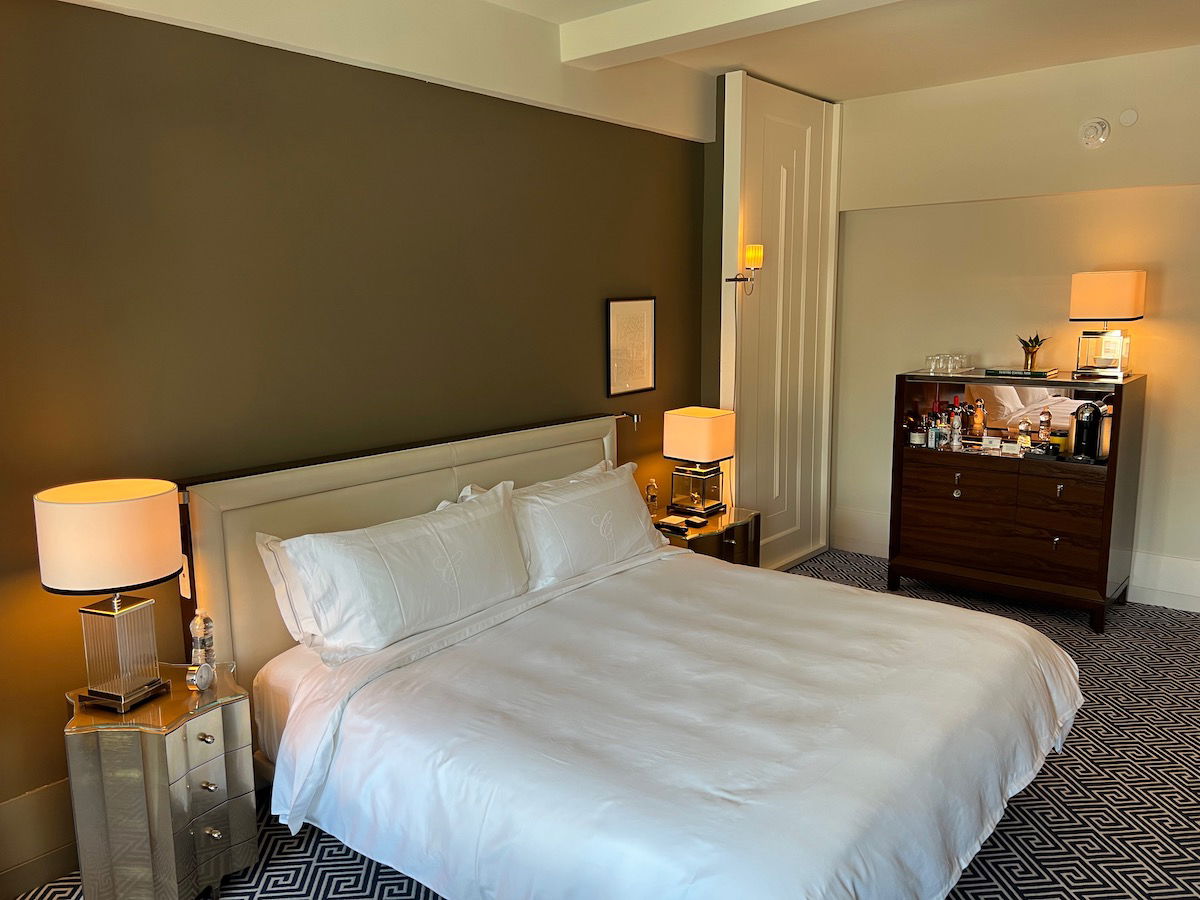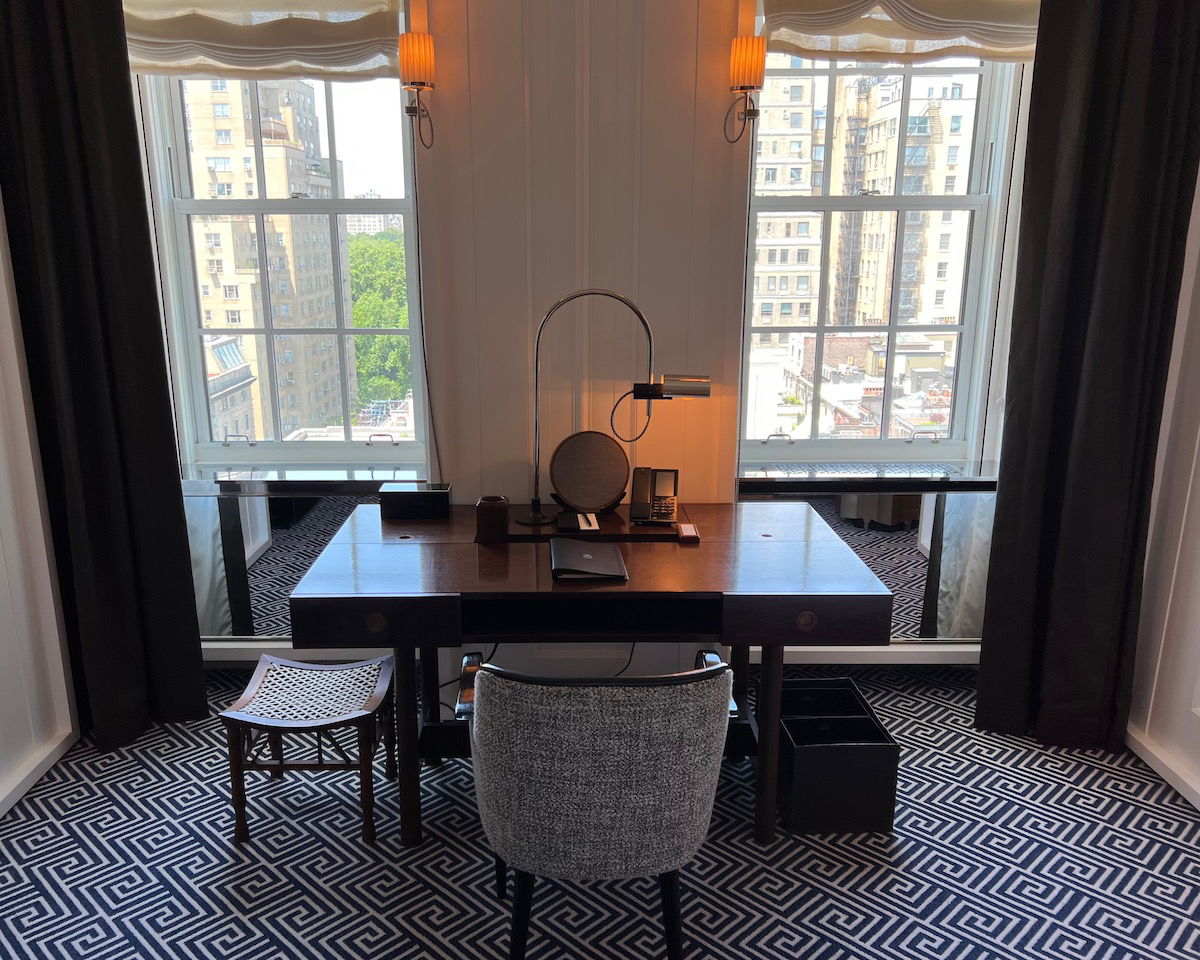 Along the wall opposite the bed a TV plus a table with some drawers.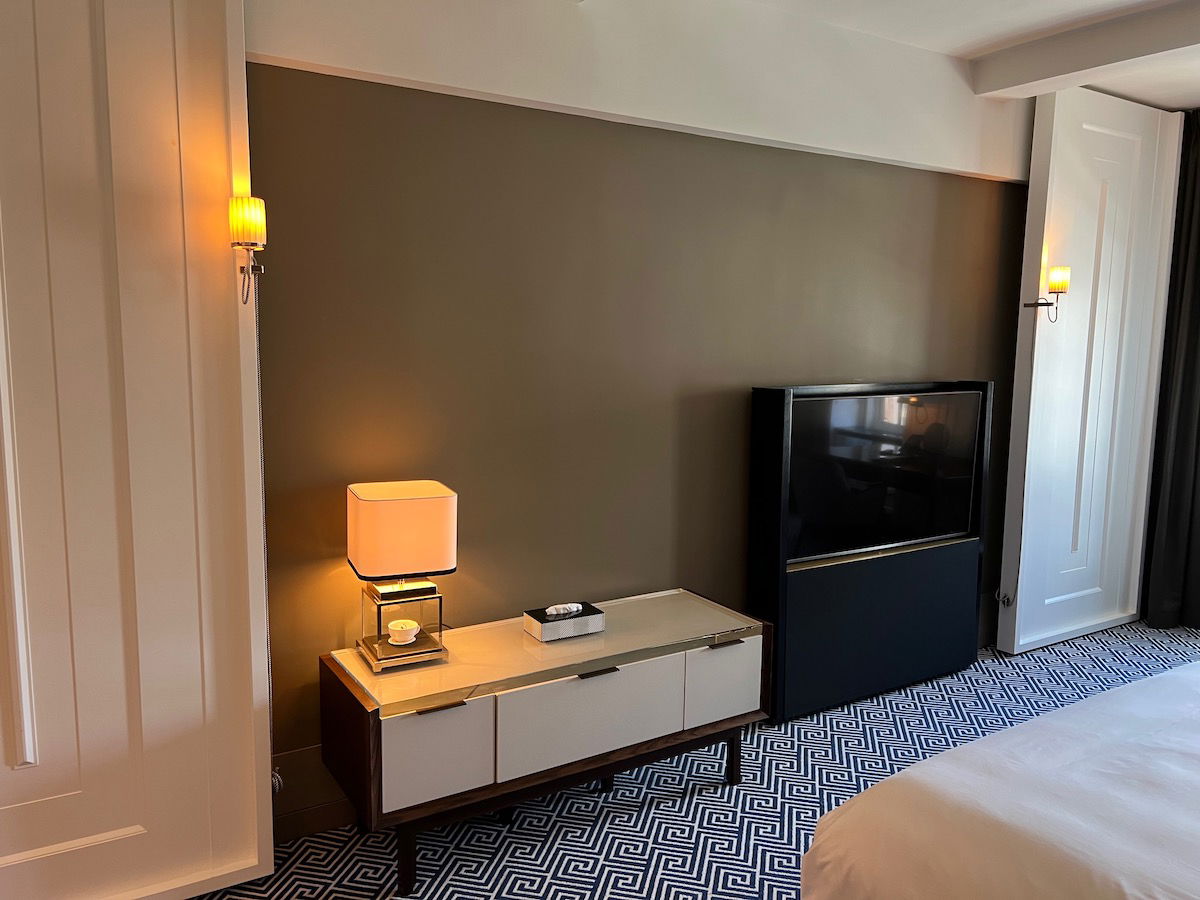 Along the wall closest to the entrance was the minibar, which had a coffee machine, plus a variety of drinks and snacks for purchase.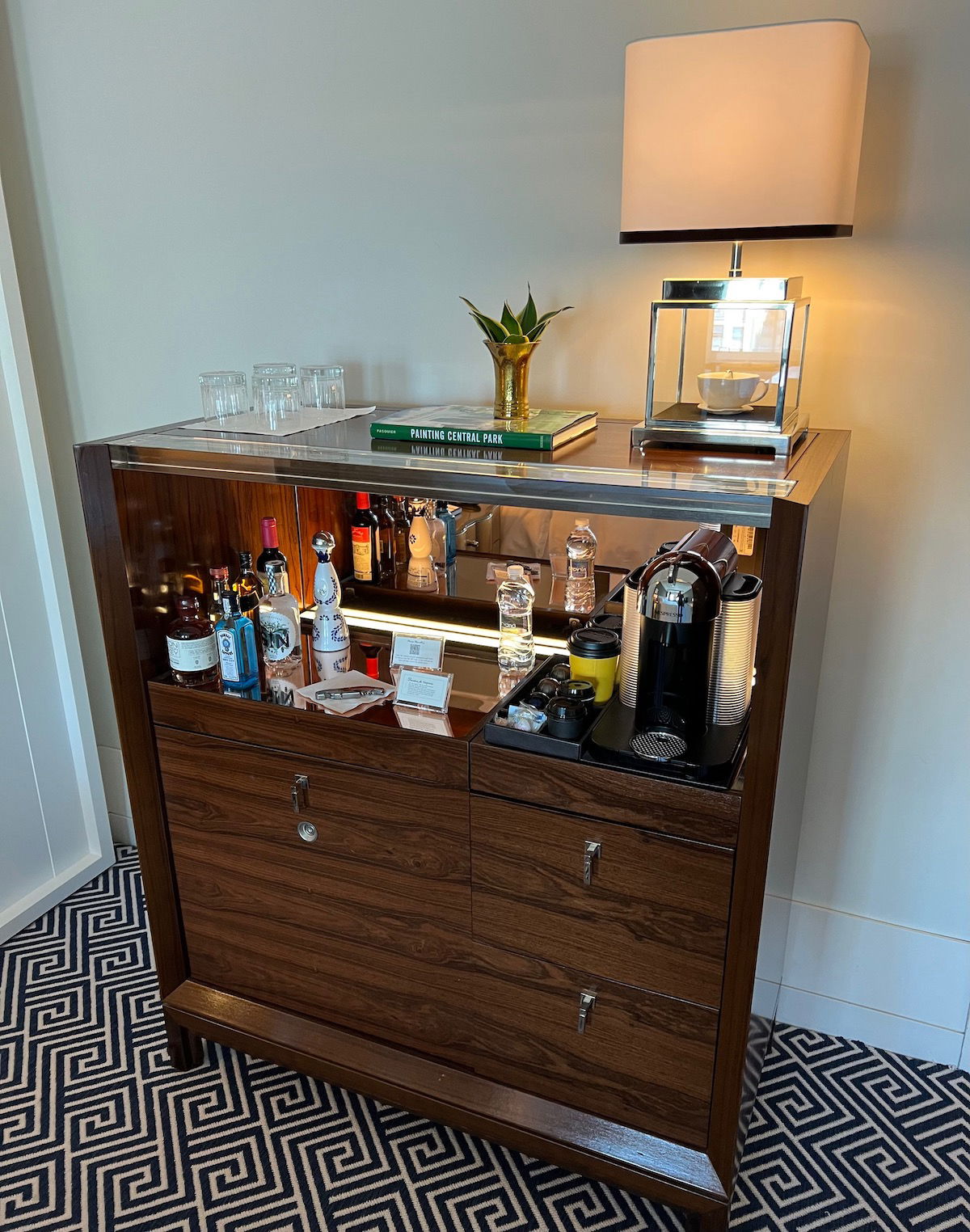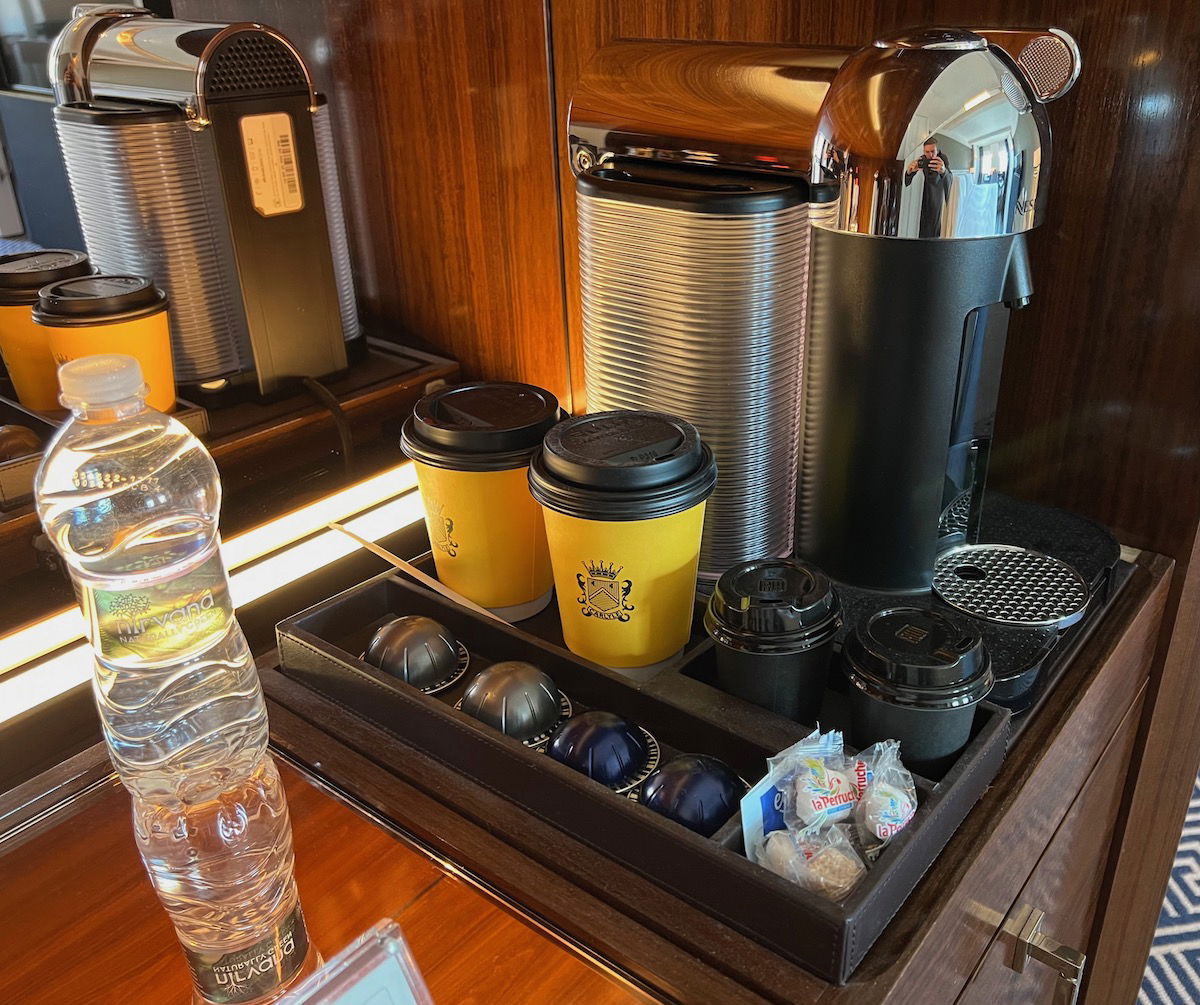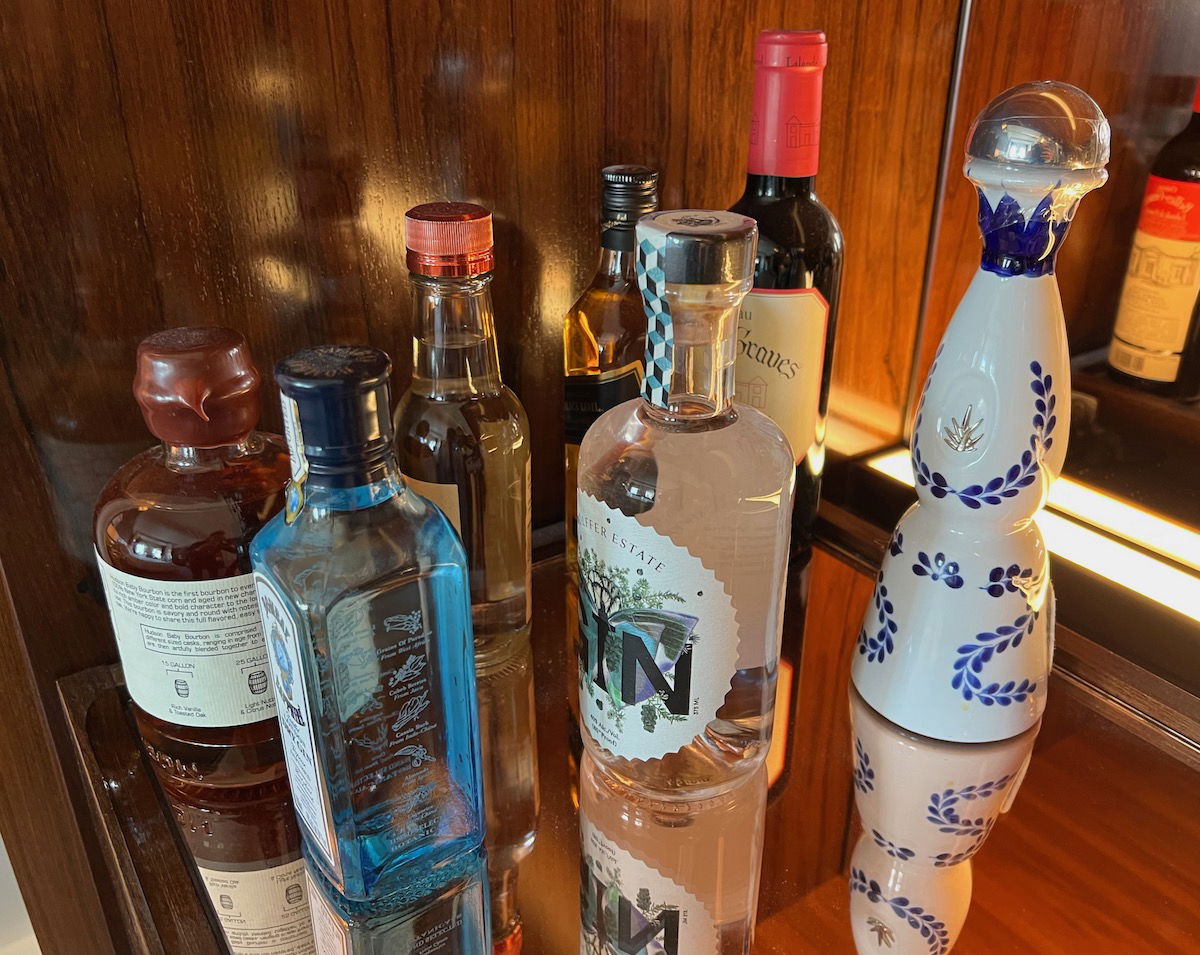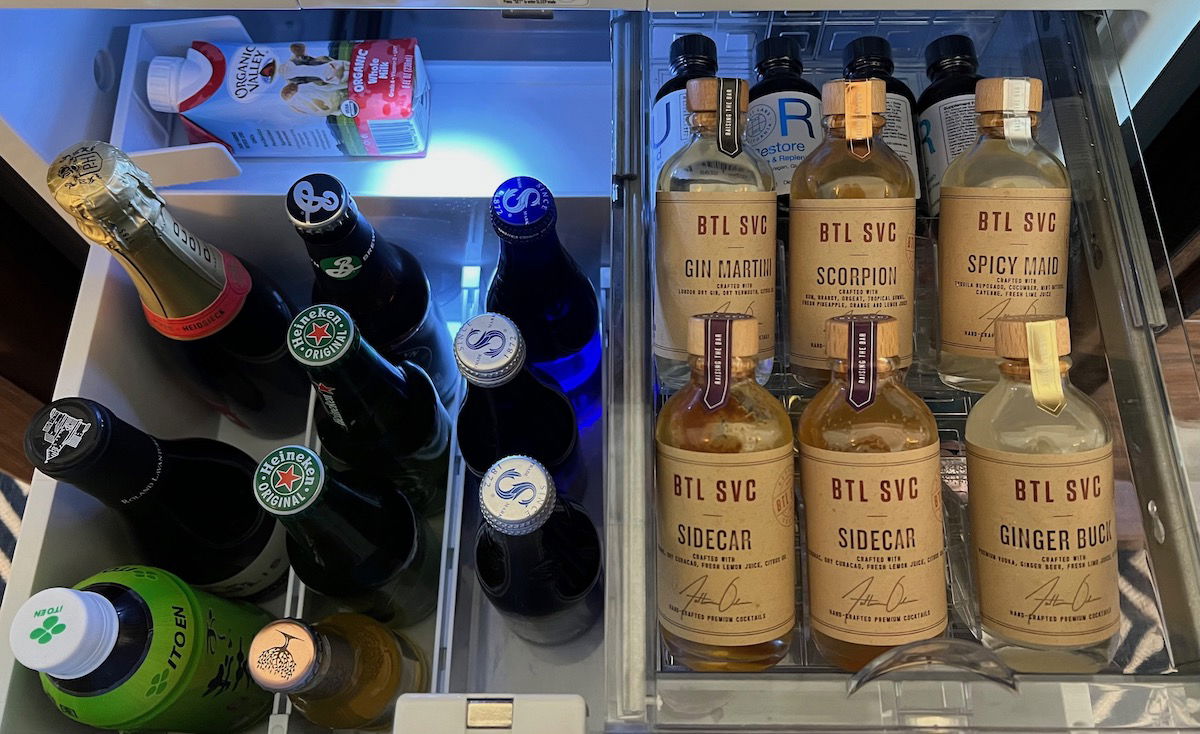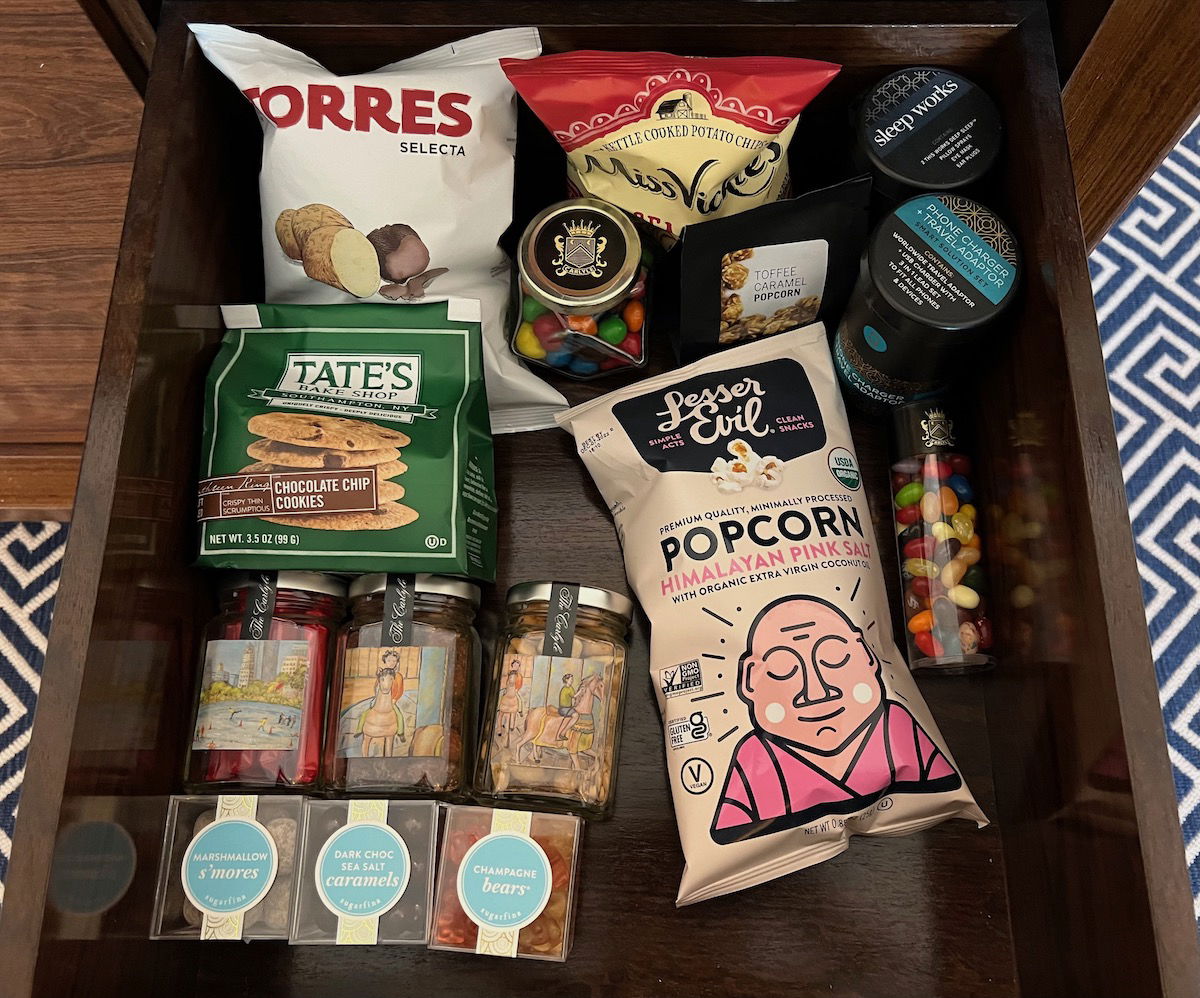 The room had a pretty nice view — especially in Midtown you often get stuck in a room where your only view is into another building 30 feet away, so it was nice to have such a sprawling view.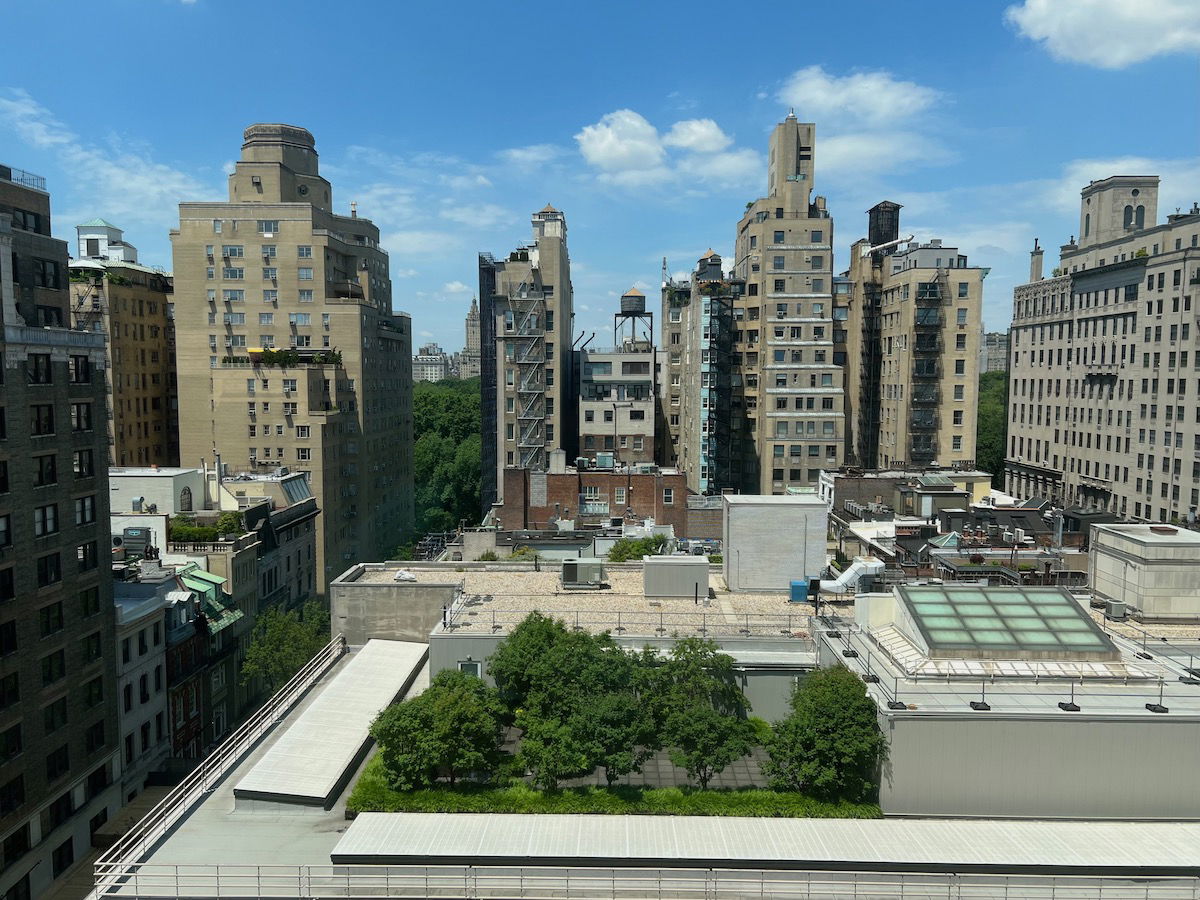 The Carlyle really did a thoughtful job with the renovations. For example, the bedsides had both AC and USB power outlets, which so many hotels don't have.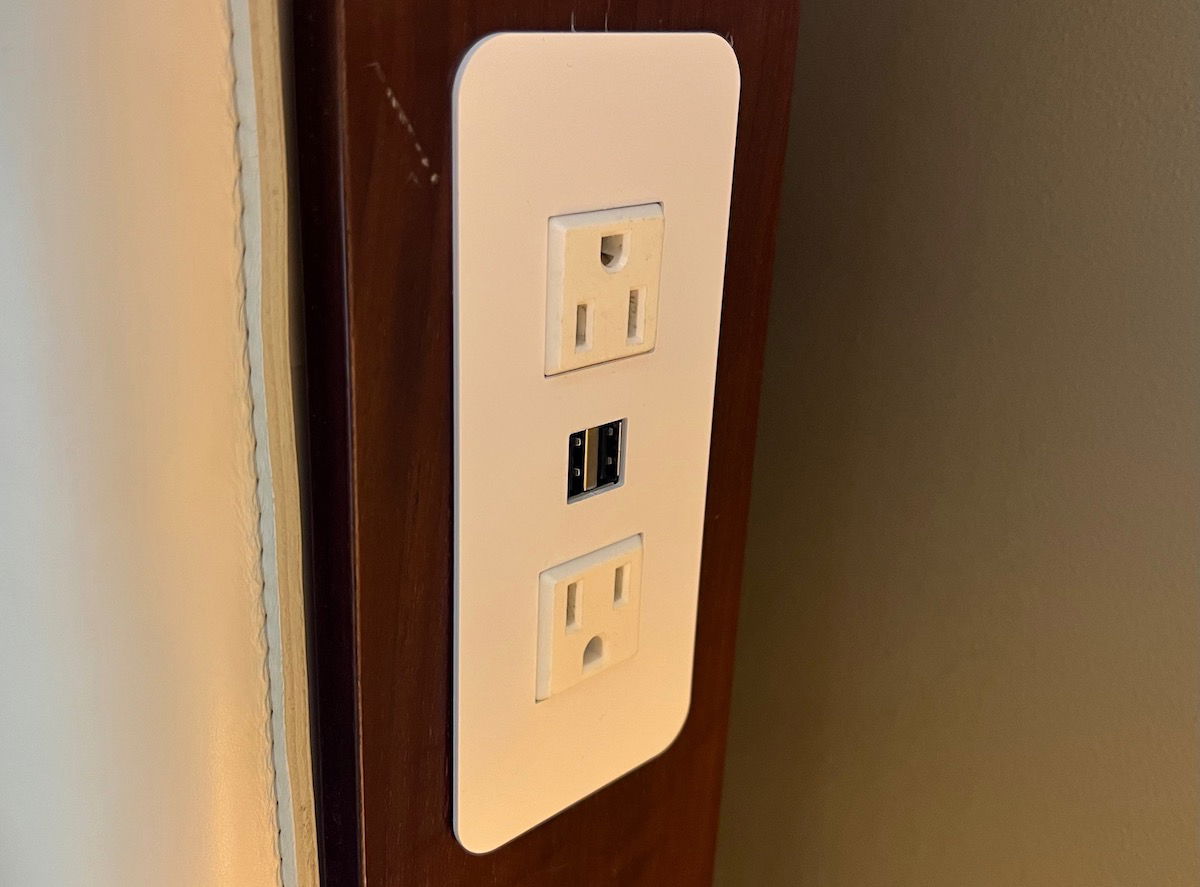 I also loved all the little touches with the design.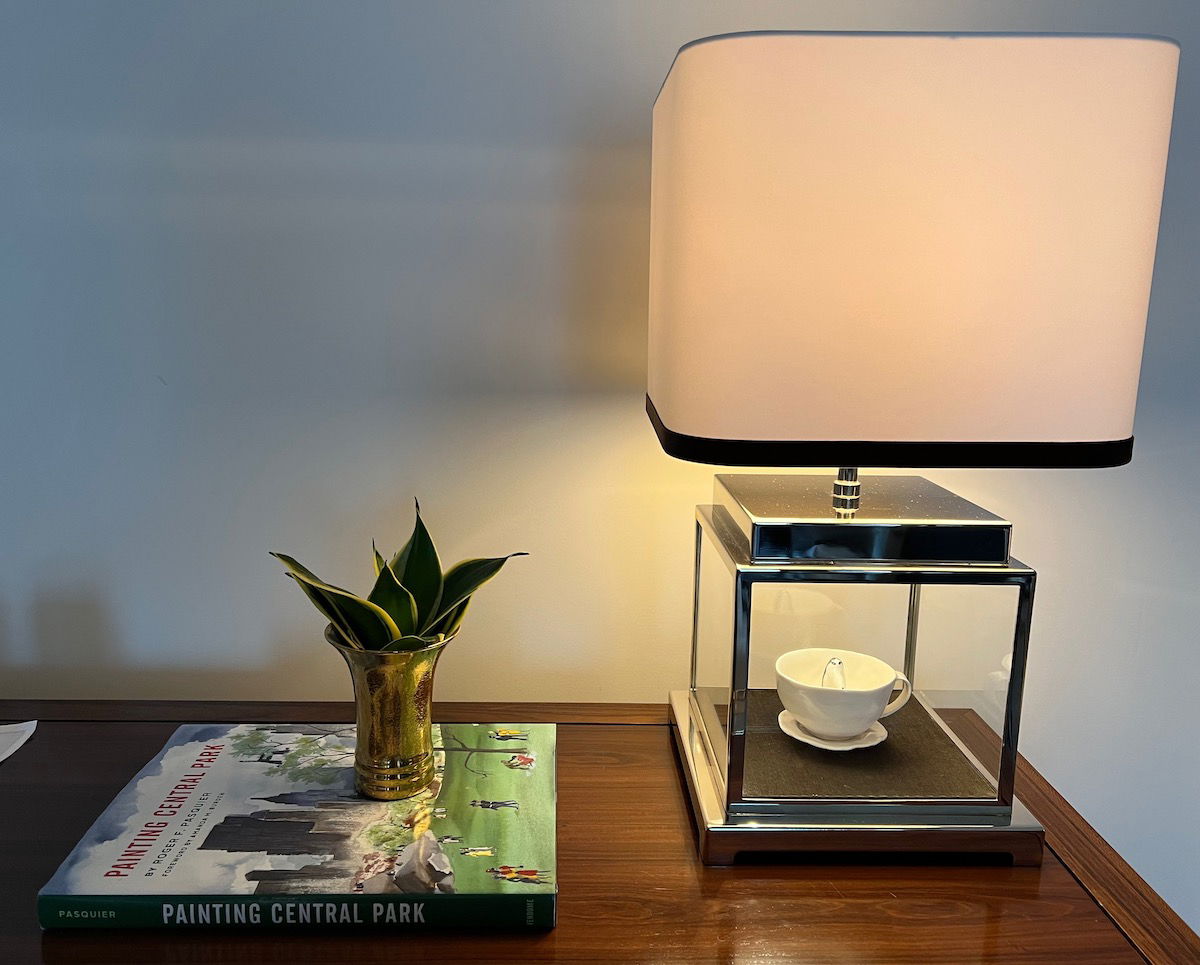 Back near the entrance was the bathroom, which had a walk-in shower, a bathtub, a sink, and a toilet. As someone who is a non-bathtub fan I'd rather they had double sinks and more counter space, but I realize a lot of people have a strong preference for rooms with bathtubs.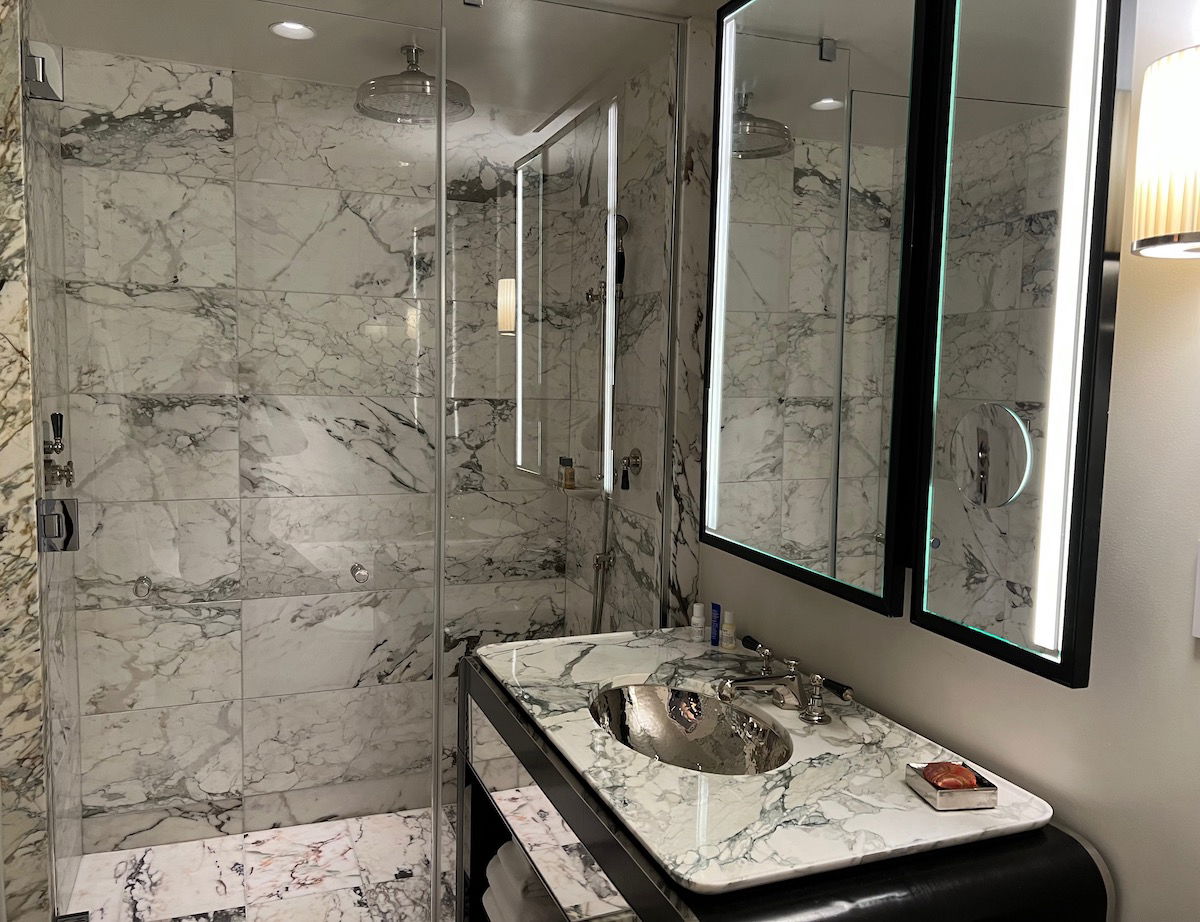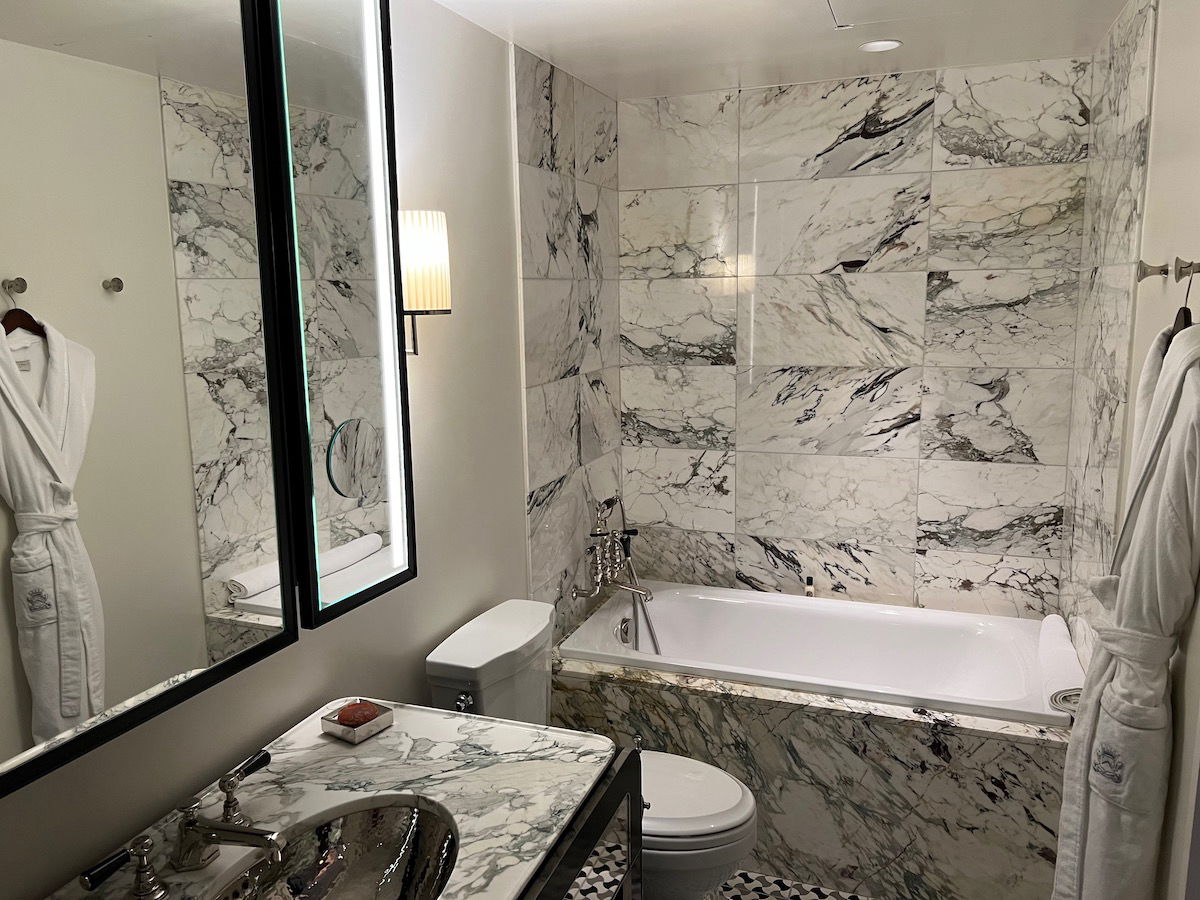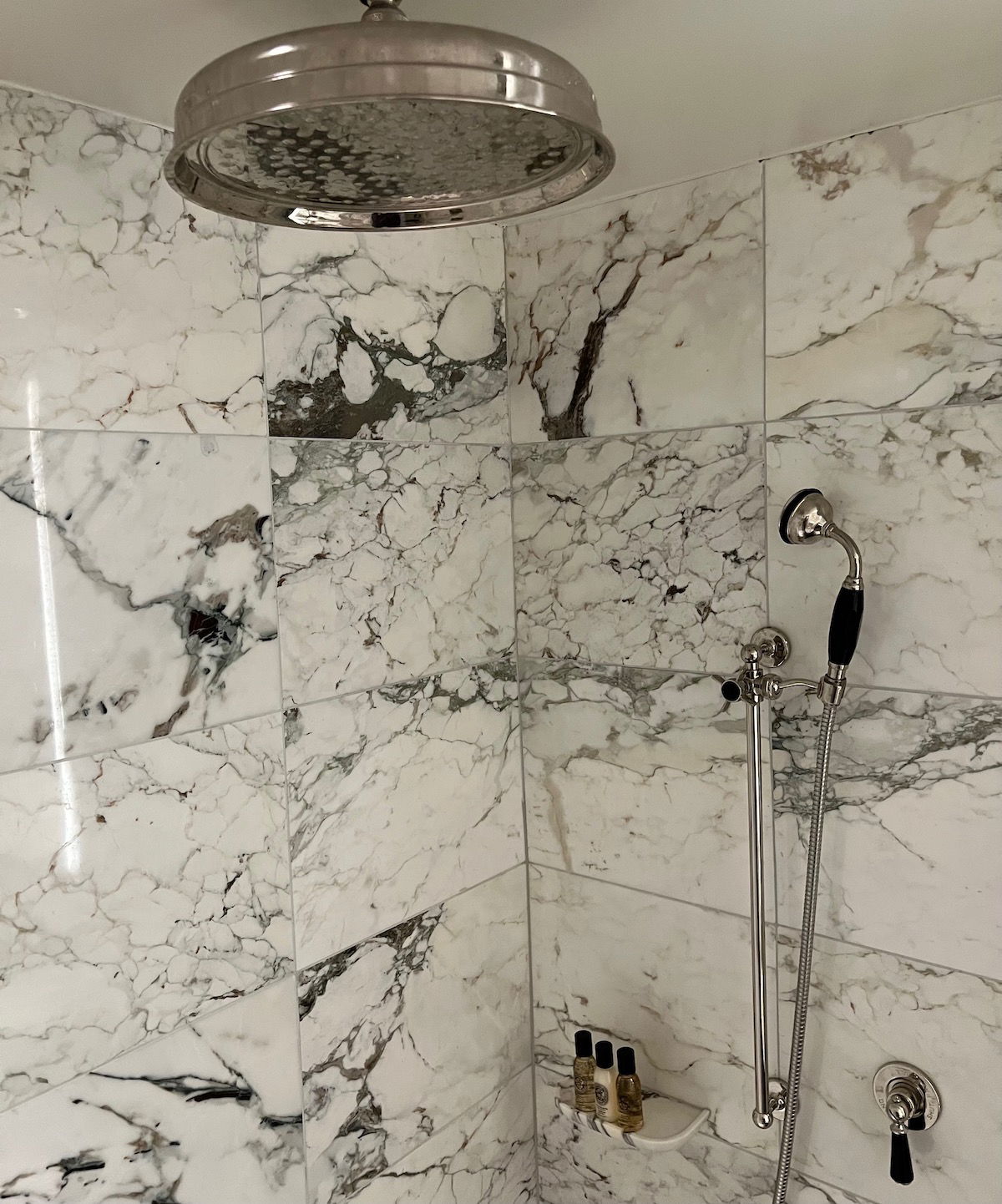 Toiletries were from both Diptyque and Kiehl's, and were lovely.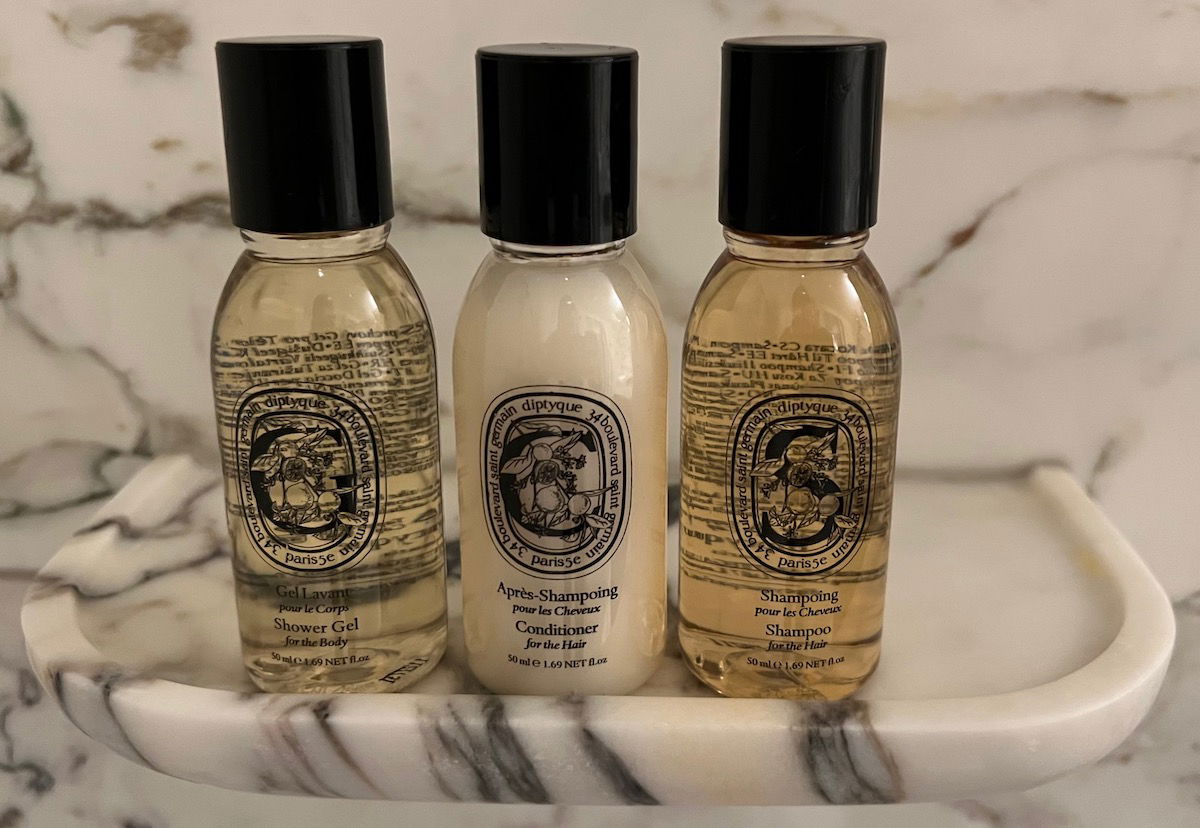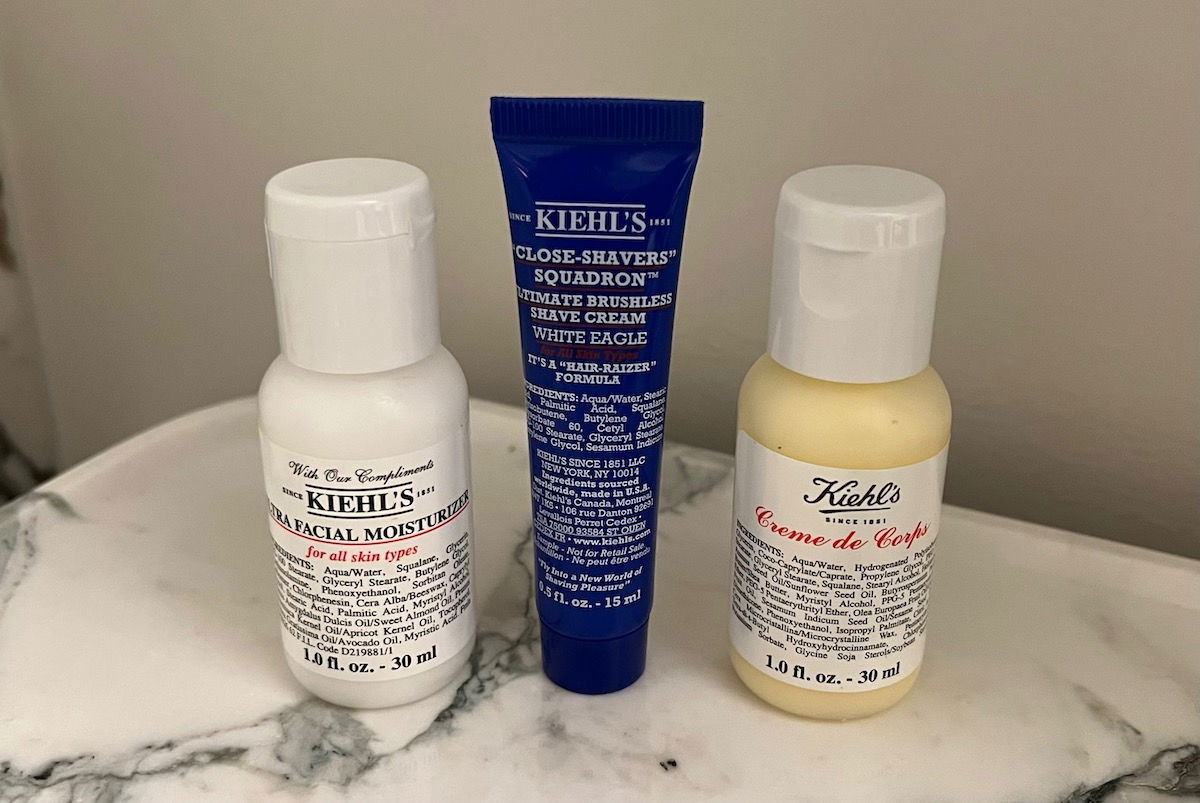 As mentioned above, there was a closet back near the entrance, which was a good place to store our luggage.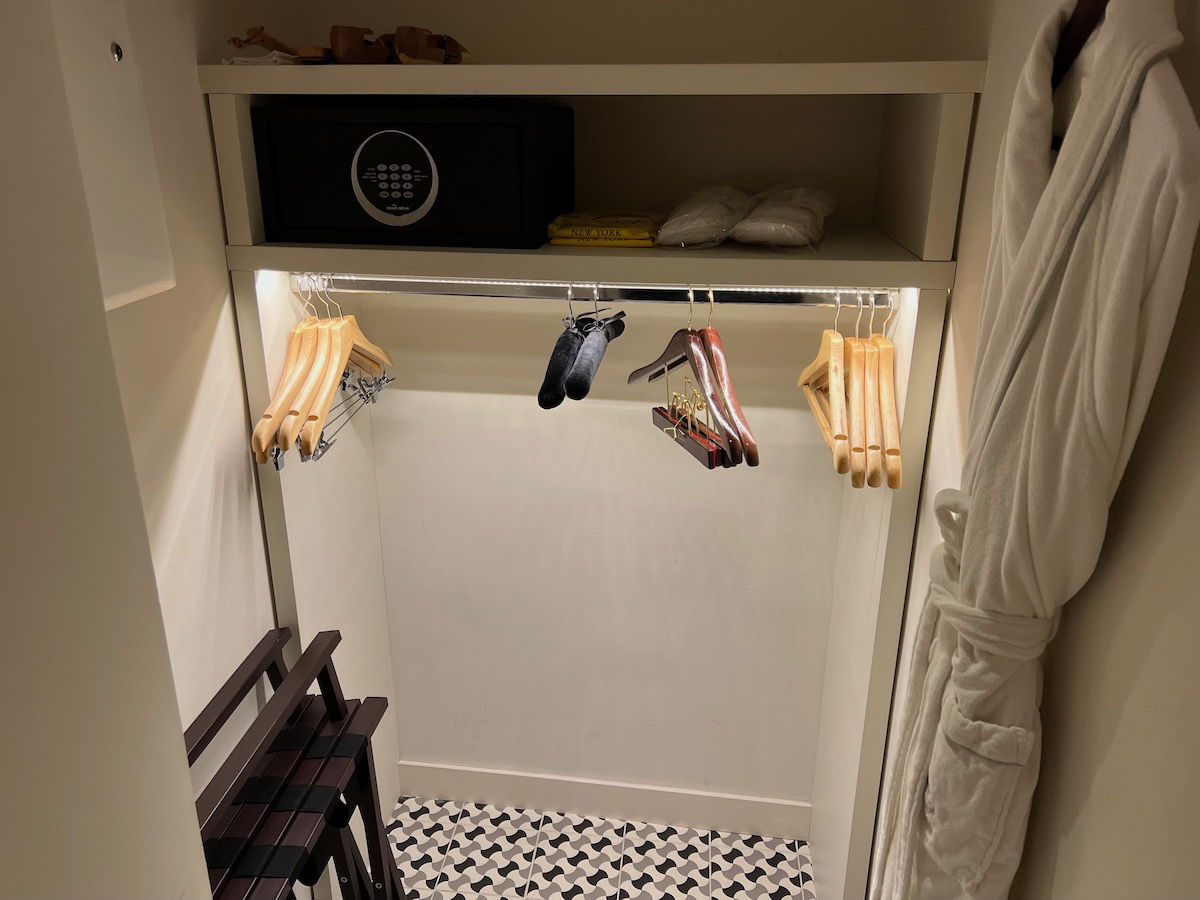 A couple of hours after checking in we were brought a welcome amenity, consisting of a bottle of cabernet sauvignon and black and white cookies. Yum. I may have eaten all of those cookies. Don't tell Ford, though.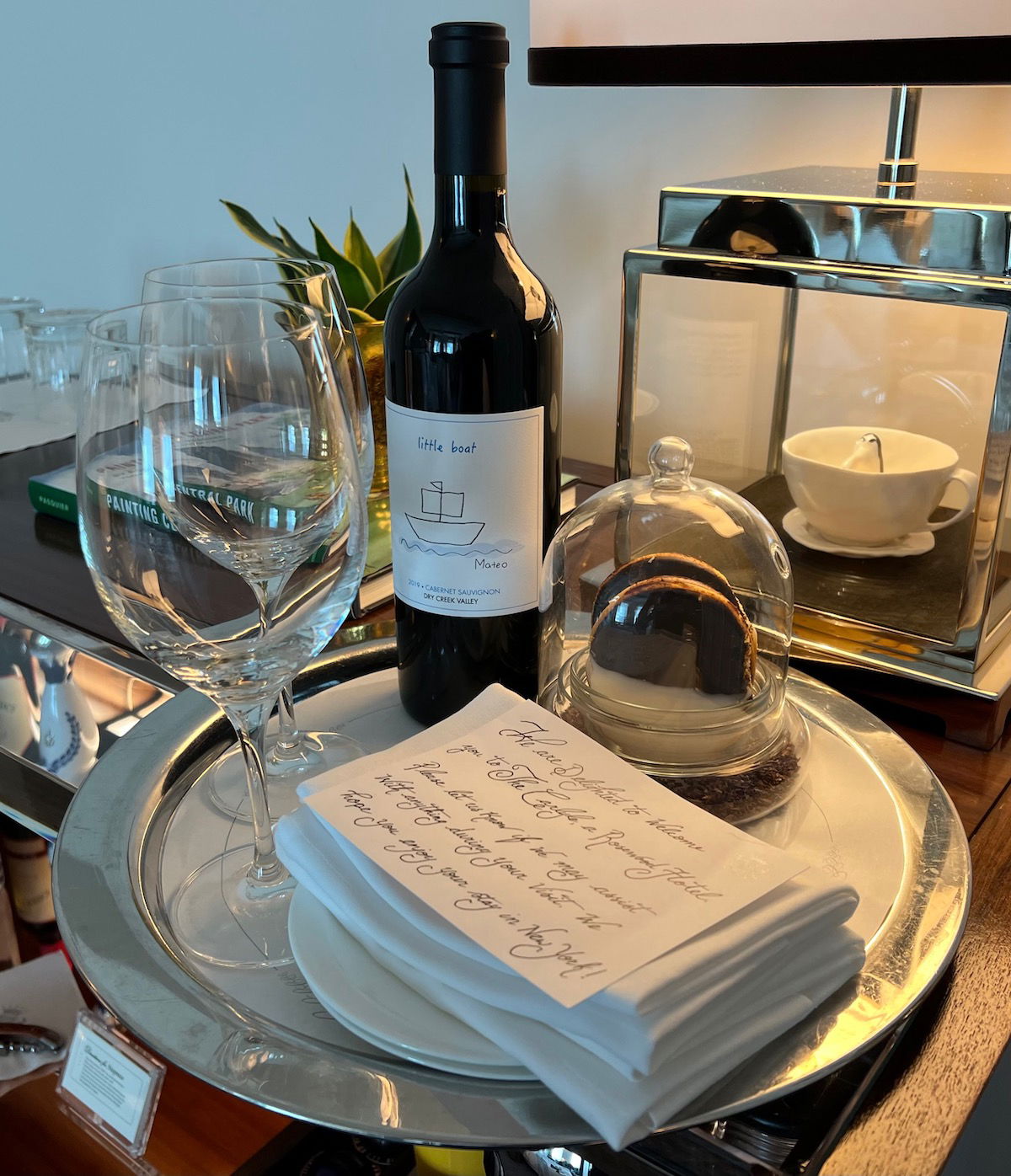 The Carlyle New York Bemelmans Bar
The Carlyle is hands down most famous for its food & beverage outlets, and one of those is Bemelmans Bar. When I told my dad we were staying at The Carlyle, the first thing he brought up was this bar, so clearly it has quite a reputation.
The bar opened in 1947, and features murals by Ludwig Bemelmans, who created the Madeline children's books. The murals are supposed to depict Central Park across four seasons, and include Madeline. Bemelman allegedly lived at The Carlyle for 18 months rent free with his family while painting the mural.
Anyway, the bar has a pianist nightly at 5:30PM, so as someone who loves live music, we went around that time. We had no issues getting a table, and while there's usually a $10 per person cover charge when there's a piano player, we weren't charged (presumably because we were hotel guests?).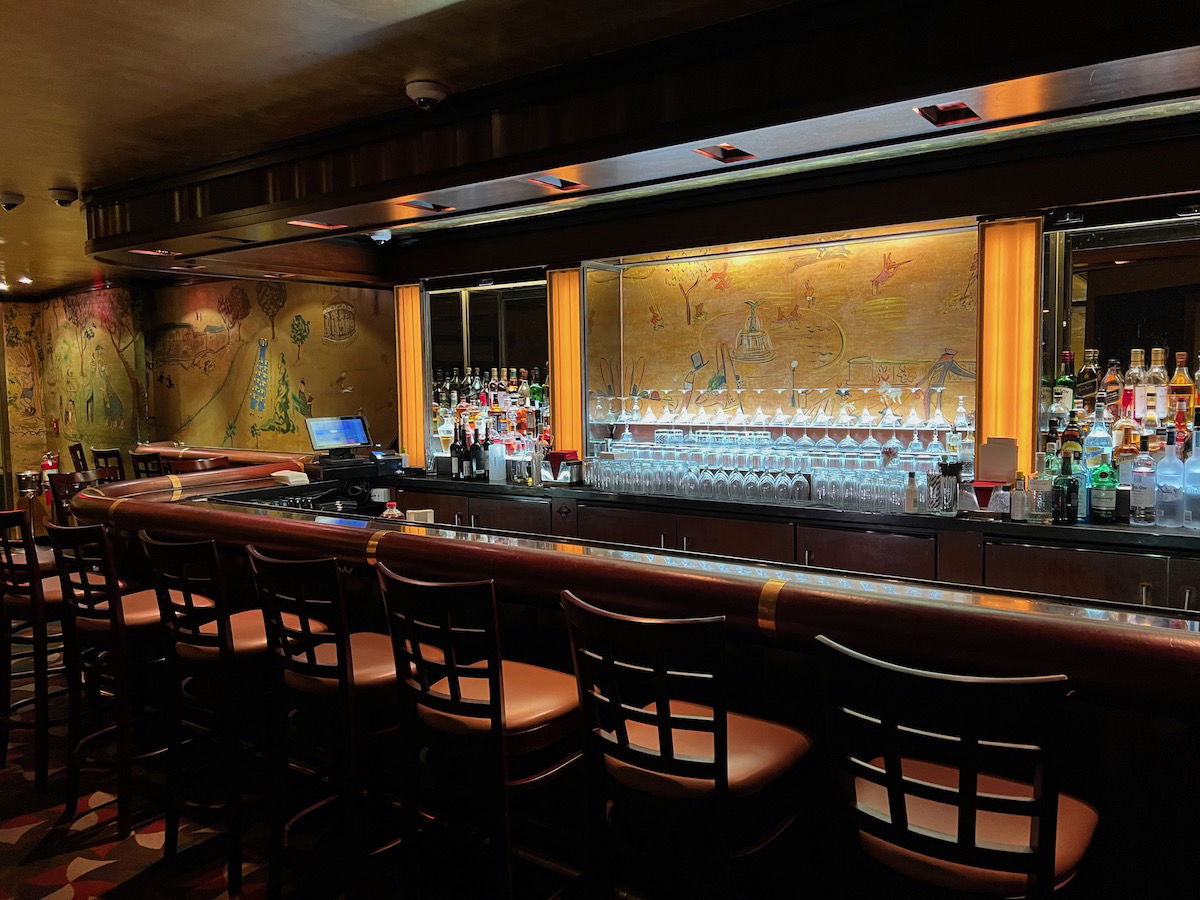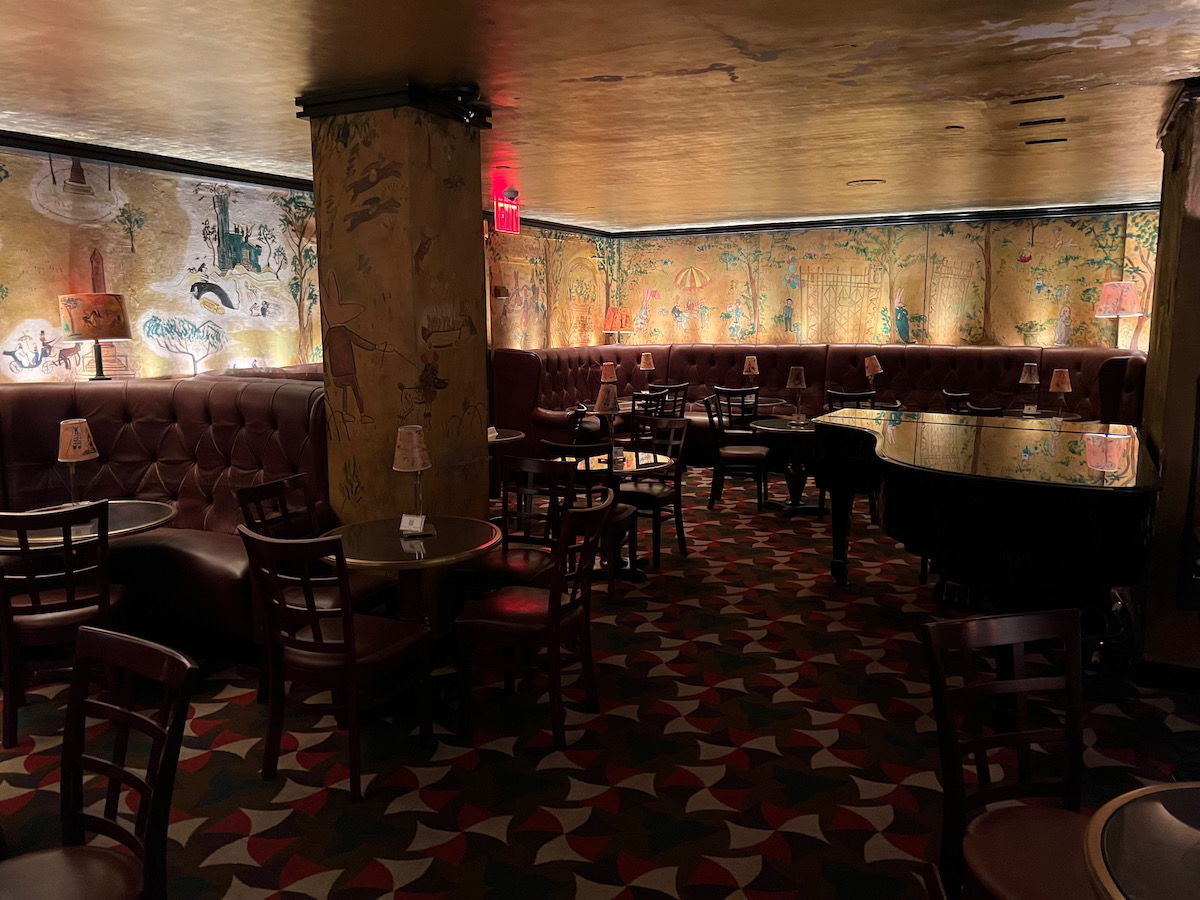 Anyway, you can find the Bemelmans Bar menu here. Ford and I each had one of their martinis. While they're not cheap (~$21-35), they were excellent, and were quite large, given that they each came with a carafe that had more to drink. The snacks were excellent as well.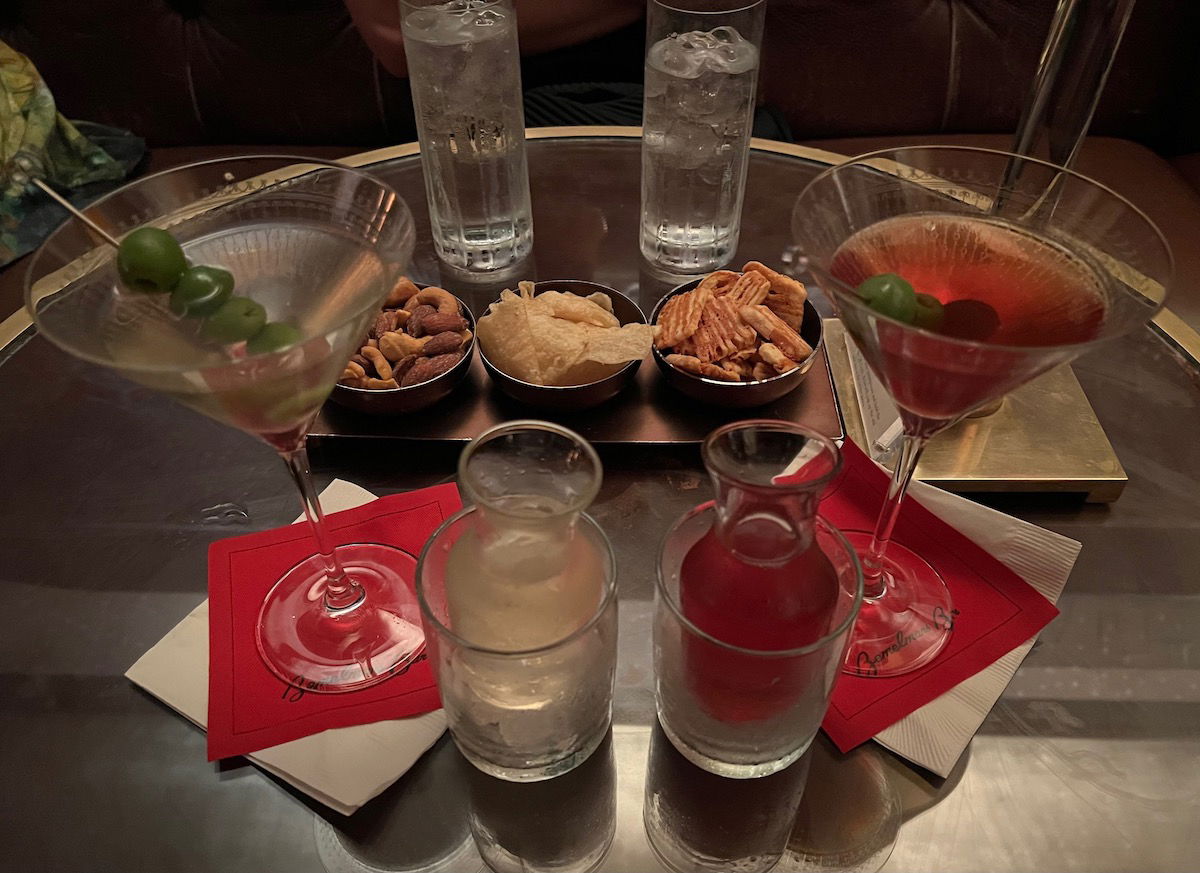 The Carlyle New York Dowling's at The Carlyle
Dowling's at The Carlyle is the property's all-day dining restaurant. The restaurant's executive chef is Sylvain Delpique (formerly from 21 Club), and it's open for breakfast, lunch, and dinner. There's a lounge area just outside the restaurant, and then the restaurant itself is mainly one large room.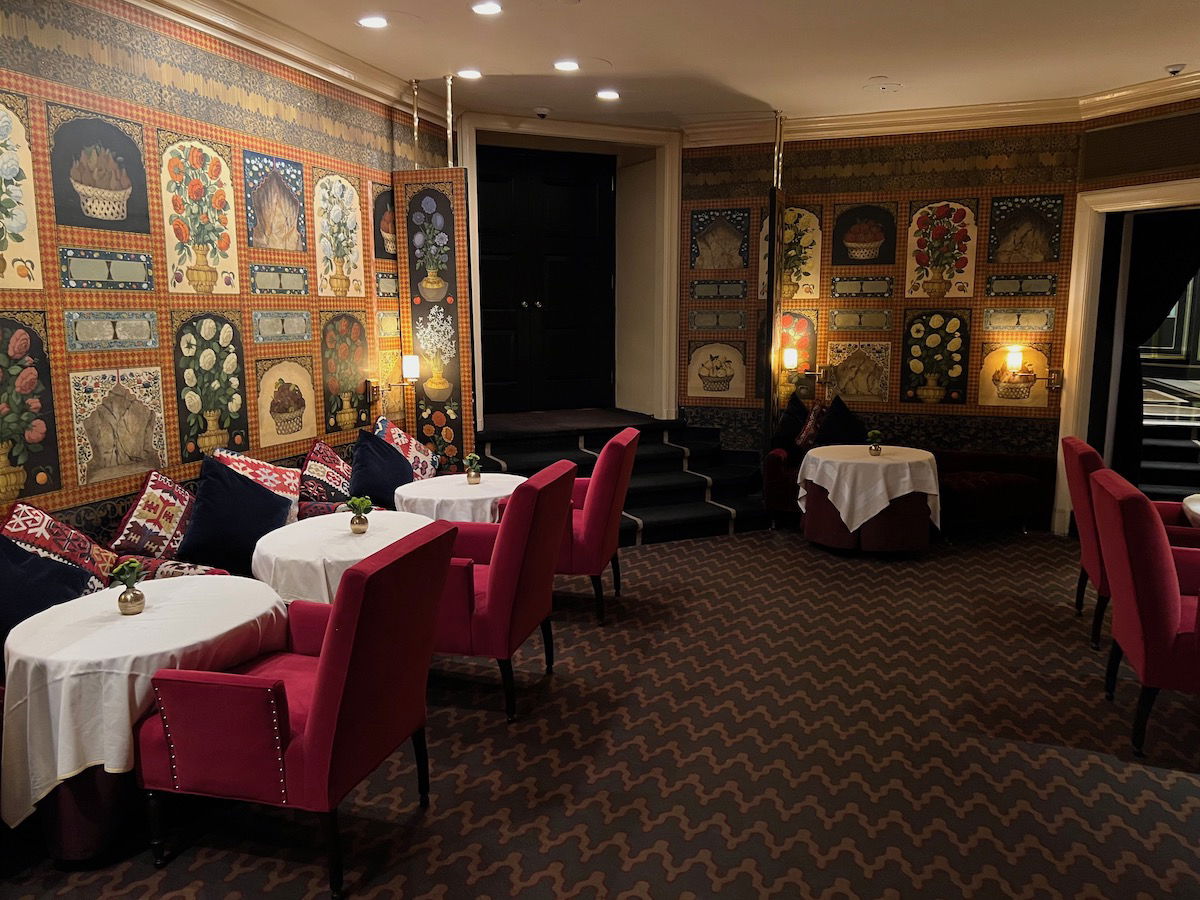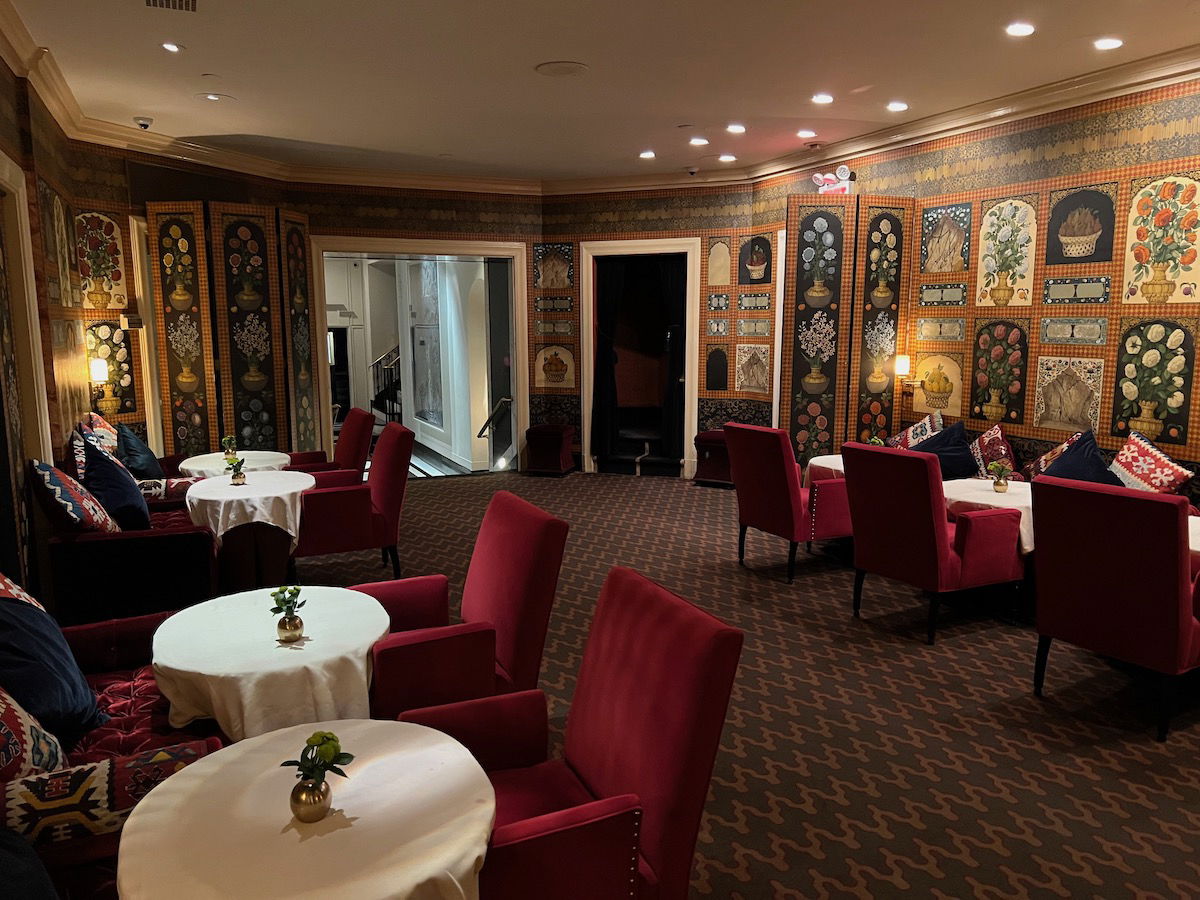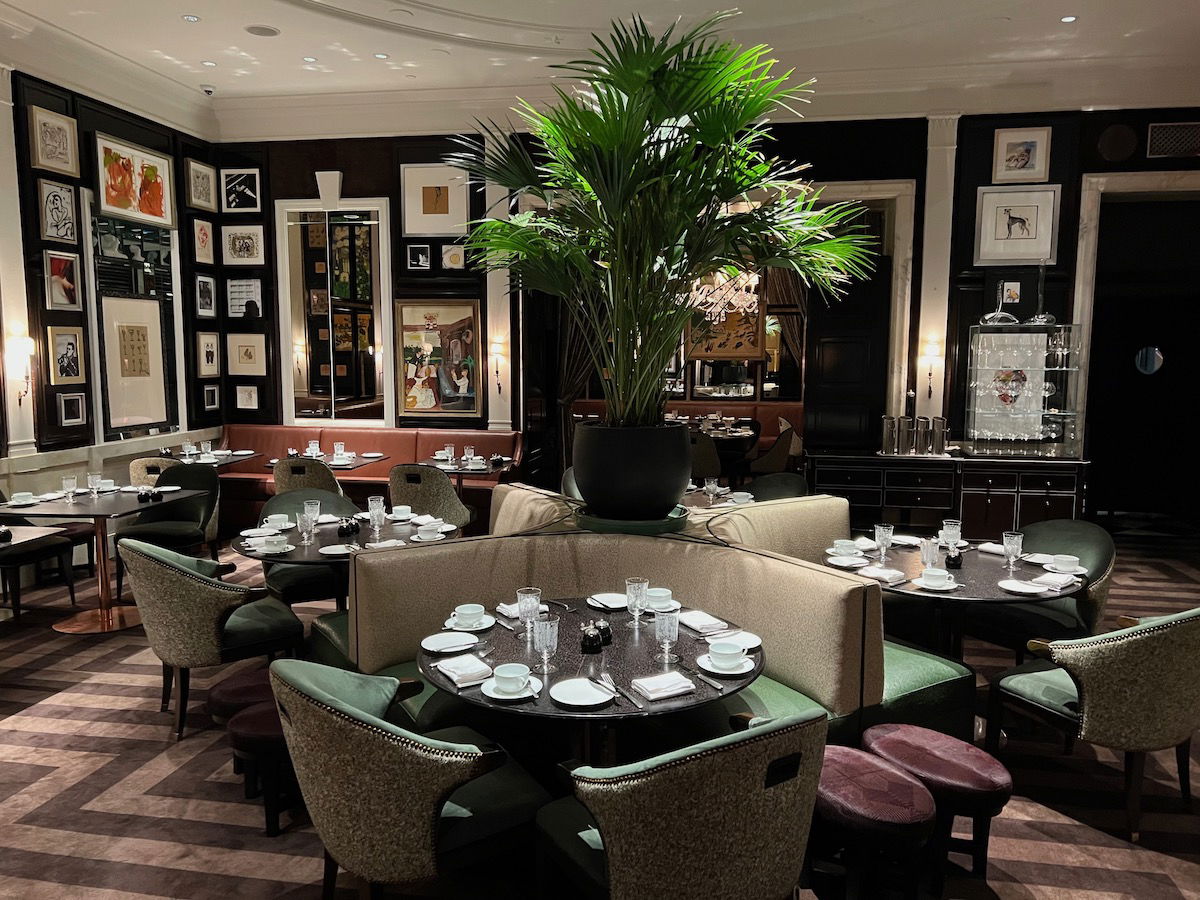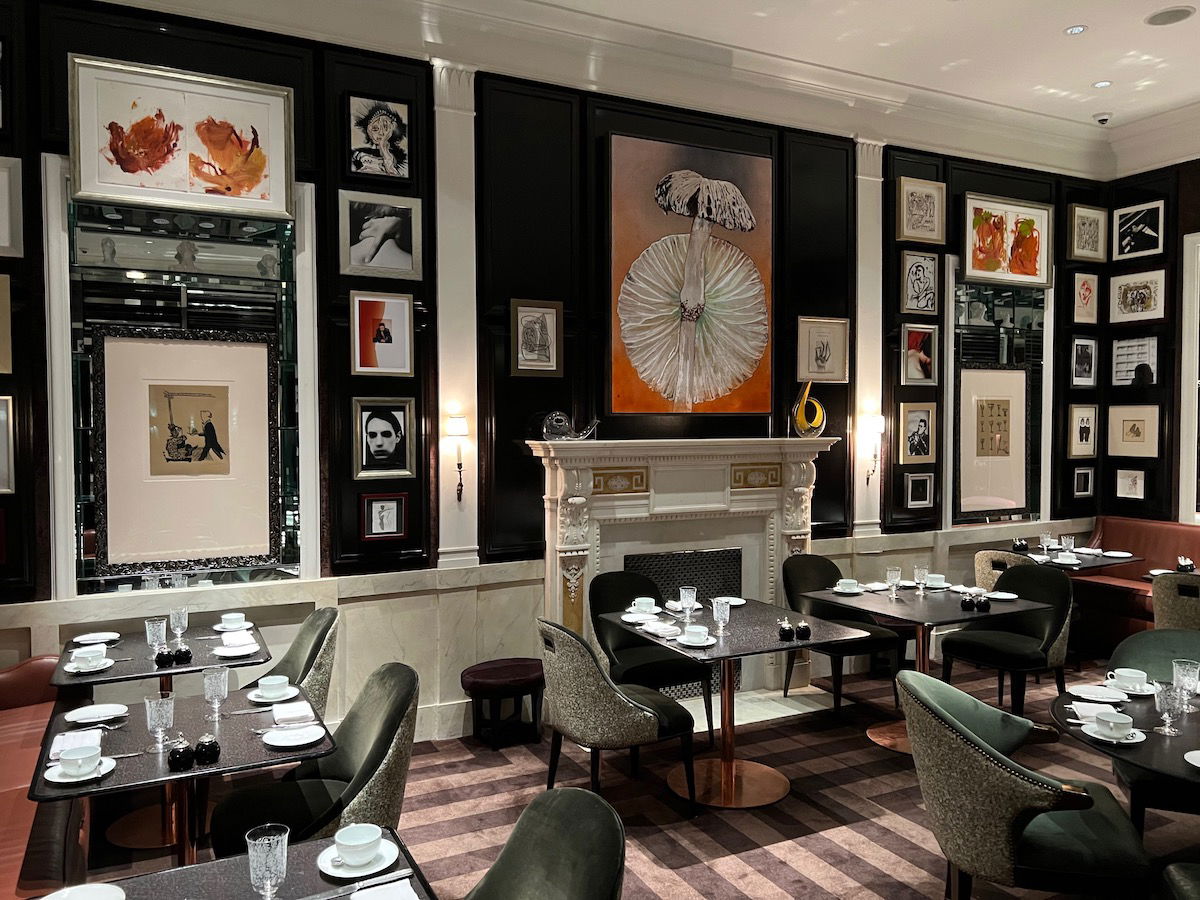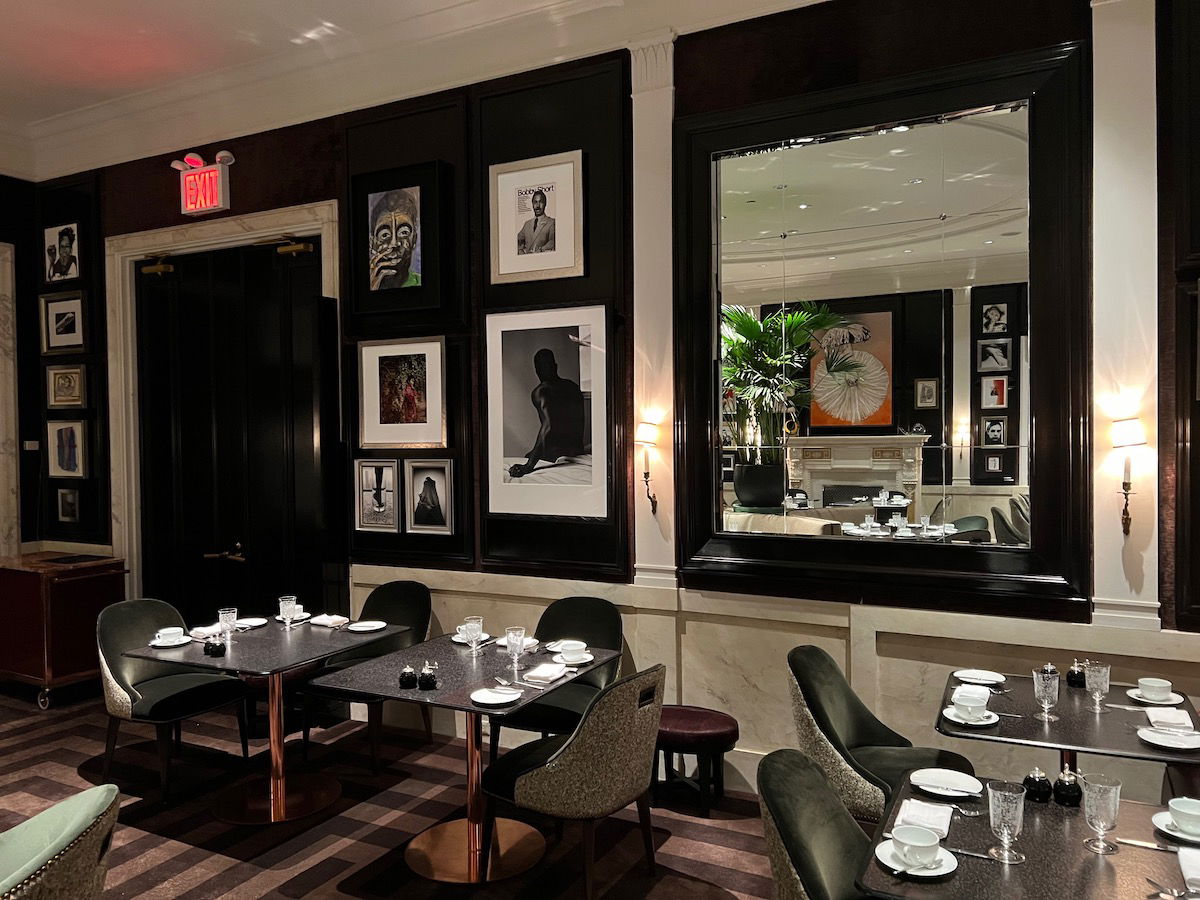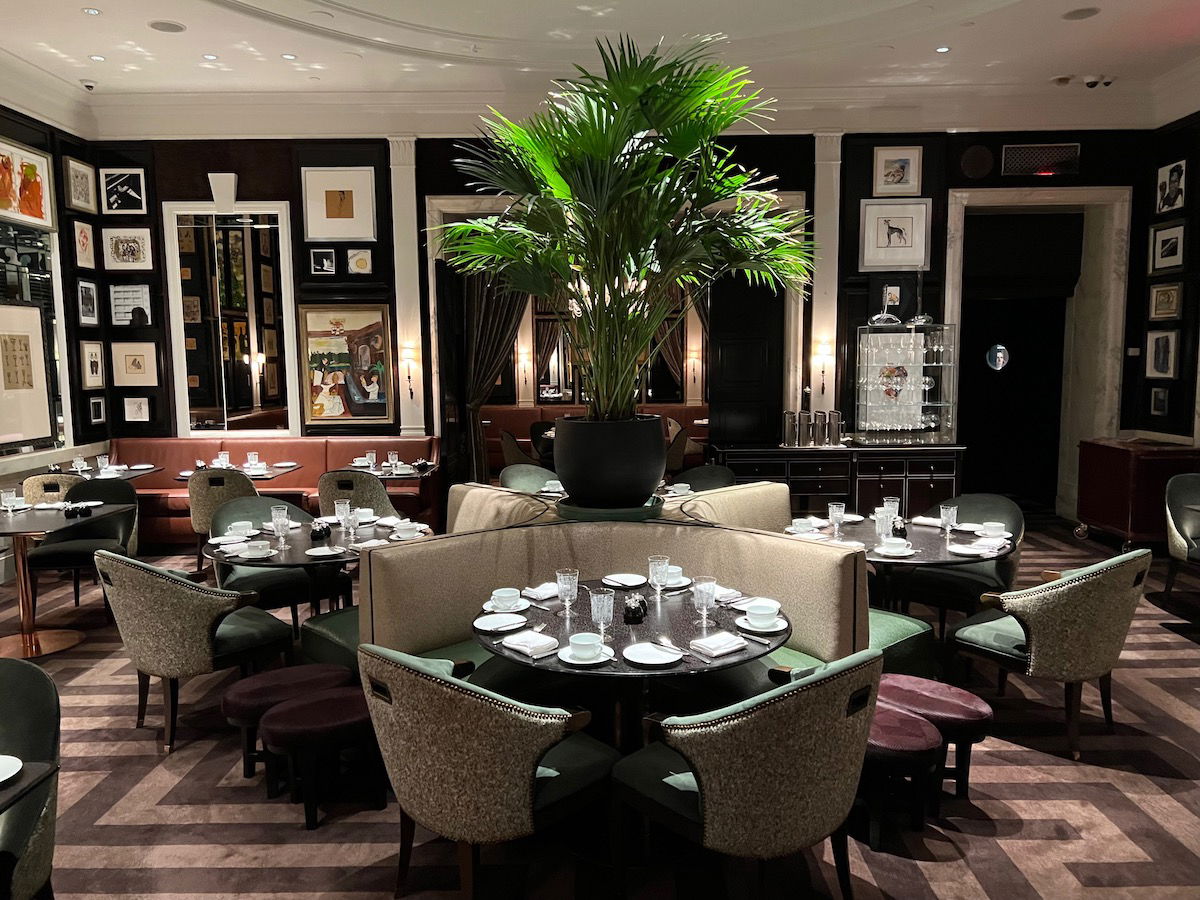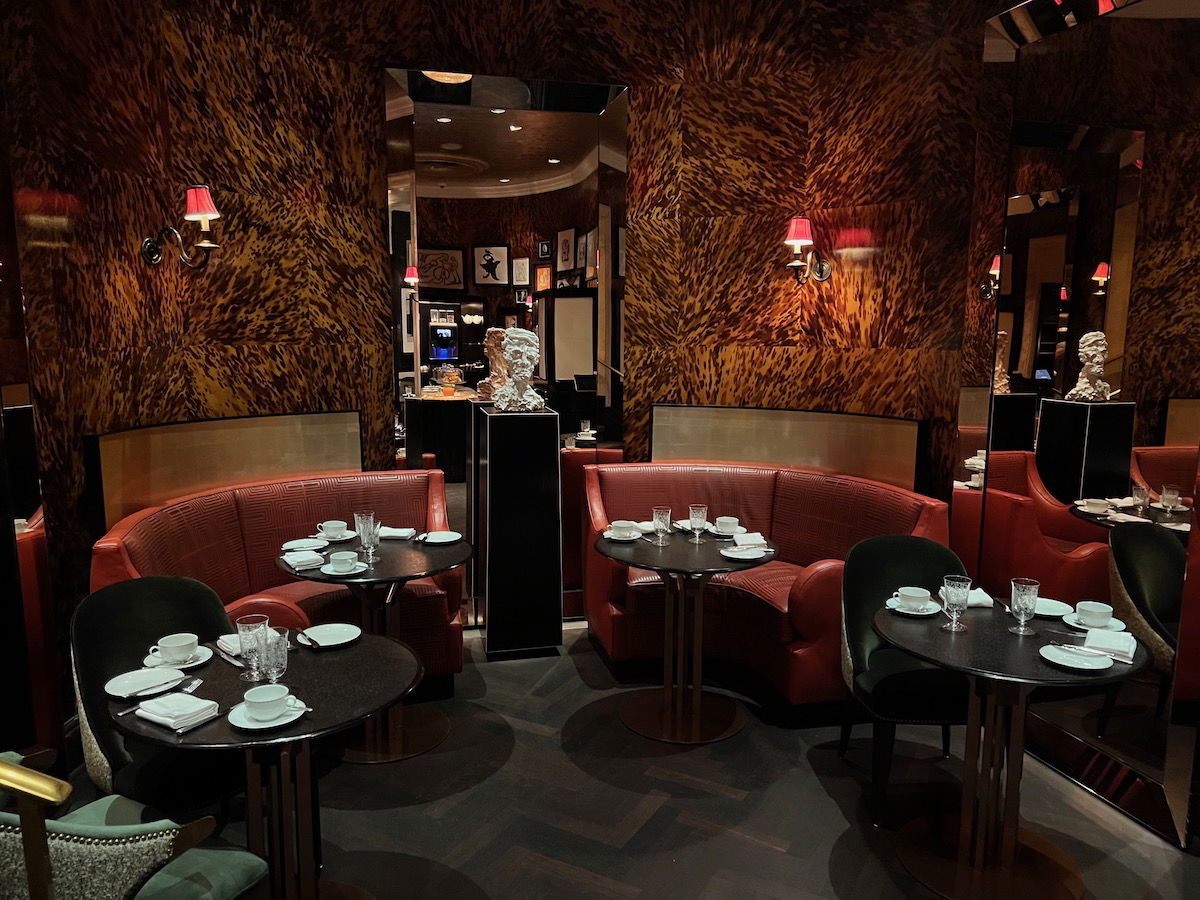 It's a beautifully appointed restaurant, though I'd note that it has zero natural light (which is true of all the outlets at the property). So be aware if you're solar powered. 😉
We had breakfast at the restaurant, and you can find the breakfast menu here. Ford had an iced latte, while I had hot filter coffee.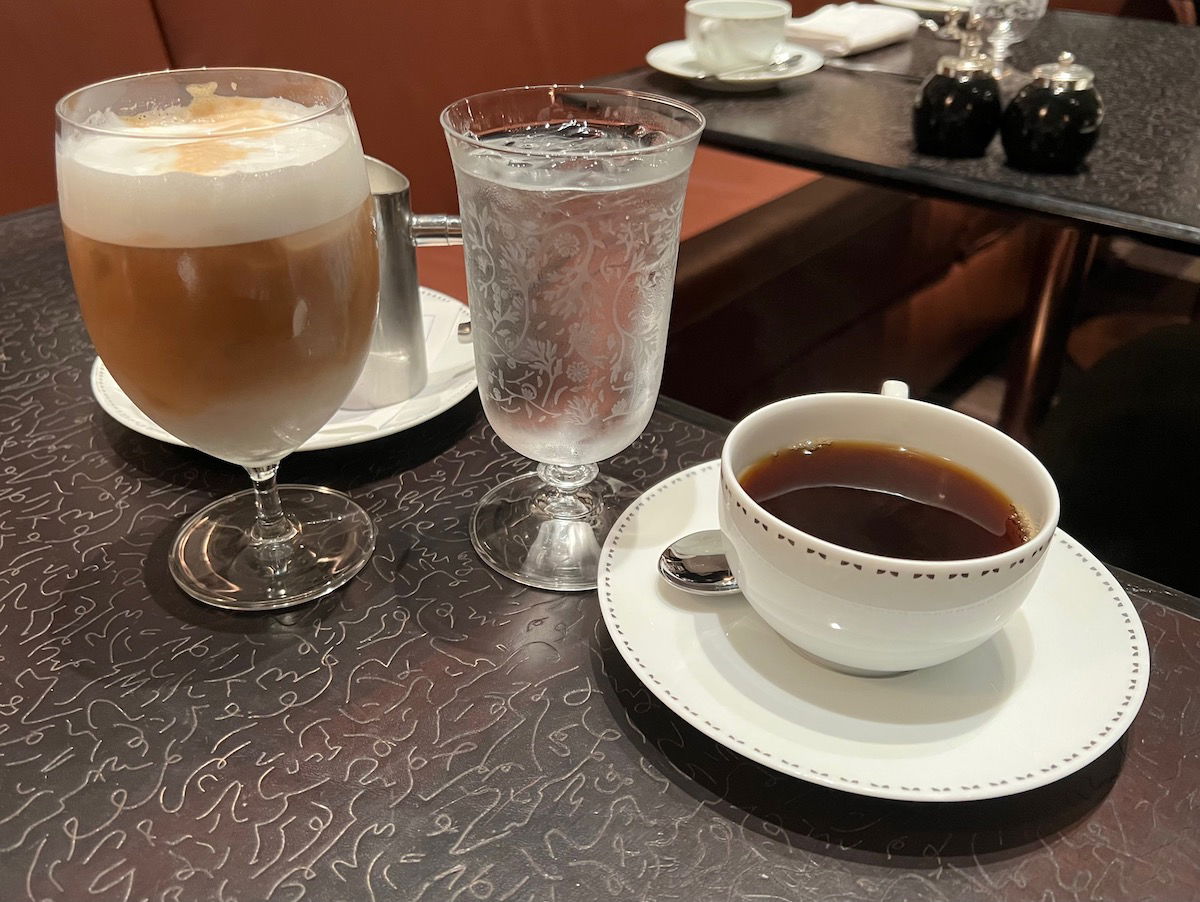 To eat, I had the Upper East Side bagel, with smoked salmon, whipped cream cheese, dill, caper, and pickled onion.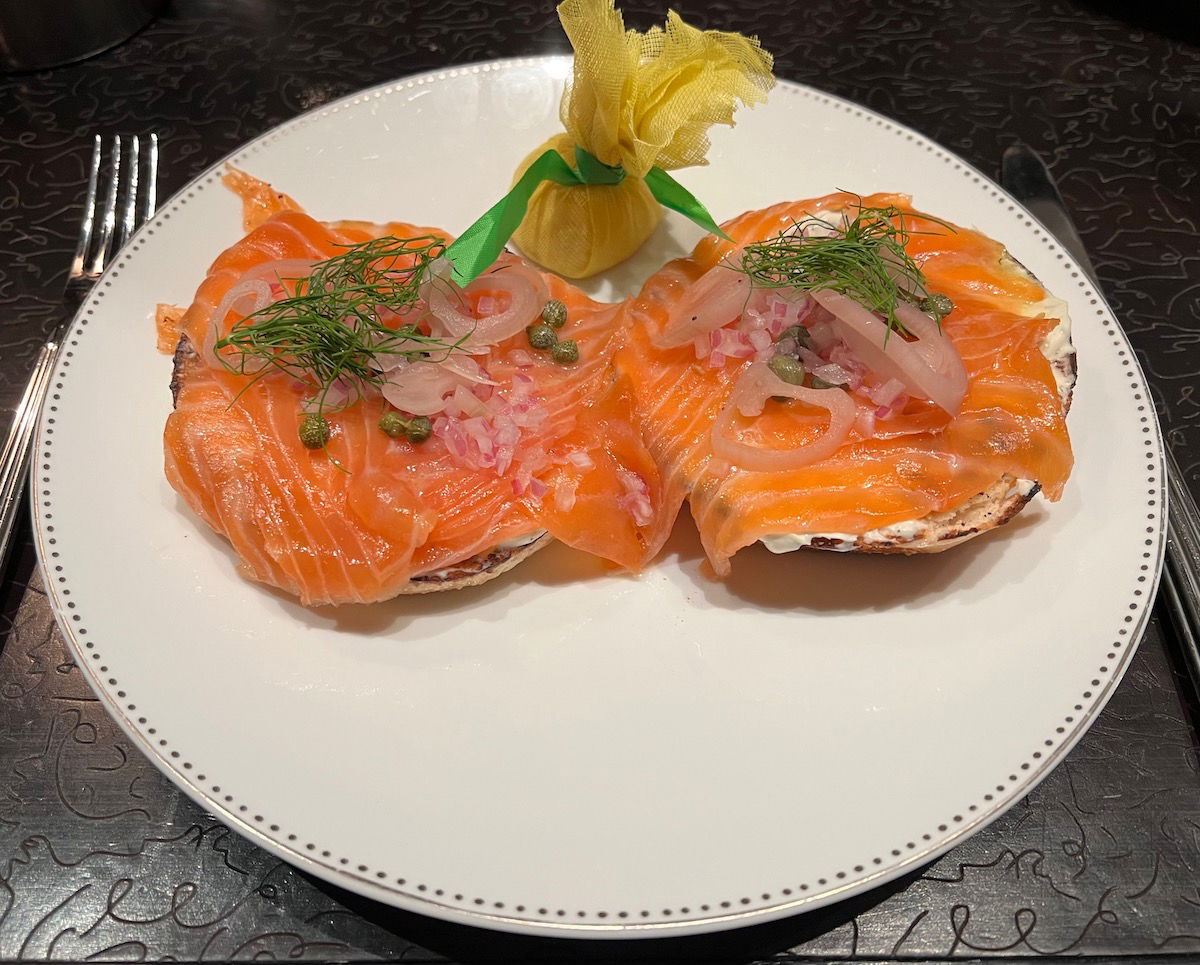 Ford had the avocado toast with poached eggs.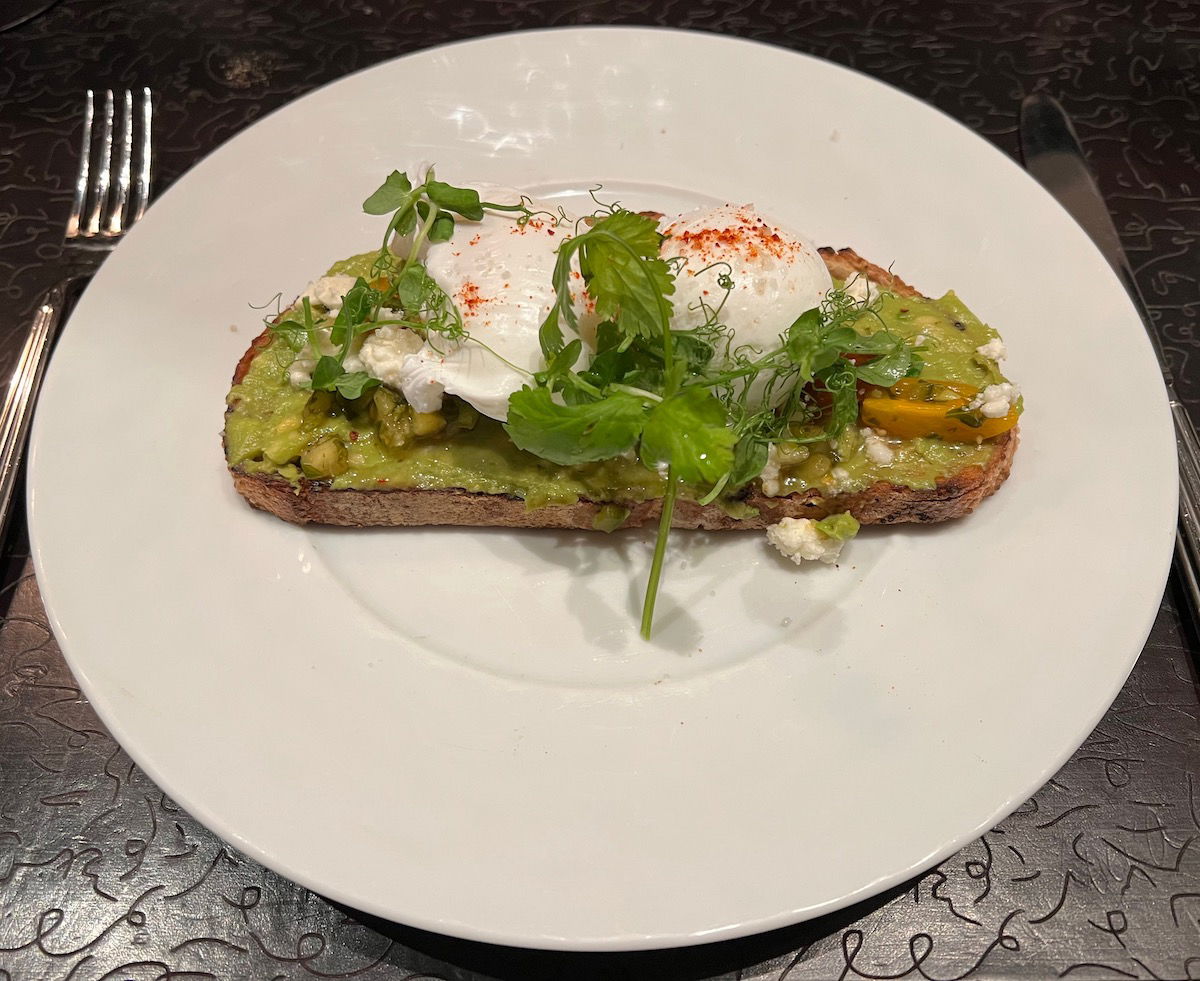 Both dishes and the coffee were excellent. While we didn't have any other meals here, you can find the lunch menu here and find the dinner menu here.
The Carlyle New York Cafe Carlyle
Cafe Carlyle is The Carlyle's cabaret club, and it has quite an impressive list of performers. For example, during our stay David Foster and Katharine McPhee were performing, but the club gets all kinds of other famous talent, and you can find the full list of performances here.
You do generally have to buy tickets in advance, and there's also a dress code, so we didn't go here. But it seems to be popular with hotel and non-hotel guests alike. For what it's worth, you can find the dinner menu here.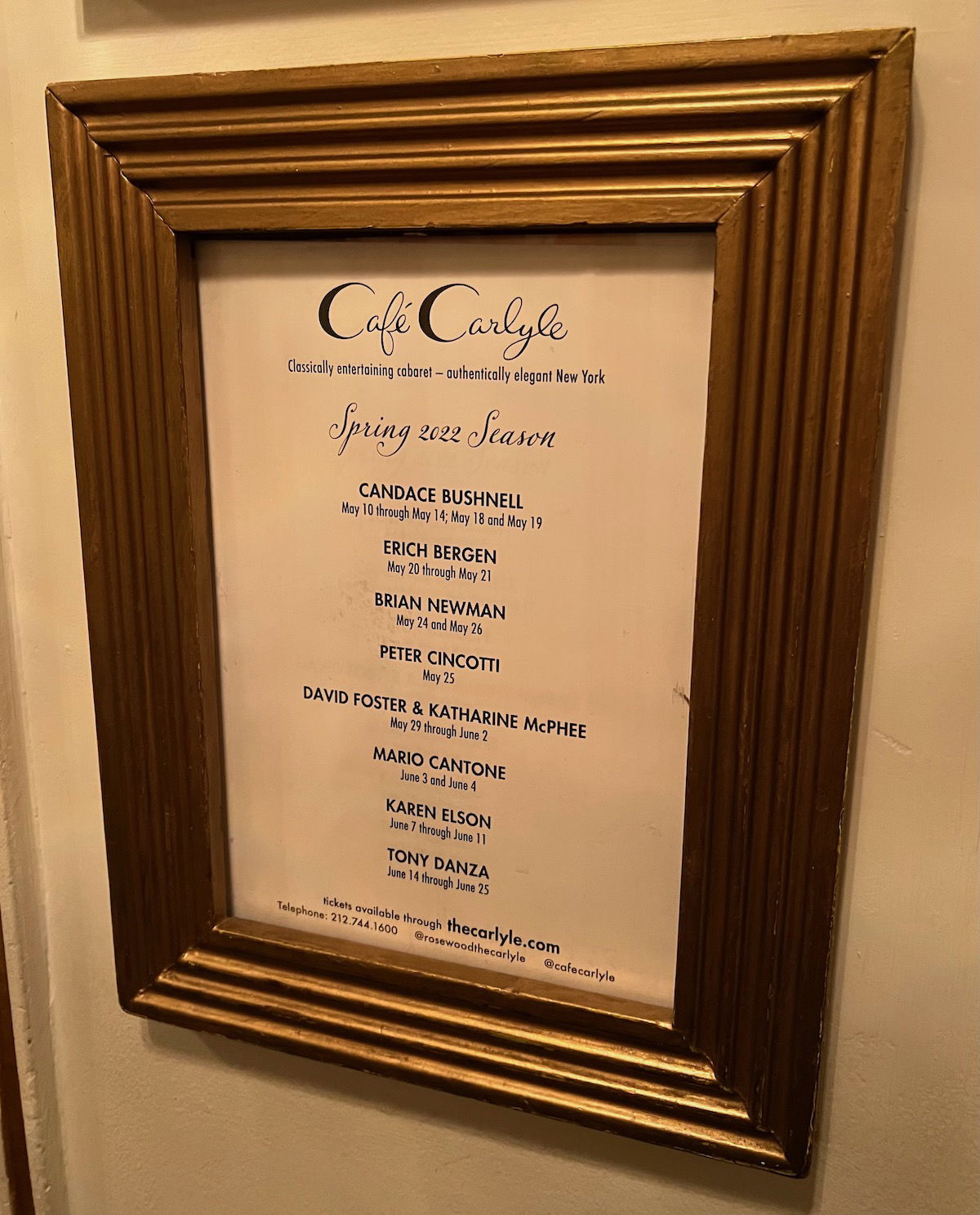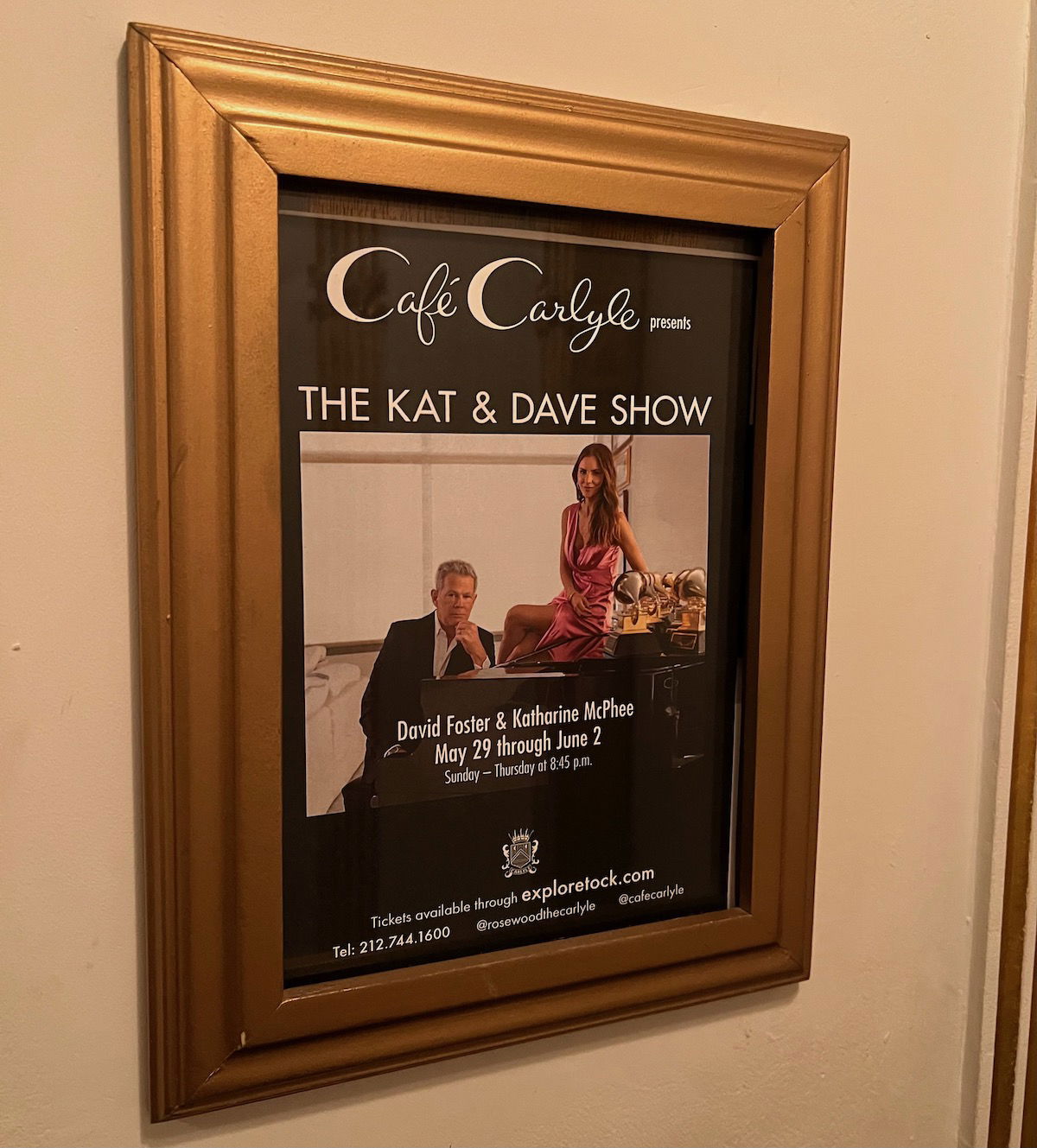 The Carlyle New York spa & gym
The Carlyle has a spa and 24/7 fitness center on the third floor. The gym itself was sufficient but rather basic.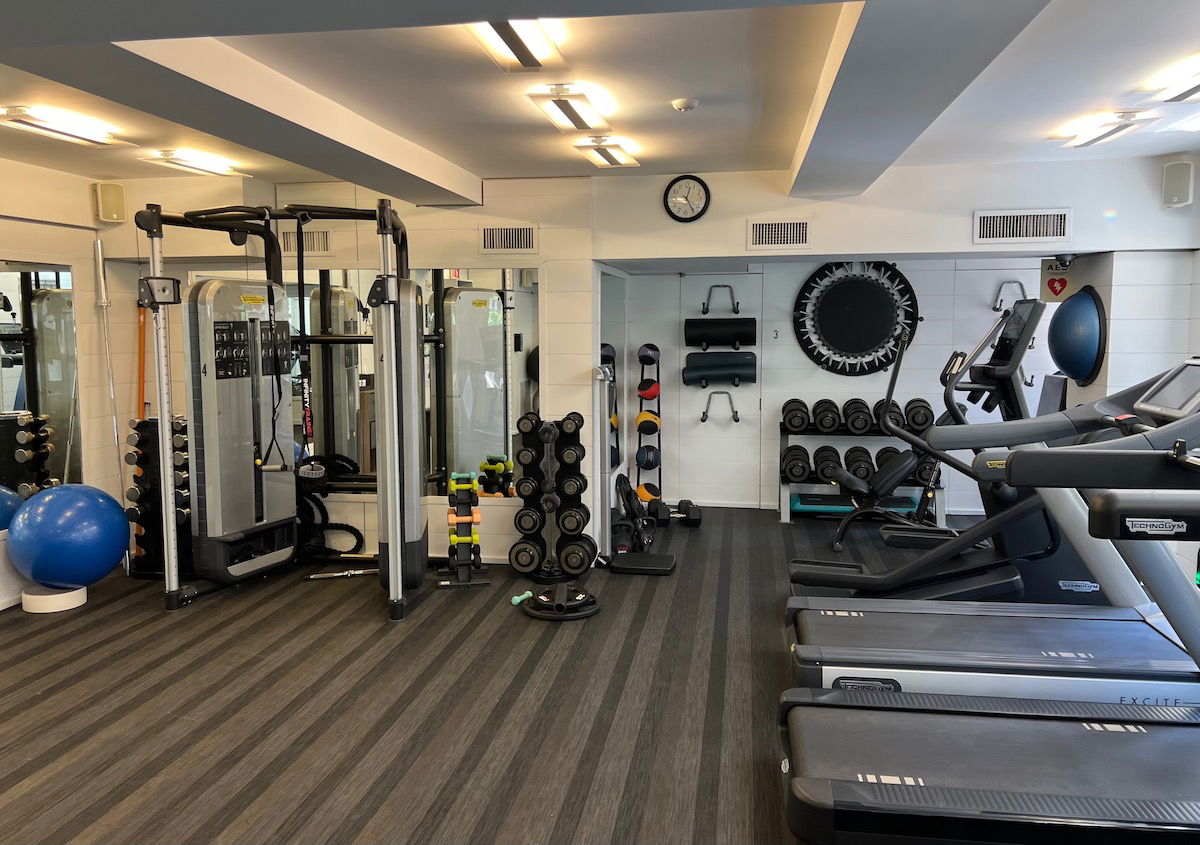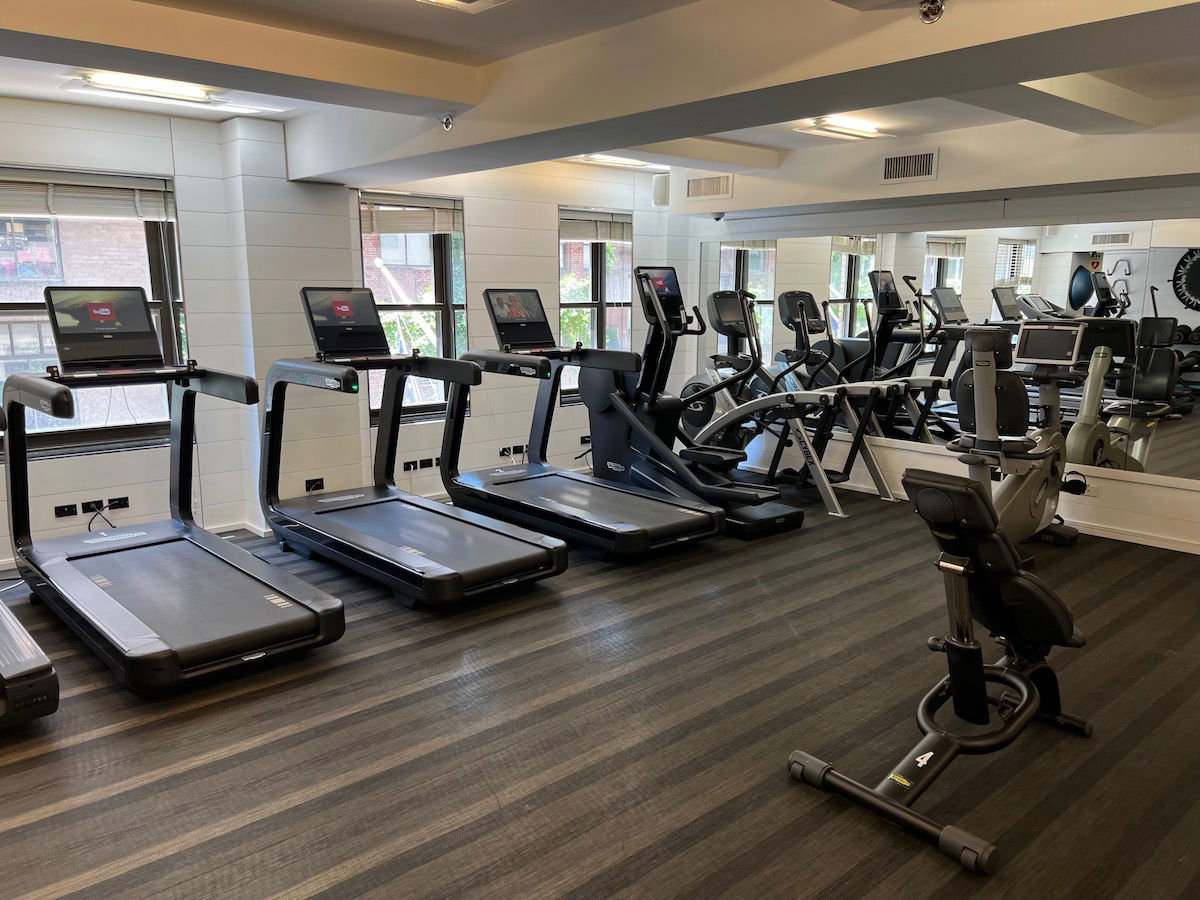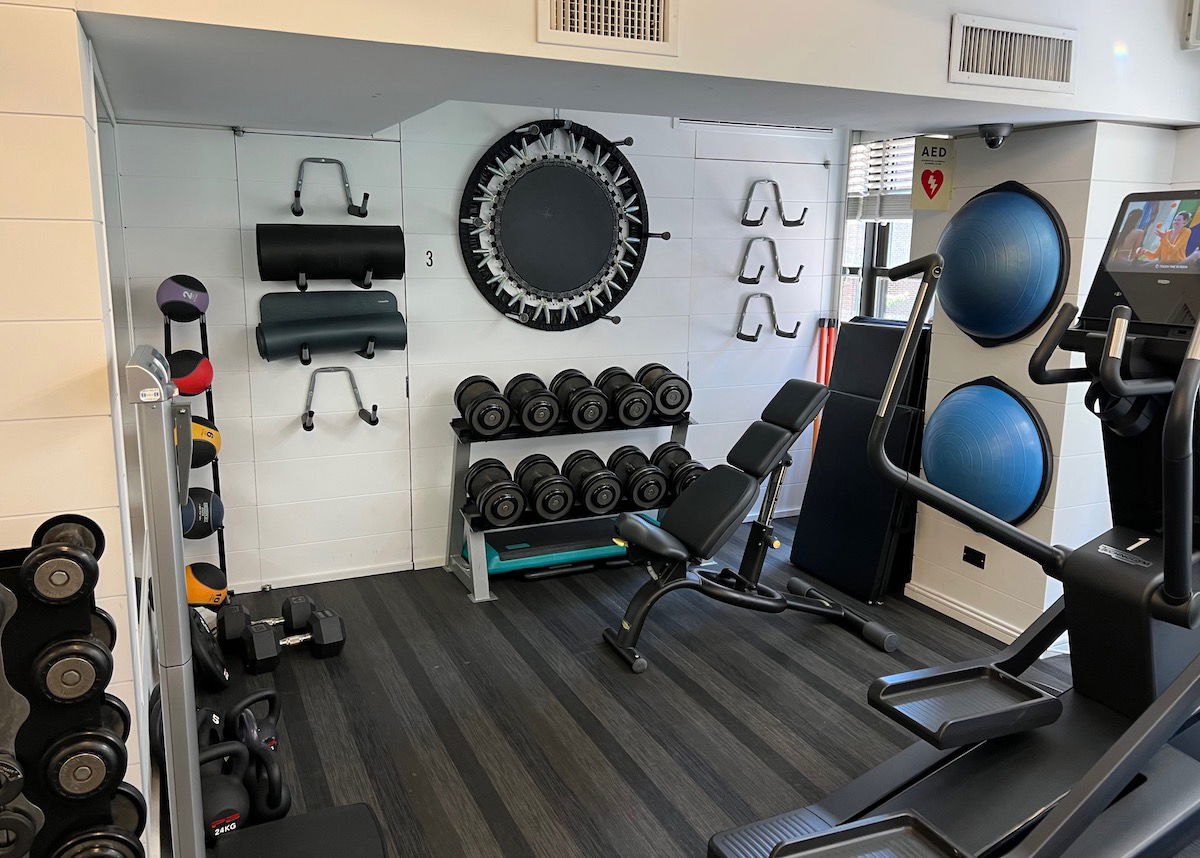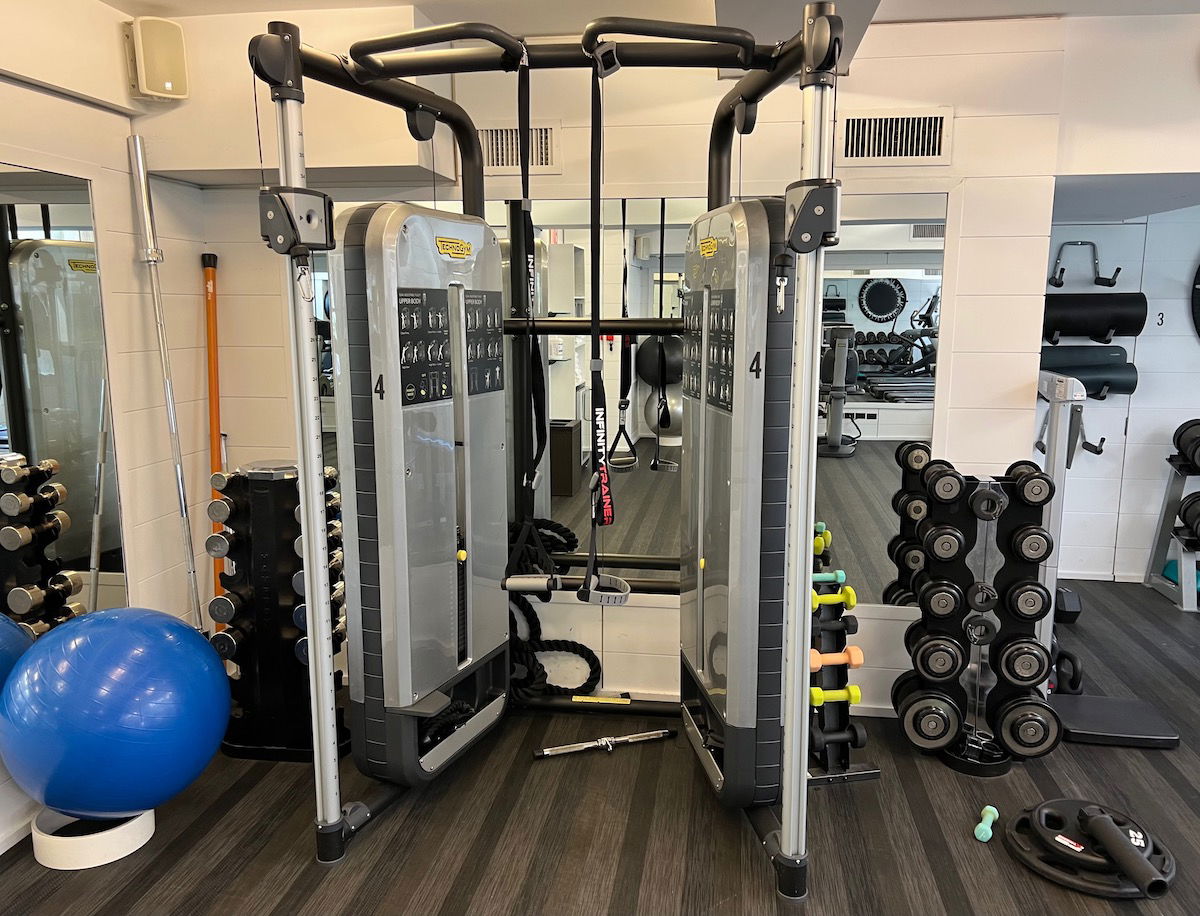 The Carlyle also has a Valmont Spa. While we didn't get any treatments, you can find the spa menu here. The spa seems to be pretty popular with locals, based on the people I saw checking in and out at the spa while going to the gym.
Bottom line
The Carlyle is an iconic Upper East Side hotel with renovated and luxurious rooms, friendly service, and some killer food & beverage outlets. If you like staying on the Upper East Side, and if you're a fan of "old world" piano bars and jazz clubs, then this property is for you. The only downsides are the gym, the small lobby, and the general lack of natural light in the food & beverage outlets (though that fits with the vibe).
It's interesting to me how this compares to the Park Hyatt New York, one of the most popular points hotels in New York, as the hotels are basically exactly the opposite in terms of their pros and cons. The Park Hyatt has an amazing gym and pool, which are the two things this hotel lacks. Meanwhile the Park Hyatt can't even get a restaurant to open in it, so it's totally dead as a "social hub."
What do you make of The Carlyle, and what's your favorite luxury hotel in NYC?