In the interest of full disclosure, OMAAT earns a referral bonus for anyone that's approved through some of the below links. These are the best publicly available offers (terms apply) that we have found for each product or service. Opinions expressed here are the author's alone, not those of the bank, credit card issuer, airline, hotel chain, or product manufacturer/service provider, and have not been reviewed, approved or otherwise endorsed by any of these entities. Please check out
our advertiser policy
for further details about our partners, and thanks for your support!
Dusseldorf is one of my favorite cities in Germany, and I've only ever stayed at the Hyatt Regency Dusseldorf, because I really love that property. I like the location, the rooms, the views, the service, the Globalist recognition, etc.
In the name of trying something new, this time around we checked out The Wellem, which is the other Hyatt property in the city, with 102 rooms and suites. The Wellem belongs to Hyatt's Unbound Collection, which is Hyatt's collection of independent upscale hotels.
Rather bizarrely, the hotel used to be a Hyatt House, which I can't wrap my head around, as that branding makes no sense to me (Hyatt House is a limited service brand, similar to Hyatt Place, except rooms have kitchenettes).
So, what do I make of The Wellem? It has a central location, huge rooms, washing machines in each room (an AMAZING amenity), friendly service, and it's in a jaw-droppingly gorgeous historic building. The building that the hotel is in was first built back in 1913, and was initially a courthouse.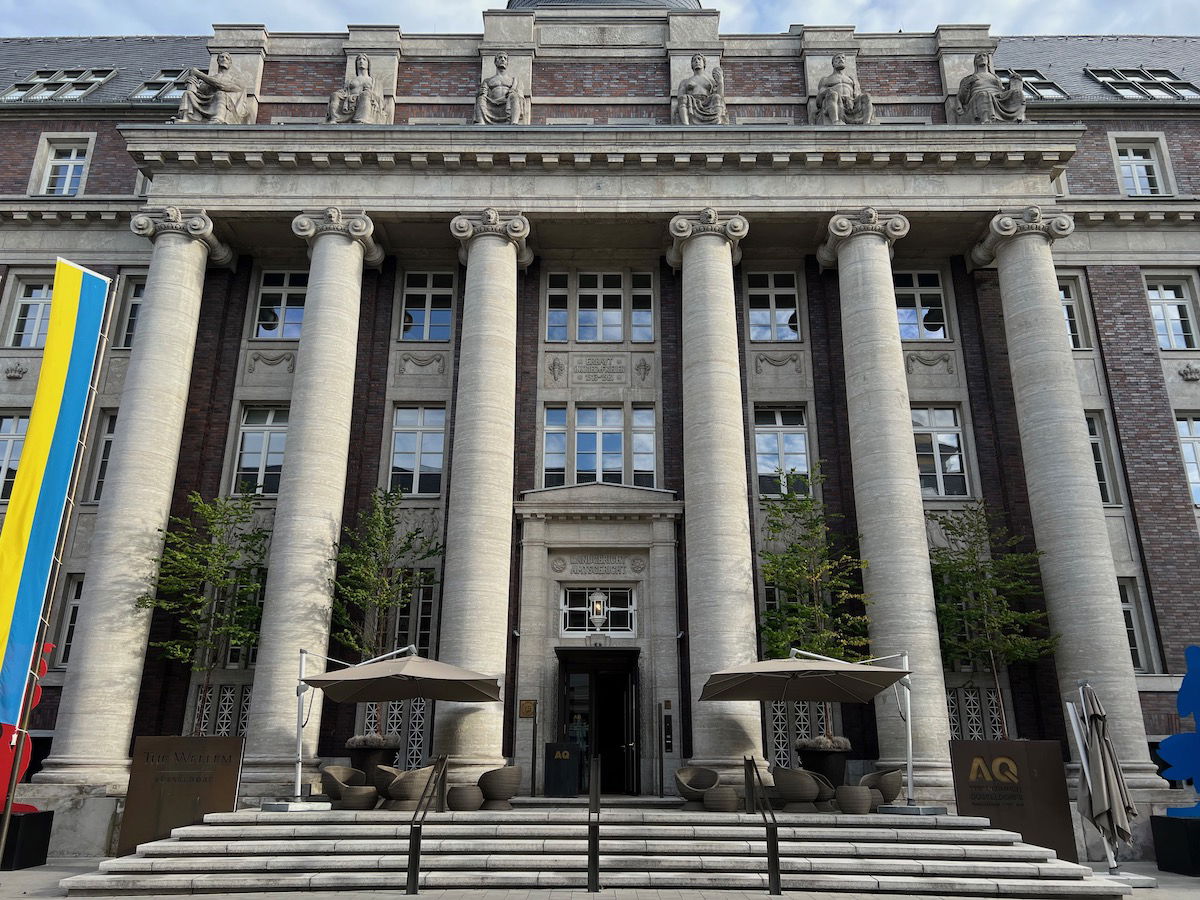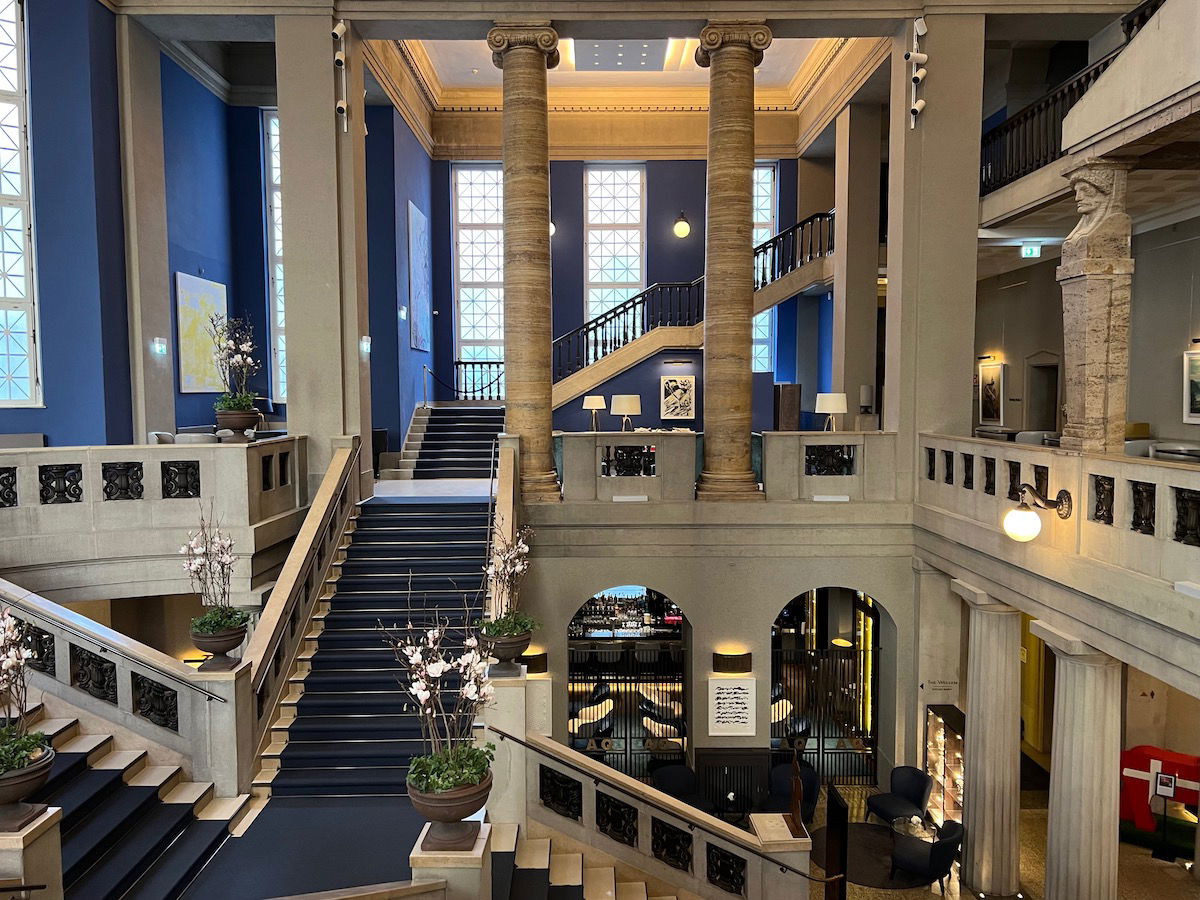 The problem, to me, is that something just feels off about the property. Even though the hotel was sold out during our stay, the public areas felt totally dead, and like they weren't properly utilized. I feel like the public spaces have so much potential, yet something's just not working right.
Booking The Wellem Dusseldorf
The Wellem is a Category 4 World of Hyatt property, meaning that a standard room free night redemption costs 12,000-18,000 points per night. Our nights had "standard" pricing, so our three night stay cost 15,000 points per night.
Personally I value World of Hyatt points at 1.5 cents each, just as a point of reference, so that means we paid the equivalent of ~$225 per night.
Even if you're not a Hyatt loyalist, earning World of Hyatt points can be pretty easy. In addition to being able to earn World of Hyatt points with the World of Hyatt Credit Card (review) and World of Hyatt Business Credit Card (review), you can also transfer over points from Chase Ultimate Rewards.
The cash rate for our stay would have been 335 Euro per night, so redeeming points was the better deal here. This hotel is consistently priced higher than the Hyatt Regency when paying cash, but the points requirements are the same.
The Wellem Dusseldorf location
The Wellem is located right in the heart of Dusseldorf. You're just steps from the Altstadt, Königsallee, the Rhine, museums, and lots of great restaurants. You're also about a 15 minute drive from Dusseldorf Airport (DUS).
I will say that I personally prefer the location of the Hyatt Regency Dusseldorf, as it's located in MedienHafen, an up and coming area with lots of new business developments. I suspect most will prefer this location, but I love the MedienHafen area, and on top of that enjoy the walk along the river from the Hyatt Regency to the Altstadt.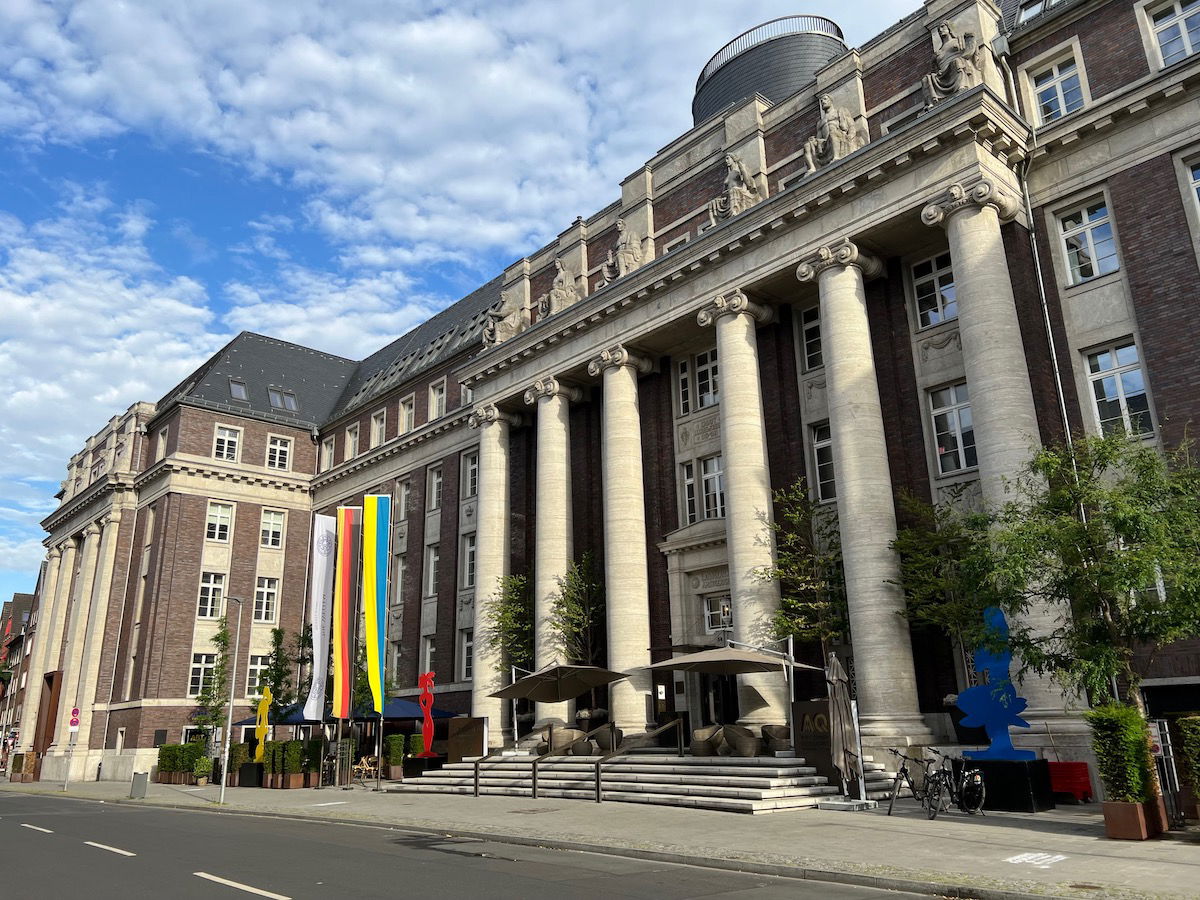 The Wellem Dusseldorf lobby & check-in
I'll let the pictures of the hotel's lobby speak mostly for themselves, because seriously, how pretty is this?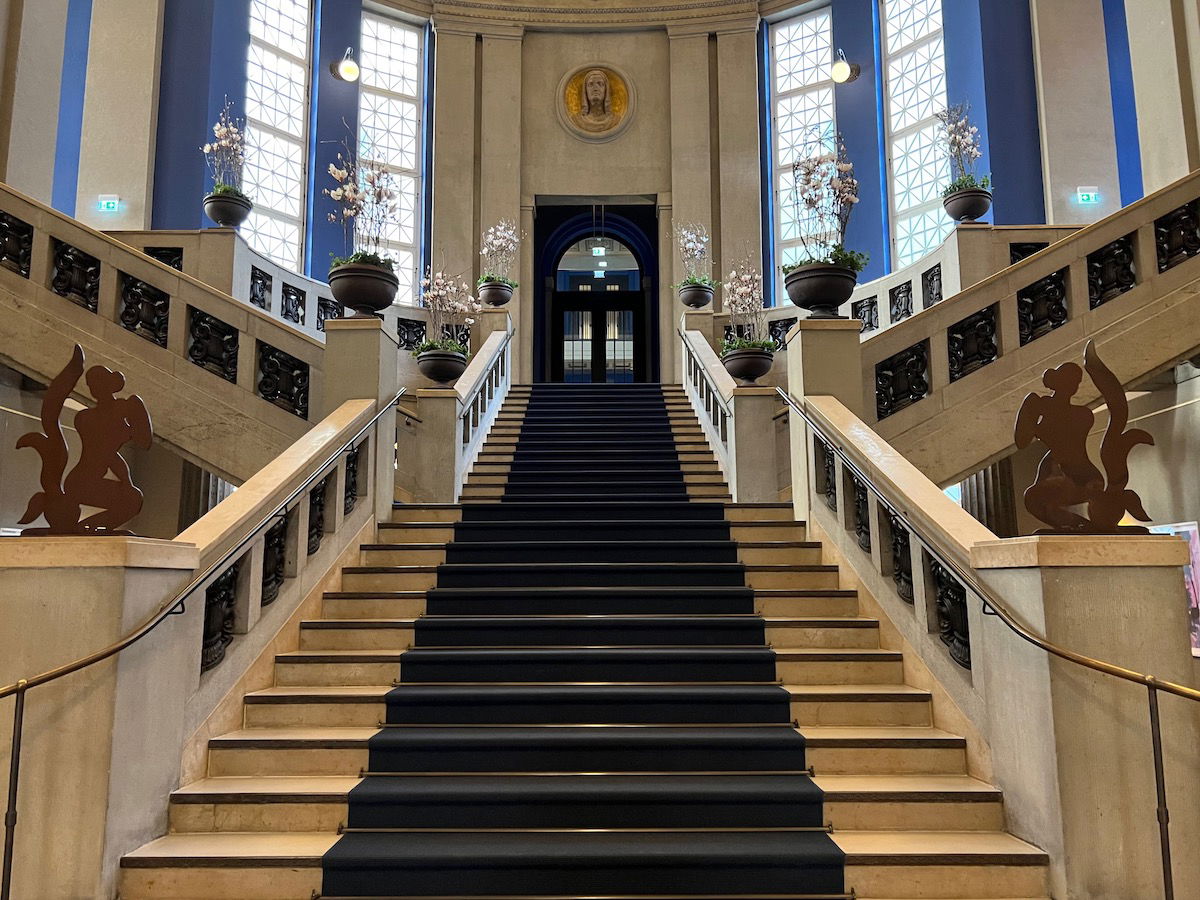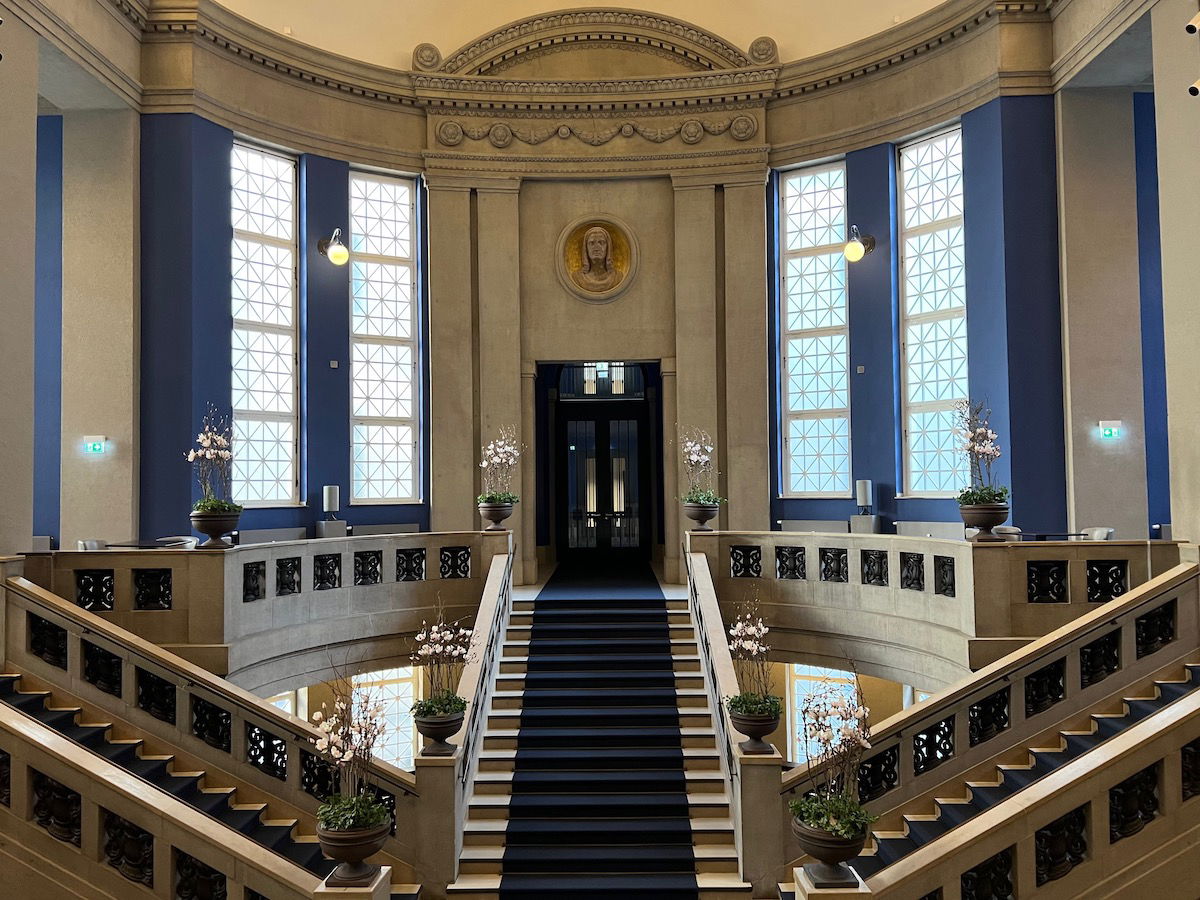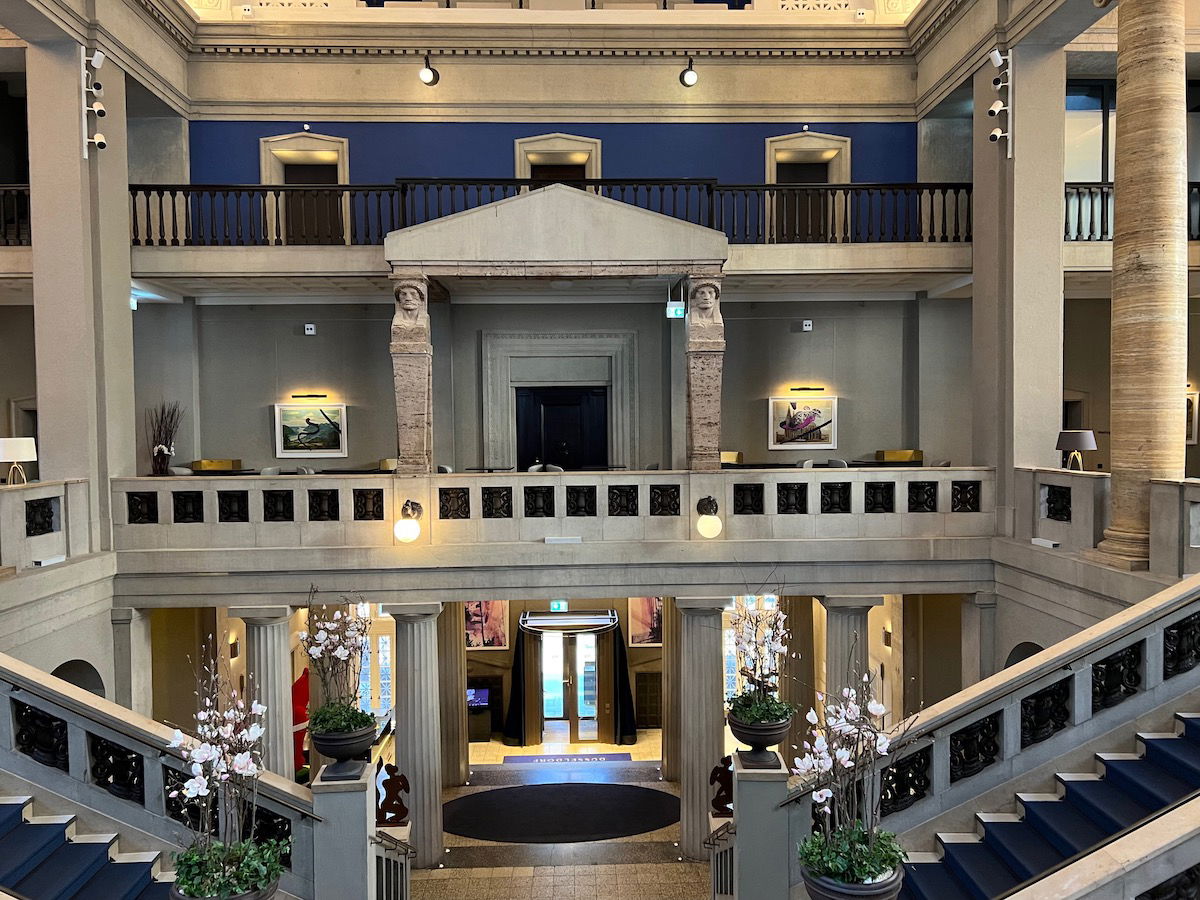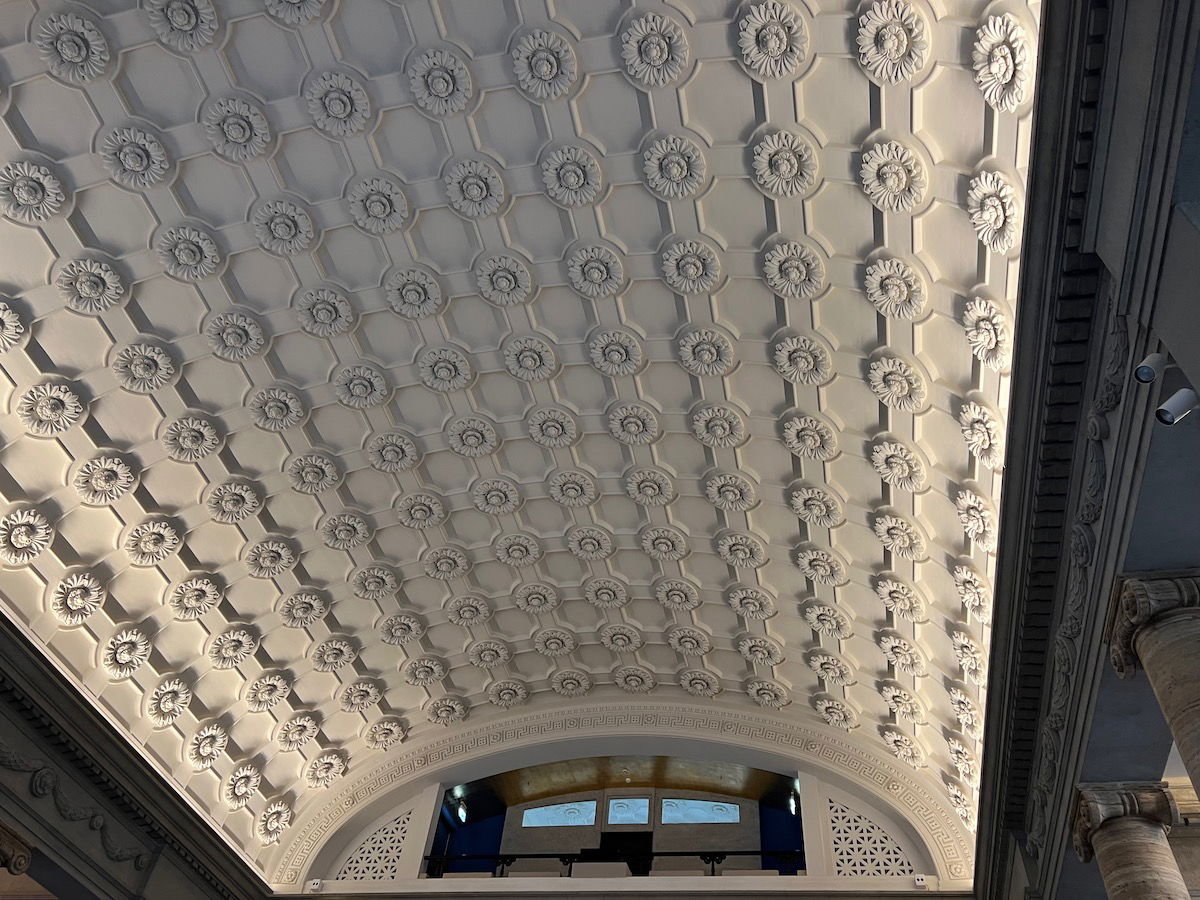 The lobby has endless seating on both the ground level and one level up.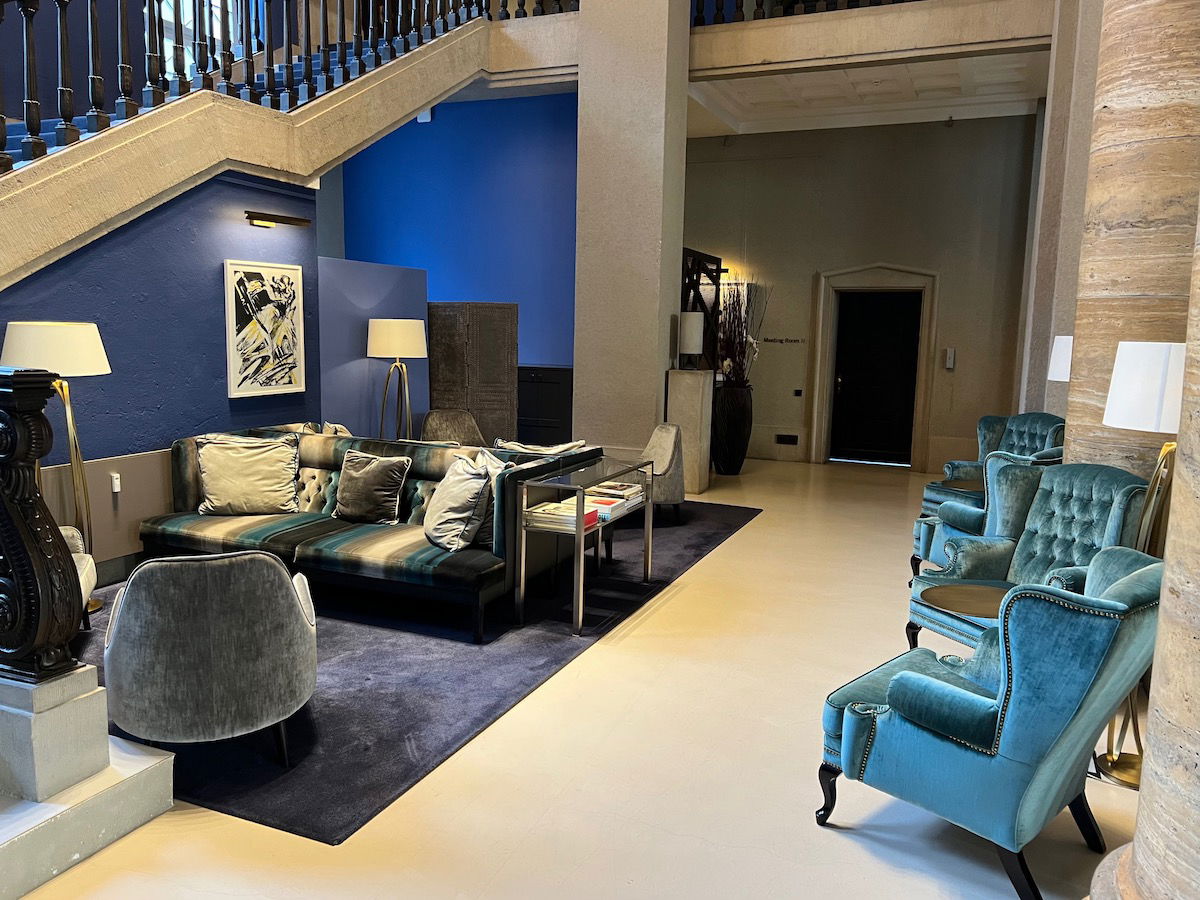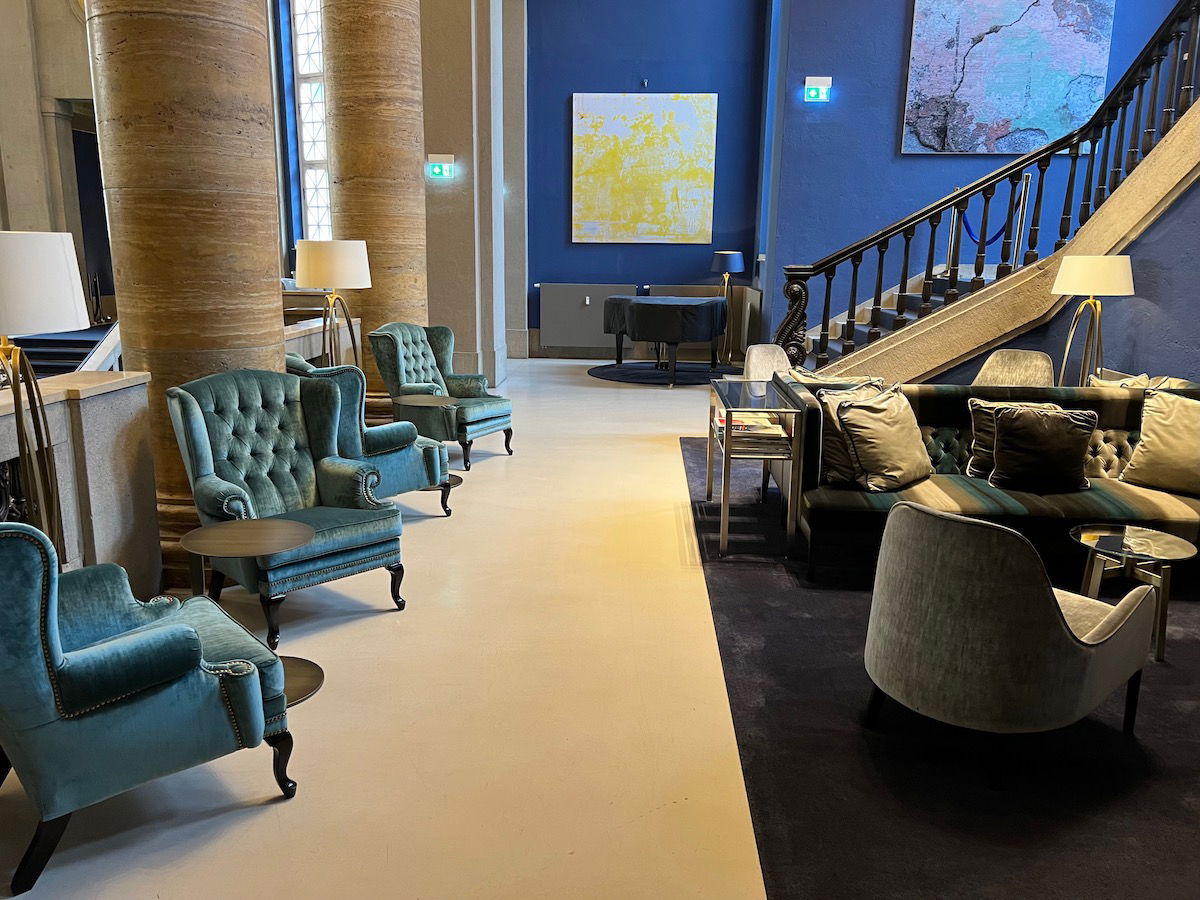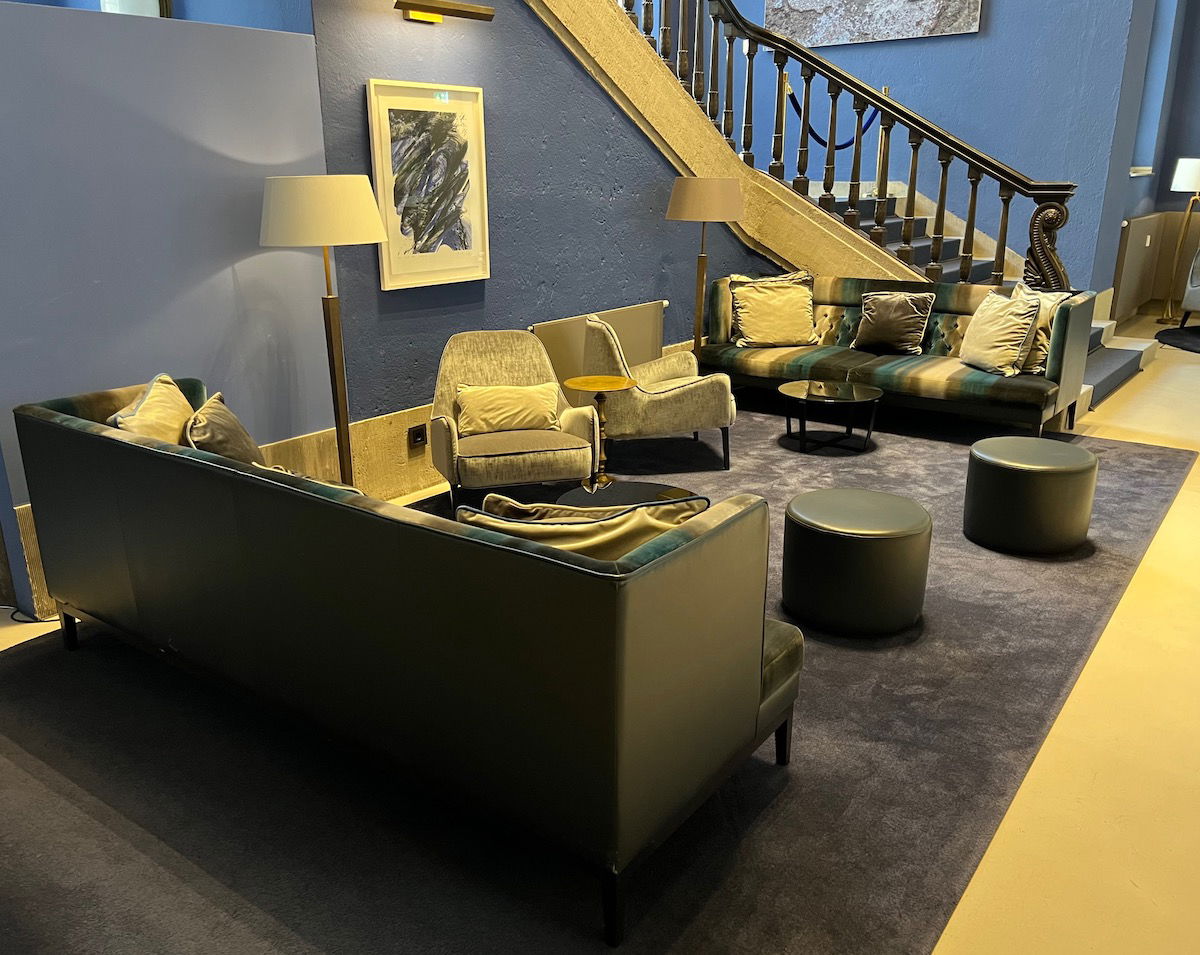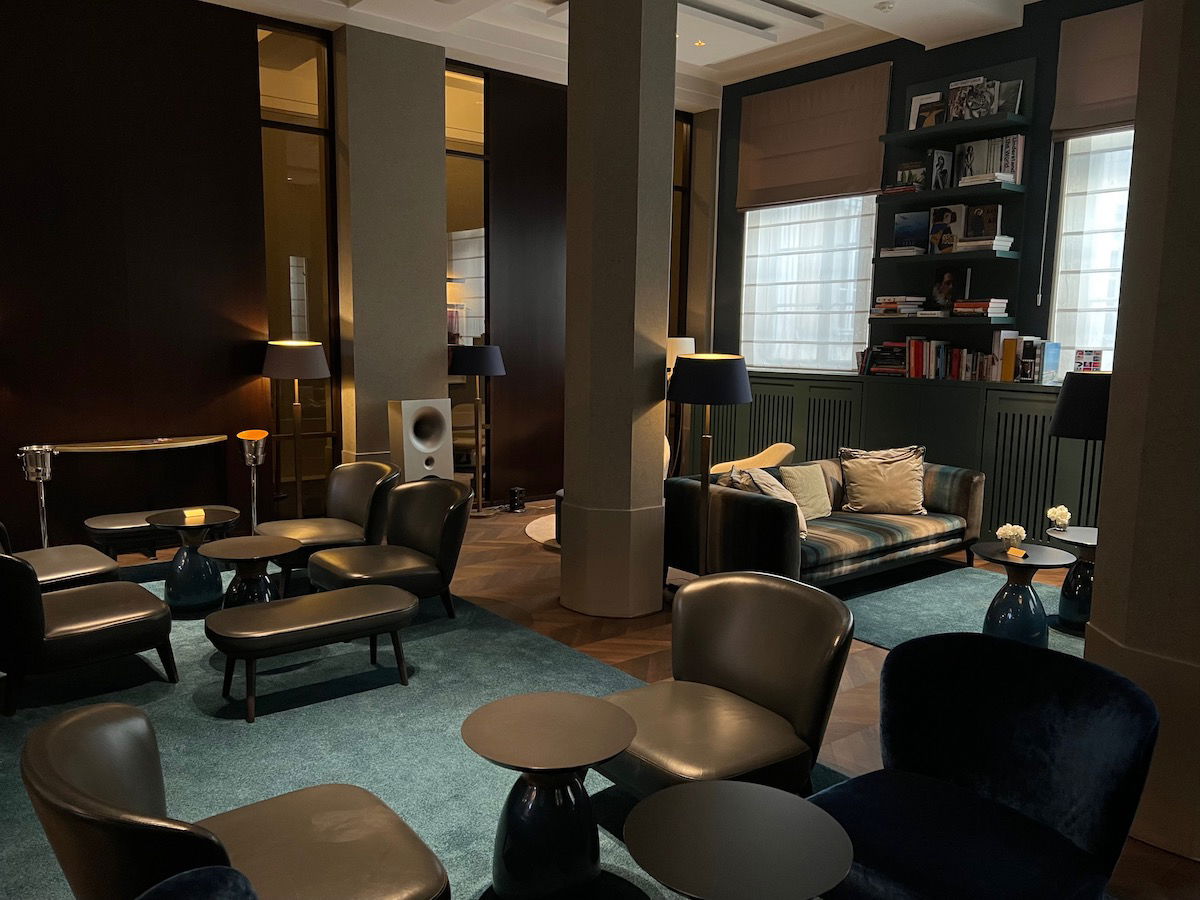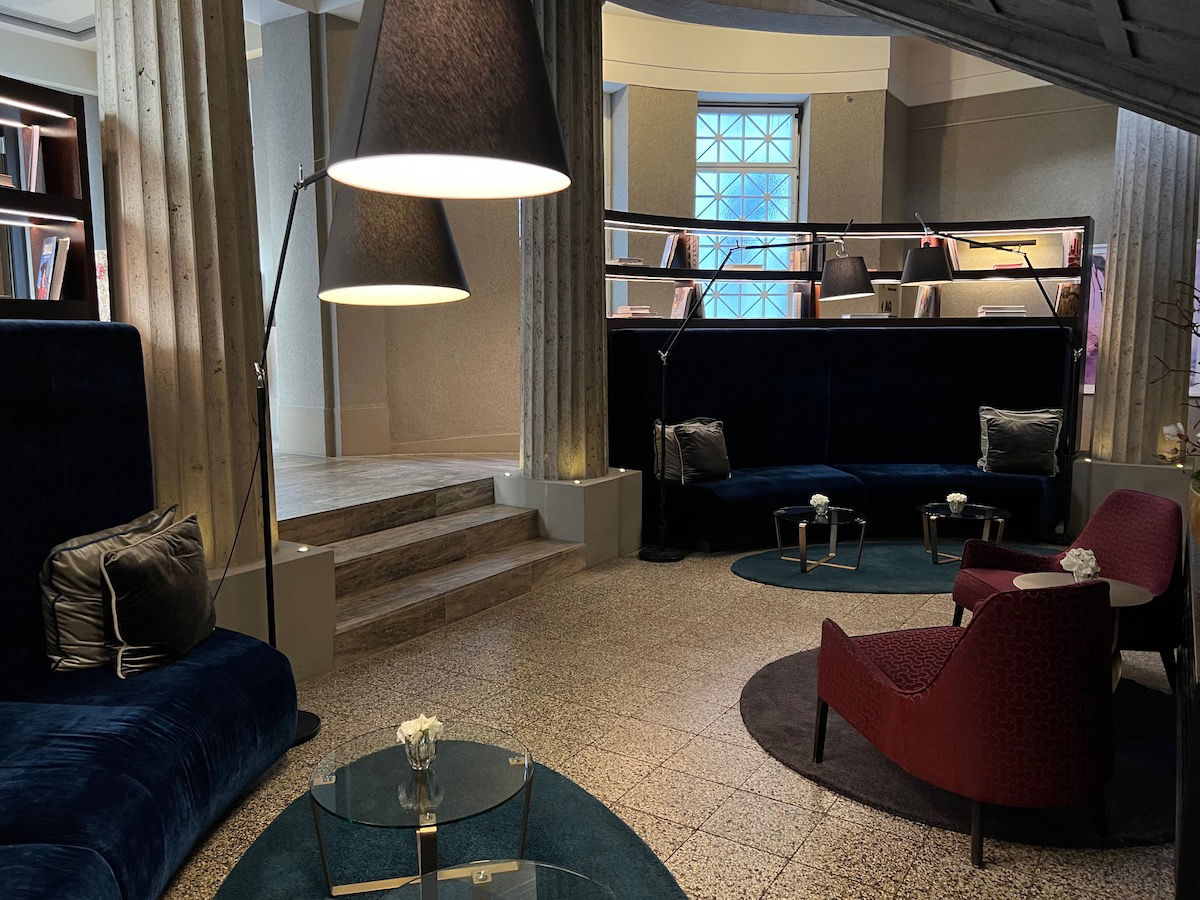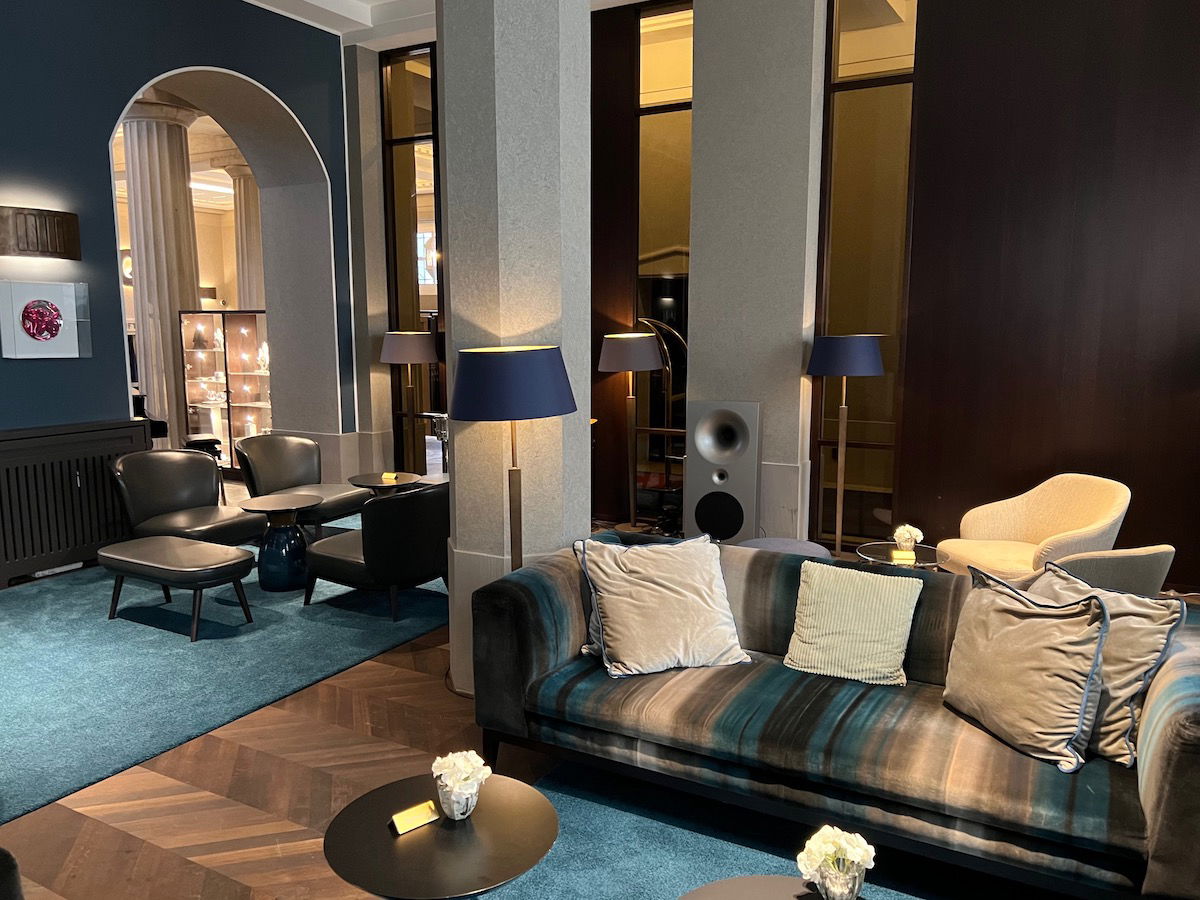 The issue is that the hotel does nothing with this space. It's all just seating with nothing to do. There are dozens and dozens of seats, but no one sits anywhere. Ever. It's just dead. You feel like you're walking into a closed museum.
It's my understanding that the hotel used to have a lounge of sorts for all guests, with complimentary soft drinks and snacks throughout the day. However, that has been eliminated.
The lobby does have a piano, and for a couple of hours per day there's a guy there who plays out. Even so, almost no one ever hung out in public spaces, and I almost felt bad for the fact that the guy was playing for no one. Let me once again remind everyone that the hotel was at capacity during our stay, and in general Dusseldorf feels very alive again in terms of how busy venues are.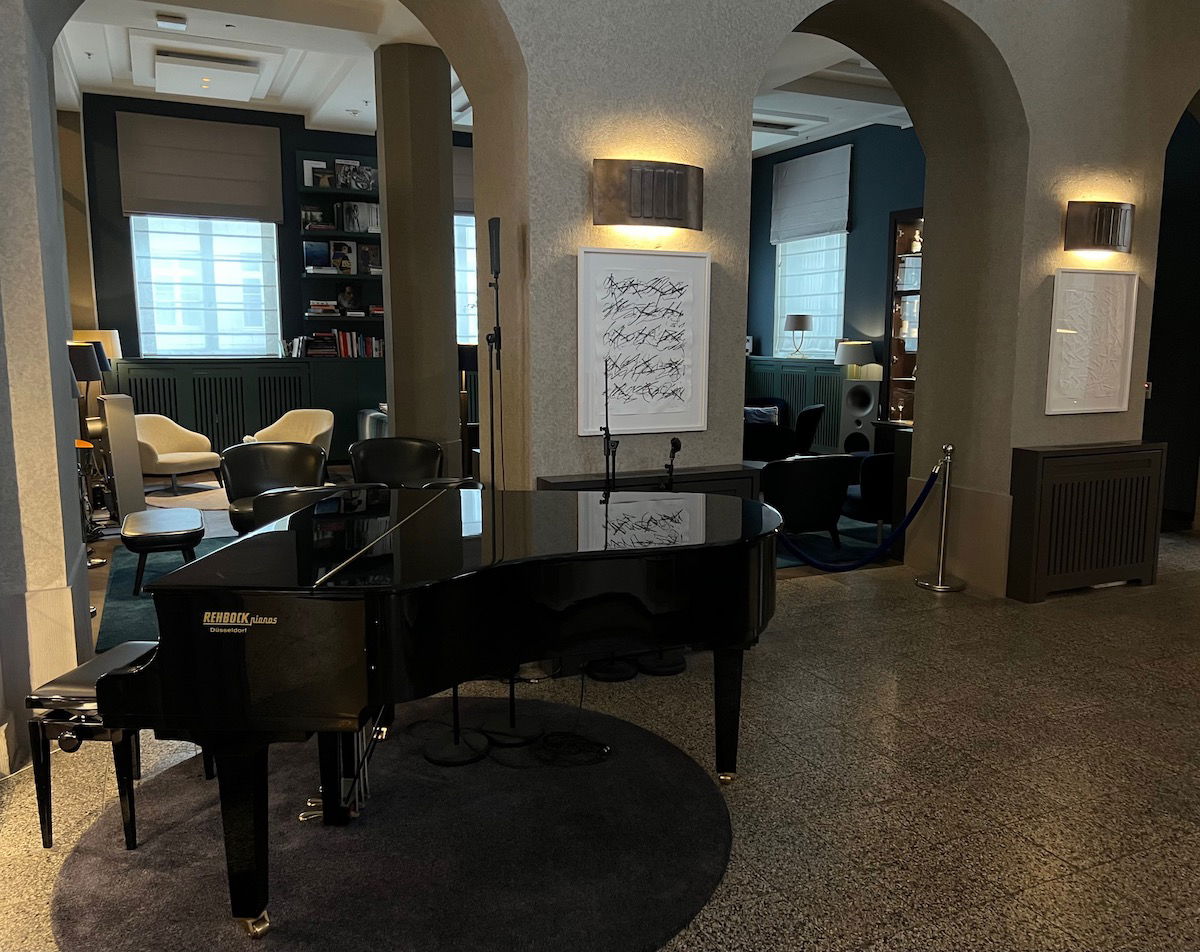 Anyway, reception is at the very end of the lobby, and our check-in process was quick and efficient. The associate checking us in was friendly, thanked me for being a Globalist, and explained we had been upgraded to a studio suite. She also said that we'd receive complimentary breakfast on account of my Globalist status.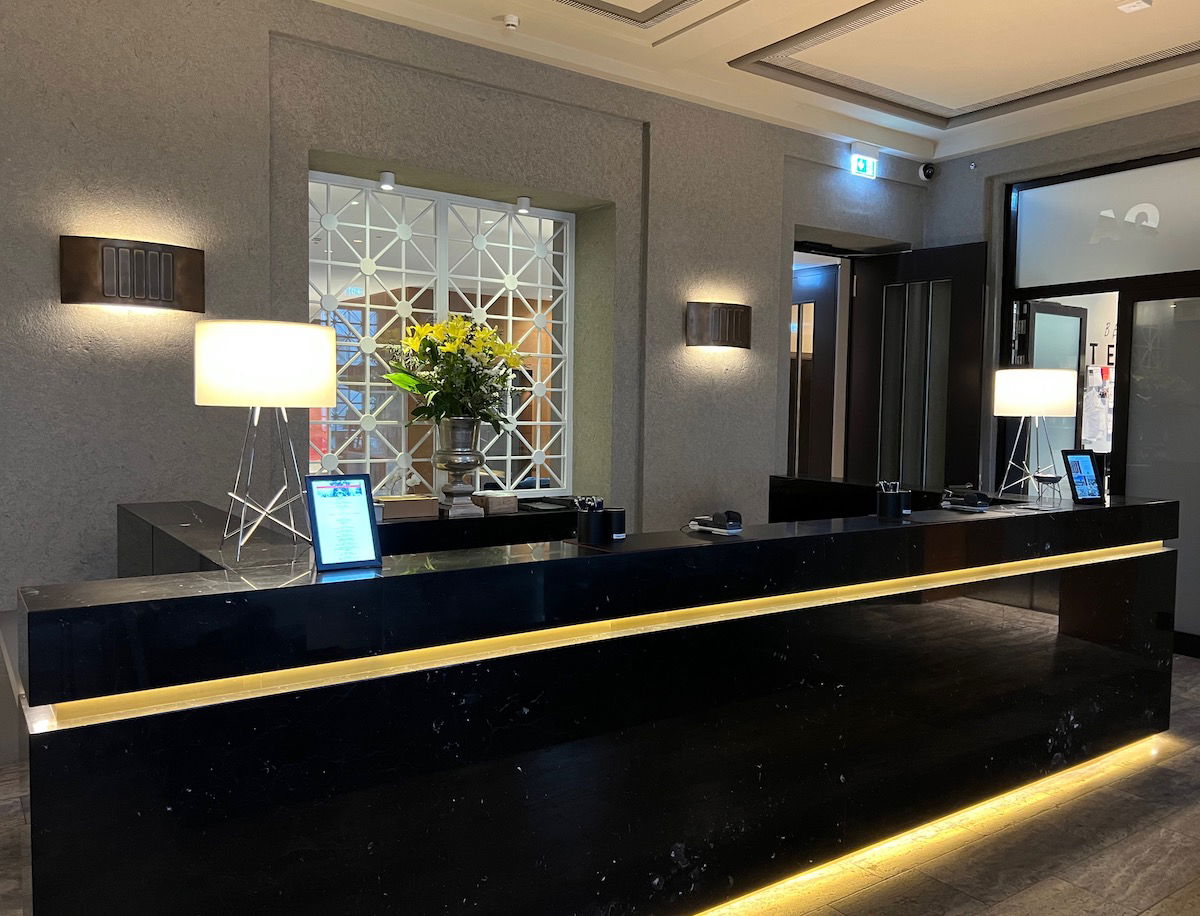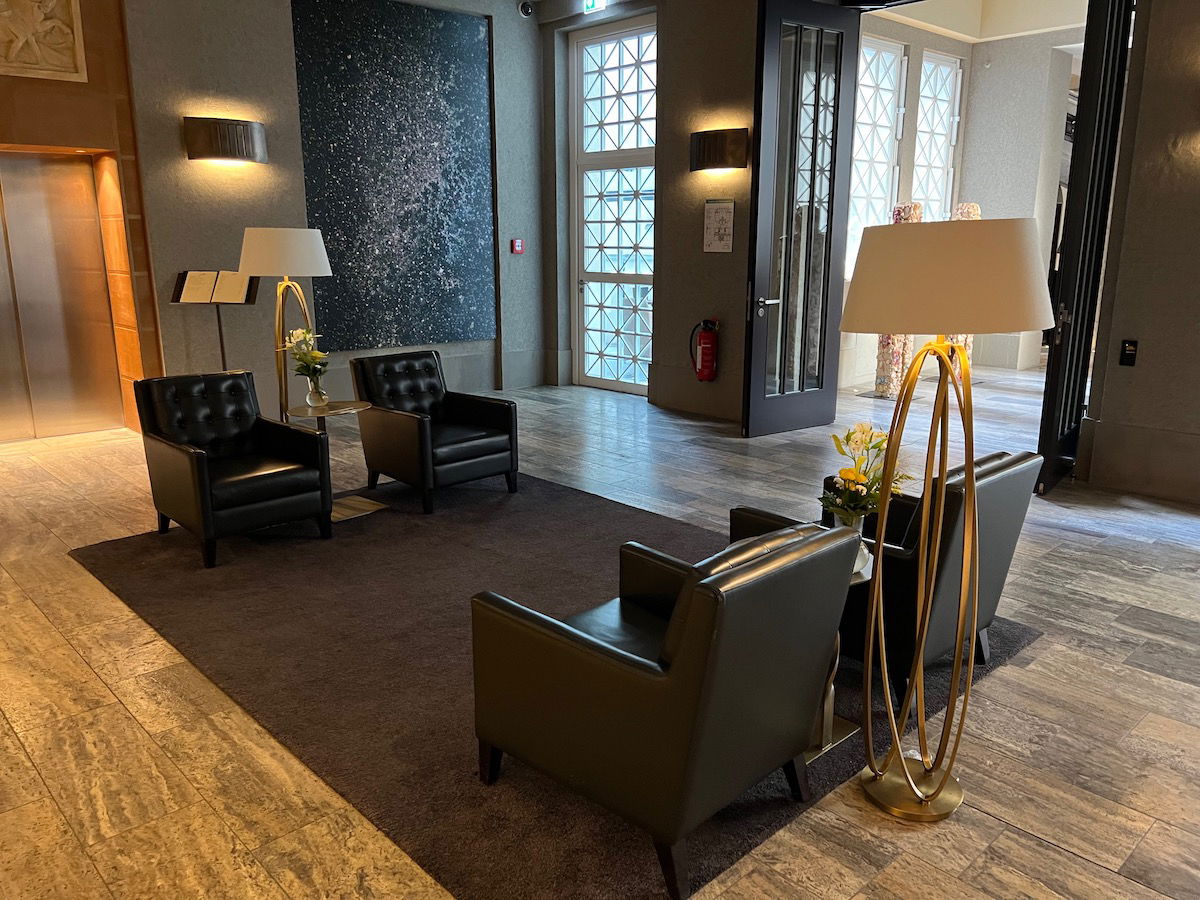 The Wellem Dusseldorf studio suite
The studio suite is the hotel's standard suite (so this is also what a confirmed suite upgrade would get you). Specifically, we were assigned room 208, which was one level up from reception.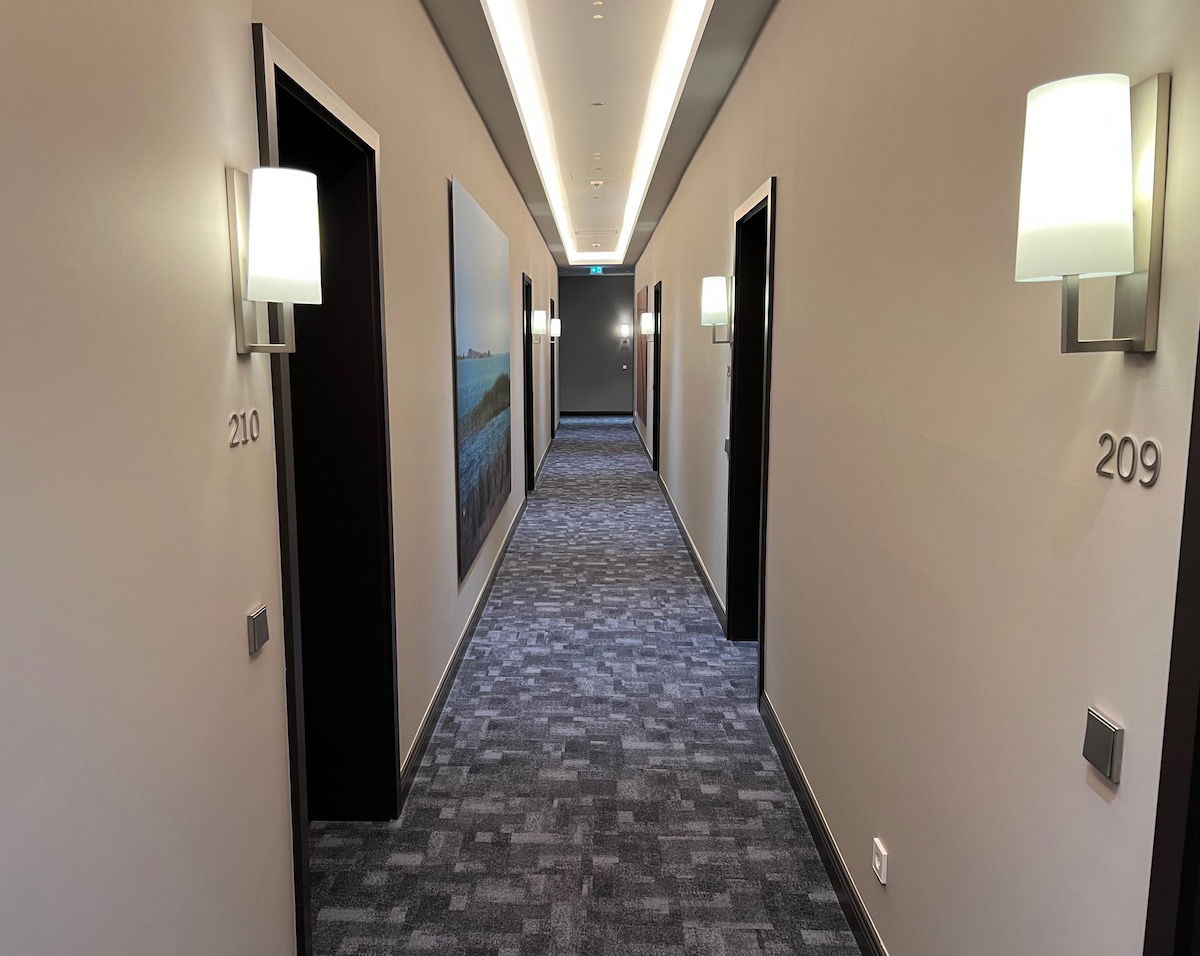 Given the unique building the hotel is in, even rooms in the same category can be very different sizes. For example, studio suites are marketed as being 46-69 square meters (~495-743 square feet). The room was essentially like a junior suite, in the sense that there was a living area and bedroom, but no doors between the two areas.
The first thing we noticed was how high the ceilings were. Rooms at the hotel have four meter (~13 feet) high ceilings, which you don't often find in hotels. Just inside the entrance to the room was a half bath, as well as a room with a washing machine (I wish we'd see this more often as a hotel amenity). The hotel offered complimentary detergent at reception.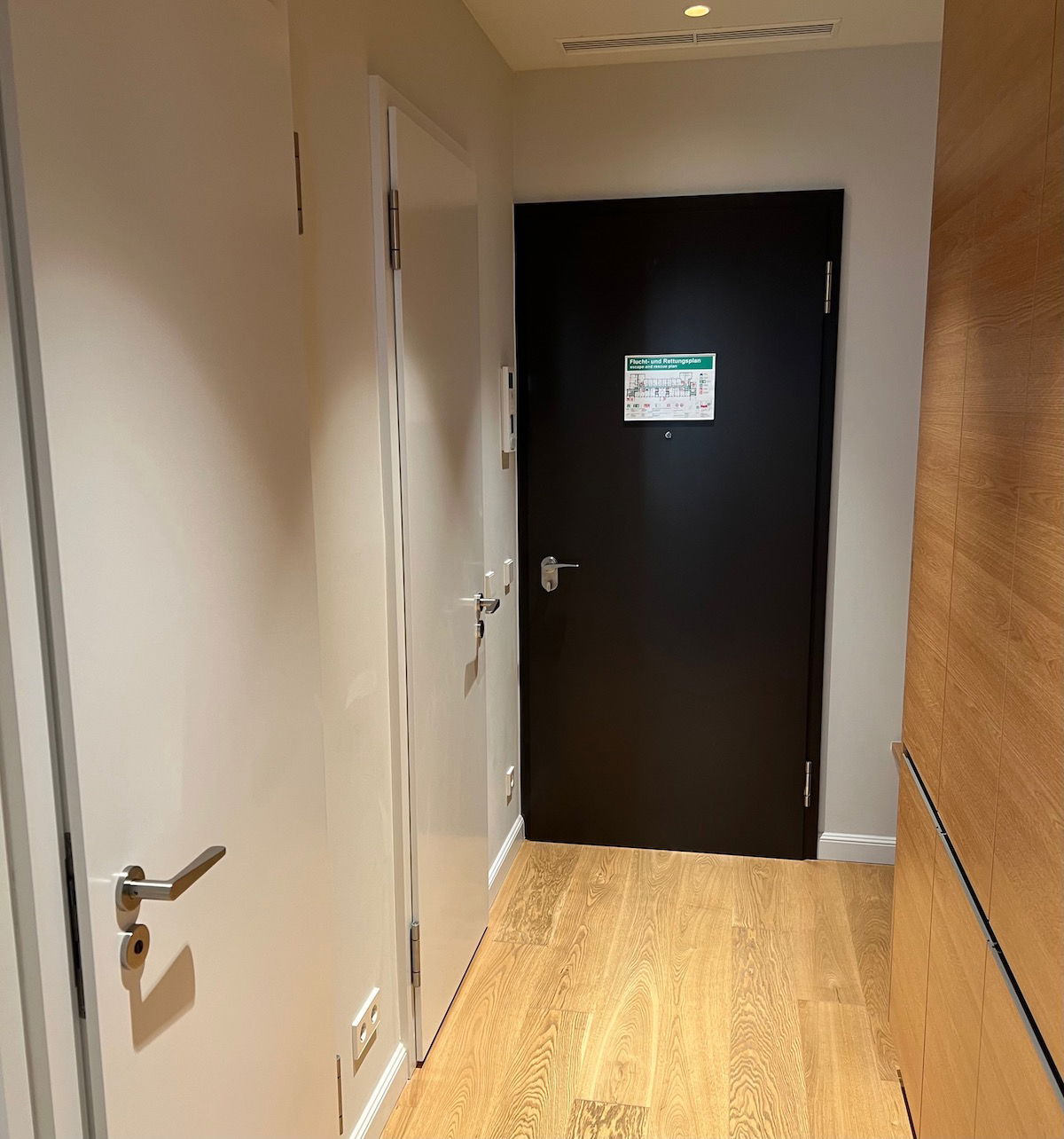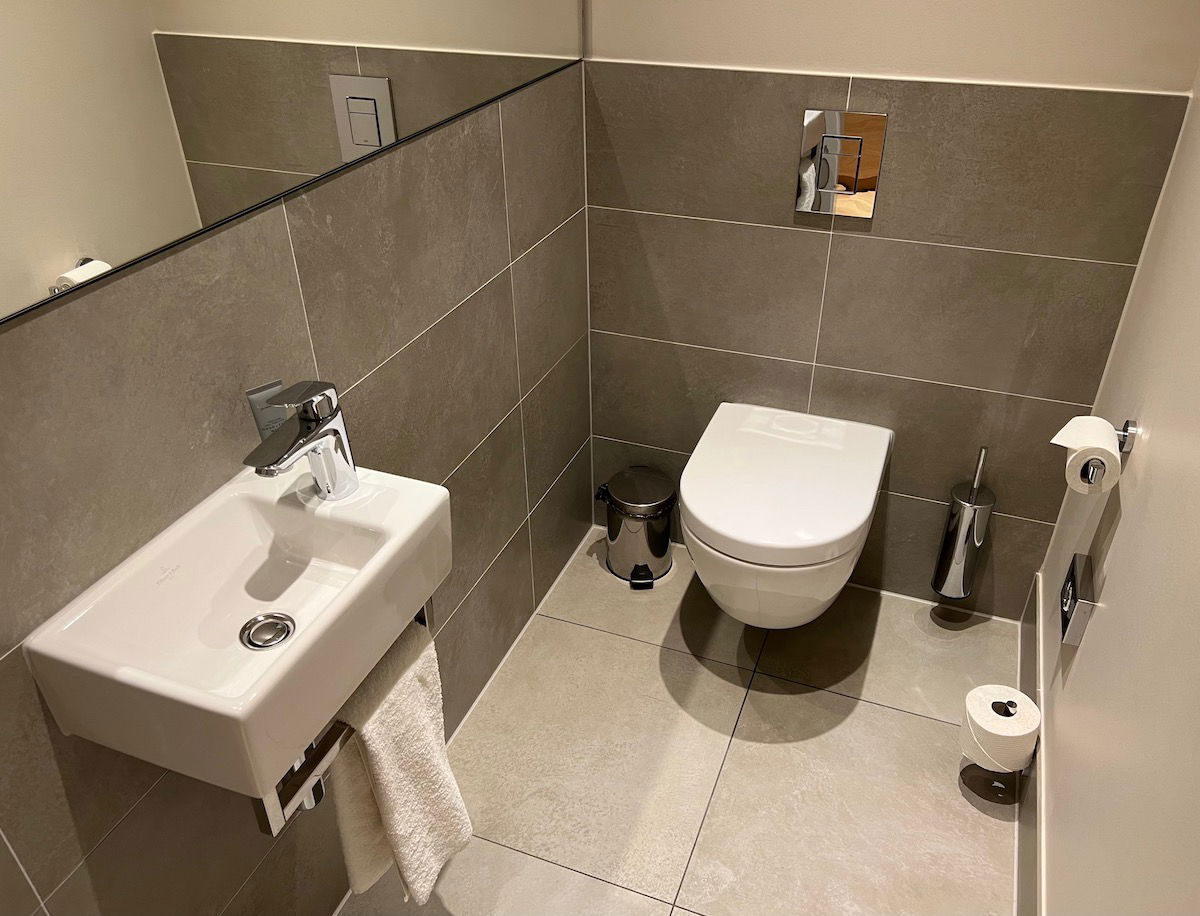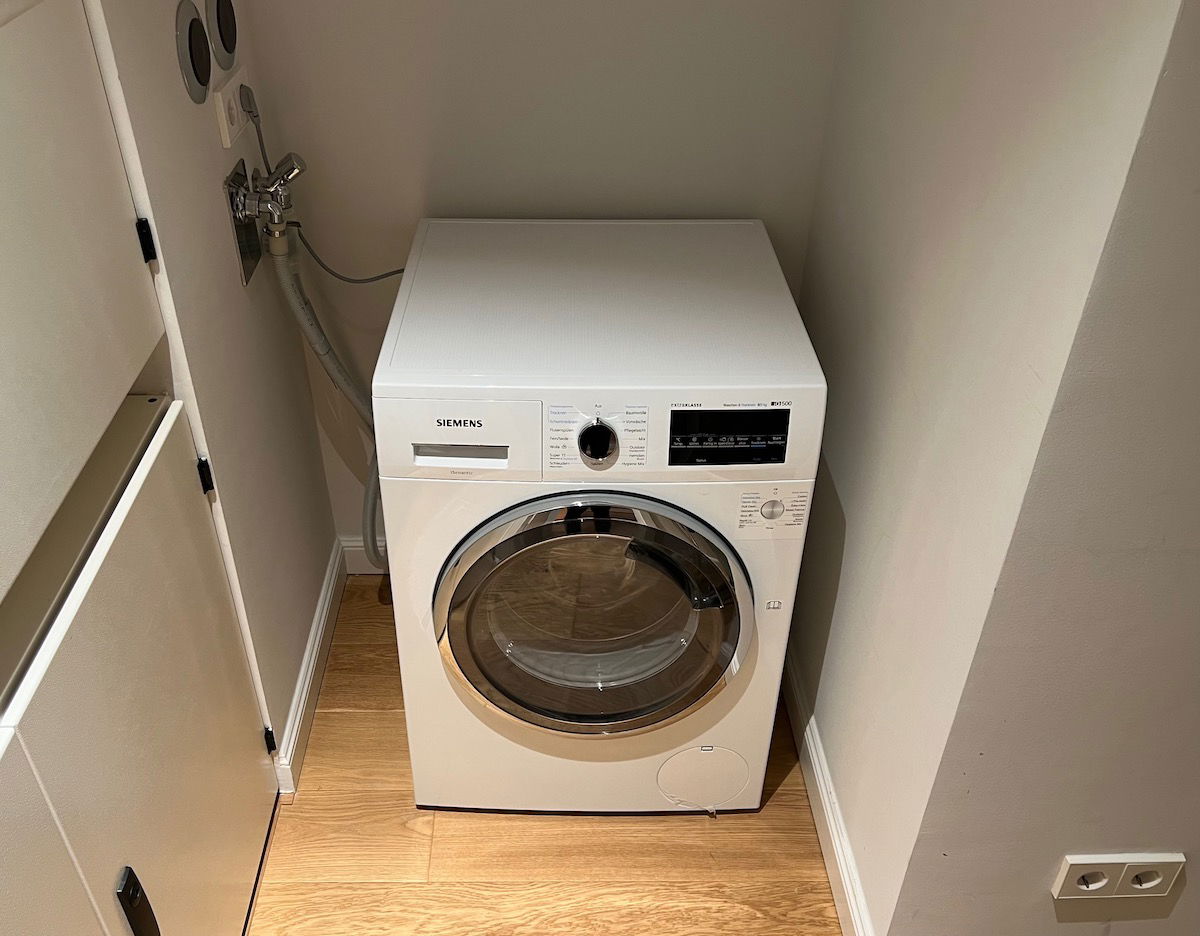 Further in was the living room, which had a couch, a dining table with two chairs, and a counter with some high-top seating. I loved the amount of personality the room had, from the wallpaper, to all the splashes of color.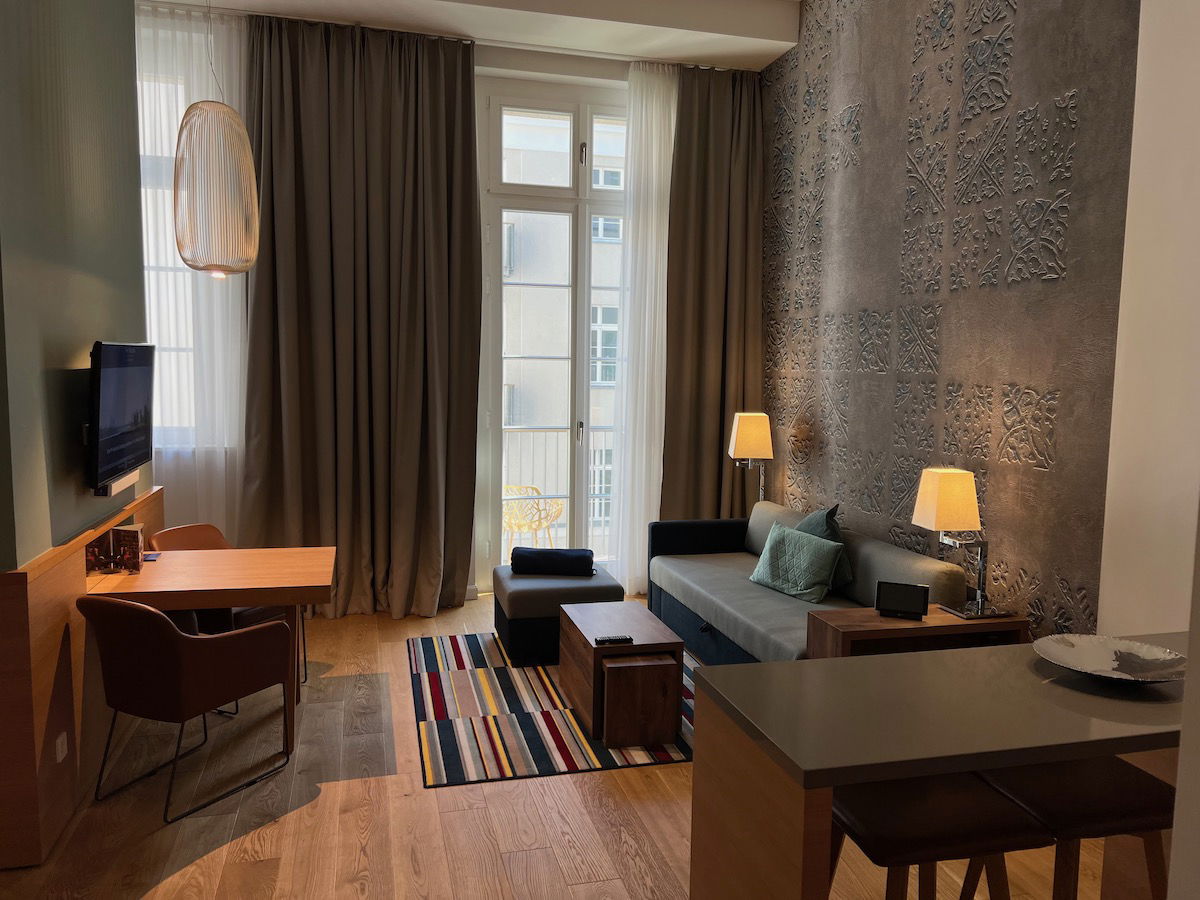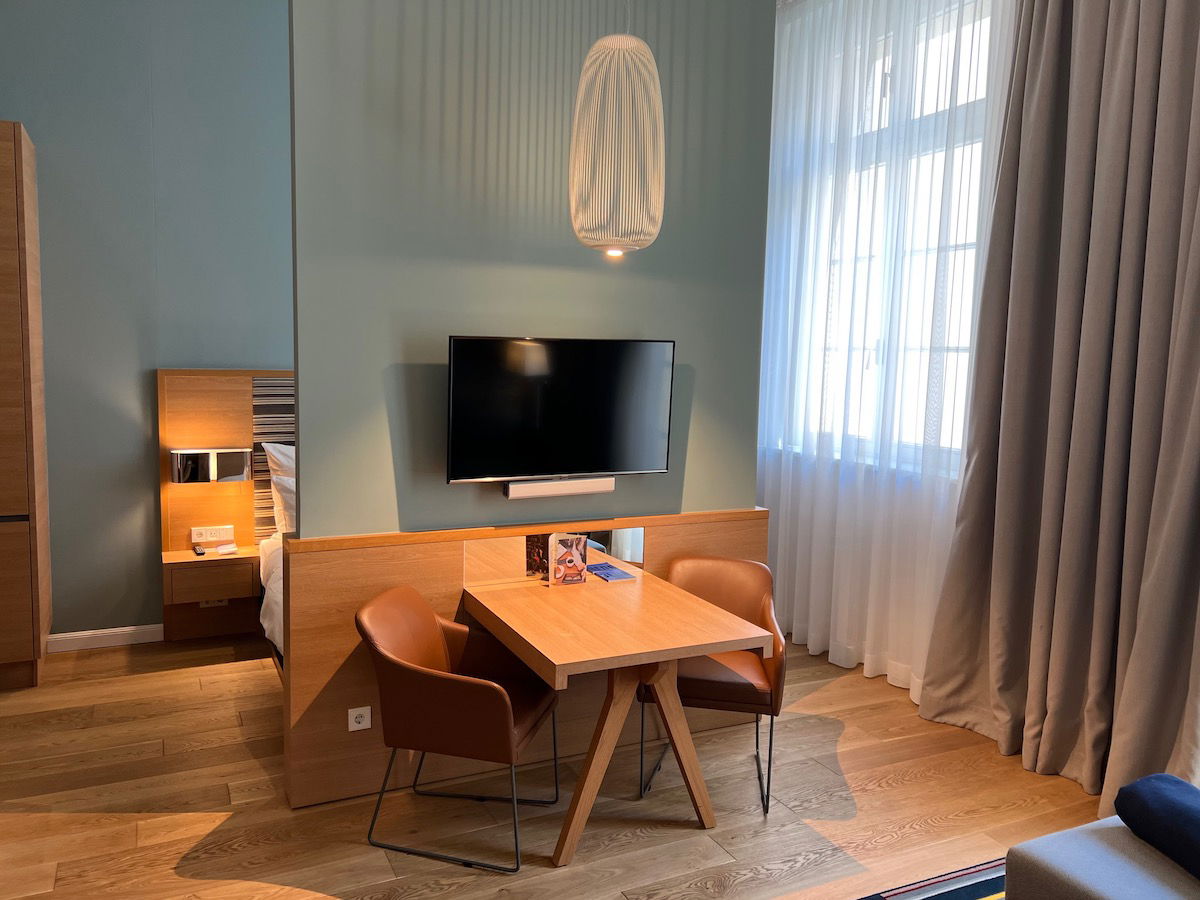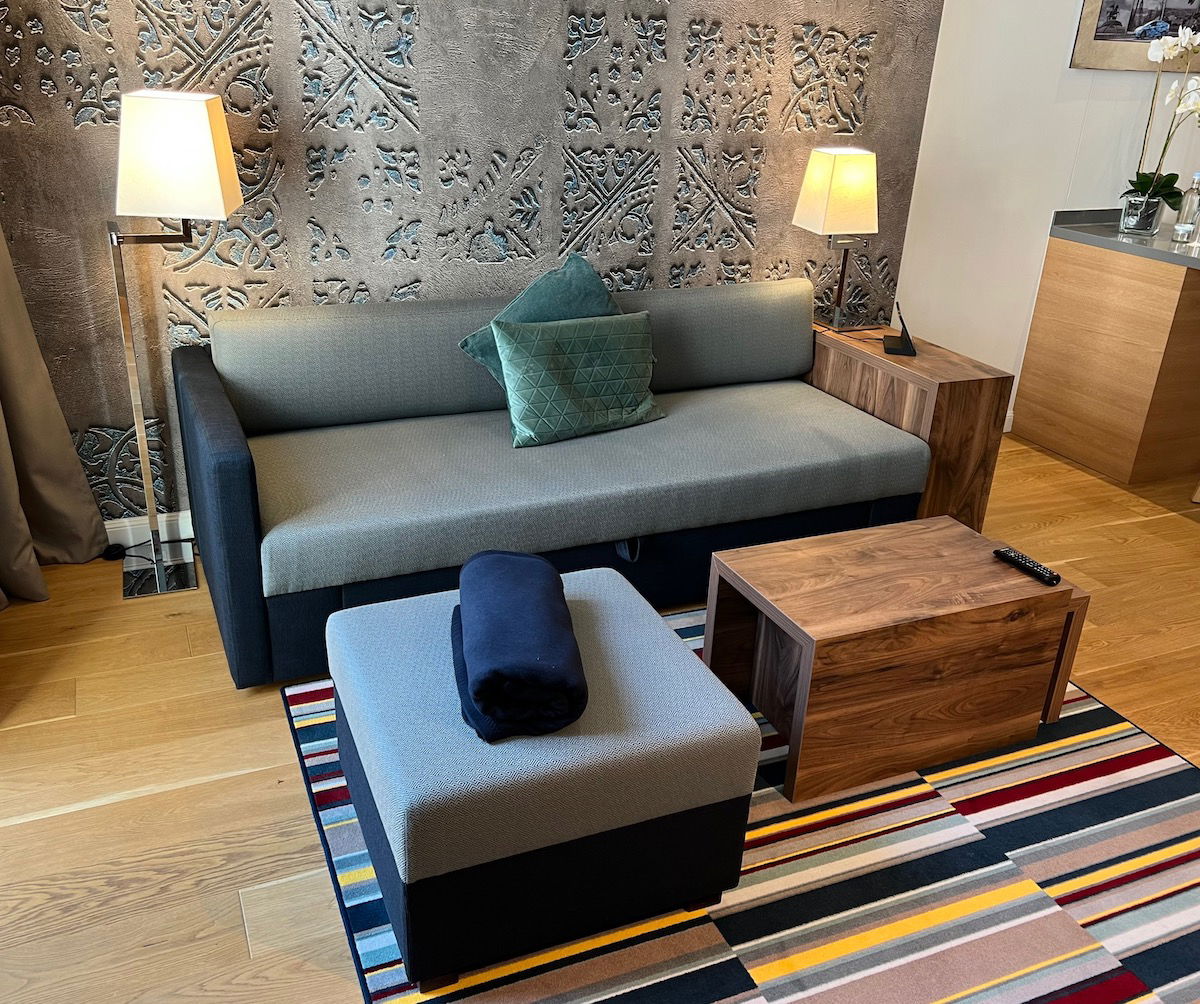 The kitchenette featured a dishwasher, a fridge, and lots of plates, silverware, etc. There was also a coffee machine and kettle.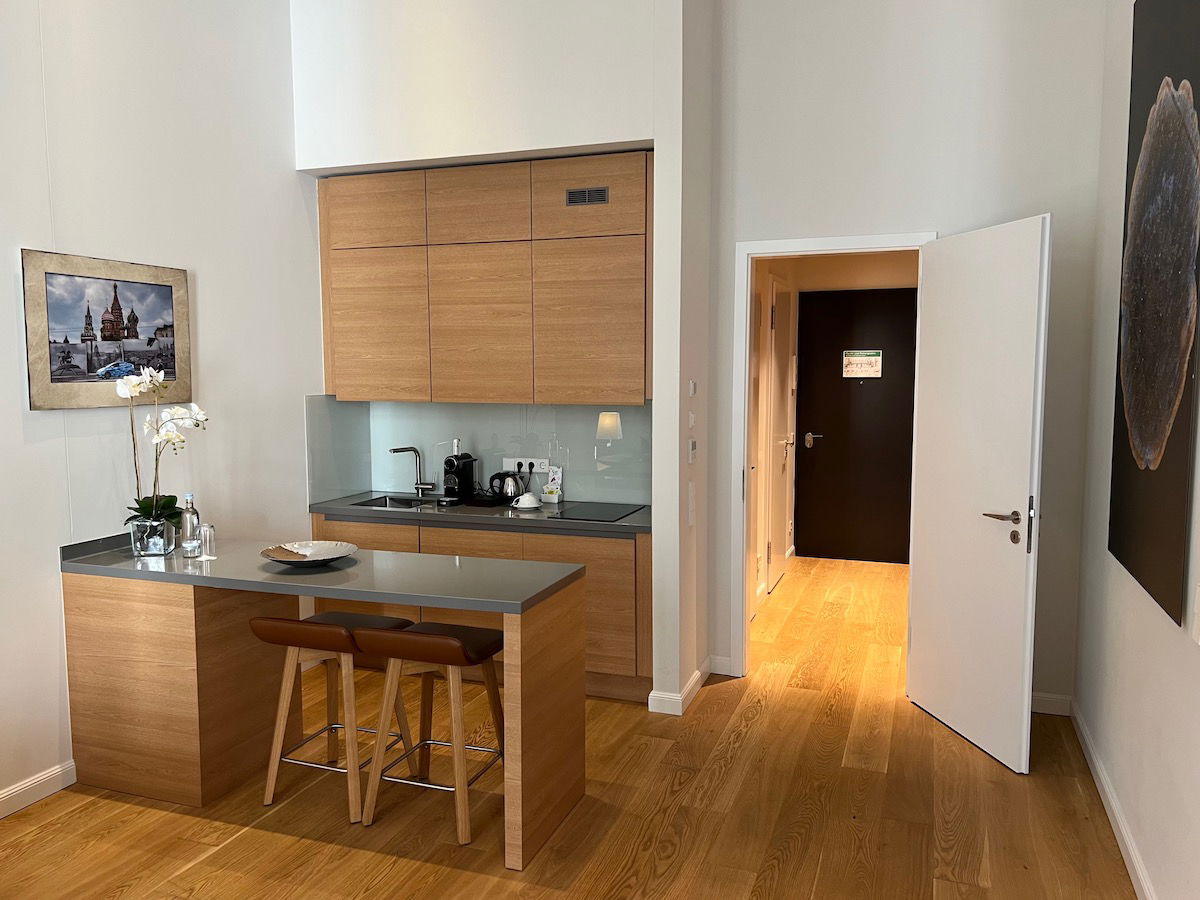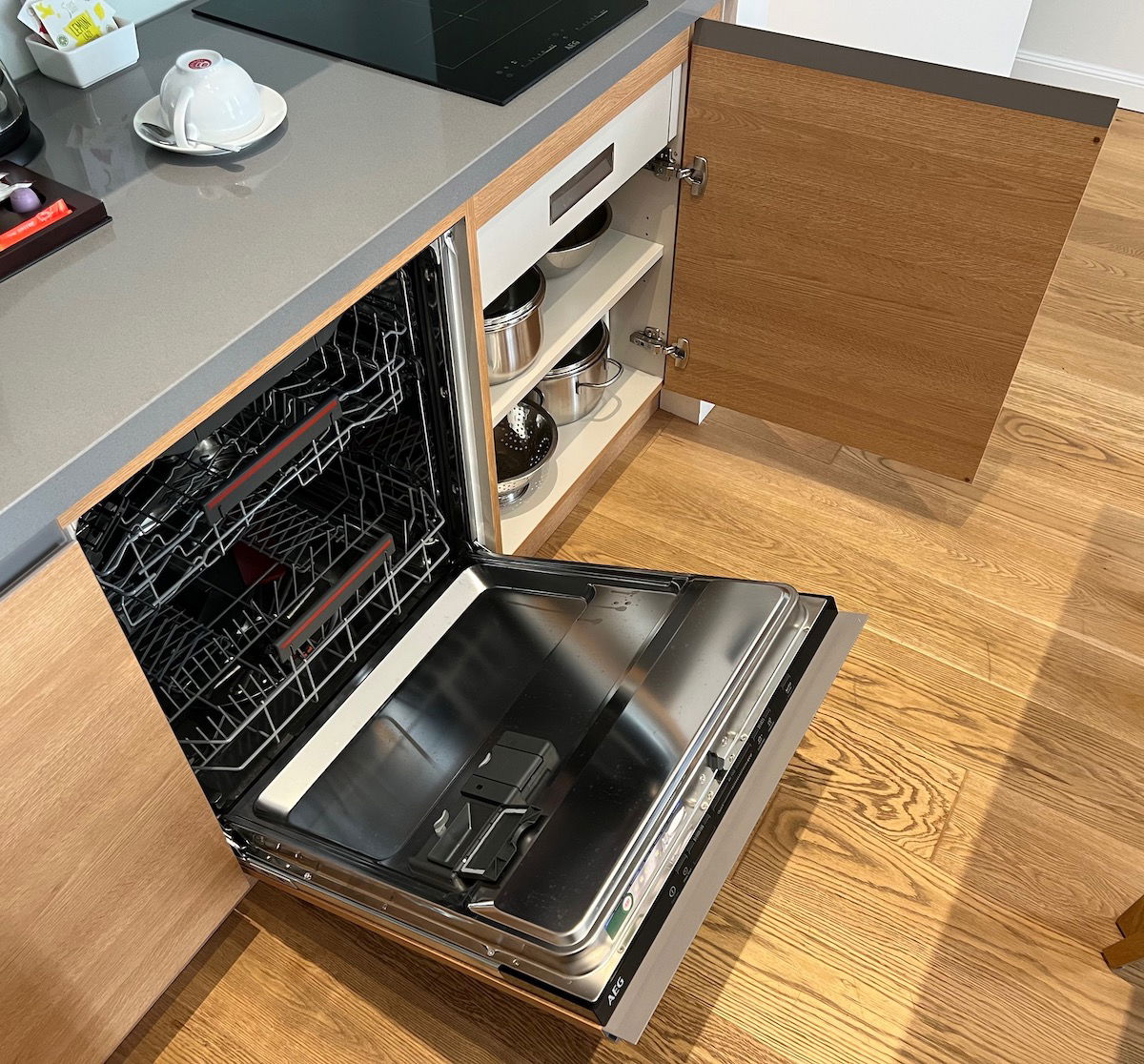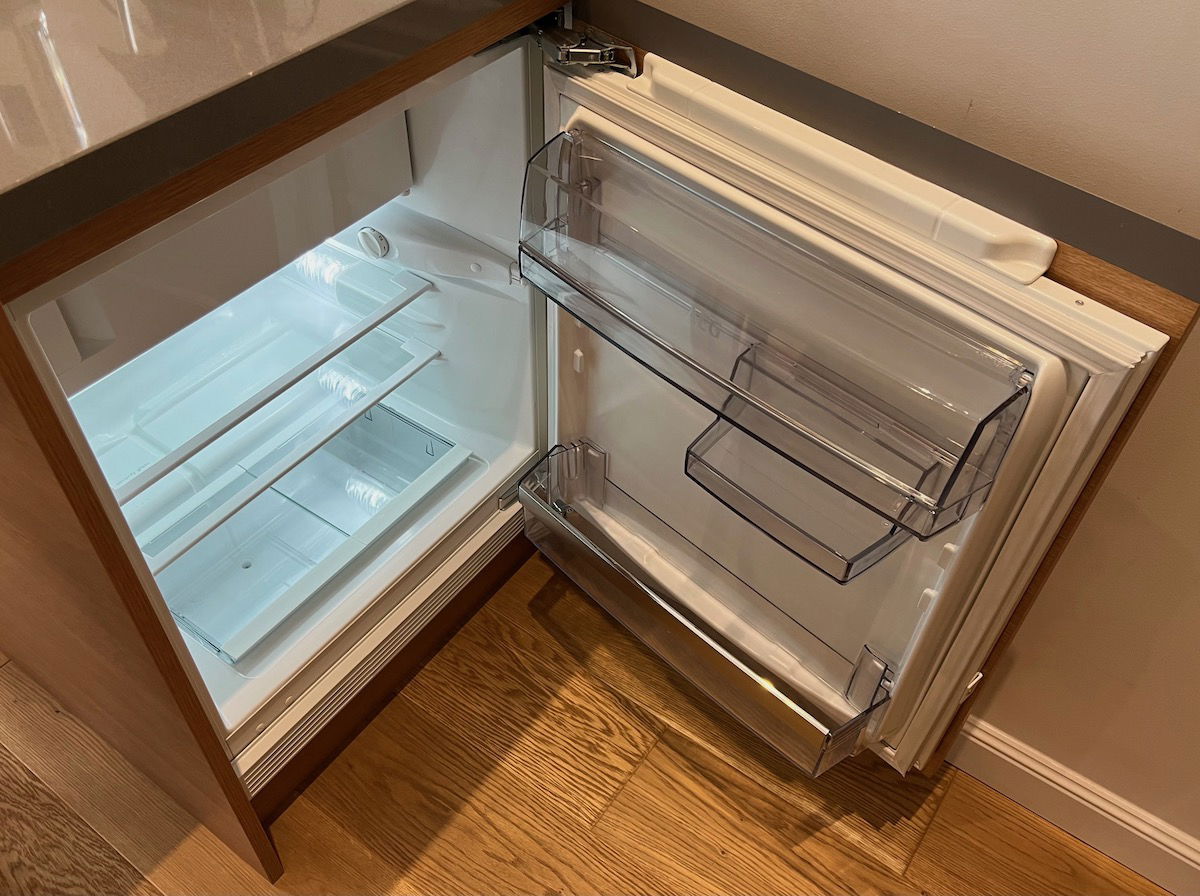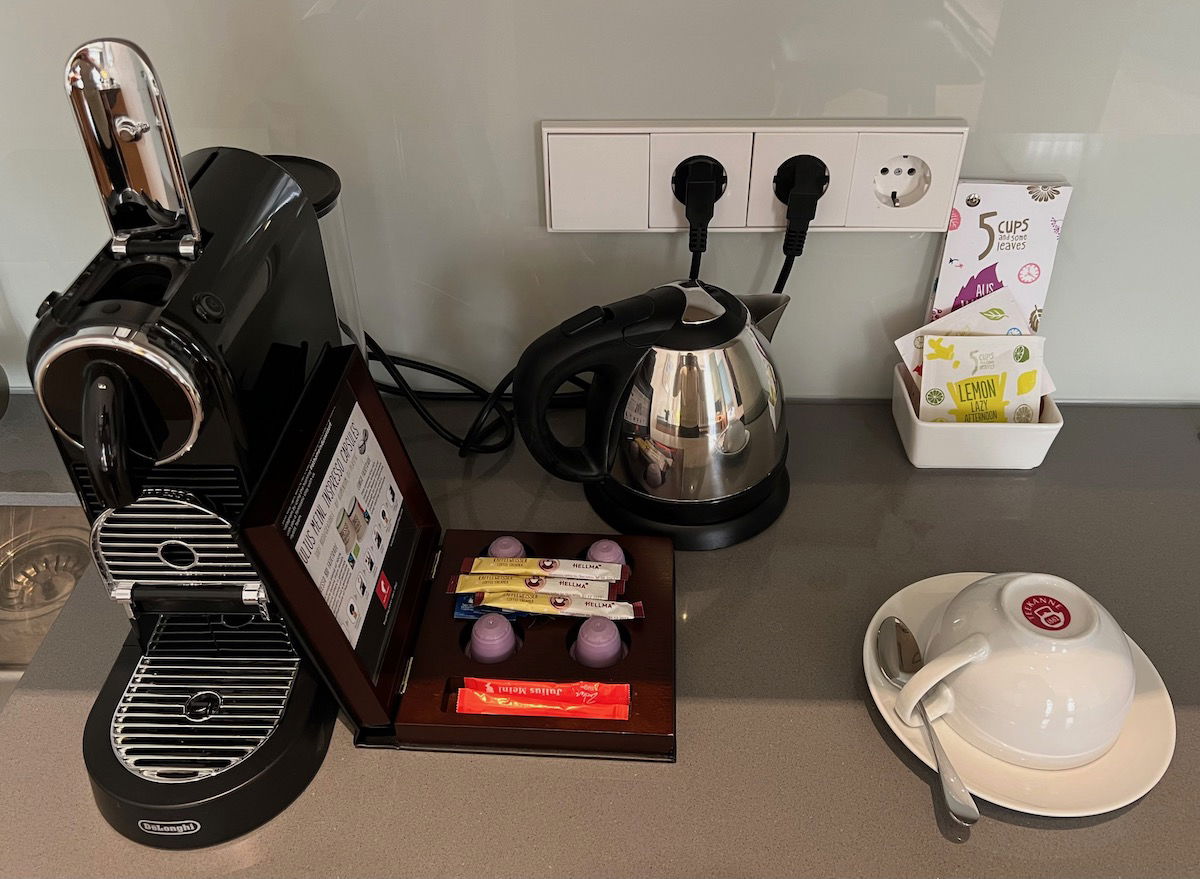 Off the living room was a small balcony with one chair, overlooking the hotel's courtyard.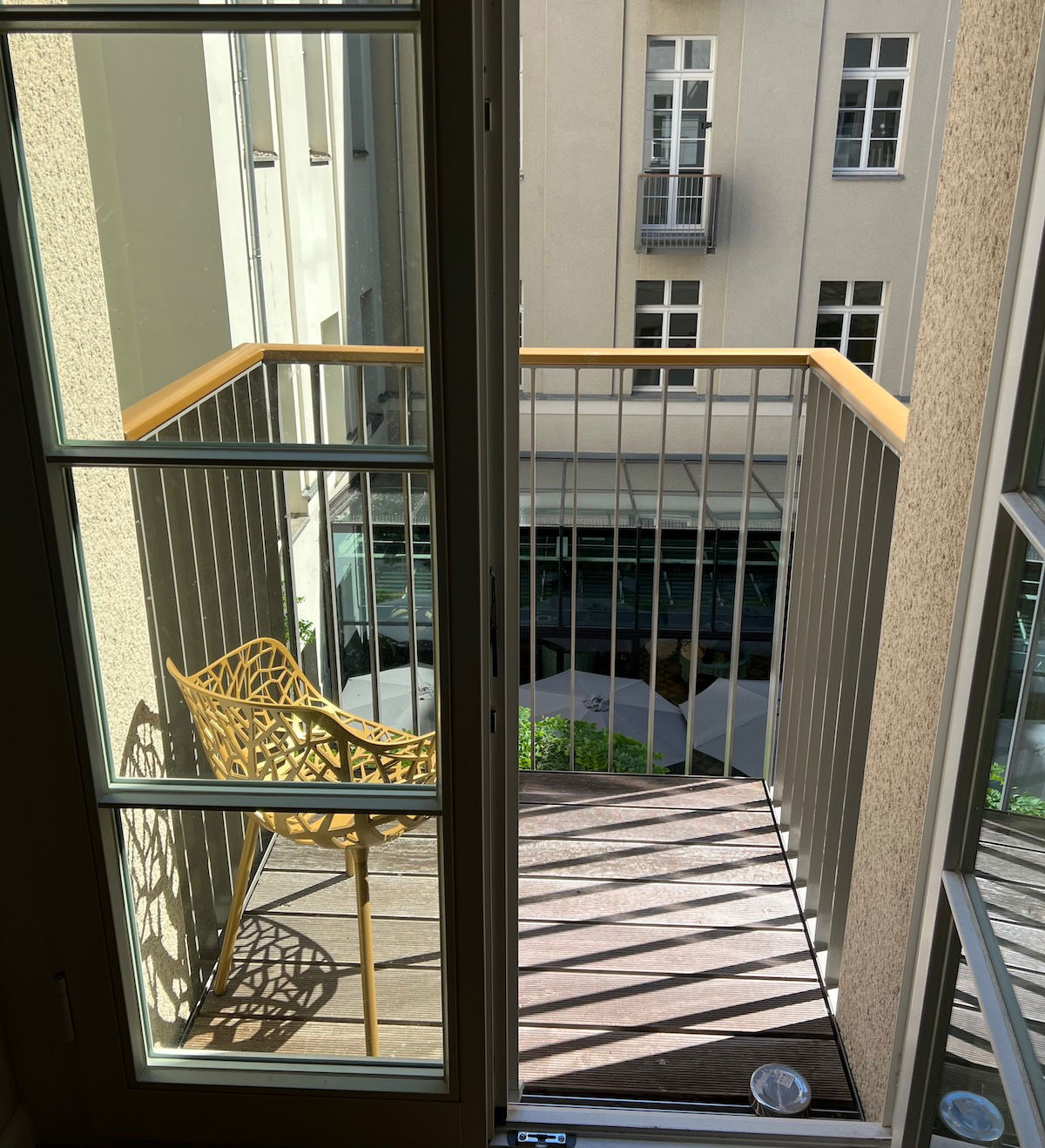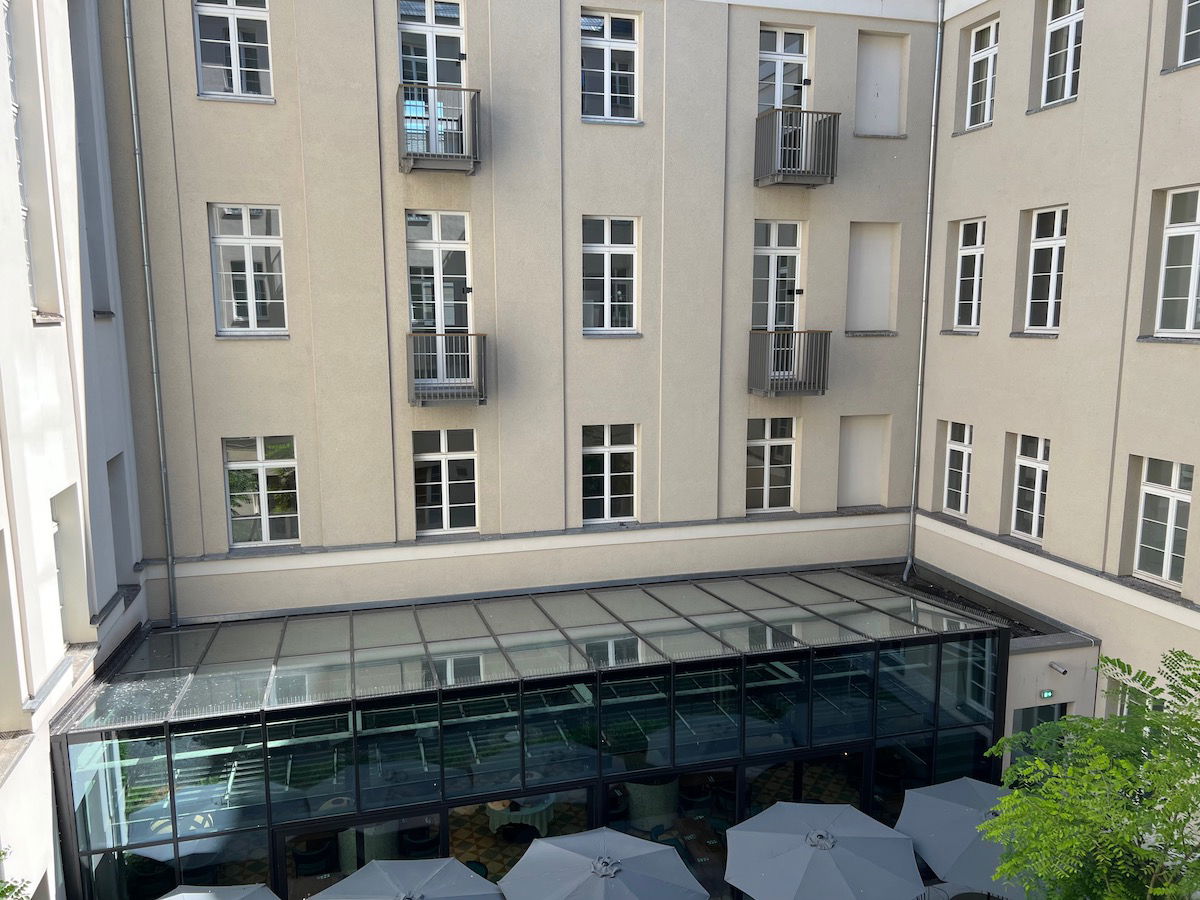 There was a partial wall separating the two areas of the room, with a 42″ TV on each side of the wall. There was then a king size bed, which was pretty comfortable.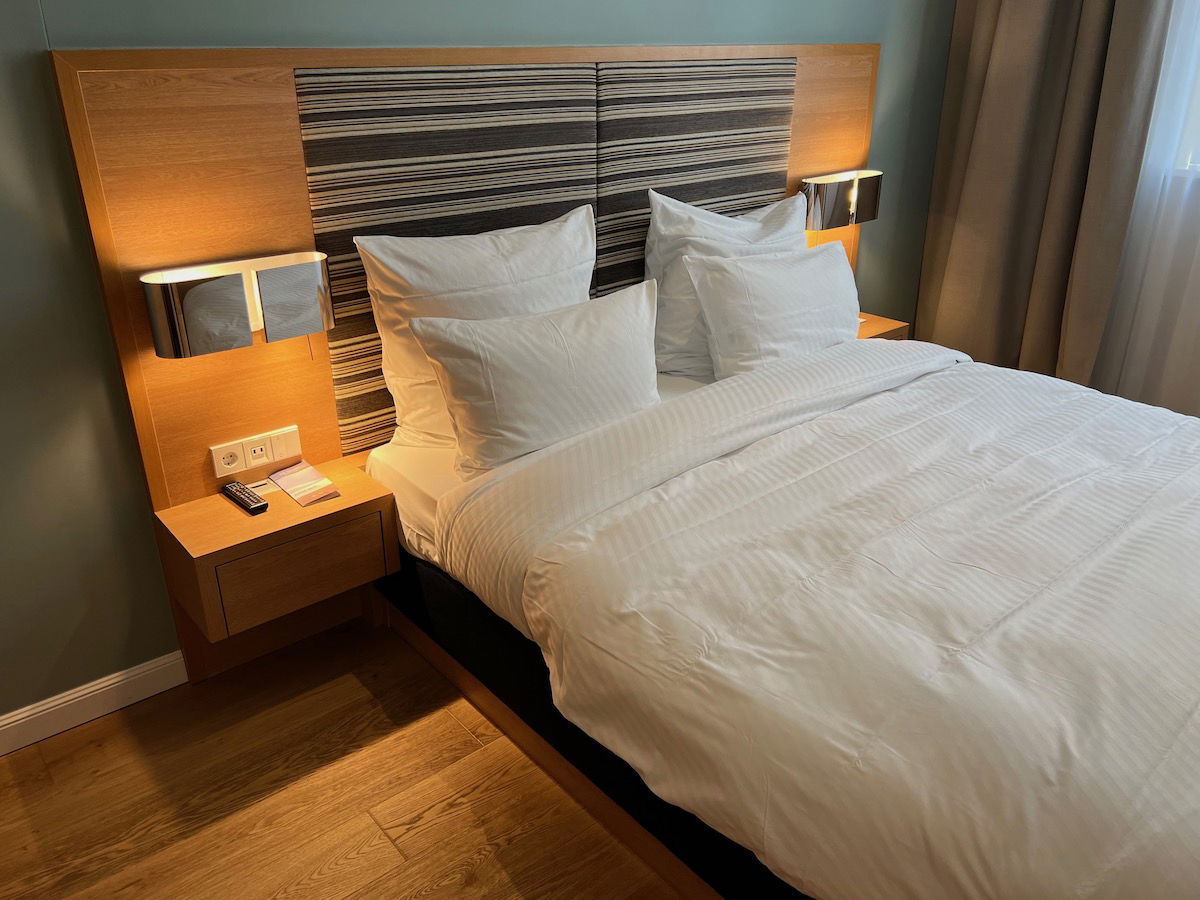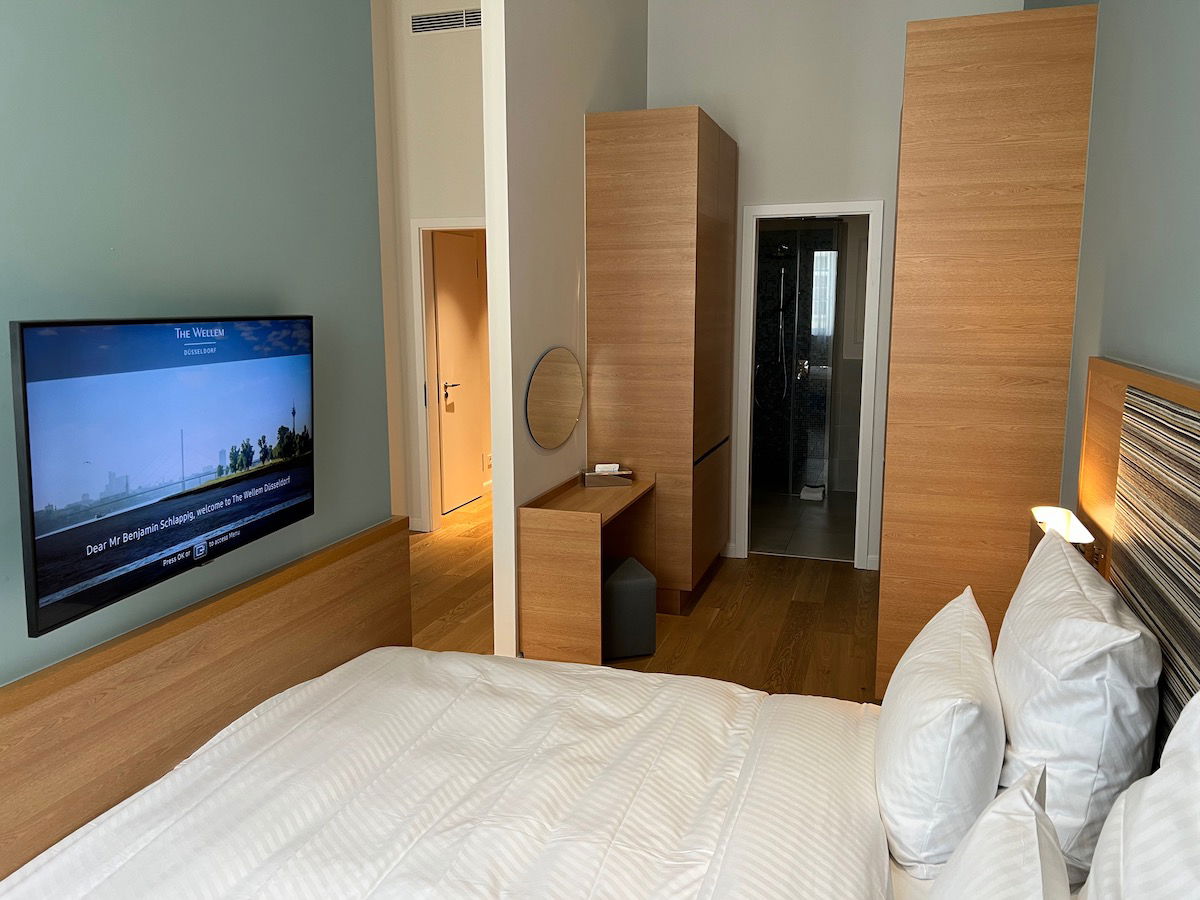 Next to the bed was a vanity with a stool and mirror.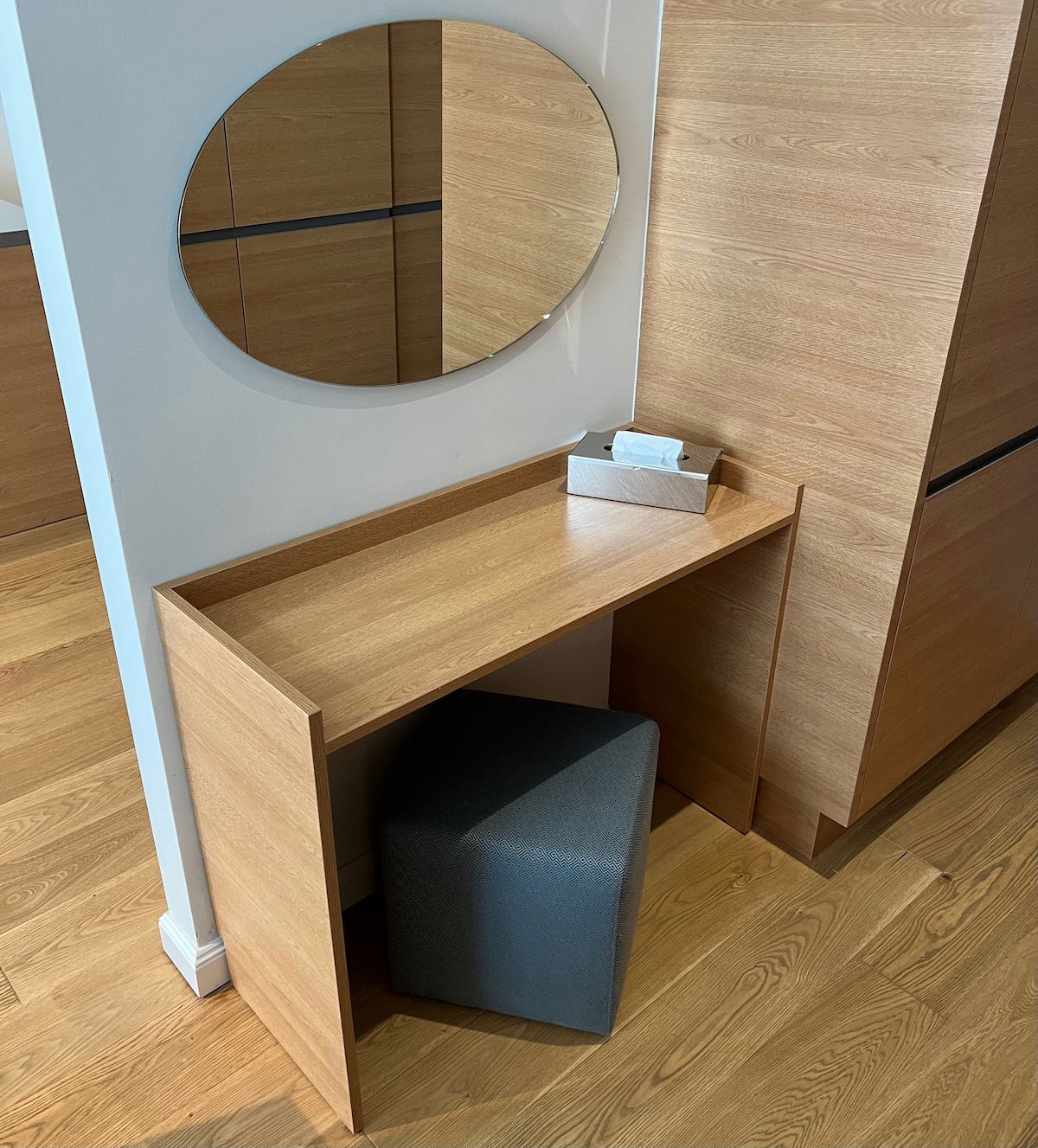 Then there was the bathroom, which had a walk-in shower, a toilet, and a sink.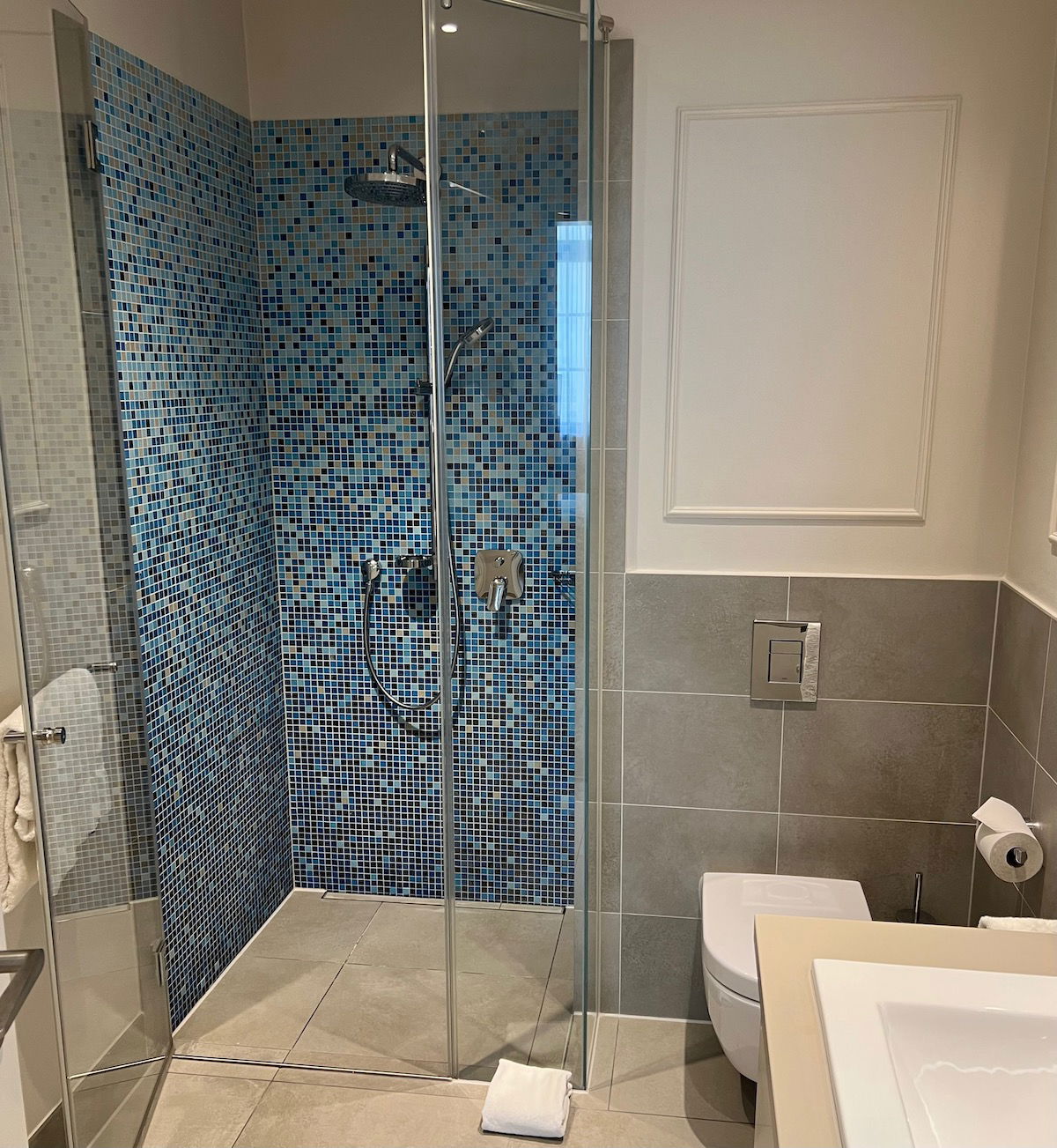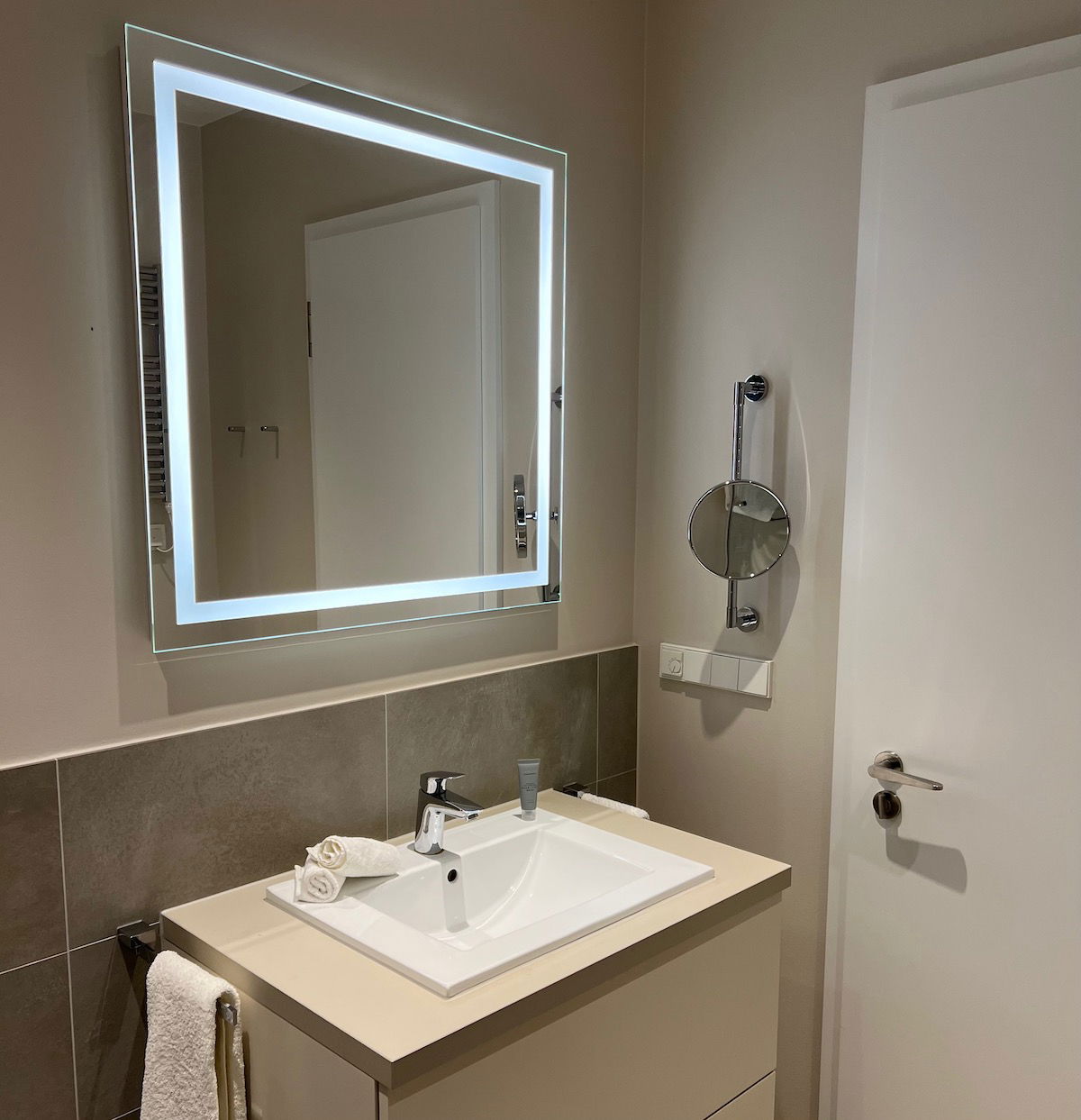 Toiletries were from Lamand, and were customized for Andreas Quartier (the area the hotel is in).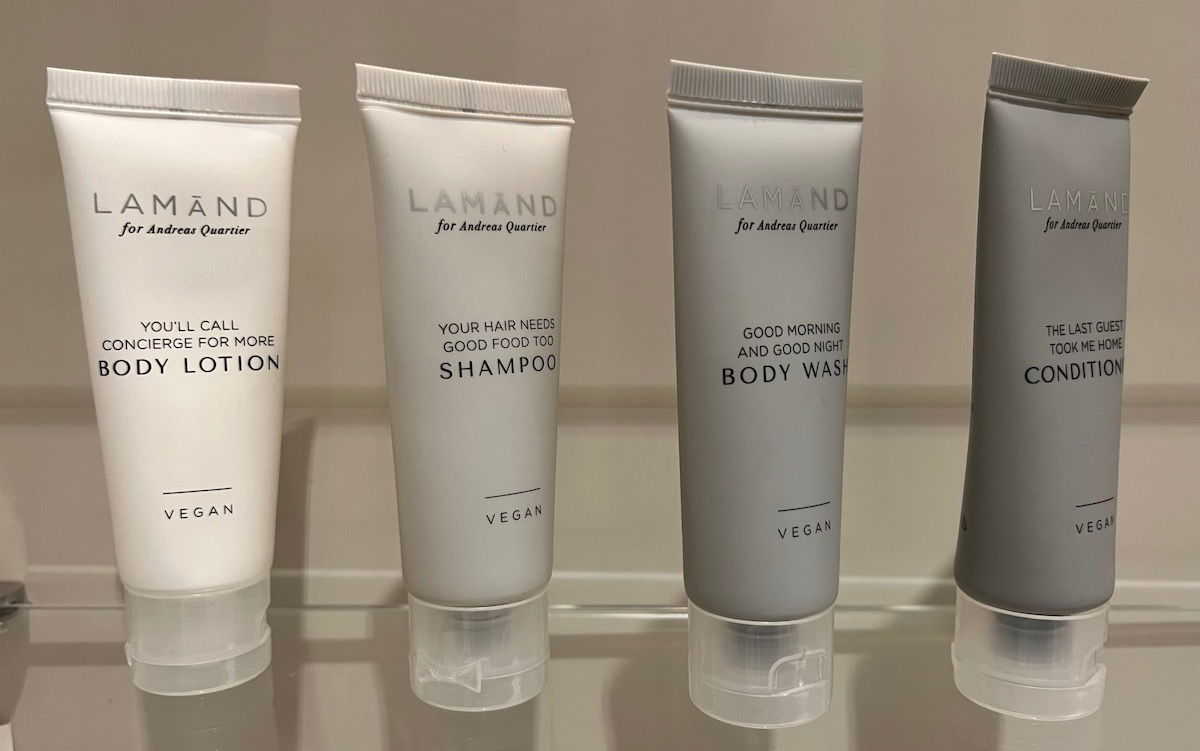 Shortly after checking in, we were brought a welcome amenity consisting of some nuts, as well as some cheese and grapes. I thought that was a nice touch.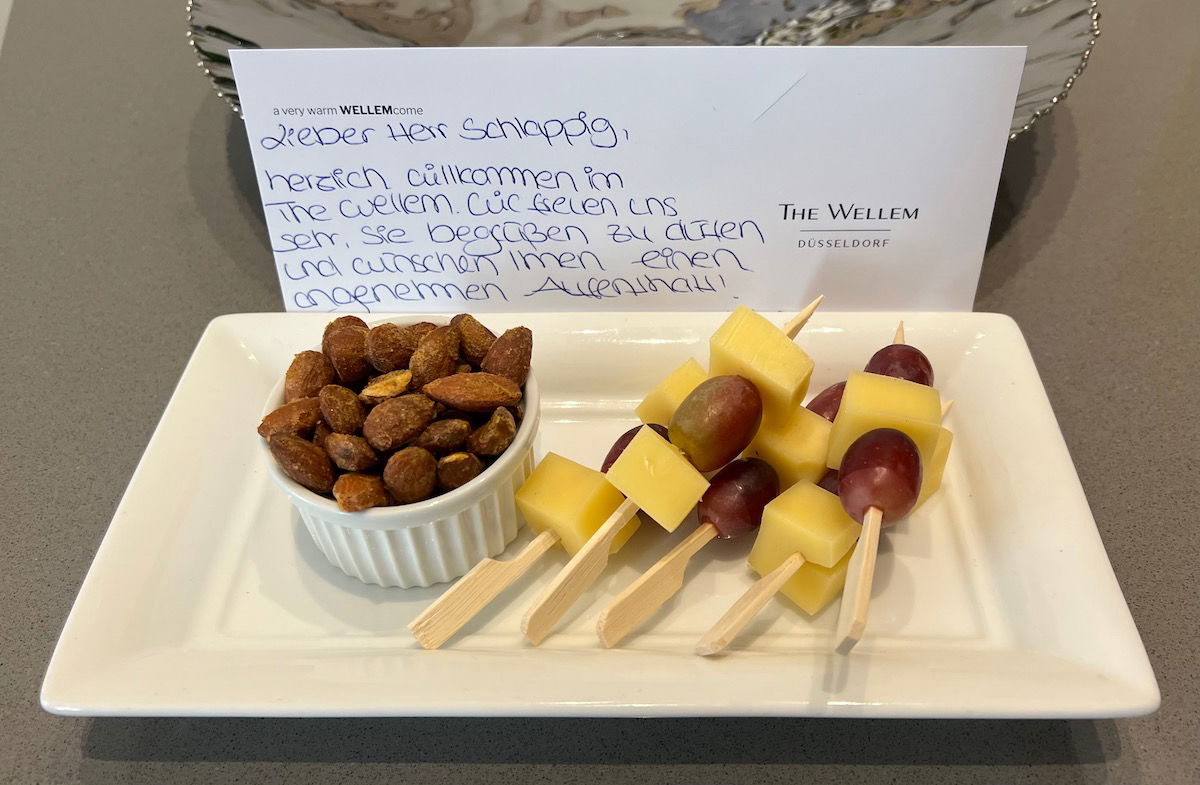 The room had Wi-Fi, which was fast and free. Perhaps most importantly, air conditioning worked well. This can be an issue in many parts of Germany, and was especially handy during this stay, as it was 95 degrees Fahrenheit (35 degrees Celsius) on our last day.
What an awesome room, from the amount of space it offered, to the high ceilings, to the design, to the washing machine.
The Wellem Dusseldorf breakfast
Breakfast at The Wellem is served at Pitti Cucina Italiana, the hotel's Italian restaurant. Breakfast is served from 7AM until 10:30AM on weekdays, and from 8AM until 11:30AM on weekends. The restaurant as such is pretty.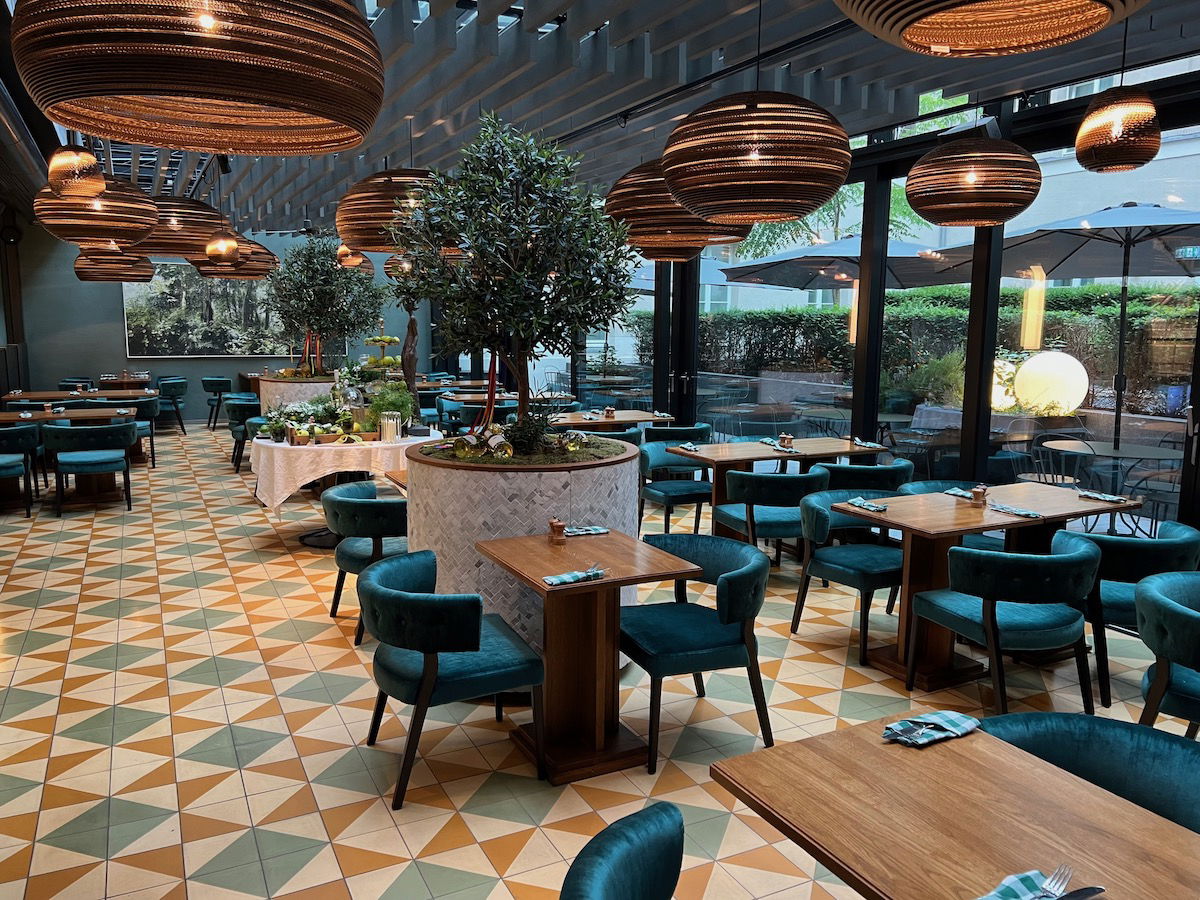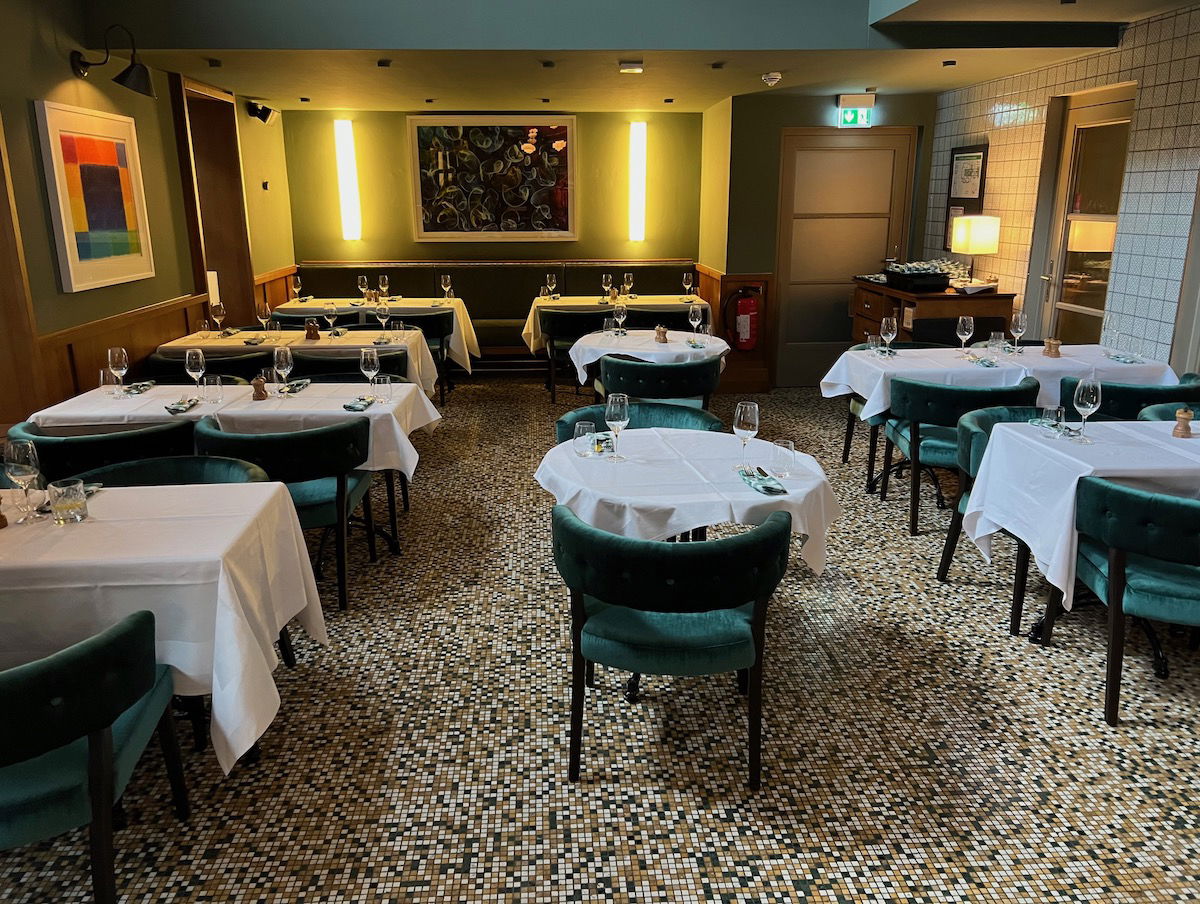 Breakfast consists primarily of a buffet, which I'd say was very good by German standards. There were two separate buffet areas. One room had cold cuts, cheese, salad, veggies, bread, sweets, hardboiled eggs, and sausage.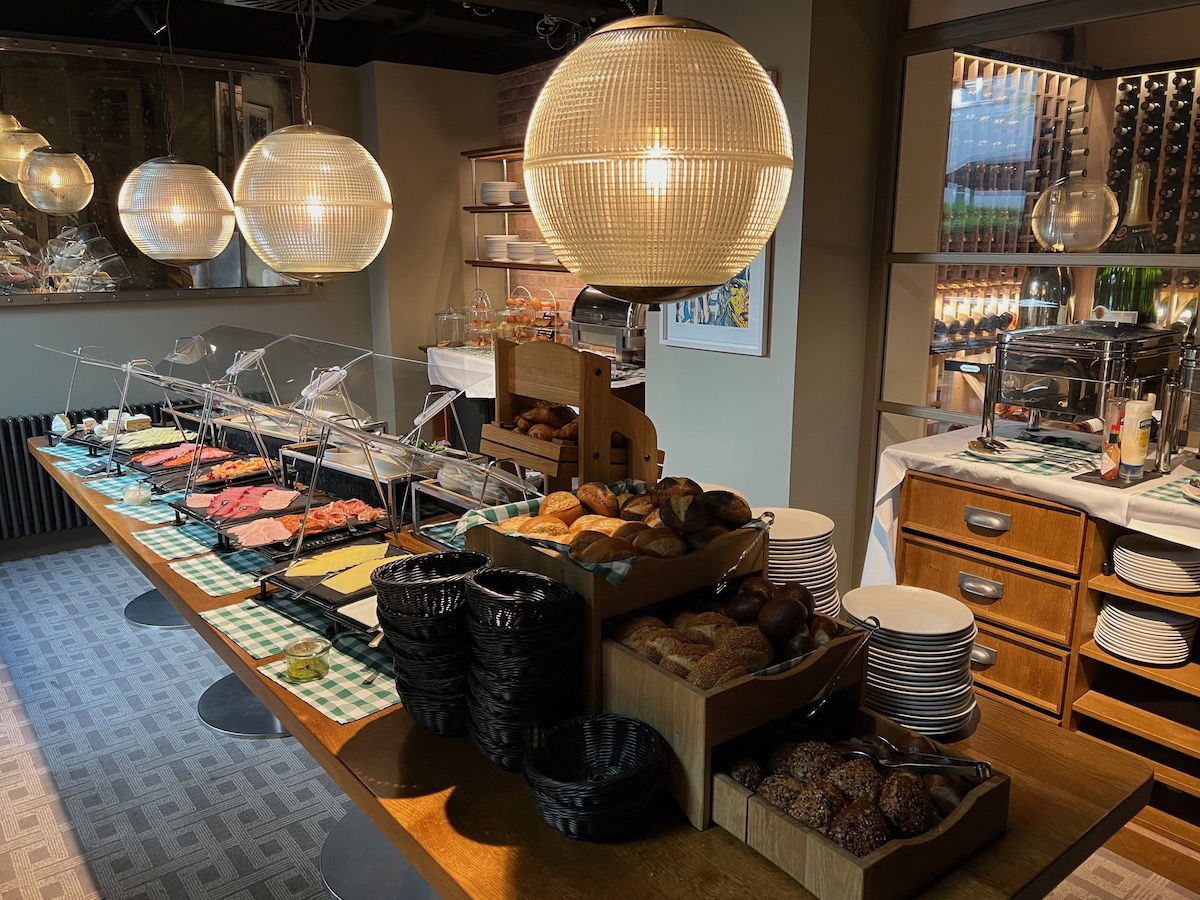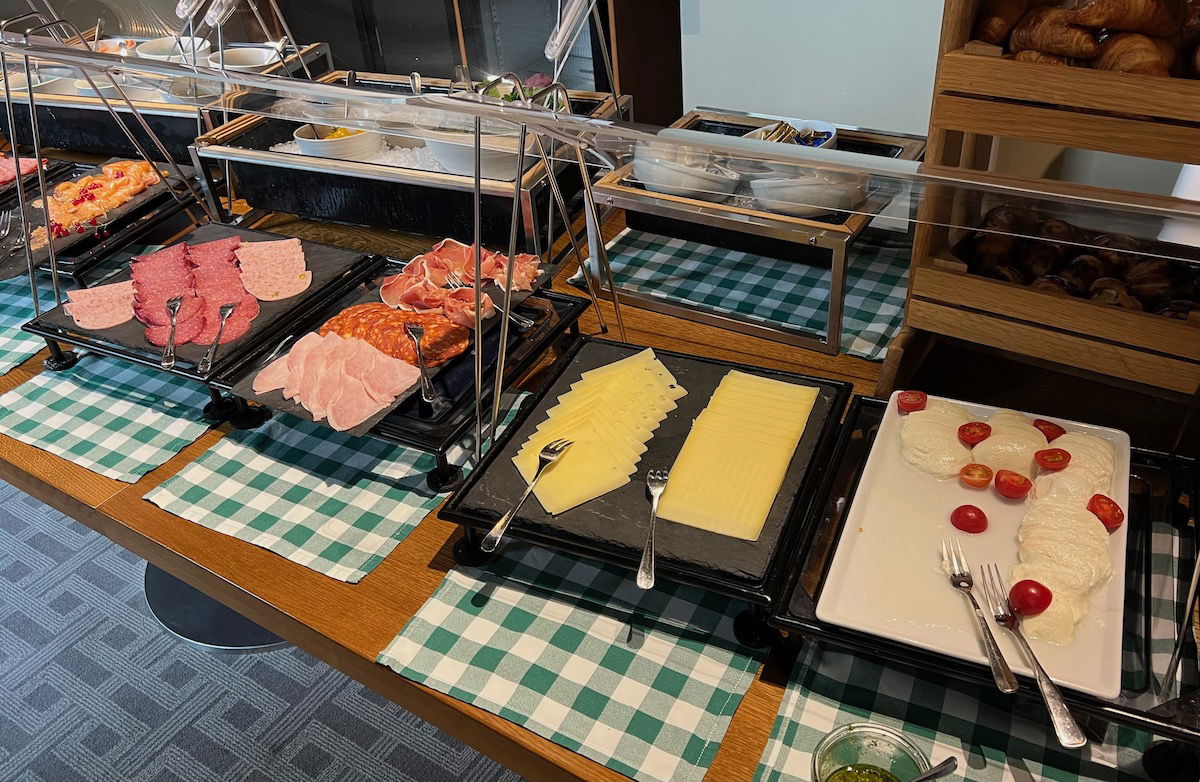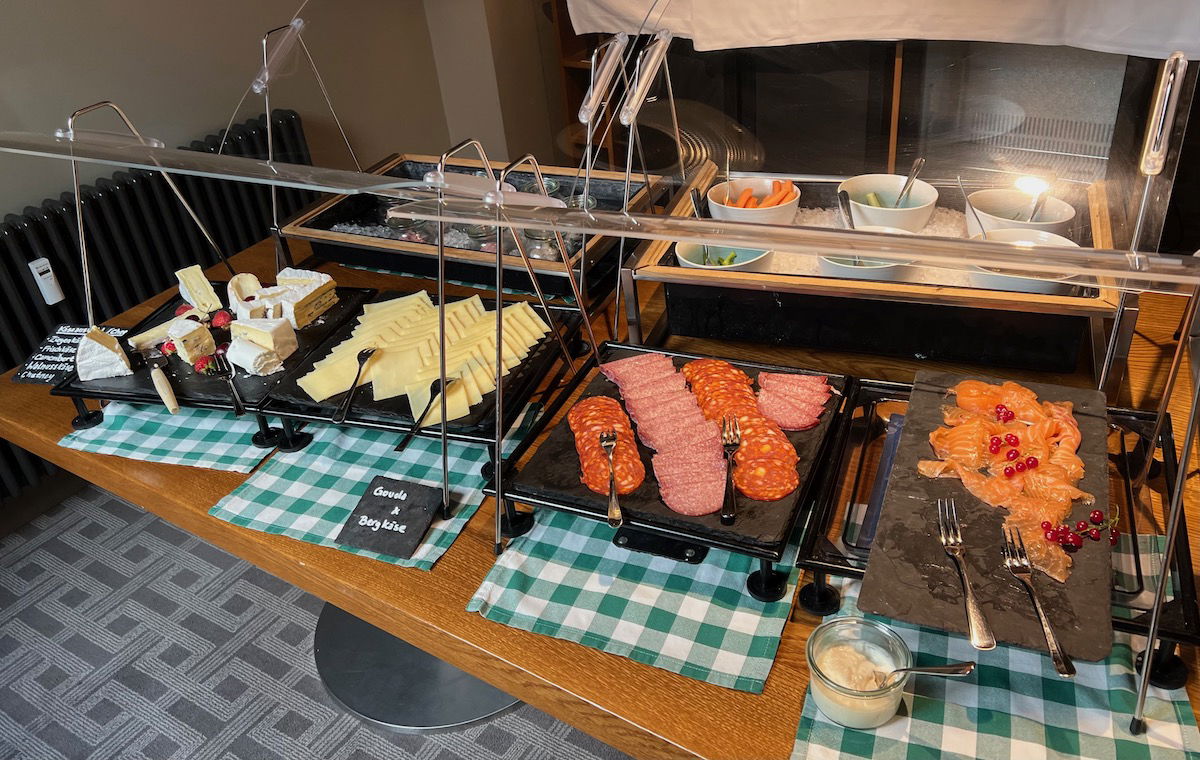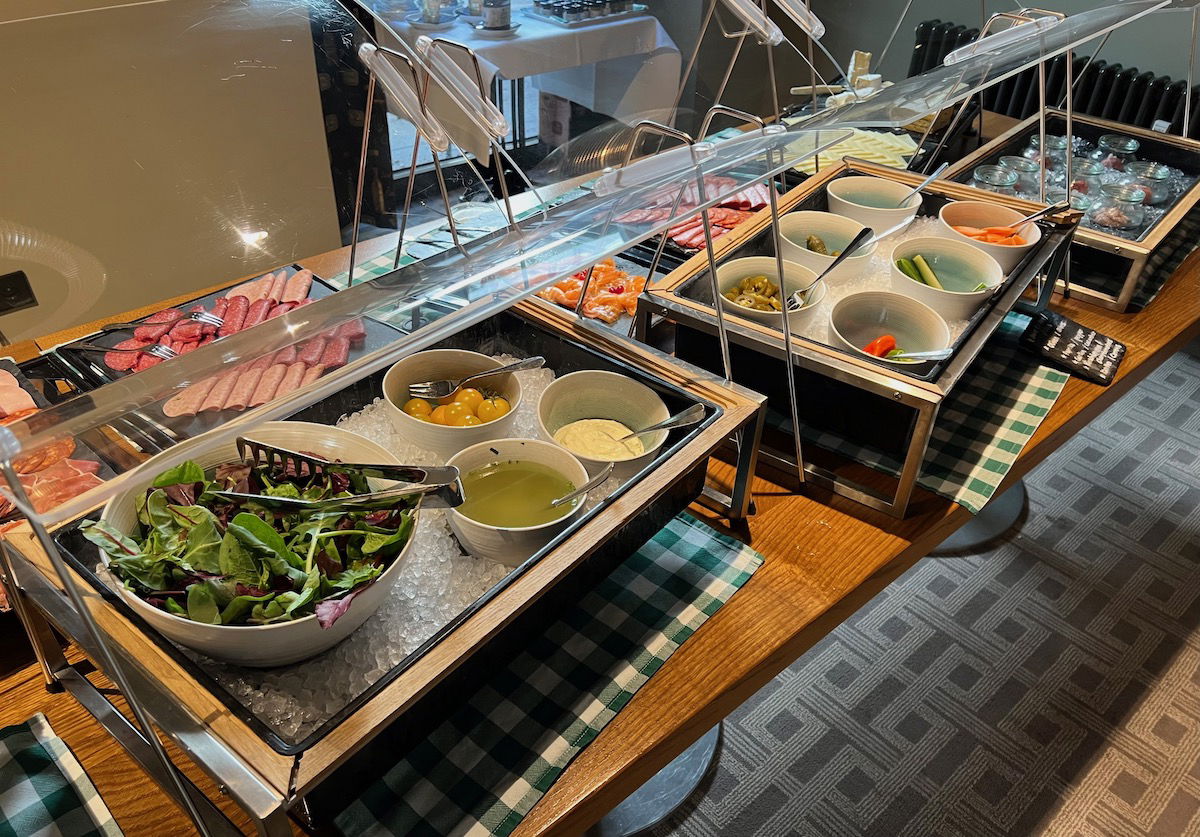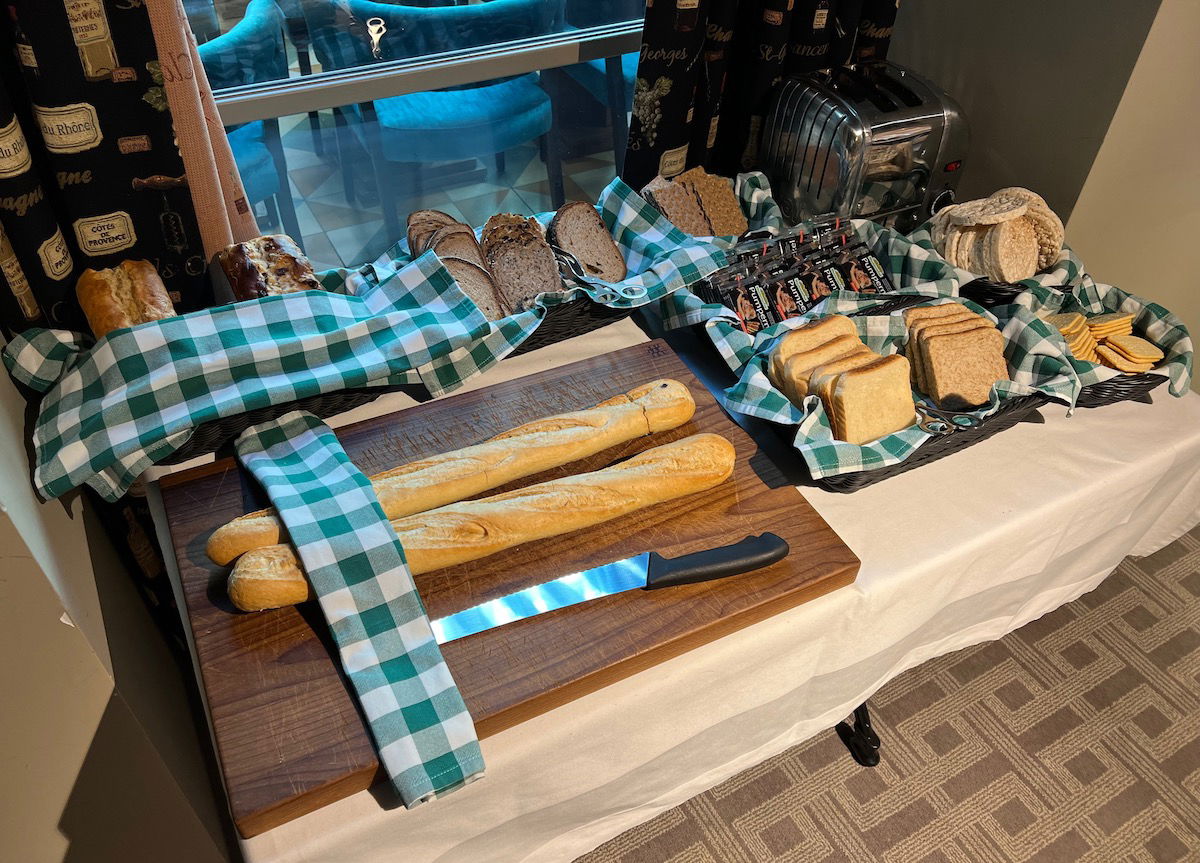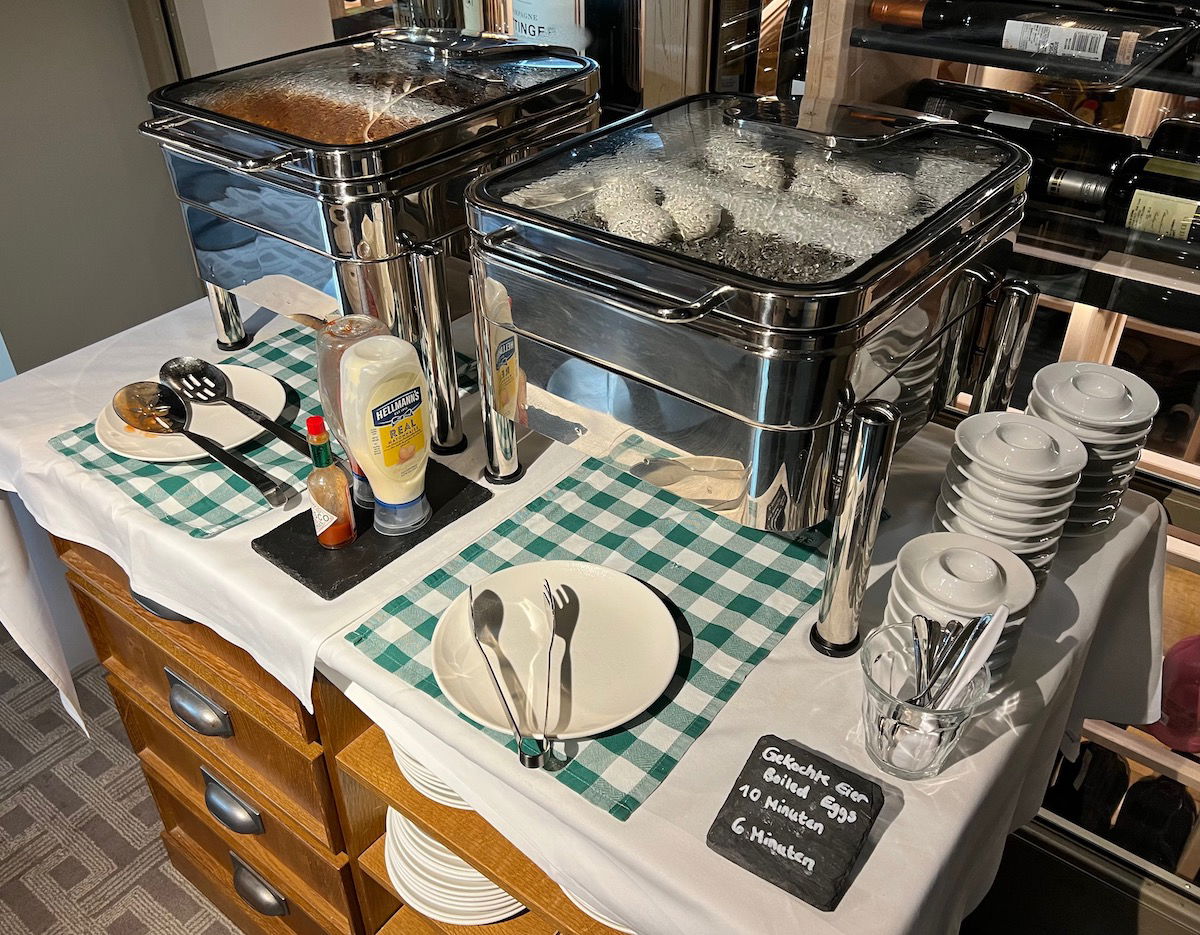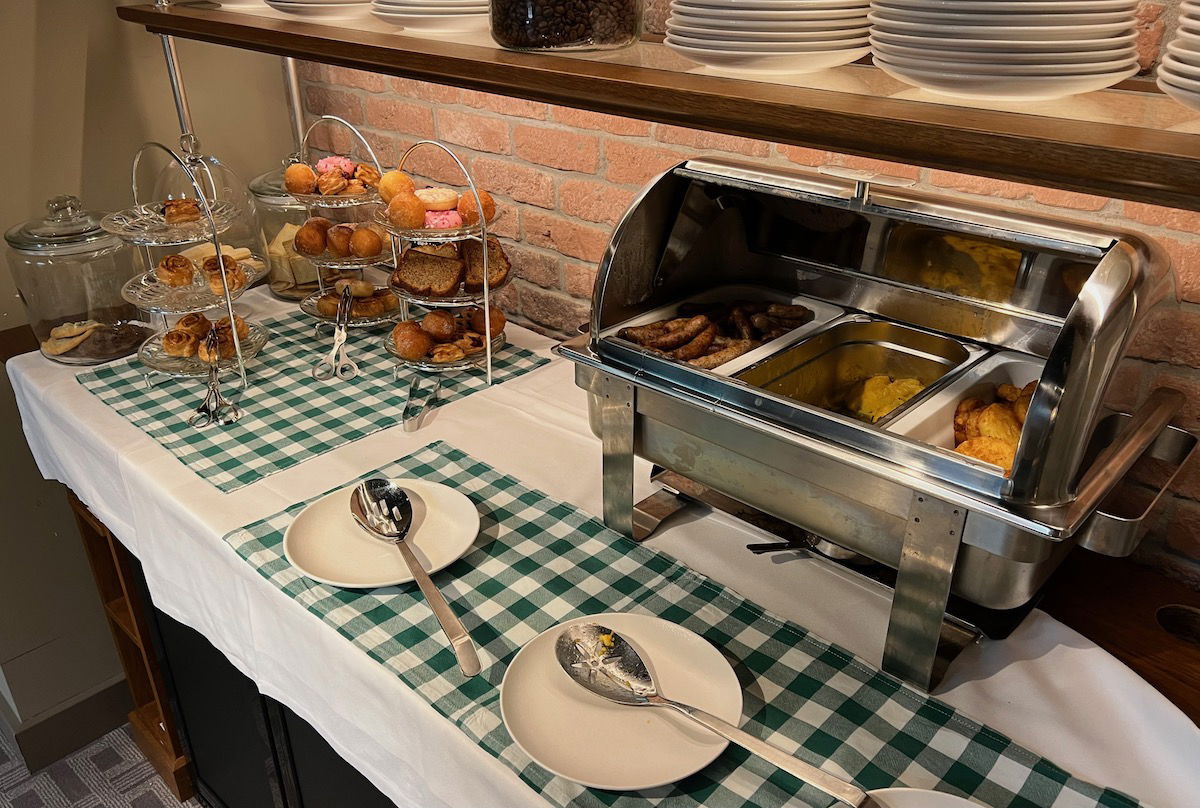 Another room had cereal, yogurt, fruit, muesli, and fresh juices.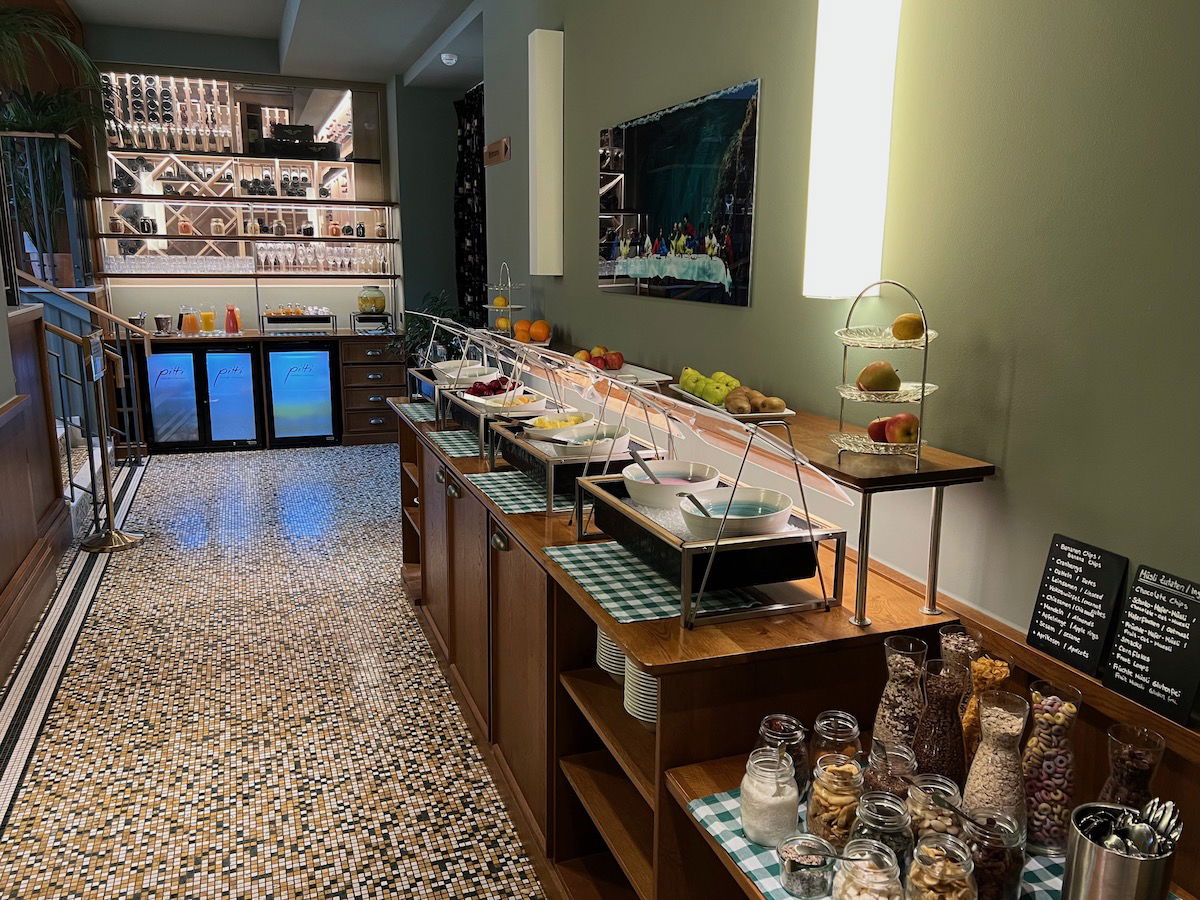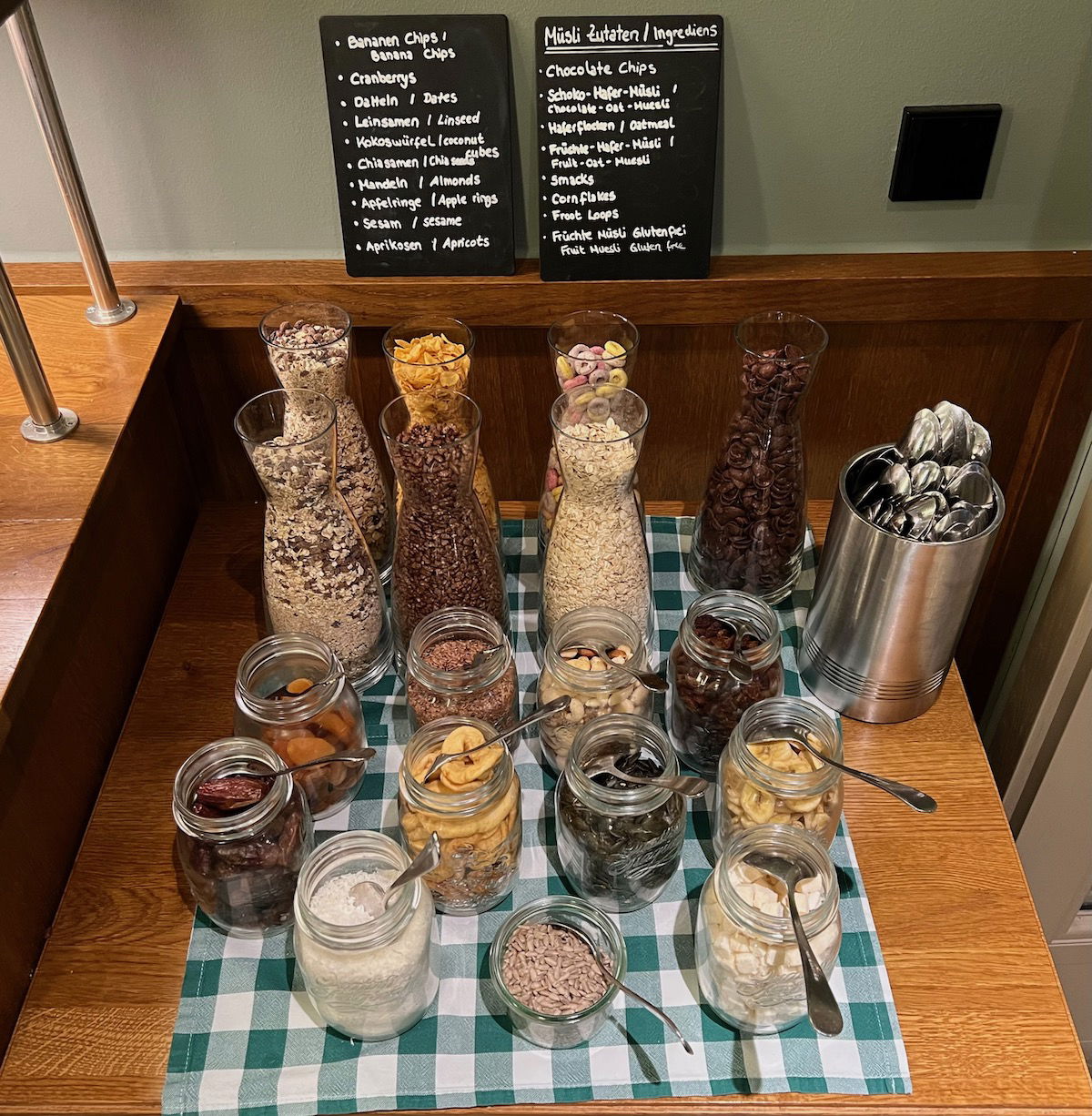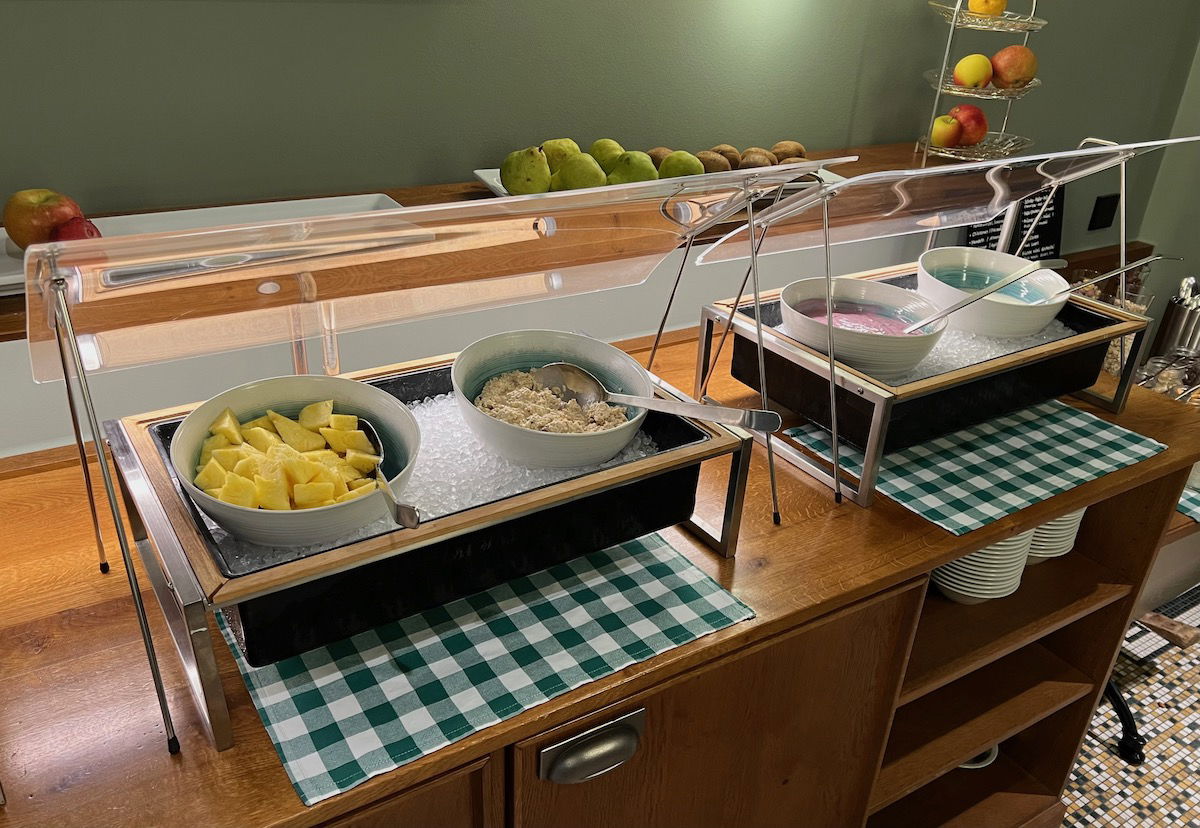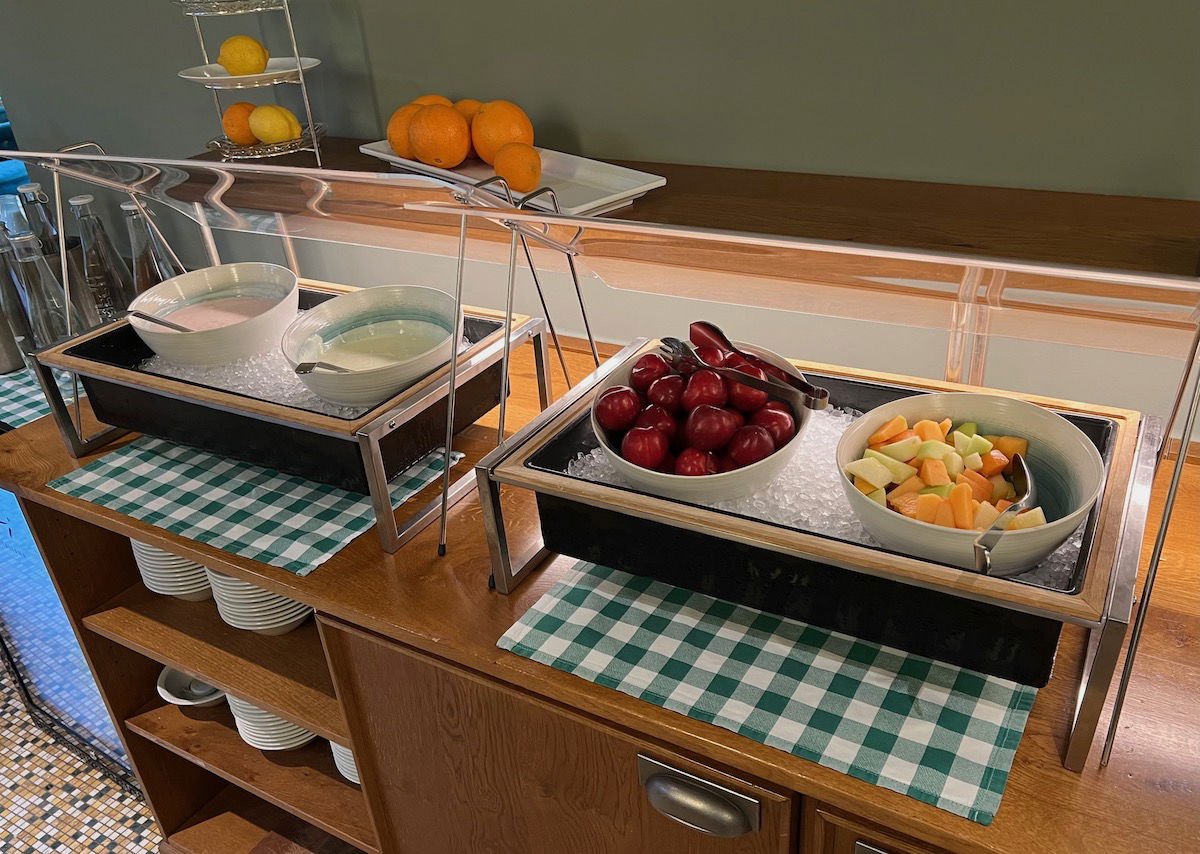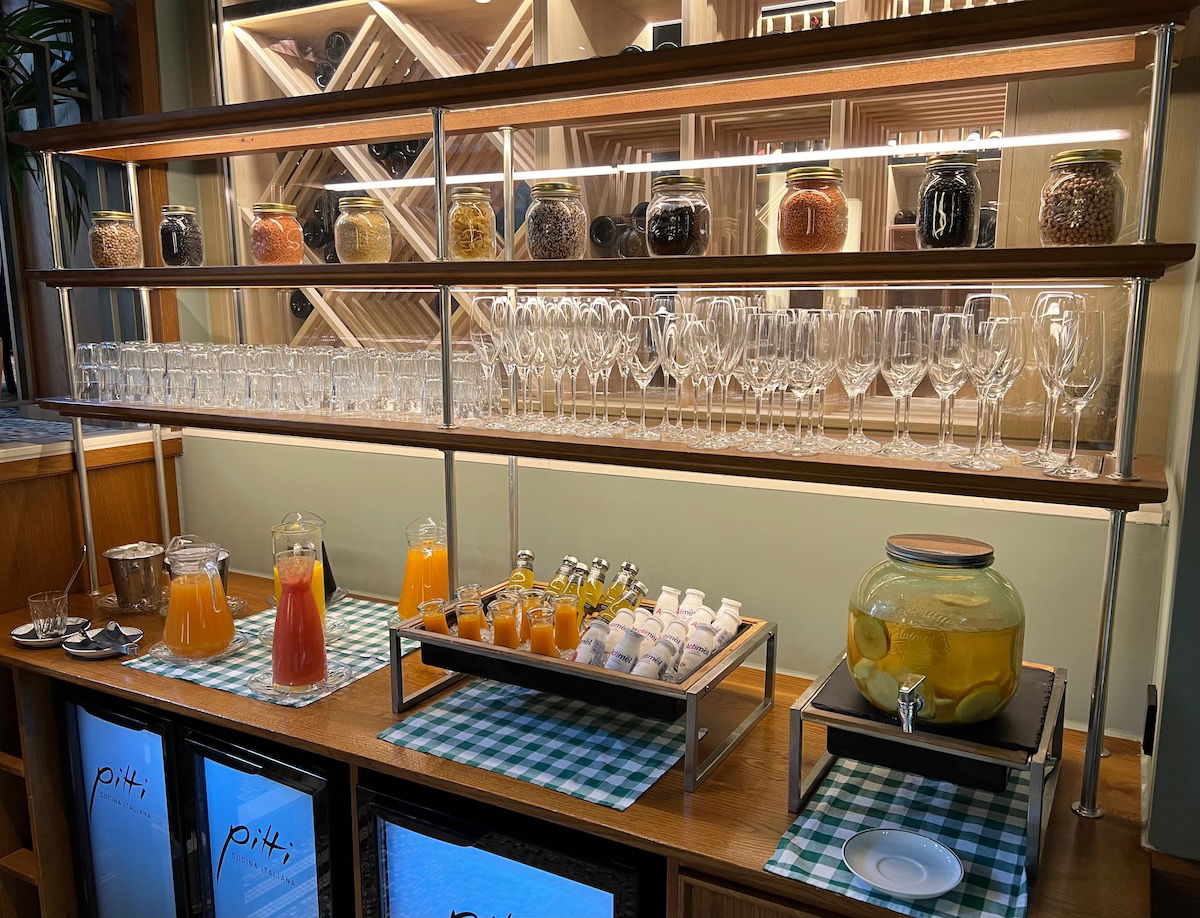 I was delighted to see the restaurant's coffee menu, and that they had proper barista-made drinks. I had a delicious cappuccino.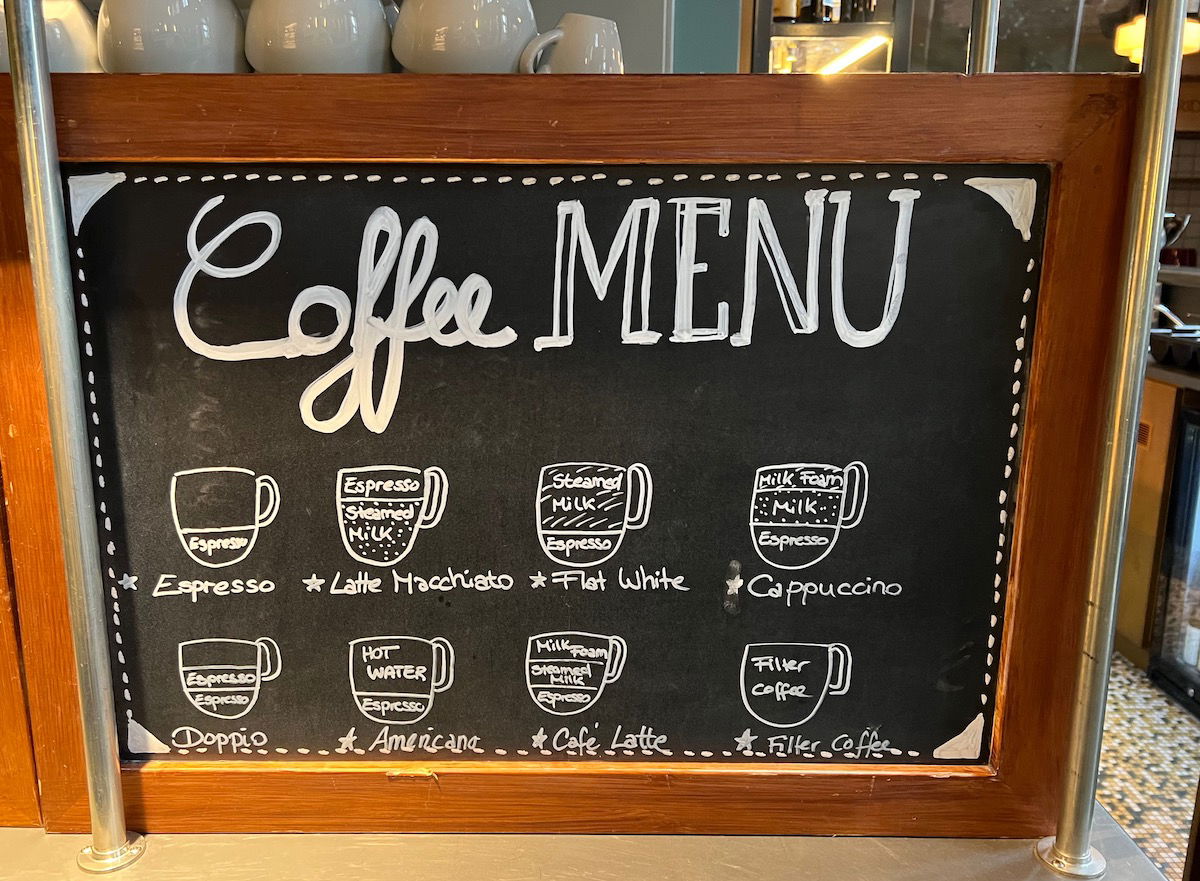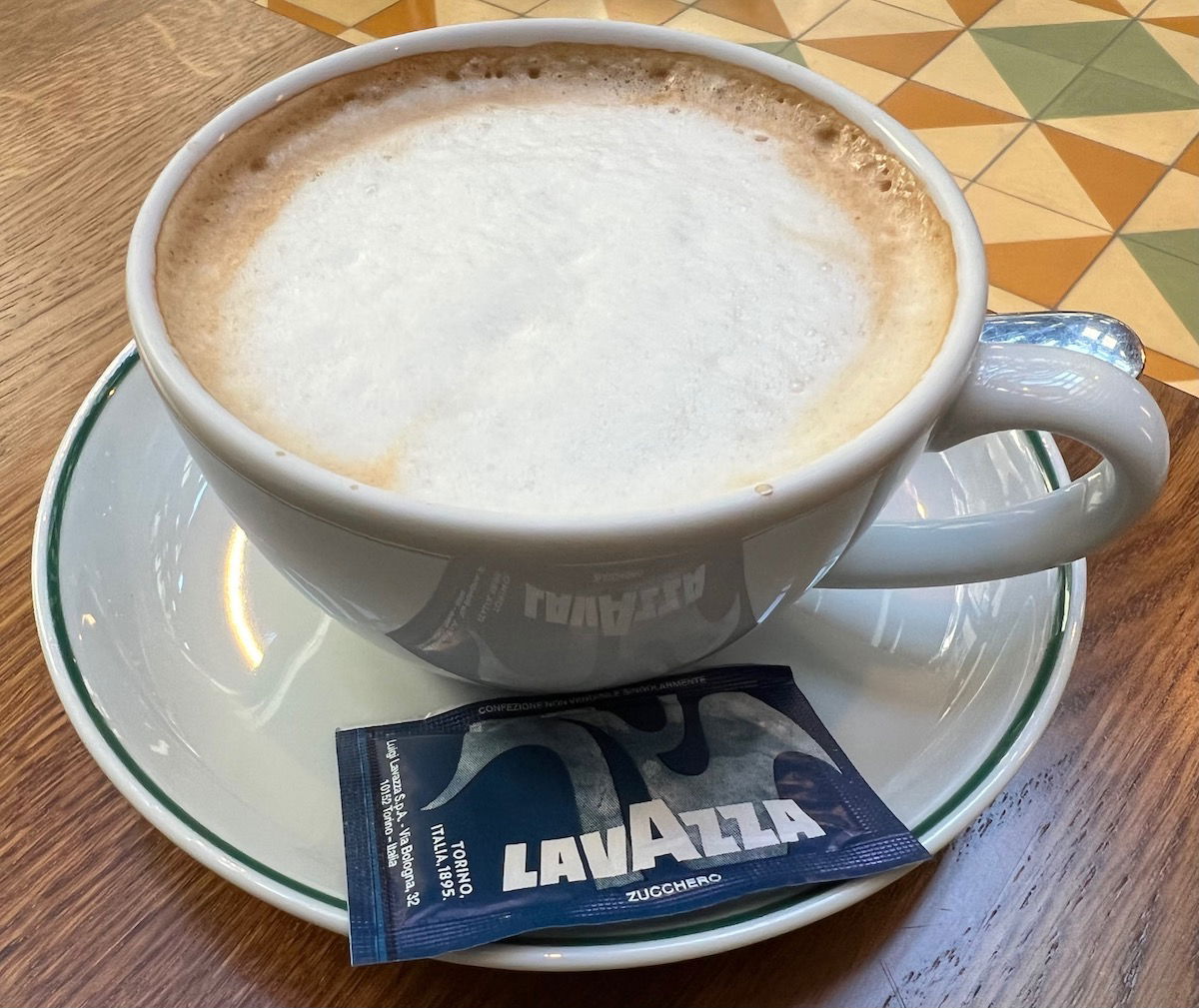 In addition to that, there was a small menu you could order off of, with things like omelets, pancakes, waffles, etc.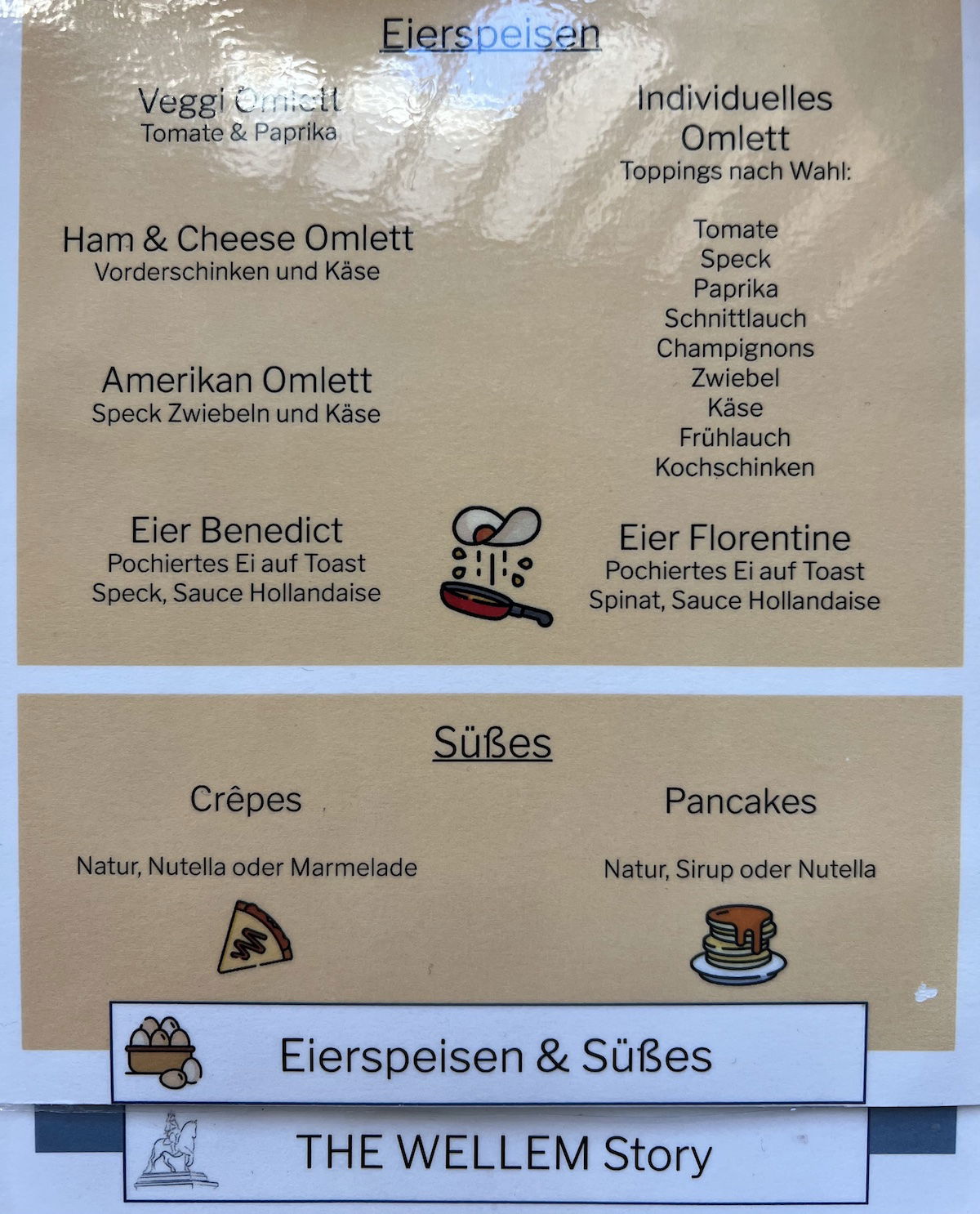 I ordered a veggie omelet each morning, which I enjoyed.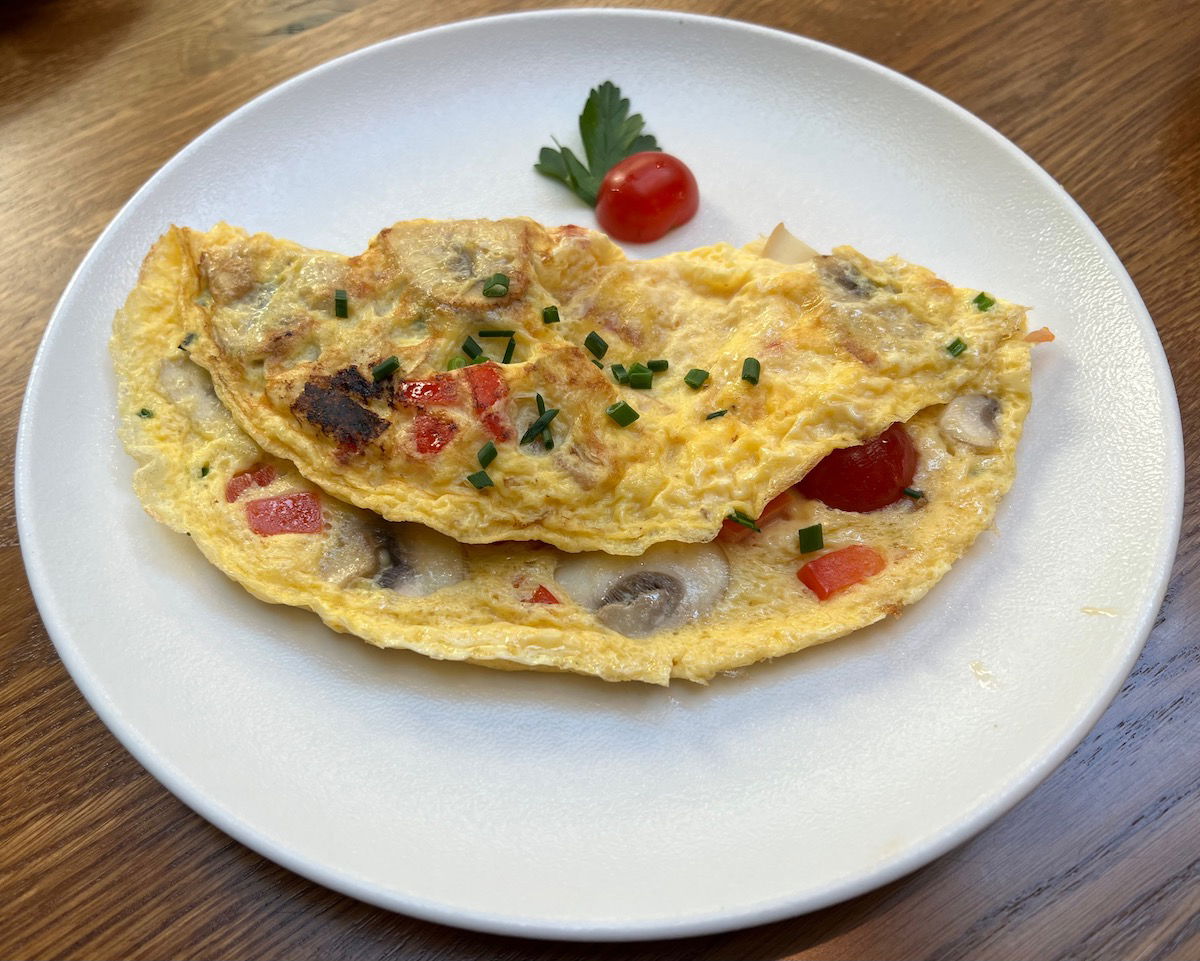 As far as the breakfast experience otherwise goes, the first morning there was almost no one at breakfast, while the second morning the restaurant was so full that we could only get a table in overflow seating. The second day it was tough to get any service — the servers were friendly, but two people wasn't enough for the number of people.
The Wellem Dusseldorf The Wellem Bar
The Wellem Bar is located in the lobby on the ground floor. Given how spectacular the lobby is, this space doesn't really do much to take advantage of that, as it has no views of the large open space.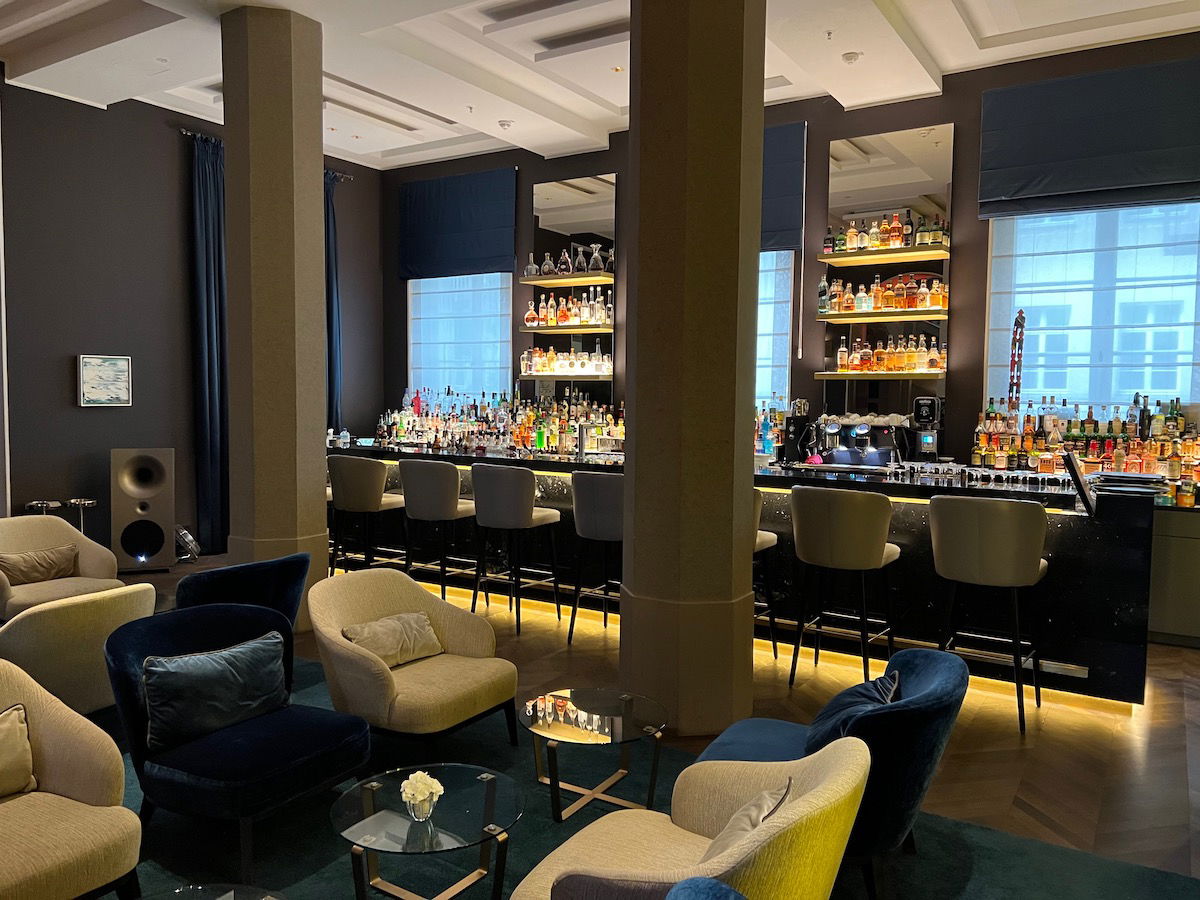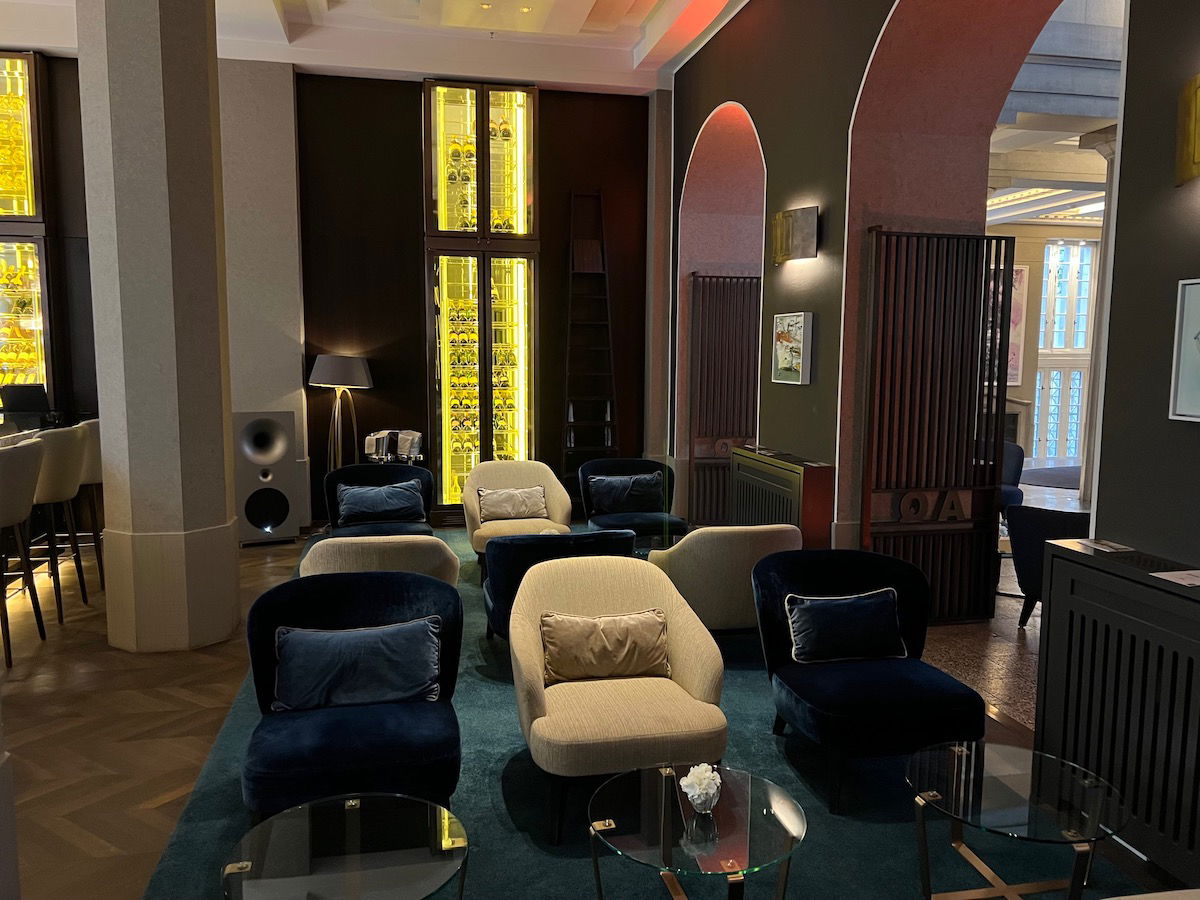 There were also a few seats outside right at the entrance of the hotel, where you could order drinks as well.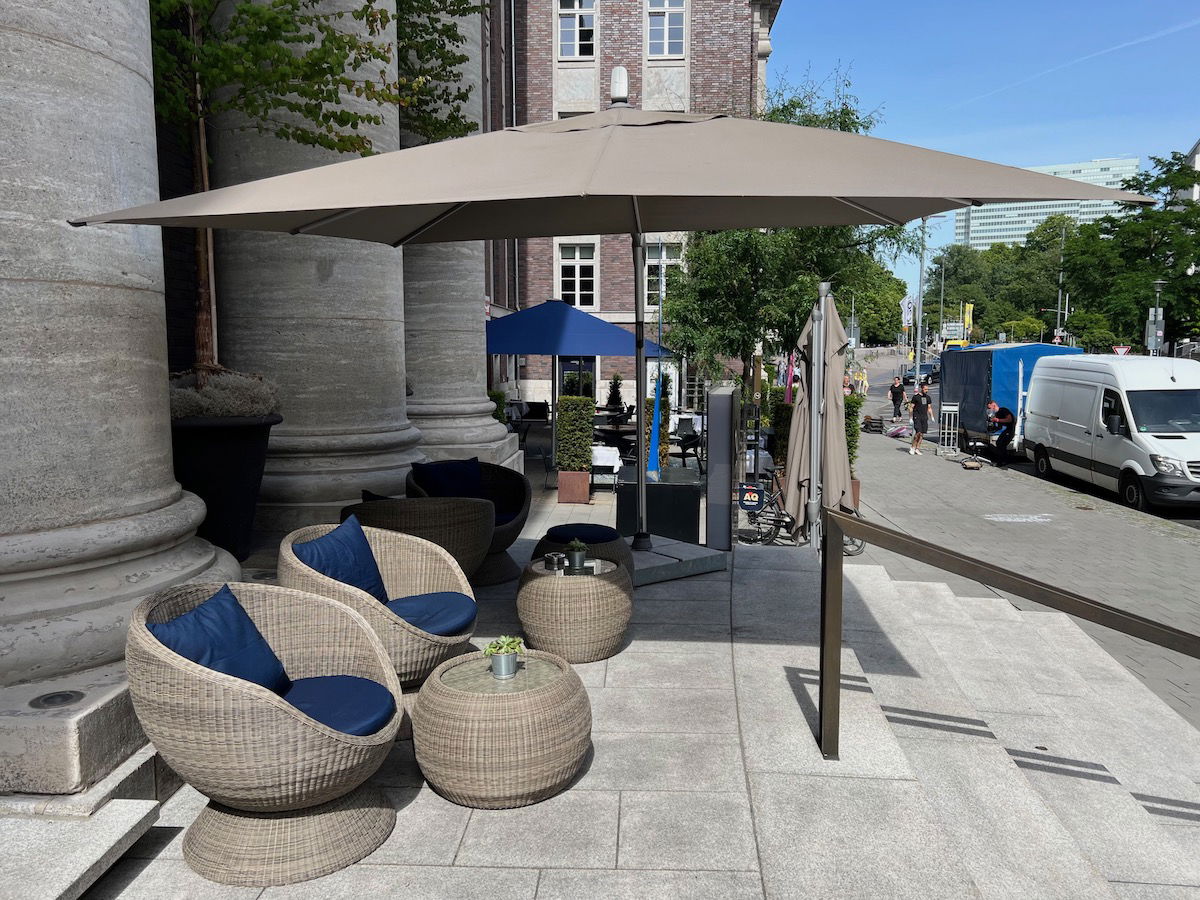 The Wellem Dusseldorf MASH (Modern American Steak House)
Our first night we ended up having dinner at MASH (Modern American Steak House), one of the hotel's restaurant. You can find the menu here. It wasn't initially our intent to dine here, but a series of circumstances lead to that.
We were going to go to Bar Olio (one of our favorites in the city), but we walked there and found it to be closed without notice for the evening. Then because our checked bags were delayed, Ford only had shorts, and some restaurants in Germany are weird about dress codes.
After unsuccessfully trying to get a table at several other restaurants, we just gave up, and got a table outside at MASH. There was only one other table occupied at 8PM on a Thursday evening, which probably should have been a sign.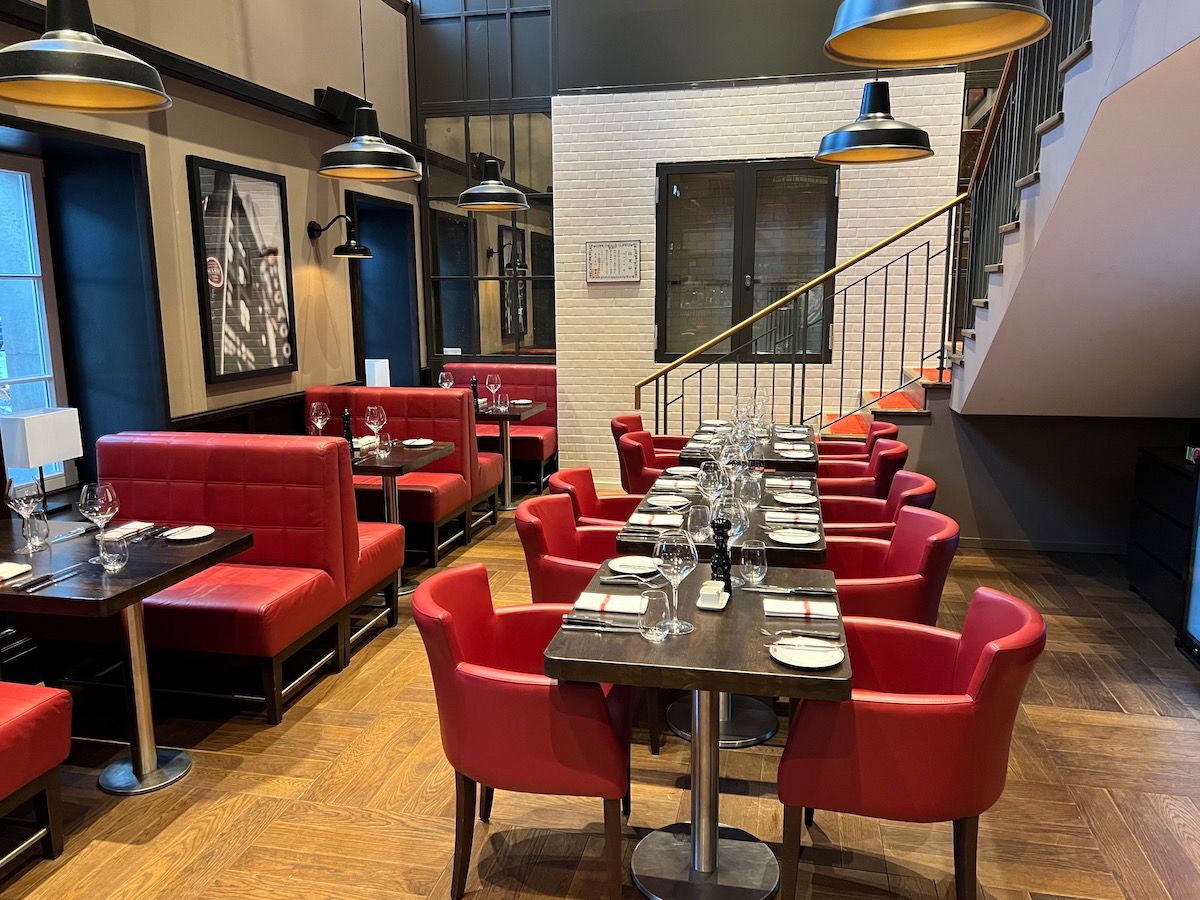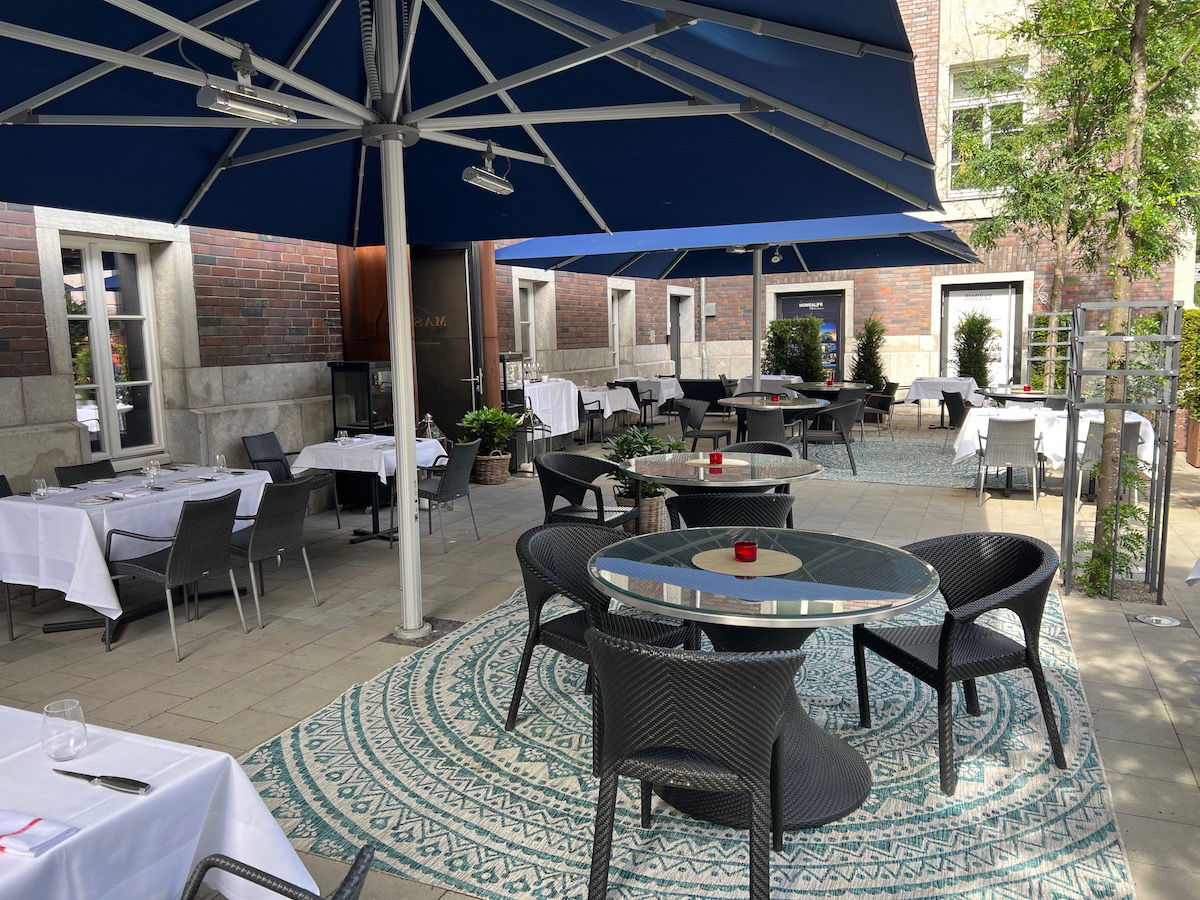 There was only one guy working there, who did just about everything, and he was super nice, but it all felt a bit disorganized. First Ford tried to order a negroni, which was the first cocktail on the menu, and they didn't have that. So we ordered aperol spritzes instead, which weren't particularly generous pours.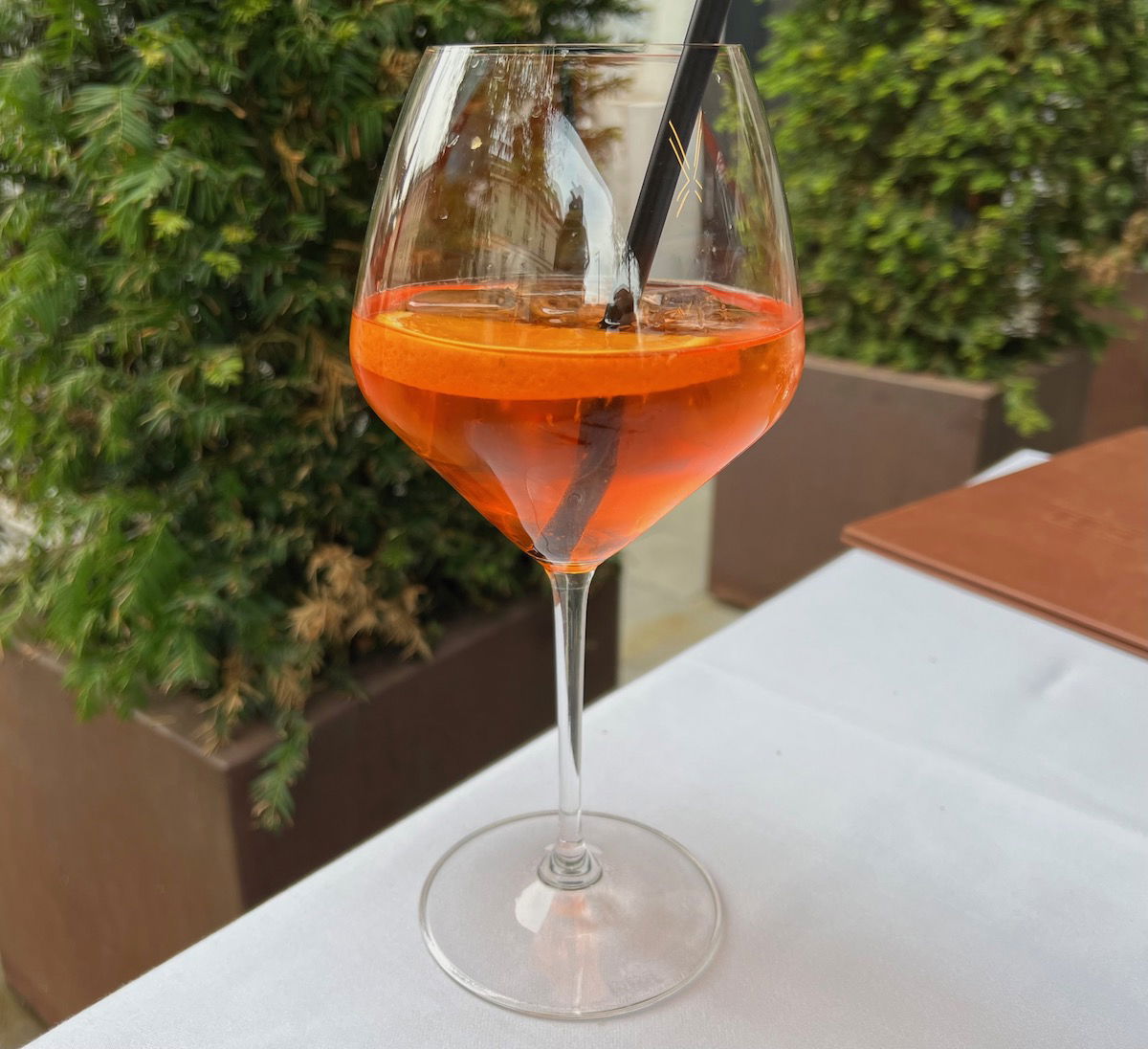 For starters, we ordered the tuna tartare and a salad. It seems that the restaurant is working with limited ingredients, because the tuna tartare essentially came with a very similar salad as a side.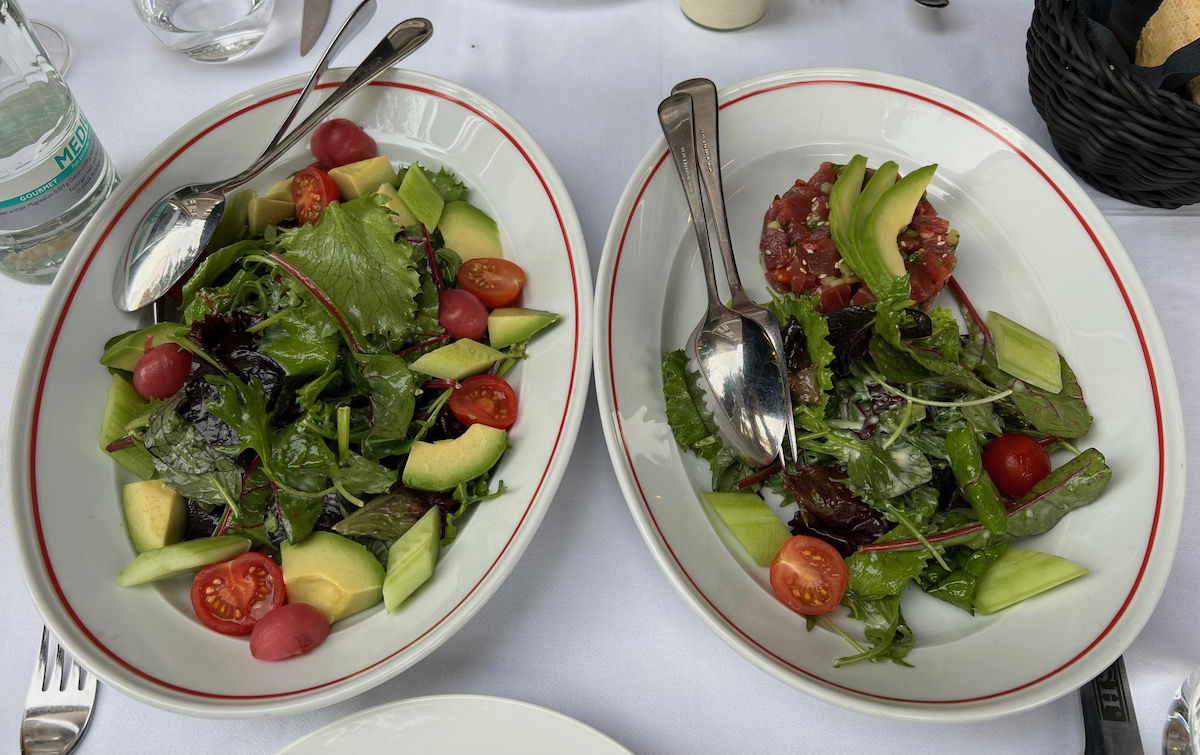 For the main, I tried to order the one vegetarian option, risotto. They were out of that as well. Since neither of us wanted a proper steak, we instead ordered burgers, which were okay.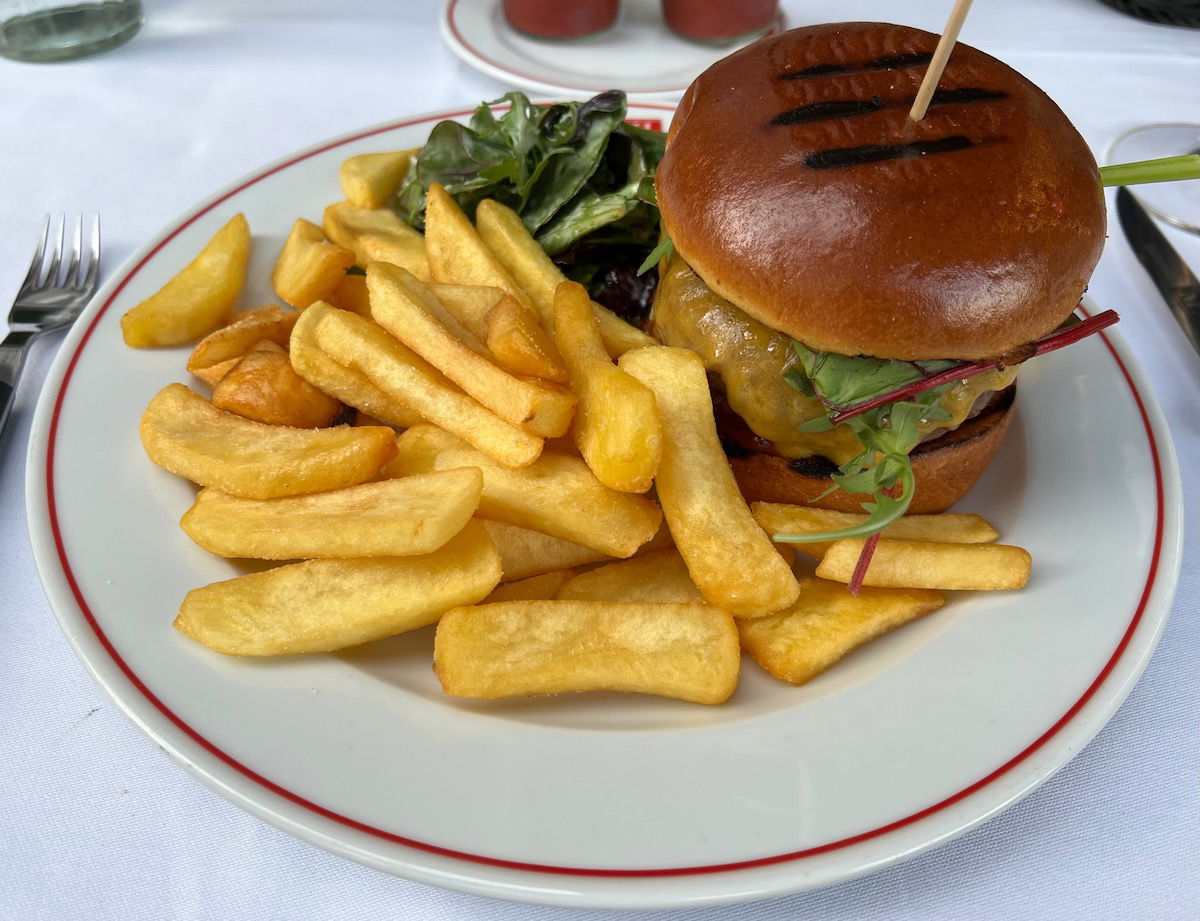 The whole experience was just strange. The chef came out after the meal to proudly see how we were enjoying the meal, as you might experience at a fine dining restaurant. While I can appreciate the intent, it's a bit odd when you just have an okay burger, and the things you wanted to order weren't available.
The Wellem Dusseldorf gym
The Wellem has a gym on the basement level, open 24/7. We used the gym twice, and found it to be pretty nice, with a good selection of cardio and weight equipment.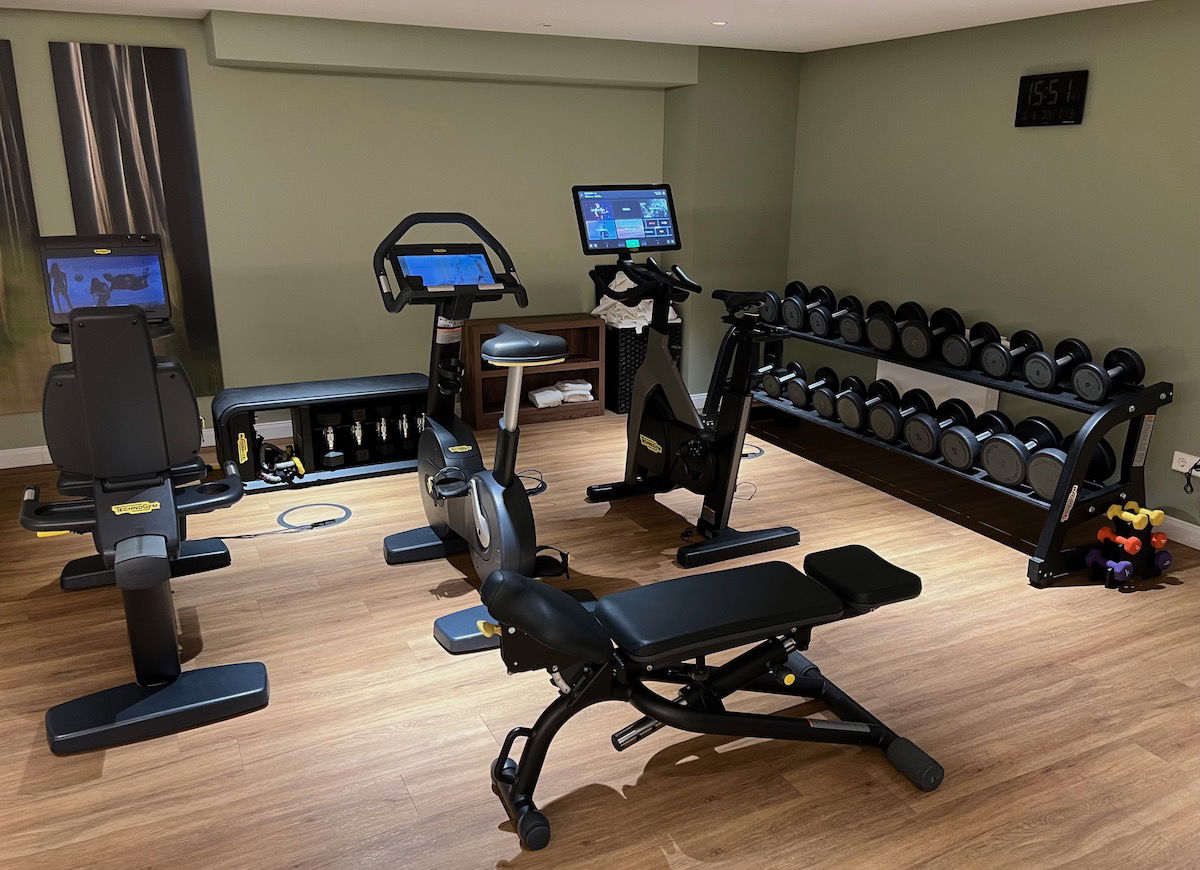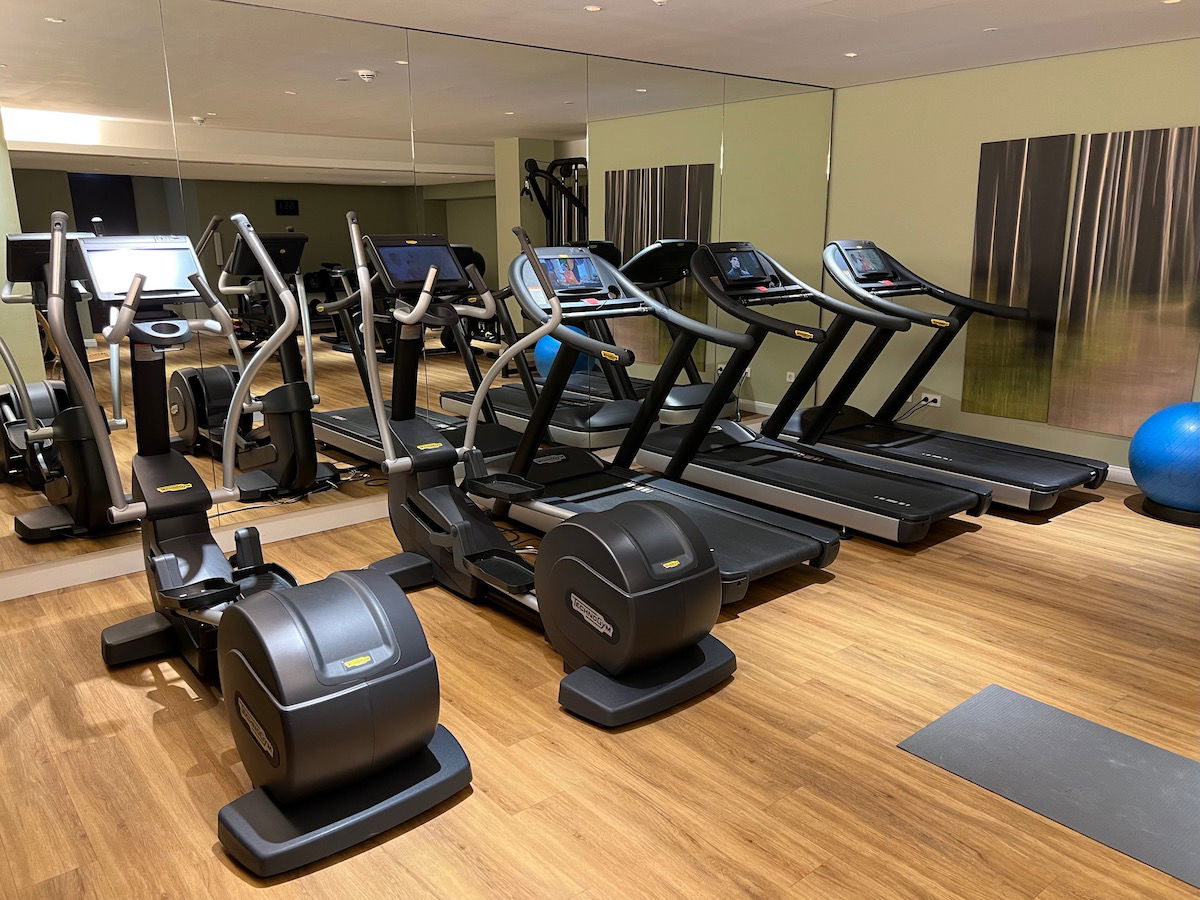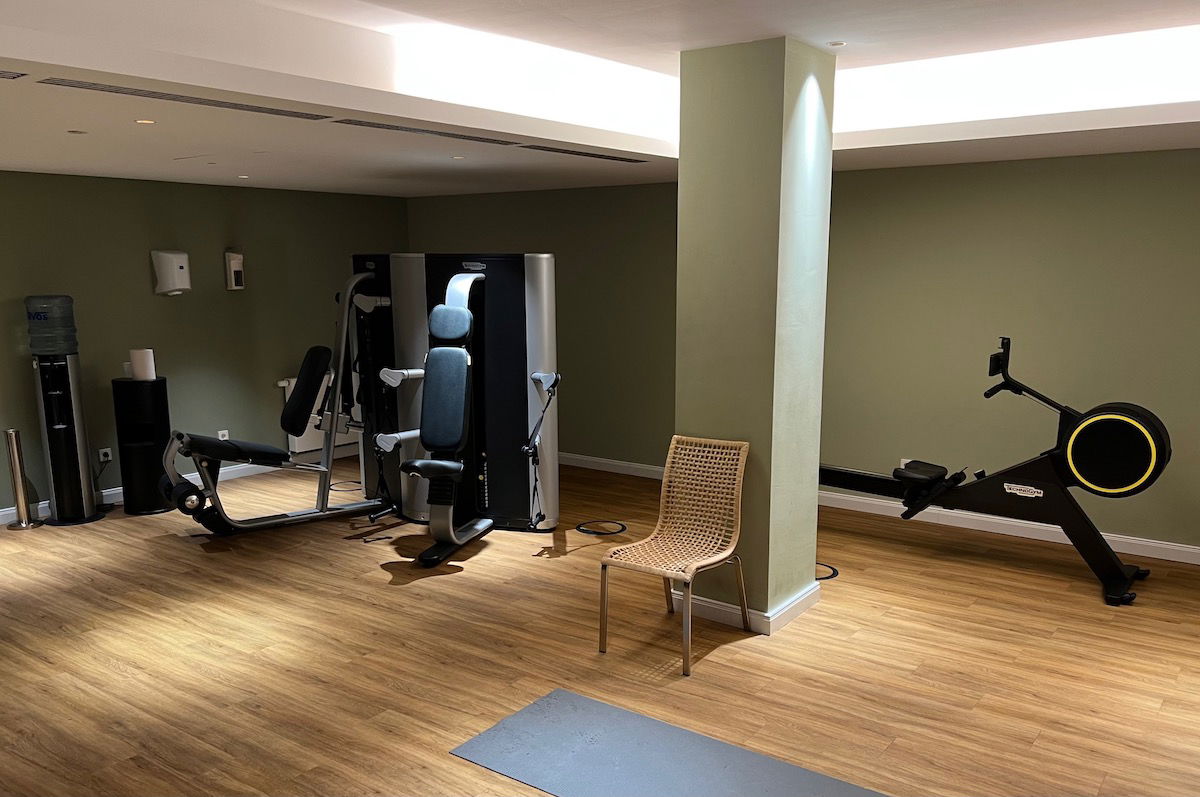 Bottom line
The Wellem Dusseldorf is a physically stunning hotel, in a 100+ year old courthouse with a beautiful lobby. The hotel offers large and nicely appointed rooms with washing machines, and it couldn't have a more central location. Breakfast at the hotel is excellent as well.
All that being said, I can't make sense of this hotel. First of all, I can't make sense of why this was ever a Hyatt House. Yes, the rooms have kitchenettes, but this isn't otherwise a limited service and generic property. Even with the rebranding, the hotel seems to be suffering with giving this place a pulse.
There's so much unrealized potential in this hotel, yet I find the current state of it to just be kind of sad. Every time you walk into or out of the hotel, you feel like you're entering a closed museum. That's not going to bother everyone, but it does take some of the fun out of a stay for me. It's a good hotel, I just feel like it could be so much better with a different vision.
Still, this is in many ways a great hotel, and I'm sure others will enjoy staying here. Personally I continue to love the Hyatt Regency Dusseldorf, and this stay reaffirms that that's the property for me. It's consistently cheaper too when paying cash, so that's all the better.
Maybe I'd have a more favorable impression of this place if I didn't like the Hyatt Regency so much (one could even say too much, because it's not actually that special, it just works for me and feels like home).
What do you make of The Wellem Dusseldorf?