You know that Emirates commercial starring Jennifer Aniston, where she asks the crew member at the A380 bar "hey, is there someone we can talk to about maybe flying this around a bit longer before we land?" Well, that's exactly how I felt after flying Emirates' A380 first class from New York to Milan.
Emirates' A380 first class is the most fun way to fly
On Tuesday night I flew Emirates first class from New York to Milan (I know I've reviewed Emirates first class many times before, but there's a very special reason I took this flight, which I'll share in the next installment), and it left me with a very different feeling than my typical Emirates first class flights.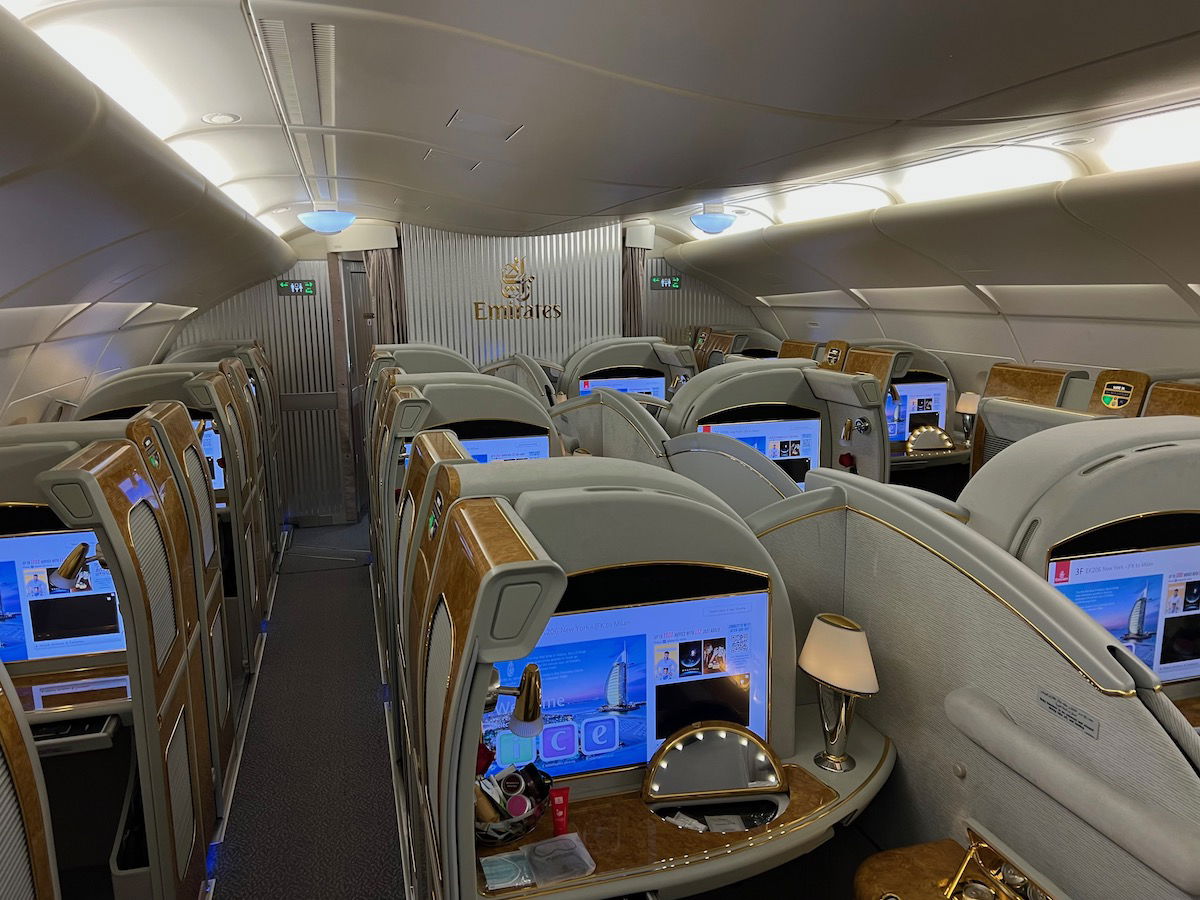 A vast majority of Emirates' routes from the United States are to Dubai, and those flights typically take anywhere from 12 to 16 hours, which is plenty of time to enjoy the experience. After all, there's so much to do in Emirates first class, from the inflight shower, to the onboard bar, to endless entertainment, to incredible drinks and solid food.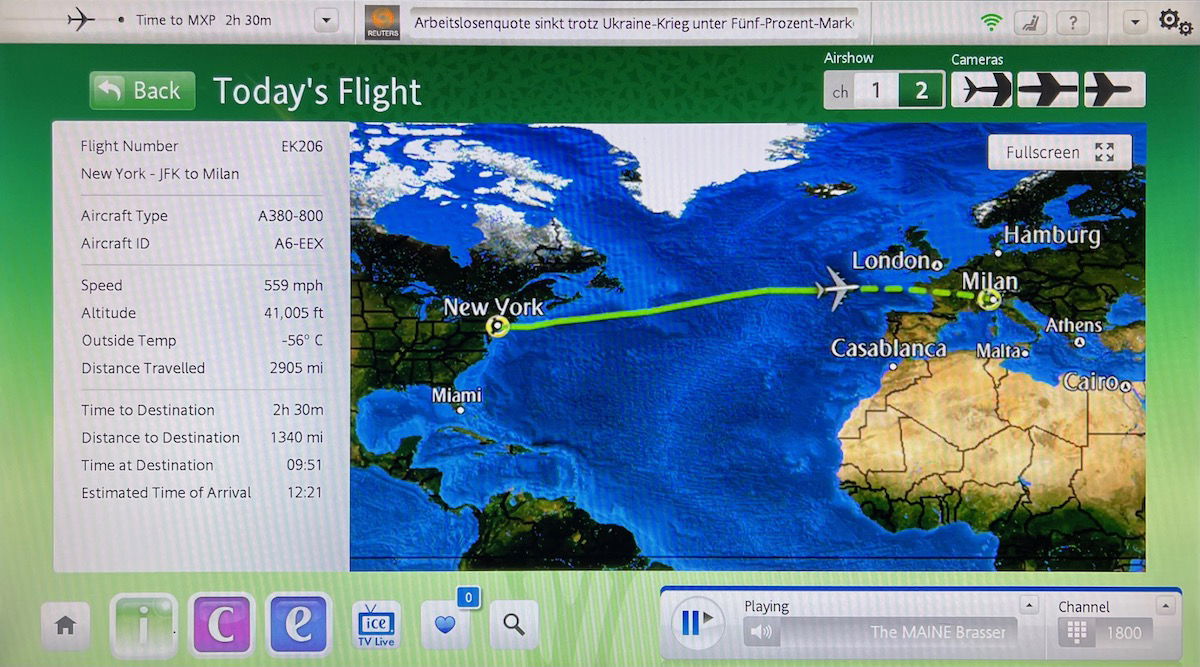 However, Emirates also operates two routes between the United States and Europe, including an Airbus A380 service between New York and Milan. This flight takes just over seven hours, departing at around 11PM and arriving at around 12PM the next day.
This presents a real (non-issue) issue:
First and foremost, the beauty of flying in a premium cabin is the ability to get a proper night of sleep; this flight is perfectly timed for getting a great night of sleep… and nothing more
But the beauty of flying Emirates first class is showering, going to the bar, enjoying caviar and Dom Perignon, etc.
Usually when you fly Emirates first class to Dubai, you can "party" a bit, then get a solid night of sleep, then shower, and land refreshed. Meanwhile maximizing the experience on the much shorter sector between New York and Milan takes more effort.
How did we maximize this flight?
Prior to the flight, I repeatedly tried to strategize about the right approach to take in order to enjoy this flight by checking of all the A380 features while still getting some rest… and I think we struck the right balance. So I'll share the approach we took (though of course that's not to say you should take the same approach).
We started with some pre-departure water. We didn't order champagne, since Emirates can't serve Dom Perignon until after the door closes on flights out of the US, so you'll only get the business class champagne.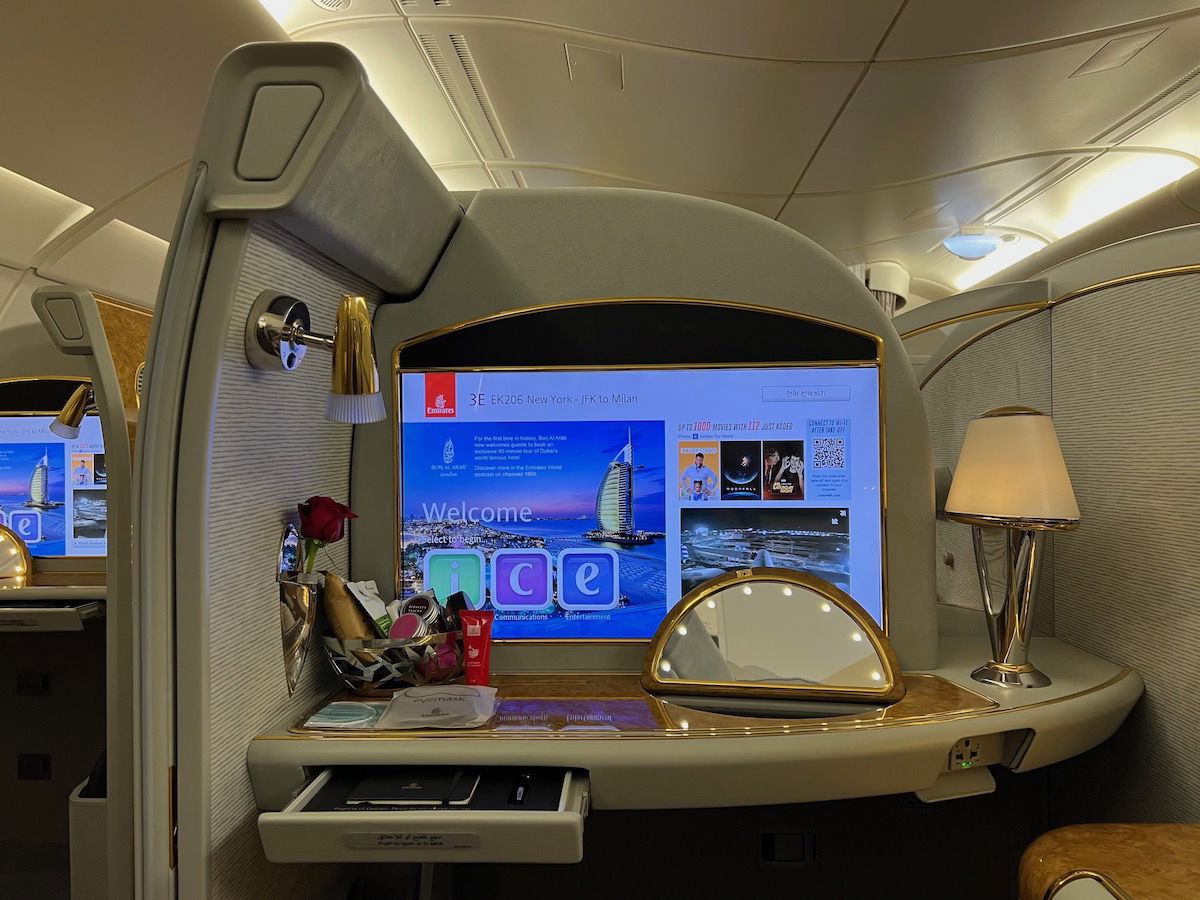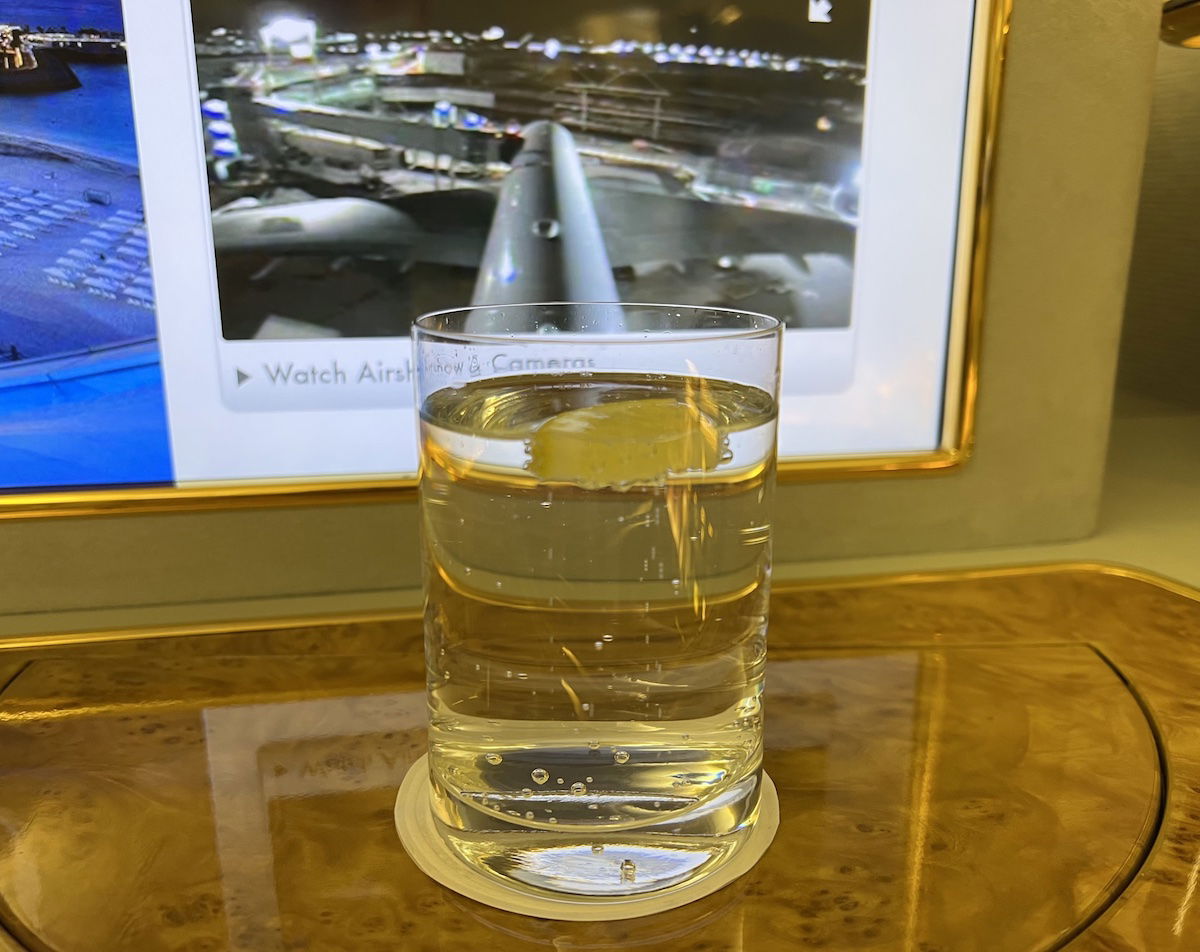 While Emirates has a dine on demand menu, Emirates' first class food isn't actually that amazing, aside from some staples. So we started with the Dom Perignon and the canapés.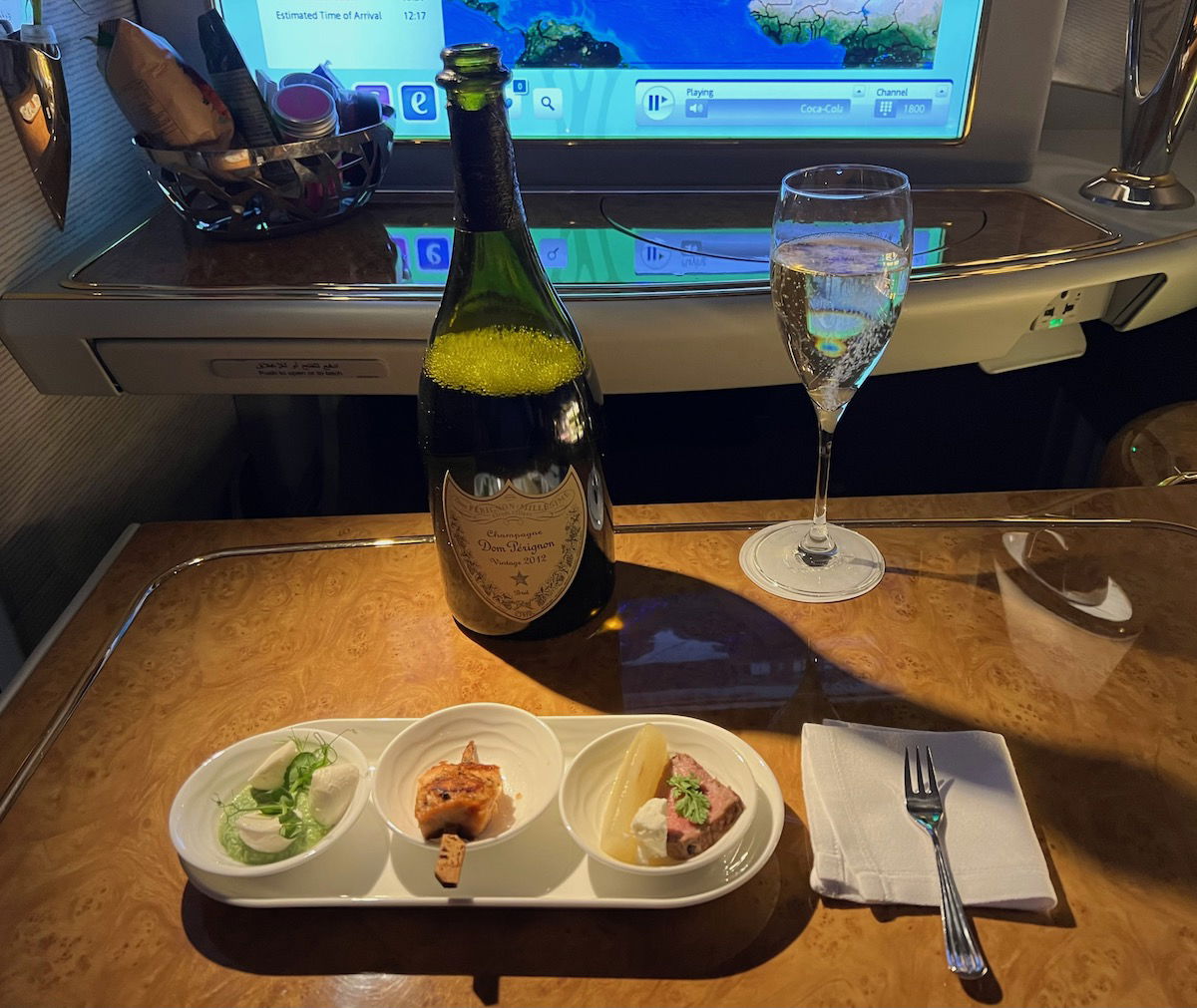 Then we ordered the caviar, and we were offered a double, since they had plenty (in this case there were only five of the 14 seats occupied). 😉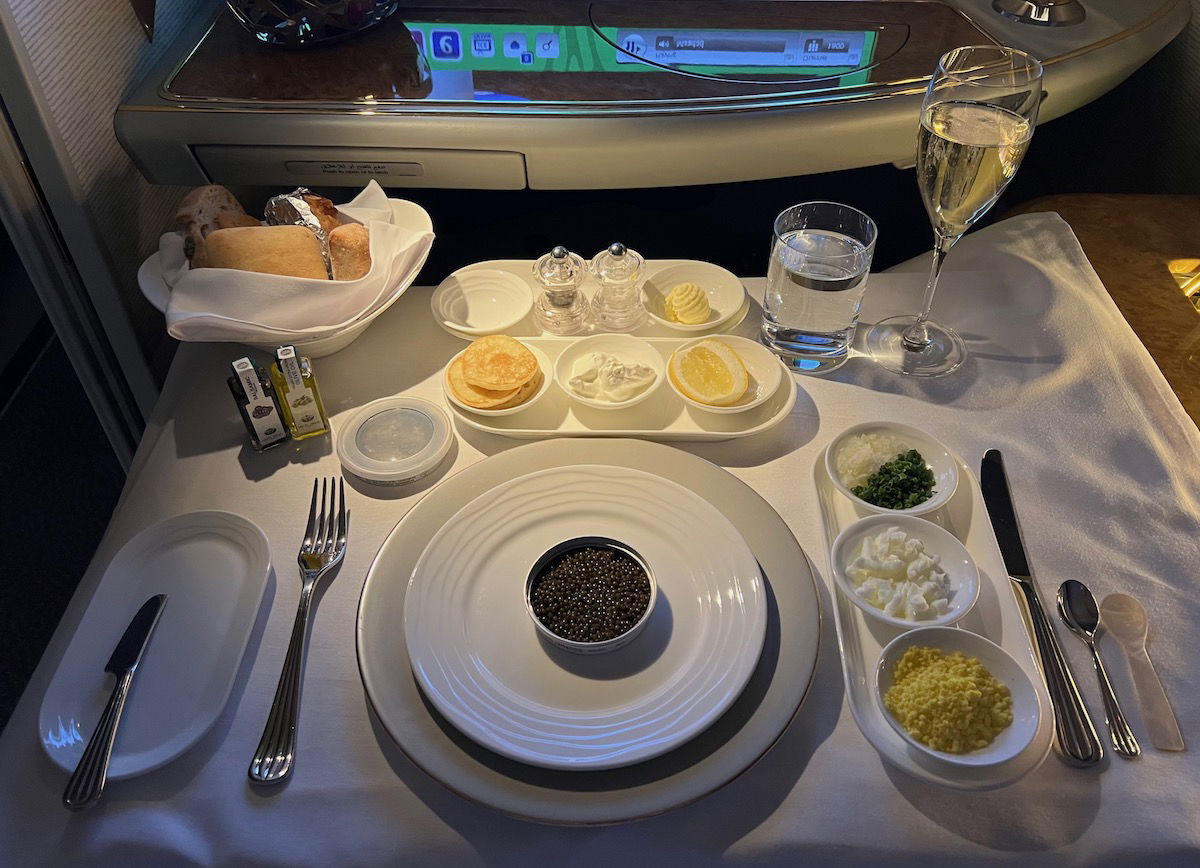 Then we had the Arabic mezze, which is consistently excellent.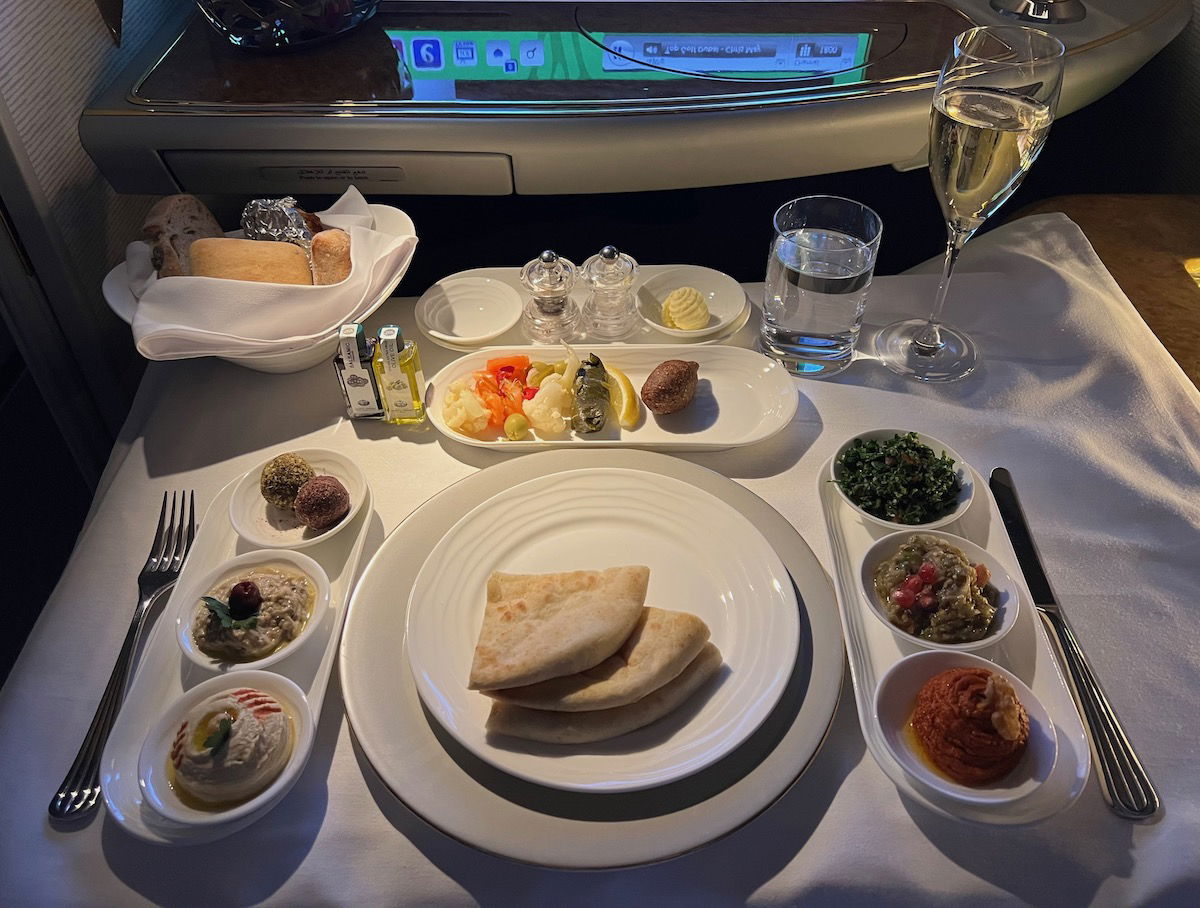 While we could have enjoyed a full meal, I don't generally want to eat that much before going to sleep, and frankly Emirates' first class mains aren't really that great. At this point we headed back to the business class bar. It was the ideal time to go as an introvert, since at this point all the business class passengers were back at their seats, as the meal service was well underway (since there's no dine on demand).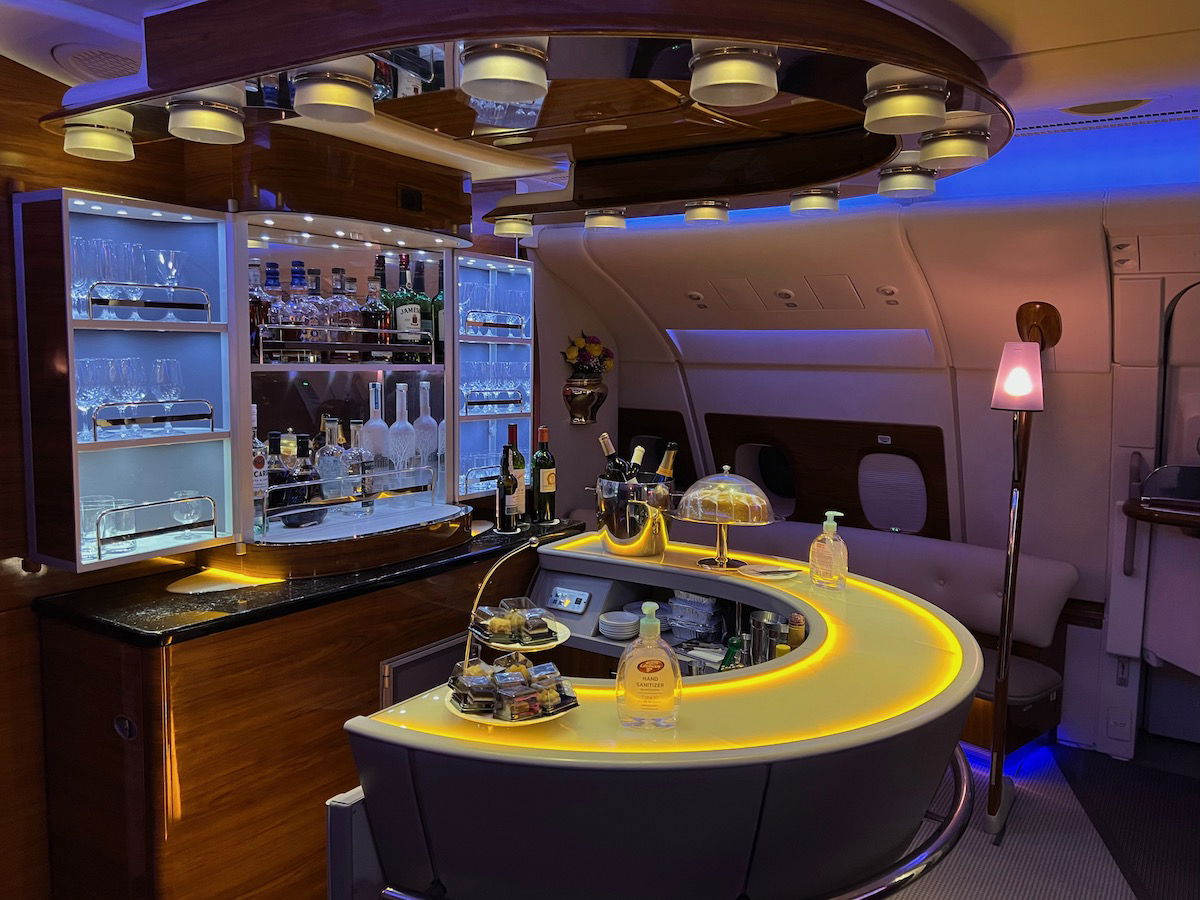 At the bar, we had a champagne cocktail with Dom Perignon and Hennessy Paradis. After all, it's criminal to fly Emirates first class and not have at least a sip of the world's most expensive beverage available in the sky. 😉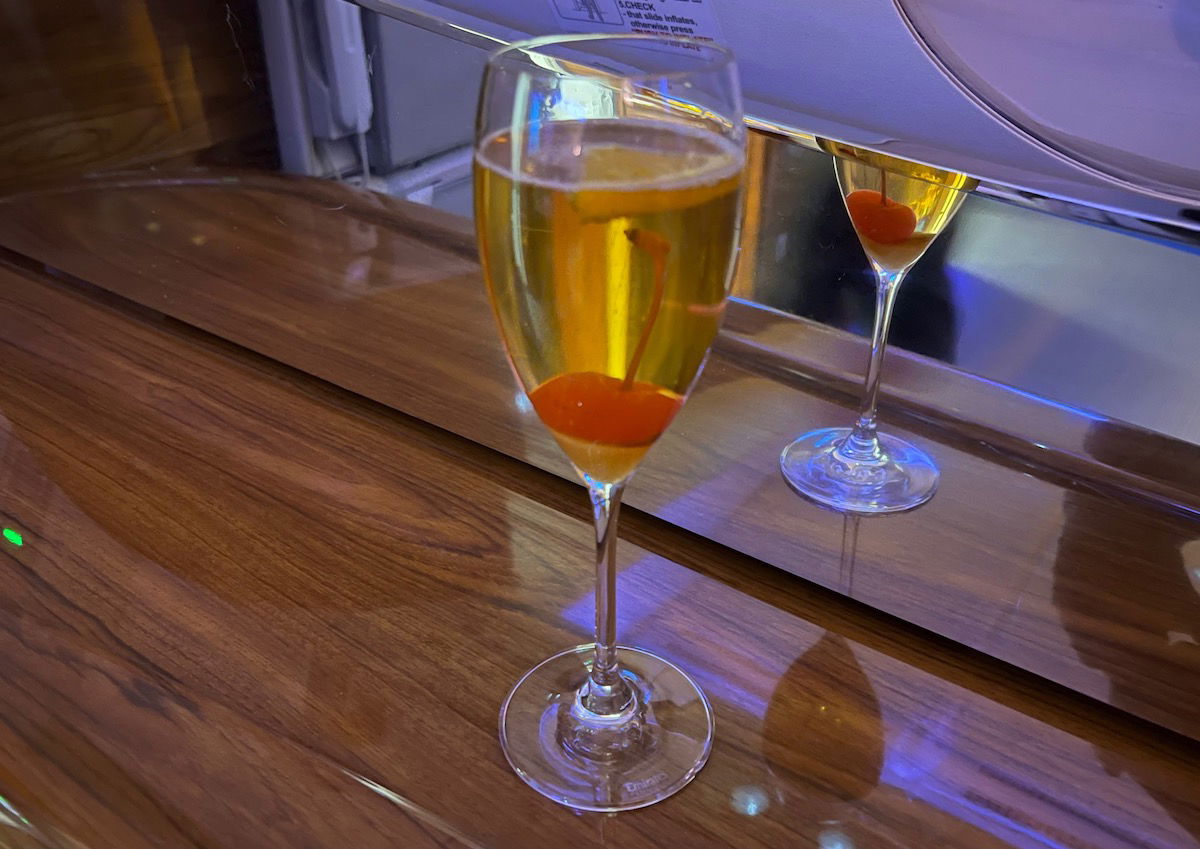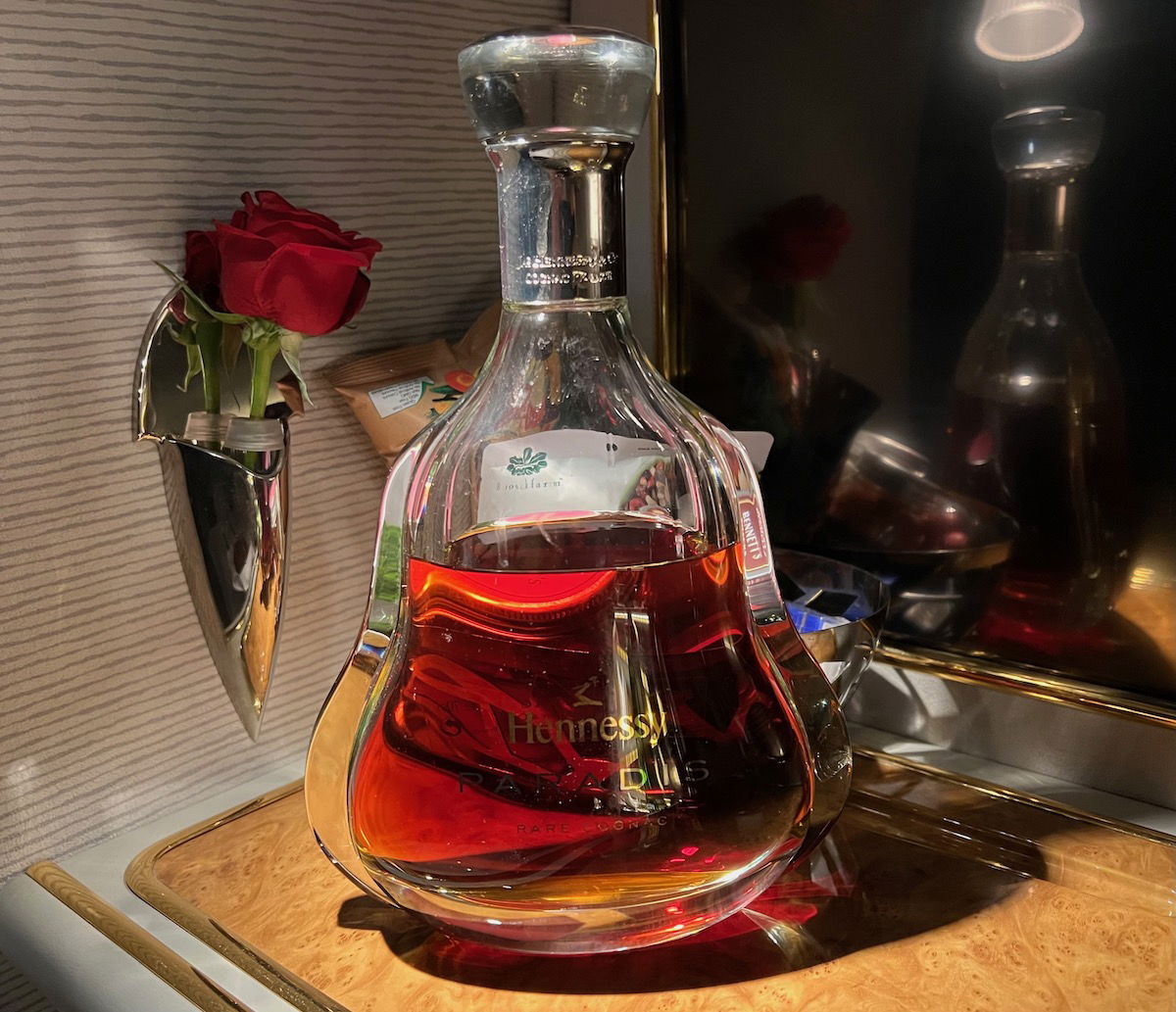 Then it was nap time, and we got a solid three hours of sleep.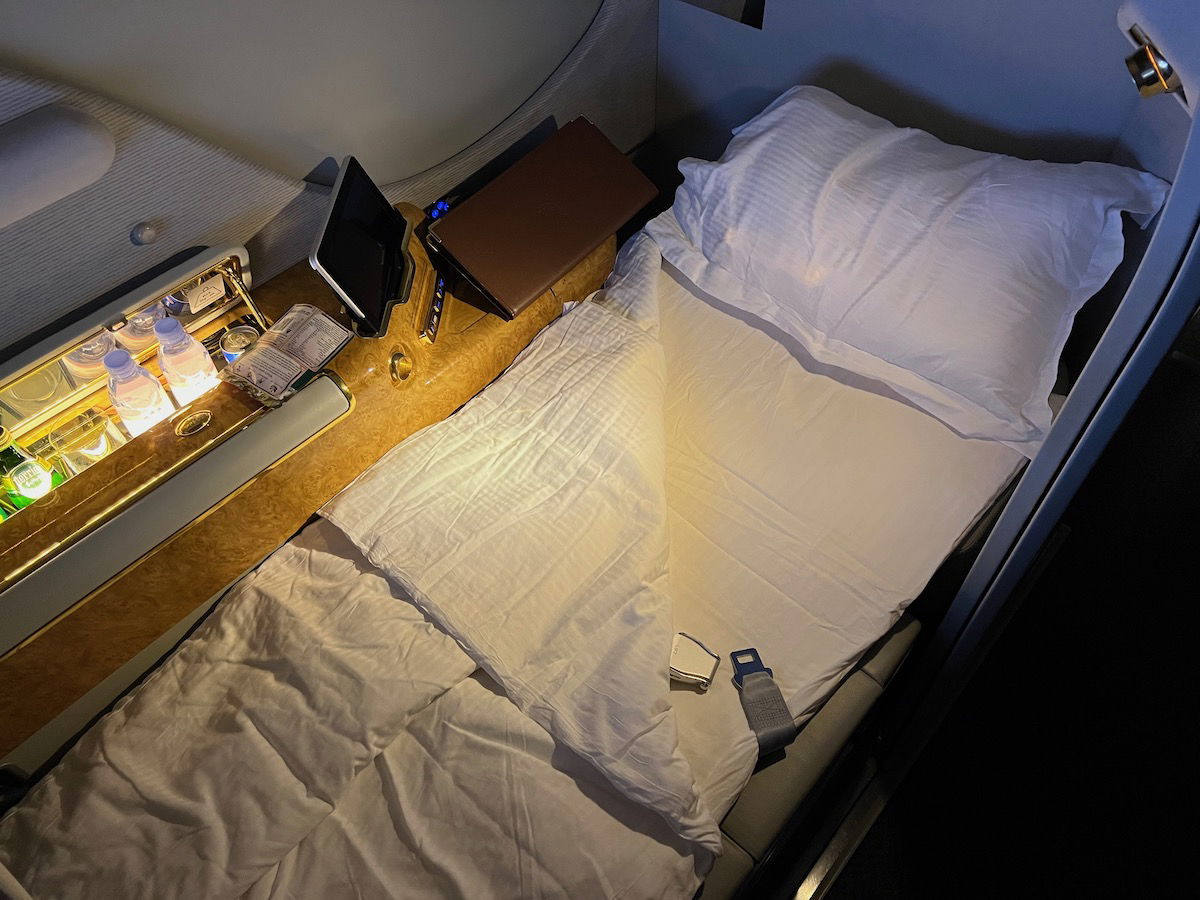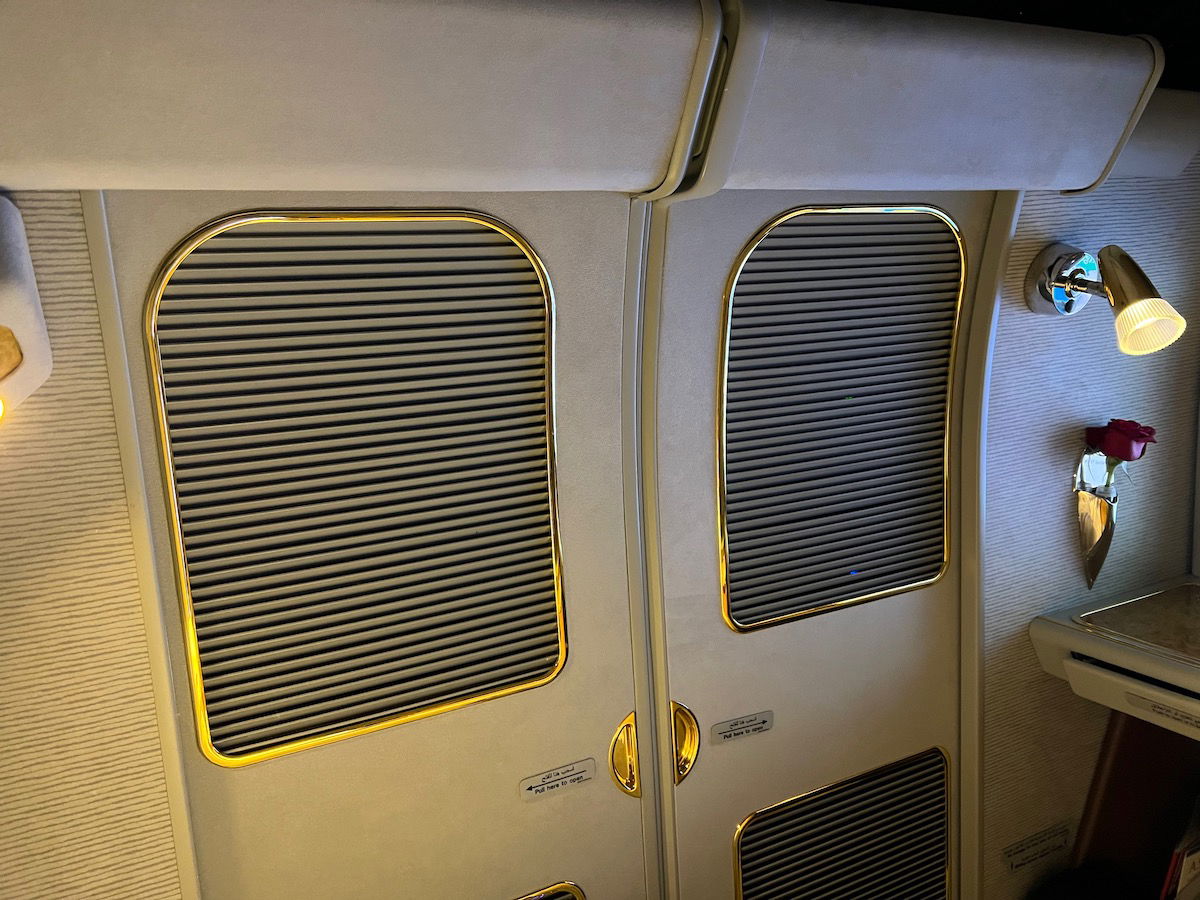 When we woke up we decided to shower first. While we had reserved the last possible shower appointments, we ended up showering earlier, since they were available.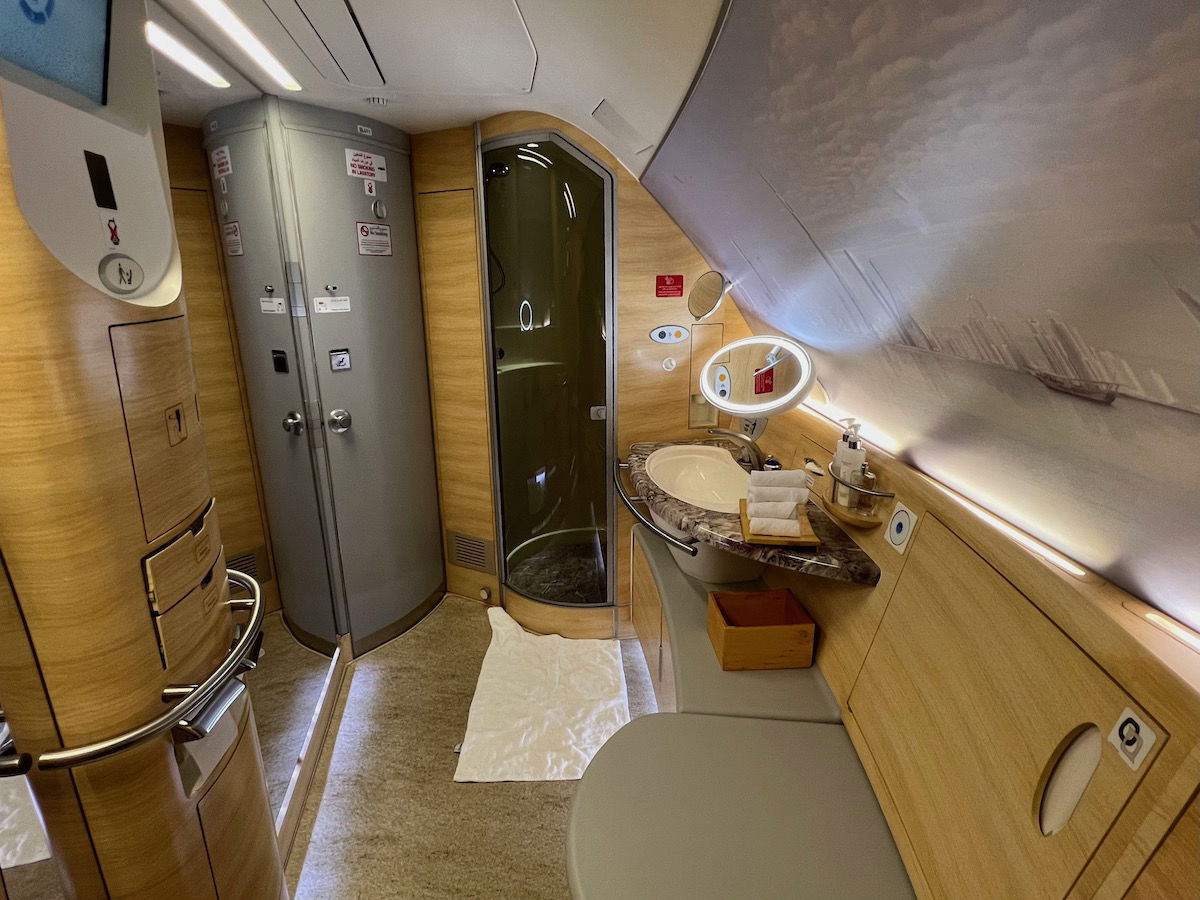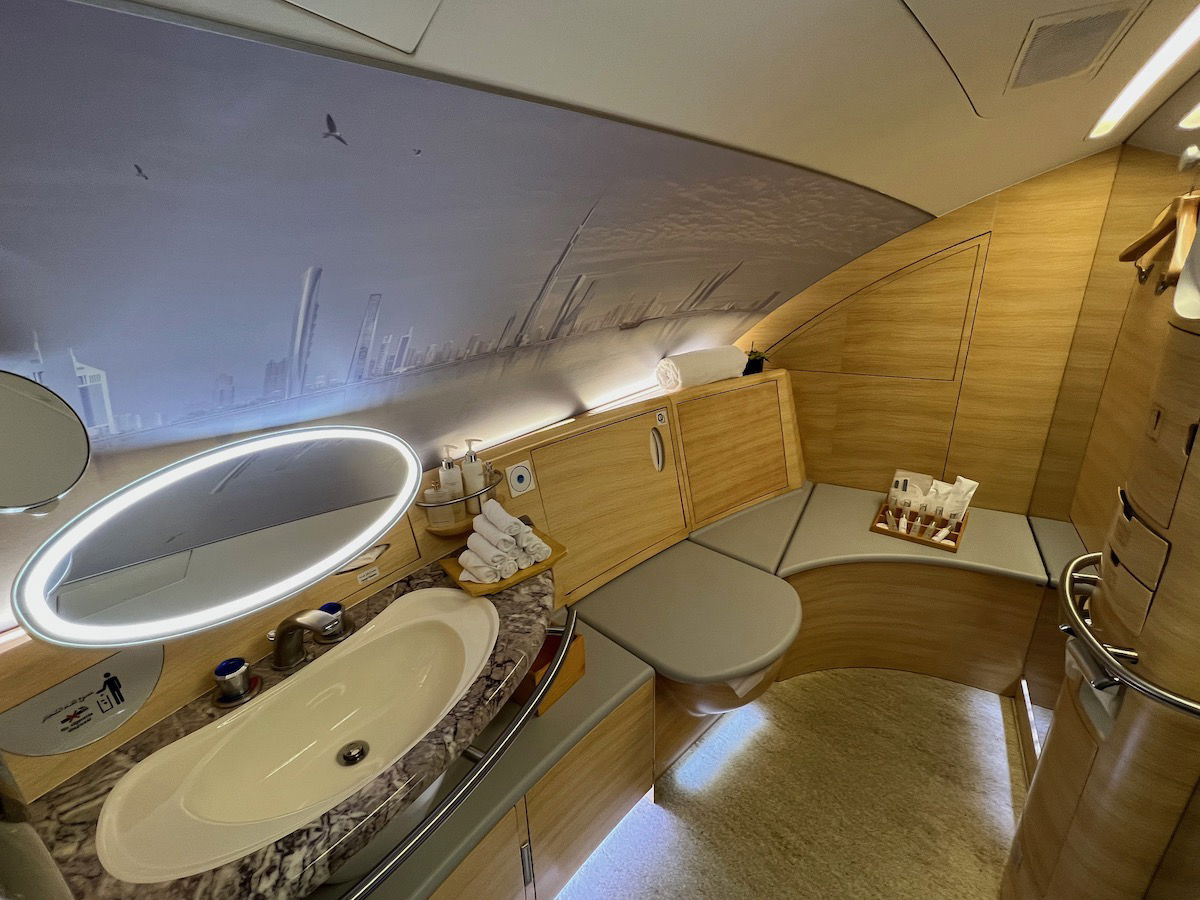 Then it was breakfast time. I just ate some fruit and yogurt, and figured I'd order the waffles just for pictures, if nothing else.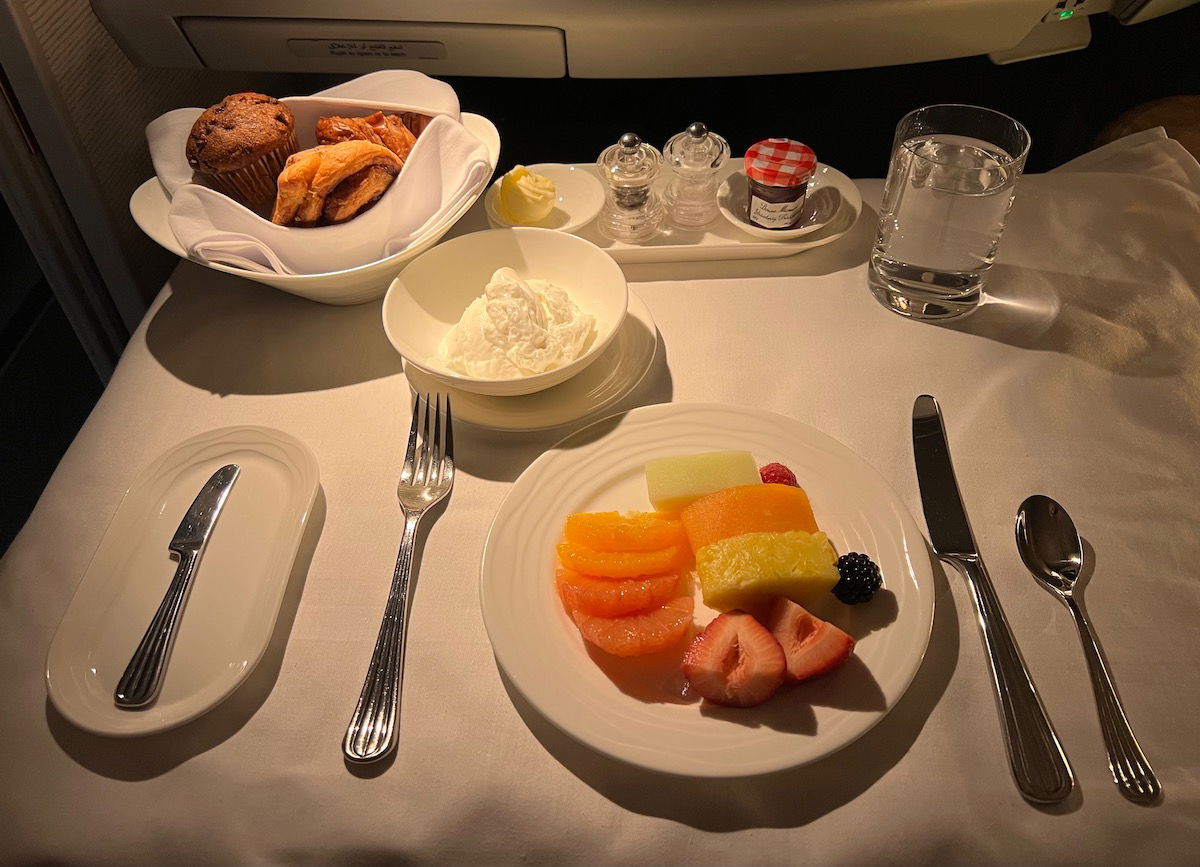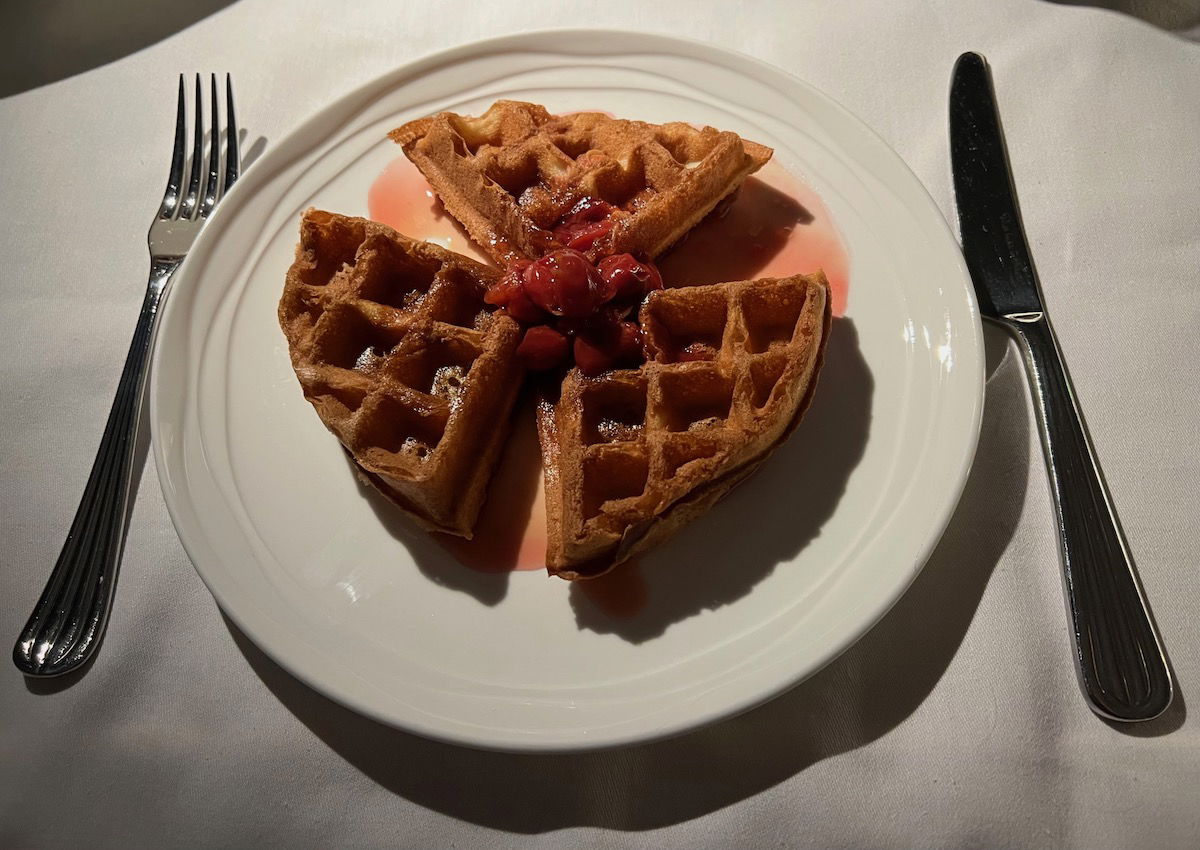 Before we knew it, we were landing in Milan!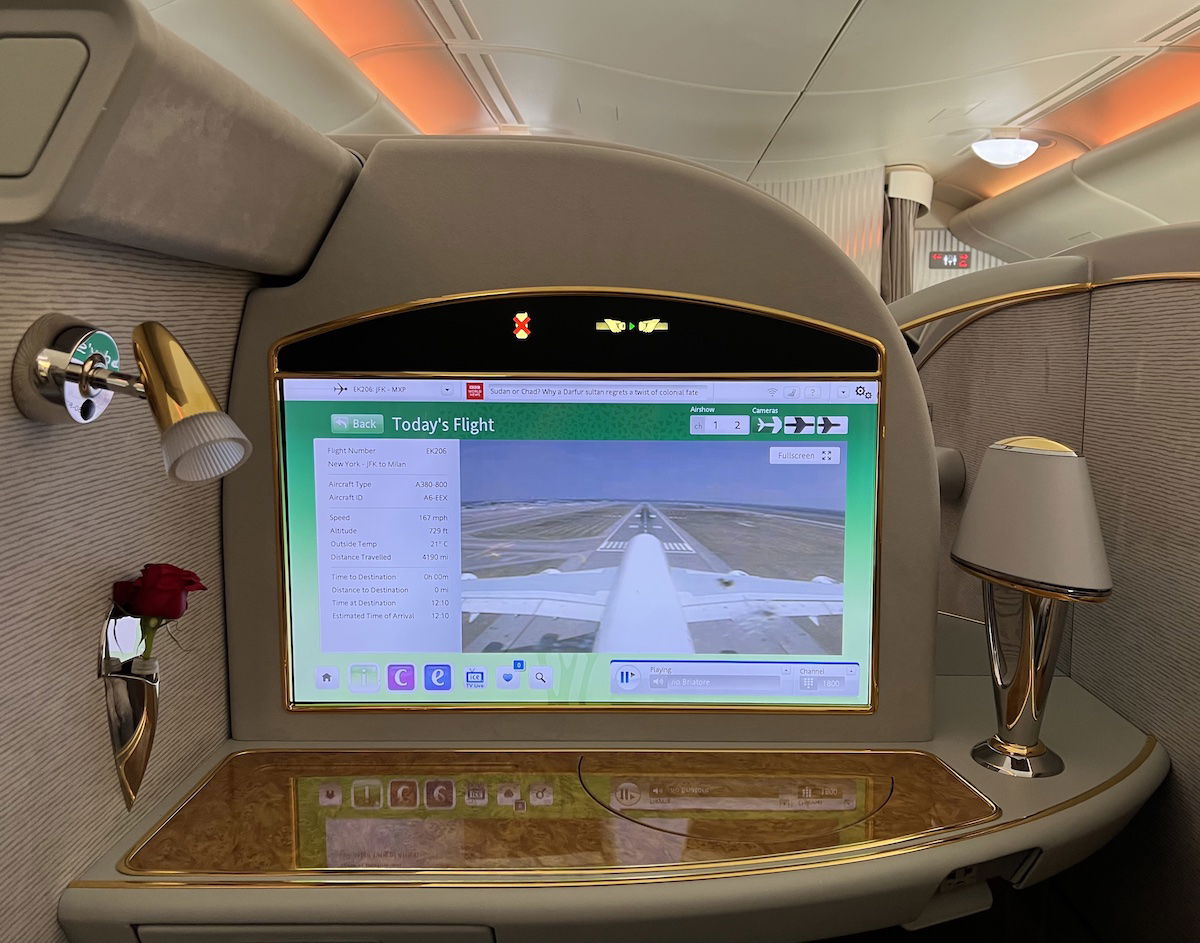 While a much longer flight would have been ideal, we managed to check just about everything off the list, and woke up feeling surprisingly refreshed and not hungover. I'd say that's a fantastic balance to strike on a flight this short.
Bottom line
I'm happy I finally had the chance to fly Emirates first class on its short transatlantic route between New York and Milan. It felt kind of weird to fly Emirates first class out of the United States and not be in the air for 12+ hours. However, I think we struck the right balance.
What approach would you take to enjoying this Emirates first class flight? Sleep the whole way, party the whole way, or something in between?