While airlines are doing everything they can to squeeze more seats onto planes in economy, in many cases airlines are increasingly allocating more space to first and business class.
For the most part this comes in the form of more comfortable and spacious seats, though around a handful of airlines take it a step further by offering special onboard amenities, like inflight bars and lounges. After all, when you're on an ultra long haul flight, there's something really nice about being able to stretch your legs, and possibly even mingling with some of your fellow passengers.
In fairness, in many cases these bars and lounges are pretty efficient, in the sense that they don't take up much usable space. That's to say that they're often installed in areas where there couldn't otherwise be seats.
Below I'll cover the bars and lounges you'll currently find on commercial airplanes. Sadly the number of these available has decreased over the years, with some airlines having retired jets that feature these (never mind that this concept probably peaked decades ago).
With that out of the way, let's get right into it.
Emirates is the airline most well known for its bars, as the airline has 100+ Airbus A380s that feature a bar at the back of the upper deck, for first & business class passengers. This is something that Emirates has marketed widely, and for good reason.
The bar is staffed throughout the flight, and you can either enjoy a drink at the bar, or take one back to your seat. There's a huge list of cocktails to choose from, and there are also a variety of self-serve snacks available.
There is quite a bit of foot traffic at the bar, as business class flight attendants are constantly walking through the bar to get between the galley and cabin. That being said, it's also one of the liveliest onboard bars, and if you have a fun flight attendant, you're sure to have a good time.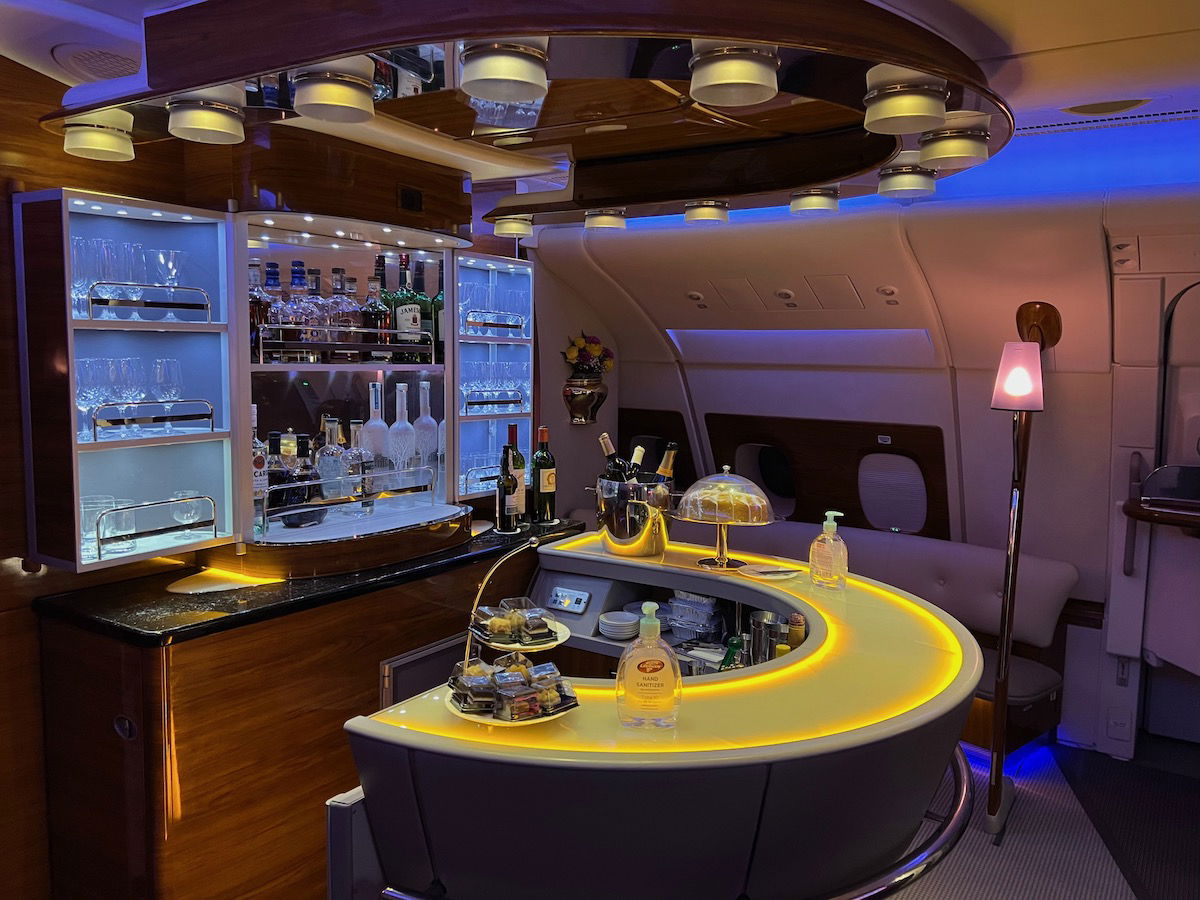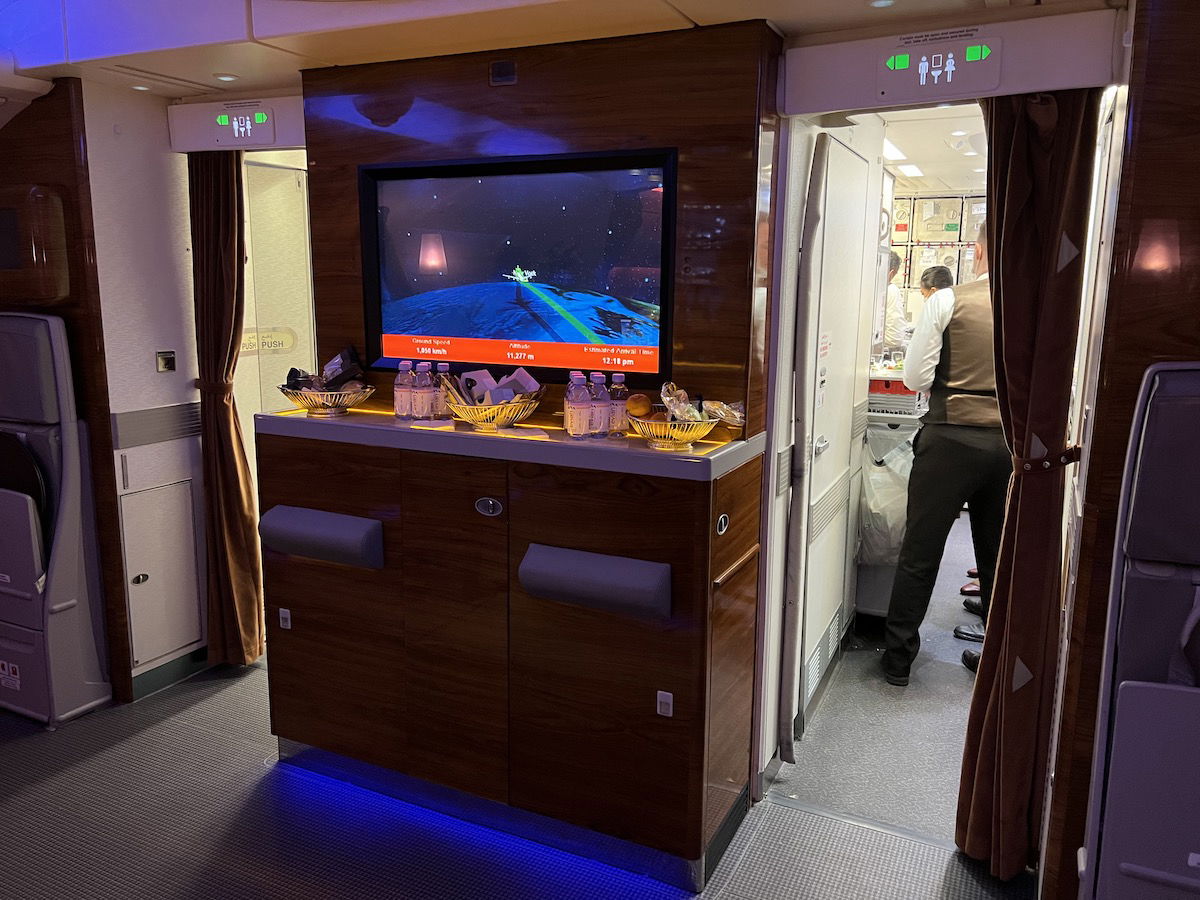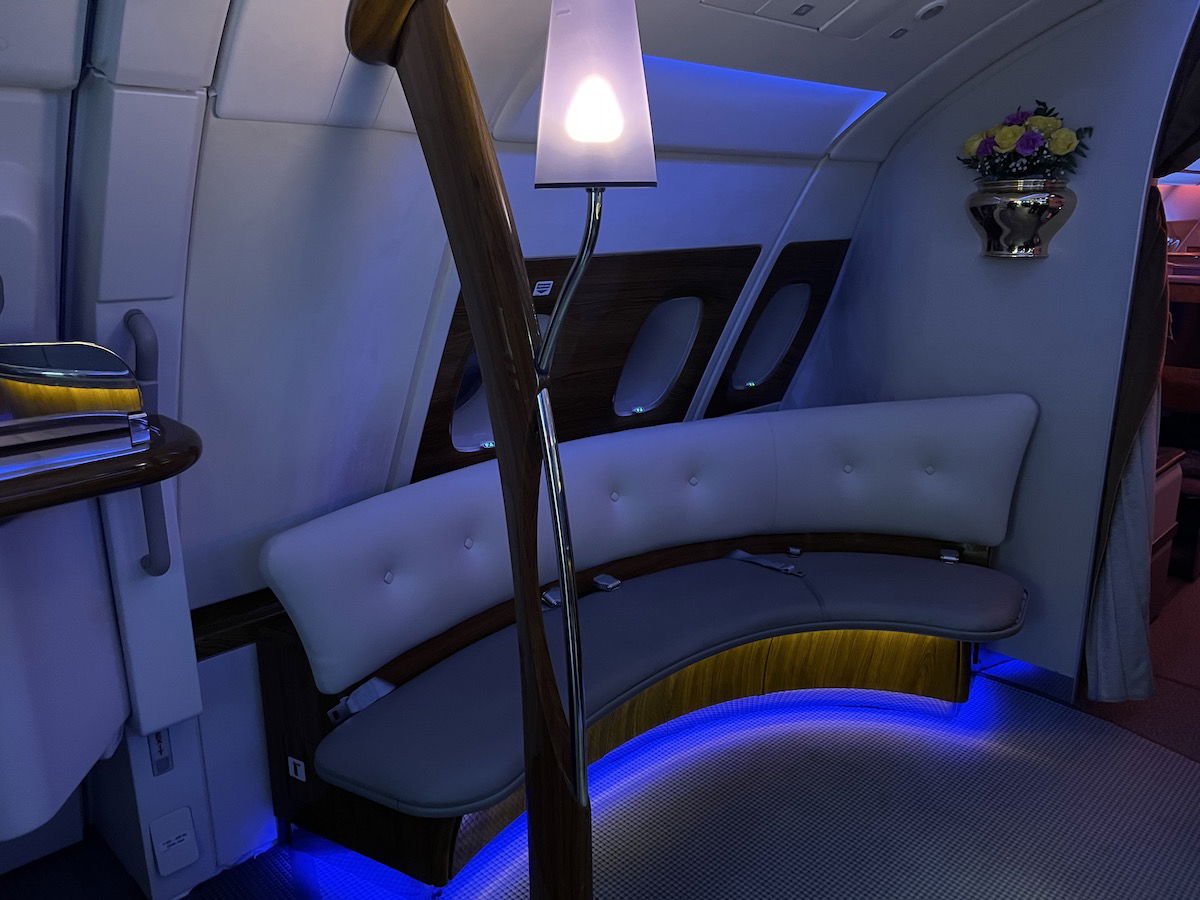 Note that some of Emirates' newest A380s have a new style bar. So while the idea is the same, the design is a bit different, with a "booth" of seats facing one another, rather than just one bench along each side of the fuselage.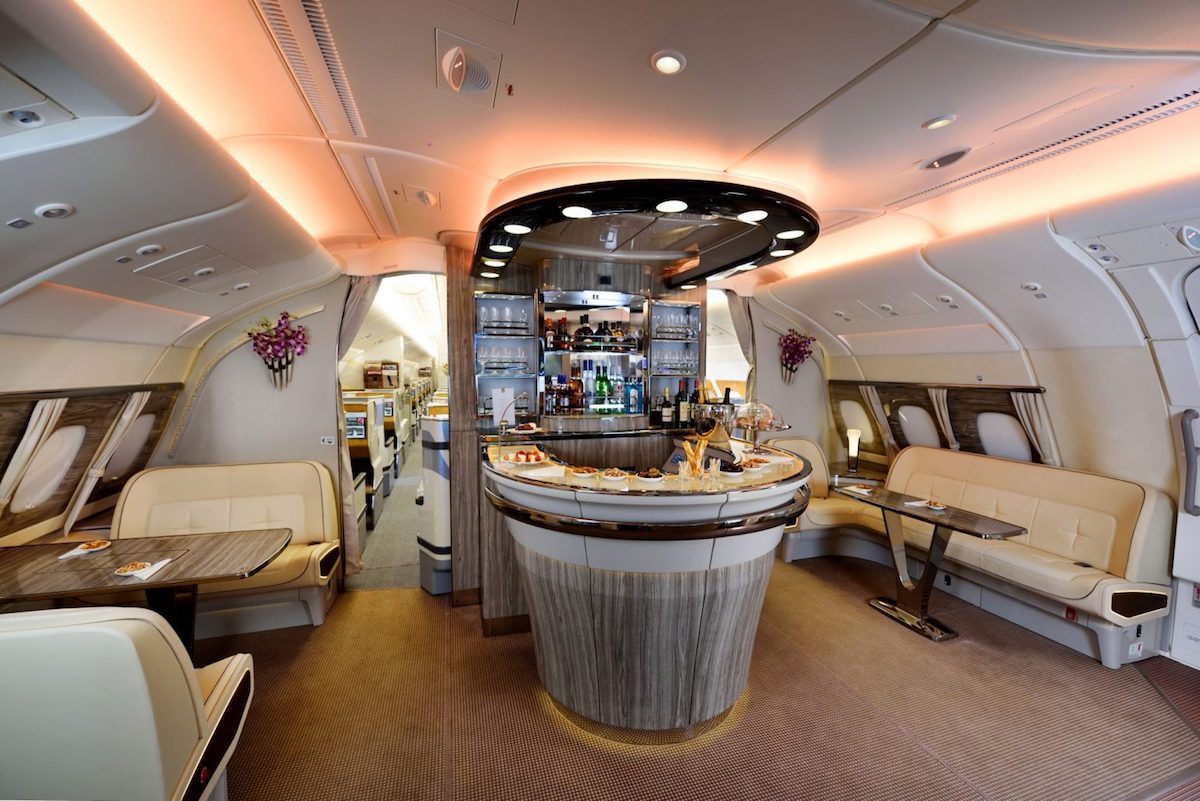 Virgin Atlantic is well known for its aircraft social spaces, though it's something the airline has evolved on quite a bit. Historically Virgin Atlantic has had an onboard bar, and this is something you'll still find on the Boeing 787 and Airbus A330. This is a fairly small place with just a few seats, and you'll only find a "bartender" there at some points during the flight.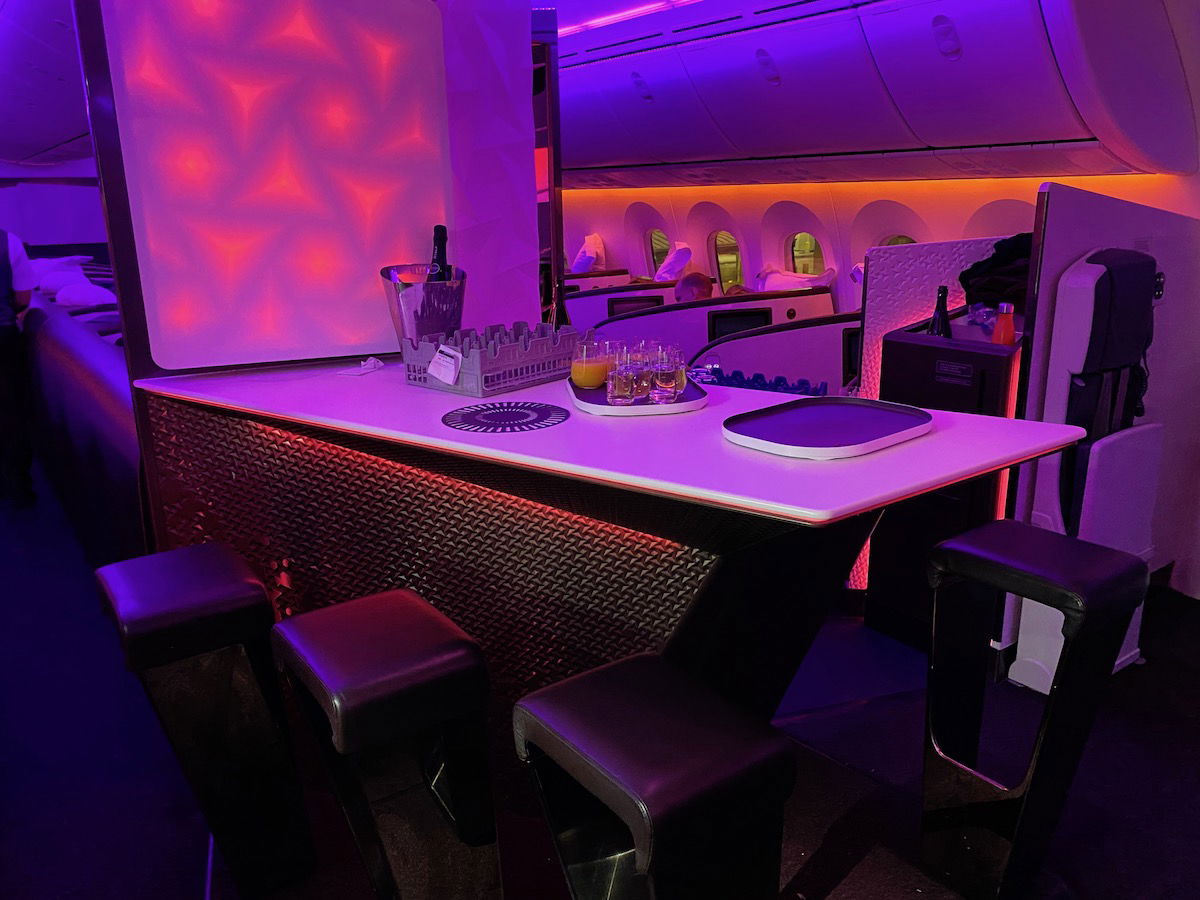 However, Virgin Atlantic has an updated social lounge on its Airbus A350s (which you'll also find on A330-900neos), known as "The Loft." Standard A350s have a lounge area immediately behind business class, featuring a few couches, as well as an entertainment screen. Crews will generally check on you to see if you want to order any drinks or snacks here, though the area isn't otherwise formally staffed.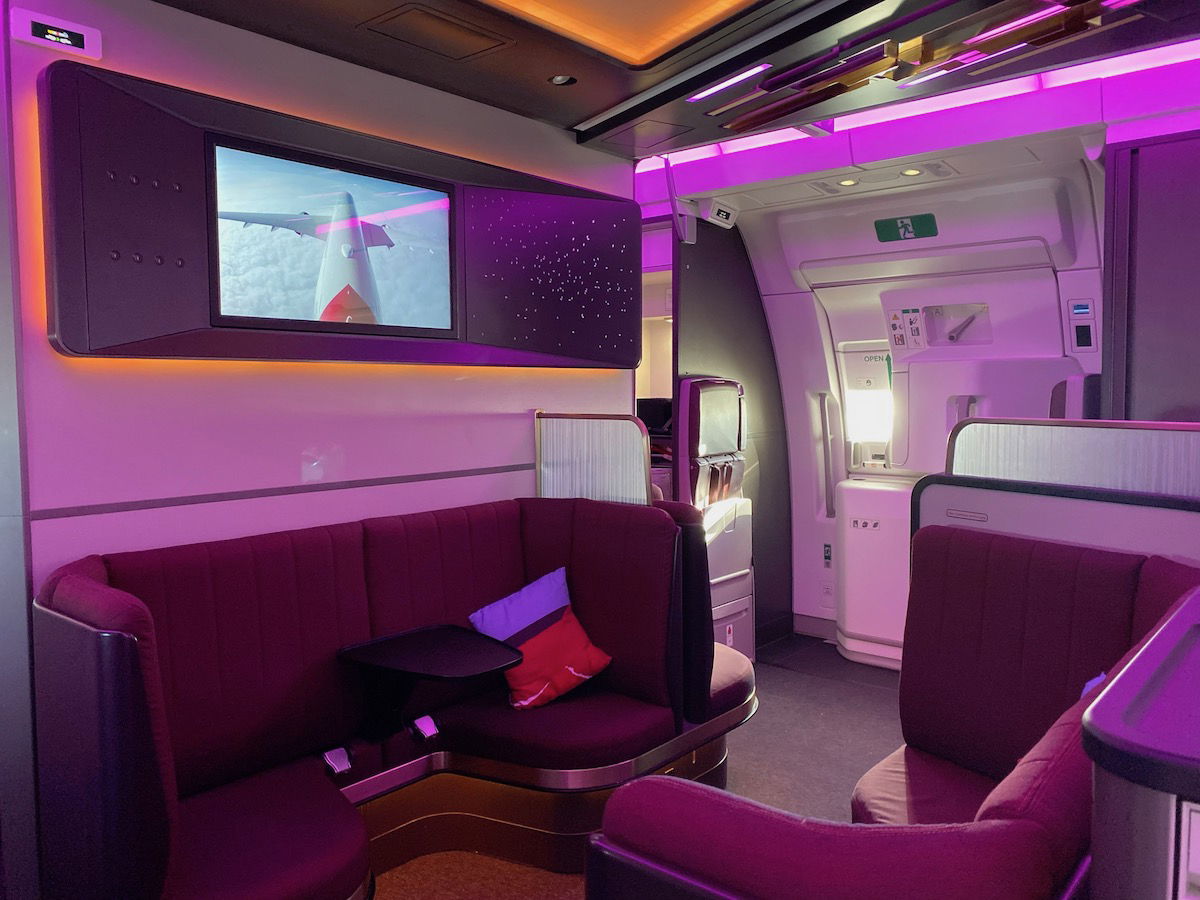 Virgin Atlantic's newest leisure A350s have a much smaller Upper Class cabin, and have a new lounge concept, known as "The Booth." As the name suggests, this is essentially just a booth. While here, you can enjoy a private dinner for two, a cognac tasting, a wine tasting, or game time.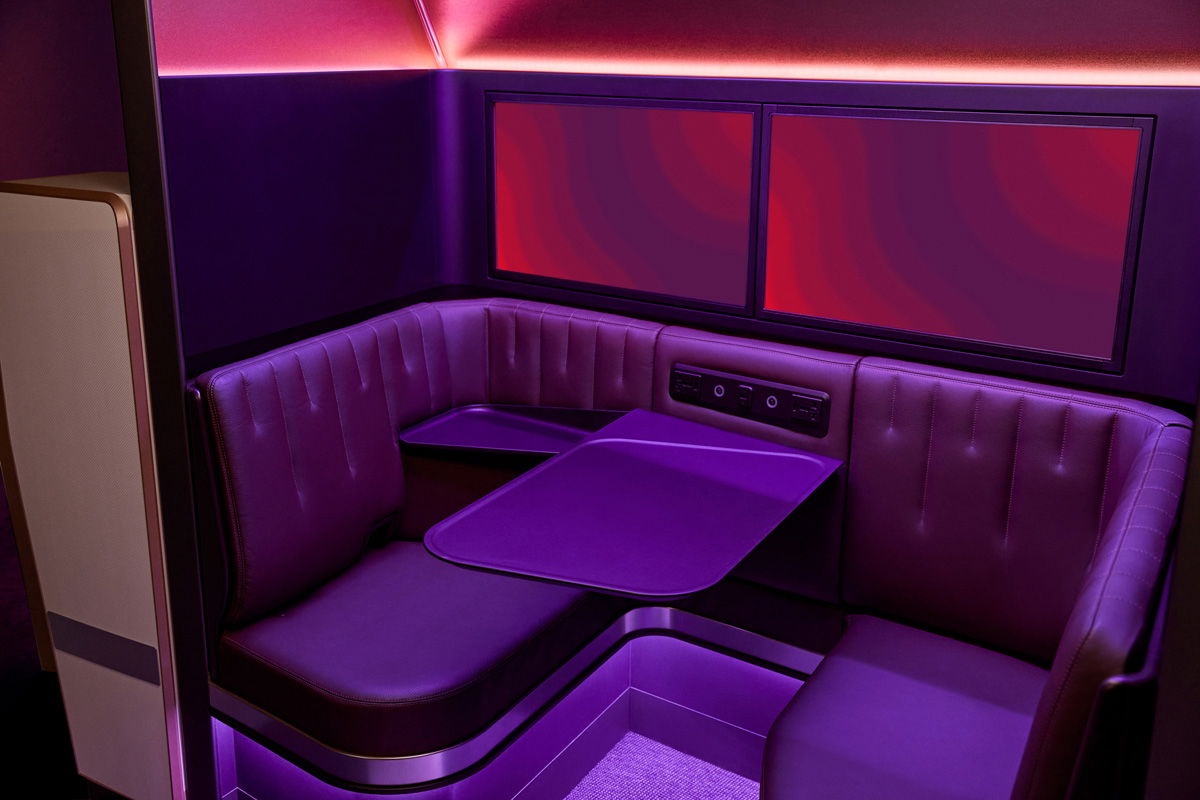 While Qatar Airways has a much smaller A380 fleet than Emirates, I'd argue the carrier's onboard bar is even nicer. The bar is available to first & business class passengers, and is located behind the business class cabin (in front of the small upper deck economy cabin). The bar is gorgeous, spacious, and has plenty of seating.
Furthermore, there's virtually no foot traffic, given that the flight attendants don't have to walk past the bar to provide their service. At the bar you can order a huge selection of drinks, from wine to cocktails to mocktails. There are also some light snacks available there throughout the flight.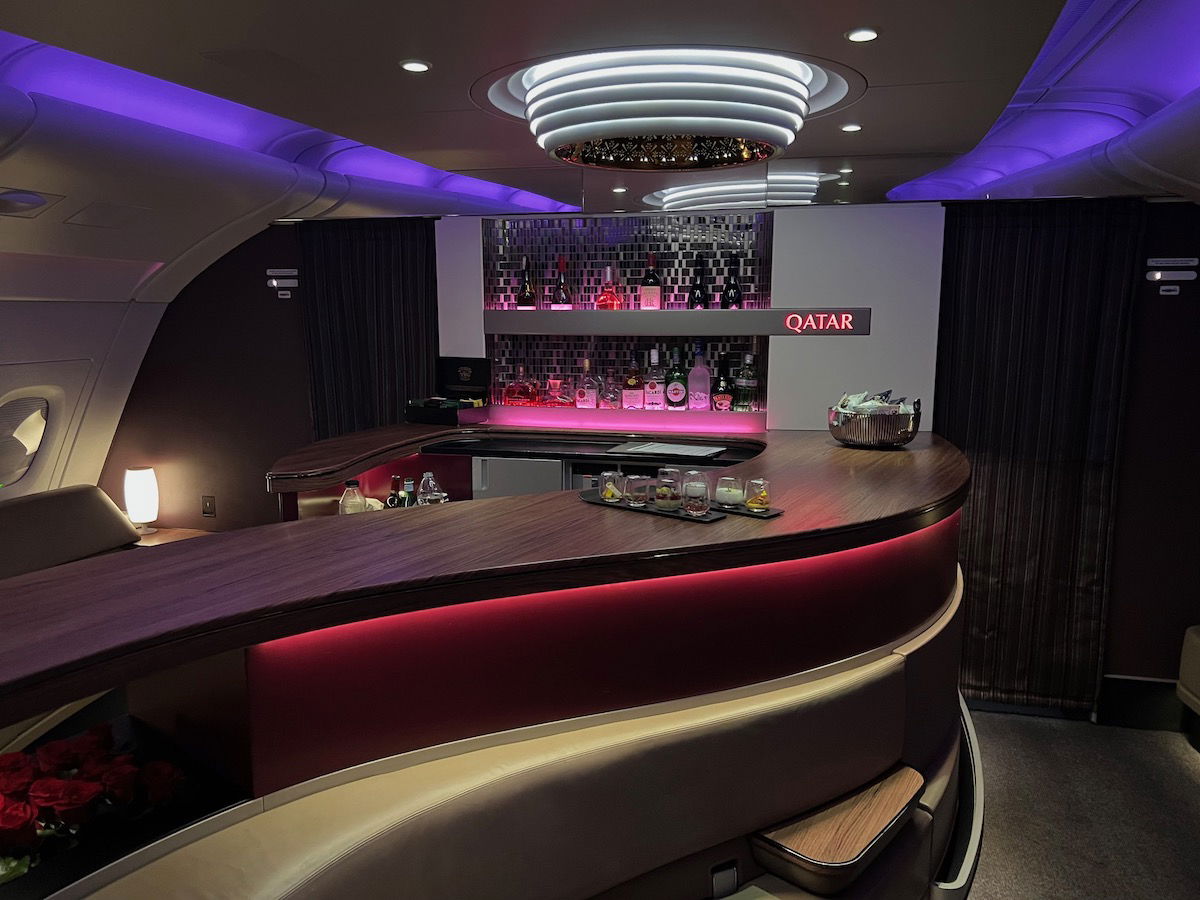 Korean Air has a lounge at the back of the A380 upper deck behind business class, named the Celestial Bar. It's an inviting space with a good amount of seating. It's operated in conjunction with Absolut vodka, and there's a specialty list of aviation-themed cocktails.
What's a bit odd is that Korean Air just serves the signature cocktails at the bar, and not other drinks. So if you want something else to drink you explicitly have to ask the crew to fetch it from the galley. Still, the space itself is pretty, and who doesn't love a vodka-based aviation-themed libation?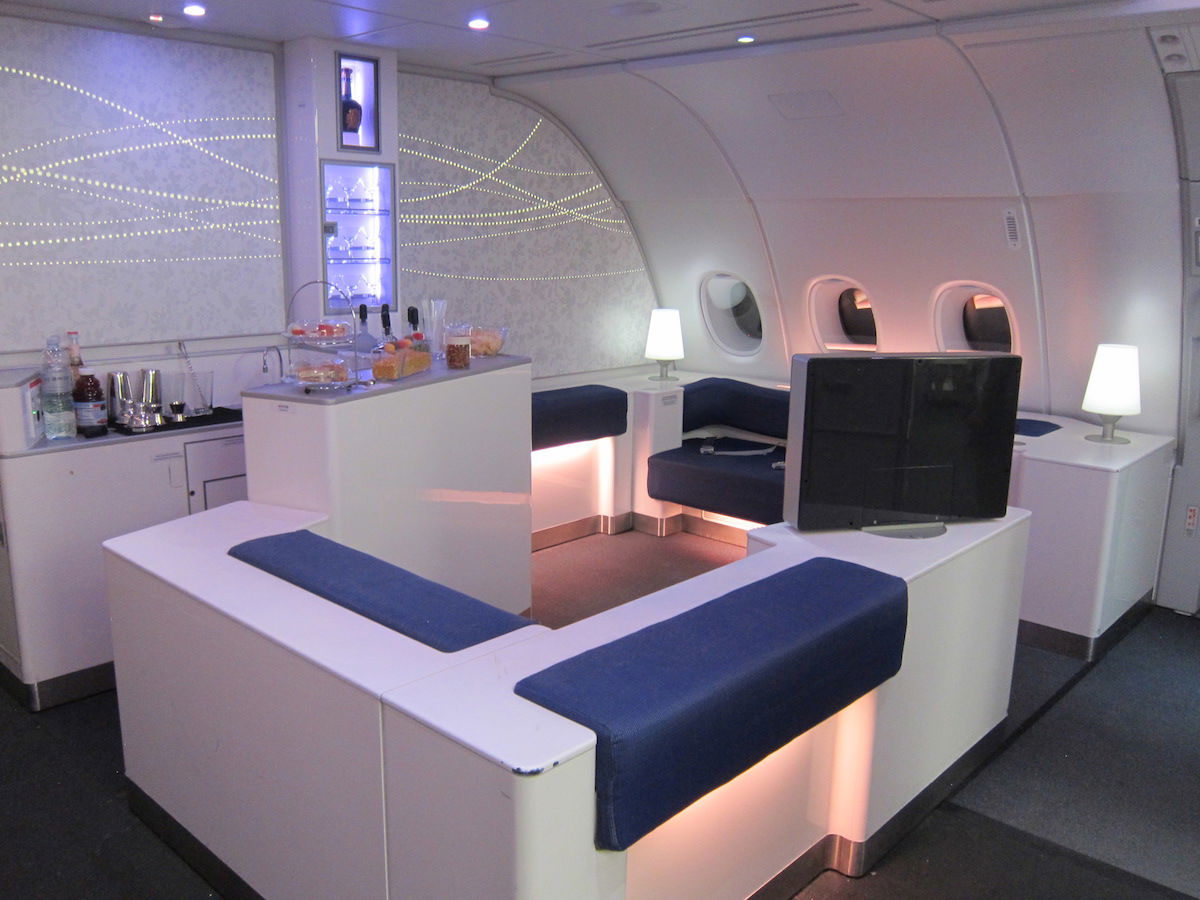 At the front of the Airbus A380 upper deck, Qantas has a lounge area that features two sets of booths, intended for business class passengers. This is in the same area where Emirates has its A380 showers, so this is truly just using up space that couldn't otherwise really be utilized. There's not much in the way of formal service here, but crews will gladly bring you snacks and drinks.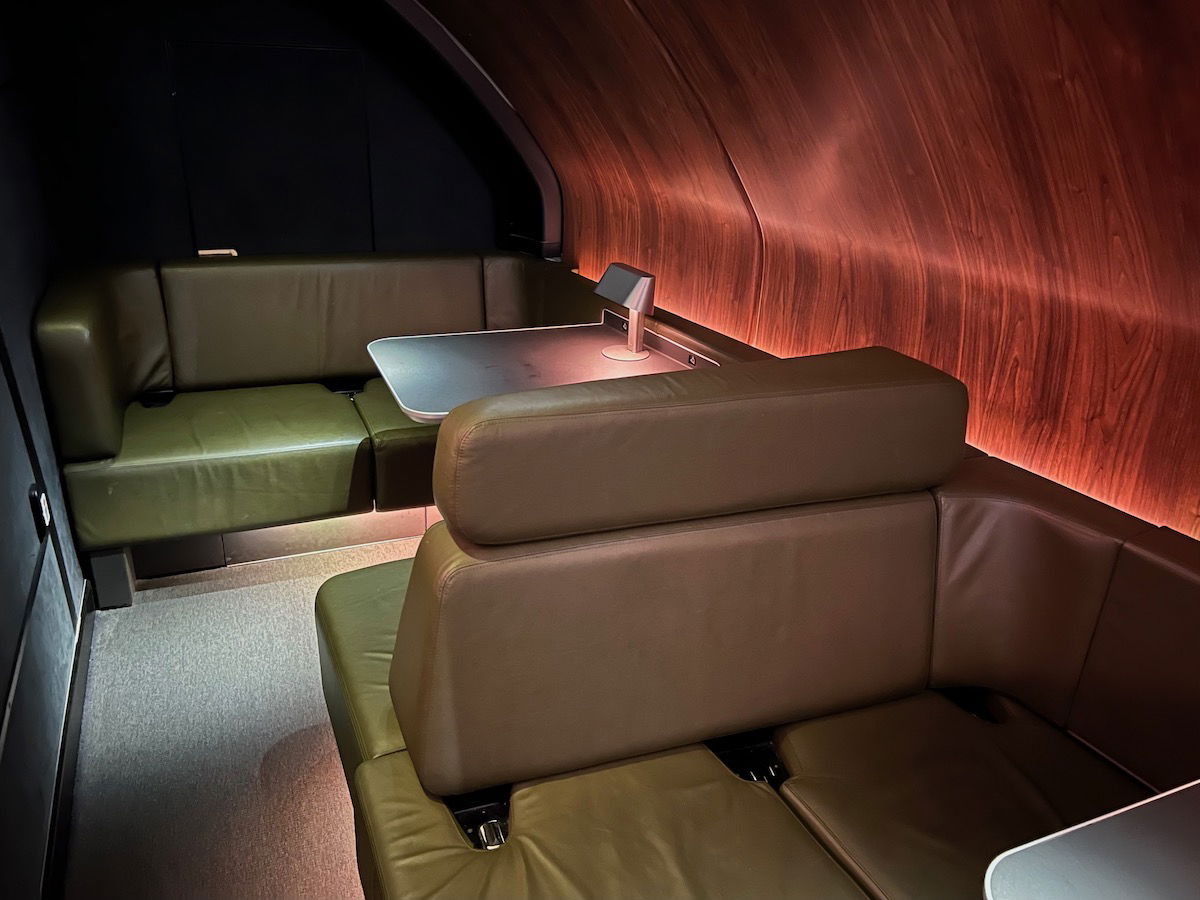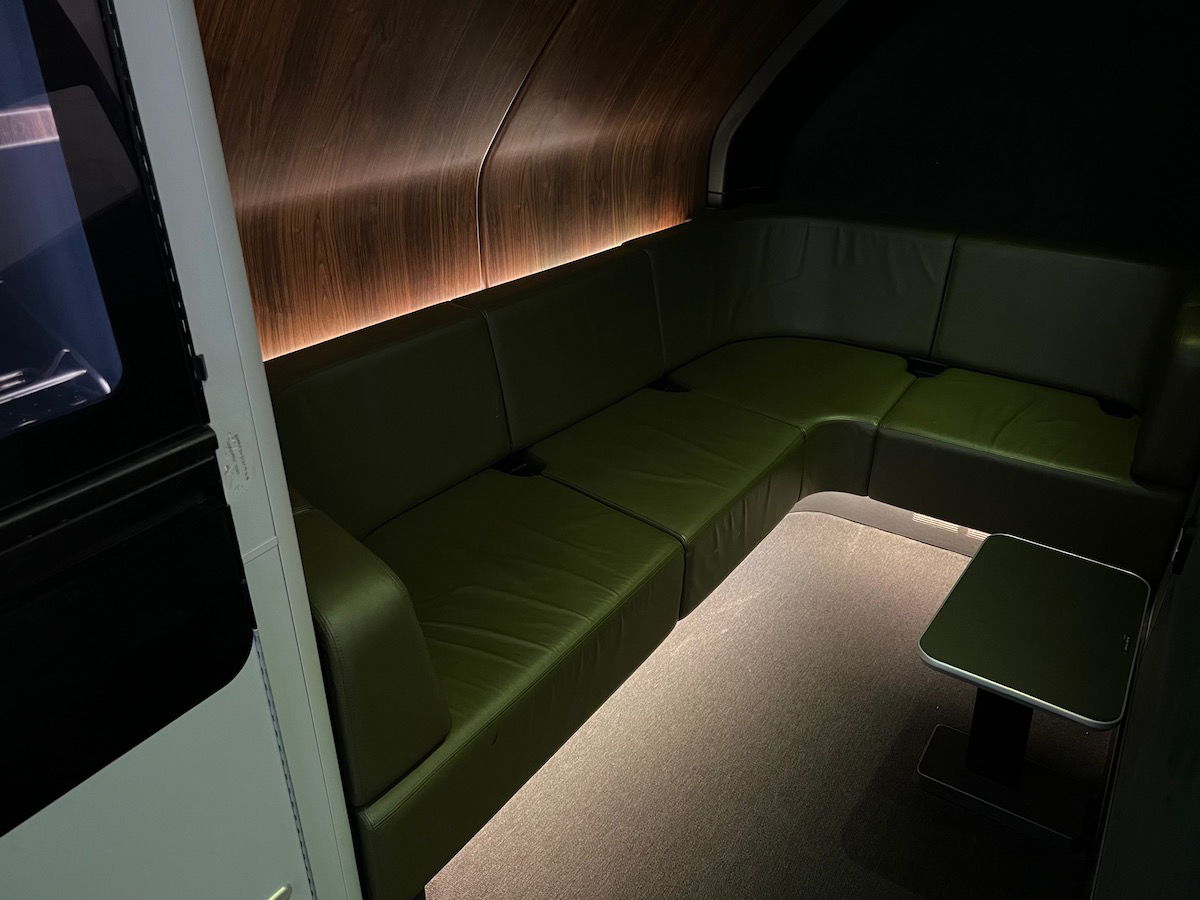 While Etihad had planned on retiring its Airbus A380s, the airline made the decision to bring a few of these back as of the summer of 2023, and they'll fly exclusively between Abu Dhabi and London. The Etihad A380 has a social lounge located between first and business class, known as "The Lobby."
This space has a couple of couches that can accommodate half a dozen people, and flight attendants are also happy to service food and drinks here, though beyond that this space isn't "staffed."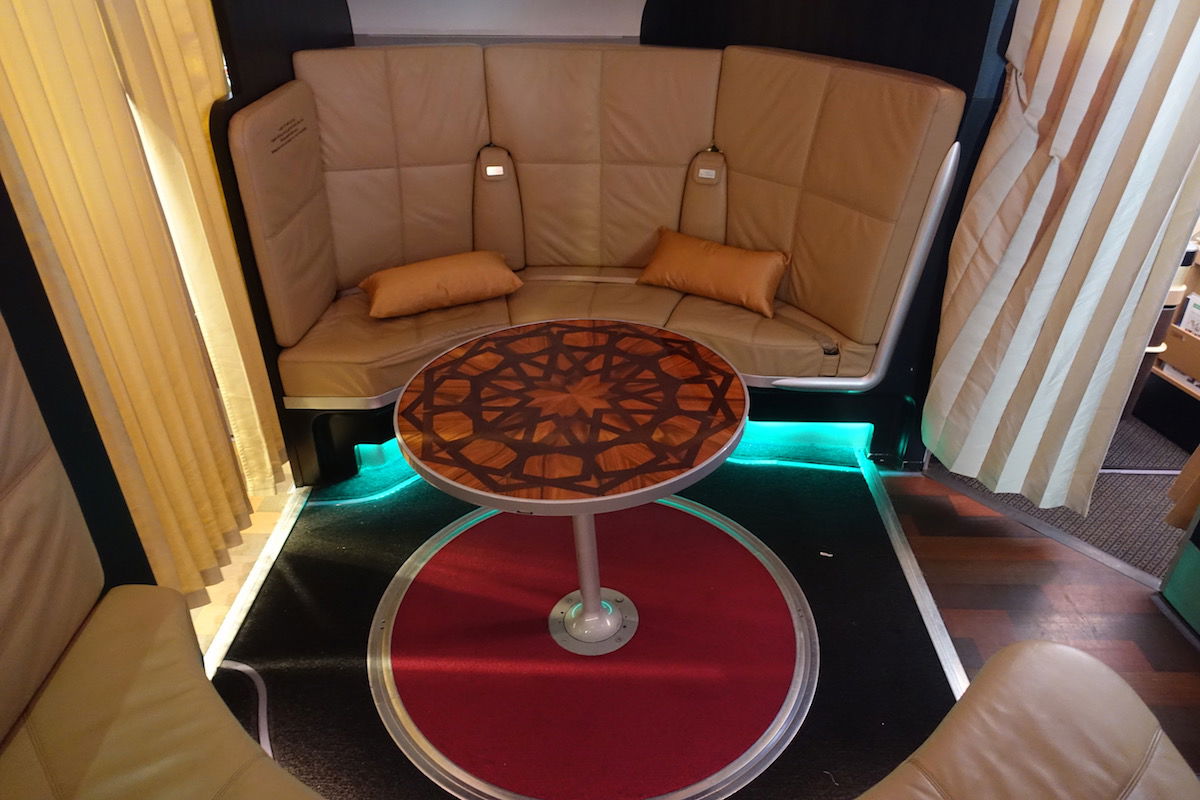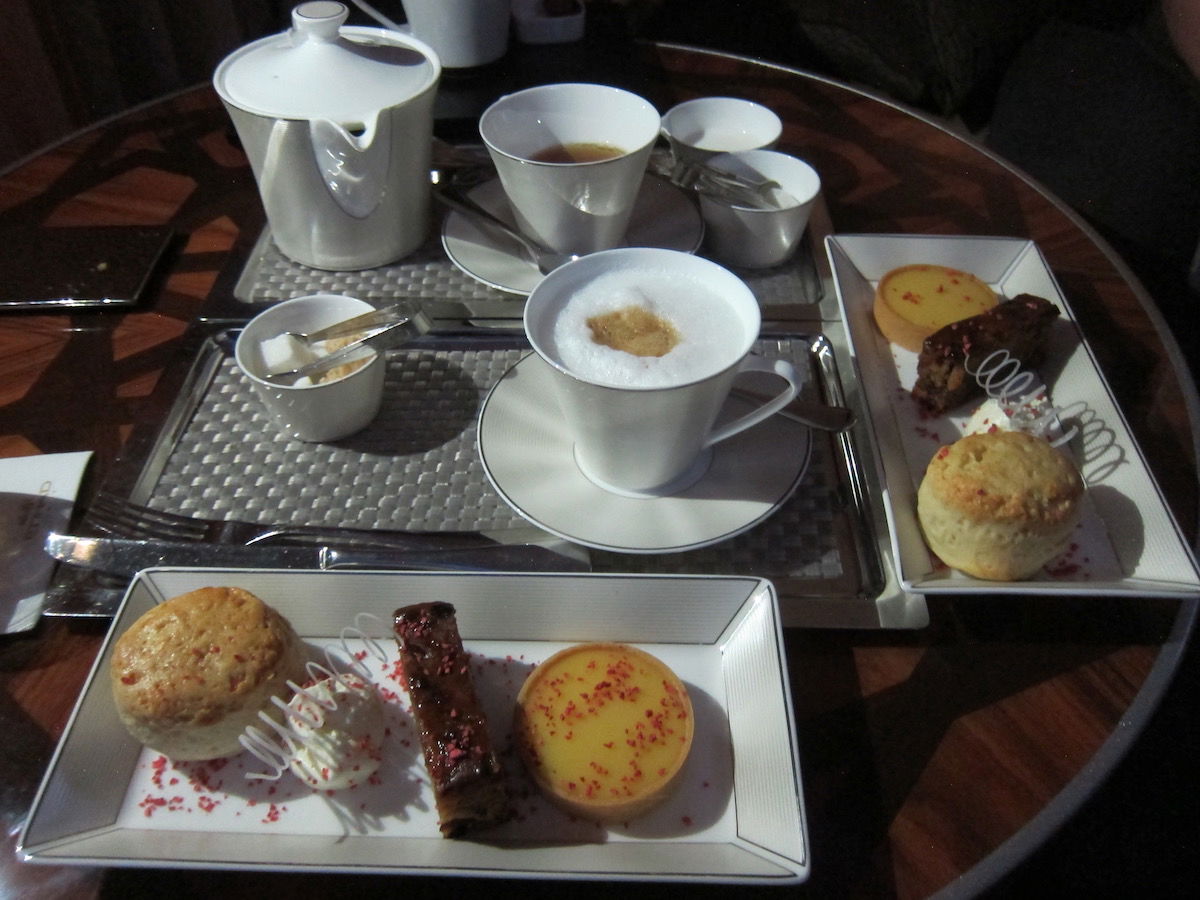 Bottom line
It's incredible to see how far airlines have come with onboard bars and lounges. Emirates and Virgin Atlantic are most famous for this concept, but you'll also find it on Qatar Airways, Korean Air, Qantas, and Etihad. Sadly the number of airlines offering these products has decreased over time, and that will likely only continue further, as the number of A380s flying decreases.
Which airline has your favorite onboard bar or lounge?