EXTRA PERKS AVAILABLE
Enjoy breakfast, upgrades, & more
Want to take advantage of Virtuoso benefits at no extra cost, including a room upgrade, free breakfast, a hotel credit, and more? Contact Ford ([email protected]) for more details. He doesn't charge booking fees, and may even be able to help if you already have a stay booked.
After spending a couple of nights at Hotel Martinez Cannes, our next stop was Saint-Tropez. We decided to stay at Airelles Saint-Tropez, Chateau de la Messardiere. Some OMAAT readers may recall the incredible stay we had at Airelles Courchevel just a few months ago, which was one of the best hotel stays we ever had anywhere. So we couldn't wait to check out the brand's property in Saint-Tropez.
Well, unfortunately Airelles Saint-Tropez didn't quite meet our expectations. The property itself is absolutely stunning, with an amazing setting. The food was top notch. The amenities were endless, including the Rolls-Royce transfers around town.
However, the service was a disappointment from start to finish. Everyone was friendly, but I've just never seen such disorganized service at a luxury hotel. That's a shame, because what I remembered most at Airelles Courchevel was the service.
So I'm really not sure what to make of this hotel. It really is so indescribably beautiful. And while I'd like to hope the service we experienced was a fluke, I can't say that for sure. Anyway, let's get into the review.
Booking Airelles Saint-Tropez
Saint-Tropez hotels are only open seasonally in the summer months, so not surprisingly rates are really high, and there are often minimum stays. We booked a three night stay at the hotel for early June, at the rate of 1,400 Euro per night. Obviously that's a lot to spend at a hotel, but that's how much top hotels are charging right now, given the current state of luxury travel.
Ford booked us through Virtuoso, which cost the same as the standard published rate, and came with additional perks, including an upgrade subject to availability, a $100 property credit, and more. Ford is happy to help with Virtuoso bookings, and can be reached at [email protected].
All stays at Airelles Saint-Tropez come with a variety of perks, ranging from complimentary breakfast, to complimentary lunch, to complimentary minibar drinks & snacks, to spa access, to sun beds at the resort's beach club, to Rolls-Royce transfers to town and the beach, to complimentary valet parking with car wash service.
I very much appreciate how Airelles doesn't nickel-and-dime. It's nice to have both breakfast and lunch included. And it's not just that you get two meals, but you get some of the most impressive and high quality buffets spreads you'll ever see in your life.
Basics of Airelles Saint-Tropez
Airelles Saint-Tropez, also known as Chateau de la Messardiere, is my favorite kind of hotel. It has an incredible amount of history and a great sense of place, all while having all the modern and luxurious amenities you'd expect from a five star hotel.
The historic estate dates back to the 19th century, and was donated to officer Henry Brisson de la Messardiere and his wife, the artist Louise Dupuy D'Angeac, on their wedding day (that's a nice wedding gift!). The family transformed this into a hotel in 1904.
In 2019 the hotel was taken over by luxury hotel group Airelles, and underwent a significant renovation to make it what it is today. The hotel features 103 guest rooms, spread across 12.5 hectares (~31 acres).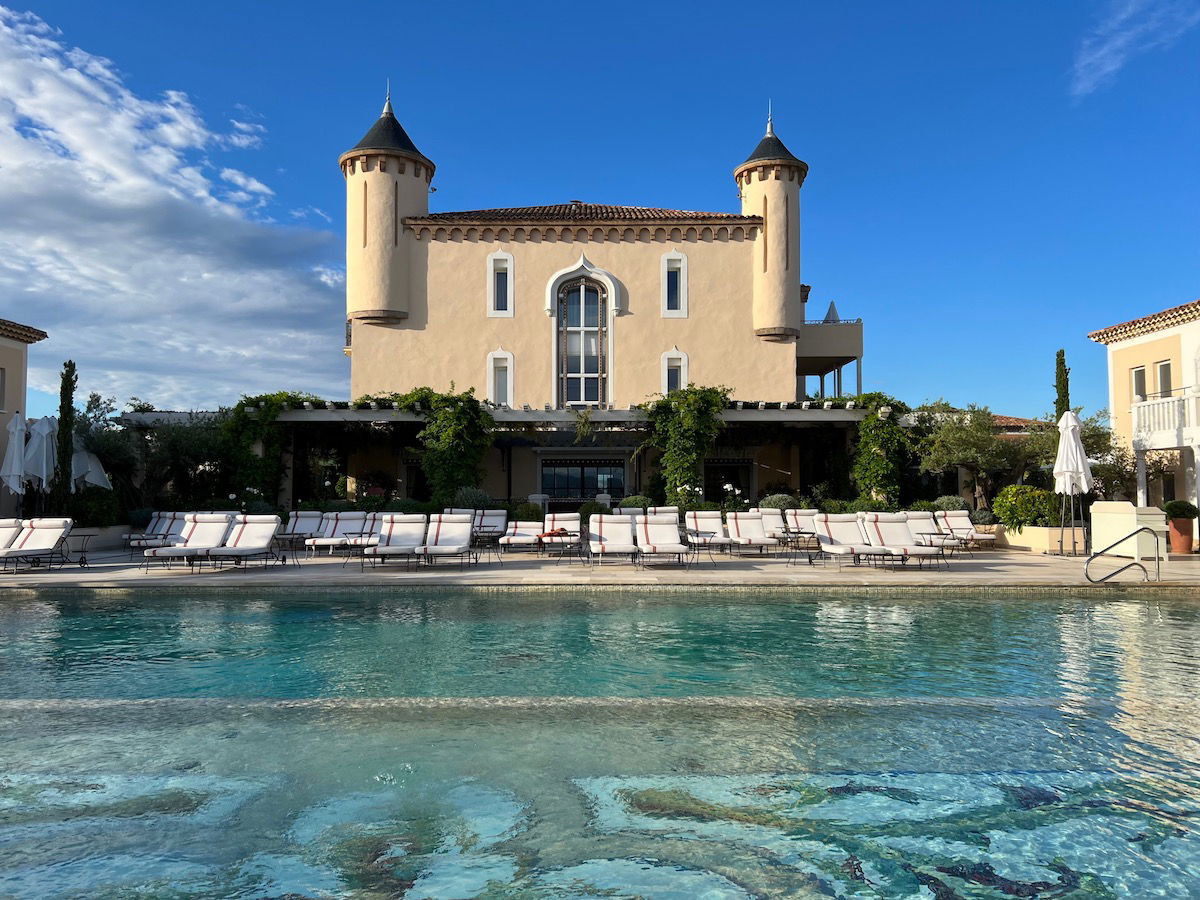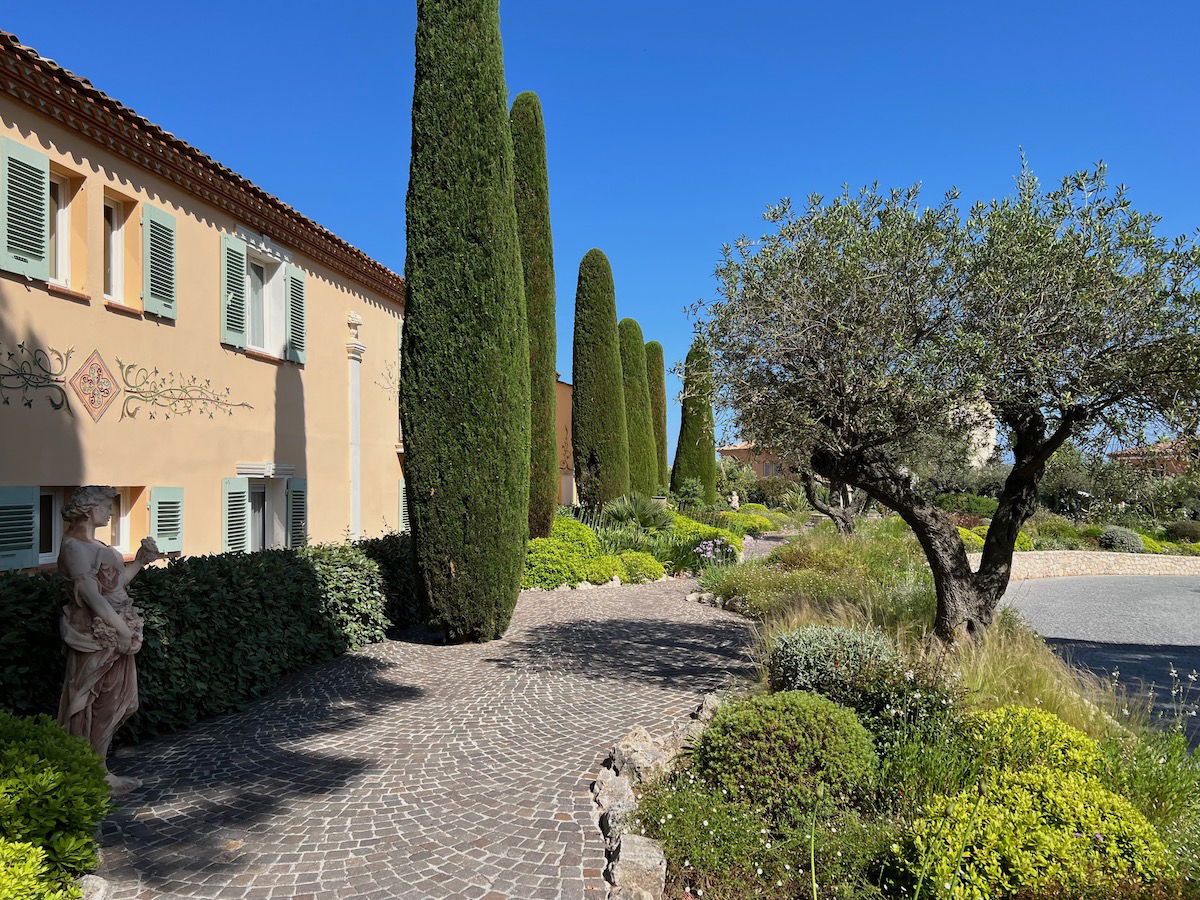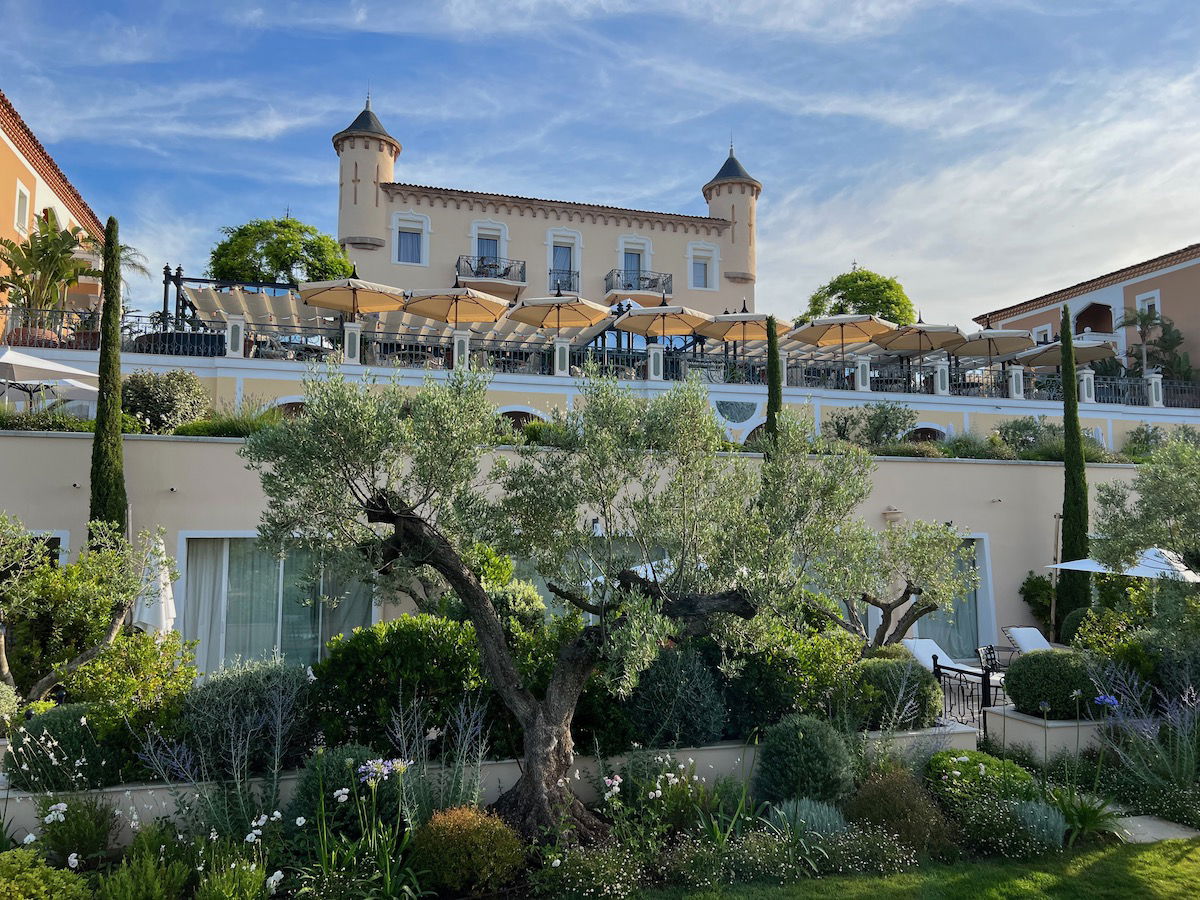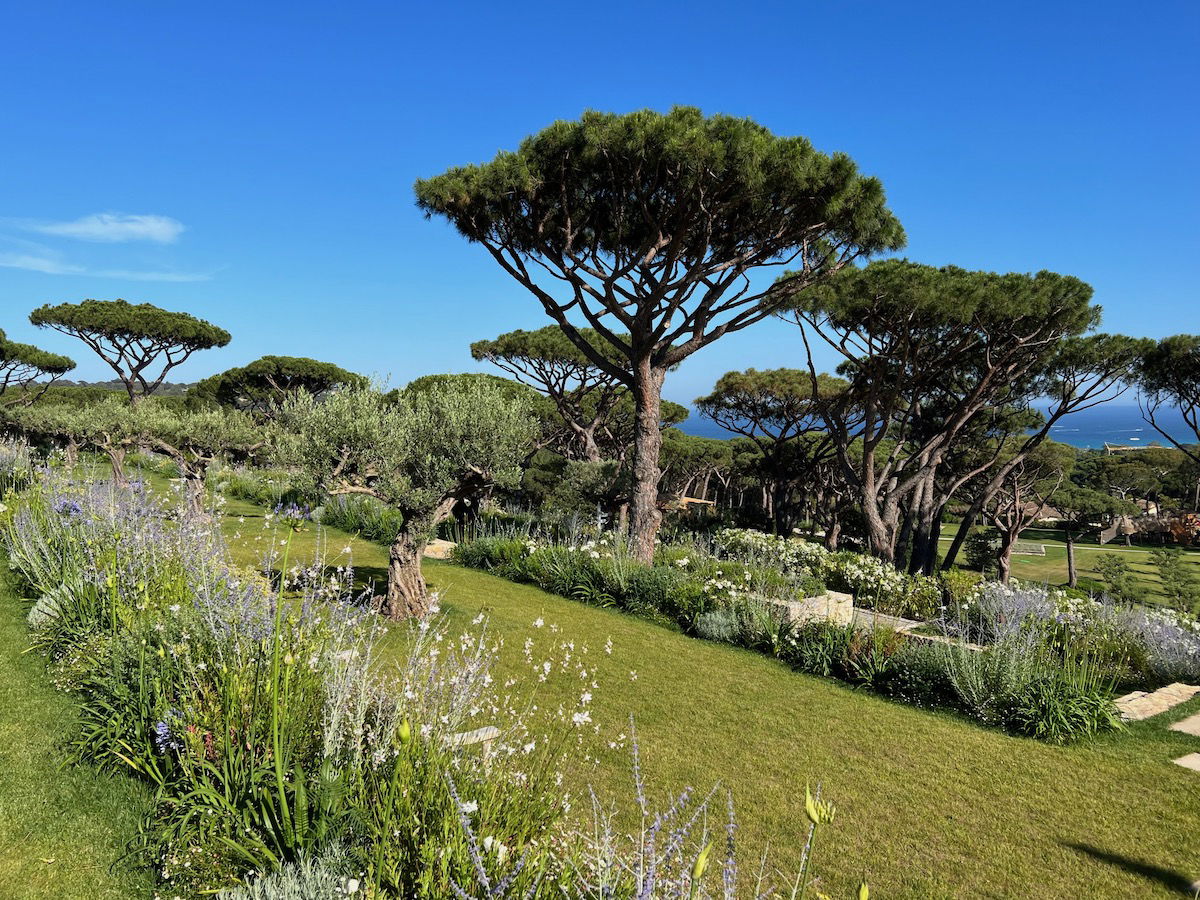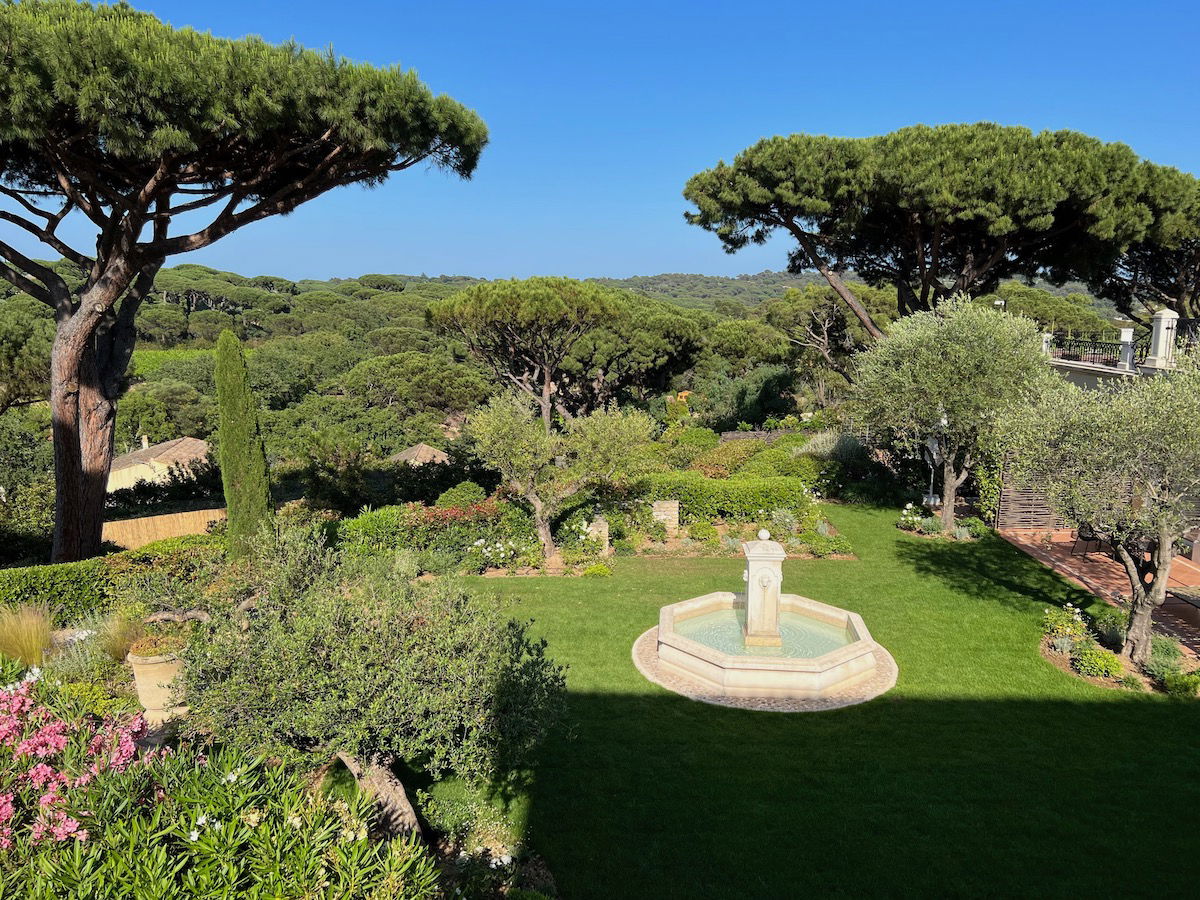 Airelles Saint-Tropez location
Airelles Saint-Tropez has a great location, as it's right near the port town, without actually being in it. The hotel is on a hill overlooking the Bay of Pampelonne, so the views are incredible.
The property is just a 10 minute drive to town or a 10 minute drive to the beach club. And I'd consider that to be a good thing when you consider that they'll drive you to either with their fleet of Rolls-Royce Cullinans. Not a bad way to get around, eh? 😉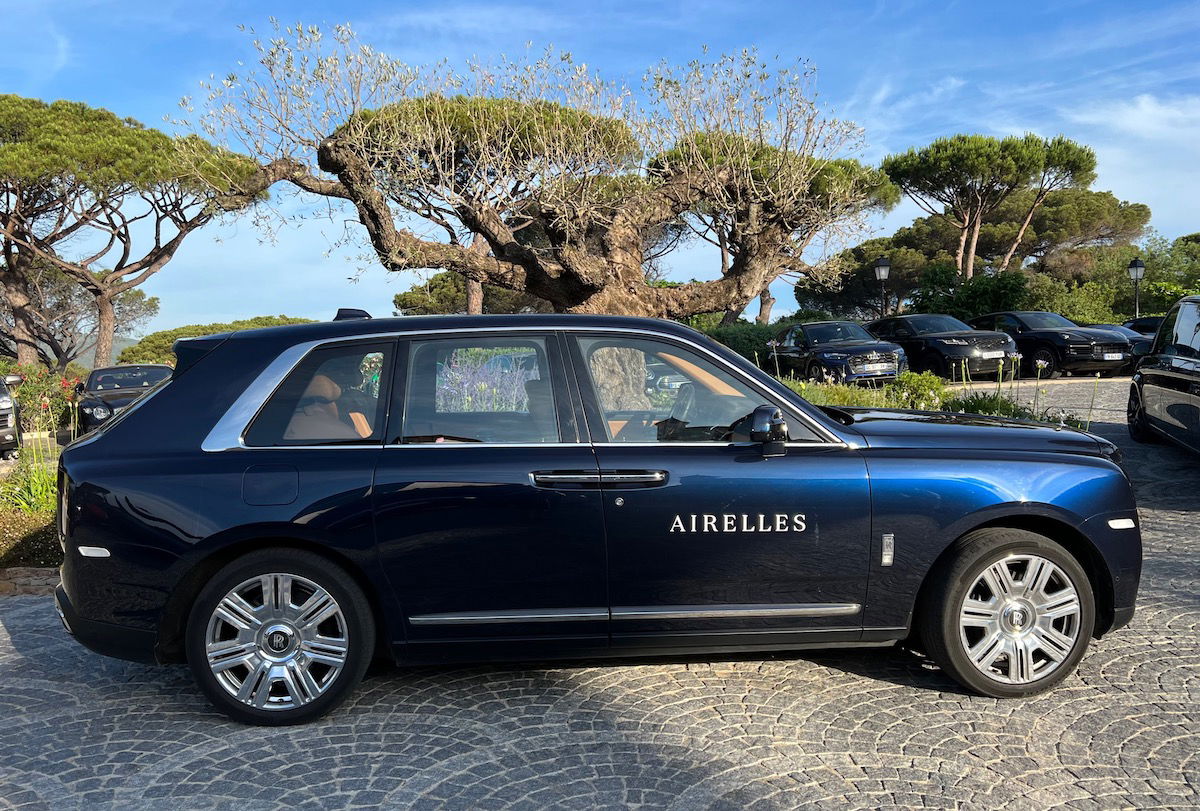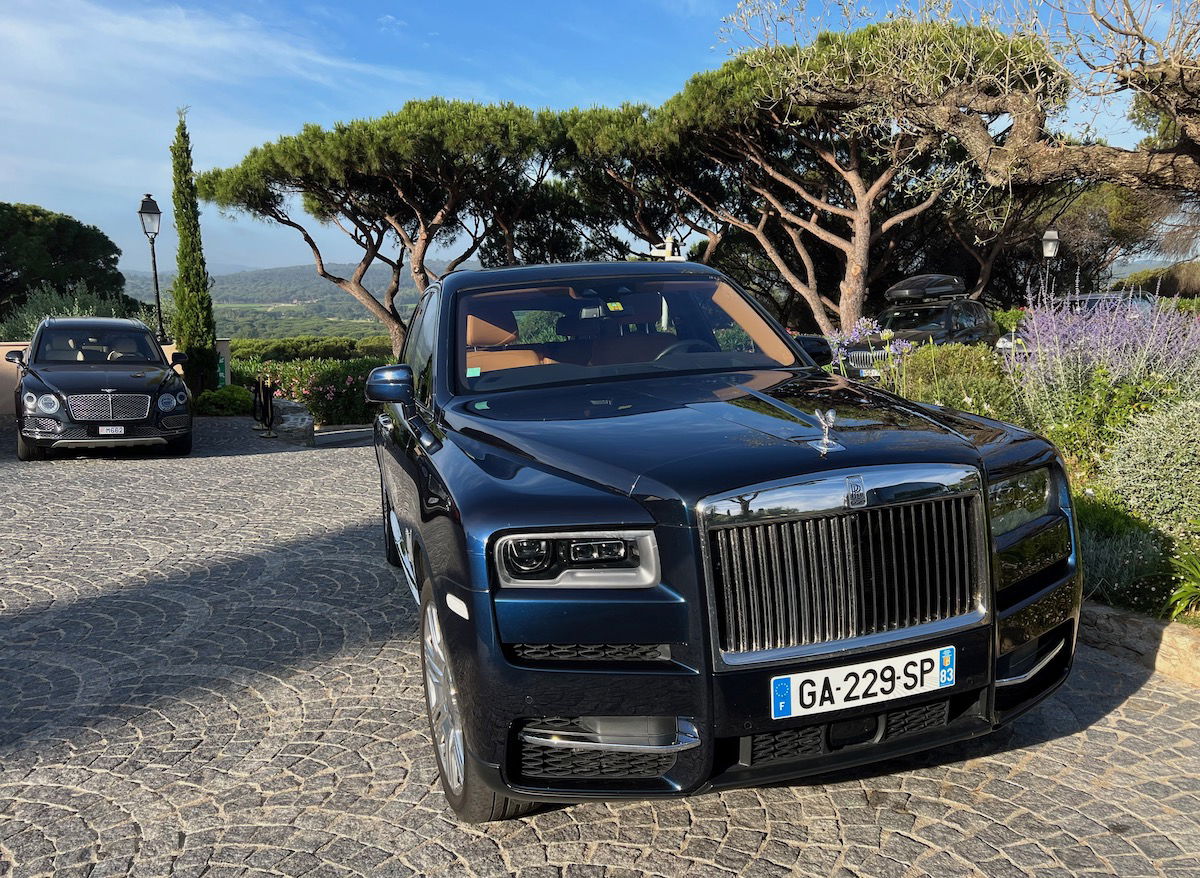 The hotel even brands the Rolls-Royce seats with its own logo.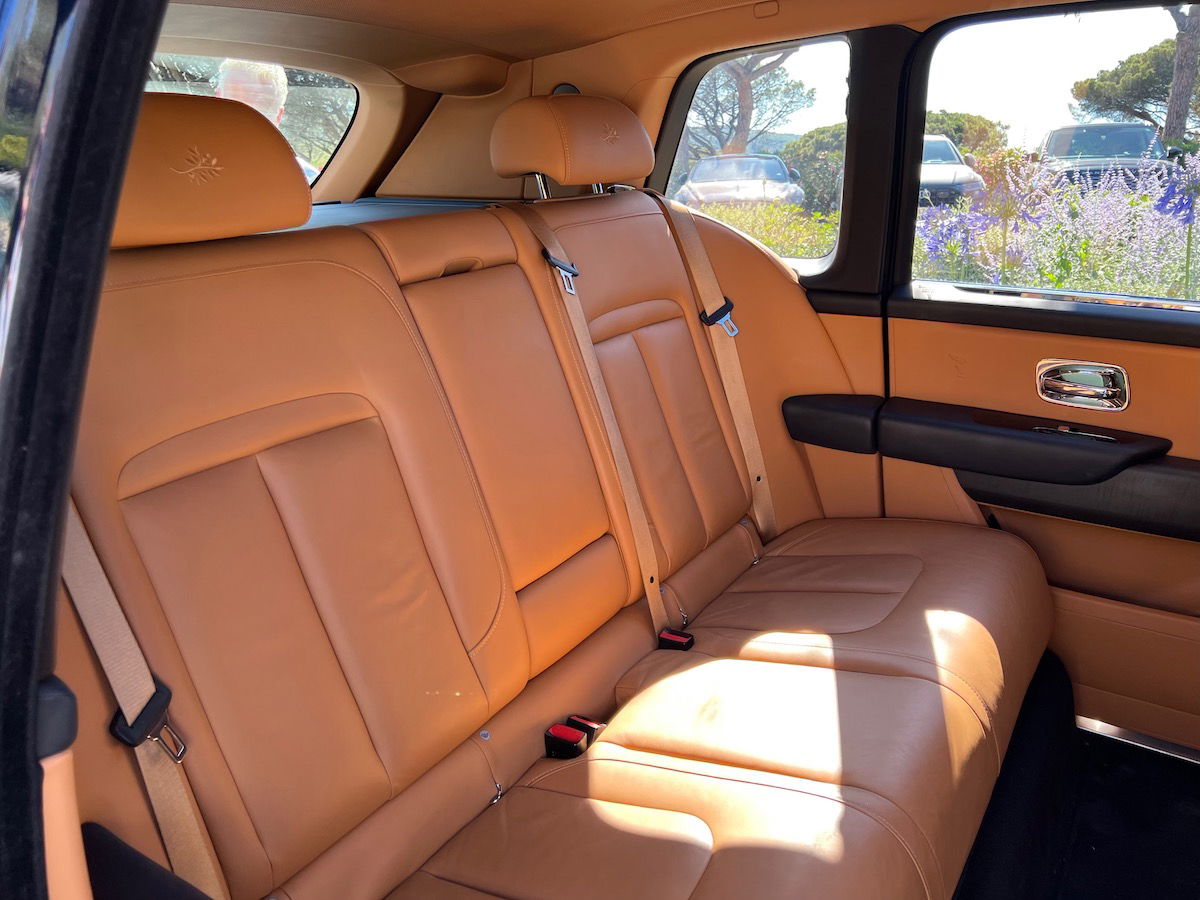 Depending on the mood you're in, there are other fun transfer options as well.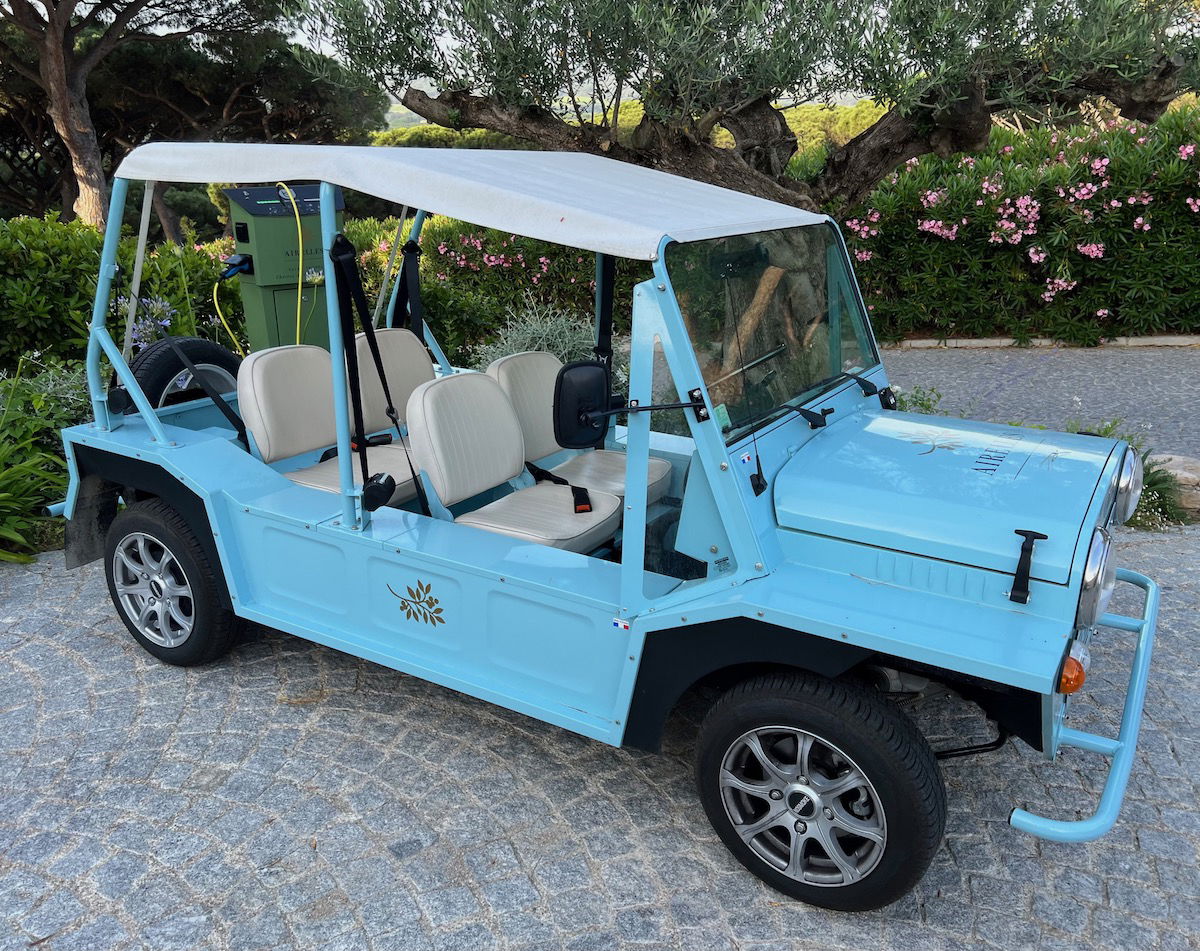 For what it's worth, the closest commercial airport to Saint-Tropez is Nice Cote d'Azur Airport (NCE). That drive can take anywhere from two to three hours, depending on traffic.
Airelles Saint-Tropez lobby
Pulling up to Chateau de la Messardiere is breathtaking, as there's a long road with beautifully maintained gardens leading up to the hotel. Talk about a grand entrance!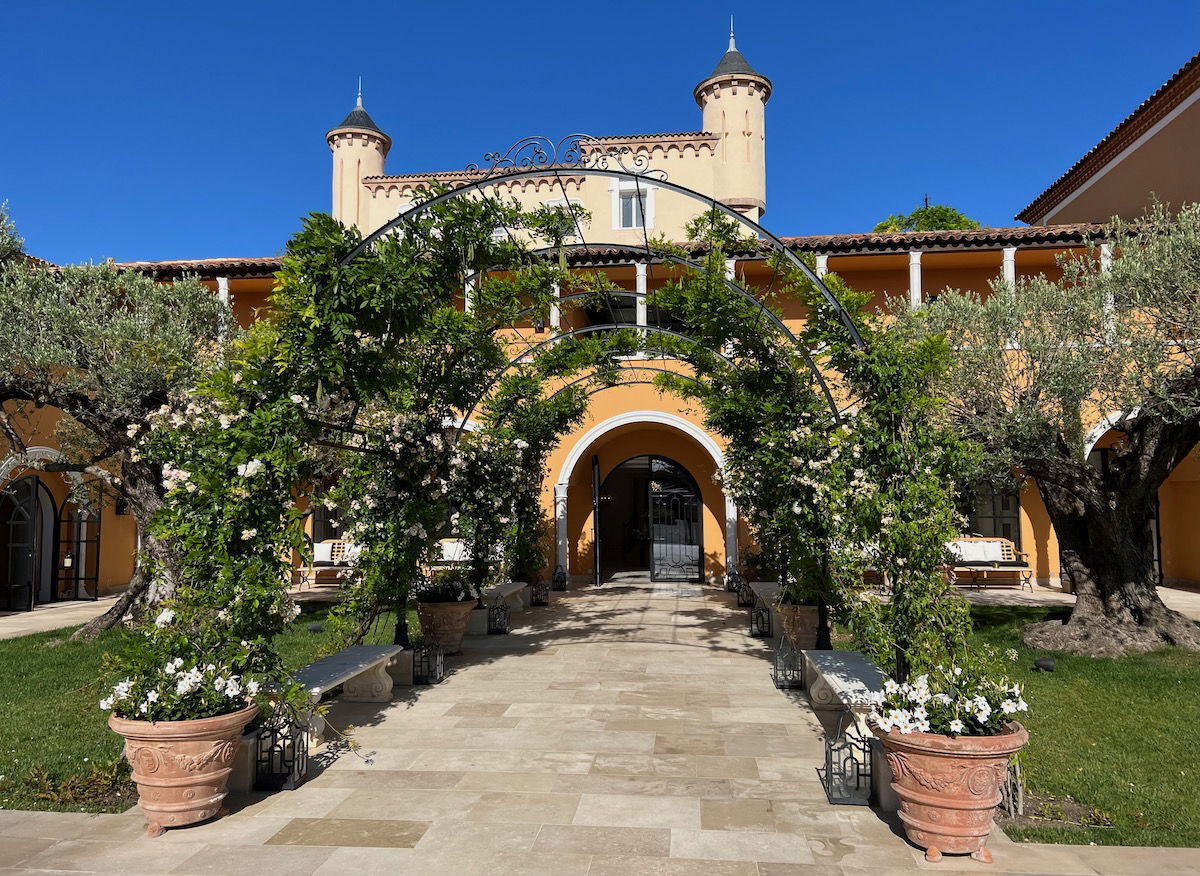 The lobby is quite large, given that there's not really a reason to hang out here other than to check-in and check-out, or depart the hotel.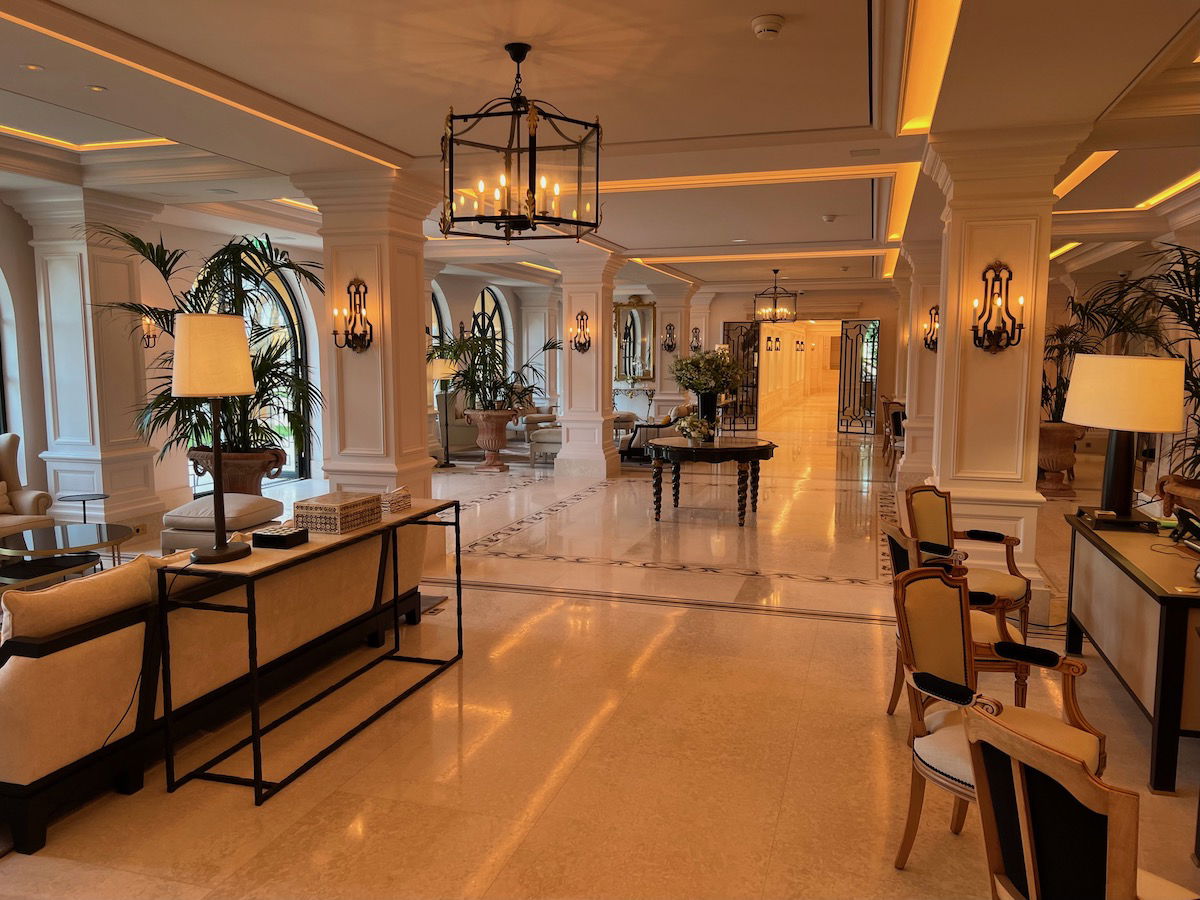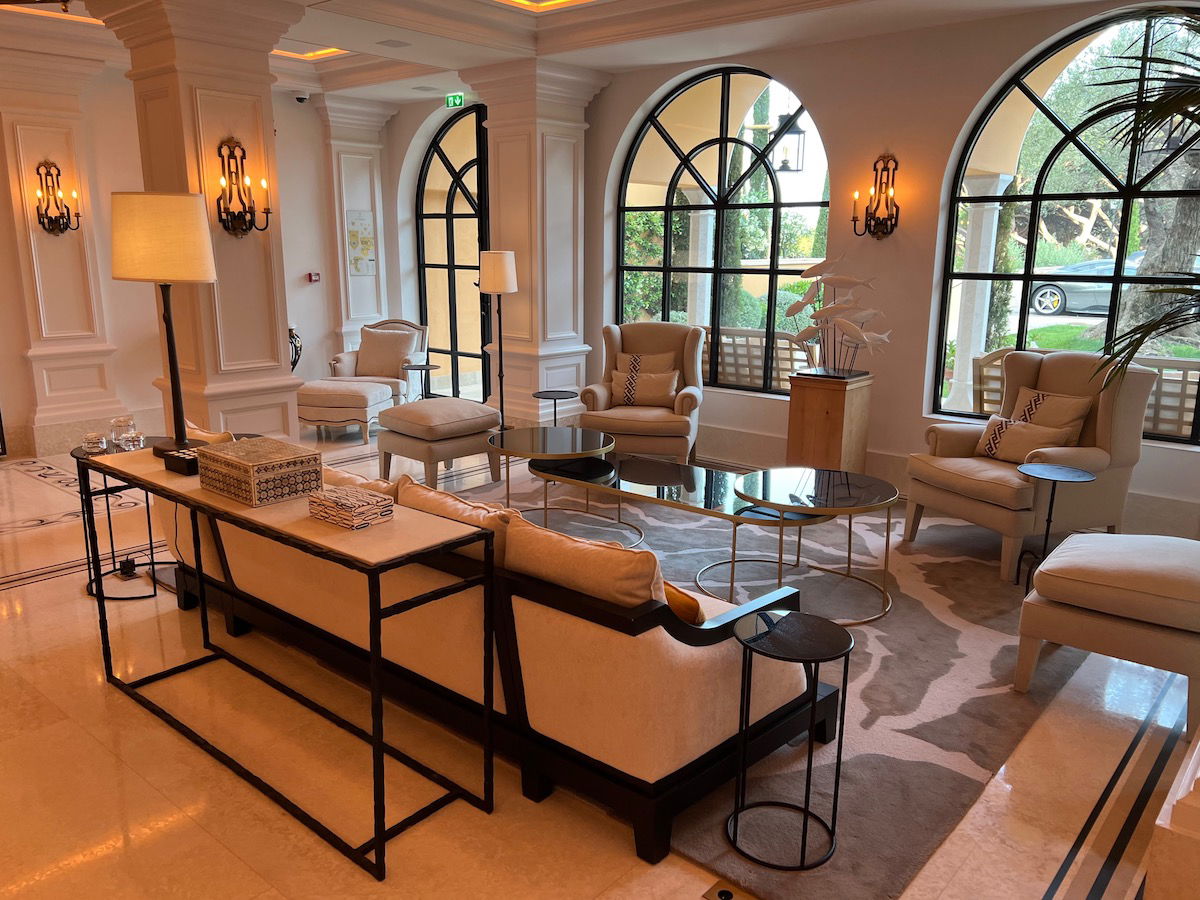 Just about all of the hotel's facilities, including all the restaurants, the main pool, and many of the rooms, are one level up from reception.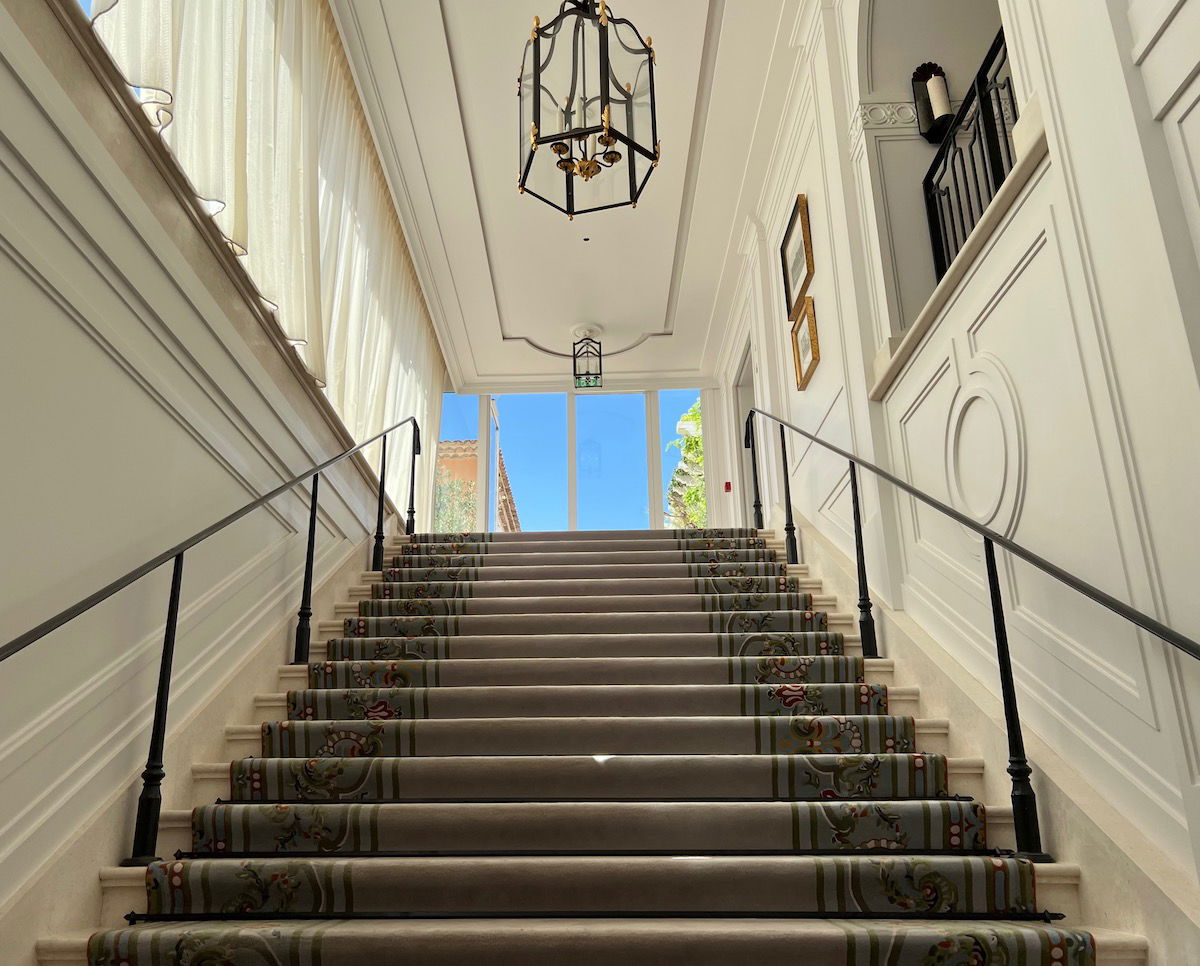 Airelles Saint-Tropez deluxe poolside room
We had booked a deluxe poolside room, and that's exactly what we received. The hotel was 100% occupied, and this was the cheapest room available at the time of booking. As you'd guess based on the name, this room type is poolside, which we personally loved, since you're right in the middle of the property.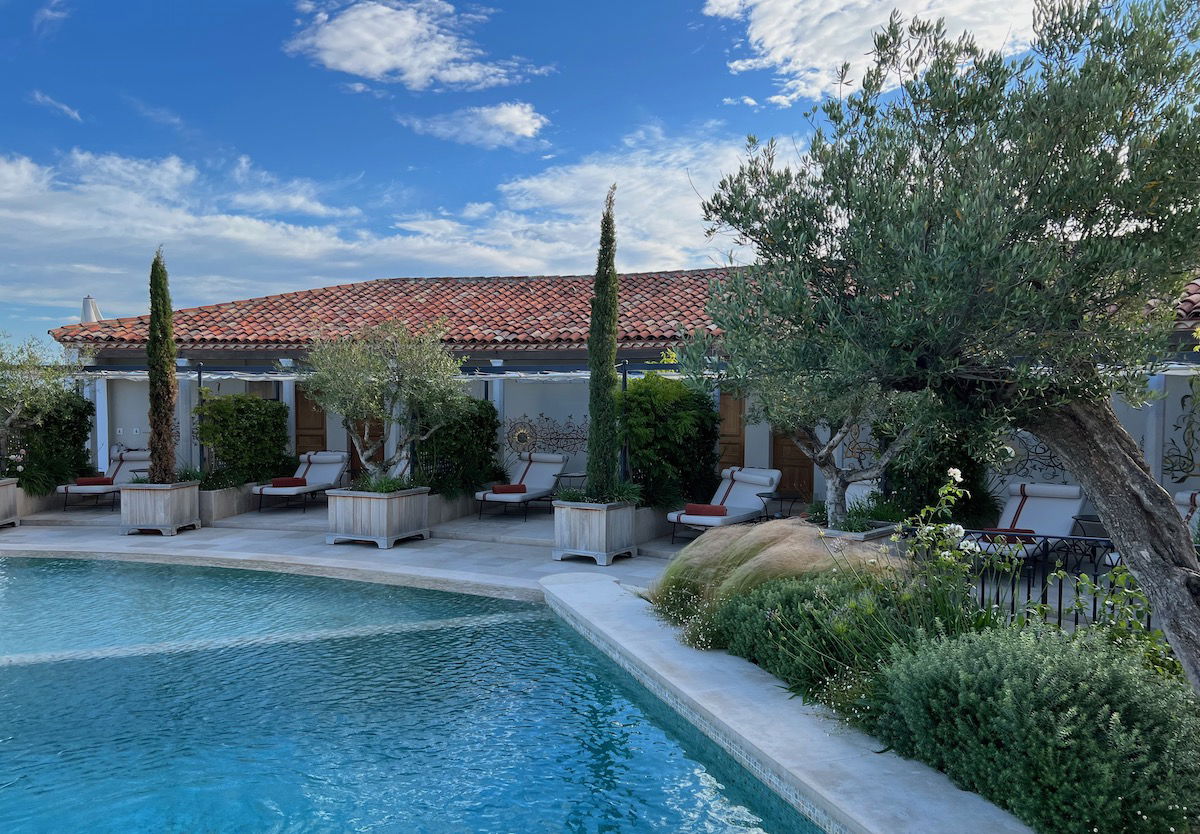 There were a couple of lounge chairs just outside of each room. I'm not sure if these are explicitly for those staying in those rooms or can be used by anyone, but we never saw others using them. So that was a nice feature, especially since there was lots of shade.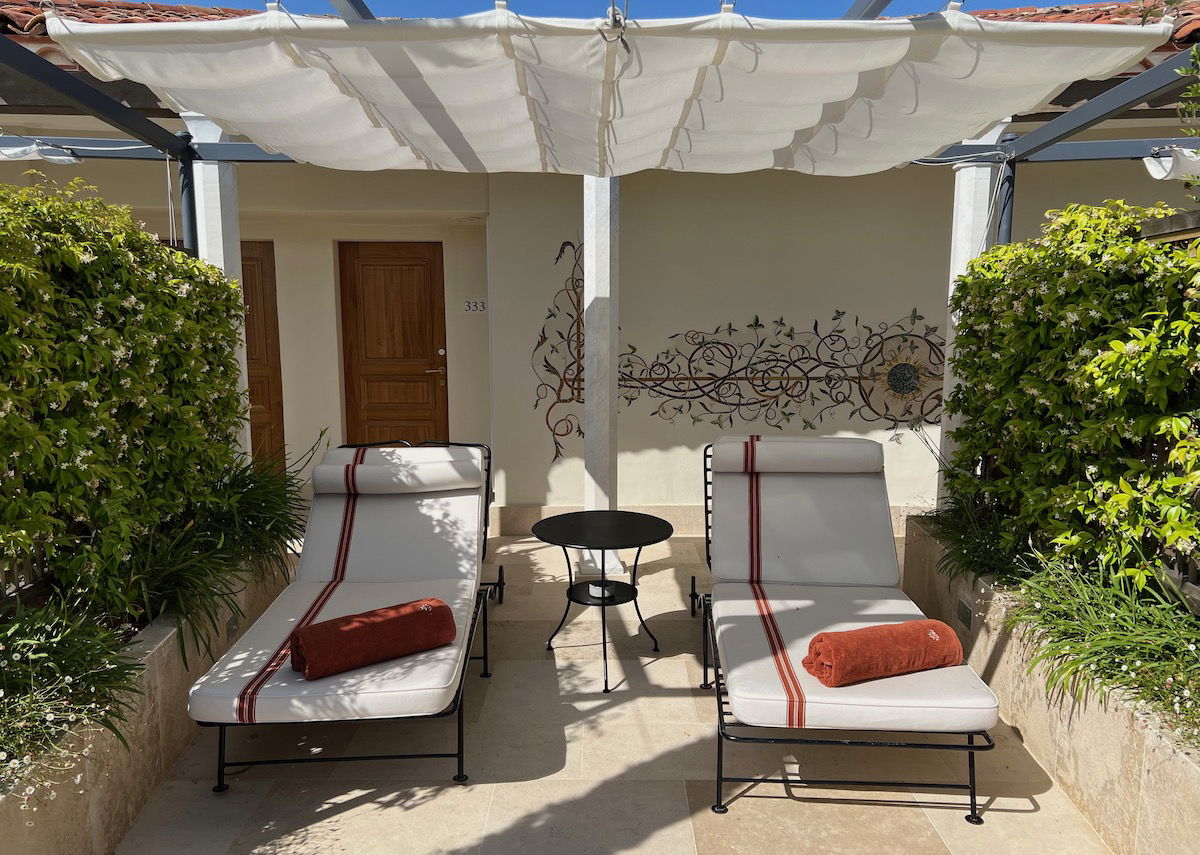 Our room was 322 square feet, so it wasn't huge, but also wasn't tiny. The rooms are tastefully designed, though they're not really a show-stopper in the way that the rest of the resort is. To me the finishes almost made this feel like a cottage, which I liked.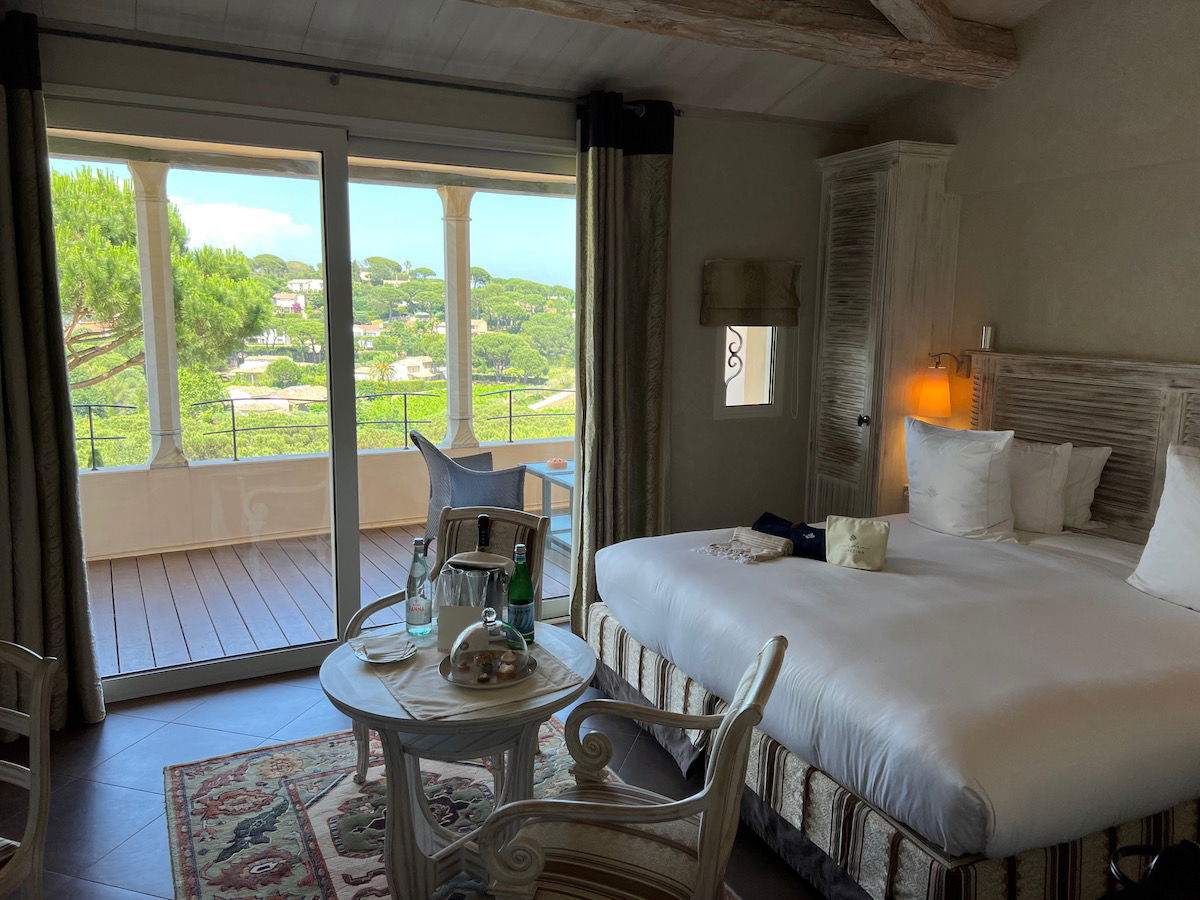 The room had a comfortable king size bed, with closets on both sides of it.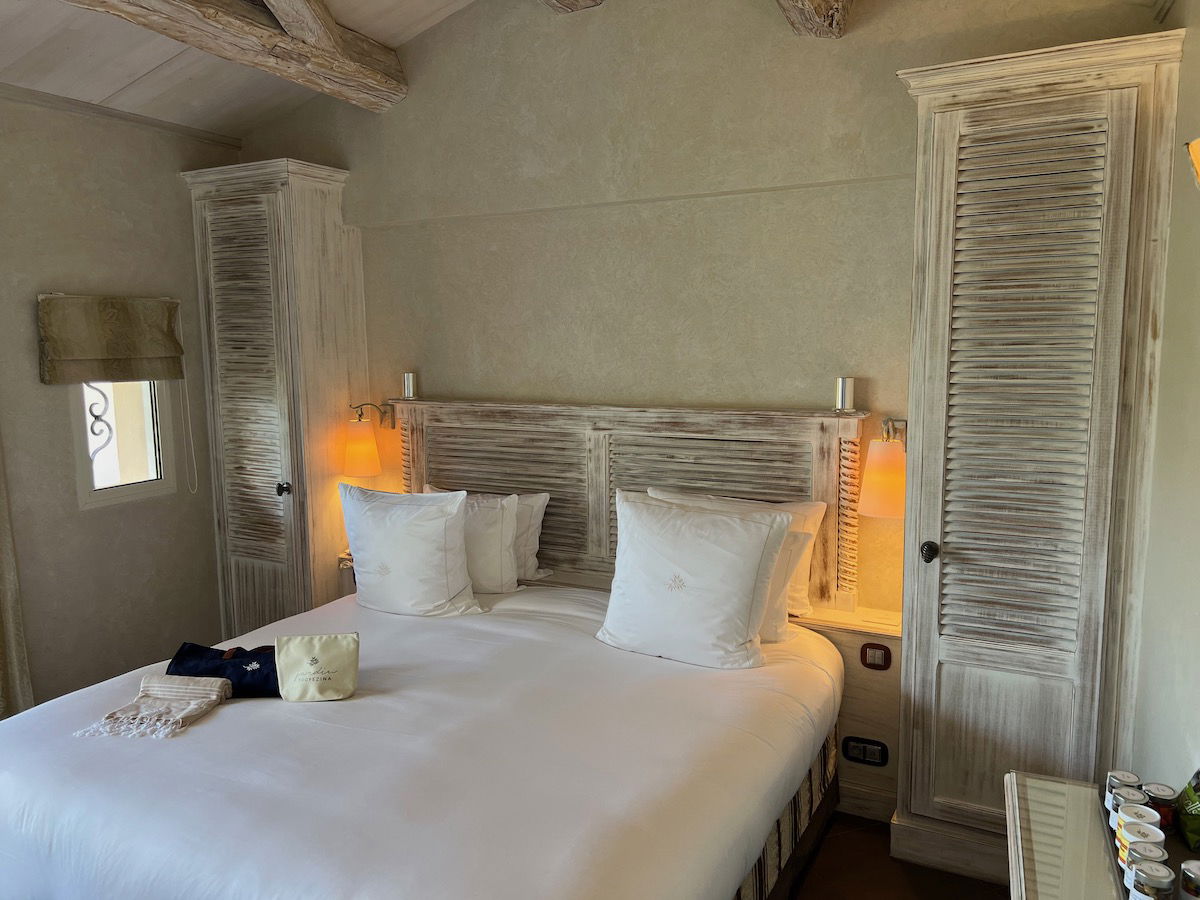 Then there was a sitting area with two seats, plus a desk with a chair, which is also where the TV was. There were also several large closets around the TV.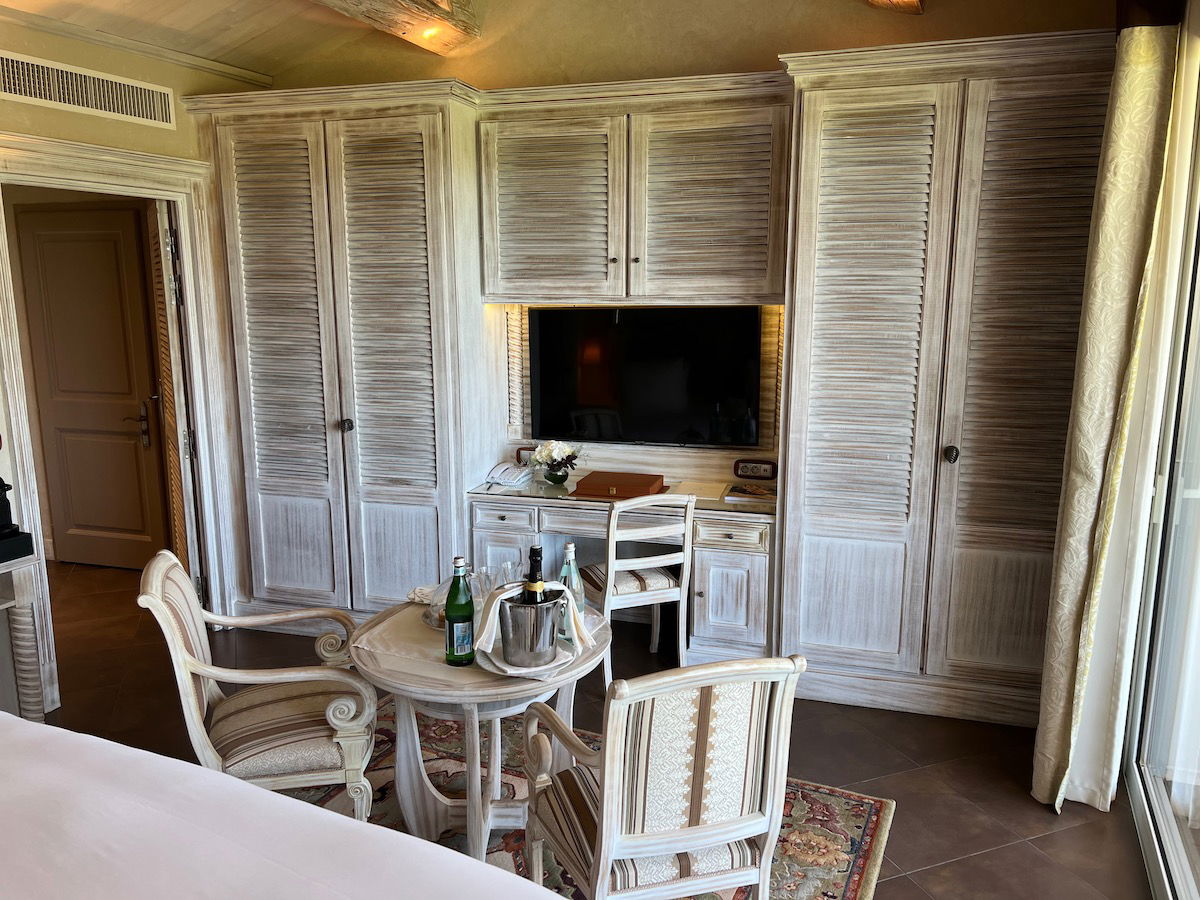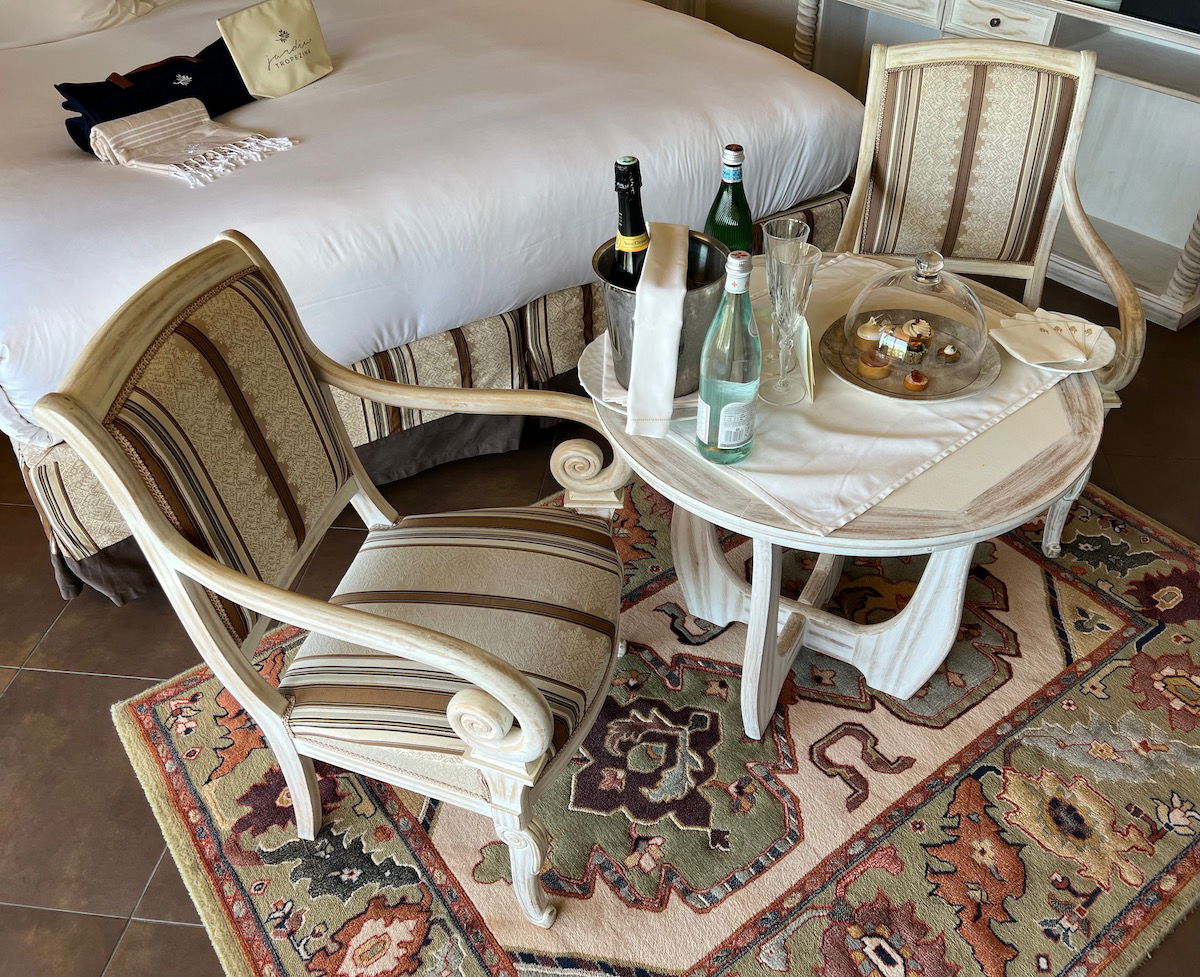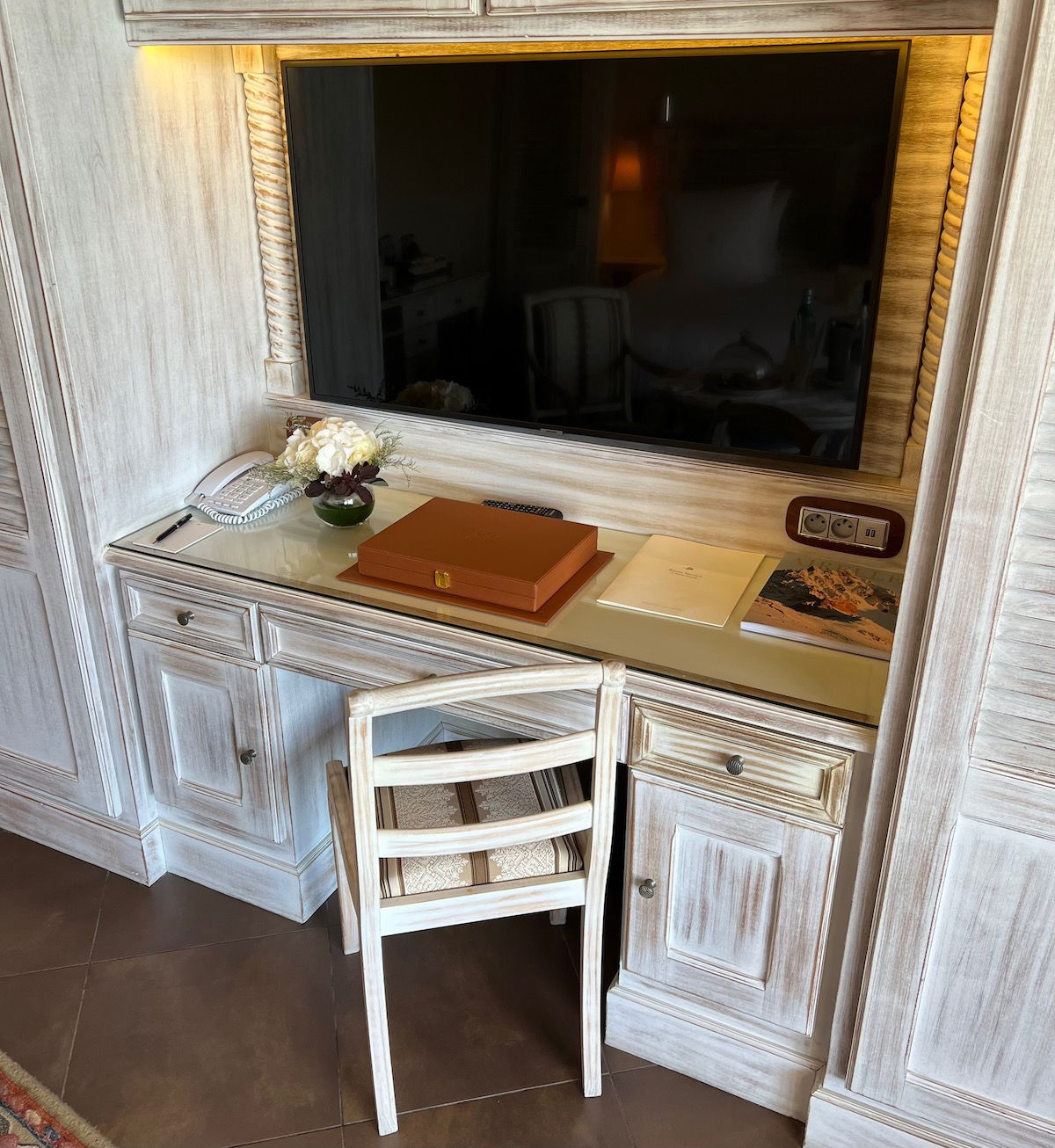 The minibar was along the interior wall, and everything was complimentary, including drinks and snacks. This is a consistent feature at Airelles properties, and is something I love.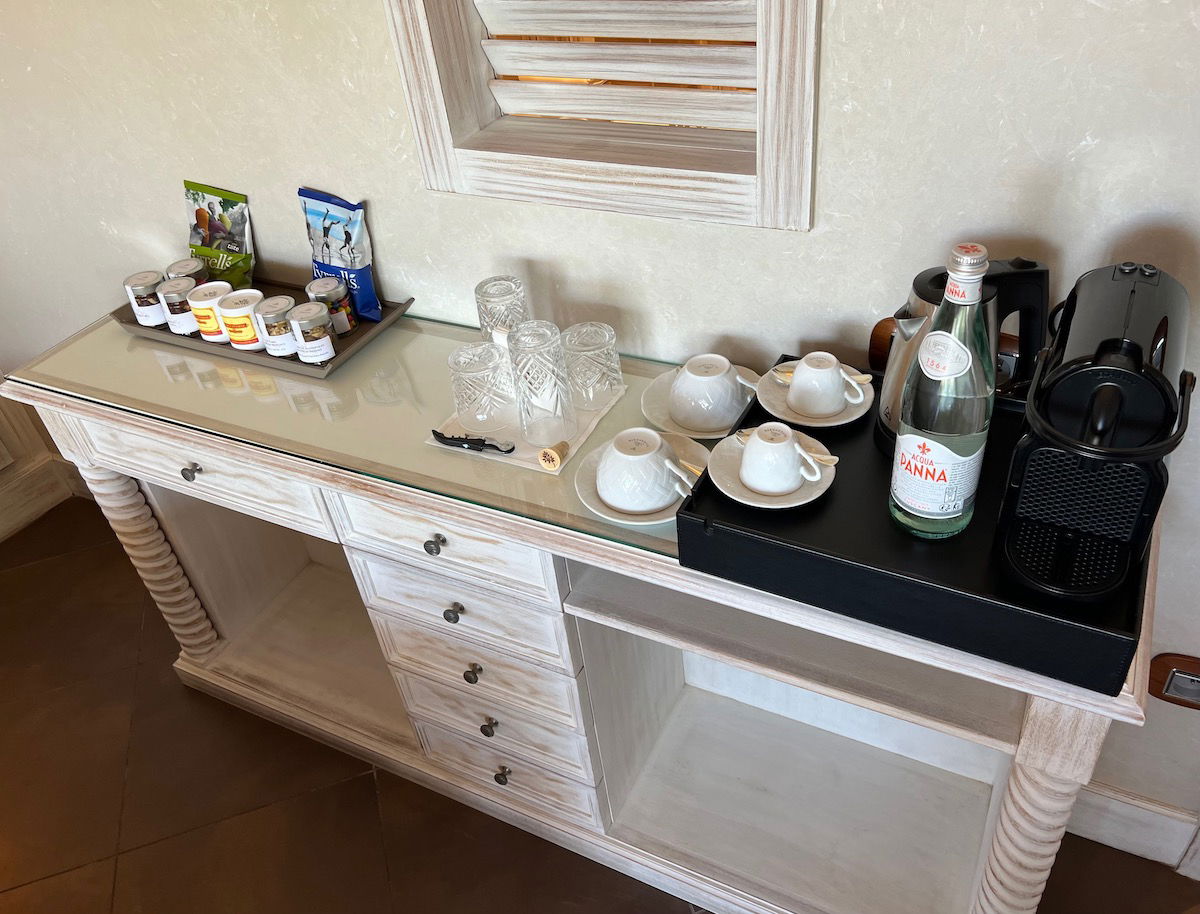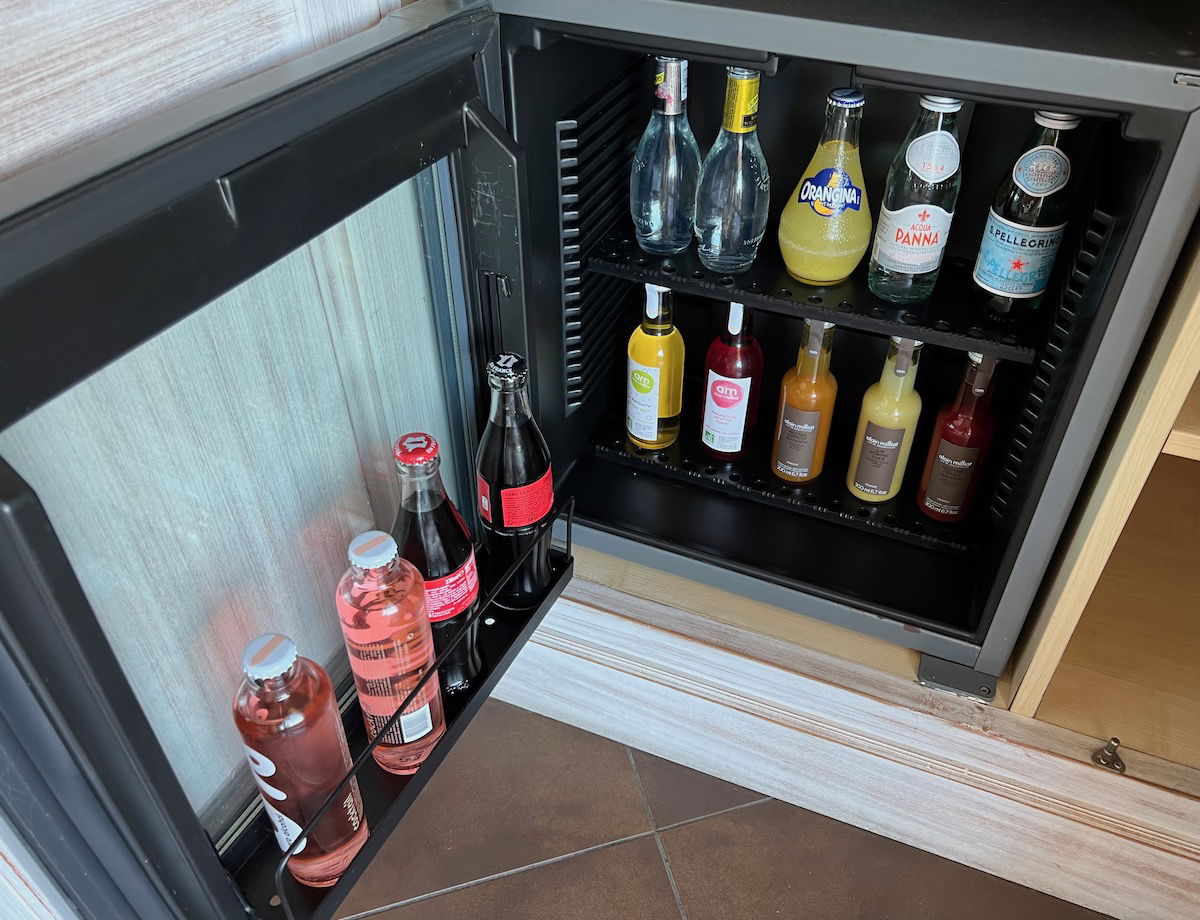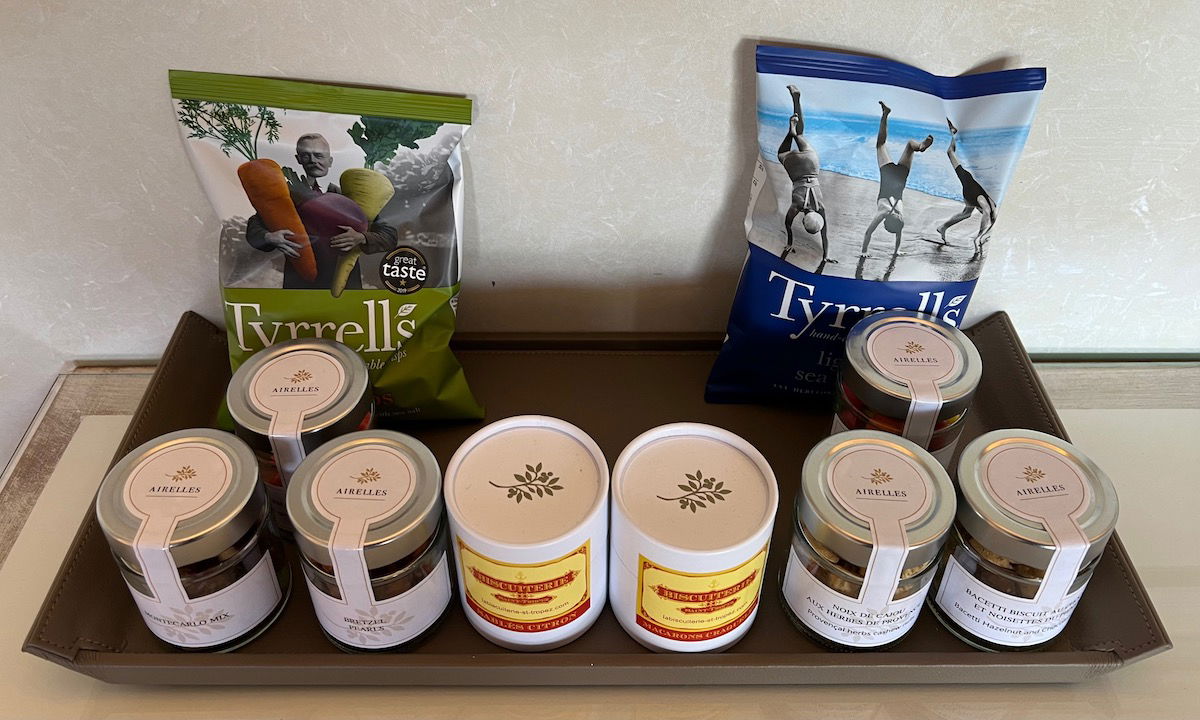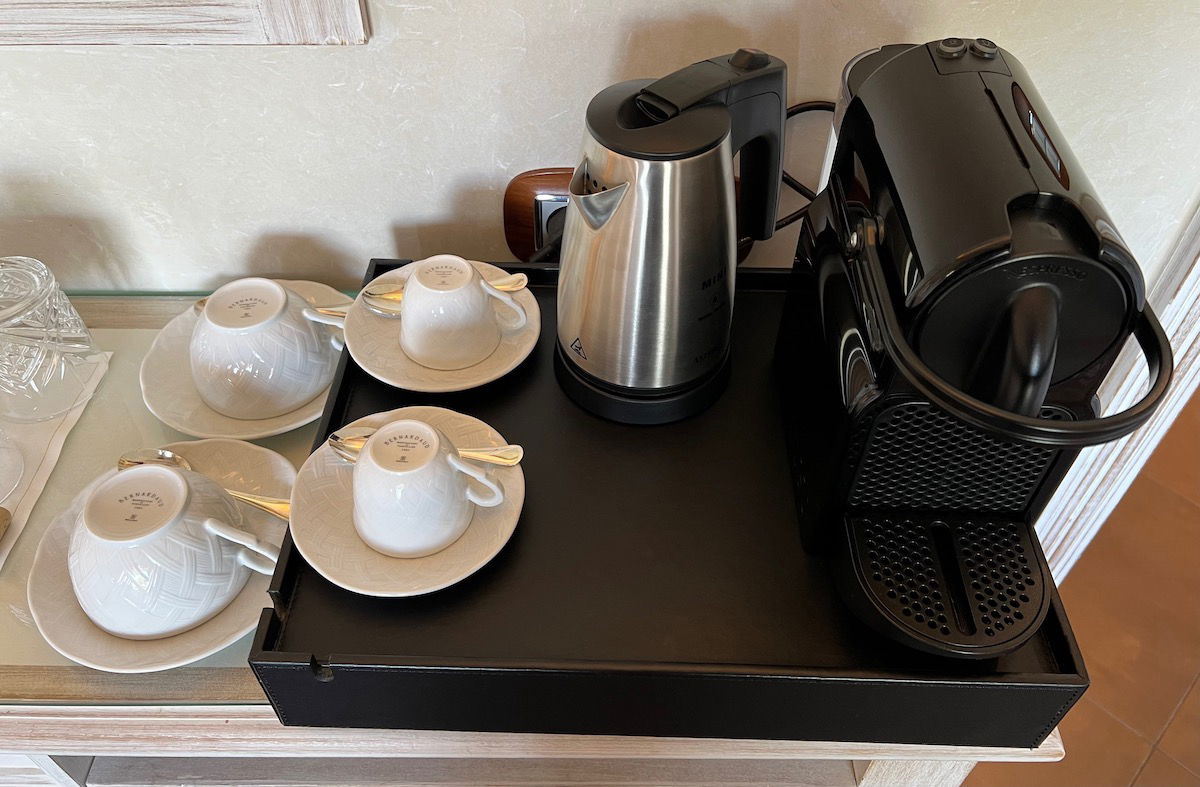 There were also lots of gifts in the room, including a tote, a blanket, a pouch, and two cool hats, all of which we could take home.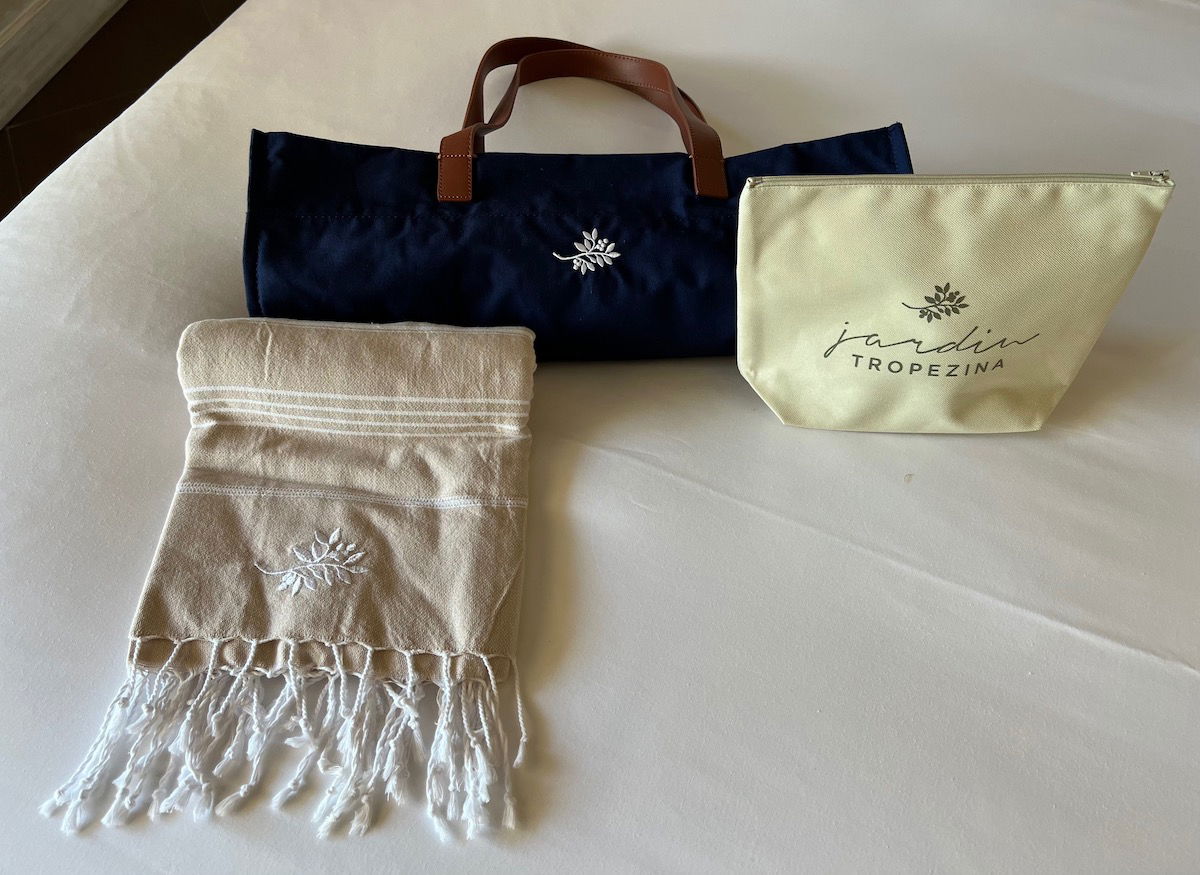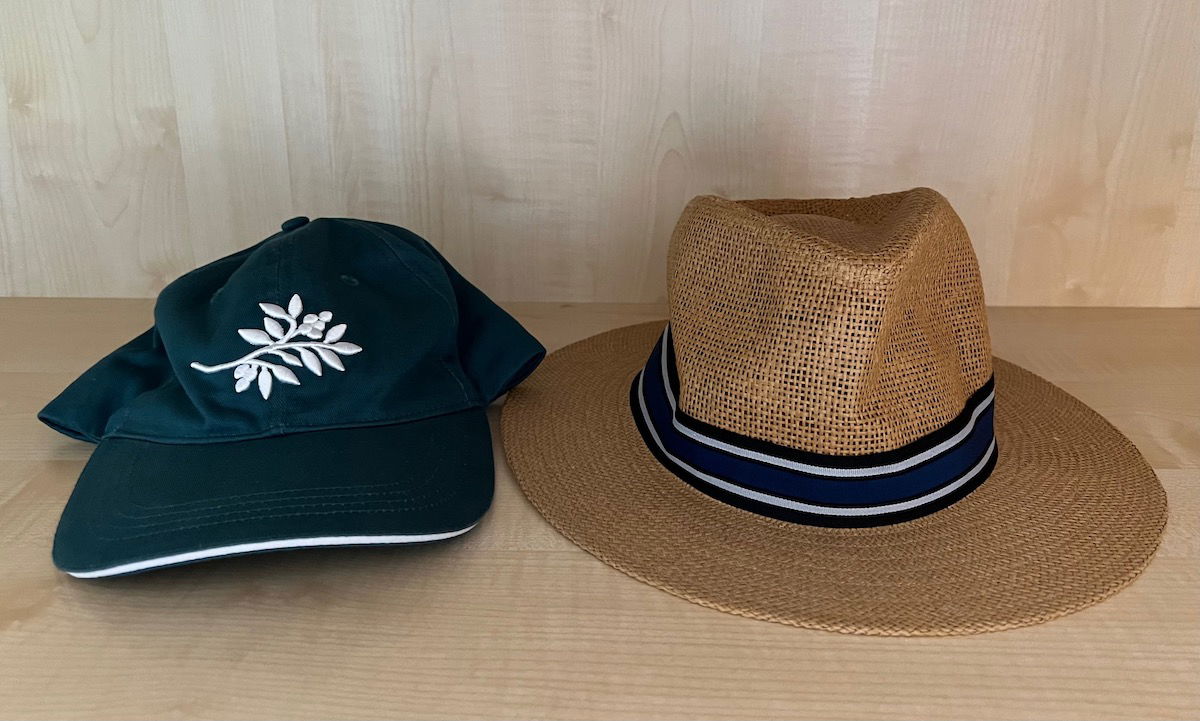 There was also a lovely welcome amenity, consisting of a bottle of Veuve Clicquot rose champagne, two bottles of water, and some sweets.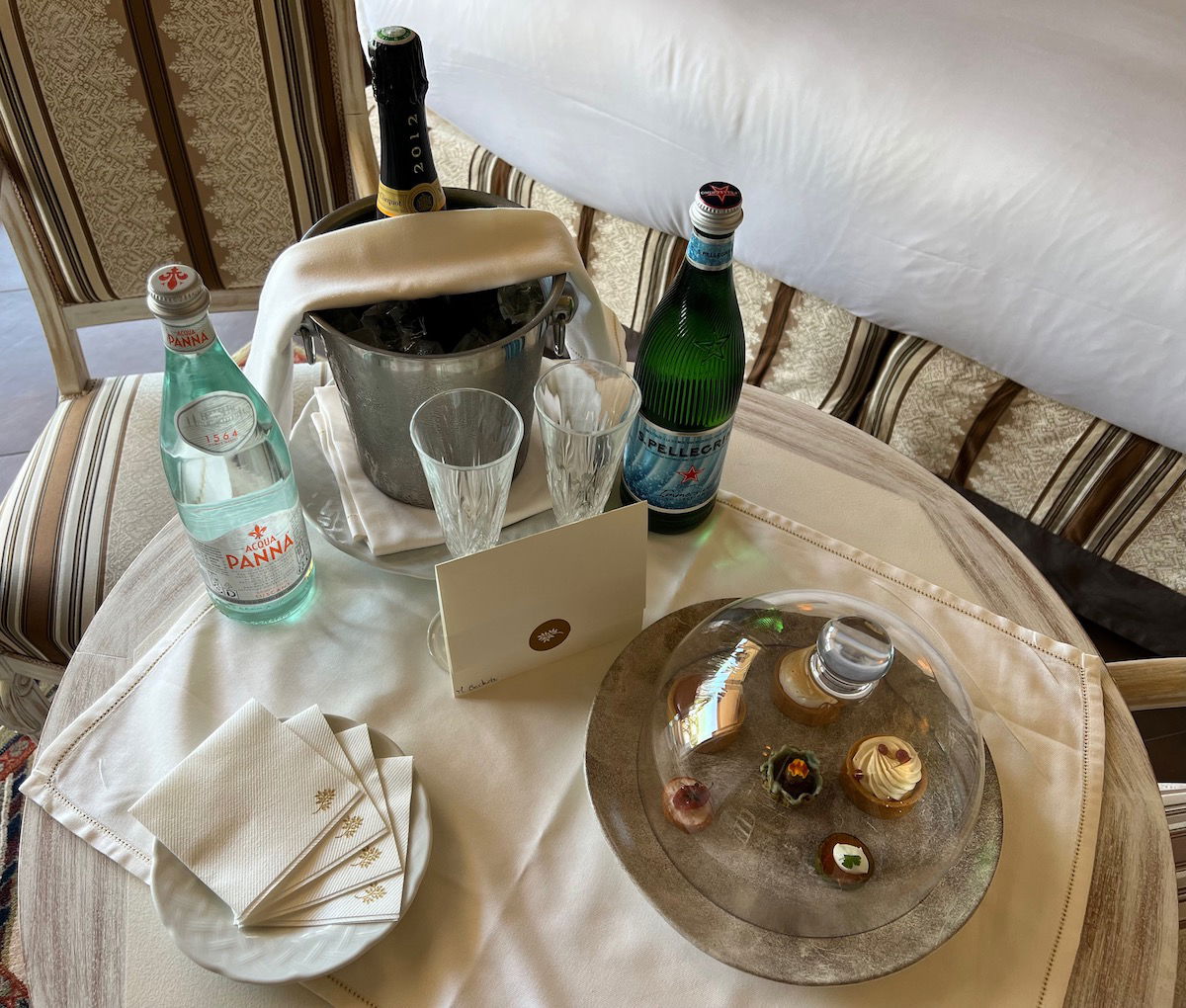 Back toward the entrance was the bedroom, which featured double sinks, a bathtub, a walk-in shower, and a toilet.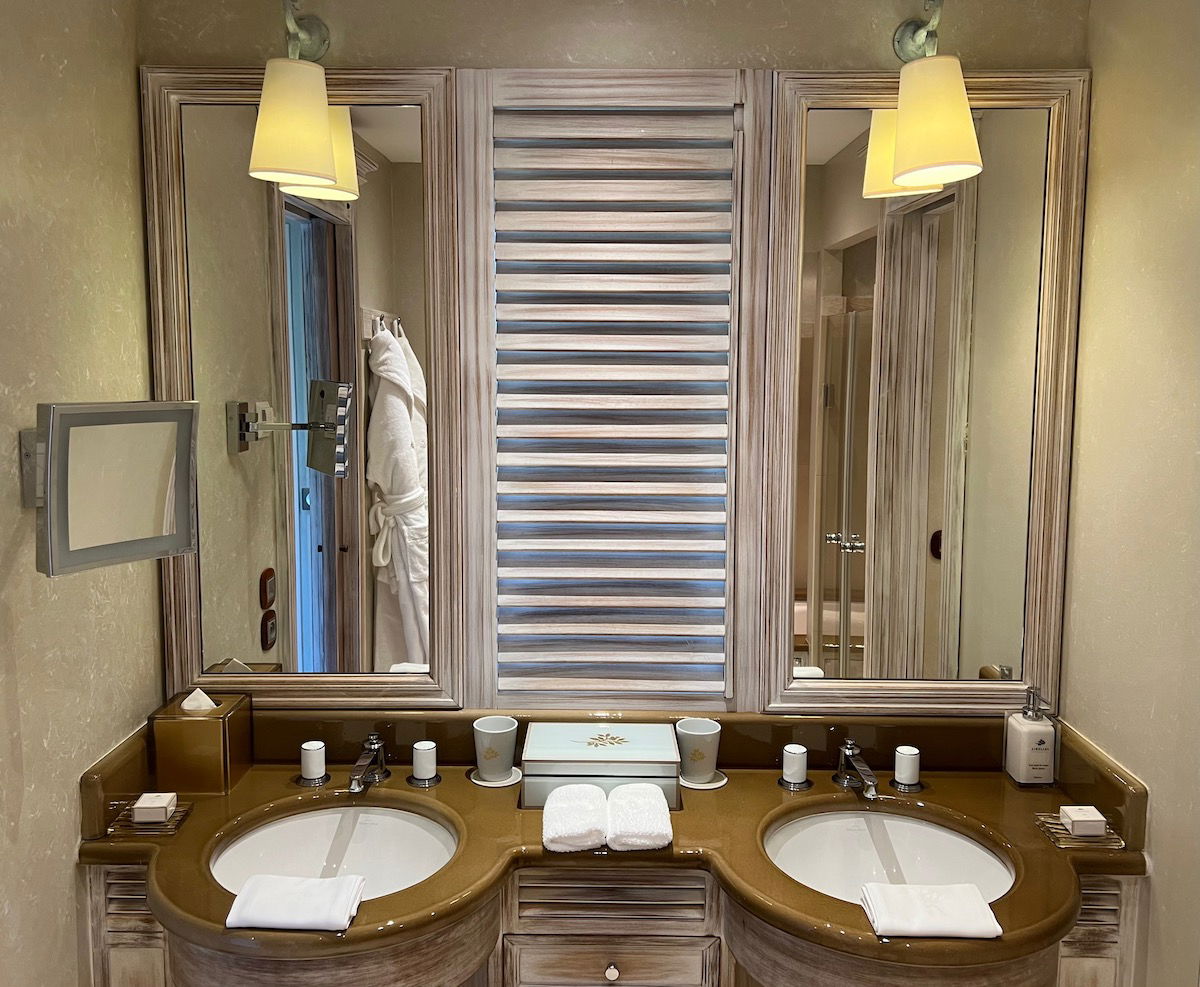 One major issue with the bathroom was the shower. It's elevated and the door doesn't shut fully, so it was basically impossible to shower without getting the water all over the floor in the rest of the bathroom.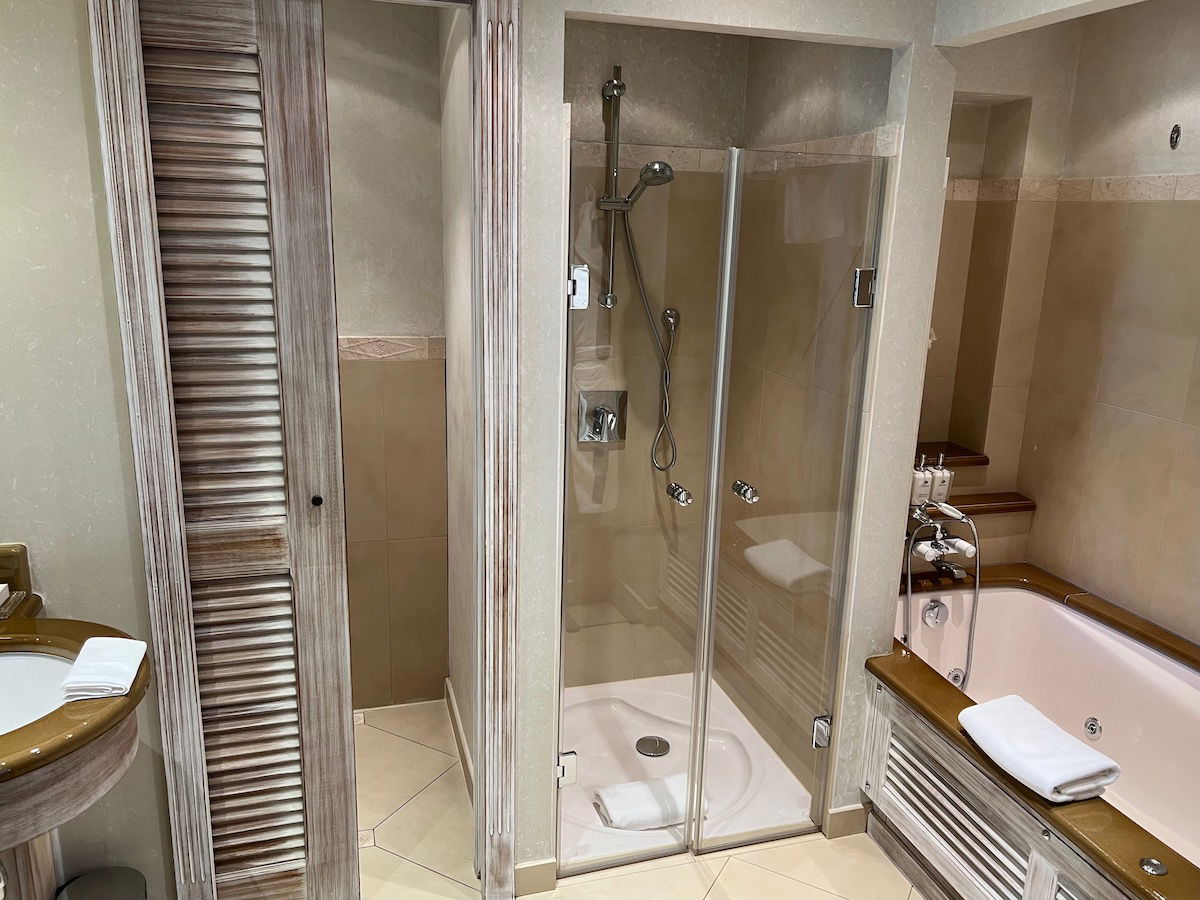 Toiletries were all Airelles branded and in reusable containers, and seemed to be high quality.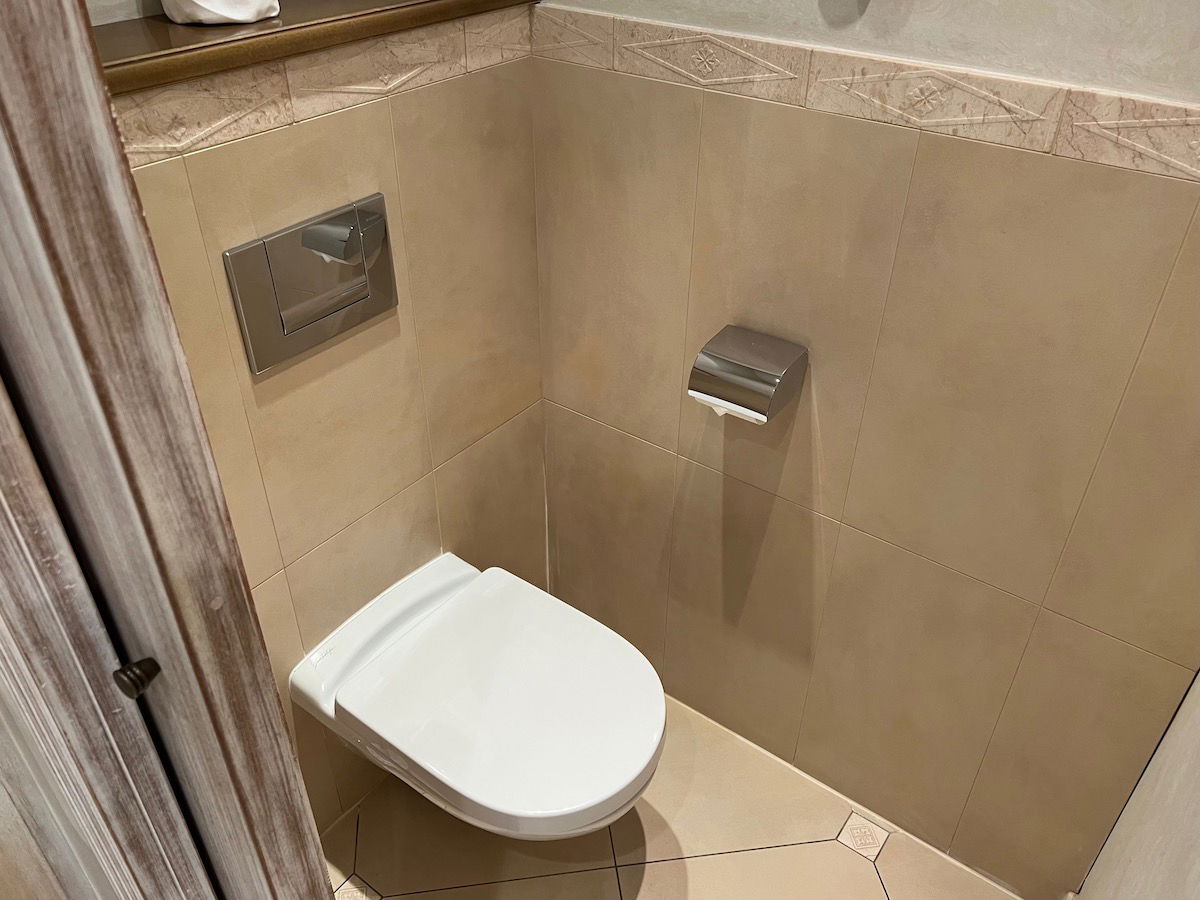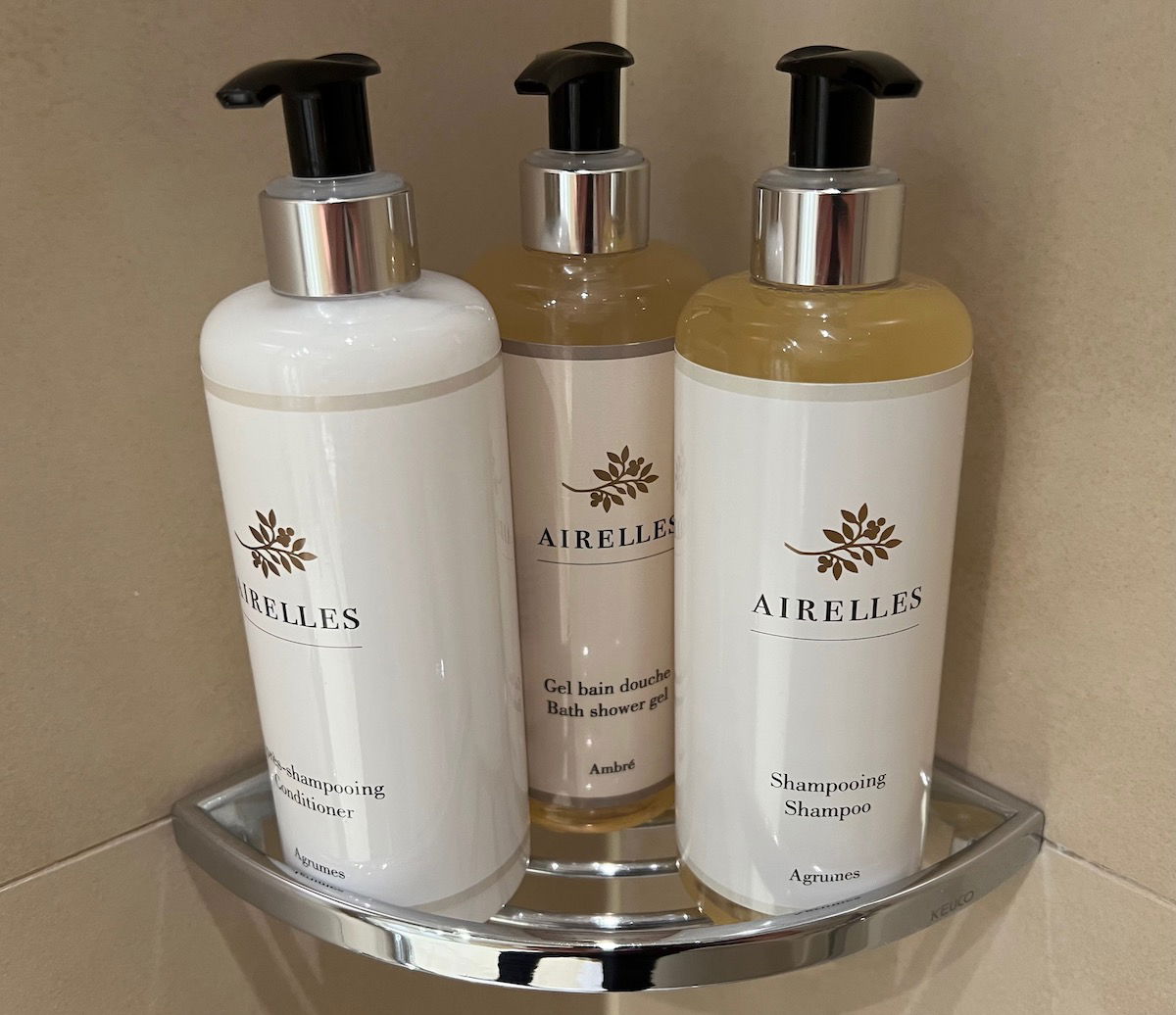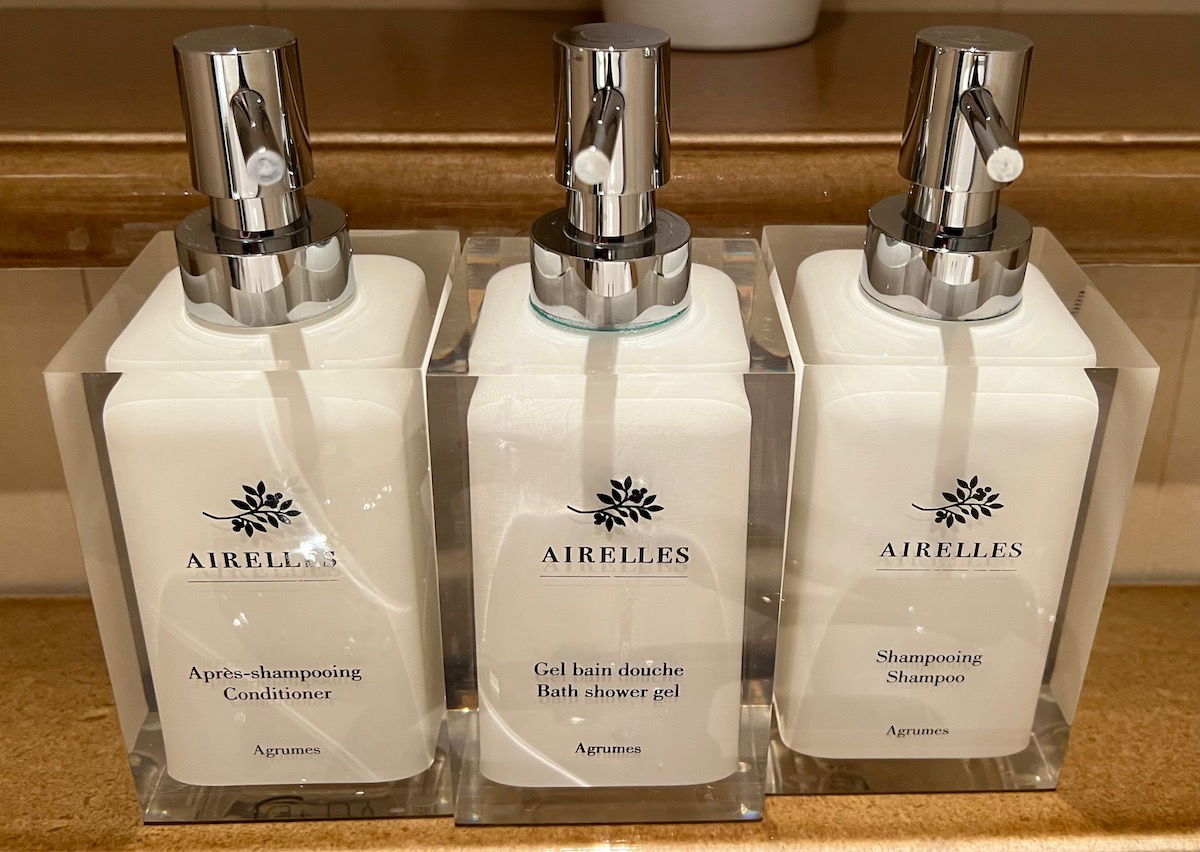 I also appreciated the variety of toiletries and other goodies that were available (all Airelles branded, of course), as having a box with them is so much easier than having to call to request them individually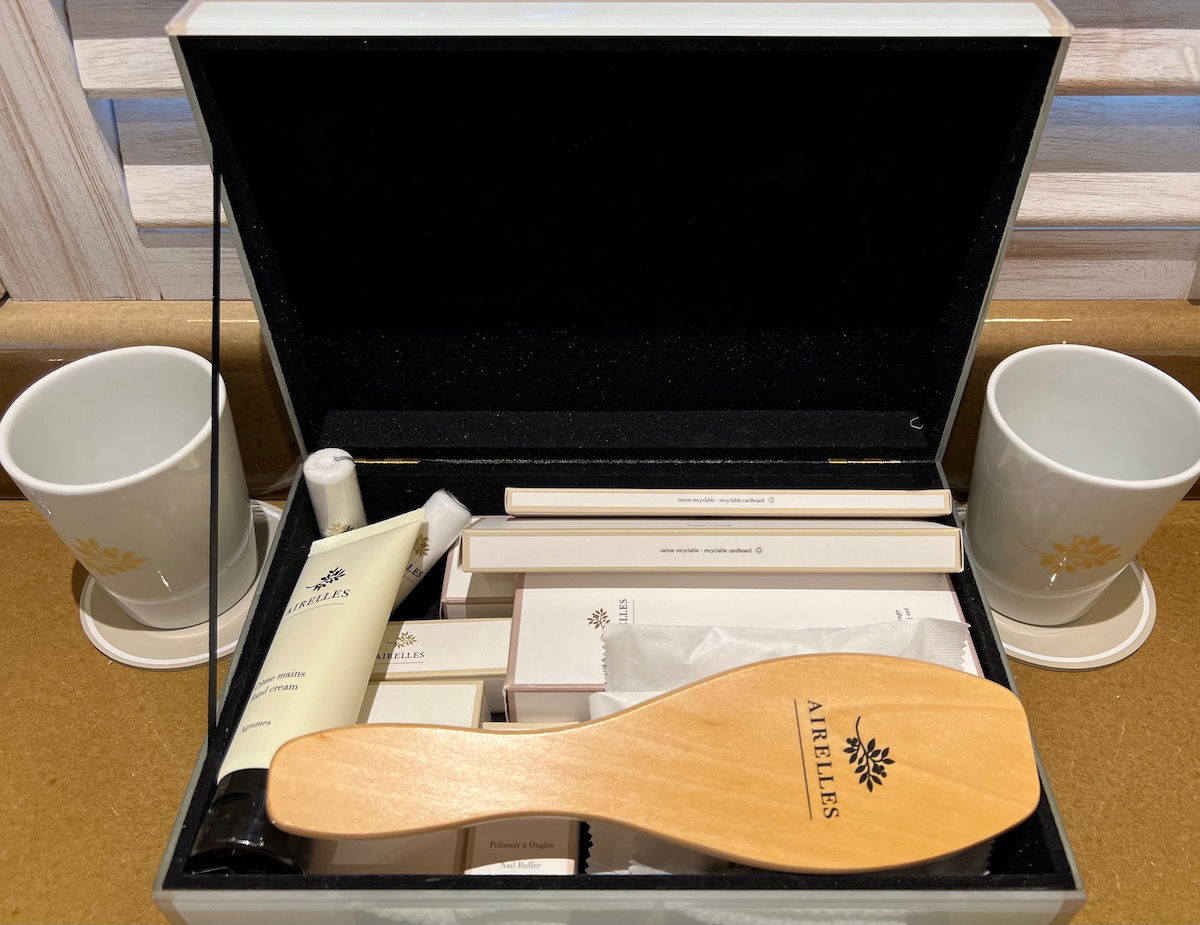 The highlight of the room was the outdoor space, as there was a large balcony with a loveseat and a chair.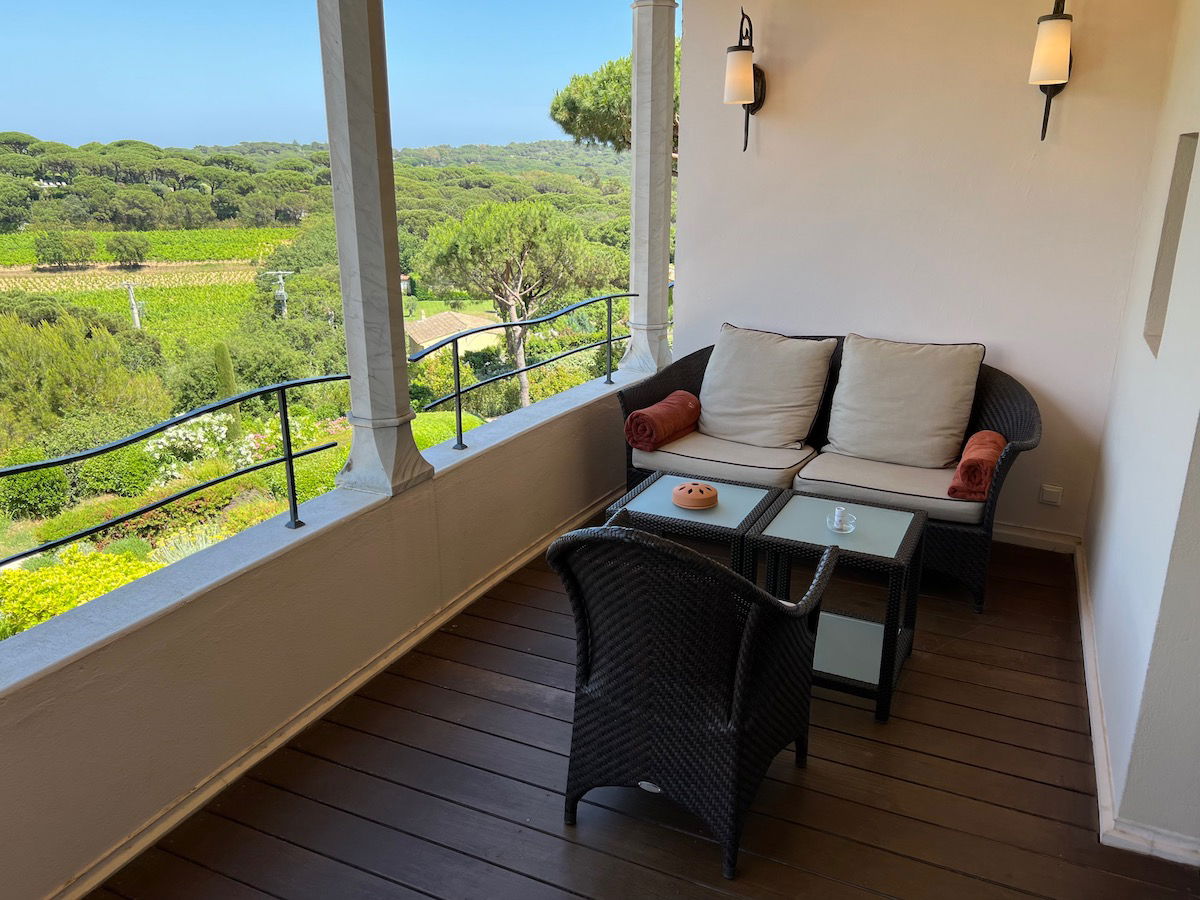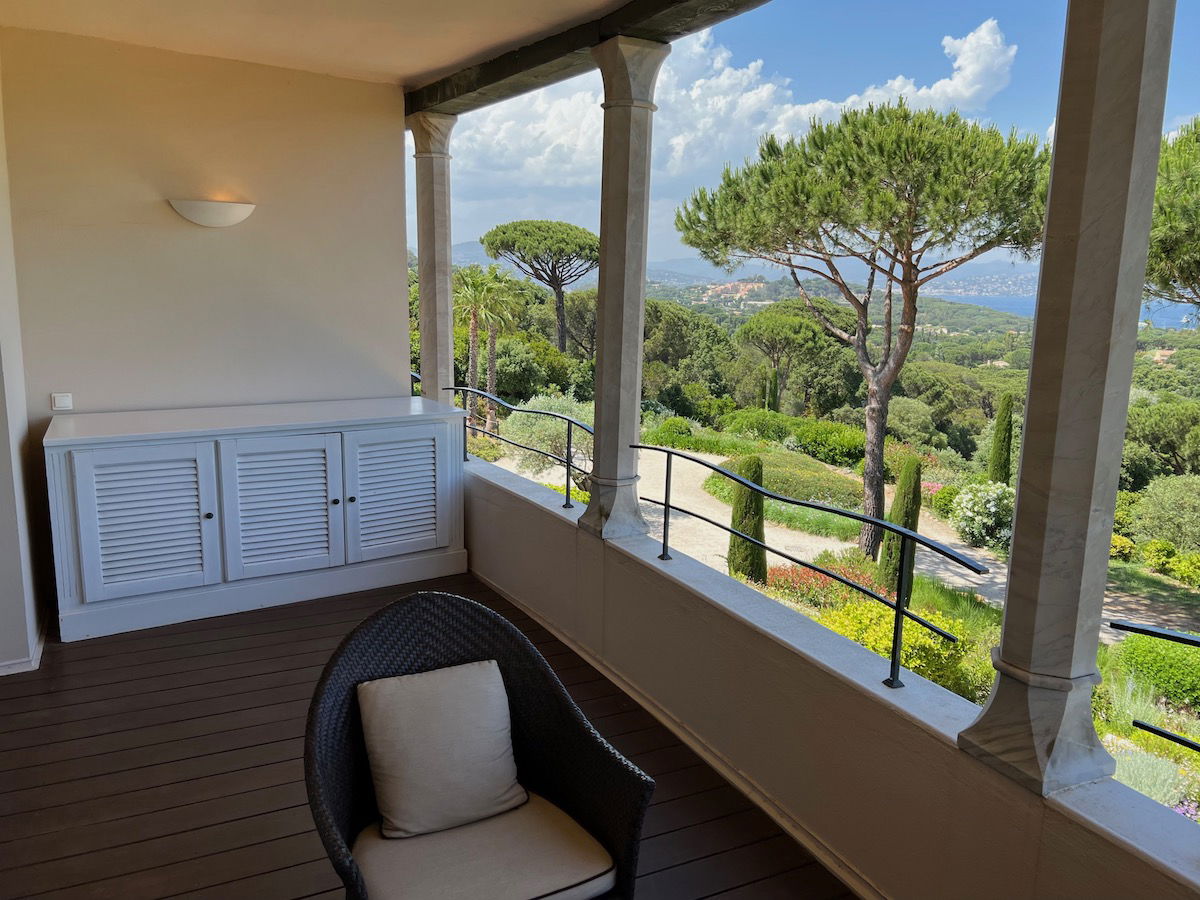 Check out that amazing view!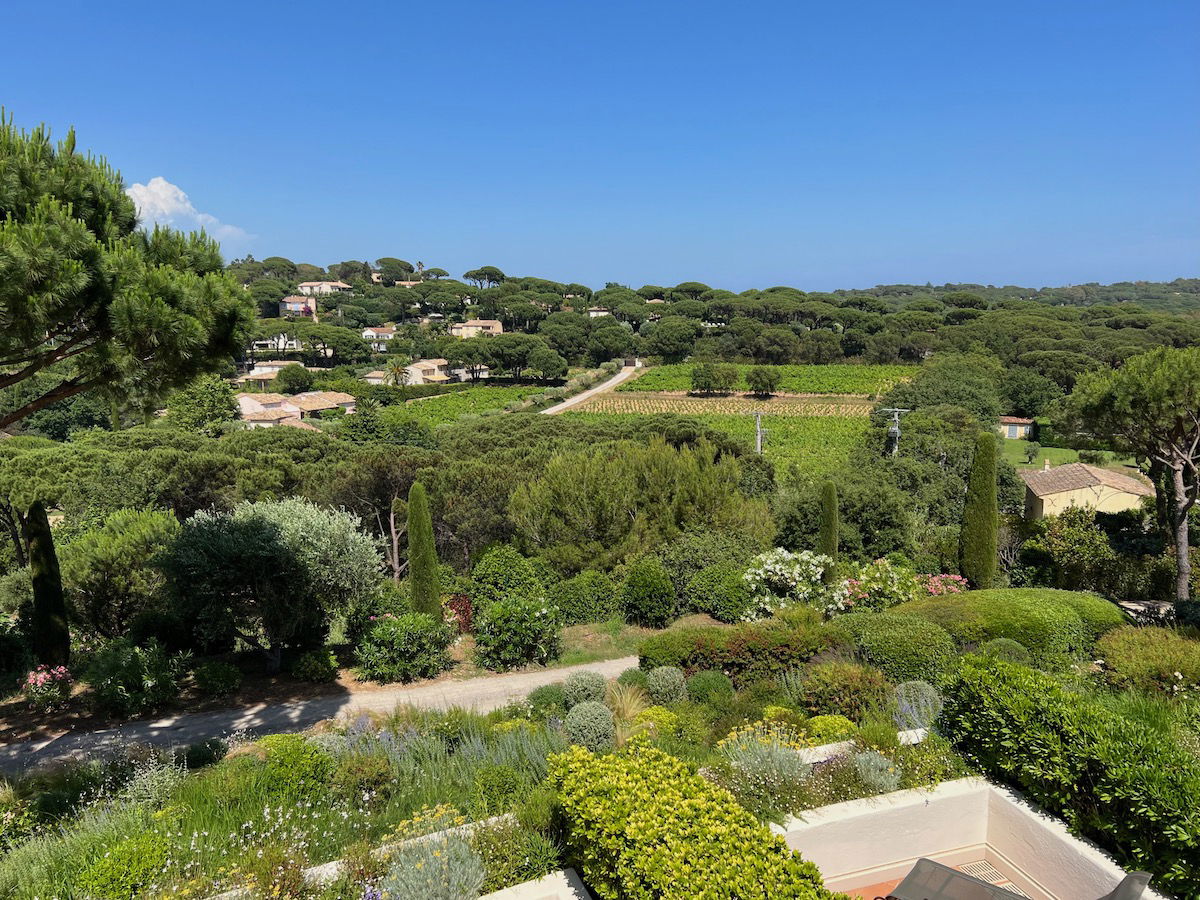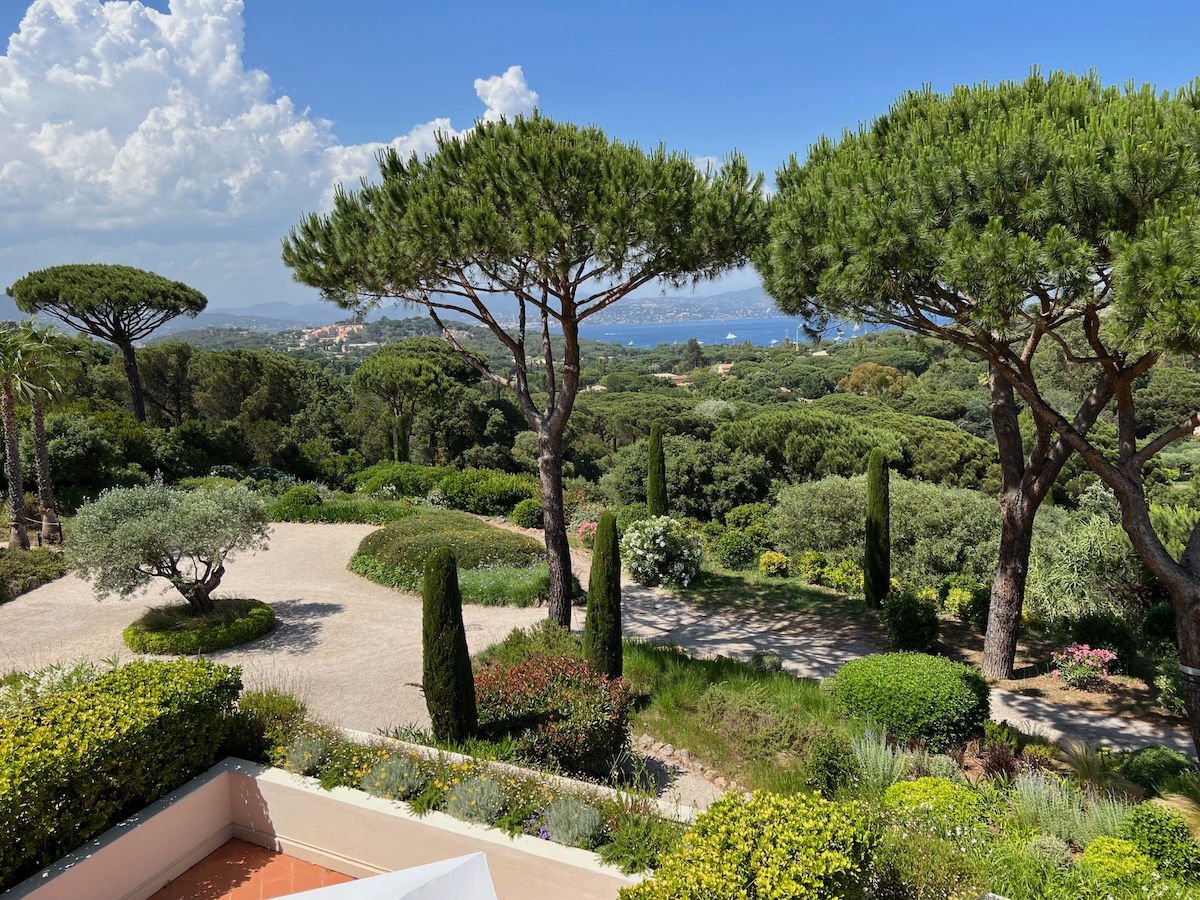 It was even more beautiful at sunset.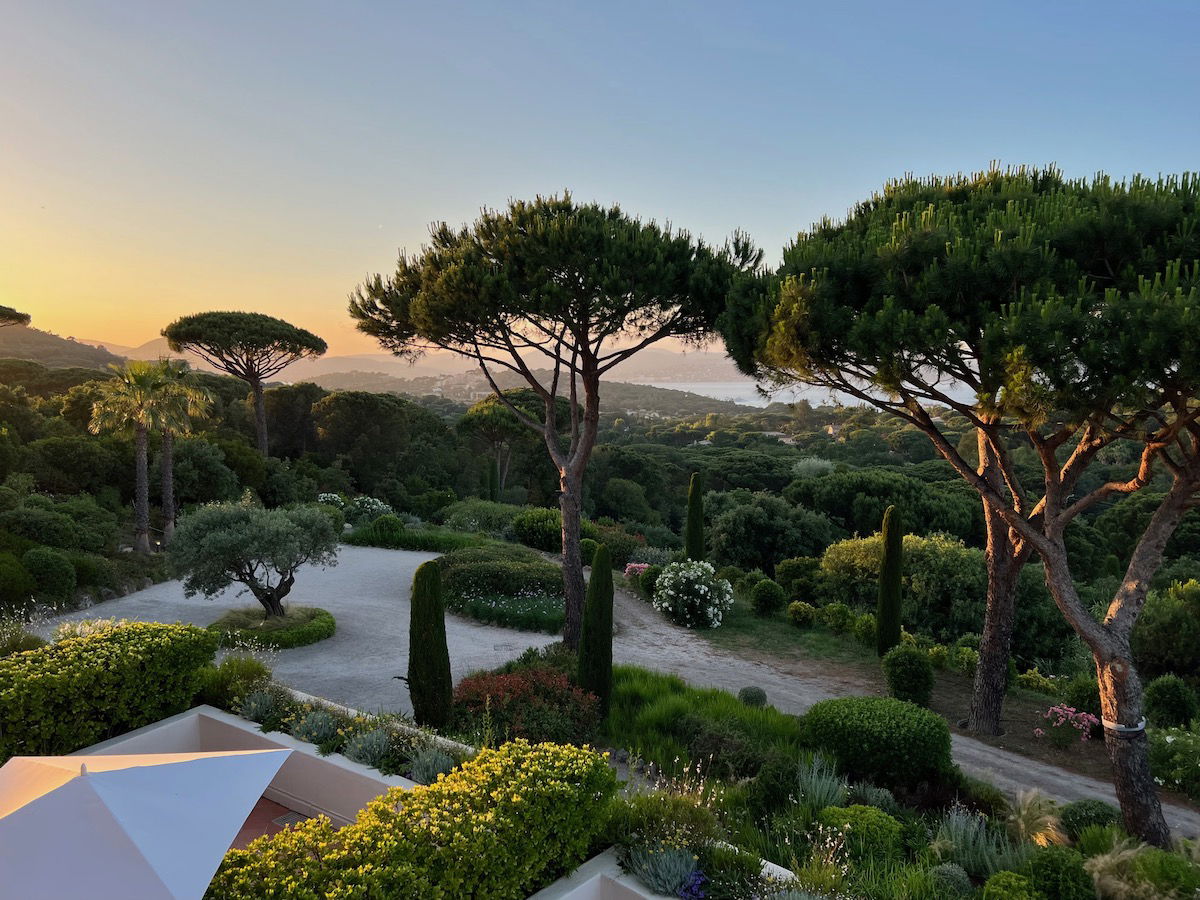 Wi-Fi in the room was fast and free, and housekeeping was performed twice daily. Just as at Airelles Courchevel, there was a different gift on the pillow every night, ranging from luggage tags to pillow mist.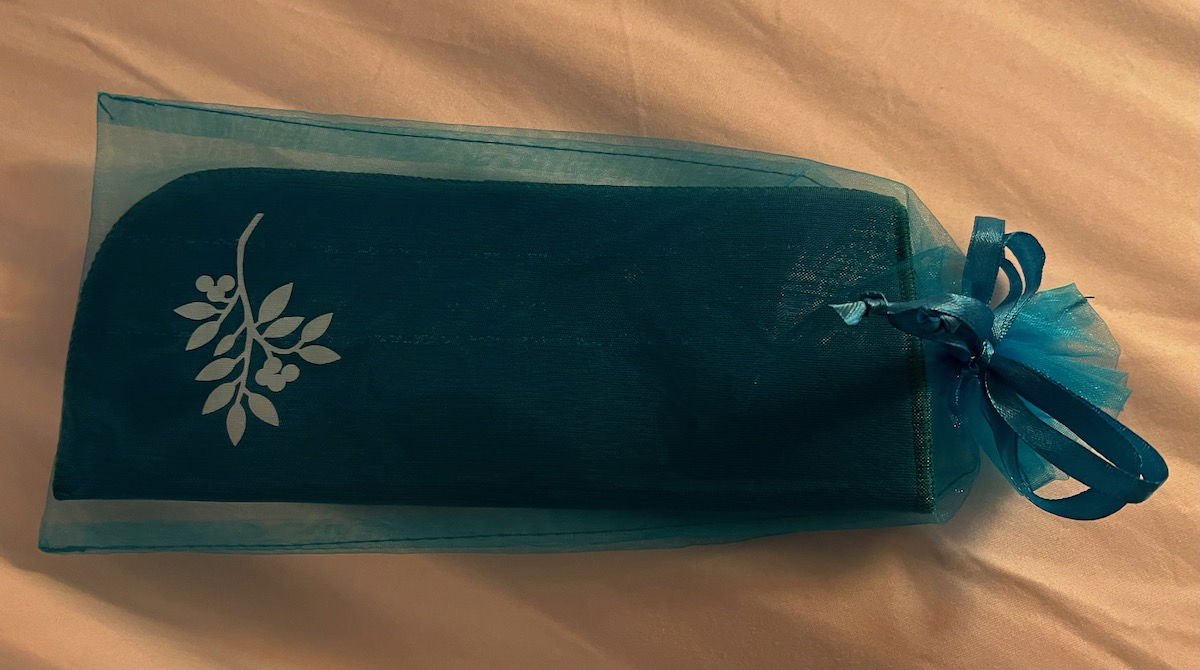 Airelles Saint-Tropez pools & spa
Airelles Saint-Tropez has three pools, with endless seating around them. That's in addition to the beach club. So even though the hotel was full during our visit, it never felt crowded at the pools.
The hotel's main pool was right at the center of the property, near our room. Words can't do justice to how beautiful this area was, especially with the view of the sea in the distance.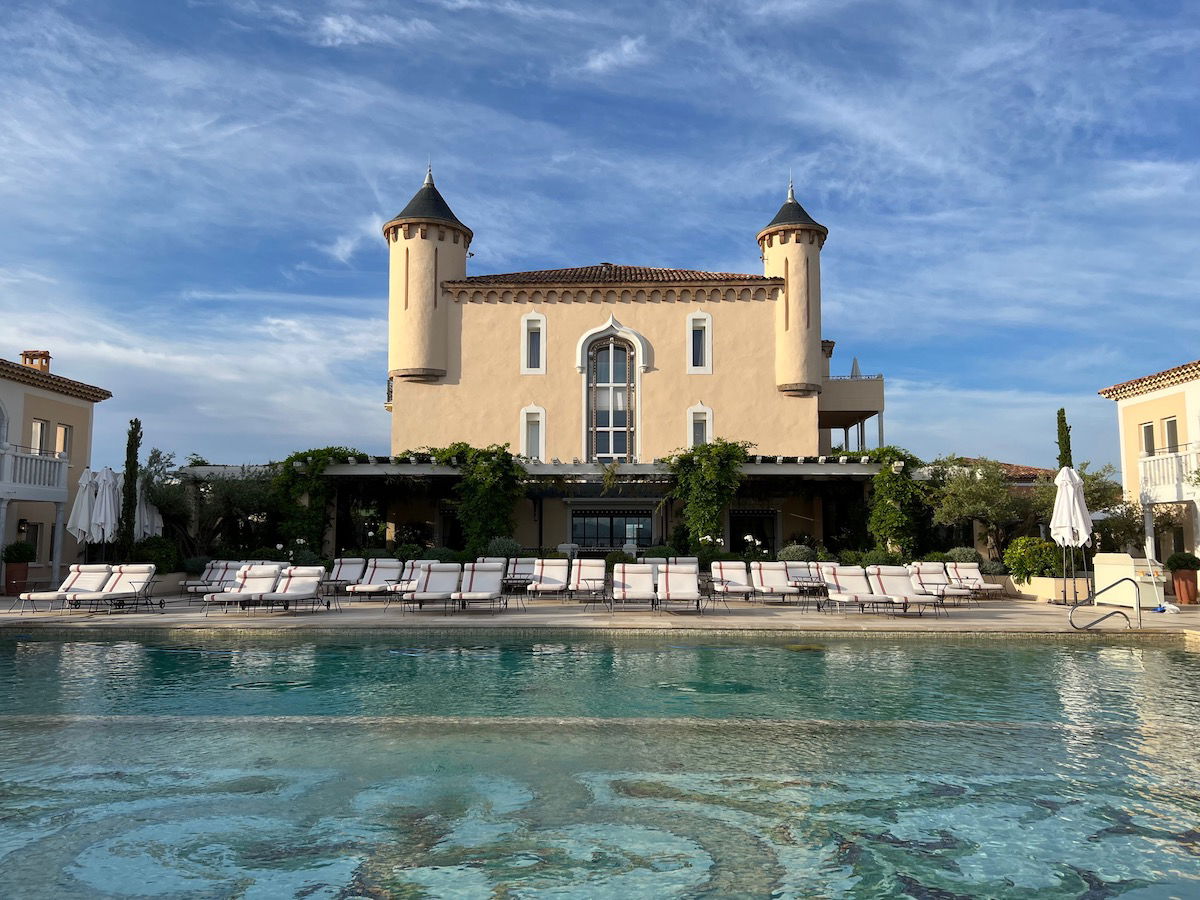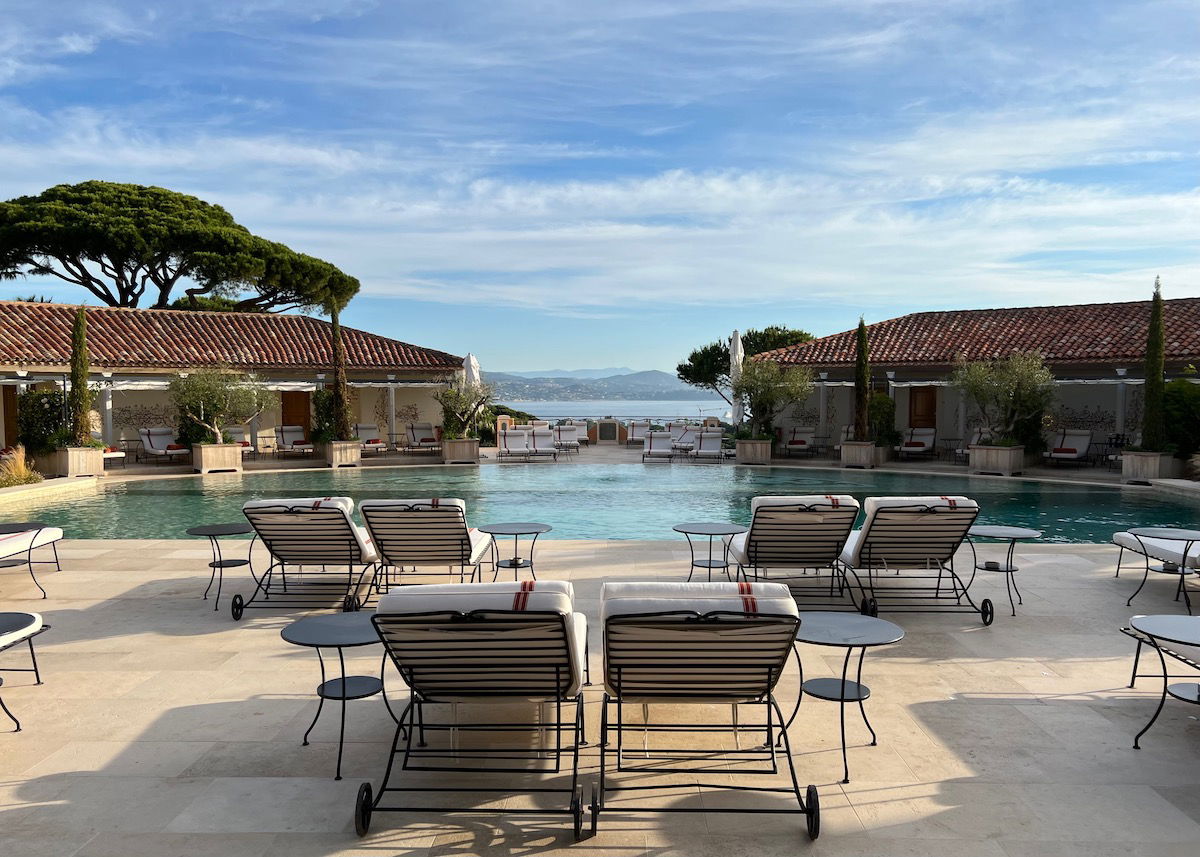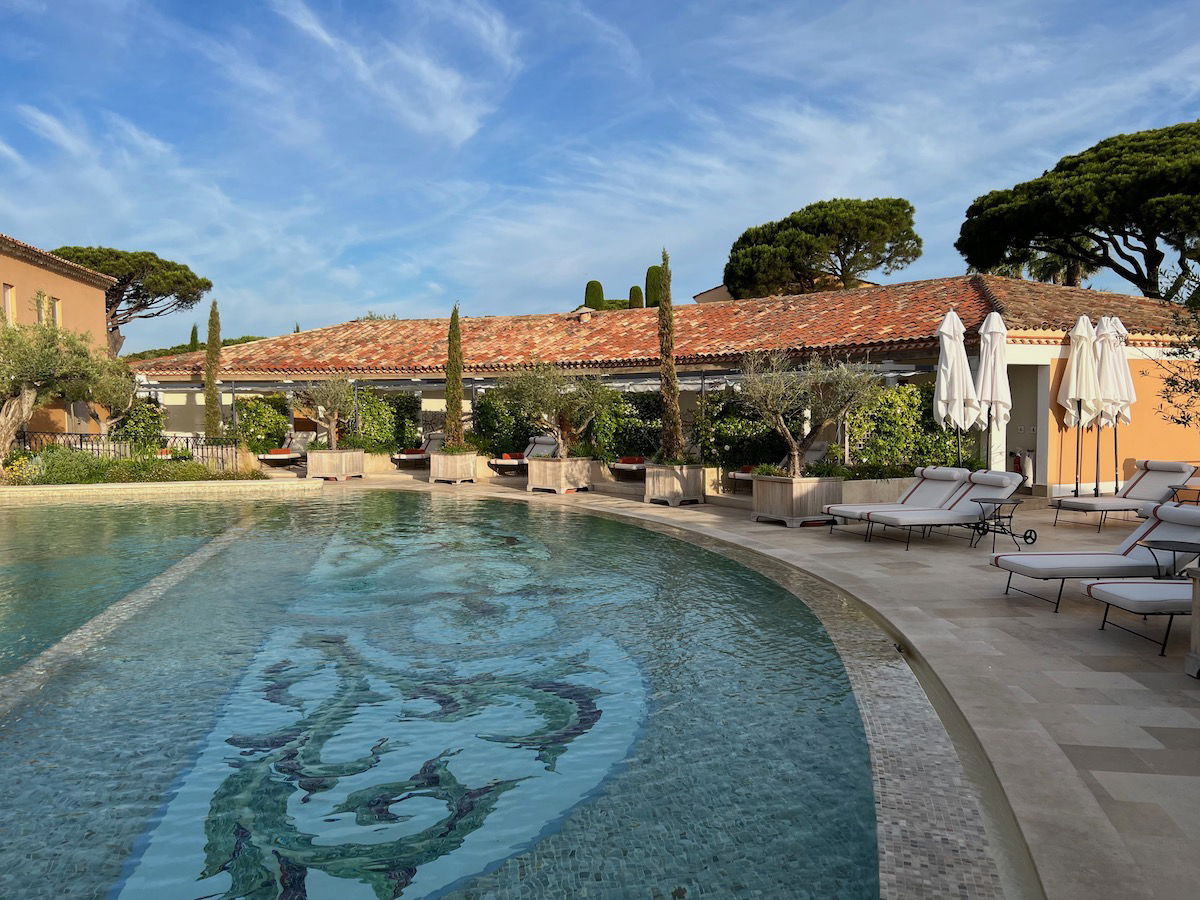 It was even more beautiful in the evenings and at night.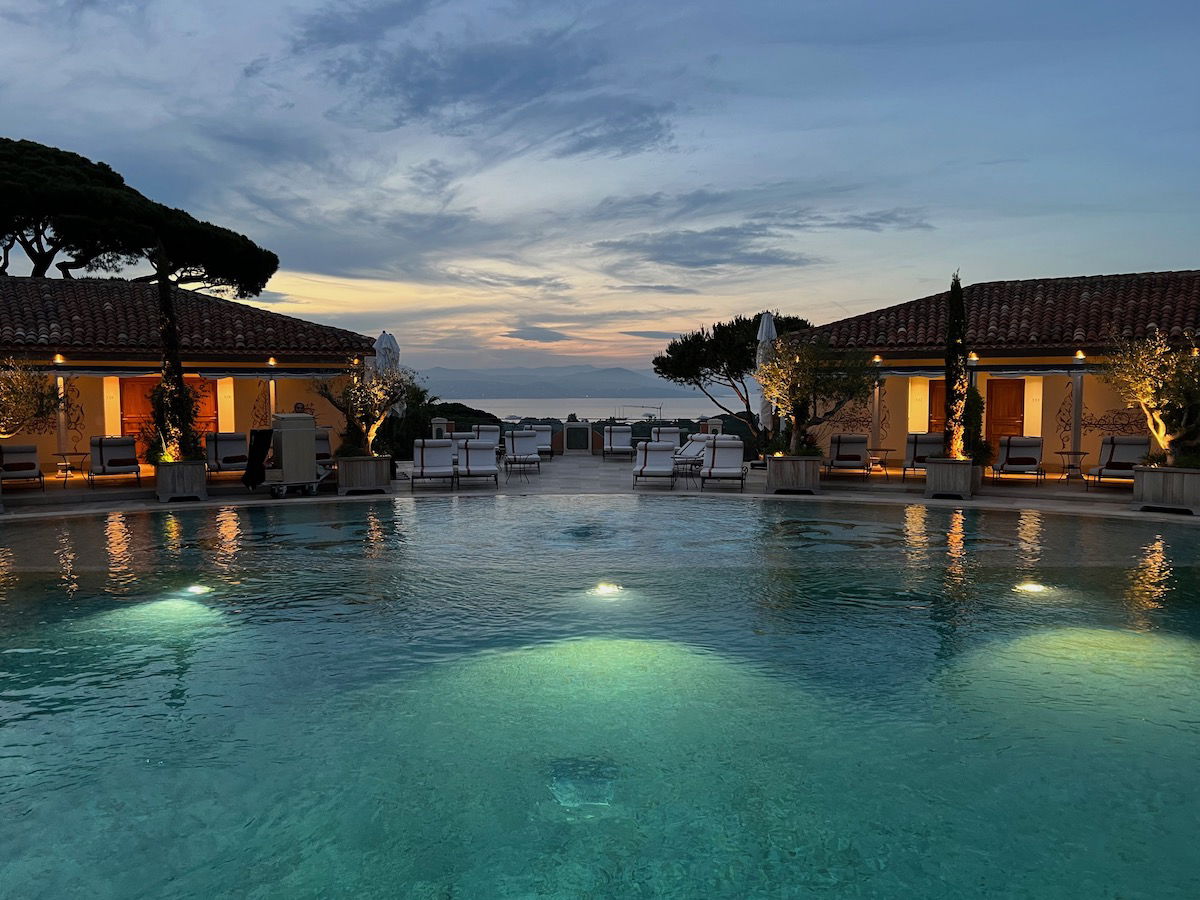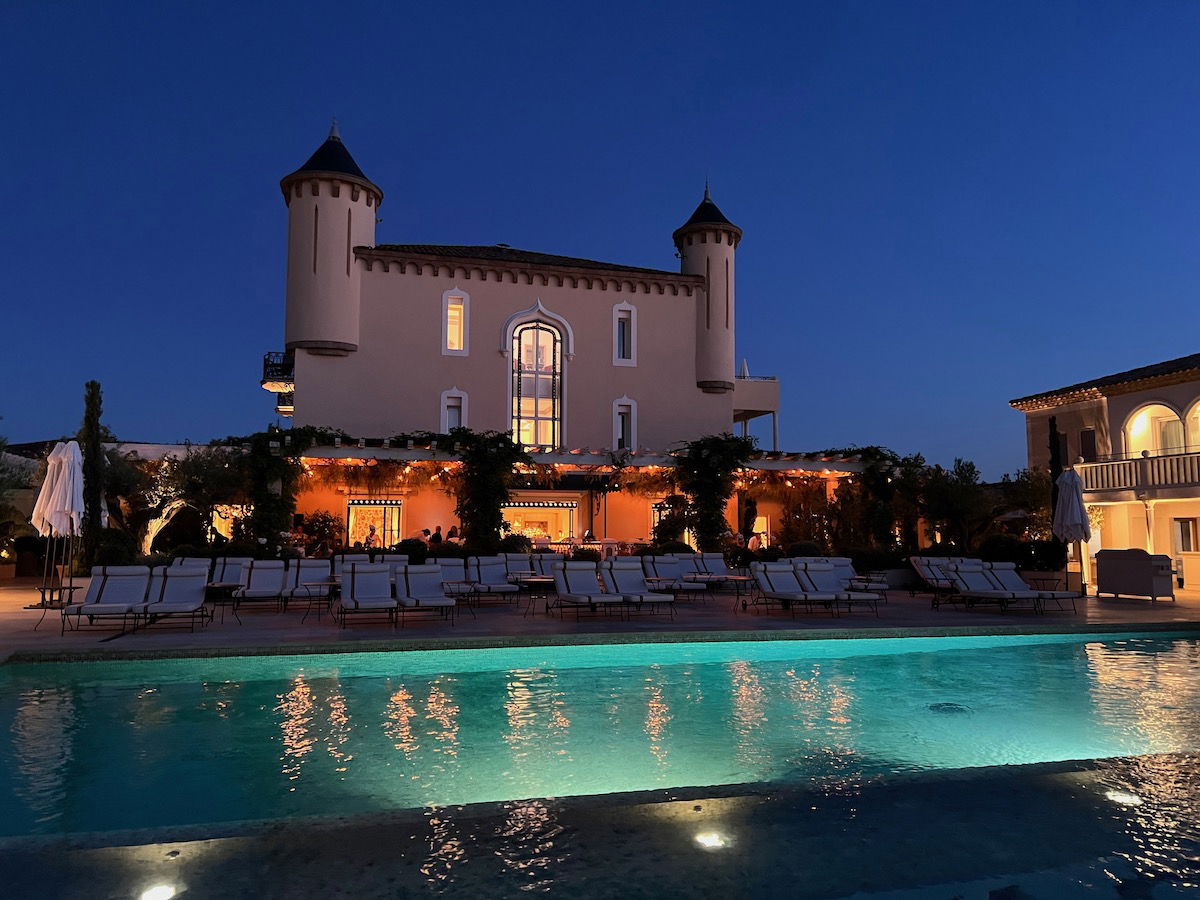 Then there was a path leading down to the other outdoor pool, over to the side of the resort. The property really takes advantage of its 30+ acres to spread people out. This pool was also beautiful, and had a different vibe.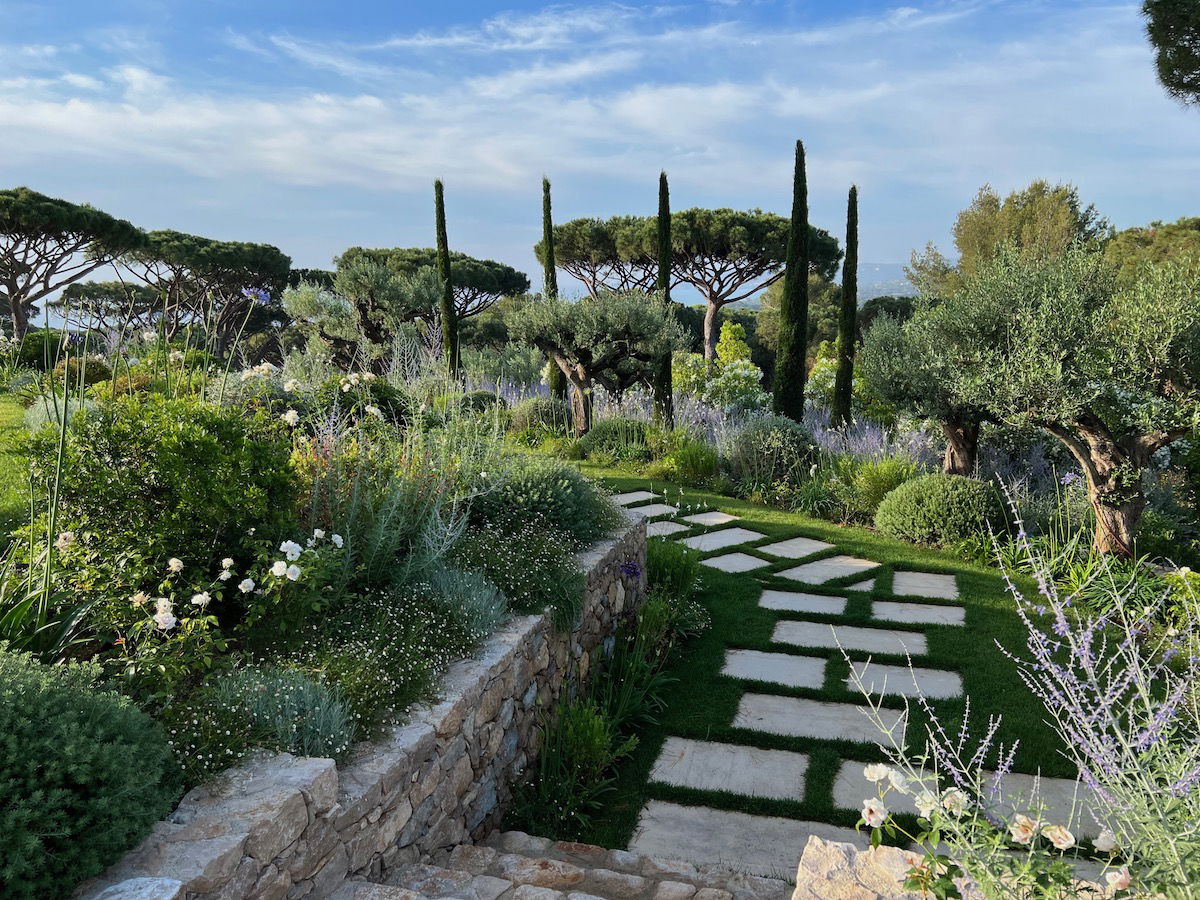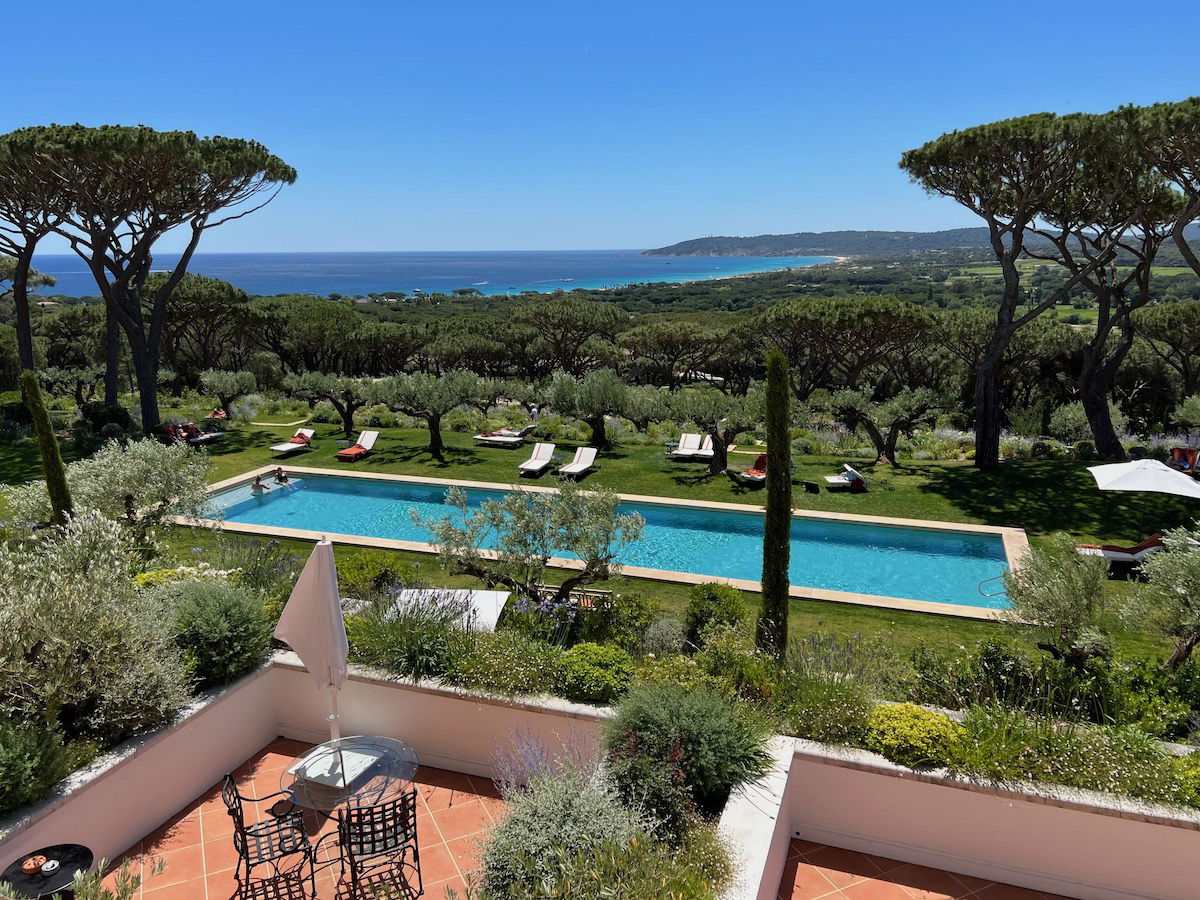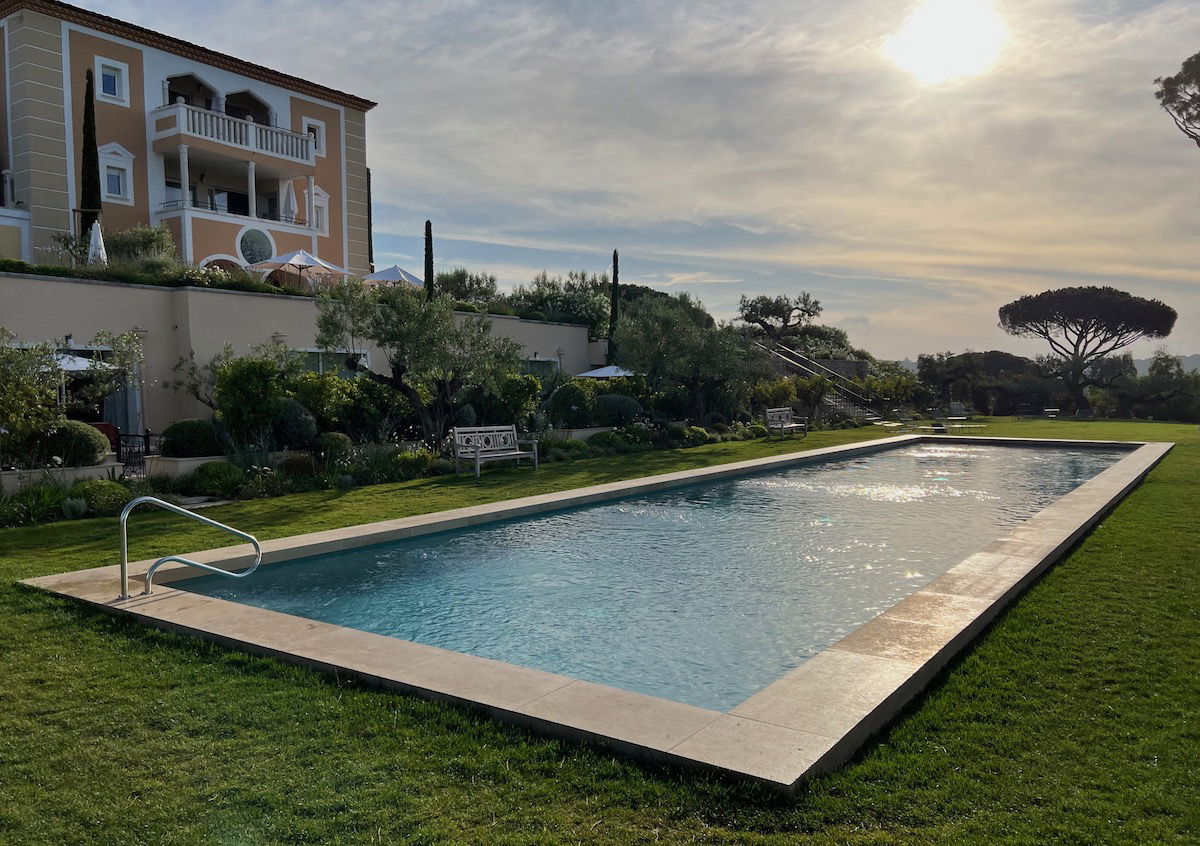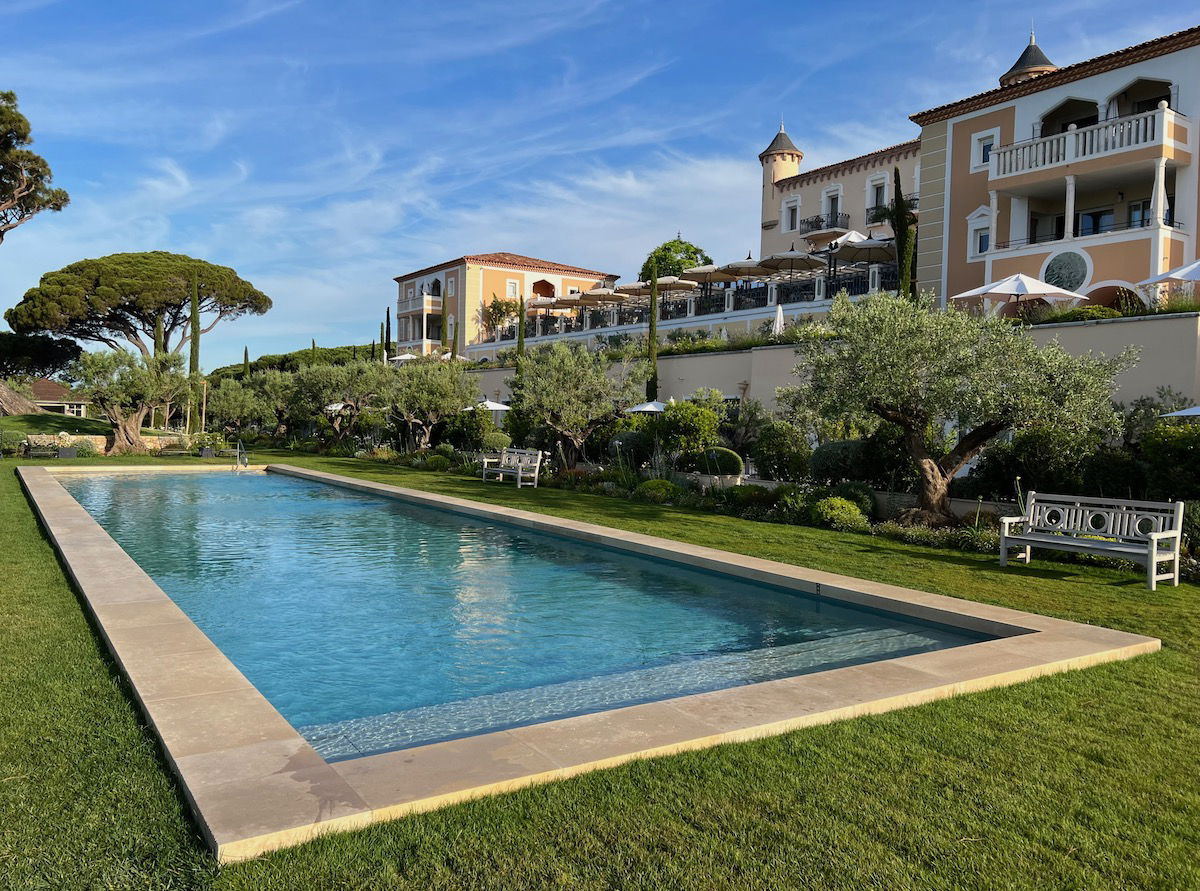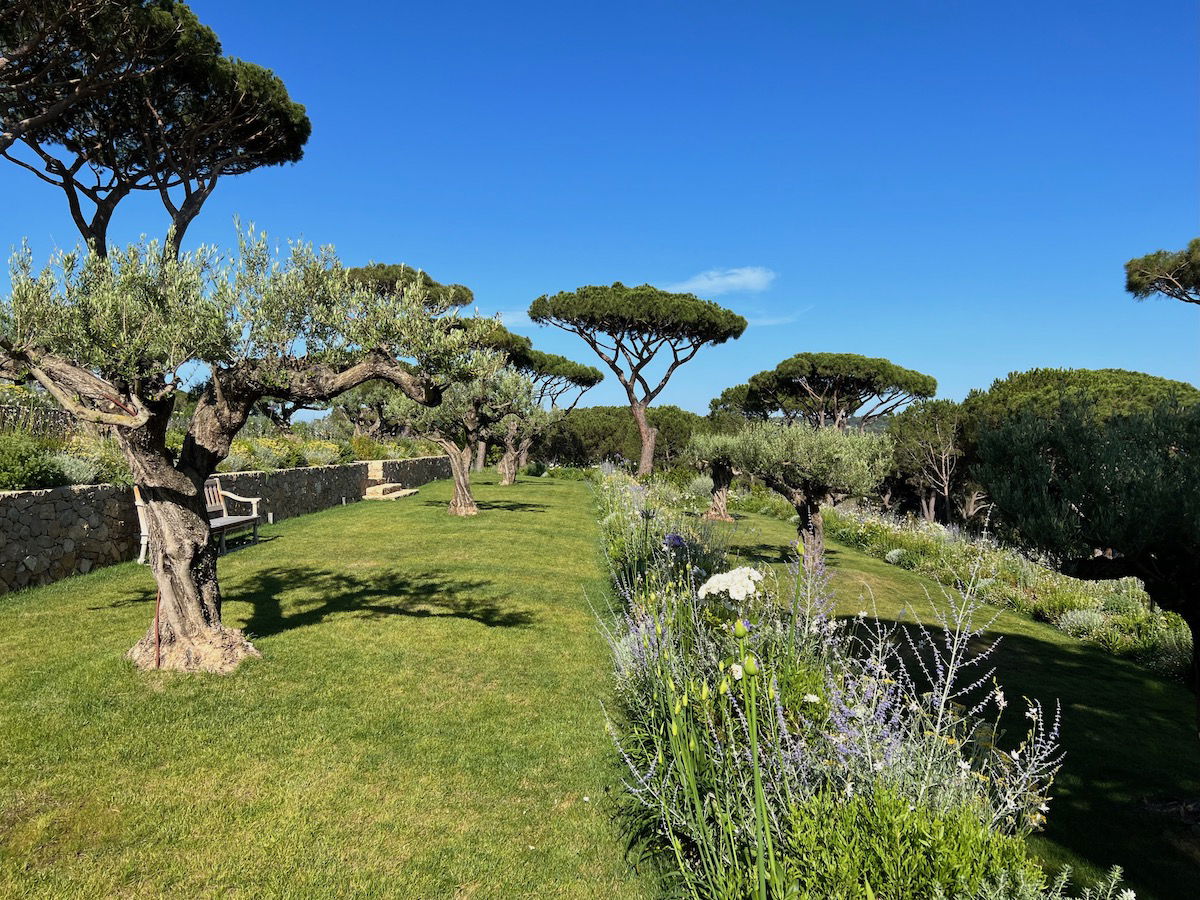 Airelles Saint-Tropez also has a 10,000+ square foot Valmont Spa. While we didn't get any treatments (you can find the spa menu here), guests can use all the facilities, including the indoor pool, steam room, sauna, etc.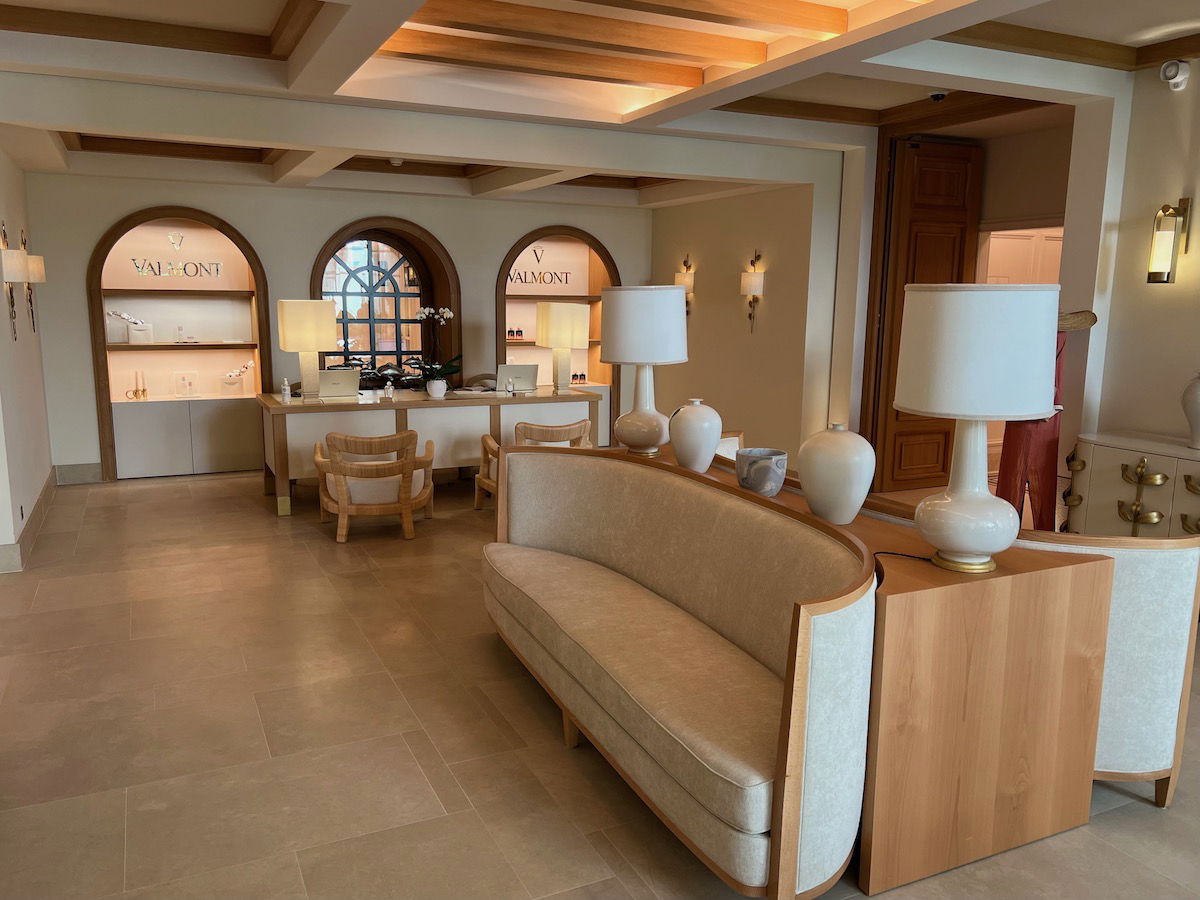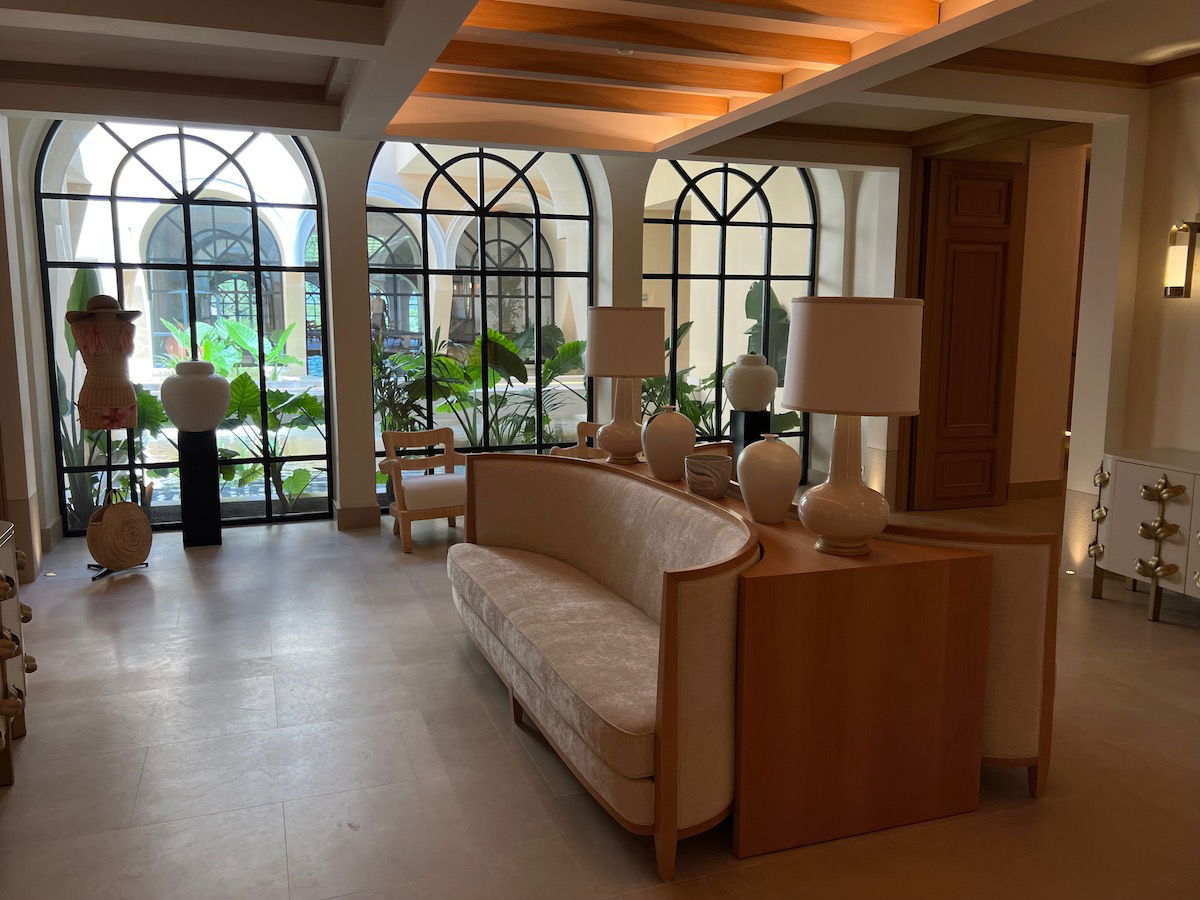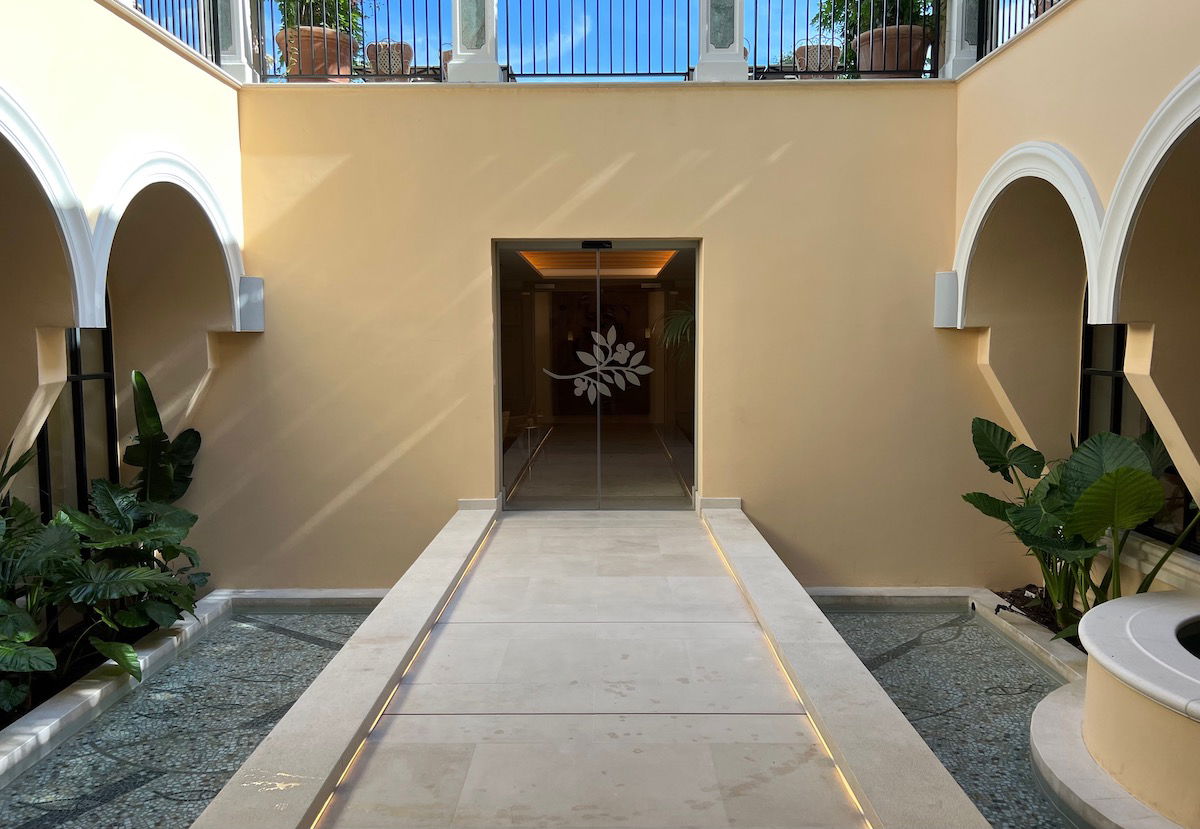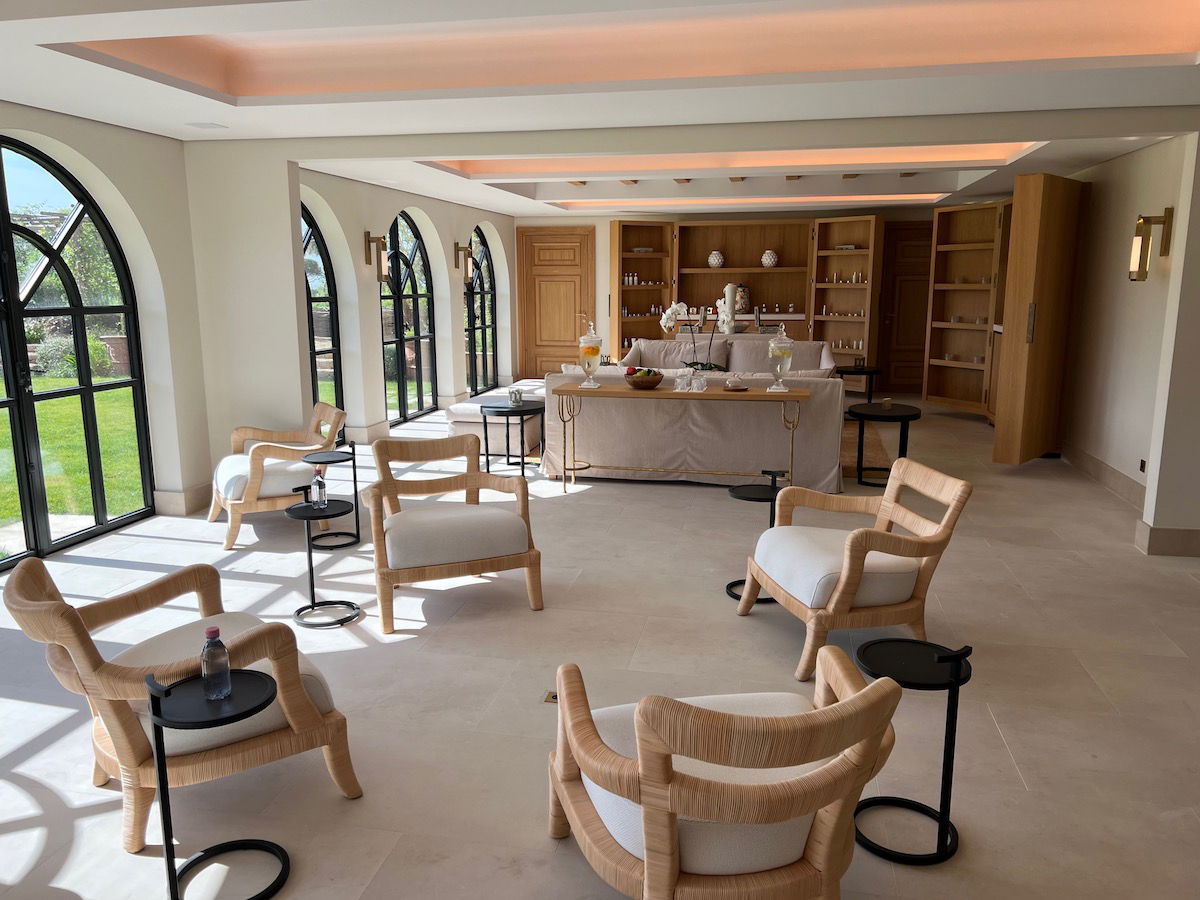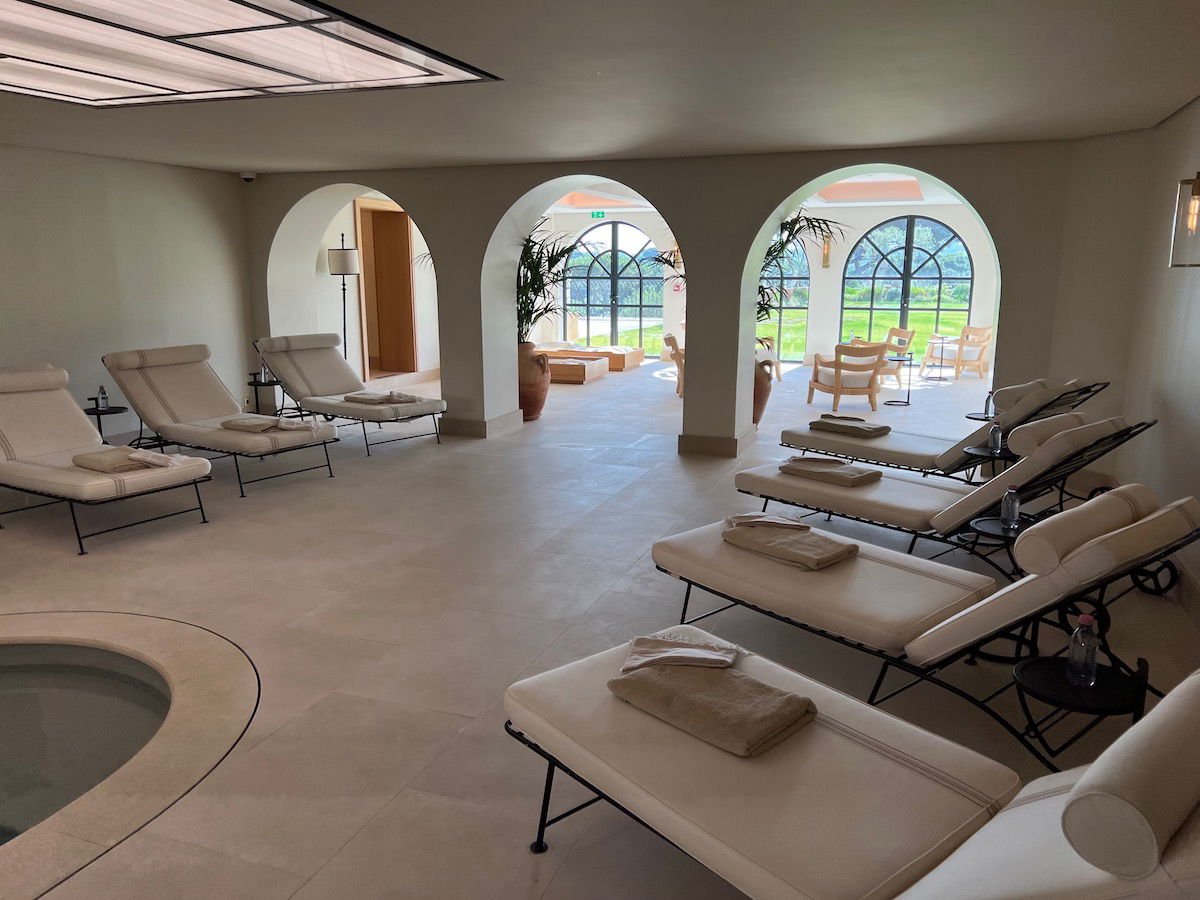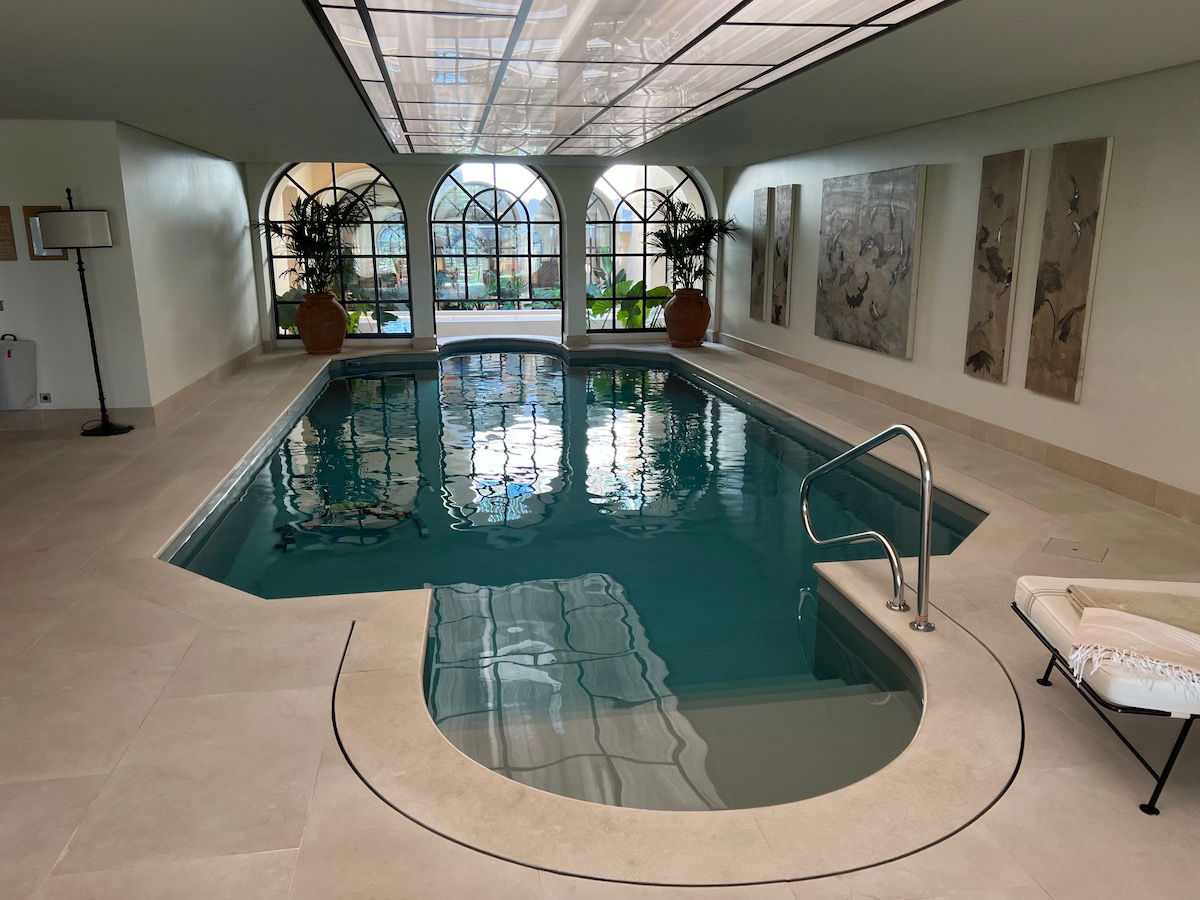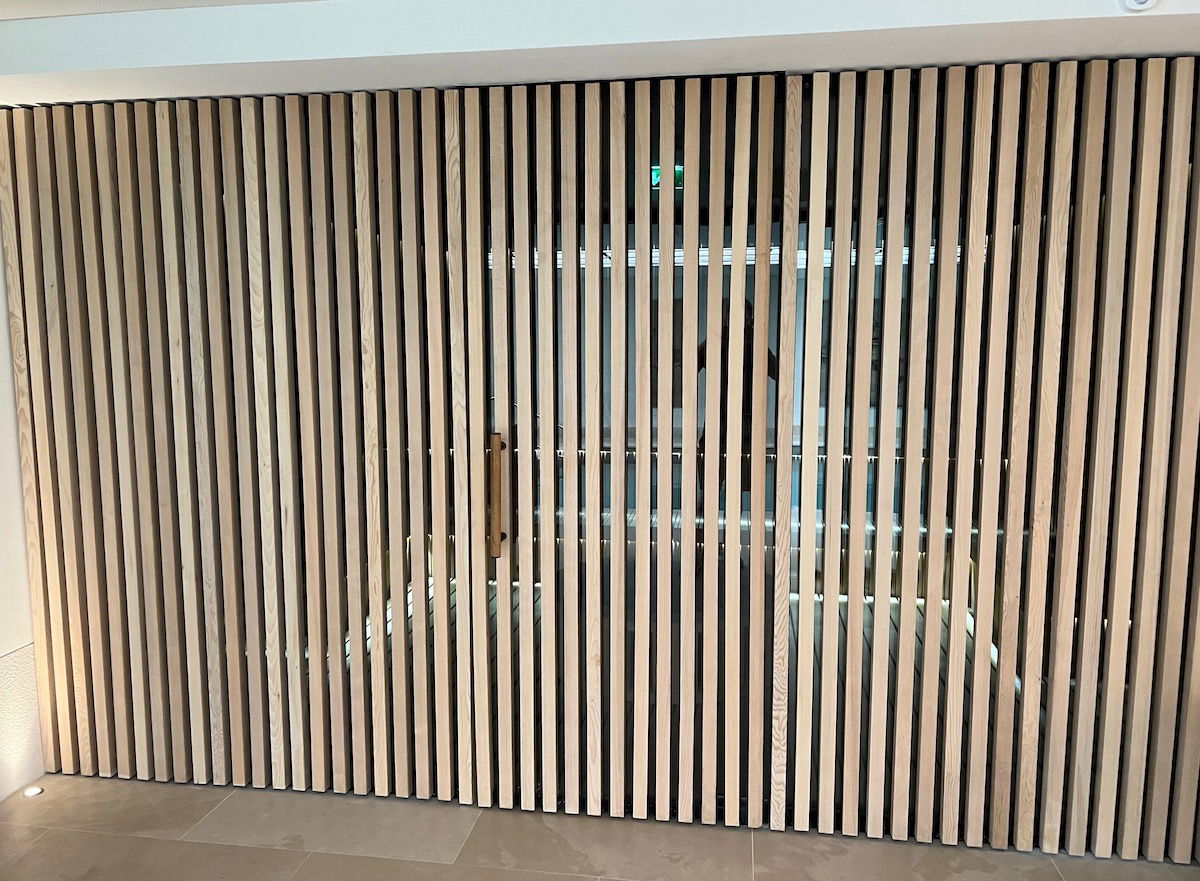 Airelles Saint-Tropez beach club
Many of the top hotels in Saint-Tropez have their own beach club in Ramatuelle, and Airelles is no exception. Not only do guests receive complimentary transfers to the club in a Rolls-Royce, but they also receive free lounge chairs (which isn't consistently offered in Saint-Tropez, even at top resorts, since these seats are also sold to outside guests).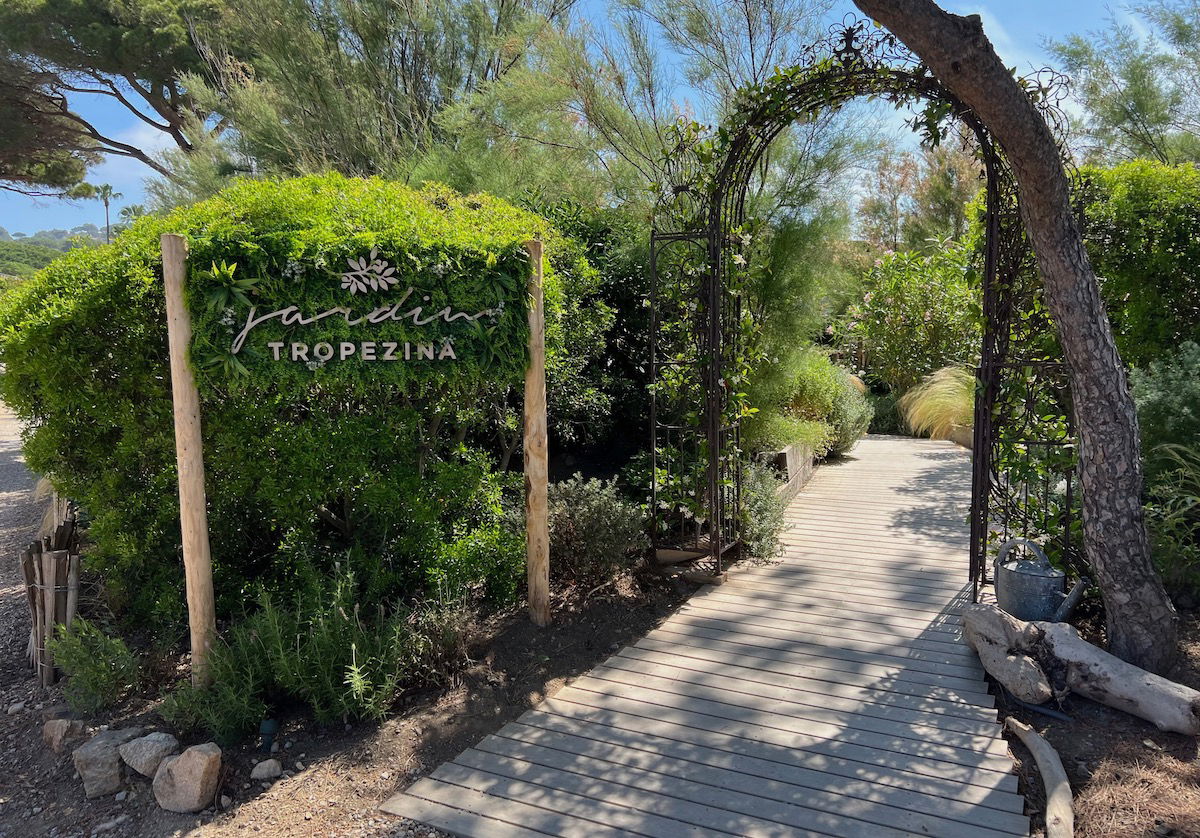 This beach club is right at the end of the beach. We enjoyed spending most of our first day here, and we even had lunch at the restaurant (which I'll talk more about below).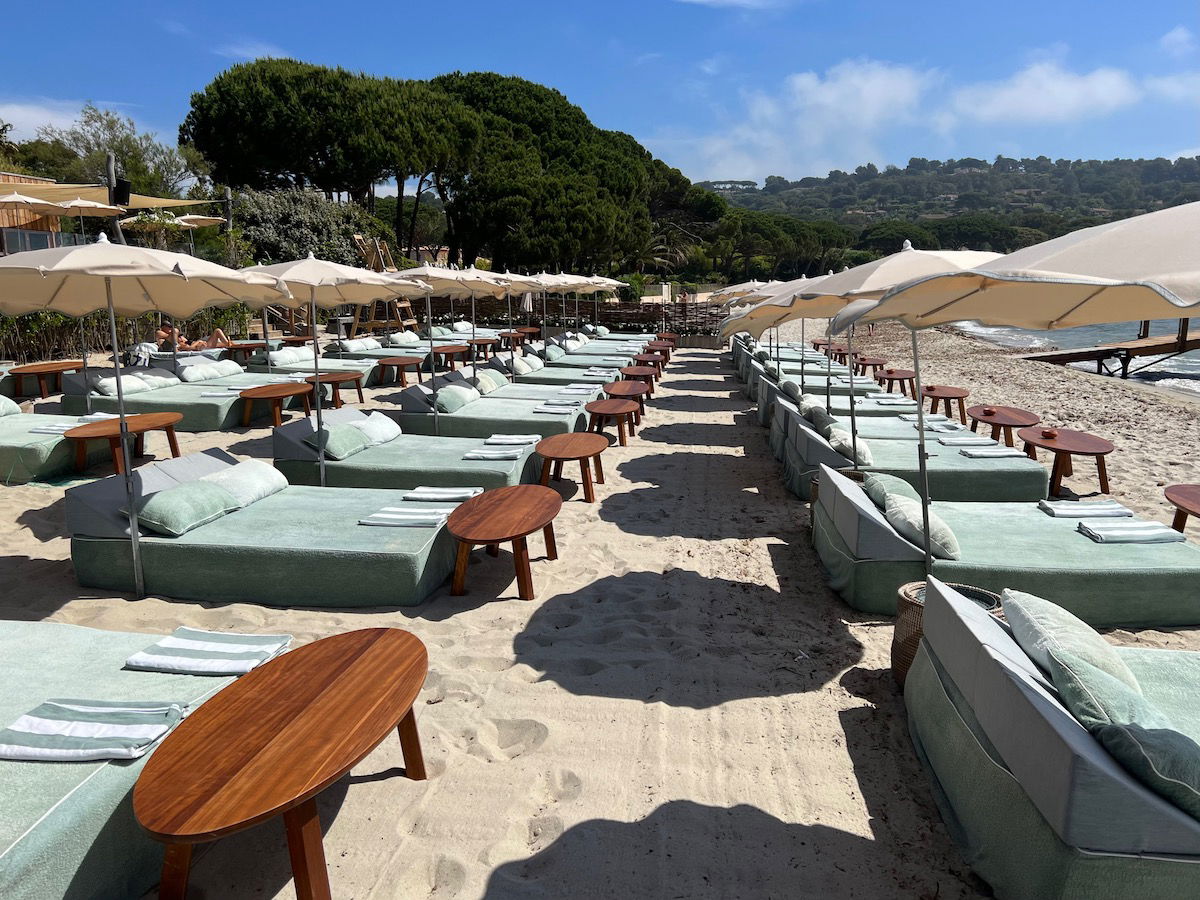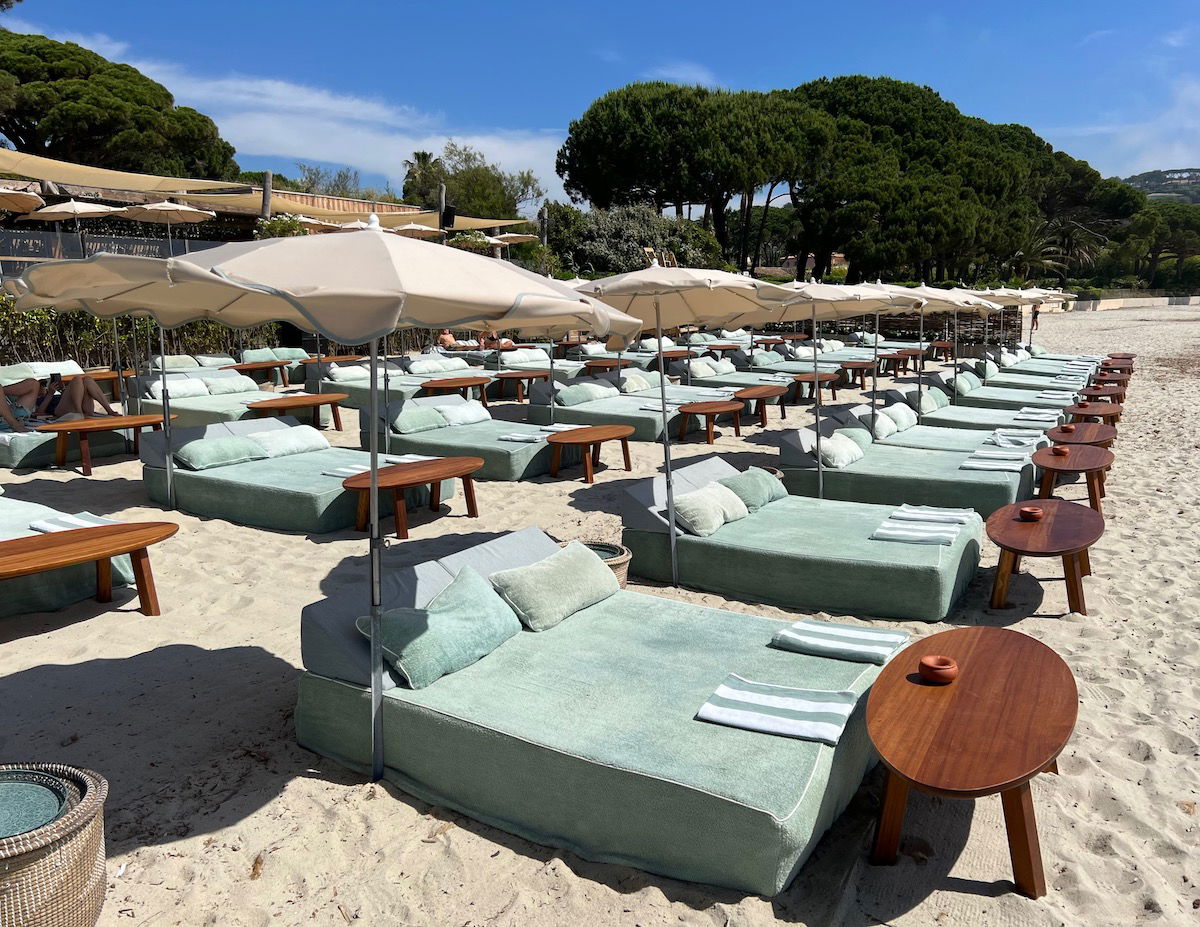 I'm not sure what's going on with the beach in the area at the moment, but unfortunately the sand was uncharacteristically rough, and there was a lot of seaweed and debris. That's unfortunate.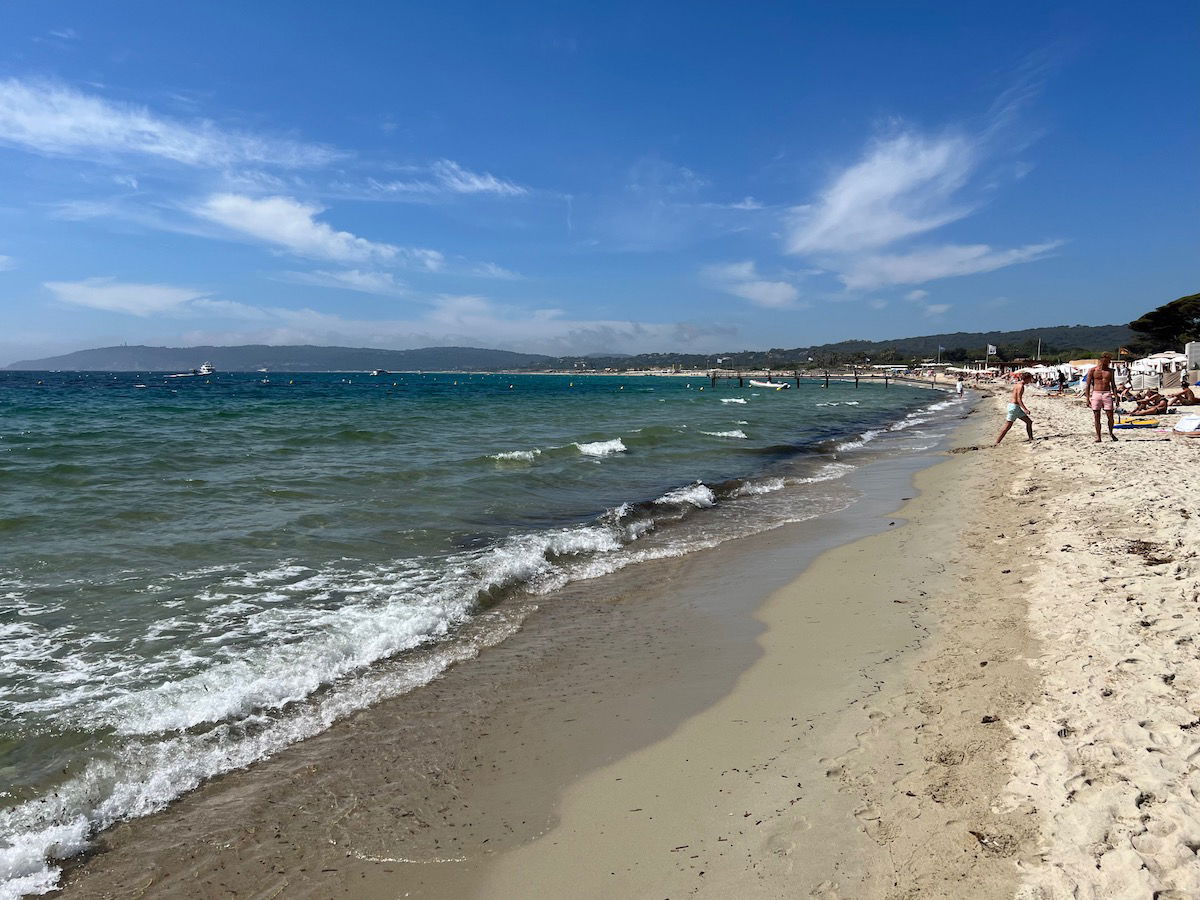 Airelles Saint-Tropez gyms & recreation
Airelles Saint-Tropez has an impressive fitness center setup. The hotel has one indoor gym, which is on the small side but has modern equipment, for both weights and cardio.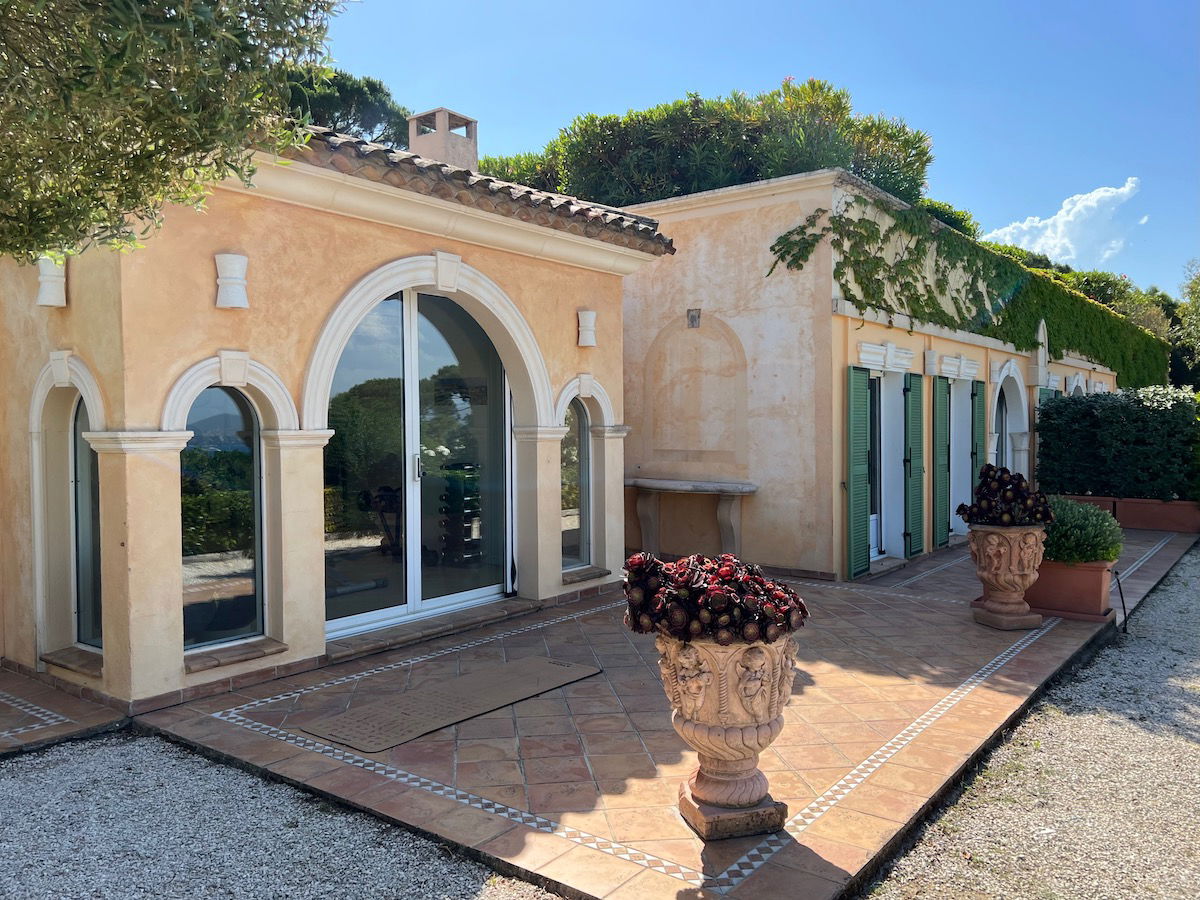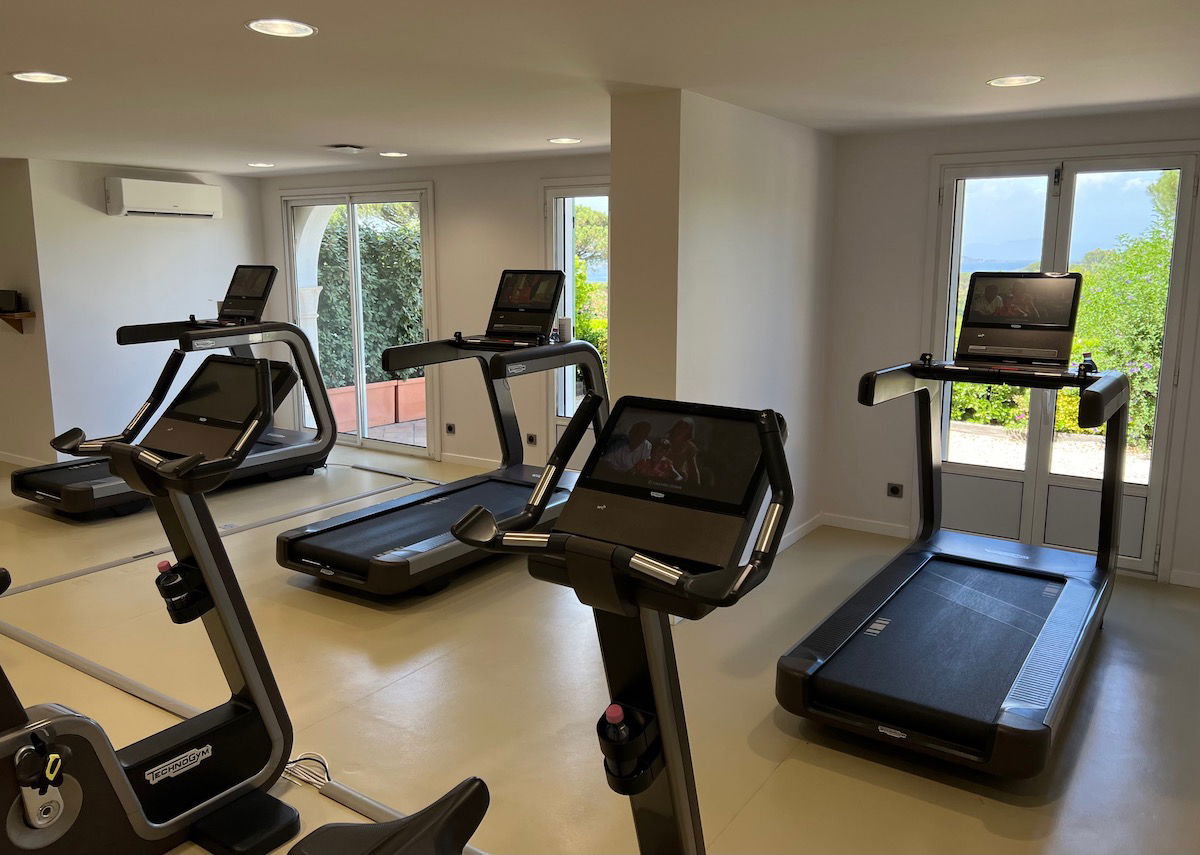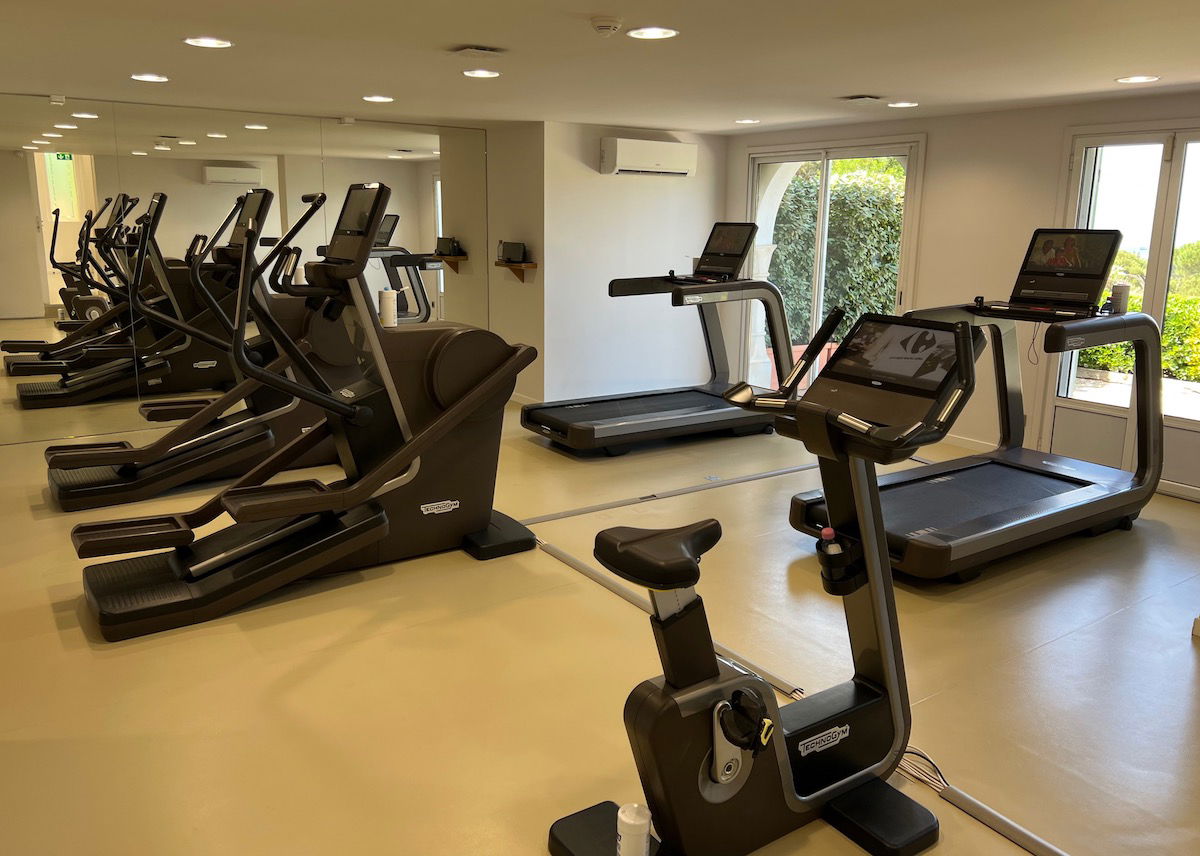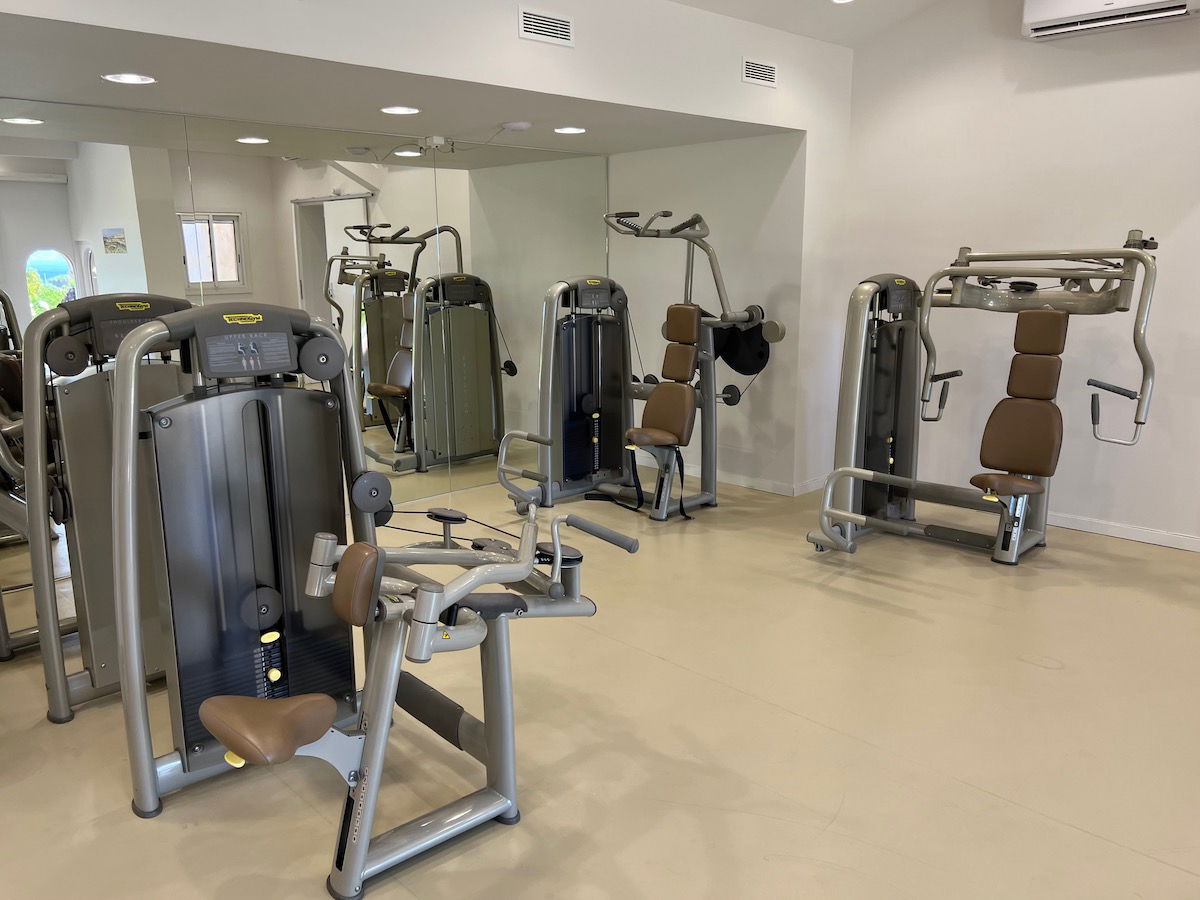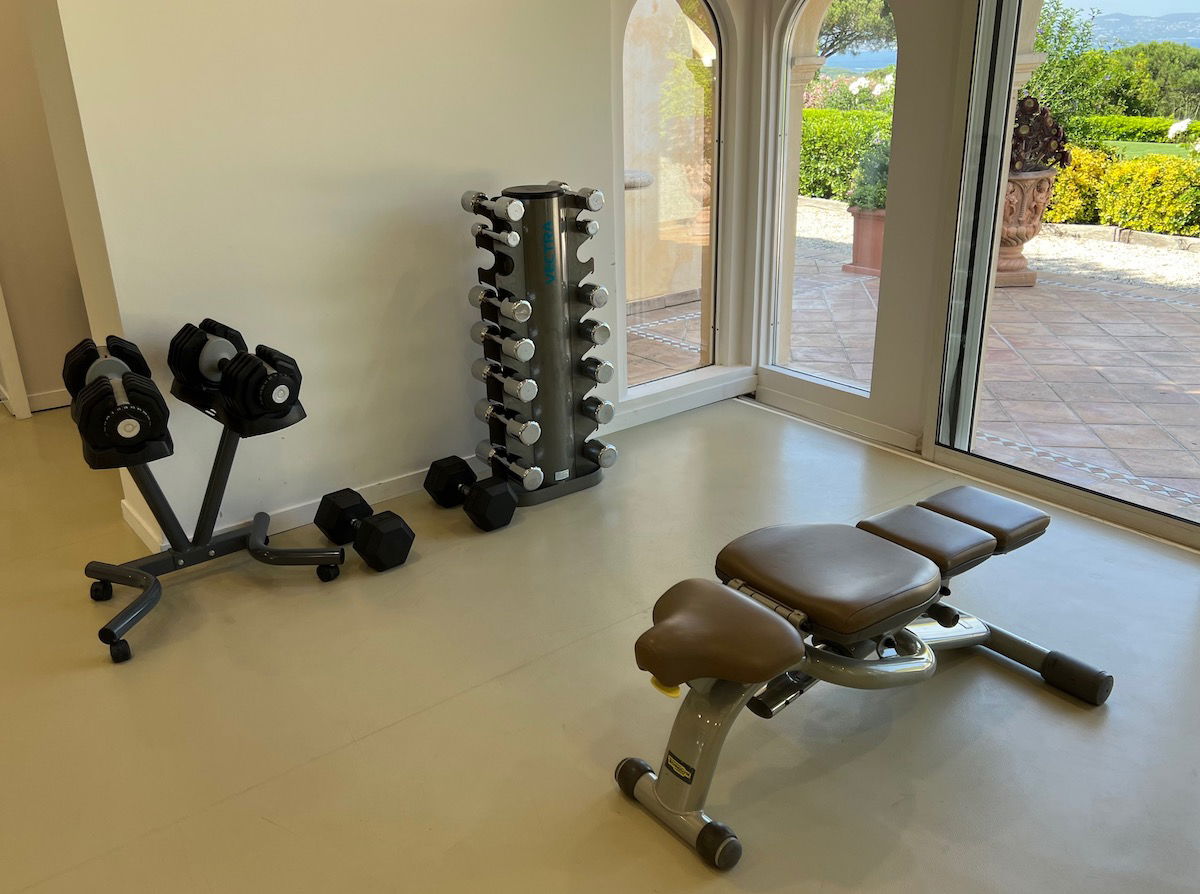 I also love the variety of drinks and snacks in the gym, from water, to energy drinks, to fresh juices, to granola bars.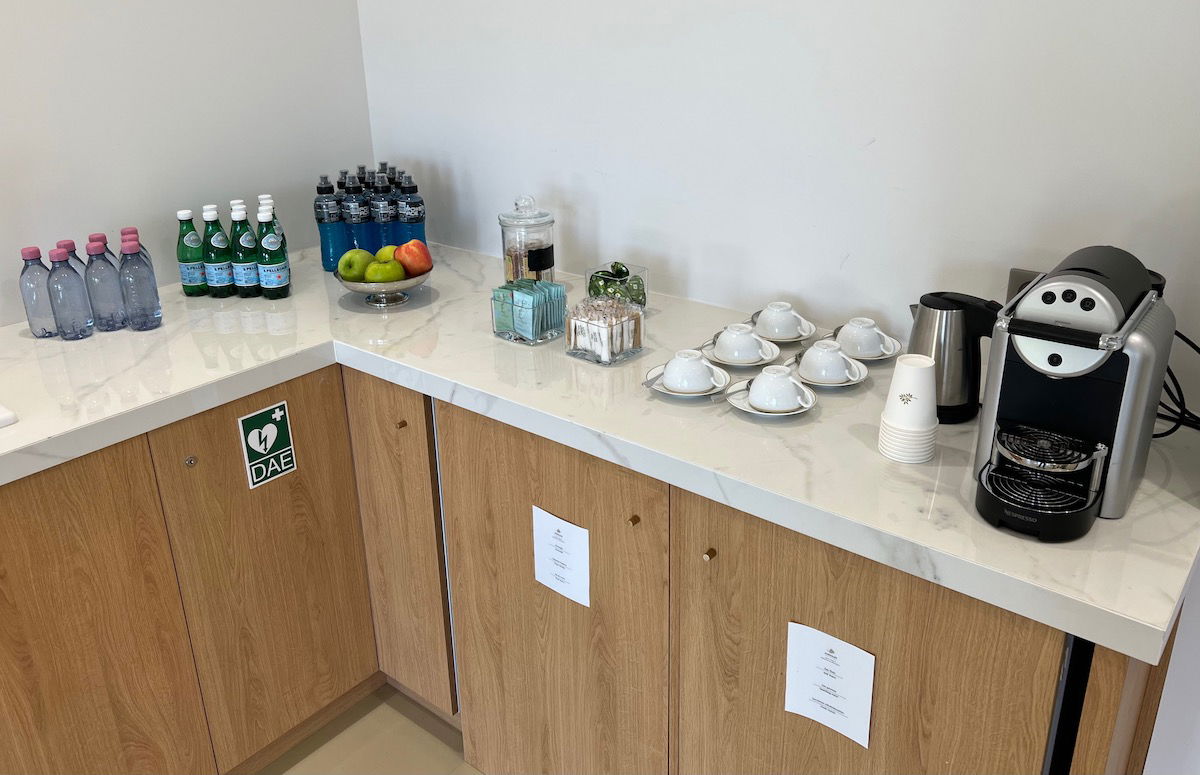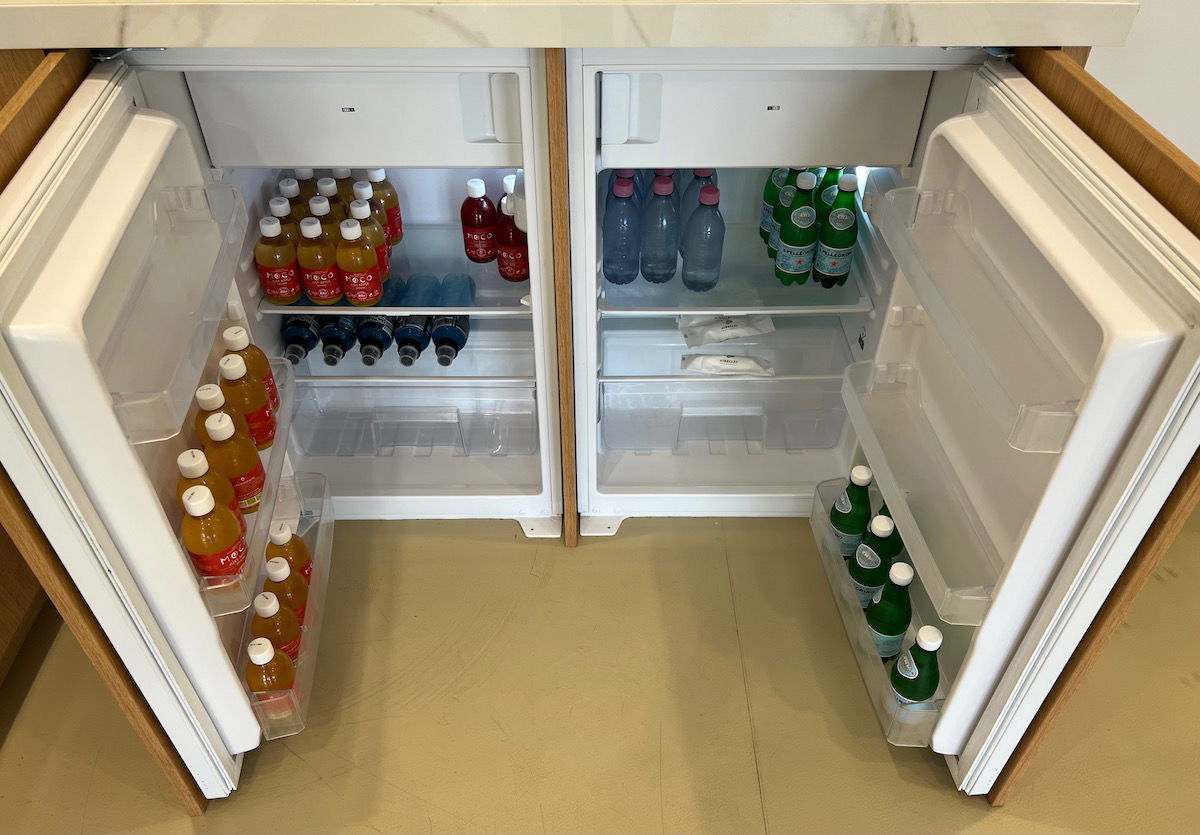 The hotel also has an outdoor gym, consisting primarily of cardio equipment.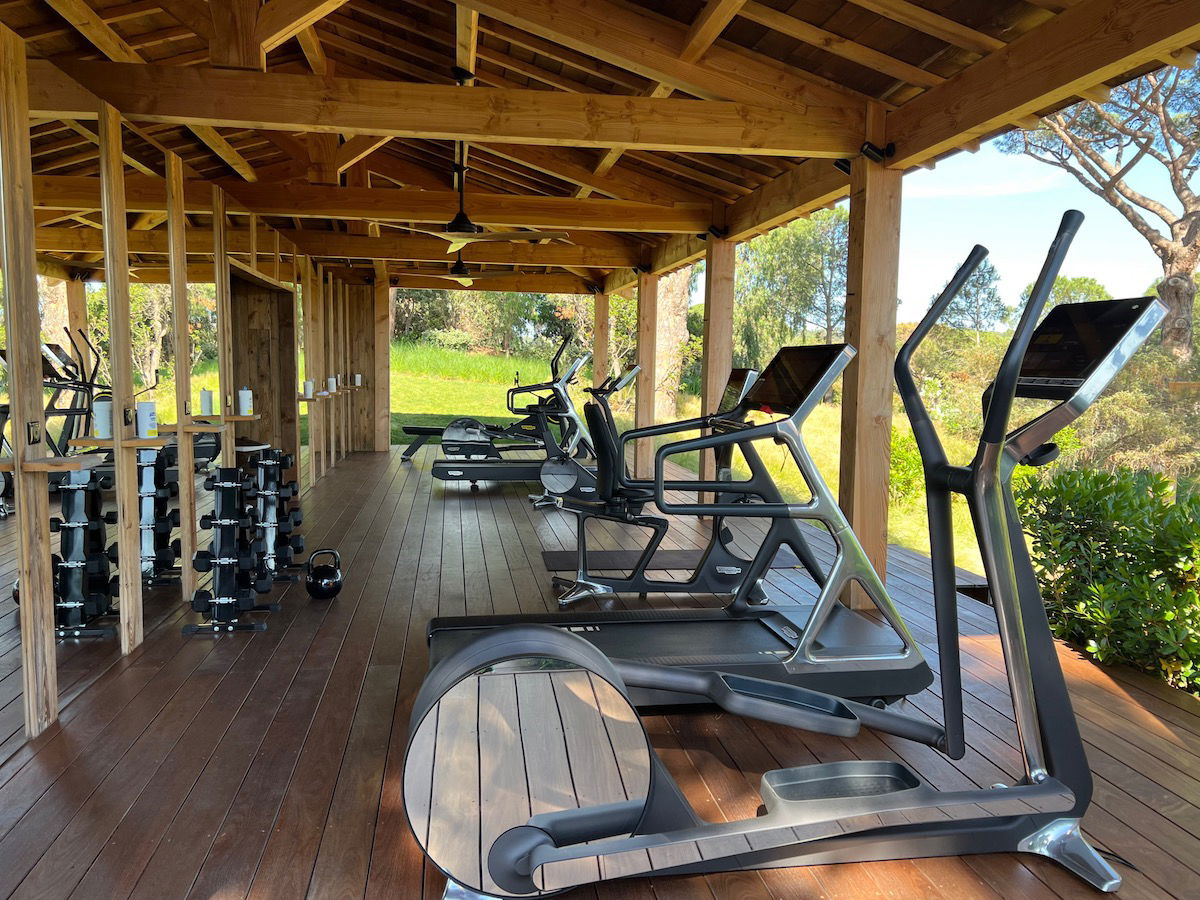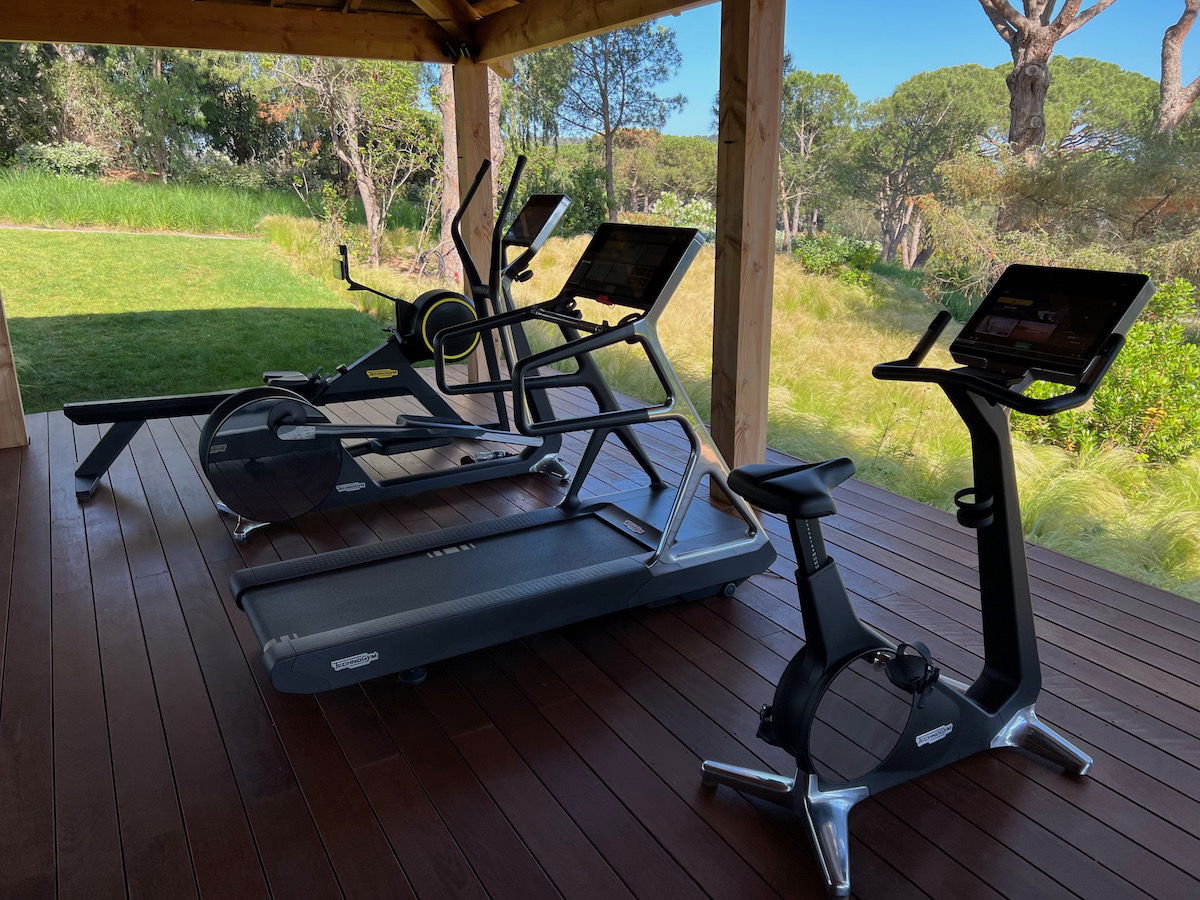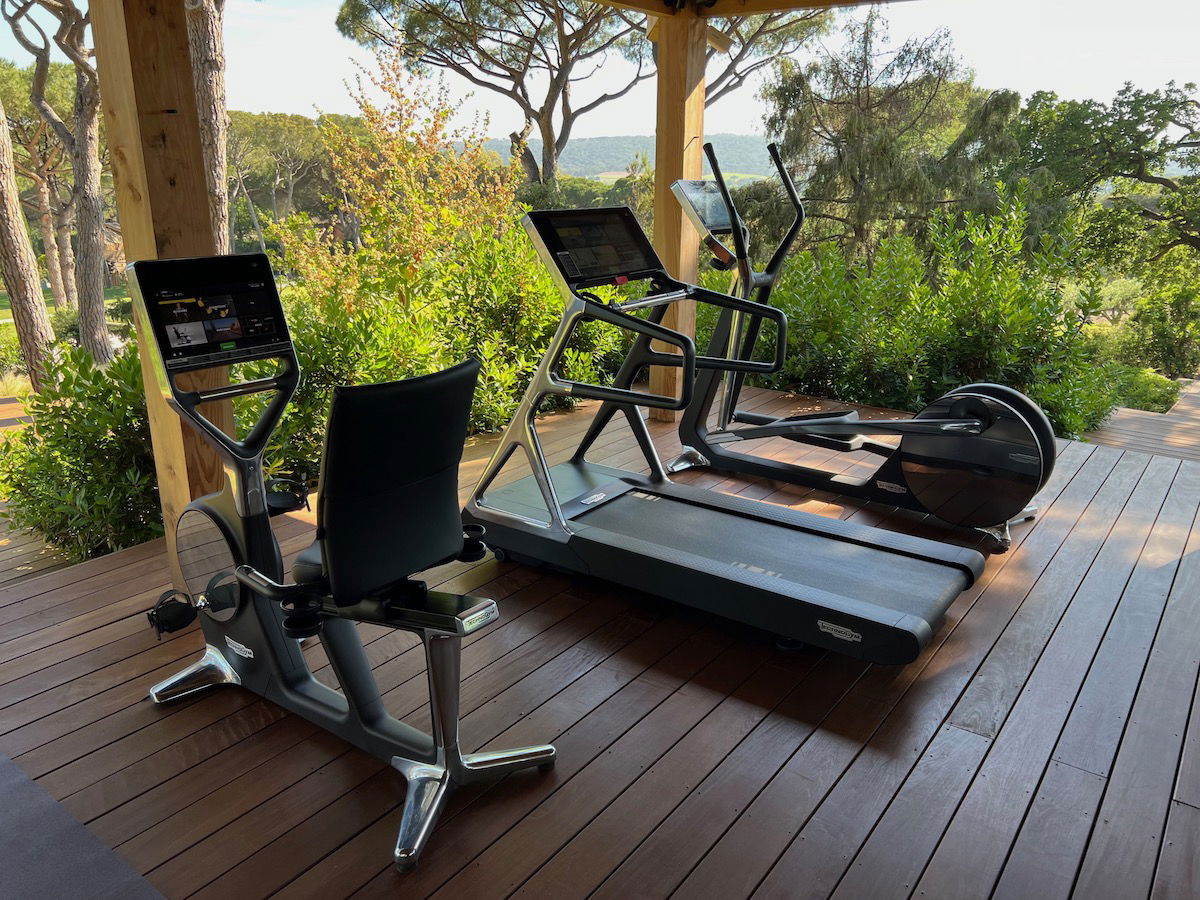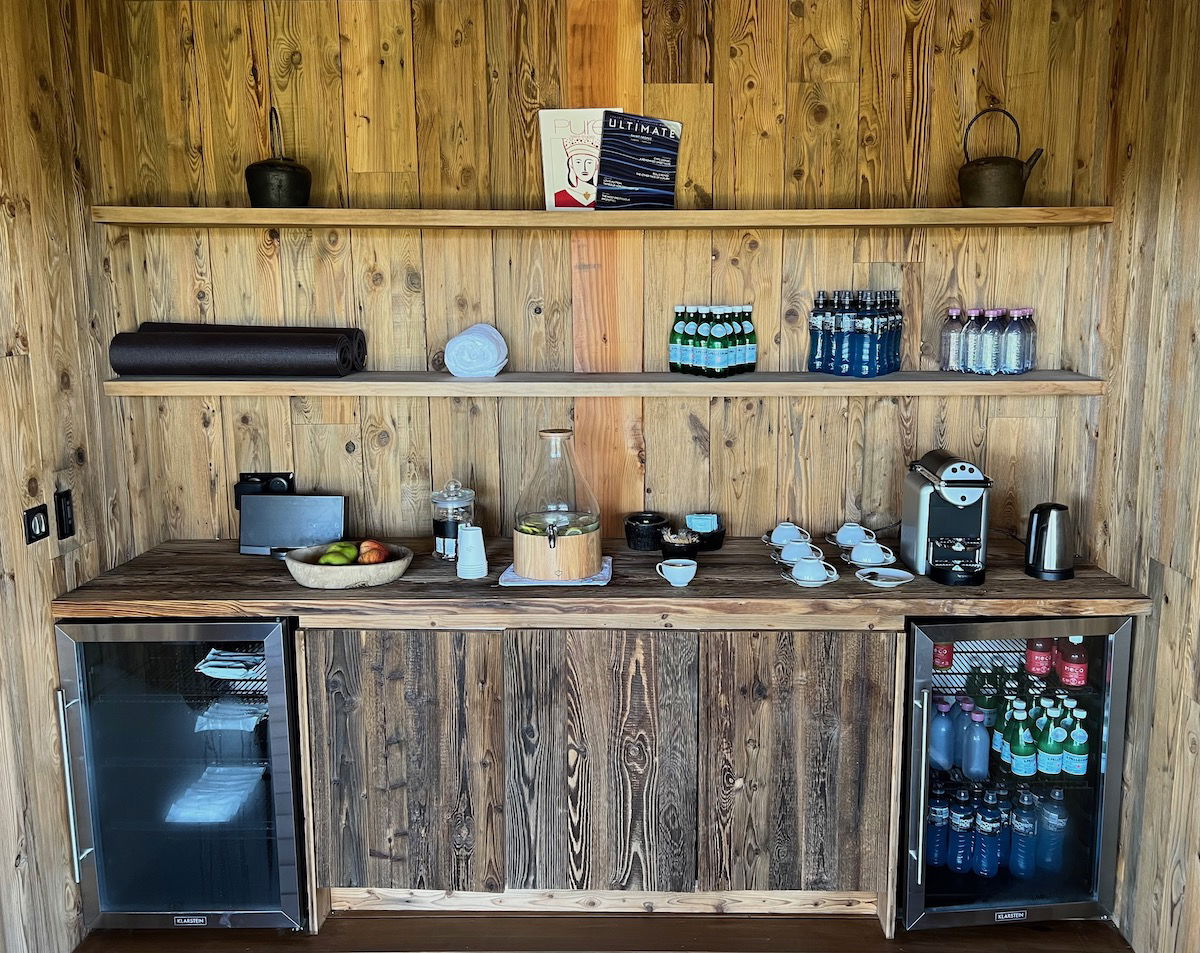 The outdoor gym even has a yoga deck and an area for boxing.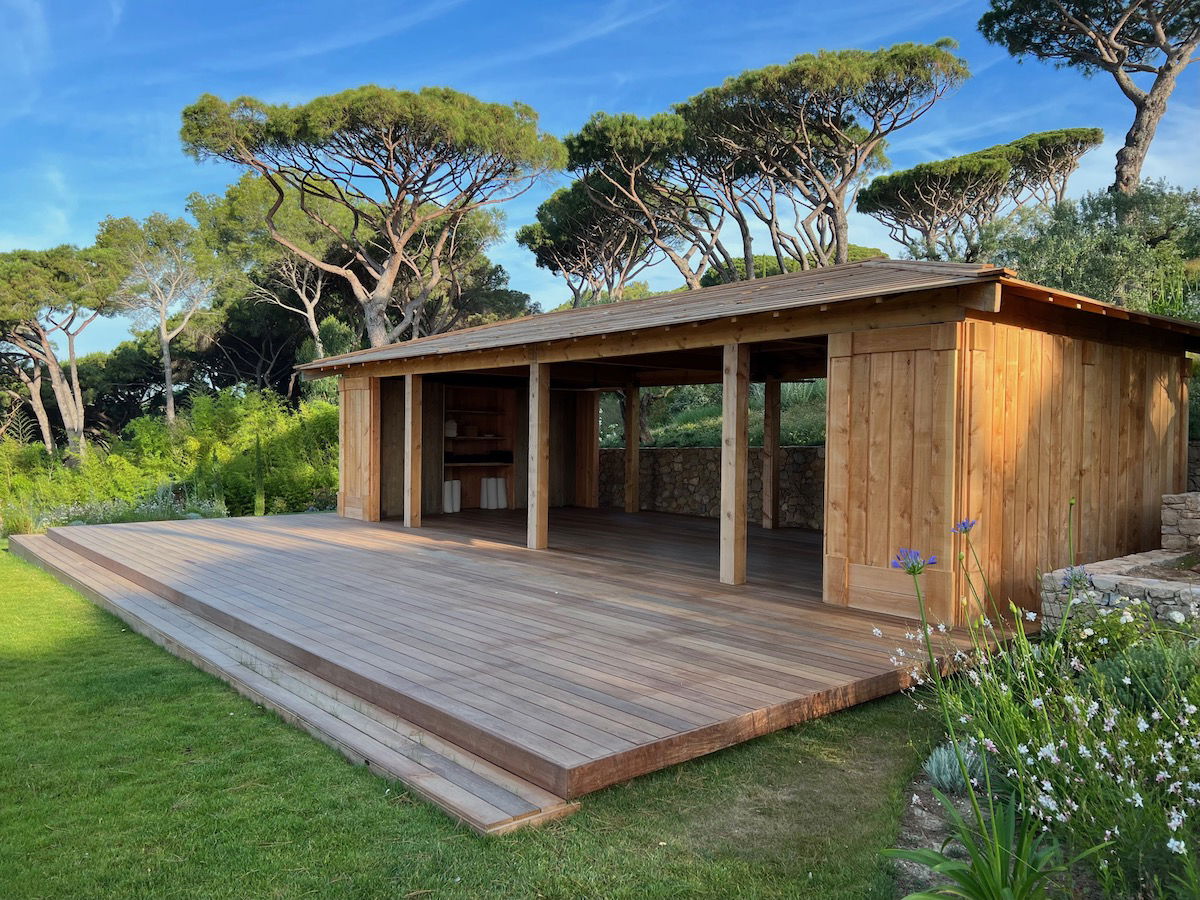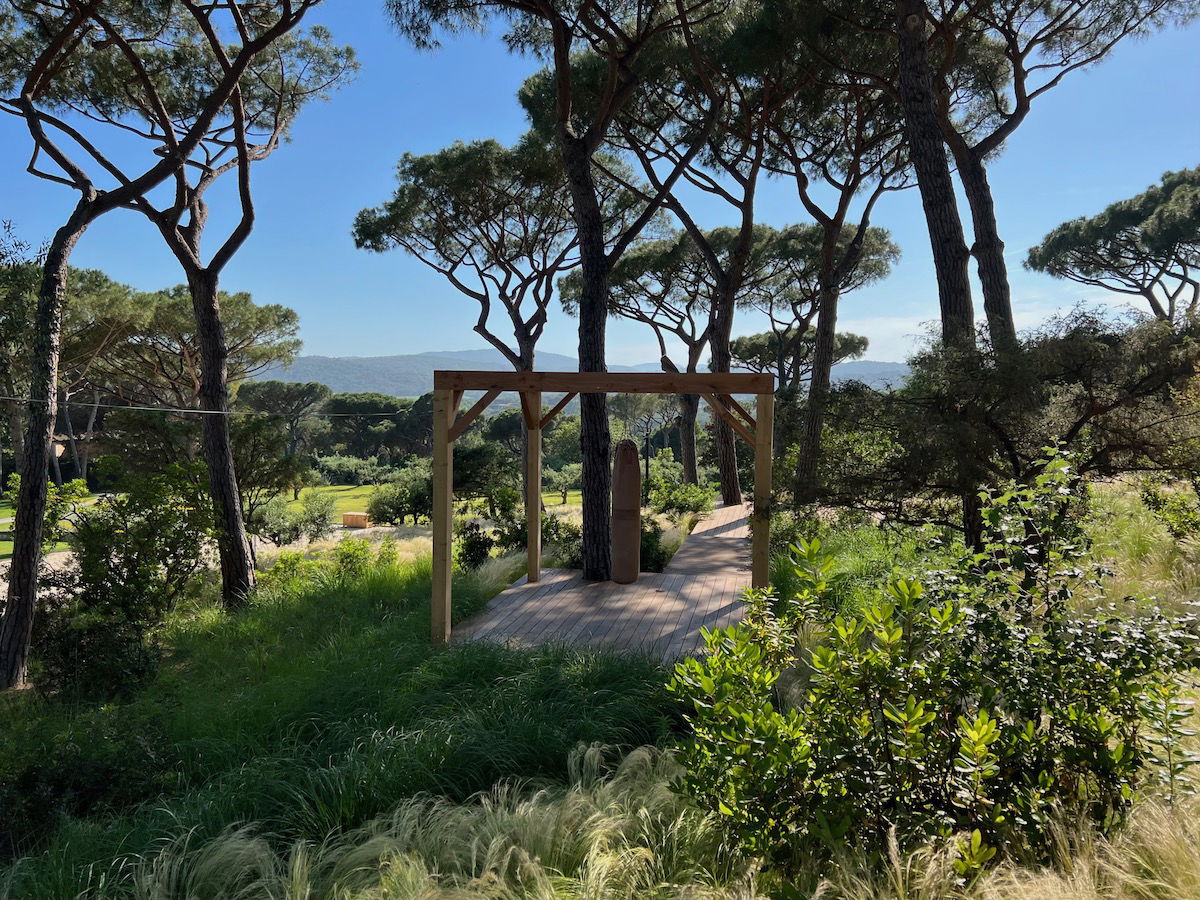 The area around the outdoor deck is simply gorgeous, as this is where most of the property's 30+ acres are. There's also a kids club down there, as well as two tennis courts, volleyball, and more.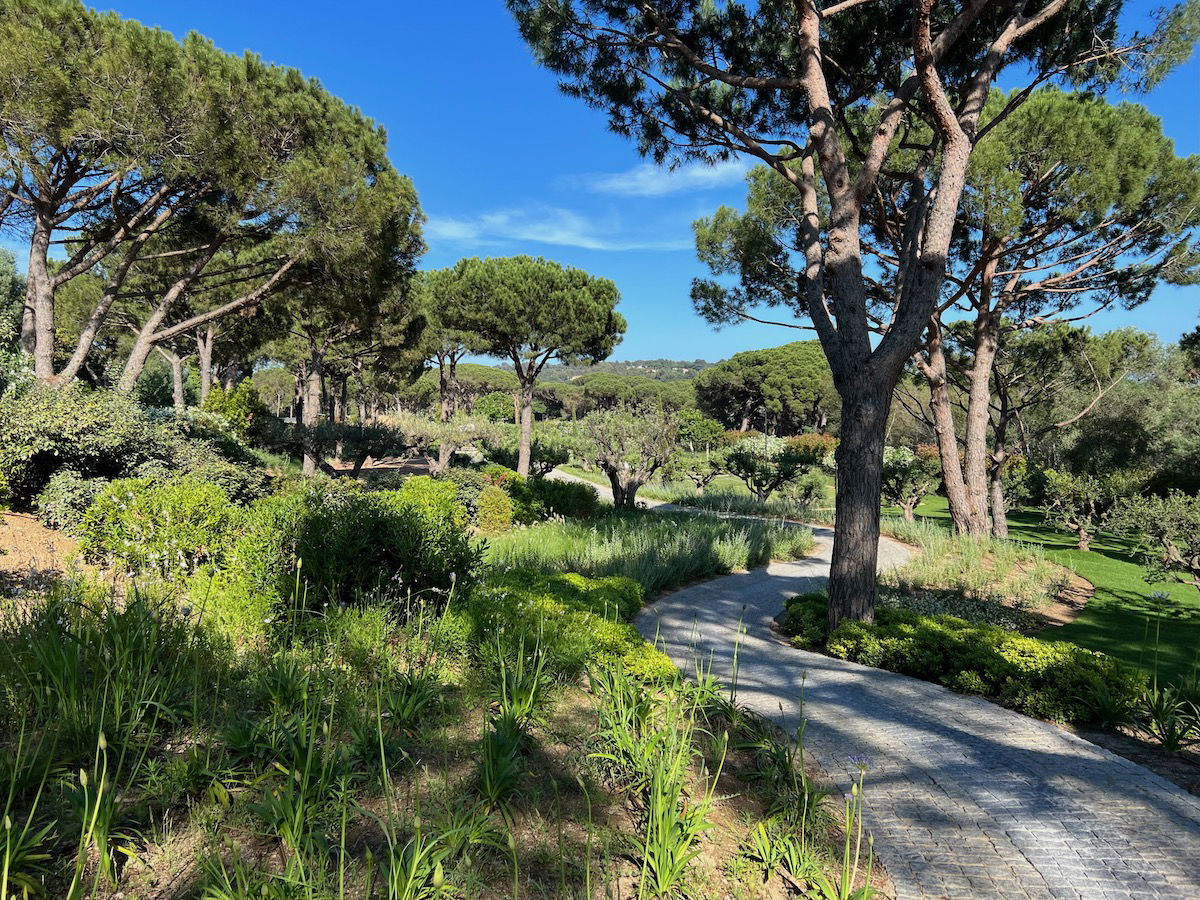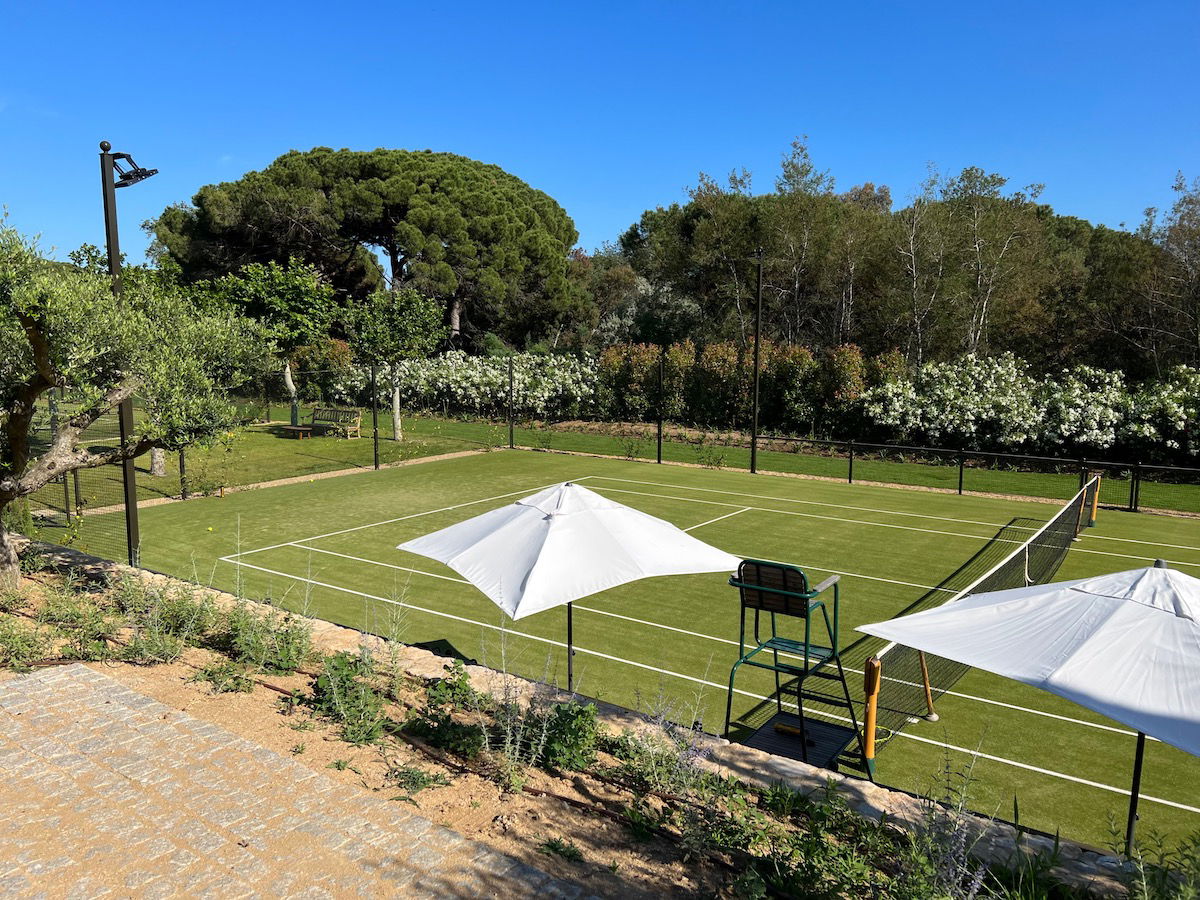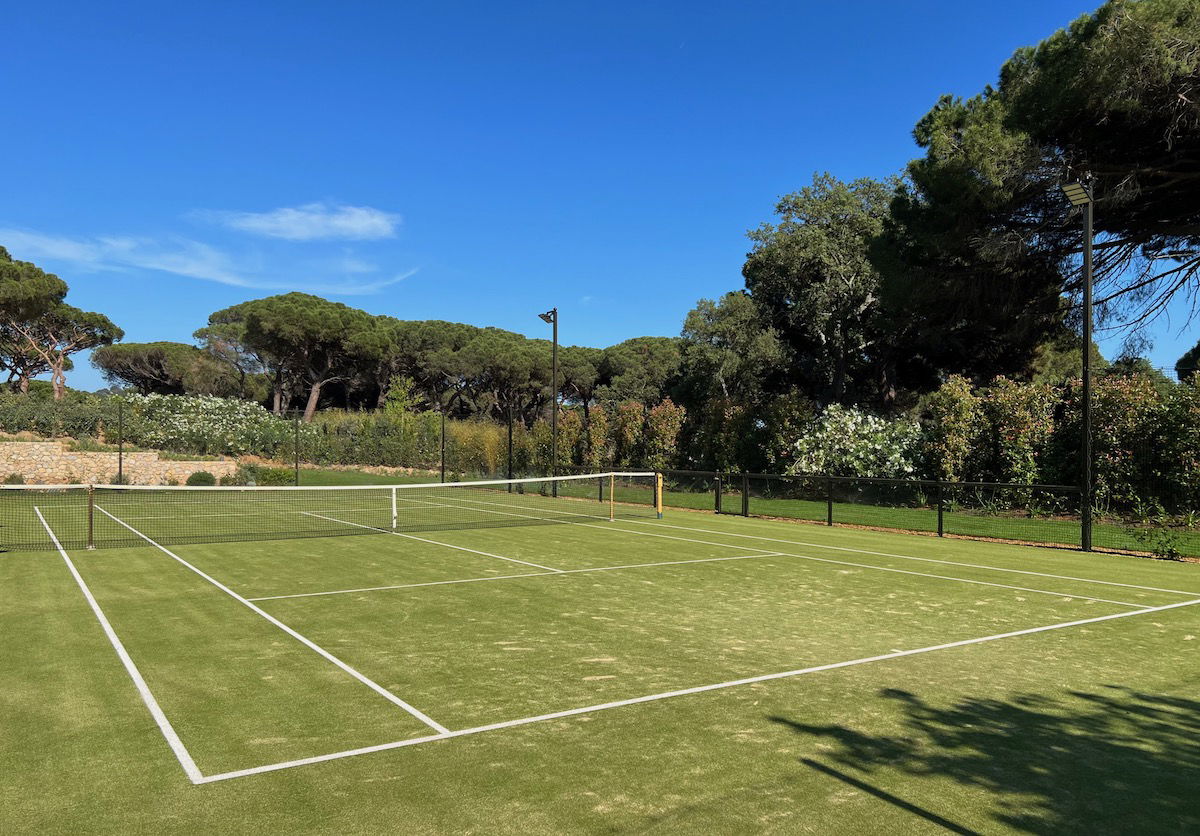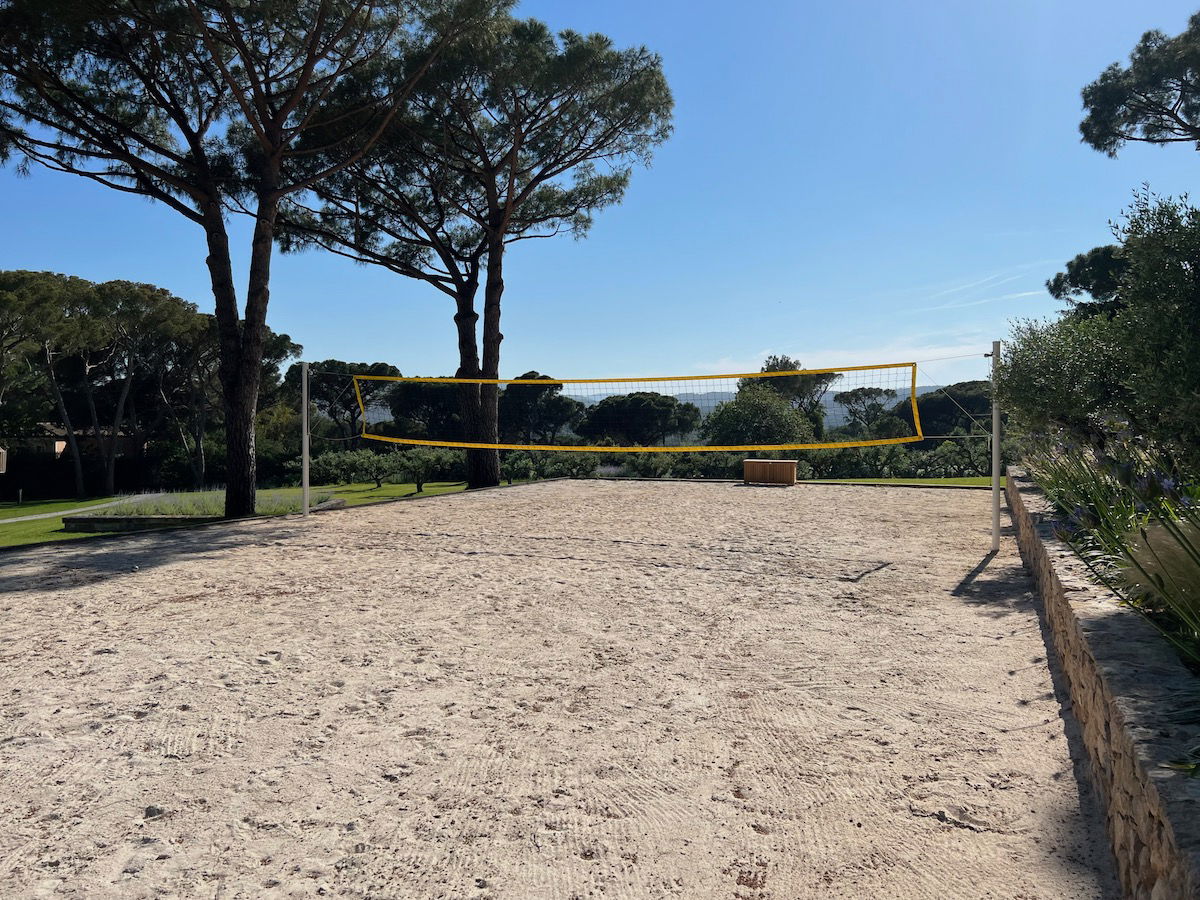 Airelles Saint-Tropez dining
As you'd expect from a French luxury hotel brand, Airelles places a huge emphasis on food & wine, and this property is no exception. The hotel has several dining venues, and we visited just about all of them during our stay. Let's dig a bit deeper in.
Airelles Saint-Tropez La Table de la Messardiere (breakfast & lunch)
La Table de la Messardiere is the property's main restaurant, and it serves breakfast daily from 7AM until 11AM, and lunch daily from 1PM until 3:30PM. Both breakfast and lunch are included for hotel guests. What a wonderful setting!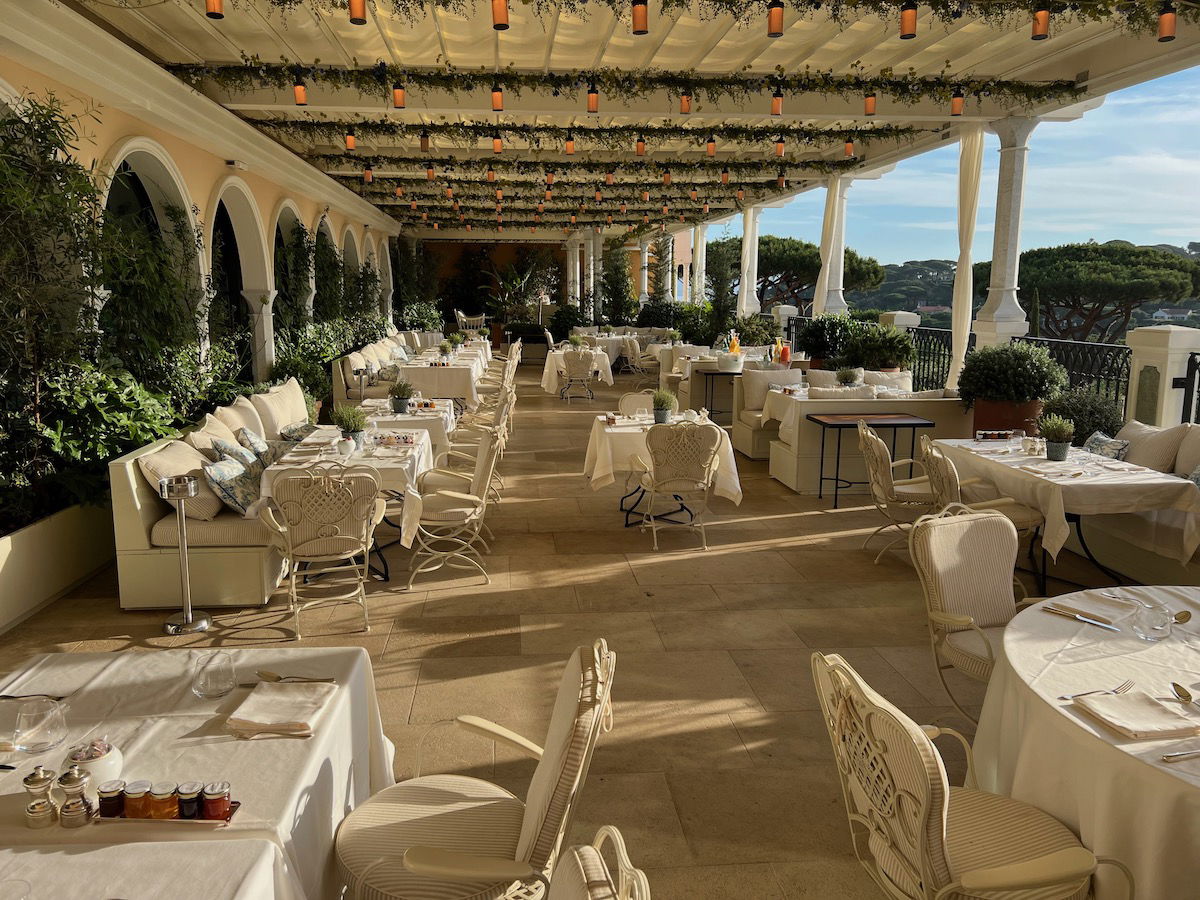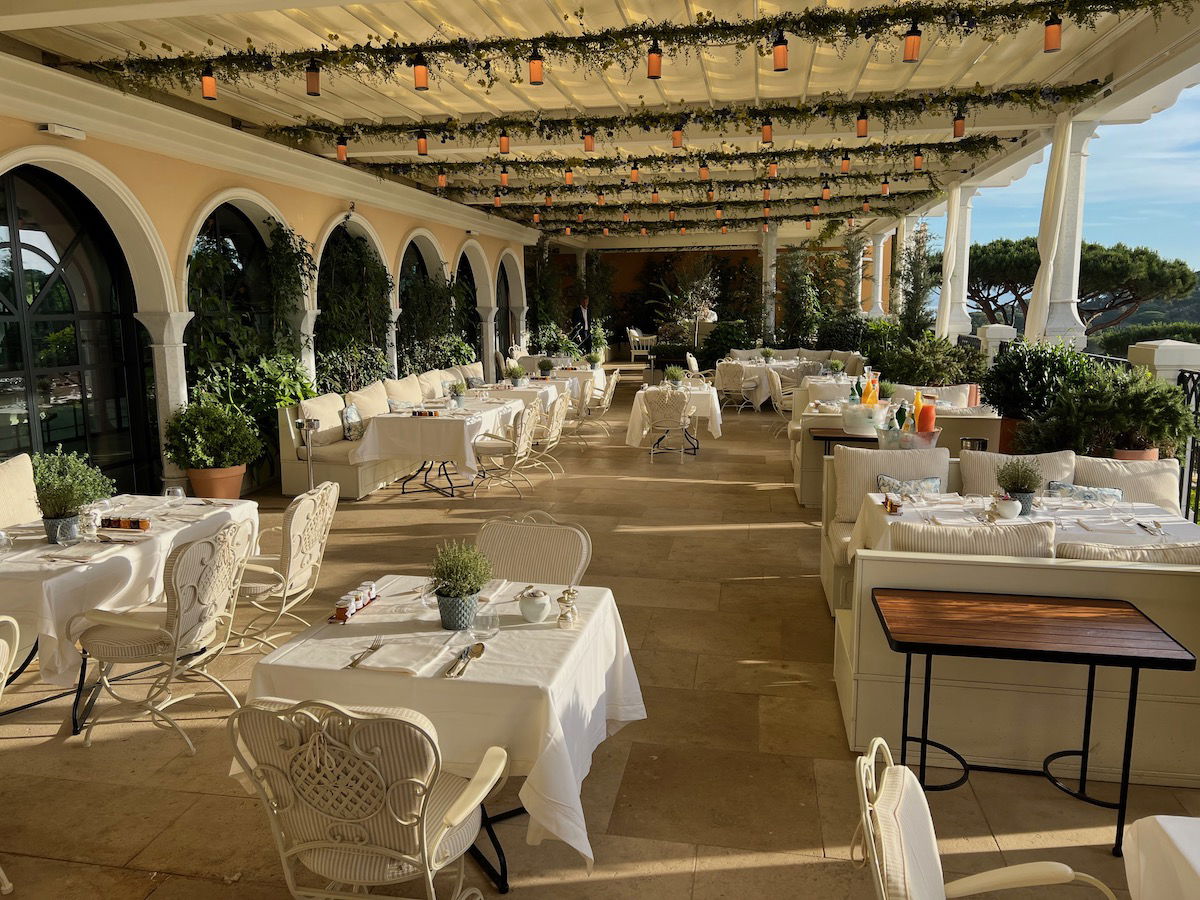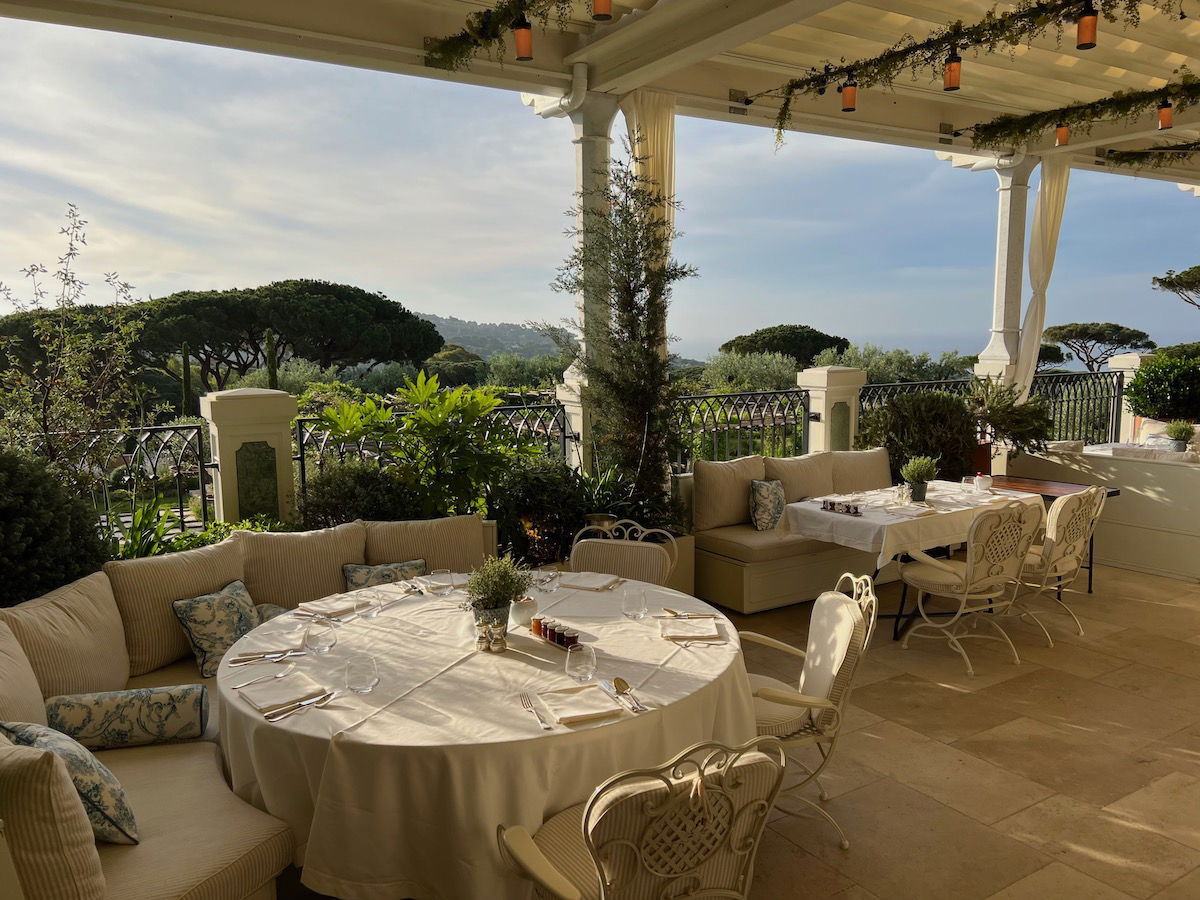 At breakfast, drinks are served by staff, and you can have everything from coffee, to espresso, to iced lattes, to freshly squeezed juices.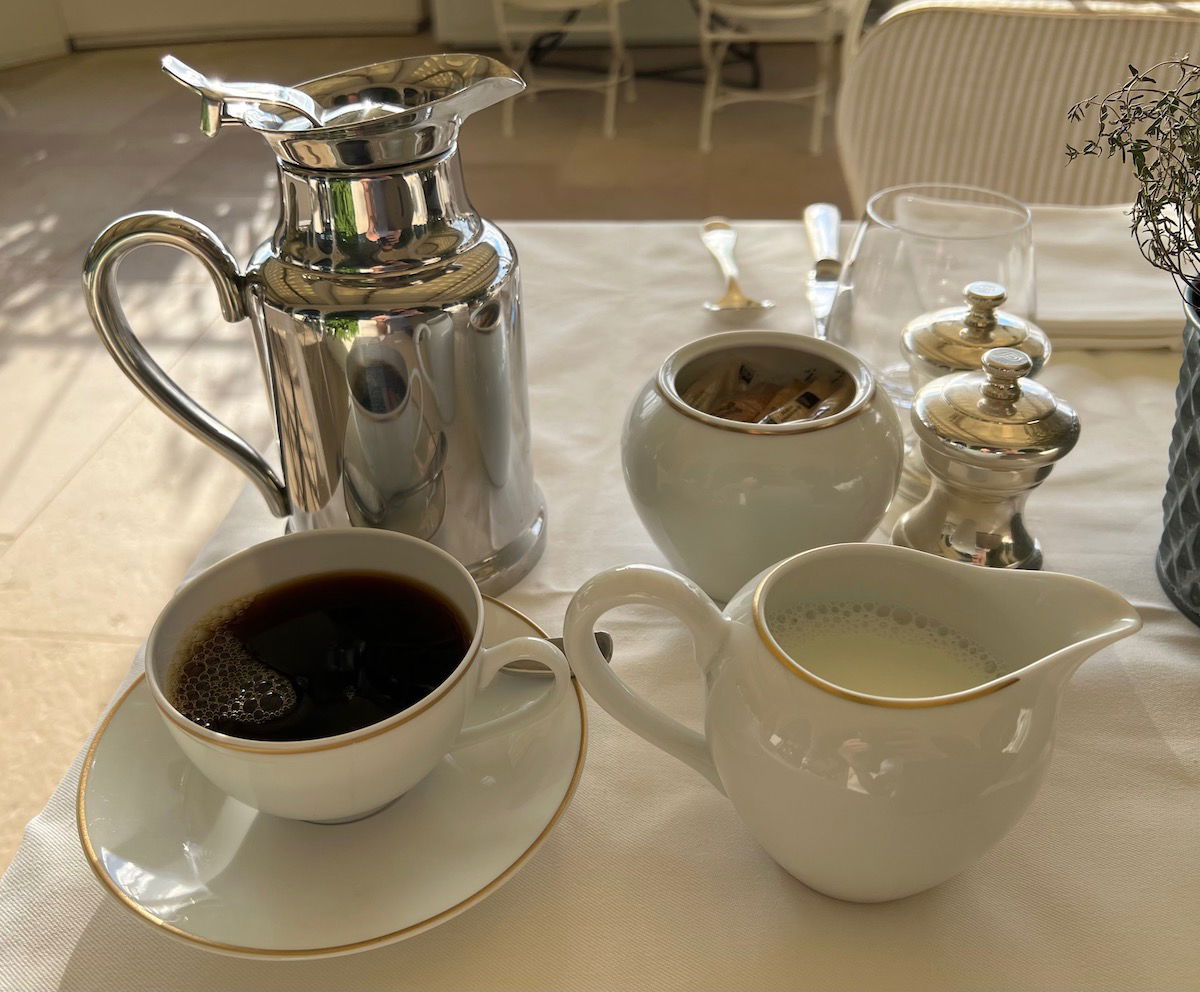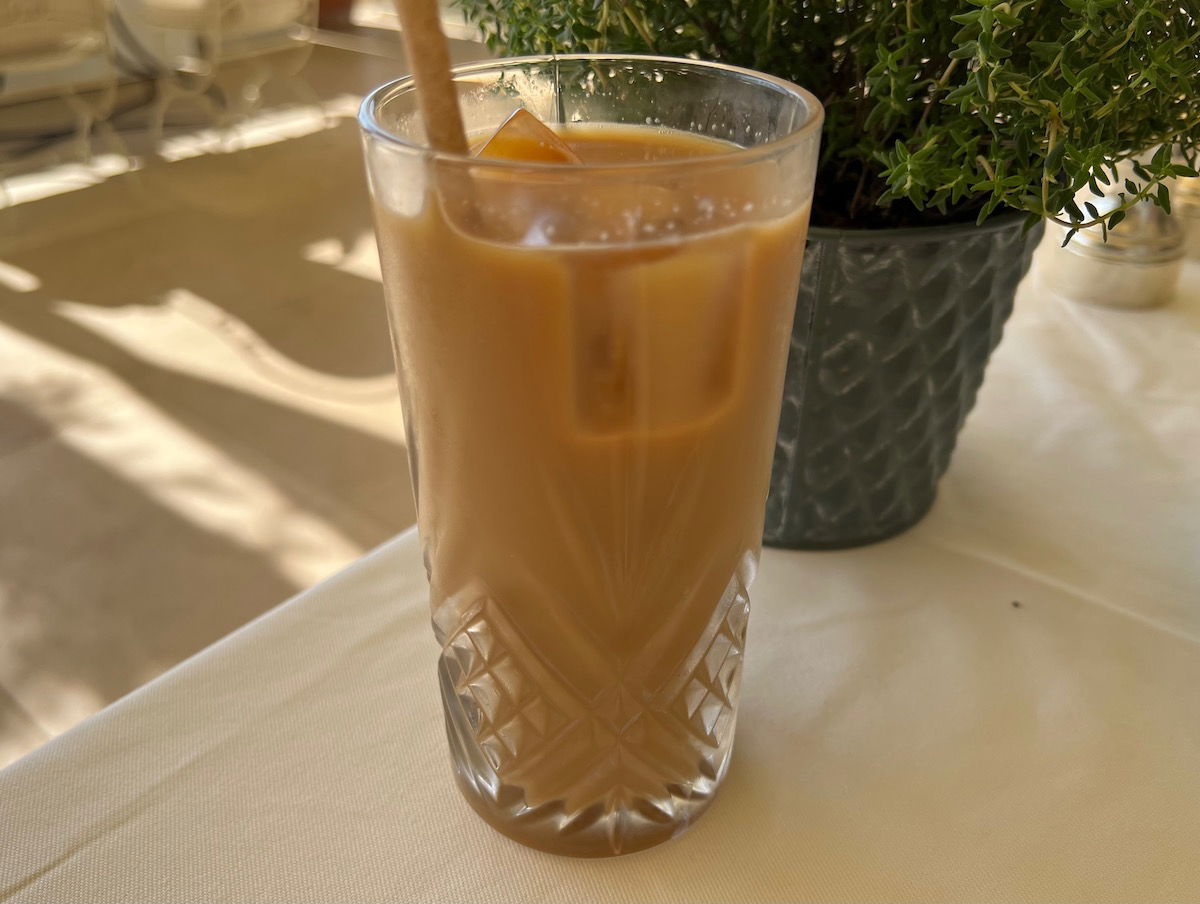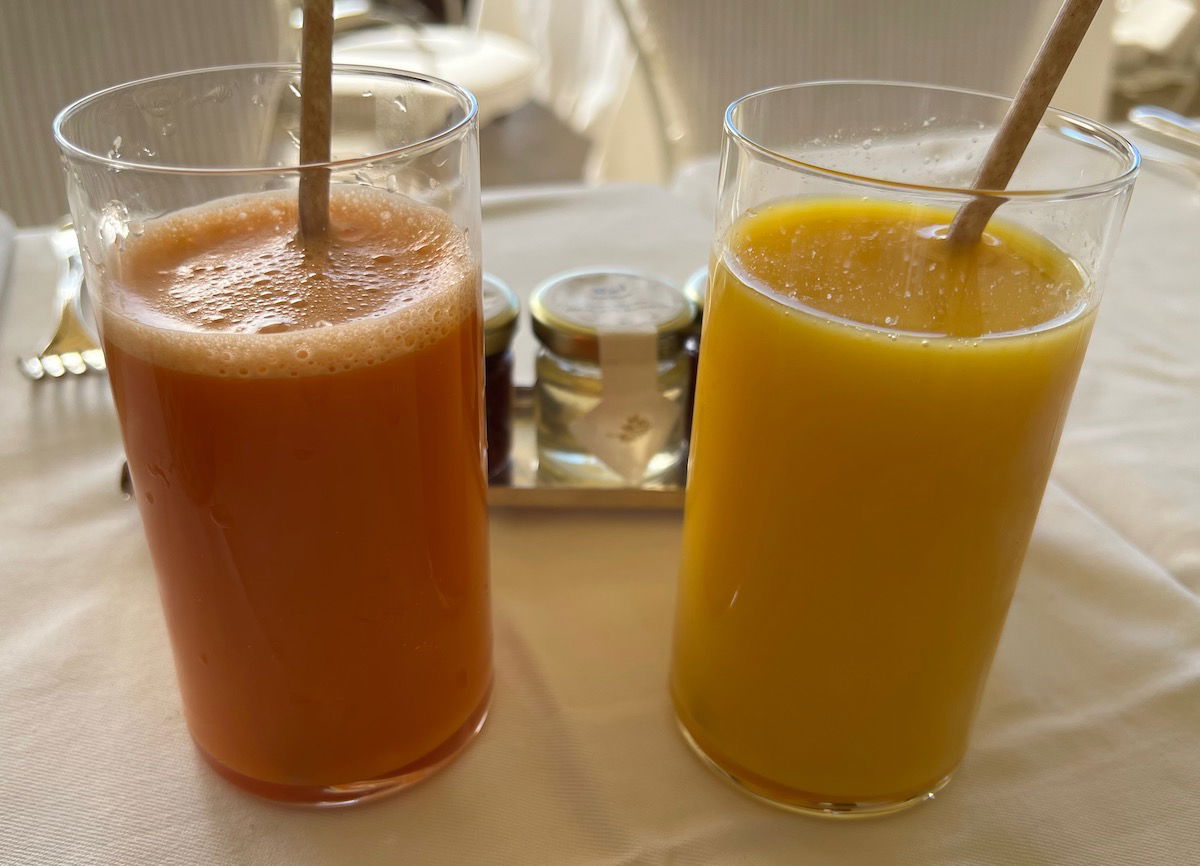 Breakfast primarily consists of a buffet. It's not the world's biggest buffet, but the quality and presentation simply doesn't get better, down to the ice sculpture. The buffet had everything from freshly baked bread and pastries, to cold cuts, to fresh fruit, to avocado toast.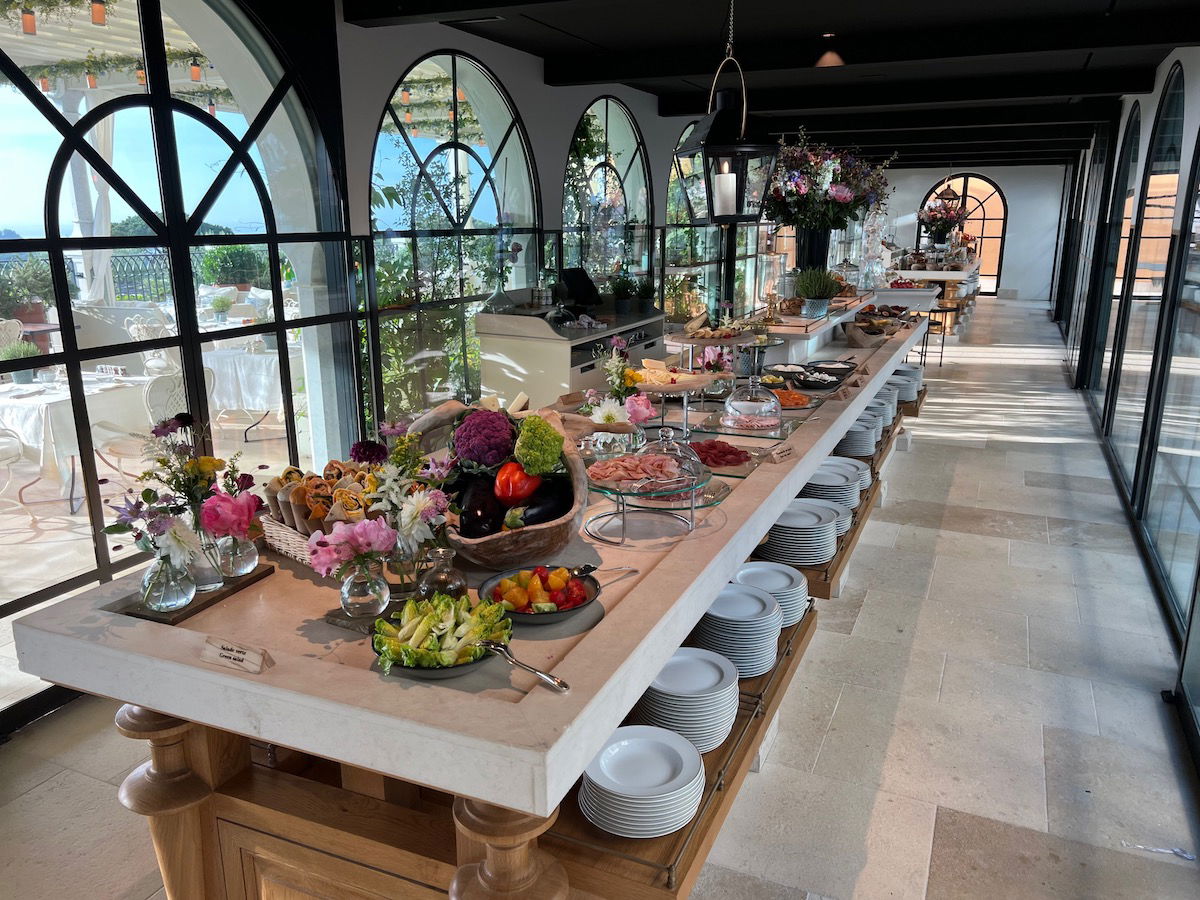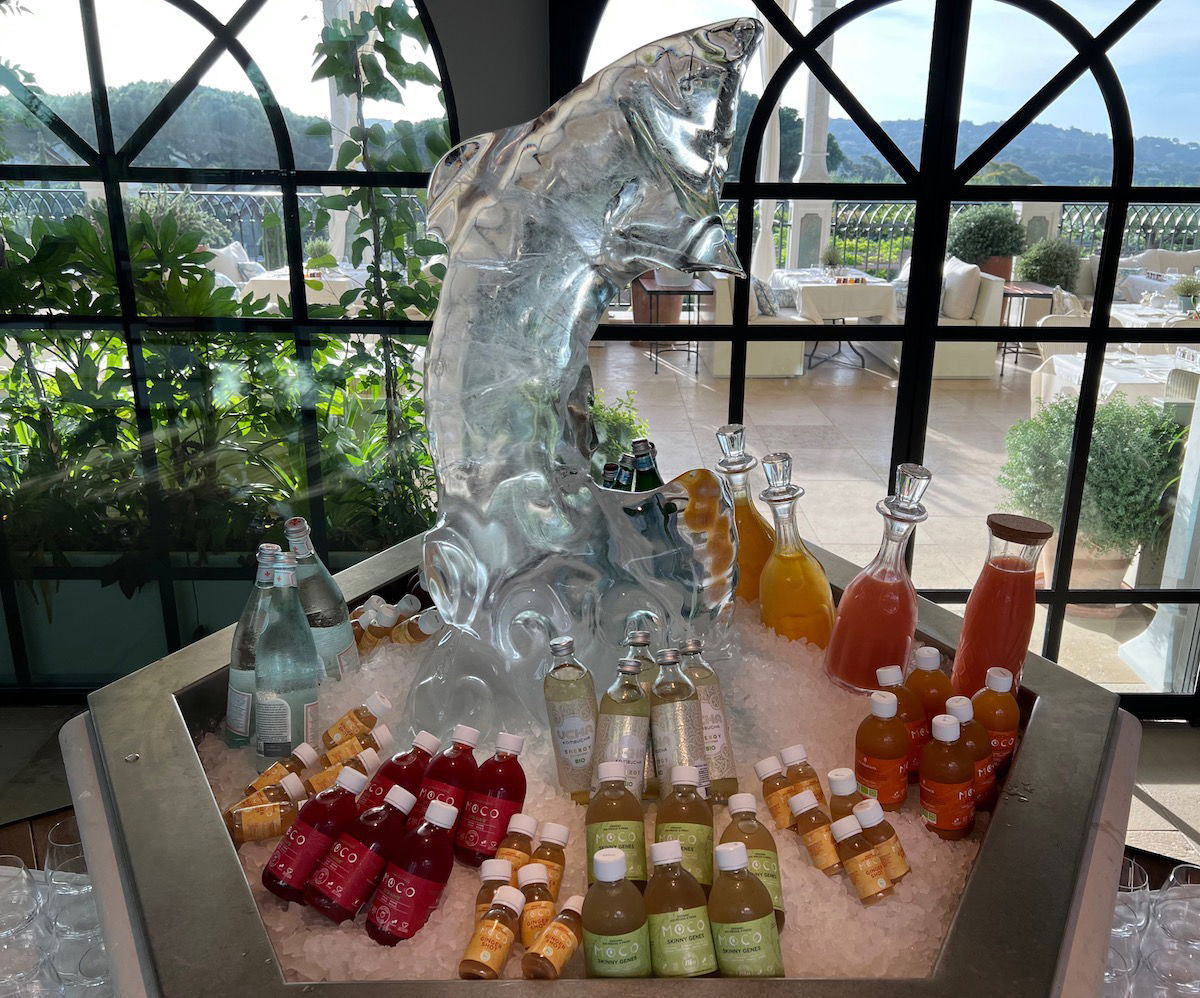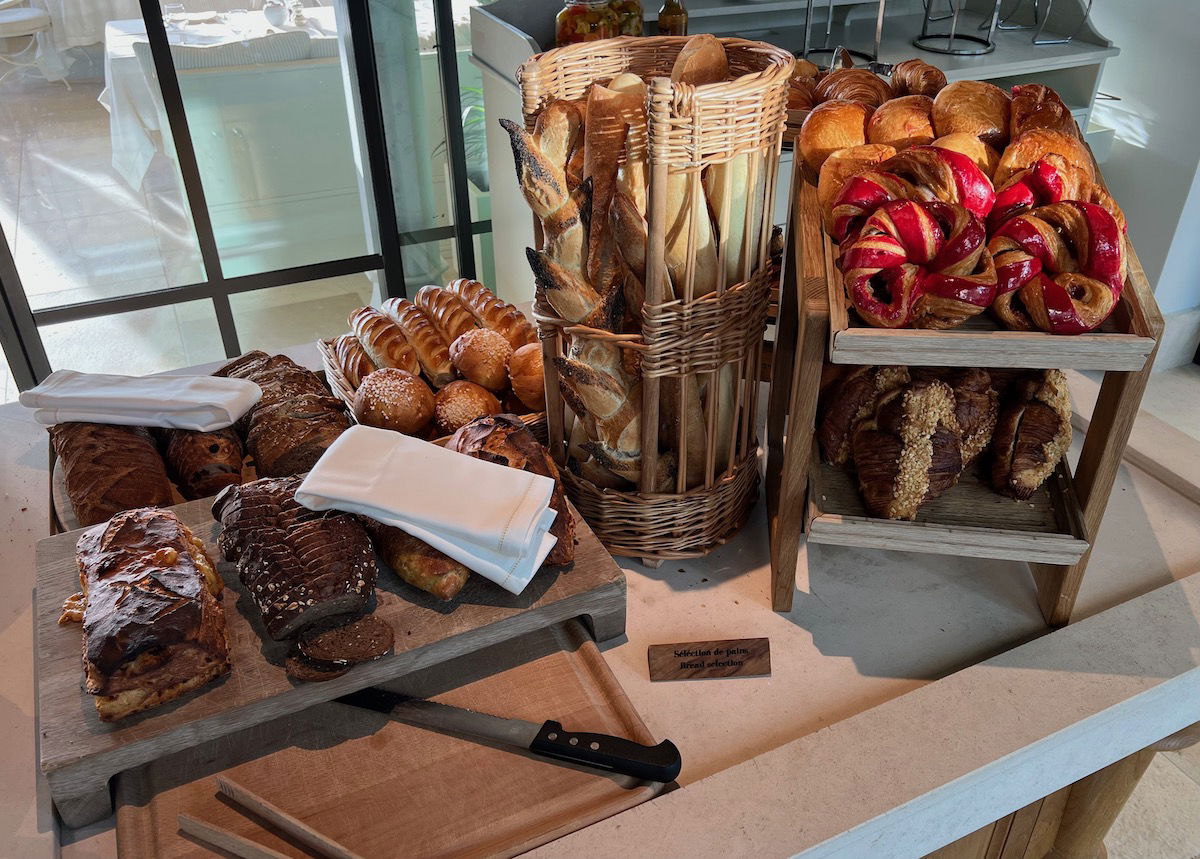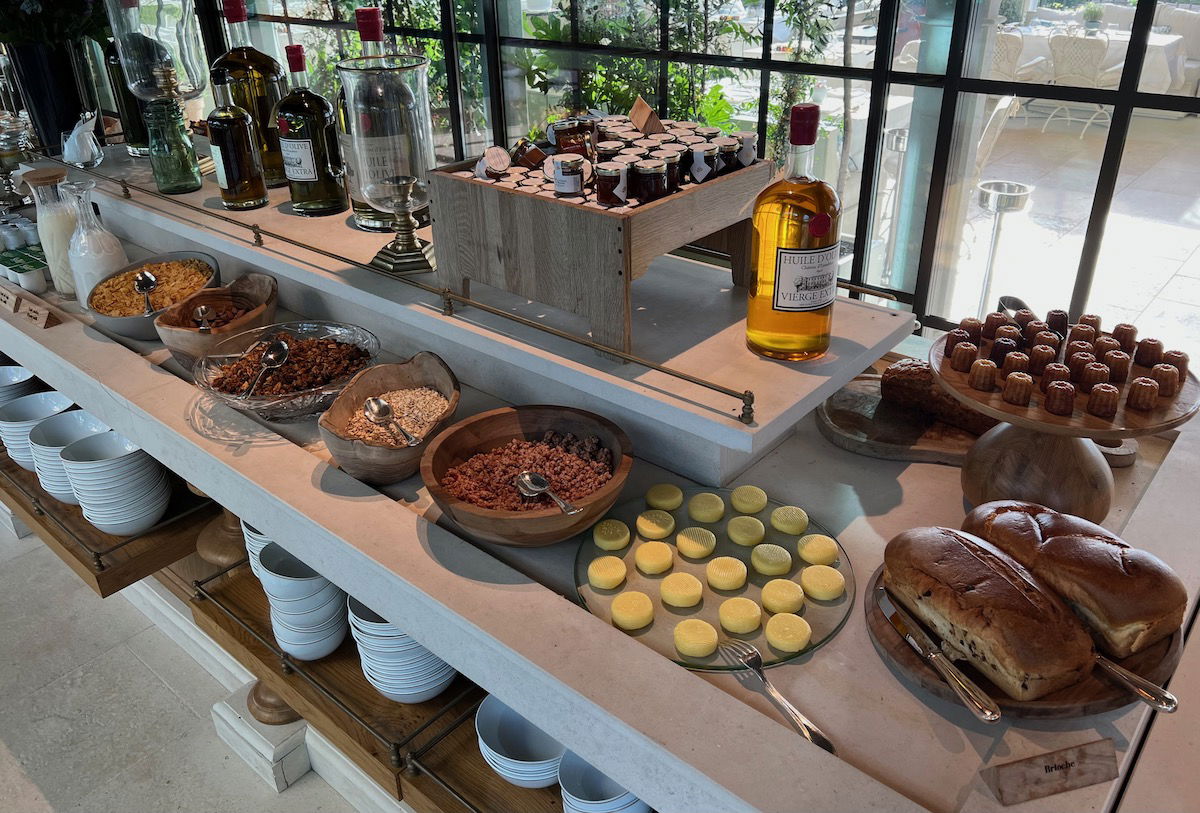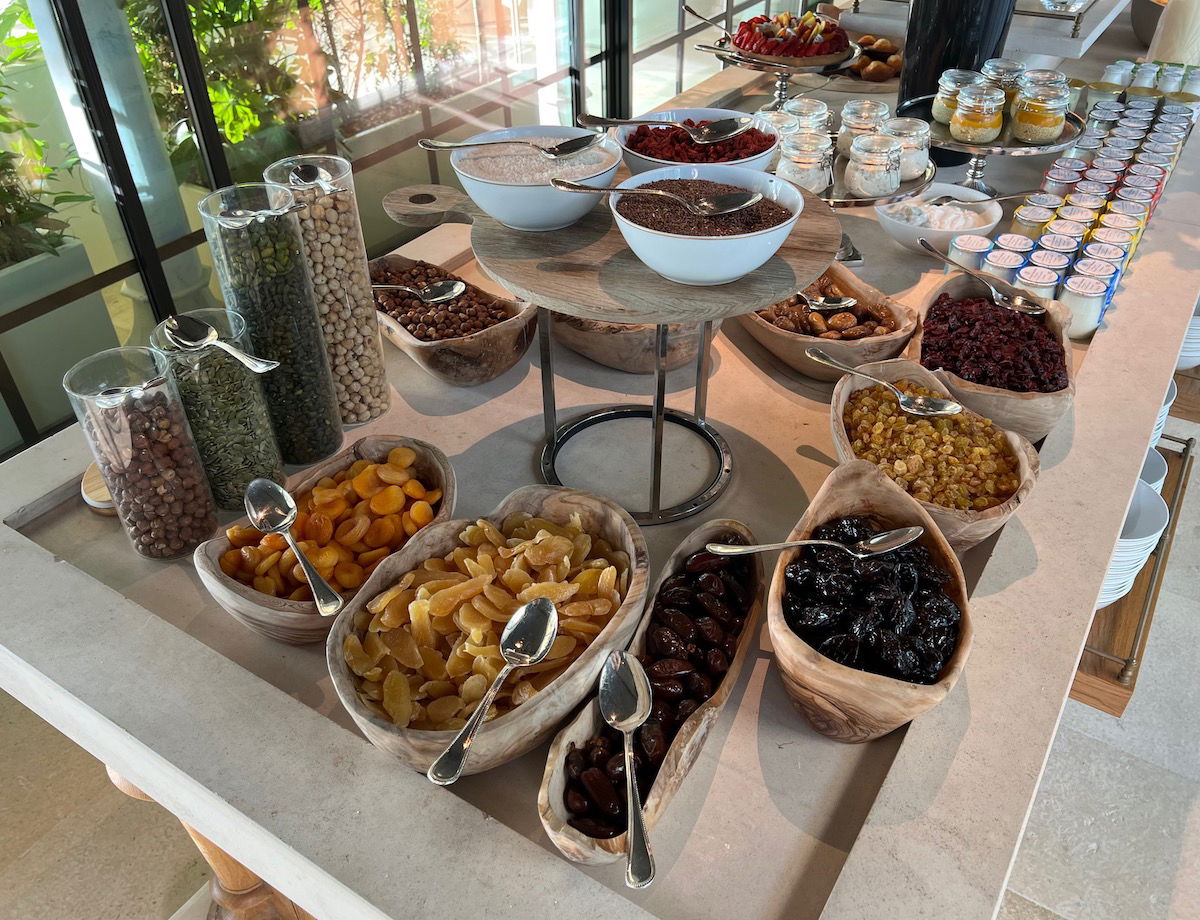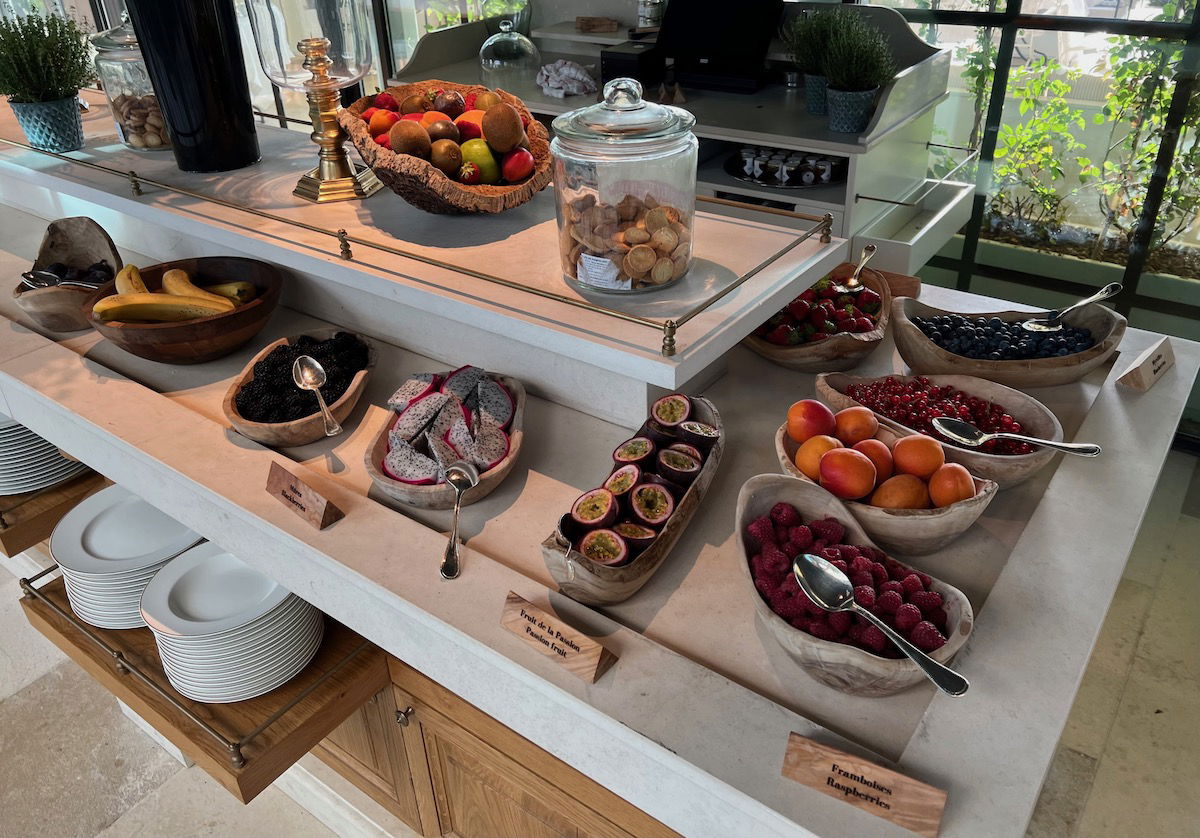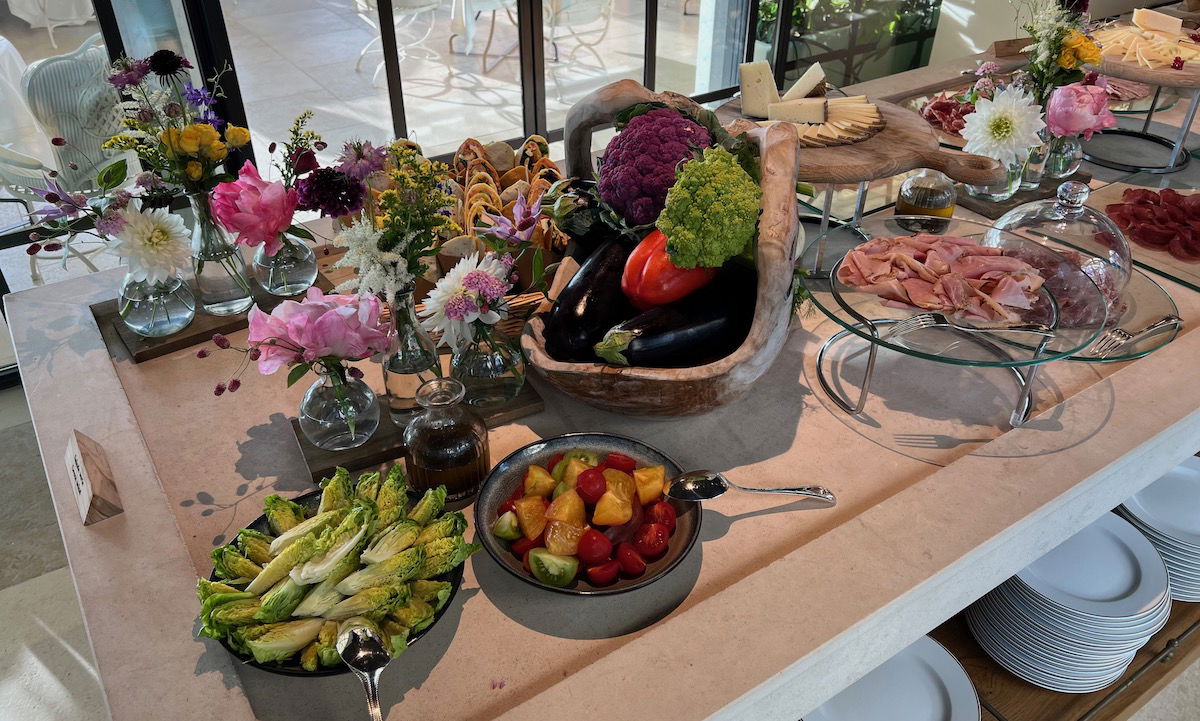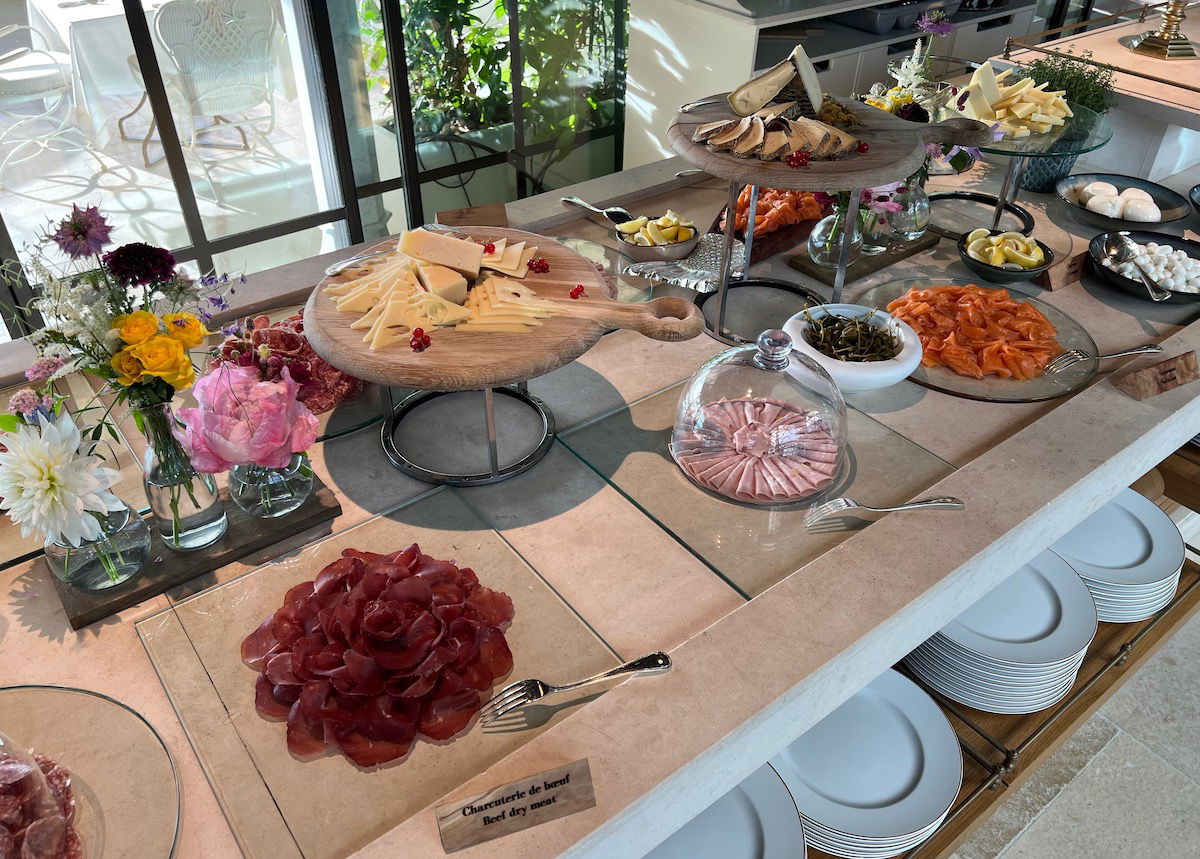 On top of that, they were happy to prepare you anything from the kitchen, from crepes, to waffles, to pancakes, to omelets, to eggs benedict.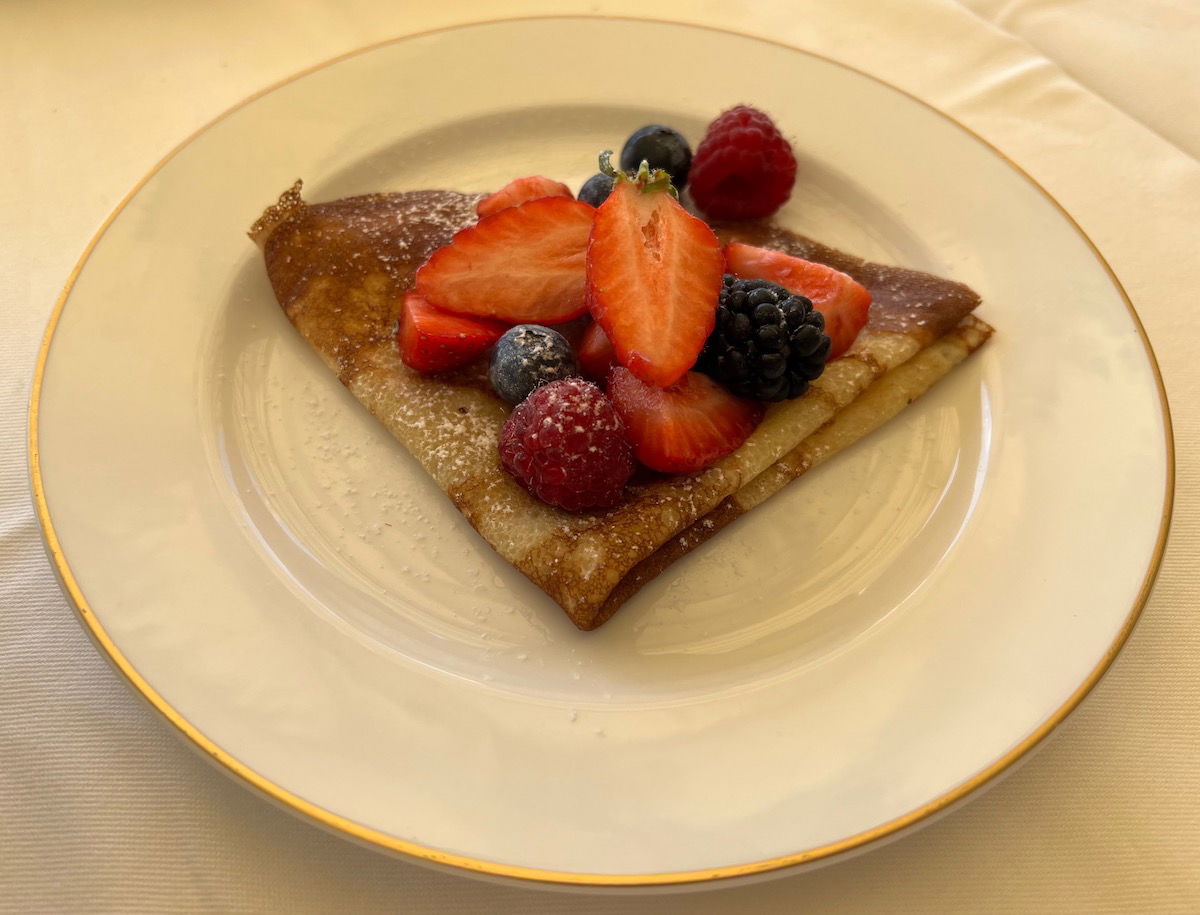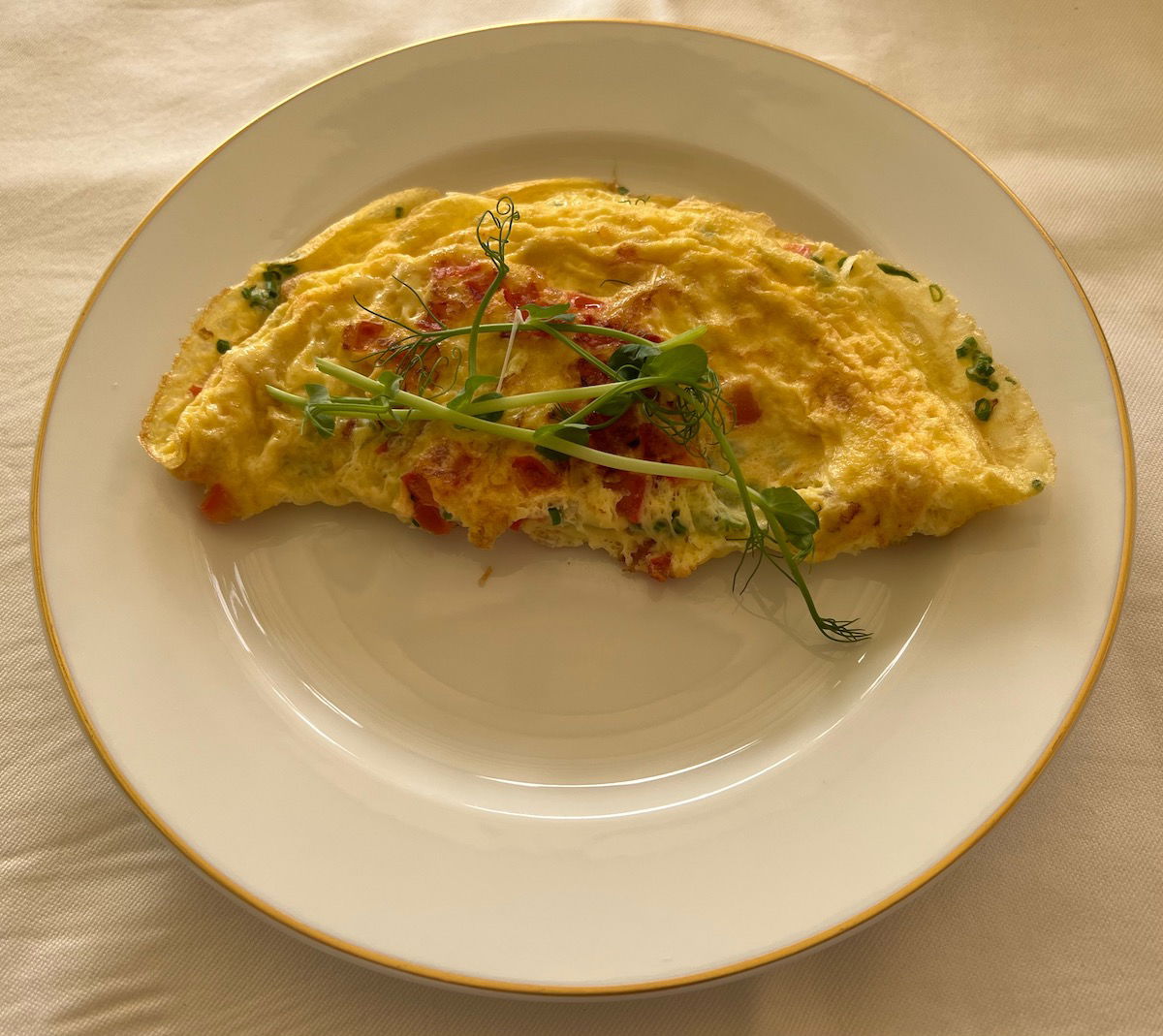 Lunch was also included, and what a feast it was. From fresh seafood, to endless cheese and cold cuts, to all kinds of salads, to dips and spreads, to veggies, this was simply incredible.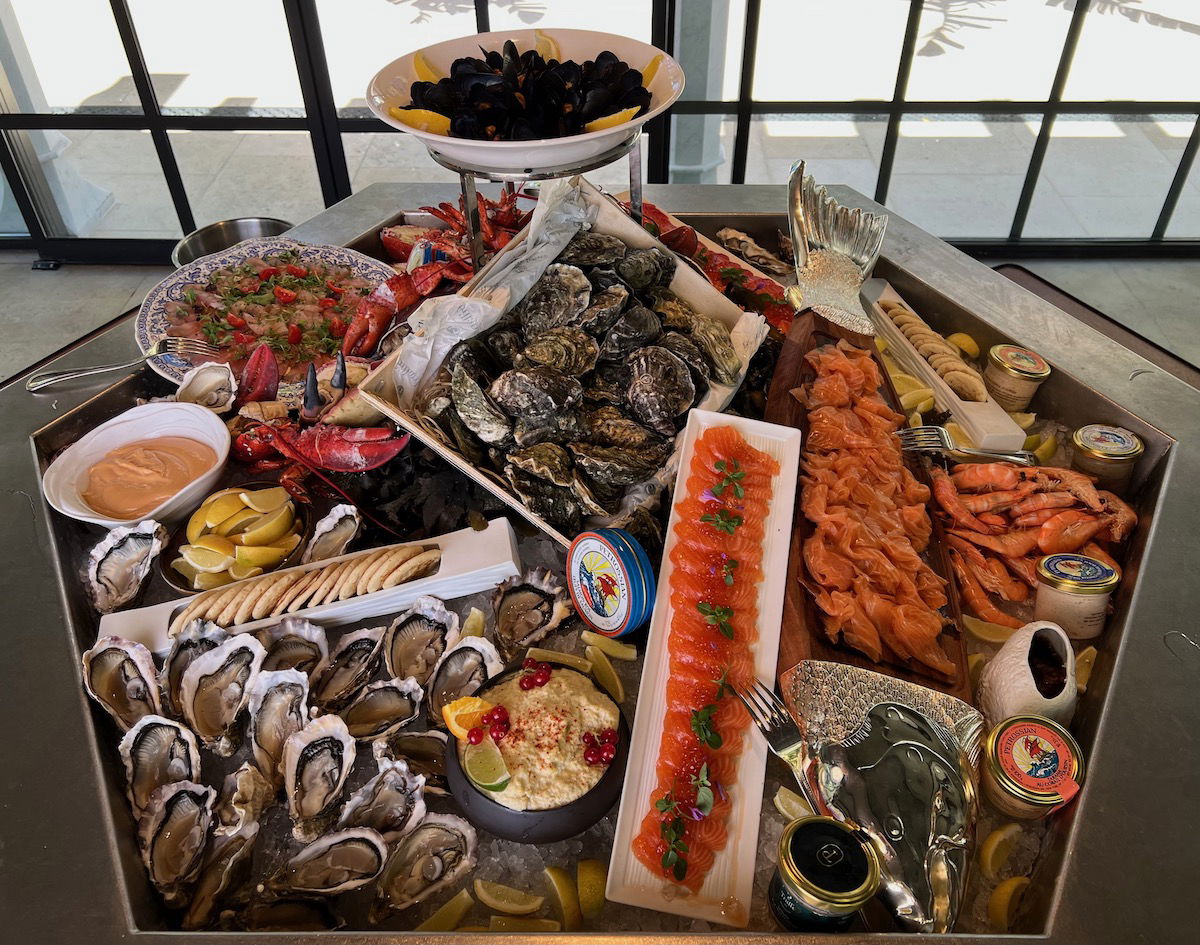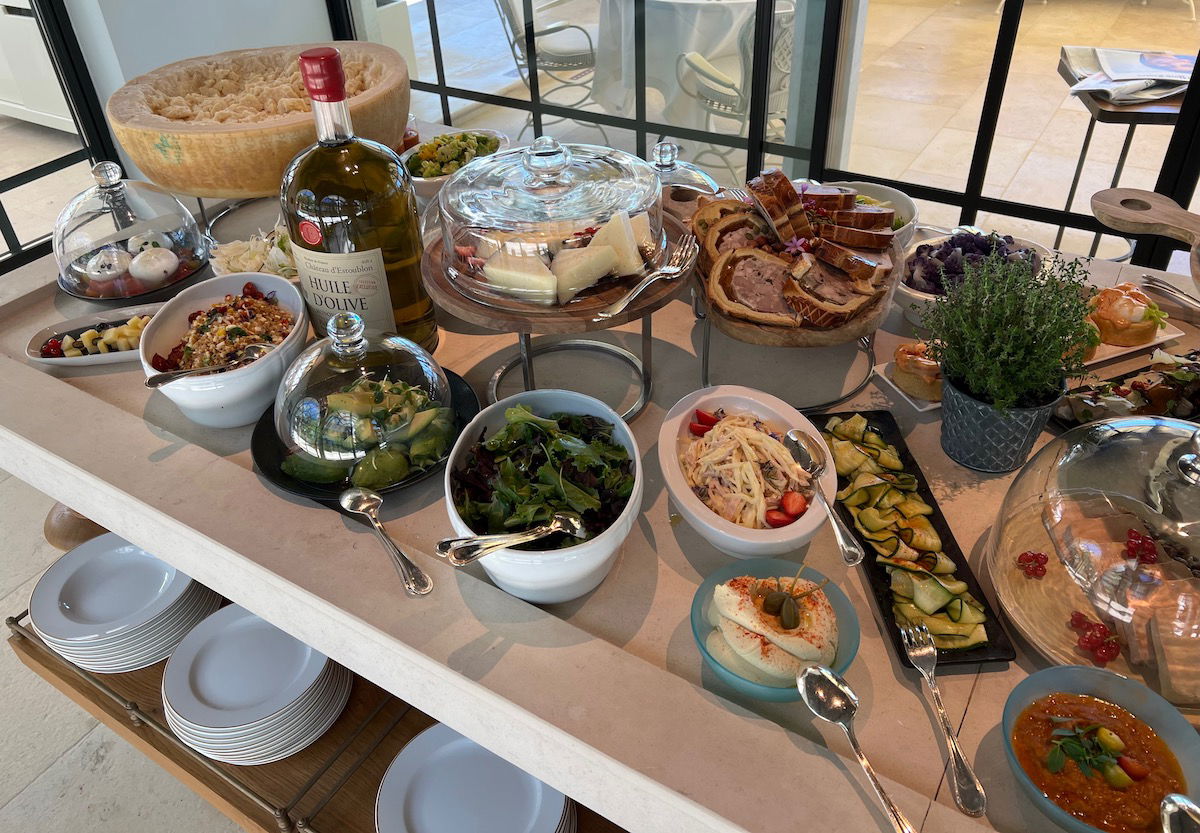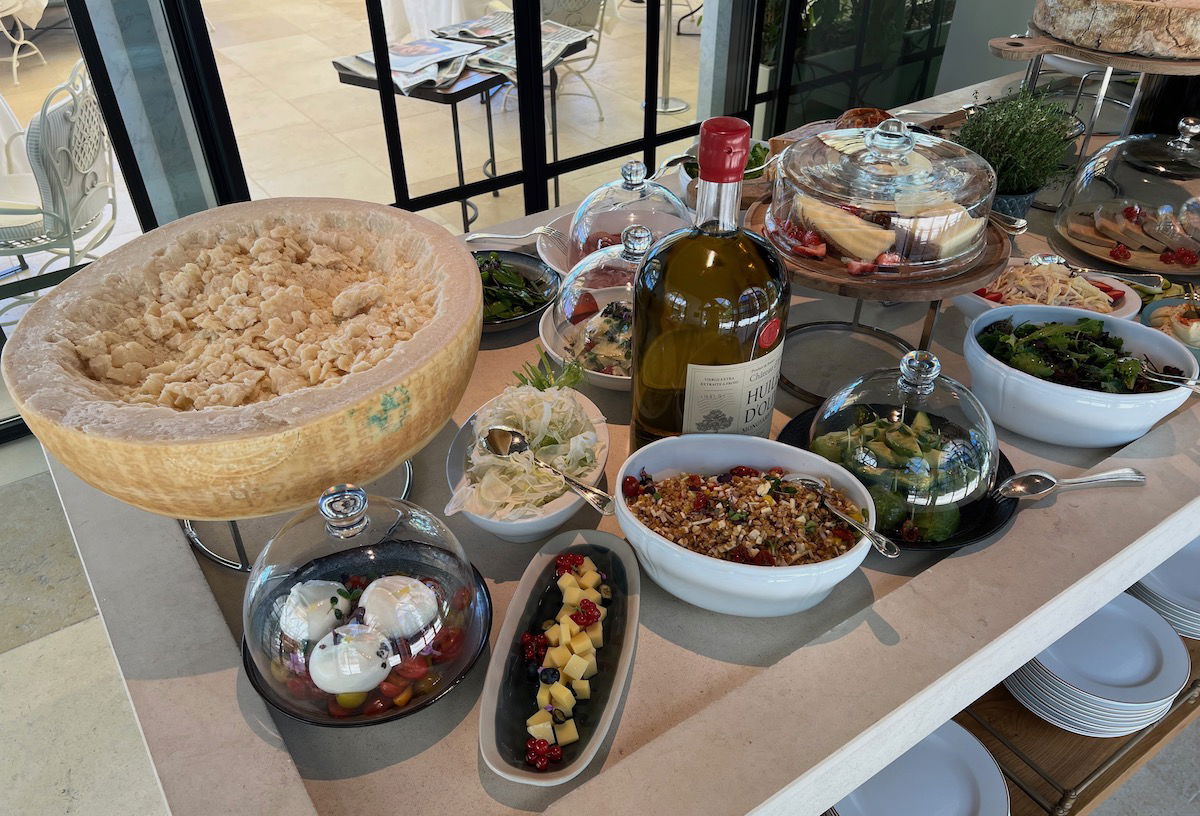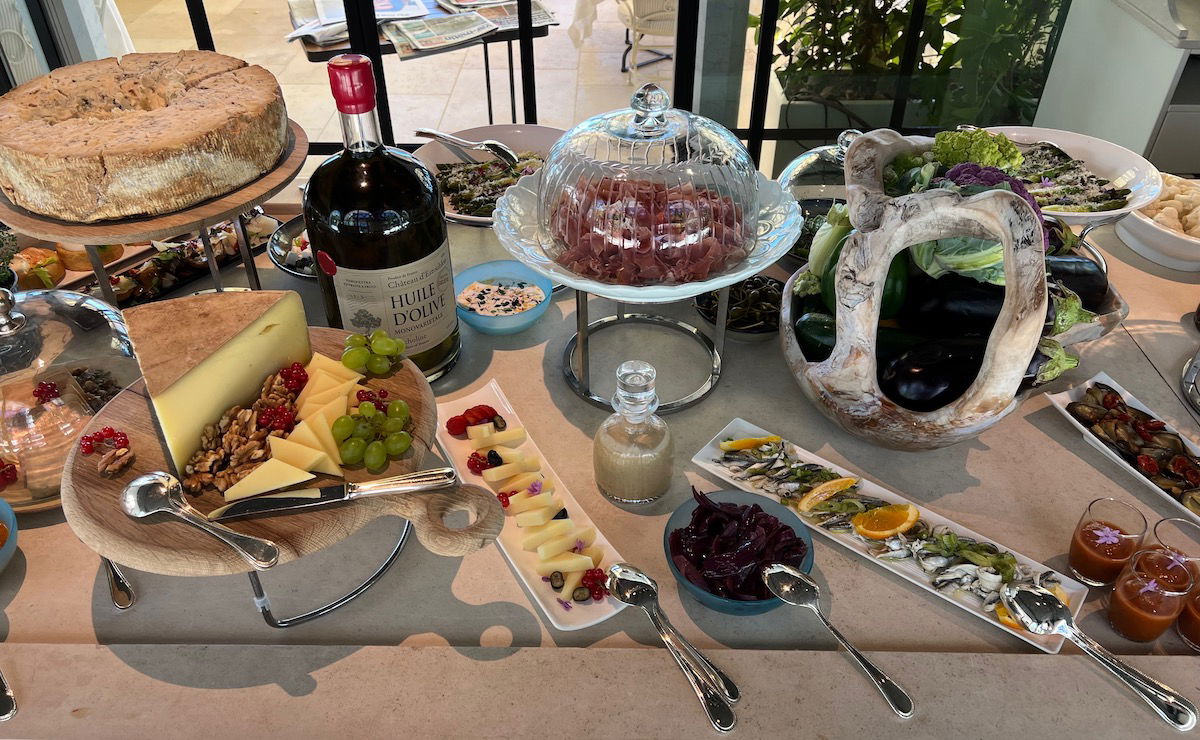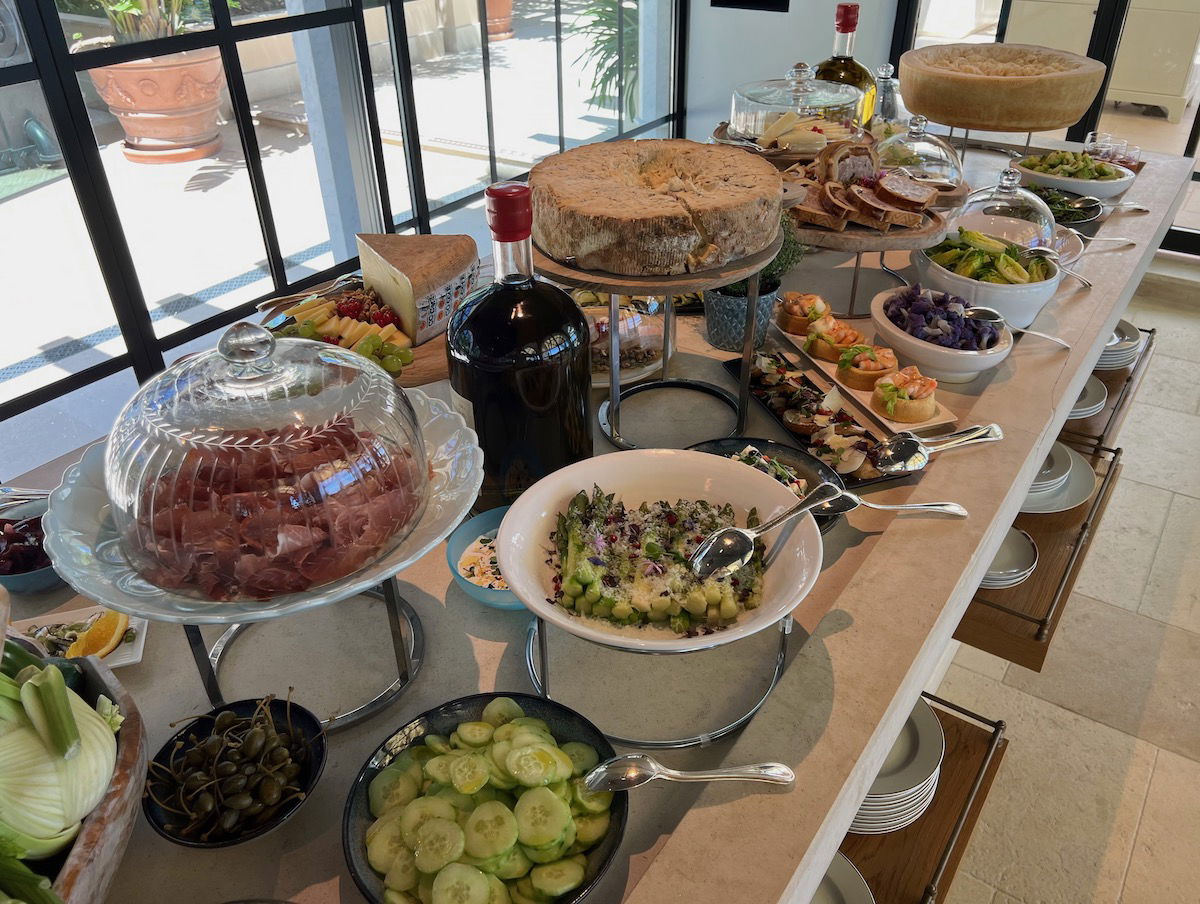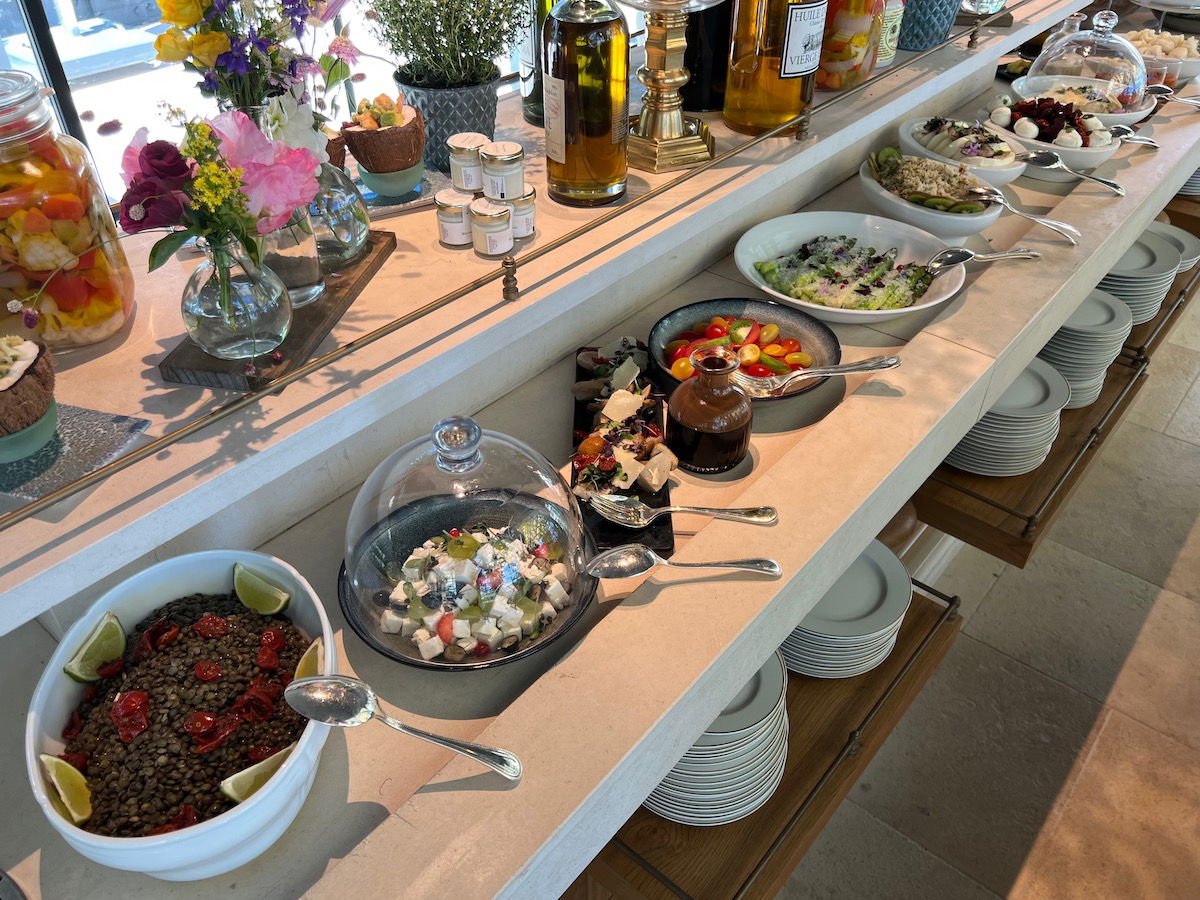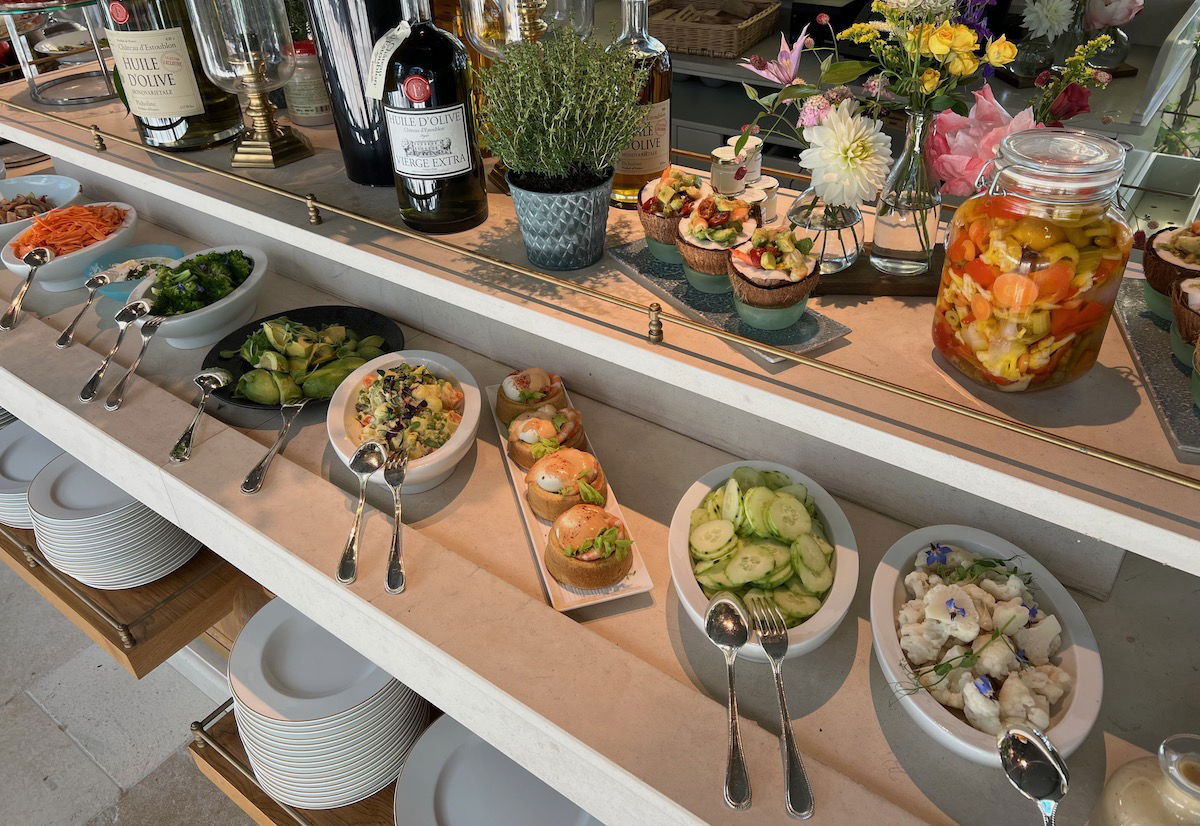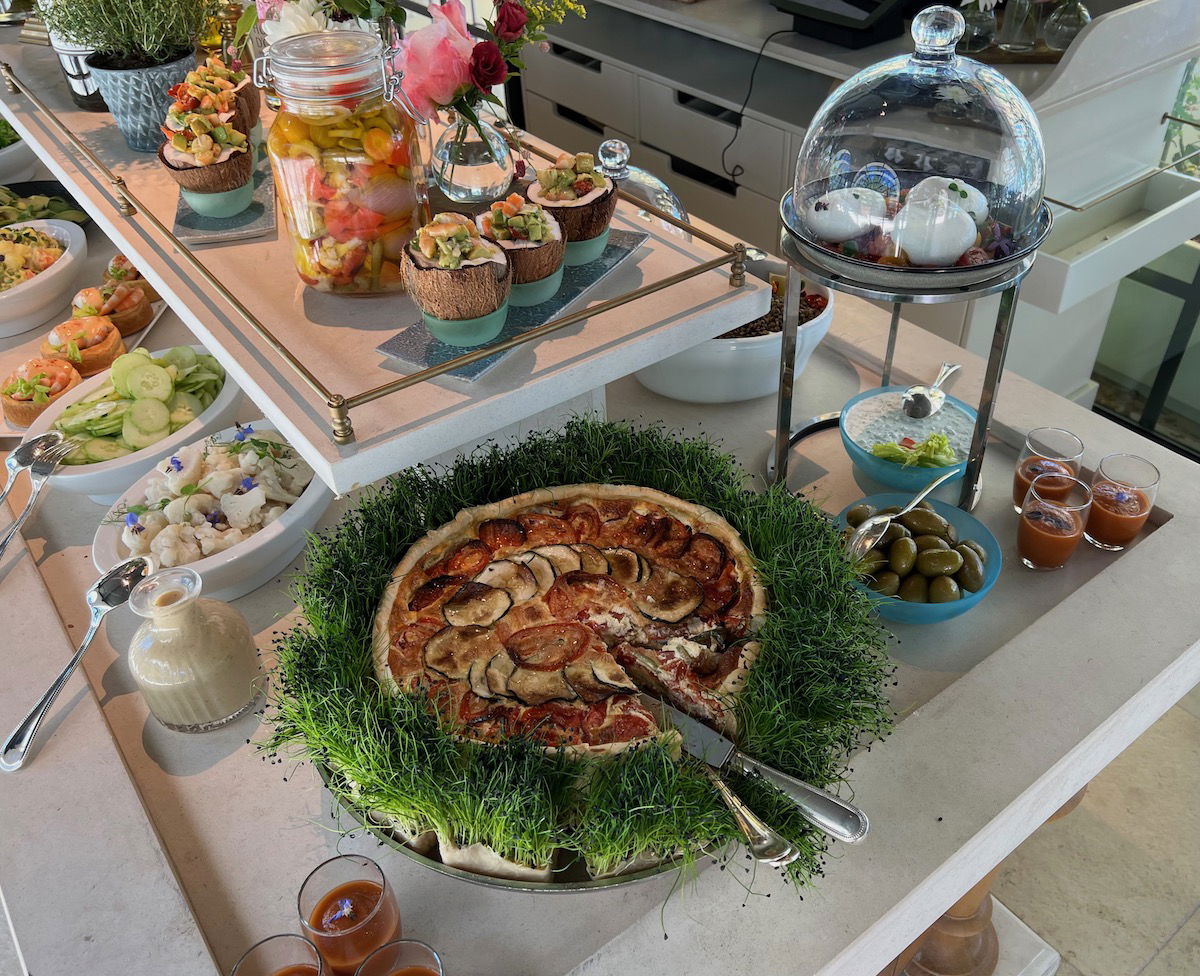 Best of all (or worst of all, depending on how you look at it), there was an equally large dessert buffet. I don't think I've ever had my willpower tested as hard as here.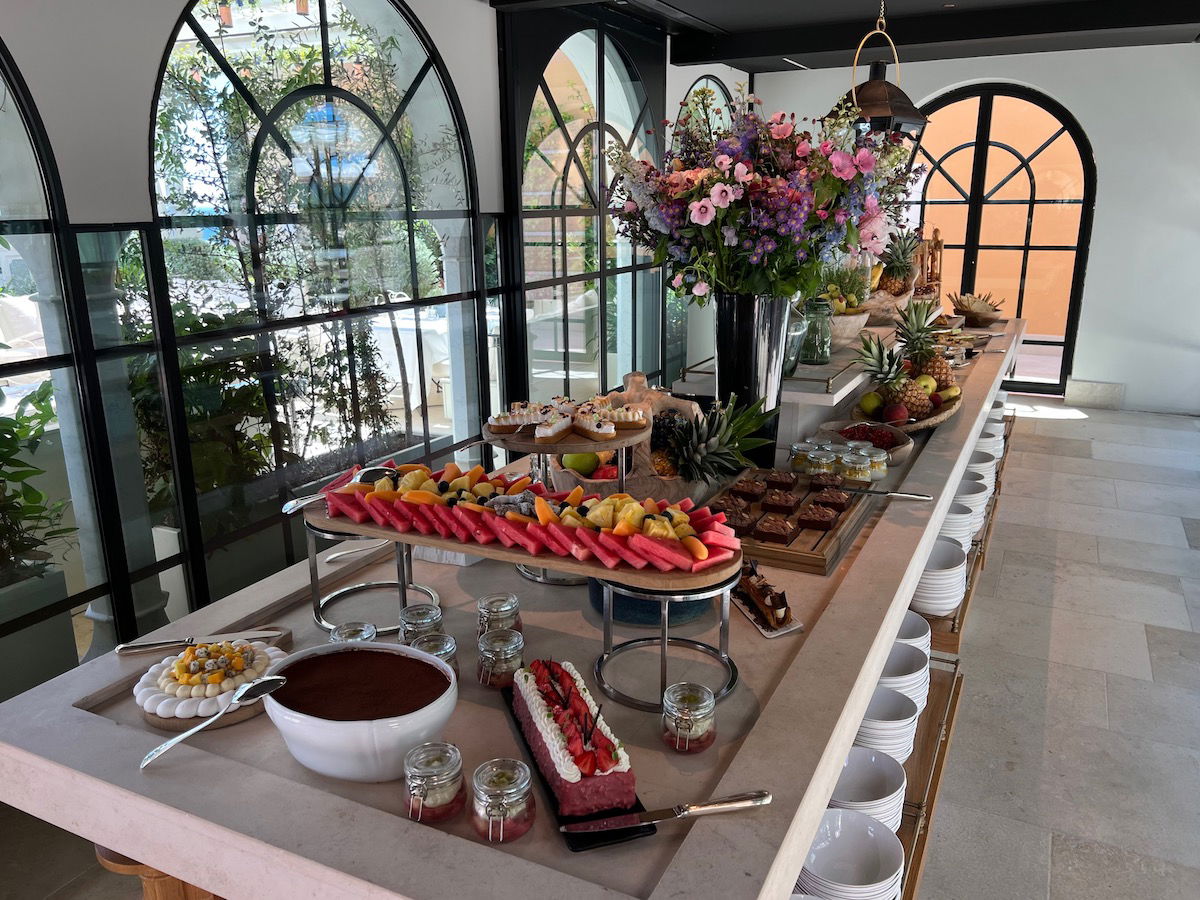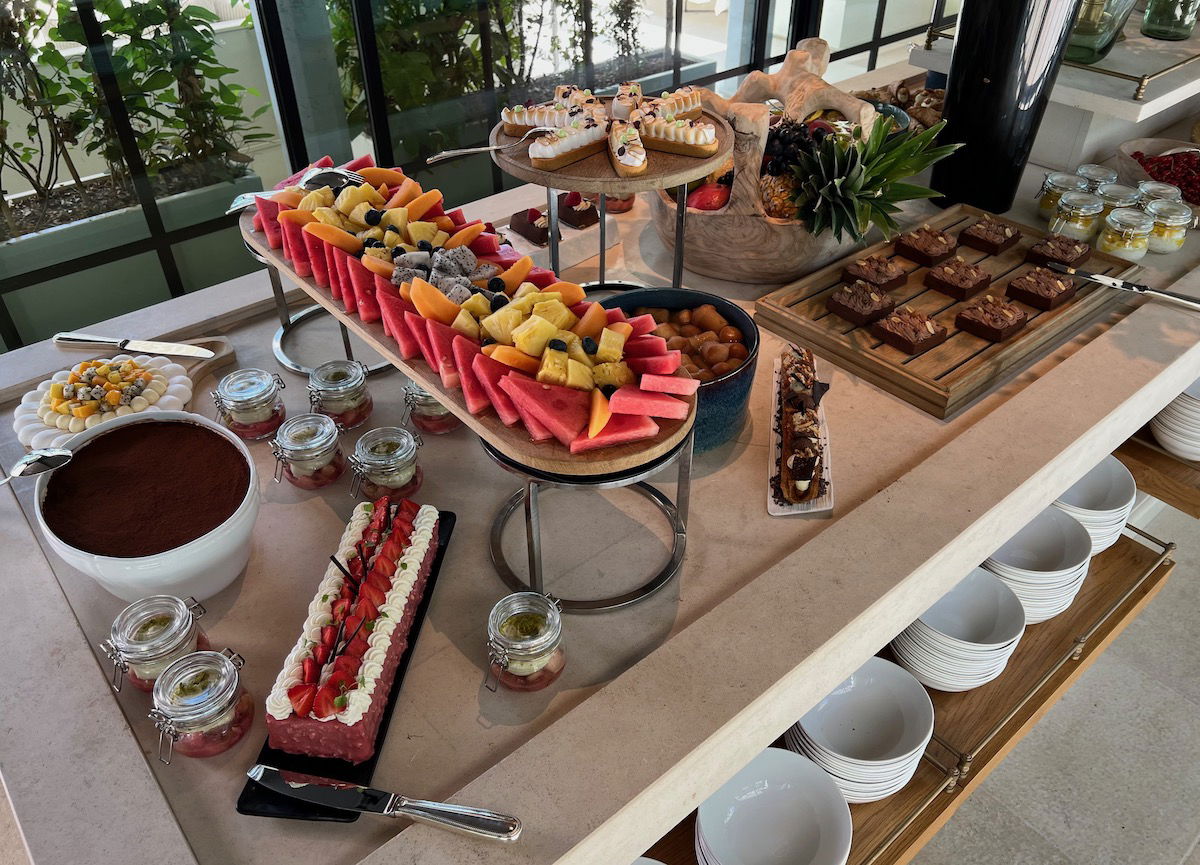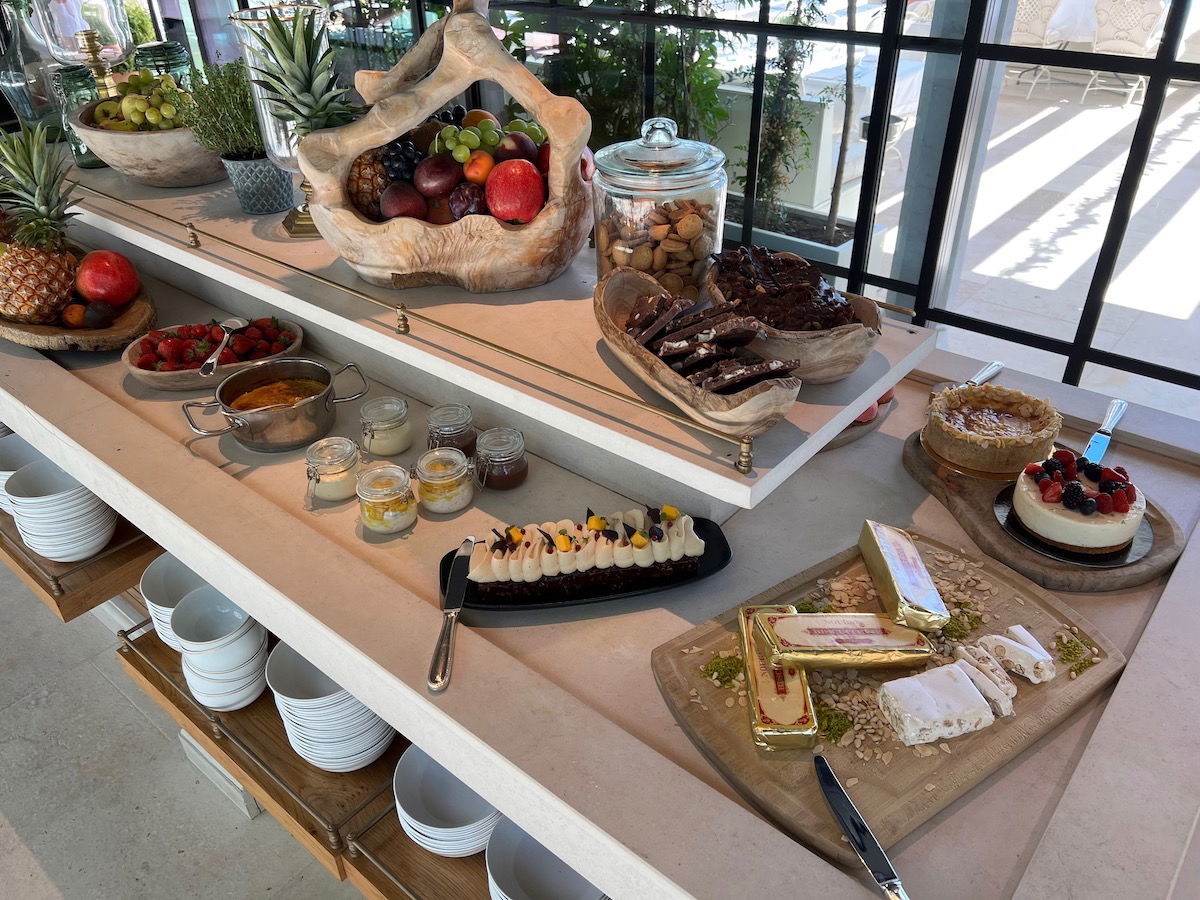 In addition to the buffet, you could order a variety of proteins from the kitchen, ranging from chicken breast, to beef filet, to fish. We were hard pressed to have dinner after enjoying this lunch.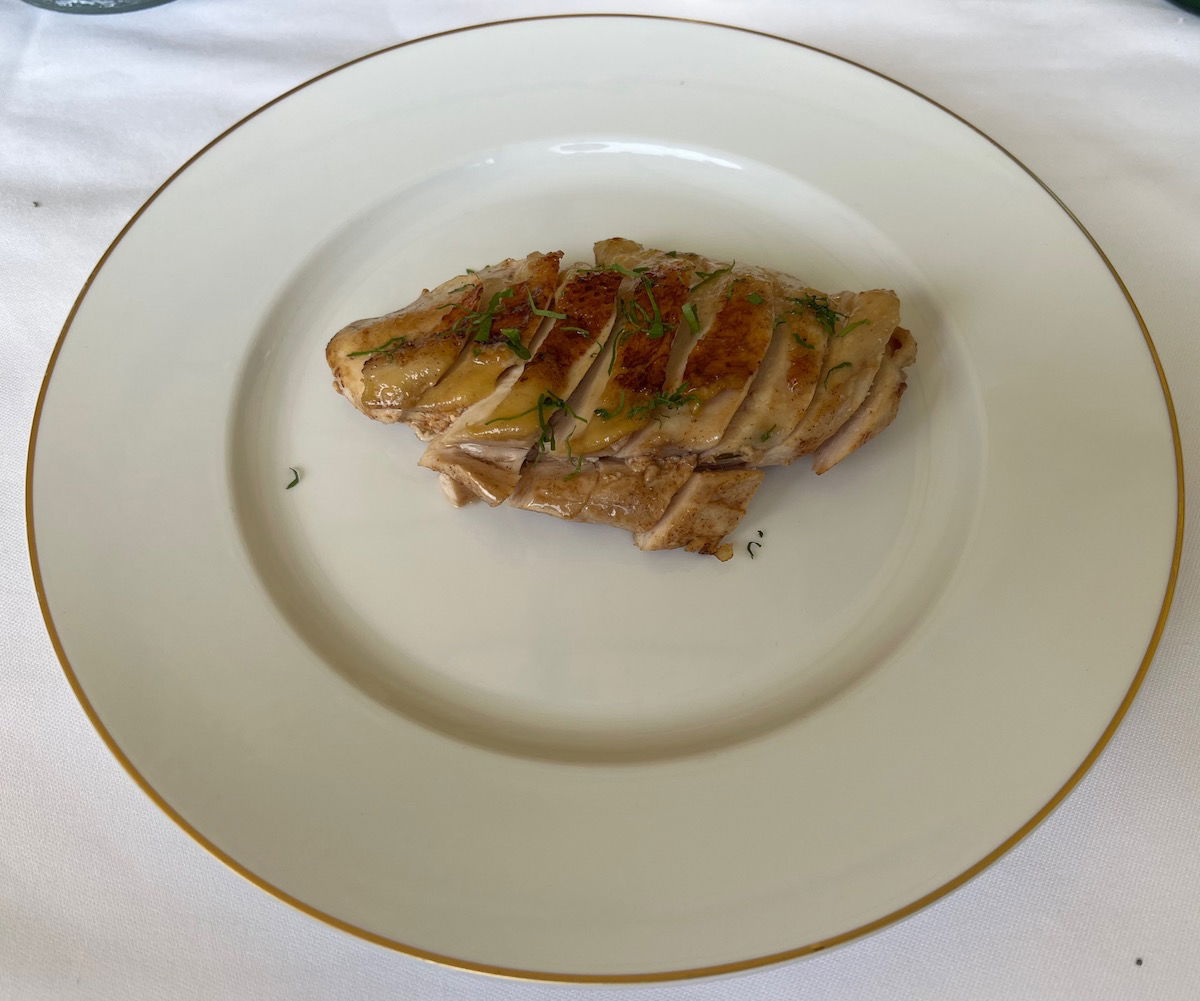 Airelles Saint-Tropez Jardin Tropezina (lunch)
Airelles Saint-Tropez's beach club has Jardin Tropezina, which serves lunch daily. Unfortunately lunch here isn't included, but we figured we had to have lunch here one day to review it, especially as we were hanging out at the beach anyway.
This is a beautiful setting, and it's quite a scene, as you'd expect.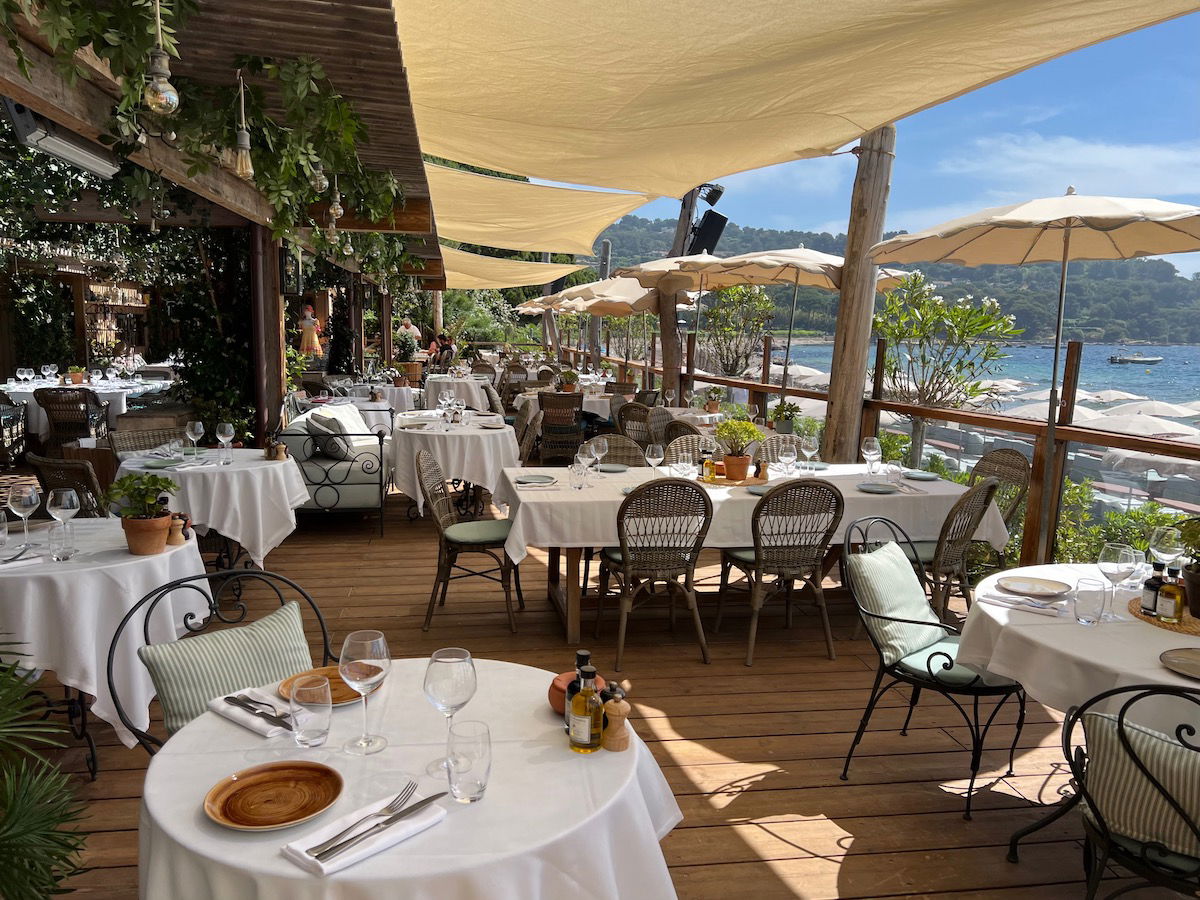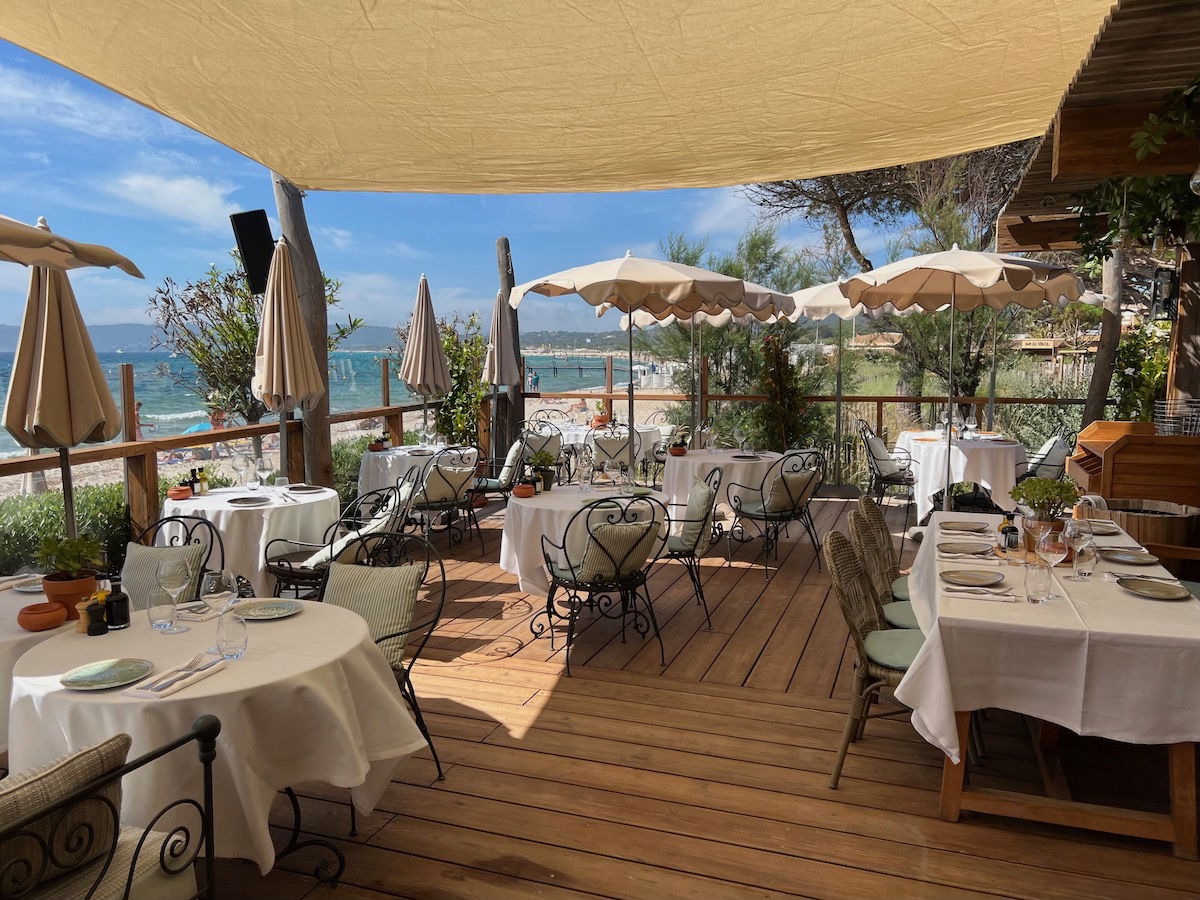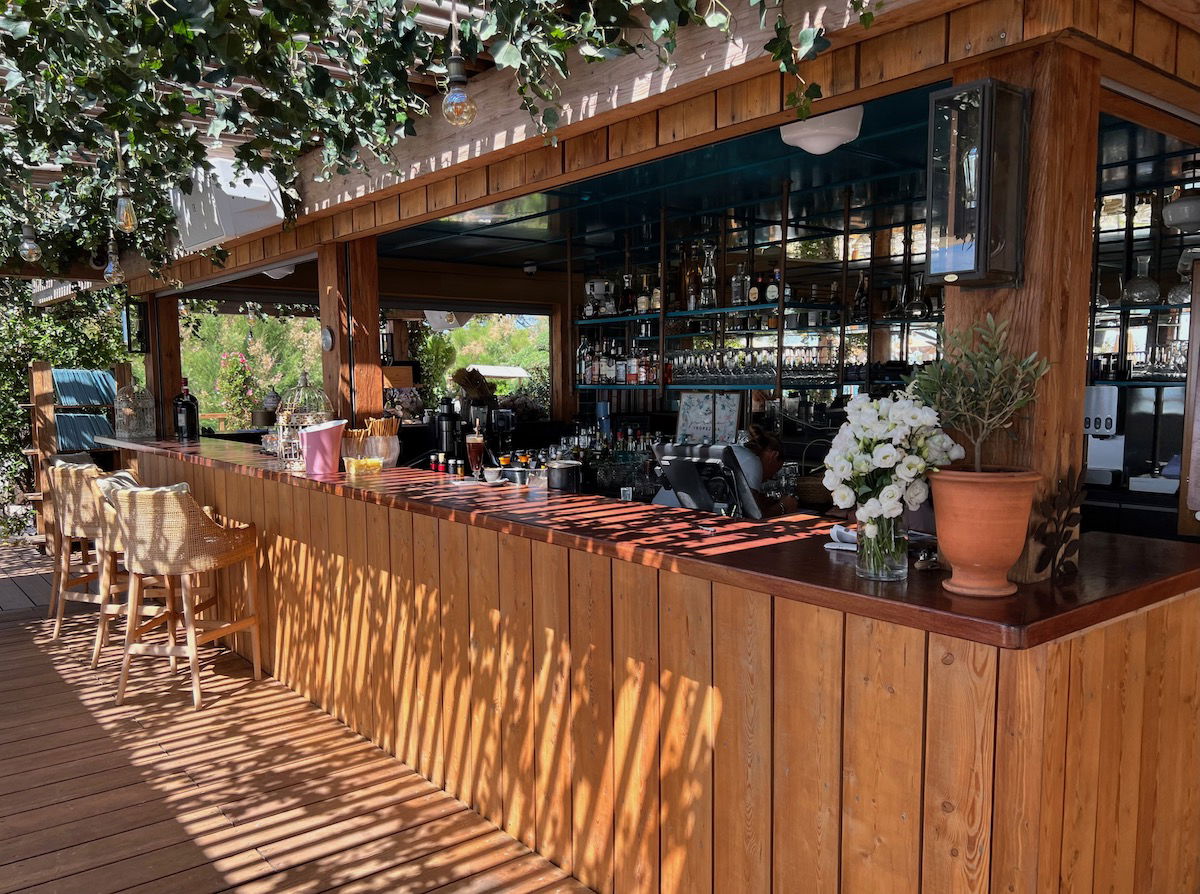 To start, we ordered a trio of dips, including smoked aubergine caviar, hummus and pomegranate, and avocado and goat cheese.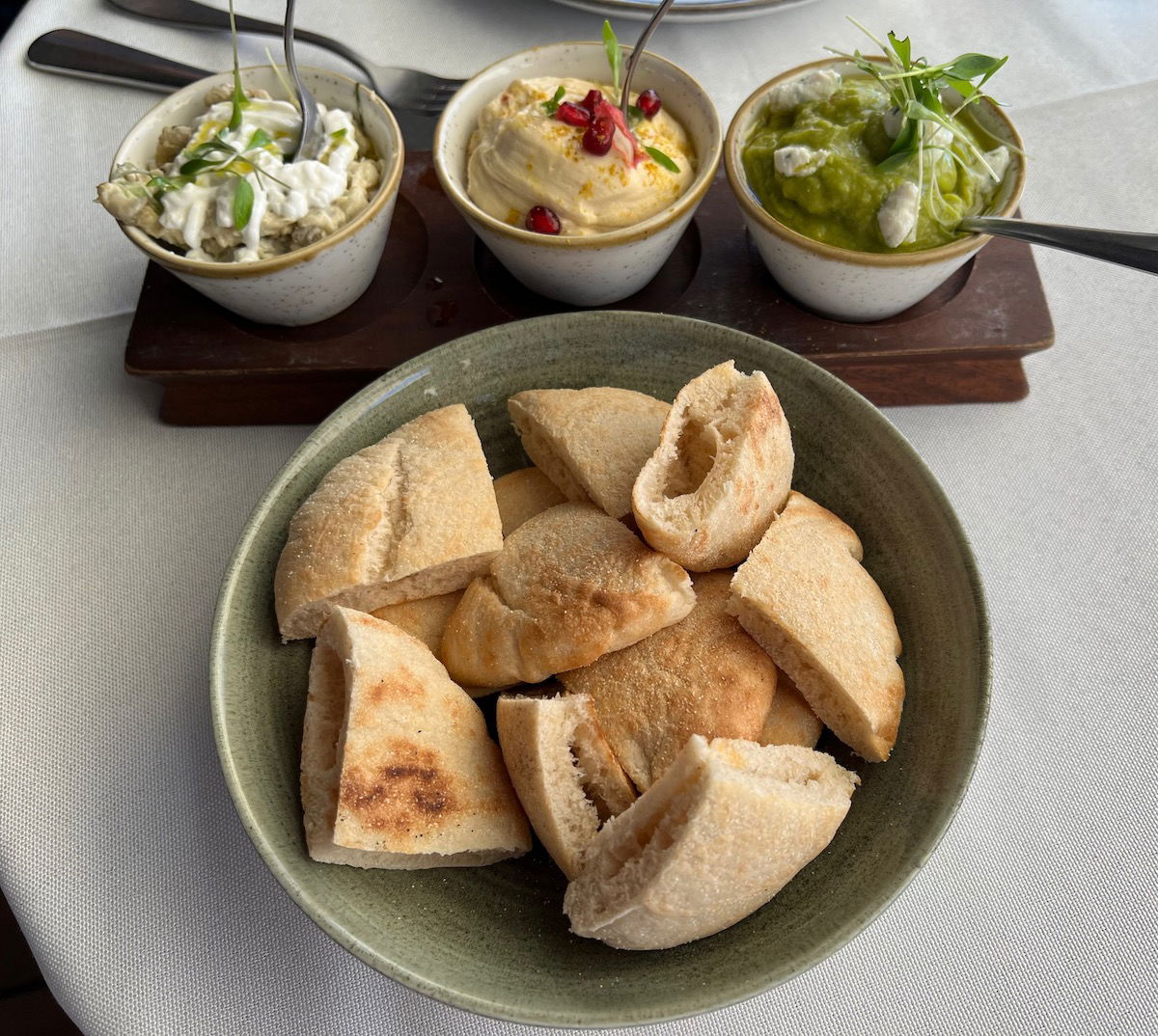 Then for our main we split the catch of the day, served with vegetables and sweet potato fries.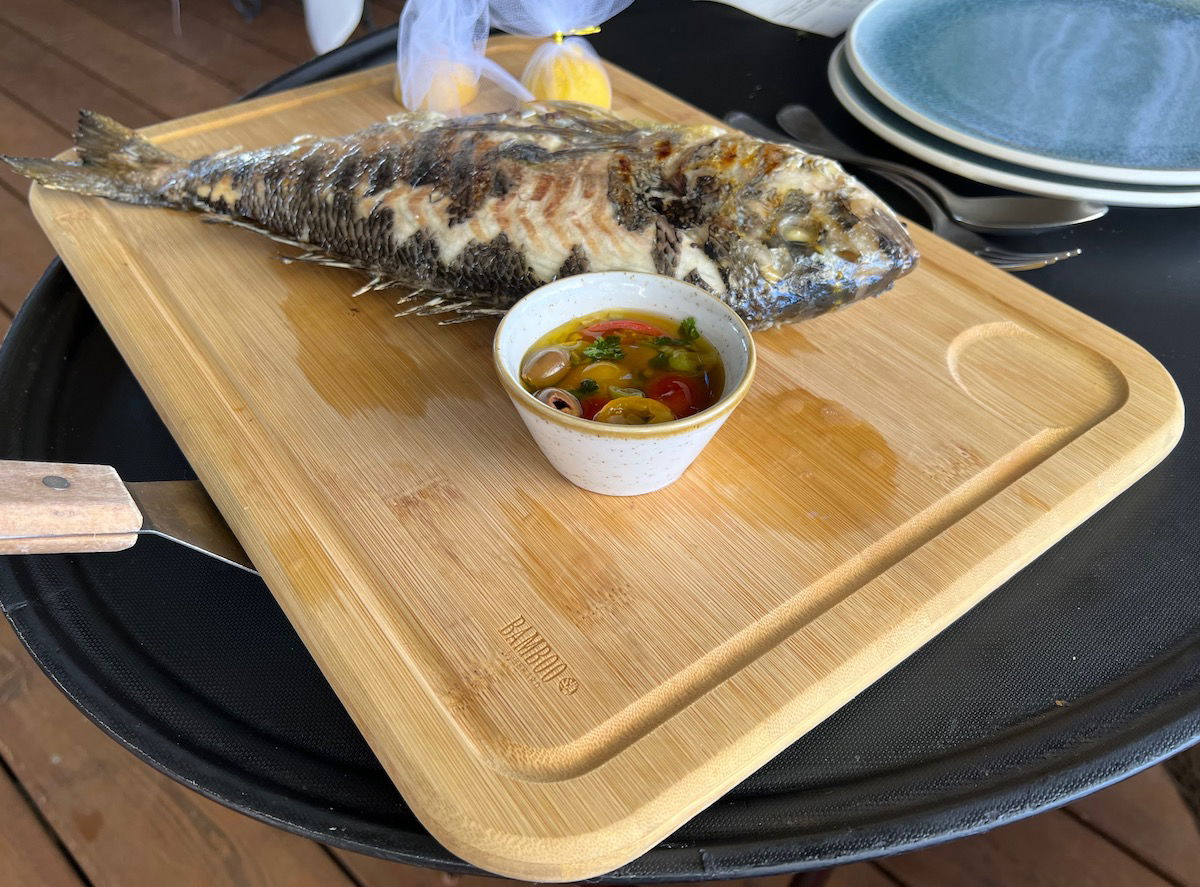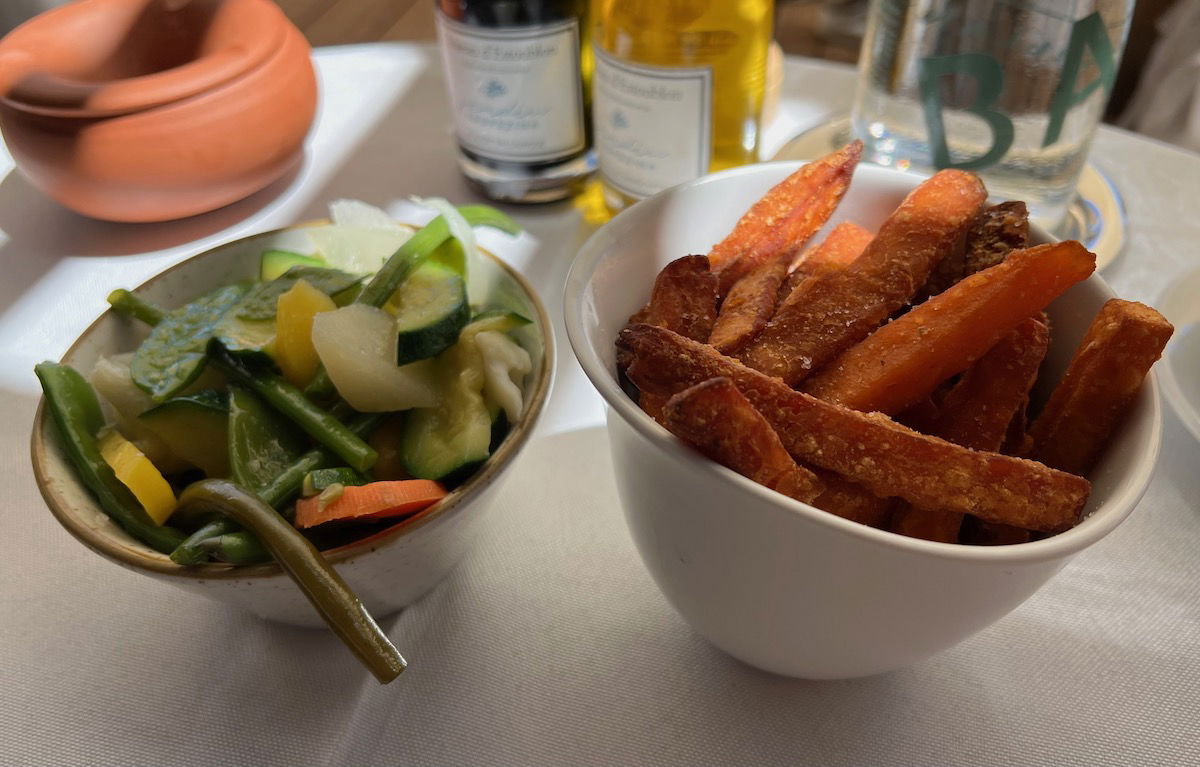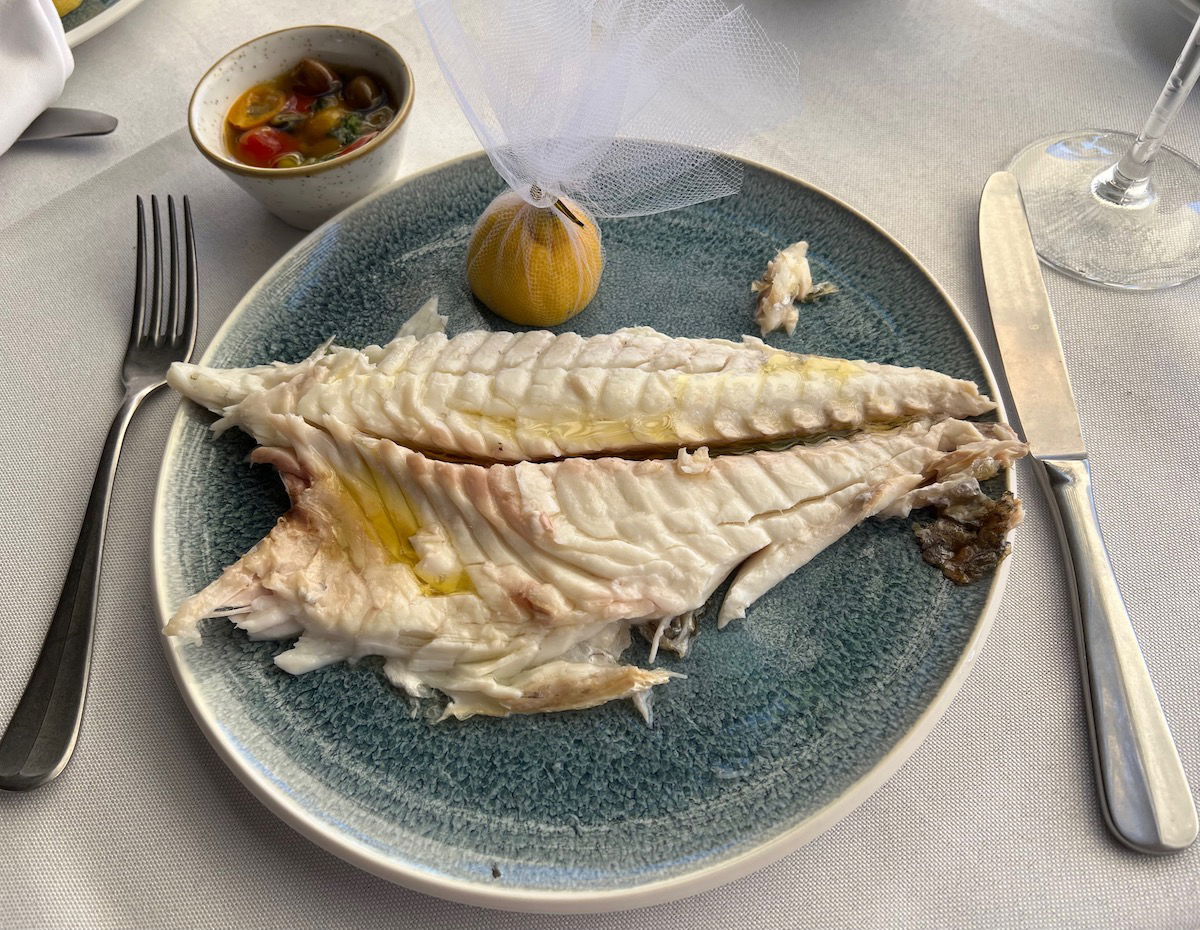 Airelles Saint-Tropez Bar 1904 (drinks)
Bar 1904 is Airelles Saint-Tropez's all-day bar, and it's located just off the main pool area. So if you order drinks at the pool, this is where they'll come from. The bar has both a cute indoor seating area plus a nice patio. You can find the drink menu here.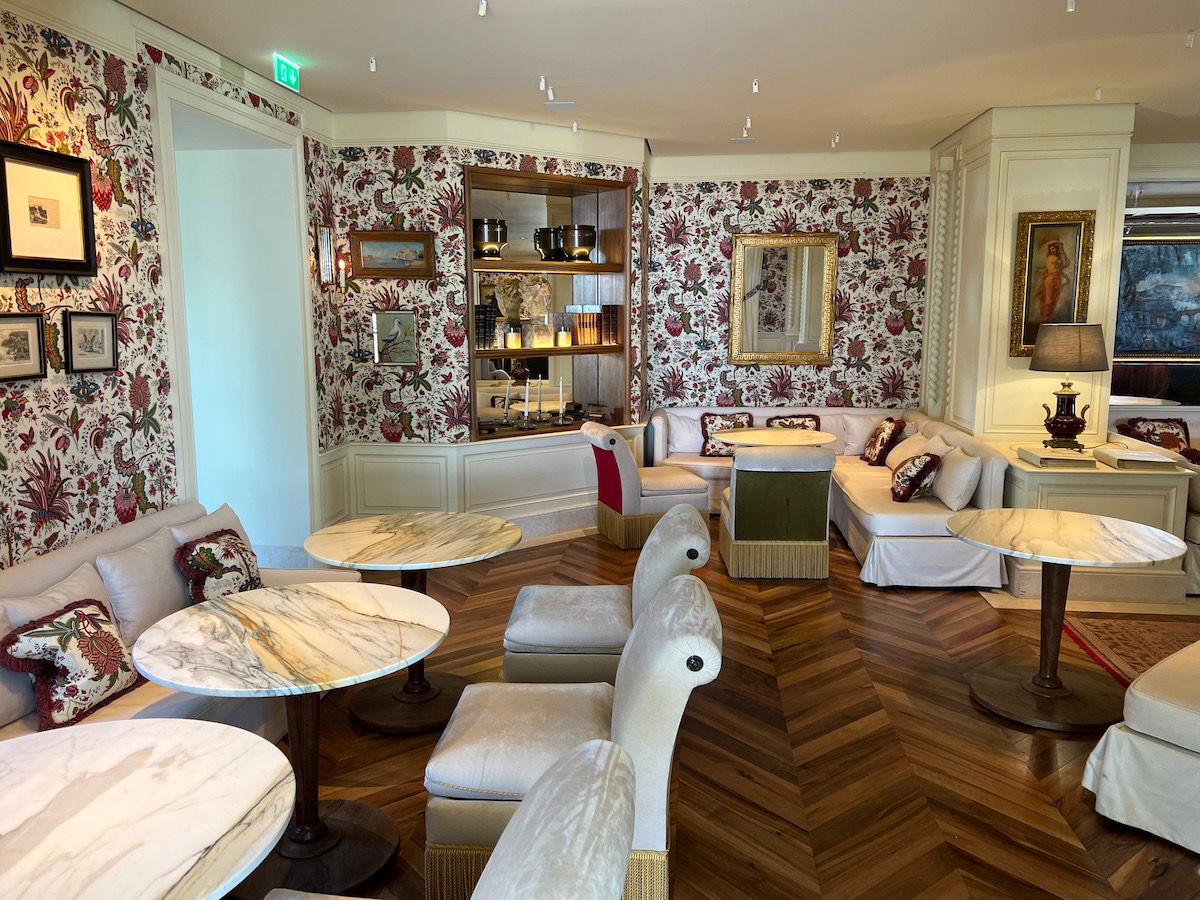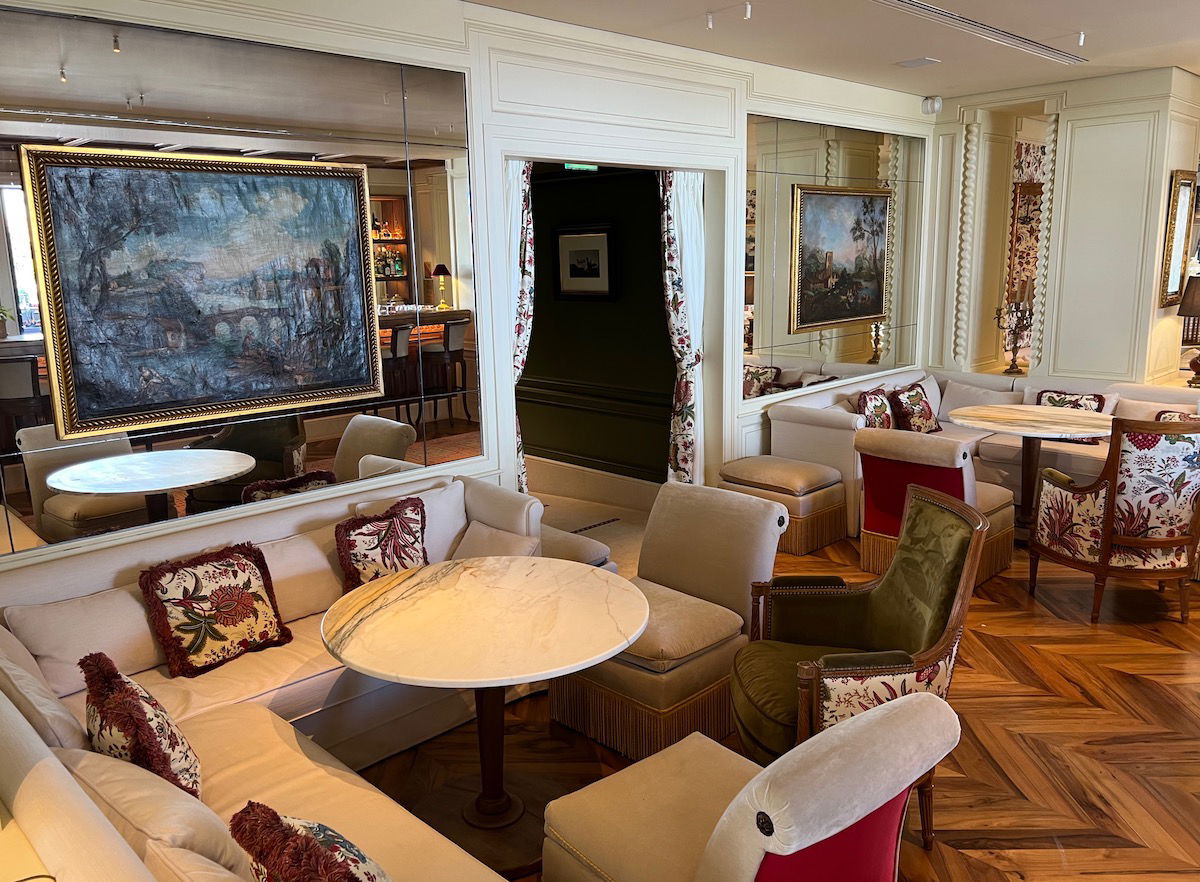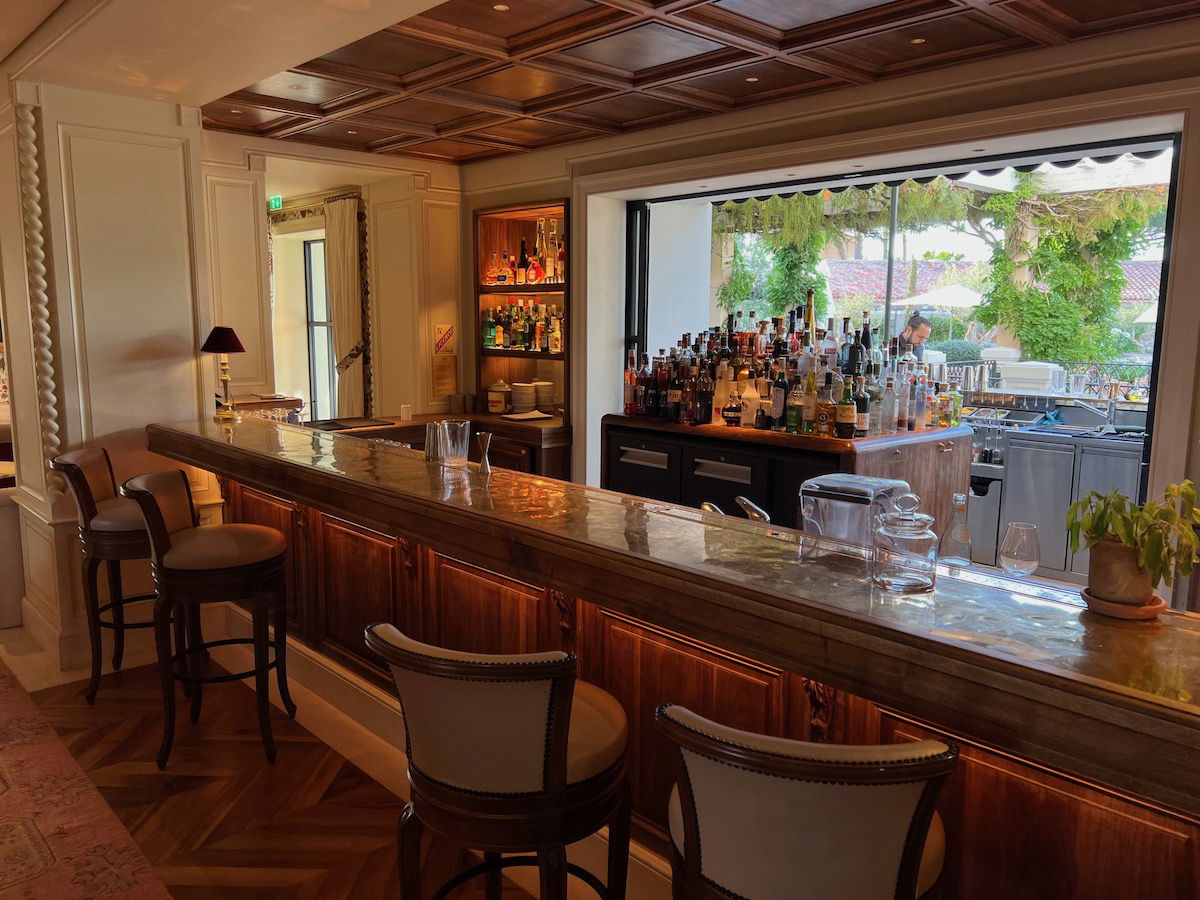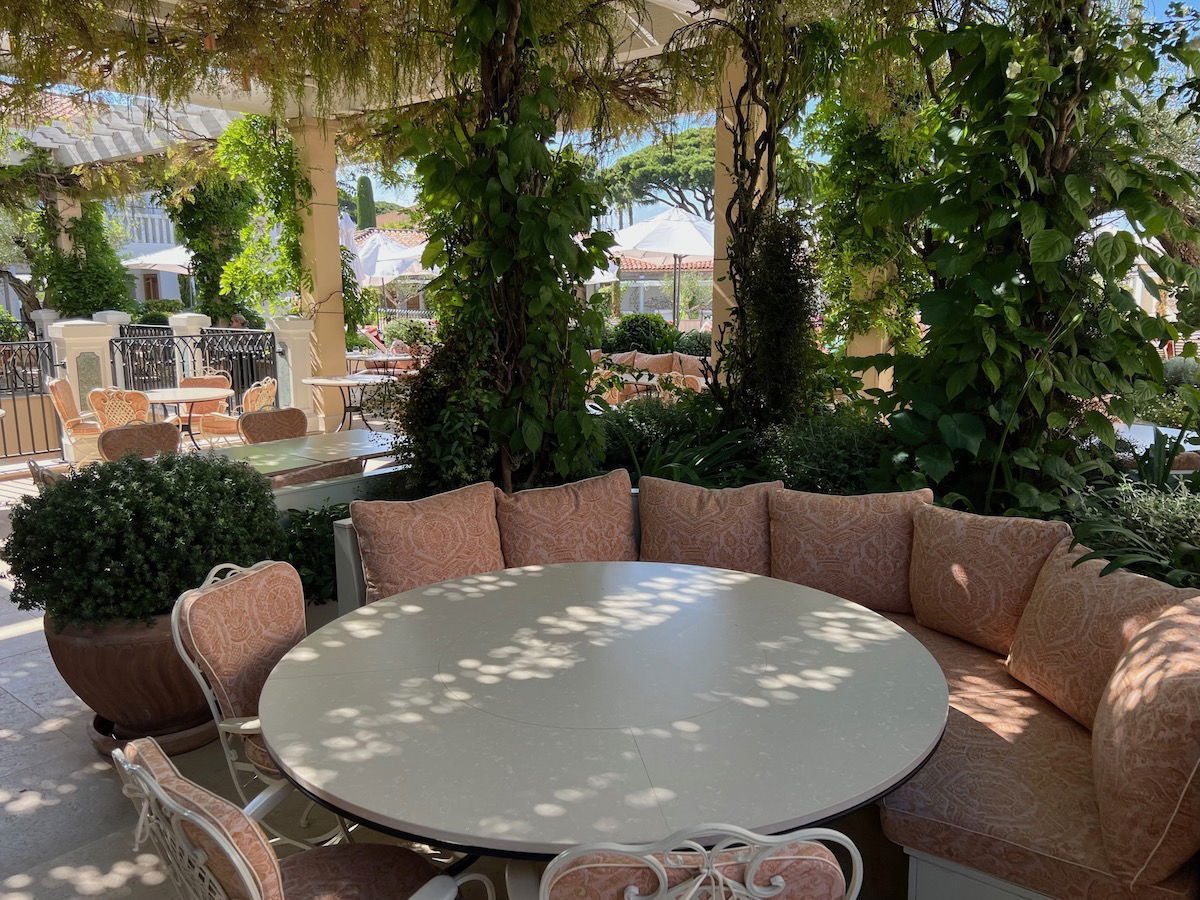 When we had drinks here we ordered the heritage mule and the crystal negroni. While they were good, they weren't to the level of the drinks at Airelles Courchevel, which were basically art.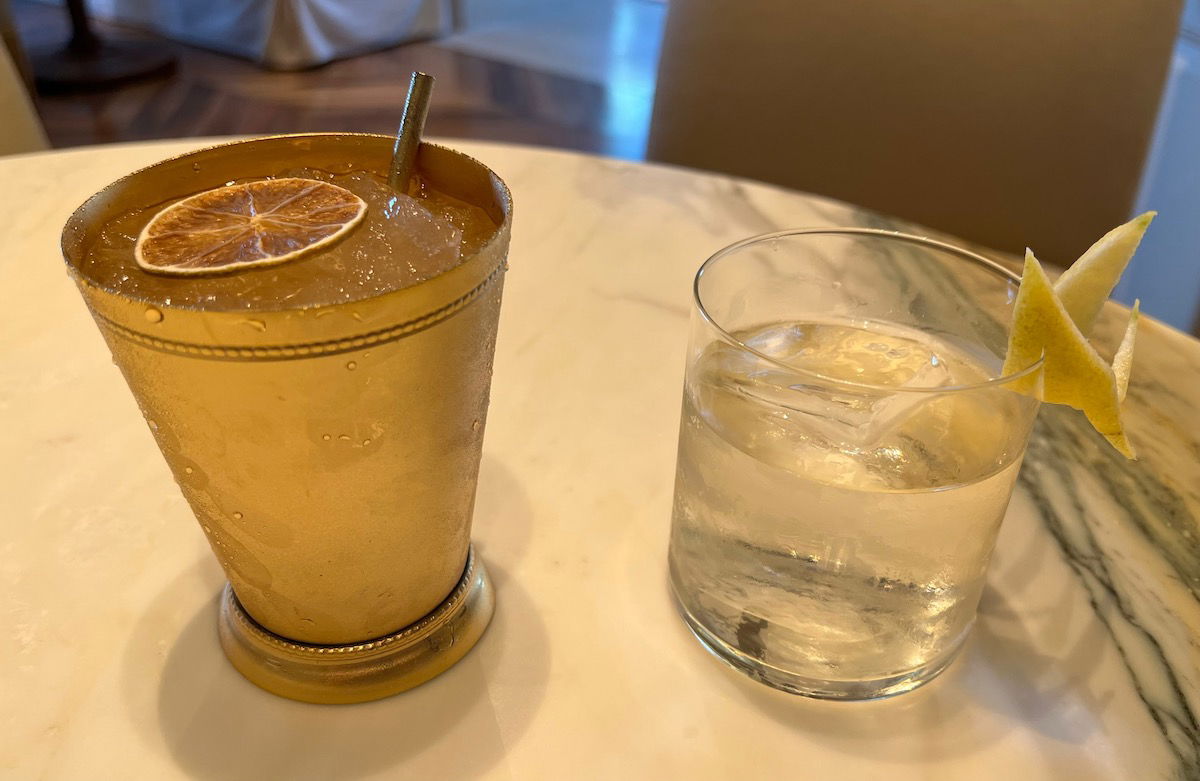 On the plus side, drinks were served with mini-pizzas, which sure is a nice bar snack. 😉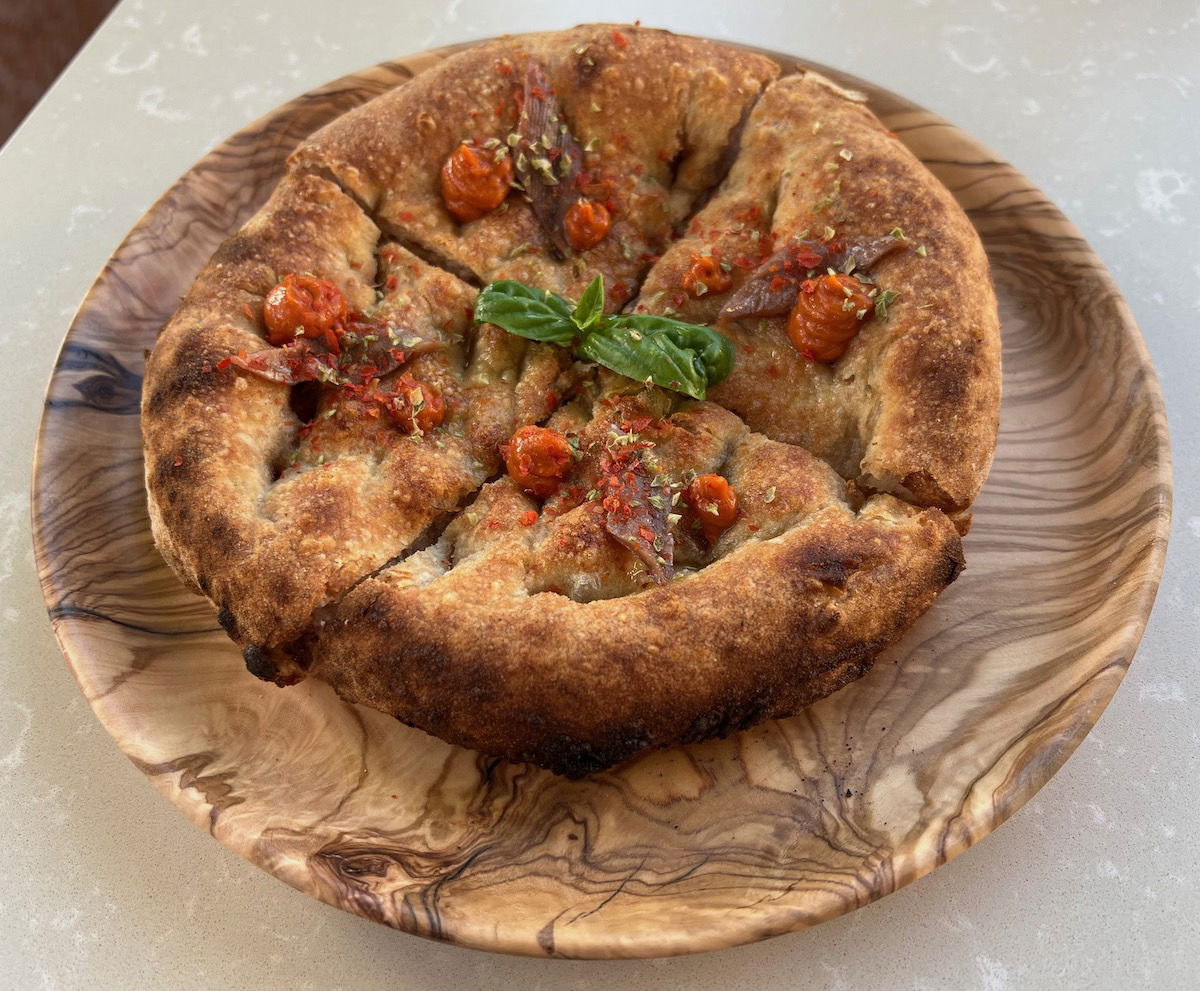 Another day we each had an aperol spritz at the pool, also served with all kinds of snacks.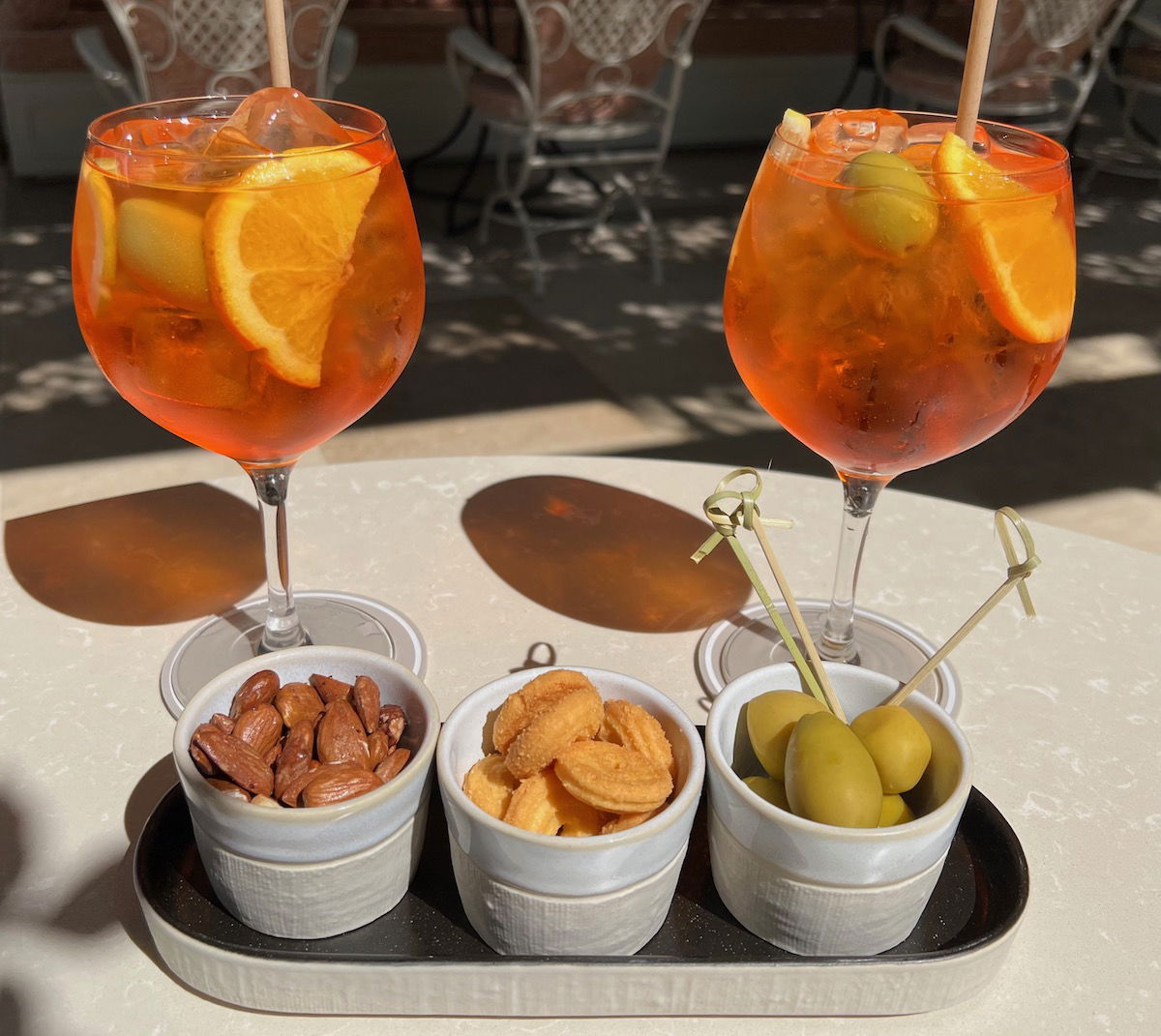 Airelles Saint-Tropez Matsuhisa (dinner)
Airelles Saint-Tropez has a Matsuhisa restaurant, which serves dinner nightly from 7:30PM until 11:30PM. You can find the menu here. It's a nicely designed restaurant with a bar and both indoor and outdoor seating area.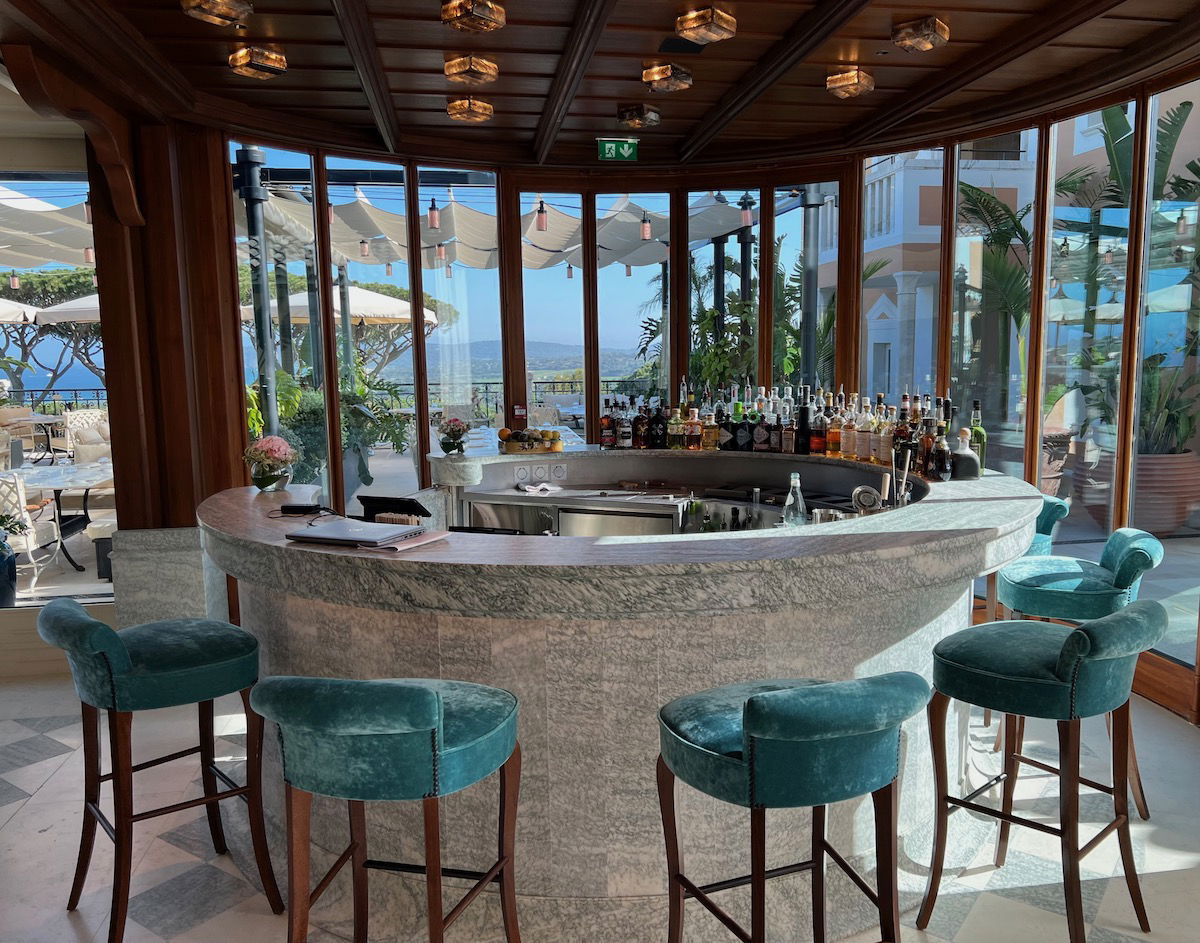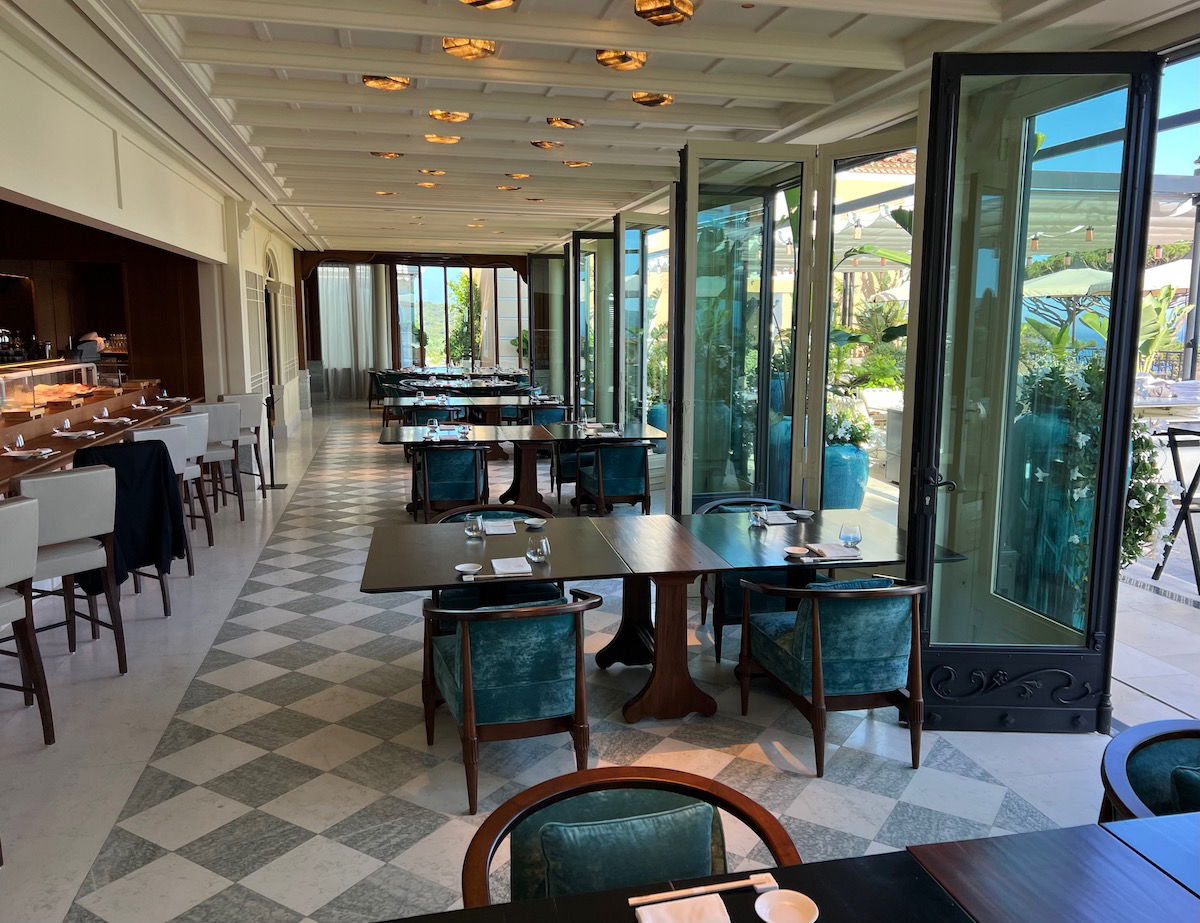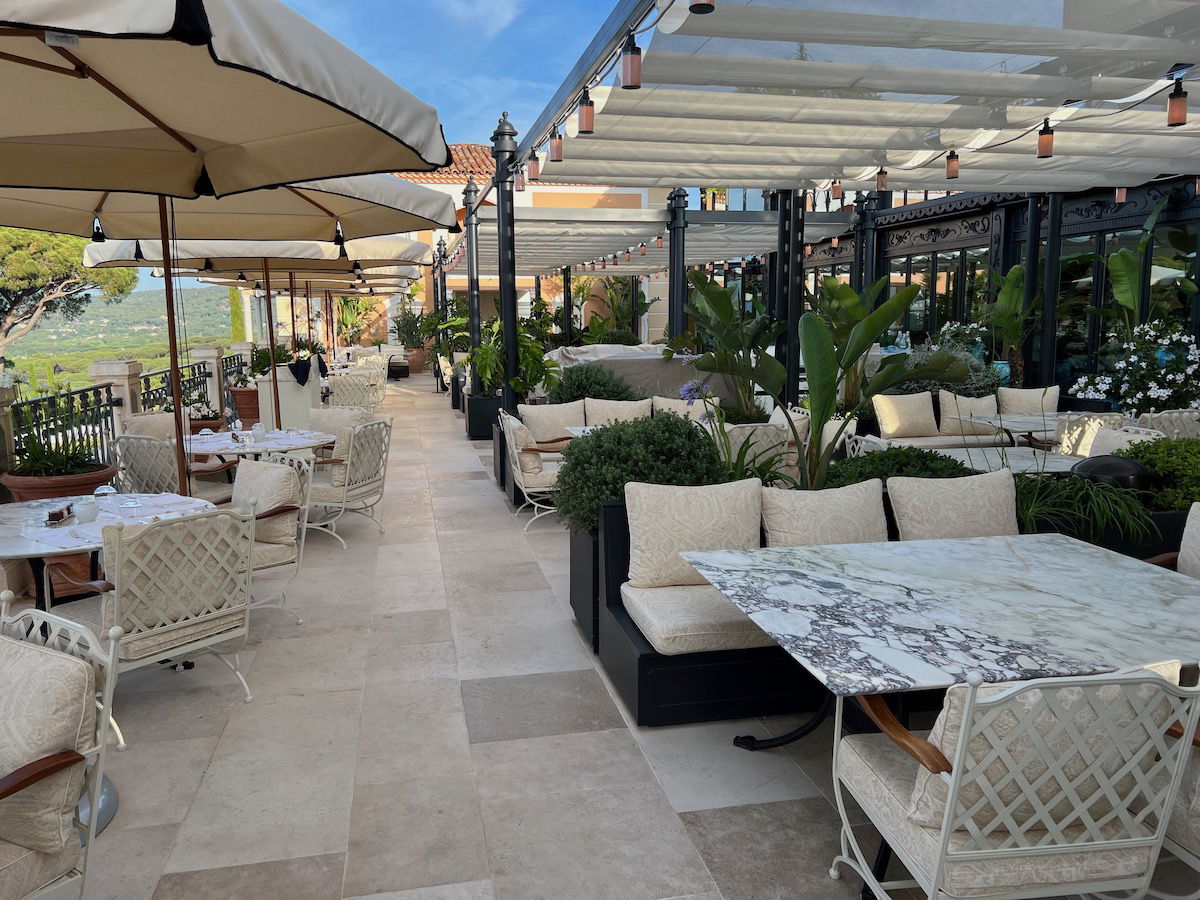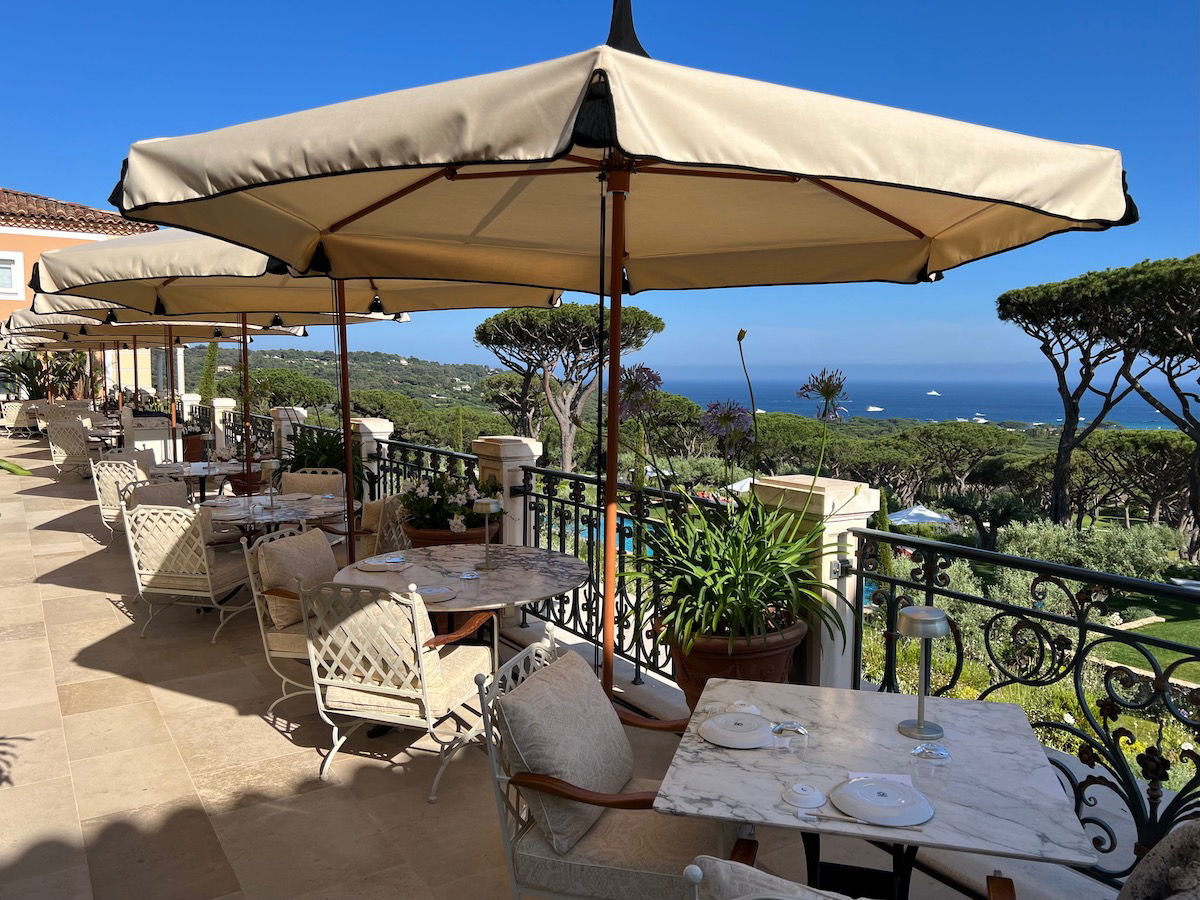 At the start of our meal we ordered wasabi martinis, which might just be my favorite drink ever.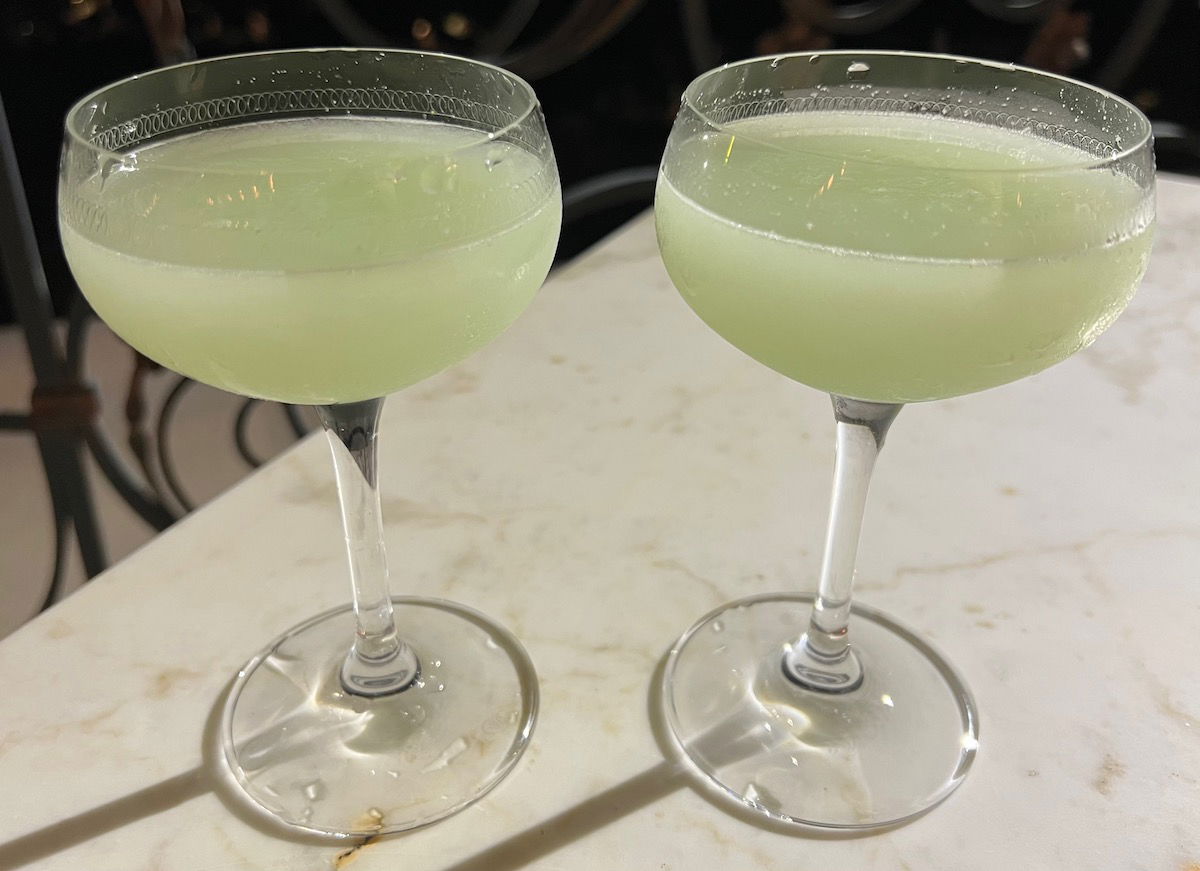 We decided to order the omakase, which was a delicious eight course affair. However, there was one major issue with the meal, which I'll address below (and it's also why I can't tell you exactly what the meal included, and I'll let the pictures speak for themselves).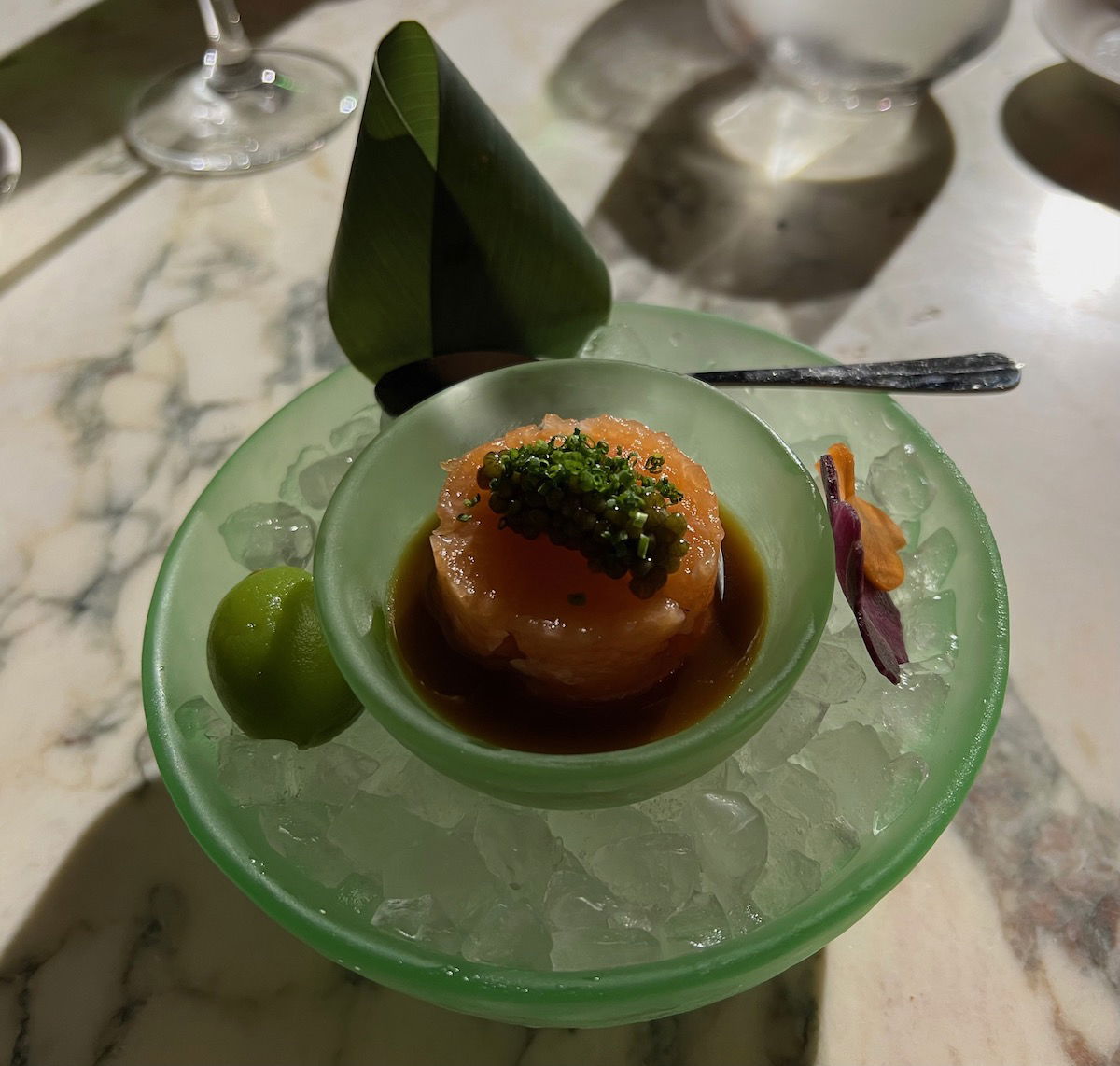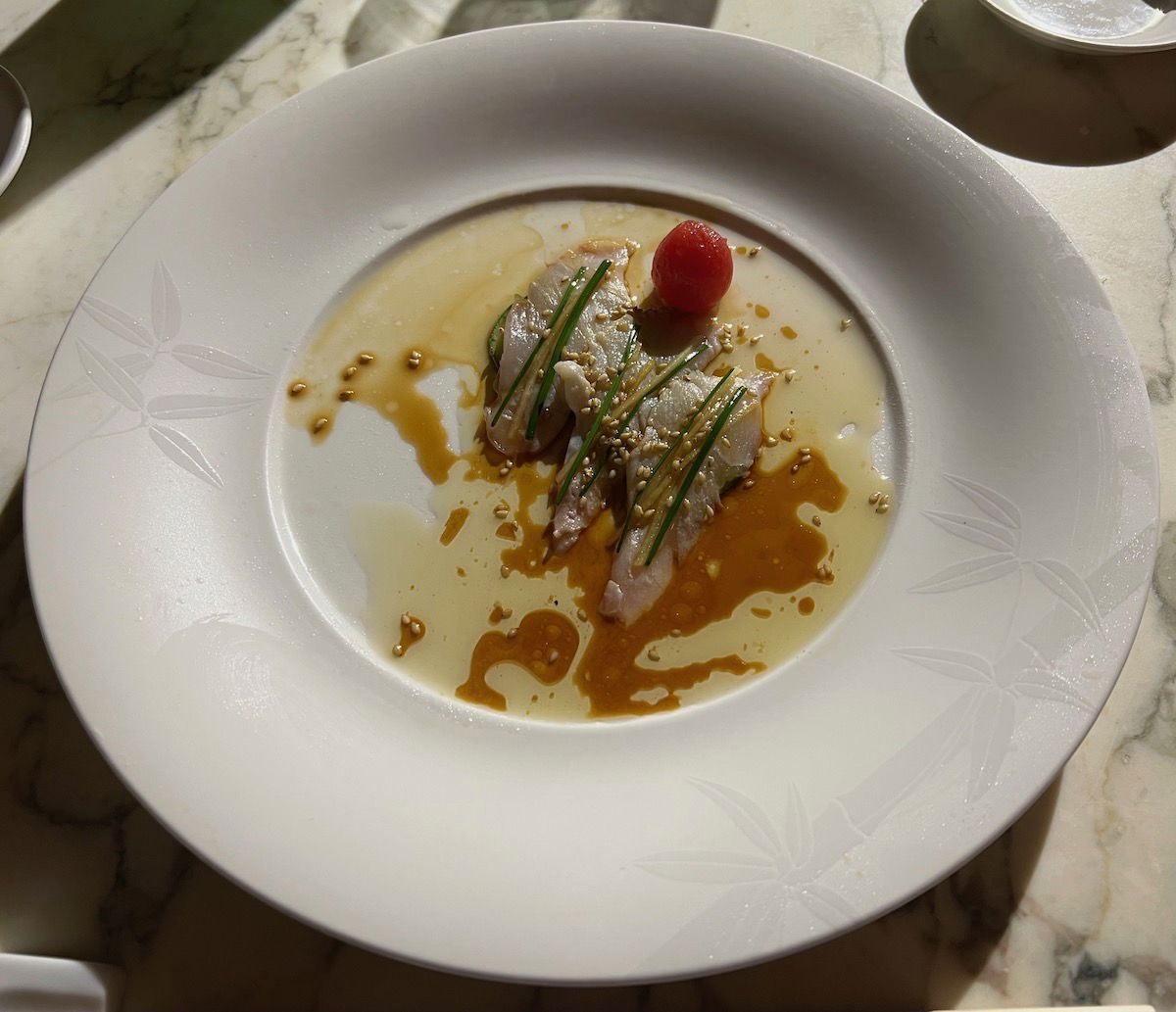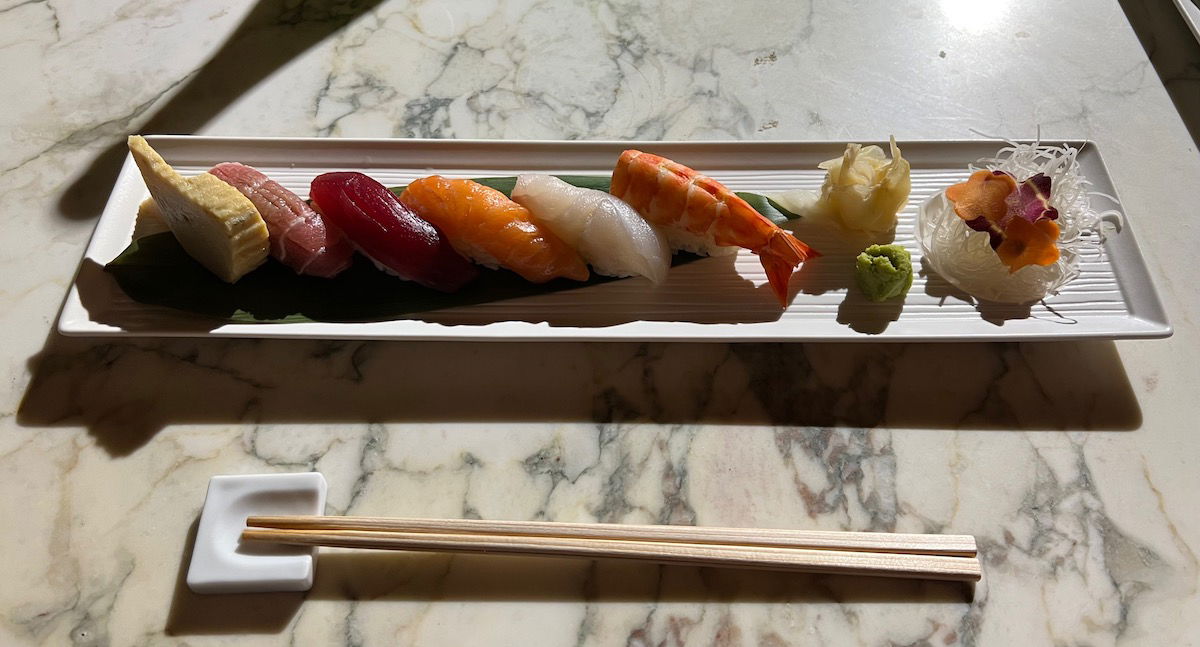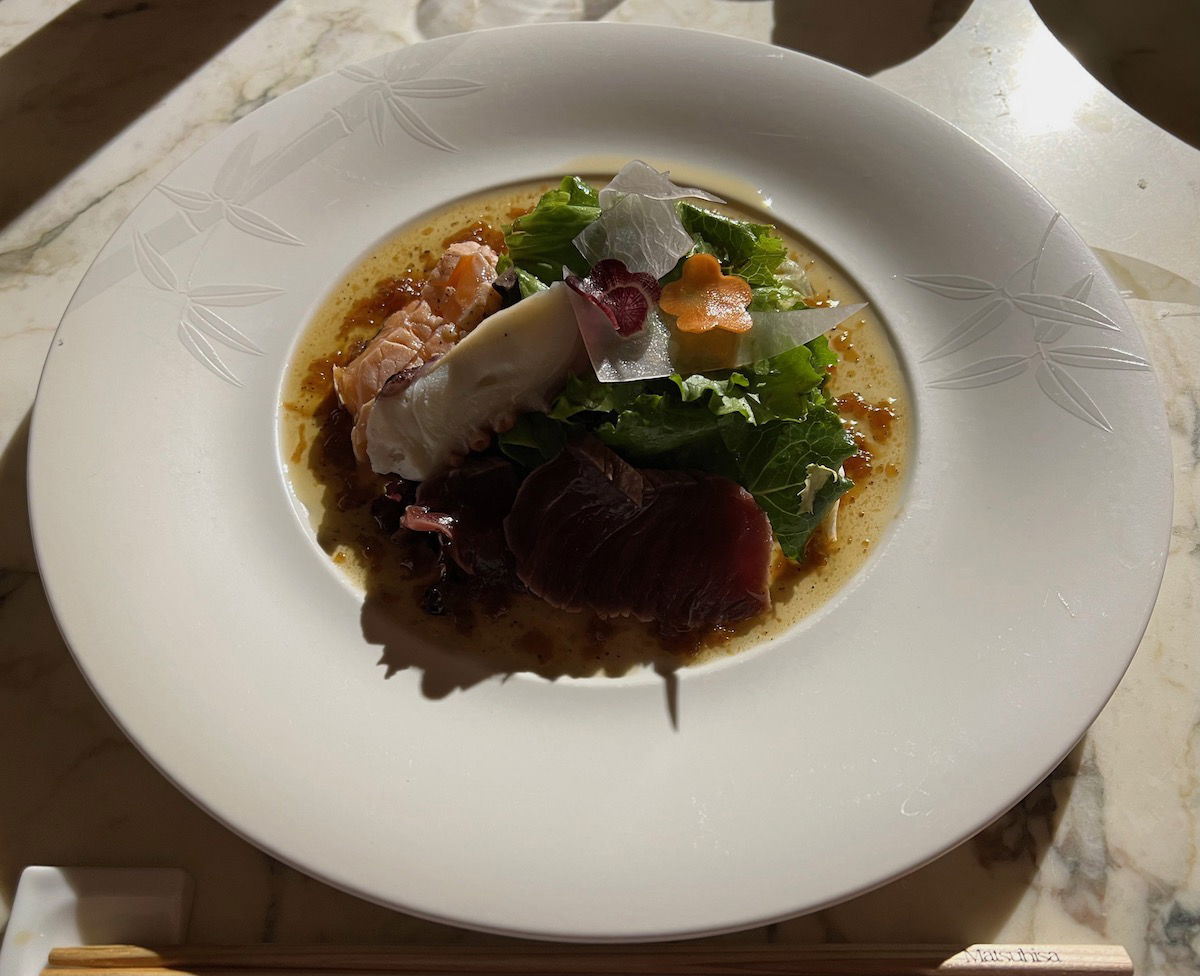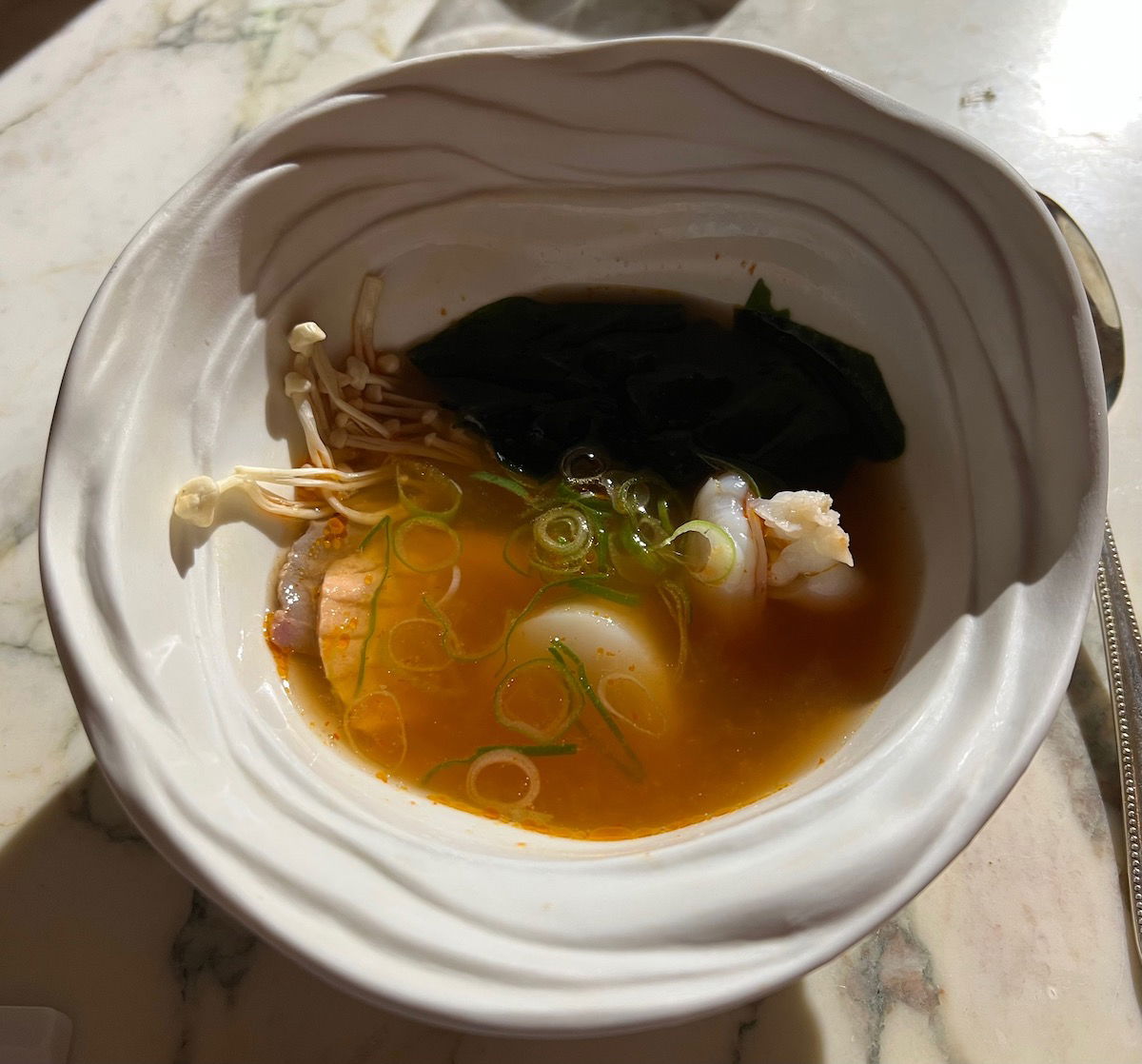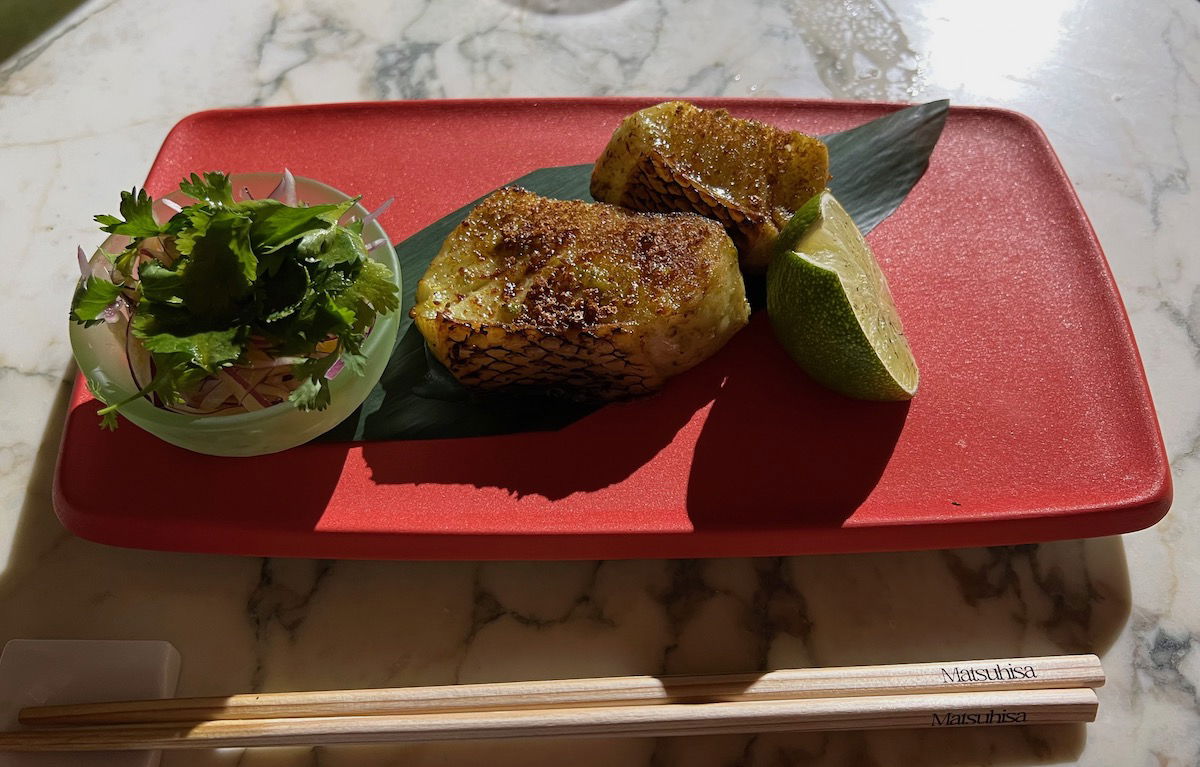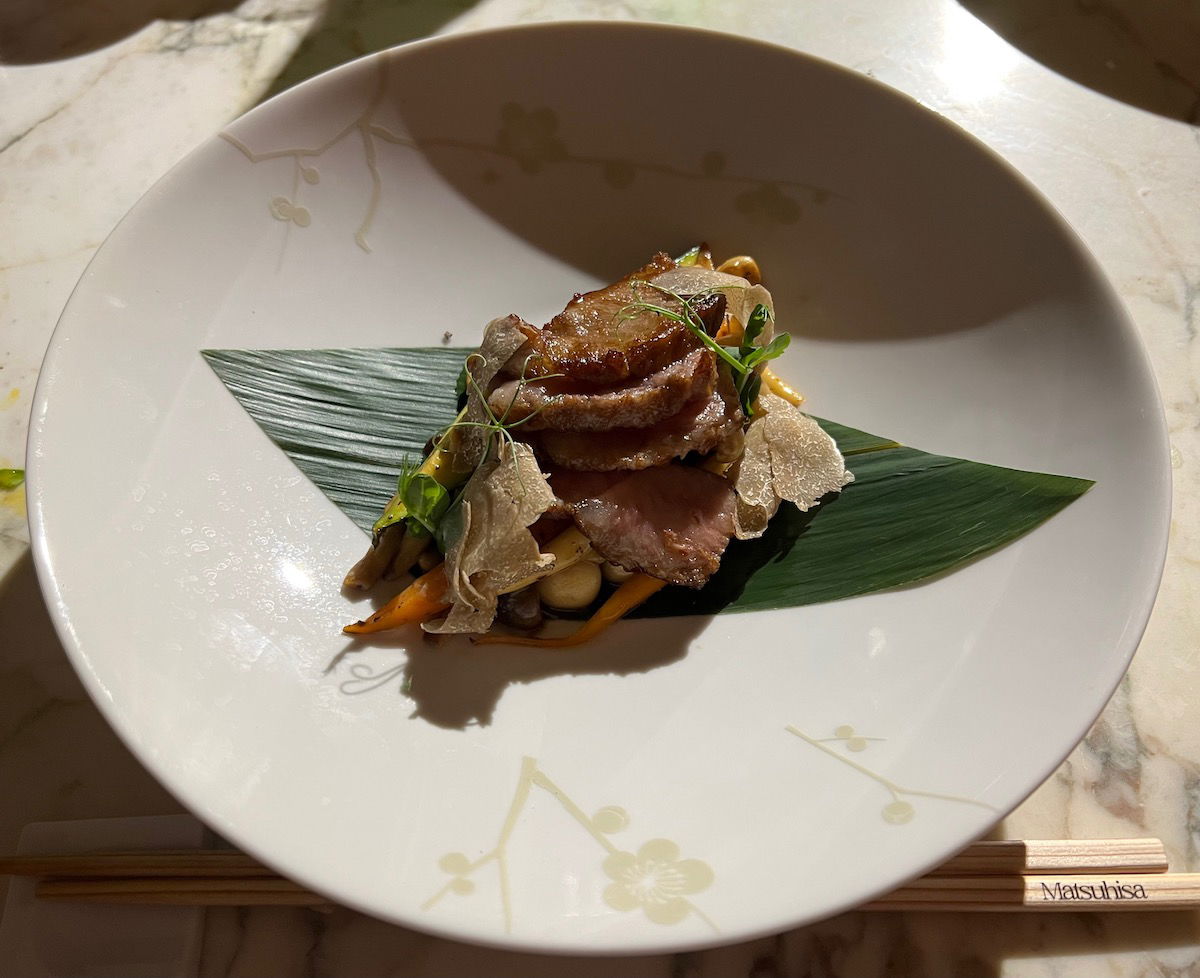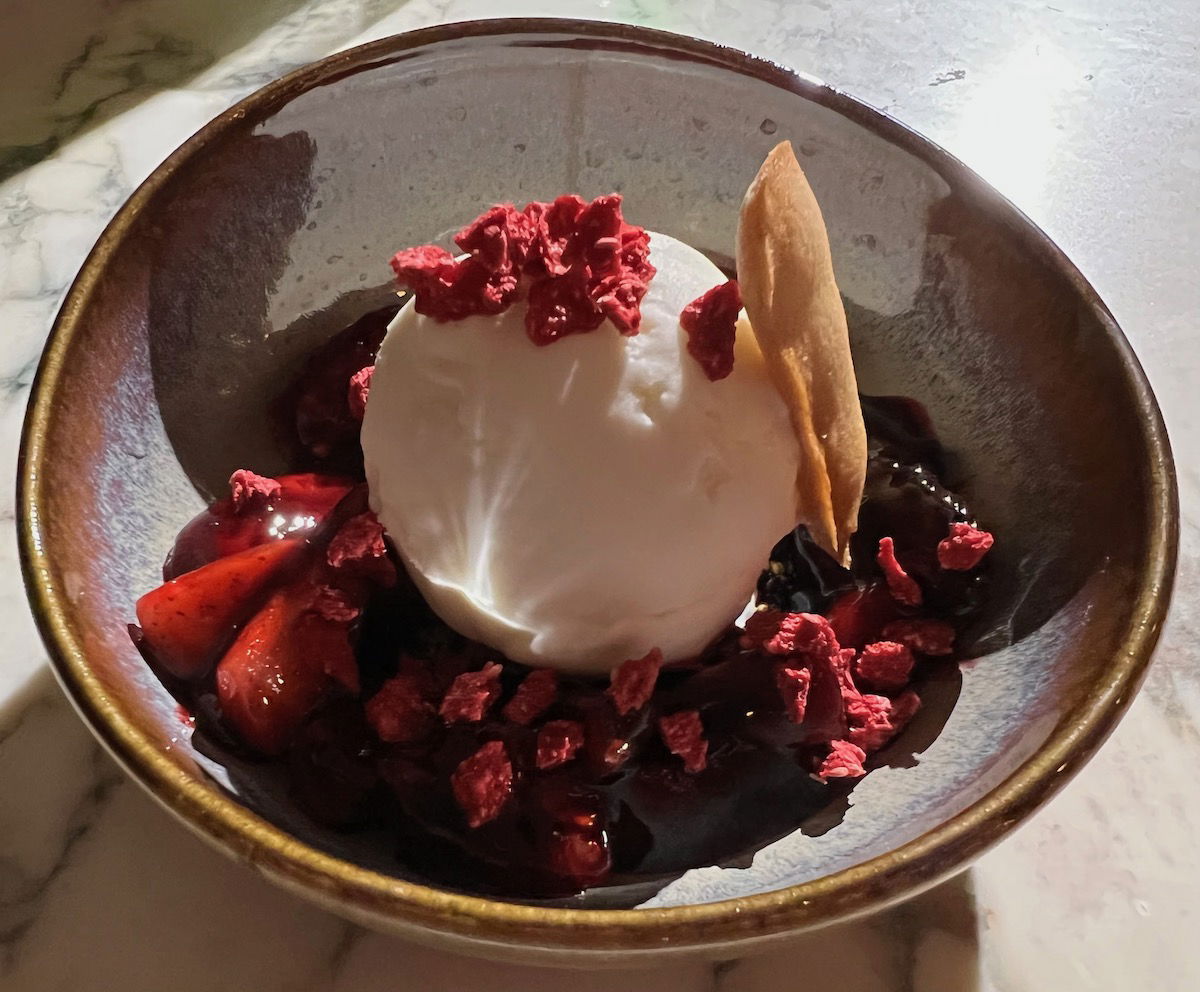 Airelles Saint-Tropez Carrara by Marco Garfagnini (dinner)
Another dining option at Airelles Saint-Tropez is Carrara by Marco Garfagnini, which is an Italian restaurant serving dinner nightly from 7PM until 11PM. You can find the menu here. This restaurant also exclusively has outdoor seating, right near the pool (this is next to Bar 1904).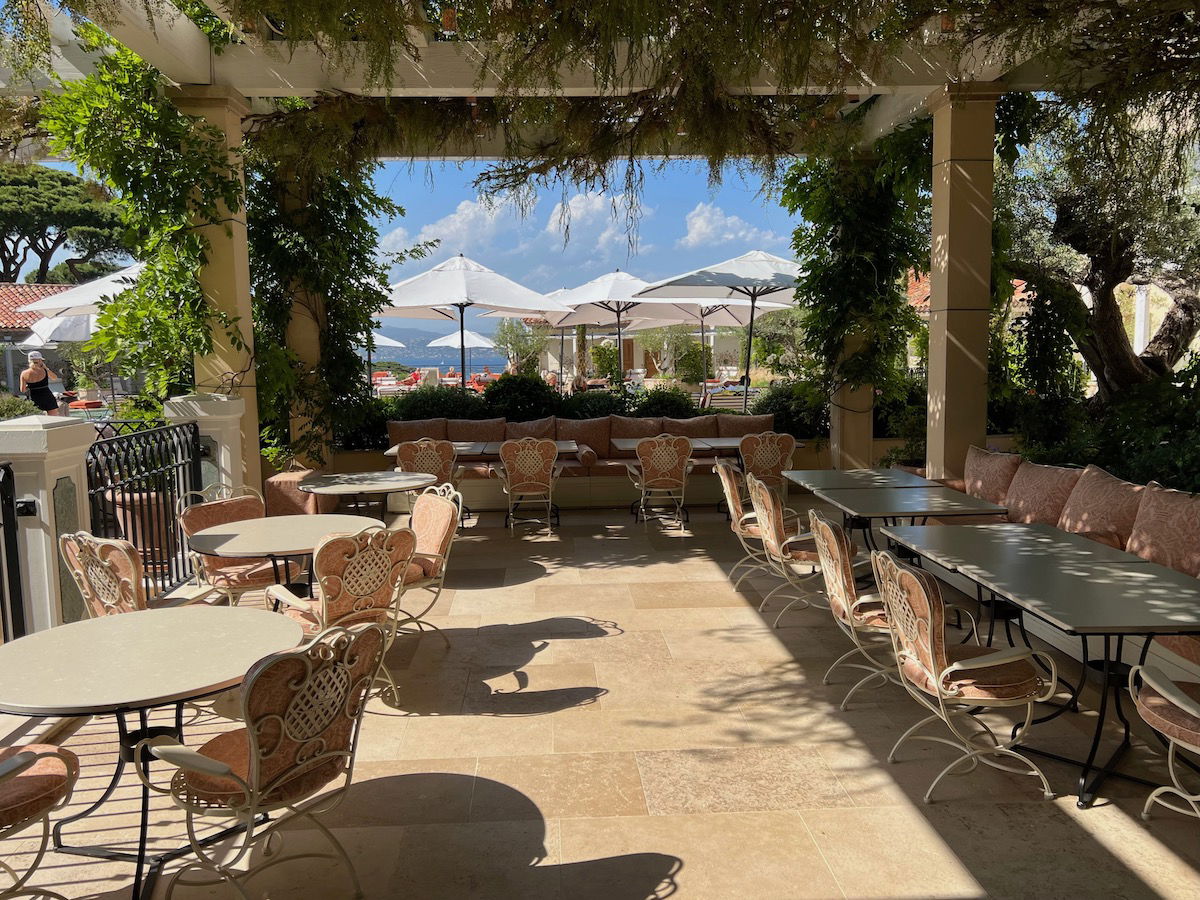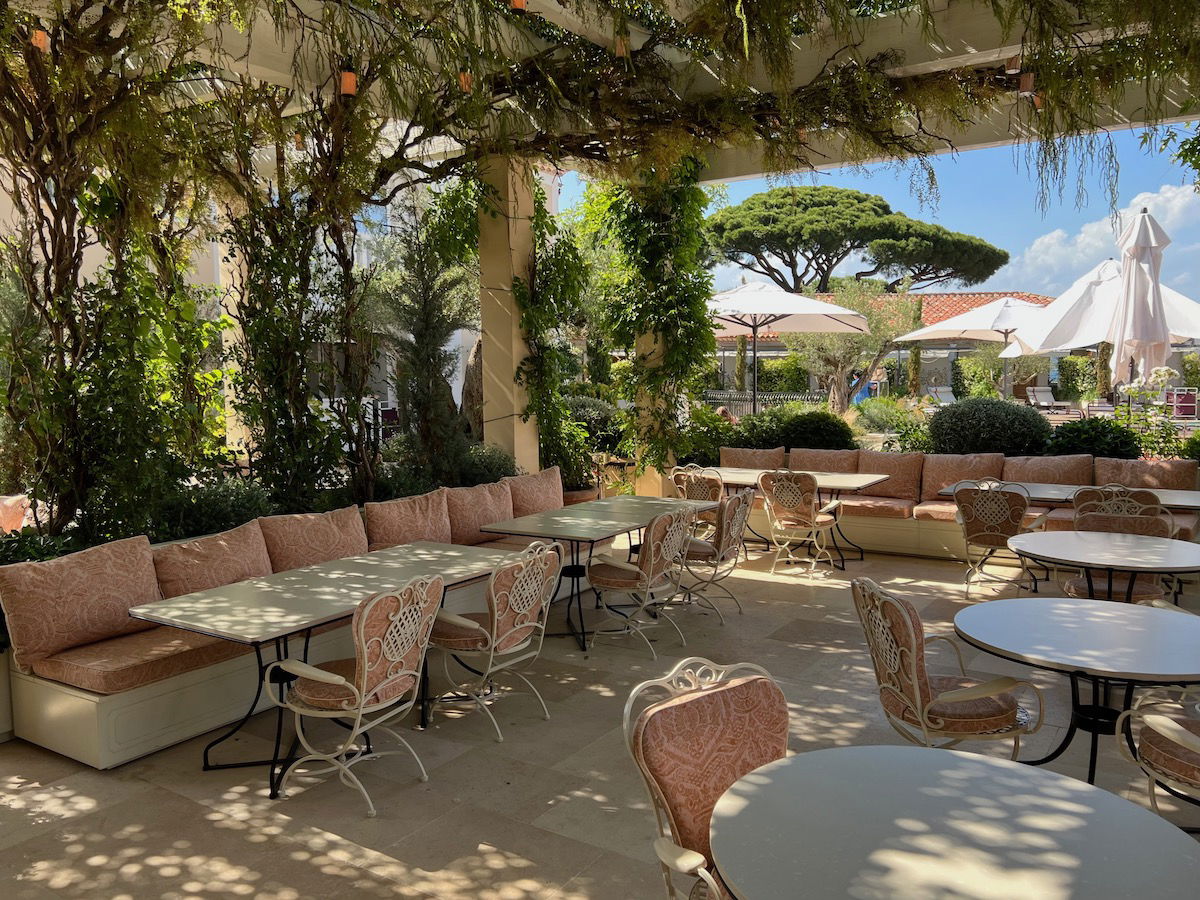 After sitting down we were offered some fresh bread and olives. Yum.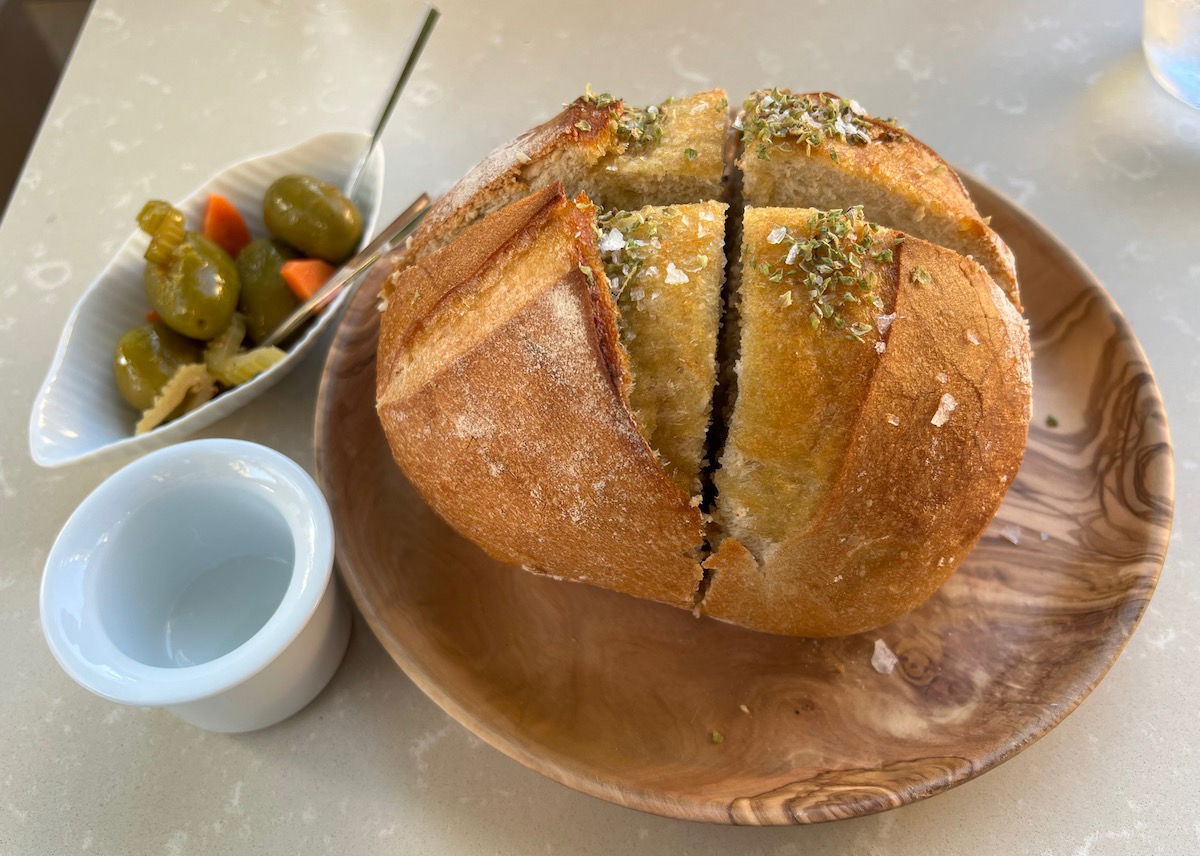 Then to start, we ordered the crudo trio, with scallops, sea bass, and tuna.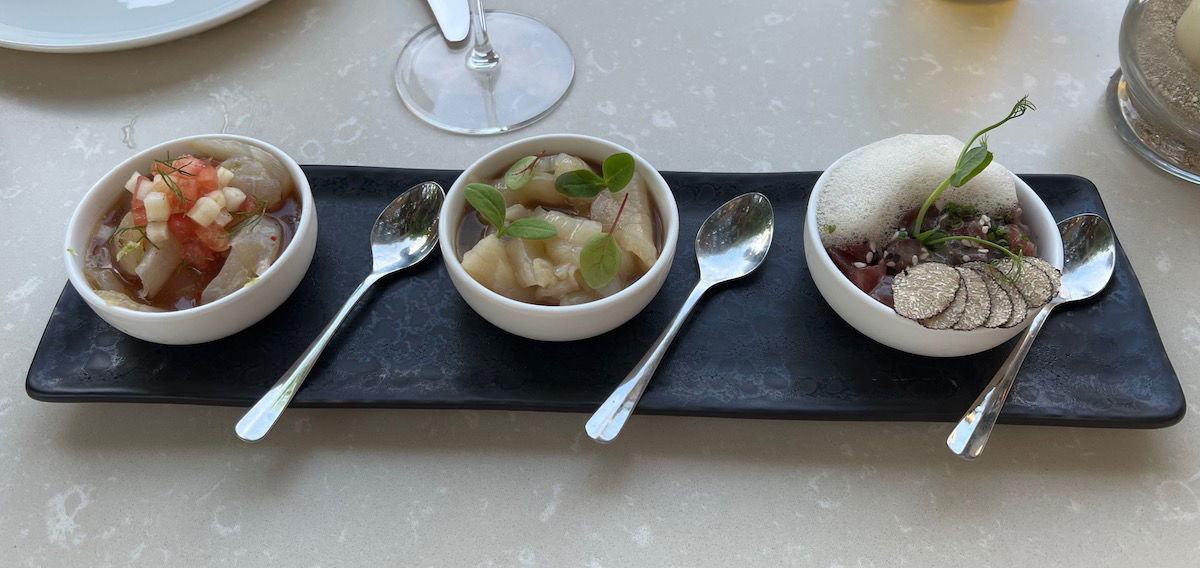 For mains, I had the rigatoni cacio e pepe, with homemade rigatoni, black pepper, and pecorino romano cheese.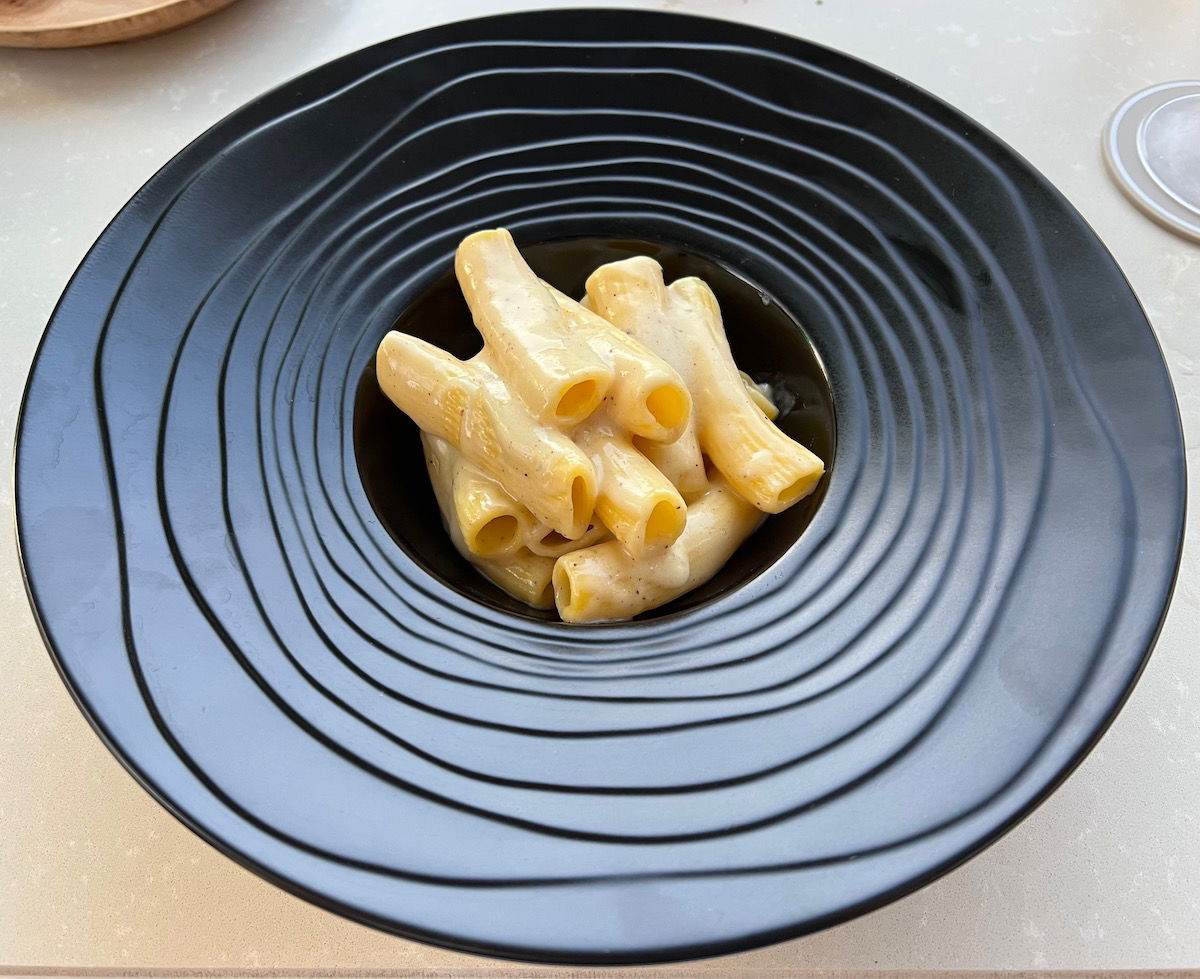 Ford had the veal Milanese.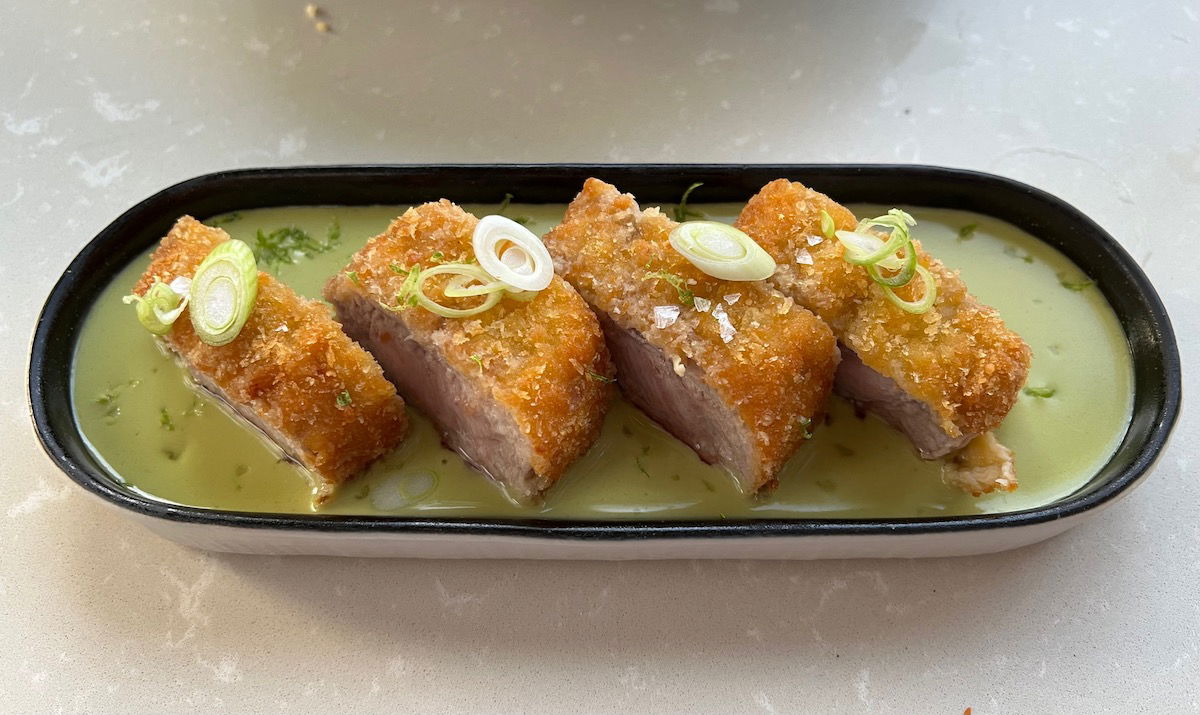 The meal was very good, from the presentation to the taste.
Airelles Saint-Tropez service (uh oh)
Up until this point you're probably (hopefully?) thinking "this place looks great!" And you'd be right, because we really loved this property so much. What I haven't touched on until now is the service, because unfortunately this was beyond disappointing.
Before I get too deep into this, let me acknowledge a few points:
We stayed at Airelles Courchevel a few months ago, and experienced the best service we've ever had at any hotel, so (understandably, I think) we came into this with high expectations
Let me state that just about everyone at the hotel was friendly and well intentioned, so I think many of these issues just come down to a lack of training
Admittedly lots of hotels are having staffing problems right now, though at least to me it appeared like the hotel was very well staffed
I want to recognize both Paul and Thibault working at La Table de la Messardiere, as they were the stand-out employees who were extremely professional; we even recognized Paul from having worked at the Courchevel property in the winter
The challenge here is that it's not that one major horrible thing happened, and that was it. It was rather that there were snafus nearly every time we interacted with staff, with a frequency I've never experienced before at any hotel.
Let's start with the concierge team. At Airelles Courchevel, I'm pretty sure the concierges slept with their phones under their pillows, as emails before the stay were answered within hours, and "no" was never an answer. At Airelles Saint-Tropez, the concierges weren't quite as good:
We had emailed in advance to ask for a reservation at Matsuhisa; the concierges didn't respond for more than four days, and then when they finally did respond, they only had a table at 10PM
We expressed our disappointment that it took so long to get a response and asked if they could check about an earlier reservation, and they said they could make the reservation for 8:30PM
When we arrived at the hotel, they said our reservation was only for 10PM, even though we had it in writing that it was for 8:30PM
When we asked the concierge to make a reservation during our stay at one of the hotel's restaurants, the concierge responded to our request with "I'm sure that's fine," (that's not exactly a confirmation), but we asked him to inform us when it was confirmed
When we returned to the hotel that evening to ask about our request, the concierge had no recollection of our request; while he was able to secure a reservation, you shouldn't have to follow-up
Now let's talk about our arrival experience. When we were informed our room was ready, I was escorted to the room, and there was a consumed welcome amenity and bottle of pills on the table. To the front office agent's credit, he immediately noticed this and said he'd send a new one. I had given him our luggage tags, and asked for the luggage to be brought to the room as well.
Indeed another amenity showed up about 10 minutes later. Then another 10 minutes later there was a knock at the door. I assumed it was the luggage. Nope, it was someone there to collect the used amenity, even though it had already been taken away. I informed him of this, and asked if he could please bring my luggage.
I waited for 30 minutes, and there was still no sign of my luggage. At this point I stopped by the front desk enroute to the gym, and asked for my luggage, explaining I had already asked for it twice. She assured me it would be delivered to my room.
At this point I figured I'd head to the gym, so I asked one of the bellmen where the gym was. He didn't know where it was. So he asked a colleague, and then guided me there, but got lost on the way. I then returned to my room about an hour later, and there was still no sign of my luggage.
At this point I went to the front desk and explained (firmly) to the agent that I had already asked three times over nearly two hours for my luggage, and it still wasn't in my room. At this point the luggage was delivered within 10 minutes.
The first evening we dined at Matsuhisa (only at 10PM, since our 8:30PM reservation wasn't honored). We were presented with the menus, and we decided to order omakase (the only one on the menu), which was priced at 120 Euro per person.
The meal was phenomenal, and at the conclusion of the meal we were presented with a bill that listed the omakase as costing 220 Euro per person. I asked to see the menu again, as I figured maybe I had made a mistake — nope, the menu showed the omakase was priced at 120 Euro per person.
The server explained that they had a special omakase that night, not from Matsuhisa, but from Nobu (hmmm…). I explained we were never presented that menu or told about that. He asked who took our order, because at this point most of the staff had gone home, as they were already setting up tables for the next day and had turned off the music. Fortunately this was corrected, but it's kind of embarrassing to seem like you're haggling over price.
I don't want to dedicate thousands more words to the service incompetence here, as the above was just the first afternoon and evening. Let's just fast forward to the last day, and skip the two days in the middle.
In the morning I explained to the front desk that we'd only be leaving the resort at 2:30PM. They weren't able to accommodate a late check-out, which is totally fair, but they said they could store our bags and still enjoy all the property's amenities. I also confirmed with the front desk that lunch would still be included this day. They confirmed it would be, given that we had only enjoyed complimentary lunch once during our stay.
So at 12PM I headed down to reception to inform them that I had vacated the room, and they specifically confirmed I could continue charging things to the room until I settled the bill at 2:30PM.
We went to lunch at 1PM. First of all, this is the first time we were informed that we could order all kinds of proteins from the kitchen with lunch, rather than just the buffet .That wasn't mentioned to us the previous day, which you'd think is a detail worth mentioning.
At the conclusion of the meal we were brought a check for 220 Euro for the lunch (110 Euro per person). The restaurant employee informed me our room was "closed," and that we'd have to pay for lunch since we checked out.
I told her that the front desk specifically told me I could still charge things to the room until 2:30PM, and that I was told lunch was included. Rather than apologizing and saying she'd handle those things, she instead handed me the check and told me I could go to the front desk and settle it with them.
Speaking of the check-out experience, during check-out we were asked how our stay was. We explained that there were numerous service issues. The front desk agent's response? "Sorry… did you want to settle the bill with the credit card on file?" There was no attempt to document the issues or put us in touch with someone empowered to take feedback (for the record, Ford was in communication with the general manager after the stay).
I could go on and on but I think this paints a pretty good picture of the service we experienced at the property. I hope this was just a fluke, and that we got really unlucky. I have to imagine it isn't usually like this, or else this hotel wouldn't be in business. At the same time, our experience is all I can go off of.
Bottom line
Airelles Saint-Tropez Chateau de la Messardiere is a breathtakingly beautiful hotel that's both historic and updated. The hotel has a great location, excellent pools, a beach club, and amazing dining. While the hotel isn't cheap, stays here also include quite a few things, from breakfast and lunch, to Rolls-Royce transfers, to a complimentary minibar.
The one issue — and it's a big one — is service. The service at the property was the polar opposite of what we experienced at Airelles Courchevel. While the staff were well intentioned, they weren't well trained at all.
If the hotel could get service in order, I'd give the property a five star rating in a heartbeat. But given the service we experienced, I can't in good conscience give this hotel more than a 3.5 star rating, because there were more service issues than I could count (to be clear, that's not to suggest that it's a 3.5 star hotel, but rather that it doesn't live up to what I was expecting).
What do you make of Airelles Saint-Tropez? How forgiving would you have been of service shortfalls?