EXTRA PERKS AVAILABLE
Enjoy breakfast, upgrades, & more
Want to take advantage of Marriott STARS benefits, including a space available room upgrade, complimentary breakfast, a hotel credit, and more? Contact Ford ([email protected]) for more details. He may even be able to help if you already have a stay booked. This is valid for paid stays at BVLGARI, EDITION, Ritz-Carlton, Ritz-Carlton Reserve, and St. Regis.
During our recent trip to Greece, I was able to check out both of the Marriott Luxury Collection properties in Athens. In the last installment I reviewed King George, and in this installment I wanted to review Hotel Grande Bretagne.
Let me say upfront that Hotel Grande Bretagne is a spectacular city hotel that's historic and well maintained. The hotel has ample amenities, including a large spa, a rooftop pool, excellent food & beverage outlets, and more. I think the only downside to this hotel is that it has 320 rooms, so it definitely doesn't have a boutique feel.
Booking Hotel Grande Bretagne
I redeemed 69,000 Marriott Bonvoy points for our one night stay at Hotel Grande Bretagne. For context, I value Bonvoy points at 0.7 cents each, meaning that's the equivalent of ~$483 worth of points.
The cash rate for our date in late June was over 1,100 Euro for a base room. So it was a great redemption value, though I have to mention that I booked this fairly last minute, and rates in Greece are incredibly high this summer. So while Hotel Grande Bretagne is consistently more expensive than King George, it's usually not that expensive.
If you do book a cash stay at Hotel Grande Bretagne, I'd recommend booking through the Marriott STARS program, so you can take advantage of additional perks, like a $100 property credit, complimentary breakfast, a room upgrade subject to availability, and more. If you'd like help with a Marriott STARS booking, Ford is happy to help, and can be reached at [email protected].
Hotel Grande Bretagne history
Hotel Grande Bretagne has so much history, and that's reflected in just about all parts of the hotel. The hotel is in a structure that was first built in 1842 as a private house, and it became a hotel in 1874. During the Greco-Italian War, the hotel was the headquarters for British forces, and during the Greek Civil War, the hotel housed the Prime Minister at the time.
So while the hotel has undergone some costly renovations, the owners did an amazing job preserving the essence of this property.
Hotel Grande Bretagne location
Hotel Grande Bretagne has an ideal location if you're looking to sightsee in Athens. The hotel is within walking distance of the Acropolis, Agora, Plaka, Thission, etc. The immediate area around the hotel also has lots of great restaurants and shops. This is where you want to stay if you're visiting Athens, plan and simple.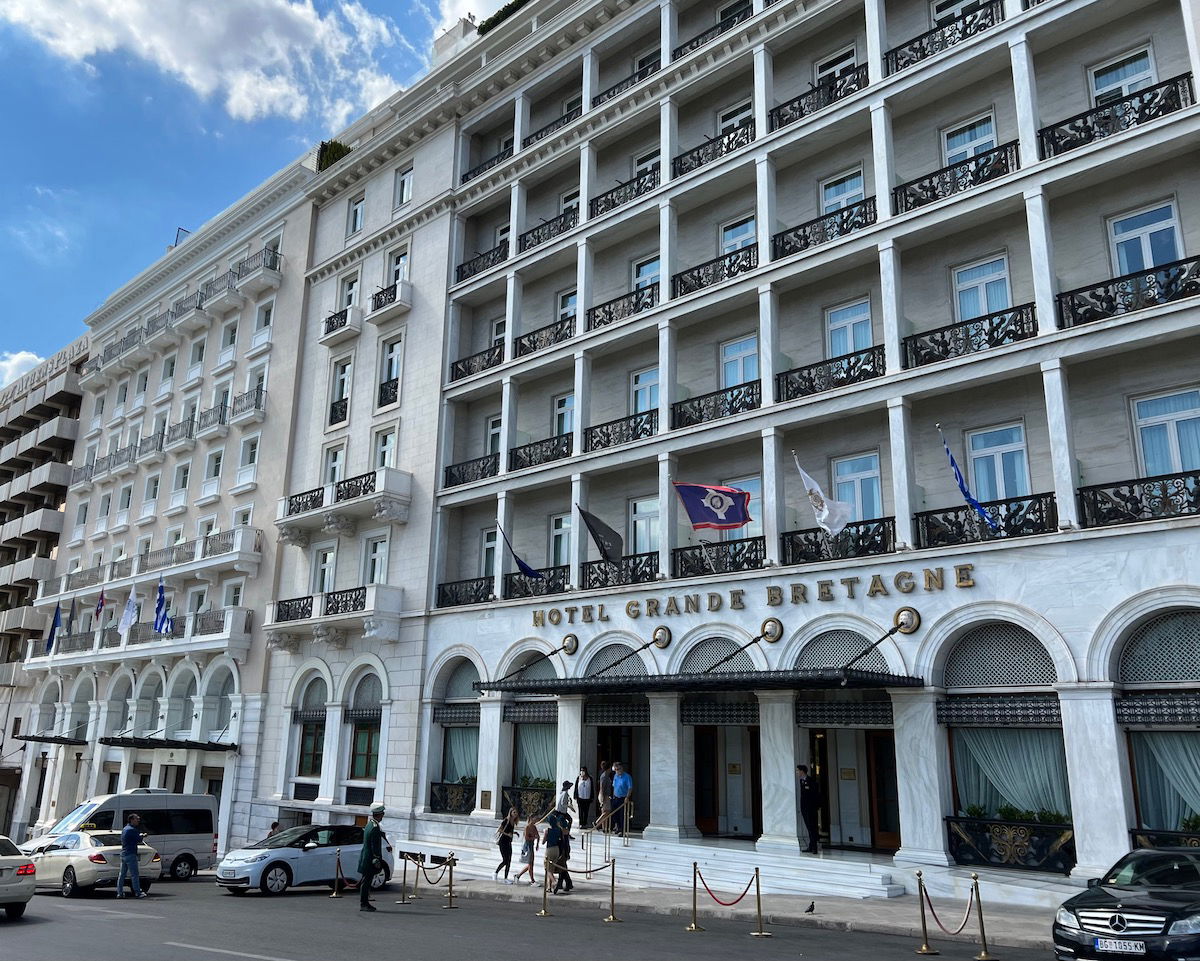 If you're flying into or out of Athens Airport (ATH), you can expect it to take around 30 minutes between the airport and hotel.
Hotel Grande Bretagne lobby & check-in
Hotel Grande Bretagne has a huge, elegant lobby with plenty of seating and high ceilings. Even though the hotel has 320 rooms, there was never a long line at the front desk, and check-in was pretty efficient.
The associate checking us in thanked me for being a Bonvoy Titanium member, and offered a welcome amenity, for which I chose breakfast. I had used a suite night award to confirm an upgrade in advance, and that booked into a one bedroom city view Grand Suite.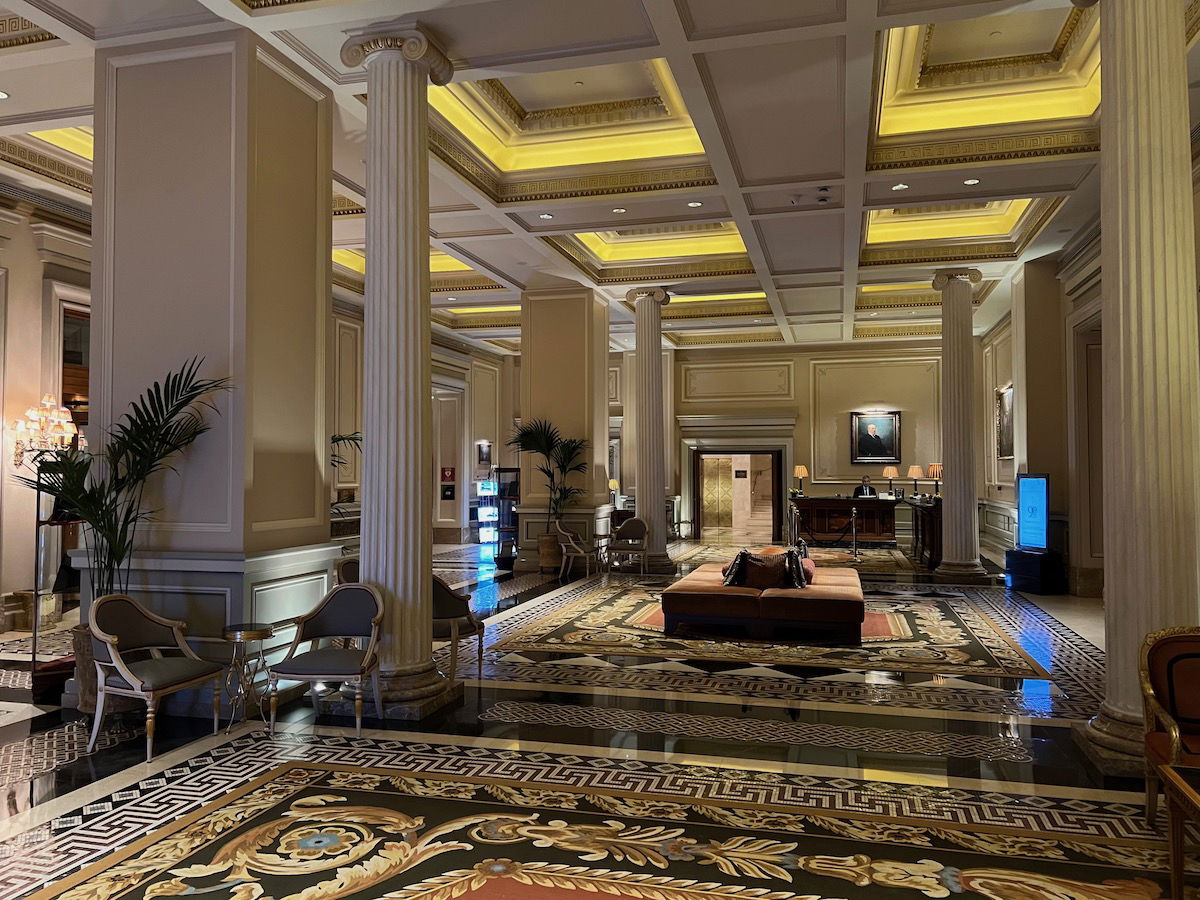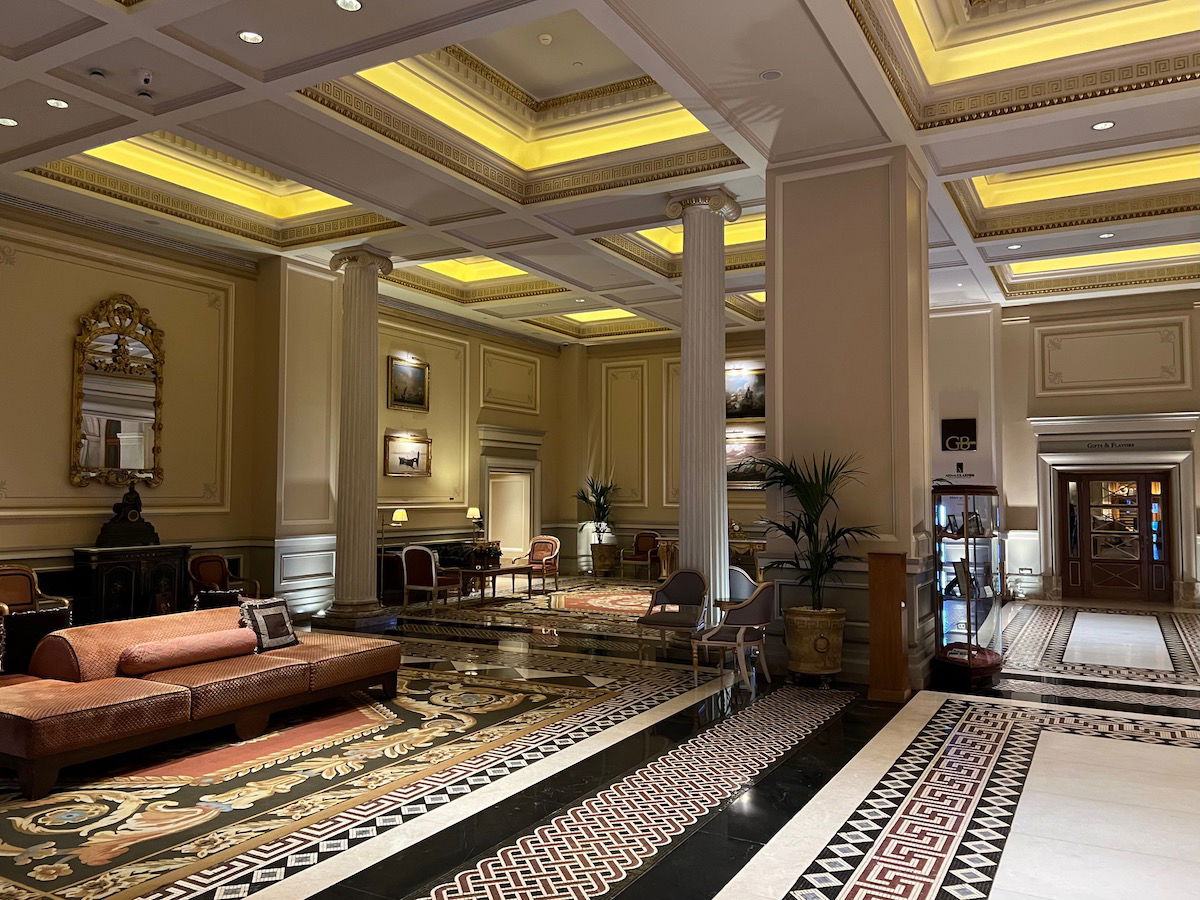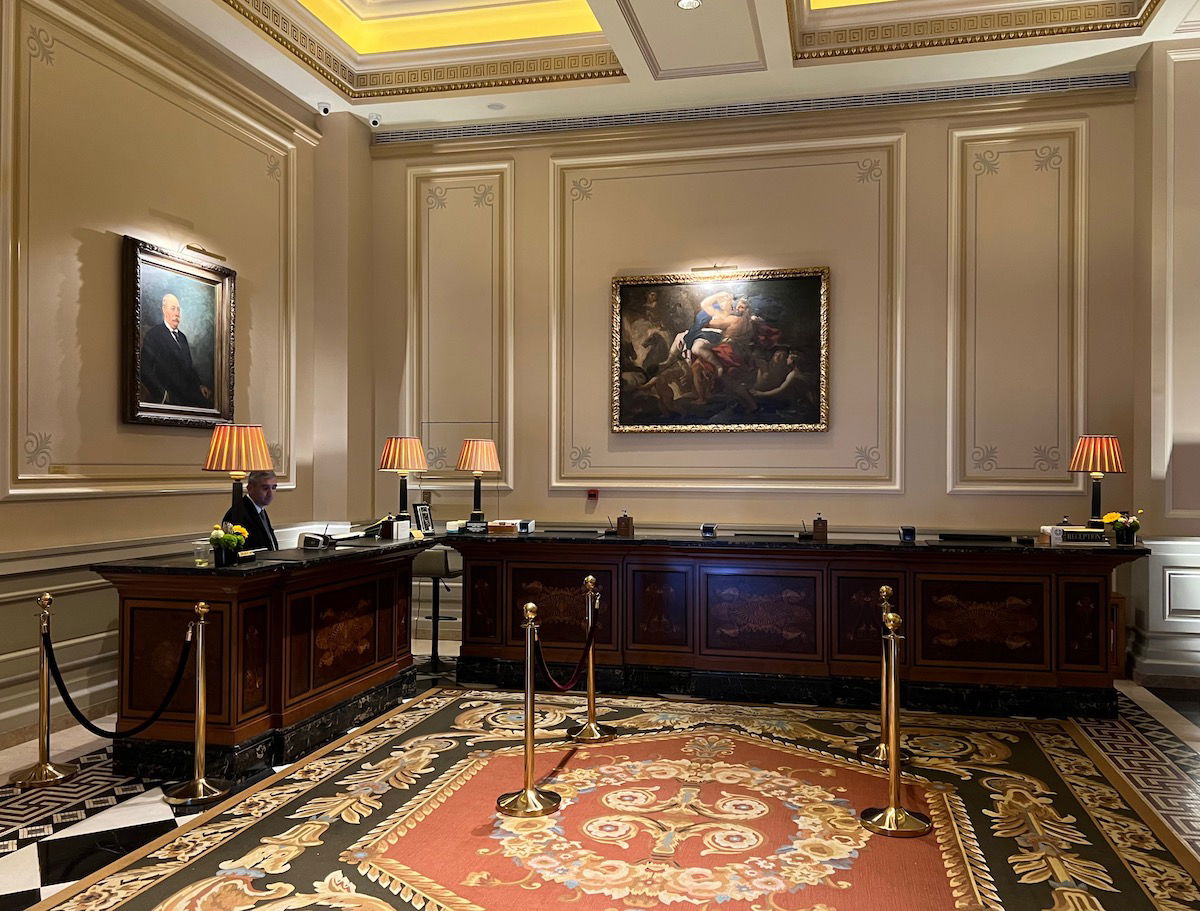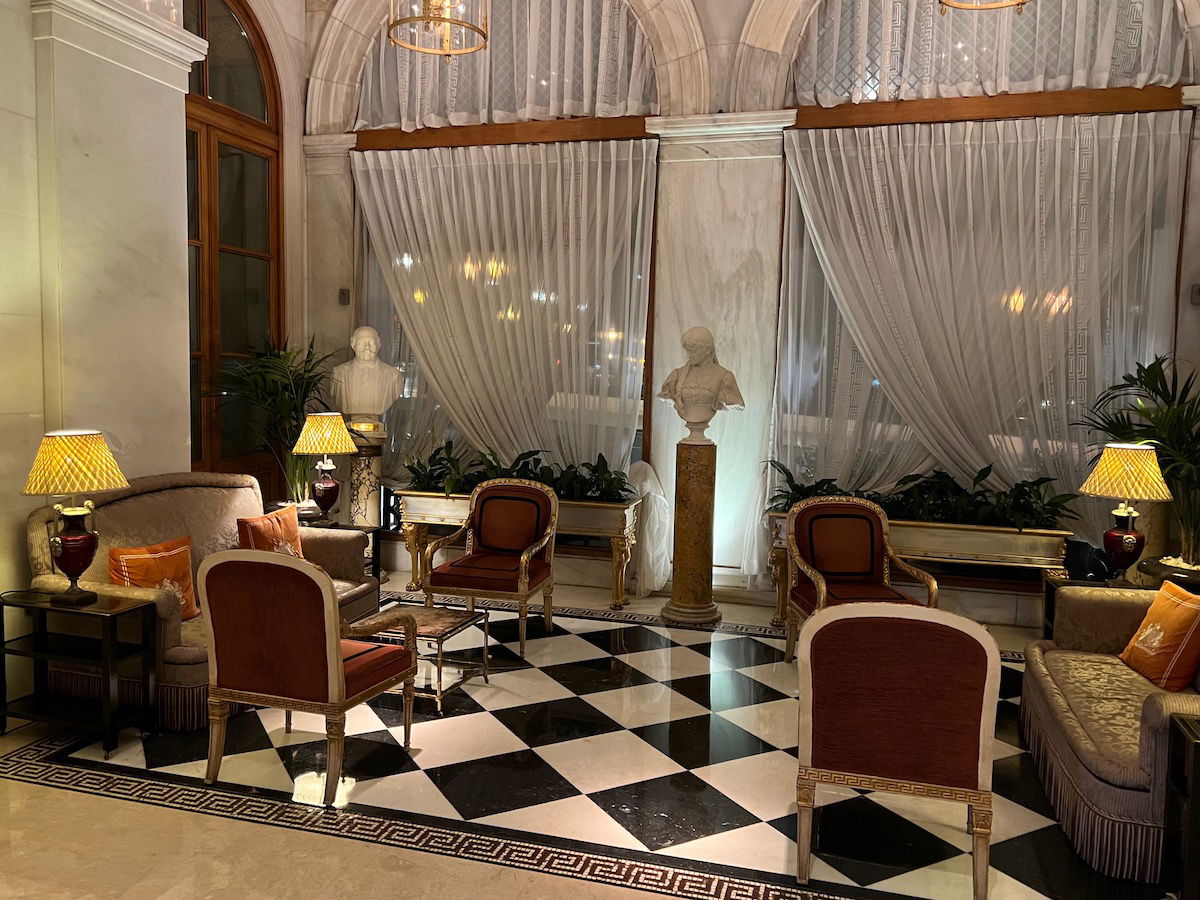 Hotel Grande Bretagne one bedroom suite
We were assigned room 370, located on the third floor (the hotel has eight floors). The public spaces of the hotel are so well maintained, as I think you can see in the below pictures.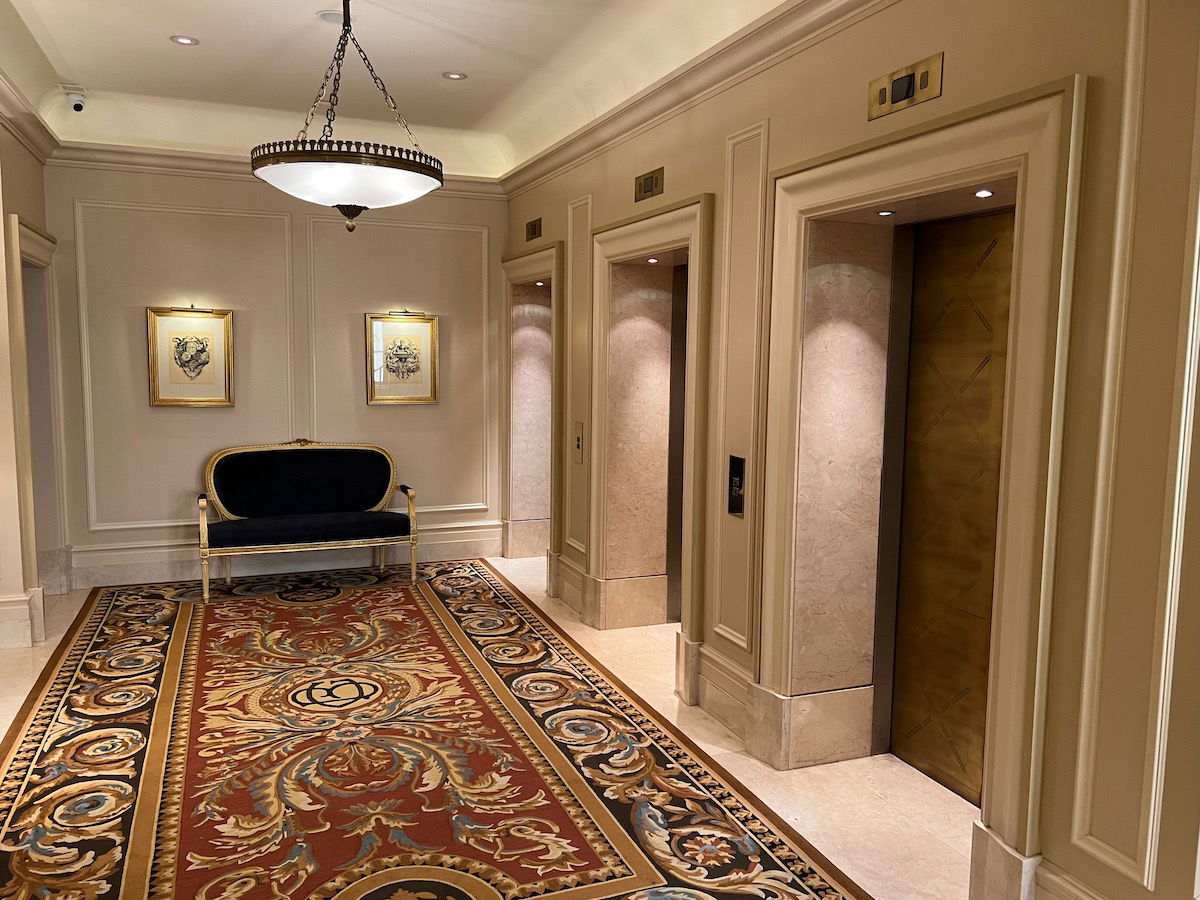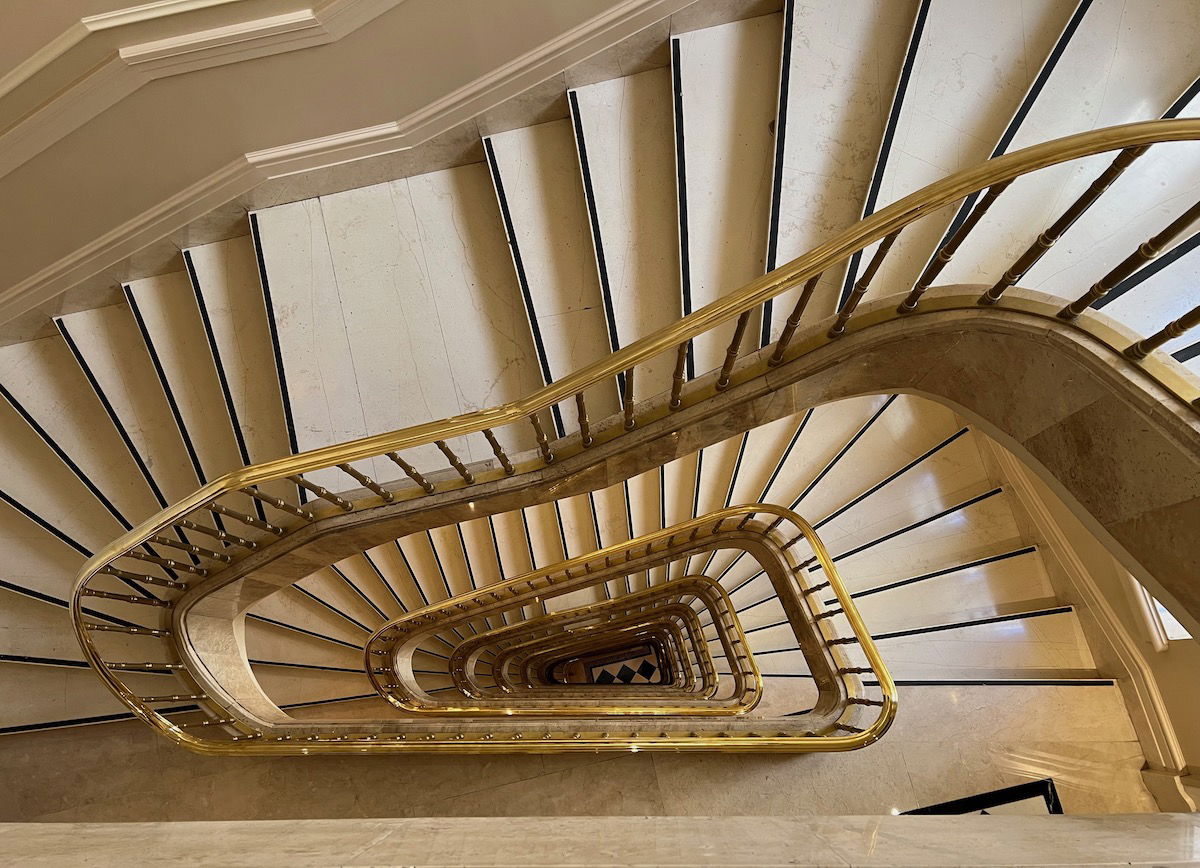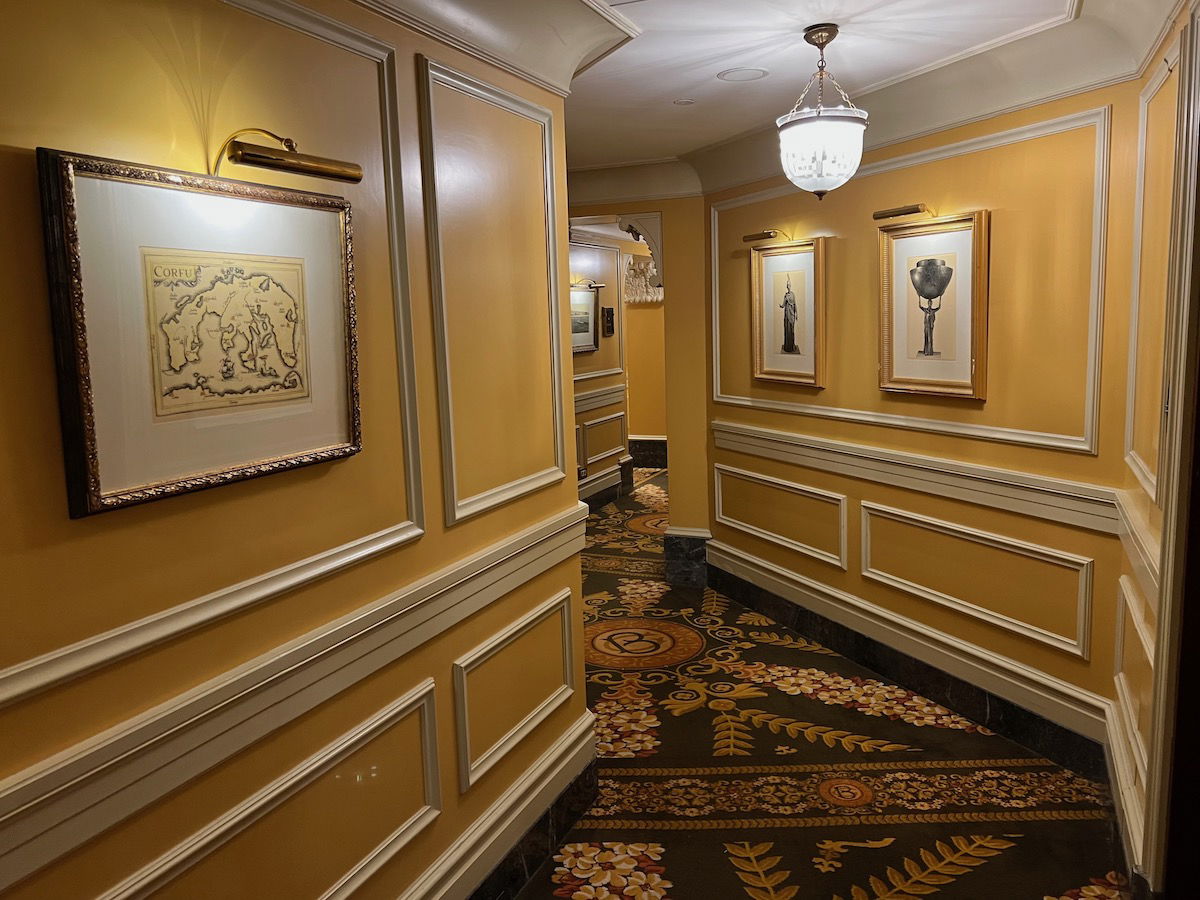 Finding your room at this hotel can be a bit of a challenge, as there are hallways going in seemingly all directions.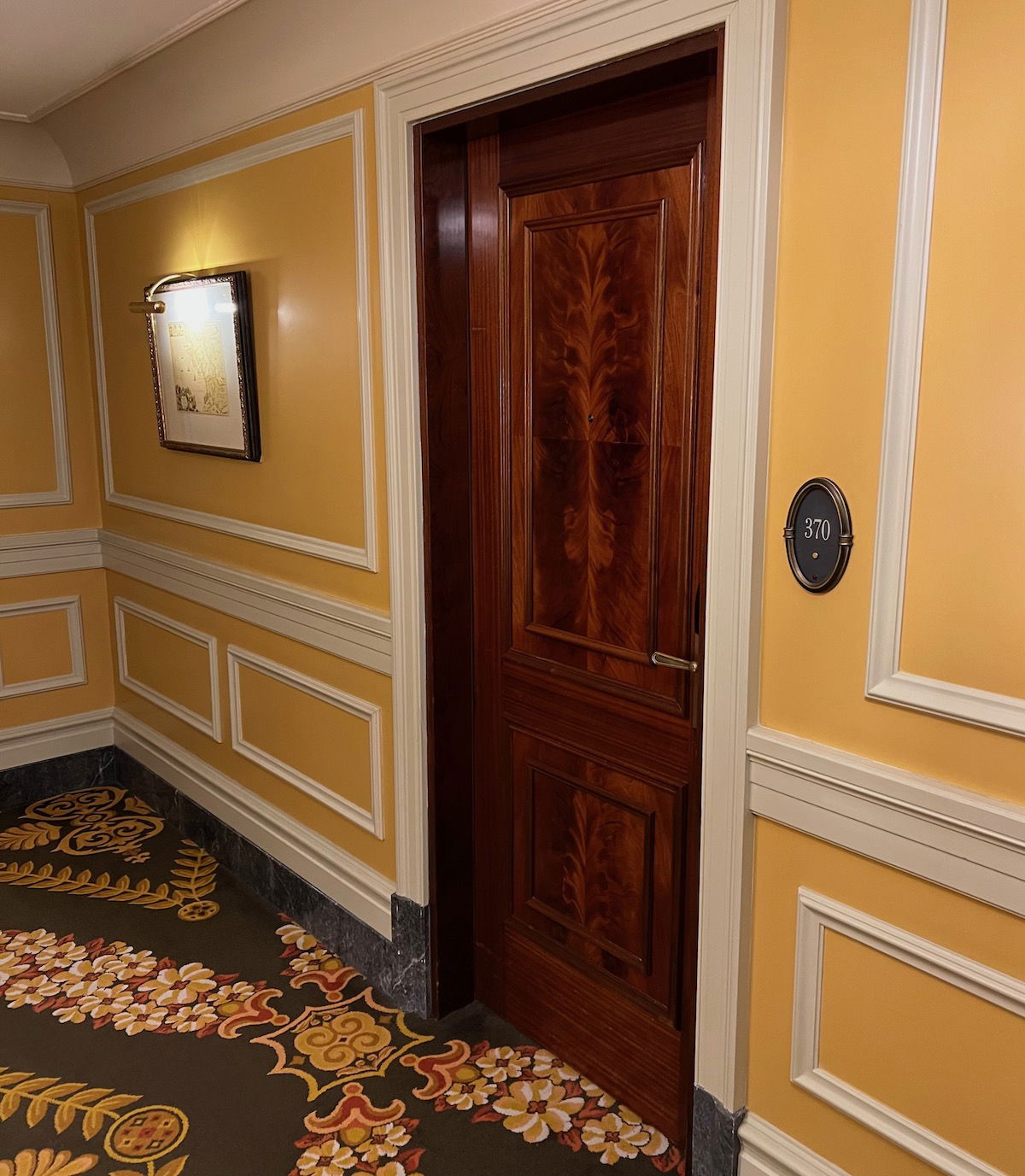 The room featured an entryway, and beyond that was the living room.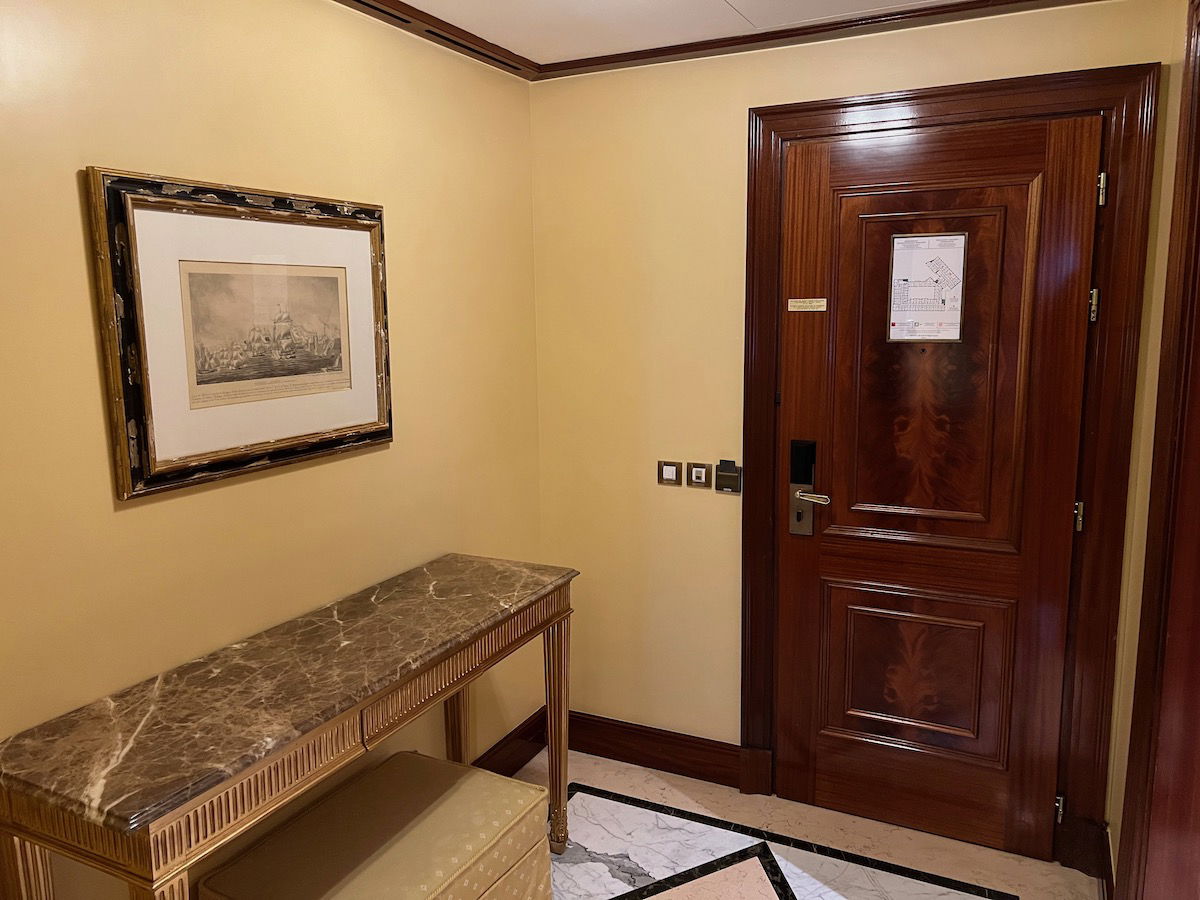 The living room was pretty cozy, and had a loveseat with a coffee table, as well as a desk and chair. Across from the loveseat was a TV, along with an additional chair, presumably in case two people wanted to enjoy room service together.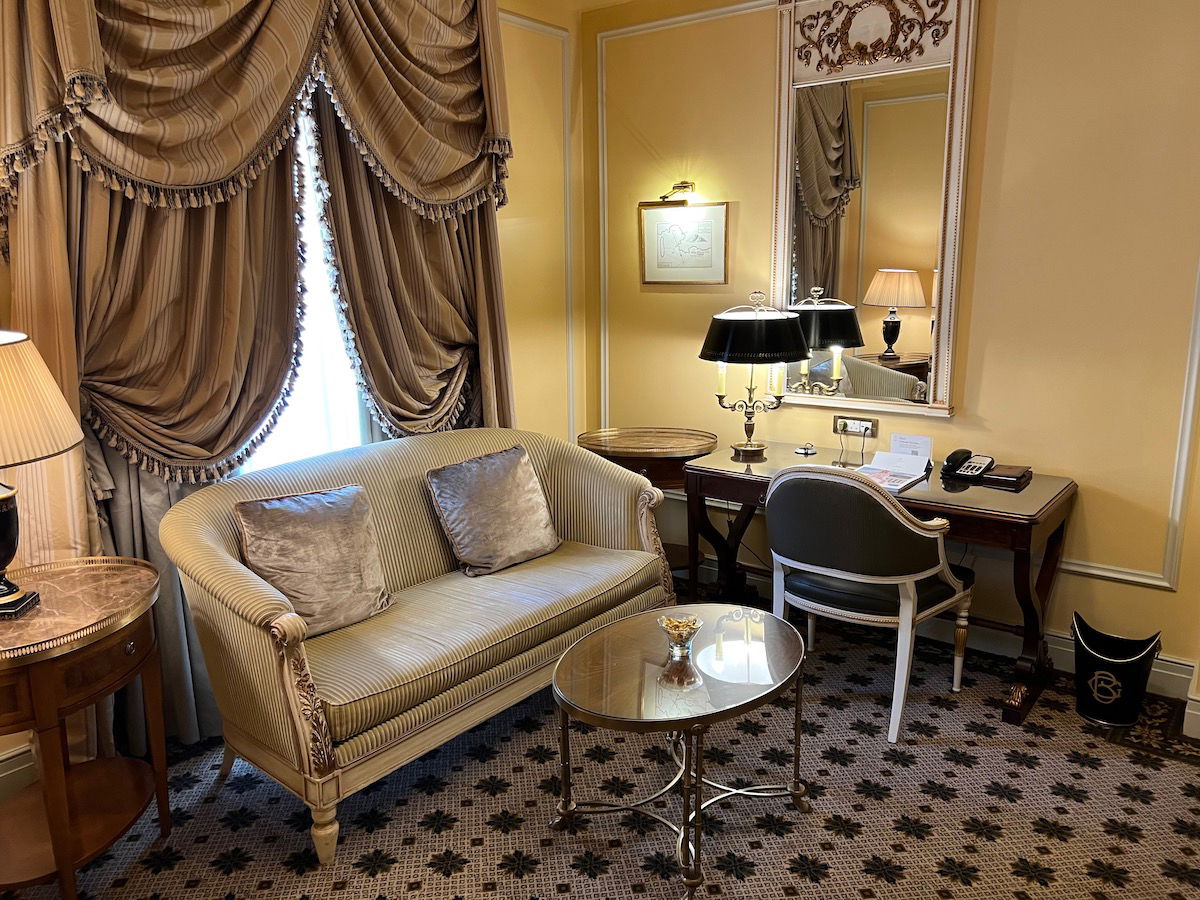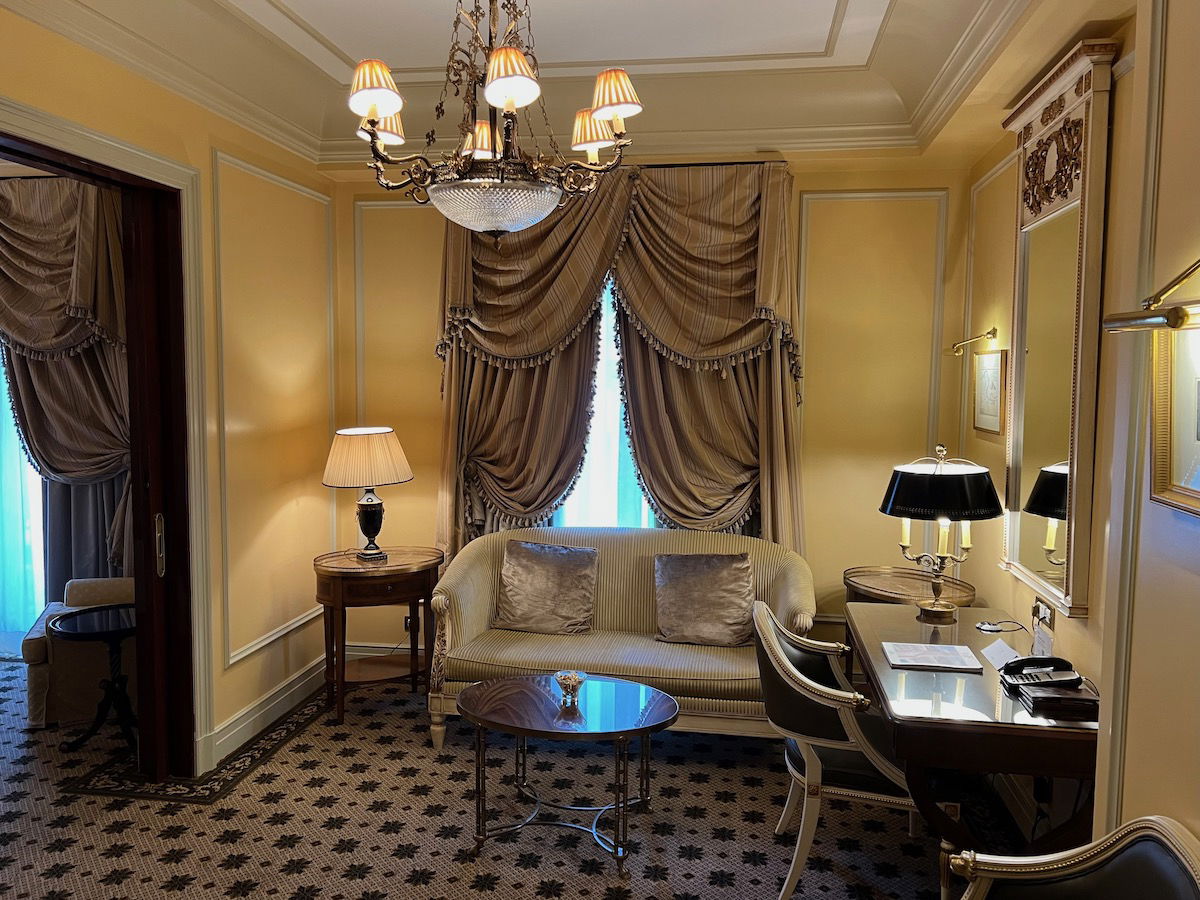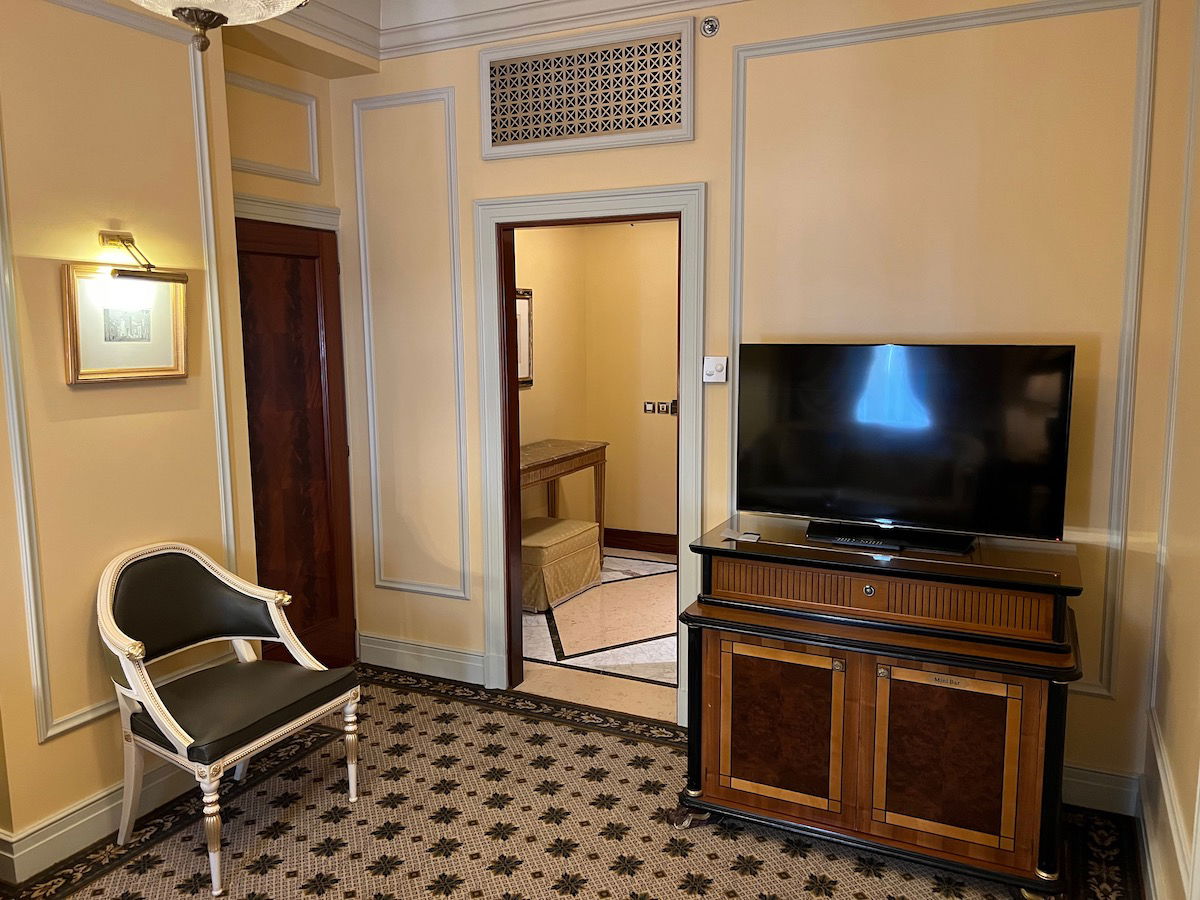 There was a bowl of Wether's Original candies on the living room table, which seemed… random.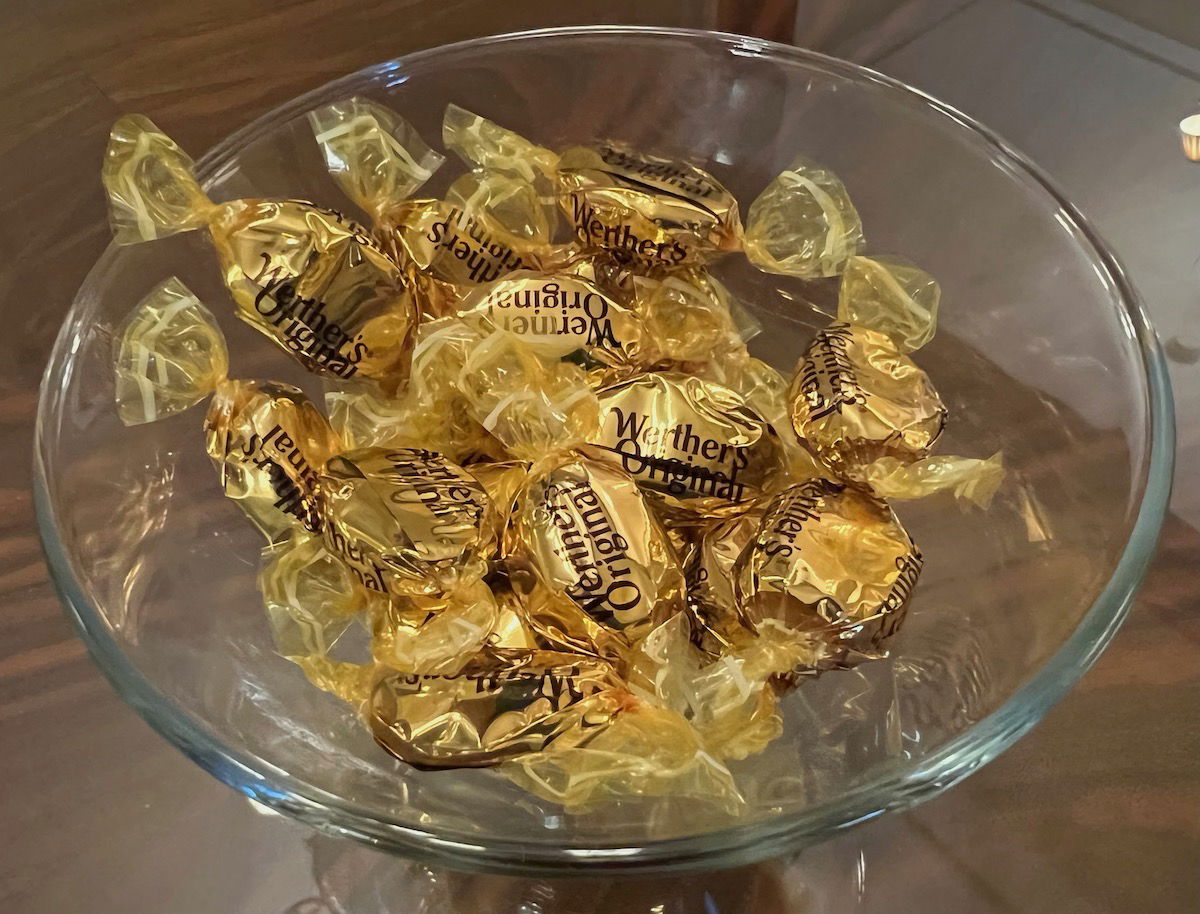 Also in the living room was the minibar, as well as the coffee machine and kettle.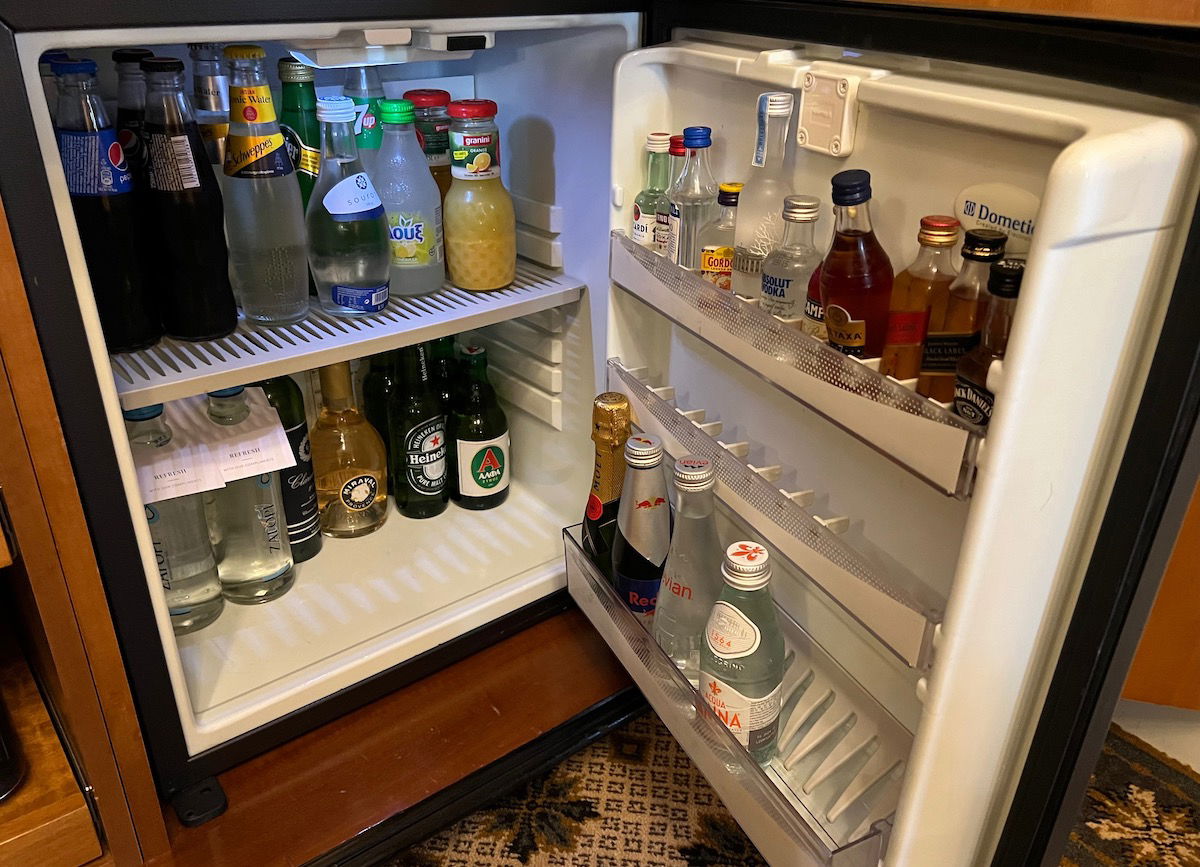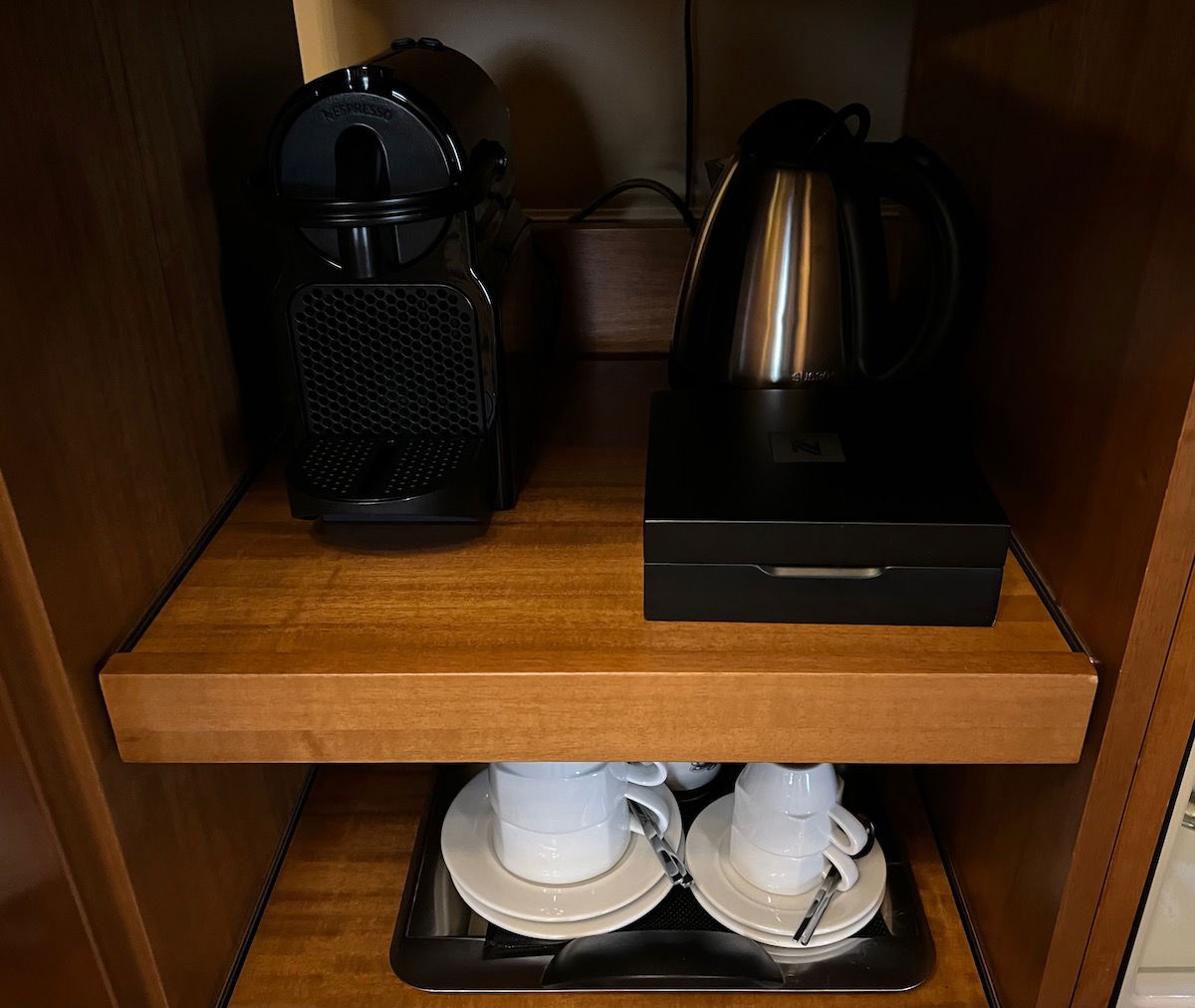 There was a double doorway separating the bedroom from the living room, with sliding doors providing privacy between the rooms. The bedroom had a king size bed, plus a cushioned seat in the corner.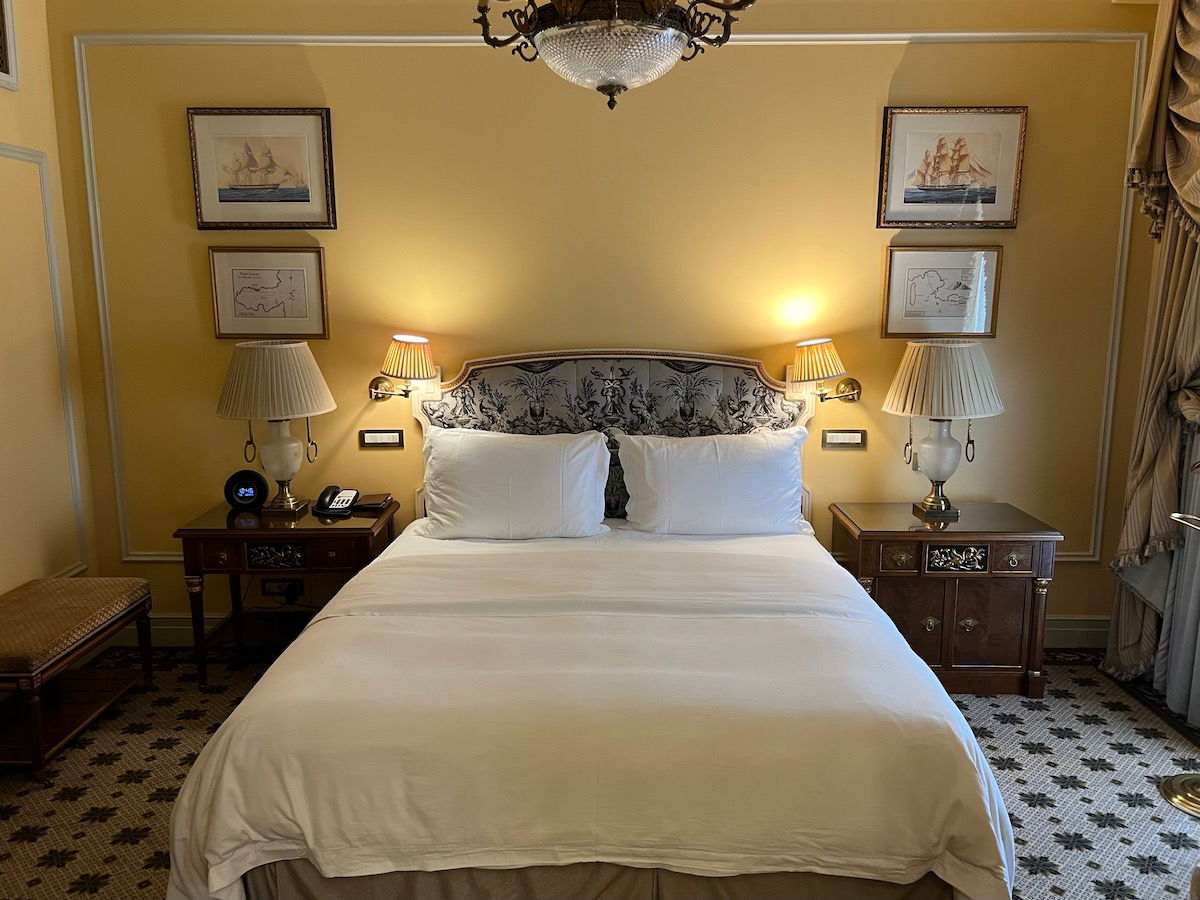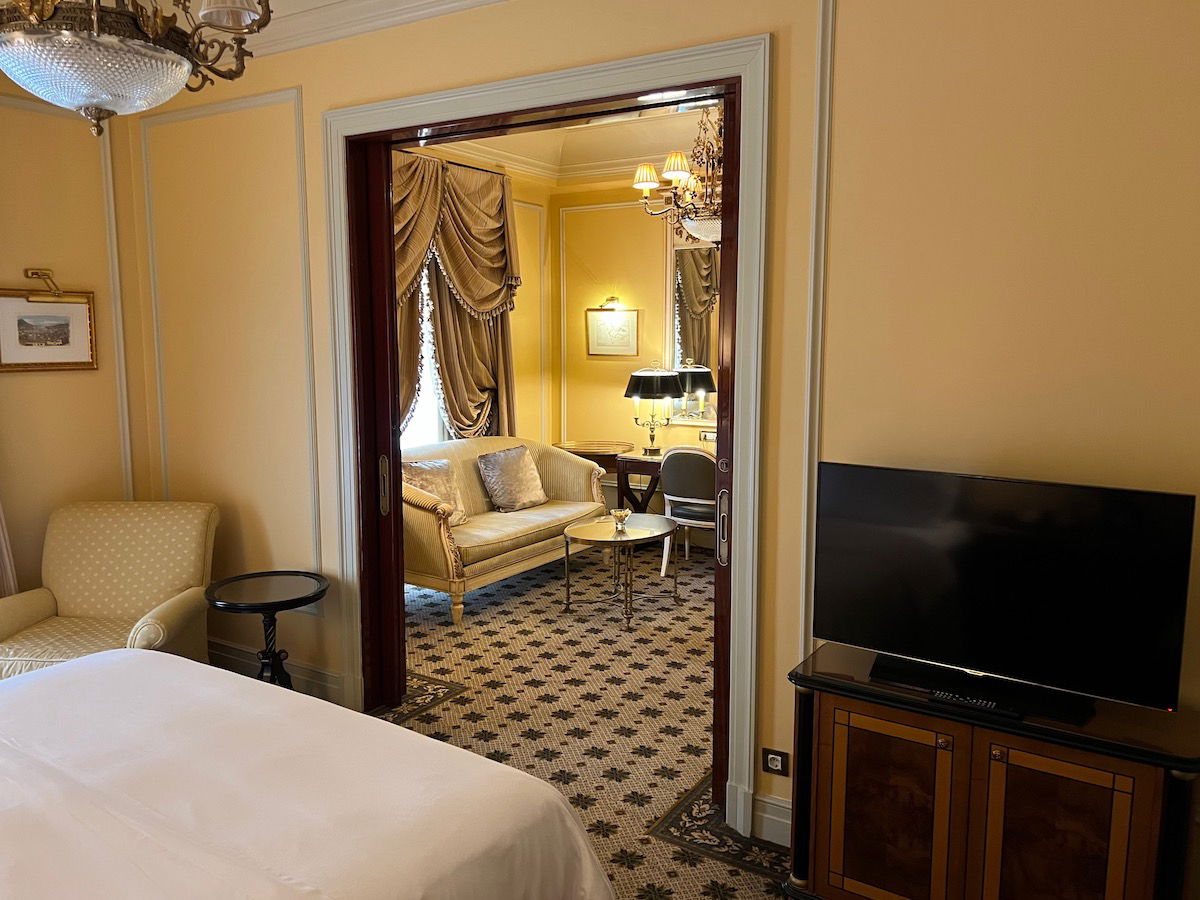 The bathroom was off the bedroom, and had double sinks, a walk-in shower, a soaking tub, and a toilet.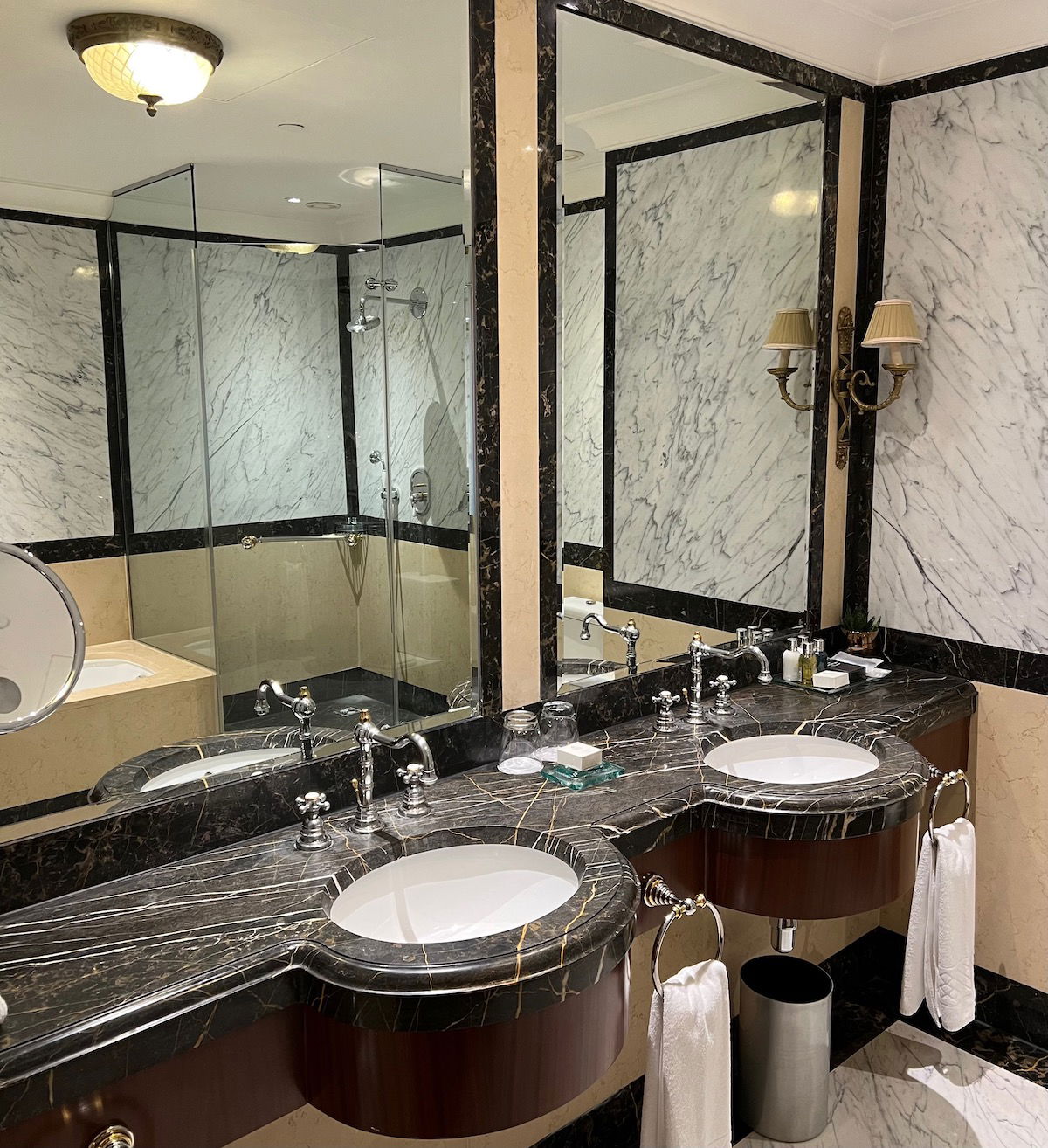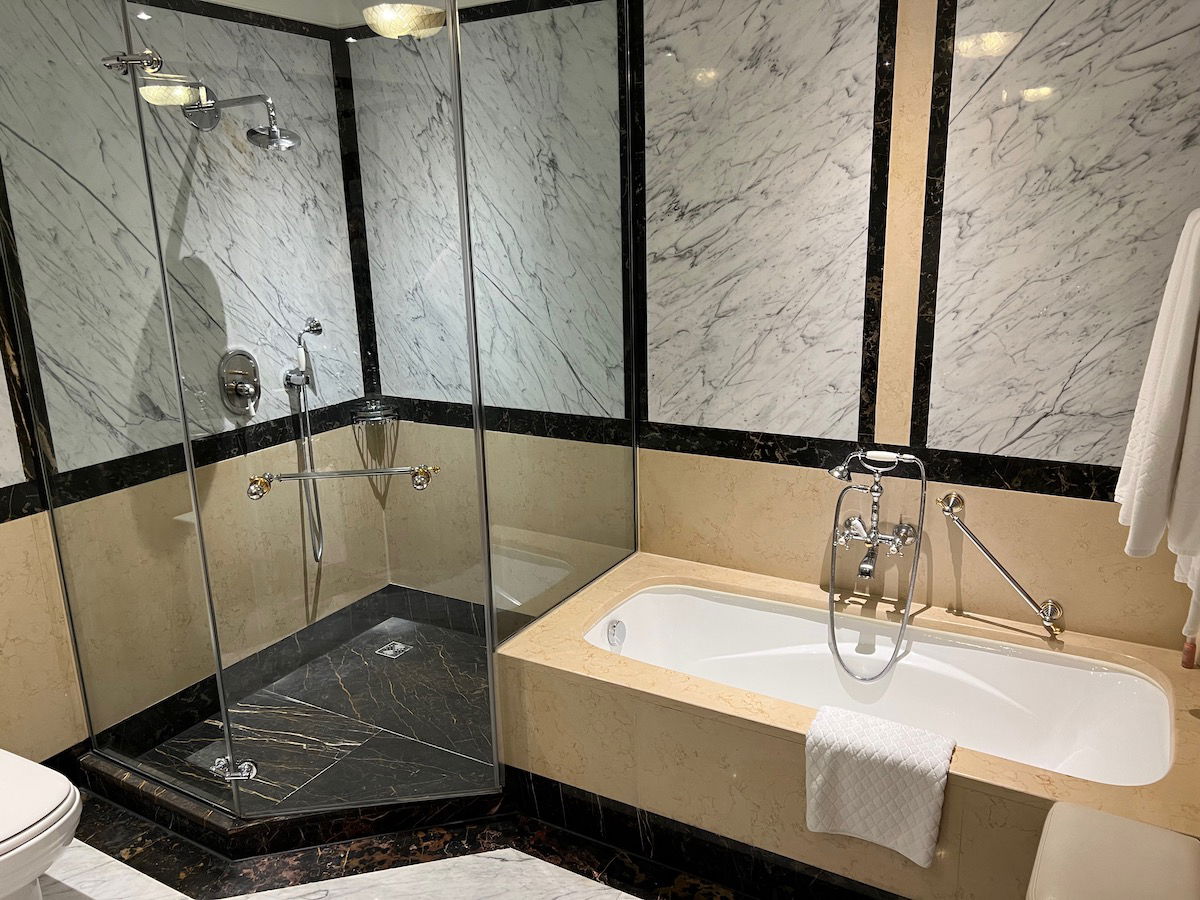 Toiletries were from Molton Brown.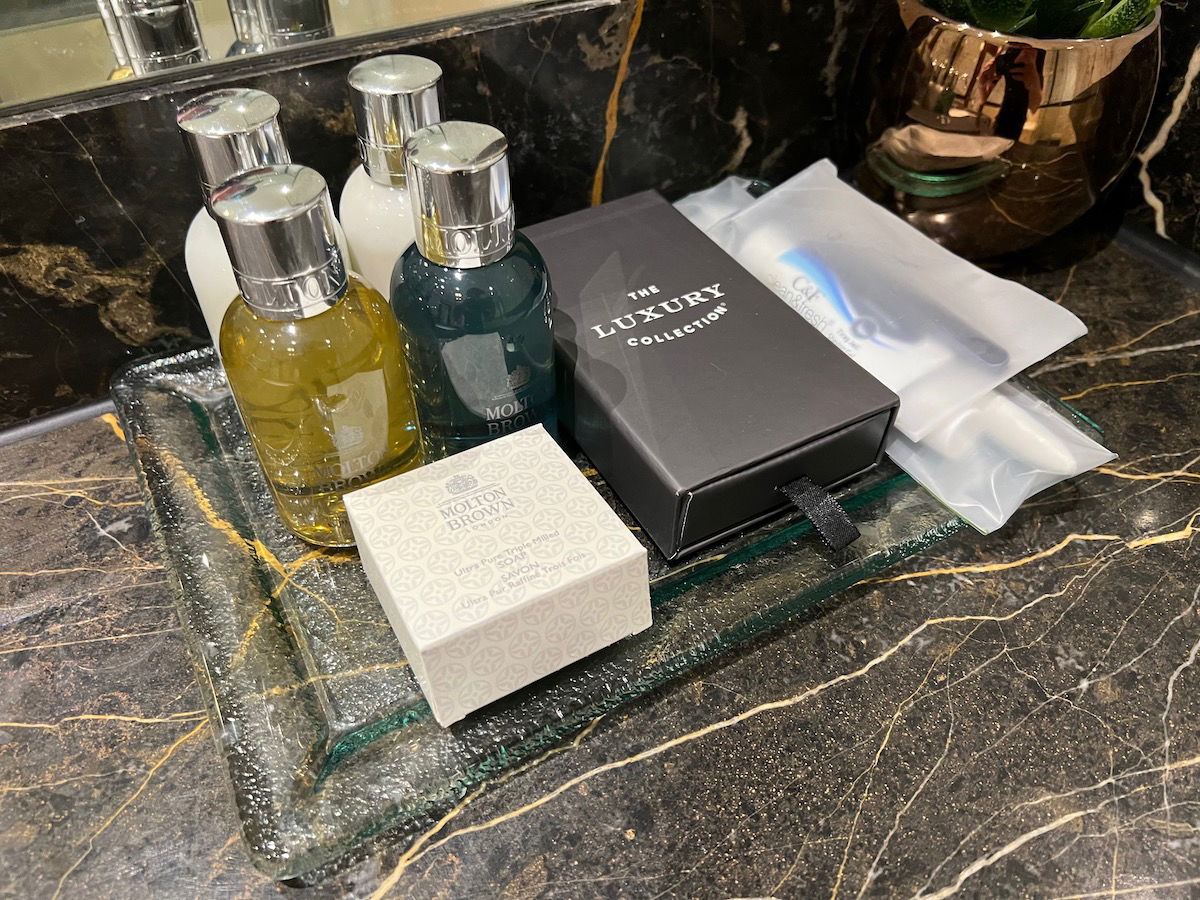 The room had views of the nearby streets, which I appreciated, since the hotel is in a charming area.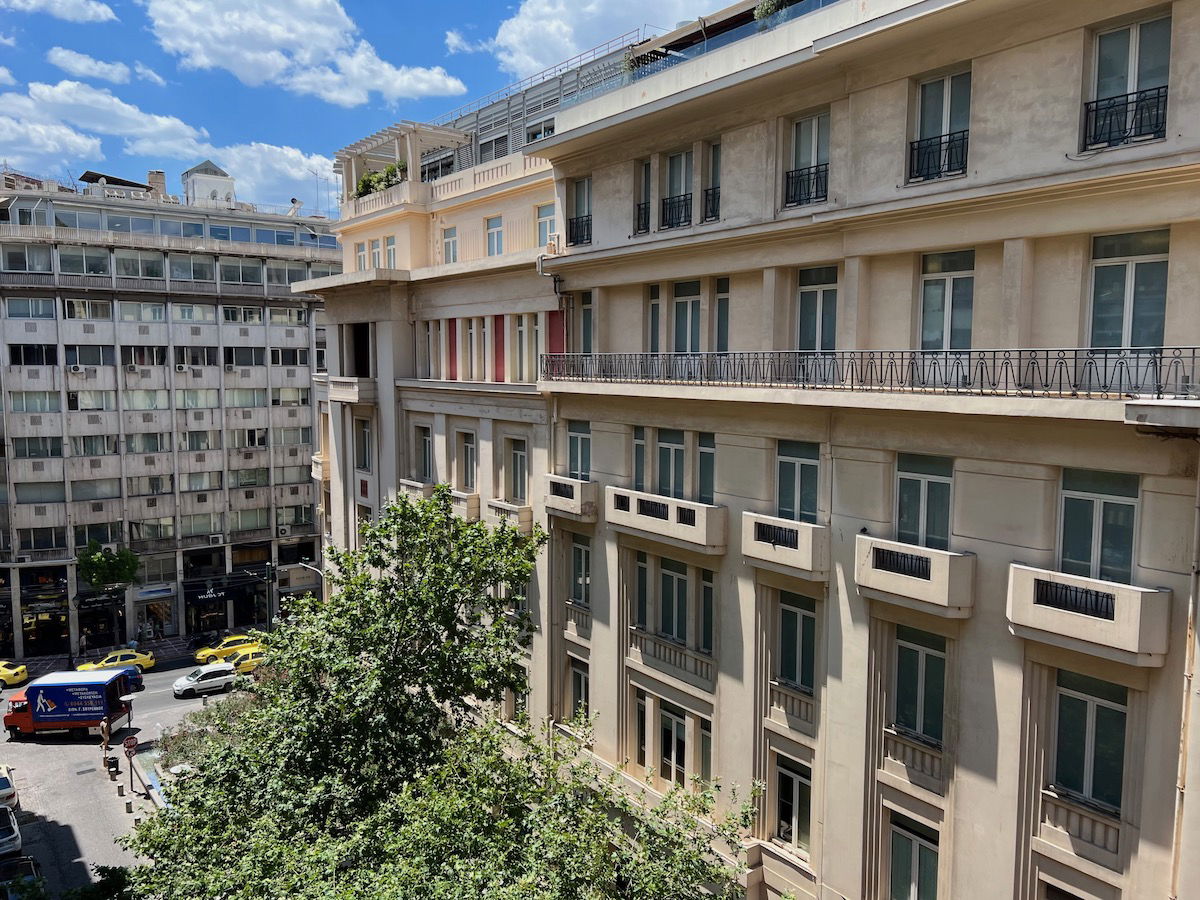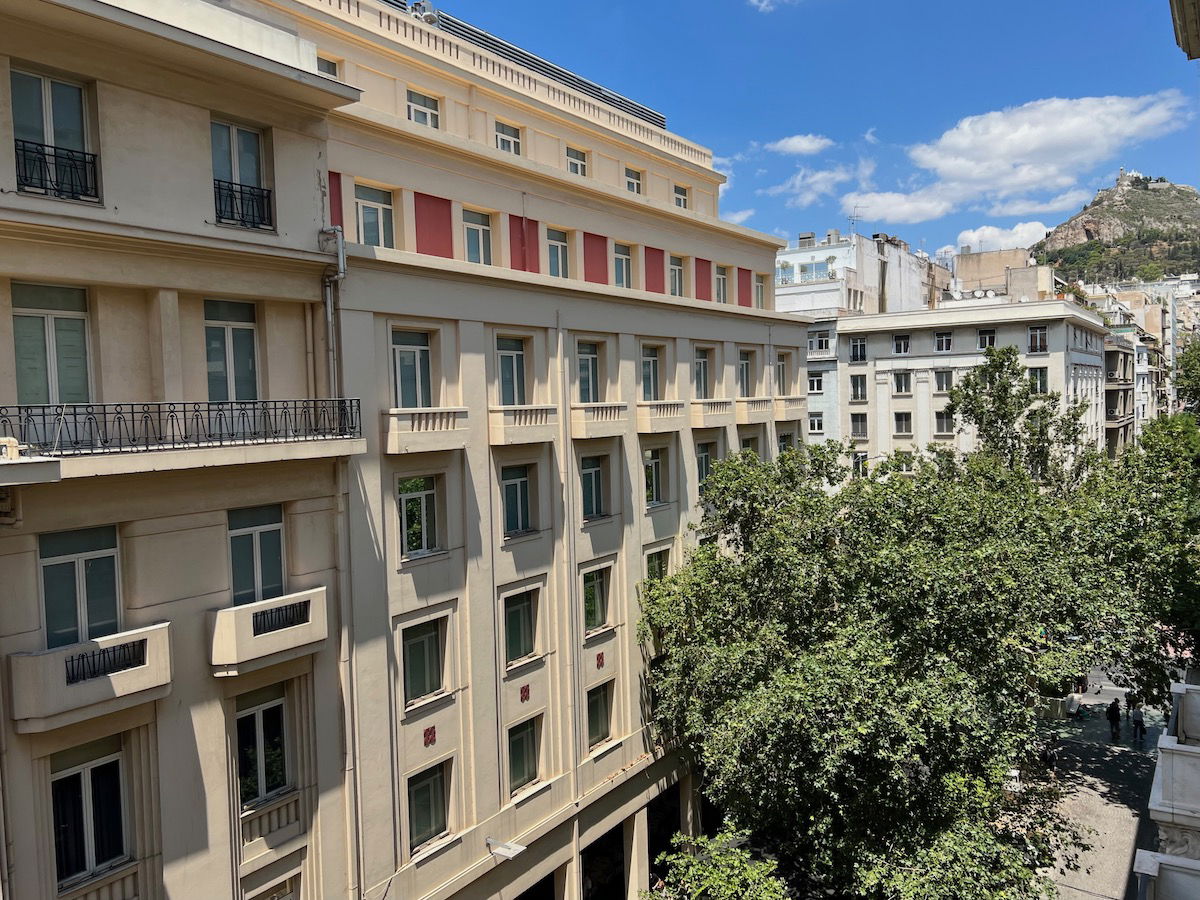 A couple of hours after checking in we were brought a welcome amenity, consisting of some chocolates, some liquor, and a bottle of water. That was generous, especially since we were on a one night stay with points.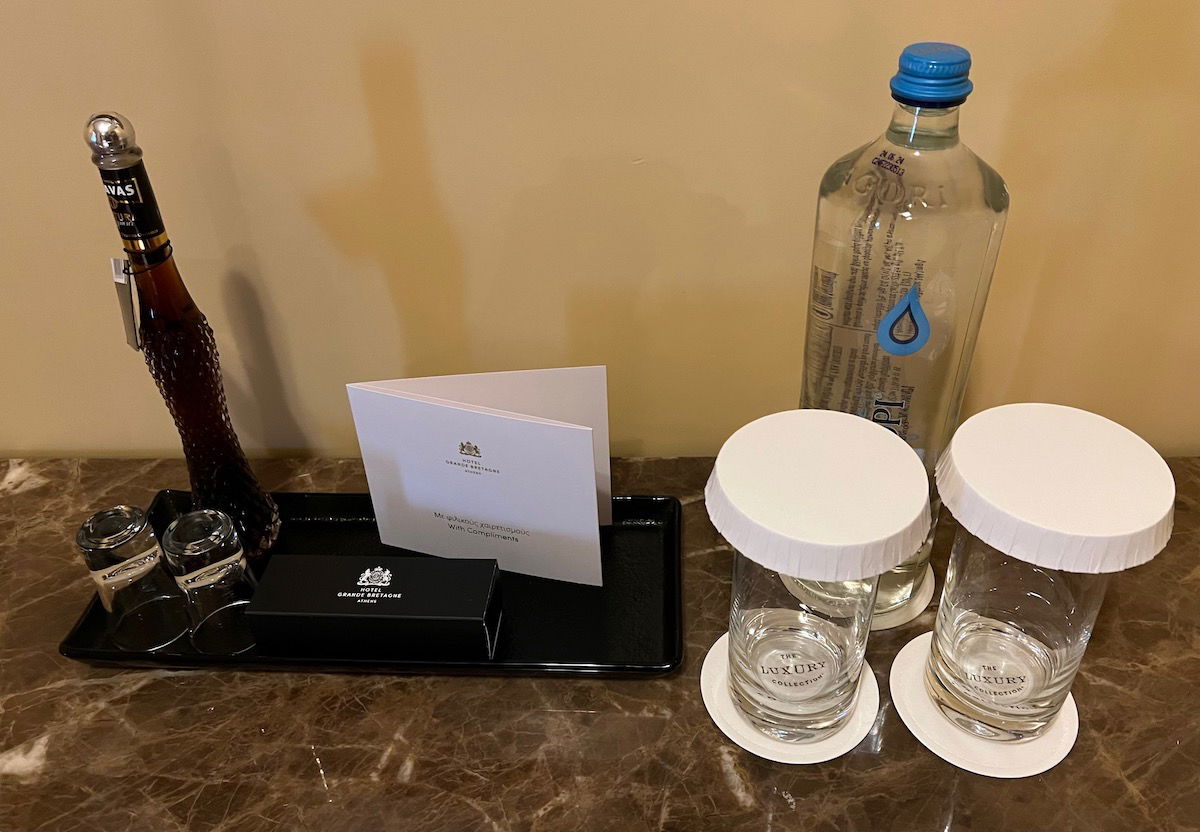 Wi-Fi in the room was fast & free, and there was also turndown service with chocolates.
Hotel Grande Bretagne spa & gym
Hotel Grande Bretagne has an impressive spa on the basement level, which also has the gym and an indoor pool. The spa is open daily from 9AM until 9PM, while the gym can be accessed 24/7 with your key card.
While we didn't get any spa treatments, the entire space was beautiful, with all the typical amenities, from relaxation rooms, to steam rooms, to a juice bar.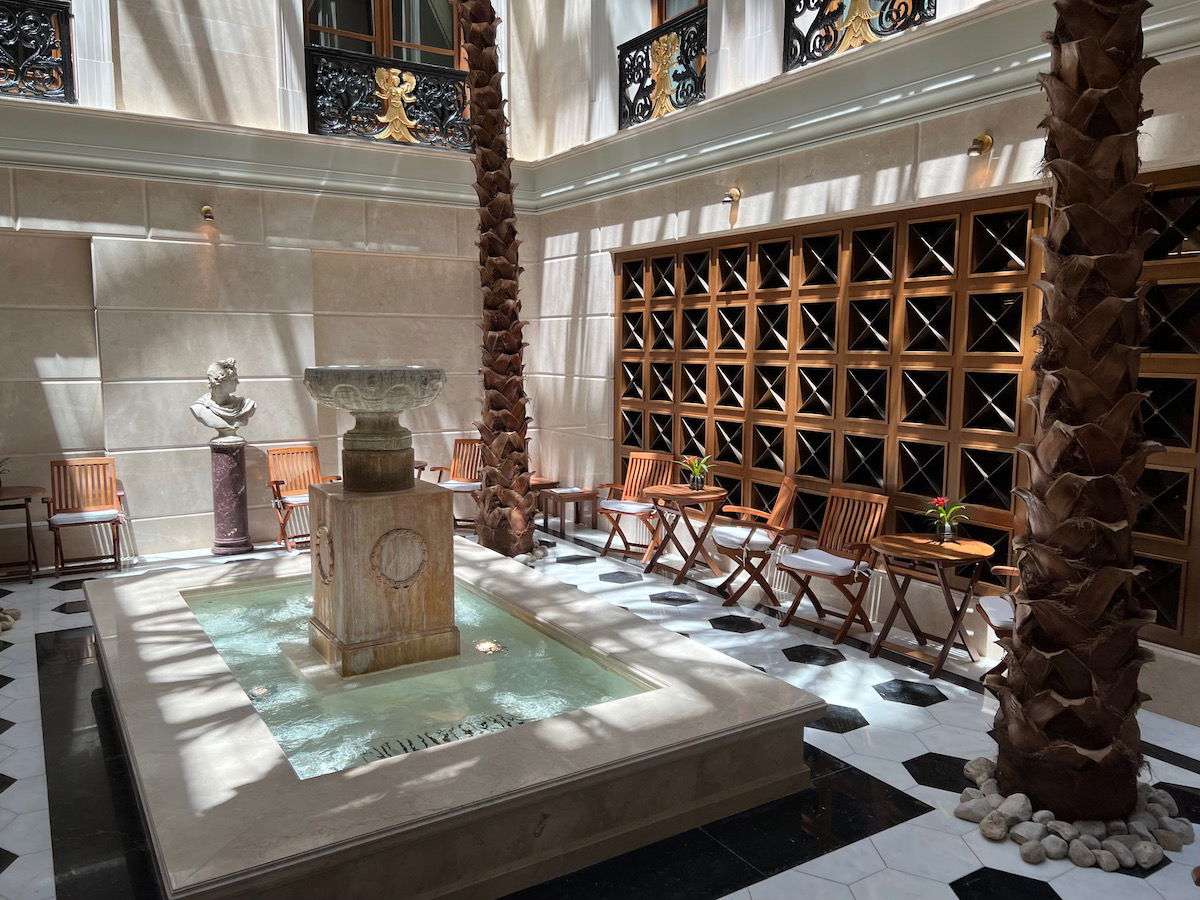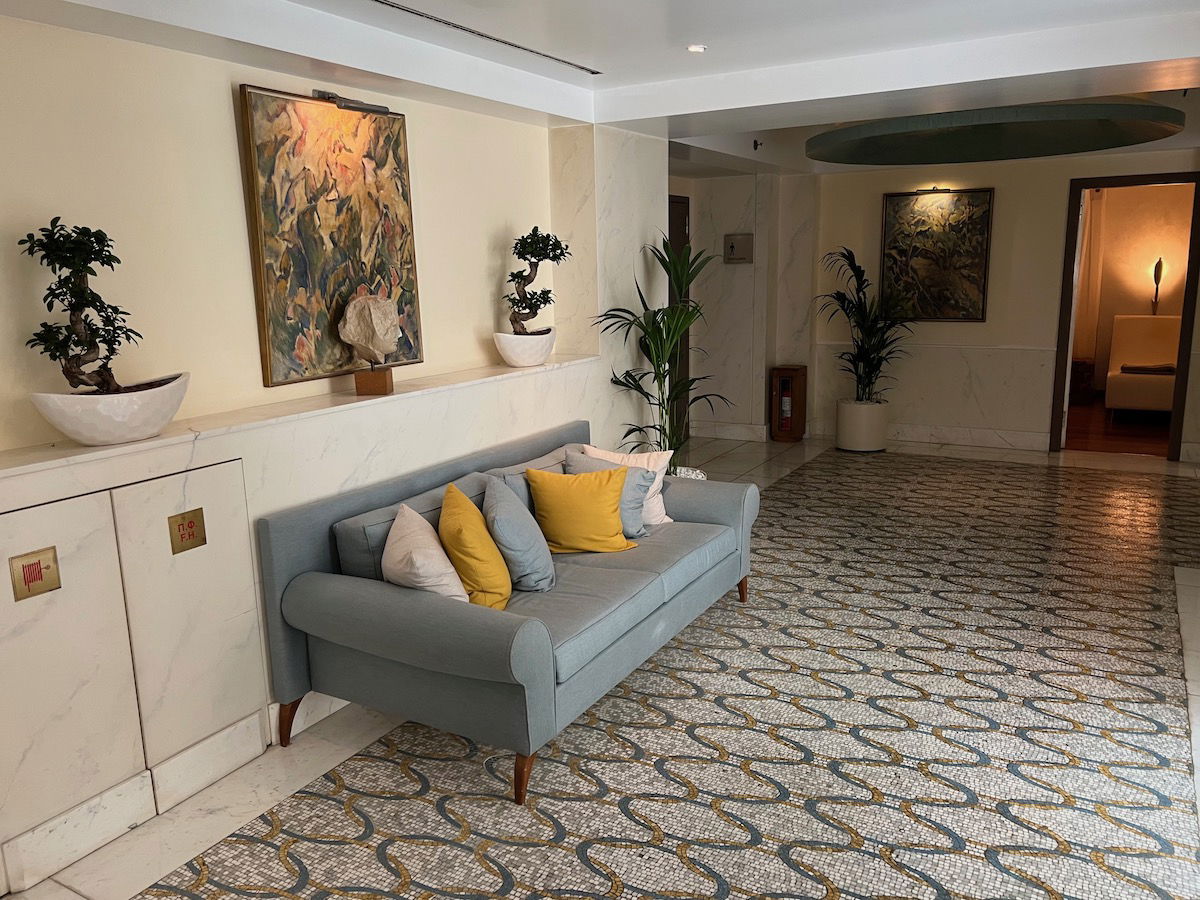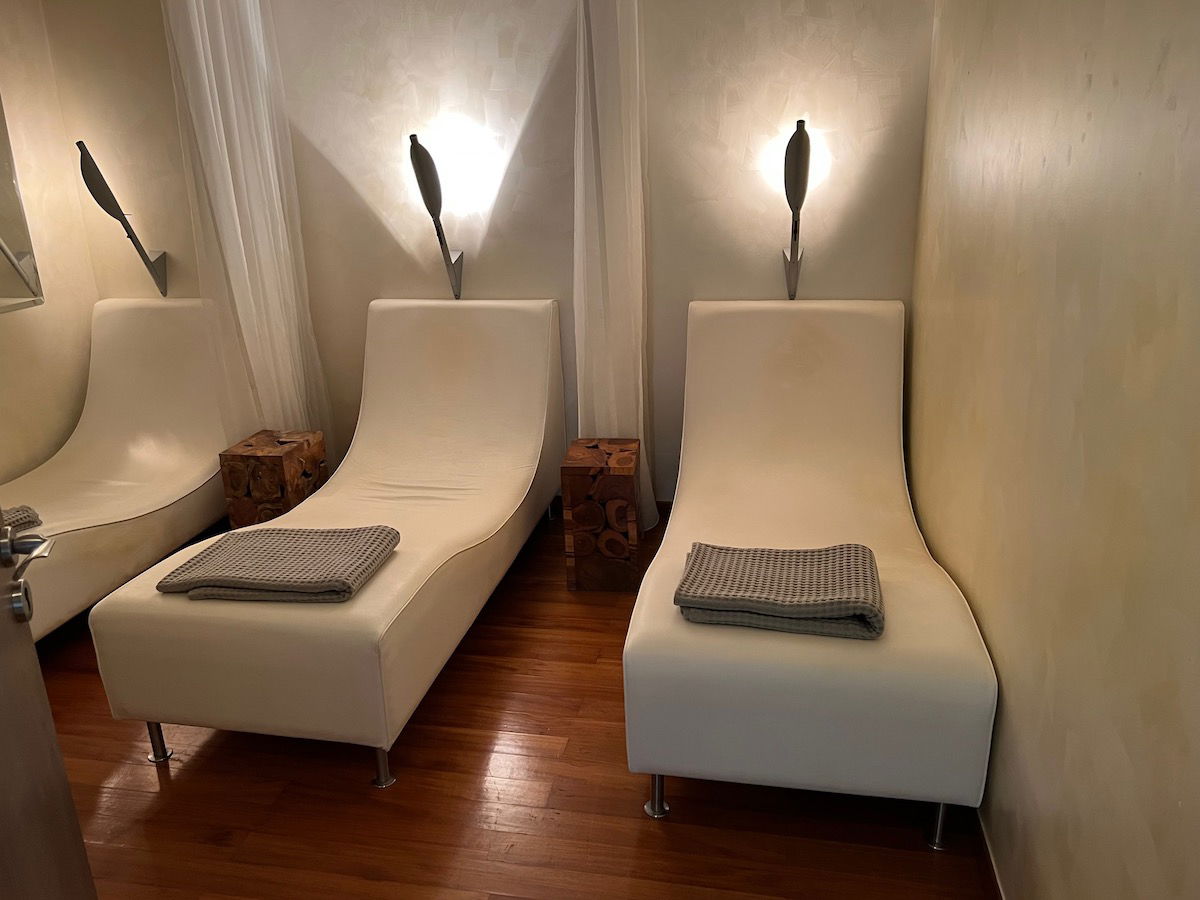 We did use the gym, which was modern but on the small side for a hotel of this size.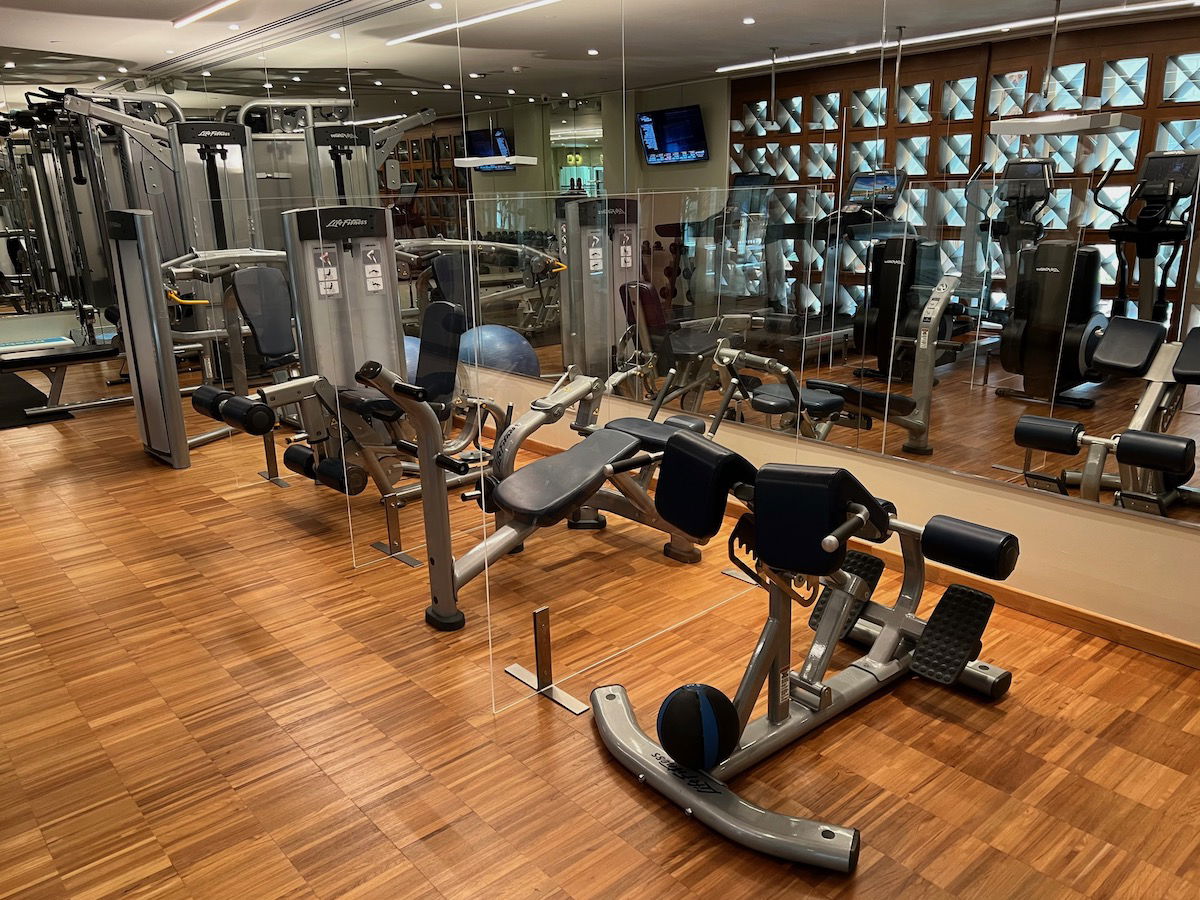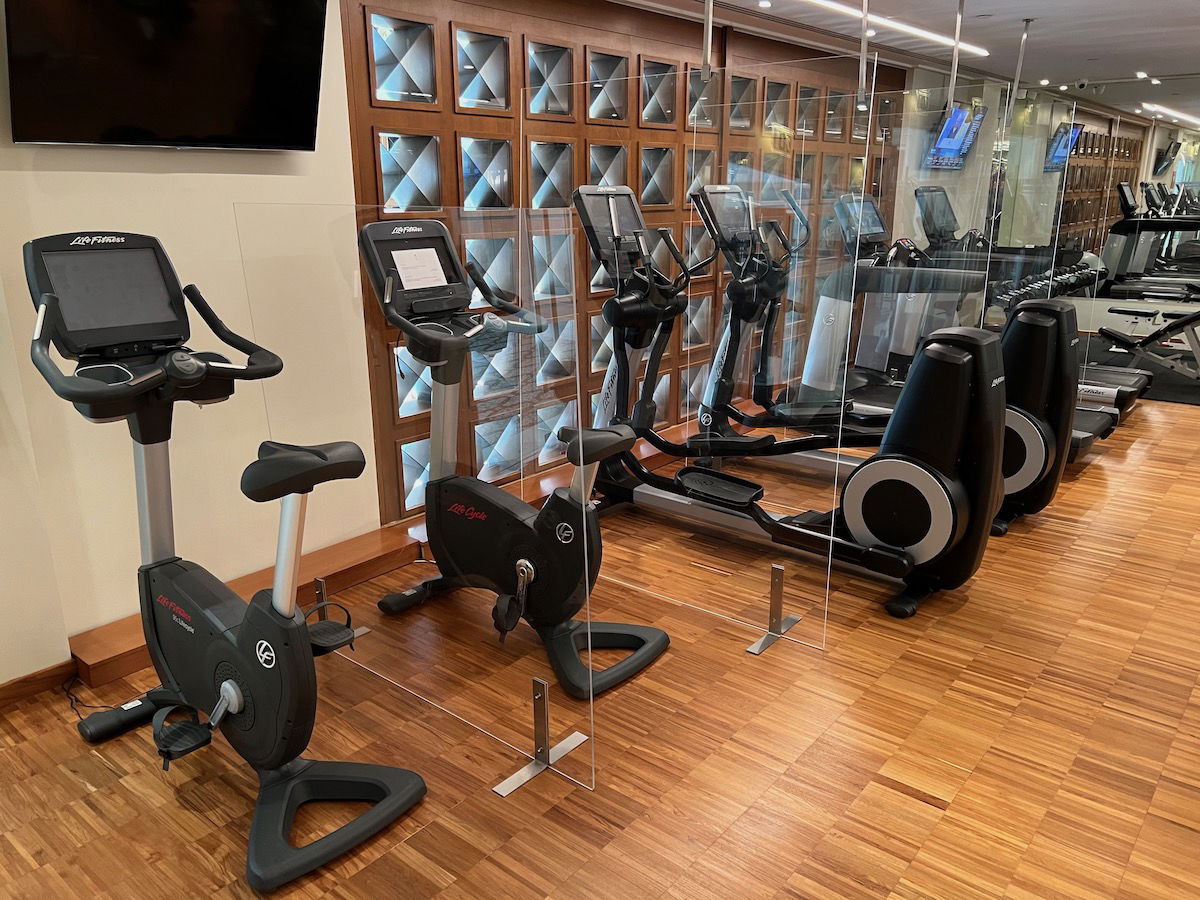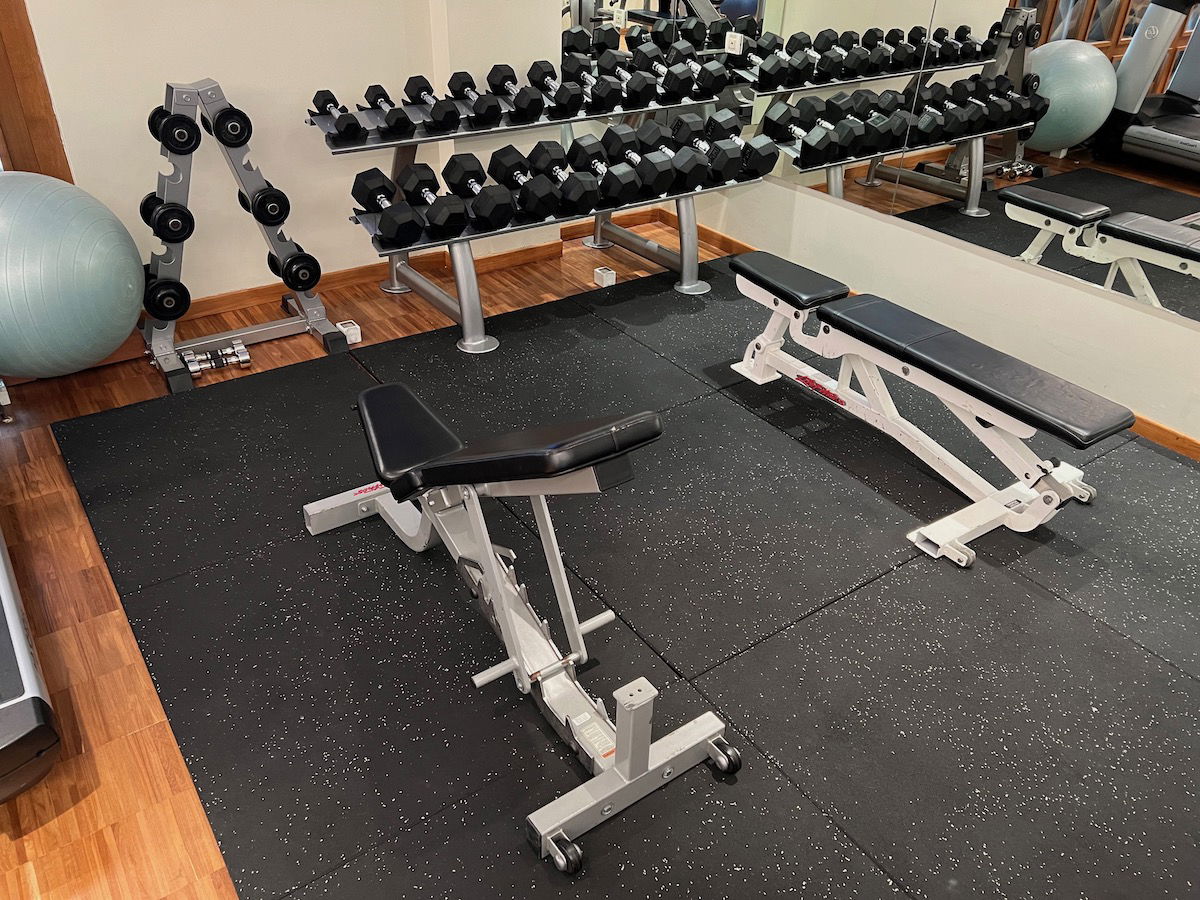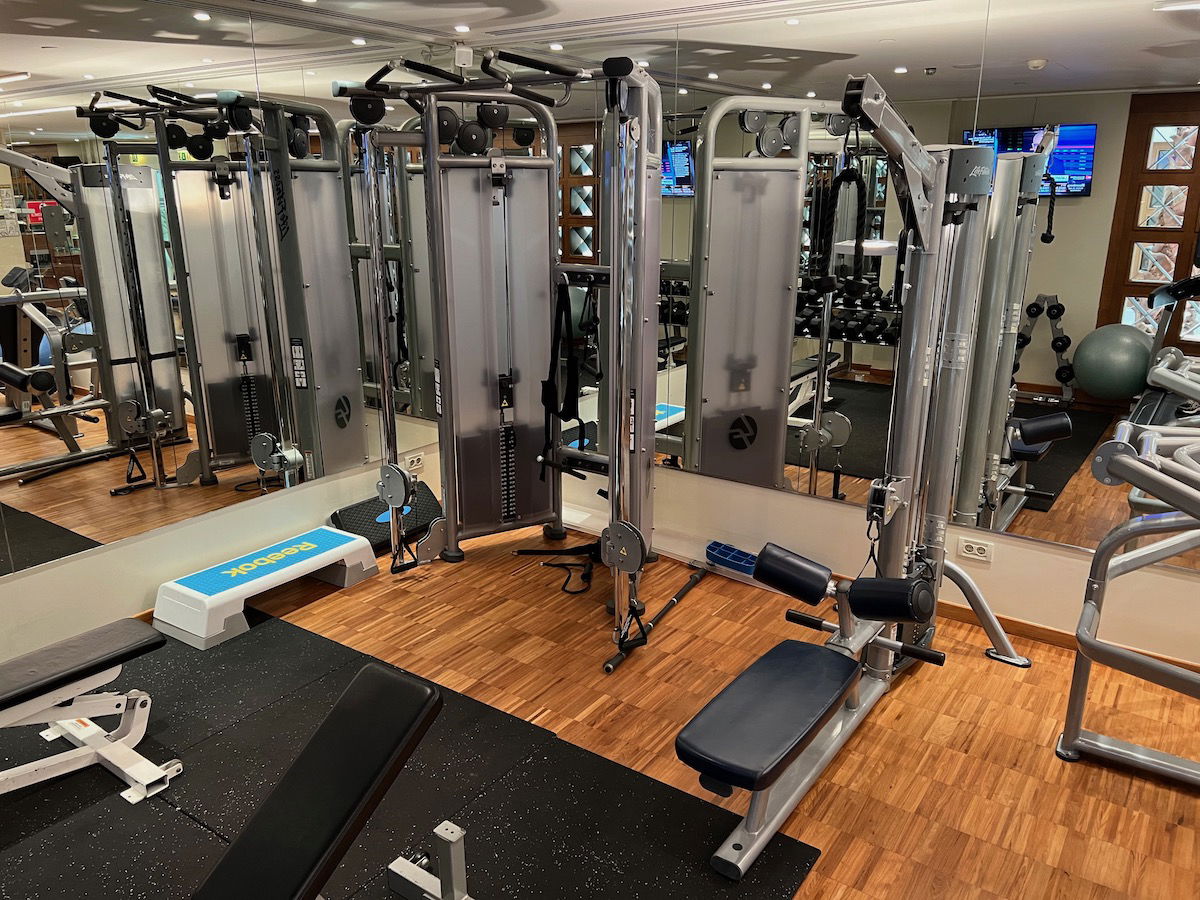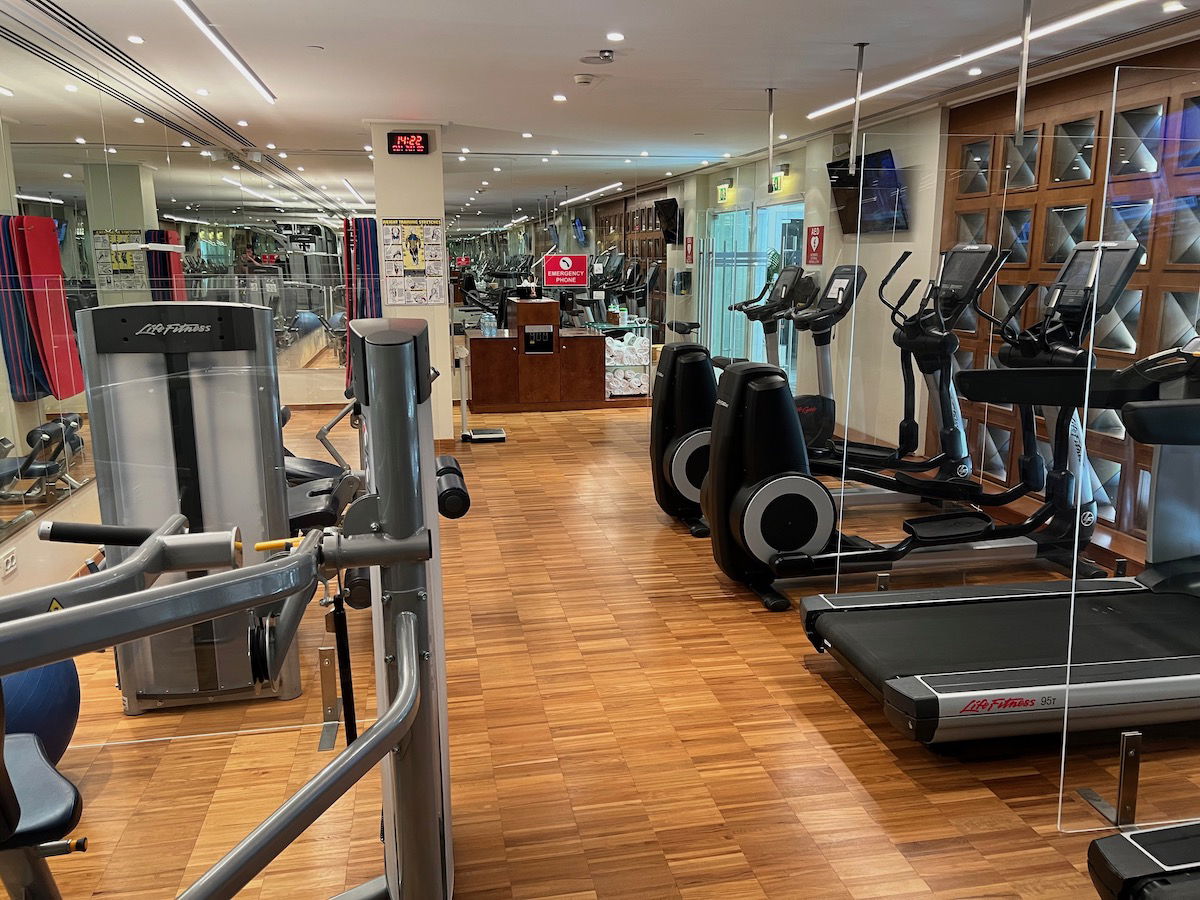 Then there was also an indoor pool, which was pretty nice, for those who are into that.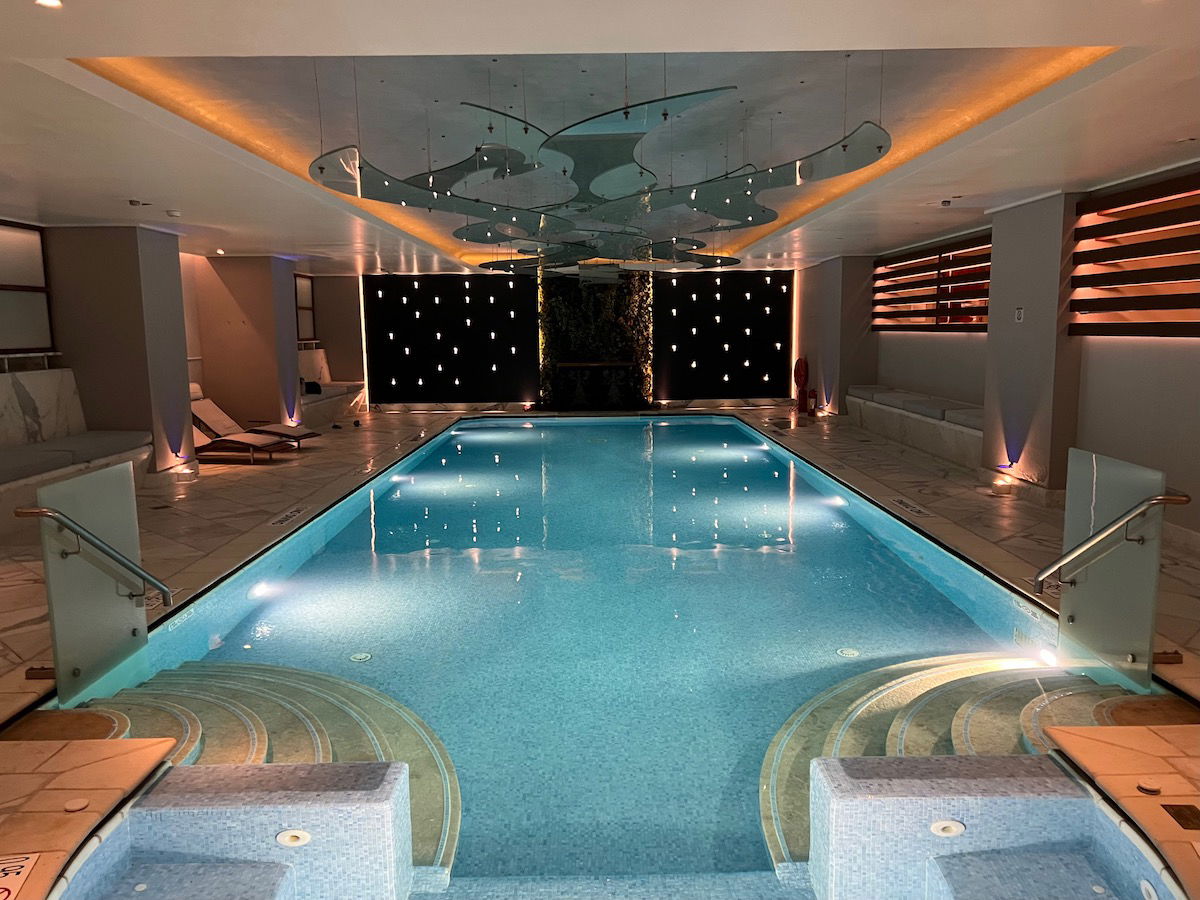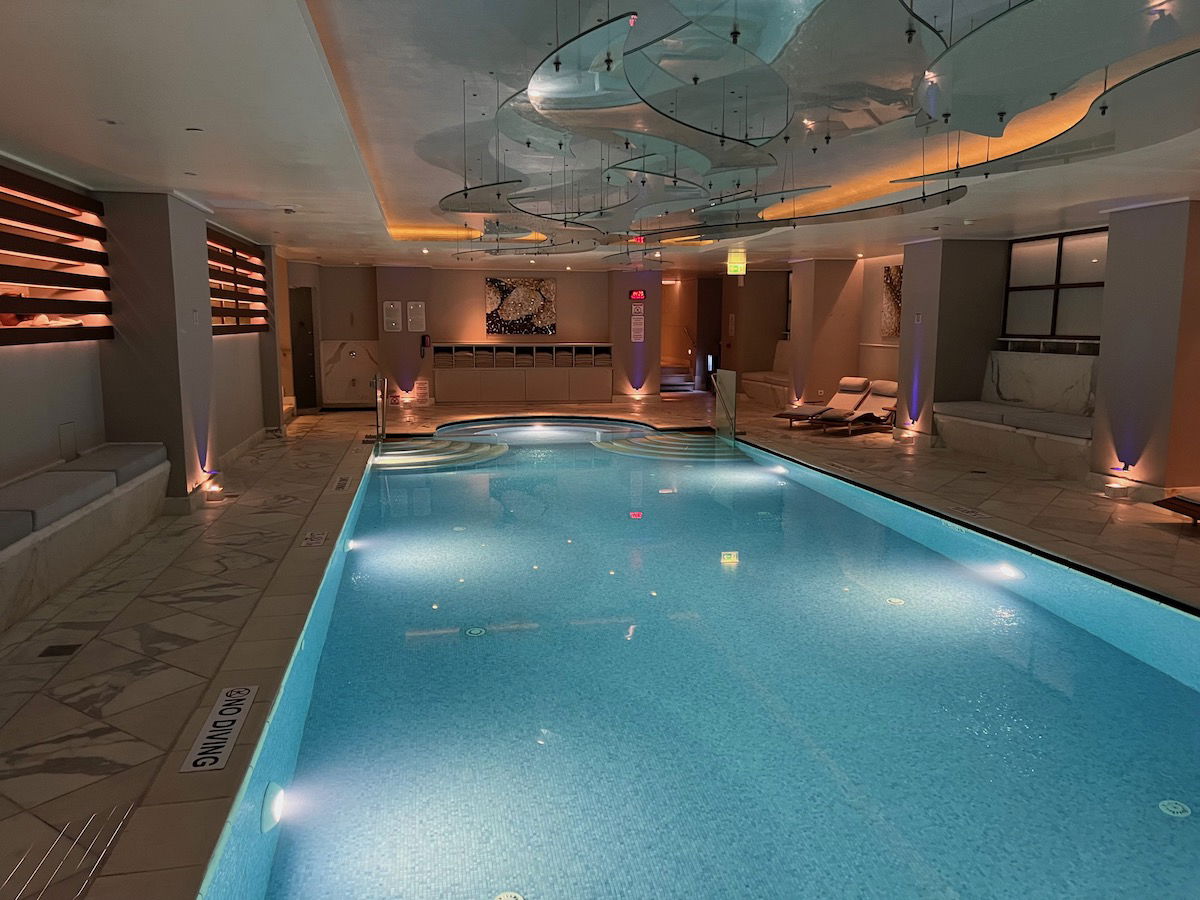 Hotel Grande Bretagne pool
Hotel Grande Bretagne has a rooftop pool on the seventh floor, which is open daily from 10AM until 8PM. While the pool is great, it does tend to get crowded, given the number of rooms this hotel has.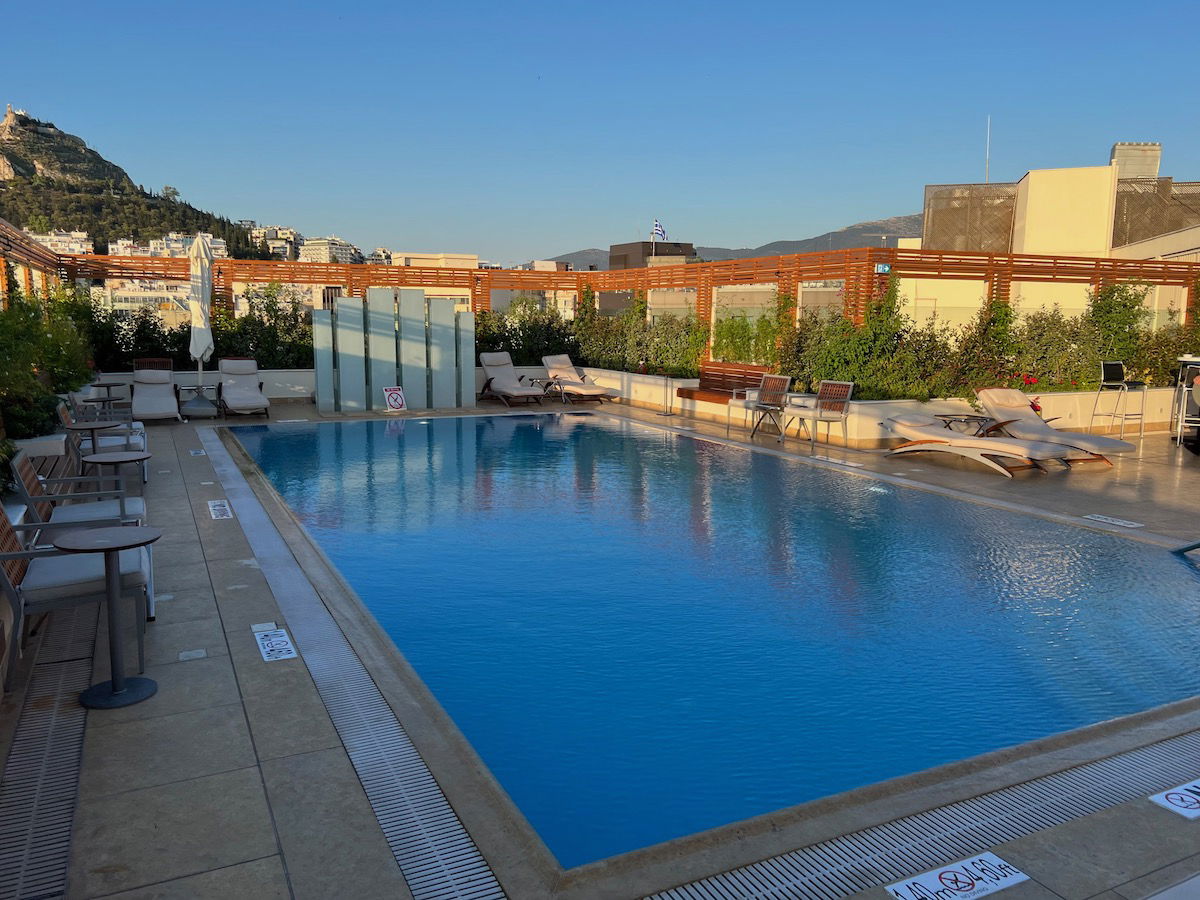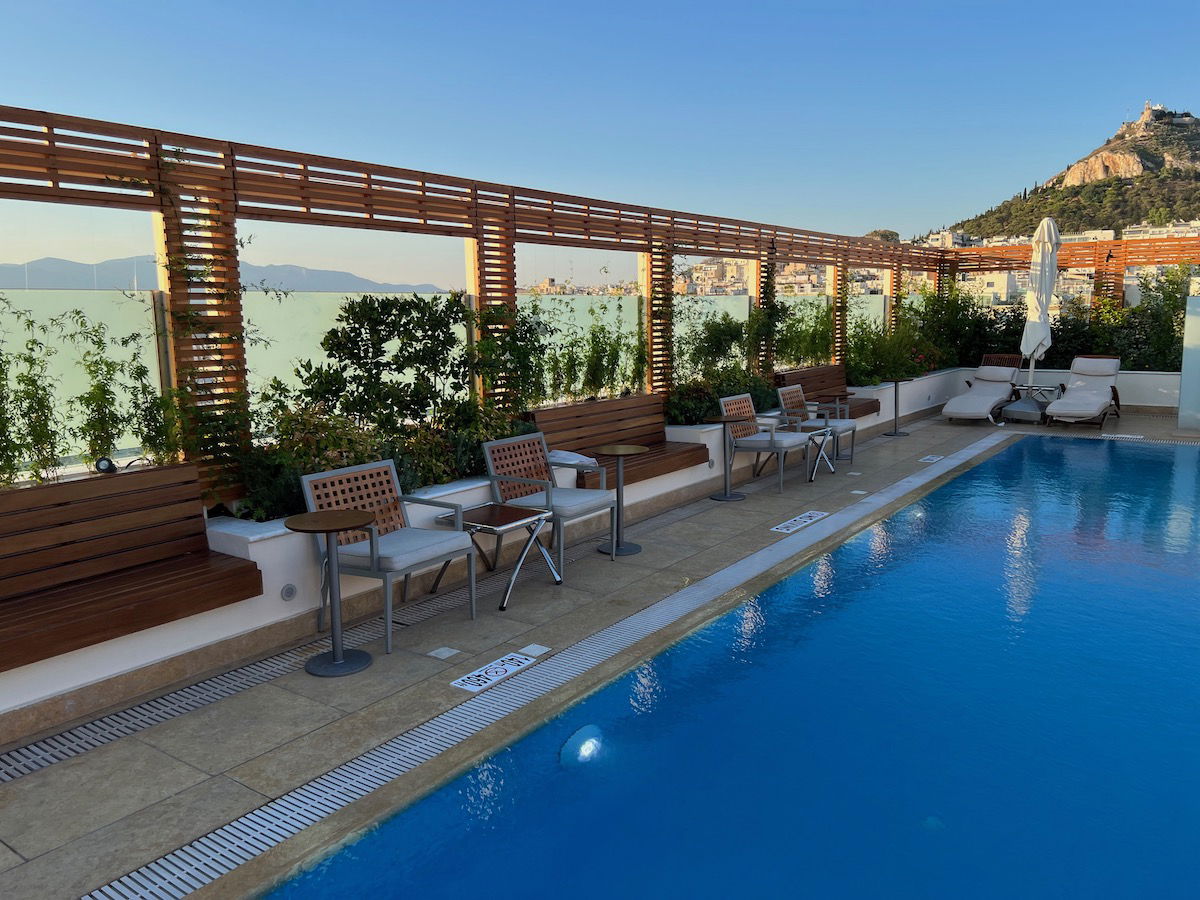 While I didn't have anything there, the pool also has the GB Pool Bar, serving drinks and light snacks daily from 12PM until 5PM.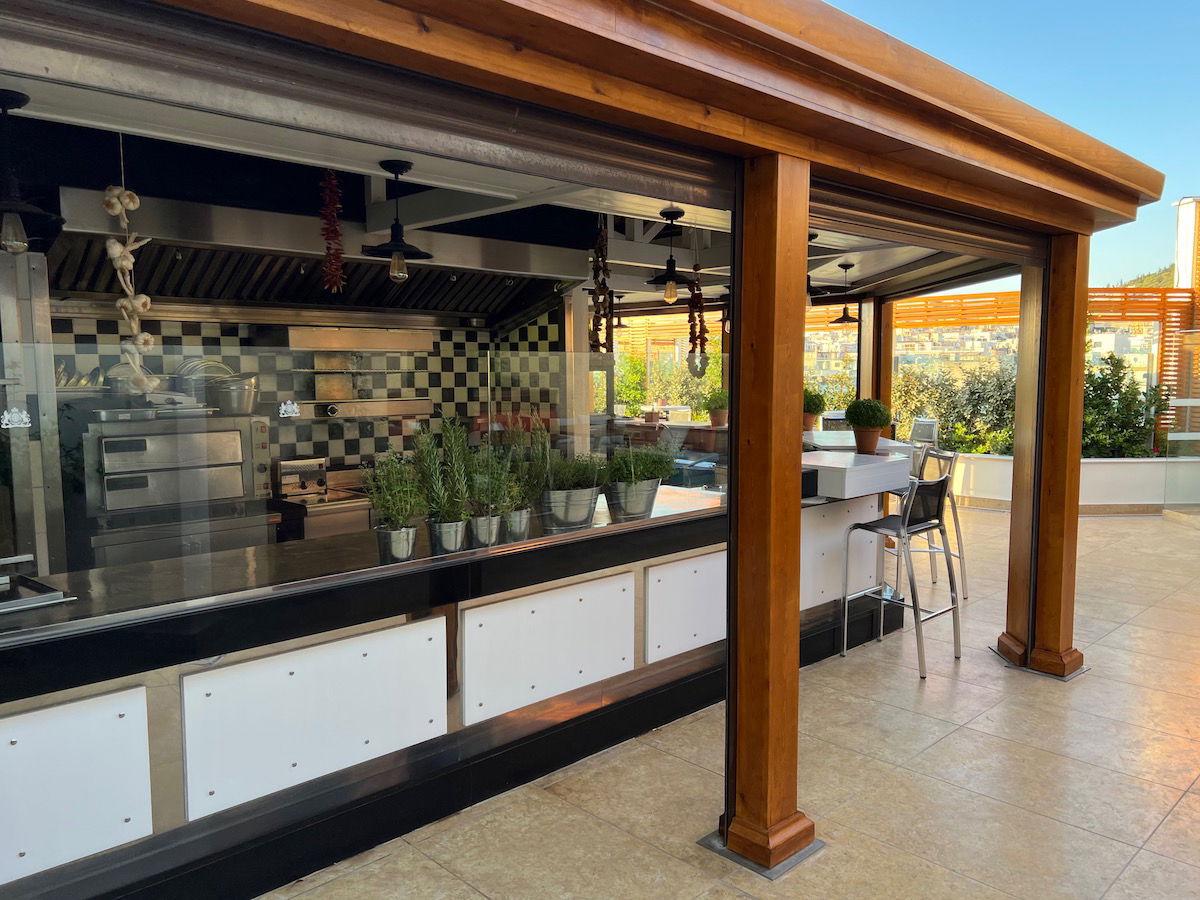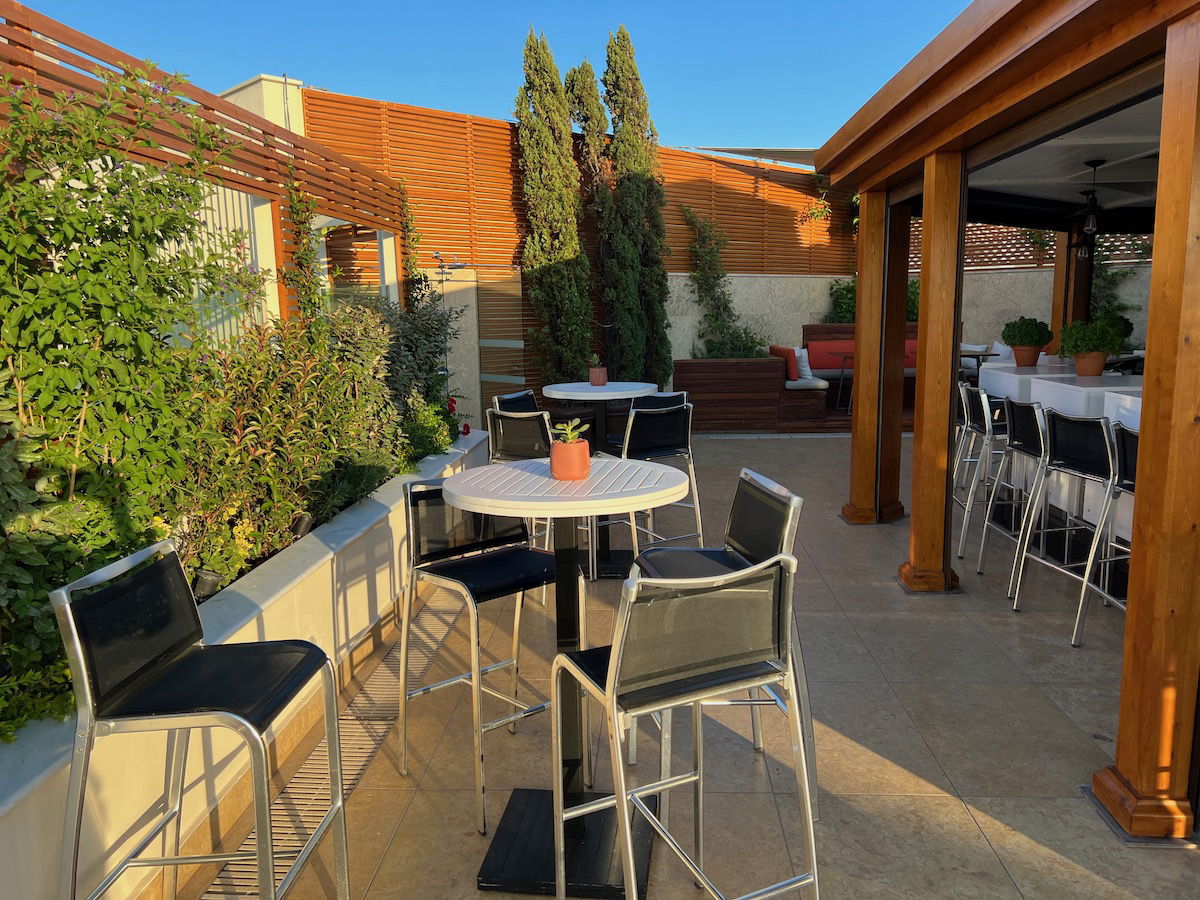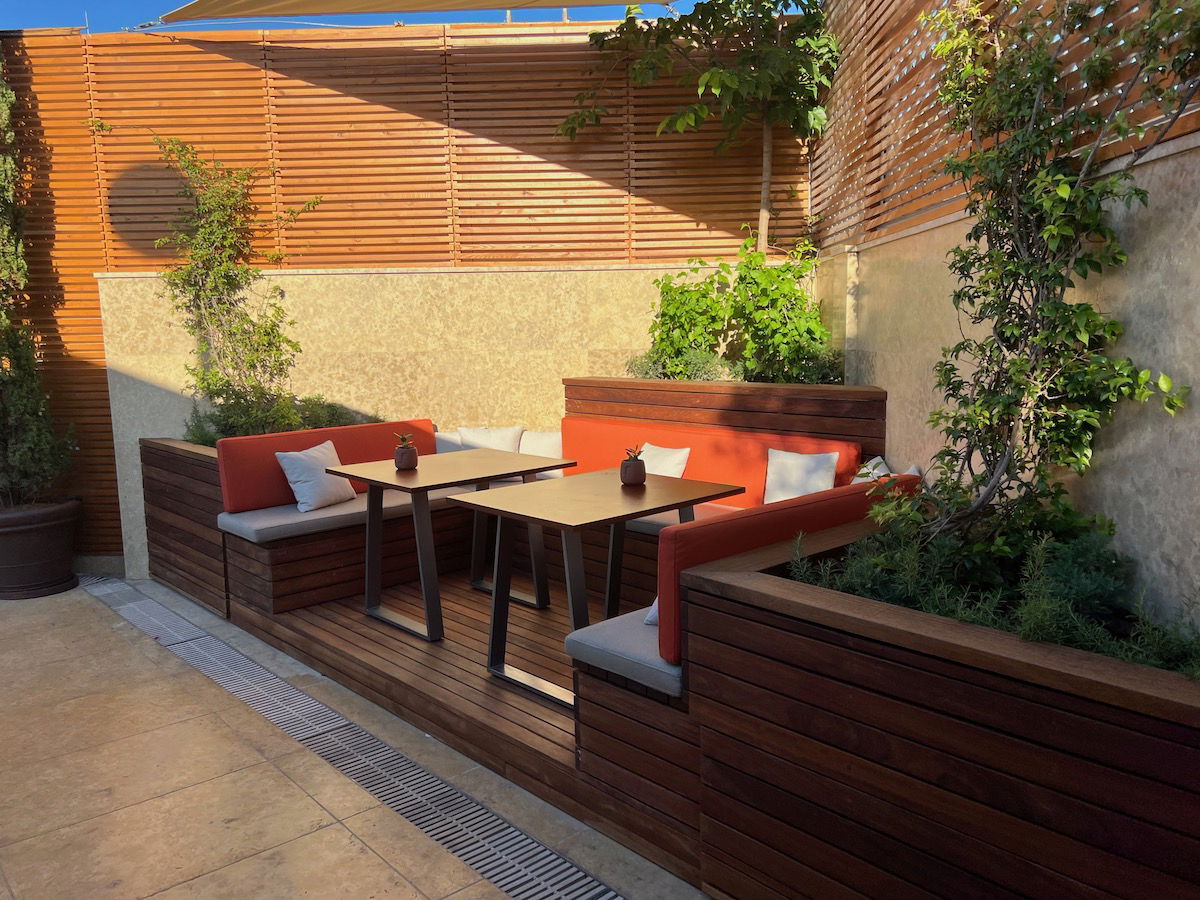 Hotel Grande Bretagne GB Roof Garden Restaurant
GB Roof Garden is Hotel Grande Bretagne's main restaurant, and it's gorgeous. It's on the eighth floor, and it's totally open air. Here you can have breakfast daily from 6:30AM until 11AM, lunch from 1PM until 6PM, and dinner from 6PM until 2AM.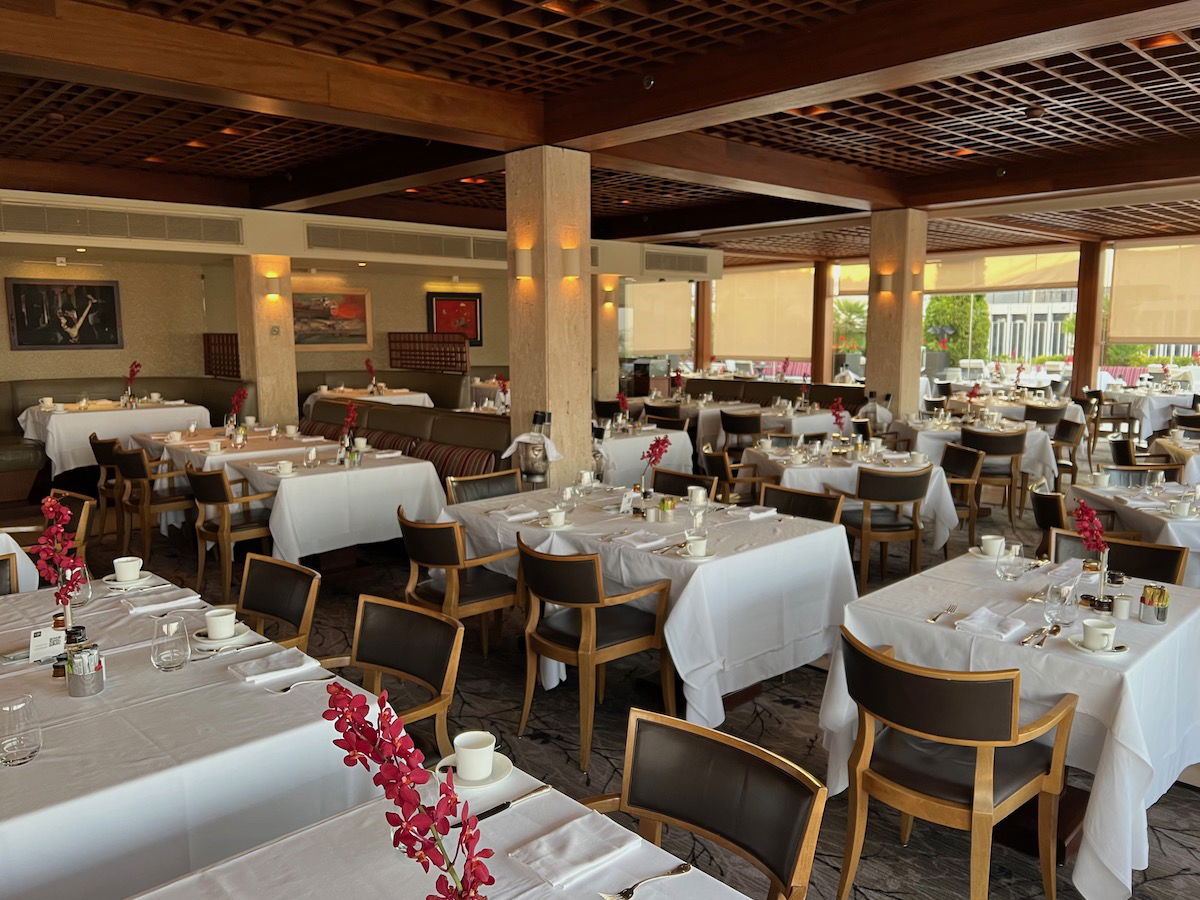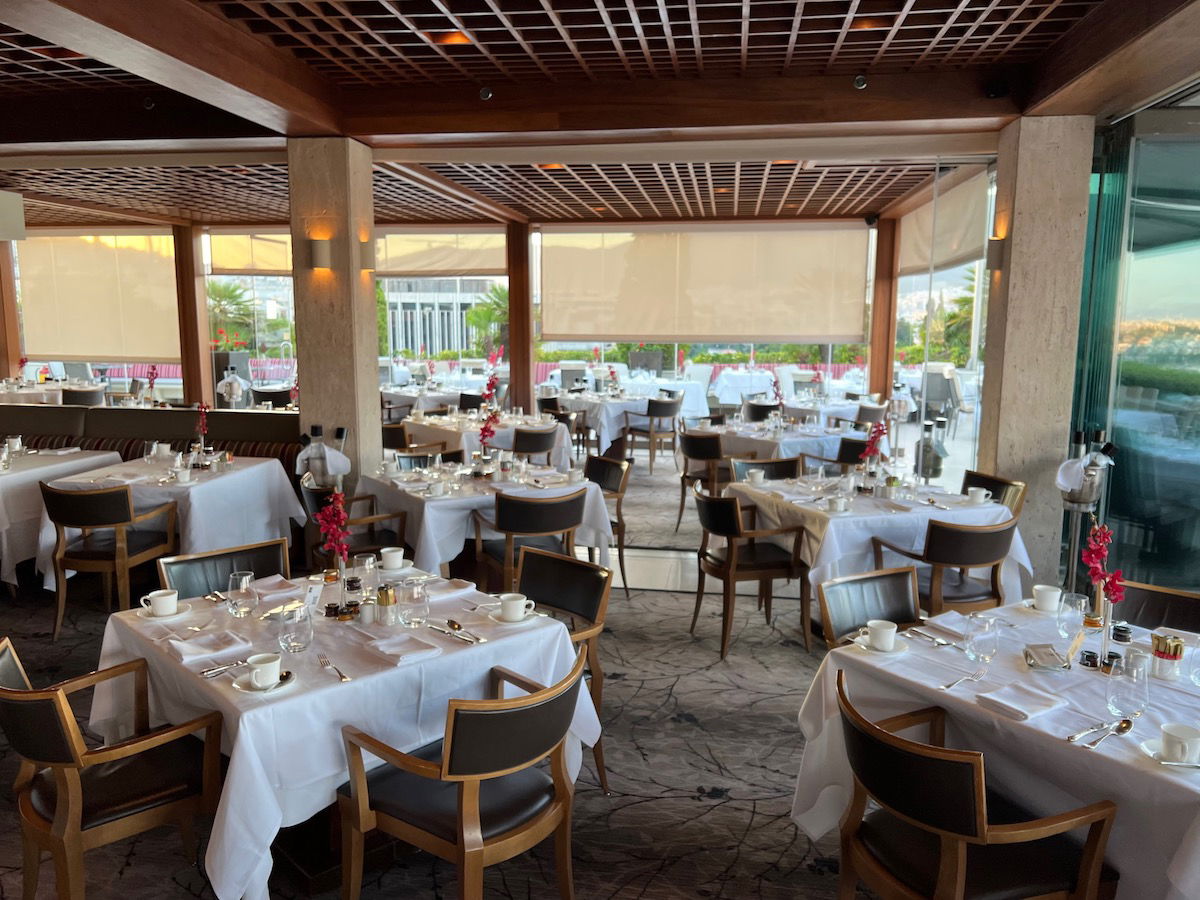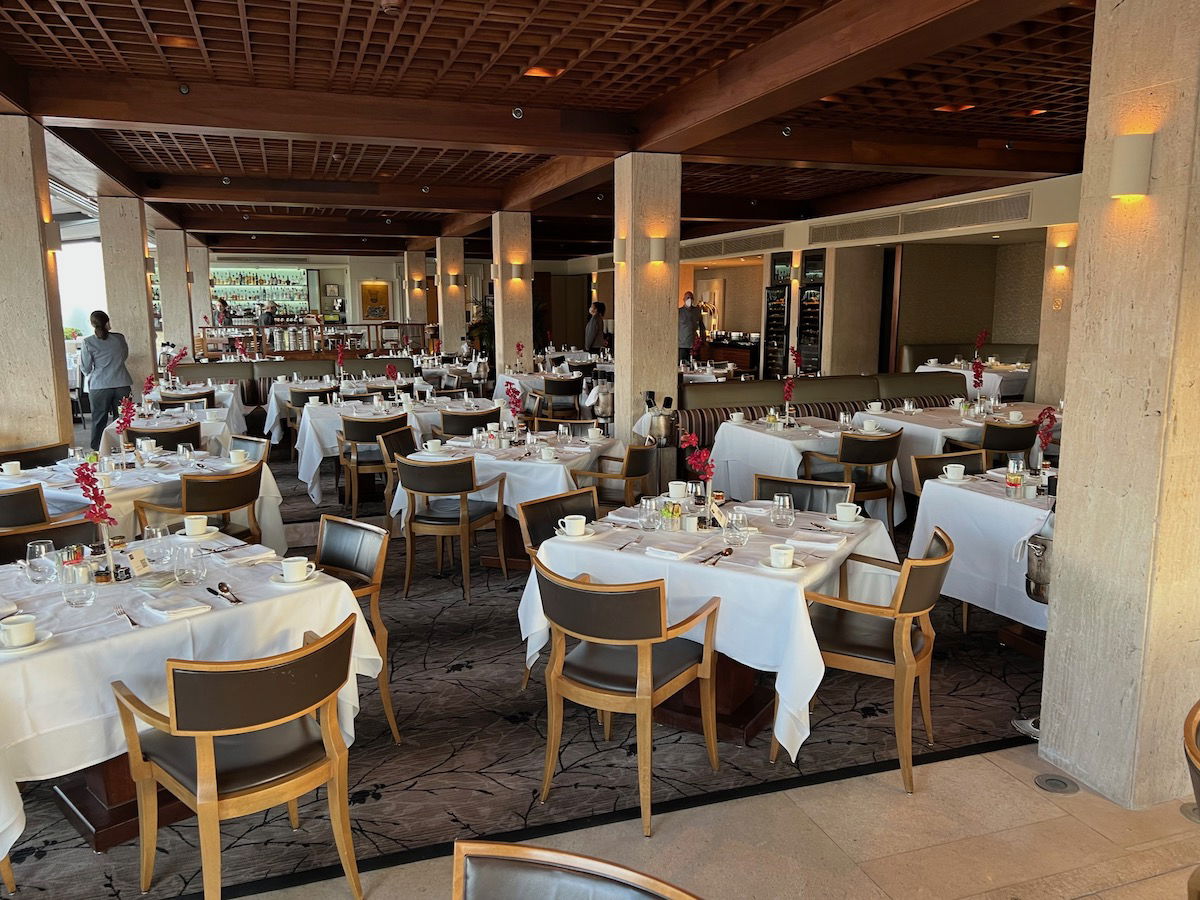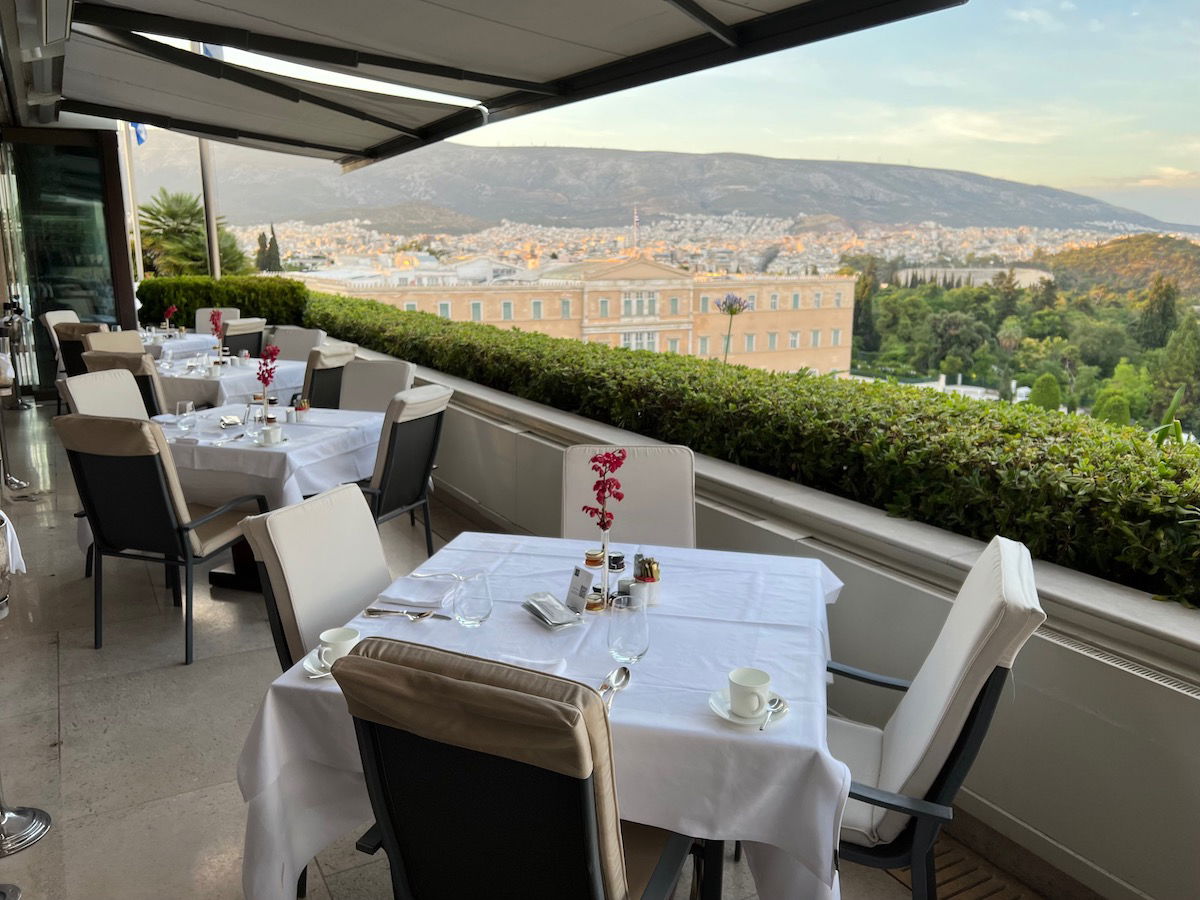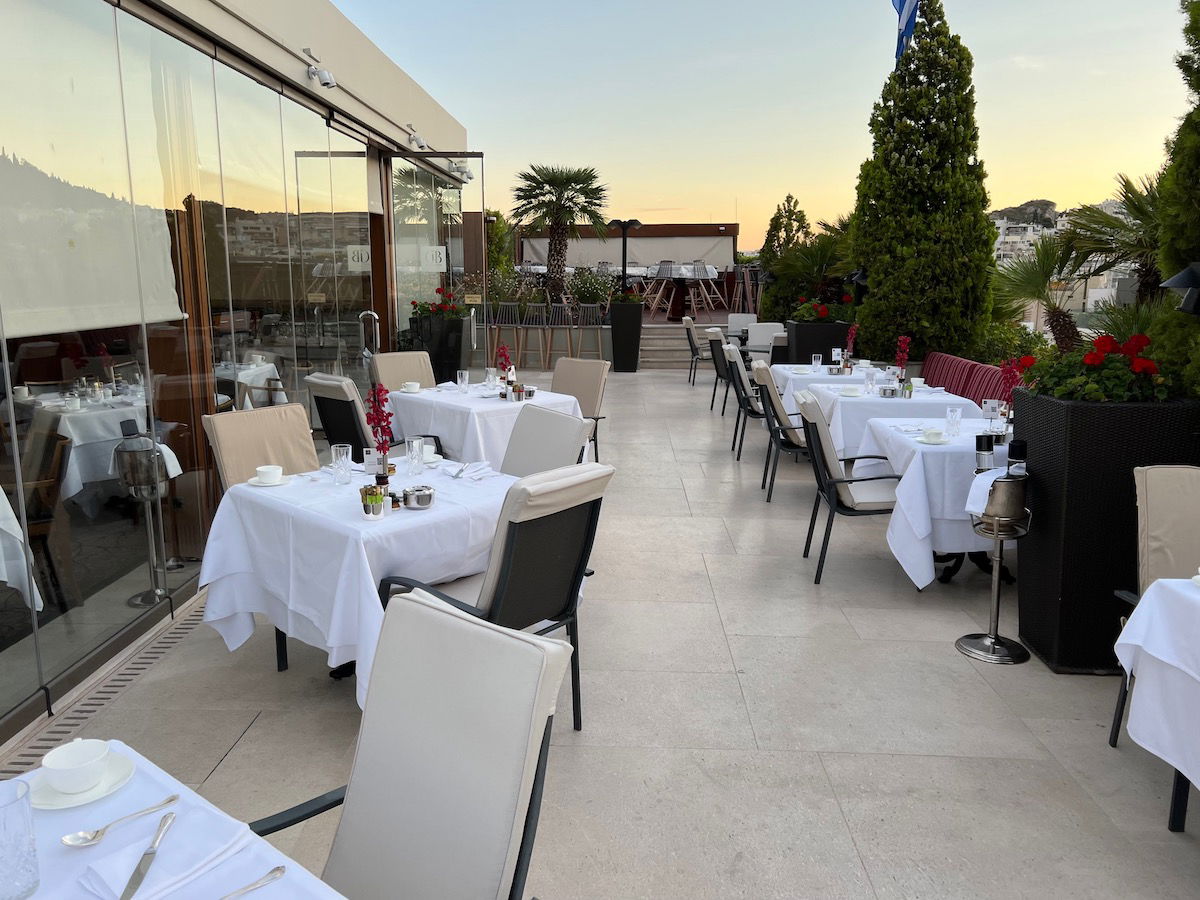 The restaurant boasts views over the city and the Acropolis.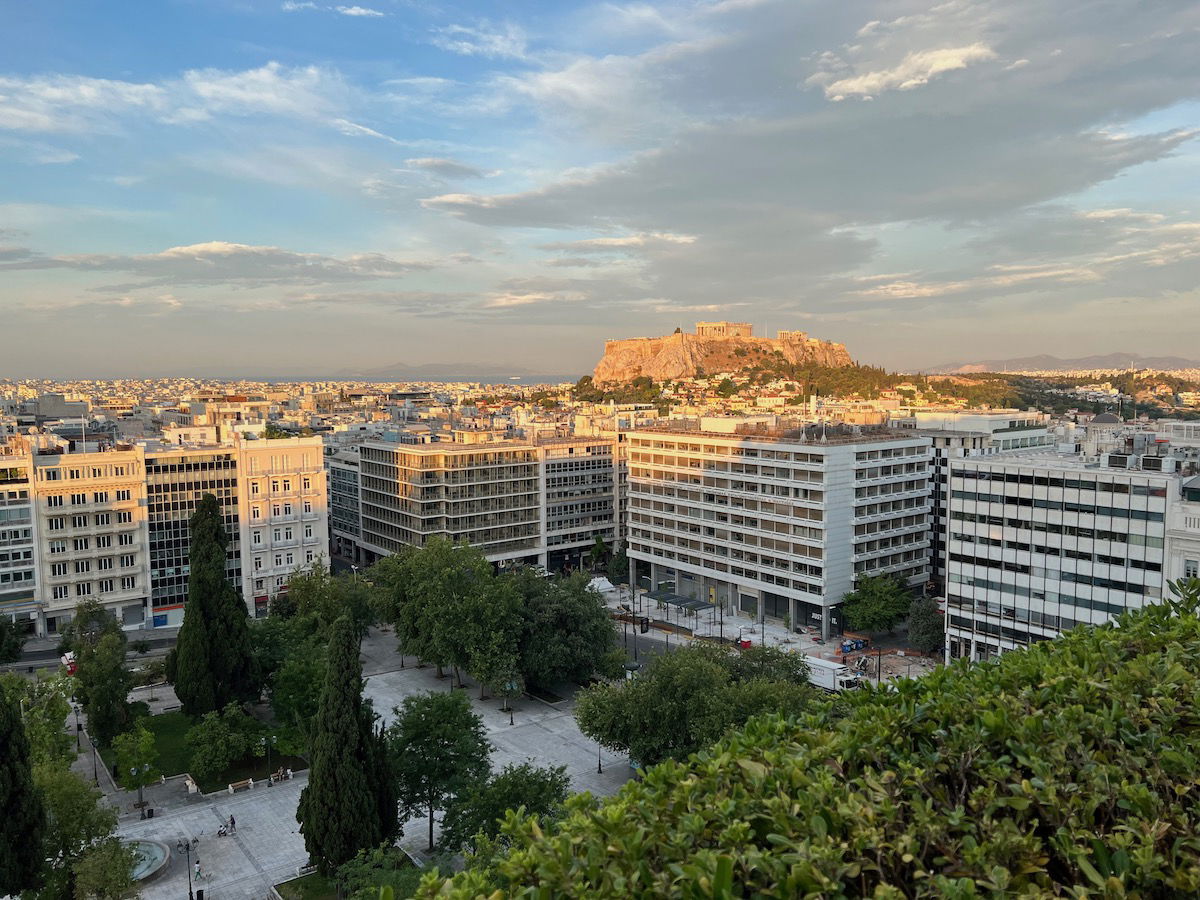 The hotel offers a buffet breakfast, with the option to supplement that with some items from the menu at no additional cost (you can find the a la carte selection here). The breakfast buffet included cereal, bread and pastries, yogurt, fresh fruit, cold cuts, veggies, pancakes, eggs, sausage, and more.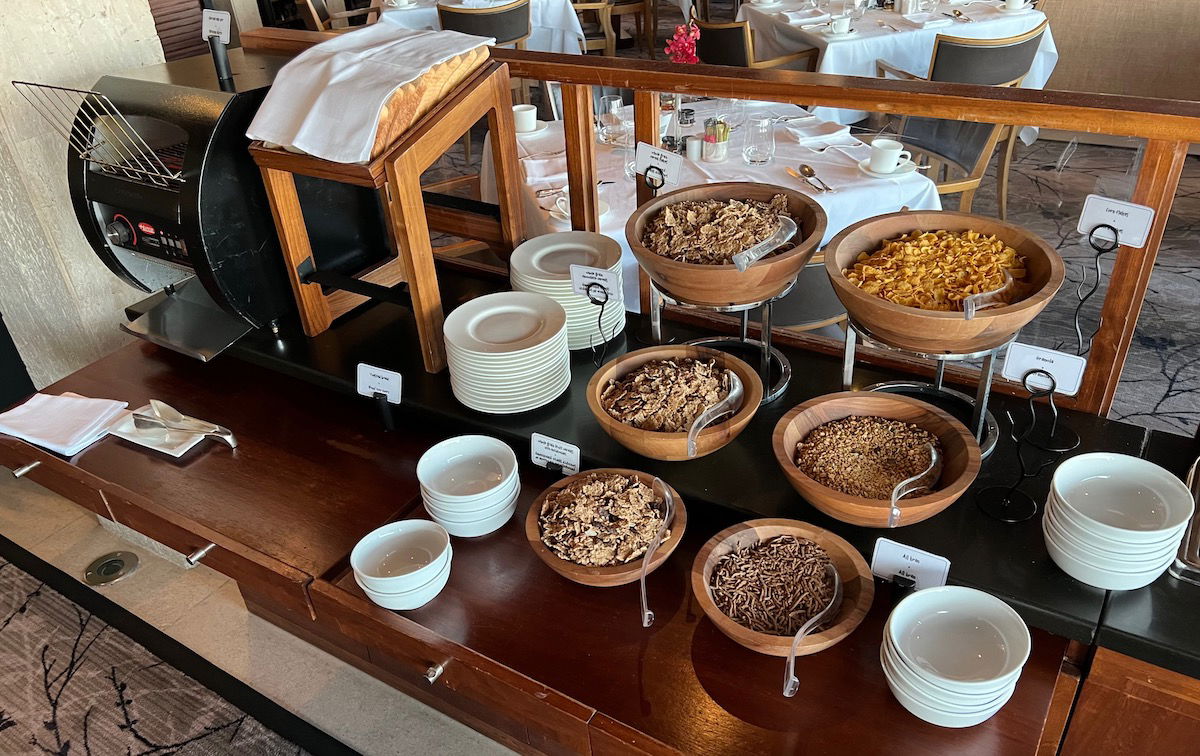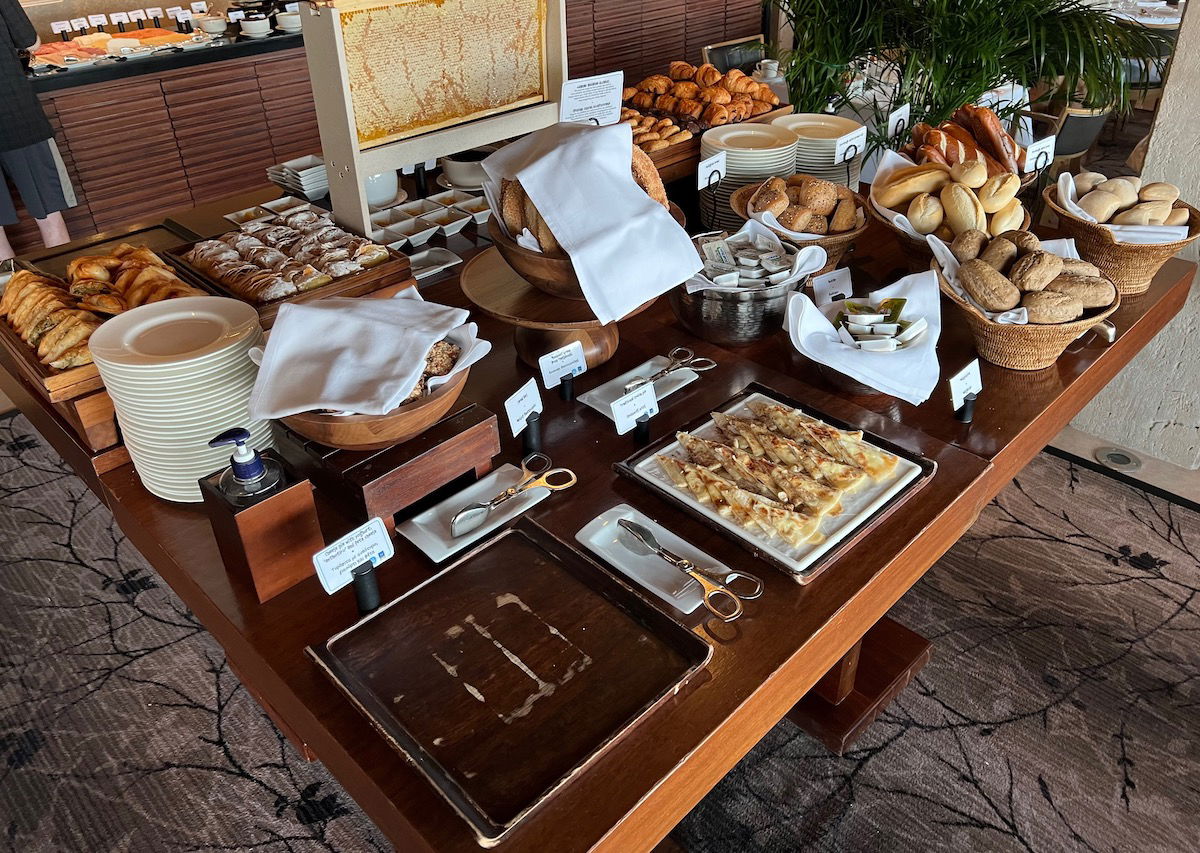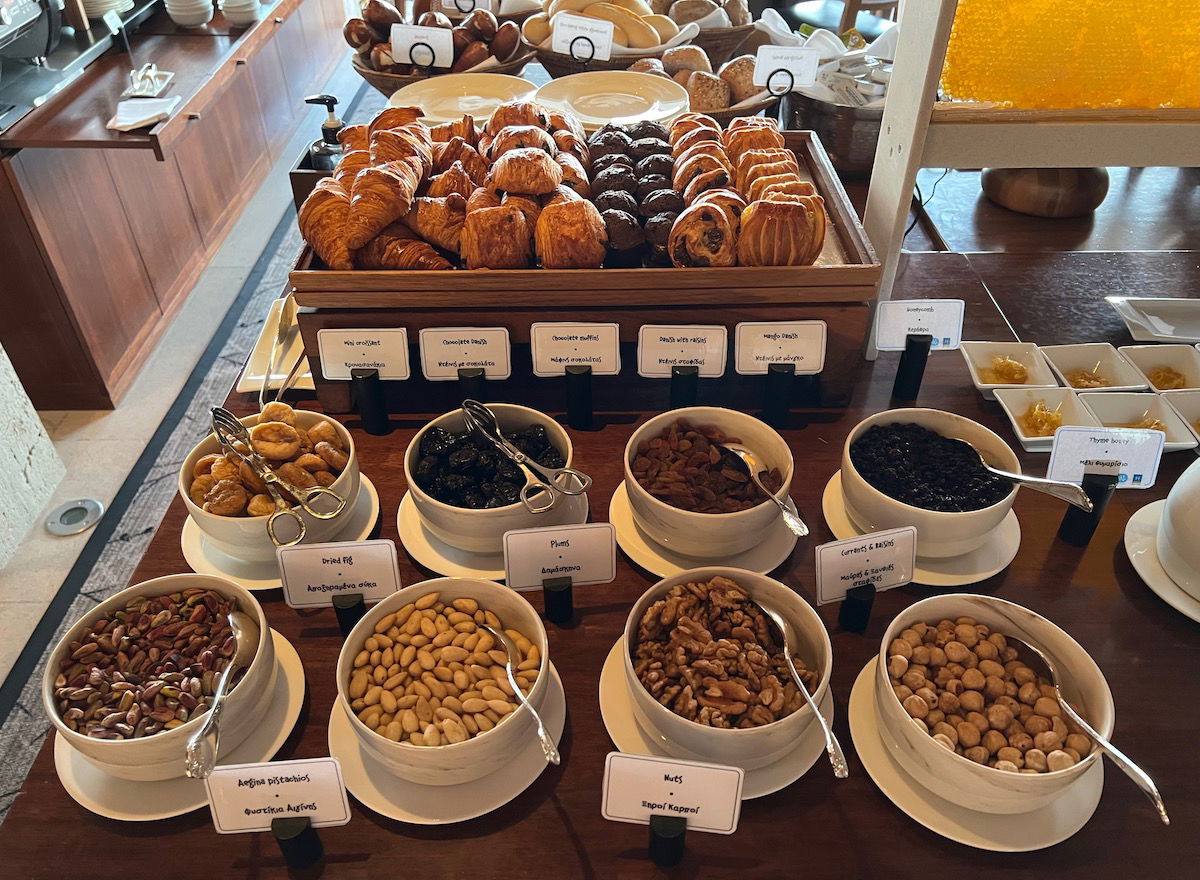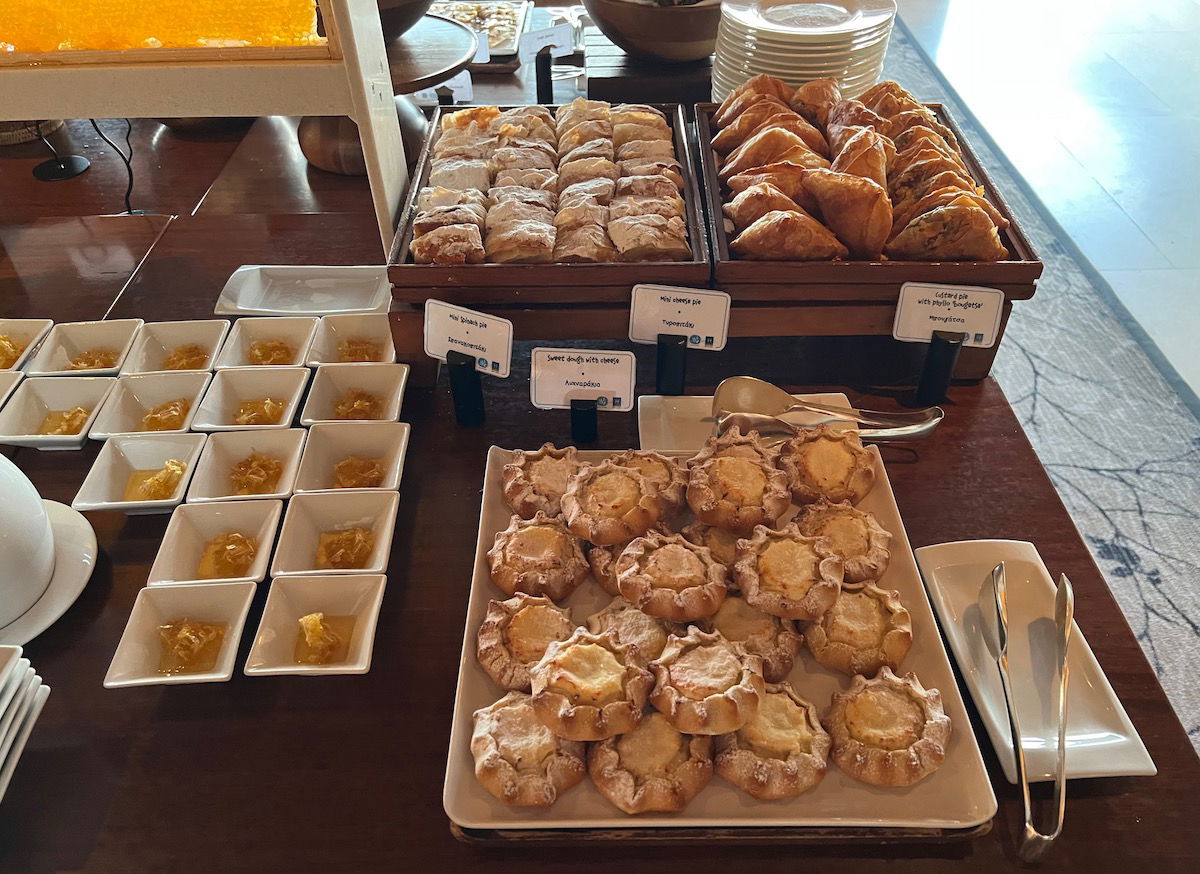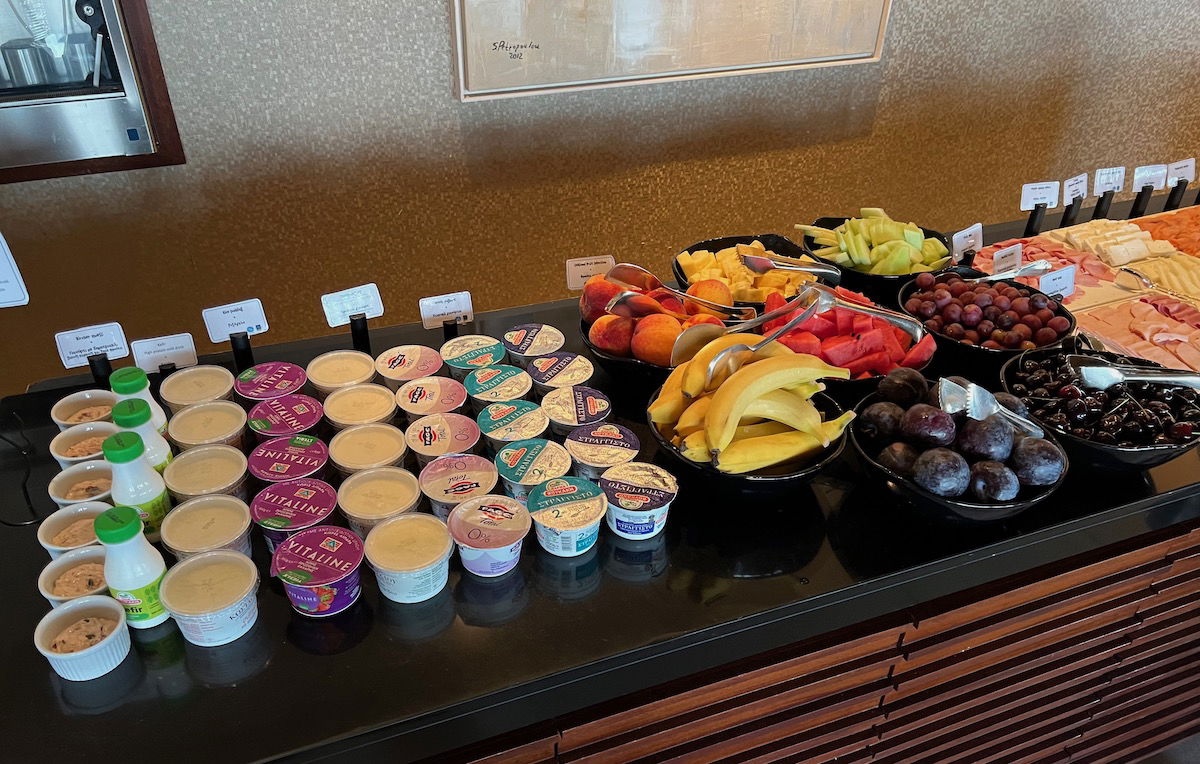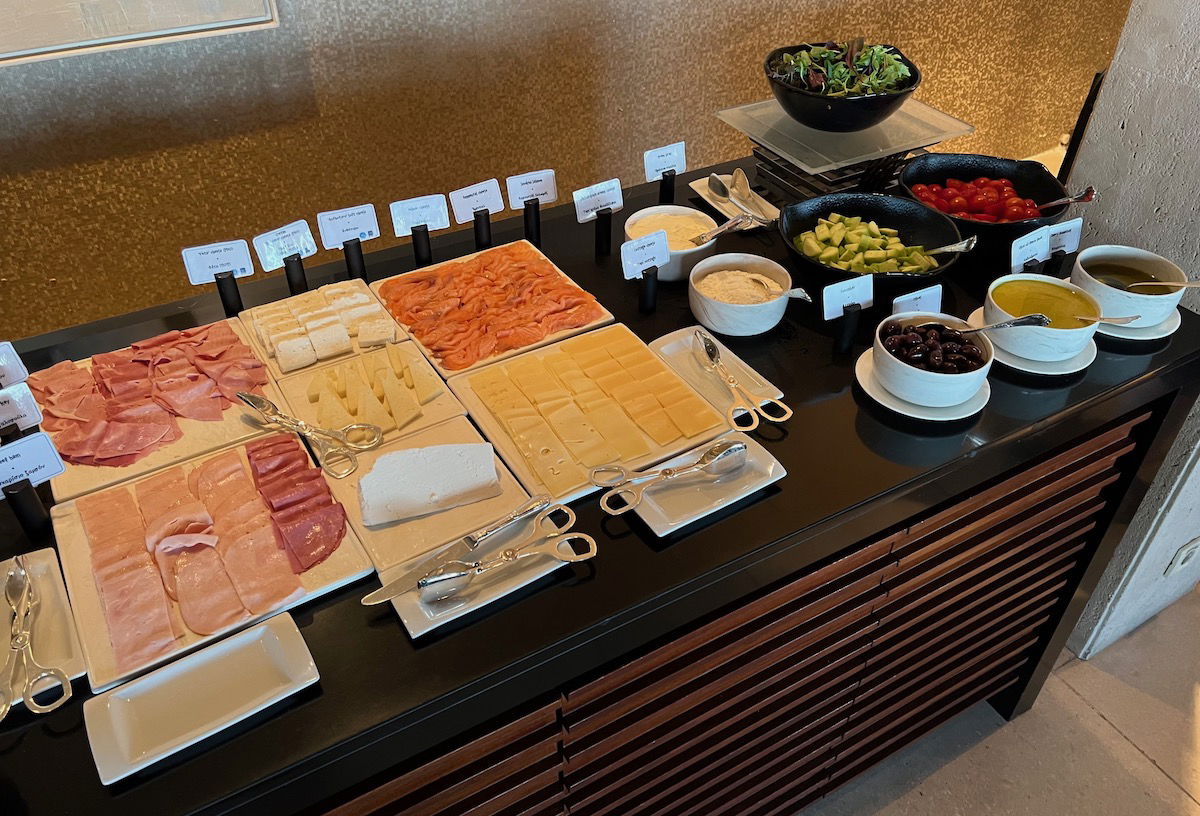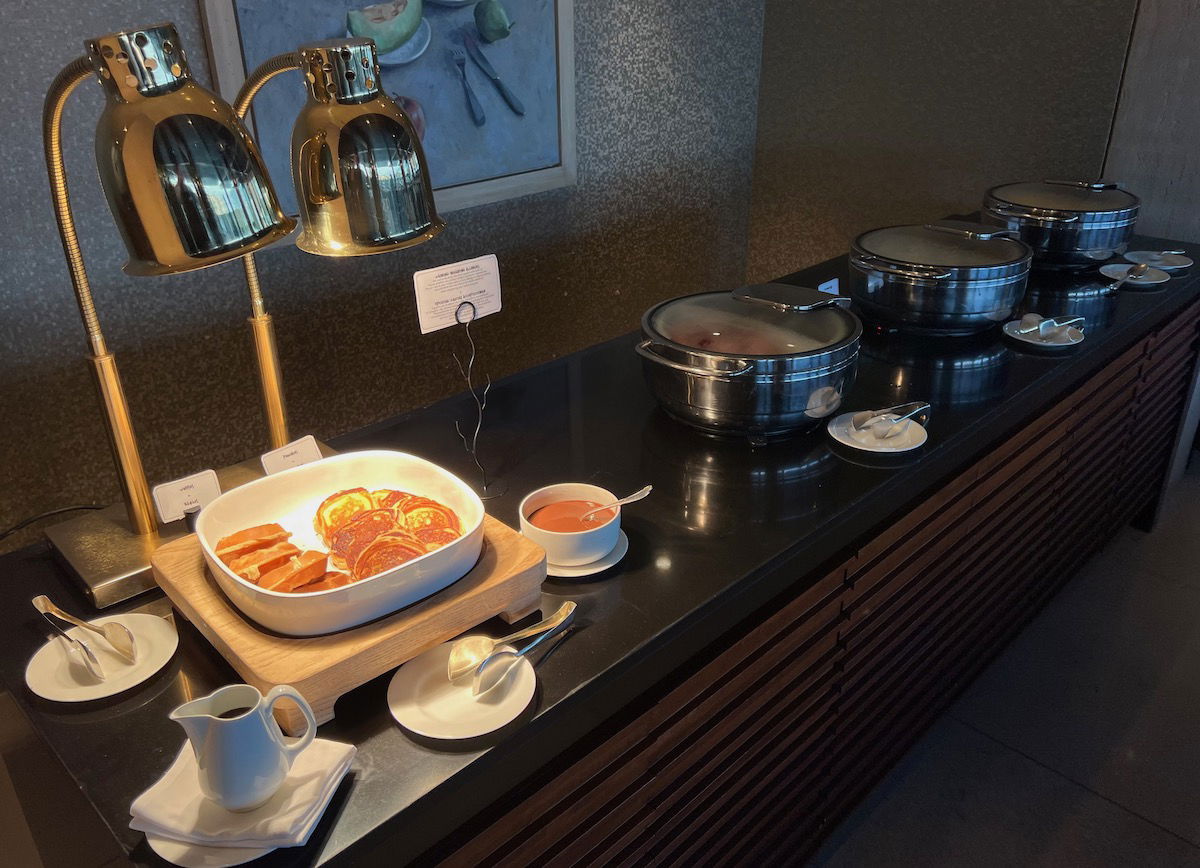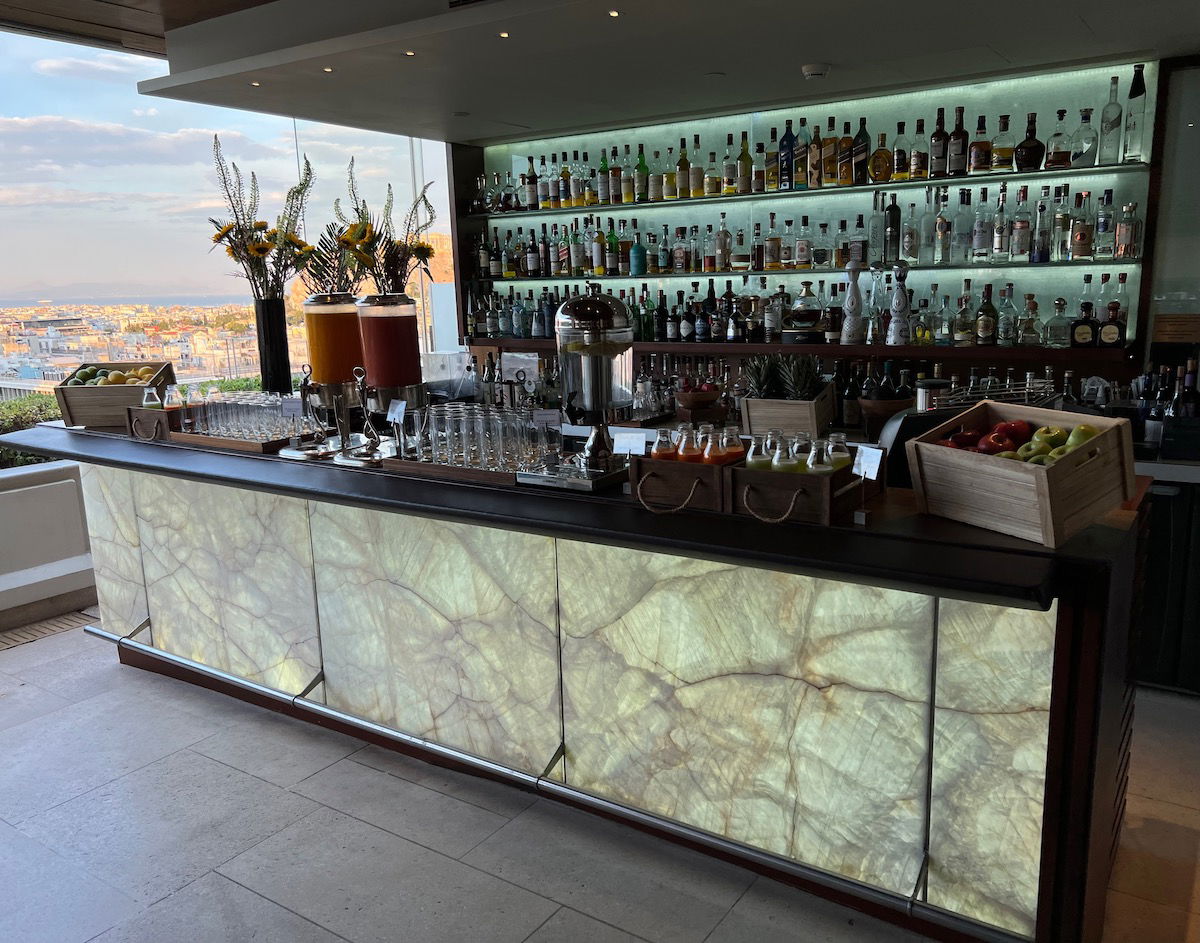 In addition to self serve freshly squeezed juices, servers also came around to offer other drinks. We had filter coffee and some freddo cappuccinos.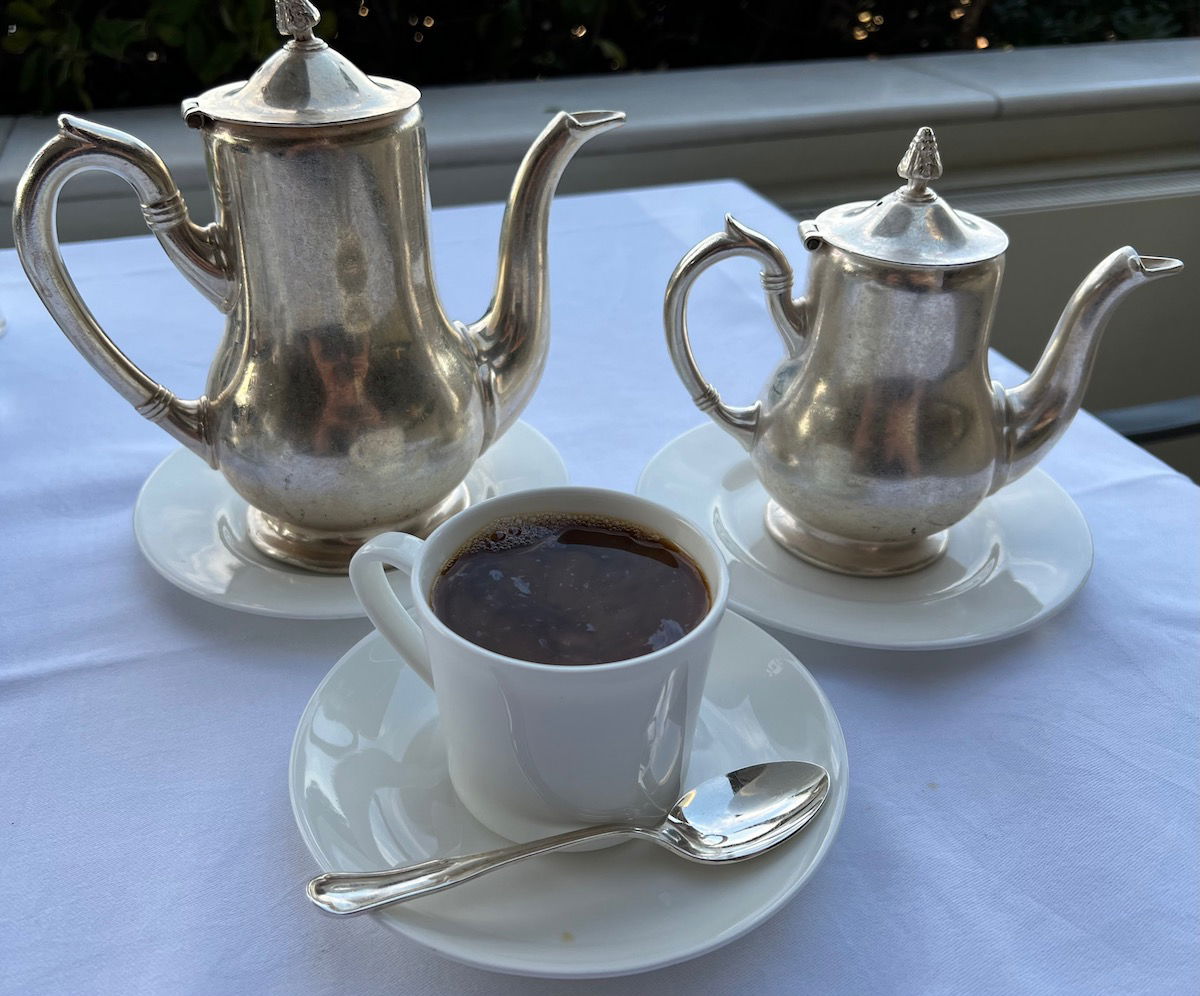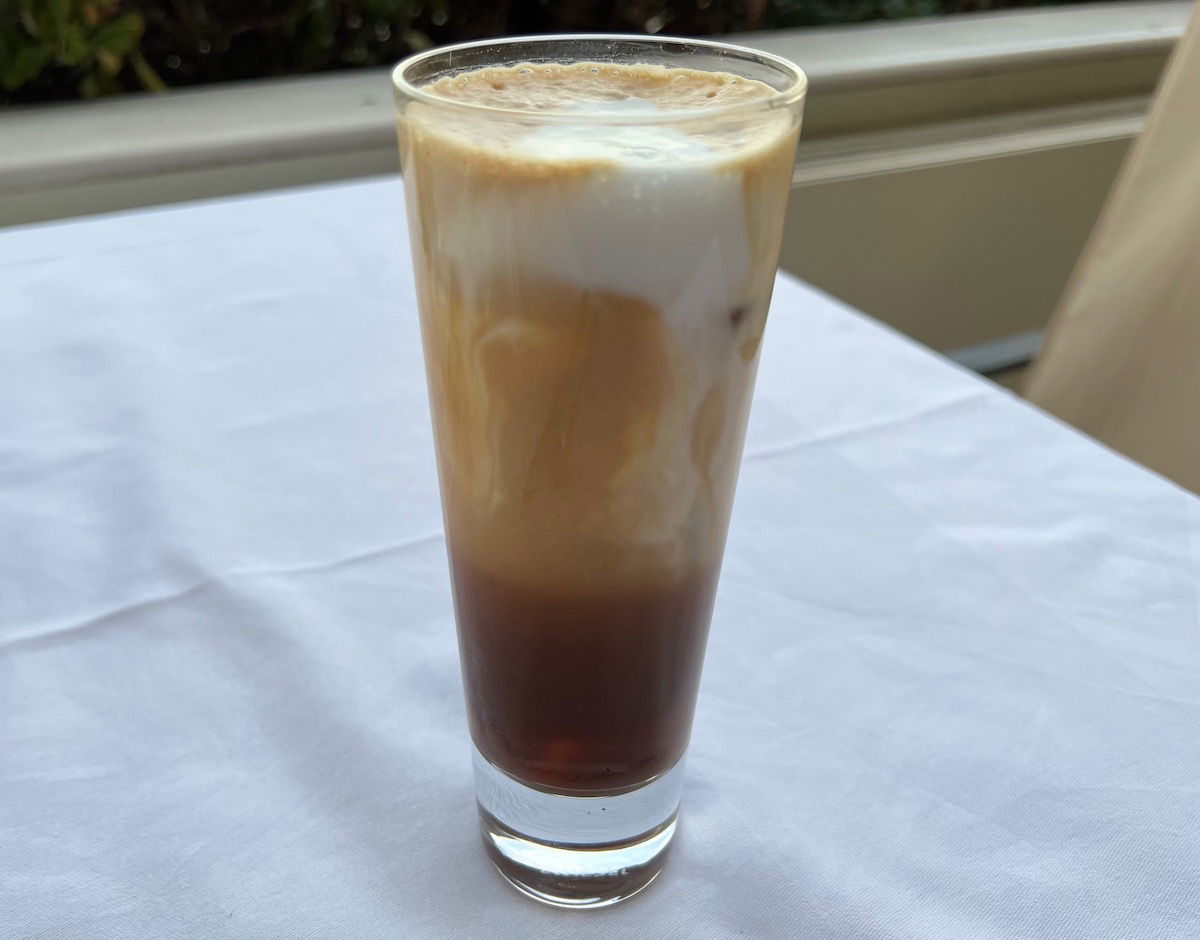 To eat, we had strapatsada and a veggie omelet, just like at King George. Yum.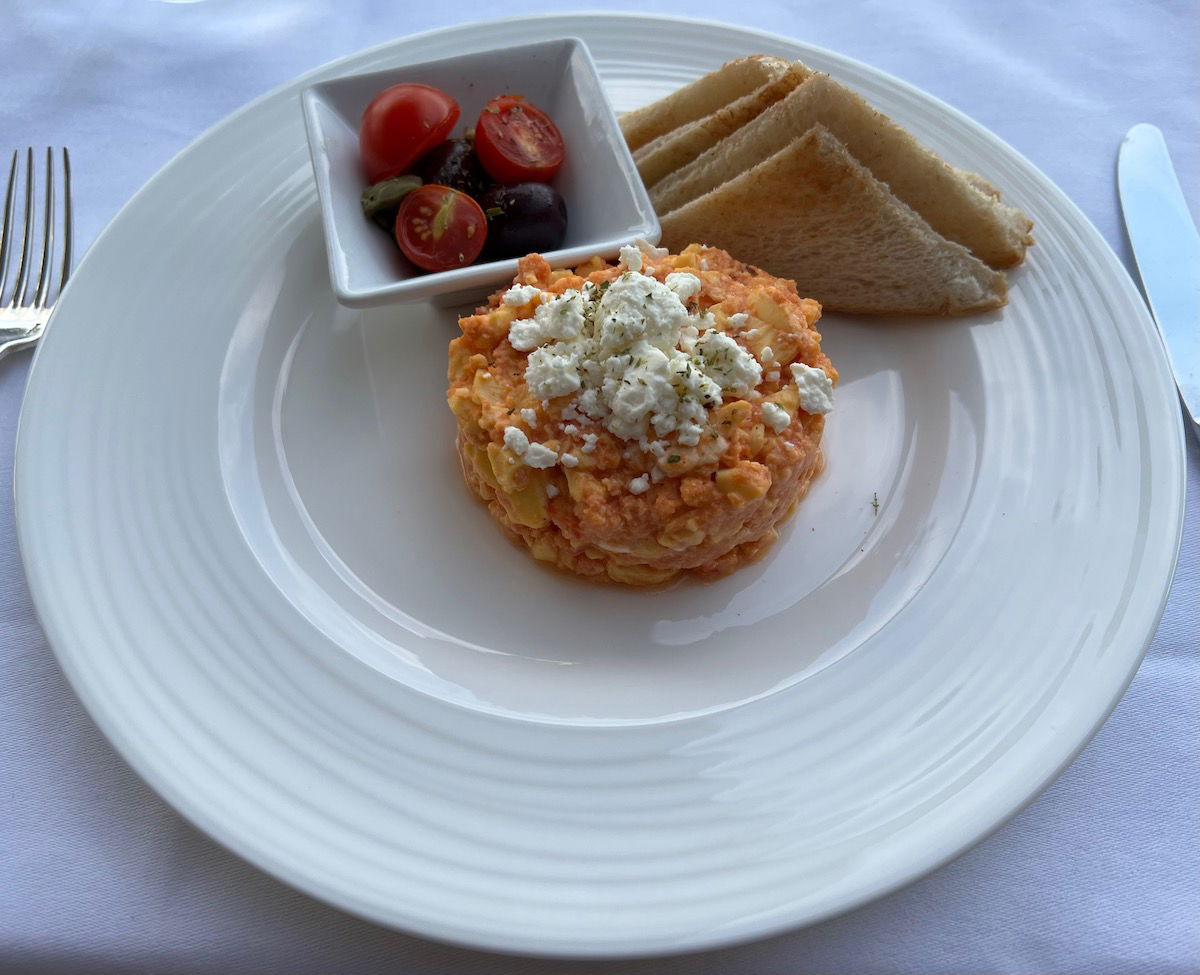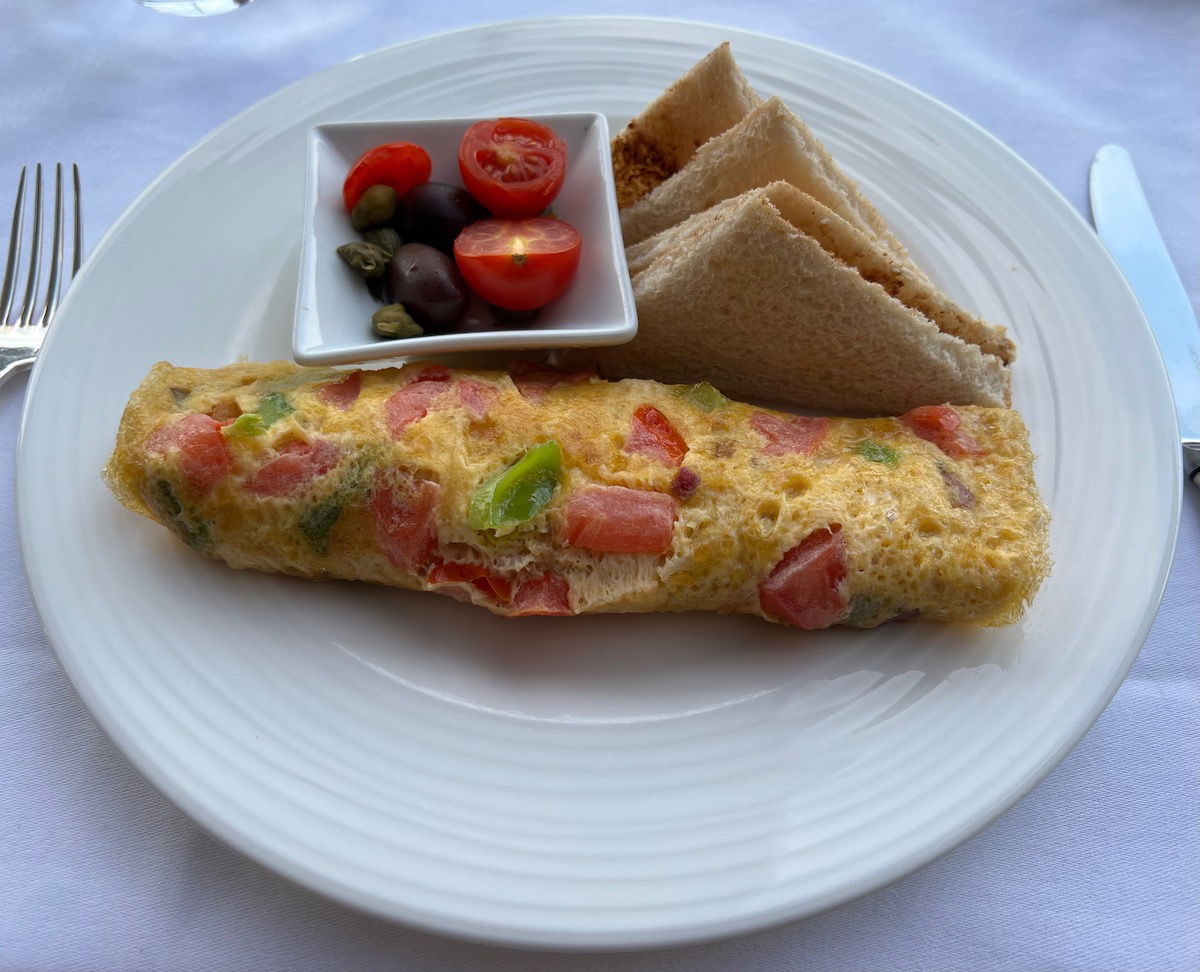 Breakfast does tend to get a bit chaotic if you show up later, given how big the restaurant is, and the number of rooms. In that sense, I somewhat preferred the breakfast at King George, simply because the hotel has fewer guests.
Hotel Grande Bretagne Alexander's Bar & Winter Garden City Lounge
On the lobby level, Hotel Grande Bretagne has Winter Garden City Lounge and Alexander's Bar, both of which are open daily from 8AM until 12AM.
Winter Garden City Lounge is like a grand lobby cafe, and serves light breakfast and lunch, afternoon tea, and drinks all day. It's a lovely setting, and also a nice place to sit if you arrive before check-in time and are waiting for your room to be ready.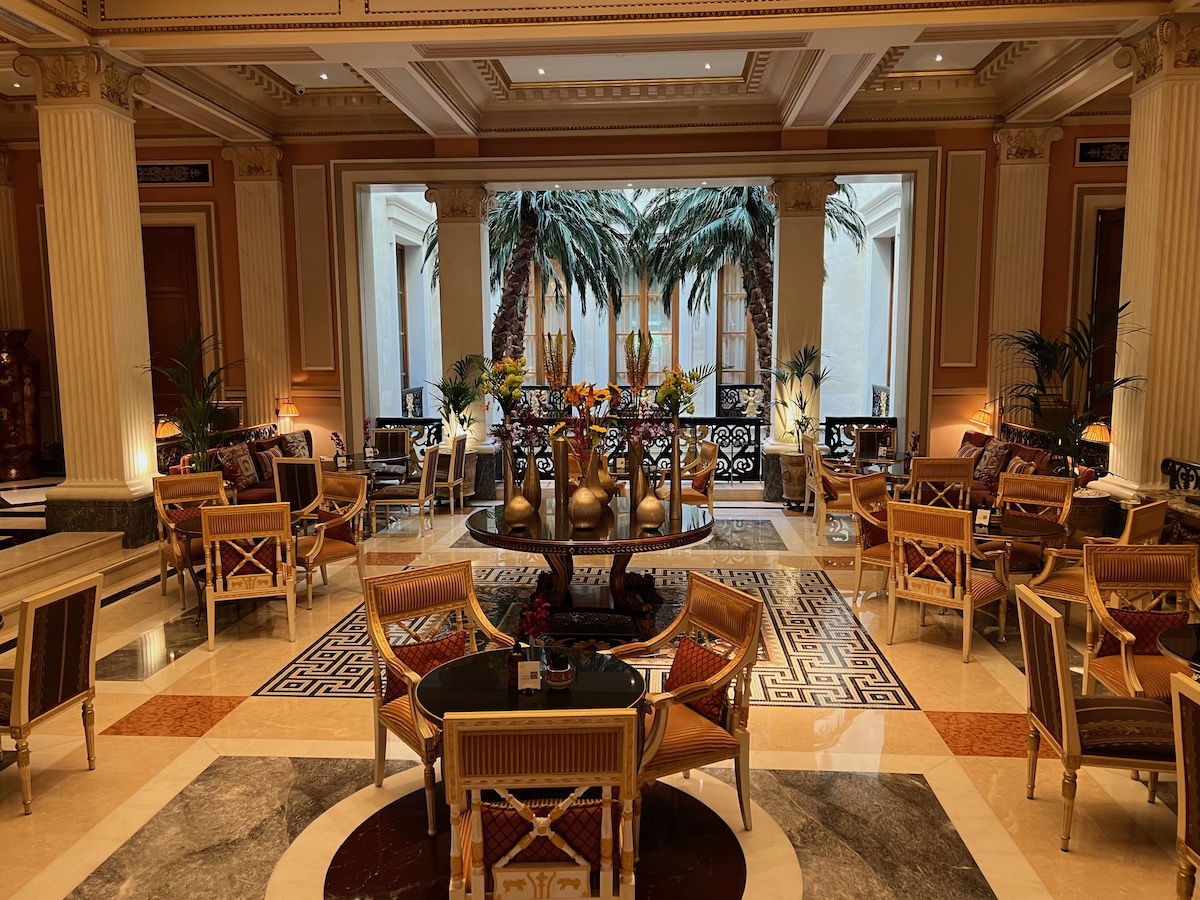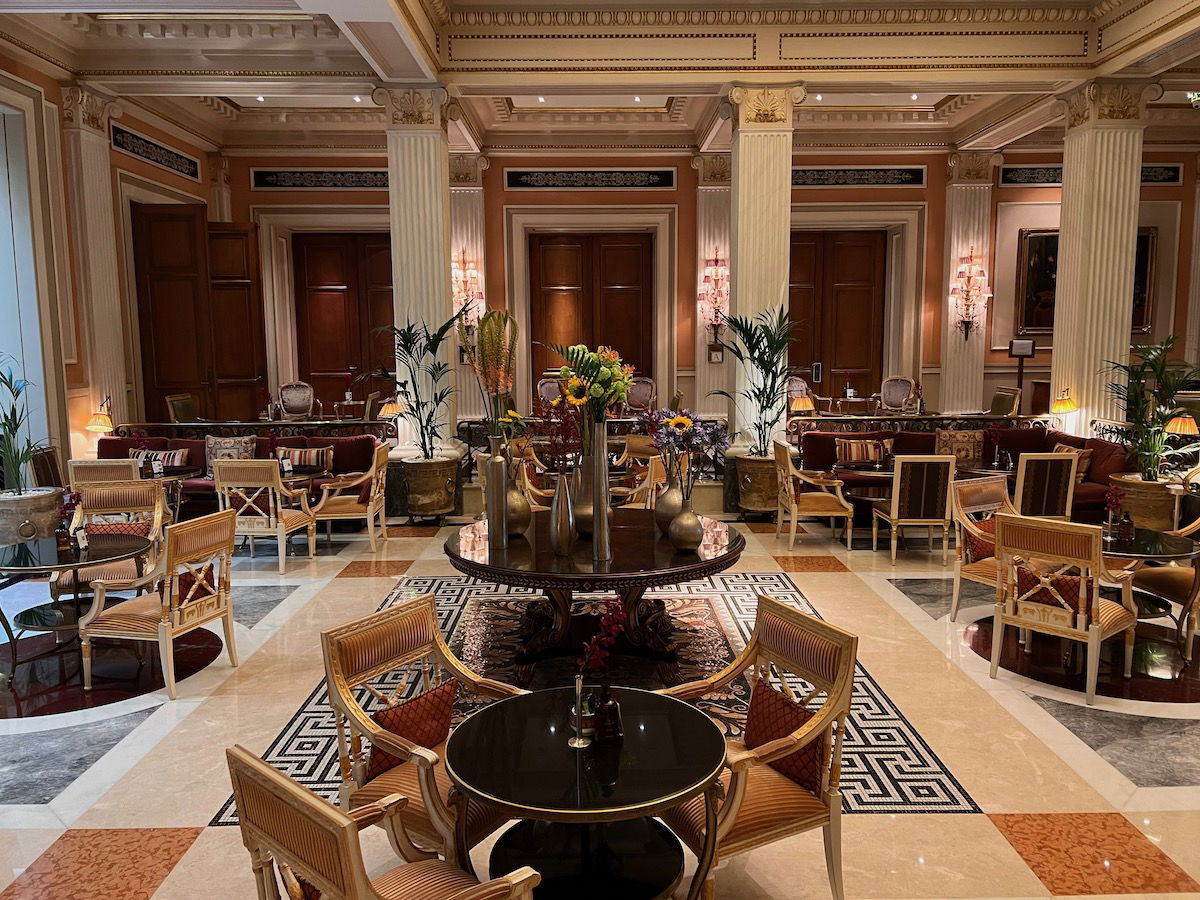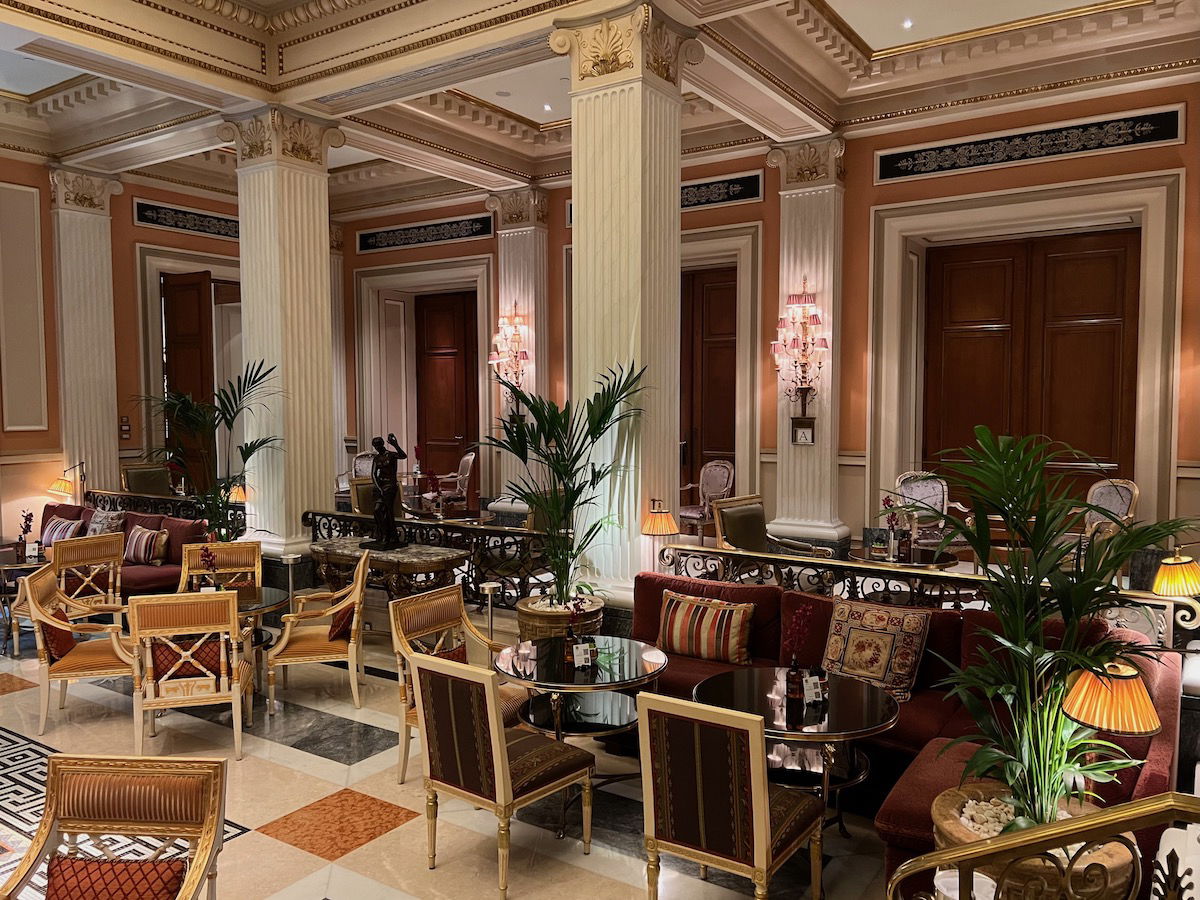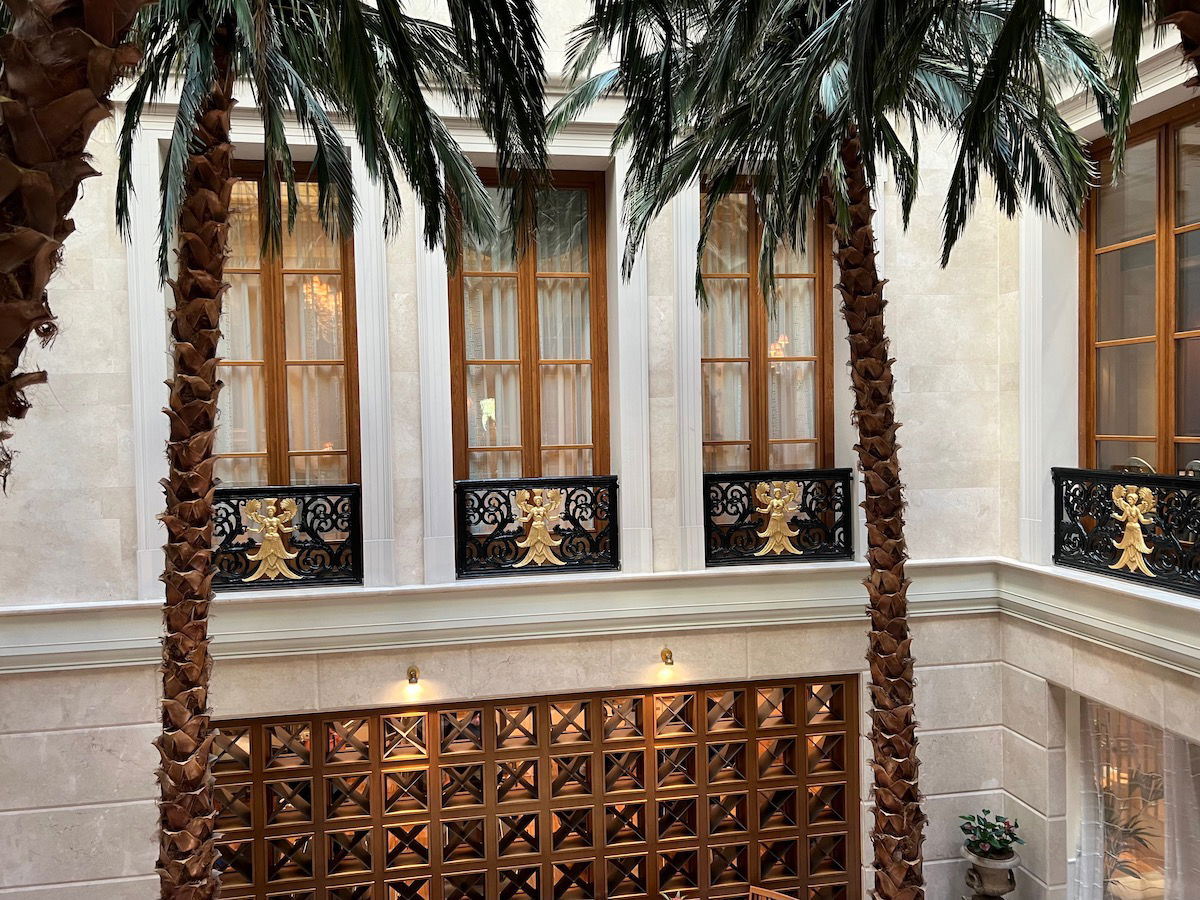 Alexander's Bar is right next to that, and has an 18th century tapestry of Alexander the Great. This was allegedly voted as the best hotel bar in the world by Forbes, though I didn't have the chance to have a drink here.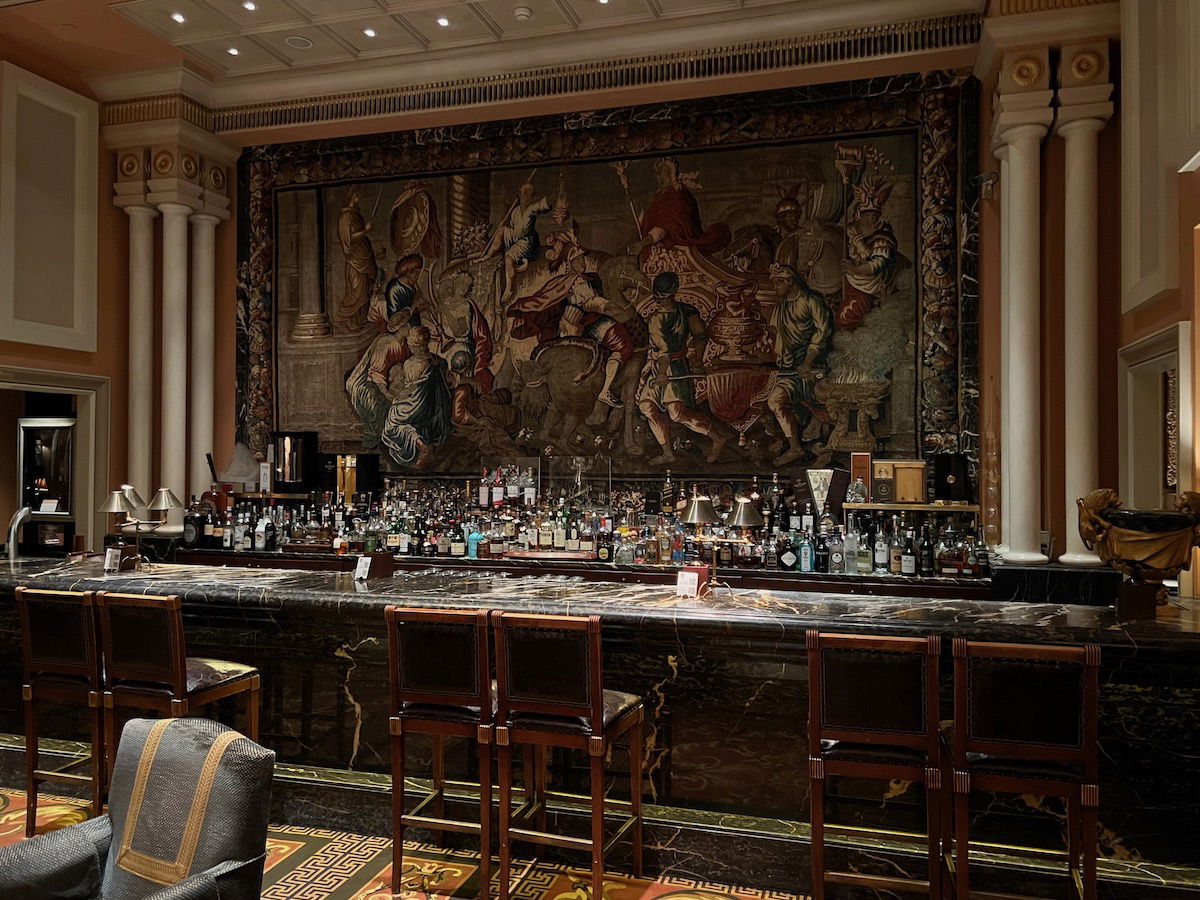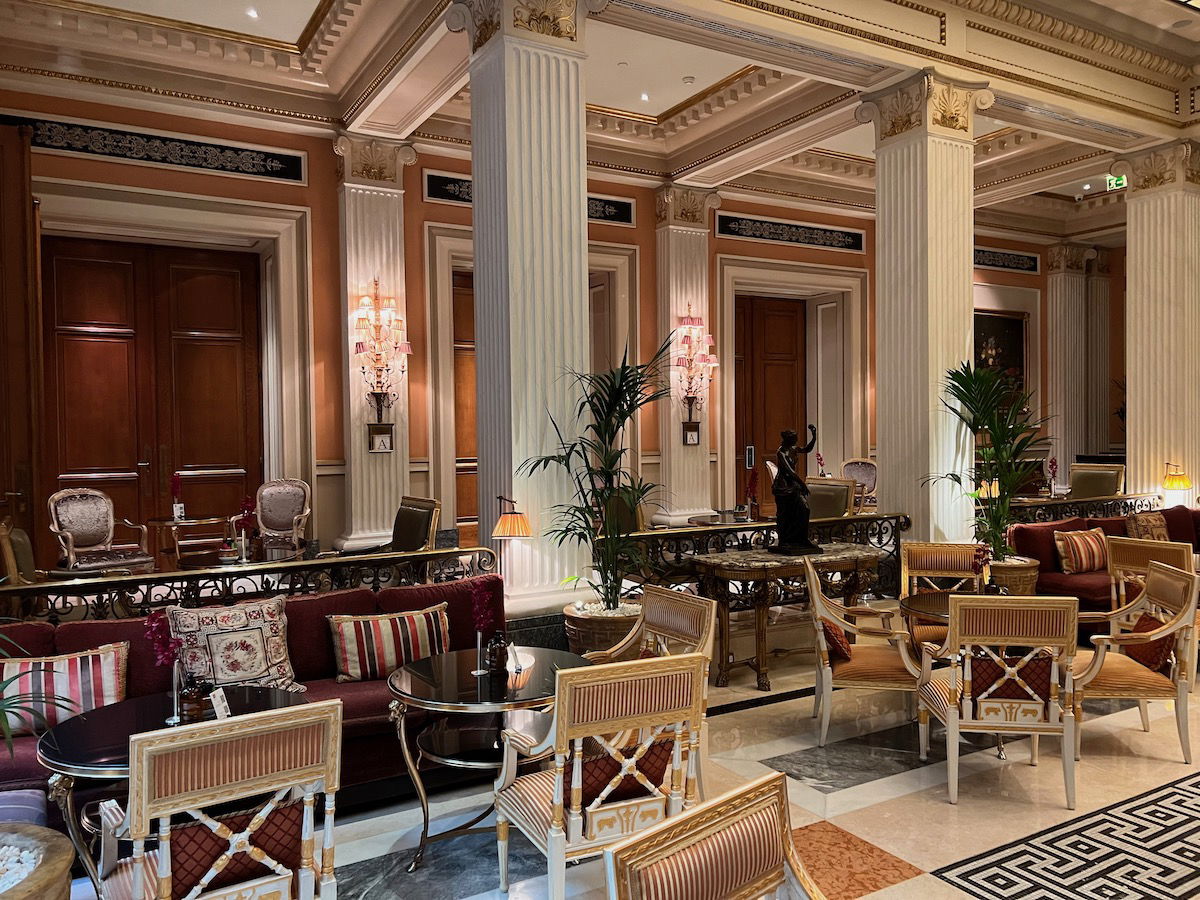 Hotel Grande Bretagne Alexander's Lounge
In addition to Alexander's Bar, Hotel Grande Bretagne also has Alexander's Lounge. This is essentially a cigar bar that has all kinds of drinks, light snacks, etc. It's in the courtyard of the hotel on the first floor (one level up from the lobby), and has both indoor and outdoor seating.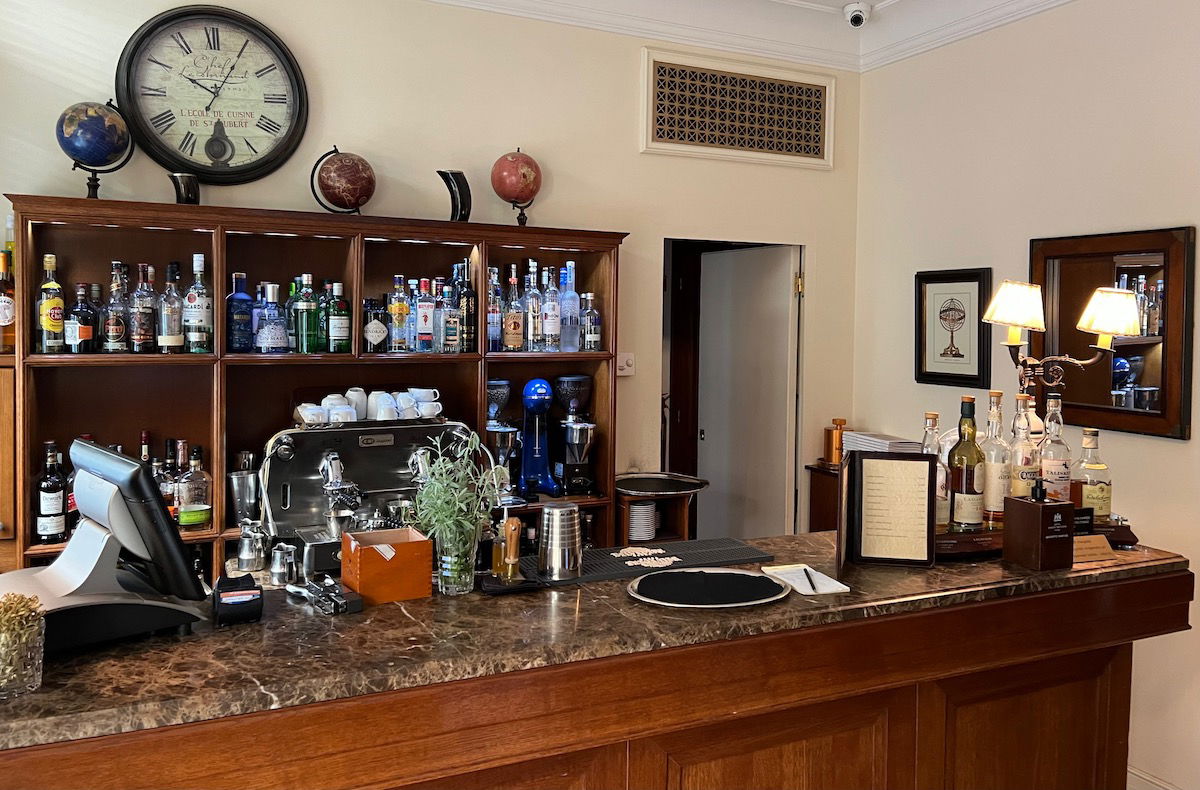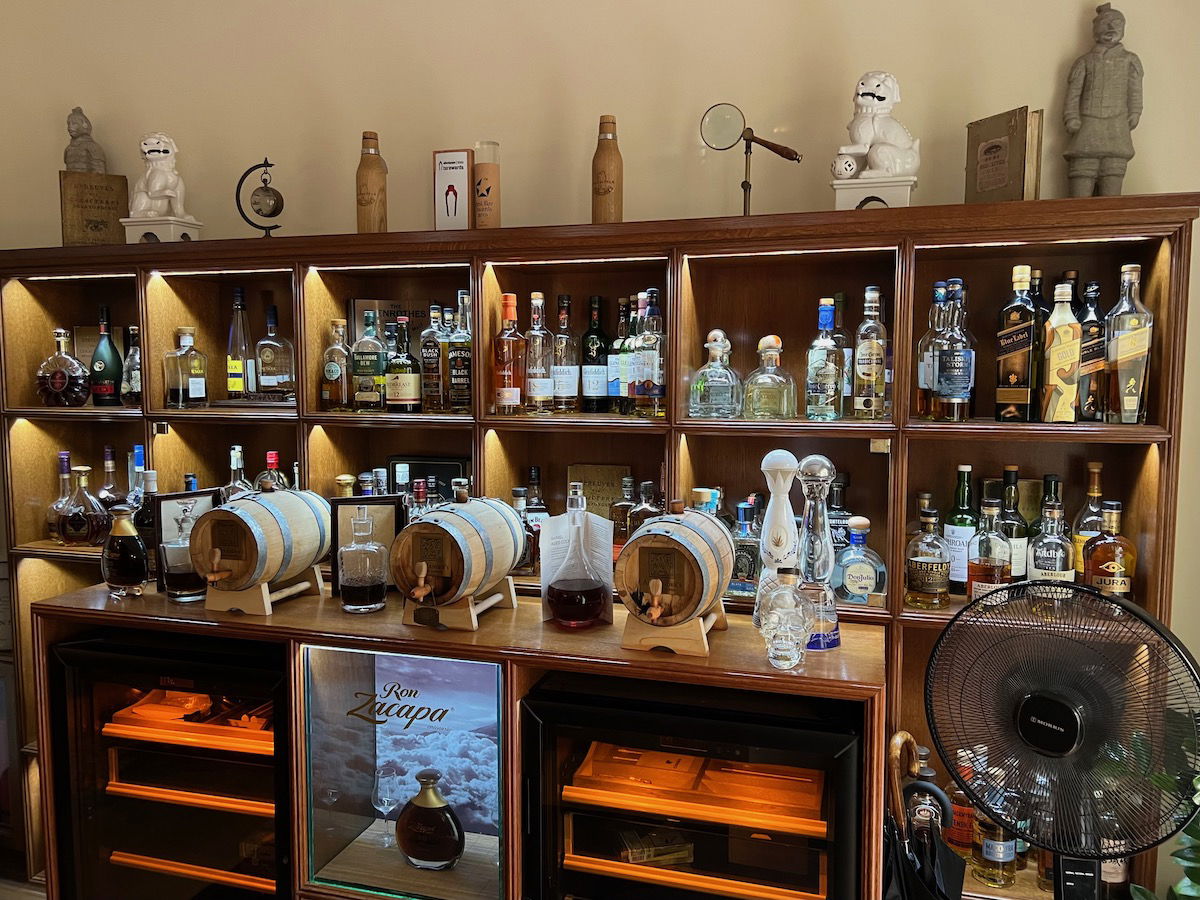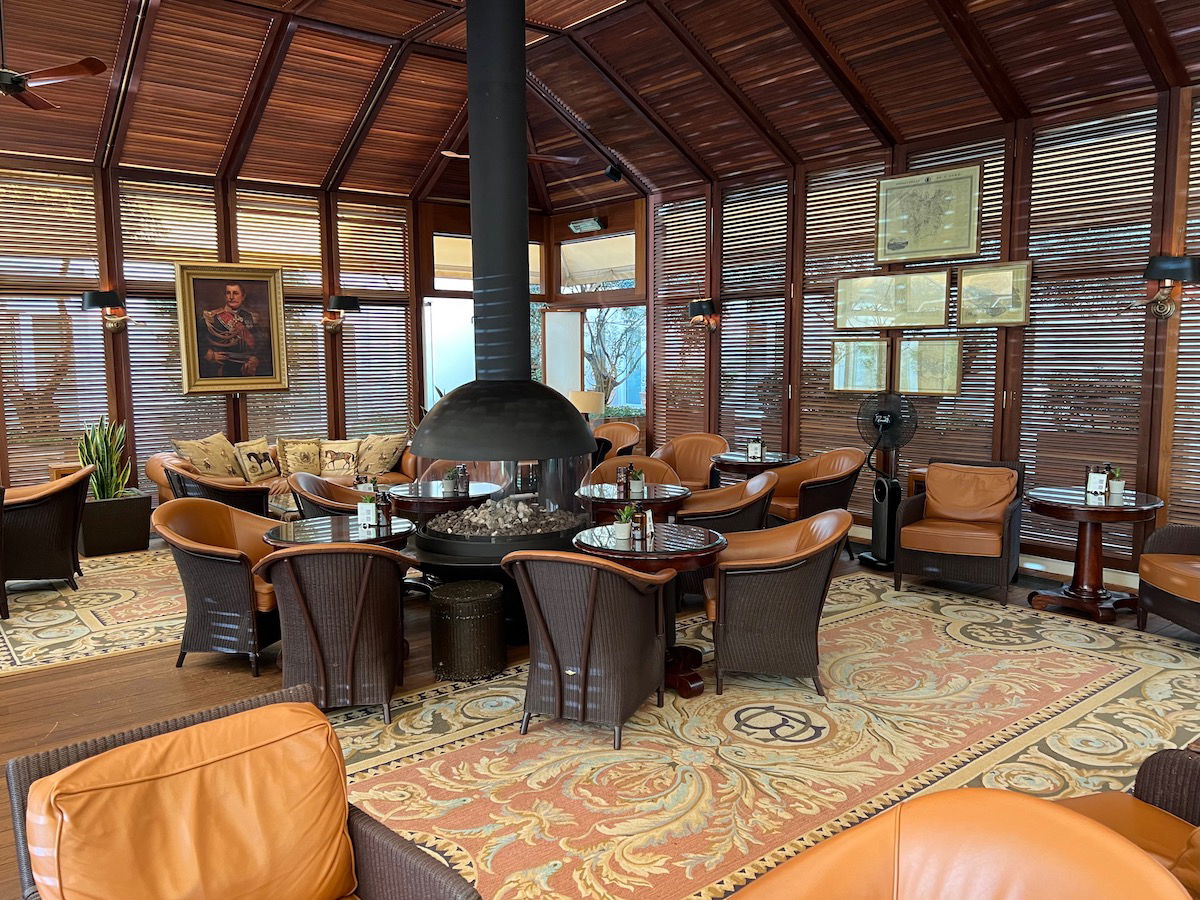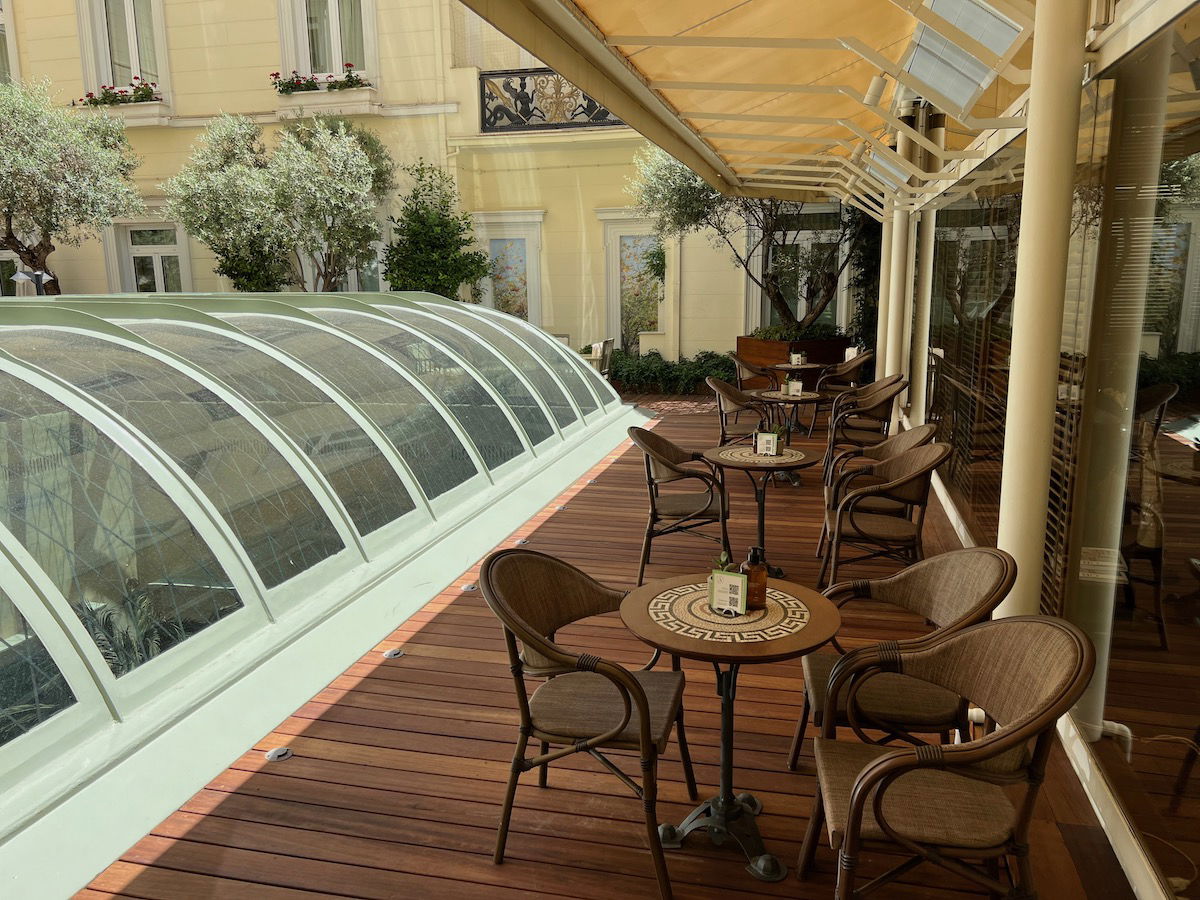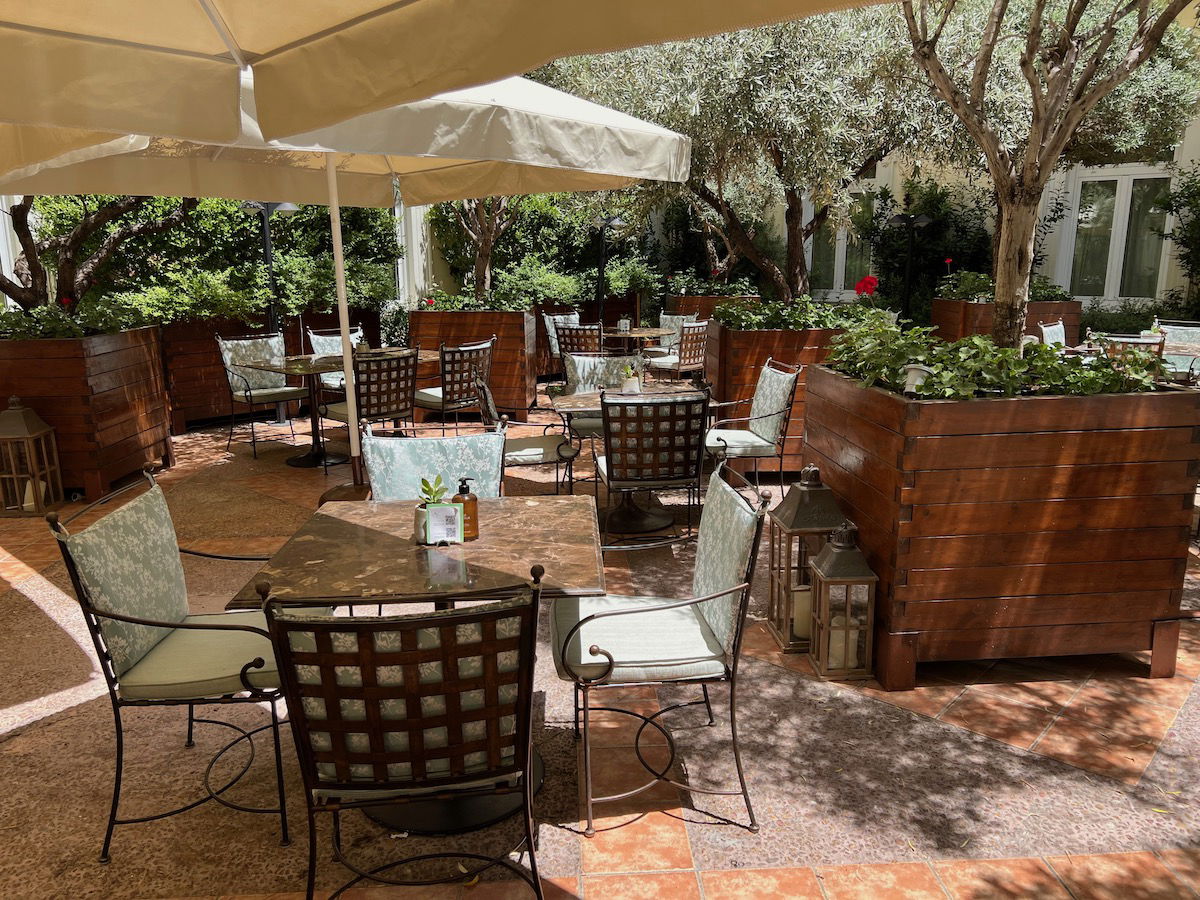 Hotel Grande Bretagne service
Much like at King George, Hotel Grande Bretagne had perfect service. Even though this is a big hotel, every employee was friendly and eager to please. In general I feel like the service culture in Greece has come such a long way in recent years, to the point that I find Greece to have among the best service in the west nowadays.
Bottom line
Hotel Grande Bretagne is a phenomenal city hotel. Even though this is a historic property, it's updated to be current, and has no shortage of amenities and outlets. The hotel has both an indoor and outdoor pool, several excellent food & beverage outlets, and more.
If you're headed to Athens and want to stay at the best city hotel, Hotel Grande Bretagne is definitely for you. Just don't expect it to be cheap. Fortunately that's where points come in.
If you've stayed at Hotel Grande Bretagne, what was your experience like?