Usually it's sad to be returning home after an amazing trip… well, except if your flight home is in the Singapore Airlines A380 Suites double bed!
I had flown Singapore Airlines "new" A380 Suites once before from Sydney to Singapore back in early 2018, shortly after it was introduced. However, I flew alone at the time, while on this flight I was flying with Ford, so we could give the double bed a try. I was also curious to see how the product was holding up over four years later.
Let me say upfront that this flight was simply amazing in just about every way. If you're traveling with someone, I'd argue that this is probably the best first class product in the world. Singapore Airlines is such a detail-oriented airline, and that shows in just about every aspect of the experience.
How I booked our Singapore Airlines A380 Suites tickets
Singapore Airlines operates a pretty cool fifth freedom flight between Frankfurt and New York. As of late March 2022, the airline upgraded this route from a Boeing 777 to an Airbus A380, making it the only Singapore Airlines route to the United States to be operated by the A380.
The catch is that Singapore Airlines A380s have just six seats in Suites, and award seats are typically nearly impossible to come by. Fortunately in late December 2021, Singapore Airlines essentially opened the floodgates to Suites award availability, and many flights had multiple award seats available on this route.
I managed to lock in the following flight in Suites for two people for 86,000 Singapore KrisFlyer miles plus 117.45 Euro per person in taxes and fees:
04/07 SQ26 Frankfurt to New York departing 8:35AM arriving 11:10AM
What an incredible opportunity this was, and I'm just sad that I might never be able to replicate this, since the airline almost never releases two Suites seats (though who knows, maybe we'll see a similar opportunity for a brief period again in the future).
Singapore KrisFlyer miles are easy to come by, as the program partners with all major transferable points currencies, including Amex Membership Rewards, Capital One, Chase Ultimate Rewards, and Citi ThankYou.
Singapore Airlines Suites check-in, lounge, & boarding
The night before we were due to fly to the United States, we were notified that our flight from Frankfurt to New York would be delayed by 90 minutes, with the departure time being moved from 8:35AM to 10:05AM. This was due to the plane being late from Singapore.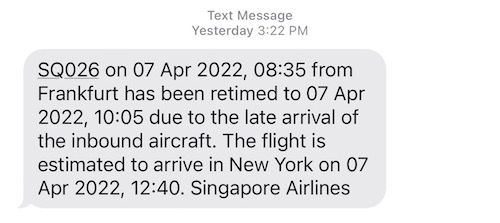 As a result, we could get to the airport later than initially planned. We were staying at the Marriott Frankfurt Airport, which is connected to the terminal, so we headed over to the airport at around 8:30AM. The check-in process took just a couple of minutes, and both security and passport control were quick as well.
Just about the only disappointing thing about flying Singapore Airlines Suites from Frankfurt to New York is the lounge situation. Suites passengers are invited to use the Lufthansa Senator Lounge, which pales in comparison to the Lufthansa First Class Terminal that you'd be able to use if flying Lufthansa first class on the same route.
We headed straight to our departure gate, which was B46. It was so nice to see a Singapore Airlines A380 for the first time in over two years — what a beauty!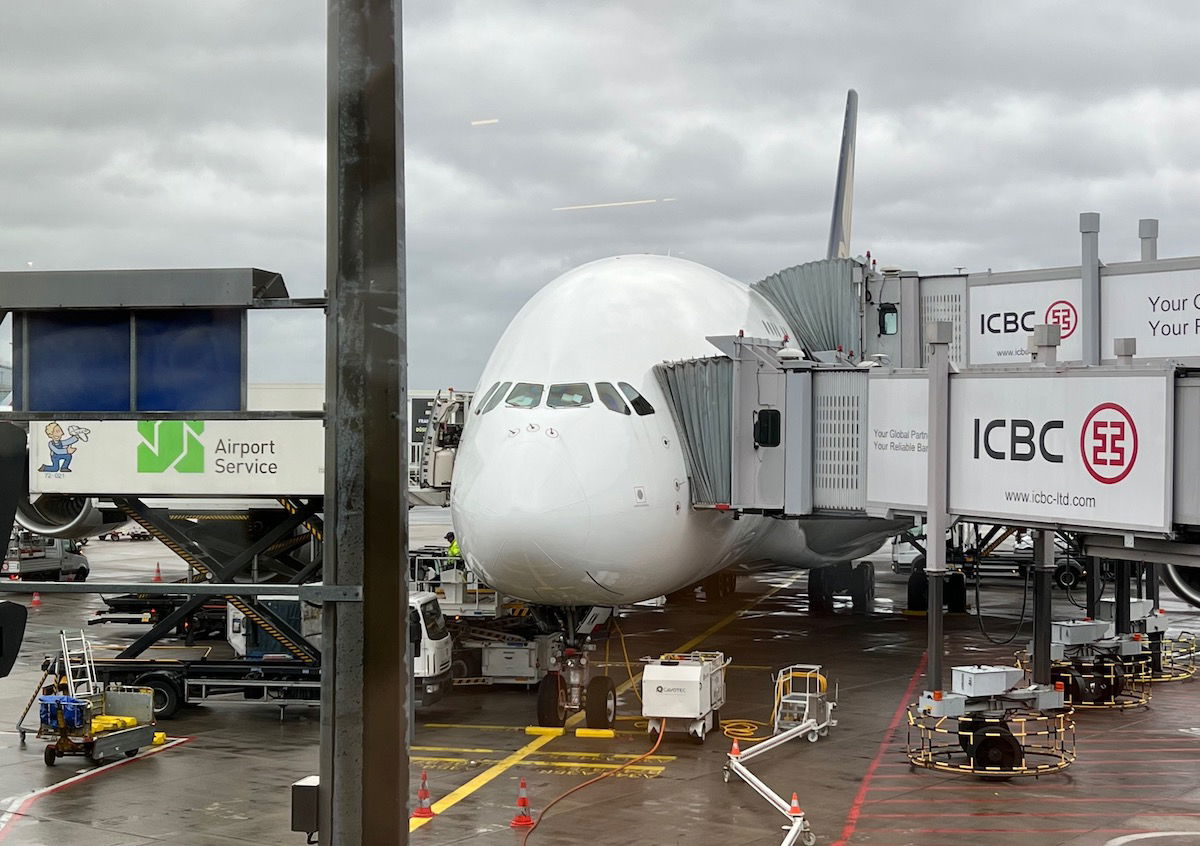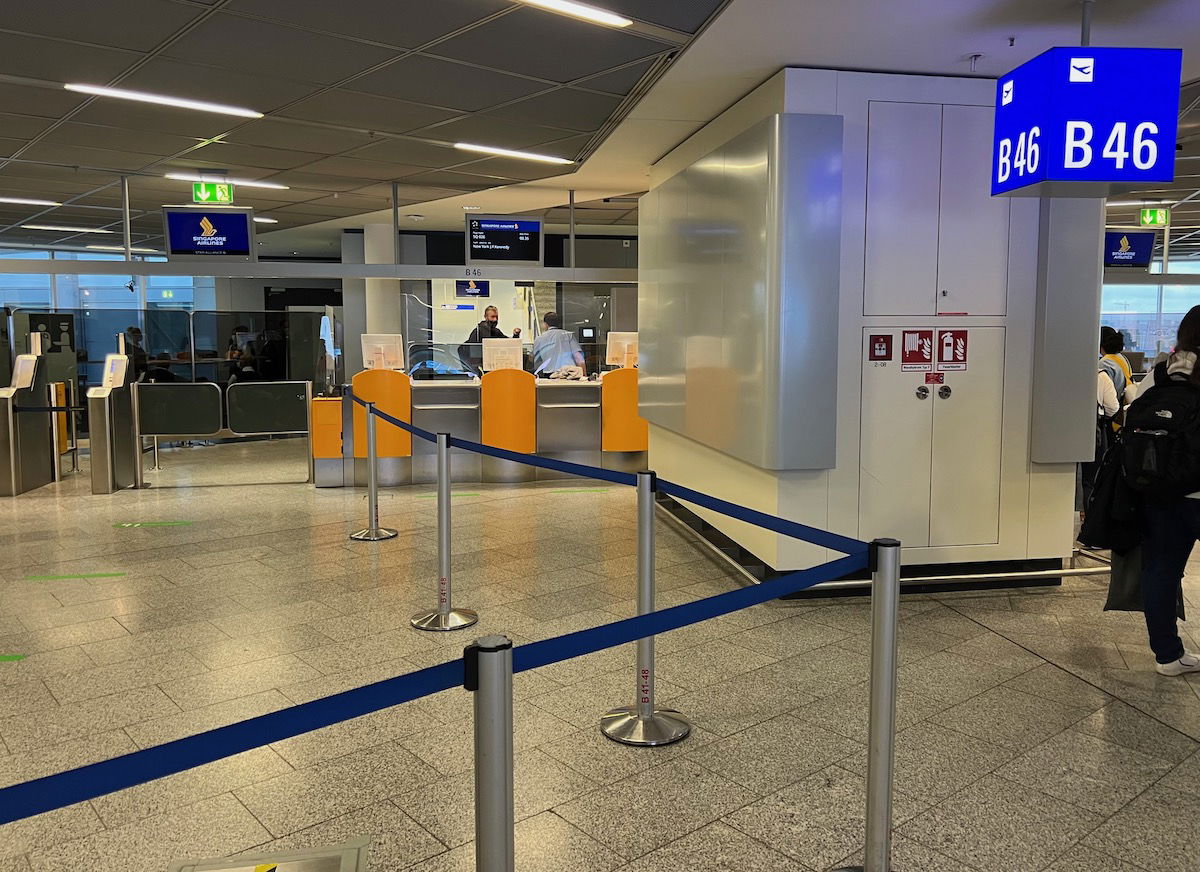 Boarding was scheduled for 9:35AM, 30 minutes before the modified departure time. Passengers traveling in Suites were invited to take a seat in a roped off area so that they could board first. Sure enough, boarding started exactly as scheduled.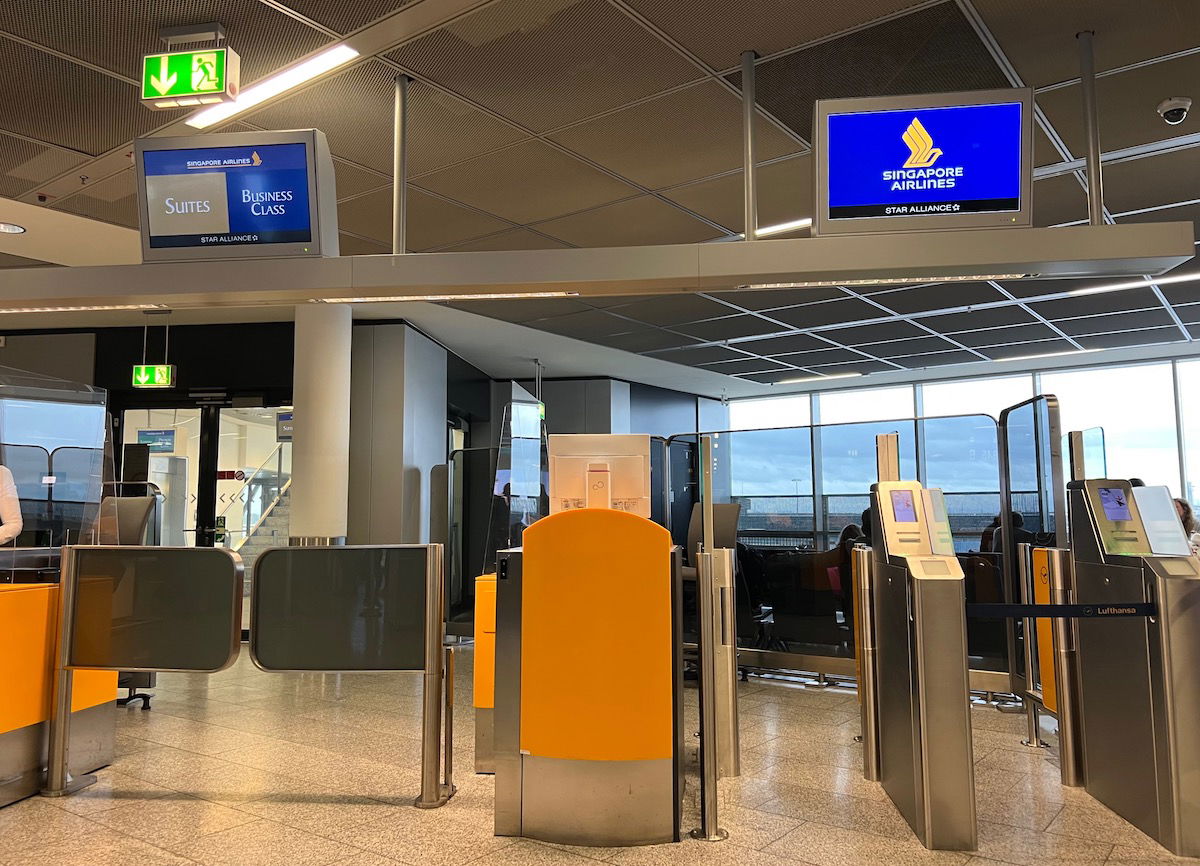 Singapore Airlines A380 Suites cabin & seats
Even though I've flown the Airbus A380 dozens of times, I still get giddy every time I go up the jet the bridge and board directly to the second level. Singapore Airlines' A380 Suites are located at the front of the upper deck. The footprint dedicated to this space is simply unbelievable.
Singapore Airlines has just six Suites on the A380, spread across three rows in a 1-1 configuration. This also means that there's just a single aisle, which is mighty cool-looking.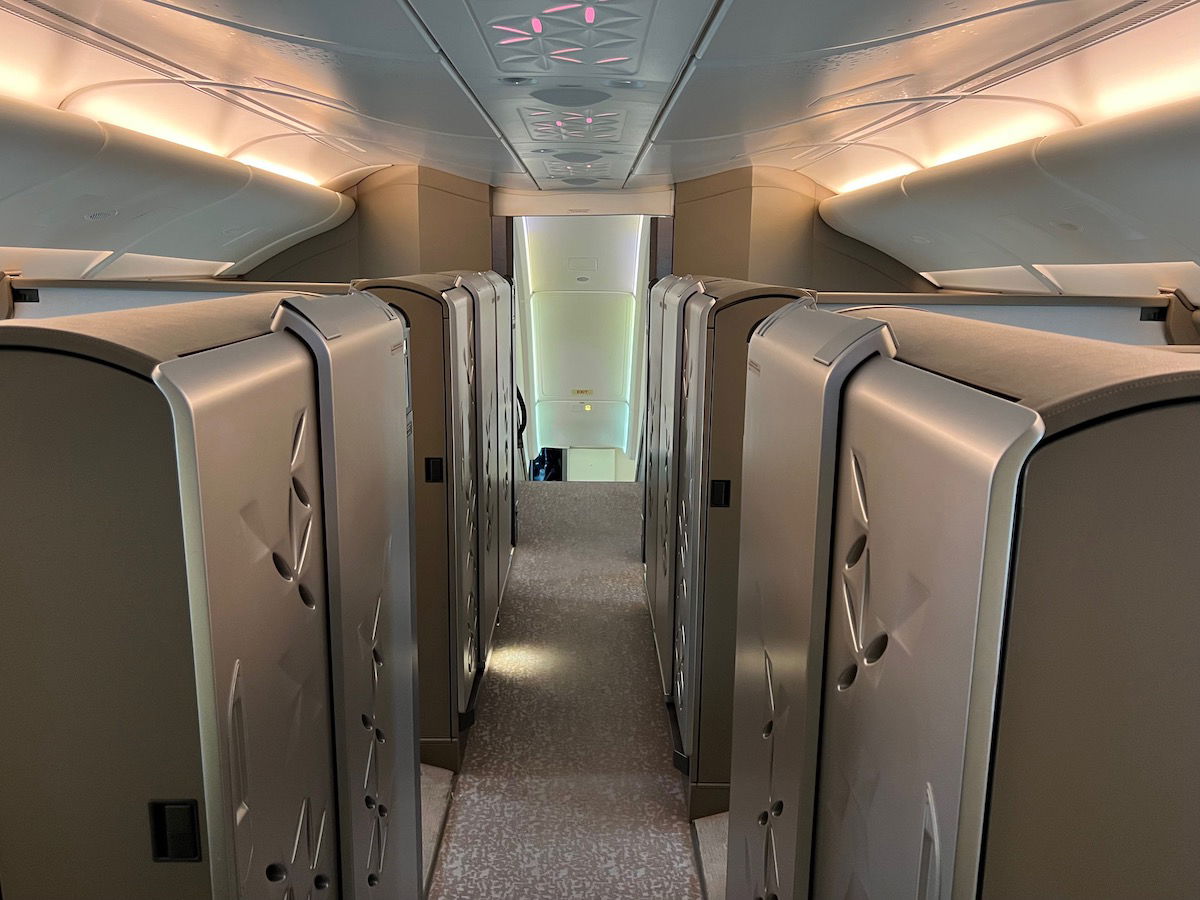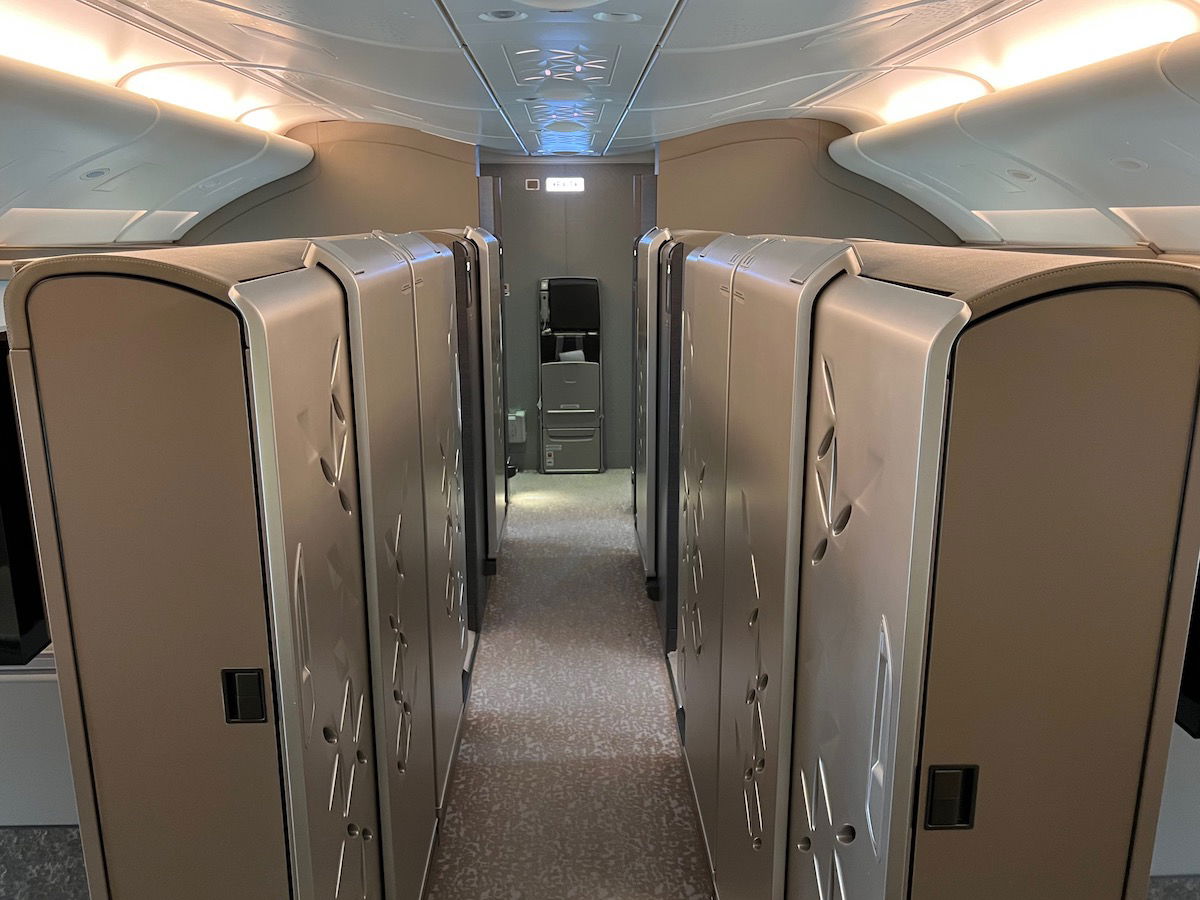 Each Suite is roughly 50 square feet, which is unheard of for a first class seat. As a point of comparison, Emirates fits 14 first class seats in the same space. Singapore Airlines took an unconventional approach to its Suites product on the A380. Rather than having a seat that turns into a bed, each Suite instead has a seat and then a separate bed that folds out from the wall.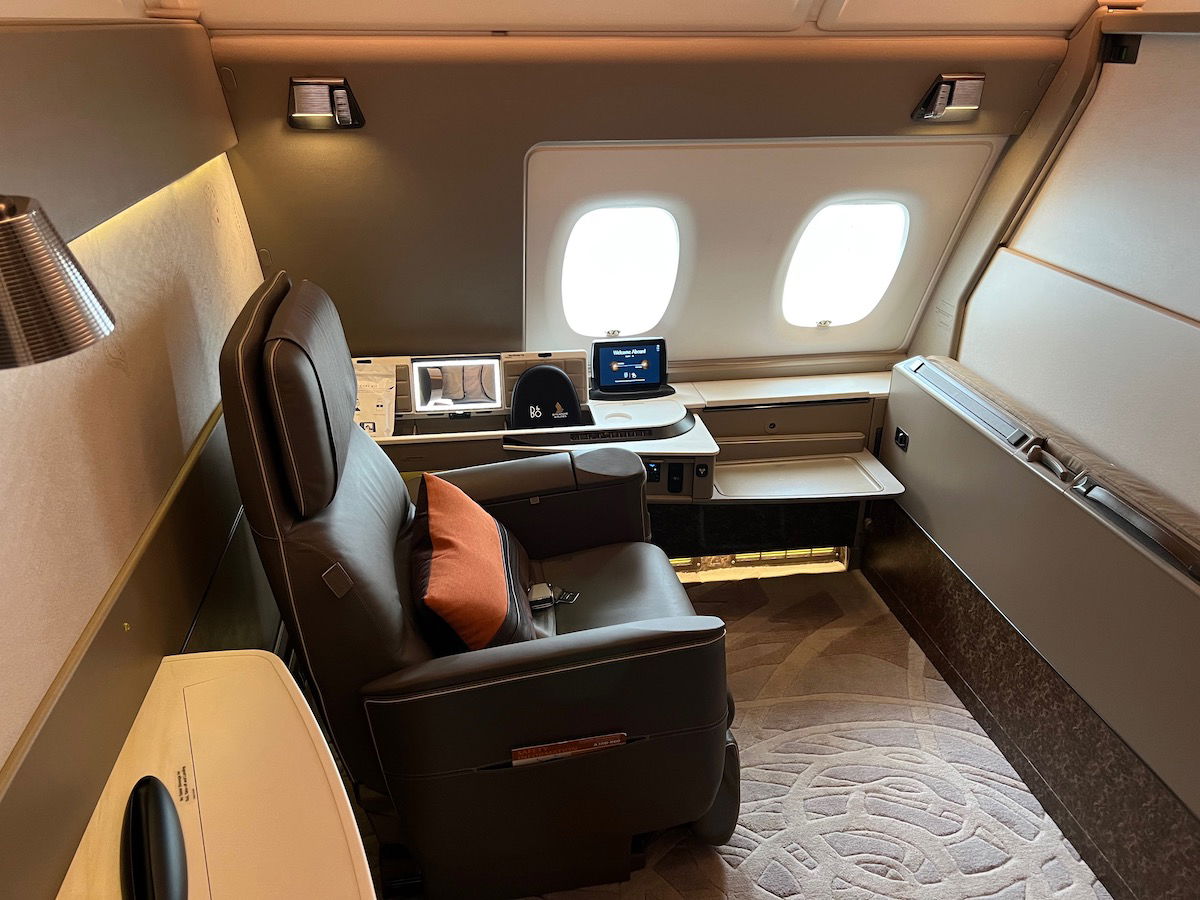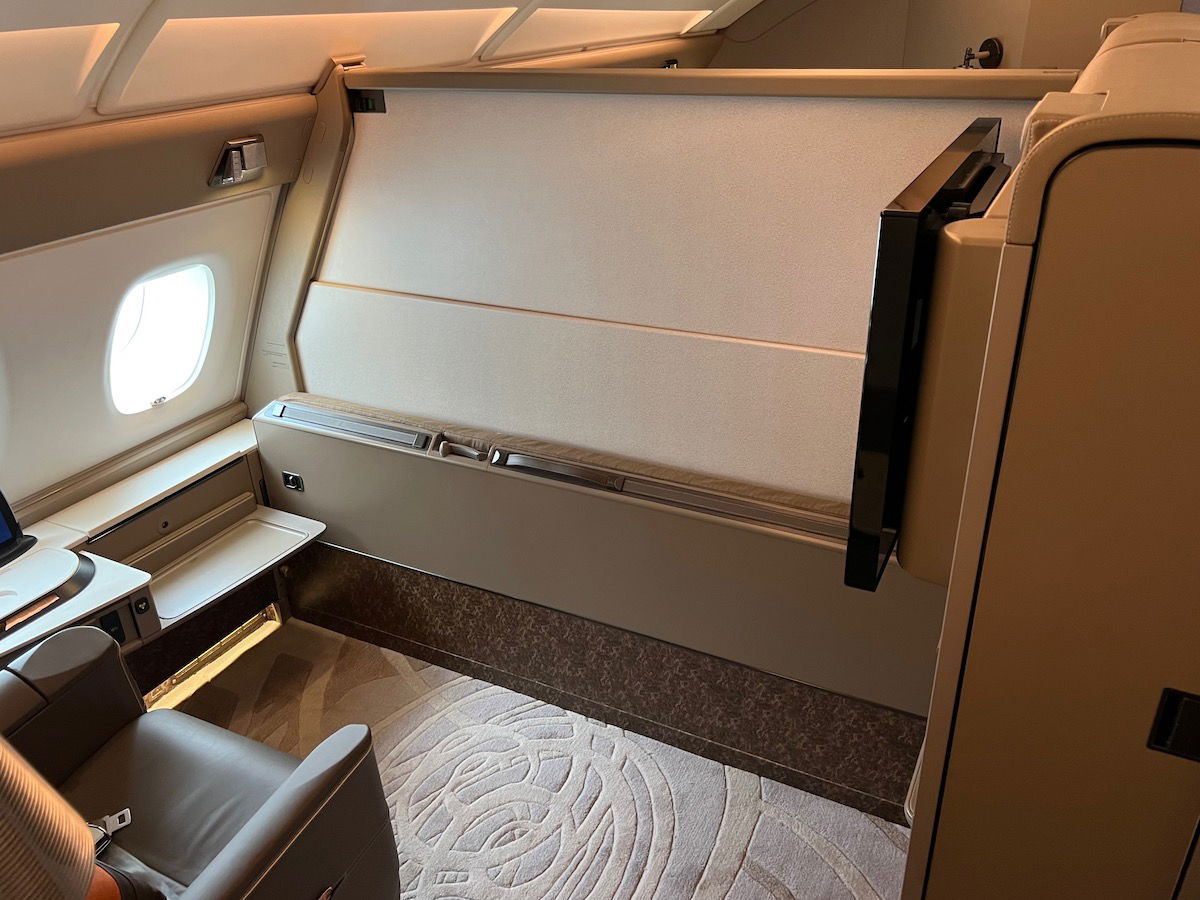 The seat itself is well padded and can swivel, so that you can face whichever direction you'd like. The seat also reclines a fair bit, though doesn't go fully flat.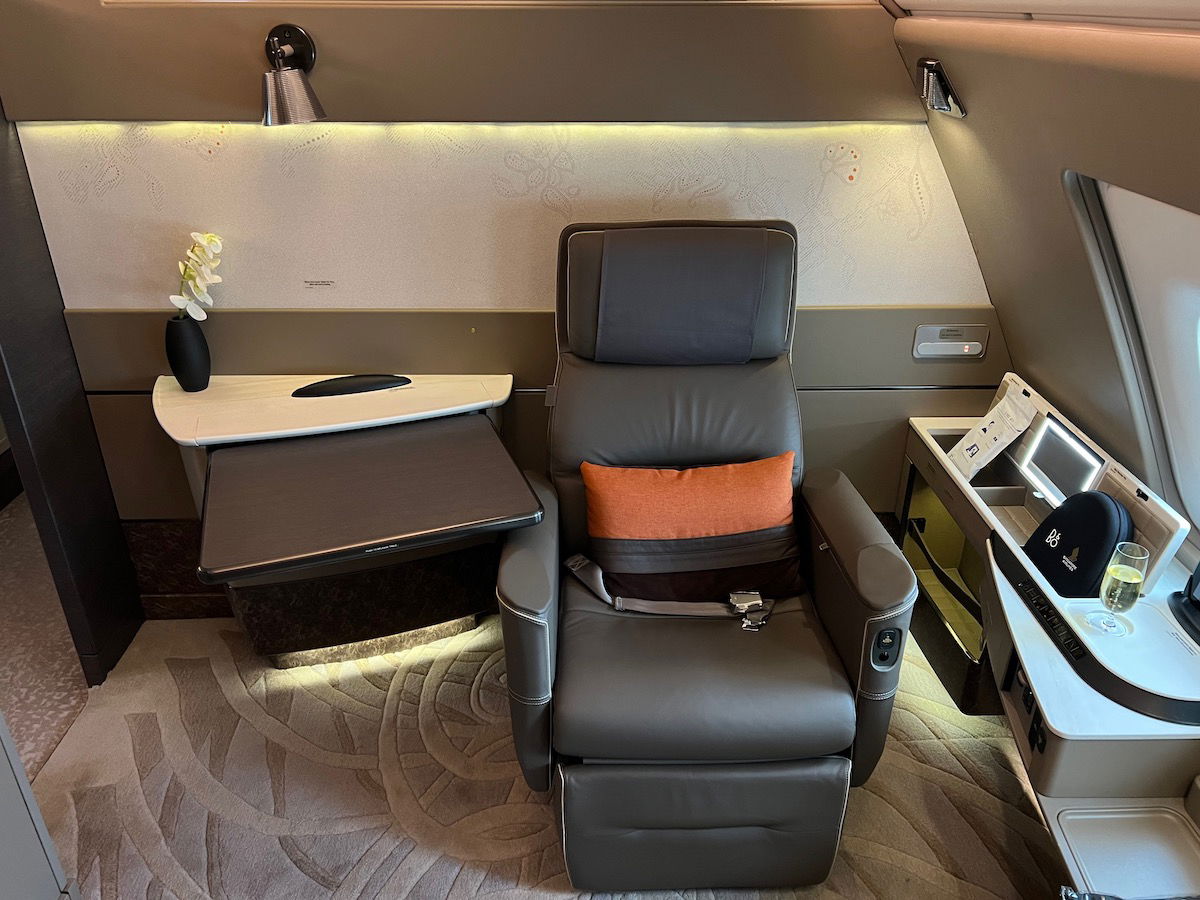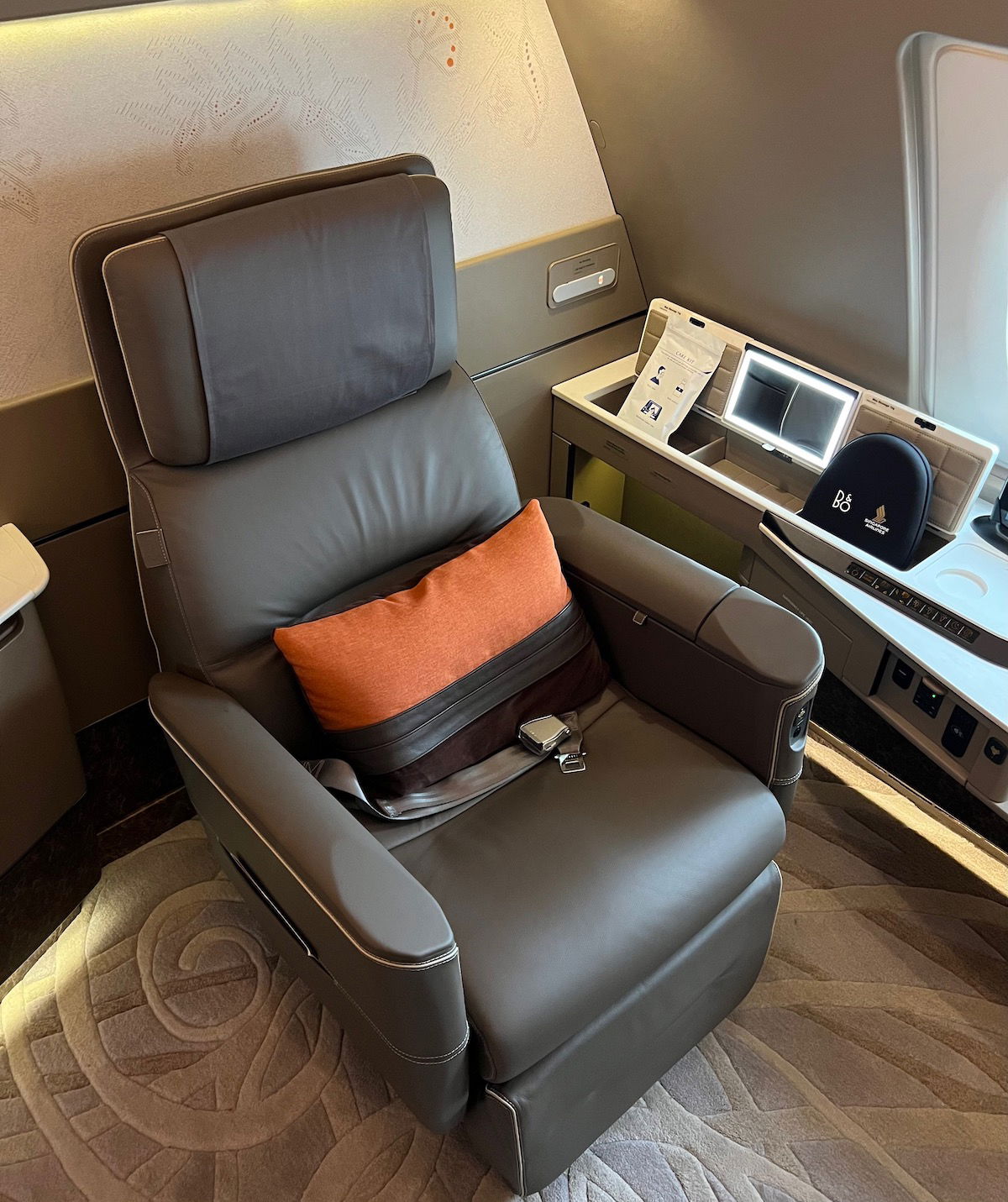 Under the seat's armrest are both the entertainment controller and seat controllers, allowing you to turn the seat and even swivel the TV.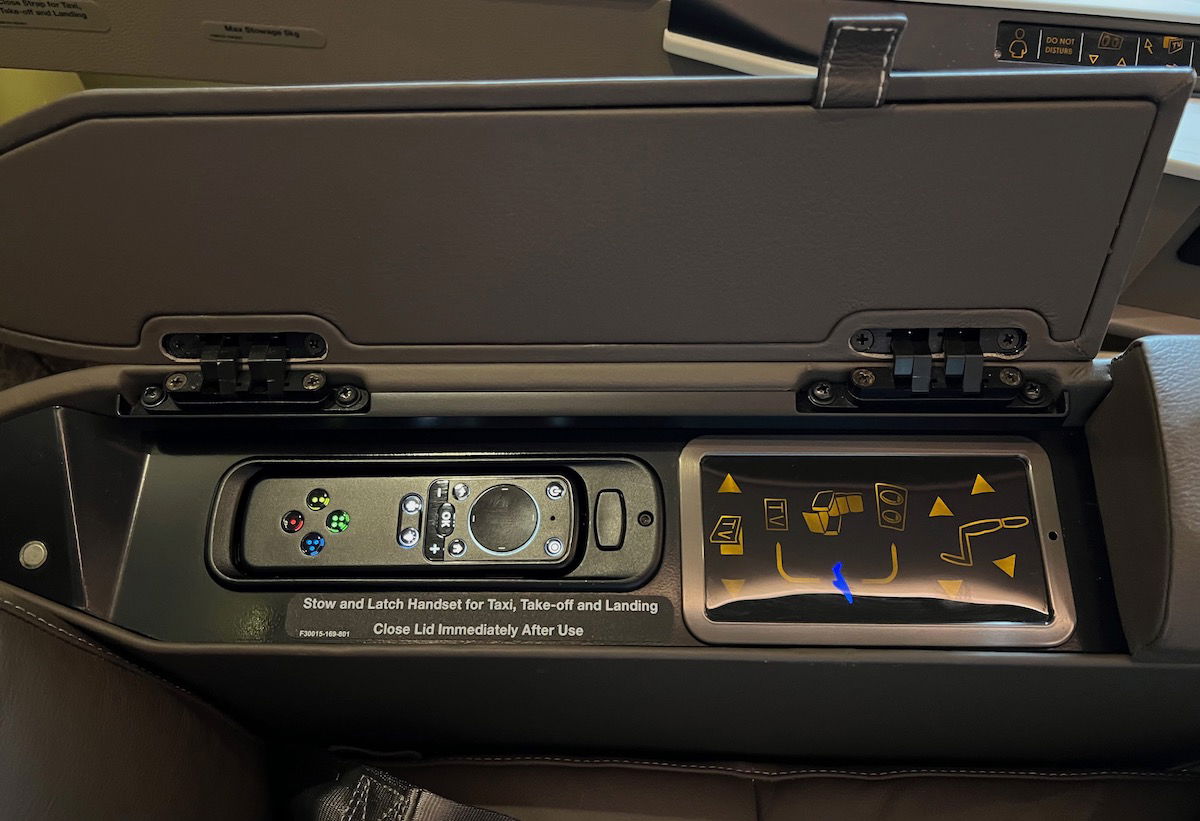 To the side of the seat is a counter with a flower, which is also where the tray table extends from. This means that if you want to eat you'll be facing toward the door.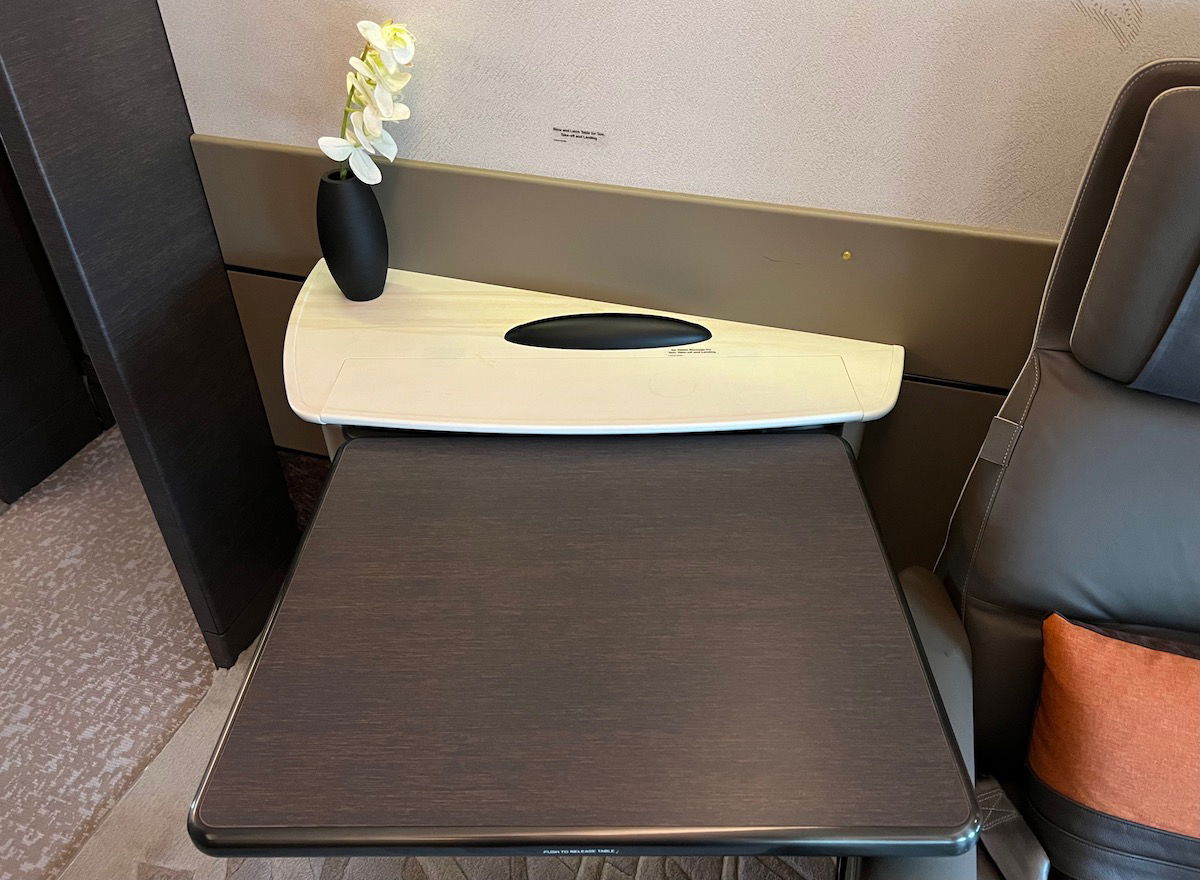 Each Suite has a door that closes to give a good amount of privacy. There's a pattern on the door with cutouts so that the crew can peek in, but for the most part you have privacy. There's also a massive 32″ TV on the wall that swivels, allowing you to enjoy entertainment from the seat or bed.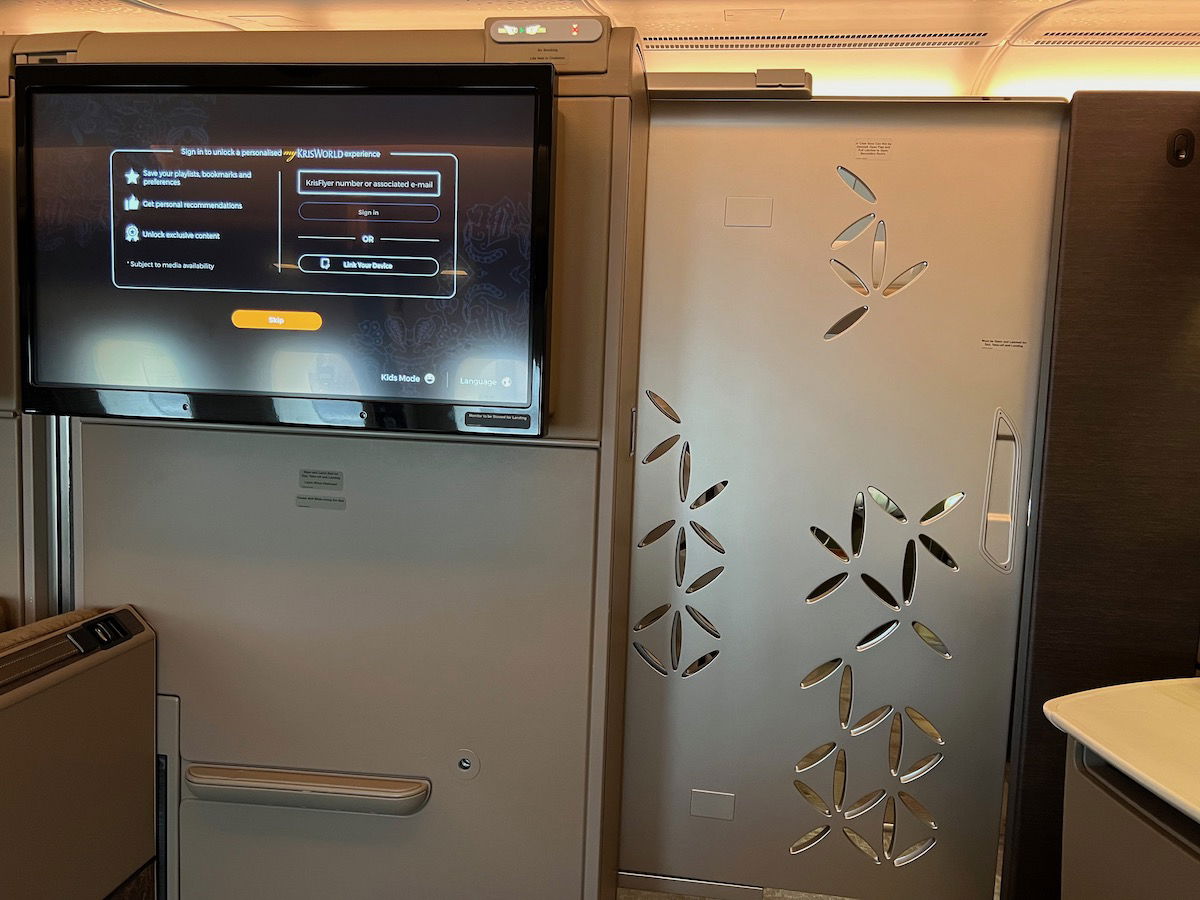 To the side of the seat are several small storage compartments, plus a backlit mirror. These compartments could be used to store a phone, wallet, glasses, etc.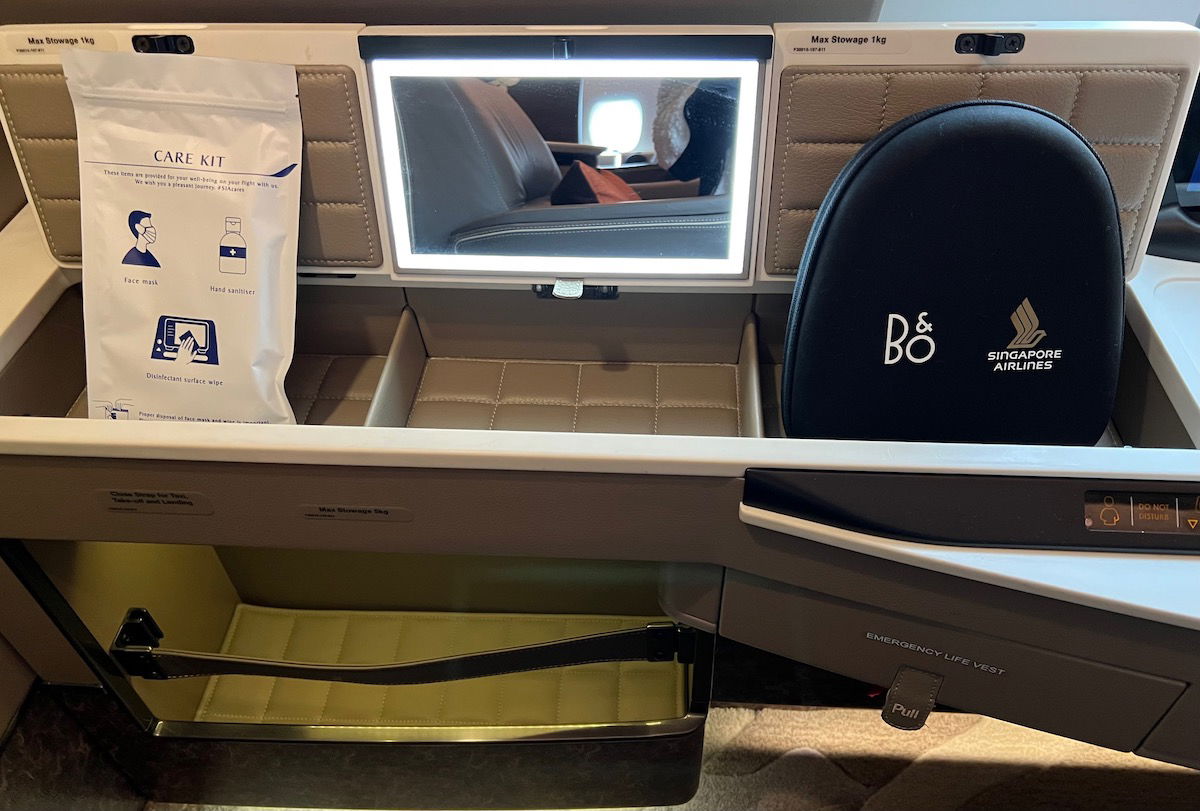 The privacy, window, and lighting controls are also located on a panel at the far end of the seat. Yep, in Singapore Suites the window blinds are automated, so you just push a button and they lower or raise.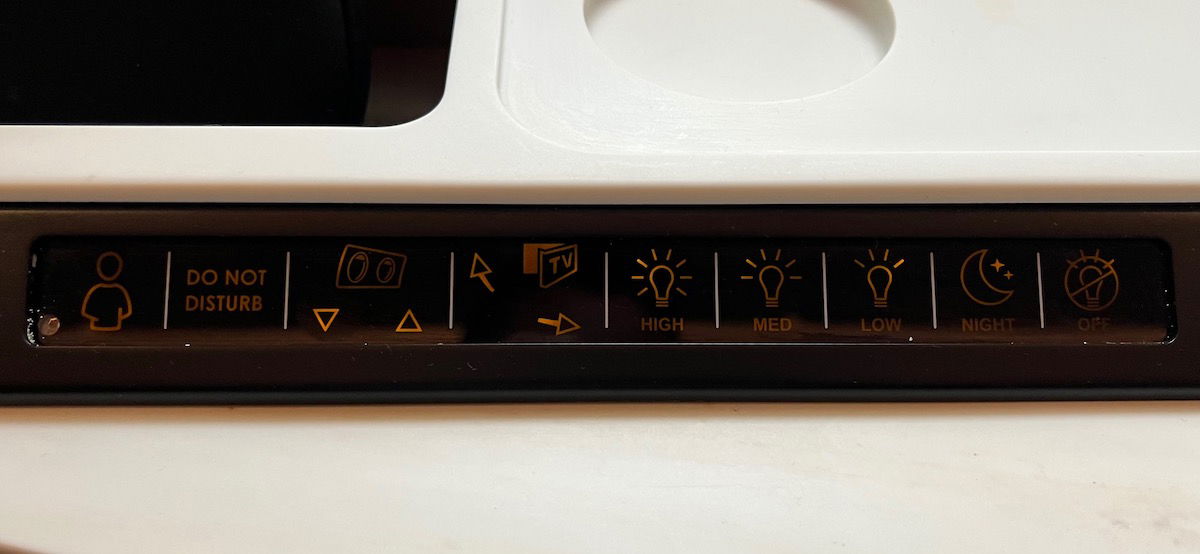 There's also a panel with a cover that has AC and USB power outlets, an HDMI plug, a contactless payment system, and headphone jacks.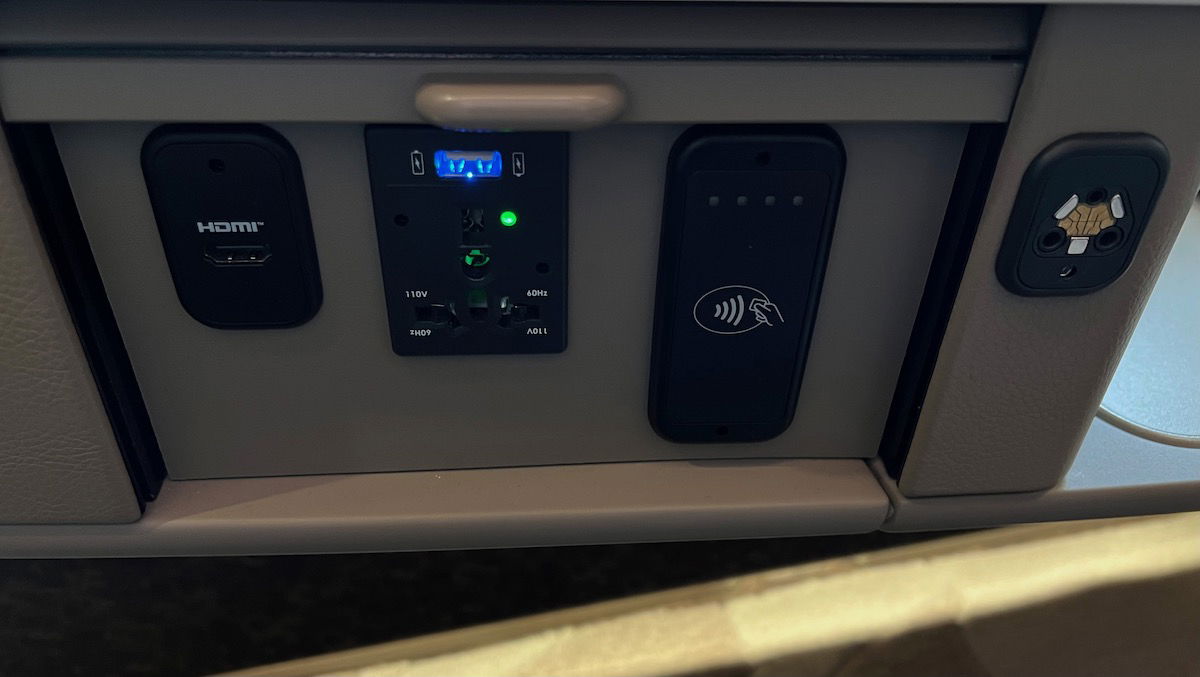 By the way, there's a second AC and USB outlet underneath the main table, so you have ample charging opportunities.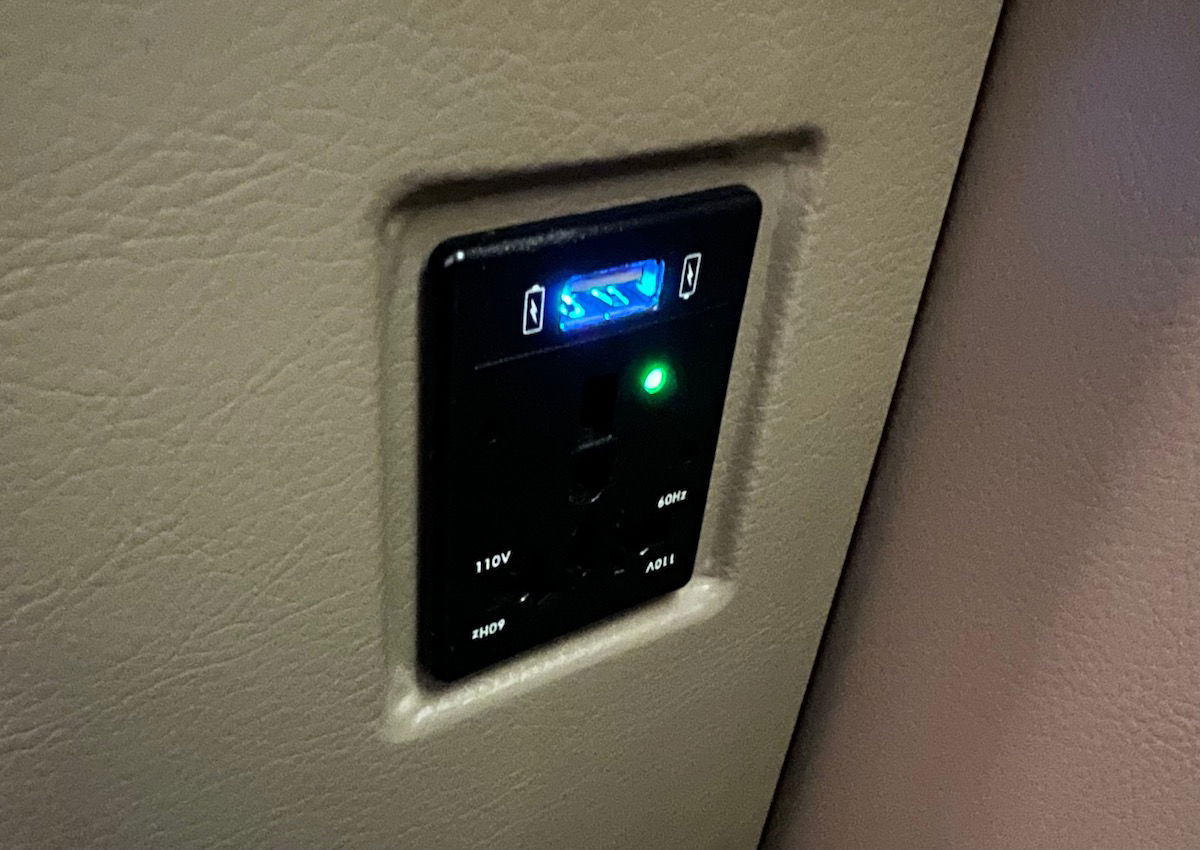 There's also an exposed storage area at the very front corner of the seat. In reality this holds the bed when it folds out of the wall, but when the bed isn't in use, this is a good spot to place things.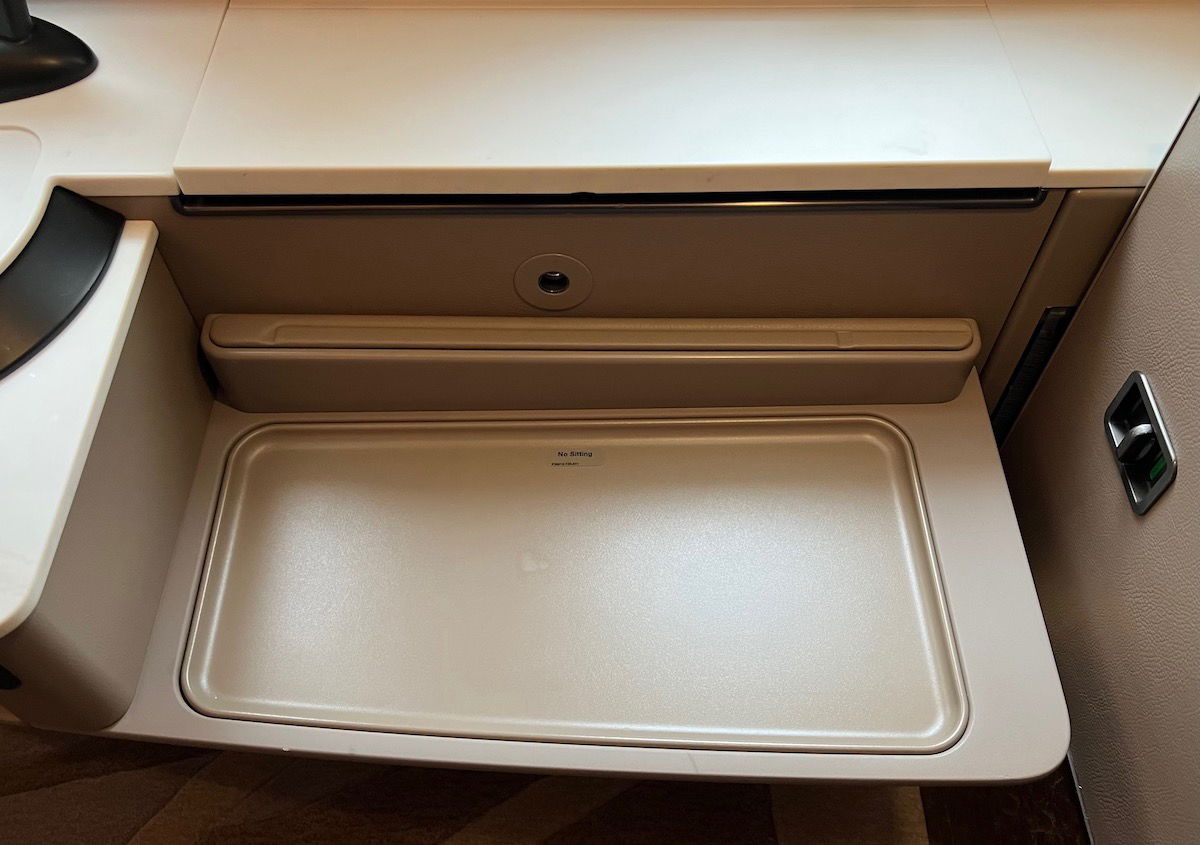 Right near the door is a fairly large closet with a mirror. This is large enough to store a carry-on bag, and you can also hang clothes or a garment bag here.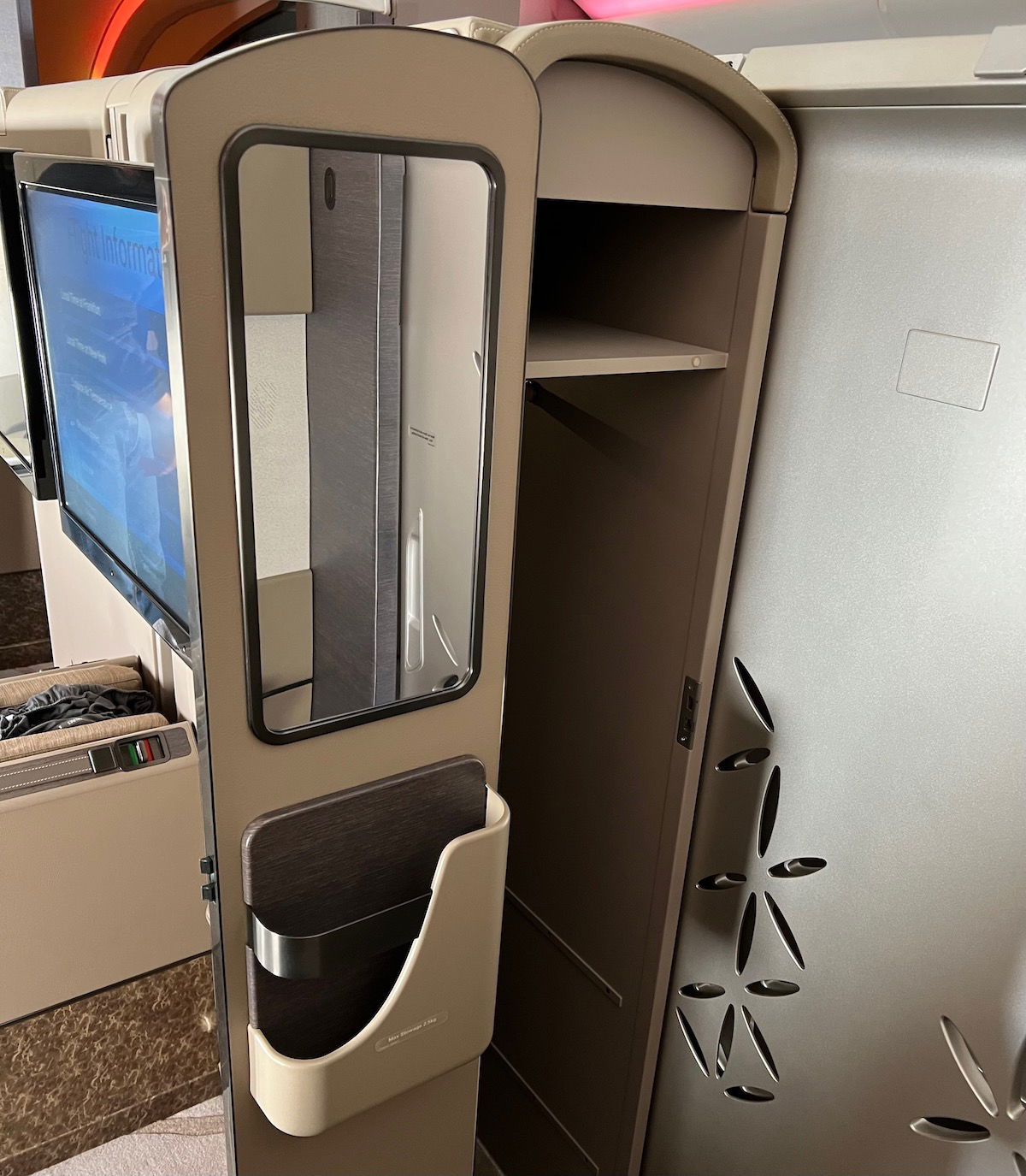 While the Suite is pretty snazzy, what's even cooler is when you turn it into a double Suite. Seats 1A & 2A, as well as seats 1F & 2F, can turn into double Suites, assuming you're traveling with someone else. The crew just has to lower a partition, and that's it. You still can't easily walk between the two Suites since the beds are in the middle and folded up. However, the forward seat can swivel 180 degrees, and then you're facing one another. AWESOME.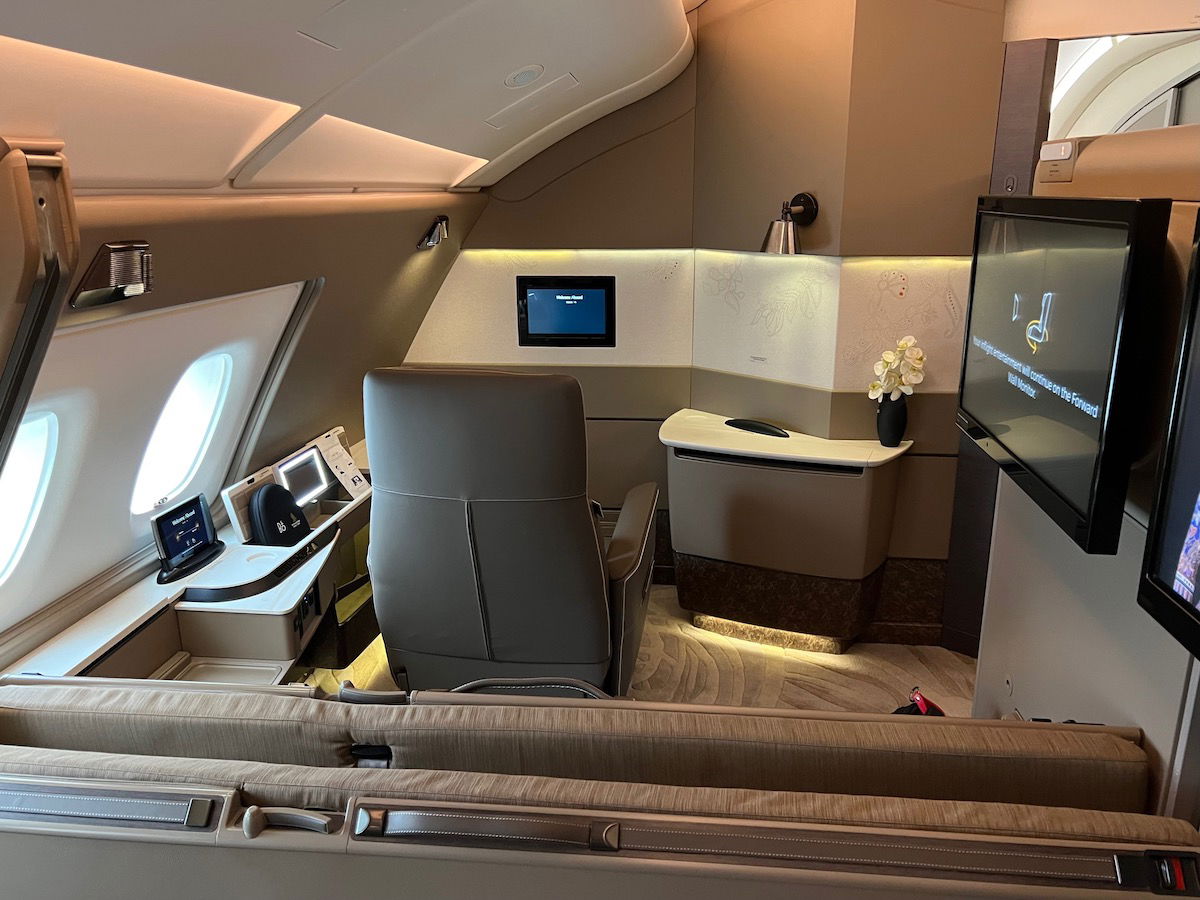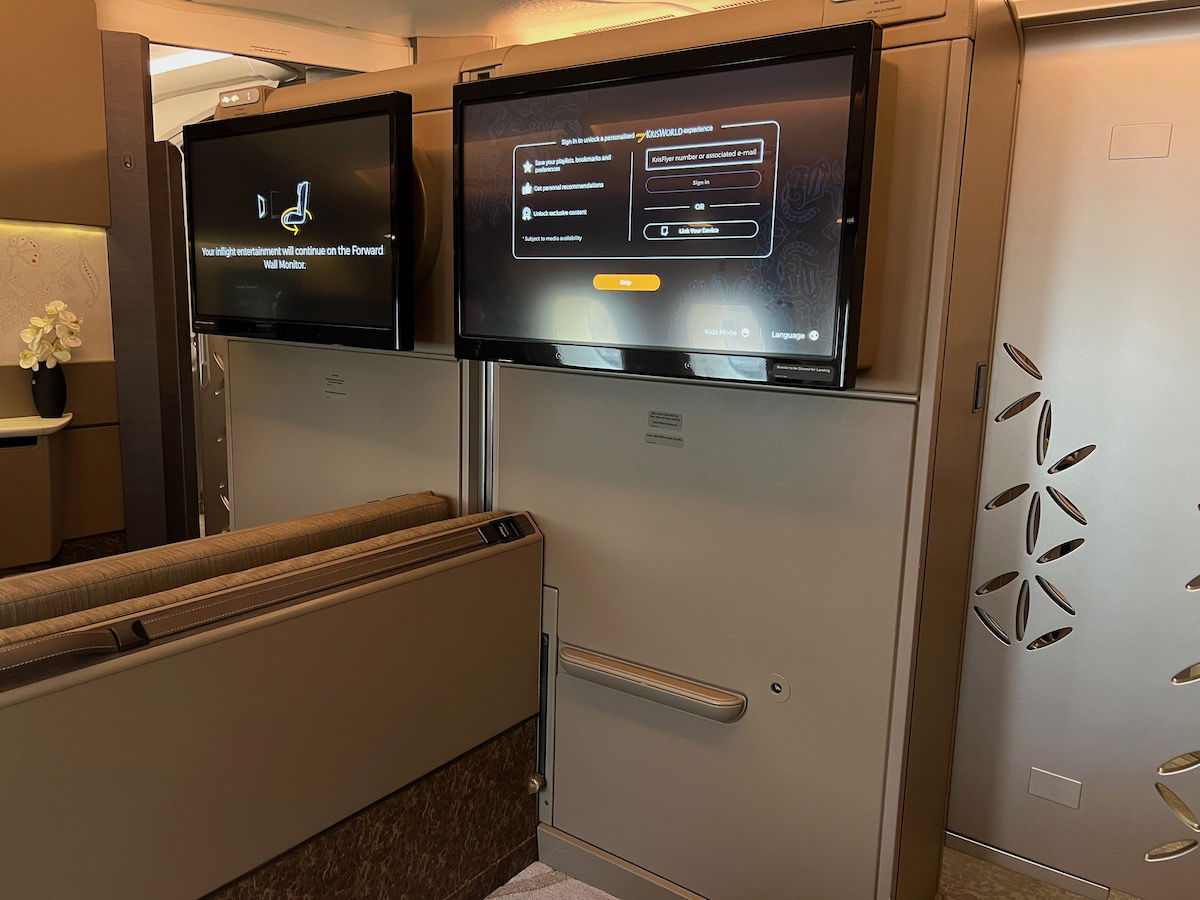 Singapore Airlines' A380 Suites cabin is ridiculously impressive. The amount of space dedicated to each passenger is unrivaled, as this product has the biggest footprint of any first class in the world.
This is no doubt an excellent product to begin with, but it's even better when you're traveling with someone and can turn the space into a larger combined area.
Singapore Airlines A380 Suites bathrooms
While Singapore Airlines' A380s don't have any shower suites (unlike Emirates), the airline does have very nice bathrooms for Suites passengers. At the front of the Suites cabin is the staircase leading to the main deck, and then there's a bathroom on each side of that.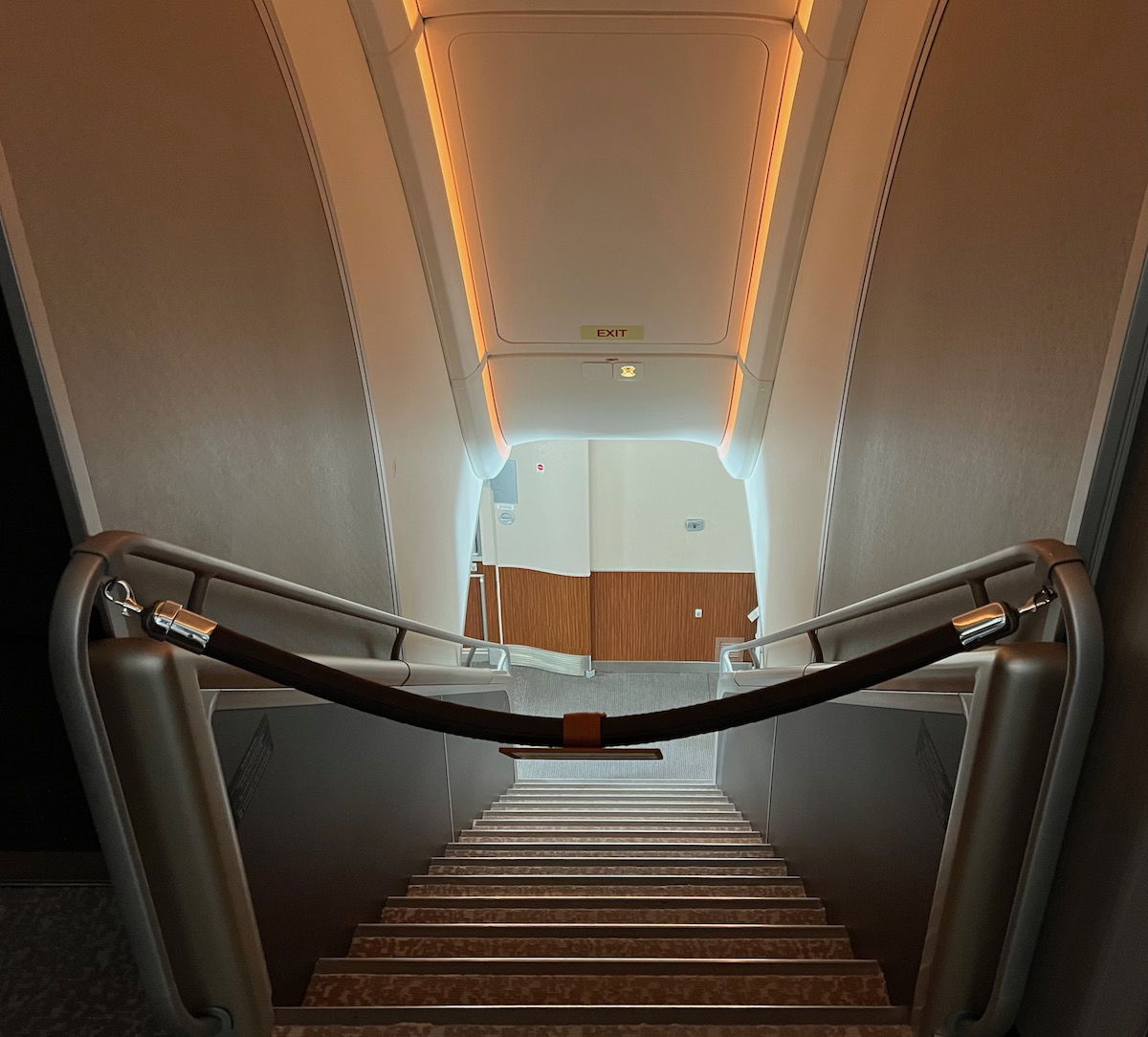 The larger bathroom is on the right (when facing the front of the plane), and it features a sink, vanity with a mirror, and a large toilet. With the exception of the Emirates A380 shower suite, this is no doubt the most luxurious commercial aircraft bathroom in the sky.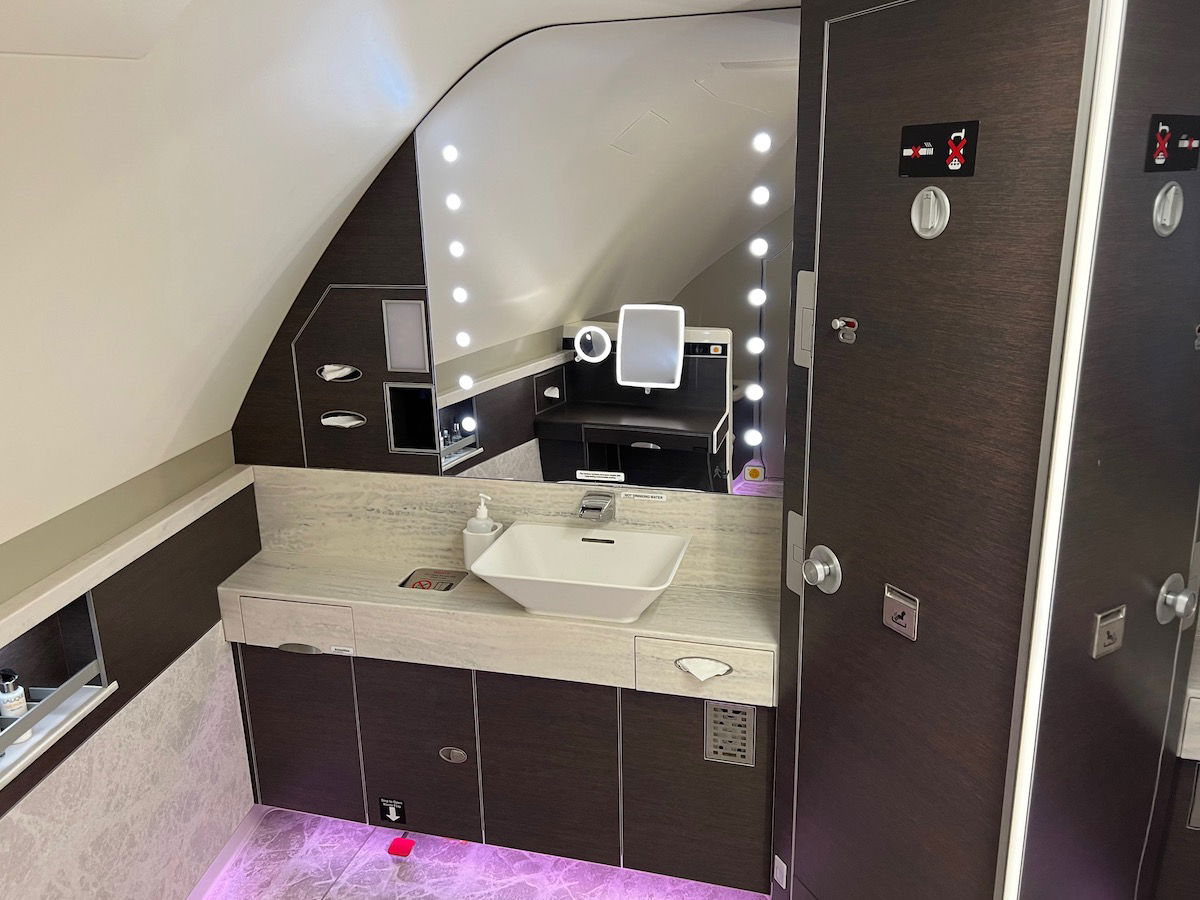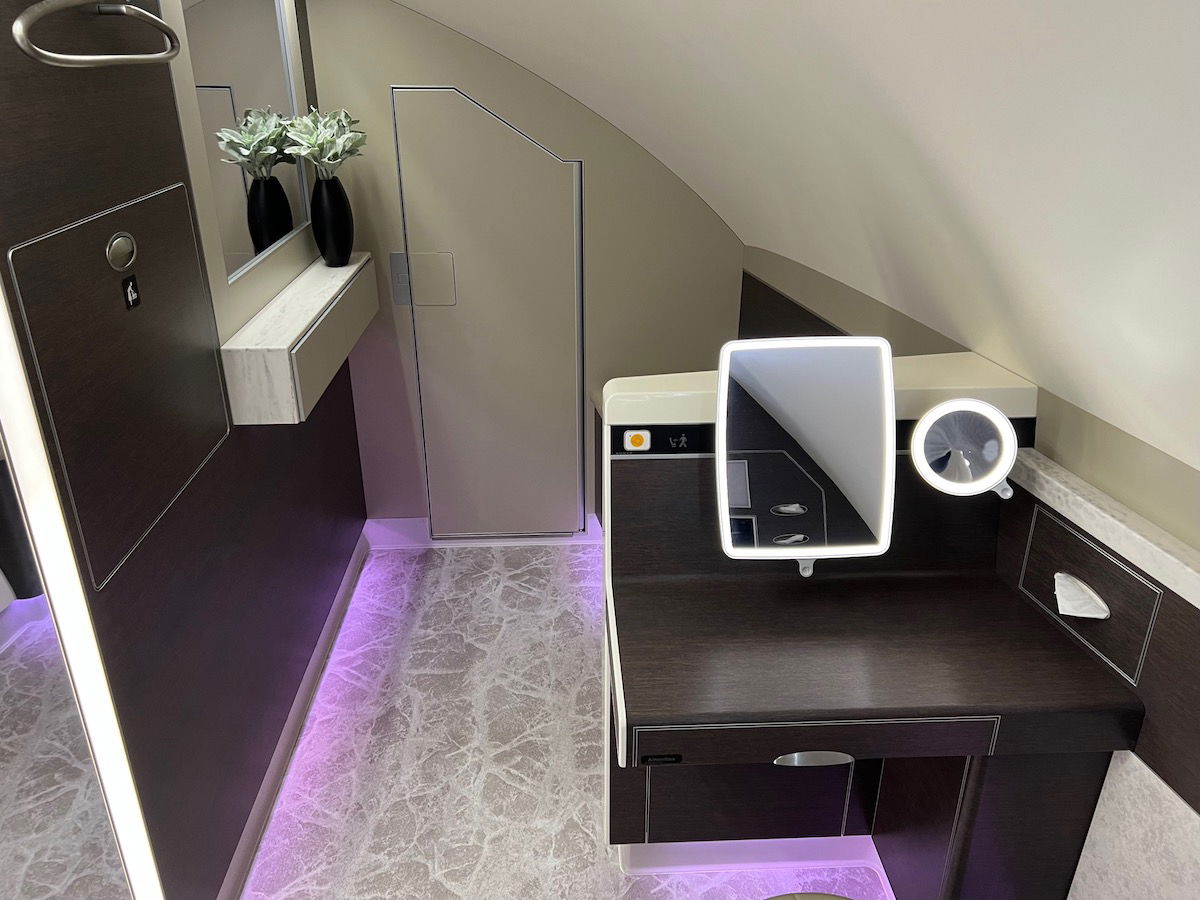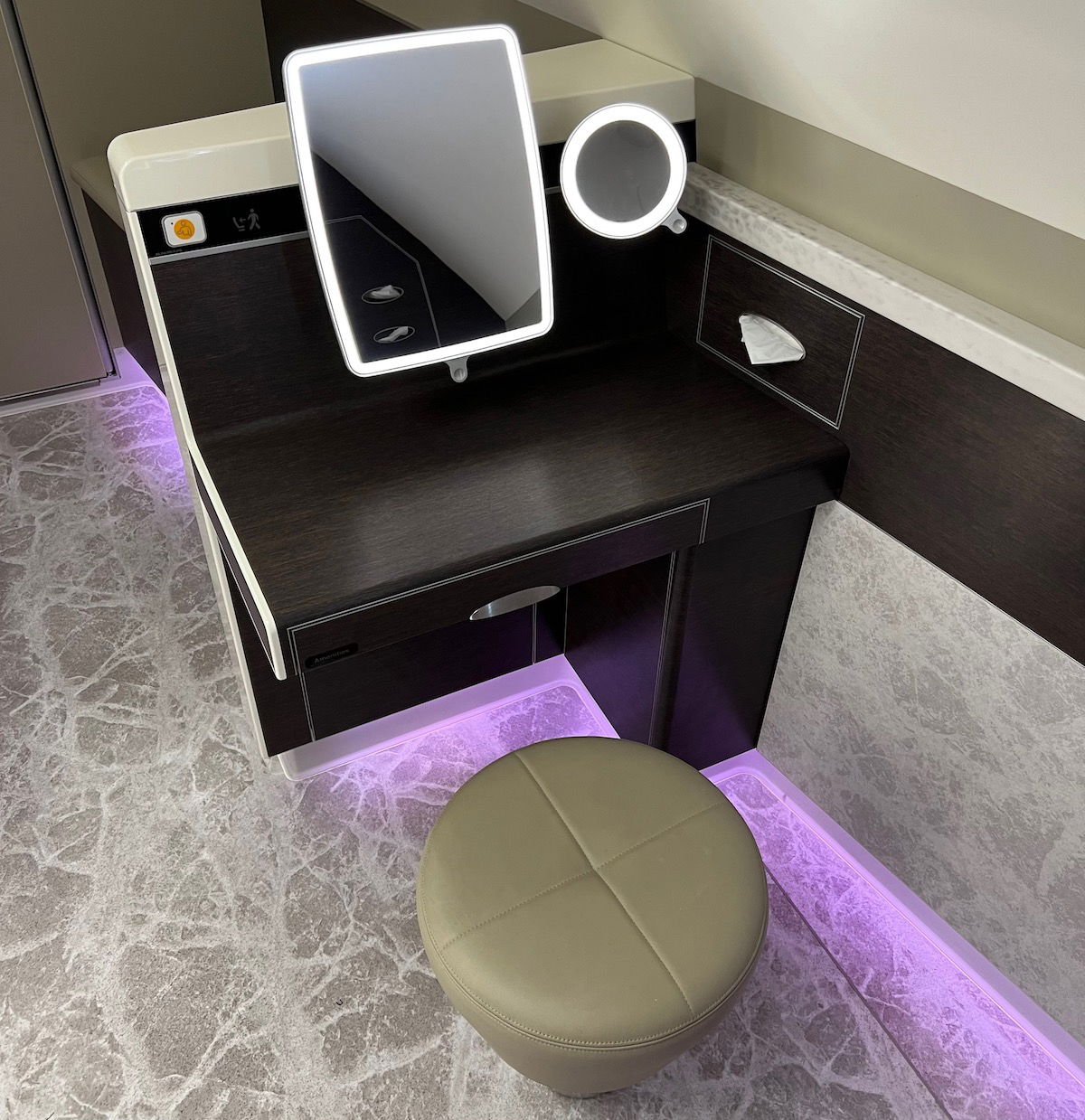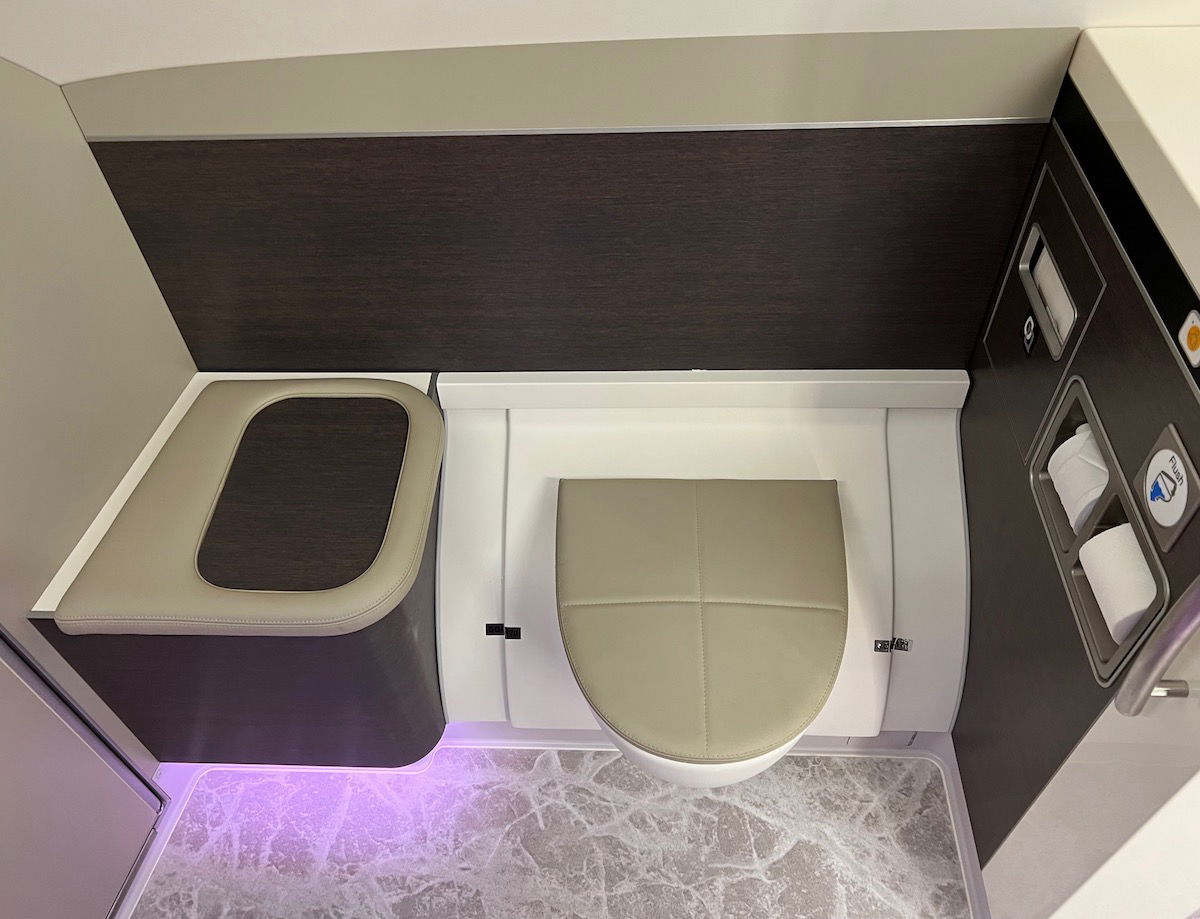 As is standard on Singapore Airlines, the bathroom is stocked with all kinds of amenities, ranging from shaving kits to dental kits.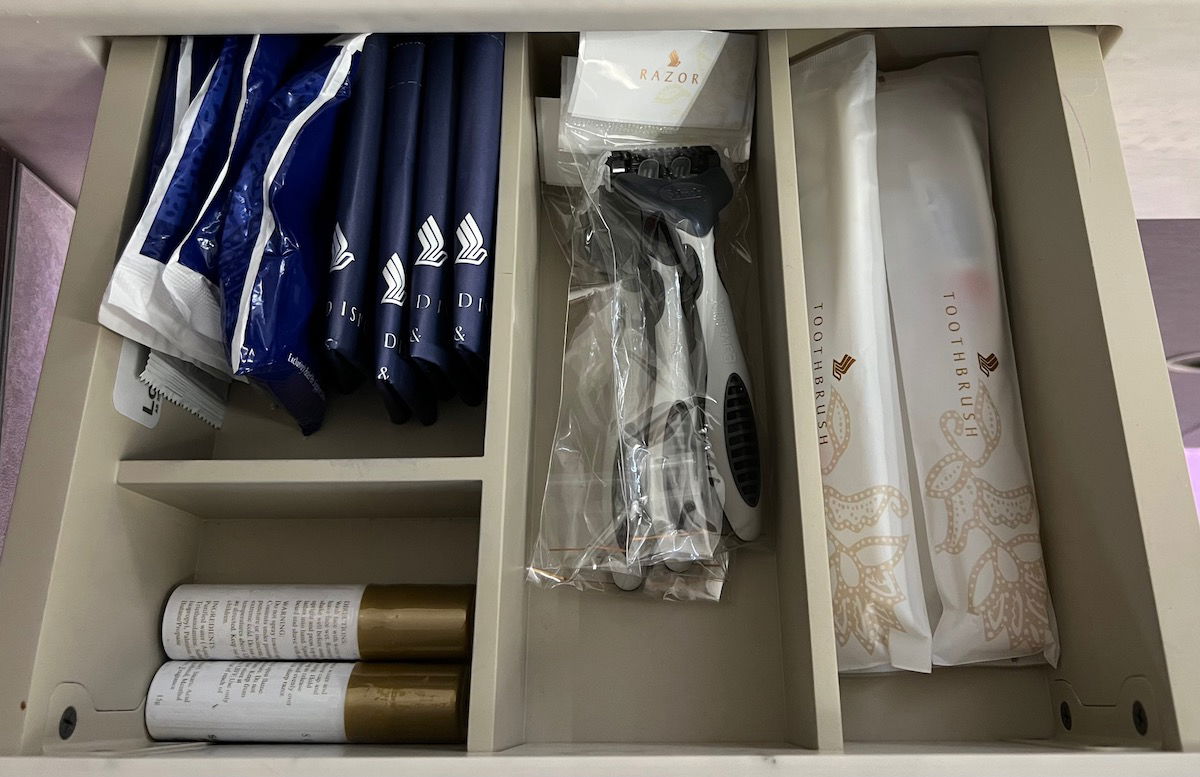 The left side of the aircraft also has a spacious bathroom, though it's not as big as the other one. This one has a toilet, a long bench, and a nice sink area.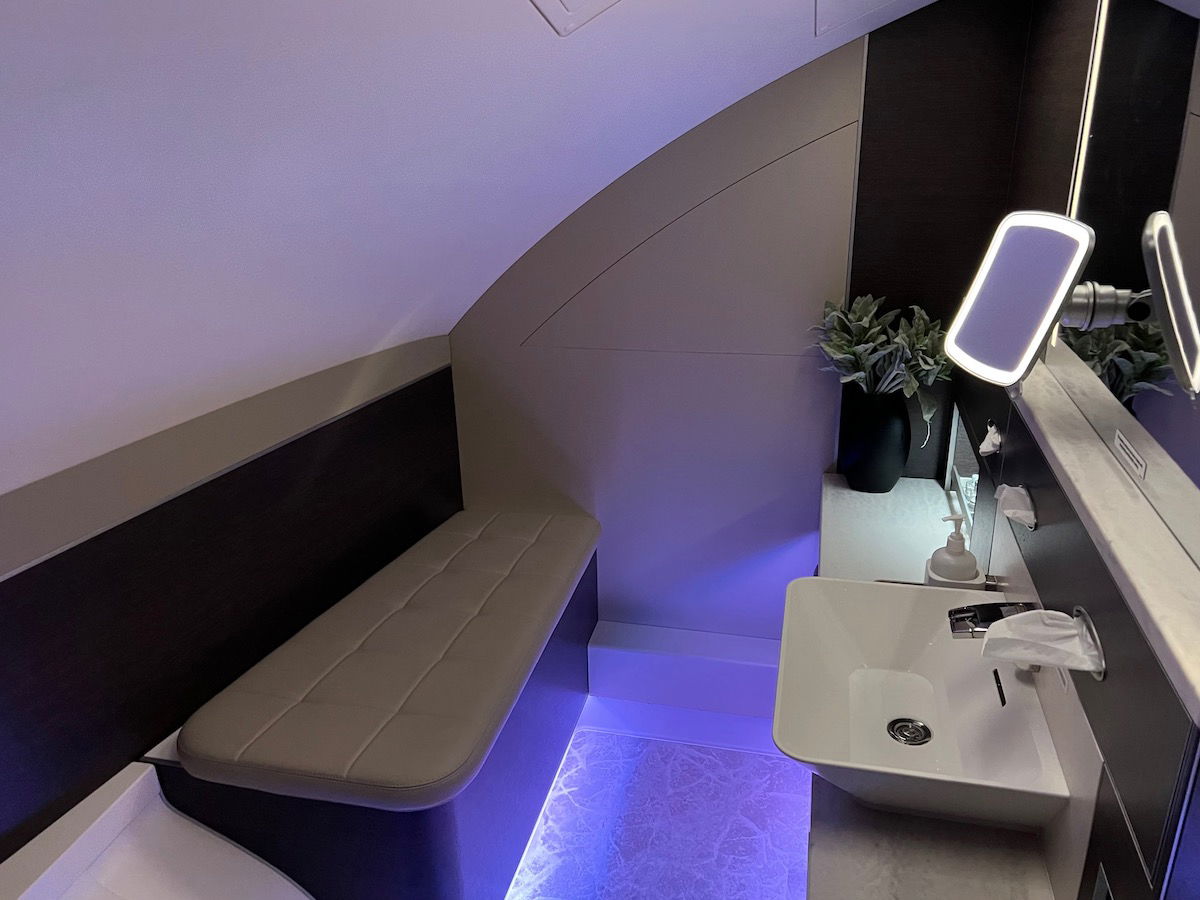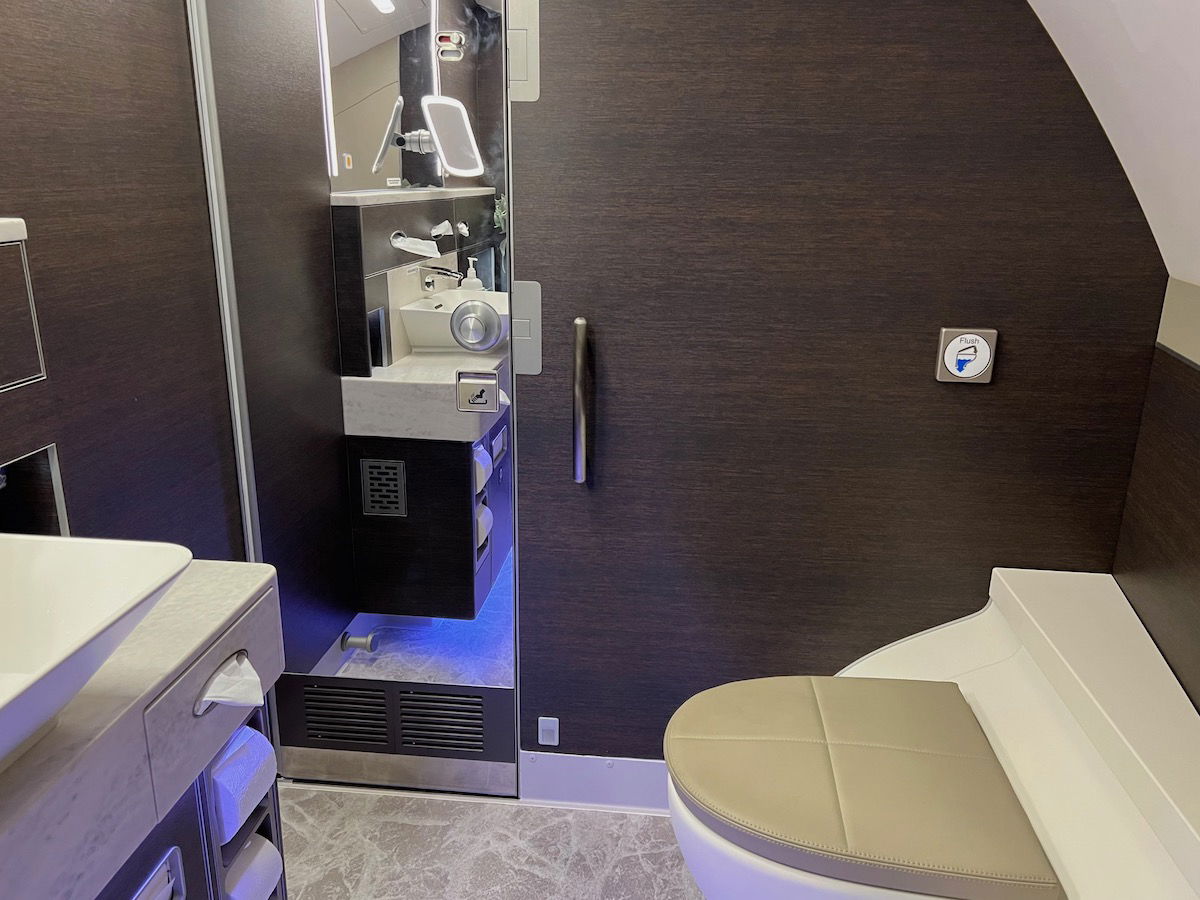 Singapore Airlines Suites amenities
It's kind of like Christmas when you board Singapore Suites, based on the amount of stuff you're gifted. Within a minute of settling in we were offered pre-departure drinks of choice, and of course we requested some champagne. 2008 Dom Perignon was on offer. Yum.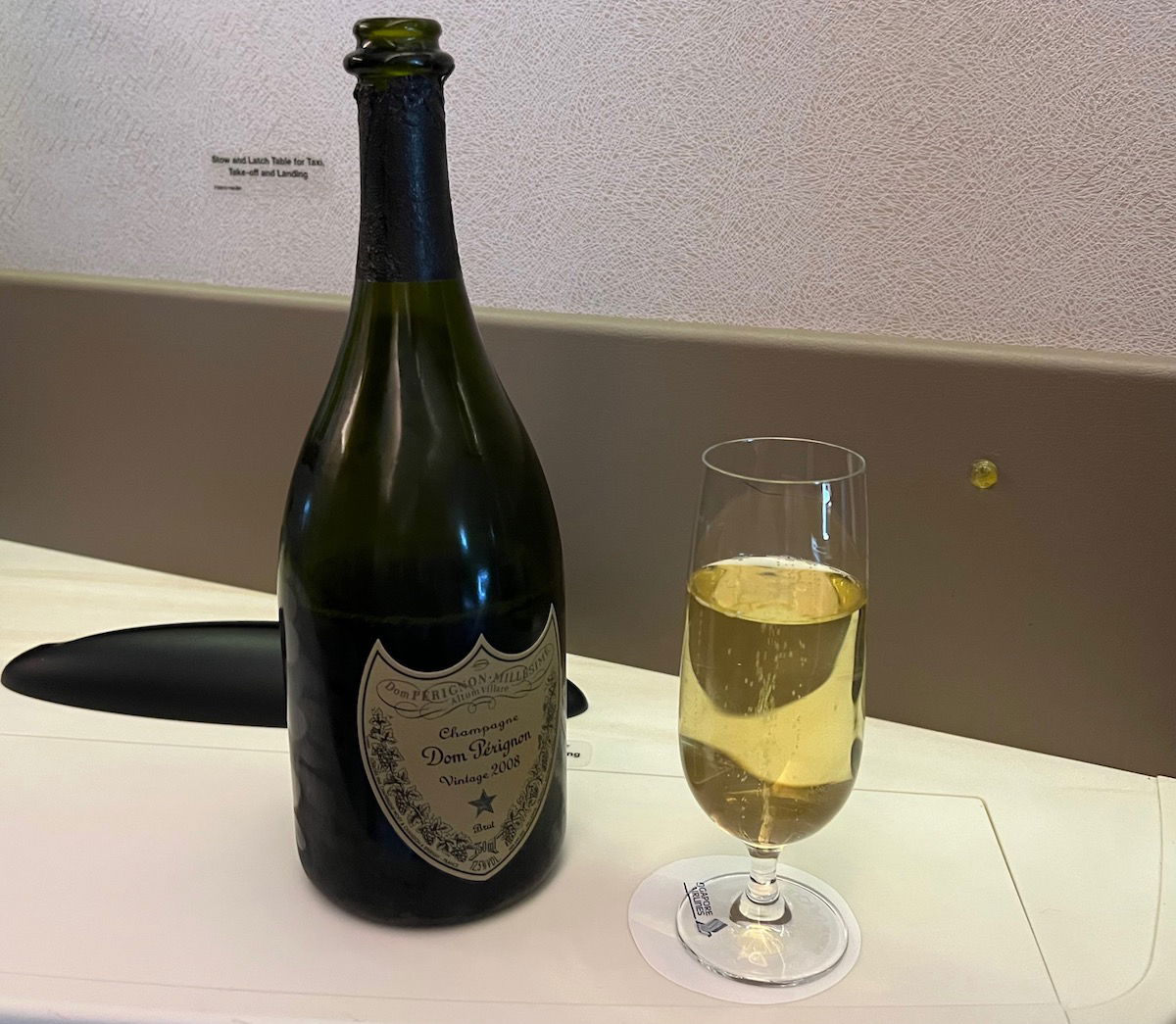 Waiting at each seat upon boarding was a pair of noise canceling Bang & Olufsen headphones.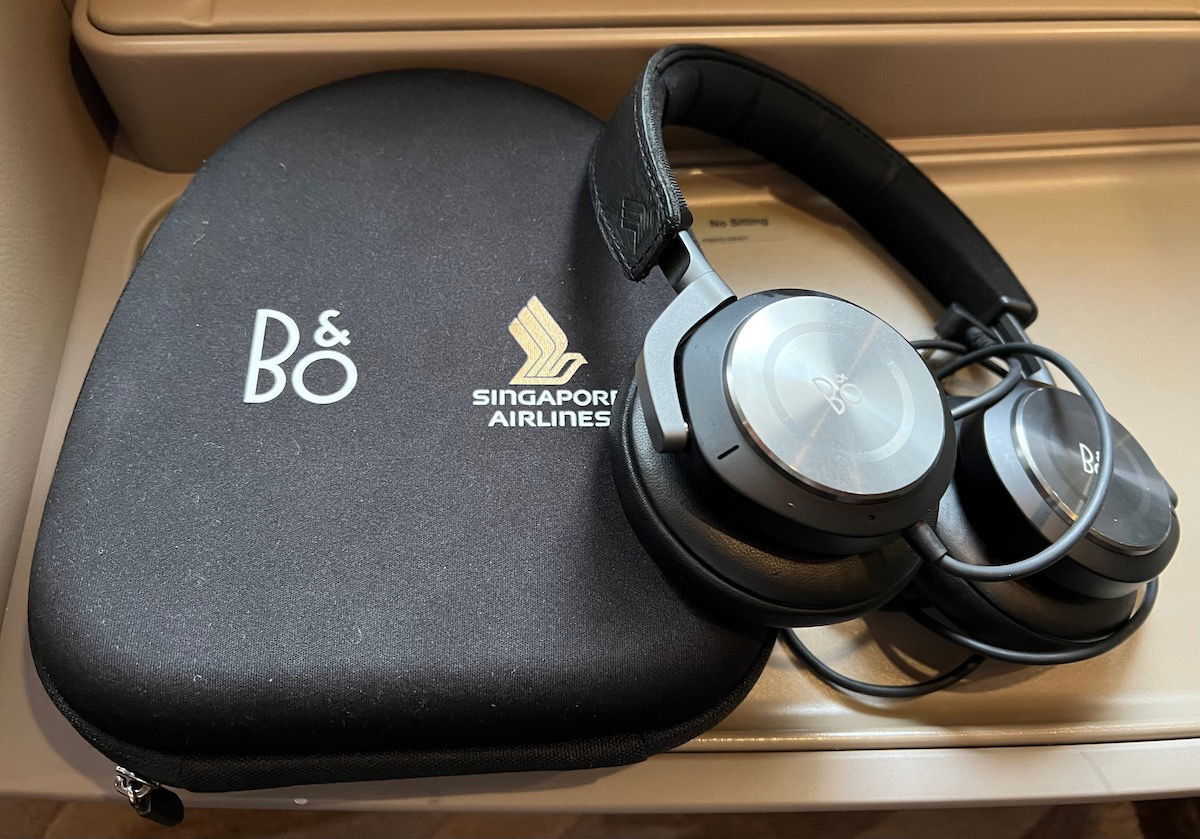 We were also offered Lalique amenity kits. Singapore Airlines takes an unconventional approach to providing amenities, since most of the basic things you might need are located in the lavatories. So these kits instead largely have things you might enjoy at home, like a scented candle, soap, body lotion, and lip balm. If nothing else, it makes a great gift for someone back home.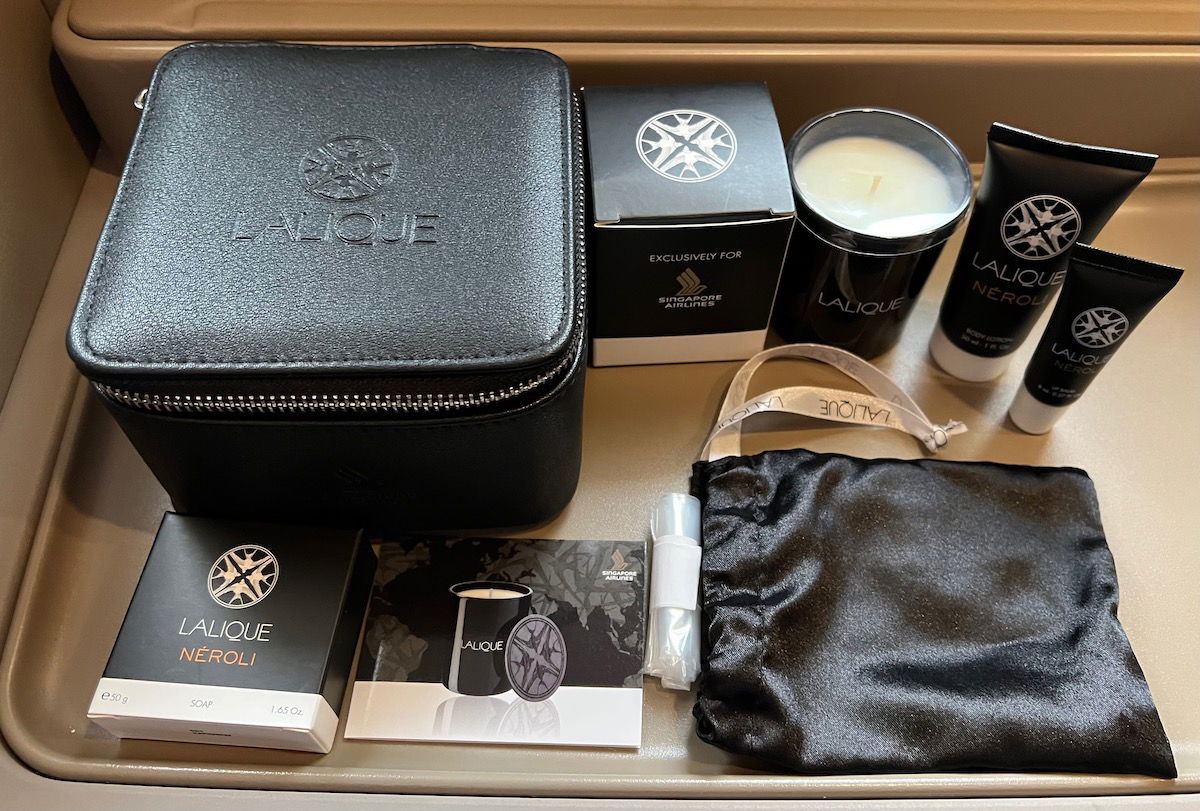 We were also given Lalique pajamas and slippers, which were high quality and comfortable.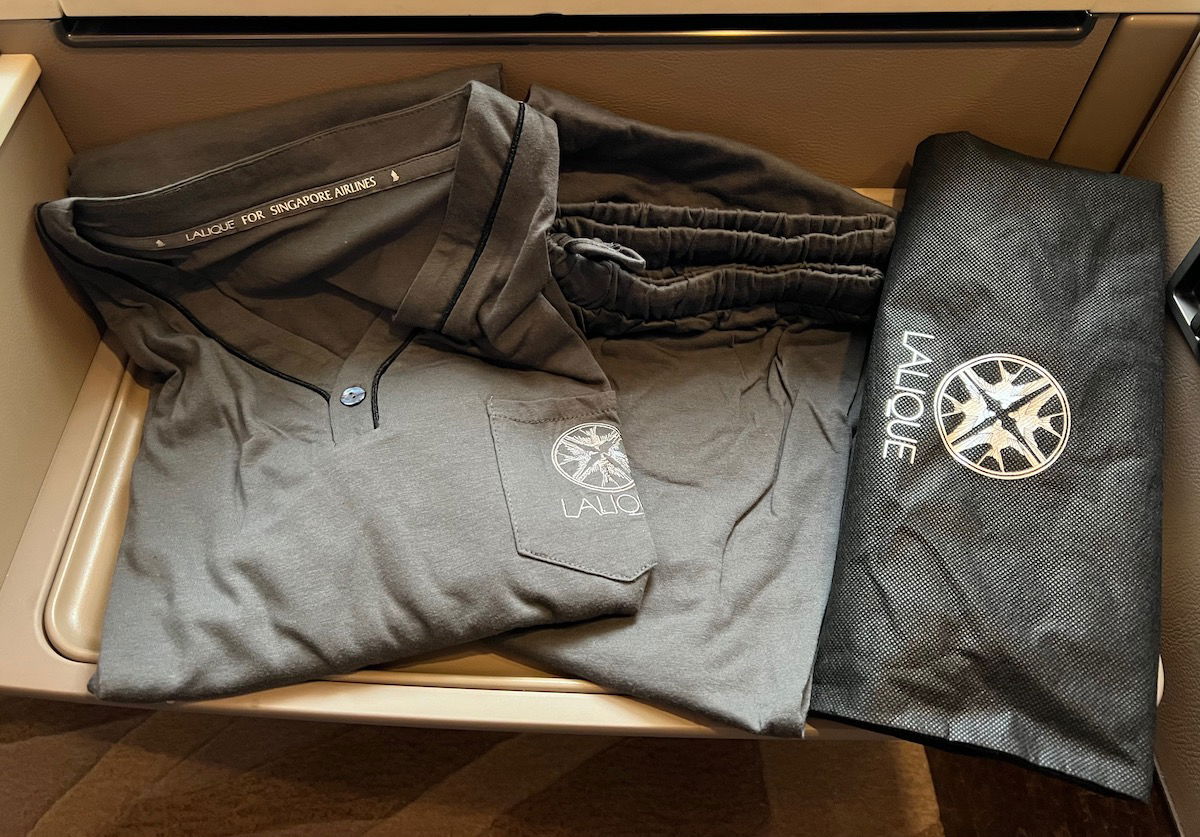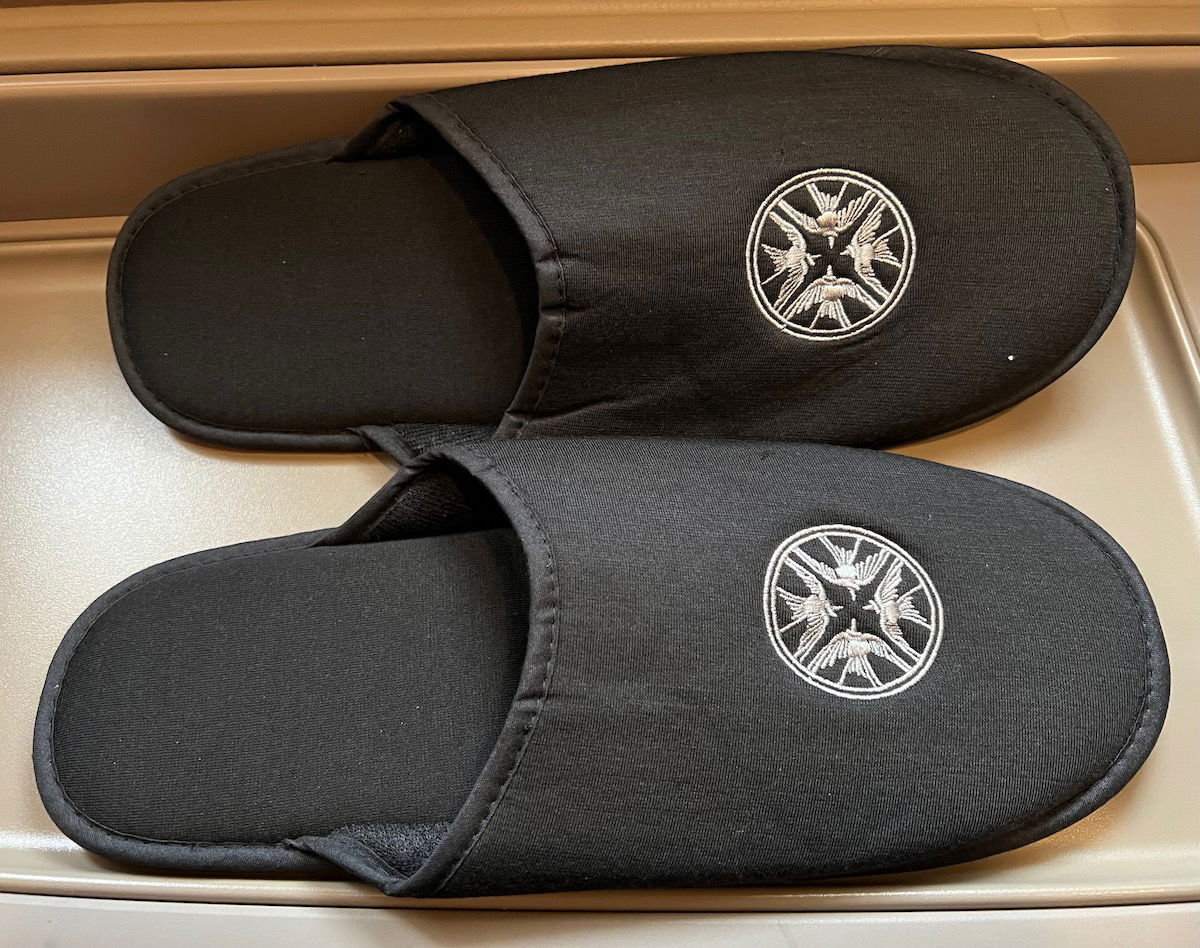 Eyeshades and earplugs were distributed as well.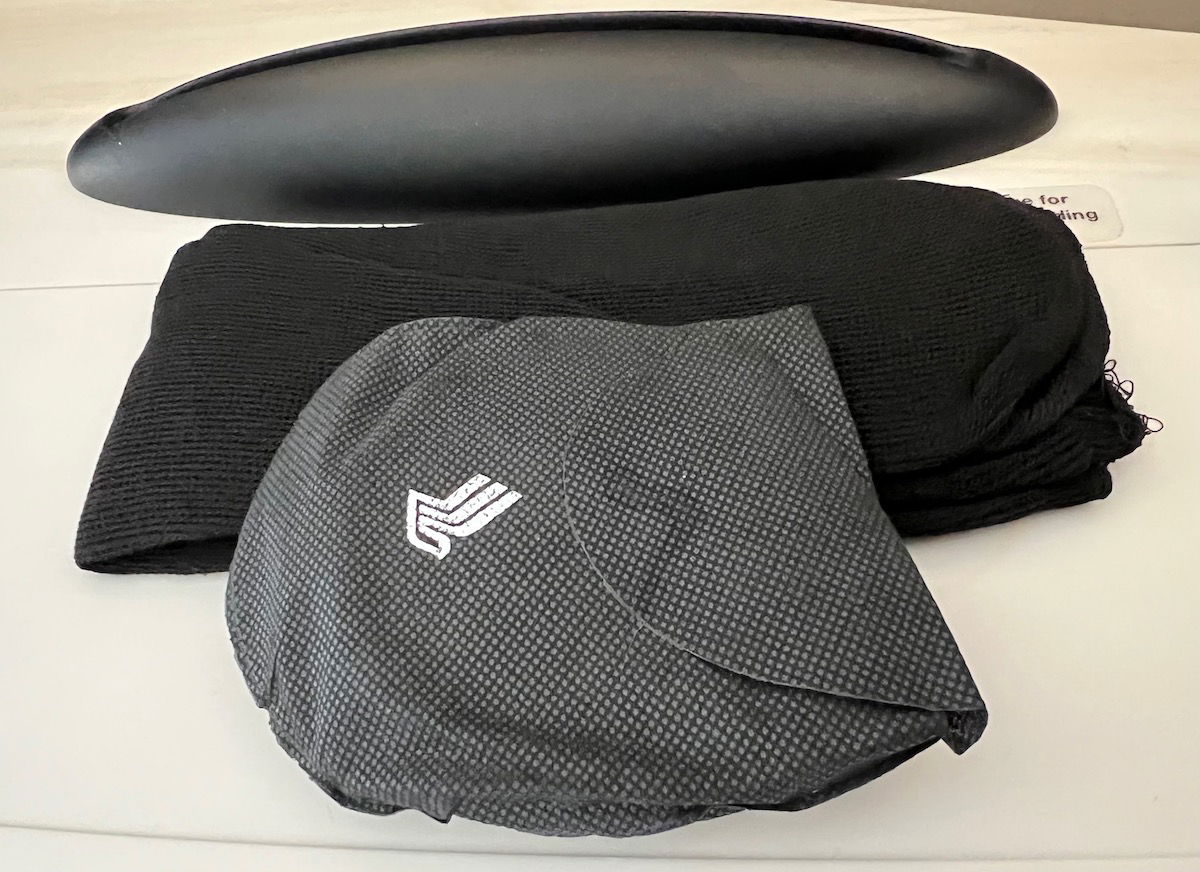 Lastly, there was a care kit with a mask, hand sanitizer, and disinfecting wipes.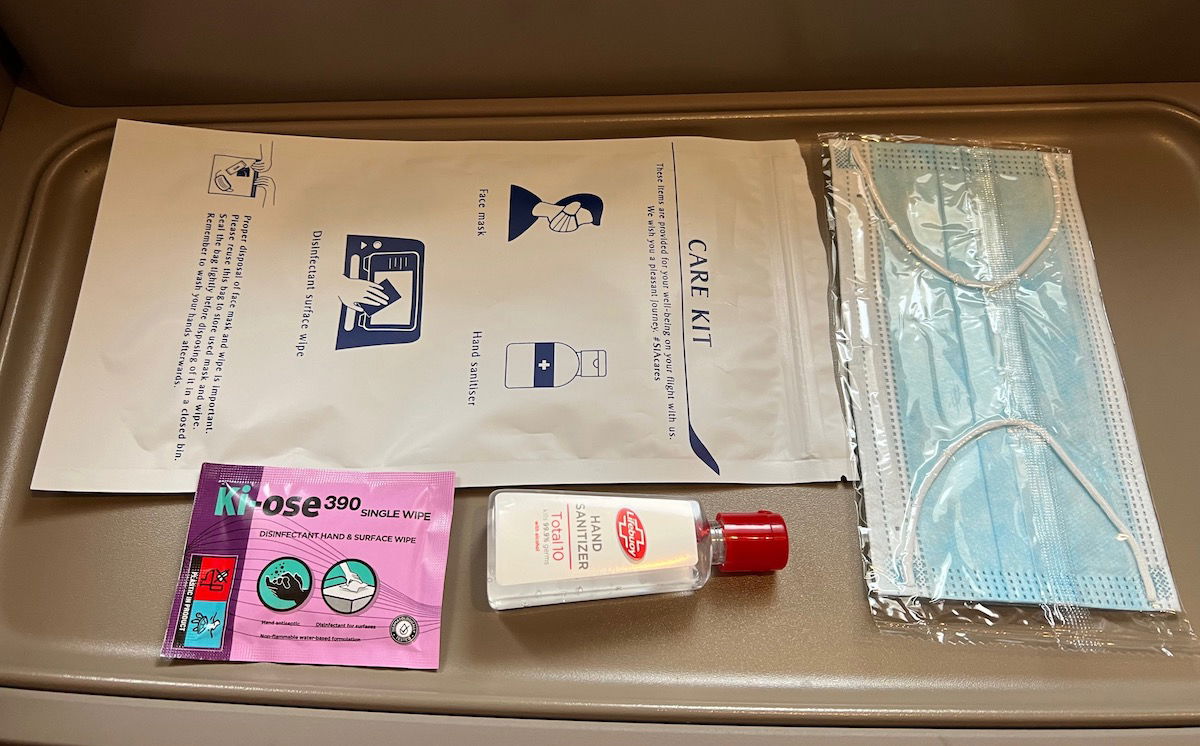 The back of this kit had the QR codes for the inflight menus and more. No menus were distributed on this flight, but rather the menus were exclusively through your personal device. I found that to be a bit strange and impractical, especially since it requires connecting to inflight Wi-Fi. On the plus side, you can easily look up the menu for any Singapore Airlines flight at this link by entering your flight number, class of service, and date of travel.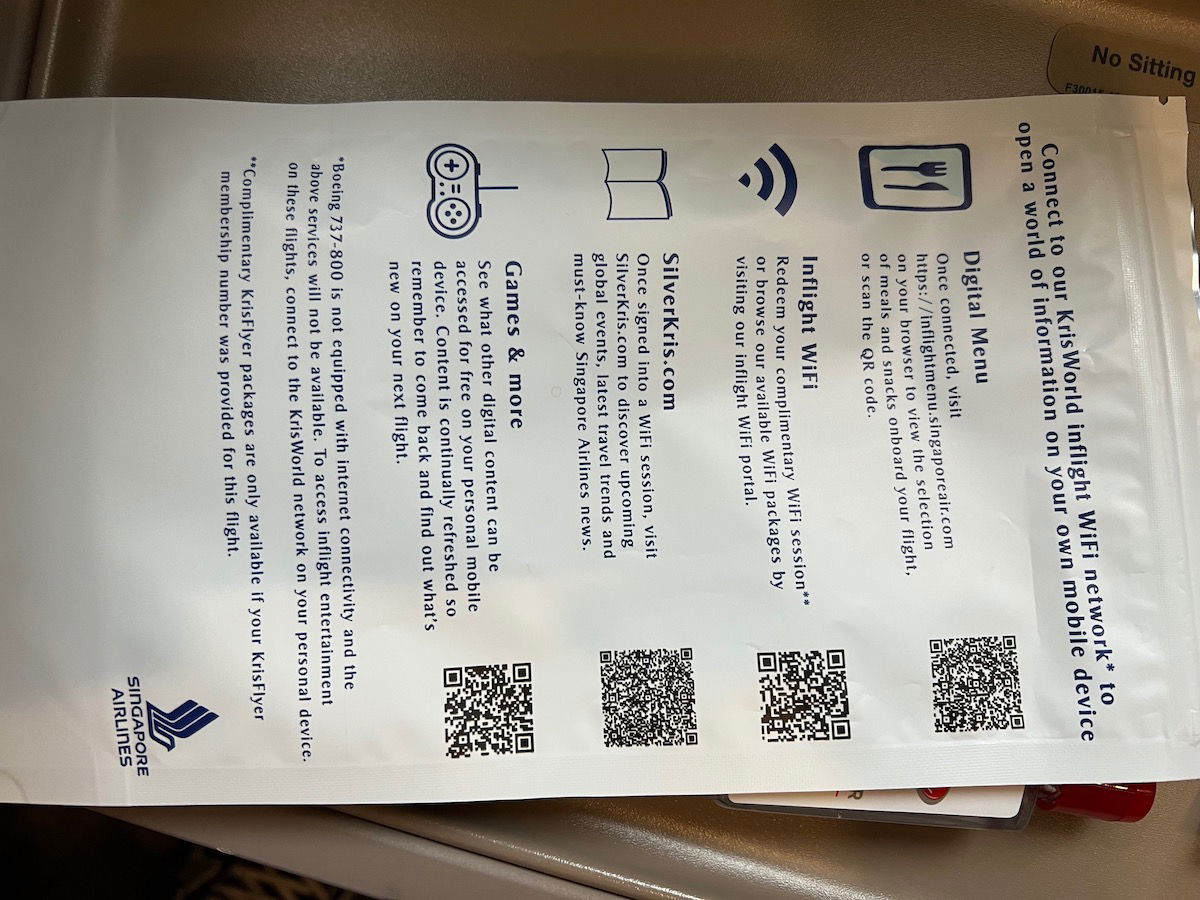 Lastly, separate from the bedding provided at turndown service, blankets were offered, so that we could get cozy while relaxing in our seats.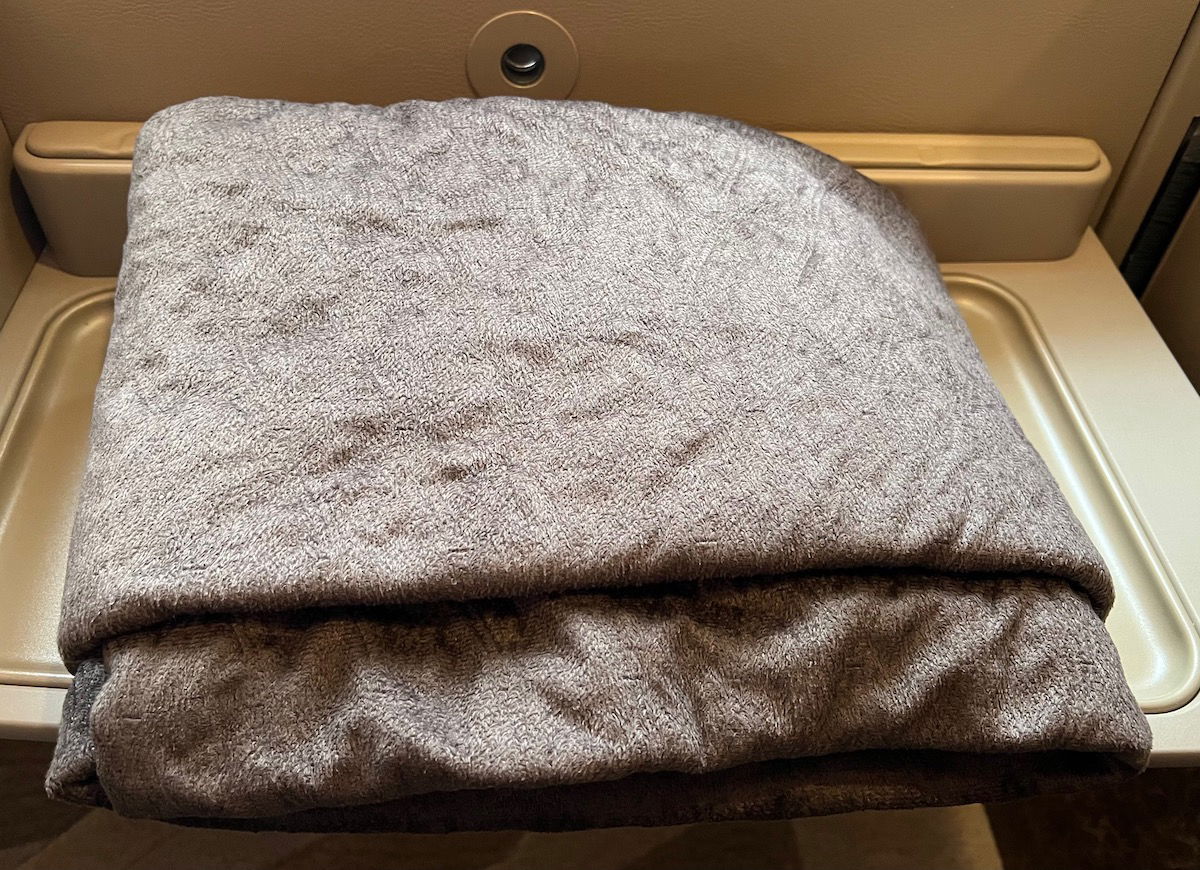 Singapore Airlines departure from Frankfurt
Boarding was efficient, and was completed by 9:55AM (20 minutes after it started). For what it's worth, on the upper deck five of the six Suites were occupied, while business class was less than half full.
At 10AM the captain was on the PA to apologize for our delayed departure, but he explained that we should make up some time enroute, as the flight time was "only" 7hr40min. At 10:15AM we began our pushback, and at that time the safety video was screened as well. I quite like Singapore Airlines' destination-themed safety video.
We taxied for around 10 minutes, and at that point the captain was back on the PA. He apologized profusely, and explained that there was a hydraulics issue with the number three engine, and that maintenance would have to look at it. However, we couldn't return to our gate, so we'd have to taxi to a remote stand.
By 10:35AM we arrived at a remote stand, parking near a Thai Airways 777.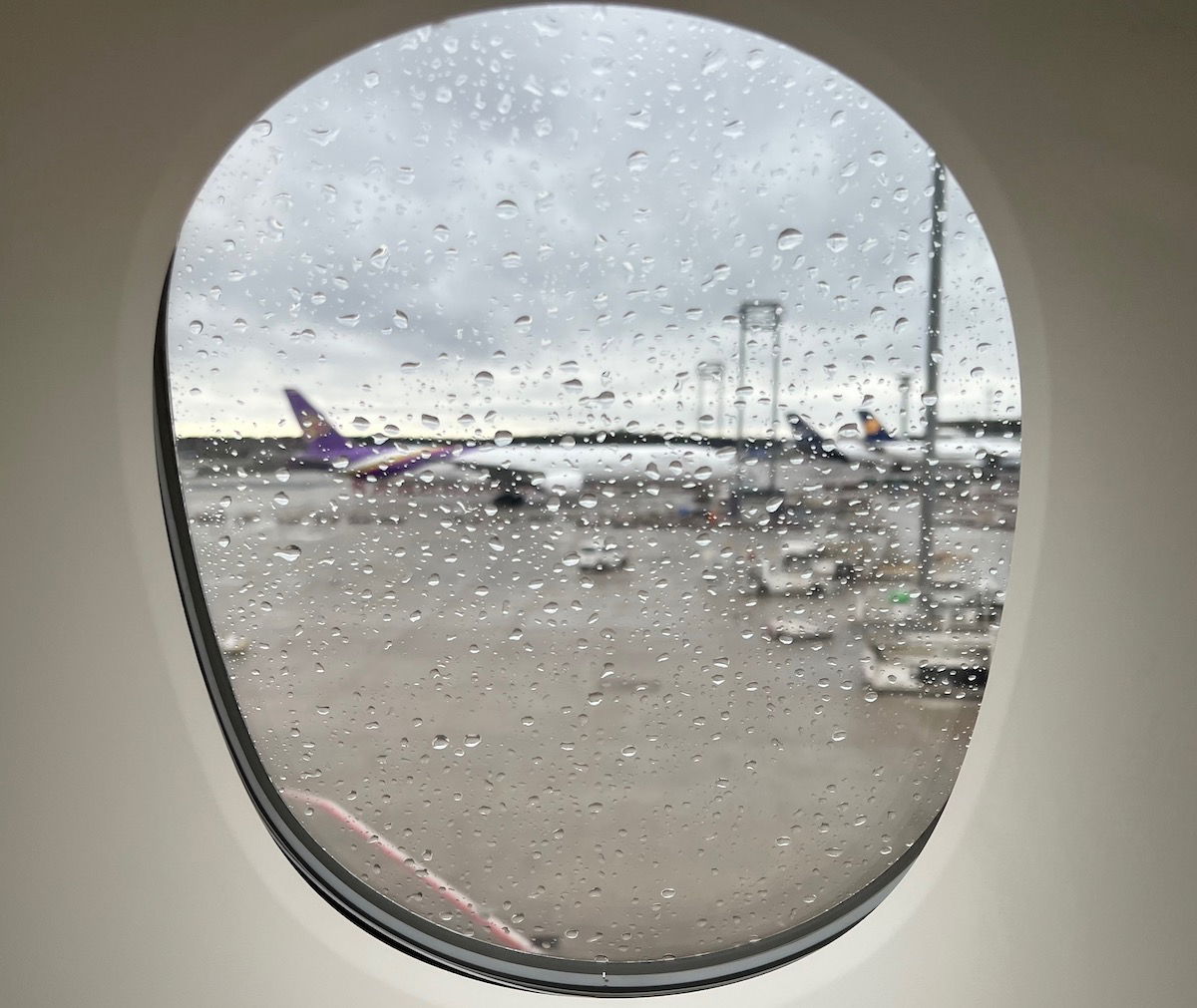 I was extremely impressed by the entire team's work keeping passengers updated. The captain provided several updates about the progress of the fix, and the tone in his announcement was just refreshing, as it was clear he took pride in the company and took responsibility for the situation and the impact it would have on passengers. The station manager even got on the plane to make a PA apologizing for the delay.
I've gotta be honest, I didn't mind this delay one bit, since 7hr40min really isn't enough time to enjoy this great product. 😉 Once it was clear we'd be on the ground for a while, the crew sprung into action and started inflight service. First we were brought a couple more glasses of Dom Perignon. A snack basket was also brought around, so I paired my Dom with some nacho cheese Doritos, natch — what a tasty combination!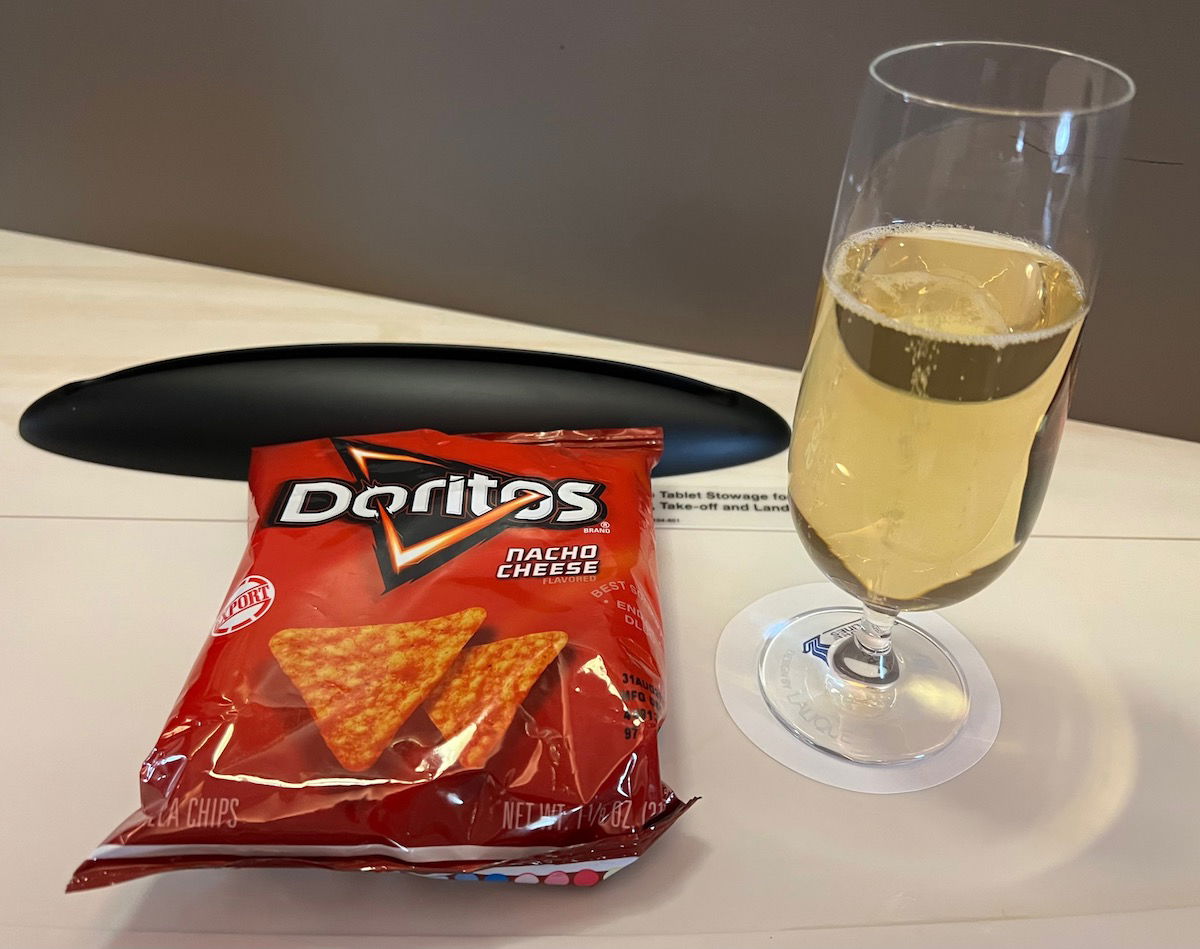 The crew also served us some delicious chicken satay, which was supposed to be part of the lunch service. We were asked if we wanted seconds, and when we said that we didn't, we were told we could enjoy more after takeoff if we wanted to.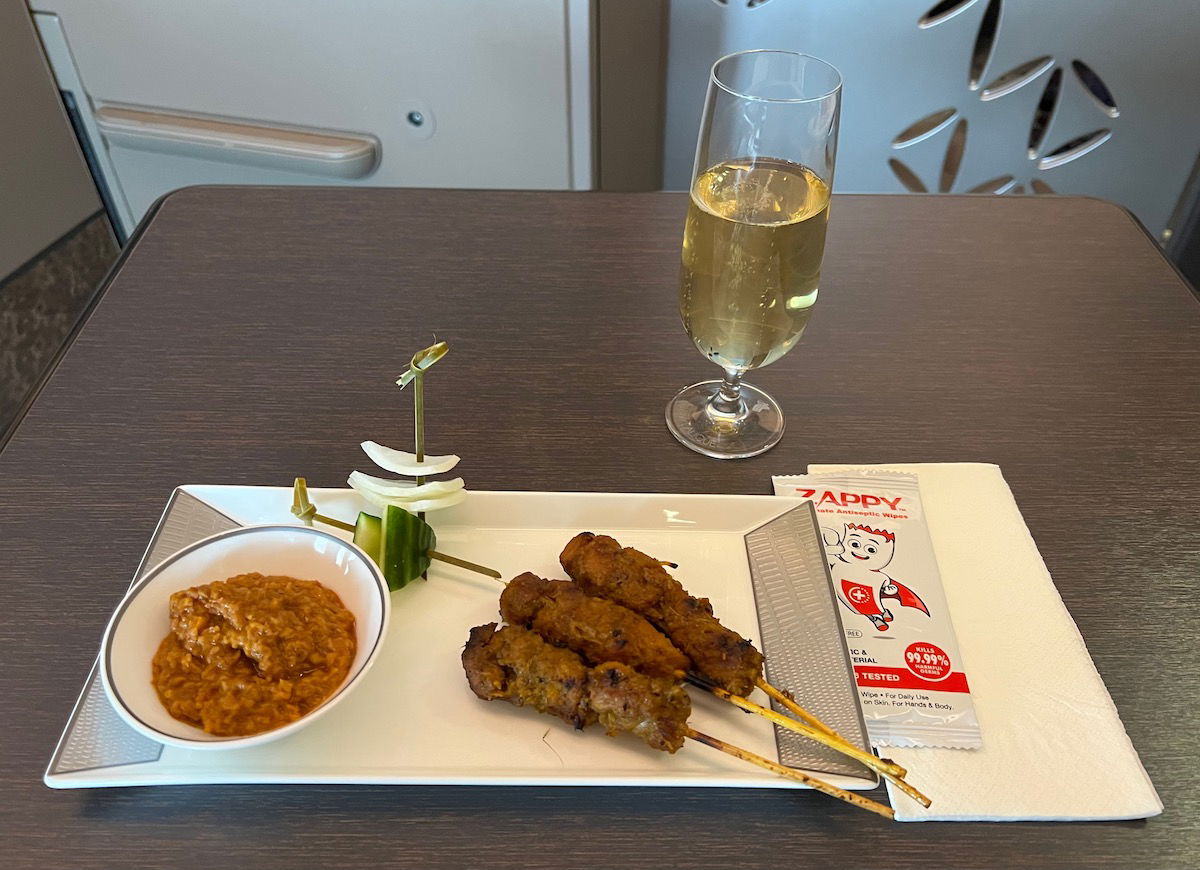 At 11:45AM, about 70 minutes after we got to the remote stand, the captain said that the problem was fixed, and some paperwork just needed to be completed. Sure enough, 10 minutes later we began our pushback. The safety video was screened once again, and then we had a roughly 25 minute taxi to our departure runway. We were cleared for takeoff on runway 25R at 12:20PM, and rocketed off toward New York.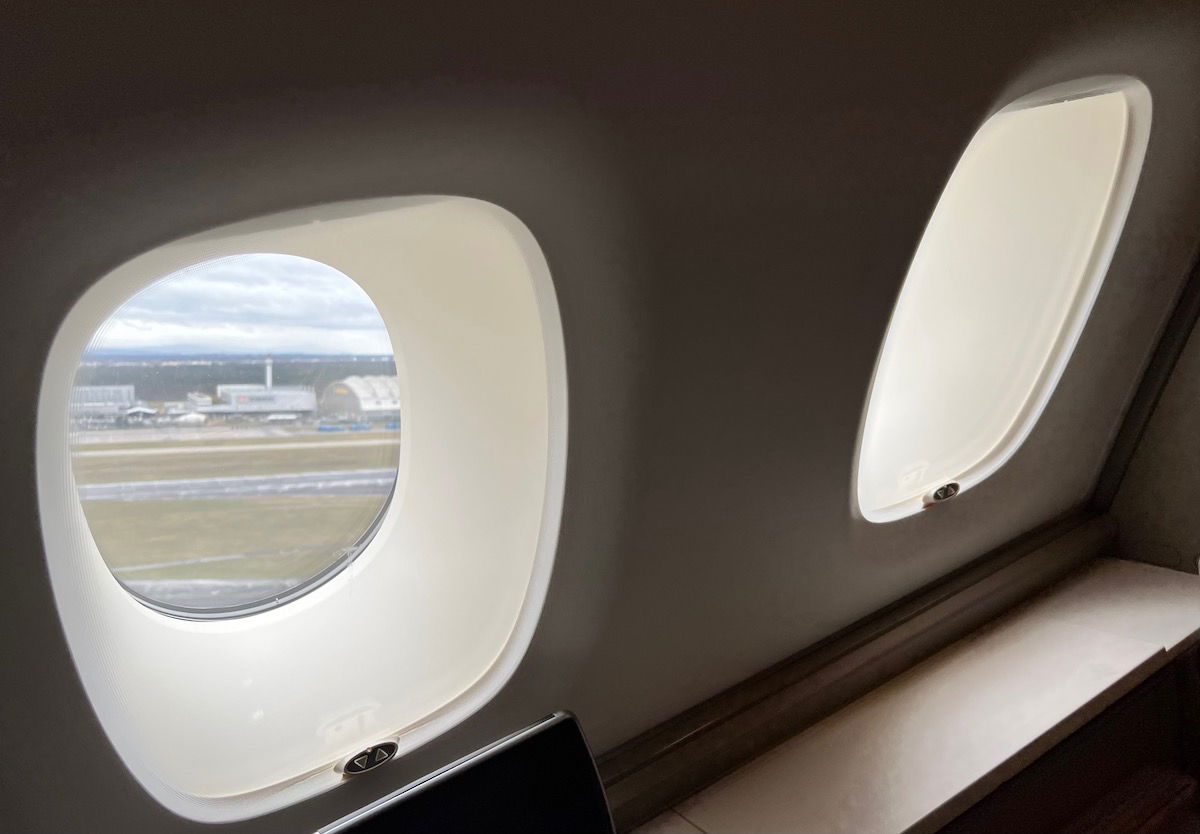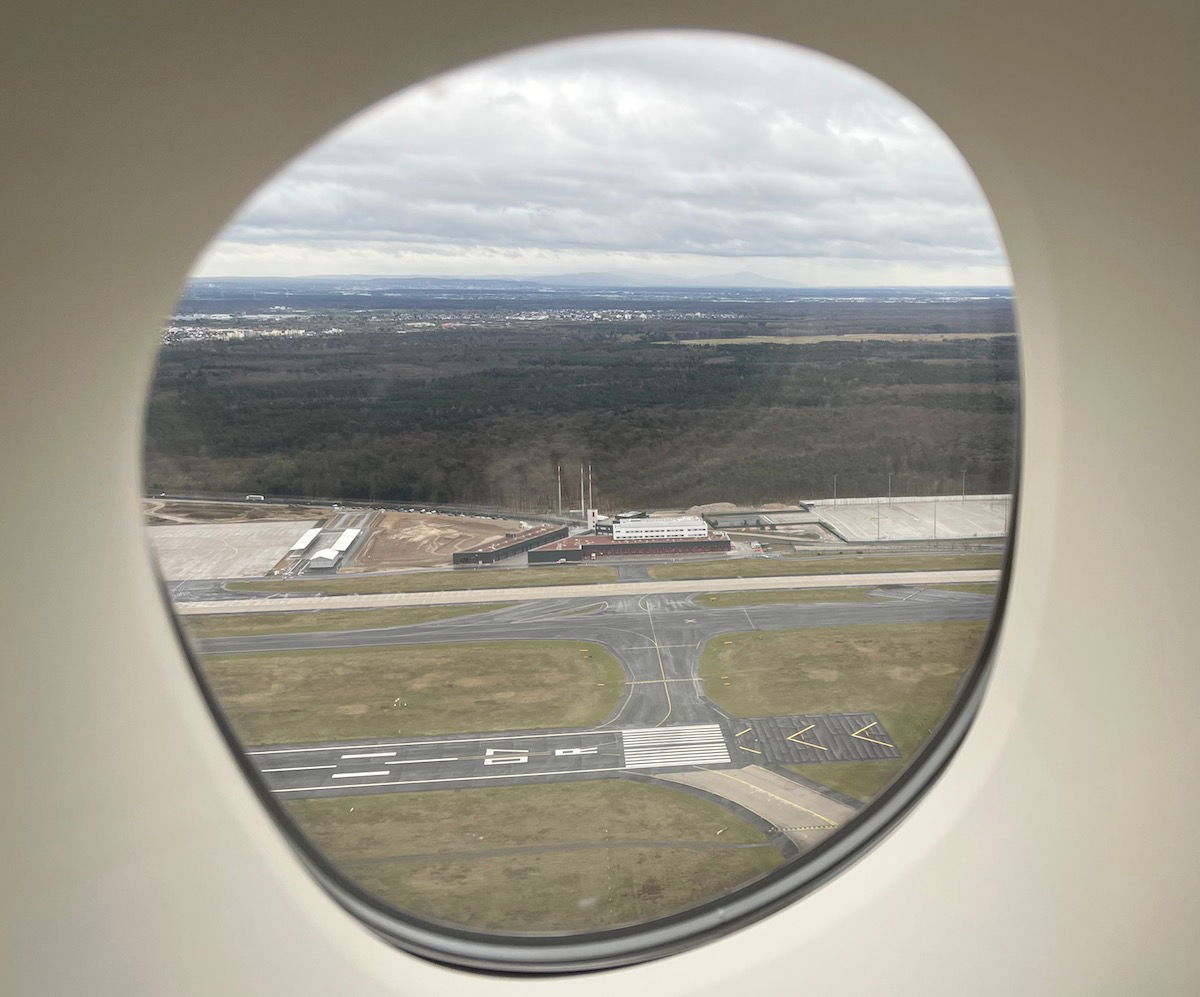 Singapore Airlines A380 Suites entertainment & Wi-Fi
After takeoff I browsed the entertainment selection and connected to the Wi-Fi. Singapore Airlines' KrisWorld entertainment system is phenomenal — it has an endless selection of movies and TV shows, and the system is highly responsive and easy to use.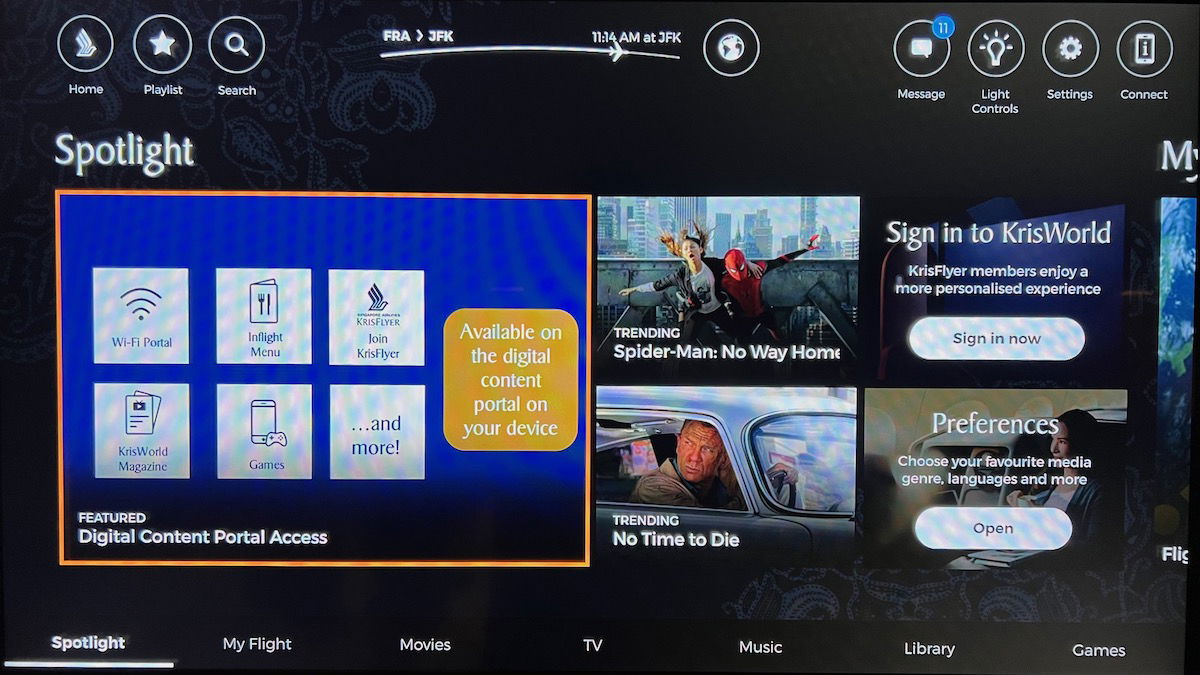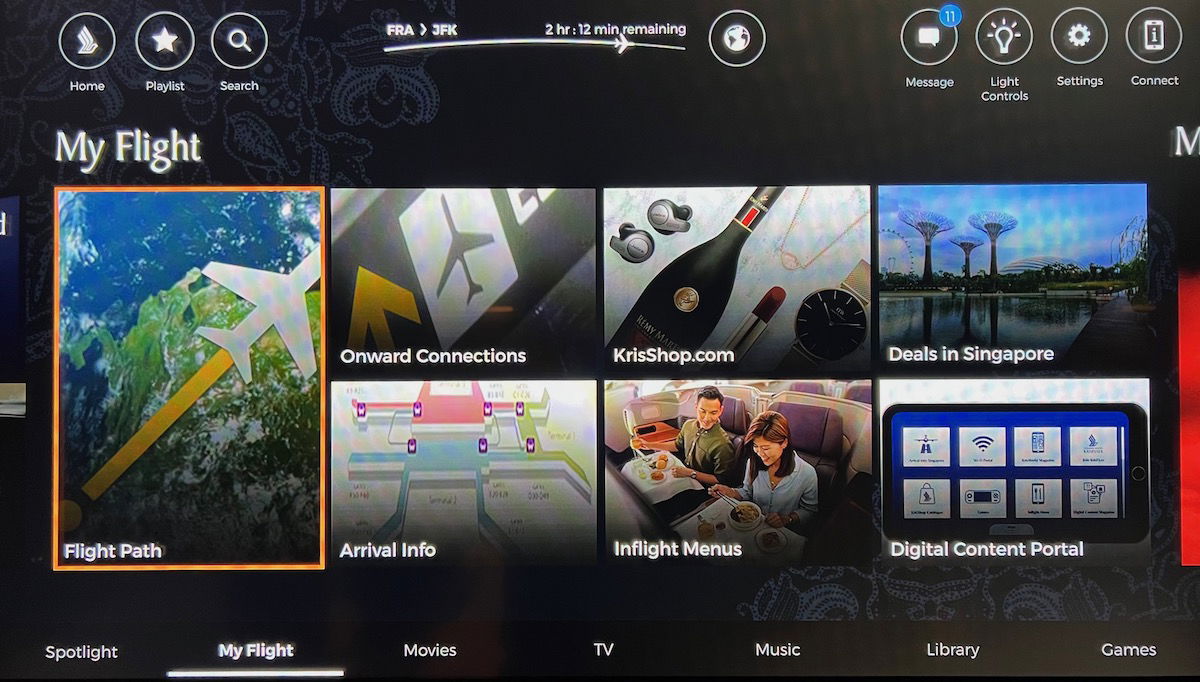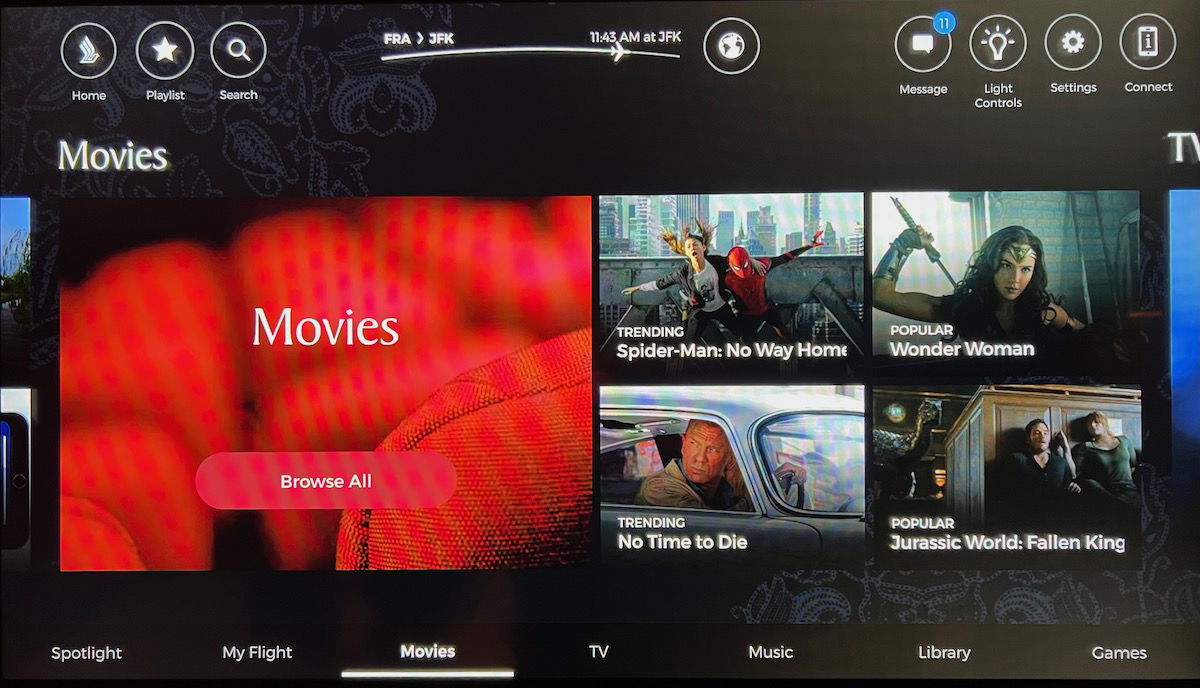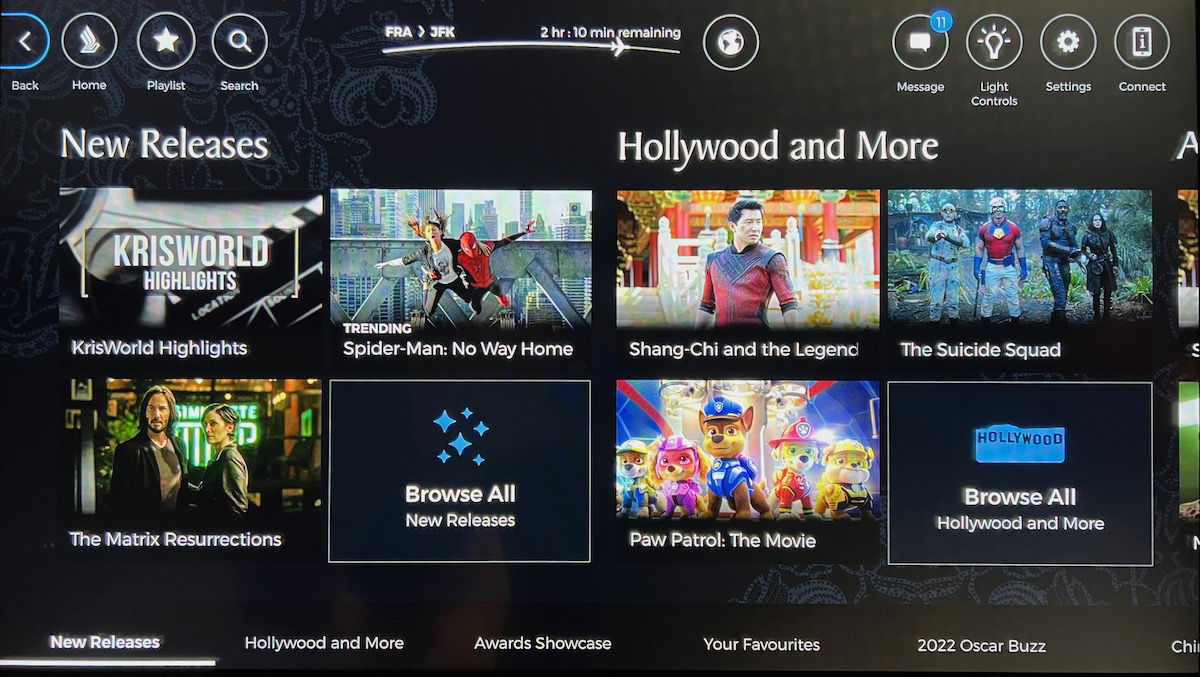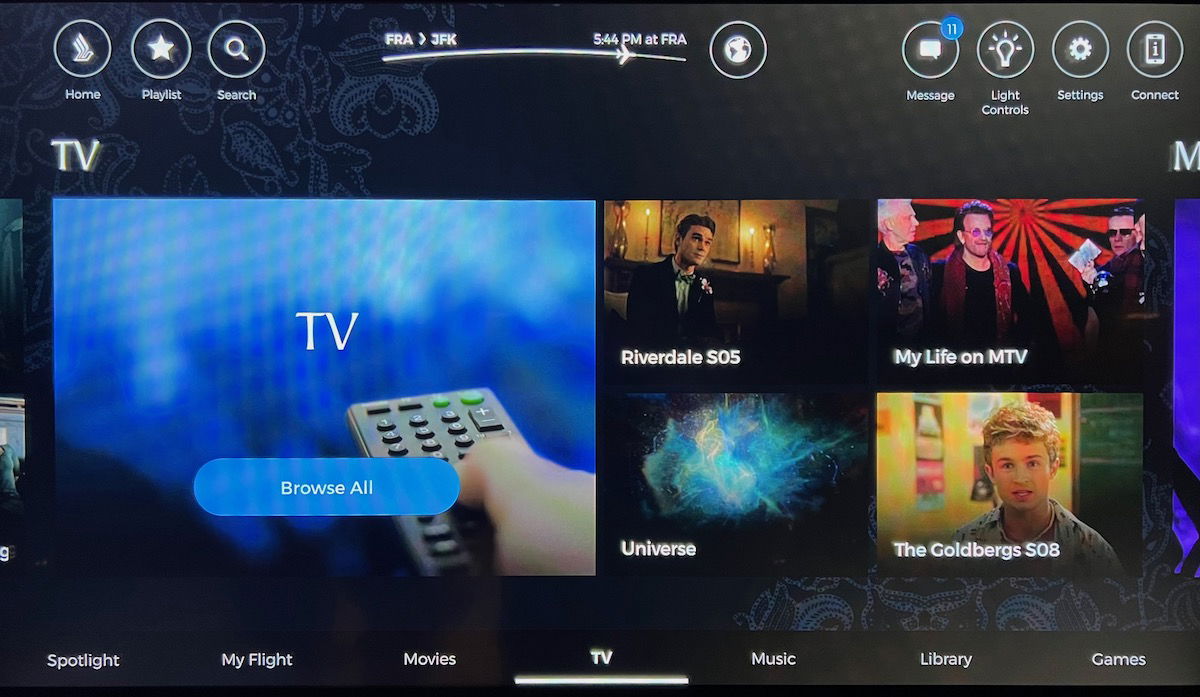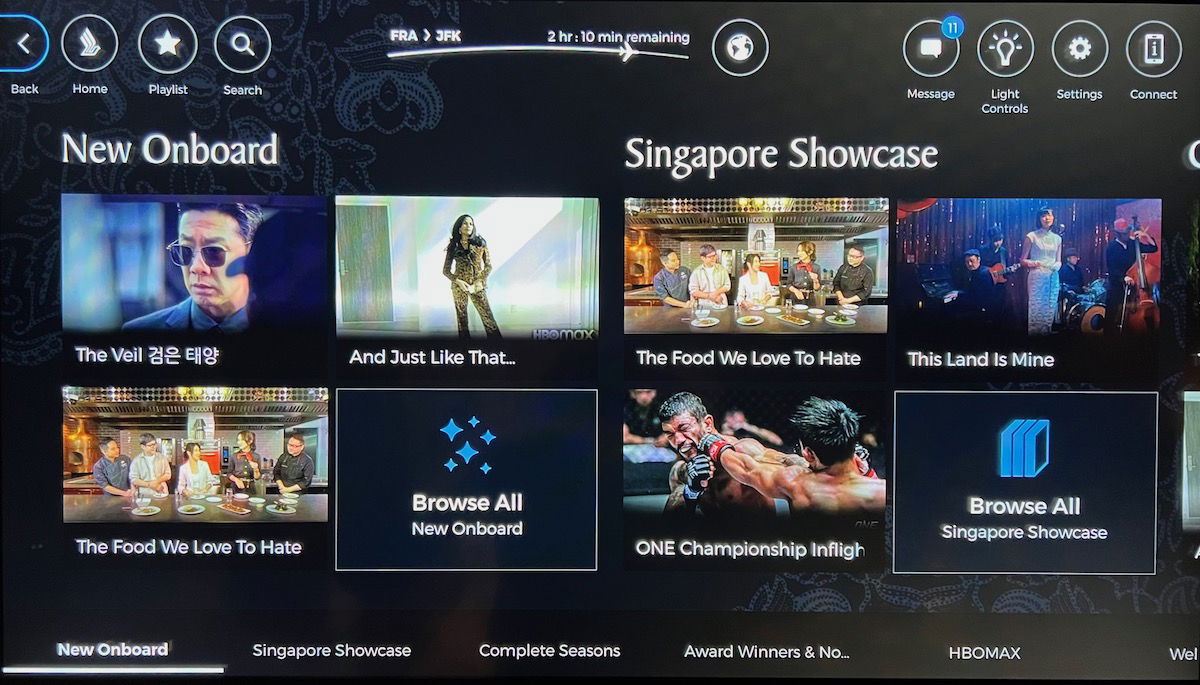 In particular, I love how KrisWorld has complete seasons of so many TV shows. It's always a bit frustrating when you find a new show that you love on a flight, but then the entertainment system only has one or two episodes. And it's not just that there are complete seasons, but they're largely pretty new shows — for example, season 11 of Curb Your Enthusiasm was available.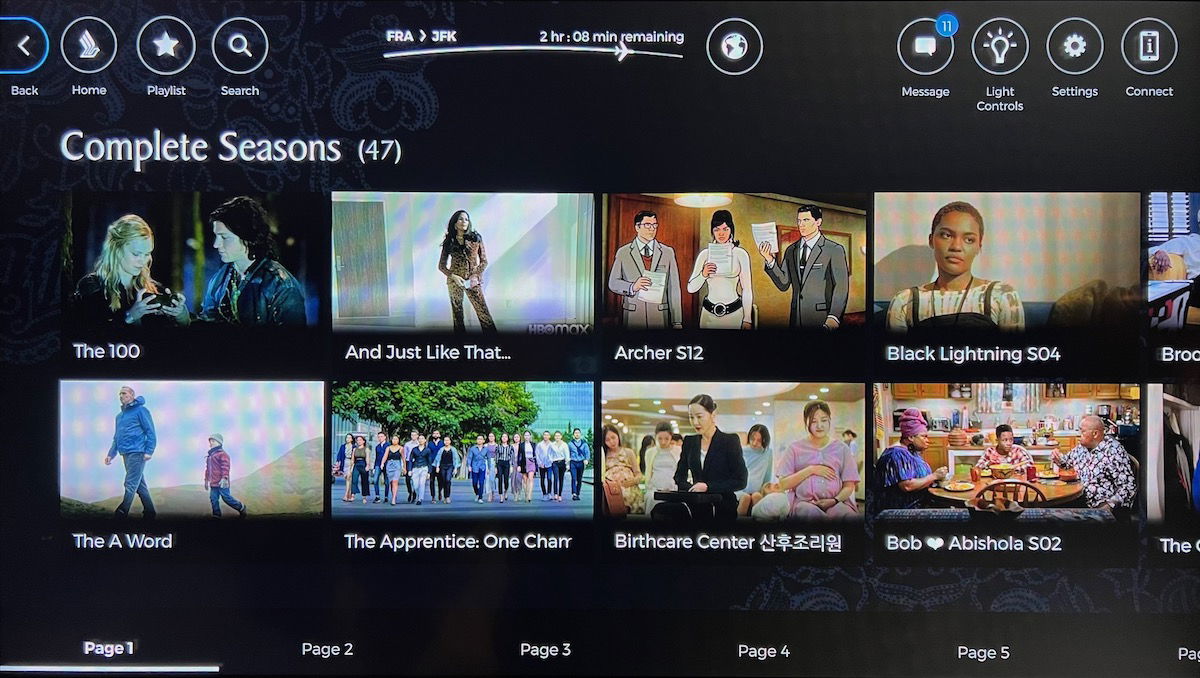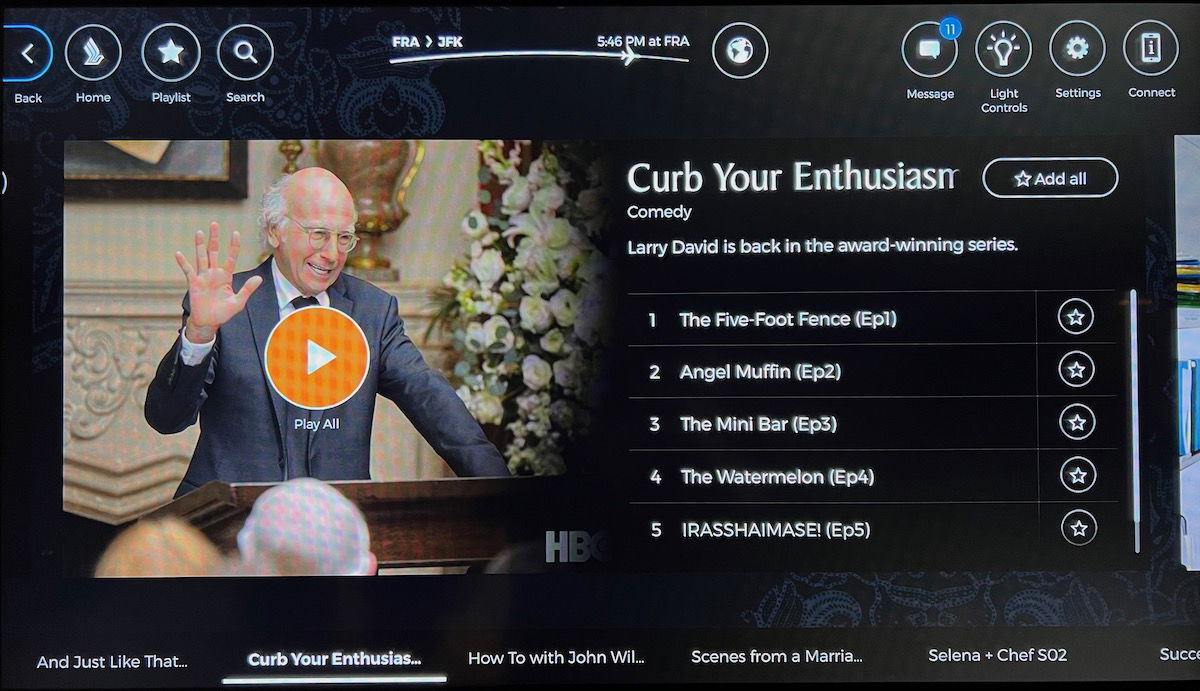 When flying, my favorite entertainment is always the moving map, though, so that's what I had on for most of the flight.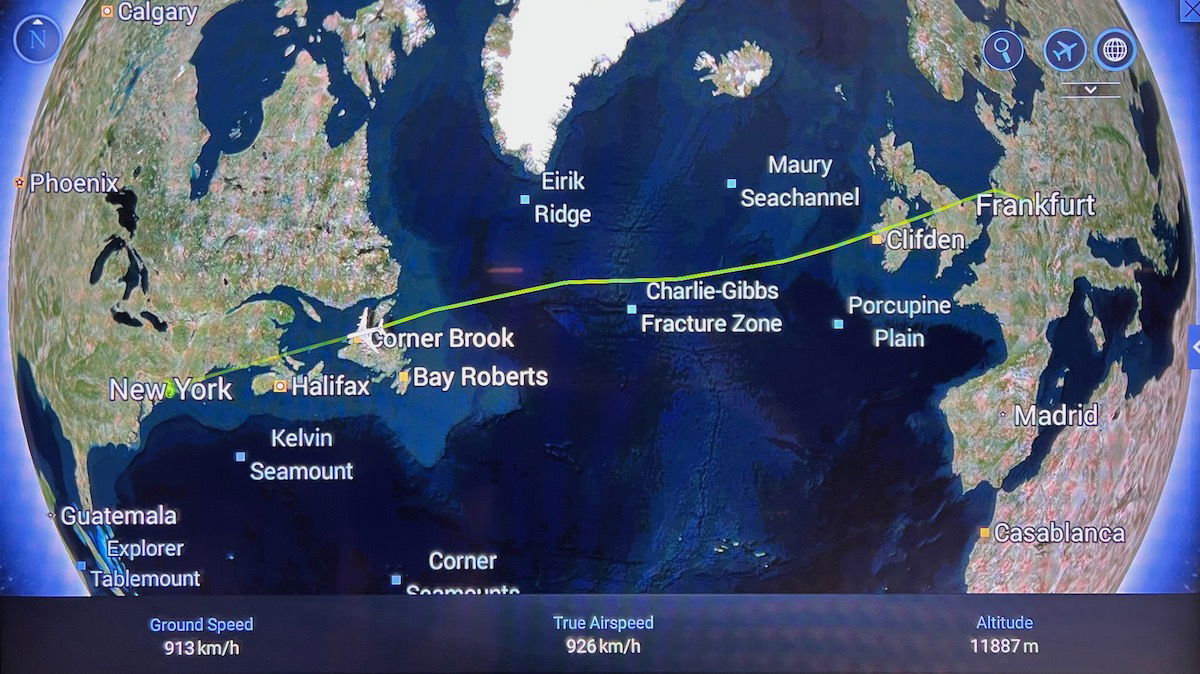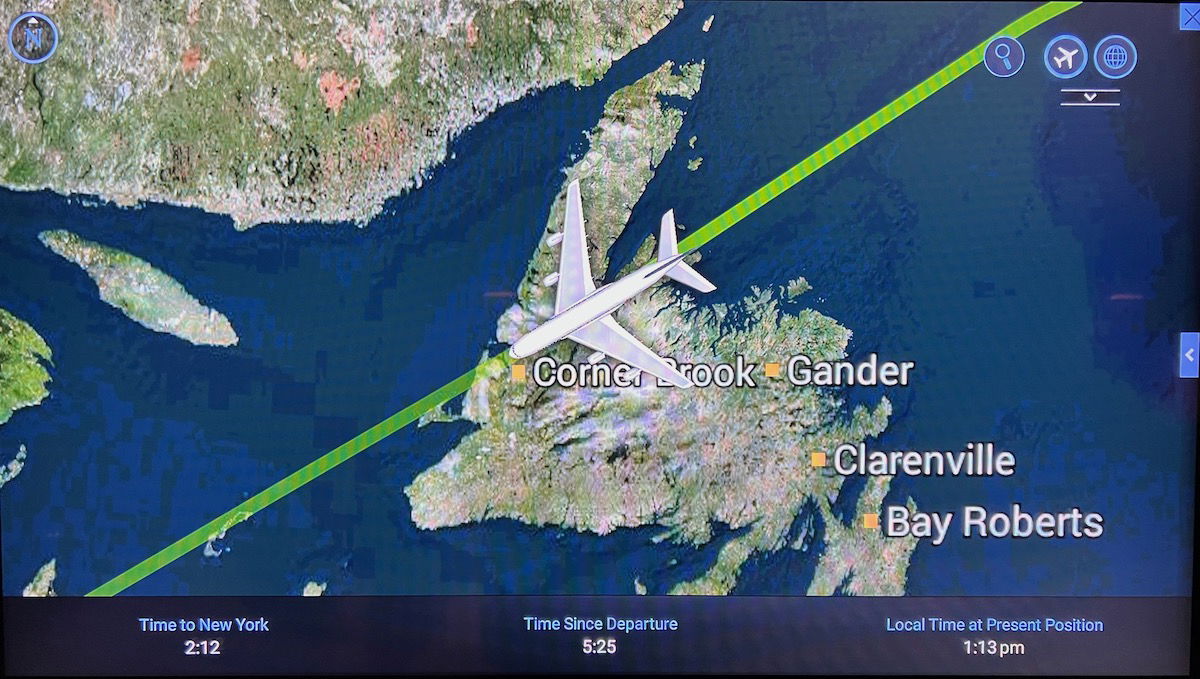 Singapore Airlines' Airbus A380s also have Wi-Fi.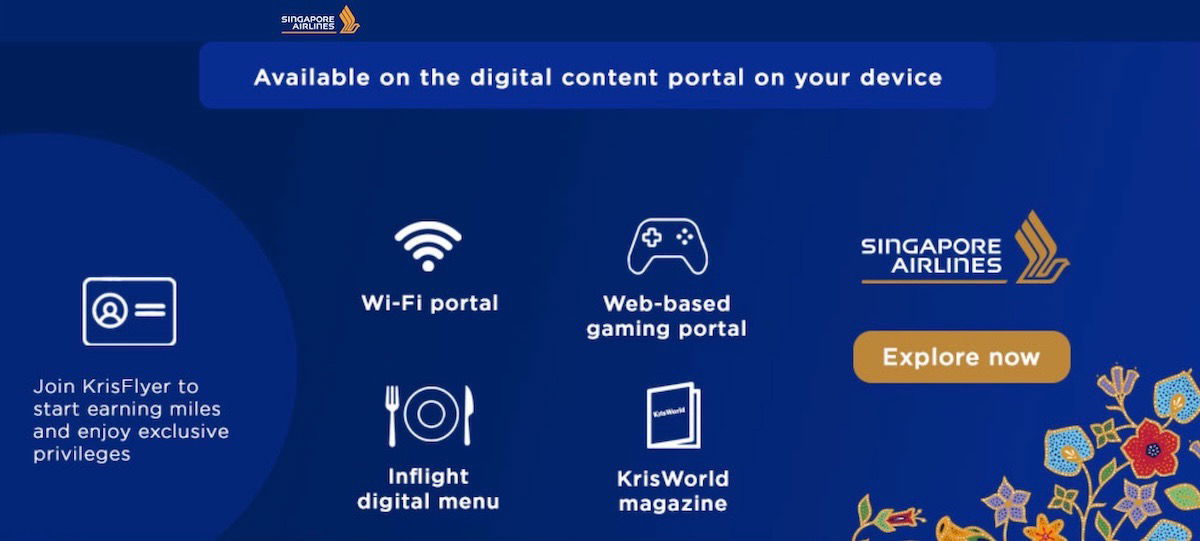 Singapore Airlines' Wi-Fi pricing on this flight was as follows:
A chat pass was available for $3.99
A 100MB pass was available for $9.99
A 200MB pass was available for $15.99
A three hour pass with no data caps (which could be paused) was available for $15.99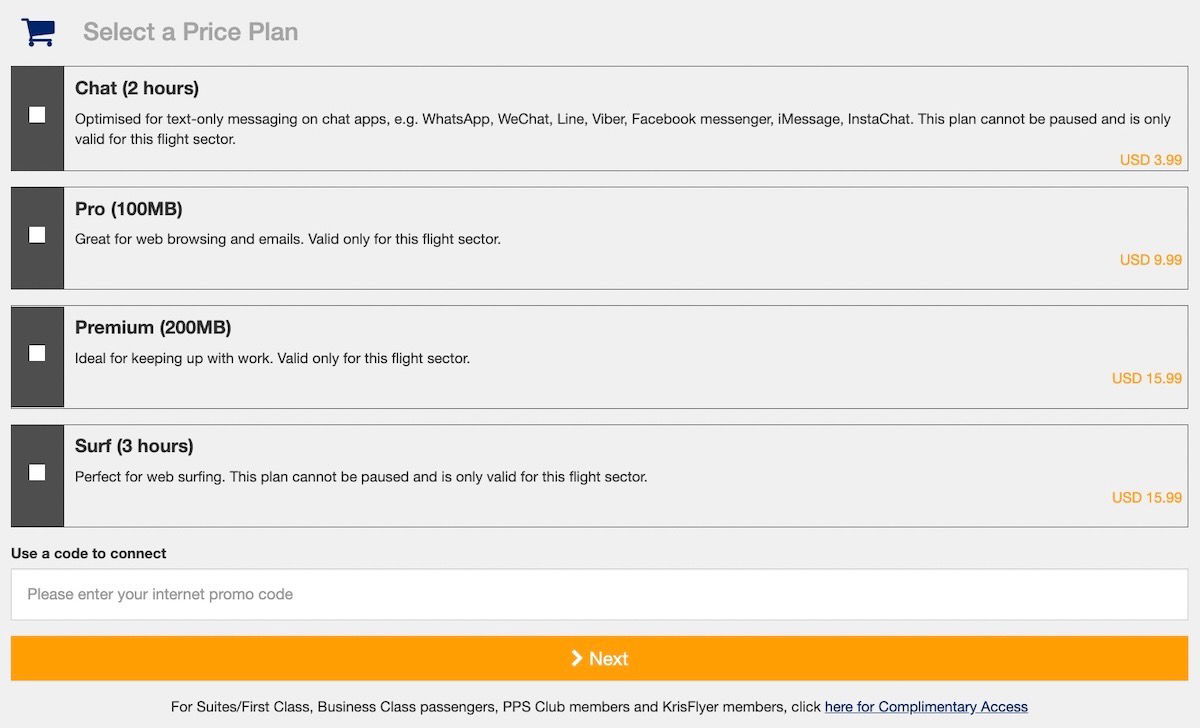 The good news is that premium passengers receive free Wi-Fi, just by entering their last name and seat number:
Suites passengers get free Wi-Fi for the entire flight with no data caps
Business class passengers and PPS Club members get 100MB of free Wi-Fi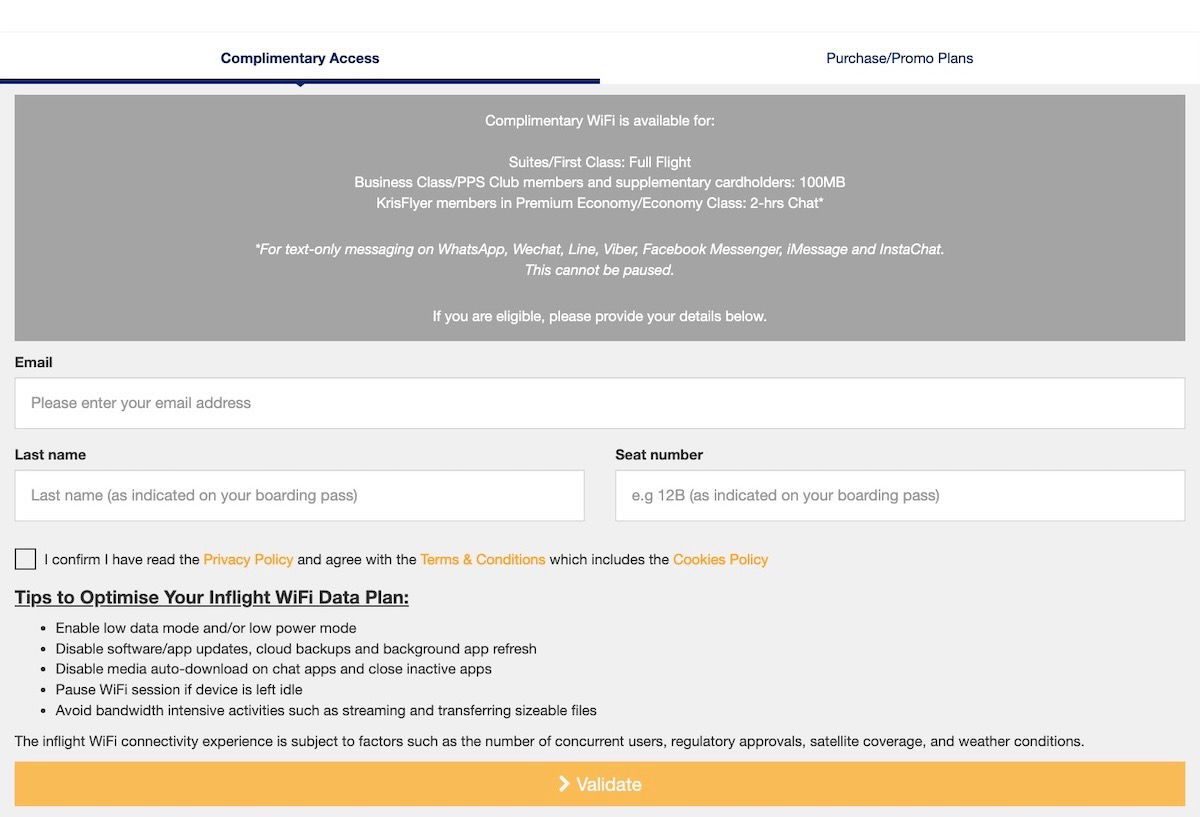 Since we were in Suites, we got free Wi-Fi the entire flight with no data caps, which was awesome. The only downside was that we were on one of Singapore's older A380s, which had the old OnAir Wi-Fi system. This meant speeds were quite slow.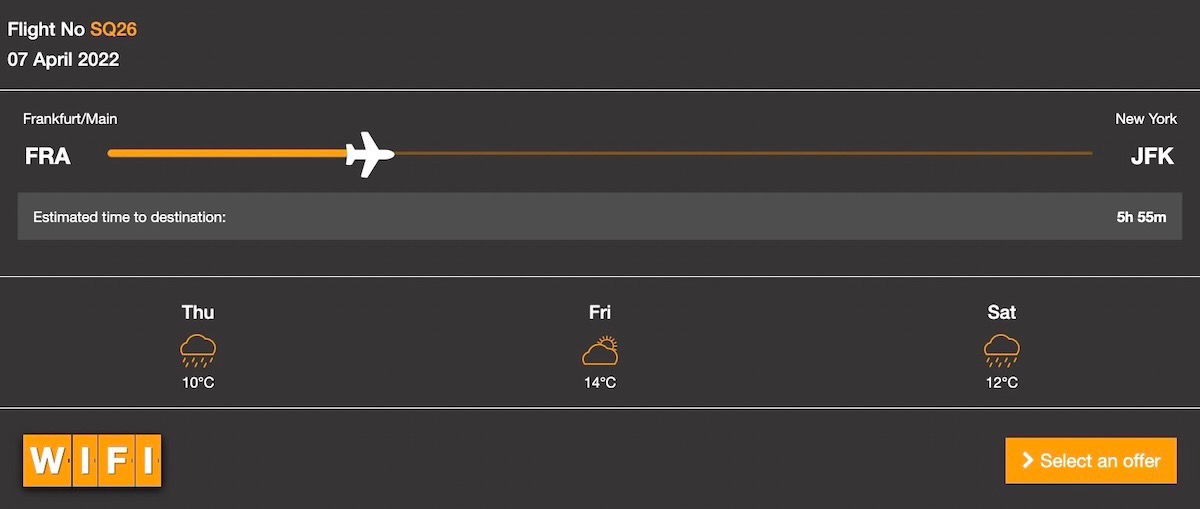 Singapore's new A380s have a faster Wi-Fi system, so it's luck of the draw what you get.
Singapore Airlines Suites lunch service
Meal orders were taken on the ground, and I was amazed that I was served my first drink less than 15 minutes after takeoff. On this particular flight, lunch was served after takeoff, and a snack was served before landing.
You can find the lunch menu below.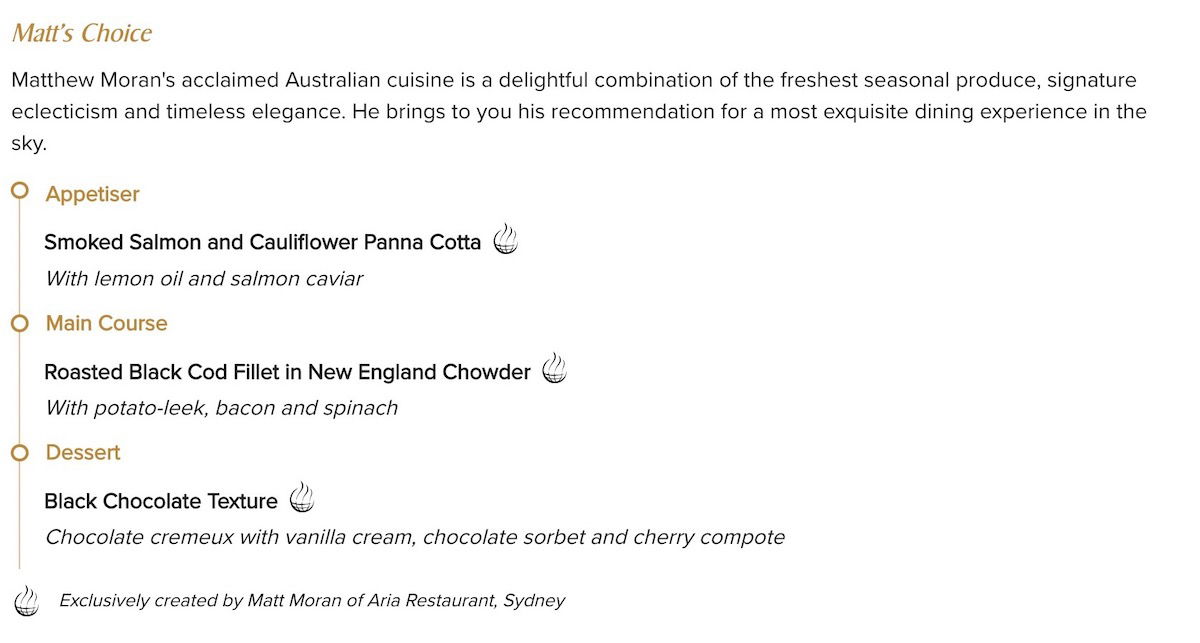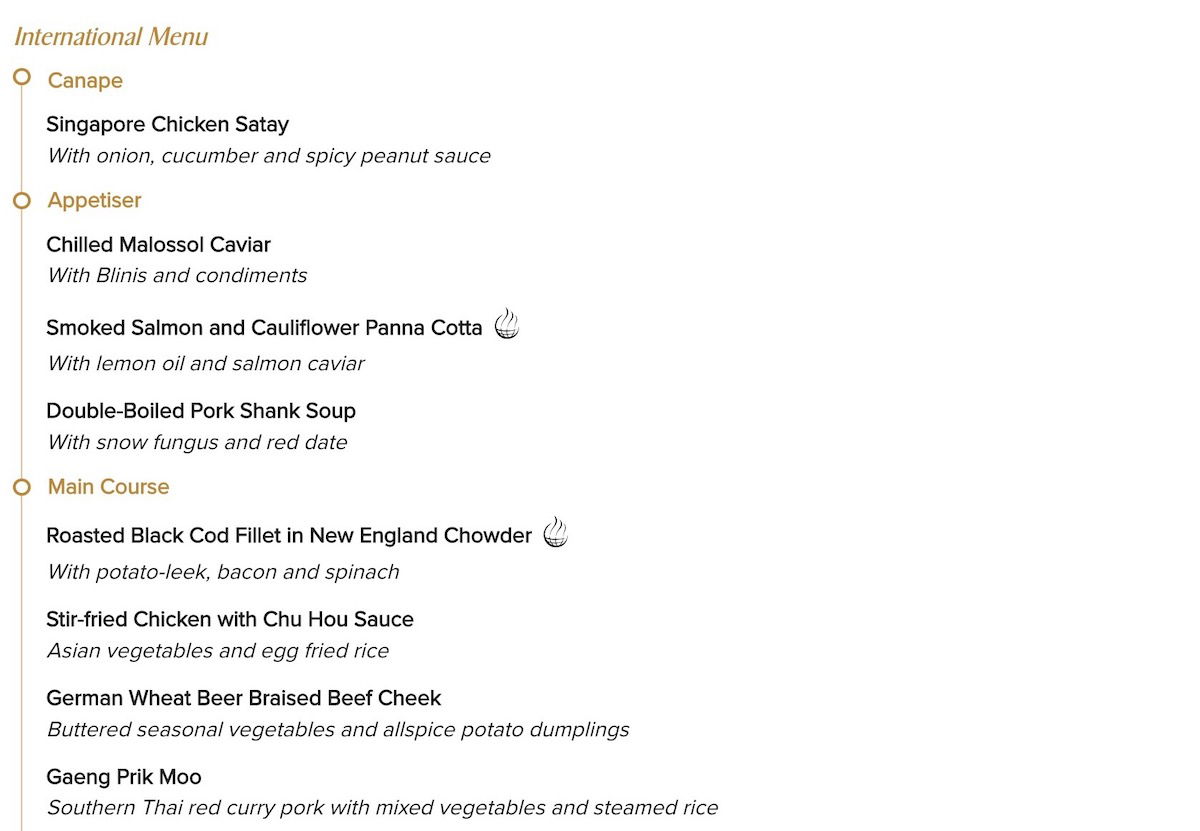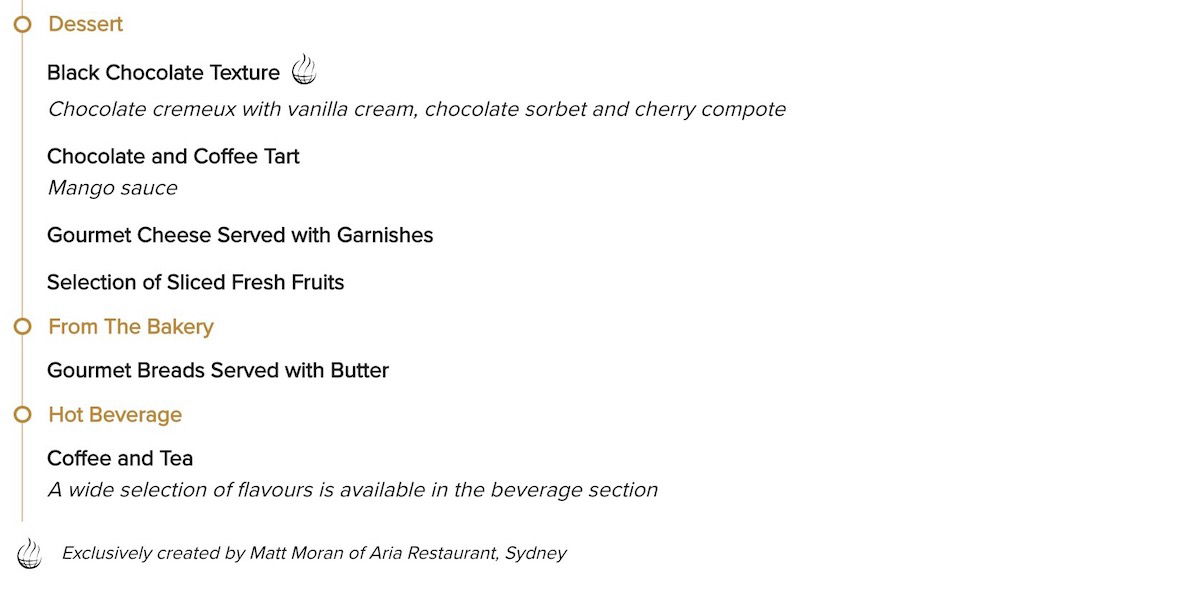 Singapore Airlines is known for its great drink selection as well, and you can find the wine list below.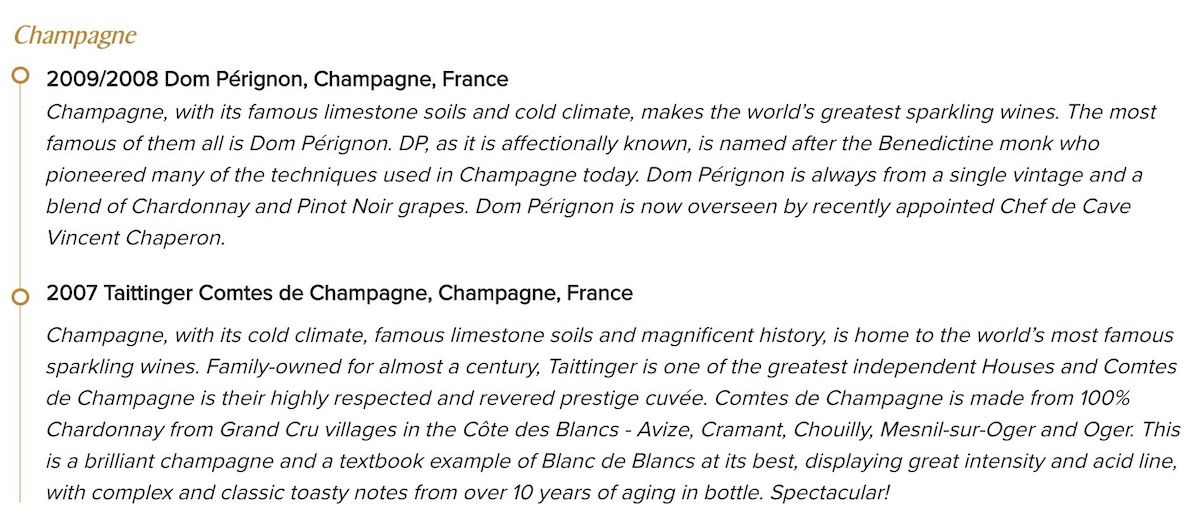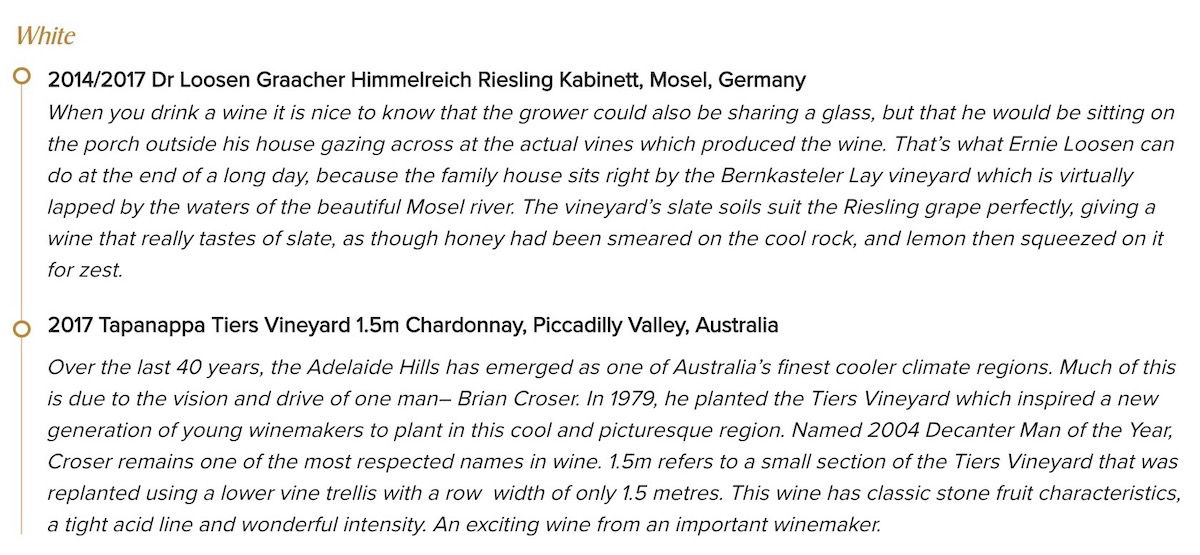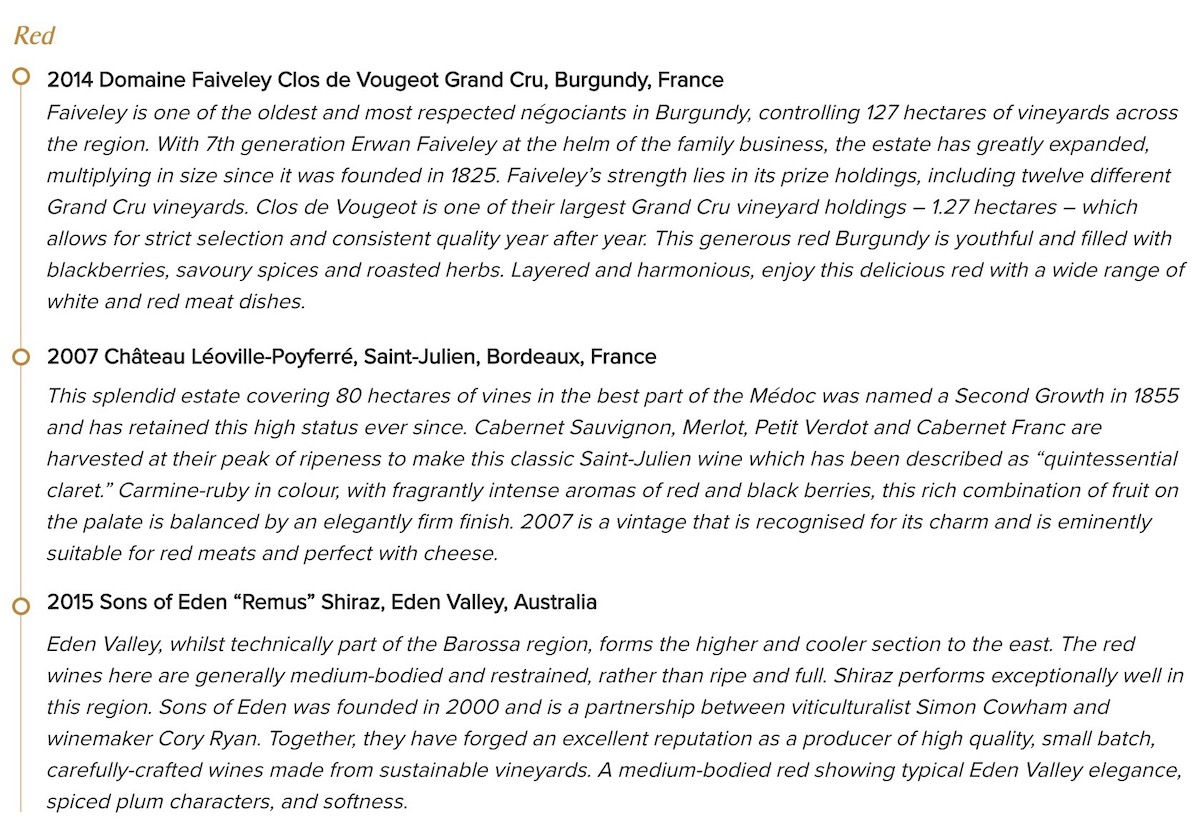 A couple of quick things to note:
On this routes, Singapore Airlines used to serve breakfast after takeoff rather than lunch, so this is a massive improvement; now you get a proper meal on this flight with caviar, while back in the day the catering on this route was pretty anticlimactic
Singapore Airlines has the "Book the Cook" program, whereby you can pre-order your main course from dozens of choices, giving passengers access to so many more options; we didn't use this, but it is available
Ordinarily Singapore Airlines serves both Dom Perignon and Krug in Suites. On this particular flight Krug was substituted with 2007 Taittinger Comtes de Champagne, which was equally lovely. So we switched to that after takeoff.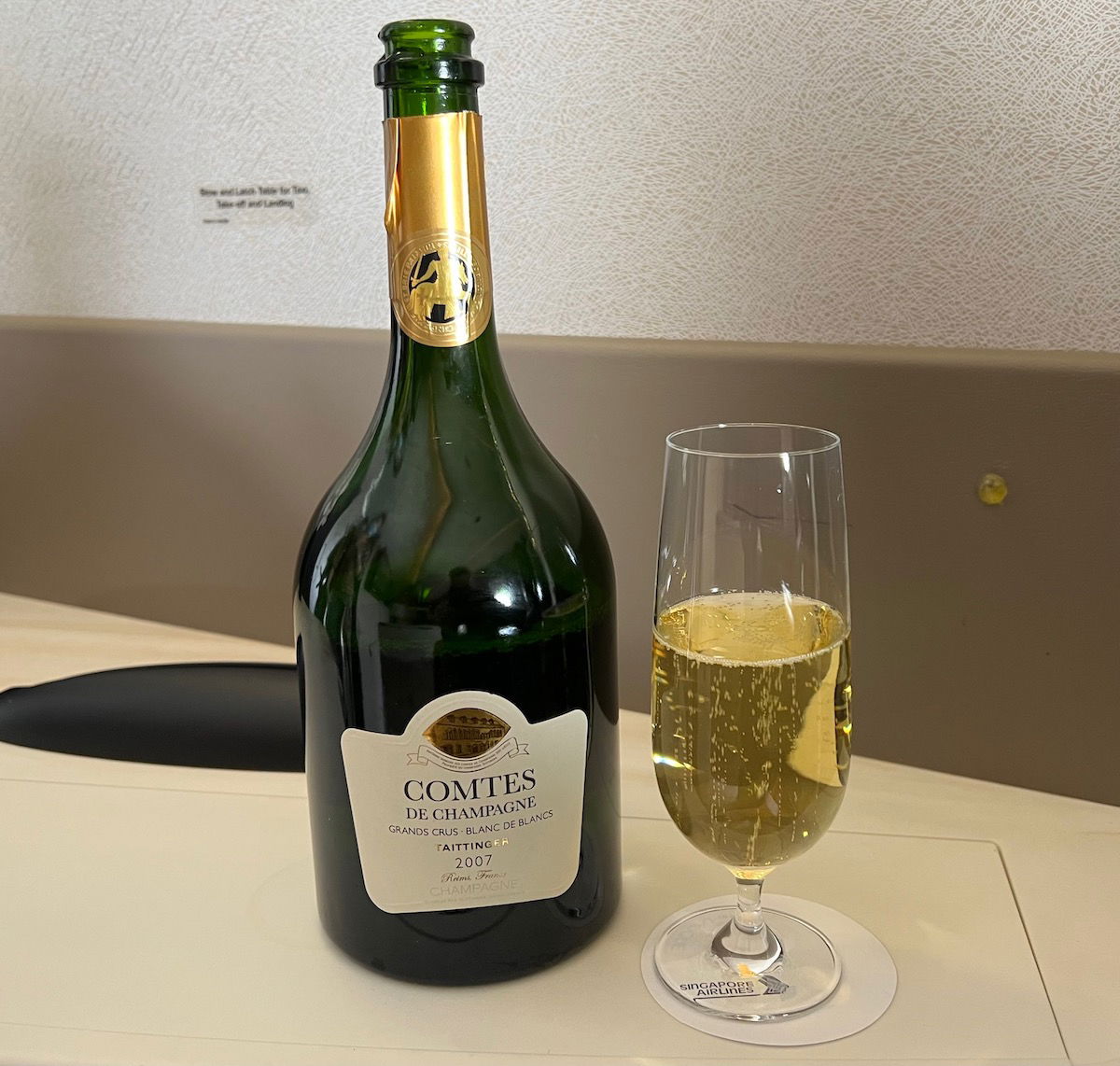 My table was set within 20 minutes of takeoff.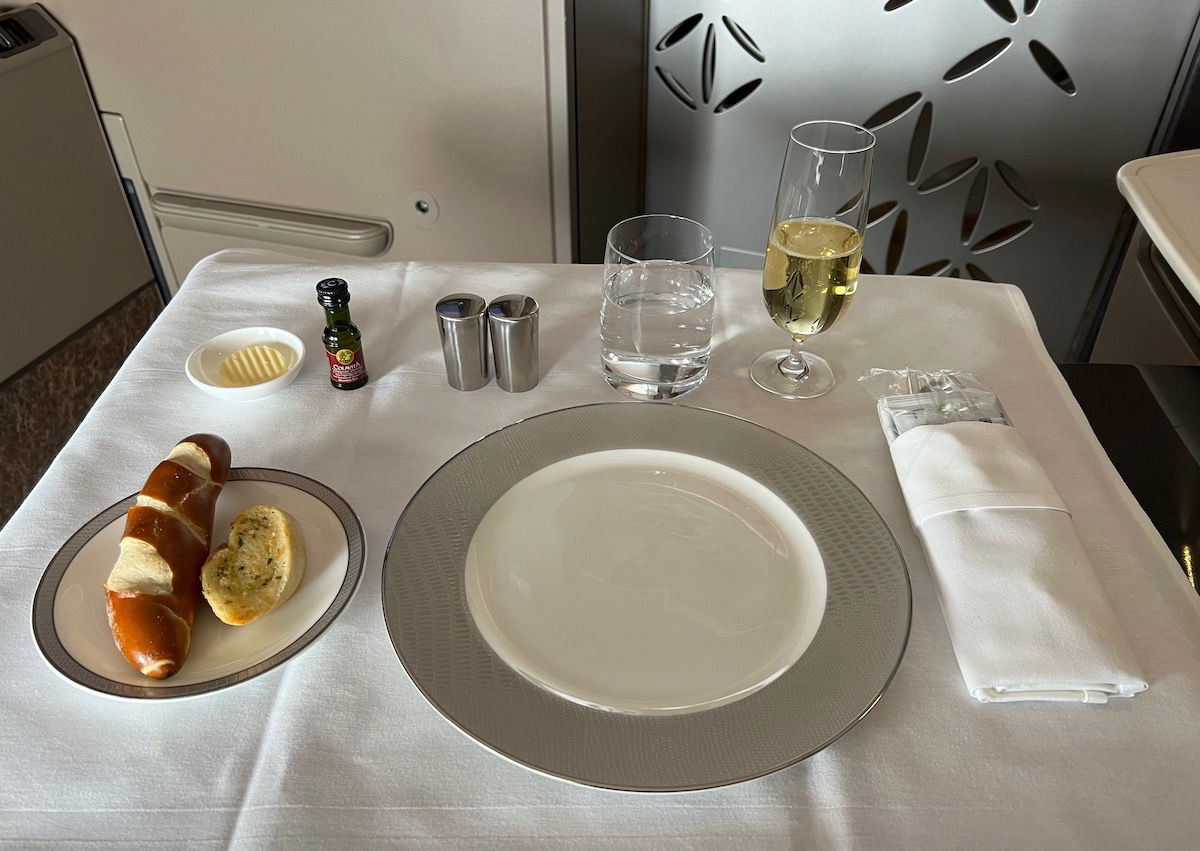 While we were offered more chicken satay, we decided to just start off with caviar, served with the traditional accompaniments.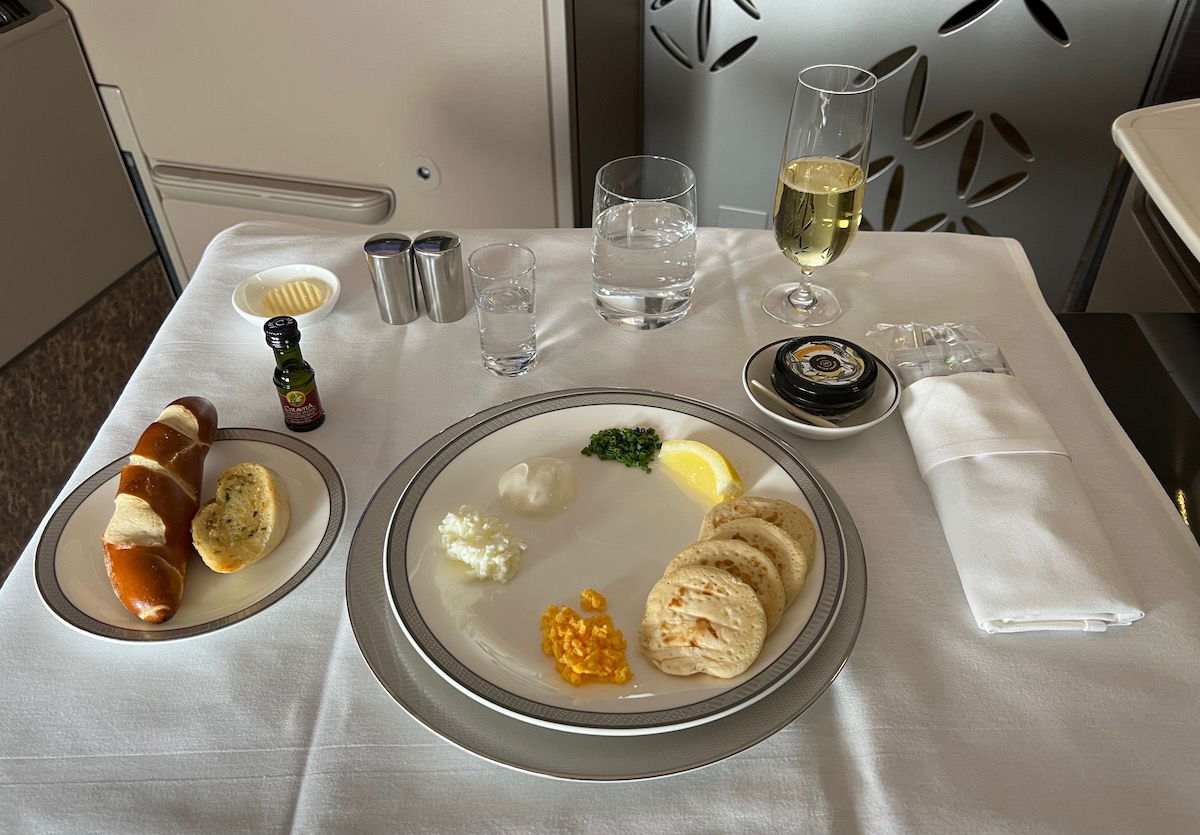 The Oscietra caviar on this flight was from Gourmet House, and was imported from Italy.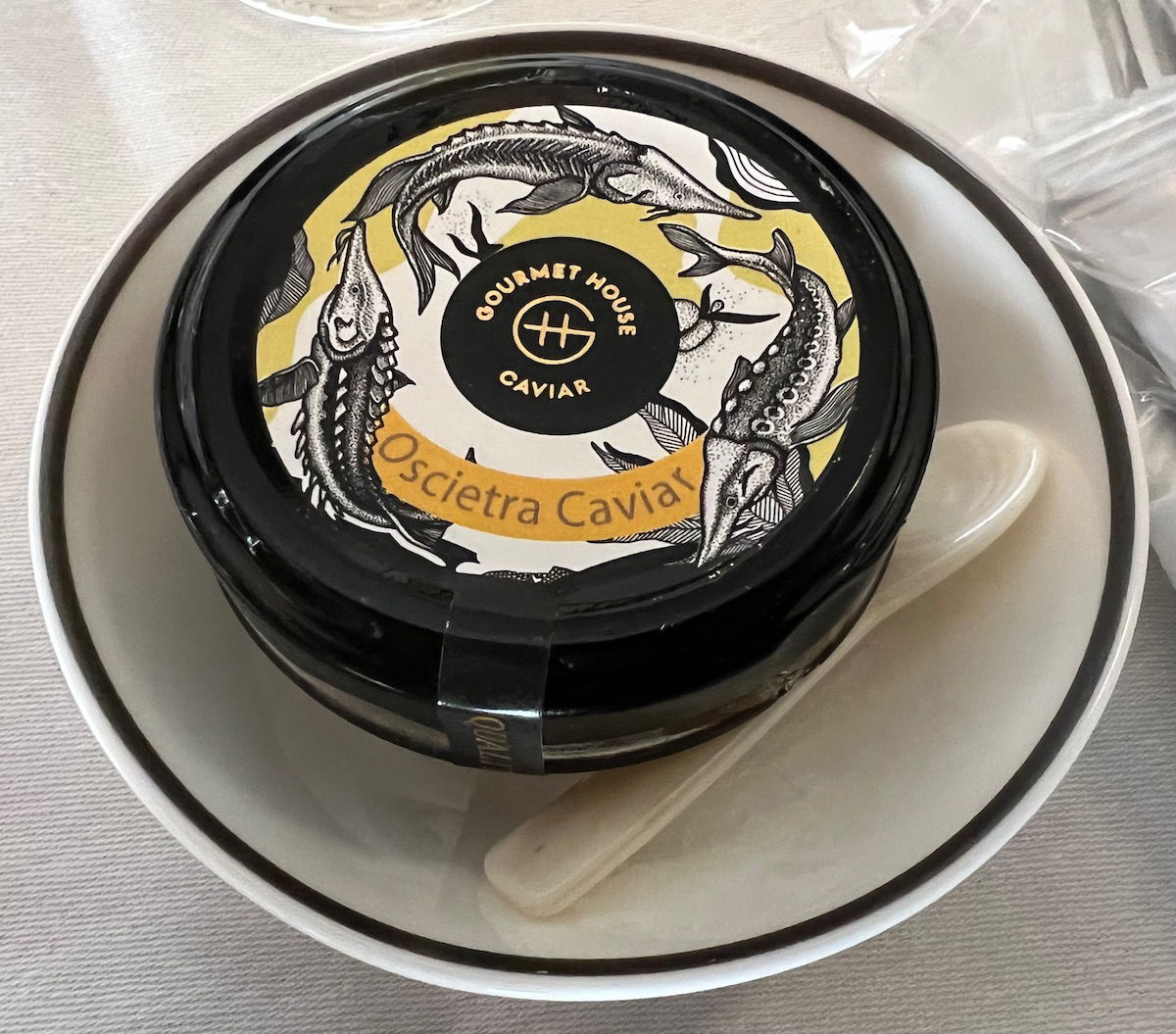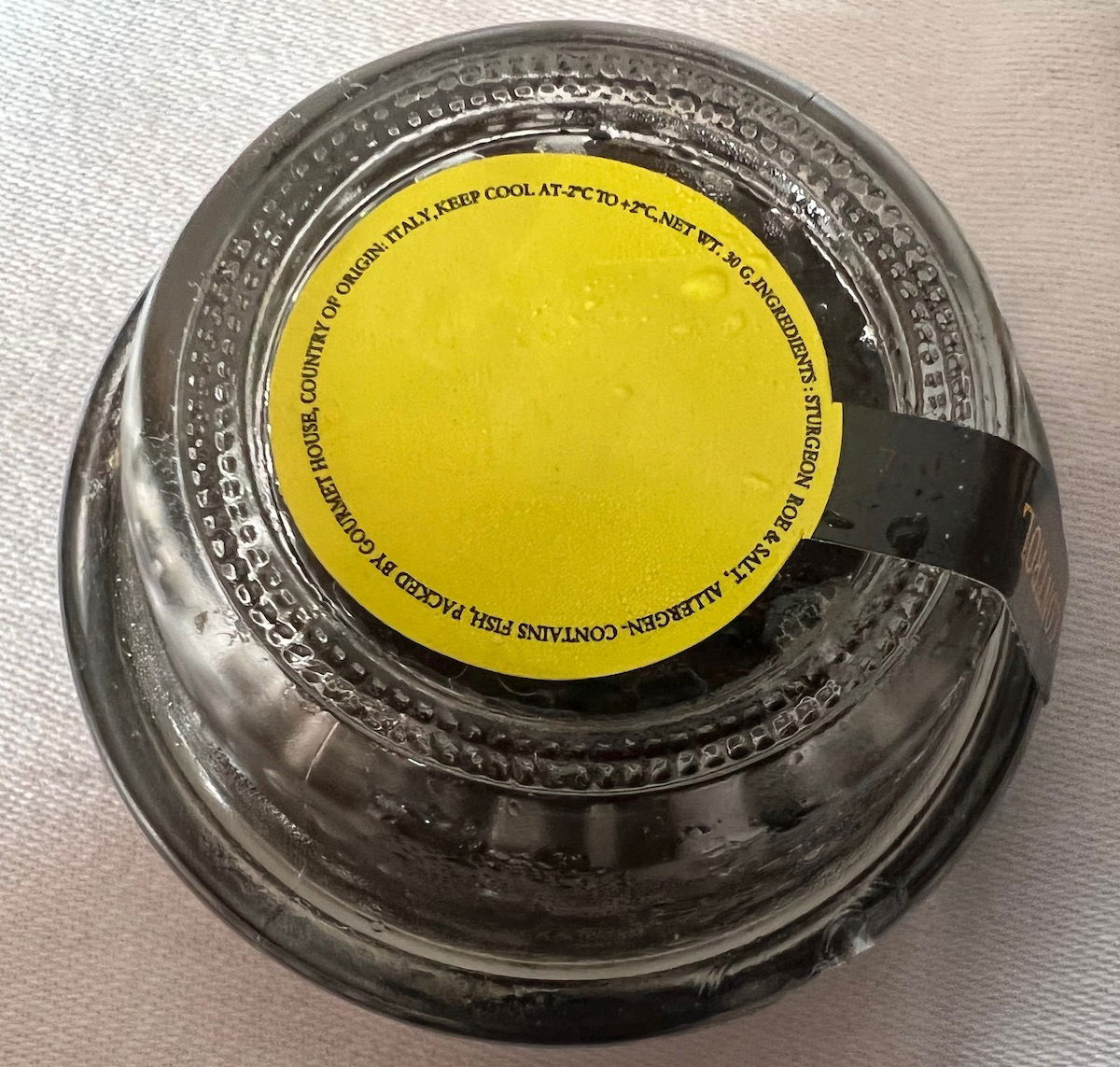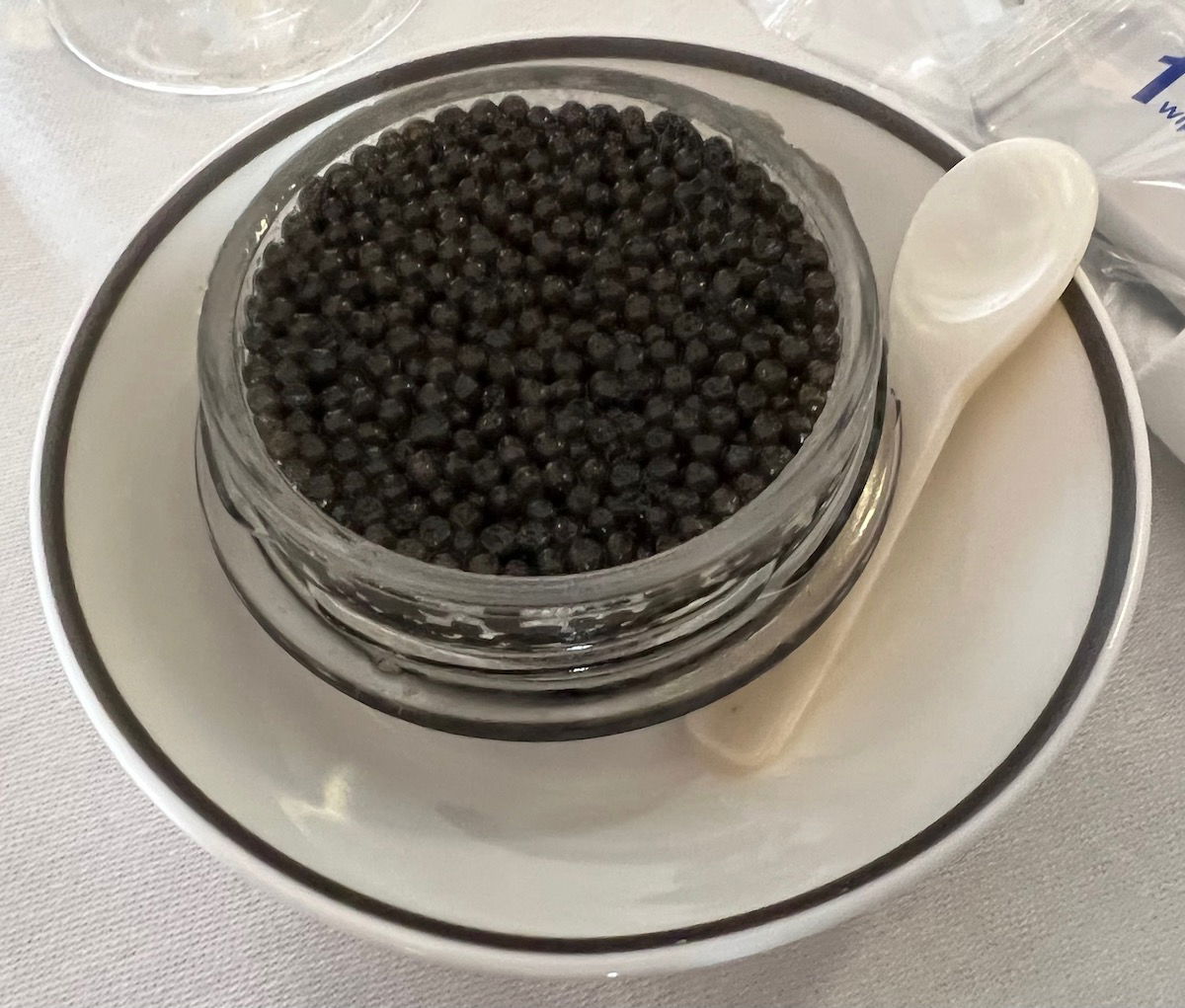 With the main course I switched to a glass of red wine, even though I was having fish. Specifically, I ordered a glass of the 2014 Clos-De-Vougeot Grand Cru. Why? Okay, I'll be honest. I looked up all the reds, and this was by far the most expensive. In the past I haven't been into reds, but that has changed recently, and I'm starting to enjoy them more.
So while I'm sure wine enthusiasts will lambast me for ordering a red with my fish (and my logic in picking it based on the price), it allowed me to experience a great wine and I enjoyed it, and I think at the end of the day that's what matters.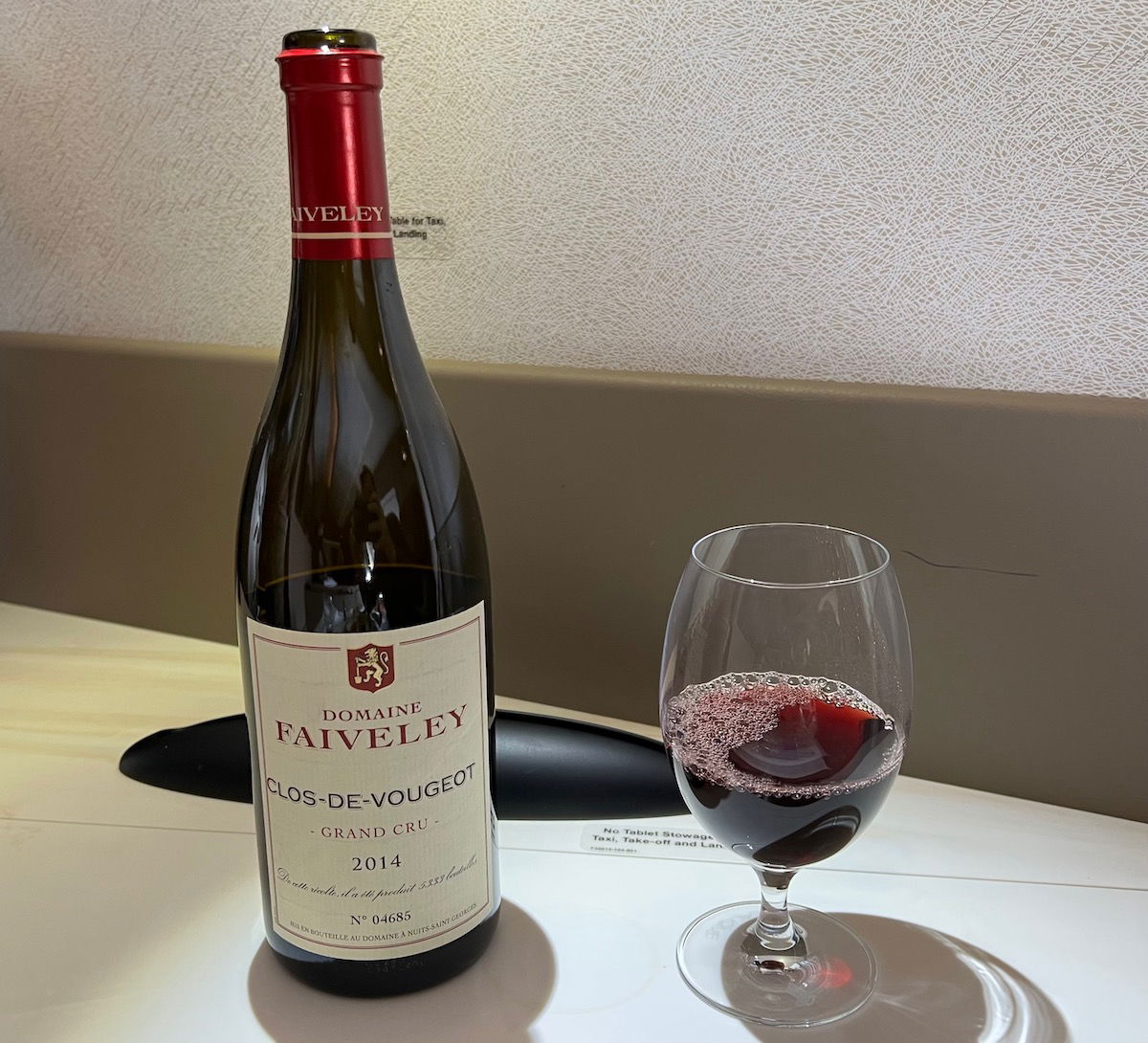 For the main course I ordered the roasted black cod fillet in New England chowder with potato leek and spinach, and the crew was able to plate it without bacon. The dish was excellent.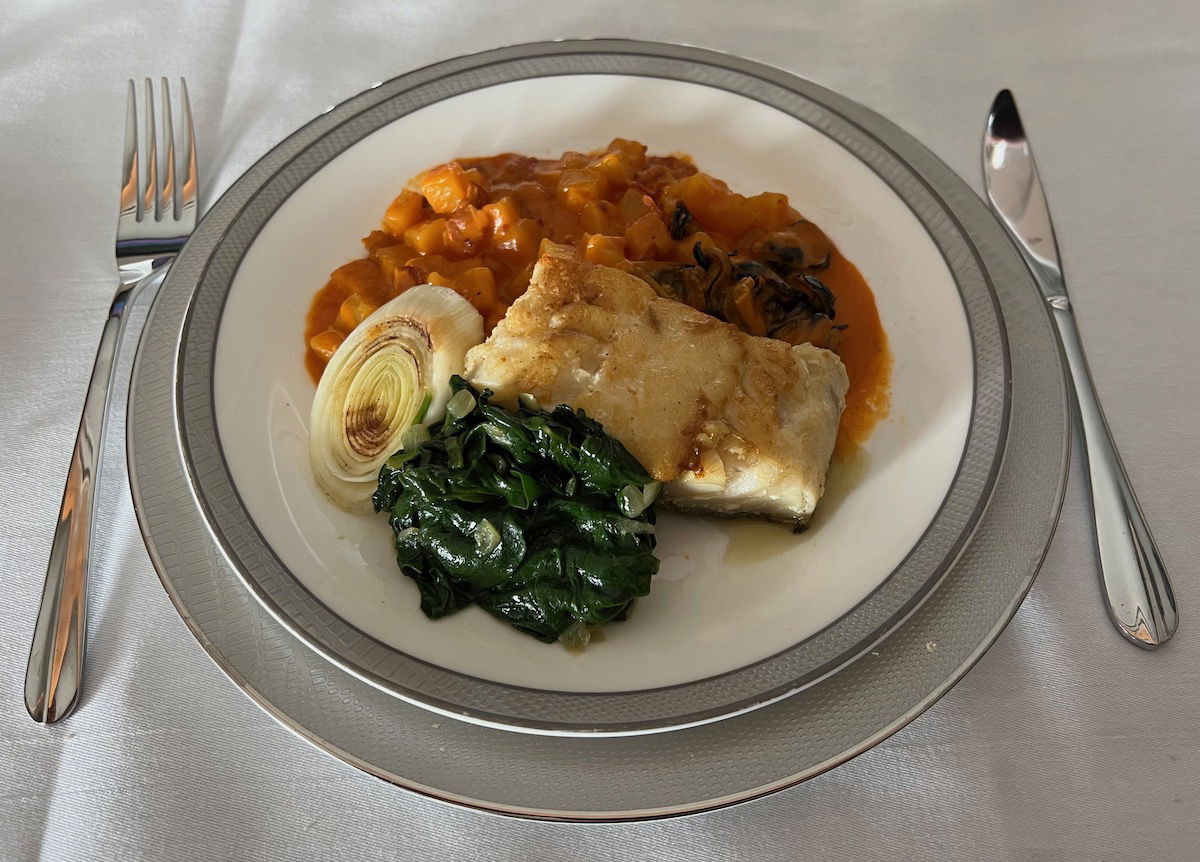 Ford had the stir-fried chicken with Chu Hou sauce, accompanied by vegetables and egg fried rice.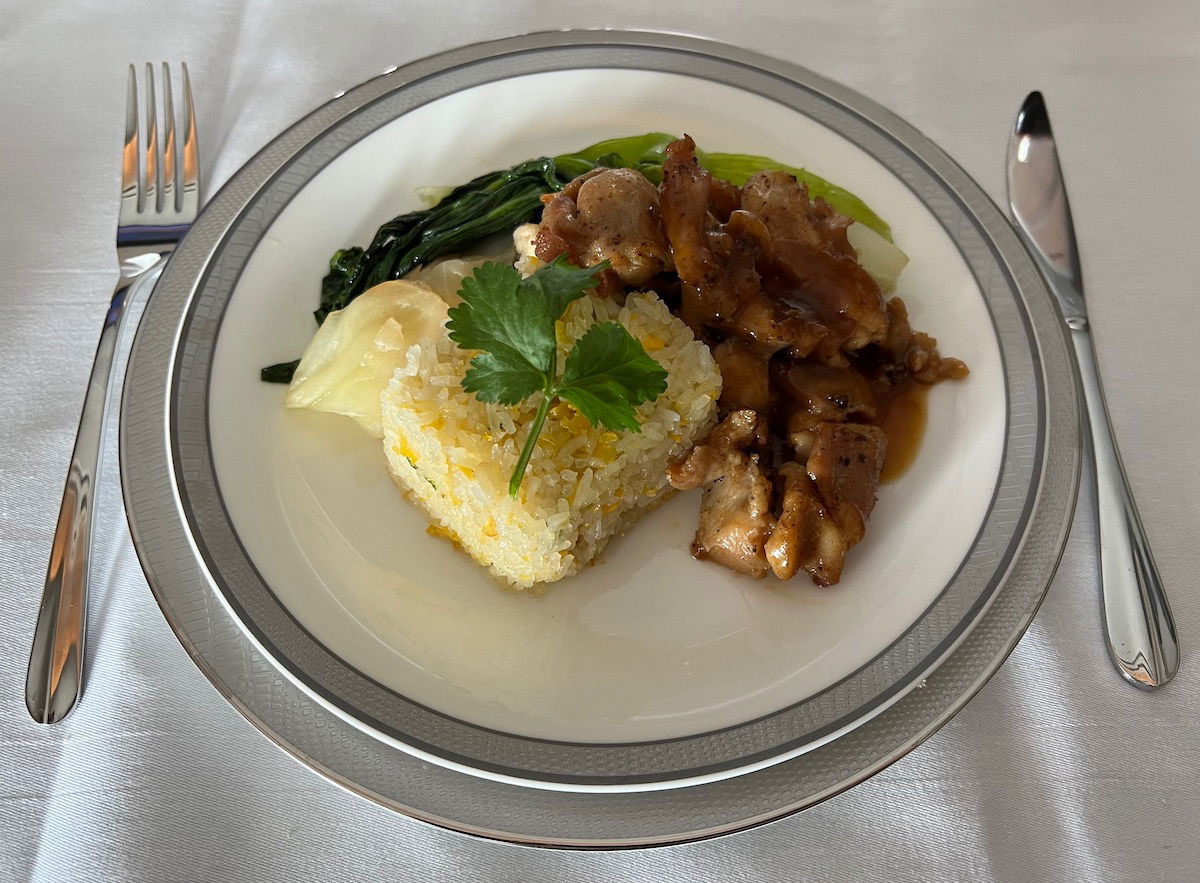 While we were stuffed at this point, I still figured we had to take one for the team. So Ford ordered the cheese plate, while I had the chocolate and coffee tart with mango sauce.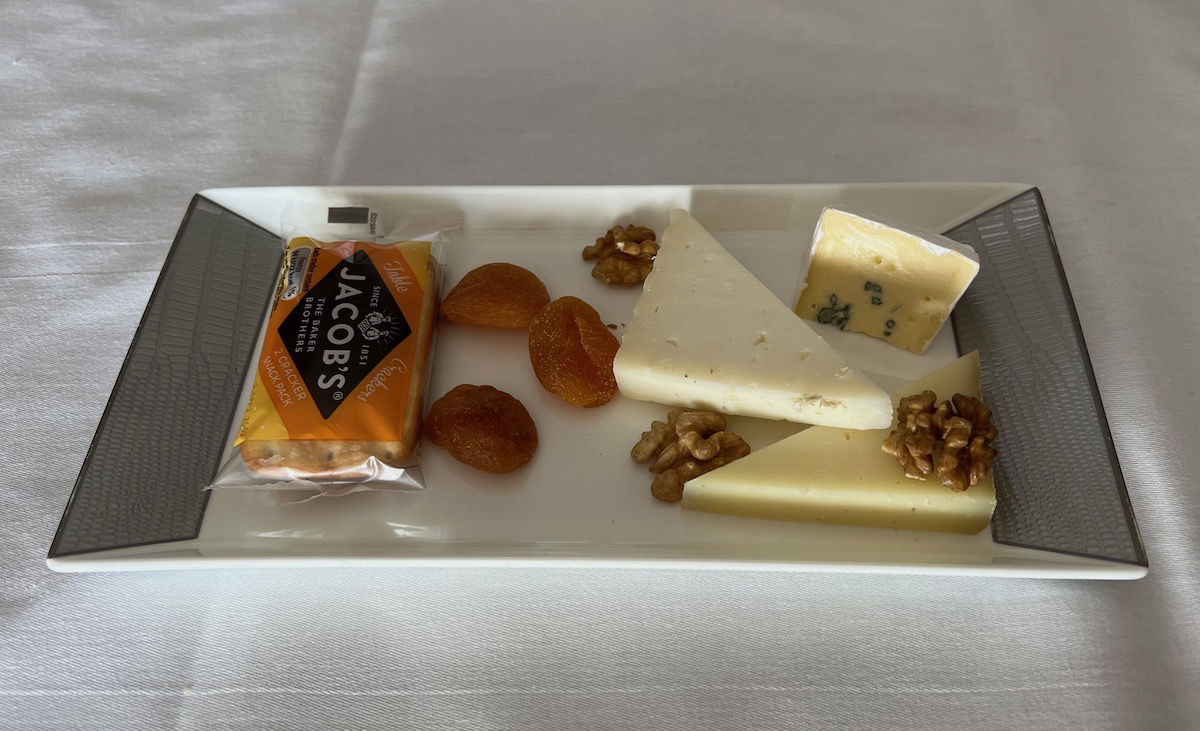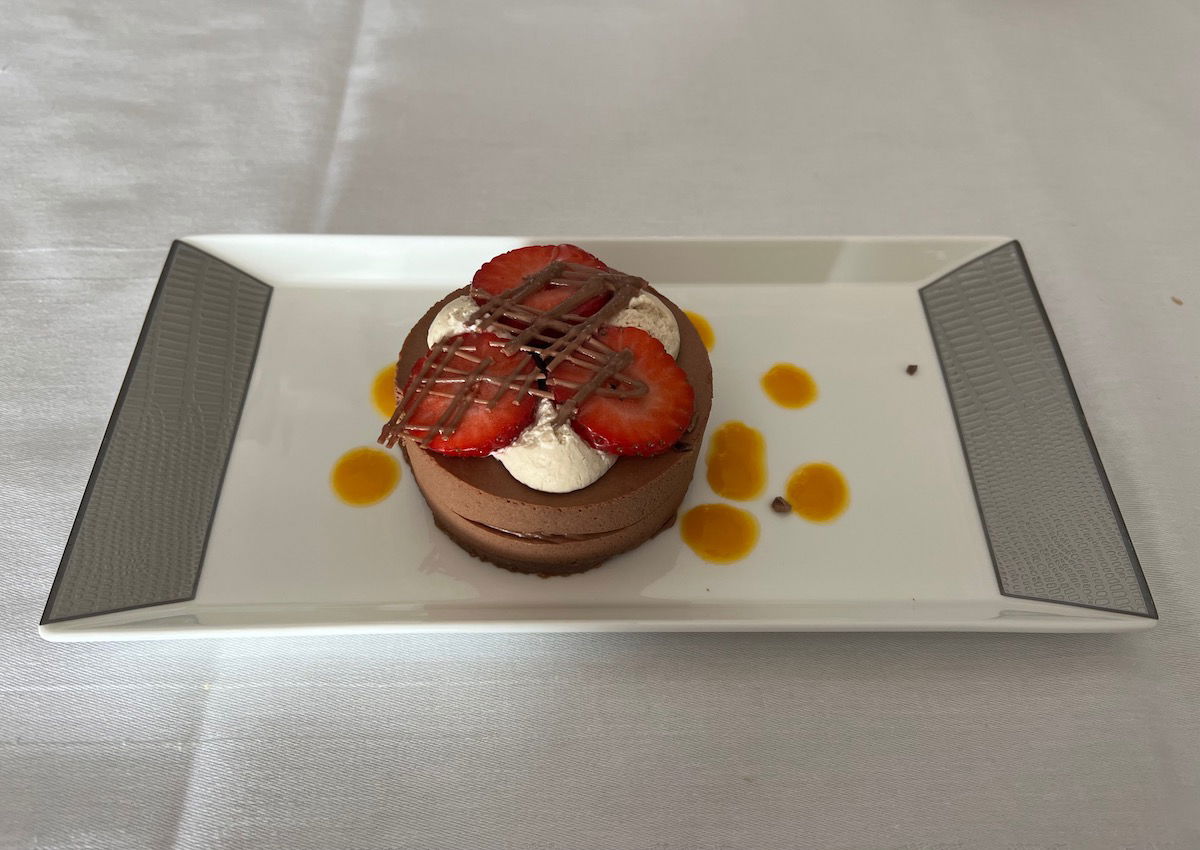 What a fantastic meal, in terms of the quality of food, service, and personalization. As mentioned above, you can always order a different main course in advance, as there are so many things to choose from, including Singapore Airlines' famous lobster thermidor.
I'm thrilled that the Frankfurt to New York flight now offers lunch rather than breakfast, despite the early departure, as this is so much better of a dining experience.
One other thing I wanted to point out. Due to the position of the table, you have to face the aisle while dining. When I flew Singapore Suites a few years ago I found this to be kind of awkward, as you were essentially facing the person in the seat across from you.
It seems Singapore Airlines has updated service protocols to address that, and now the crew closed the door with each interaction while serving the meal, so you don't have to look at a stranger.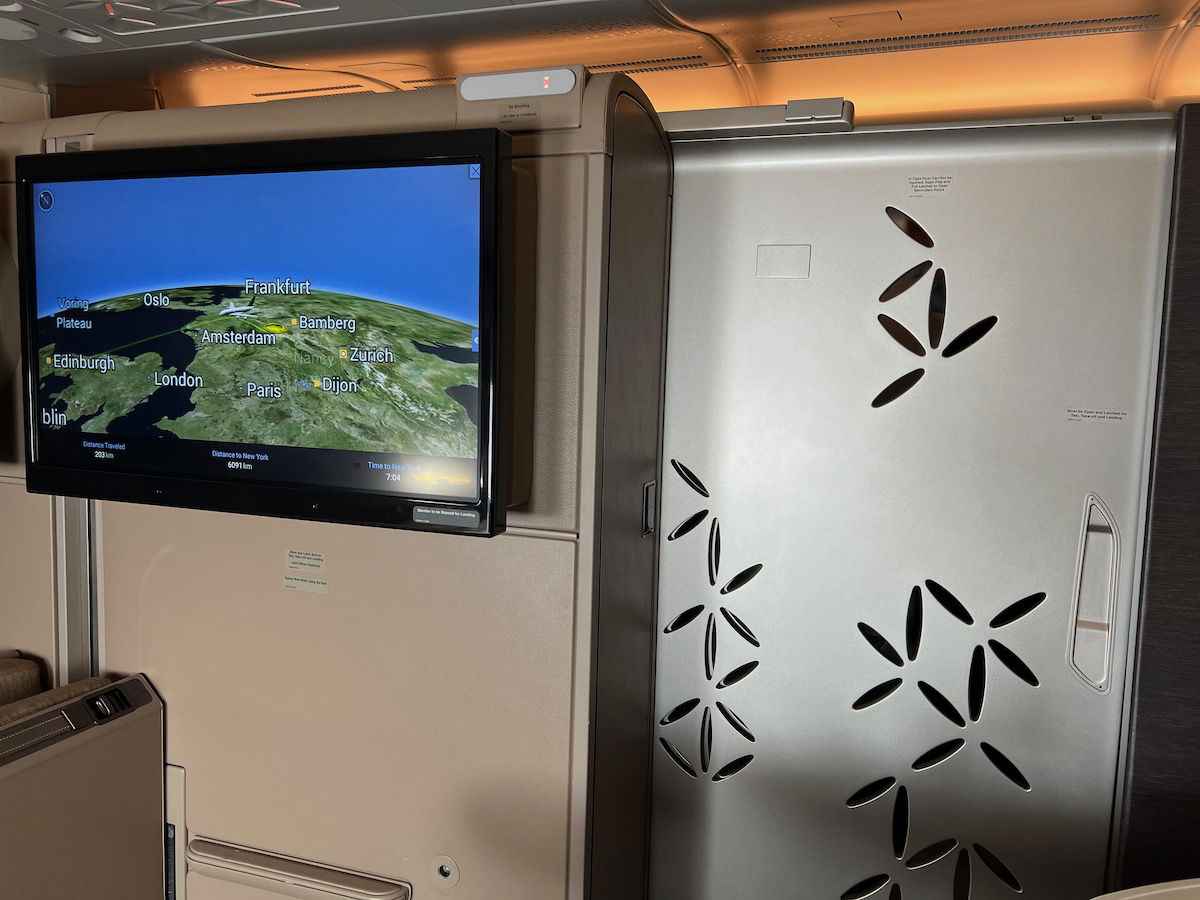 Singapore Airlines A380 Suites double bed
After lunch it was time to have our double bed made. This involved both of the beds being folded down from the center section, and the entire turndown service took only about five minutes. How awesome of a setup is this?!? Seeing this suite with the full double bed mode was definitely one of those moments where I wondered if life is even real.
Below are some pictures of the Singapore Airlines A380 Suites double bed from just about all angles.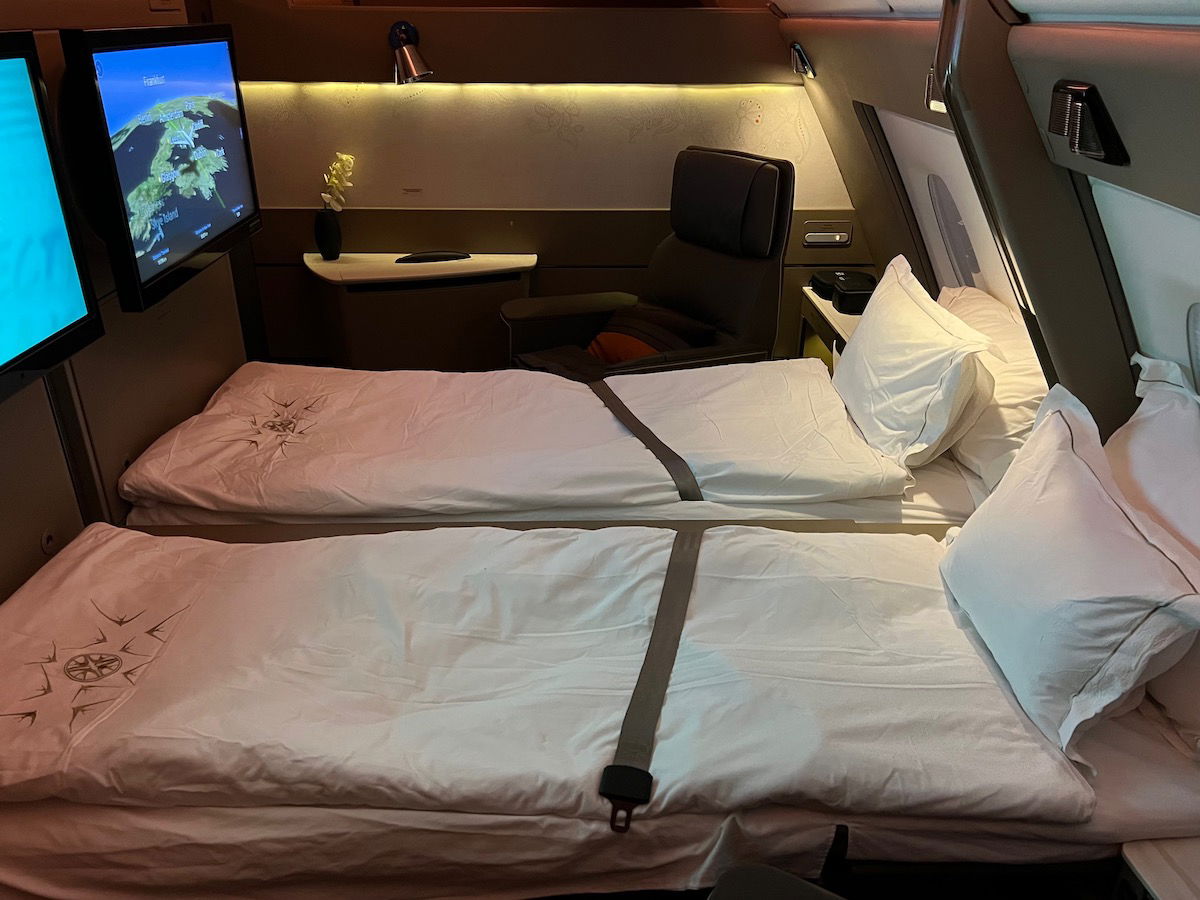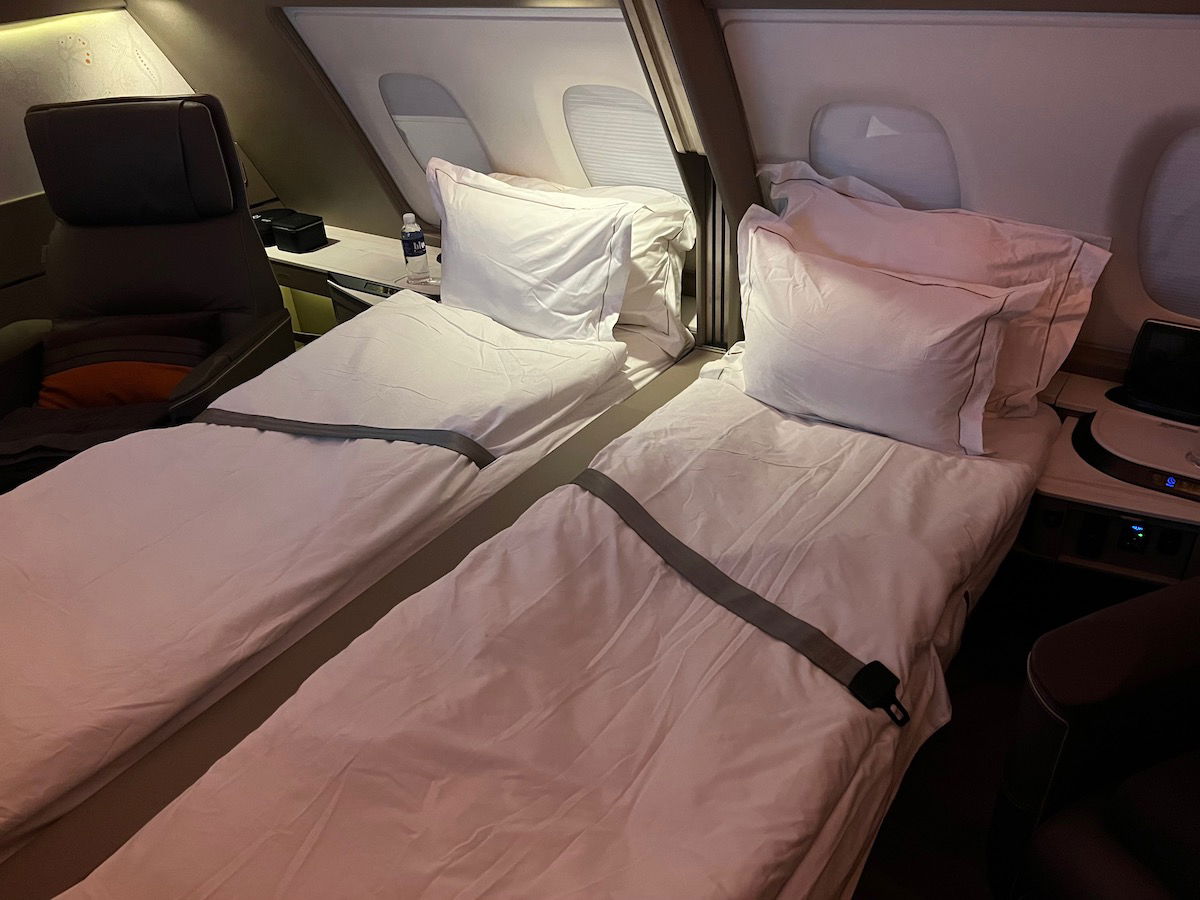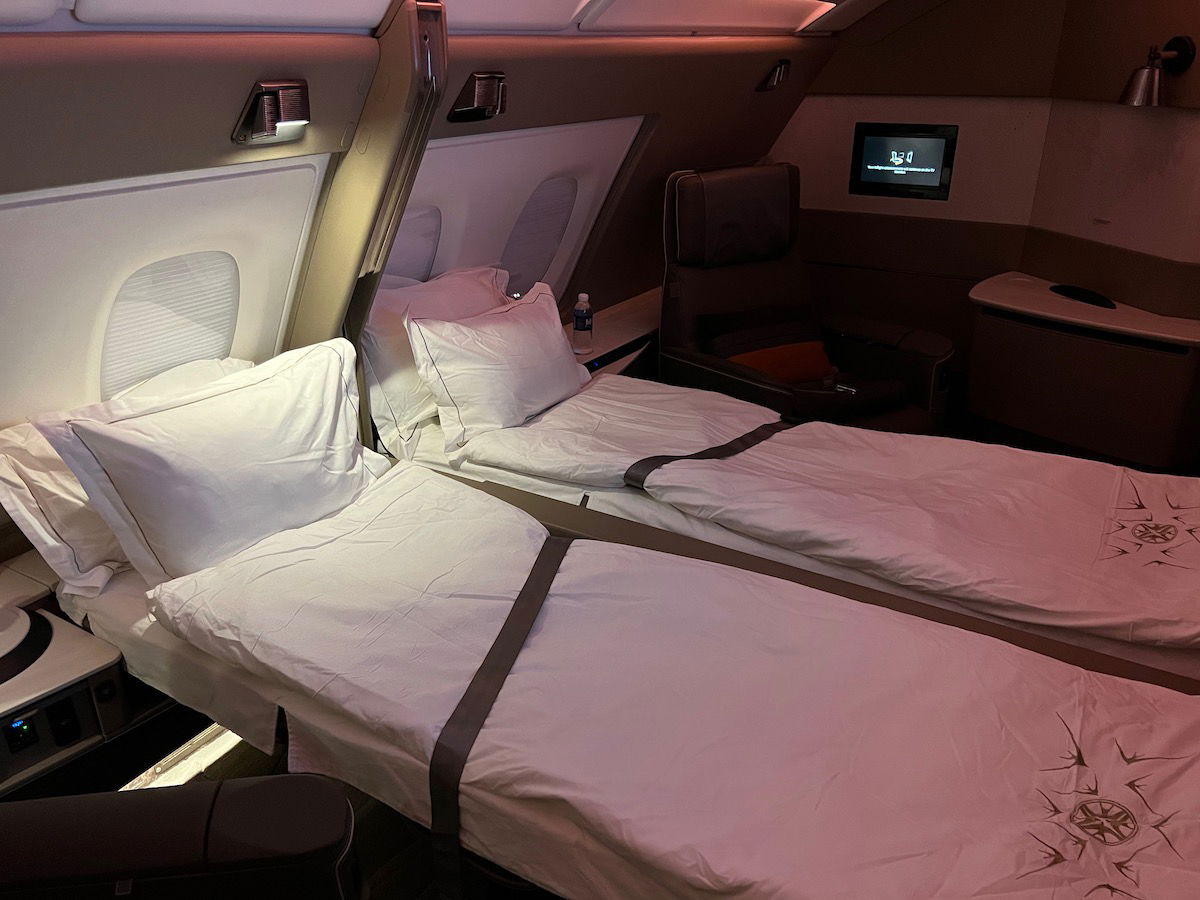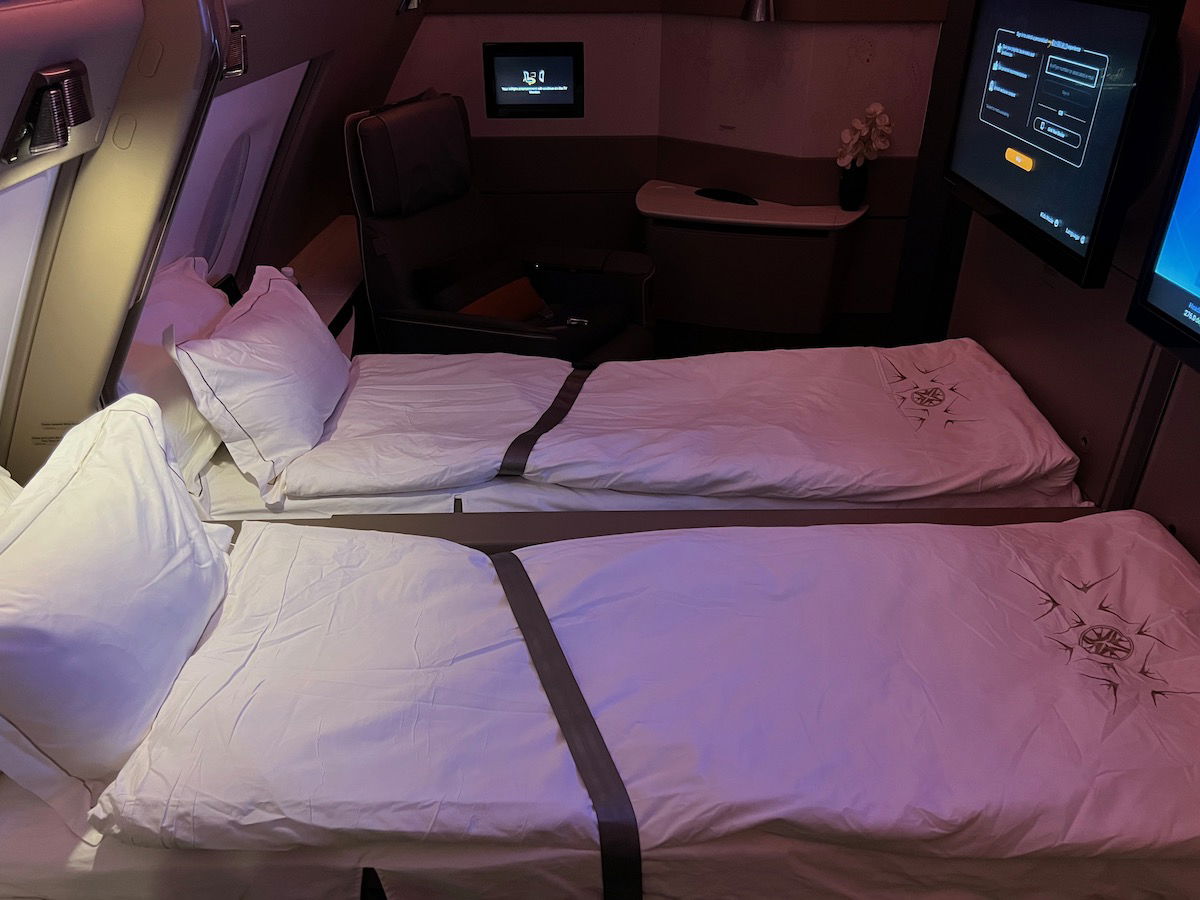 Let me start by saying that there's not a single better first class product in the world if you're traveling with someone, in my opinion. A few thoughts beyond that:
The Singapore A380 Suites bed is on the hard side, so this isn't the most plush bed in the sky
The sheer amount of space you have here is unbelievable; the bed as such isn't that huge, but the fact that you have so much open space around you makes a huge difference in the overall feel of the cabin
Note that this isn't a "true" double bed, in the sense that there is a small, hard barrier between the two beds; I suppose you could spoon if you wanted to, but you're either going to be very cozy in one seat, or one person is going to be on the fairly hard center barrier
If you "only" have one Suite, you're sleeping right next to a wall, and that's not great for airflow; by comparison, the double bed really helped make the cabin feel less warm
For those wondering, Singapore Suites has doors, and I'd say you have a good amount of privacy; crews aren't generally looking over the doors, as they're quite high, but rather they might look through some of the cutouts in the wall, which are there for this purpose
This bed really made me wish we had flown all the way from Singapore, as this flight wasn't nearly long enough to enjoy this product; I ended up napping for around 30 minutes, while Ford ended up napping for closer to two hours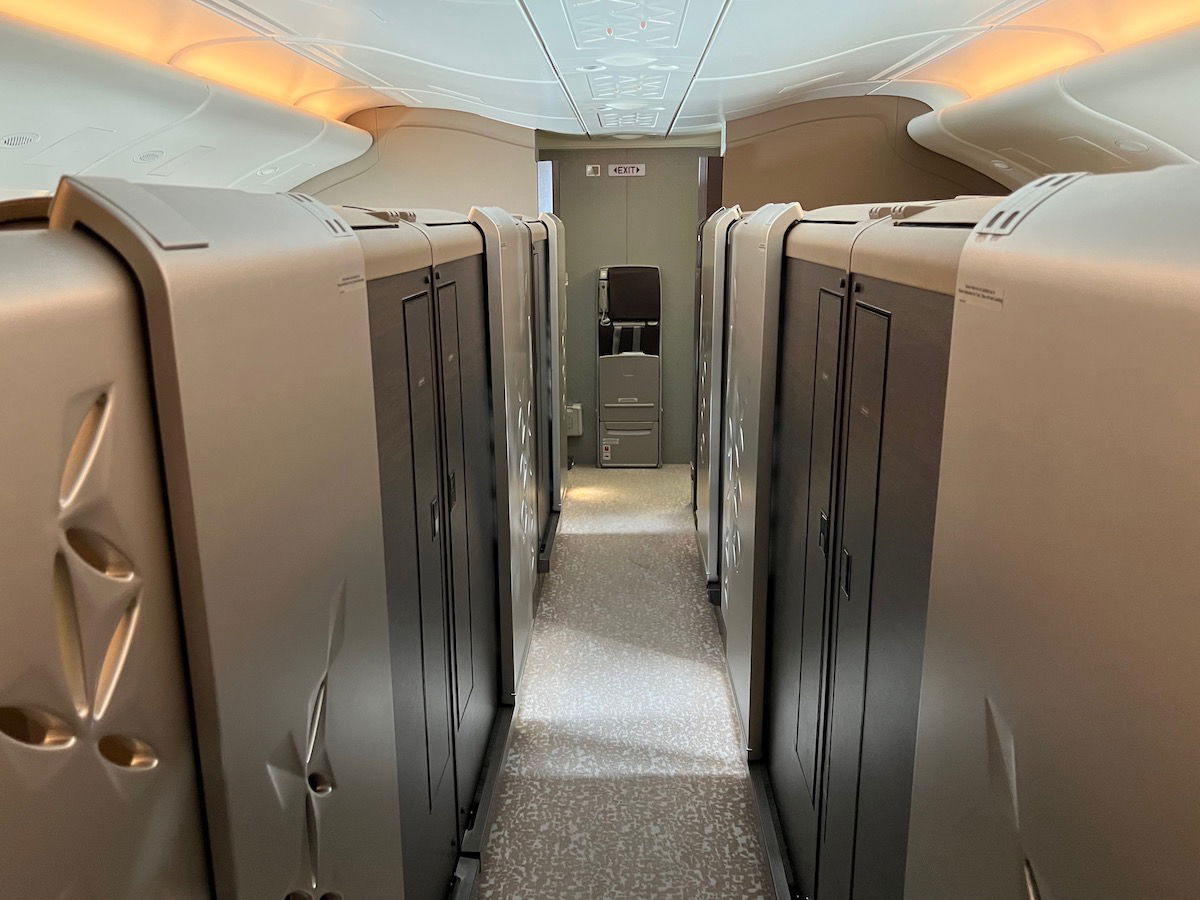 Singapore Airlines Suites pre-arrival snack
A few hours before landing I decided to order a Singapore Sling, because why not? It was tasty, but as expected, quite sweet.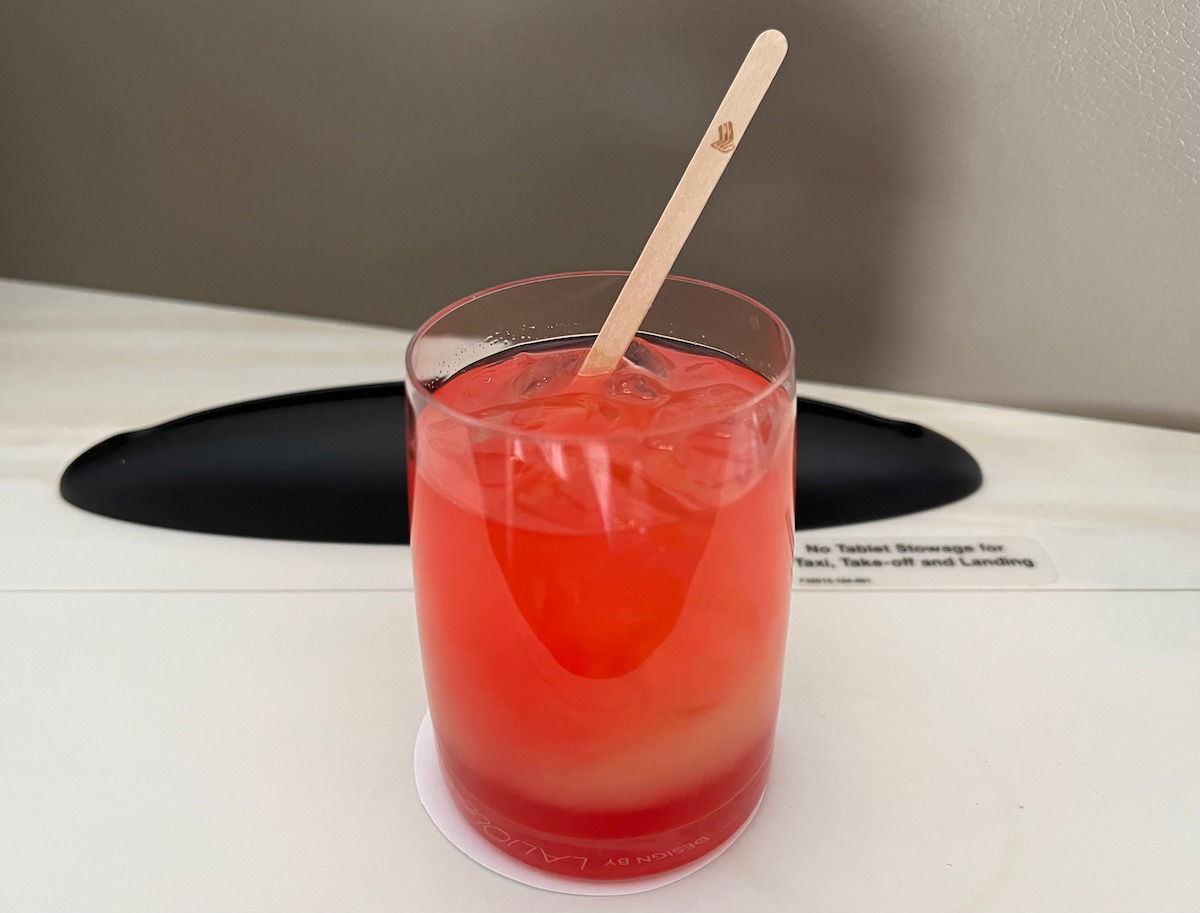 I also eventually ordered a cappuccino, and then later ordered a cup of tea.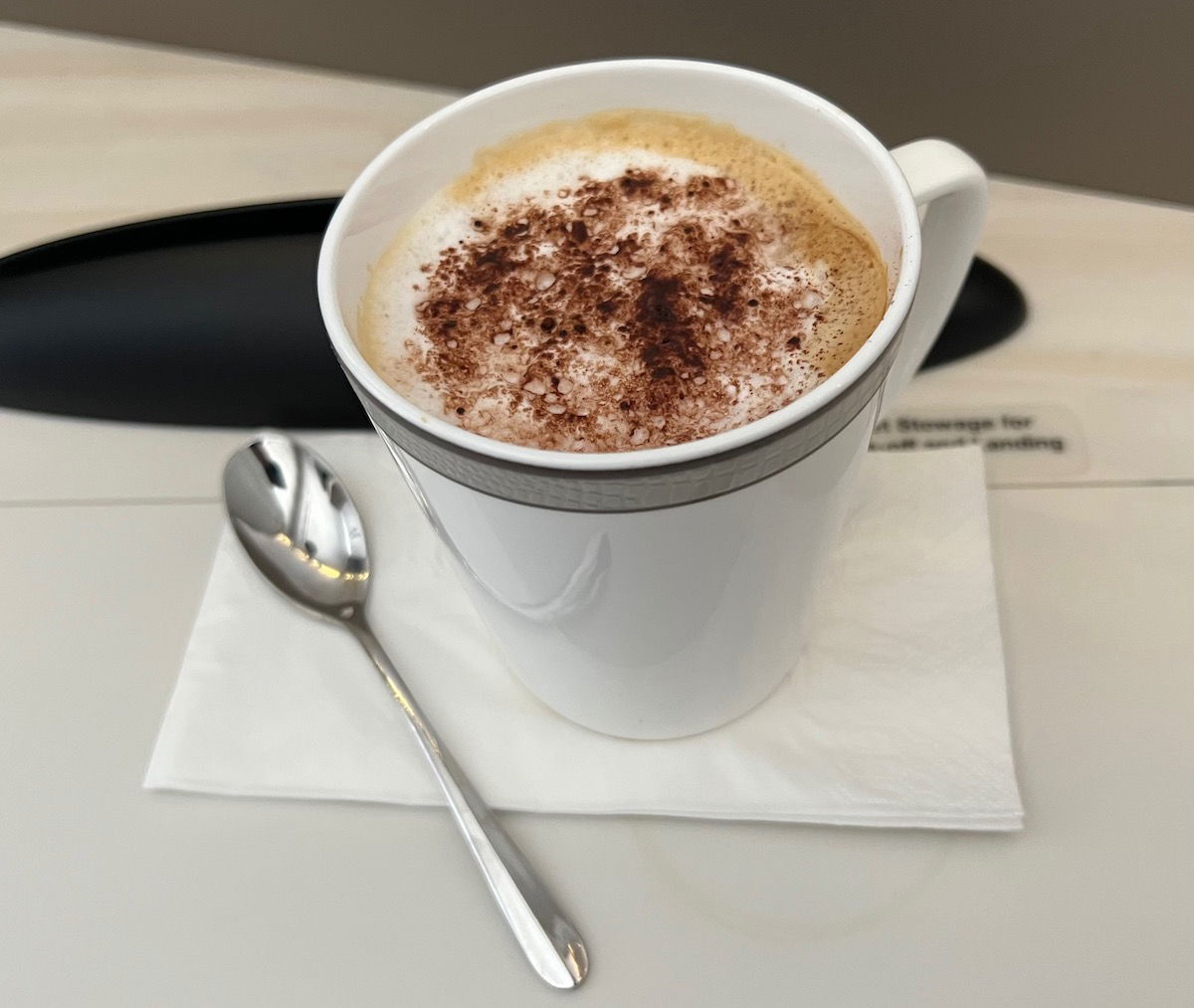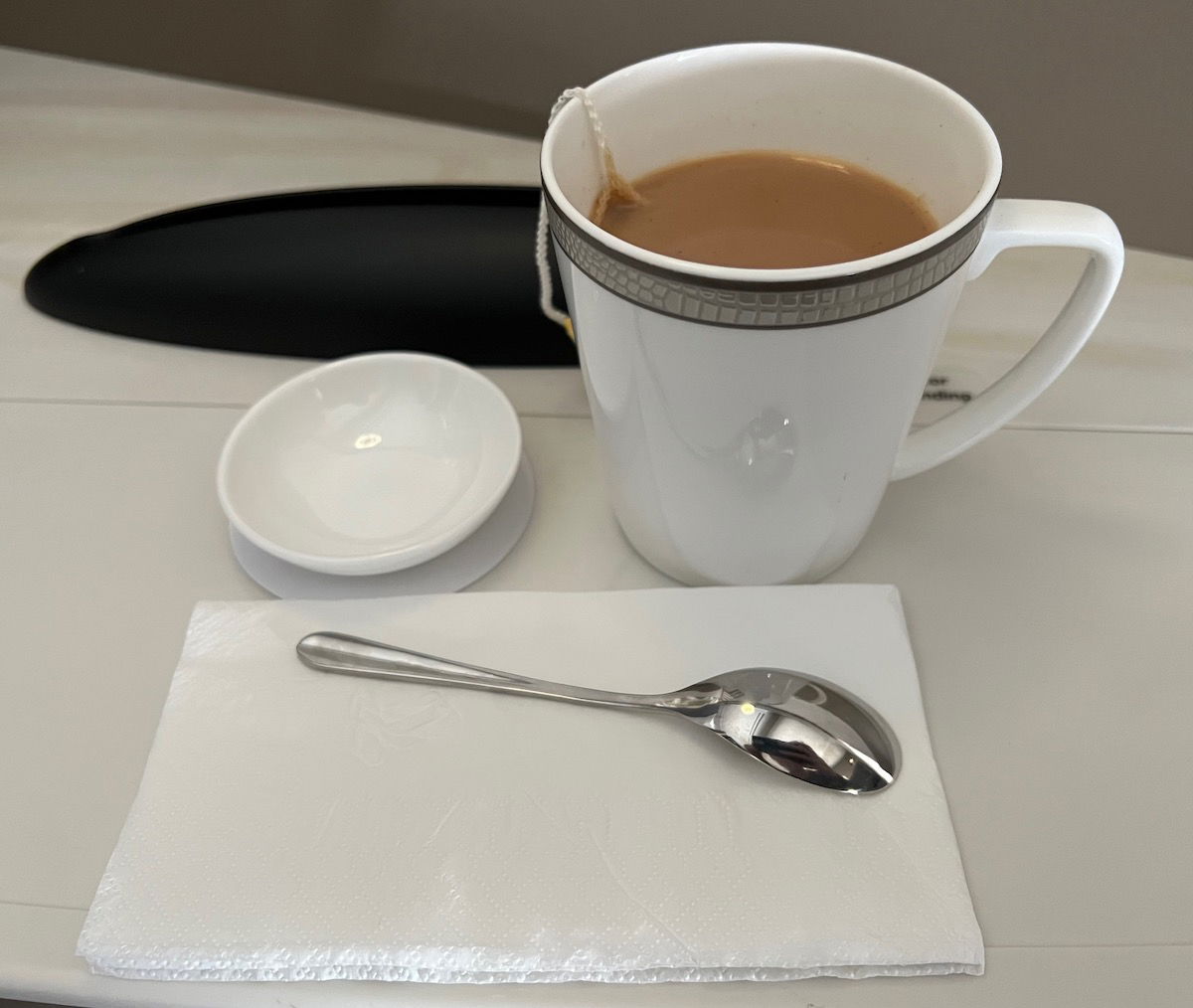 Around 90 minutes before landing, the pre-arrival snack was served. You can find the menu below.

Even though it wasn't on the menu, I was offered a mushroom soup to start, which I accepted.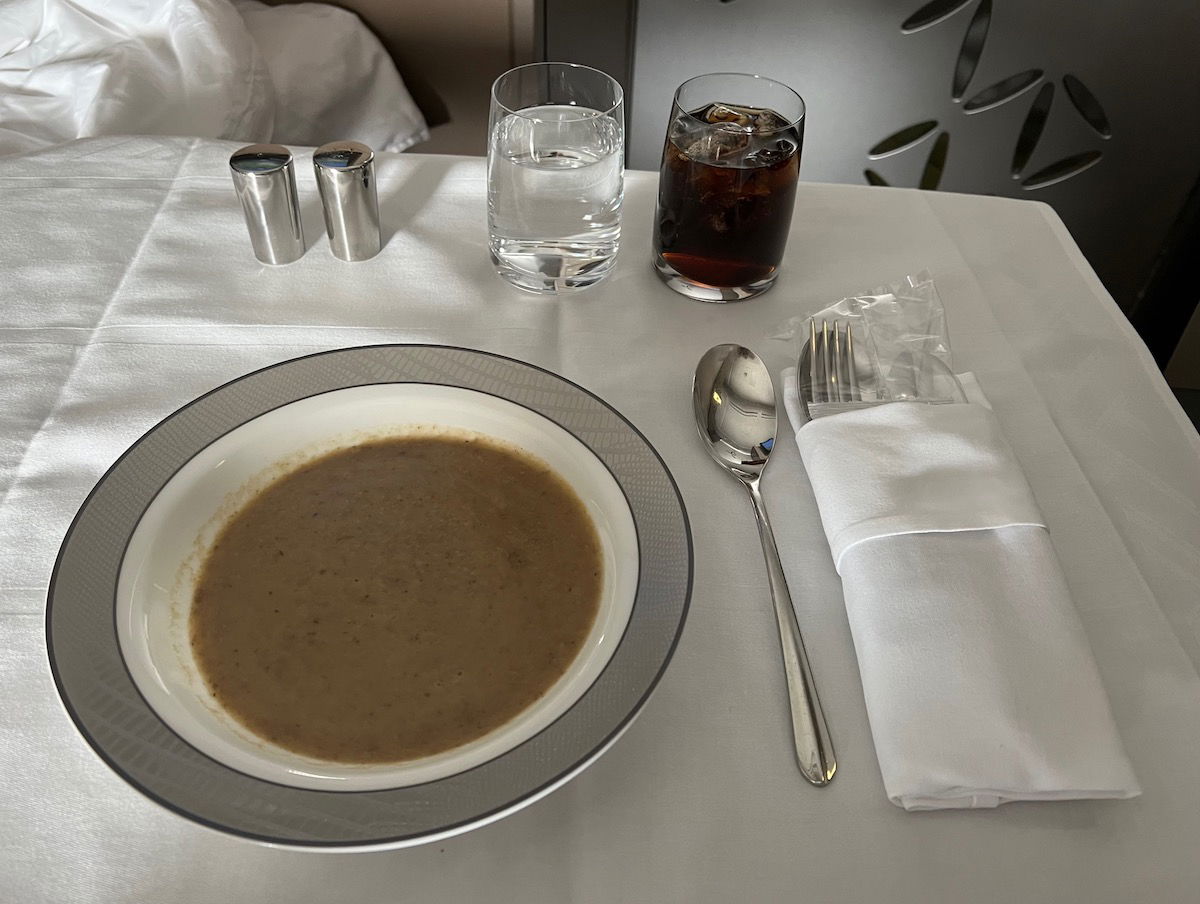 There were two main course choices, and one had pork, so I ordered the other one. That was a tortilla wrap with minced beef and vegetables with a chutney. It was tasty, and just the right snack after having so much food earlier in the flight.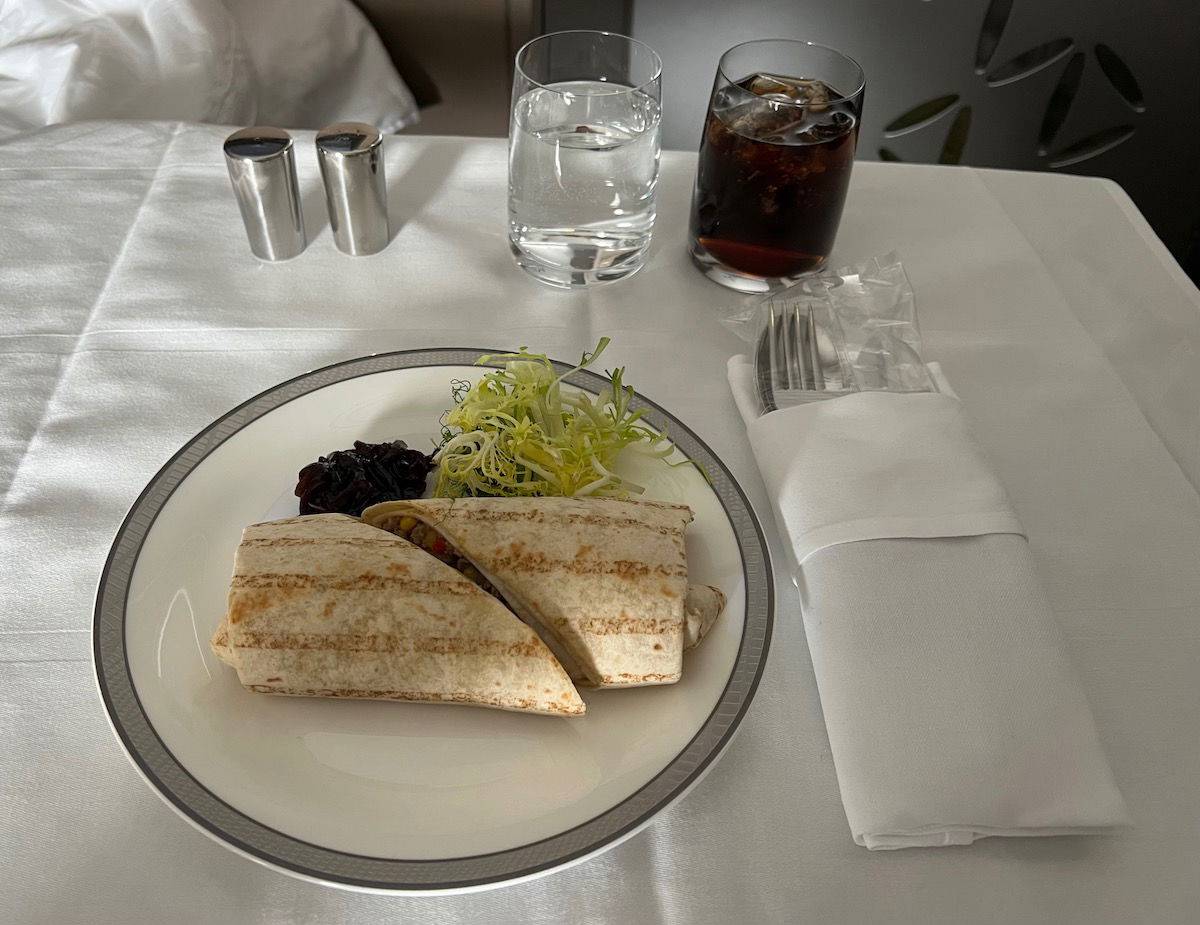 Singapore Airlines Suites service
I don't think there's an airline in the world that offers more consistently good service than Singapore Airlines (though I'd say both All Nippon Airways and Japan Airlines also consistently have great service), and this flight was no exception. The two flight attendants working Suites were textbook perfect. They took such pride in their jobs, they were poised, professional, and proactive, all without being overbearing.
Service on Singapore Airlines isn't just amazing compared to US carriers (which isn't saying a whole lot), but even compared to other leading carriers in the world. Singapore Airlines crews almost go about their jobs as if they're performing, because it's just that perfect every time.
Let me just say, it sure is hard to land in the United States off a Singapore Airlines flight and then have to connect to a domestic airline.
Singapore Airlines arrival in New York
At 1:20PM New York time, the captain was back on the PA to inform us that we were 200 miles northeast of New York, and would be landing around 2PM. About five minutes later we began our descent, and then 10 minutes after that the seatbelt sign was turned on and cabin was prepared for landing.
It wasn't a very nice day in New York, as there was a low cloud ceiling and the winds were gusty. We ended up touching down at JFK (rather roughly) a couple of minutes after 2PM.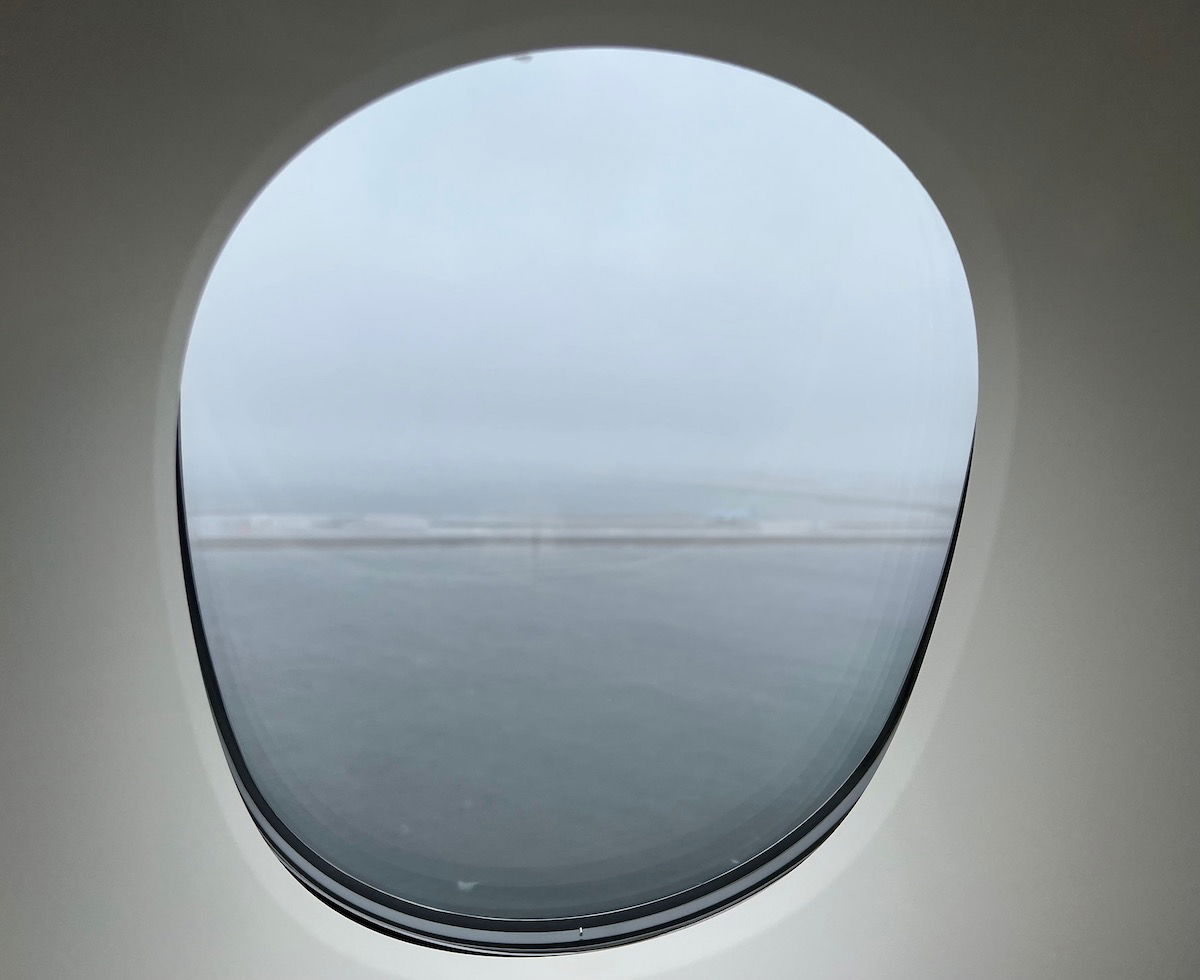 We then had to wait several minutes to cross a runway (hi, ITA Airways A330, you're kind of pretty, surprisingly!).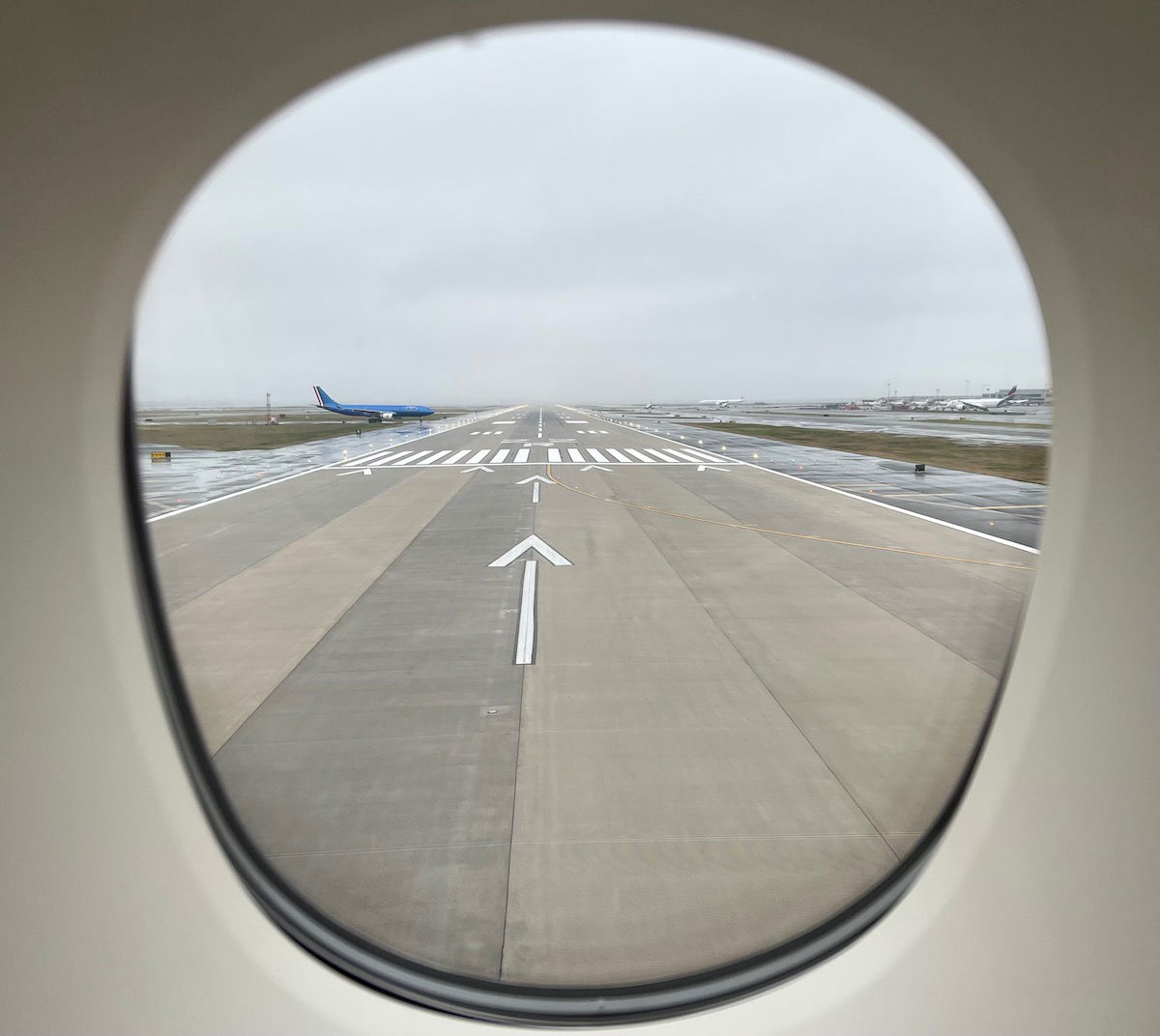 We arrived at our gate at JFK Terminal 4 at 2:14PM, just over three hours after our scheduled arrival. It then took nearly 10 more minutes for the door to open. We bid farewell to the crew, and then ran to catch our connecting flight back to Florida.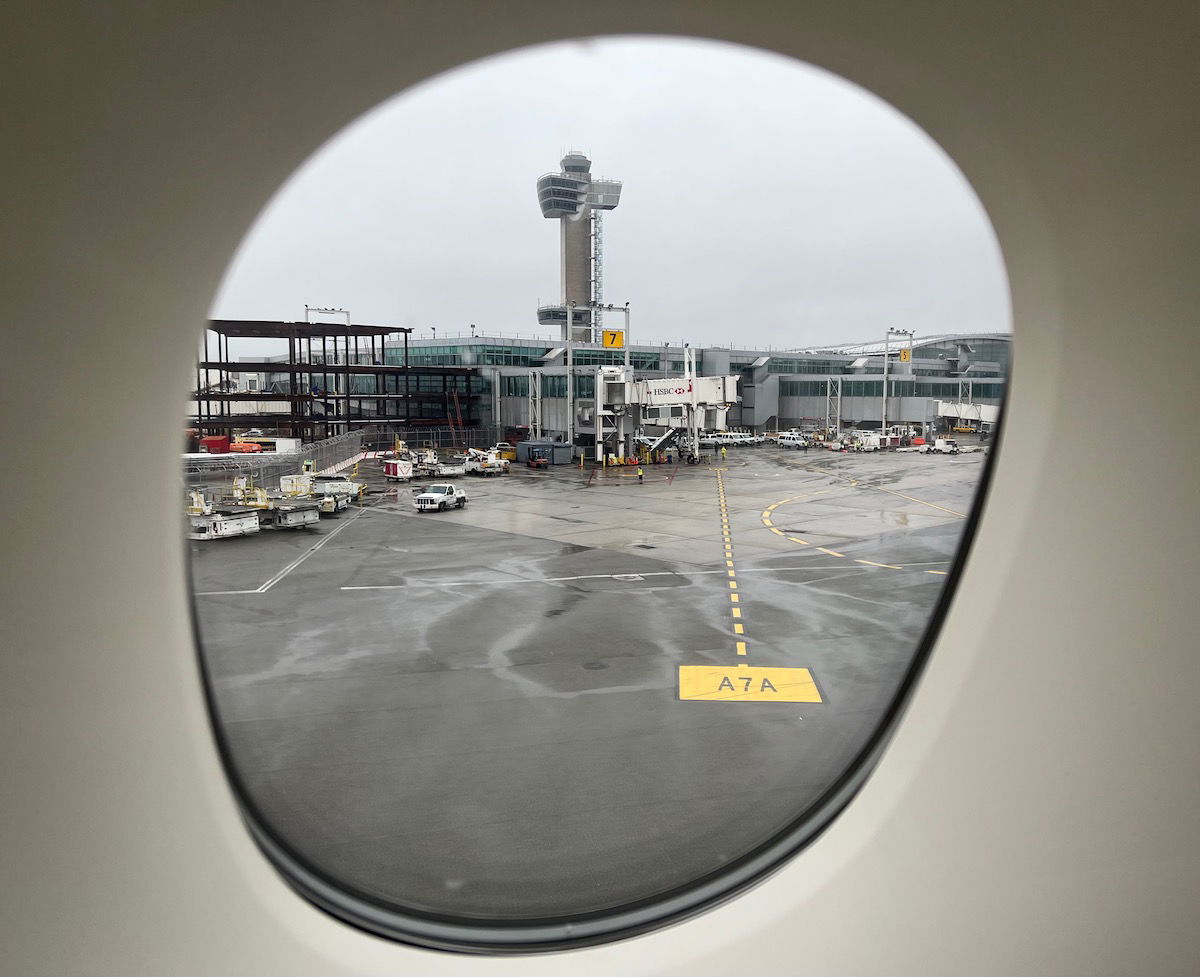 Bottom line
What a treat it was to fly Singapore A380 Suites in the double bed. There's so much I enjoyed about this flight. For one, I haven't been to Southeast Asia since before the pandemic, so it was nice to get a little flavor of that when crossing the Atlantic.
But beyond that, Singapore Airlines just knocks it out of the park with its A380 Suites, especially on this route. The service was perfect, the food and drink selection was excellent, the entertainment was unbeatable, the amenities were great, and the double bed is so unbelievably nice.
I definitely had a more favorable impression of Singapore's A380 Suites compared to my last flight. Of course it was great then, but it was exceptional now. I think this is without a doubt the world's best first class product if you're traveling with someone, since you can't beat the privacy and space of the combined Suites seats.
What do you make of Singapore Airlines' A380 Suites?