Aviation has come a long way over the years, and airlines have introduced some pretty unbelievable premium cabin amenities. However, in my millions of miles of flying, I'd argue that nothing can compare with the excitement of showering on an Emirates Airbus A380.
No matter how many times I shower on an Emirates A380, I can't help but giggle each time, because there's just something so unbelievably incredible about flying 35,000 feet above the ground in a million pound metal tube at 500 miles per hour and showering.
Over the years I've taken dozens of Emirates A380 first class flights, but I took my first such flight since the start of the pandemic on Tuesday night, and I was reminded of how special this experience is. I wanted to write a guide about everything you could possibly want to know about the Emirates A380 shower spa. By the way, there's a very special reason I took this flight, but I'll save that for another post.
Guide to the Emirates shower in A380 first class
Emirates exclusively has showers onboard its Airbus A380s that feature first class (Emirates also has some A380s without first class, so those planes don't have shower suites). Showers aren't available onboard Emirates' 777s, including those featuring the new first class, so this is one reason people may choose to seek out the A380 over the 777.
There are two shower suites on each Airbus A380 featuring a first class cabin, and they're located at the very front of the upper deck. When you go to the front of the 14-seat first class cabin, you'll see them right there, on each side of the staircase.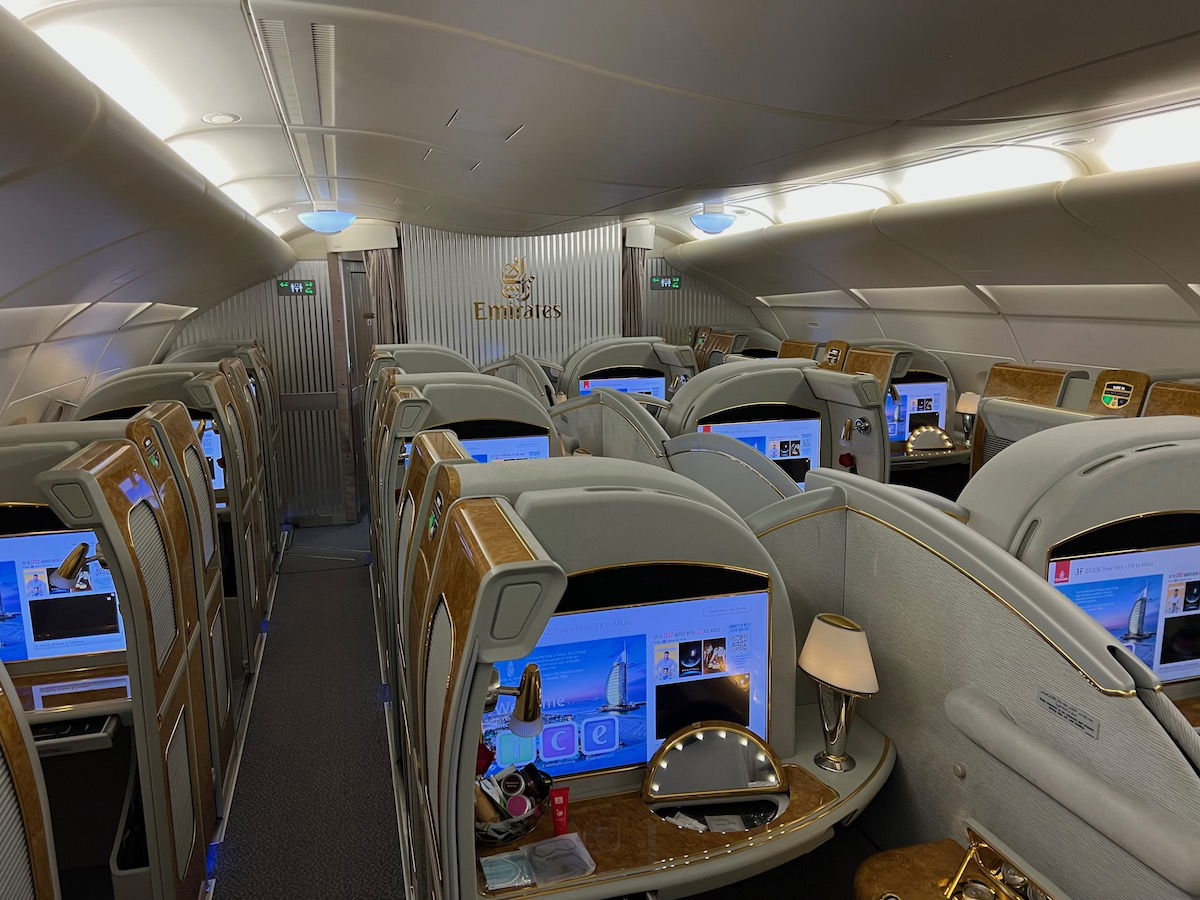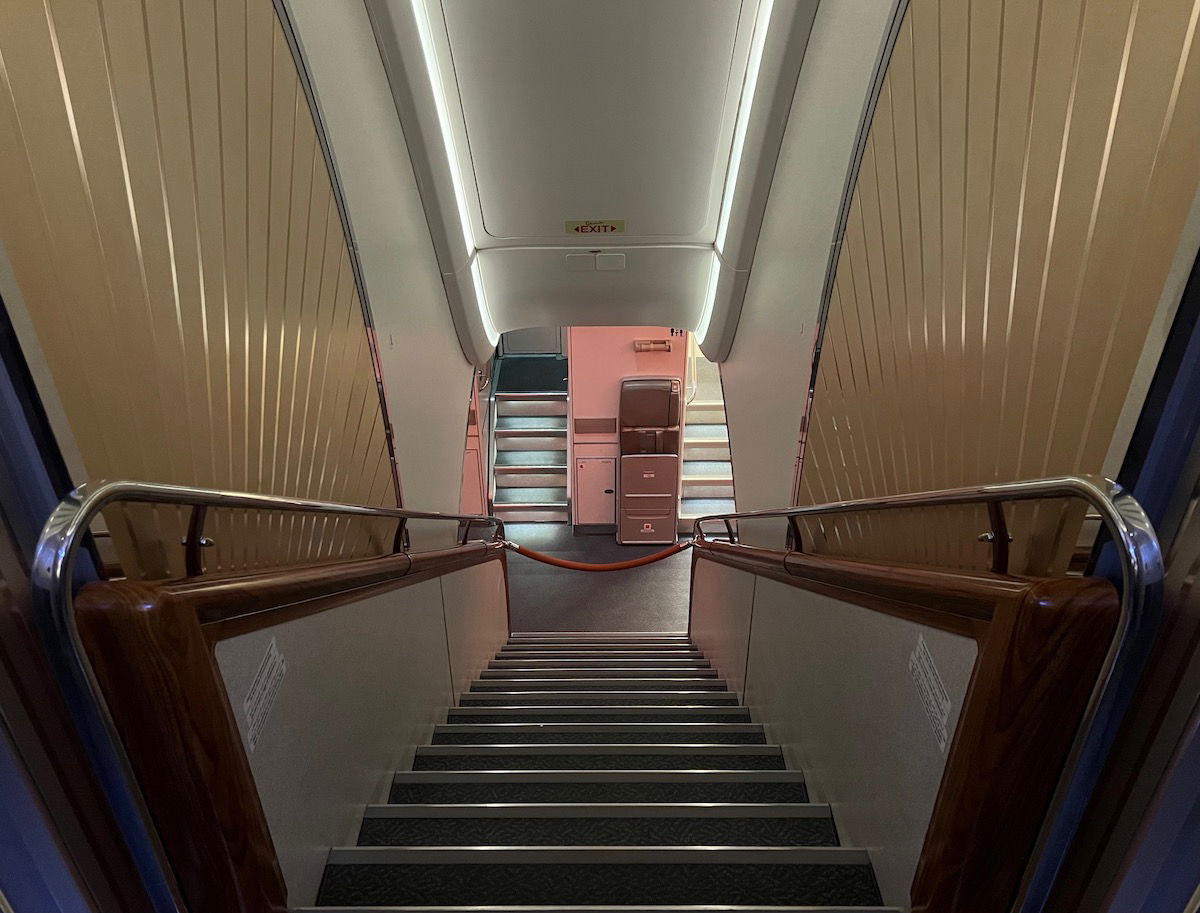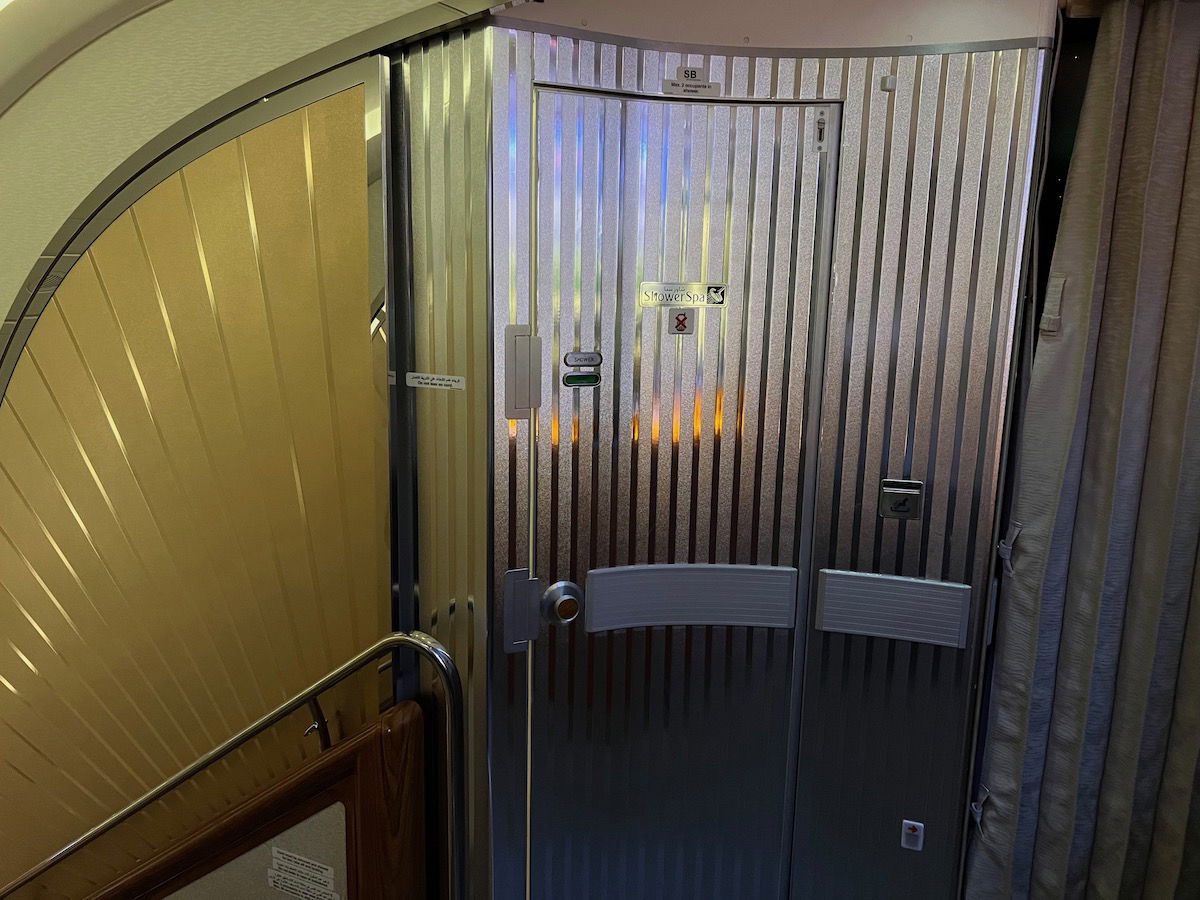 In terms of space allocation, these shower suites aren't quite as excessive as they may seem at first glance. Due to the curvature of the A380, there couldn't be seats there, so instead Emirates decided to use this space creatively.
These aren't just dinky showers, but actually shower suites that are probably larger than the average bathroom in a NYC apartment. It's just unbelievable.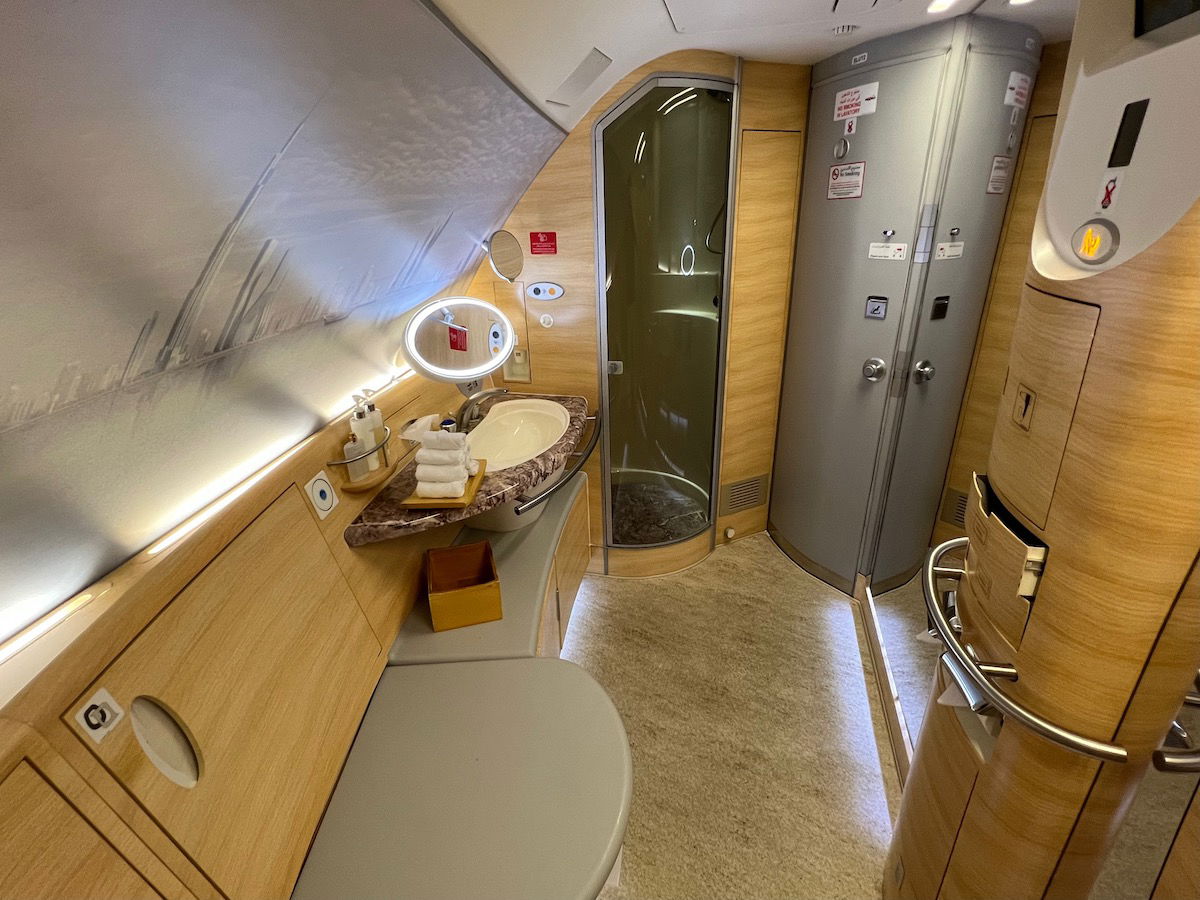 Reserving the Emirates A380 shower suite
Emirates first class passengers can shower once per flight. You can typically spend 30 minutes in the shower room (though in theory I suppose you could spend longer if it's not otherwise booked), though you only get five minutes of running water. More on that later.
Typically either before takeoff or immediately after, a flight attendant or the shower attendant will stop by your seat to see if you'd like to reserve a shower.
Indeed, Emirates has a full-time shower attendant onboard, who isn't a flight attendant. In terms of uniforms, you can tell the shower attendant apart from the rest of the crew because they wear pants, while the rest of the female crew wear skirts. They also wear red vests during the flight.
Is it necessary to reserve the shower suite in advance? It depends on a few factors:
How full the first class cabin is — availability will be different if there are just two passengers vs. 14 passengers
How long the flight is — shower availability will be different on a Los Angeles to Dubai flight than a Dubai to Jeddah flight
When you want to shower — the most popular time to shower is within two hours of landing, so that you can freshen up before arrival
As a general rule of thumb, you'll want to make an appointment as soon as possible if you're on a short flight or if you want to shower close to landing. You can always reserve a spot for closer to landing, and then if you later decide you want to shower earlier, it'll probably be available.
Otherwise you can usually just play it by ear. If you're on a 15-hour flight, you can always indicate the general timeline with which you'd like to shower, and the crew will do their best to accommodate.
Emirates A380 shower suite layout & amenities
The Emirates A380 shower spas are a really good size, and shouldn't feel claustrophobic at all. The shower spa has a toilet, sink with vanity mirror, and enclosed shower.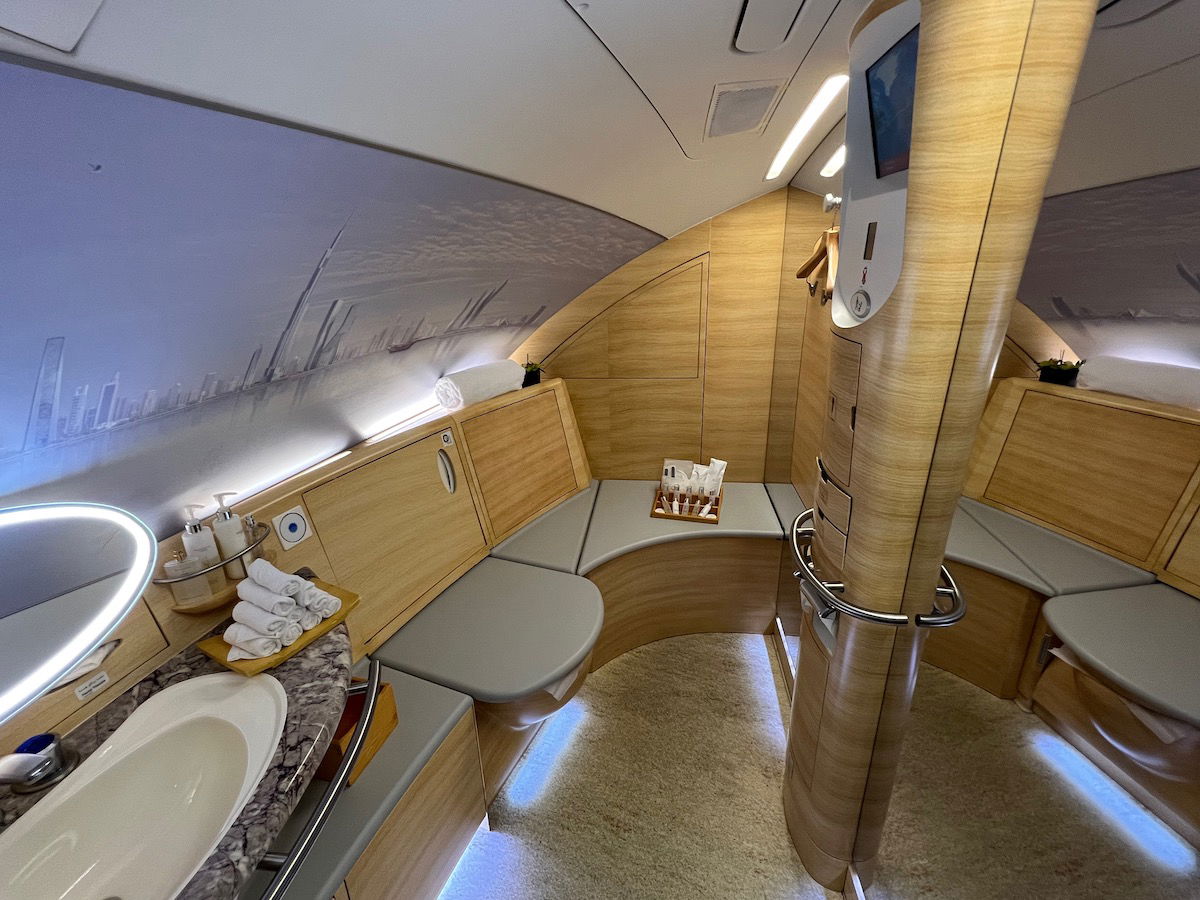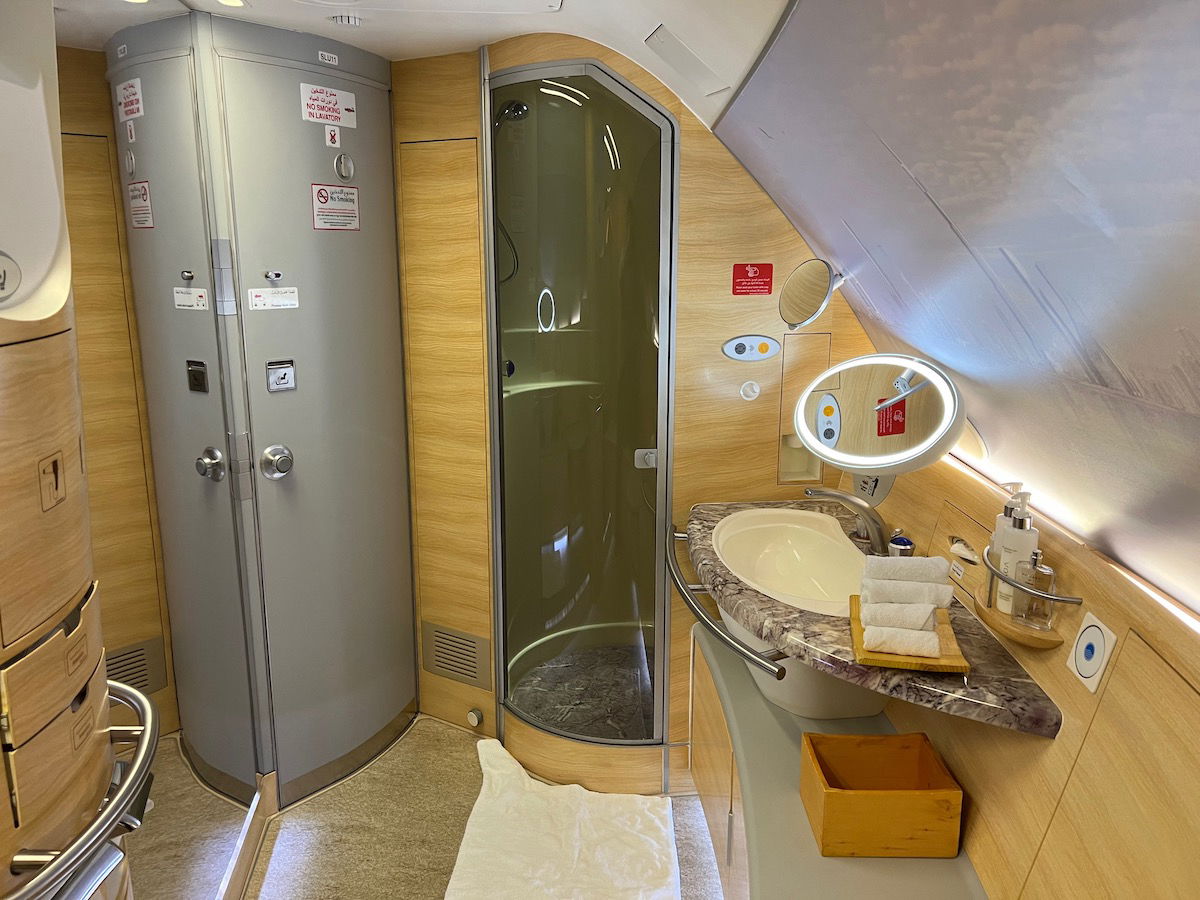 Like any civilized airplane bathroom, there are customizable heated floors, so you can adjust the temperature. 😉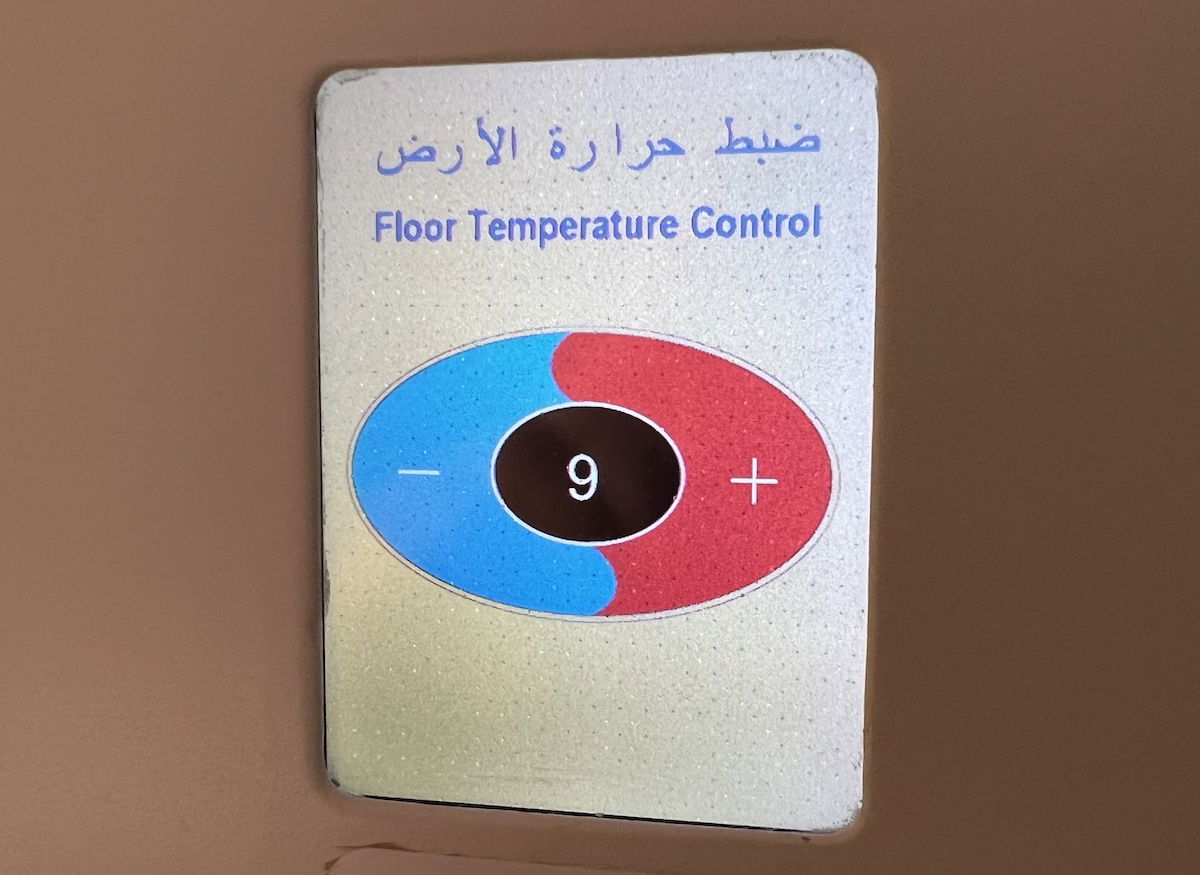 There's a tray in the back of the shower spa with all kinds of toiletries, ranging from dental kits, to shaving kits, to cotton swabs. There are also toiletries from VOYA, with the choice of tranquil or revitalizing scents.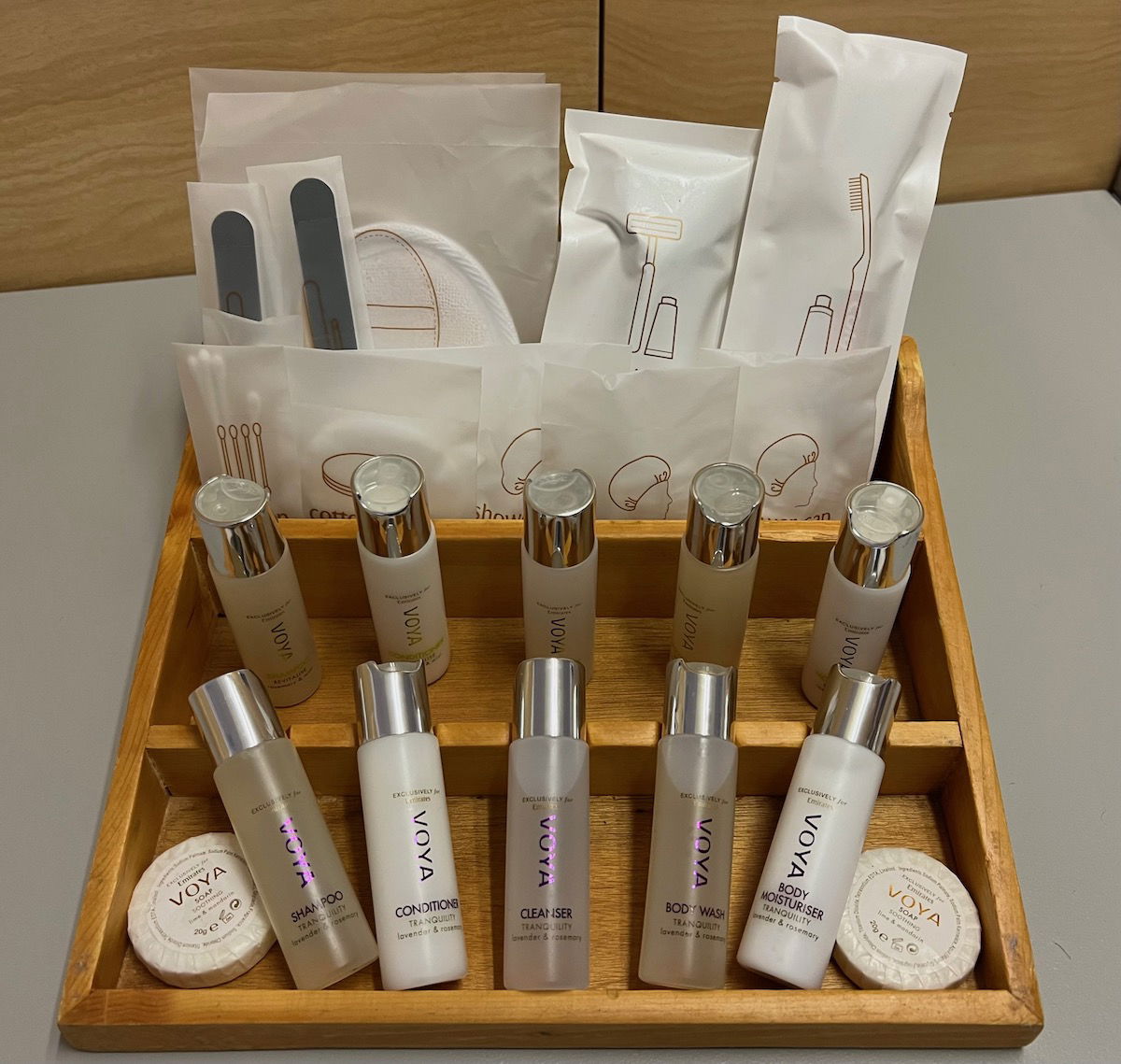 There's also hand soap from VOYA, as well as some fragrances from BVLGARI.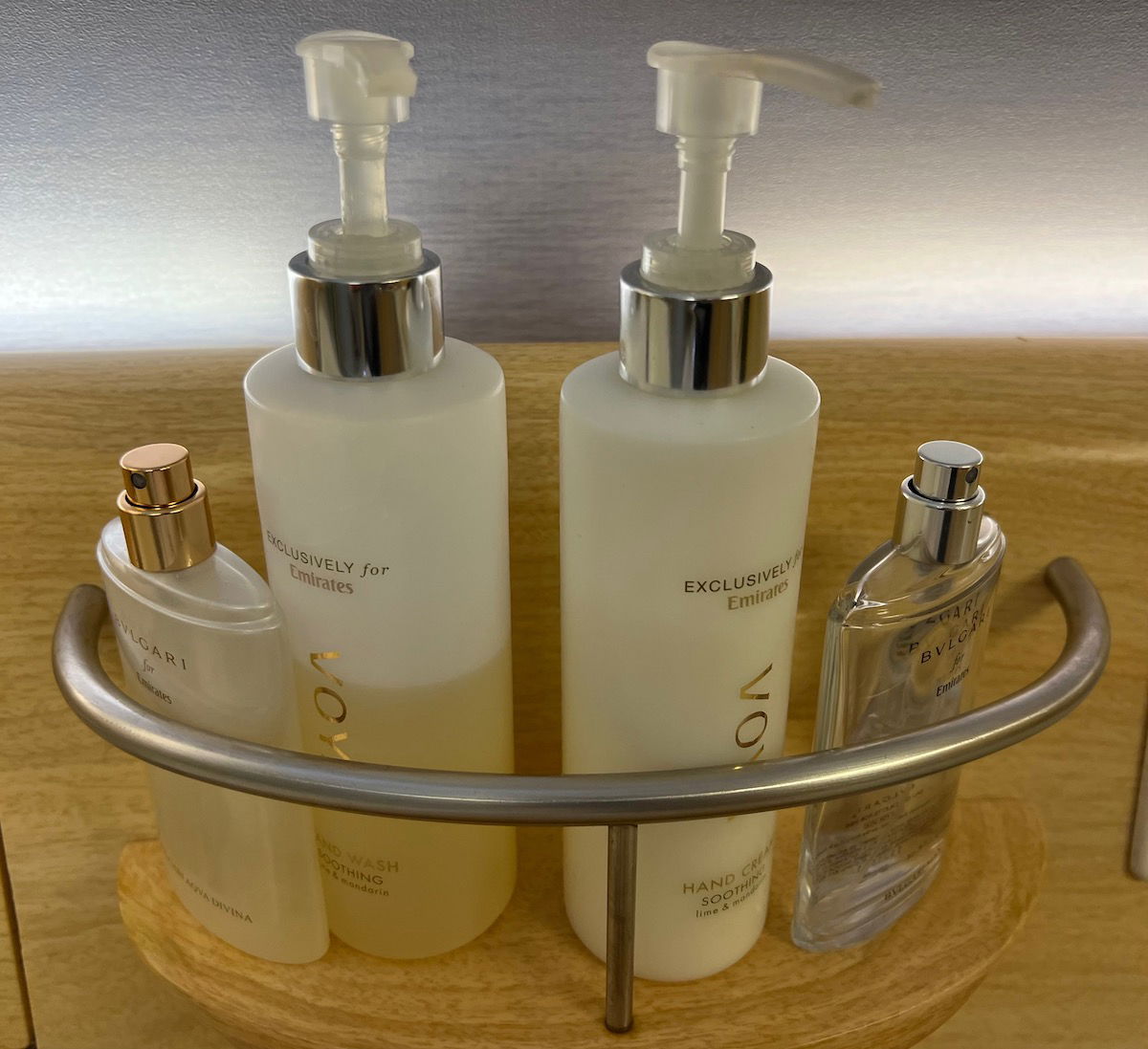 There's a TV screen in the shower spa with the map feature, so you can keep track of the progress of your flight.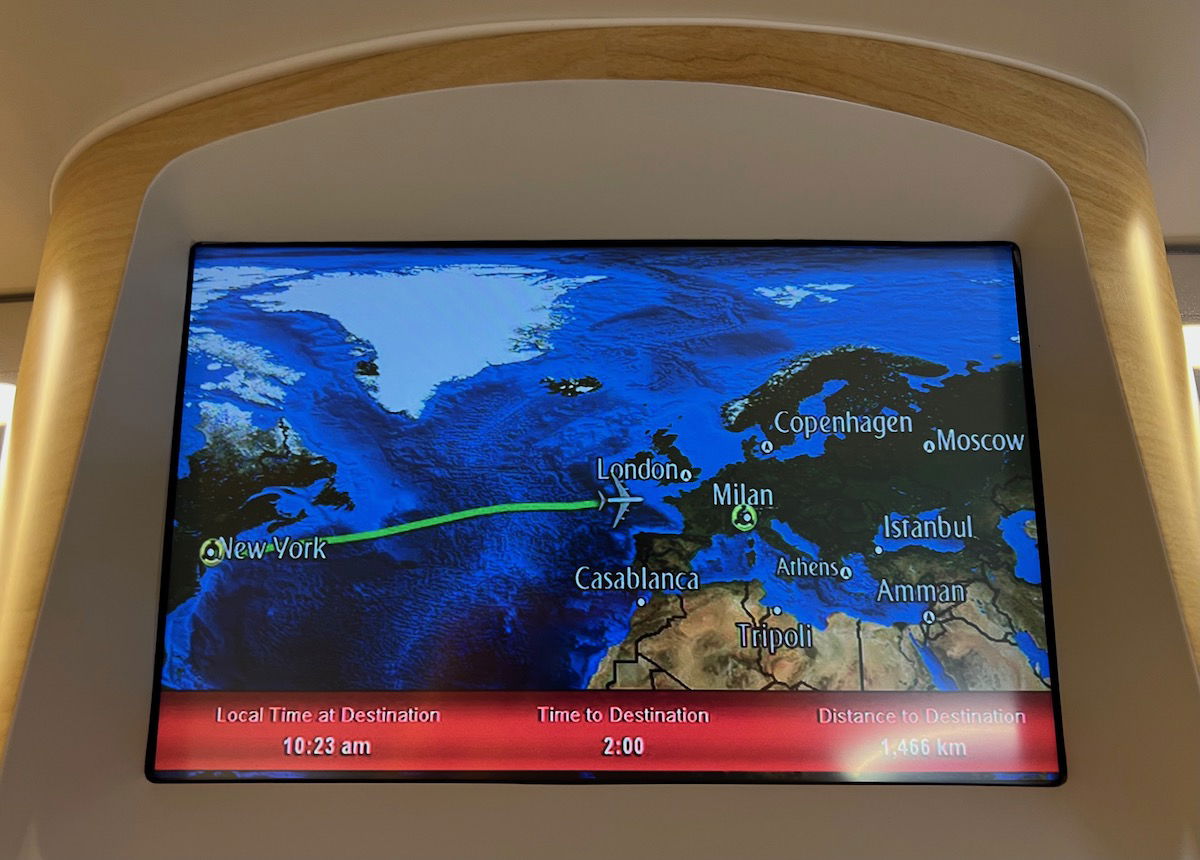 Immediately underneath the screen is a compartment that contains a hair dryer.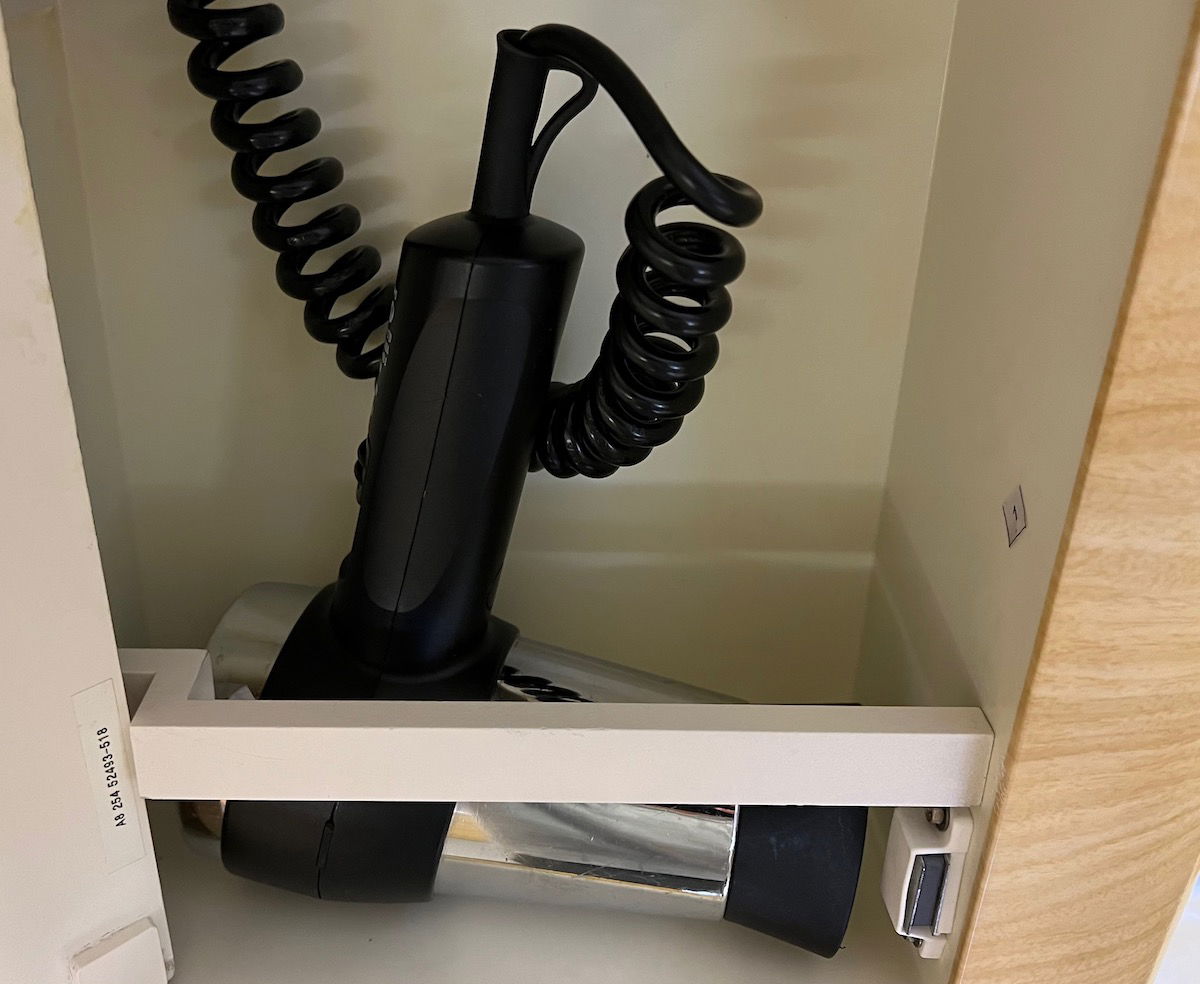 Exclusively on the Airbus A380, first class passengers are also given a tote bag, which is specifically intended so that you can transport stuff to & from the shower suite. Emirates really thinks of everything.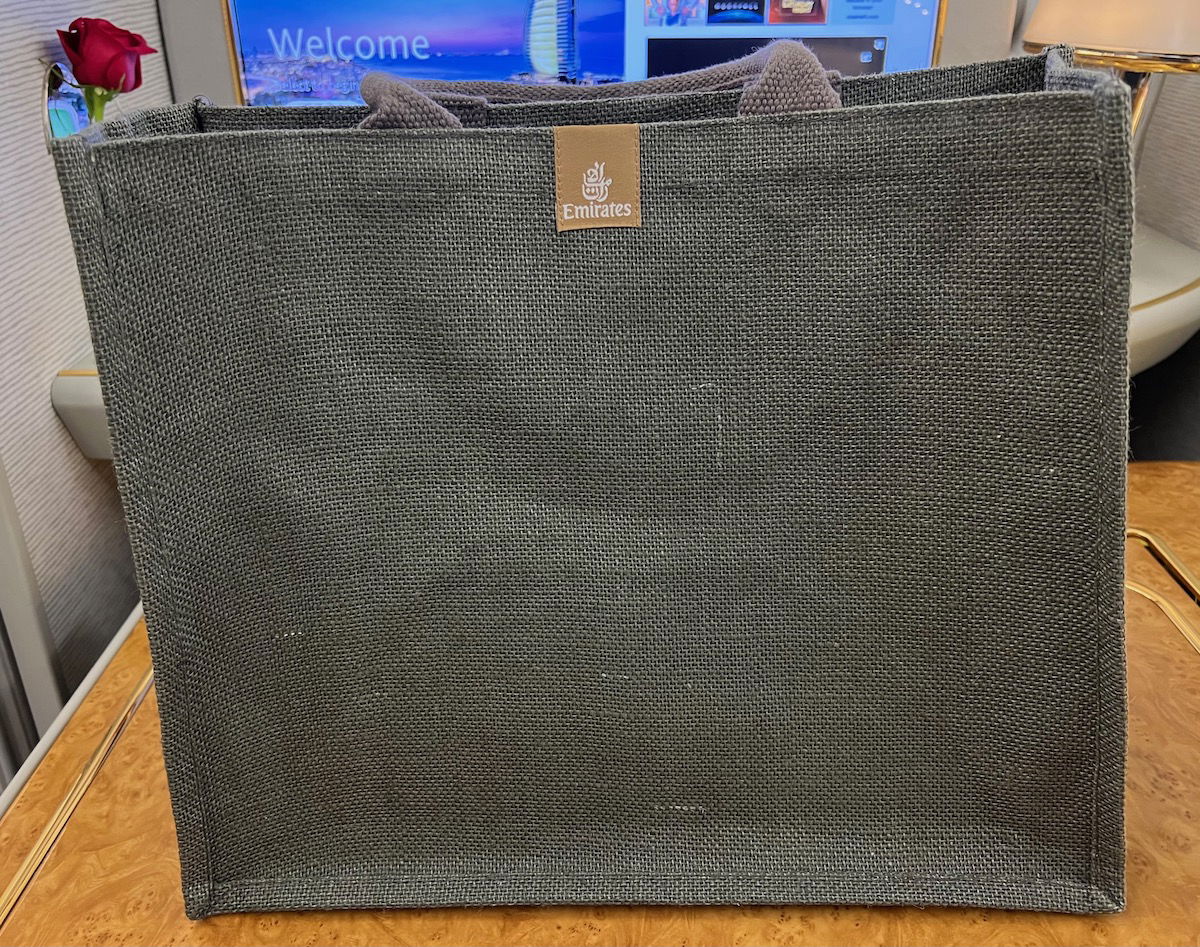 How to use the Emirates A380 shower suite
The process of actually using the shower spa is pretty straightforward. At the designated time, the crew will come by your suite to collect you and bring you to the shower spa. The crew will then ask if you're familiar with the shower, and you'll generally then get a short briefing. For example, you're reminded that there's an oxygen mask in the shower in the event of an emergency.
As far as actually operating the shower goes, the shower has a door that opens and closes, so that it can be fully enclosed.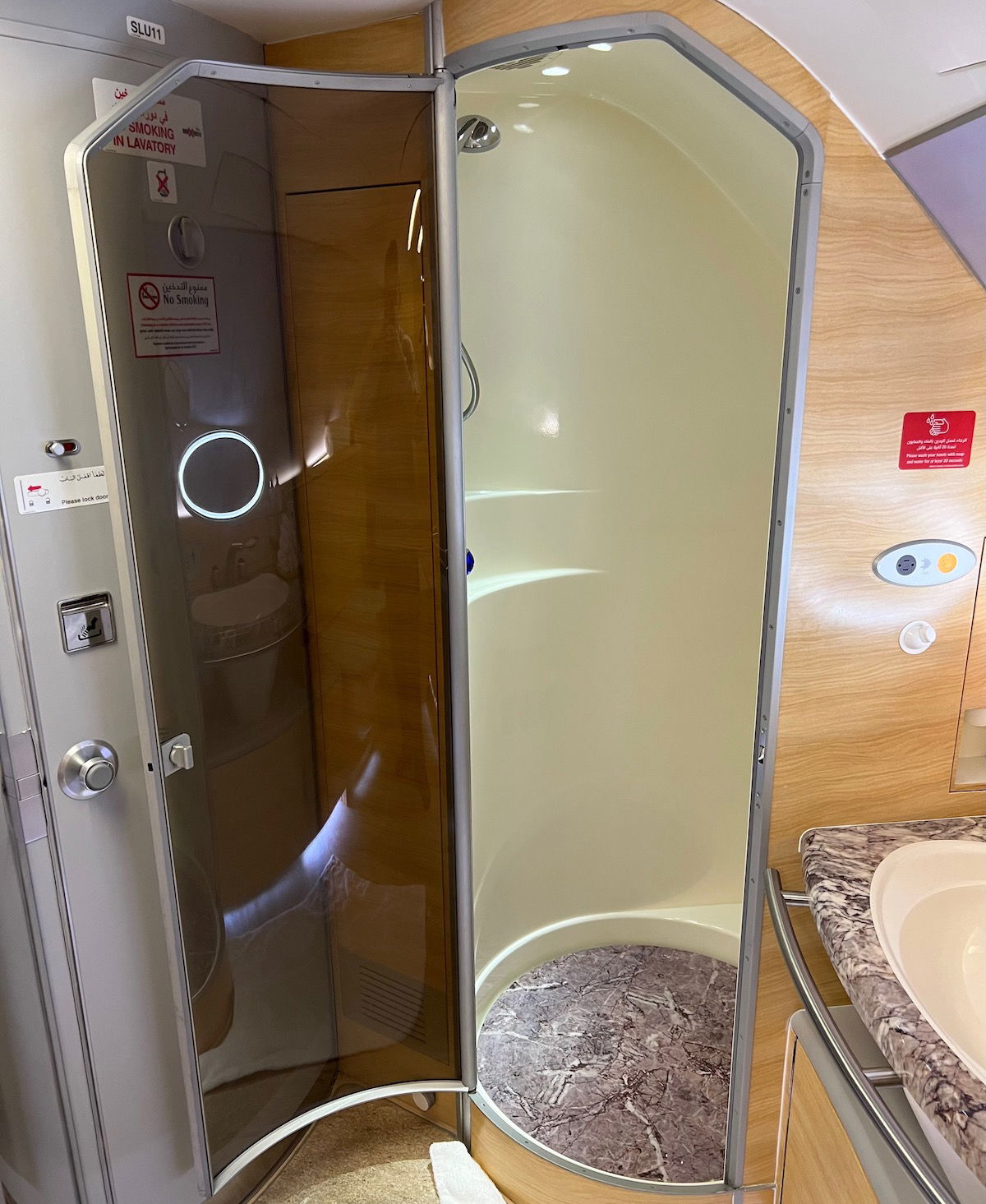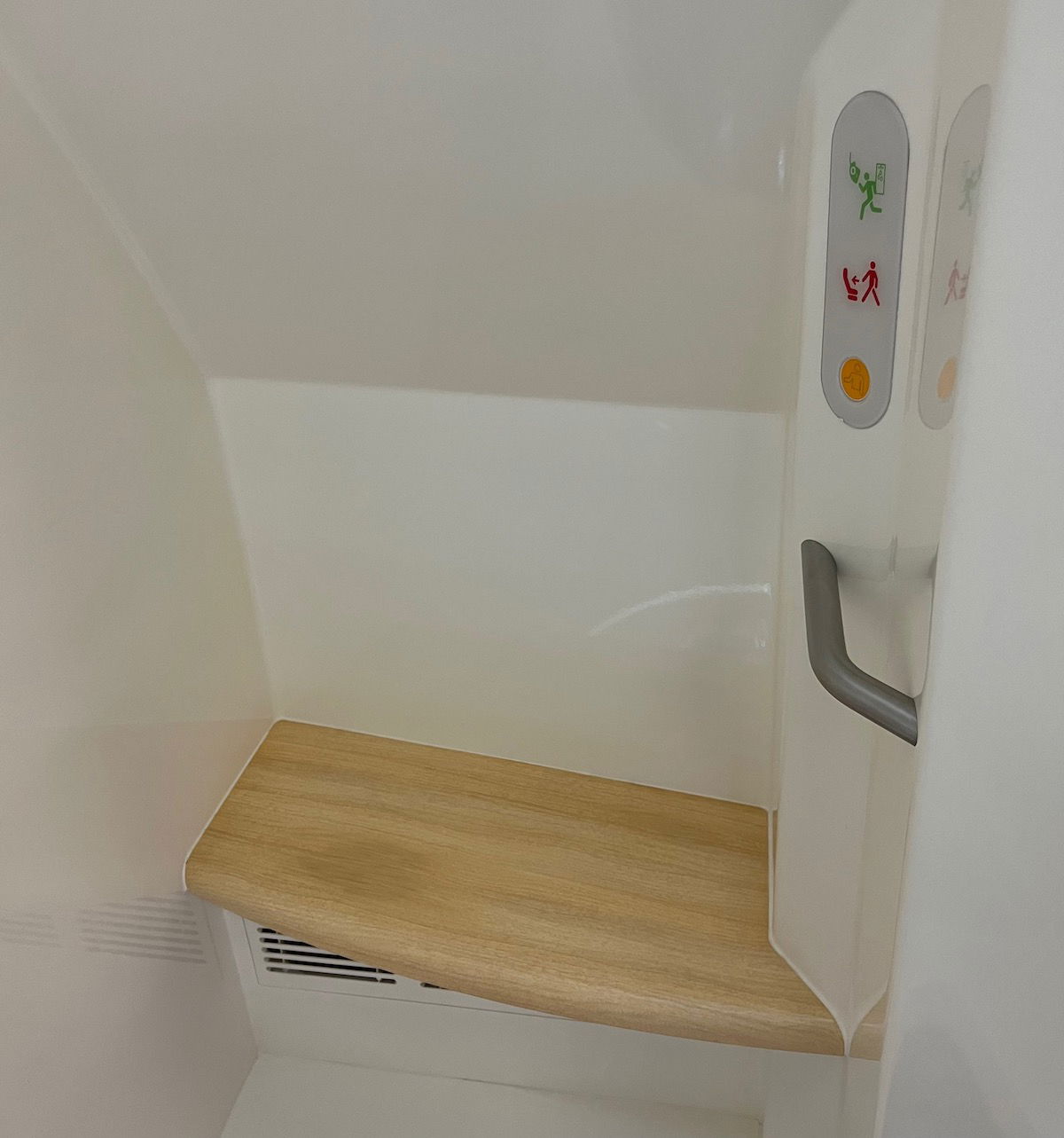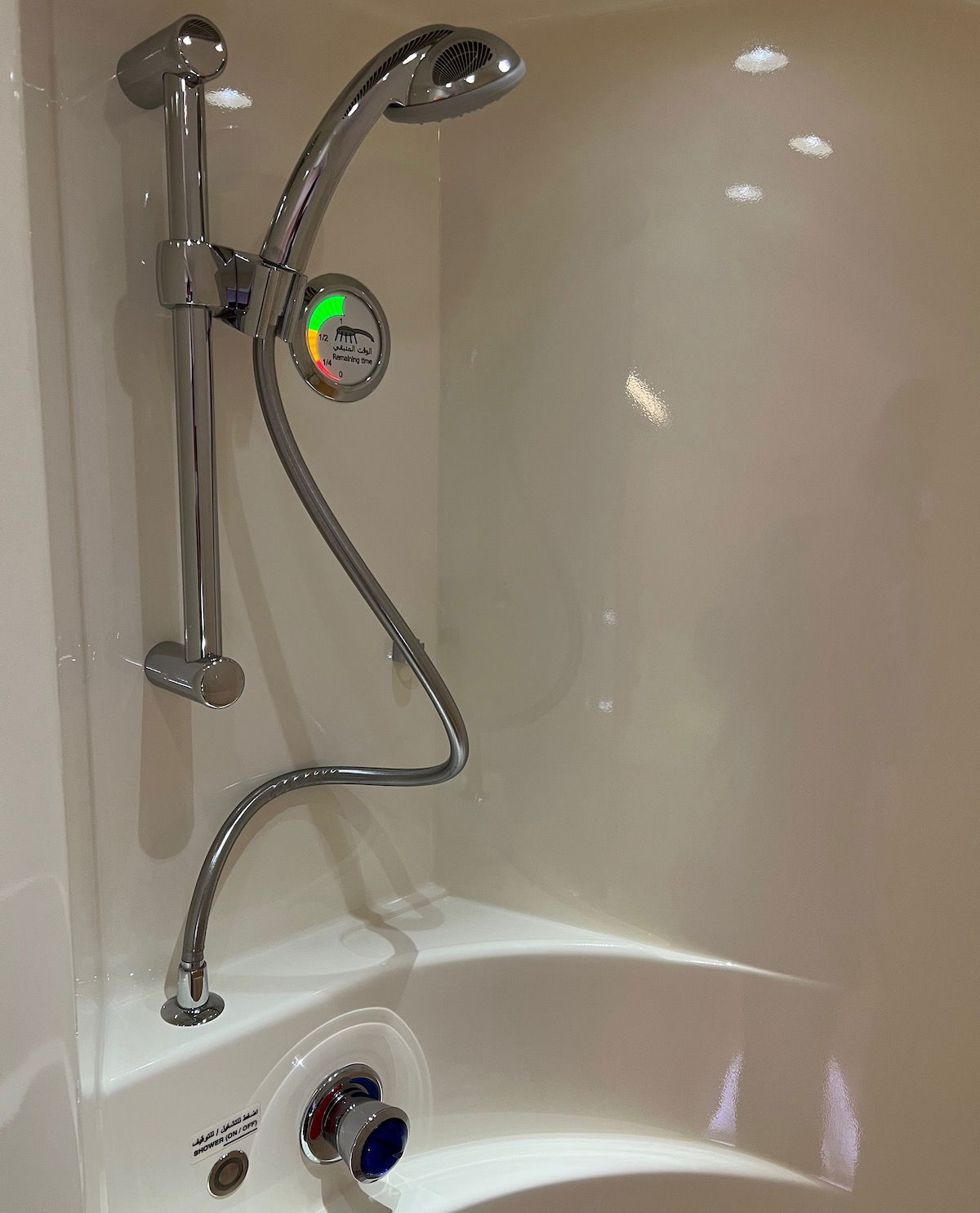 The shower has a timer that shows how much of your five minute water allotment is remaining. For half the shower you should be in the green zone, then the other half of the shower time is split between yellow and red. When your shower gets into the red zone, it will automatically turn off as a warning, and you'll have to push the button to turn it back on.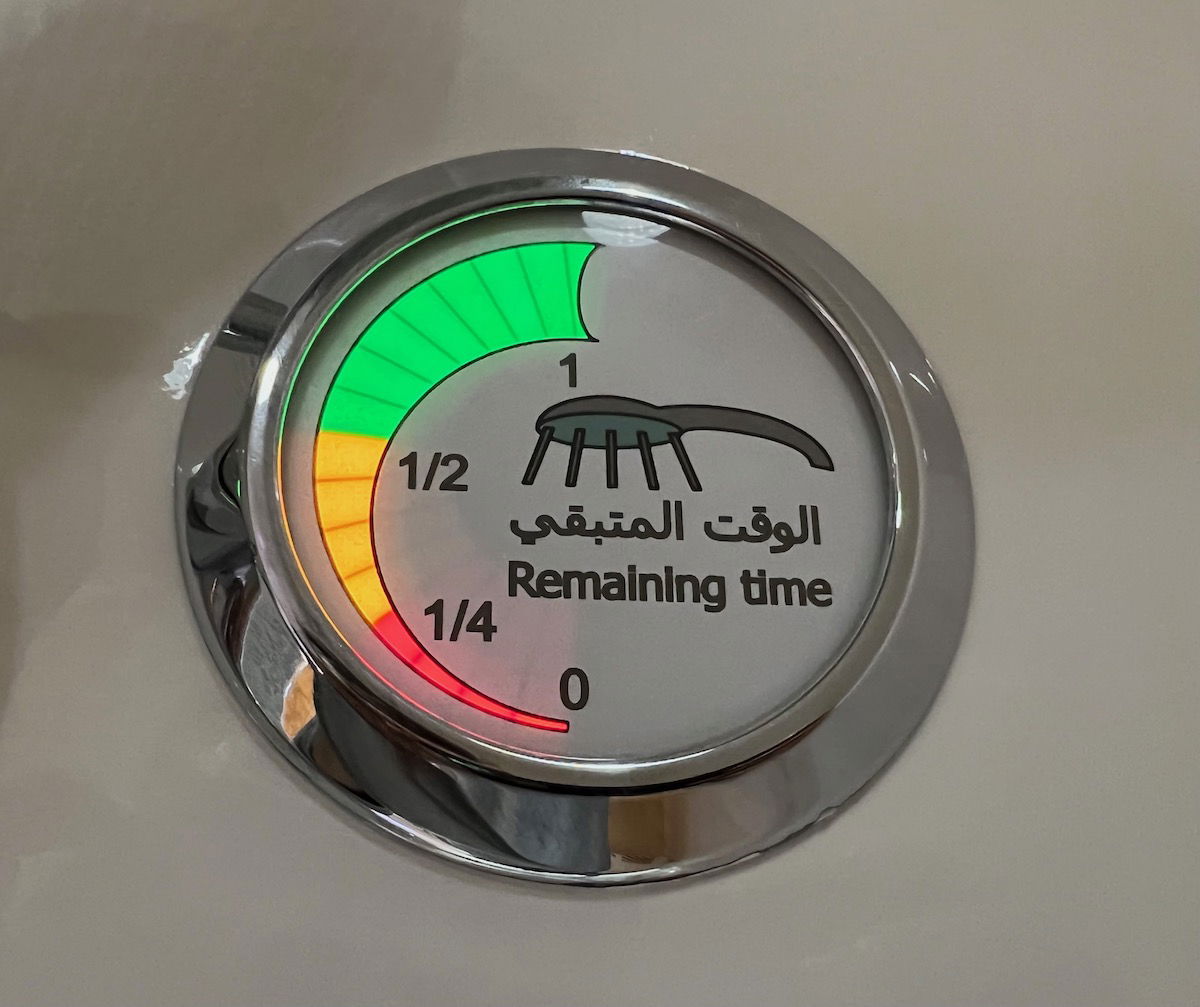 The good news is that you can turn the shower on and off as often as you want. So you can wet yourself, then apply shampoo and body wash, then wash yourself off, and then stand under hot water for a minute giggling. I'm usually pretty slow in the shower, but it's enough water even for me.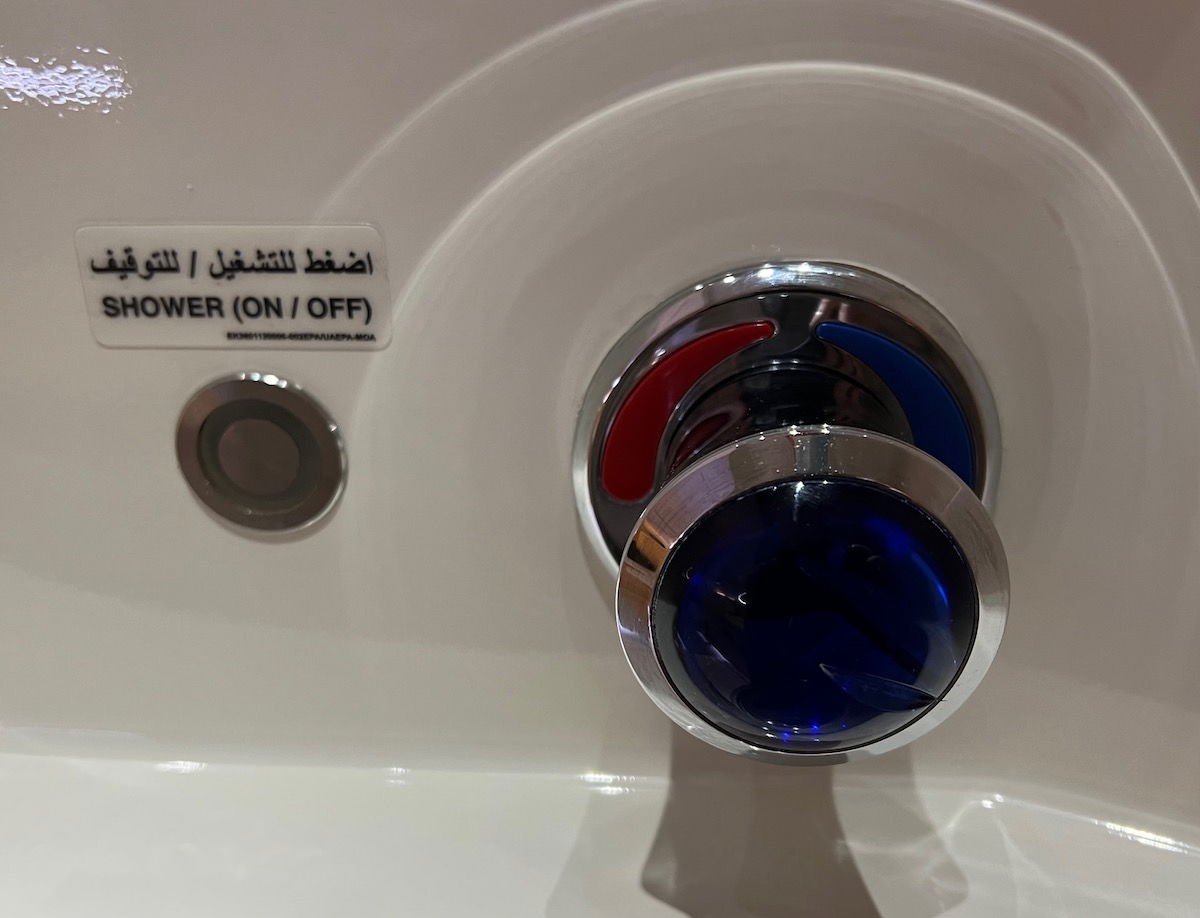 The Emirates shower has good water pressure, much better than you'd expect on a plane, in my opinion.
One common thing that confuses people is that you have to close the shower door before the shower will work. A lot of people want to "test out" the water first, and then are convinced their shower isn't working. But the shower only works when the shower door is latched closed.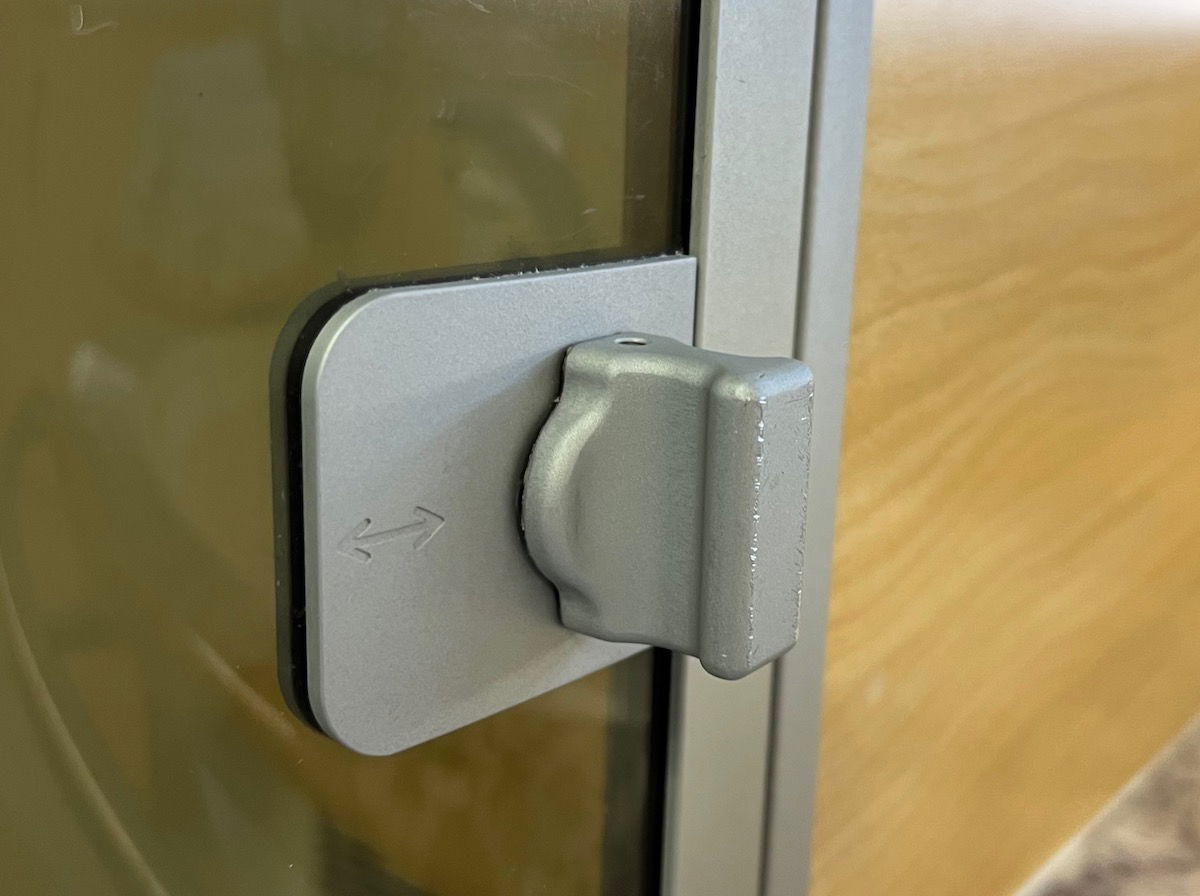 Emirates A380 shower suite FAQs
I think the above covers most of the basics of the shower suite, though let me address some of the other questions that people may have.
What happens in the event of turbulence?
In the event that the plane encounters turbulence while you're in the shower, you'll be advised to sit down on the bench in the shower. There's not a seatbelt, and there's no need to return to your seat.
Why was I given fruit after my shower?
As a standard offering, Emirates places a small fruit plate at your seat after a shower, and also offers you green tea, if you'd like. This is intended to further create a spa-like experience.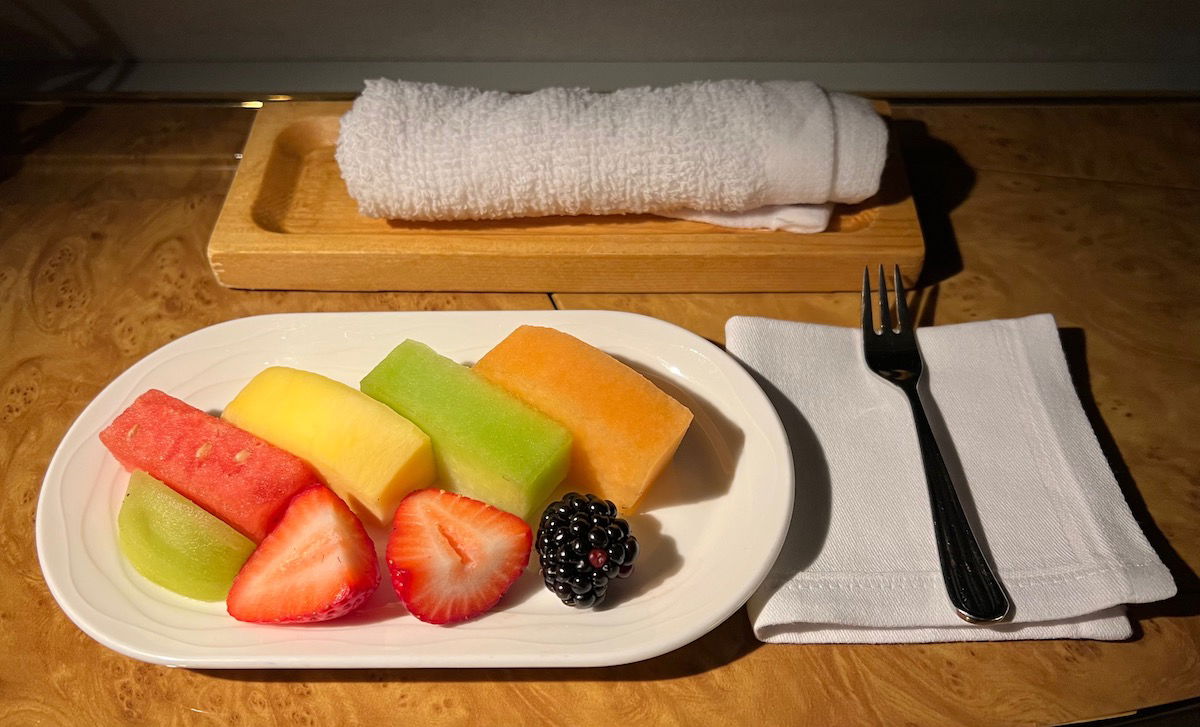 Hmmm, did the bar display just change?
The first class self-service bar is located at the front of the upper deck, just opposite the two shower suites (this is different from the main bar, located in the back of business class).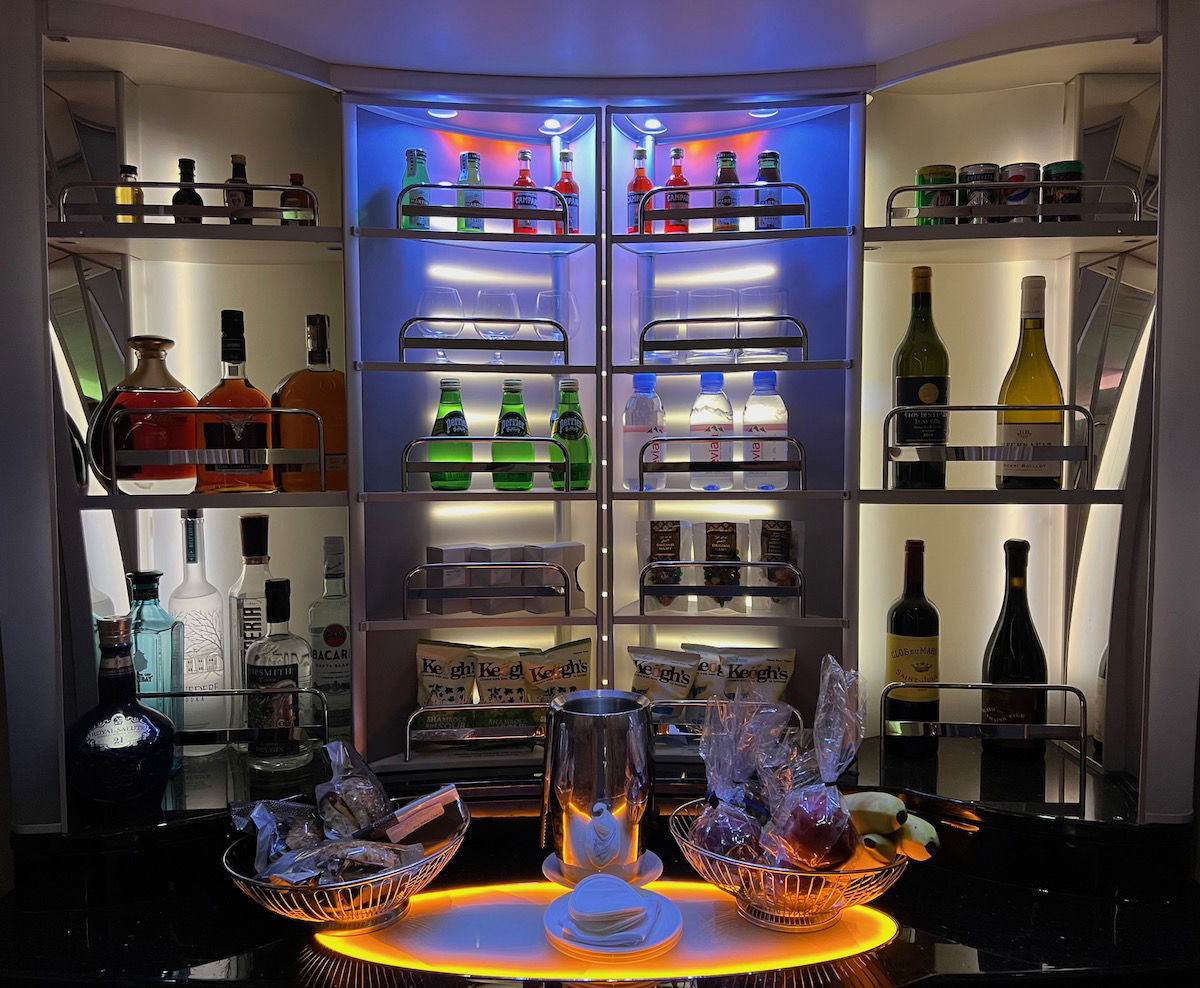 However, you'll notice that on long haul flights, a few hours before landing (when most passengers want to shower), the shower attendant takes down the bar and instead sets up a relaxing water display. Over the top, eh?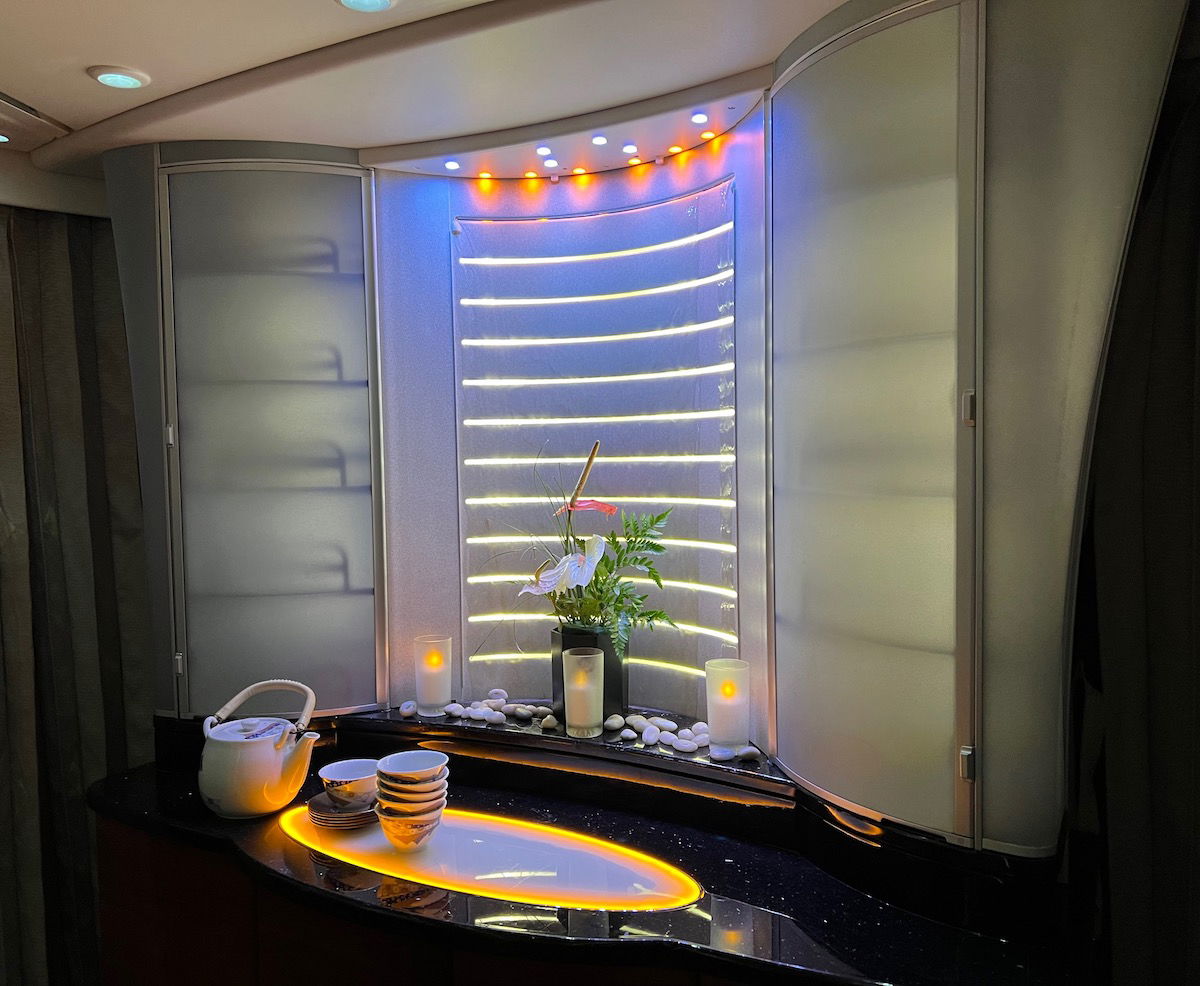 Can you join the mile high club in the shower spa?
Funny enough, there's a sign above the shower suite indicating that the maximum occupancy of the Emirates A380 shower is two. The intent there is in case a second passenger requires "assistance." Of course I suppose it depends how you define assistance. 😉
In all honesty, no, generally it's not appropriate. Is there a chance you could get away with it? Yes. Is there a chance you could get an angry purser that's not happy if they find out? Yes. Is there a chance if you have an awesome purser and ask nicely they may allow it? Who knows…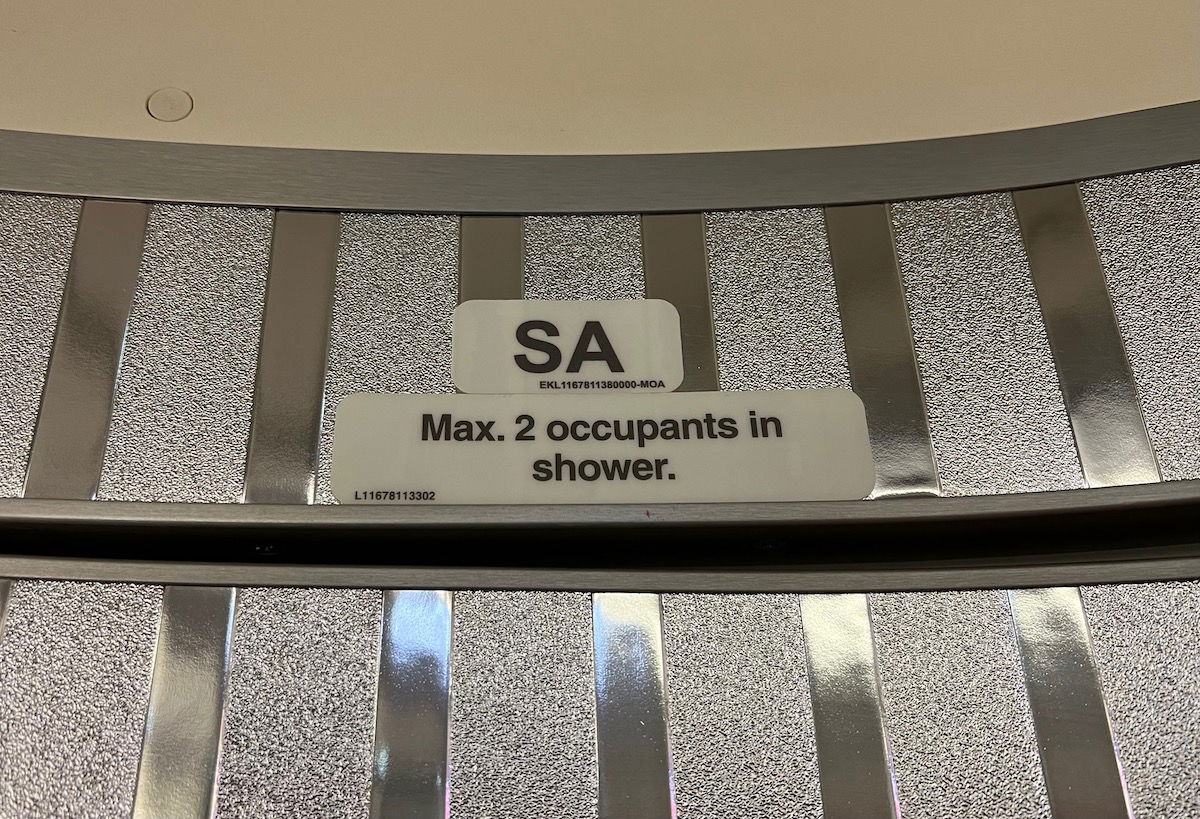 Should you tip the shower attendants?
Just like you don't tip flight attendants, you also don't need to tip shower attendants.
Can you use the shower spa as a bathroom as well?
Yes, when the shower suites aren't in use, they absolutely can be used as bathrooms as well. Emirates has three bathrooms in A380 first class, including the two shower suites at the front of the cabin, plus there's a smaller bathroom behind the cabin.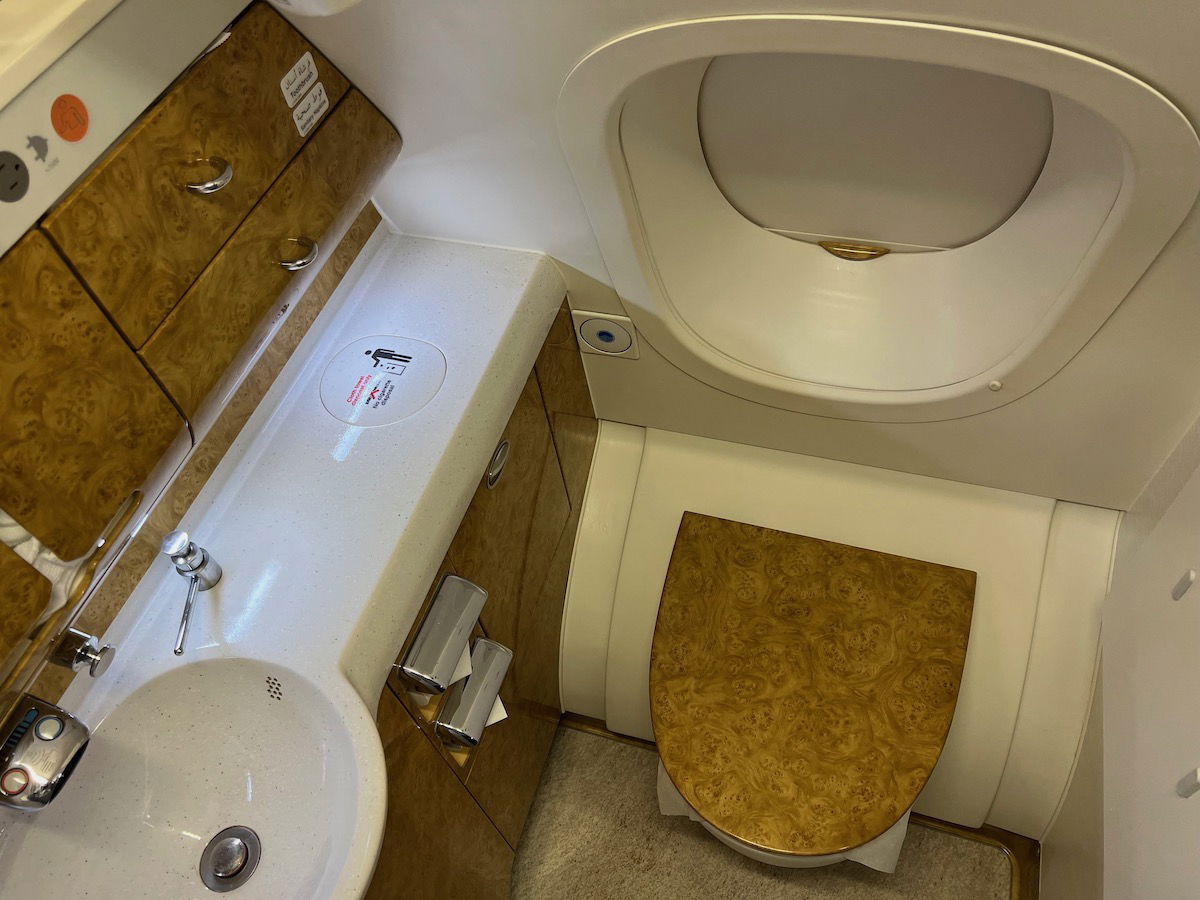 As long as someone hasn't reserved the shower suite, it is the standard bathroom to be used as well (minus the shower water). The shower attendant also constantly refreshes the suite, making sure that the towel "pyramid" is perfect, and replacing the cover on toilet seats after each use.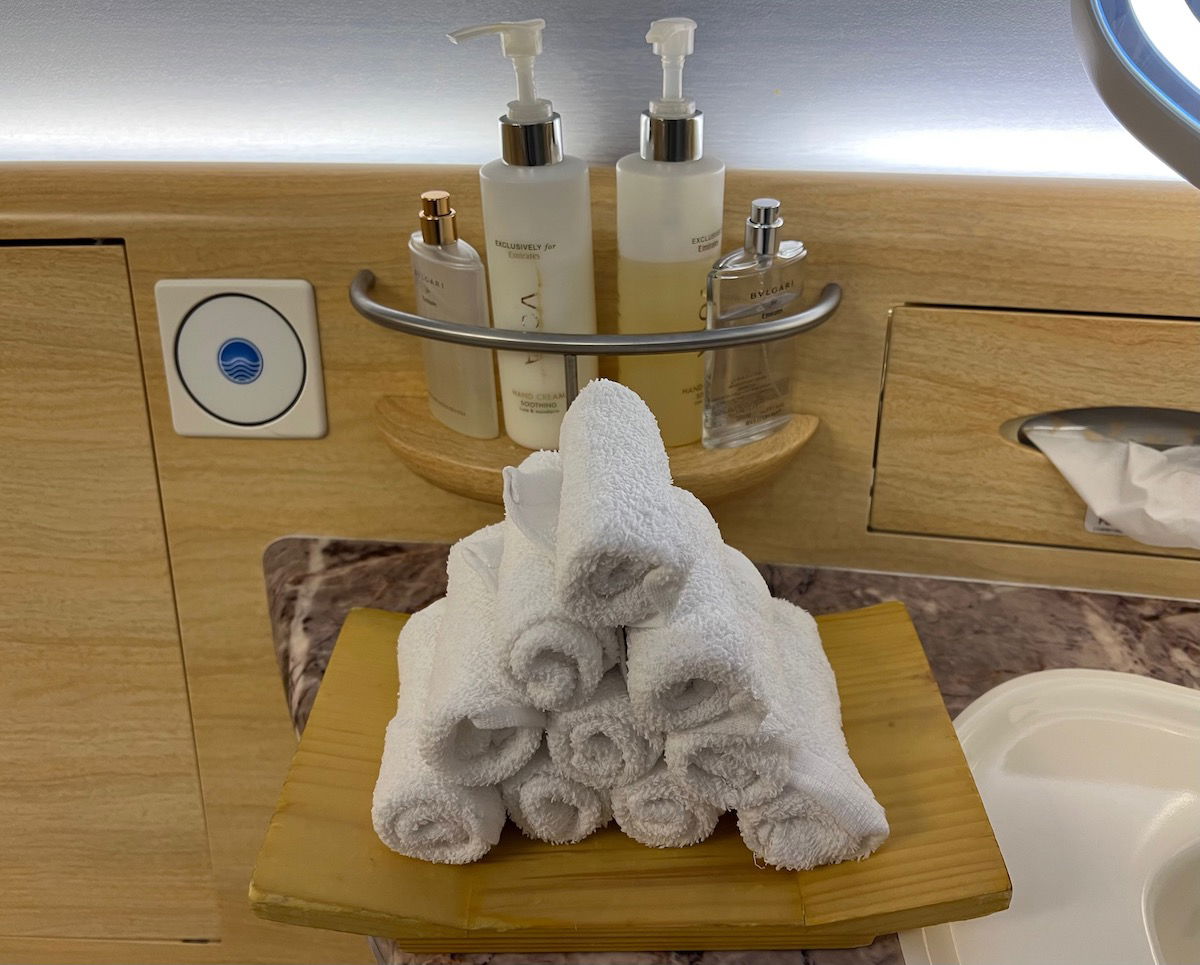 Is there a difference between the two shower suites?
This is truly exceptionally minor, but since we're all about the details here, there is a bit of a difference between the two shower suites, with the one on the left (when facing forward) being slightly nicer. The left shower suite has a bench that curves all the way around.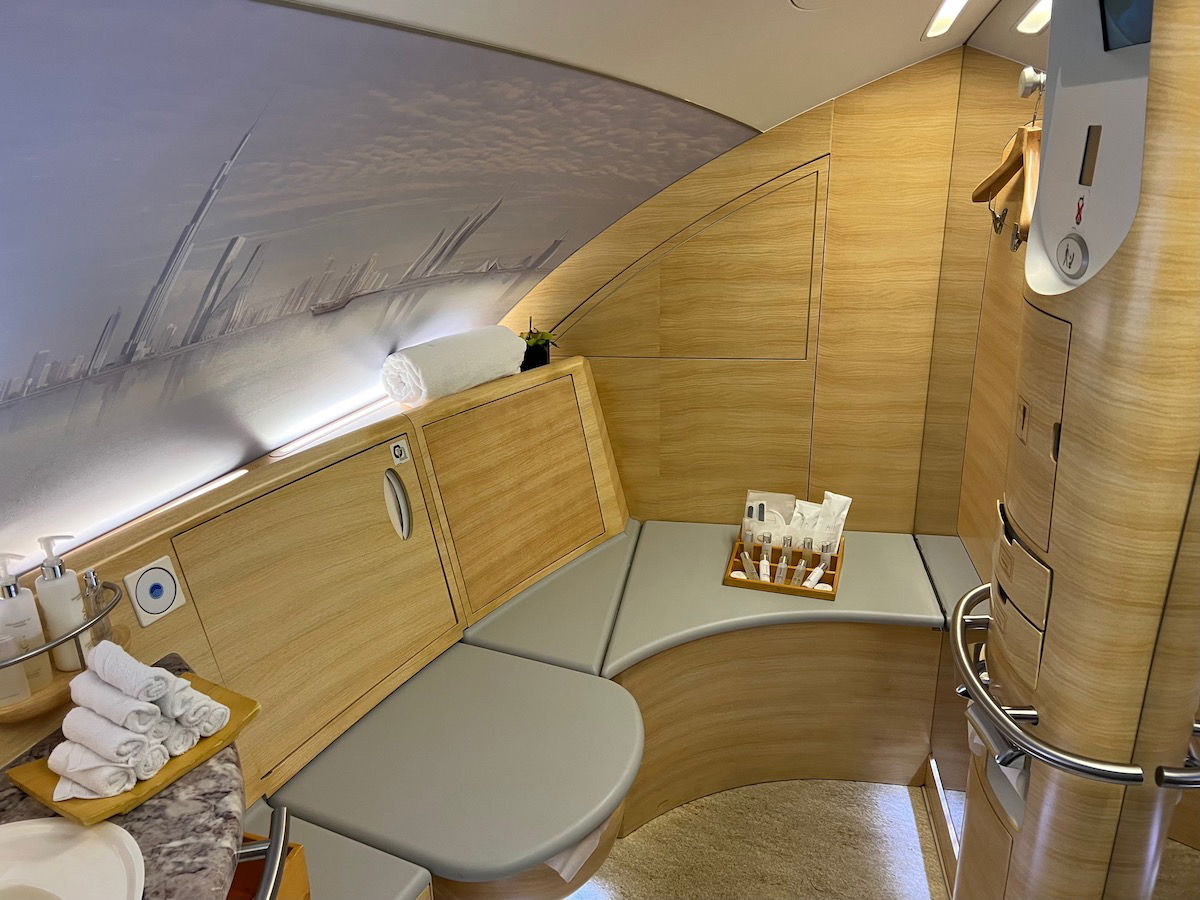 Meanwhile the right shower suite has some sort of equipment in a compartment in front of it, and doesn't have that same curving bench.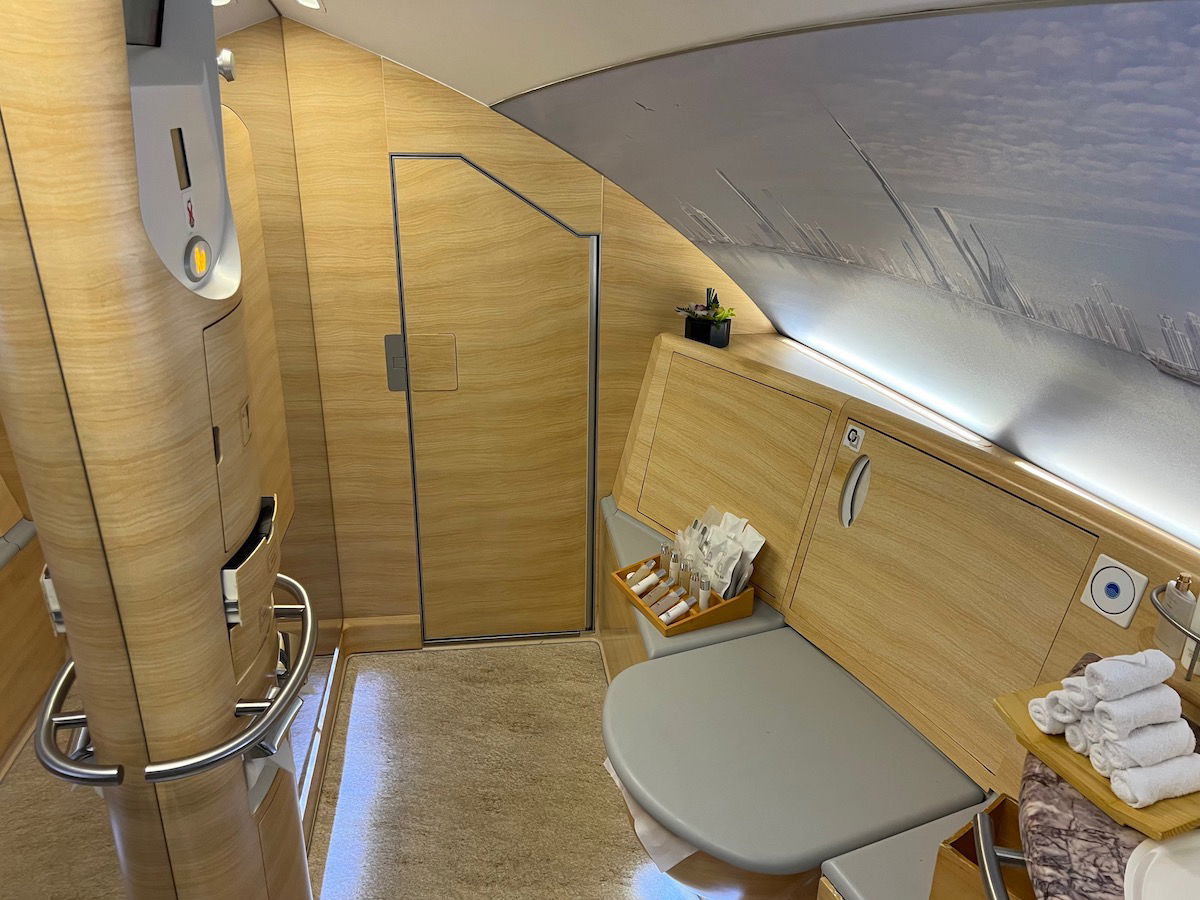 Bottom line
I don't typically consider myself to be a shower enthusiast, though the exception is when flying Emirates A380 first class. If you haven't yet showered on a plane, add it to your bucket list. Even if you're otherwise jaded by premium cabin travel nowadays, I think you may still find yourself giggling when you take that first shower on a plane.
If you've used the Emirates A380 first class shower, what was your experience like?