In the interest of full disclosure, OMAAT earns a referral bonus for anyone that's approved through some of the below links. These are the best publicly available offers (terms apply) that we have found for each product or service. Opinions expressed here are the author's alone, not those of the bank, credit card issuer, airline, hotel chain, or product manufacturer/service provider, and have not been reviewed, approved or otherwise endorsed by any of these entities. Please check out
our advertiser policy
for further details about our partners, and thanks for your support!
To kick off our trip to Italy & France, we flew Eurowings Discover from Tampa to Frankfurt. For those not familiar, Eurowings Discover is Lufthansa's new long haul leisure airline, so I was curious to check it out.
Unfortunately I found the Eurowings Discover experience to be underwhelming. Eurowings Discover has major operational reliability issues (our flight was canceled, so we had to be rebooked the next day), and on top of that, the crews simply aren't trained to provide premium service.
While the crews were enthusiastic and extremely friendly, there were so many basic service mishaps, which I can only attribute to a lack of training. Let's get right into the review…
How I booked our Eurowings Discover business class tickets
Unfortunately Eurowings Discover isn't a full Star Alliance member, meaning that most Star Alliance points currencies can't be redeemed for travel on the airline. Eurowings Discover partners with Lufthansa Miles & More, and on top of that with Air Canada Aeroplan. I love how many airline partners Aeroplan has.
I was able to book the following in business class for 70,000 Aeroplan points plus $72.58 in taxes and fees per person:
03/25 4Y65 Tampa to Frankfurt departing 8:20PM arriving 10:30AM (+1 day)
03/26 LH328 Frankfurt to Venice departing 12:50PM arriving 2:05PM
Aeroplan points are easy to come by, as the program partners with American Express Membership Rewards, Capital One, and Chase Ultimate Rewards. On top of that, in the United States there's the new Aeroplan® Credit Card (review), which is pretty lucrative.
Eurowings Discover check-in & lounge
We got to Tampa Airport (TPA) at around 6PM for our 8:20PM flight to Frankfurt. The Eurowings Discover check-in experience in Tampa was rather chaotic. Both Eurowings Discover (Lufthansa's leisure airline) and Edelweiss (SWISS' leisure airline) had flights from Tampa at around the same time, and shared one check-in area.
But between the Eurowings Discover flight from the previous day being canceled, plus Edelweiss allegedly having an aircraft swap, the check-in agents were dealing with lots of angry passengers. Fortunately the business class line was short, and we were quickly checked in.
I asked the agent to add our Known Traveler Numbers (KTN) to our reservations, since I wasn't able to do so online during the process (this would get us TSA PreCheck). I was informed they weren't able to do so, even though Eurowings Discover is a TSA PreCheck participating airline. Ugh, why not?
We were also informed that Eurowings Discover didn't offer lounge access in Tampa — not exactly a premium experience (admittedly the only lounge in the terminal Eurowings Discover departs from is the American Admirals Club, so I can't blame the airline for that too much).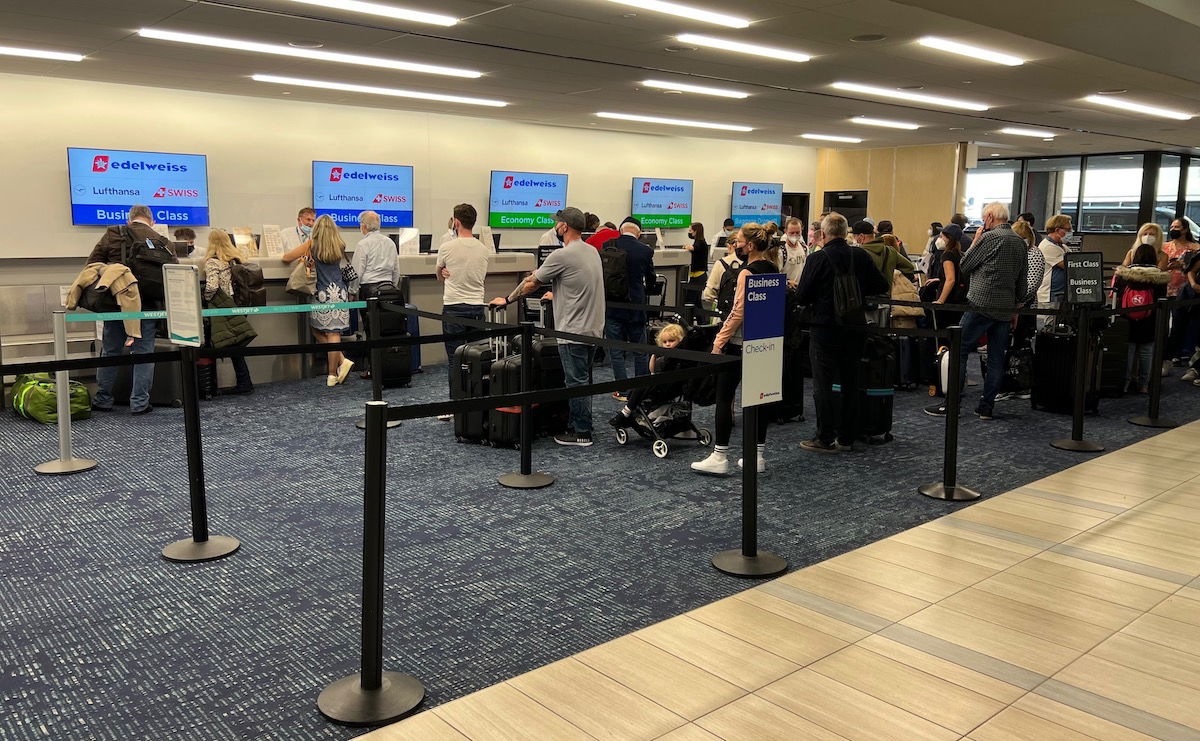 With boarding passes in hand, we headed to Concourse F, which is a familiar concourse for me (given that it's where American departs from). Without being able to use TSA PreCheck, we were stuck in quite a long line at security. There was signage for there being a priority lane, but the lane unfortunately wasn't open. Security ended up taking around 30 minutes.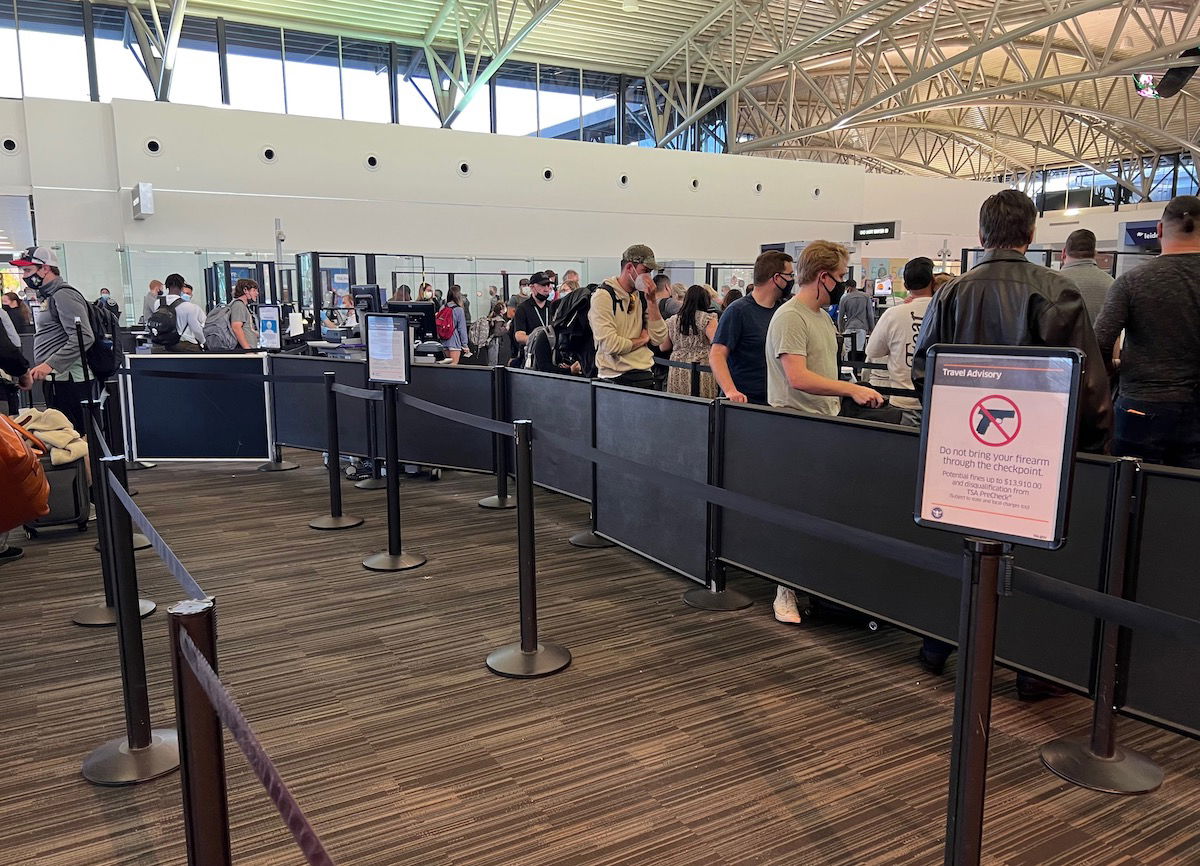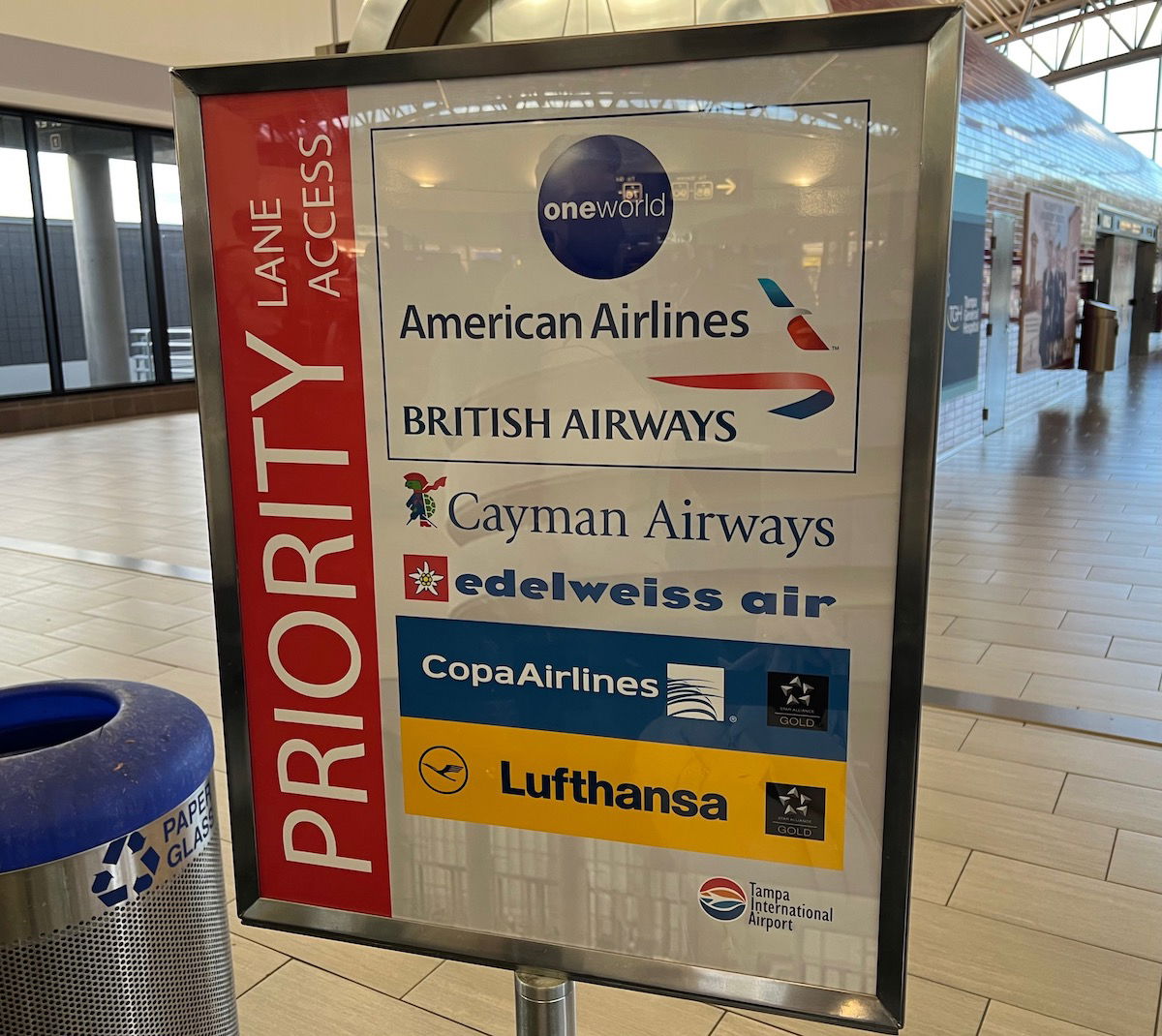 While Eurowings Discover didn't offer lounge access, we lucked out in that there's a Priority Pass restaurant in the terminal, which is Cafe by Mise en Place.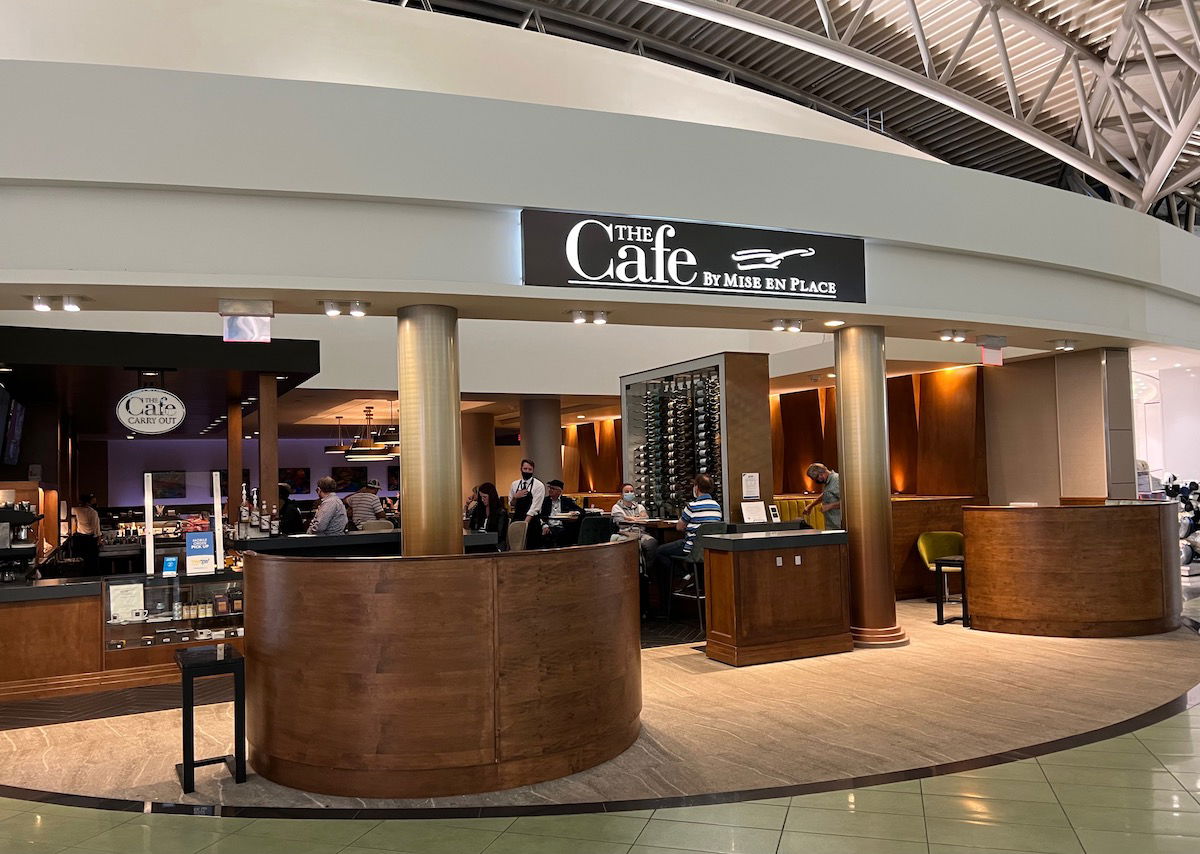 Frankly I find the layout of the restaurant plus the food & drink selection way better than what you'll find in most US airline lounges anyway. We had dirty martinis, greek salad, and brussels sprouts.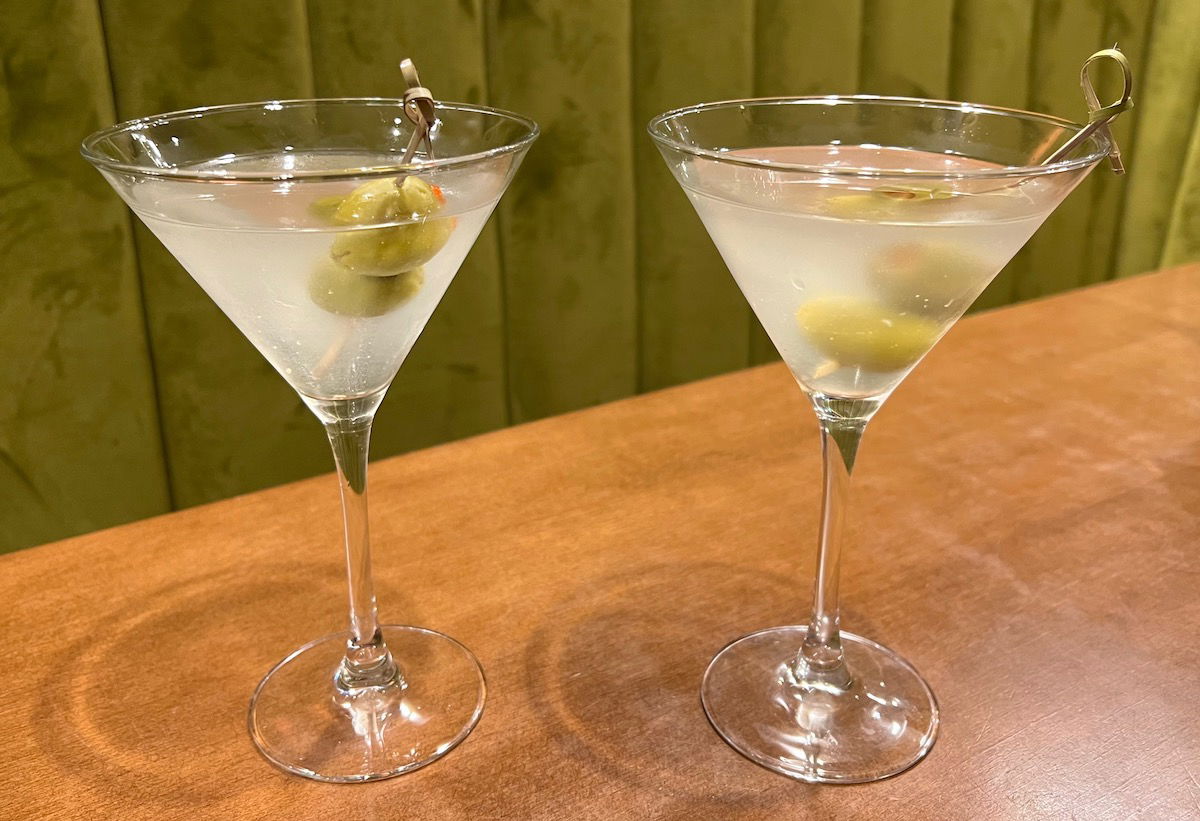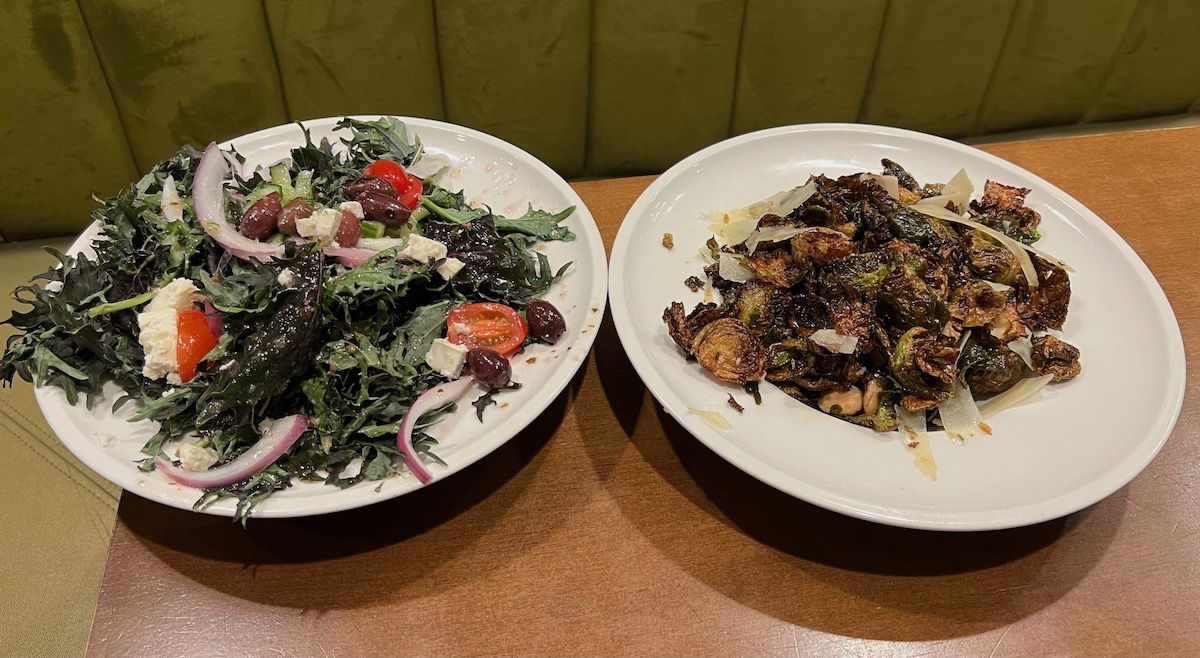 Eurowings Discover business class boarding
Boarding was scheduled to start at 7:40PM at gate F87. The sun was just starting to set, and what a gorgeous evening it was. While Eurowings Discover's livery isn't all that exciting, I liked the cockpit "sunglasses."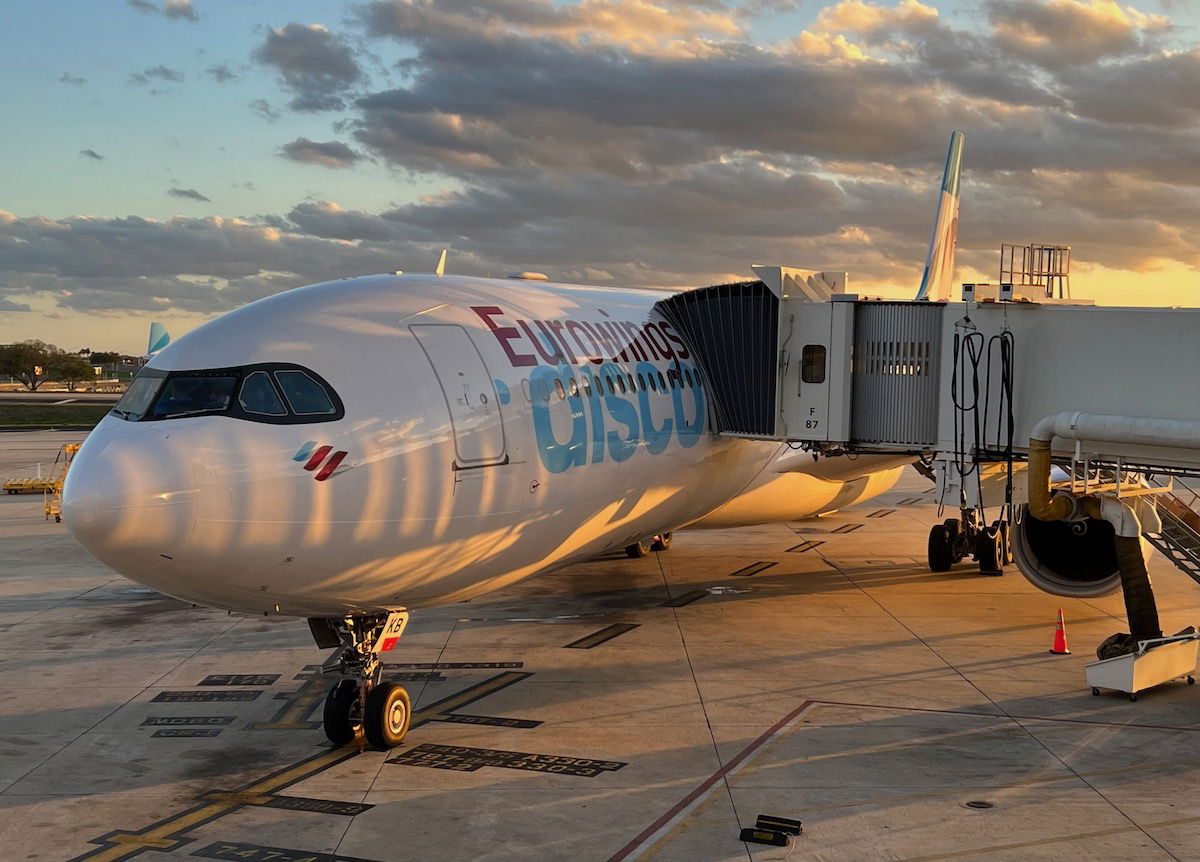 Sure enough, boarding started right on-time, with those needing extra time being invited to board first, followed by business class.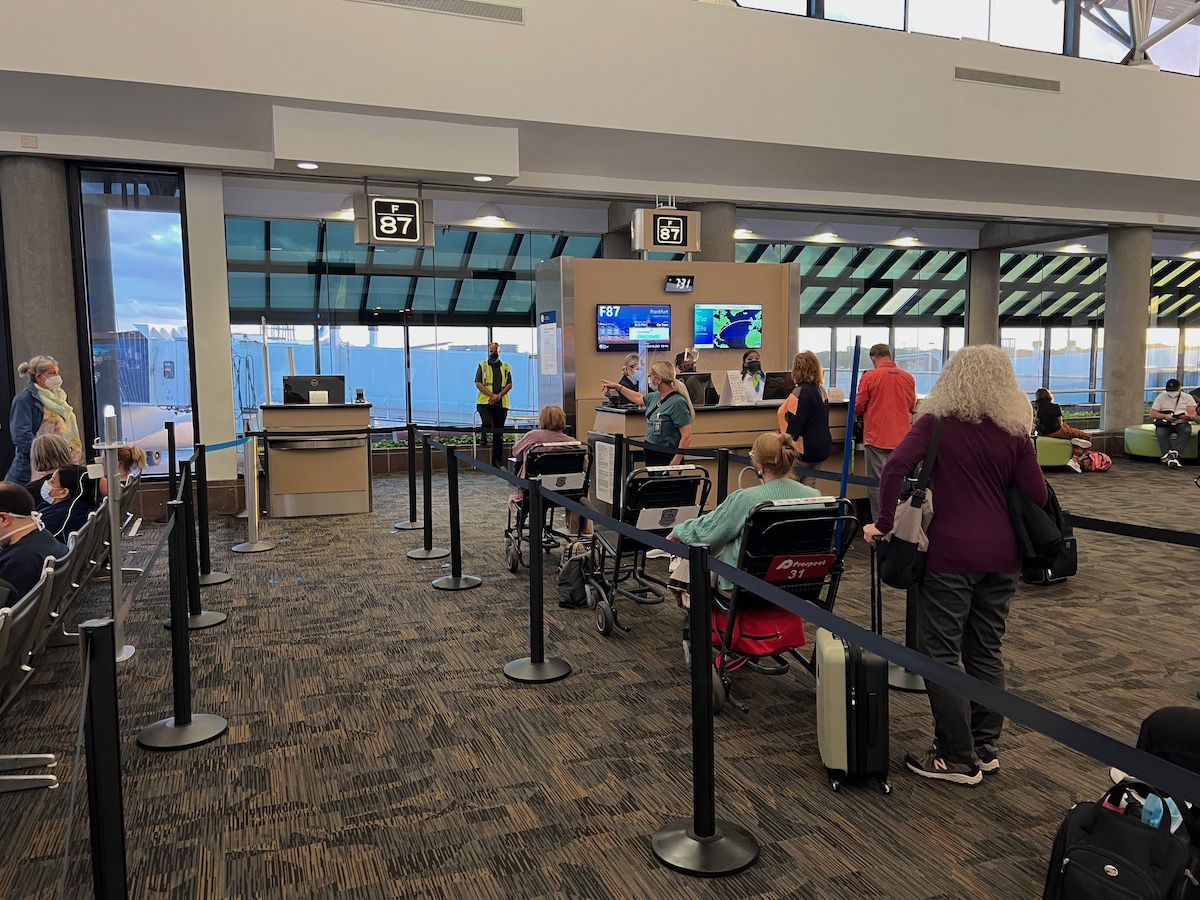 Eurowings Discover A330 business class cabin & seats
We boarded through the second set of doors, where we were greeted by a young and friendly crew, and pointed left into the business class cabin. The cabin looked familiar, as it's identical to what you'd find in Lufthansa business class.
The plane we were flying, D-AIKB, is a roughly 18-year-old Airbus A330-300 that flew for Lufthansa until 2021, before being transferred to Eurowings Discover. As a matter of fact, I had flown this exact aircraft before, back when it flew for Lufthansa.
Eurowings Discover's A330 business class consists of 30 seats, spread across five rows in a 2-2-2 configuration. On the plus side, it's nice that a leisure airline has the same business class as a full service airline. Unfortunately Lufthansa also has an incredibly underwhelming business class, so I still wouldn't call these seats great.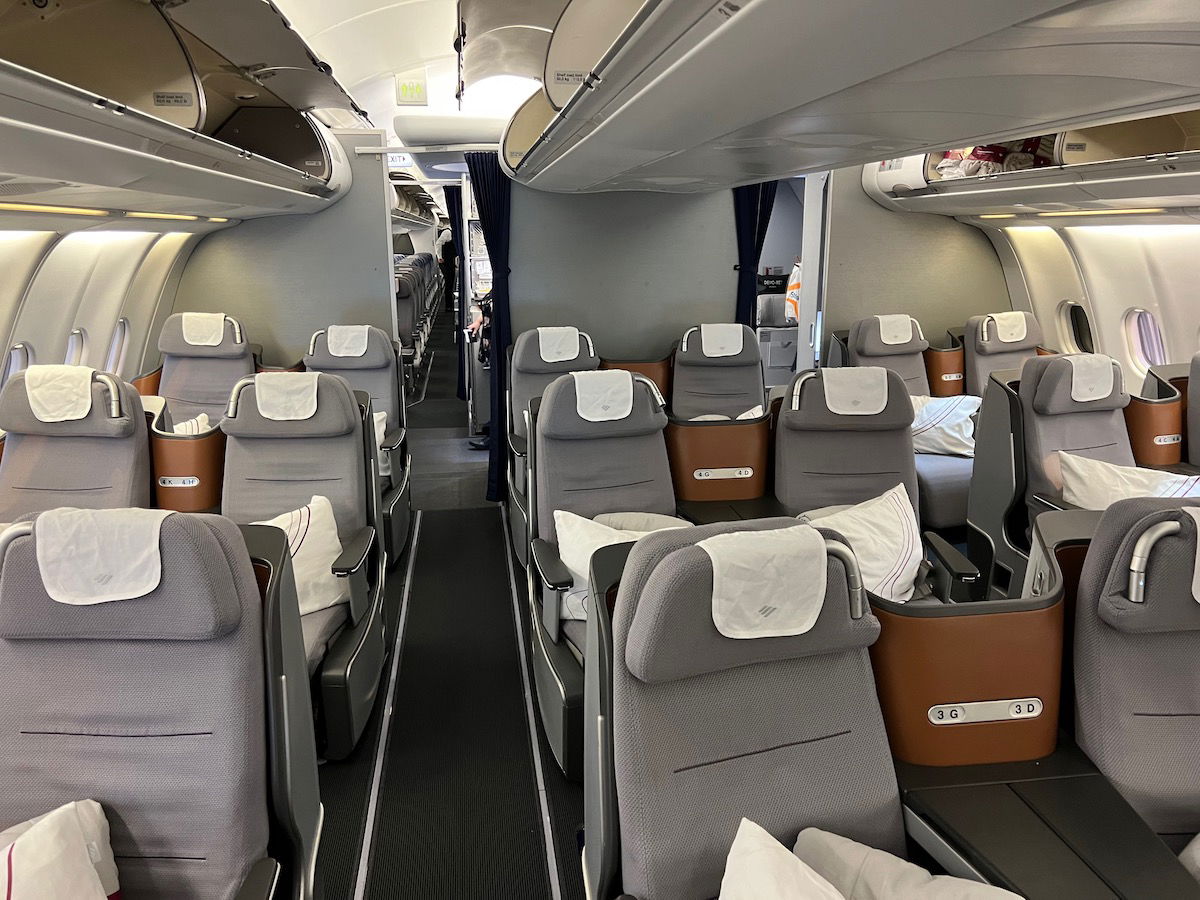 In this configuration, center seats are angled slightly toward one another.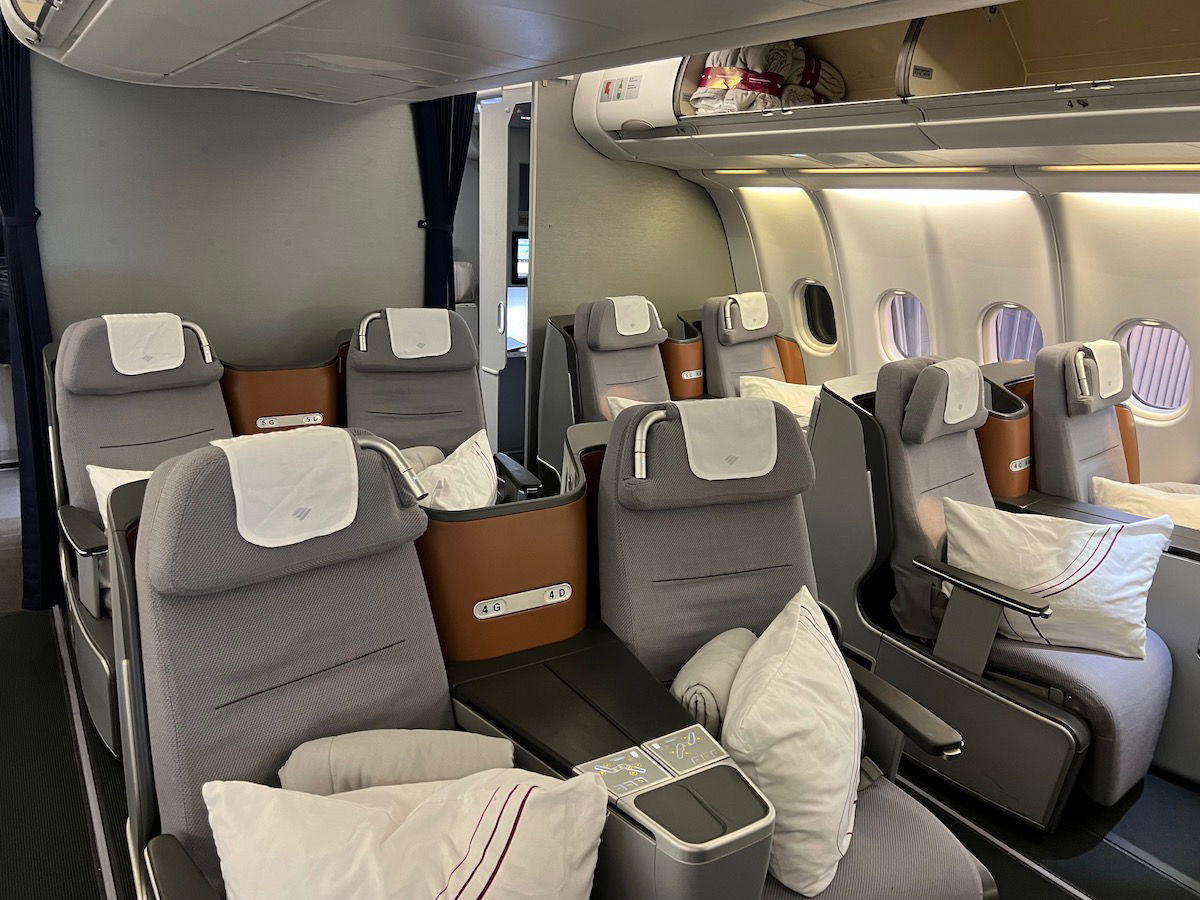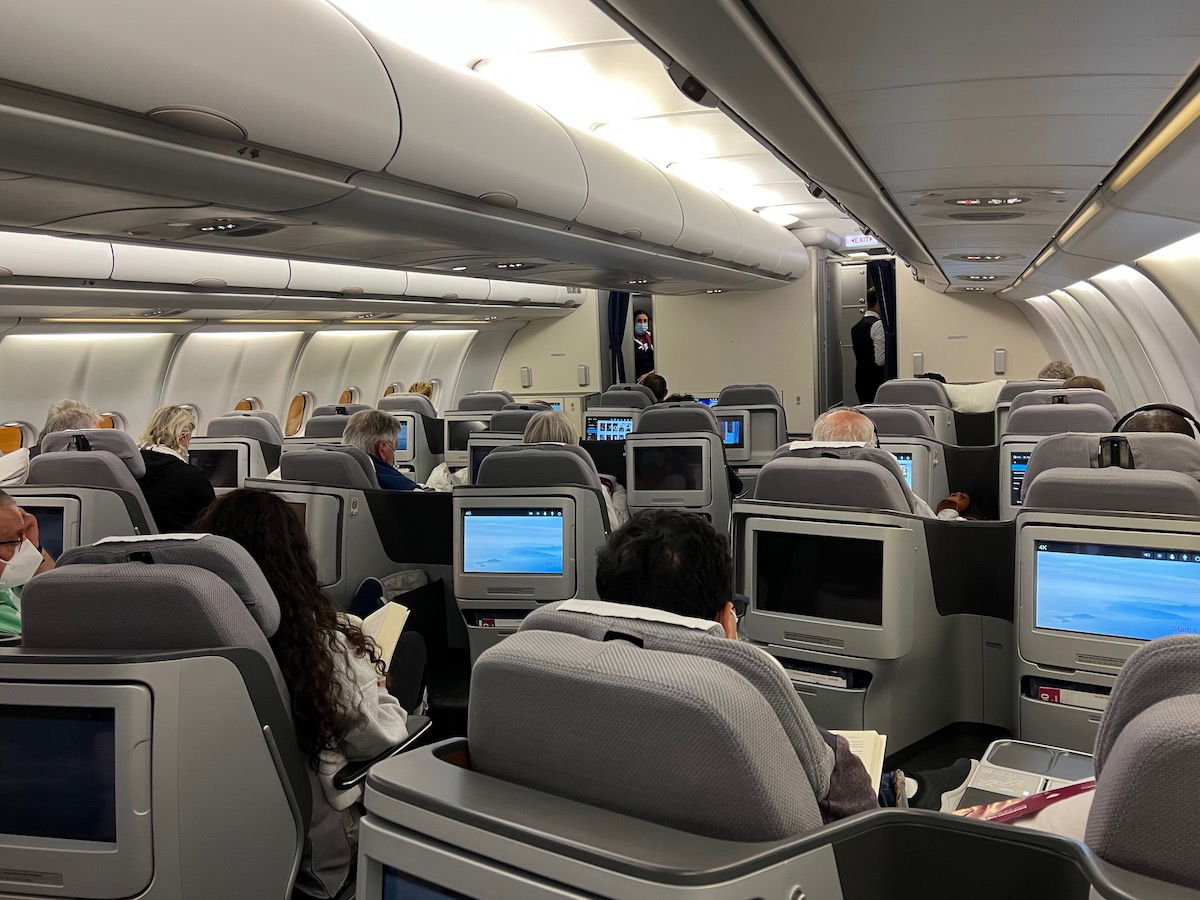 Meanwhile the window seats are all angled slightly toward the fuselage. The ottomans for the seats are simply to the side of the seats in front, in order to save space.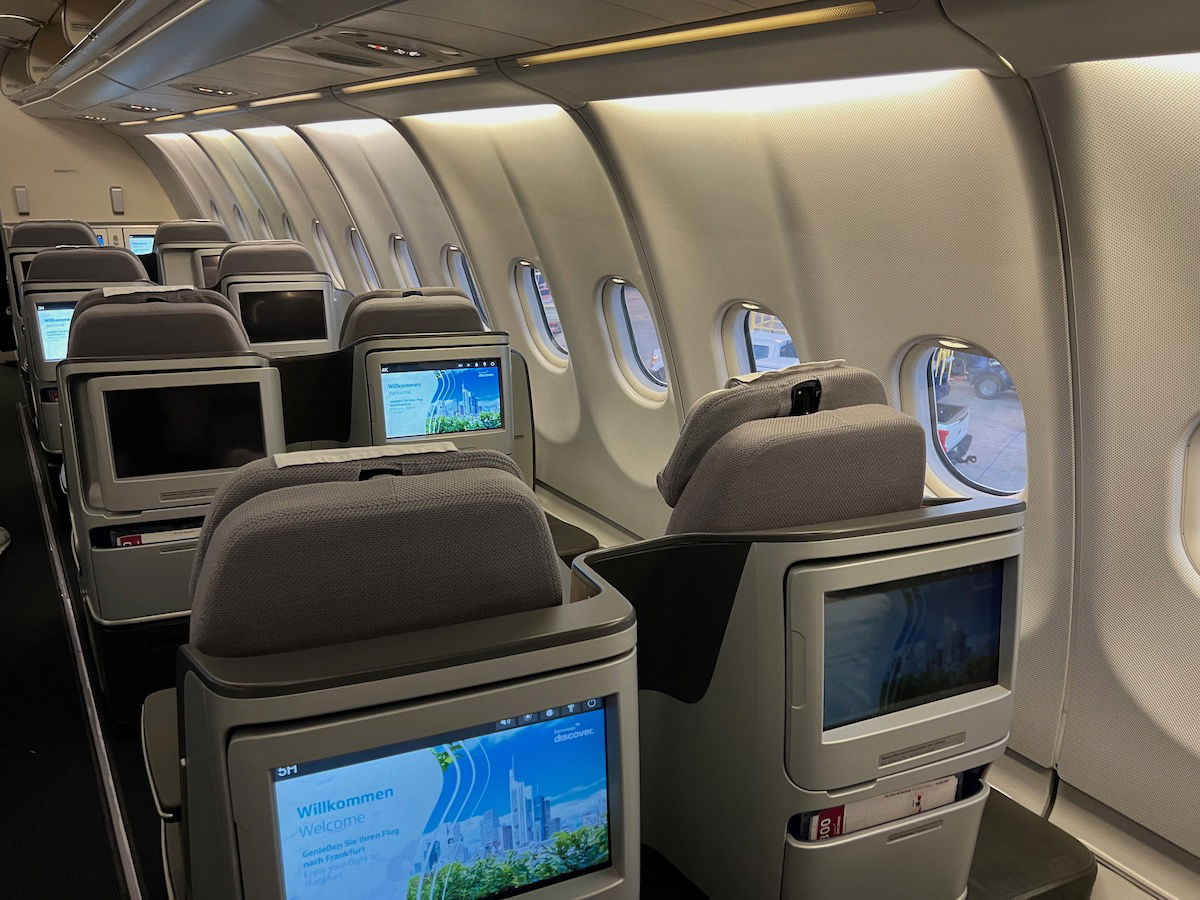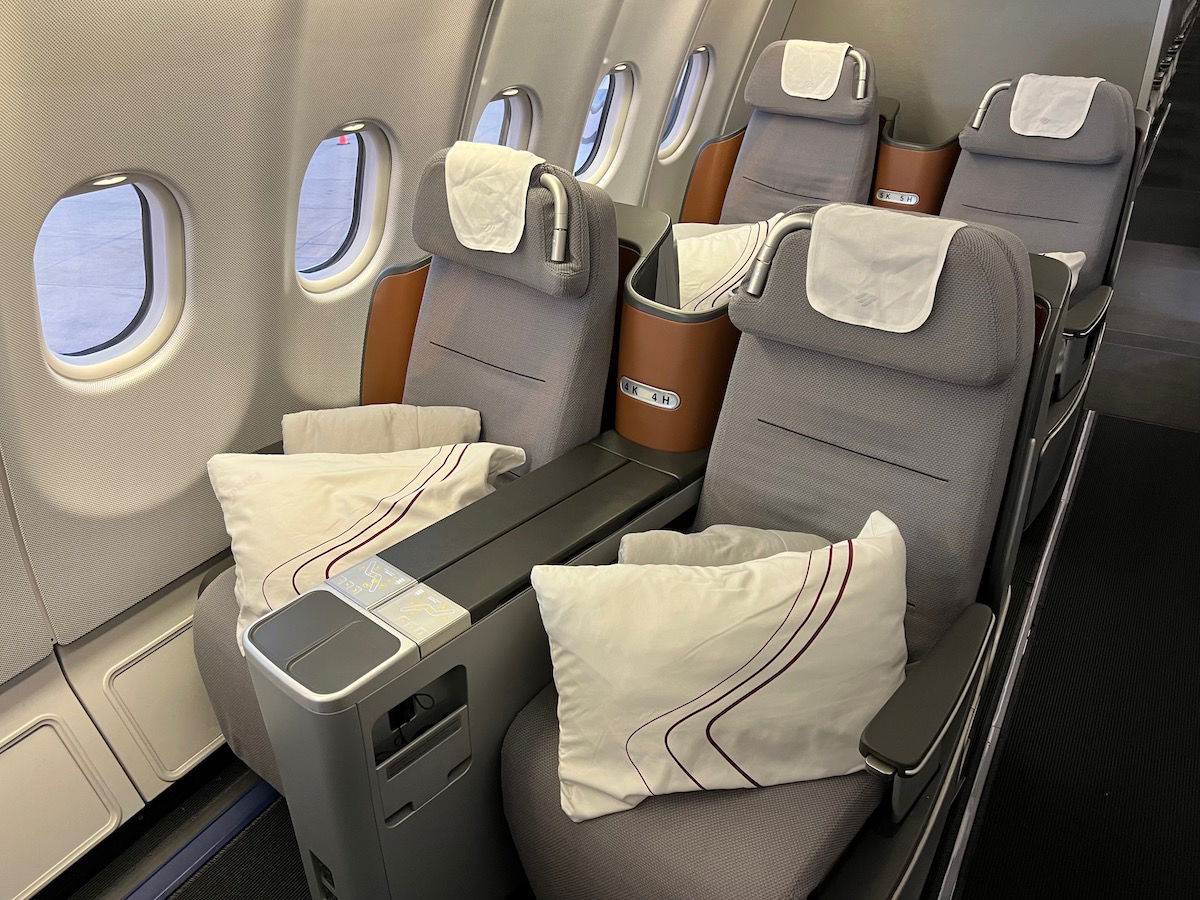 I assigned us seats 5J & 5K, the window and aisle seats on the right side in the last row.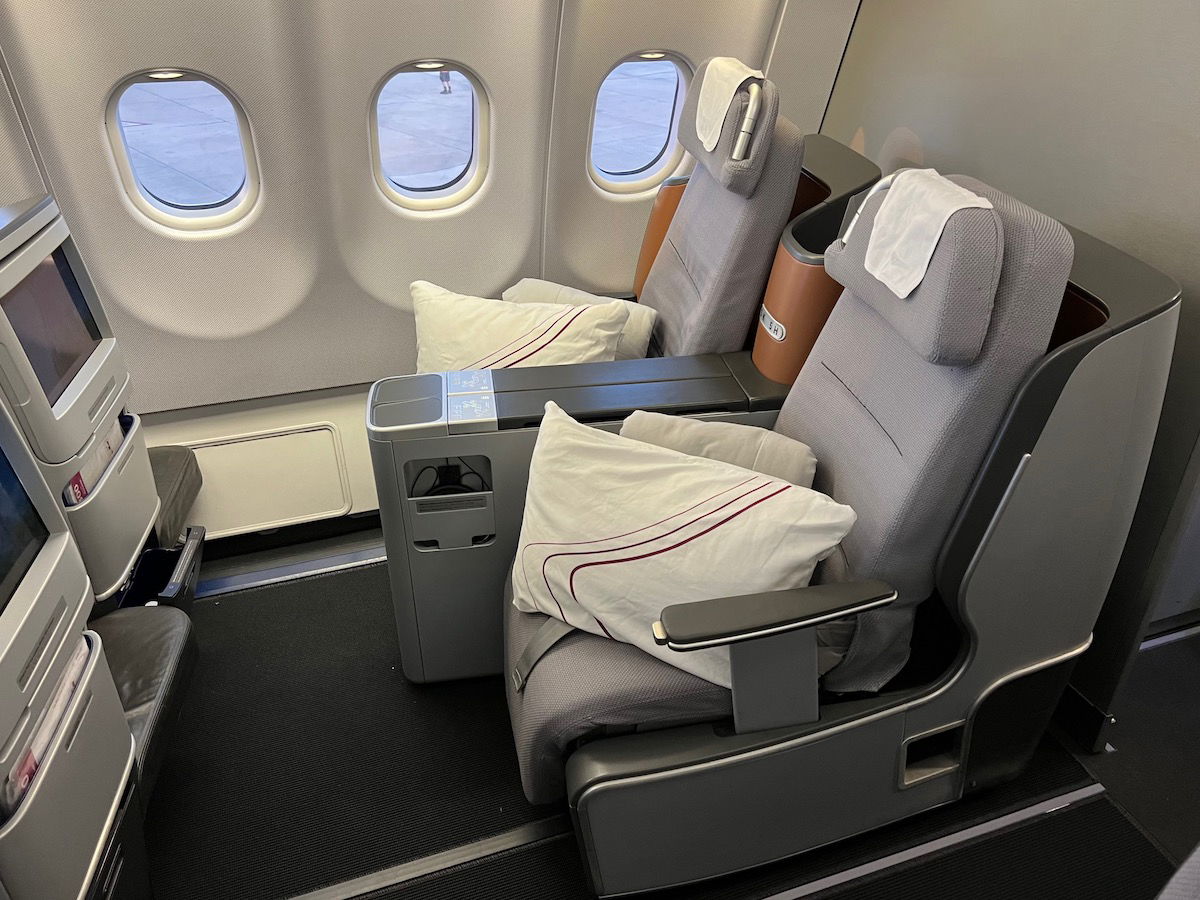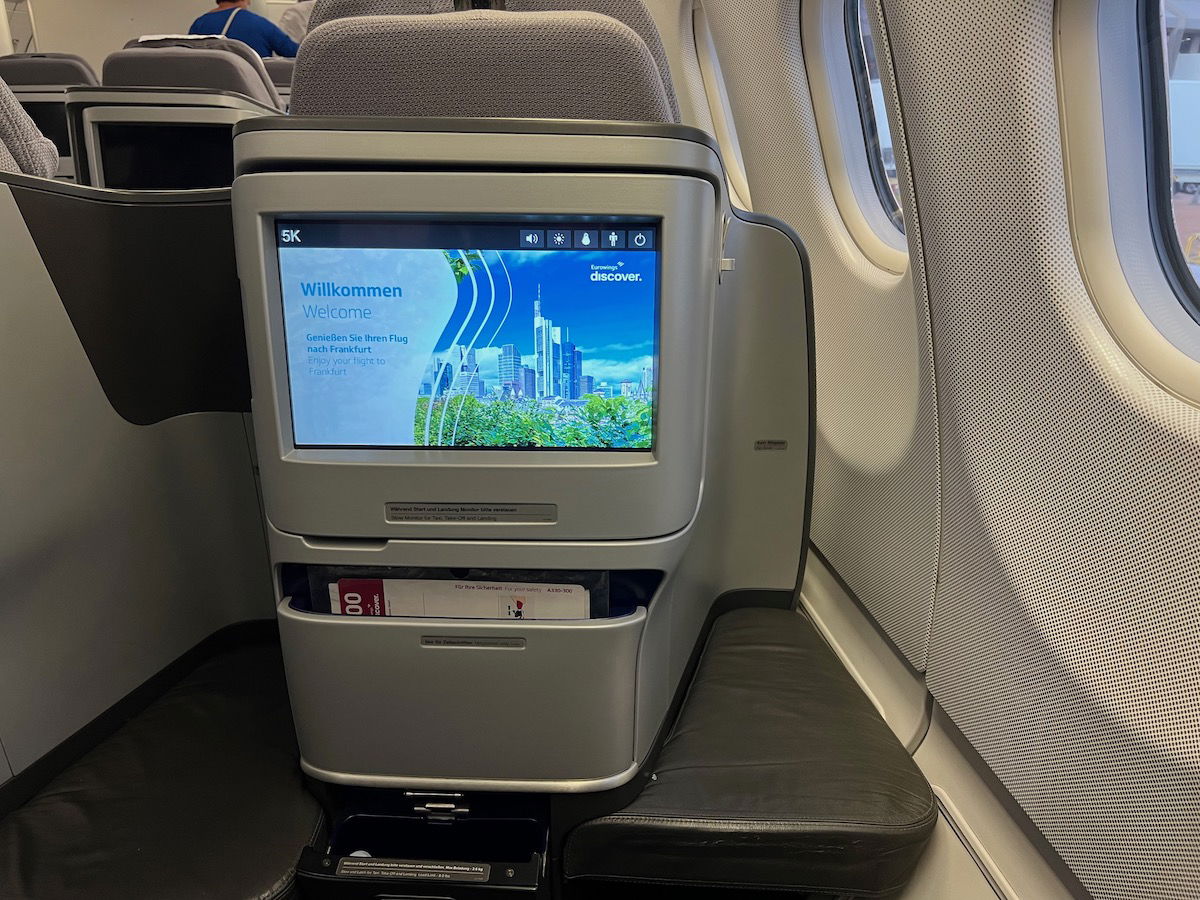 The seat controls were on the center console, and were easy to use (though they're also easy to hit accidentally, since this is the area where you may naturally rest your arm or hand).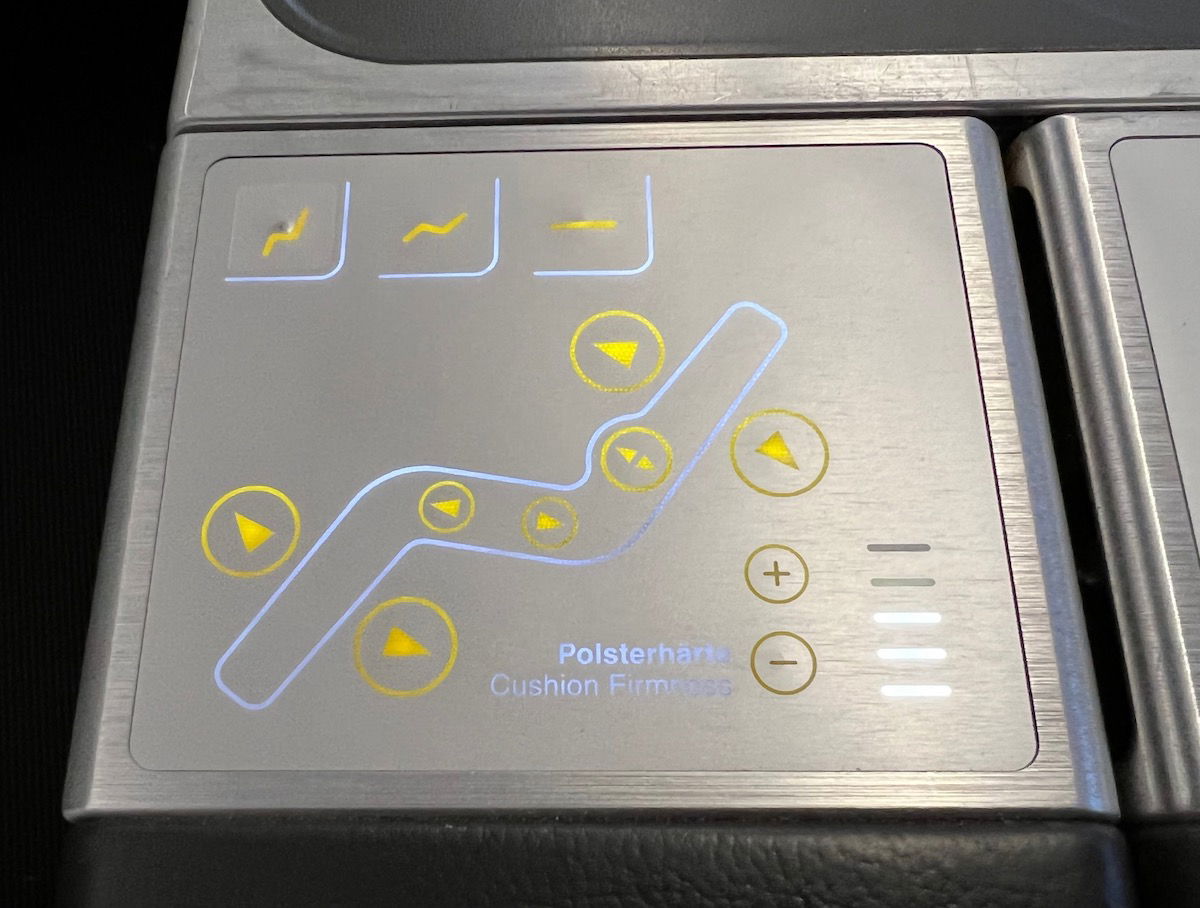 Also in the center armrest was the controller for the rather outdated entertainment system. You have to use the little black button in the center as a "mouse," and I don't find that to be that great of a system.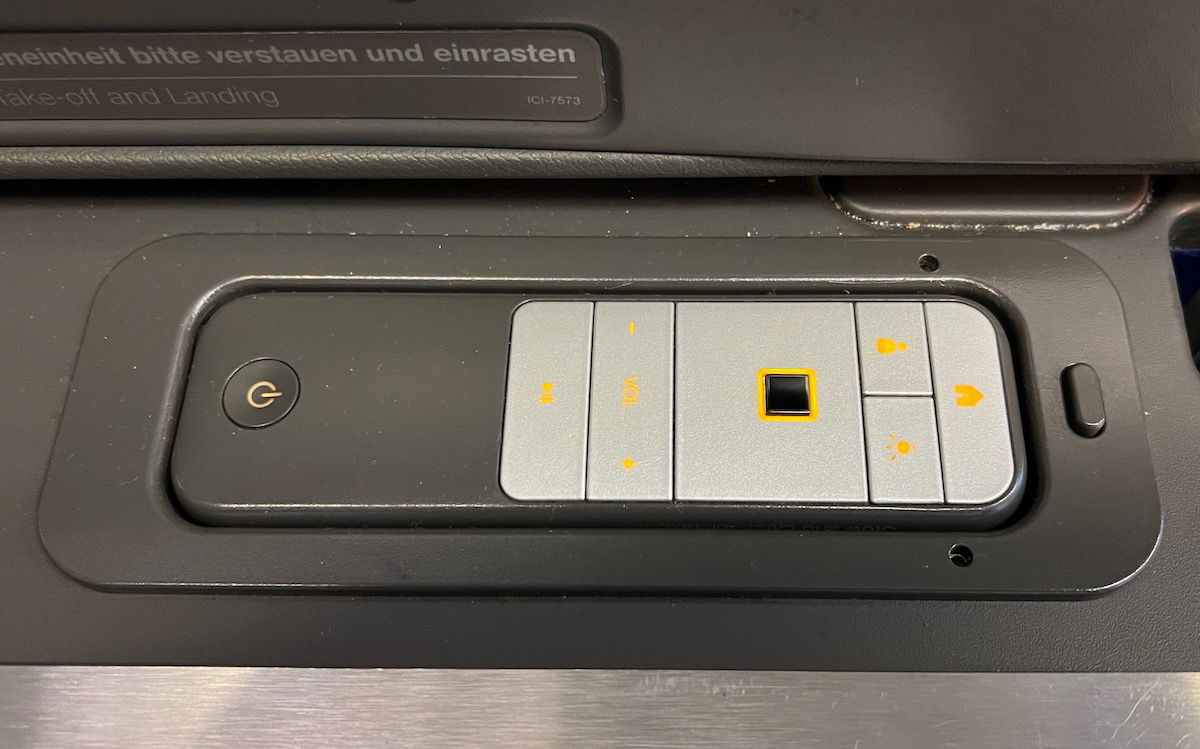 There was a small fully enclosed storage compartment near the ottoman, though it's not really big enough to be practical.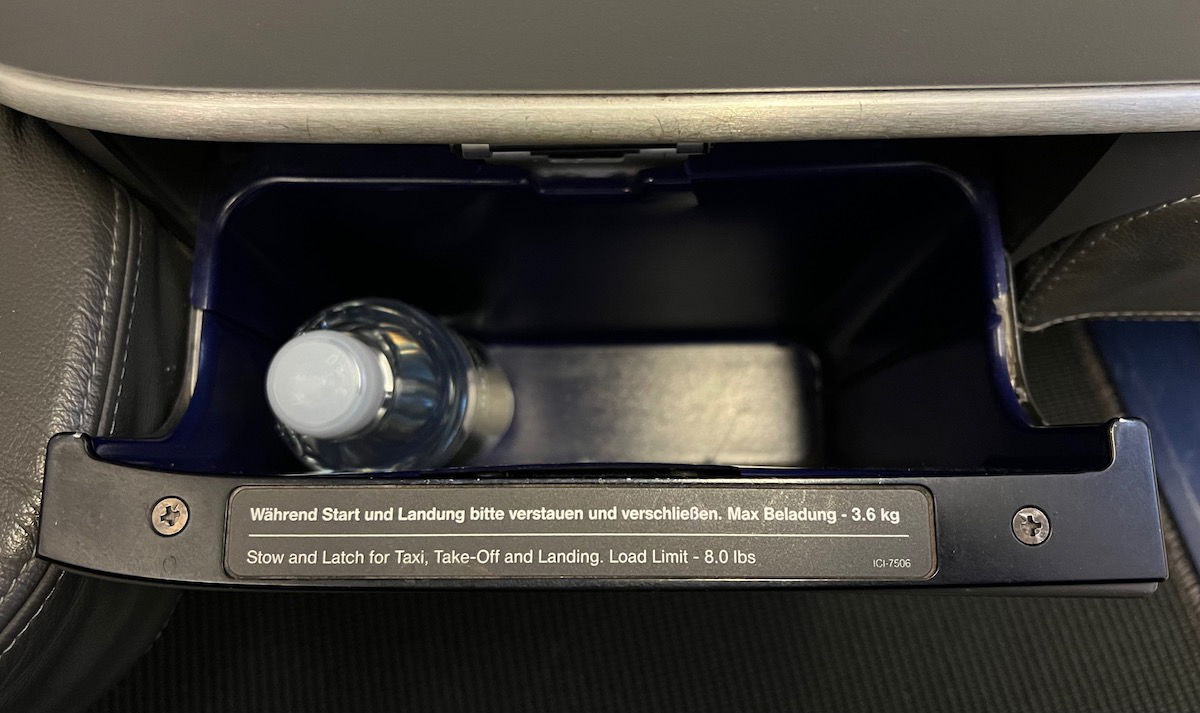 The tray table also folded out from the center armrest, and could be folded over in half.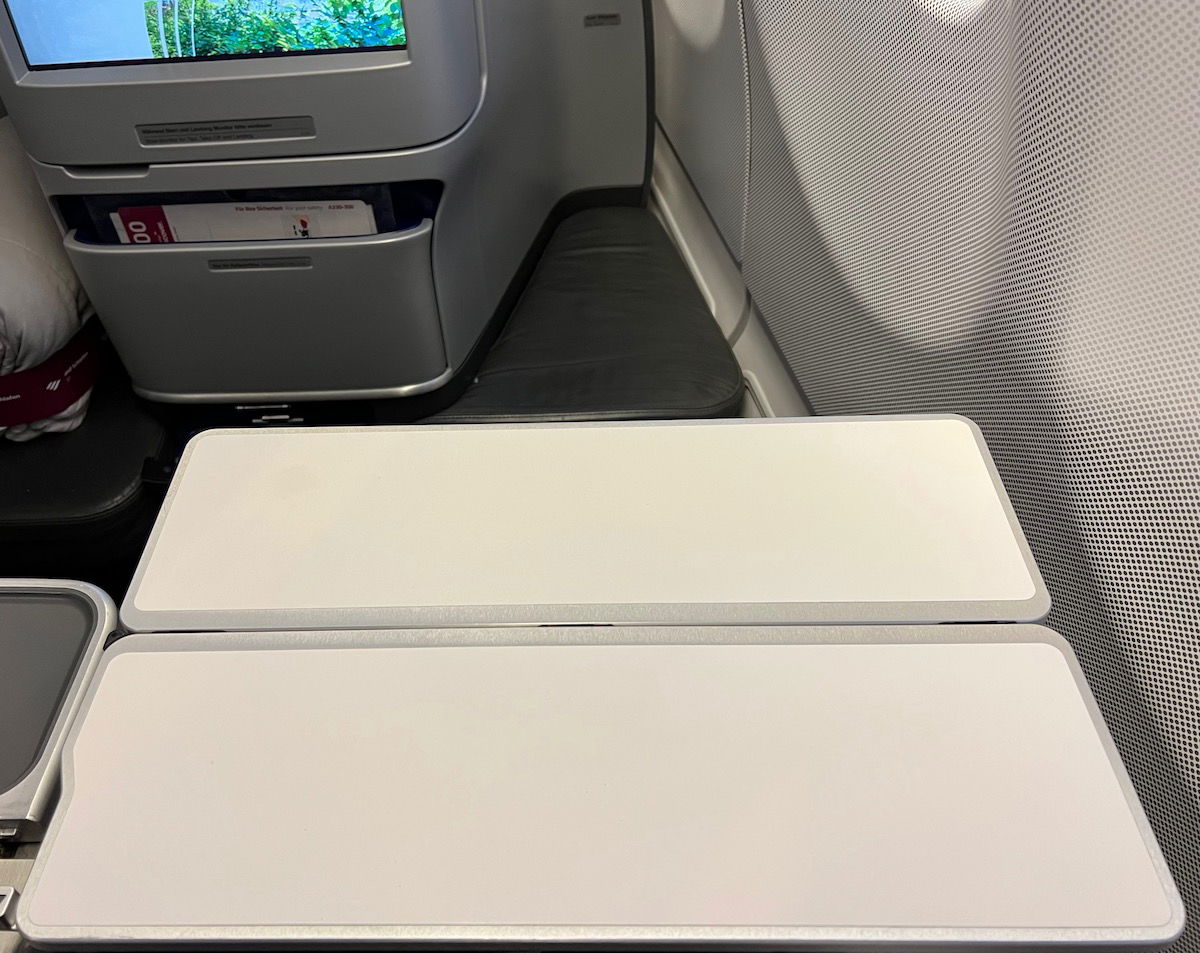 In front of and underneath the center armrest were two AC power outlets.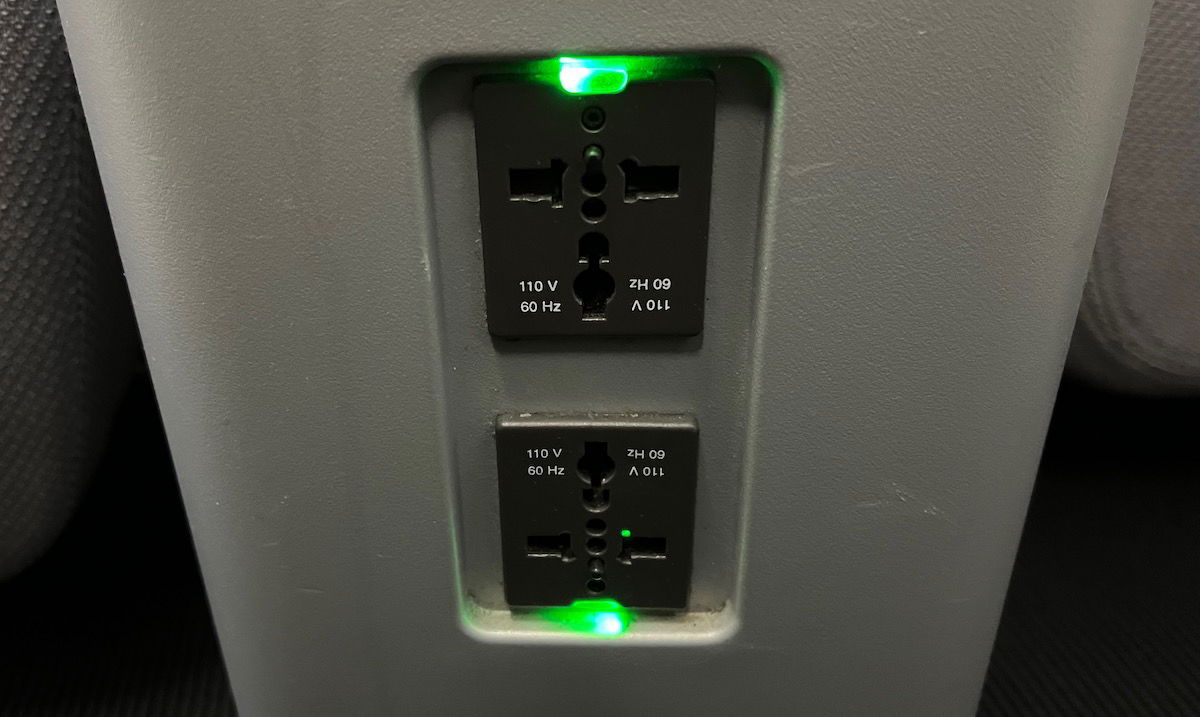 Overhead consoles had reading lights, though no individual air nozzles. The plane just generally didn't feel very clean or fresh, and even the overhead consoles had all kinds of dirt marks and scratches on them.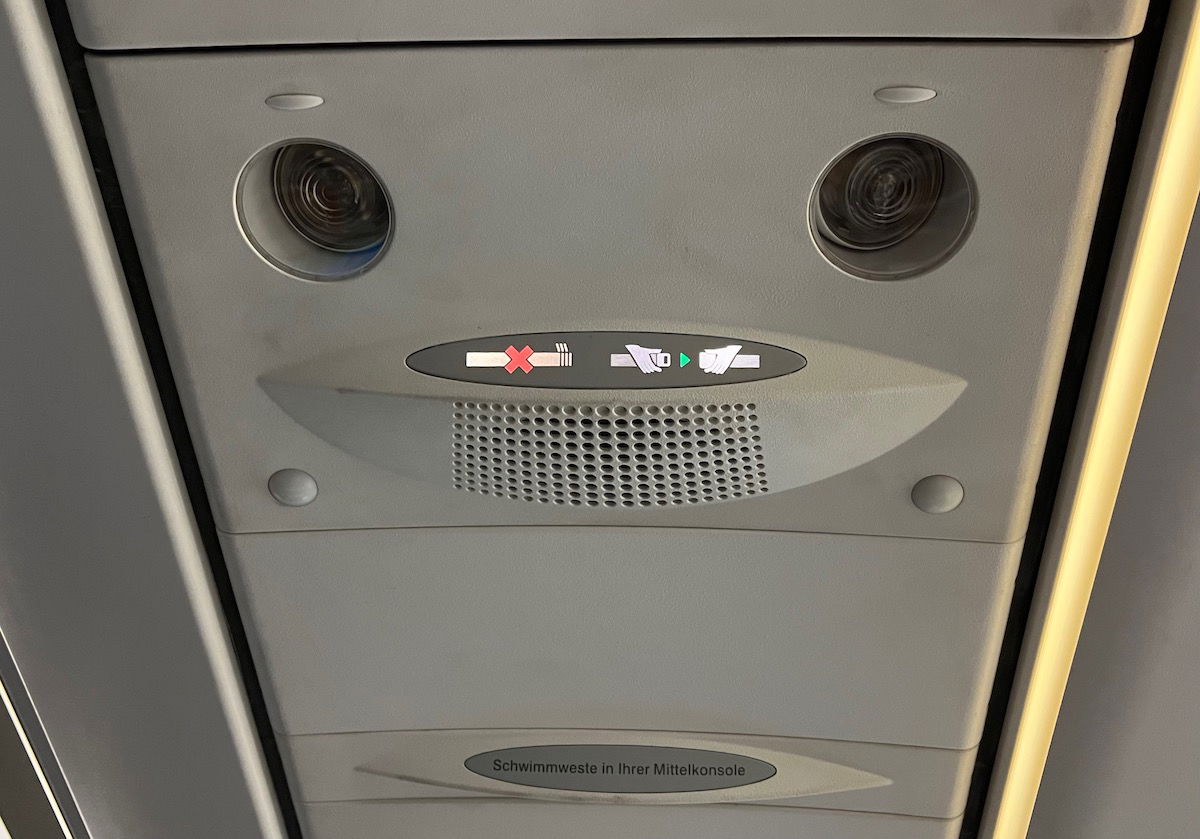 So yeah, in terms of hard product you'd more or less think you're on Lufthansa. The only thing different is that the headrest cover has the Eurowings Discover logo rather than the Lufthansa logo.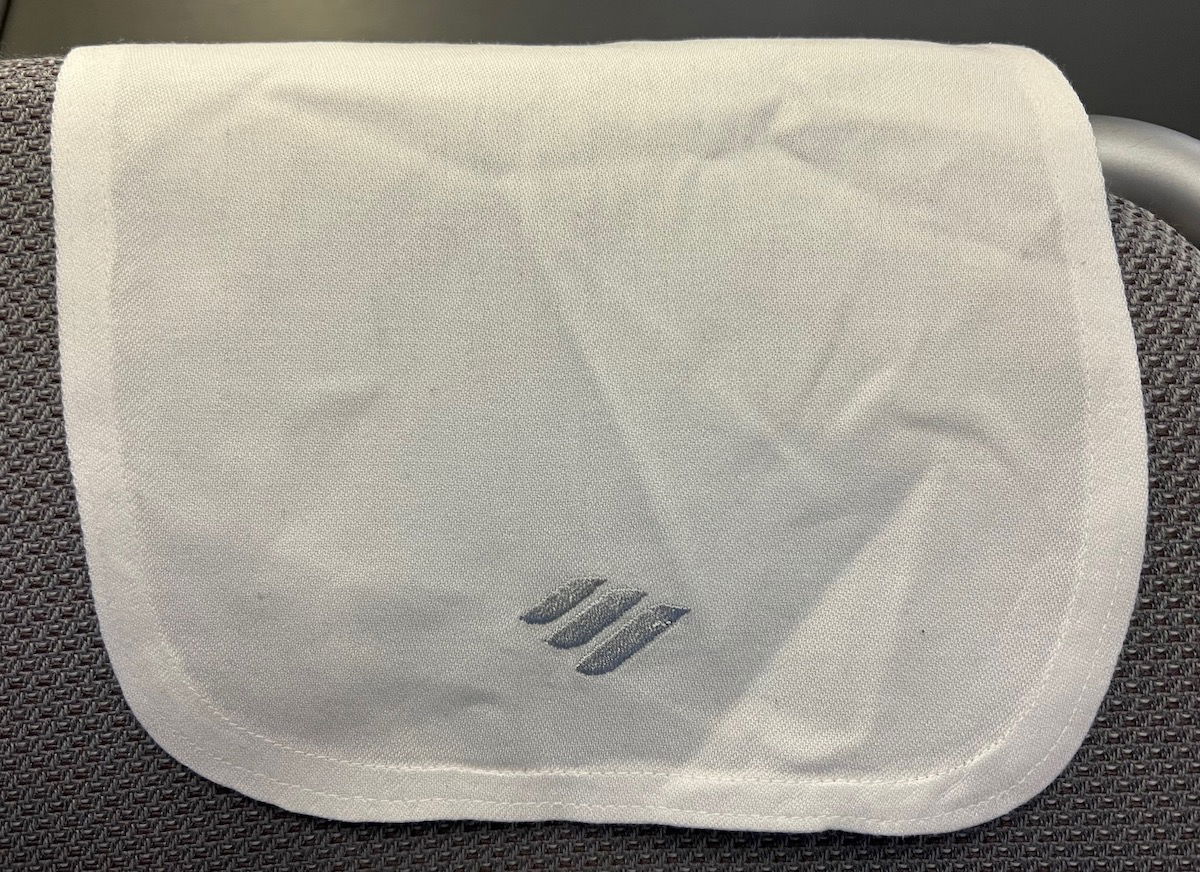 I also want to mention that not all Eurowings Discover jets feature this business class product. Some Eurowings Discover A330s used to fly for SWISS subsidiary Edelweiss, and those planes have a staggered business class configuration, similar to what you'll find in SWISS business class.
Our flight the previous day was supposed to feature those seats (and I was looking forward to trying that seat, since it's different), but unfortunately that flight got canceled.
Eurowings Discover business class amenities
In terms of amenities, Eurowings Discover business class was also mighty similar to Lufthansa business class. Waiting at each seat on boarding were a pillow and blanket, both of which were pretty decent.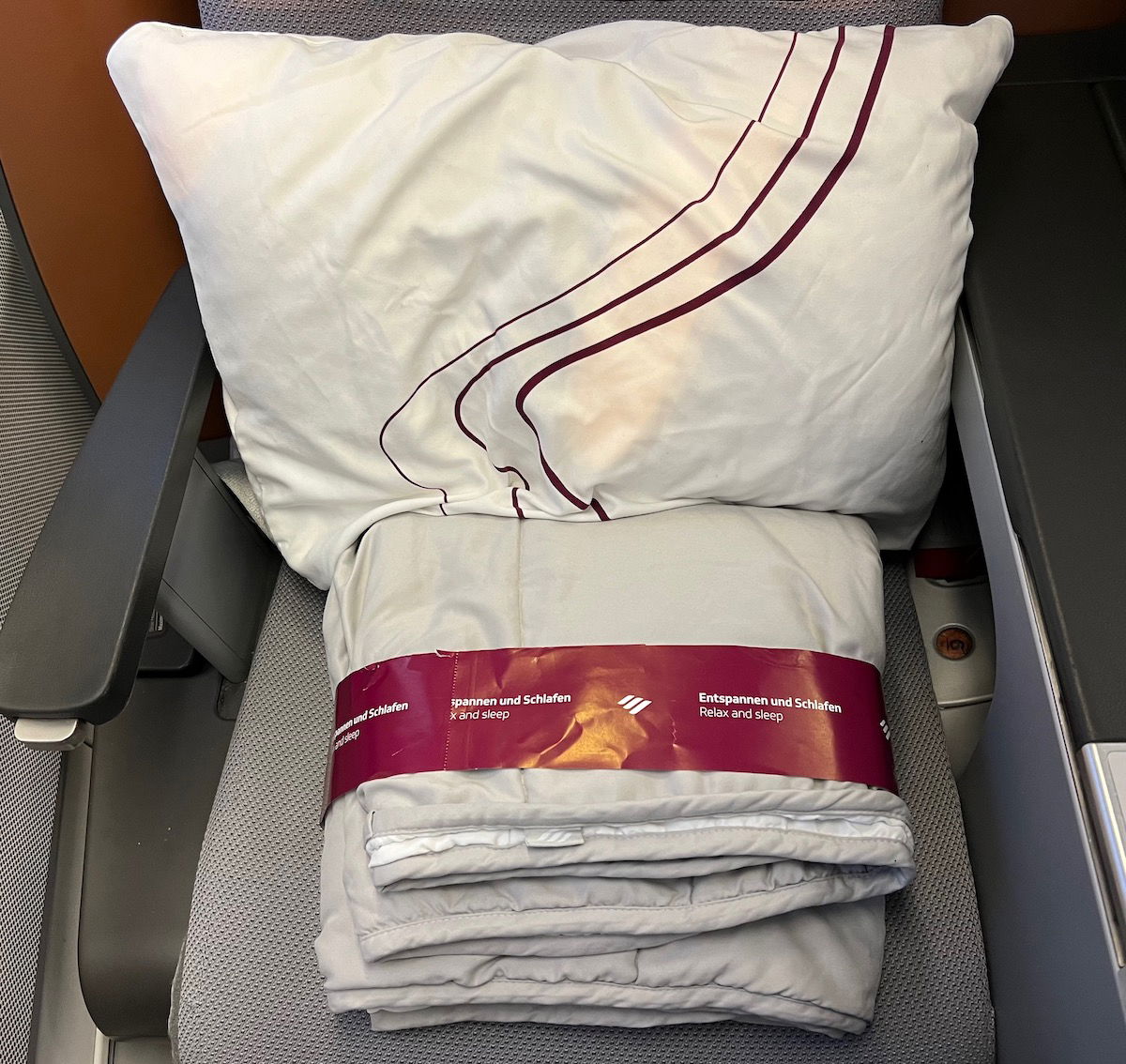 There was also a bottle of water in the storage compartment at each seat.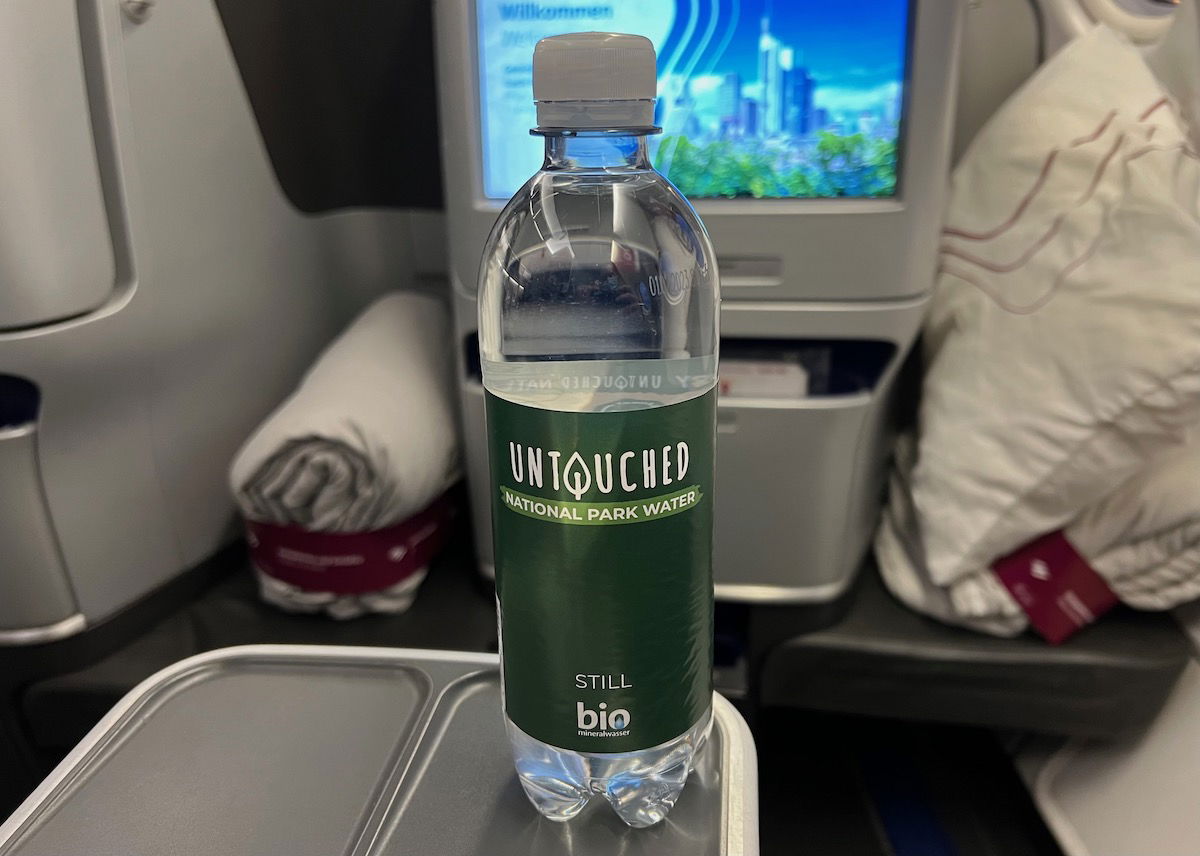 Shortly after settling in, each business class passenger was offered an amenity kit. Interestingly this was just the standard Lufthansa one, down to the logo. The kit was solid, and had socks, eyeshades, earplugs, a dental kit, a mint, a refreshing towel, and two creams from L'Occitane.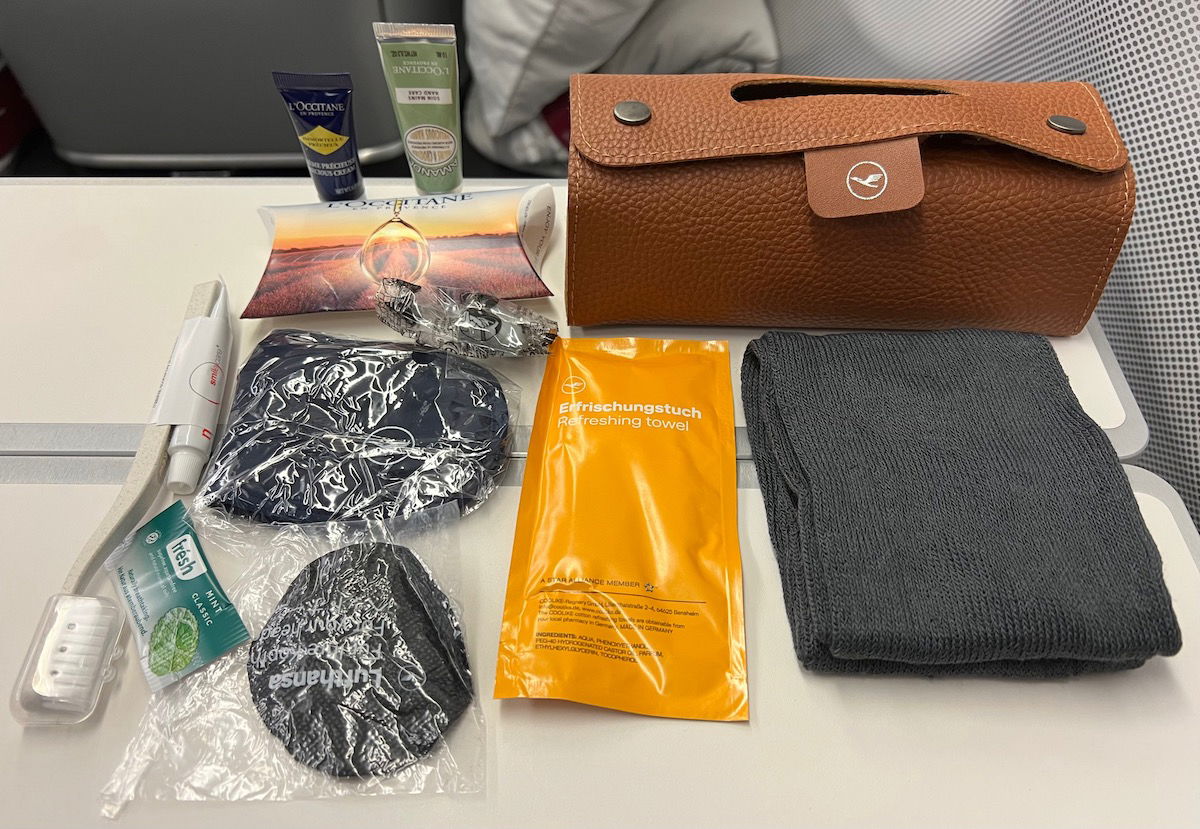 Each passenger was also offered a menu for the flight.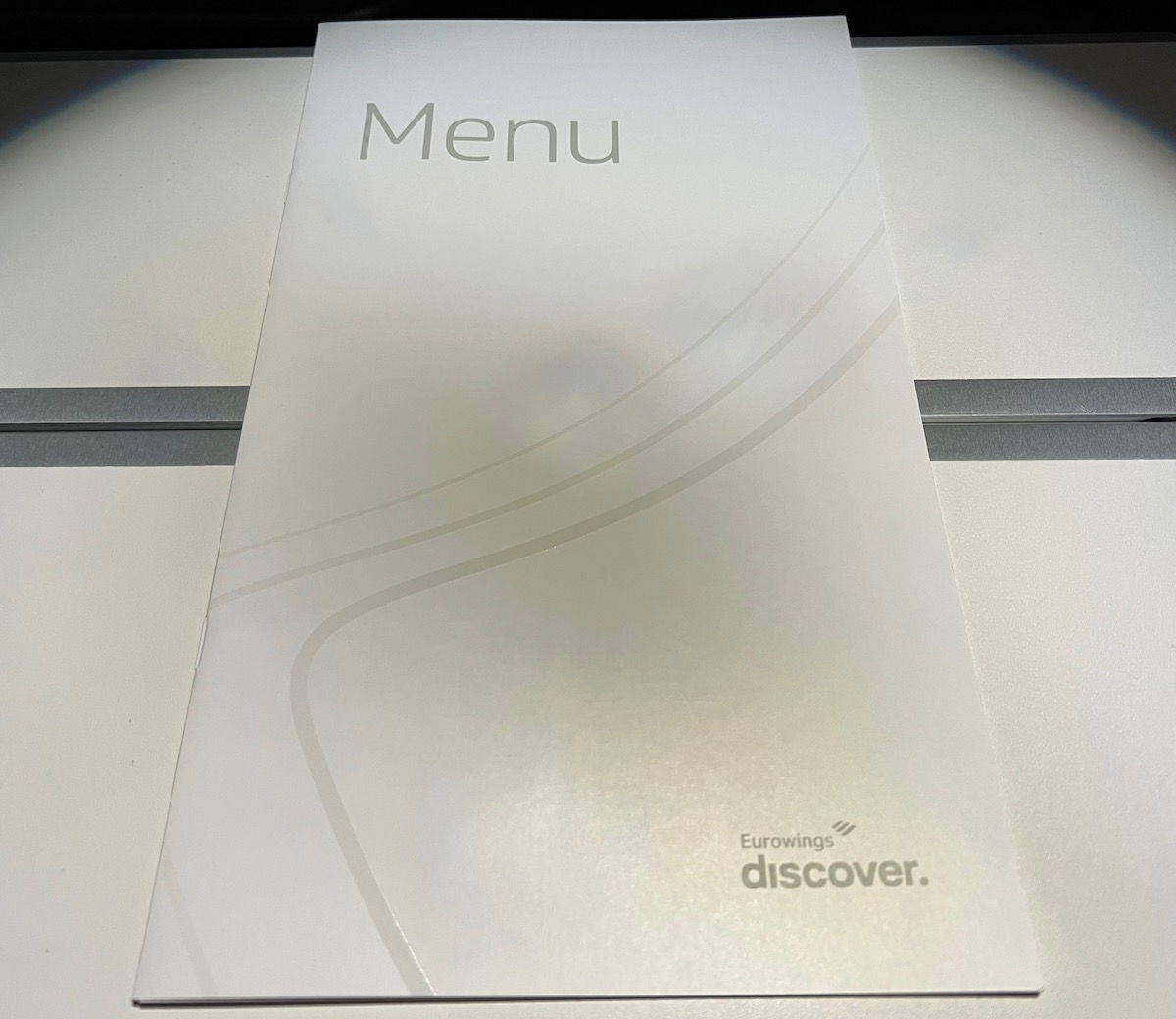 Pre-departure beverages were a bit more complicated. There was the choice of champagne, orange juice, or water, though the crew served these really inefficiently. It took the crew nearly 30 minutes to serve these to passengers, but even then we weren't offered any drinks.
Finally once the main cabin door closed we asked if we could have some drinks, at which point the flight attendant acted surprised that we hadn't been offered anything.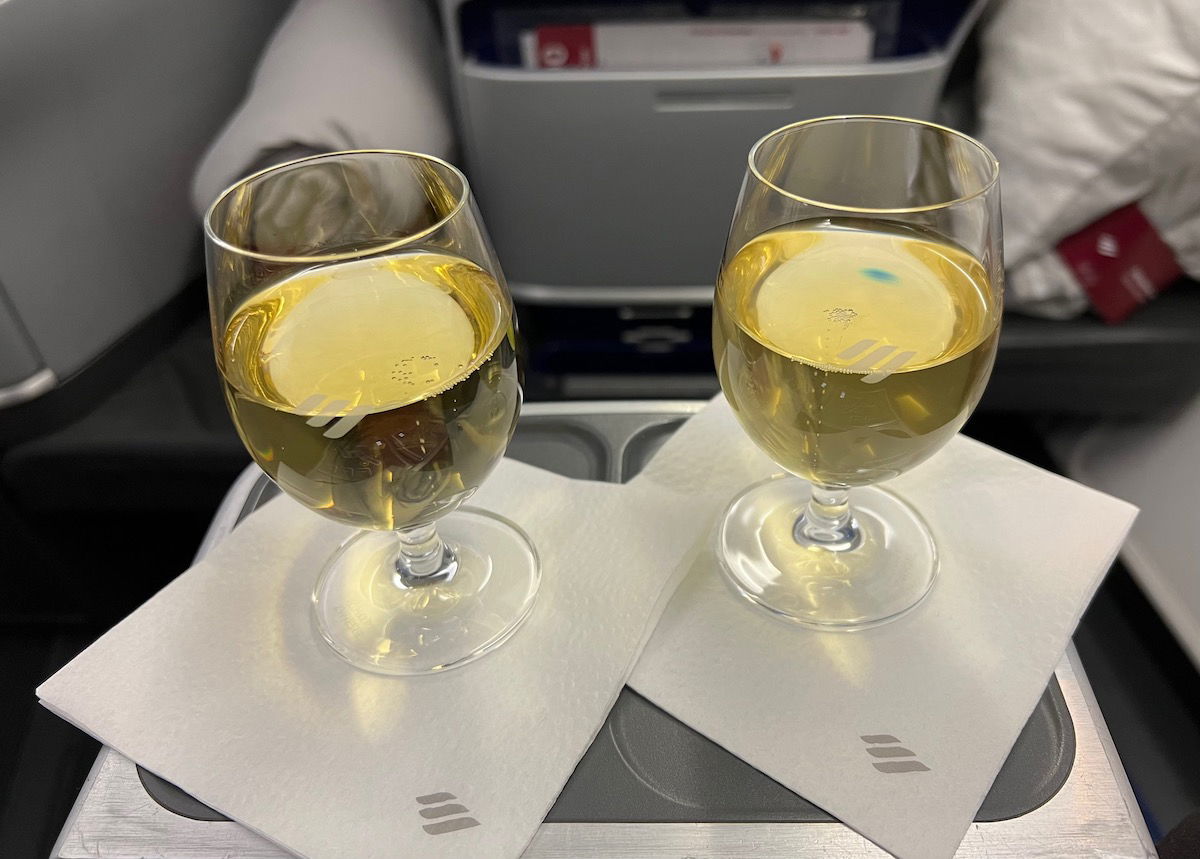 Eurowings Discover departure from Tampa
At 8:10PM it was announced that boarding was complete, and a few moments later the main cabin door closed. Business class was full, with the exception of the four other seats in row five. See, there's a method to my seat selection preferences. 😉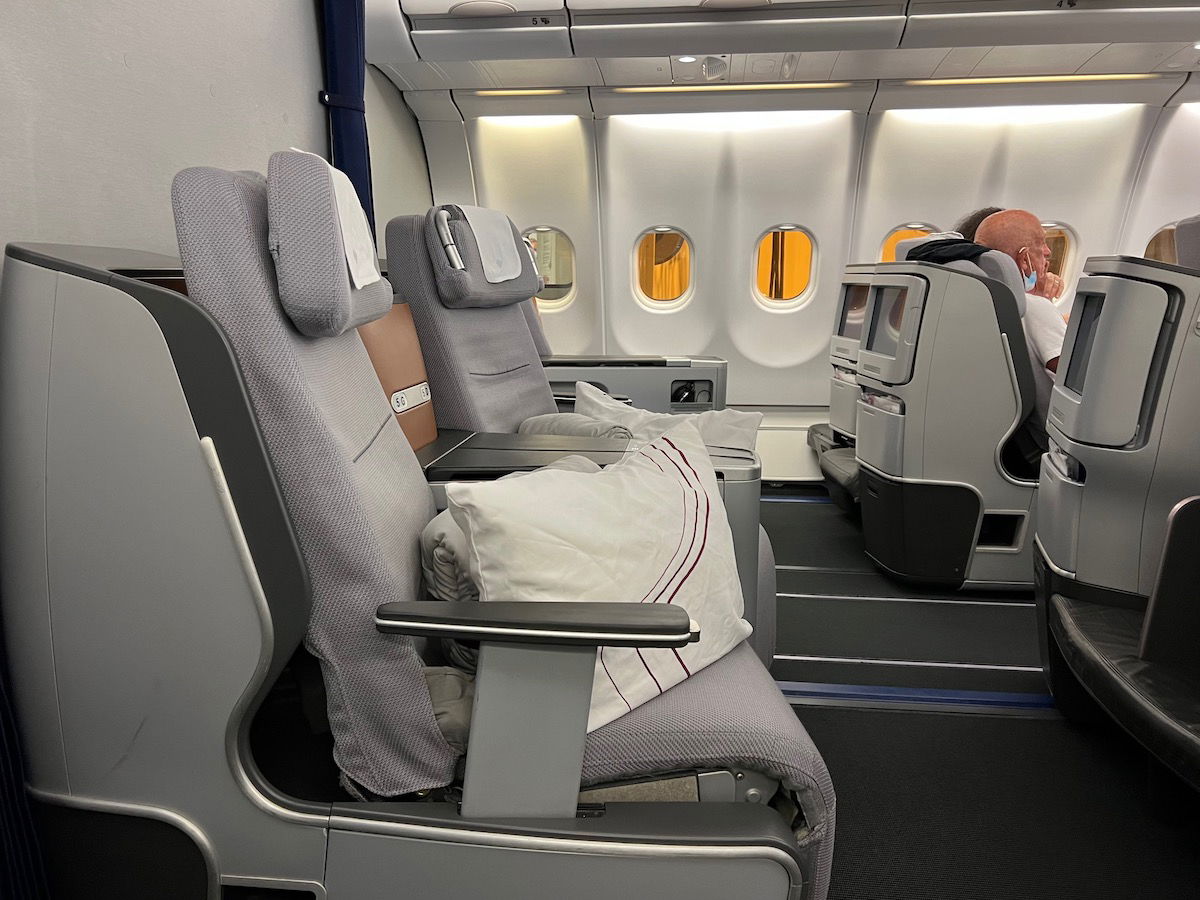 The captain made his welcome aboard announcement around this time, informing us of our flight time of 8hr45min to Frankfurt.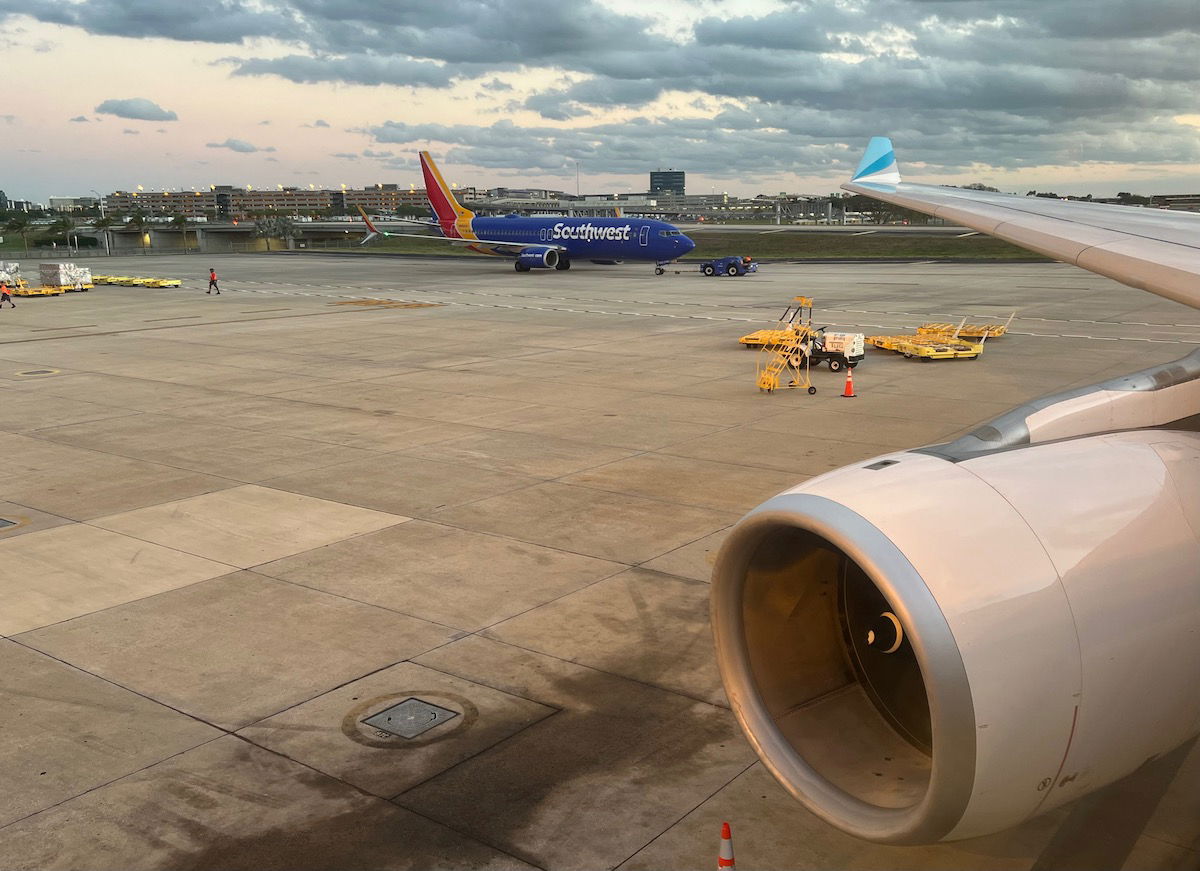 At around 8:15PM we began our pushback — I could see the Edelweiss A340-300 a few gates over.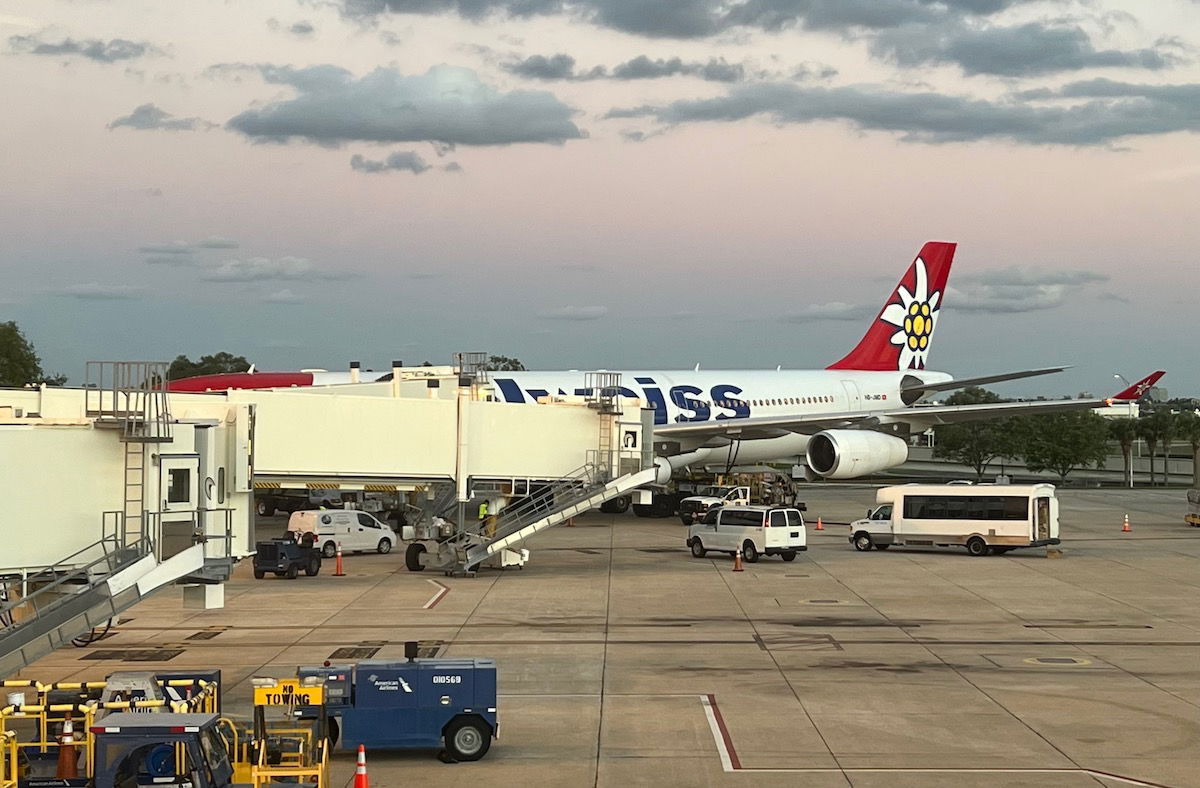 Around this time the manual safety demonstration was performed. I guess a safety video wasn't in Eurowings Discover's budget, given that it launched during the pandemic.
By 8:30PM we were cleared for takeoff on runway 1L. I couldn't help but reflect on how this was my first long haul flight straight out of Tampa in over two decades, even though I've taken hundreds of flights out of the airport over the past many years. The last time I flew long haul out of the airport was on Condor when I was a kid, back when there was still a smoking section on the plane.
Eurowings Discover A330 entertainment & Wi-Fi
As we climbed out, I browsed the disappointing entertainment selection. Eurowings Discover's entertainment system is similar to Lufthansa's, and that's not good.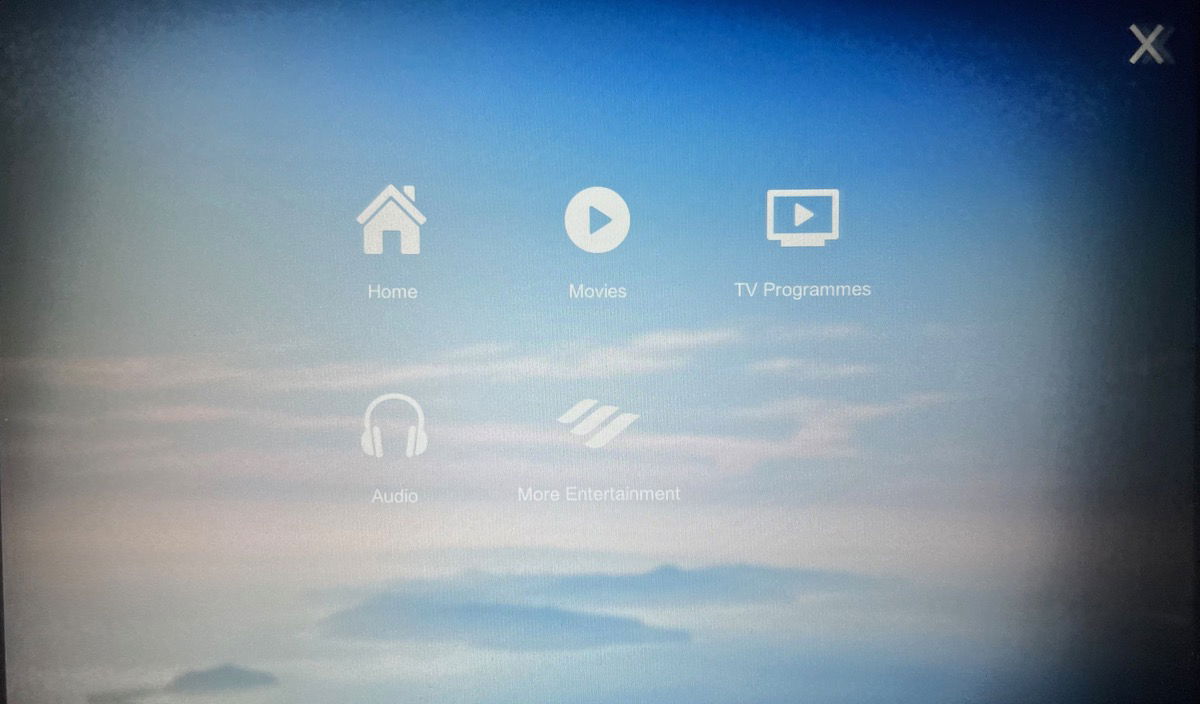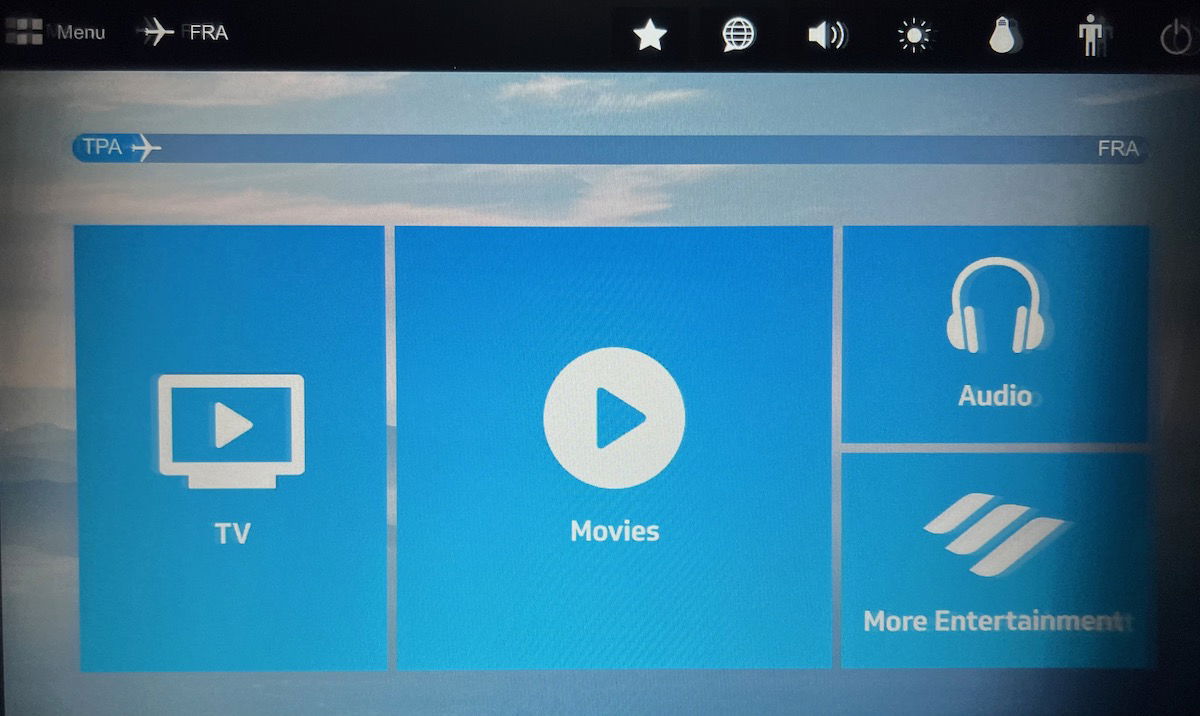 Not only is the screen as such quite low quality, but the selection was also limited. There were 77 TV shows and 66 movies, and frankly very few of them were particularly mainstream or new. The airline definitely paid for the budget IFE selection.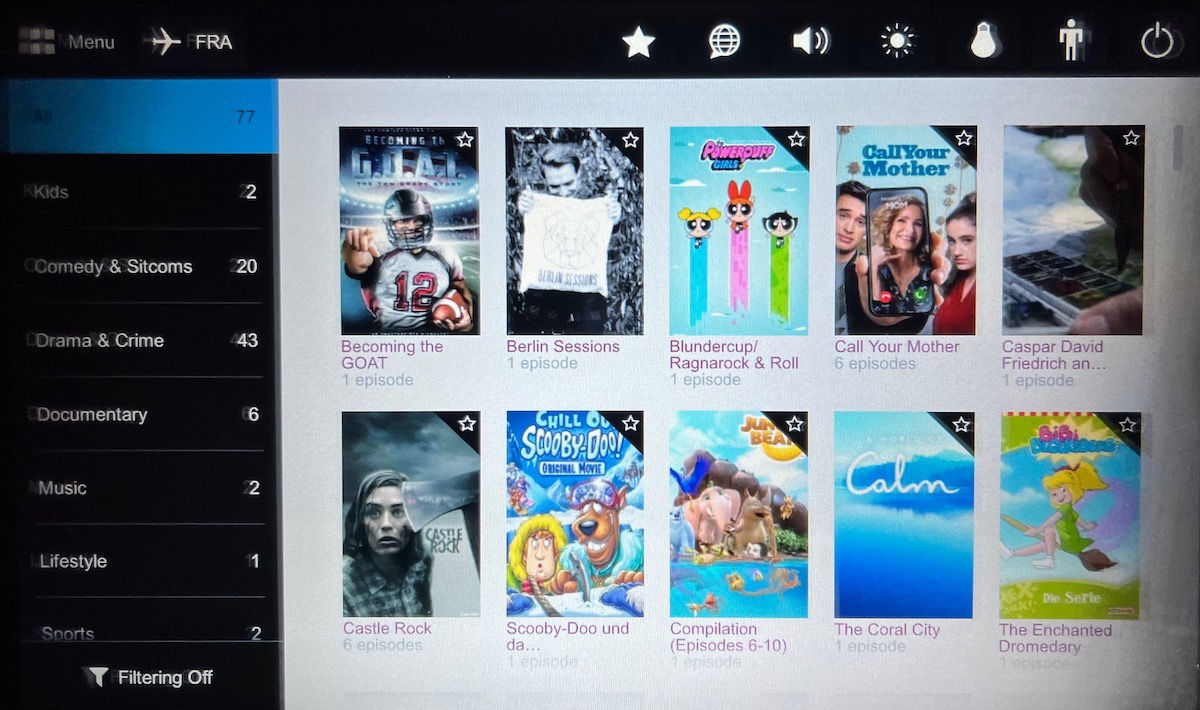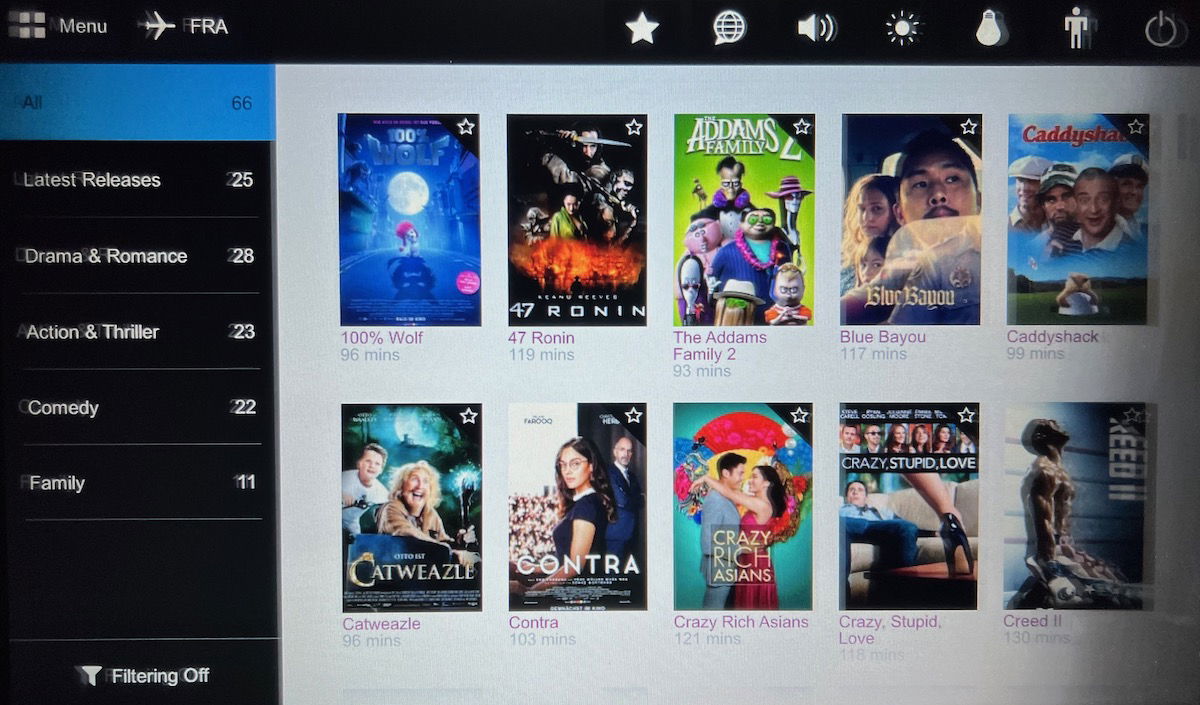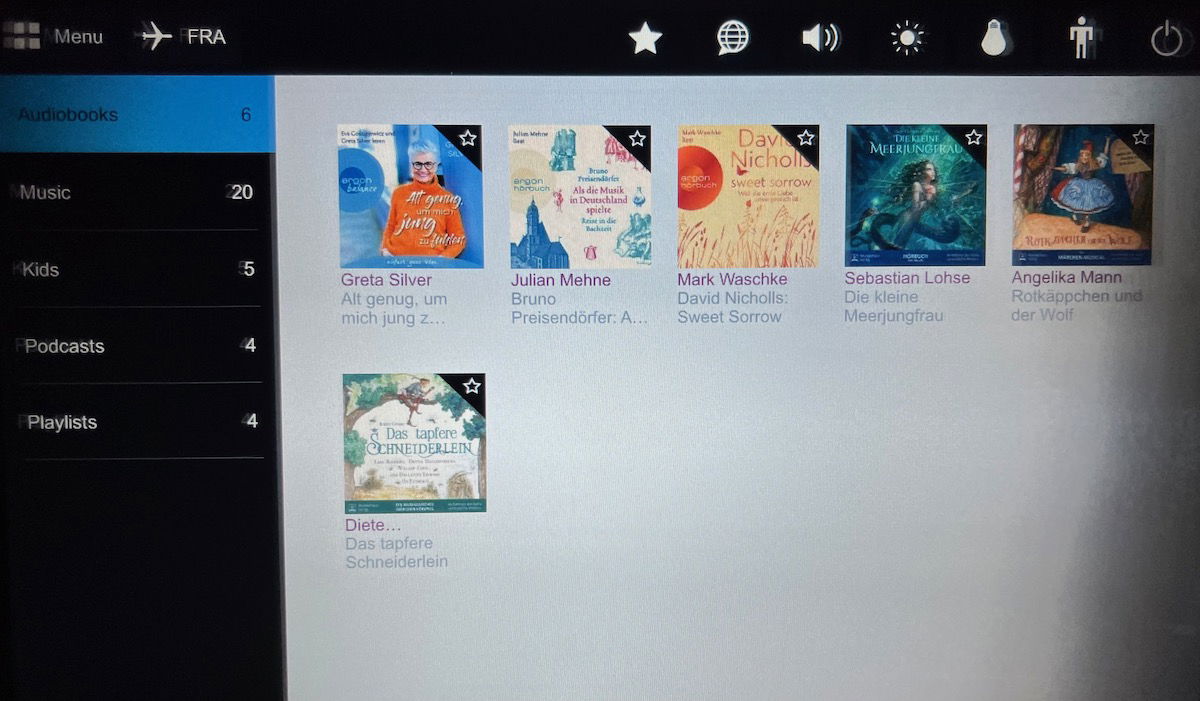 So I just watched the moving map for much of the flight.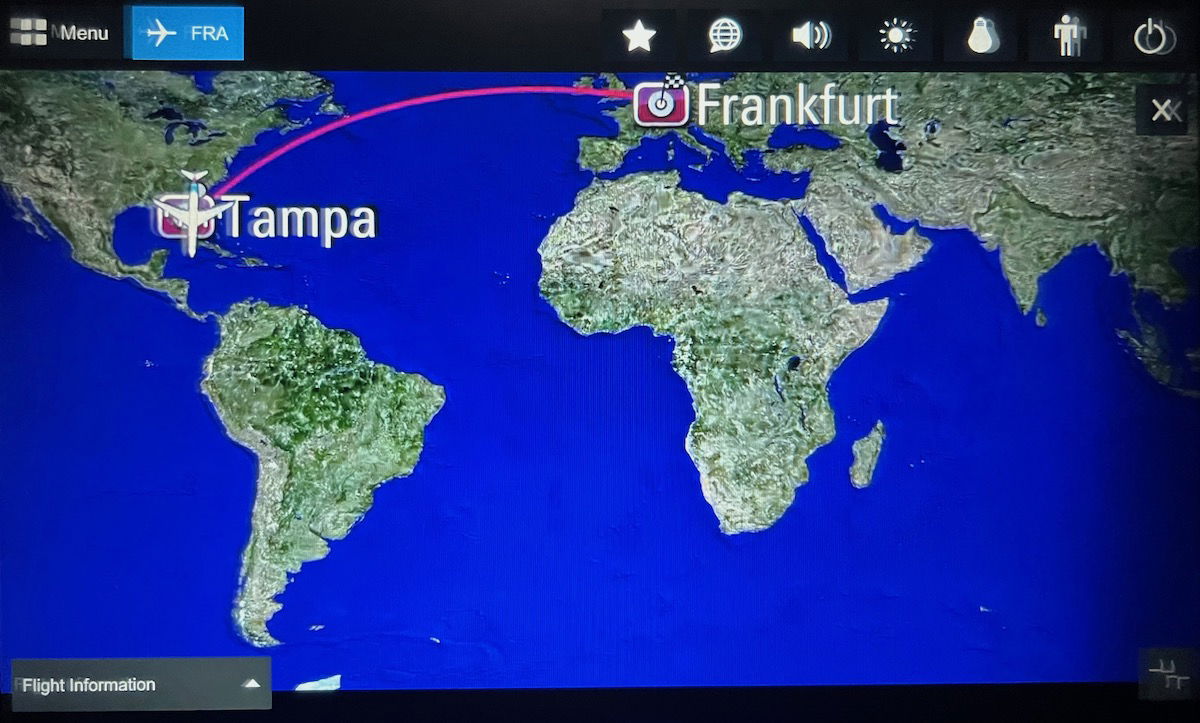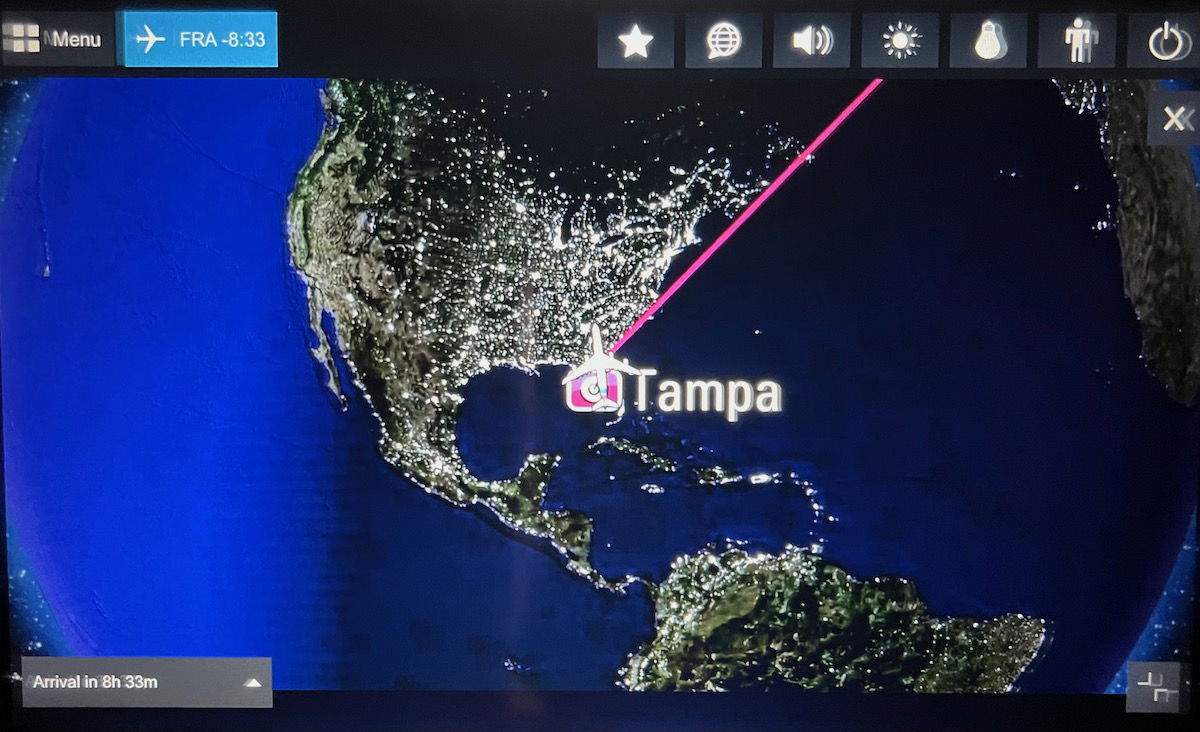 Oddly Eurowings Discover can't even seem to get that right. The map shows an A340-300 (based on the four engines), but that's not even a plane the airline flies. Huh?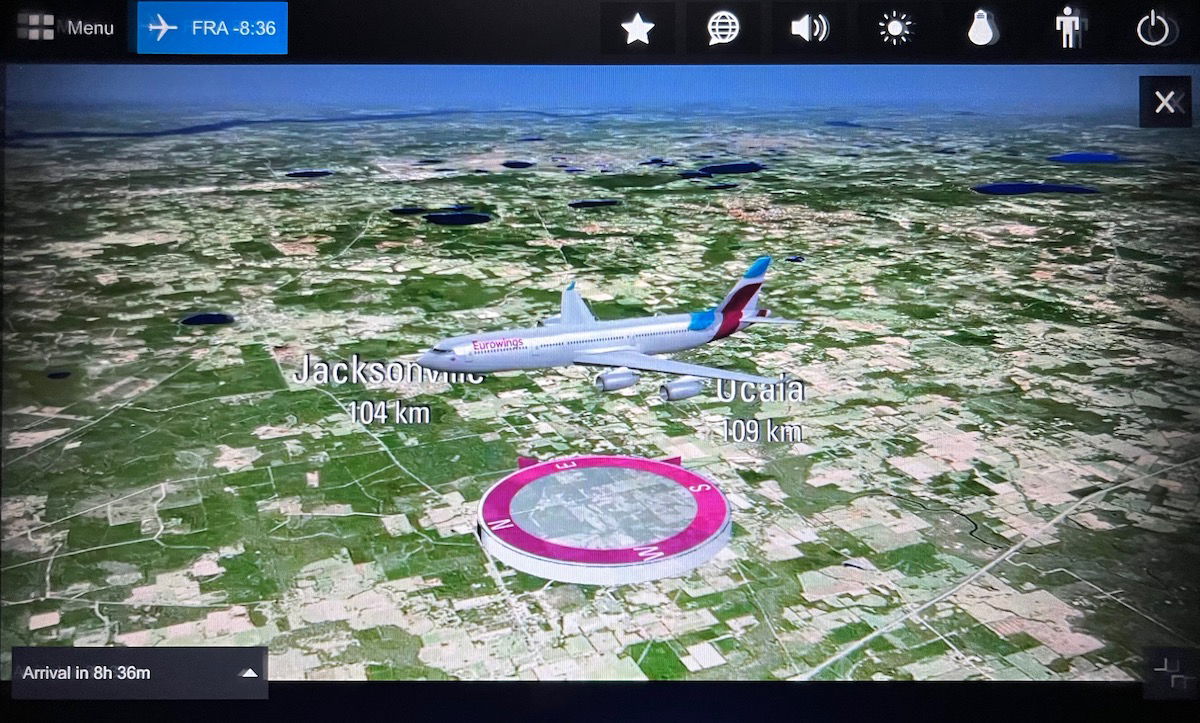 Eurowings Discover's website suggests that some planes have Wi-Fi, but I guess this wasn't one of them. While there was a Wi-Fi portal, you could just use it to view the buy on board menu (for economy), and to read some electronic journals.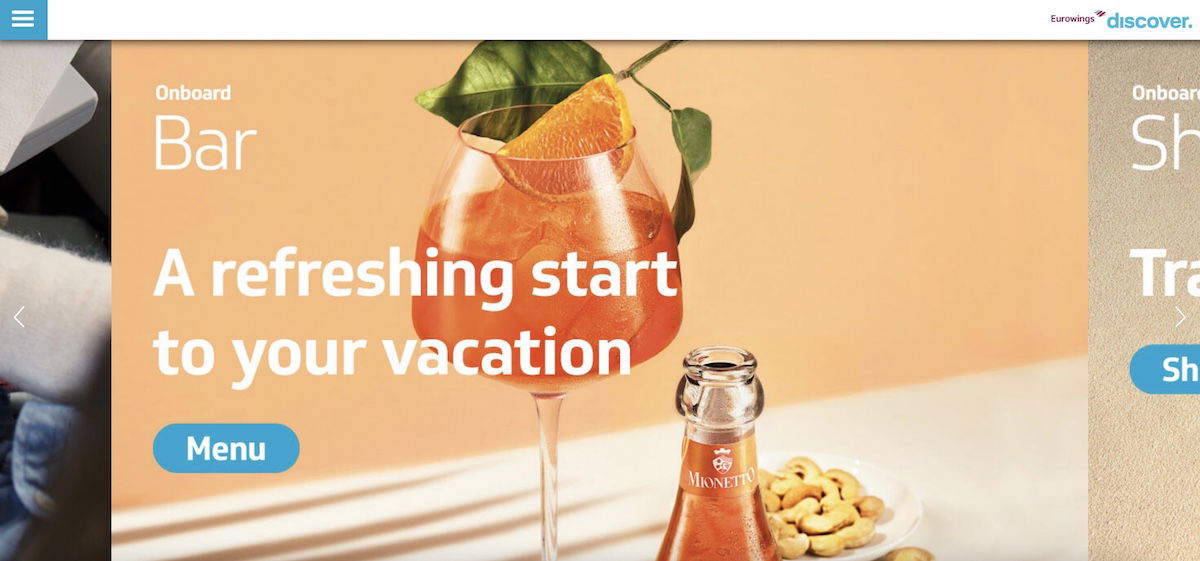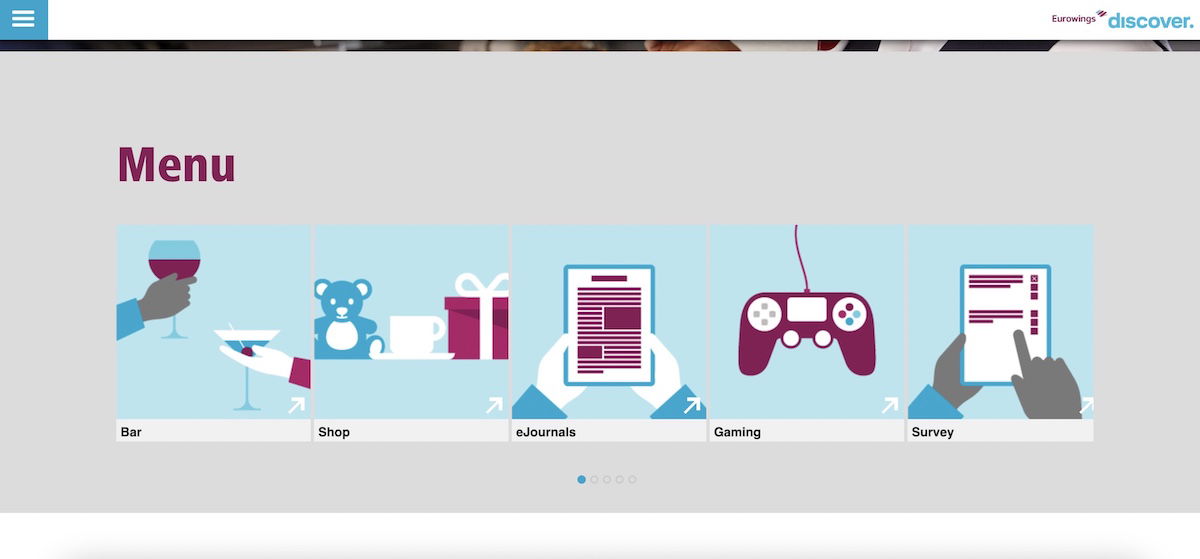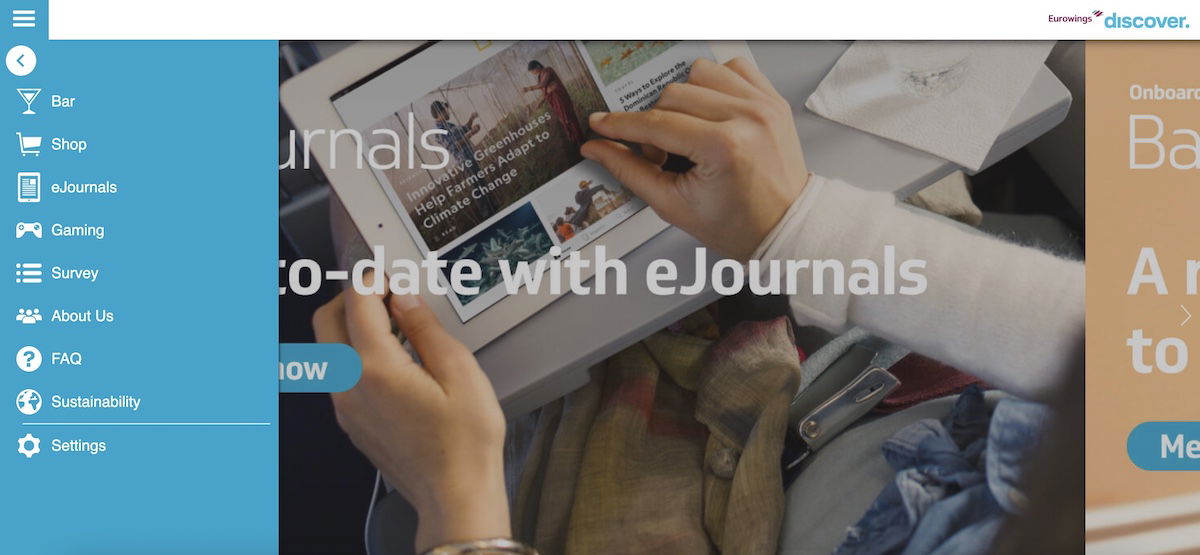 The plane has Wi-Fi installed on it, given that the plane had Wi-Fi when Lufthansa flew it. So I'm not sure if it just hasn't been turned on as a cost saving measure, or what?
Eurowings business class service
Usually I write about service on an airline toward the end of a review, after I write about the meal services, etc. In this case I'll write about service at the beginning of the review, because unfortunately this is what defined the flight.
Here's the thing — the crew was exceptionally friendly. They were young and clearly so enthusiastic to be working as long haul business class cabin crew. But they also had no clue what they were doing. And I want to be clear upfront that this is 100% the fault of management and the people doing training, rather than the crew as such.
This gets at the very reason Eurowings Discover exists, as it's an attempt by Lufthansa to lower labor costs, as these crews have all been hired under cheaper contracts. I imagine part of that cost cutting is also not providing as much training. This was basically like flying with British Airways' "Mixed Fleet" crews back in the day, when they first started being hired.
What was the problem?
This was an 8hr45min flight, and the two meal services combined took 4hr25min, more than half the flight; dinner shouldn't take 2hr10min, and a breakfast served on a single tray shouldn't start 2hr15min before landing
In the most amateur move ever, the crew didn't close the window shades after the meal service, and since it was dark out, most passengers didn't either; the cabin started to get light around three hours before landing, which woke most people up (and then even then the crew didn't make an attempt to close the window shades)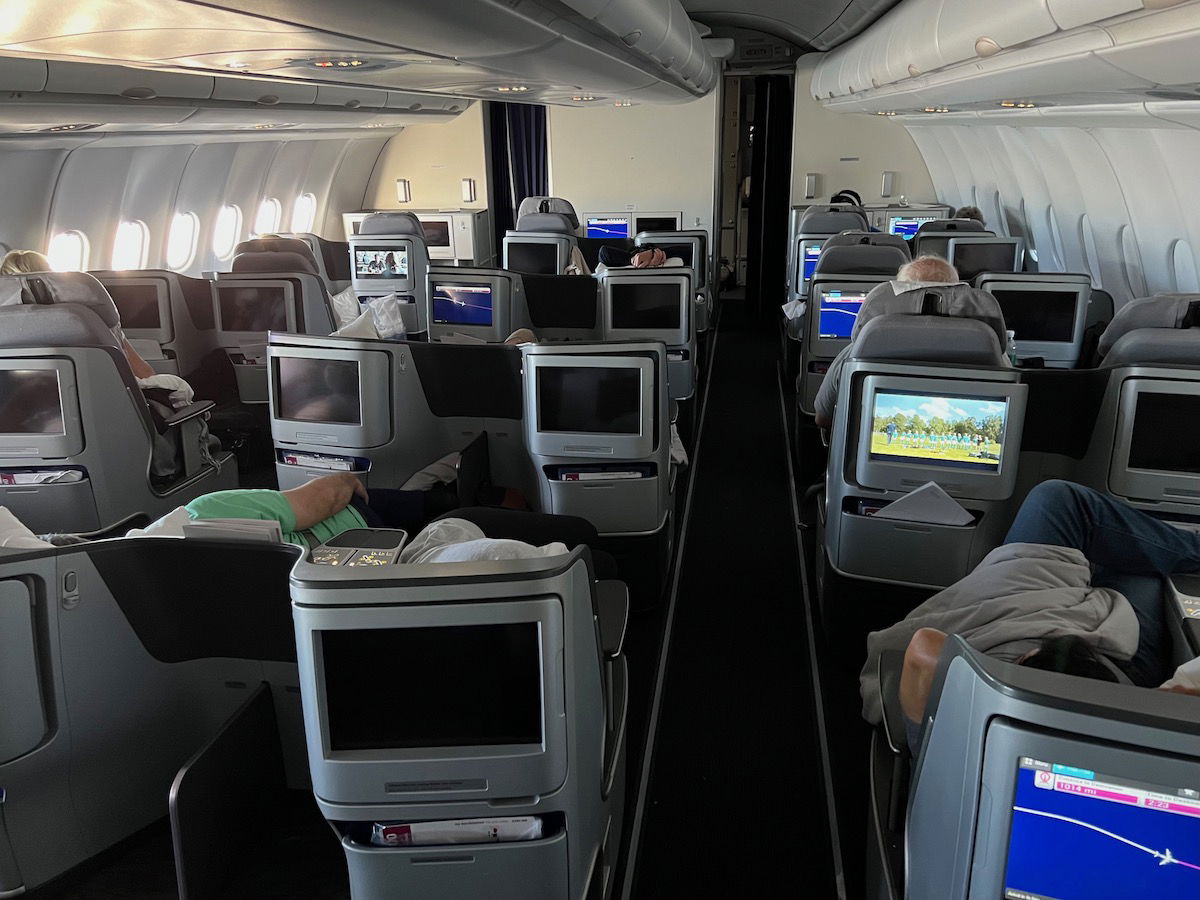 In terms of the ability to get rest, this flight felt like this "Great British Air" flight, minus the force-fed truffles, of course.
Those weren't the only issues, but those were my two biggest gripes. Business class is all about being able to arrive well rested, and the speed of service on an overnight flight, plus the environment, is a big part of that.
Eurowings Discover business class dinner
On this flight dinner was served after takeoff and breakfast before landing, and you can find the menu below.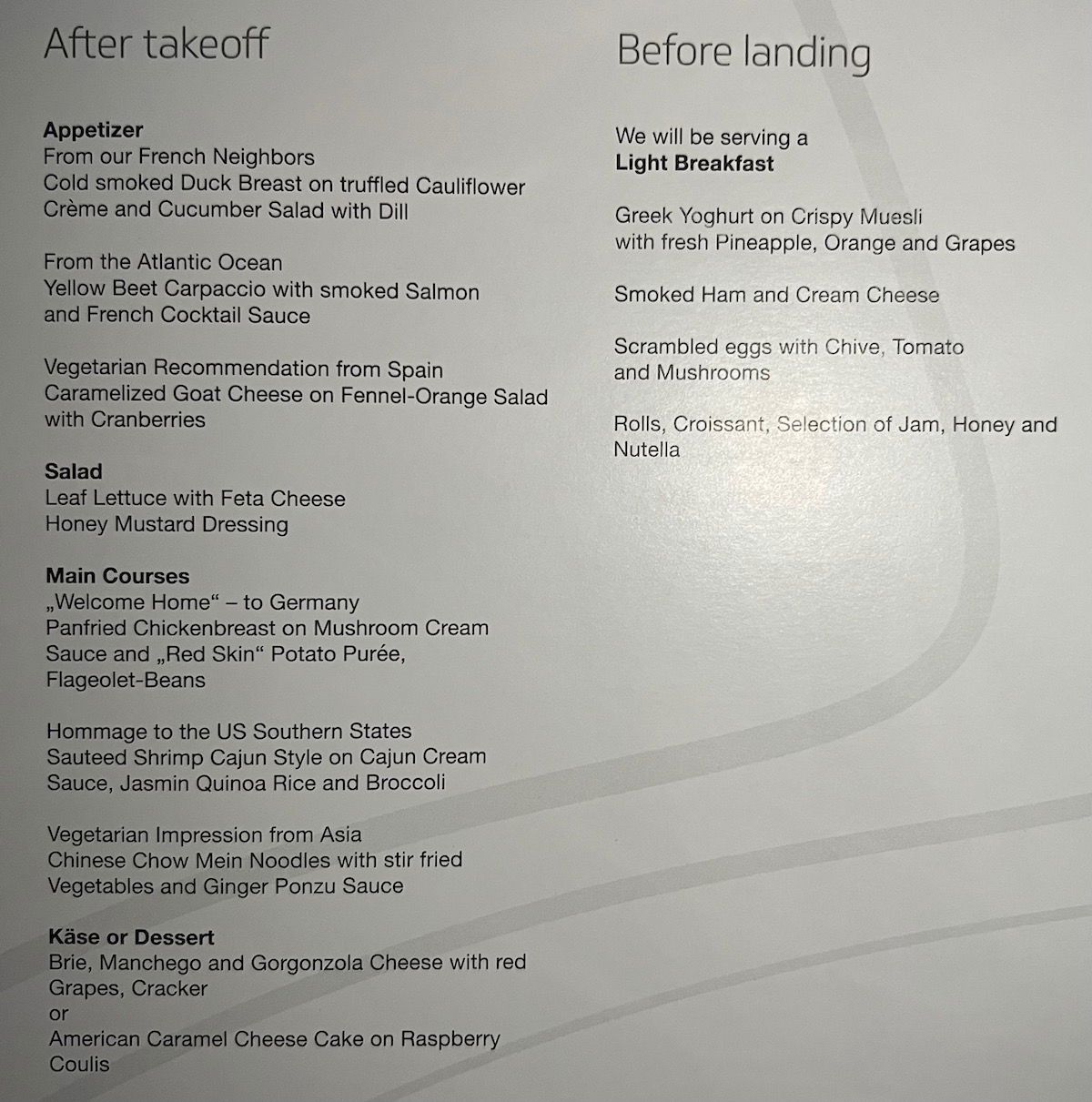 Below is the drink list for the flight.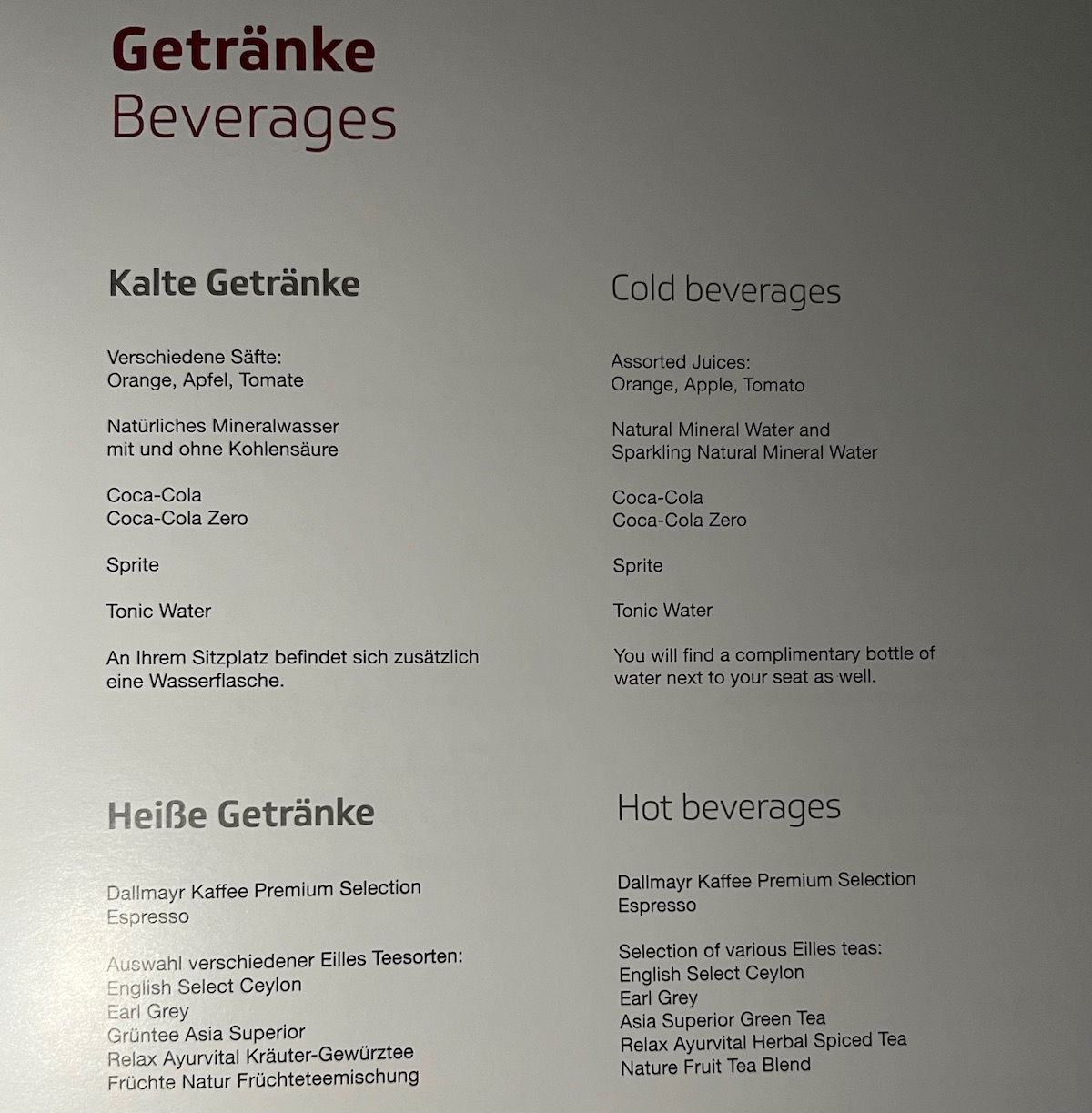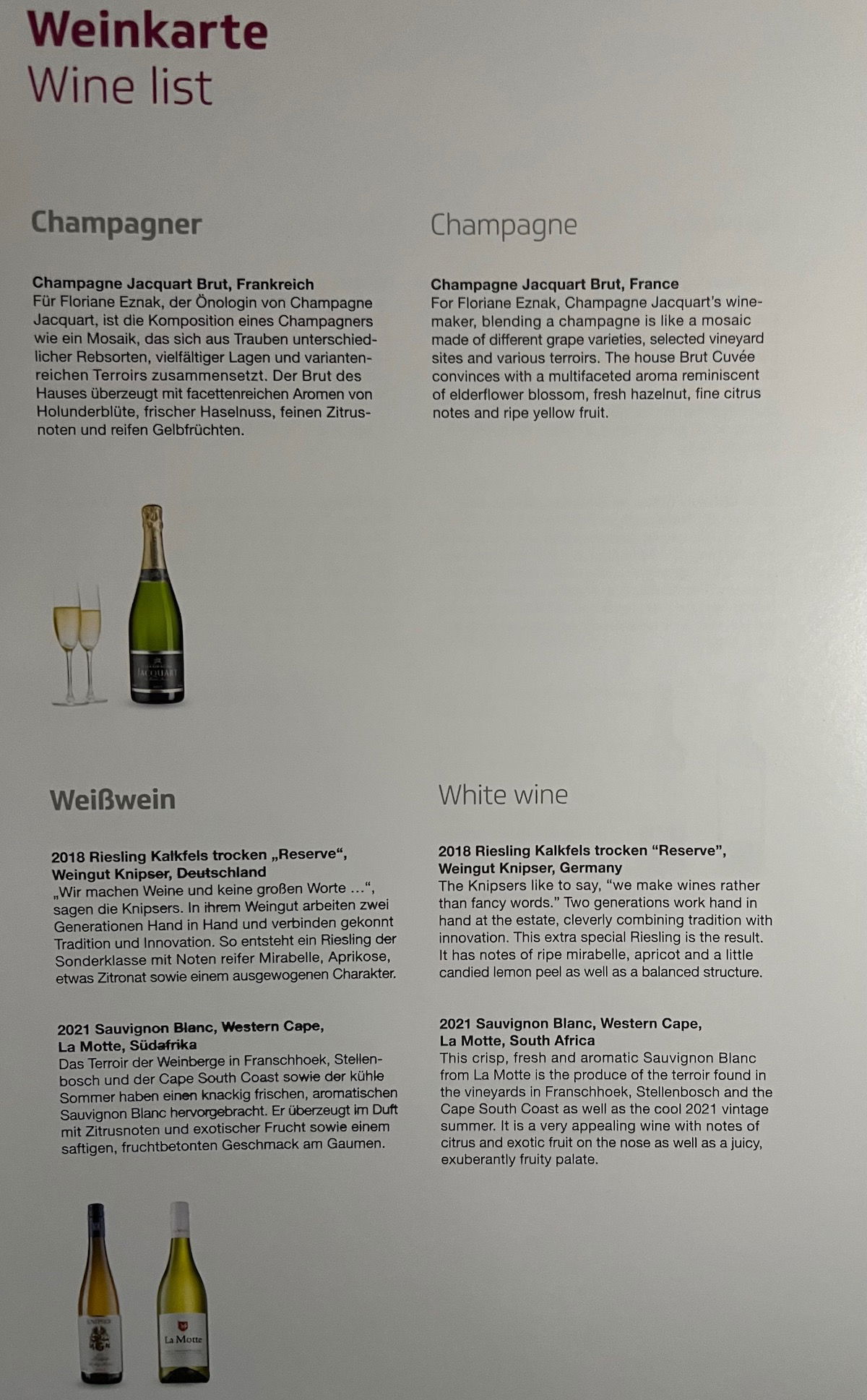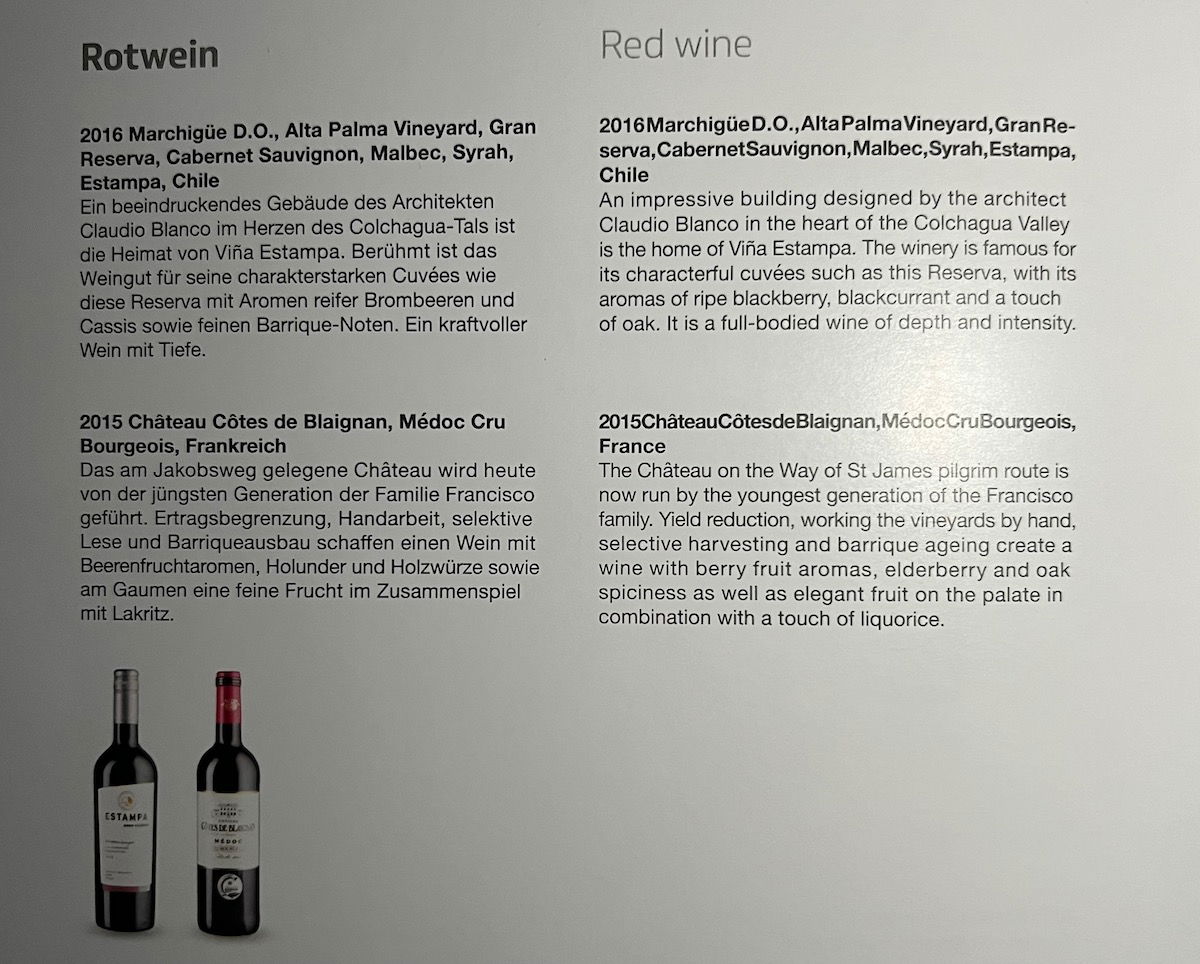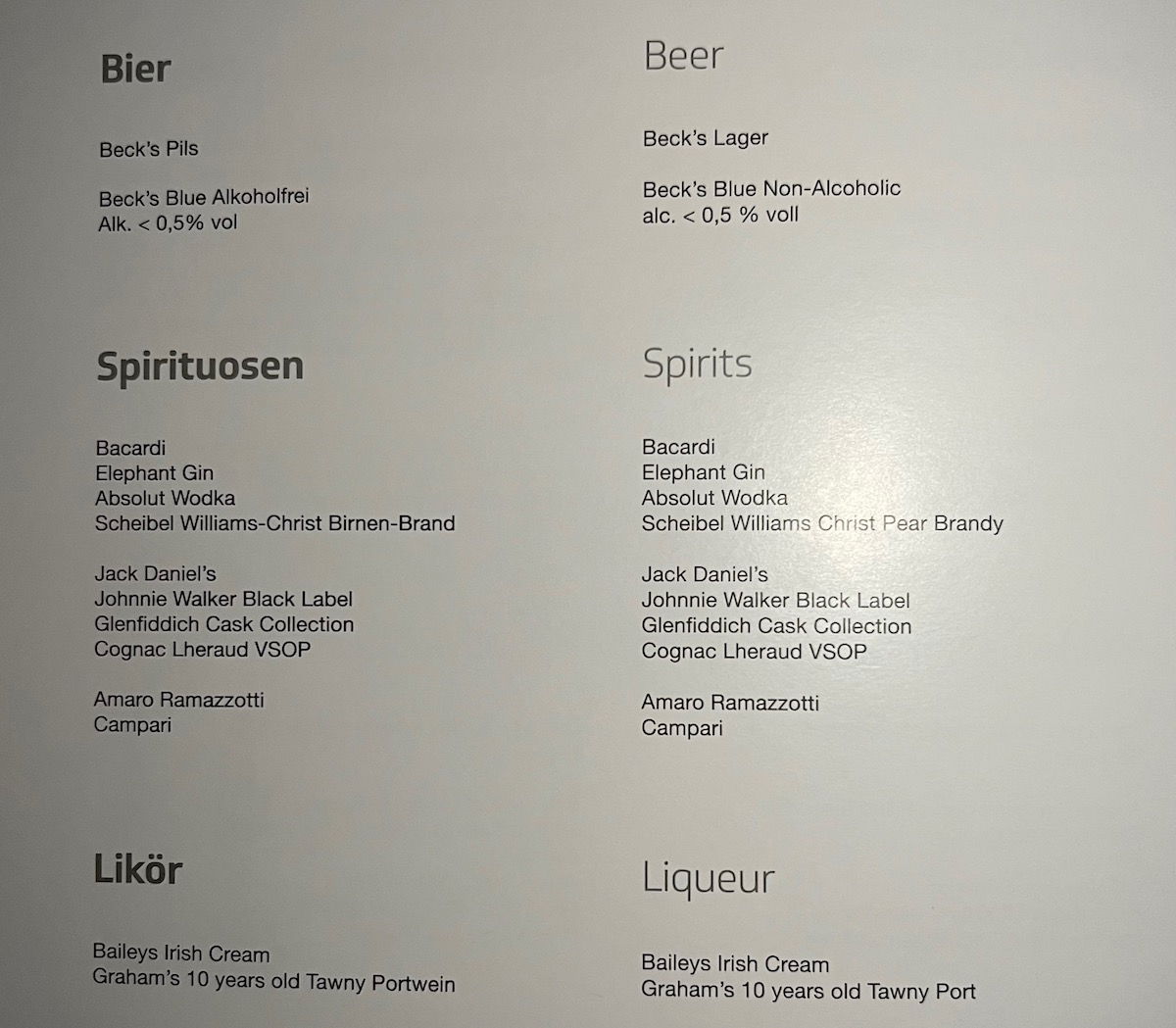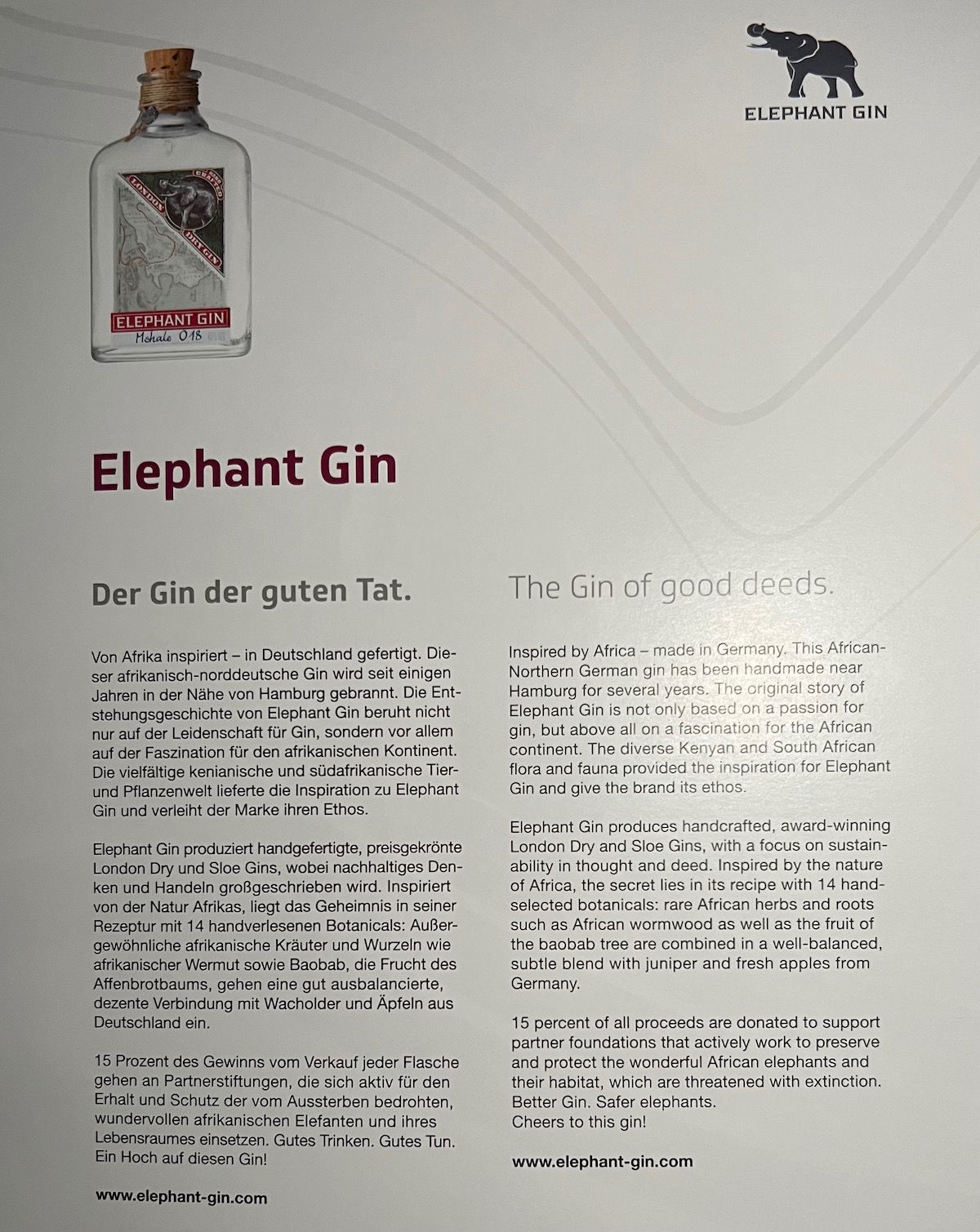 After takeoff, service was very slow to get started.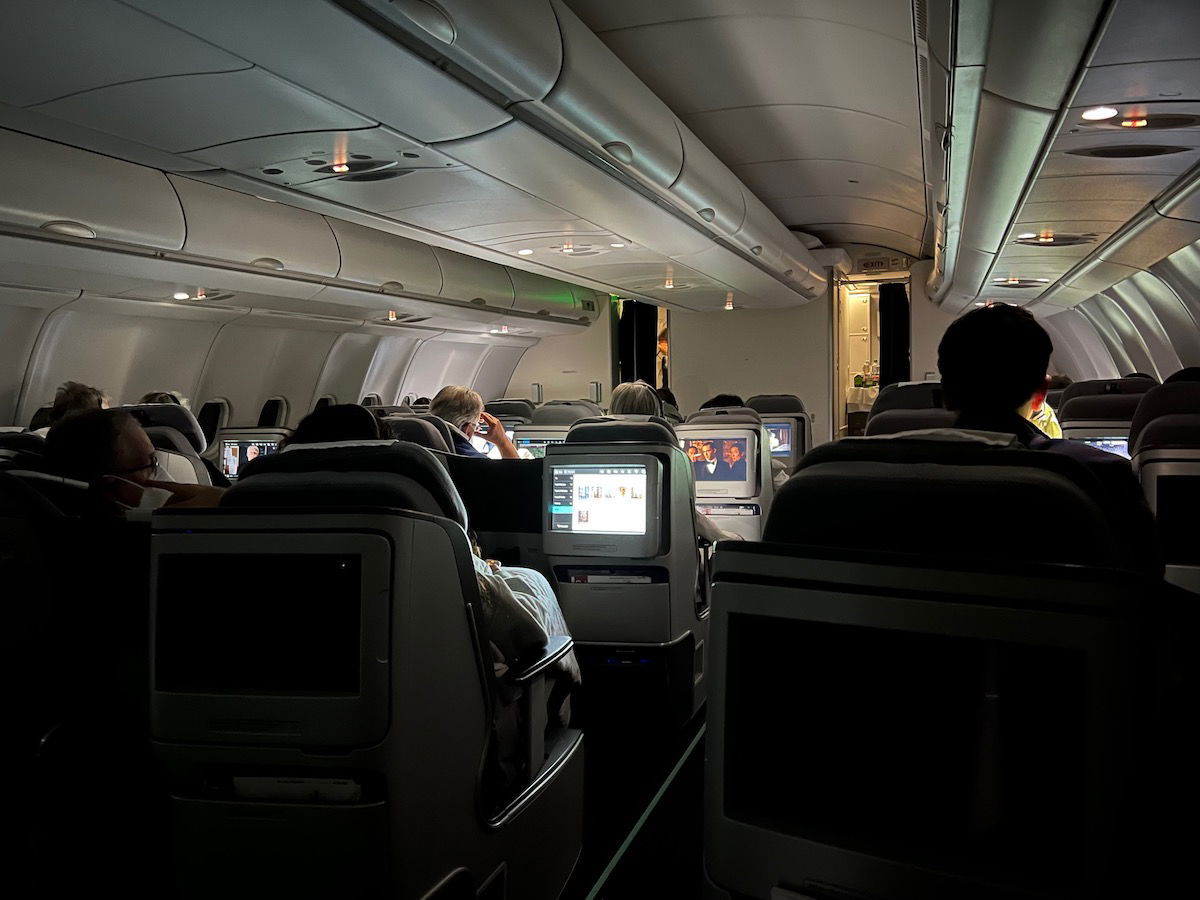 Warm towels were distributed around 45 minutes after takeoff.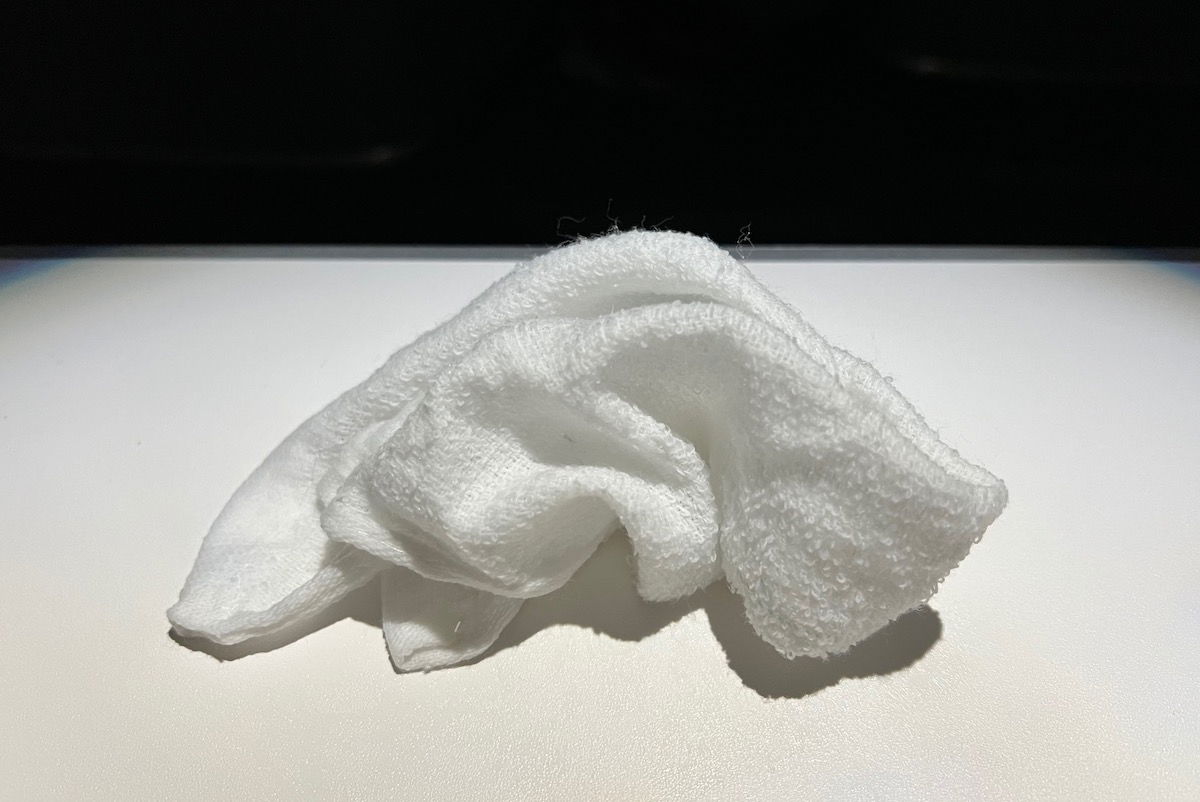 About an hour after takeoff drinks were served. I ordered the South African sauvignon blanc plus a sparkling water. Some cashews were served to go along with it.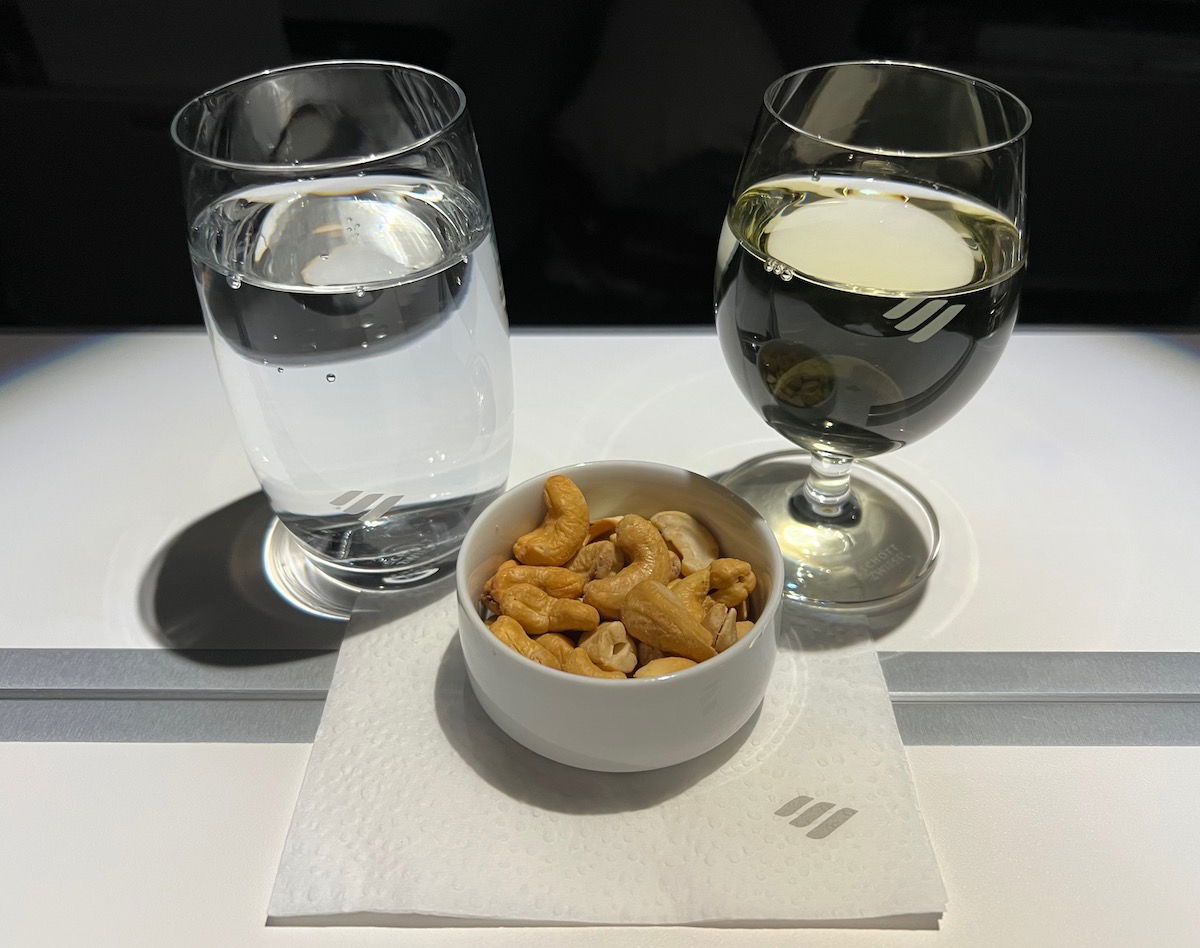 It was another 30 minutes until the starter was served. There were three starter choices. I selected the yellow beet carpaccio with smoked salmon and french cocktail sauce, which was pretty good. That was served with a side salad that had feta cheese, cherry tomatoes, and sesame ginger dressing. I was also offered a selection of bread, and chose a pretzel roll.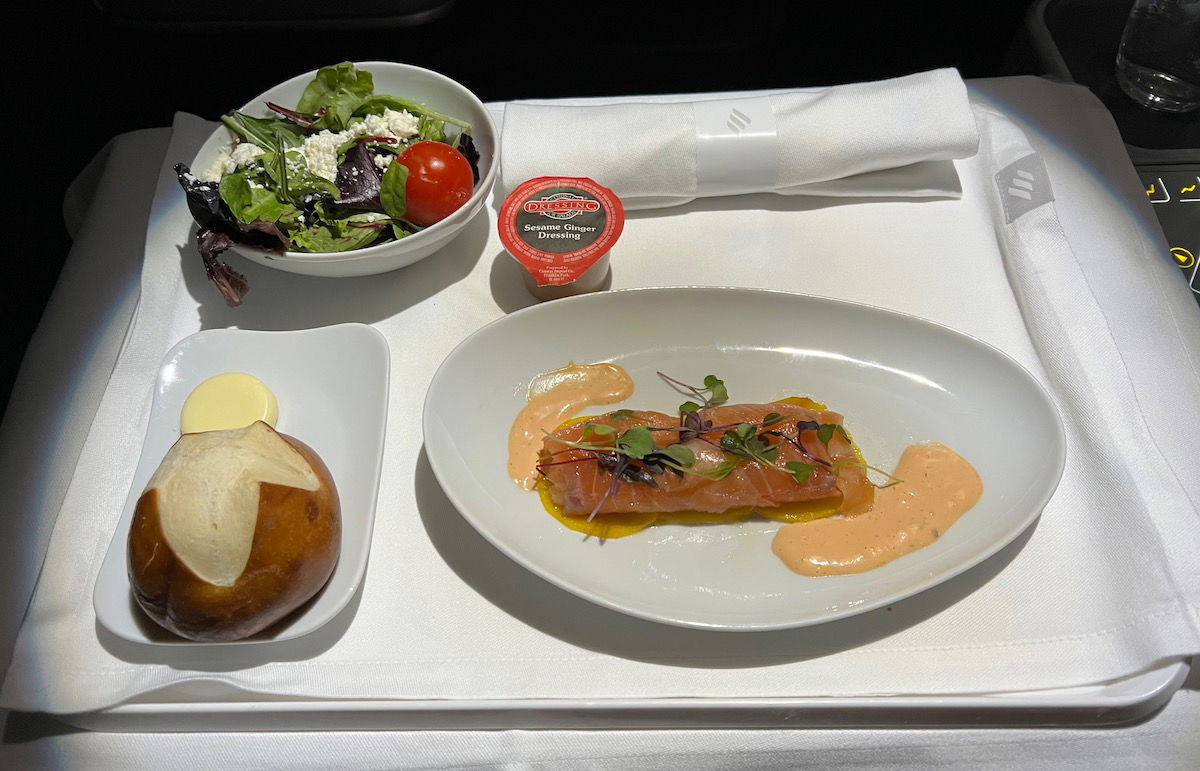 Ford went with the vegetarian starter, which was caramelized goat cheese on fennel-orange salad with cranberries.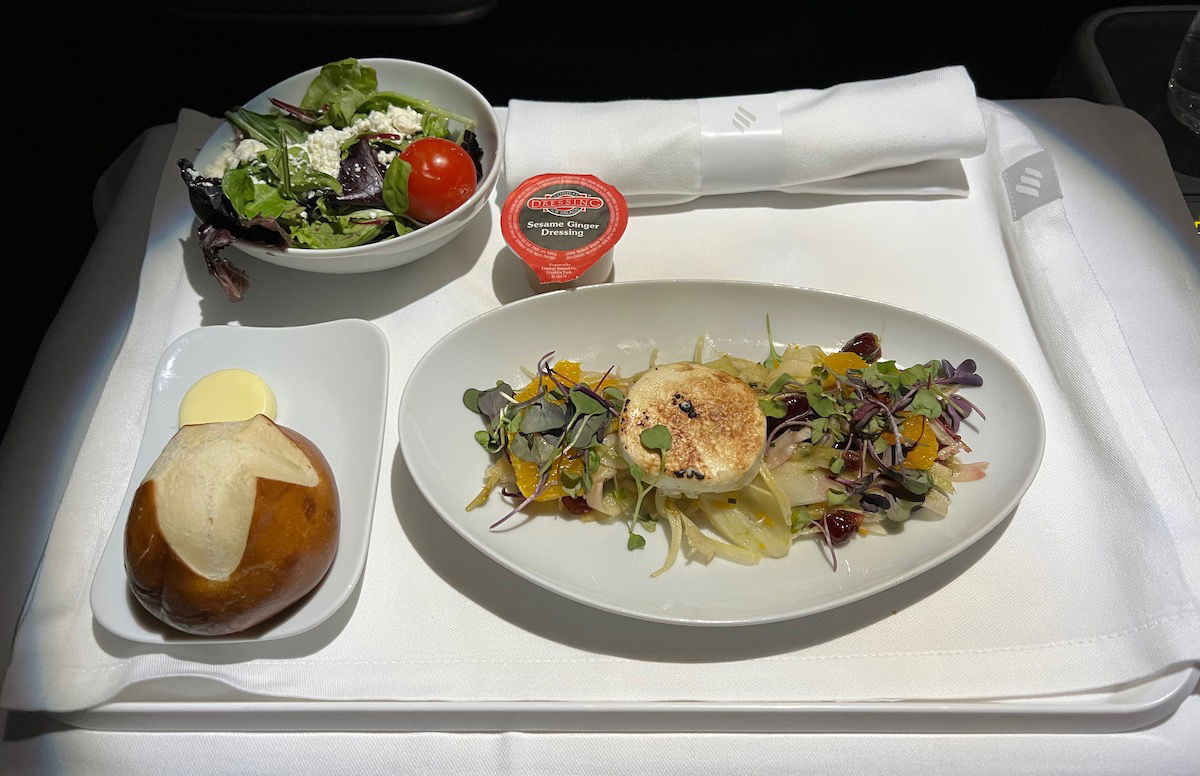 It's interesting to note that the cutlery was Lufthansa branded. It's funny how Eurowings Discover only sort of has its own branding, while many service items are from Lufthansa.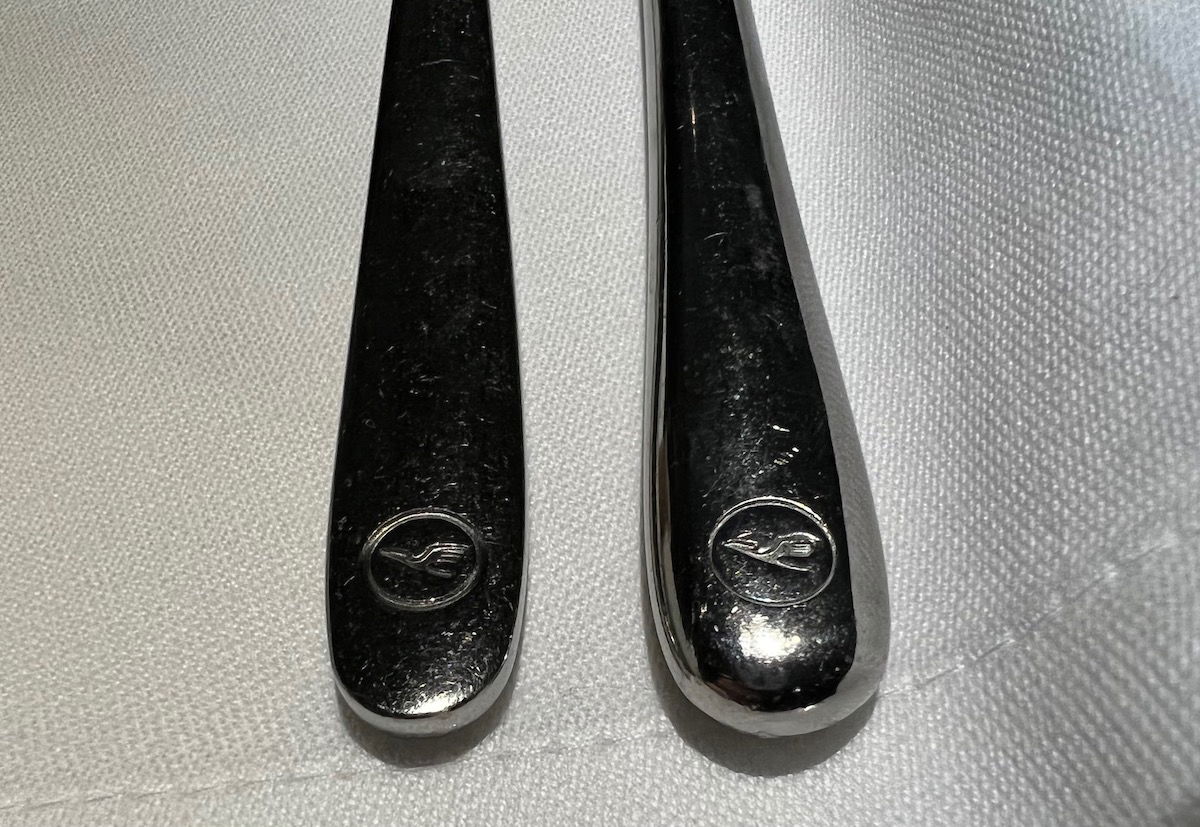 It was another 20 minutes or so until the main courses were served. For my main course I ordered the cajun style sautéed shrimp with cream sauce, jasmine quinoa rice, and broccoli. The shrimp were pretty decent, but the rice was way overcooked, to the point that it was chewy. Also, the presentation wasn't great, but that's pretty standard for these airplane casserole-style dishes.
Ford had the panfried chicken breast with mushroom cream sauce. Ford said his dish was revolting, and that the chicken was borderline pink.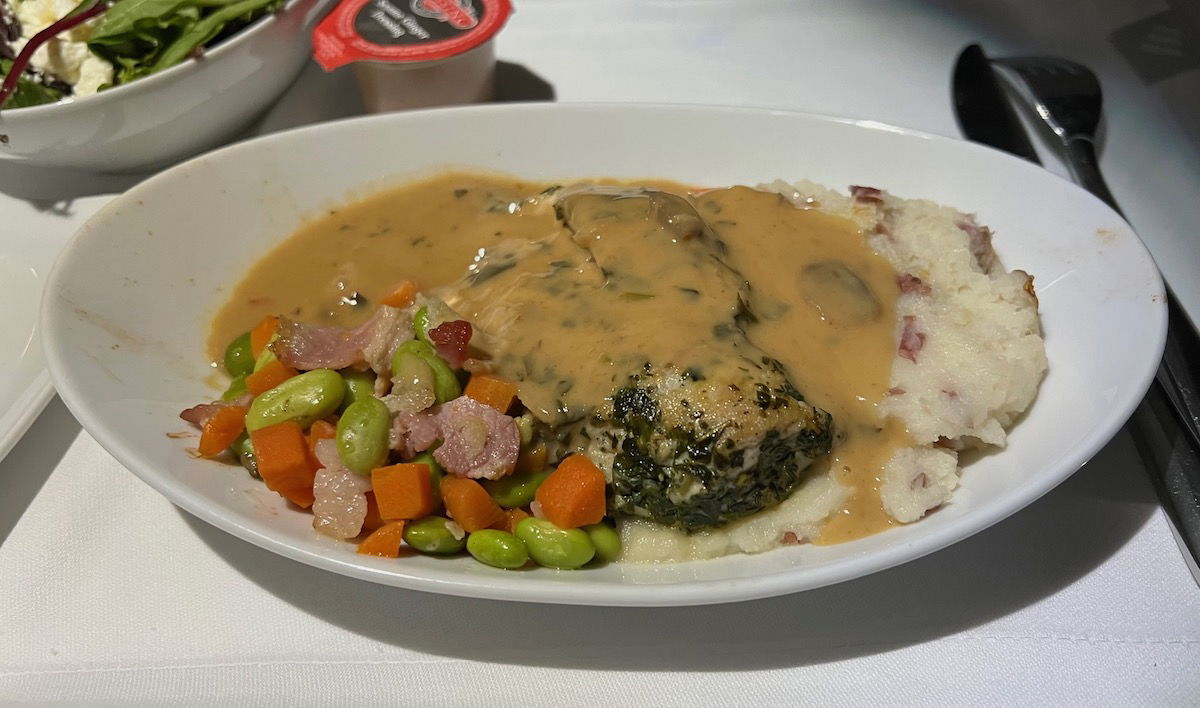 There was then supposed to be the choice of caramel cheesecake on raspberry coulis, or a cheese plate, including manchego and gorgonzola cheese with grapes and crackers. Unfortunately they had run out of the dessert, so we just shared a cheese plate (mainly for the picture — we weren't hungry at this point).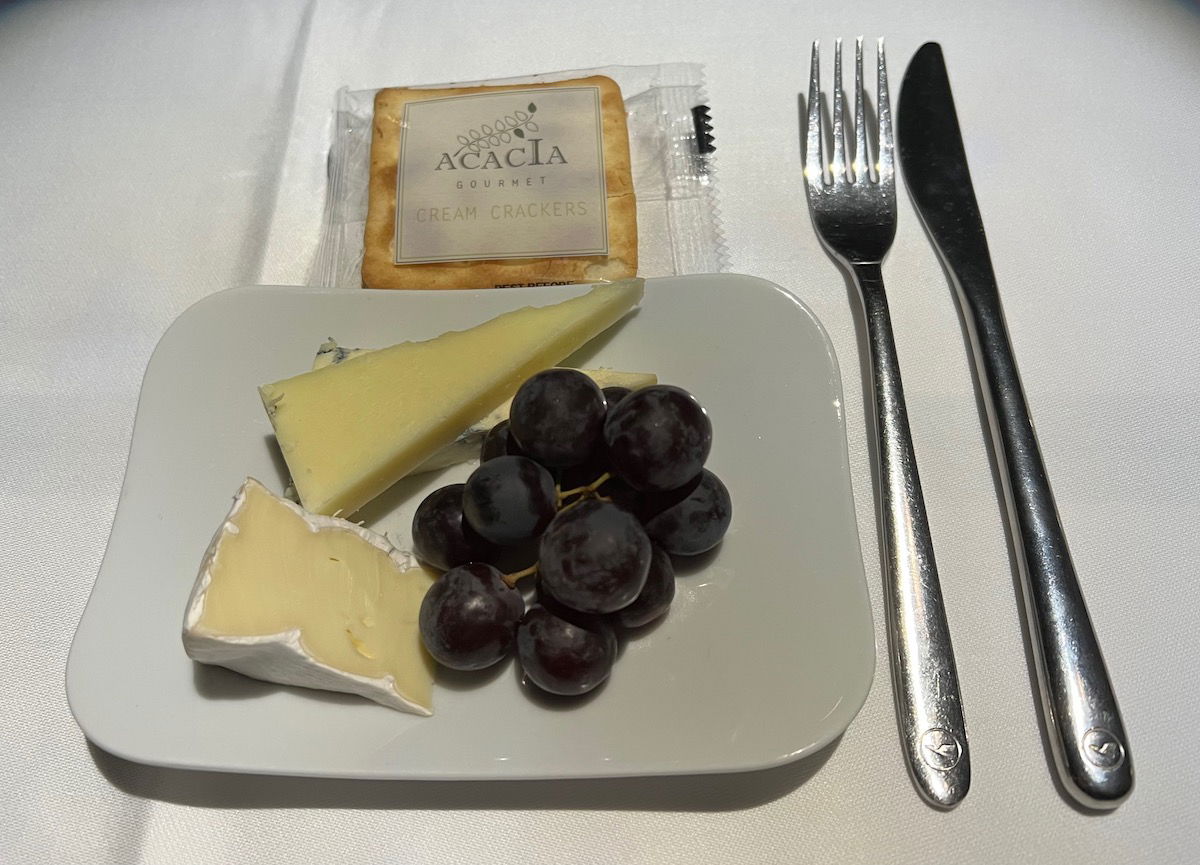 Talk about a drawn out and mediocre meal. I'd also note that there just generally seemed to be a lot of confusion with the service. The two flight attendants working business class kept swapping dishes between aisles, because one cart would have something, while the other wouldn't.
The way they did it was even kind of entertaining. For example, the guy working our aisle would ask the flight attendant working the other aisle whether she had a chicken dish by sort of doing the chicken dance with his arms. Lol…
Eurowings Discover business class bed
By the time the meal was done, we were around 6hr35min from Frankfurt. We reclined our seats and tried to get some rest. Of course these business class seats were familiar to us. I find them to be fine if you're traveling with someone, since you can be close to them, but otherwise they lack privacy. At least there's not the issue of having to squeeze your feet into a small footwell.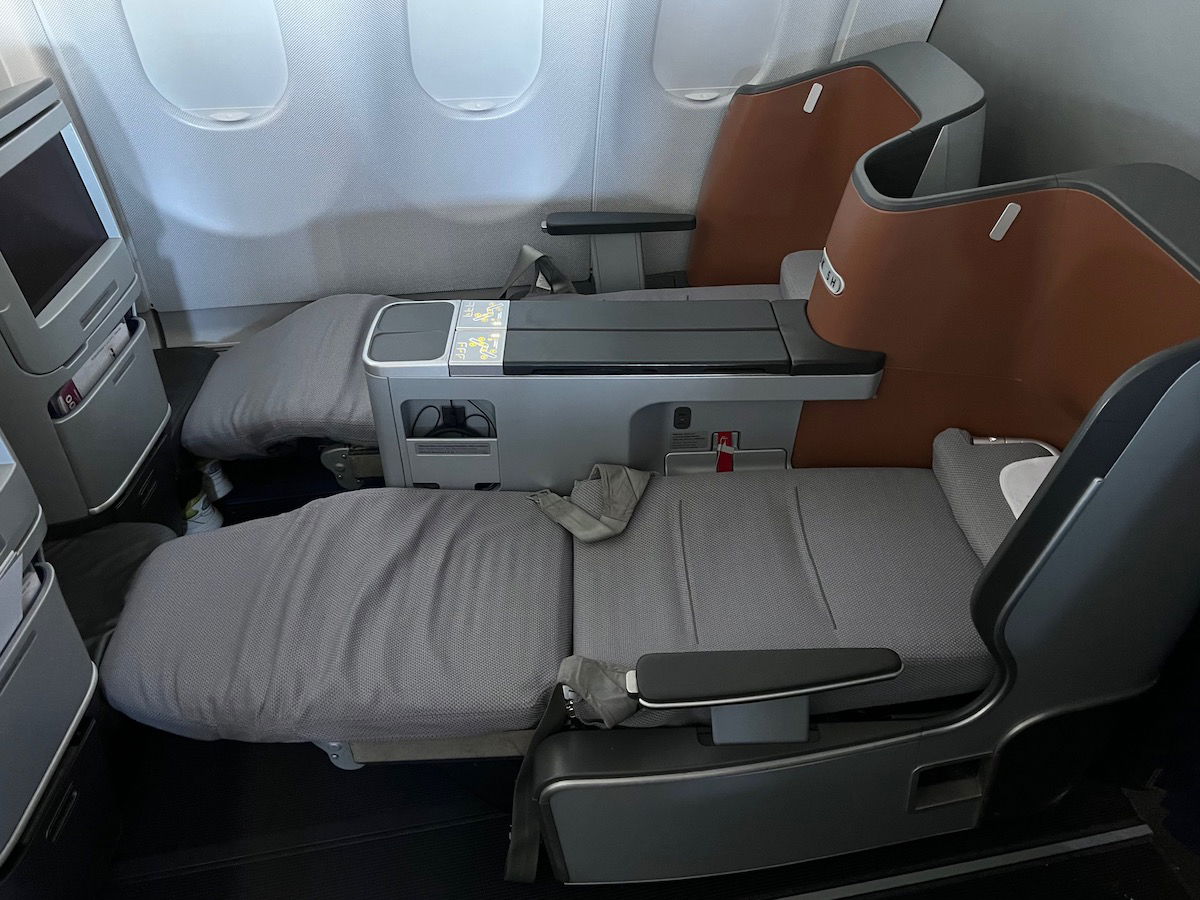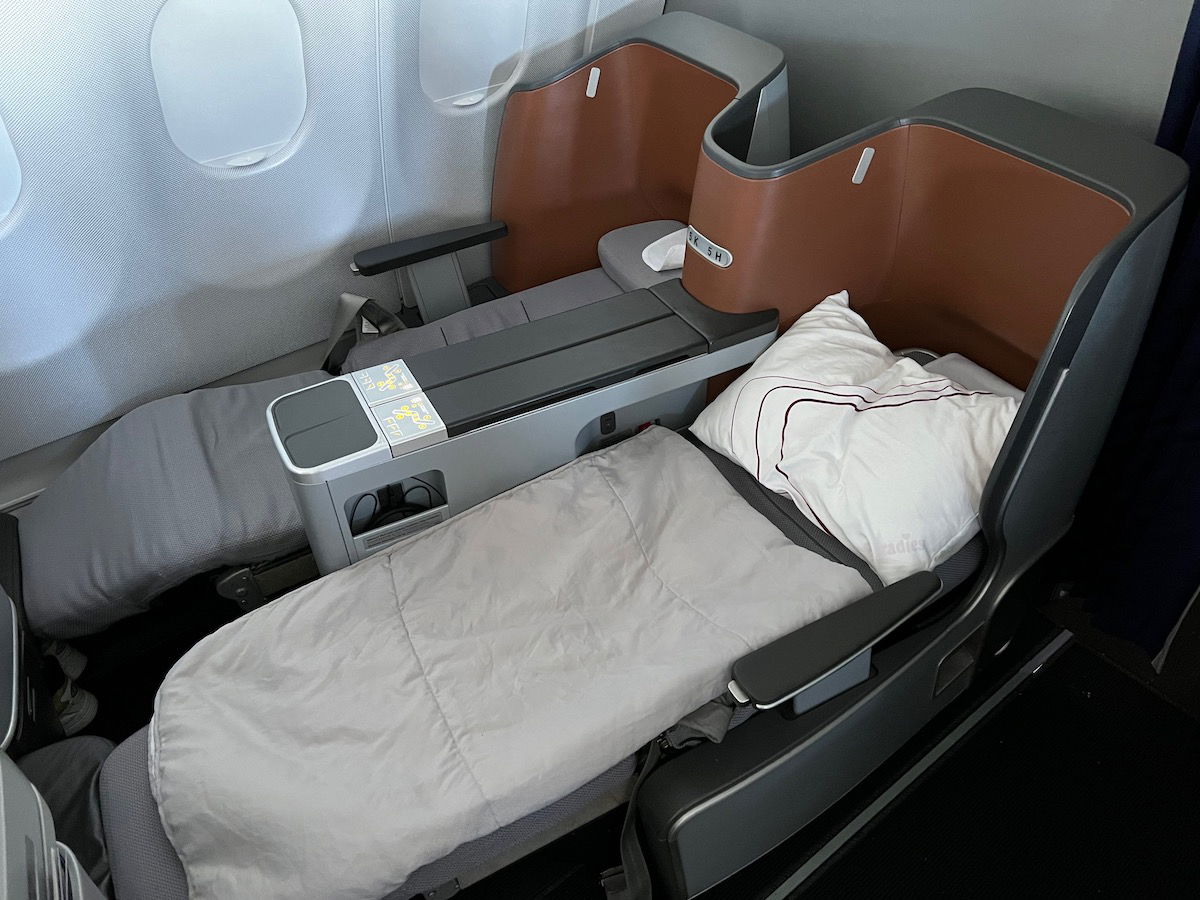 I fell asleep almost immediately, but was then woken up an hour later by the flight attendant, as I had apparently completely taken my mask off in my sleep. Oops. I was of course embarrassed, as I've taken quite a few flights since the start of the pandemic, and never had that happen.
I'm not a great airplane sleeper, and once I'm awake I often struggle to fall back asleep, especially when the cabin is warm, (and on top of that, having to wear a mask doesn't help). About an hour later the cabin started to get bright, and at that point I really struggled to sleep. So I eventually decided to just get up, and got some (offline) work done on my laptop.
Eurowings Discover A330 business class lavatories
The Eurowings Discover A330 had three lavatories around business class — two in the galley behind the cabin, and one in front of the cabin. The lavatories were pretty basic, aside from L'Occitane hand lotion.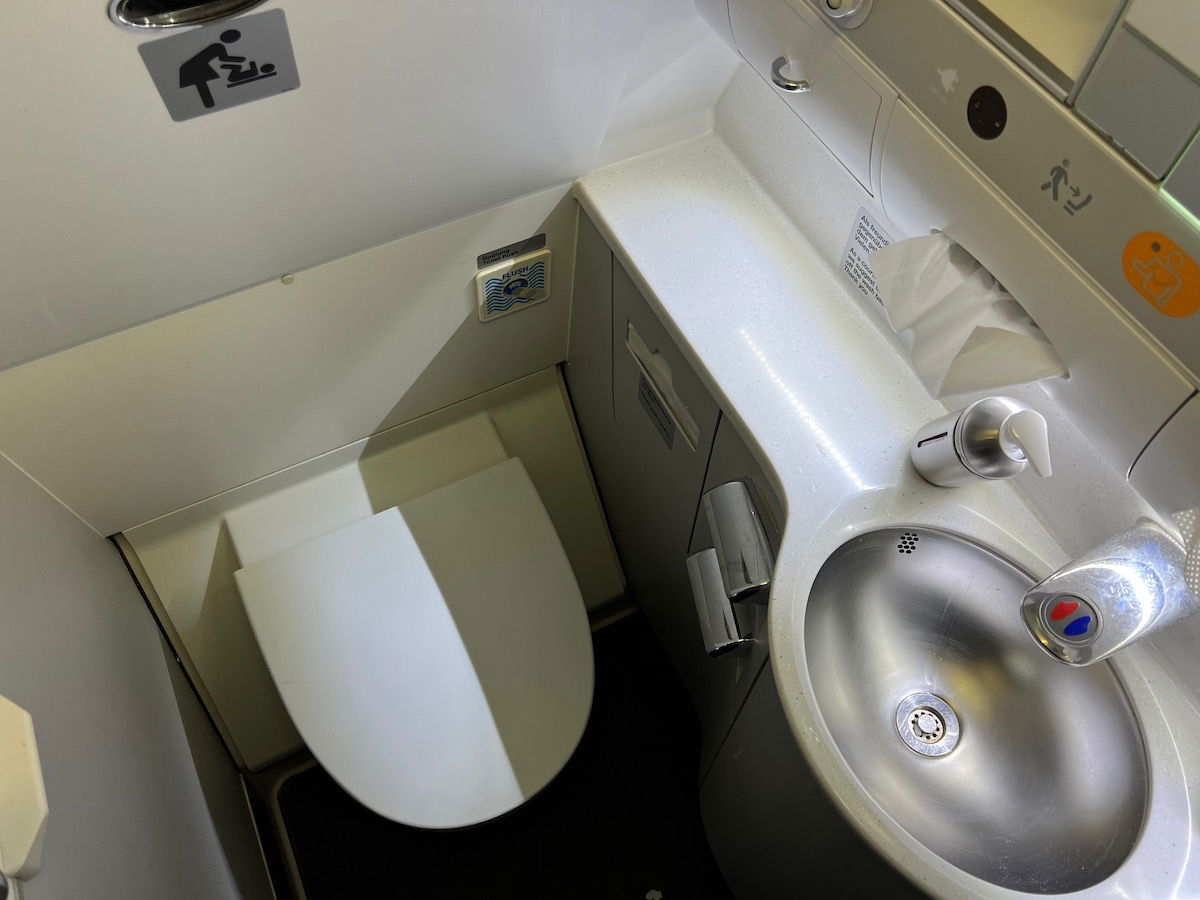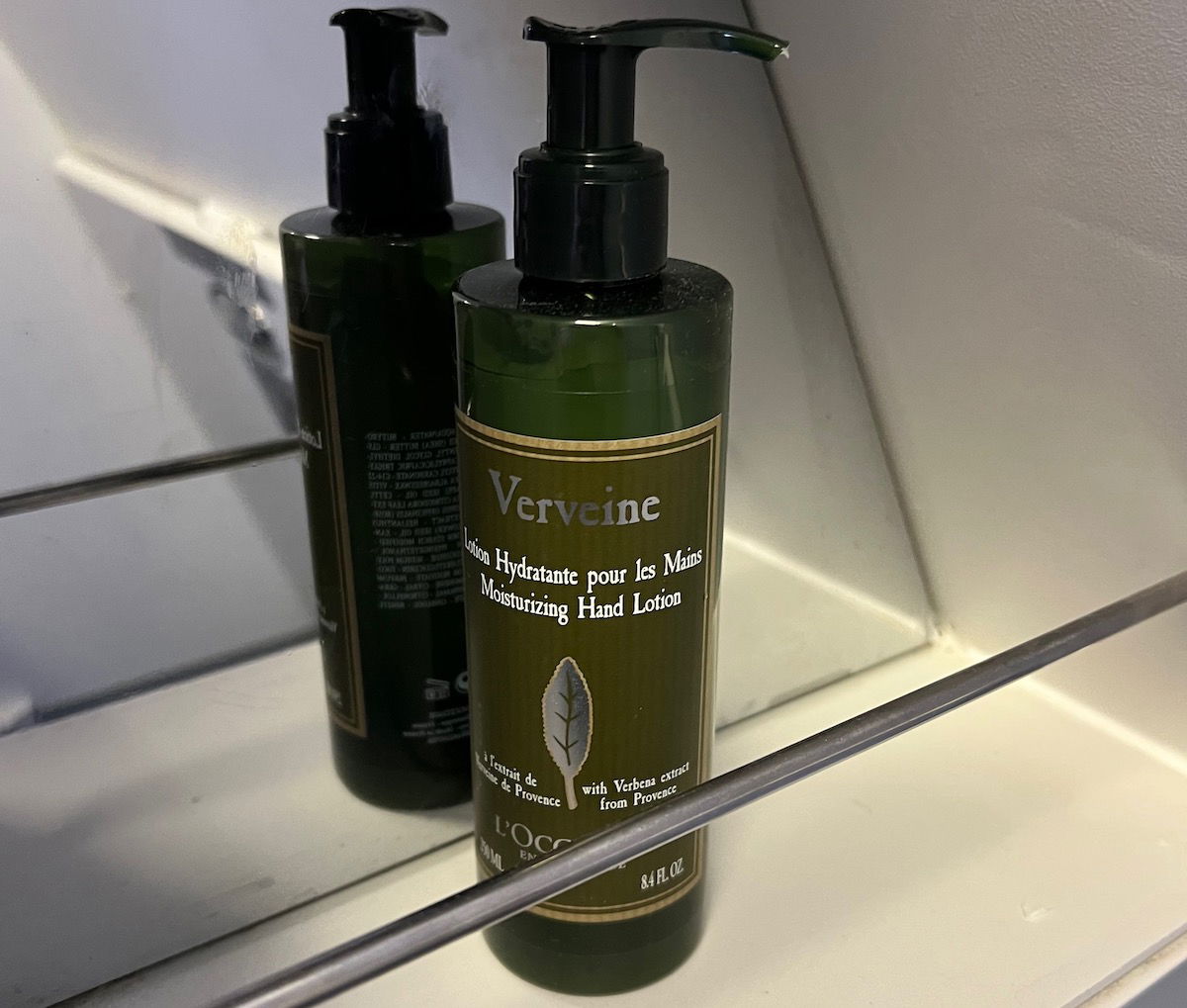 Somehow there was no water in the lavatories for the last three hours of the flight, so if anyone wanted to wash their hands, they had to use bottled water. Sheesh.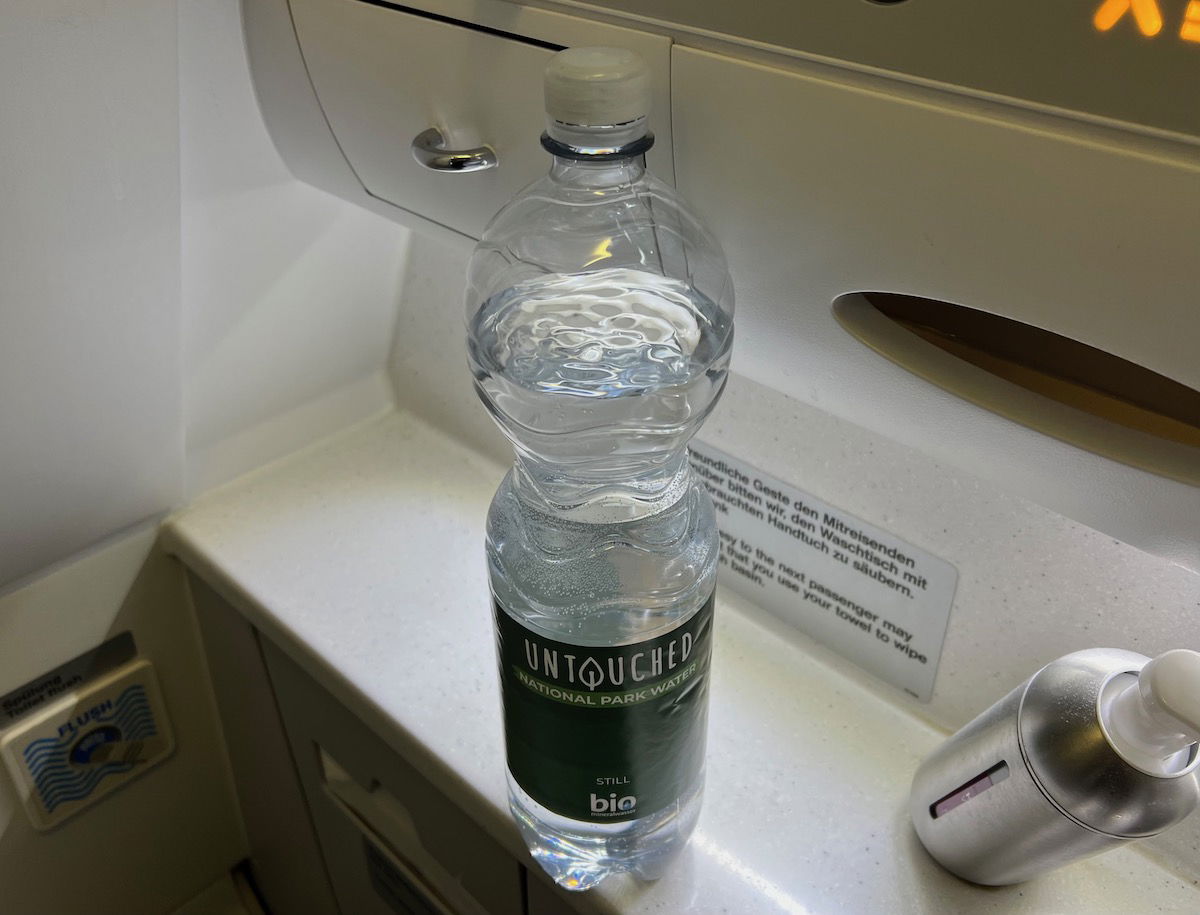 Eurowings Discover business class breakfast
Breakfast service started ridiculously early, 2hr15min before landing. At that point warm towels were distributed, plus the choice of orange juice or water.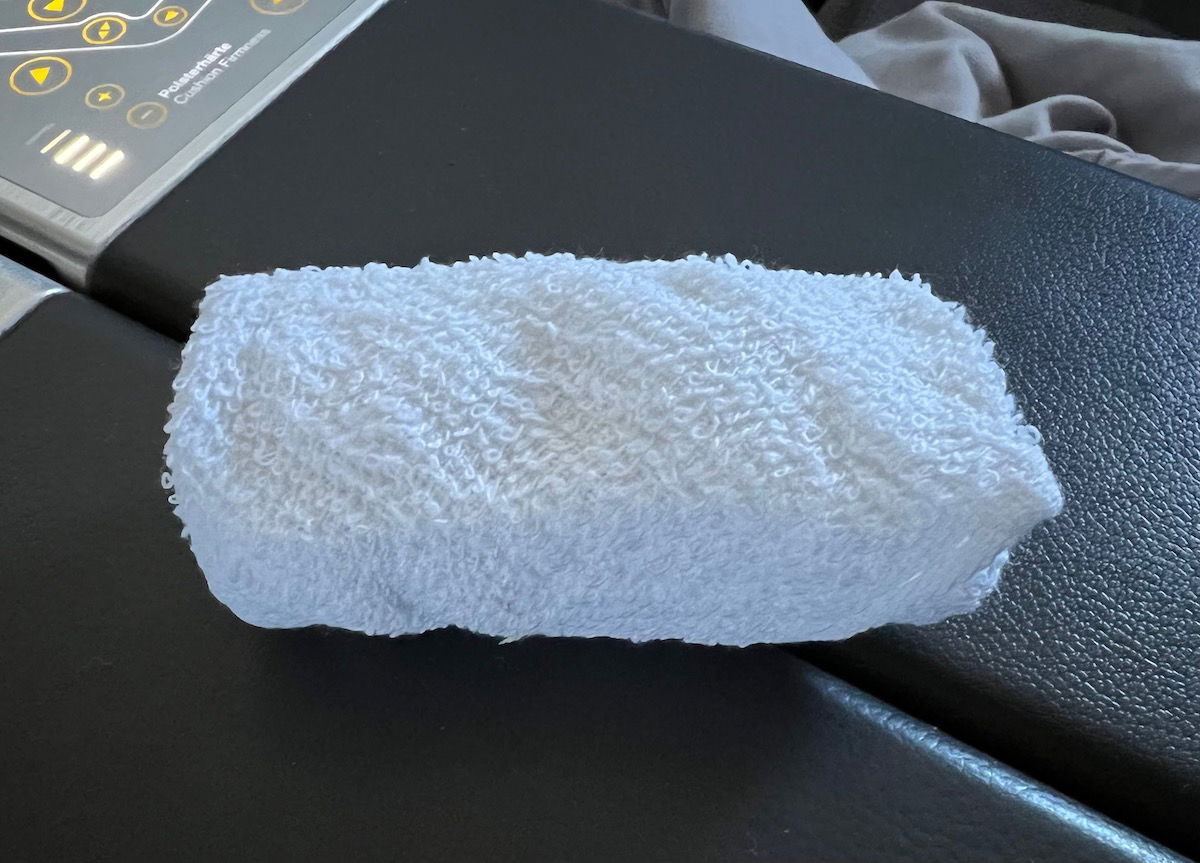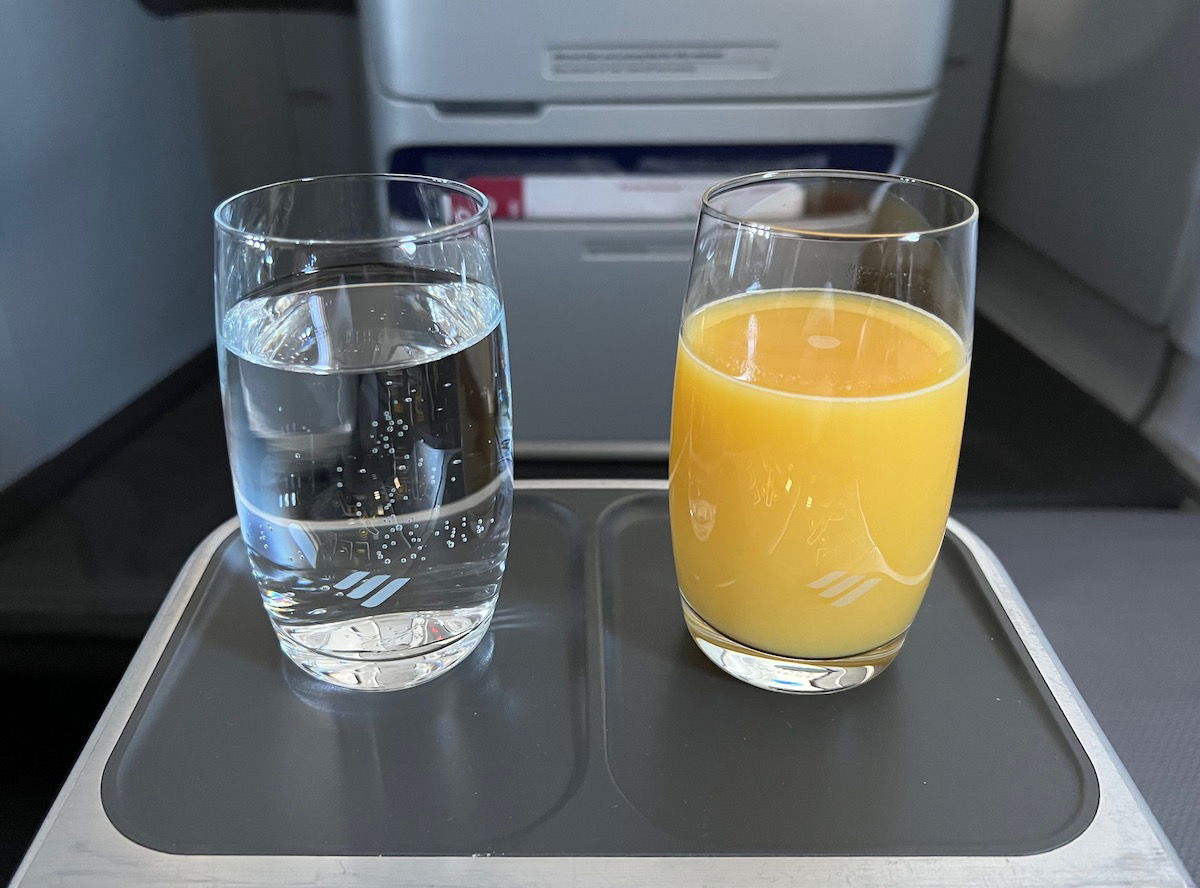 Then the crew came through the cabin to extend each passenger's tray table and place a tablecloth on it, and then… nothing happened for 45 minutes.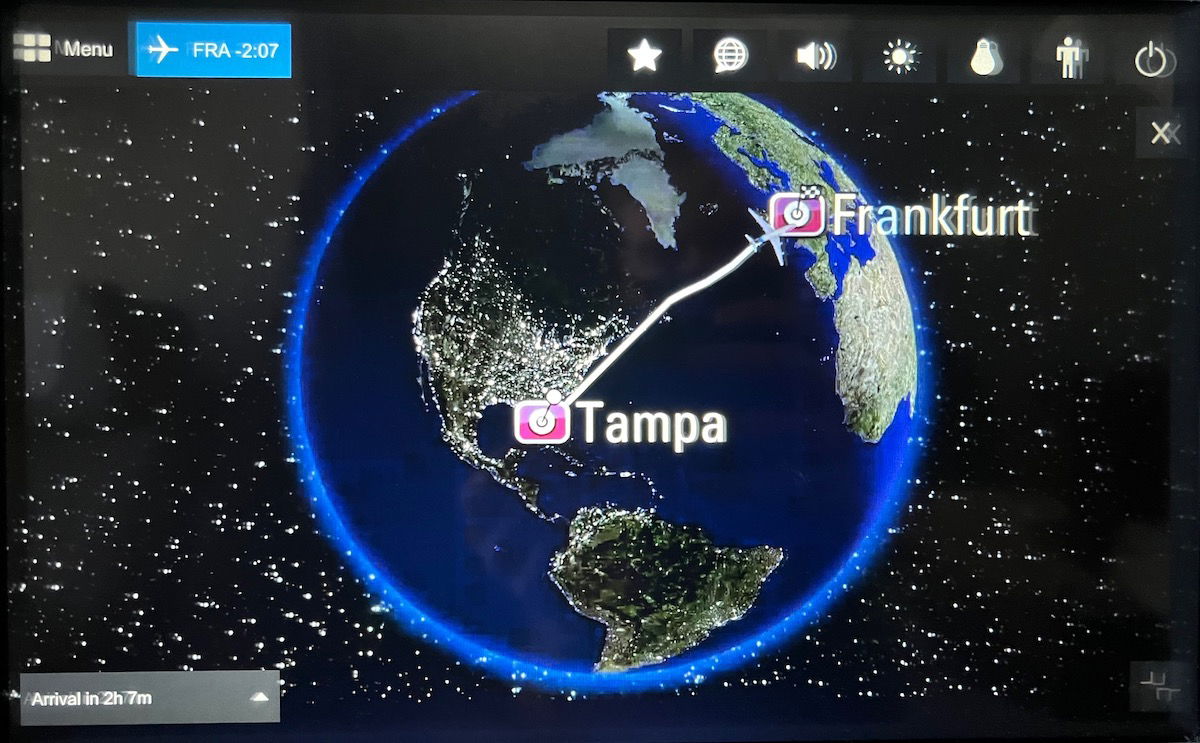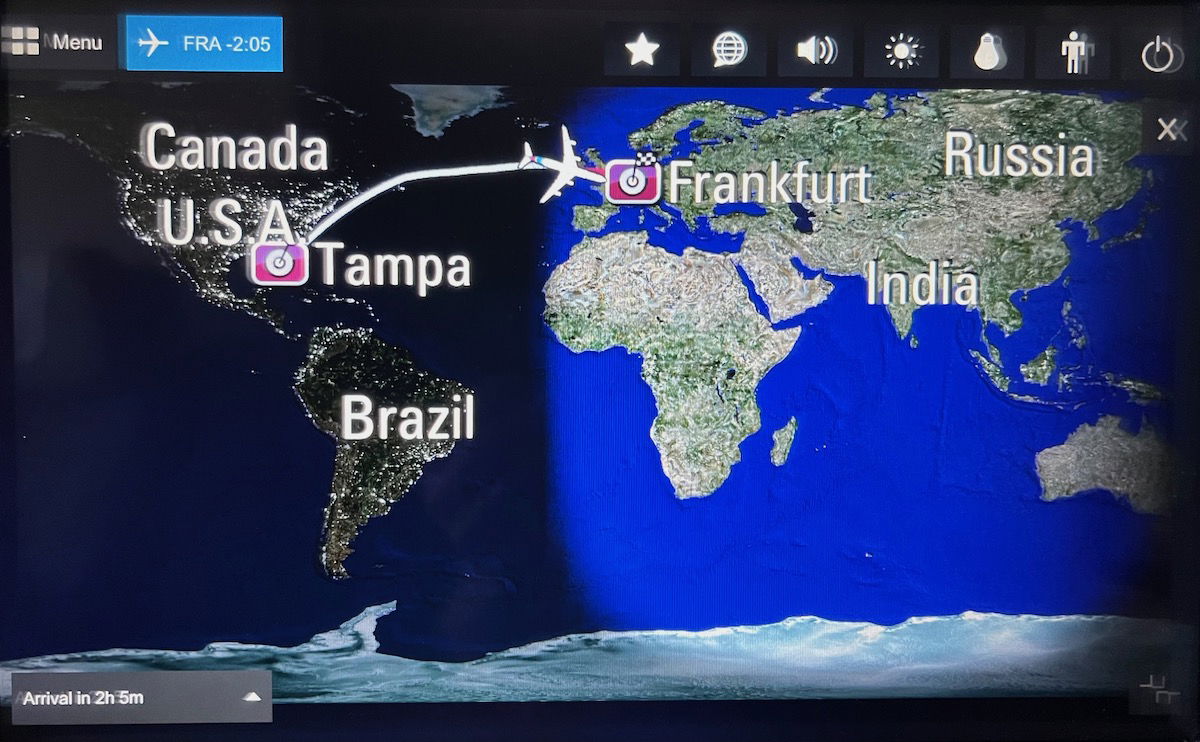 Finally around 90 minutes before landing breakfast was served. The meal as such was solid, and consisted of greek yogurt with muesli, fresh pineapple, orange, strawberries, and grapes, smoked ham and cream cheese, and scrambled eggs with chive, tomato, and mushrooms. Then there was the choice of rolls or croissants, with jam, Nutella, etc. (I couldn't help but take one of the Nutella packets, since I find them to be so cute).
I appreciate that much like Lufthansa, Eurowings Discover serves coffee in large cups, so you actually get a decent amount.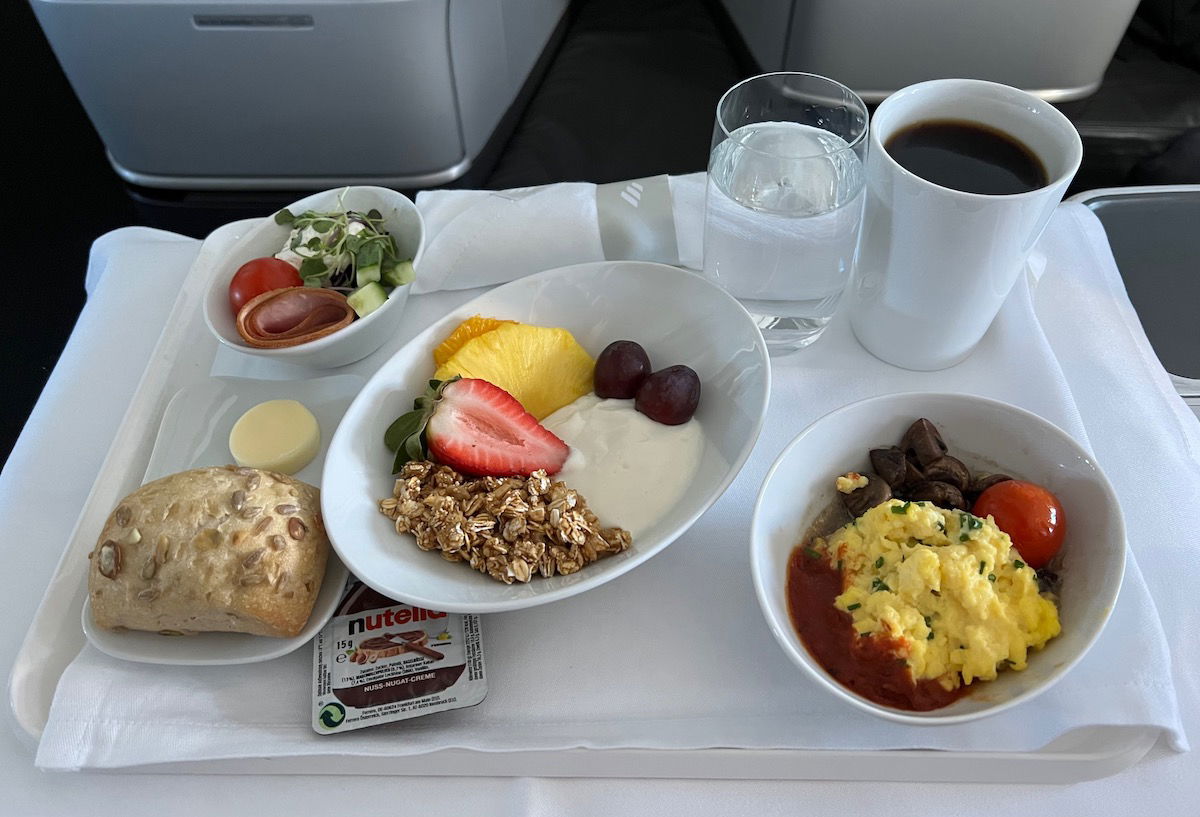 Milk and sugar were presented to us in a cute way.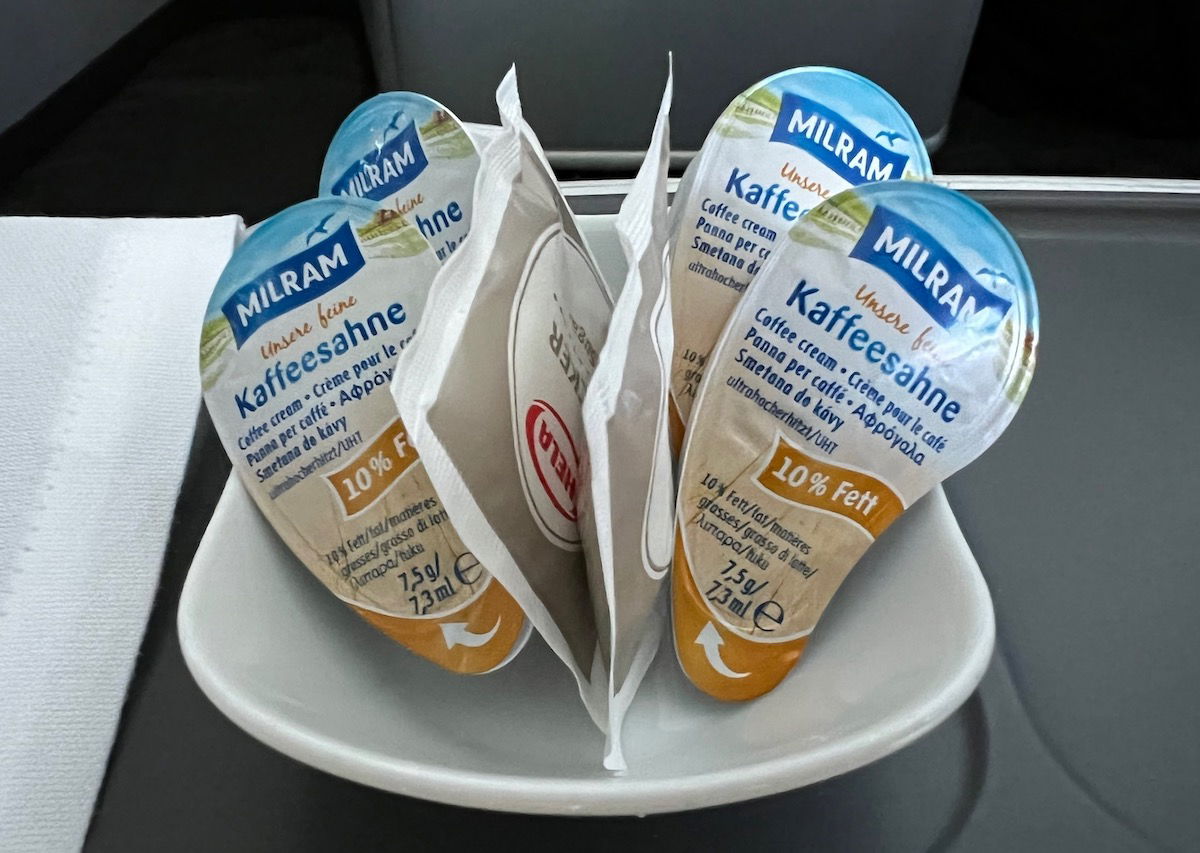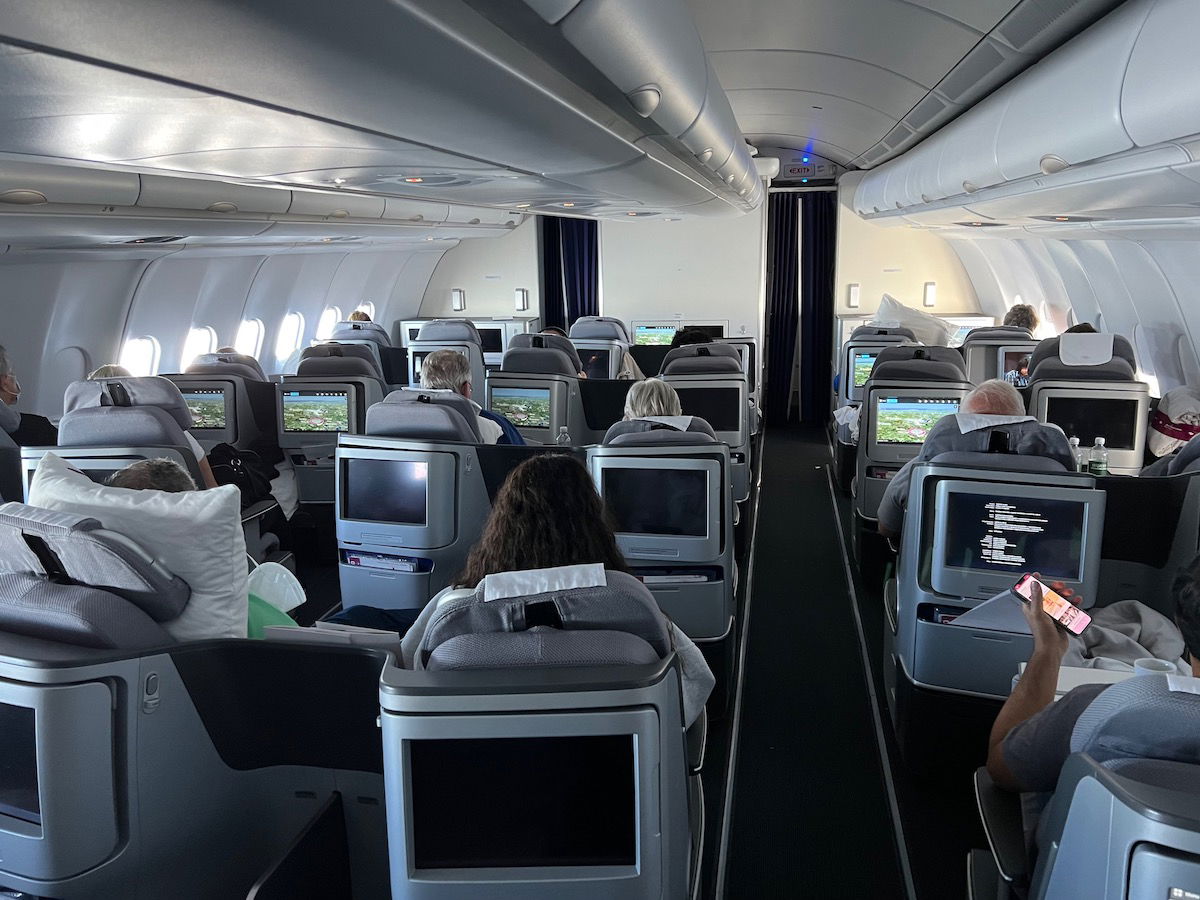 Eurowings Discover arrival in Frankfurt
At 9:30AM Frankfurt time the captain was back on the PA to inform us that we'd be landing in 45-50 minutes. It was a shockingly gorgeous spring morning in Germany, with sunny skies and warm temperatures.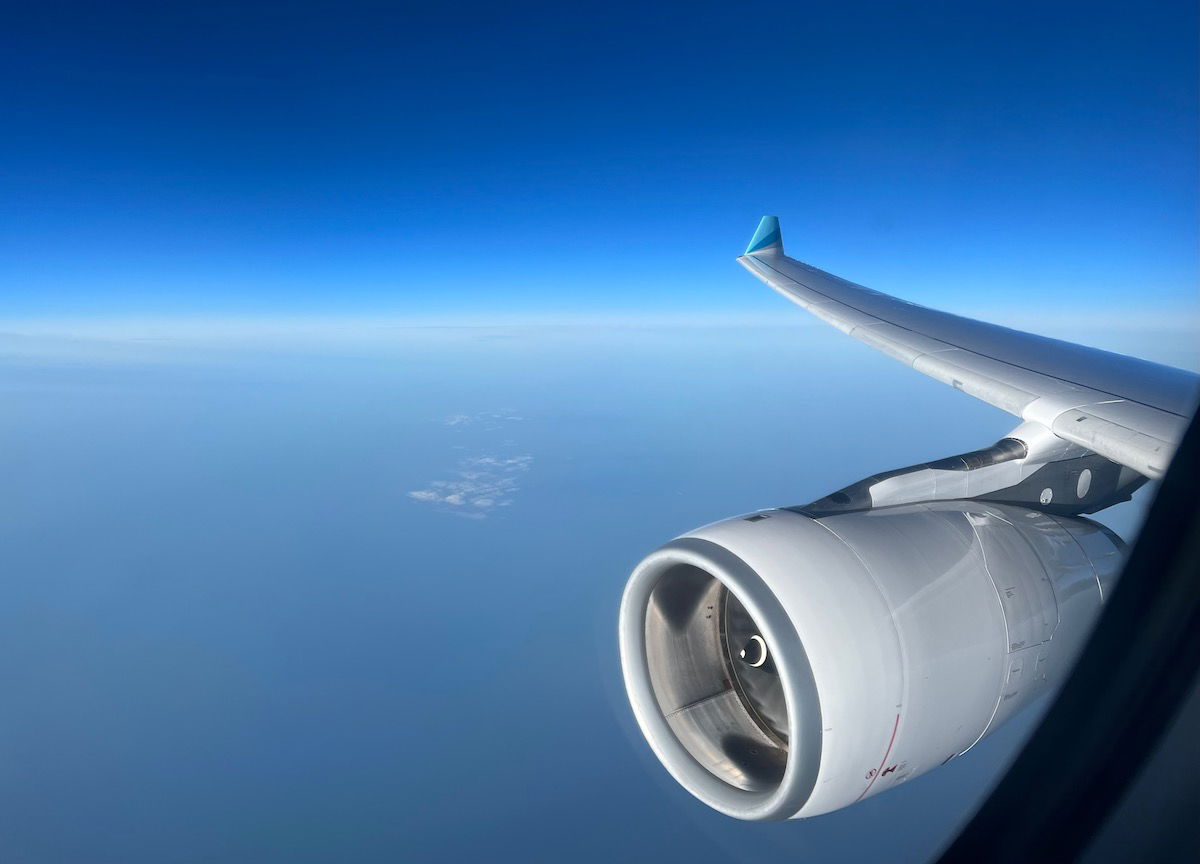 We started our descent about 30 minutes before landing, and had great views on approach (unfortunately the glare plus dirty windows made it hard to get good pictures of it).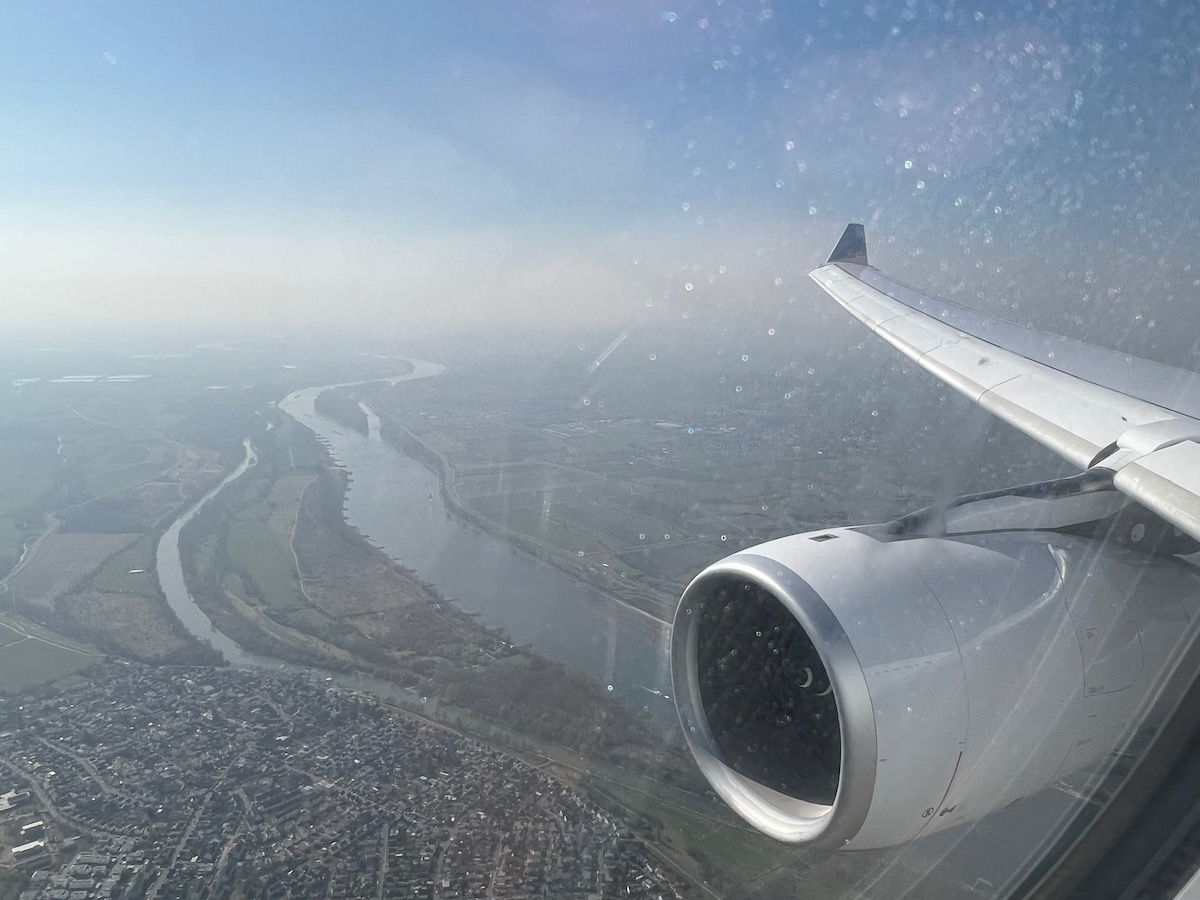 The approach took a bit longer than expected, and we ended up touching down in Frankfurt at 10:25AM,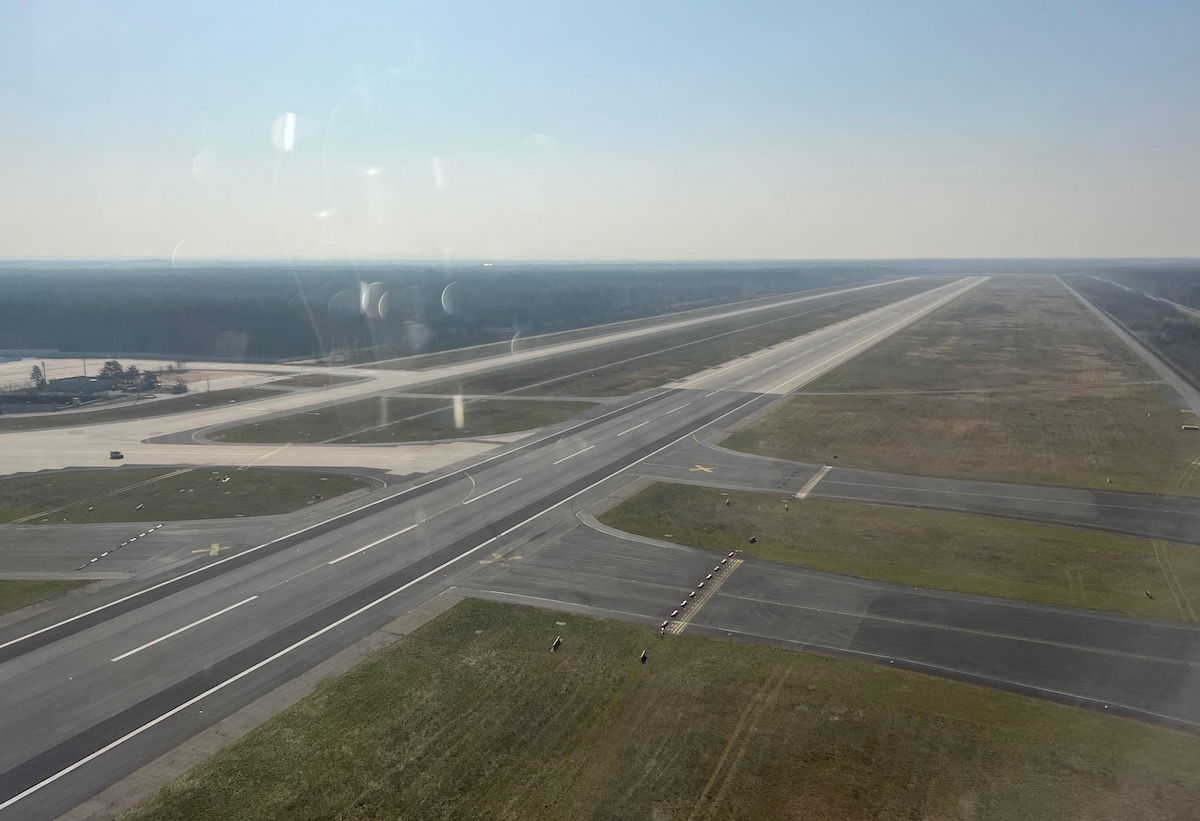 From there we had a roughly 10 minute taxi to our arrival gate. I've always had a strong emotional connection to Lufthansa and Frankfurt Airport, so whenever taxiing at the airport, my eyes are glued out the window.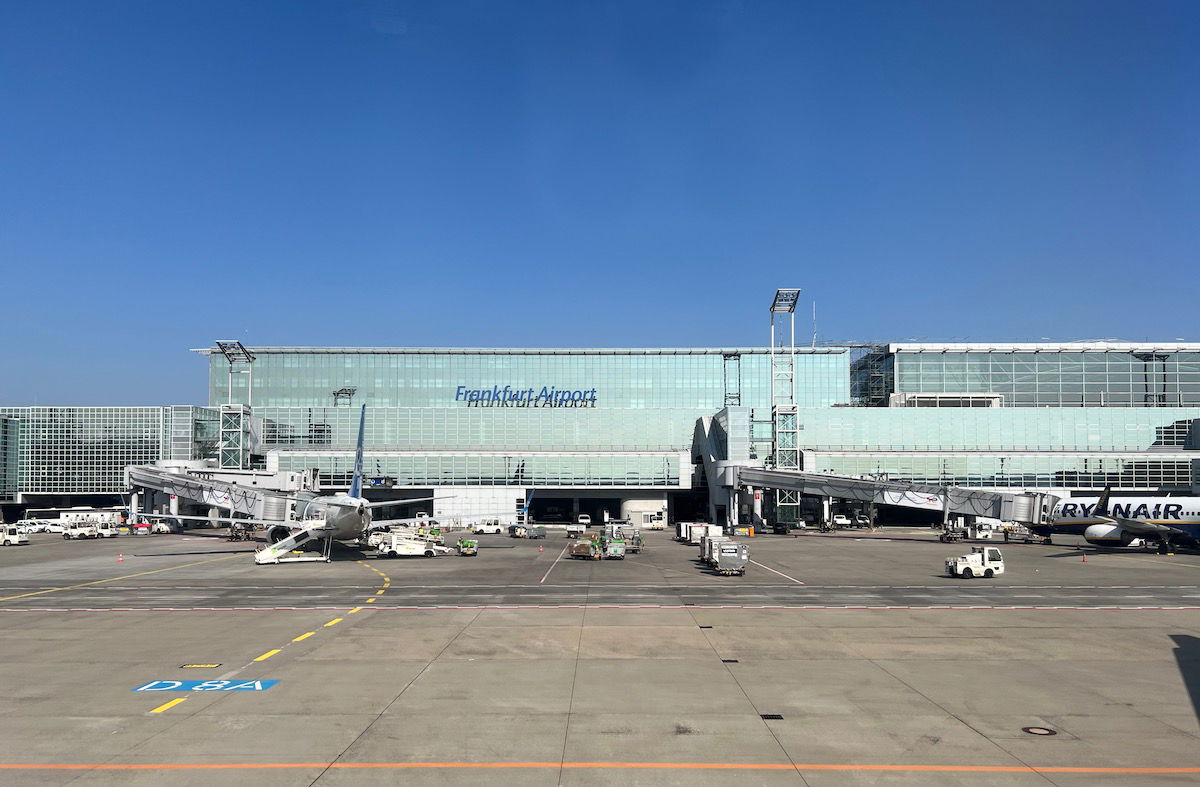 It was so nice to see the Lufthansa Airbus A340-600 once again, as the plane only recently returned to service after being grounded during the pandemic.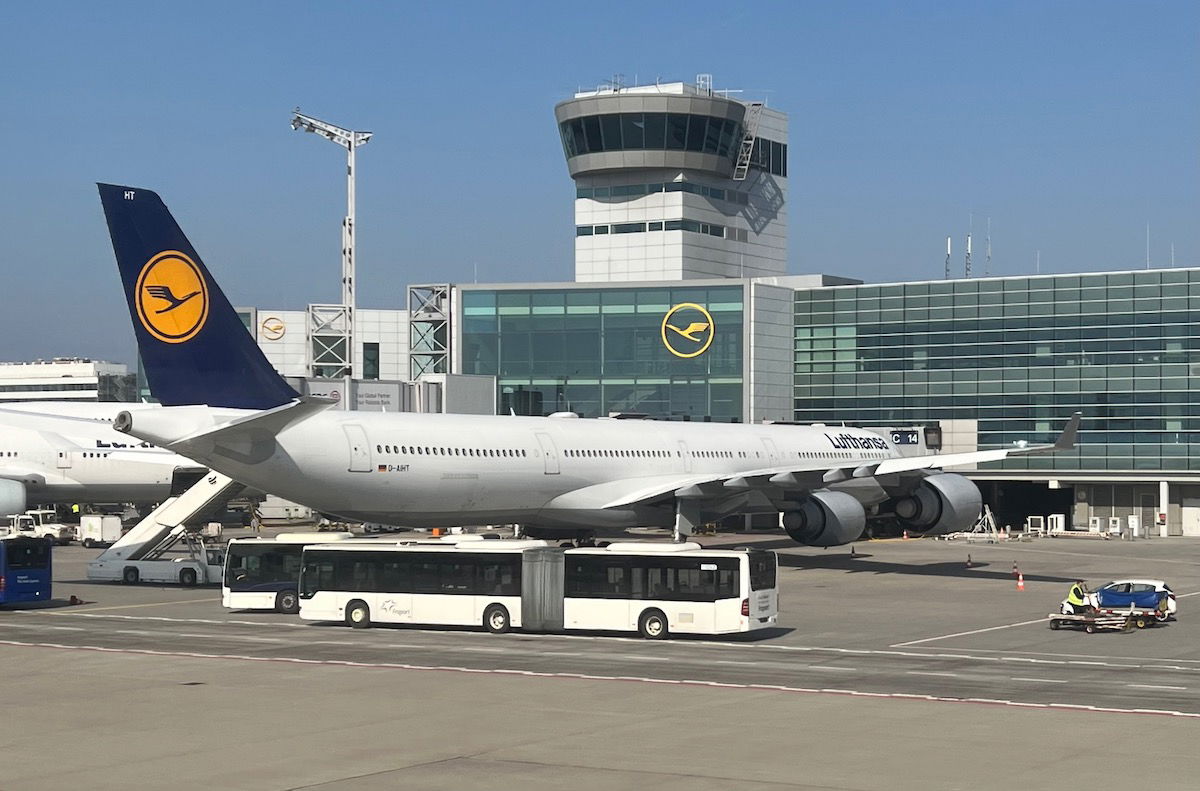 And you can't beat the gorgeousness of the Boeing 747-8!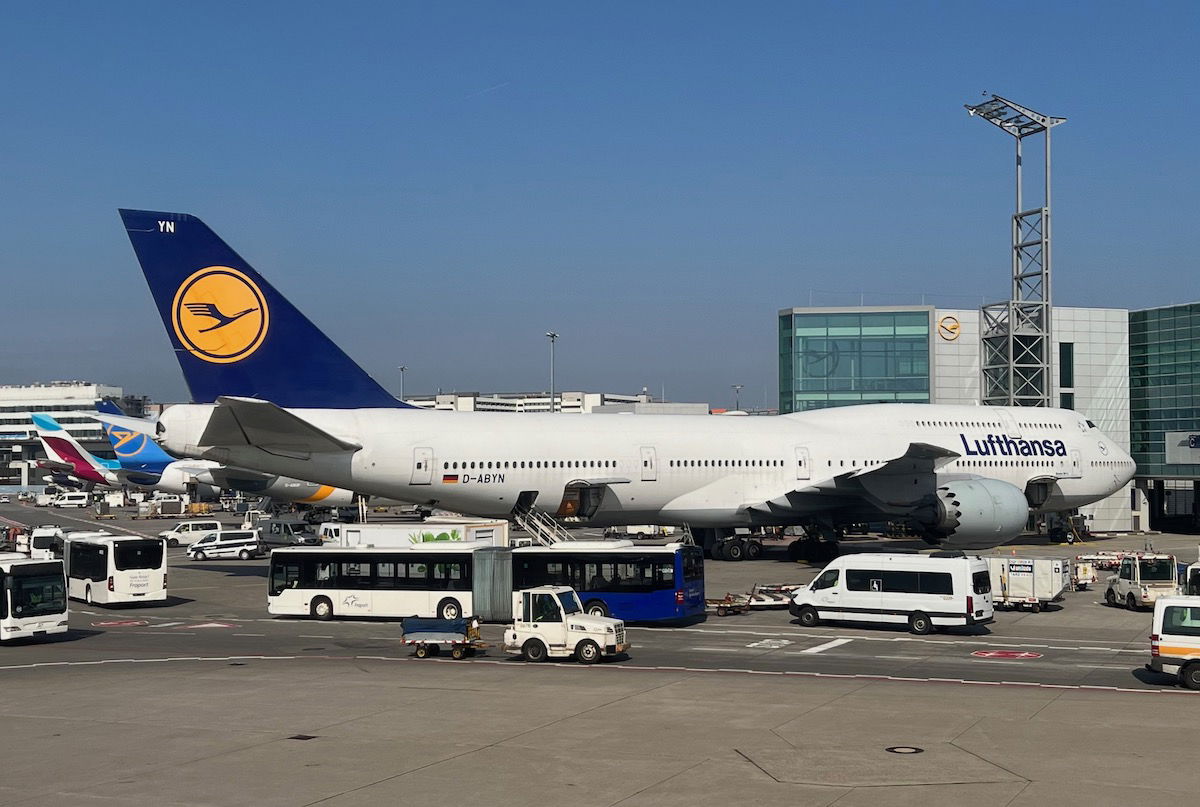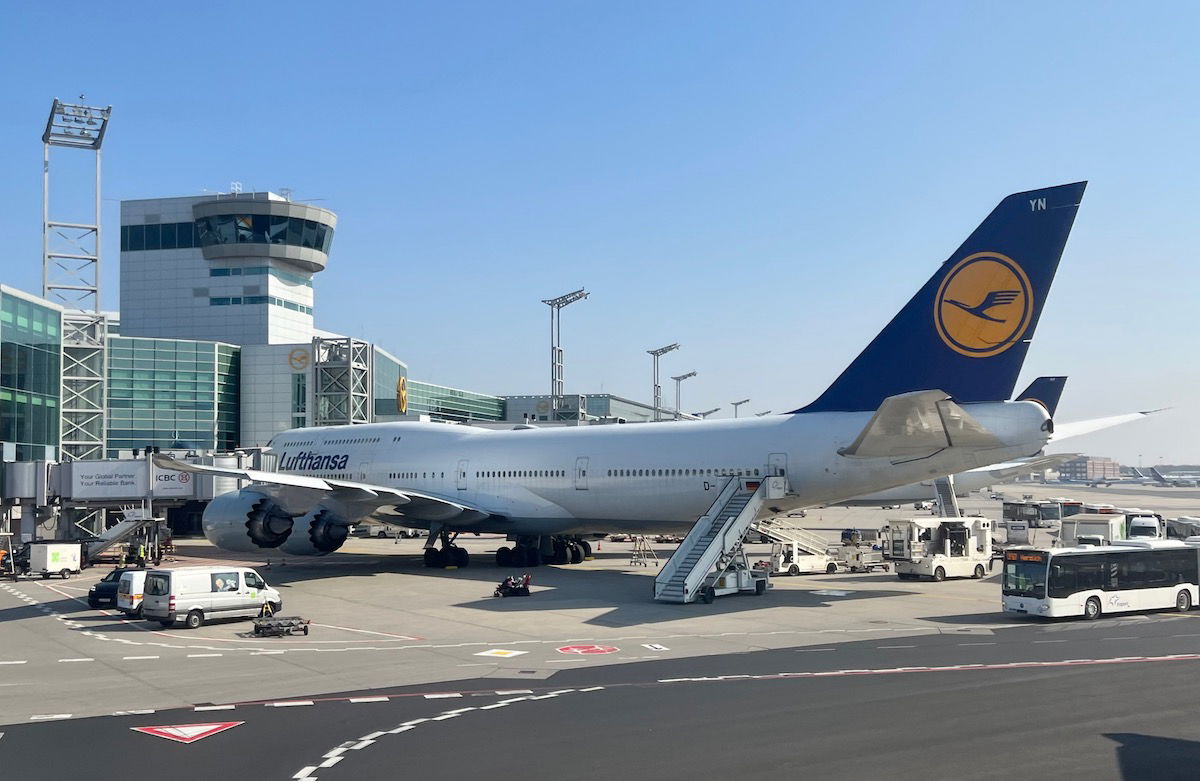 Aside from that, there were a couple of Eurowings Discover Airbus A330s, plus Condor Boeing 767s.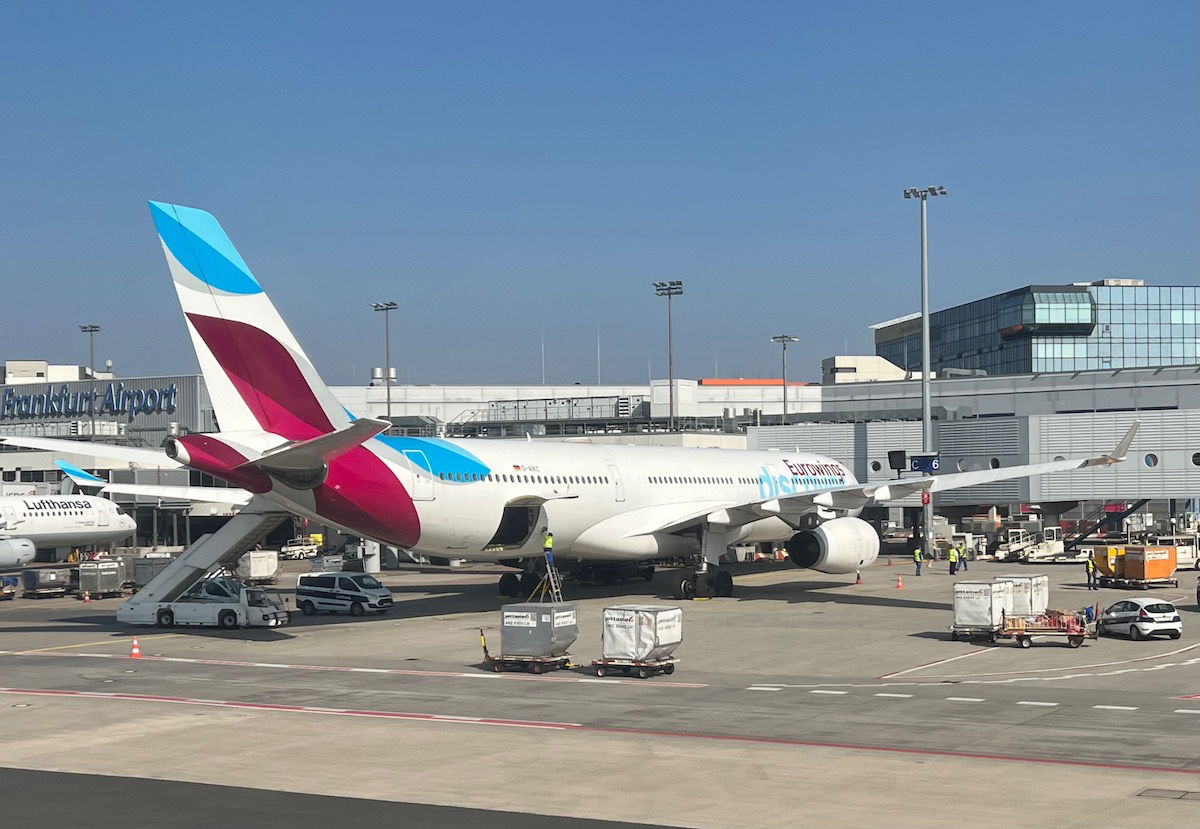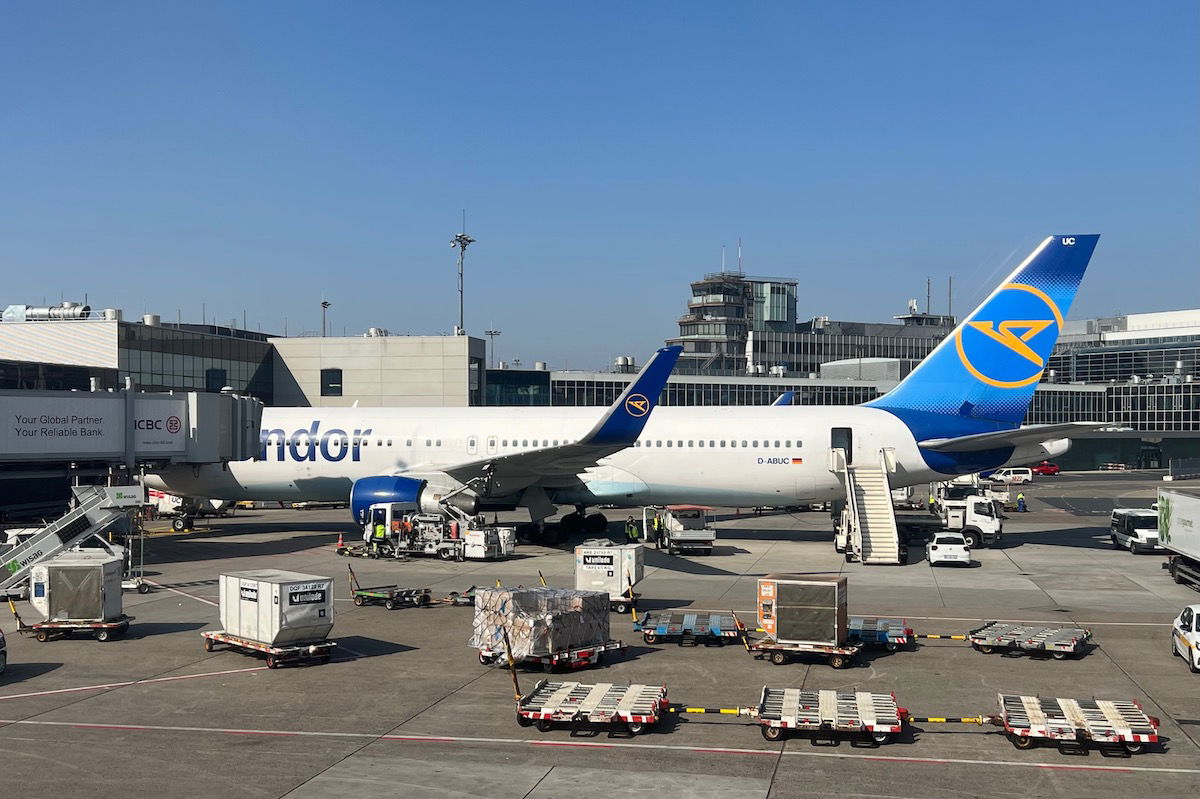 We arrived at our gate at 10:35AM. As we disembarked, we had great views of our plane as well.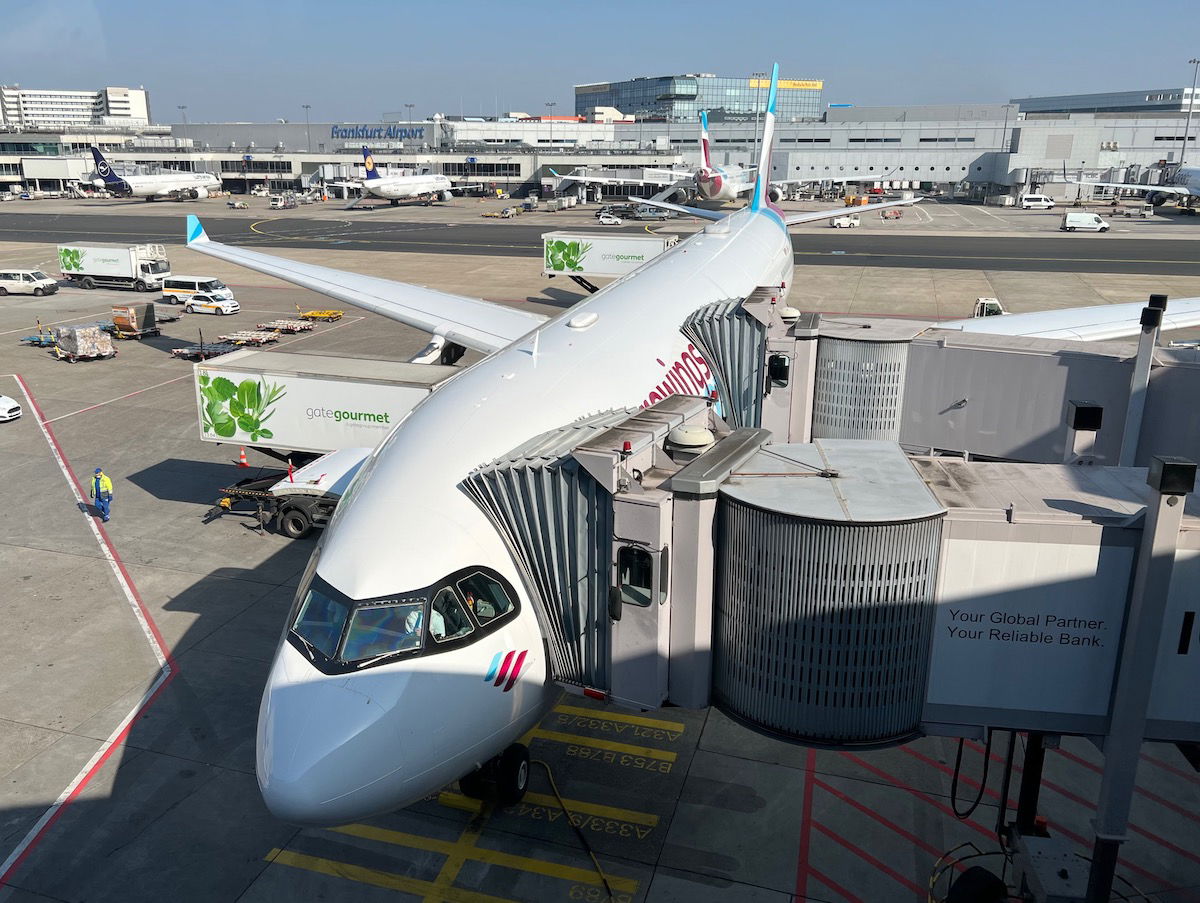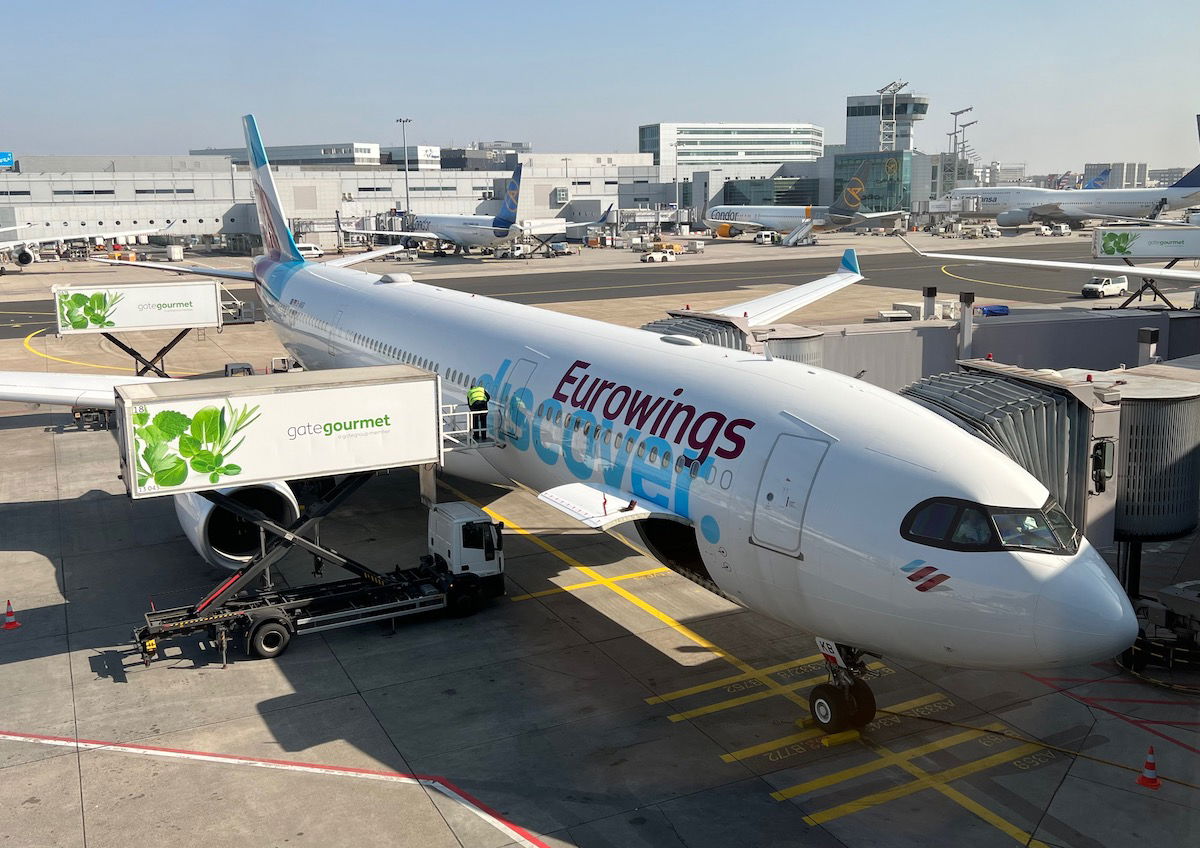 We headed to the Lufthansa Senator Lounge, prior to our Lufthansa Airbus A321 business class flight to Venice.
Bottom line
Unfortunately our Eurowings Discover flight left a bit to be desired. On the plus side, the Eurowings Discover experience is on the surface similar to the Lufthansa business class experience. I wouldn't exactly say that's great, but I guess it's not terrible if a leisure airline has the same business class as a global full service airline.
The problem is everything else. Eurowings Discover isn't operationally reliable (we were delayed by a day, and that was the fourth cancelation on the route in four weeks), the plane wasn't in great shape, the Wi-Fi wasn't turned on, and the crew was really inexperienced and inefficient, though friendly.
If Eurowings Discover could get these issues fixed, it might be fairly decent. However, that's easier said than done, because these kinds of issues are much more common on small leisure airlines (a limited fleet means operational issues aren't fixed as easily, crews are paid less and don't have much experience, etc.).
The worst part of Eurowings Discover is that this reduced service is offered at standard Lufthansa pricing. The cheapest roundtrip business class fare right now from Tampa to Frankfurt is ~$4,400. This isn't a low cost carrier offering value for customers, but rather it's obviously just trying to offer more value to shareholders, in the form of reduced operating costs.
What do you make of the Eurowings Discover business class experience?