In the interest of full disclosure, OMAAT earns a referral bonus for anyone that's approved through some of the below links. These are the best publicly available offers (terms apply) that we have found for each product or service. Opinions expressed here are the author's alone, not those of the bank, credit card issuer, airline, hotel chain, or product manufacturer/service provider, and have not been reviewed, approved or otherwise endorsed by any of these entities. Please check out
our advertiser policy
for further details about our partners, and thanks for your support!
We had a one night layover in Zurich enroute from Nice to Sylt. Rather than trekking into the city, we decided to just spend the night near the airport. Specifically, we decided to check out the 255-room Hyatt Regency Zurich Airport The Circle, which opened in 2021.
While airport hotels are usually nothing to get too excited about, I'm happy to report that this is a phenomenal airport hotel, one of my favorites ever. Perhaps the only airport hotel I like more is the Grand Hyatt San Francisco Airport, thanks to the amazing views it affords.
Booking the Hyatt Regency Zurich Airport
The Hyatt Regency Zurich Airport is a Category 5 World of Hyatt property, meaning that a standard room free night redemption costs 17,000-23,000 points per night. Personally I value World of Hyatt points at 1.5 cents each, just as a point of reference.
Even if you're not a Hyatt loyalist, earning World of Hyatt points can be pretty easy. In addition to being able to earn World of Hyatt points with the World of Hyatt Credit Card (review) and World of Hyatt Business Credit Card (review), you can also transfer over points from Chase Ultimate Rewards.
However, I decided to pay cash for our stay. The rate for our stay was ~250 CHF (~$260). While that's steep for an airport hotel, that seemed like a better deal than redeeming points, and for that matter Switzerland isn't cheap.
Hyatt Regency Zurich Airport location
I'll go out of my way to choose an airport hotel that doesn't require a shuttle, given how unreliably they often run. The Hyatt Regency Zurich Airport is located in The Circle, which is a complex connected directly to the airport, so it can be reached by foot.
The Circle is essentially a huge new complex that has been built next to the airport, featuring all kinds of retail, office space, etc. It's similar to how Frankfurt Airport has The Squaire.
Accessing The Circle from the arrivals area is pretty easy. Just exit baggage claim and walk across the street, as there's plenty of signage in the direction of The Circle.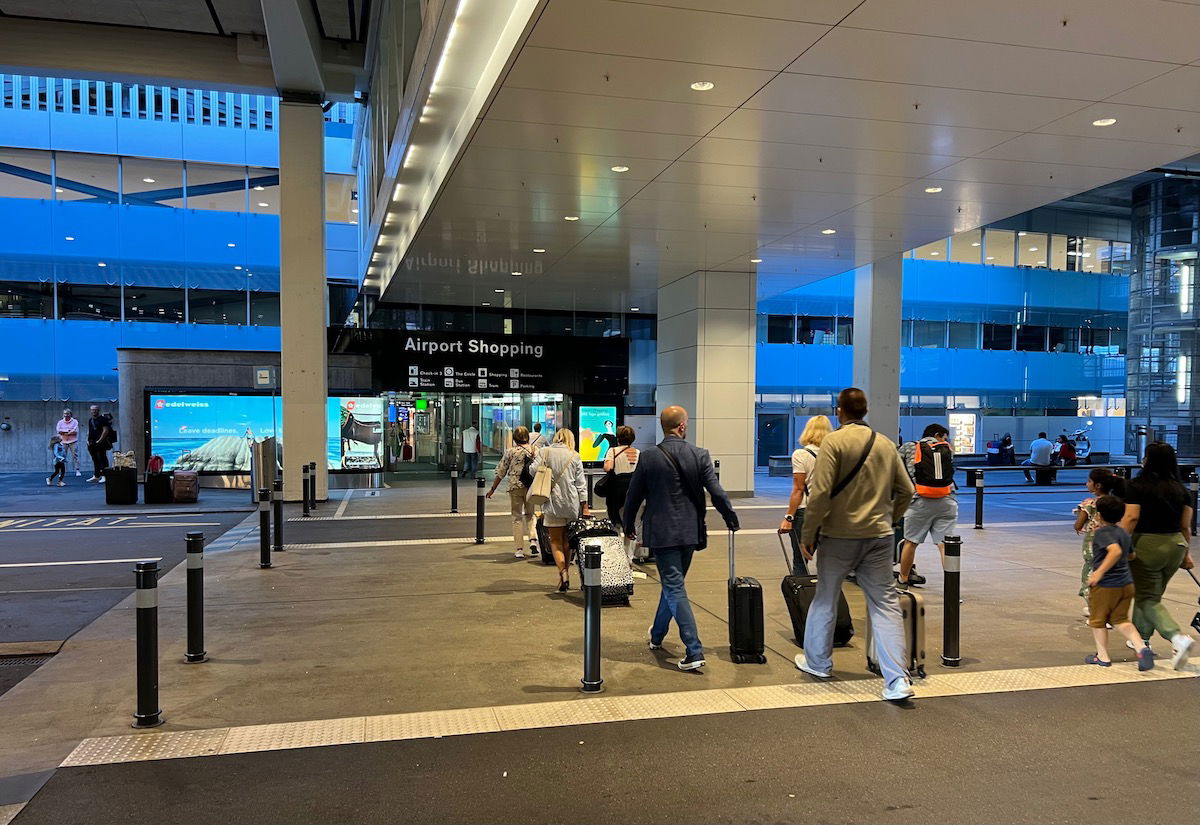 Soon enough you'll find yourself in a pretty nifty tunnel that goes straight to The Circle.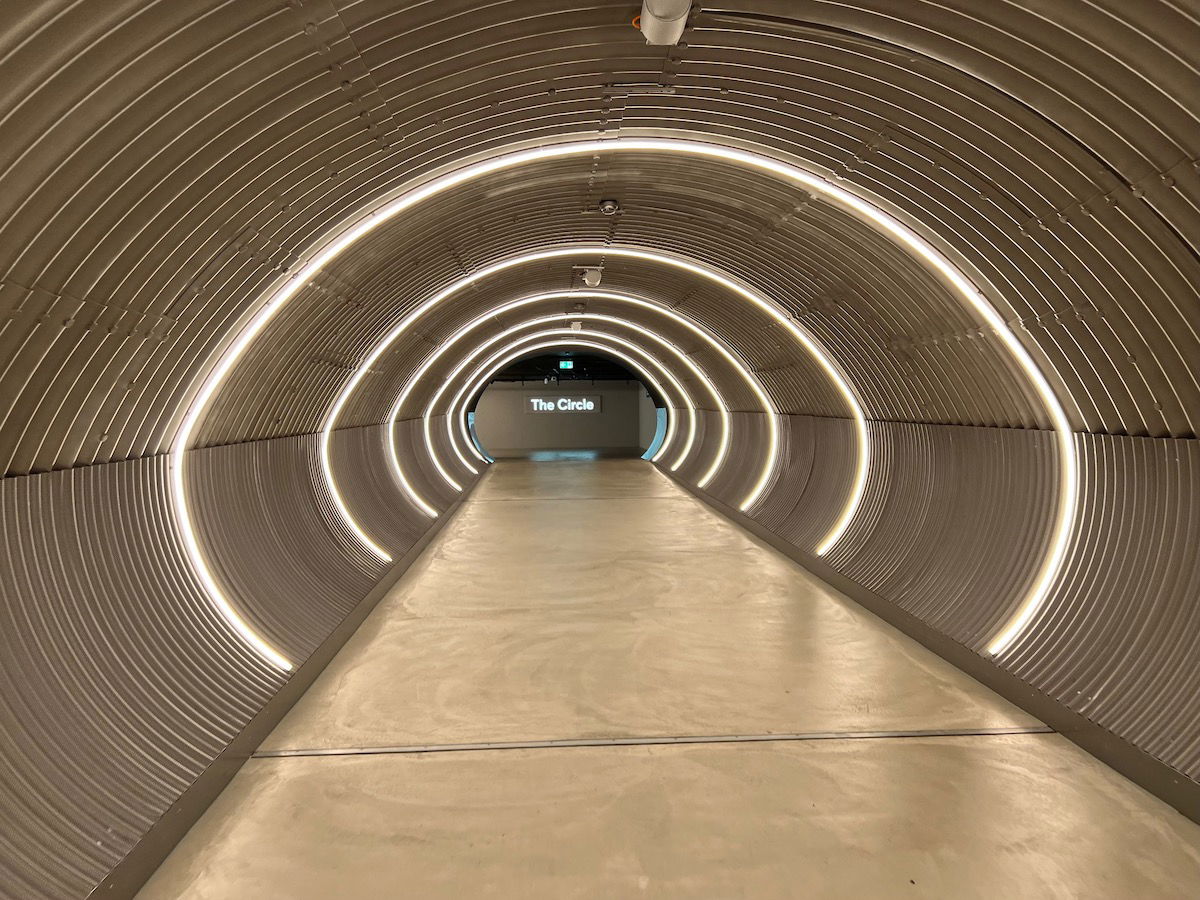 The Circle complex is such a pleasant surprise, as it feels like a high-end outdoor shopping mall. It has everything from car showrooms, to bakeries, to pharmacies, to jewelers.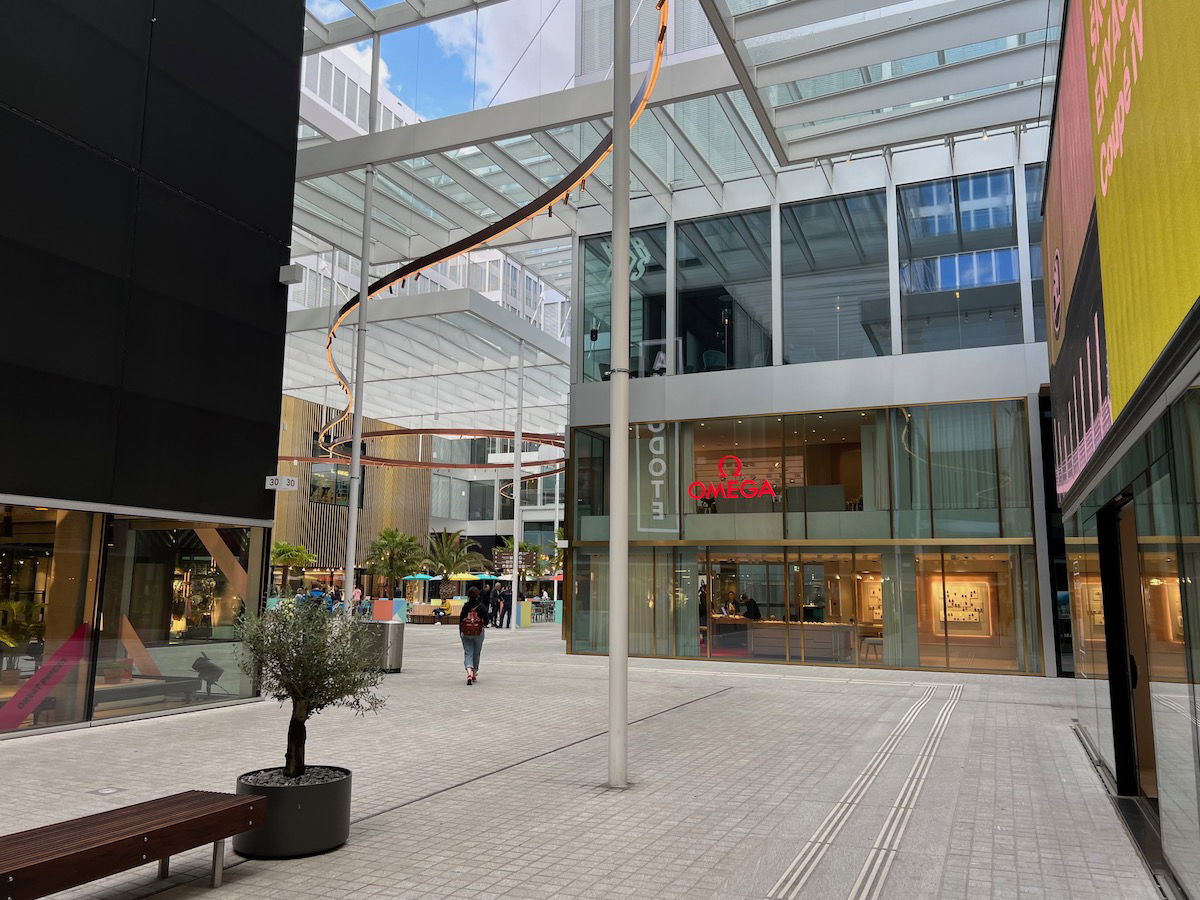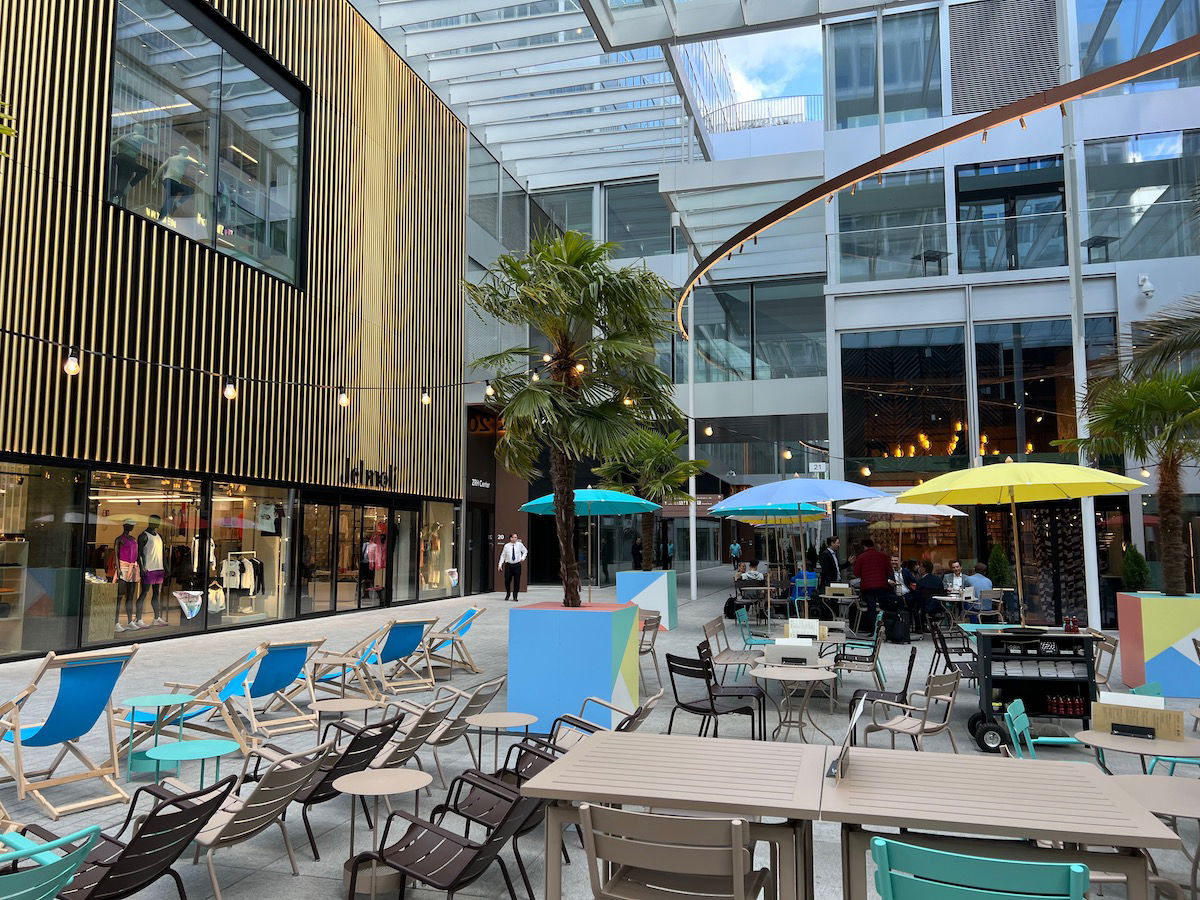 When you're in The Circle just hang right, and you'll see the entrance to the Hyatt Regency.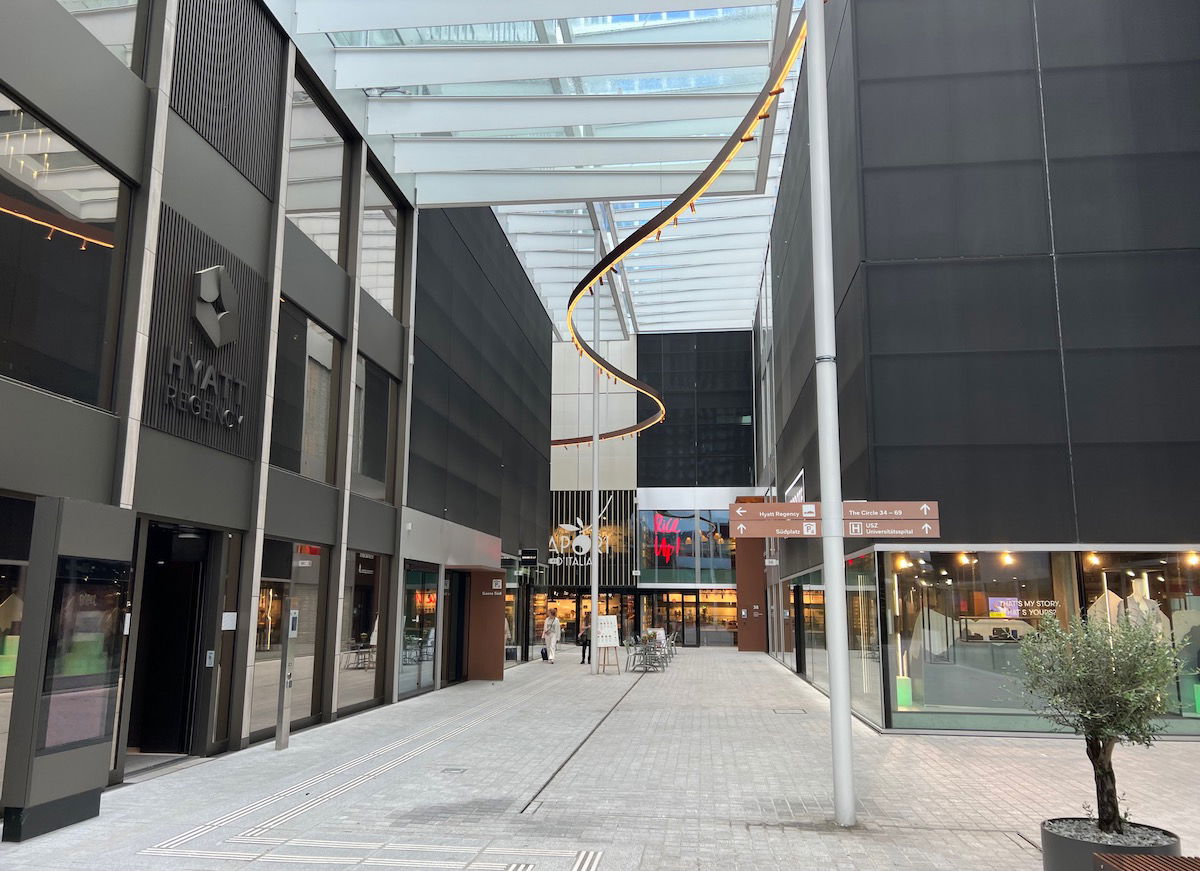 When you enter the hotel from this side, you have to either take an elevator or staircase up a level to the lobby.
Note that if you're arriving by car and not coming from the airport, there's a separate way to enter from the other side of the airport, which lets off right at the lobby (rather than having to go up a level).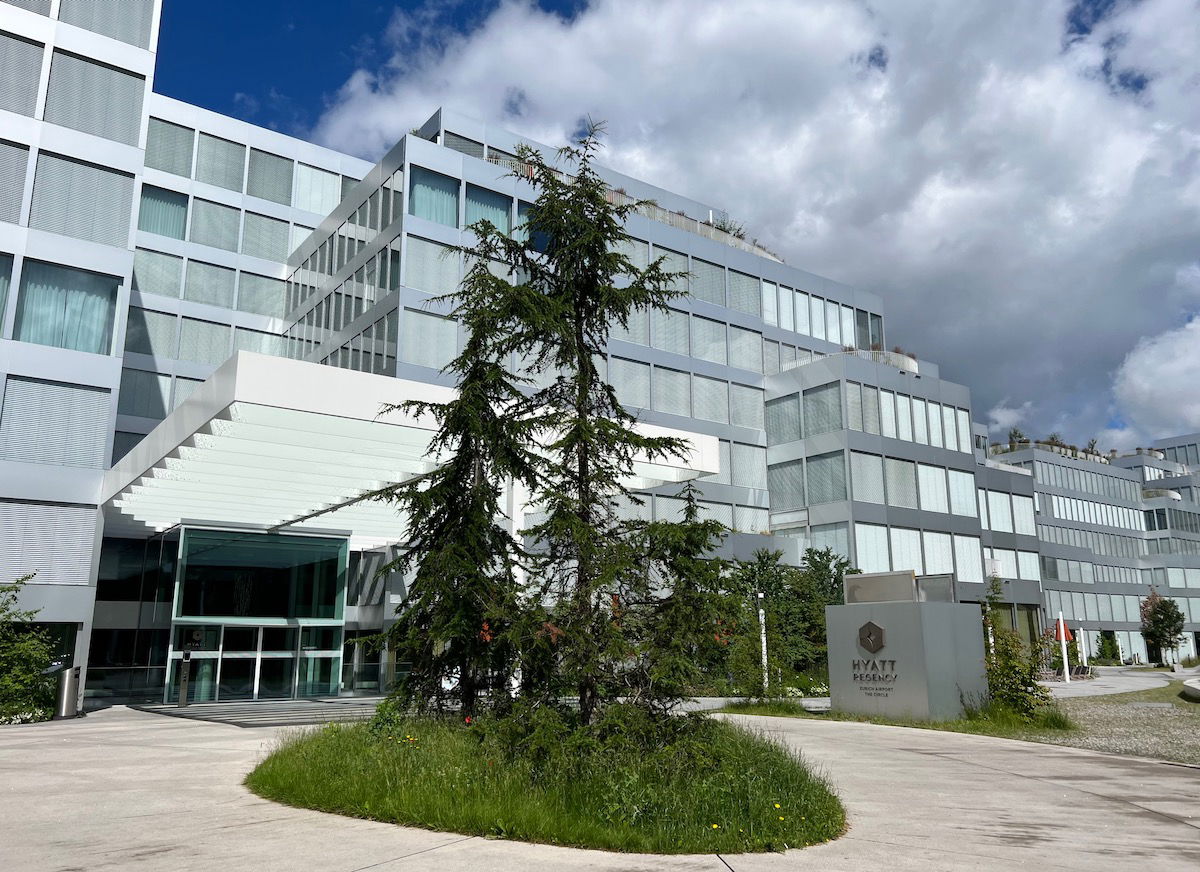 Hyatt Regency Zurich Airport lobby & check-in
The Hyatt Regency Zurich Airport has a large lobby with plenty of comfortable seating. There's also a fireplace, though it wasn't turned on when we visited, presumably because it was too warm for that in summer.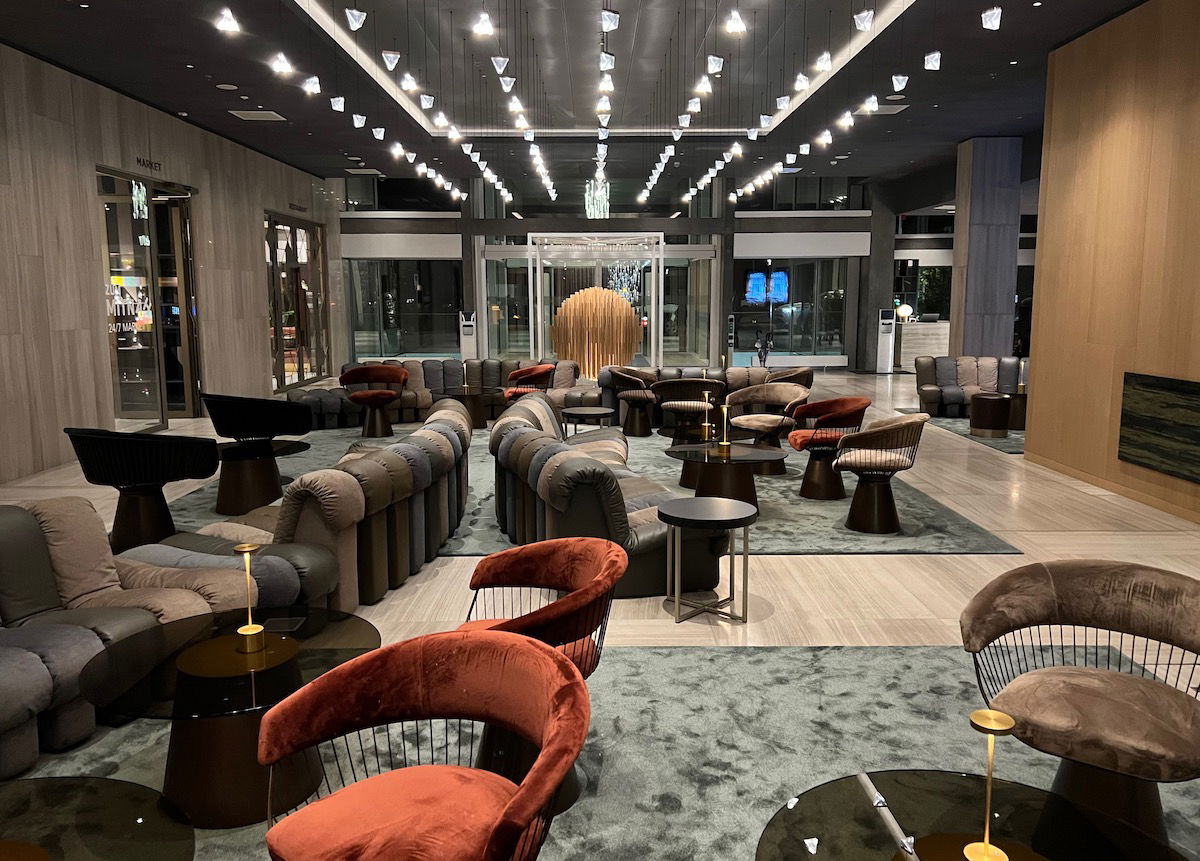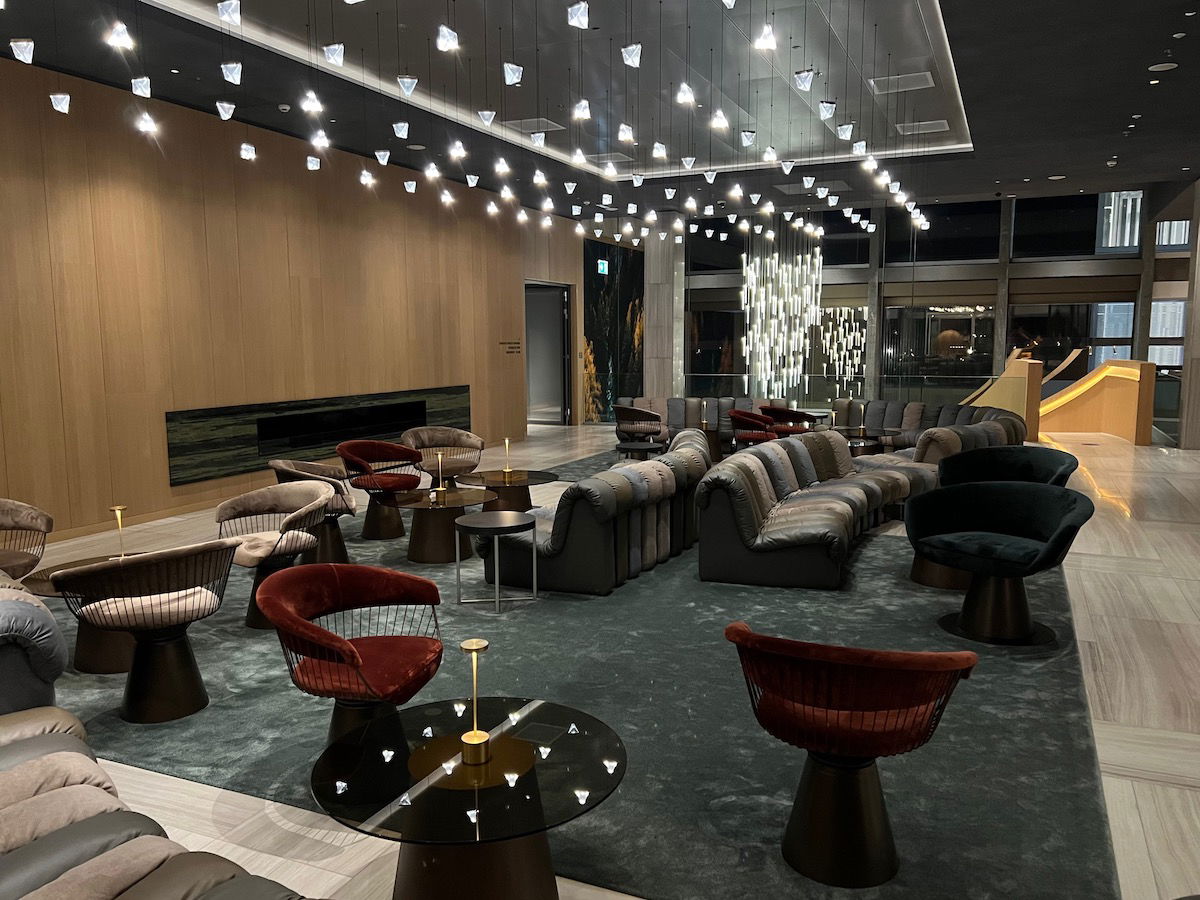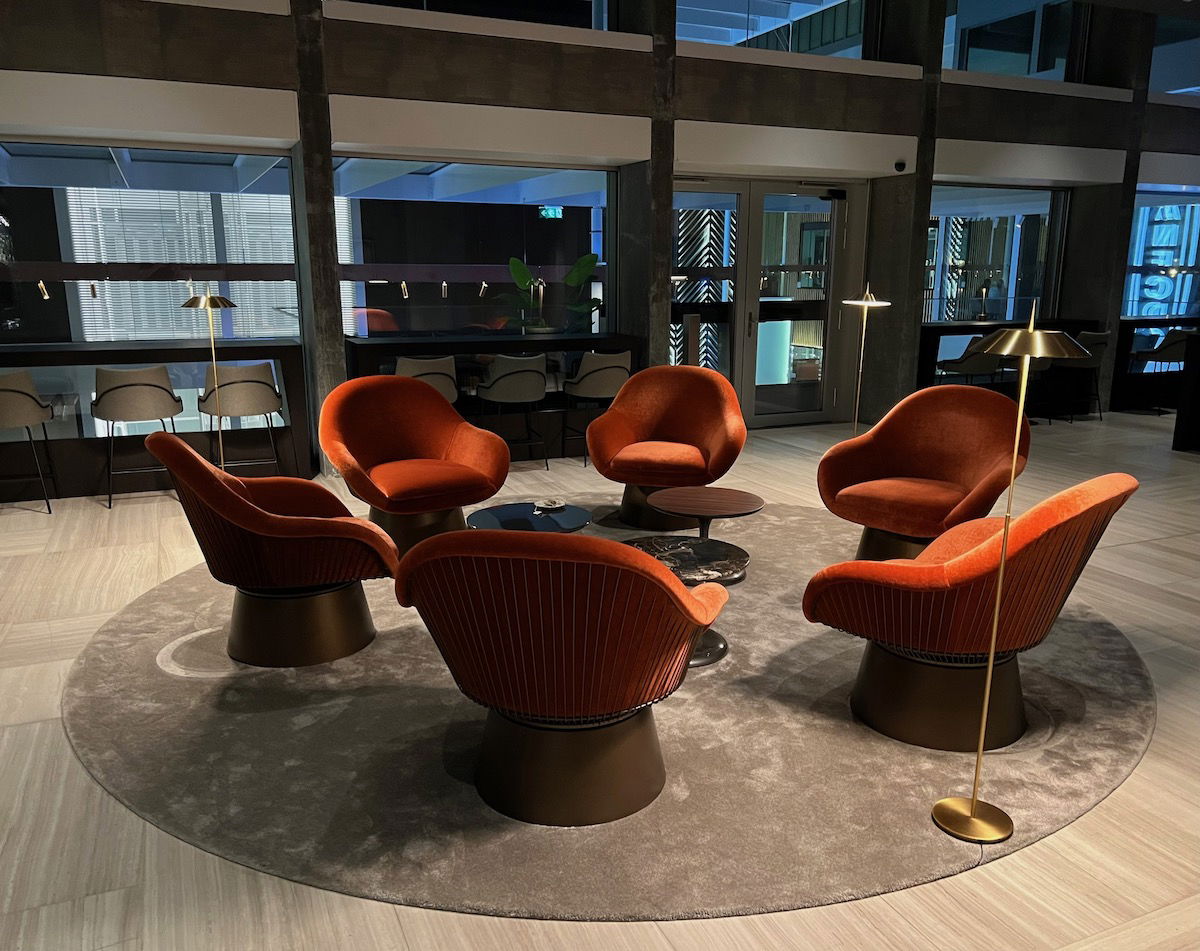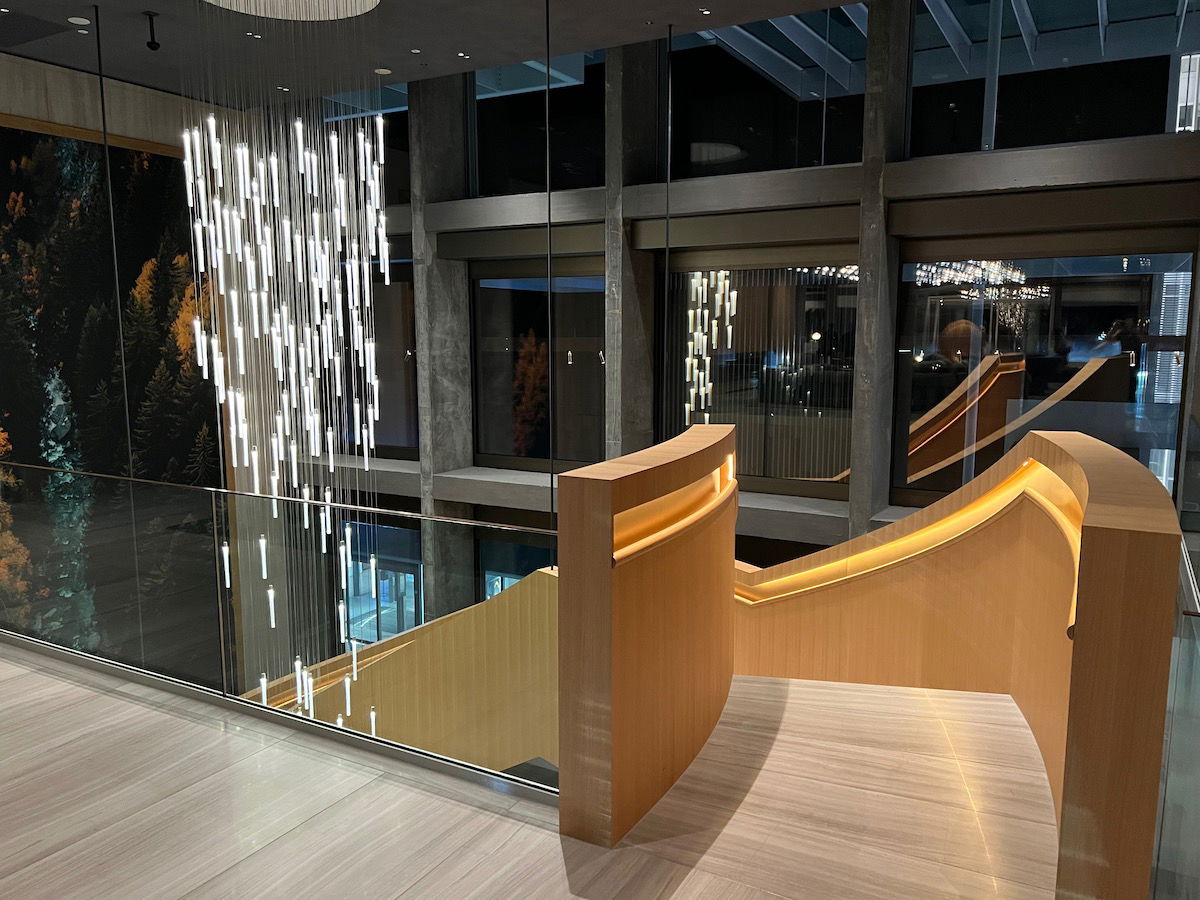 Our check-in experience was great. The associate checking us in thanked me for being a Globalist member, and said we had been upgraded to an executive suite.
She also informed us that while the Regency Club was open, there wasn't any breakfast or evening happy hour service there. Rather breakfast and evening drinks were served in the hotel's restaurant, while the lounge was just open as a place to hang out or to grab a coffee or soft drink.
Hyatt Regency Zurich Airport executive suite
We were assigned room 414, an executive suite on the fourth floor. For context, the hotel has 10 floors, and the lobby is on the second floor. The hotel's hallways can be a bit confusing, as it's not a simple wing in each direction of the elevators. We found ourselves constantly referencing the signage, and at least that was good.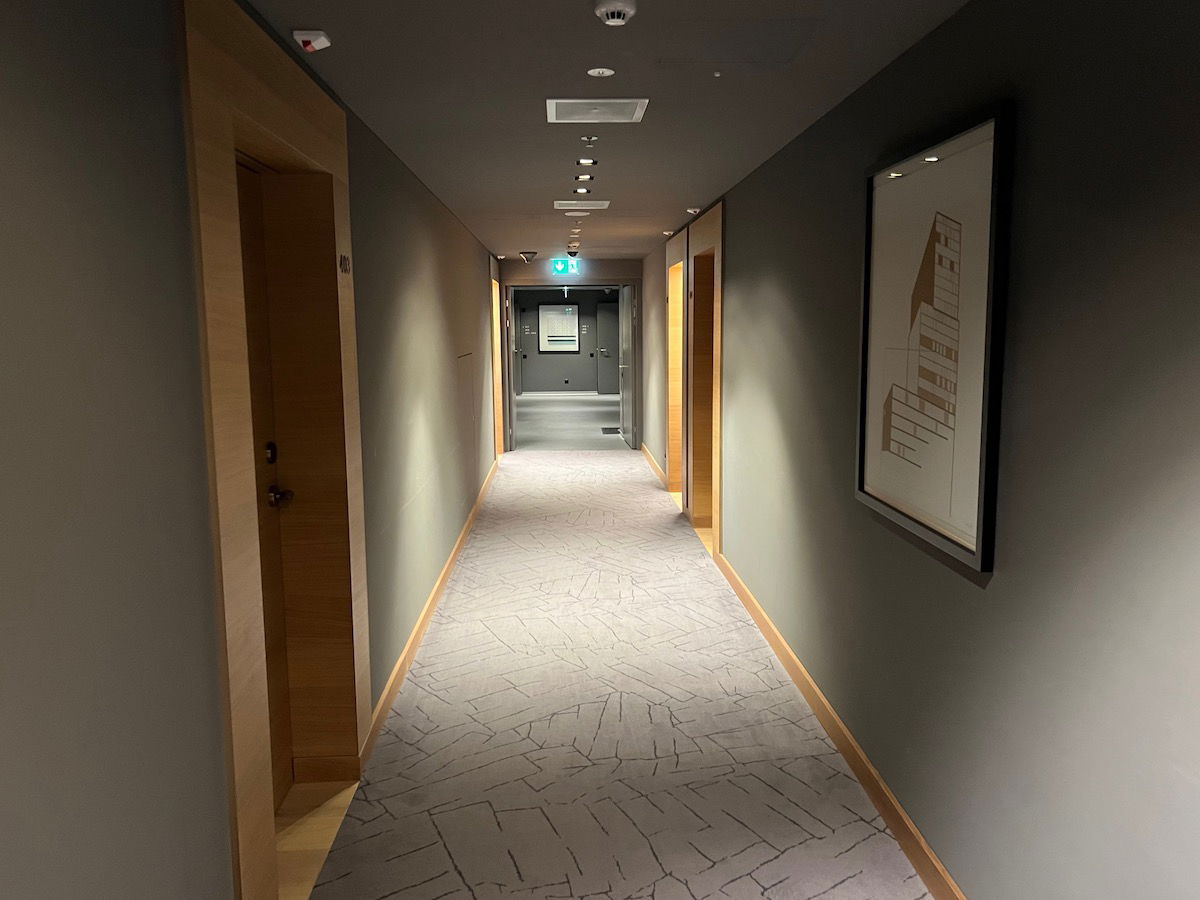 Our executive suite was marketed as being 43 square meters (462 square feet), and frankly I'm a bit confused, because the room was definitely bigger than that. I feel like a lot of hotels exaggerate square footage or include outdoor space in calculations, but in this case I'm pretty confident the room was at least 600 square feet.
Anyway, this suite was flawless, and was perhaps one of the most practically designed rooms I've ever stayed in. With so many hotel rooms I wonder if the person designing them has ever stayed in a hotel, but this room was very well thought out.
The suite had a large living room just inside the entrance. This included a dining table with three chairs, and a living room with an "L" shaped couch, a chair, and a stool. There was also a wall mounted TV.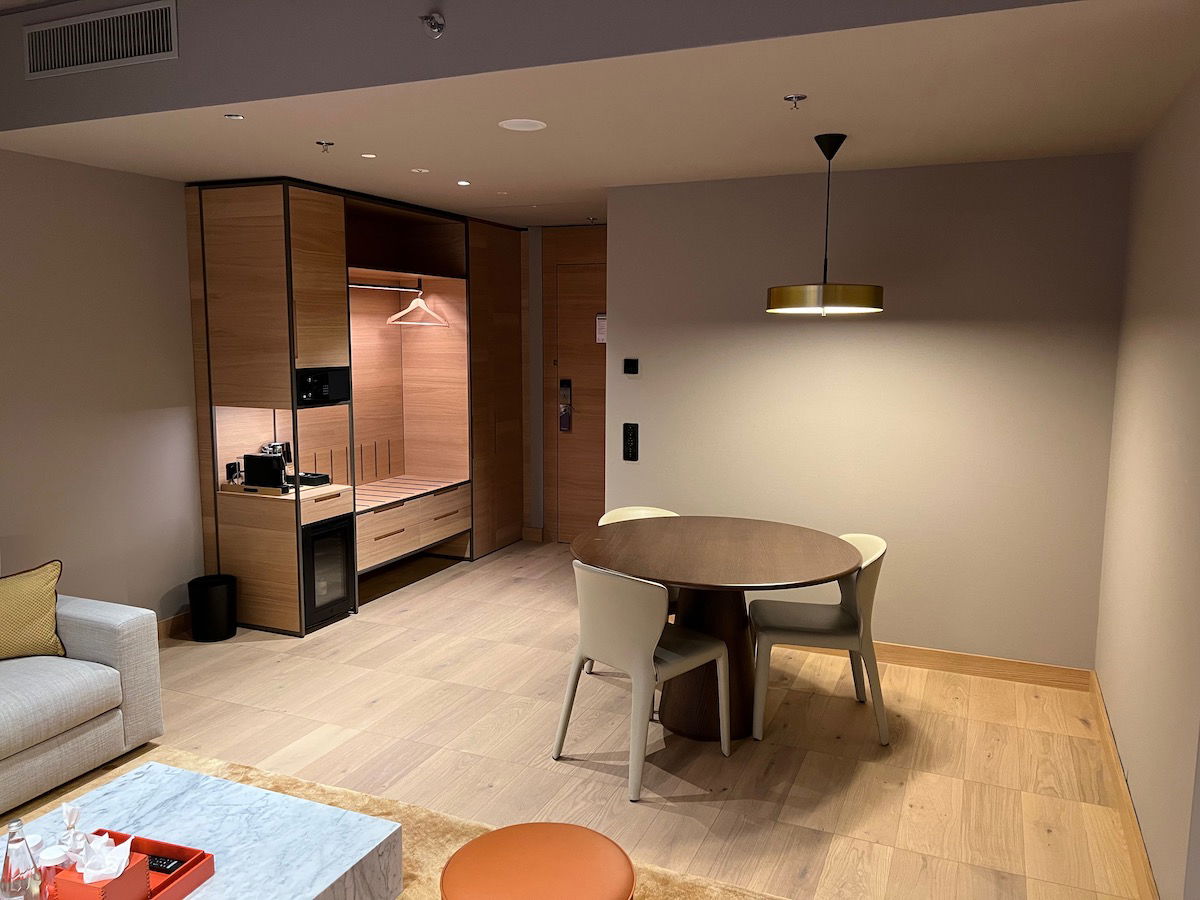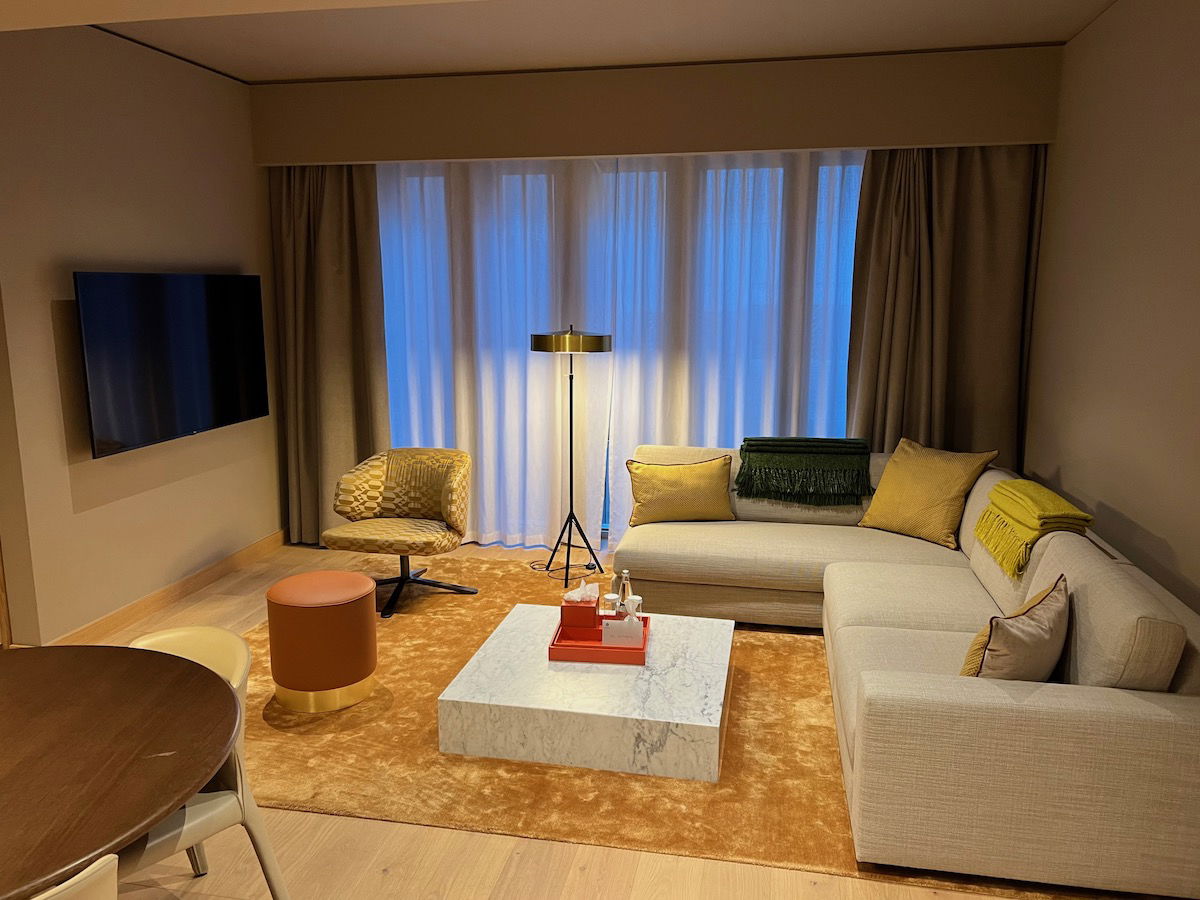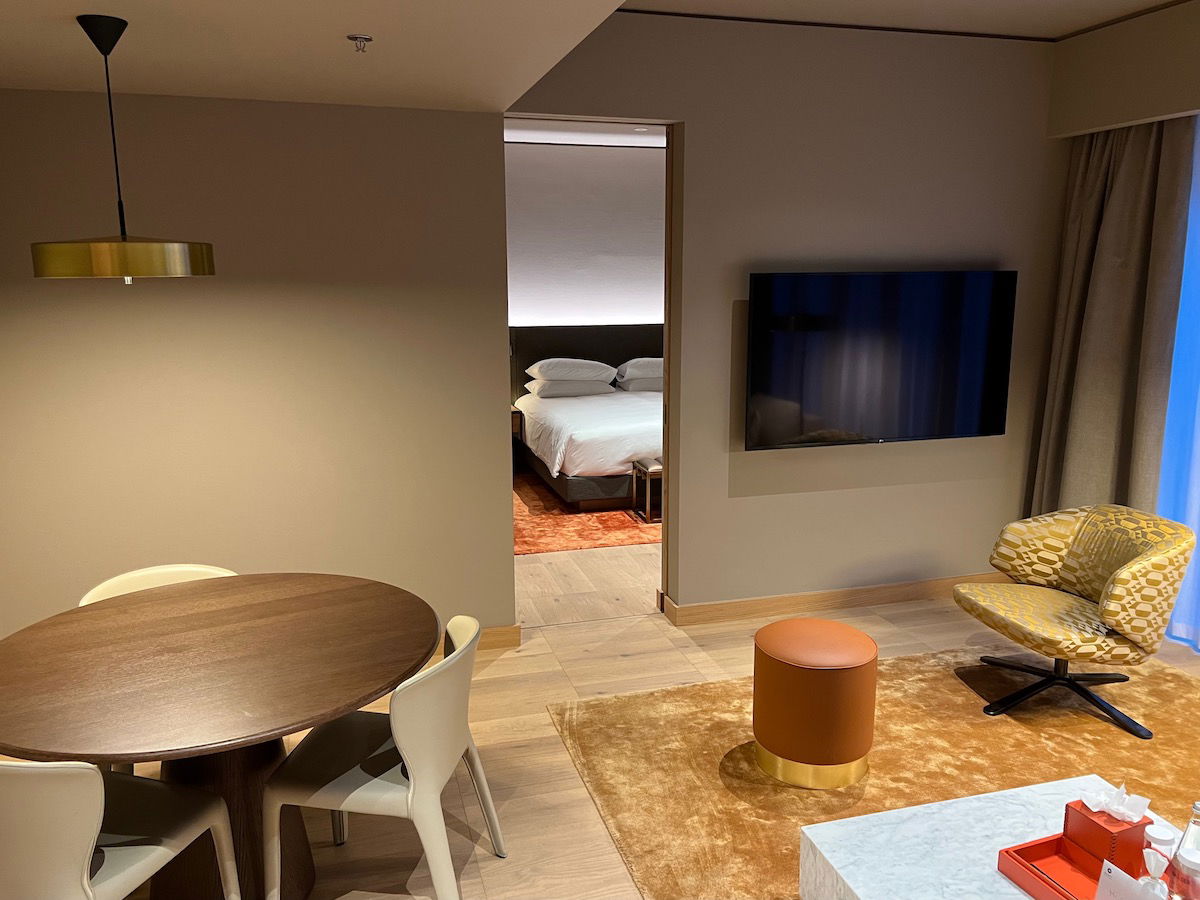 Waiting on the living room table was a welcome amenity consisting of a bottle of water and some sweets, plus a handwritten card.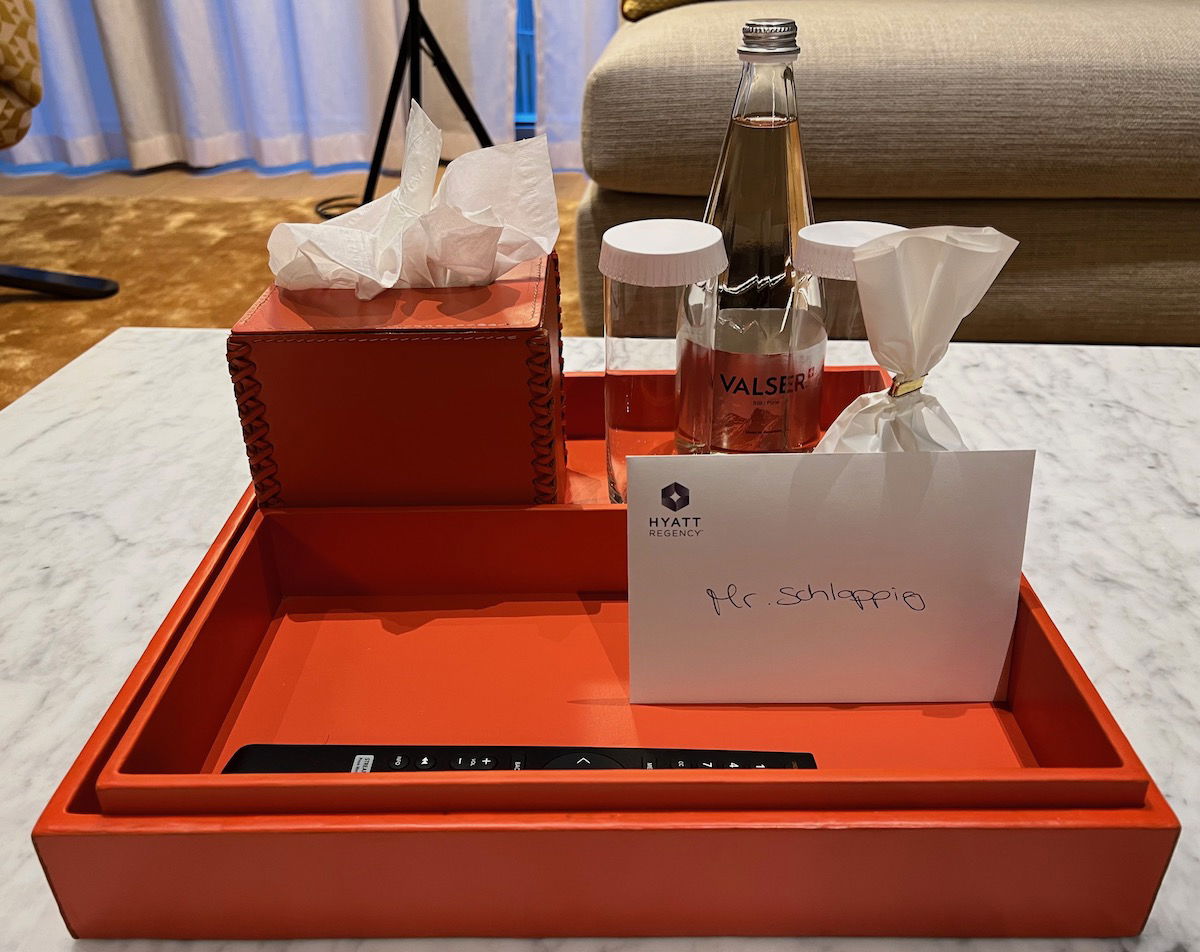 Back by the entrance was a luggage rack, a closet, and the minibar.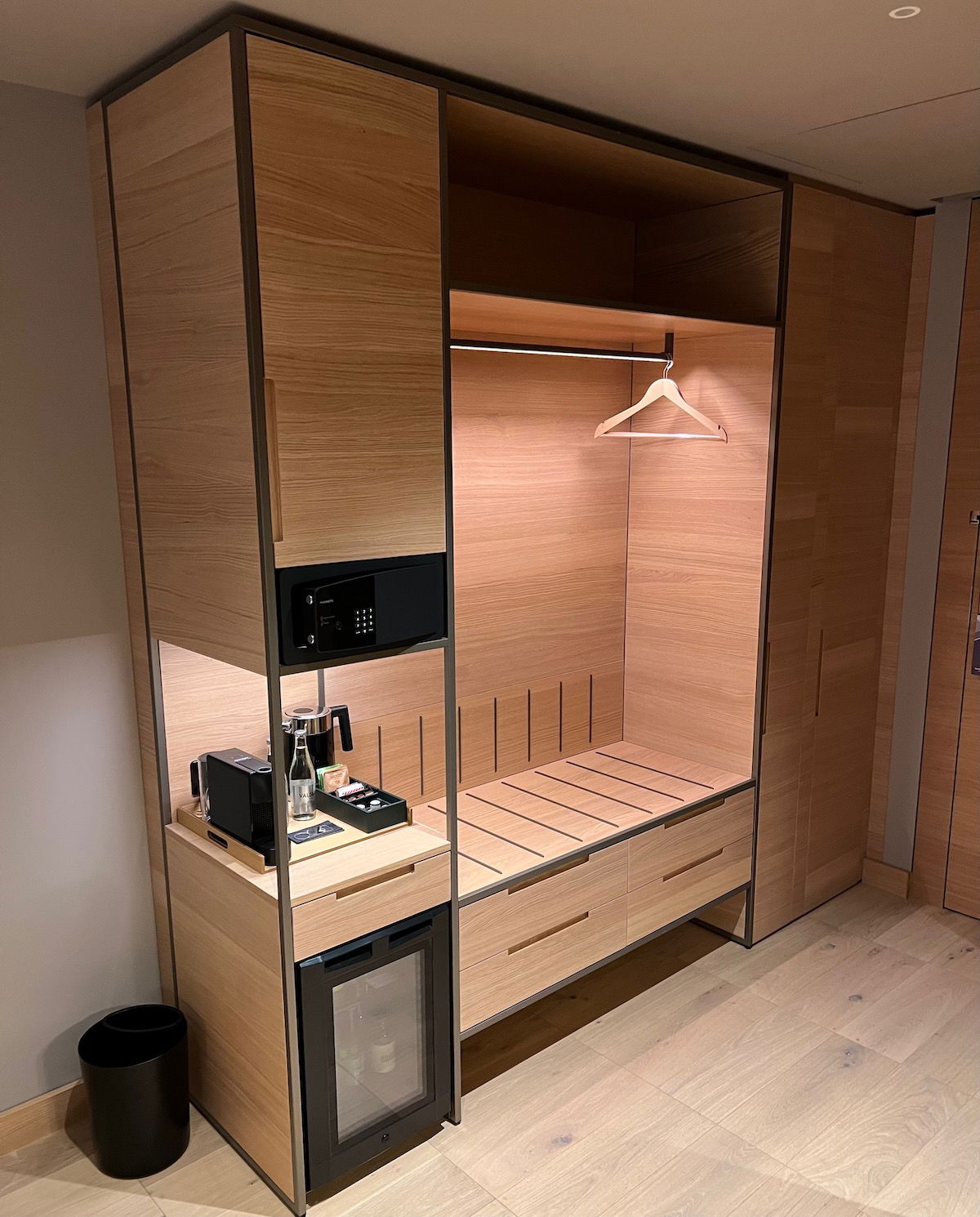 The minibar had a Nespresso coffee machine, a kettle, bottled water, and a variety of drinks for purchase.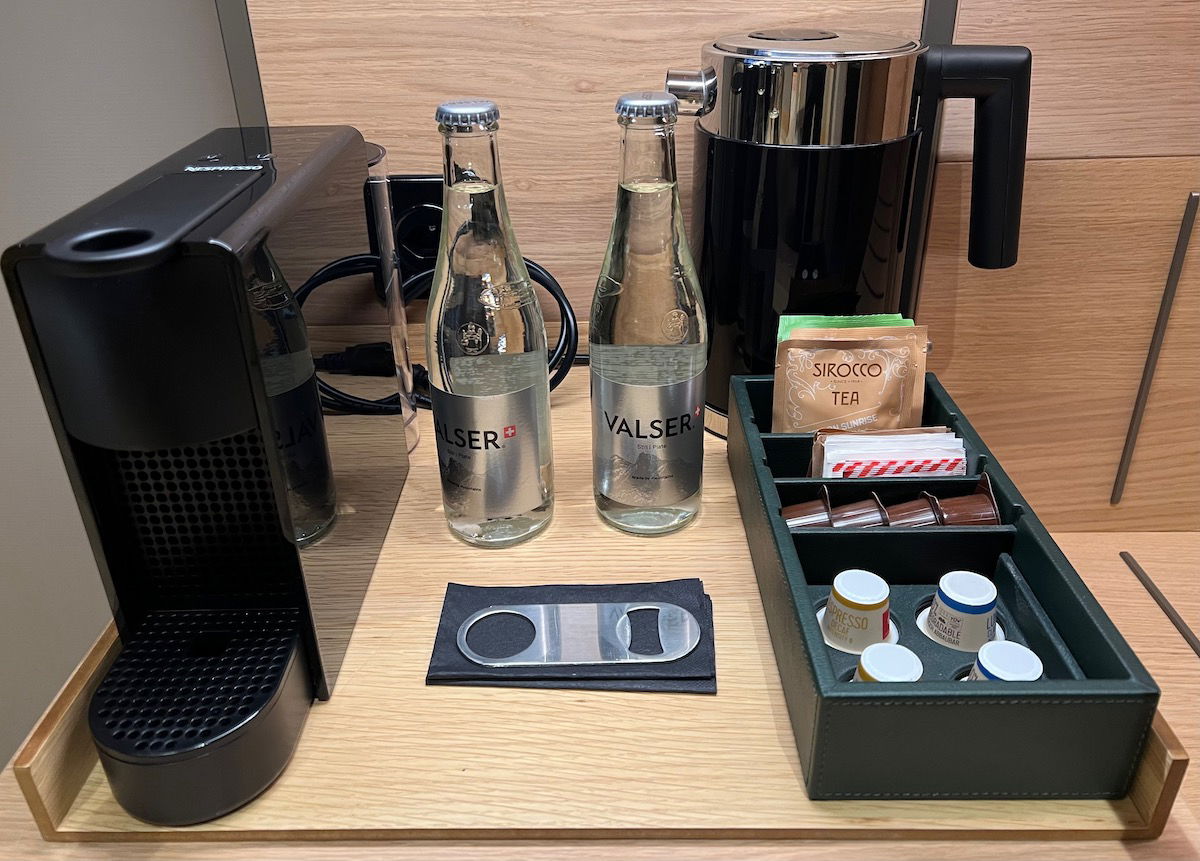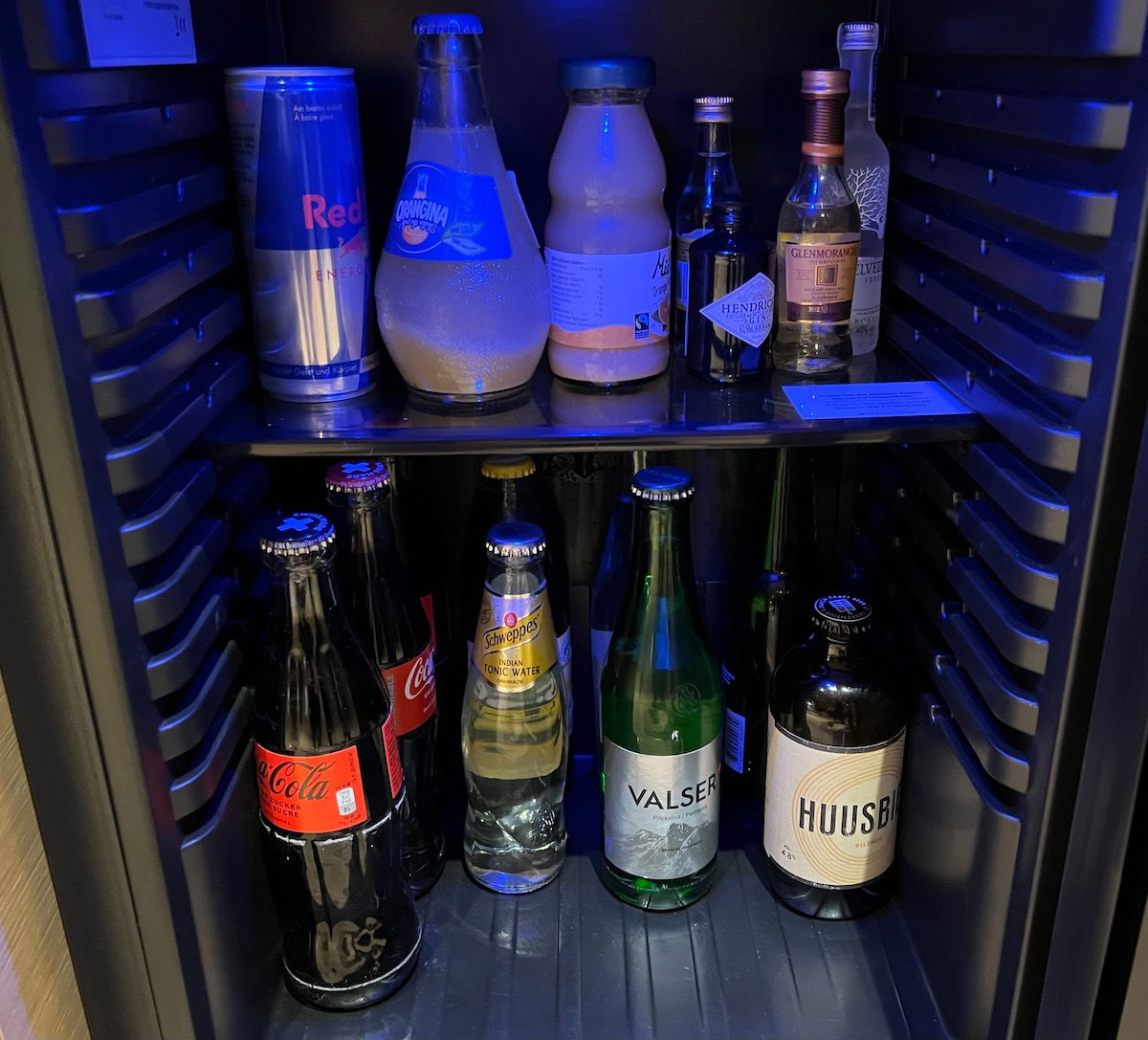 Also by the entrance was a half bath, with a toilet and sink.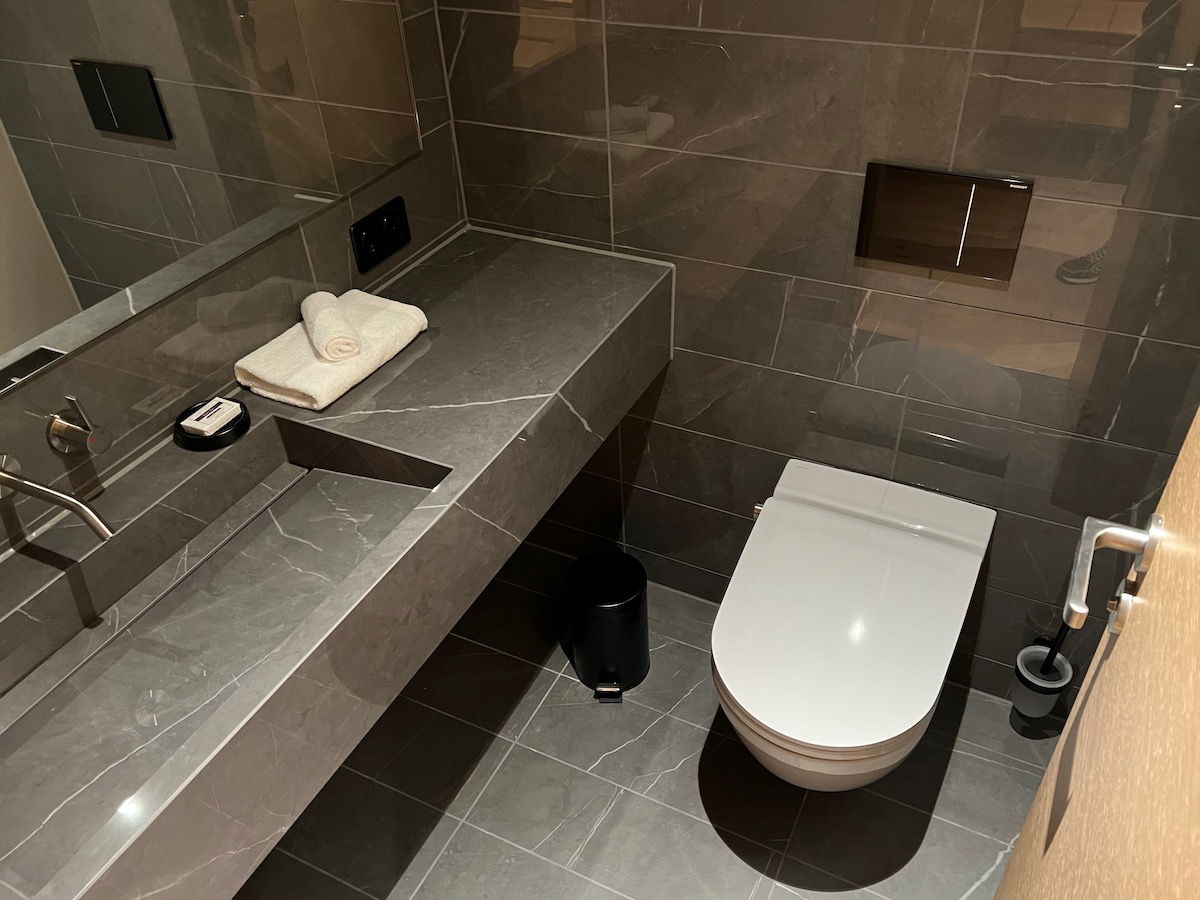 There was a sliding door separating the living room from the bedroom. The bedroom had a comfortable king size bed, though personally I wish the pillows would have been a bit bigger (I realize many Europeans feel differently).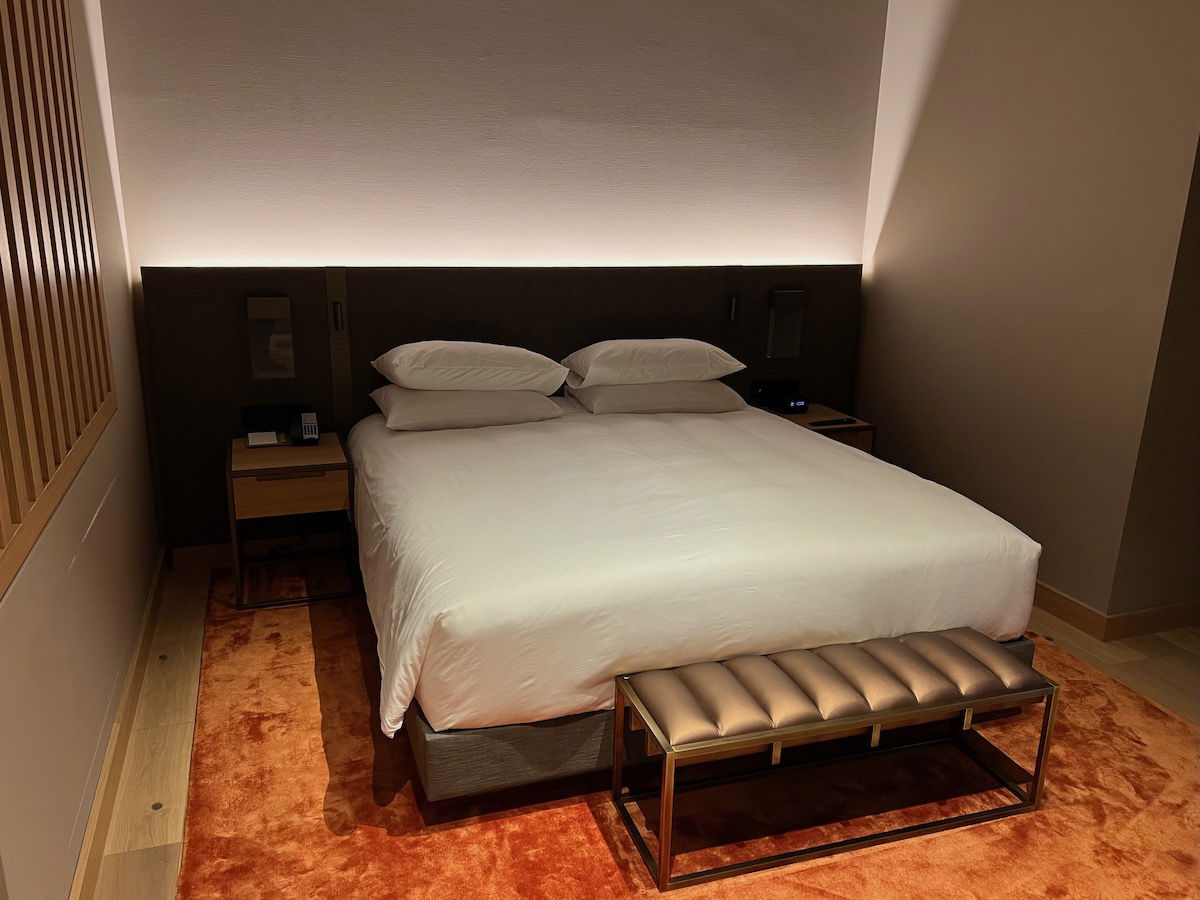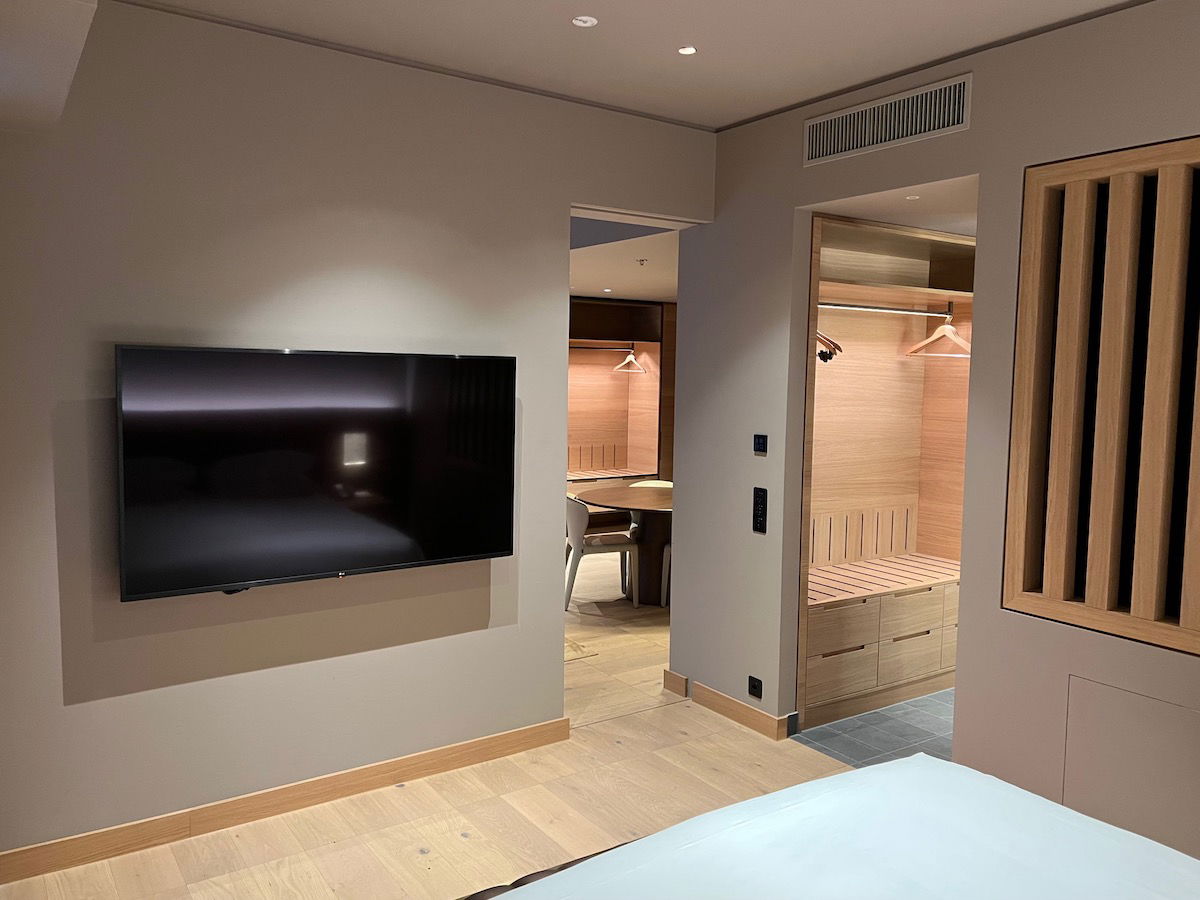 In the hall next to the bedroom was another luggage storage rack.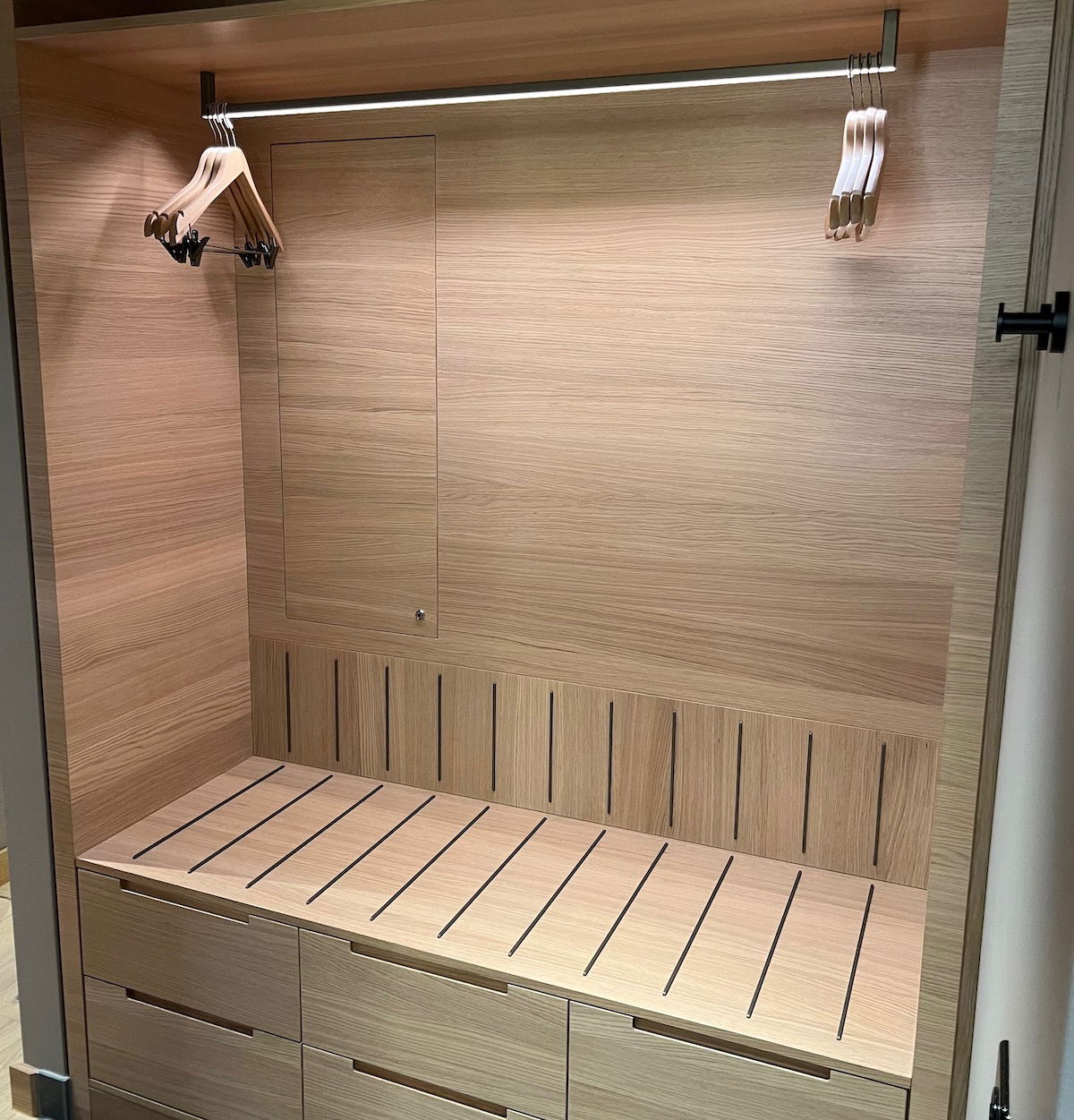 Then there was a bathroom, featuring a sink with a large mirror, a huge walk-in shower, a bathtub, and a toilet.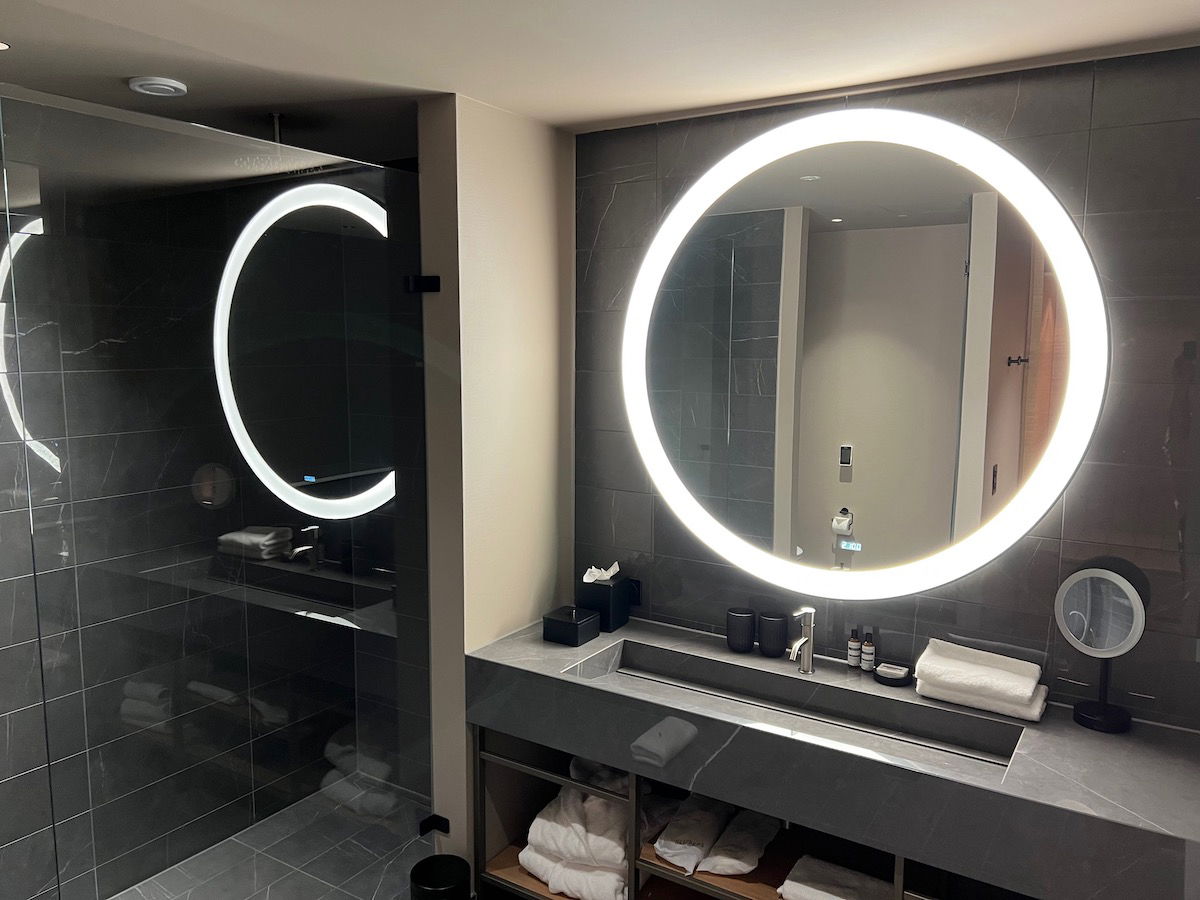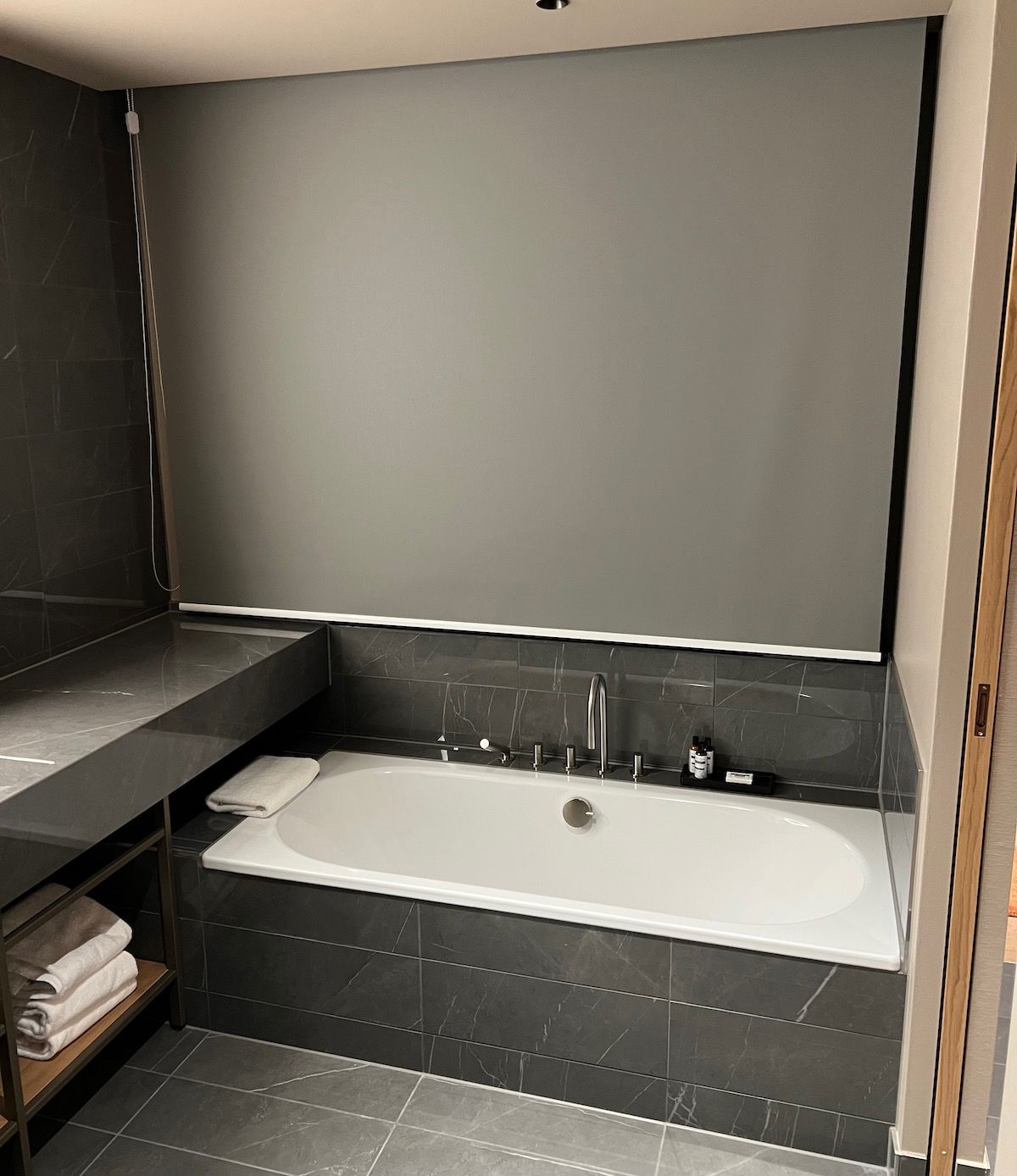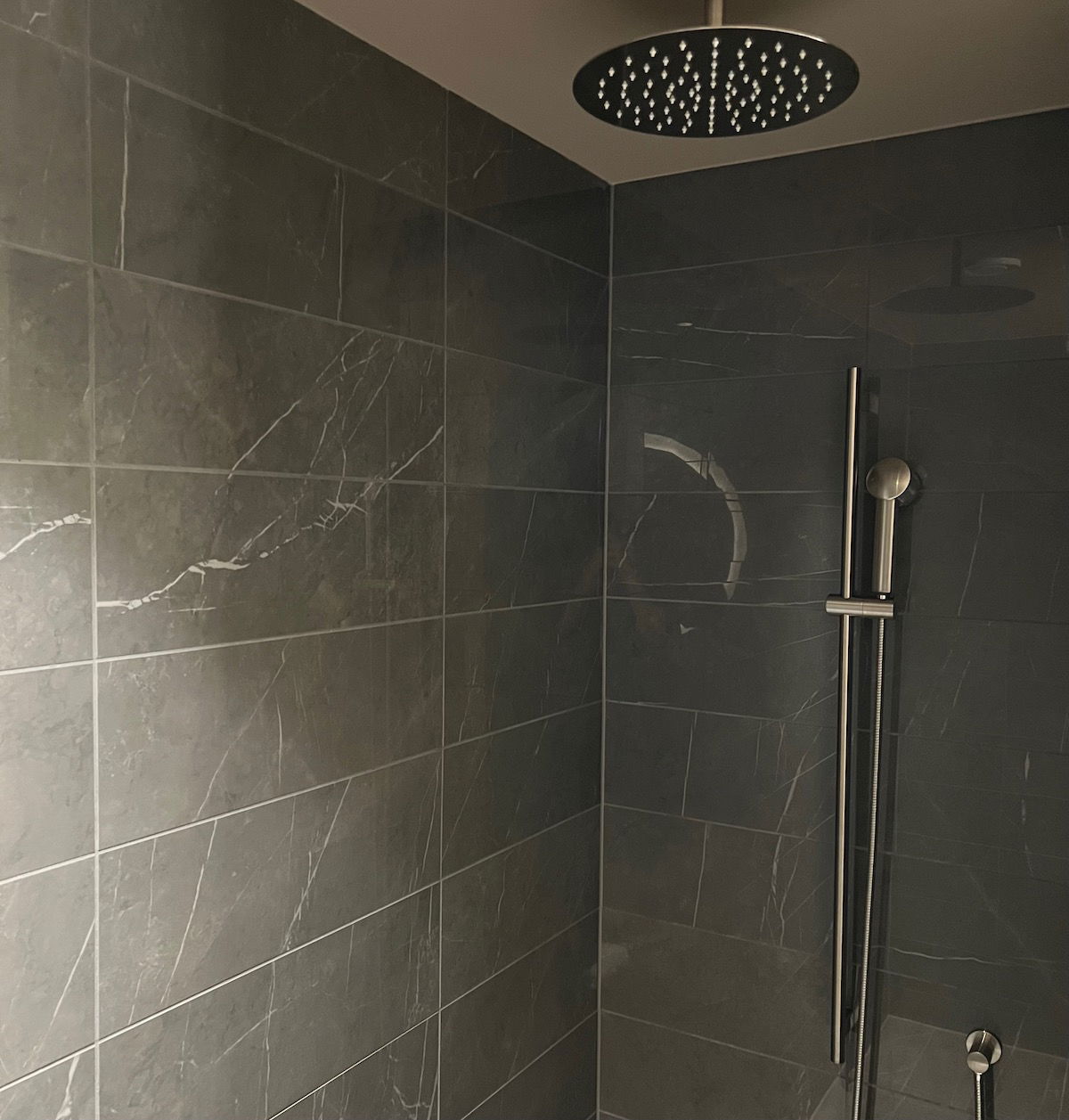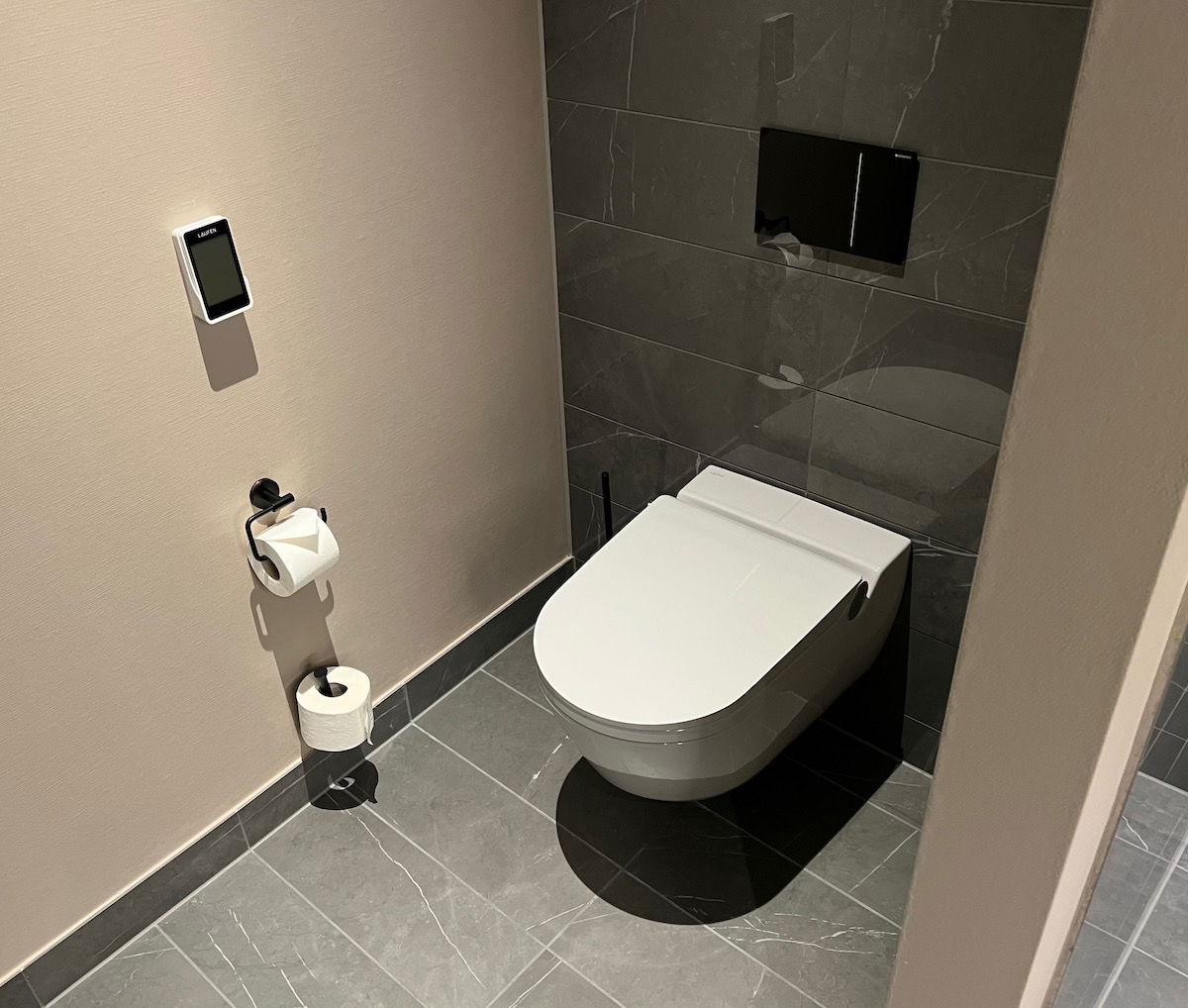 Toiletries were from Pharmacopia, as is brand standard for Hyatt Regency.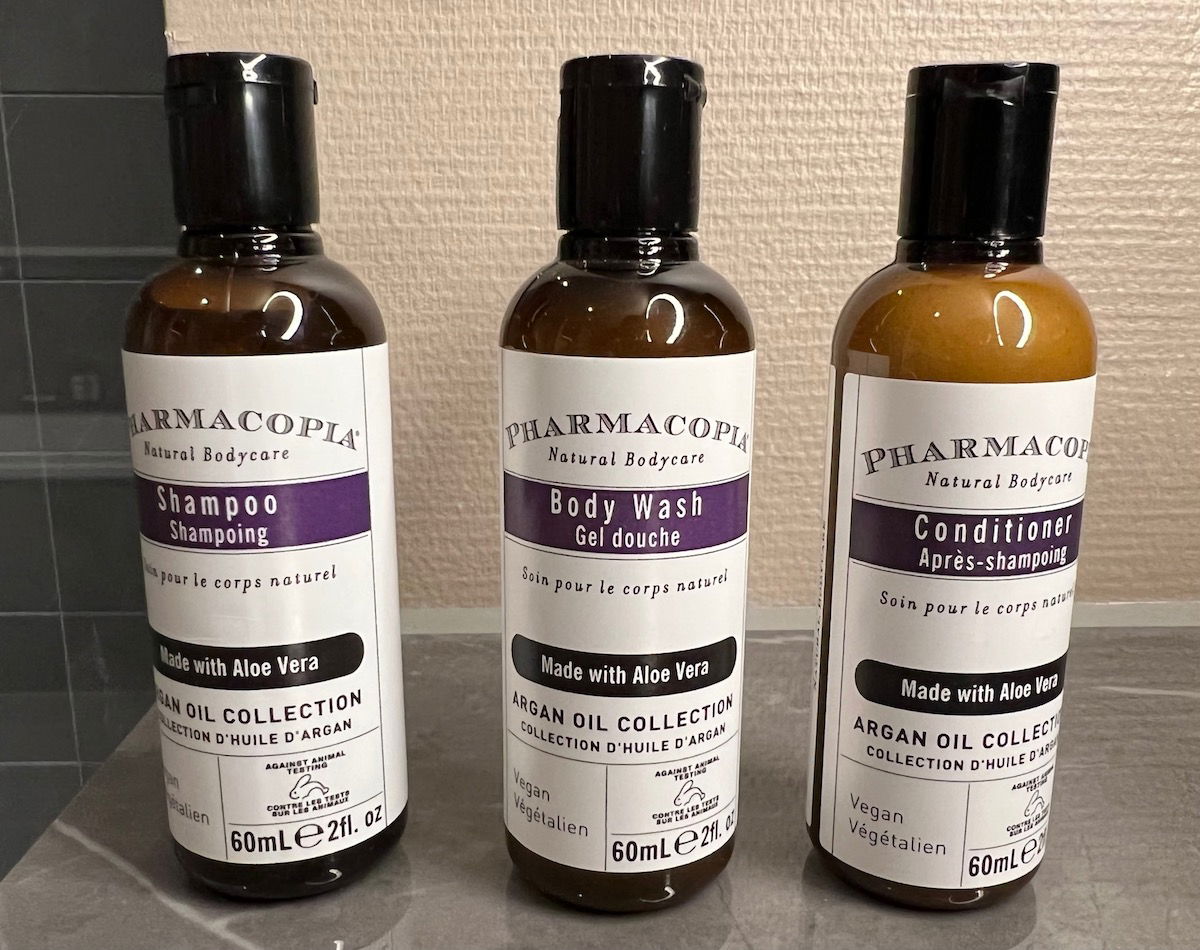 Really the only downside to the room was the view, as it looked at an inner courtyard. On the plus side, that meant there wasn't much noise. However, there was nothing to look at, and it also restricted the amount of natural light in the room.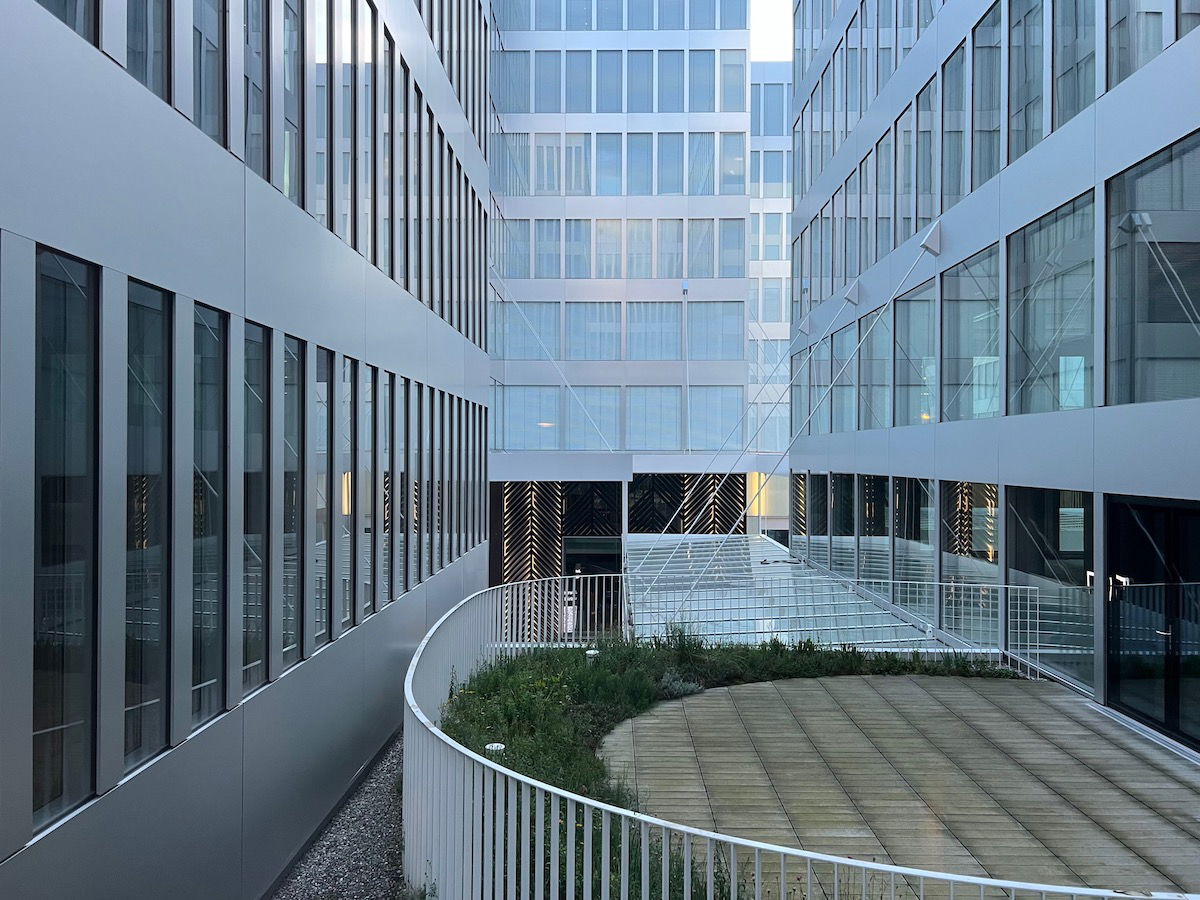 All-in-all, what an incredible suite, especially for an airport hotel! There was also Wi-Fi in the room, which was fast and free.
Hyatt Regency Zurich Airport club lounge
The Hyatt Regency Zurich Airport's Regency Club is located on the ninth floor, and is open daily from 6:30AM until 10PM. As mentioned above, the lounge isn't currently offering breakfast or evening cocktails, but rather that's served in the restaurant.
I appreciate that the lounge remains open throughout the day, as it's a great place from which to work, or to grab a soft drink, coffee, or water.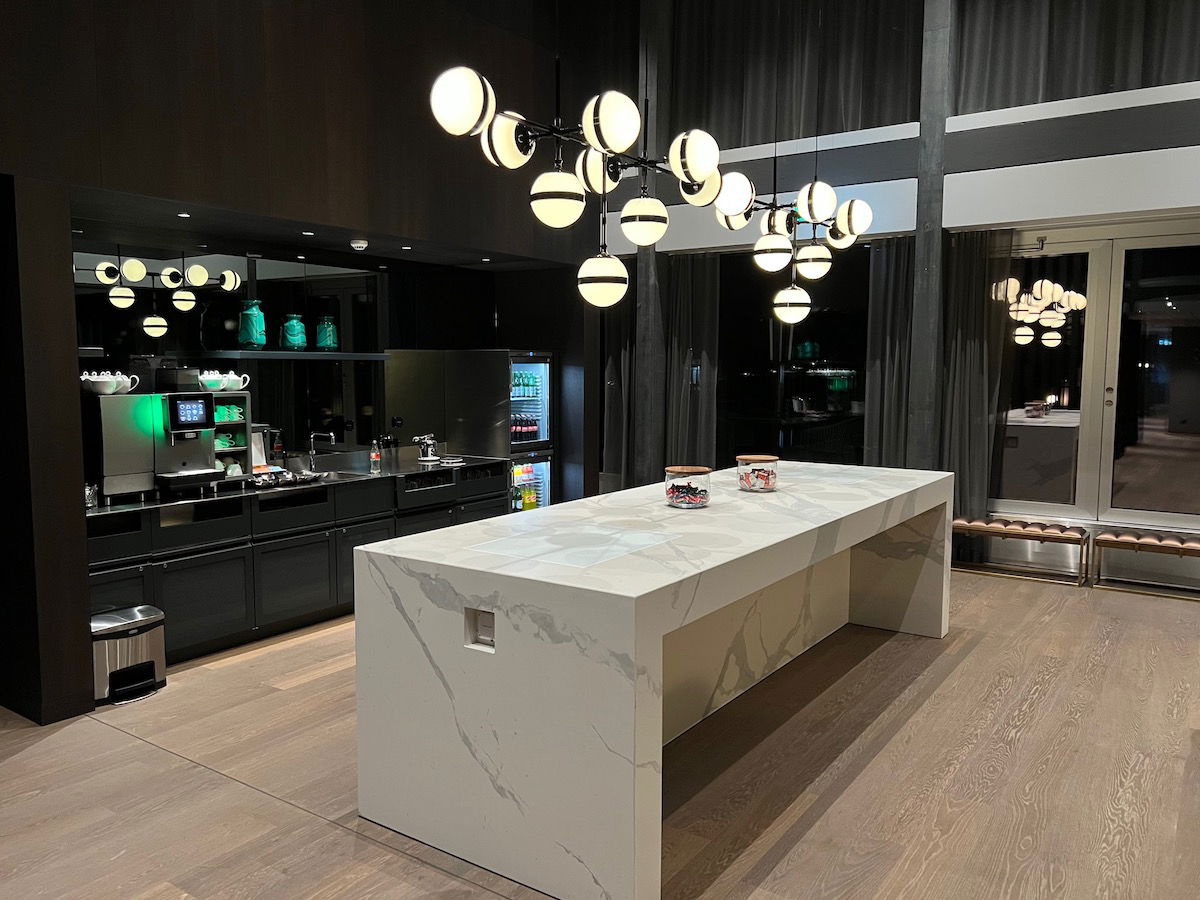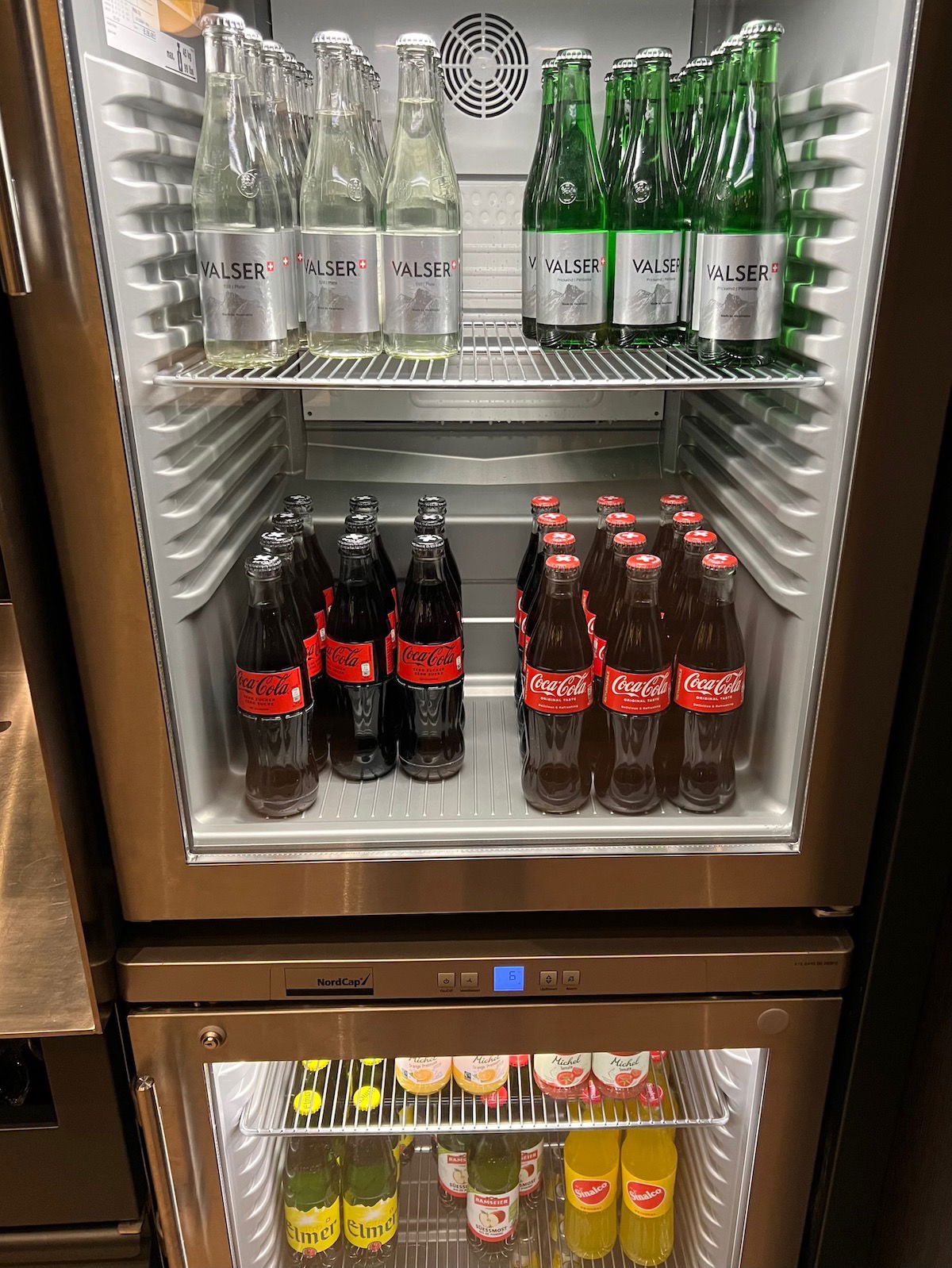 The Regency Club had plenty of seating, whether you preferred a couch, a booth, a dining table, or a conference table. There was also a terrace, but it seemed to be closed during our visit.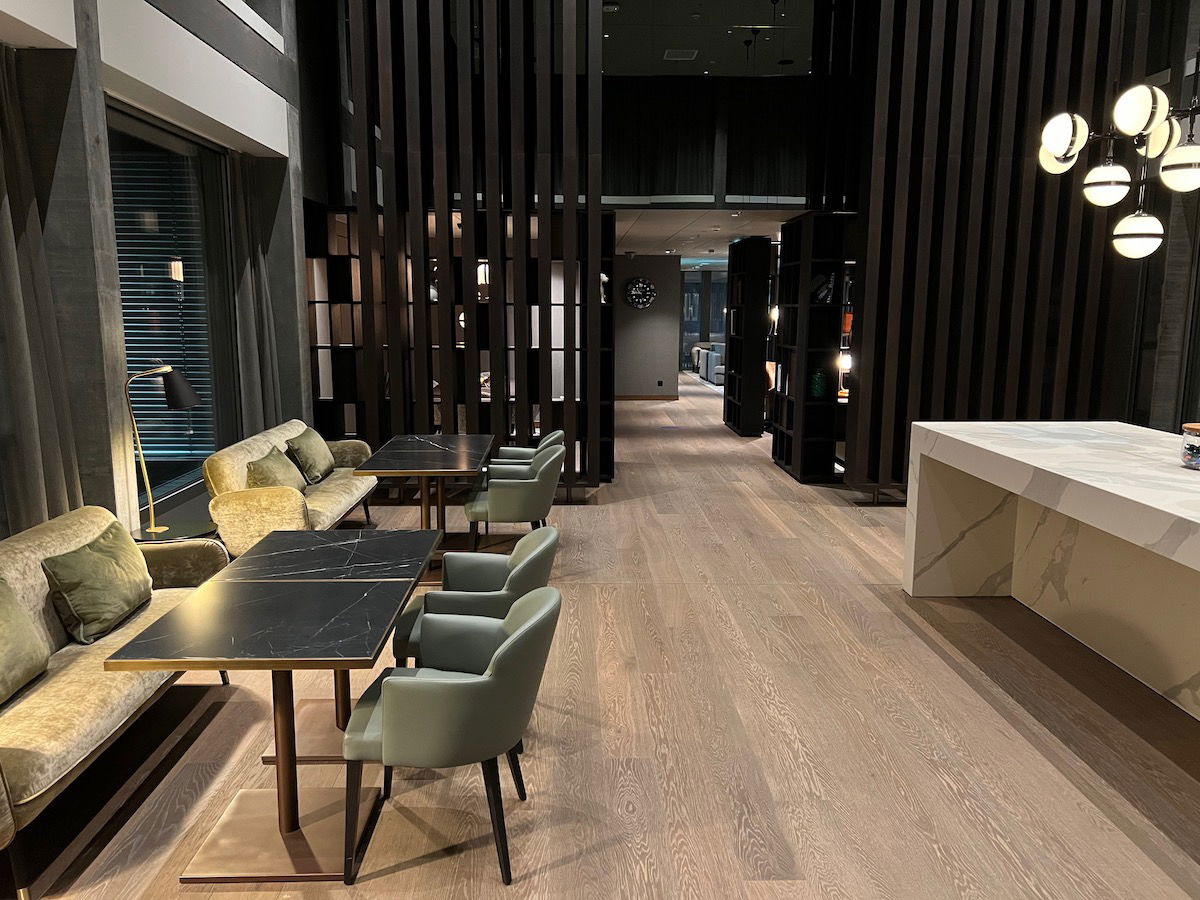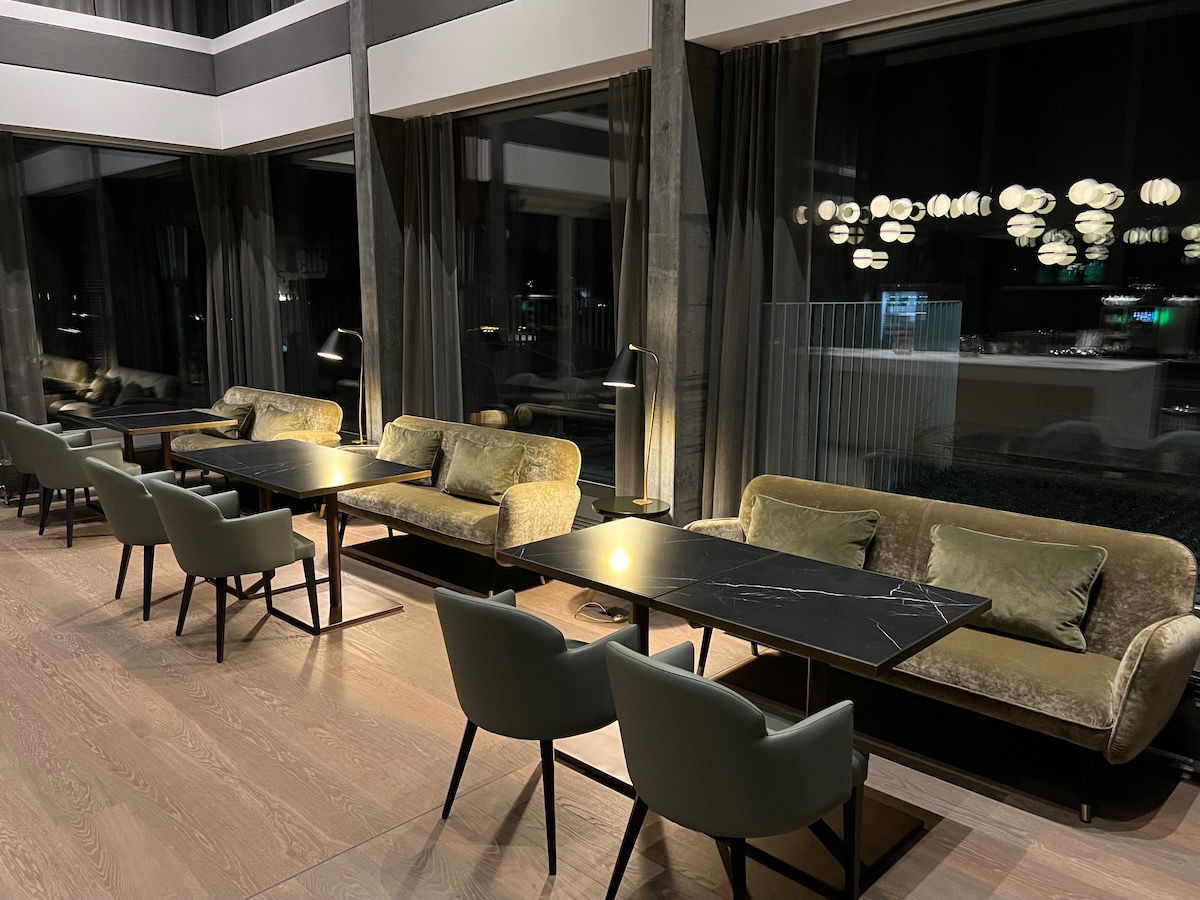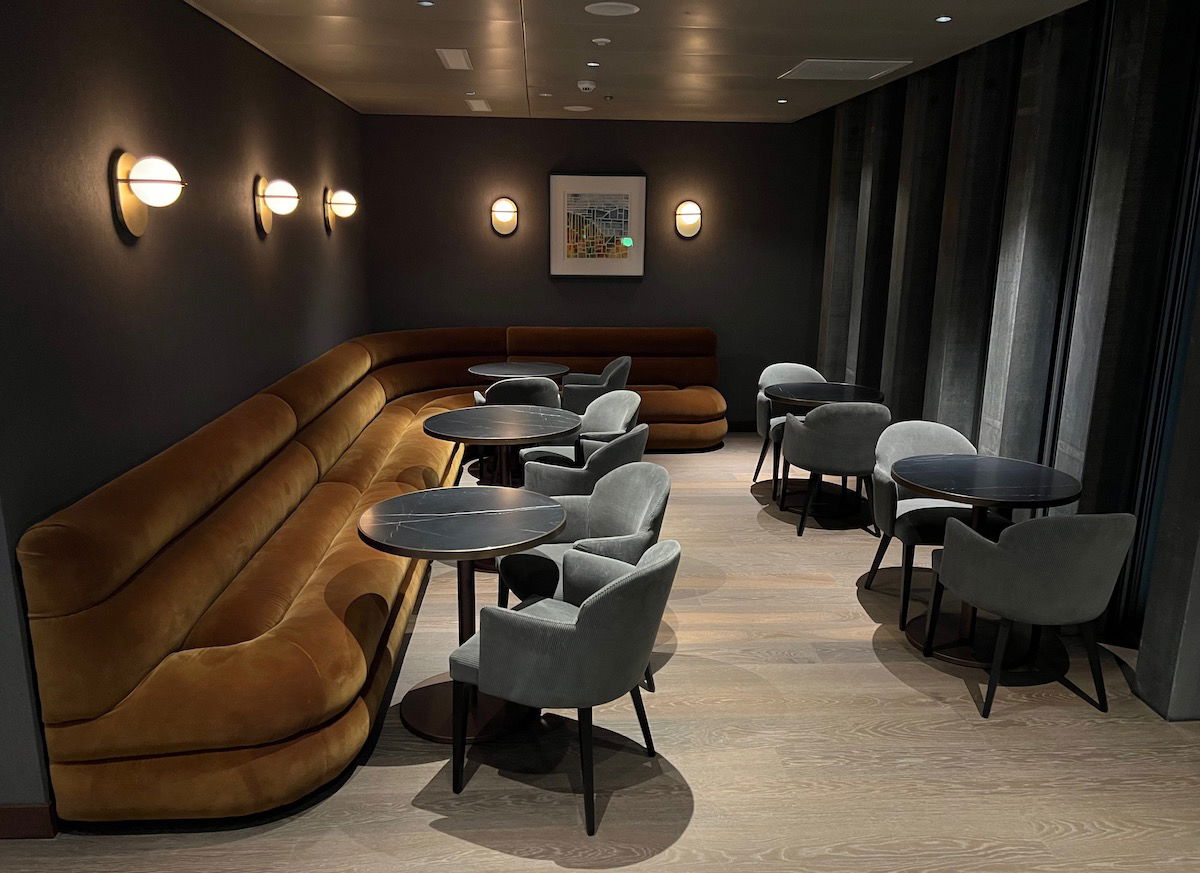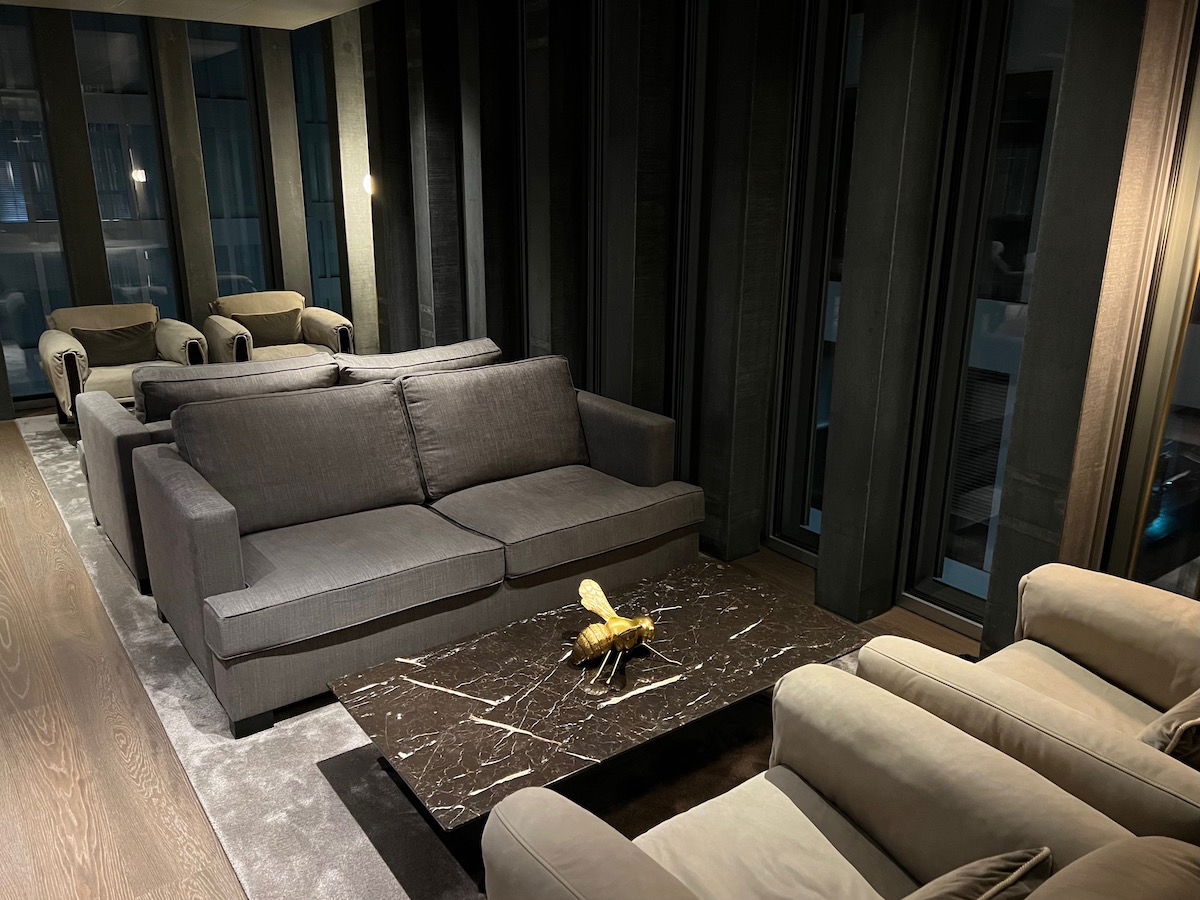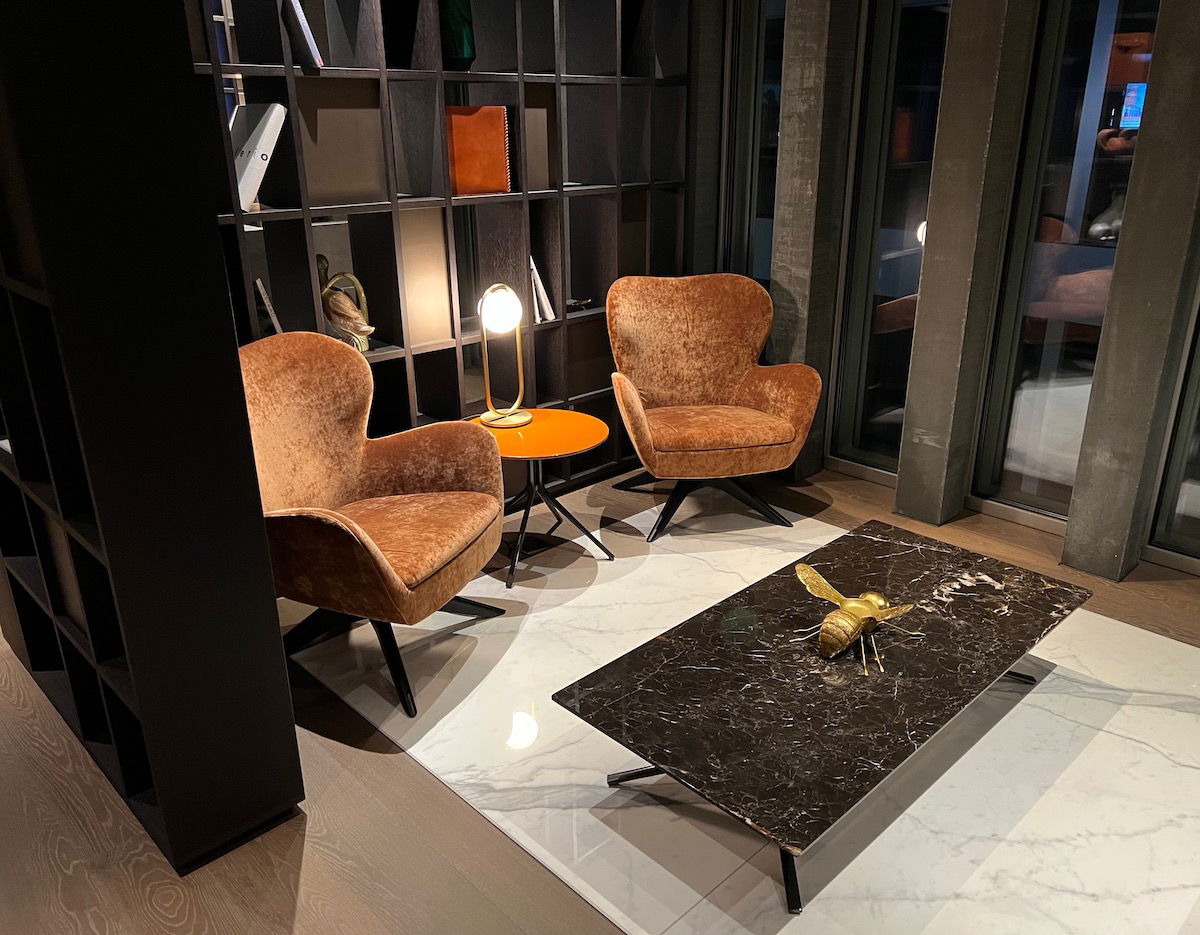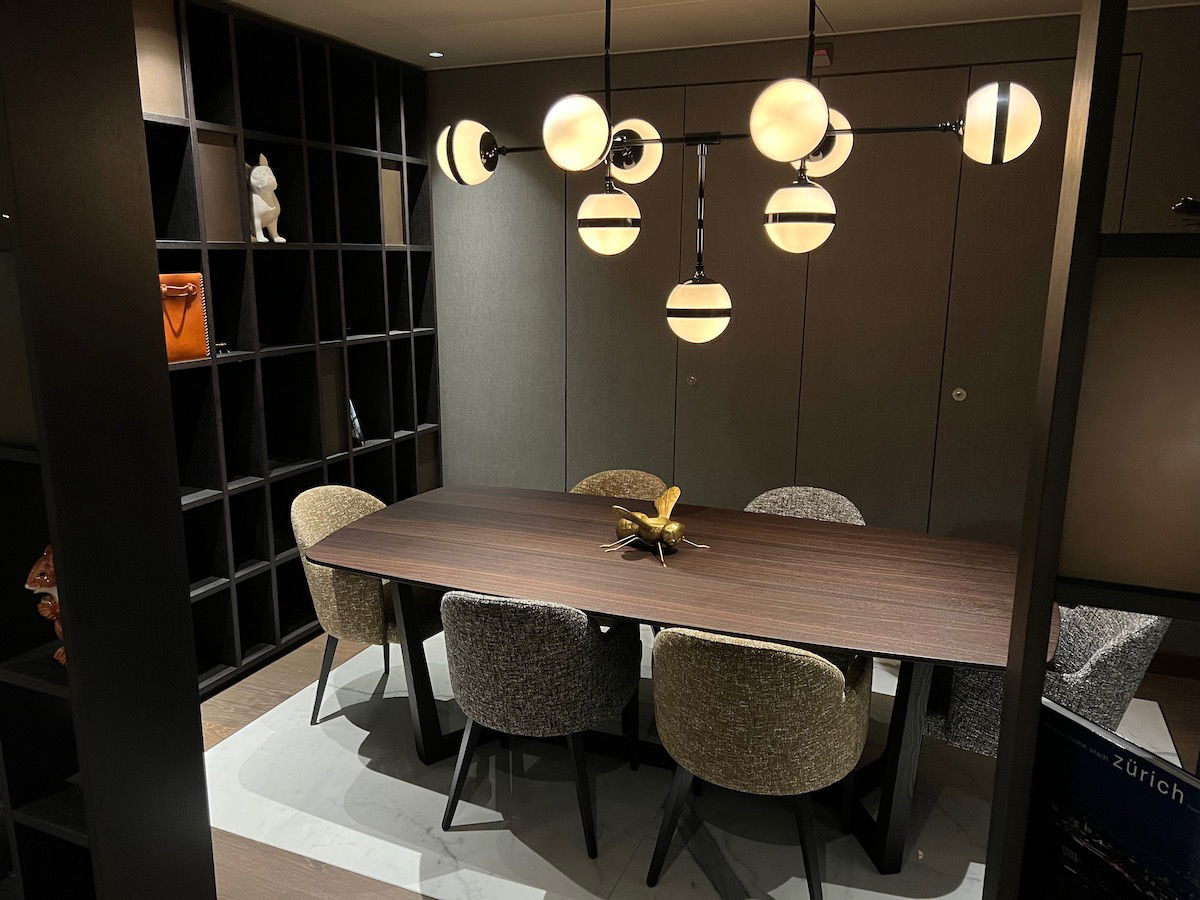 Hyatt Regency Zurich Airport Restaurant Babel dinner
Restaurant Babel is the hotel's all-day dining restaurant, and it's located right next to the lobby. The restaurant had decor that was nicer than what you'd typically find at an airport hotel, and there was even outdoor seating.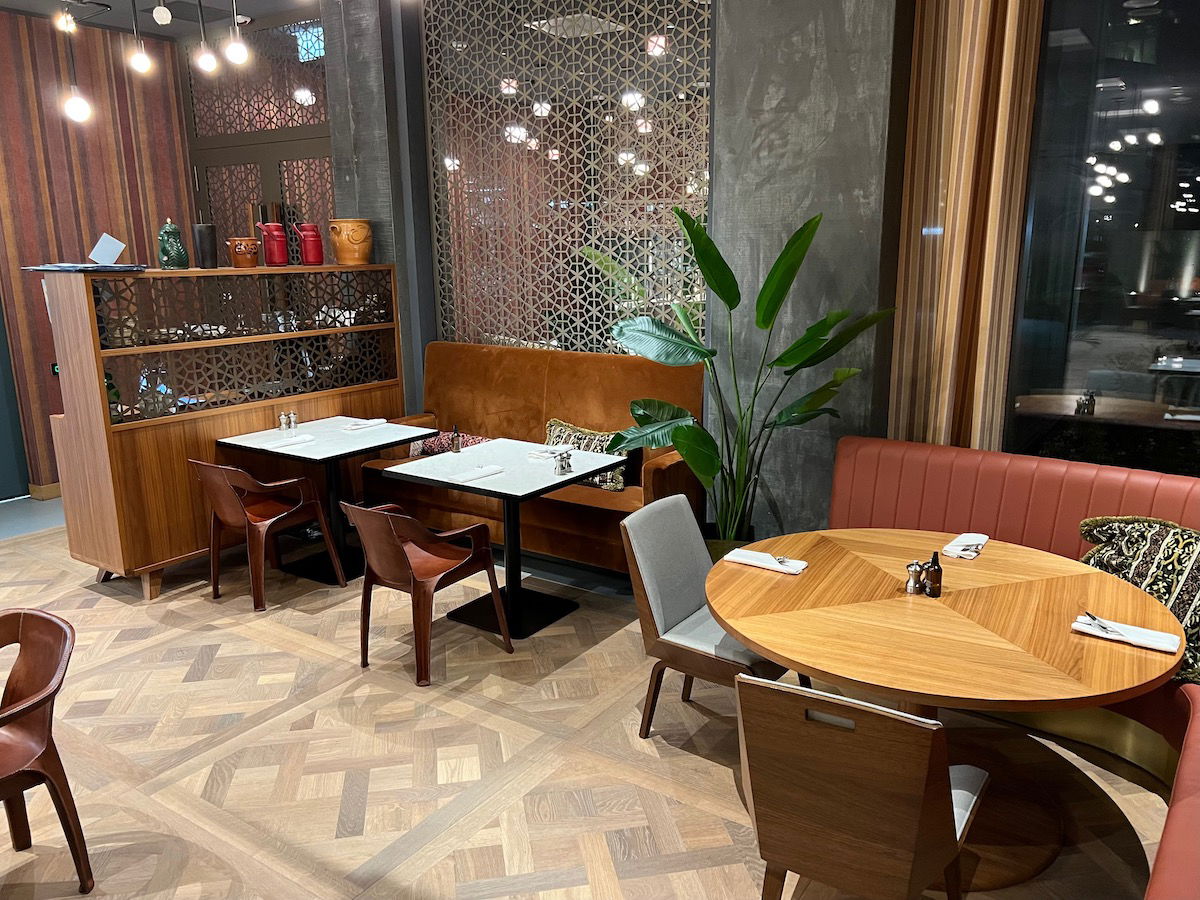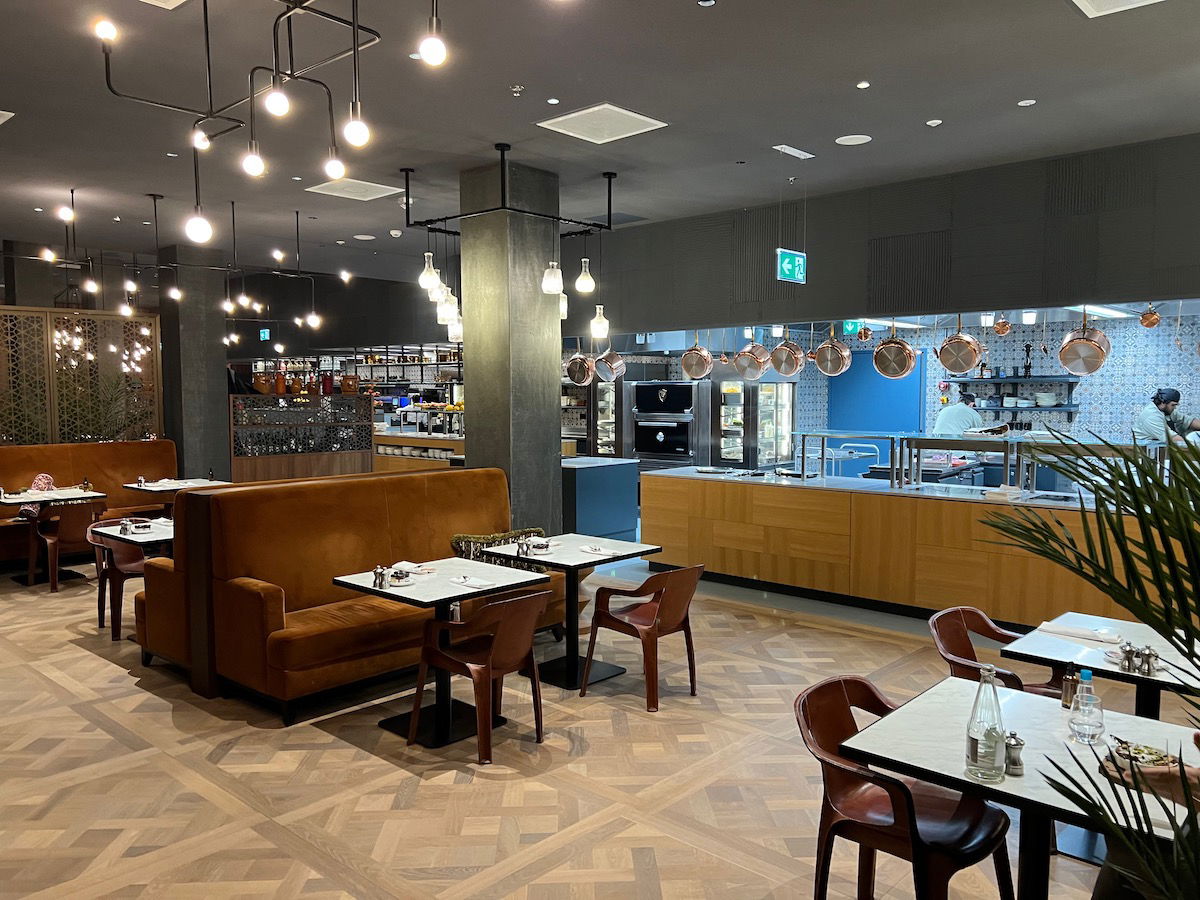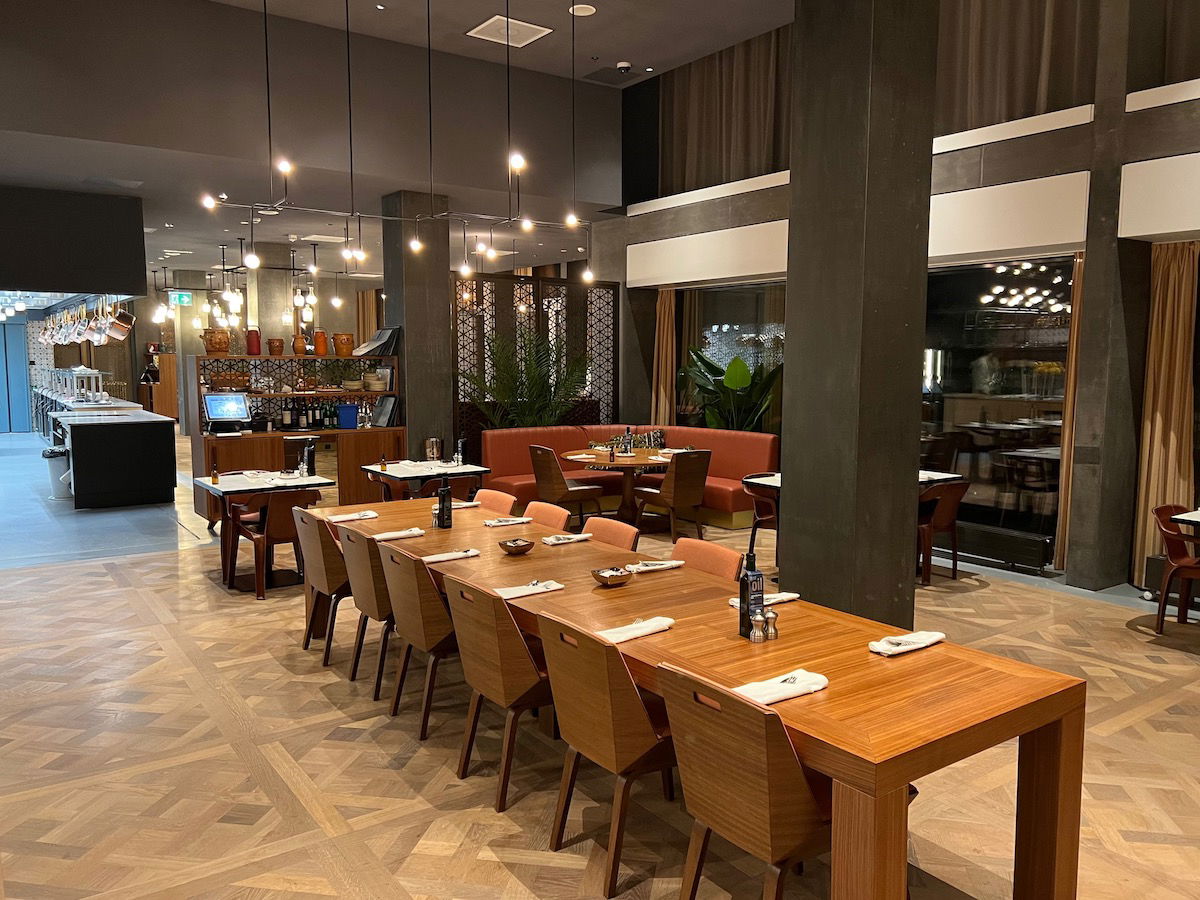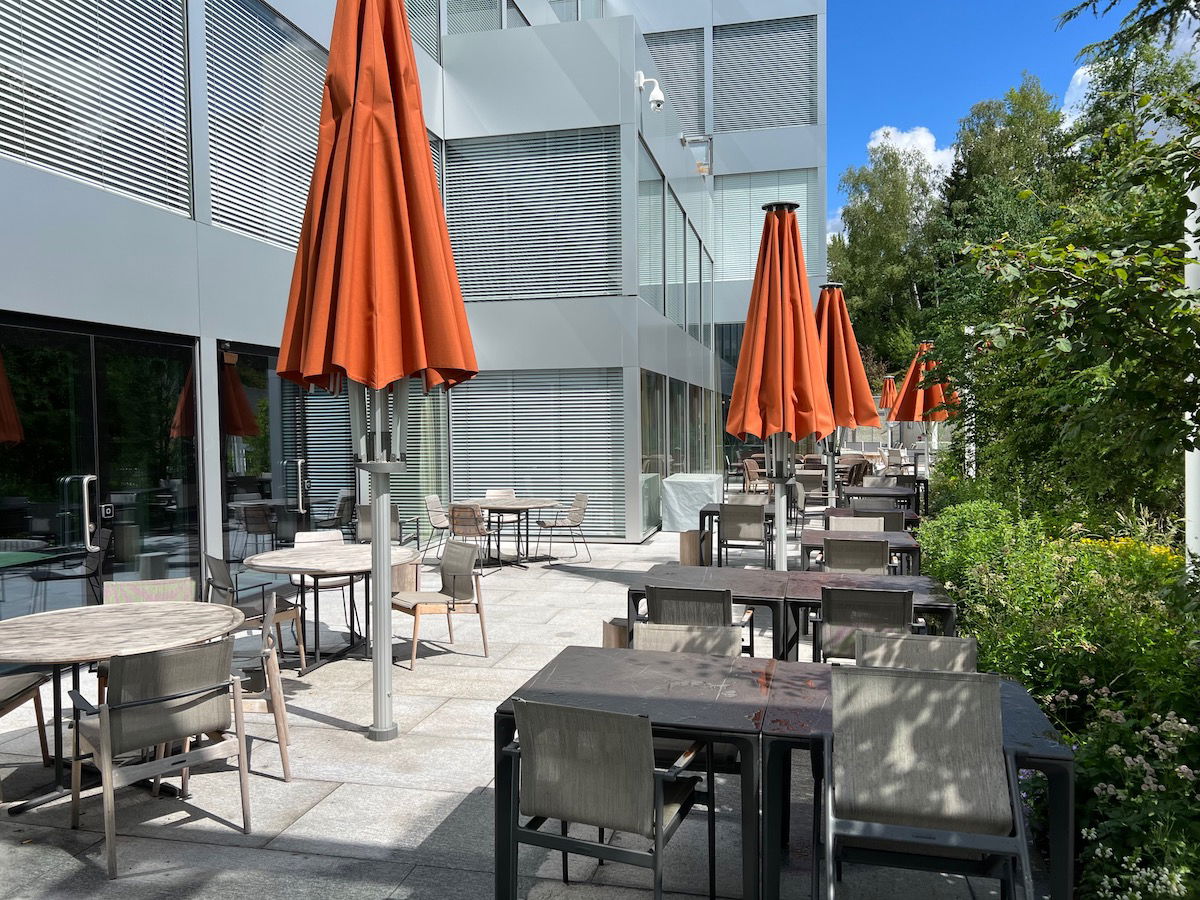 While Regency Club cocktails and snacks are served here nightly from 6PM until 8PM, unfortunately we landed too late to take advantage of that. Since we were hungry, we decided to have dinner at the restaurant. Babel is a Middle Eastern restaurant, which we're huge fans of, and you can find the menu here.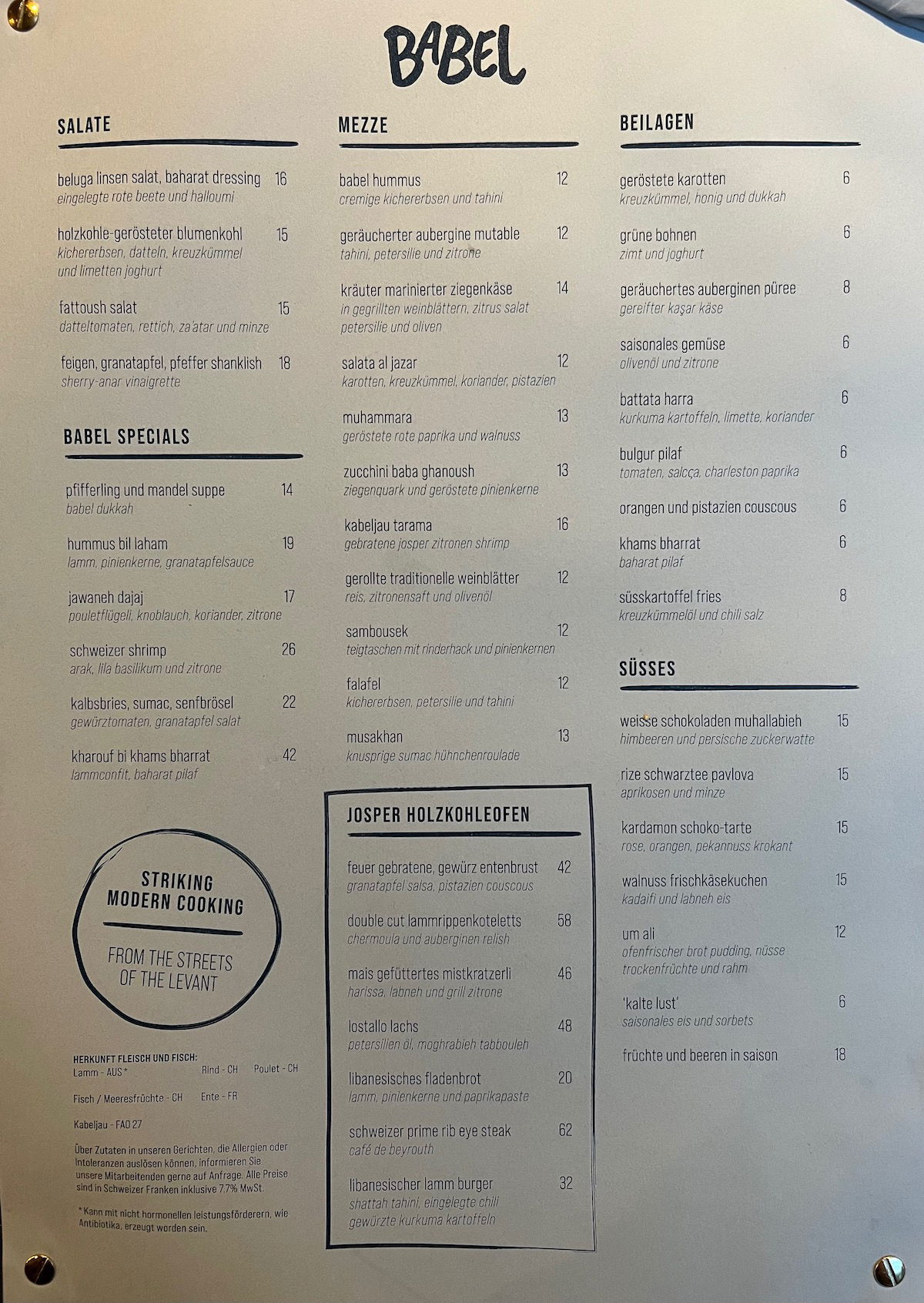 At the start of the meal we were offered some delicious bread, dips, and veggies.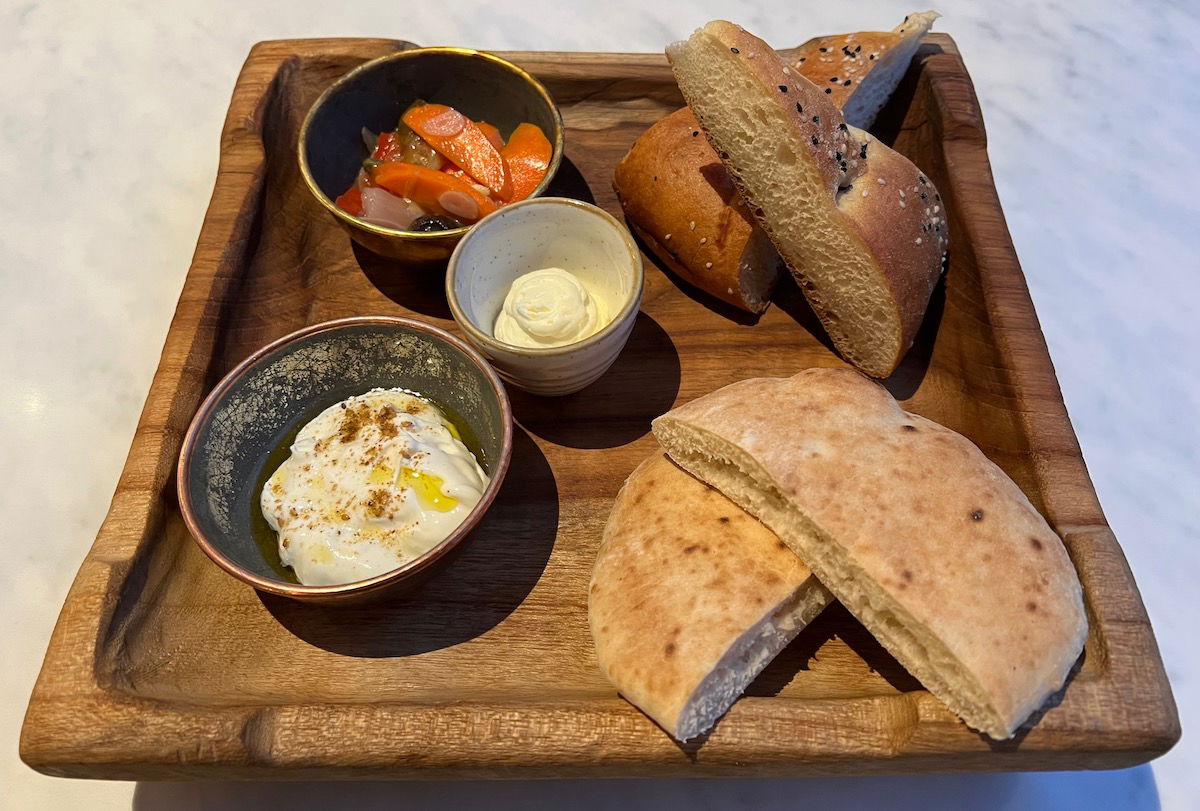 We ordered four things to share, including the spiced carrots, falafel, fattoush salad, and eggplant with pomegranate. Yum, yum, yum, and yum.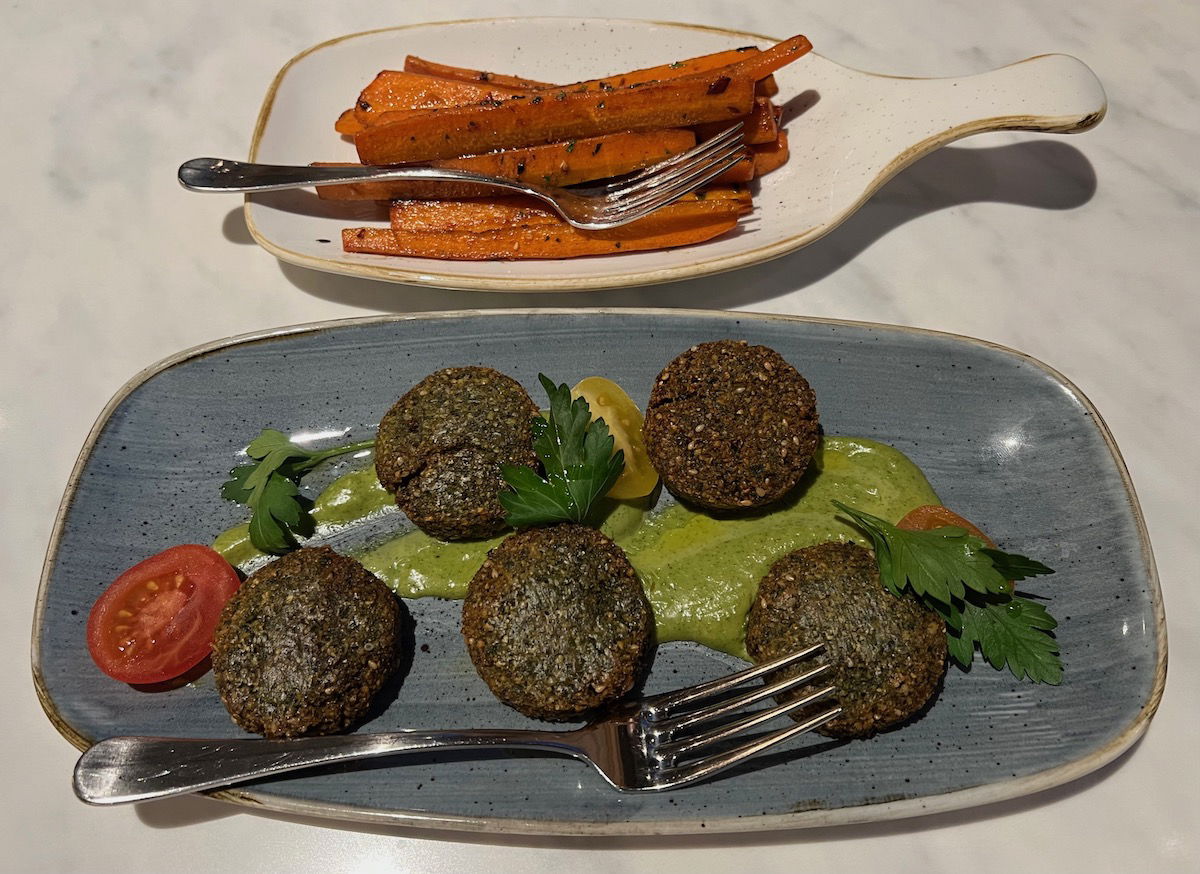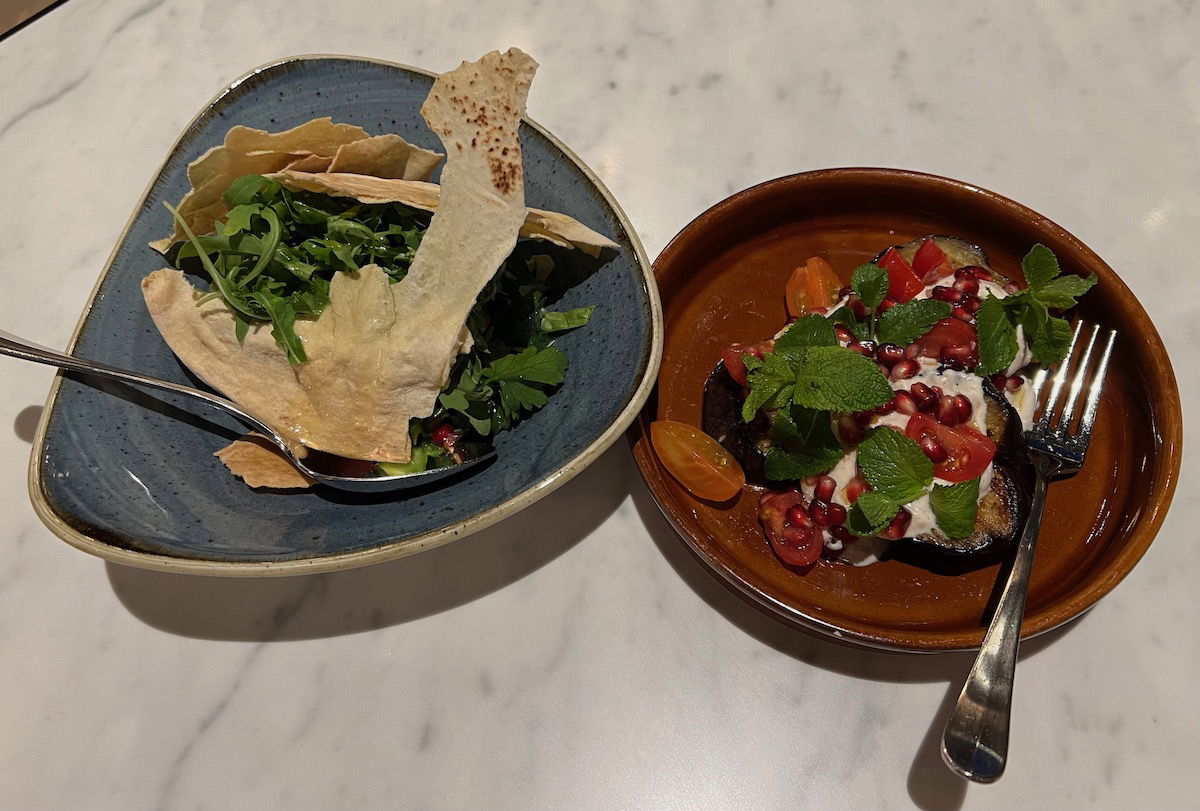 Hyatt Regency Zurich Airport breakfast
Breakfast at the Hyatt Regency is also served at Babel. It's available daily from 6:30AM until 10AM (until 11AM on weekends). Breakfast consisted primarily of a solid buffet, which had juice, pastries, veggies, cold cuts, a variety of yogurt, cereal, bread, and several hot options.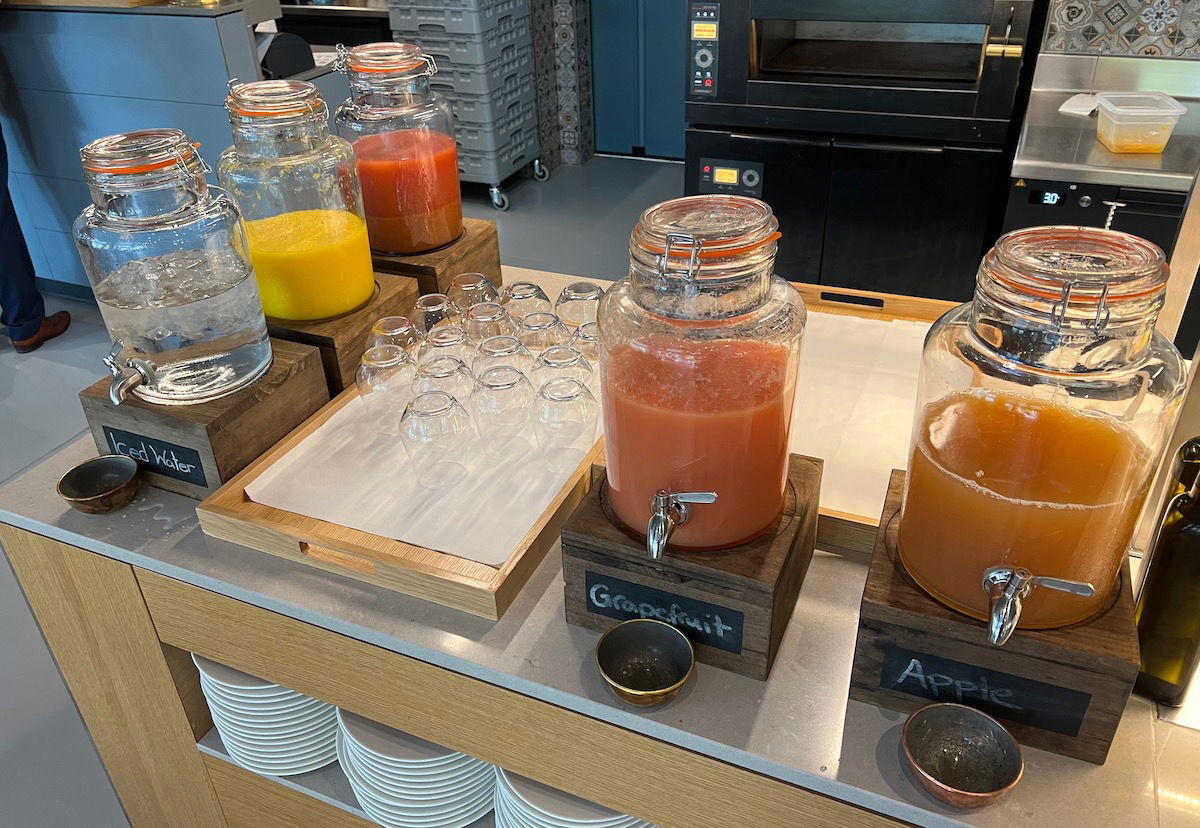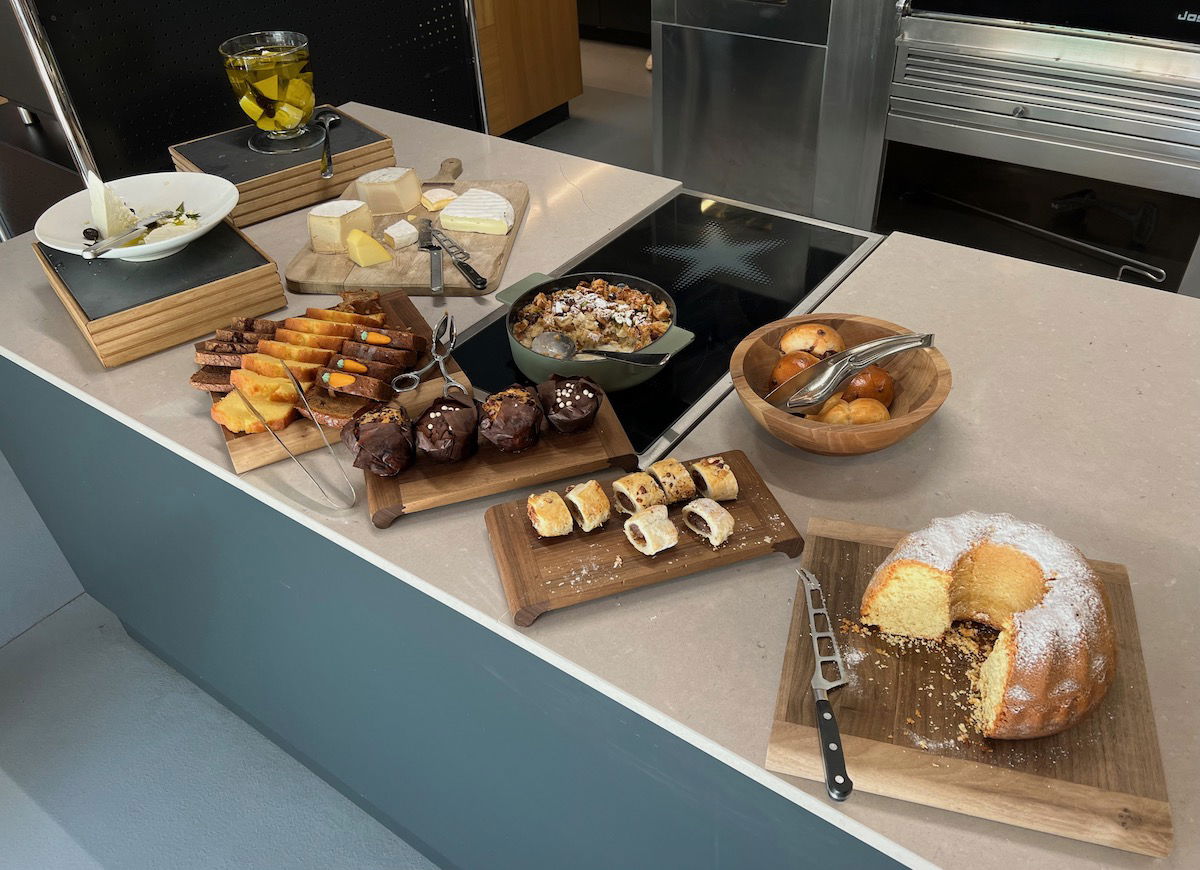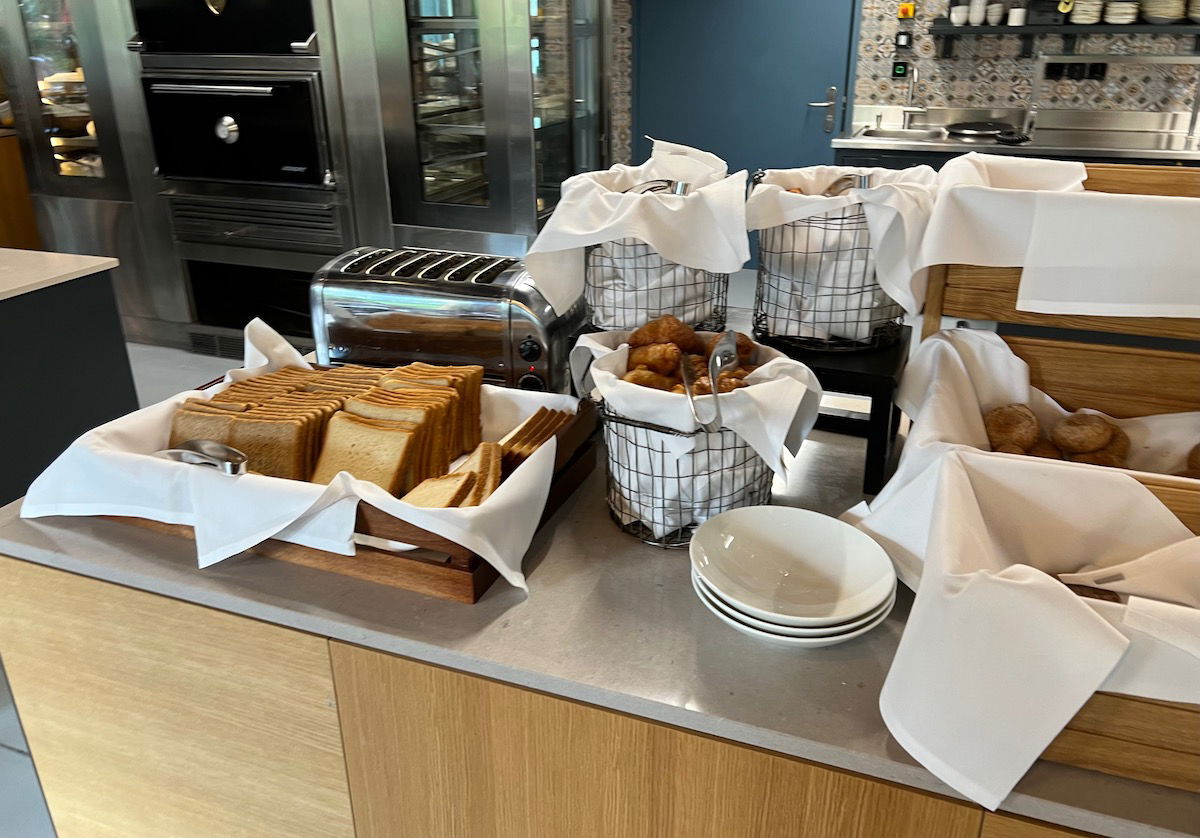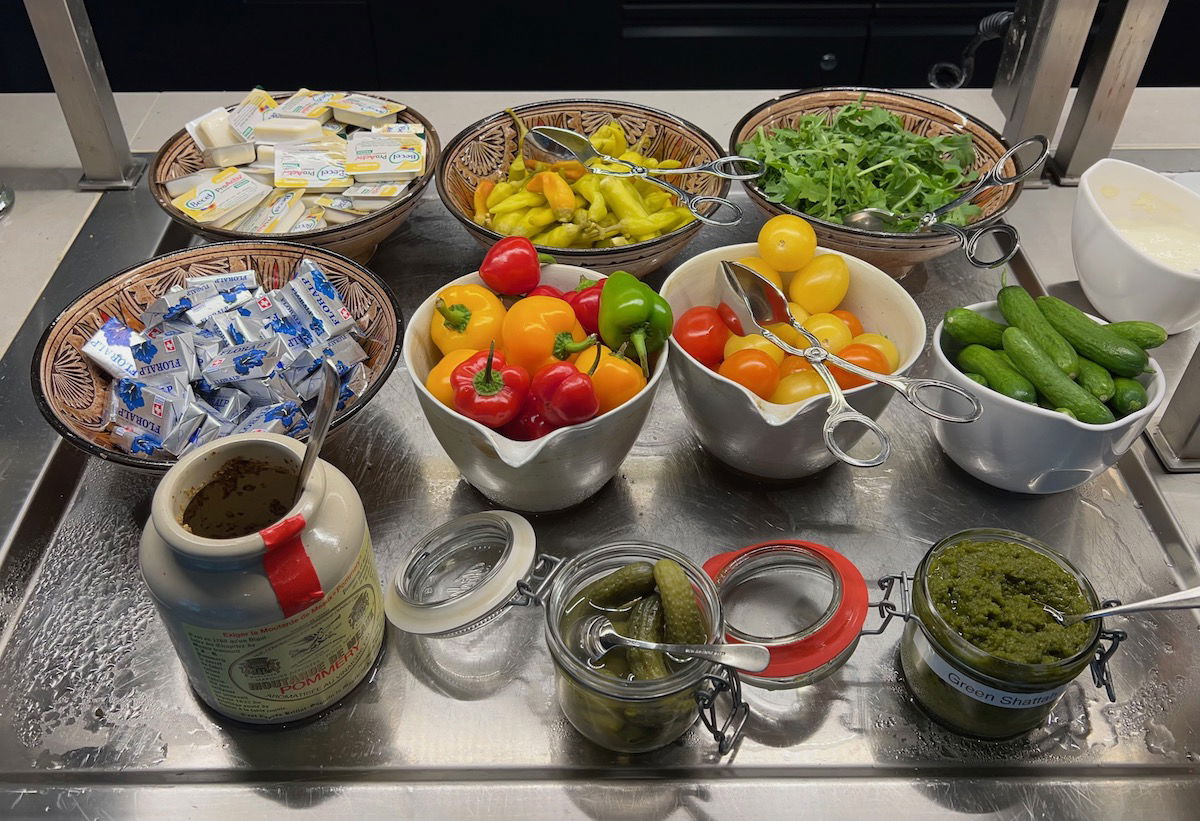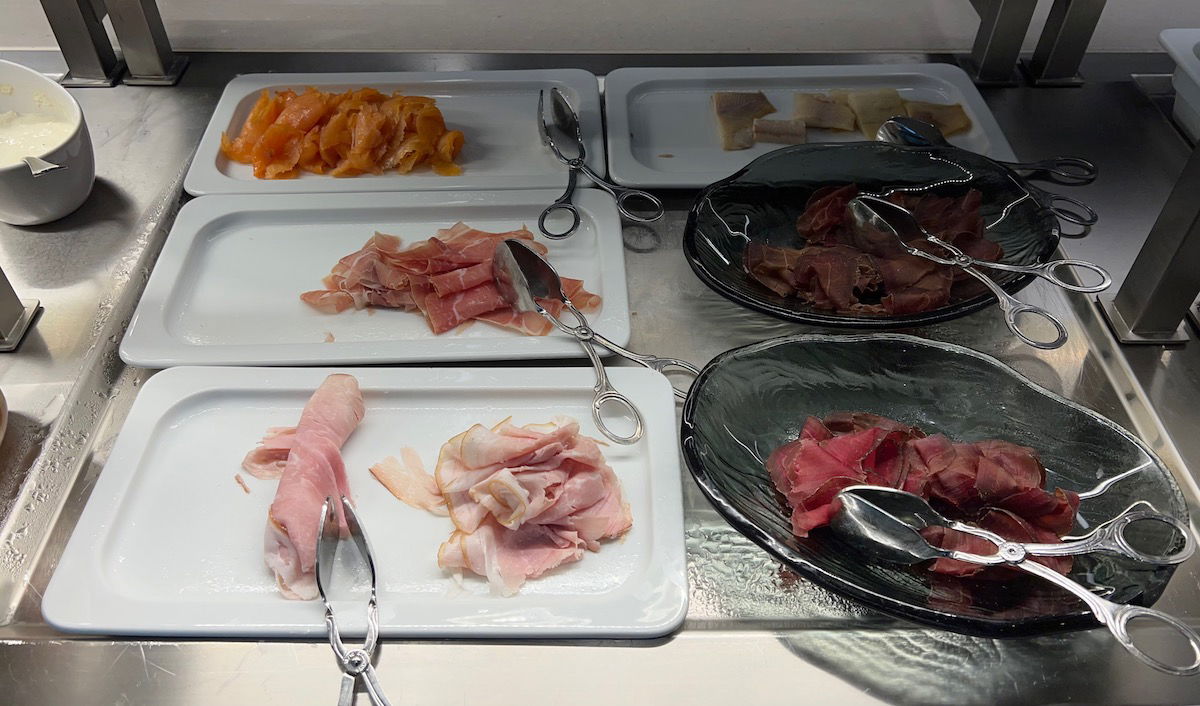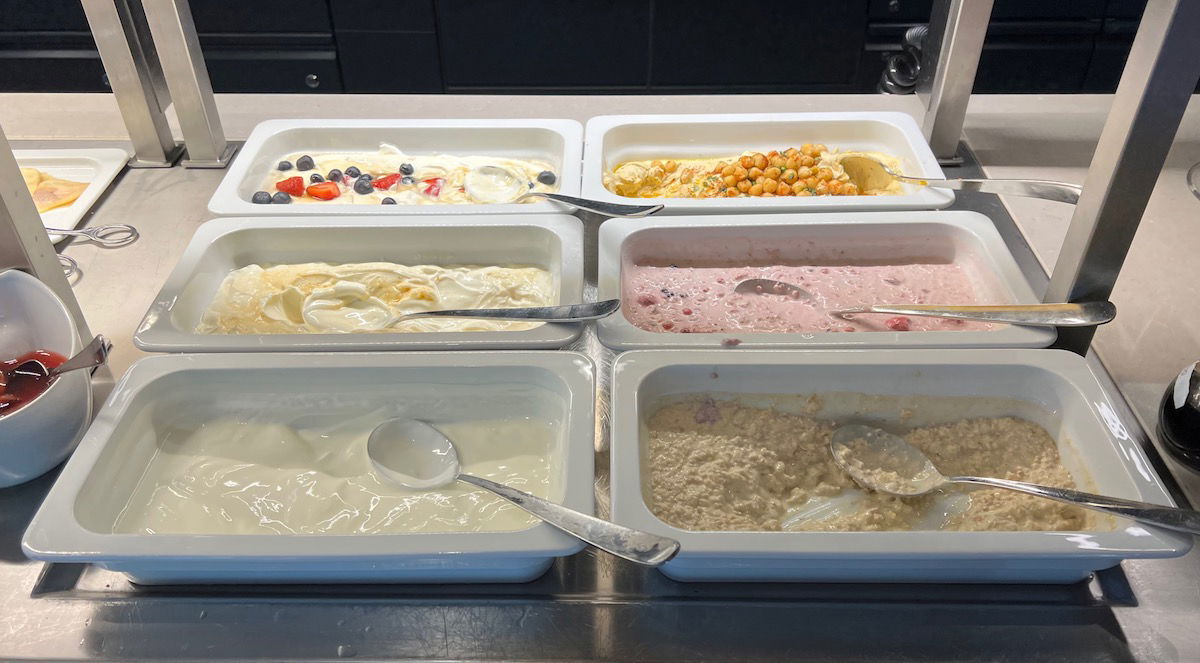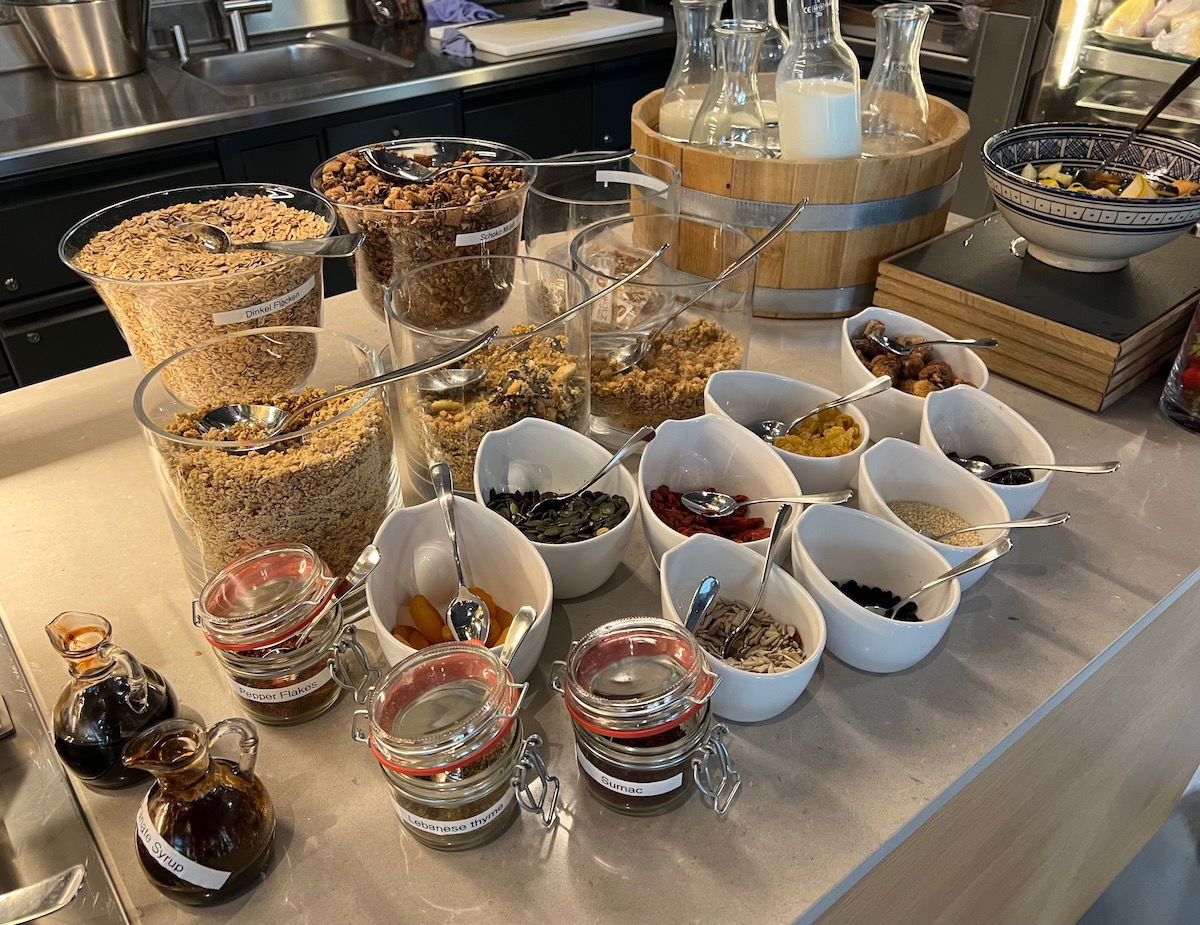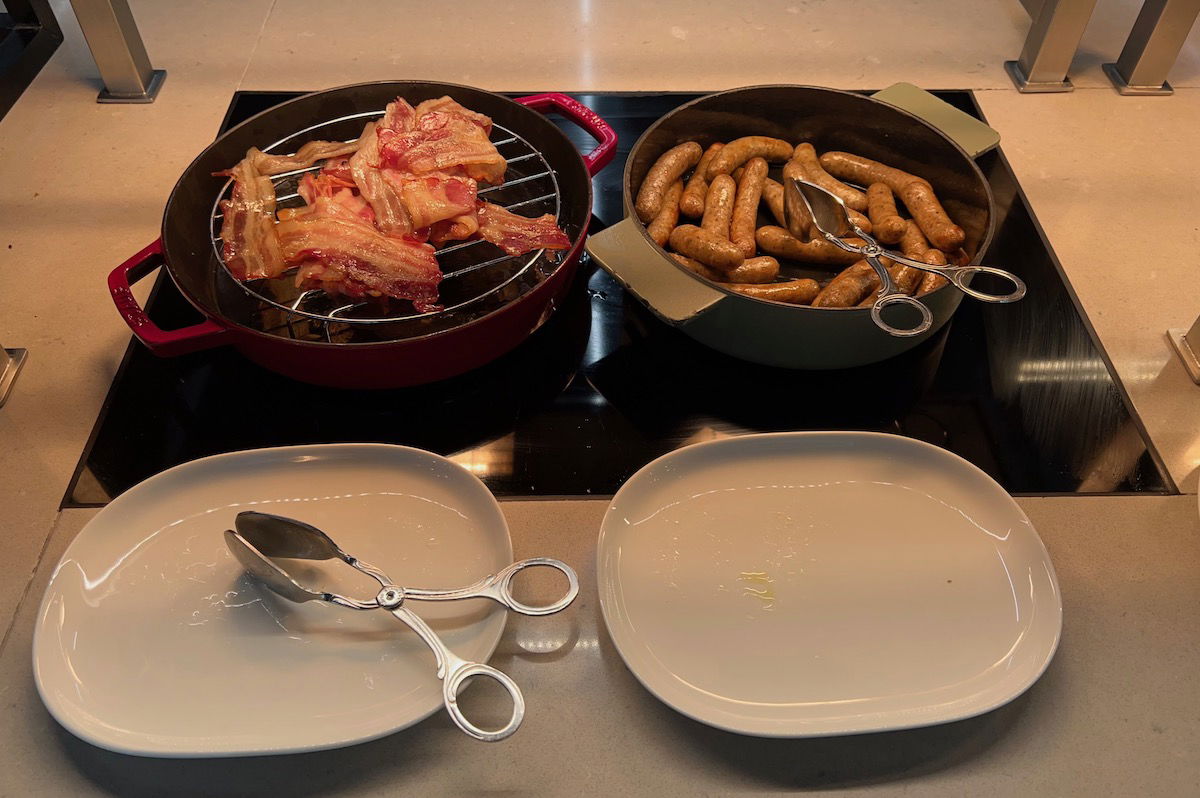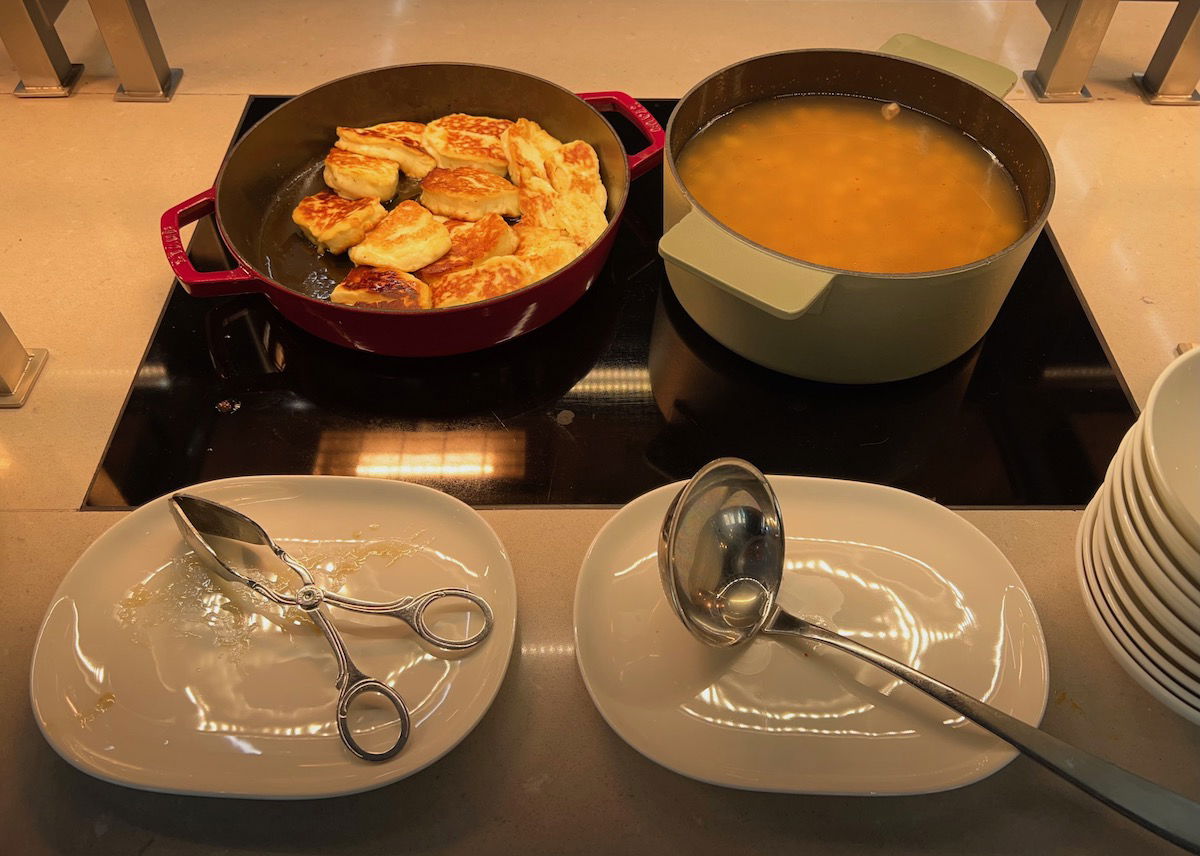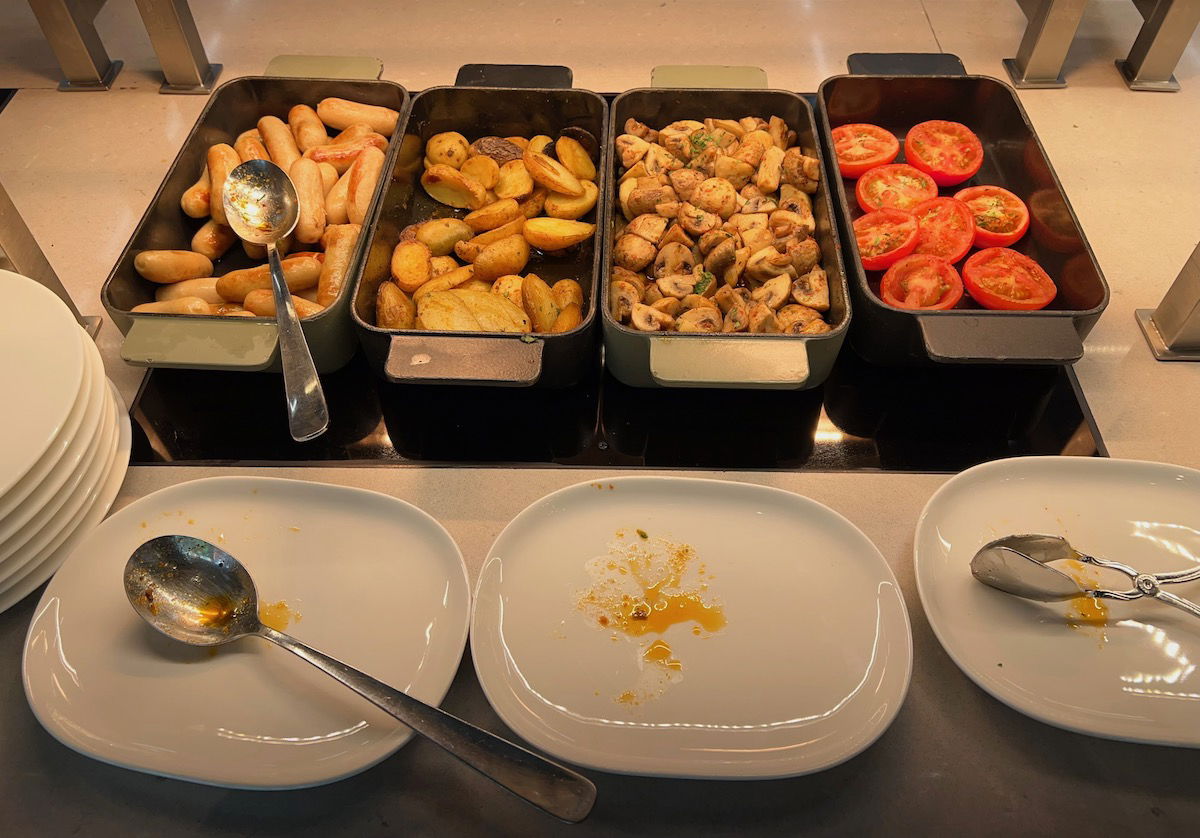 In addition to that, there was a menu you could also order off of at no extra cost, to supplement the buffet. You could order eggs (basically) any style, shakshuka, almond waffles, peanut butter pancakes, cinnamon french toast, etc.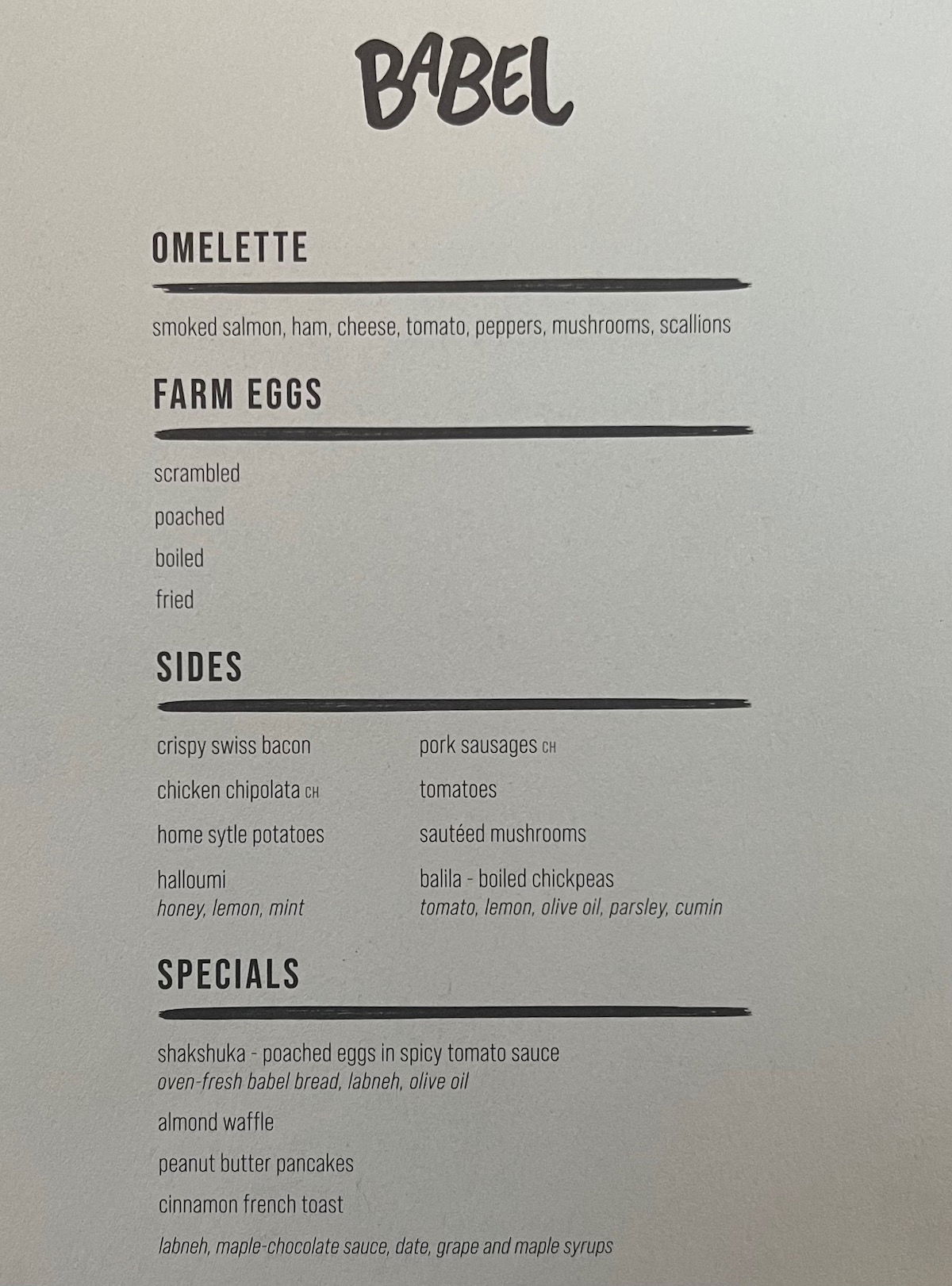 Shakshuka is one of my favorite breakfast dishes, so I of course ordered that, along with a side of halloumi. Yum. That more than satisfied me, and I didn't need anything from the buffet.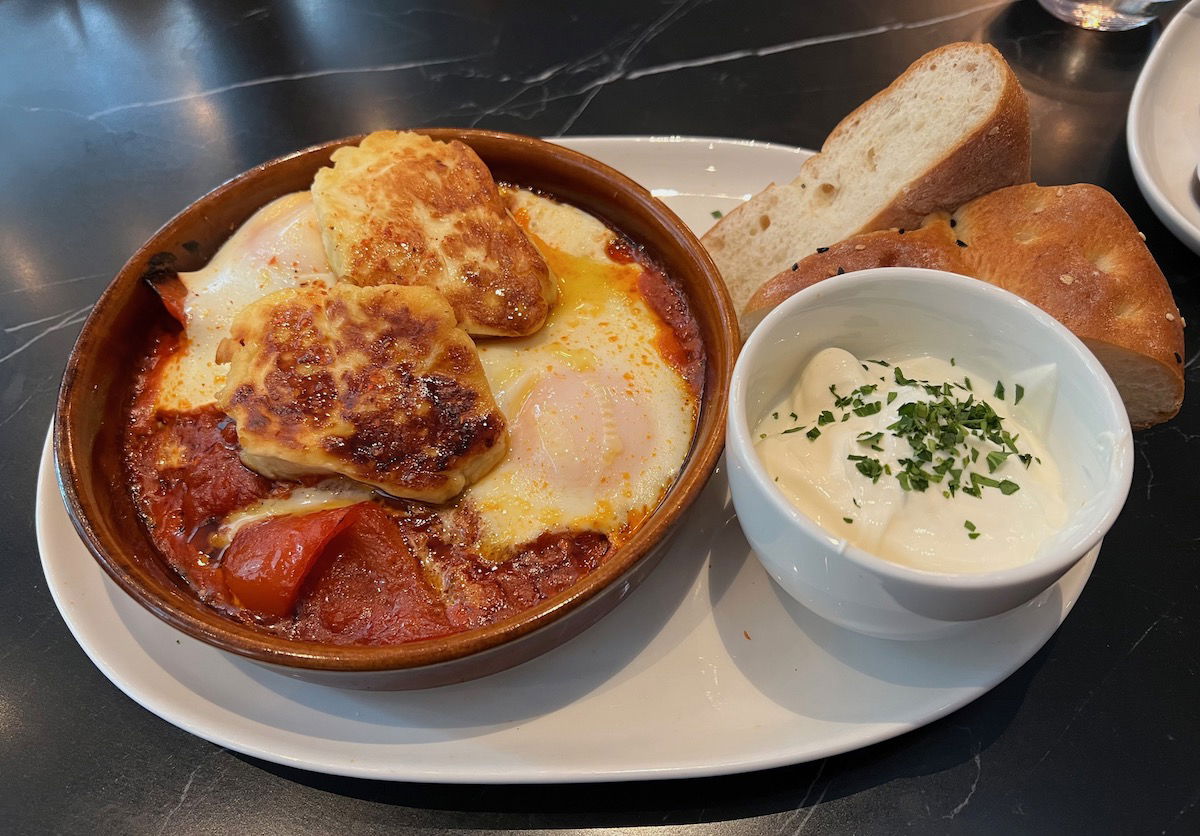 Hyatt Regency Zurich Airport 24/7 market
If you're just looking to grab a snack or drink to-go, the Hyatt Regency has a 24/7 market, located right next to the lobby. We didn't buy anything here, but some might find this to be useful.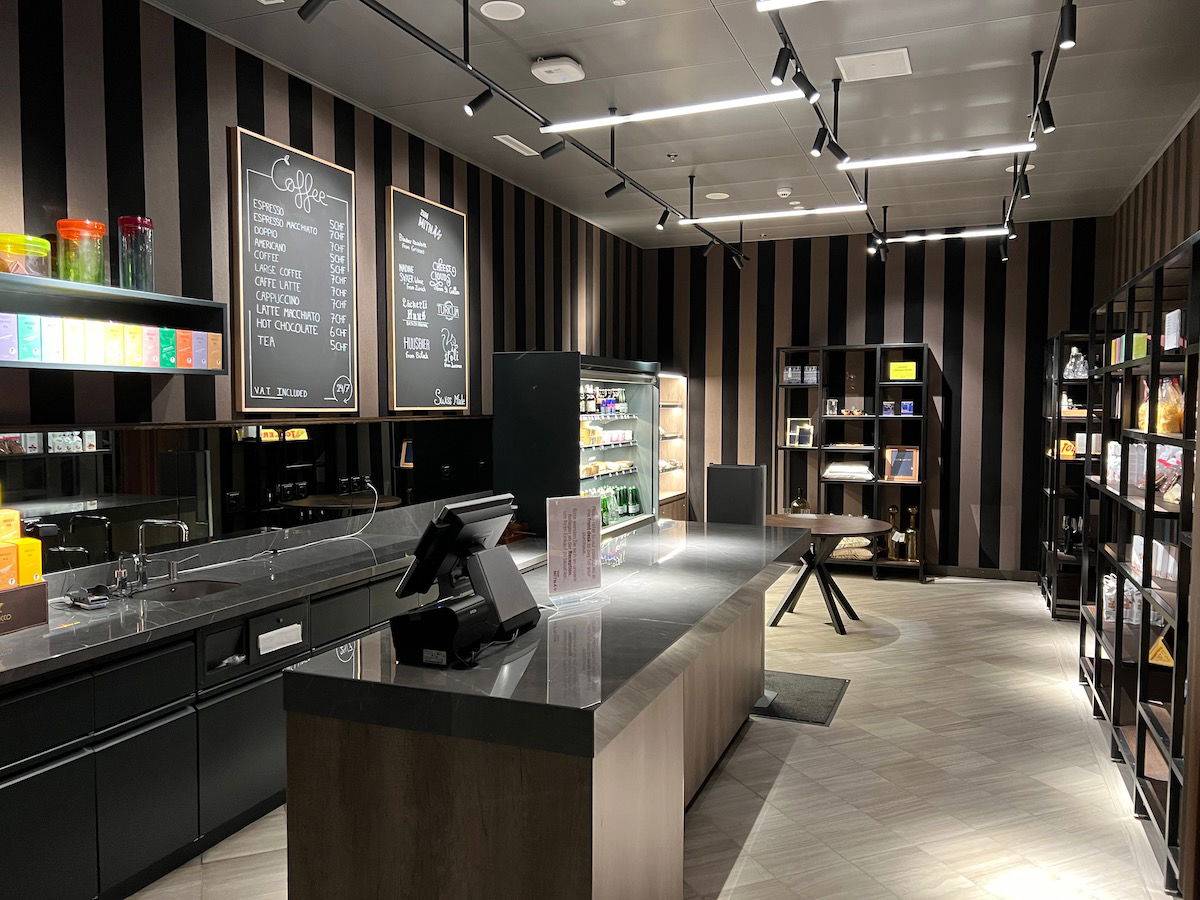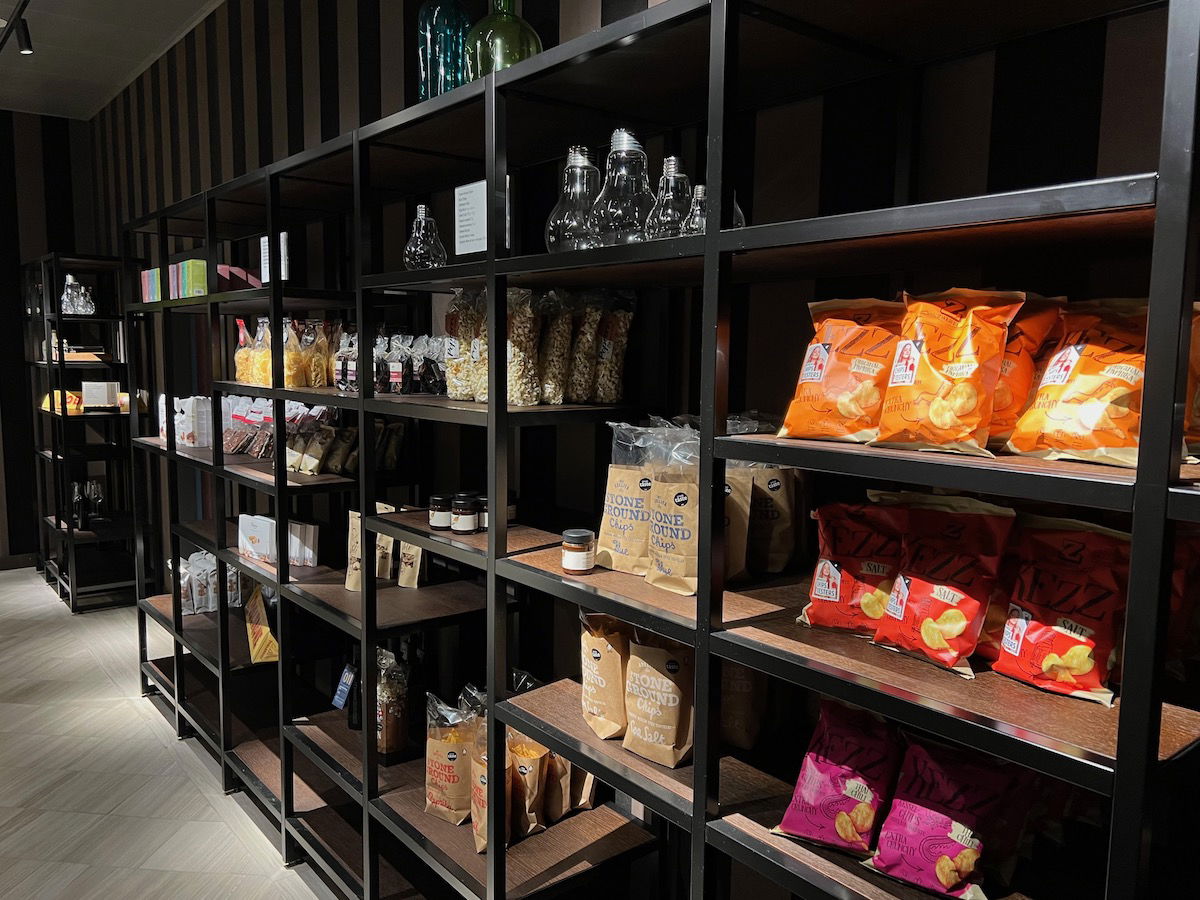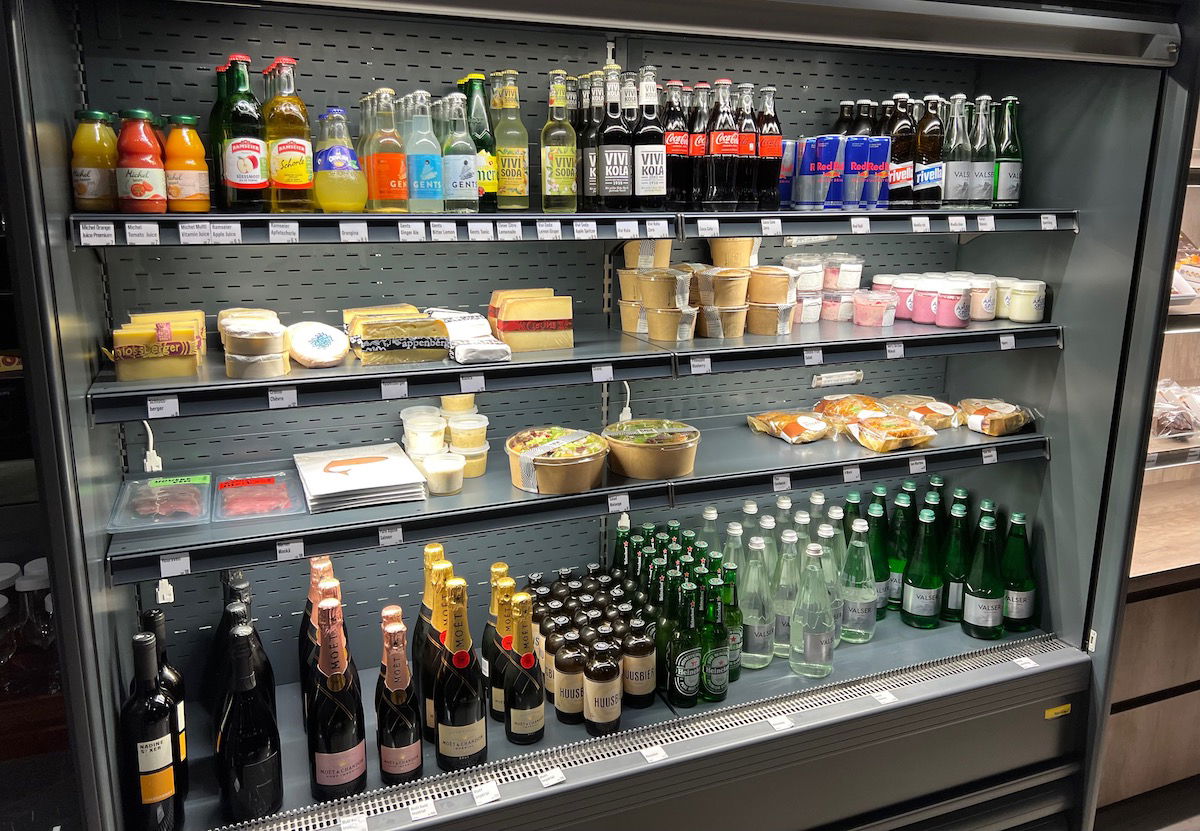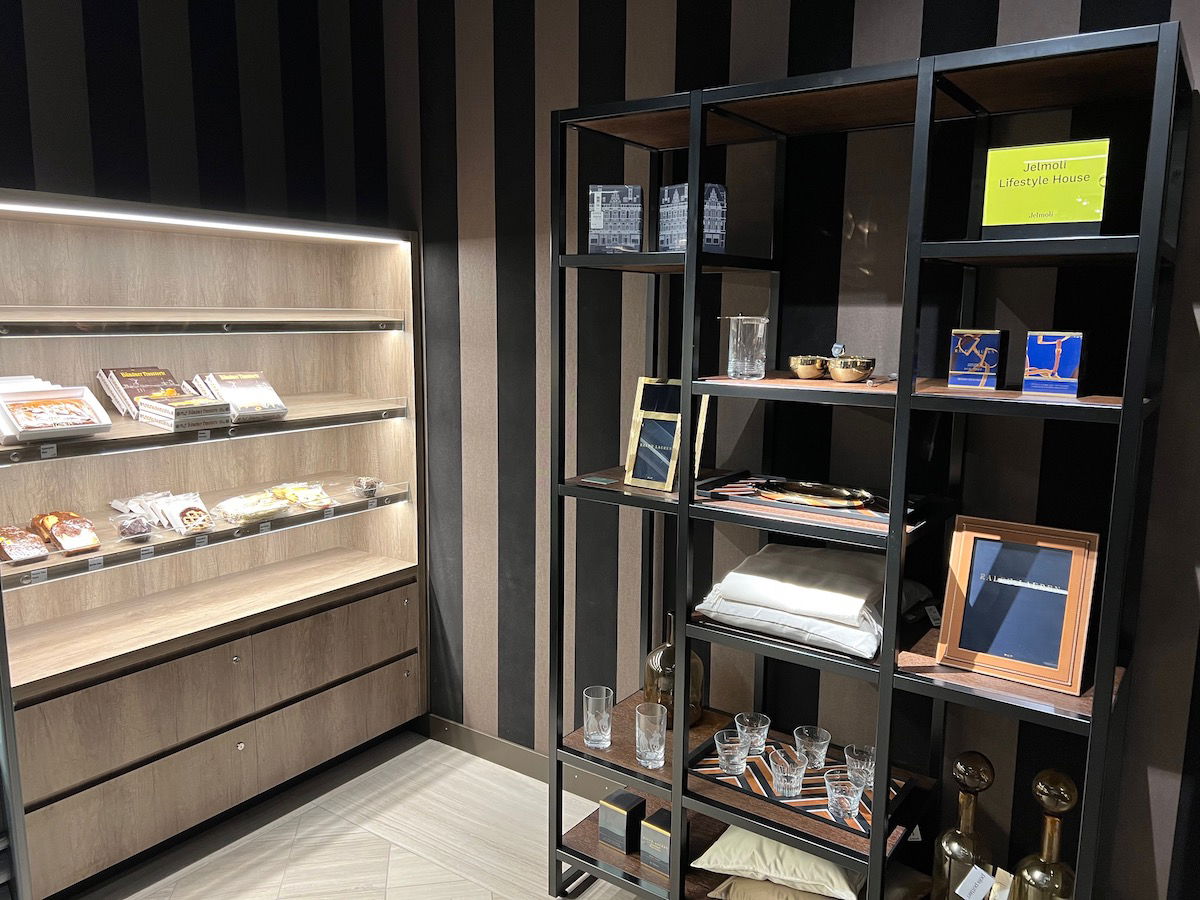 Hyatt Regency Zurich Airport gym & spa
The Hyatt Regency has a gym and spa on the eighth floor. The gym was excellent, with plenty of modern cardio and weight equipment.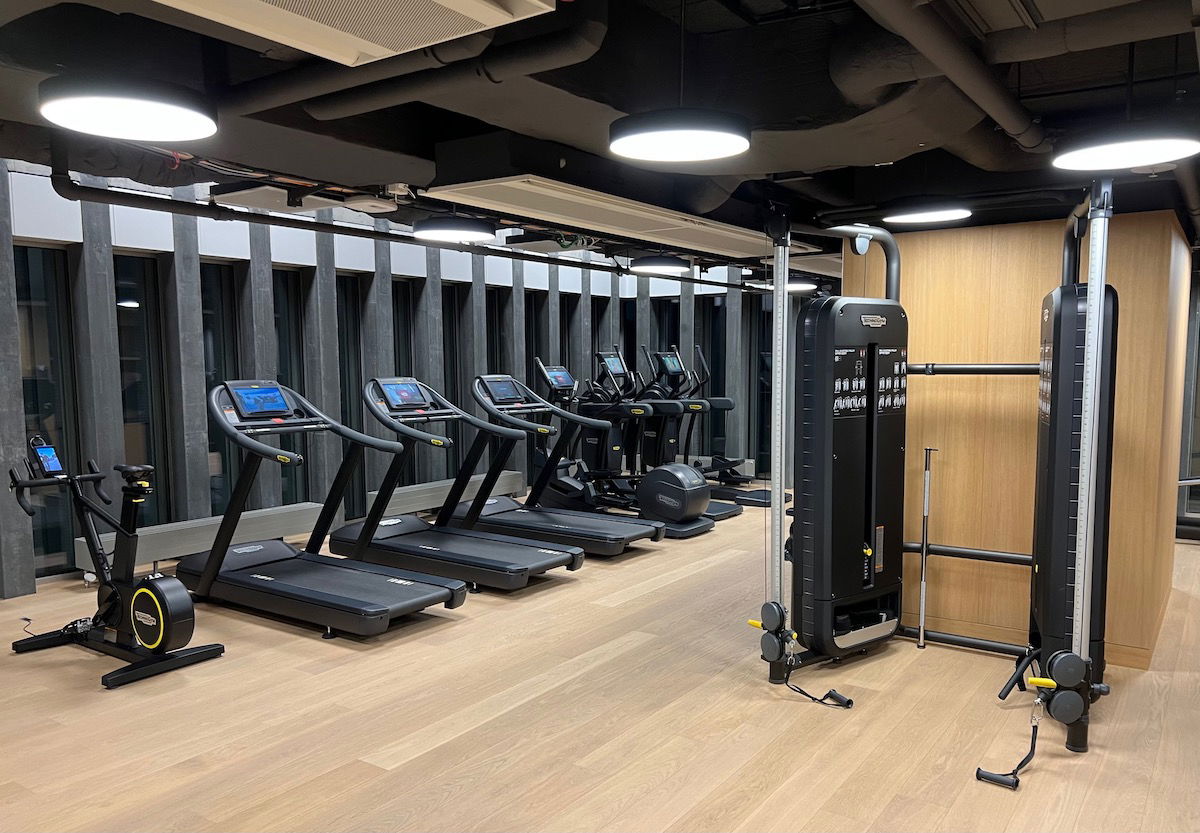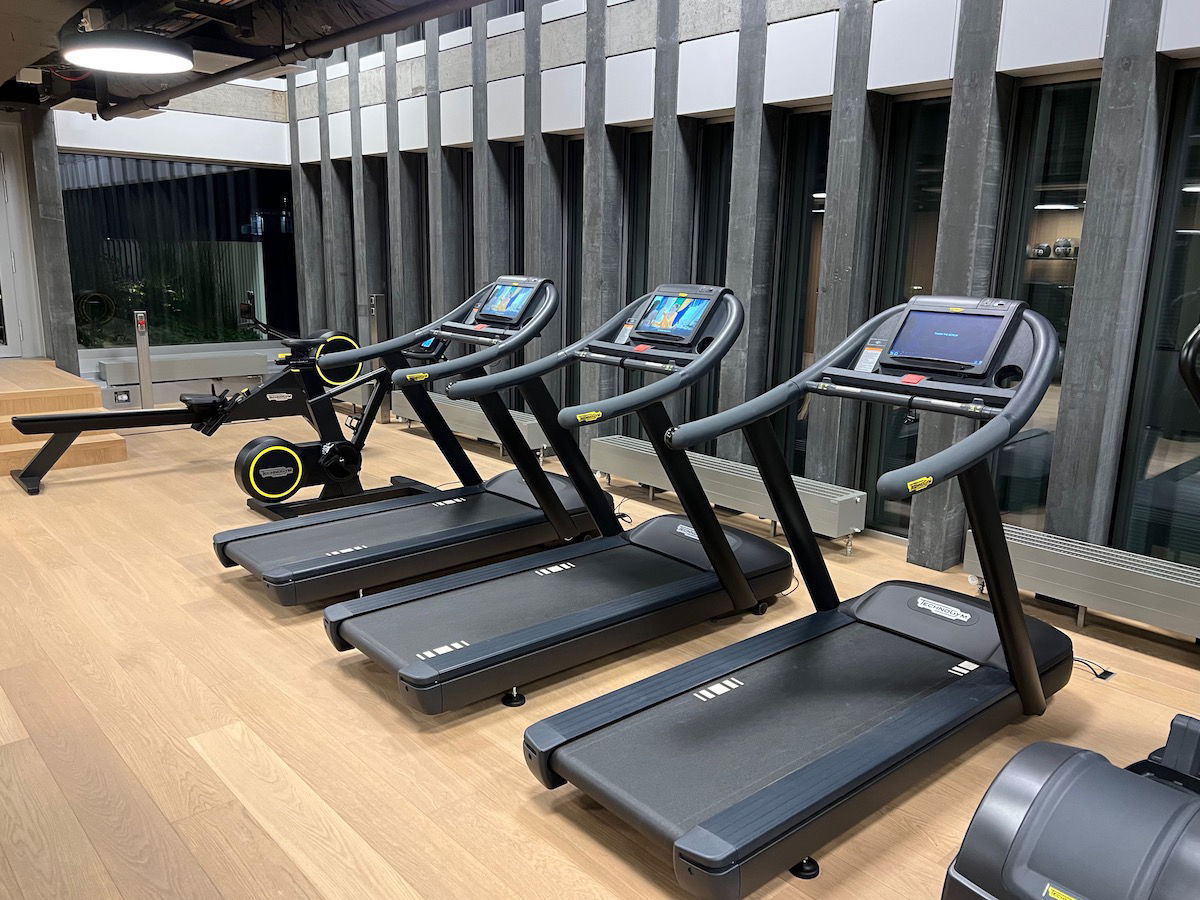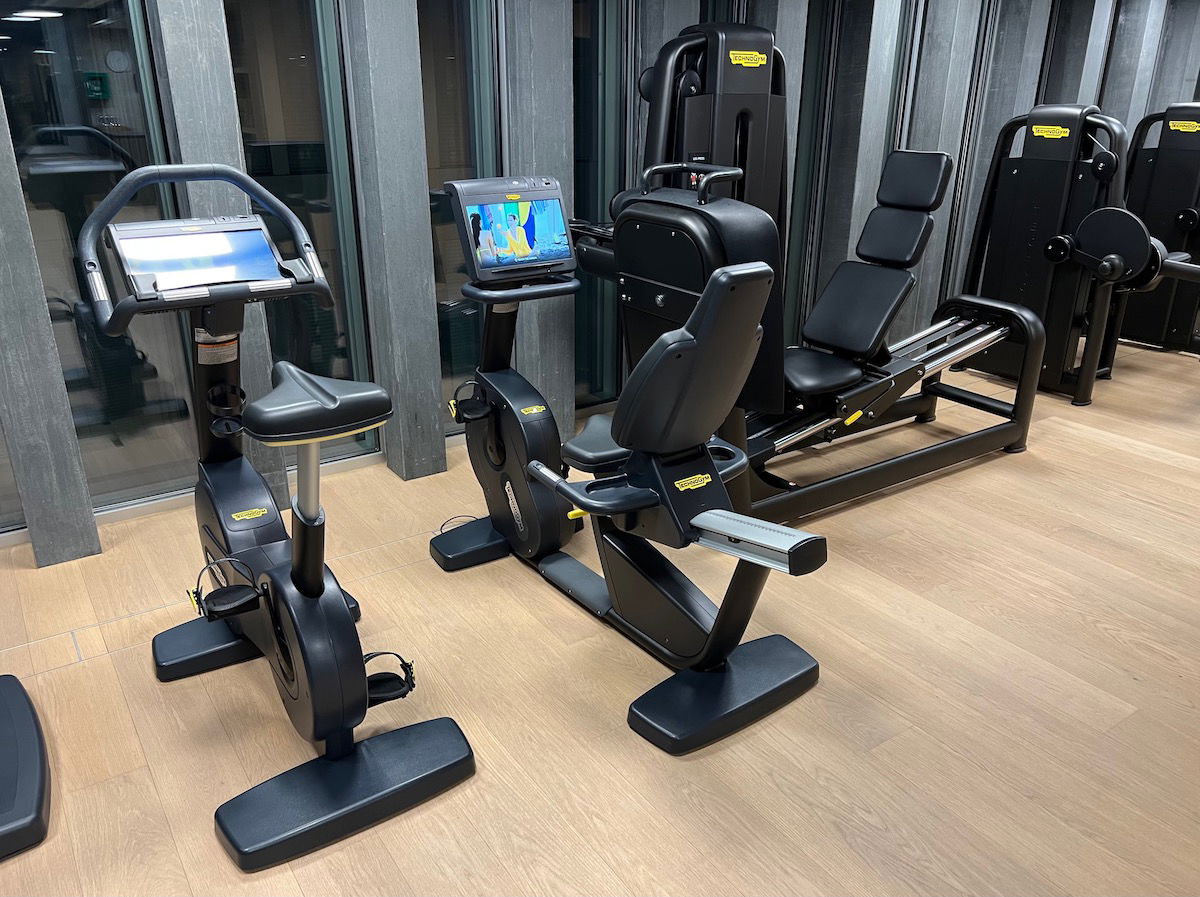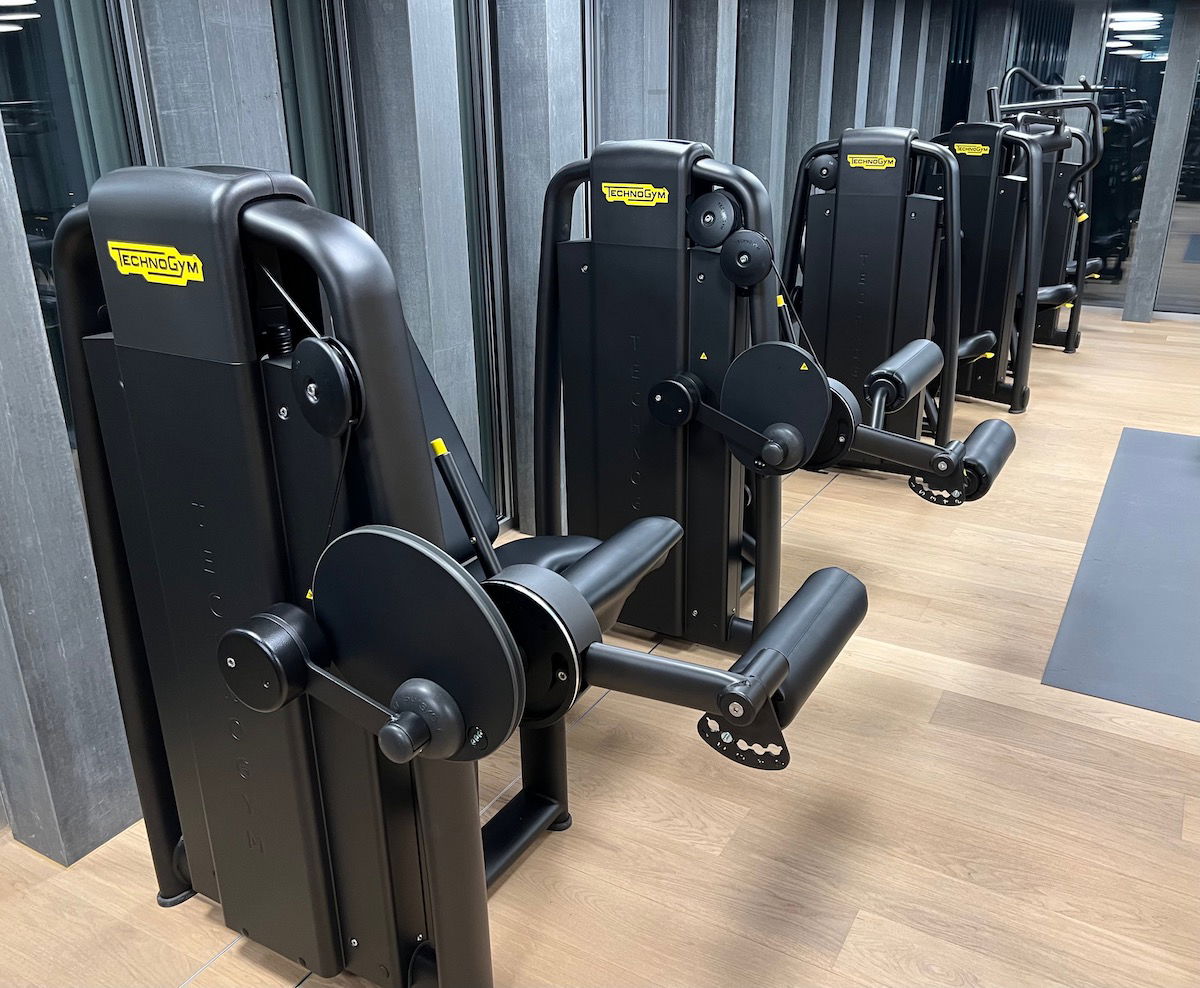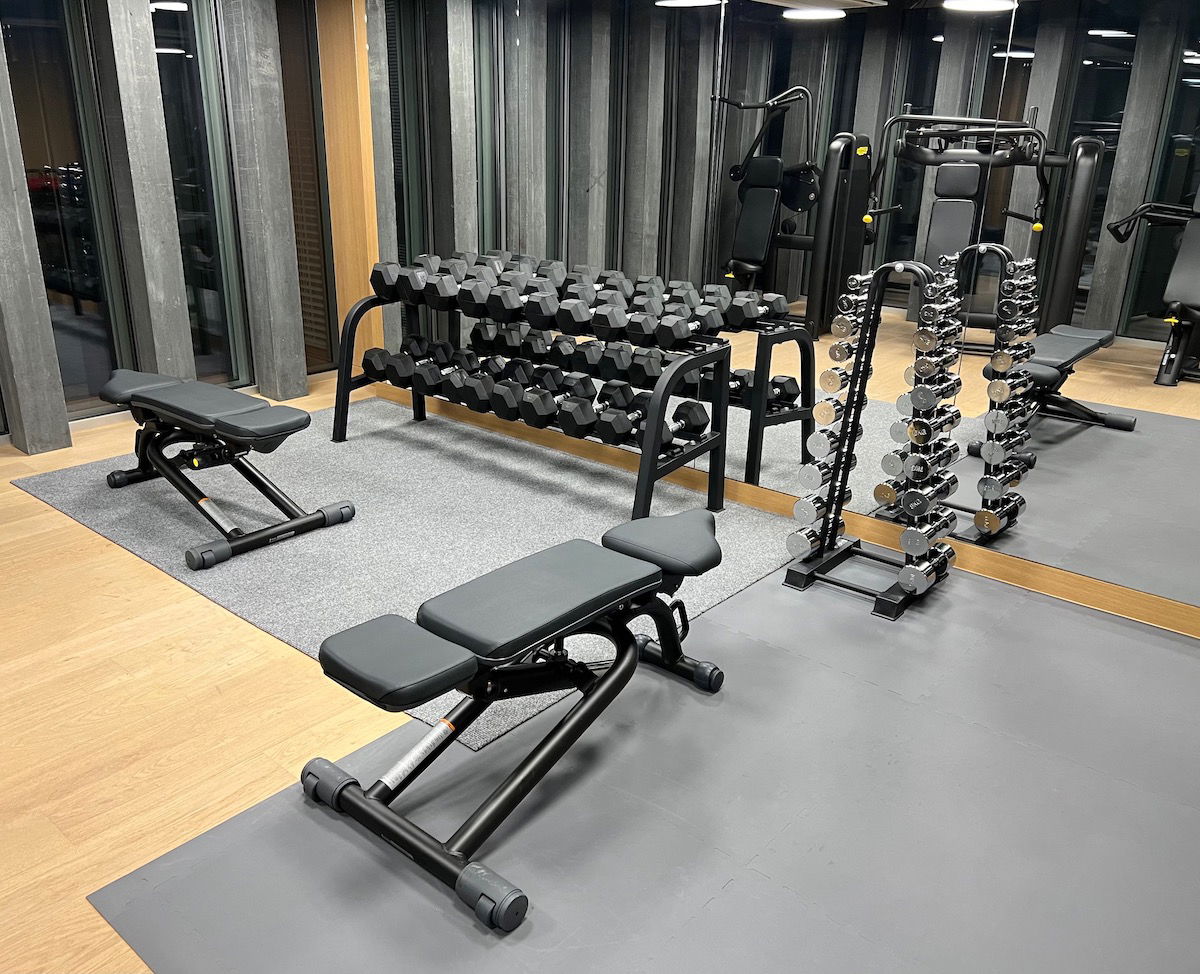 There was also a spa area with a sauna, though it didn't look like any treatments were being offered. Still, many will appreciate the sauna.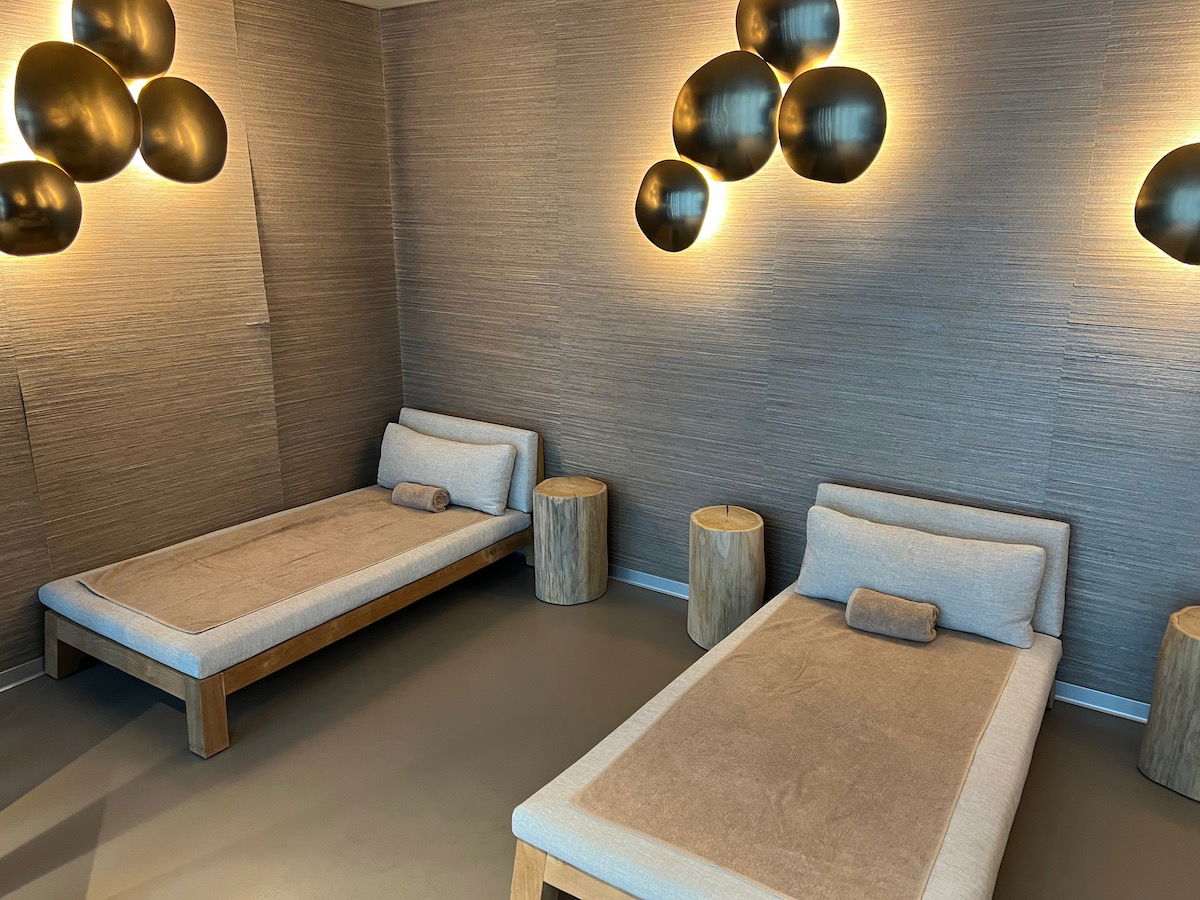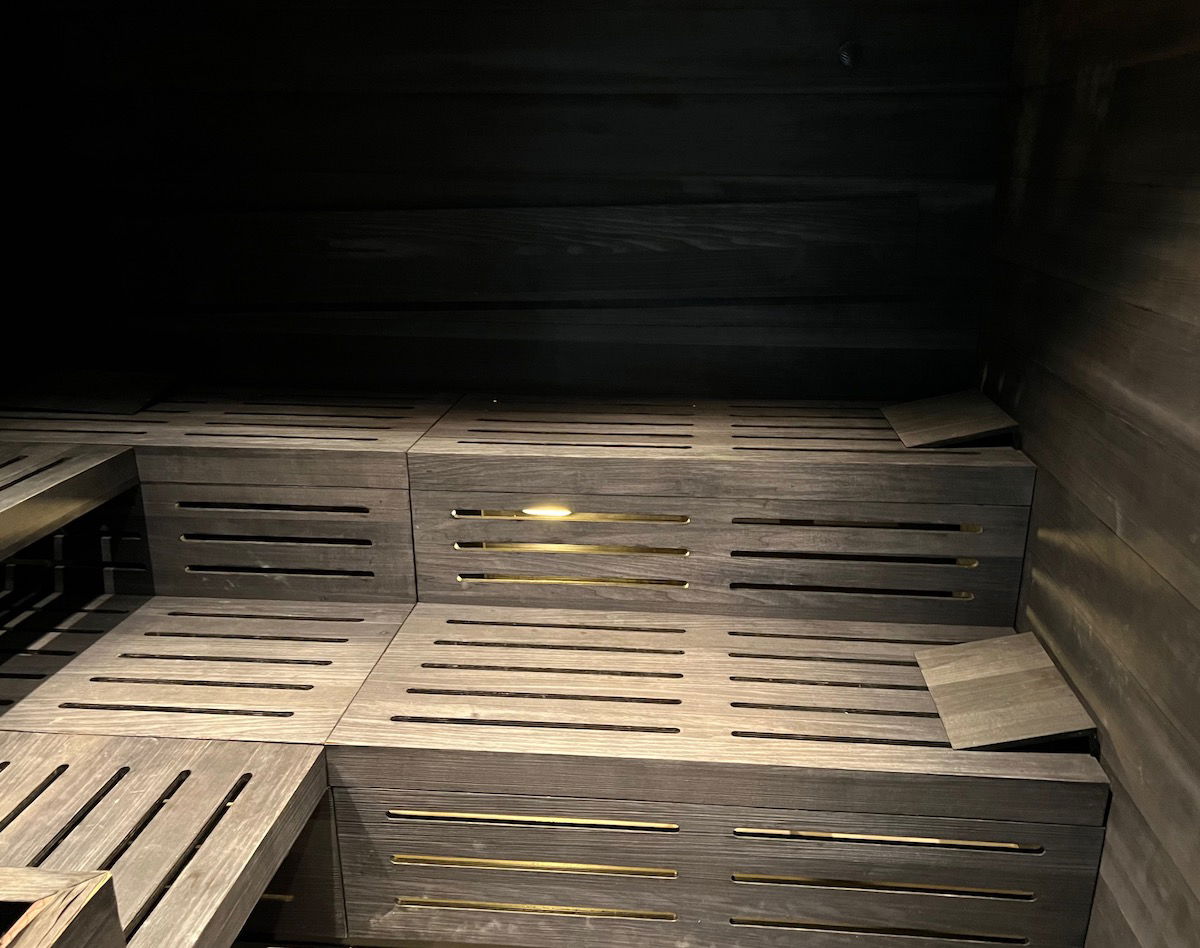 Hyatt Regency Zurich Airport park
It's easy to feel pretty cooped up when staying at an airport hotel. After all, there often aren't nice areas nearby to walk to, and terminal walking has limited appeal (to most).
That's why it's noteworthy that The Circle has a park right behind it, which is a great place to get some steps in. It was gorgeous in Zurich on our full day there, so we took the opportunity to go on a nice walk.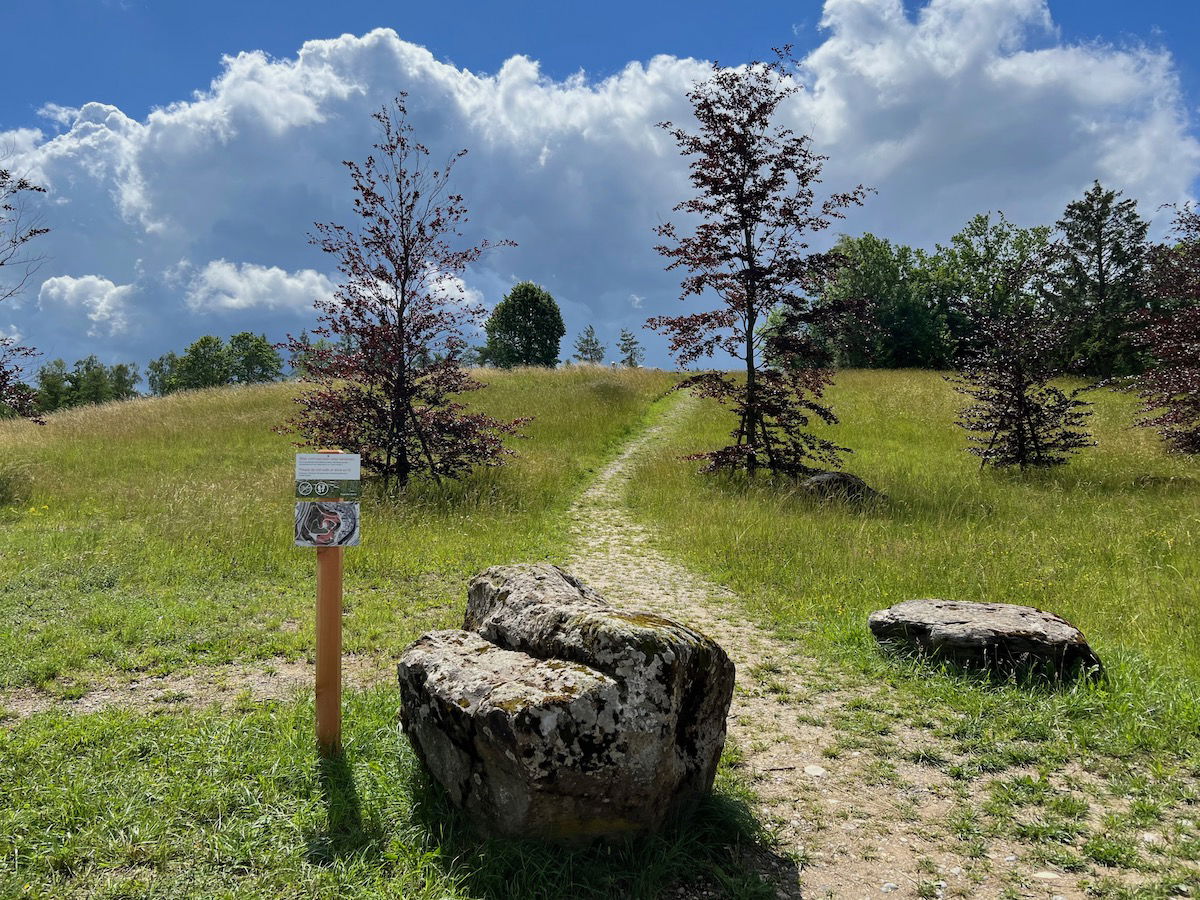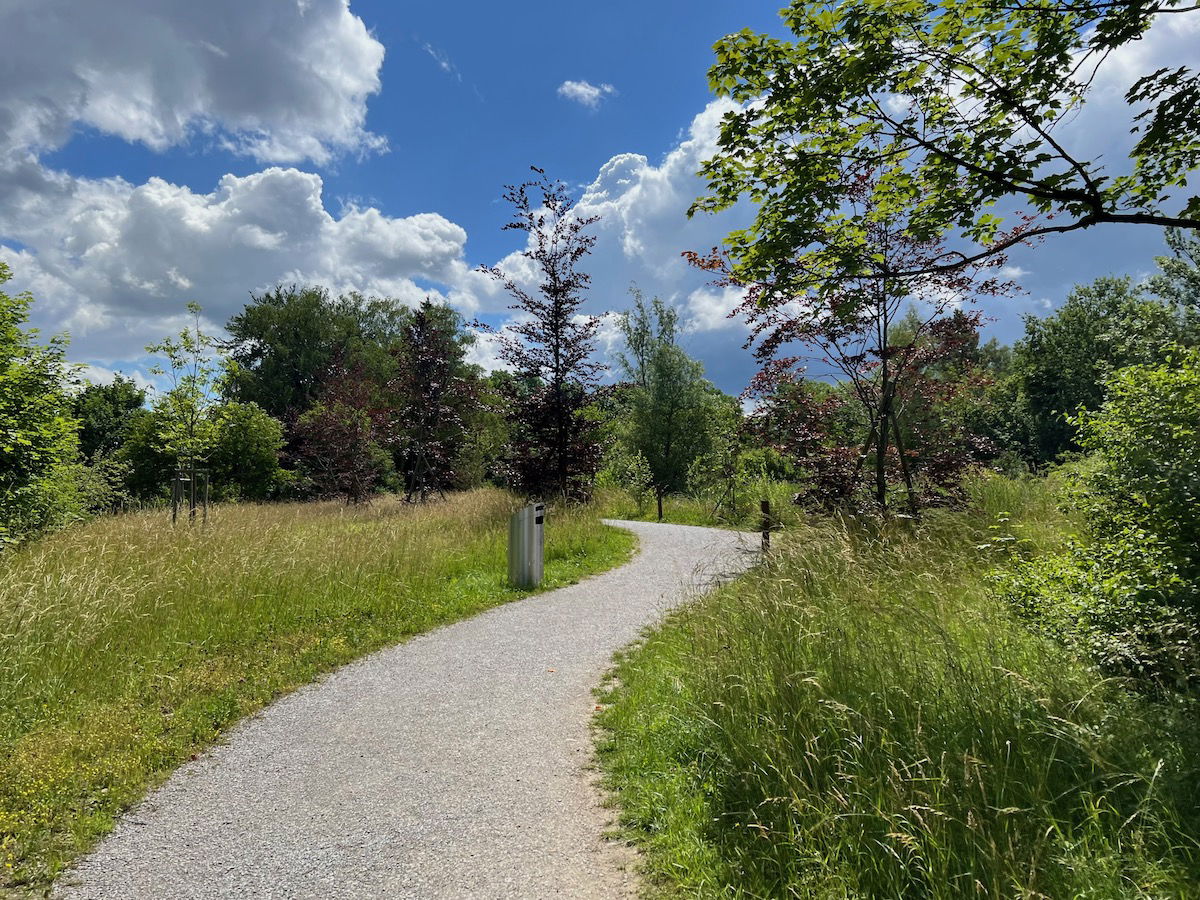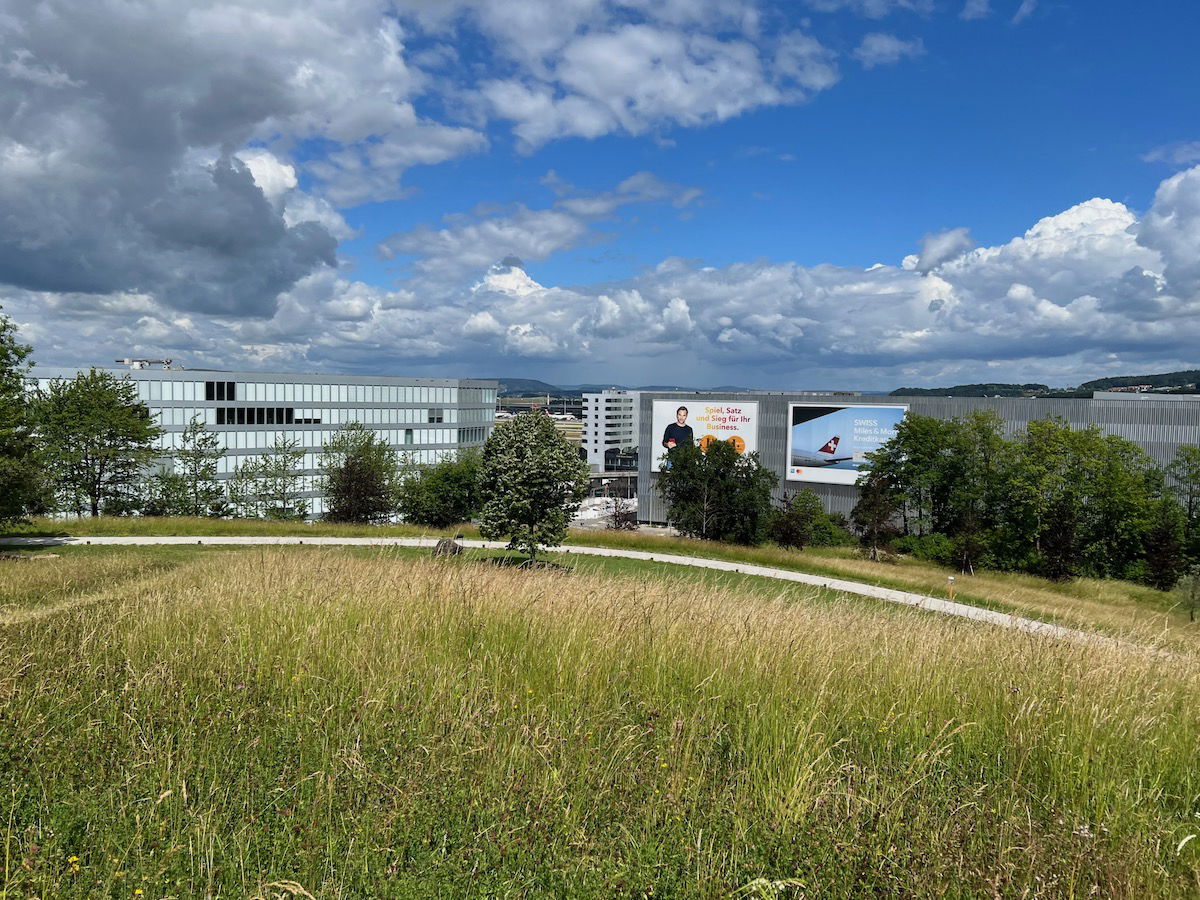 It's pretty impressive how much effort went into this park, as there's even a funicular leading to the top, as well as a water display.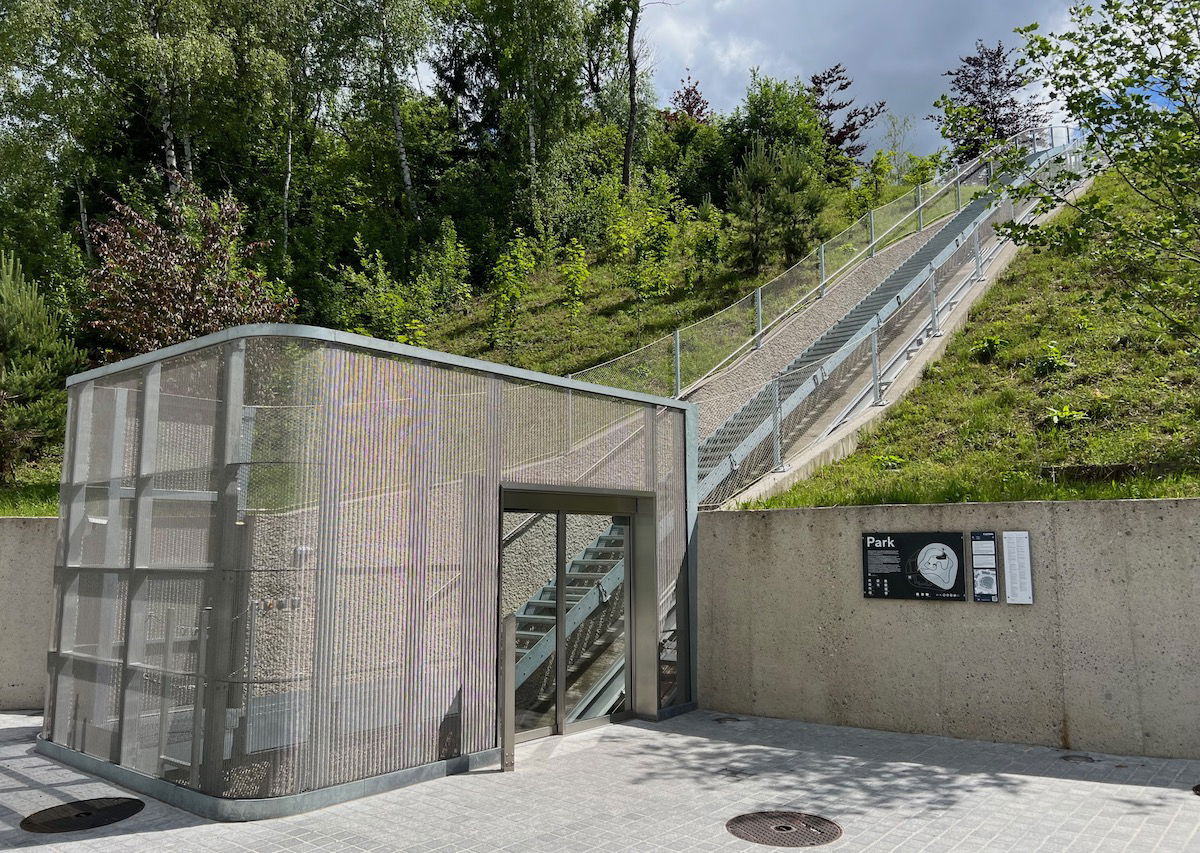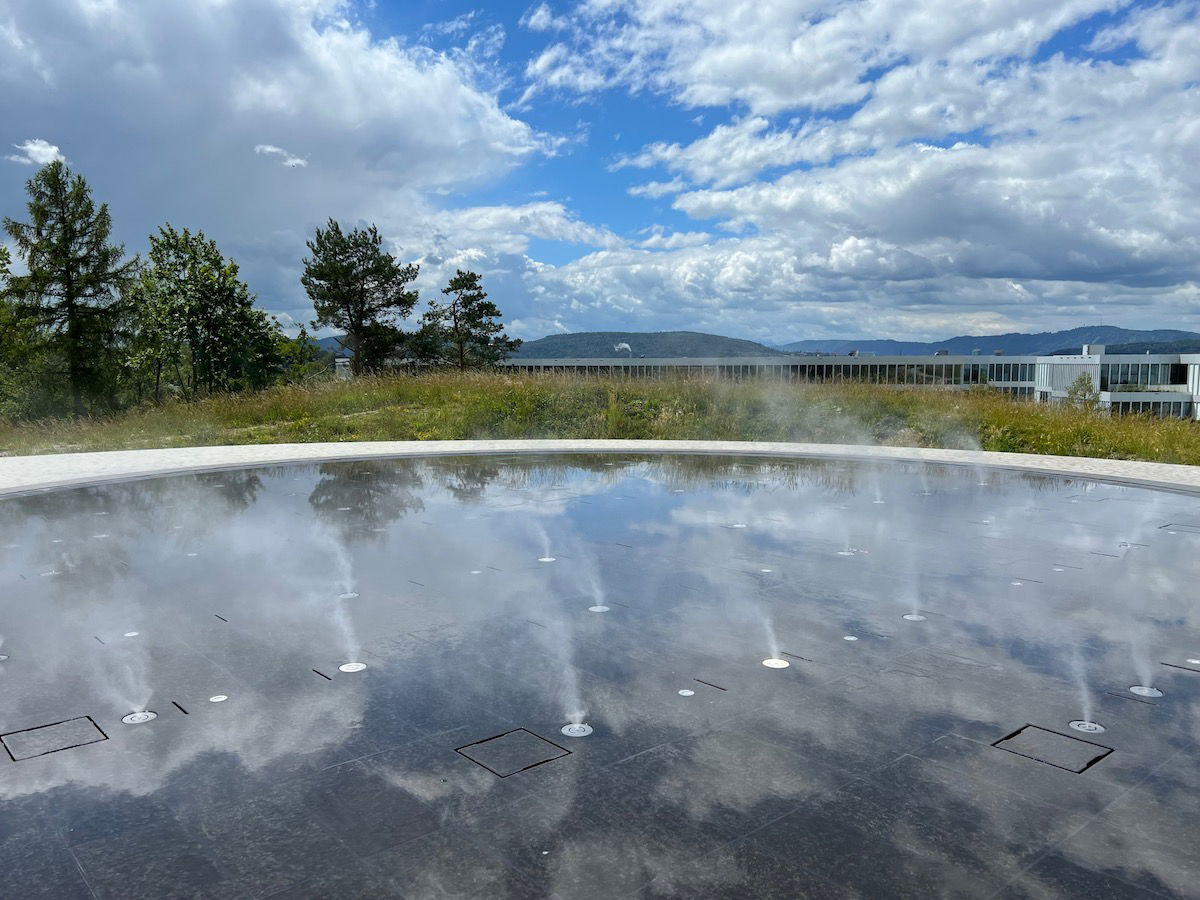 Bottom line
The Hyatt Regency Zurich Airport is an excellent airport hotel, and I'd gladly return in a heartbeat. The hotel has an unbeatable location, luxurious rooms, a great restaurant (for both breakfast and dinner), friendly service, great elite recongition, and nice nearby walking and shopping opportunities. What more can you ask for?
The Circle is also probably the coolest airport development I've seen in Europe (of course it can't compete with The Jewel at Singapore Changi, but Singapore is always on a different level).
If you've stayed at the Hyatt Regency Zurich Airport, what was your experience like?