There are a lot of amazing first class products in the world, though Emirates first class is among my favorites. That's true whether you're flying the Airbus A380, and can enjoy the inflight shower and bar, or whether you're flying the new Boeing 777, and can enjoy the world's best first class suite.
I consistently have the most fun in Emirates first class, even if the crew and food aren't amazing. I've been incredibly fortunate to take dozens of Emirates first class flights over the years, and figured I'd share some of the most interesting aspects of the experience, which you may or may not know. While I'm sure some of you will know some or all of the below, I'm guessing most people won't.
In no particular order, below are 14 secrets to Emirates first class…
1. Smile, you're on camera
Emirates first class might be extremely private in the sense that you have a suite with a door, but don't get any ideas based on that. If you're flying the Airbus A380, you'll see that there's a camera at the back of the first class cabin (it's the little black box at the back of the cabin in the below picture).
This can be viewed from the purser's office and from the cockpit. Chances are that they're not spending their free time watching the camera, but you never know…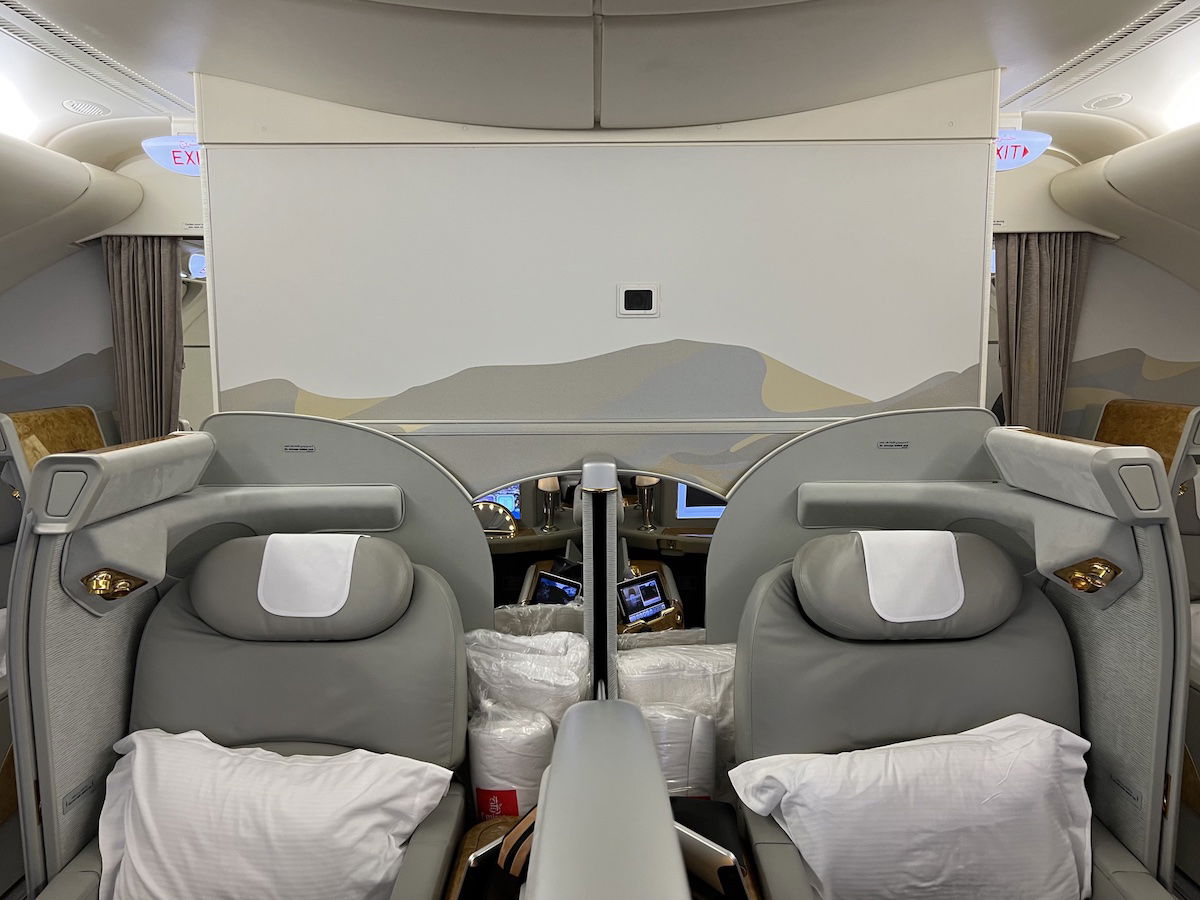 2. The crew doesn't know if you redeemed miles for your ticket
While it shouldn't have any practical implications, people are often curious if the airline crew knows if you redeemed miles for your ticket or not. In the case of Emirates, the crew can't tell whether you redeemed miles or paid cash for your ticket. Interestingly the crew can see if you upgraded, as that shows differently in the system.
But for all practical purposes, an award ticket is treated as a "paid" ticket. So whether you paid $21,000 or redeemed 150,000 Emirates Skywards miles, it's all the same to the crew…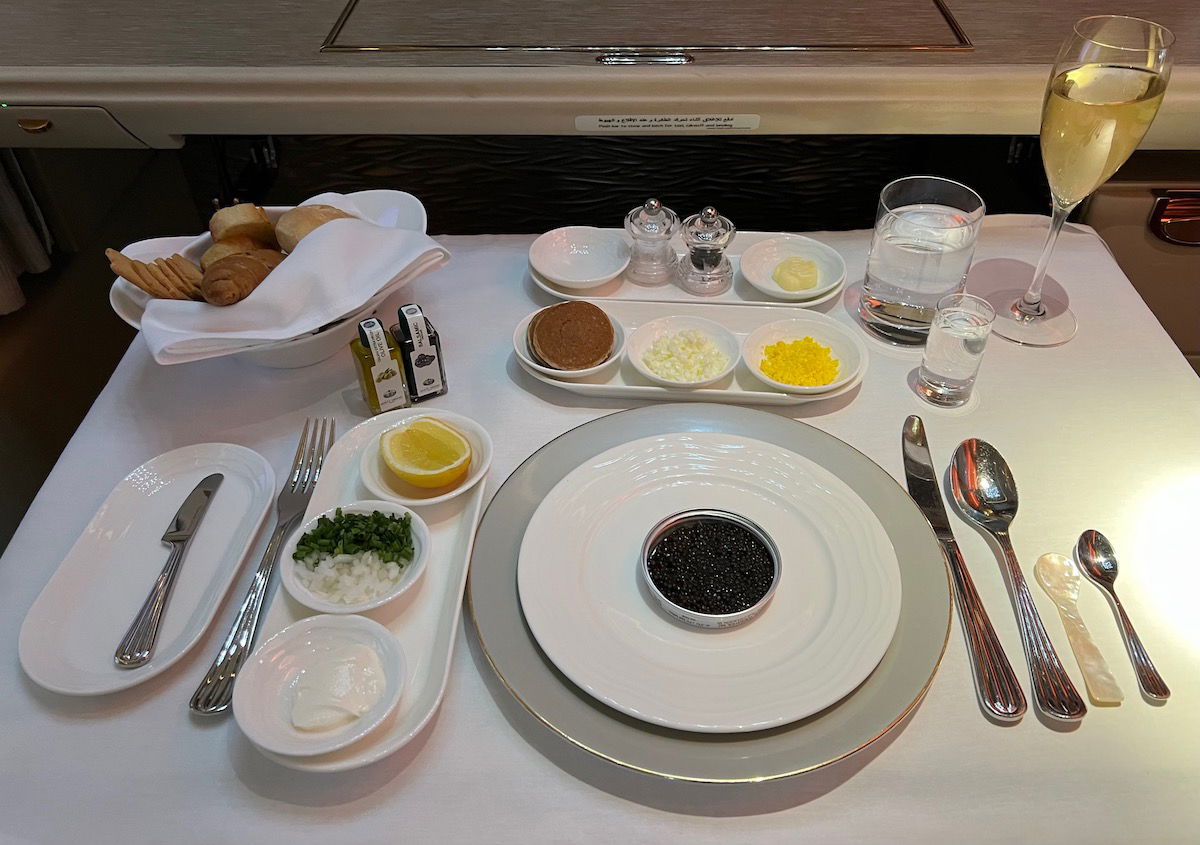 3. About those shower attendants…
Emirates is the only airline to have shower spas on commercial aircraft (since Etihad retired its A380s), and they're such a treat. Not only are there two showers, but there's also a dedicated shower attendant.
Some people are surprised to learn that these aren't flight attendants. Rather they actually sit in passenger seats for takeoff and landing. You can tell them apart from the rest of the crew based on the fact that they wear trousers rather than the usual skirts.
Unfortunately the shower attendants aren't treated especially well, so be extra nice to them. They make a fraction of what the other crew members make.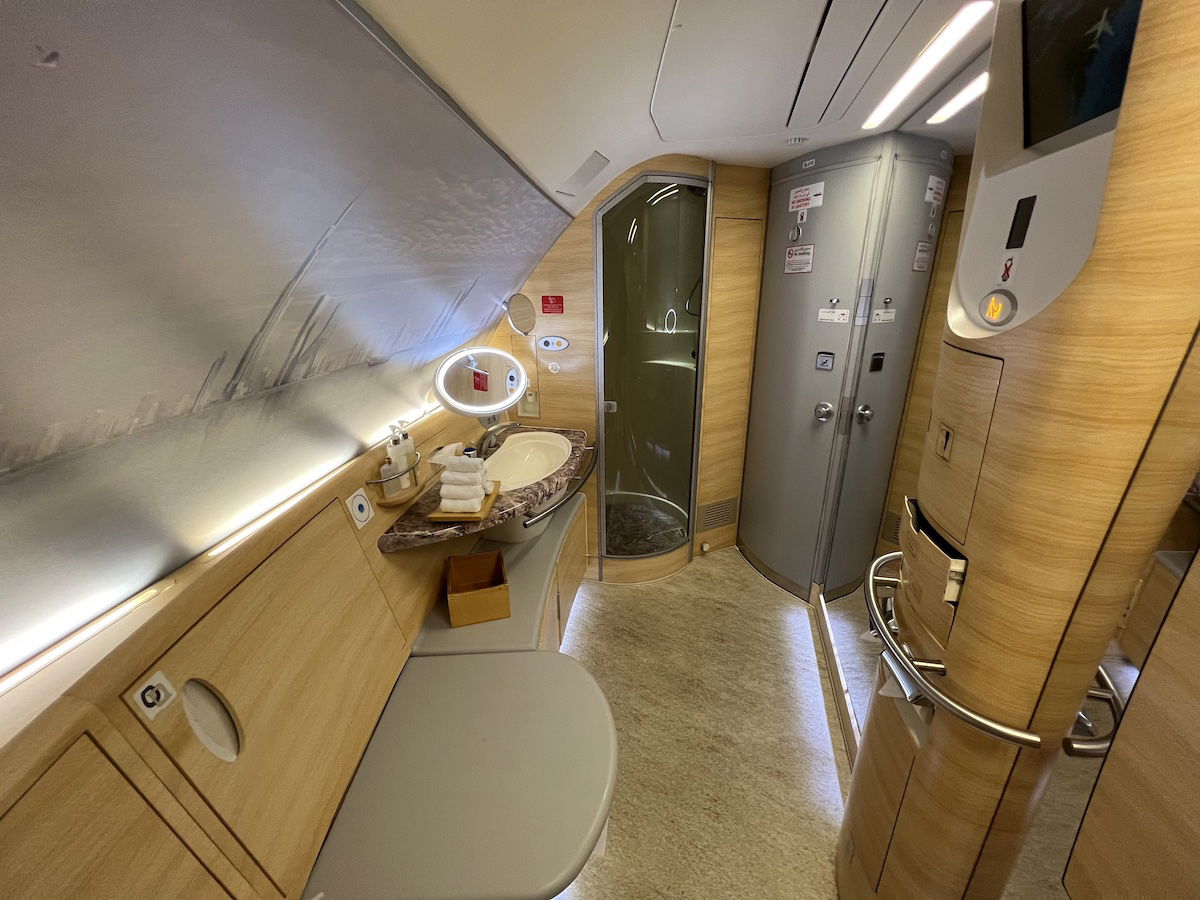 4. Don't drink champagne on the ground in the US
Emirates is well known for pouring endless Dom Perignon in first class. If you're anything like me, you have a limit of how many drinks you can enjoy on a flight, and you don't want to waste that on a subpar champagne.
When you're on the ground in the United States you can expect that you'll only be served the business class champagne, which might be Moet or Veuve Clicquot. That's because Emirates has to pay taxes on alcohol served on the ground in the United States, causing the airline to only offer a limited selection.
So I'd recommend only having one glass of champagne on the ground (or even none), so that you can save your "tolerance" for when you're airborne.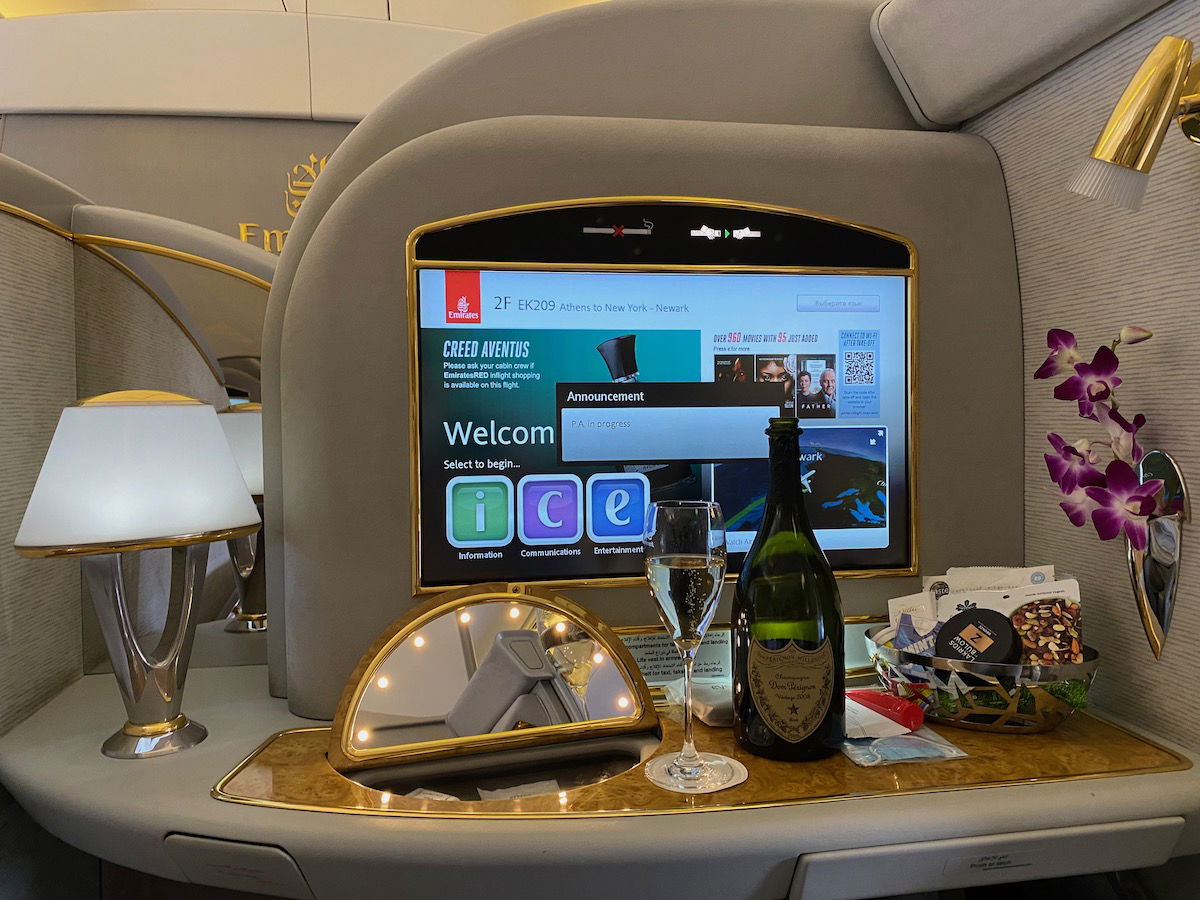 5. If you've got a problem…
On airlines in the United States, the purser is simply a flight attendant who gets paid an extra couple of dollars per hour to do the paperwork and coordinate the crew.
On Emirates, the purser's responsibilities are much greater, as is their accountability. They have to email the crew before the flight to introduce themselves and assign positions, they do a crew briefing before the flight, and they're also responsible for evaluating other flight attendants.
If there's something you're not happy with on your Emirates flight, let the purser know. If you're in first class I guarantee they'll take it seriously. They could be in trouble if there's a problem on the flight they're not aware of, so they'll do everything they can to make it right, and will also write a report after the fact sharing what the issue was and what they did to resolve it.
So if you're unhappy with the flight, engage the purser. Of course this assumes that you have a decent purser. In some cases you may end up with a not-great purser, which makes things a bit more complicated.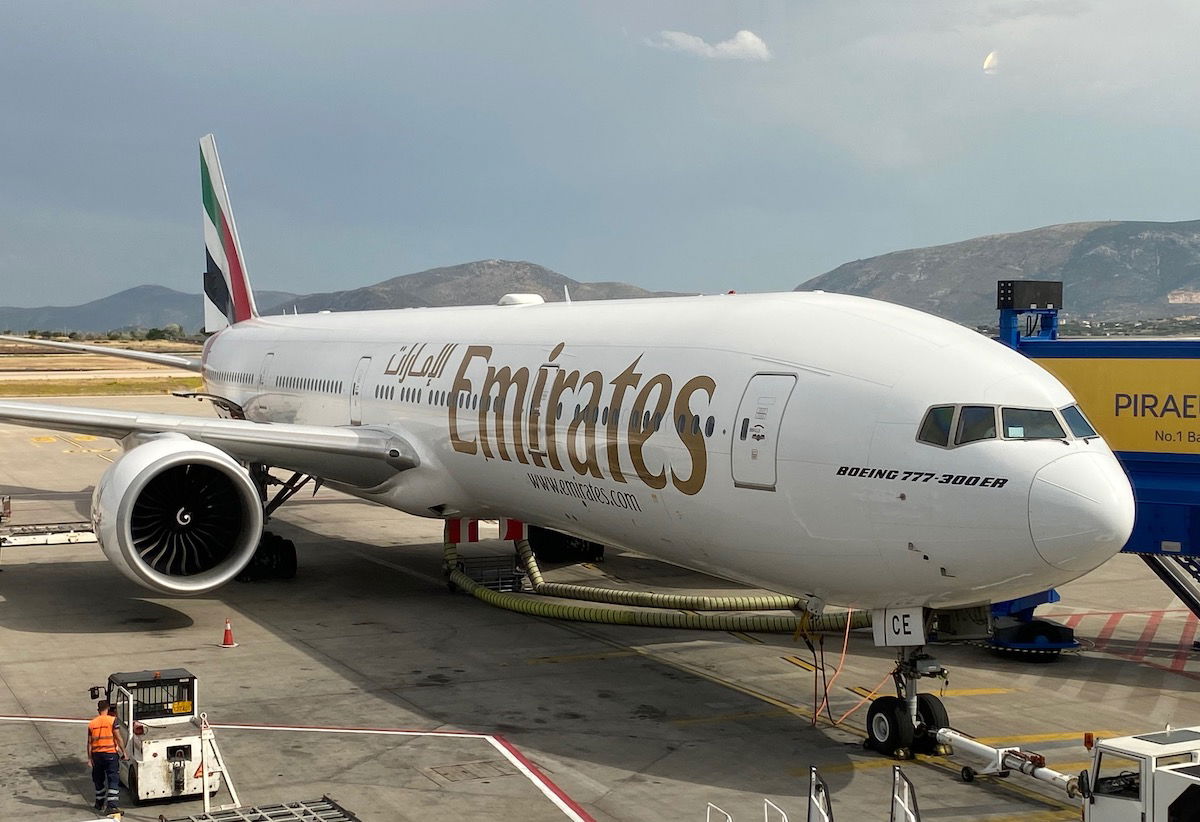 6. You want pajamas and an amenity kit?
Emirates has among my favorite first class amenities, as the airline has pajamas, slippers, amenity kits, and even an exclusive beach bag of sorts on the A380 (intended to be able to take stuff to the shower suite).
While you should proactively be offered this on long haul flights and nighttime flights, on daytime flights that aren't long hauls (like to most destinations in Europe or Asia), the crew won't necessarily proactively offer these. However, they should be available on demand, so it can't hurt to ask.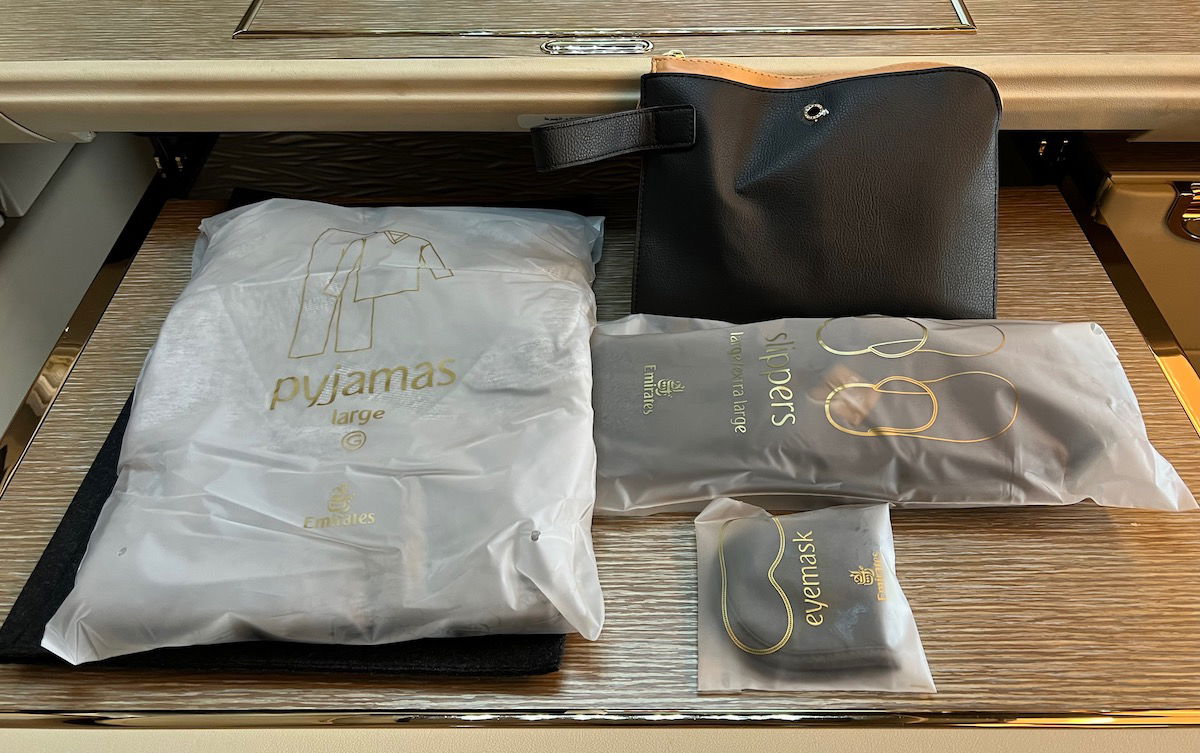 7. You can request a cake
Are you traveling around your birthday? You can request to have a cake onboard at no additional cost. Just phone up Emirates and you can make the request — you don't have to be traveling on your actual birthday to take advantage of this.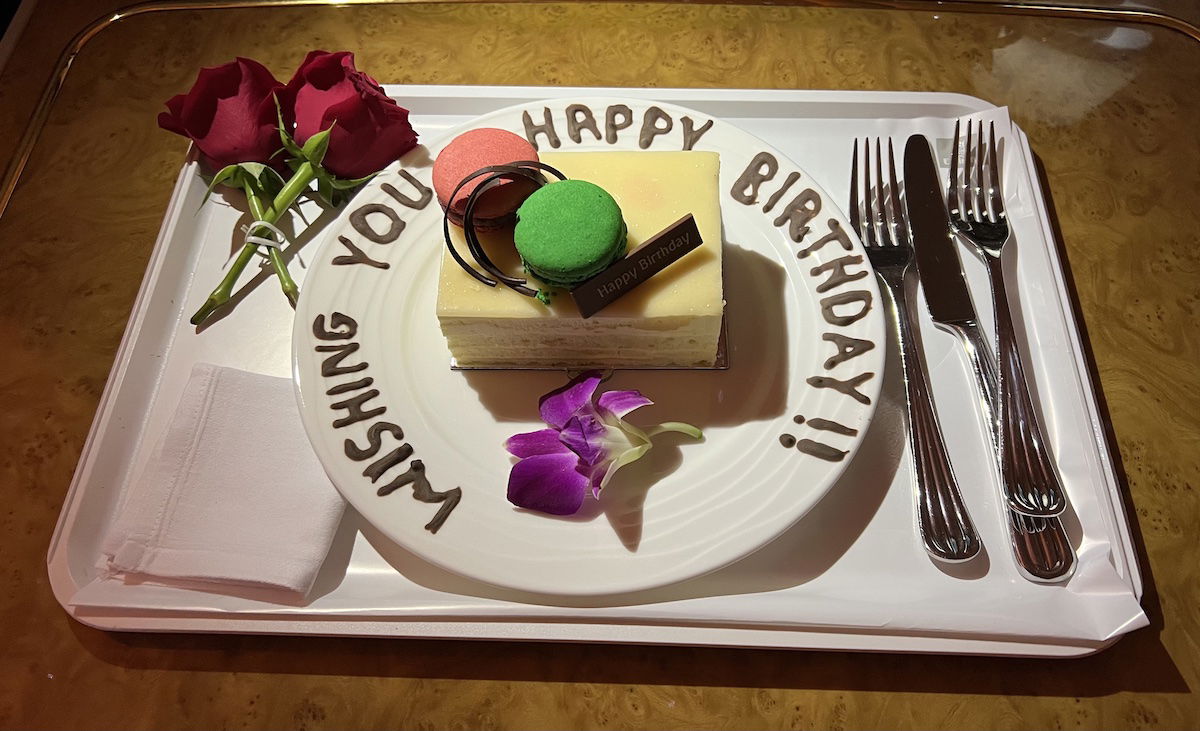 8. You can order room service
It's one thing to have a dine on demand concept, though being able to order room service on a plane is next level, in my opinion, even if it's sort of a gimmick.
If you're on one of Emirates' older planes you'll notice a phone in your armrest, and in it you'll see a button that looks like a flight attendant with a telephone. Push it and you can call the flight attendant to place your order.
In practice people usually misuse it and assume it's the call button, so you may find that the crew just shows up at your seat instead. But the phone does in fact ring in the galley when you push that button.
If you're on a flight operated by Emirates' new Boeing 777, you can even video call the crew to order room service. While crews generally won't be huge fans of this (since they're often caught off guard), it is a feature that's there.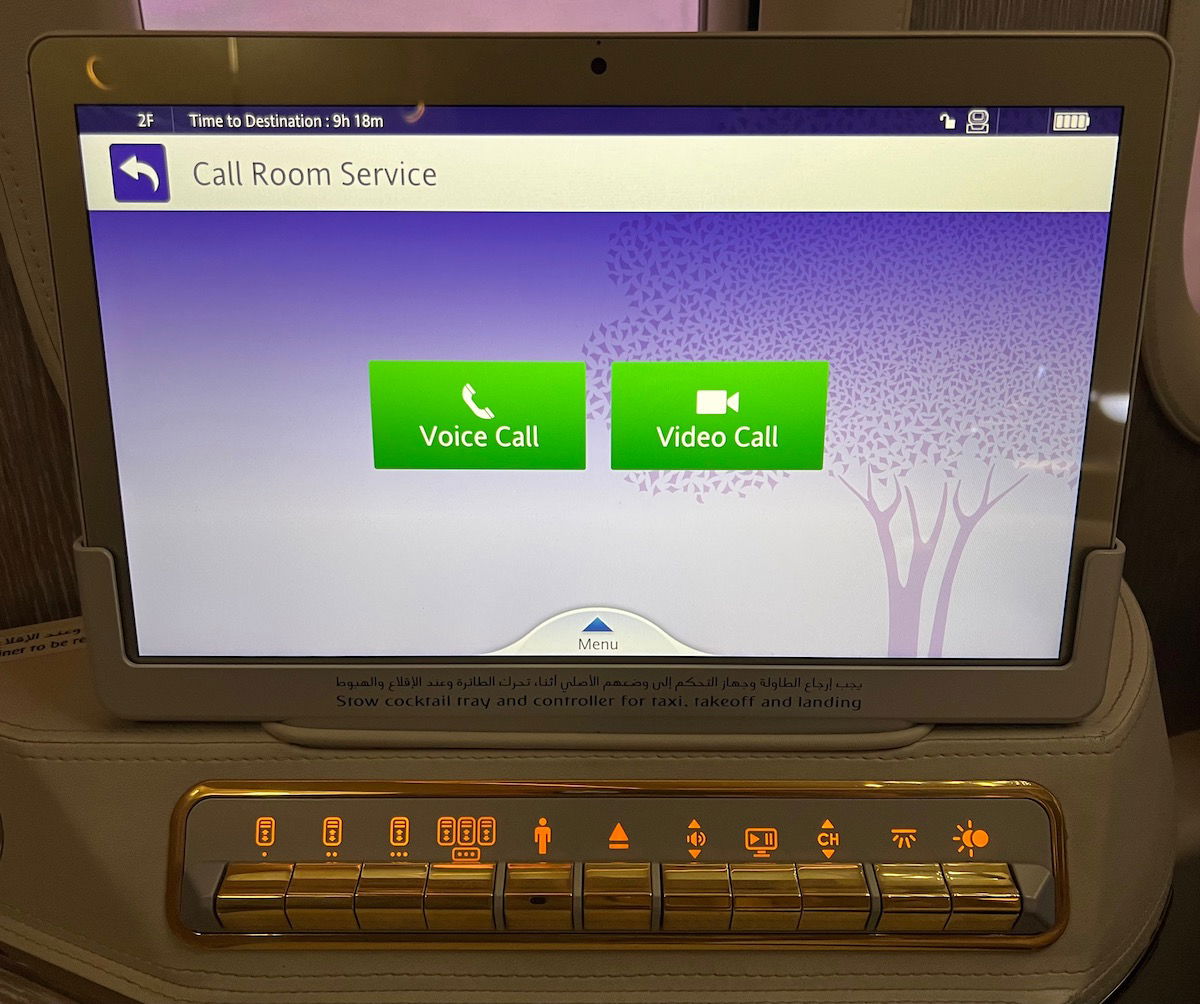 10. The purser has an onboard office
Speaking of the Emirates purser, they actually have an onboard office on the A380. Go to the lower deck and under the staircase you'll see a door. That's where the purser's office is. This is where they can complete paperwork (some flights have multiple incident reports), monitor the cabin, or even just escape from people.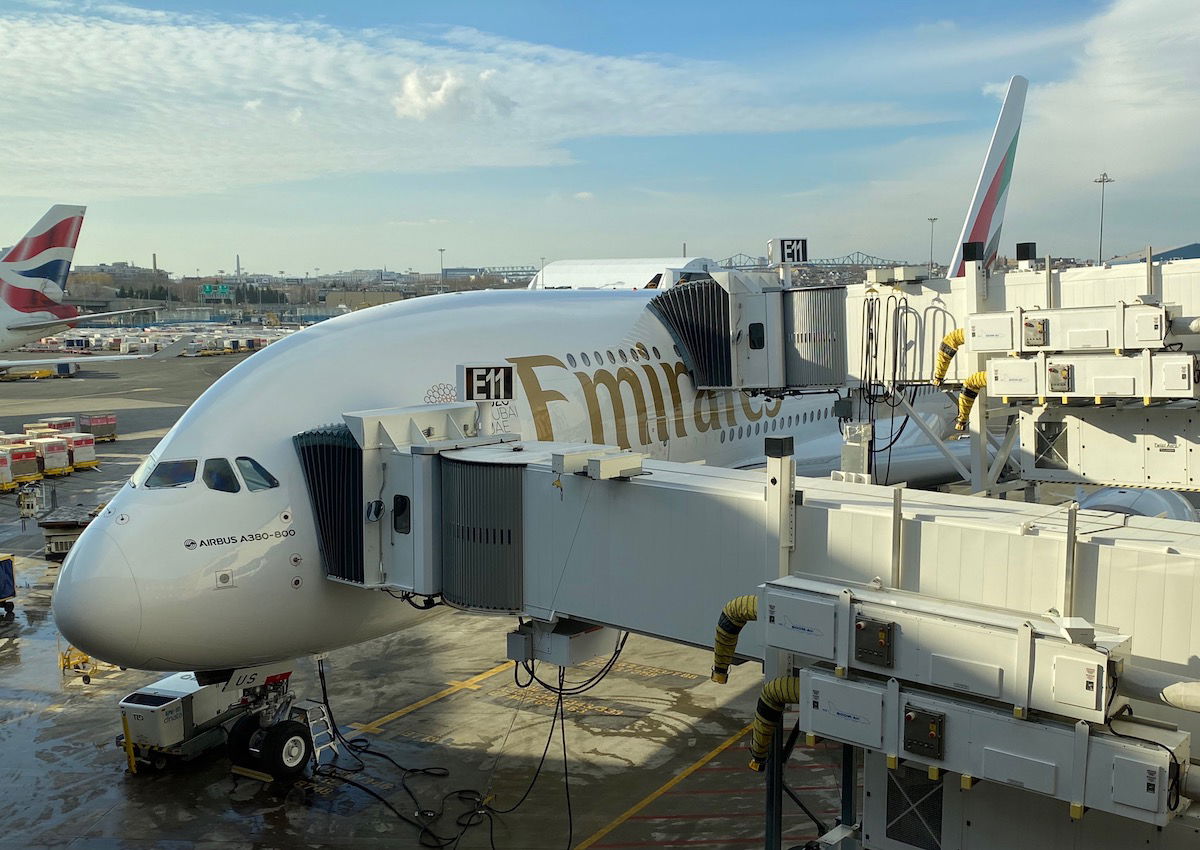 11. You can upgrade to first class onboard
One of the best kept secrets to getting upgraded on Emirates using miles is to make the request at the airport or even onboard the flight. While there are capacity controls when upgrading in advance, in theory you can upgrade with last seat availability either at the airport, or onboard the flight.
Now, I say "in theory" because that's how it's supposed to work. However, not all airport staff or crews are correctly trained on this. It always pays to have some Skywards miles in your account, as you can even upgrade a business class award ticket to first class using miles.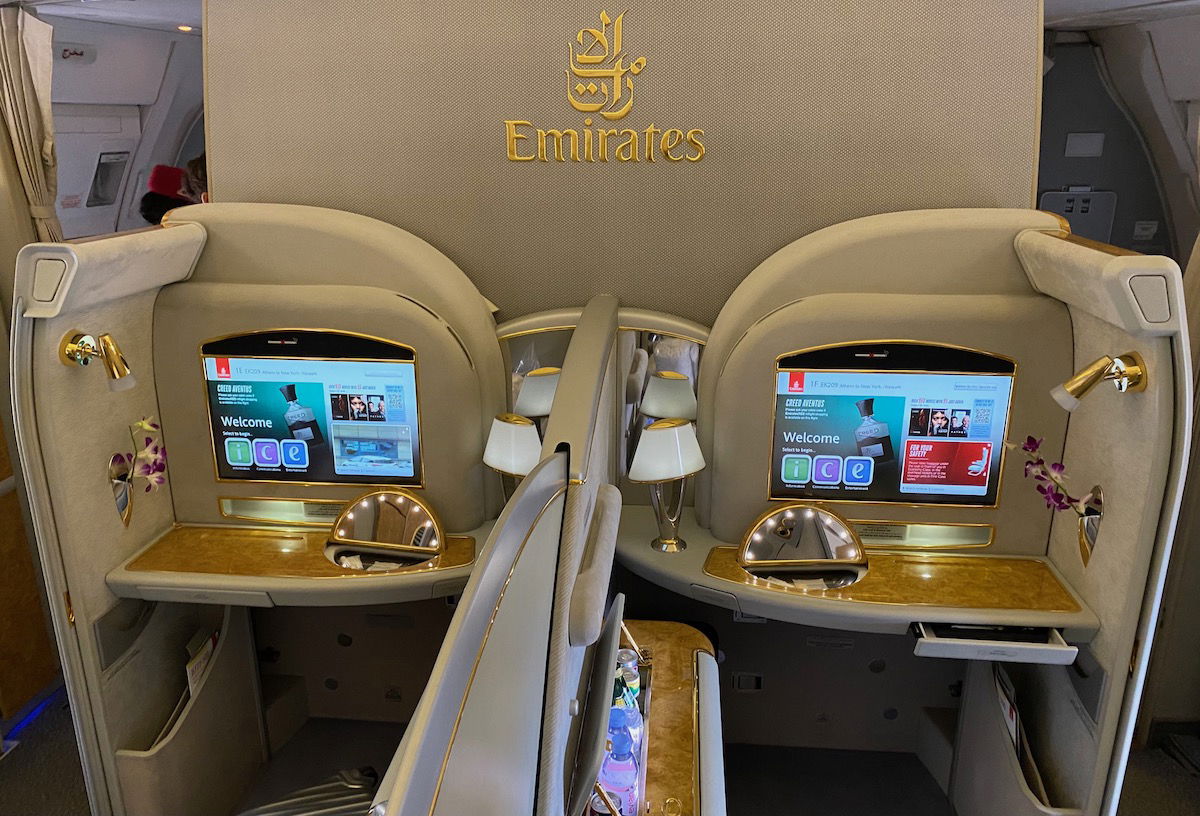 12. The capacity of the shower suite is two
At least that's what the sign above the spa doors says. Apparently the crew handbook says a second passenger is only permitted as necessary to provide assistance. How they define "providing assistance" is up to your friendly crew. 😉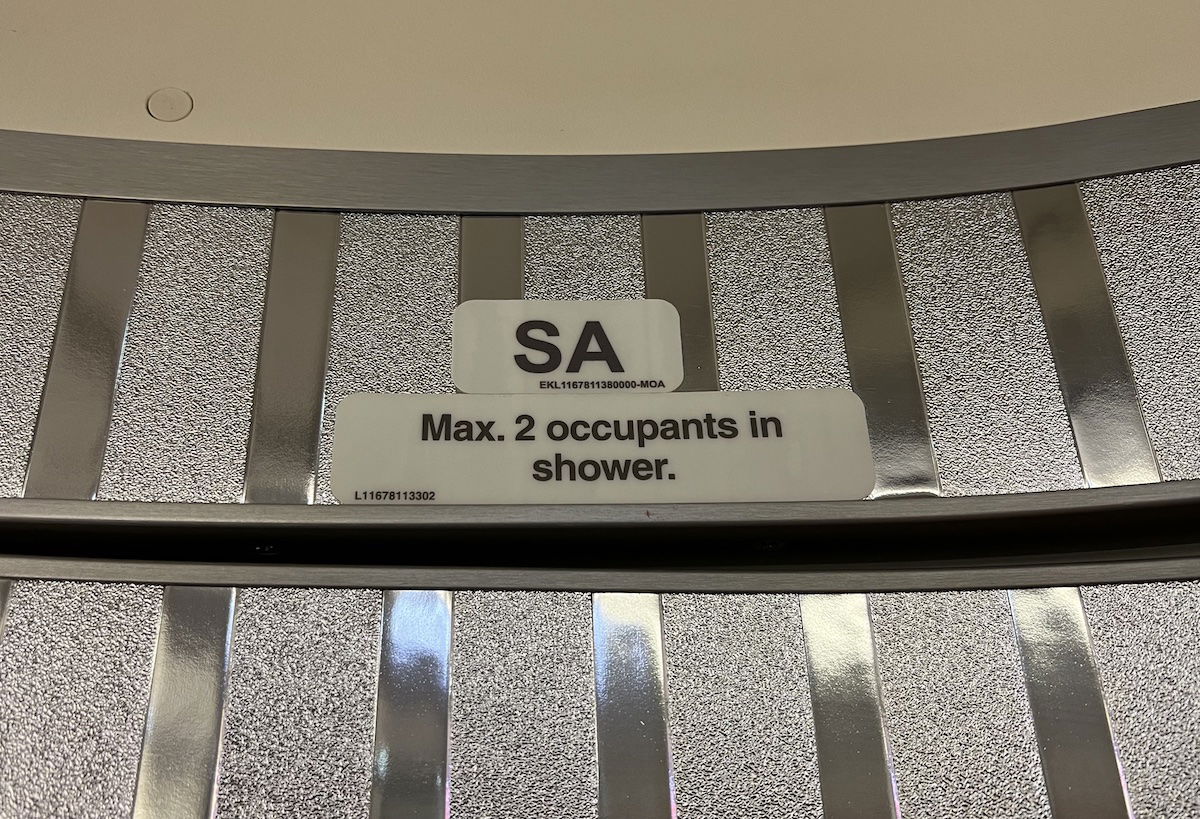 13. There's an onboard Polaroid camera
All Emirates planes have an onboard Polaroid camera. This allows the crew to take pictures of passengers and then put them in a cute picture frame that you can take with you as a memory. You can always ask about this, though typically this will be volunteered if you're celebrating a special occasion, or have a fun crew.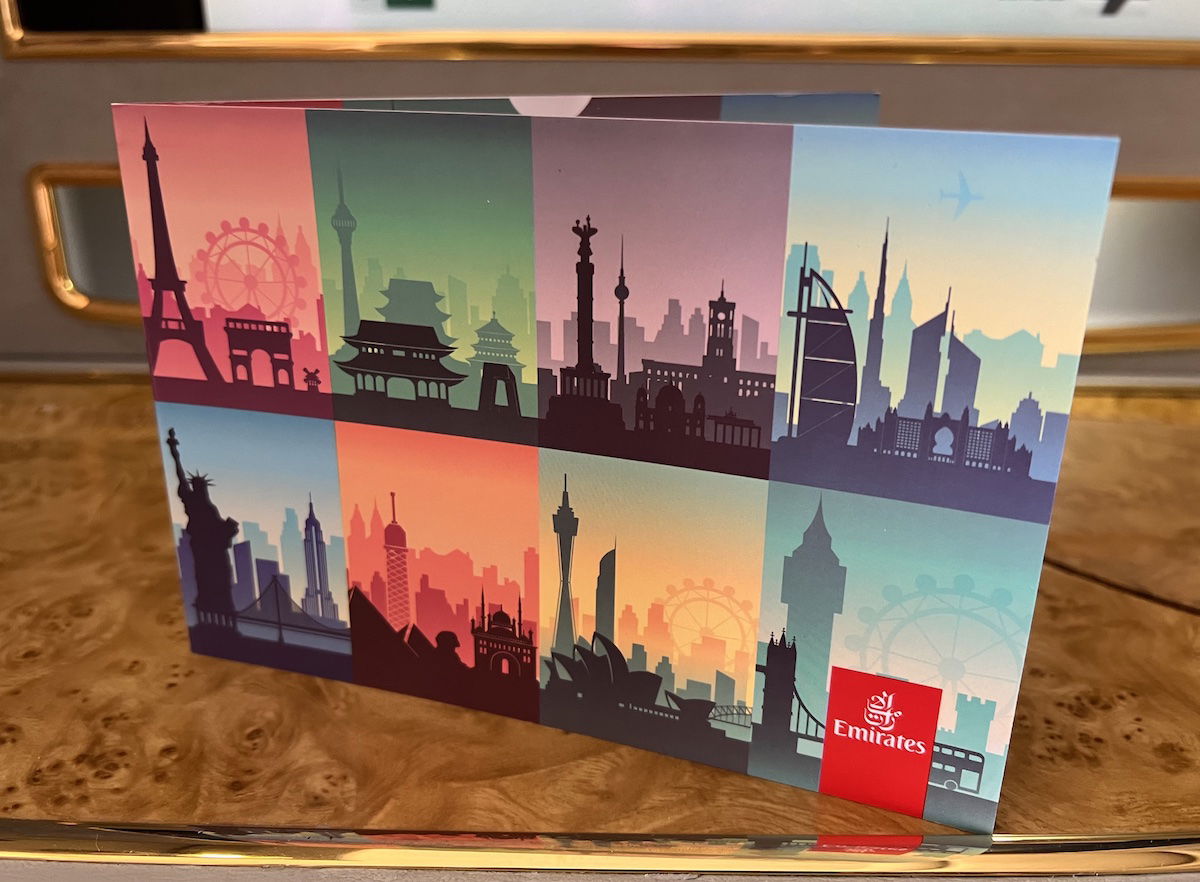 14. Drink the most expensive alcohol in the sky
I'm not saying you should drink just because something is expensive, but I'm also not saying you shouldn't drink just because something is expensive. 😉
On a per-bottle basis, Emirates consistently serves the most expensive alcohol you'll find on any airline. Specifically, I'm talking about Hennessy Paradis, a cognac that generally retails for $1,000+ per bottle. So if you're a cognac fan, make sure you order some of this while flying with Emirates.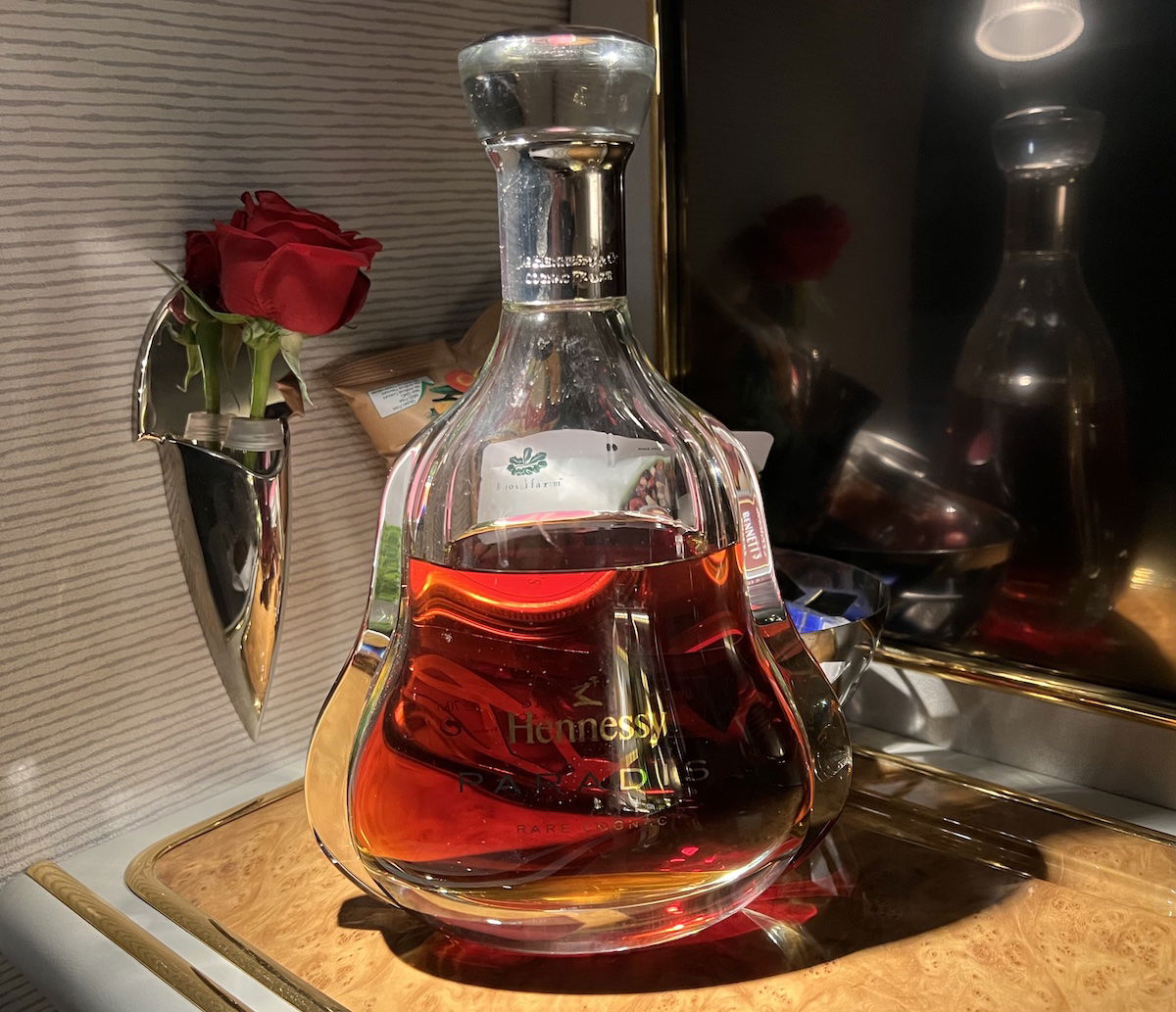 Bottom line
Emirates has one of my favorite first class products in the world, and hopefully the above paints a small picture of why. There's just not another airline in the world that's more fun to fly.
While I'm sure many of you knew the basics of Emirates first class either from having flown it or from having read reviews, hopefully some of the above is new and interesting information.
Do any of the above Emirates facts surprise you?