After a lovely night at the Hyatt Regency Zurich Airport, it was time to fly SWISS A220 business class from Zurich to Sylt. While I won't be reviewing the flight (since I've recently reviewed both SWISS' A220 business class and SWISS' A320 business class), I did want to review the SWISS Alpine Lounge Zurich Airport (ZRH), which is one of SWISS' newest lounges at its biggest hub.
This is a pretty impressive lounge with cool design, and it seems to get less crowded than other lounges at the airport.
SWISS Alpine Lounge Zurich (ZRH) location & hours
The SWISS Alpine Lounge is located in Zurich Airport Terminal 1 Concourse A. We actually intended to visit the SWISS Senator & Business Lounges, but at the entrance we were informed the lounges were crowded, and it was recommend we instead check out the SWISS Alpine Lounge, so that's exactly what we did.
Indeed, this lounge is much quieter than the other ones at the airport. That probably largely comes down to how hard it is to find. If you're in the main stretch of the terminal between Concourse A & B, walk in the direction of Concourse A.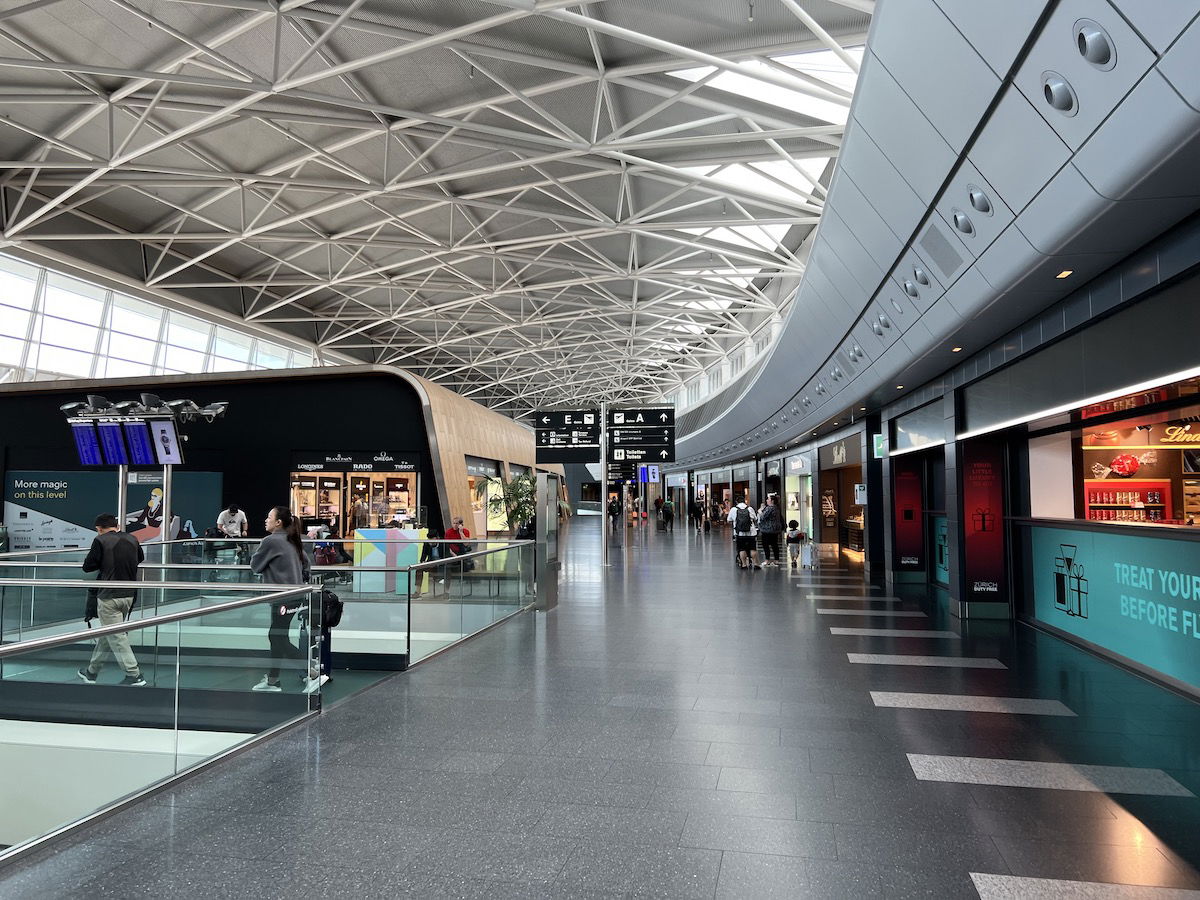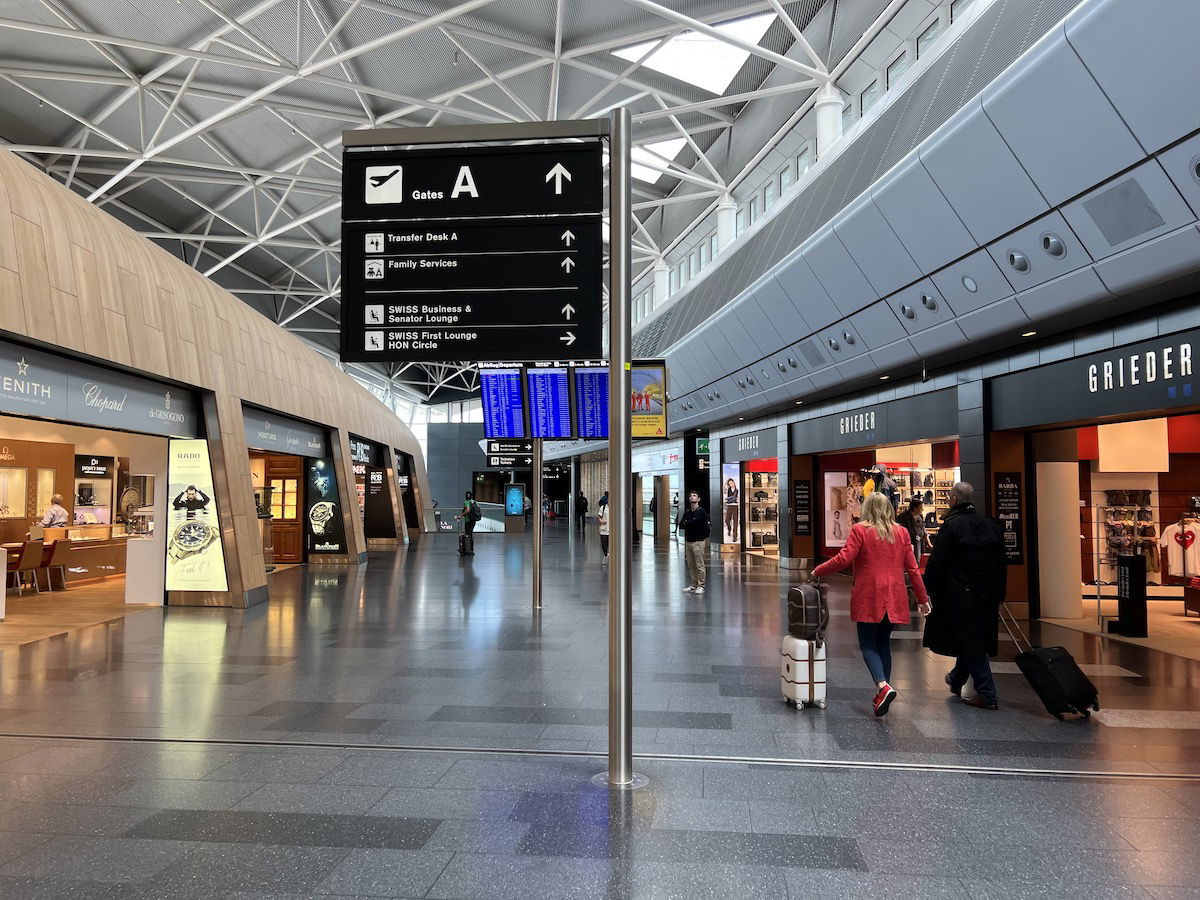 Pass the SWISS Senator & Business Lounge, and at the end of the concourse you'll see an escalator on the right that leads down a level. Take that, and then you'll see the transfer desks.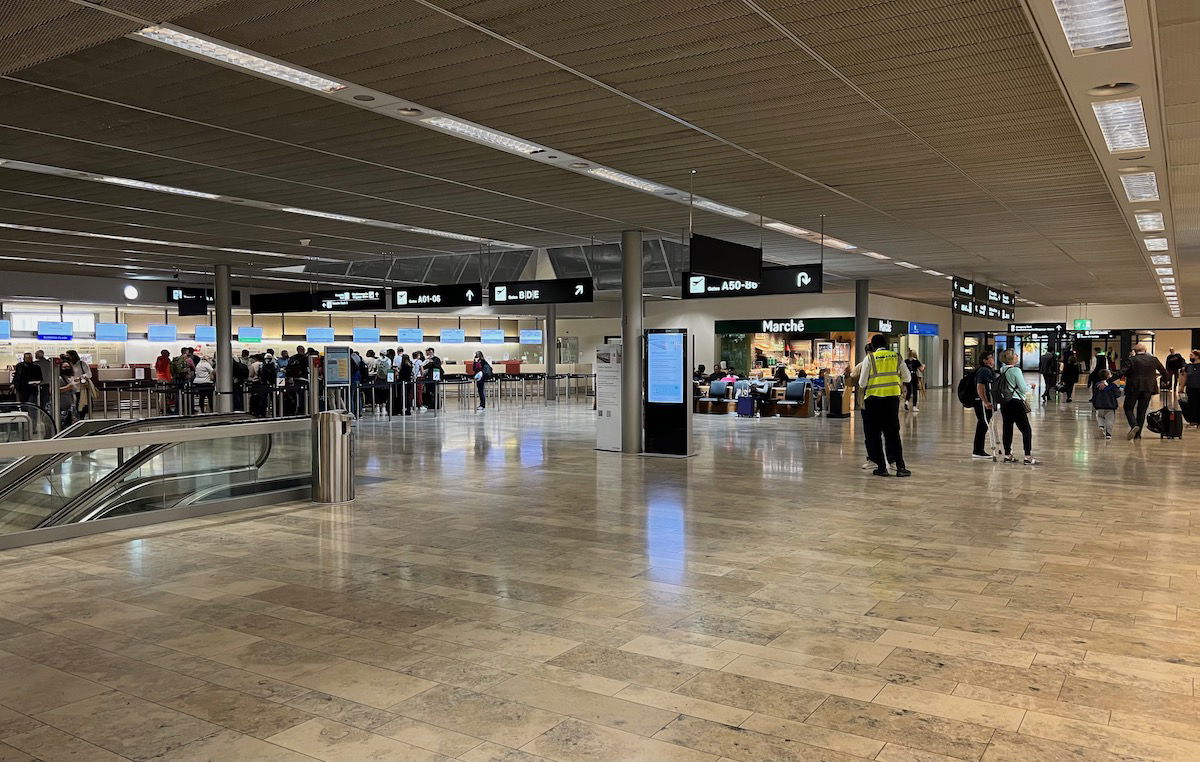 When you're facing the transfer desks, look to the left, and you should see a staircase leading up to the SWISS Alpine Lounge.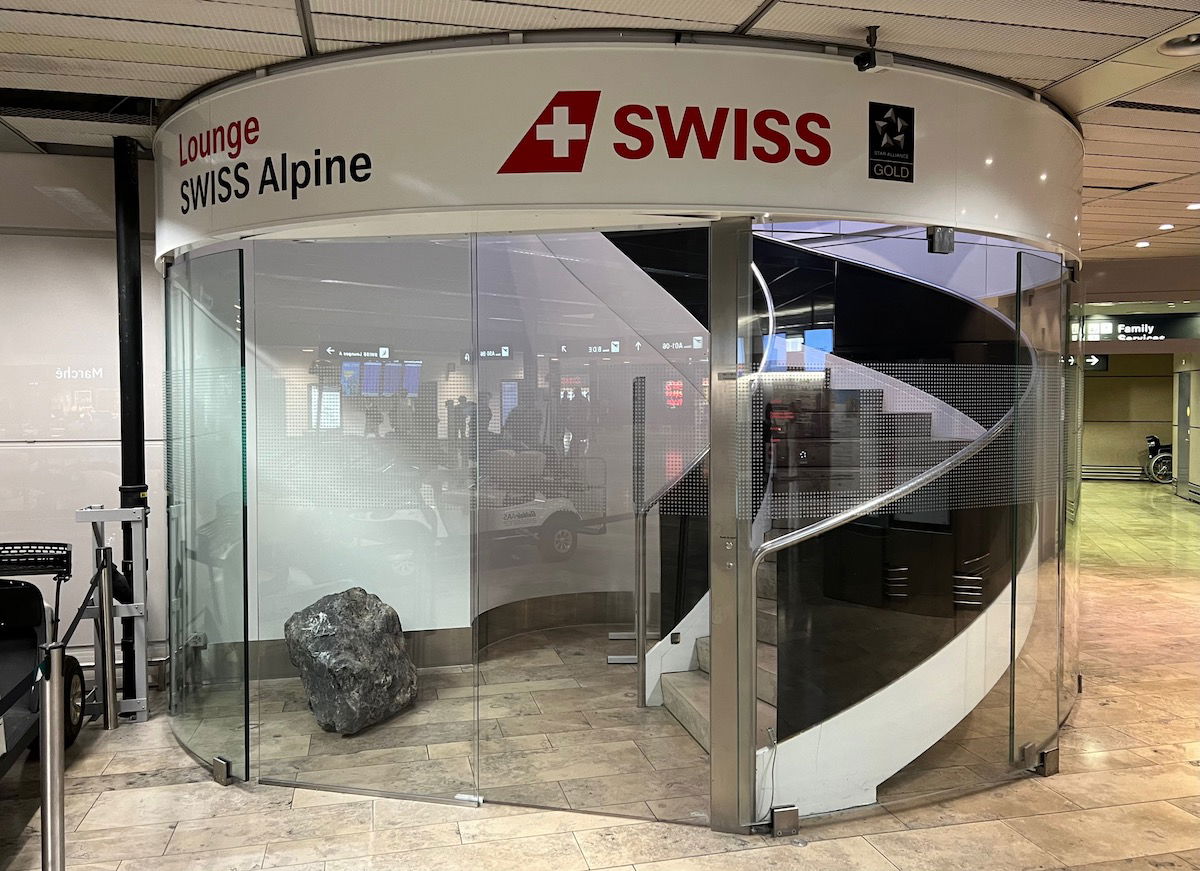 The staircase has some monitors as you walk up, showing beautiful scenery of Switzerland.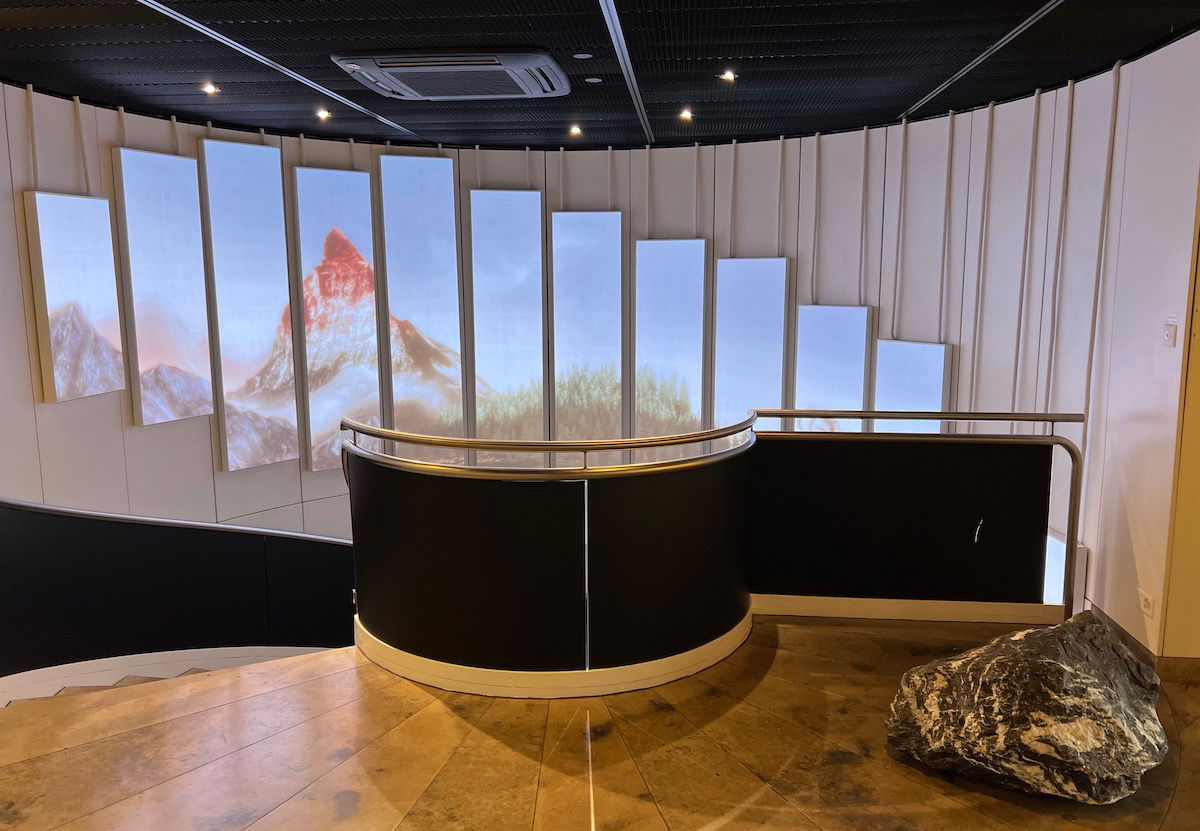 Seriously, it takes some effort to find this lounge, but you'll be rewarded with a space that's much quieter than the other lounges in the terminal.
The SWISS Alpine Lounge is currently open daily from 6AM until 6PM.
SWISS Alpine Lounge Zurich (ZRH) entry requirements
The SWISS Alpine Lounge has unique entry requirements:
It's open to business class passengers on Lufthansa Group airlines; that includes SWISS, Lufthansa, Austrian, and Brussels Airlines
It's open to Star Alliance Gold members
As you can see, this isn't your standard Star Alliance business class lounge, since non-Lufthansa Group Star Alliance business class passengers can't access this lounge (unlike the main SWISS Business Lounge at the airport). In other words, you couldn't use this lounge if flying Air Canada, TAP Air Portugal, United, etc.
SWISS Alpine Lounge Zurich (ZRH) seating & layout
The SWISS Alpine Lounge is 500 square meters (~5,400 square feet) and has seating for 96 people. So it's by no means a big lounge, but as mentioned above, it doesn't tend to get too busy due to its hidden location and the lack of signage leading to it.
There are two main parts to the SWISS Alpine Lounge, and both have design that's supposed to draw inspiration from the region. Inside and to the left is the dining area, which consists of a few large communal tables, plus half a dozen booths that overlook the tarmac.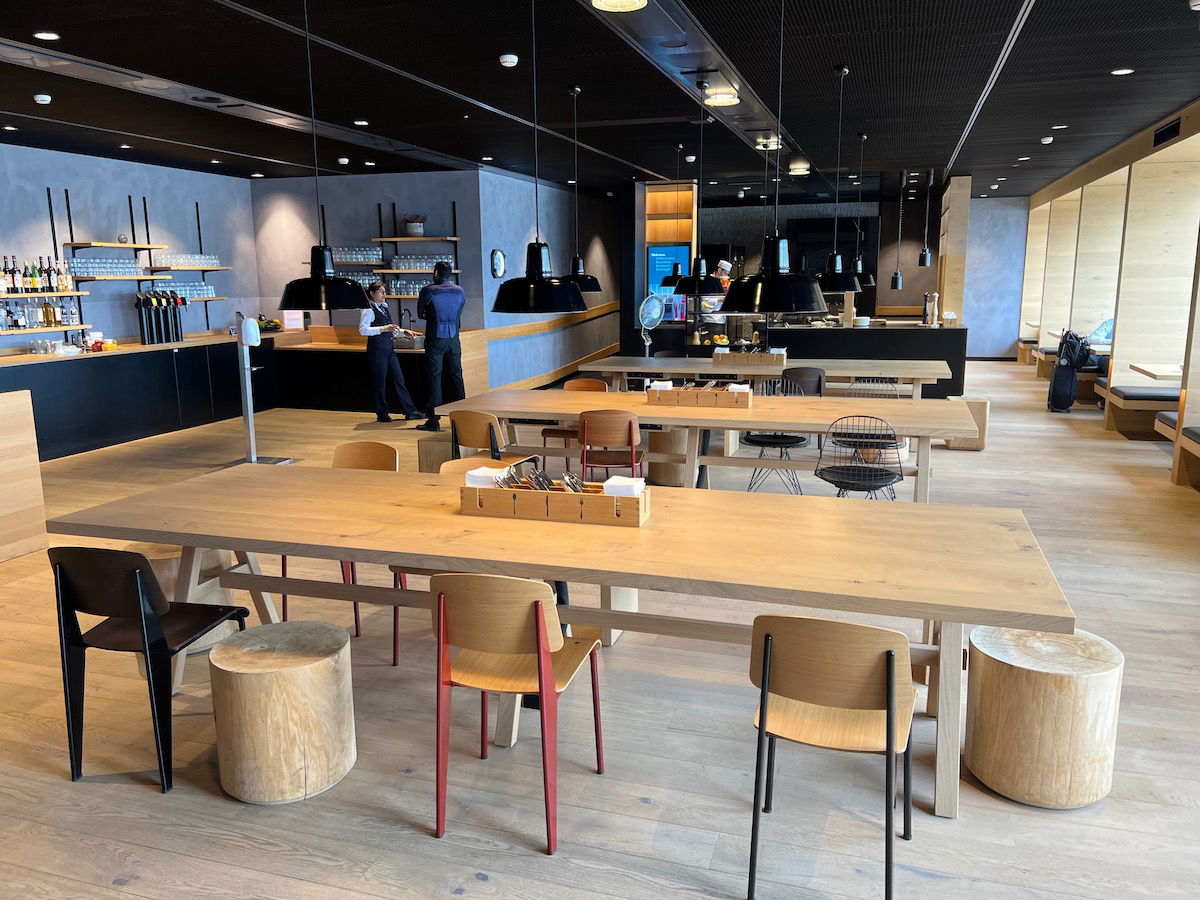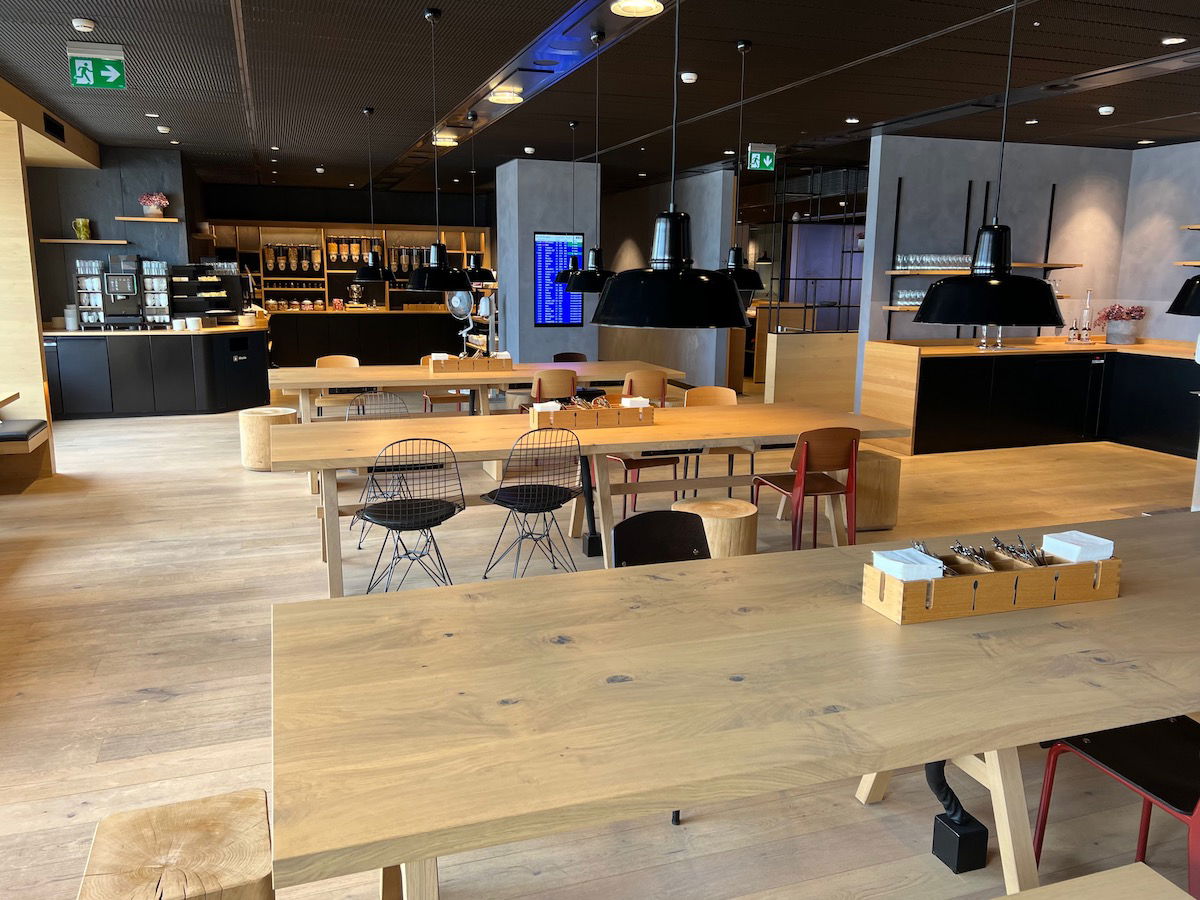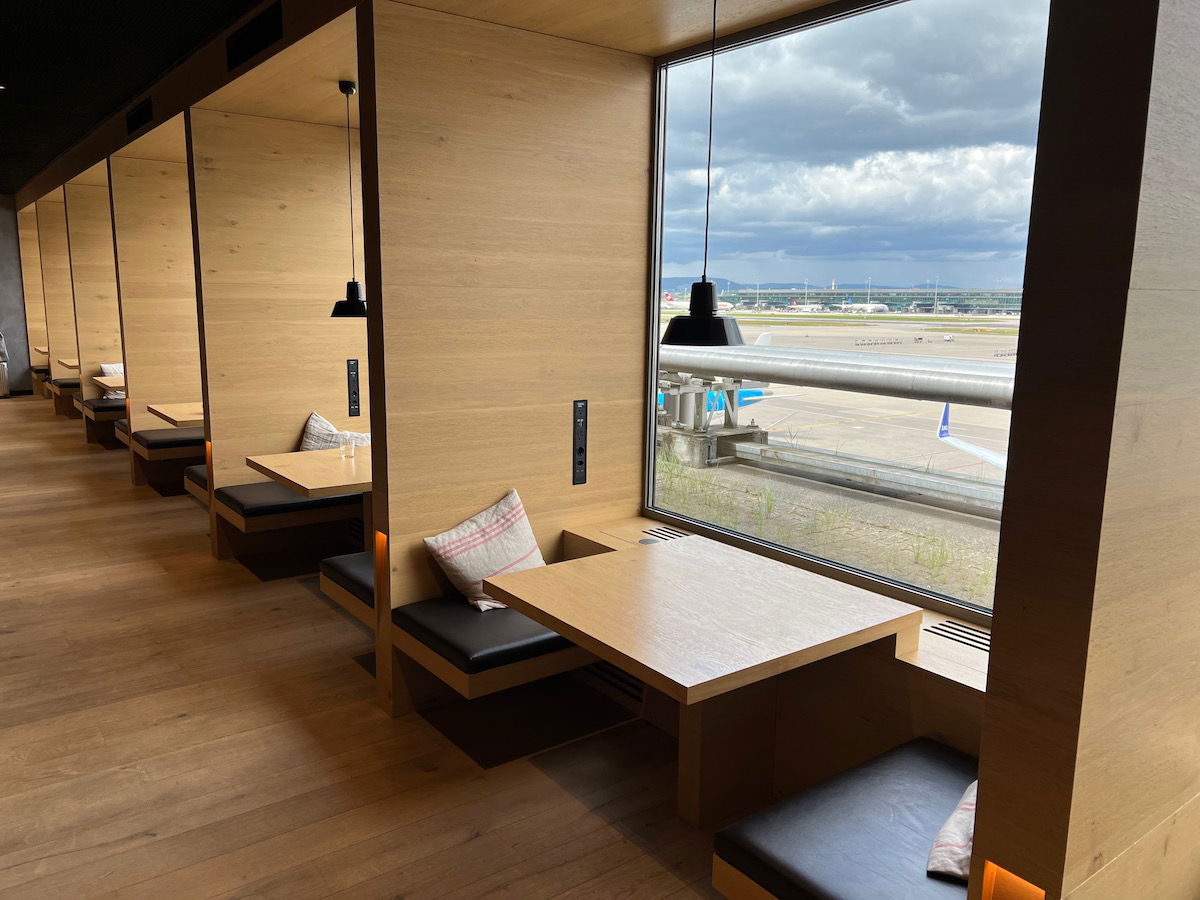 We snagged a booth with two seats by the window, and found that to be a cozy place to hang out, especially with easy access to outlets.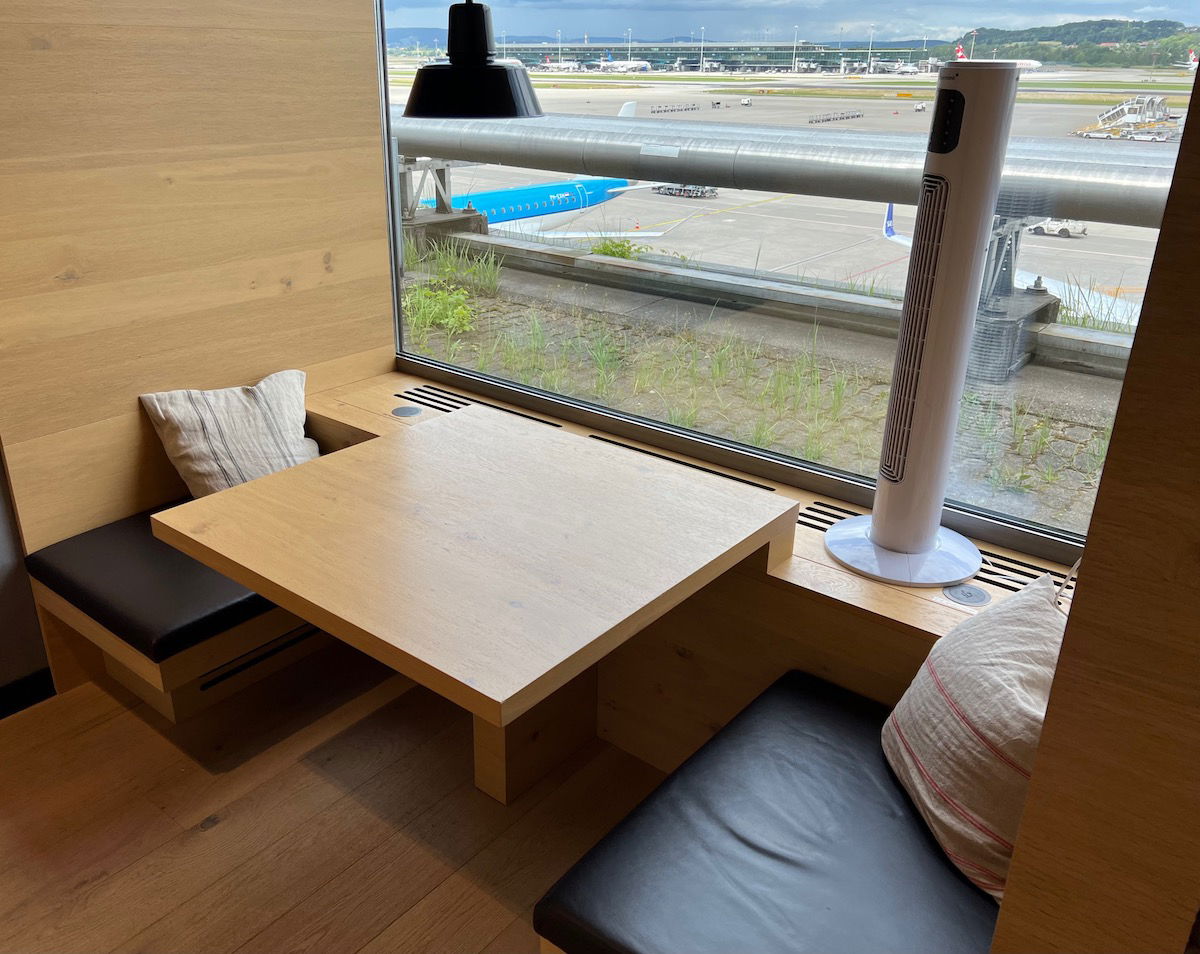 The other side of the lounge had seating designed for relaxing, with more of a traditional lounge layout. There were a variety of seats in rows facing one another, a few tables, some nooks, and even some couches.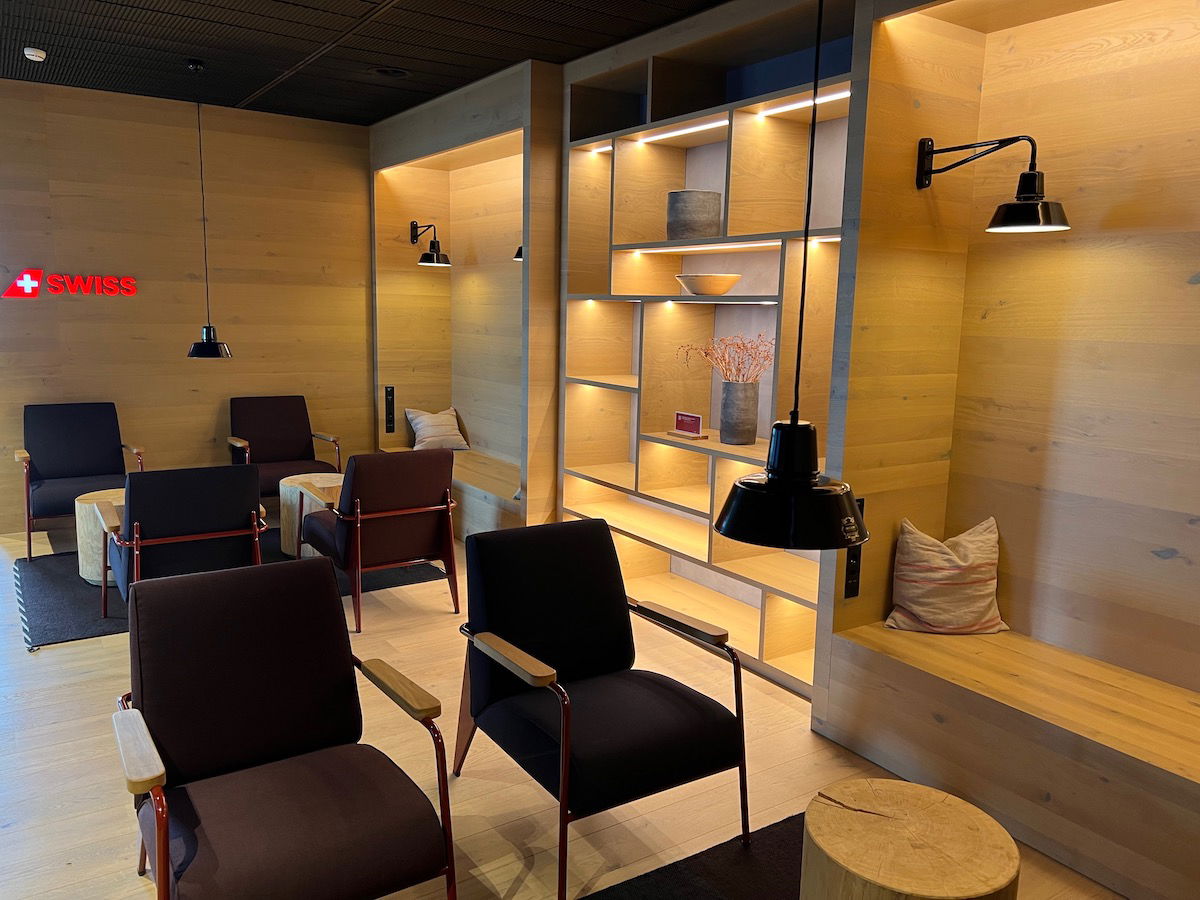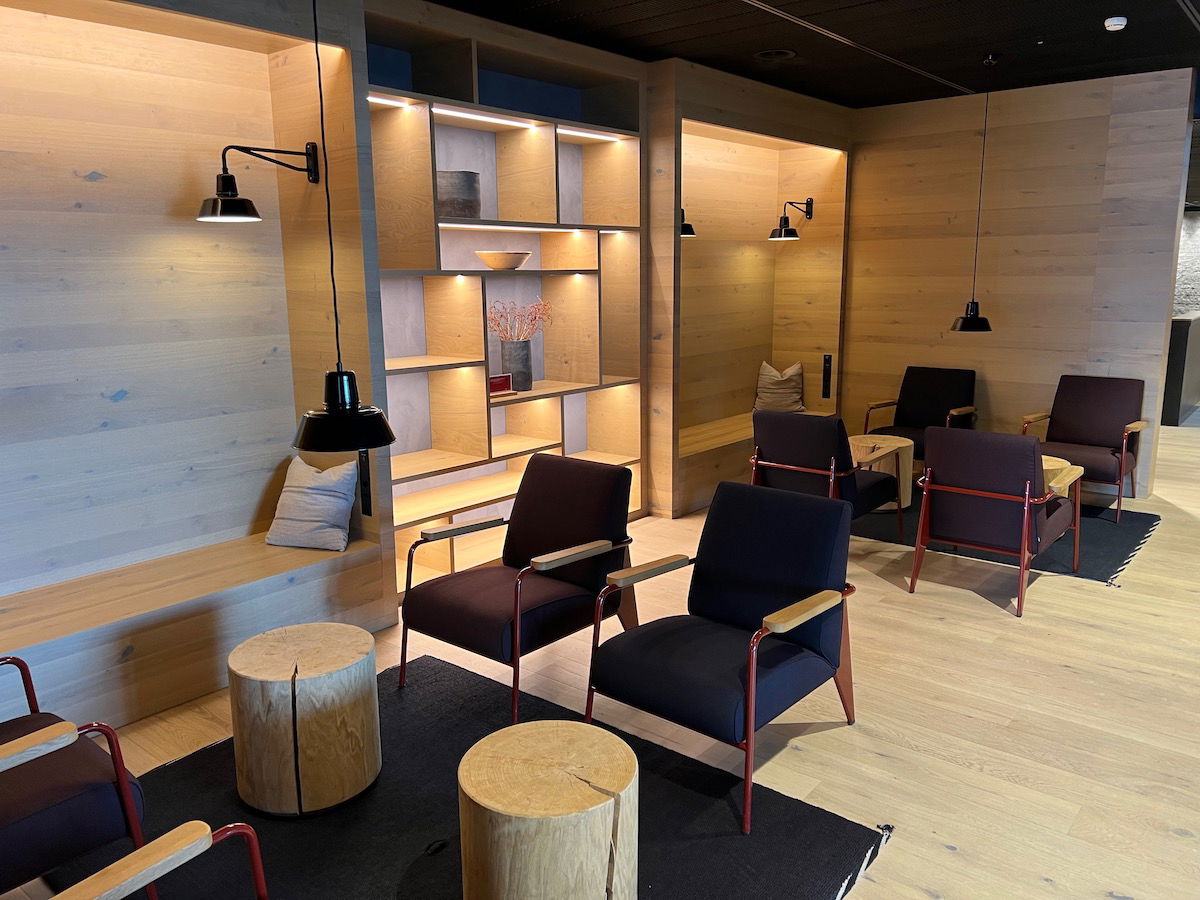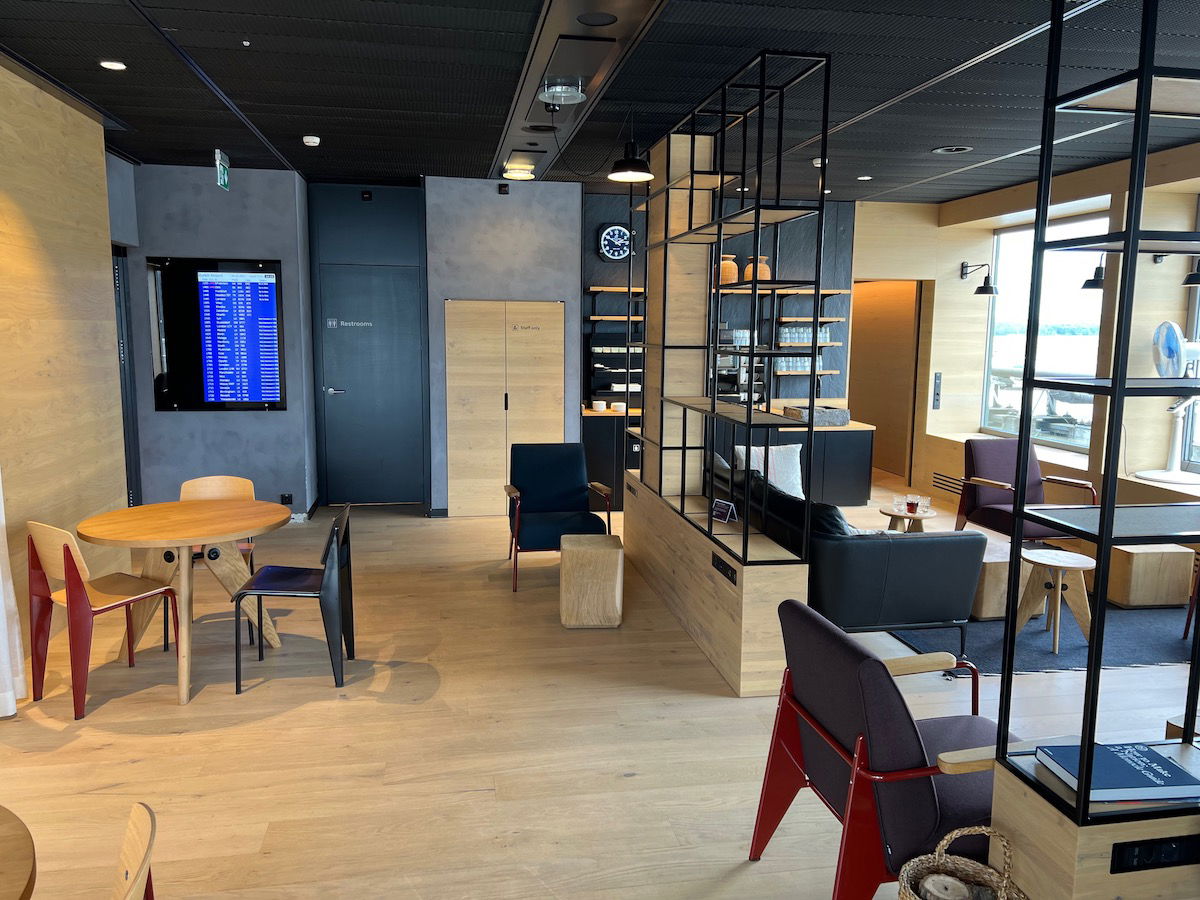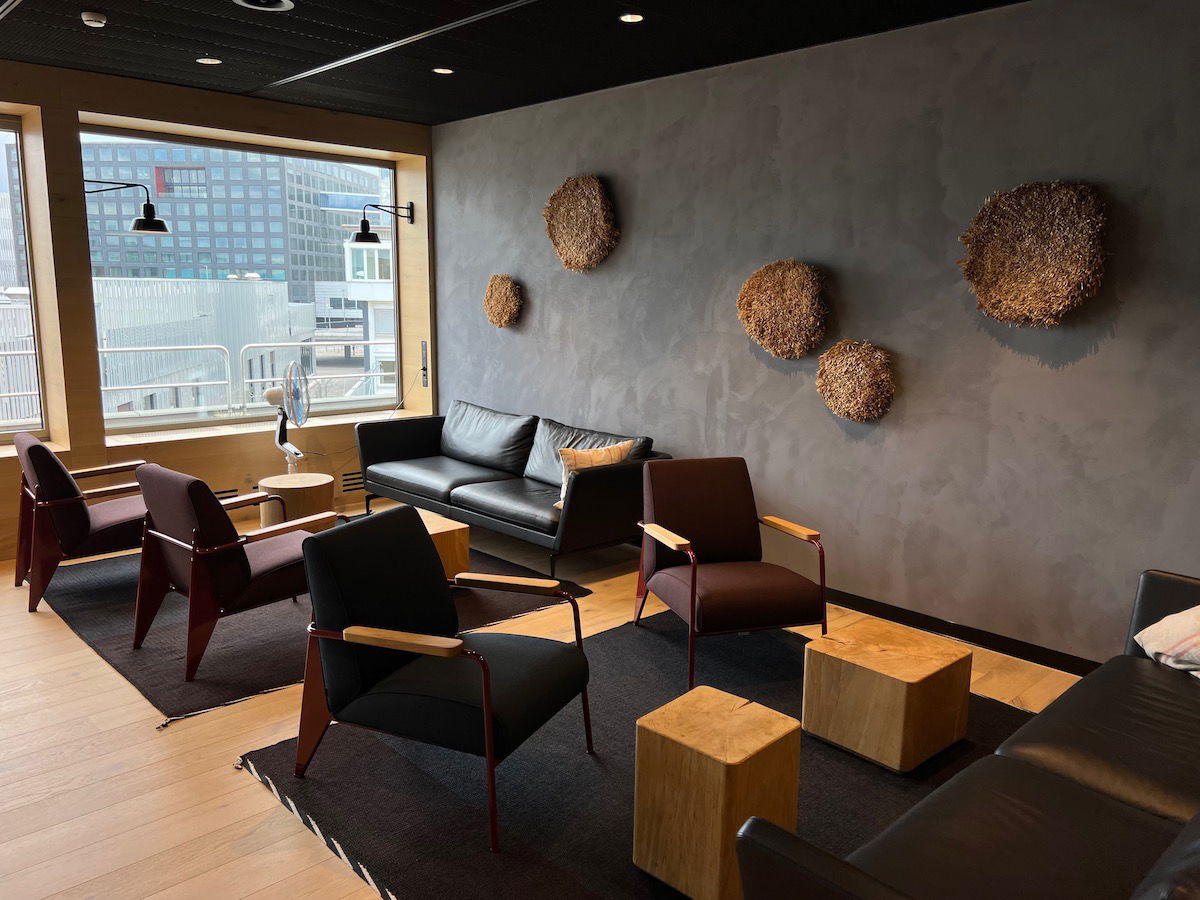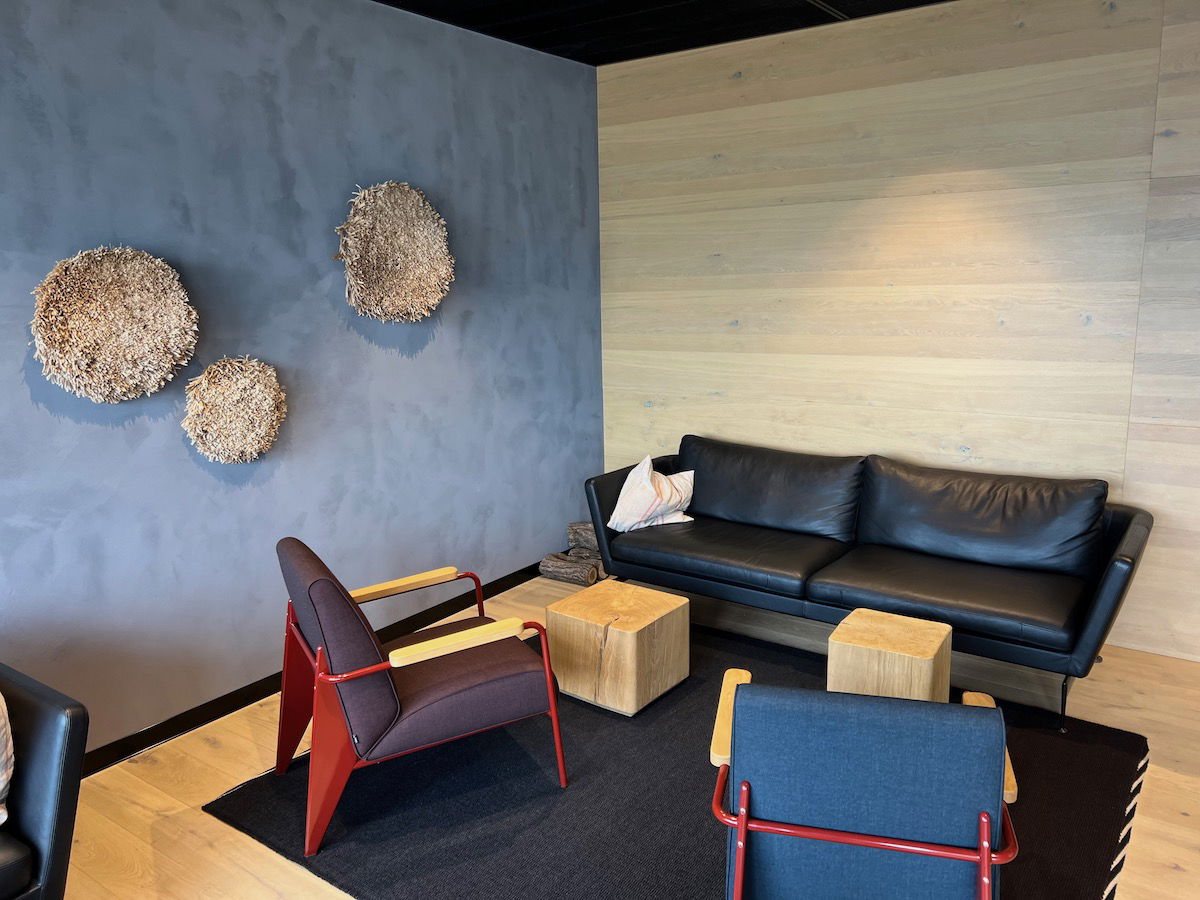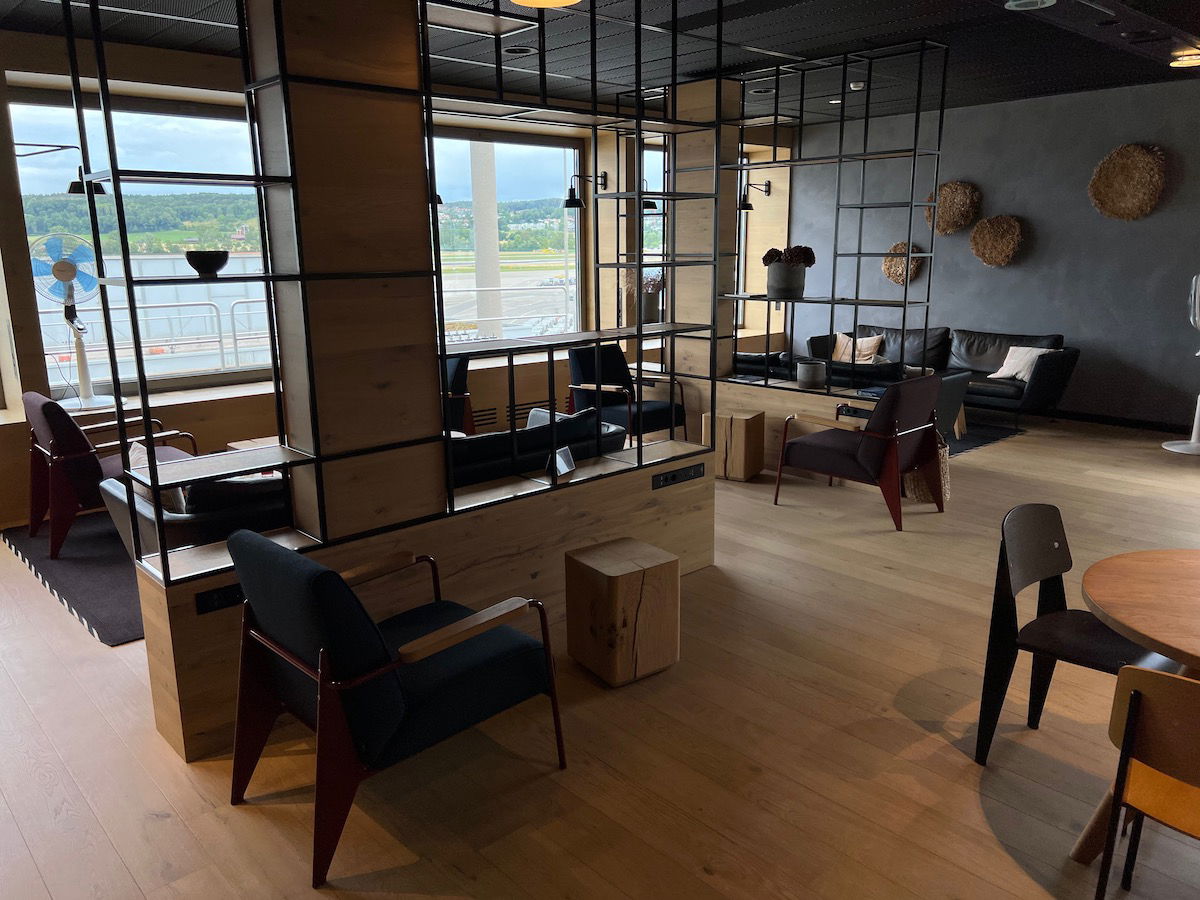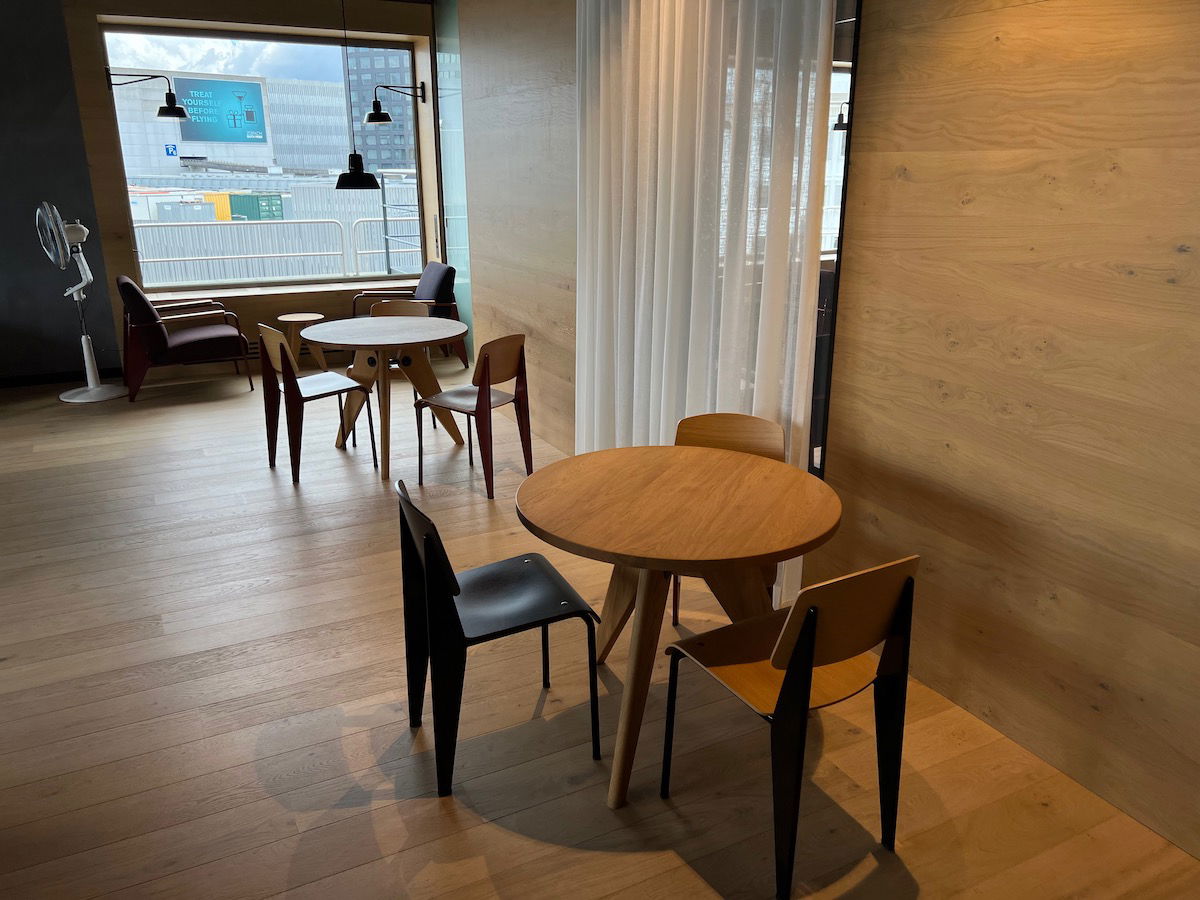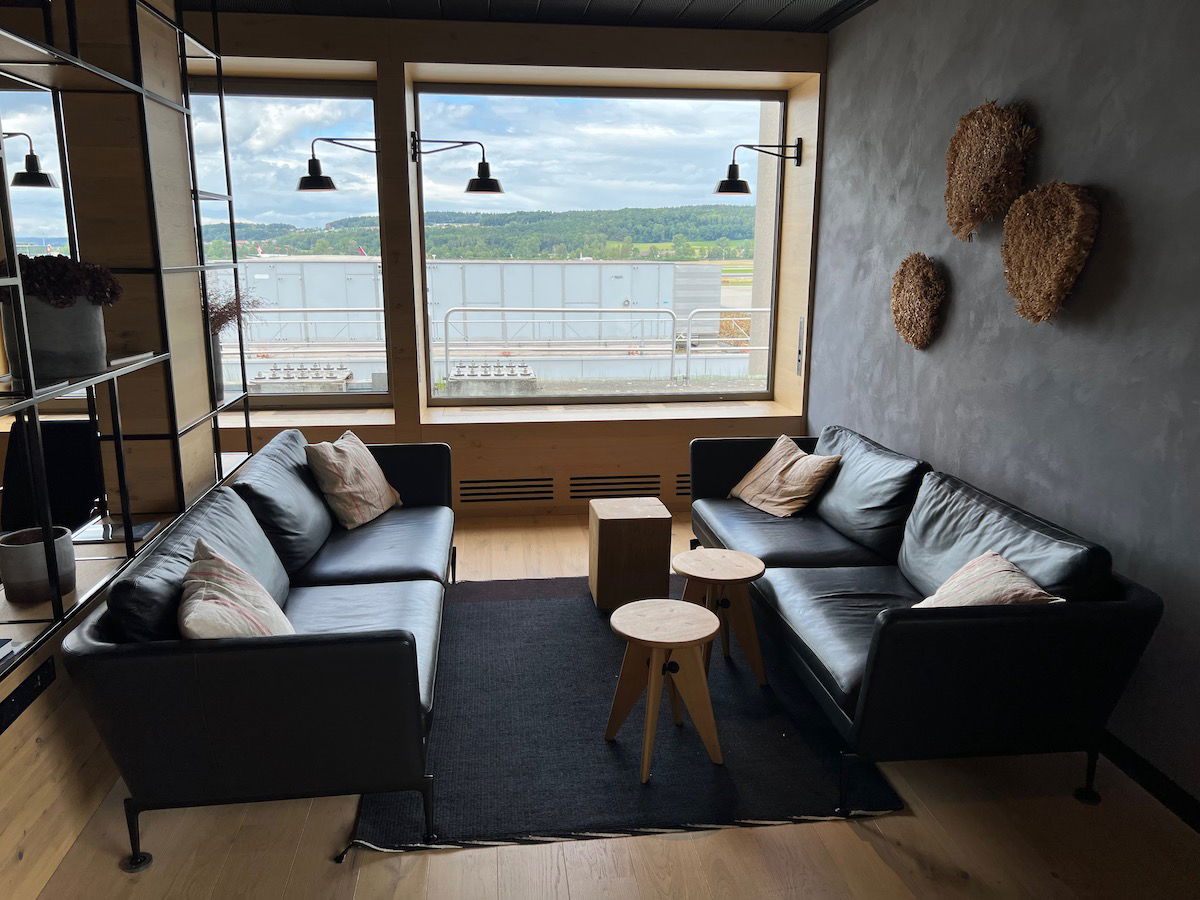 In the back section of this portion of the lounge were several more tables that could each seat two people, with stools and benches.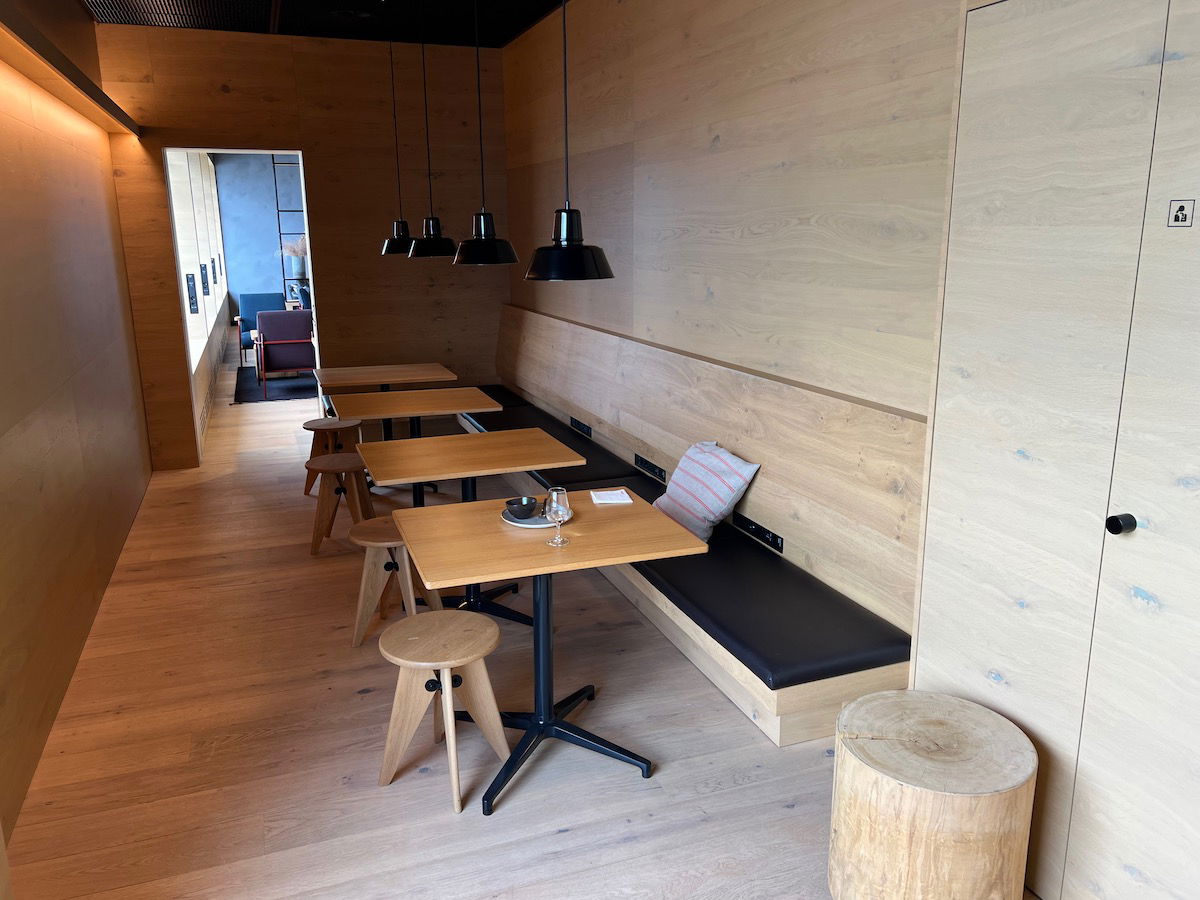 There were also three private workstations with doors, though I can't say the stools were particularly comfortable for sitting. For that matter, much of the furniture in the lounge could've had a bit more padding.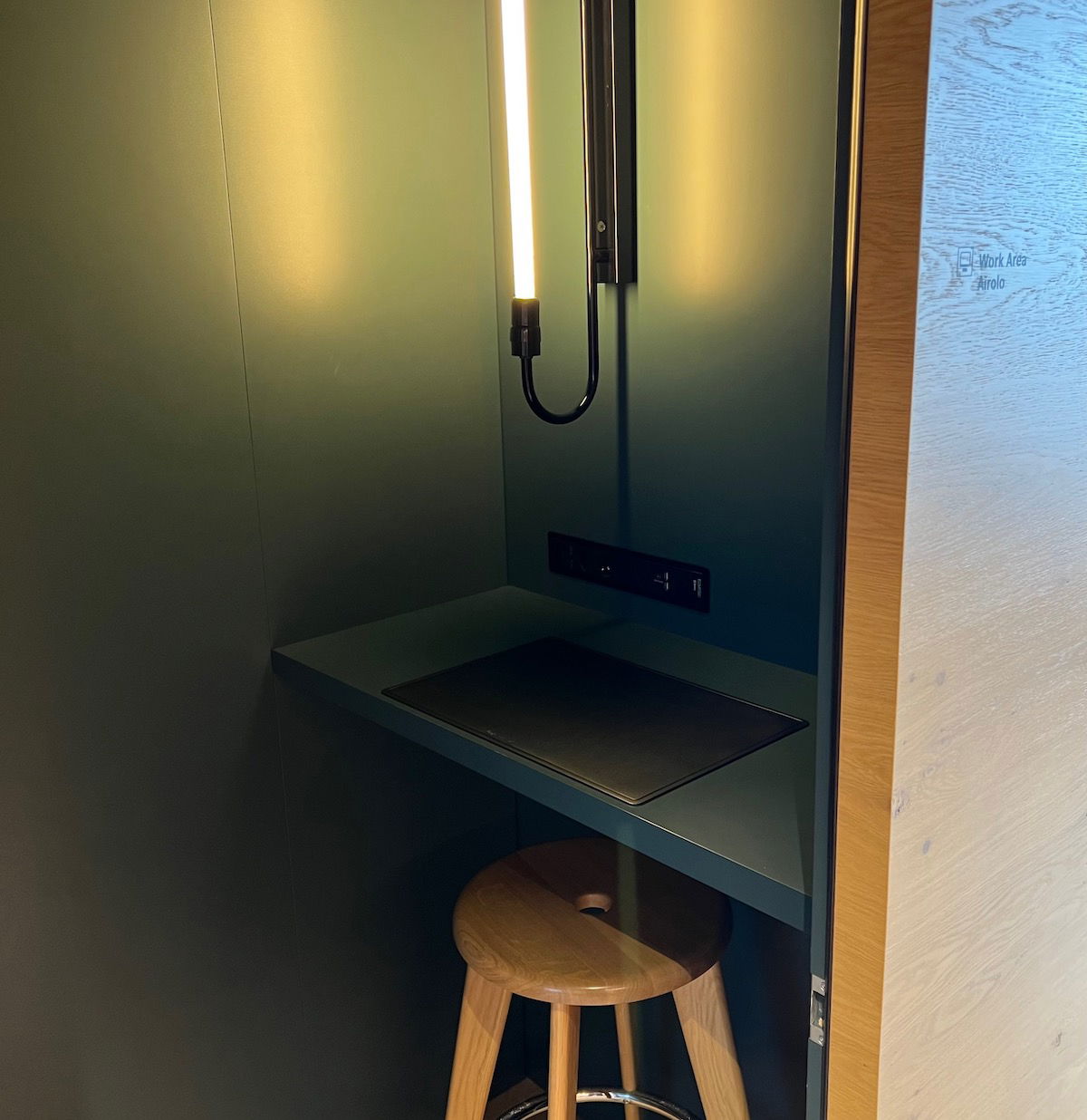 Overall I liked the design of the lounge. On the one hand all of the light wood made the lounge feel a bit sterile, but I appreciated the splashes of color, wall accents, etc., which gave the lounge personality.
I should mention that the lounge doesn't seem to have air conditioning. That's not going to be an issue most of the year, but it was definitely on the warm side during our visit, and there were fans throughout the lounge that at least helped with airflow.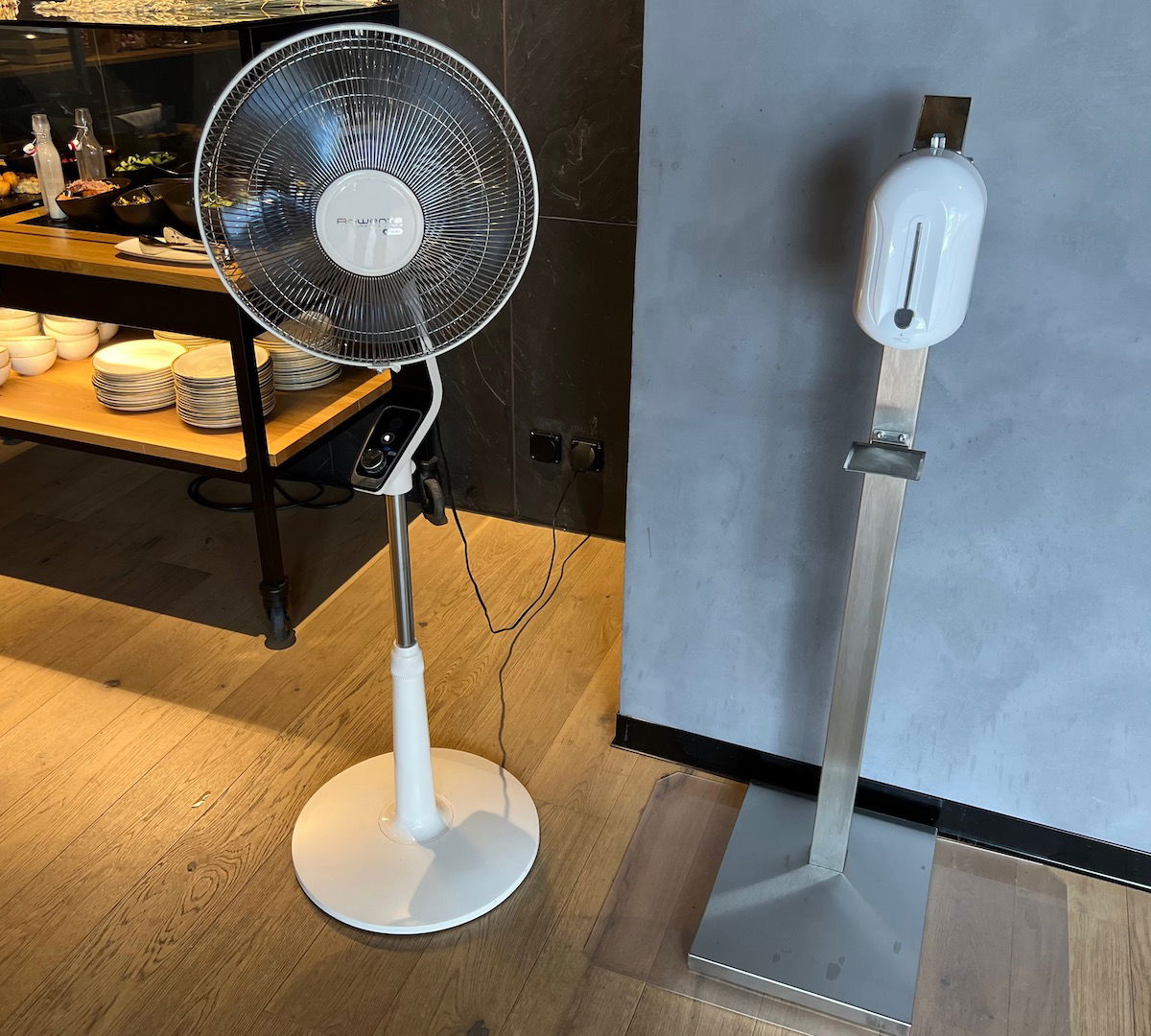 SWISS Alpine Lounge Zurich (ZRH) food & drinks
The SWISS Alpine Lounge had a pretty good food and drink selection. The main buffet was in the dining area.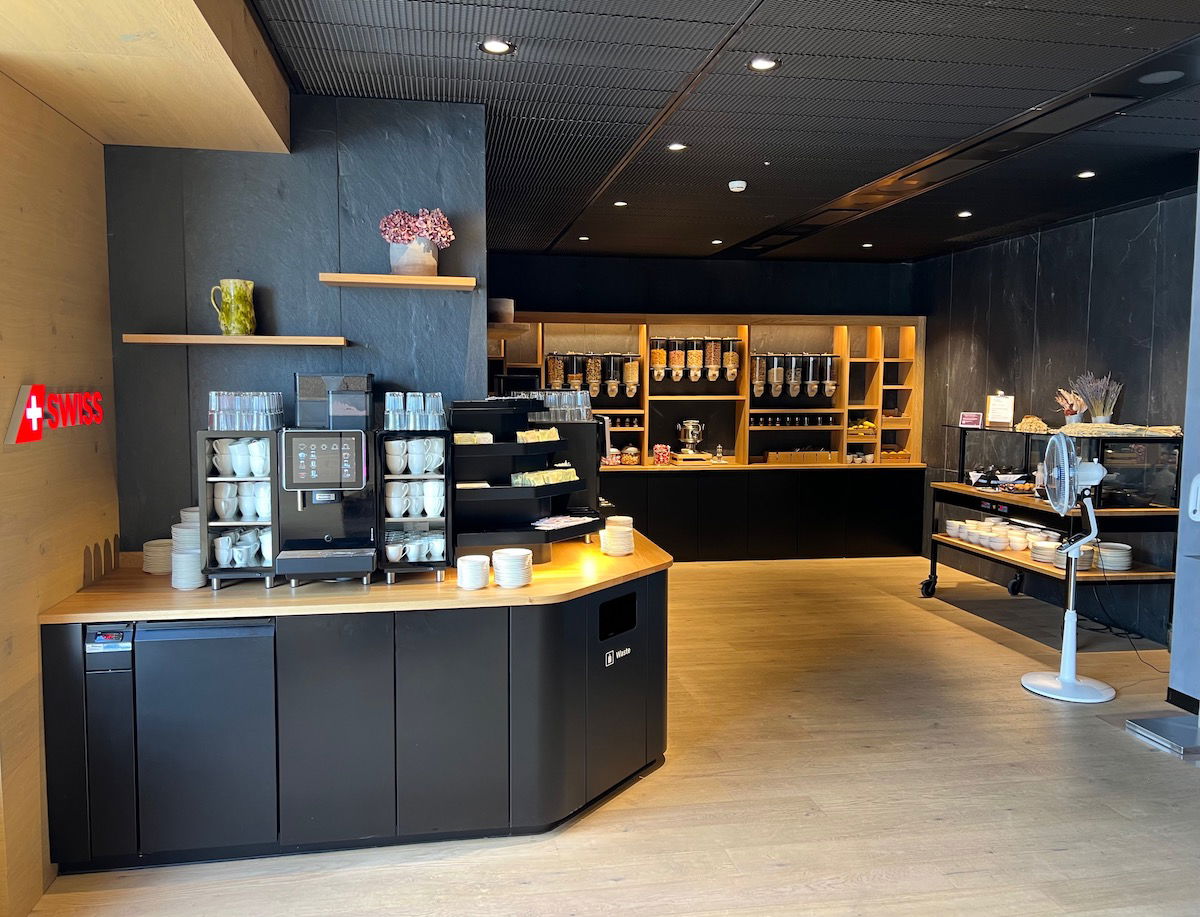 The buffet consisted of fresh fruit, endless containers with cereal, snack mix, and candy, some salads, a couple of soups, and a variety of bread.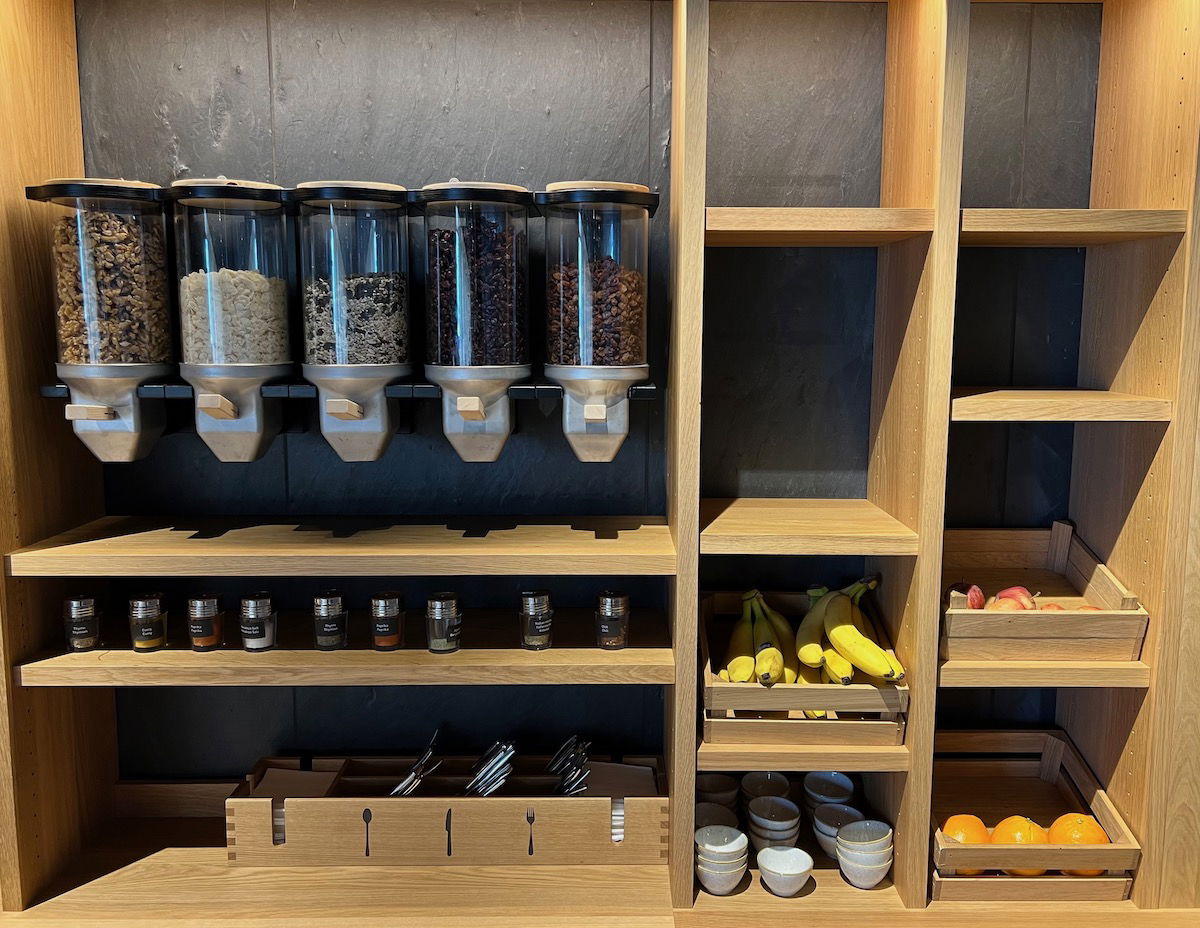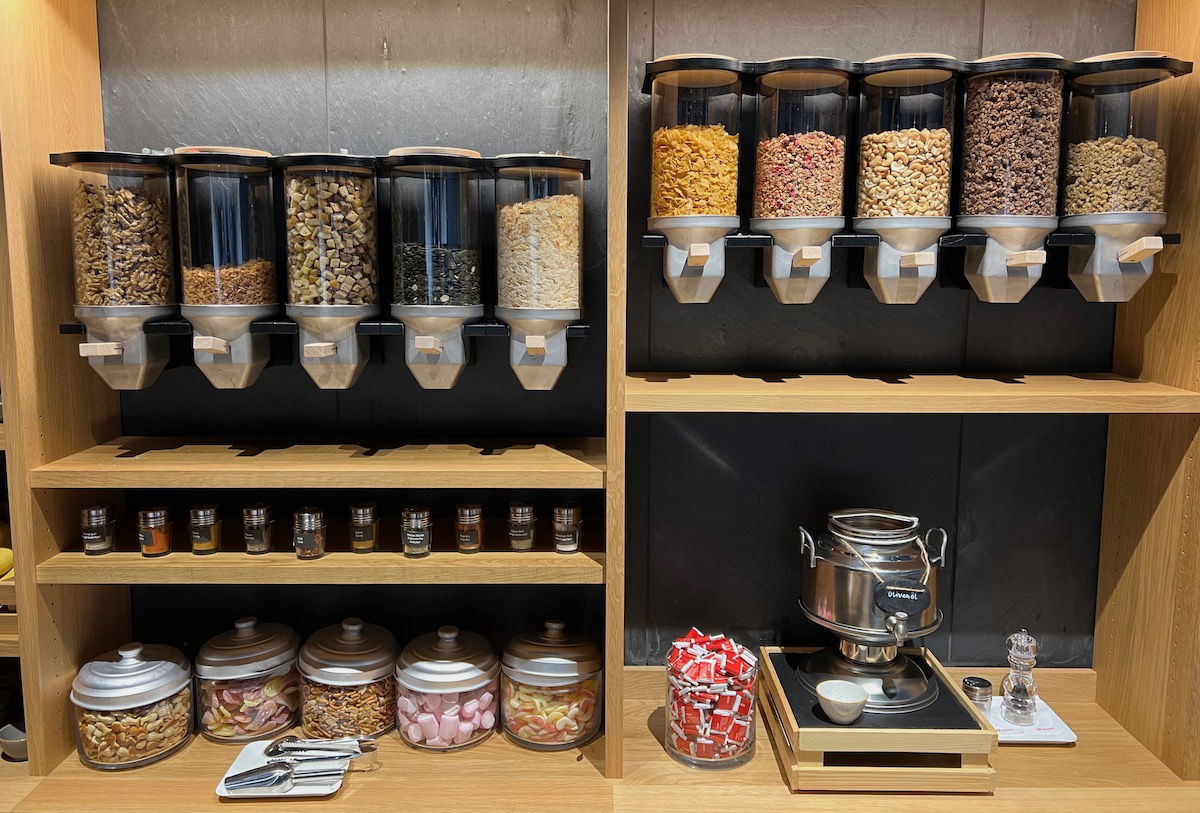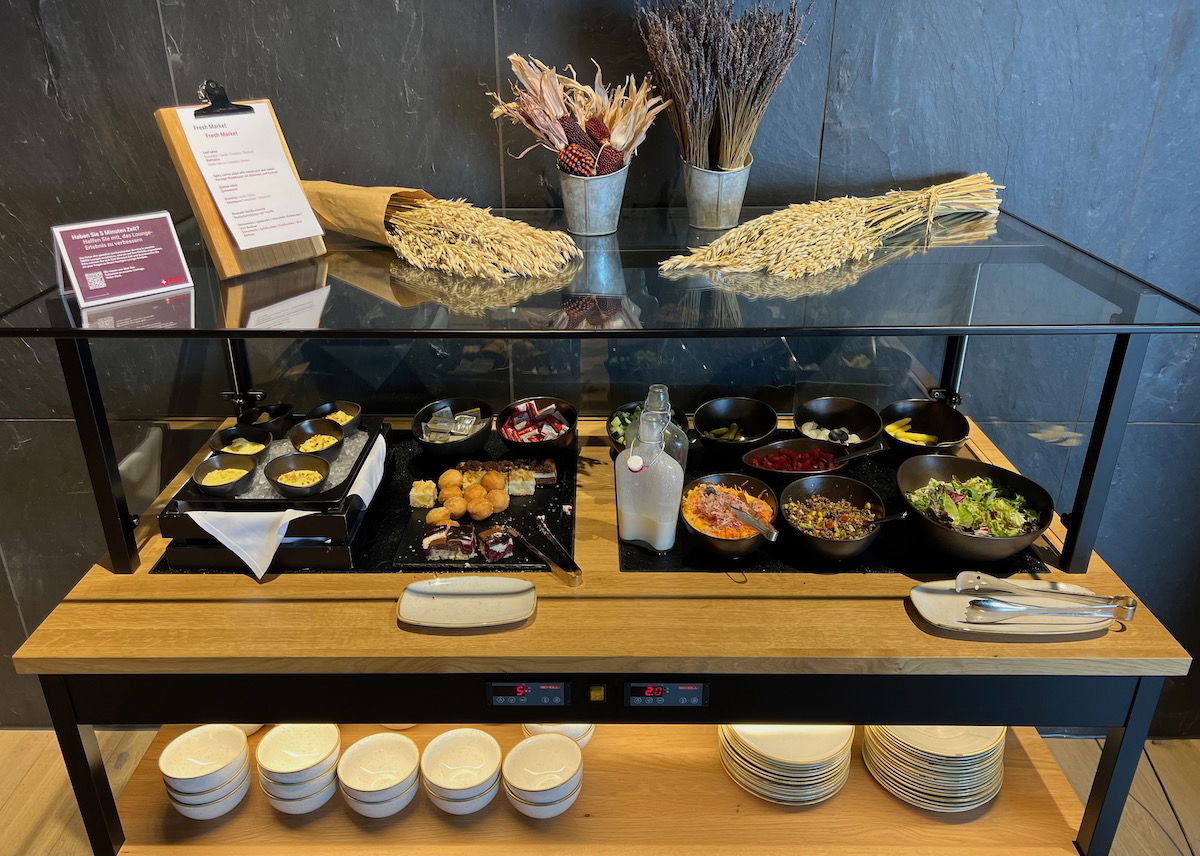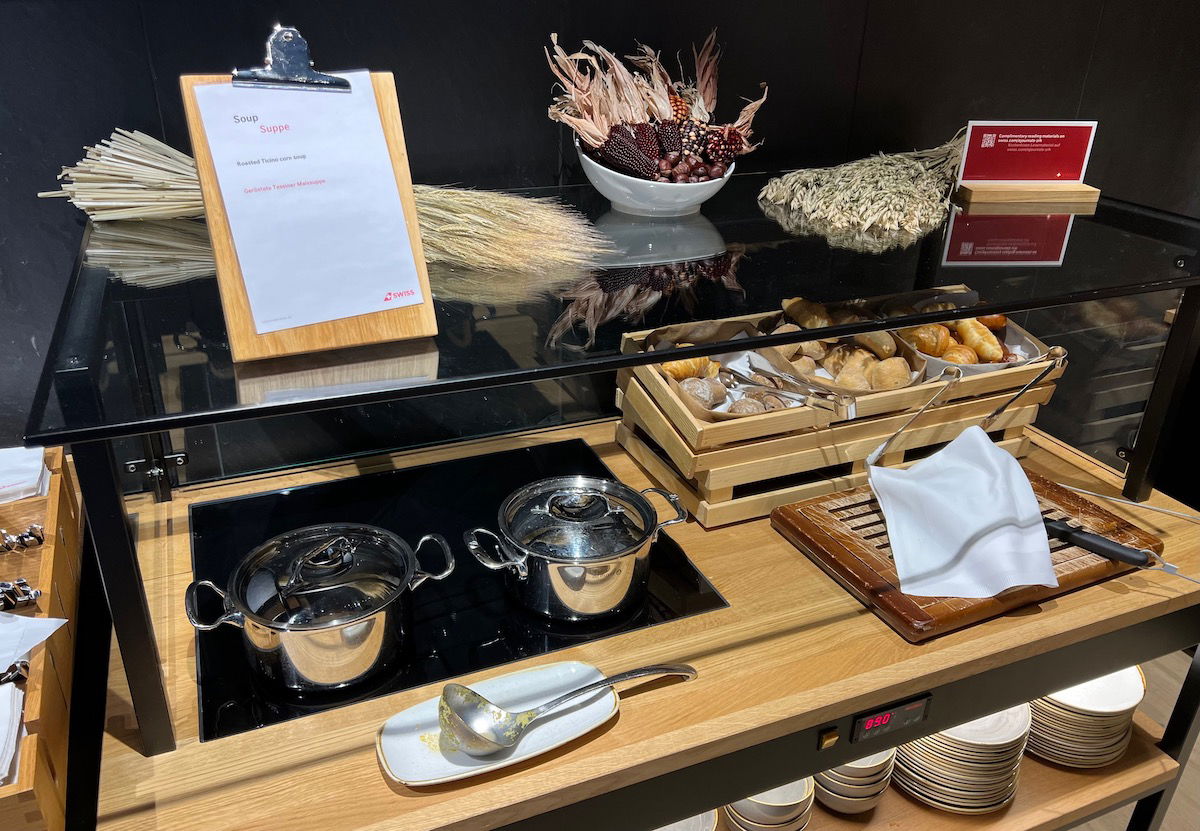 There was a coffee machine, and I was impressed by just how many drink choices there were. I couldn't help but try to make an iced macchiato, since I hadn't seen that option before from a machine like this. I'd say it was more like a lukewarm macchiato (there wasn't really room to add ice cubes, as you can see), but it was still quite good.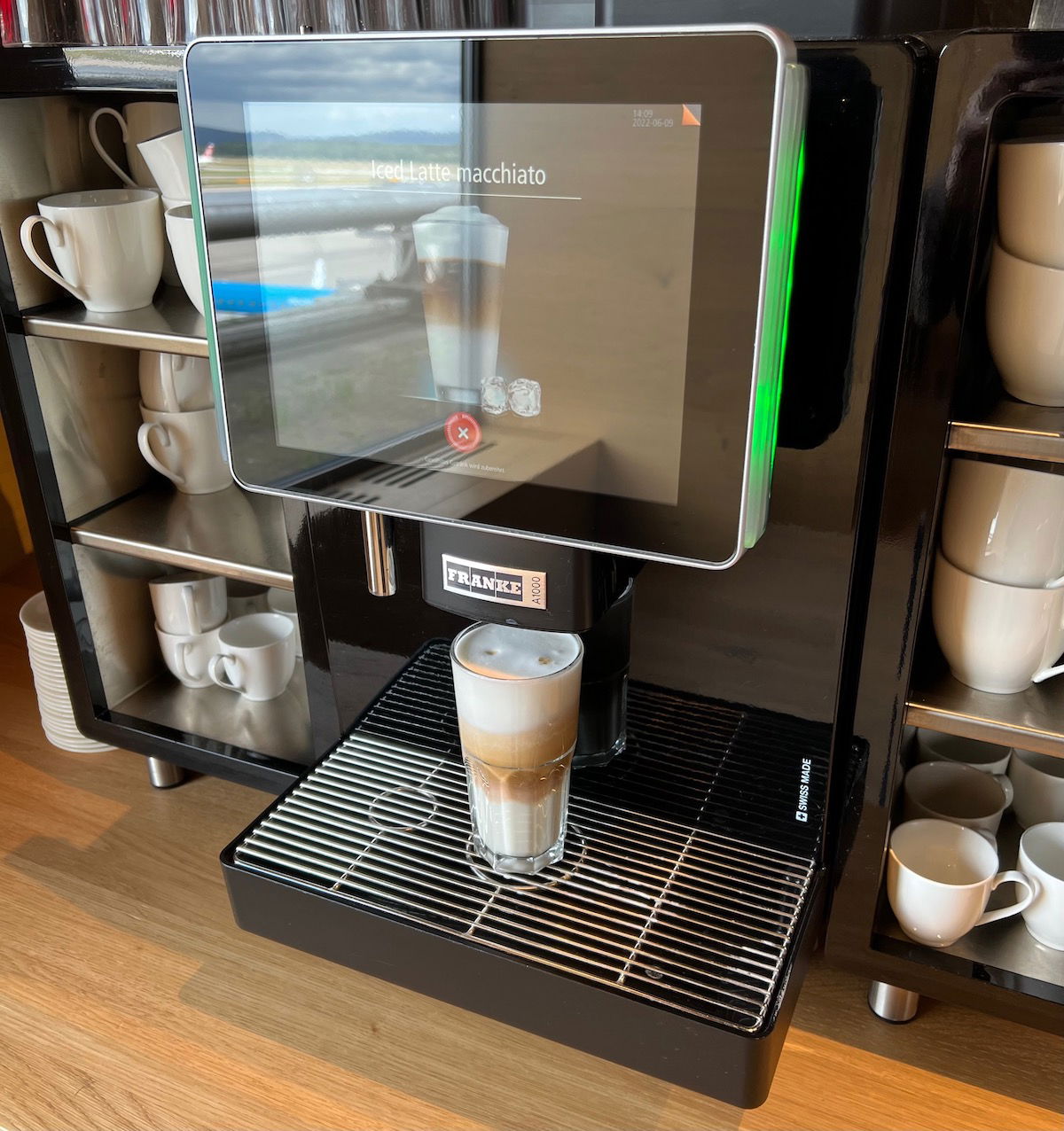 There was a separate buffet with drinks, including self serve beer, wine, soft drinks, juice, water, and more.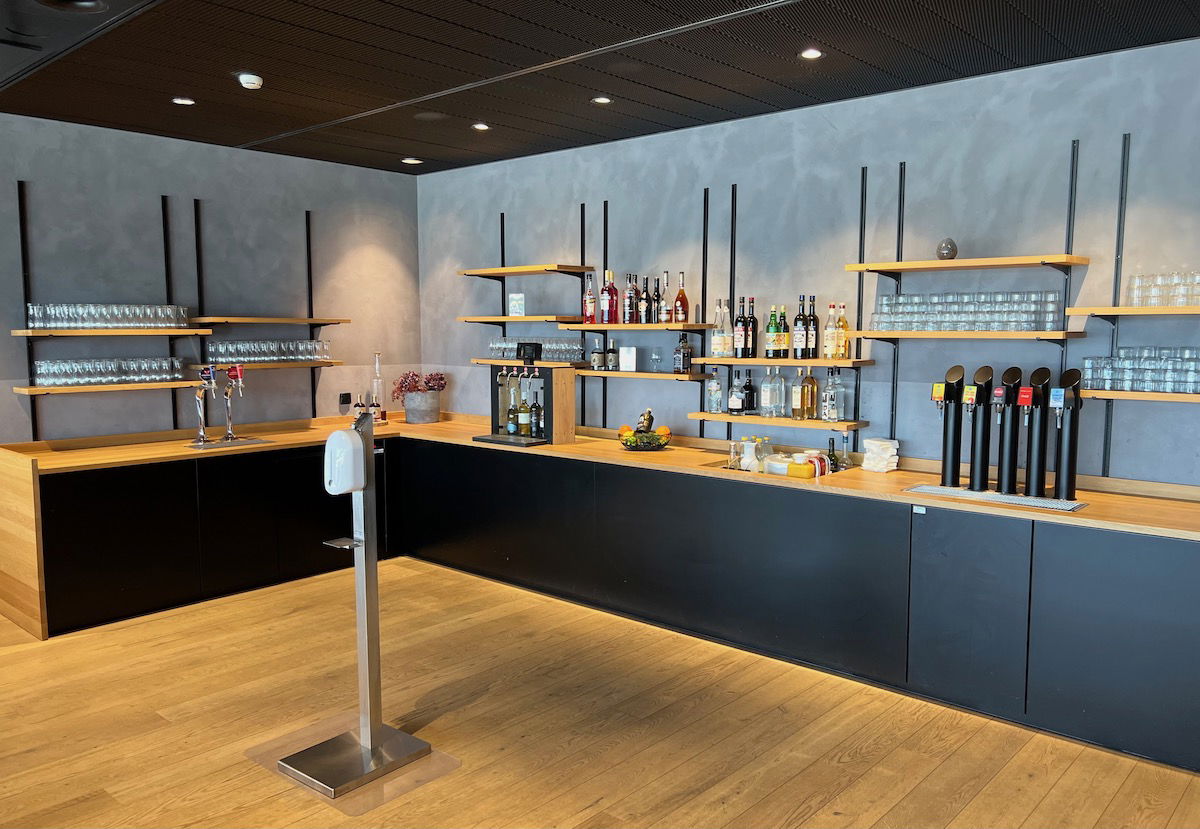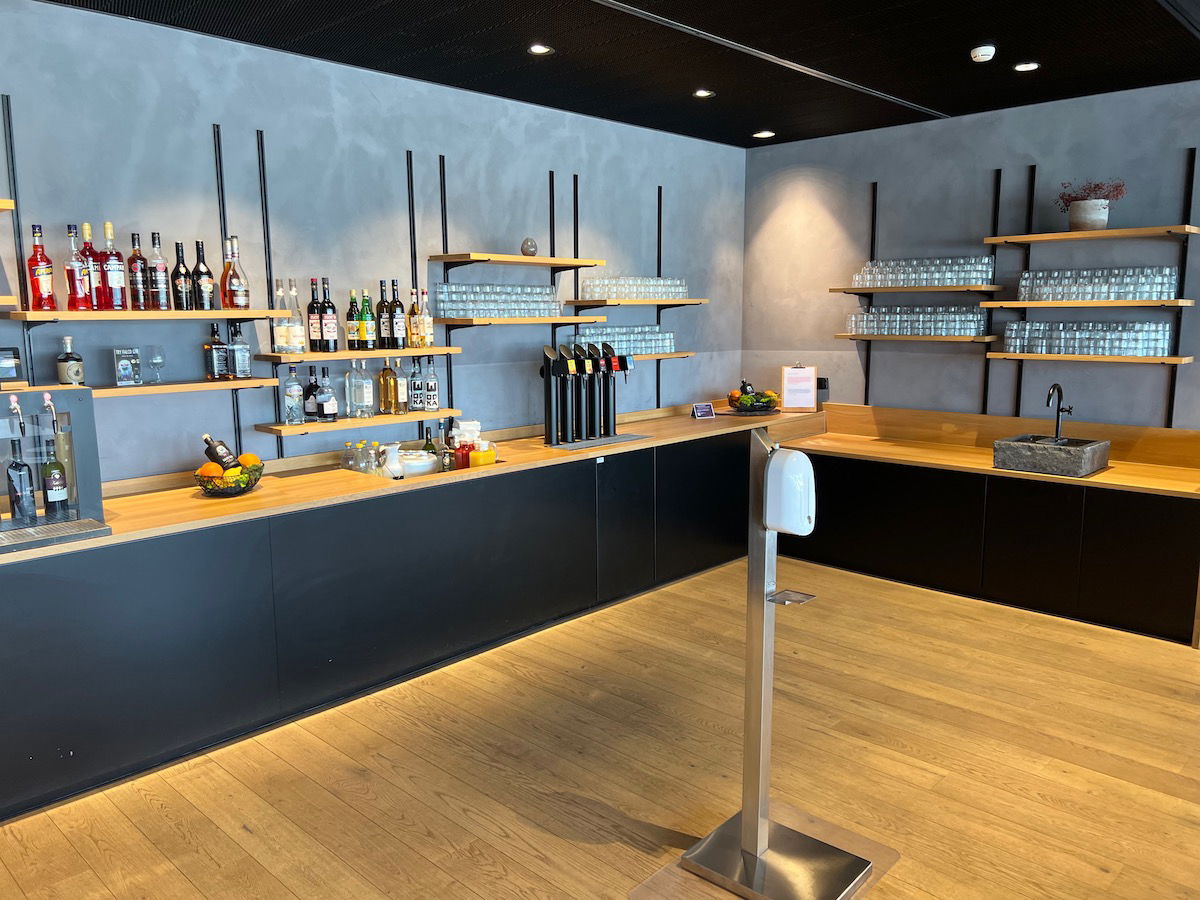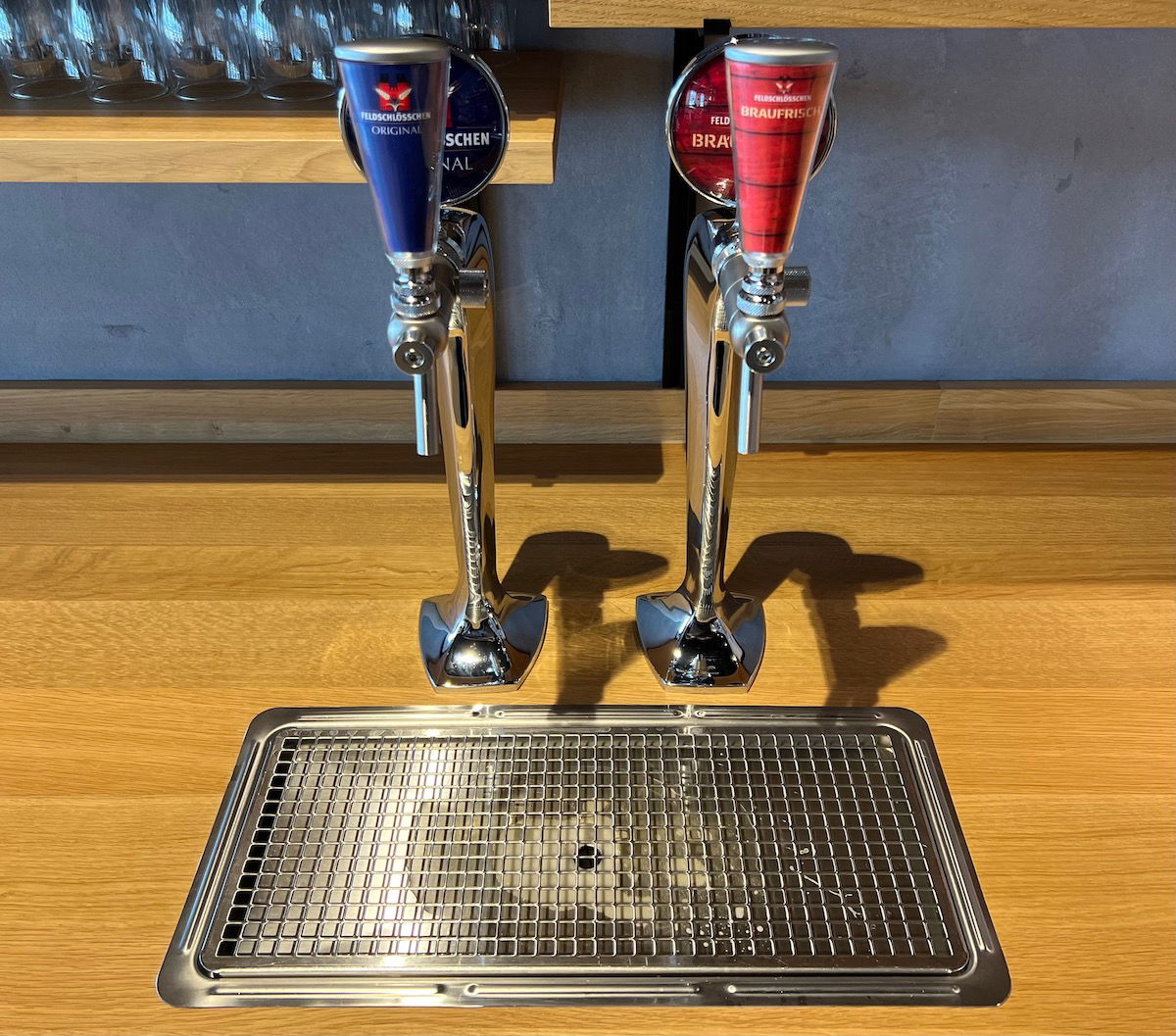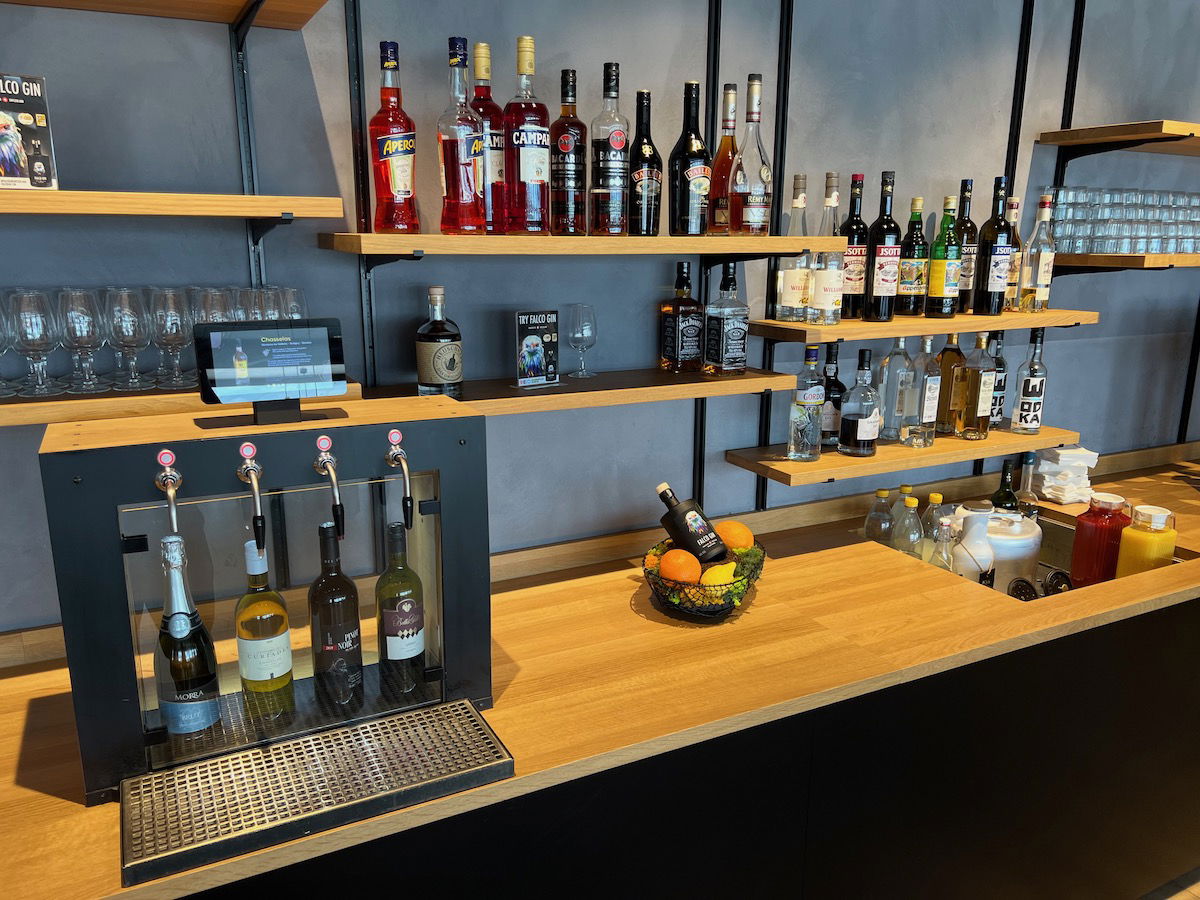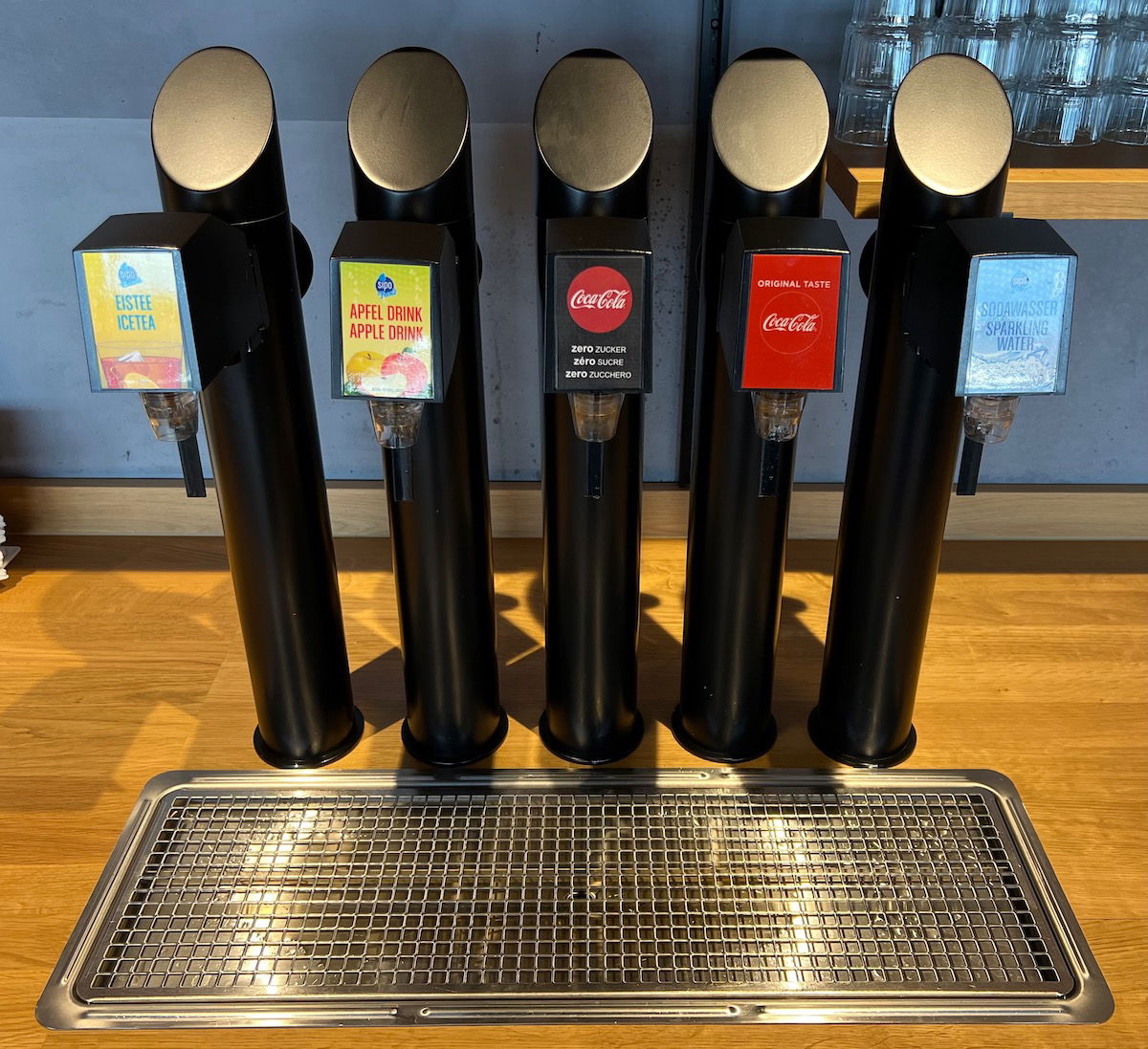 There was also a live cooking station, which is a great concept. The annoying thing is that there was a single thing available there, which was an eggplant casserole with ham and basil. You'd think they could at least have some sort of a vegetarian option as well.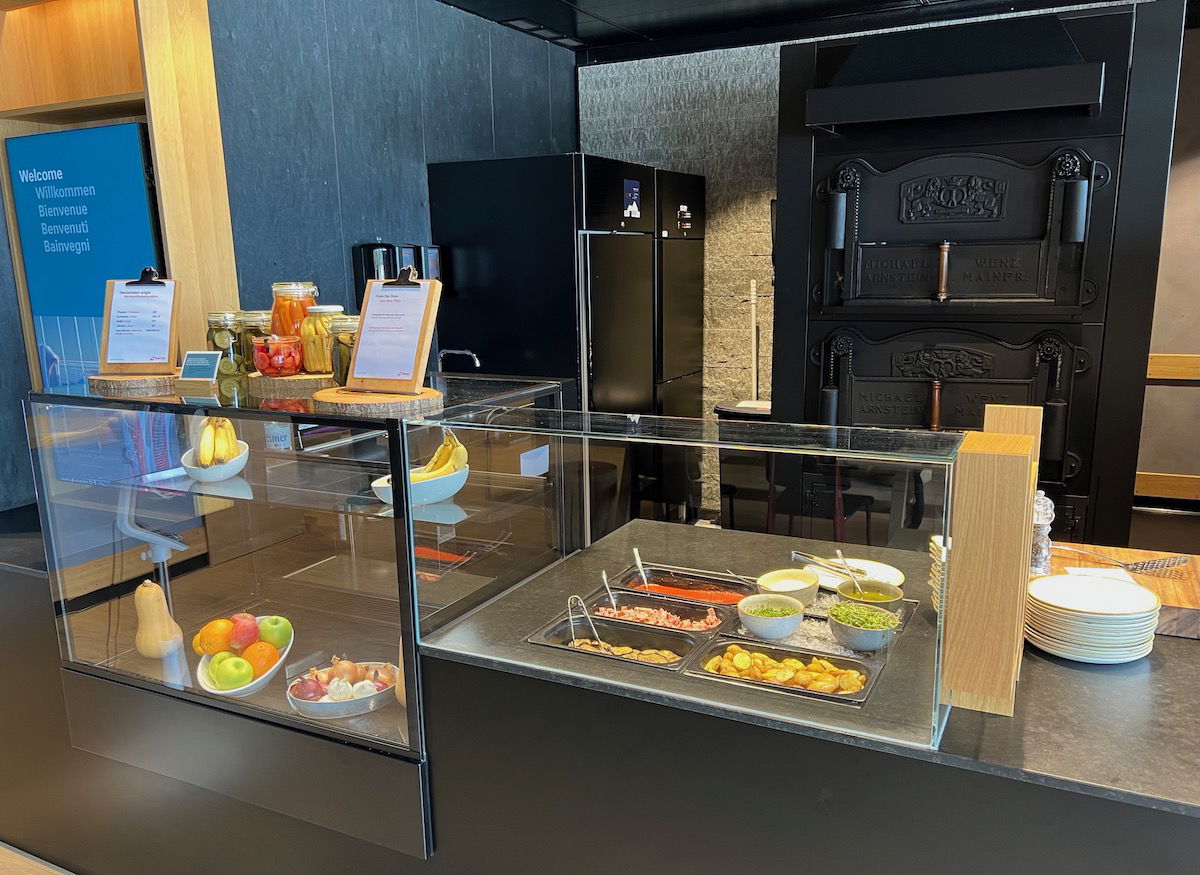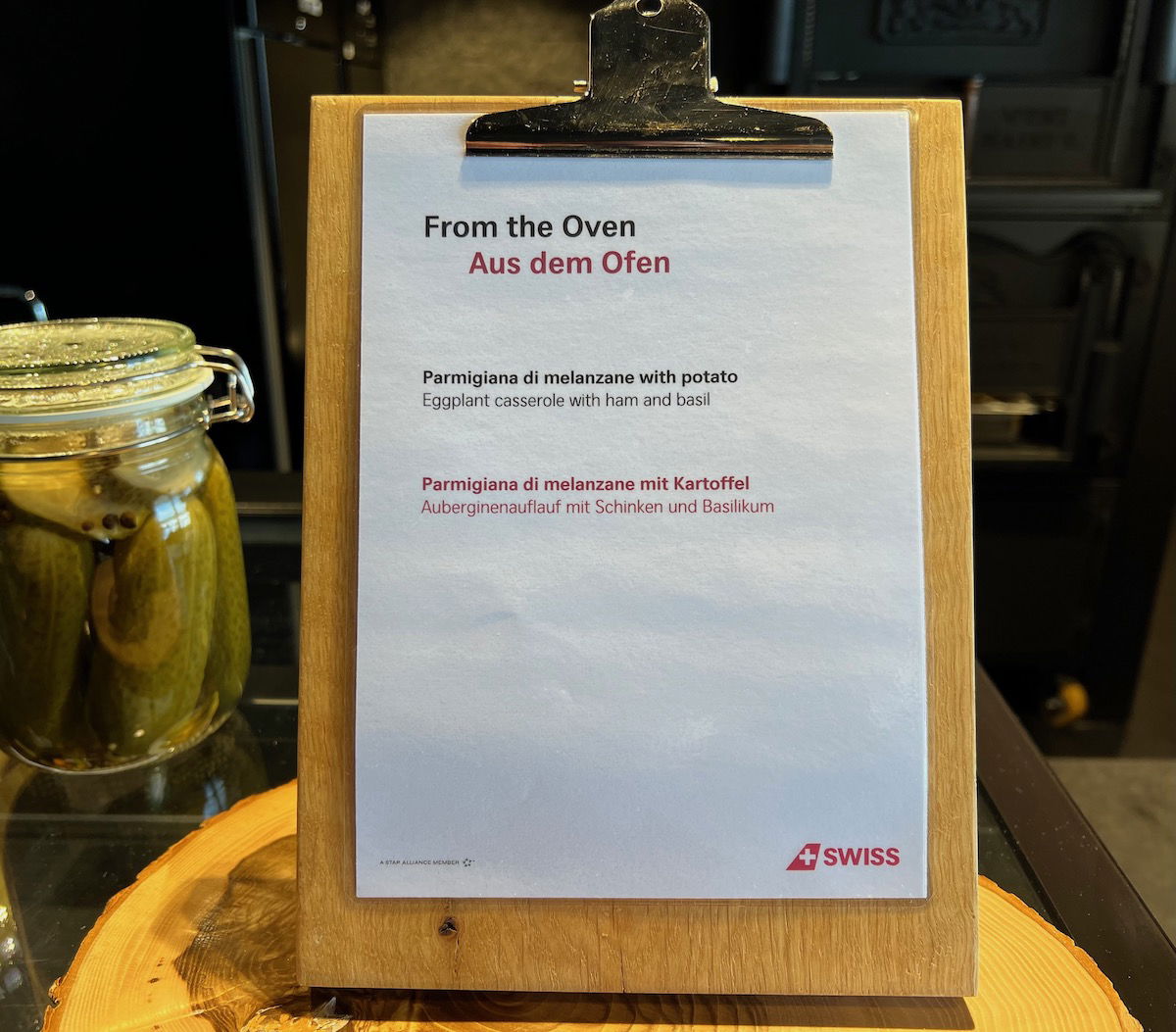 The other side of the lounge also had a drink station with a coffee machine and some water.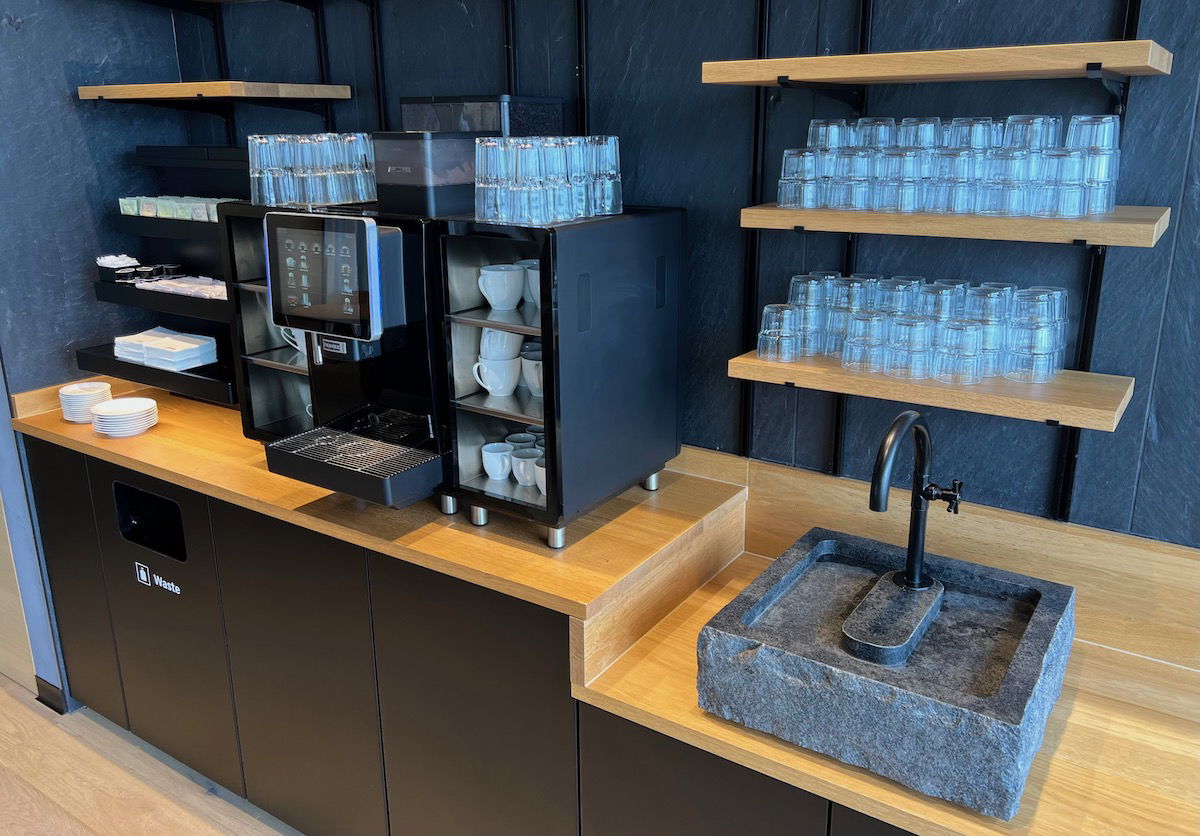 SWISS Alpine Lounge Zurich (ZRH) bathrooms
The SWISS Alpine Lounge had a pretty basic bathroom setup. The bathrooms were clean but small, but that wasn't an issue based on how empty the lounge was when I visited. The Alpine Lounge doesn't have showers, so if you want a shower you'll have to visit one of the other lounges.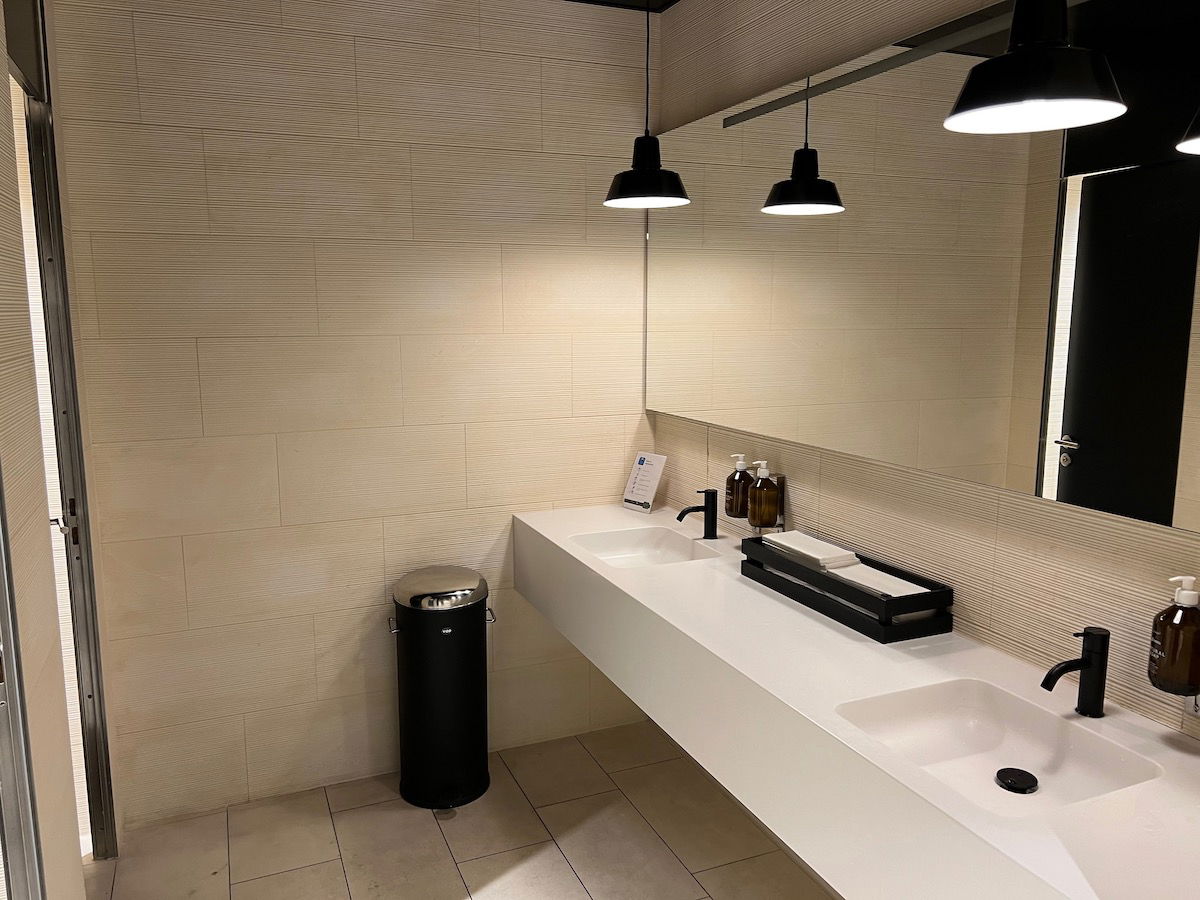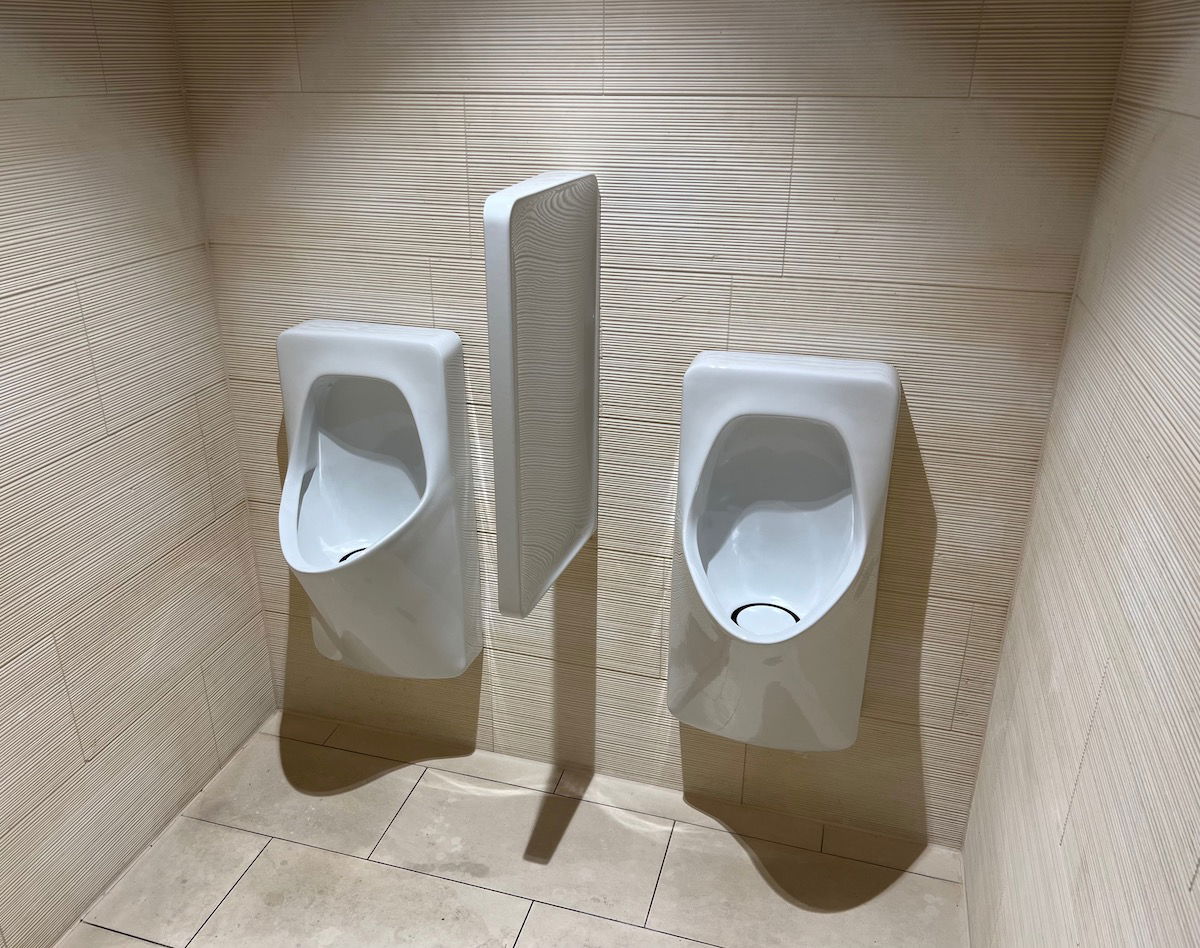 Bottom line
I had been curious to check out the SWISS Alpine Lounge Zurich ever since it opened, and it didn't disappoint. The lounge has nice decor, lots of natural light, and a solid food & drink selection (especially compared to other SWISS lounges). Best of all, it's my understanding that this is generally the least crowded SWISS lounge at the airport, which makes it all the better.
I'd definitely check out this lounge if you're flying SWISS in a premium cabin and have time to spare at Zurich Airprot.
If you've visited the SWISS Alpine Lounge Zurich, what was your experience like?