Our next stop after Greece was Sweden, and we traveled between the two countries on an interesting flight — we booked a flight on Scandinavian Airlines (SAS), but it was actually operated by an airBaltic Airbus A220.
How I booked our Scandinavian Airlines business class tickets
I booked us on the following flight between Athens and Stockholm:
06/29 SK1834 Athens to Stockholm departing 11:30AM arriving 2:05PM
Specifically, I booked SAS Plus, which is Scandinavian Airlines' premium economy product. It's like intra-Europe business class, except middle seats aren't blocked. The cost for a one-way ticket was $239, which was only $50 more than was being charged for economy.
Admittedly I receive many priority services anyway on account of being a Star Alliance Gold member. Even though seat blocking isn't a perk of SAS Plus, I've consistently found the SAS Plus cabin to be much emptier than the economy cabin on leisure routes, and I place quite a bit of value on that. For example, while economy was nearly full on this flight, we had four rows all to ourselves in SAS Plus.
Basics of the SAS & airBaltic wet lease agreement
For those not familiar, airBaltic is an airline based in Riga, Latvia, which exclusively flies Airbus A220s. It's a pretty nifty airline operating with a unique business model. However, the airline has had some challenges in recent months, due to Russia's invasion of Ukraine, and the impact this has had on airlines. Given Latvia's geography and airBaltic's former routemap, the airline isn't able to operate many routes anymore, and has more planes than it needs.
airBaltic is leasing out planes to a couple of airlines this summer, including Scandinavian Airlines and Eurowings Discover. So our Scandinavian Airlines flight was operated by airBaltic as part of a wet lease agreement. What does this mean?
The ground services are exactly as they would be with SAS; you check-in at the SAS counter, the boarding gate has SAS branding, etc.
The plane and crew (including pilots and flight attendants) are from airBaltic, and the crews wear airBaltic uniforms
However, the crews carry out the standard SAS inflight service, so food and drinks are exactly as they'd usually be when flying SAS
SAS Plus check-in & boarding
Check-in for our 11:30AM flight opened at 9:20AM. We arrived at the airport around 8:30AM to leave plenty of time (given the chaos at many European airports), but that meant we just ended up sitting in the check-in hall for nearly an hour.
The check-in process was efficient, and within a few minutes our bags were checked to Stockholm.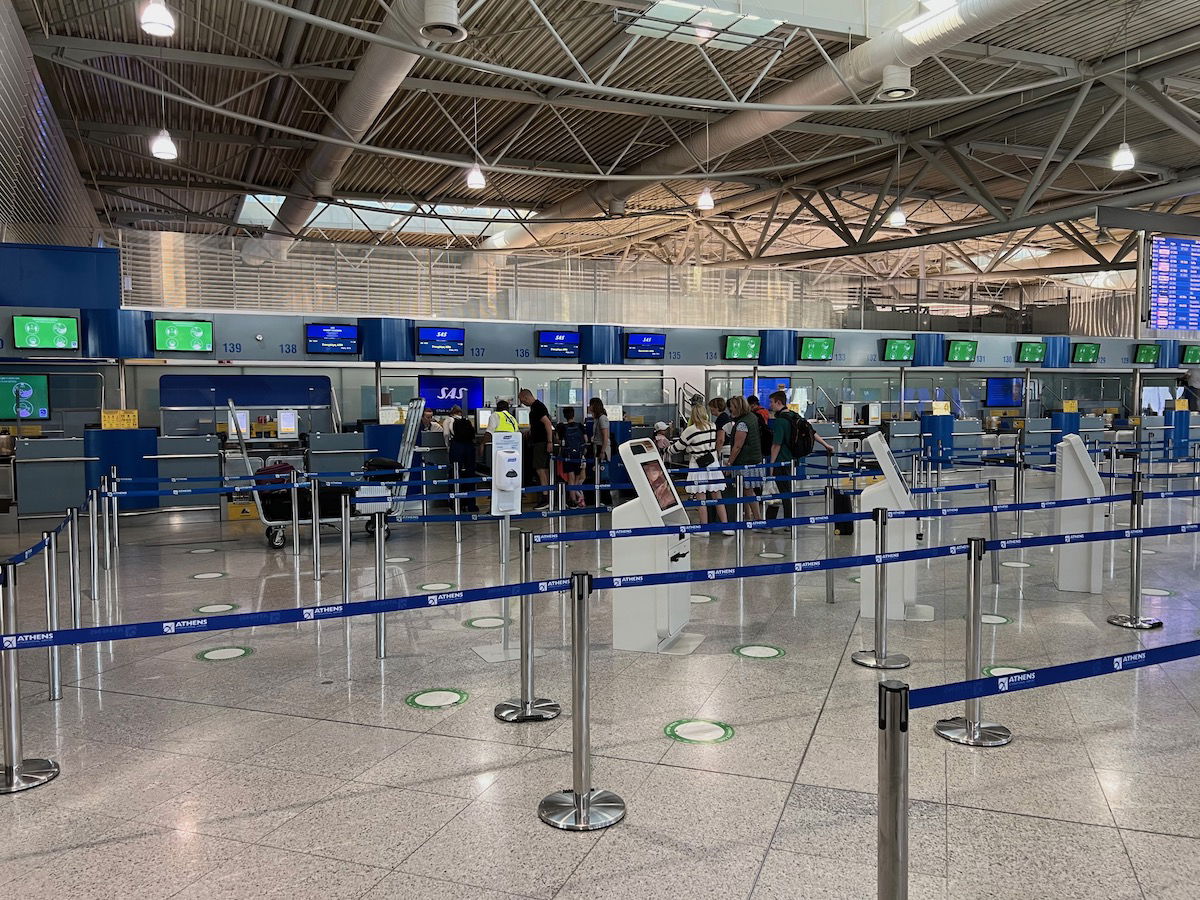 By comparison to other airports, Athens was an oasis of calm.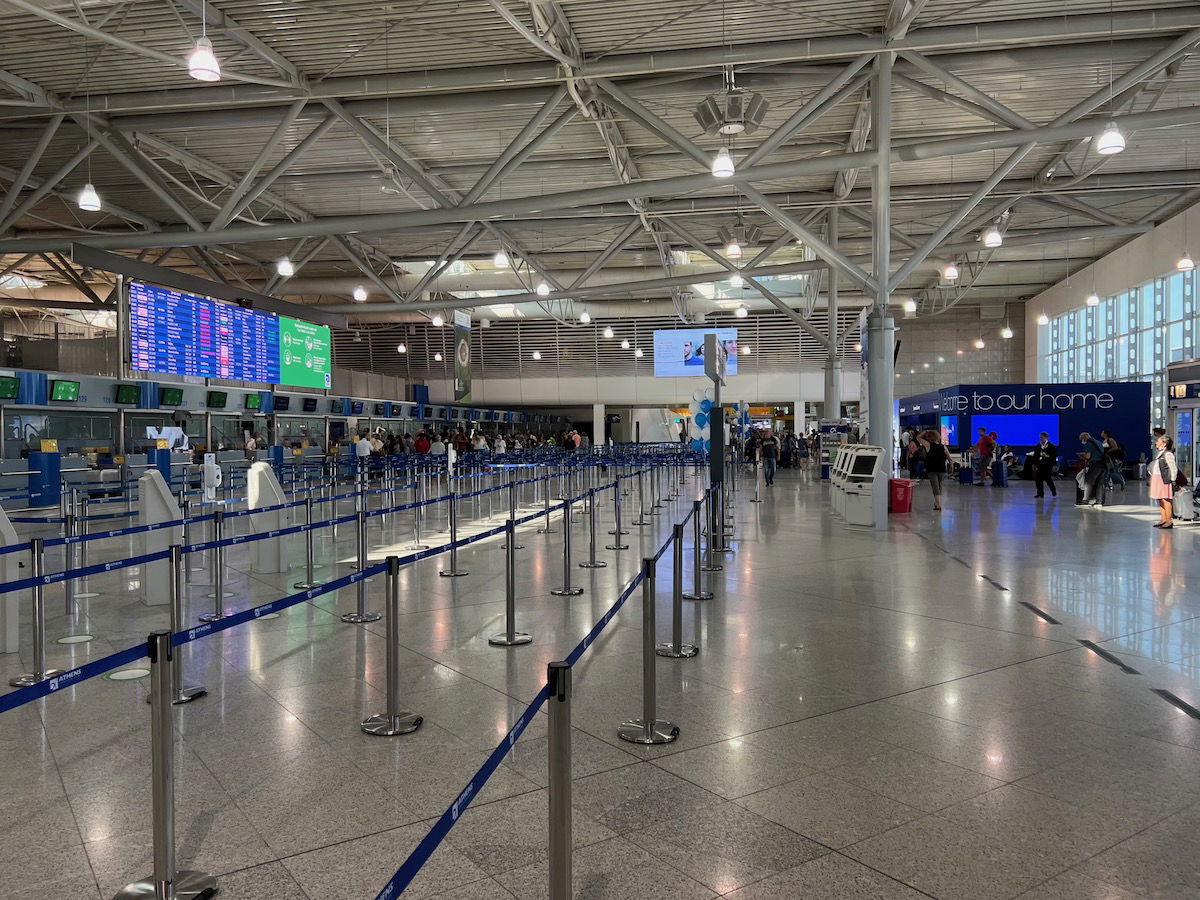 There was a fast track security lane that we had access to on account of our tickets, and security took all of five minutes.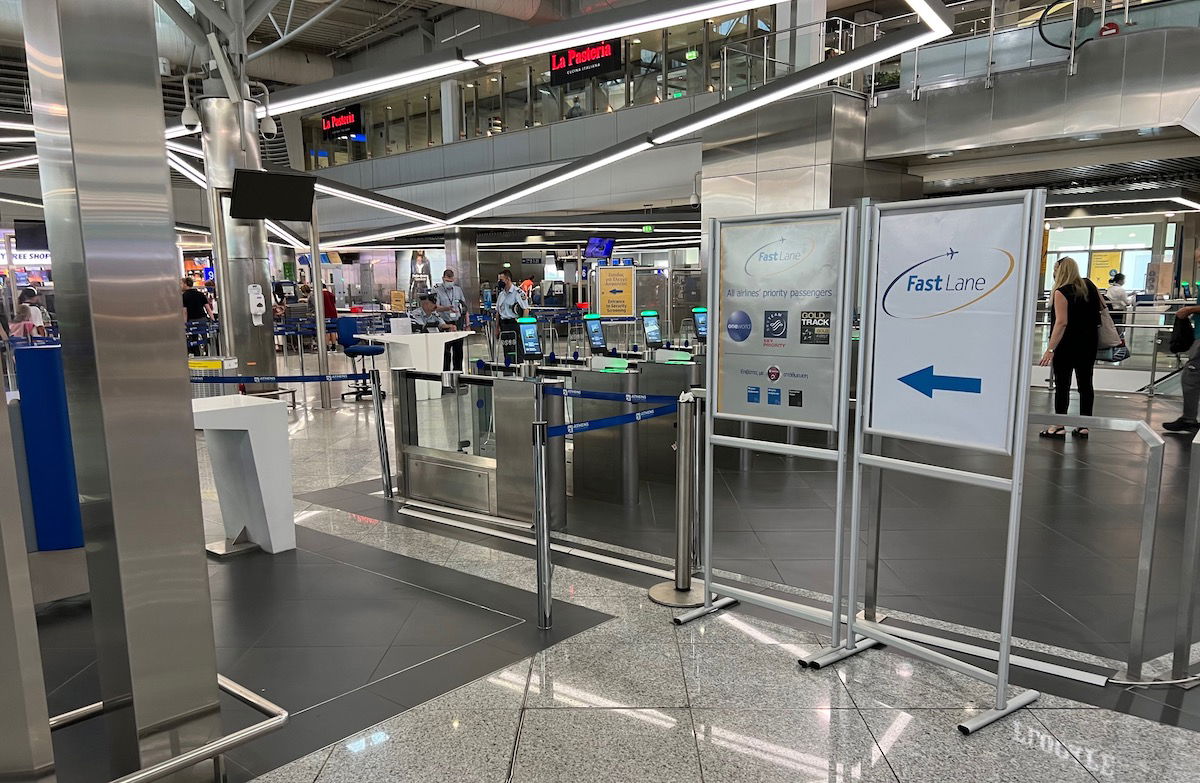 We spent around 90 minutes in the Goldair Handling Lounge Athens Airport, which is where SAS sends its customers. Our flight was departing from gate B13, which was just across from the lounge.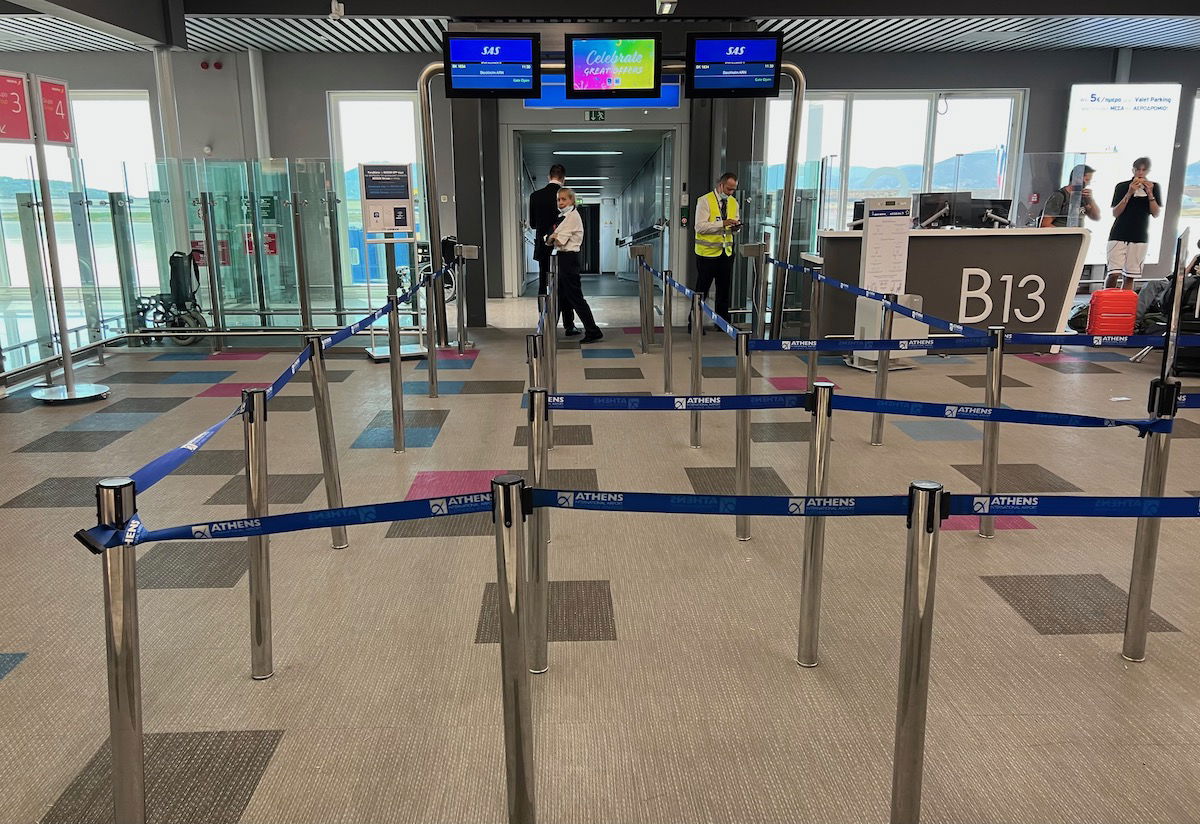 Boarding was scheduled to start at 10:50AM, though in reality the inbound aircraft only arrived from Stockholm at 10:50AM, so we were a bit delayed on boarding. The A220 has such big plane energy!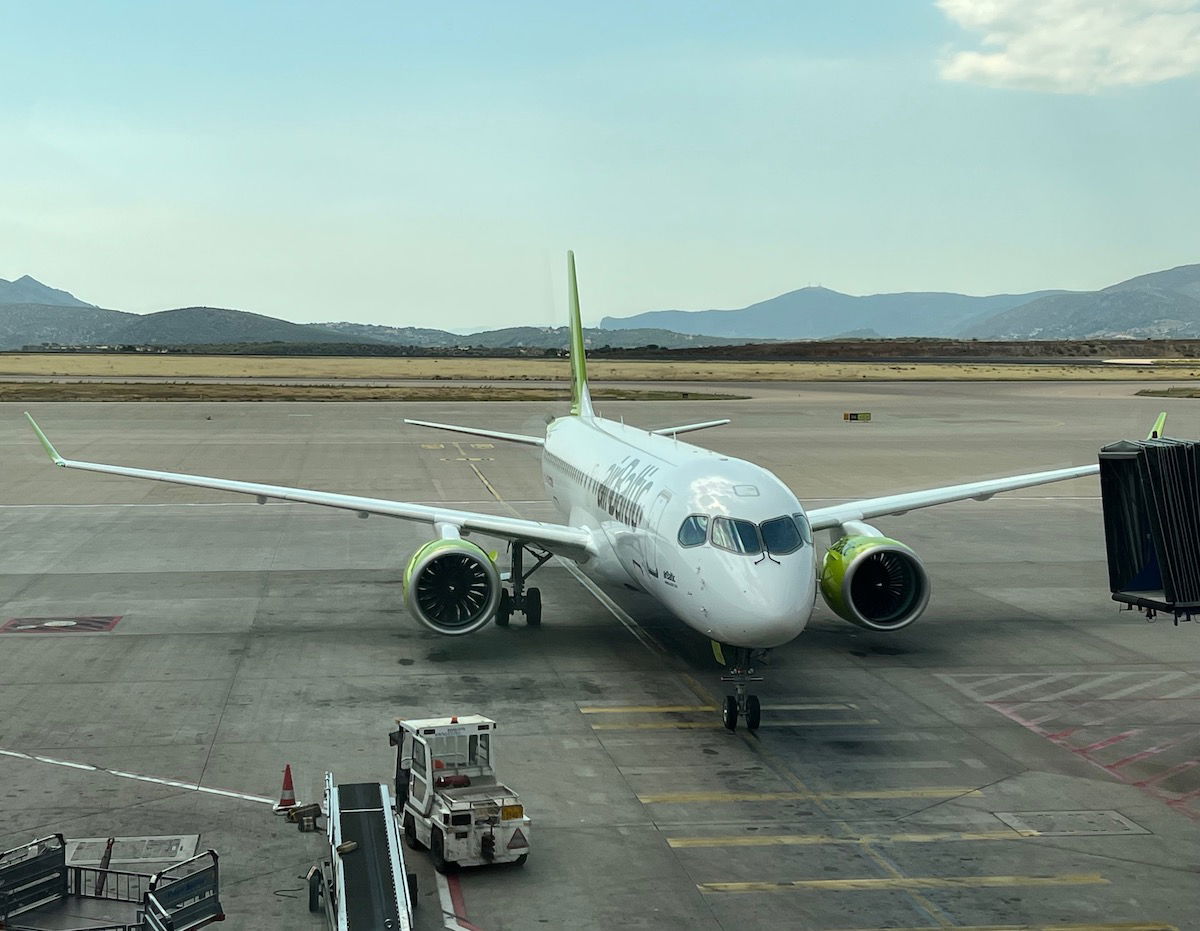 For what it's worth, we were flying the A220 with the registration code YL-ABJ, which was basically a brand new plane — it joined airBaltic's fleet in May 2022.
airBaltic Airbus A220 cabin & seats
airBaltic Airbus A220-300s feature a total of 145 seats, in a 2-3 configuration. The A220 is a pleasure to fly, thanks to the 2-3 layout, huge windows, and spacious-feeling cabin.
On intra-Europe flights, the business class cabin (or in this case premium economy cabin) size can differ based on demand. This flight had 11 rows of business class. Since there's no seat blocking in SAS Plus, that means there were 55 SAS Plus seats available.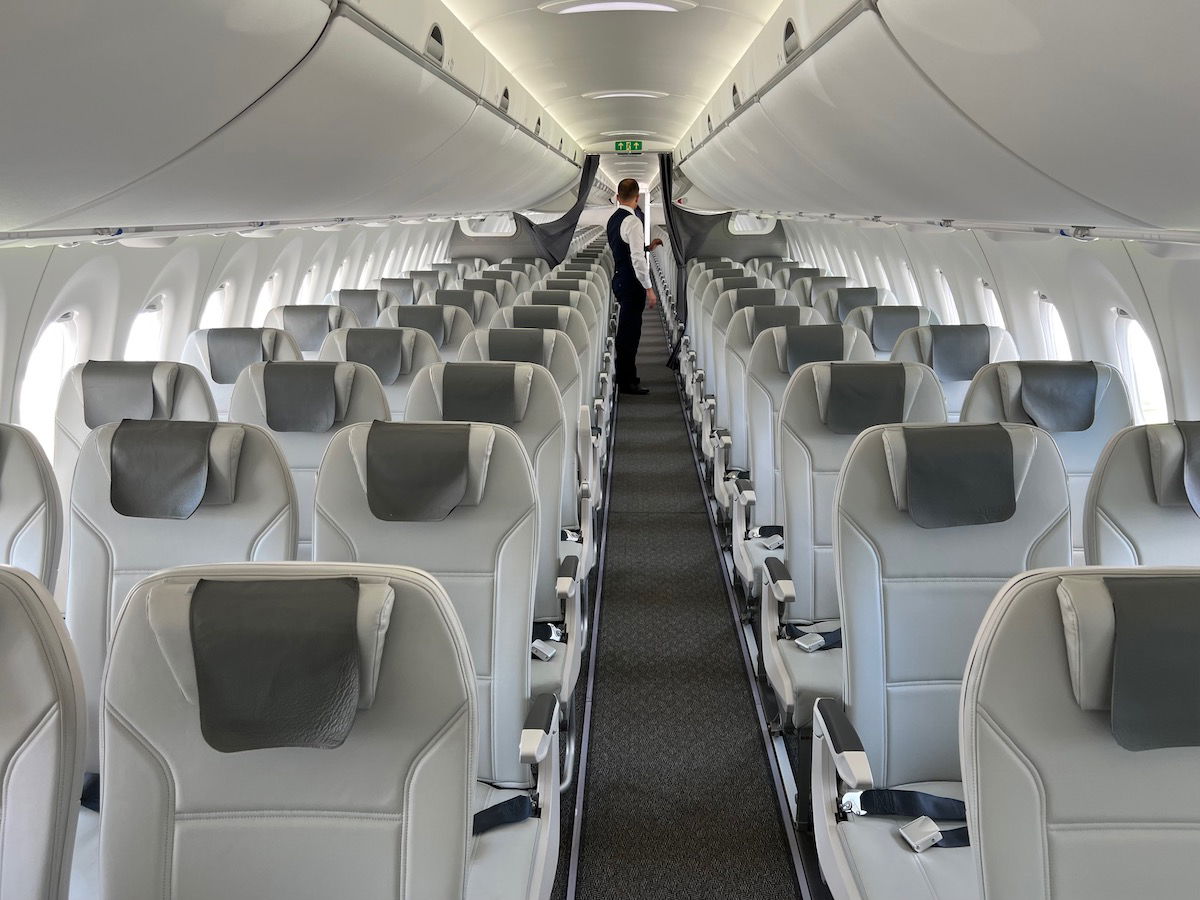 For most travelers it's ideal to sit on the left side, since there's no middle seat.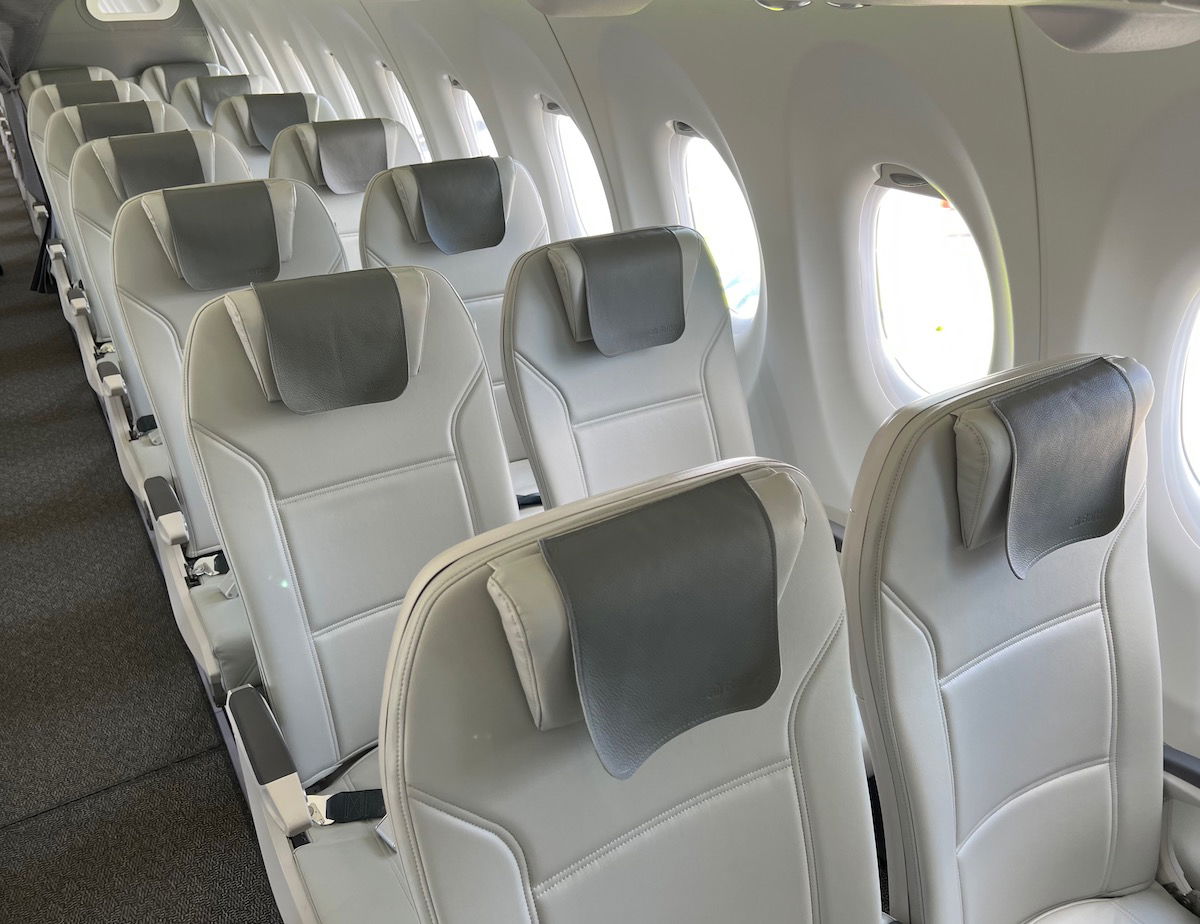 The right side of the cabin has a single middle seat in each row, so that's only preferred if you're traveling as a party of three.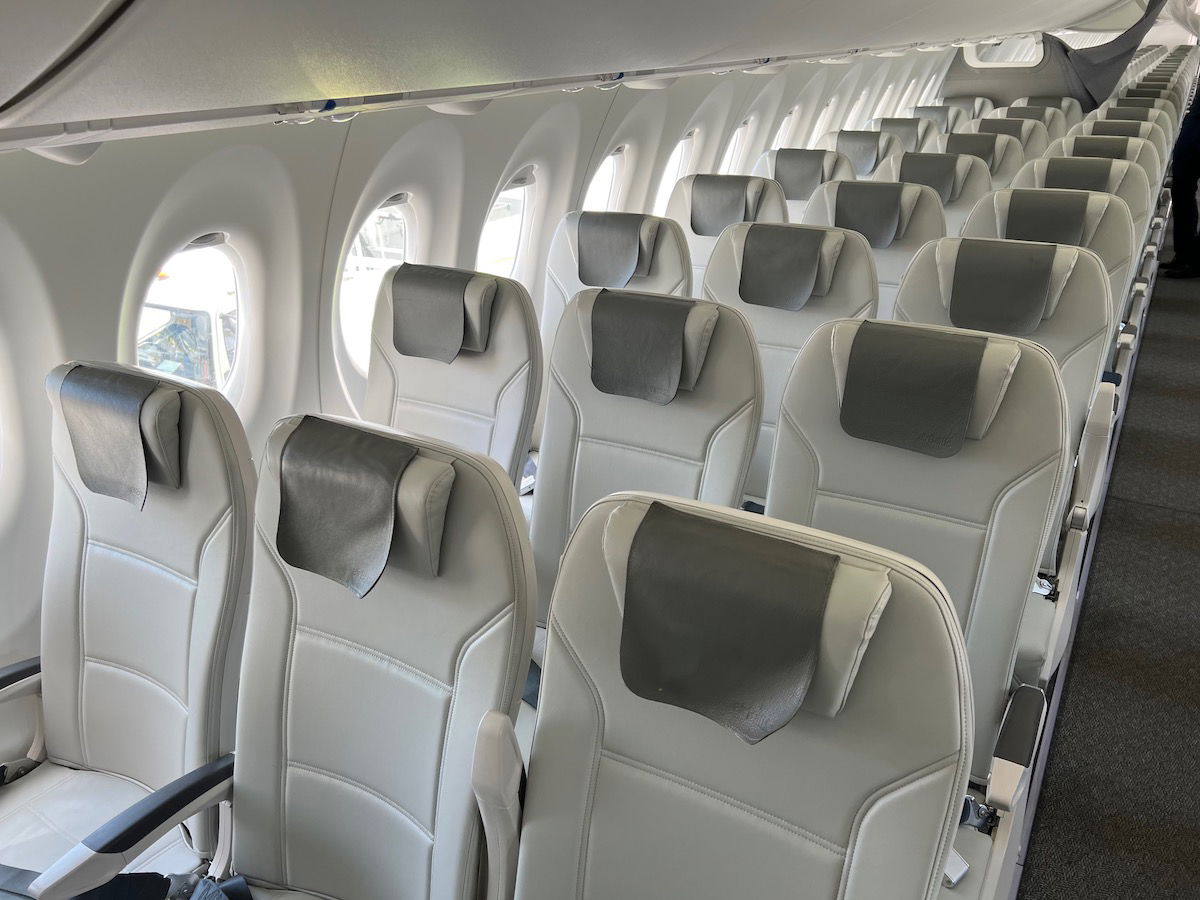 airBaltic has 32″ of pitch throughout the cabin on its A220s, so that's definitely above average. This is truly a very comfortable ride.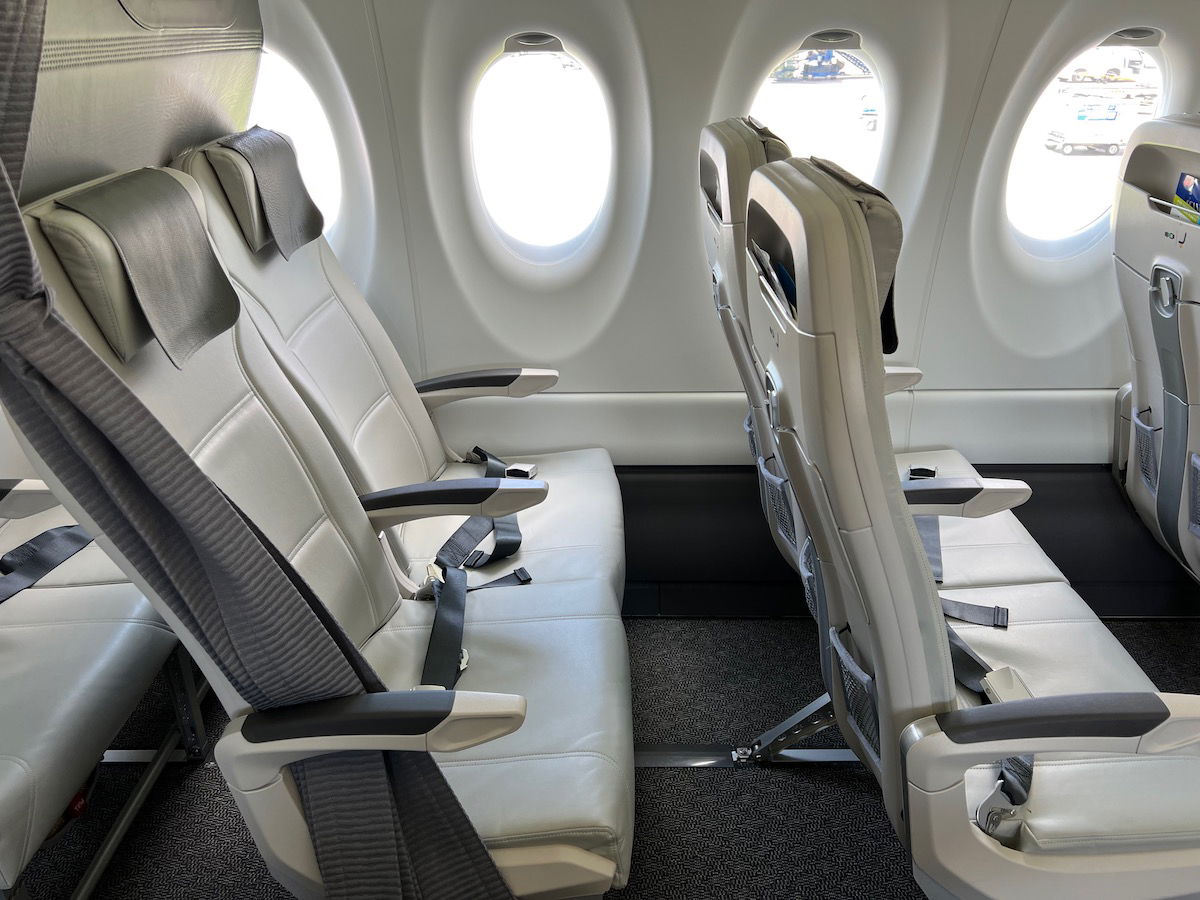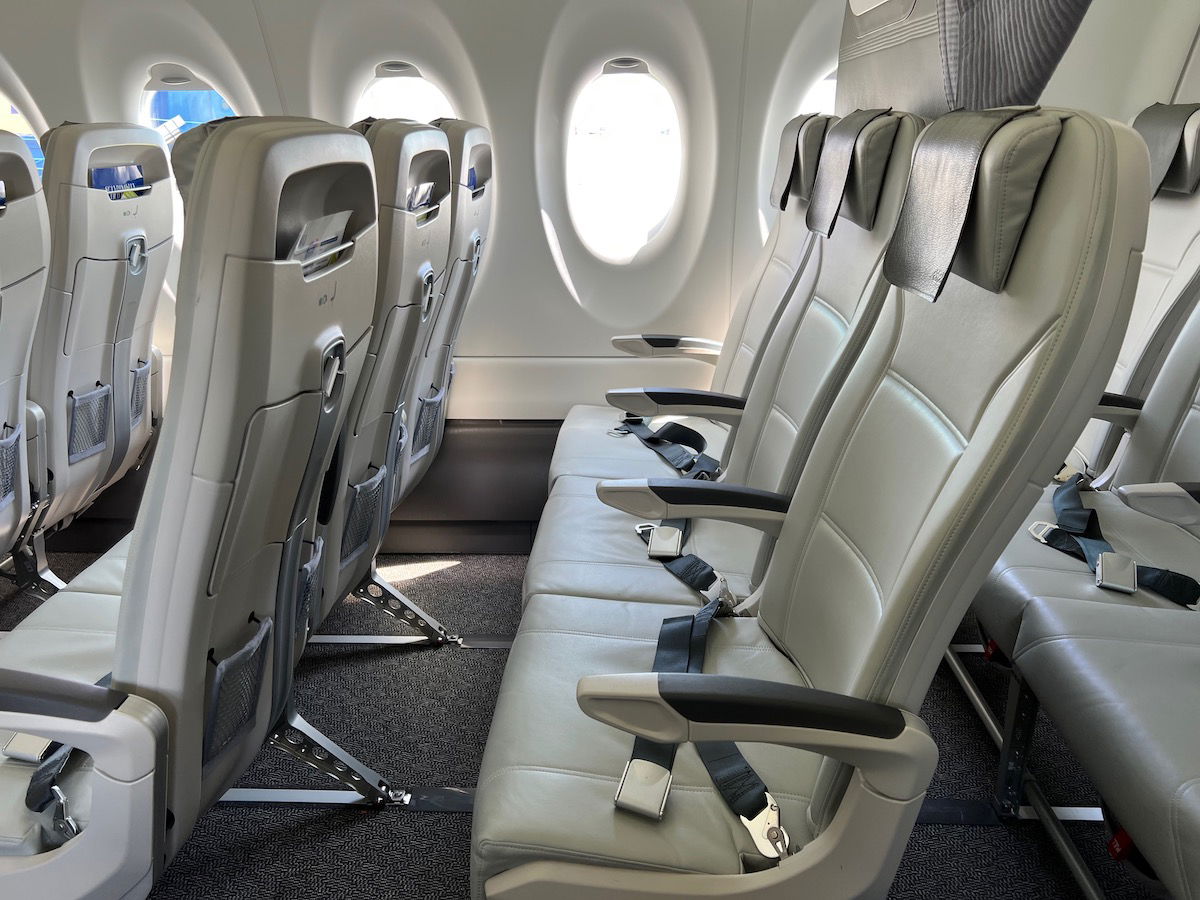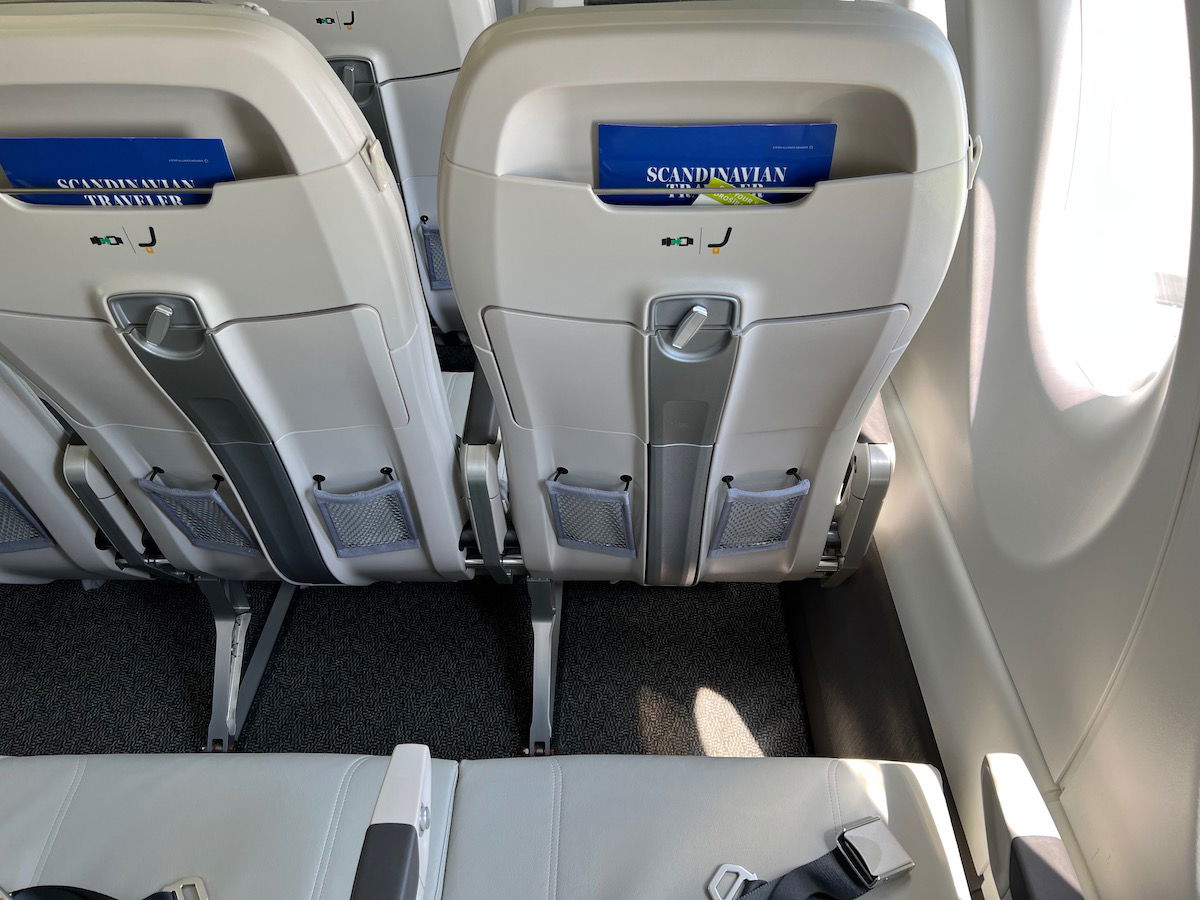 airBaltic had the standard A220 seatbacks, with two expandable pouches, plus a tray table that folds down from underneath the literature pocket.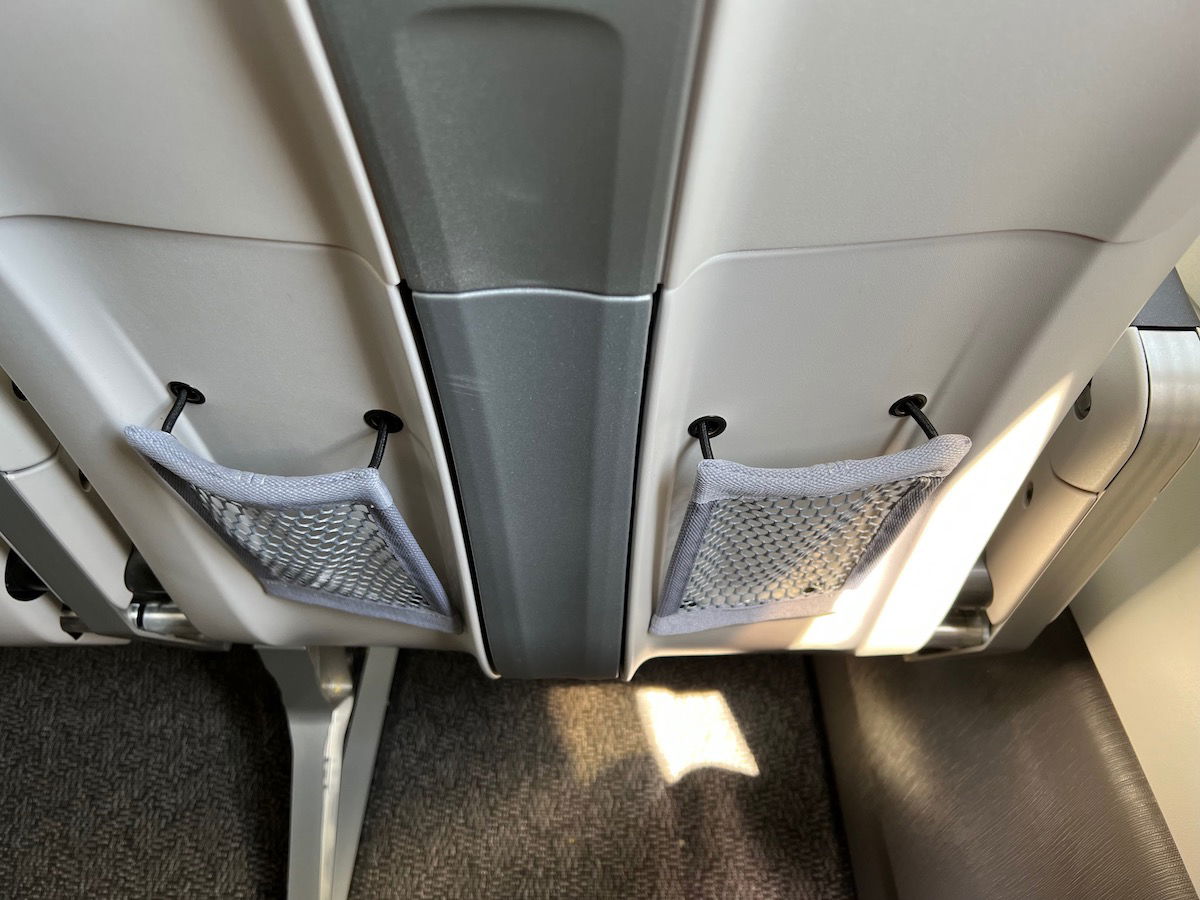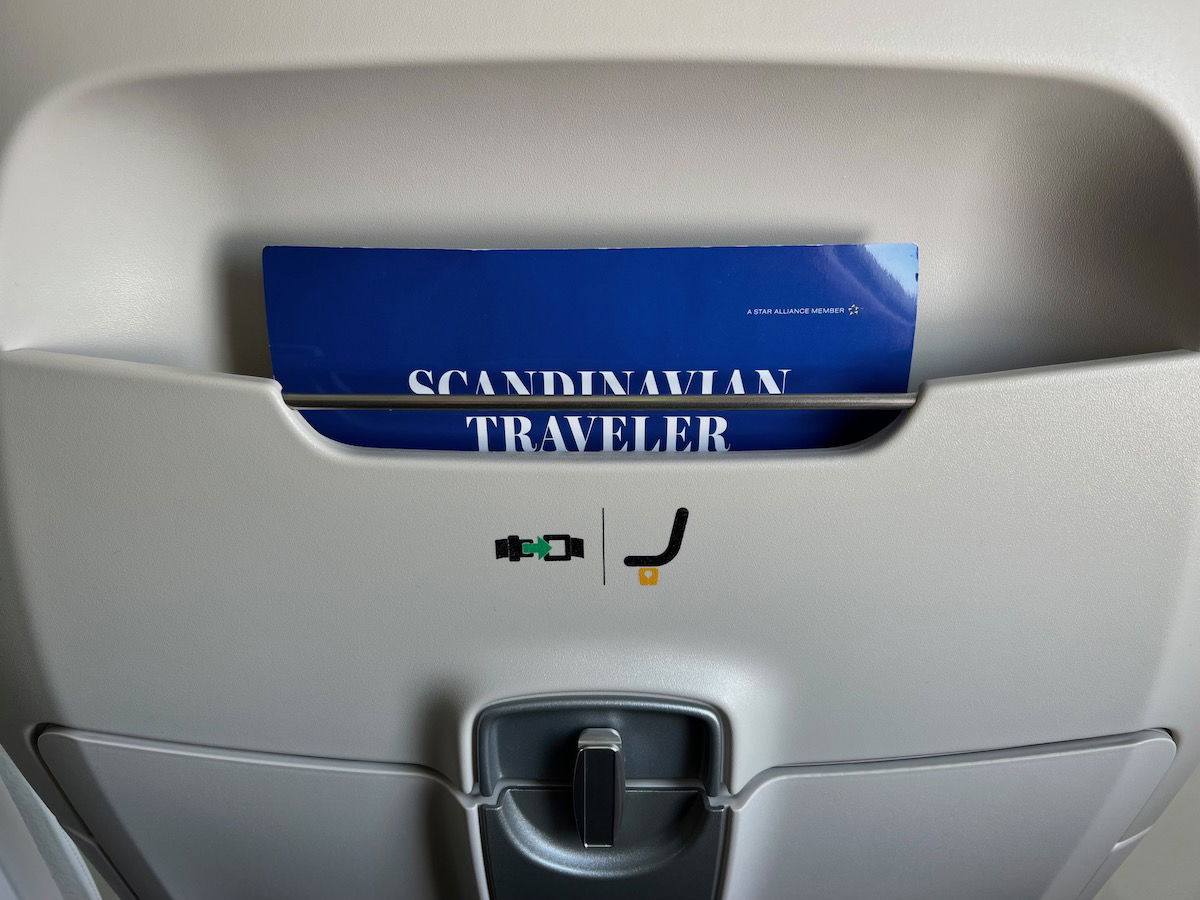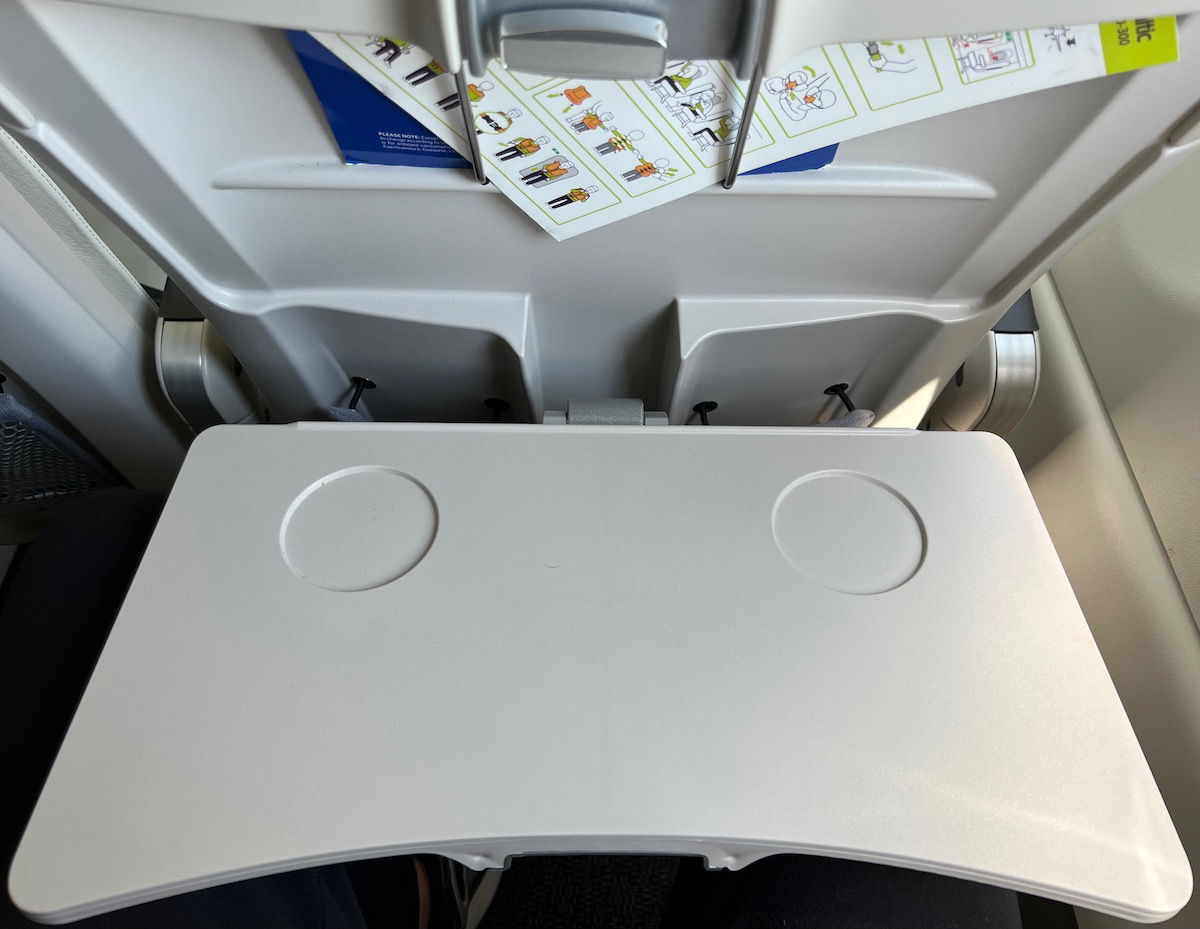 The overhead consoles were pretty awesome — they had reading lights, individual air nozzles, and small television screens.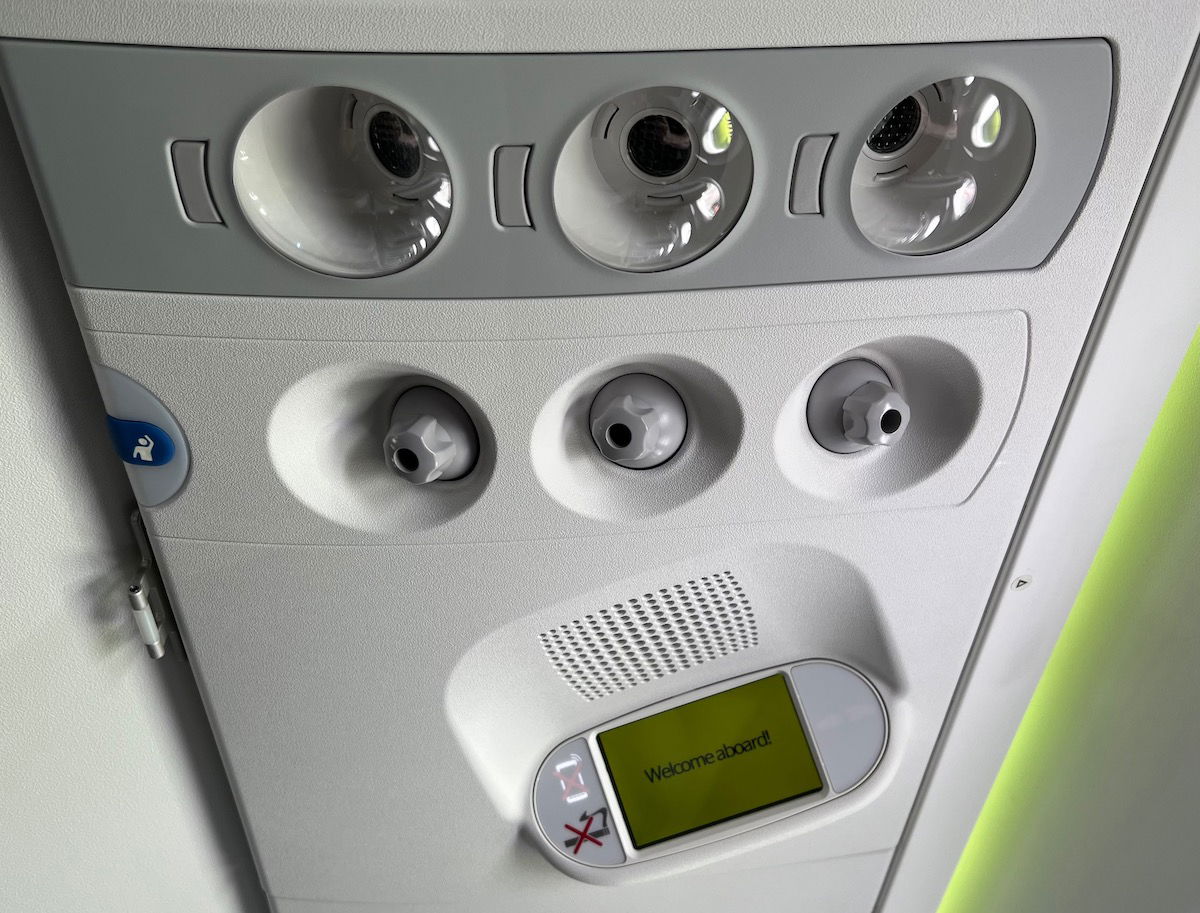 Those TV screens had a map feature that displayed for the entire flight, which I enjoy keeping an eye on.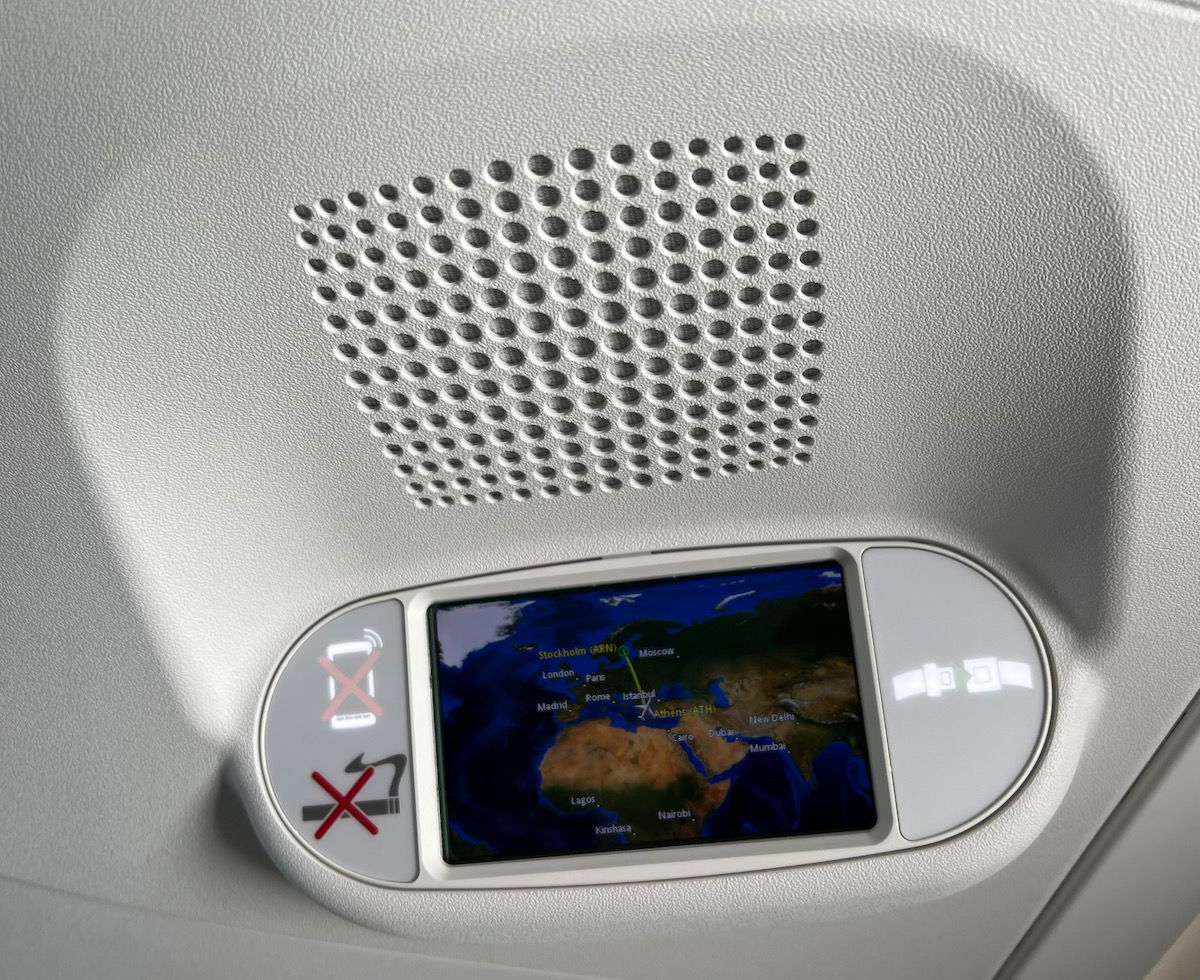 Maybe I just never noticed it before on the A220, but I thought it was smart how the flight attendant call button was in a different area than the lighting buttons. Many travelers accidentally push the call button instead of the lighting button, so that seemed well thought out.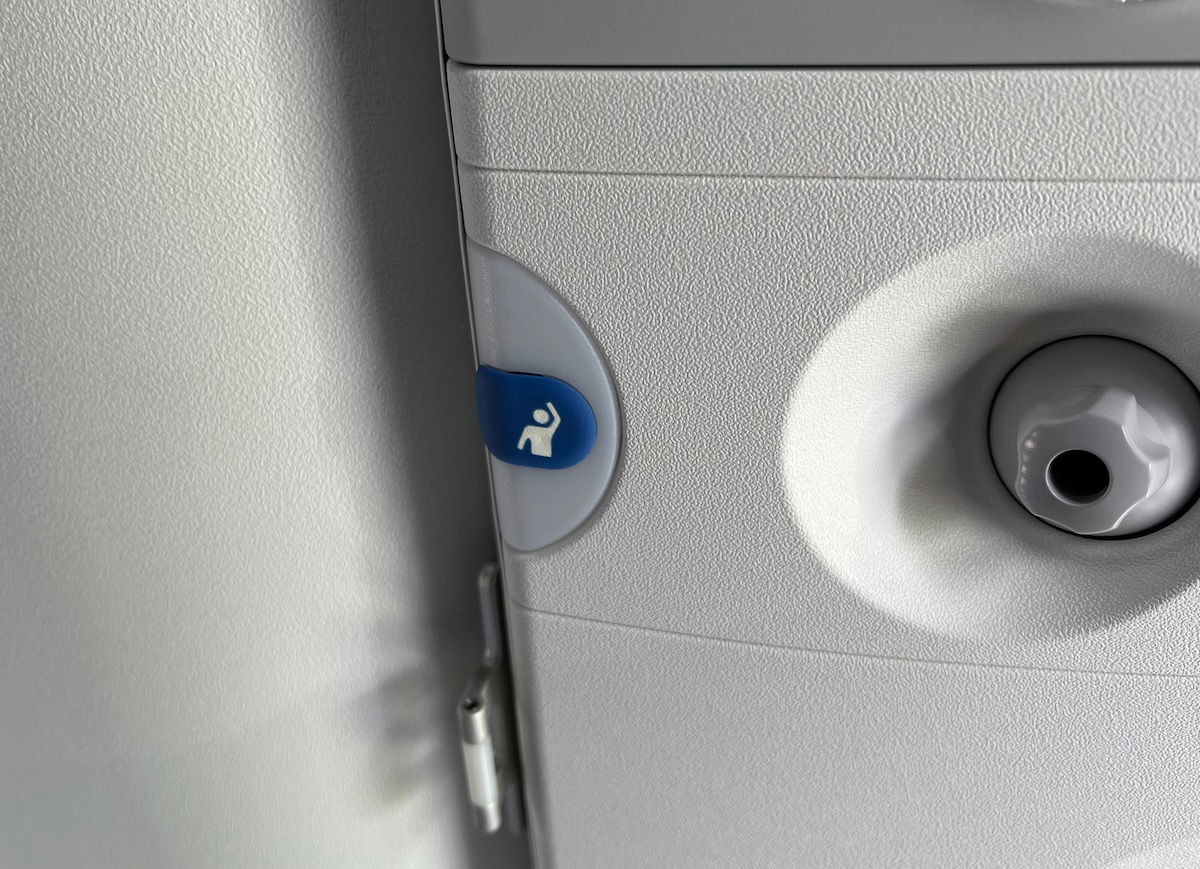 The cabin also had cool mood lighting, using airBaltic's signature green colors.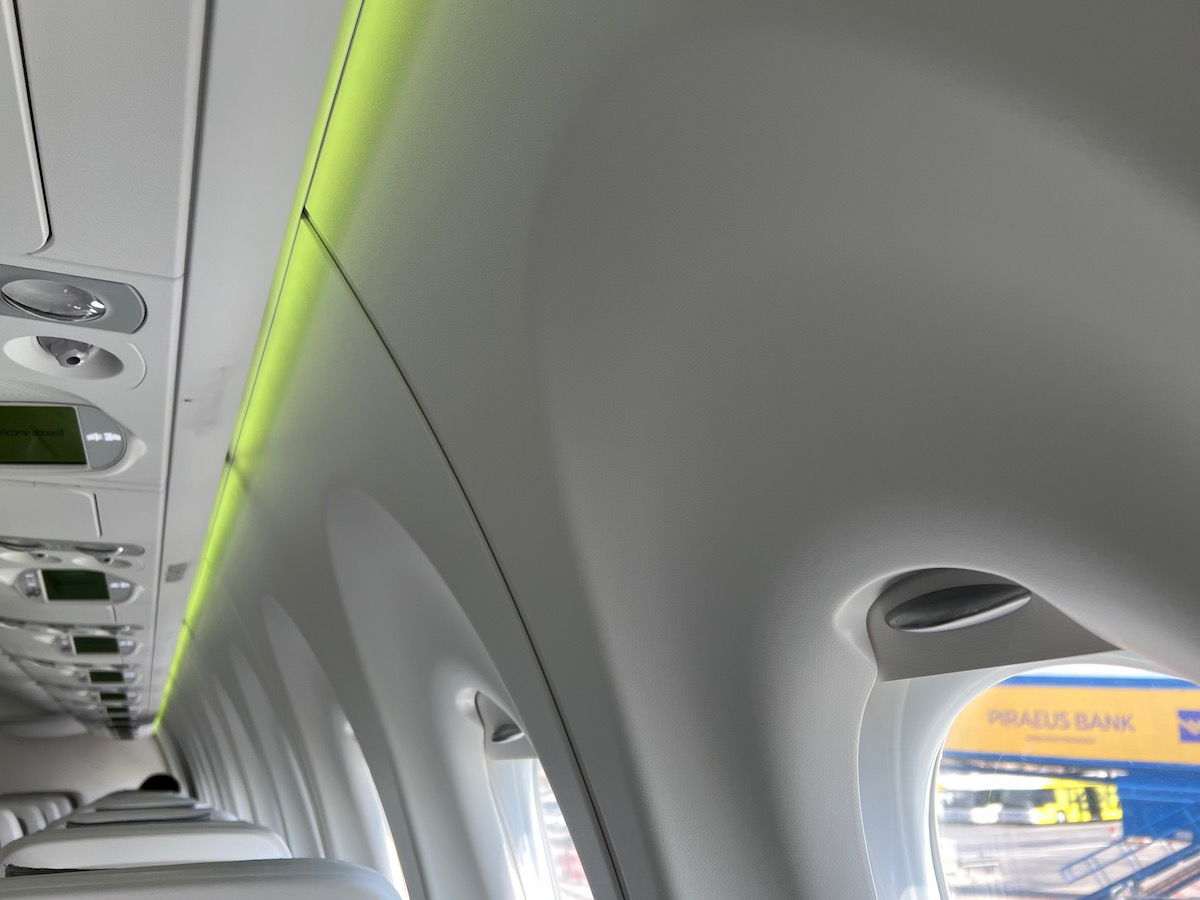 In terms of cabin baggage, the A220 has large overhead bins, which can accommodate standard size carry-ons.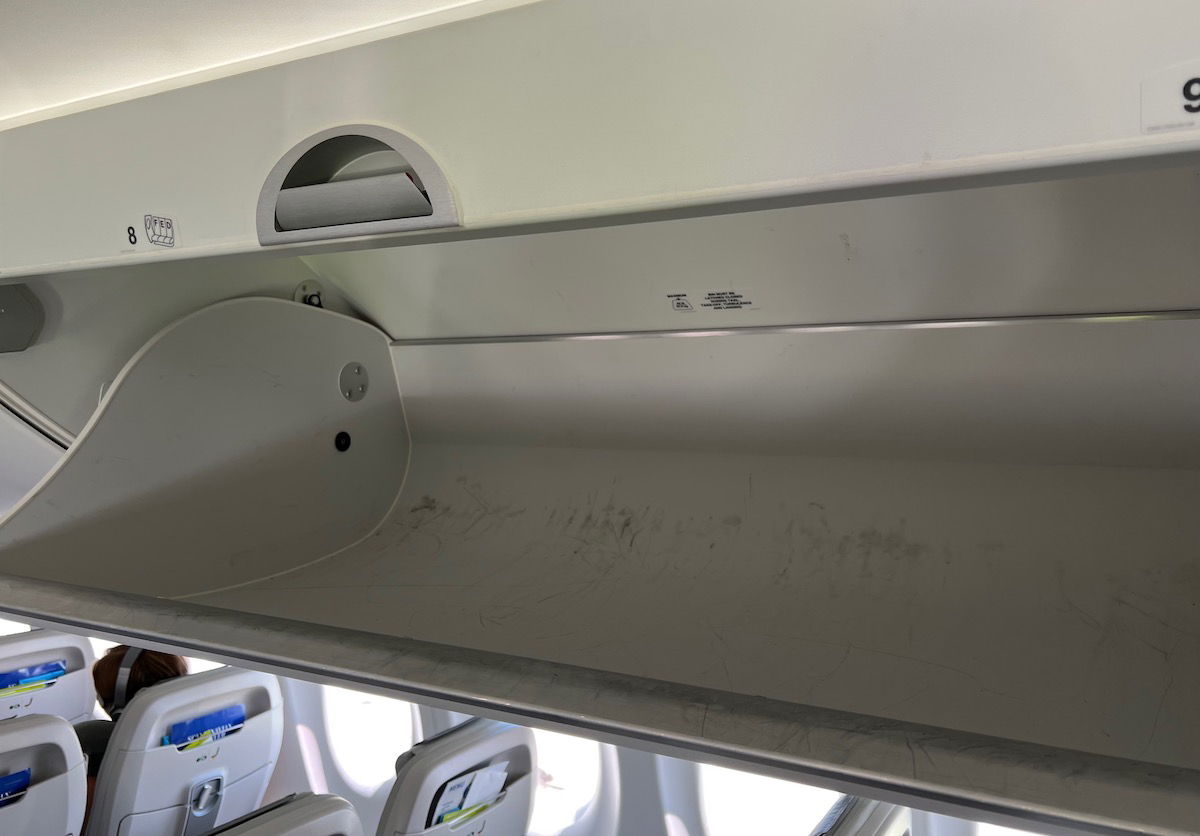 While SAS Plus doesn't come with seat blocking, we booked seats in row 11, and we had our row all to ourselves, and the three rows in front of us were empty as well — you can't beat that! Meanwhile economy was quite full.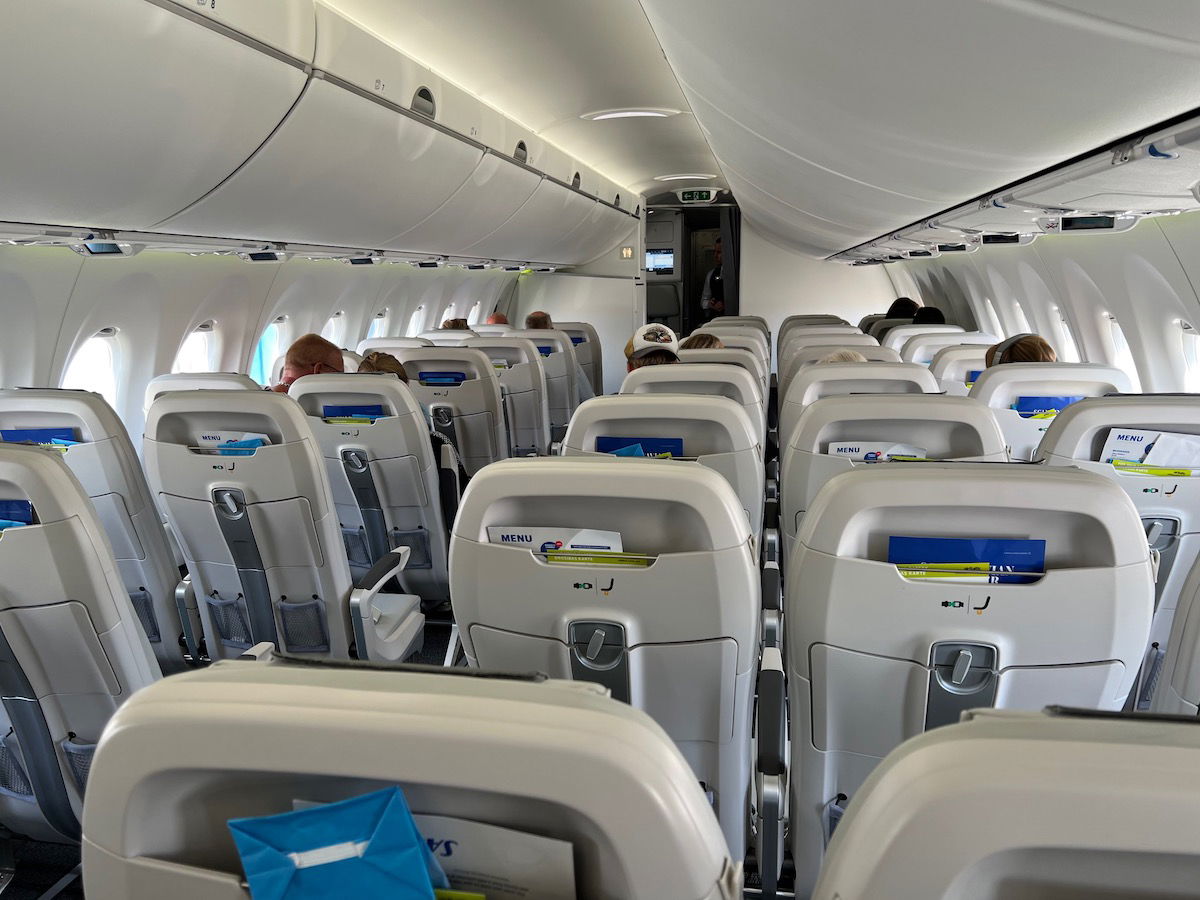 There was a proper curtain between premium economy and economy. Typically in SAS Plus there's not a curtain, but rather just a small sign indicating the separation of seating zones. So in that sense this provided a better experience.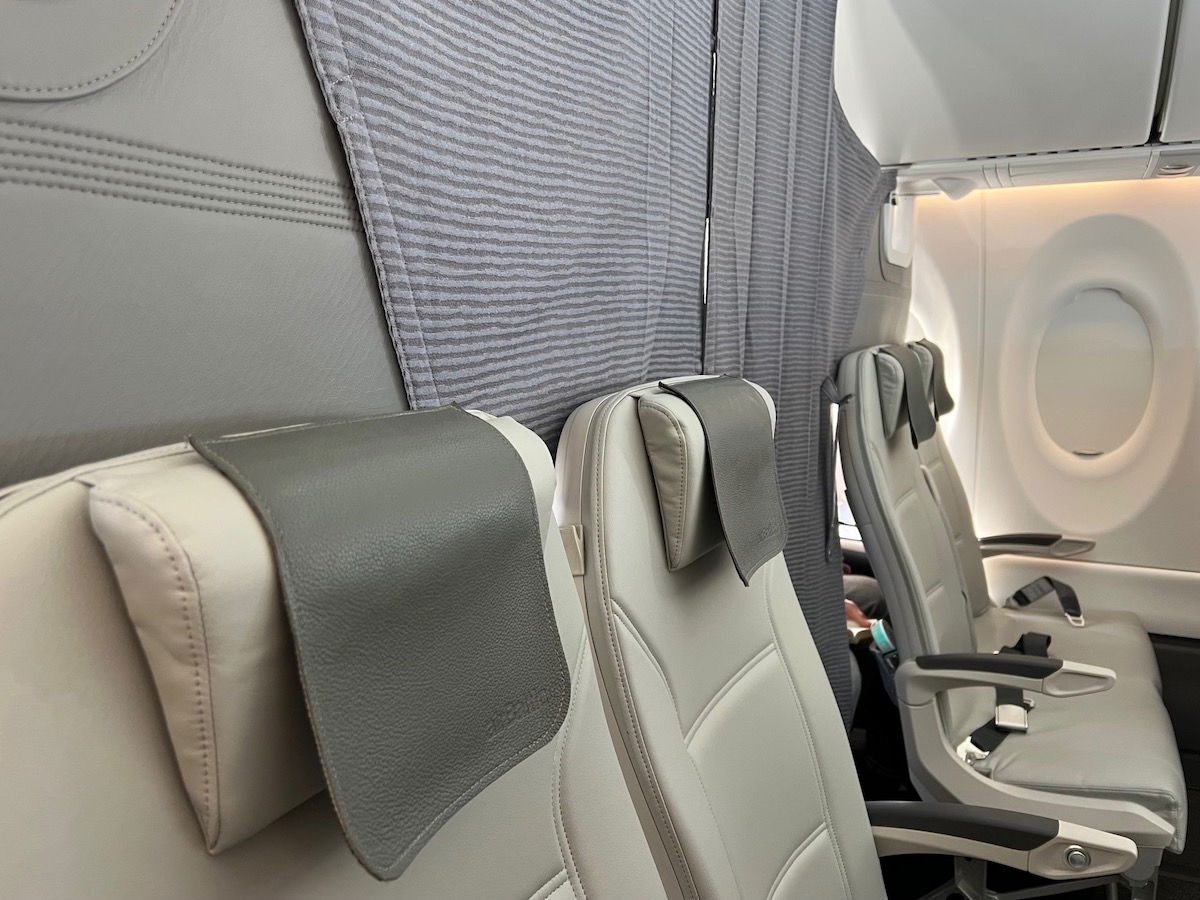 Another advantage of the A220 is the lavatory. While it's up to airlines to decide how they want to finish cabins, the A220 pretty consistently has spacious lavs, especially compared to planes like the 737 MAX.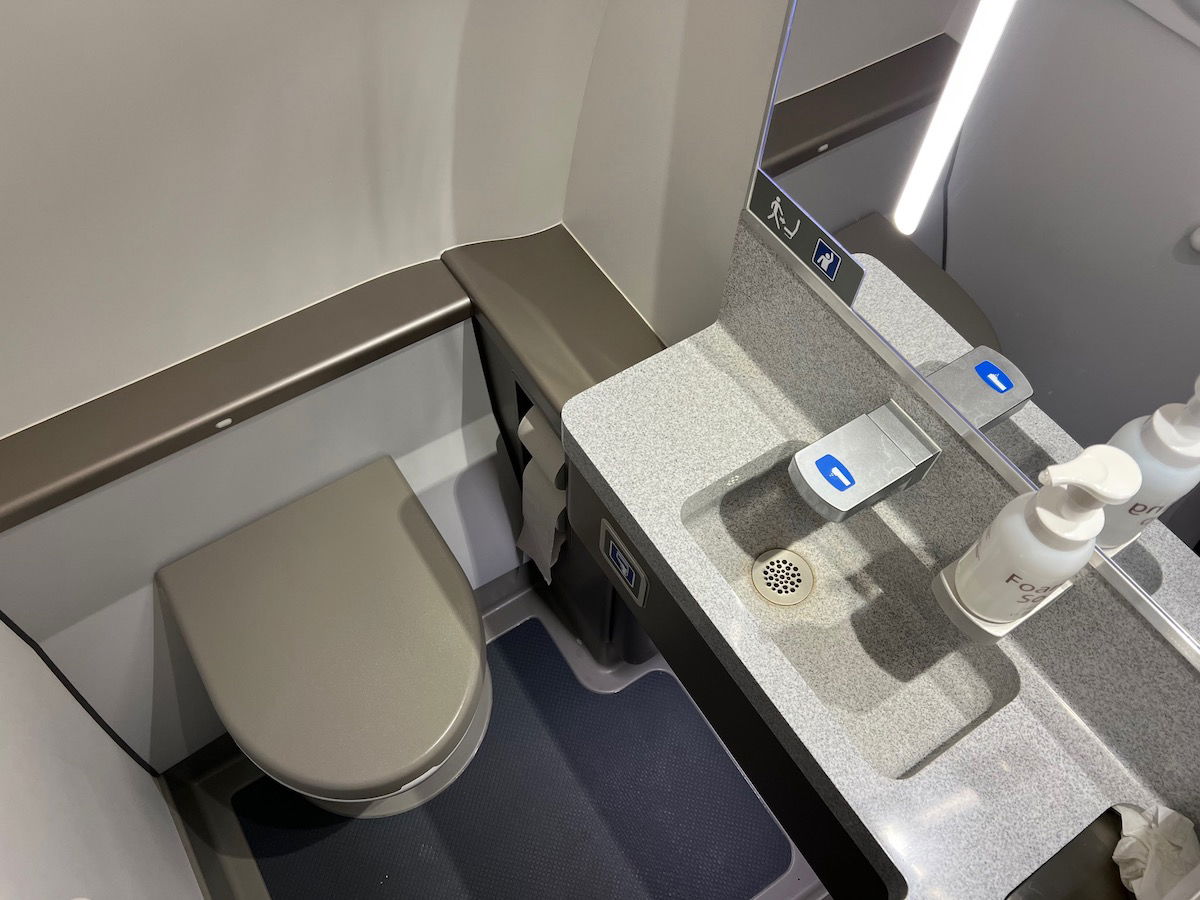 You can't beat a cabin like this for short haul travel. The two major downsides to airBaltic are that there are no power outlets and no Wi-Fi, both of which are features that you'd find in SAS Plus on Airbus A320neos. I think it's cheap how airBaltic still isn't installing power outlets on new planes, especially when you consider the airline flies between Riga and Dubai, which is a flight blocked at 6hr45min to 7hr15min.
airBaltic departure from Athens
Boarding was efficient, and at 11:30AM the captain came on the PA to advise us of our flight time of 3hr20min. He said we were still waiting for some bags to be loaded, but should be pushing back soon. The cabin manager soon added her welcome aboard, and interestingly referred to it as a "Sass" flight (rather than pronouncing it S-A-S — I'm not saying that's right or wrong, I just hadn't heard it pronounced that way before). After that announcement, the standard airBaltic safety video was screened.
Obviously as an avgeek I knew exactly the kind of flight I was booking and was excited about this being a wet lease. In these situations I always wonder if the average passenger is curious what's going on with this, or if they don't even put any thought into it.
At 11:35AM the main cabin door closed, and at 11:40AM we began our pushback. I loved sitting right near the engine and wings, as it made for some great views.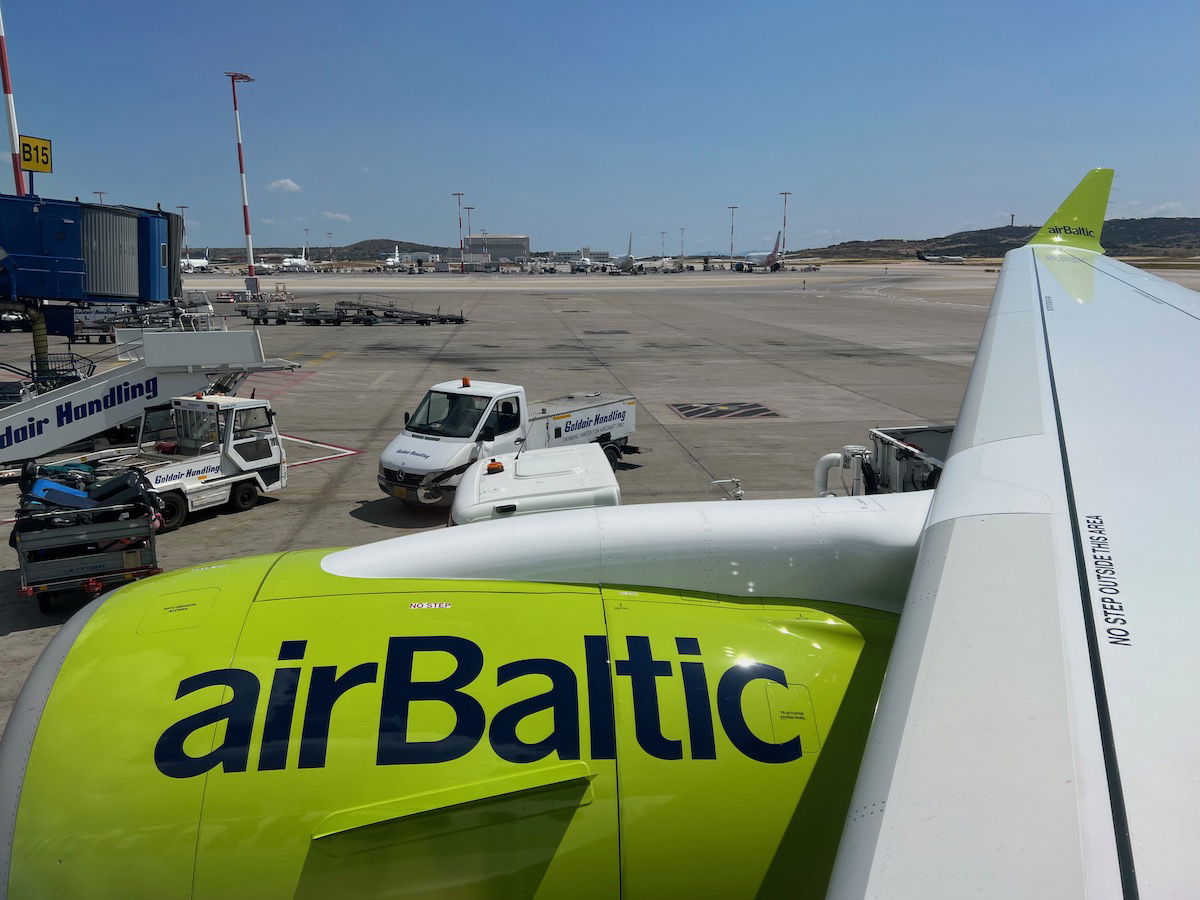 We had a pretty lengthy taxi to our departure runway, but I enjoyed the views. I found it noteworthy that both American and Delta flights were boarding from remote stands (the planes weren't just parked there, but I saw passengers being bused).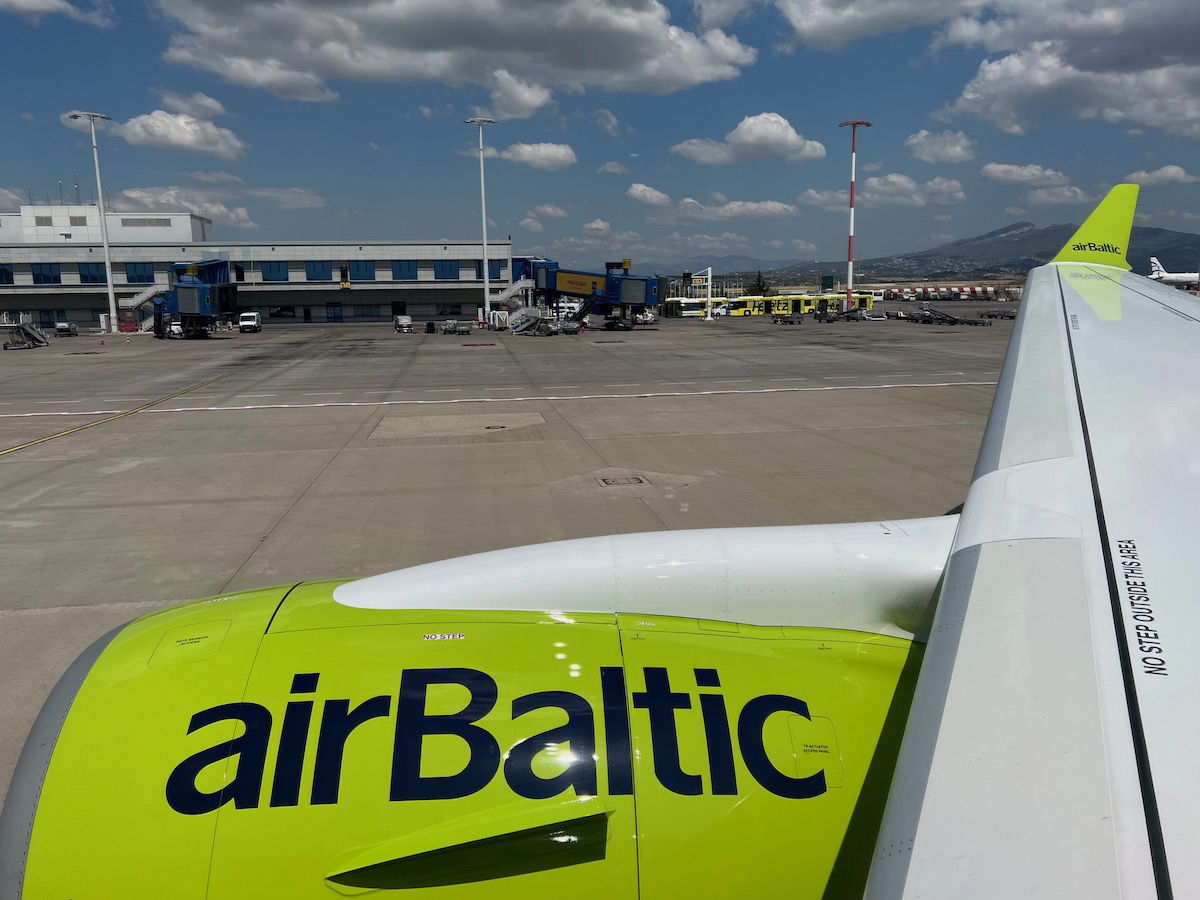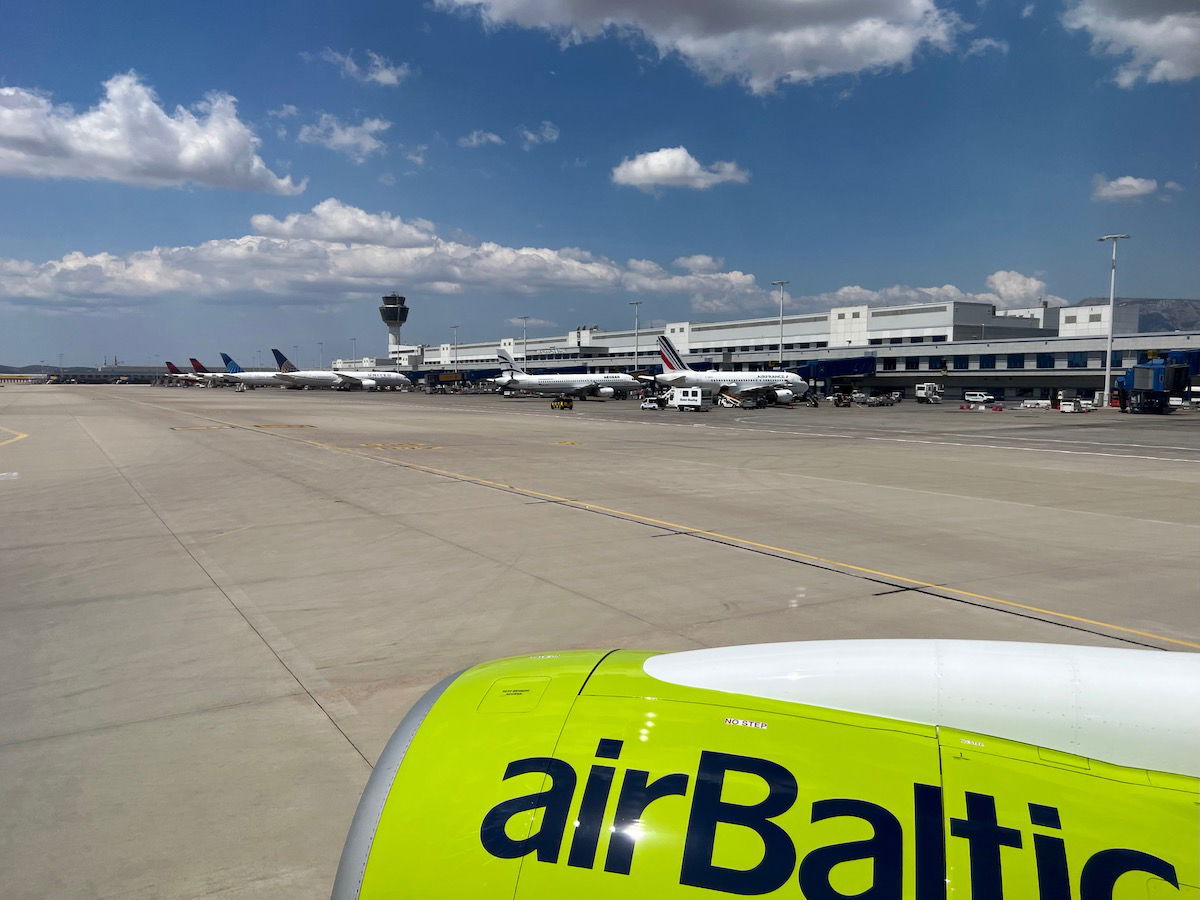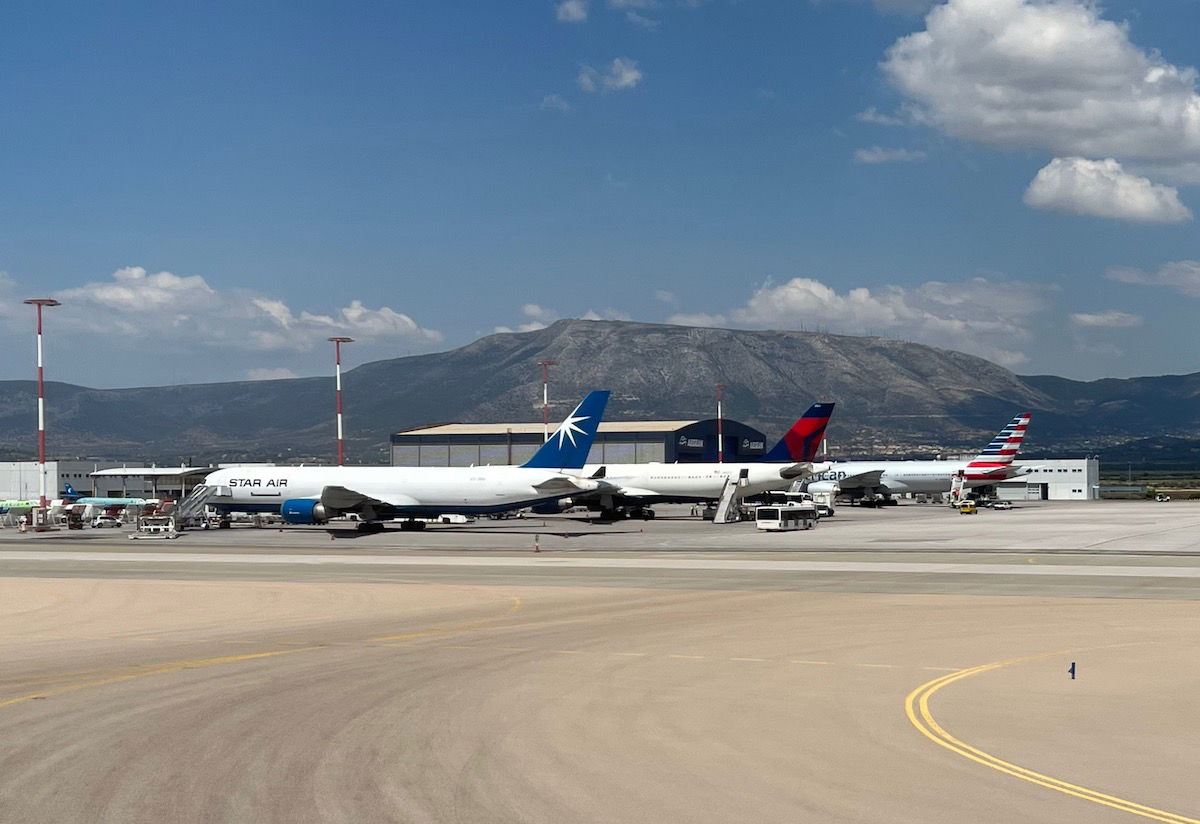 By 11:55AM we were cleared for takeoff on runway 3R.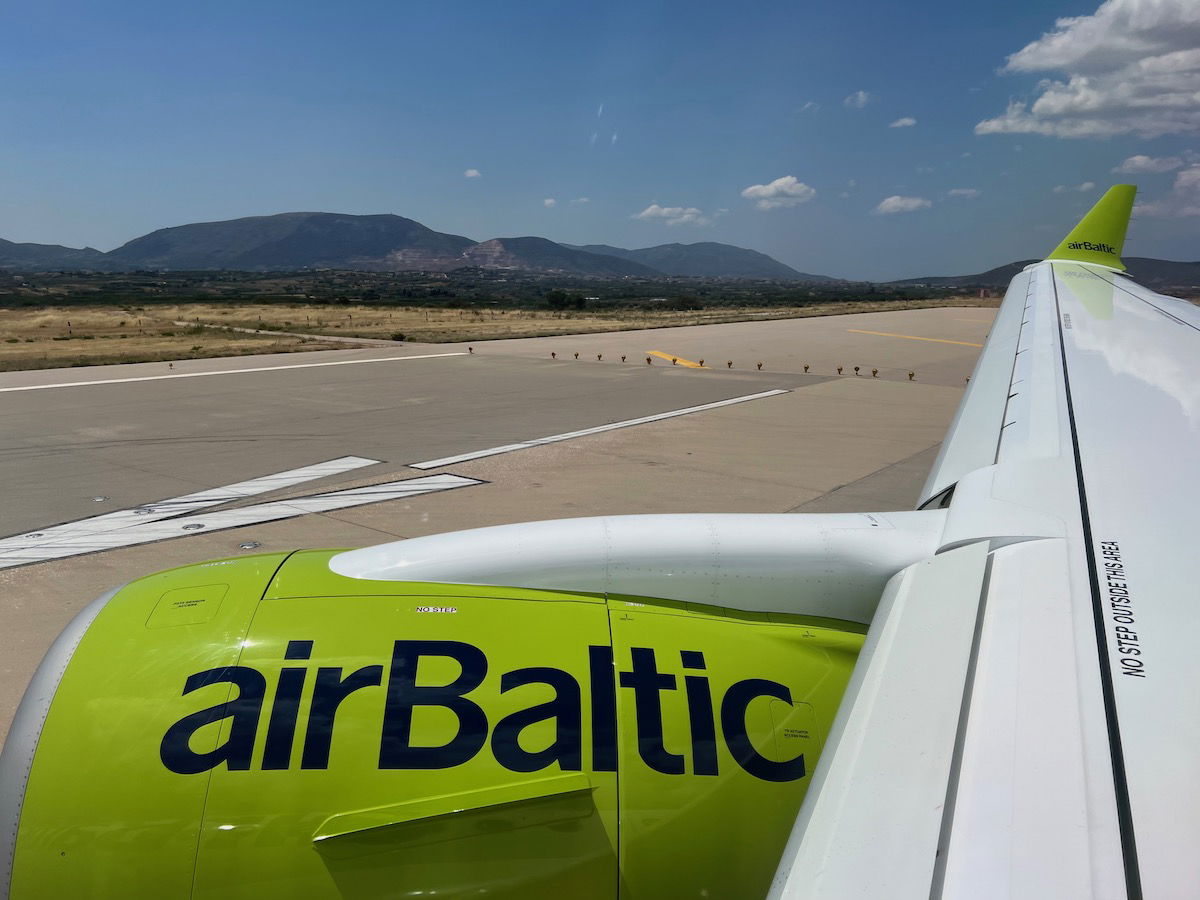 The views on departure were gorgeous, as usual.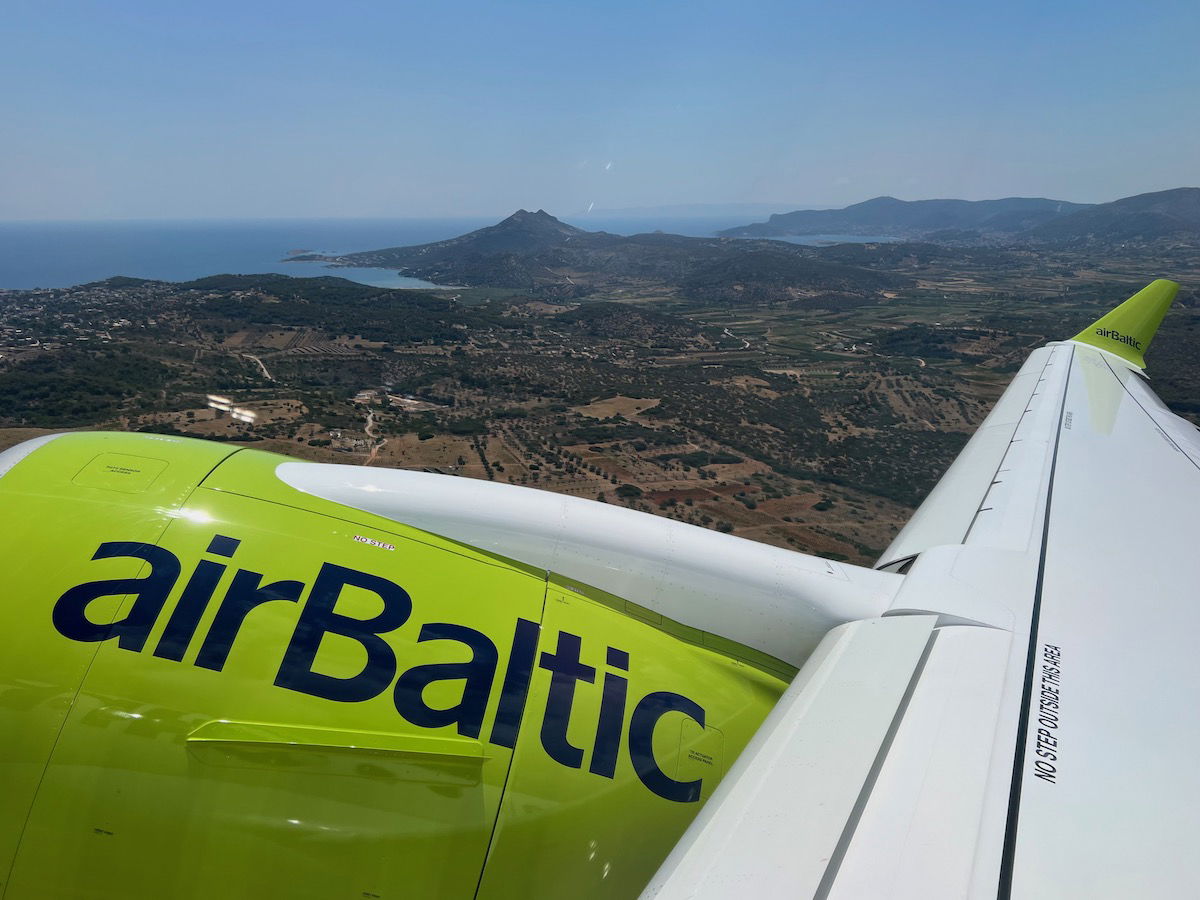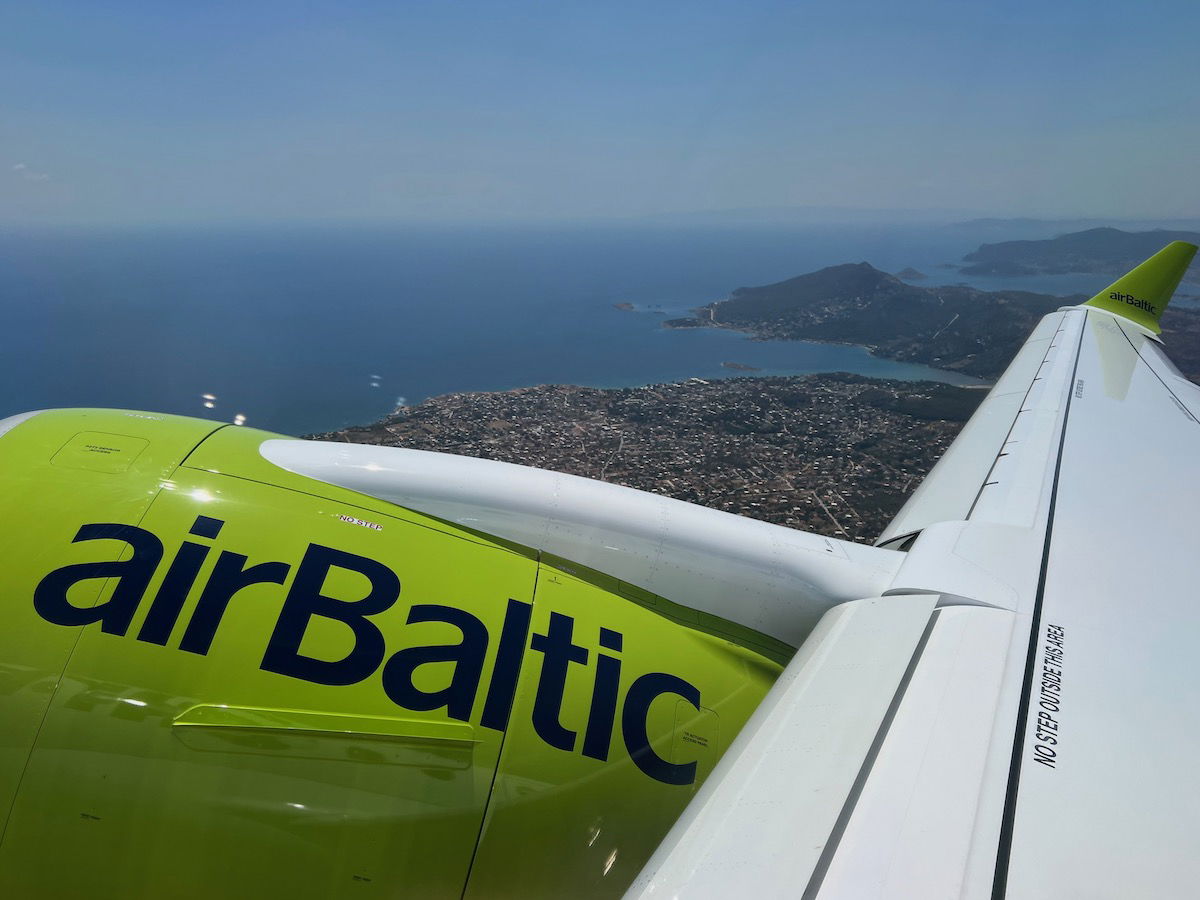 The seatbelt sign was turned off about 15 minutes after takeoff.
SAS Plus inflight service
One benefit of flying SAS Plus is more inflight service. SAS Plus guests are served a snack, and on top of that can order any food and drinks off the buy on board menu. You can find that menu below.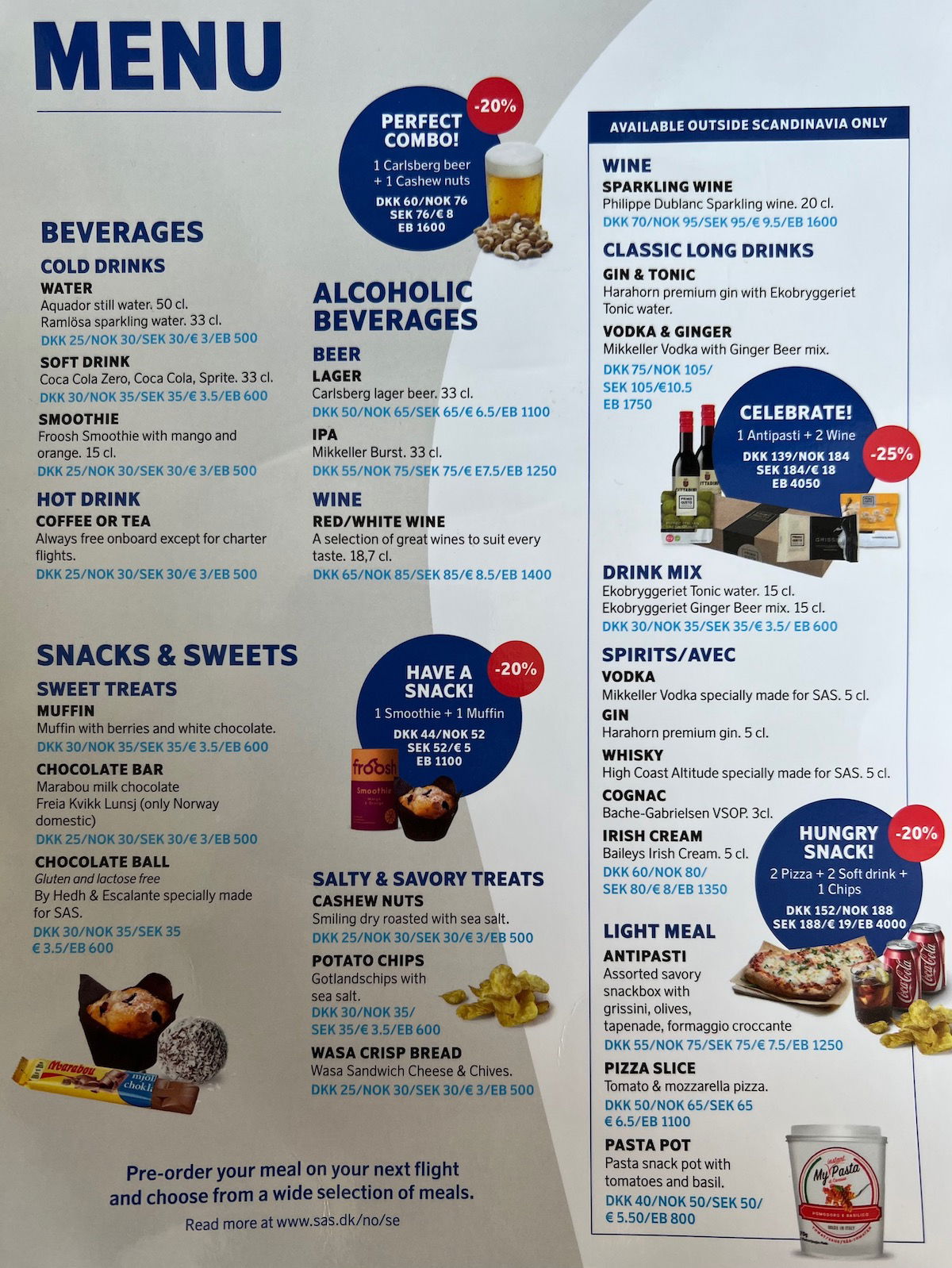 About 30 minutes after takeoff we were served a snackbox.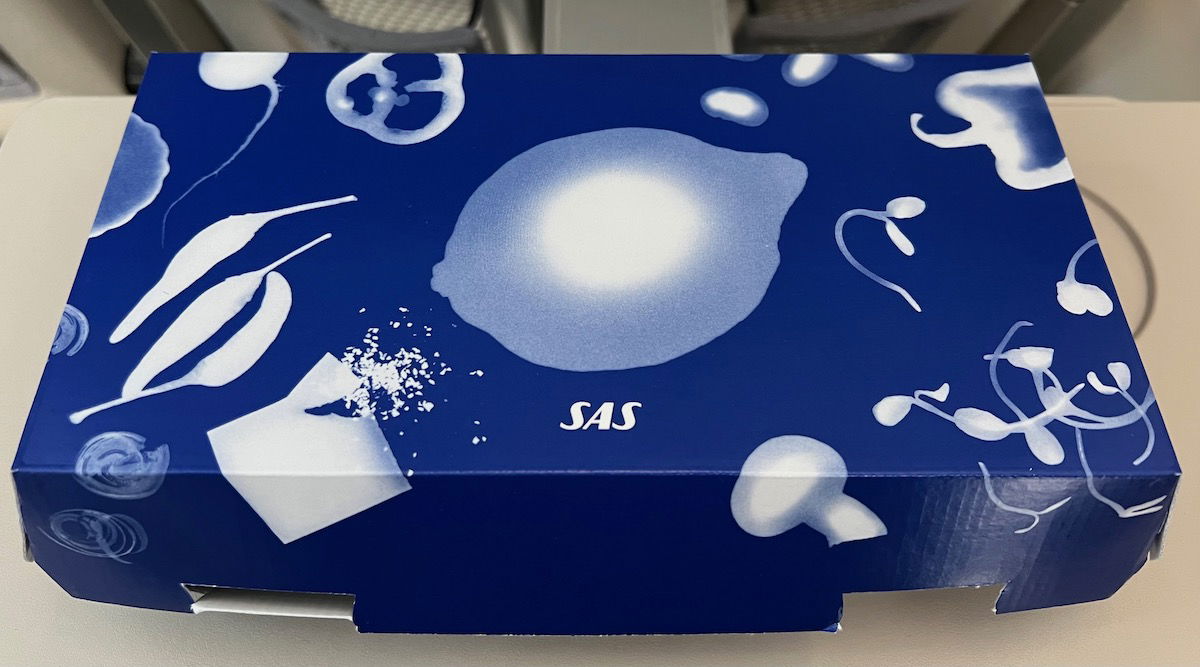 The snack consisted of chicken breast, sundried tomatoes, orzo, cheese, and some crackers. The snack was reasonably decent, but nothing too exciting.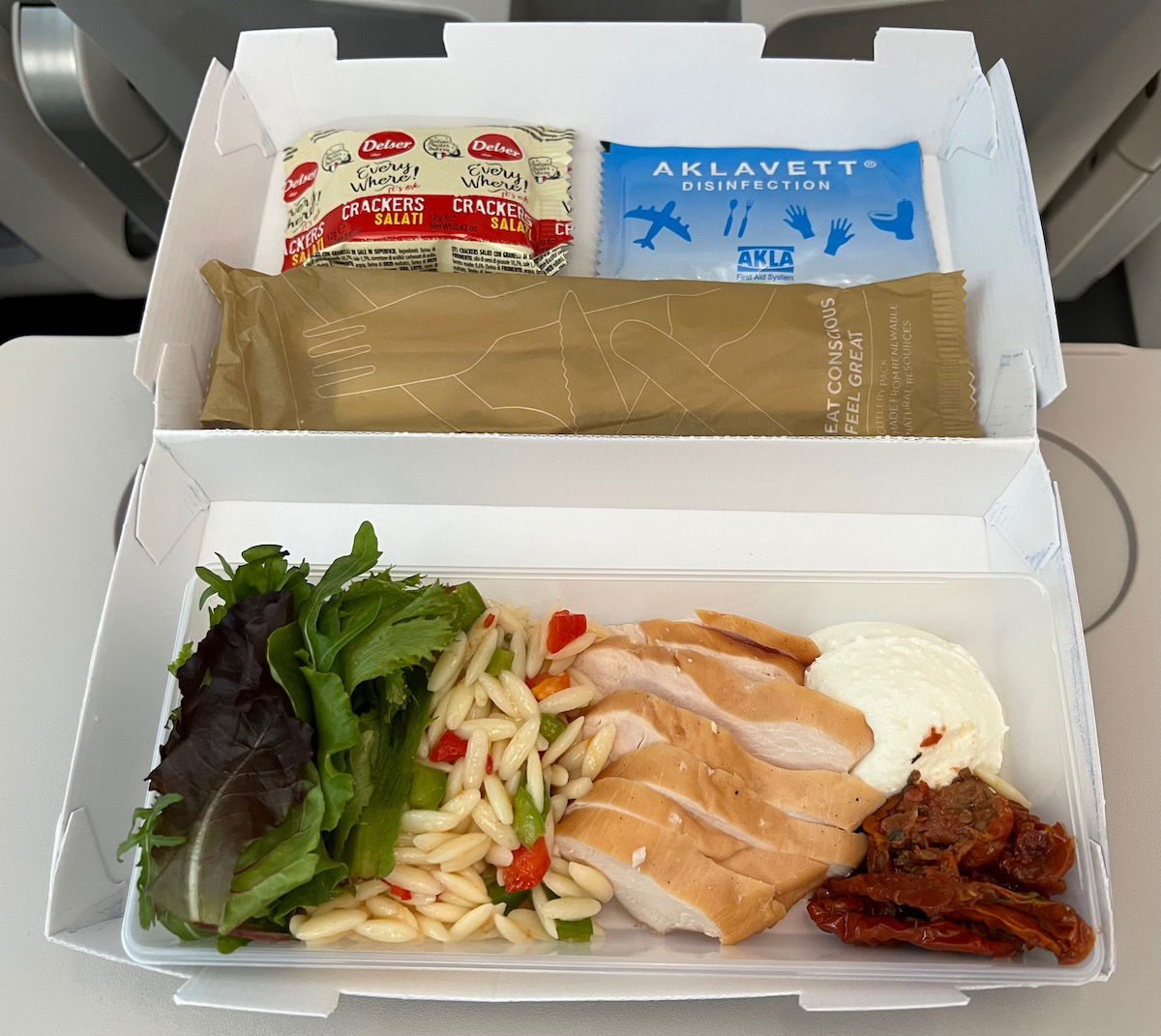 To drink I ordered a bottle of still water and a Coke Zero.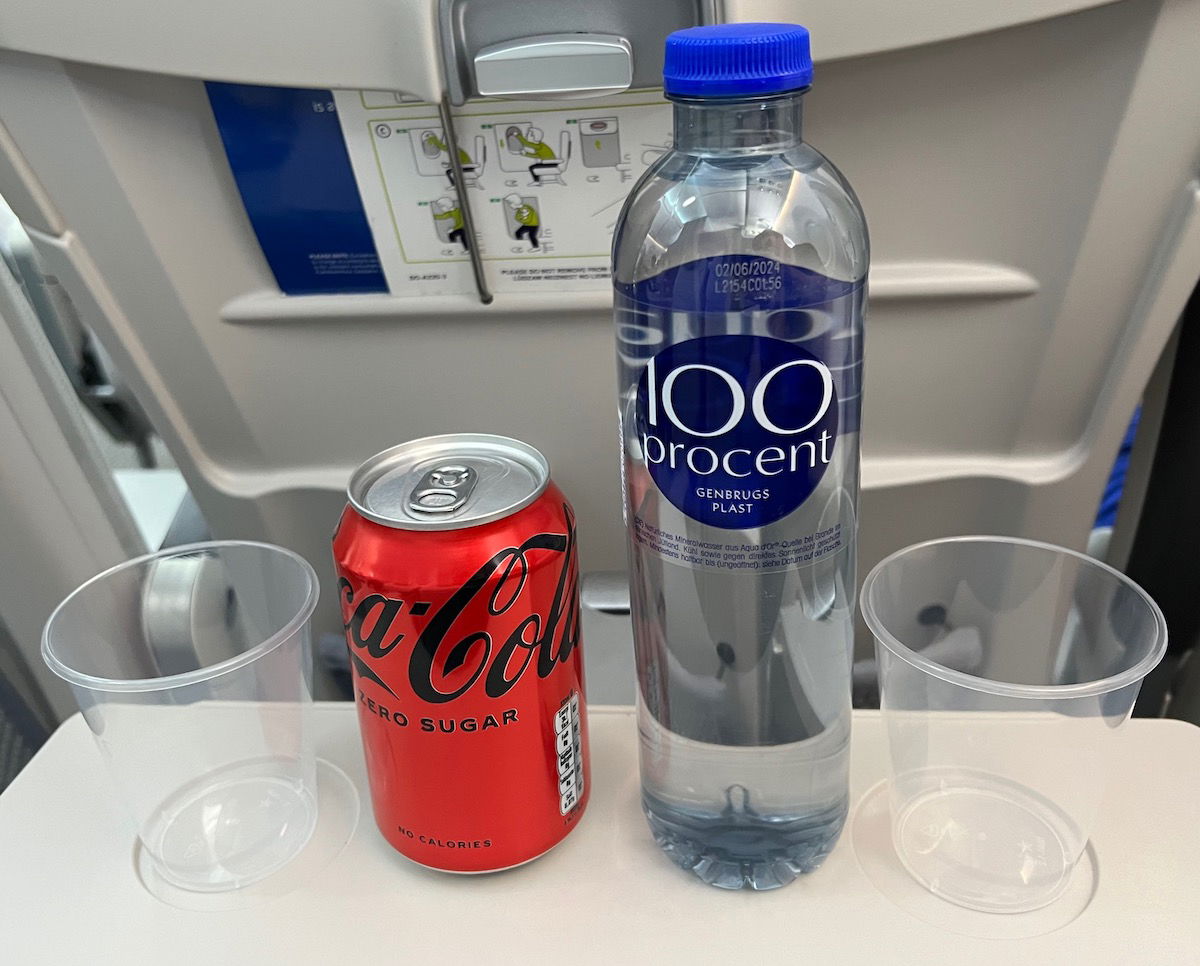 About 90 minutes after the initial service, the crew came through the SAS Plus cabin with a cart one more time, to offer more drinks and snacks. I ordered a cup of coffee, as well as some sea salt cashews and cheese & chive crackers.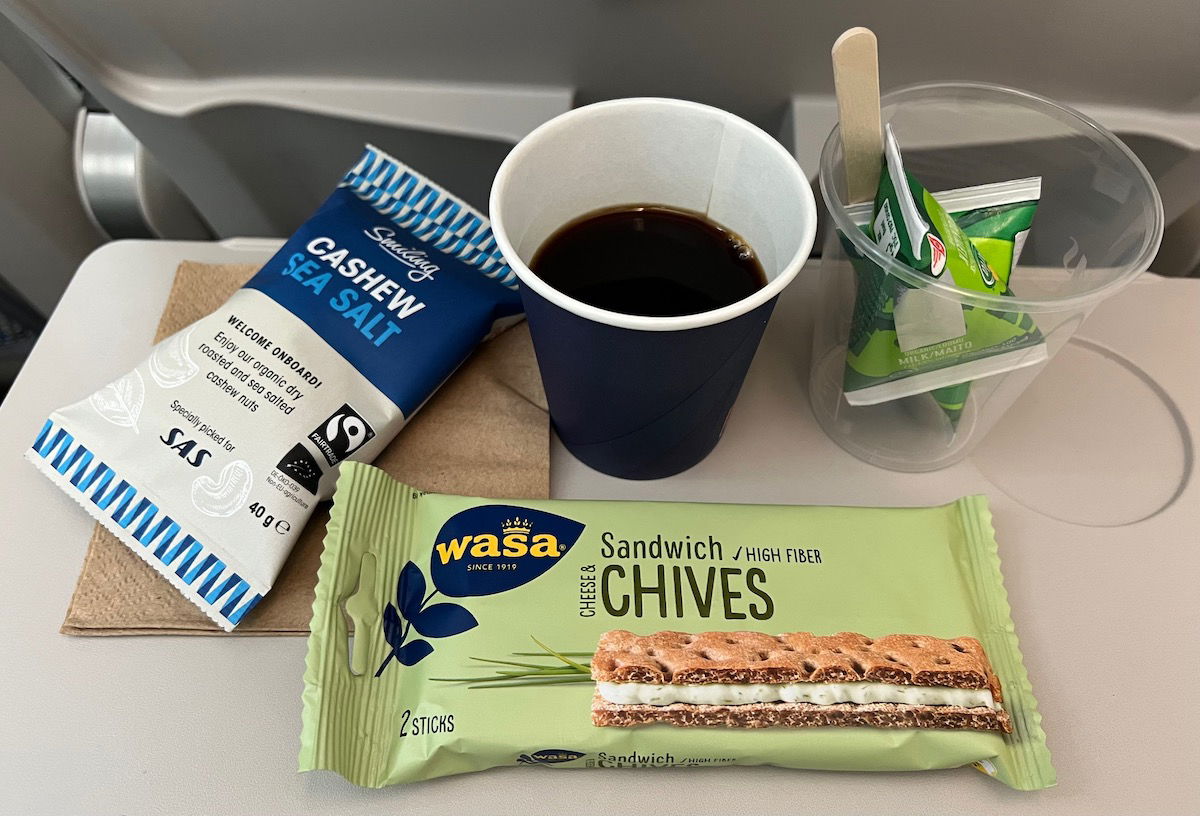 I'd say the crew was… fine. They weren't in any way rude, but they also weren't particularly friendly, and didn't go above and beyond. They were just going through the motions, which is fair enough, especially as part of an arrangement like this.
At 3hr20min, this is one of the longer intra-Europe flights out there, and without Wi-Fi the flight definitely felt pretty long. I had downloaded a few shows and managed to do some offline writing, but even so, this flight didn't really feel like it passed quickly.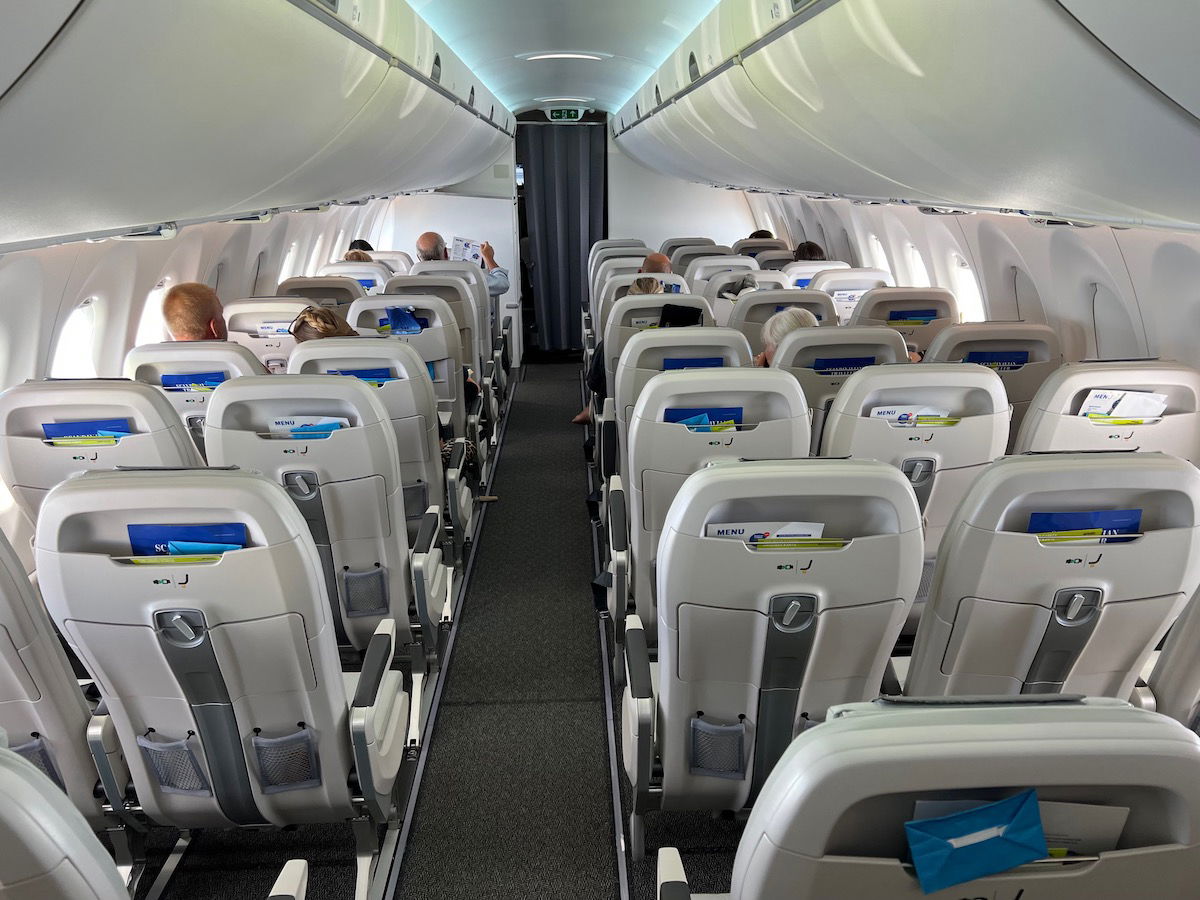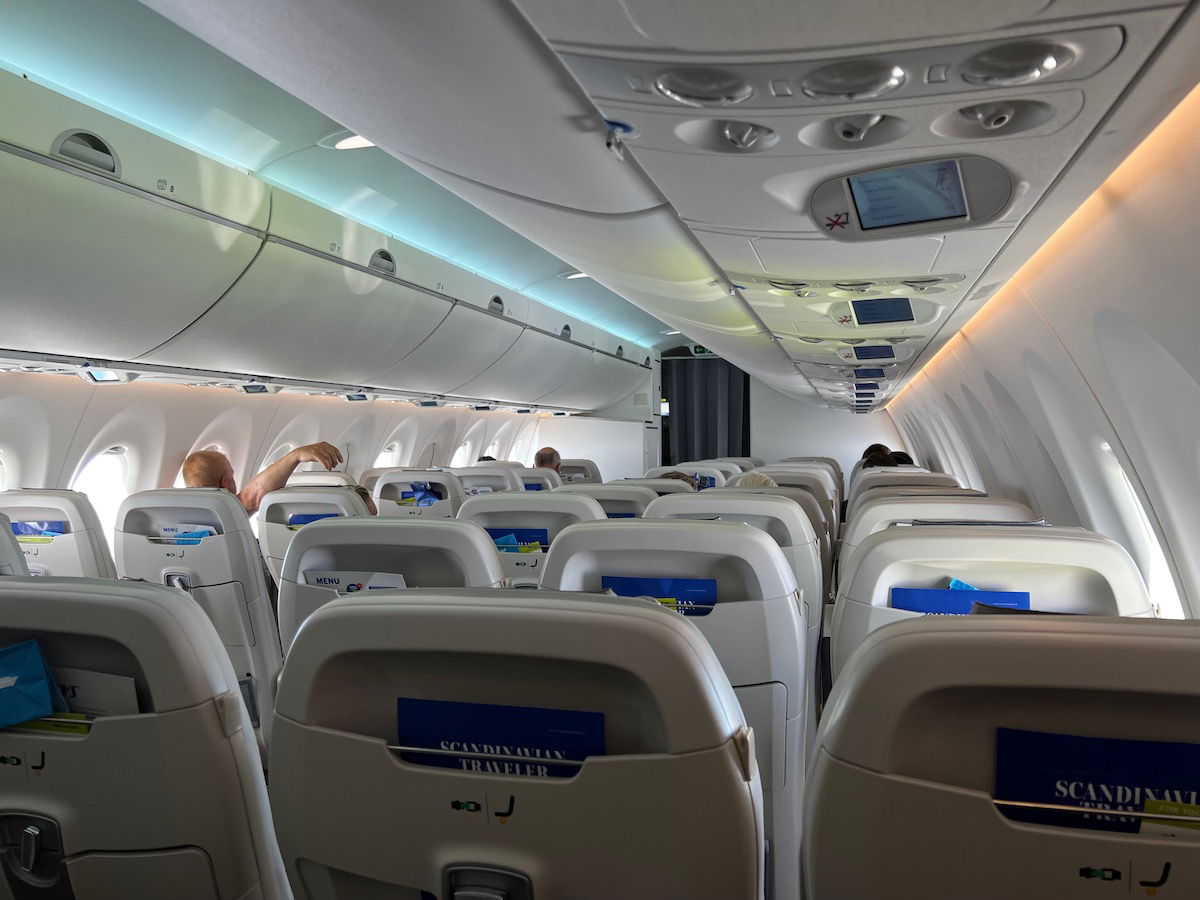 About an hour before landing the captain provided an update on our arrival, anticipating that we'd be landing around 2:15PM, and would start our descent in around 30 minutes.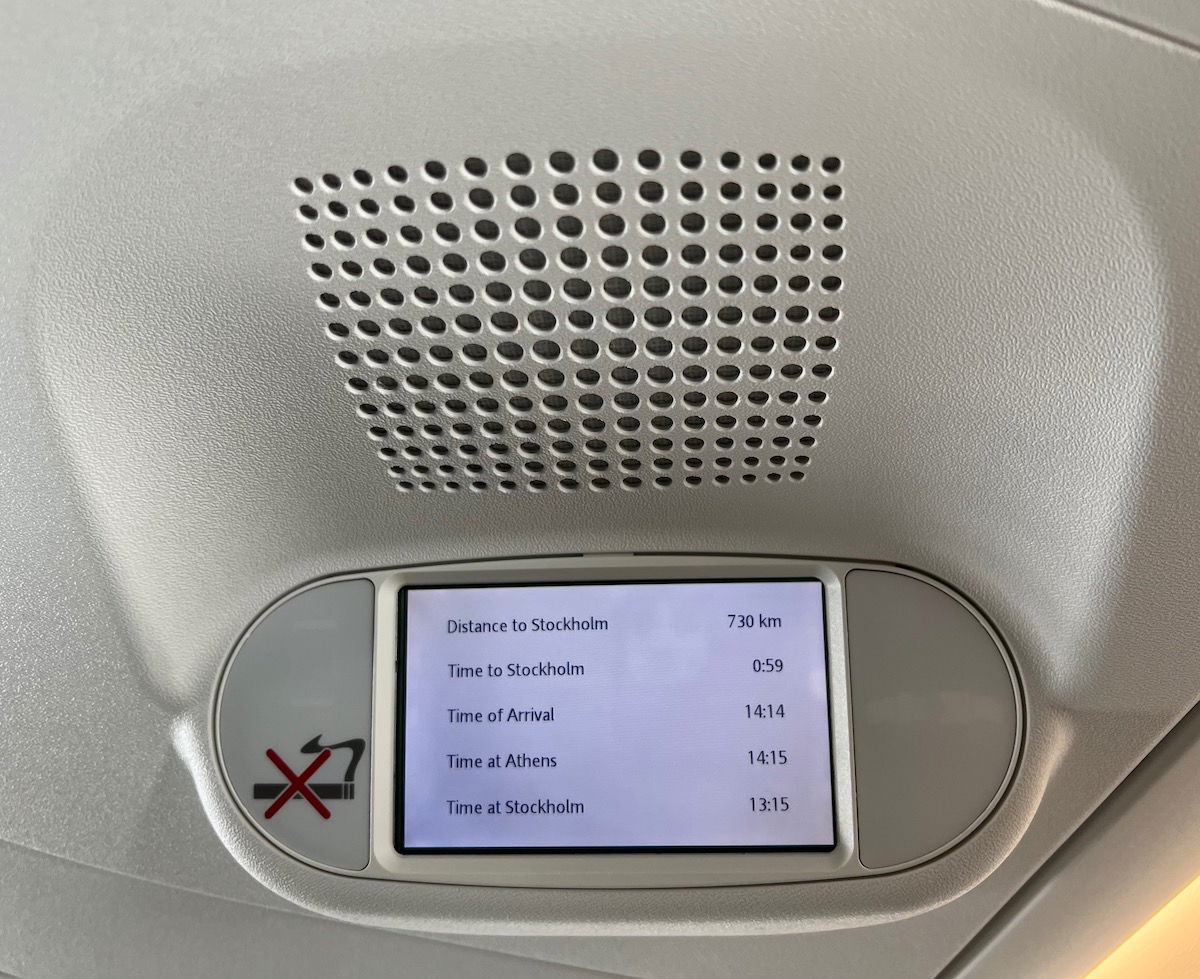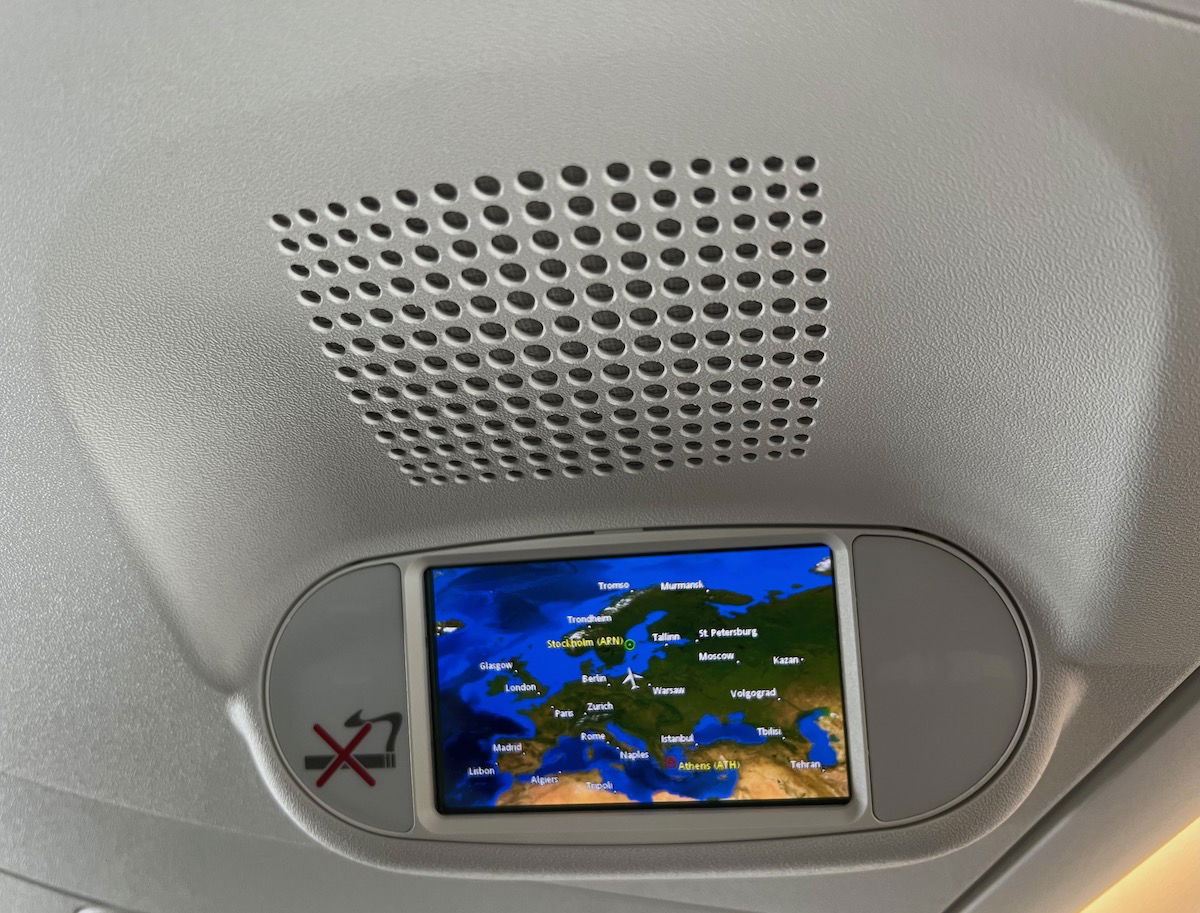 airBaltic landing in Stockholm
Our descent into Stockholm was pretty smooth, and about 15 minutes before landing the seatbelt sign was turned on. Unfortunately the weather left a bit to be desired.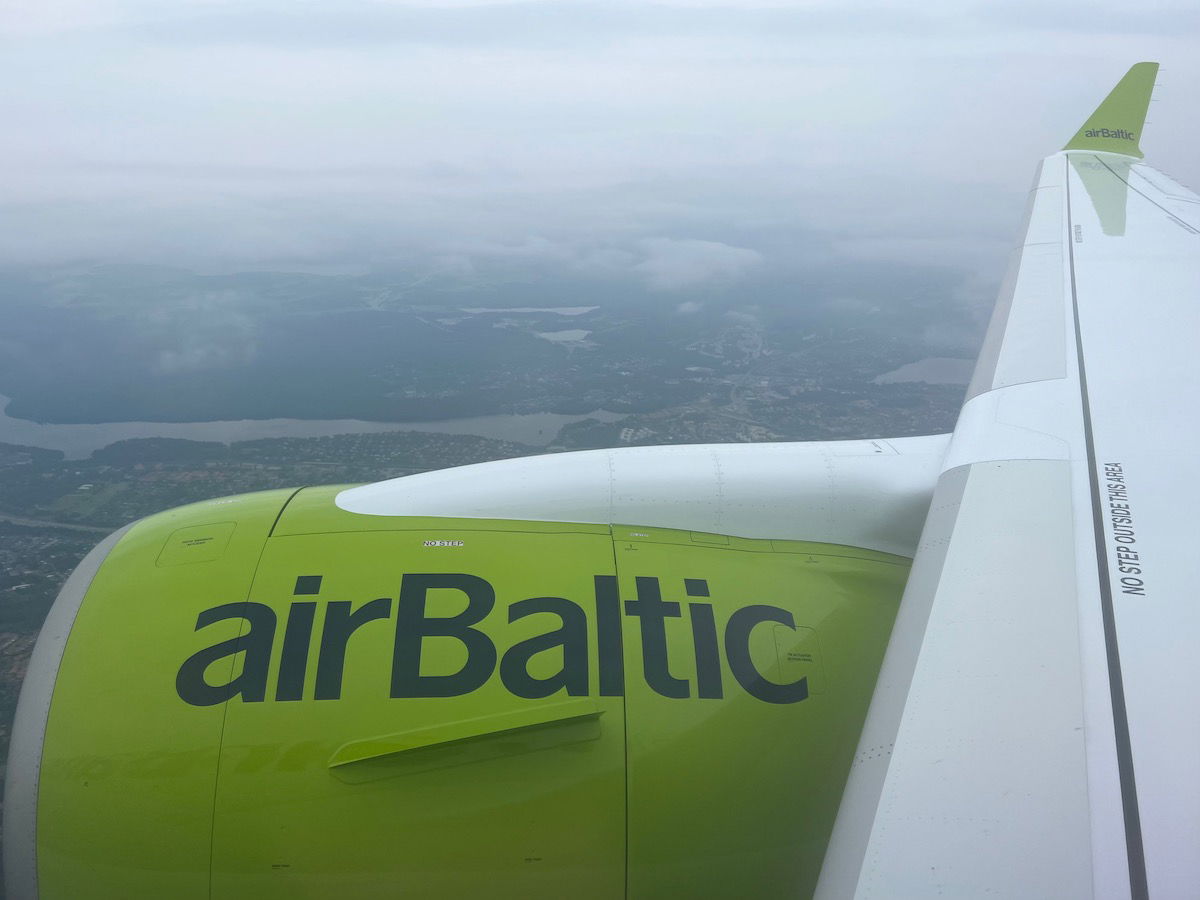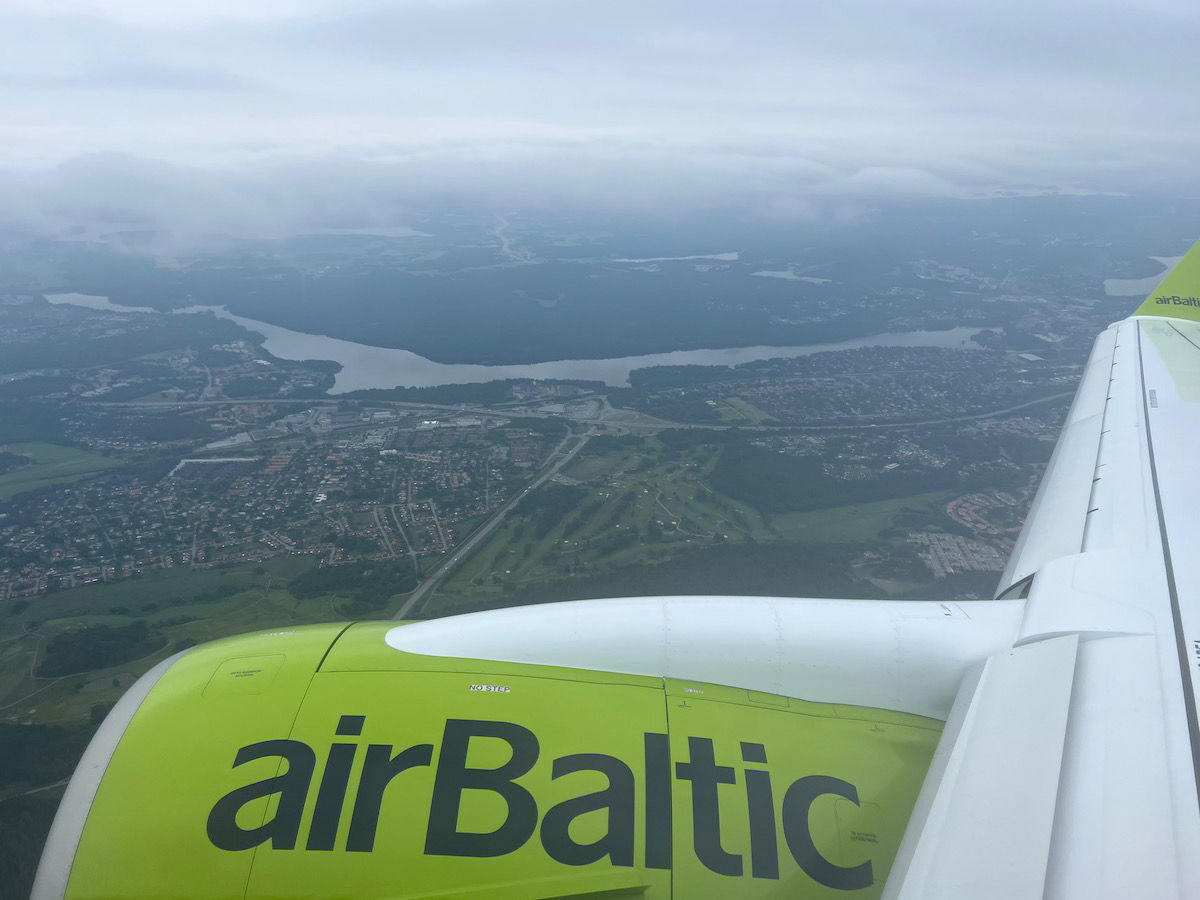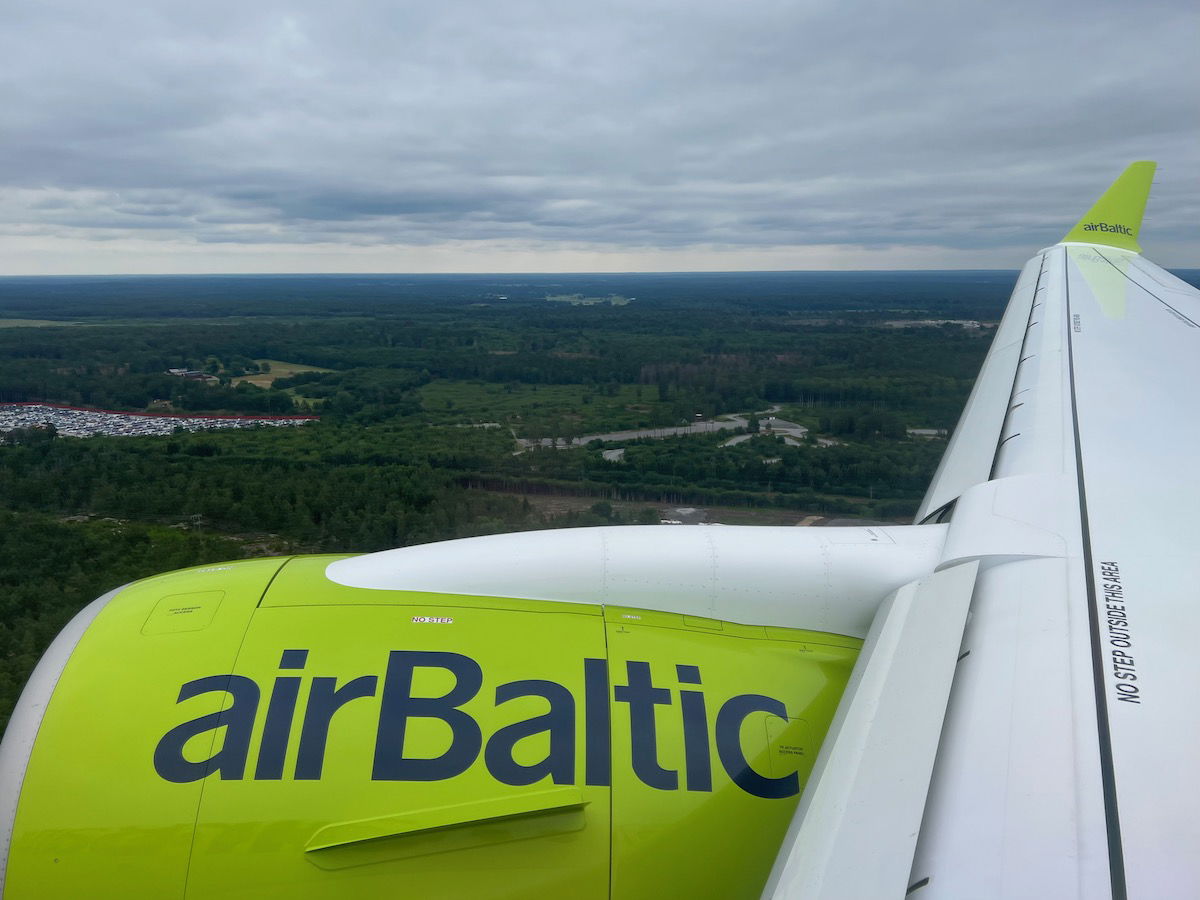 As expected, we touched down in Stockholm at 2:15PM.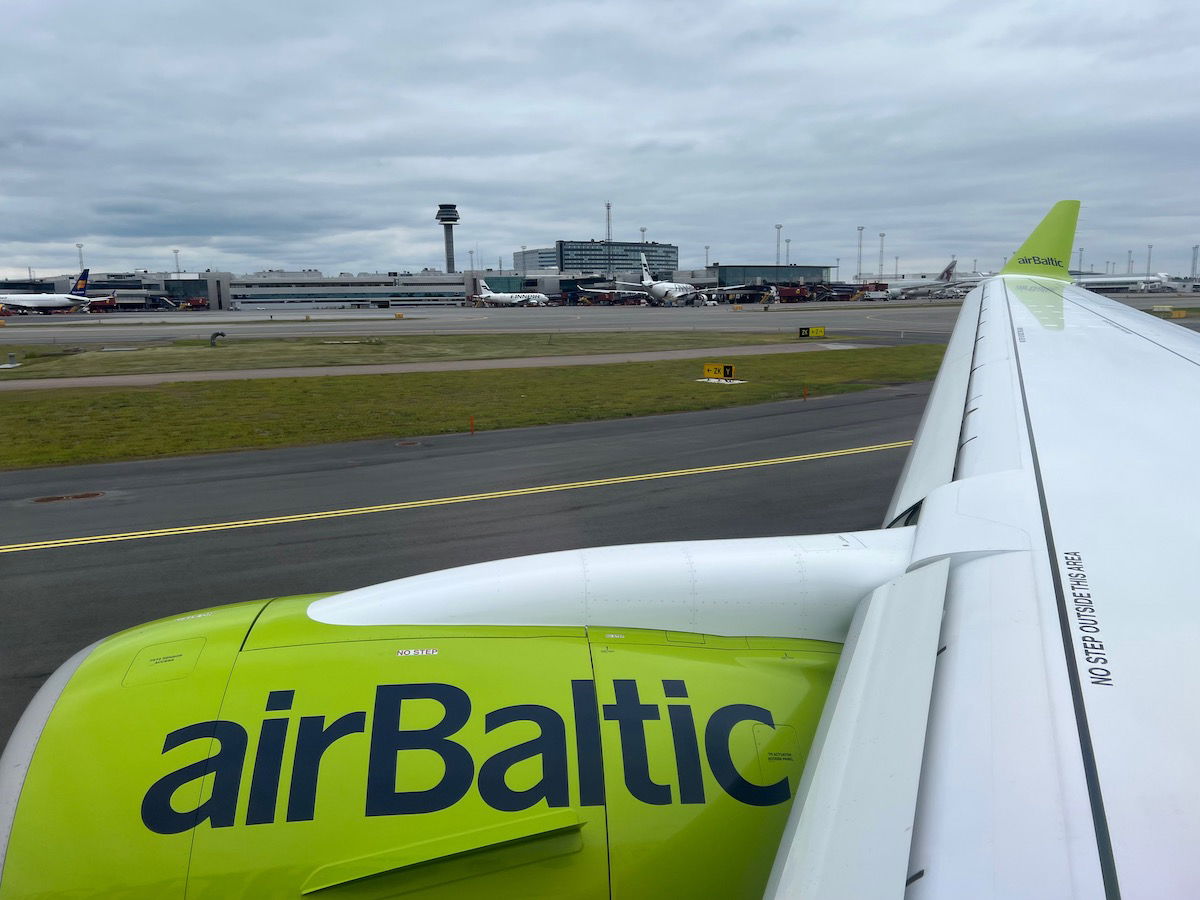 From there we had a five minute taxi to our arrival stand, where we parked next to an Icelandair Boeing 767. We headed straight to baggage claim, and our bags arrived less than five minutes after we got there.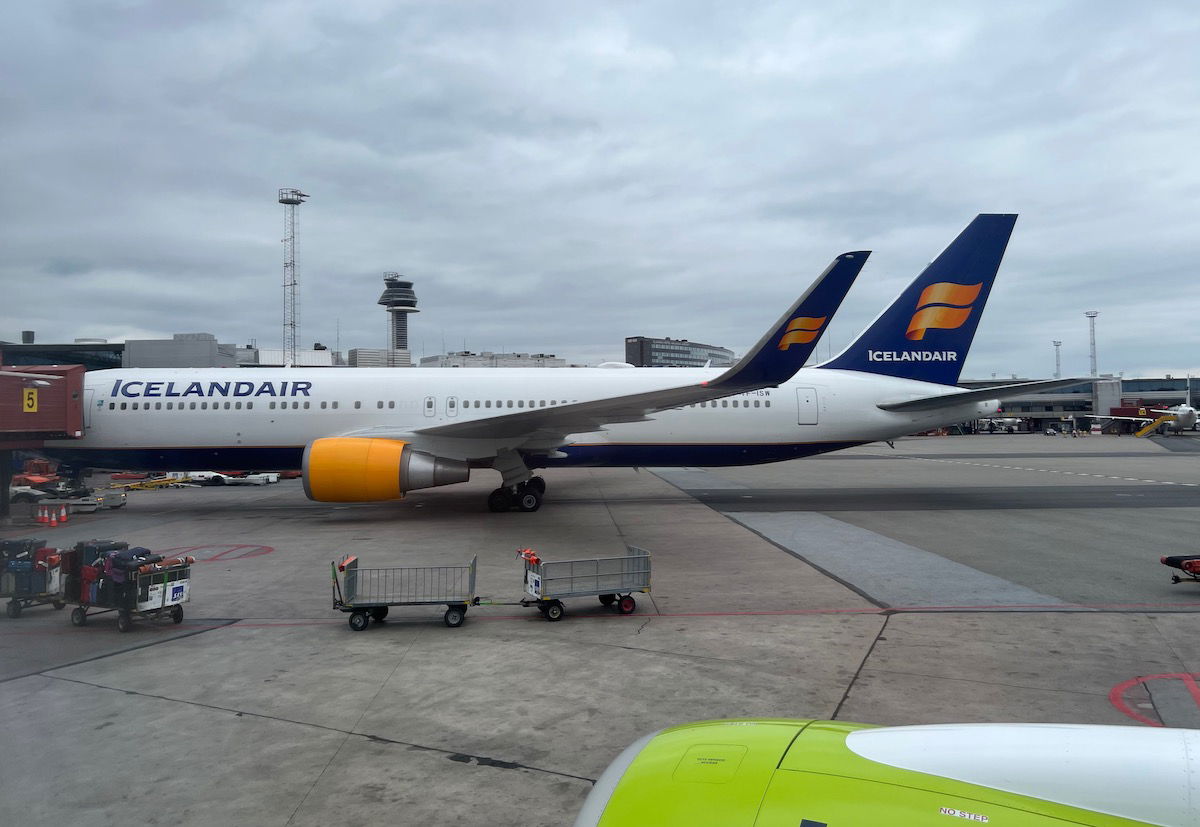 Bottom line
I always enjoy taking a unique flight, and I'd say an SAS Plus flight operated by an airBaltic A220 is one of those. Overall this was a solid flight — the A220 is a joy to fly, we had lots of empty seats near us, the flight was mostly on-time, and the inflight snack was decent. The cash cost for this flight wasn't bad either.
For a flight this long, I did miss the Wi-Fi and power ports that SAS typically offers, though.
If you've flown on an airBaltic A220, what was your experience like?