For our trip to Europe, our first stop was at Hotel Martinez Cannes, a Hyatt Unbound Collection property (this used to be a Grand Hyatt, but has been rebranded). This wasn't our final destination (we were headed to Saint-Tropez from there), but rather we spent two nights here since our flight was arriving late in the evening, and we wanted to adjust to European time for a couple of days.
Ultimately Hotel Martinez is one of the best hotels in Cannes, and it's a solid points hotel. The catch is that the hotel has 410 rooms, so don't expect a very personalized experience. Furthermore, I don't really see the appeal in Cannes as a destination, at least in comparison to all the other charming coastal towns in the South of France (which go way beyond Saint-Tropez).
Booking Hotel Martinez Cannes
We paid cash for our stay at Hotel Martinez Cannes, and the rate was 330 EUR per night. Ford booked us through the Hyatt Privé program. Hyatt Privé rates cost the same as standard flexible rates (not member rates, advance purchase rates, AAA rates, etc.), and include the following additional perks:
Daily full breakfast for two in the hotel's restaurant
A $100 property credit per room per stay
A one category room upgrade confirmed within 24 hours of booking (room-to-room or suite-to-suite) — based on availability at the time of booking
Early check-in (as early as 9AM) and late check-out (as late as 4PM), subject to availability
A welcome gift and letter
Admittedly some of these benefits overlap with my World of Hyatt Globalist perks, but getting an extra $100 credit was a nice extra perk. Note that I also applied a Globalist suite upgrade award to the reservation, so we could be confirmed into a junior suite at the time of booking.
For context, Hotel Martinez Cannes is a Category 7 World of Hyatt property, meaning that a standard room free night redemption costs 25,000-35,000 points per night. Based on my valuation of 1.5 cents per World of Hyatt points, paying cash was the better value.
Hotel Martinez Cannes location
Hotel Martinez is located on La Croisette Boulevard, which is the main road along the water in Cannes. You can't have a more central location than this, as you're walking distance to all kinds of high-end shopping, restaurants, beaches, etc.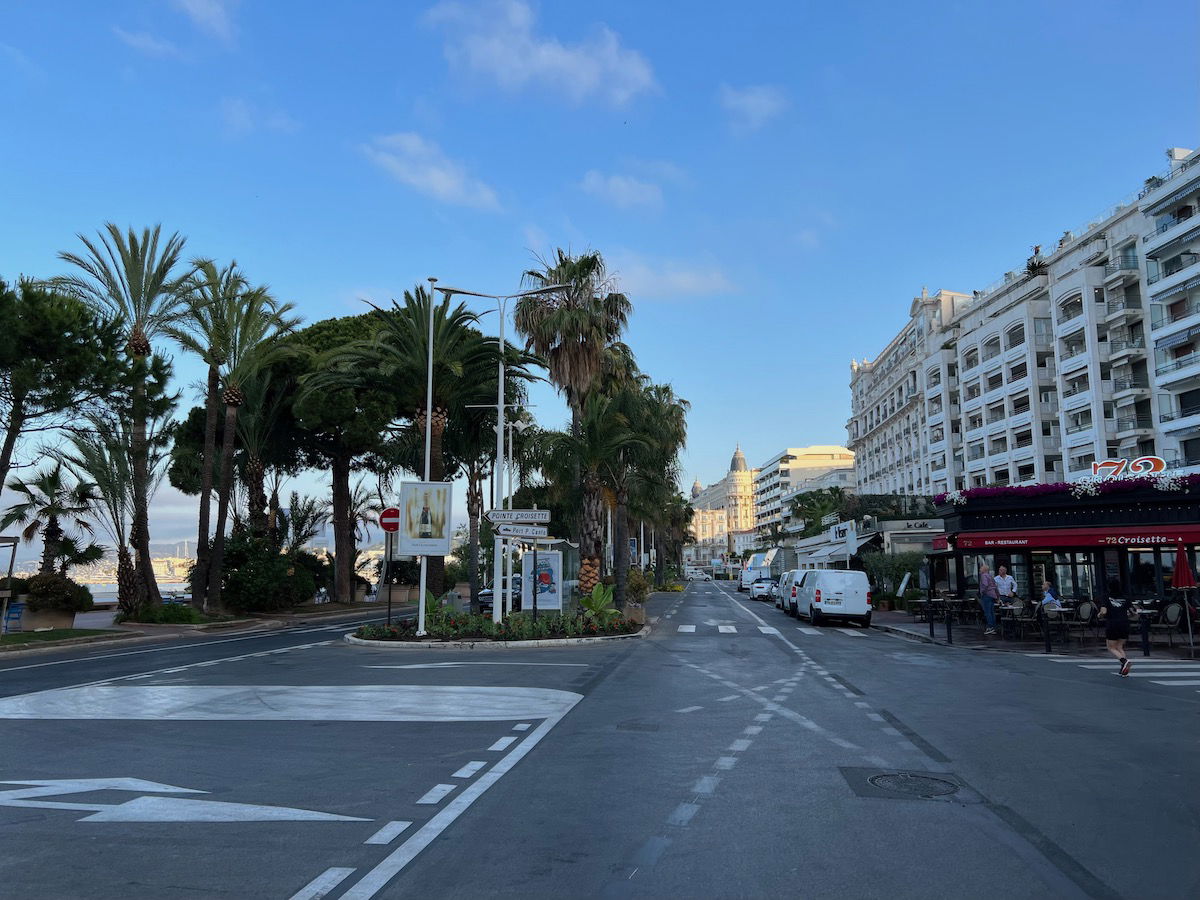 Nice Côte d'Azur Airport is the closest airport to Cannes, and it's about a 45-60 minute drive away, depending on traffic. So it's still a bit of a haul, but it's closer to the airport than Saint-Tropez, for example.
Hotel Martinez Cannes lobby & check-in
As you'd expect for a hotel with 400+ rooms and a tiny driveway, the arrival experience can be a bit chaotic. Nonetheless the bellmen were friendly in assisting us with our bags and showing us to reception. While the hotel first opened in the 1920s (and the exterior has a cool art deco design), the interior of the hotel has been beautifully updated.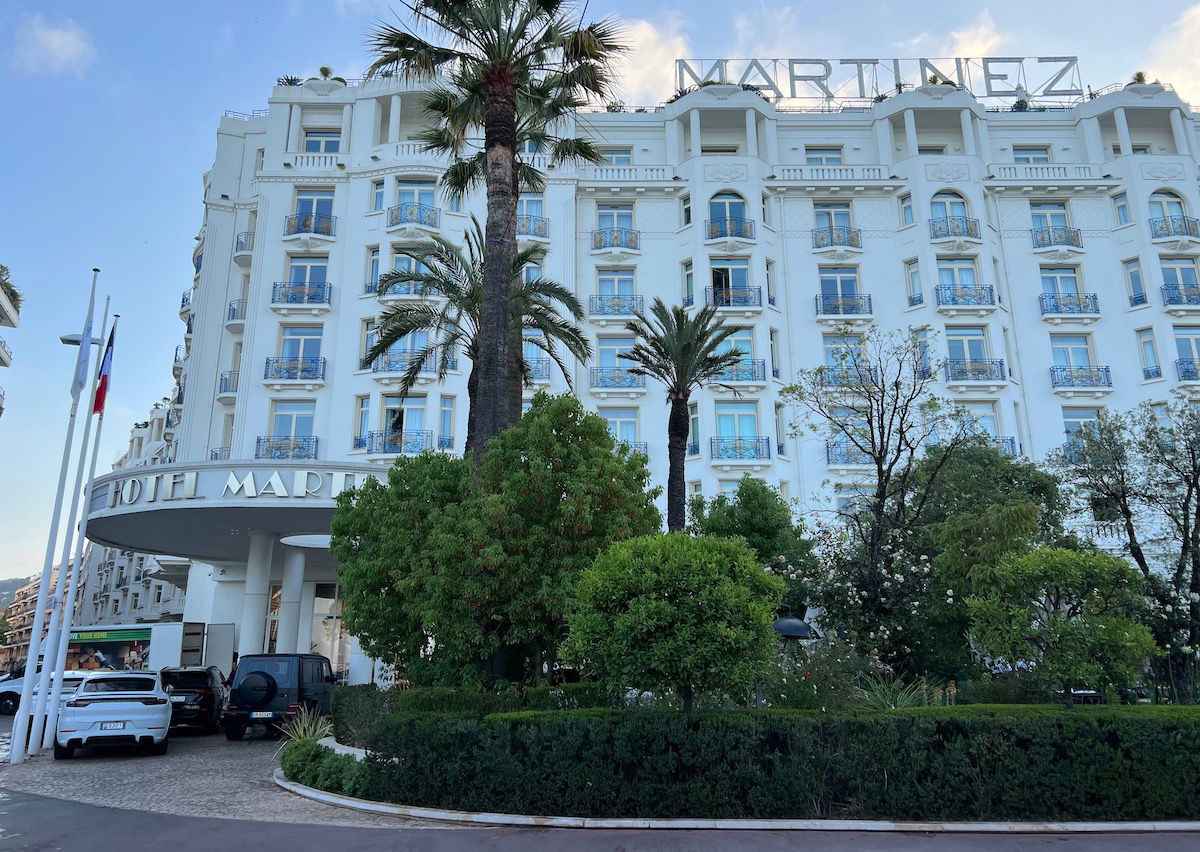 The hotel's lobby can get really crowded during the day, largely with people waiting to be able to check into their rooms.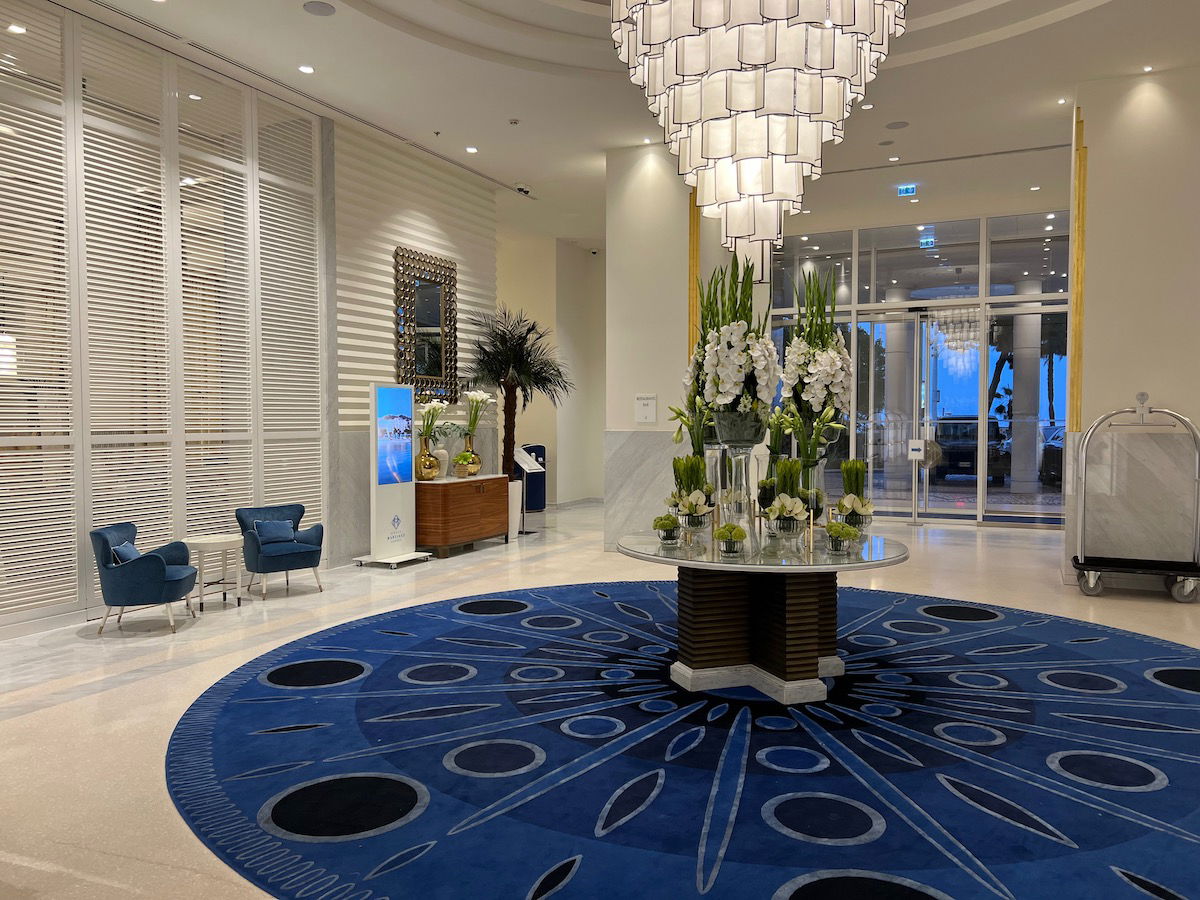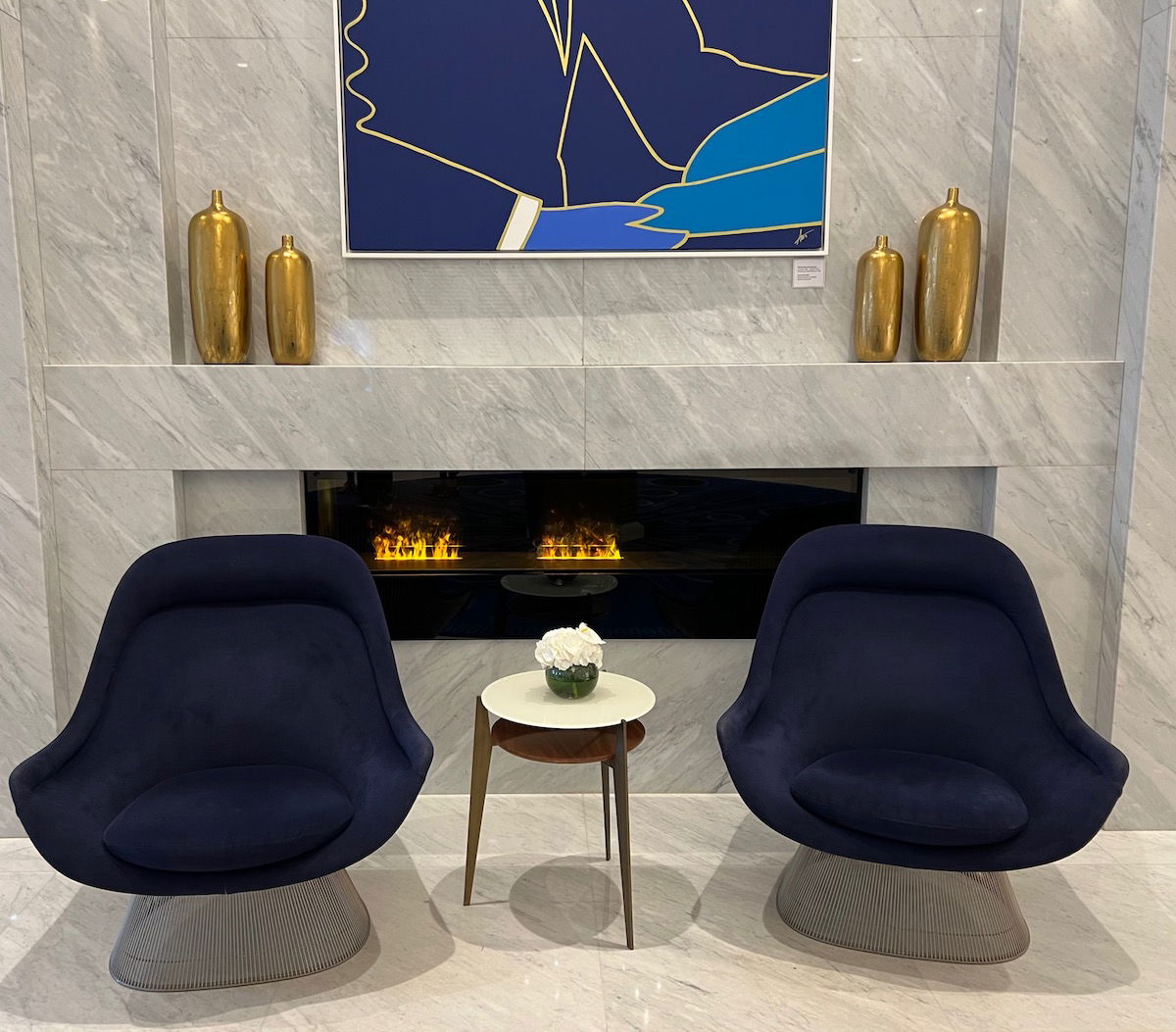 Reception has some extra seating, plus a coffee machine.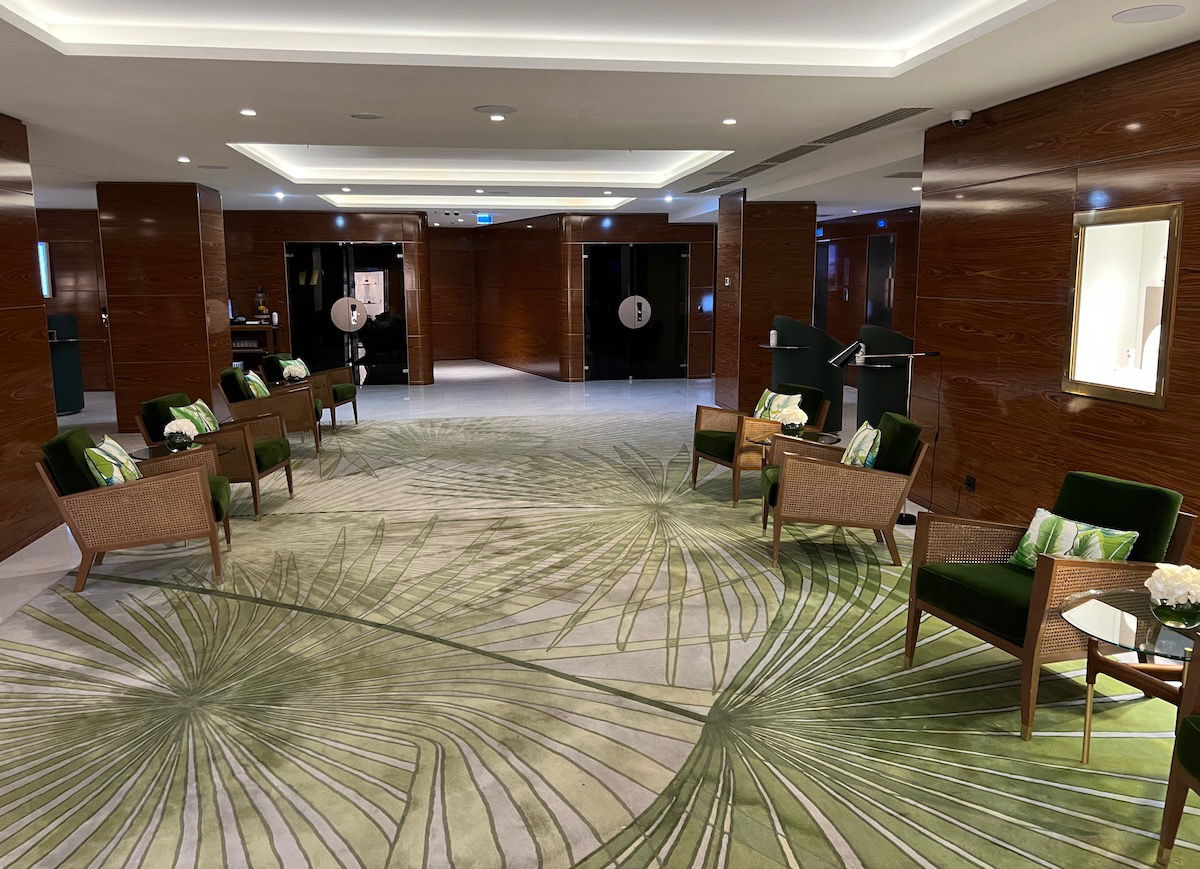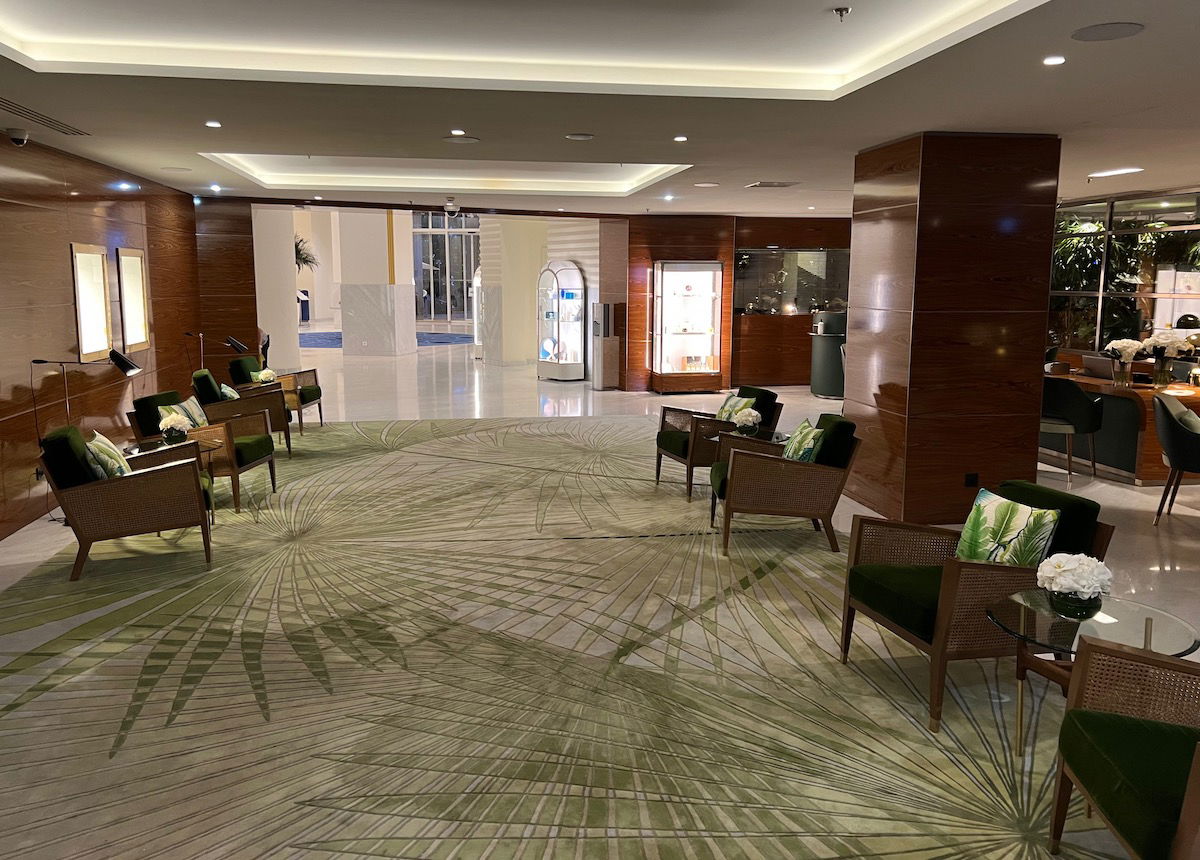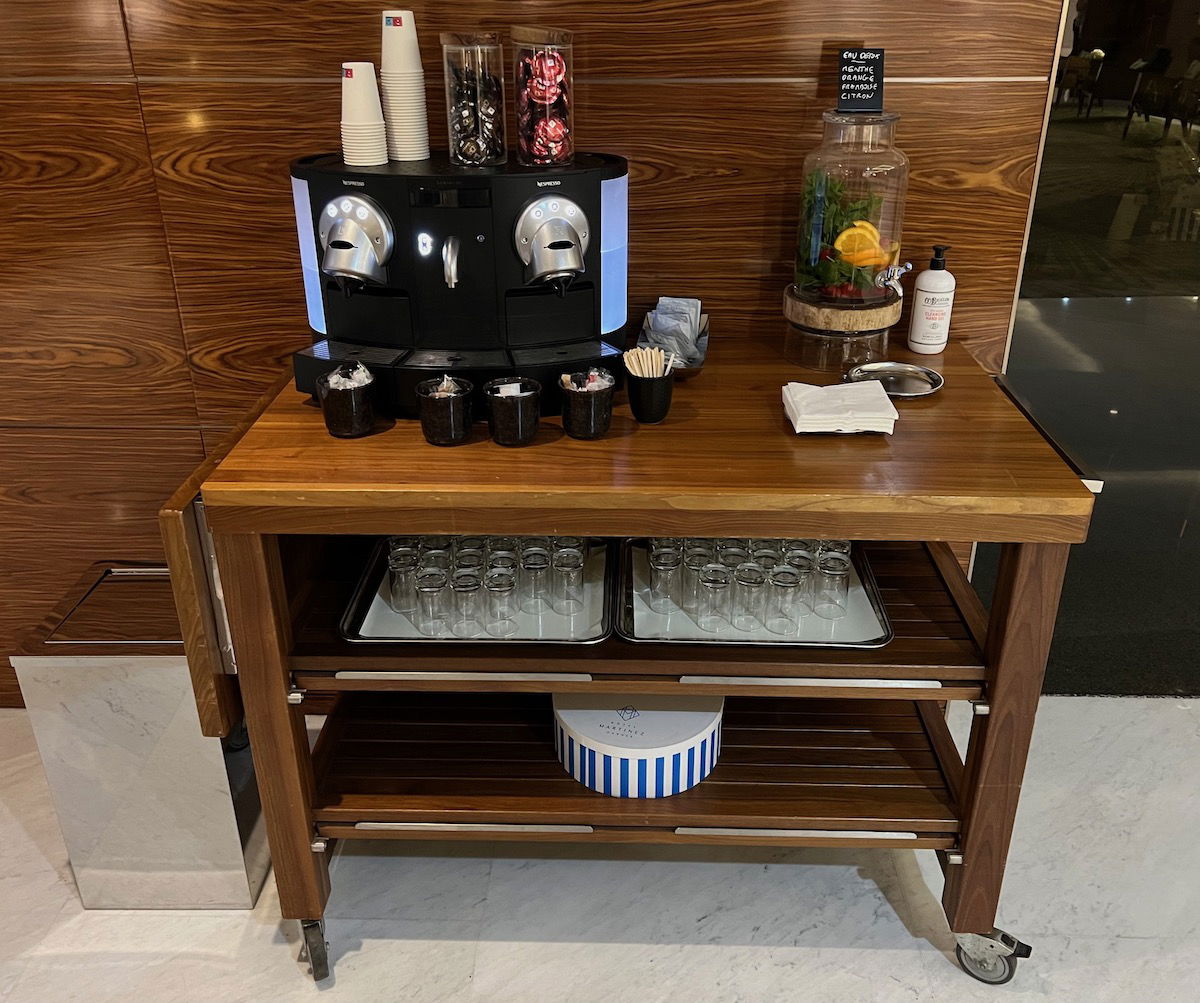 There are also several individual check-in desks, so that you can be checked in while sitting down. The only issue is that there's not really a clear check-in queue, so some people kind of stand back and wait for the next desk to be available, while others try to line up at one particular desk.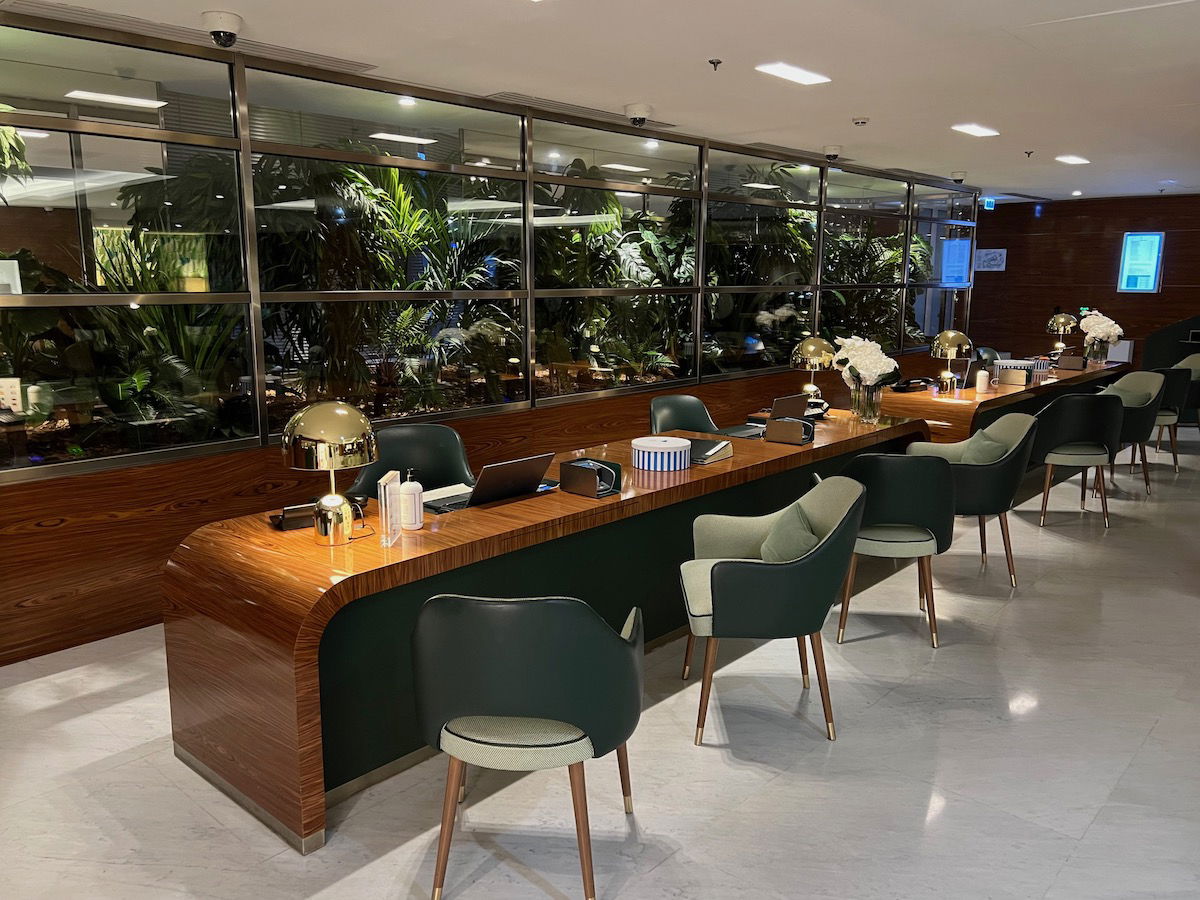 Our check-in experience was quick and professional. The associate thanked me for my Globalist status, and familiarized us with the basics of the property. We were then shown to the elevators. The hotel has a beautiful staircase that spans all floors, and then there are also some elevators. While it's not surprising given the age of the building, the elevators are tiny, and can get very crowded.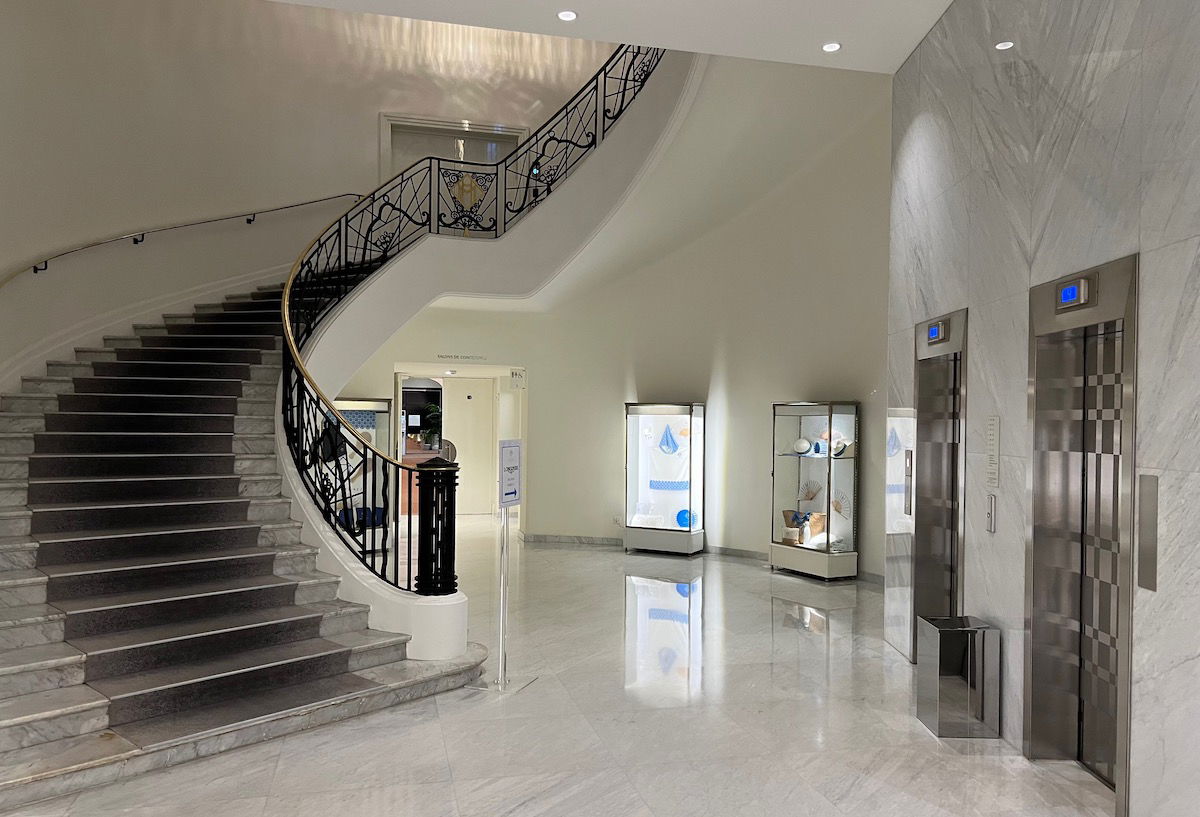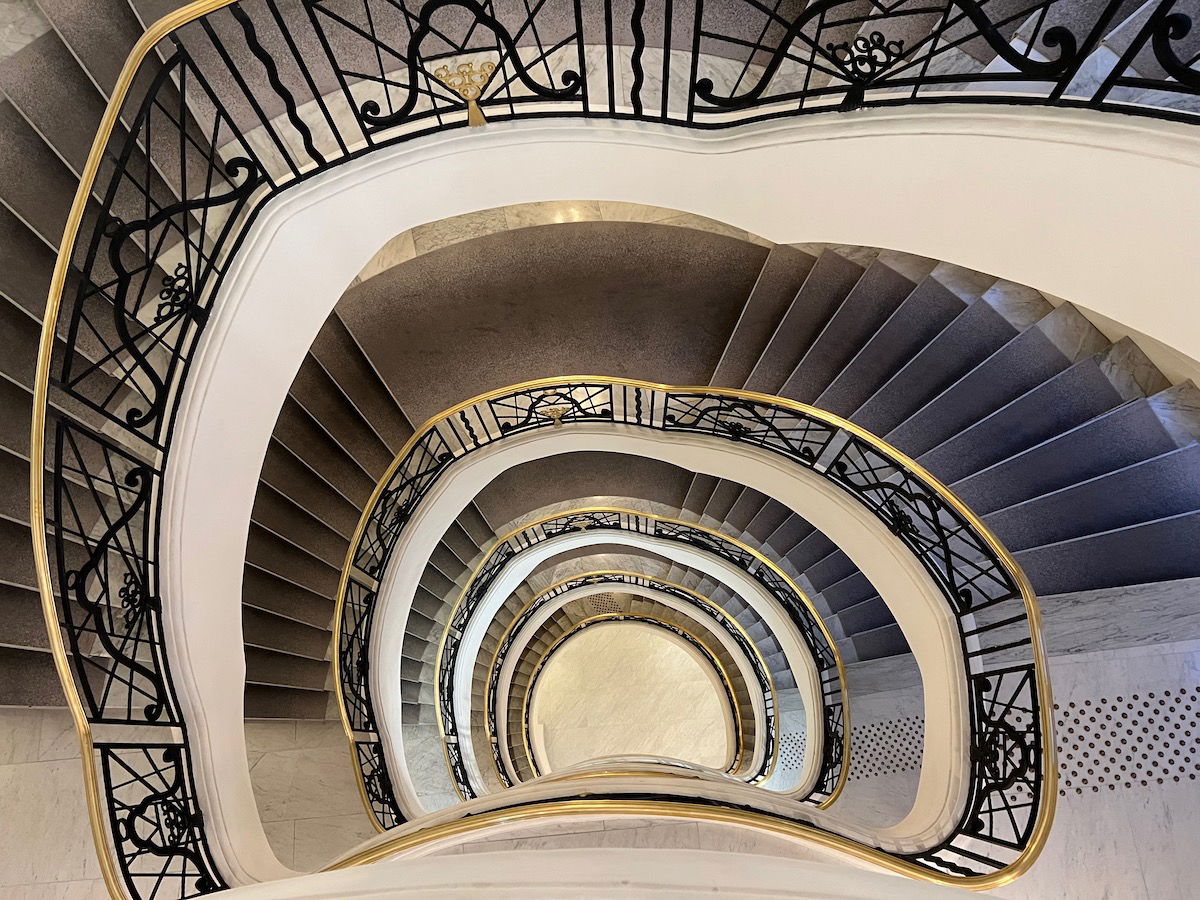 Hotel Martinez Cannes junior suite
We were assigned room 504, a junior suite on the fifth floor. I'm a fan of the hallway design, between the blue carpets and the texture of the walls and doors.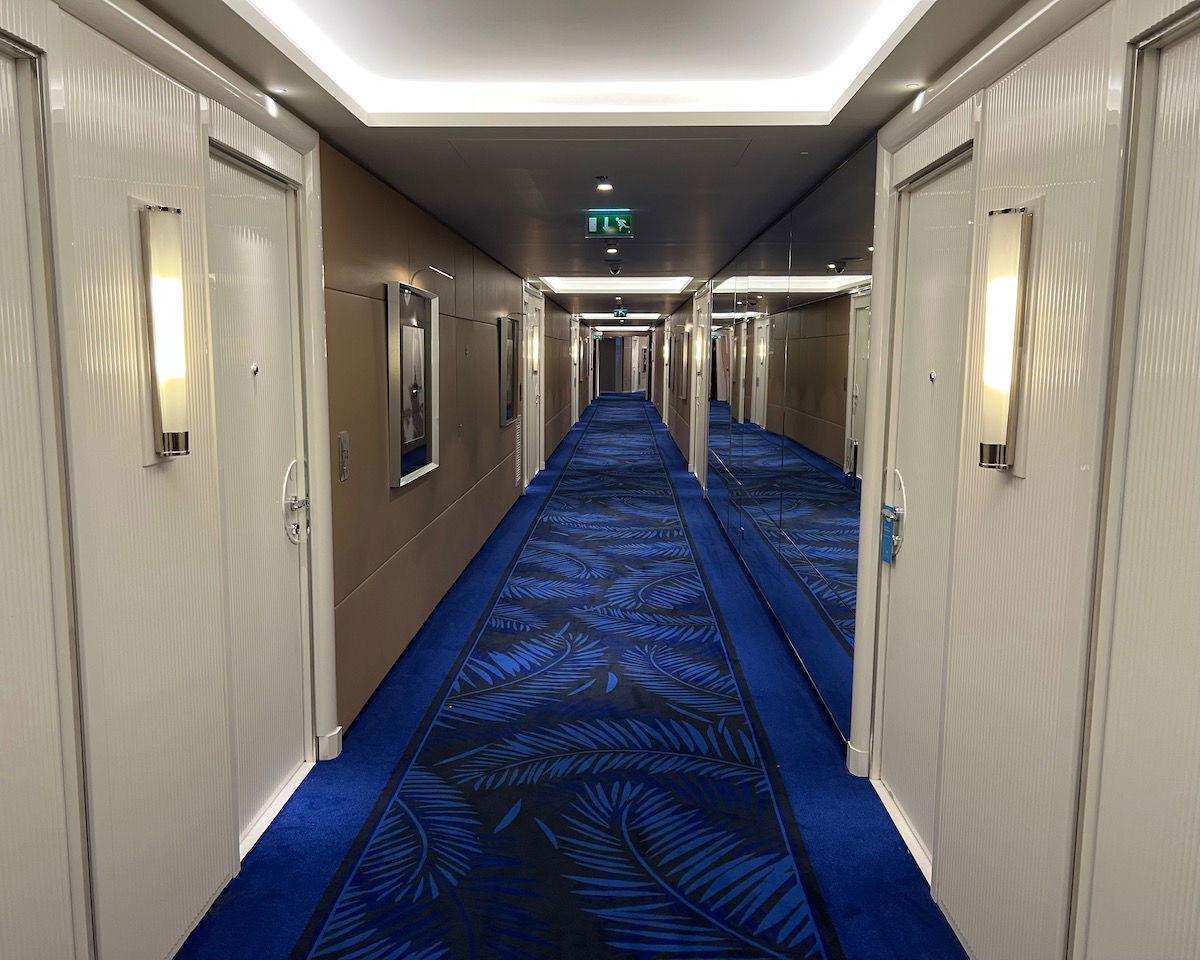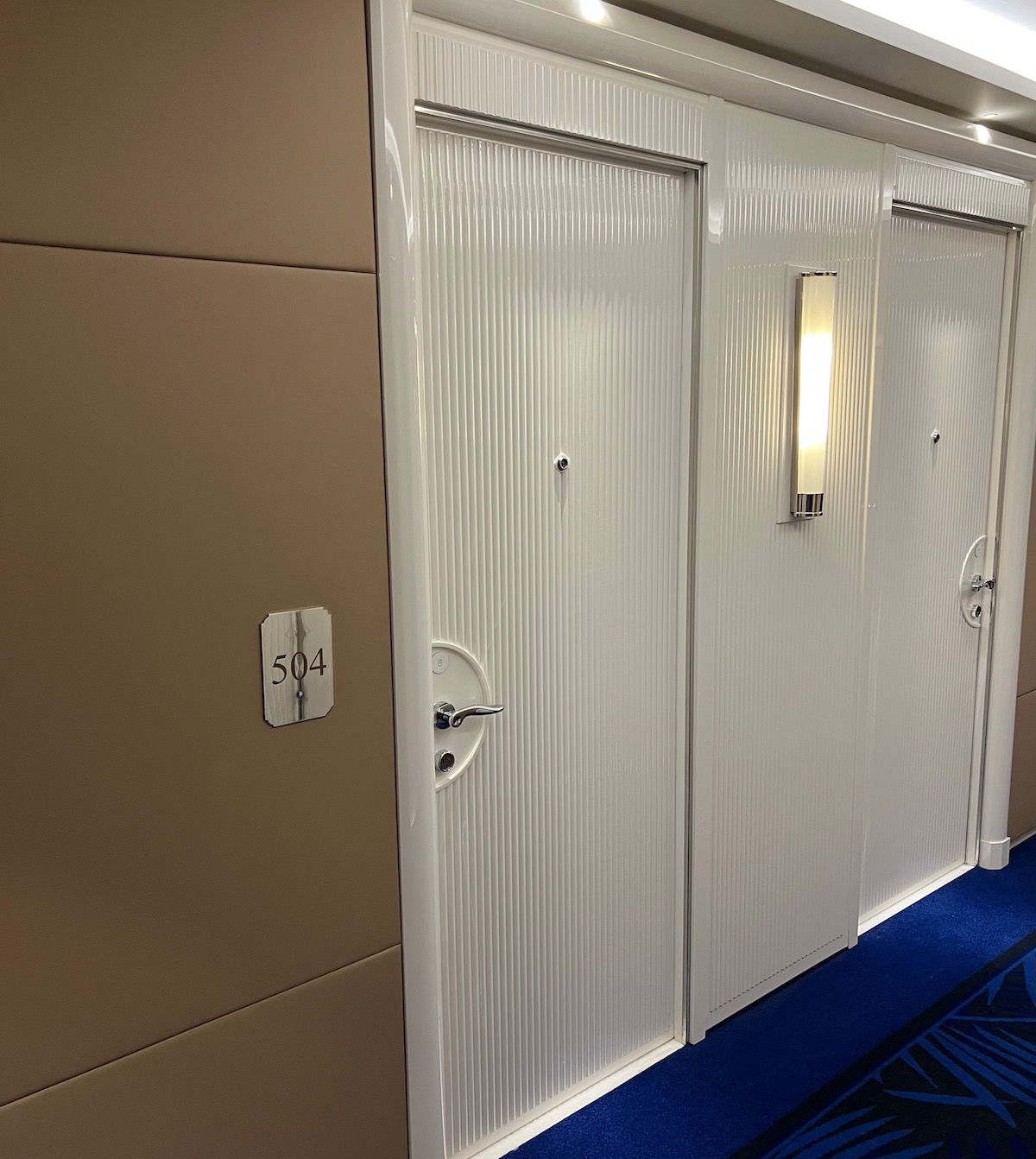 Rooms at Hotel Martinez are definitely on the small side. Standard rooms are 28 square meters (~300 square feet), while junior suites are 45 square meters (~484 square feet). The room featured an entryway with a closet to the right and the bathroom to the left.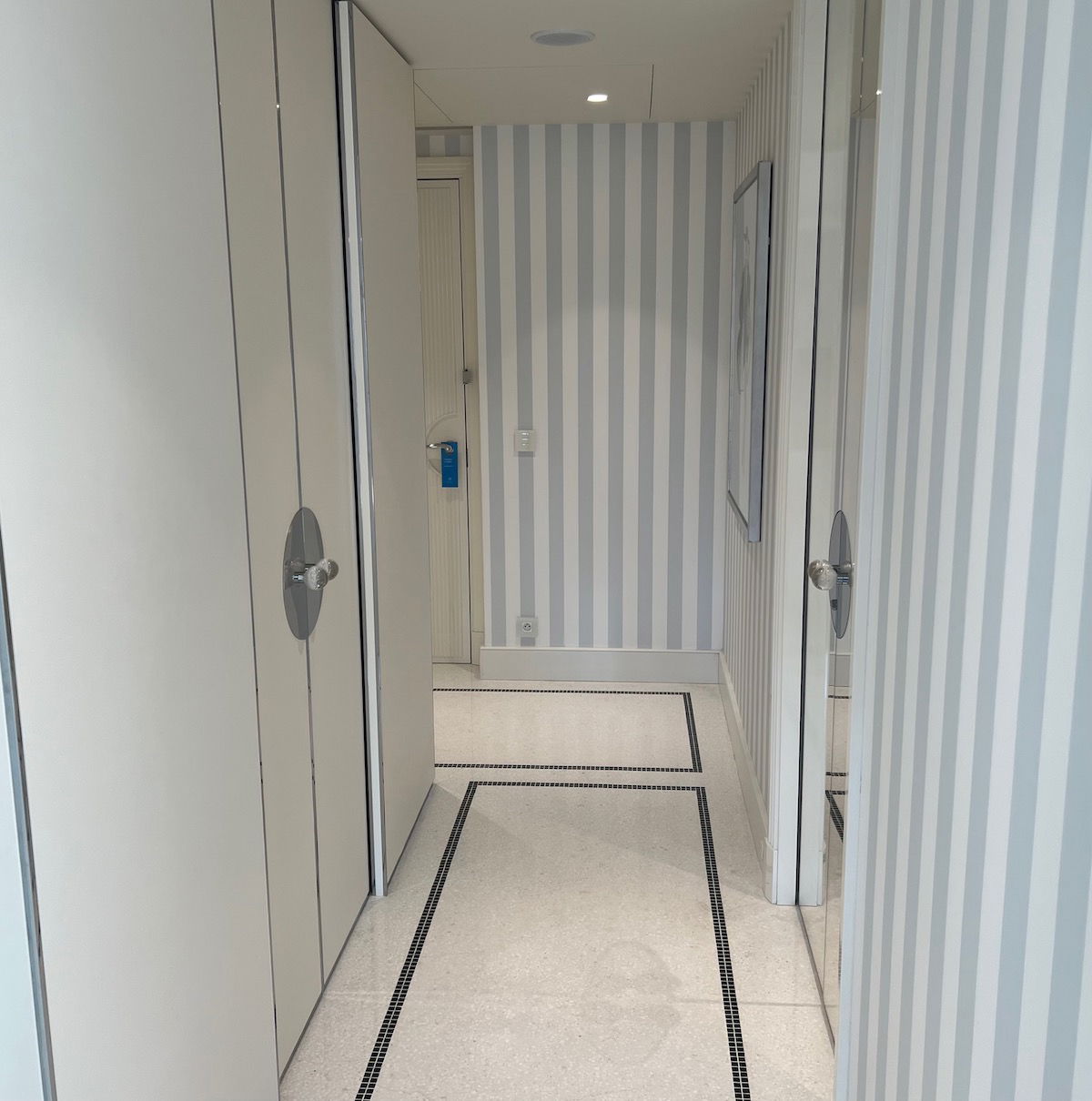 Straight ahead was the main part of the room, which had a comfortable king size bed, a chair with an ottoman, a loveseat, and a desk with a chair.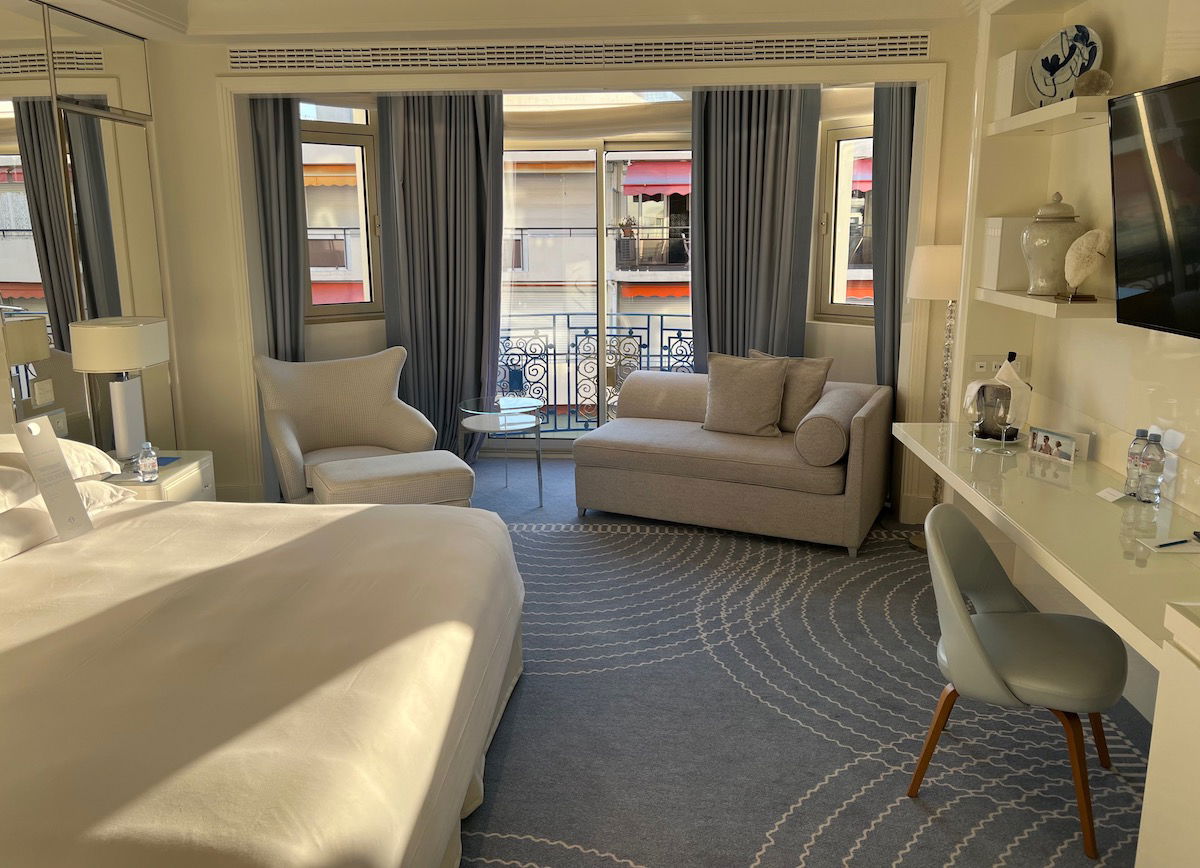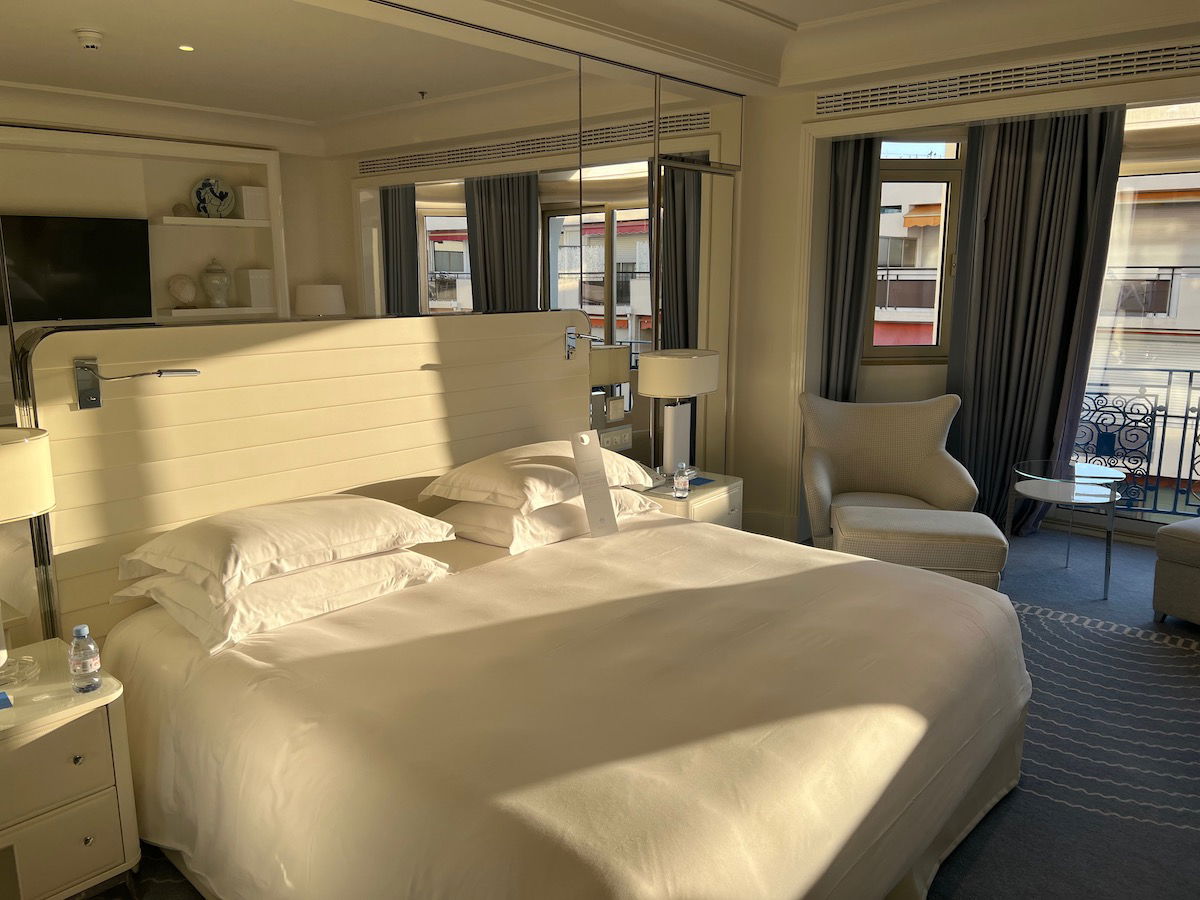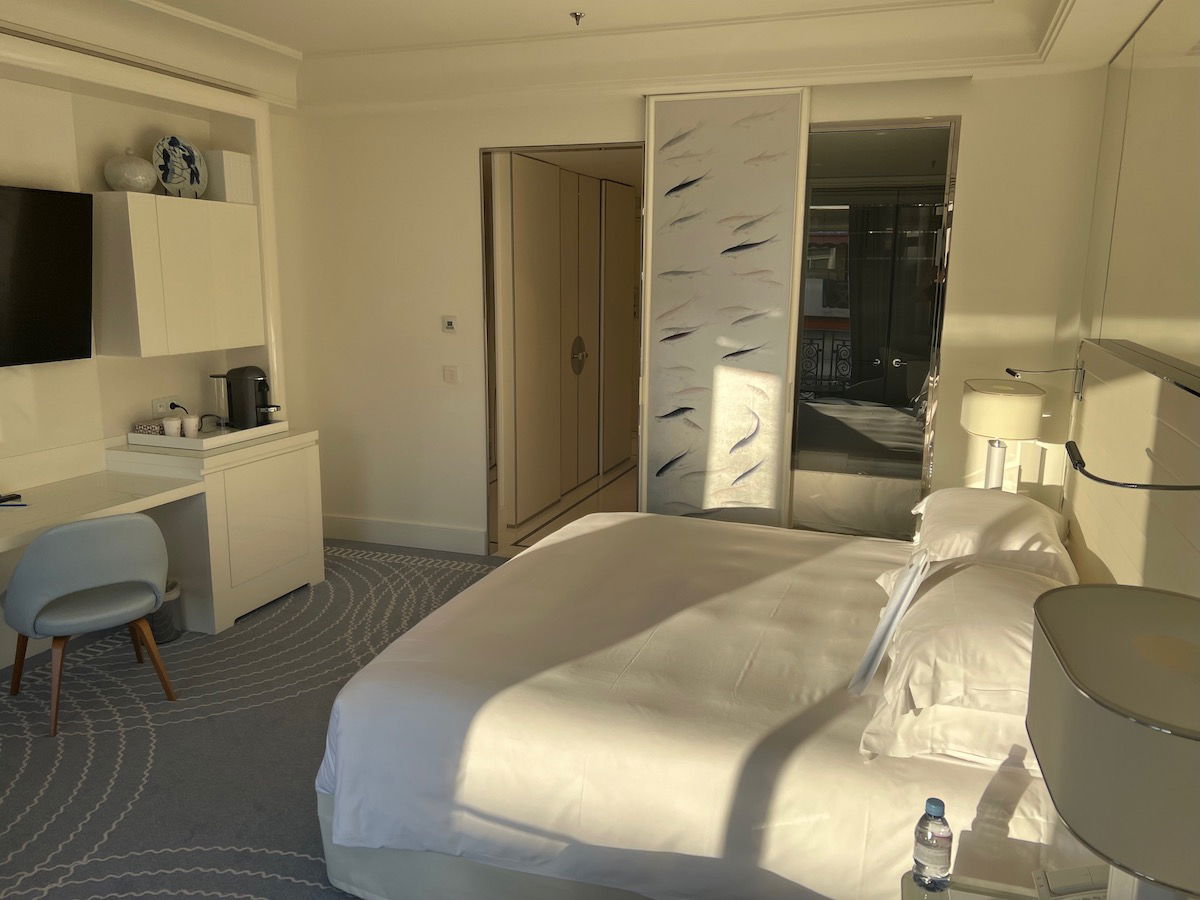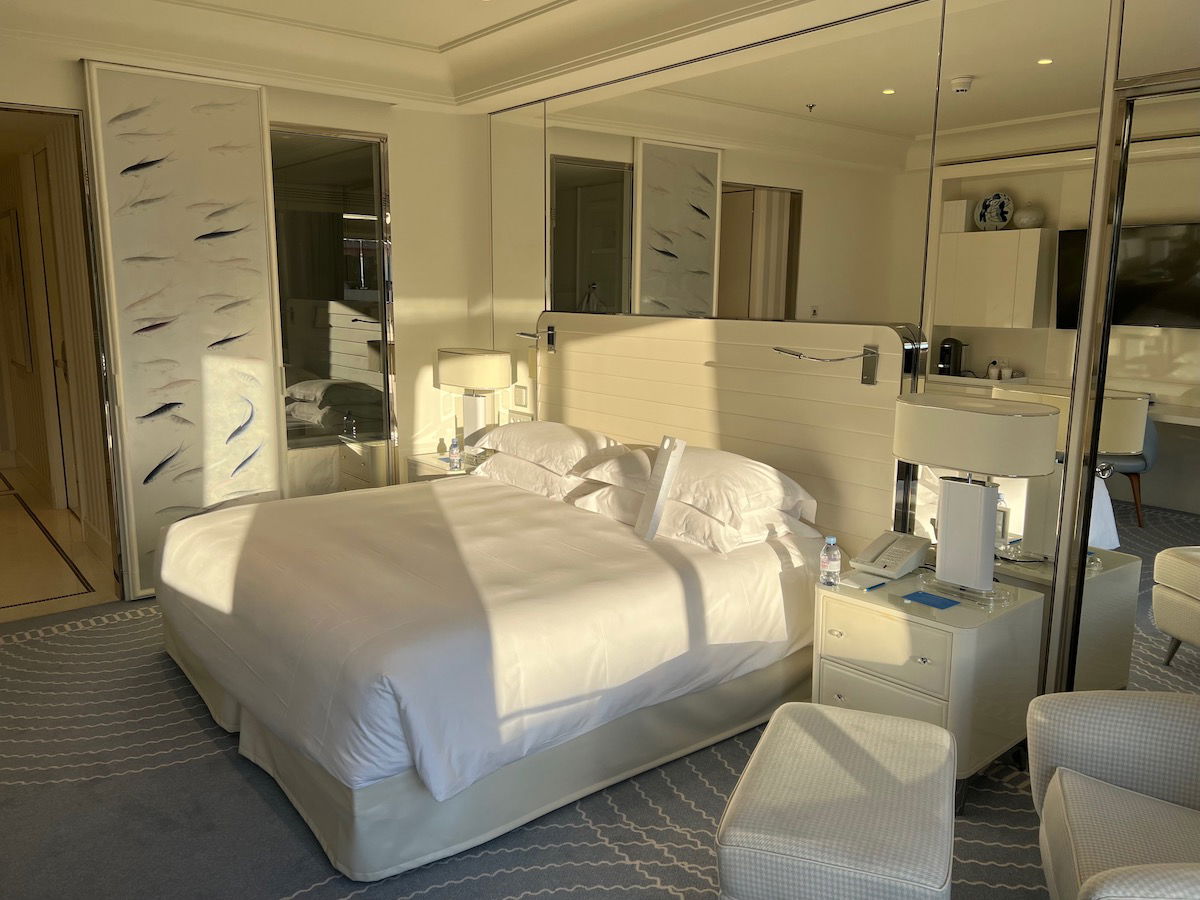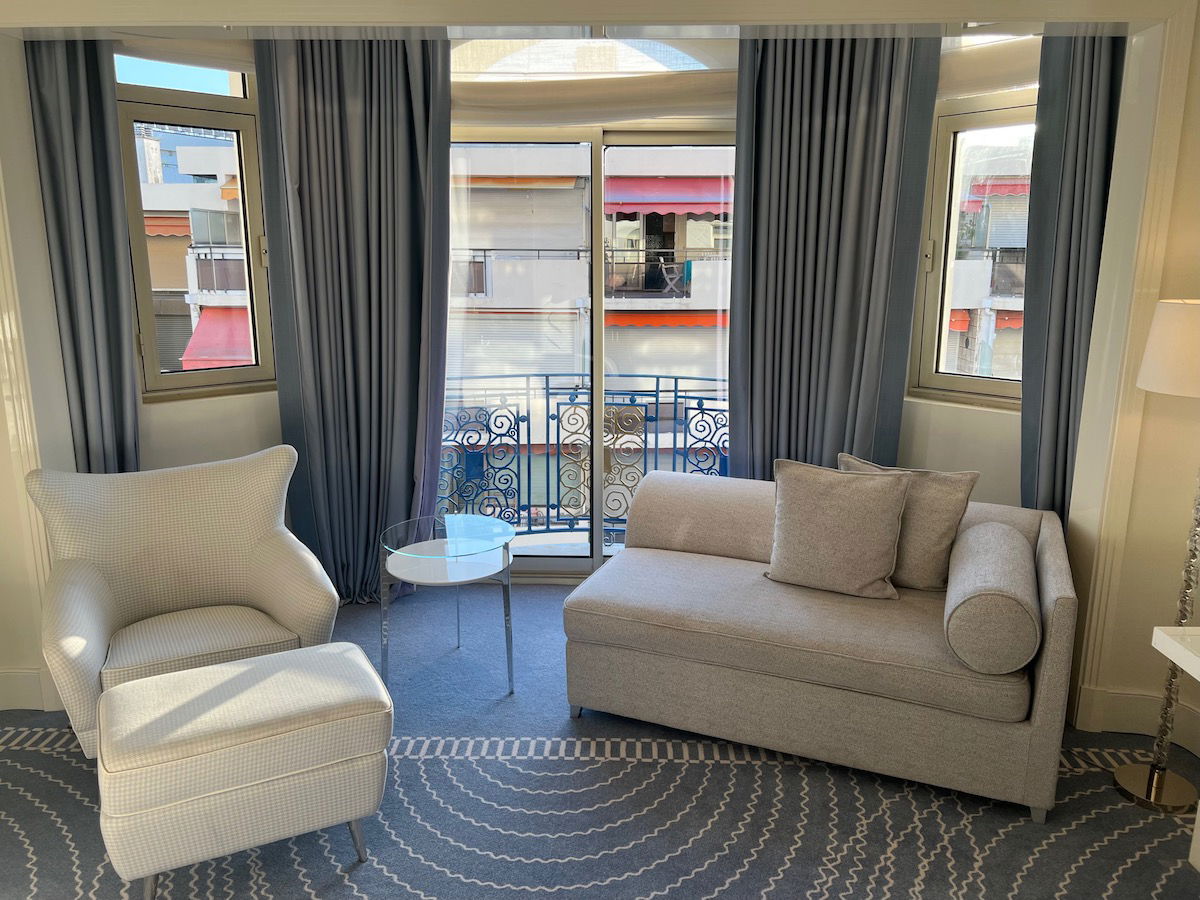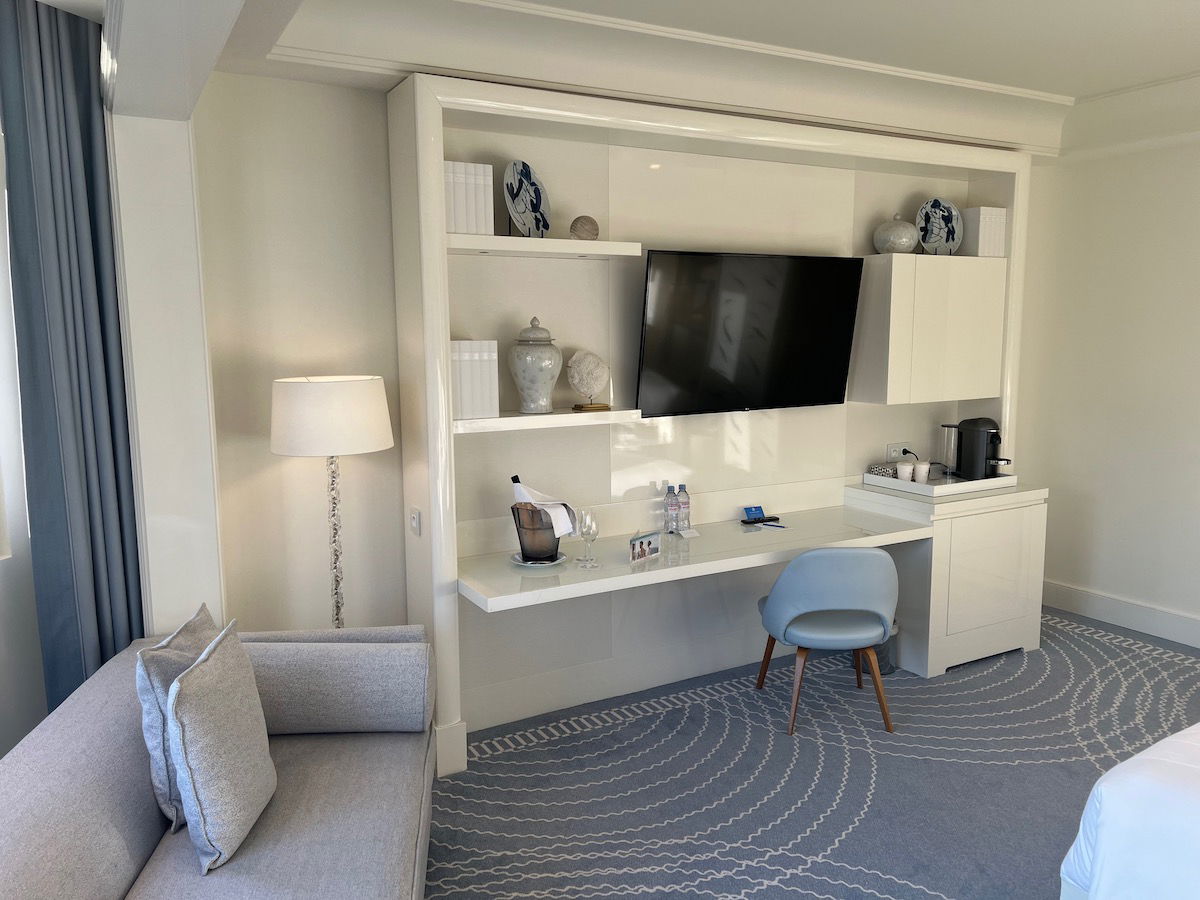 In a console next to the desk was the minibar, which had a complimentary Nespresso coffee machine, plus a minibar with drinks and snacks for purchase.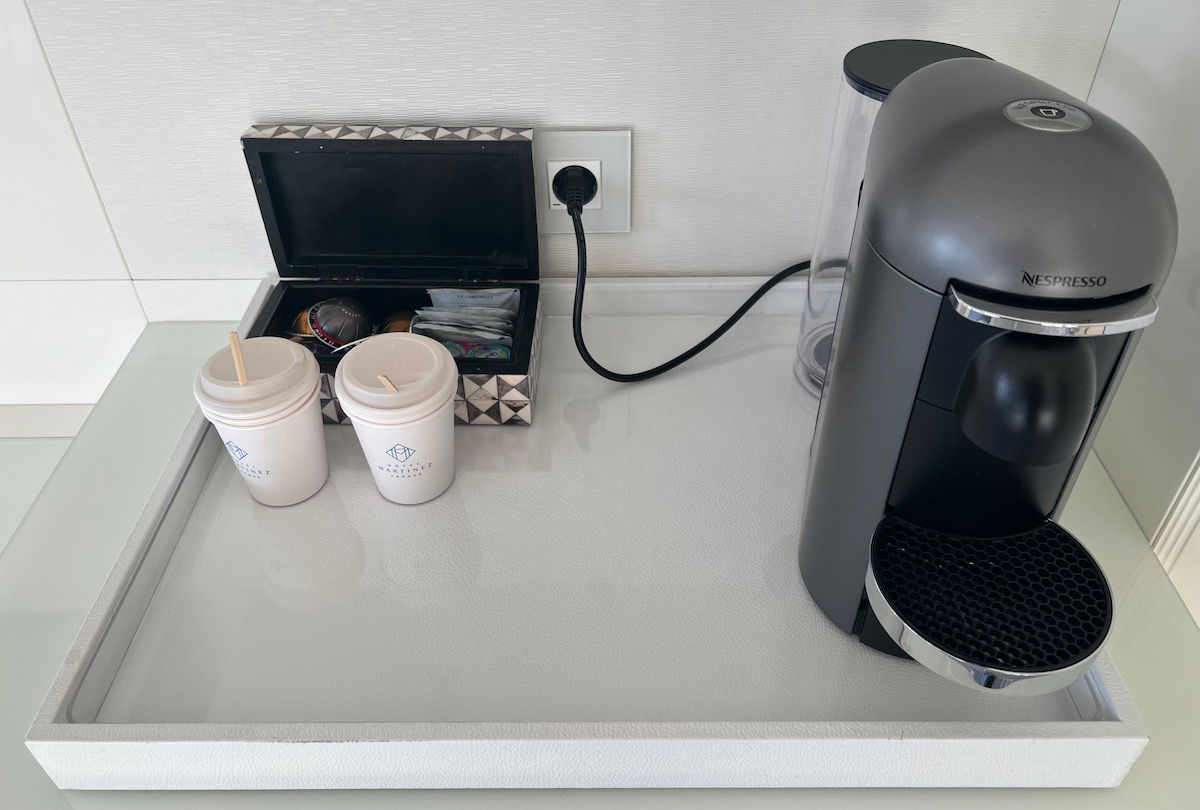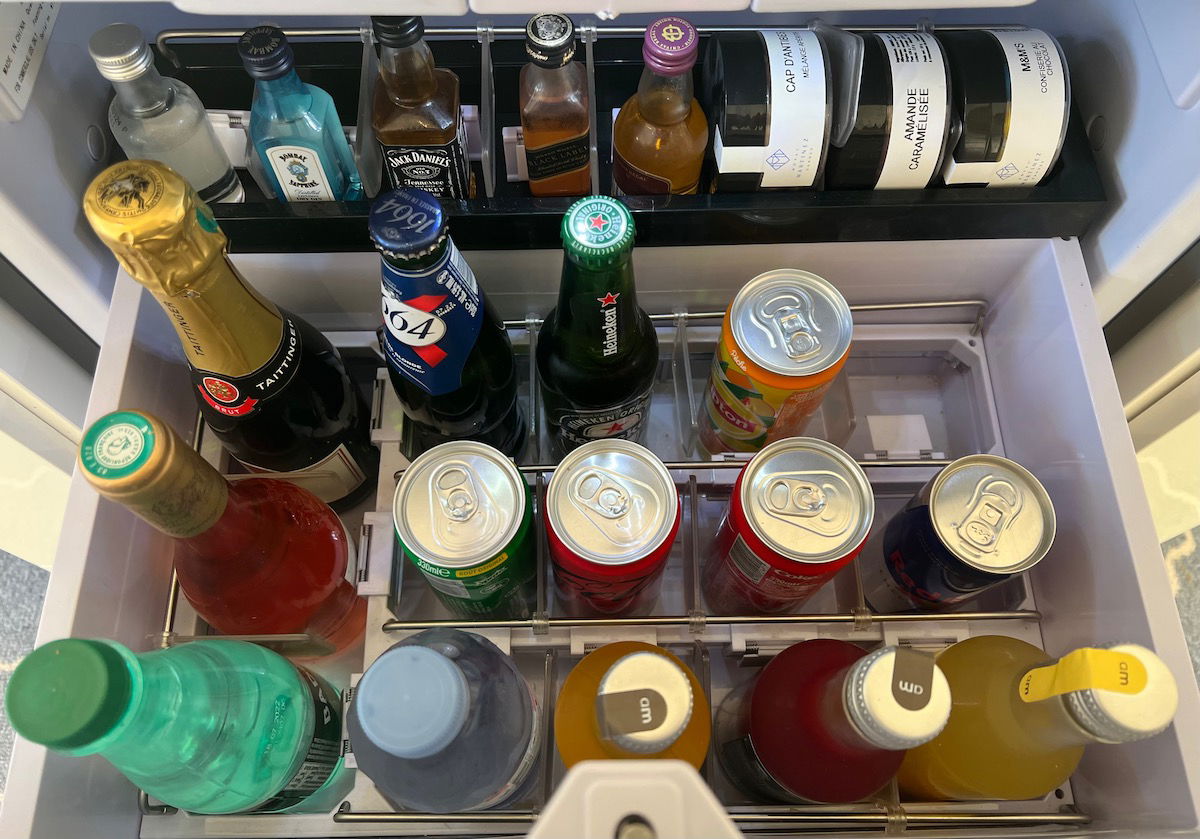 There was a welcome amenity in the room on account of having booked through Hyatt Privé, which was a bottle of rose.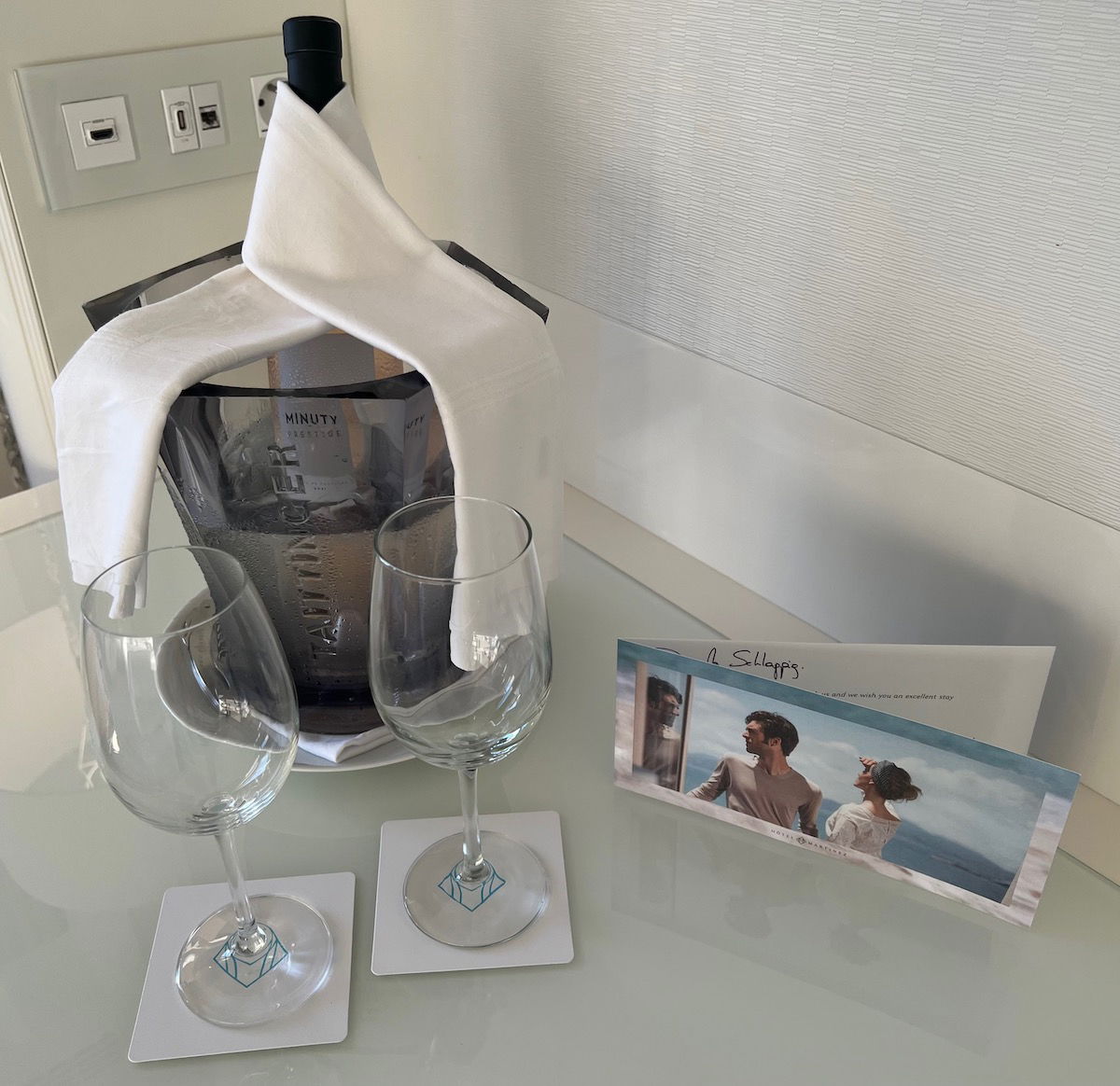 The bathroom was back toward the entrance, and had a sink, a soaking tub, a walk-in shower, and a toilet.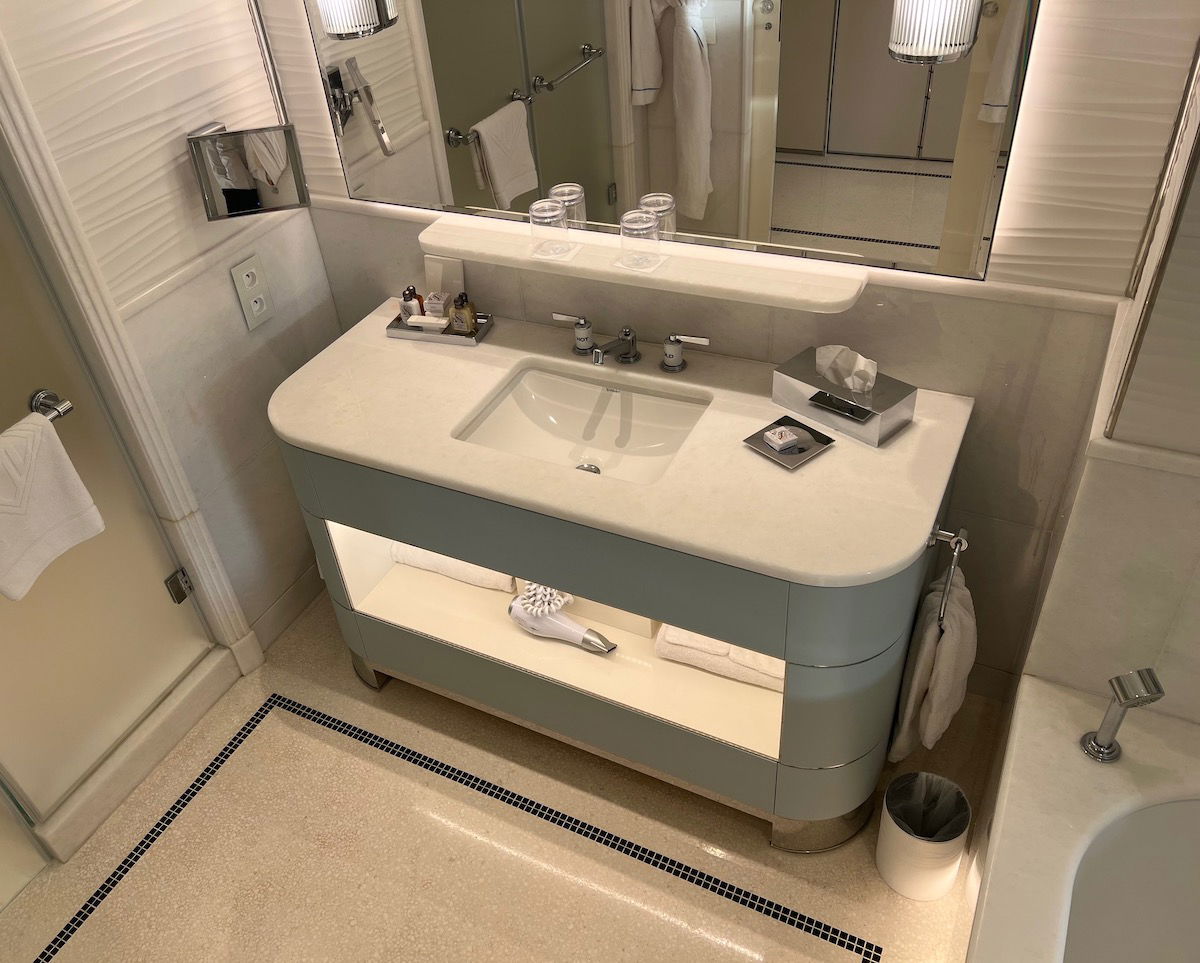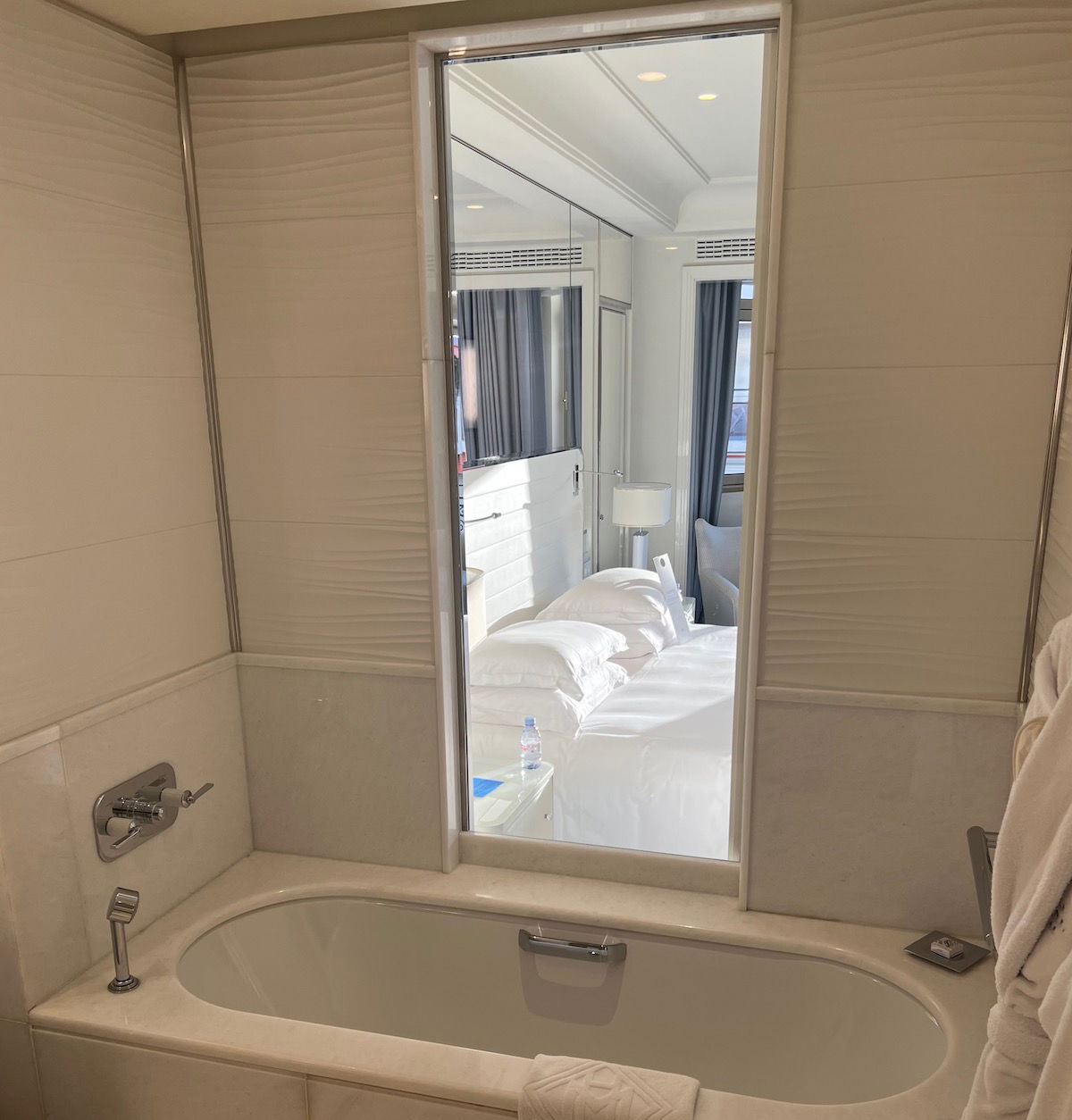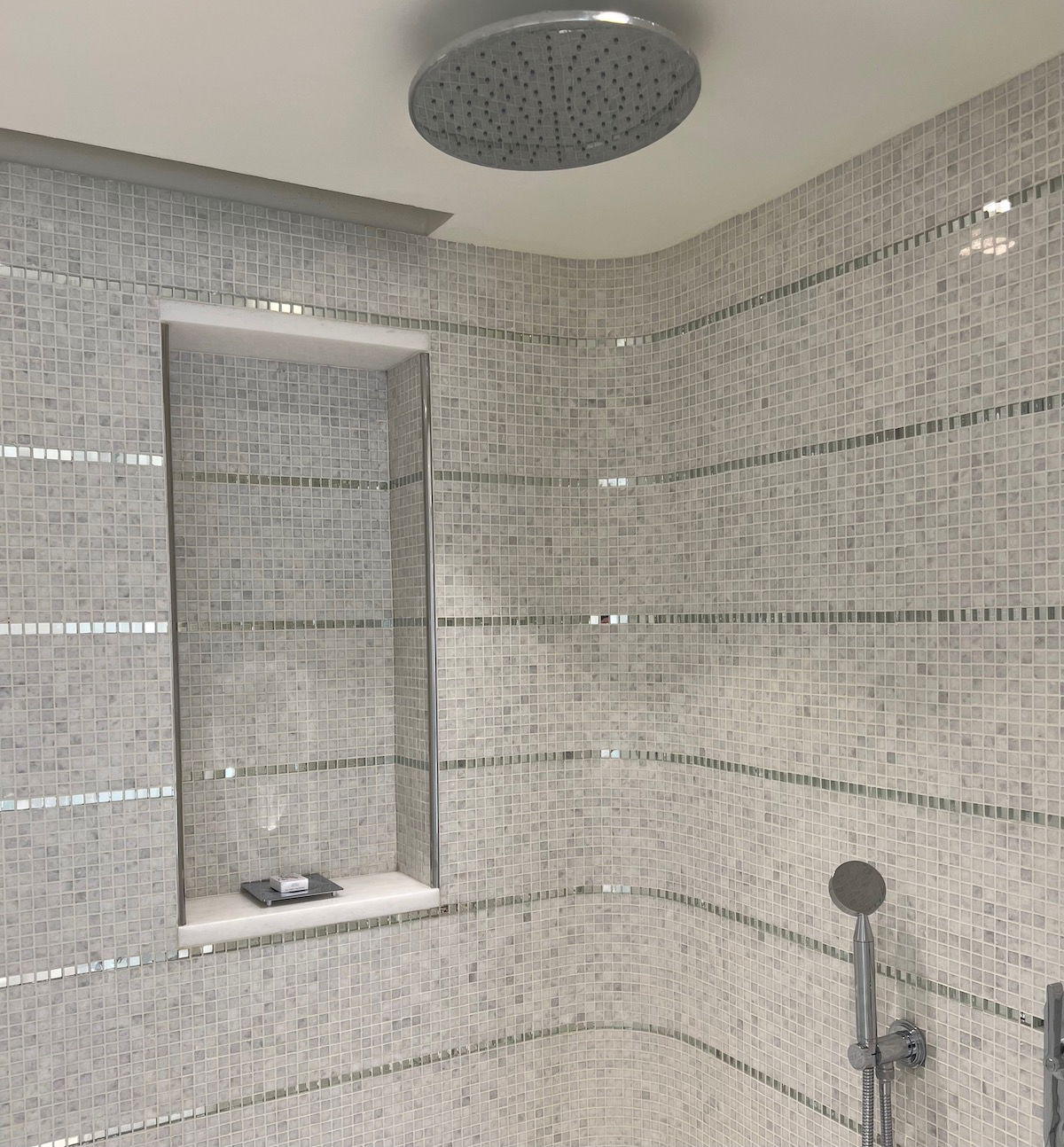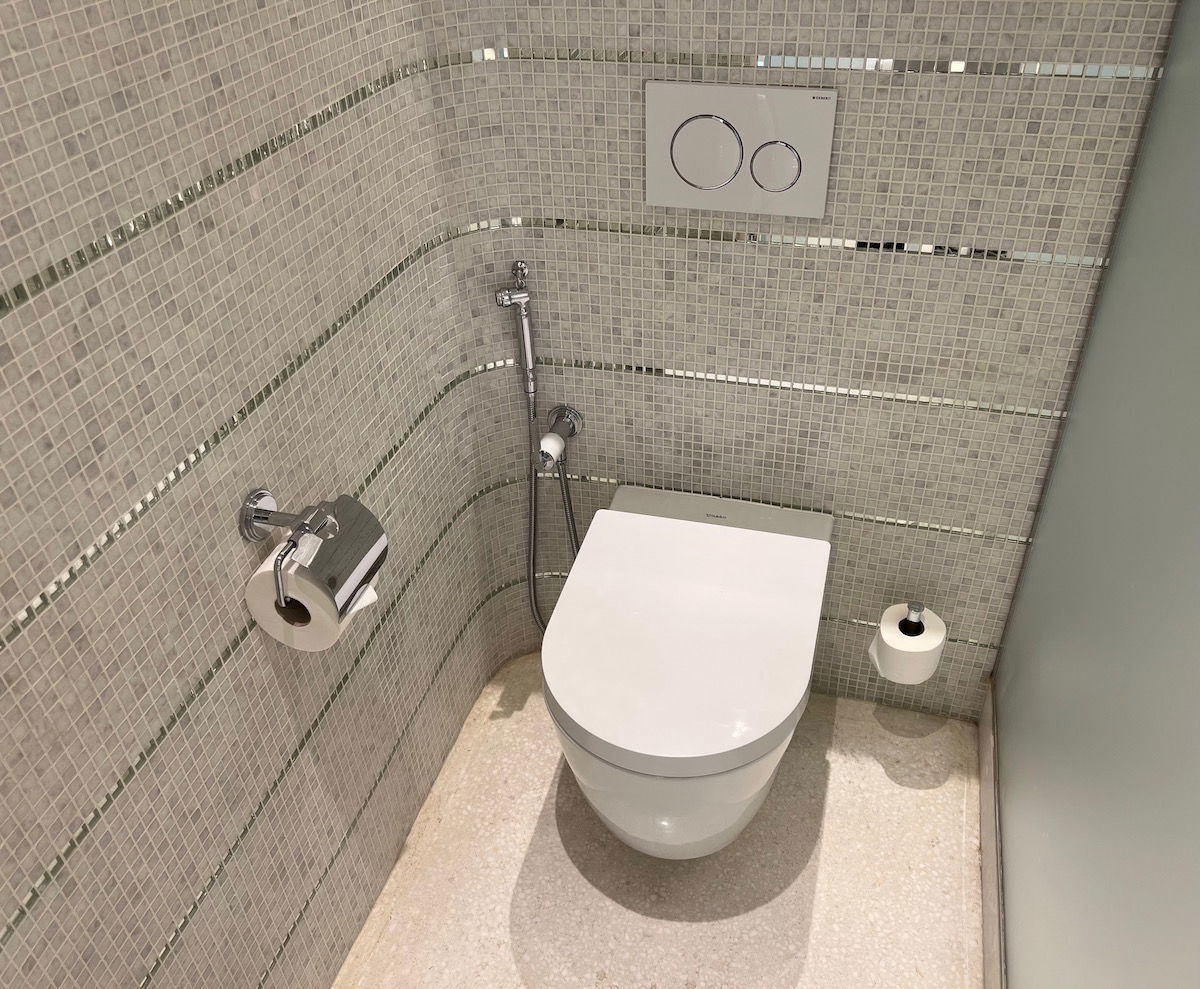 Toiletries were from Ma Bergamote.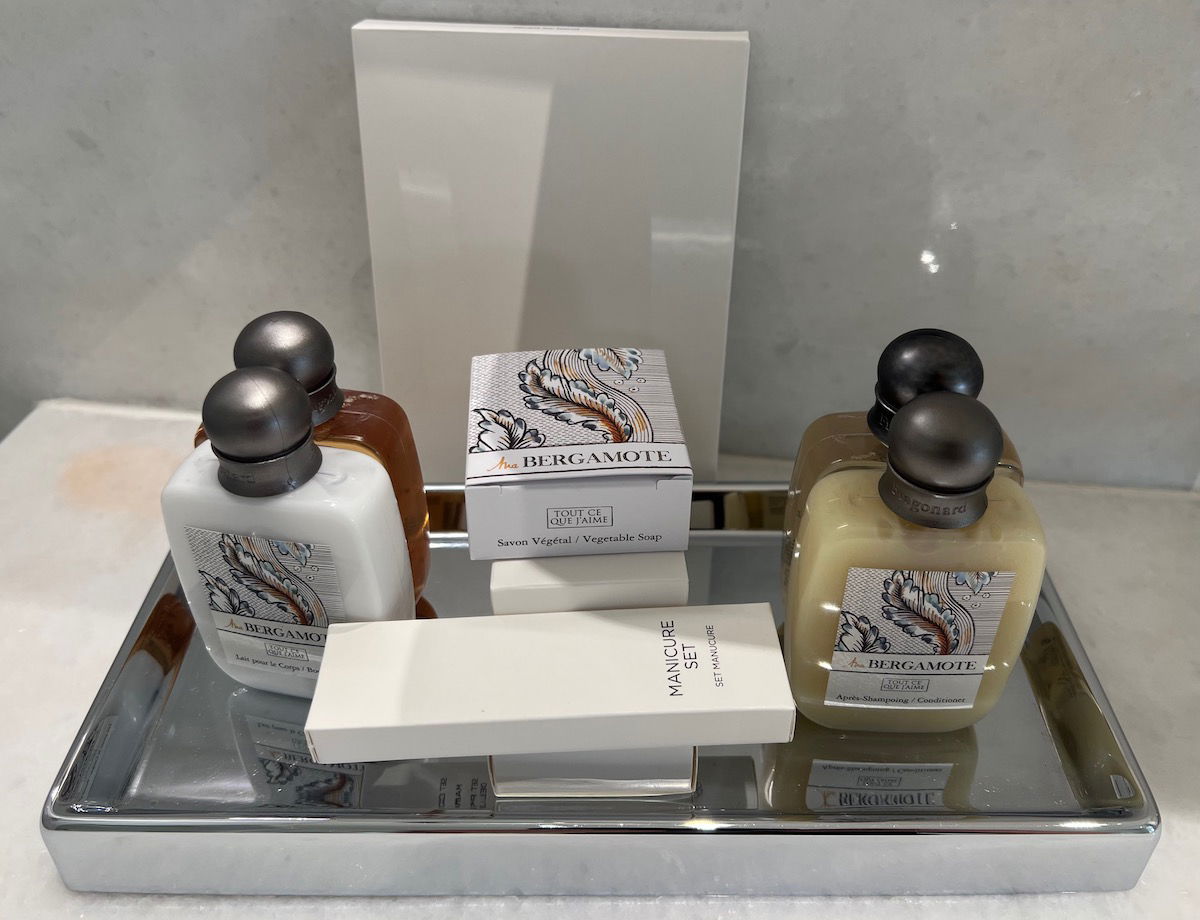 Then there was also a good size closet.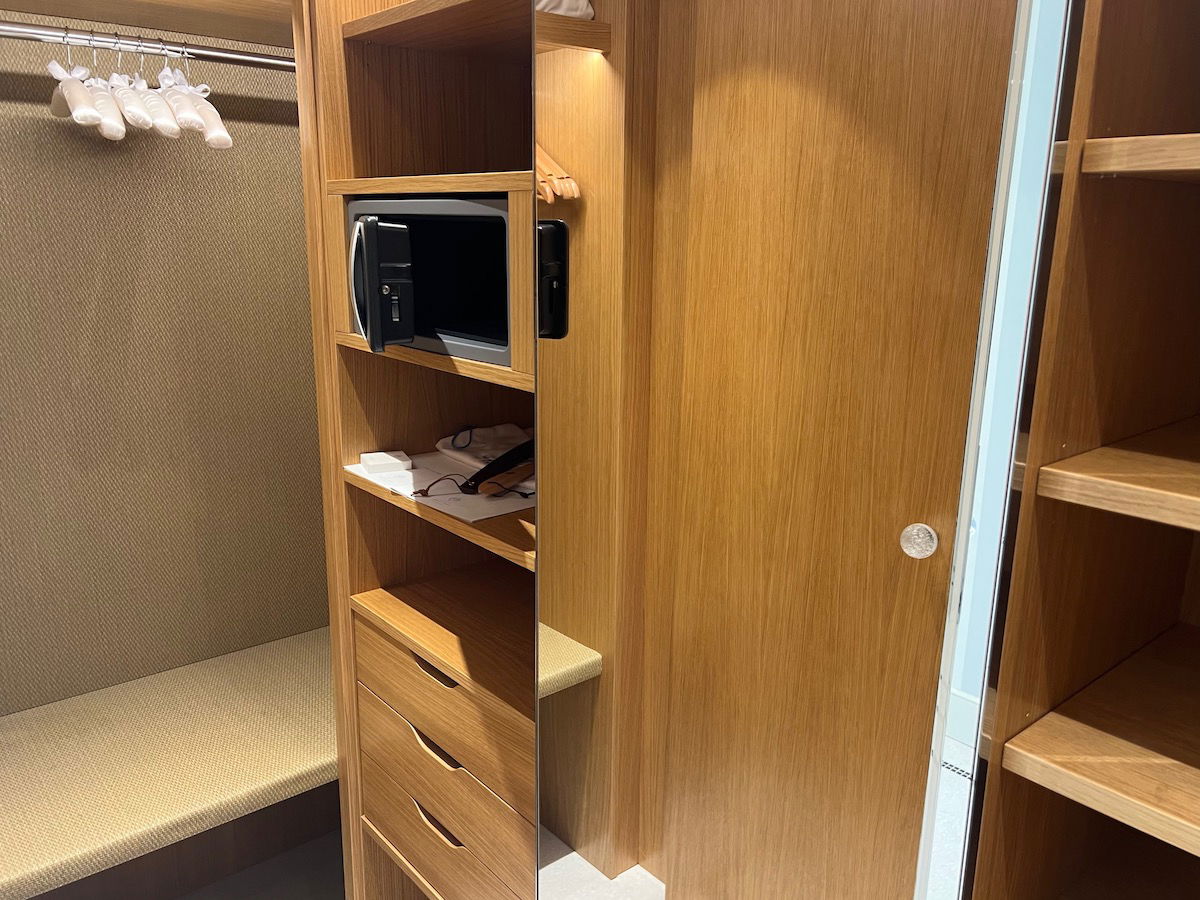 As far as the view goes, the room had a juliet balcony. To the left you could catch a glimpse of the sea, though mainly you were just looking right into the apartments across the street. So unfortunately you'll want to keep at least the drapes closed if you want any amount of privacy while in your room.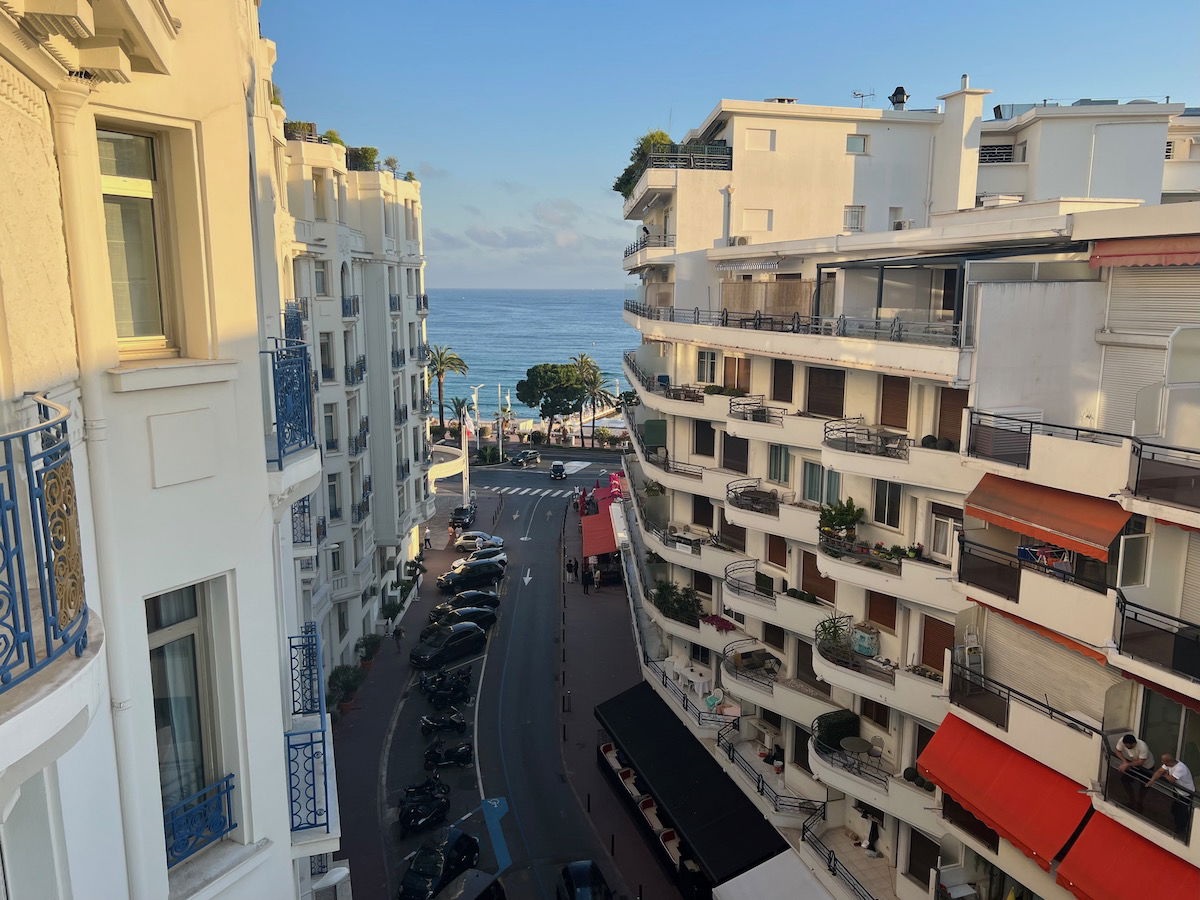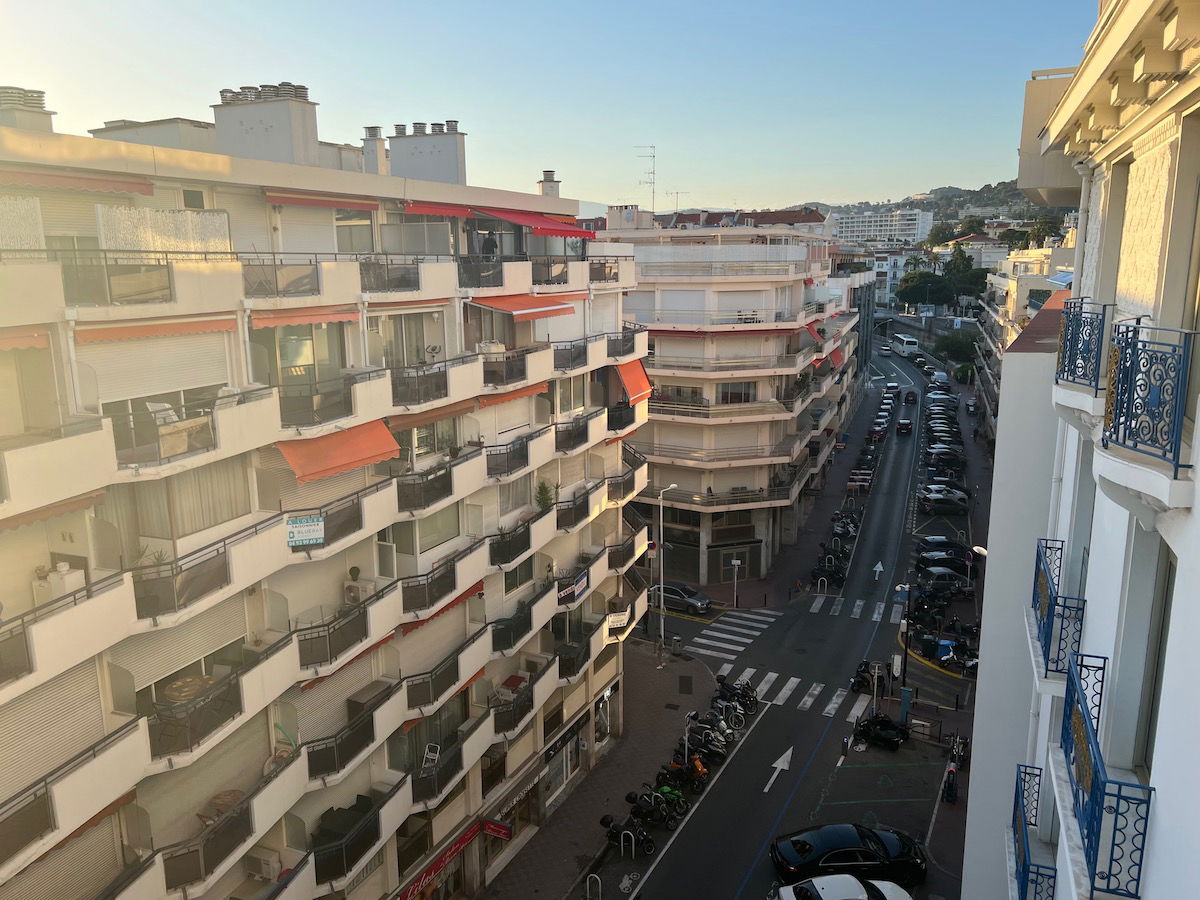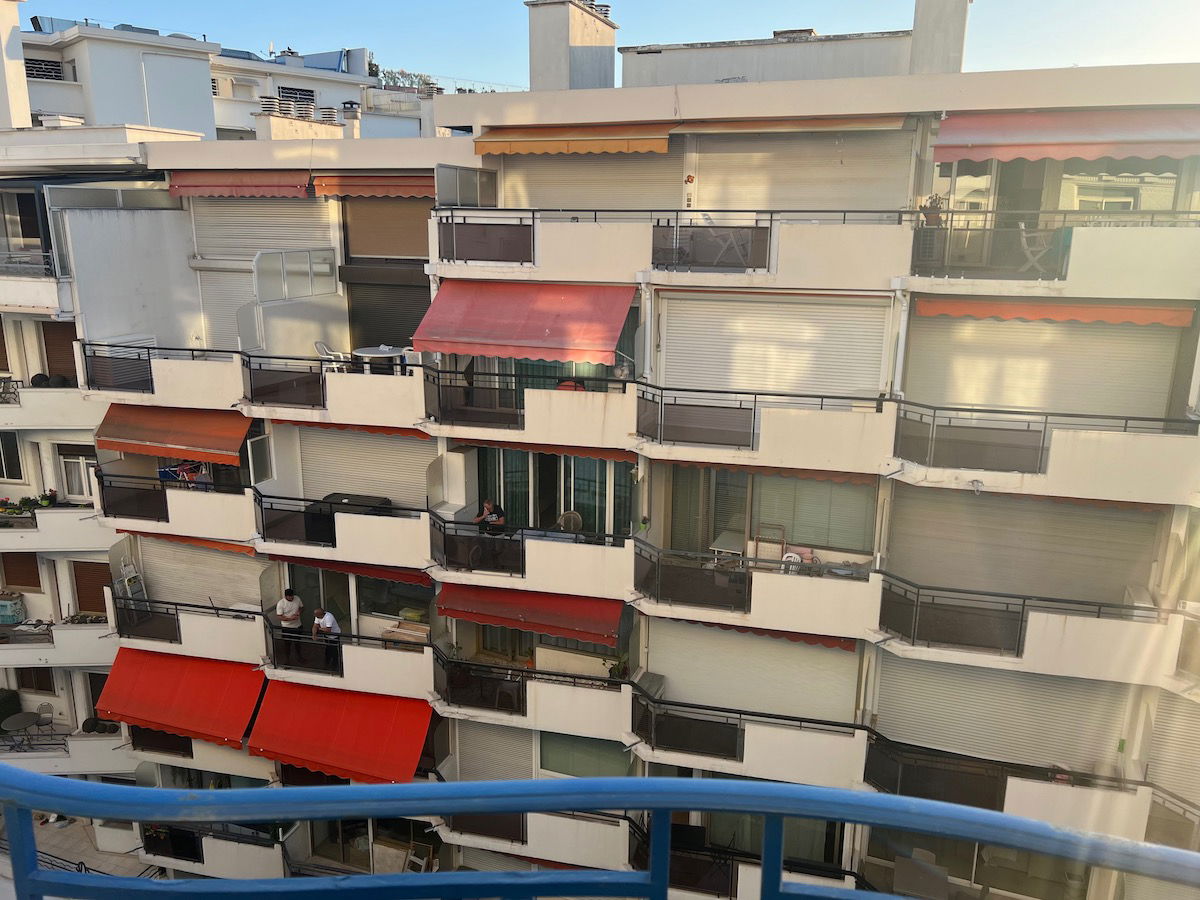 On balance I thought the room was nice — it was tastefully renovated and bright, though it was definitely on the small side, and the lack of privacy from the rooms was the biggest downside.
Hotel Martinez Cannes Le Jardin du Martinez restaurant (breakfast)
Breakfast is served daily from 7AM until 11AM at Le Jardin du Martinez, which is located on the ground floor just off the lobby. The restaurant has both indoor and outdoor seating. The outdoor space is particularly nice.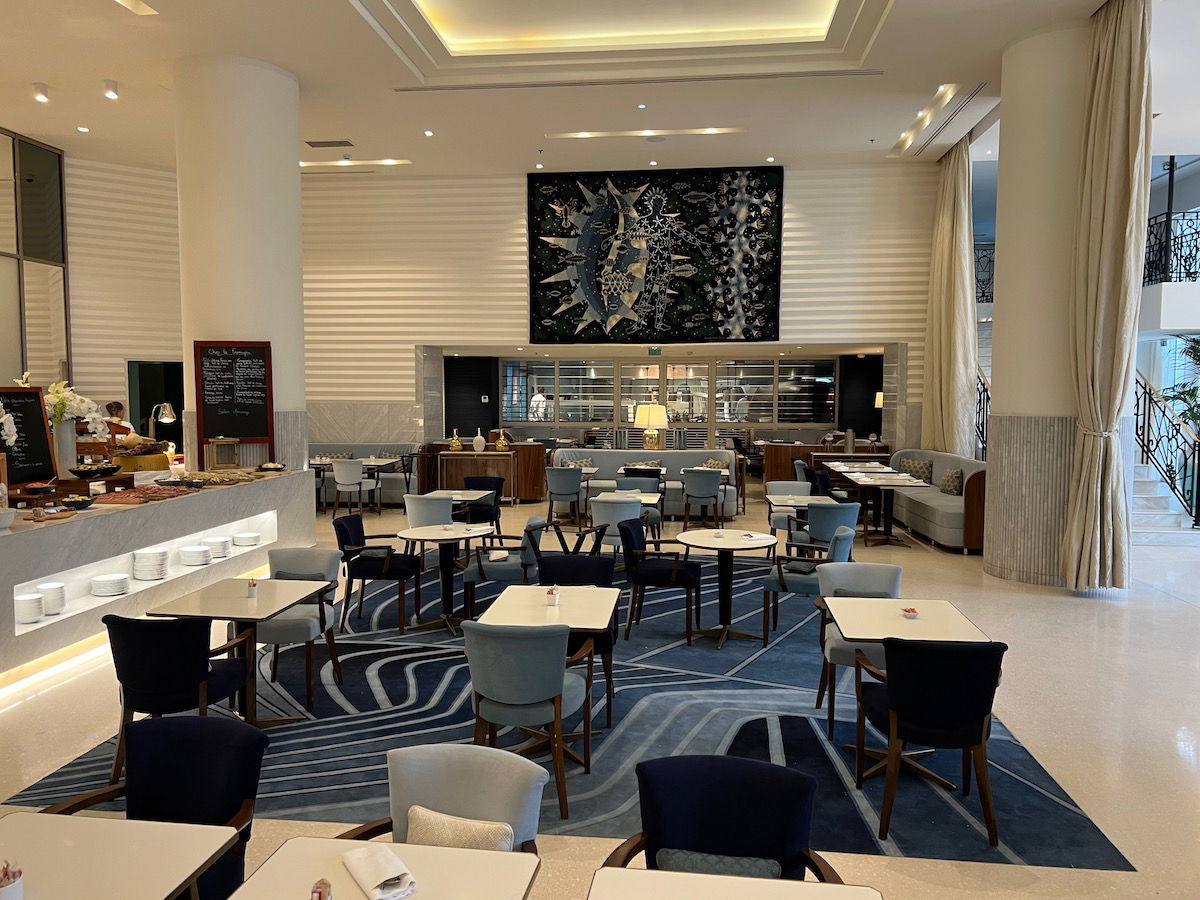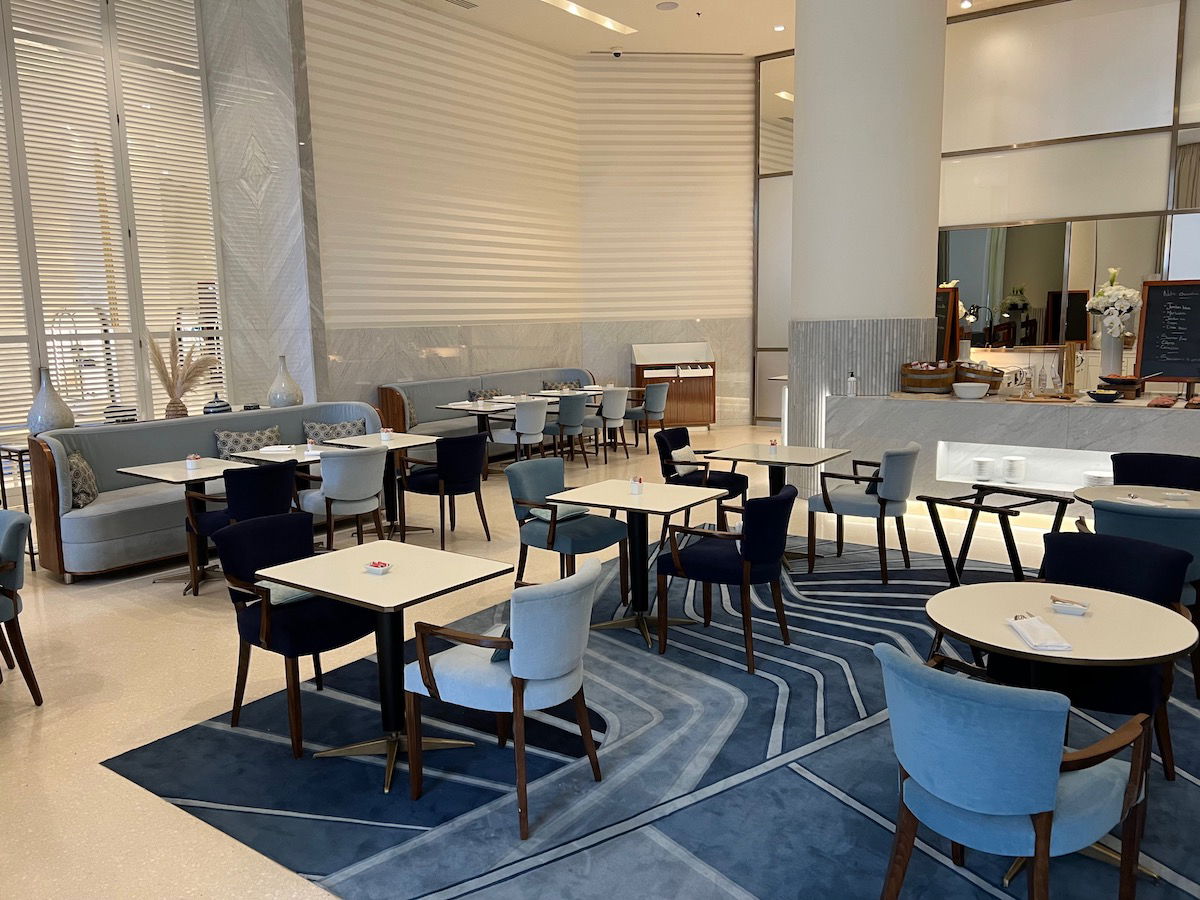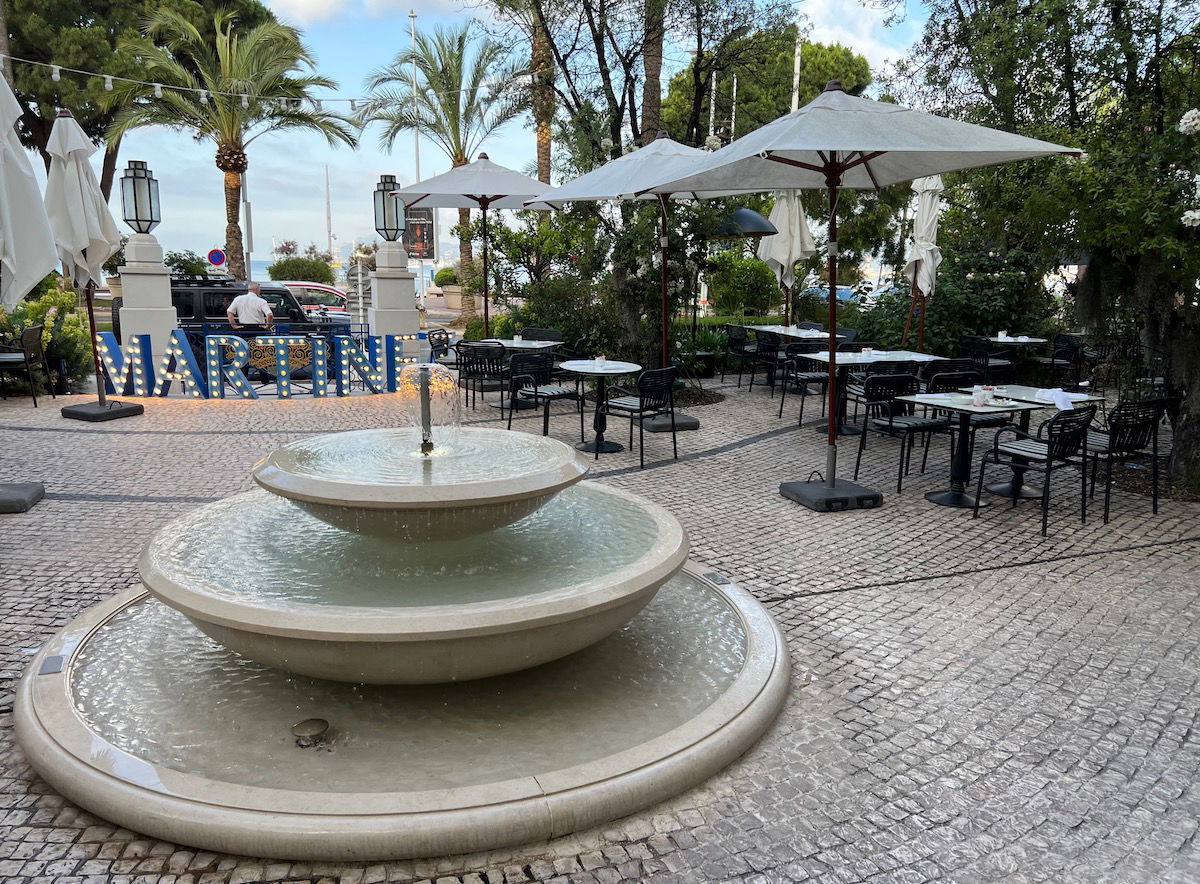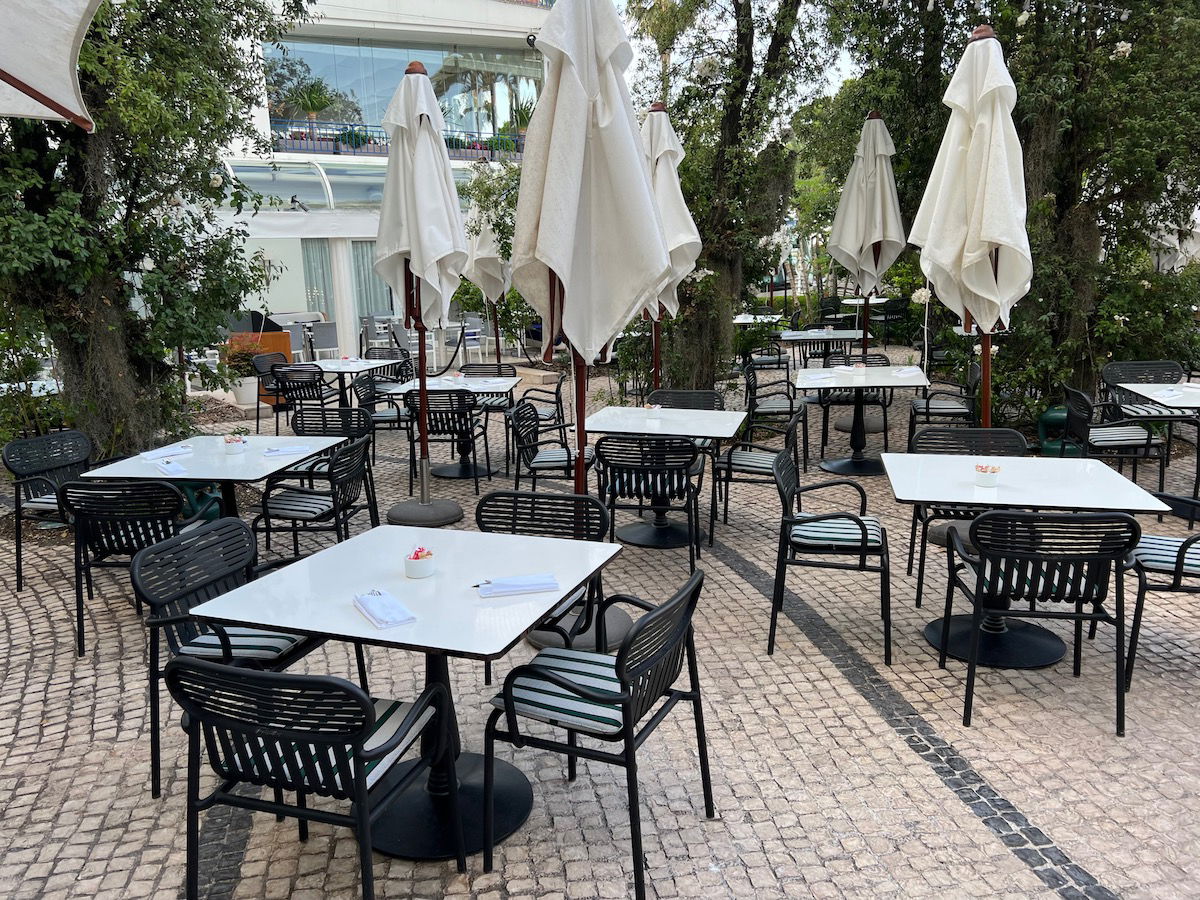 Servers in the restaurant provide drinks, and they can make just about any espresso-based drink. It's nice to get a proper cappuccino with breakfast.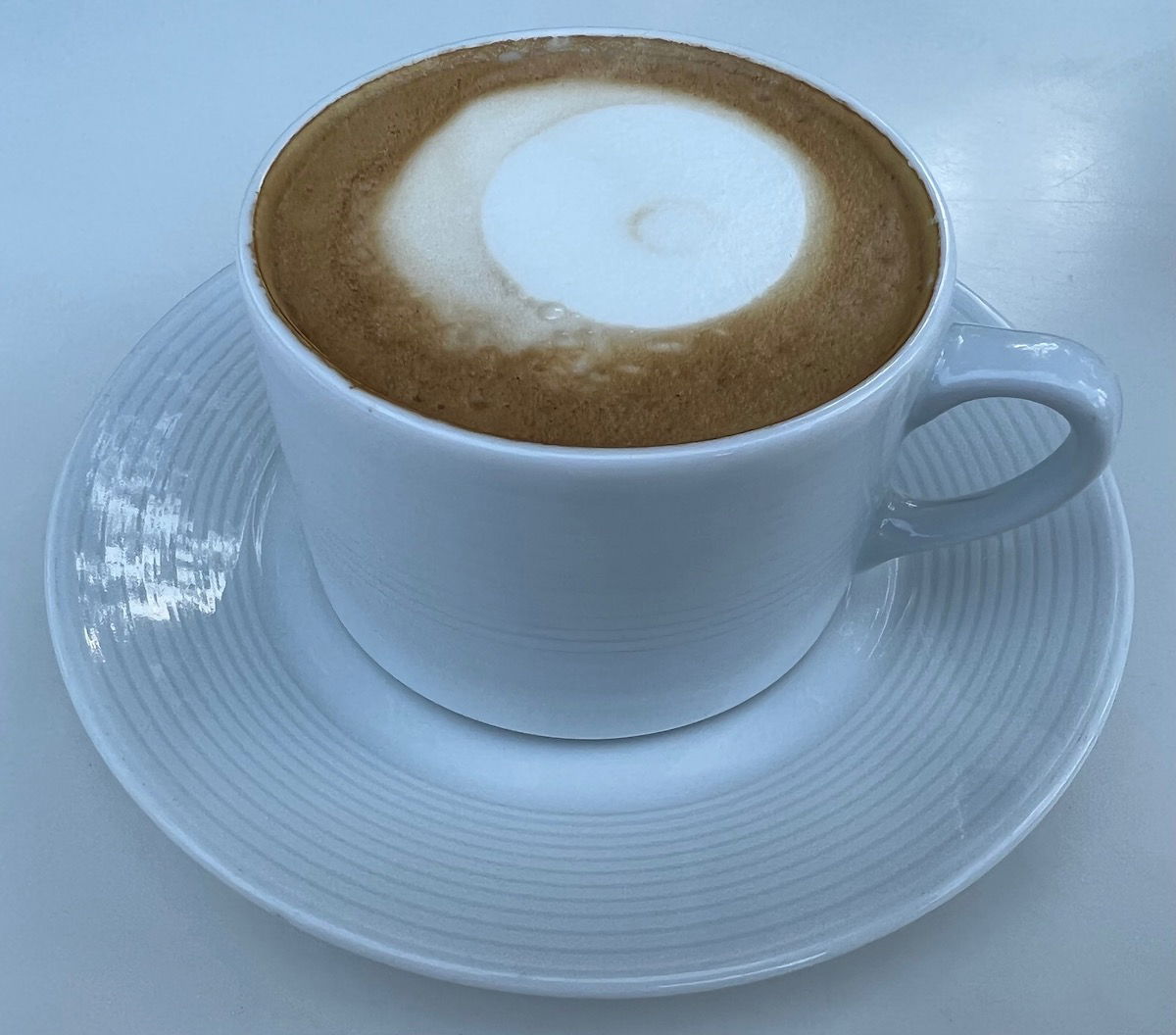 Beyond that there was the buffet, which was located both inside and outside. The buffet included fresh juice, fruit, a station where you could slice your own fruits and veggies, cereal, yogurt, bread, pastries, cold cuts, eggs, waffles, etc.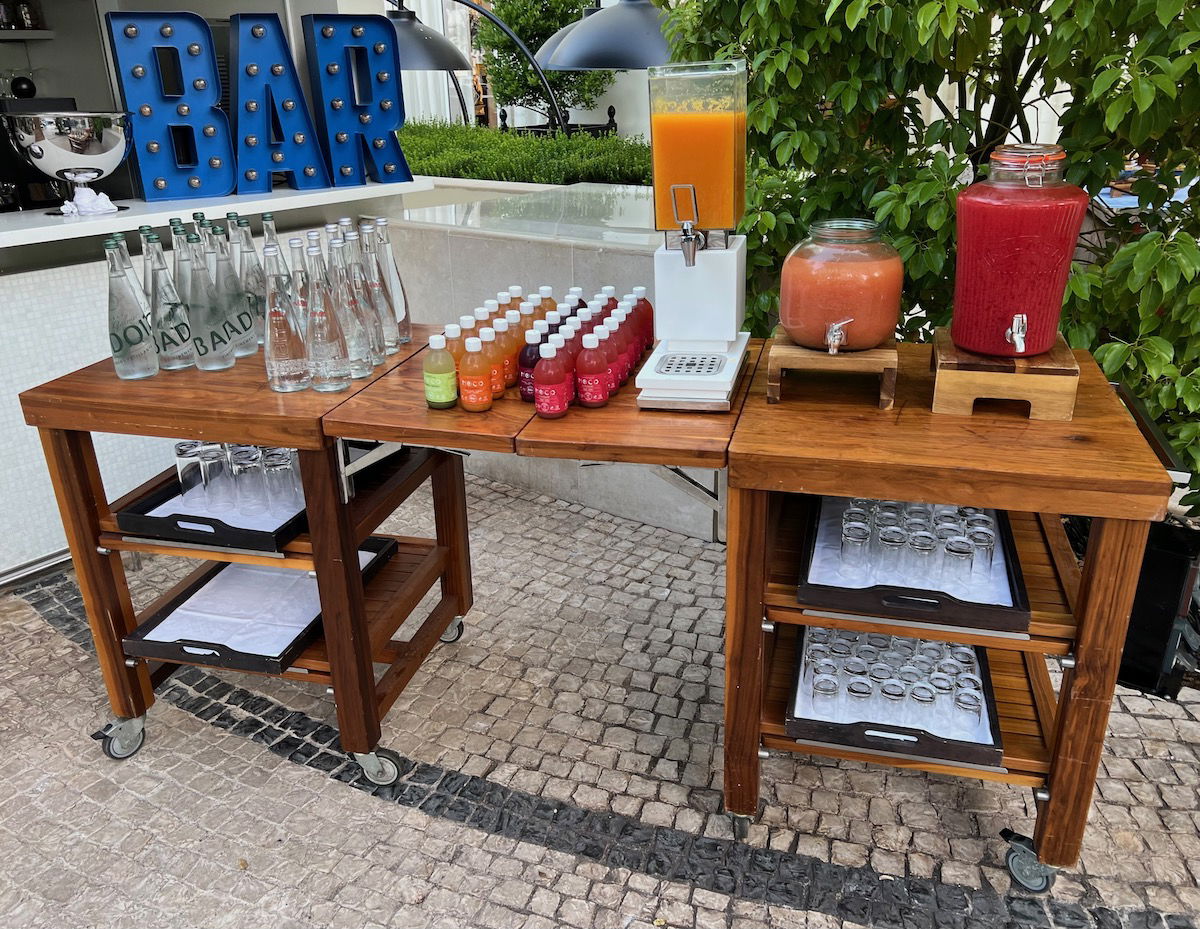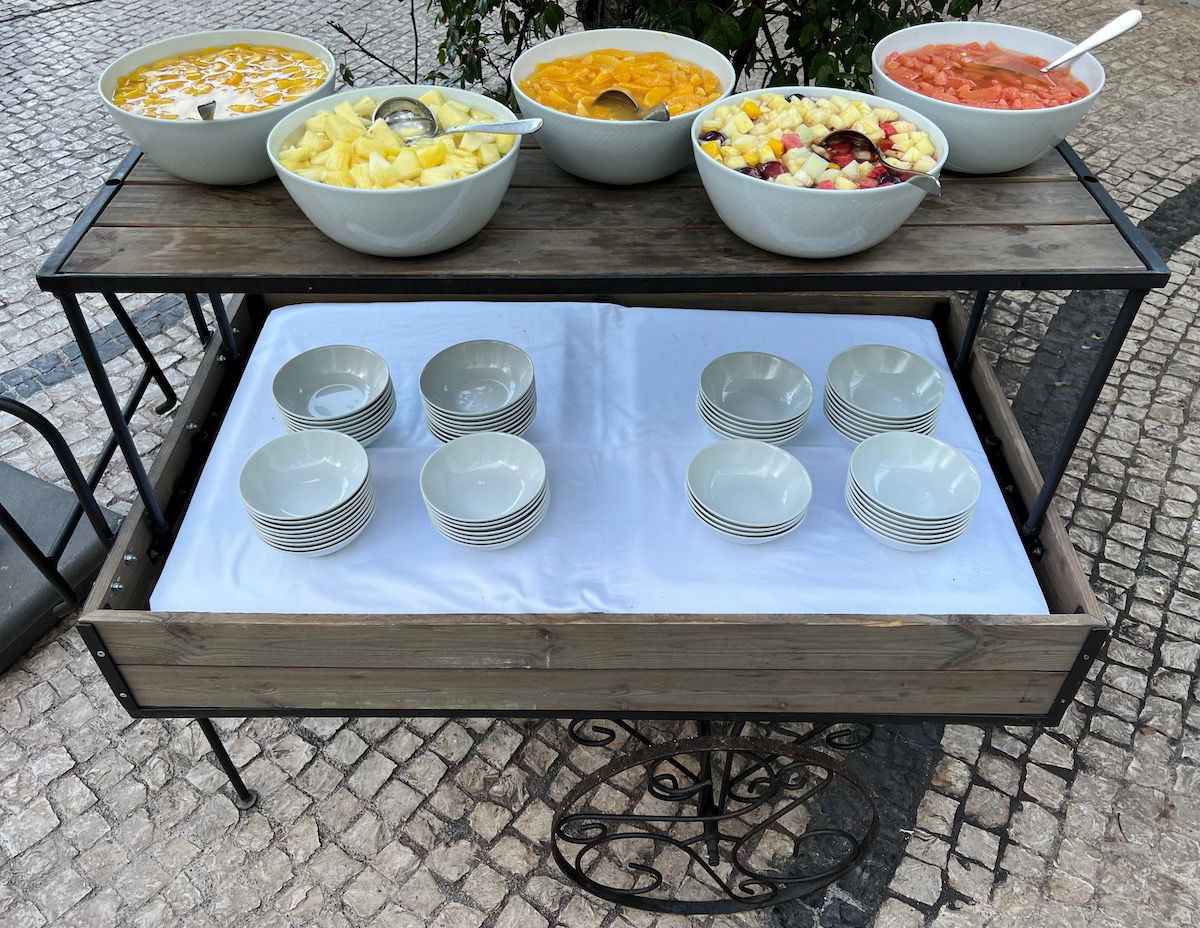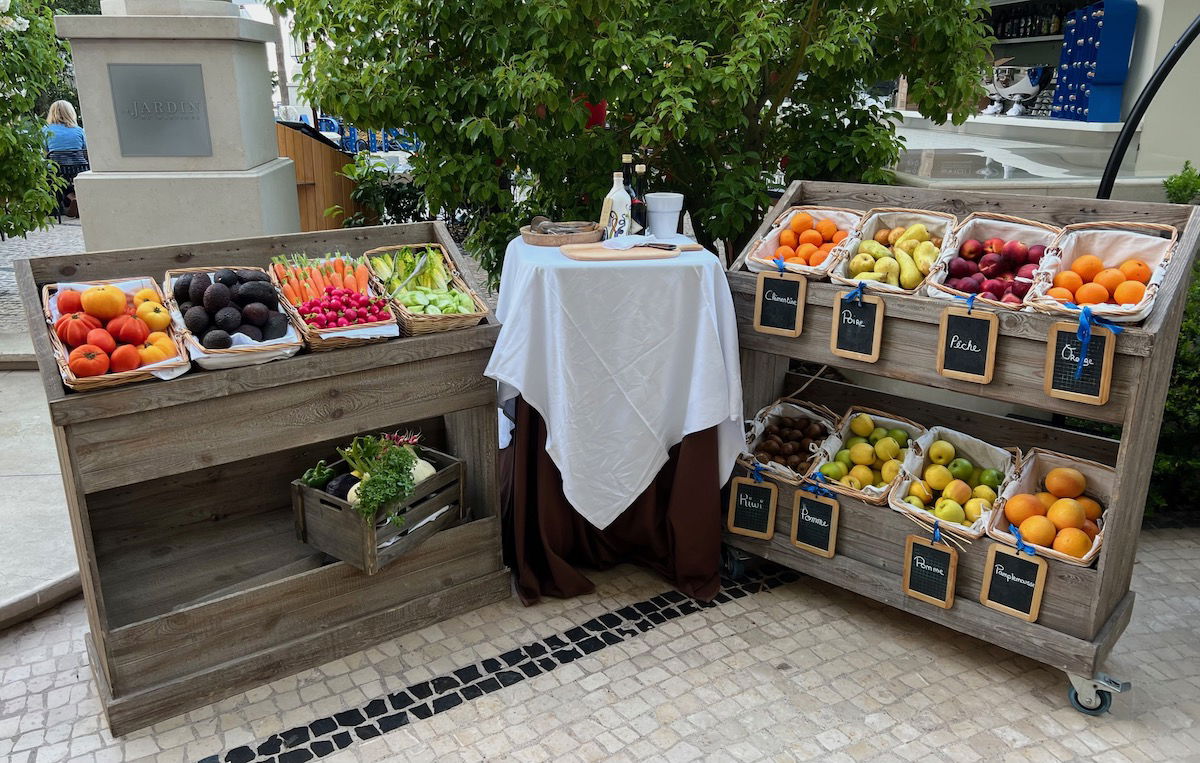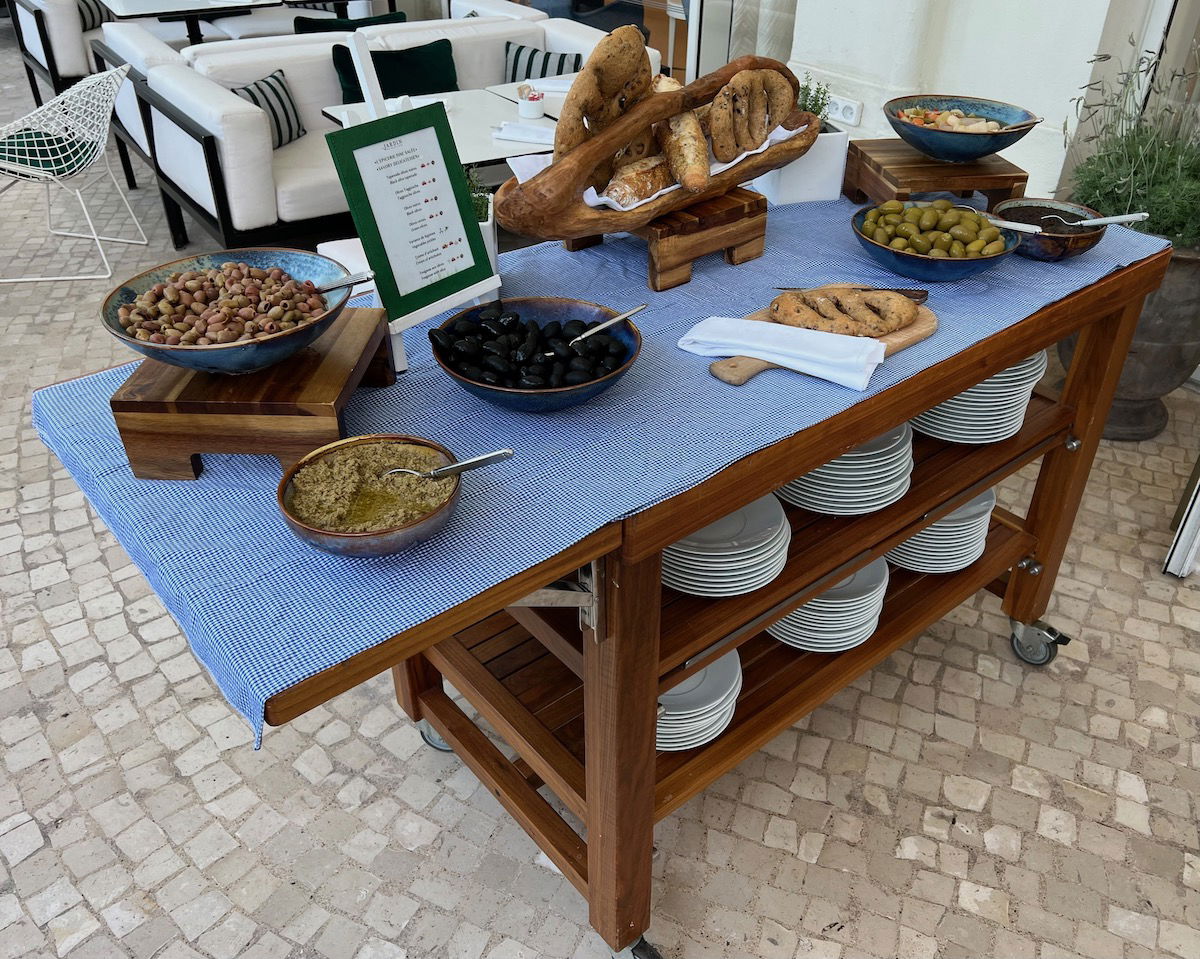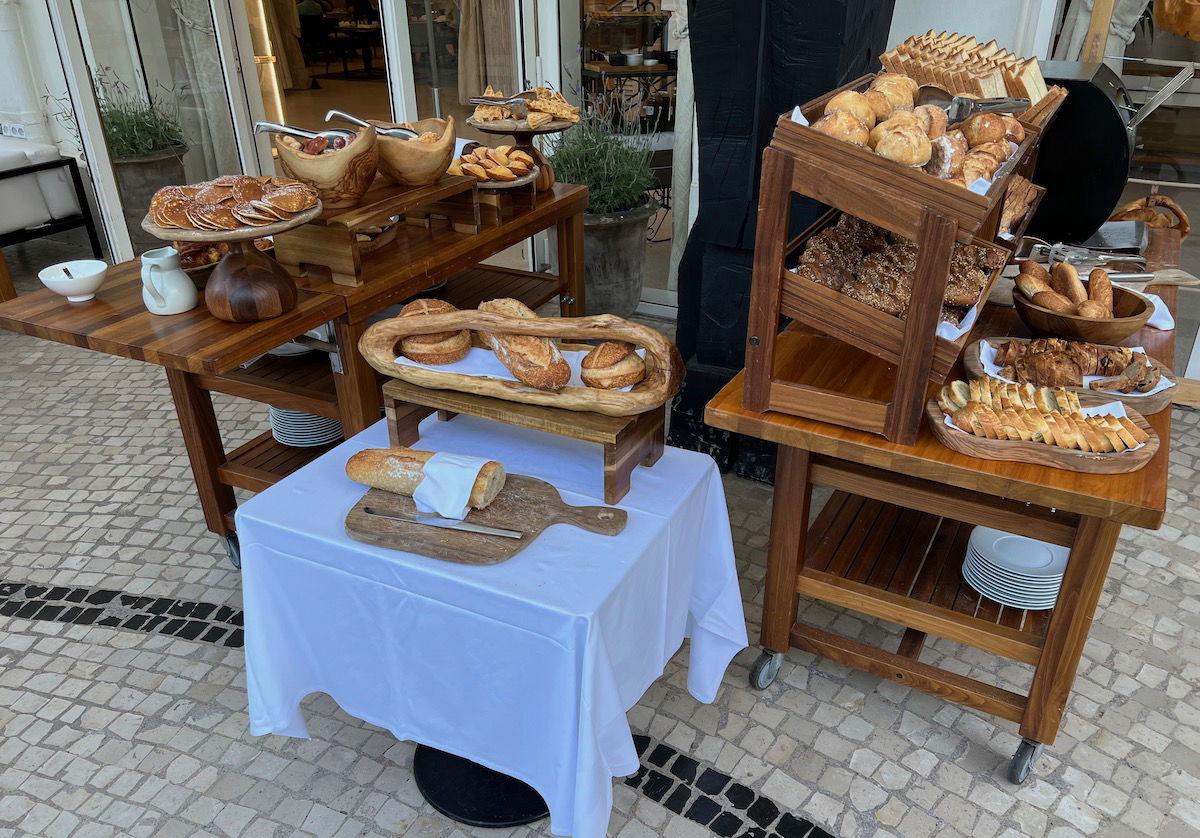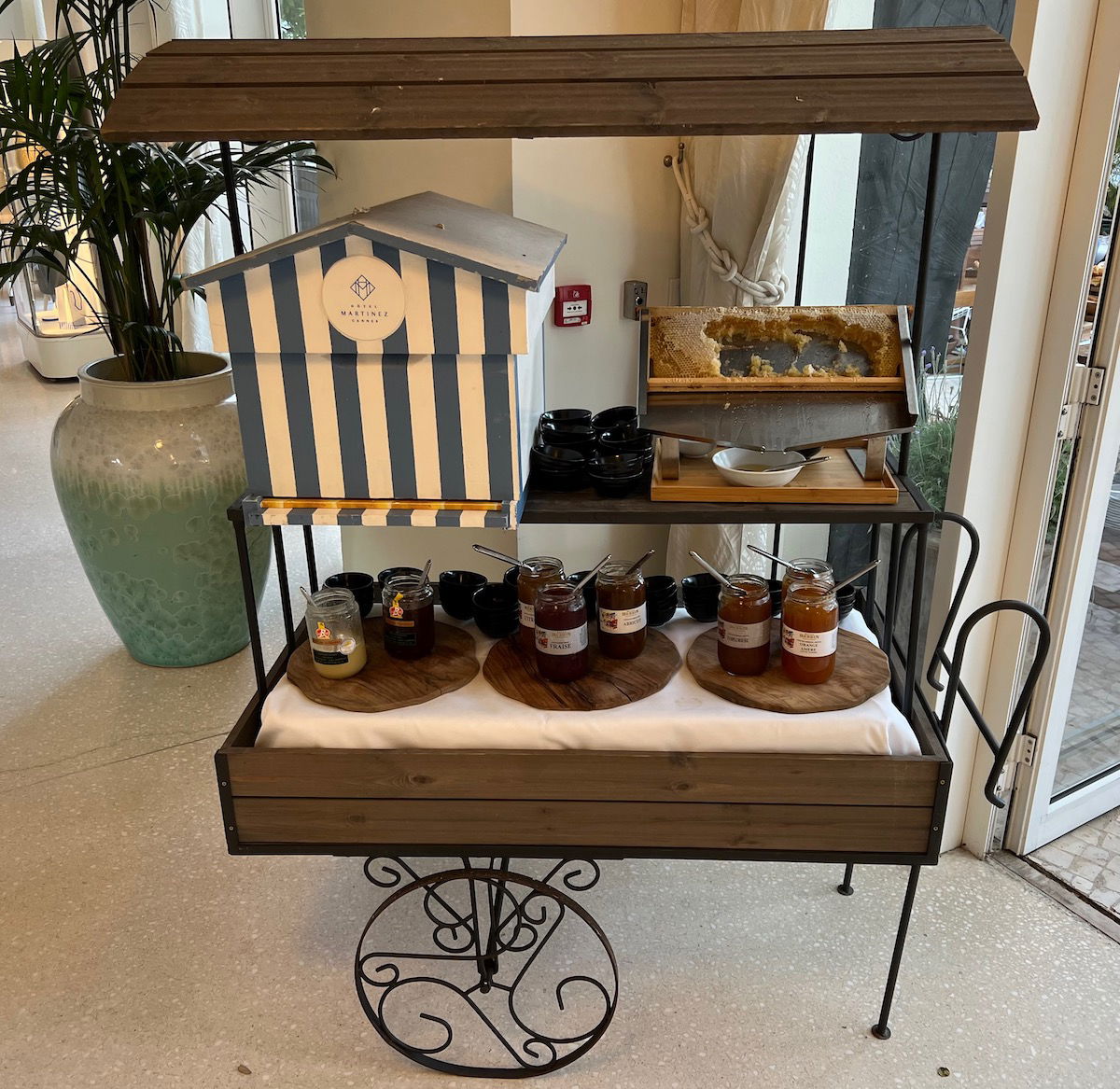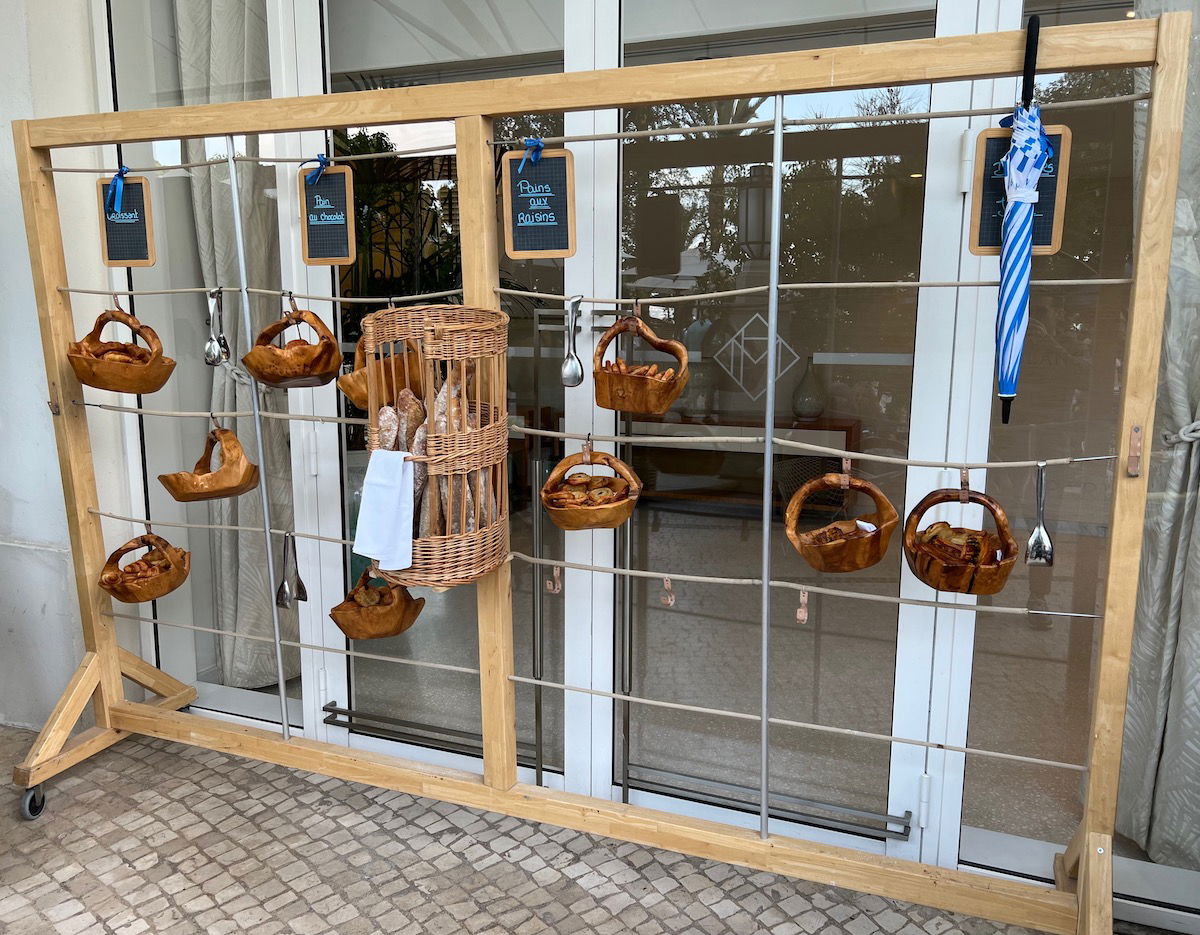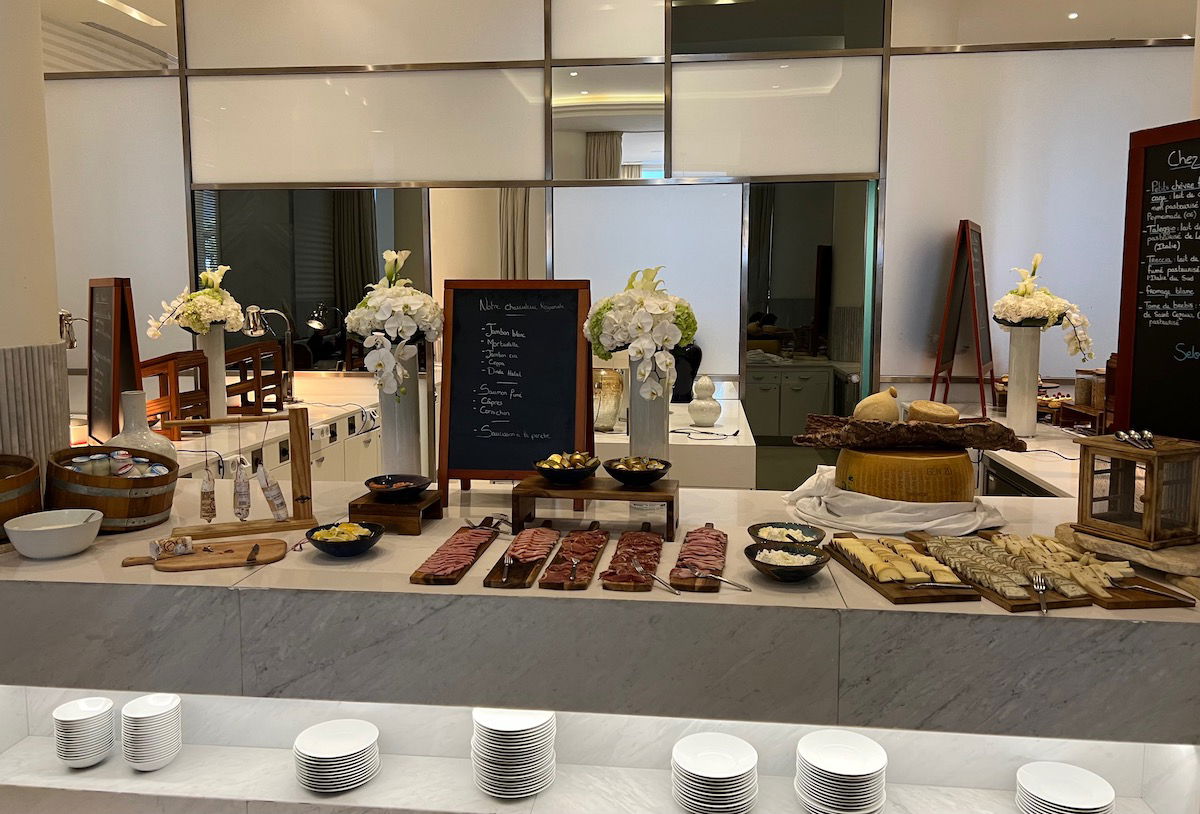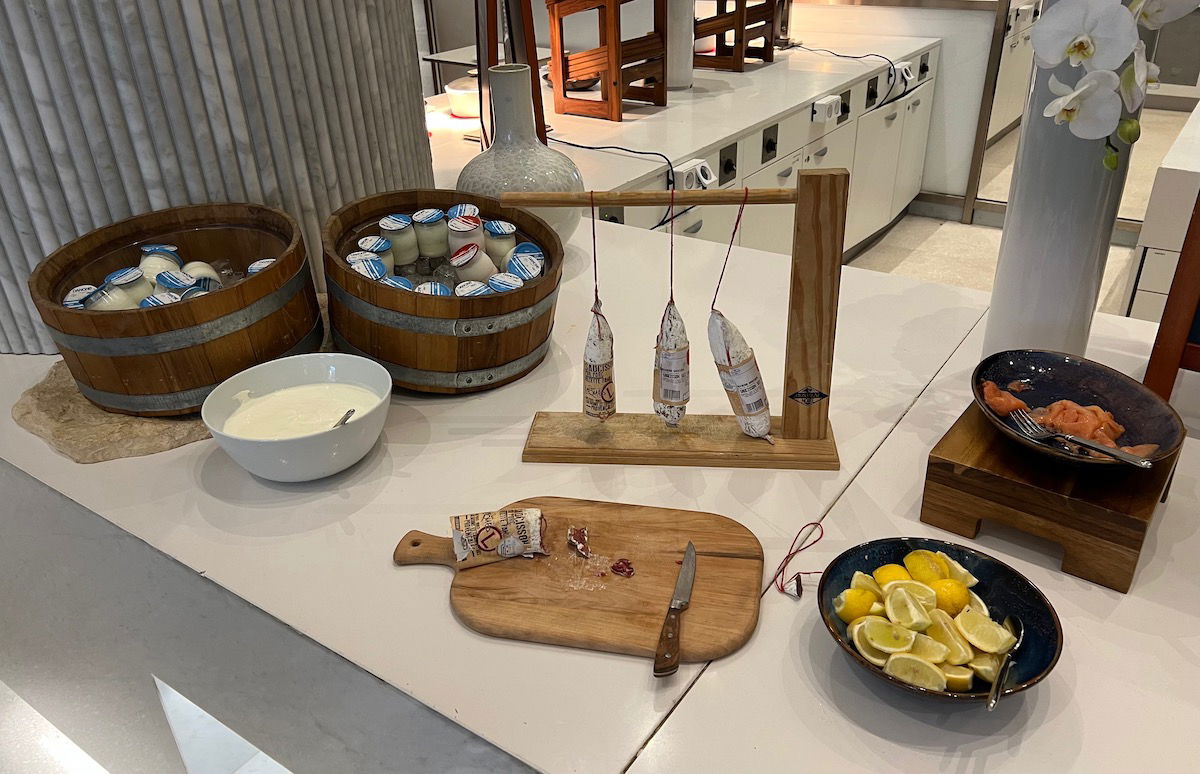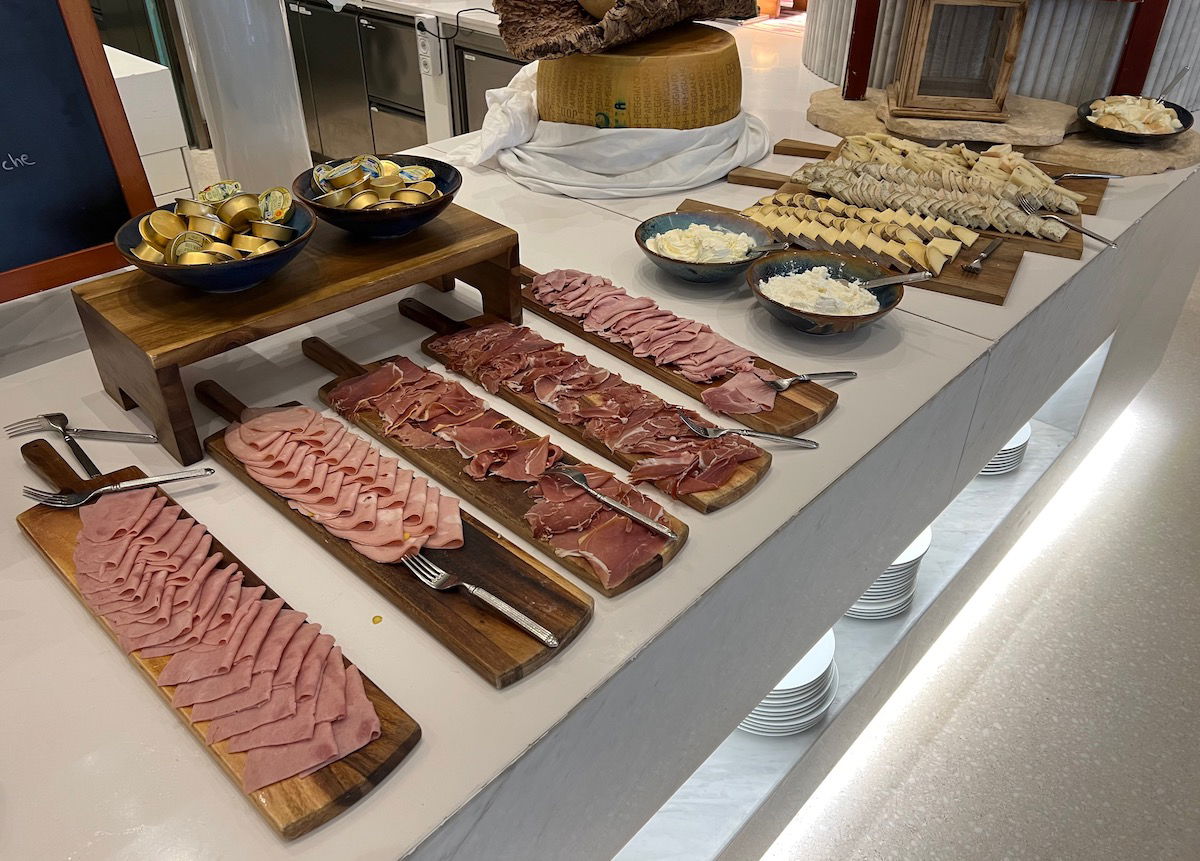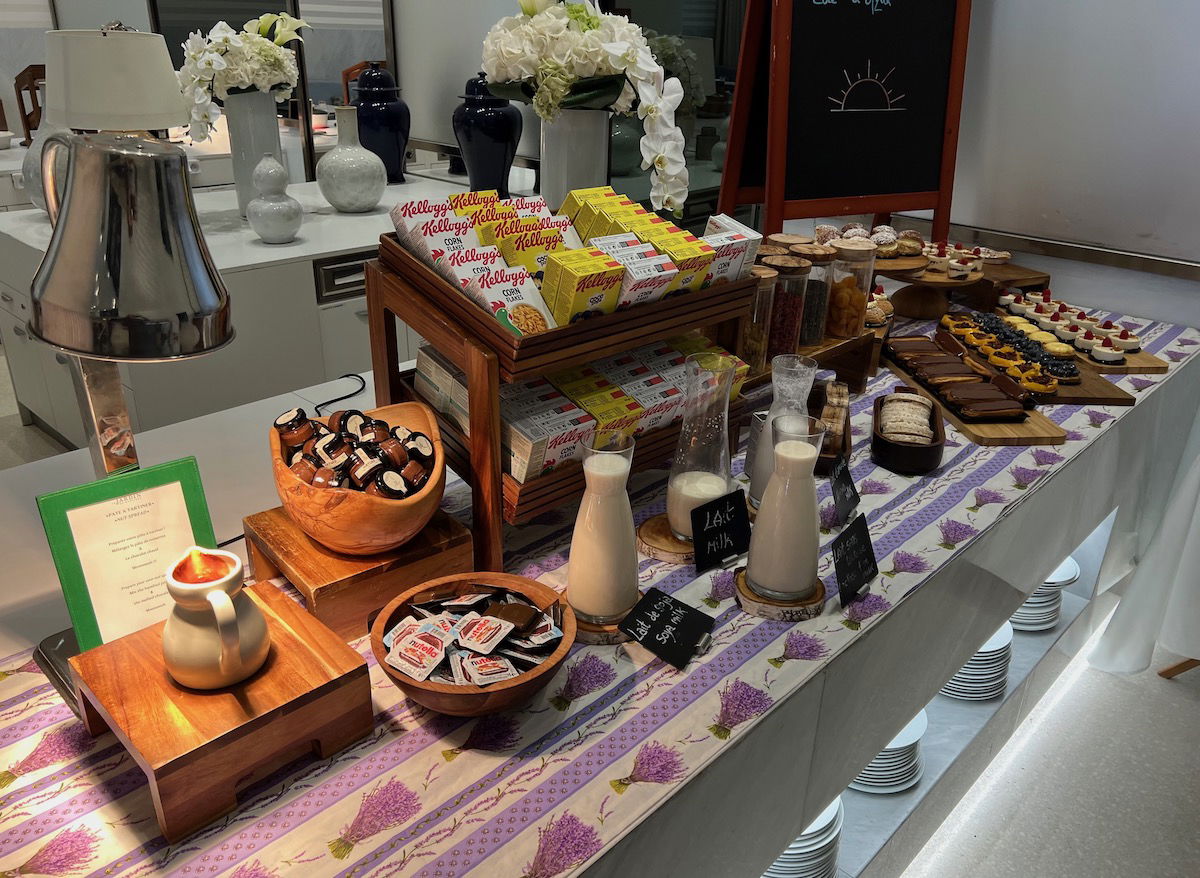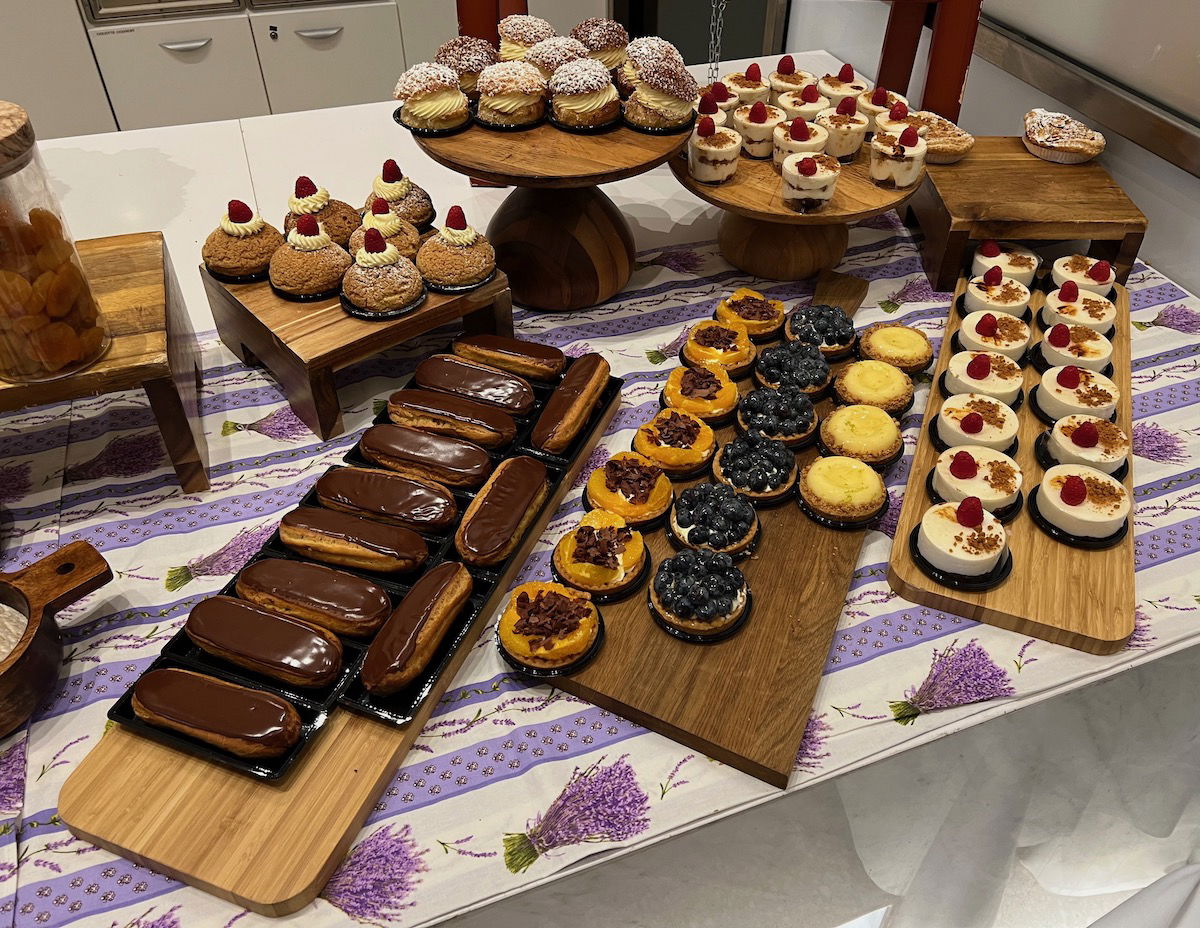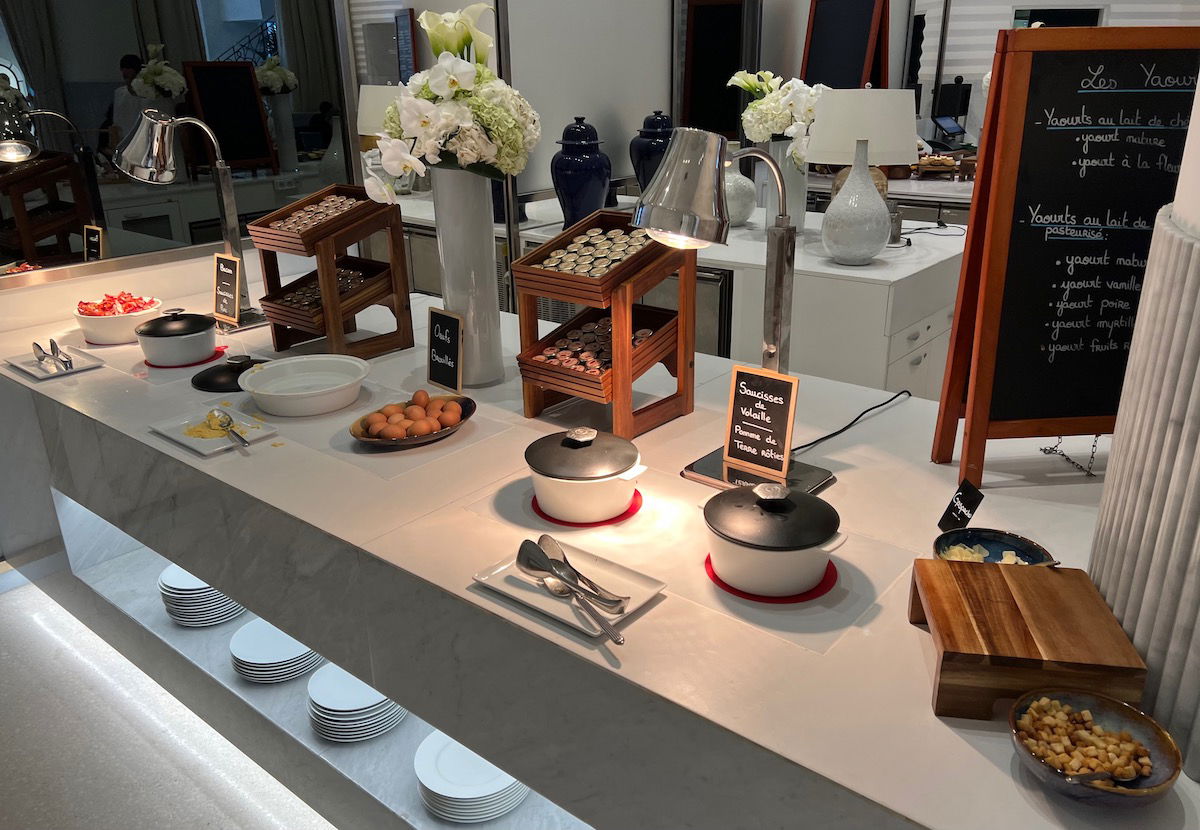 It was no doubt a very good buffet, and I particularly appreciated being able to slice my own avocados, so that was a treat.
Just a couple of notes, though:
I always like to arrive at breakfast right as it opens to snap pictures, so I was shocked to show up the first morning 10 minutes before opening, and find dozens of people already lined up for breakfast; as it turns out, a major tour operator puts their guests here, and they had an early departure, so breakfast was chaotic at first
Breakfast the second morning was a disaster, as we went a little bit later and every single table was occupied, to the point that there was a waiting list
Getting coffee refills was almost impossible, as all the staff at breakfast were way overworked
Like I said, this is a 400+ room hotel, and that's reflected in many aspects of the experience.
Hotel Martinez Cannes La Palme d'Or restaurant
While I didn't dine there, I should mention that Hotel Martinez has La Palme d'Or, which is a two Michelin star restaurant. We didn't have the chance to dine there, but I imagine some foodies will appreciate this.
Hotel Martinez Cannes in-room dining
Our first night we arrived at the hotel late after a long travel day, so we just decided to order room service, especially since we had a $100 credit to blow. You can find the room service menu here.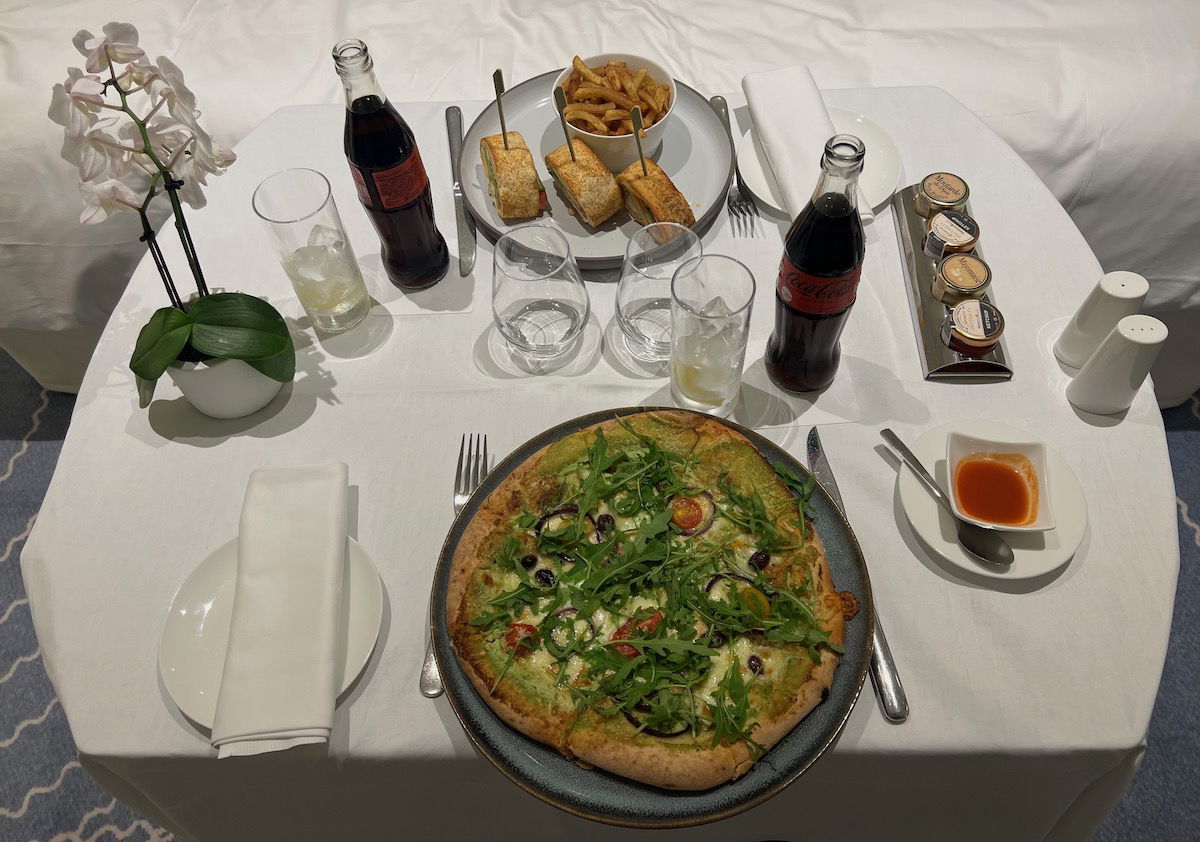 I ordered the vegetarian pizza with green sauce, vegetables, salsa verde, basil, and ricotta.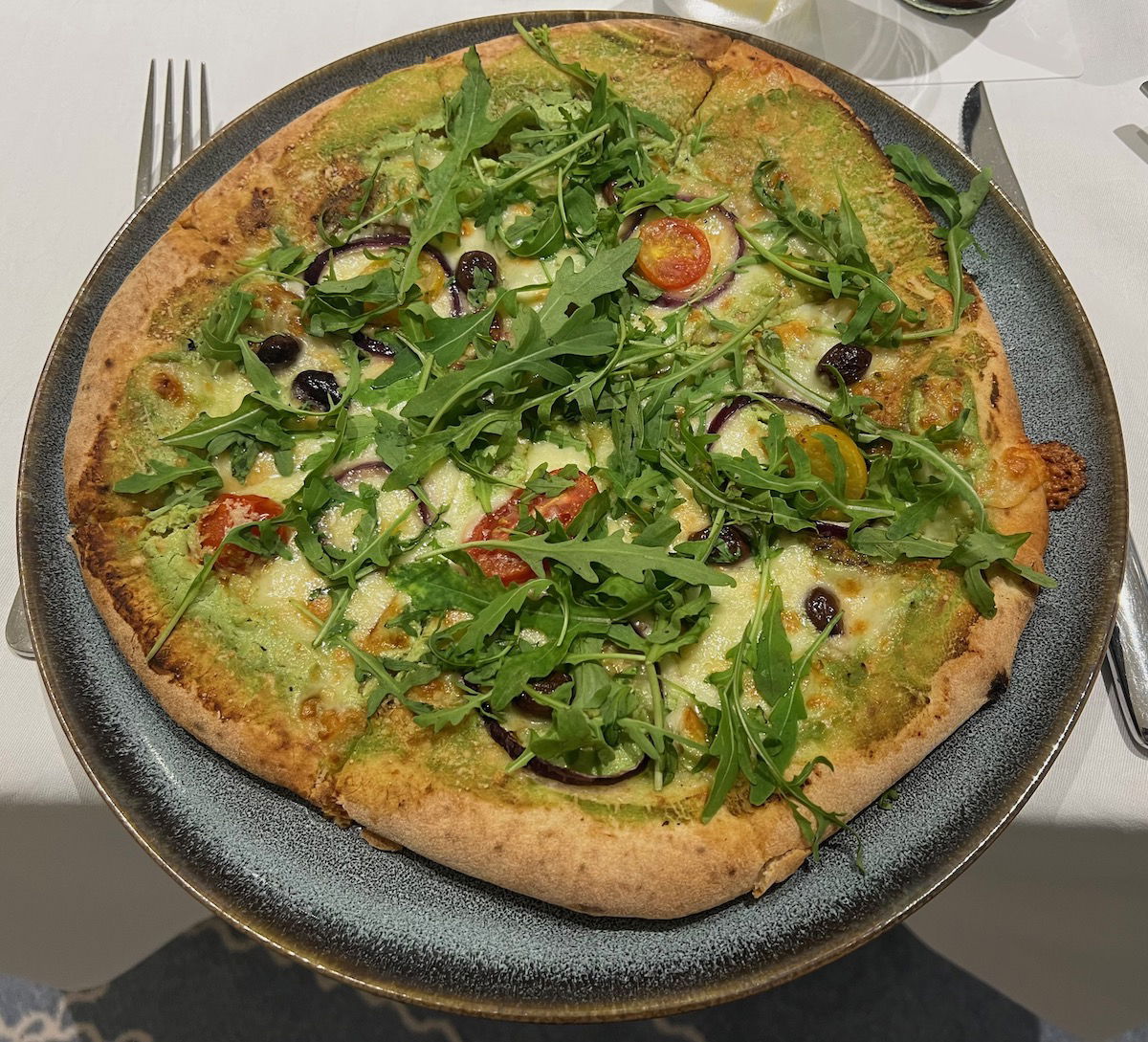 Ford ordered the club sandwich.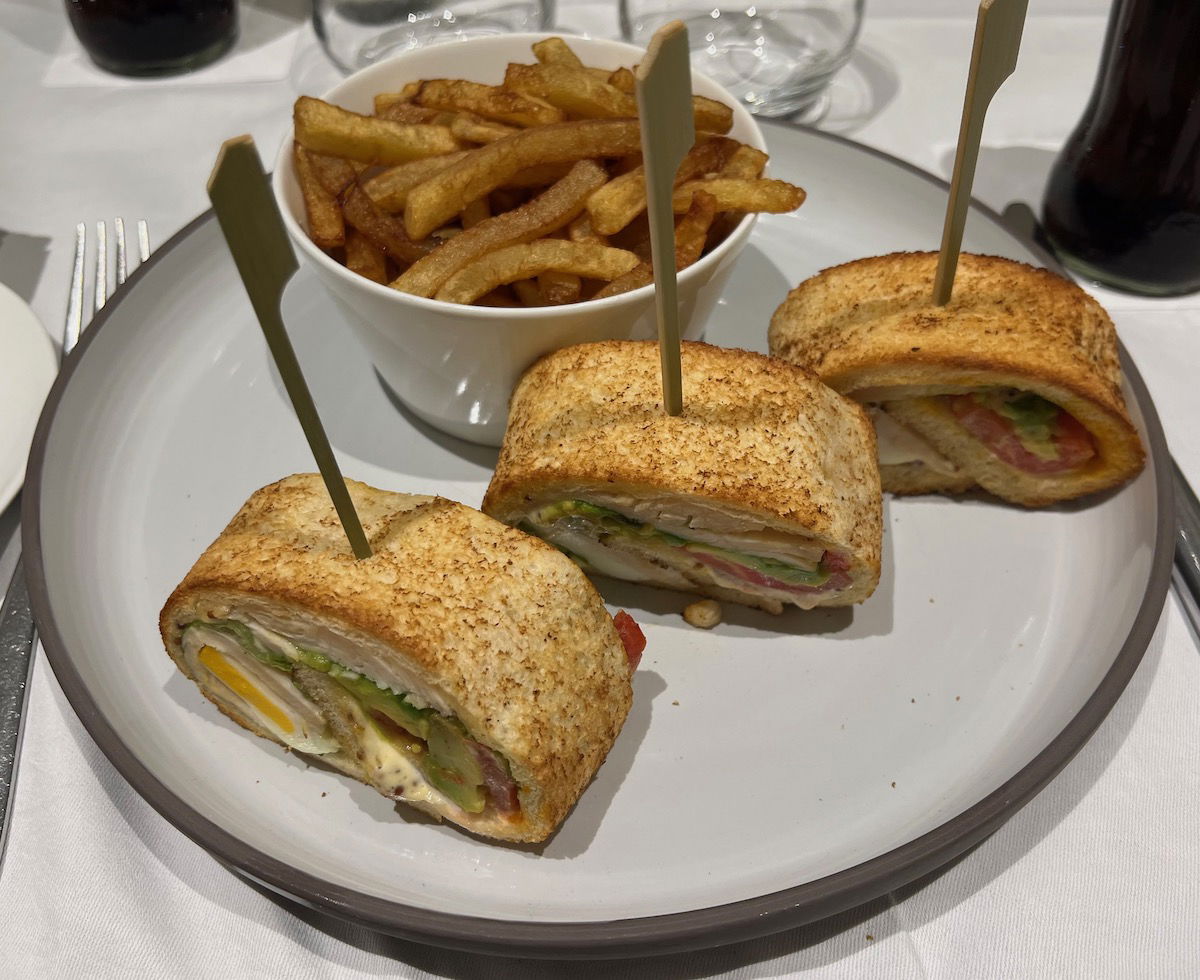 The club sandwich was definitely better than the pizza, which wasn't particularly surprising.
Hotel Martinez Cannes pool & beach club
I stayed at Hotel Martinez years ago, and it's incredible how they've transformed this property. The hotel now has a very nice garden and pool area in the center of the property, which didn't used to exist.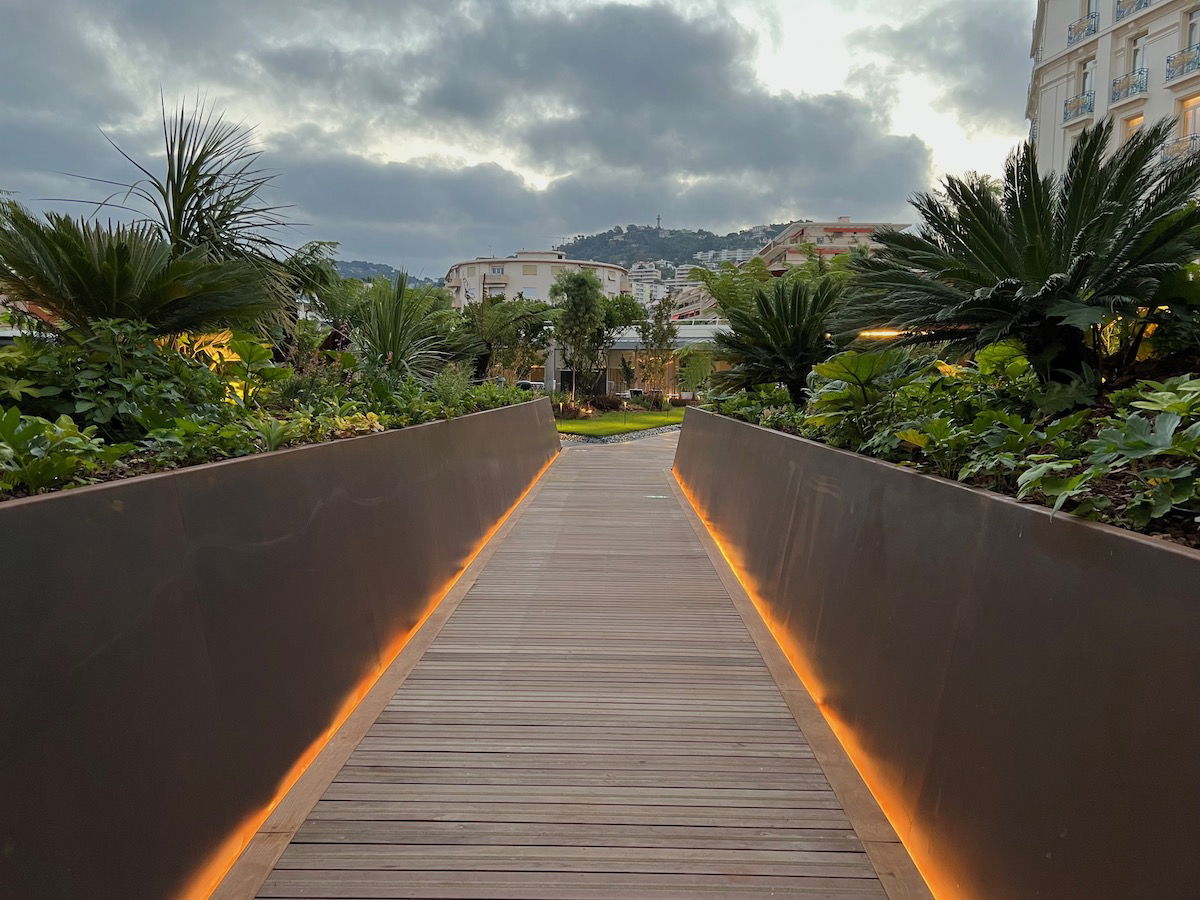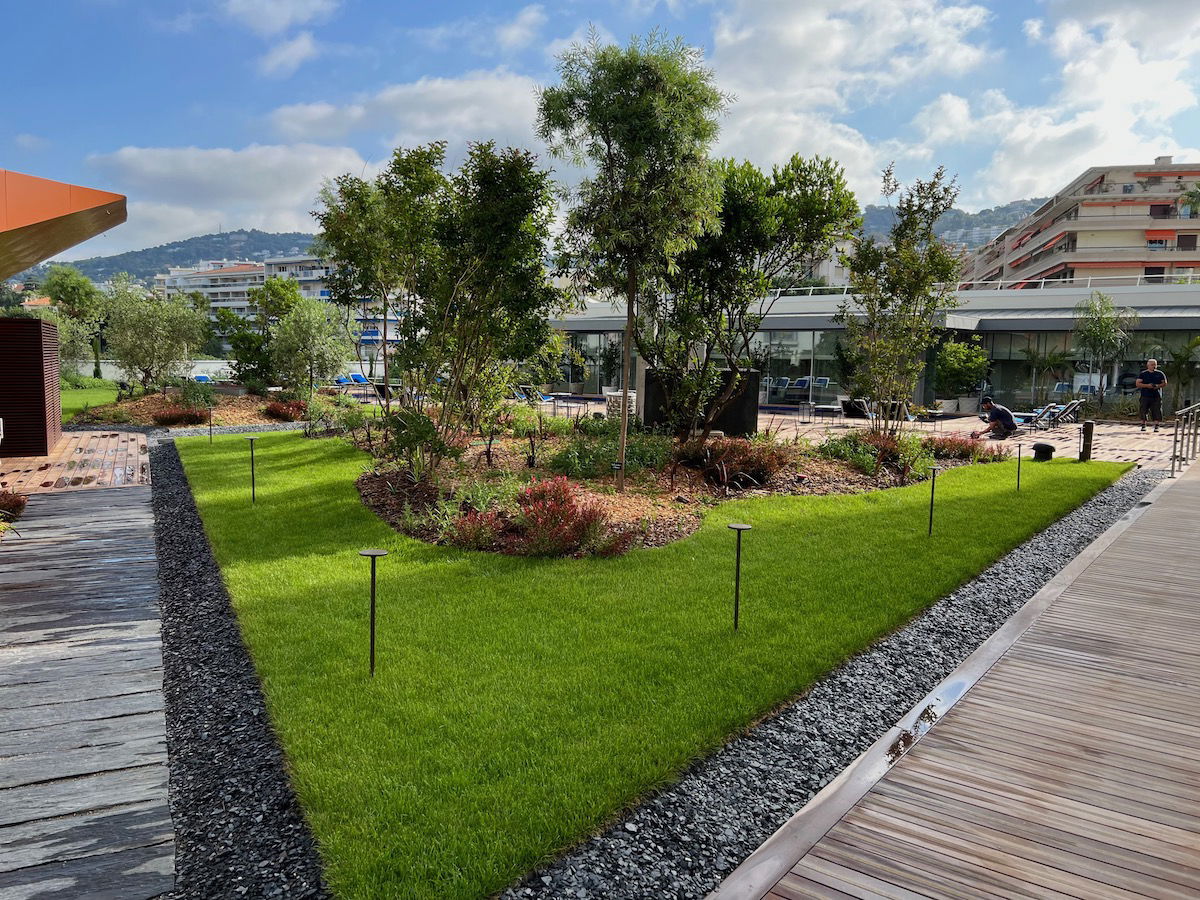 The pool isn't particularly large, but there's a nice deck, and it's certainly better than before (as there was no pool). The only thing I'd mention is that there are no umbrellas, so personally I wouldn't spend any time here, but I know others enjoy tanning.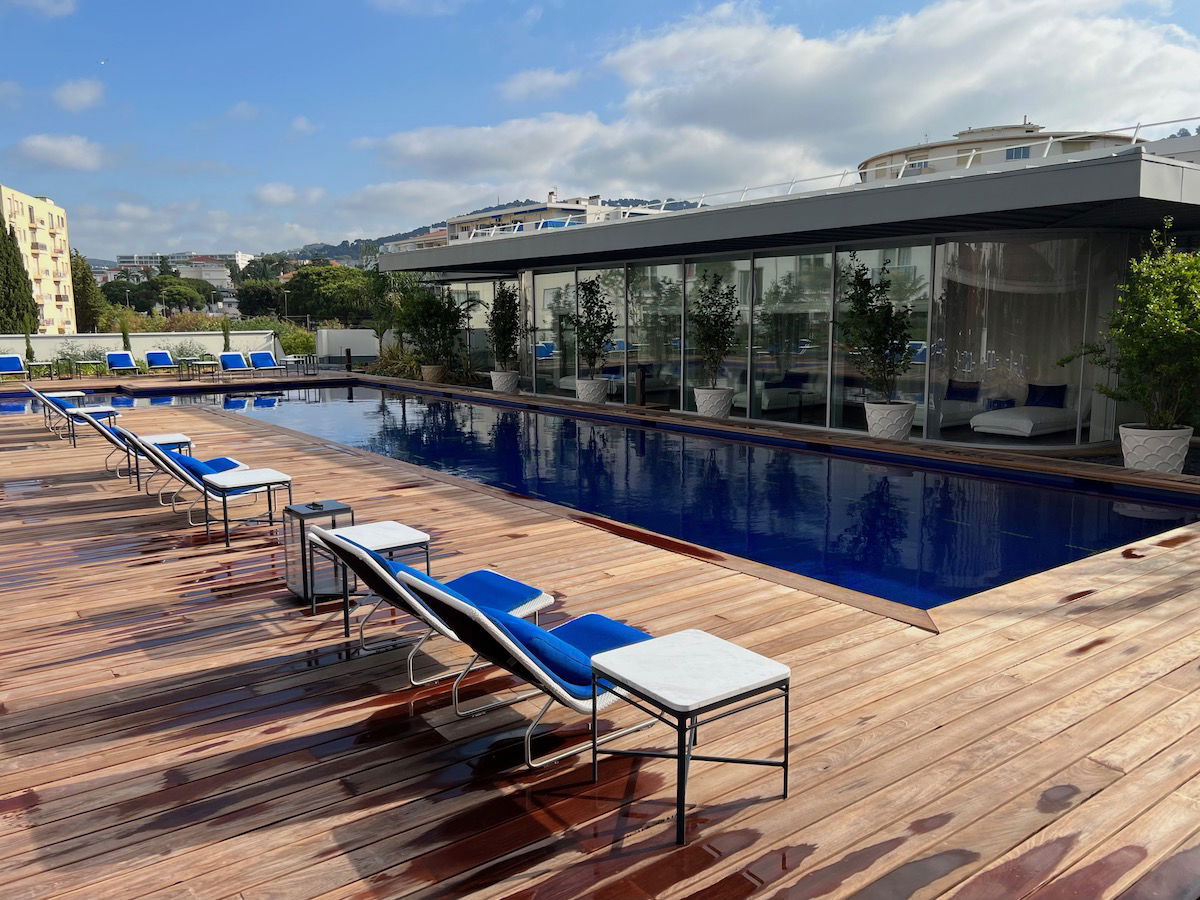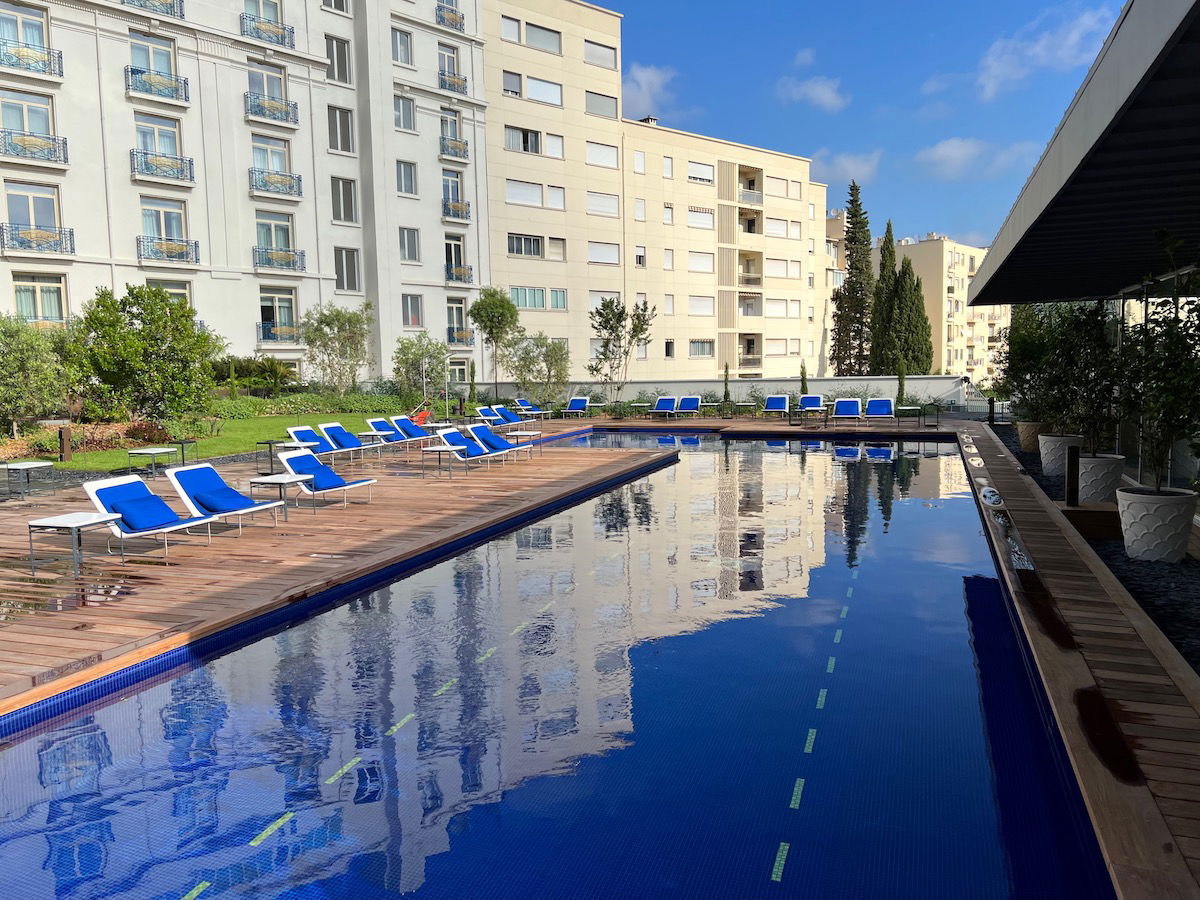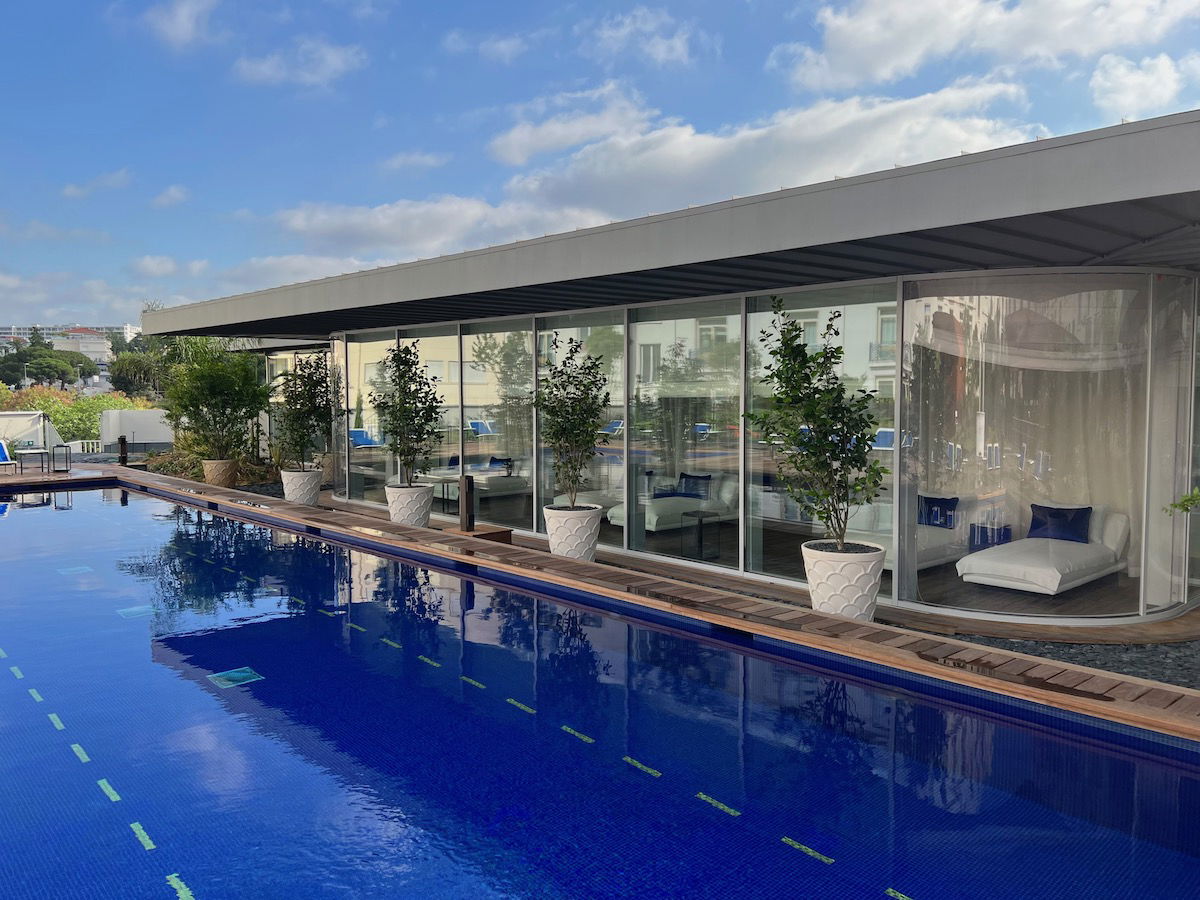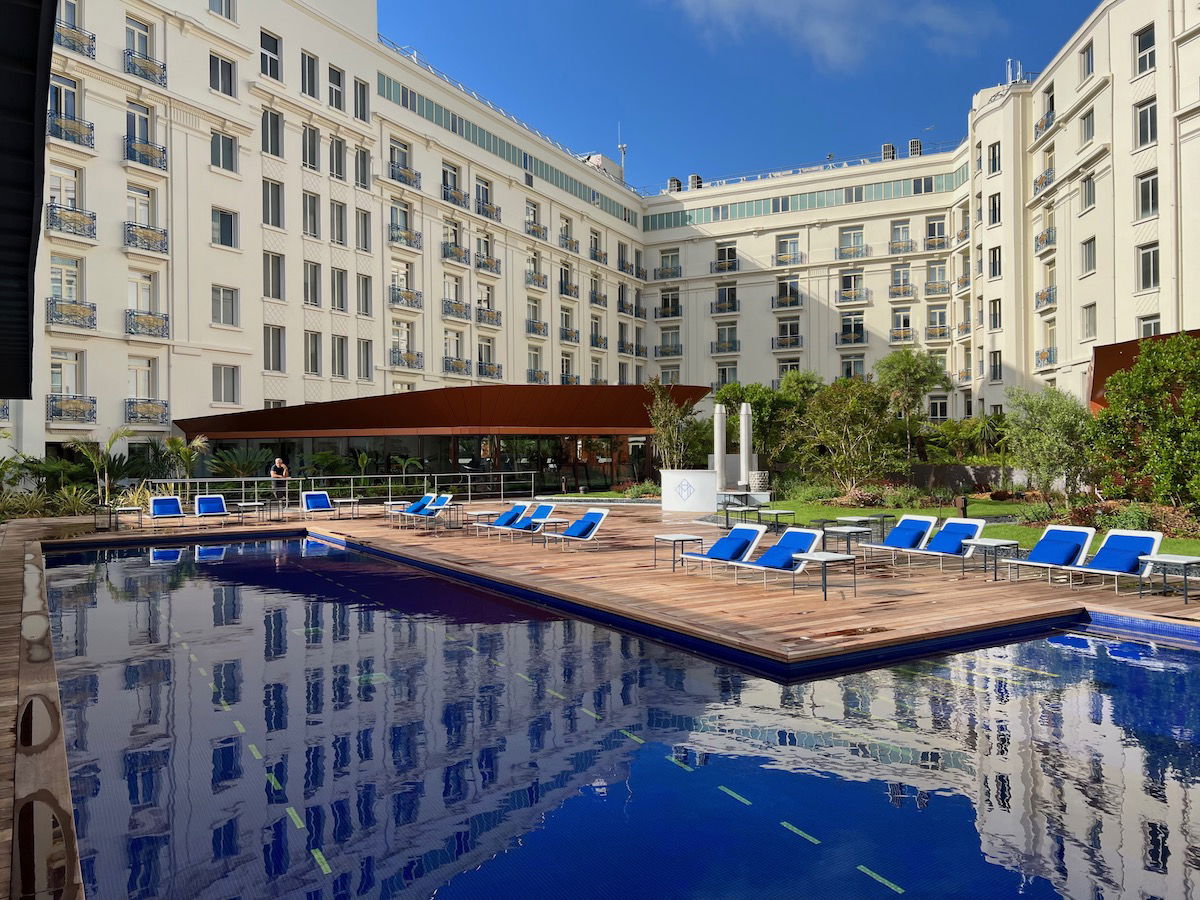 Furthermore, as you'll find at many properties in the area, the hotel has a beach club, which has both beach chairs for rent, as well as a restaurant. We didn't go here (the weather wasn't great on our full day in Cannes), but it's a nice space. Pricing for sun beds for a day range from 40 EUR to 70 EUR, depending on where you want to sit.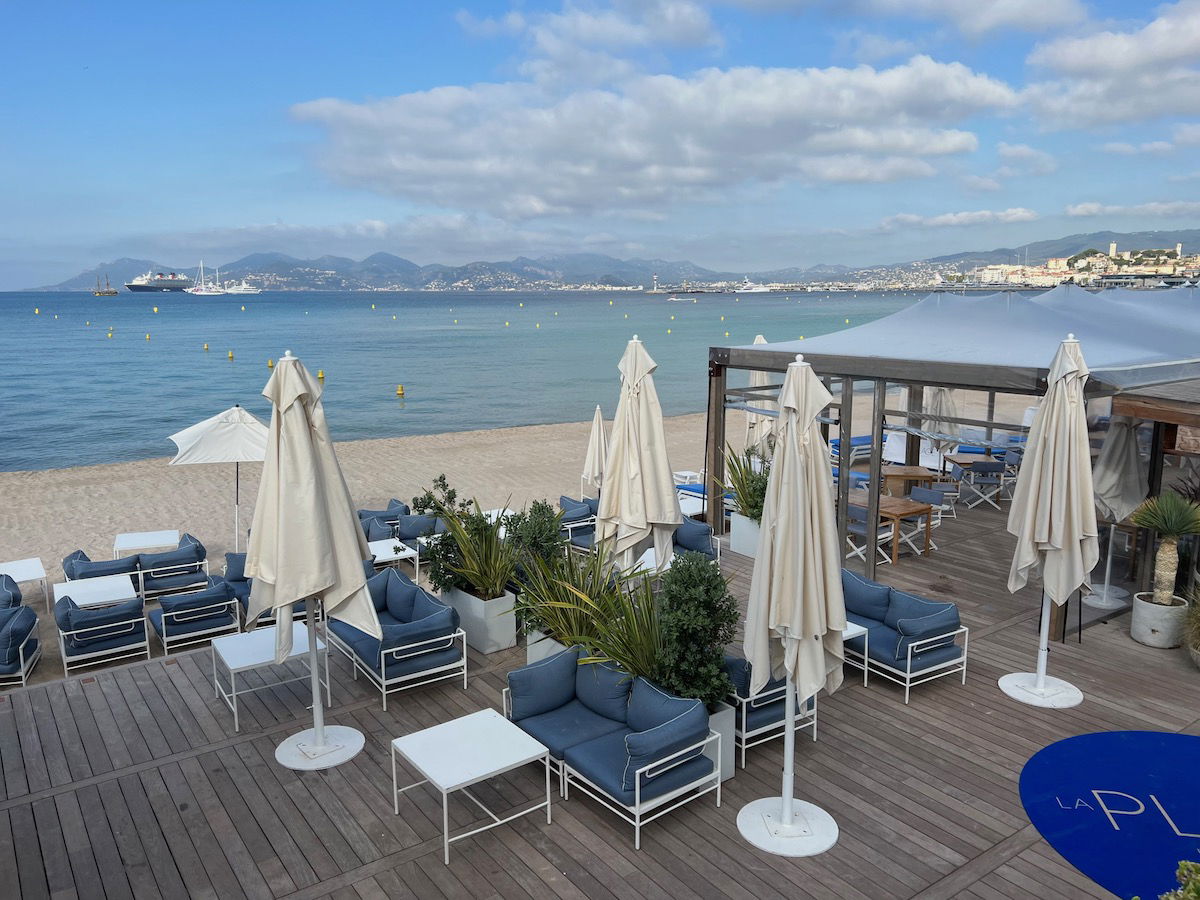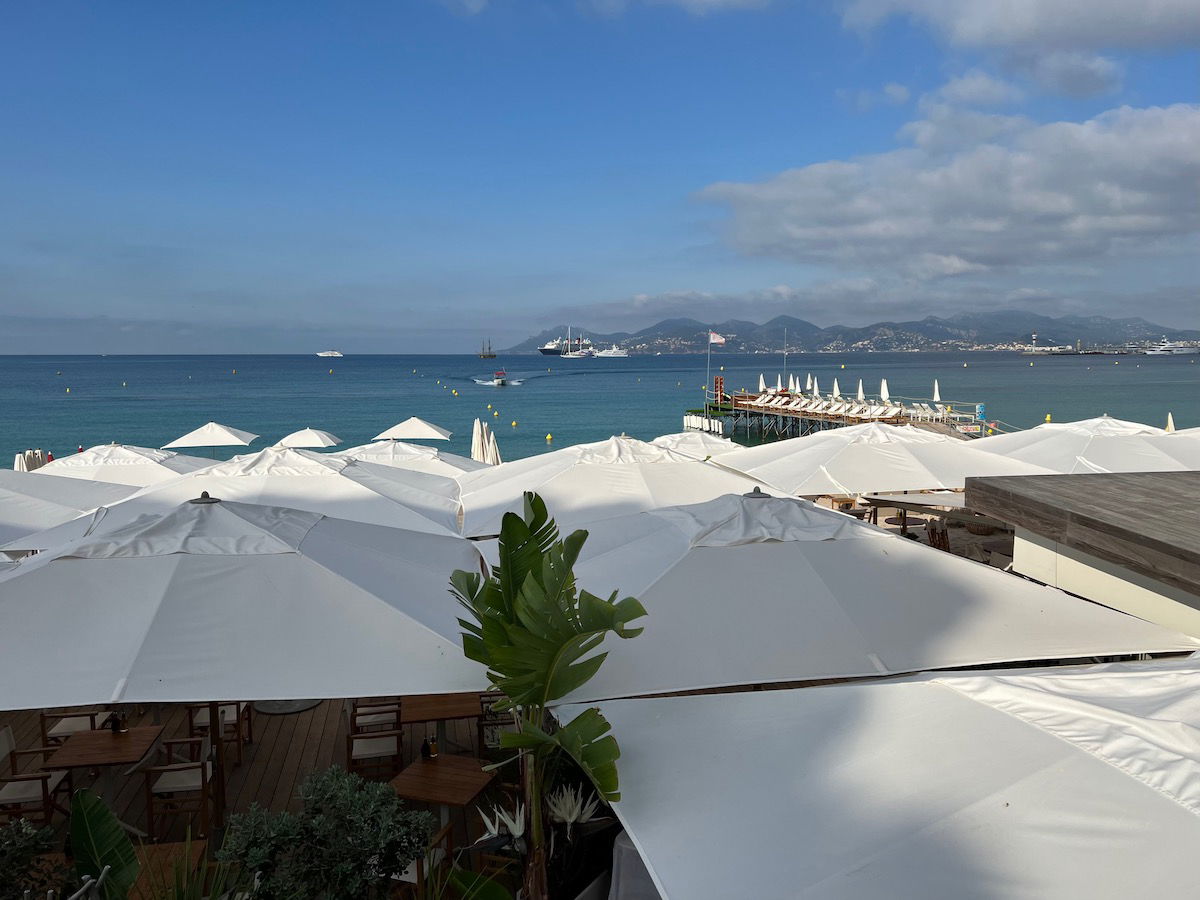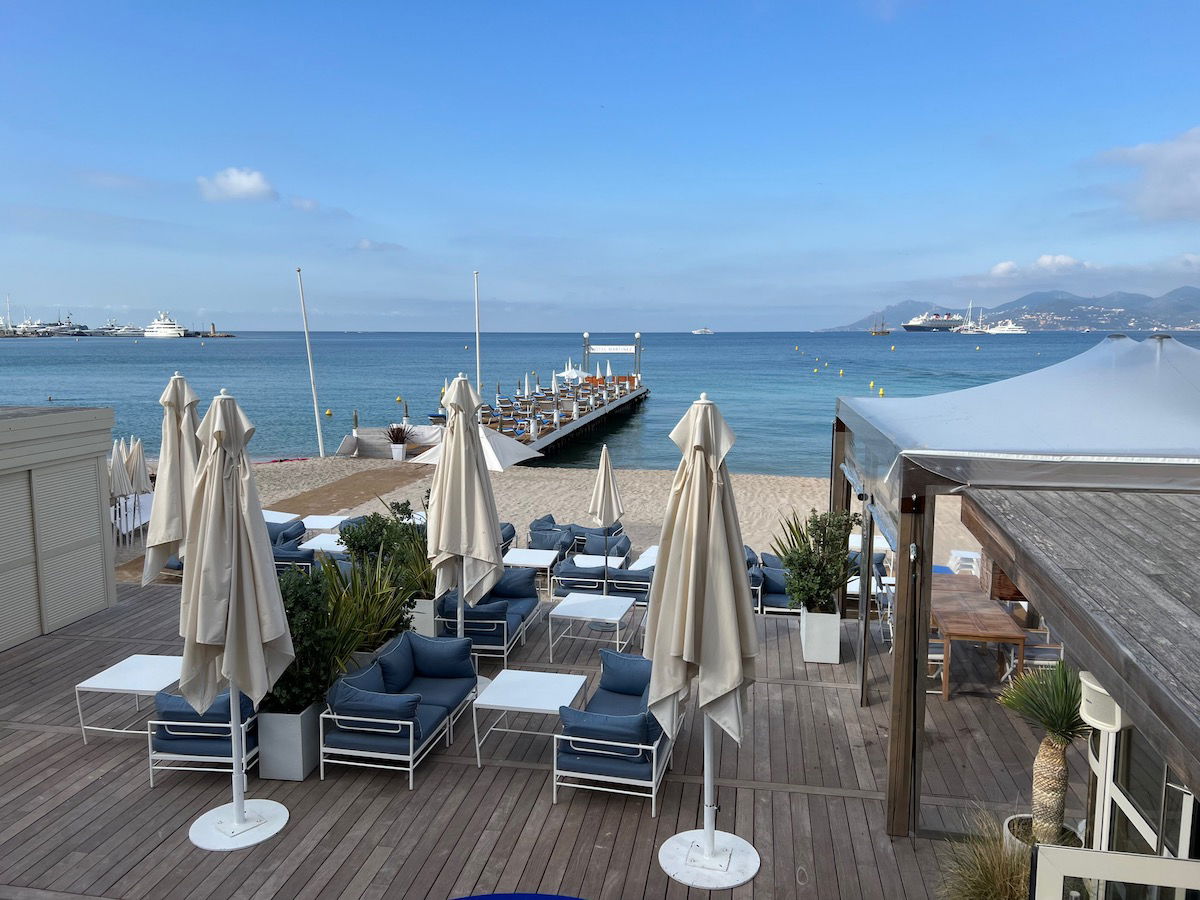 Hotel Martinez Cannes gym
Hotel Martinez has a good gym, which I think is quite new. The gym has an impressive selection of cardio equipment and weights.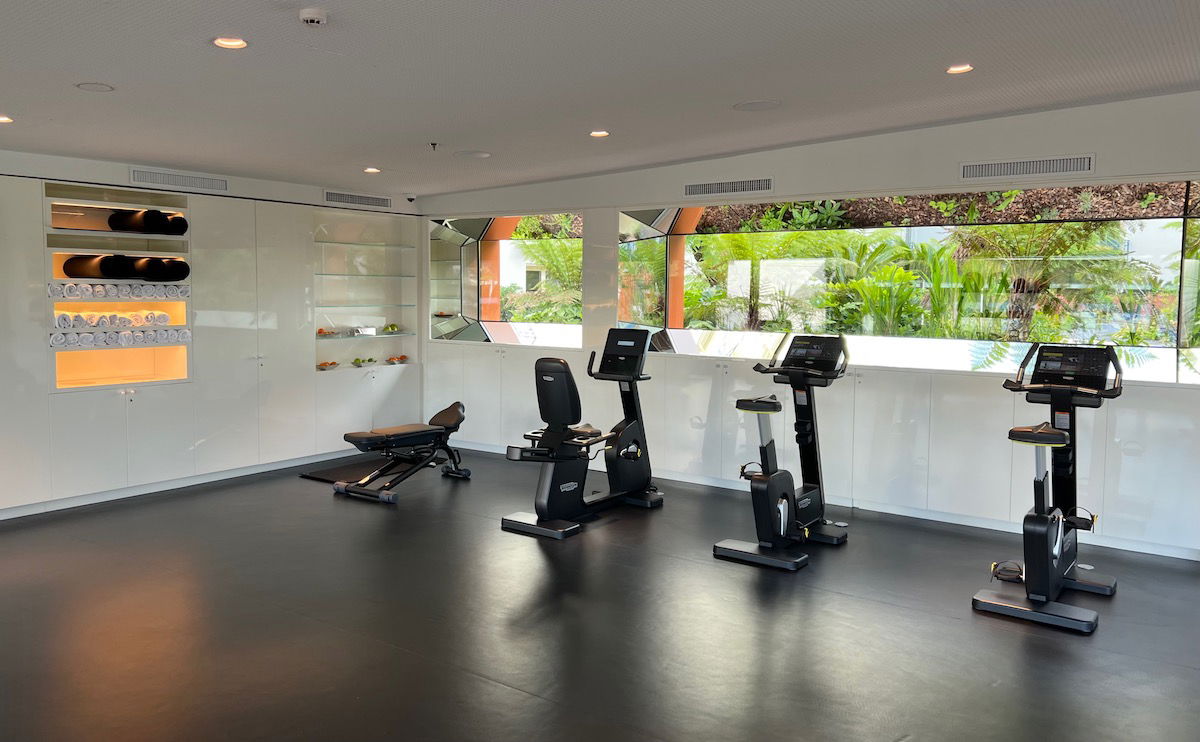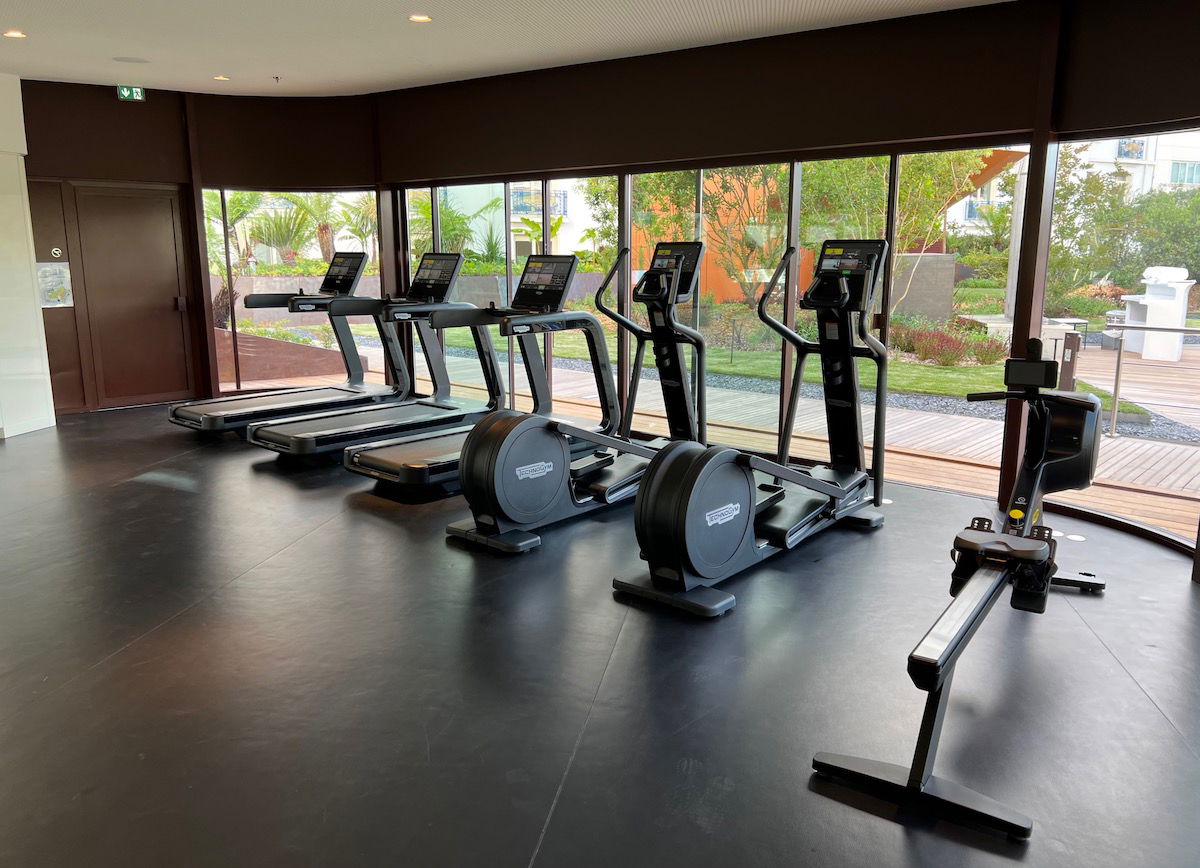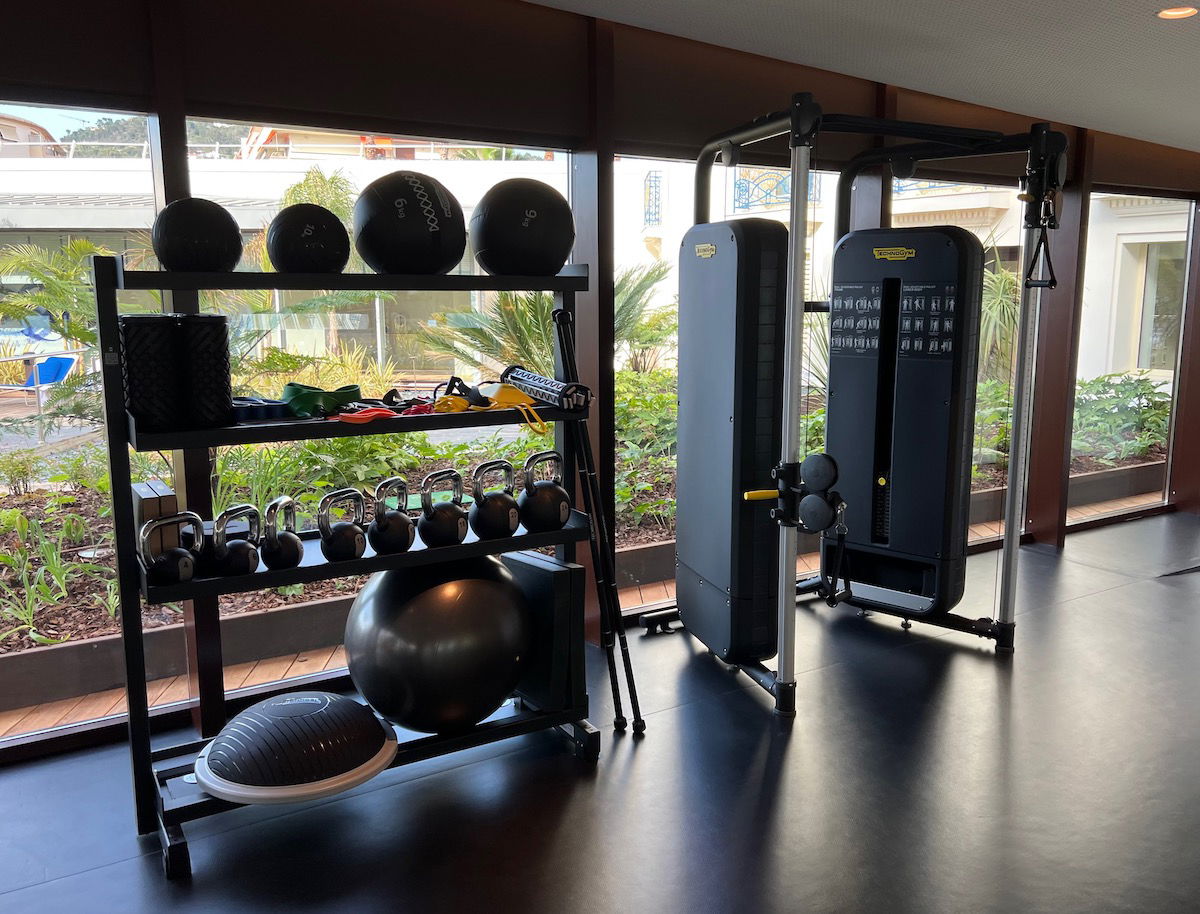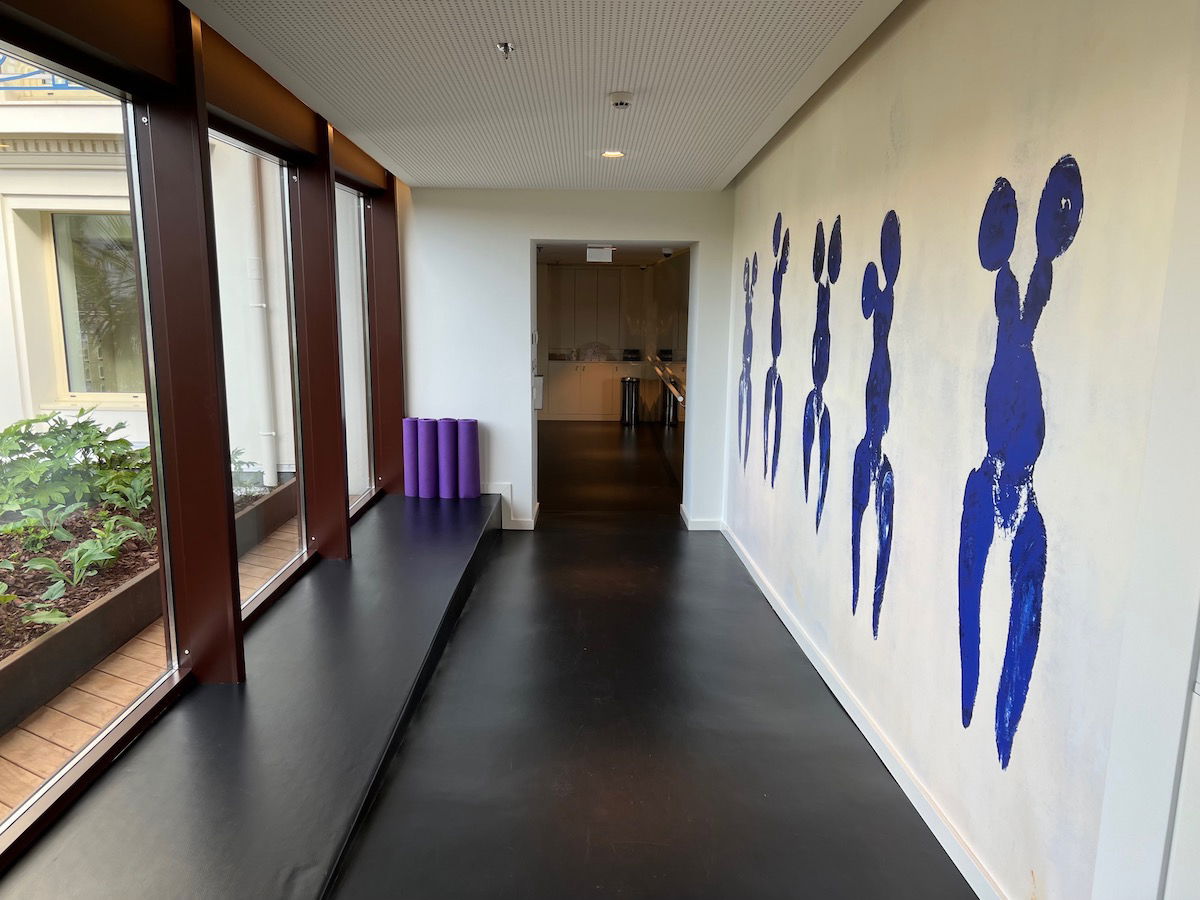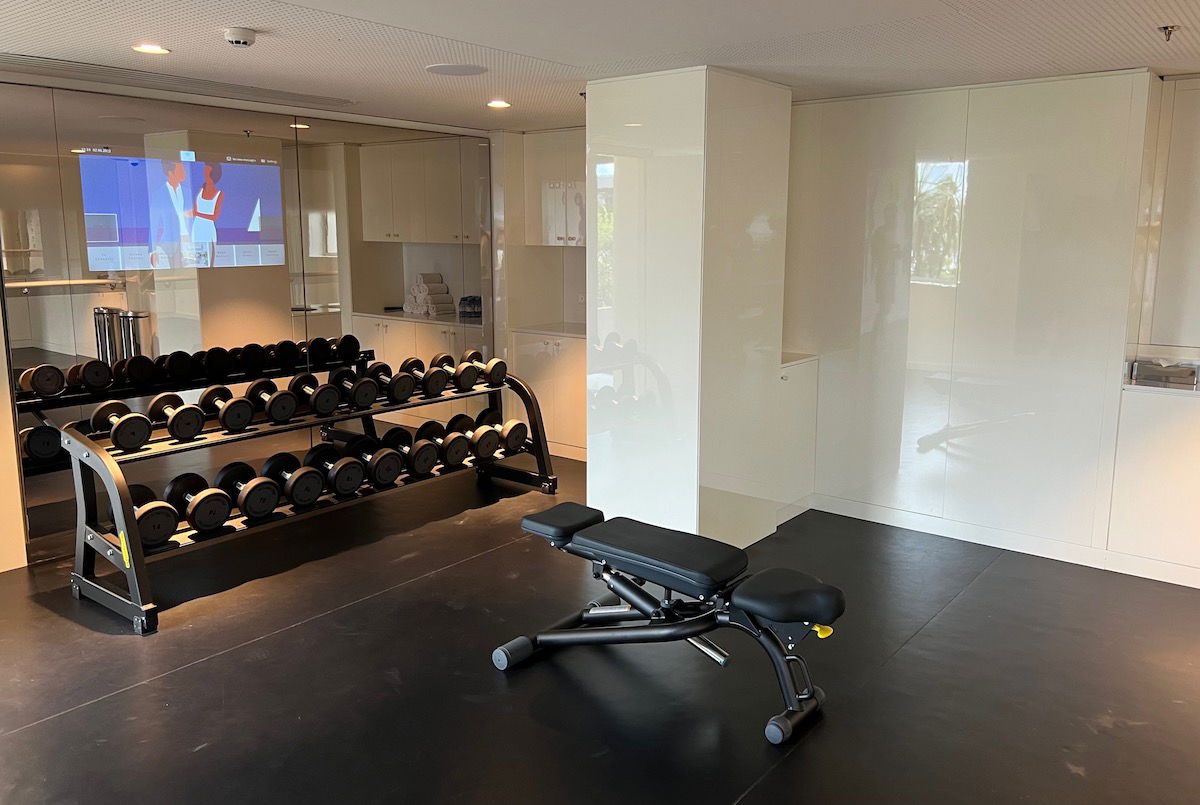 Bottom line
Hotel Martinez is a great option if you're visiting Cannes, especially if you're a Hyatt loyalist. The property has a central location, generally friendly service, a good breakfast, and it's nicely maintained and updated. Significant improvements have been made to the hotel over the years, so the property deserves credit for that.
I'd say there are just two main drawbacks to this hotel. One is that the property has 400+ rooms, and public spaces are fairly small, so at times you'll wonder if you're in Las Vegas in terms of crowding. Second (and admittedly this comes down to personal preference), Cannes isn't a place I'd choose to spend a significant amount of time. I think it's a great stopover point enroute to other places on the Côte d'Azur, but I would highly recommend not making this your only destination in the area, or else you'll probably be disappointed.
If you've stayed at Hotel Martinez, what was your experience like?