Reader MJ asked me a question about an upcoming Emirates itinerary, and I figured it would be worth addressing here, because he's not the first person to deal with this…
Emirates swaps flight from Airbus A380 to Boeing 777
Reader MJ has a trip coming up, and decided to book Emirates from Milan (MXP) to New York (JFK), specifically to fly business class on the Emirates Airbus A380. Unfortunately since then, Emirates has swapped the route to a Boeing 777, which features a far inferior business class product.
He's going from a 1-2-1 configuration where he could book the pair of "honeymoon" seats with his wife, to a 2-3-2 configuration, where he's now stuck in two seats in the center section, based on availability, and they will probably have a stranger seated next to them.
MJ concludes with the following:
I'm a bit bummed over the change, mostly the newfound lack of privacy being in the middle of the 2-3-2. I did book using points, so part of me feels like it's still a pretty nice flight for free. But I also probably would not have booked this flight had it been on the 777 at the time of booking, especially with the ability to book the new Air France business class to JFK (this is what we are flying on the outbound).

I realize this is very much a first-world, cry-me-a-river type problem. And I get that things like this happen and that's just how flying goes. But I'm still a bit bummed. I'm just curious if the OMAAT team has any thoughts on these type of issues. It's not an insignificant change in quality of product after booking.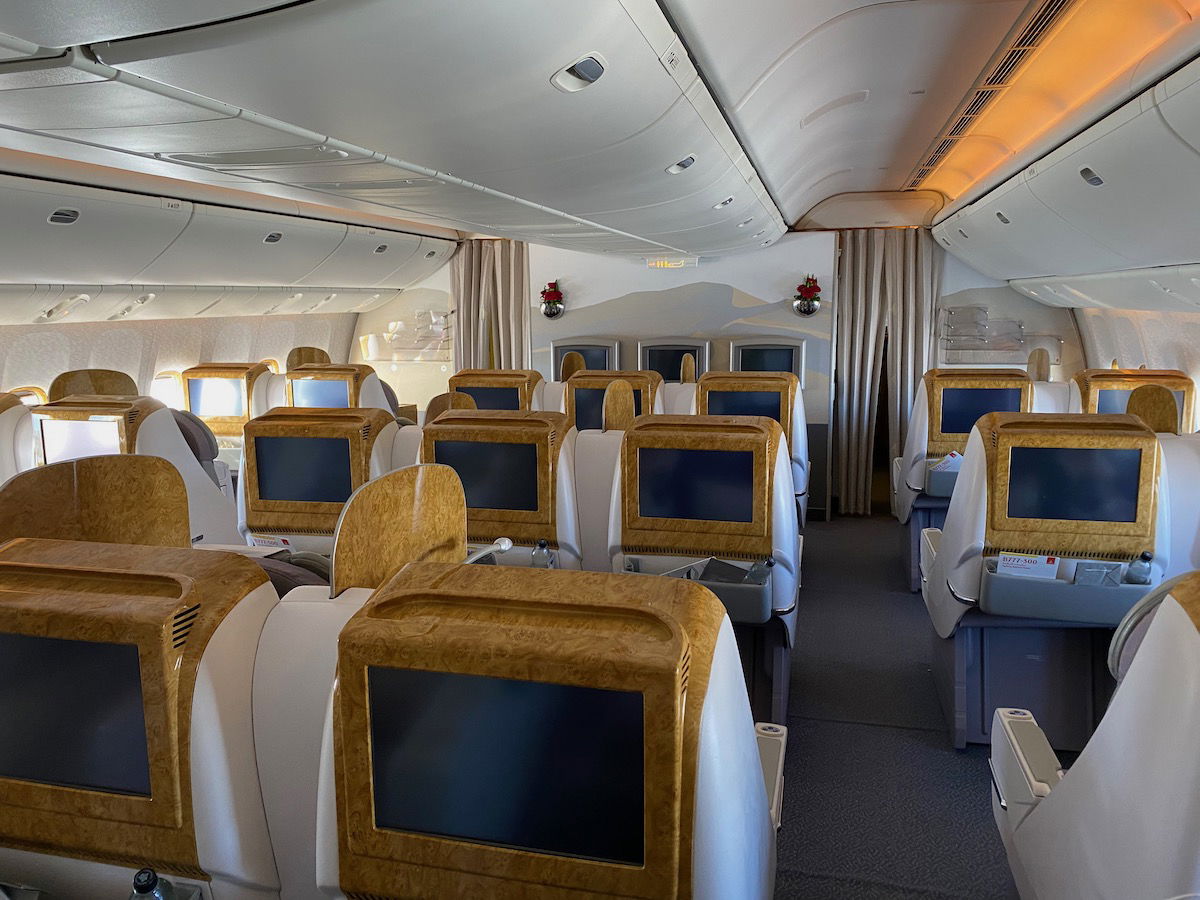 My take on this Emirates aircraft swap situation
MJ's frustration is totally warranted. Emirates is viewed as being such a premium airline, yet the reality is that in business class, there's a massive difference between the quality of the carrier's Boeing 777-300ER business class and Airbus A380 business class.
The 777 business class hard product is embarrassingly bad, and worst of all, Emirates hasn't even revealed concrete plans to refresh this product. That doesn't even account for the A380 having the famous onboard bar, which the 777 doesn't have.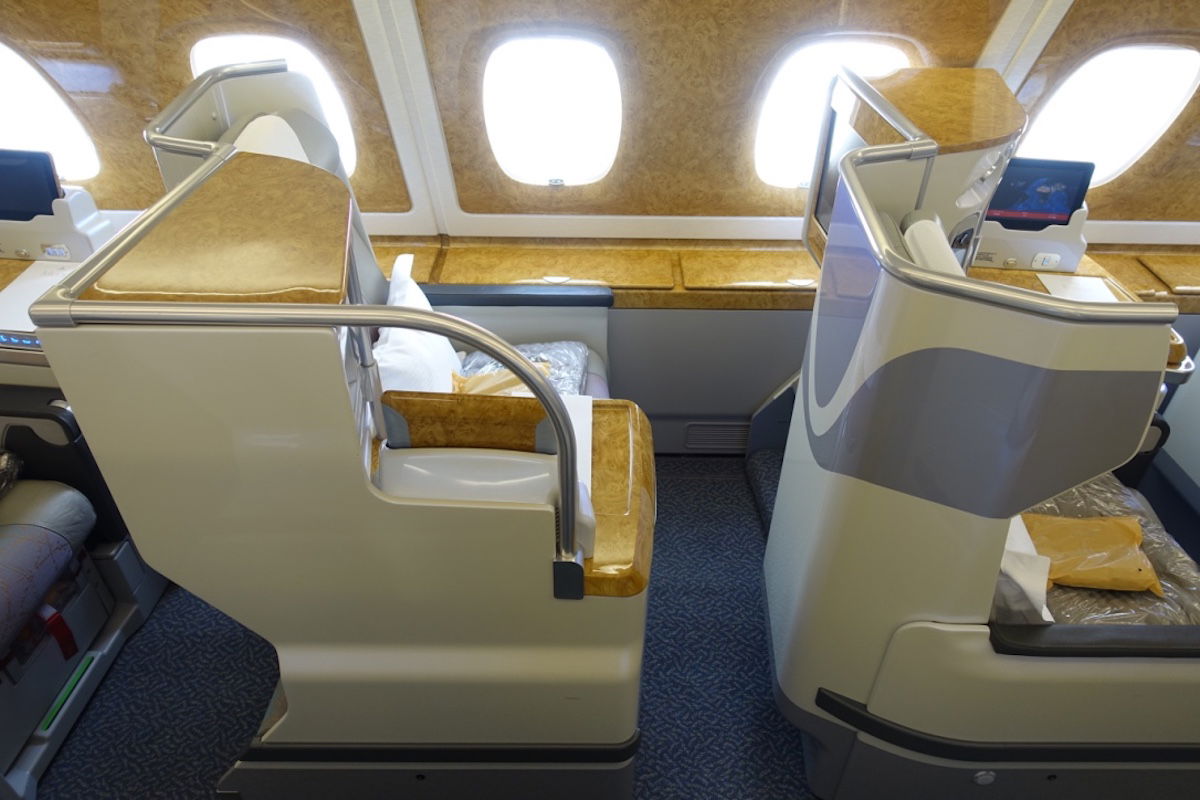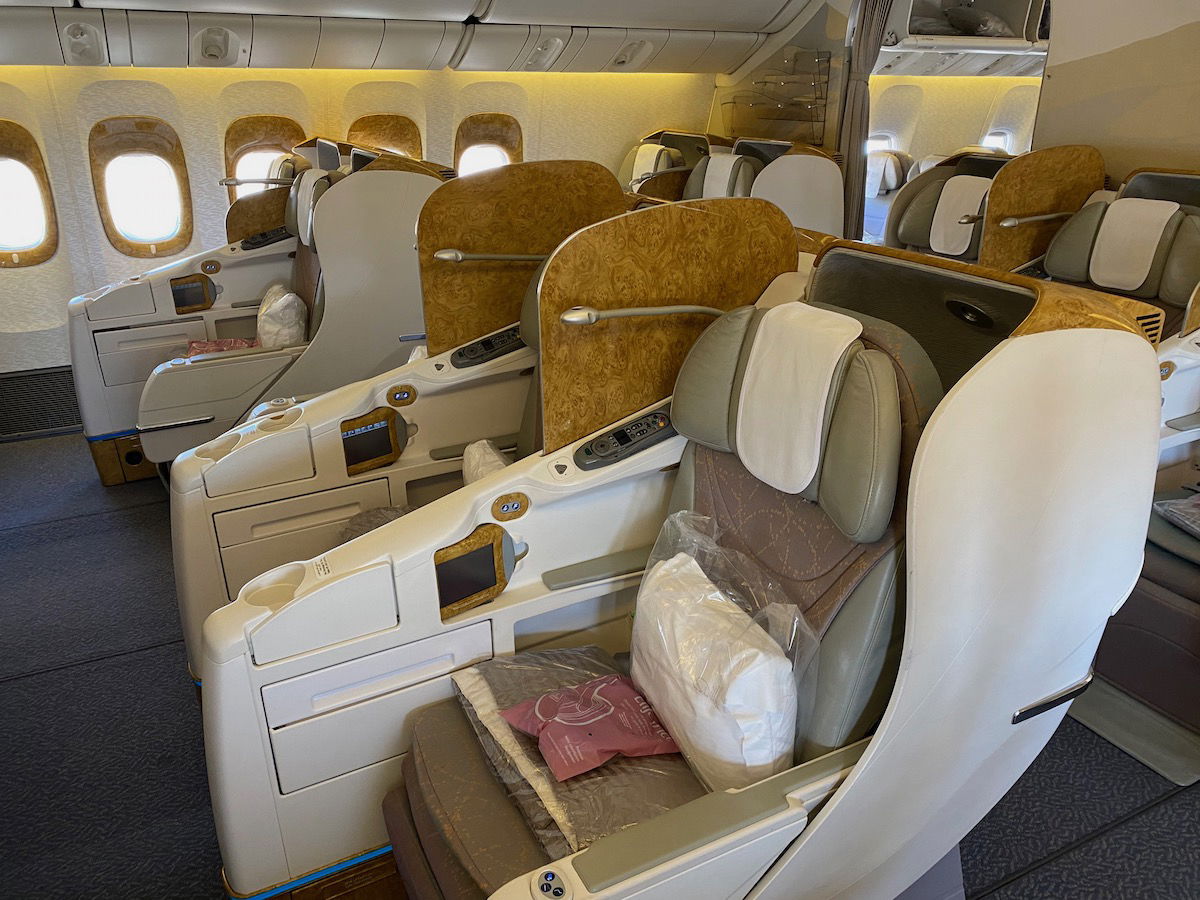 People often book airlines based on the product that they expect to be offered, and when flying Emirates, it's totally reasonable to think that someone may want to book the A380 and not the 777.
All that being said, what's my practical takeaway here?
Emirates' conditions of carriage explicitly state that the airline doesn't guarantee aircraft types, so the airline is legally within its rights to swap aircraft in this way, and there's no real recourse
If this were a route where Emirates had multiple different frequencies with different aircraft you might be able to get them to rebook you (but the airline doesn't even promise that as an option), but that's not feasible here, since Emirates operates this route once a day, and it has been swapped to the 777 for months
Officially Emirates won't even waive the award redeposit fee for an award ticket in this situation, but worst case scenario you could redeposit the award for $75 per person, if there's still a better option available that you could book
Emirates really is the worst when it comes to this kind of stuff, because I can't think of another major quality airline with two business class products that are so different (with the caveat that these are just the standard products, and the airline isn't even in the process of upgrading them)
I think the way to make the best of this situation would be to try and upgrade to first class, as first class upgrades on the day of departure are readily available at Emirates
While it's not relevant to this exact situation, I appreciate how Emirates recently got fined in New Zealand for its misleading advertising; the airline often markets its A380 business class, even for situations where a passenger will fly in the carrier's old 777 business class, so more transparency around marketing is important
While unrelated to the crux of the issue, never think of your award ticket as being "free," because presumable you transfered points to Emirates Skywards, and Emirates got reimbursed for that (and there was also at least some opportunity cost to you earning those rewards
One other lesson to perhaps take away from this is that when I plan a trip far in advance, I always expect there could be major changes in terms of the type of aircraft, the schedule, etc. The further in advance you book, the less likely that your itinerary actually happens as planned. That's just useful in terms of being able to manage expectations.
Bottom line
A reader had booked a business class flight on the Emirates Airbus A380, but it was swapped to a Boeing 777. This represents a huge downgrade to the passenger experience, though unfortunately even so, there's not much recourse. Emirates doesn't guarantee aircraft types, and doesn't even have any passenger friendly policies in place for managing passenger expectations in these situations.
Emirates is long overdue for updating its Boeing 777-300ER interiors…
What do you make of this Emirates aircraft swap situation?