EXTRA PERKS AVAILABLE
Enjoy breakfast, upgrades, & more
Want to take advantage of Marriott STARS benefits, including a space available room upgrade, complimentary breakfast, a hotel credit, and more? Contact Ford ([email protected]) for more details. He may even be able to help if you already have a stay booked. This is valid for paid stays at BVLGARI, EDITION, Ritz-Carlton, Ritz-Carlton Reserve, and St. Regis.
Our first stop in Greece was King George Athens, a Marriott Luxury Collection property. After that we stayed at Hotel Grande Bretagne, also a Marriott Luxury Collection property, which I'll be reviewing in the next installment. These are often regarded as the two best city hotels in Athens, though the latter is typically significantly more expensive.
What's my take on King George, which is a historic hotel that has been open since 1930? It has an ideal location, beautiful views, and great service. I also love how it's more of a boutique property, as it has just 102 rooms. However, the hard product and amenities are lacking, unlike at Hotel Grande Bretagne.
Booking King George Athens
I paid 420 Euro for our one night stay at King George. Ford booked us through the Marriott STARS program, offering complimentary daily breakfast, a $100 property credit, a room upgrade subject to availability, and more. These benefits largely stack with the typical perks Marriott Bonvoy Platinum members and above receive
An award stay for our date would have cost 60,000 Bonvoy points. Personally I value Bonvoy points at 0.7 cents each, meaning an award stay would have cost the equivalent of ~$420. In this case I decided to pay cash given the ability to take advantage of Marriott STARS benefits, plus that I can usually get much higher value redemptions with my points.
If you'd like help with a Marriott STARS booking, Ford is happy to help, and can be reached at [email protected].
King George Athens location
King George has a pretty unbeatable location in Athens, as it's right in the center of the action. It's within walking distance of the Acropolis, Agora, Plaka, Thission, etc. The immediate area also has lots of cute hole in the wall restaurants and shopping.
Just as a point of comparison, the Grand Hyatt Athens has much more attractive pricing, but the location isn't nearly as good, as there's very little in the immediate area.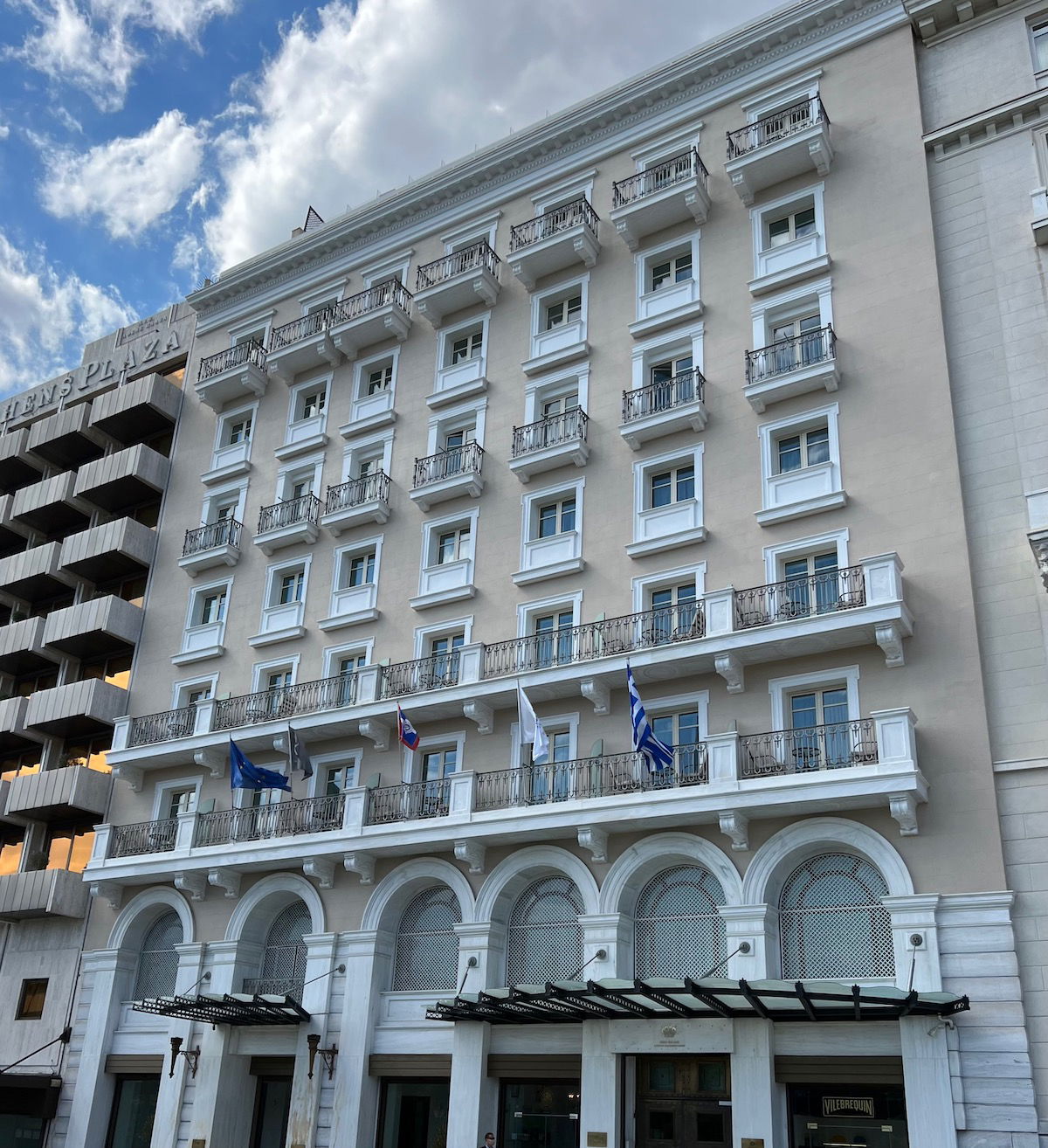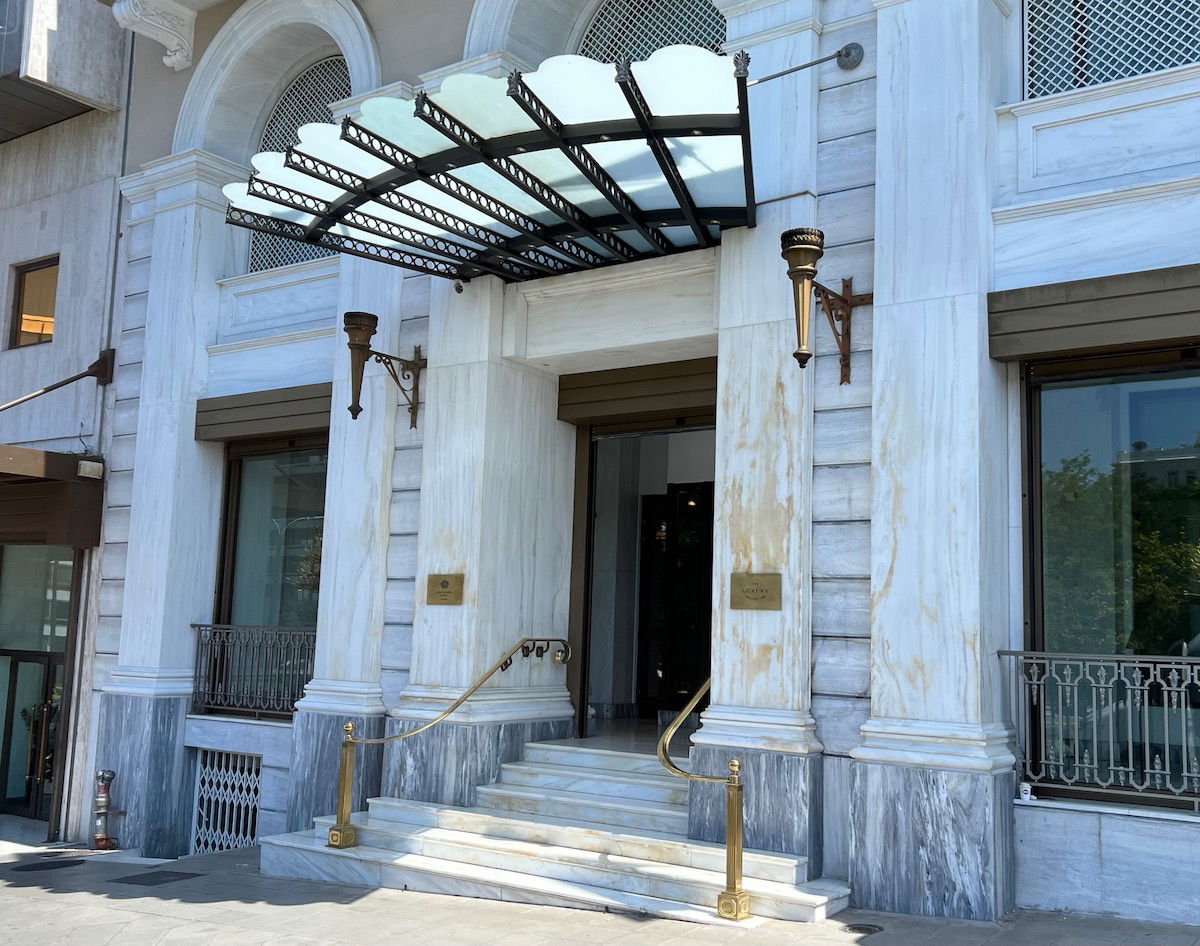 By the way, King George and Hotel Grande Bretagne are literally next to one another, and share a wall. So location isn't a factor in deciding between these two hotels.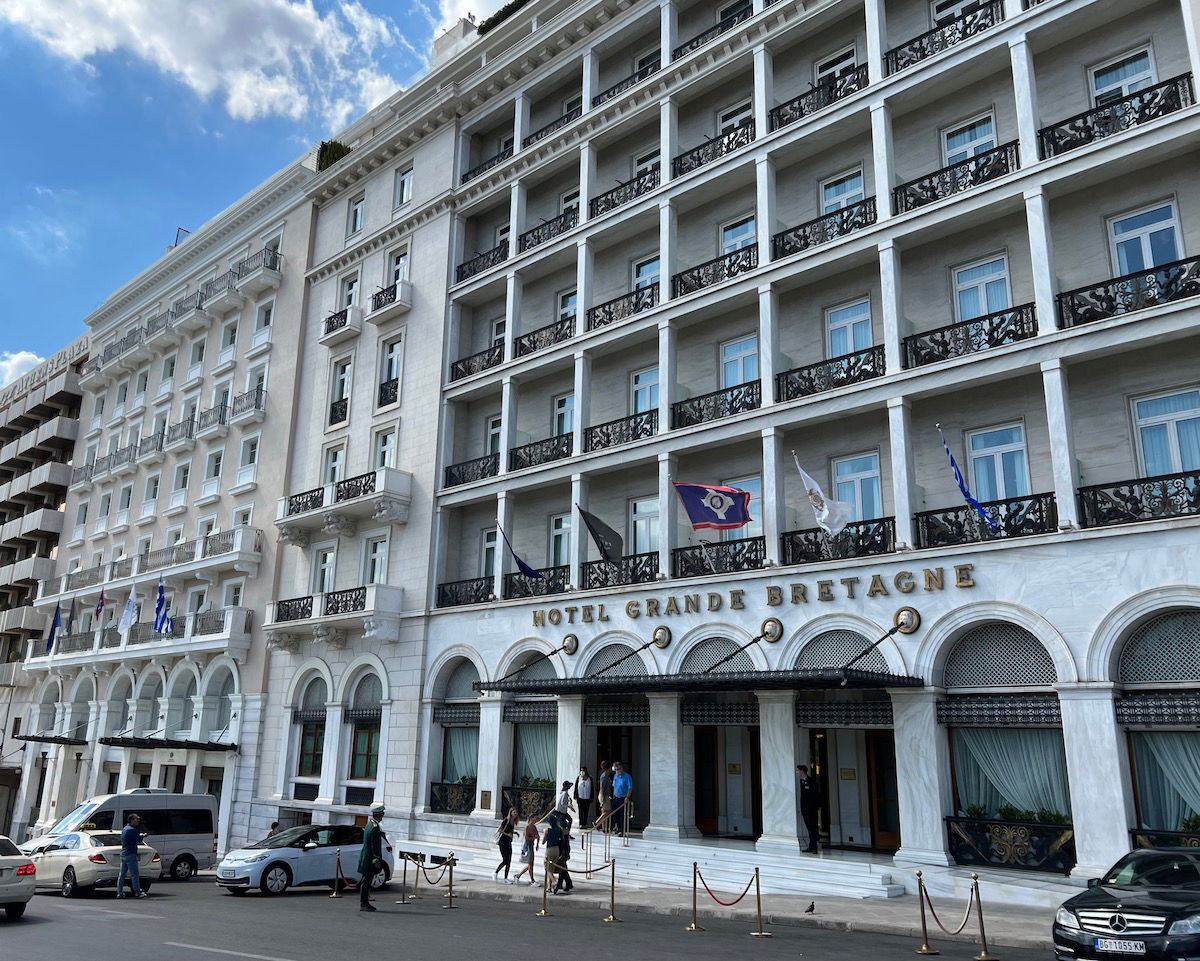 King George Athens lobby & check-in
The lobby situation at King George is a disaster, plain and simple. I can't emphasize enough that everyone working at the hotel is so nice, perhaps overly so, and that's probably part of the problem.
The reception desk is right at the entrance, and there are only at most two "desks" where guests can be assisted. Both at check-in and during a subsequent interaction, I had to wait over 20 minutes before being helped. That's ridiculous, especially for a hotel with just over 100 rooms.
It's not that there were dozens of people in line, but rather it was just that helping each person took forever. The front desk agents would try to be really engaging with guests, ask about their trip, where they're going, etc. And that's great if other people aren't waiting, but…
The other challenge was that I felt like there were a lot of non-frequent travelers (without exception, all guests I overheard were American) who just had endless questions. For example, I remember waiting while the front desk agent had to spend five minutes explaining to someone what a credit card authorization is, because they just couldn't wrap their head around it.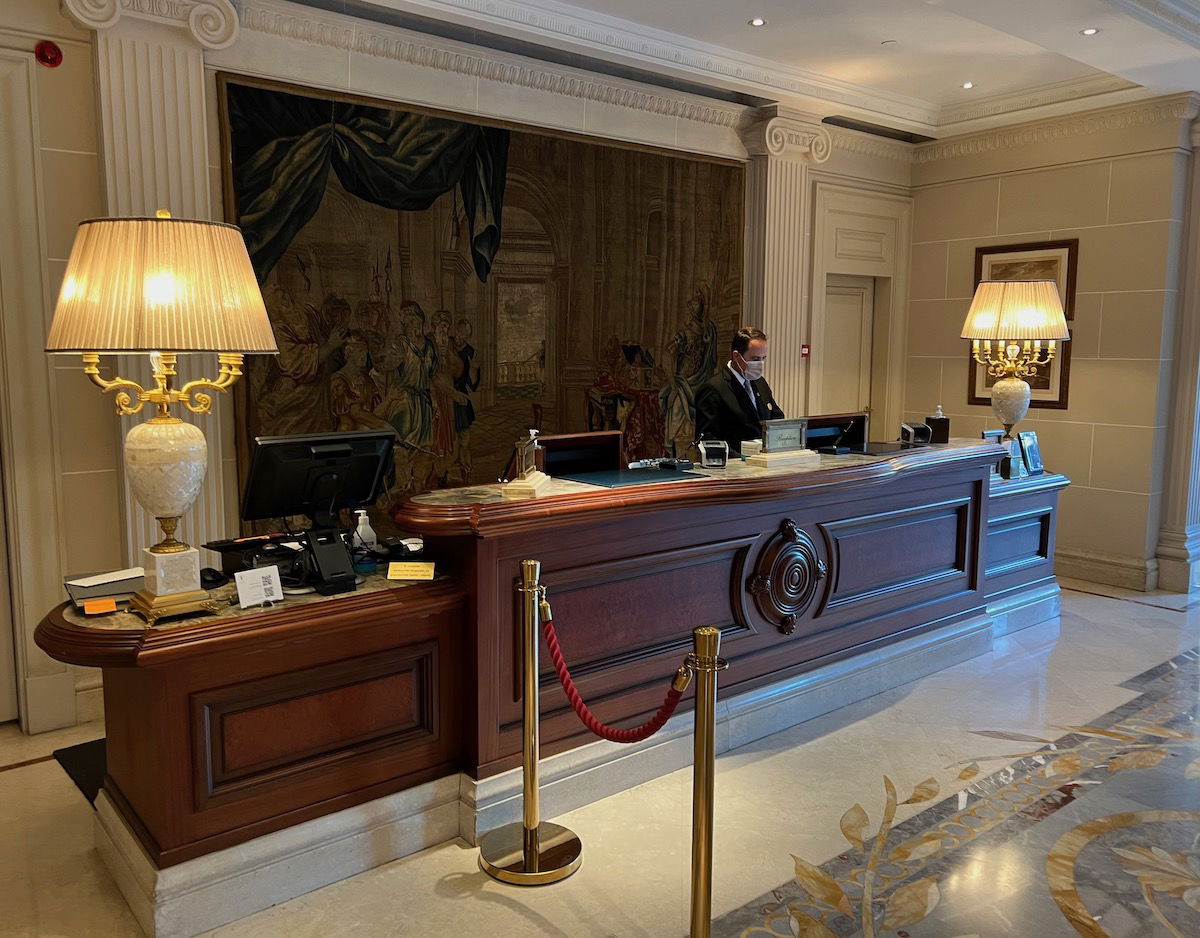 Then there's the other general lobby issue, which is that most guests were arriving from the United States in the morning hours, and their rooms weren't ready yet. Everyone just wanted to plop down in the lobby, yet the hotel didn't actually have much lobby seating.
The extent of the lobby seating is what you can see in the below two pictures.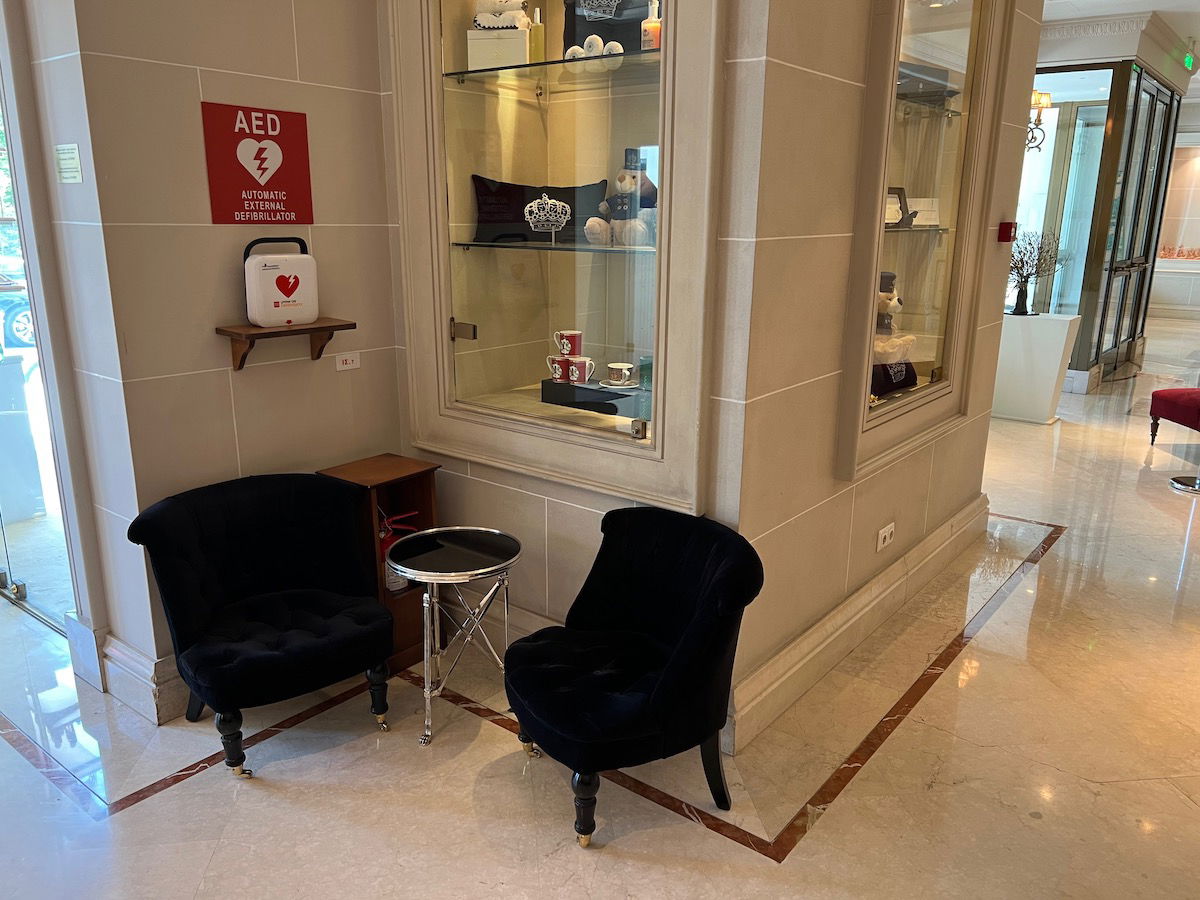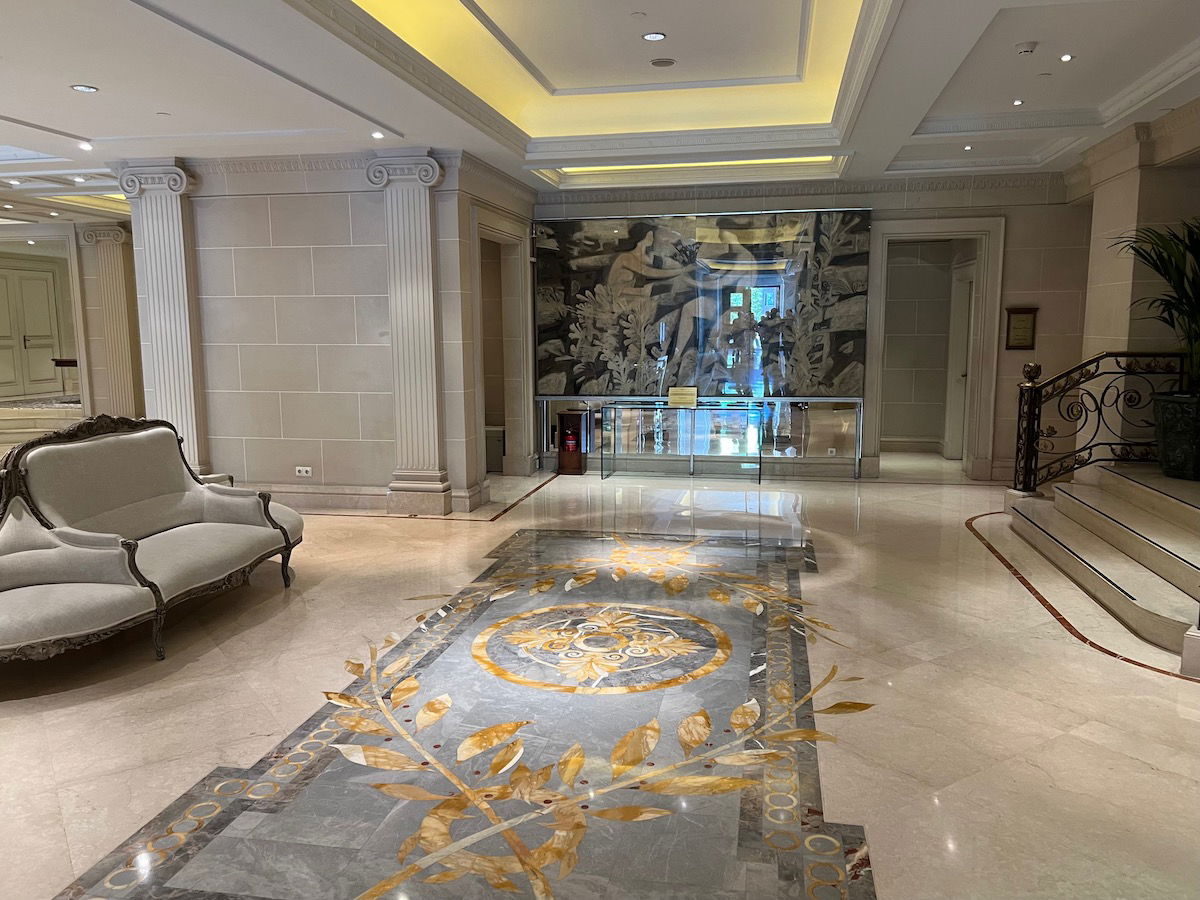 There was also a small refreshment cart throughout the day with some juice and water.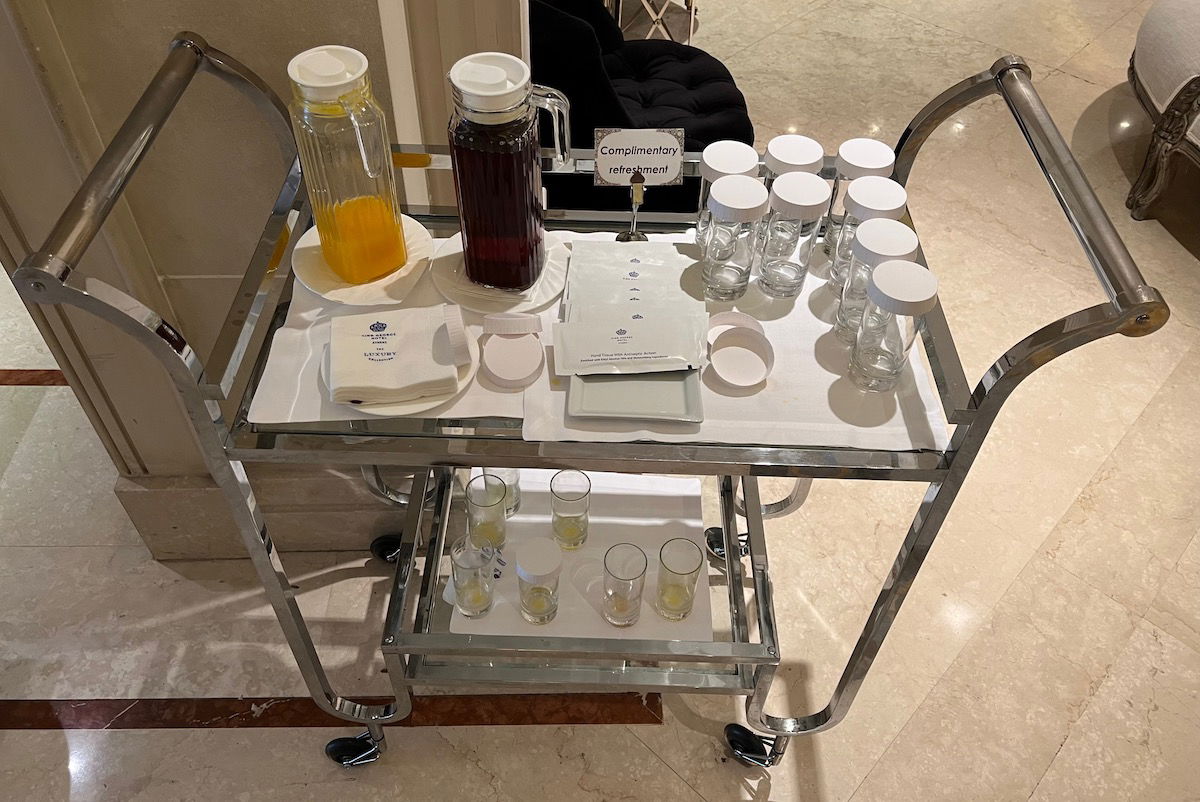 Now, you're probably thinking "well this is a boutique hotel, you can't expect the hotel to have a big lobby." Fair enough. The issue is that the hotel actually has a huge lobby. However, it's used as a permanent art exhibit. I'm not sure who this is targeting, exactly.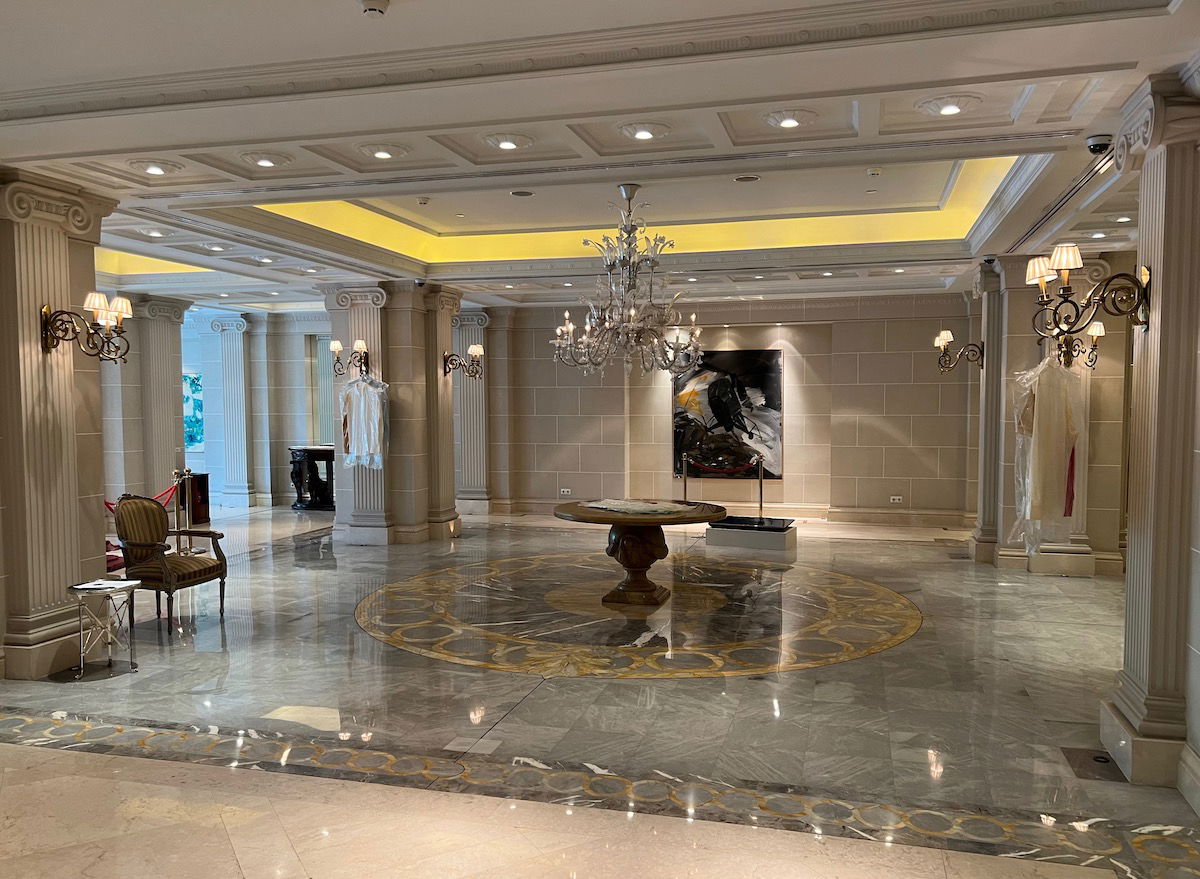 And don't even get me started on the art as such. Half of the art display was dry cleaning hanging from lamps. Seriously, this passes for art nowadays?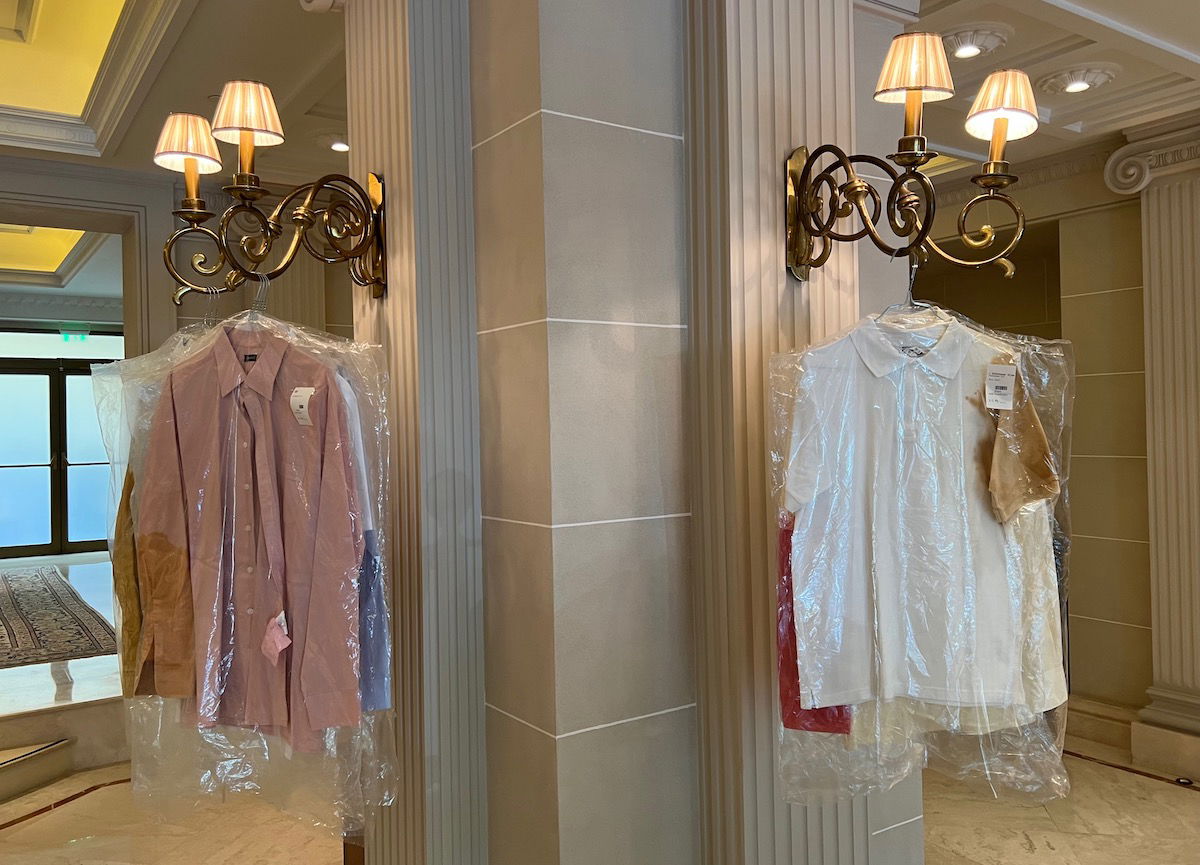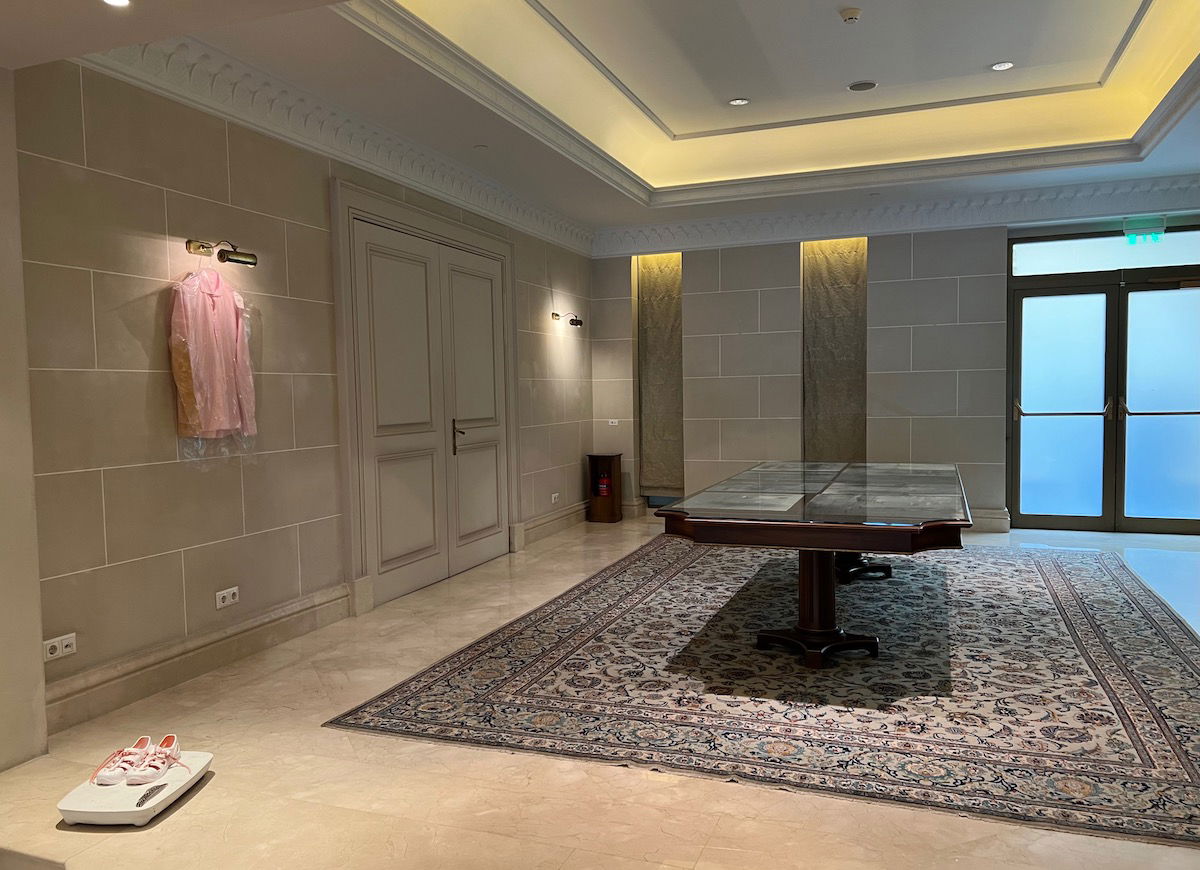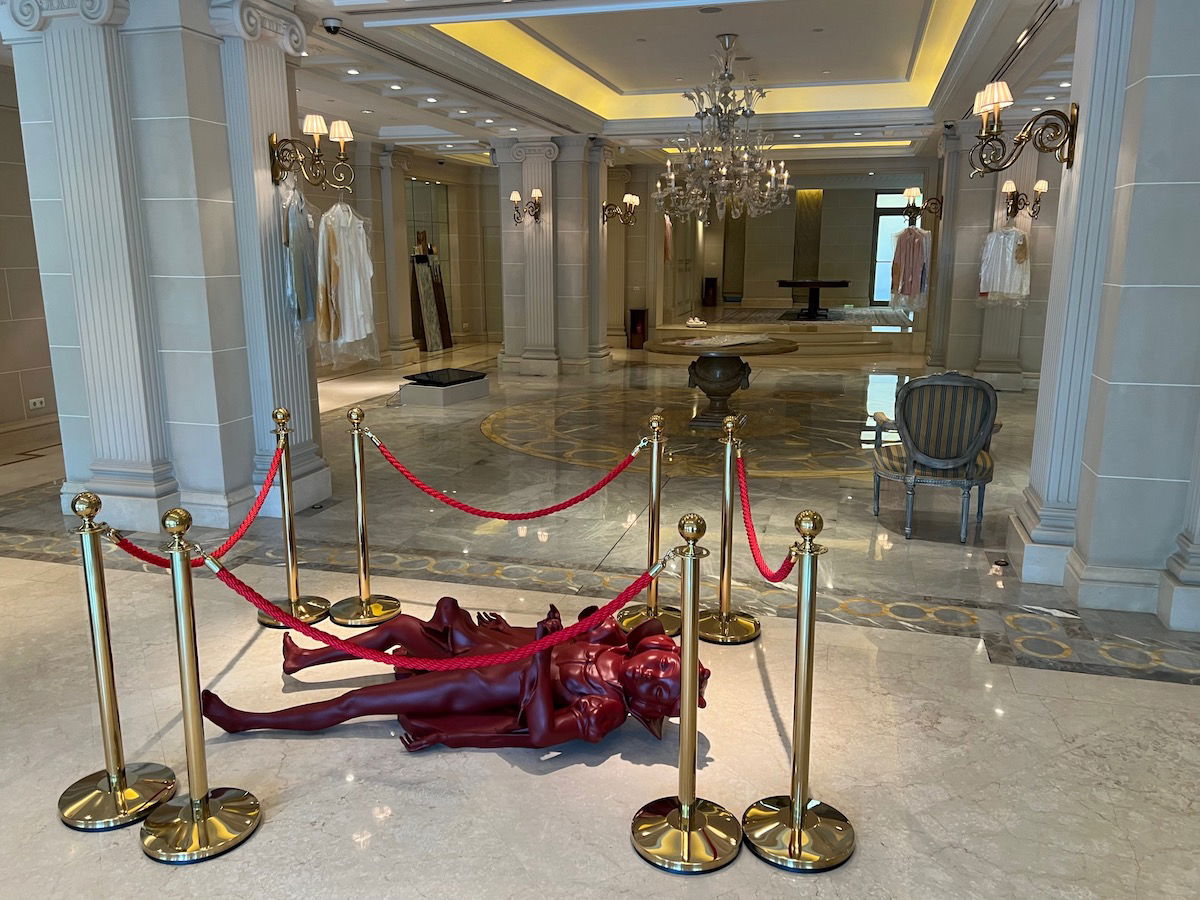 The exhibit even had seating that you're not supposed to touch. You know what's nicer than looking at seating? Sitting in it…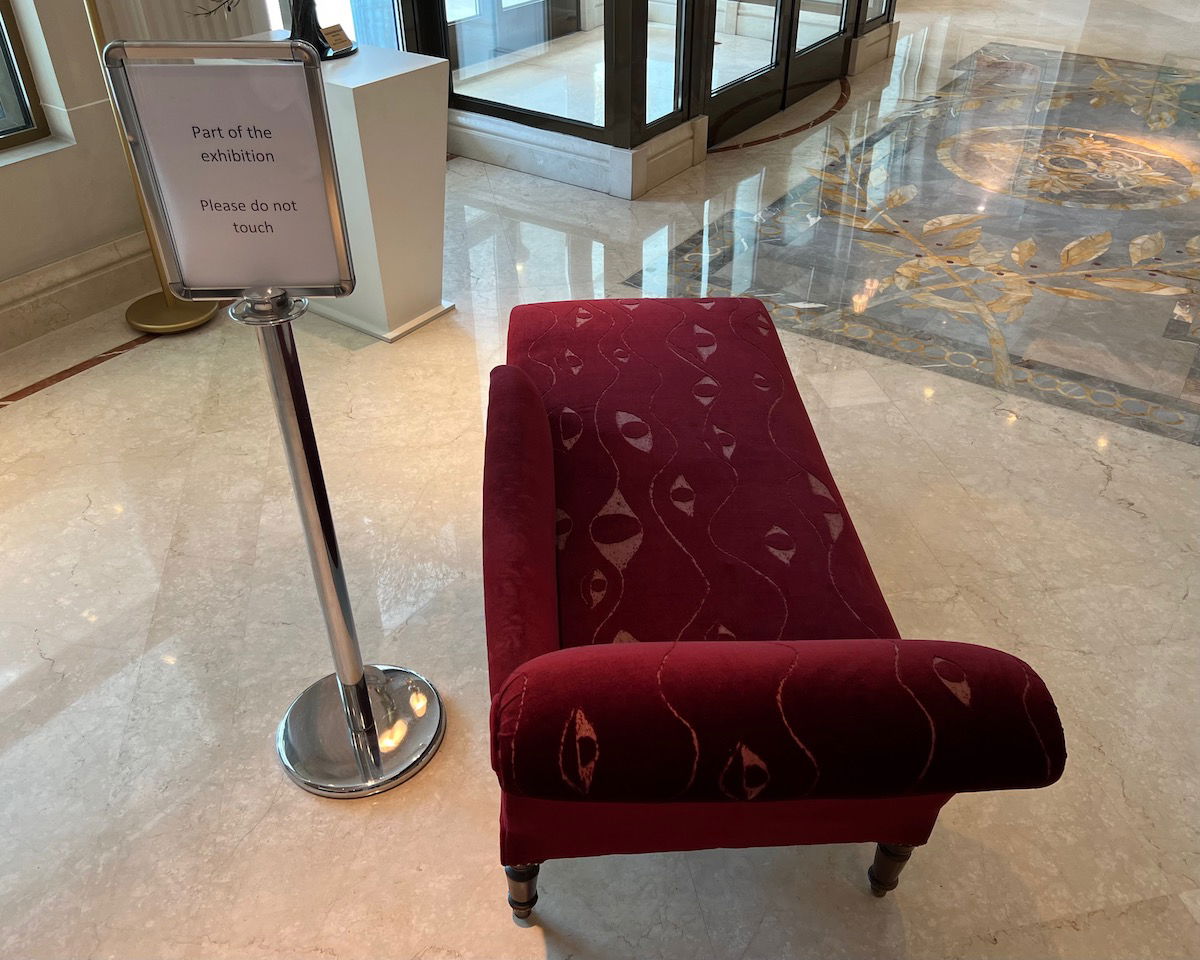 King George Athens one bedroom suite
I had used a Marriott suite night award to confirm an upgrade to a one bedroom courtyard suite. My upgrade cleared five days before arrival, and we were assigned room 812K (all room numbers at the hotel end with "K," and that's to differentiate the rooms from those at Hotel Grande Bretagne, so you can charge stuff from outlets there to your room).
The hotel's elevators are right near reception, and they go to all guest rooms plus Tudor Hall (the hotel's restaurant).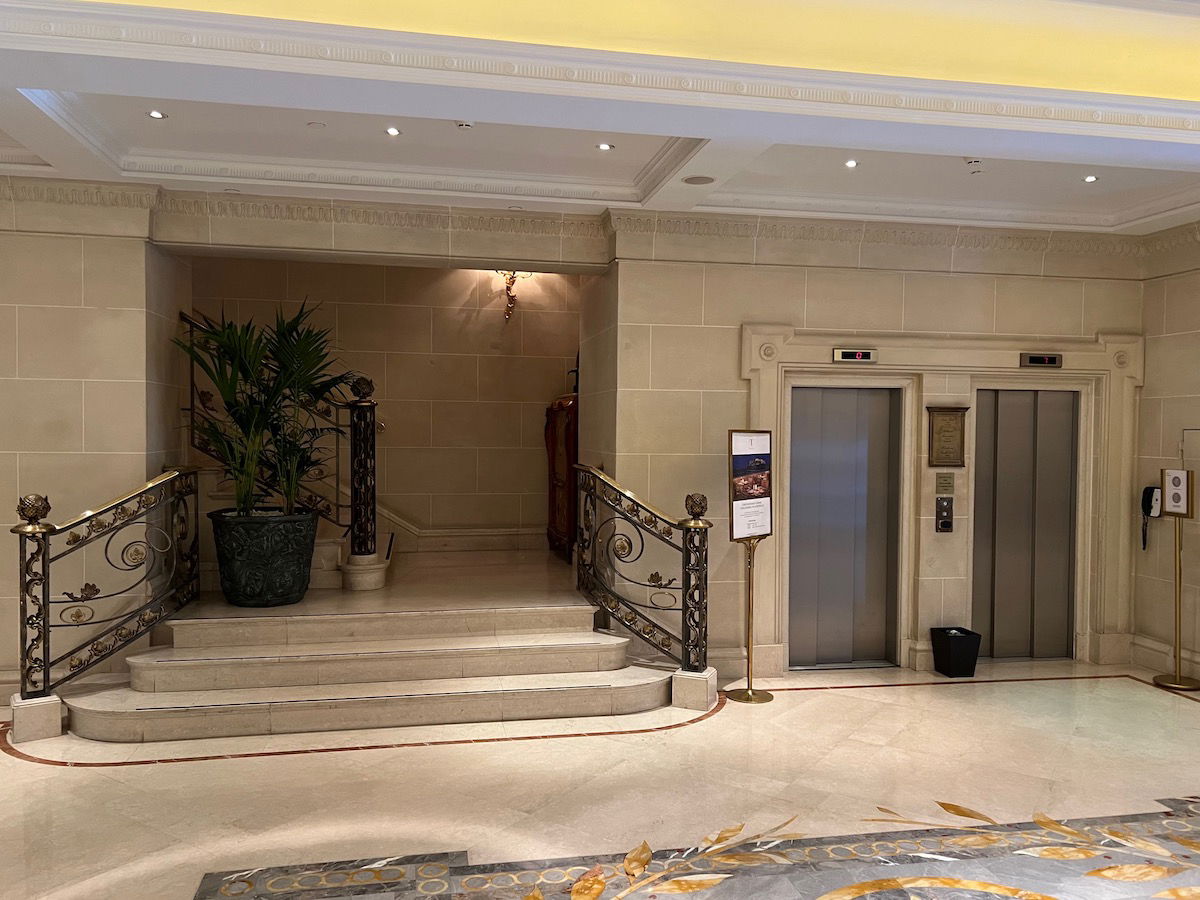 Our room was on the eighth floor (the hotel has nine floors), and was at the end of the hall on the left.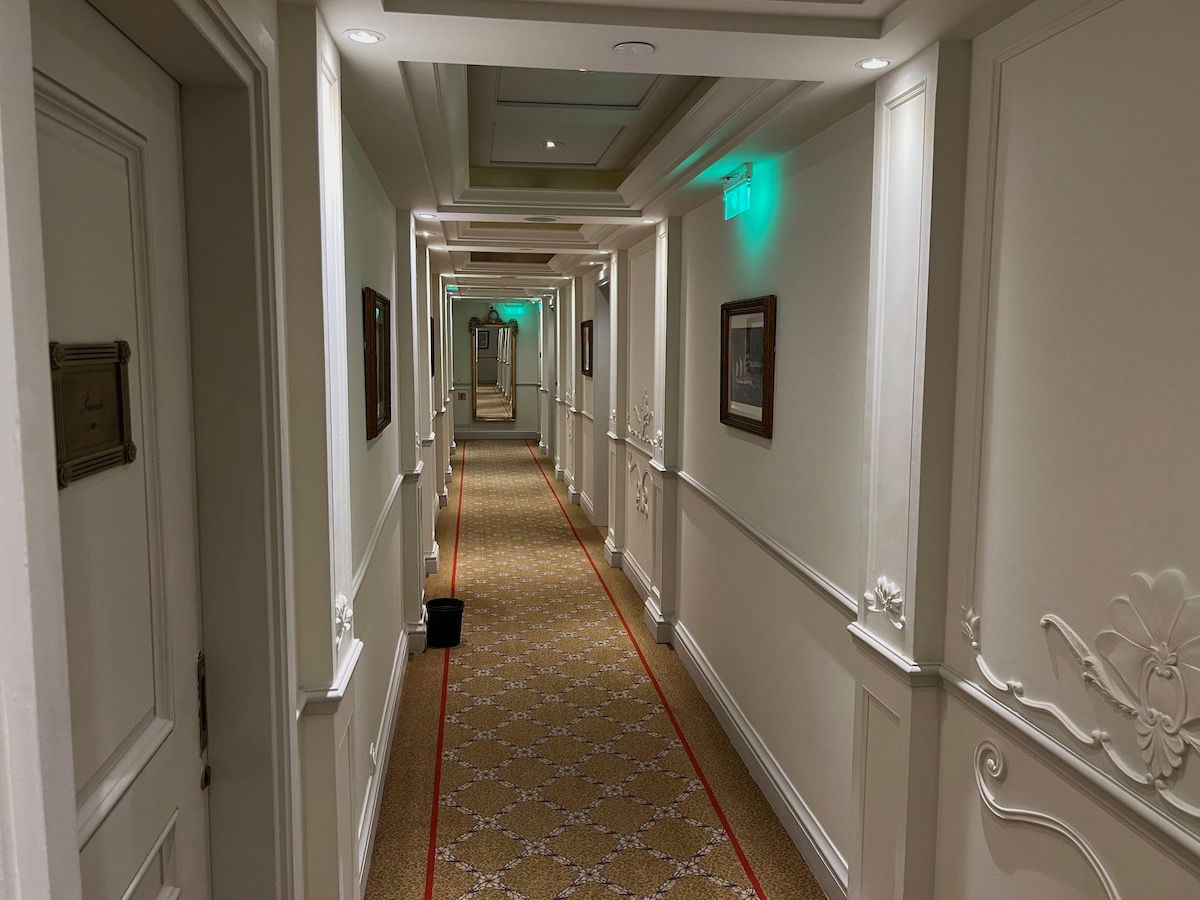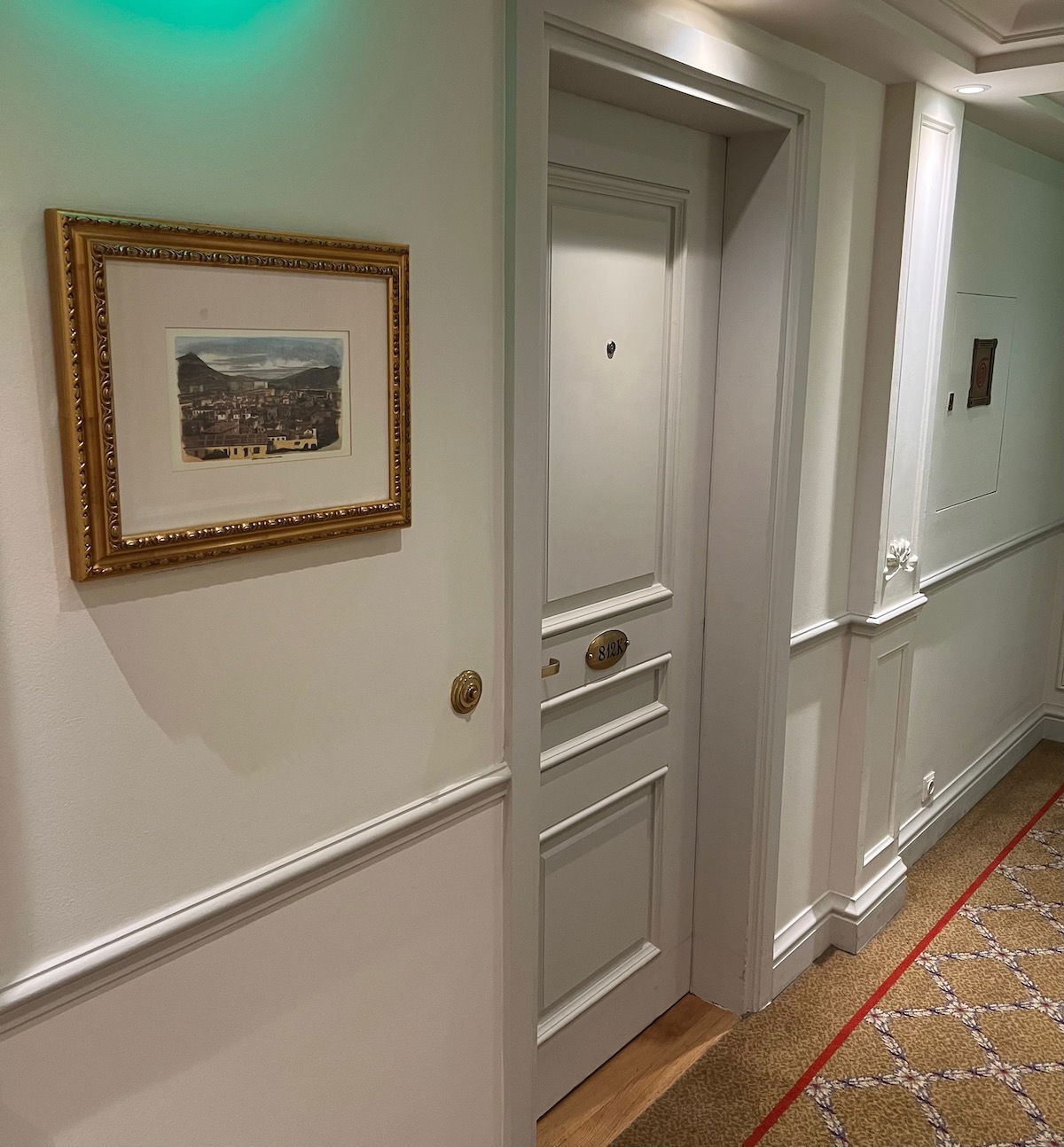 Inside the entrance to the suite and to the left was the living area, which was… sparsely furnished. I was honestly confused as to whether a piece of furniture was missing, or if this was intentional, because there was a lot of empty space by the window. The living room had a sofa that could seat three, a coffee table, and a desk with a chair.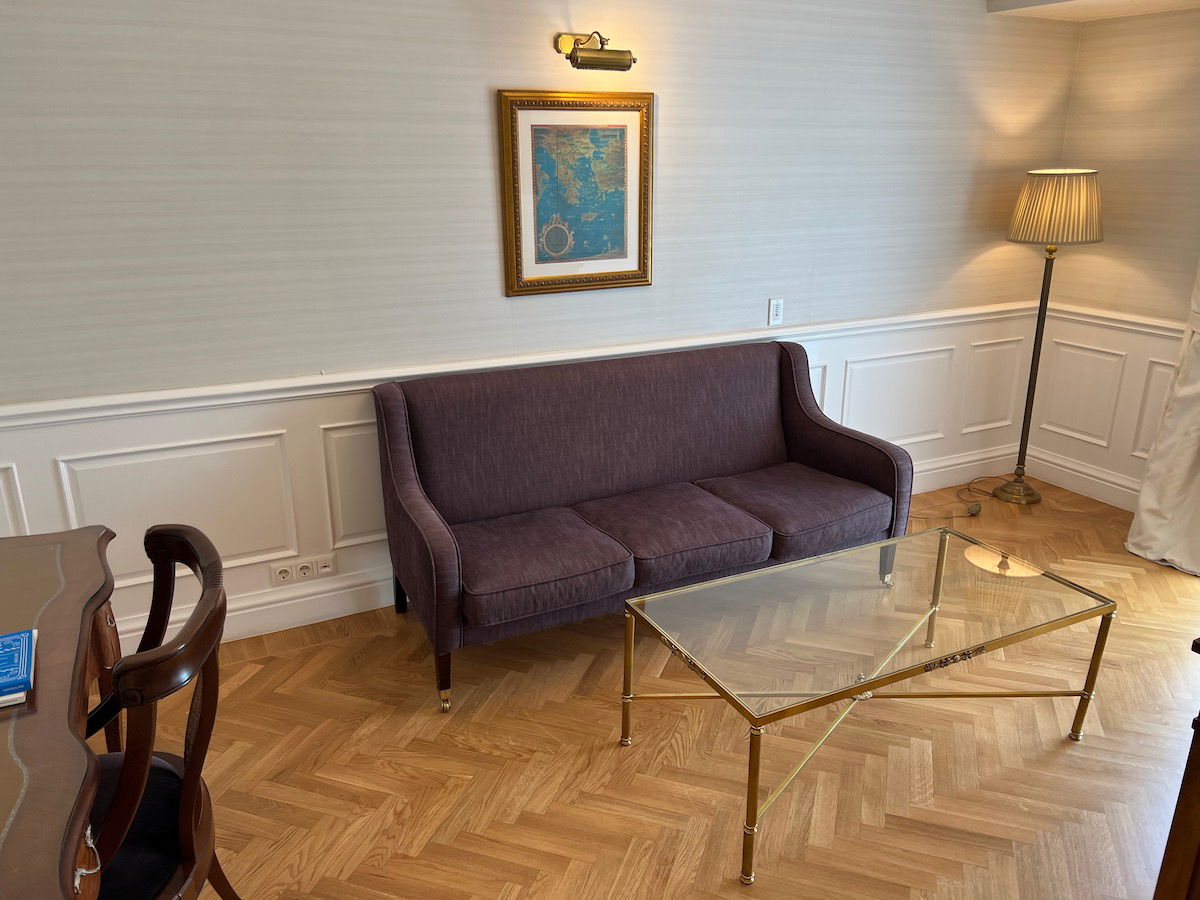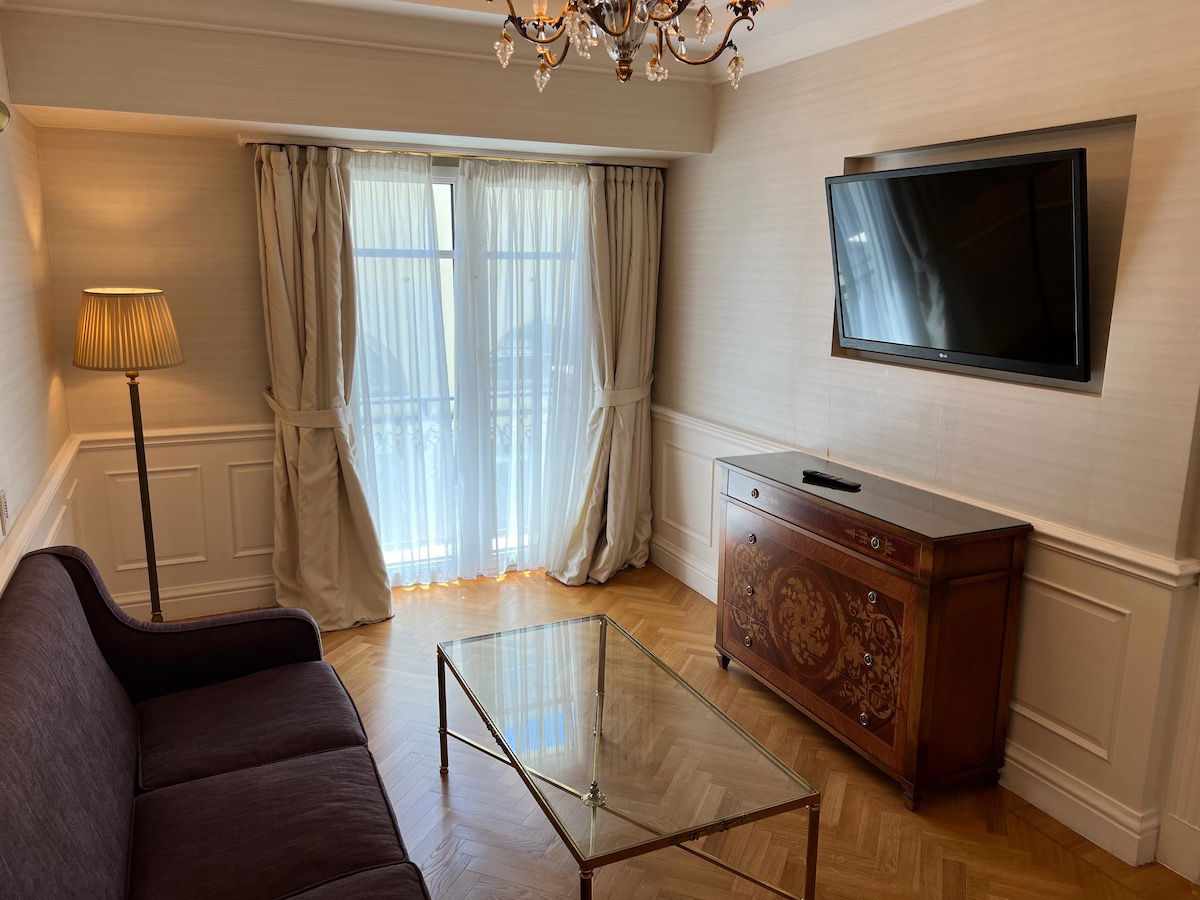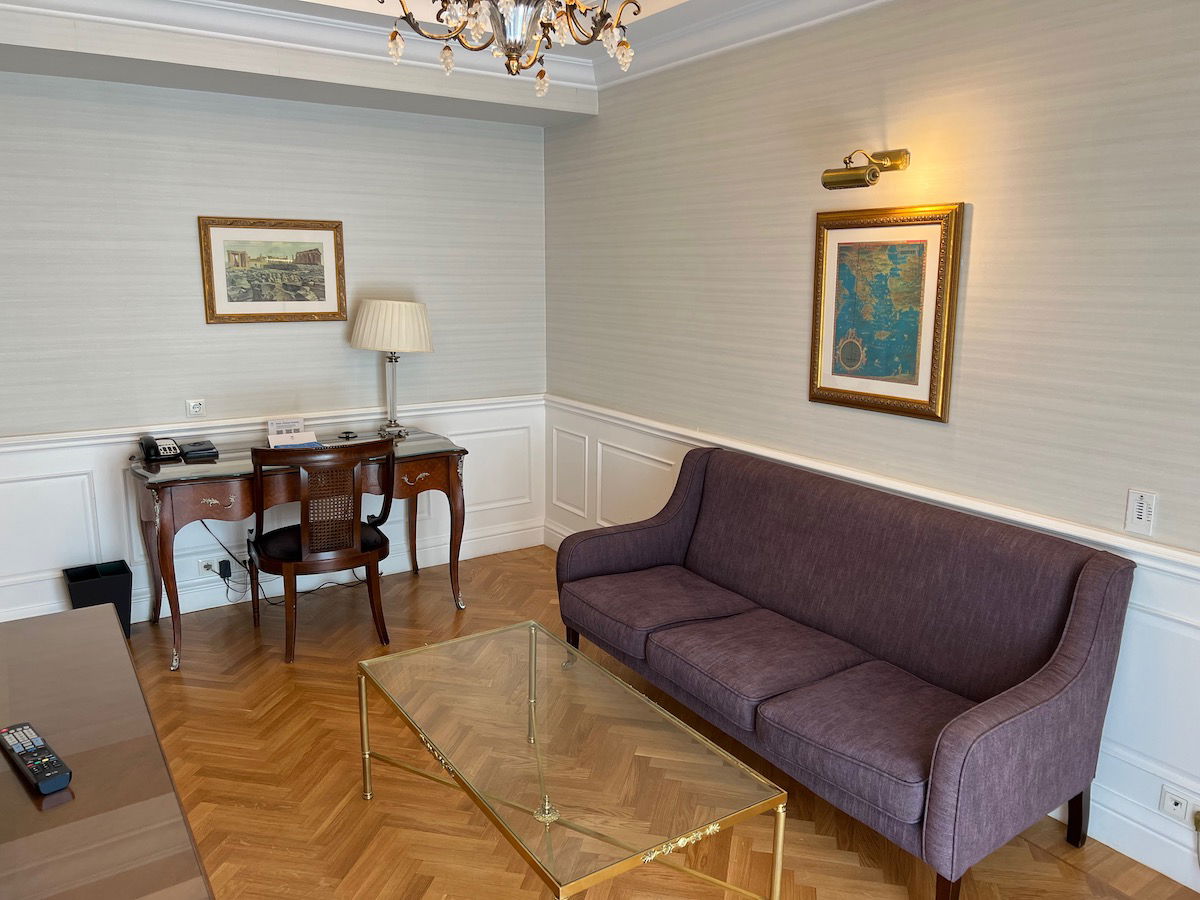 To me the living room felt kind of like an apartment that someone was in the process of moving out of. On the plus side, we were brought some fresh flowers shortly after checking in, which added a bit of personality to the living room.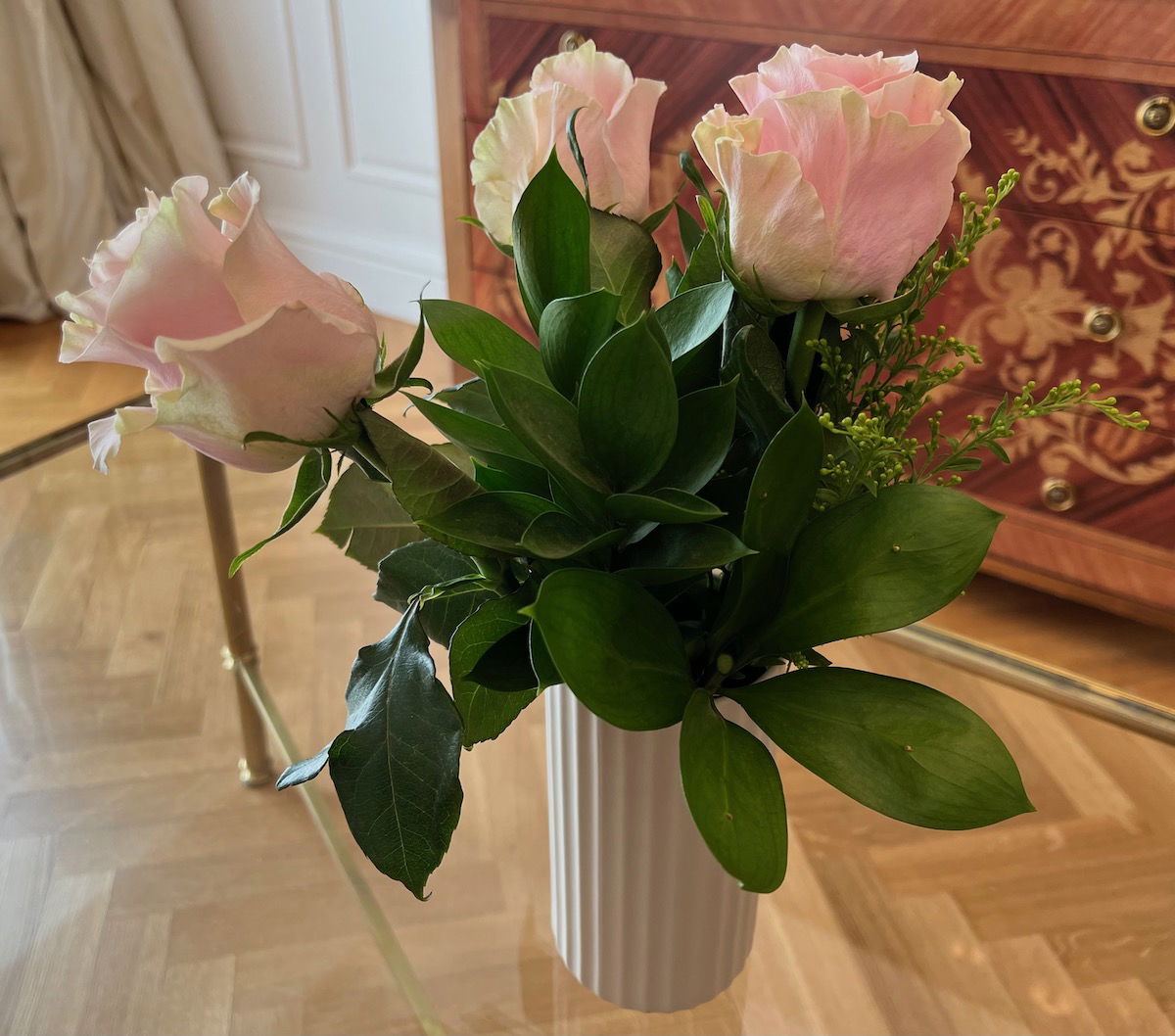 The bedroom was on the opposite side of the room, and while there was a door frame, there wasn't actually a door, so you don't have full separation between the spaces.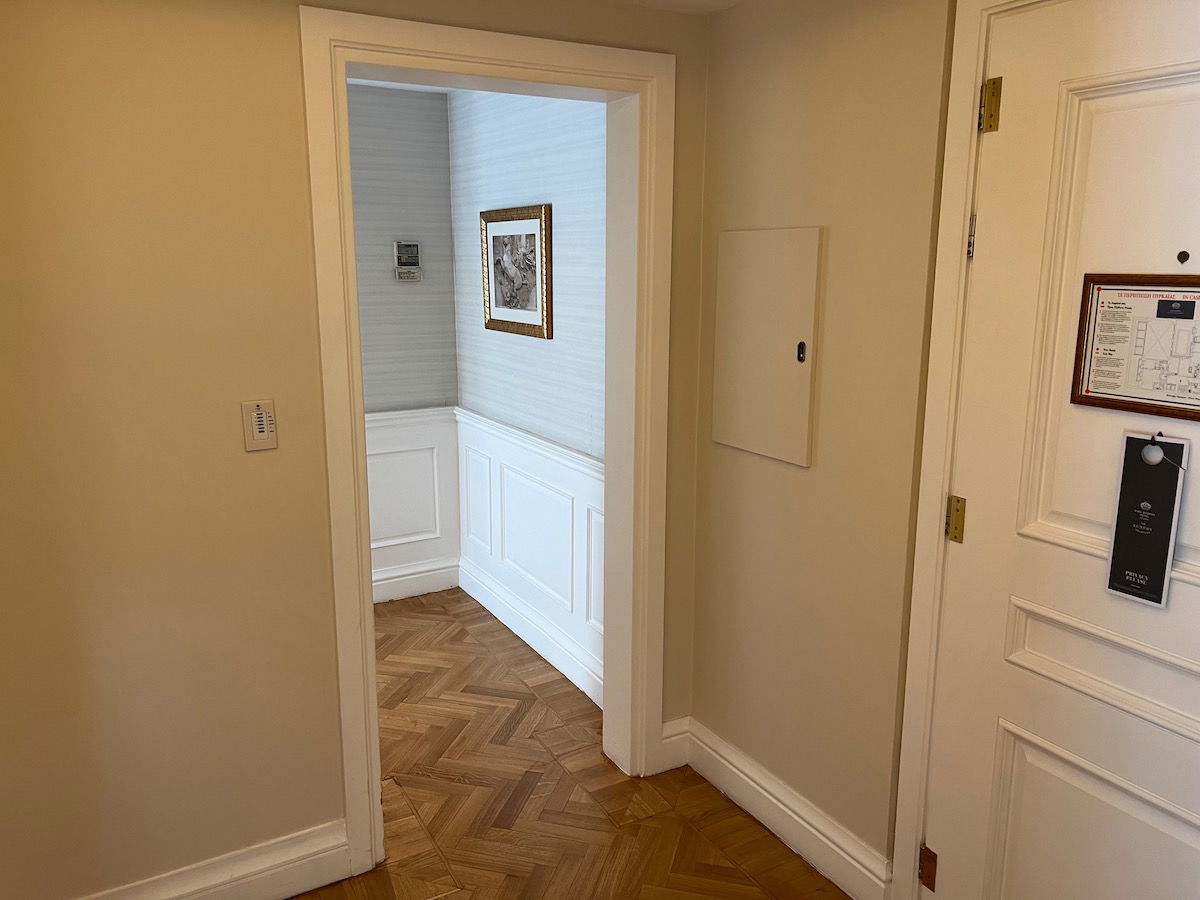 The bedroom had a comfortable king size bed plus a TV.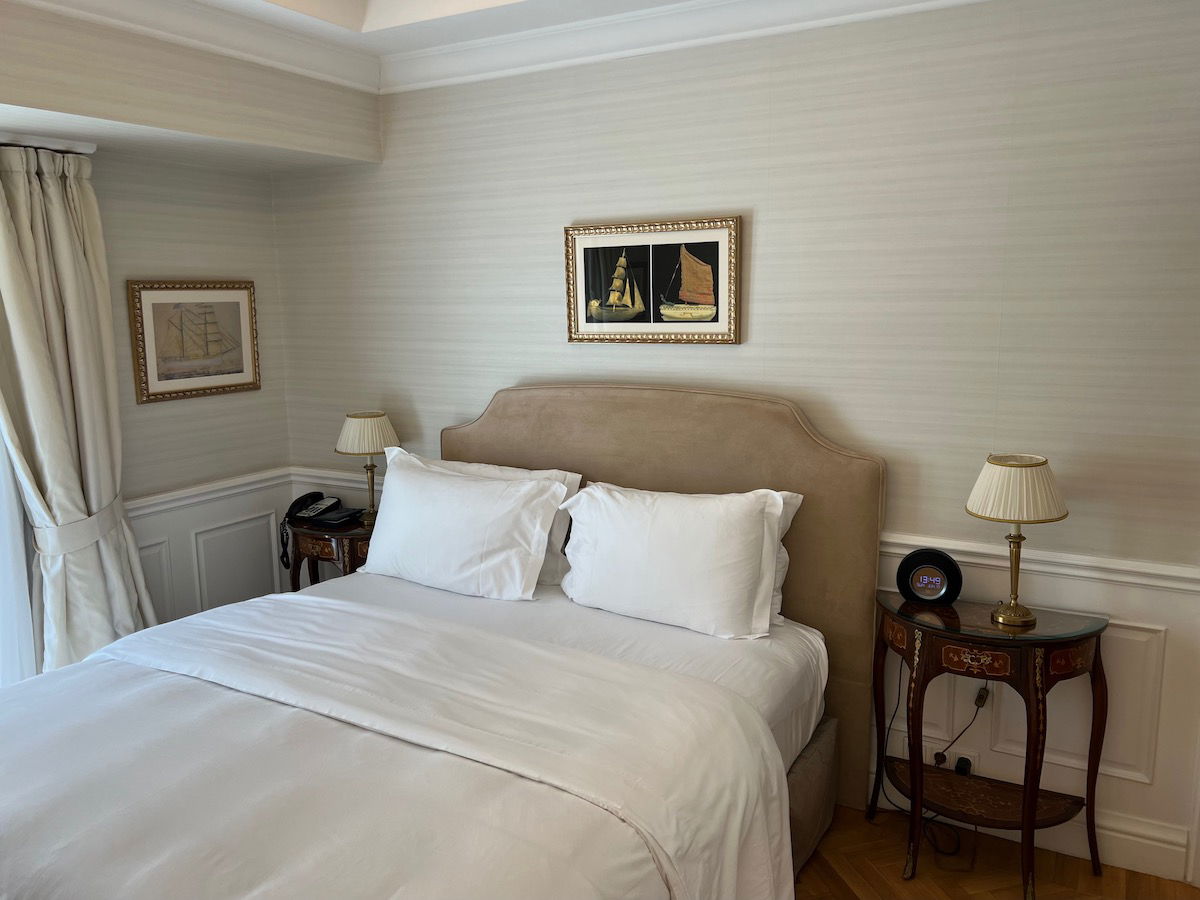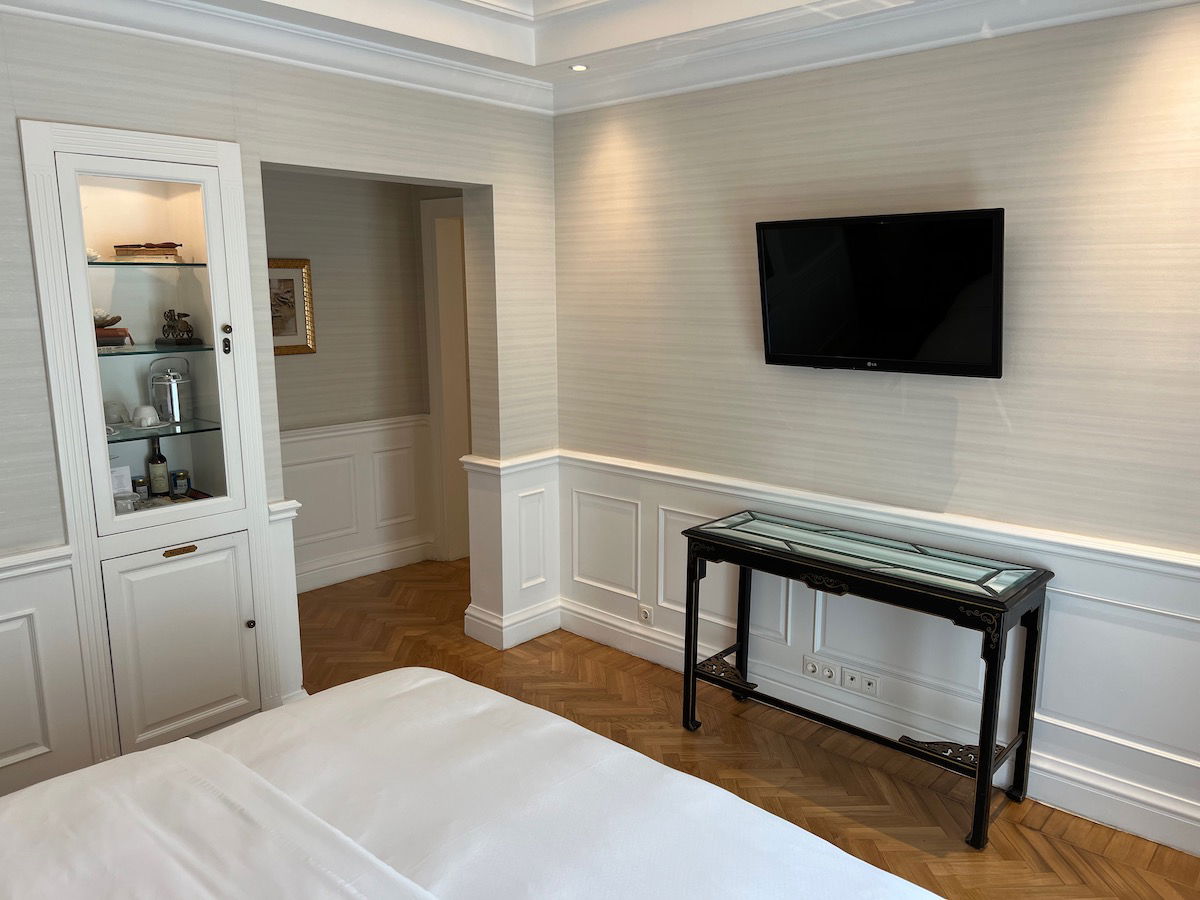 The minibar and coffee machine were also in the bedroom.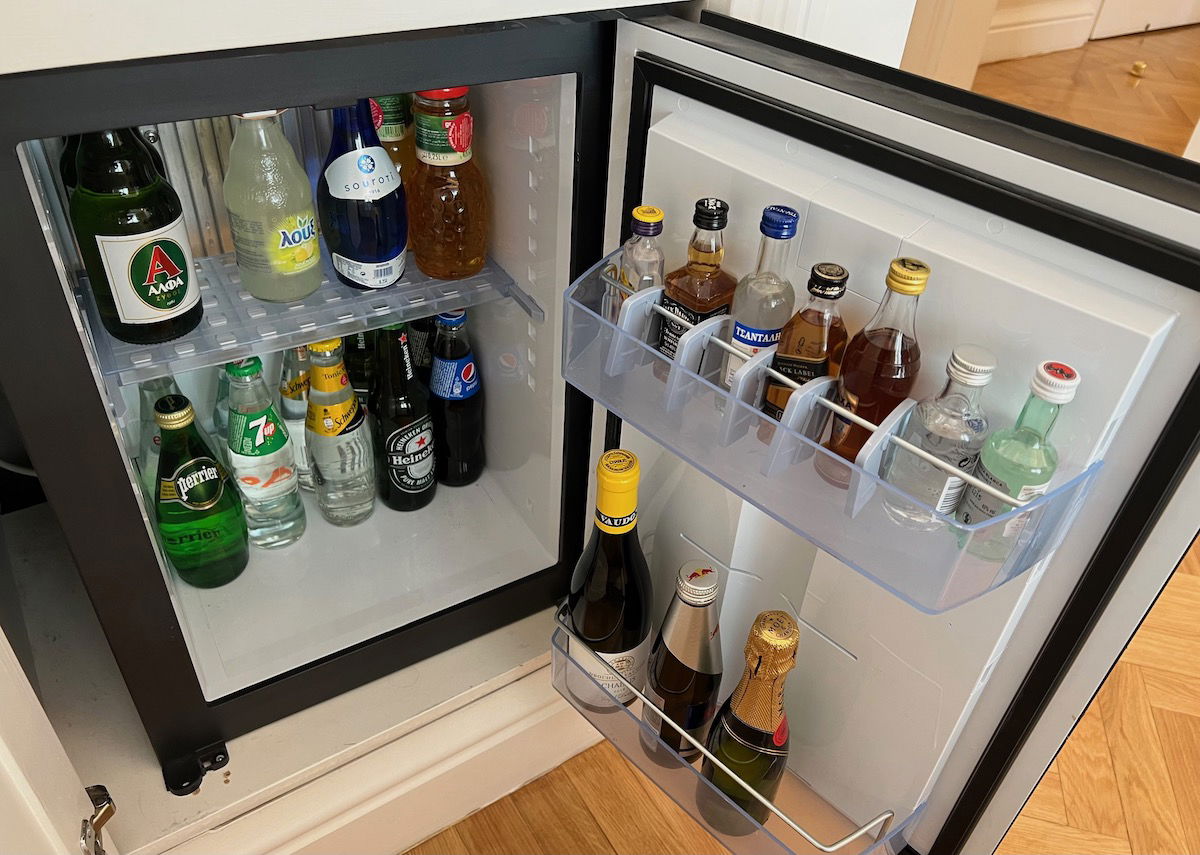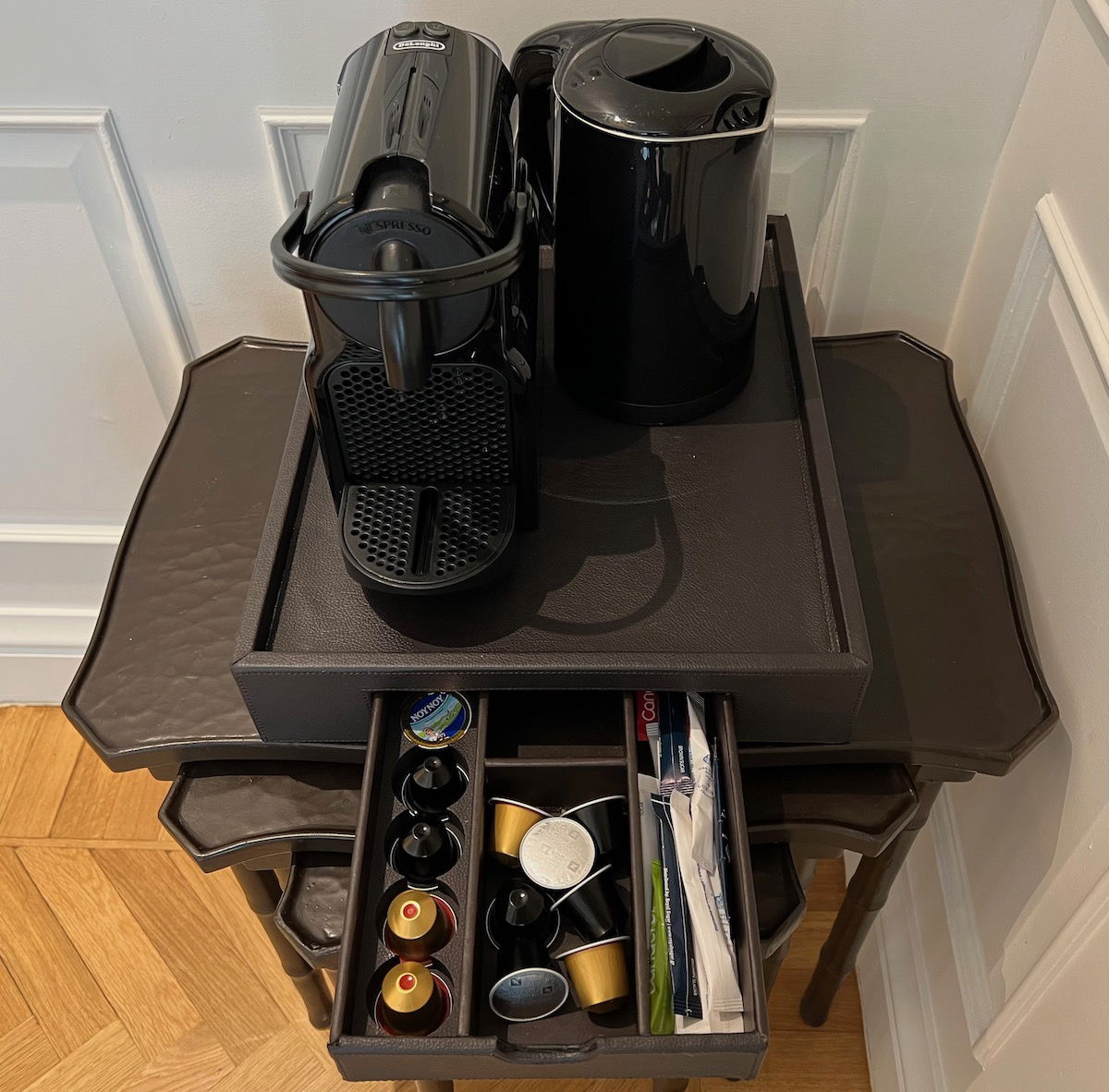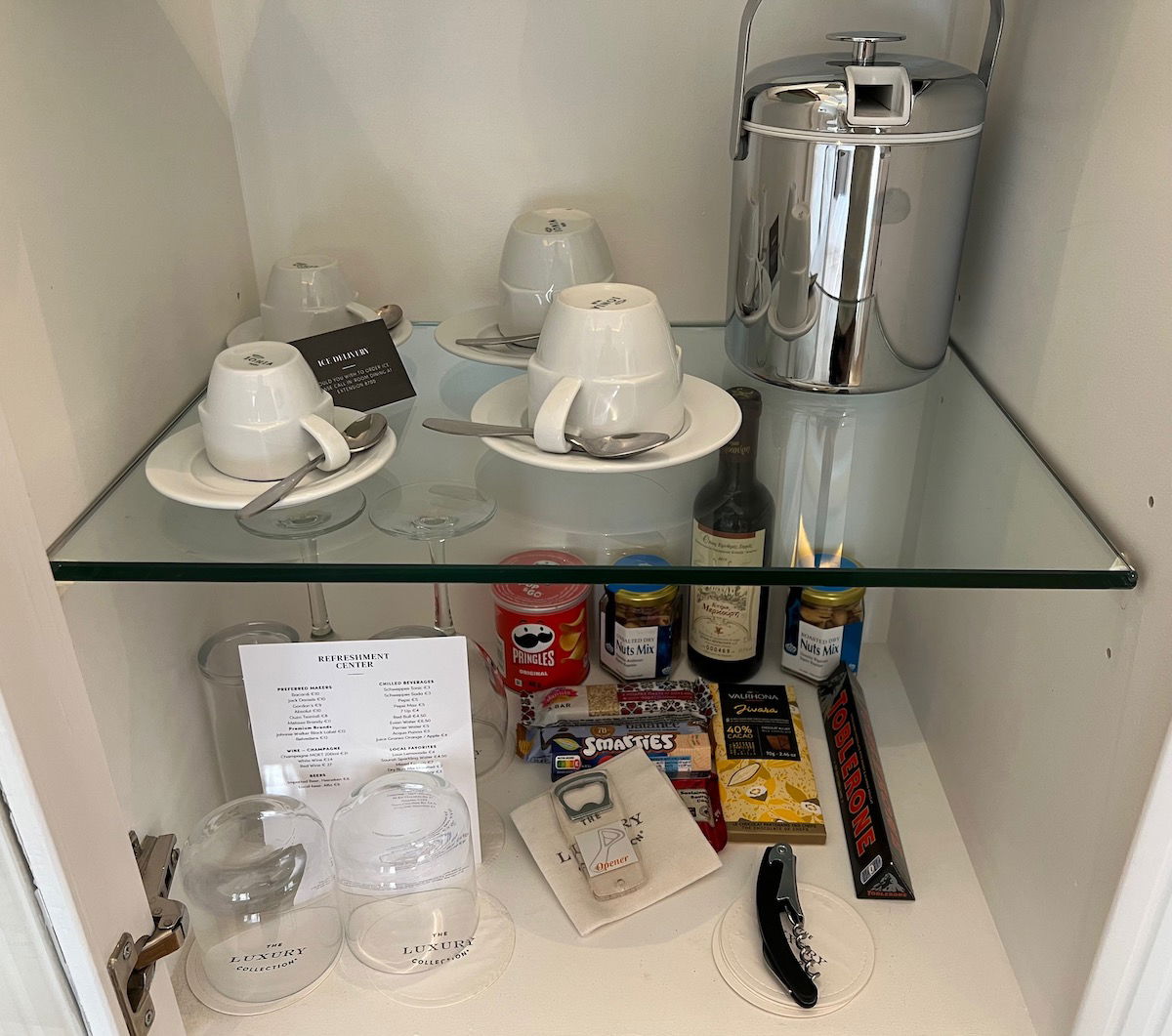 There was also a closet in the back corner of the bedroom.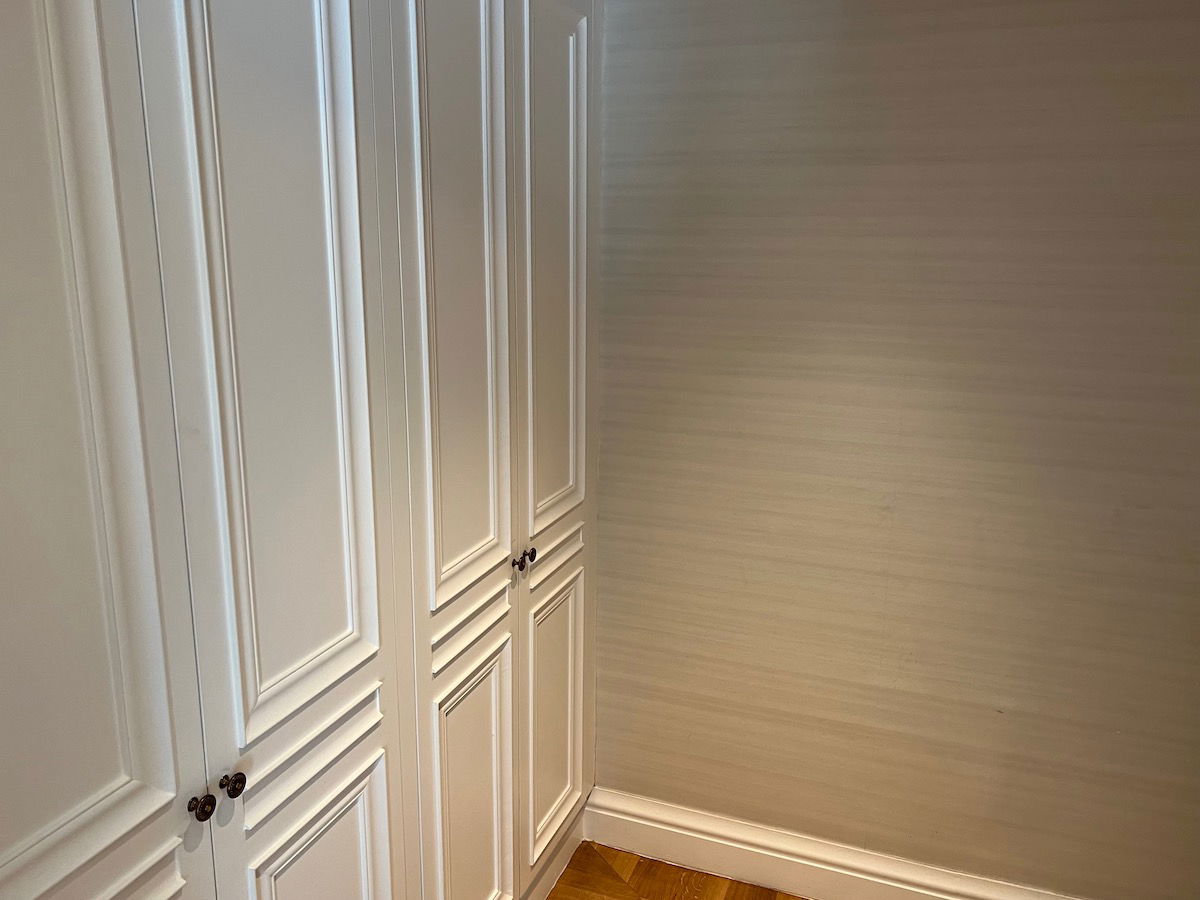 The bathroom was a good size, but only had a single sink and a shower/tub combo. I also thought the toilet was oddly close to the wall.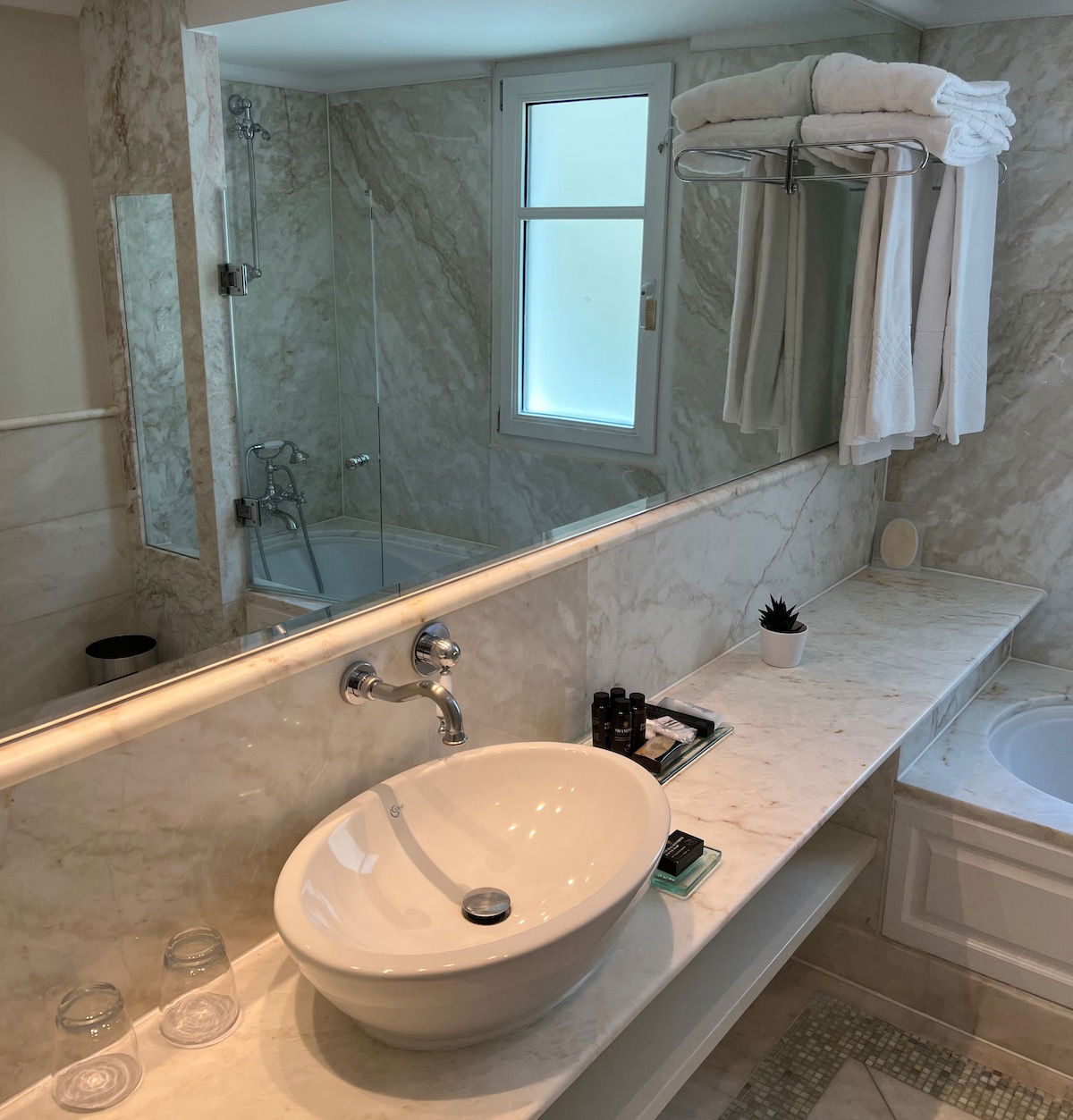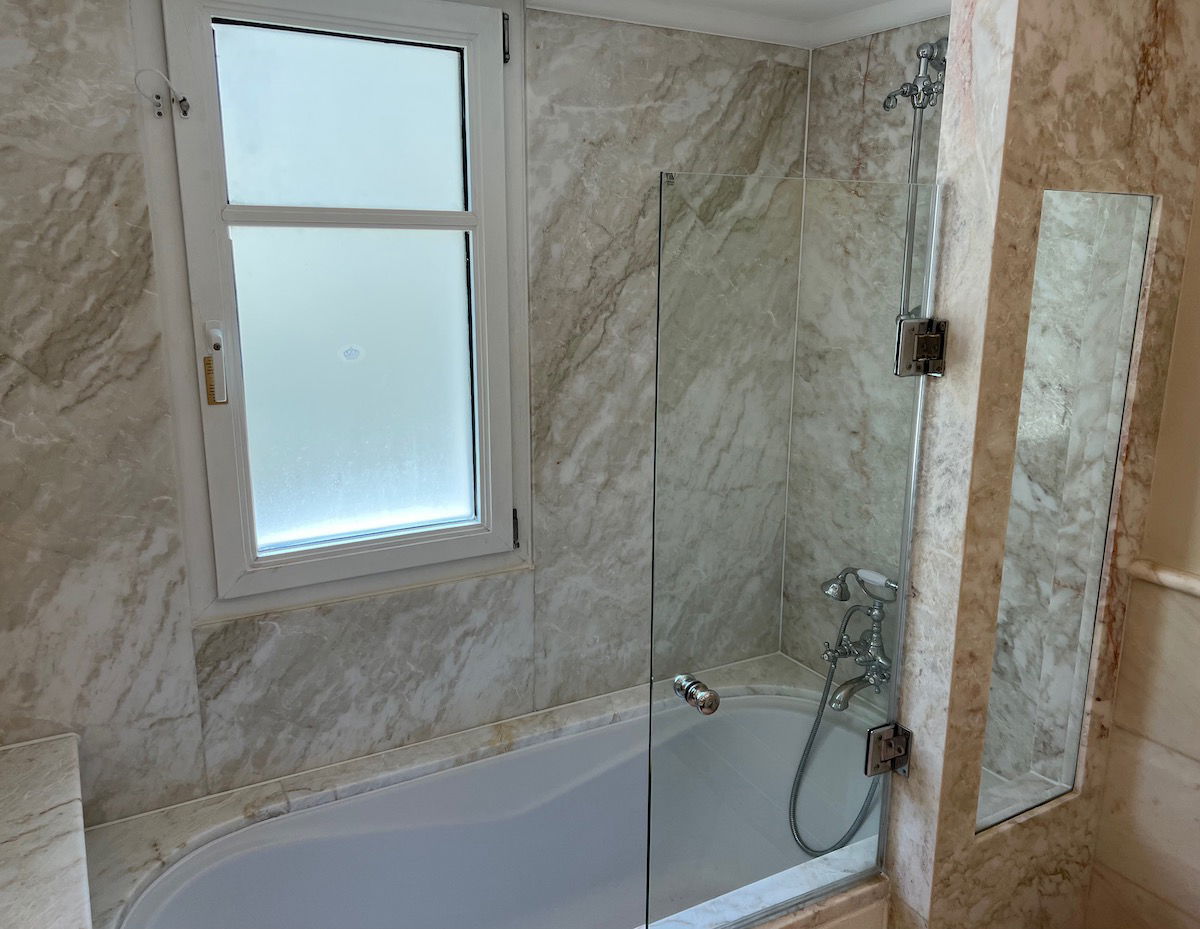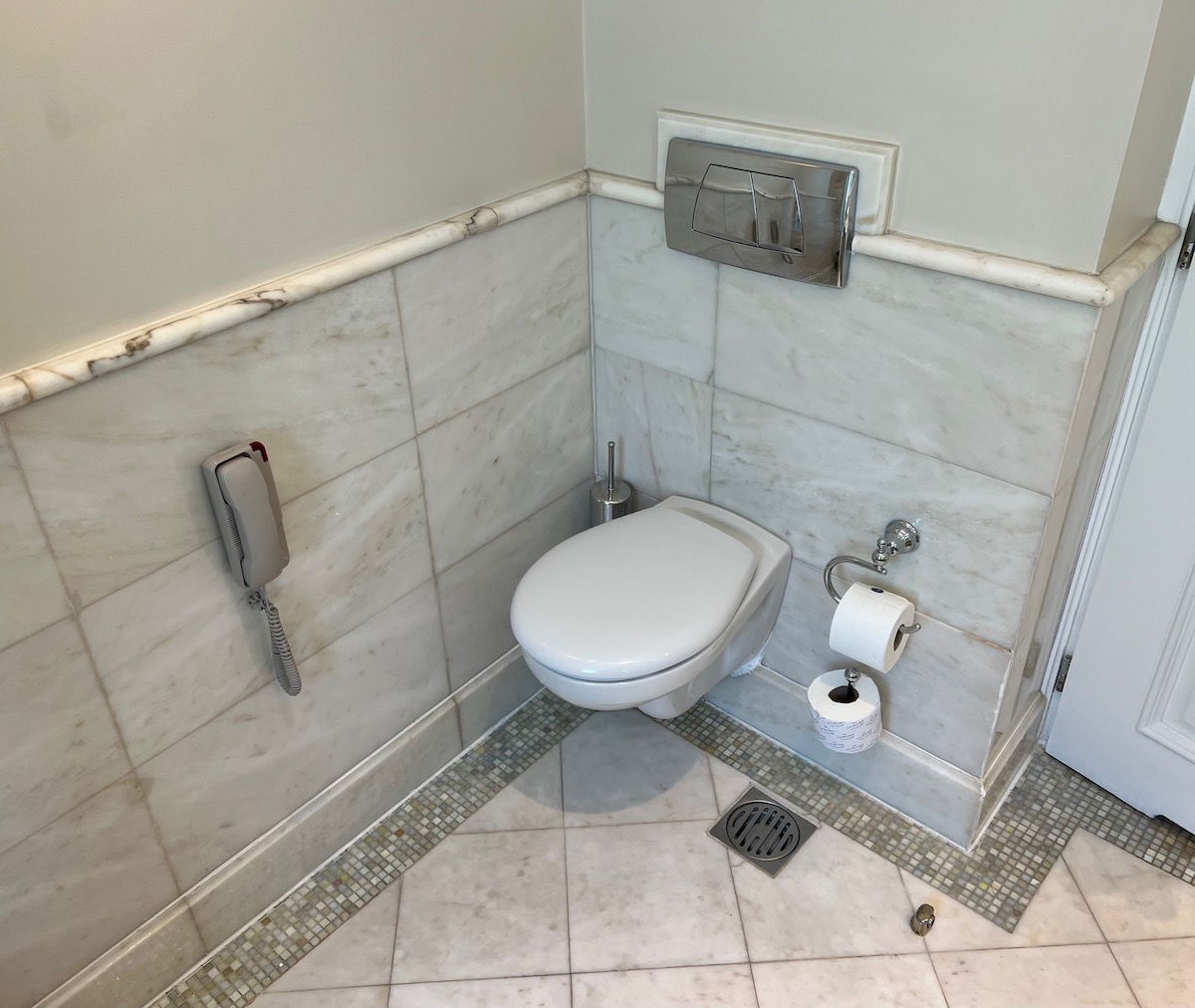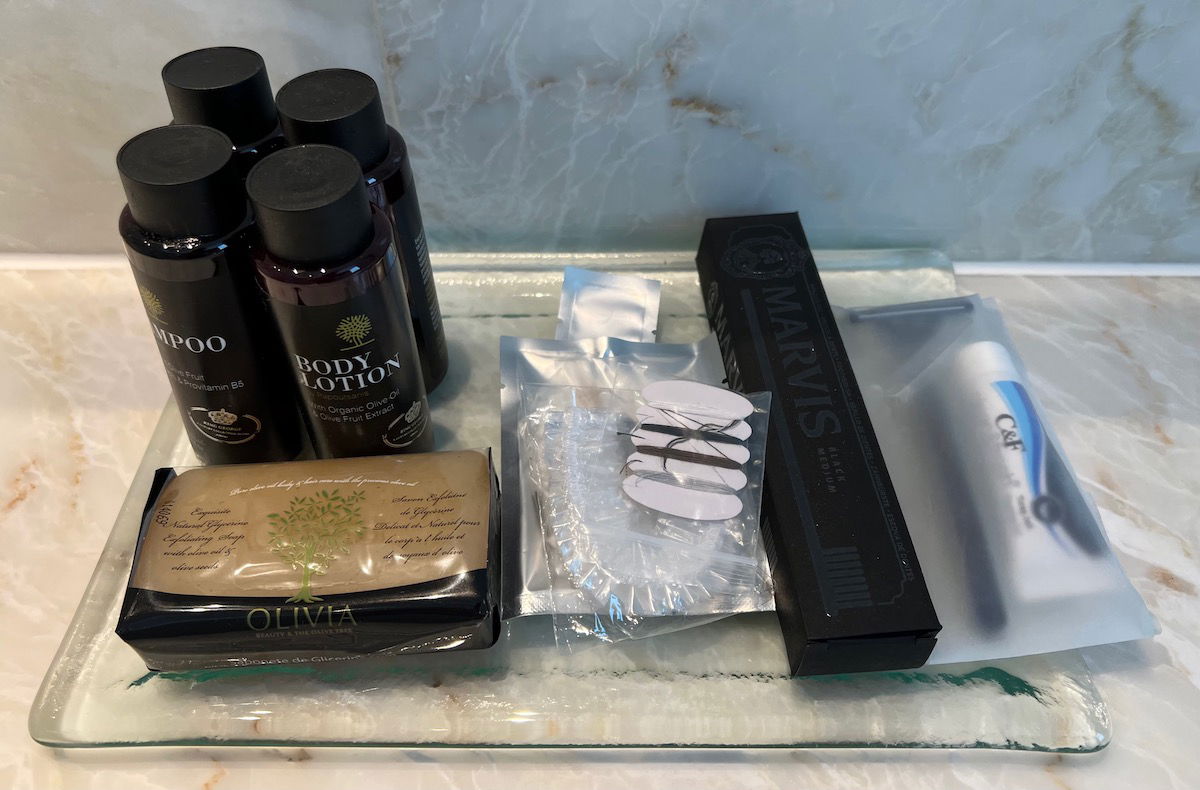 The room had a courtyard view, as we expected. So there wasn't much to see. That meant there wasn't any street noise. Unfortunately the sound insulation at the hotel otherwise isn't very good, and we could hear just about any noise in the hallway, including people opening and closing doors.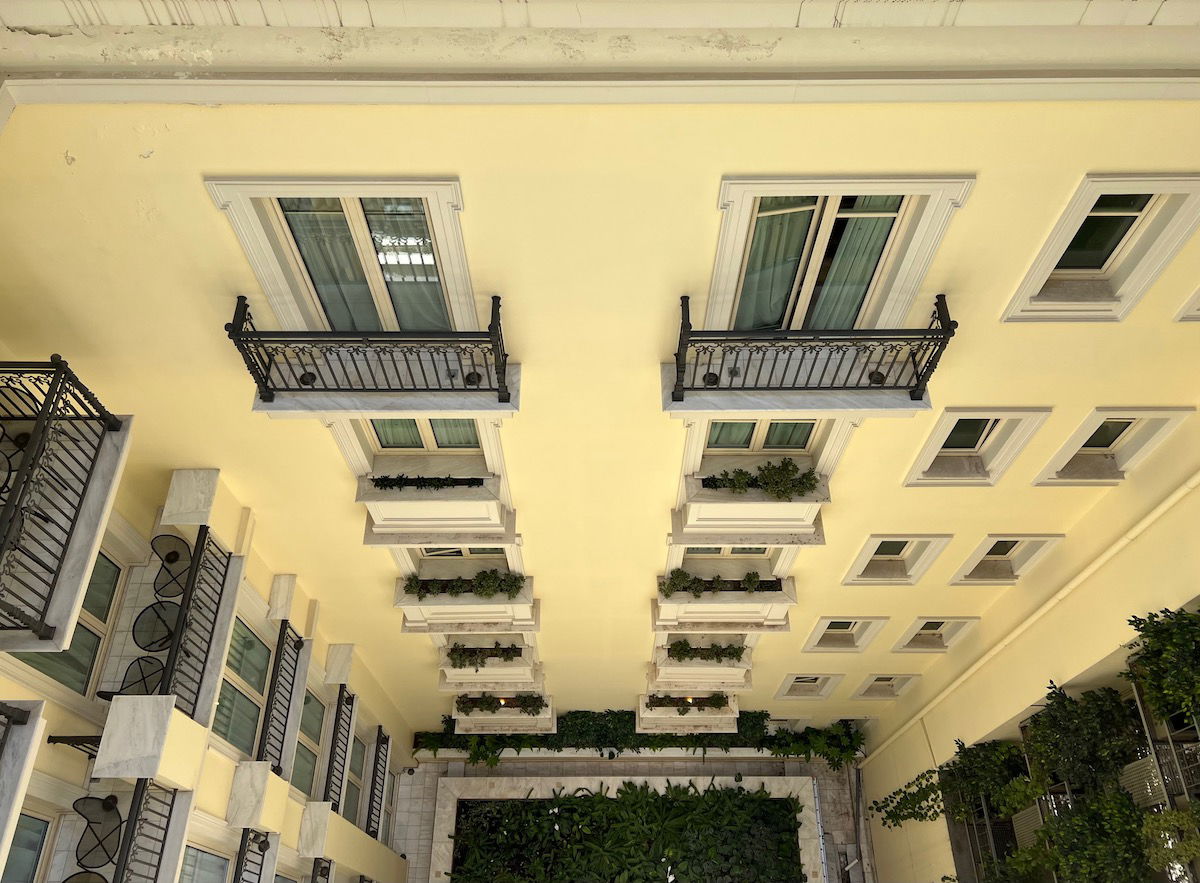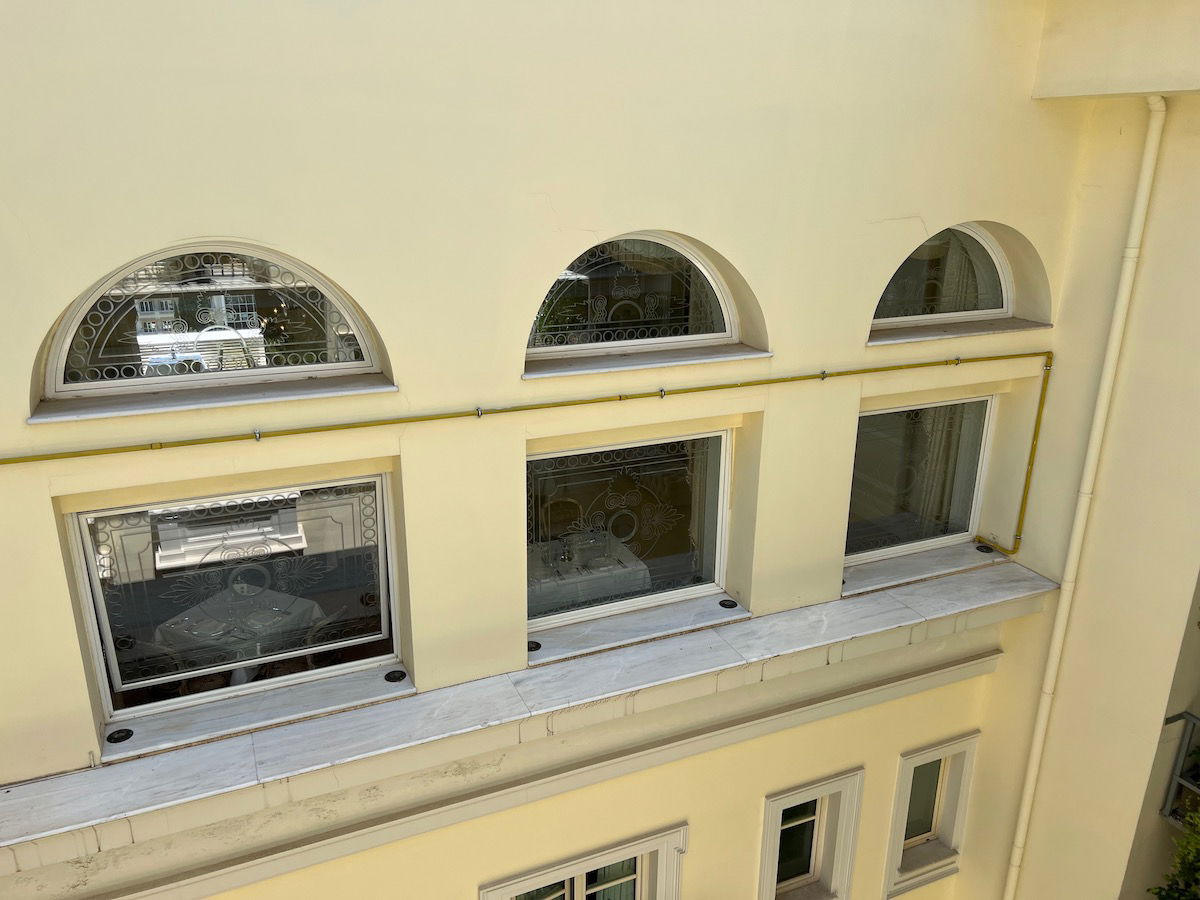 After checking in we were brought a lovely welcome amenity consisting of a bottle of water, some sweets, and a small bottle of Greek liquor.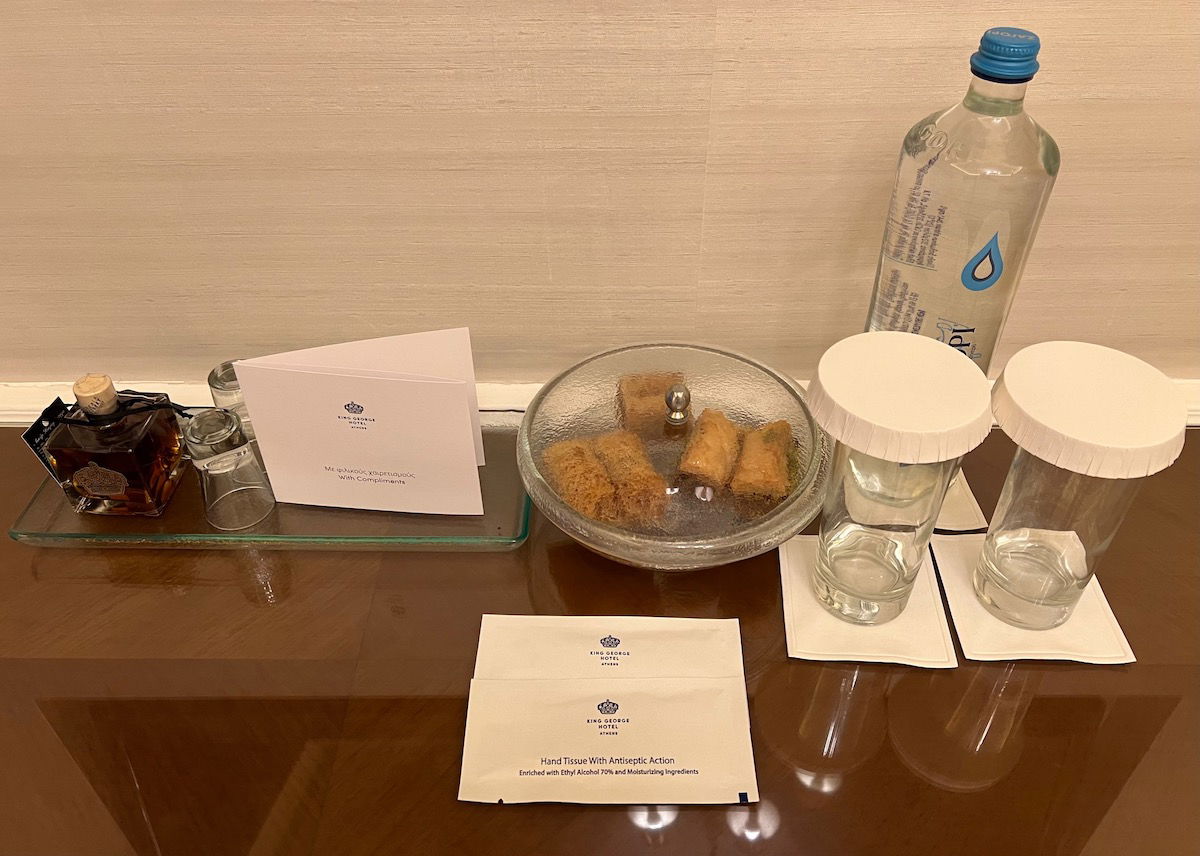 Wi-Fi in the room was fast and free, and twice daily housekeeping was provided.
King George Athens Tudor Hall Restaurant
Tudor Hall is King George's only food & beverage outlet, and it's located on the seventh floor. It's open daily for breakfast from 6:30AM until 11AM, it's open for coffee from 11AM until 1:30PM, and it's open for dinner from 6PM until 2AM.
This venue is simply stunning, in terms of both the design and views. There's a large "formal" dining room of sorts, with the benefit of there being huge doors that remain open, so you really feel like you're outside.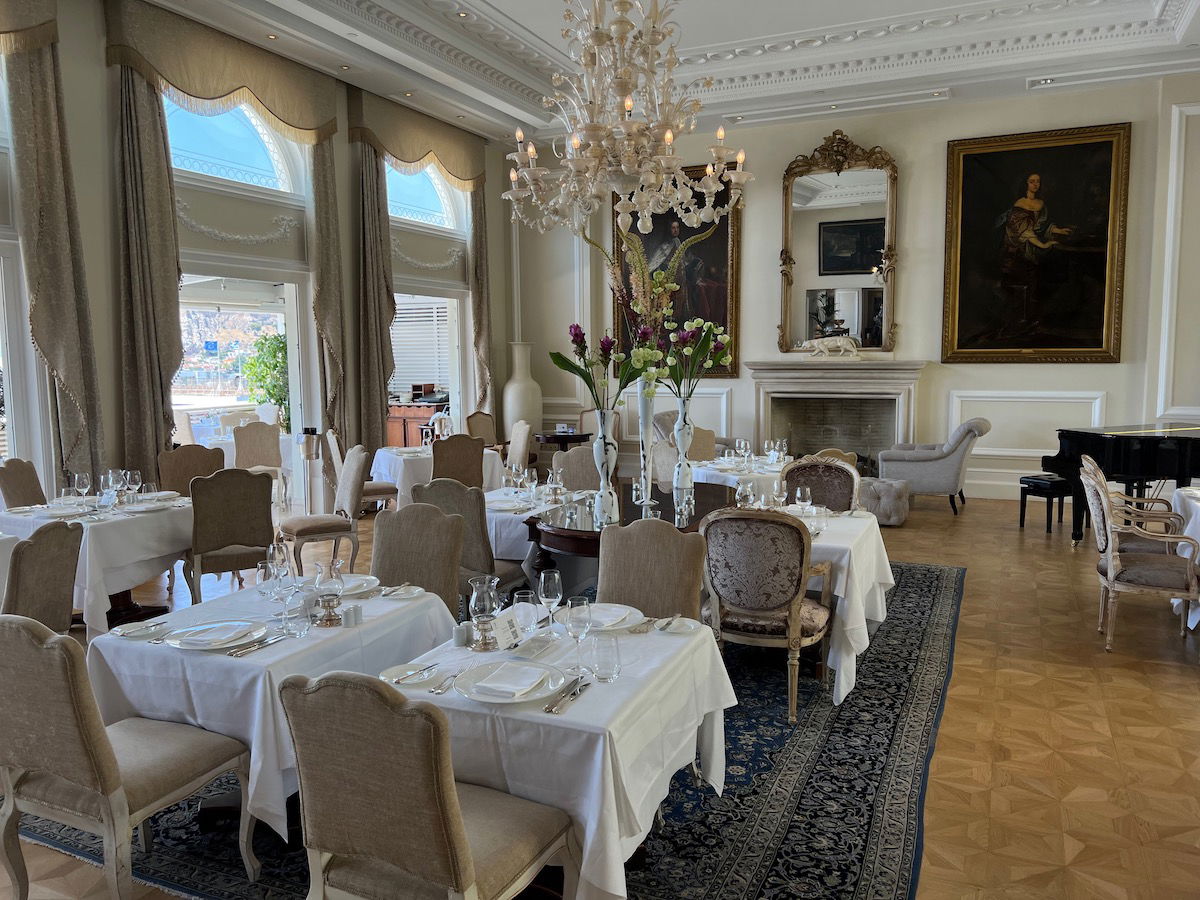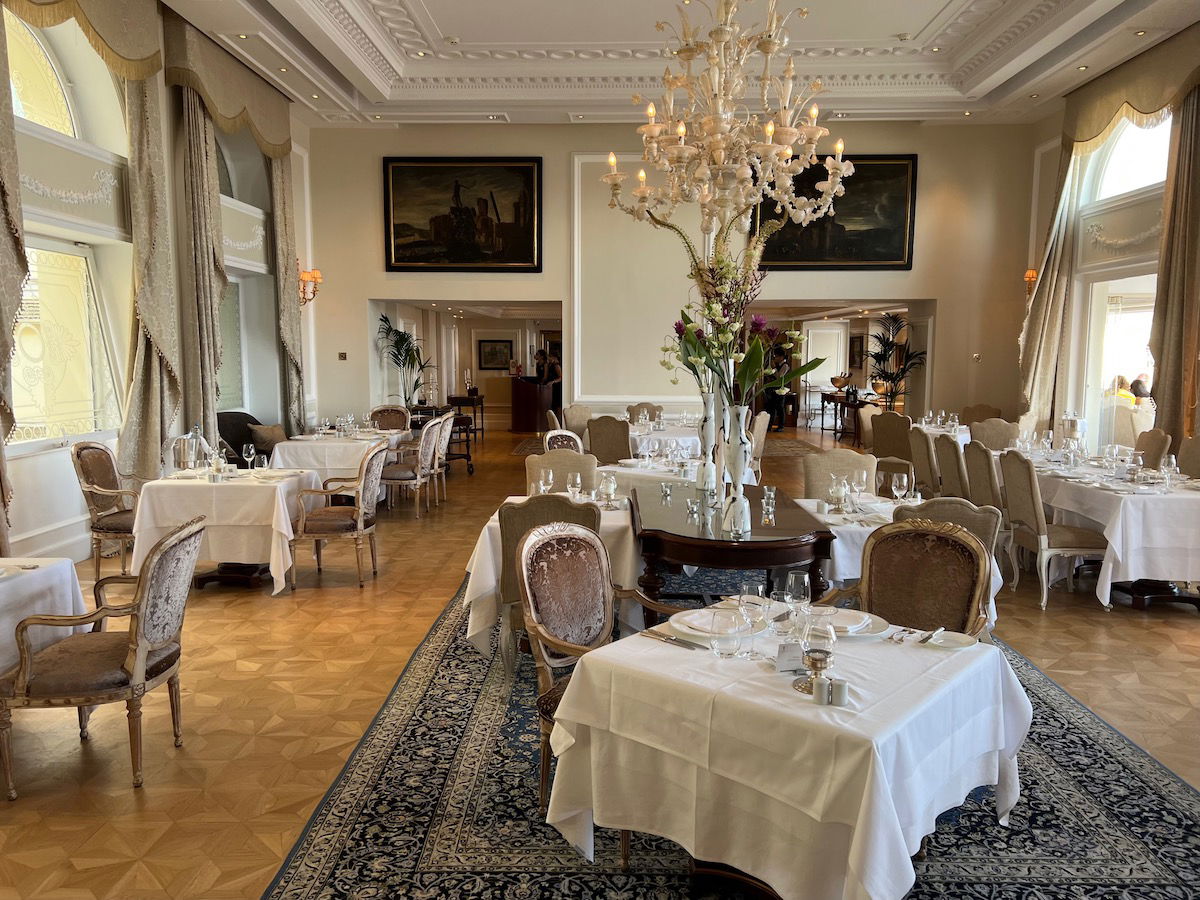 There's also a bar area, as well as some seating near the fireplace if you just want to stop by here for a drink.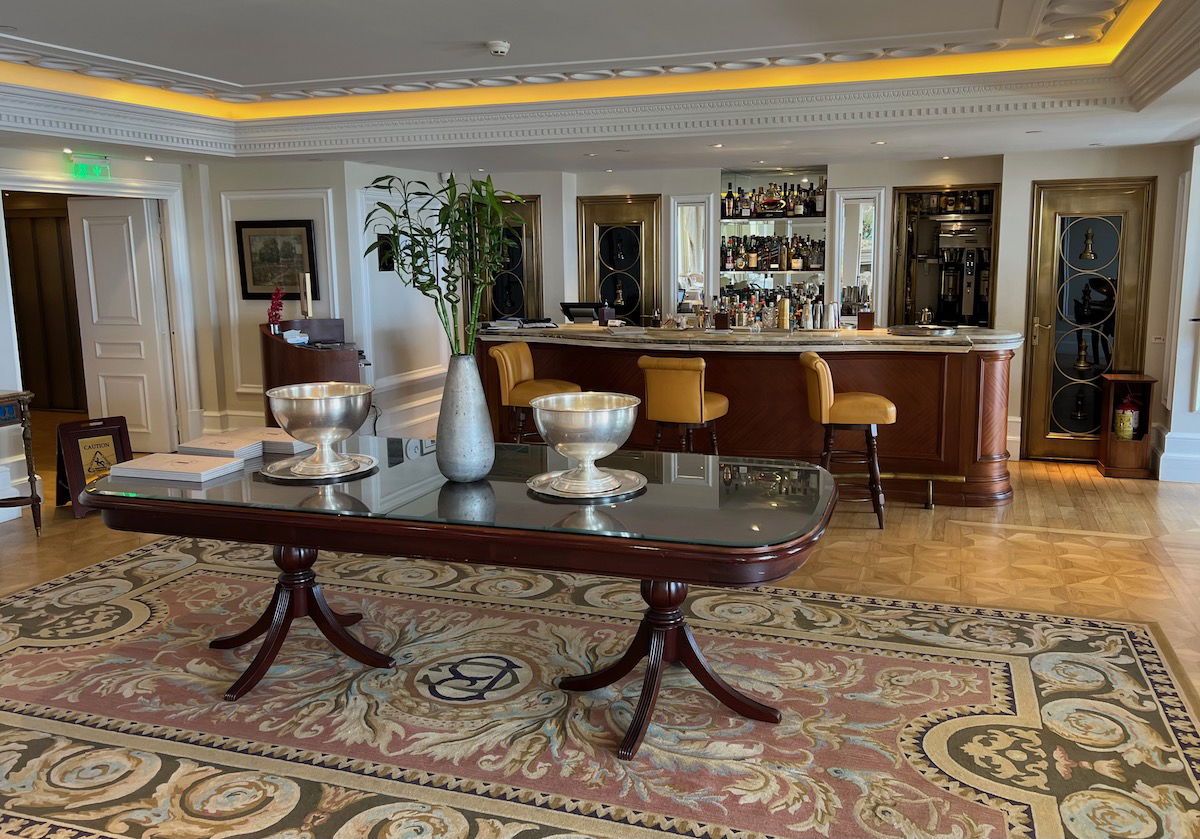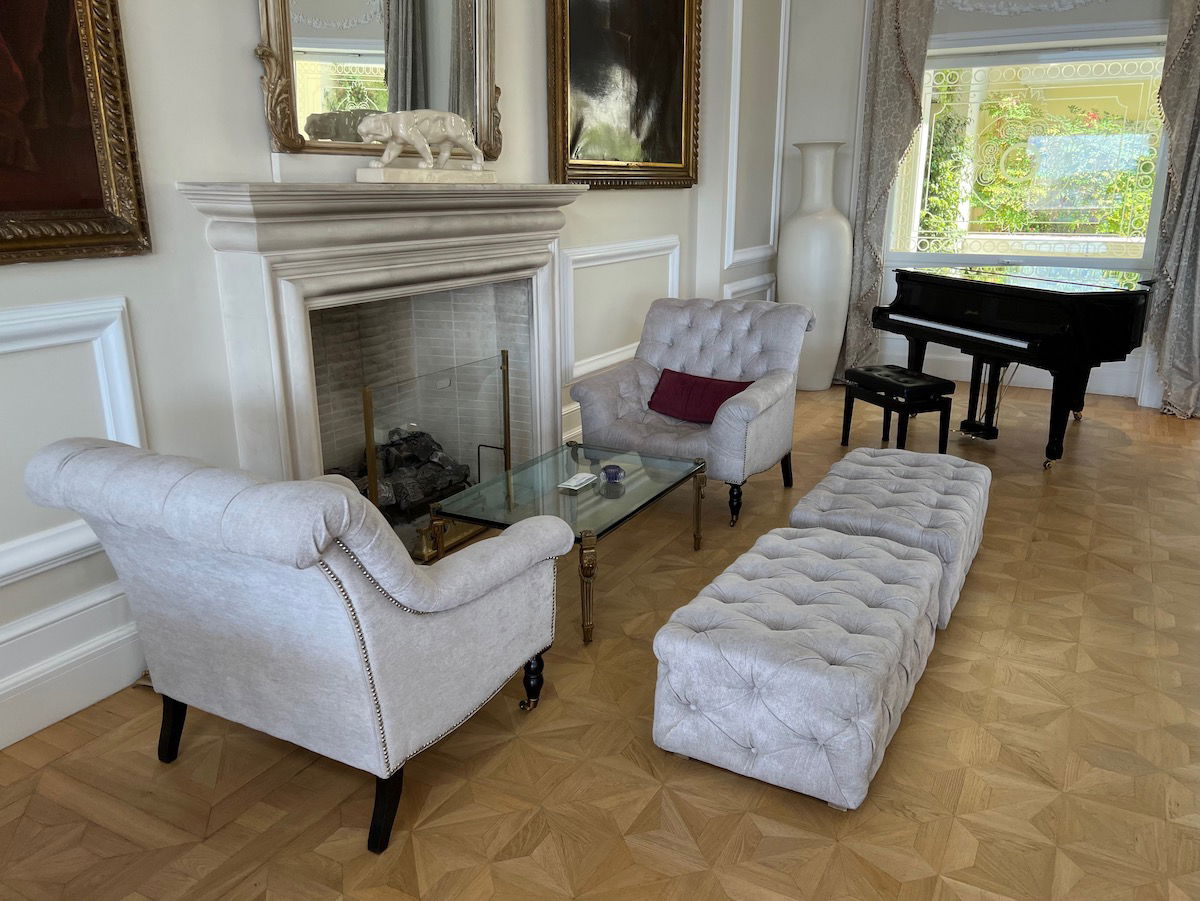 On top of that there's a lovely terrace, with amazing Acropolis views.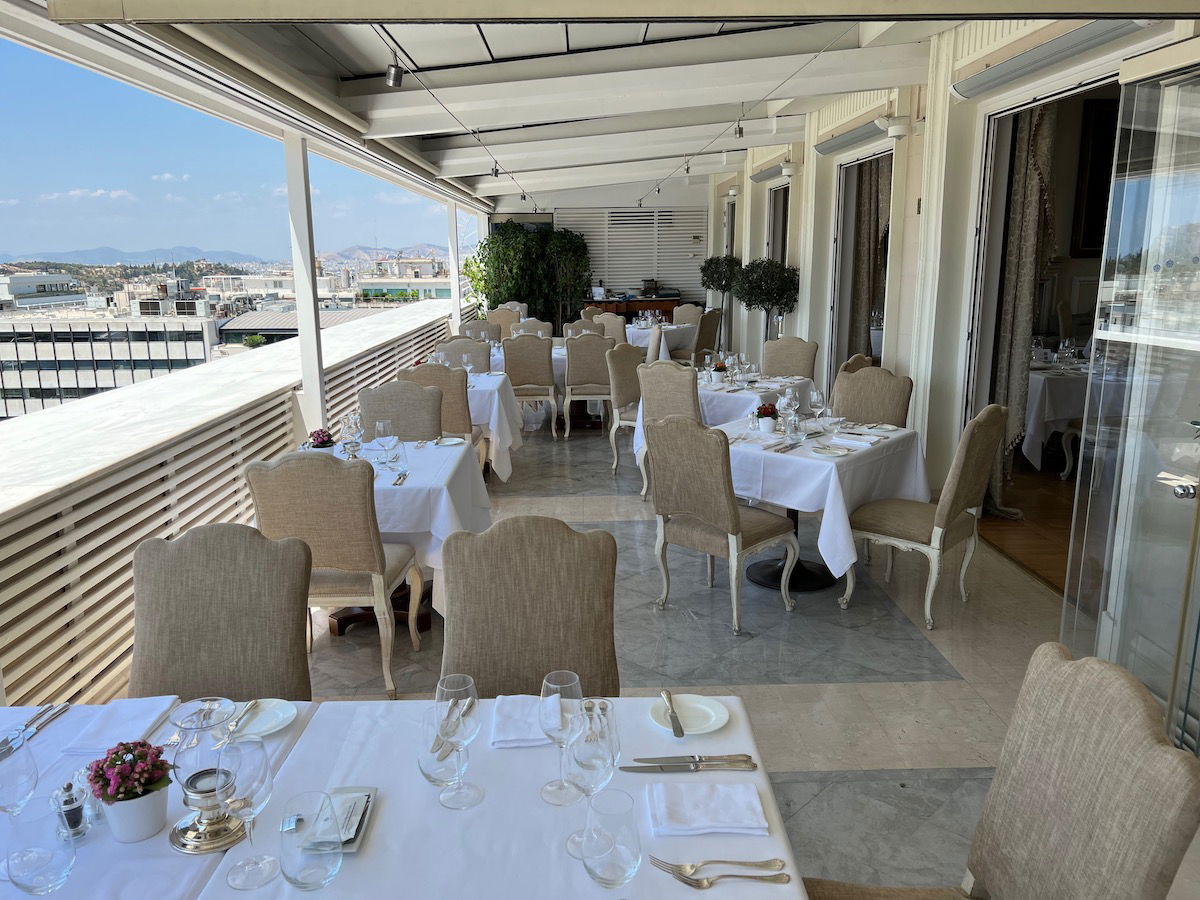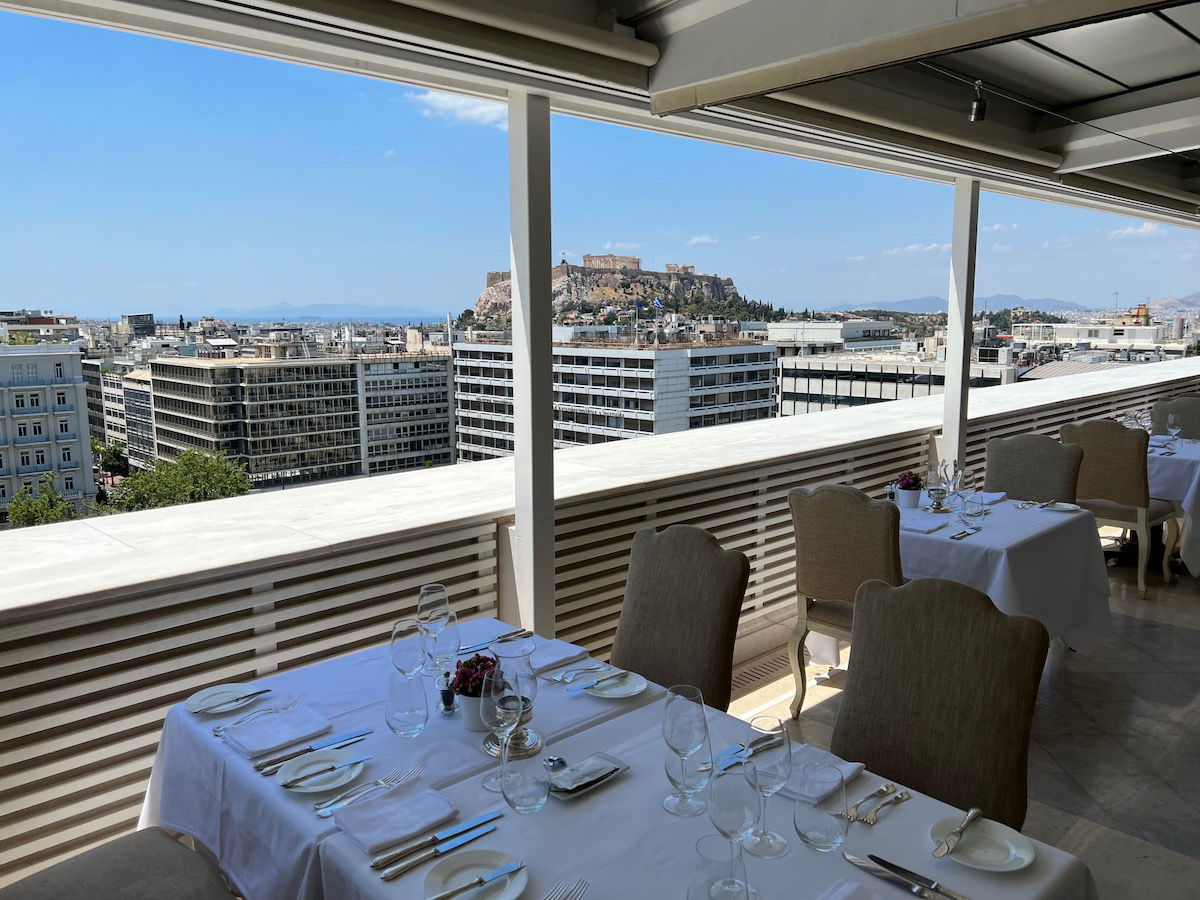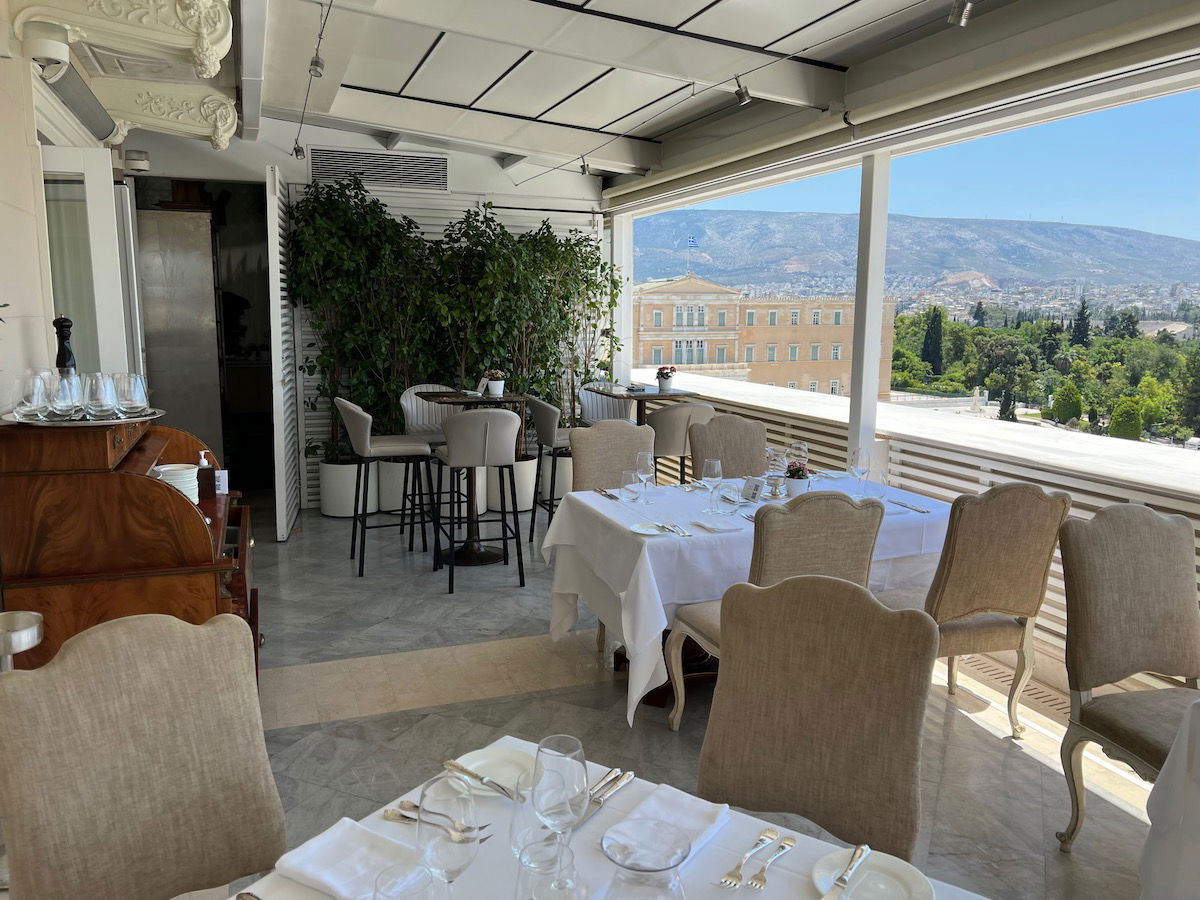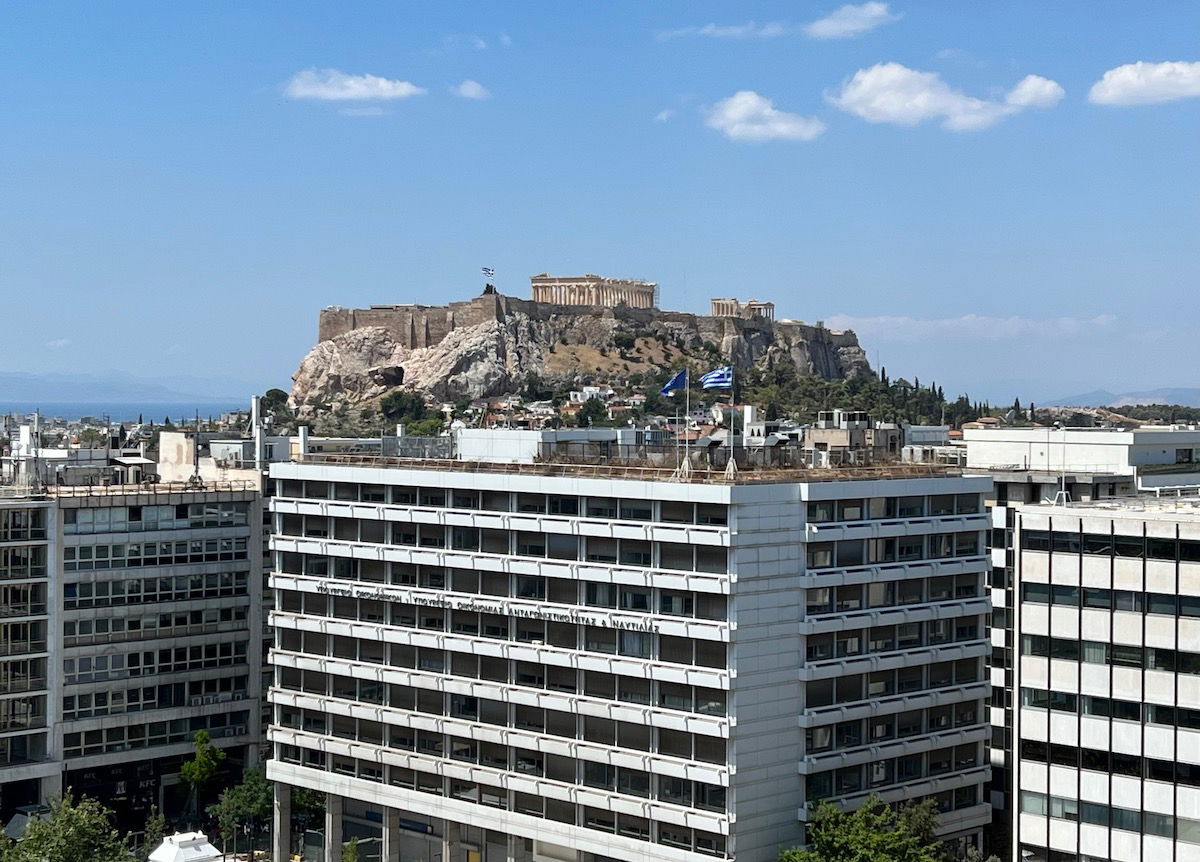 If you stay at King George and have breakfast included, you can enjoy the buffet, and then supplement that with some a la carte options. The buffet is small but high quality, and has bread, pastries, cold cuts, fruit, salad, scrambled eggs, sausage, potatoes, etc.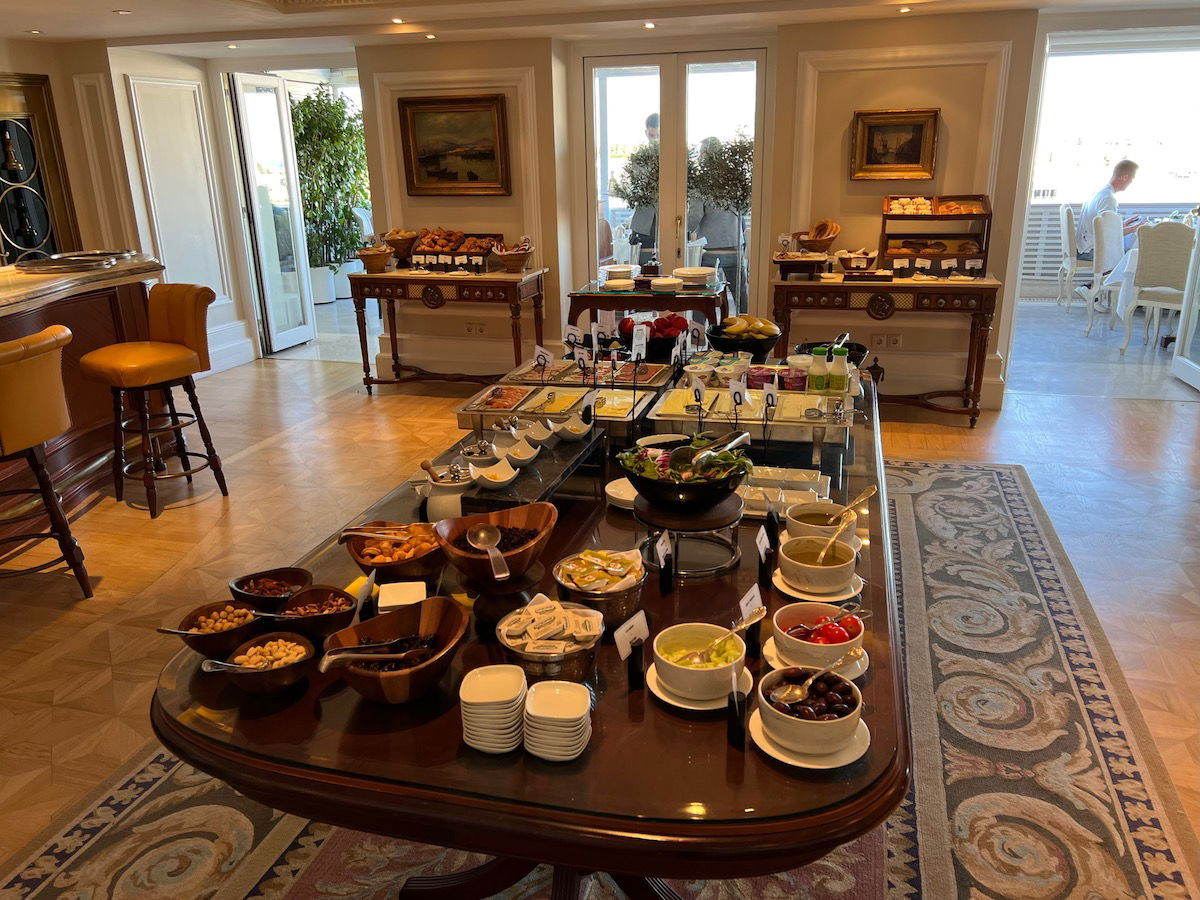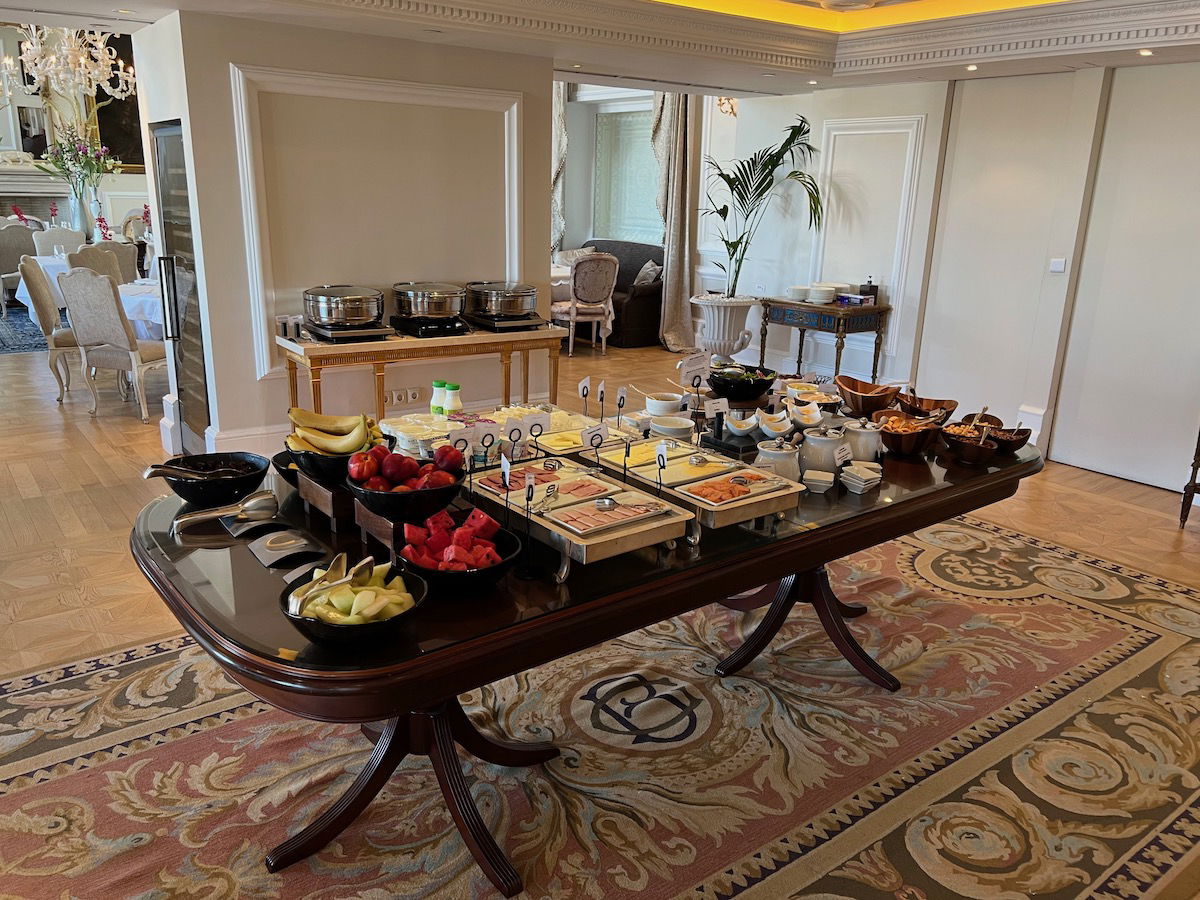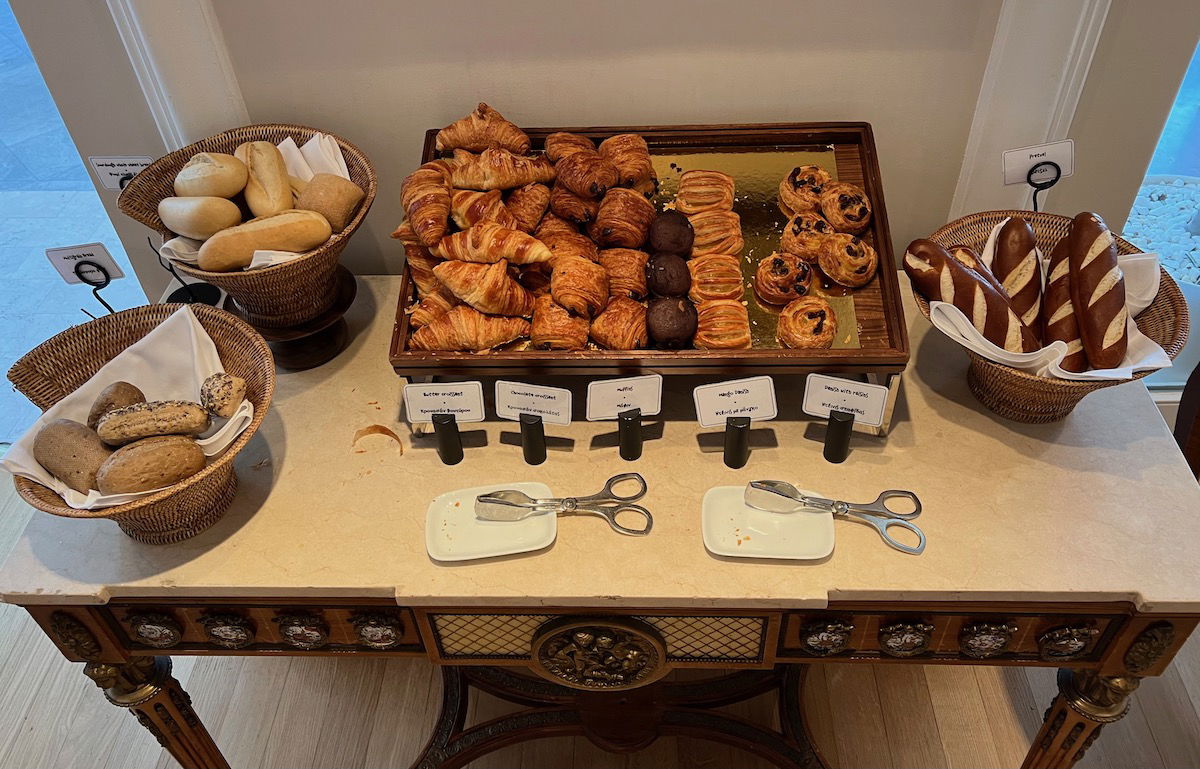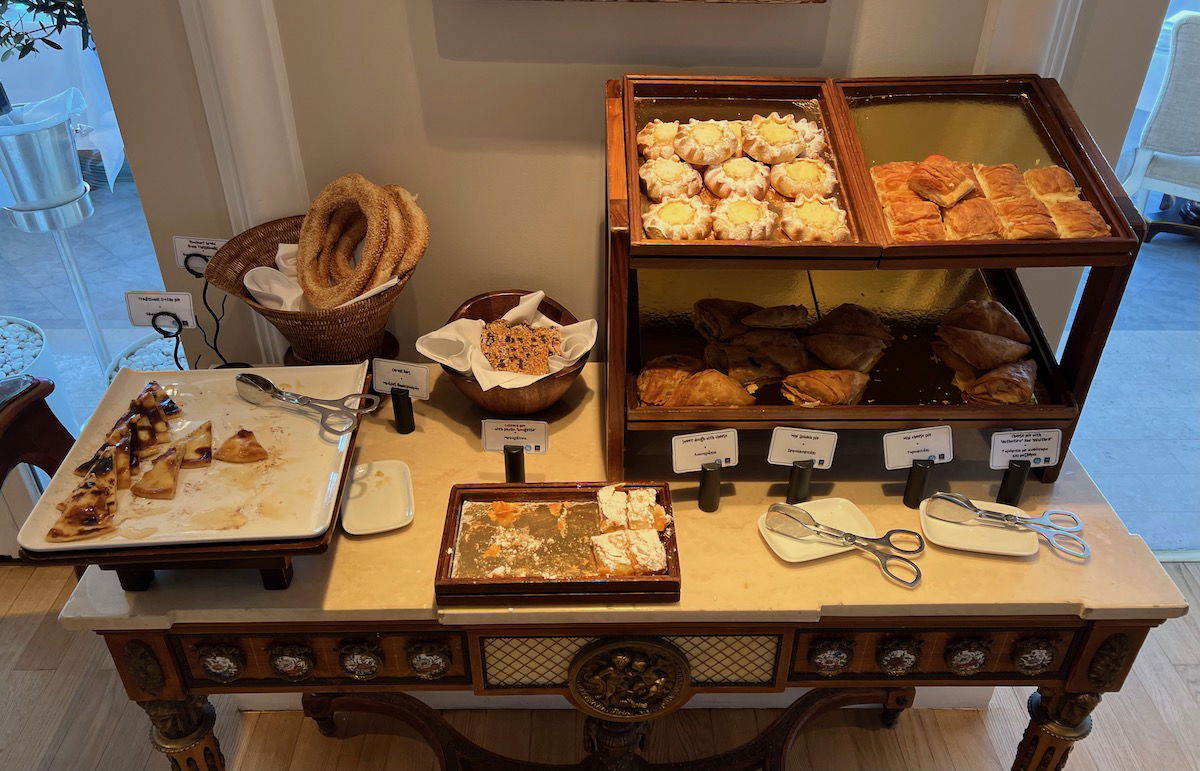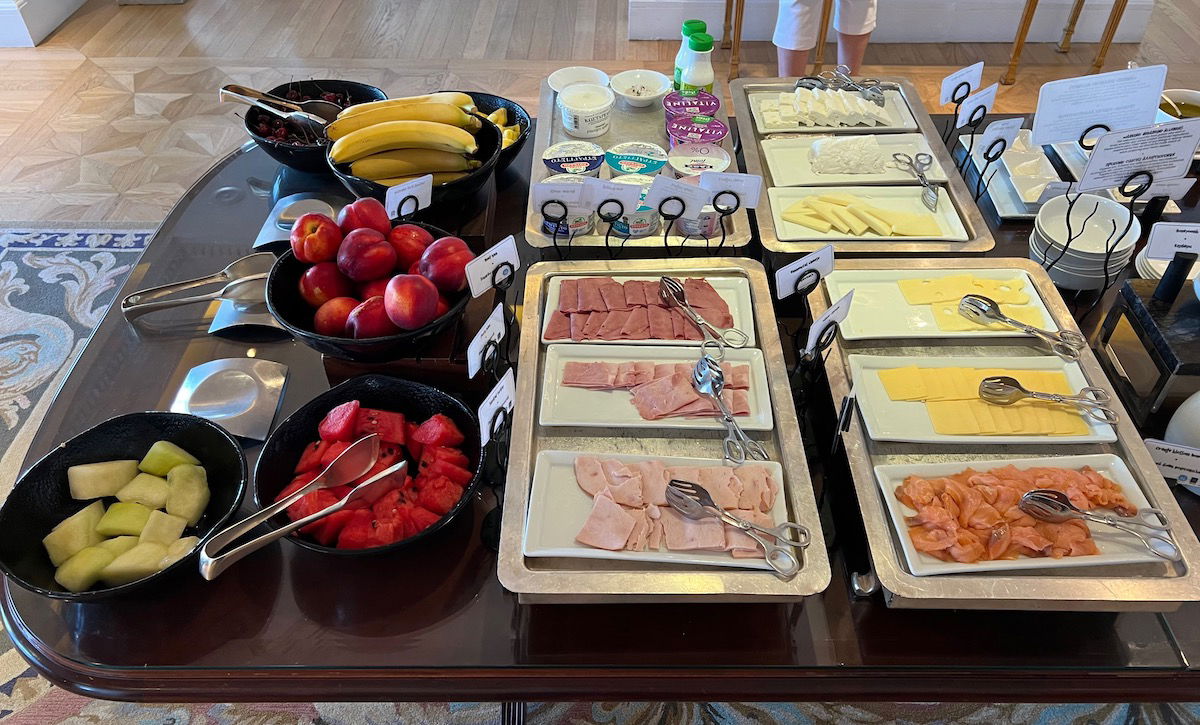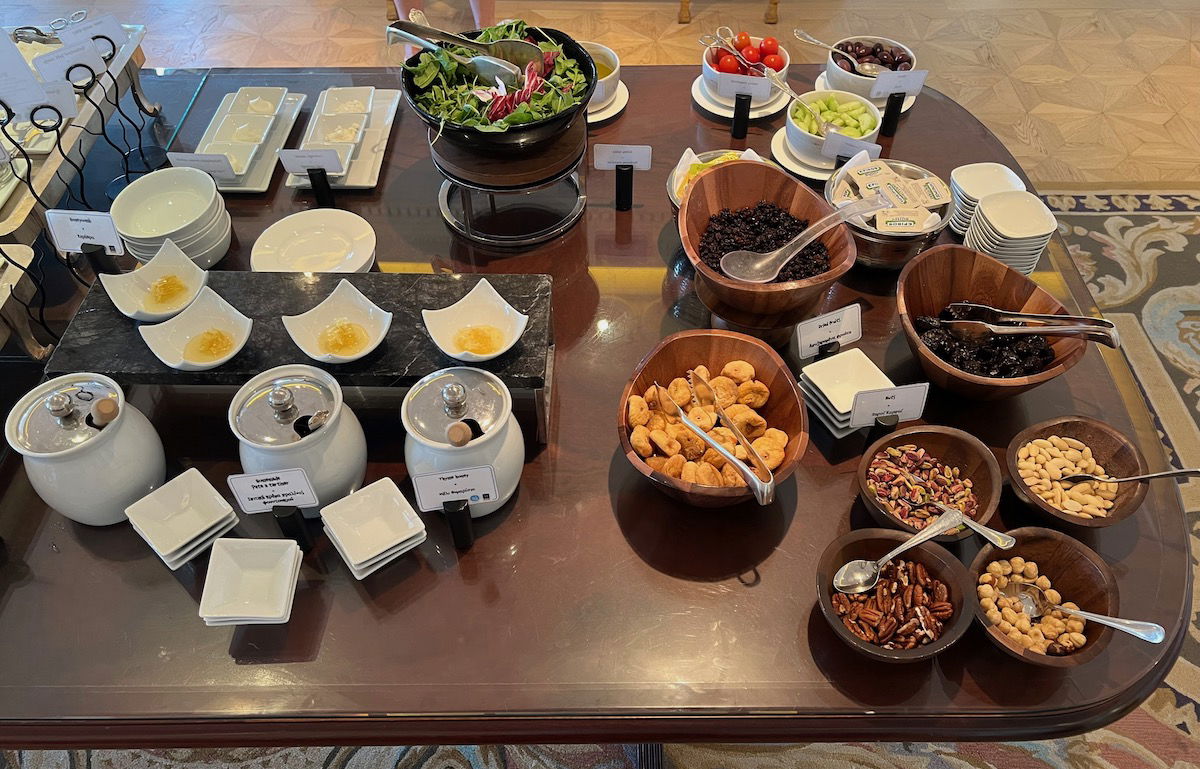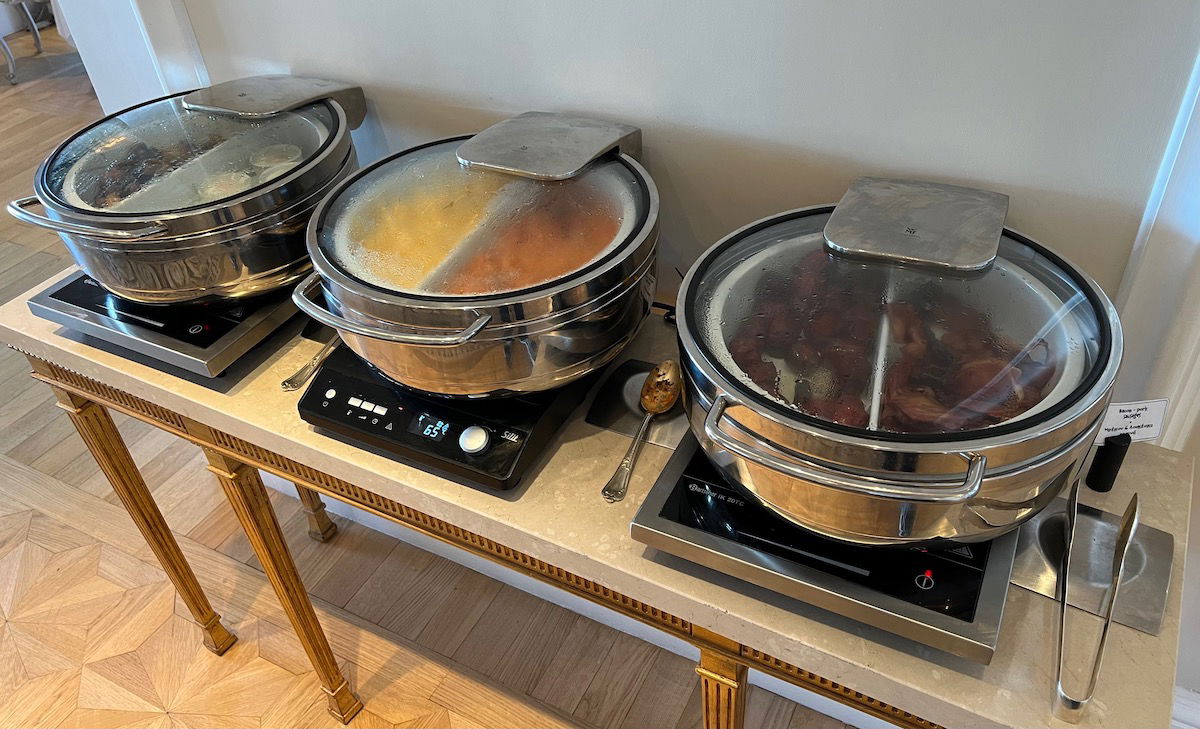 Drinks were served by the friendly waitstaff. We had both filtered coffee and some freshly squeezed juices.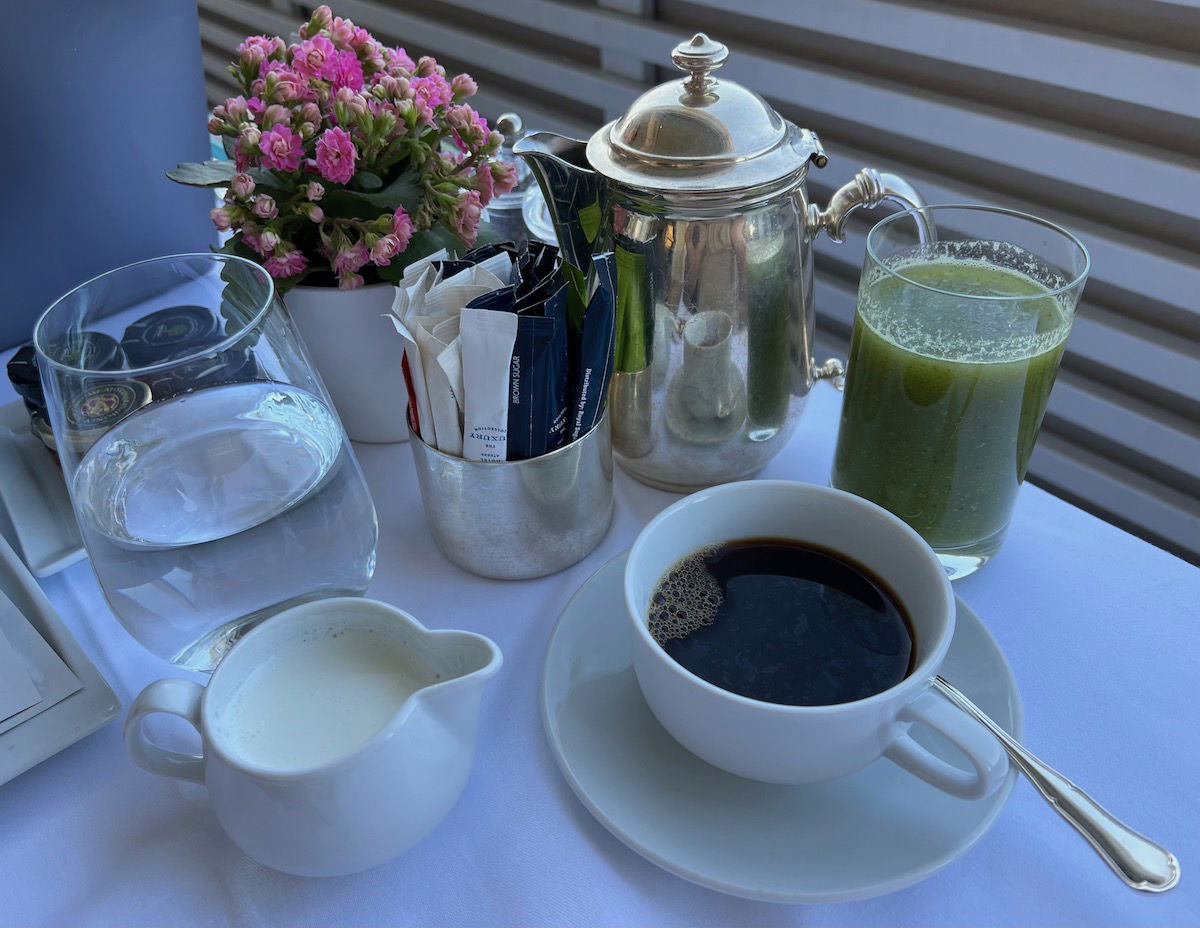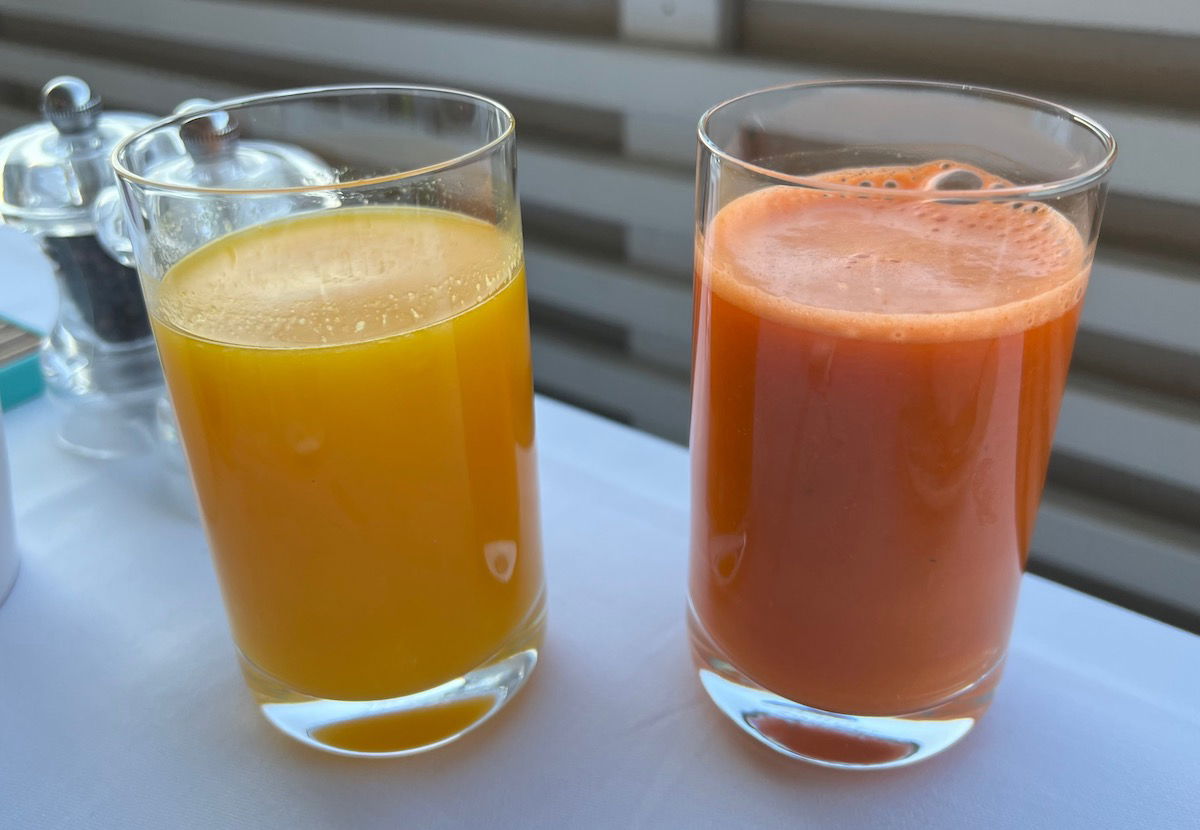 From the menu we ordered the Greek egg dish (strapatsada, essentially scrambled eggs with tomato and feta) and a vegetable omelet, both of which were good.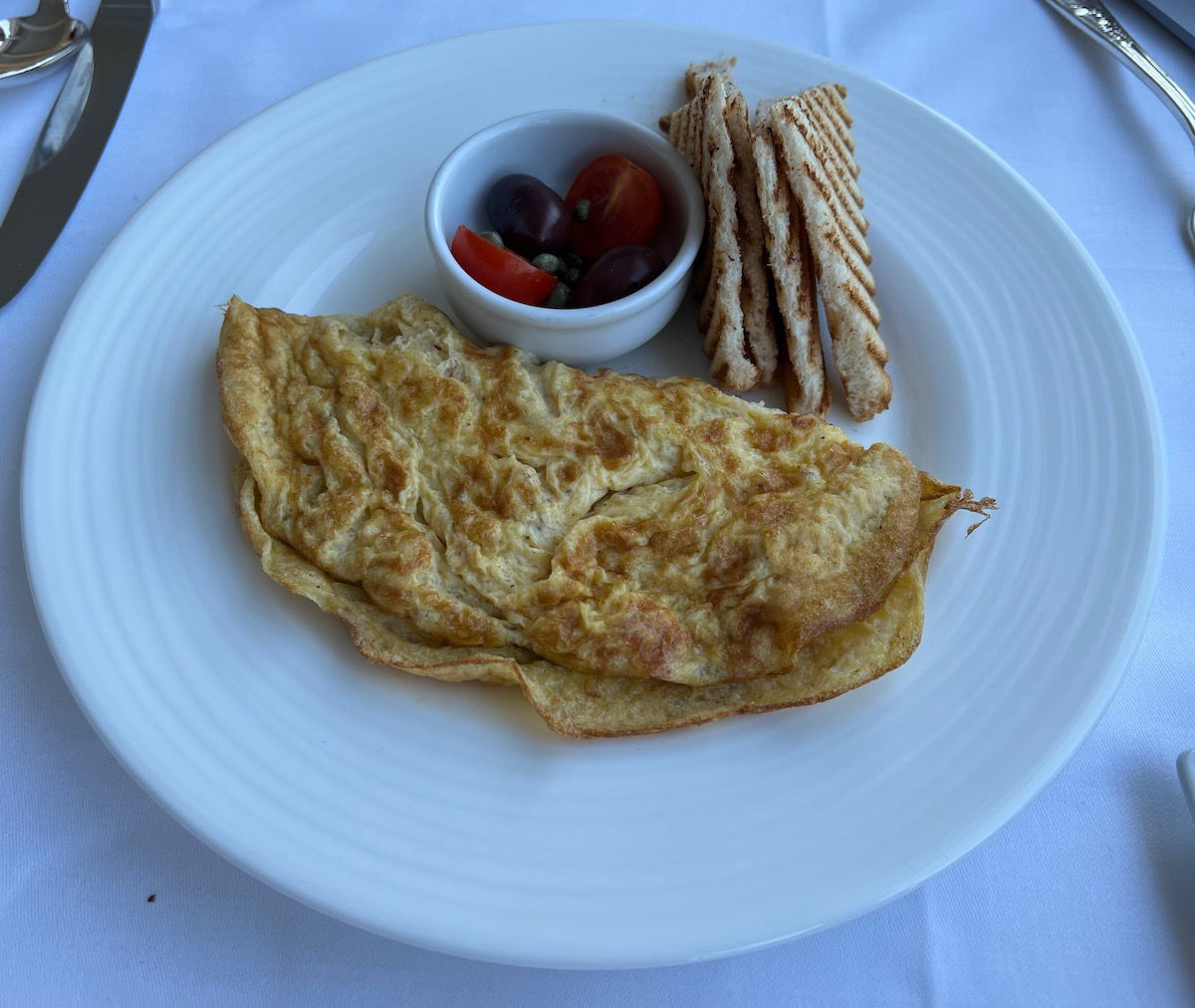 The restaurant staff also made excellent freddo cappuccinos.
If you do book a rate that includes a hotel credit, do be aware that this has fairly limited uses. This can only be used at Tudor Hall Restaurant. It can't be used for room service (which I think is stingy), and it can't be used for any of the Hotel Grande Bretagne outlets that let you charge to your room at King George (which is fair enough).
Since breakfast is included and the restaurant doesn't serve lunch, that means you can primarily just use the credit for dinner and drinks at the restaurant. If you want a dinner reservation at a reasonable hour, you'll want to book well ahead of your stay.
So we ended up just using our credit for some drinks, which we enjoyed.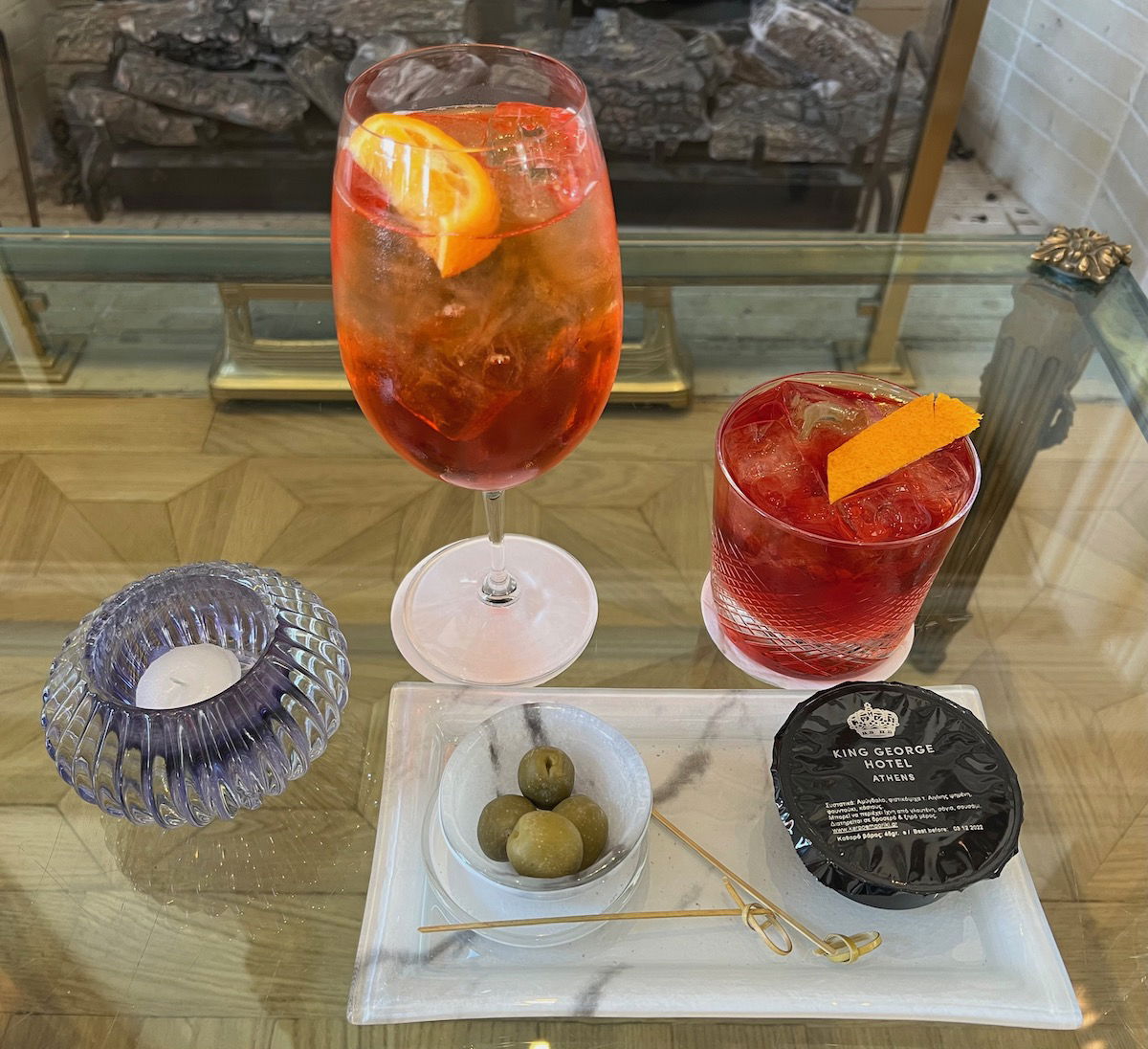 King George Athens gym
King George Athens has a gym on the basement level, which can be accessed 24/7. The gym is pretty decent for a historic hotel like this, and has plenty of cardio equipment and weights.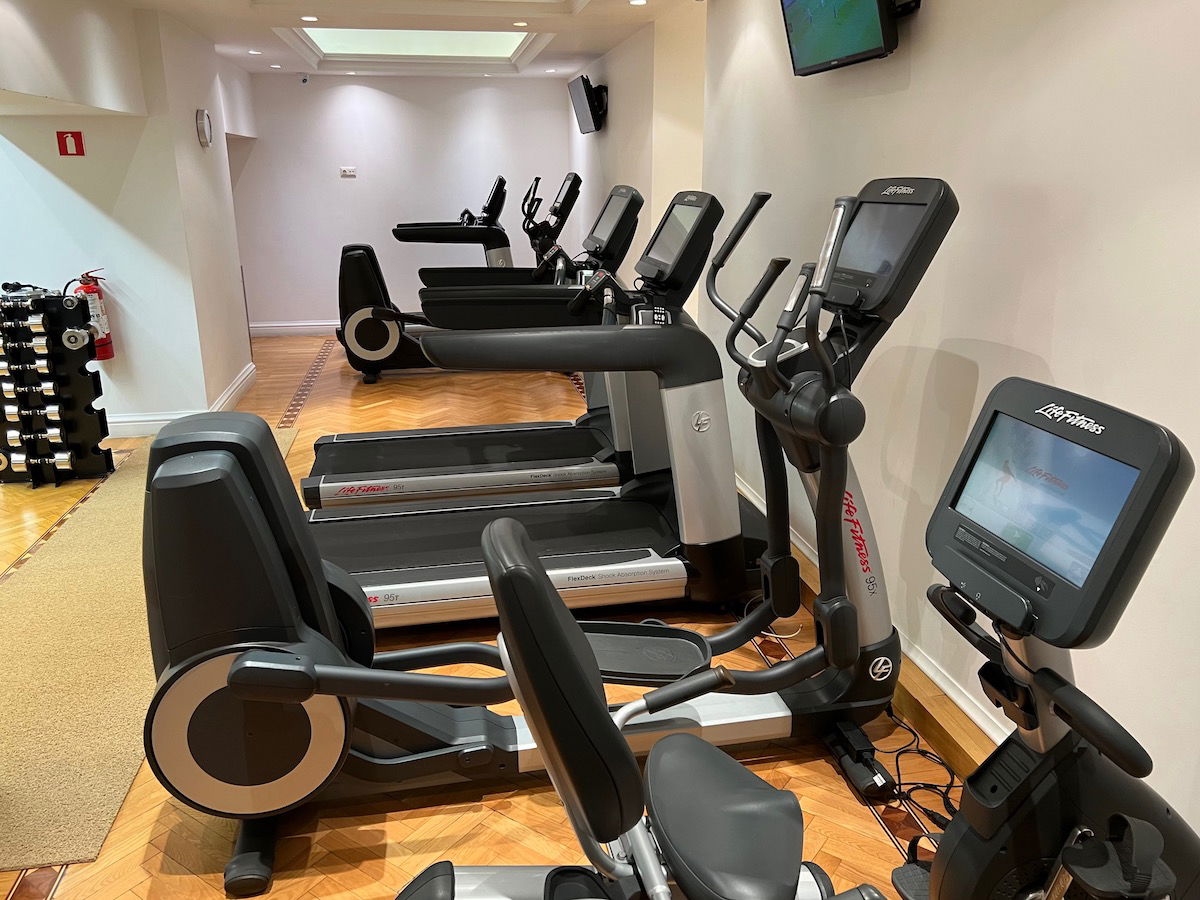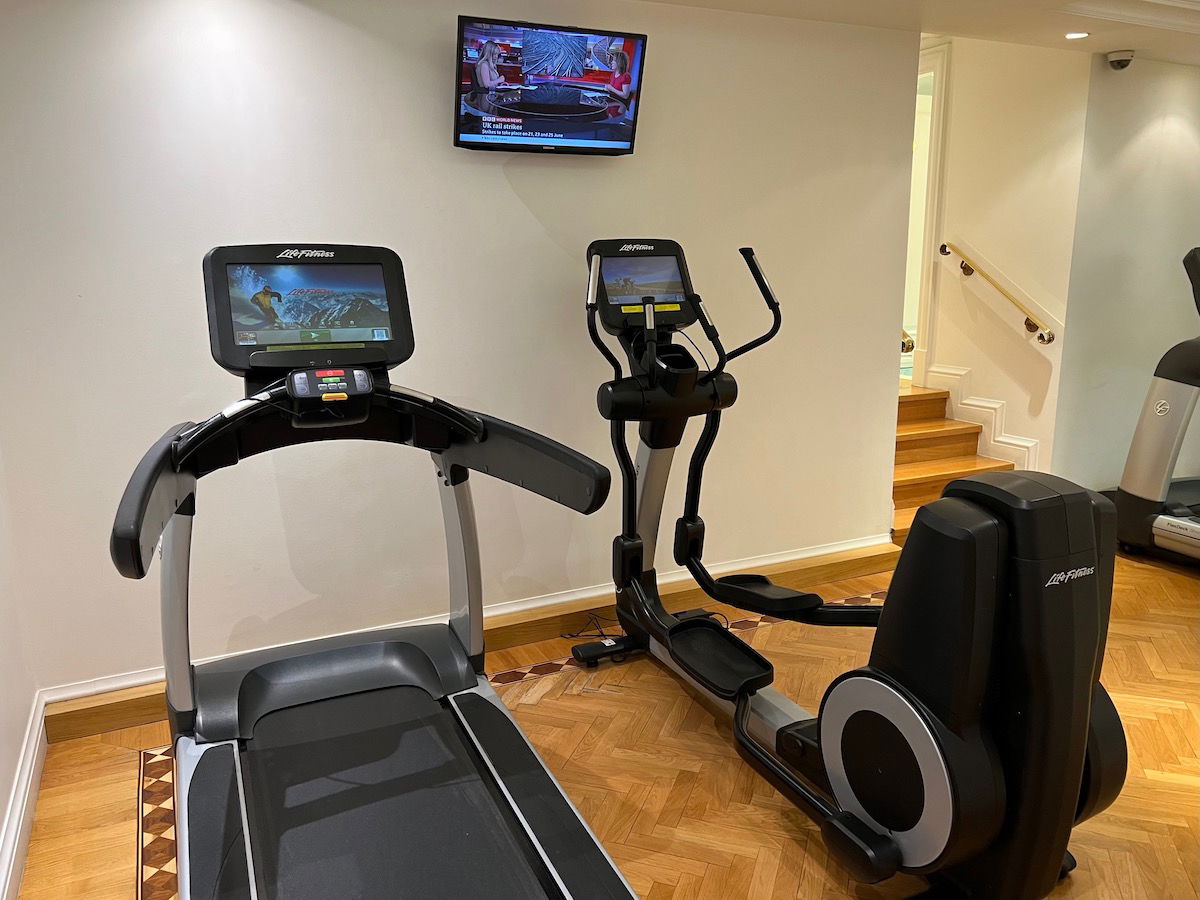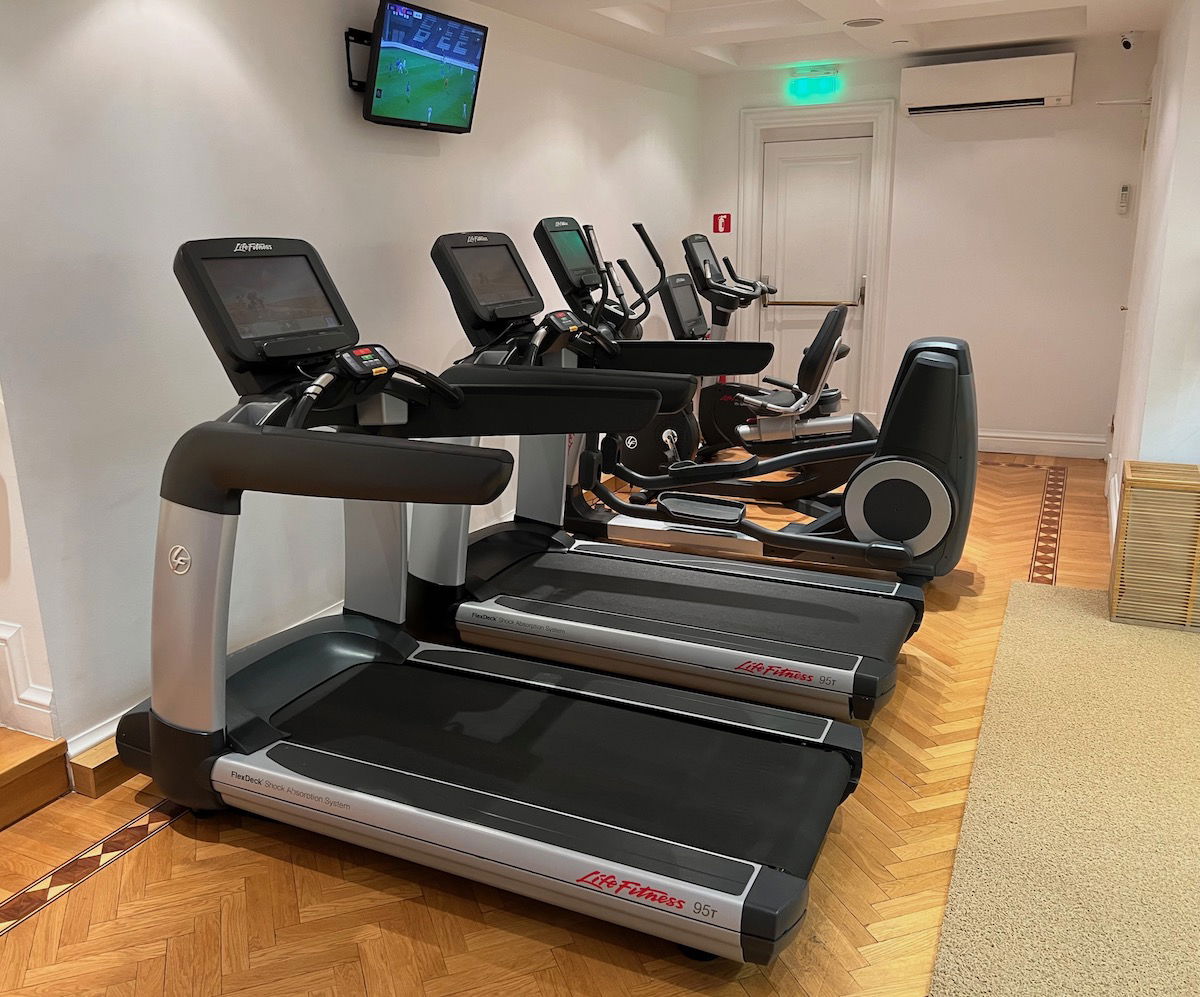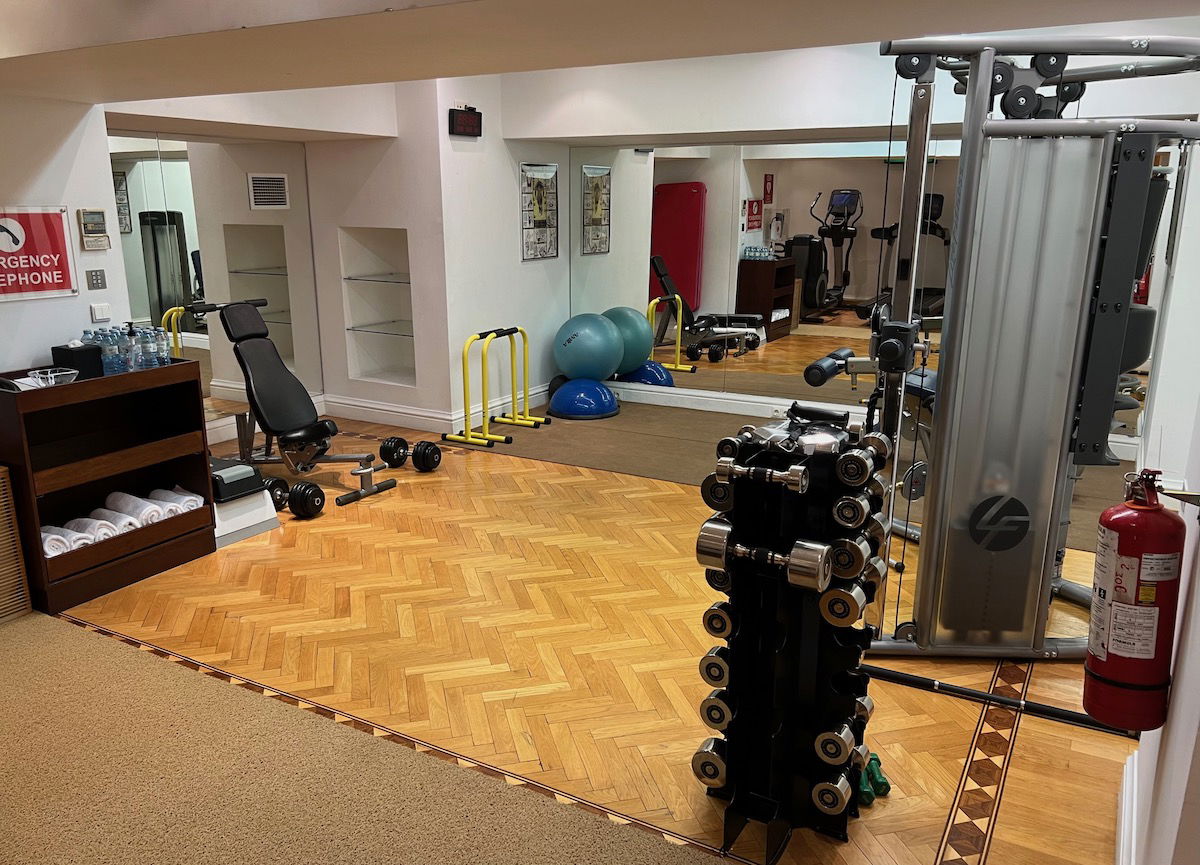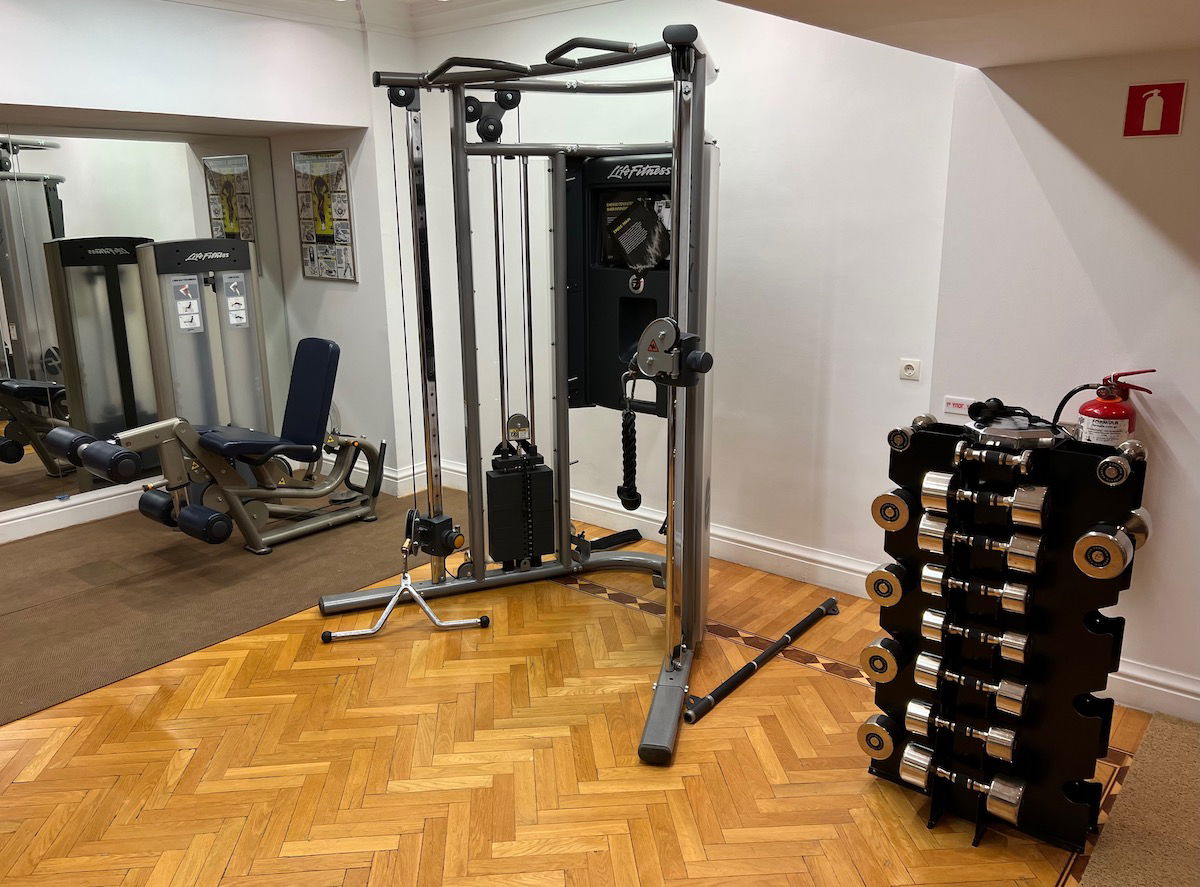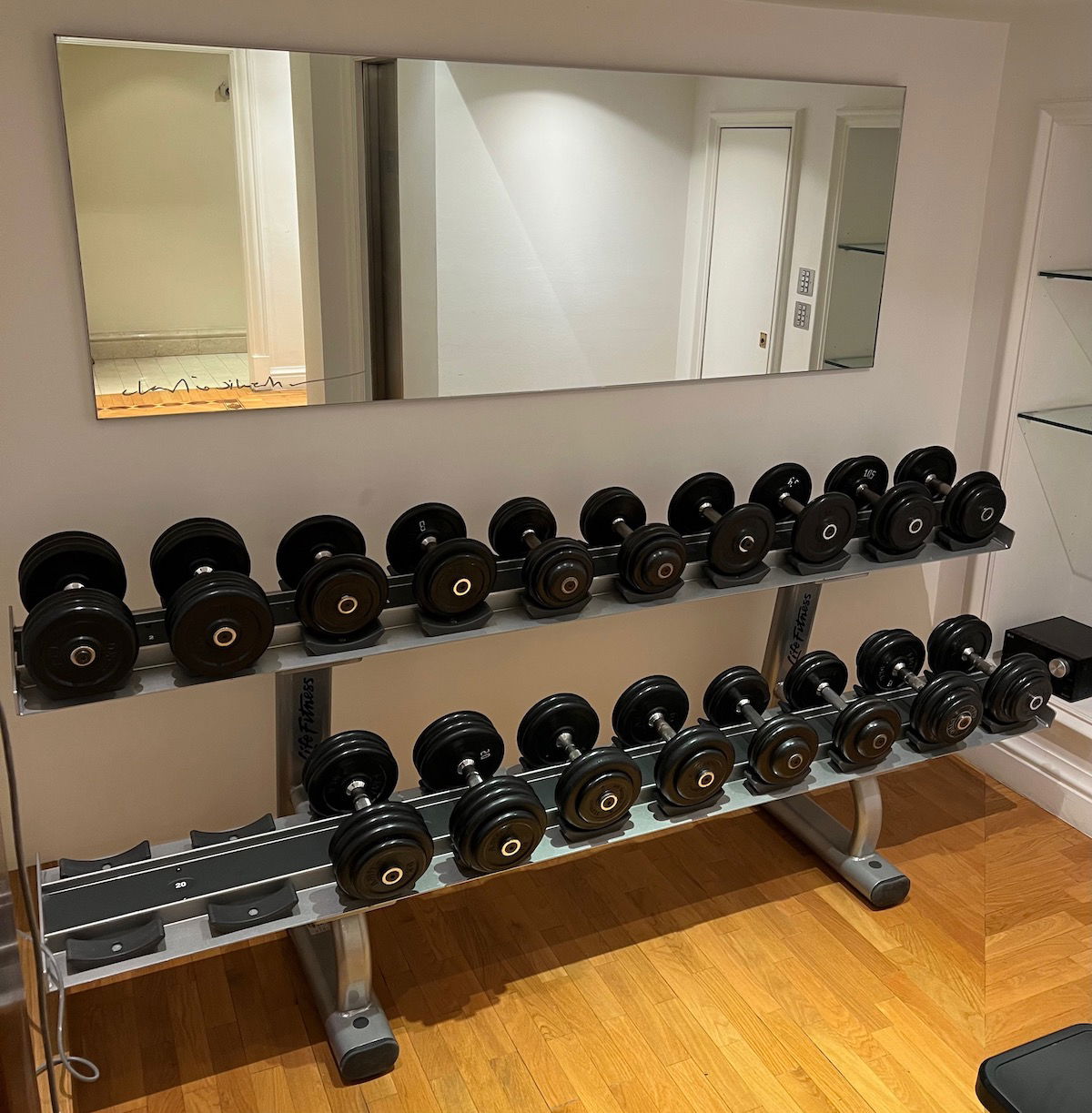 There's also a sauna.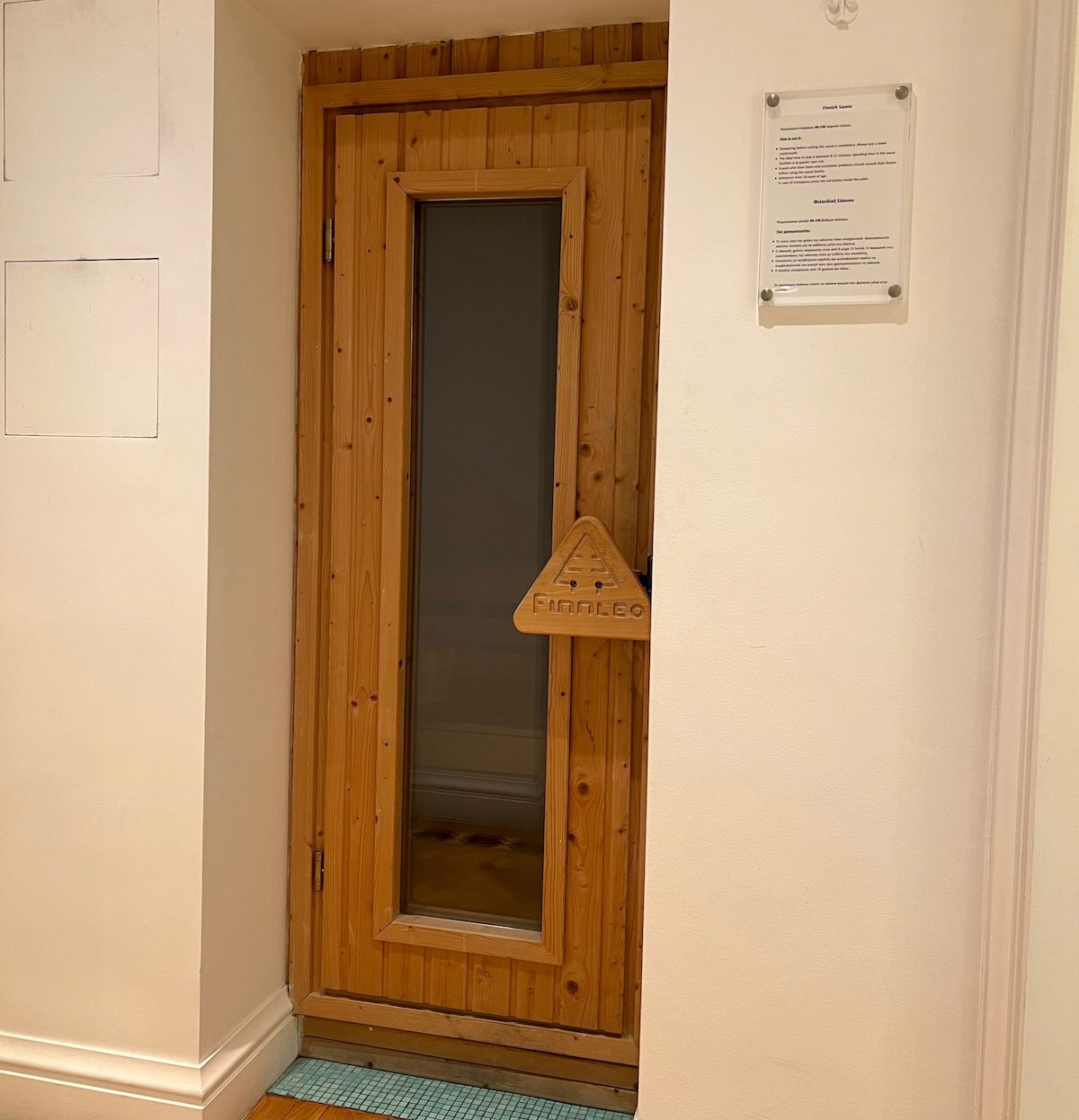 Access to Hotel Grande Bretagne amenities
As I mentioned above, King George and Hotel Grande Bretagne are right next to one another, and are both Marriott Luxury Collection properties. They almost feel like one hotel, but I guess they wanted to have two slightly different price points, so they decided to separate them out.
When you stay at King George you can go to any of the food & beverage outlets at Hotel Grande Bretagne and charge purchases to your room. You can also use the spa at Hotel Grande Bretagne, which is pretty impressive. I'll be reviewing that hotel next, so stay tuned for how it compares, and to get a sense of some of the other amenities.
King George Athens service
Without exception, every single person working at King George was friendly and eager to help. From the people at the front desk, to the breakfast staff, to the bellmen in front of the hotel, I have nothing but good things to say.
Bottom line
King George Athens has a lot going for it, like being a boutique property with just over 100 rooms, having great views and an unbeatable location, offering a tasty breakfast, and also having friendly service.
That being said, there are also some things I didn't love about the property. Check-in and help from the front desk took forever, I wish the hotel had a real lobby rather than an art exhibit, our suite was oddly under furnished, and the hotel has a single restaurant that just serves breakfast and dinner.
I do think Hotel Grande Bretagne is an all-around more compelling hotel, though it's also typically much more expensive, and has more than three times as many rooms. The nice thing about King George is that you can stay here and still use many of the facilities of Hotel Grande Bretagne.
So yeah, as you can tell, I'm a bit conflicted about this property, hence the lukewarm review.
If you've stayed at King George, what was your experience like?