We got to Europe on Emirates' New York to Milan fifth freedom flight, as we managed to find first class award availability for two passengers several days before departure. In this post I wanted to review the Emirates Lounge New York JFK, and then in the next installment I'll review the flight.
Personally I'm a bit conflicted about outstation Emirates Lounges. On the one hand, they're way better than a contract lounge you may otherwise have access to as a business class passenger. On the other hand, for the amount of money Emirates invests in having its own lounges at so many airports, I feel like the experience could be a bit better.
Emirates first class check-in New York JFK
We got to JFK Terminal 4 at around 6:30PM, plenty early for our 10:20PM departure to Milan. That's quite a police truck!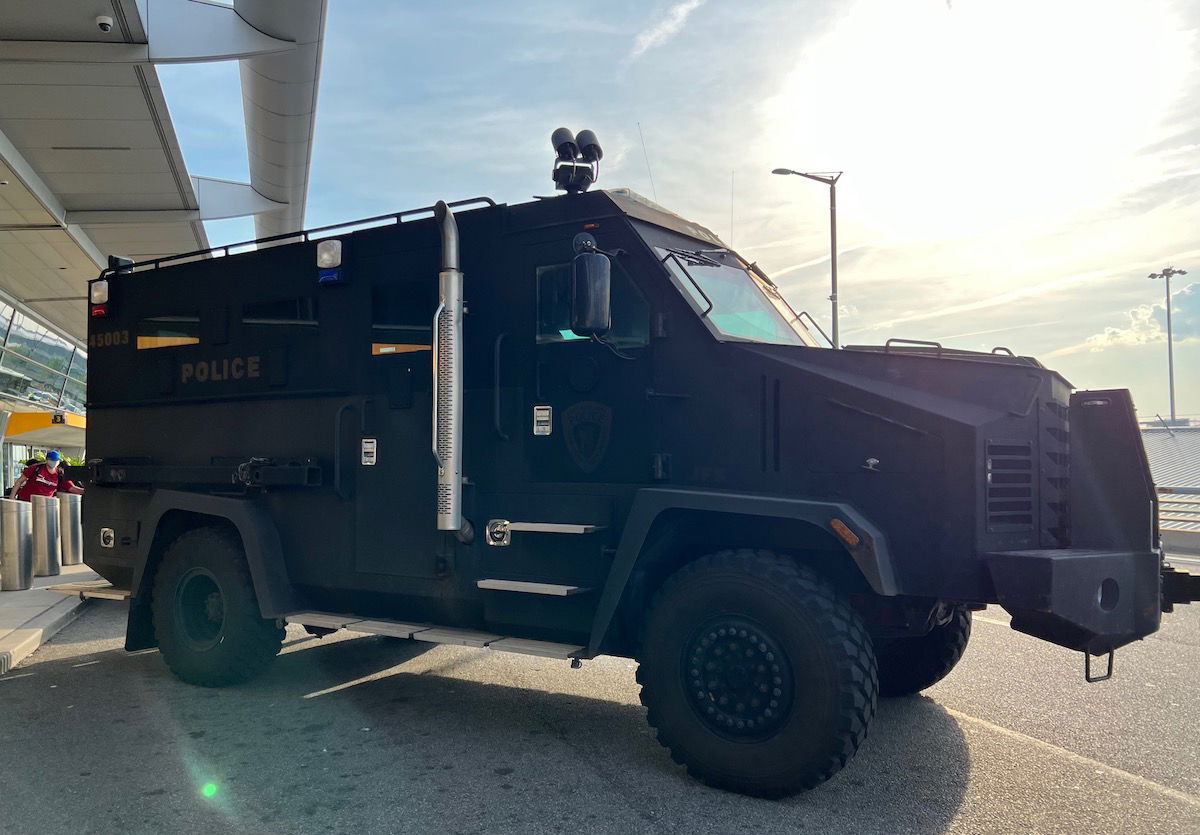 Terminal 4 was busy, but not nearly as chaotic as the scenes we're seeing at so many other airports.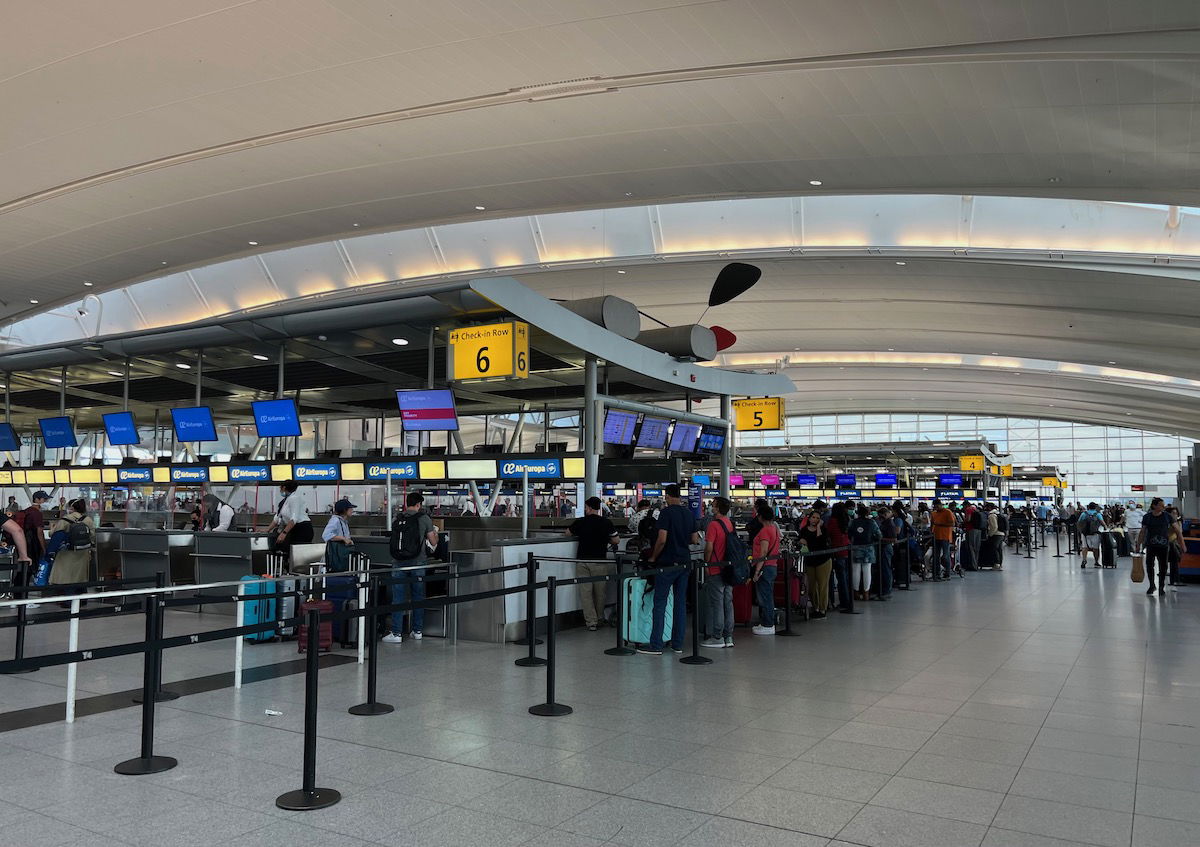 Emirates' check-in counter was opening right as we arrived. Emirates has a 10:20PM flight to Milan and an 11PM flight to Dubai, so check-in opened for both of those flights.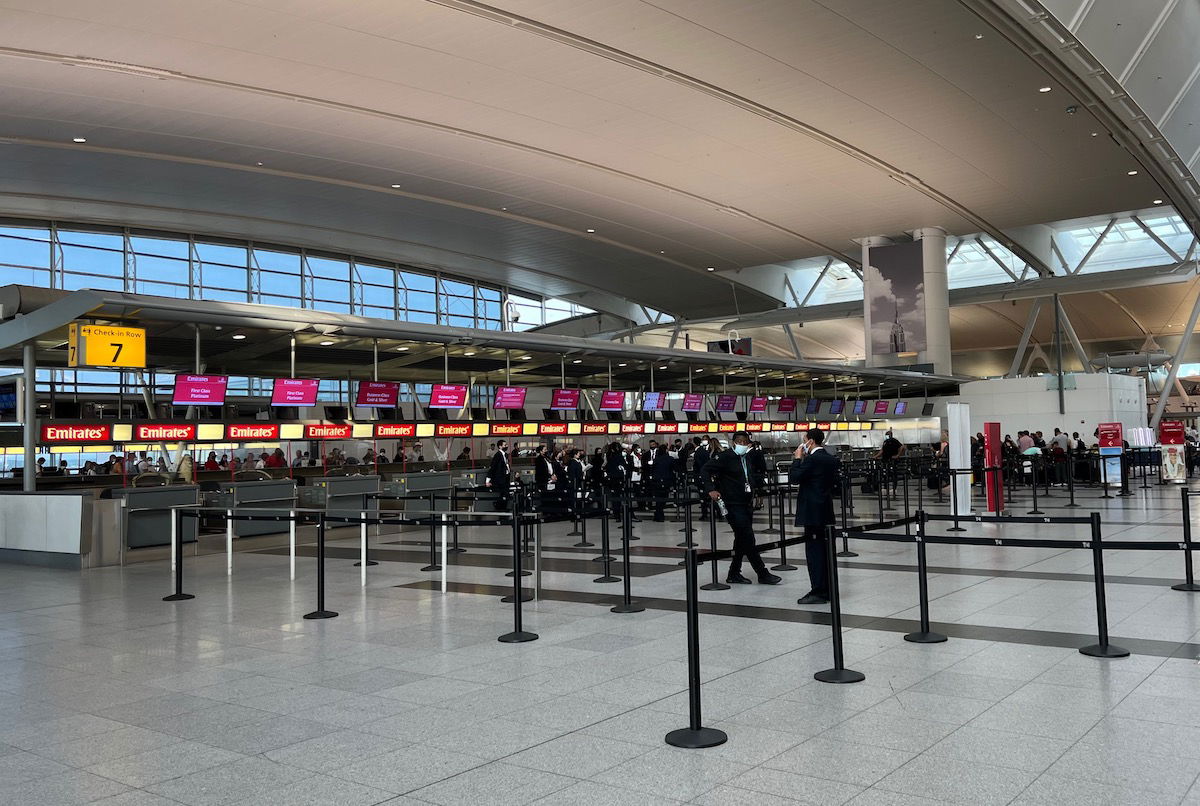 The main check-in area had a first class section, and then there was also a separate first class counter closer to the entrance to the terminal.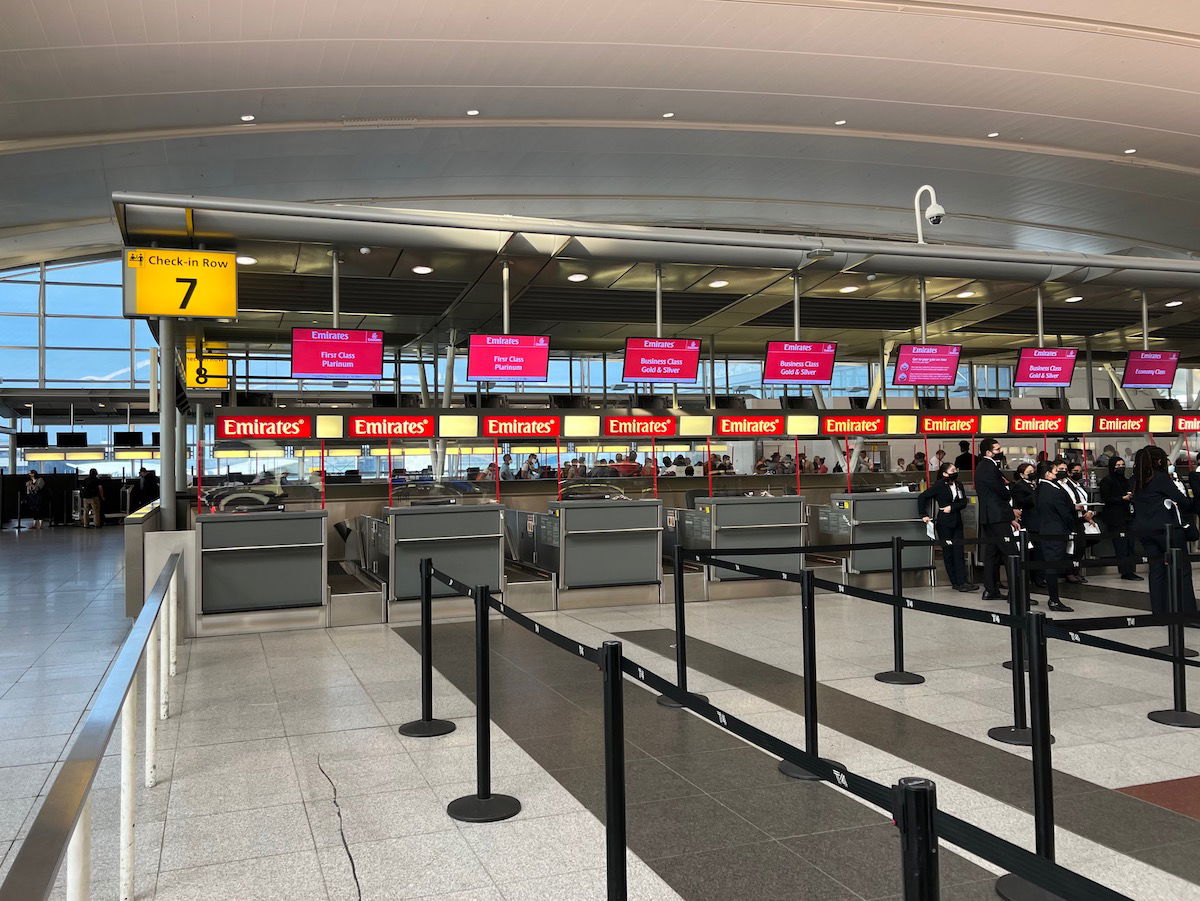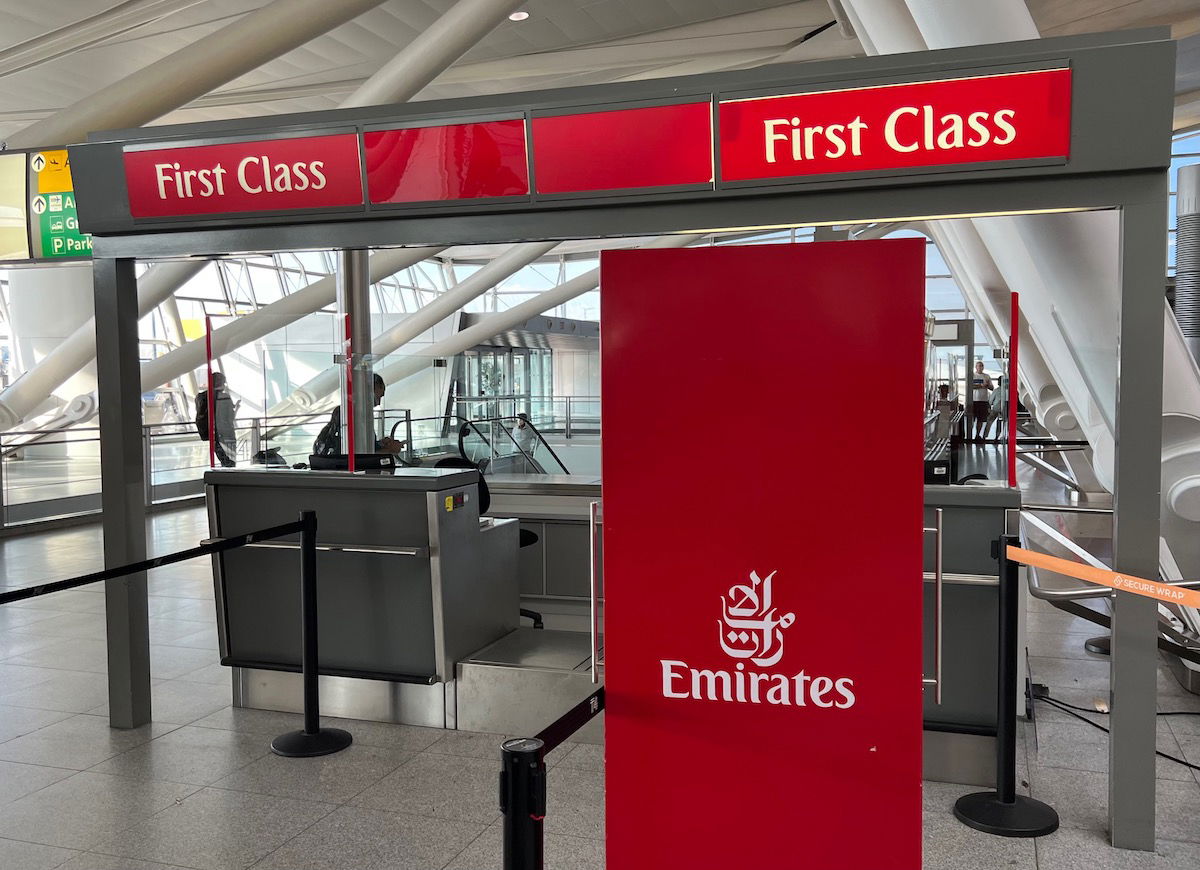 We were checked in within minutes, and headed to the Emirates Lounge. Thanks to TSA Pre-Check, security wasn't too bad at all, and we were through within around 15 minutes.
Emirates Lounge New York JFK location
The Emirates Lounge JFK is located in Terminal 4 past security, near gates A6-A7. Once you clear security, just go down the escalator, and follow the signage toward gates A2-A7.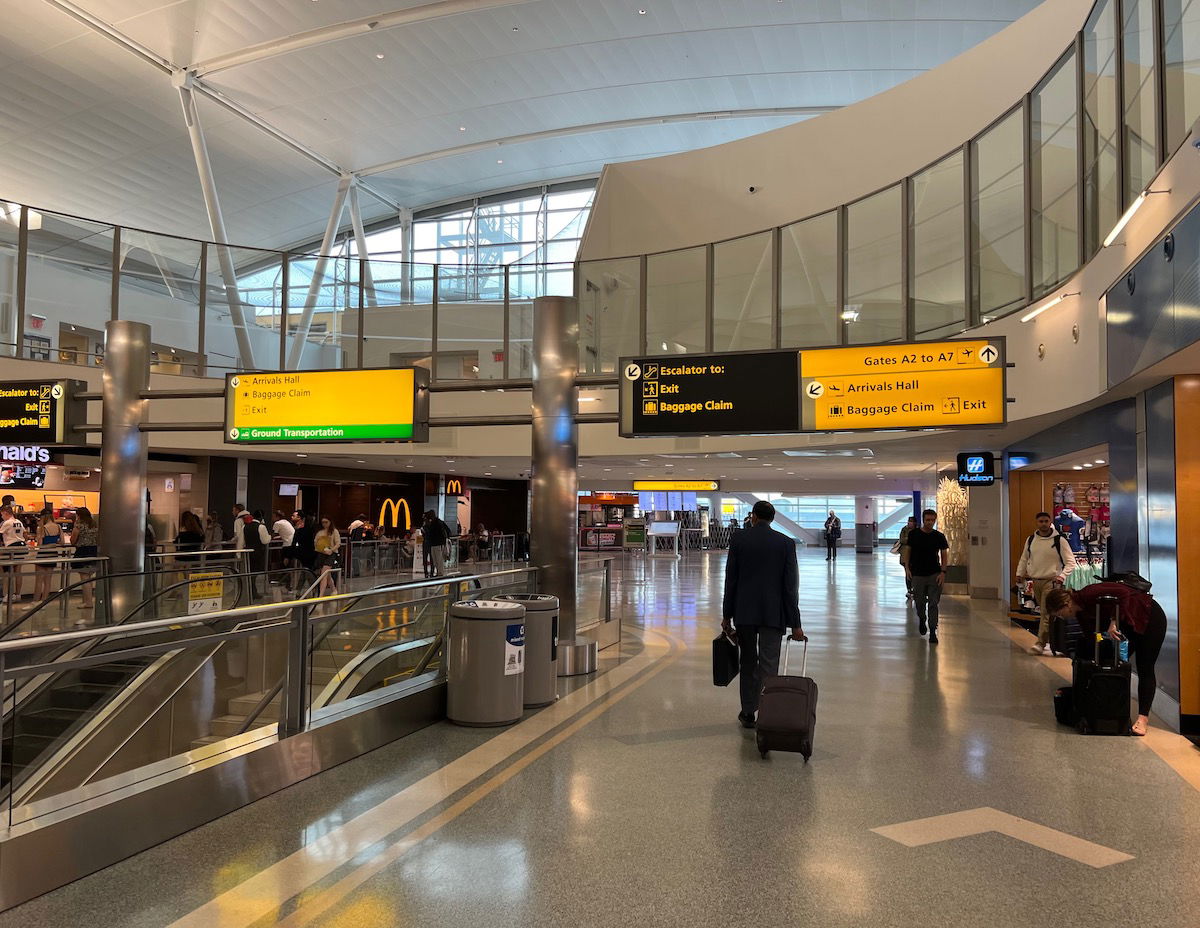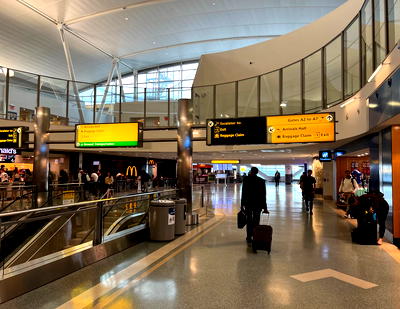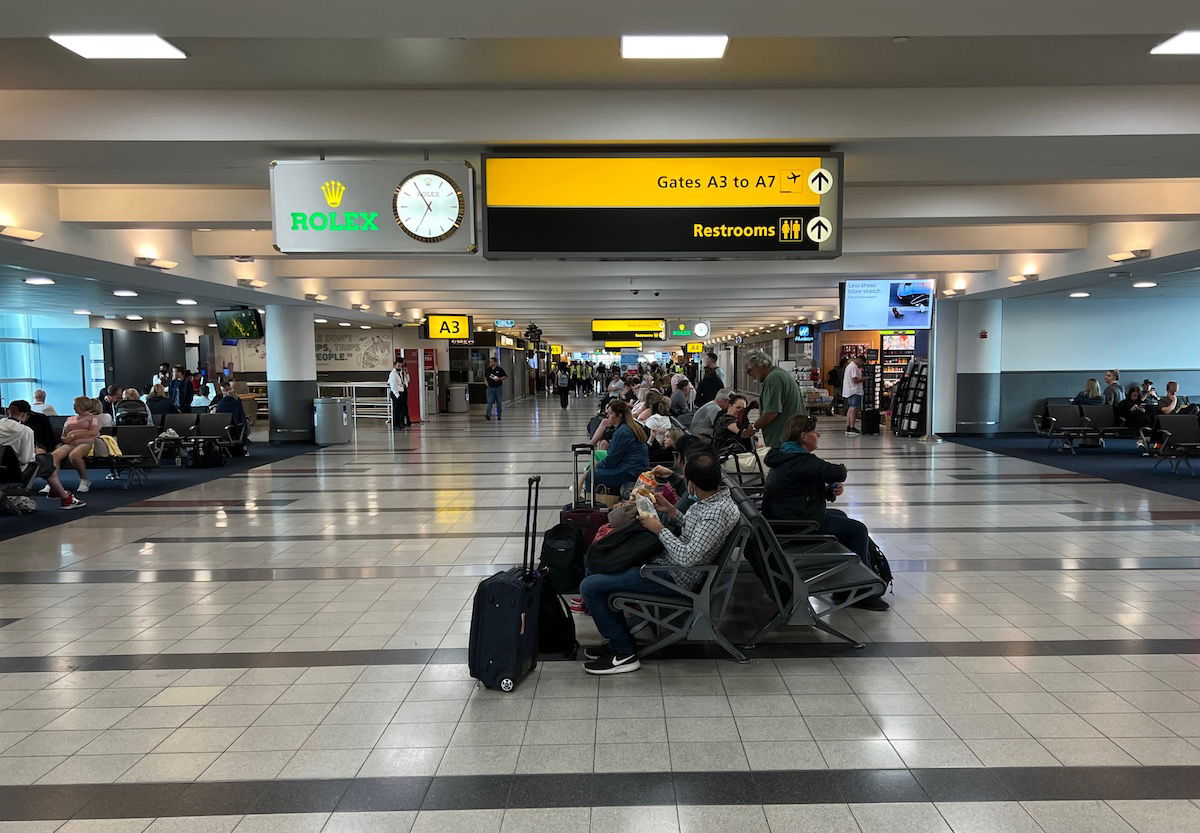 Eventually you'll see the signage for airline lounges, and then there are stairs and elevators leading to the Emirates Lounge, Air India Lounge, and Virgin Atlantic Clubhouse.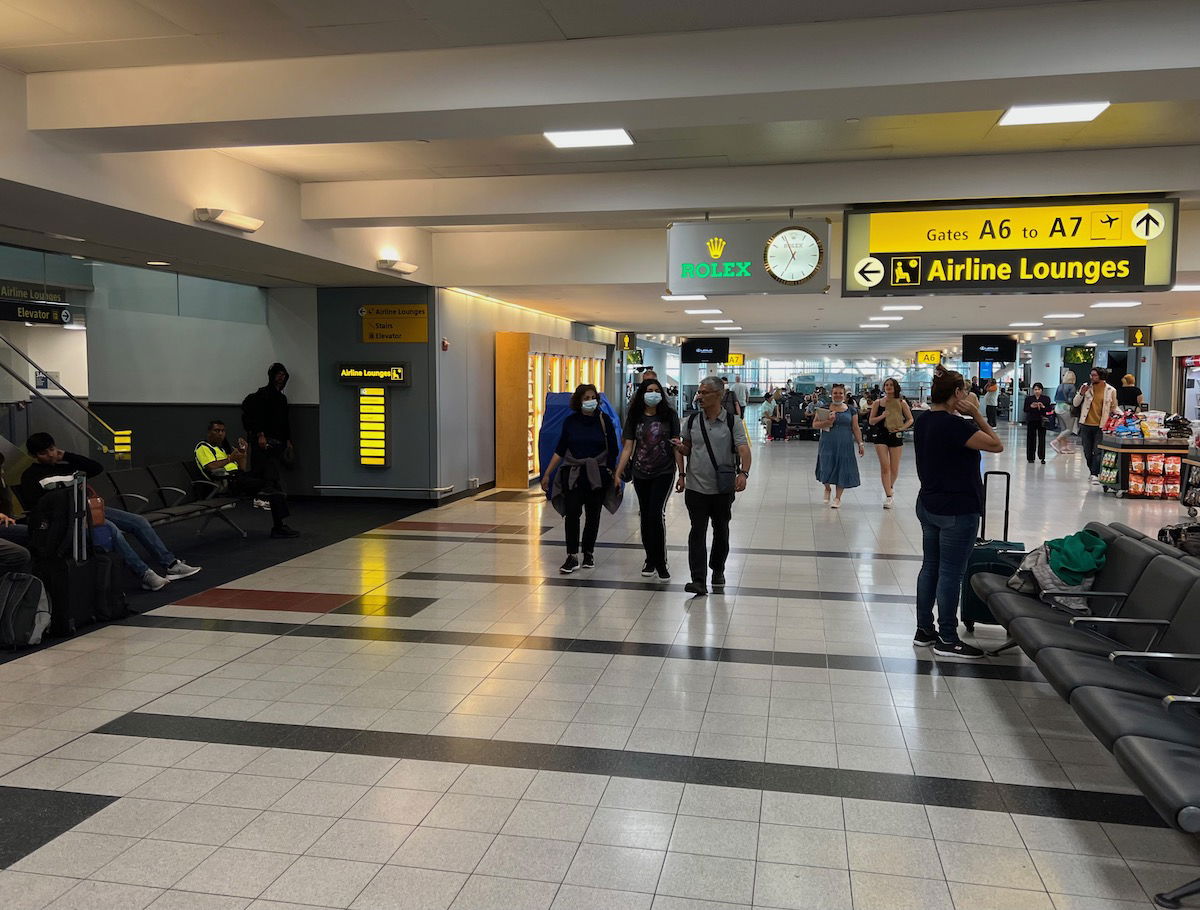 The entrance to the Emirates Lounge is immediately next to the entrance to the Air India Lounge.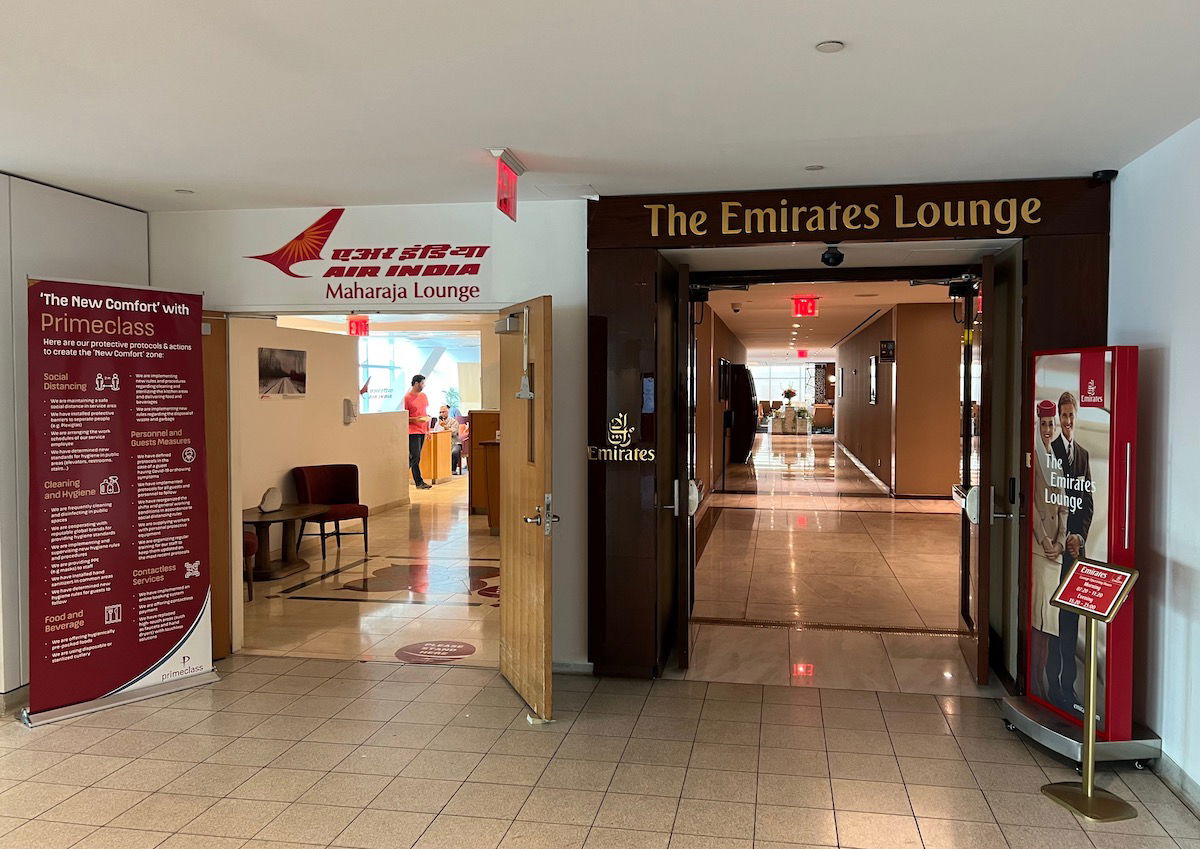 Emirates Lounge New York JFK hours
Emirates is unique in that it rarely contracts out its lounges to other airlines (many other airlines make lounges available to Priority Pass members during off-peak hours), so the lounges are typically open around four hours prior to Emirates departures.
At the moment the Emirates Lounge JFK is open daily from 7:20AM until 11:20AM (since the early New York to Dubai flight departs at 11:20AM), and then again from 6:20PM until 11PM (since the New York to Milan flight departs at 10:20PM, while the late New York to Dubai flight departs at 11PM).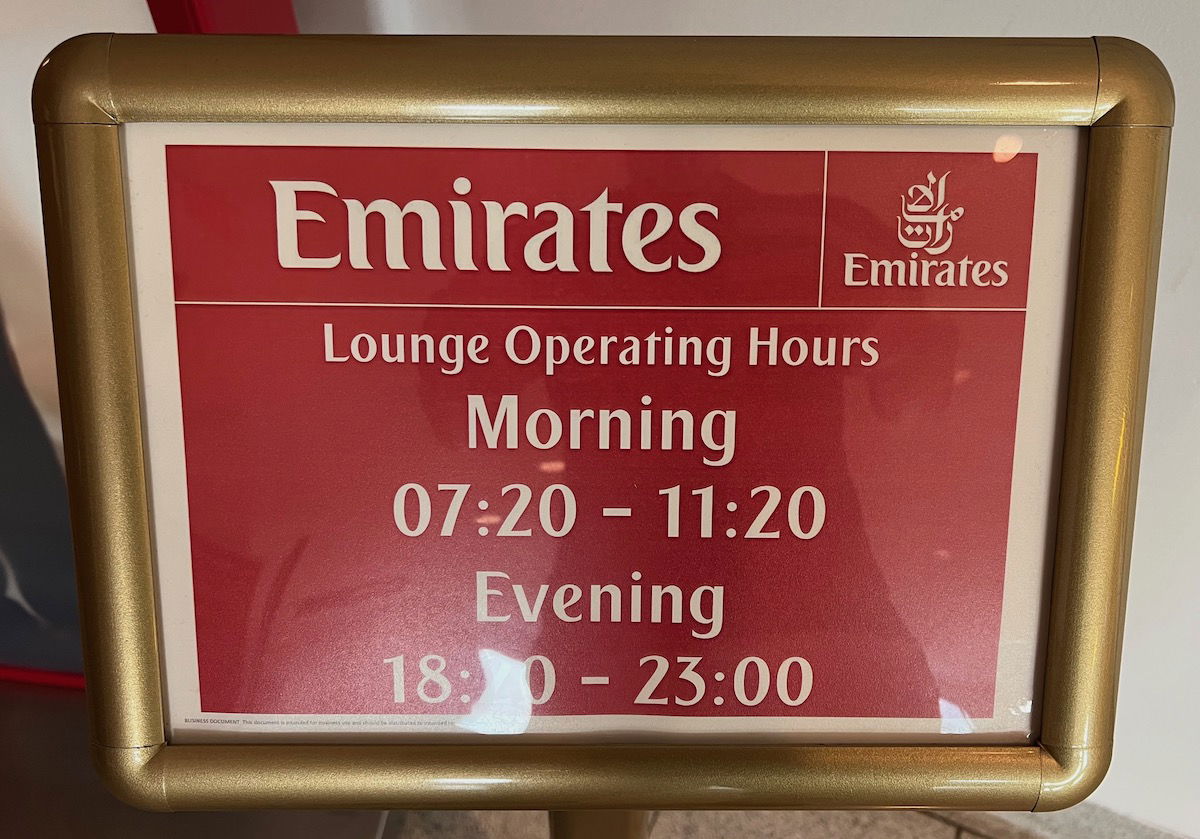 Emirates Lounge New York JFK entry requirements
The Emirates Lounge JFK is open to the following passengers:
Emirates first class passengers
Emirates business class passengers (excluding those on "basic" business class fares)
Emirates Skywards Platinum and Gold members traveling in economy
Emirates economy passengers can purchase access for $100 if they're a Skywards member, or for $130 if they're a non-Skywards member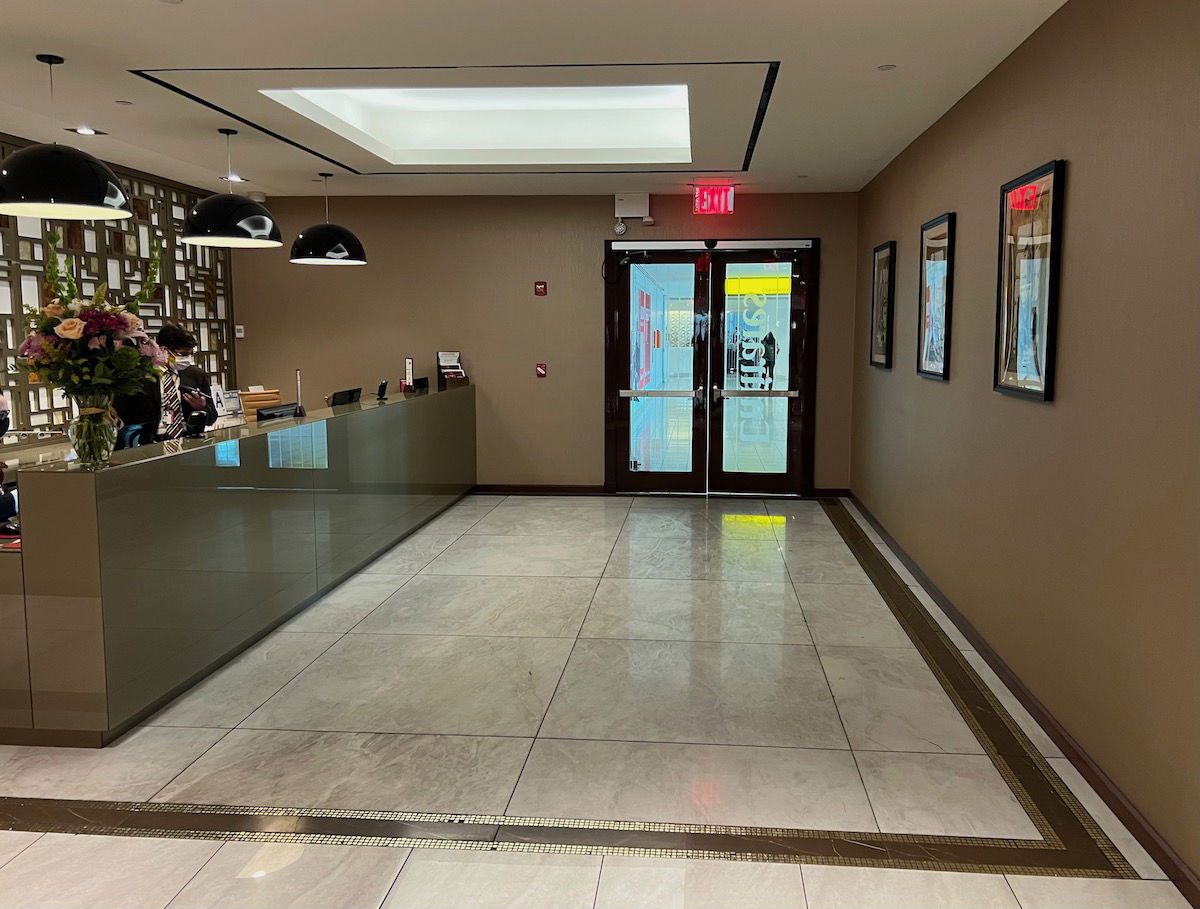 Emirates Lounge New York JFK layout & seating
The Emirates Lounge New York JFK is around 13,000 square feet, making it the carrier's largest lounge in the United States (though Emirates has quite a few large outstation lounges in other countries). The lounge consists primarily of one large room with floor-to-ceiling windows, featuring amazing views of the apron.
The lounge was refurnished in 2018, so it features updated decor, and doesn't have the typical 1990s Las Vegas casino Emirates vibe. 😉
The lounge has seating for 215+ people, and that mostly comes in the form of leather chairs arranged in rows facing one another.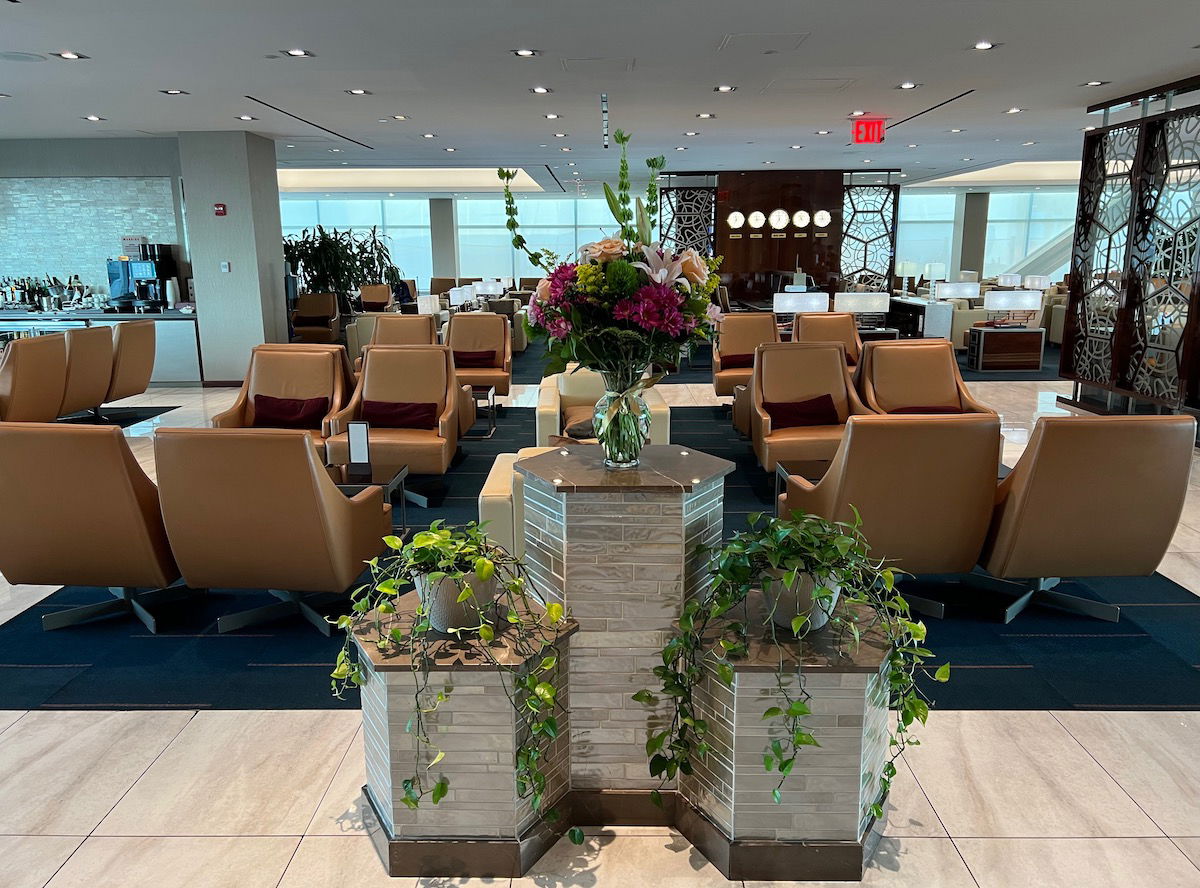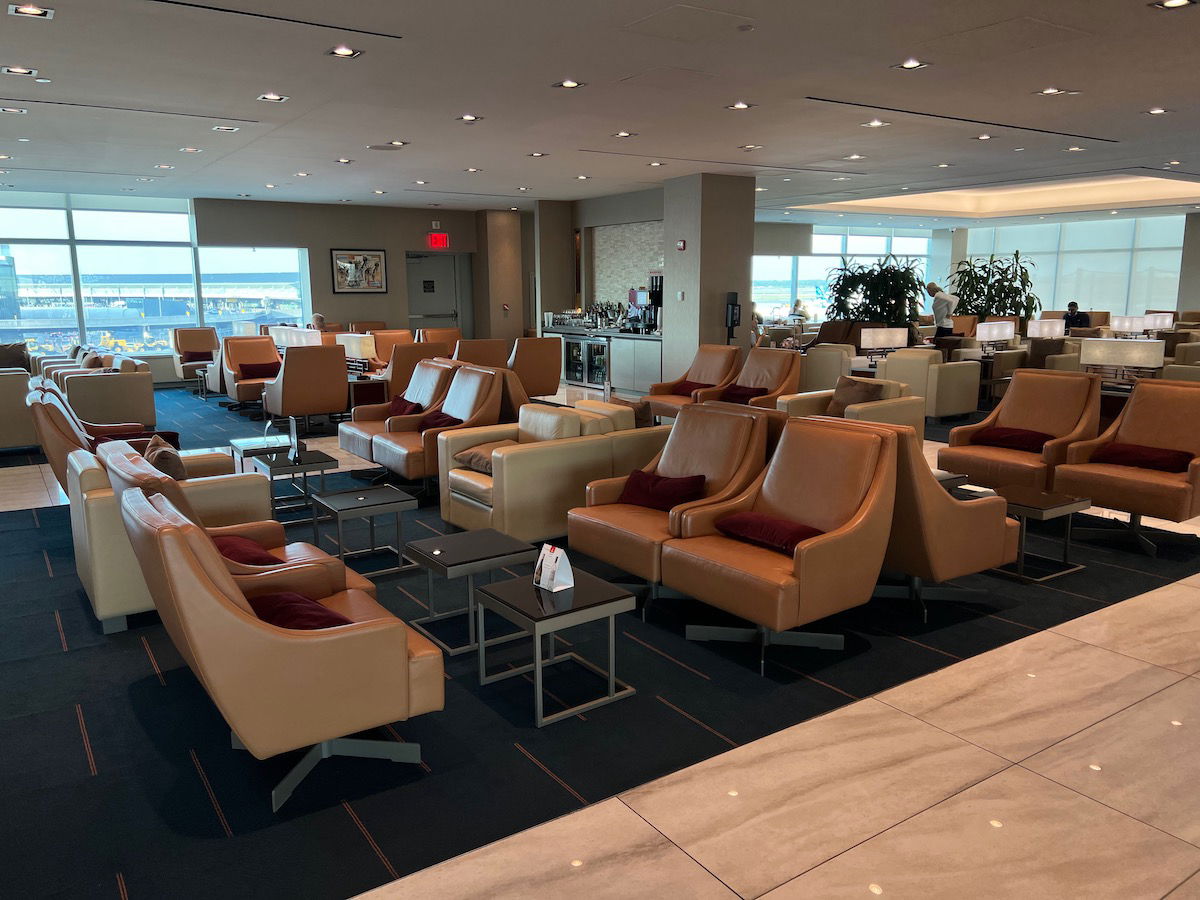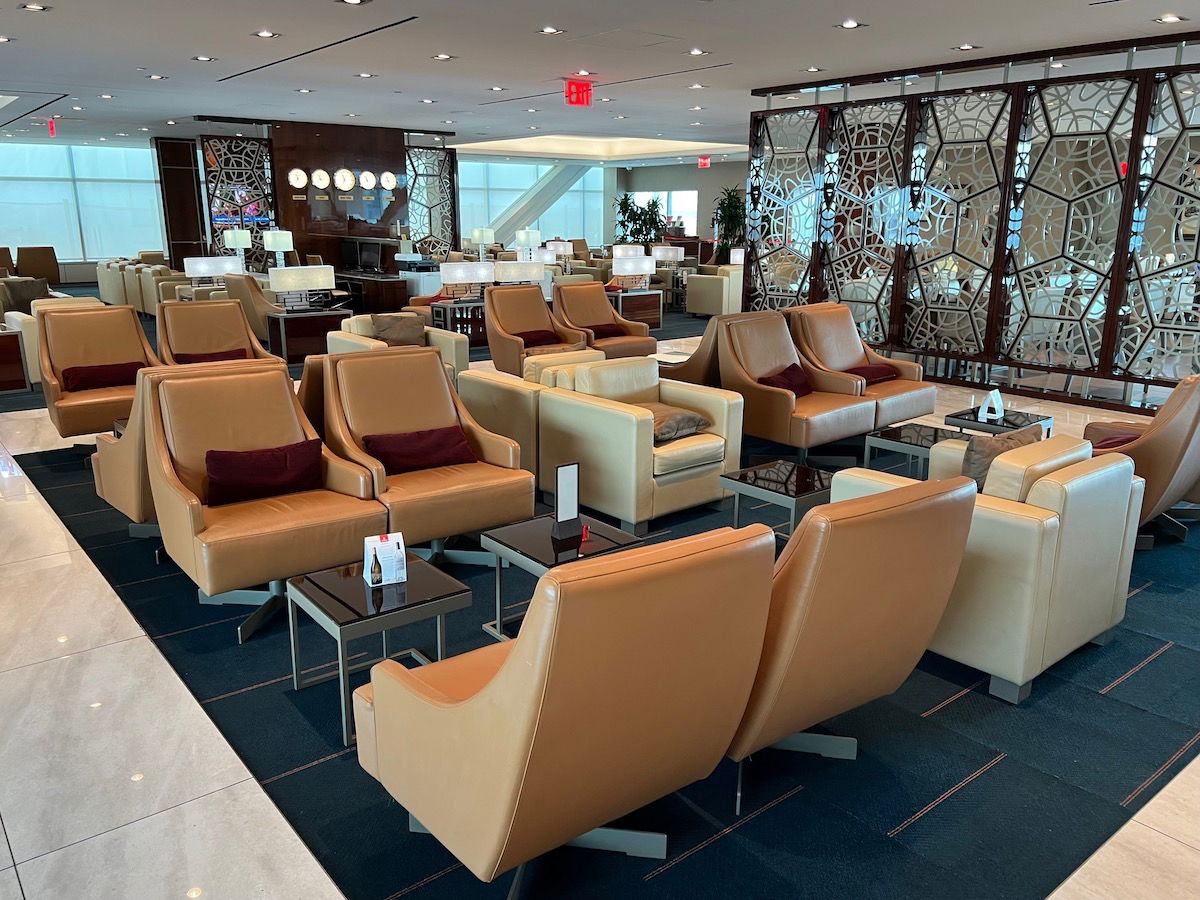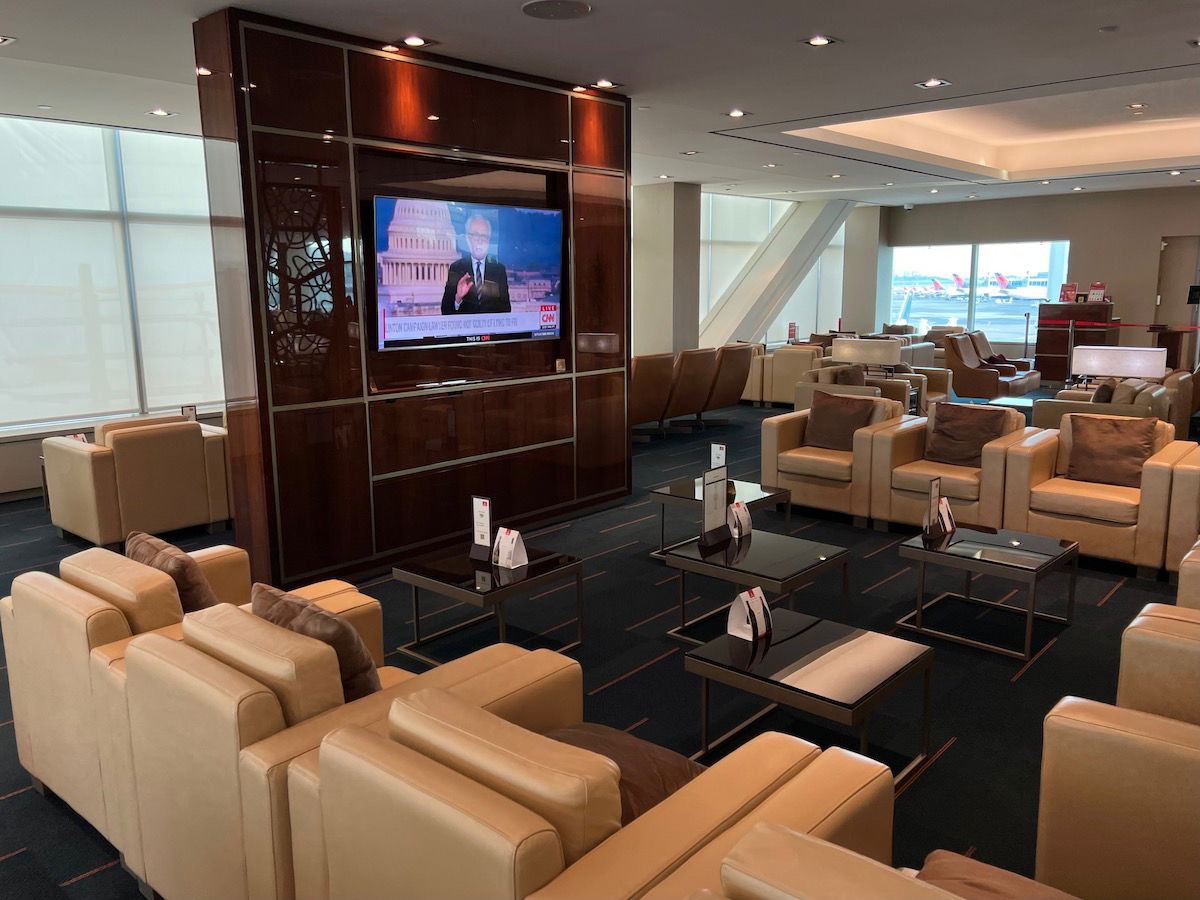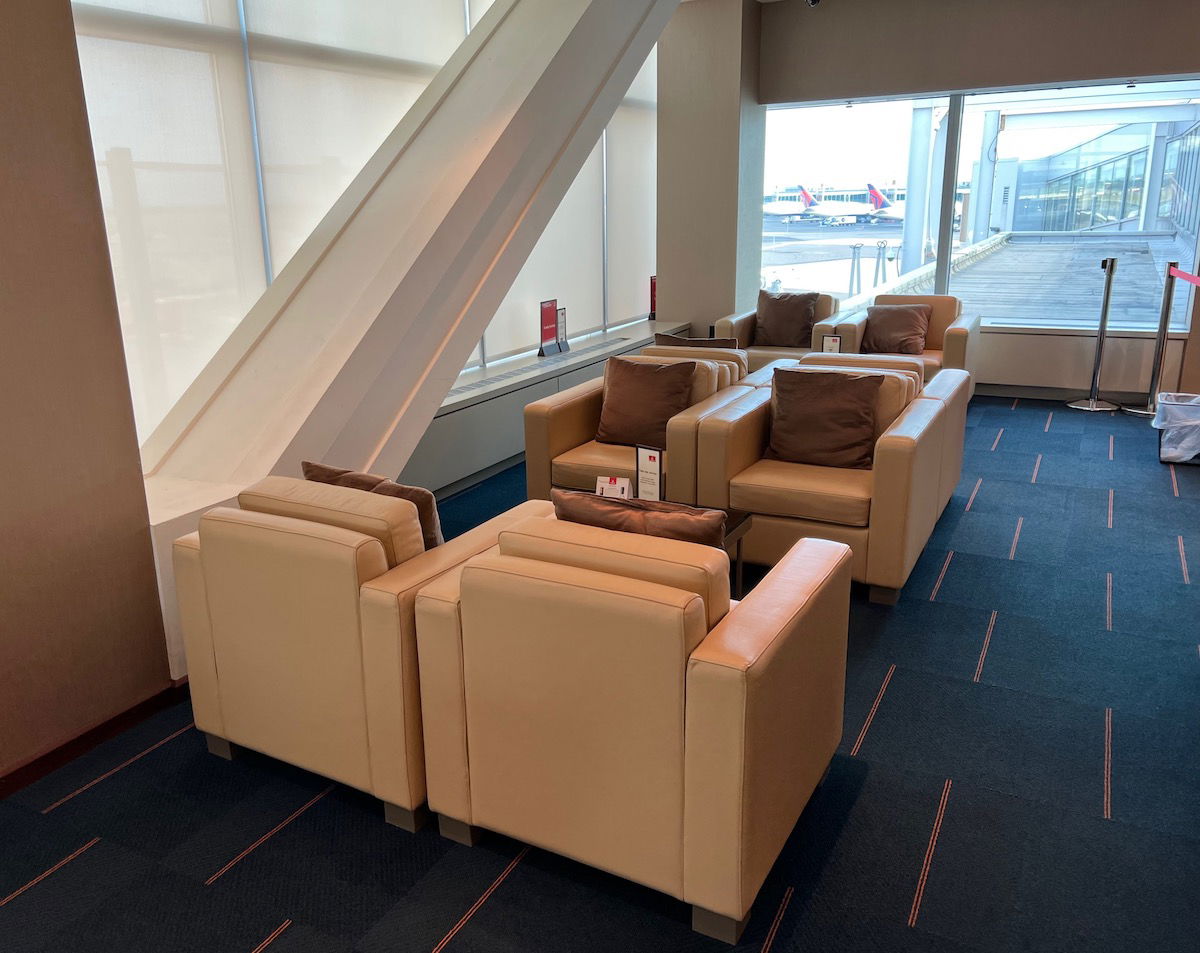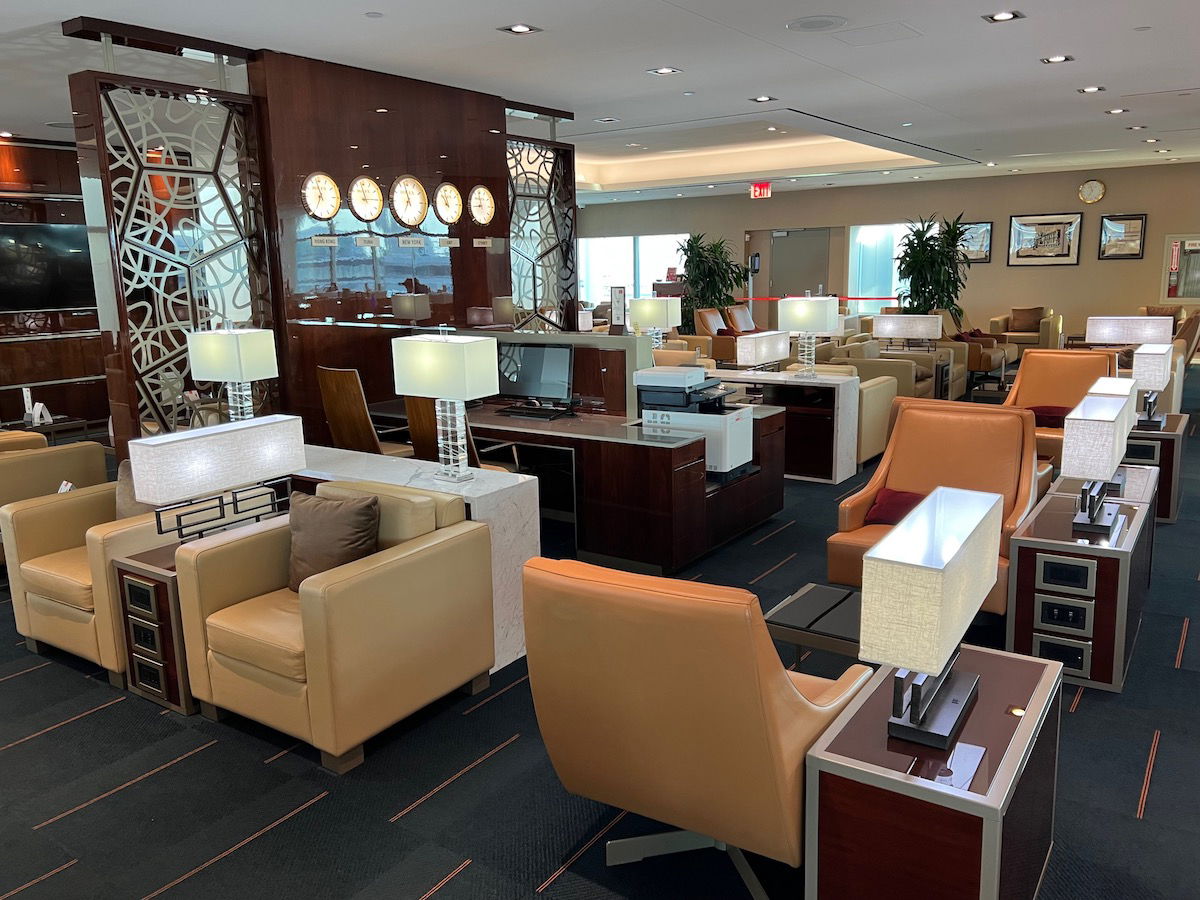 Along the windows there are some chairs with ottomans that have nice apron views.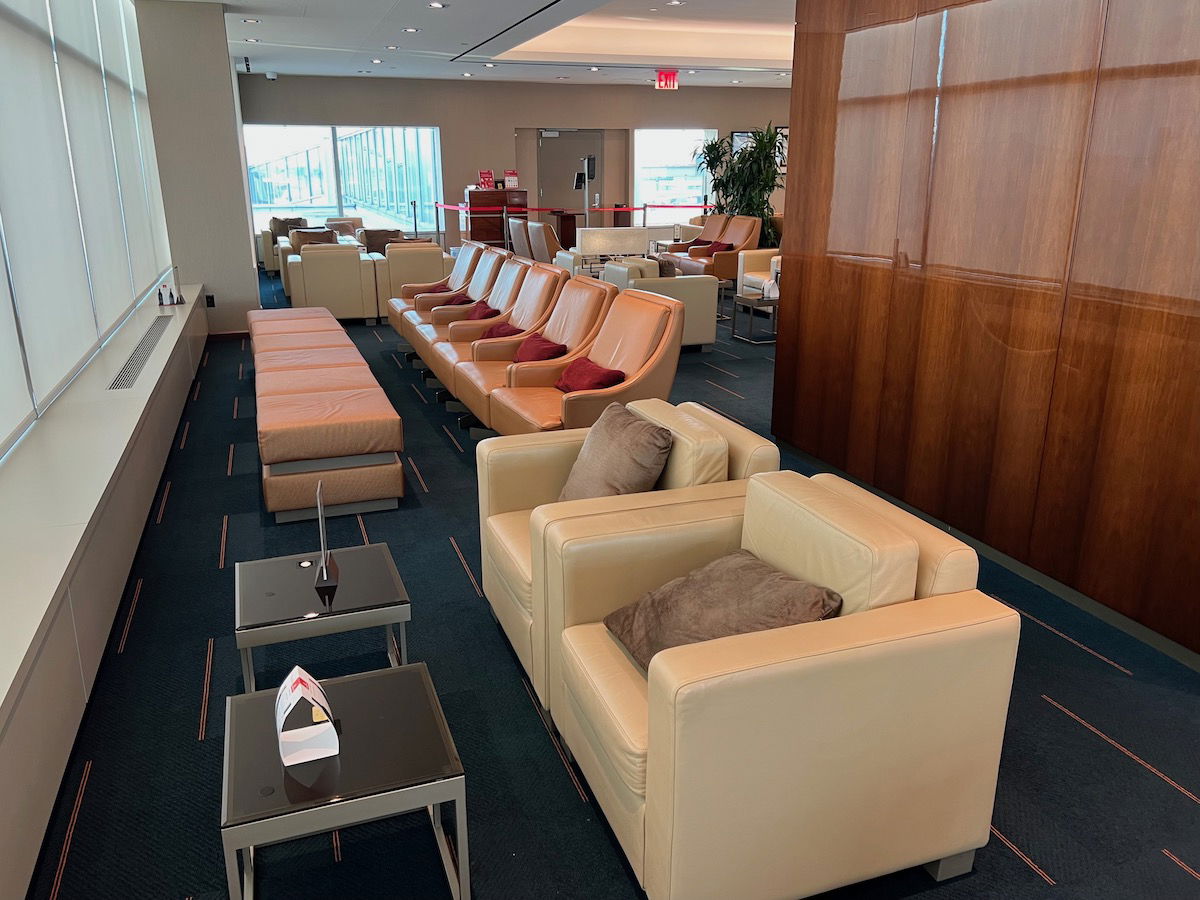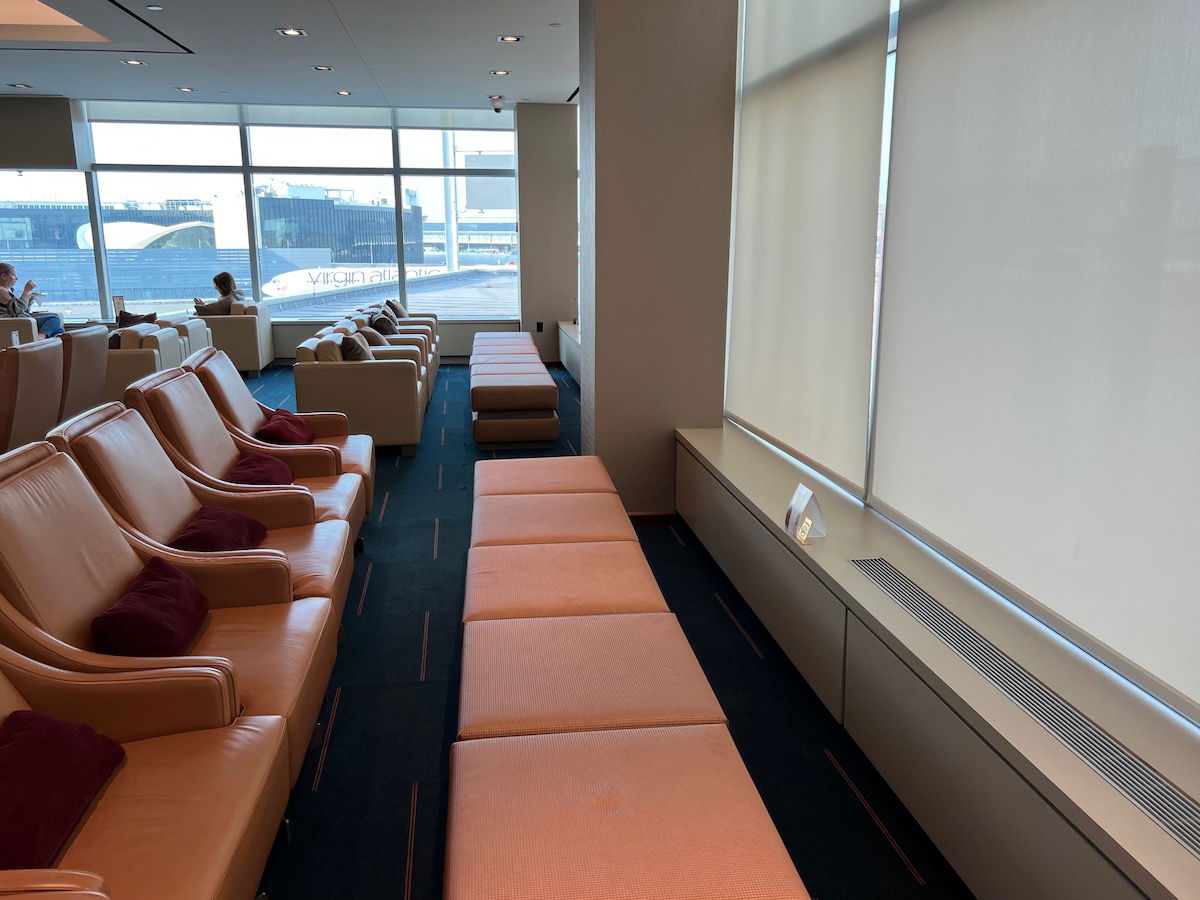 There's also a small business center, with a few PCs and a printer.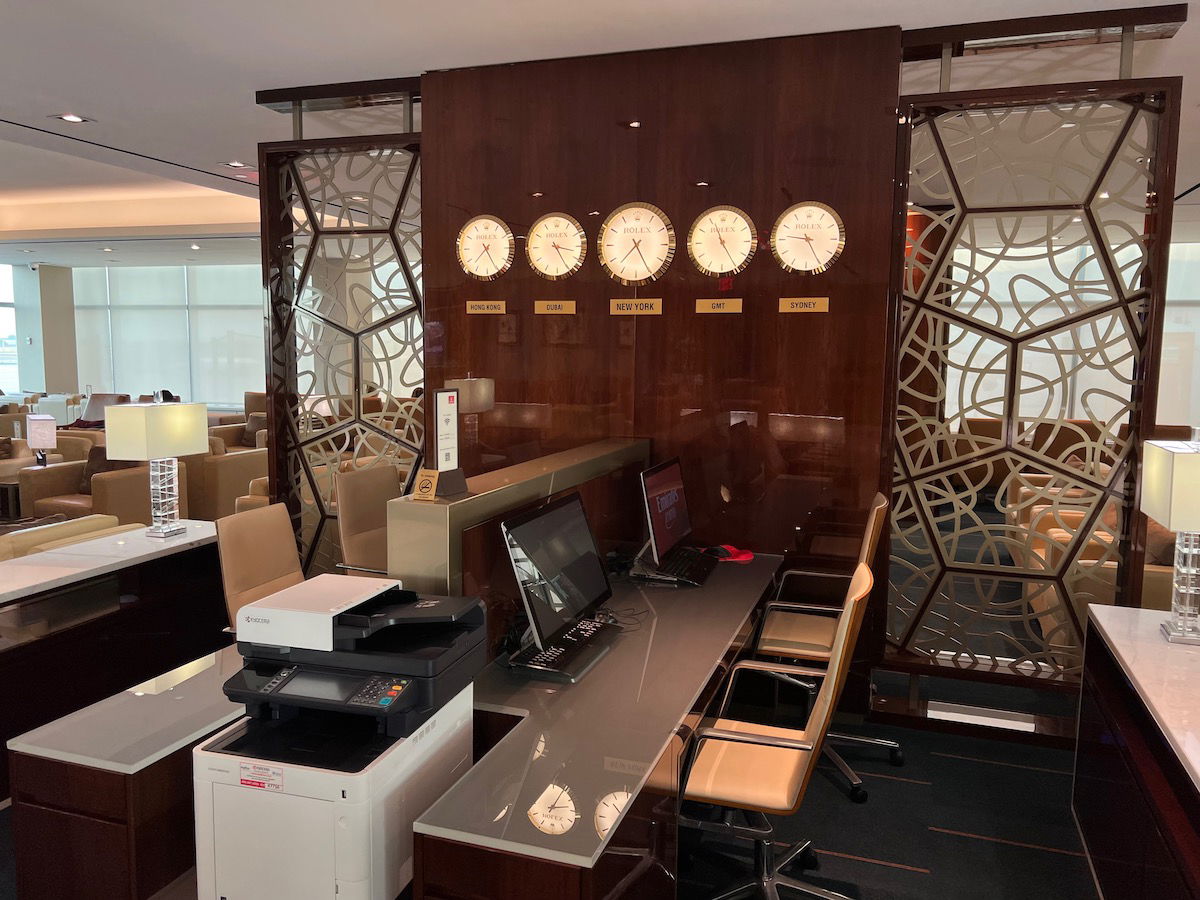 Then there's a dining area, with a bit over a dozen tables, each with four seats.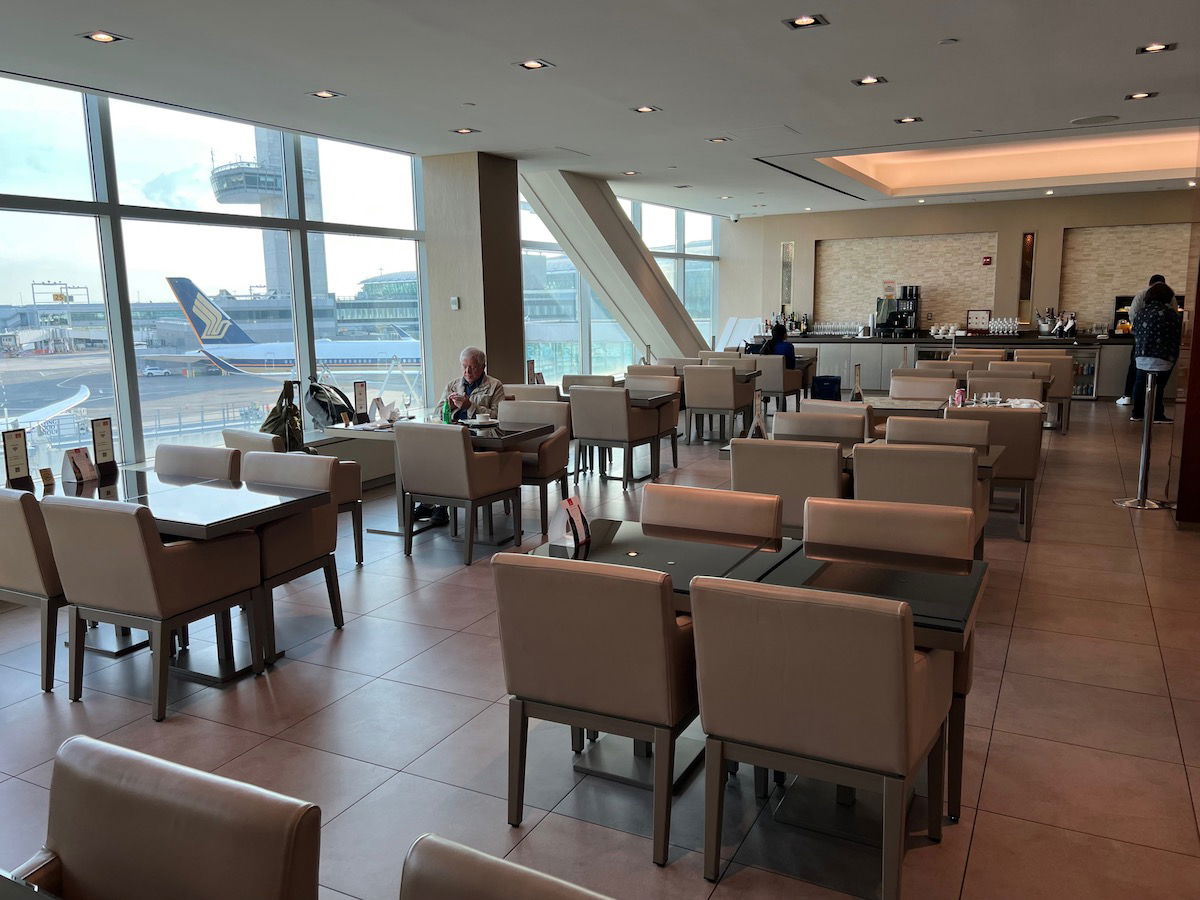 The lounge really has top notch views of the terminal and apron, so if you're an aviation geek you'll love plane spotting from here.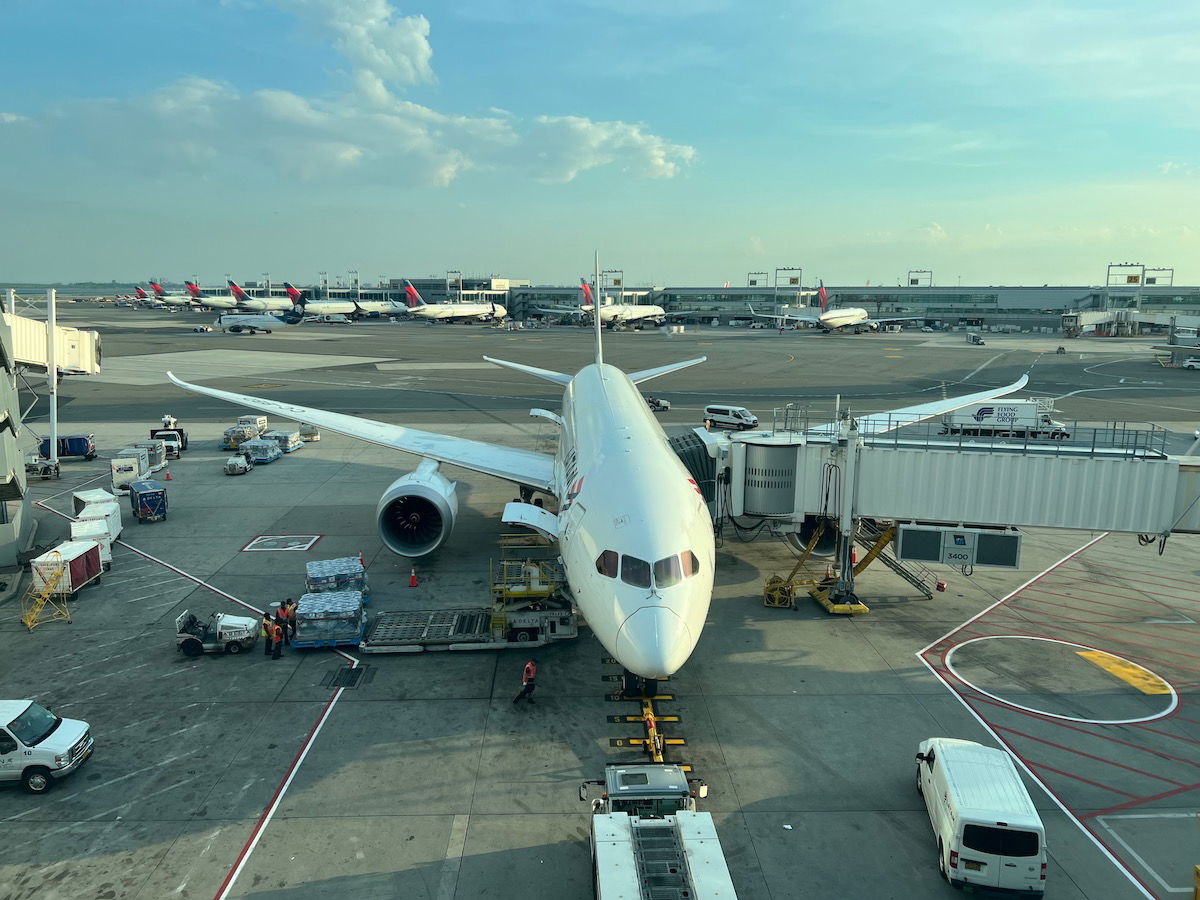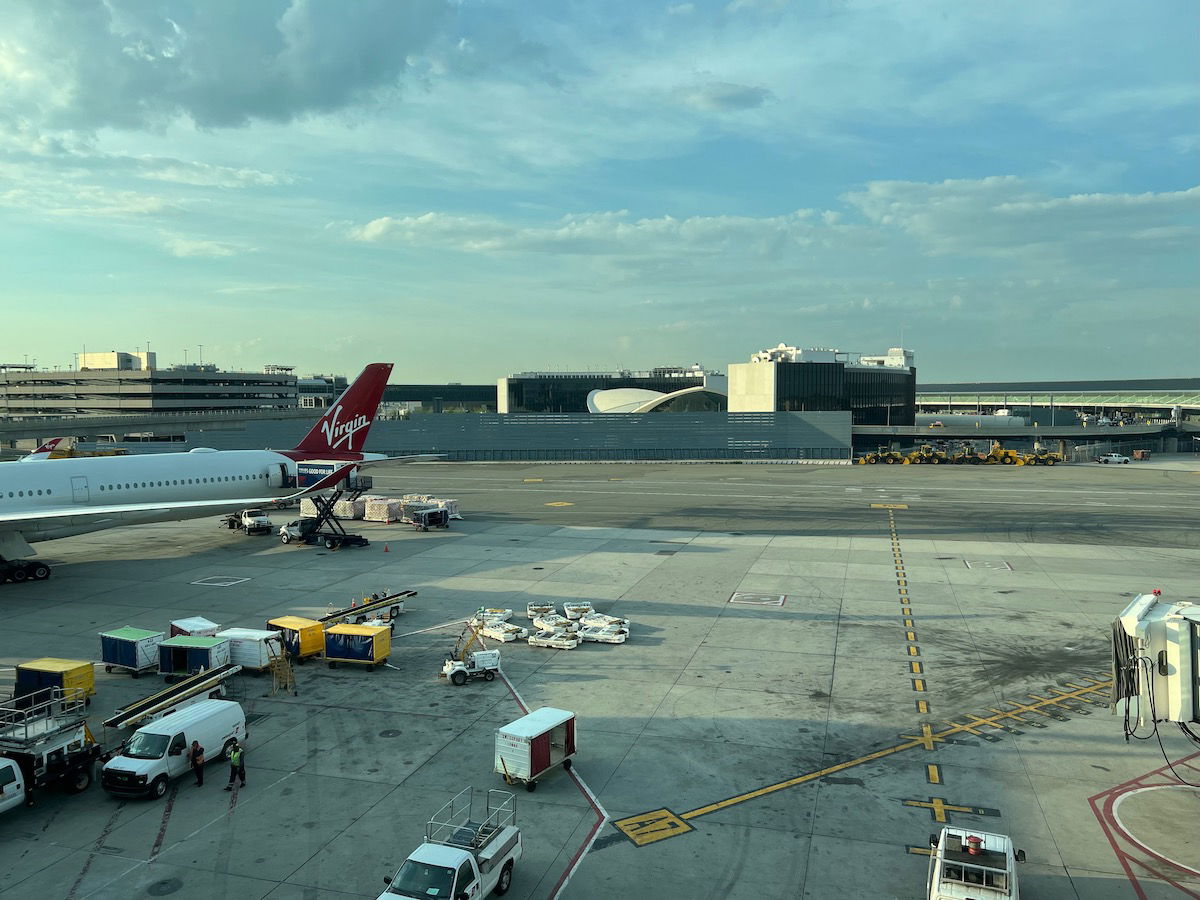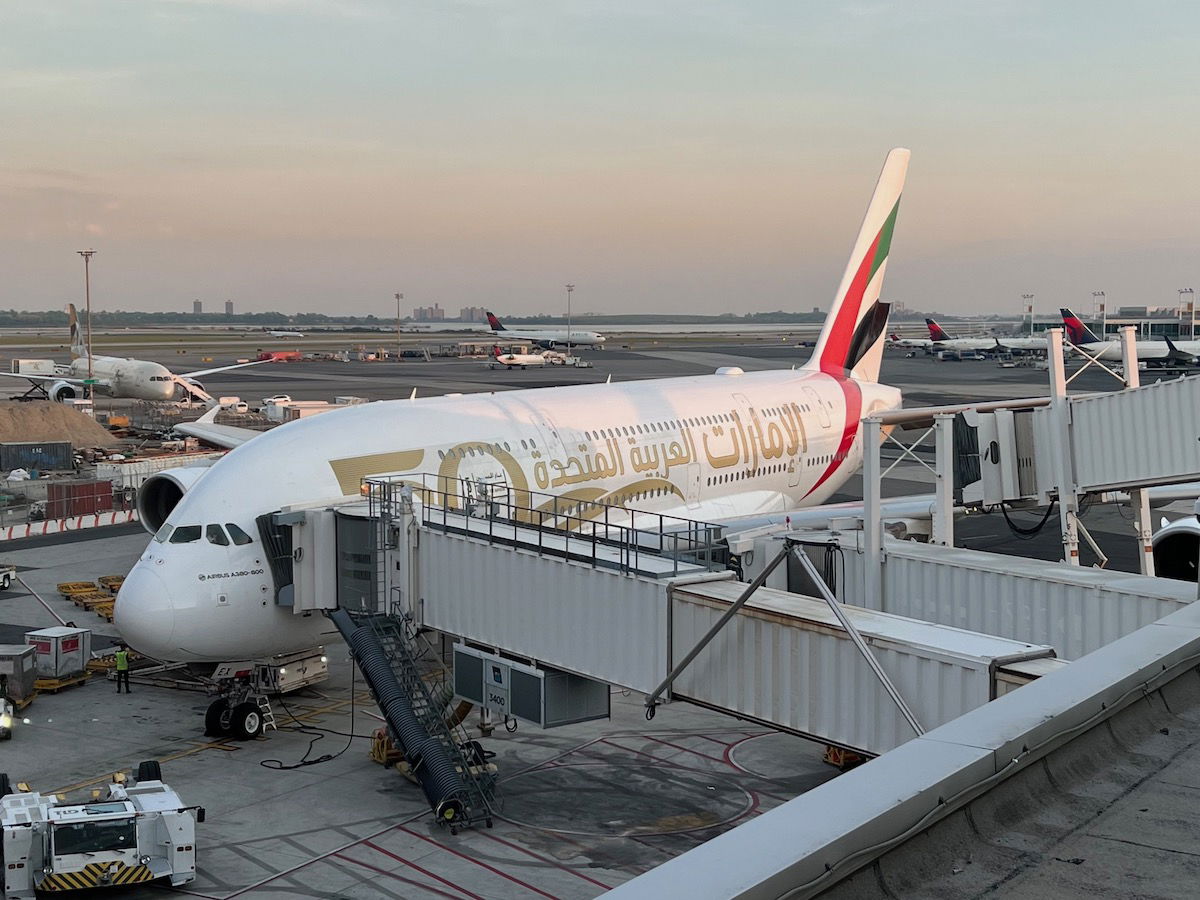 My one major point of frustration is the lounge was the lack of outlets at all seats, especially for a lounge that was so recently refurbished. For example, none of the dining tables have outlets, which you'd think is something they would have added.
While the lounge got busy, I was pleasantly surprised that it didn't feel too overcrowded. There were two A380s leaving around the same time, and each has 90 first & business class seats. Add in elite members, and you're probably looking at around 200 people having lounge access (assuming flights are full), for a lounge with a capacity just above that. The lounge definitely got busy later in the evening, but never got crowded to Centurion Lounge levels.
Emirates Lounge New York JFK food & drinks
The Emirates Lounge New York JFK features a buffet. While there's no a la carte dining, I find that Emirates has high quality buffet food, much more so than you'll find in most airport lounges.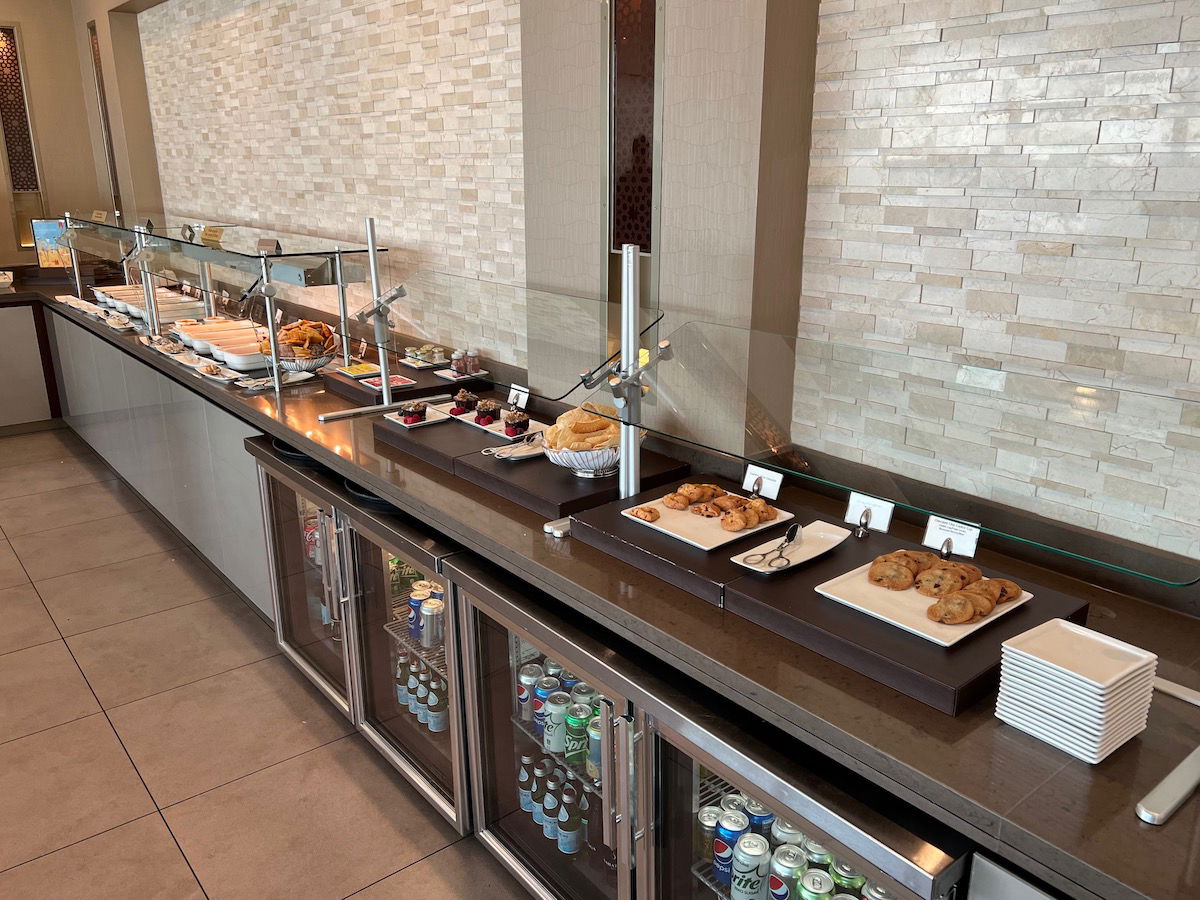 There's a cold selection, including everything from fresh fruit, to individually plated appetizers, to dips and spreads, to a salad bar.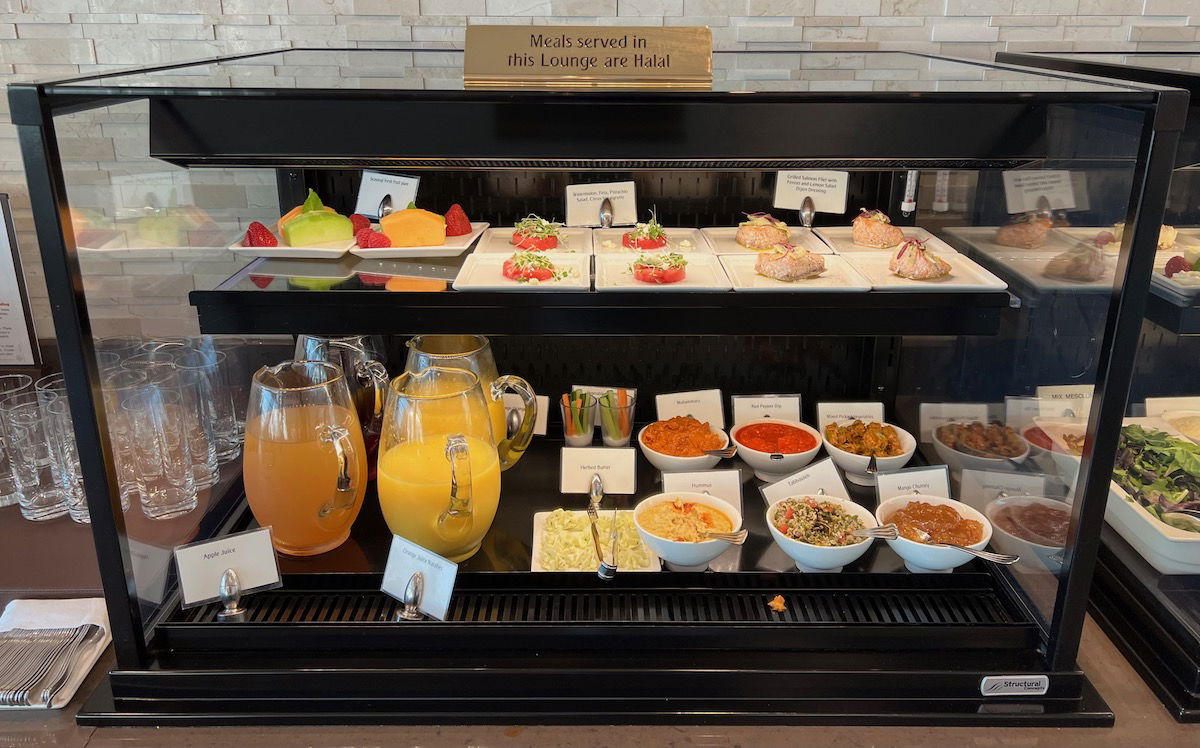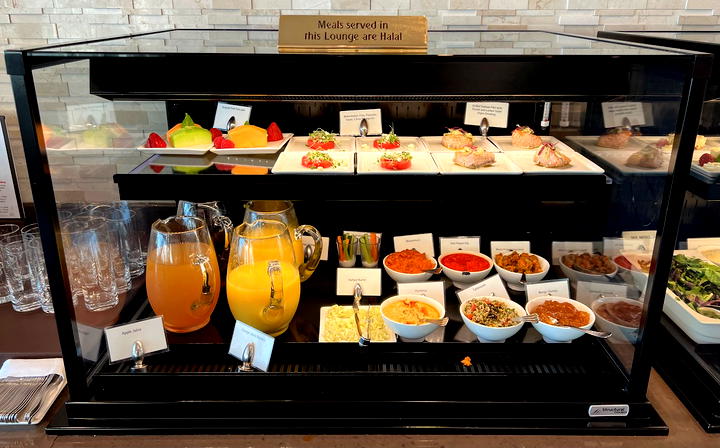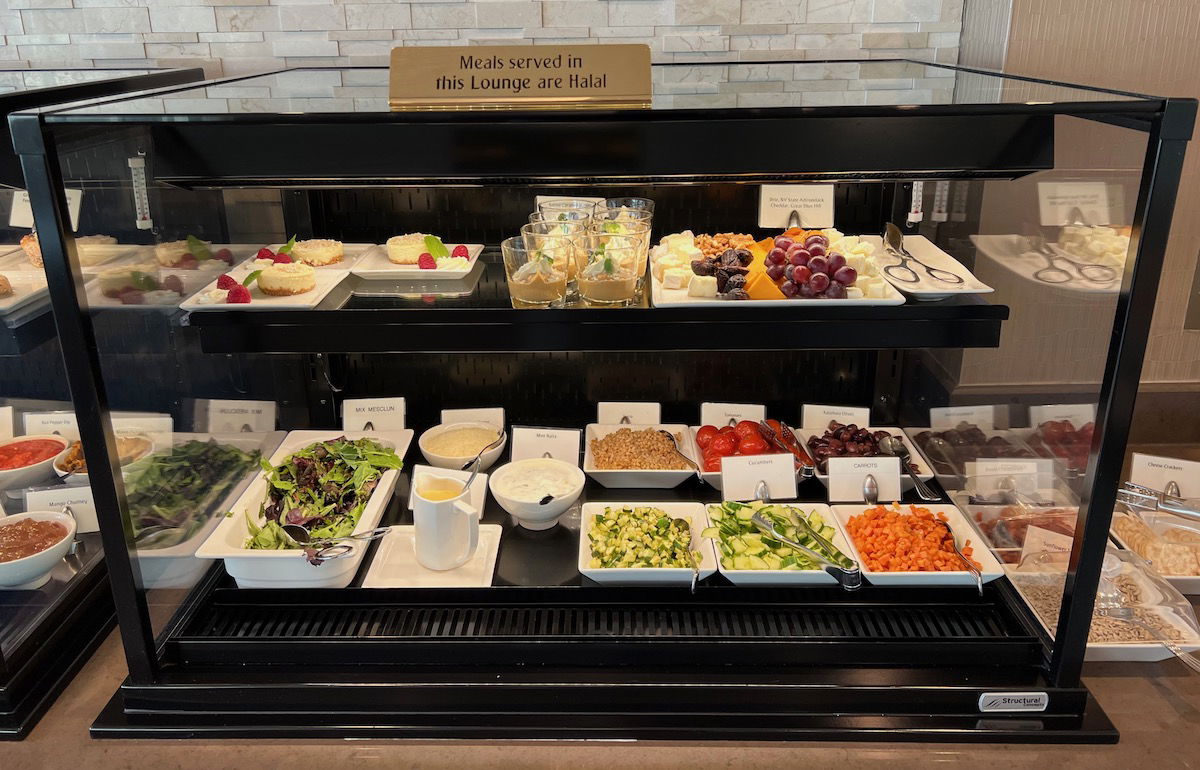 Then there are a variety of hot options, including everything from butternut squash cannelloni, to sautéed baby bok choy, to vegetable kadai, to coconut curry shrimp, to seared arctic char, to spicy coconut carrot soup.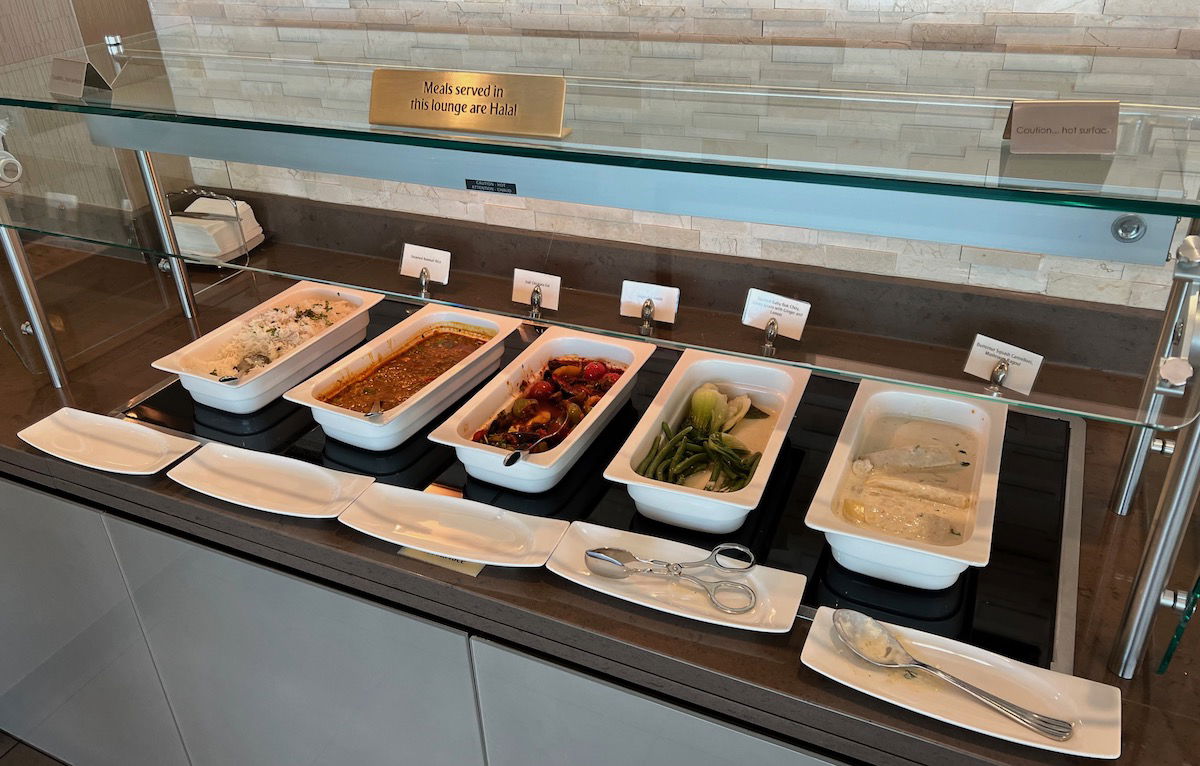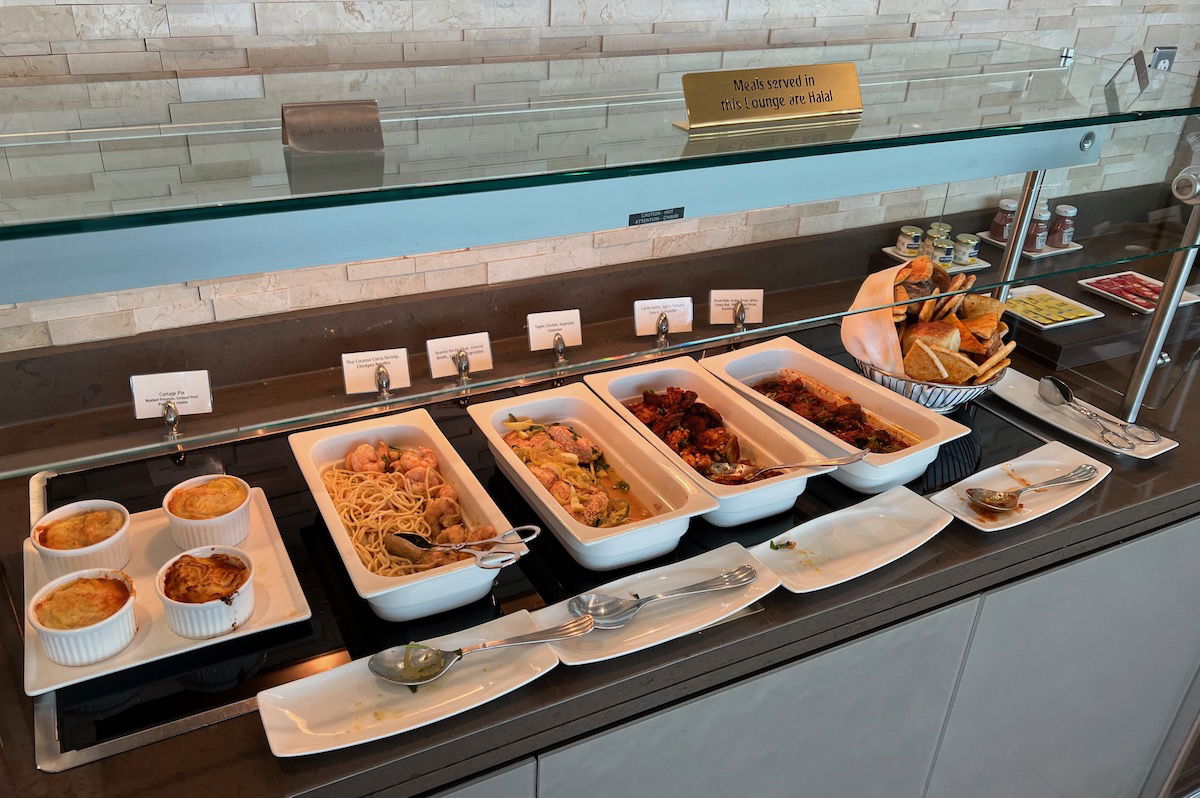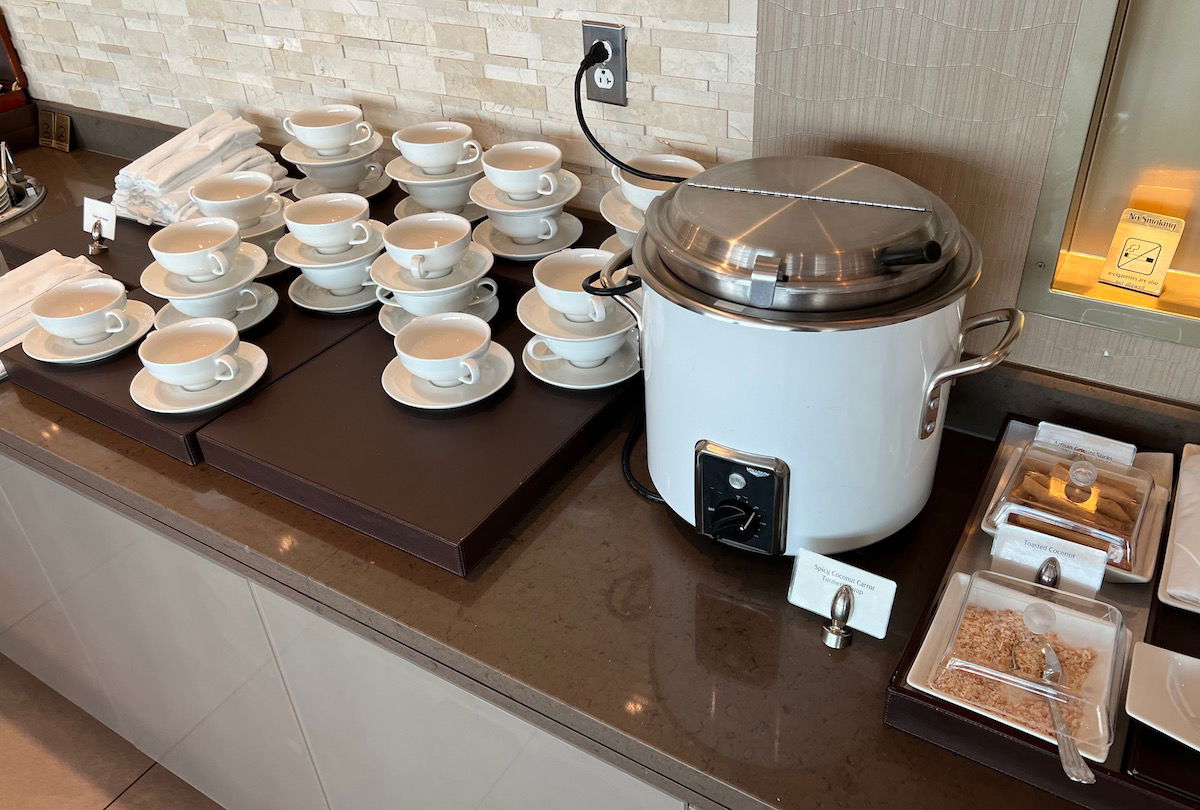 The dessert selection included turtle brownie cake and cookies.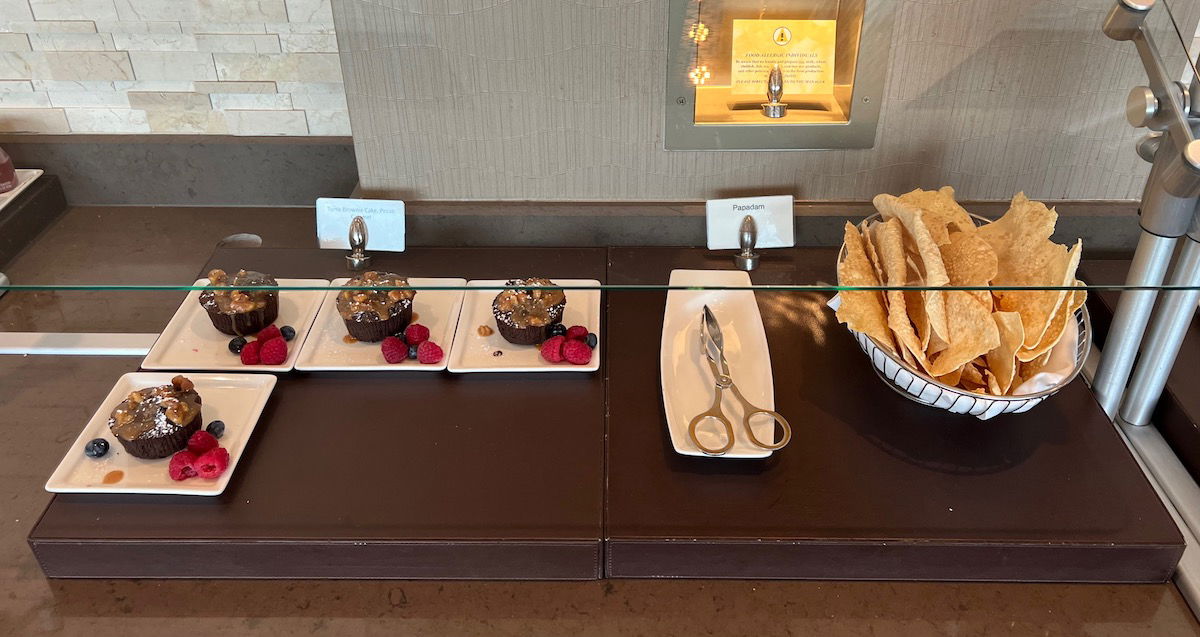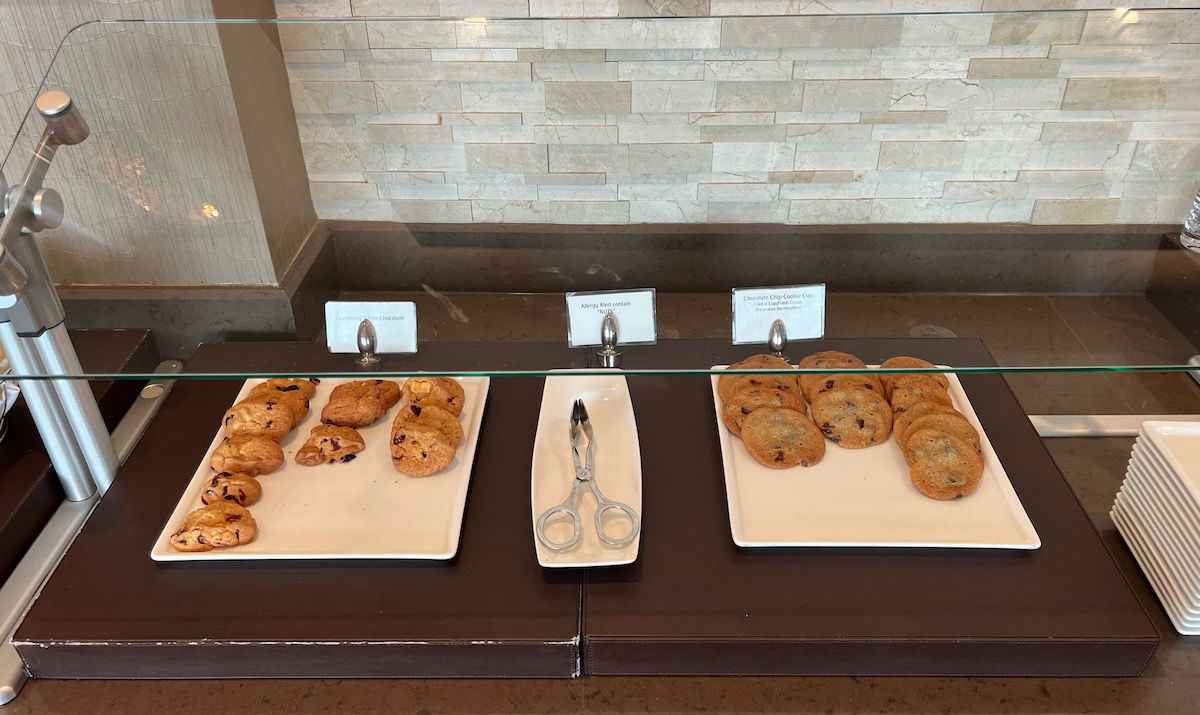 Drinks in the lounge are entirely self serve. There's a selection of liquor, a variety of wines (including Moet and Veuve Clicquot), soft drinks, and water (including San Pellegrino and Saratoga). There's also a selection of tea and an espresso machine, though oddly there was no Arabic coffee, which I've otherwise found to be a standard offering in Emirates lounges.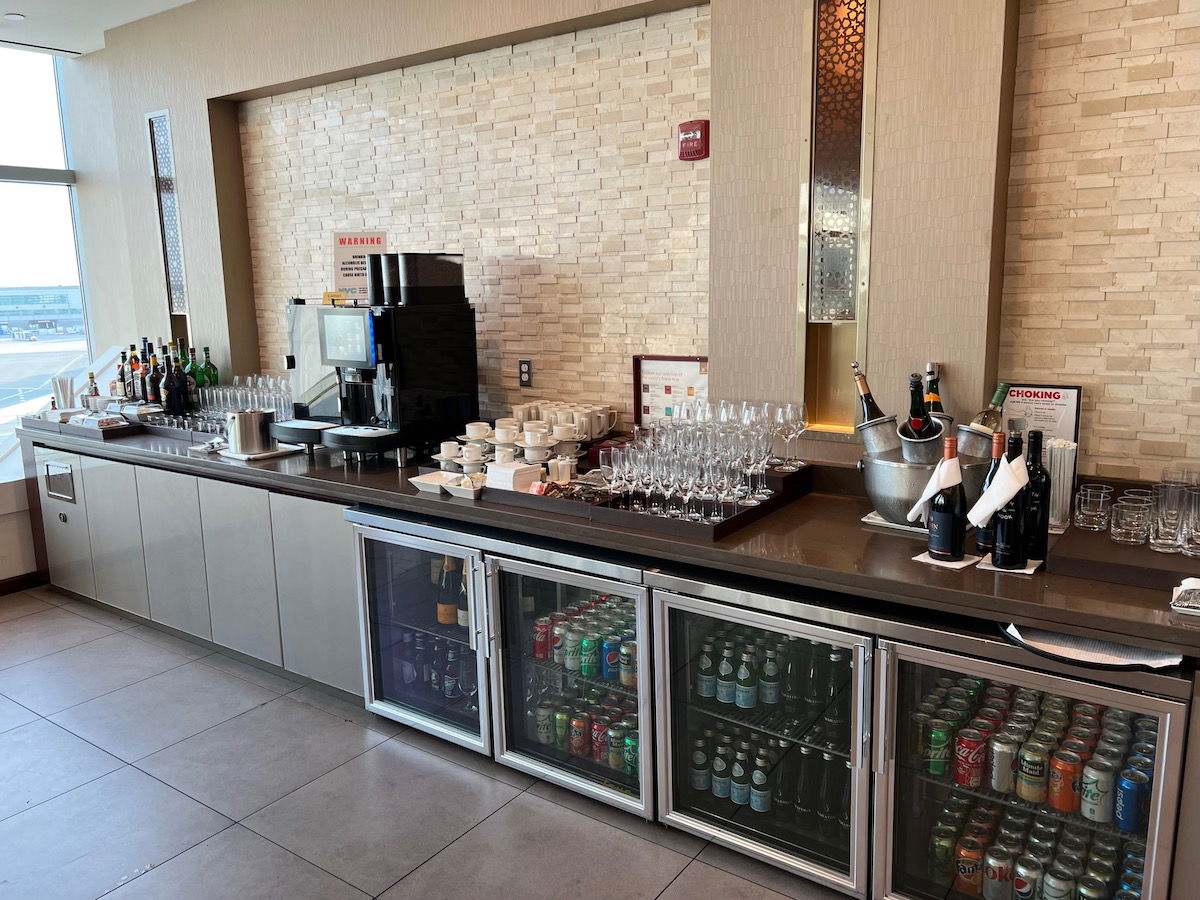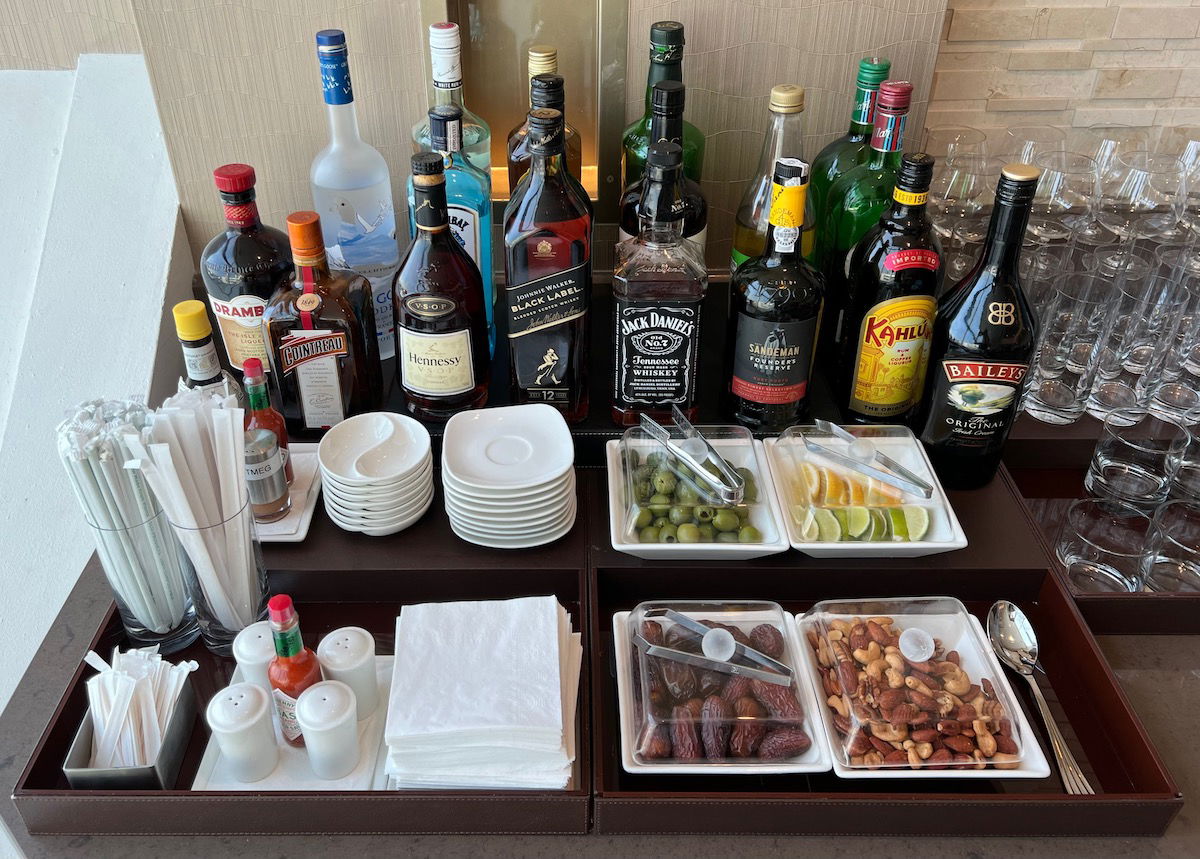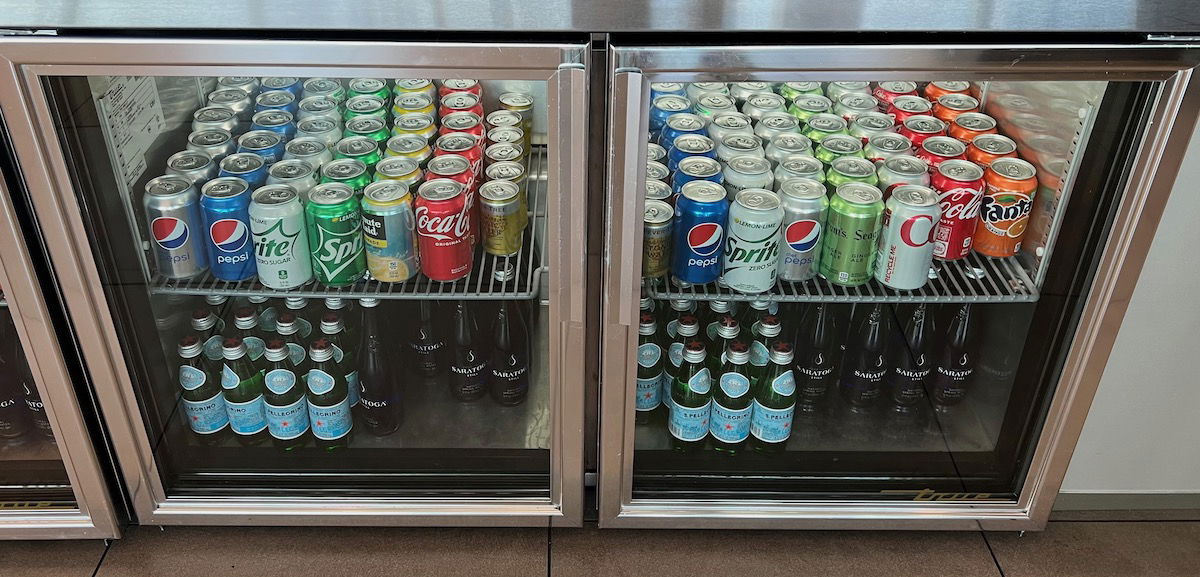 Separate from the main buffet, there was a second drink station with more of the same drinks, presumably intended to spread out crowding a bit.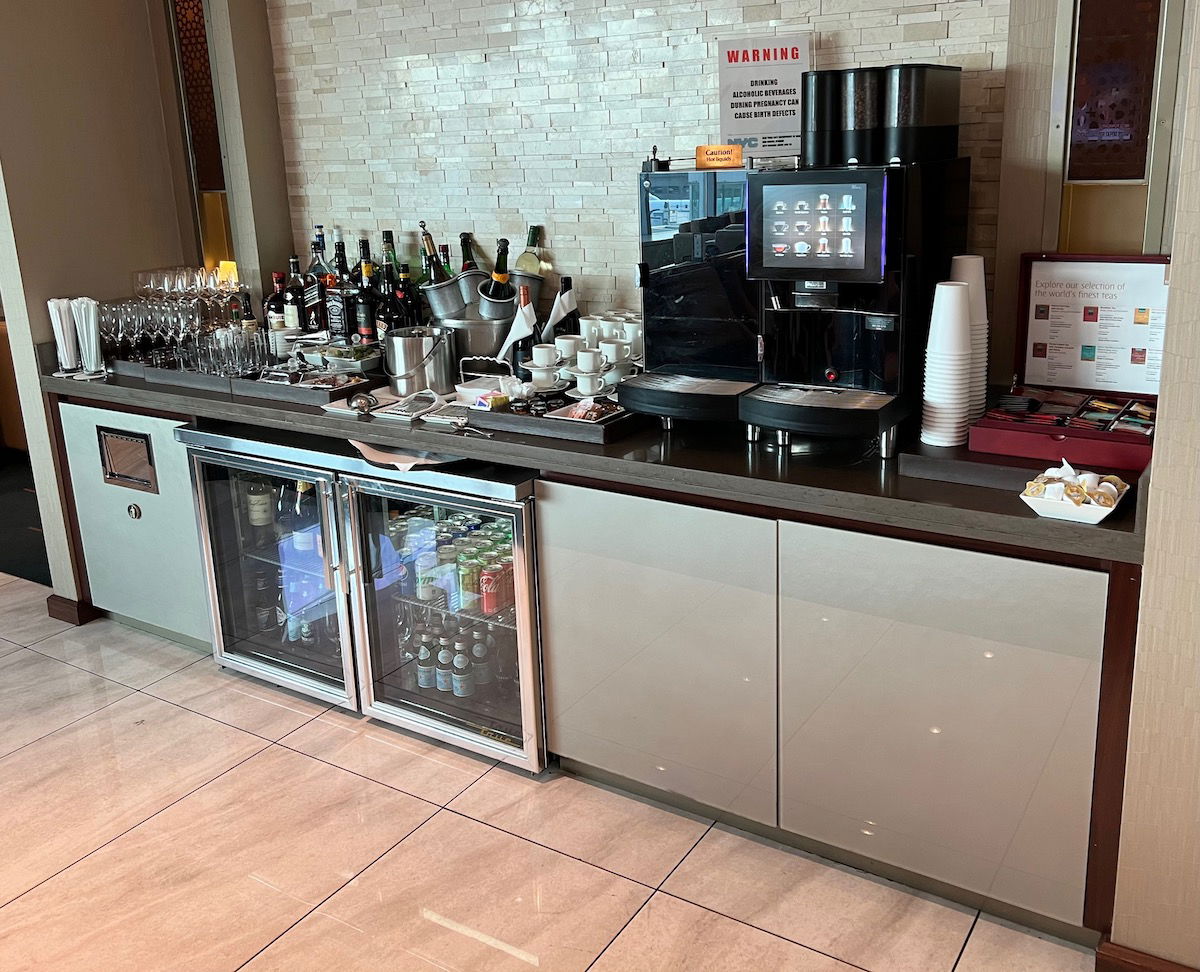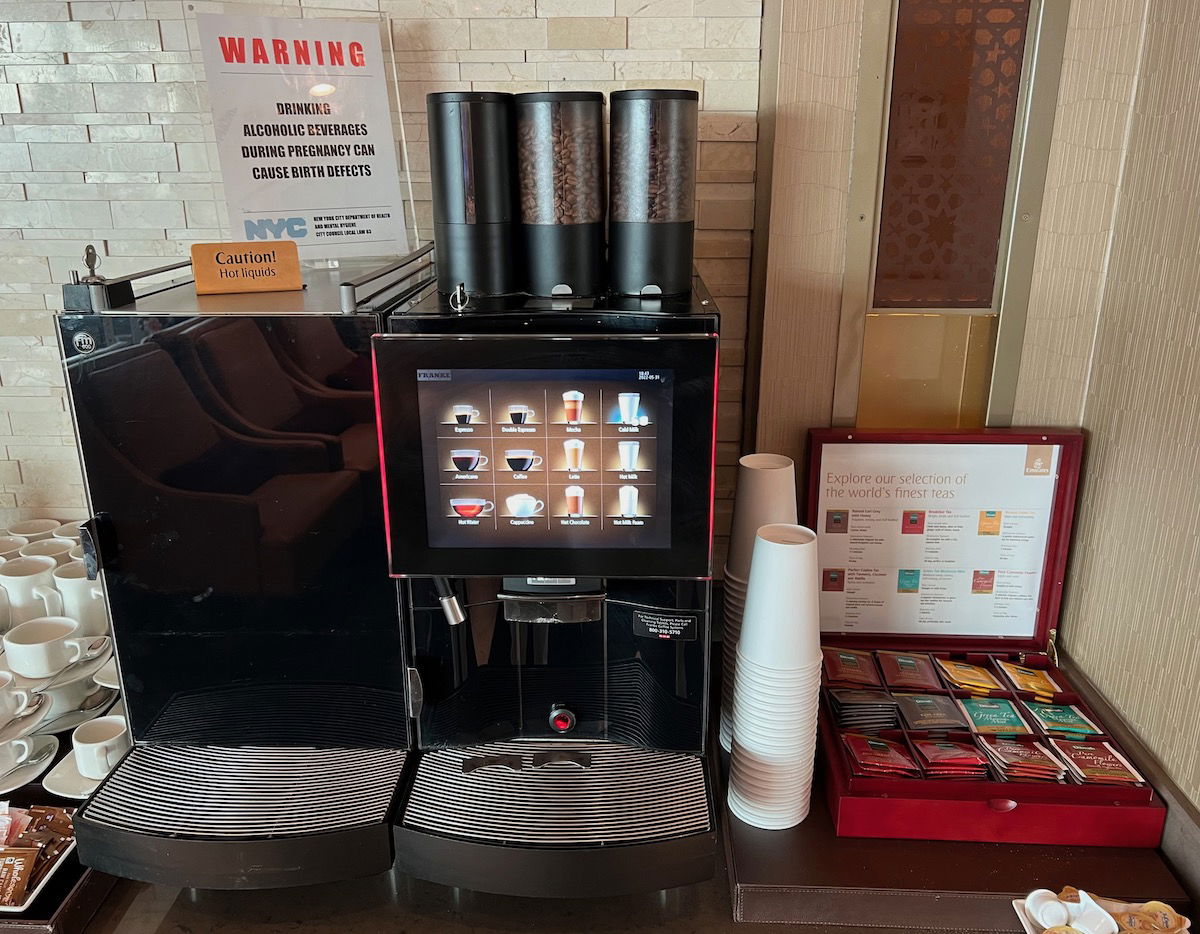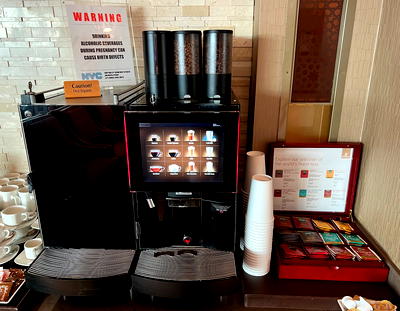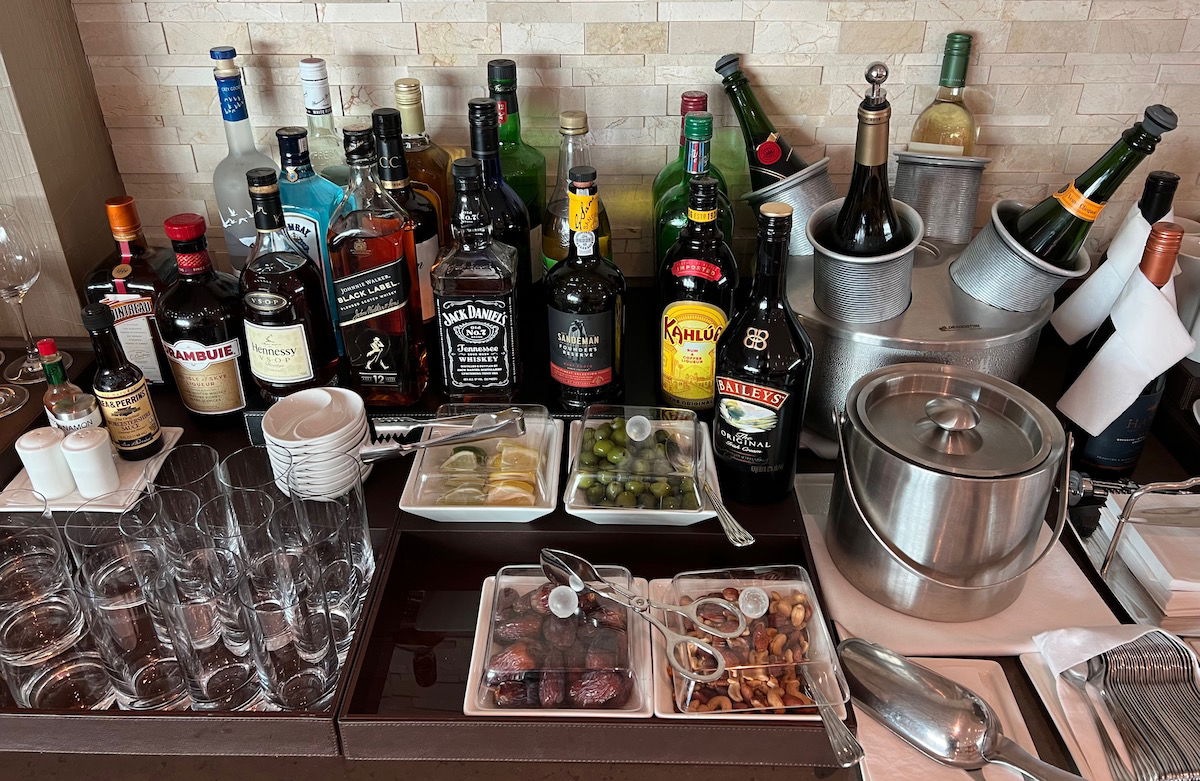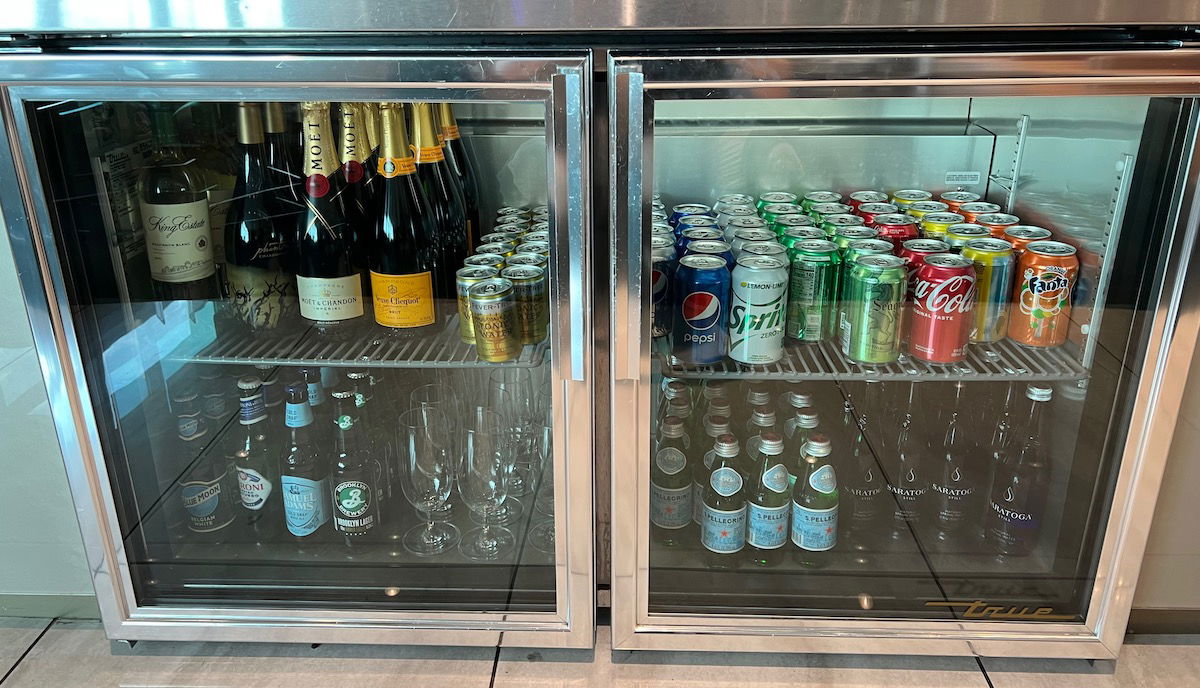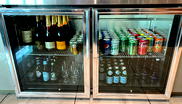 Emirates Lounge New York JFK showers & restrooms
The lounge's bathrooms are back near the entrance. The bathrooms were well maintained, and it's a nice touch how Emirates has proper towels to use in the bathrooms.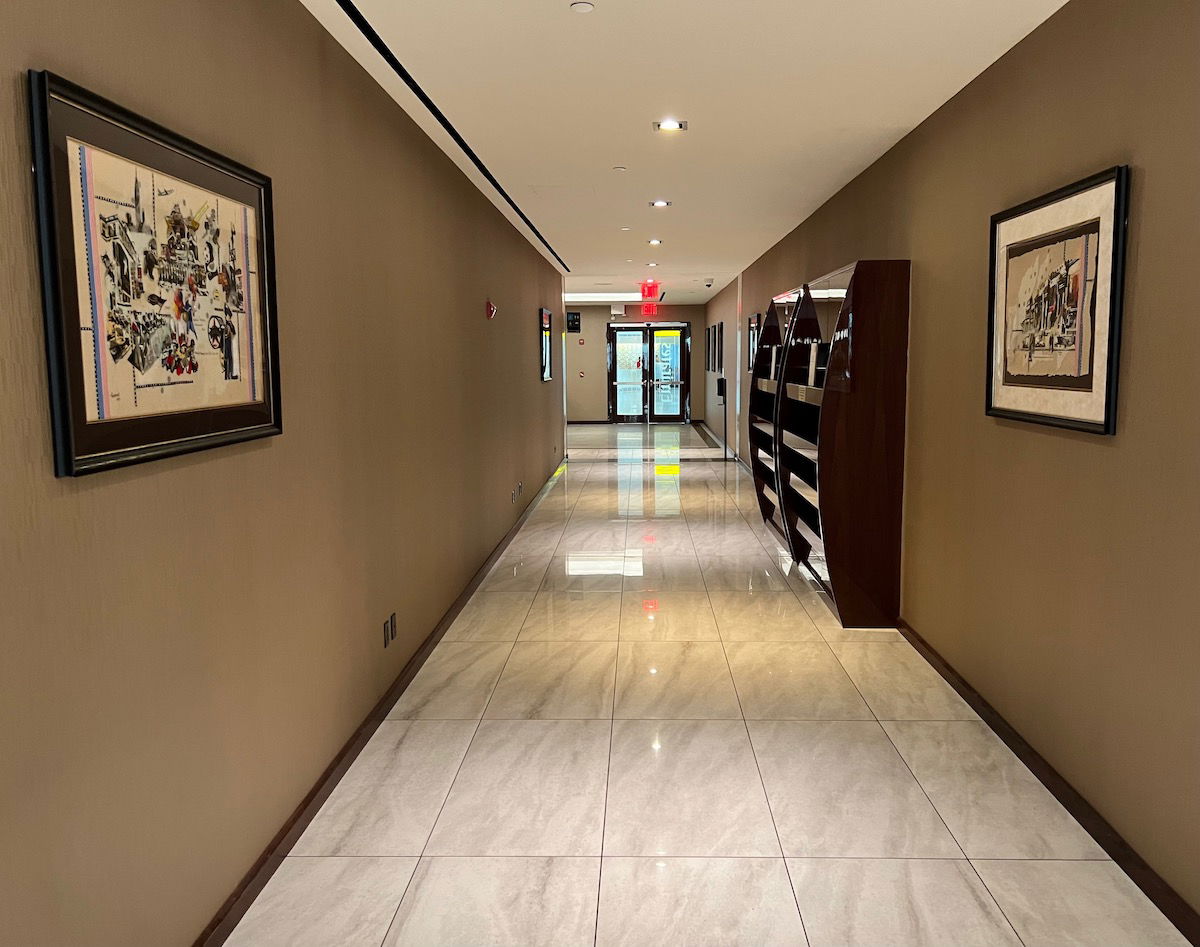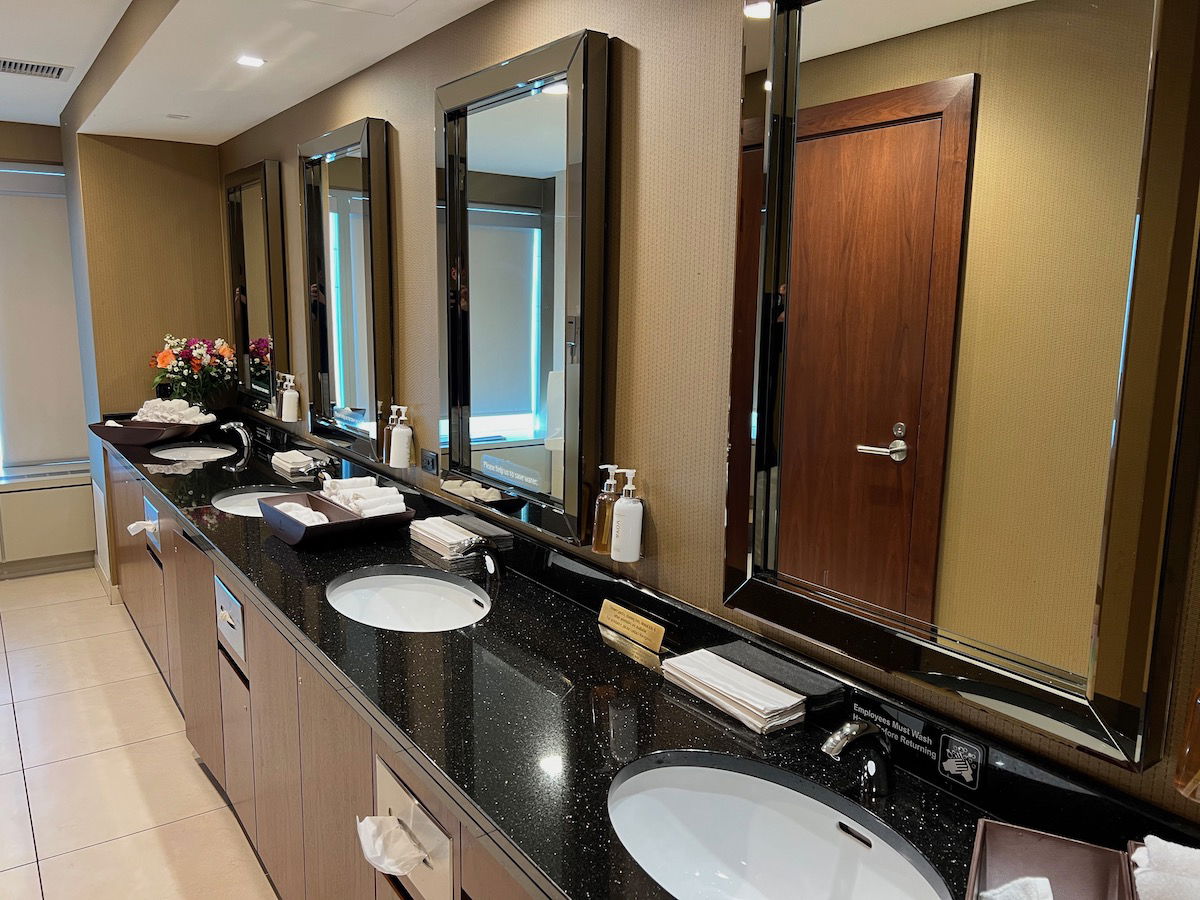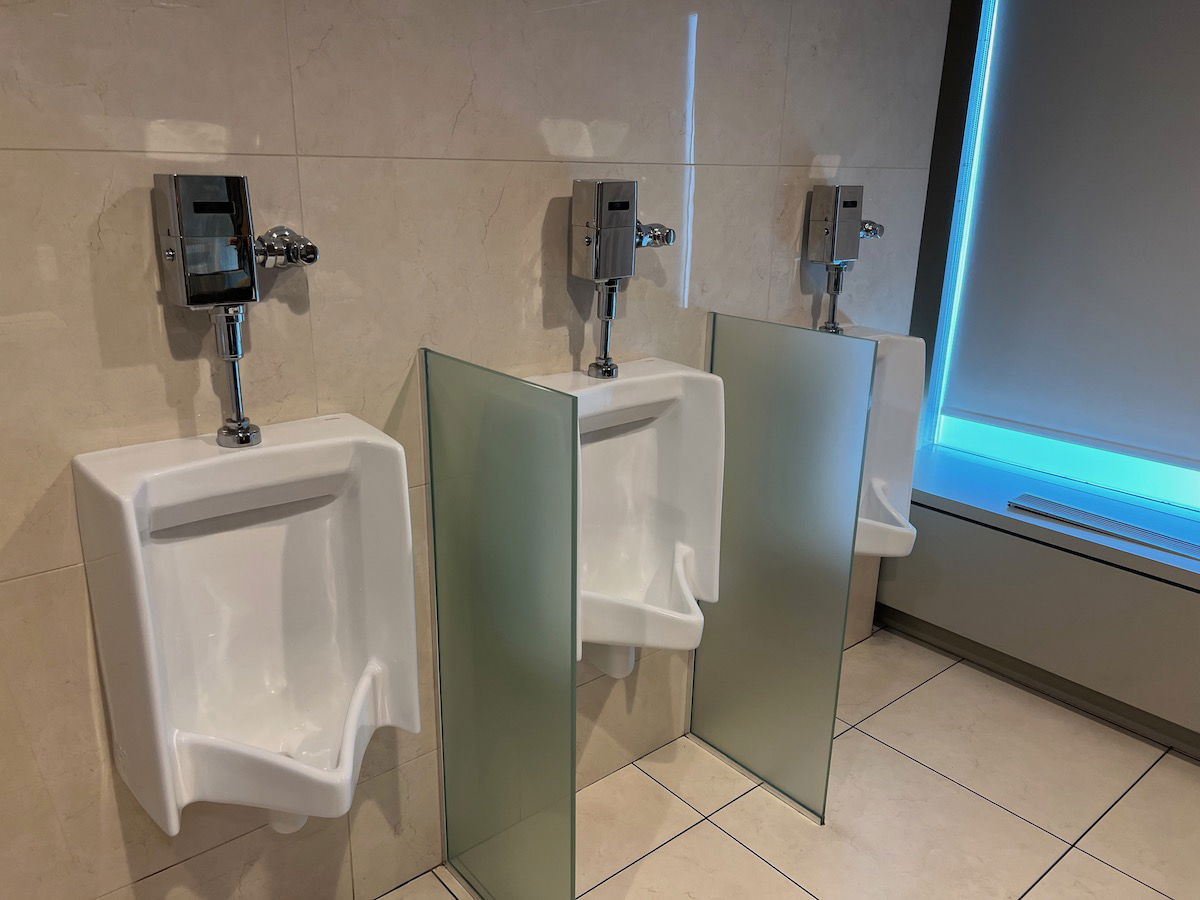 The lounge also had a couple of shower suites, which were large and functional, but hardly luxurious.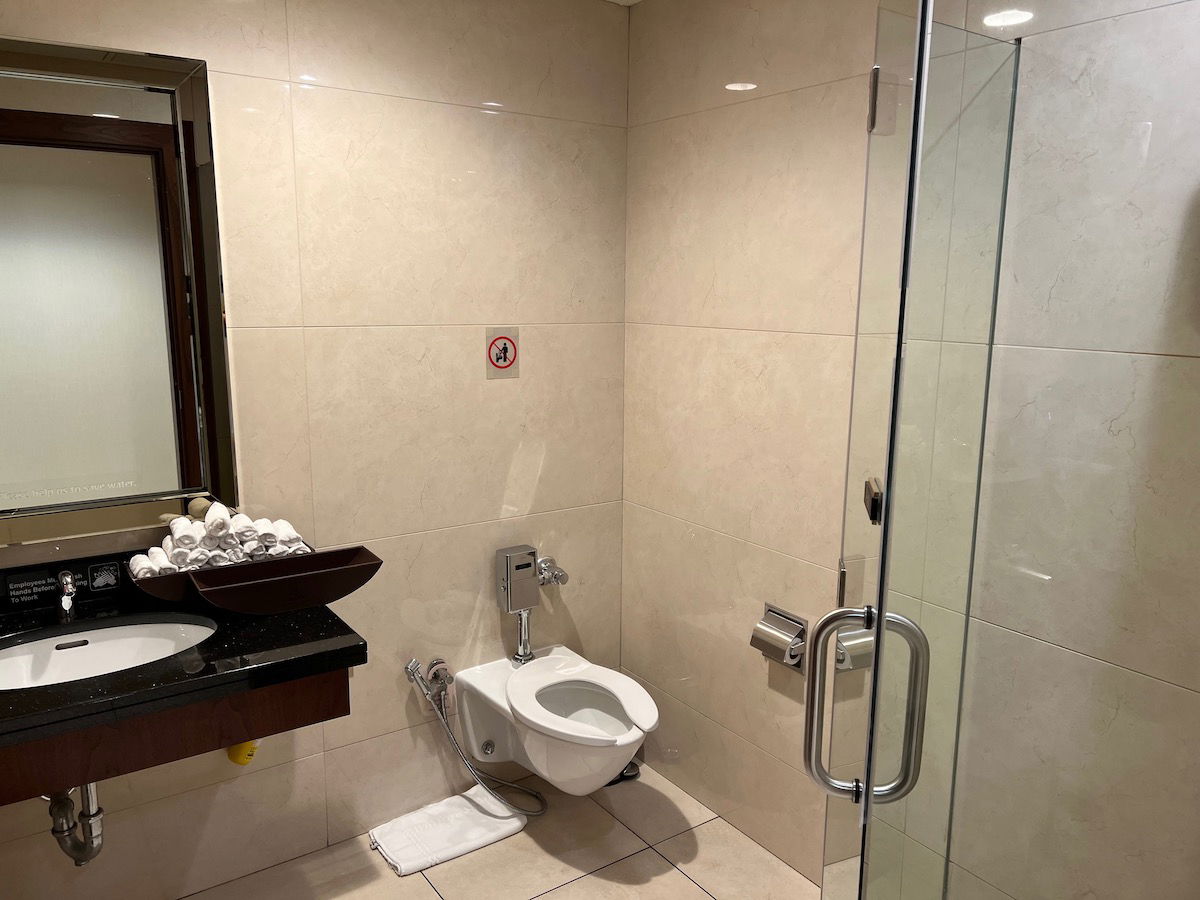 Emirates Lounge New York JFK boarding
One awesome feature of the Emirates Lounge JFK is that you can board directly from the lounge. Specifically, if your flight departs from gate A6, then you can board the flight directly from the lounge to the upper deck.
Since Emirates has two flights departing around the same time in the evenings, only one flight gets lounge boarding. Fortunately we lucked out, and on our evening the Milan flight boarded directly from the lounge. This is a super nice feature that I wish we'd see more often (of course I recognize the logistical challenges associated with this, given how gates are assigned).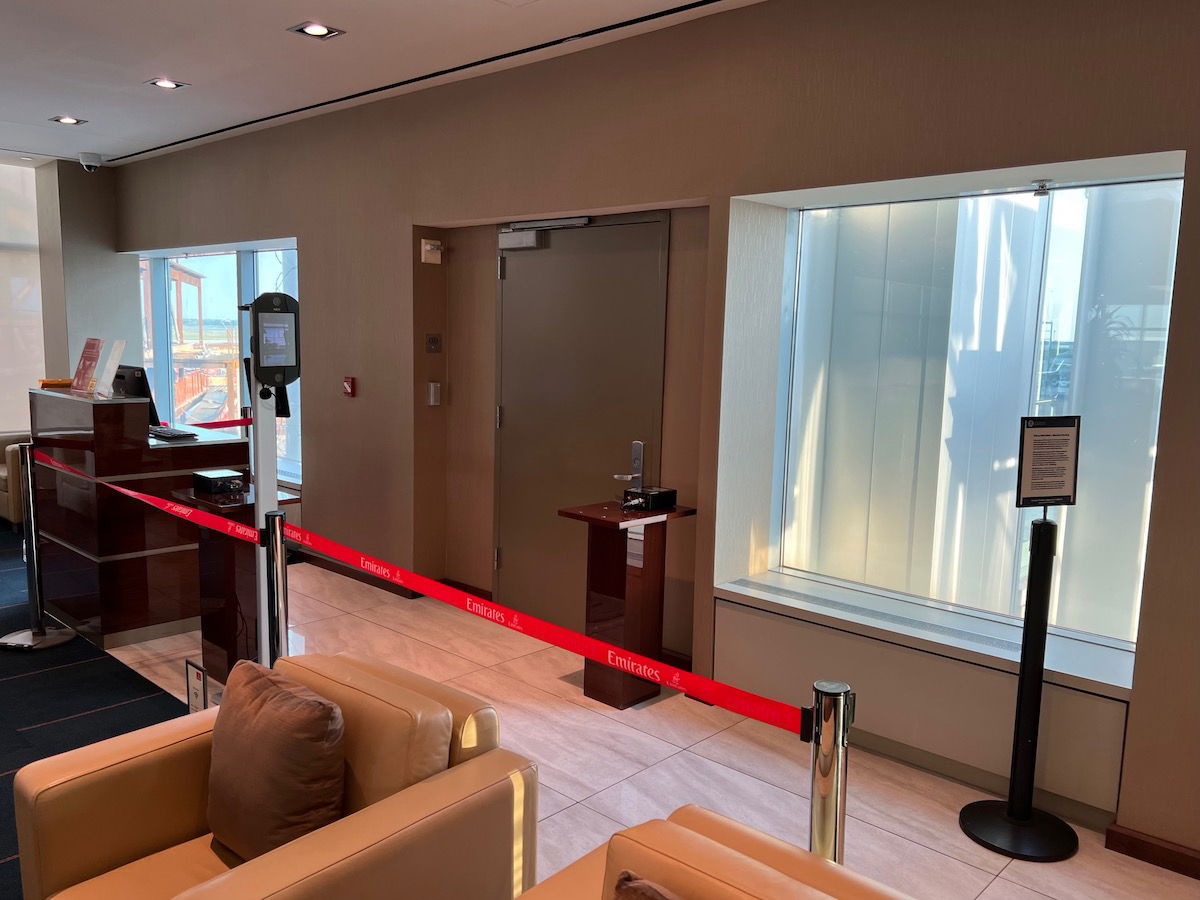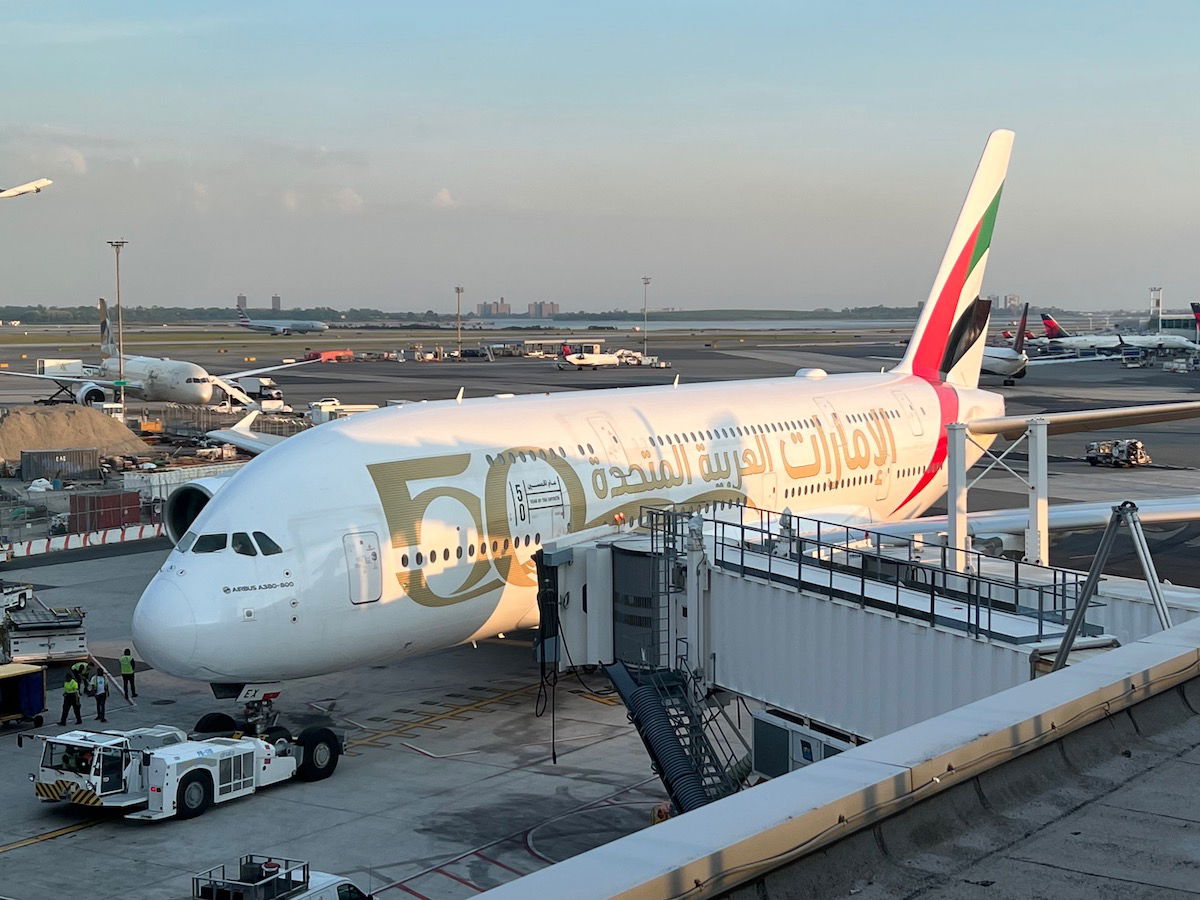 My overall take on Emirates outstation lounges
Emirates is extremely consistent with the quality of its outstation lounges. I can't think of an airline that has more lounges abroad than Emirates, and it's clearly because the airline cares a lot about quality, because running lounges like this isn't cheap.
That's especially true when you consider that Emirates doesn't contract out lounges to Priority Pass to subsidize costs, but rather the lounges are typically just open prior to Emirates flight departures.
These lounges are absolutely above average for business class lounges, and are better than most of the other business class lounges that passengers would have access to when traveling long haul out of the airport.
However, am I the only one who feels like there's some room for improvement for these lounges? Among other things, I'd love to see:
Actual cocktails mixed by bartenders, rather than just a self serve bar area; it's funny you can have someone make you a cocktail at the onboard bar, but not in the lounge
It would be nice if there were a dedicated first class section; aside from the Emirates First Class Lounge Dubai, none of Emirates' lounges have any special service for first class passengers, even though Emirates has pretty large first class cabins
I wish Emirates had proper barista made espresso drinks, rather than just the not-great coffee machines you'll find in these lounges (and the espresso out of this machine was particularly bitter)
While I don't feel that strongly about it (since the buffet food is good), it would be nice if Emirates had an a la carte dining option in the lounge, for more of a restaurant-style dining experience
Then there's the lack of unique amenities; I don't consider this to be a huge issue, but it would be nice if there were some daybeds, etc.
Like I said, none of these are deal breakers, it just seems that as Emirates continues to update its outstation lounges, it would be nice if the product offering also evolved.
Bottom line
Emirates offers a solid ground experience in New York, as the airline has its own lounge which is spacious and has great views. The lounge has an excellent buffet, good self serve drinks, and showers. It's also nice to be able to board the plane directly from the lounge.
This is definitely way better than your average airline contract lounge, though not quite to the level of a United Polaris Lounge, for example.
If you've visited the Emirates Lounge JFK, what was your experience like?