For many people, champagne and premium cabin travel go hand in hand. If you're heading on a special holiday in style, there's something just plain special about hearing a bottle of champagne pop, and enjoying that first glass after boarding (or after takeoff, depending on a carrier's policy).
In this post I wanted to provide an updated list of the airlines serving the world's best champagne. I'll cover the airlines serving the best champagne in first & business class in the air, and the airlines serving the best champagne in first class on the ground (there's just too much variability when it comes to business class lounge champagne to make a useful list).
How I'm defining the "best" champagne
Like virtually anything you might eat or drink, "best" is highly subjective. So I'm taking a very simple approach here, and am ranking airlines' champagne offerings based on the retail cost of the champagne they serve. Specifically, I'll use the pricing from K&L Wines, since it's a wine distributor that I find has fair pricing.
Let me emphasize that I'm not intending to suggest that something is better simply because it's more expensive. It's not.
However, there is generally a correlation between the quality of an airline product and the price of the champagne they're serving, since it represents a significant investment (even at the discounted prices that airlines are paying). Case in point, Japan Airlines has expensive champagne in first class, while American Airlines doesn't. 😉
Furthermore, any metric other than price is simply too subjective. Virtually all of these champagnes are highly rated, and reasonable people can disagree about which is slightly better.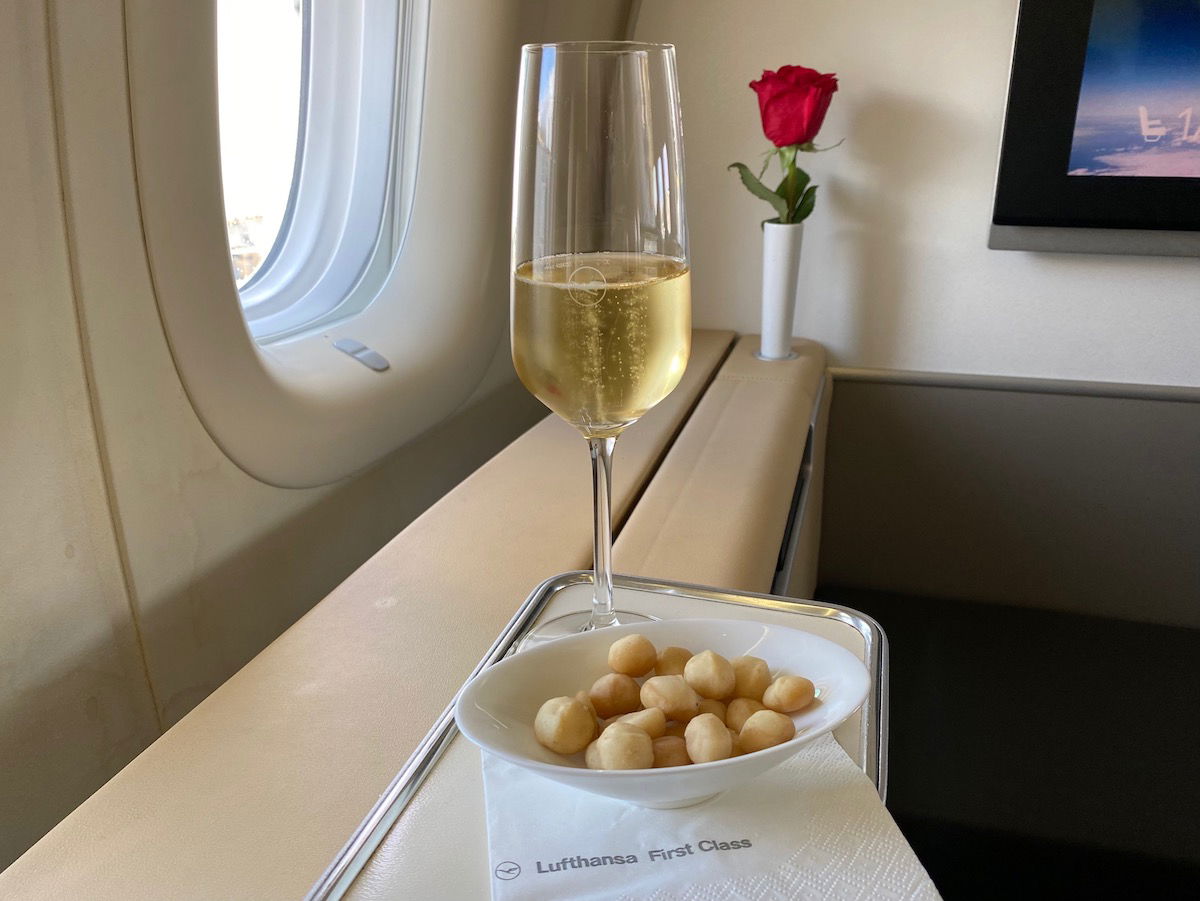 Airlines with most expensive first class champagne (inflight)
Which of the world's top first class airlines serve the best champagne onboard flights? Here's the list I've put together, though please let me know if I'm missing anything: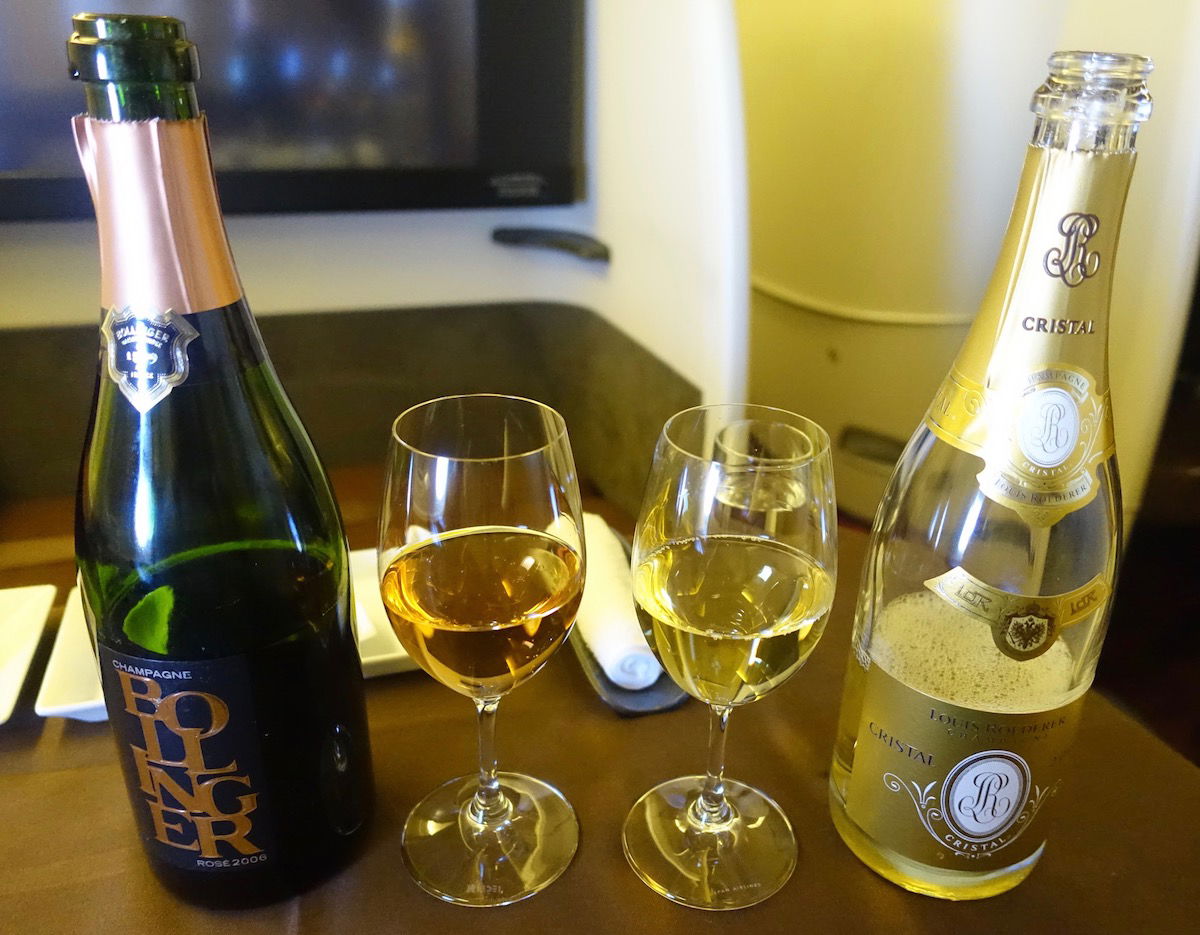 As you can see, there are lots of great options here. I think you can't beat Japan Airlines for the variety of offering two exceptional champagnes in first class (one in each direction of travel). The catch is that Japan Airlines loads fewer of these bottles than other airlines, typically two or three per flight, so expect it to run out.
After that, Qatar Airways wins for offering the most consistently expensive champagne in first class (and in fairness, Krug 2004 is very, very good). Singapore Airlines also deserves credit for frequently offering the choice of Dom Perignon or Krug, which is quite a nice choice to have. Lastly, Lufthansa also has a surprisingly exceptional rose at the moment, but that's only temporary.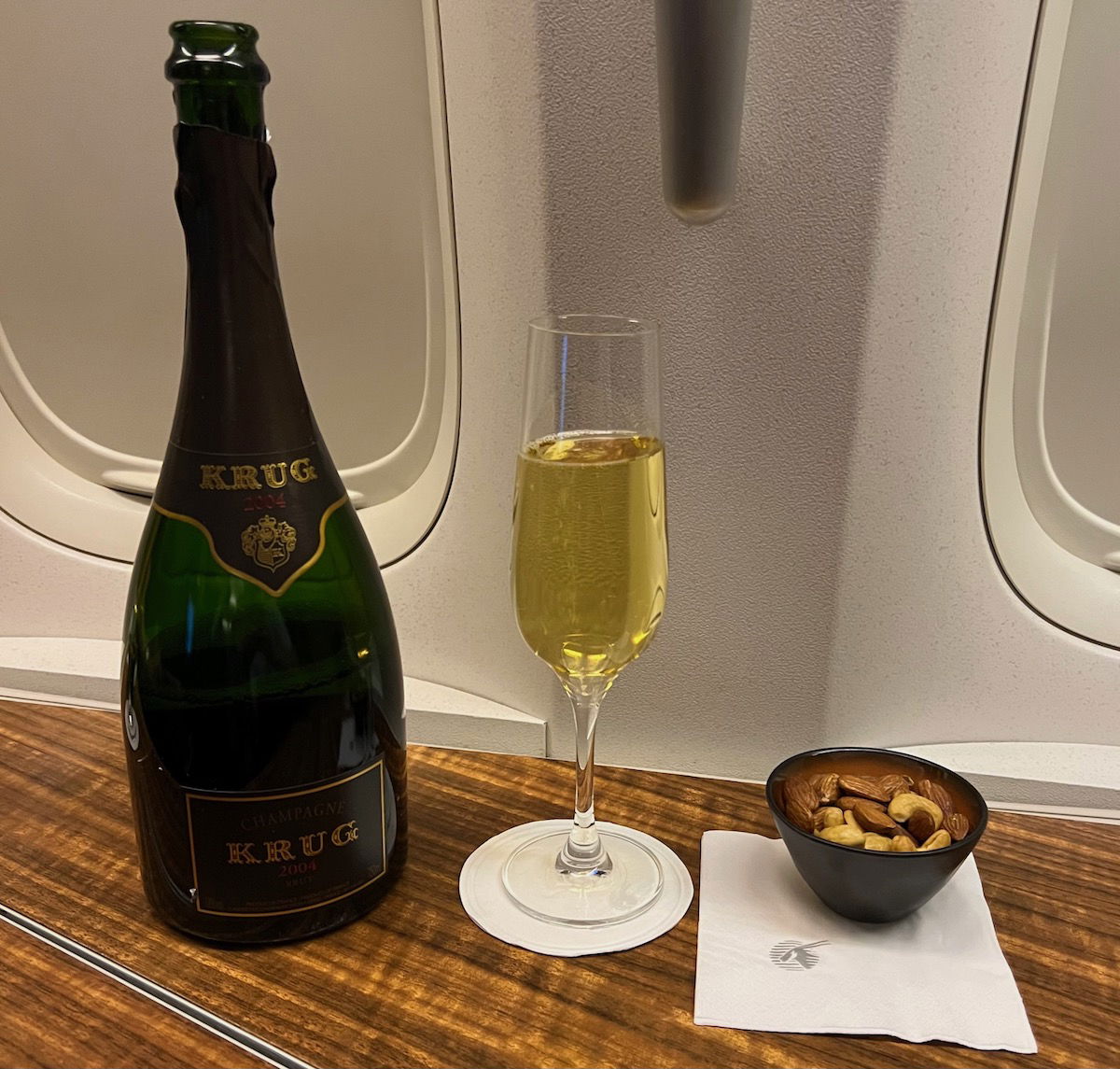 Airlines with most expensive first class champagne (lounges)
I thought it would also be interesting to briefly discuss some of the best champagne that you'll find in the world's top first class airline lounges. I think it's noteworthy that a lot of the world's best first class airlines serve phenomenal champagne in the air, but only mediocre champagne on the ground.
To me that seems pretty backwards. Ultimately great wine (including champagne) can best be enjoyed on the ground, where your taste buds are most able to appreciate taste. Furthermore, many people may prefer to enjoy a nice glass of champagne on the ground and maximize rest in the air.
Take Emirates, for example — in Emirates first class you can enjoy Dom Perignon, while in the Emirates first class lounge you can enjoy Moët, which retails for "just ~$40/bottle.
What explains this disconnect? I imagine it's partly a matter of controlling costs. I suppose it also comes down to some airlines letting select elite members into lounges, rather than just first class passengers, so it's potentially a lot more passengers.
Therefore I think it's worth highlighting the airlines that invest in good champagne on the ground, because it's largely a different list than you'll find in the air. Here's the list I've put together, though please let me know if I'm missing anything remarkable: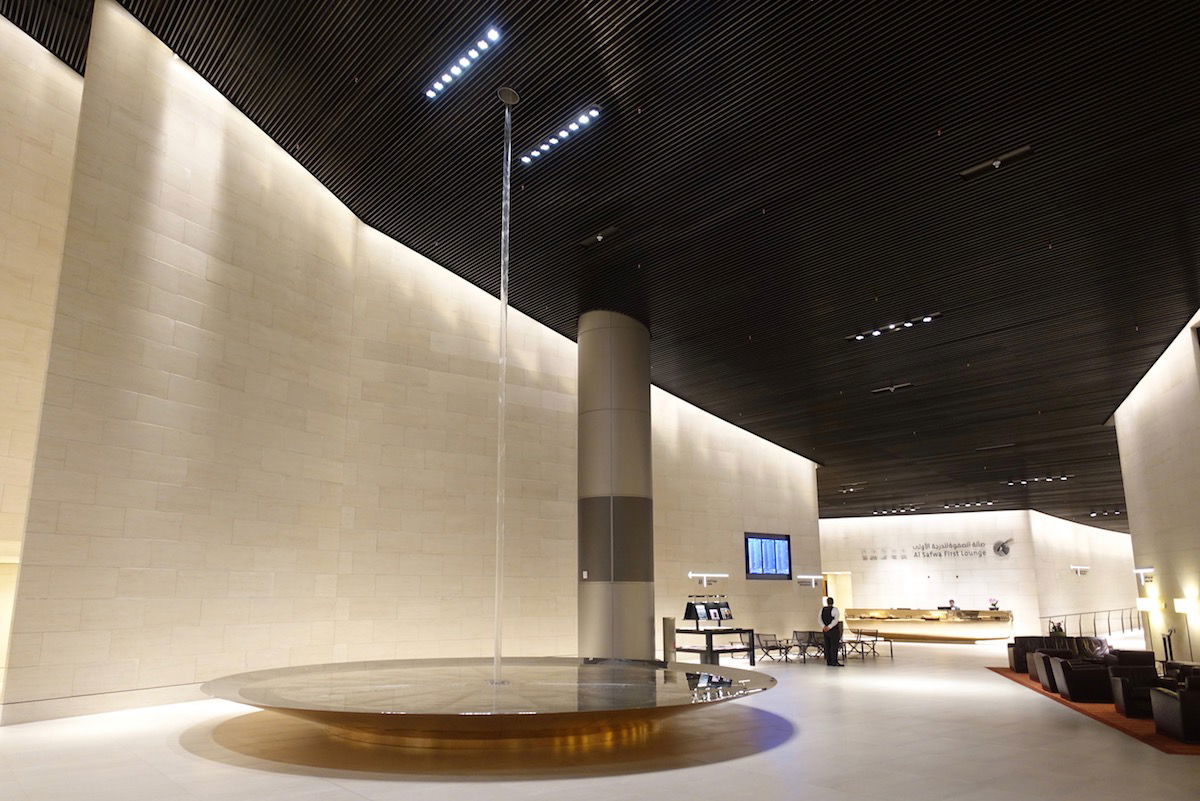 I think two airlines deserve a special shout out here:
British Airways has been serving the same champagne in lounges as onboard for years now, and I appreciate that consistency
American is the only airline I know of that serves better champagne in lounges than in the air; I'm not sure if the airline should get credit for that, though, since it largely reflects how bad American's inflight champagne is
While it's absolutely not a first class lounge, I do think Delta deserves a special mention for selling some amazing champagne in its Sky Clubs, and allowing guests to redeem SkyMiles for it at a reasonable cost. A bottle of Dom Perignon 2010 for under 14,000 SkyMiles is a pretty awesome value.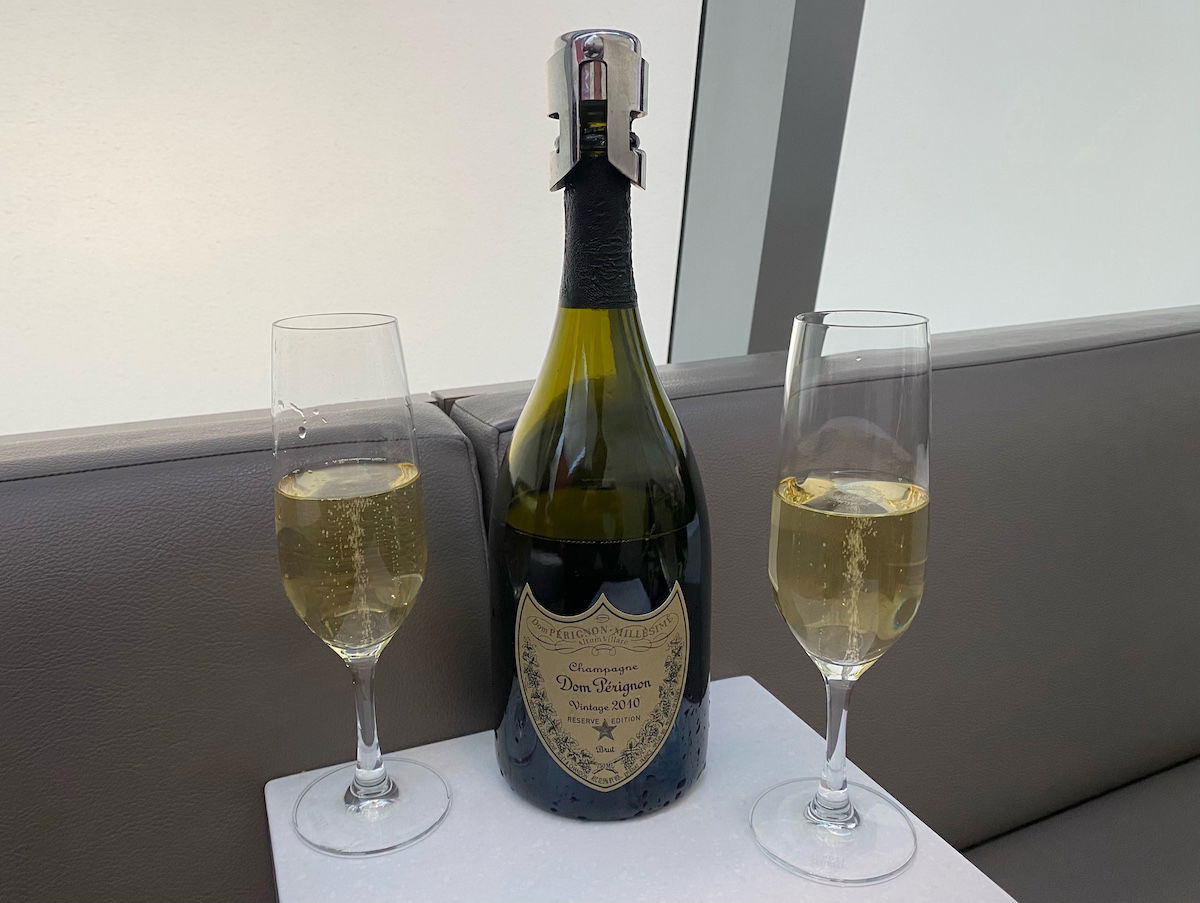 Airlines with most expensive business class champagne (inflight)
While you'll definitely find the best champagne in first class, you'll also find some pretty good champagne in business class. At the request of readers I'll add a list of the best business class champagnes. Before I do so, a couple of things to note:
I'm keeping this list to airlines offering champagne that costs more than $40 per bottle in business class (which isn't to say that champagne over $40 is good, and champagne under $40 is bad, but I have to draw the line somewhere); that excludes what you'll see offered on many airlines, like Nicolas Feuillatte Brut Reserve, Moët & Chandon Imperial Brut, Laurent-Perrier Brut, etc.
I'll very much need reader feedback here, as there are hundreds of airlines with business class and many have changed their onboard service since the start of the pandemic, so please let me know if I'm missing anything that meets the above criteria, or that you find to be particularly exceptional
So what airlines serve the best champagne onboard flights in business class?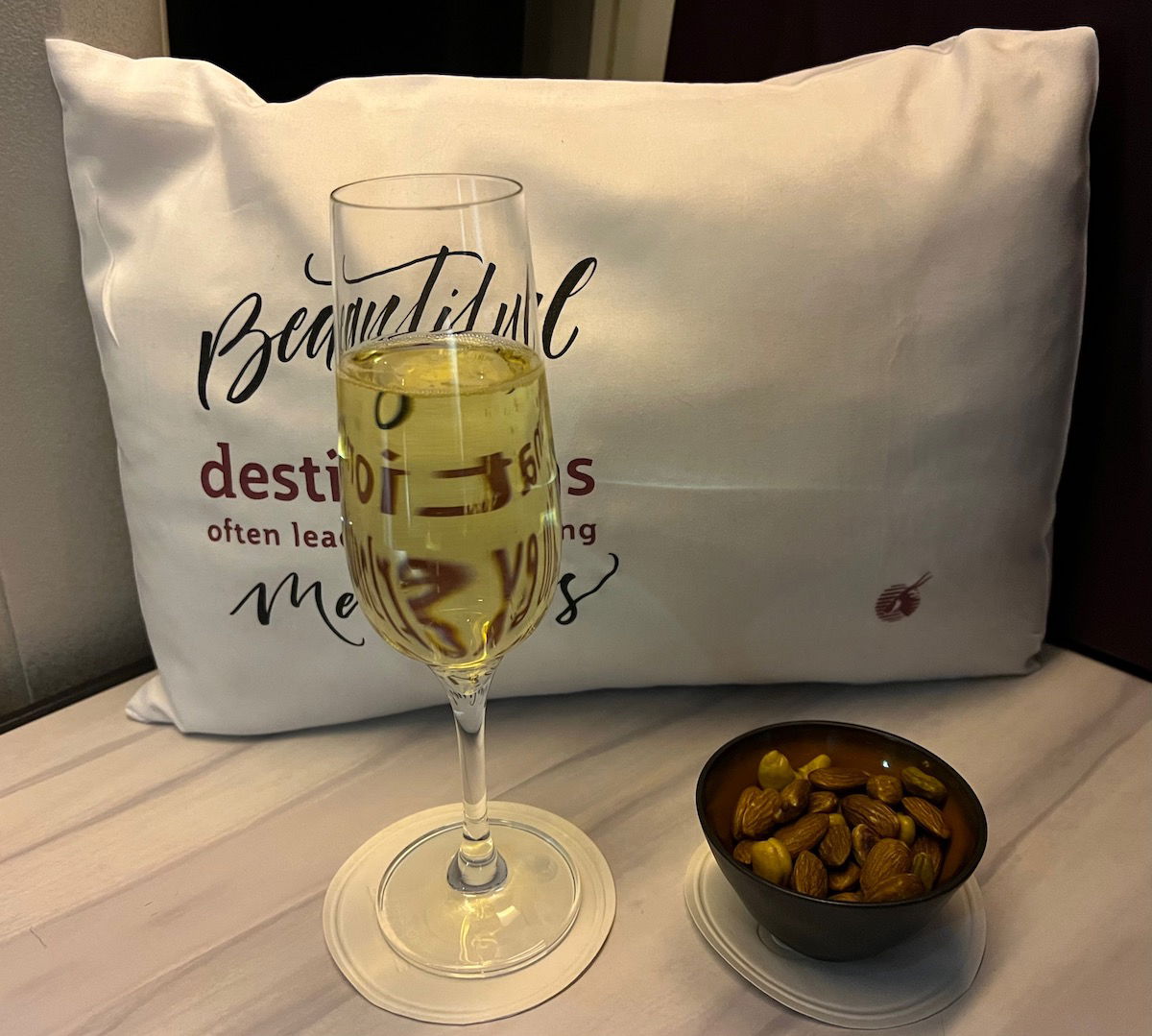 As you can tell, Qatar Airways is consistently excellent for offering both a white and rose champagne, and the rose at the moment is exceptional. Then EVA Air is known for consistently offering the best champagne, as Veuve Clicquot La Grande Dame is phenomenal.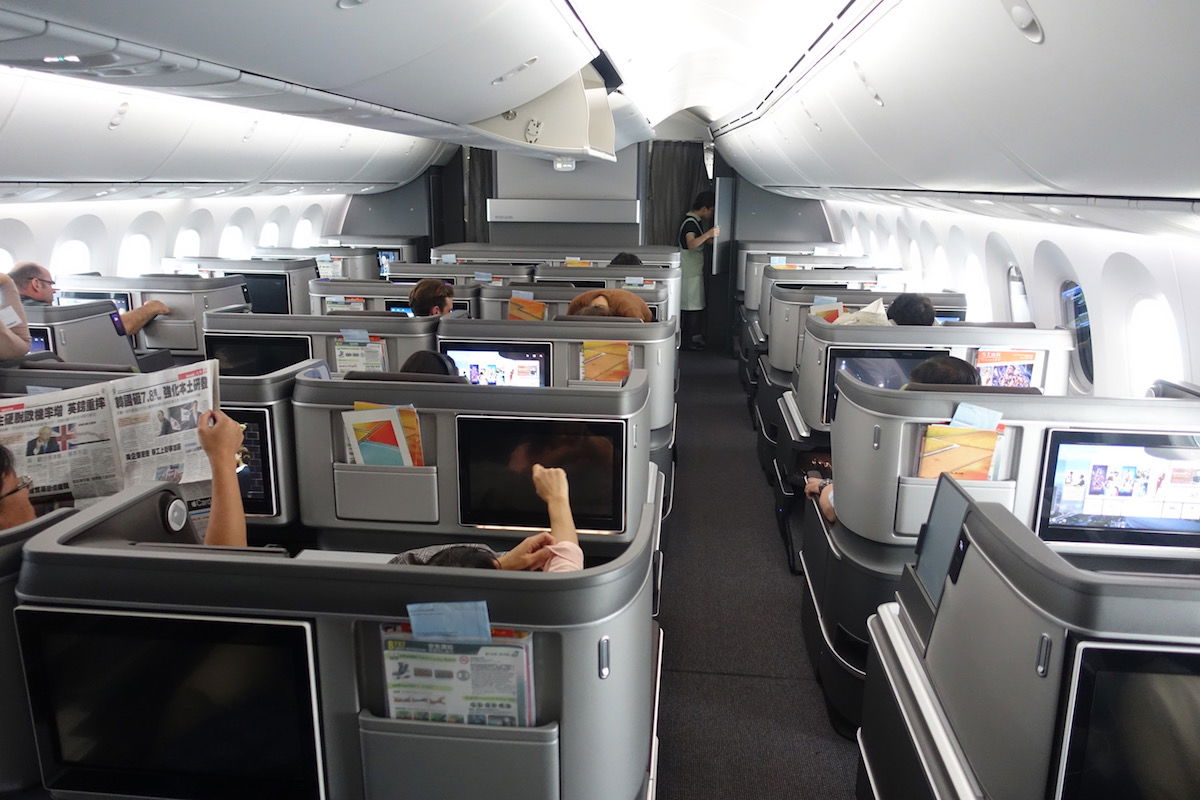 Bottom line
For many premium cabin airline enthusiasts, a great drink selection is part of the overall experience. The above are the airlines serving the most expensive champagne in first class and business class.
Let me once again emphasize that the most expensive doesn't necessarily mean the best, as taste is highly subjective. I don't claim to be a sommelier or wine expert, though I certainly do have my preferences. And I know many are also curious about what they can expect to be served onboard, so hopefully the above is a useful rundown.
Let me also note that airlines sometimes switch around their selections and vintages, so if I missed any options or airlines made changes that I didn't get right, please let me know.
What's your favorite champagne served by any airline?