Back in 2015 I wrote a post with what I consider to be the world's best first class airline products. An updated version of this is long overdue, especially now that I've flown a couple of new first class products. The reason I hadn't written an updated review yet is because I hadn't flown Air France's new 777-300ER La Premiere. Now that I have, I think I can safely say that I've flown every one of the world's best first class products.
However, I'm going to make this post a bit different. Soon I hope to publish my actual list ranking the world's top 10 first class product, but in this post I want to share which airline I consider to be the best in each of 10 categories. This is taking inspiration from the way Skytrax does ratings, as they rate the best airline in a bunch of categories.
Before I share my rankings, let me say that the below aren't necessarily what I consider to be the all around best first class products. In other words, the world's best airline could be one that ranks #2 in each of the below categories, given that many of the below airlines excel in one area and lag in another area.
With that in mind, here are what I consider to be the best airlines in first class in each of 10 categories:
Garuda Indonesia consistently wins the award for the world's best cabin crew, and for good reason. My experience with Garuda Indonesia staff has been nothing short of incredible, and as far as I'm concerned they have the world's best cabin crew.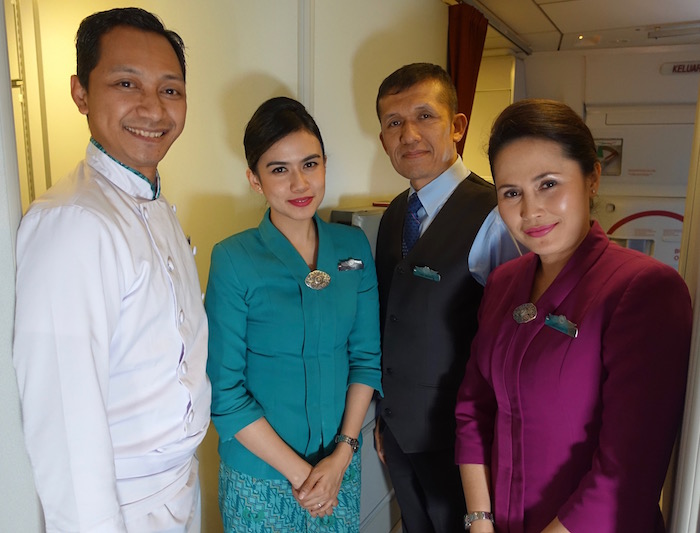 The problem with catering is that it's highly variable depending on the time of day you fly, whether you're flying out of a carrier's hub or not, etc. However, the best meal I've ever had on a plane was in Air France La Premiere. I've had some great airline meals, but this was just next level.
There are a lot of airlines with fantastic champagne, though I think this is an area where Singapore Airlines wins for variety. They offer both Dom and Krug in first class, which no other airline does. Several airlines have Dom or Krug, and some other airlines even have more expensive champagne (for example, Japan Airlines serves Salon in first class), but I still think Singapore Airlines wins in this category.
Best entertainment: Emirates
Emirates' ICE system is by far the best in the sky. They have hundreds of TV shows, movies, an incredible tail camera, and much more. I especially appreciate that they have entire seasons of shows, unlike most other airlines, with just random episodes that don't really allow you to get into a show.
Inflight wifi is something I value a lot, given how much I fly. I care both about speed and price. In general I find that the fastest wifi on airlines with international first class is on Etihad, Garuda Indonesia, Japan Airlines, and Lufthansa (they all use the same company). The pricing is reasonable at ~$20 per flight, though the slight edge has to go to Garuda Indonesia, since the offer a free wifi pass to first class passenger. Fast and free wifi with no data caps is tough to beat!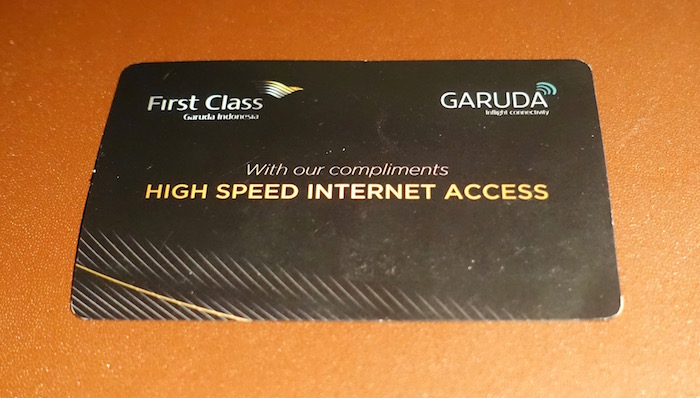 While Etihad wasn't the first airline to operate the A380, they really revolutionized their onboard product on this plane. There's no denying that the Etihad A380 first class cabin is stunning, as it's the first time an airline has used only one aisle on a widebody aircraft. Absolutely beautiful.
In terms of awesome onboard features, Emirates easily wins here. Emirates has two onboard showers on their A380s, along with a bar at the back of the upper deck, which is shared between first & business class passengers. Showering at 35,000 feet is quite an experience, especially in a bathroom as beautiful as the one offered on the Emirates A380. On top of that, Emirates offers great pajamas and a beautiful amenity kit in first class.
While I'd argue that there are much more advanced first class seats nowadays, there's still no bed more comfortable than that in Cathay Pacific first class, in my opinion. The seat is wide, the mattress pad is thick, and the bedding is just great all around.
Best ground experience: Air France
Many airlines invest a lot of money in their onboard experience, but then drop the ball when it comes to the ground experience. This is an area where Air France wins by a long shot, as they have the world's best first class ground experience at their Paris hub. For one, they'll pick you up at your arriving flight and drive you to your connecting flight.
On top of that, the lounge itself is gorgeous, has the best food of any airline lounge in the world, offers great spa treatments, and is generally very chic. While I think there are other lounges with nicer decor and even some more frills, nothing can compete with how well rounded the Air France ground experience is.
Most improved: Saudia
I think it's only fair to acknowledge the huge improvements that Saudia has made. They've gone from offering a first class product in a 2-2-2 configuration, to offering fully enclosed suites with onboard chefs. Do they have the world's best first class product? No. But they've made a massive improvement, and that's worth acknowledging.
Bottom line
Like I said, I'll soon have a post where I rank what I consider to be the world's best first class products. I'm not suggesting the above is completely objective (which is to say that there's still a lot of personal preference involved here), but I at least think it's more specific, and therefore my logic is hopefully easier to follow.
I'm not suggesting that all of the above categories should be weighted equally. More importantly, to me the world's best first class product is one that's consistent and excellent across the board, so stay tuned for that.
I'm curious what you guys think of the above choices — do you think other airlines should have won any of the above categories?