There's some ever-so-slightly good news when it comes to Cathay Pacific first class award availability. Cathay Pacific first class is one of my favorite first class products, and I'm itching to fly with the airline again.
Cathay Pacific first class awards aren't what they once were
Back in the day, redeeming miles for Cathay Pacific first class was one of the most popular aspirational award redemptions out there. Cathay Pacific regularly made some first class award seats available in advance, and then made a lot more award seats available as the departure date approached. You could even book it with Alaska Mileage Plan and American AAdvantage miles.
Unfortunately a lot has changed about that since the start of the pandemic. With Hong Kong's strict entry requirements for nearly three years, the airline was offering a tiny percentage of its pre-pandemic capacity. Fortunately Hong Kong is once again fully open, and Cathay Pacific is nicely recovering.
Unfortunately that still doesn't mean that Cathay Pacific first class awards are anywhere as readily available as they were pre-pandemic:
Cathay Pacific only offers first class on fairly few routes, a lot fewer than pre-pandemic; the carrier's network to the United States is still only a fraction of it was pre-pandemic
The demand for Cathay Pacific's premium cabins has skyrocketed, between the reduced capacity and high demand, given how capacity constrained mainland Chinese airlines are
Even when there are several first class seats still left for sale as the departure date approaches, Cathay Pacific hasn't been making these seats available last minute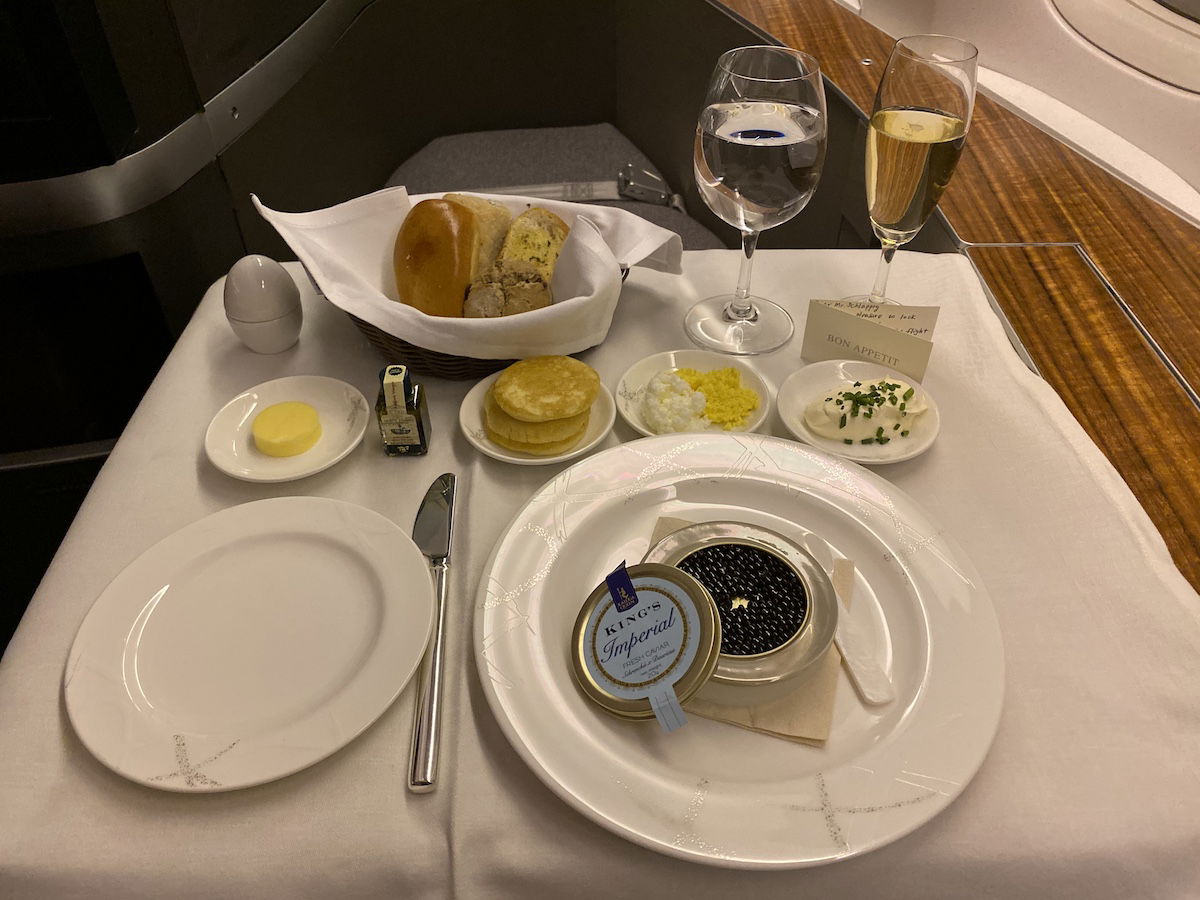 Cathay Pacific finally has some first class award seats
Currently, Cathay Pacific's only route to the United States with first class for sale is Hong Kong to Los Angeles. Until recently, I didn't see any first class award availability on the route, whether trying to book far in advance or close to departure.
Cathay Pacific's loyalty program recently increased award costs, and when the program did that, it promised to make more award seats available. That does indeed seem to be the case, at least when booking through Cathay Pacific's own program.
For the first time since the start of the pandemic, I'm seeing a decent number of first class award seats available across the Pacific, which is exciting. To search availability, you'll need to go to Cathay Pacific's website and log into your loyalty account, which you can sign-up for at this link (if you're not yet a member).
Once you have an account and are logged in, just go to the "Redeem flights" tab, and then enter the route you're looking at. For example, I'm searching the Los Angeles to Hong Kong route.

Fortunately there's a way to see calendar availability, so that you can view available seats for two months of a time. Rather than clicking "Redeem flights" right away, just select all of your preferences, and then click the "Departing on" field. You'll then see a calendar that shows you little icons that reflect availability.
If you see a seat that's gold in color (or brown, or whatever that is), that means there's a first class award seat. When you then search that date, you'll see what option is available.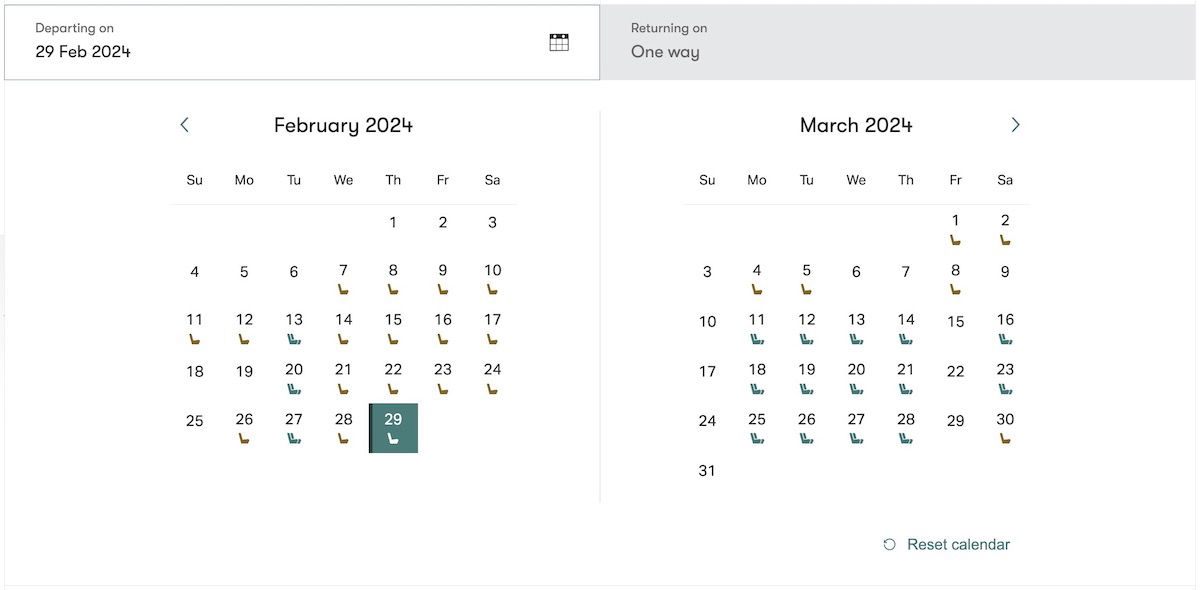 From there you can go ahead and book your ticket.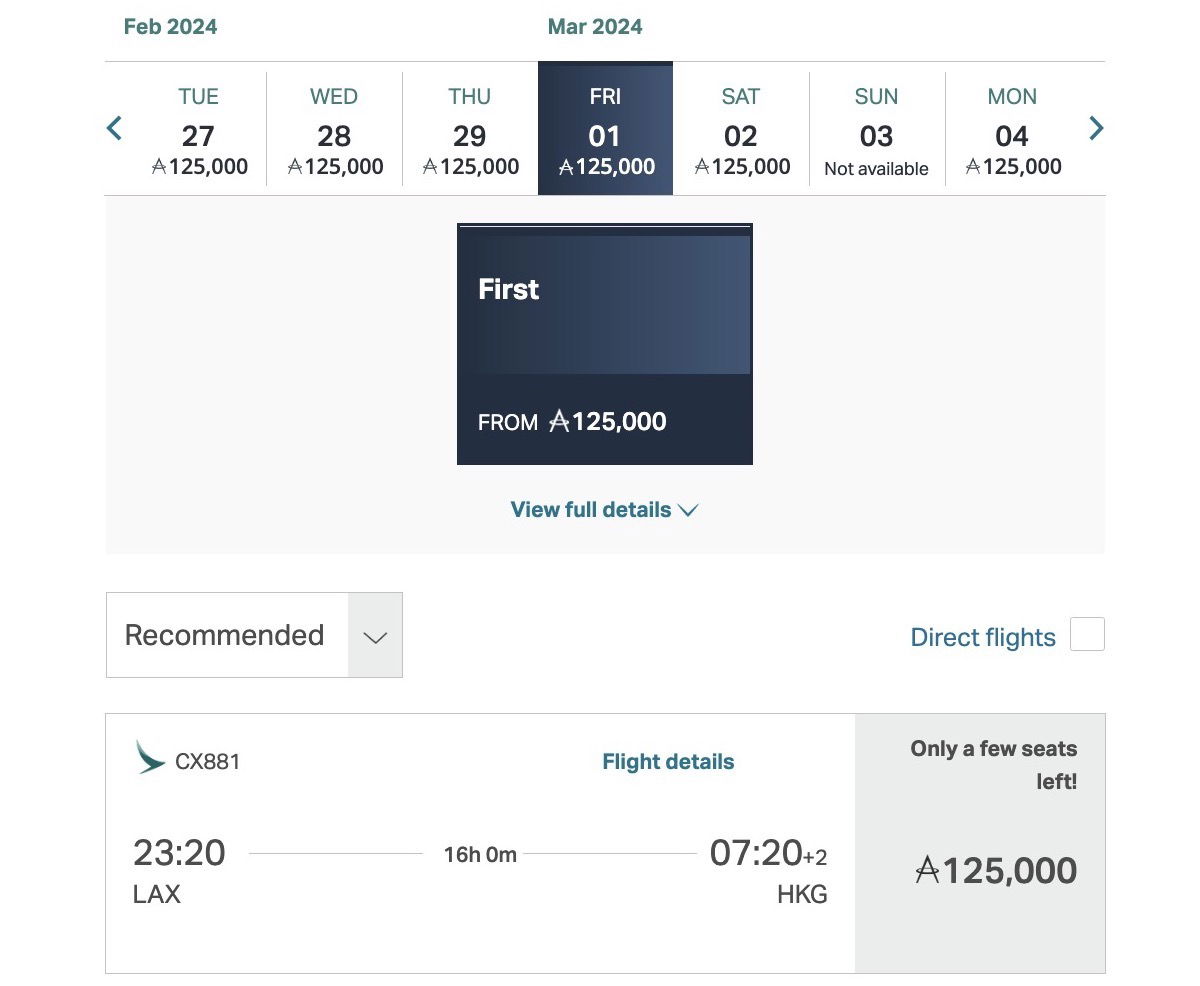 Looking at February 2024, I see 17 days with first class award availability from Los Angeles to Hong Kong, which is awesome. There are also some dates with availability in early March. Note that there's only one first class award seat available per flight (despite the award flight indicating "only a few seats left").
Unfortunately outside of that window, I'm seeing very little award space in first class, so as of now the availability seems to specifically be for early 2024. This is still a niche opportunity, though it's a step in the right direction, given that until recently I saw zero first class award seats.
As you can see, a first class award seat between Los Angeles and Hong Kong will cost you 125,000 miles one-way. For what it's worth, below is Cathay Pacific's current award chart.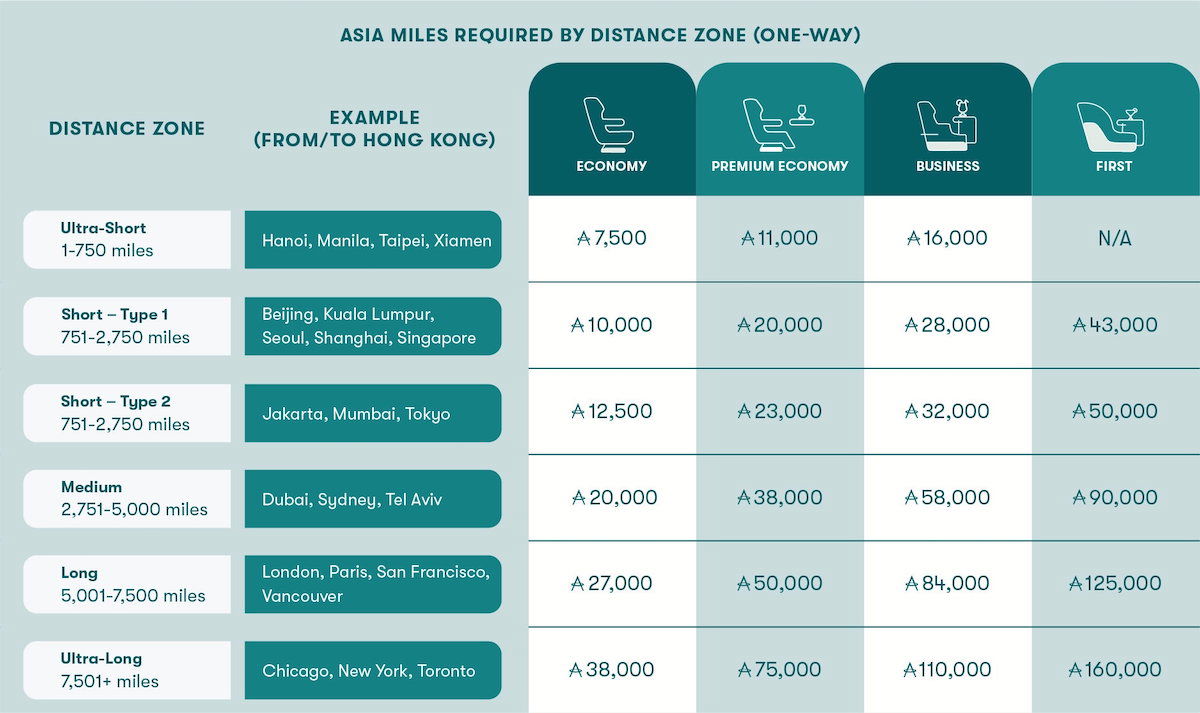 Hopefully this trend continues, and we see more availability across more dates in the future.
Keep in mind that Cathay Pacific miles are easy to come by, as the airline partners with a few major transferable points currencies — you can transfer rewards at a 1:1 ratio from Amex Membership Rewards, Capital One, and Citi ThankYou.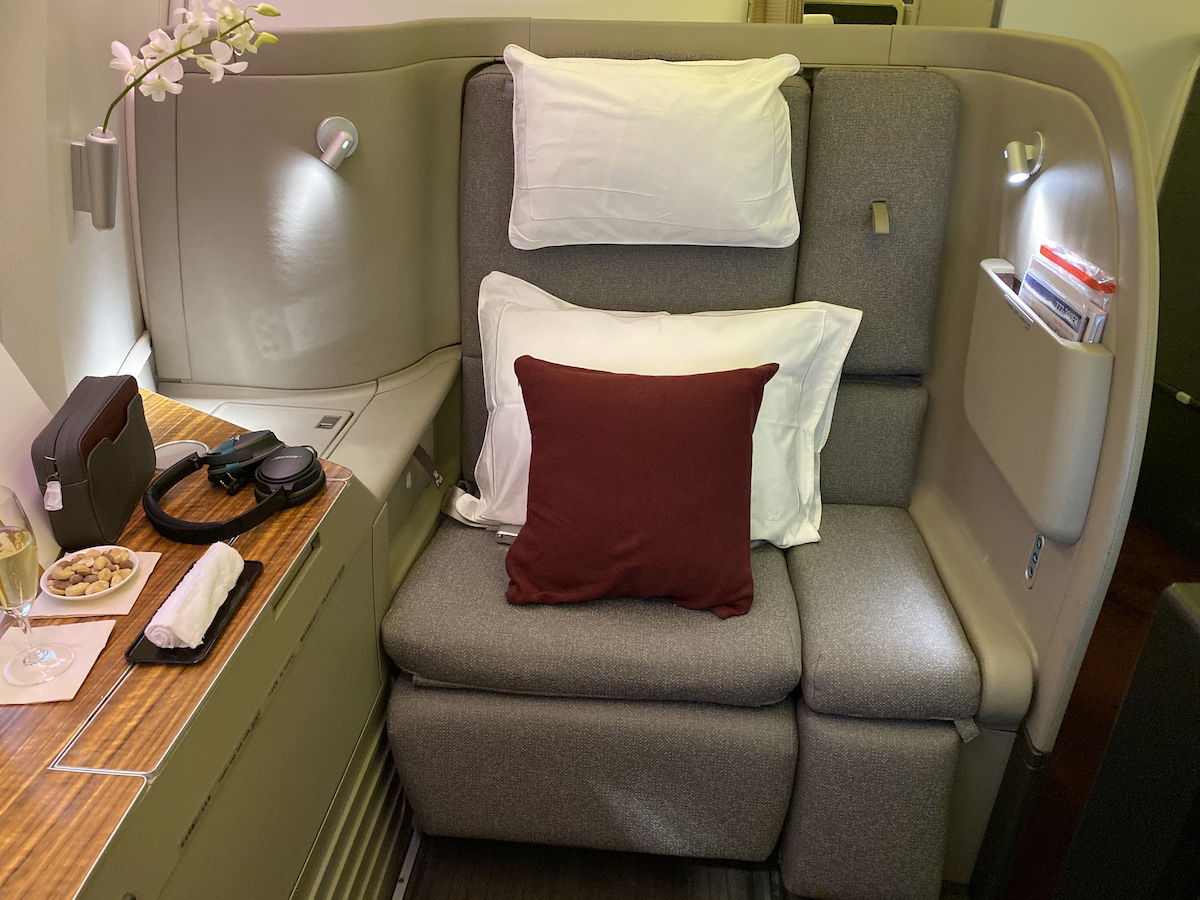 What about booking Cathay Pacific first class through partner programs?
Historically the most popular way to redeem for Cathay Pacific first class has been using American AAdvantage and Alaska Mileage Plan miles.
Unfortunately it appears that the award space that Cathay Pacific is making available in first class is only available through its own frequent flyer program, and not through partner frequent flyer programs. I hope that will change in the future, though for the time being, don't expect that you'll find much first class award space with anything other than Cathay Pacific's own program (please let me know if I'm missing something).
Fortunately thanks to transferable points currencies, racking up Cathay Pacific's rewards currency isn't tough at all.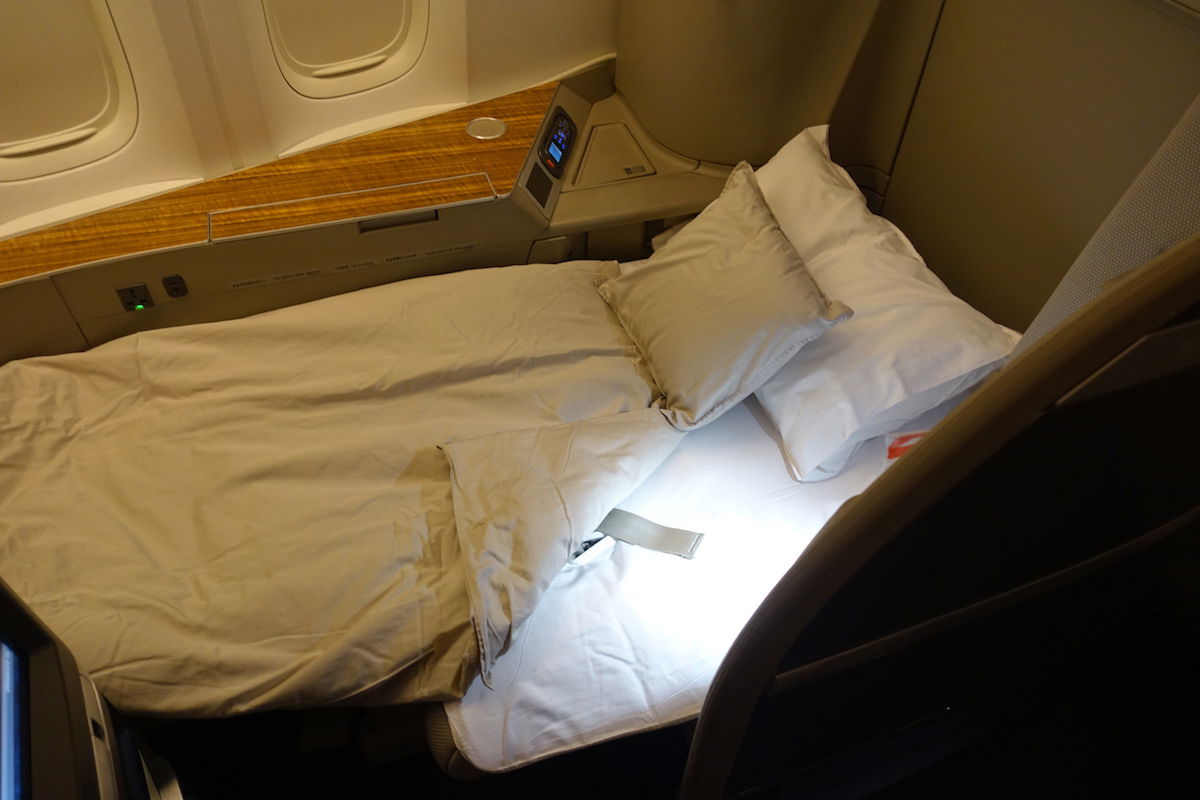 Bottom line
Cathay Pacific is finally making transpacific first class award seats available again, as I'm seeing some award availability between Los Angeles and Hong Kong for early 2024. While this is a far cry from the availability we saw pre-pandemic, it's better than the availability I saw several weeks ago, so I'd consider it to be a step in the right direction.
I hope some OMAAT readers can take advantage of this award availability!
What do you make of the state of Cathay Pacific first class award availability?