For the last (but certainly not least) segment of my round the world trip with dad, we flew Qantas' Airbus A380 first class from Sydney to Los Angeles. I was looking forward to this flight, as it had been years since I had flown Qantas first class.
Historically I haven't been a huge fan of Qantas, as I don't have any nationalistic pride in the airline, and I find Qantas' onboard product to largely be pretty mediocre. However, this flight left me with a very positive impression, and I was pleasantly surprised.
While Qantas first class isn't cutting edge, the airline offers an exceptionally comfortable bed, a pretty great restaurant-quality dining experience, nice amenities, and genuine service that strikes the perfect balance between being professional and personable.
Admittedly there are also some areas for improvement. In particular, Qantas doesn't have Wi-Fi on its Airbus A380s, and the food and drink selection also isn't as high-end as you'd find in some of the world's top first class products.
With that out of the way, let's get into the review…
How I booked our Qantas first class tickets
Qantas first class award space is incredibly difficult to come by, and it's like finding a needle in a haystack. Actually, I based our entire itinerary around this segment, since I figured that when I saw two transpacific Qantas first class award seats, I had to book.
I booked our Qantas first class tickets using American AAdvantage miles. Specifically, I ticketed the following for 110,000 American AAdvantage miles plus $79.75 in taxes and fees per person:
5/25 QF11 Sydney to Los Angeles departing 10:20AM arriving 7:05AM
I found availability directly on aa.com, and booked a little over two weeks before departure.
Qantas first class lounge & boarding
In the previous installment I reviewed the Qantas First Lounge Sydney, which is one of my favorite first class lounges in the world. Boarding for our flight to Los Angeles was supposed to start at 9:35AM, 45 minutes before departure. The flight was departing from gate 8, just a short walk from the lounge.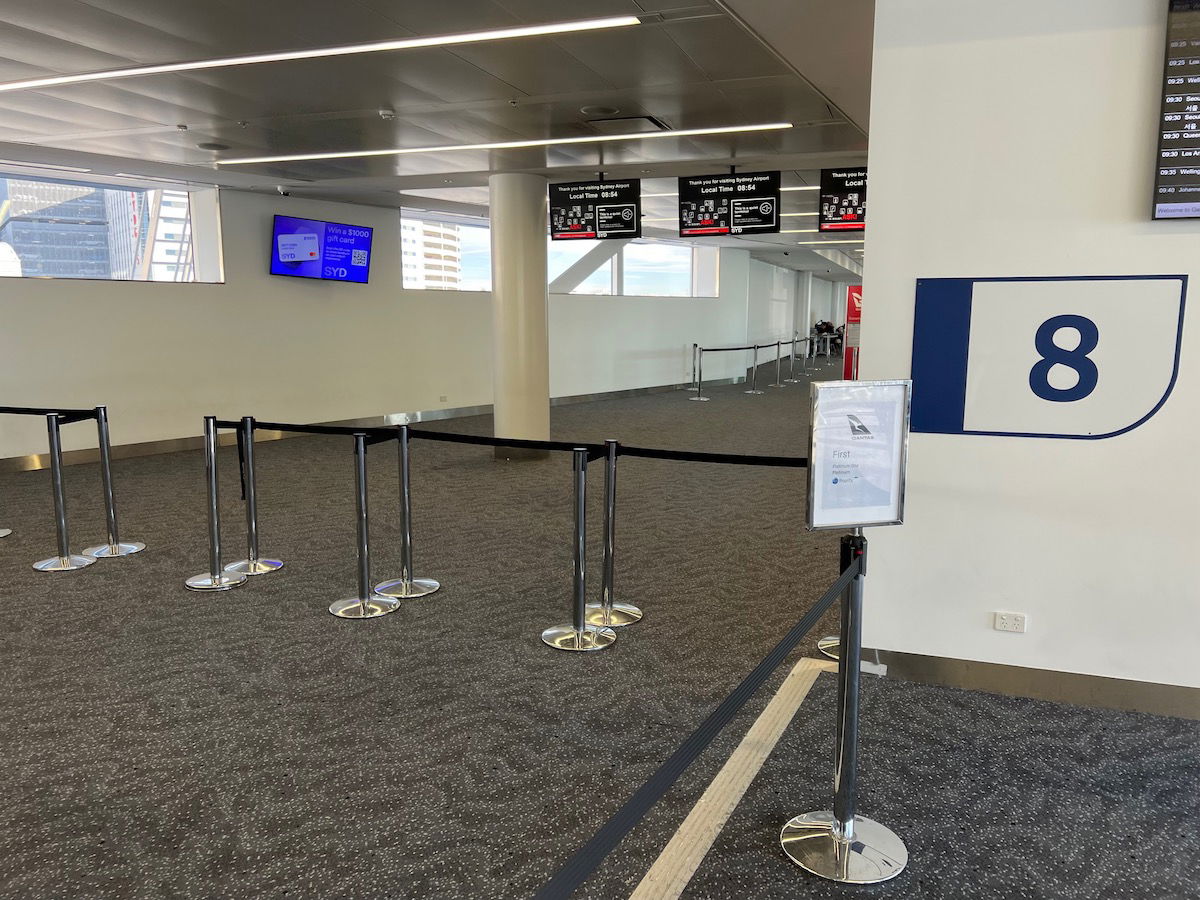 So we headed down there a bit early — sadly there was no view of the plane, due to how the gate is configured. As boarding time approached there was no sign of boarding and also no announcement about a delay.
I asked a staff member, and they explained the flight would probably be delayed by around an hour, as the aircraft hadn't yet been towed in from the cargo bay. You'd think that would be something they could announce. But hey, with former American CEO Doug Parker now on the board of Qantas, maybe this is a feature rather than a bug. 😉
Anyway, the lack of communication was frustrating, especially since the plane had been on the ground since 5AM, so it wasn't clear what was causing the delay. Boarding finally started at 10:35AM, around an hour behind schedule, with first class being invited to board first.
On Qantas, first class passengers are all escorted onto the plane together by a ground agent, and she was lovely. I was excited to board VH-OQK, the roughly 12-year-old Airbus A380 that would be flying us across the Pacific.
Qantas A380 first class cabin & seats
Qantas has its first class cabin at the front of the lower deck. As much as I enjoy flying on the upper deck, there's something to be said for the wider fuselage on the lower deck, which makes the cabin feel much more spacious.
Qantas' Airbus A380 first class consists of a total of 14 seats, spread across five rows in a 1-1-1 configuration (with the center section only having four rows).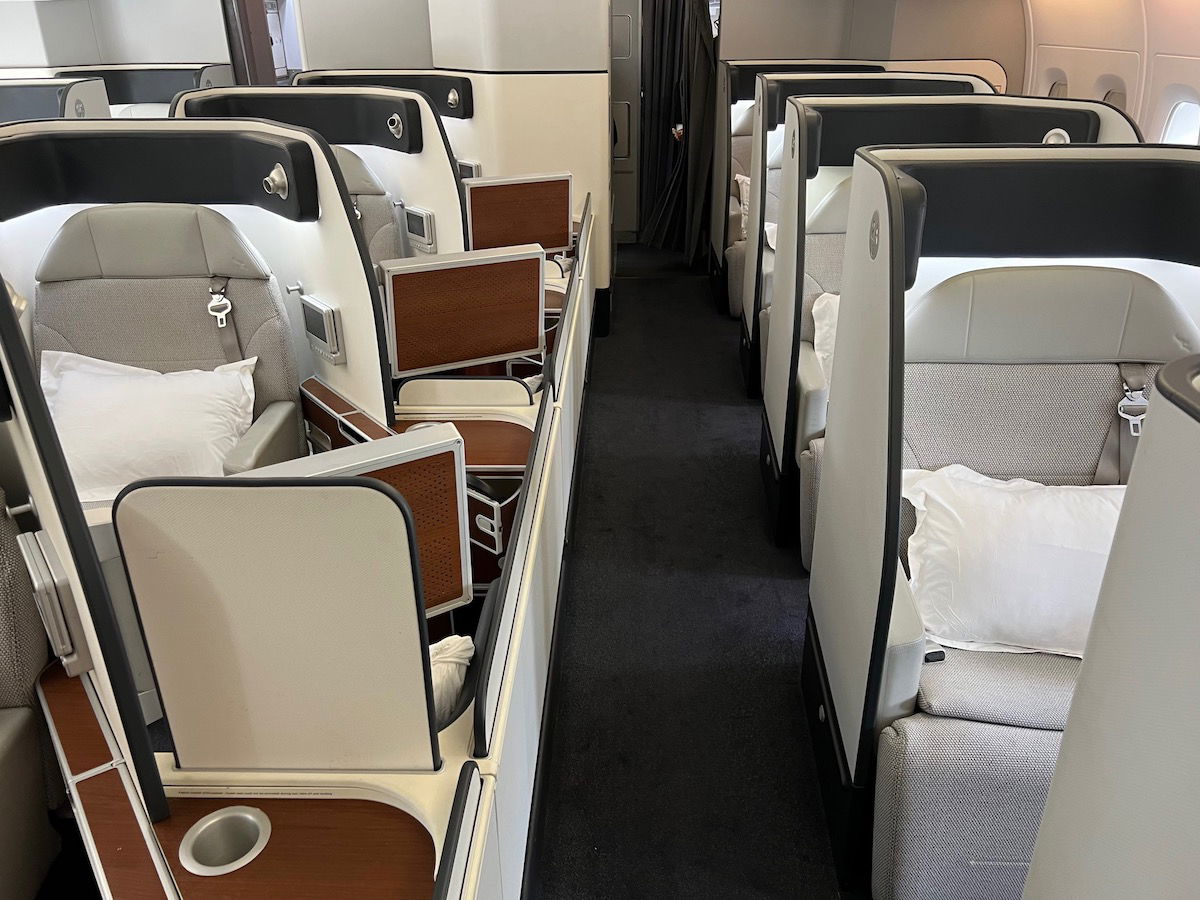 The center seats can be accessed from the right aisle, meaning that nine passengers use the right aisle, while five passengers use the left aisle. That's why the window seats on the left side are generally viewed as the best, since they feel a bit more private. That's especially true when you consider that the center seats have privacy partitions on the left side that can be raised.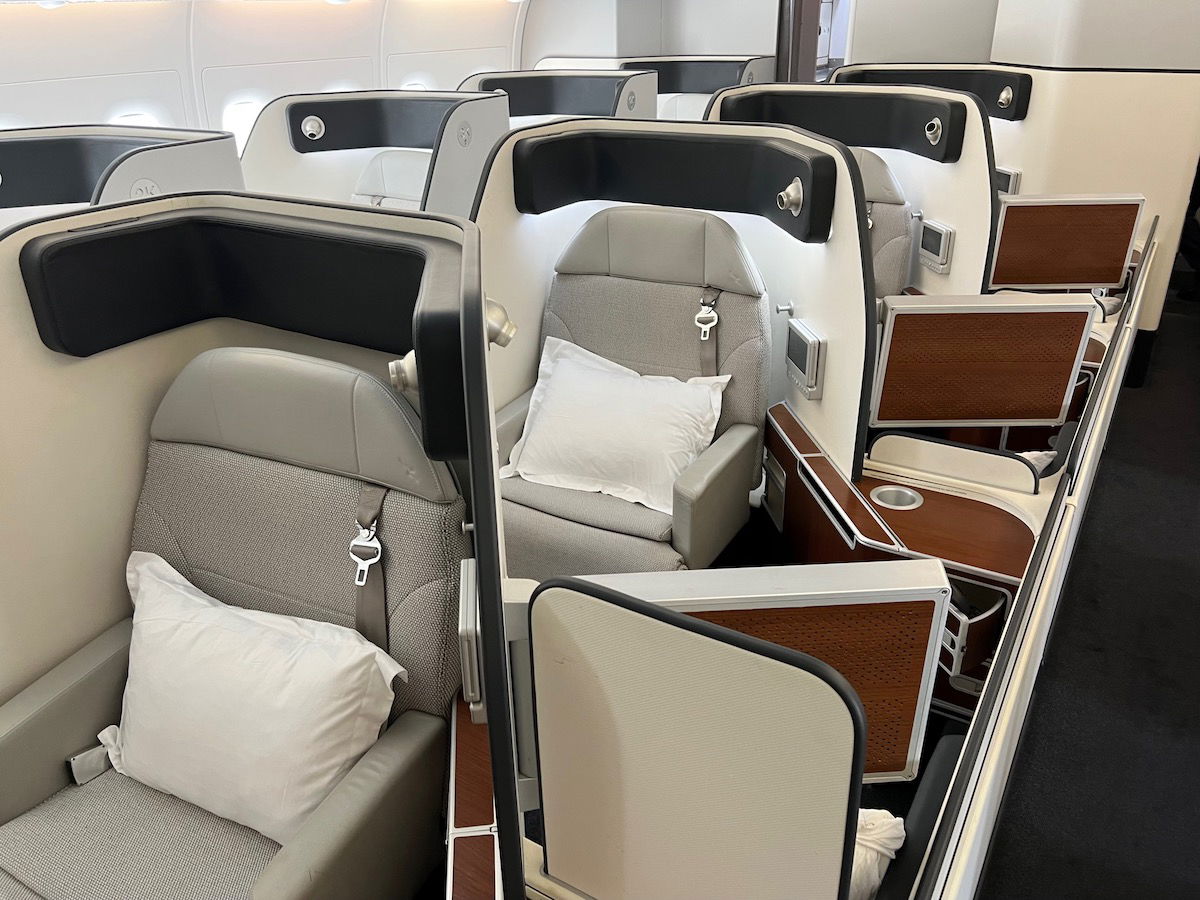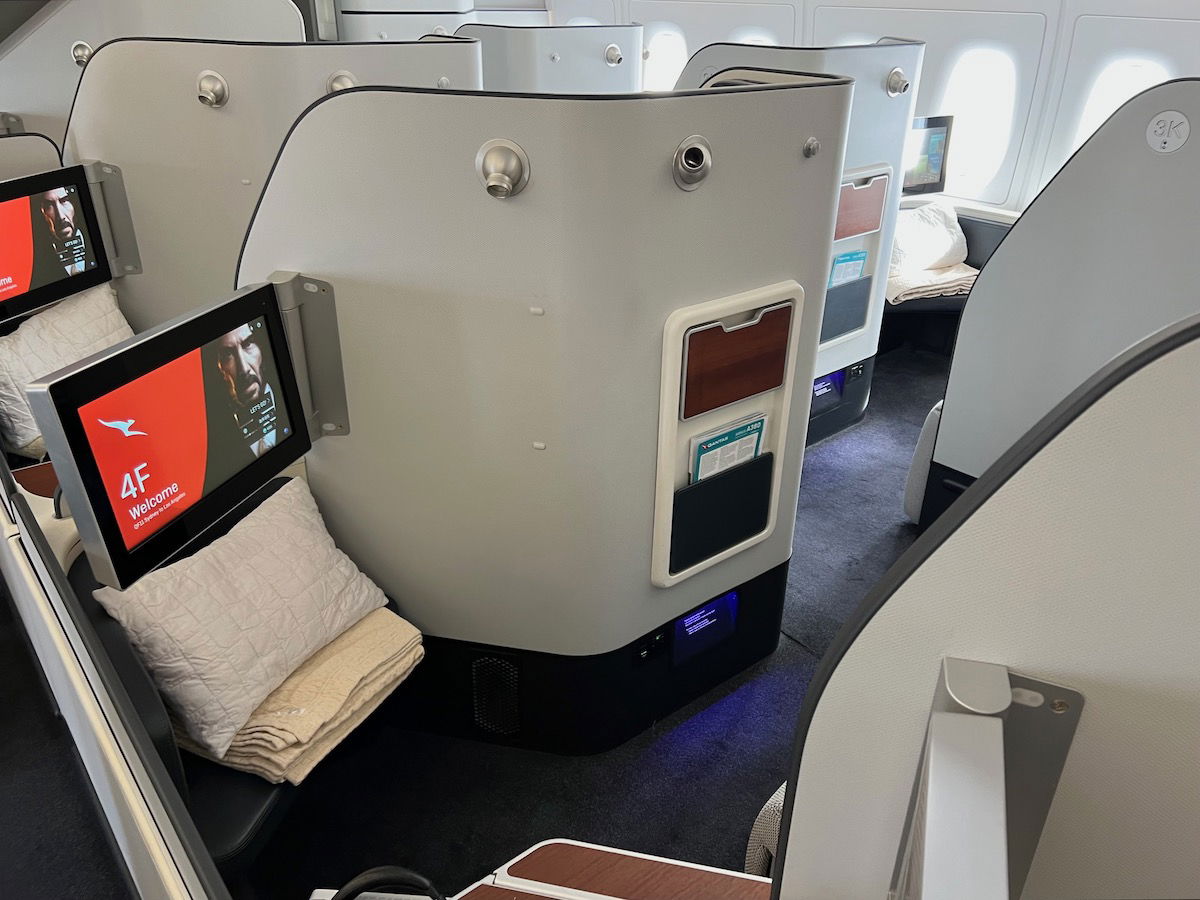 I assigned us seats 4A and 5A, the two window seats on the left side in the back of the cabin. Even if you're traveling with someone, there's no point in getting seats across from one another, since it's not like you'd be able to practically communicate and enjoy the flight together anyway.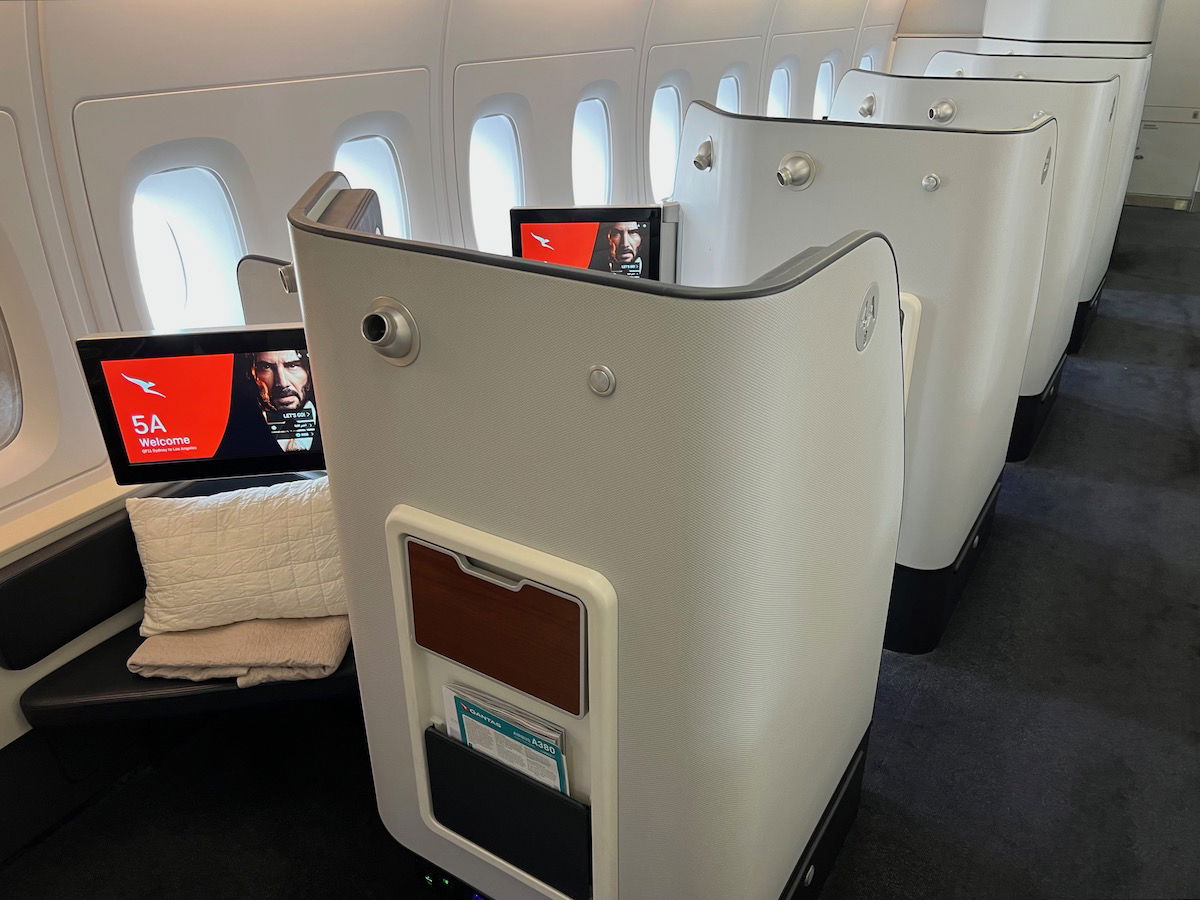 While Qantas doesn't have fully enclosed suites in first class, the seats are incredibly spacious, and thoughtfully designed. When you board, the seats are fully facing forward. Meanwhile the ottoman is at an angle, and that's because the seat can be swiveled after takeoff.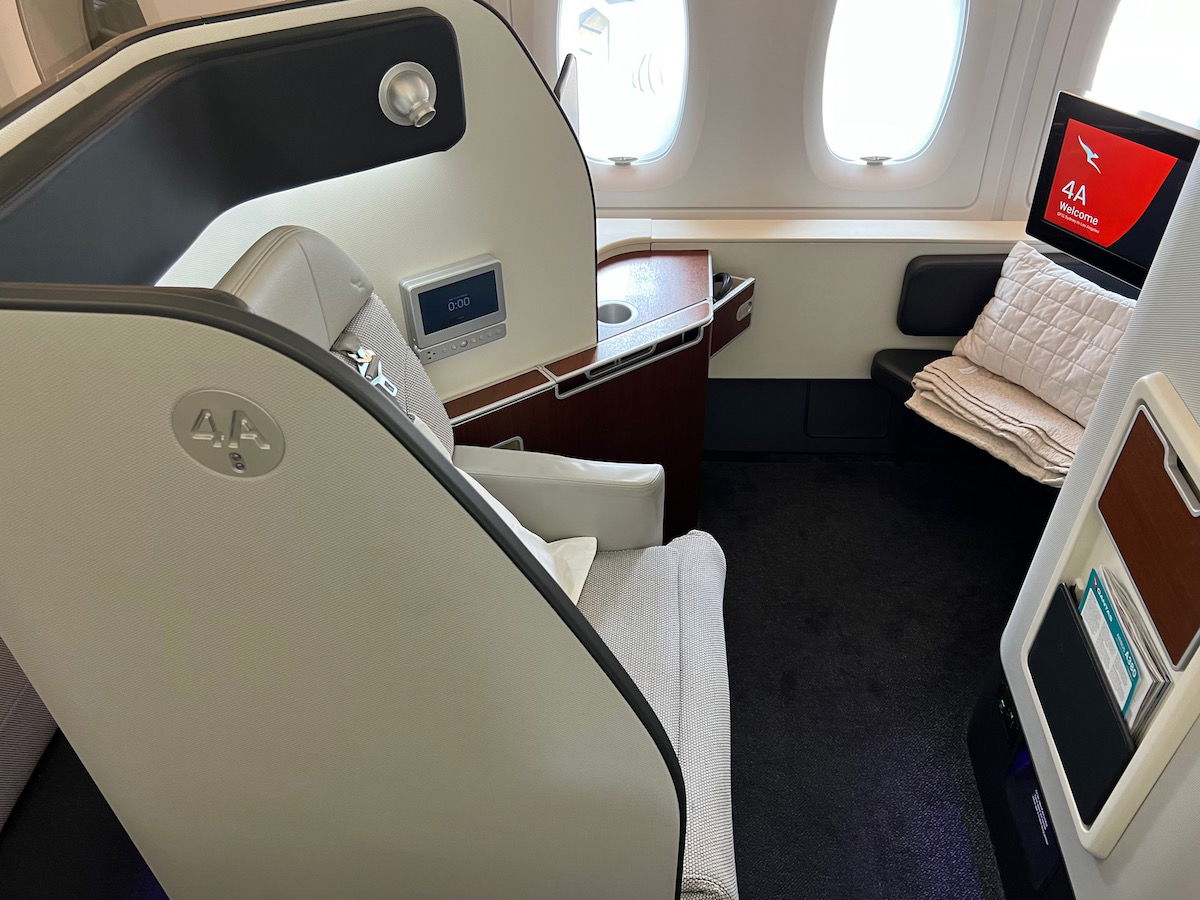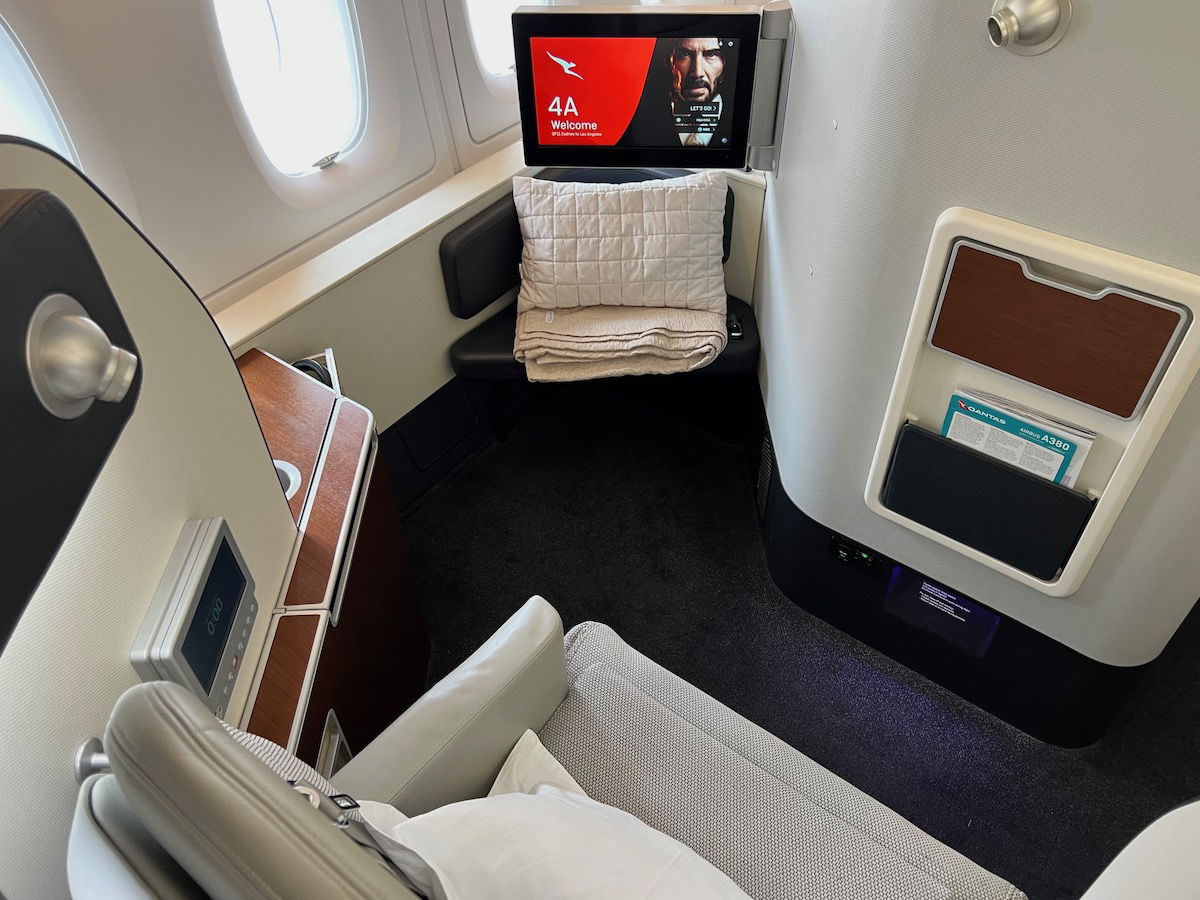 The seat itself is very well padded, and has a shoulder harness that needs to be worn during takeoff and landing.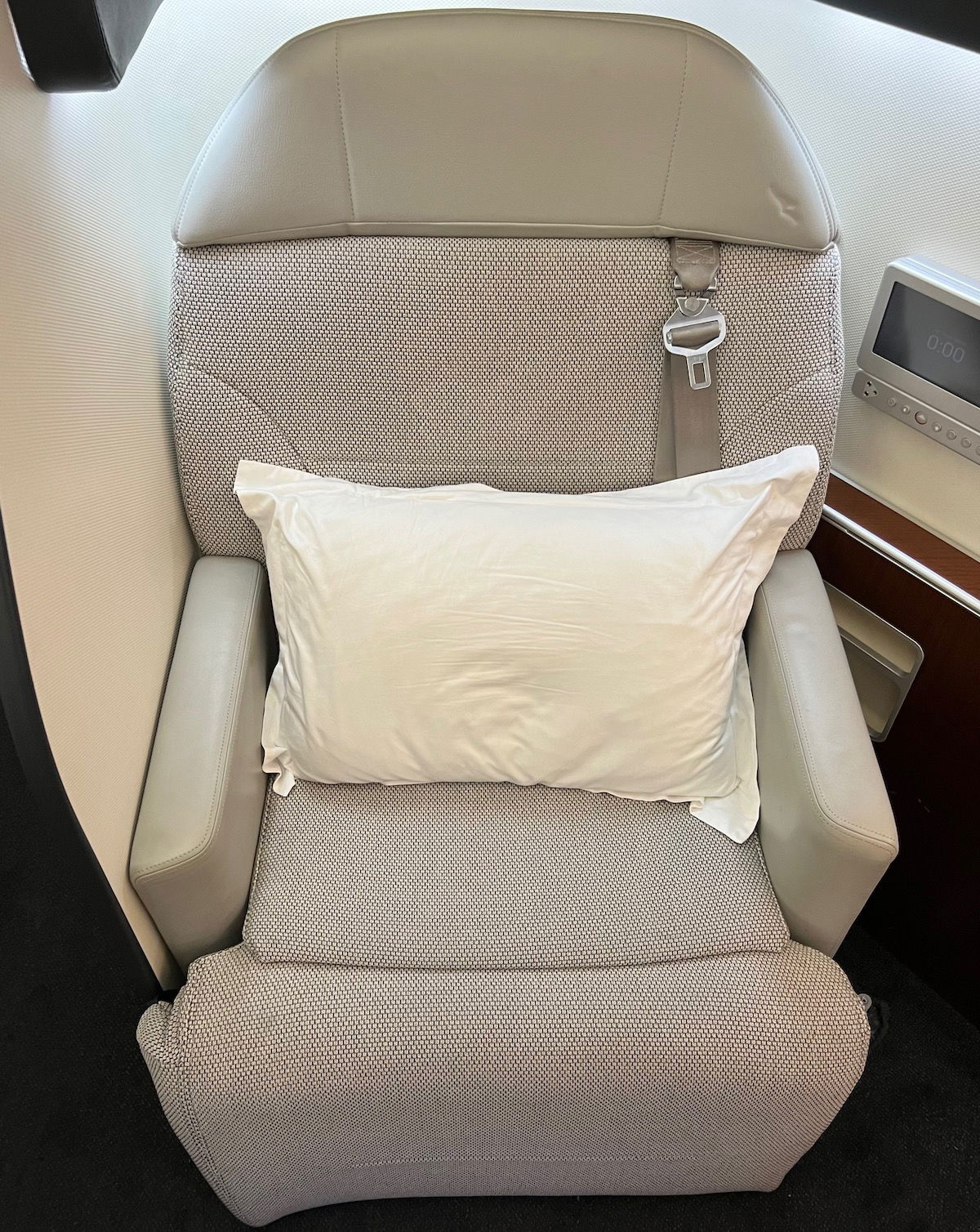 Immediately across from the seat is a tray table that can be folded up or down, which is an ideal place to put a drink, without using the full tray table. That's also where the literature pocket is located.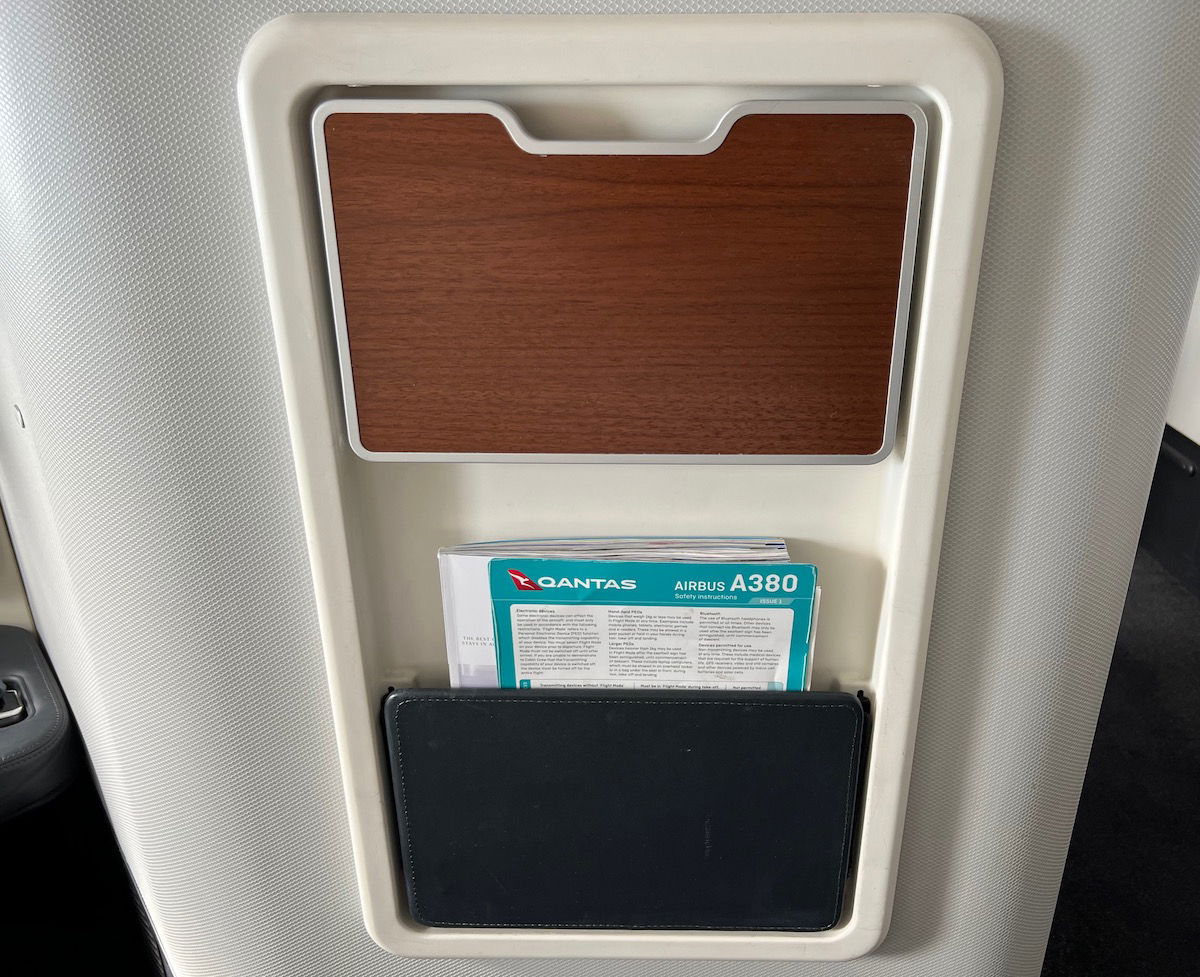 The seat's ottoman is a great size, and it can be used as a buddy seat if you want to dine face-to-face with someone. However, it's definitely not the most comfortable ottoman to sit on for an extended period of time.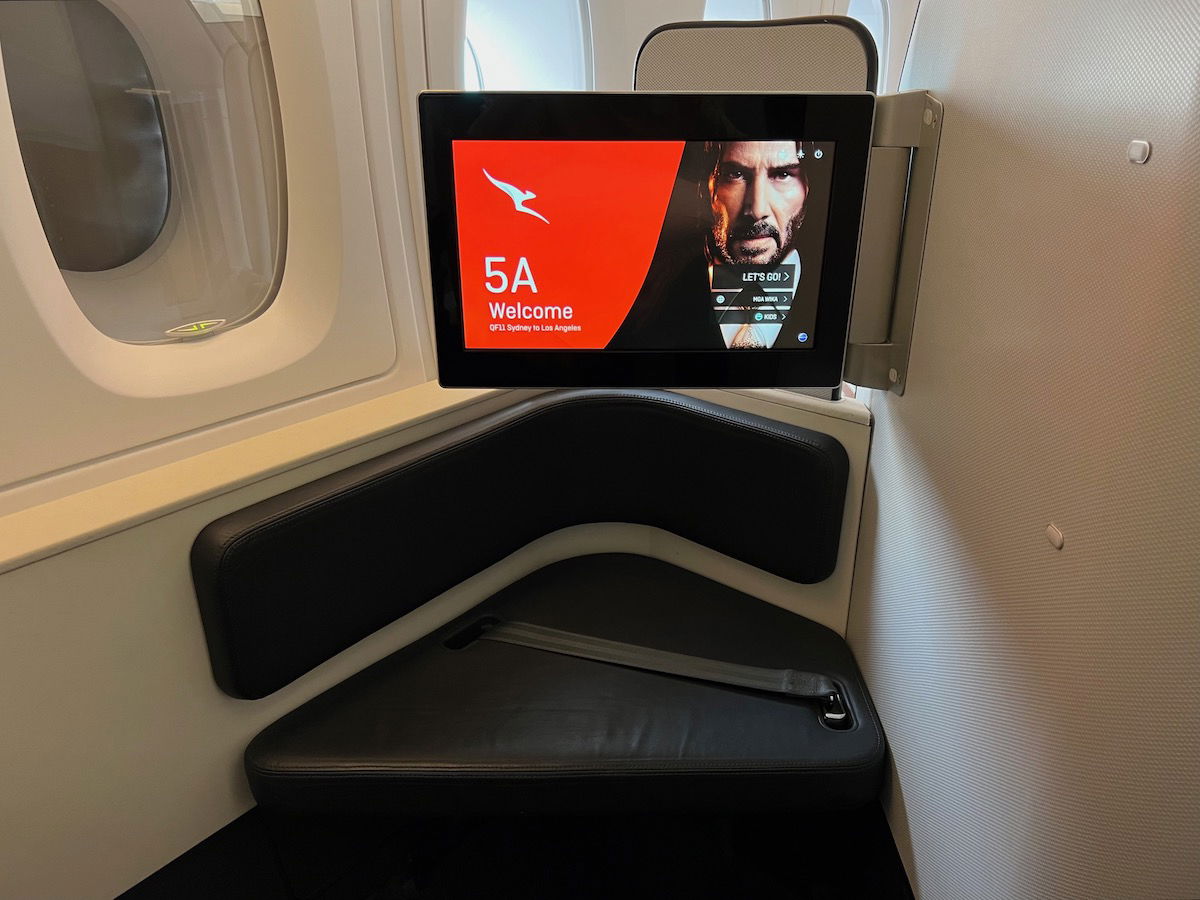 There's quite a bit of stuff to the side of the seat, including two surfaces on which you can store things during the flight.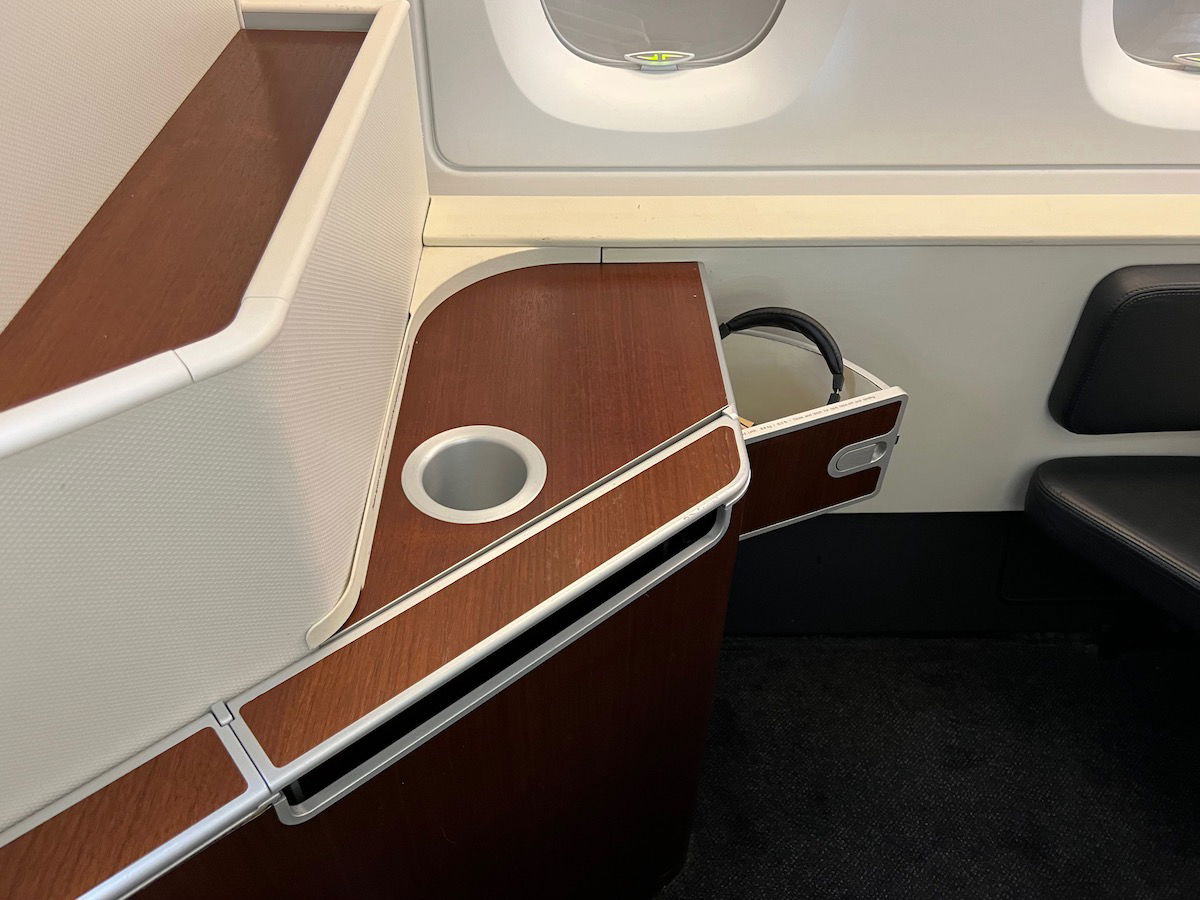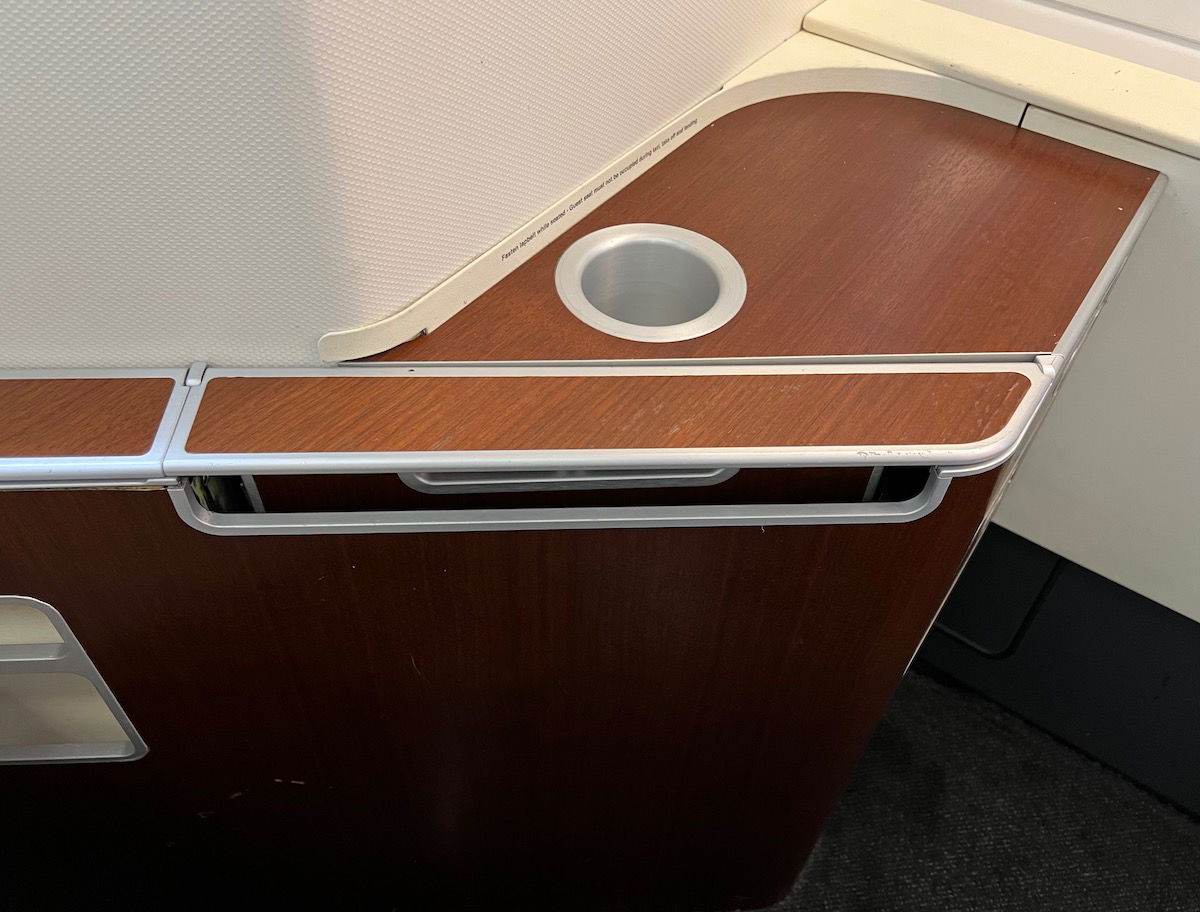 The tray table extends from the side of the seat, and is absolutely massive. Even just extending it or storing it takes quite some effort, given how heavy and bulky it is.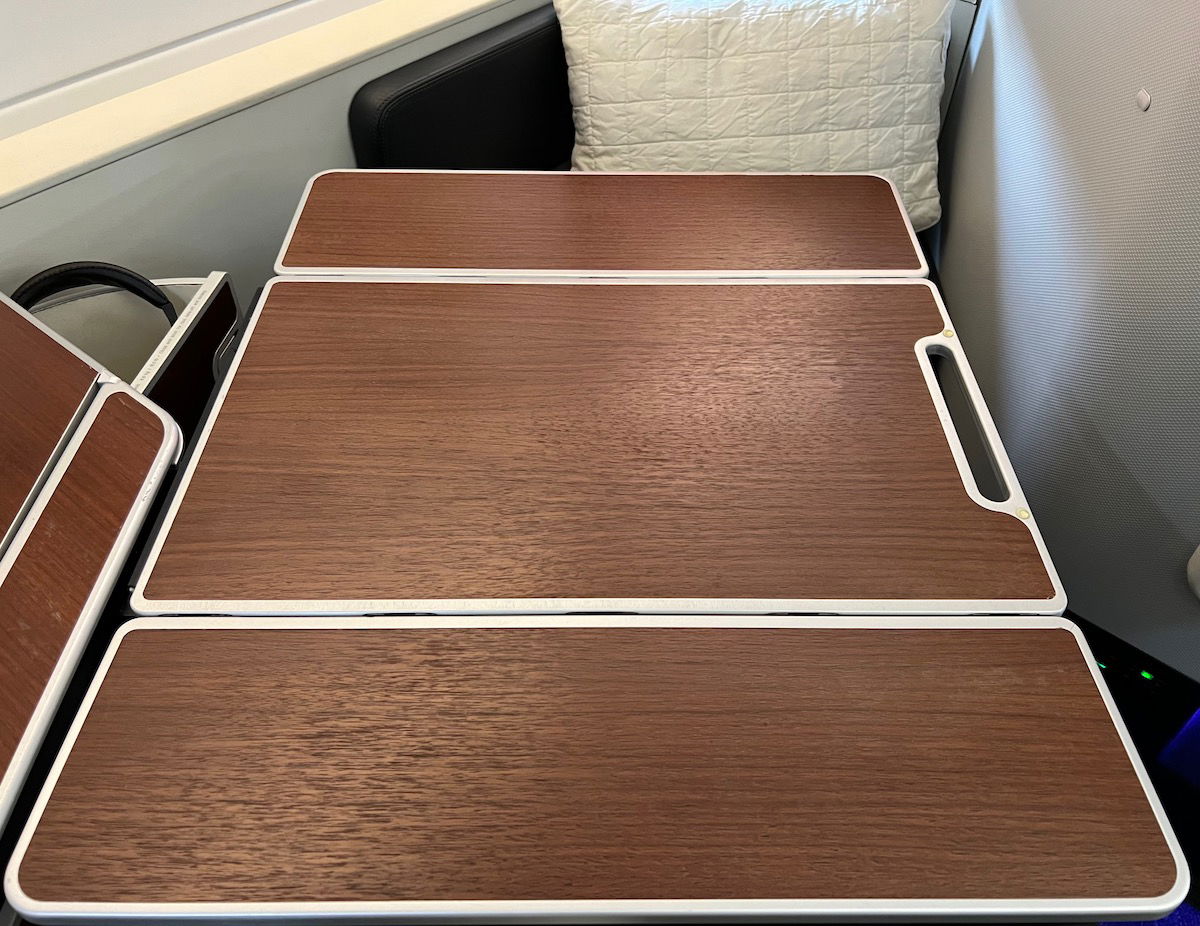 There are two fully enclosed storage compartments to the side of the seat, which are a great place to store your passport, chargers, etc. Just make sure you remember if you placed something here, because it can be easy to forget.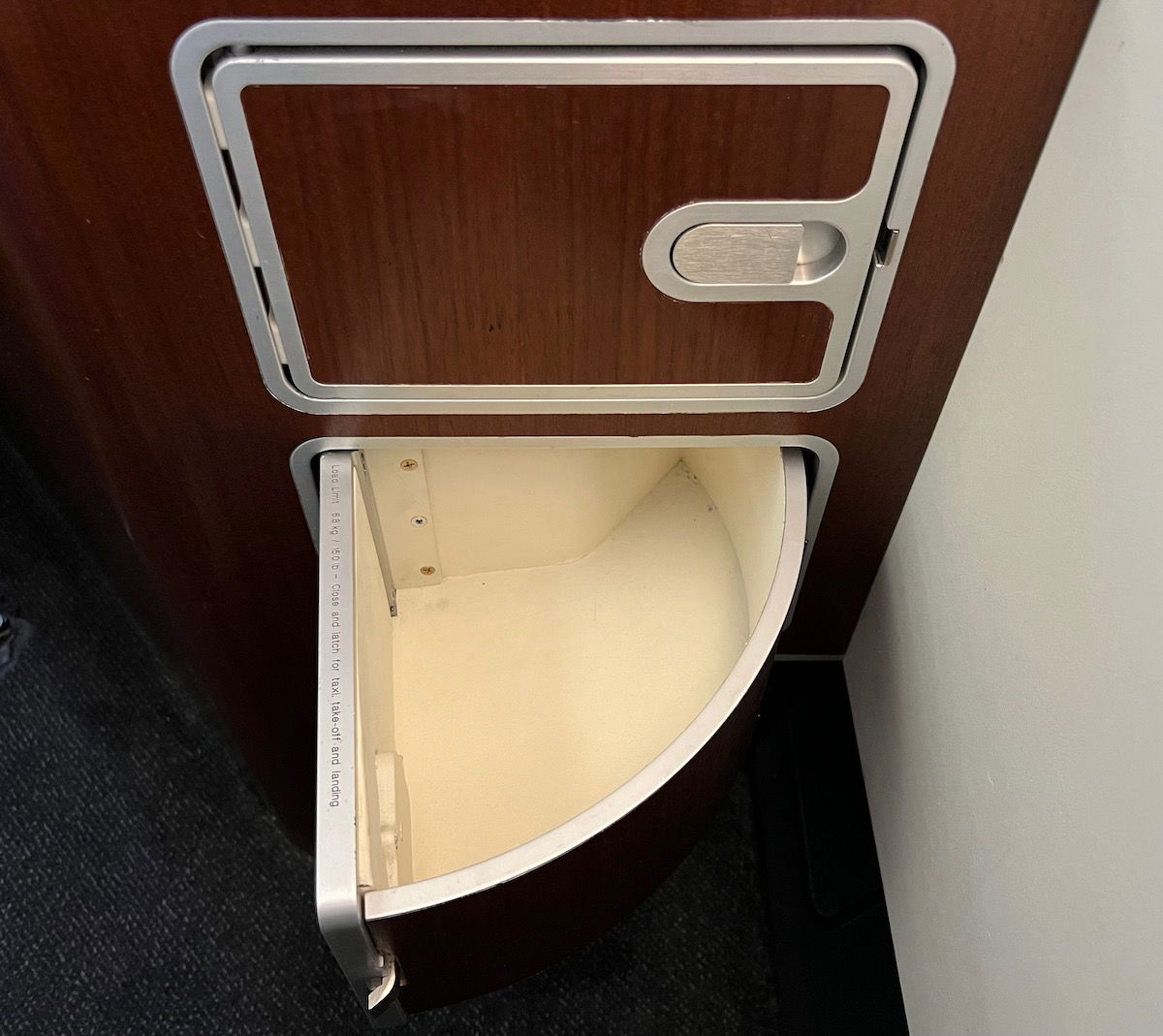 There's a handy monitor to the side of the seat, which controls all of the seat functions. There are either some pre-sets, or you can customize each part of the seat individually.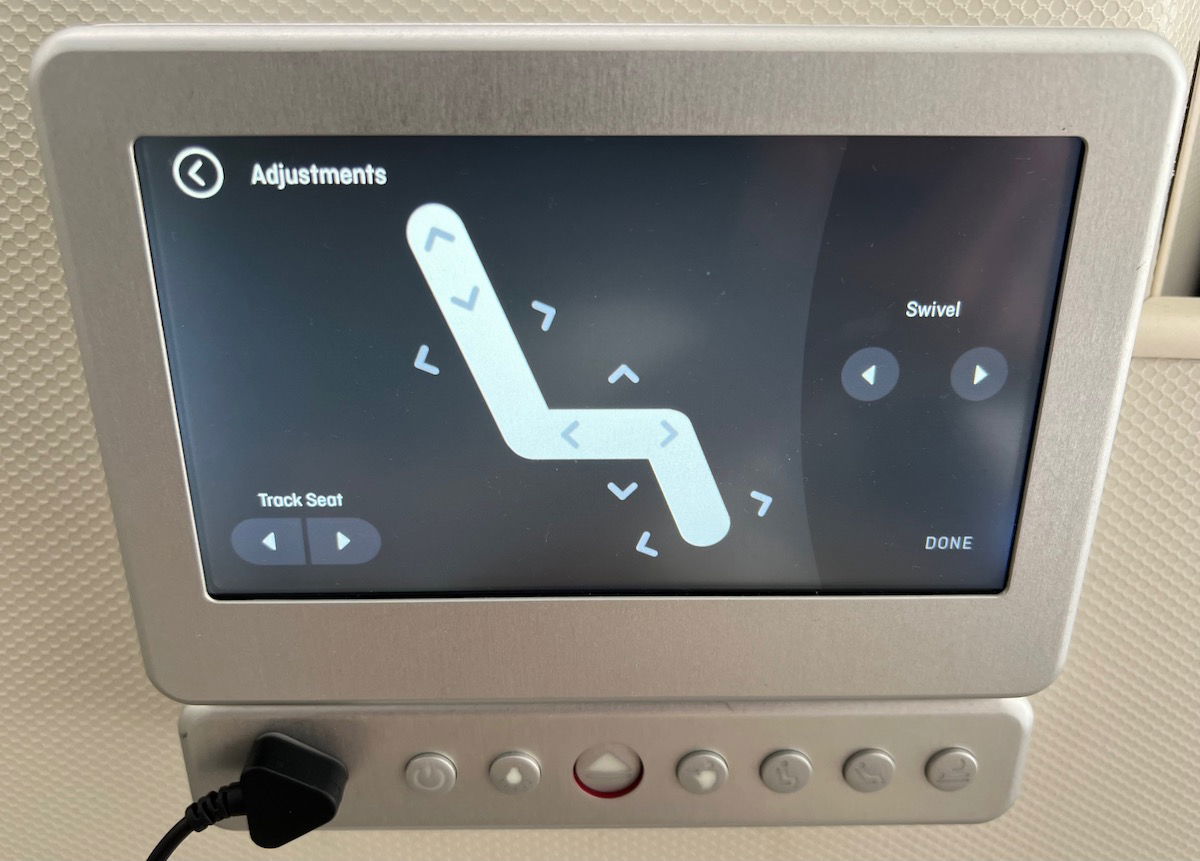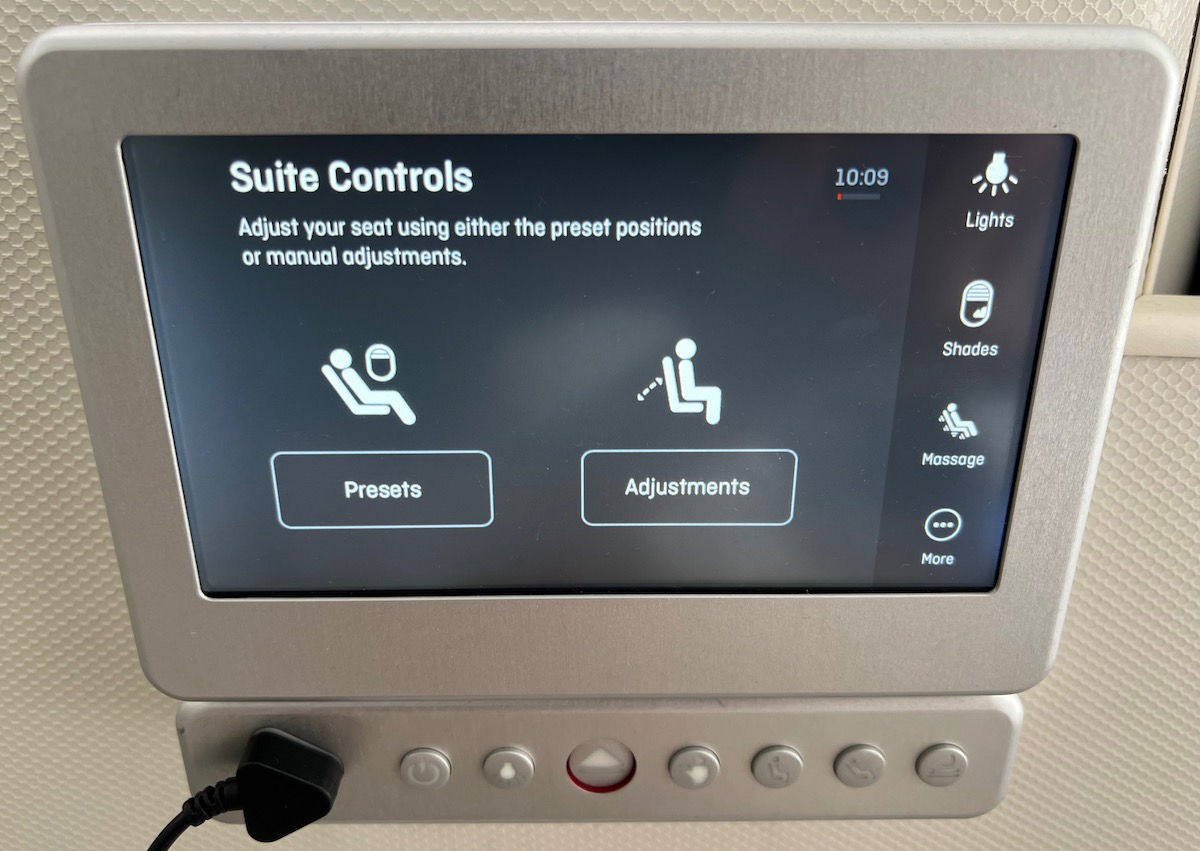 The monitor can even be used to control the window shades, which have electric curtains and dimmers.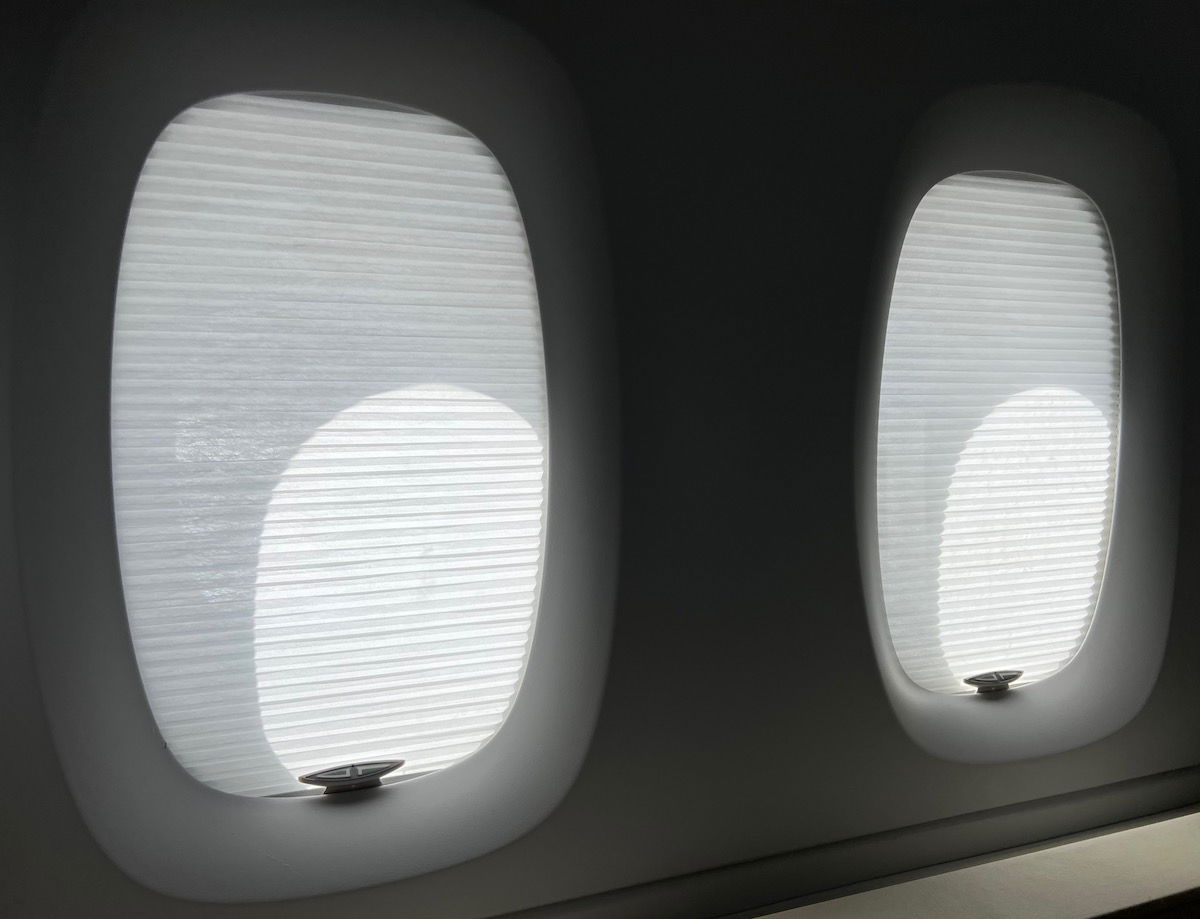 Also on the armrest of the seat is an entertainment controller.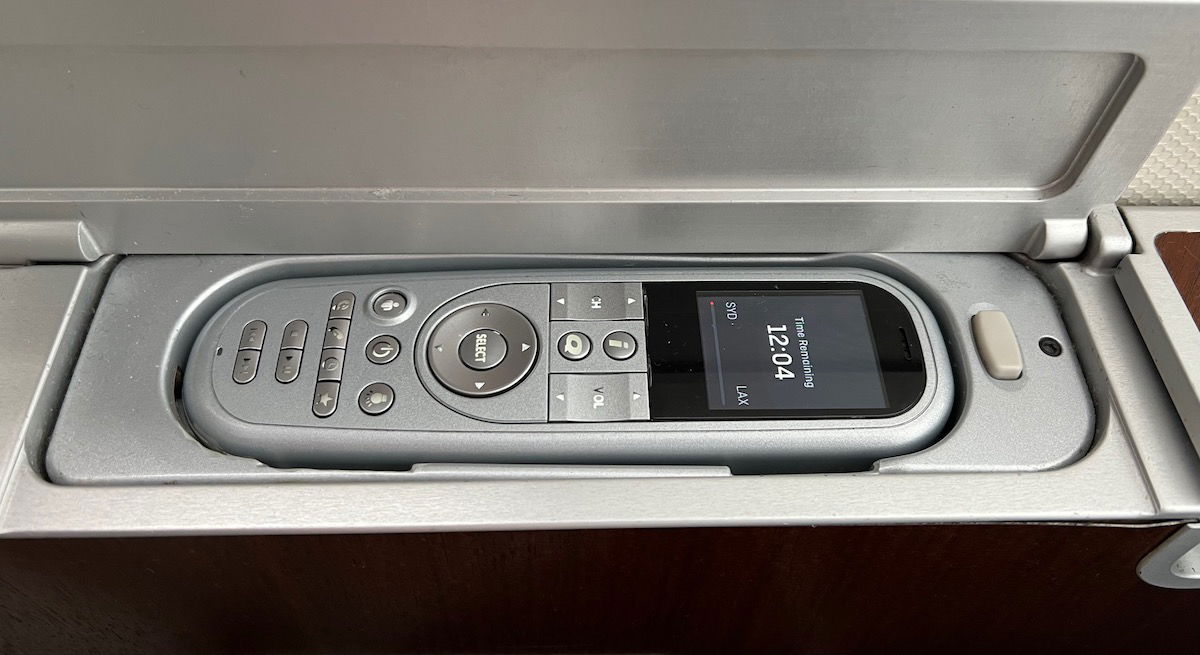 Charging ports are to the side of the seat, and include an AC and USB-A outlet.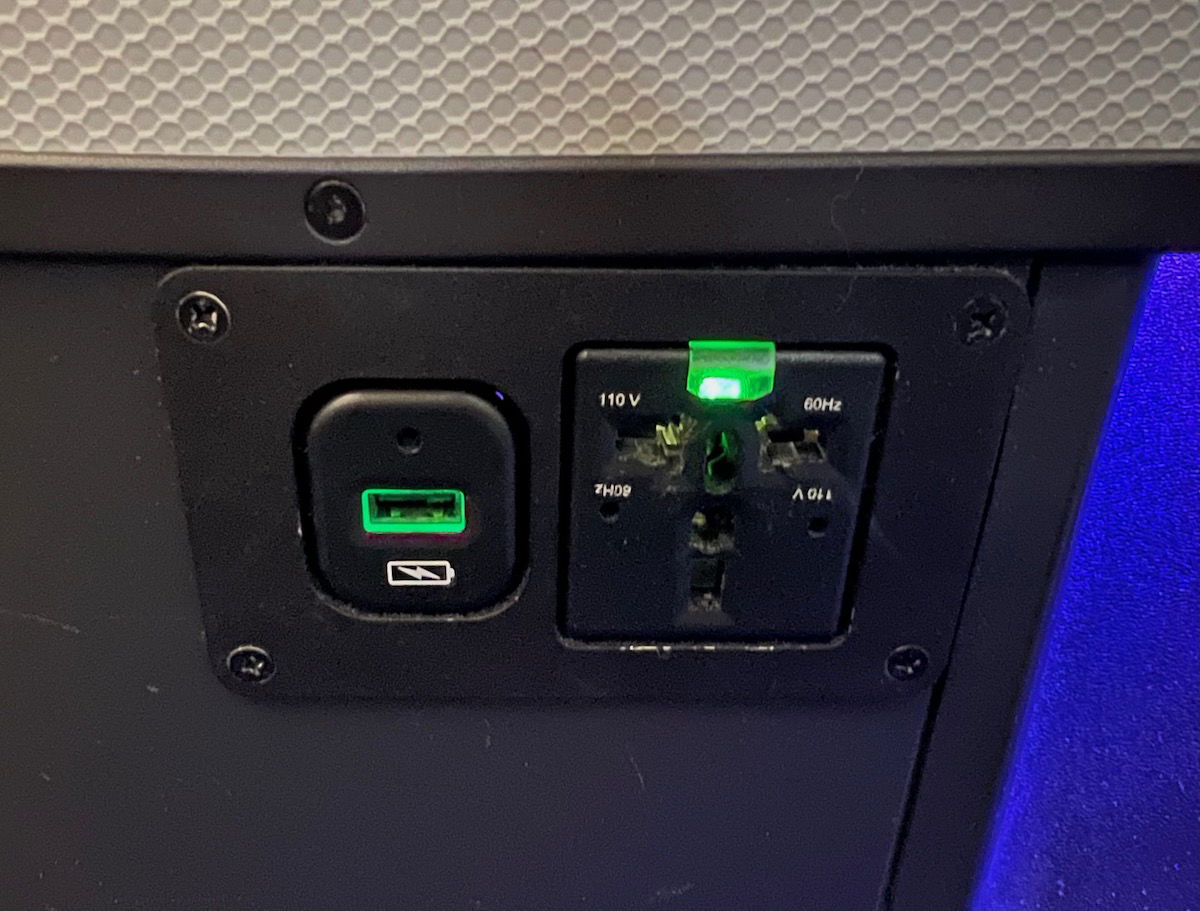 One thing I appreciate about Qantas is the individual air nozzles. While the overhead console doesn't have any air nozzles, the seat does have a couple of these installed, which is fantastic for those of us who easily get hot.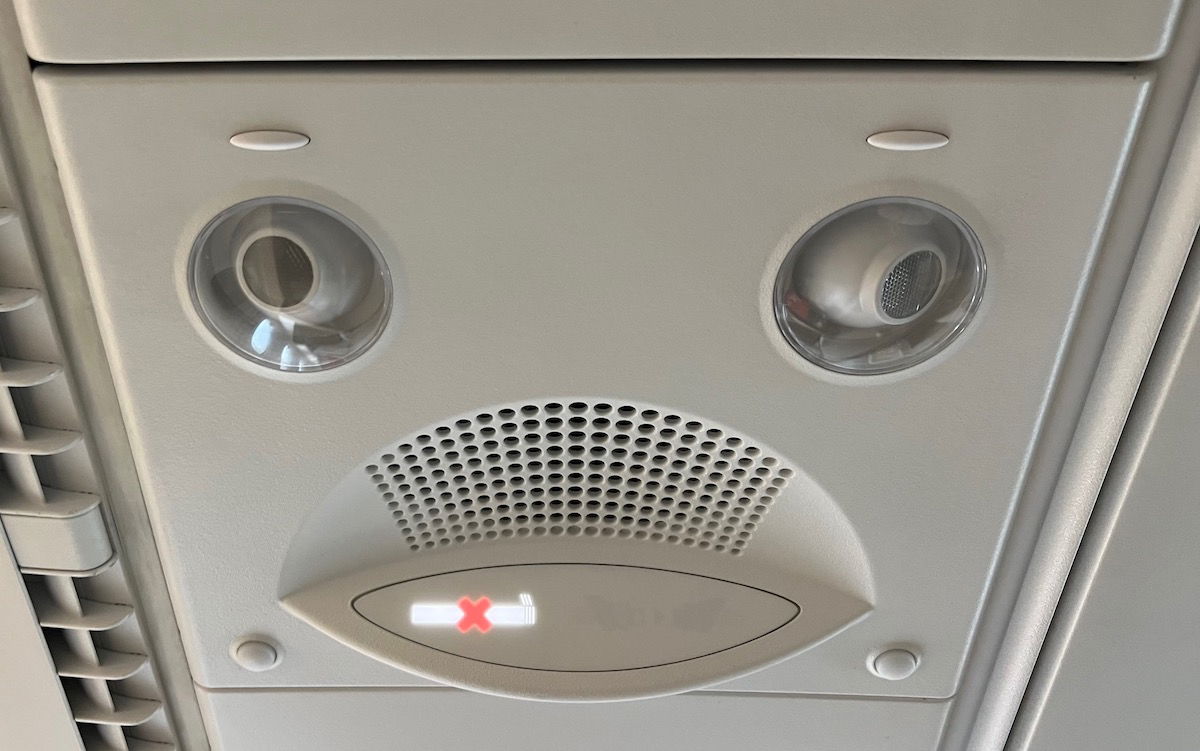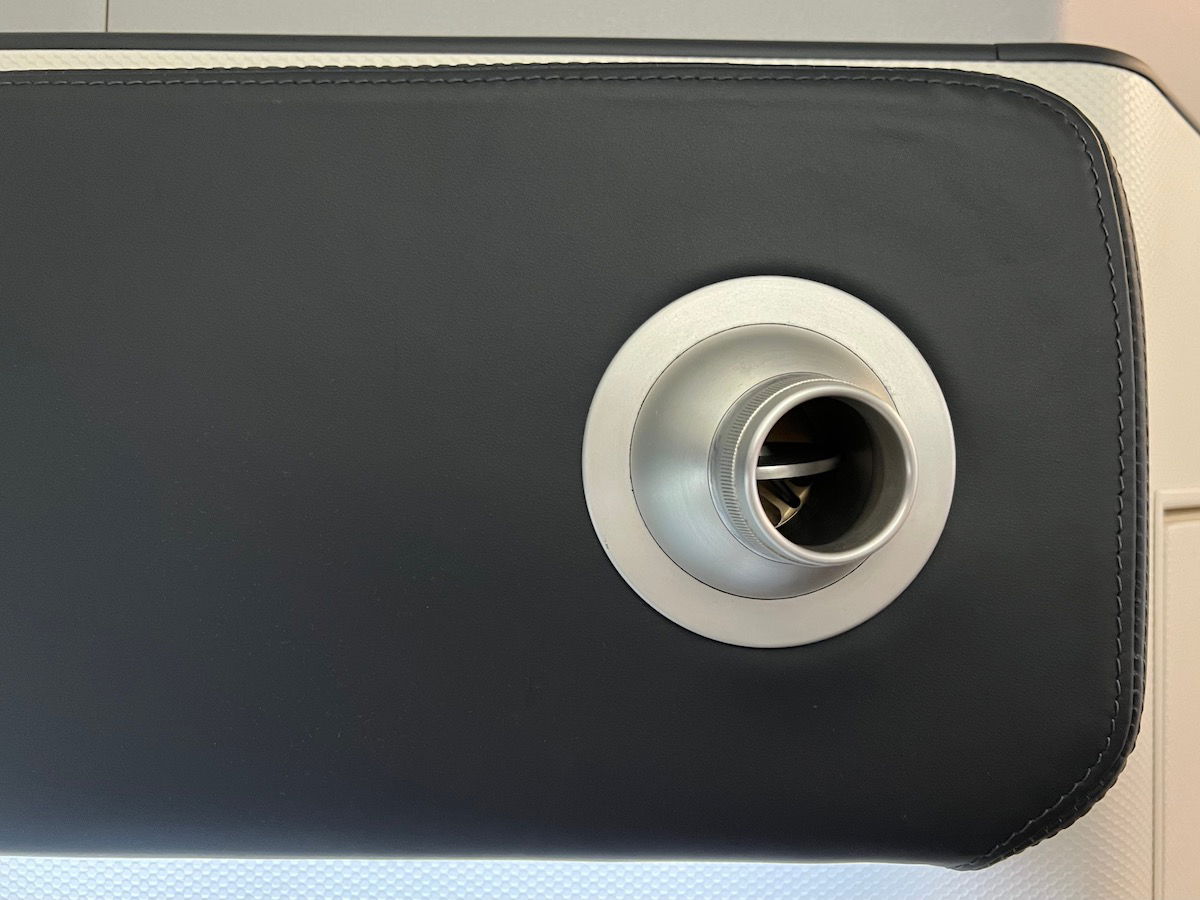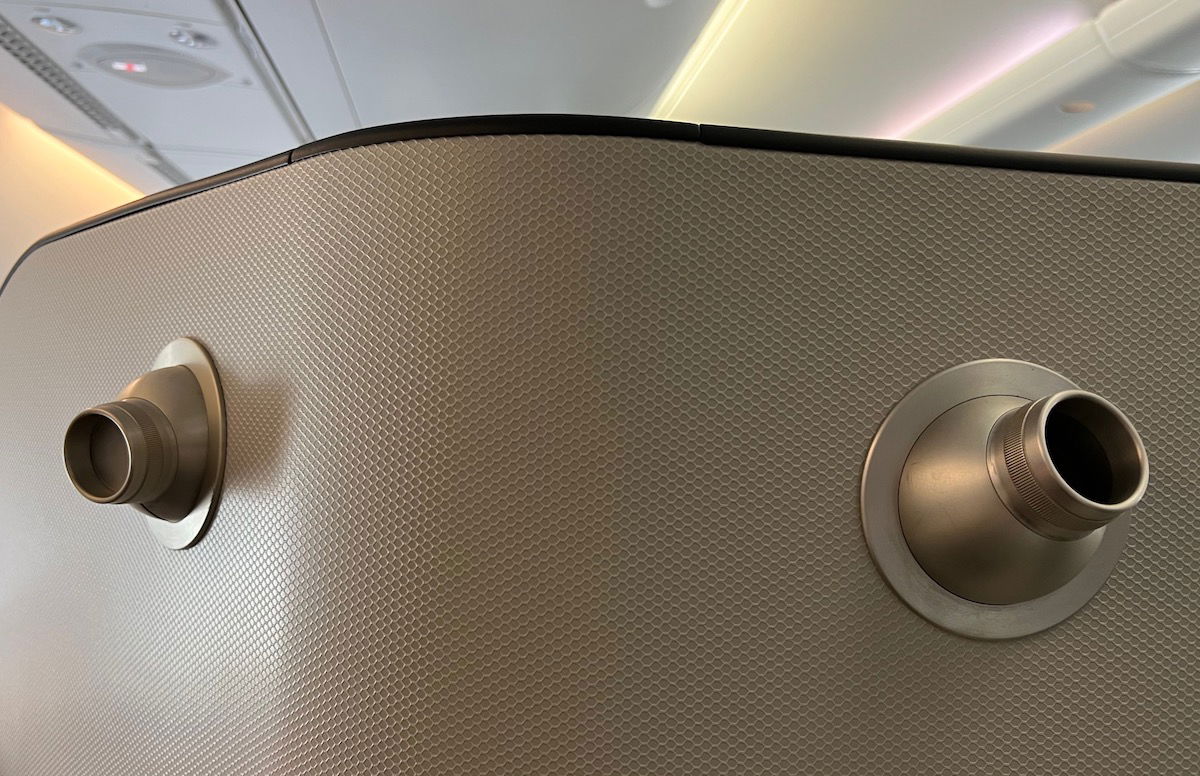 All-in-all, I was very happy with our seat choices. Sitting in 5A, I couldn't see any other passenger. I also can't help but comment on how the center seat right under the staircase must be one of the strangest first class seats out there.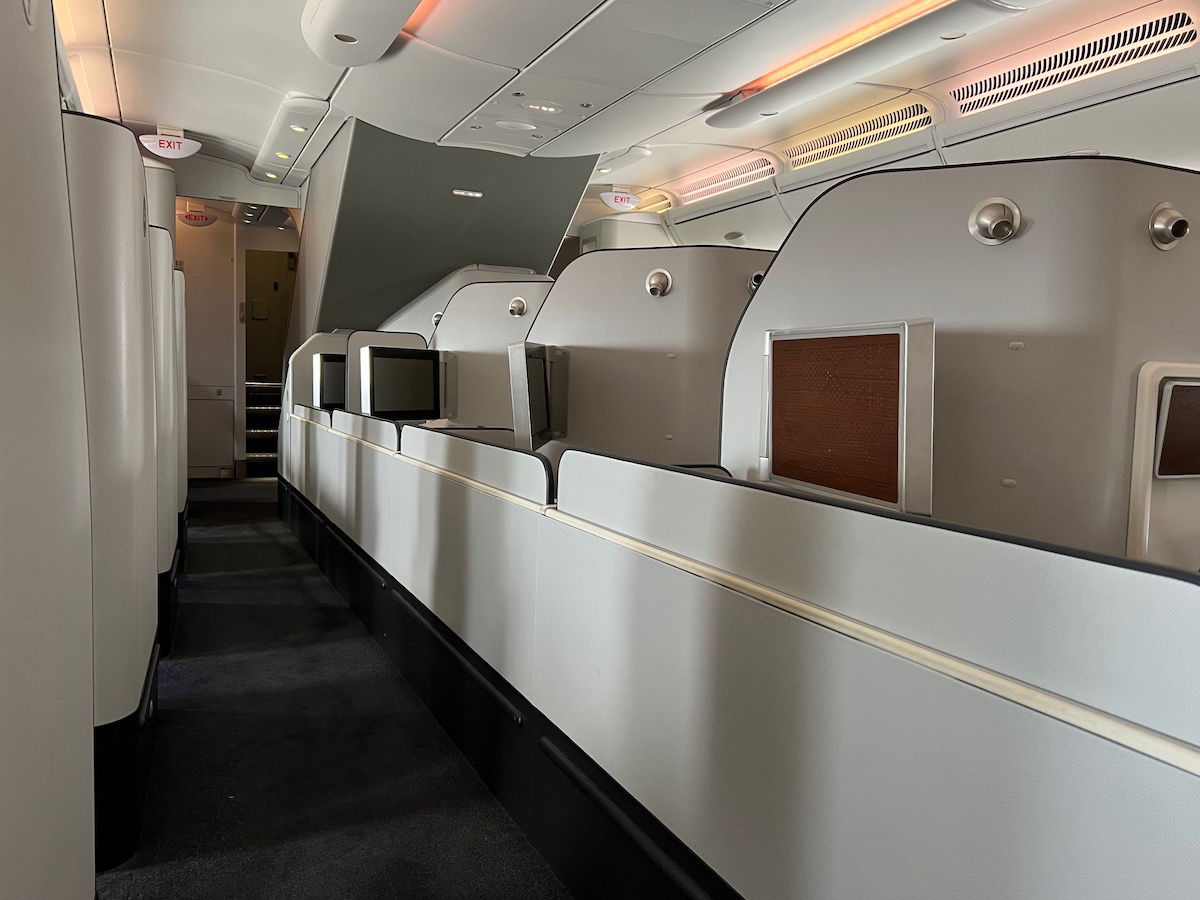 Qantas first class amenities
As far as amenities go, there were two pillows and a blanket waiting at each seat upon boarding. This was only part of the bedding, as more bedding was provided with turndown service.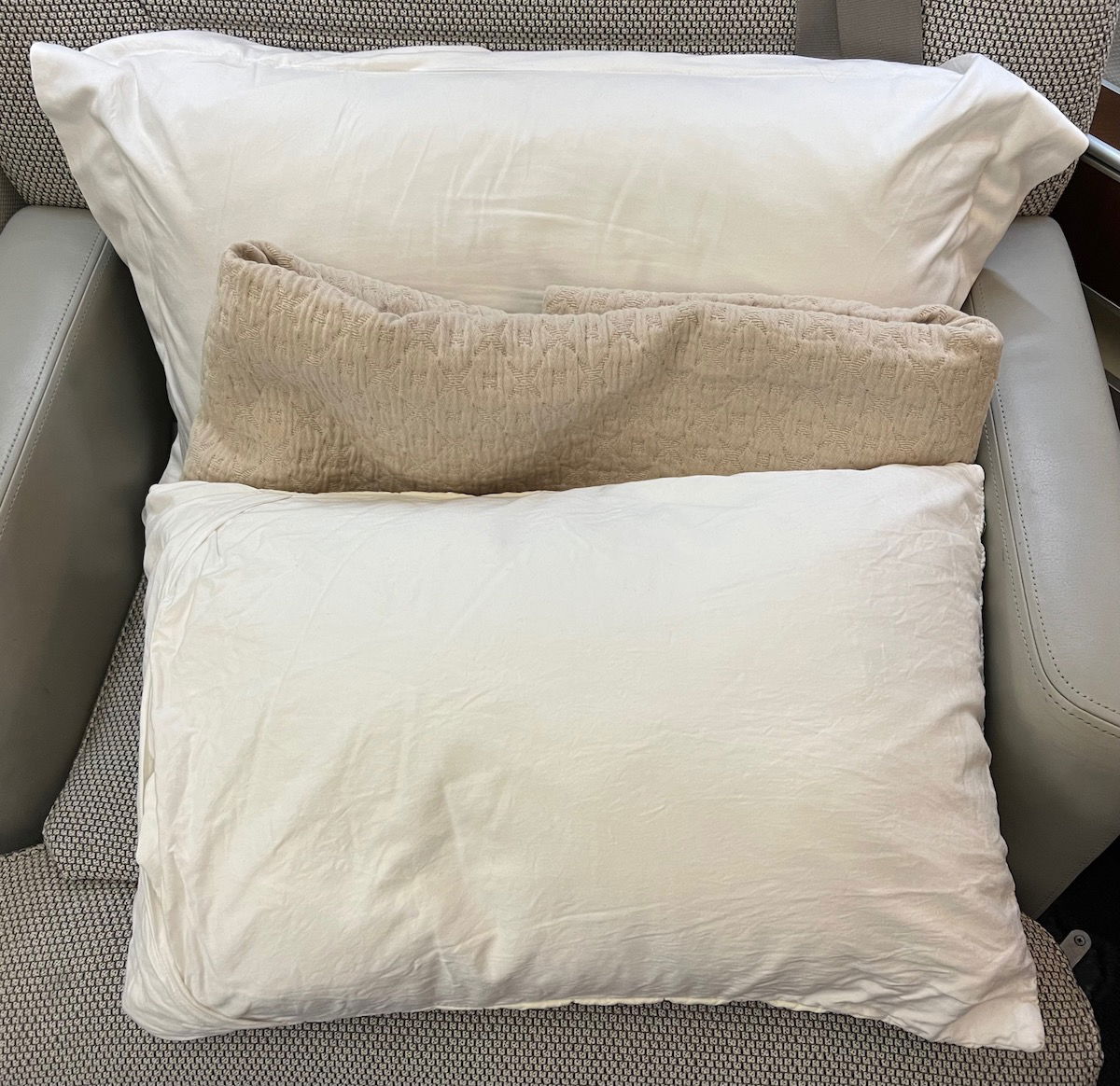 There were also headphones at each seat upon boarding, which were totally fine, but nothing special.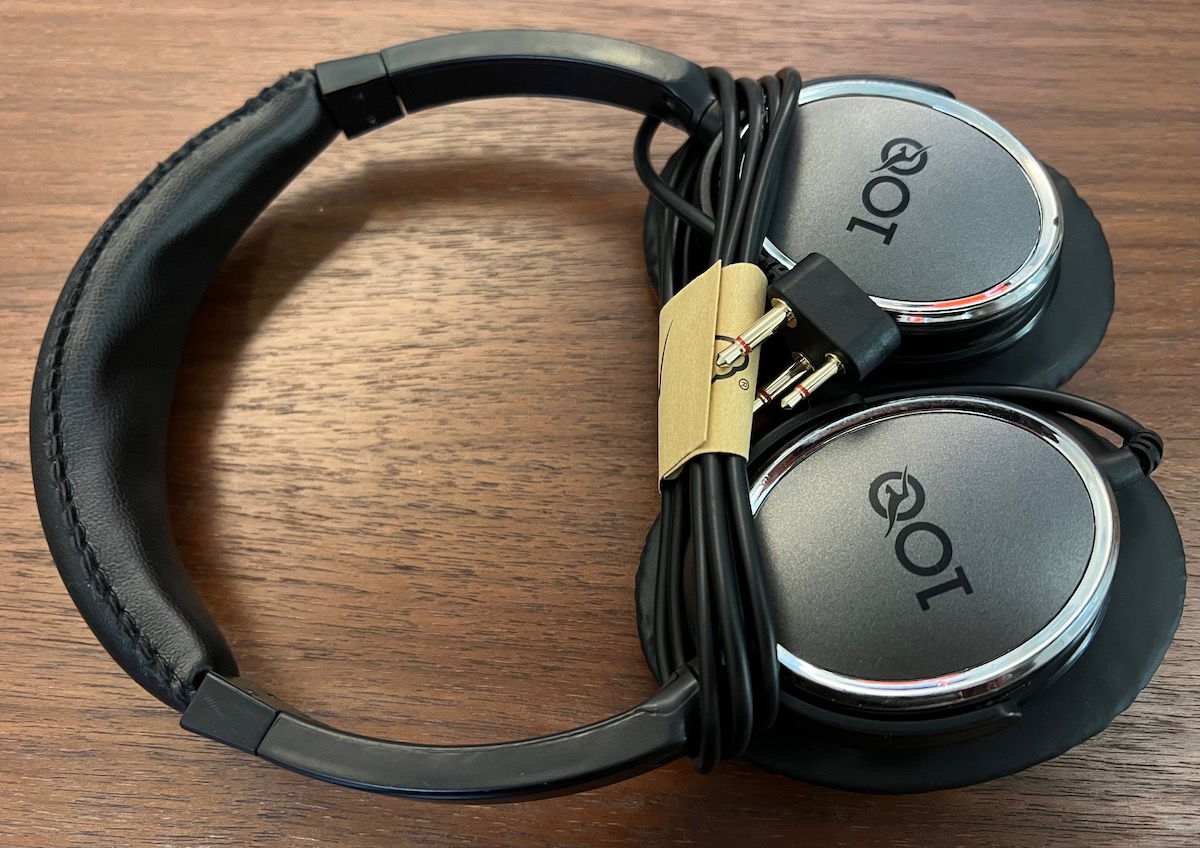 Within moments of settling in, the first class flight attendant working our aisle, Rob, came by to introduce himself. Yvette, who would be working the galley, also came by to welcome us onboard. We were offered pre-departure drinks, and my dad and I both selected champagne.
Qantas currently serves Duval-Leroy Clos des Bouveries 2006 in first class, which I found to be fine, but nothing too memorable. We were also offered some nuts and olives to go along with the pre-departure drinks. I always love when airlines have a little pre-departure snack in first class.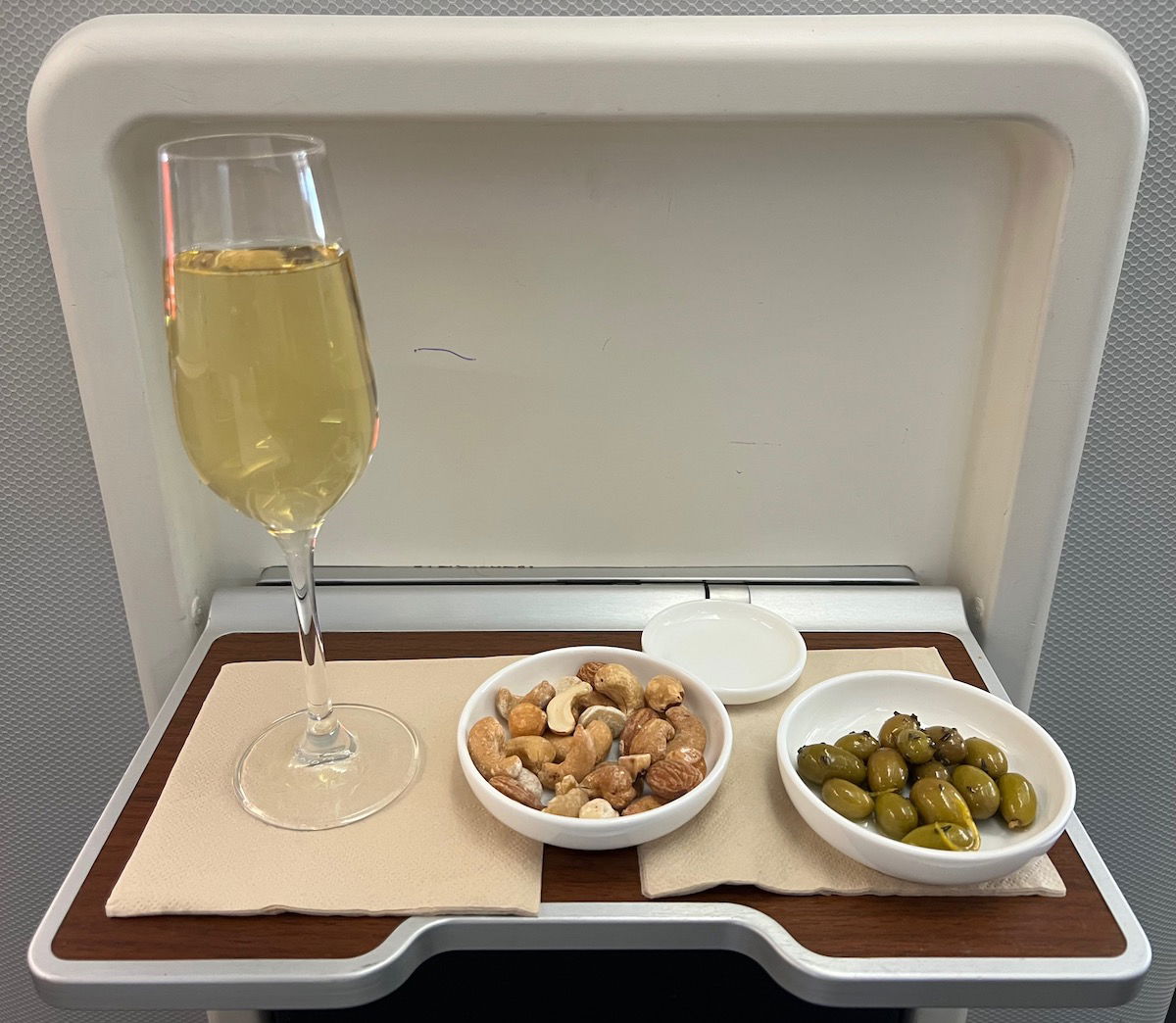 We were then offered the amenities for the flight, which I found to be excellent. This included a very comfortable pair of pajamas, specifically branded for first class (Qantas also offers pajamas in business class).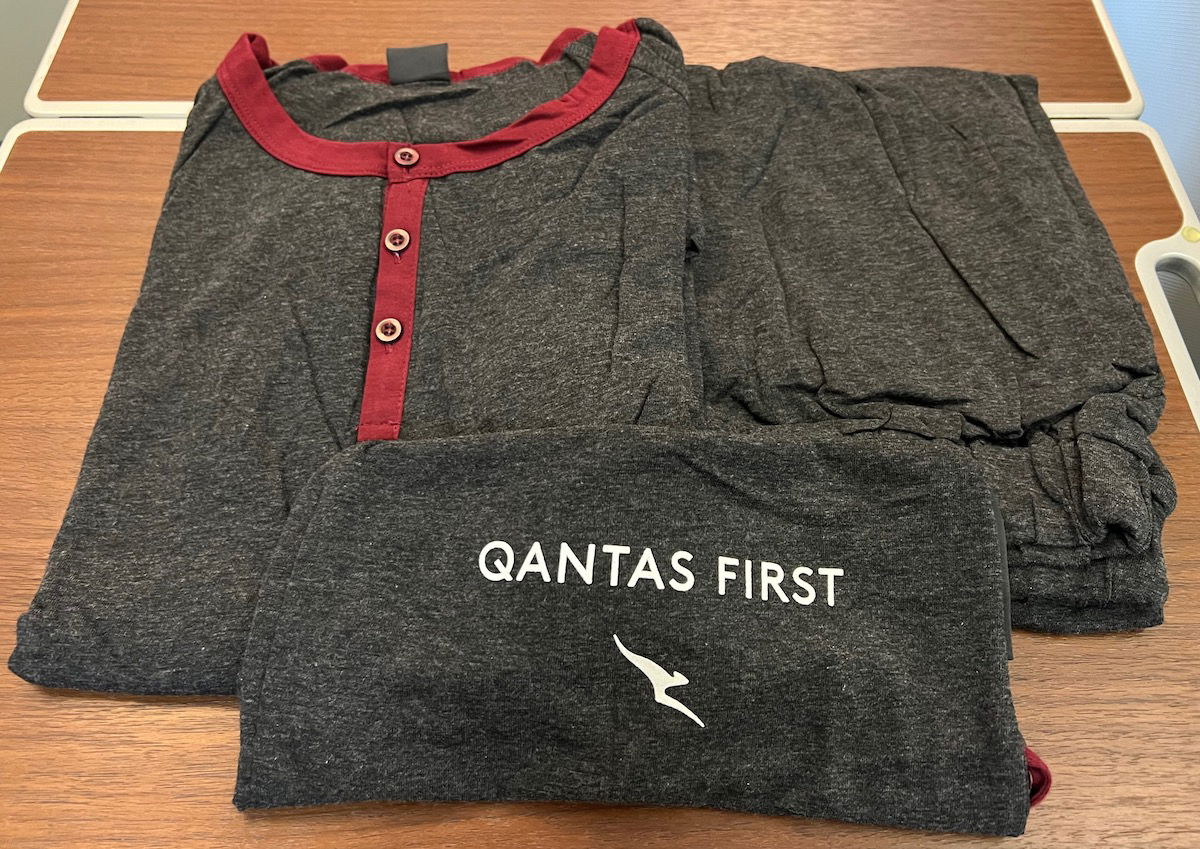 We were given slippers, which were among the sturdiest and most stylish I've ever seen offered on a plane.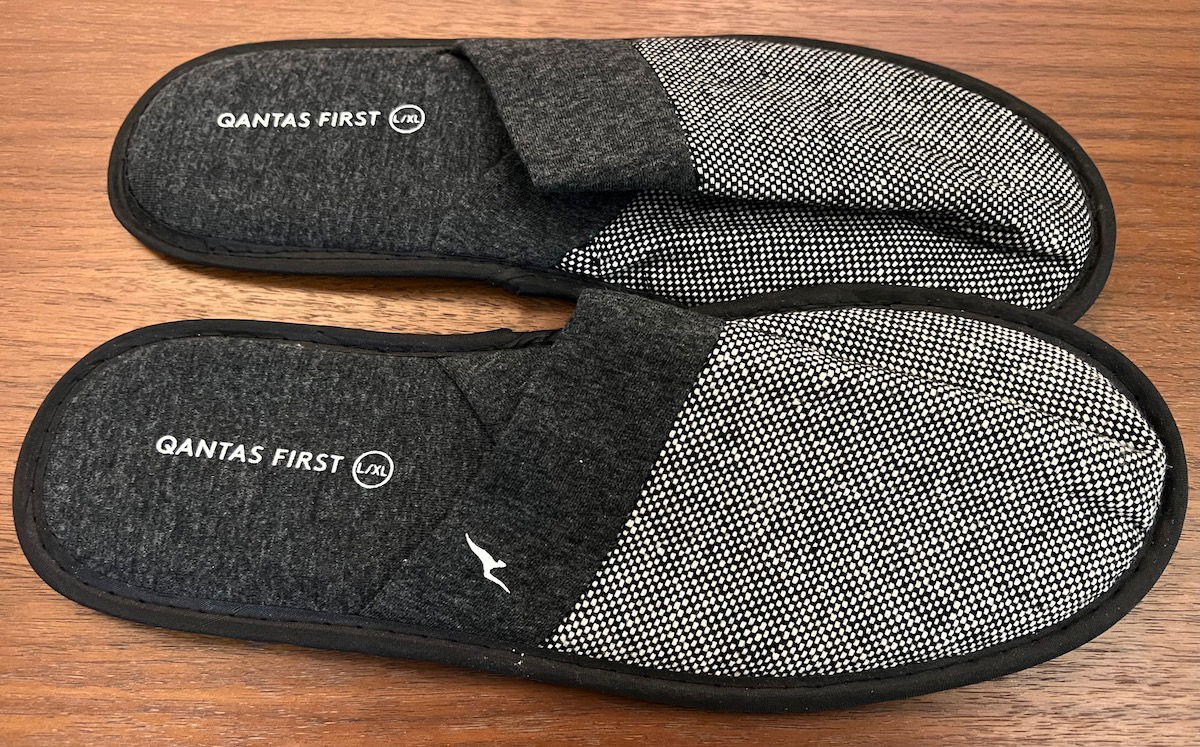 We were offered an amenity kit with socks, eyeshades, earplugs, a dental kit, lip balm, and a couple of creams. Again, I quite liked the design of the kit.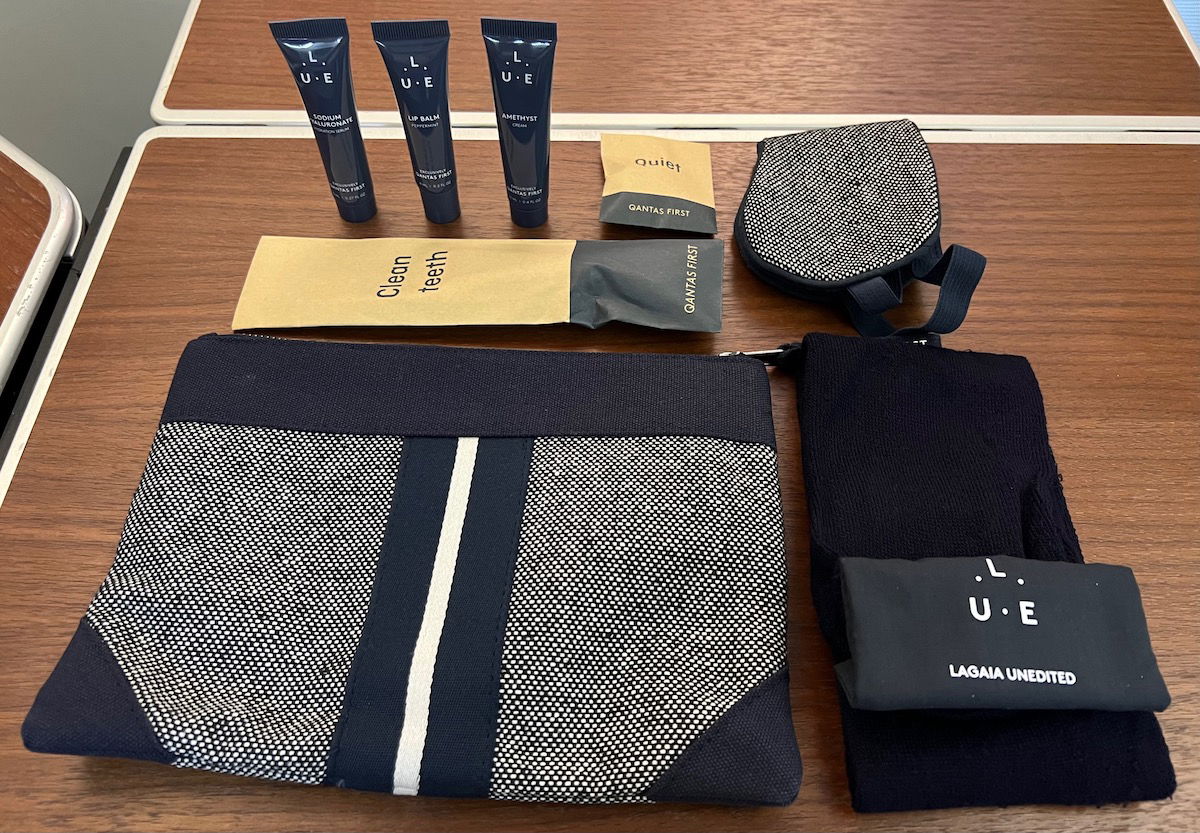 Lastly, we were presented with the menu for the flight, with the explanation that we could eat whenever we wanted.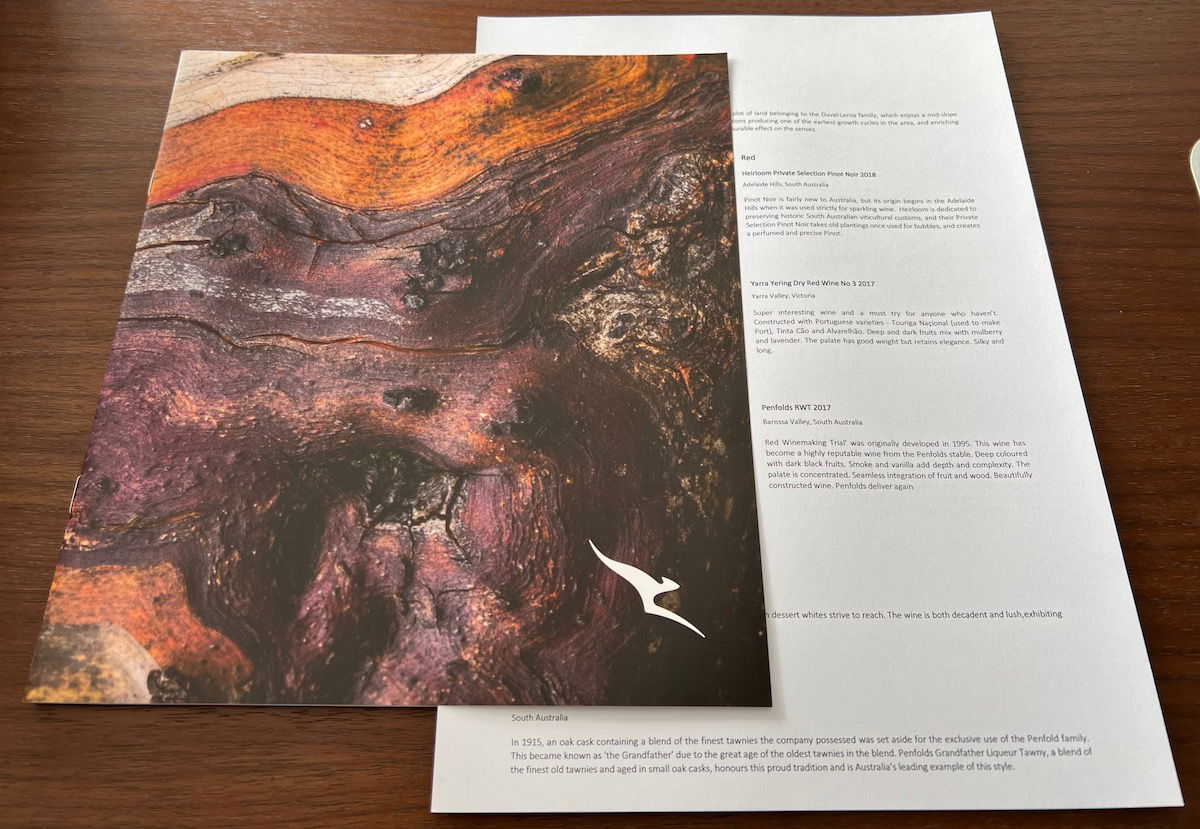 Qantas A380 first class entertainment & Wi-Fi
What's Qantas' Airbus A380 first class entertainment like? Let's start with the bad news — Qantas doesn't offer Wi-Fi on its A380s. The good news is that Qantas plans to eventually offer Wi-Fi on its A380s, though that'll only happen several years down the road.
The good news is that Qantas' inflight entertainment selection is excellent, with a seemingly endless selection of movies and TV shows. I found the system to be easy to use, and quite liked the choices.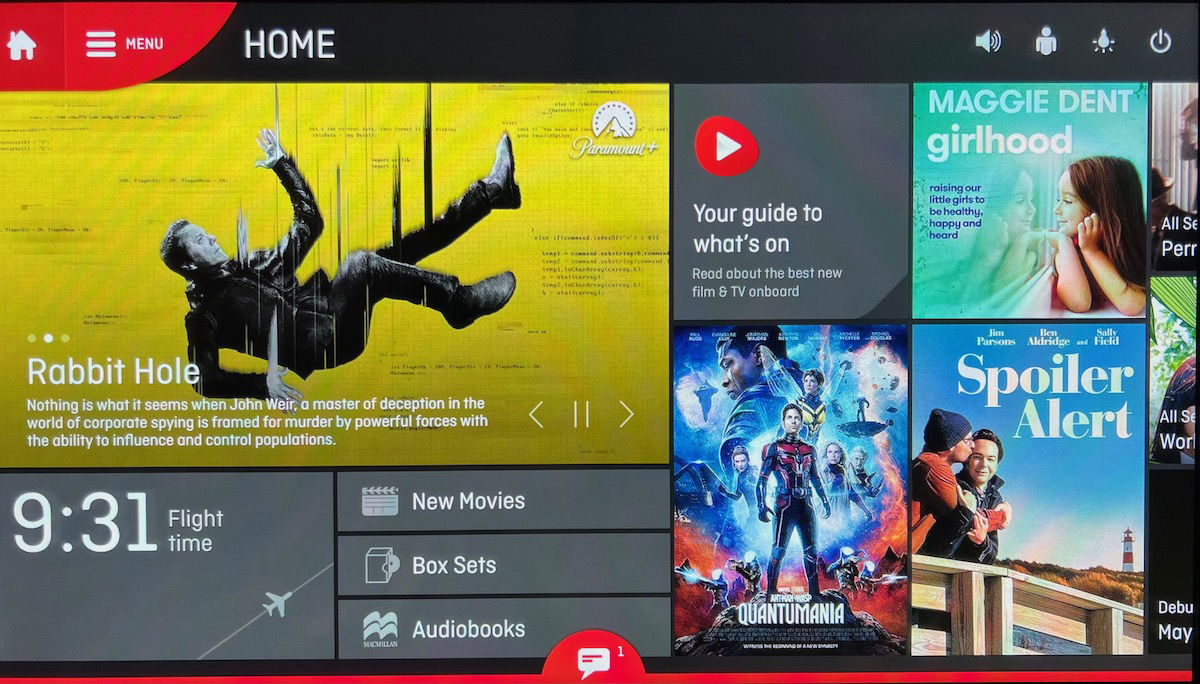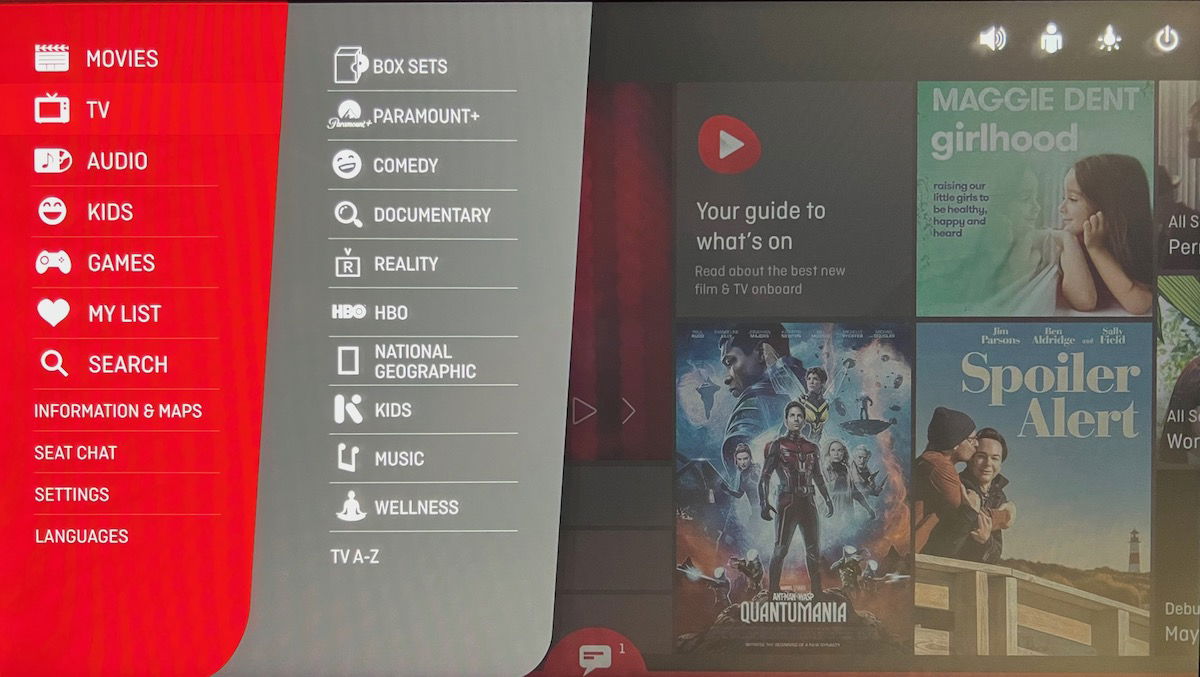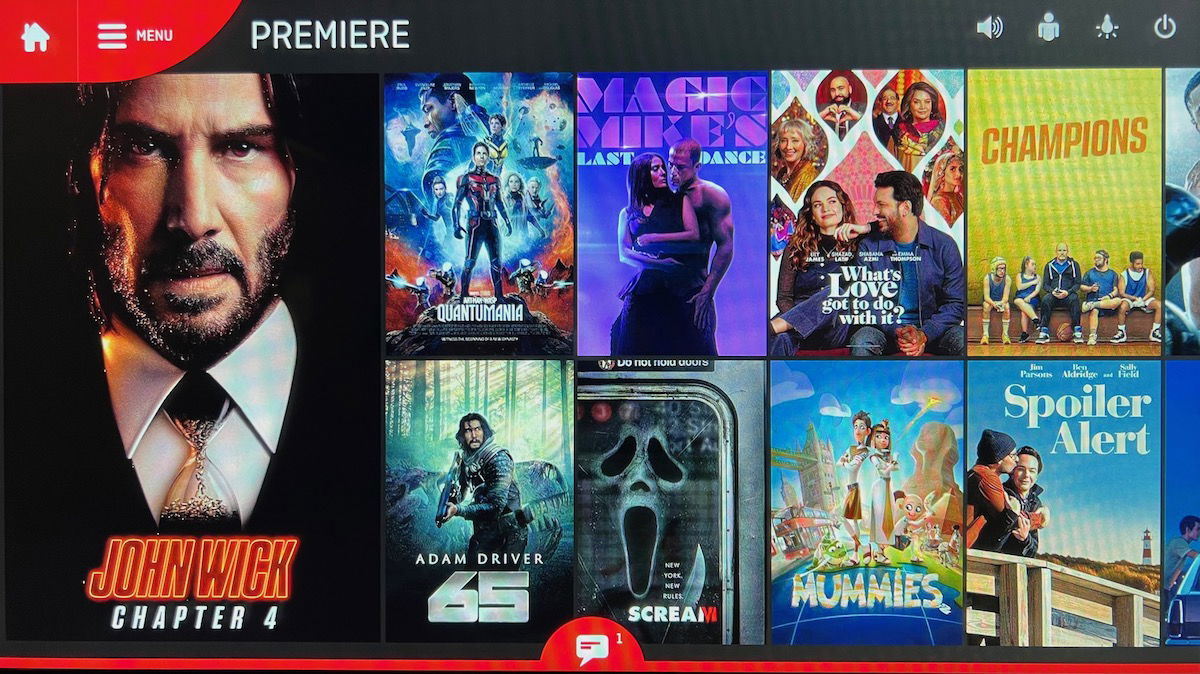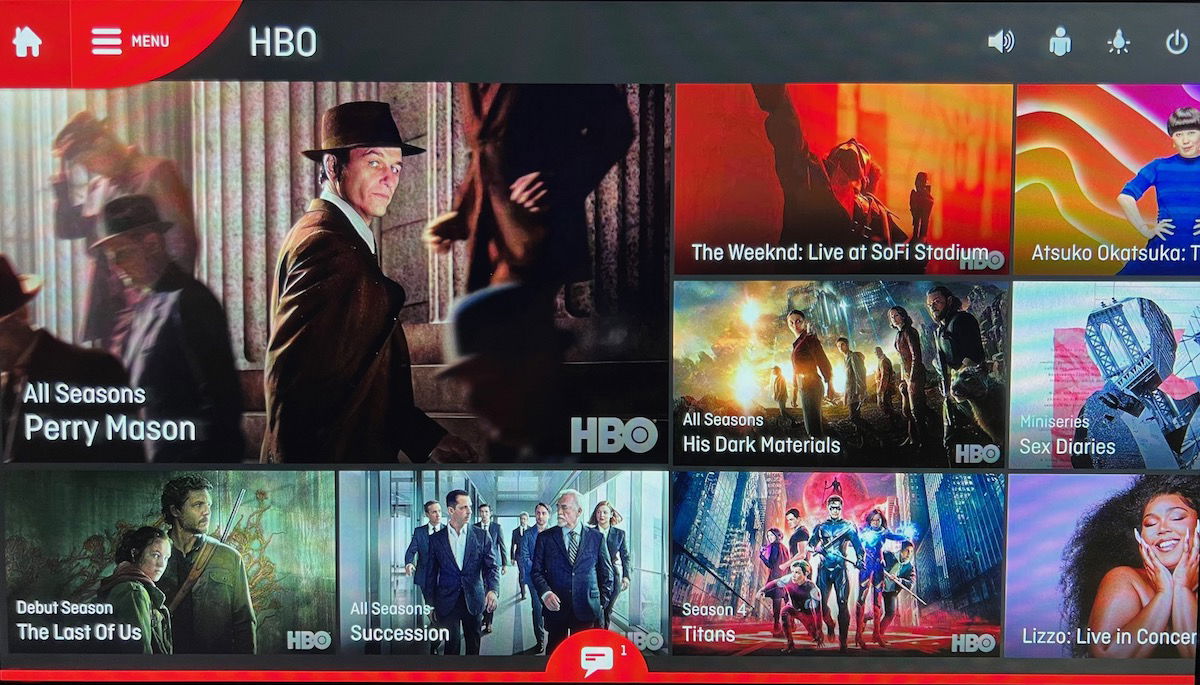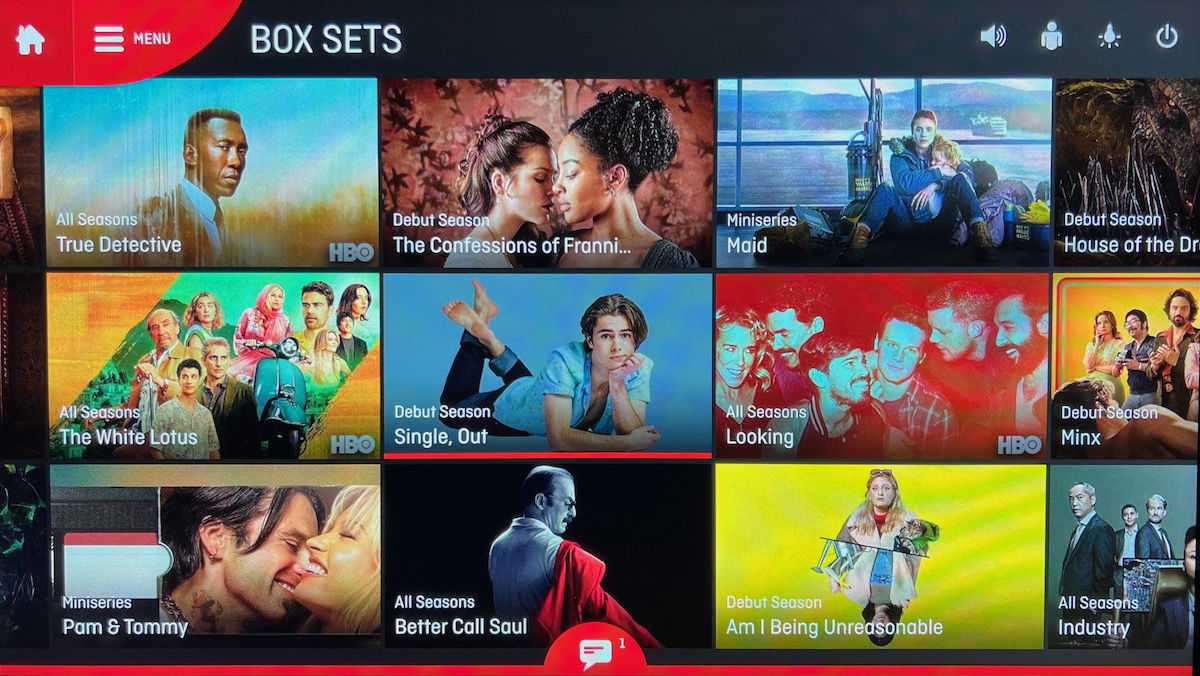 I also very much liked the moving map feature, plus the A380 tail camera.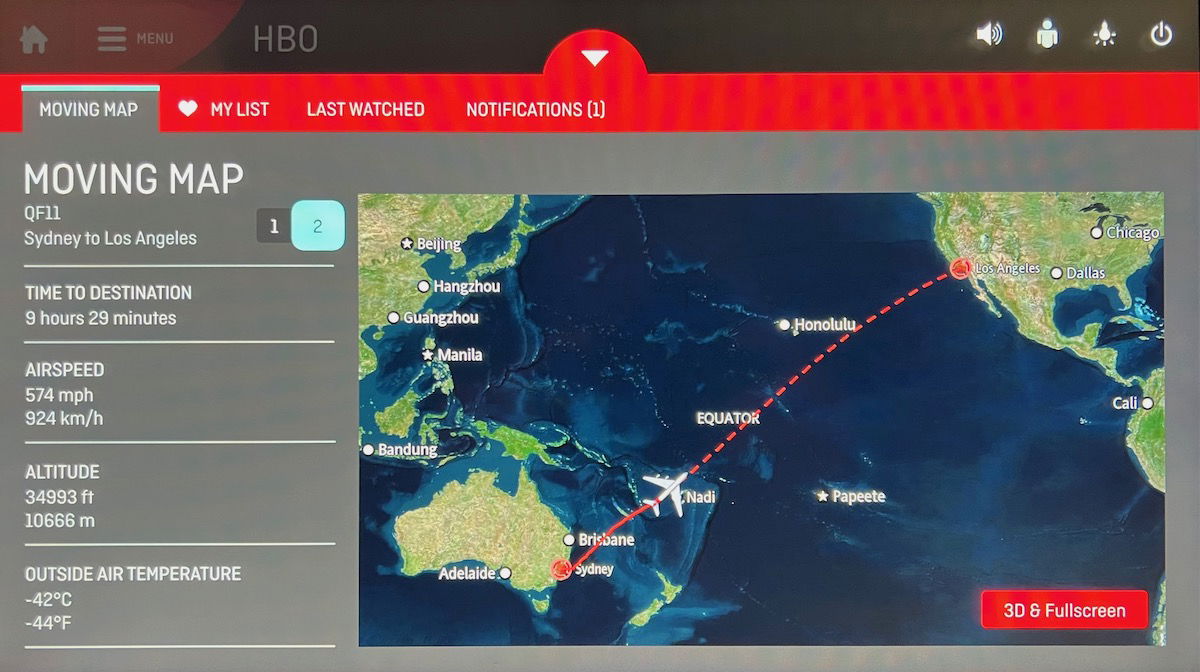 I ended up watching a few episodes of "Single, Out," which was a sort-of-entertaining gay rom-com.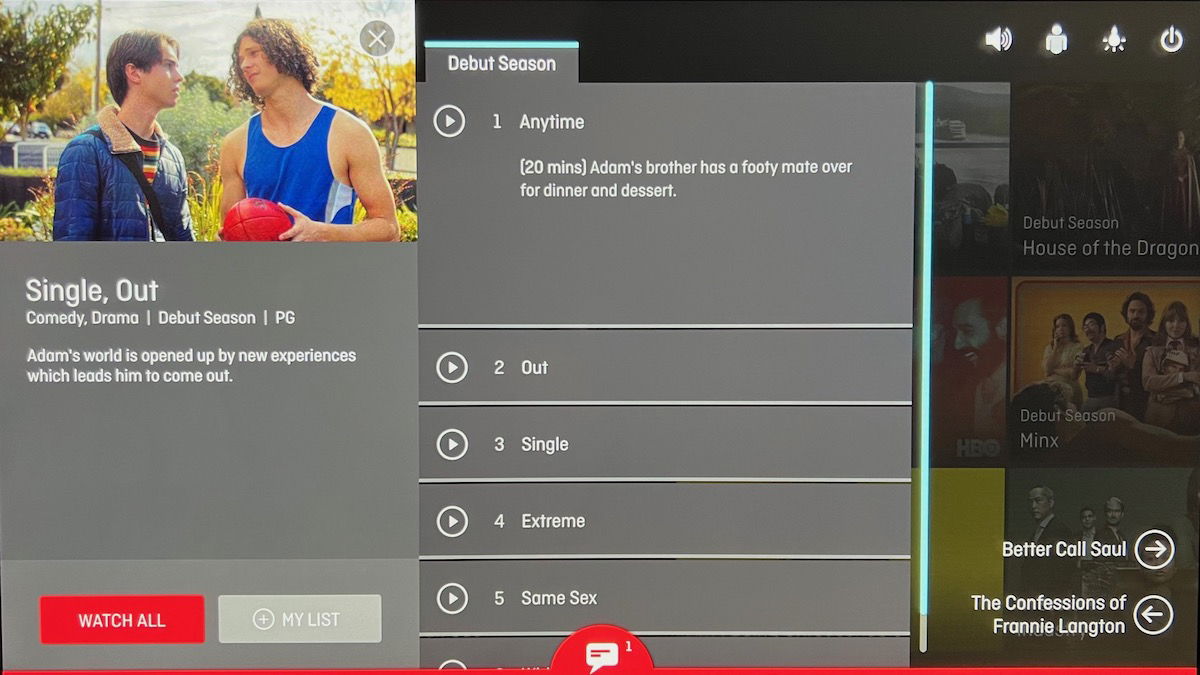 Anyway, while I wish Qantas had Wi-Fi (especially given how long some of the carrier's routes are), at least the entertainment was good.
Qantas A380 departure from Sydney
Despite the flight being almost completely full, boarding was efficient. Throughout this time I enjoyed listening to Qantas' boarding music, which is incredibly soothing, and among my favorite offered by any airline.
At around 11AM, cabin service manager Simon made his welcome aboard announcement, informing us of our flight time of 12h35min. Finally at 11:10AM the main cabin door closed (there was only one empty seat in first class), at which point the safety video was screened. It's a video that many avgeeks will appreciate!
At 11:15AM we began our pushback, and at 11:25AM we began our taxi. We didn't have a long wait for our departure, and were cleared for takeoff on runway 34L at around 11:35AM. No matter how often I fly the A380, I can't help but stare at the tail camera and be mesmerized by how easily and gracefully this whale lifts off the ground.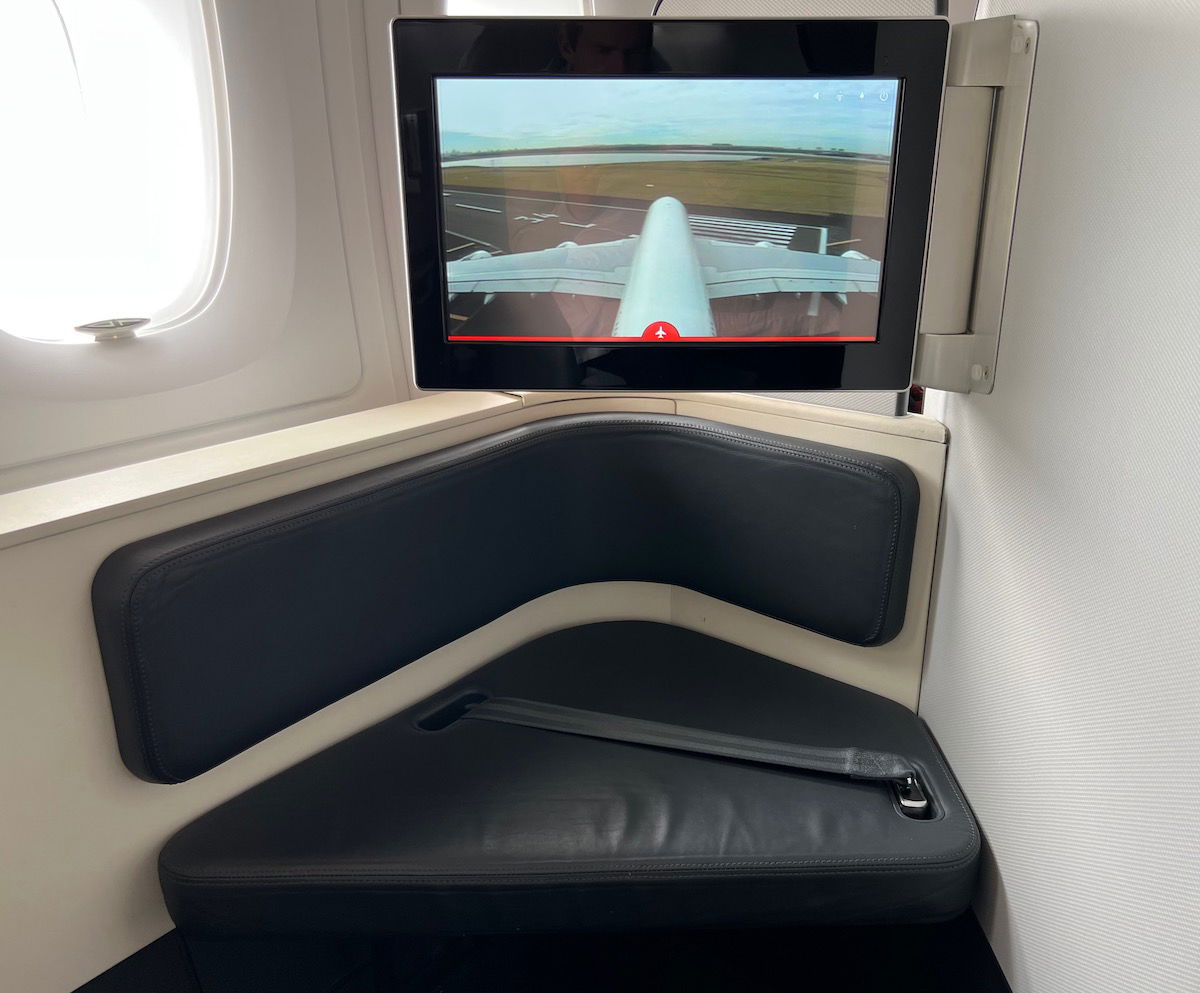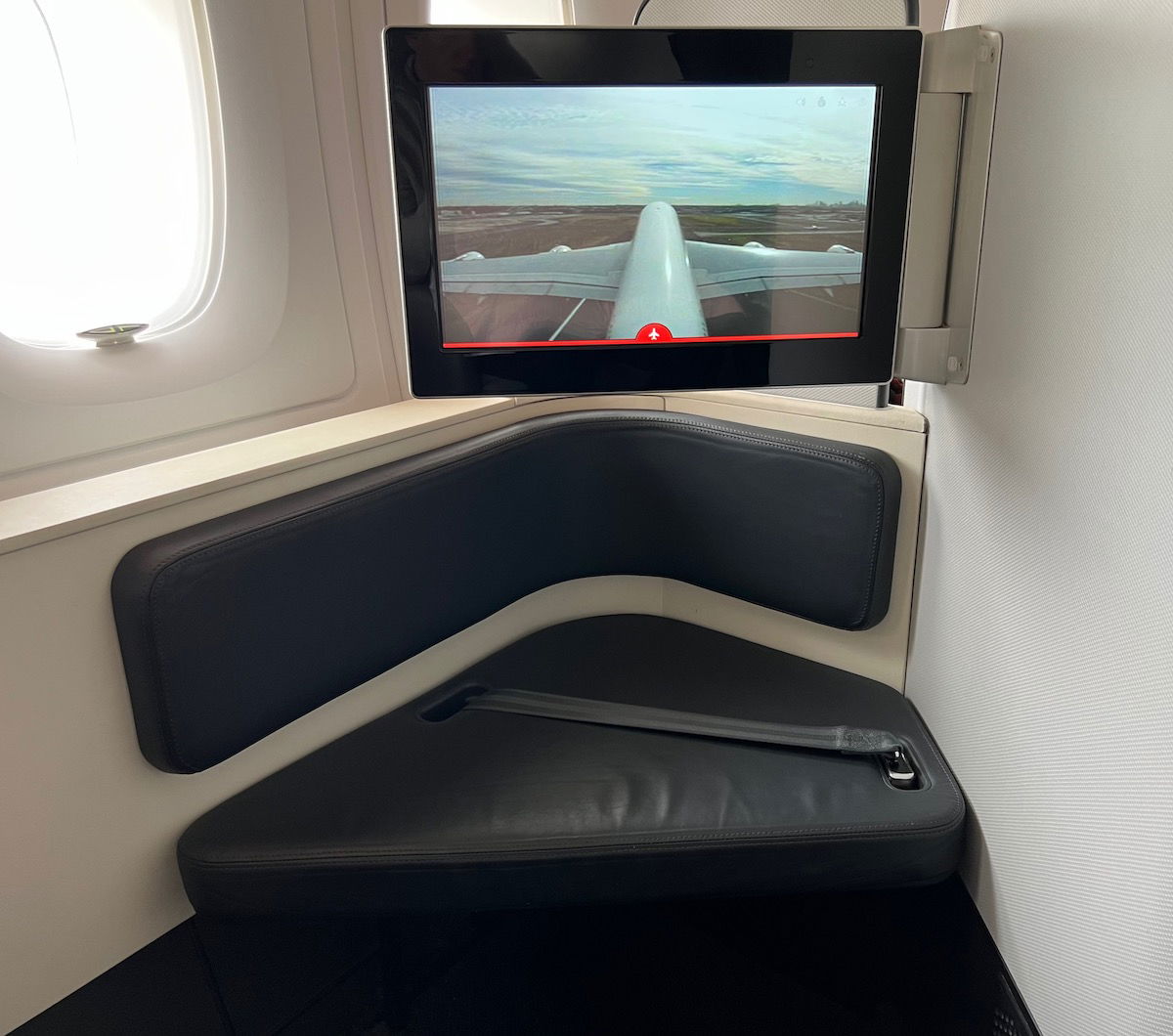 Anyway, our climb out was smooth, and the seatbelt sign was turned off about five minutes after departure.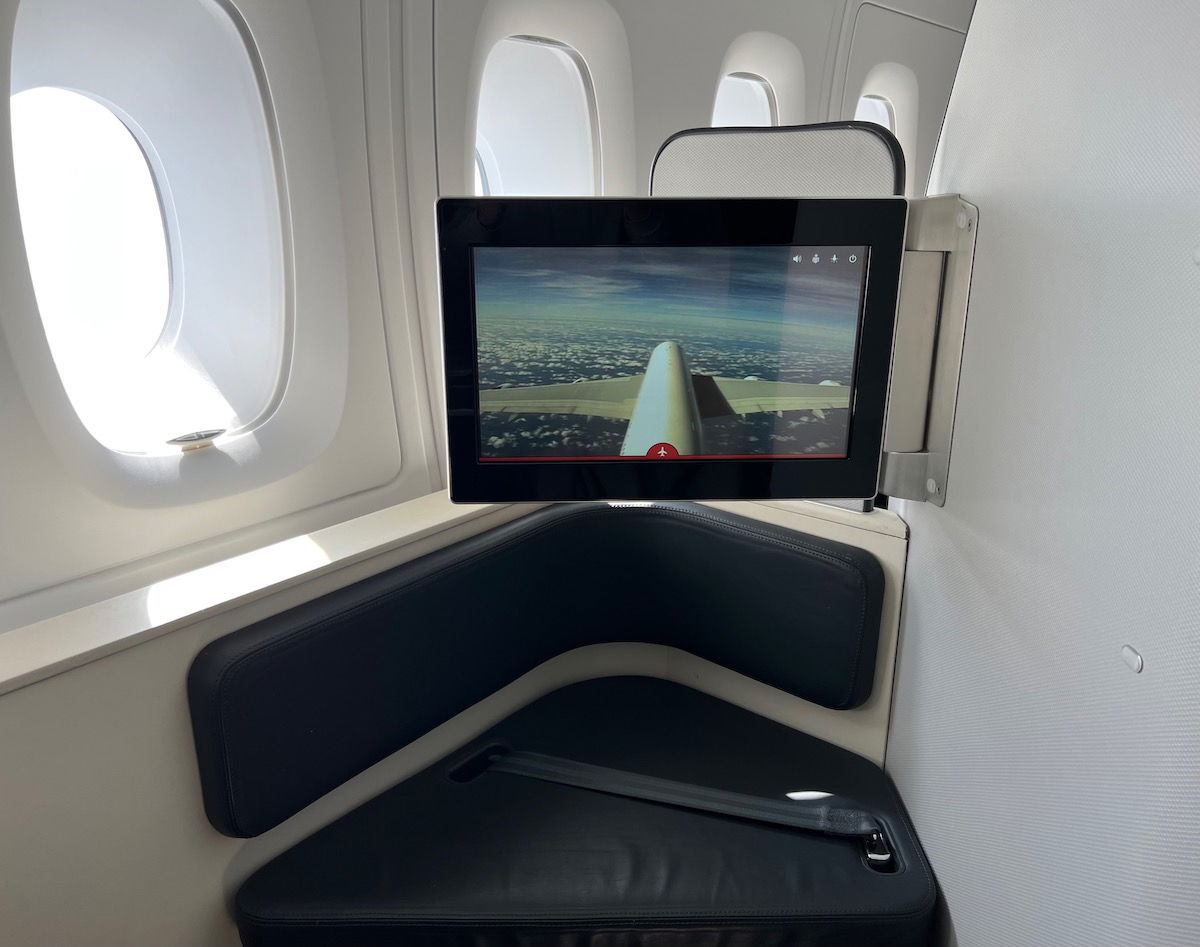 Qantas first class lunch service
Once we reached cruising altitude, the lunch service began. The entire service was performed at a rather leisurely pace, but that didn't bother me one bit, given the length of this flight, plus the morning departure. The crew took their time interacting with each passenger, and would often have an extended conversation with people while performing the service.
I also find it cute how Qantas crews change uniforms during the meal service, and wear something more in line with what you'd expect a server in a nice restaurant to wear, rather than a flight attendant.
You can find the entire lunch menu and drink list below.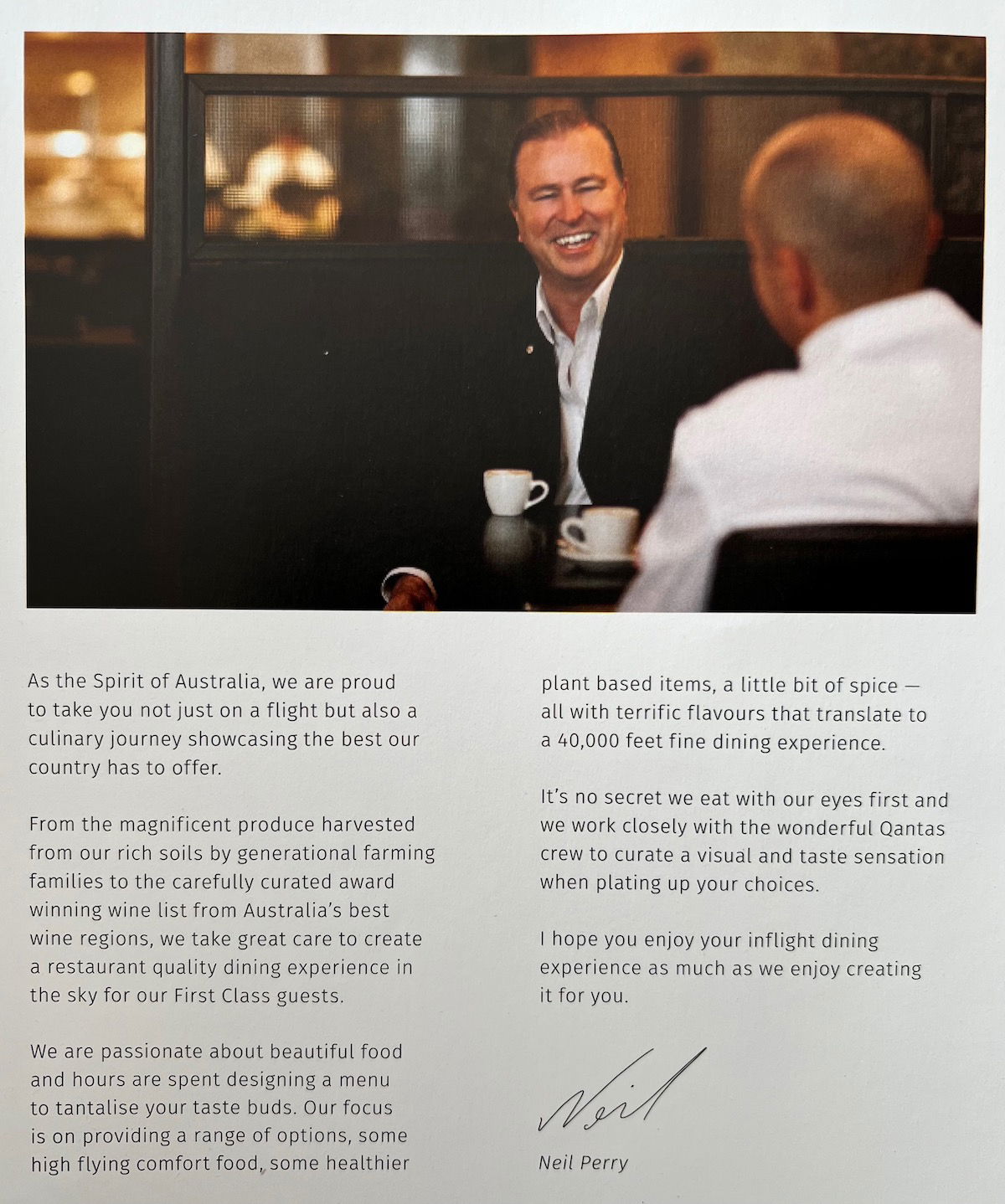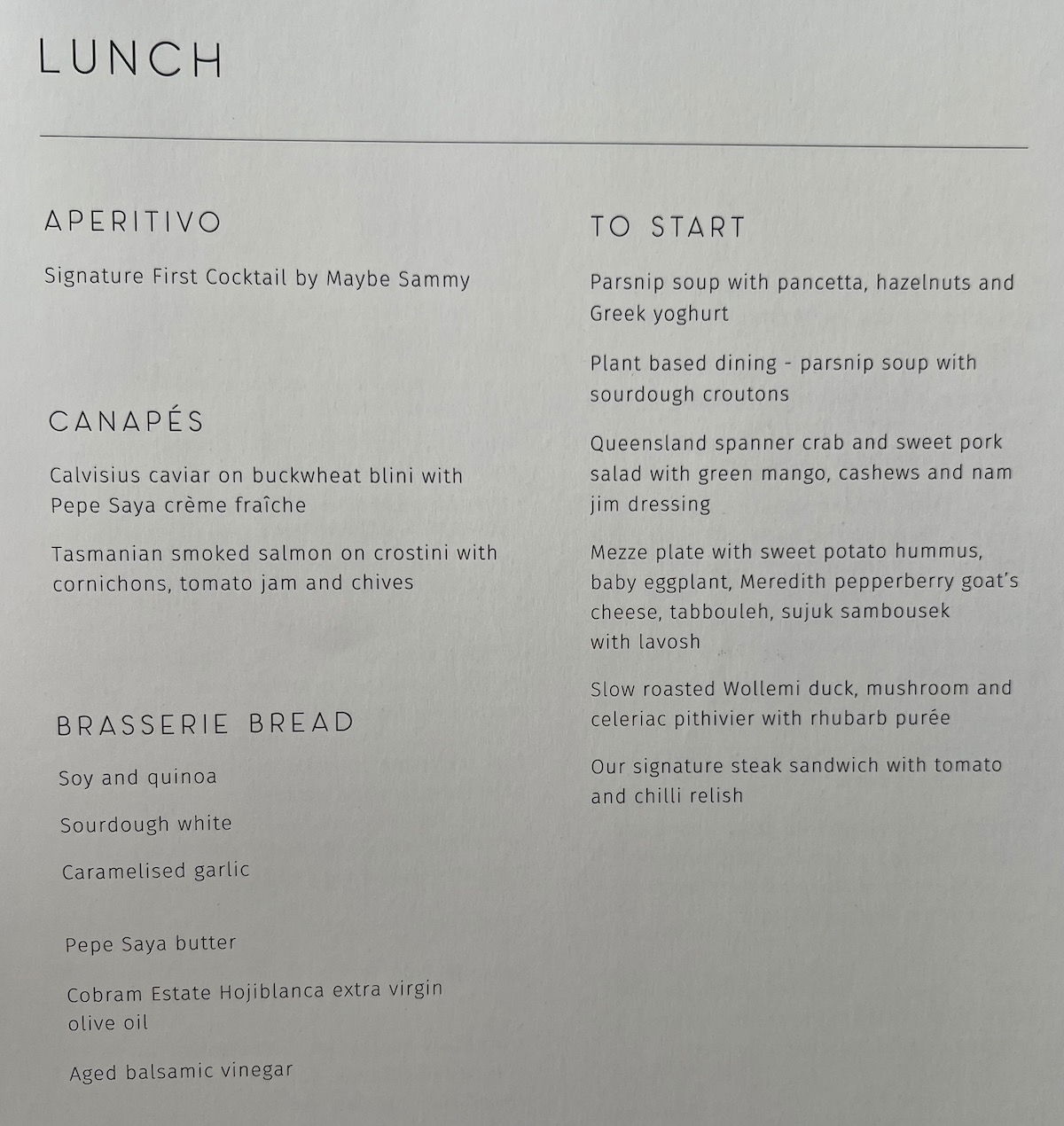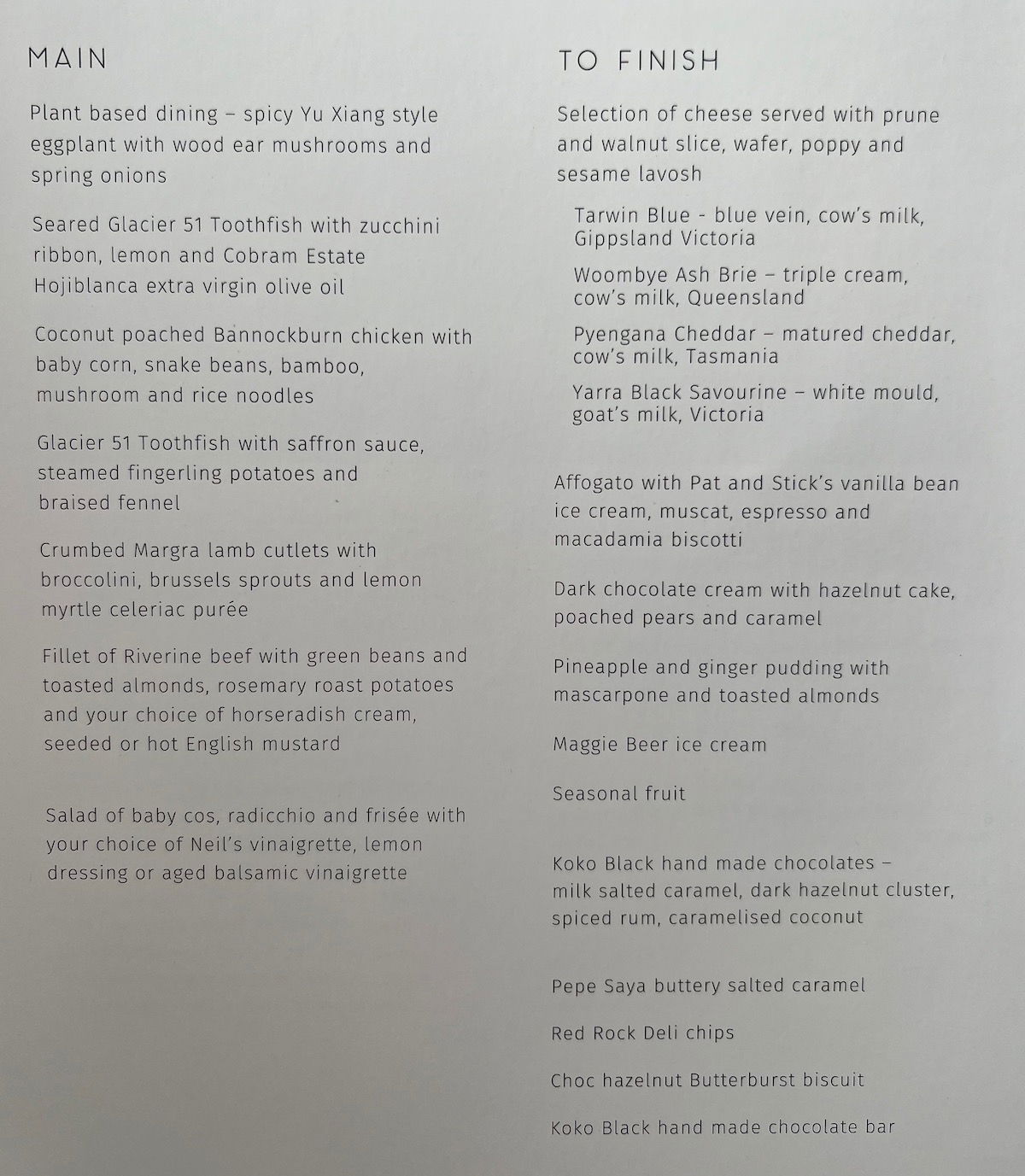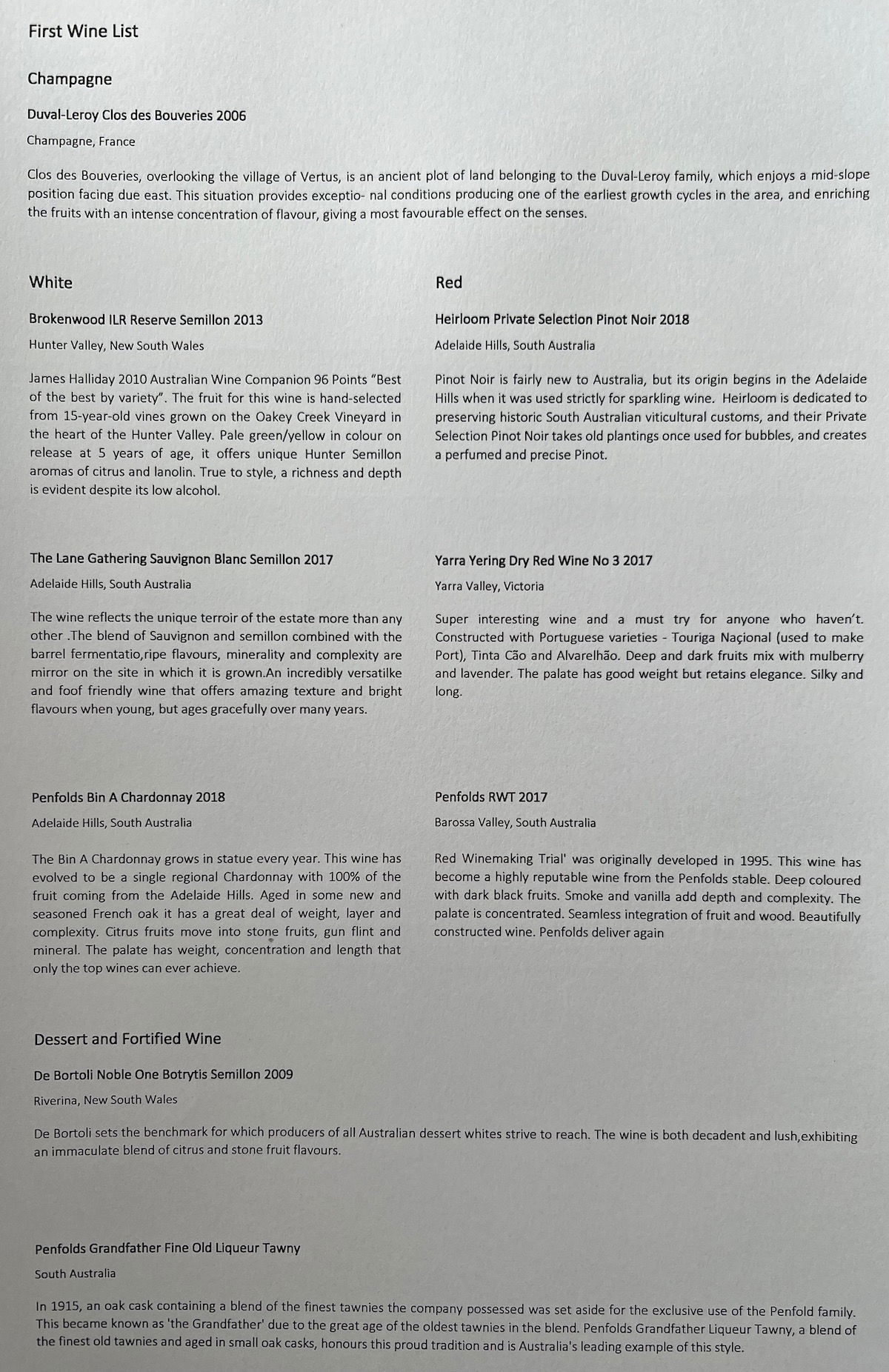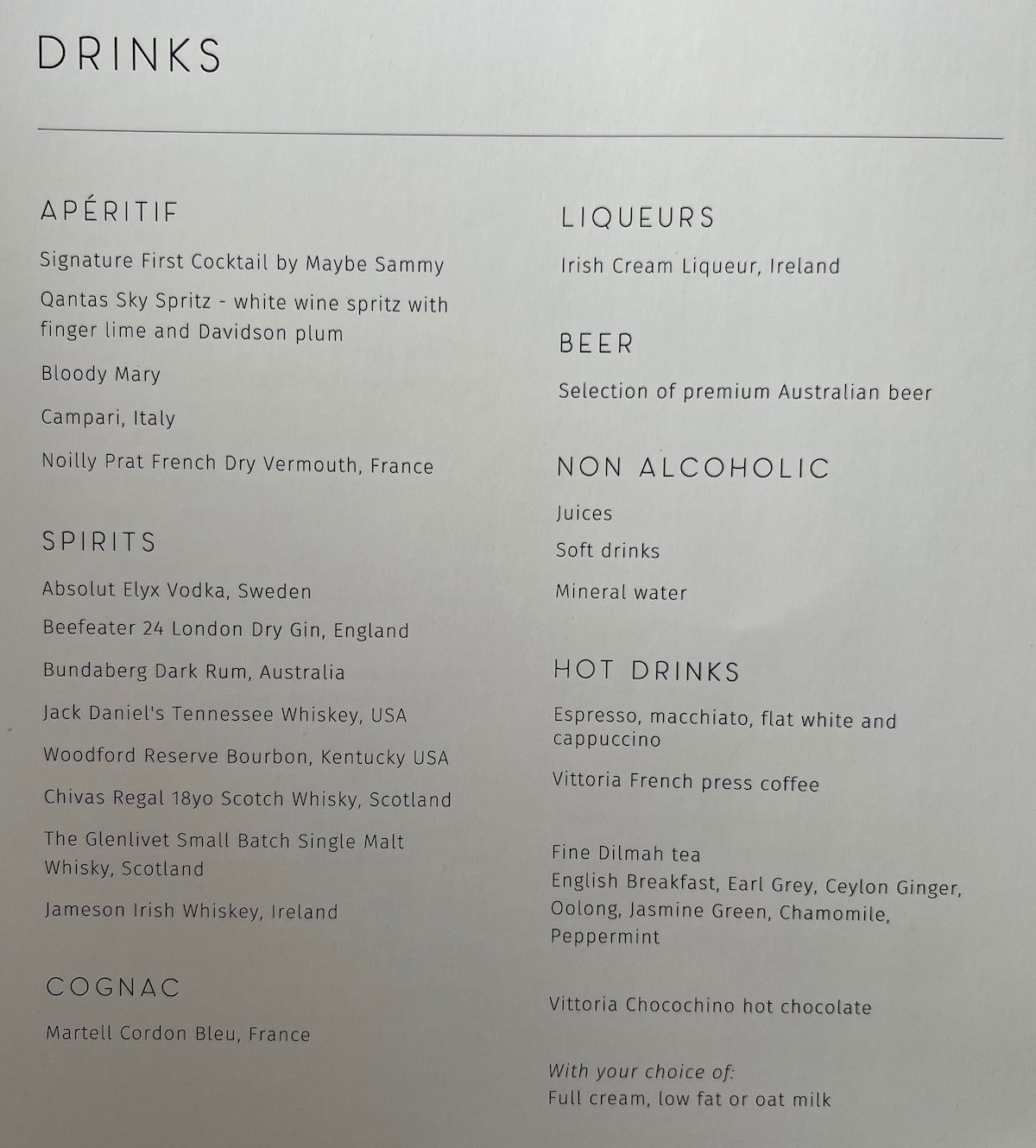 Drink and meal orders were taken around 30 minutes after takeoff, and drinks were served 15 minutes after that. I figured I'd mix things up and order the Qantas Sky Spritz, which consisted of a white wine spritz with lime and plum. It was refreshing, though I do think the presentation could have been zhuzhed up a bit.
The canapés consisted of caviar on blinis with crème fraîche, and smoked salmon on crostini with cornichons, tomato jam, and chives. Both were tasty, and that was the extent of the caviar service.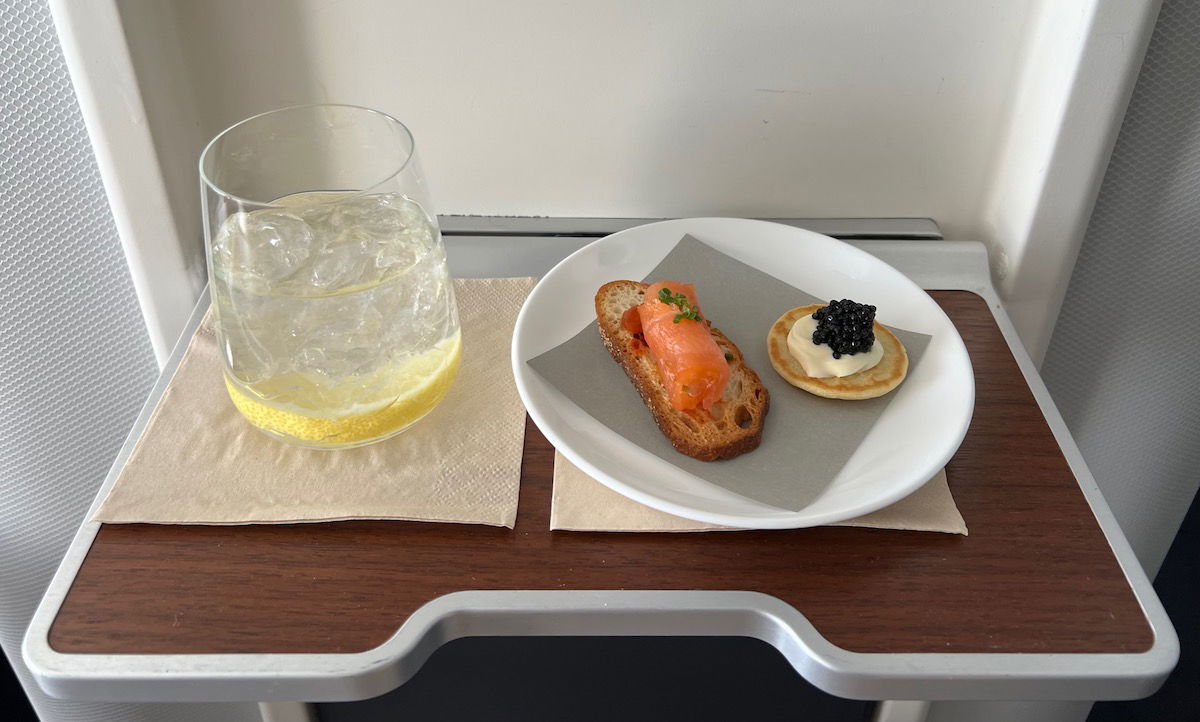 After the cocktail, I decided to switch back to champagne.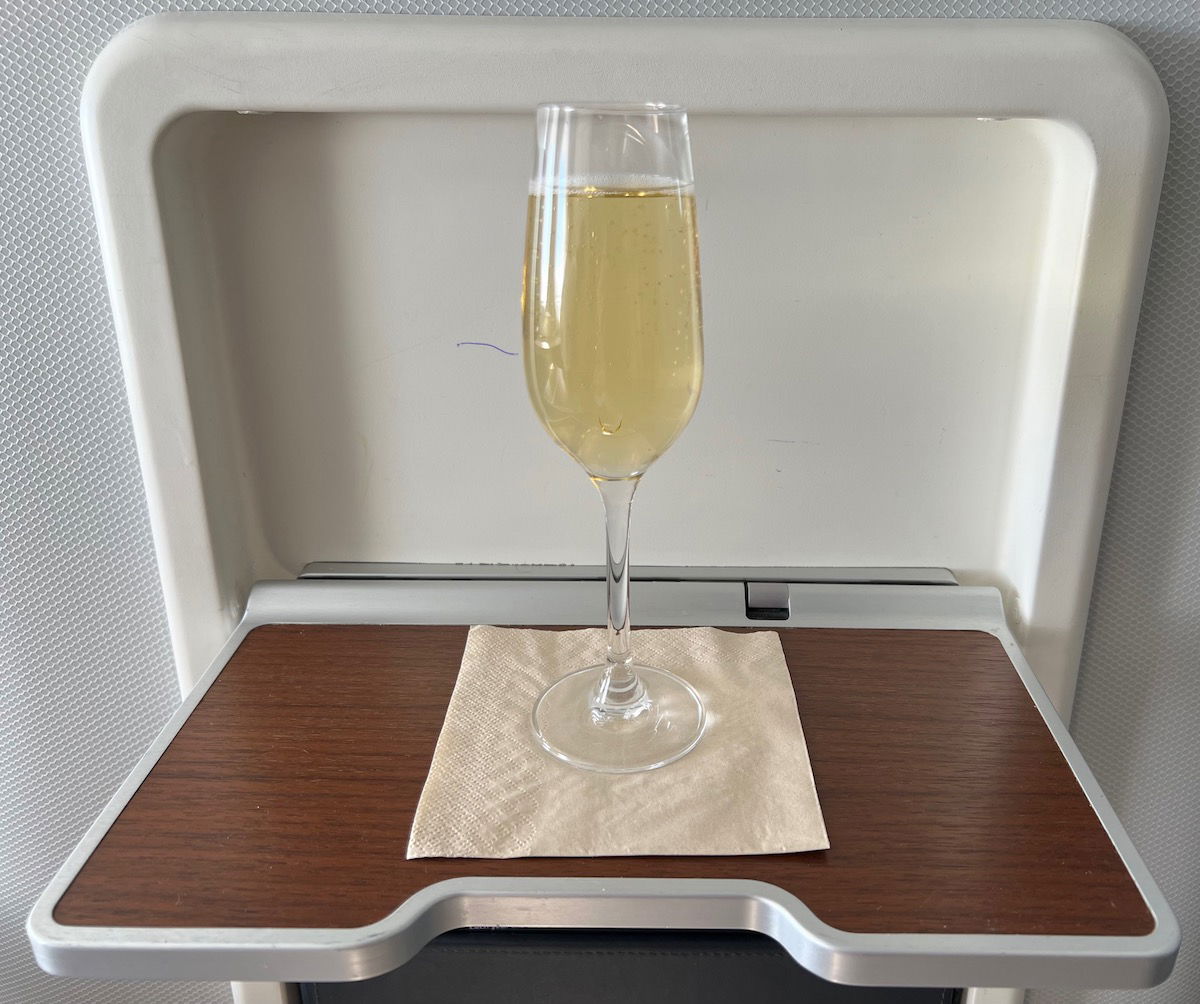 My table was set around 90 minutes after takeoff, and at that time I was also offered a bread selection, with some delicious options, including caramelized garlic bread.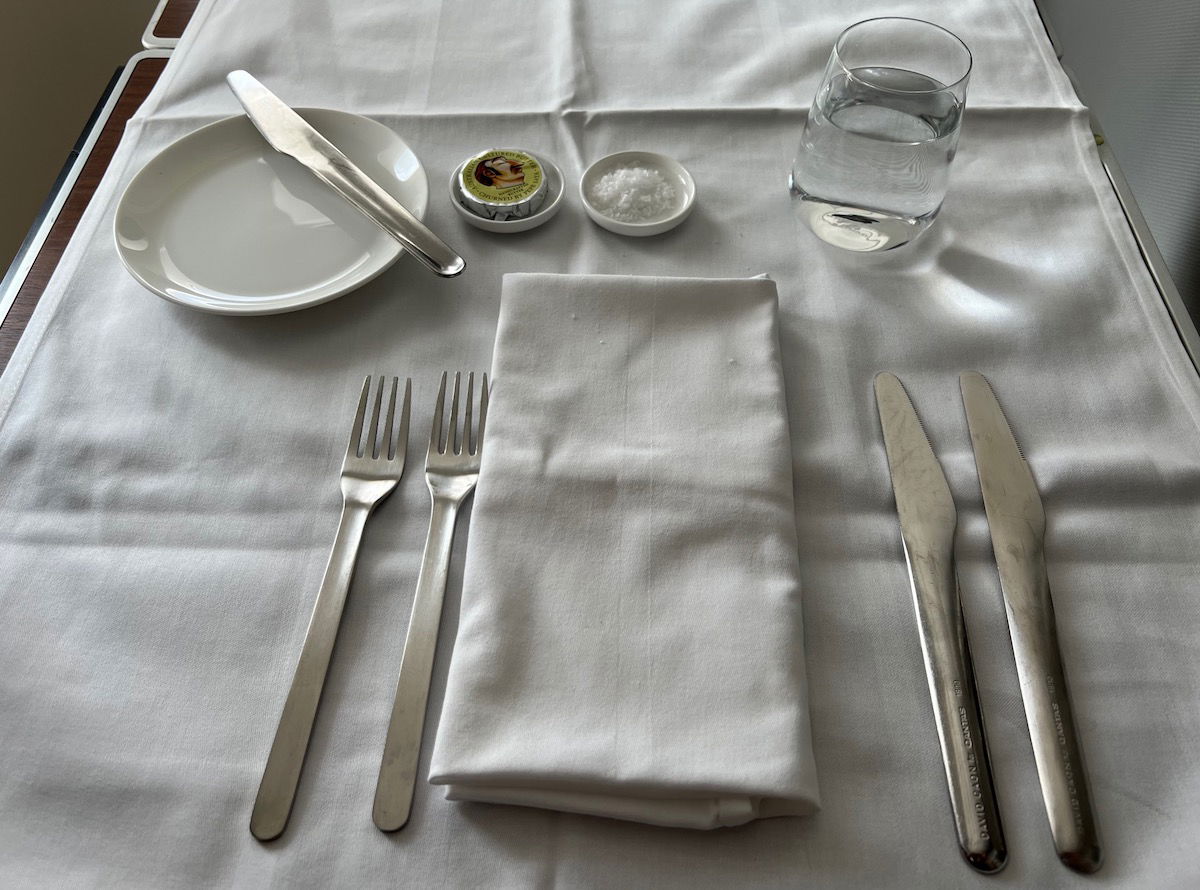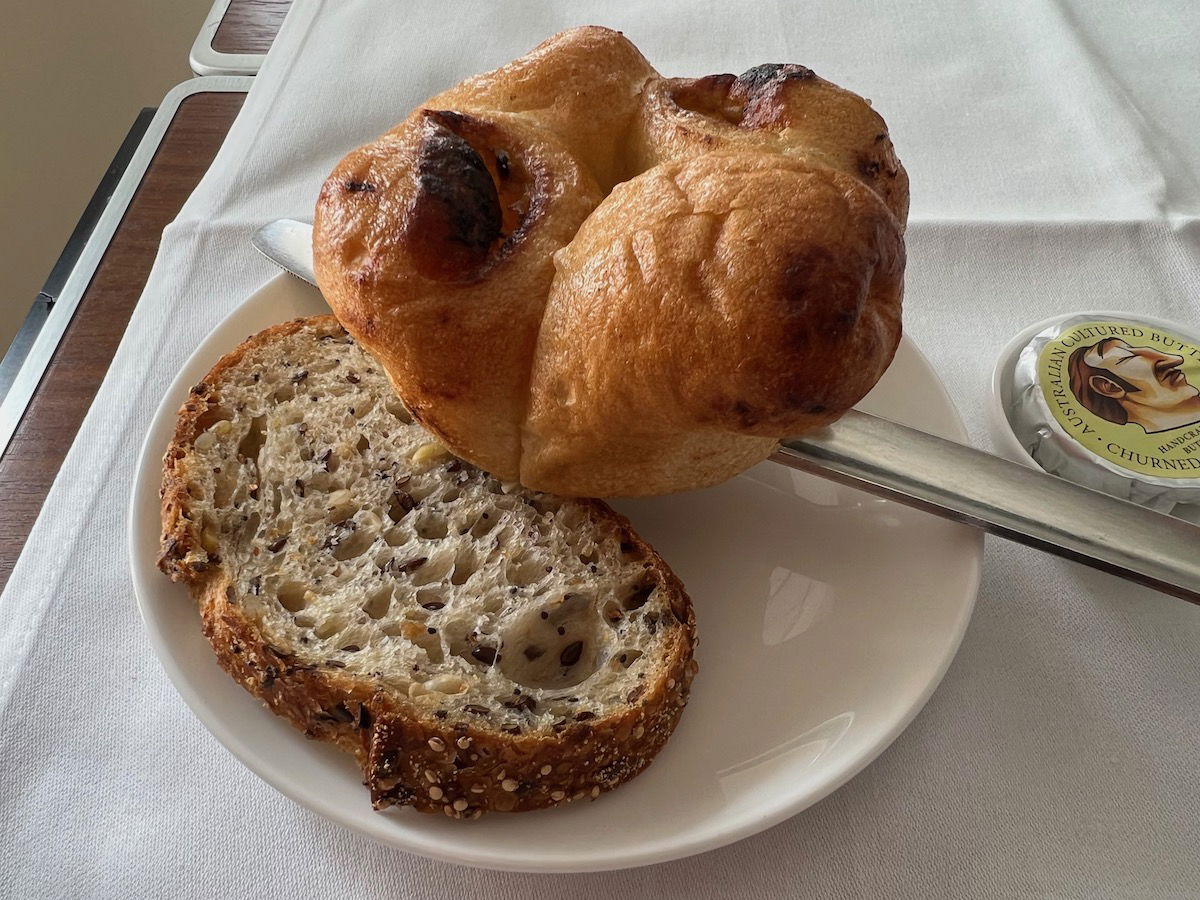 For the starter, I selected the mezze plate with sweet potato hummus, baby eggplant, goat cheese, tabbouleh, and lavosh, which was absolutely delicious.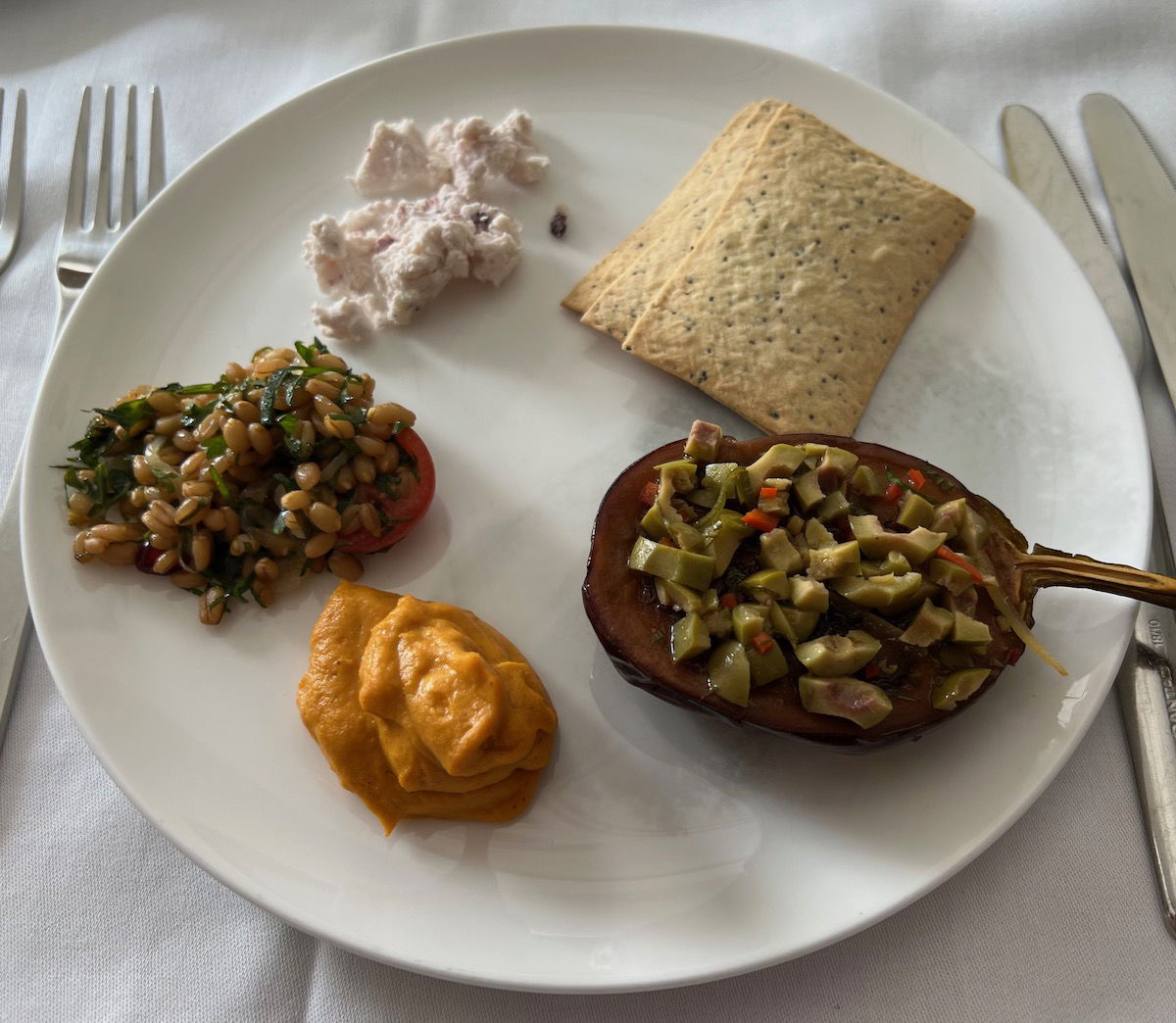 My dad selected the parsnip soup with pancetta, hazelnuts, and greek yogurt, which he also enjoyed.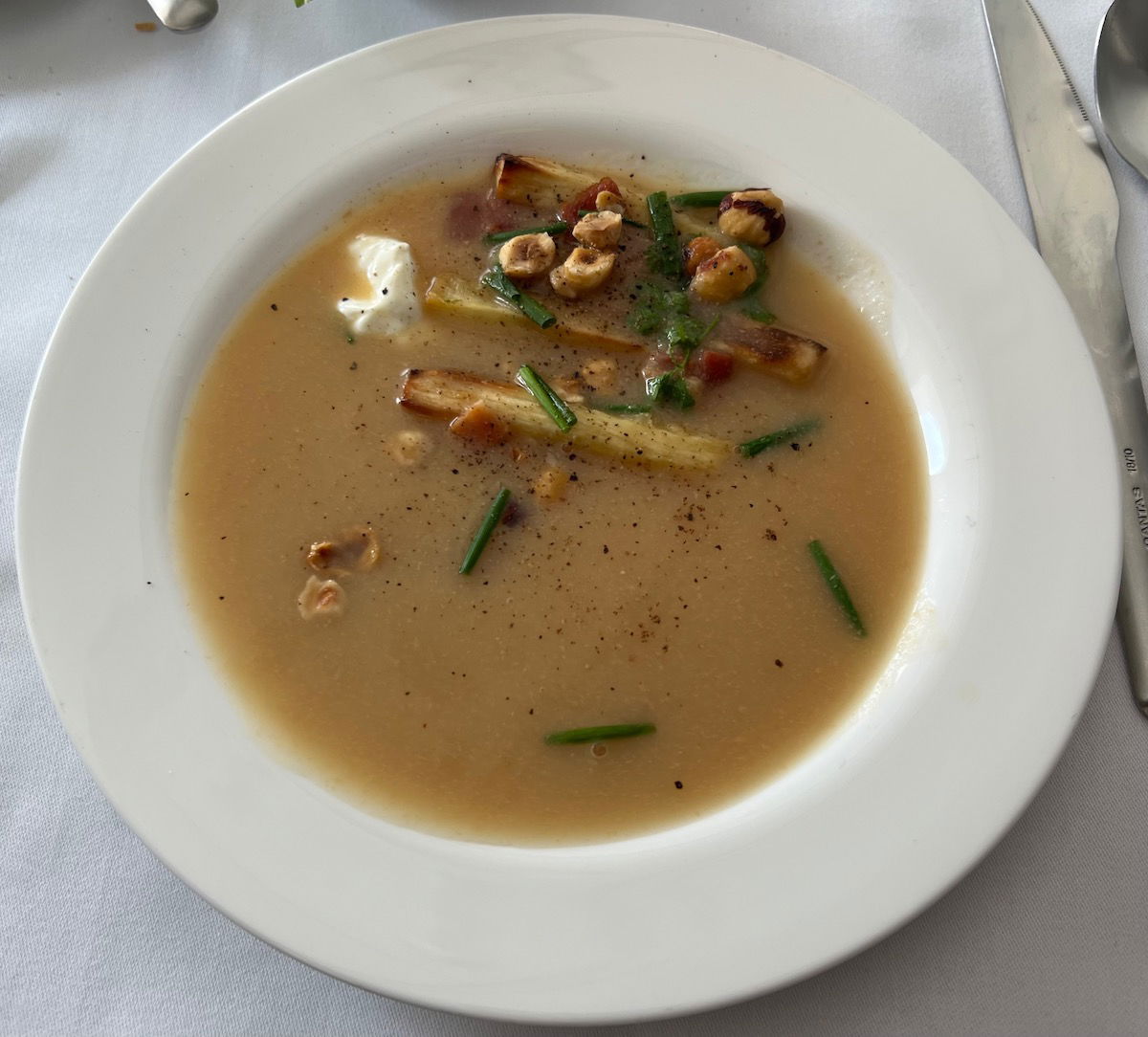 For the main course, I selected the toothfish with saffron sauce, steamed fingerling potatoes, and braised fennel, along with a side salad. The dish was excellent, and honestly, this has to be one of the most nicely presented dishes I've been served in first class. Plating dishes on planes isn't easy, but in this case the dish was plated in a way that would make you think you're in a restaurant.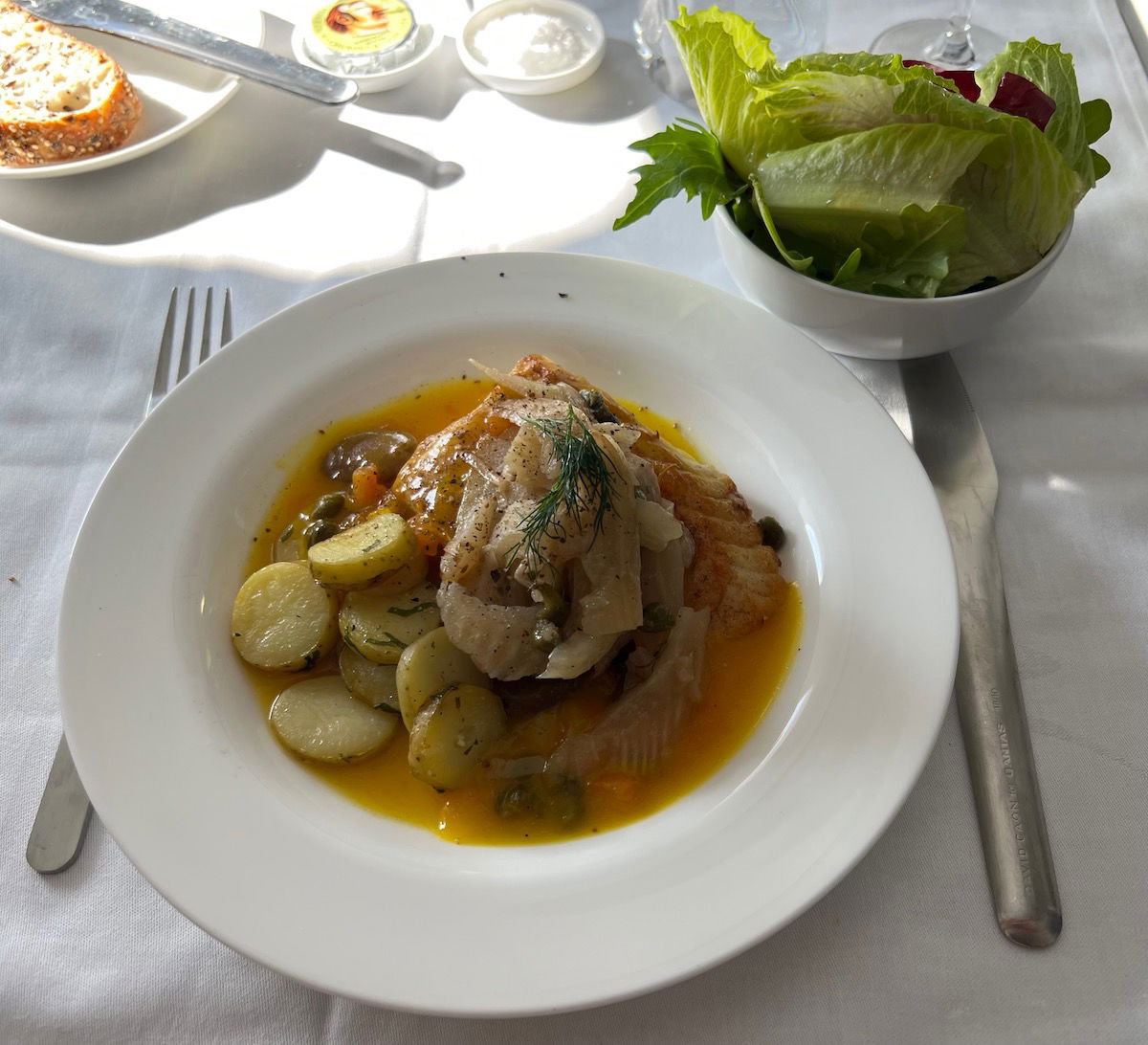 My dad ordered the fillet of beef with green beans and toasted almonds, which he also very much enjoyed.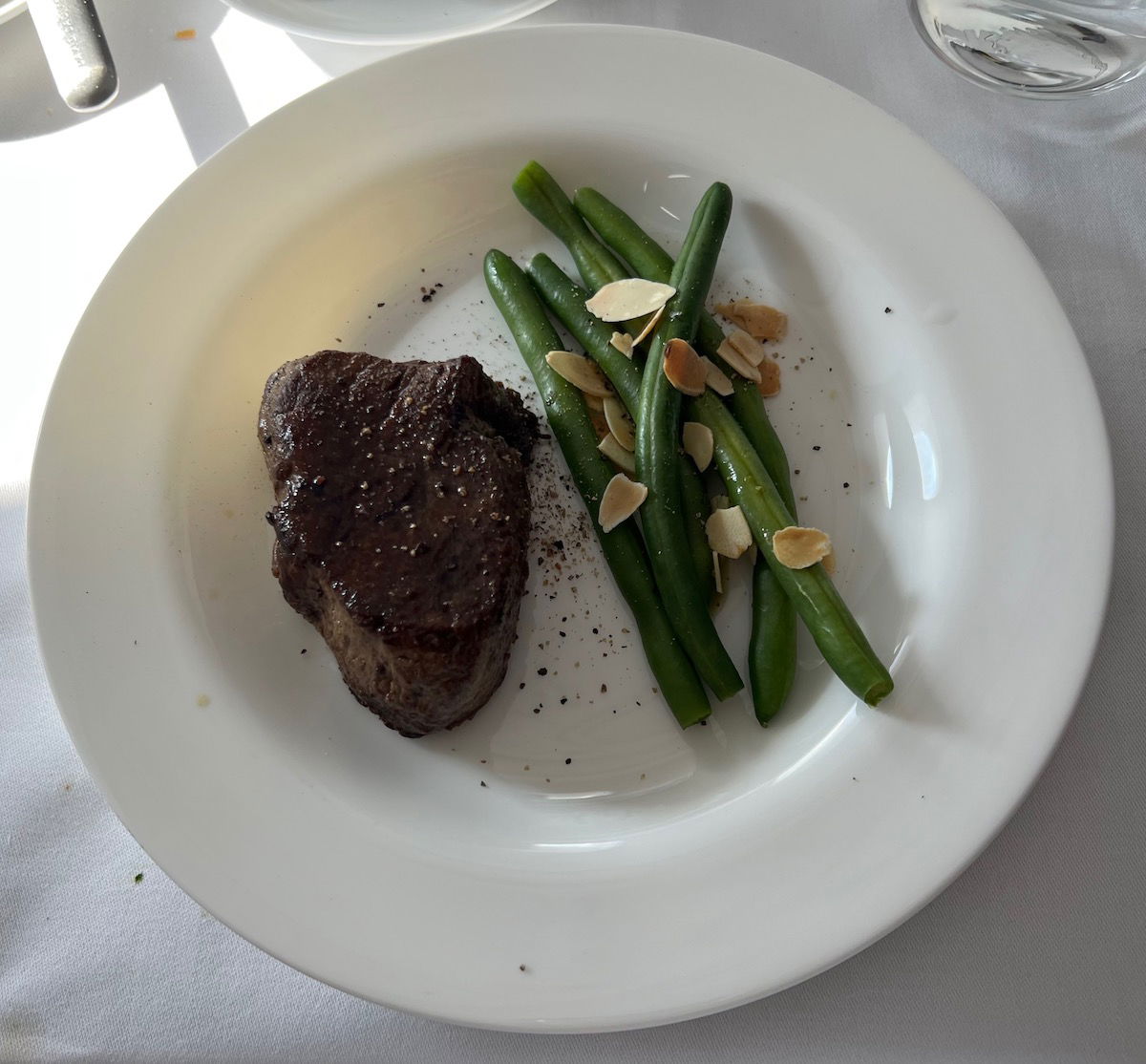 While my dad skipped dessert, I decided to have the affogato with vanilla bean ice cream and macadamia biscotti. What a simple but tasty treat.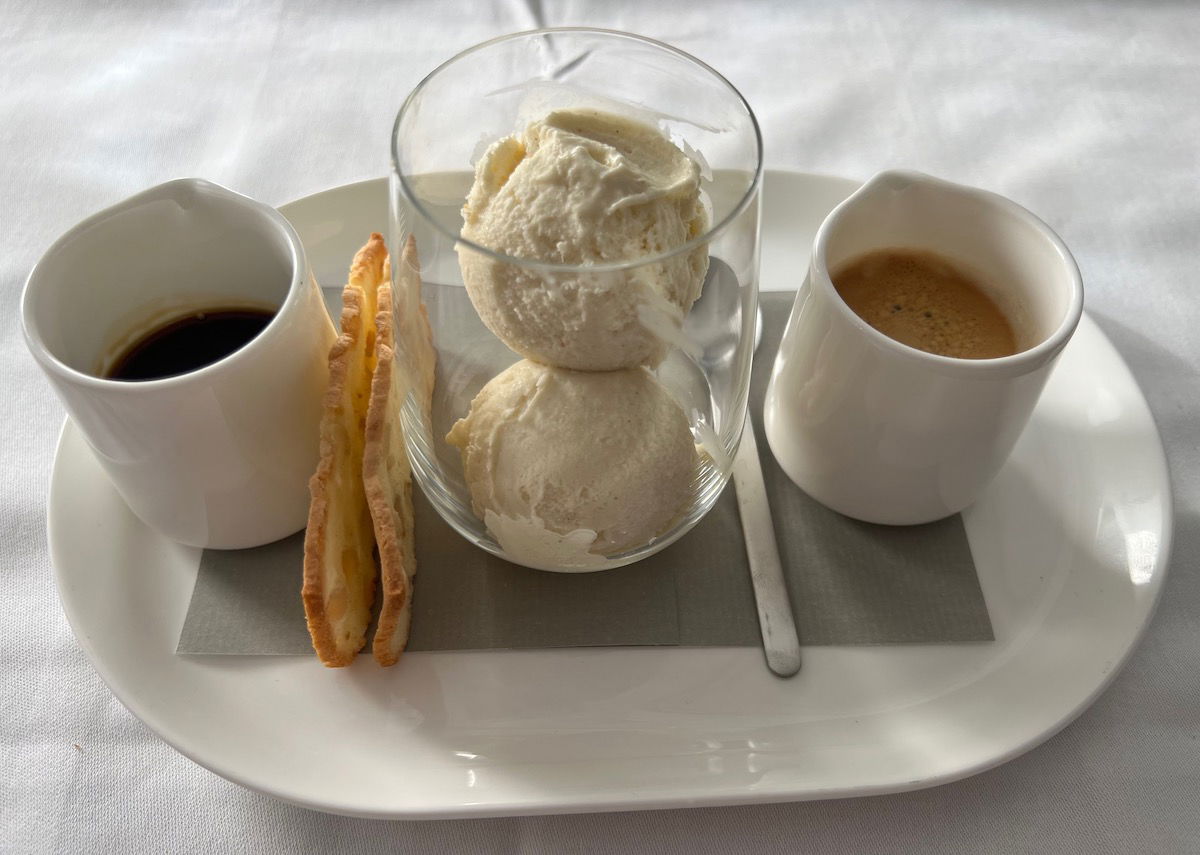 The meal service was completed around three hours after takeoff. There are definitely airlines that invest a bit more in their first class catering in terms of a proper caviar course, alcohol, etc. However, I really enjoyed this meal, both in terms of the service and the food quality.
I also liked all the little touches to the service. For example, with each dish we were offered some cracked pepper, and water was poured out of pitchers, rather than bottles.
Qantas A380 first class lavatories
After the meal, I checked out the lavatories. There are two first class lavatories on the A380, one on each side of the staircase. The lavatories aren't huge, though they aren't small either. What impressed me most was how the crew kept these very clean throughout the flight.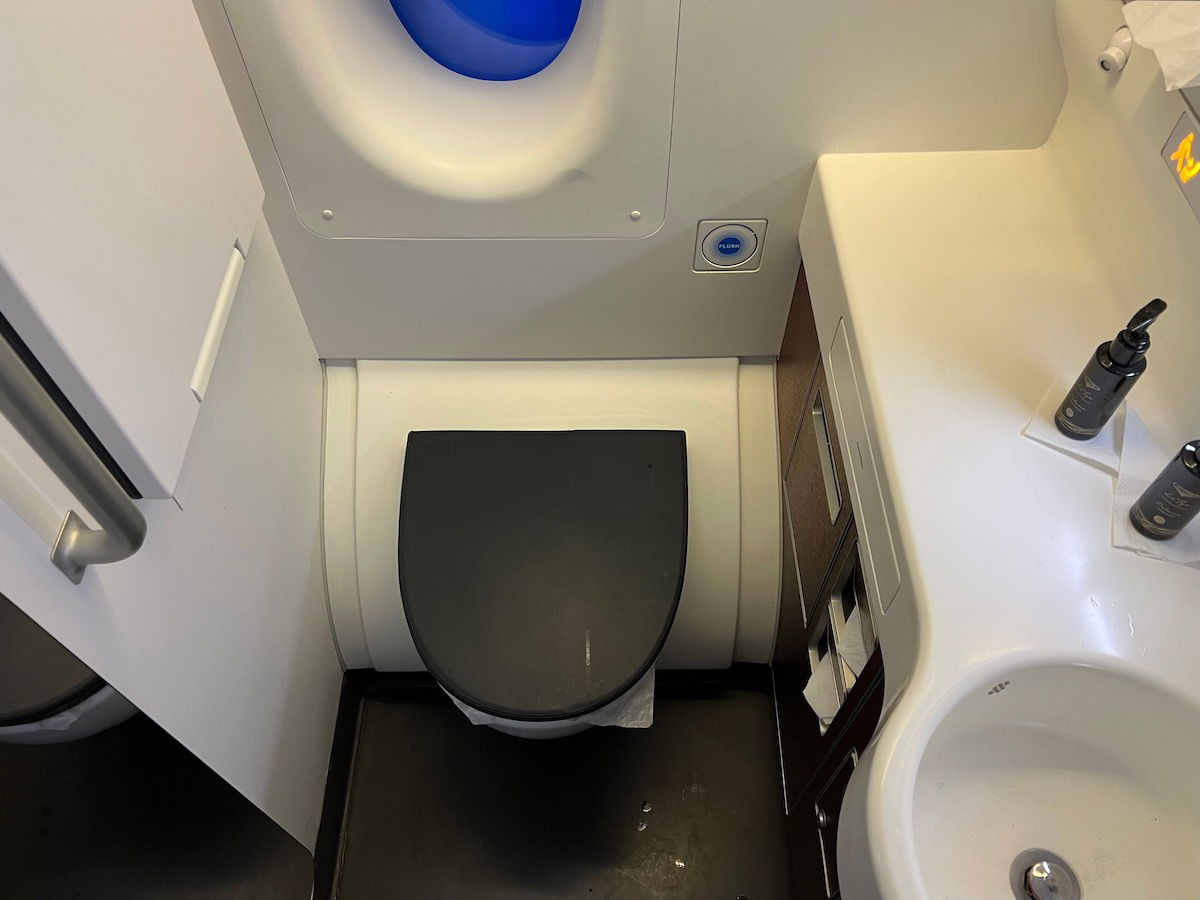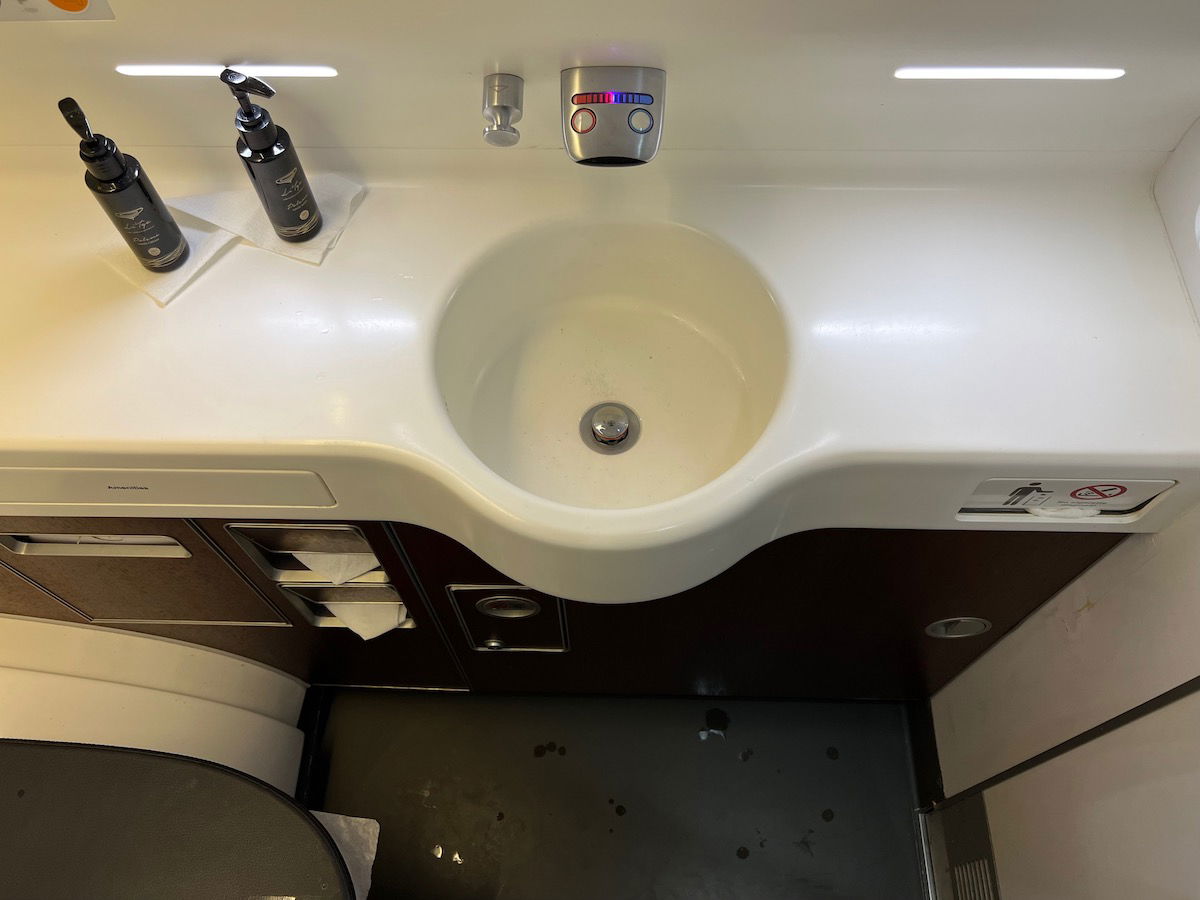 The lavatories also had some amenities, like deodorant and shaving kits.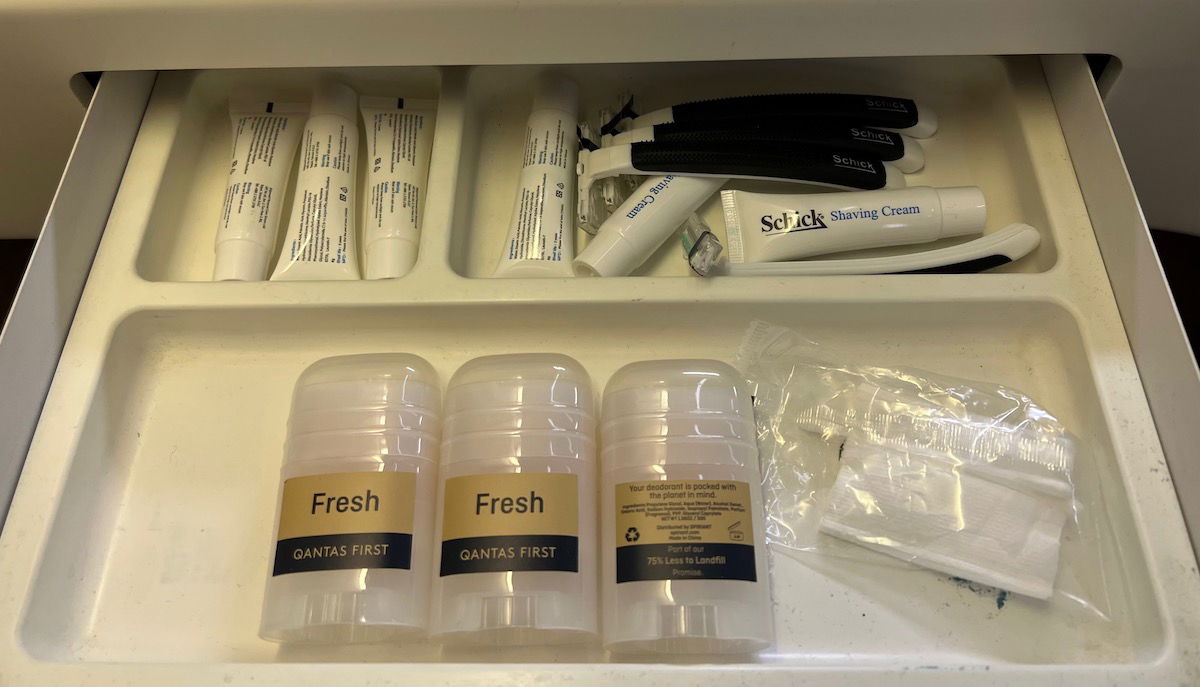 Qantas A380 business class lounge
Qantas has an onboard lounge on its Airbus A380s, located at the front of the upper deck, where business class is located. So of course we decided to check this out.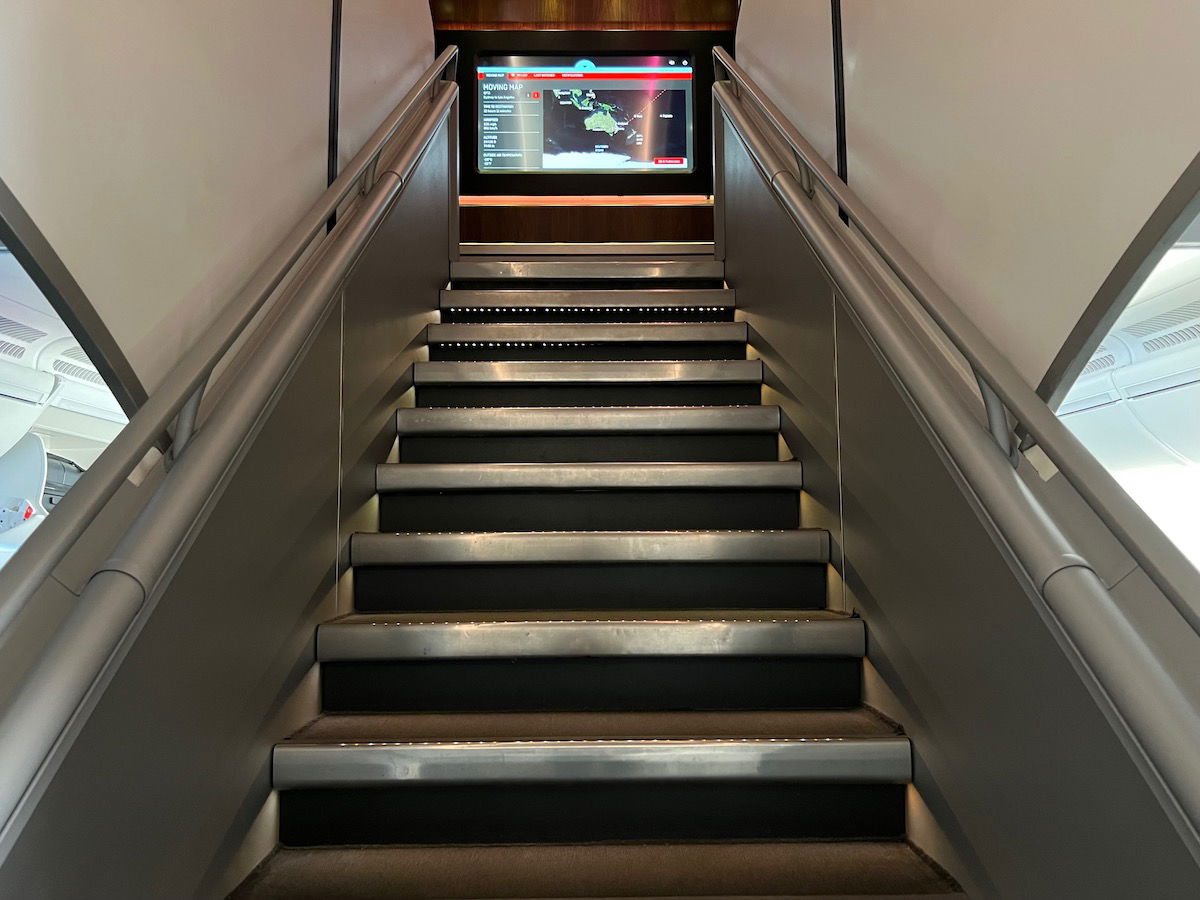 This isn't really an onboard bar, but rather it's just a different place you can sit. When you're facing the front of the cabin, the right side is a big larger, and contains two booths where you can sit.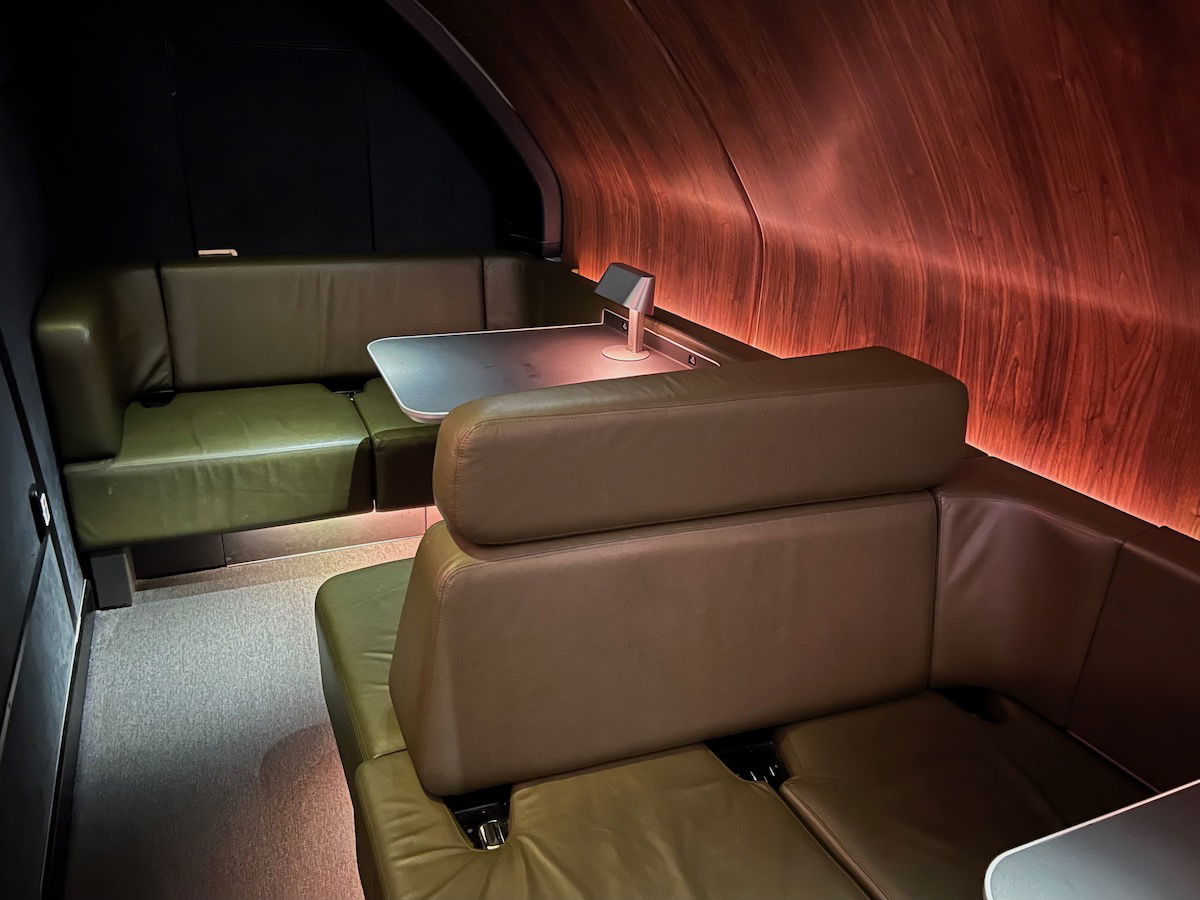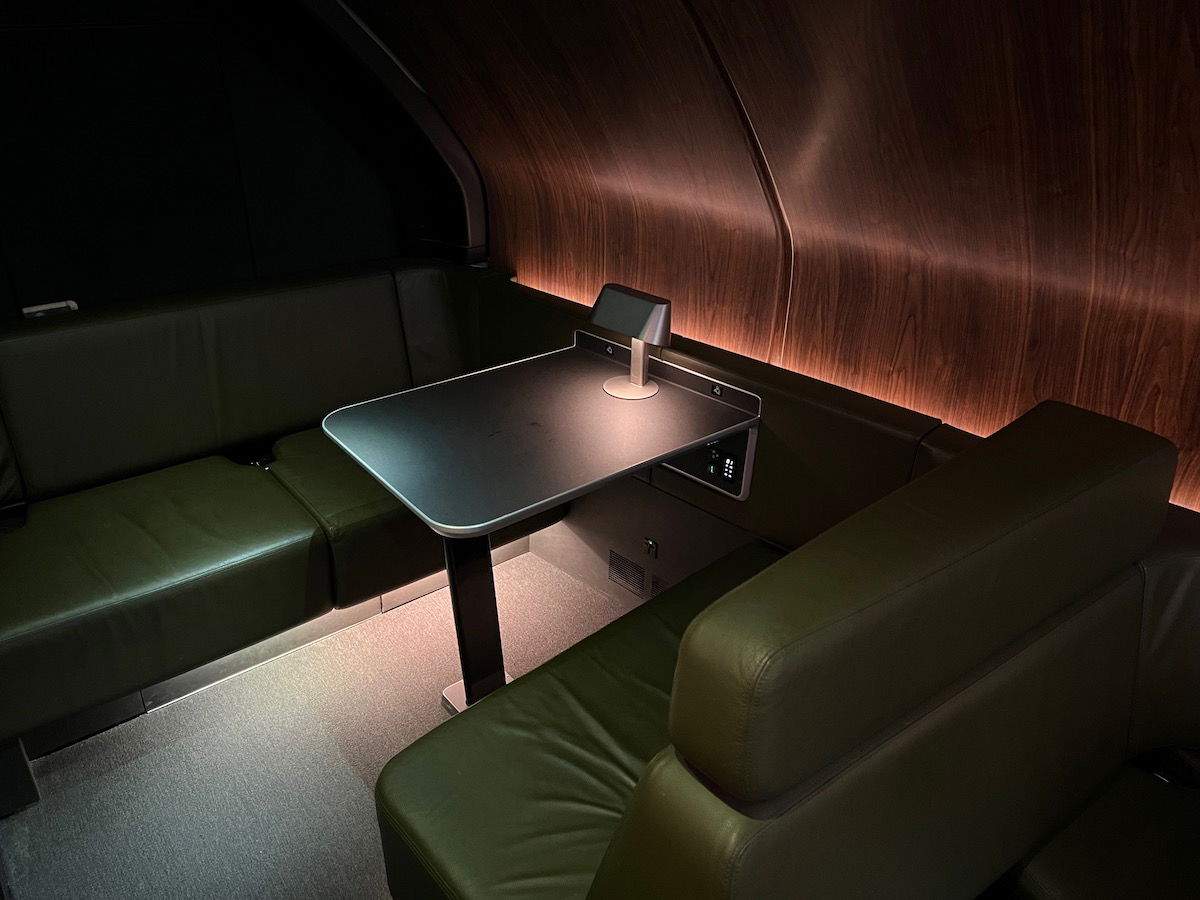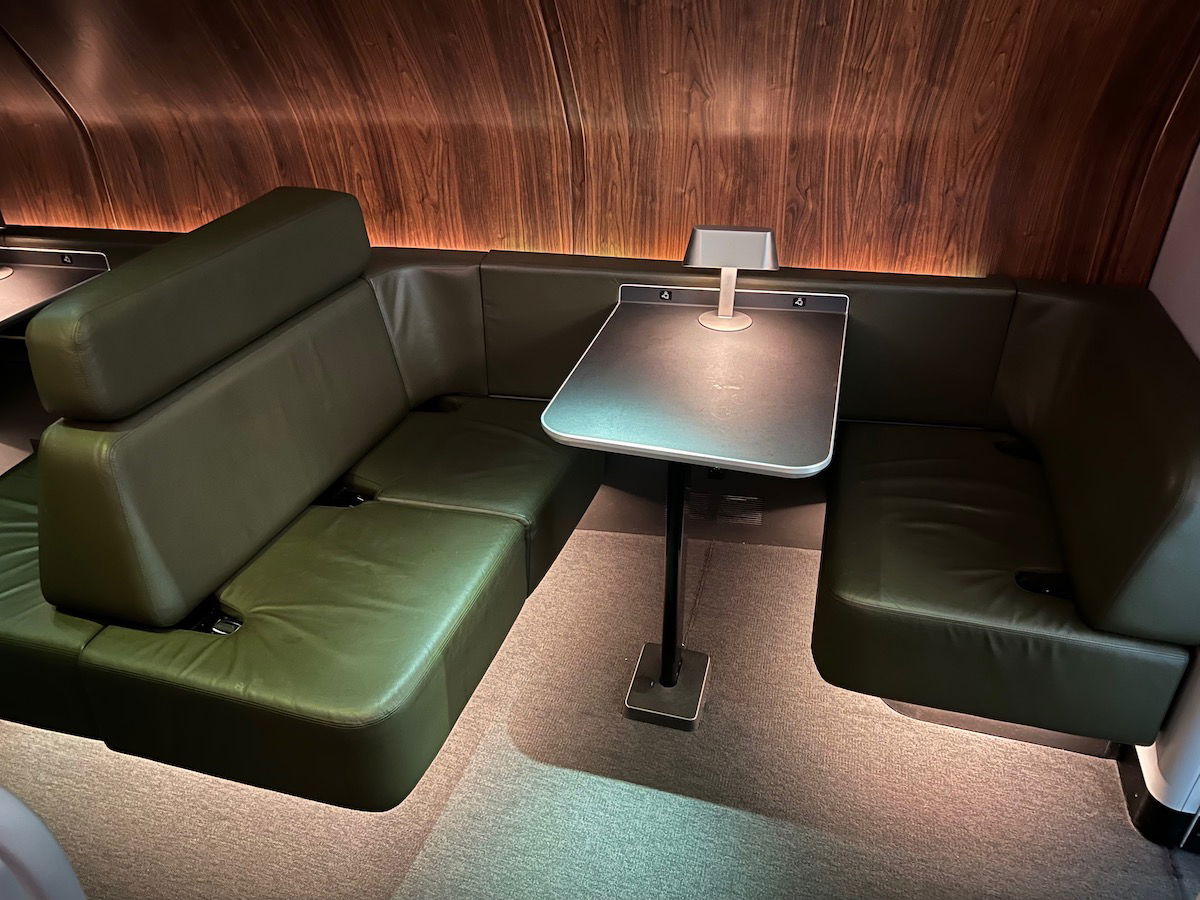 Then the left side has an L-shaped couch.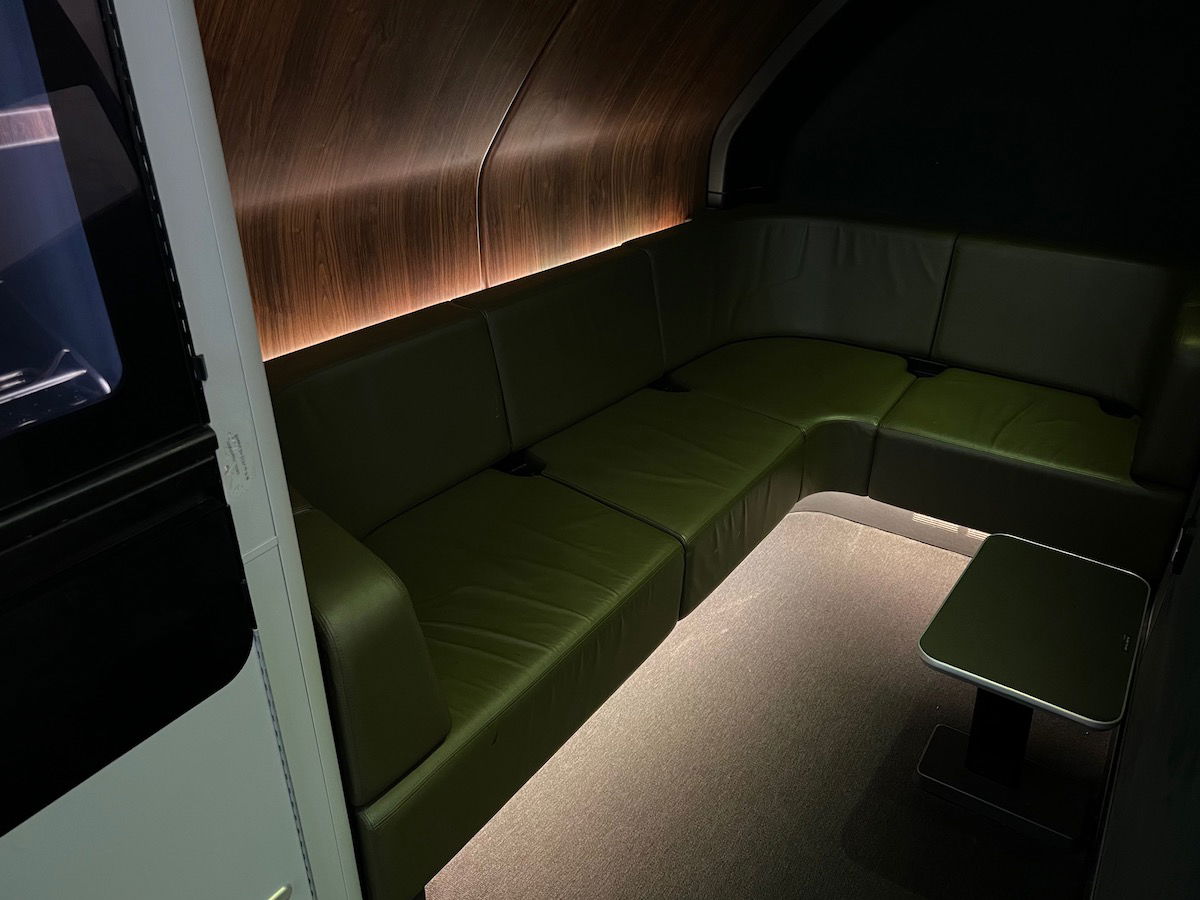 There's a large television monitor in the lounge area, where you can keep an eye on the progress of the flight.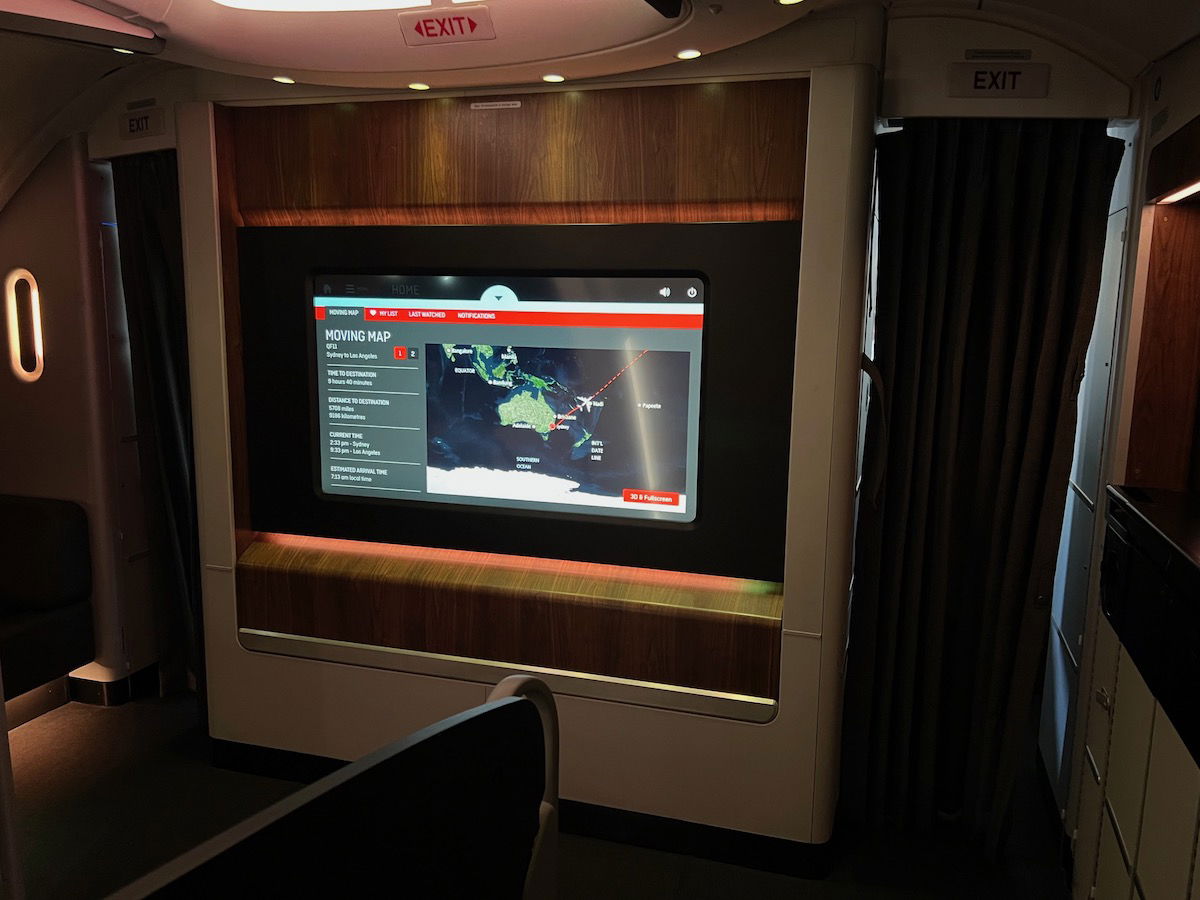 There's also an area with a fridge, but it wasn't stocked when we checked it out.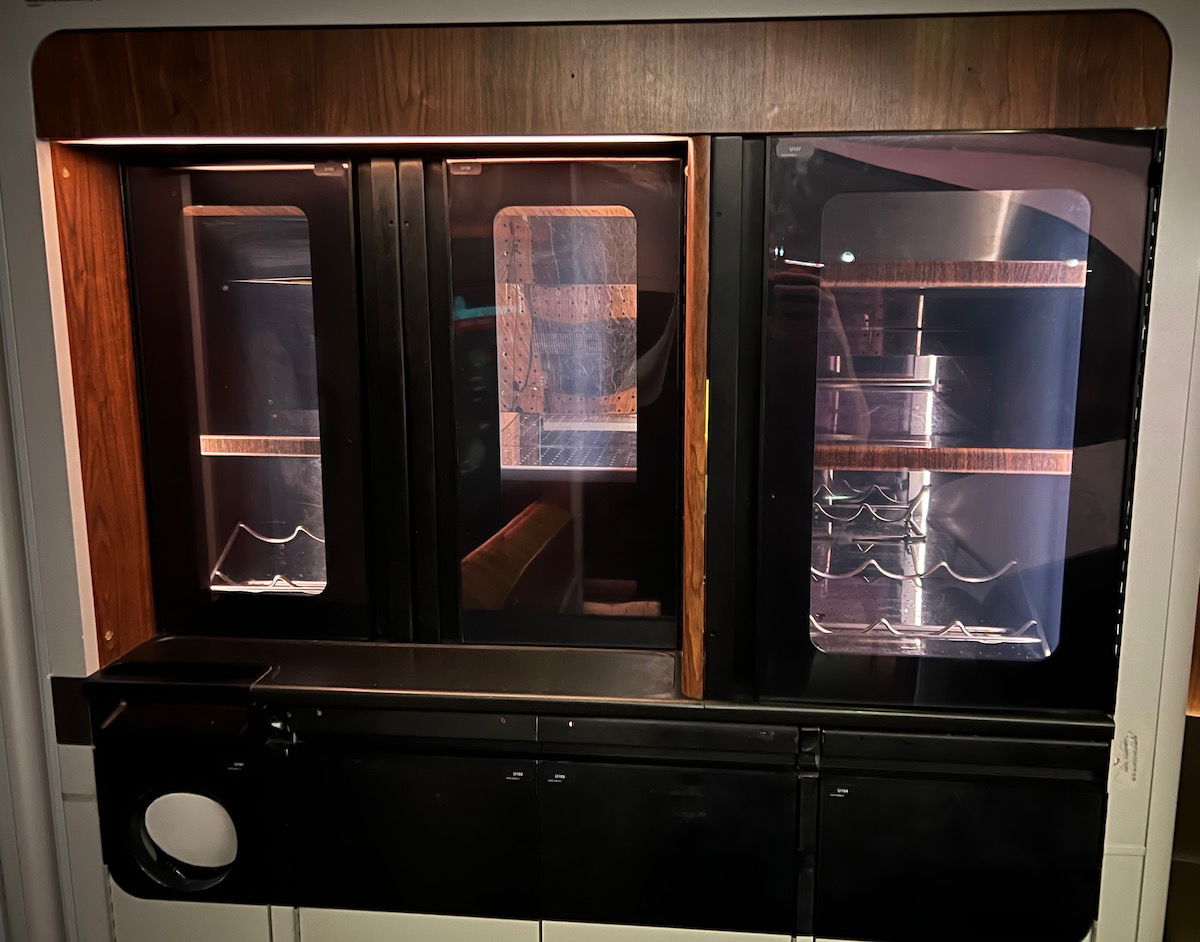 Ultimately this lounge is built in a place where you couldn't otherwise place seats (due to the lack of windows). While the design is impressive, I just don't find the execution here to be very good in terms of adding value for customers. Those in first and business class already have a comfortable place to sit, so I'm not sure what the value-add is of these booths. I think a bar area where you could stand and stretch your legs would be more useful. But that's just me…
Qantas A380 first class bed
Prior to checking out the bar, I had asked the crew to make my bed (meanwhile my dad continued his longstanding tradition of insisting on sleeping in the upright position). 😉
Qantas must have one of the most comfortable beds in the sky. Not only is the sleeping surface large and comfortable, but the bedding is sublime. The mattress pad is thick, while the blanket is both cozy yet breathable.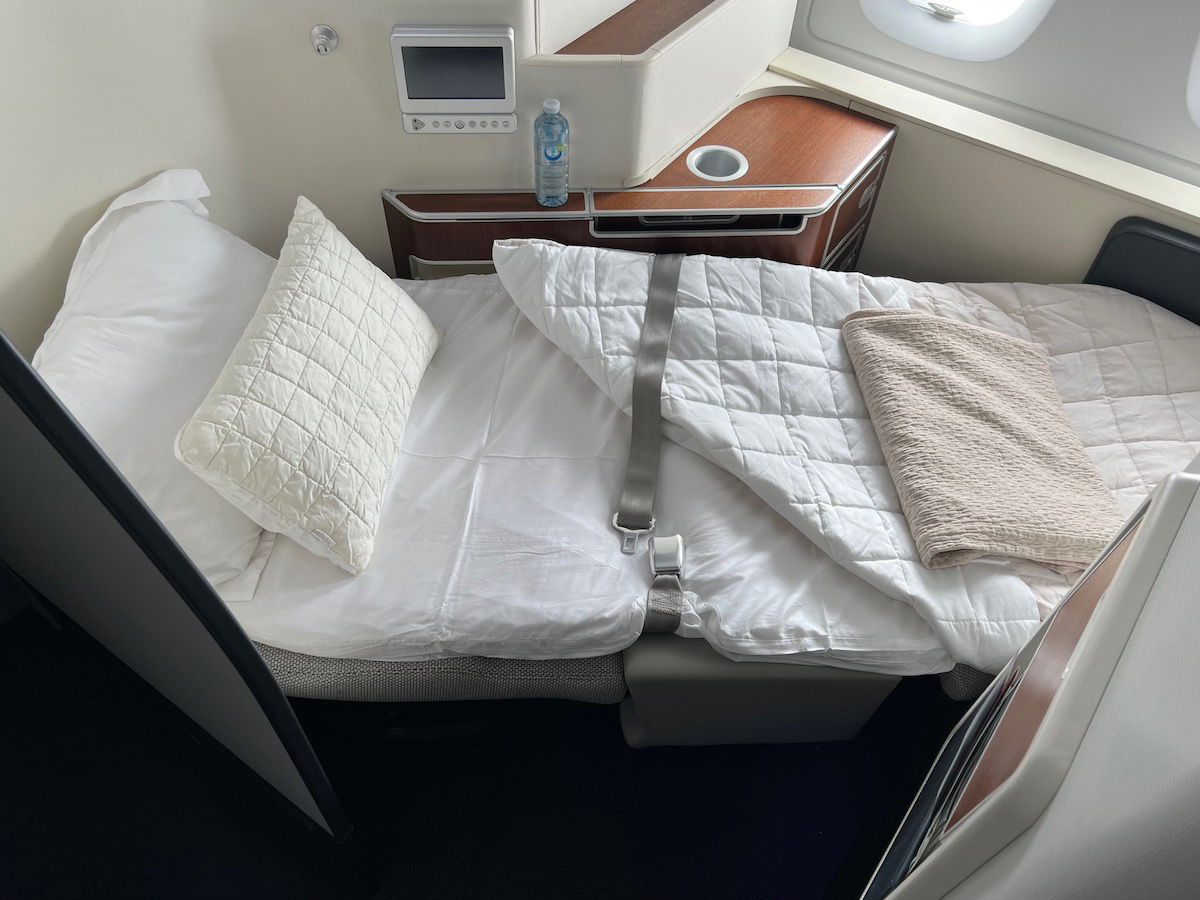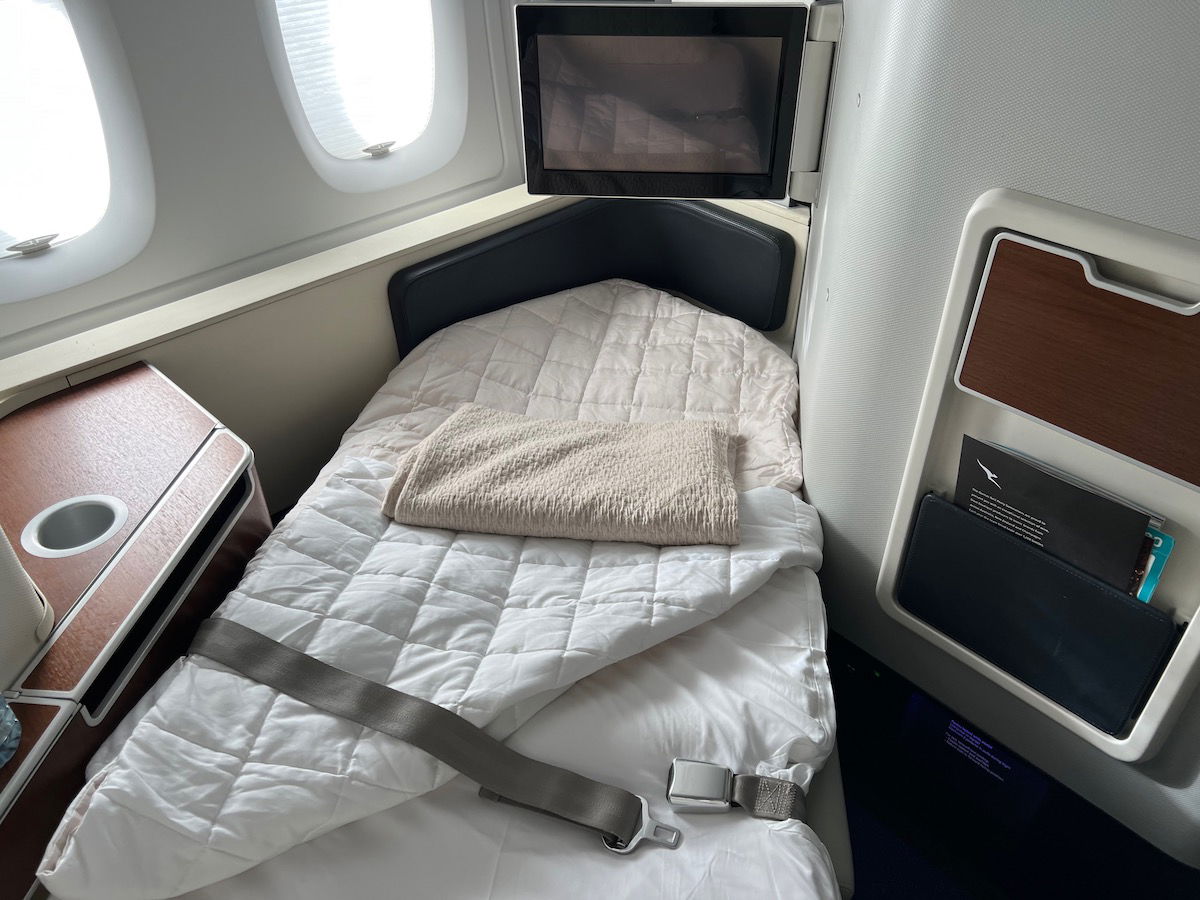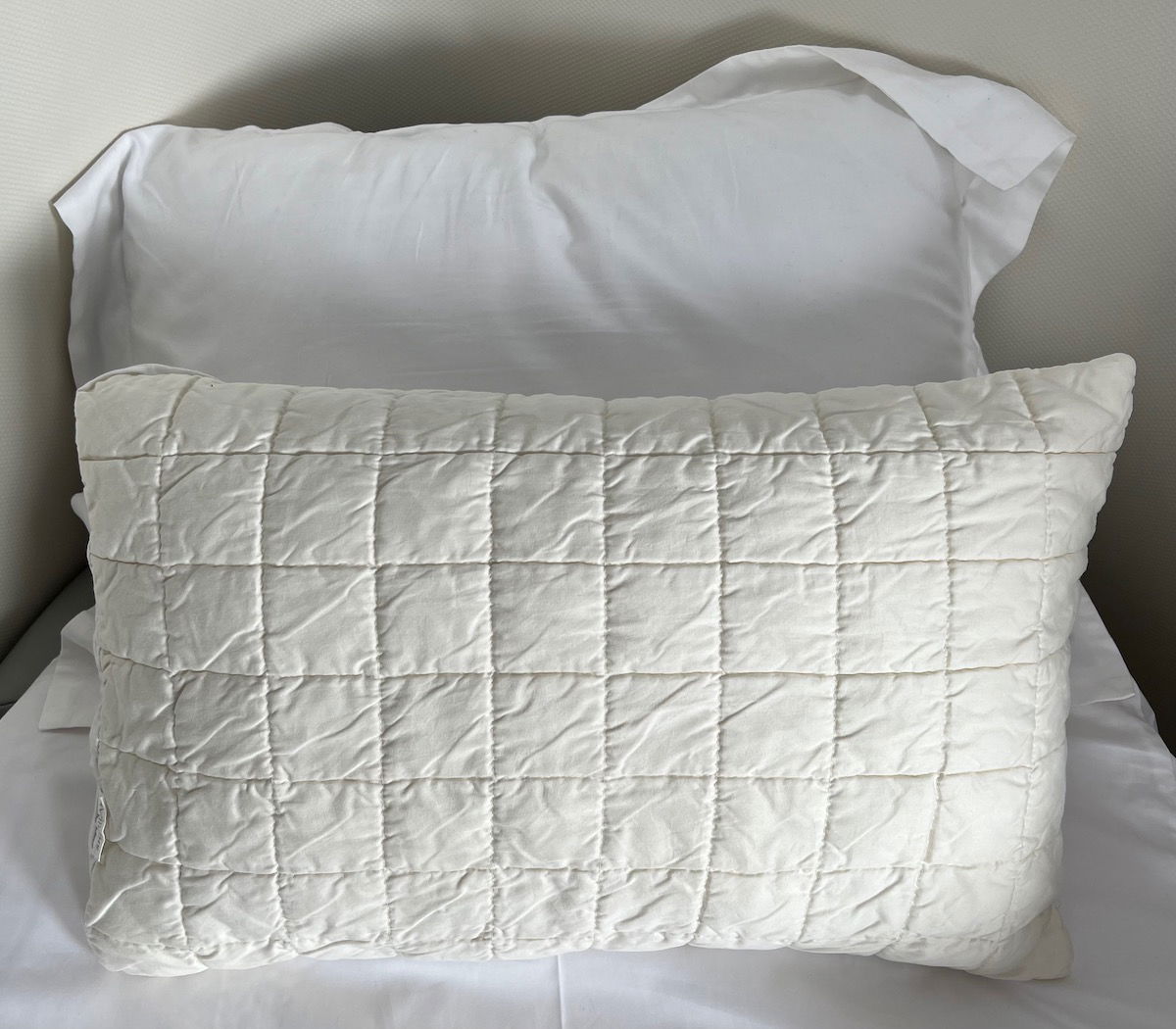 I was super tired at this point in the flight, and wanted to get as much rest as possible prior to a full day in the United States, since we were landing in the morning. I ended up going to sleep just over three hours after departure, as we were over Fiji, with around 9hr30min remaining to Los Angeles.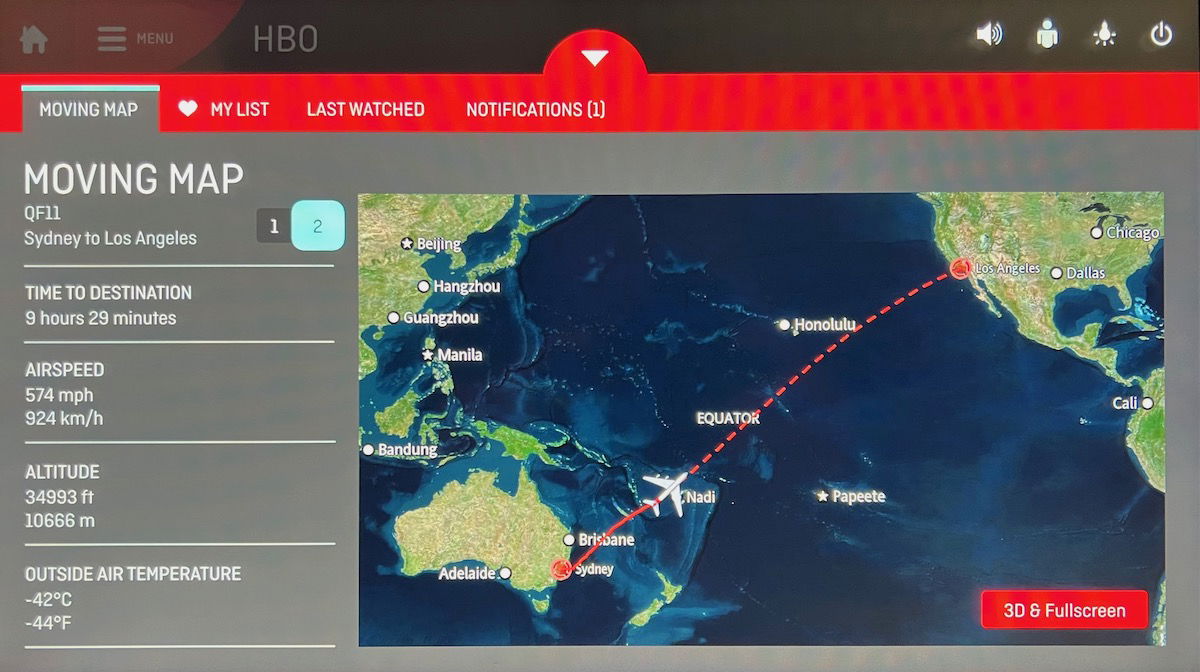 I then woke up around 2hr45min prior to our arrival in Los Angeles, as we out over the open Pacific.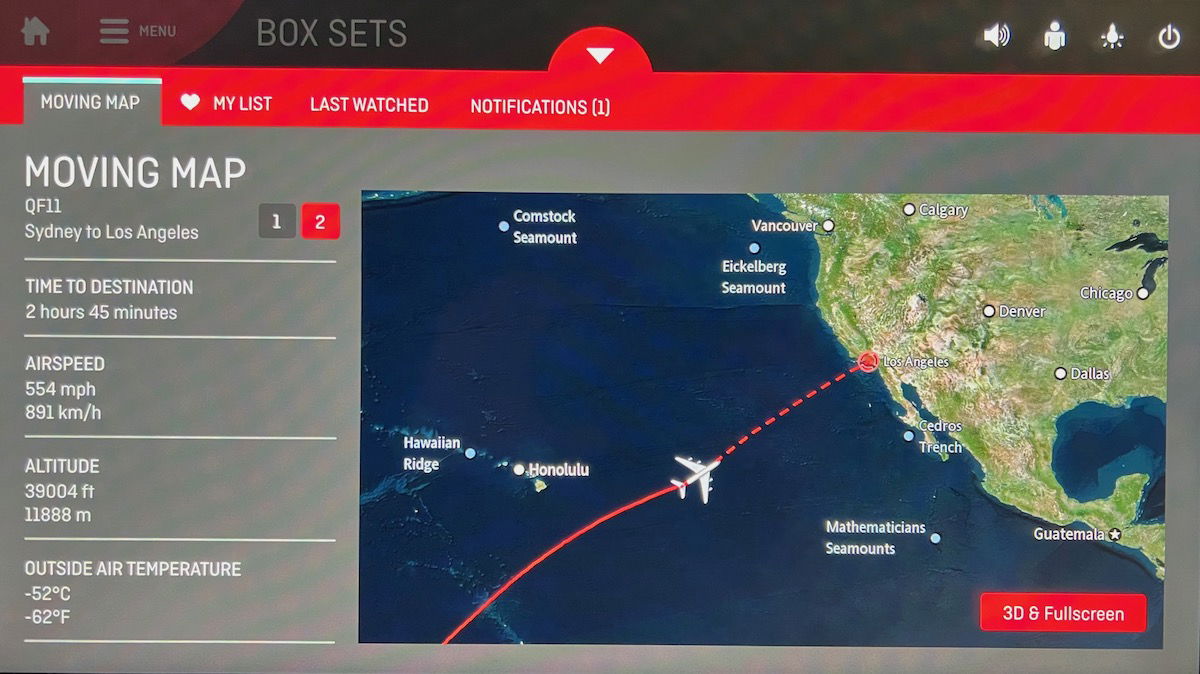 Getting nearly seven hours of sleep on a plane is virtually unheard of for me (I'm a horrible airplane sleeper), so I was very happy with that.
Qantas first class breakfast service
Rob checked on me shortly after waking up, and asked if I was ready for breakfast. While I first ordered a coffee, I also put in a breakfast order. You can find the breakfast menu below.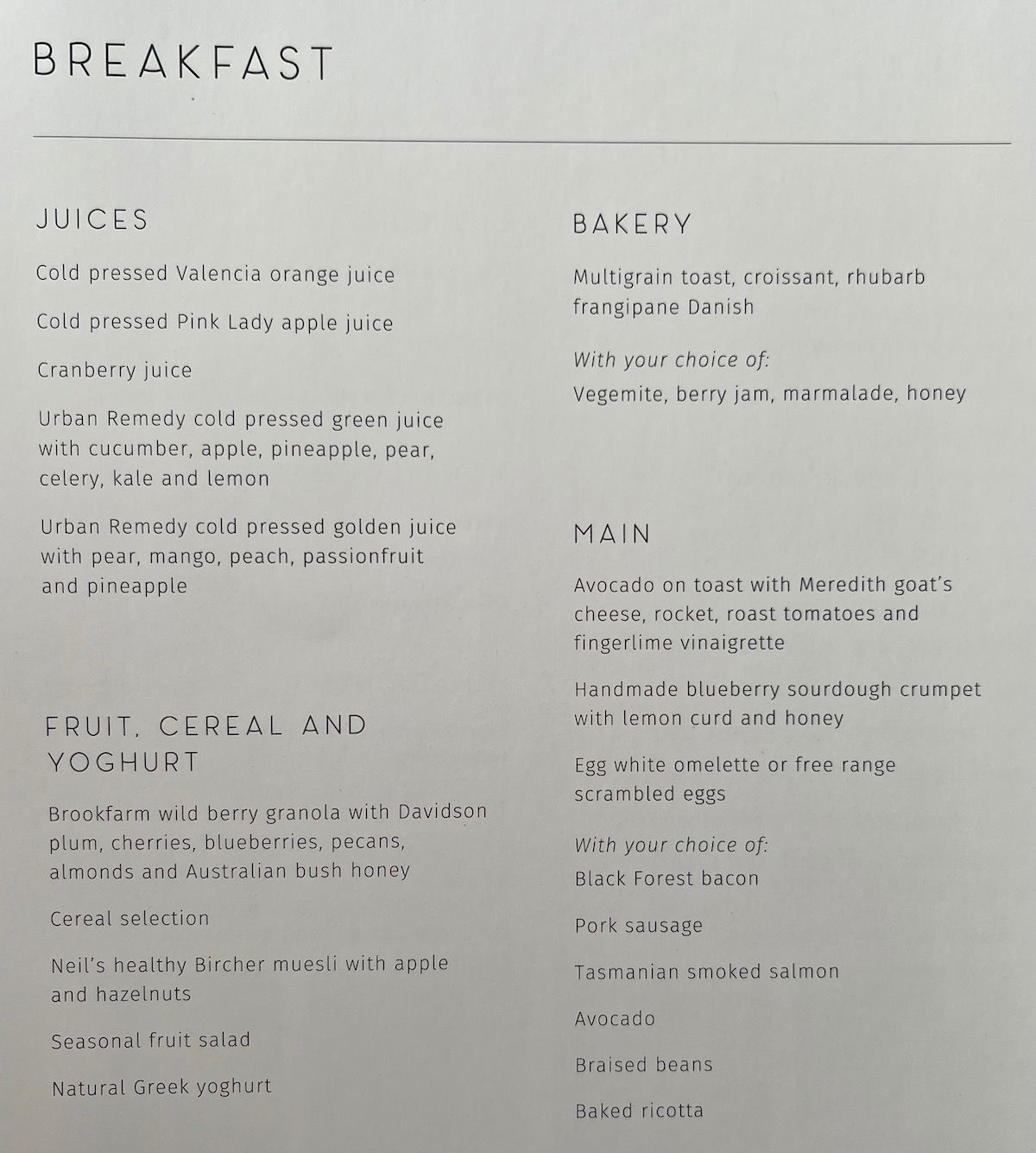 I started with a delicious flat white, which would be one of my last tastes of Australian(ish) coffee on this trip…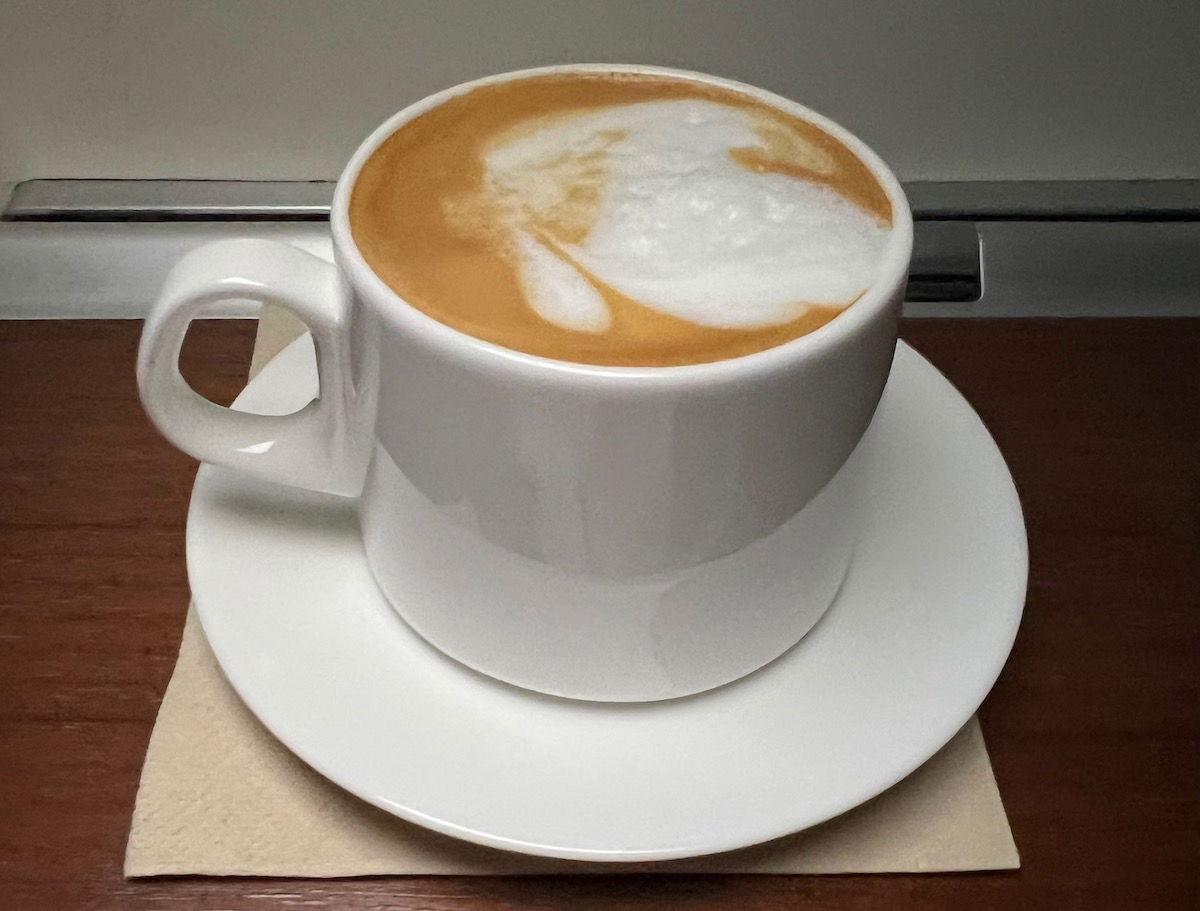 Then I ordered an avocado toast to eat, and then a green juice and an espresso to drink. I feel like airplane breakfasts are typically so boring, and almost always consist of eggs or pancakes (or something along the lines), so I was happy to see avocado toast on the menu.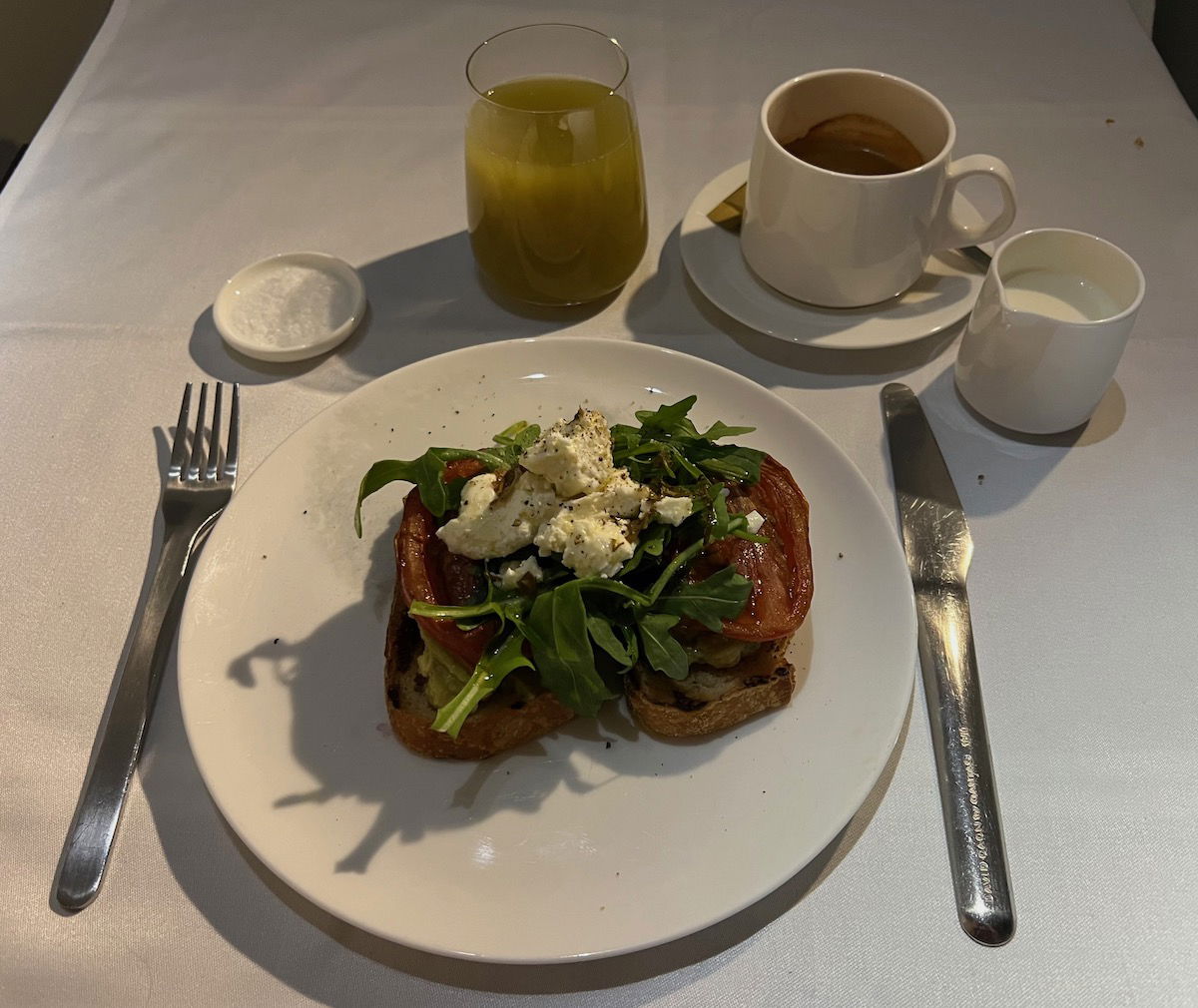 I also then ordered some granola, which I enjoyed as well.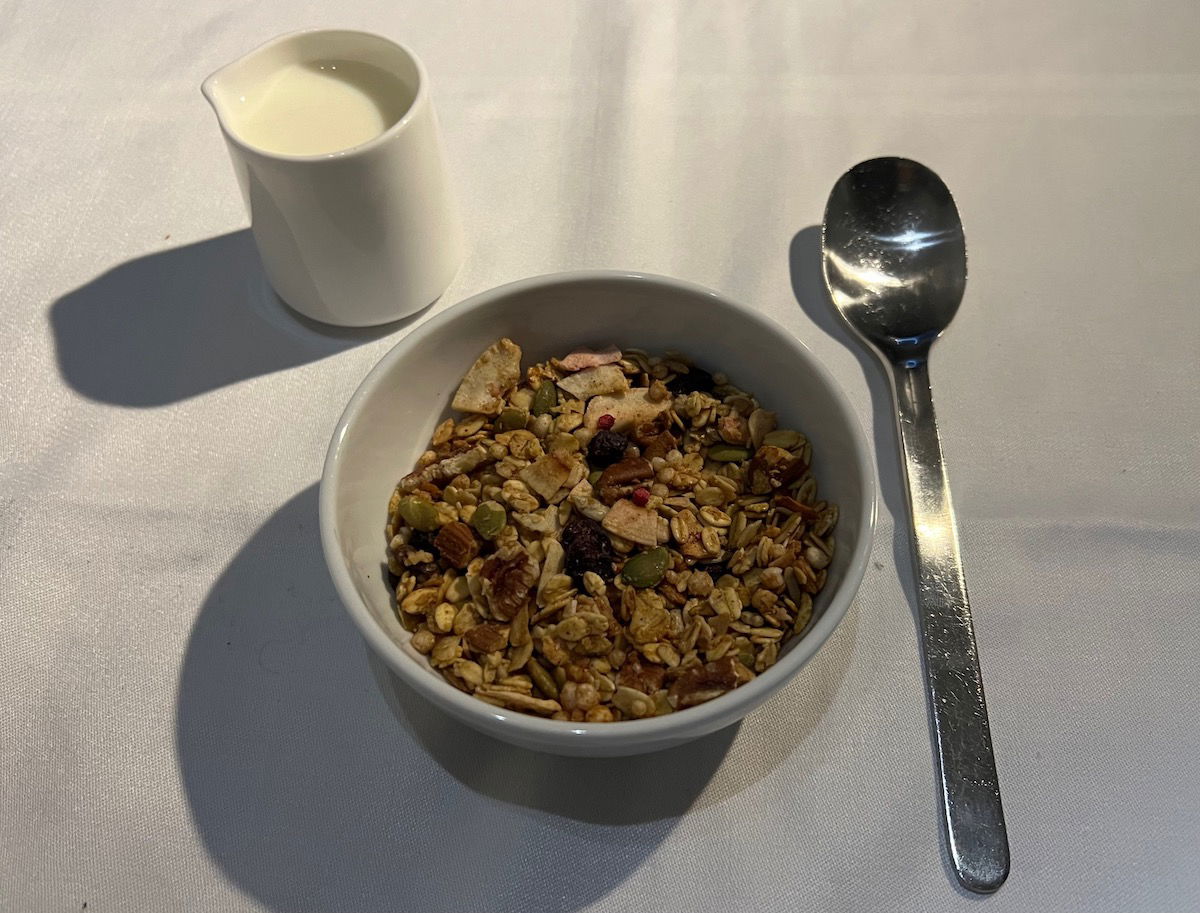 Qantas first class service
My dad and I both agreed that service on this flight was very good, and that's thanks primarily to Rob. He was such a nice guy who genuinely seemed to enjoy his job, and clearly took pride in it. He was professional, personable, and wanted everyone to feel like a guest. Top marks to Rob. At the end of the day, service can make or break a flight.
Qantas A380 arrival in Los Angeles
At around 6:40AM Los Angeles time, the second officer announced that we'd be starting our descent in about 15 minutes, and should be landing around 7:30AM. Given our very late departure, that wasn't too bad, as we were due to land at 7:05AM, but fortunately the flight time was shorter than planned.
At this point I repacked my bags, changed back into my regular clothes, and turned on the tail camera, so that I could enjoy view of landing.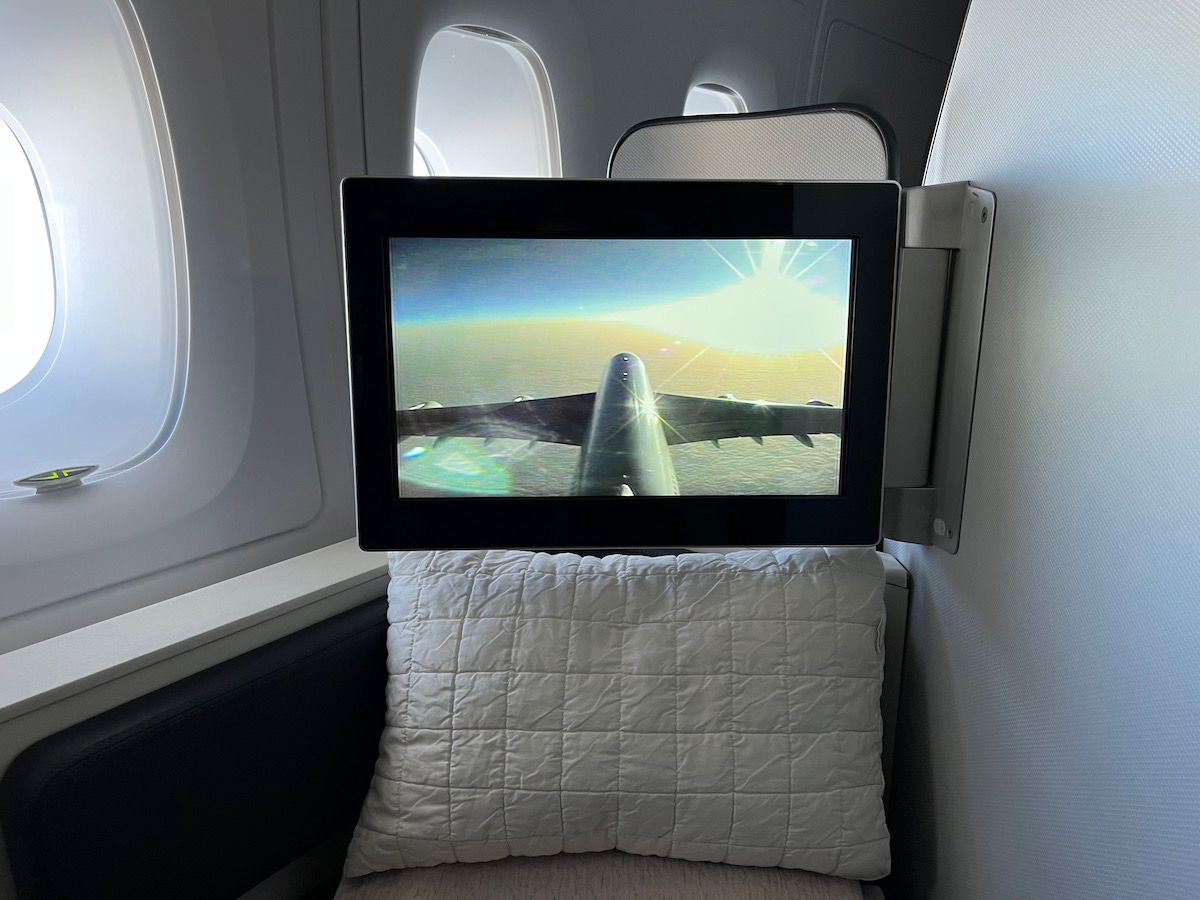 At 7:20AM the seatbelt sign was turned on, and just five minutes after that we landed on runway 24R.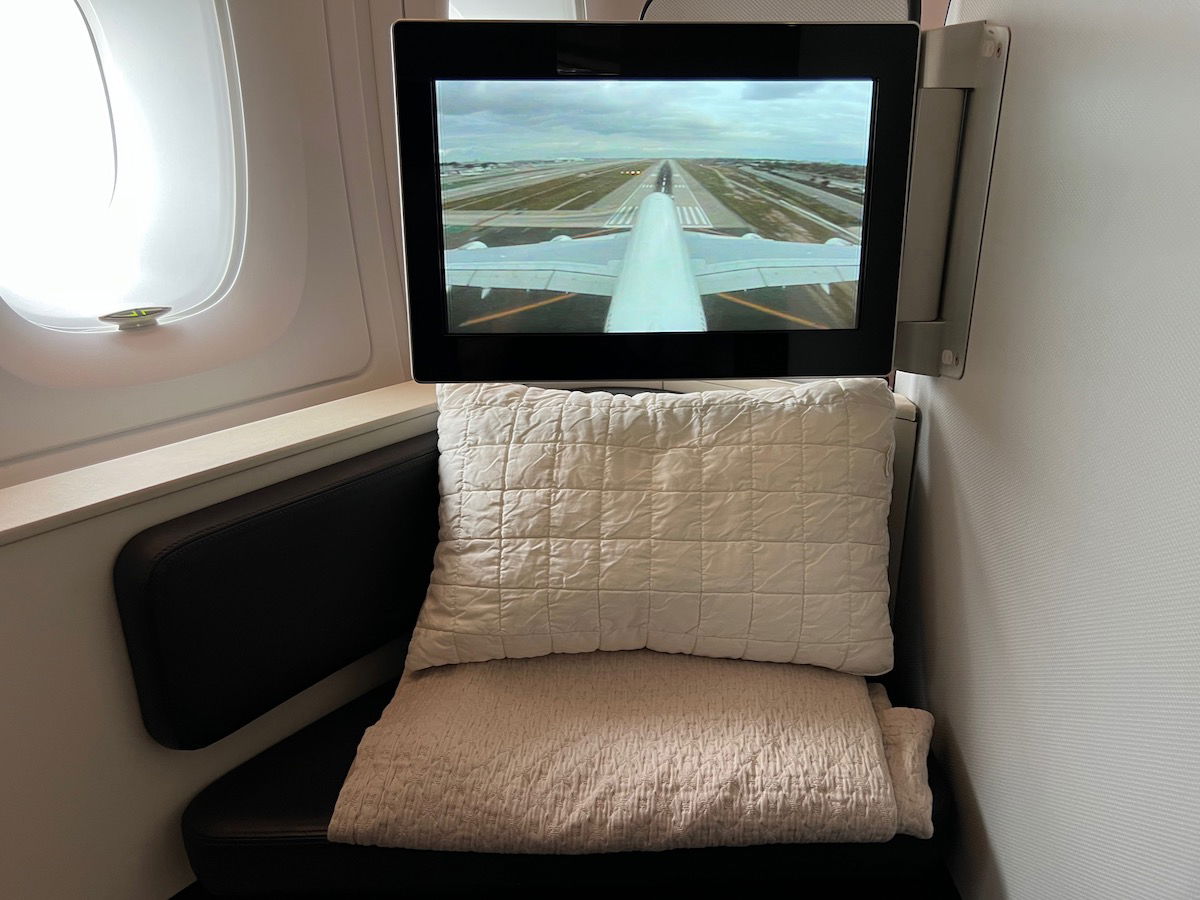 We had a very long taxi to our arrival gate, and pulled in there at around 7:40AM.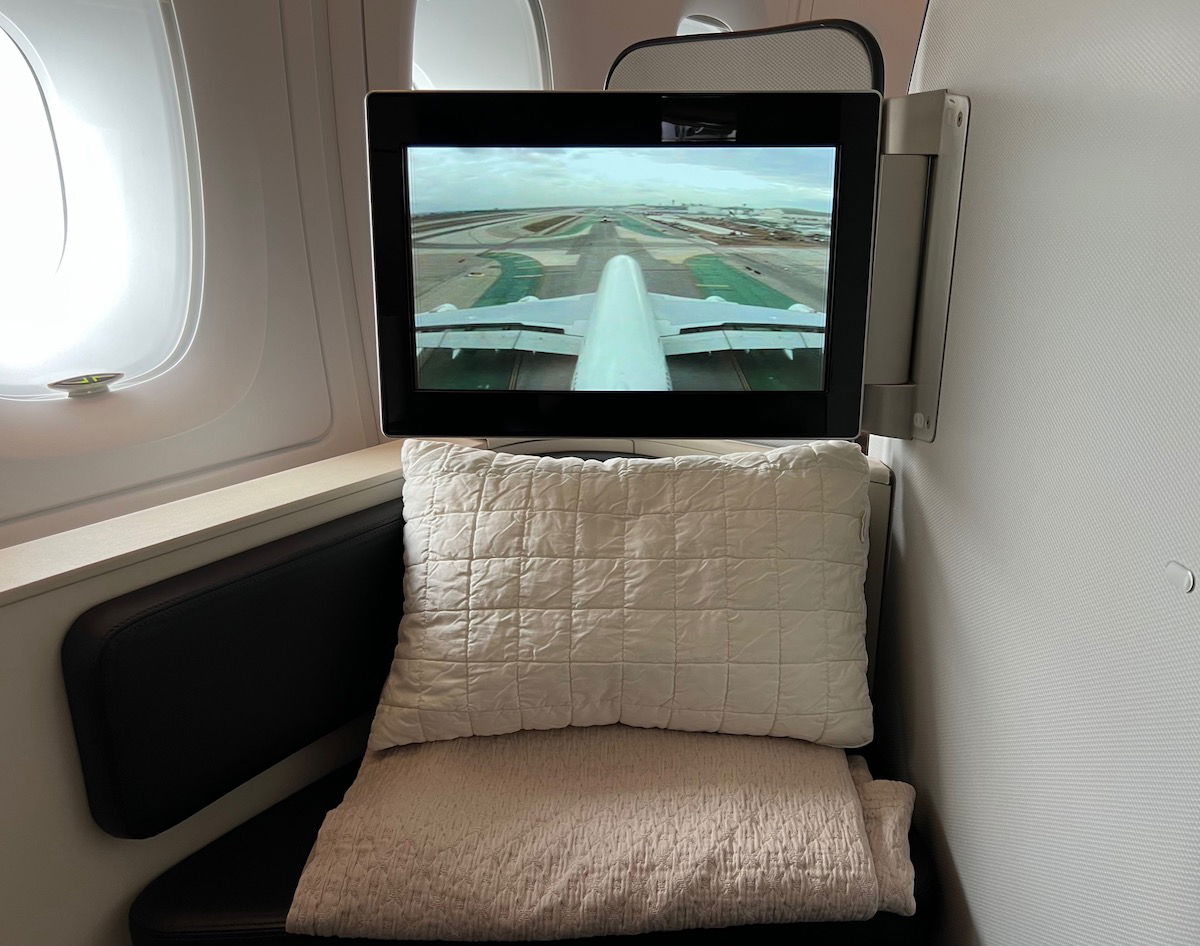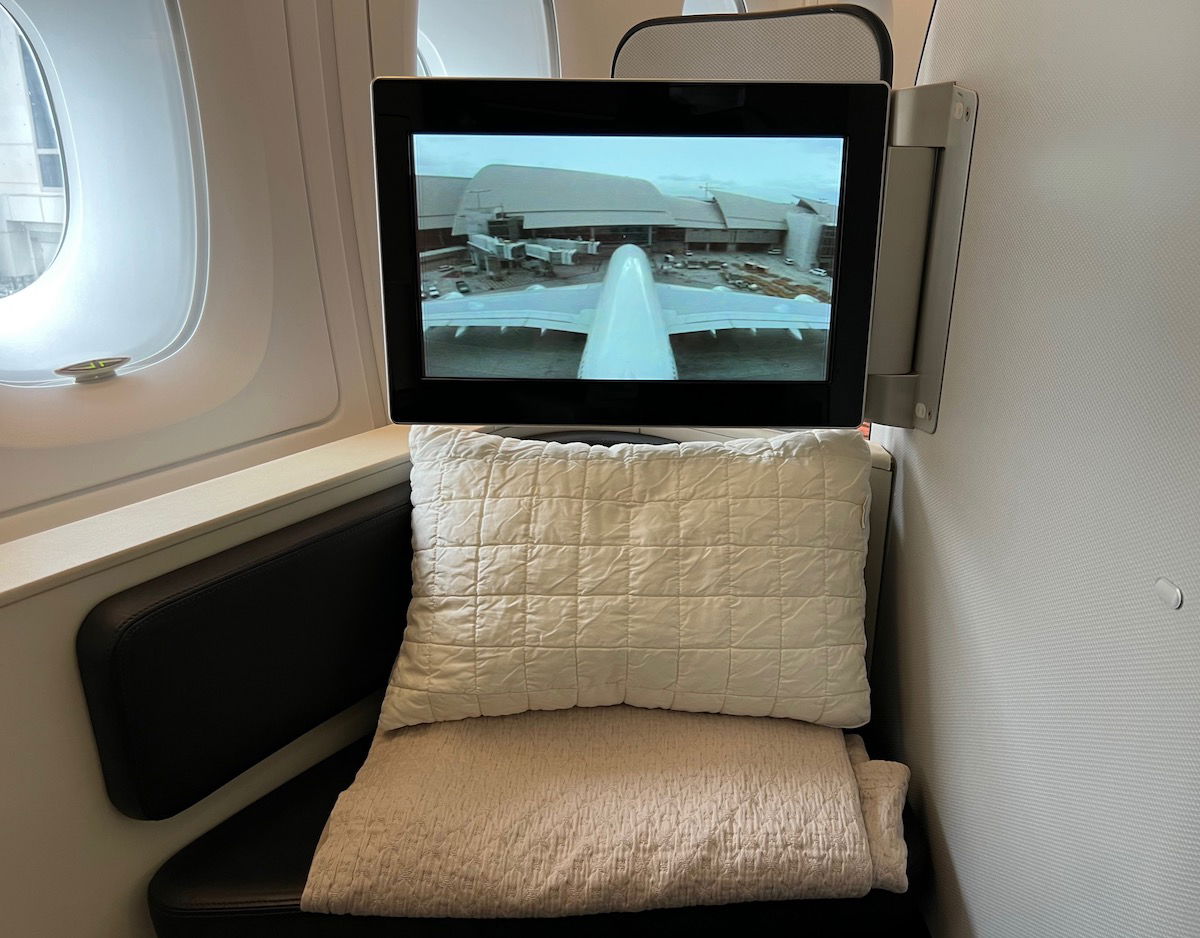 Upon arriving we bid farewell to the crew, cleared immigration, and then my dad and I went on our respective ways, after a super fun but exhausting (especially for my dad) adventure!
Bottom line
While Qantas doesn't have the world's best or must cutting edge first class product, it's a very pleasant experience. Qantas first class features super comfortable seats, one of the best beds in the sky, very friendly service, great entertainment, lots of amenities, and tasty and nicely presented food.
All that being said, it's not perfect. There's no Wi-Fi on the A380, the size of the first class cabin will make it feel less exclusive than some other first class products, and there aren't quite as many high-end aspects to the food and beverage service as you'd find on some other airlines.
Nonetheless I had a great flight in Qantas first class. It's definitely a lot better than flying American Airlines first class on the same route, unless you really value Wi-Fi.
What's your take on Qantas' A380 first class?