As of late March, Singapore Airlines started flying its Airbus A380s with new cabins to the United States for the first time, on the Frankfurt to New York flight. Ford and I had the chance to fly from Frankfurt to New York yesterday in Suites Class (using KrisFlyer miles), and I was simply blown away.
While I'll have a full review of the flight soon, I wanted to specifically write about the double bed, which left me with a different impression than the last time I experienced this product.
Different airplane seats are good for different occasions
I often update my rankings of the world's best first class products and best business class seats. Admittedly these types of rankings are highly subjective, and as I often say, I may prefer a different seat depending on the occasion.
For example, if I'm traveling alone I have a strong preference for not having a seatmate in business class, while if I'm traveling with someone, I kind of like being able to sit next to that person.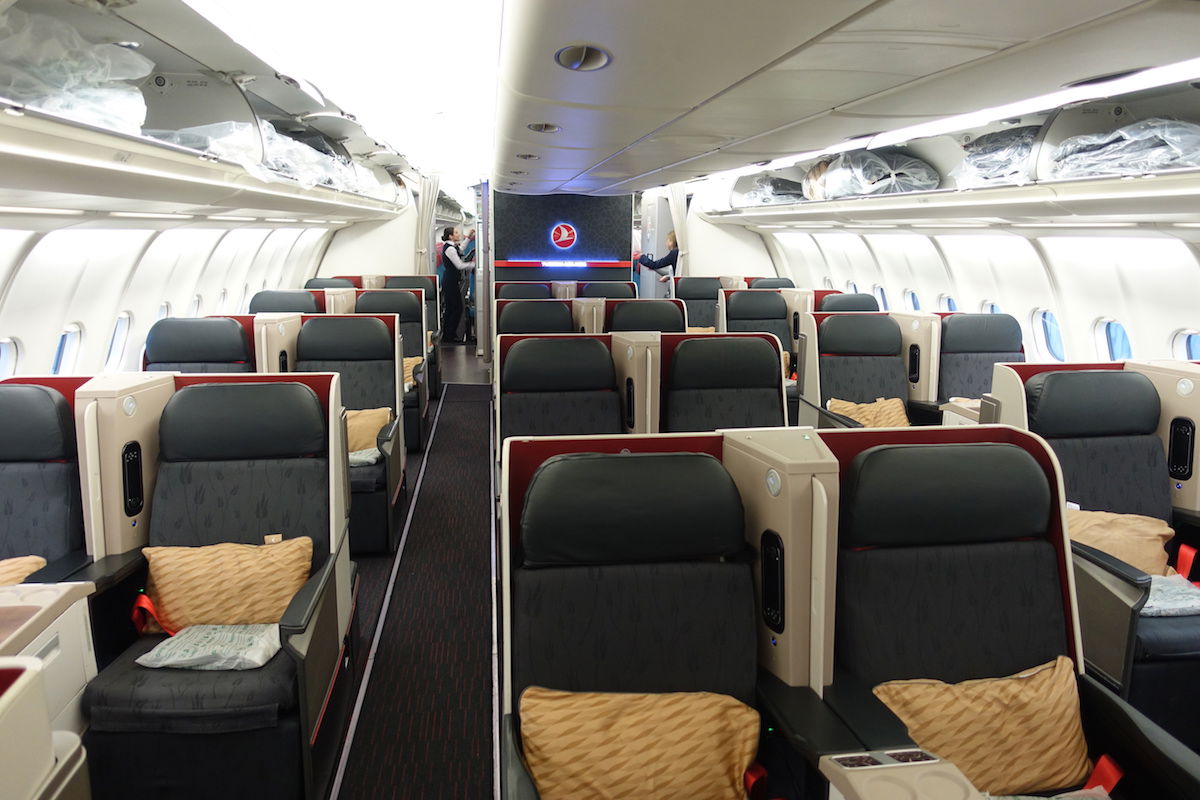 Looking at first class products, I rate Emirates' newest Boeing 777 first class as the best in the world. Each passenger gets a fully enclosed (floor-to-ceiling) suite, which is awesome if you're traveling alone. The catch? If you're traveling with someone, there's no way to spend time together — there's no buddy seat for dining, no way to form a double suite, etc.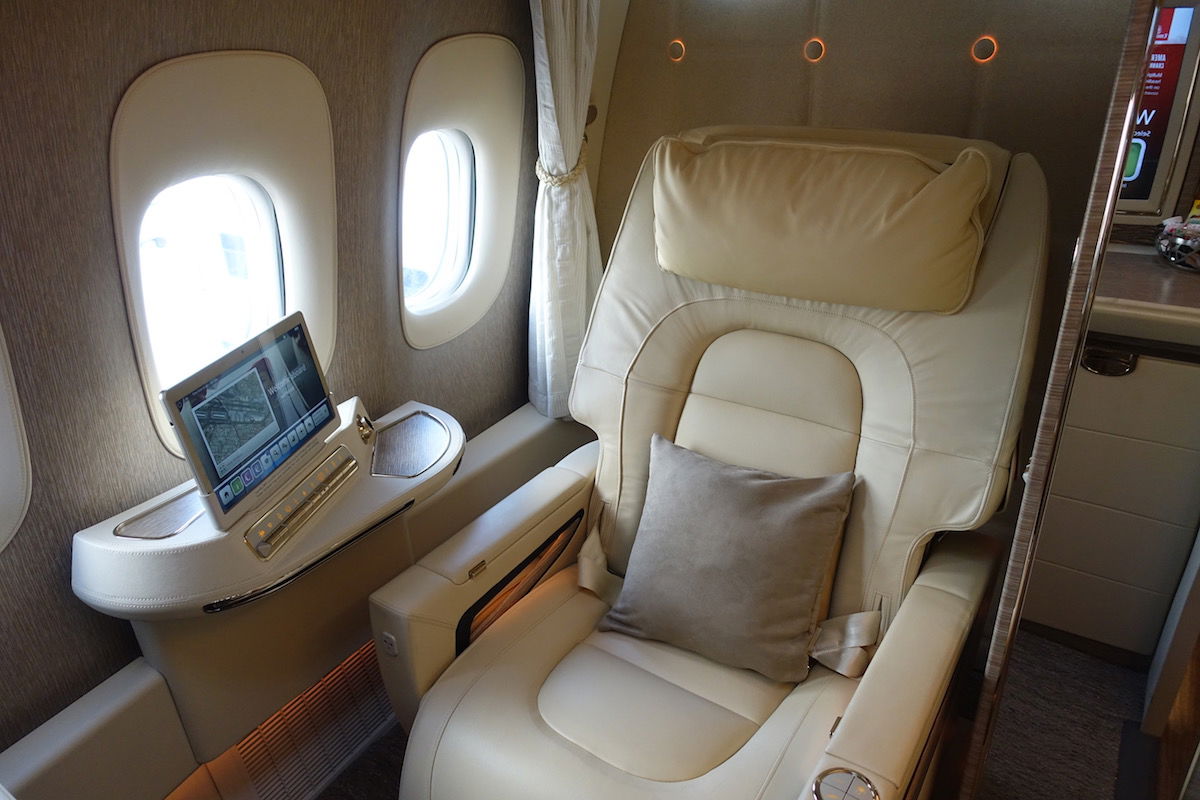 To some extent I feel like Singapore Suites is the opposite — I liked it when traveling alone, while I love it when traveling with someone. I'll take it a step further — this is my favorite first class product in the world if traveling with someone.
Singapore Airlines' A380 Suites are great to begin with
Singapore Airlines' Airbus A380s feature just six seats in Suites Class, located at the front of the upper deck. Seats are spread across three rows, in a 1-1 configuration. The sheer amount of space dedicated to each passenger is unbelievable.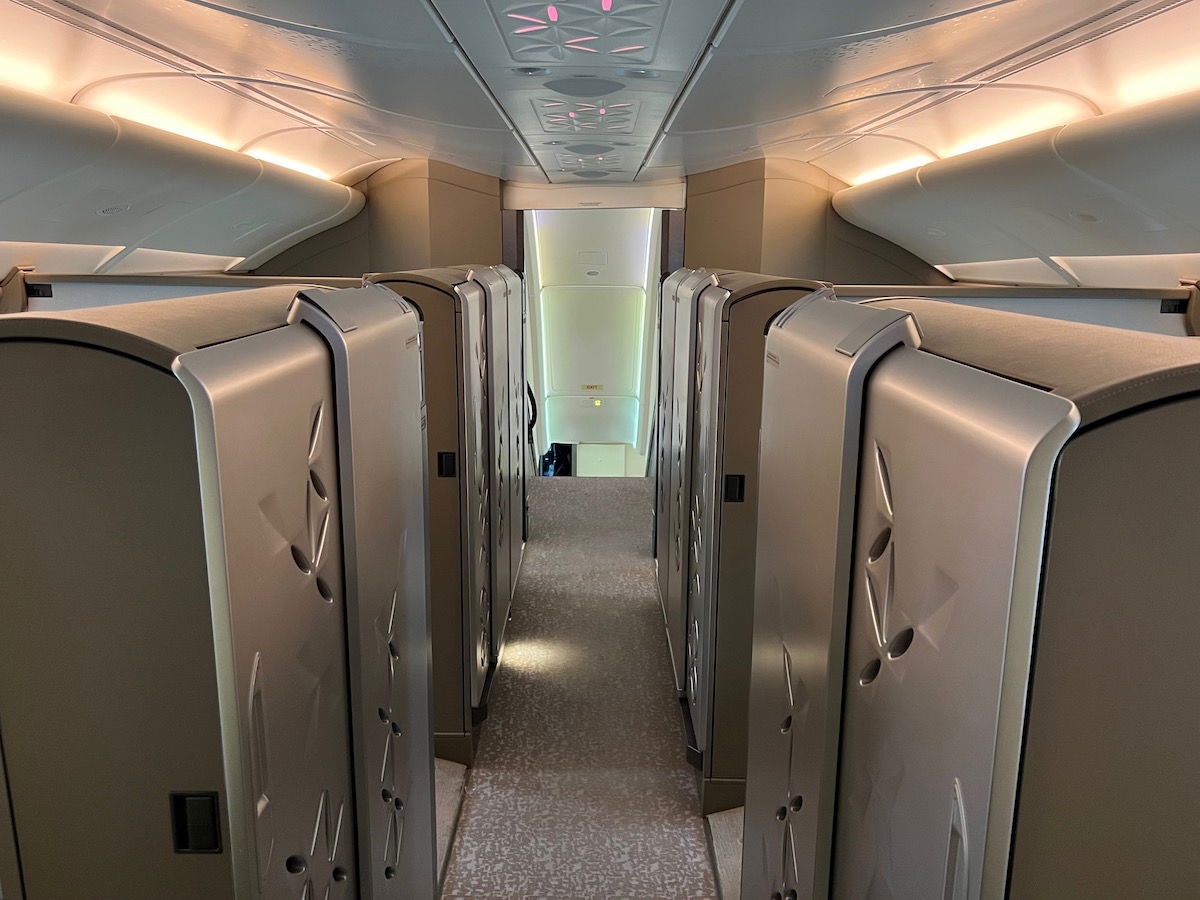 Each Suite features a swiveling chair, and then a bed that folds out from the wall.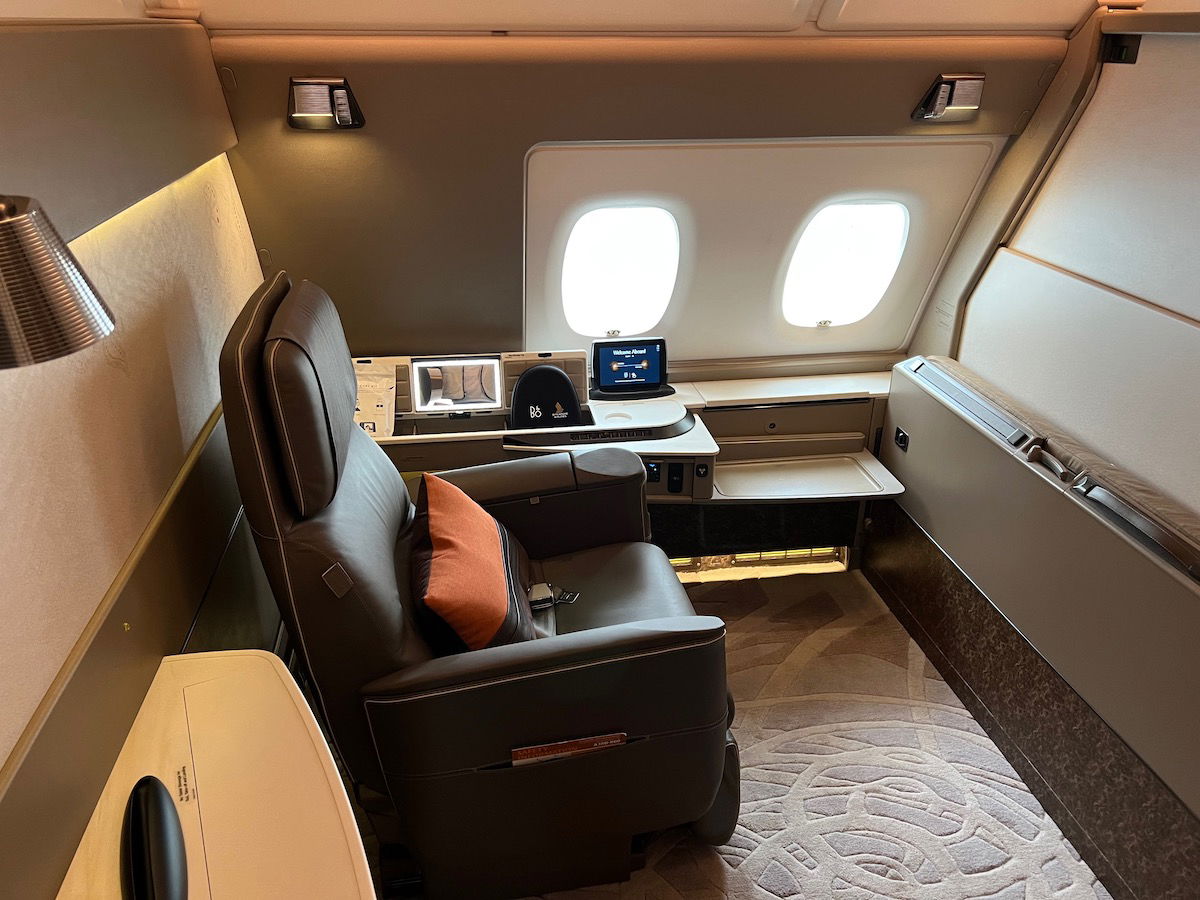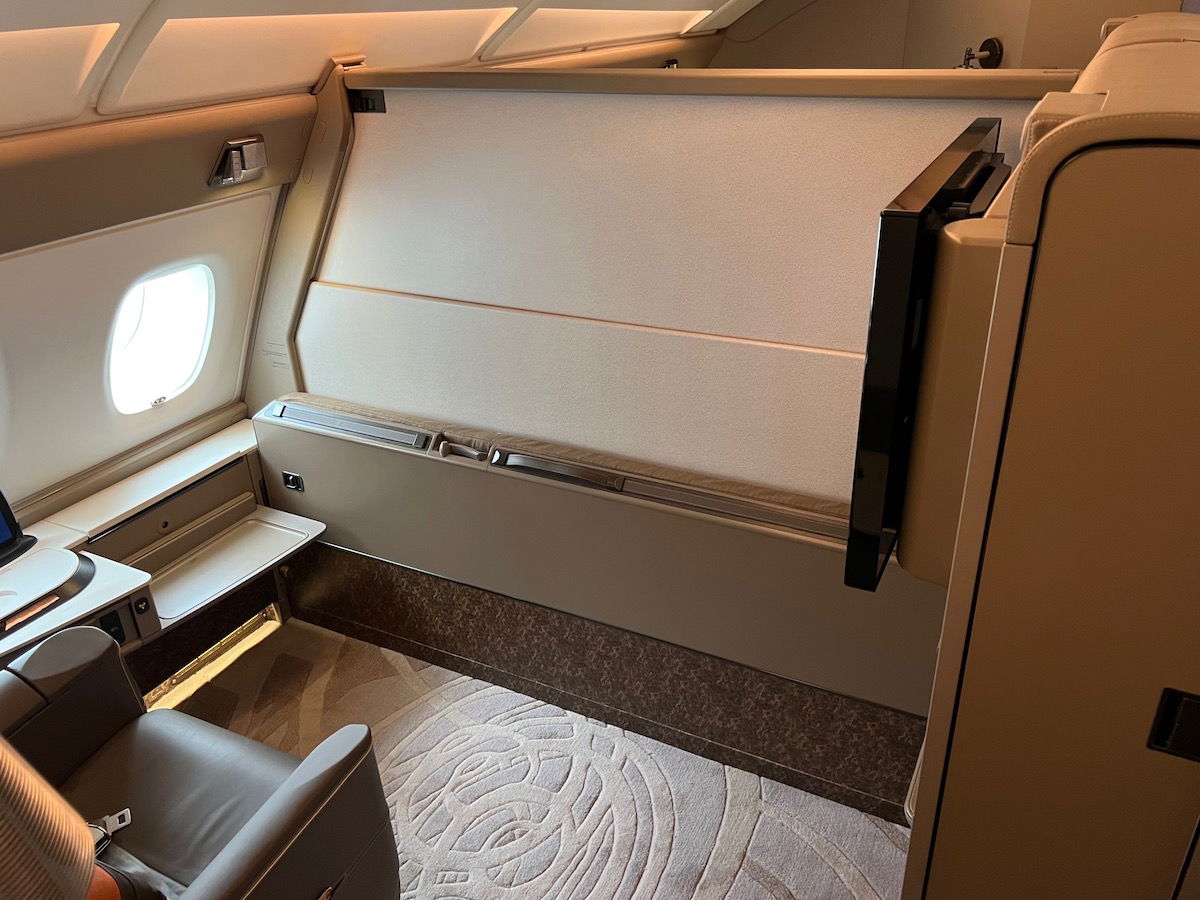 Individually this is a great product, don't get me wrong. But really what takes this to the next level is if you're traveling with someone, and can snag two adjoining Suites.
A look at the Singapore Airlines Suites double bed
On Singapore Airlines' new A380s, there are two possibilities to get a double bed in Suites Class. This is available between seats 1A and 2A, and between seats 1F and 2F. This was my first time experiencing the double bed product, so how exactly does this work, and what is it like?
Once you make the request with the crew, first the partition between the two Suites can be lowered.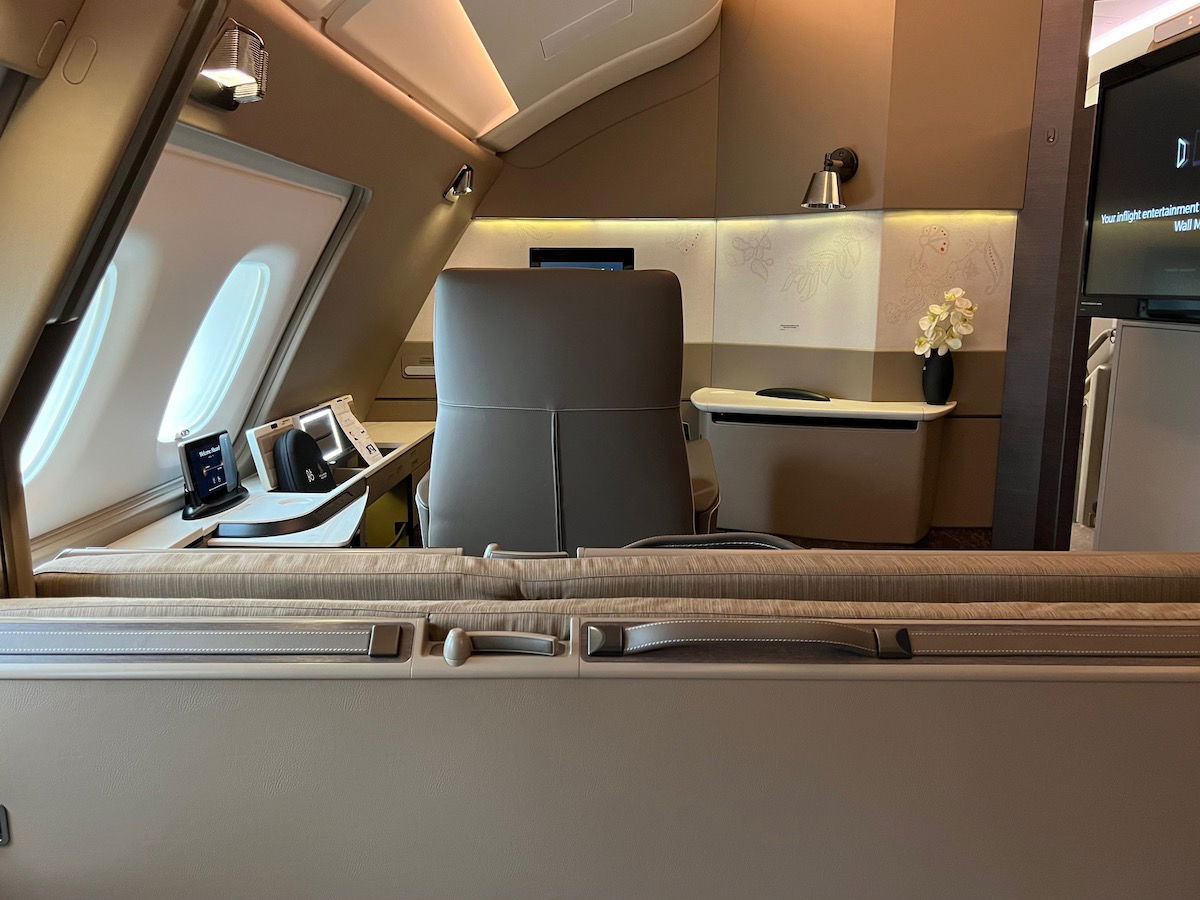 Since the seats swivel, the person in the first row could turn their seat around and face you. Seats have to face forward for takeoff and landing, but otherwise you can keep them in this position throughout the flight.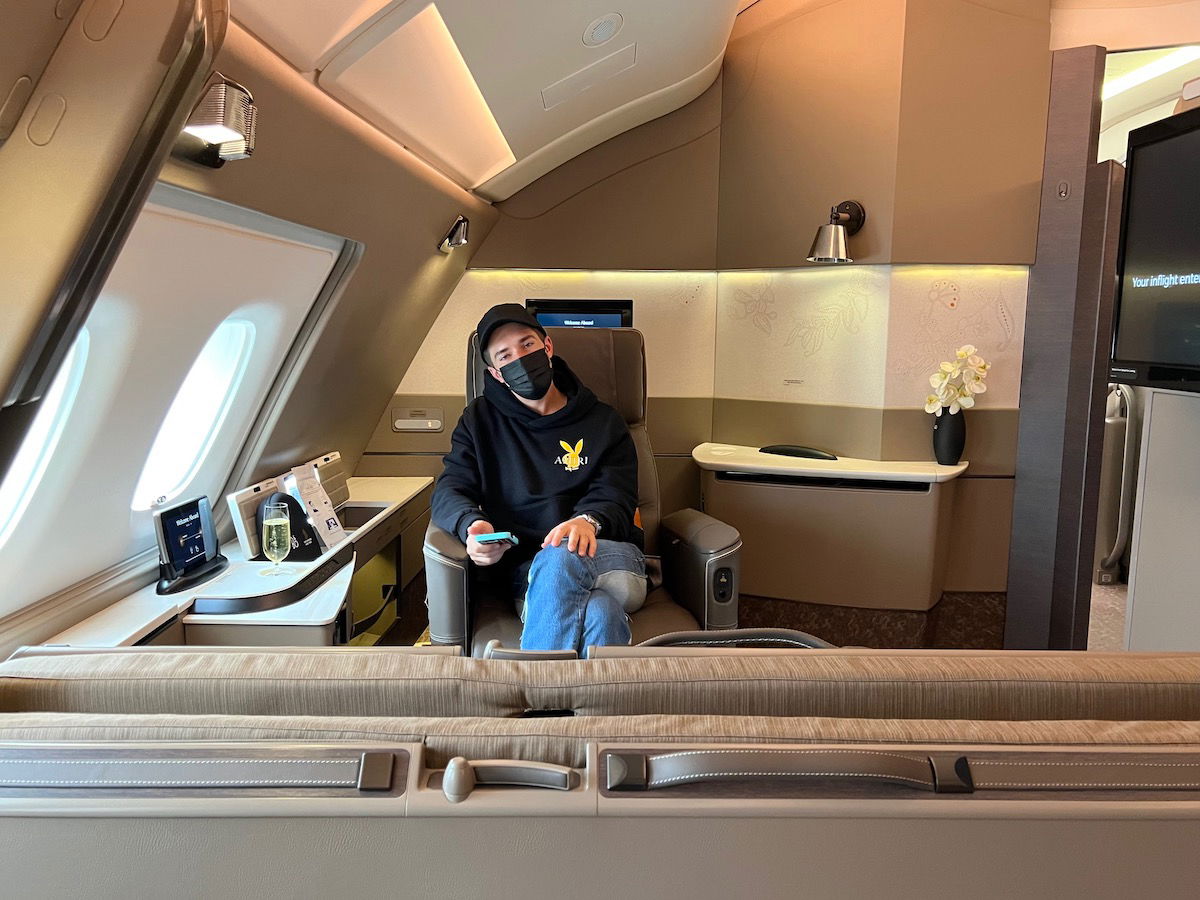 There are also two TVs next to one another, so you could watch a movie on one TV and keep an eye on the progress of the flight on the other TV.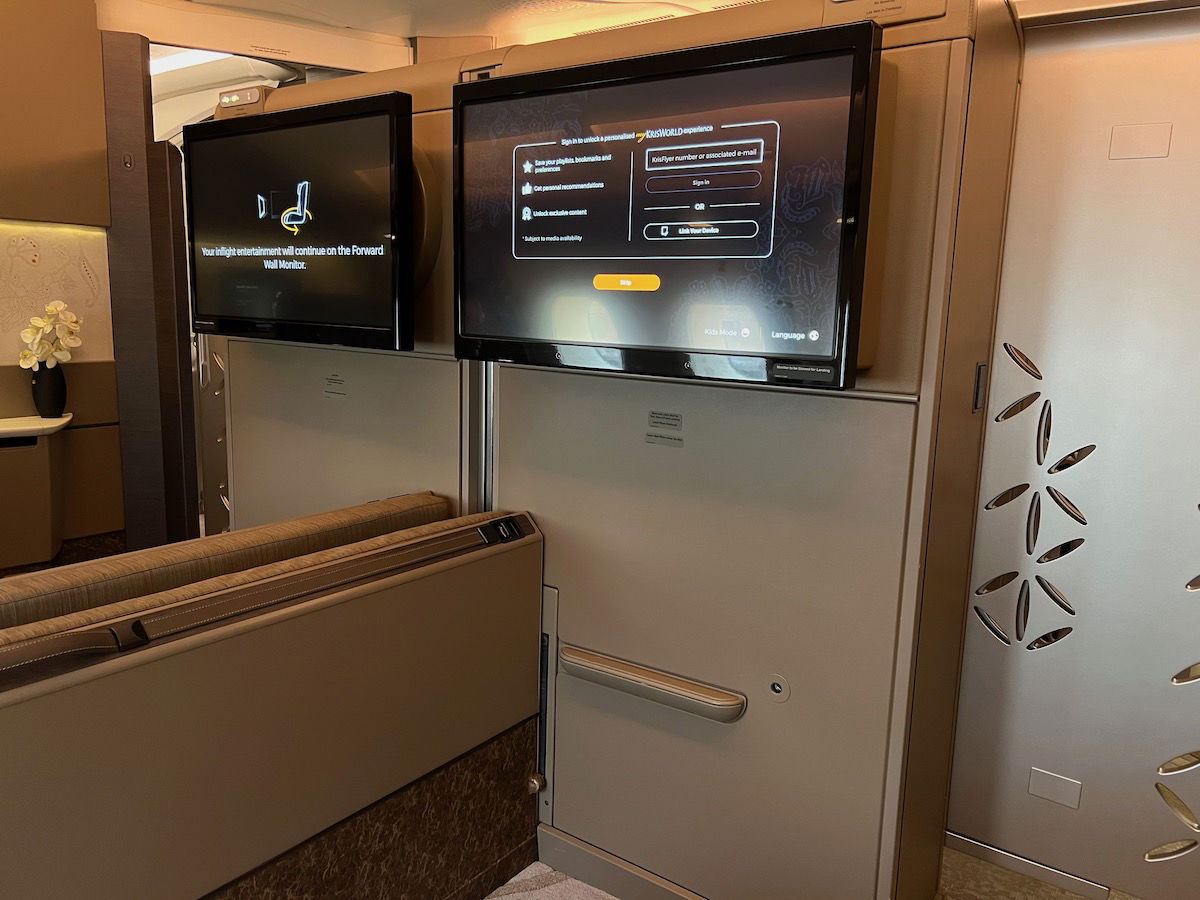 But what really takes this product to the next level is when you actually put the two Suites into bed mode. This is a case where the whole (double Suites) is the greater than the sum of its parts (two individual Suites) by a long shot.
If you're two people traveling together, this is almost unarguably the most comfortable configuration you'll find in all of commercial aviation (especially with the Etihad Residence no longer existing). What a spacious configuration!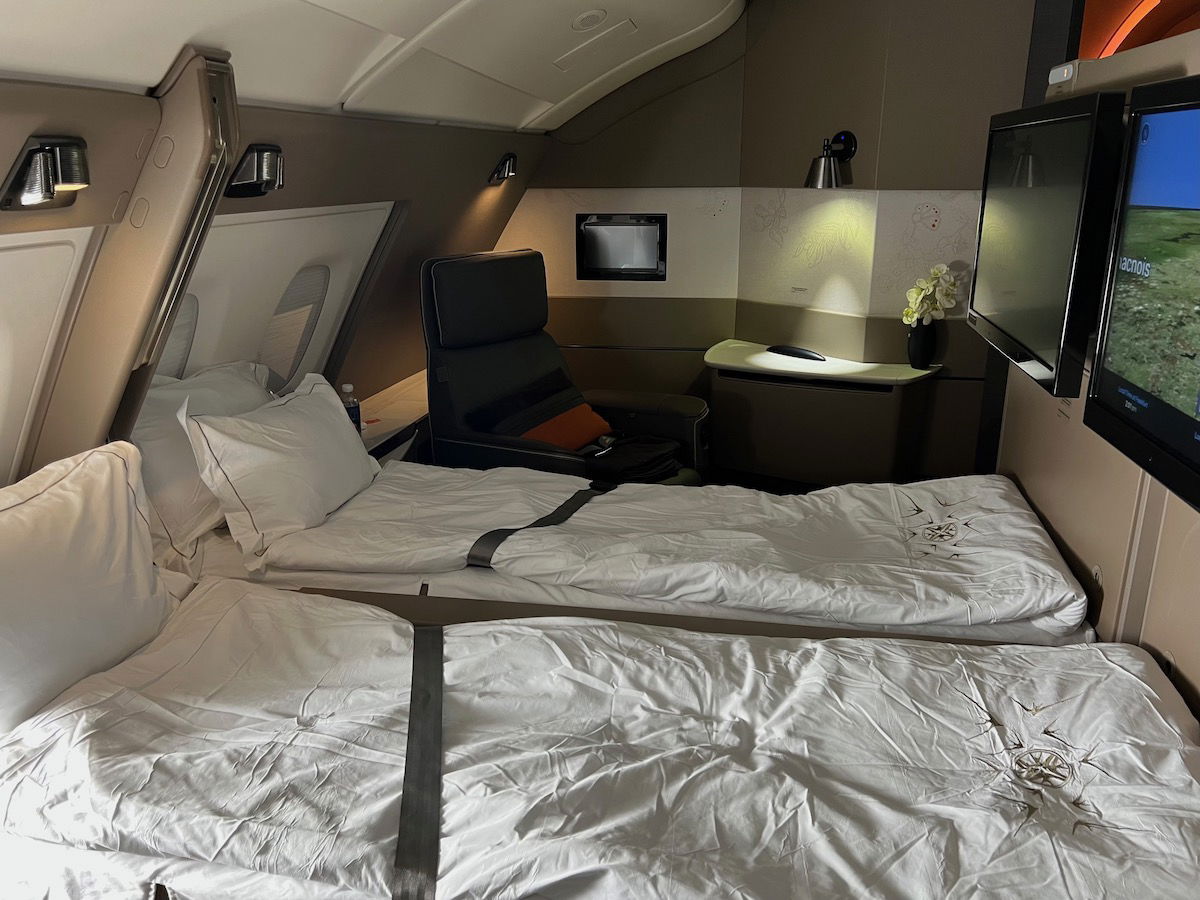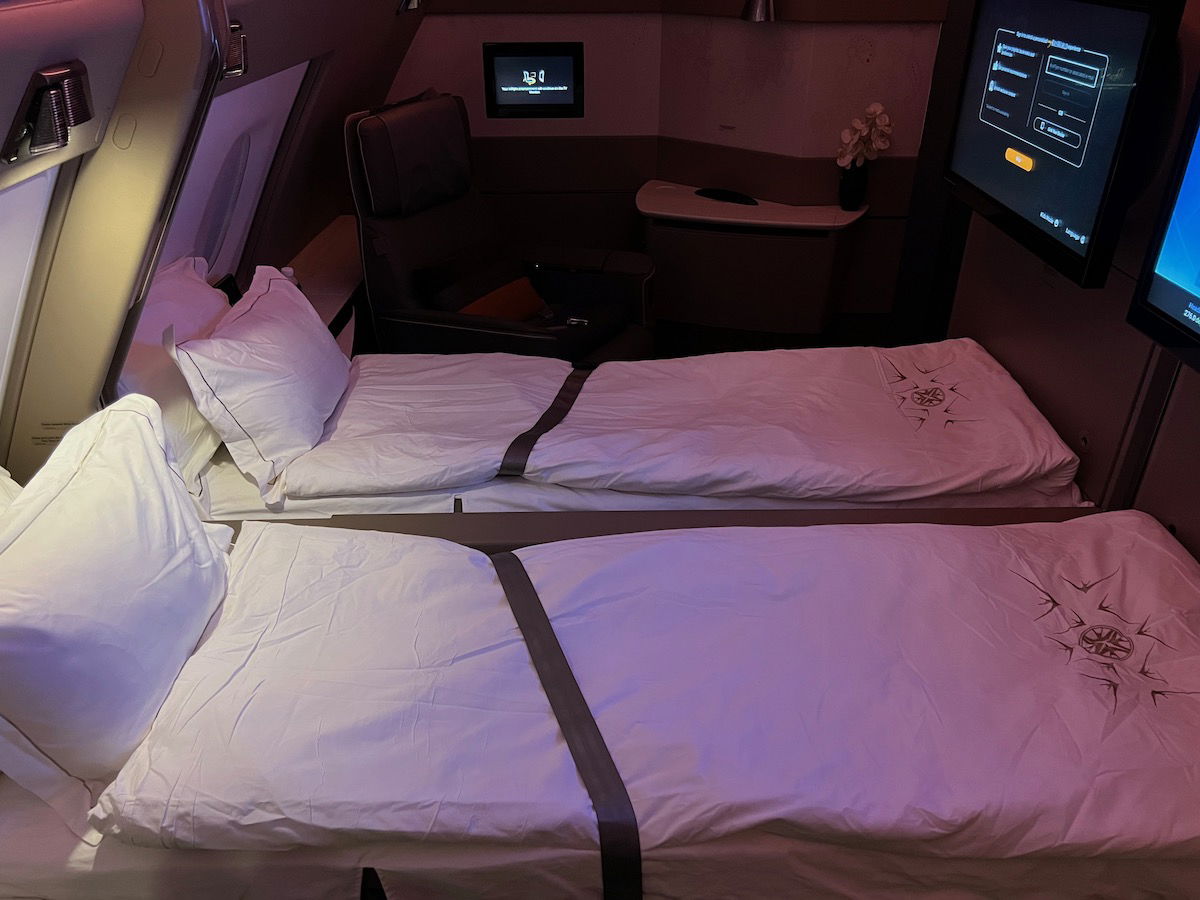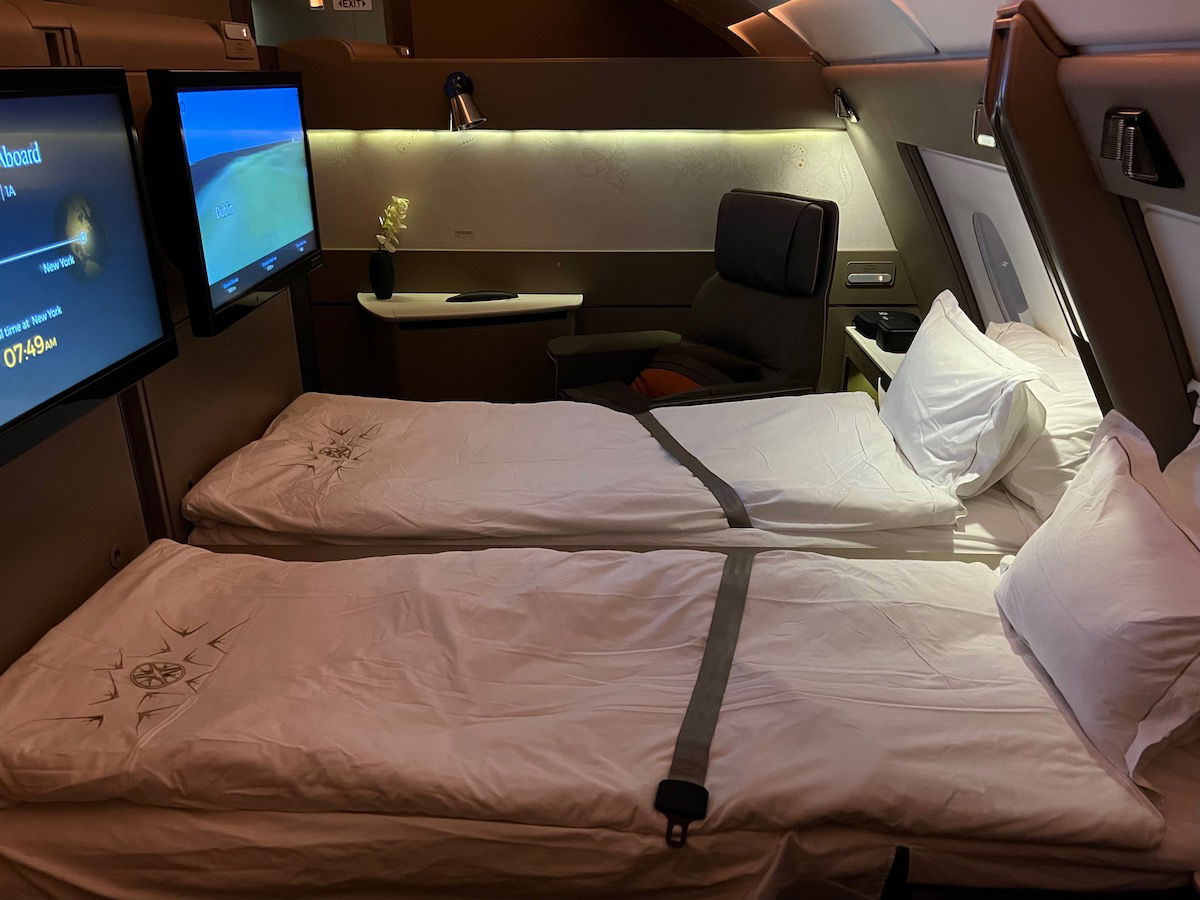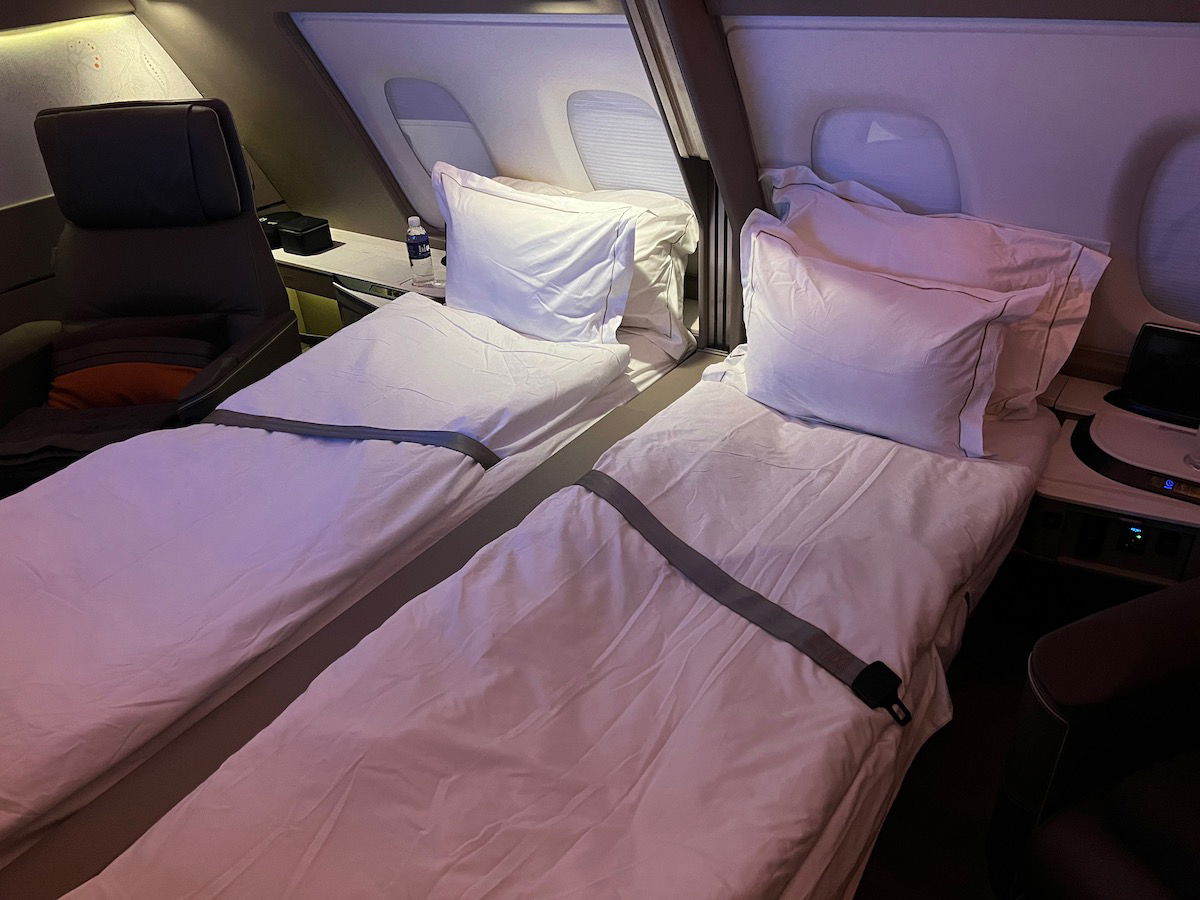 A few things to note:
Even individually, the beds are more comfortable when you form a double bed, since you're not sleeping right next to a wall
There is a bit of a partition between between the two beds, so I wouldn't call this a true double bed; in other words, you can easily sleep next to one another, but cuddling will take a bit of effort
The overall layout here is just awesome, because one person could sit in one of the chairs and use part of the bed as an ottoman, while the other person would have a lot of space in bed
Bottom line
Singapore Airlines' A380 Suites Class is an incredible first class product to begin with. However, it's on a completely different level when you have adjoining Suites, and can turn the two Suites into one. It's always nice to discover new aspects to an existing first class product you've already experienced.
This is also one of the reasons there's not really a single best first class product in the world. I'd argue that Singapore's A380 Suites is as good as it gets when you're traveling with someone, while if you have a single Suite it's not quite as good.
If you fly Singapore Airlines' A380 Suites "double bed," you're in for a real treat!
Has anyone else experienced this, and if so, what did you think?