Cathay Pacific recently teased its new "Aria Suites" business class, which will be introduced on Boeing 777-300ERs as of the second quarter of 2024. While we know Cathay Pacific is introducing a new first class product, it'll take some time before we see that in service.
Well, a longtime OMAAT reader came across something very interesting, which gives us a good sense of what we can expect from Cathay Pacific's new first class, including what it will almost certainly be named.
New Cathay Pacific first class coming to 777-9 in 2025+
We've known for years that Cathay Pacific plans to introduce new first and business class products on its Boeing 777-9s. The airline has 21 of these aircraft on order, and they're expected to become the carrier's flagship aircraft. Initially the aircraft was supposed to enter service as of 2020, though due to certification issues, the plane is now slated to be delivered in 2025 at the earliest.
Many airlines were planning on introducing new "flagship" products on their 777-9s, though the five year delay has obviously not been ideal for that, and has caused many airlines to fall behind with their premium products. I would imagine that Cathay Pacific was planning on debuting its new business class on 777-9s, but now decided to install it on 777-300ERS.
While Cathay Pacific has moved forward with introducing its new business class, the airline only plans to introduce a new first class as of 2025, on Boeing 777-9s. Understandably, one major concern here is when 777-9s will actually enter service for Cathay Pacific.
At this point, the aircraft will enter commercial service in 2025 at the absolute earliest, and Cathay Pacific isn't even the launch customer. So it could very well be 2026 or 2027 before we see the first Cathay Pacific 777-9.
Cathay Pacific's new first class could be called "Halo Suites"
This is where it gets interesting, as I don't think this has been discussed anywhere before. Cathay Pacific has recently applied for a trademark for "The Aria Suites," which is the carrier's new business class.
The airline has also applied for a trademark for "The Halo Suites," and this is specifically intended to cover "luxury and first class air transportation services."

For what it's worth, the two parents were filed just a few weeks apart. While we can't say anything with certainty, I'd be willing to bet just about anything that this will in fact be the name of Cathay Pacific's new first class product.
Cathay Pacific's possible new first class product
We know that Cathay Pacific has been working on developing its new first class product for many years (it was supposed to be ready in 2020, based on the initial Boeing 777-9 delivery timeline). And we also know that Cathay Pacific is planning something truly spectacular. However, there hasn't been any official indication as to what we can expect.
Well, back in 2019, Cathay Pacific applied for a patent for a new first class product, and… wow! Let me emphasize that I can't guarantee this will be Cathay Pacific's new first class, though I think it's highly likely. I'd highly recommend reading the whole application, as it actually contains a couple of different concepts.
Below is the diagram that's displayed, and if I'm understanding this correctly, the plan is that figures five through eight reflect what Cathay Pacific is hoping to offer.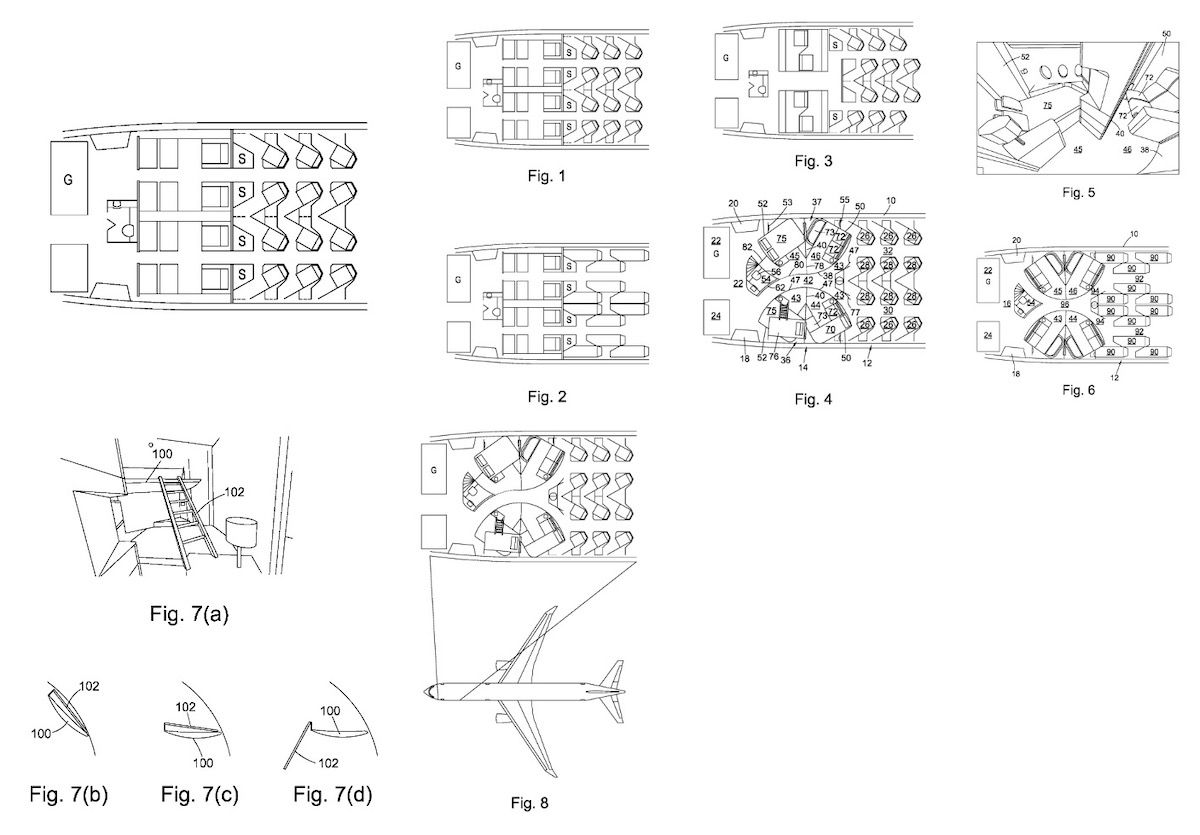 A few things that stand out the most:
Cathay Pacific is focused on having a single aisle in first class, noting that this would allow first class suites to be wider
Cathay Pacific plans to have four first class seats on its Boeing 777-9s
Cathay Pacific wants to create a double suite, whereby a pair of seats can be converted into a shared space
Cathay Pacific even proposes having a ladder leading to a bunk bed, so that a module could be used for a family to travel together in a first class suite; this would just be an additional sleeping space, and not part of the standard offering for passenger
As you can see in figure eight, the intent is that a double suite could feature a private bathroom on the right side of the aircraft, simply by moving partitions around
This appears to be based on Paperclip Design's Peacock Suites concept. The below pictures should give you a sense of just how spectacular this product might be (though I'd expect Cathay Pacific to have a customized version of this, so don't expect it to be exactly like this).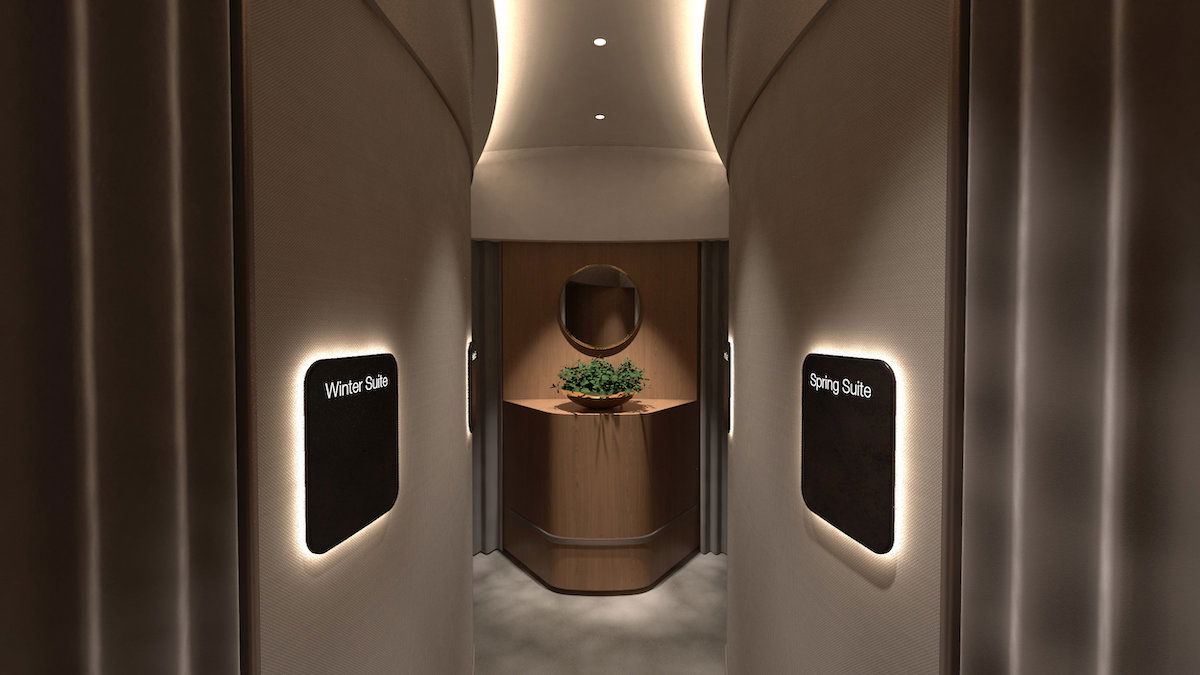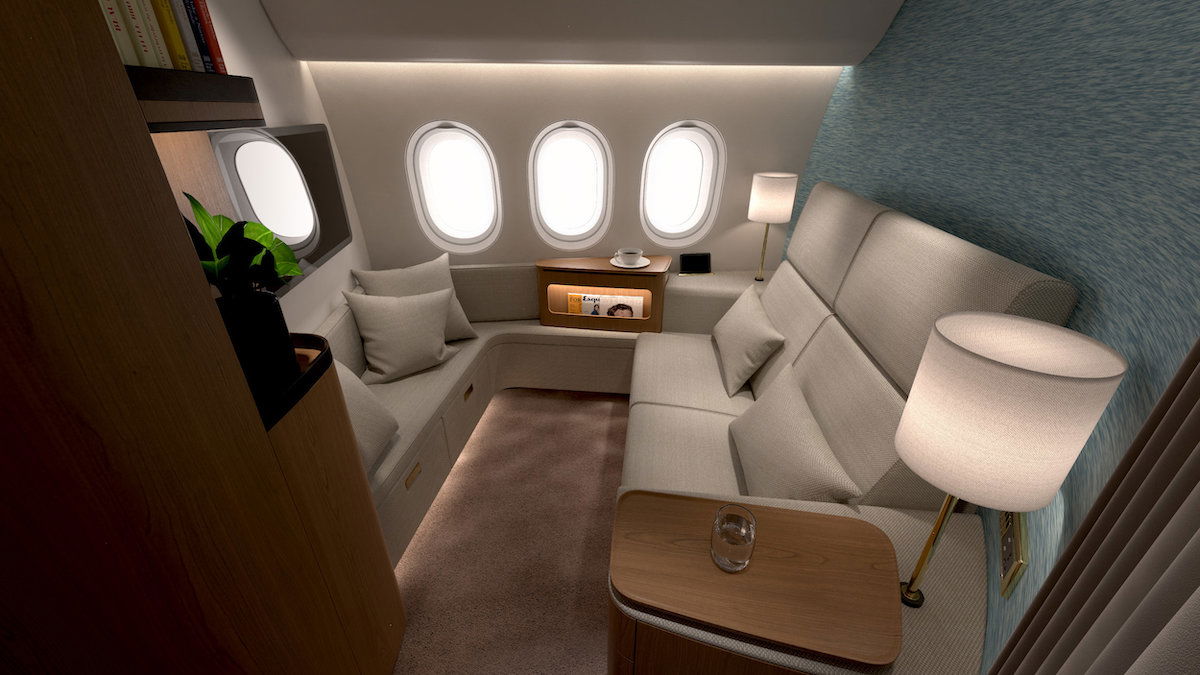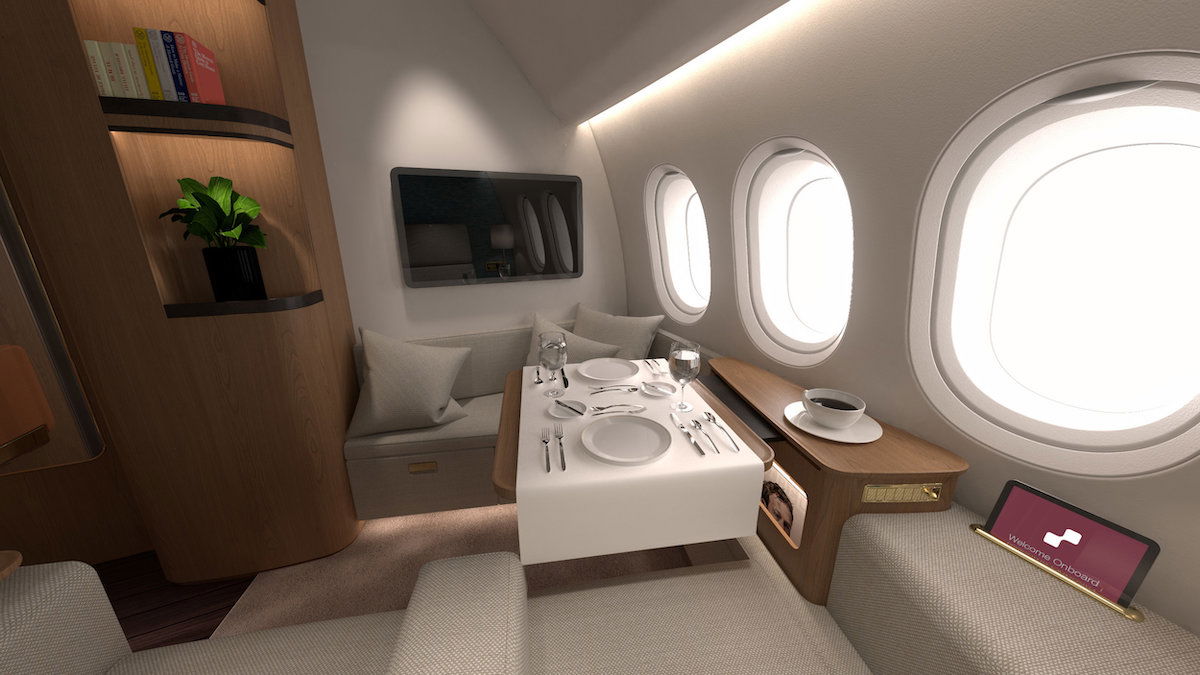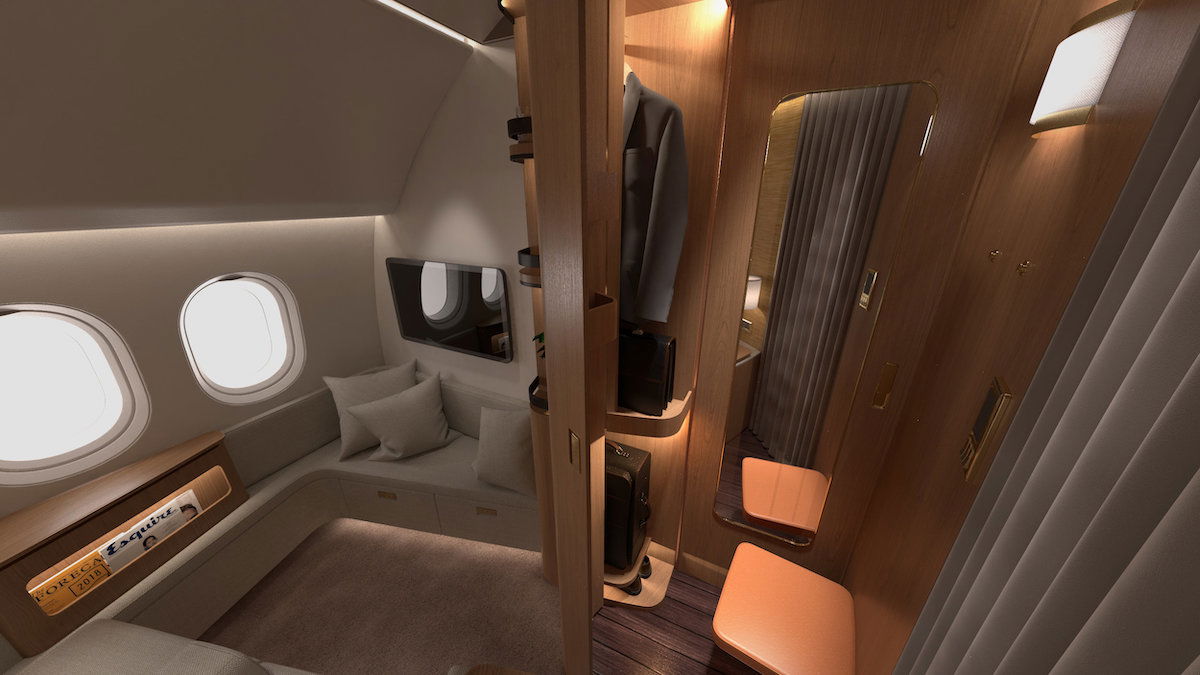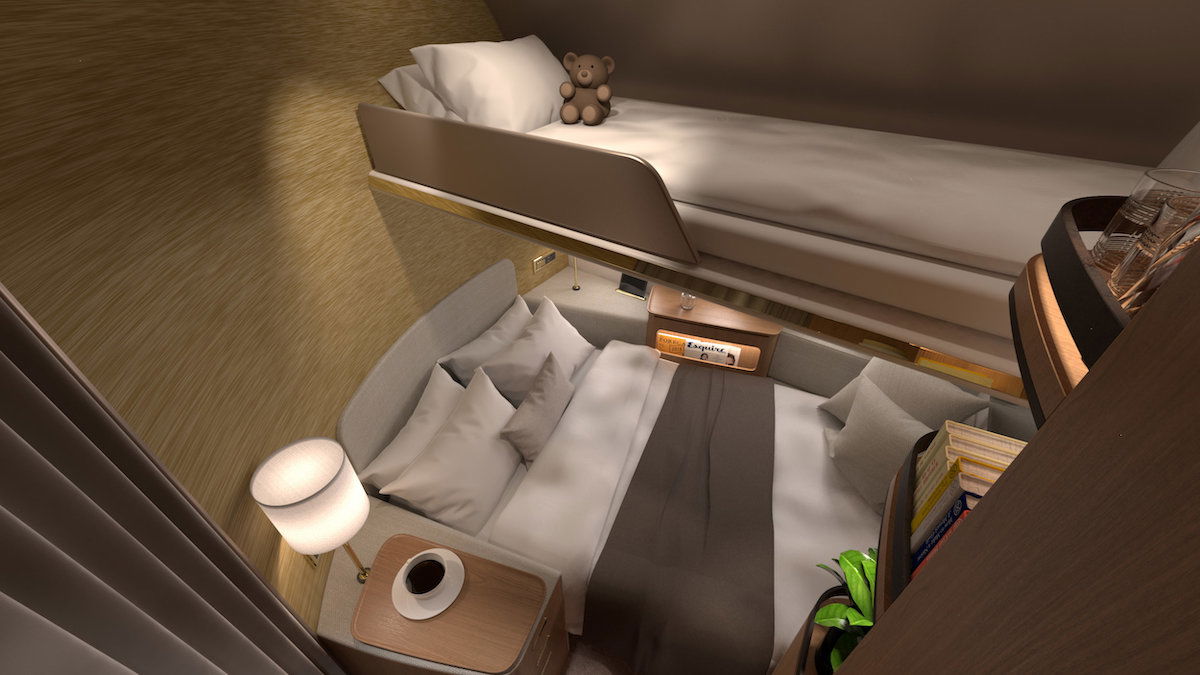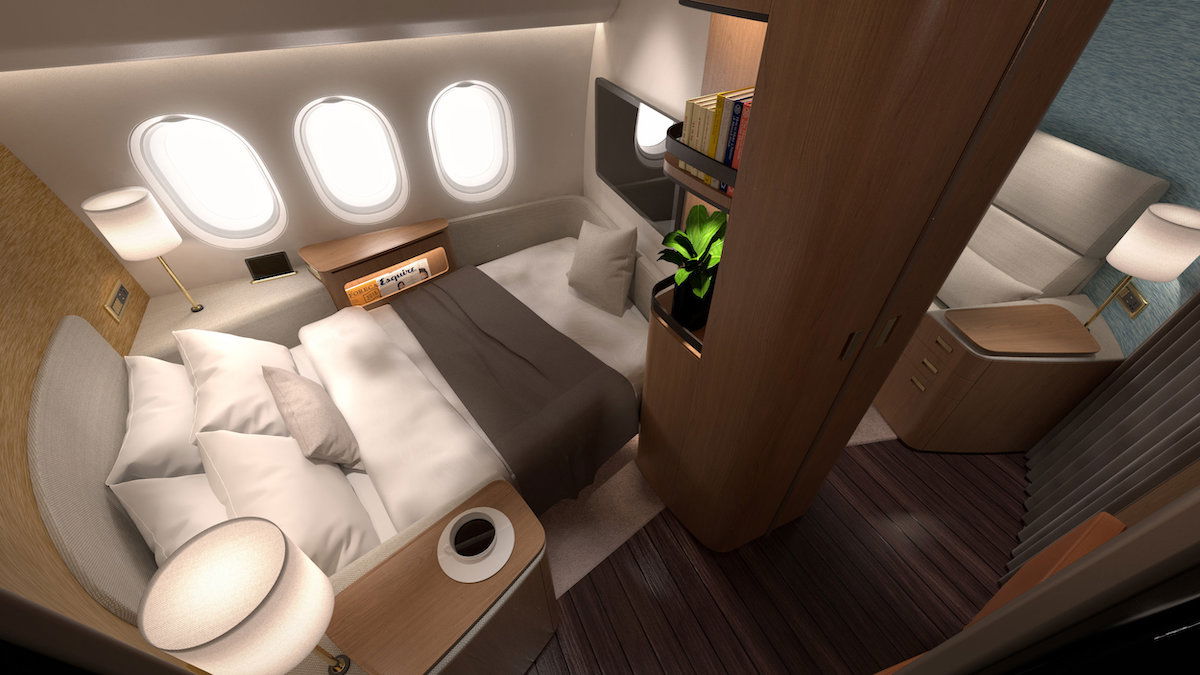 This product looks absolutely wild, and I'm in disbelief that we could see anything like this introduced. It almost looks more like The Etihad Residence than a standard first class product. Heck, it almost looks more like what you'd expect on a private jet. Suffice it to say that this probably wouldn't be great for Cathay Pacific first class award availability…
My take on Cathay Pacific's premium product evolution
It's always interesting when airlines decide to introduce a new business class, but not a new first class. While details remain limited about Cathay Pacific's new business class, it's clear that the product will have a door, and excellent tech, including wireless charging, bluetooth audio, etc.
It's interesting that Cathay Pacific presumably won't have that same tech in first class. While that's somewhat disappointing, I imagine the airline will have no issues continuing to sell people on first class. Cathay Pacific's first class is an excellent, spacious product. While this isn't the world's most private first class, it is one of my favorites. On top of that, the soft product is very good.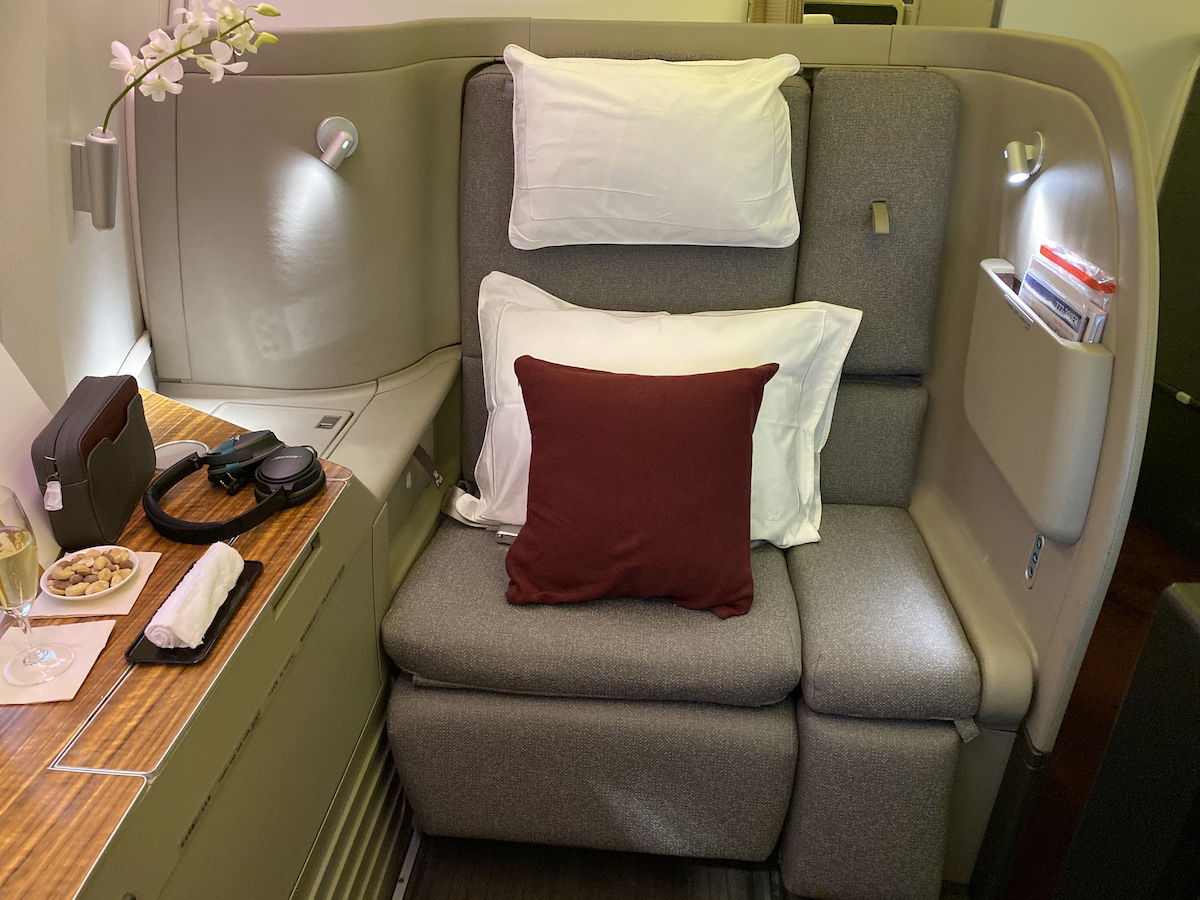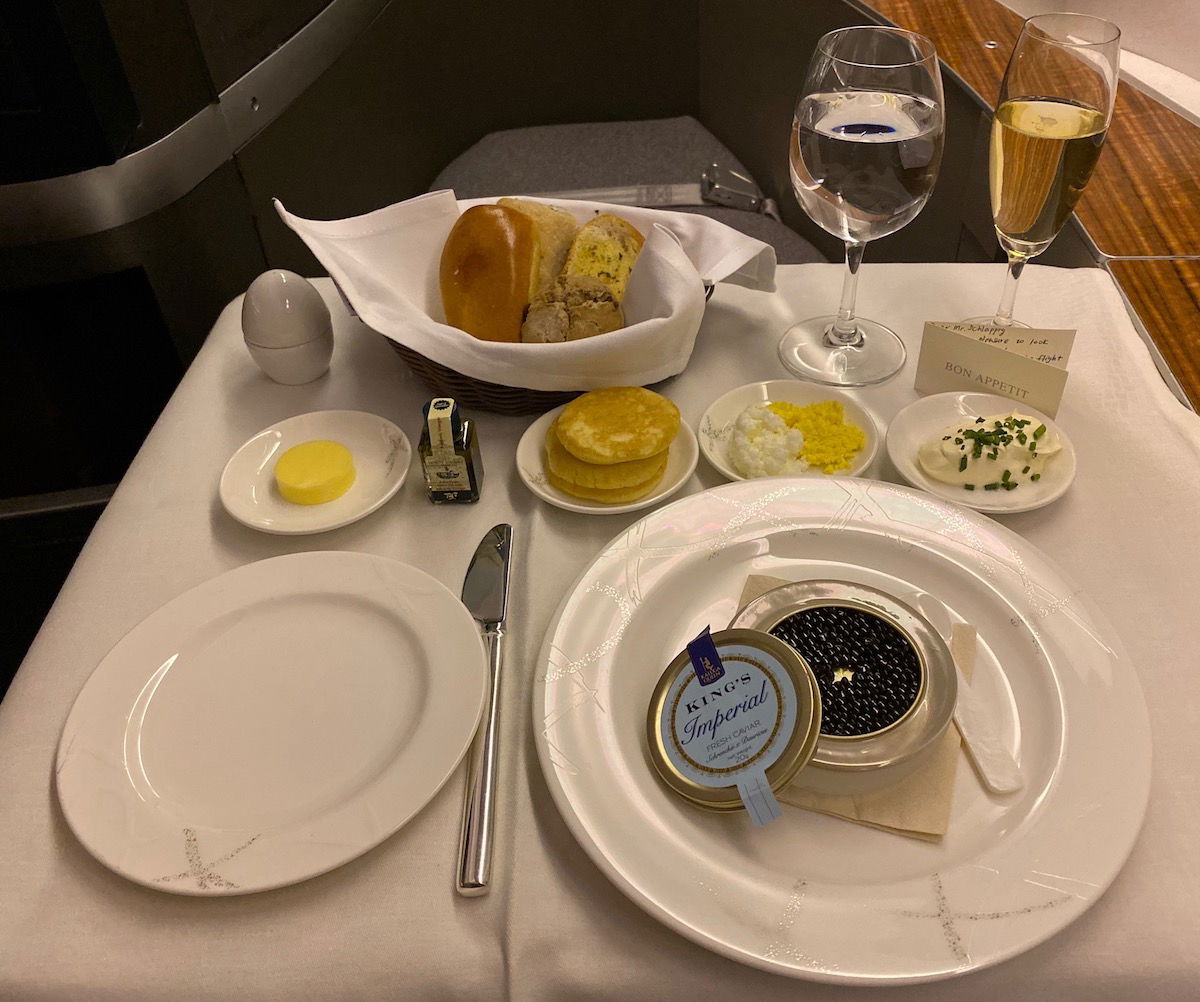 Suffice it to say that Cathay Pacific's new Boeing 777-9 first class looks astonishingly good. I still can't fully picture it, but it seems like it'll really set the bar for first class.
One thing I can't help but wonder is if Cathay Pacific might just remove first class from its Boeing 777-300ERs when it introduces the new business class. Cathay Pacific currently has around 20 Boeing 777s with first class, and that's similar to the number of Boeing 777-9s on order.
I wonder if Cathay Pacific might first install its new business class on Boeing 777s without first class, and then install it on those with first class, while removing the cabin. There are only so many markets where Cathay Pacific sees first class demand, so I wouldn't be surprised to see the airline do this, at least eventually. I certainly could be wrong, though.
Bottom line
Cathay Pacific plans to introduce a new first class product, though only on the 777-9, and not on the 777-300ER. You can expect this product to be introduced as of 2025 at the earliest.
Based on some filings, it would appear that Cathay Pacific will name its new first class "The Halo Suites," and some diagrams suggest that this will be an unbelievably good product.
What do you make of what we know about Cathay Pacific's new first class?