In the interest of full disclosure, OMAAT earns a referral bonus for anyone that's approved through some of the below links. These are the best publicly available offers (terms apply) that we have found for each product or service. Opinions expressed here are the author's alone, not those of the bank, credit card issuer, airline, hotel chain, or product manufacturer/service provider, and have not been reviewed, approved or otherwise endorsed by any of these entities. Please check out
our advertiser policy
for further details about our partners, and thanks for your support!
For the first international sector of our ski trip in the French Alps, we flew Lufthansa first class from Boston to Munich. While I reviewed Lufthansa's Boeing 747-8 first class not too long ago, I was excited to fly Lufthansa's A340-600 first class. That's because Lufthansa grounded these jets during the pandemic, and they were only recently brought back, in order to bring first class back to Munich.
As an avgeek, it's such a pleasure to fly the A340-600, as you don't see many of these in service anymore, and it's the world's second longest aircraft (after the 747-8). How was the first class flight? Well, we had an absolutely lovely crew, and other than that it was Lufthansa first class as usual. That's to say that the hard product wasn't much to get excited about, while the soft product was quite good.
Lufthansa first class is remarkably consistent. Usually that's a great thing, but when you feel like even the menus don't change year-to-year, I'm not sure that's ideal. I'm hoping that Lufthansa also refreshed its soft product when it introduces a new first class in 2024.
How I booked my Lufthansa first class ticket
Lufthansa opens first class award availability to partner airlines at most 15 days in advance, though more often than not, the seats open much closer to departure than that. I had been monitoring for first class availability, and around a week before departure it opened up.
I managed to book the following for 100,000 Air Canada Aeroplan points plus $74.34 in taxes and fees per person (the first flight was in first class, while the second flight was in business class):
3/14 LH425 Boston to Munich departing 9:05PM arriving 9:25AM (+1 day)
3/15 LH2384 Munich to Geneva departing 11:20AM arriving 12:30PM
Admittedly there are much more creative awards you can book with Aeroplan points, but this was still a very good value. Aeroplan points are easy to come by, as the program is transfer partners with Amex Membership Rewards, Capital One, and Chase Ultimate Rewards. On top of that, there's the Aeroplan® Credit Card (review) in the United States, which is phenomenal.
Lufthansa first class lounge & boarding
I've already reviewed the Lufthansa Lounge Boston, including the exclusive first class section. All-in-all it's a solid ground experience for first class passengers, especially since you can board the plane directly from the lounge. Boarding was scheduled to start at 8:25PM for our 9:05PM departure, and in reality boarding started just a few minutes after that.
Lufthansa A340 first class cabin & seats
We boarded through the second set of doors, where we were greeted by the purser, and pointed left toward first class. Between doors one and two on the A340, Lufthansa has eight first class seats (spread across two rows) and 30 business class seats (spread across five rows).
Lufthansa's first class seats are more or less identical, regardless of which aircraft you fly, so this layout should look familiar. It's hardly a cutting edge product, but it's quite comfortable nonetheless.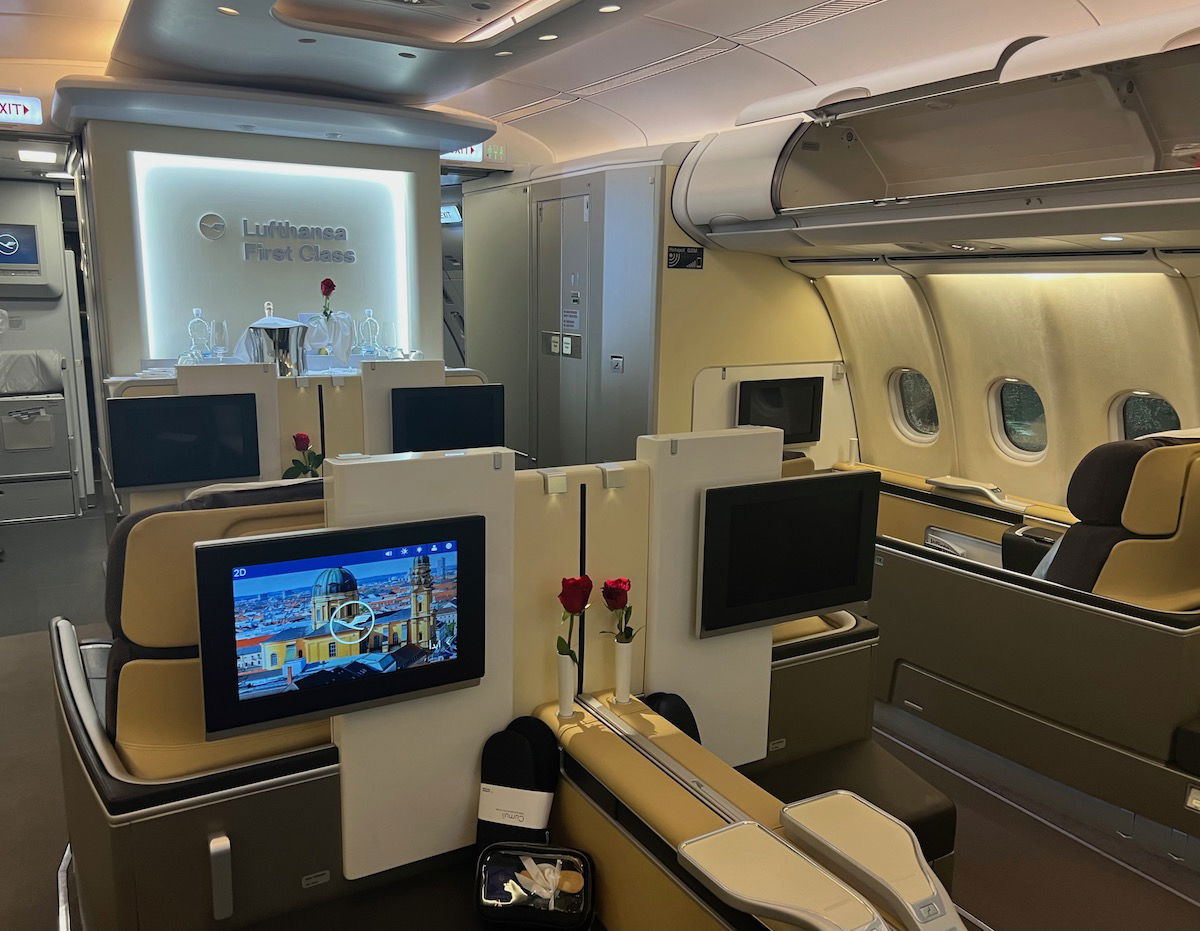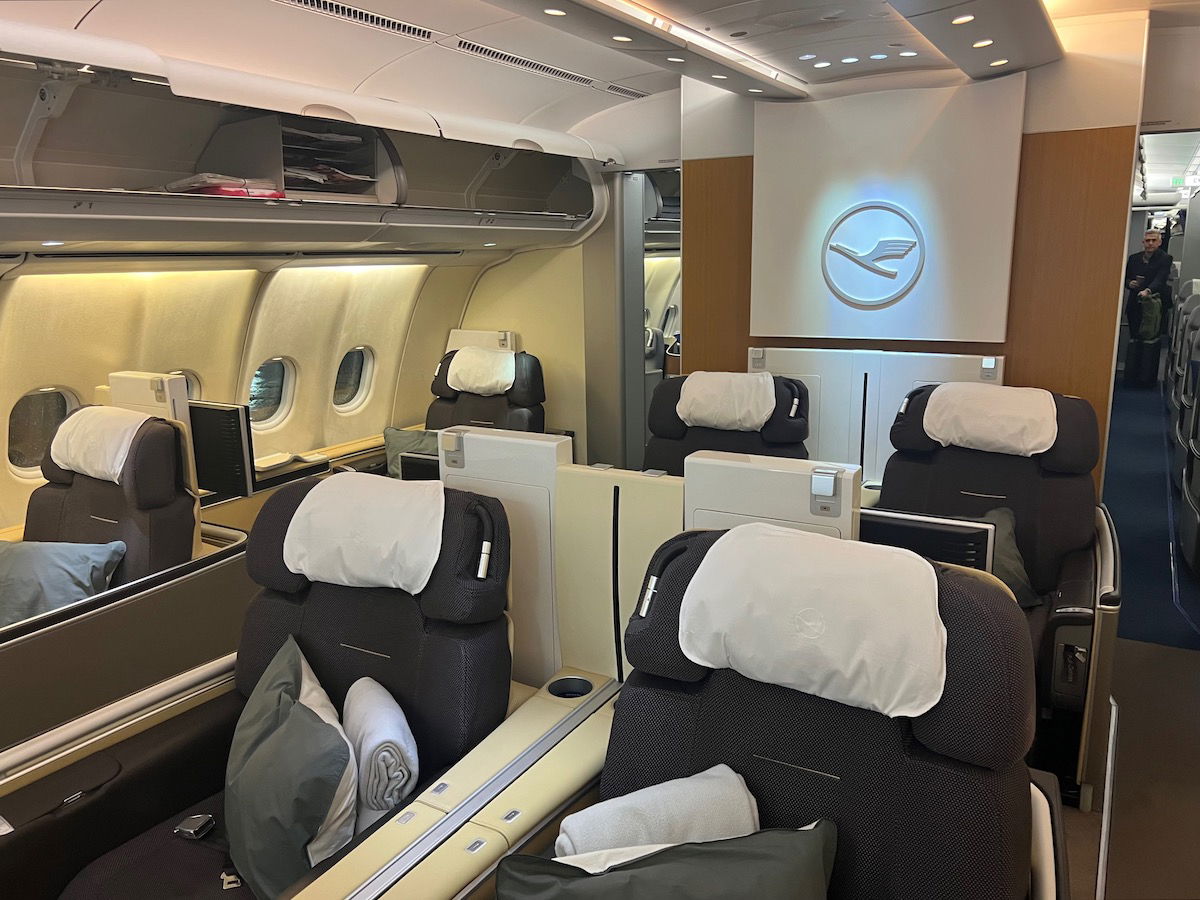 Those traveling alone will certainly prefer one of the window seats, so that they can have an aisle and a window. By the way, I love how Lufthansa has suede-like walls (or whatever it is) in first class, which you don't find on many airlines.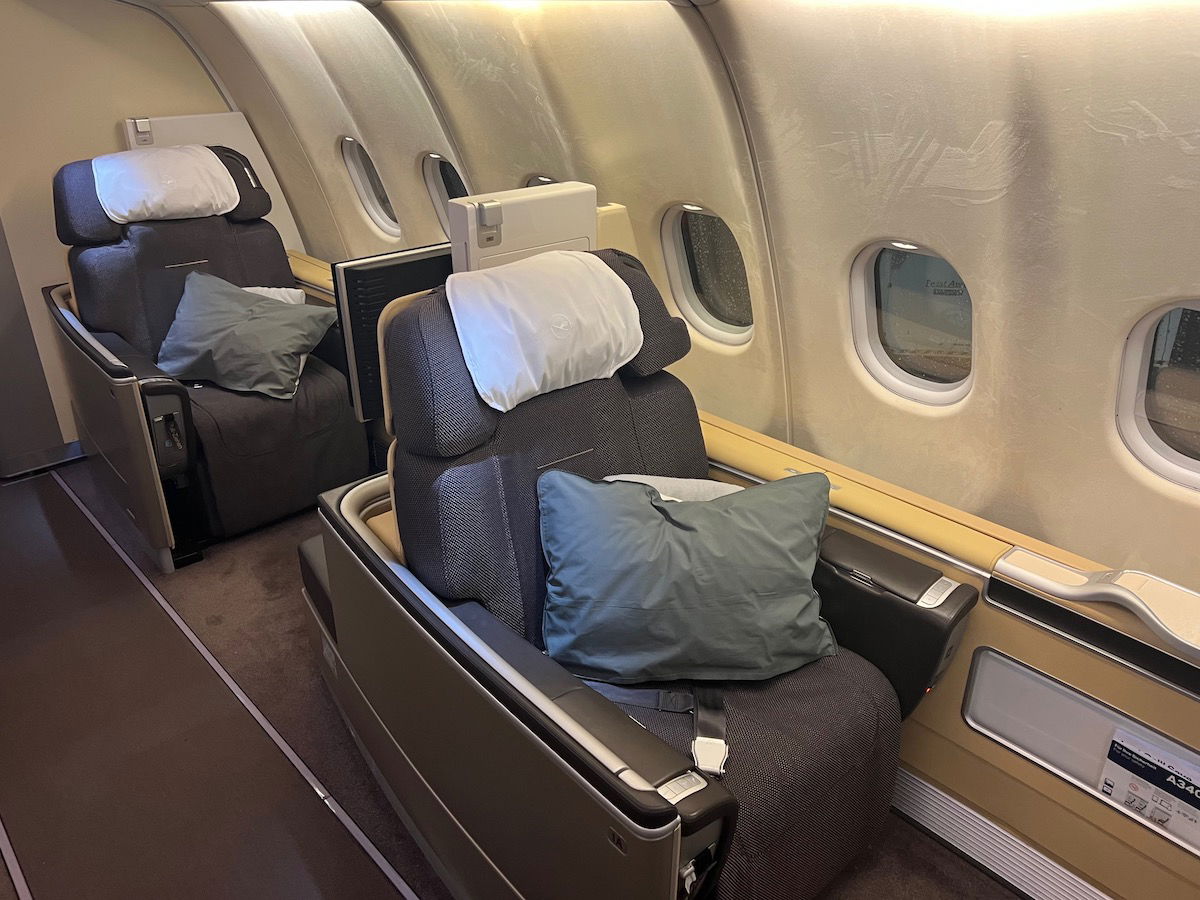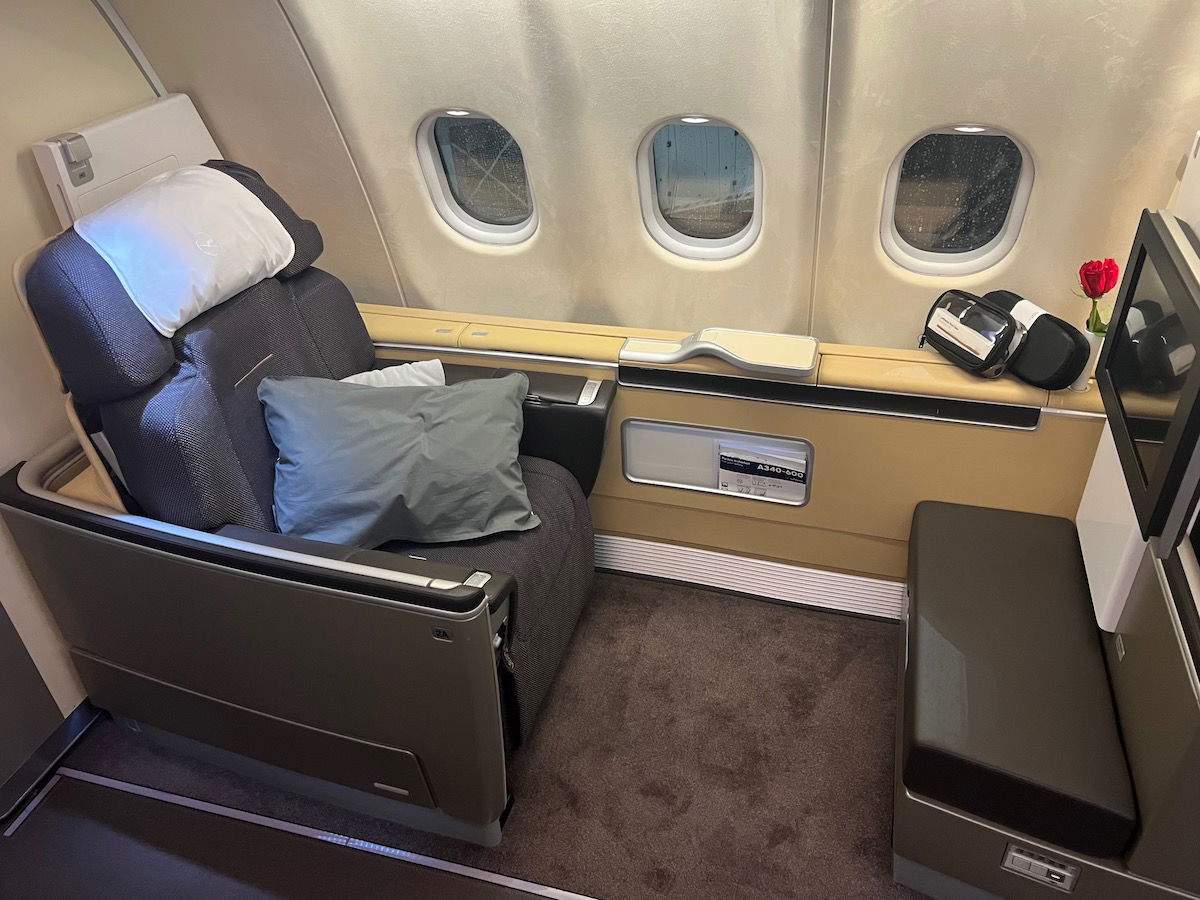 Meanwhile those traveling with someone may prefer the two center seats. I assigned us seats 2D and 2G, the center seats in the second row. Note that if you're traveling alone and end up in one of these seats you can still enjoy privacy, as there's a partition between the seats that can be raised.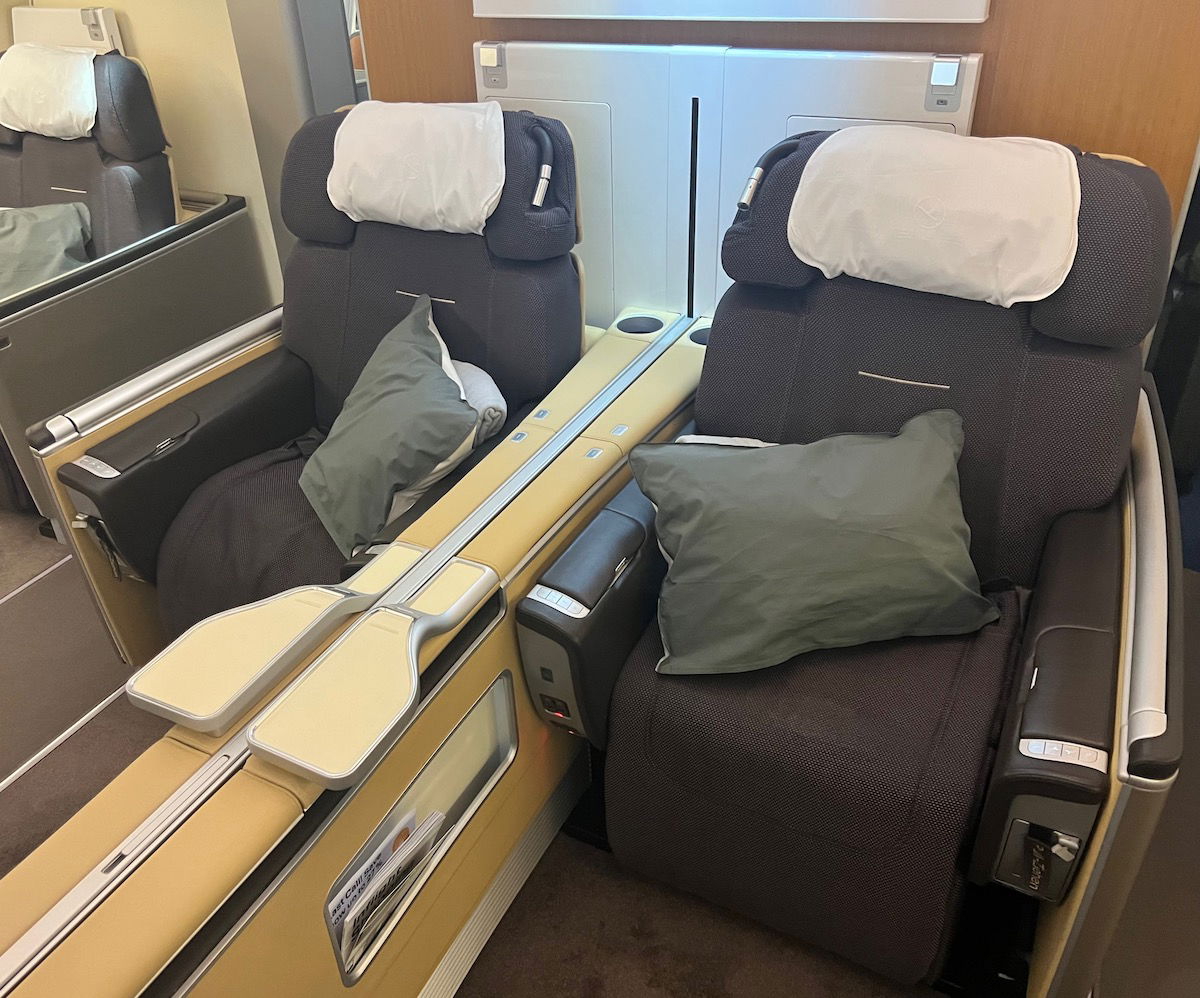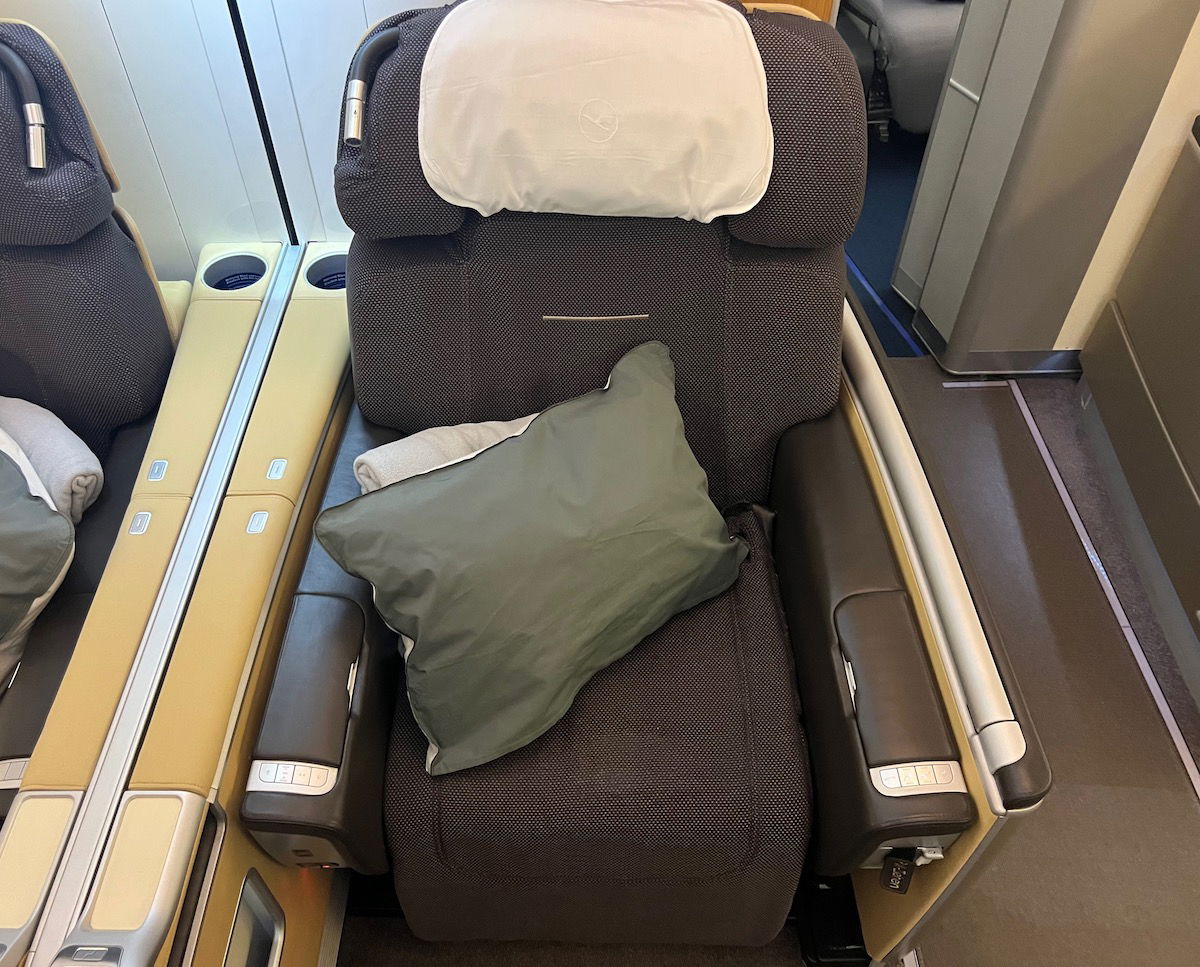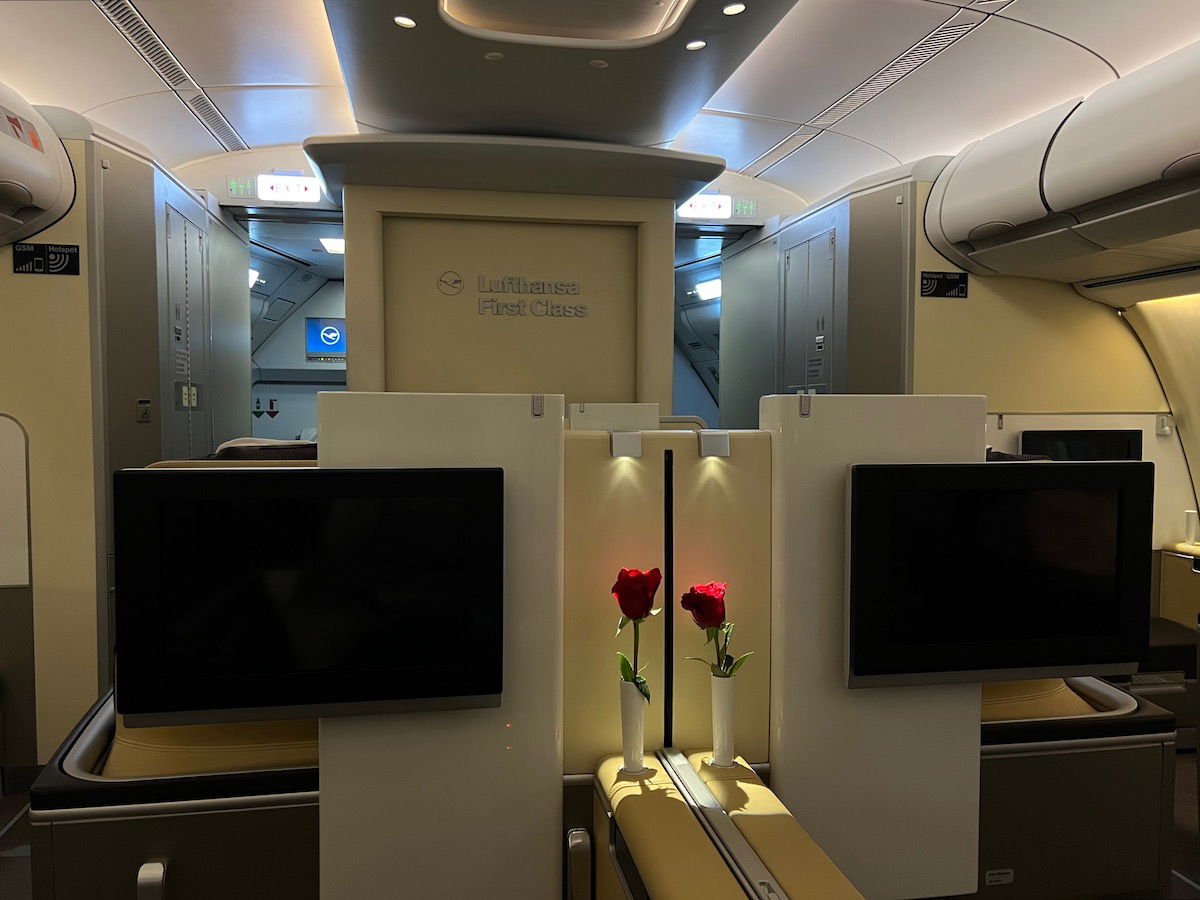 In this configuration, the center armrest has a panel that can be raised to expose the entertainment controller, which essentially has a "mousepad" feature you can use to control the entertainment. This armrest also has the flight attendant call button and reading light button.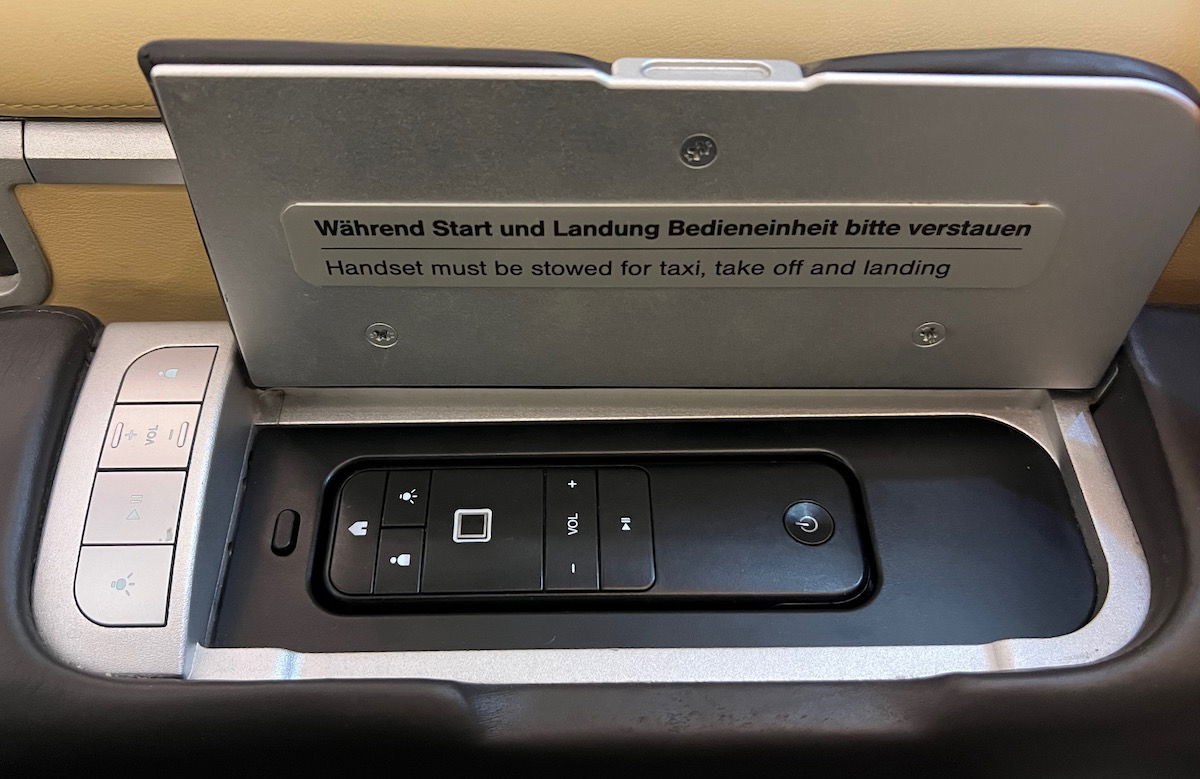 Also located underneath this armrest are the power outlets, including two AC power outlets and two USB outlets. This is far from cutting edge, and unfortunately plugs tend to "pop out" of these quite easily, which isn't ideal.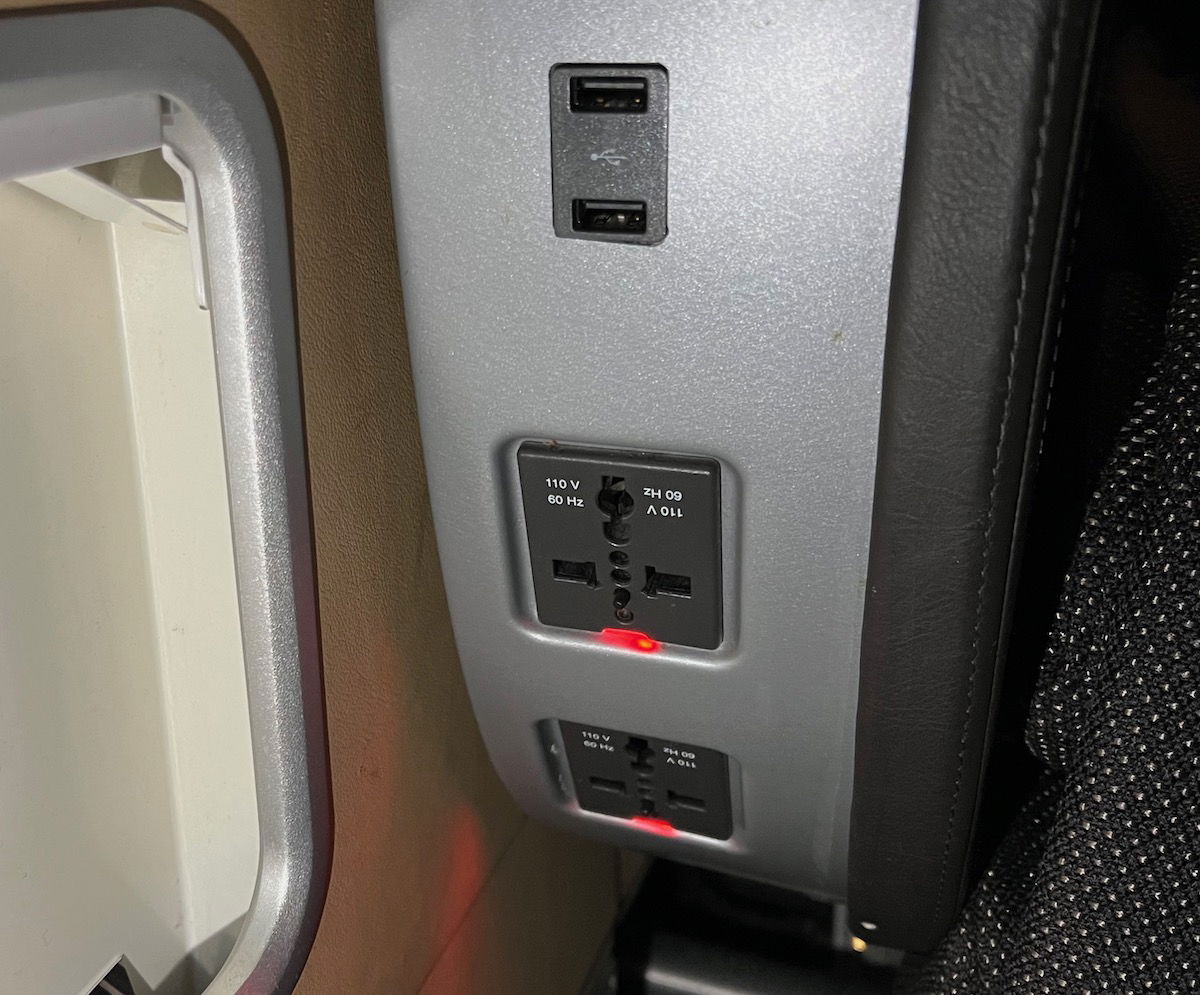 Then the aisle-side armrest has the seat controls. You can either choose to change one specific seat position, or there are four presets you can choose from.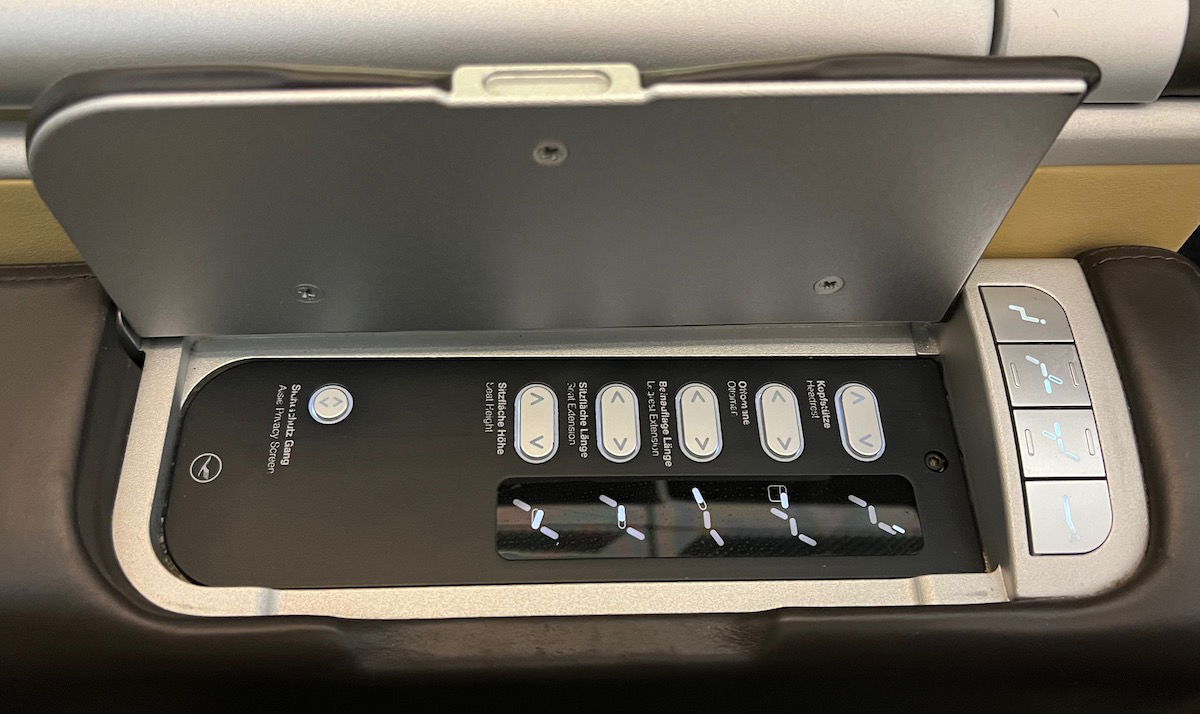 There's also a privacy panel on this side, so that you have privacy from the aisle. While there are much more private first class products out there, this does the trick for not feeling too exposed.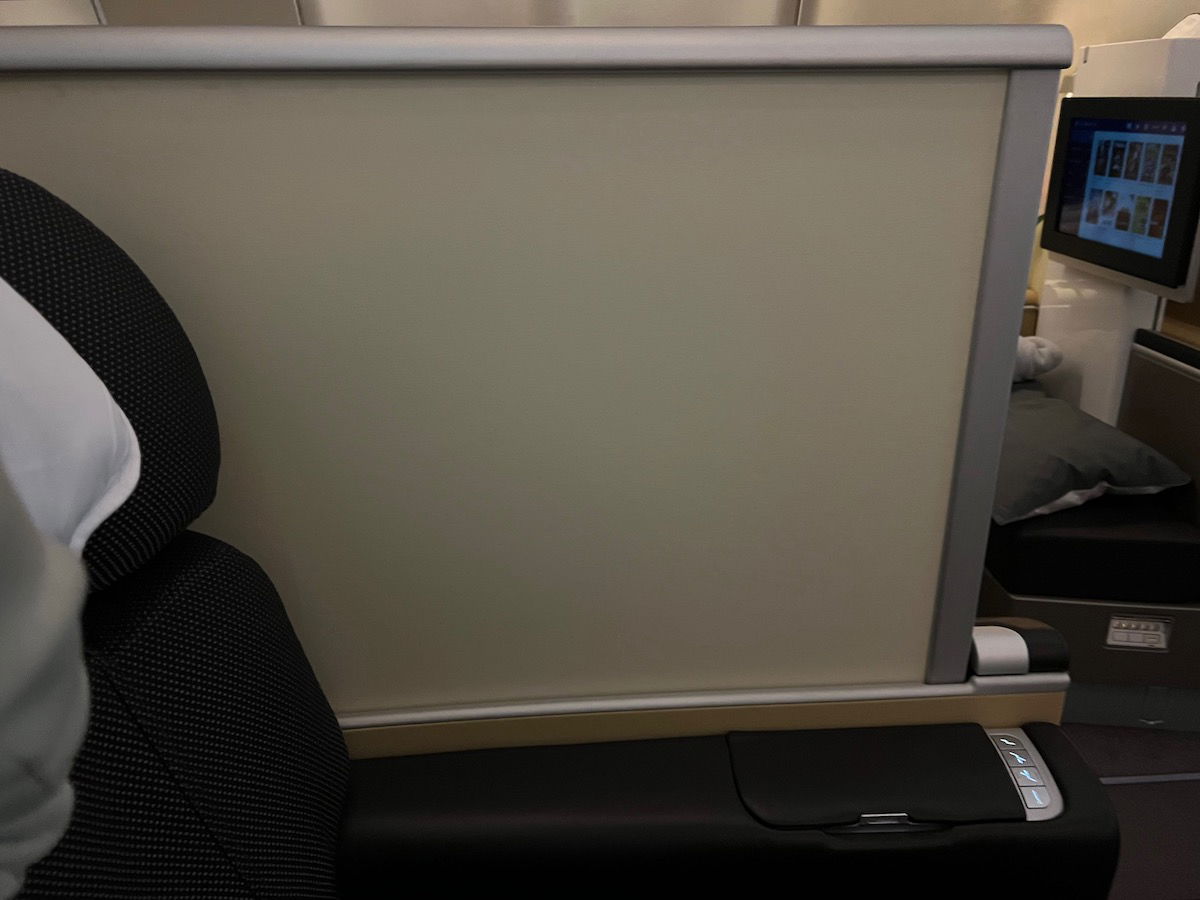 Lufthansa first class seats have large ottomans, which are pretty versatile. They can be used as a buddy seat to dine face-to-face, and can also be moved either forward or backward, depending on your height and how you're lounging.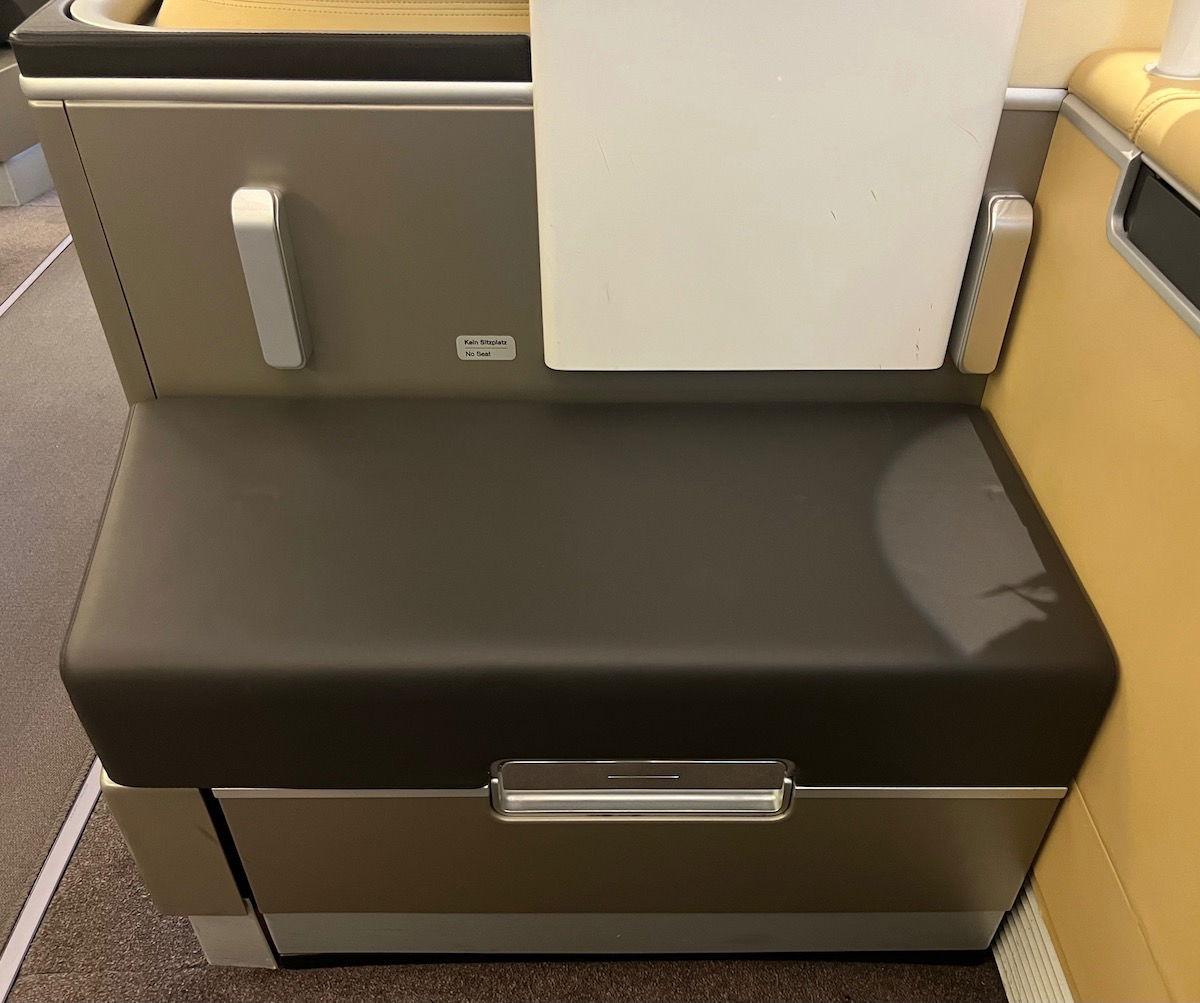 The ottoman also contains a large storage compartment, which is the only substantial storage you'll find at this seat.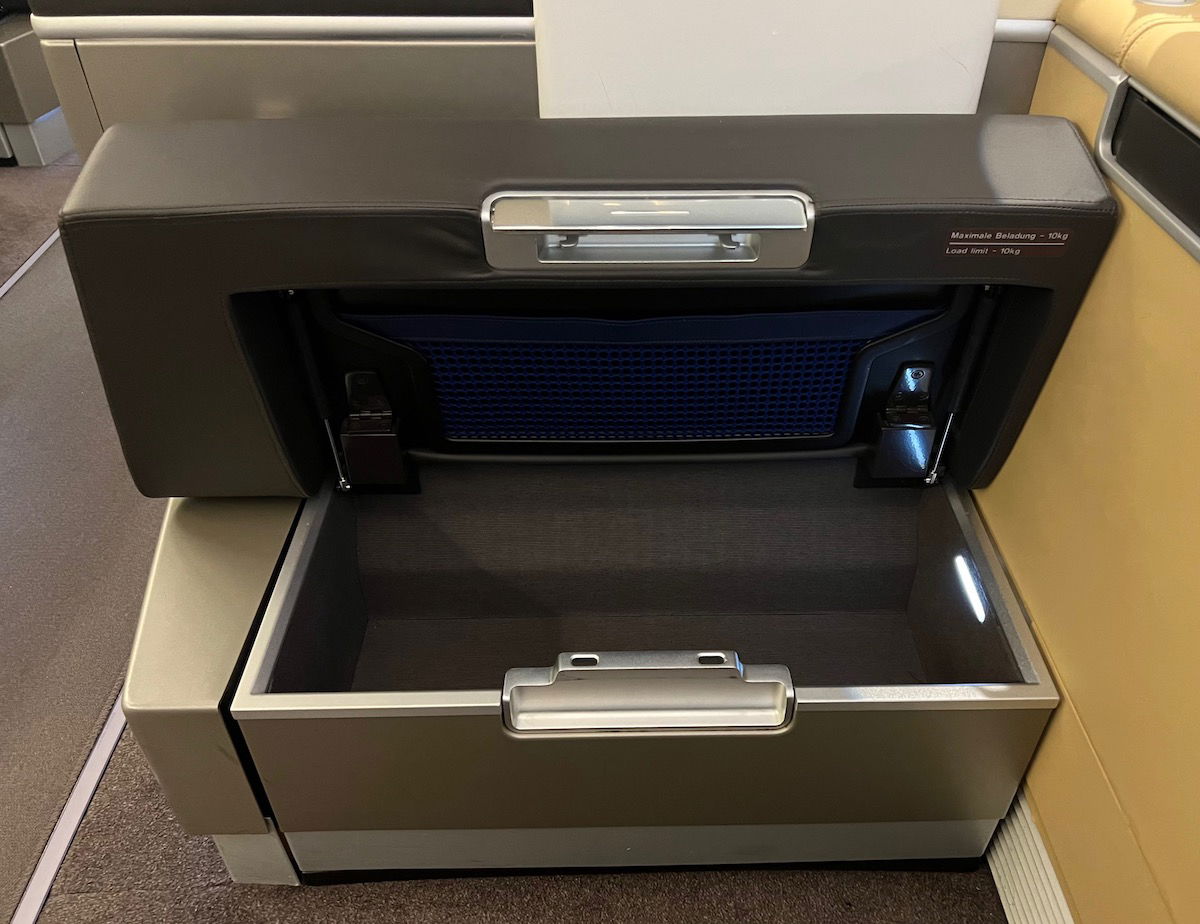 The center armrest contains the large tray table, which can slide quite far in both directions. The only bad thing is that it can be kind of heavy when you're trying to either take it out or put it back, but the crew usually helps with that.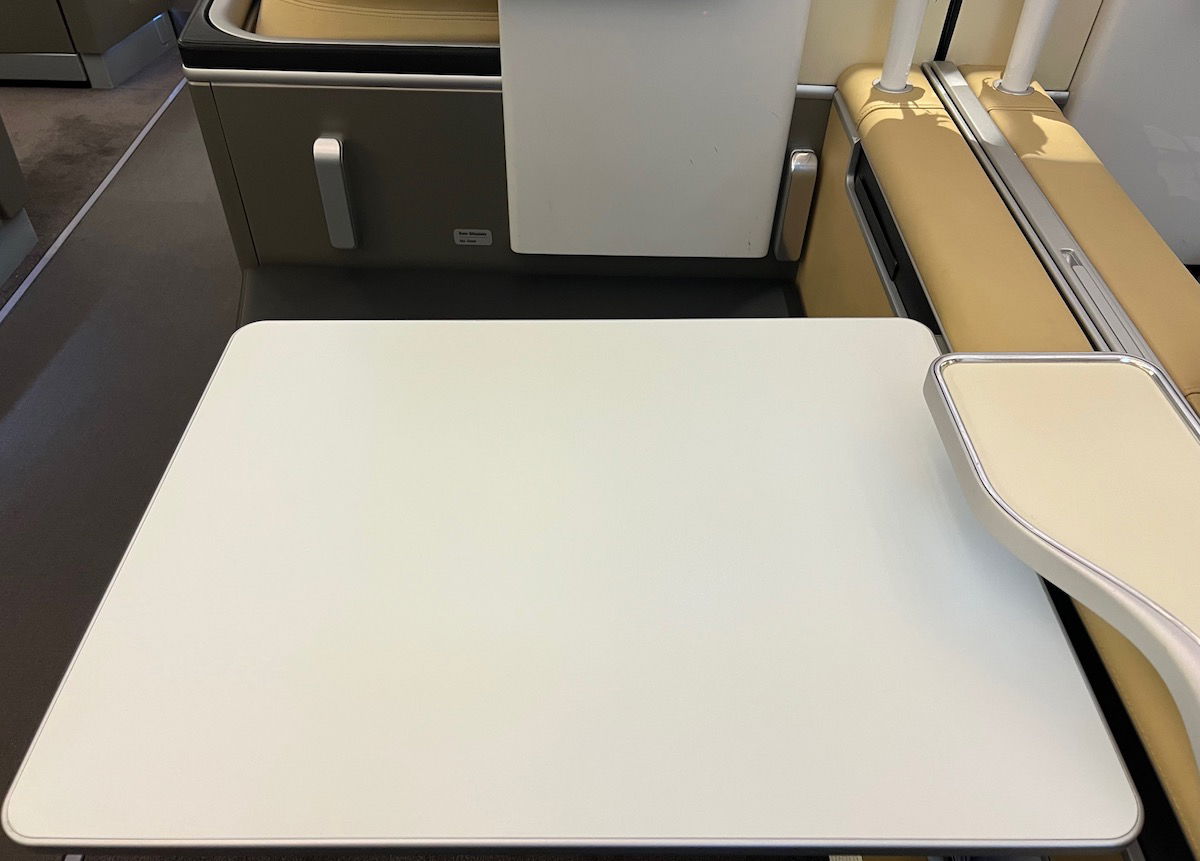 The center console also some space to place a drink, should you not want to use the tray table.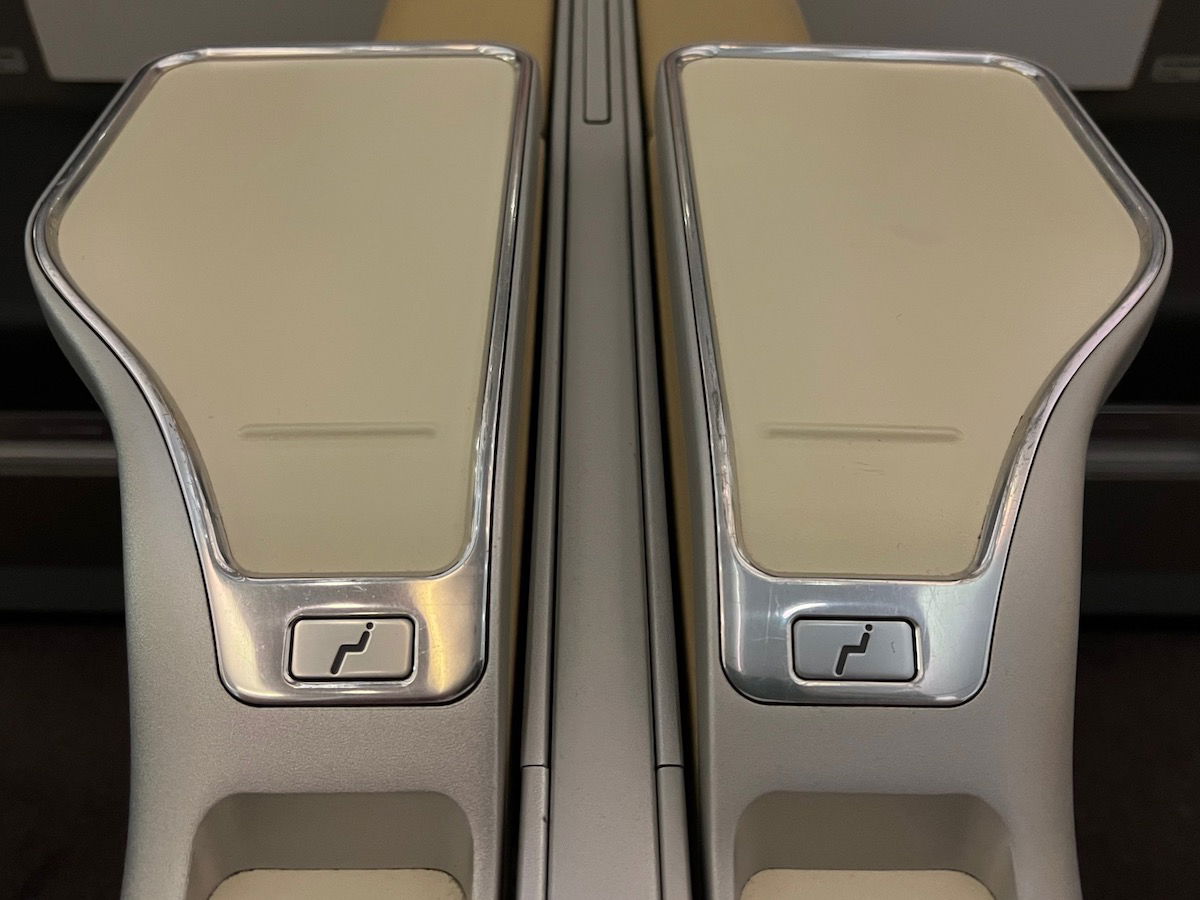 Speaking of the center console, there's a small and deep storage pocket here. Personally I don't find it to be particularly useful, and for that matter it can be tough to get stuff out if it falls deep in there.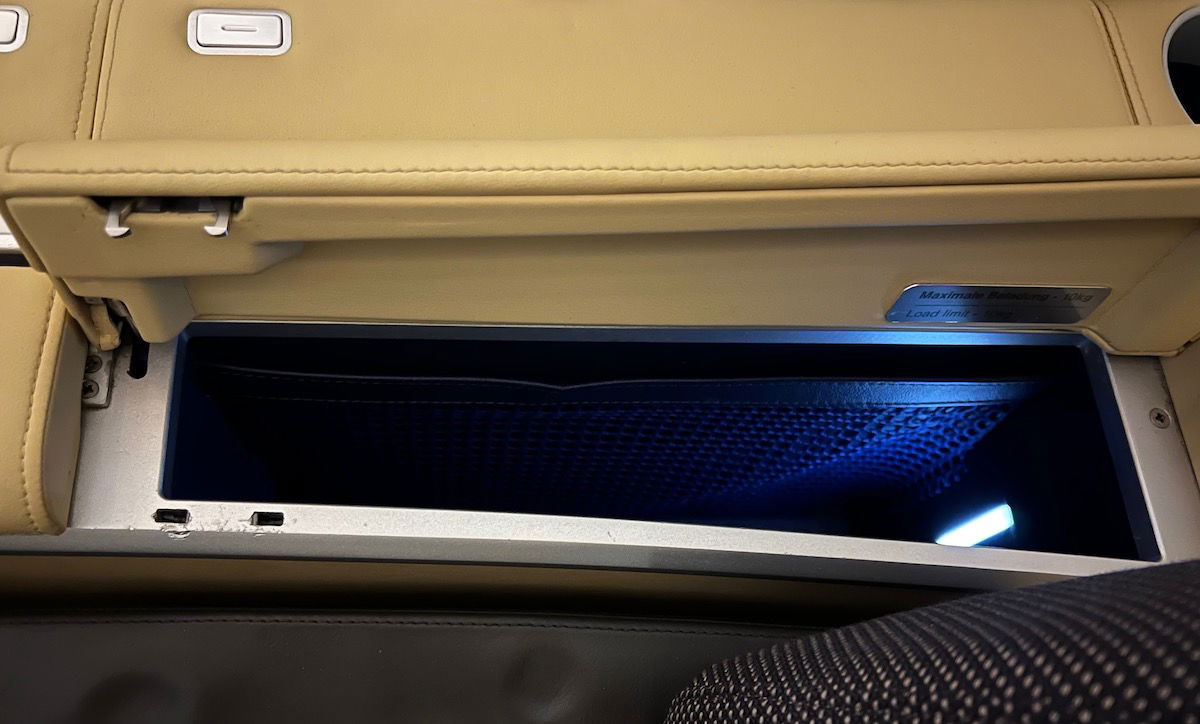 Lufthansa doesn't have any individual air nozzle on the A340. Then again, the center section of the A340 in first class doesn't have overhead bins, to give the cabin a more spacious feel. Ultimately I'd say that's a net positive, as it makes the cabin feel much larger.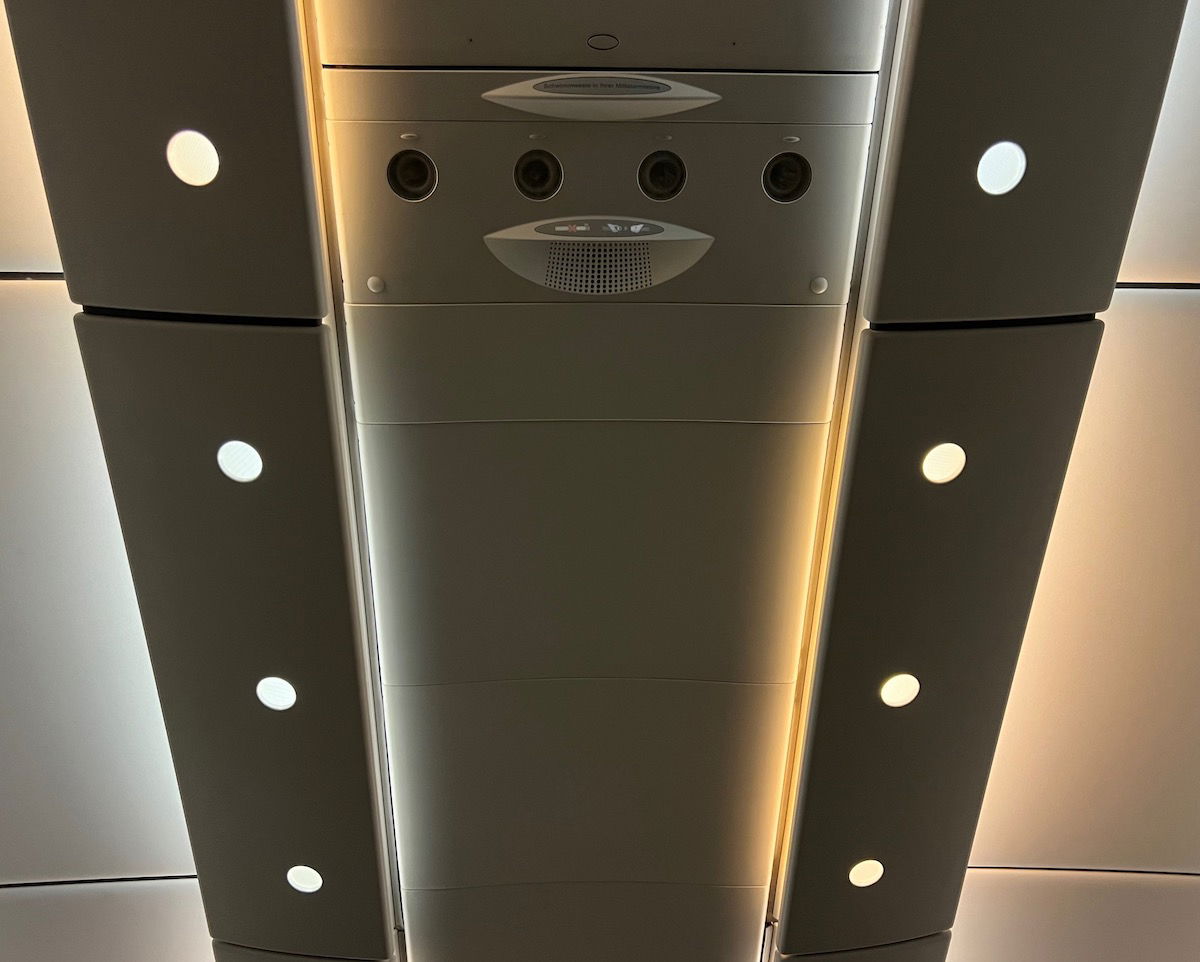 Lufthansa first class amenities
Waiting at each seat upon boarding was a pillow and blanket. This is the basic bedding that's just intended for lounging around, as there's more substantial bedding with turndown service. This bedding is just okay, as the pillow is pretty comfortable, while the blanket is a bit scratchy.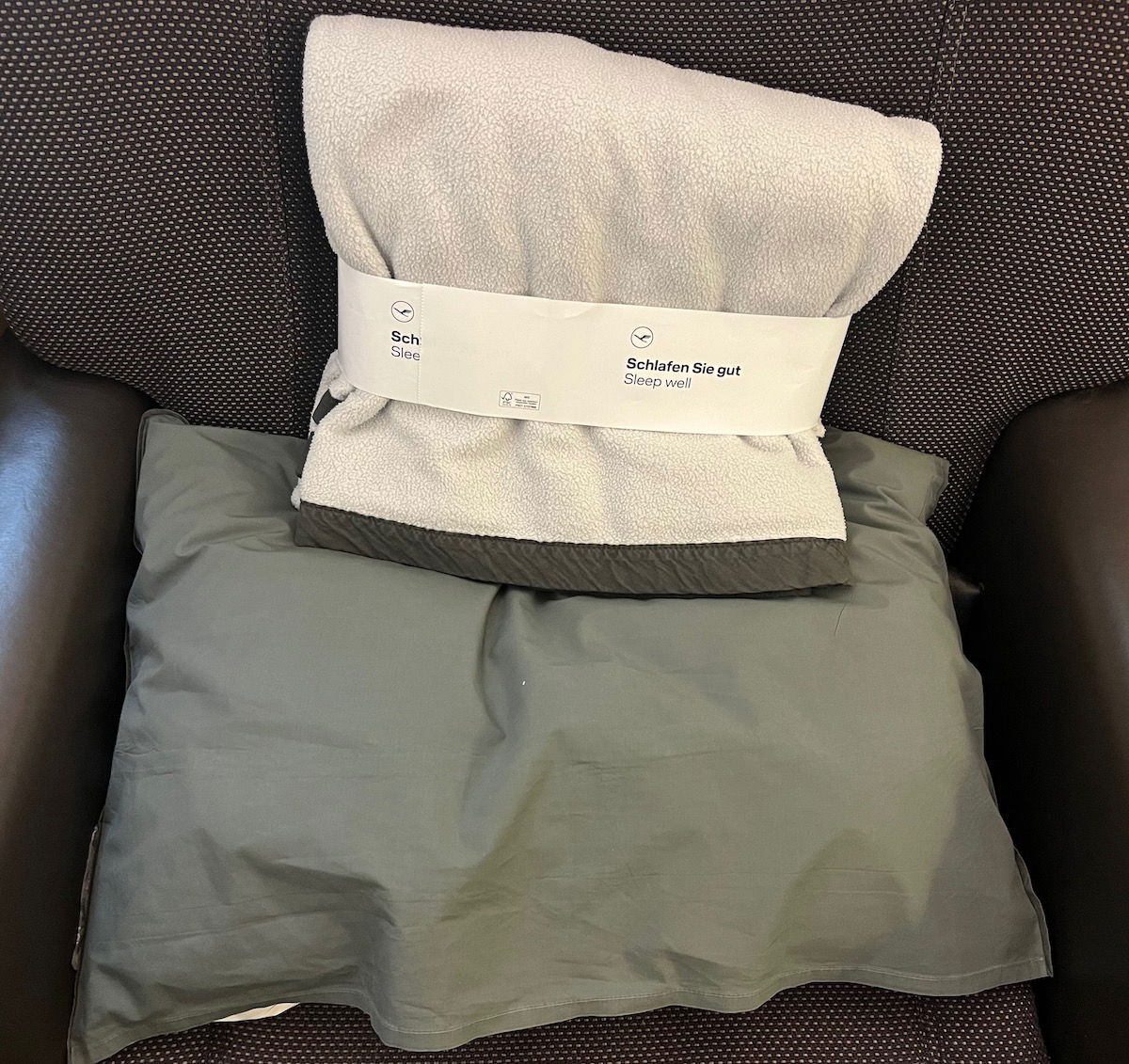 There were also Bose headphones at each seat. Lufthansa has headphones permanently "wired" to each seat, so that they can't be removed. Bose headphones are about as good as they get on any airline.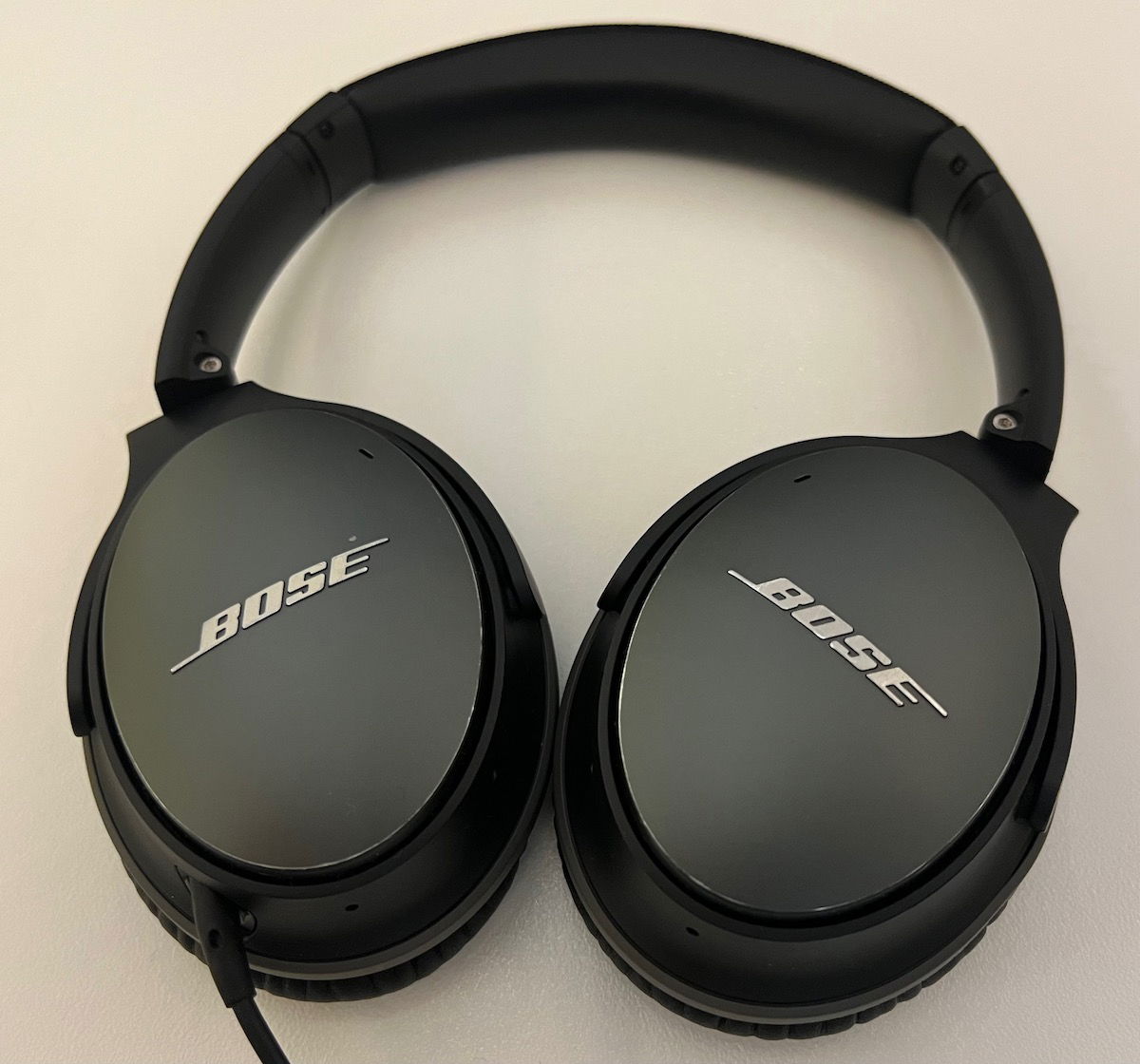 Moments after settling in, the exceptionally friendly crew welcomed us onboard and offered us pre-departure drinks. We ordered some champagne, which in this case was Duval-Leroy Blanc de Blancs Grand Cru Brut.
While it was quite good, I can't help but point out that Lufthansa is doing quite some cost cutting, as that's the cheapest champagne I've ever seen served in Lufthansa first class. We were served some mixed nuts to go along with that.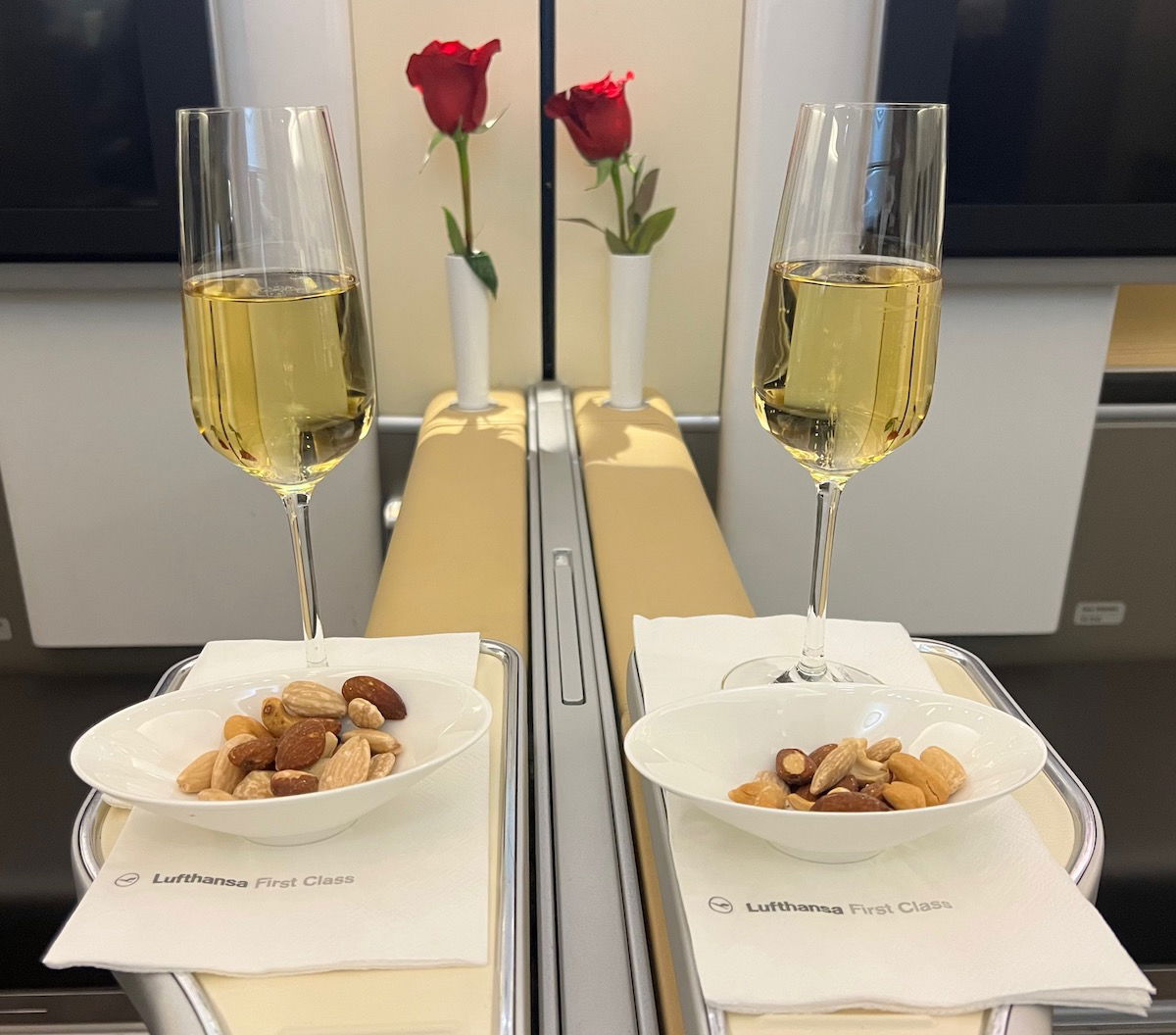 Lufthansa tends to alternate its amenity kits, and the current one is a Porsche Design clear pouch, which I can't say I'm a huge fan of, as it looks kind of cheap. It was pretty well stocked, and contained socks, eyeshades, a dental kit, earplugs, a shoe horn, a mint, a comb, and some products from Augustinus Bader.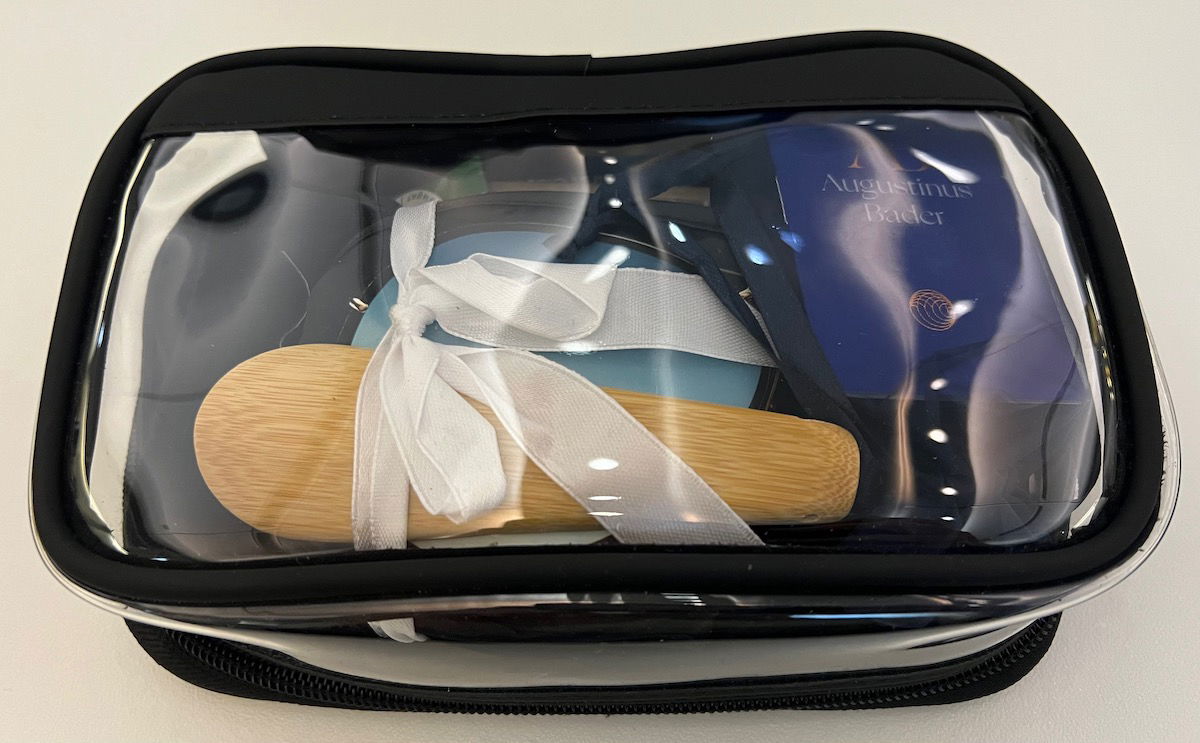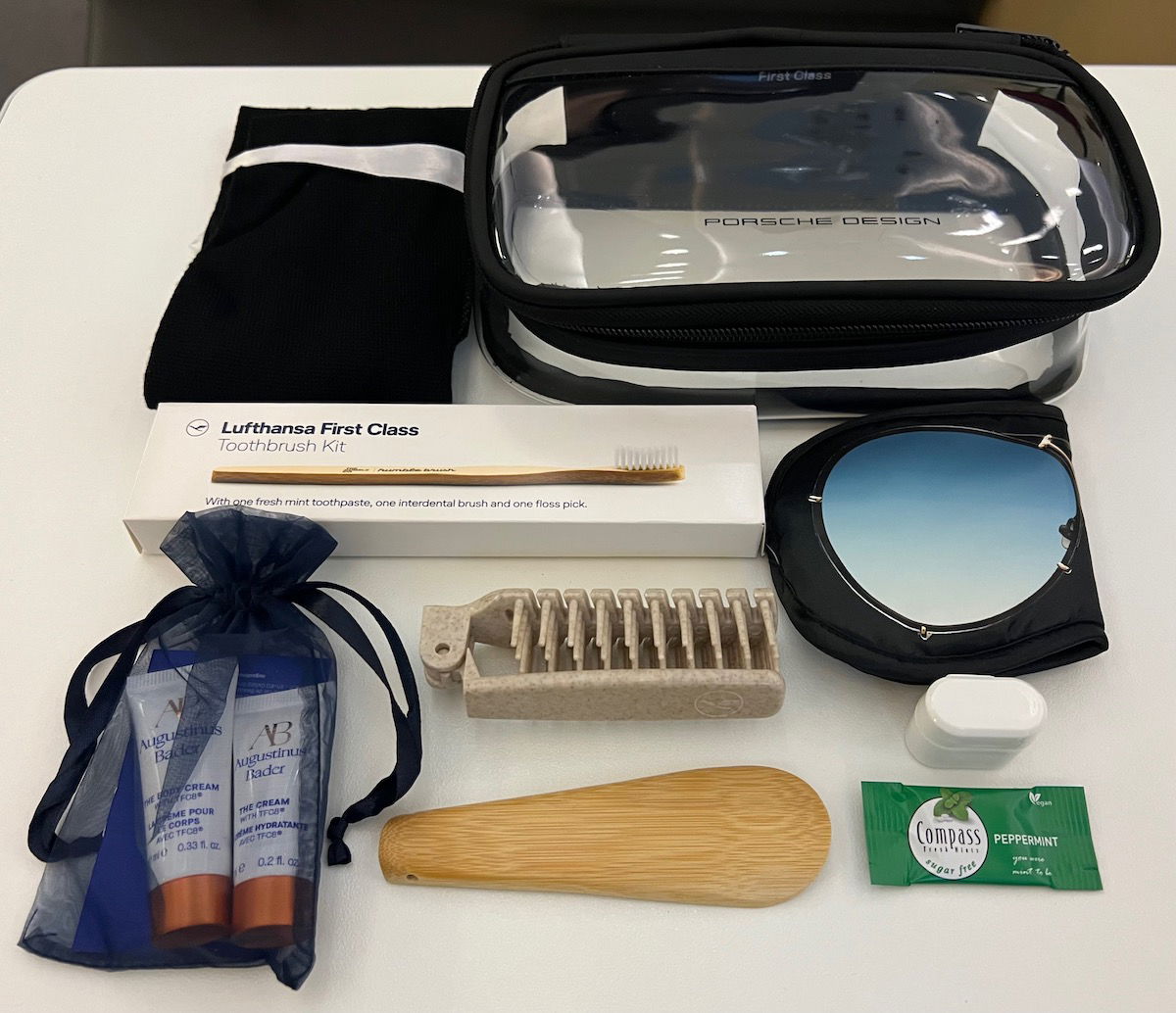 We were also offered the typical van Laack pajamas, as well as the very substantial slippers, which are among my favorites offered by any airline.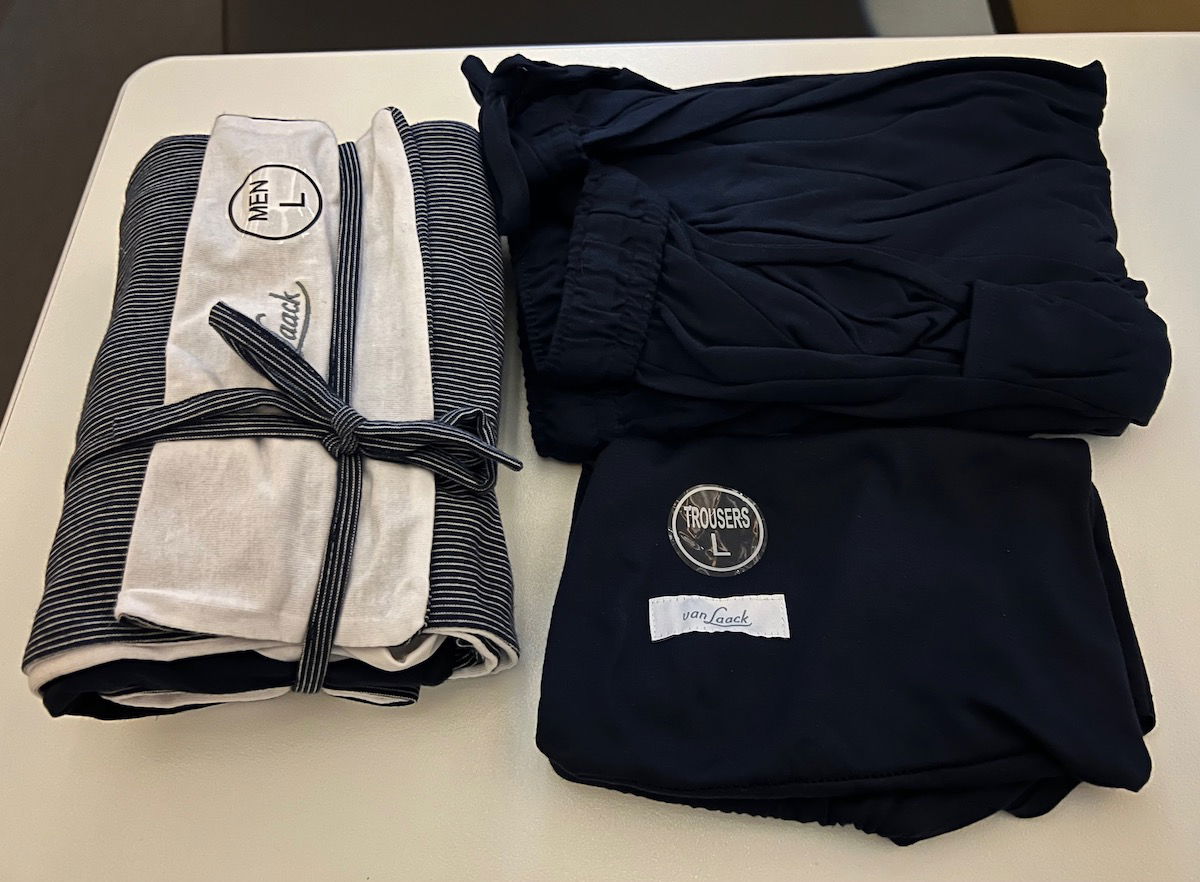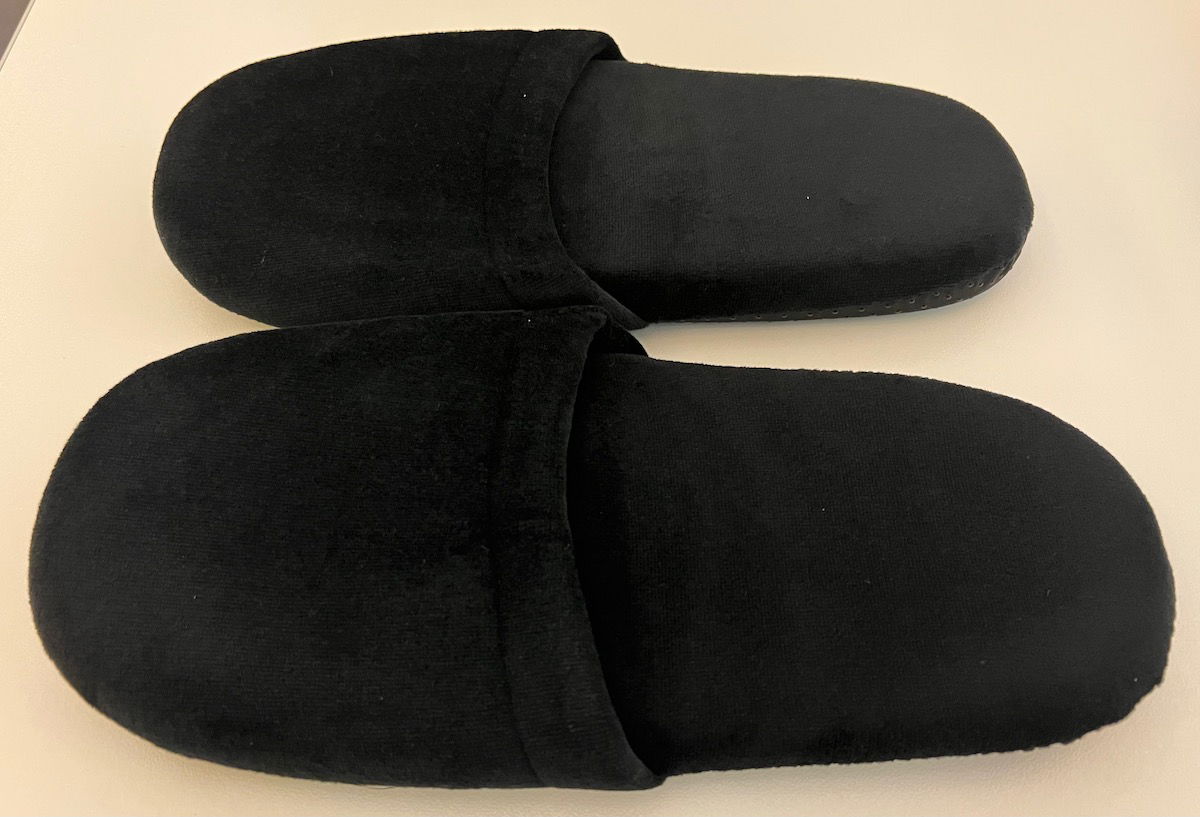 Lastly, we were offered vouchers for free Wi-Fi, as is standard in Lufthansa first class.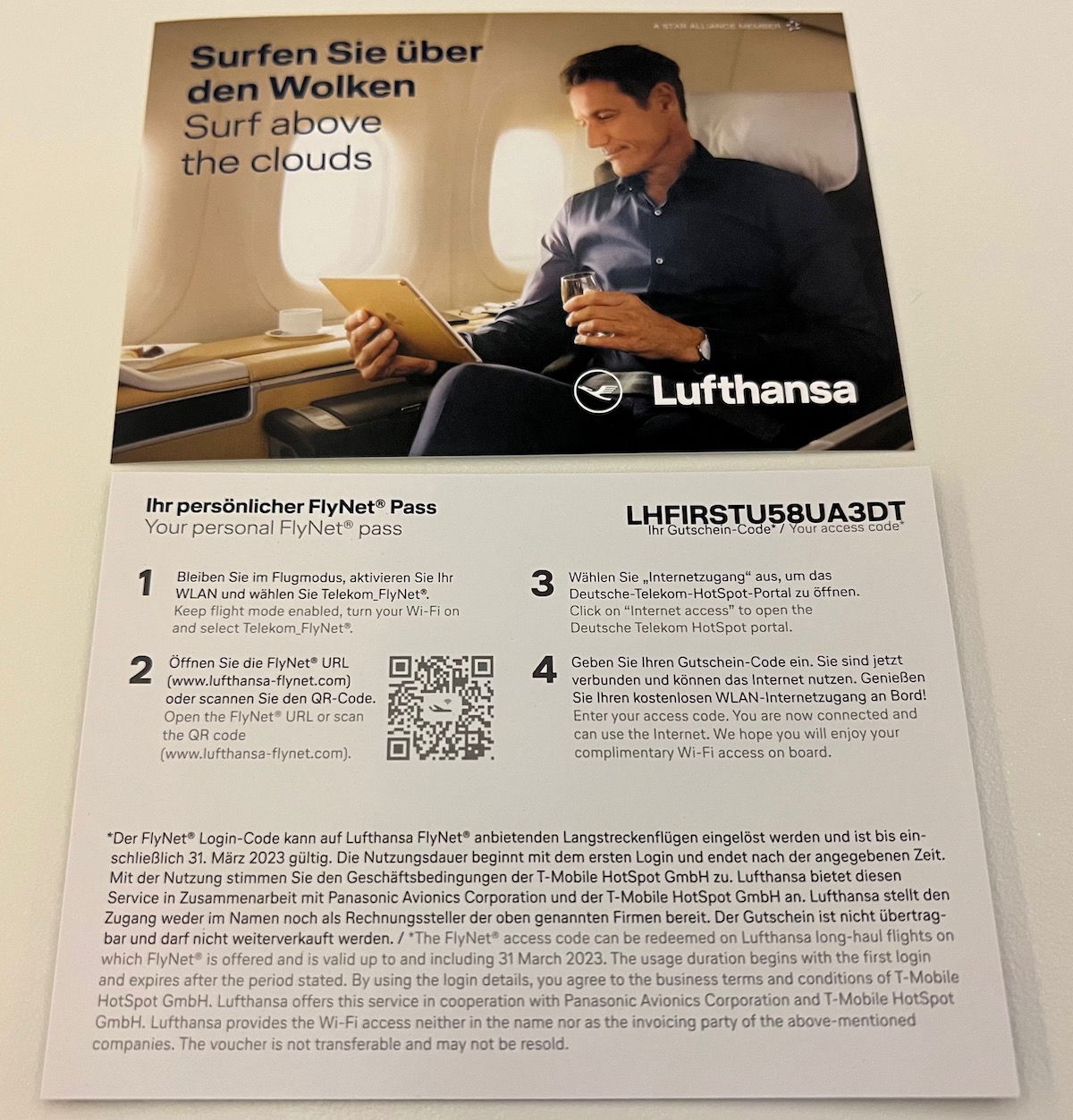 Lufthansa A340 first class entertainment & Wi-Fi
Lufthansa's first class entertainment system is quite lackluster. The entertainment screen isn't huge, and it's also pretty low resolution. That's not surprising, since the technology hasn't been upgraded in years.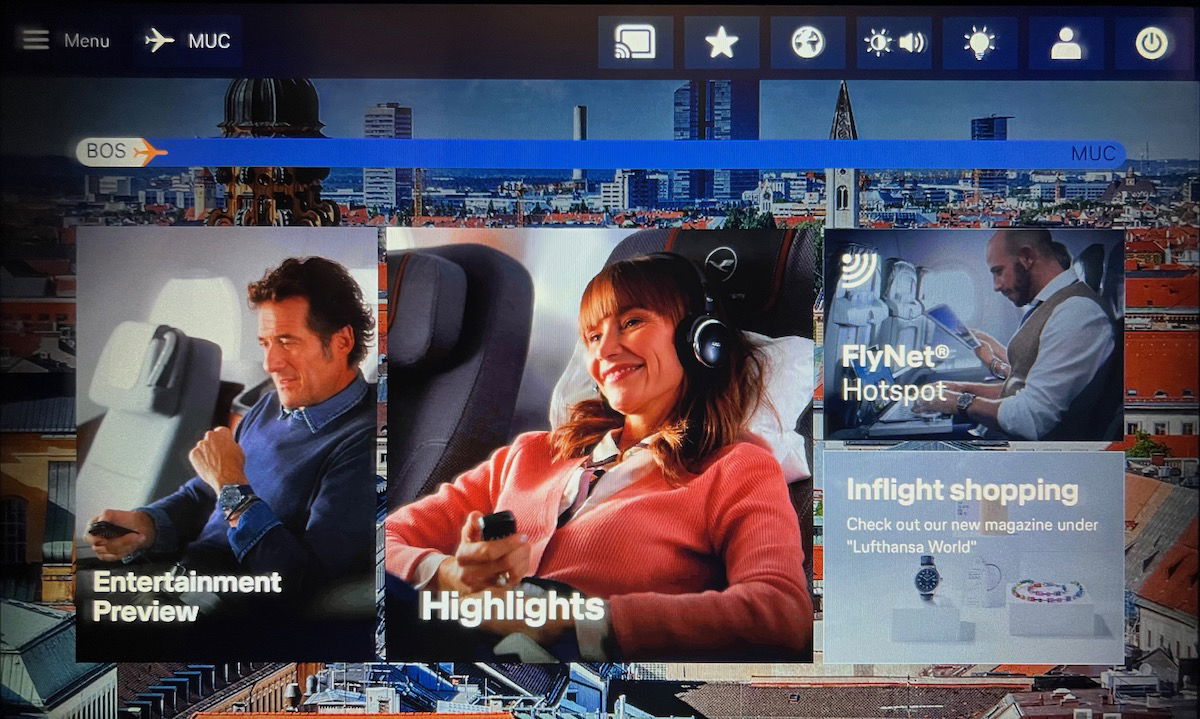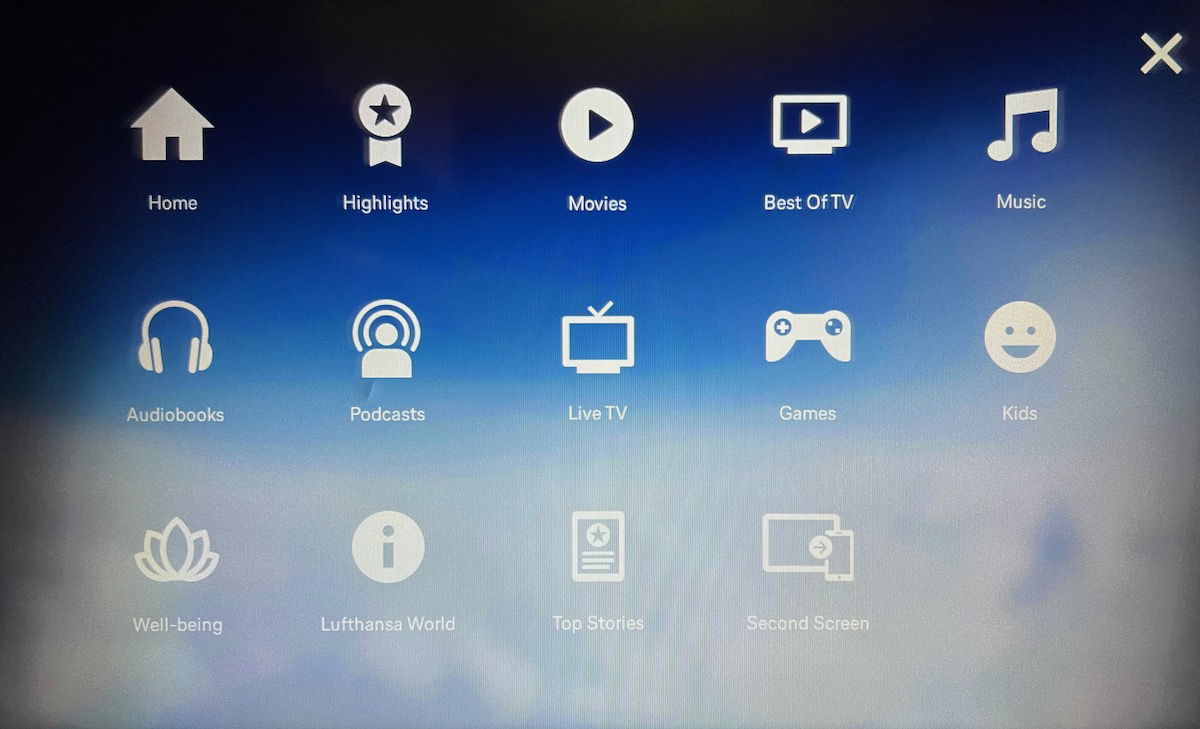 The quantity of entertainment was quite good, however, as there were over 250 movies and over 300 TV shows.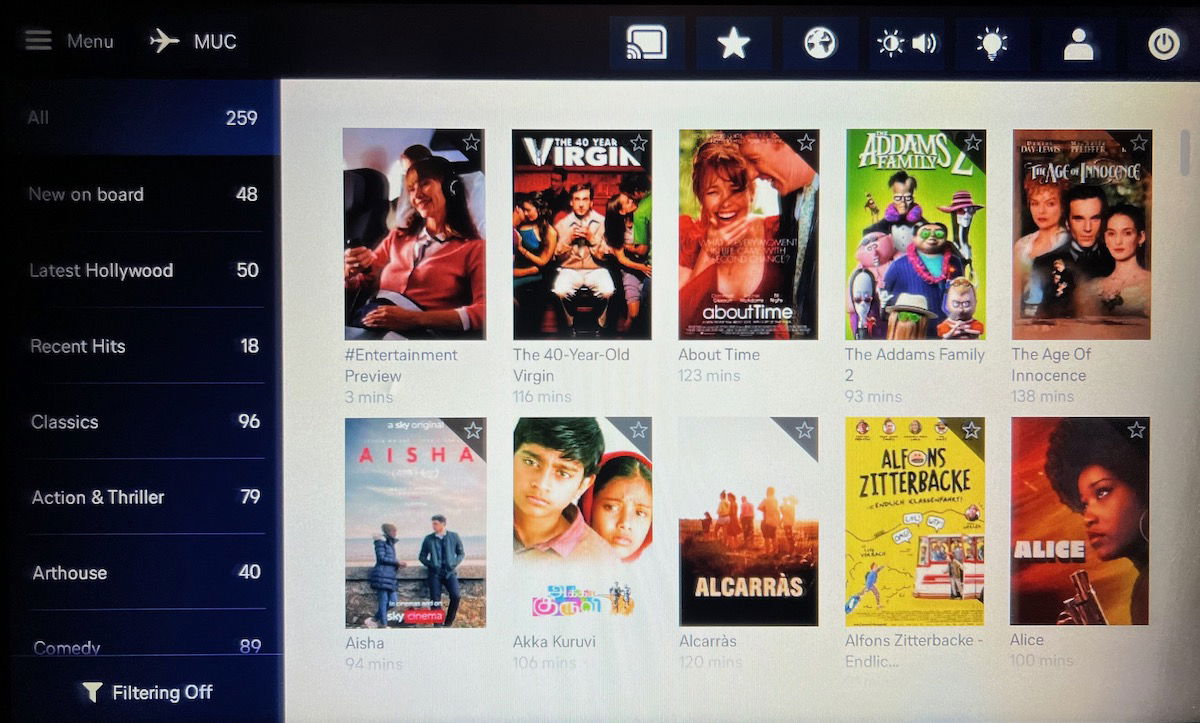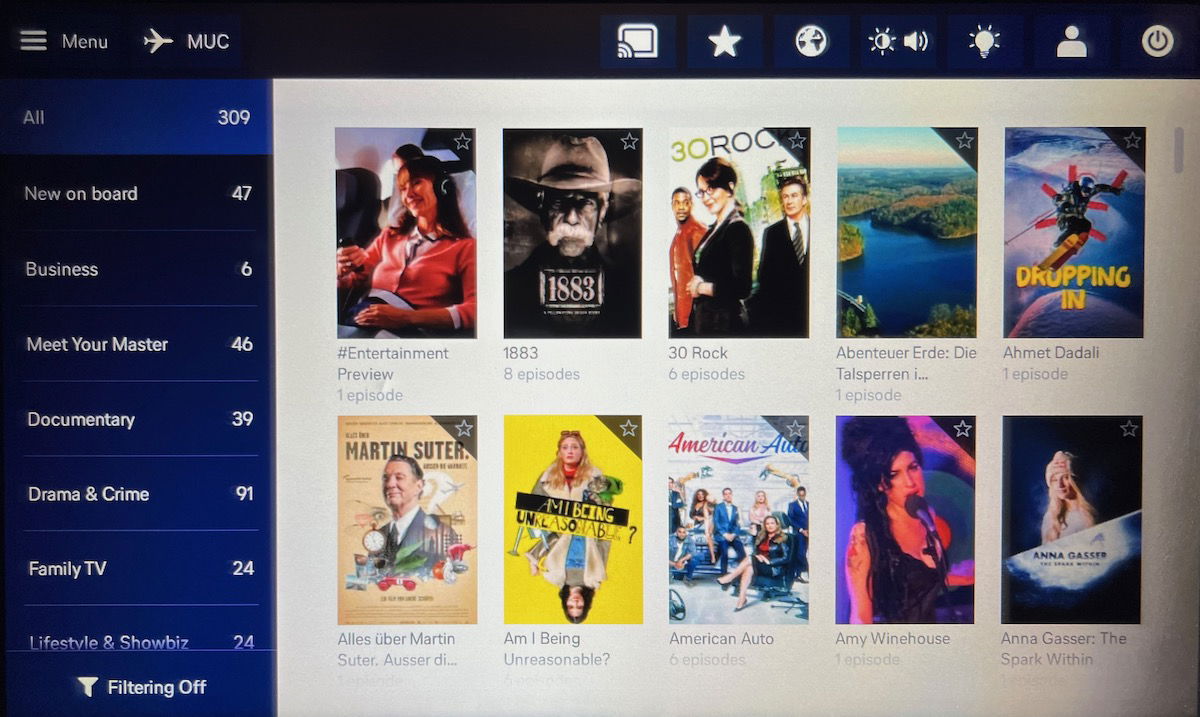 I didn't end up watching any movies or TV shows, but rather hung out with Ford and kept an eye on the map feature.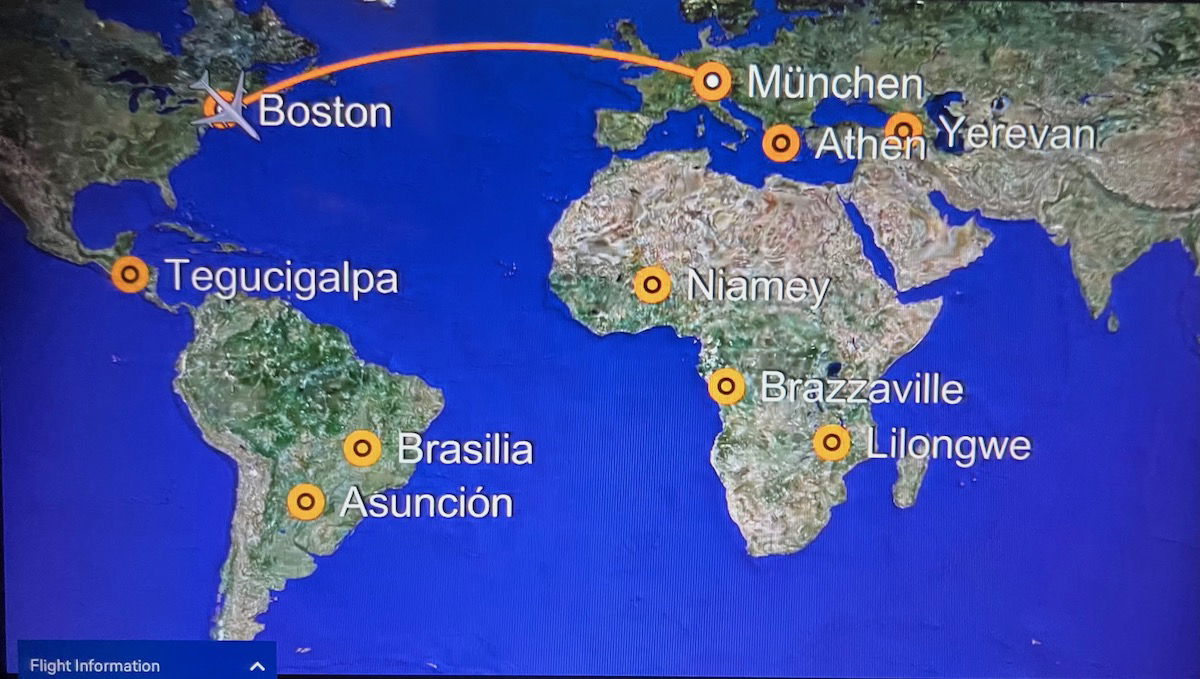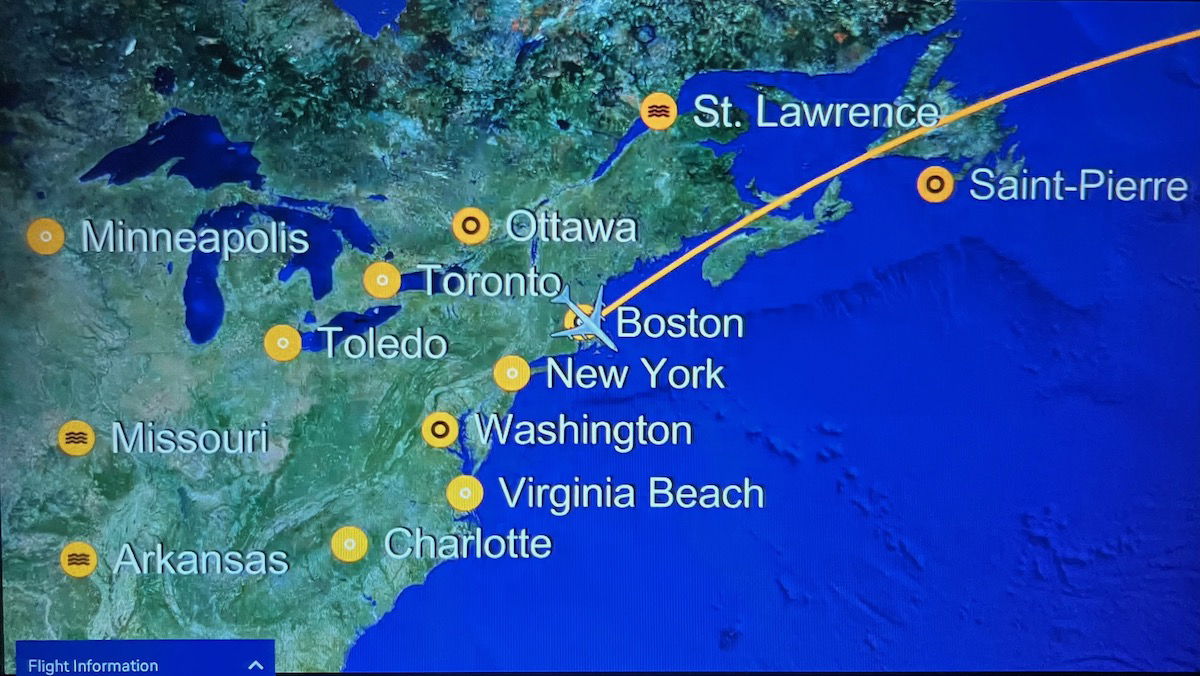 I do think Lufthansa might be a bit confused about which plane we were flying, though. They got the number of engines right, but that's about it. 😉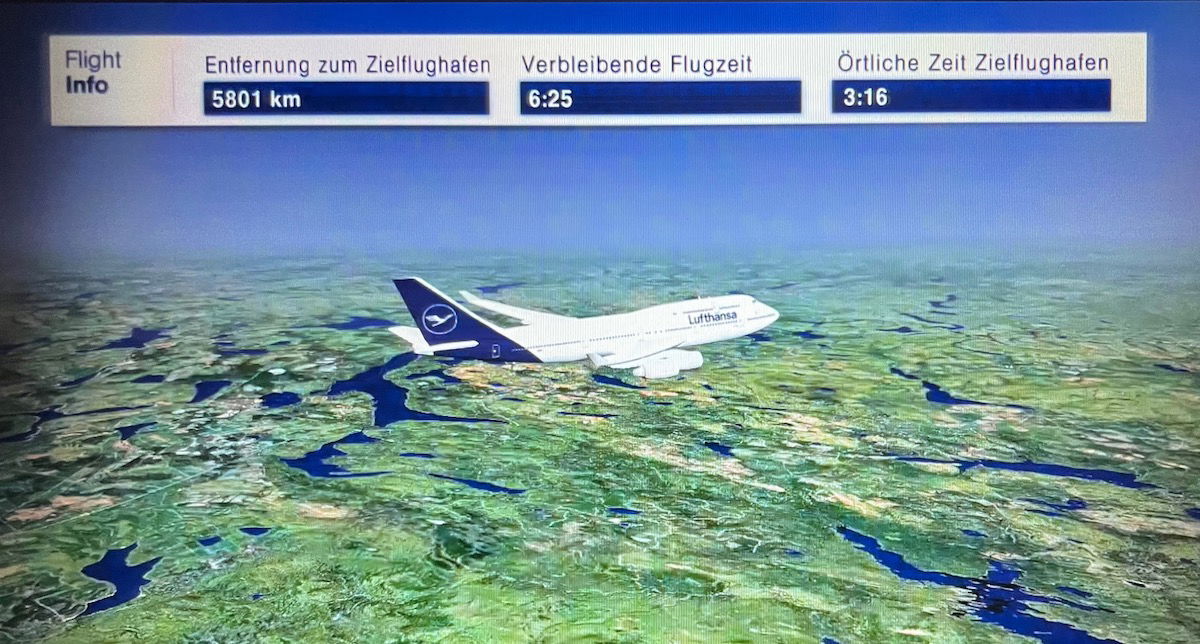 While Lufthansa's entertainment system is lackluster, the airline does a good job with Wi-Fi. This is available for free in first class with no data caps, and the speeds were very good.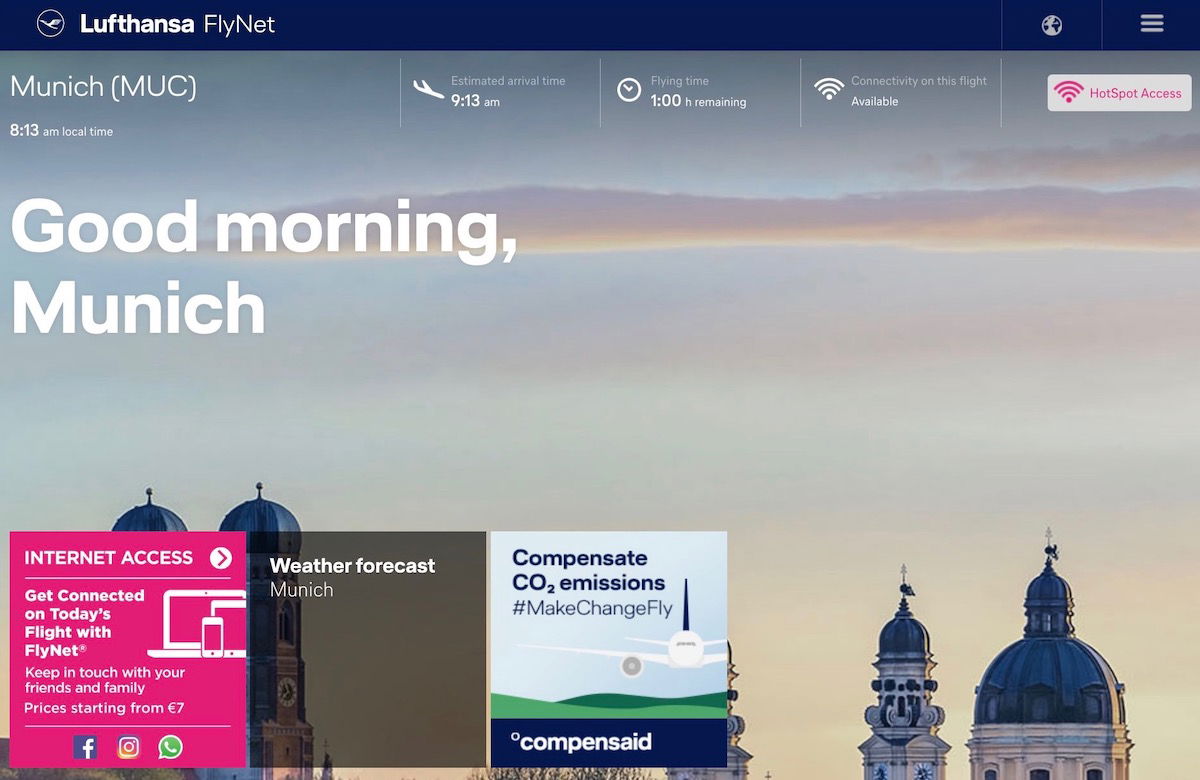 For those not in first class, Lufthansa's standard long haul Wi-Fi pricing applied:
For €5 you could purchase a messaging pass
For €15 you could purchase a two hour premium pass
For €25 you could purchase a full flight premium pass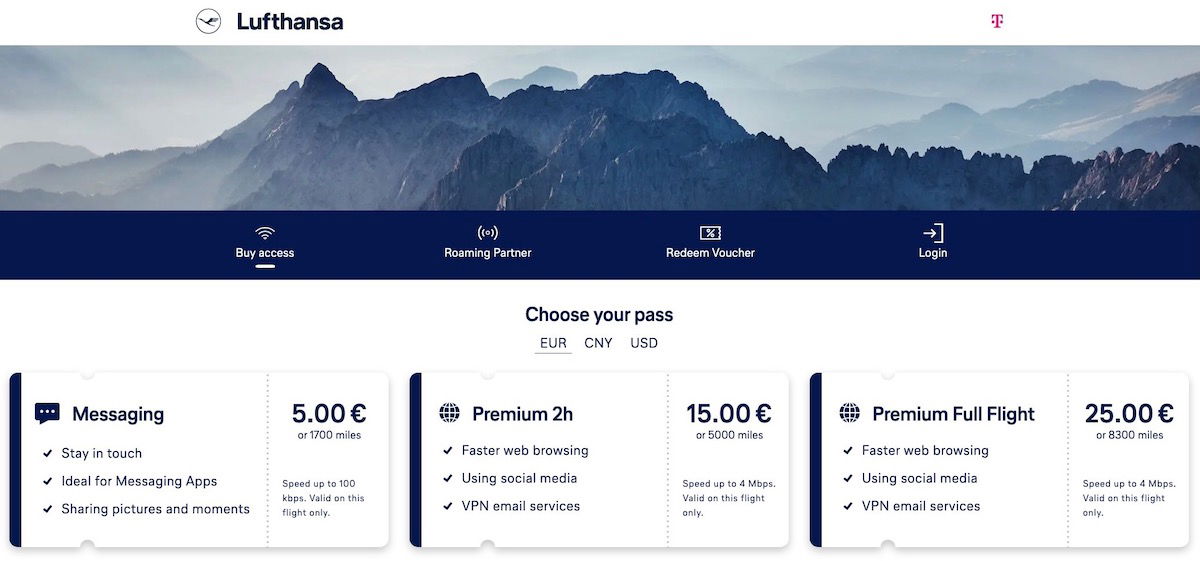 Lufthansa A340 departure from Boston
Boarding was really efficient, and was complete by 8:45PM. Six of the eight first class seats were taken (there seemed to be three upgrades at the airport, as only one other seat showed as booked up until hours before departure). Business class was also pretty full, while premium economy and economy were both quite empty.
Once boarding was complete, the captain made his welcome aboard announcement, informing us of our flight time of seven hours to Munich. He explained that we'd need to deice, and that this would take around 20 minutes.
Sure enough, by 9:05PM deicing was complete, and at that point we began our pushback. It took about 10 minutes to start up all four engines and then begin taxiing. We taxied out to runway 33L, where we had to wait for around 20 minutes, as the runway was being used for both departures and arrivals.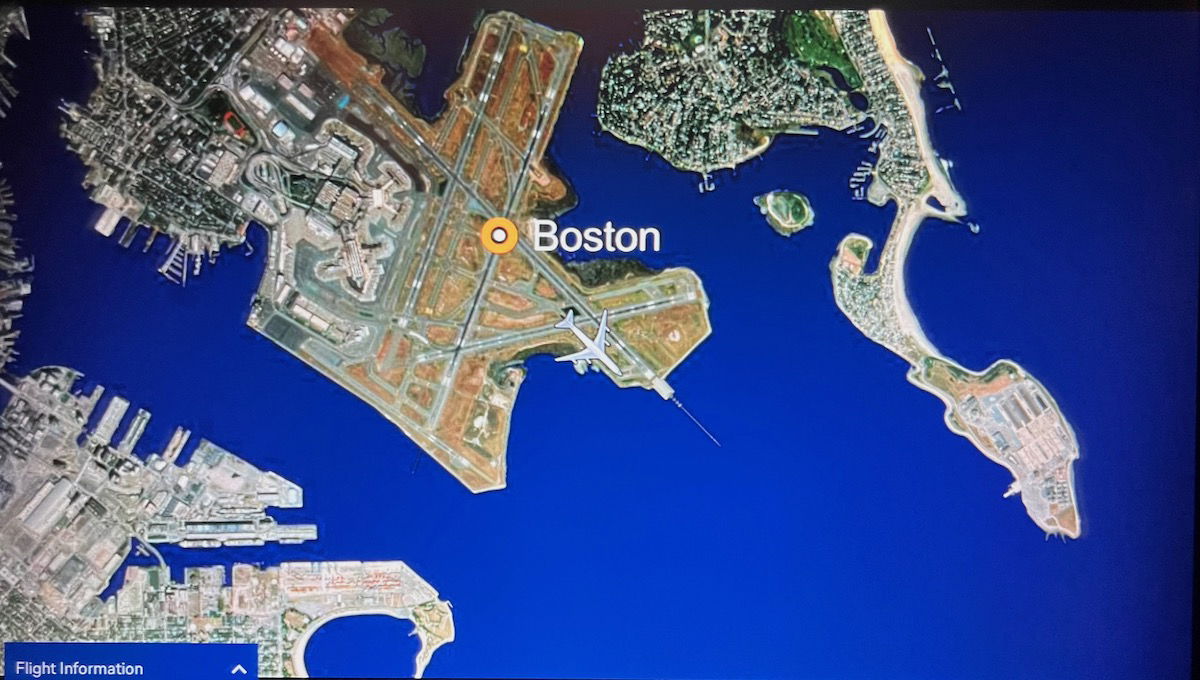 We were finally cleared for takeoff at 9:40PM. We had a long takeoff roll, and then a pretty bumpy climb out, as the plane swayed side to side significantly, to the point that it was borderline disorienting. Fortunately that didn't last long, and the seatbelt sign was turned off 15 minutes after takeoff.
Lufthansa first class dinner service
After takeoff, the lovely purser passed through the cabin to welcome each passenger onboard and present them with the menu and wine list for the flight.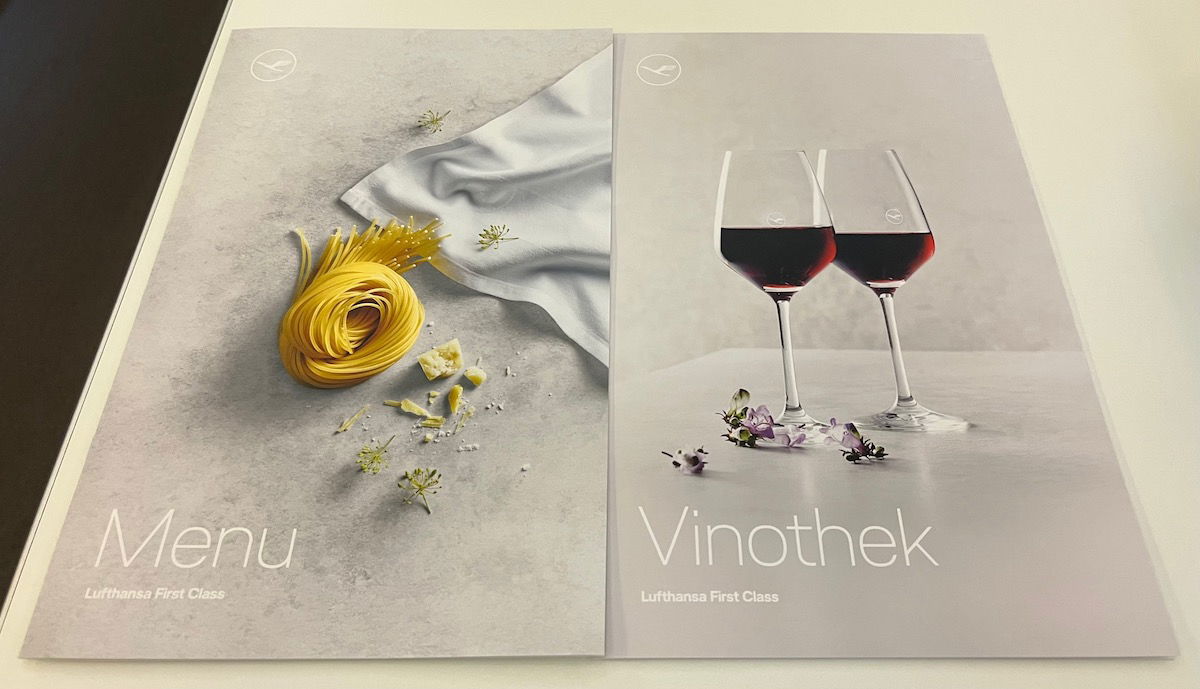 As you'd expect, dinner was served after takeoff, and you can find that menu below.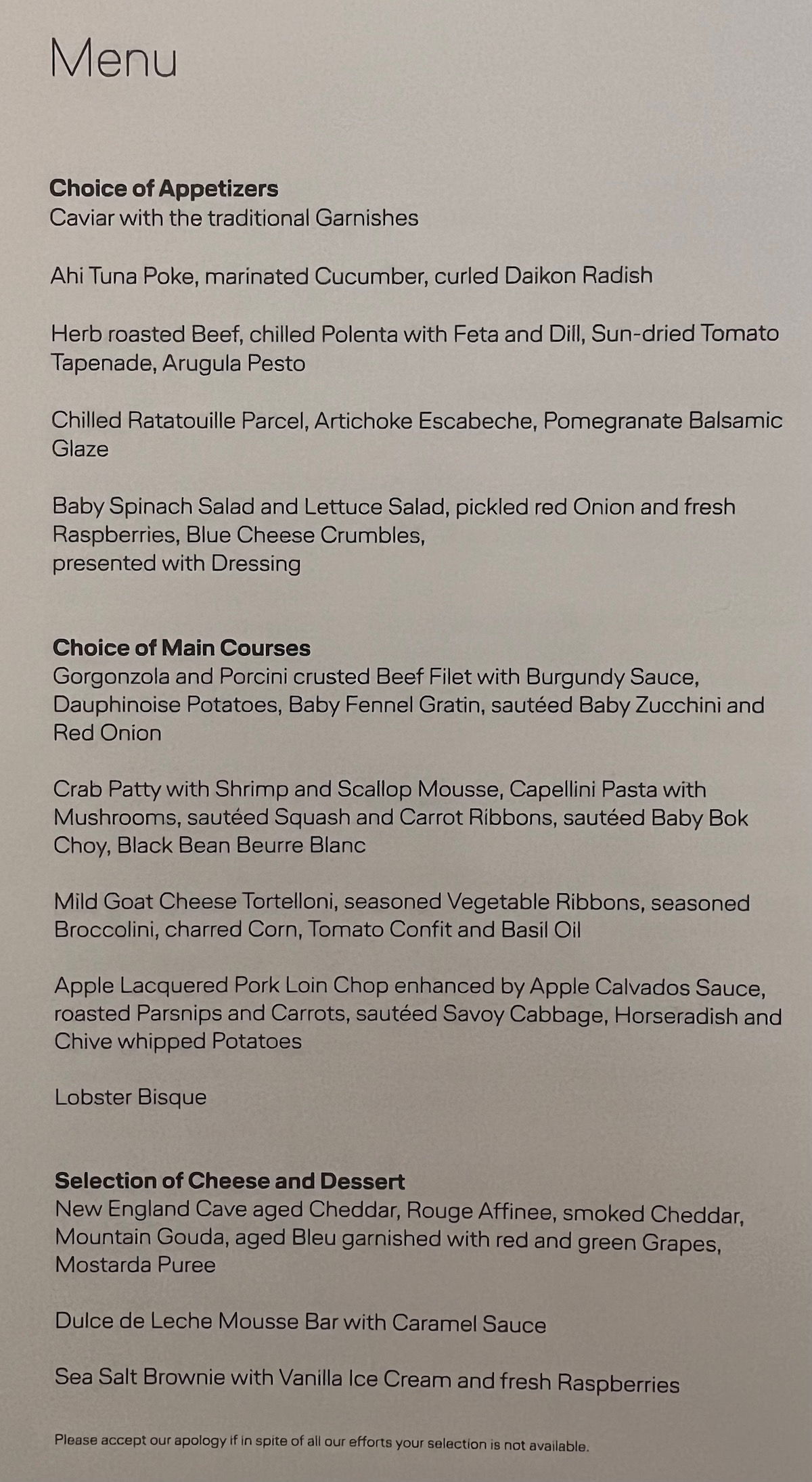 Below you can find the drink list for the flight.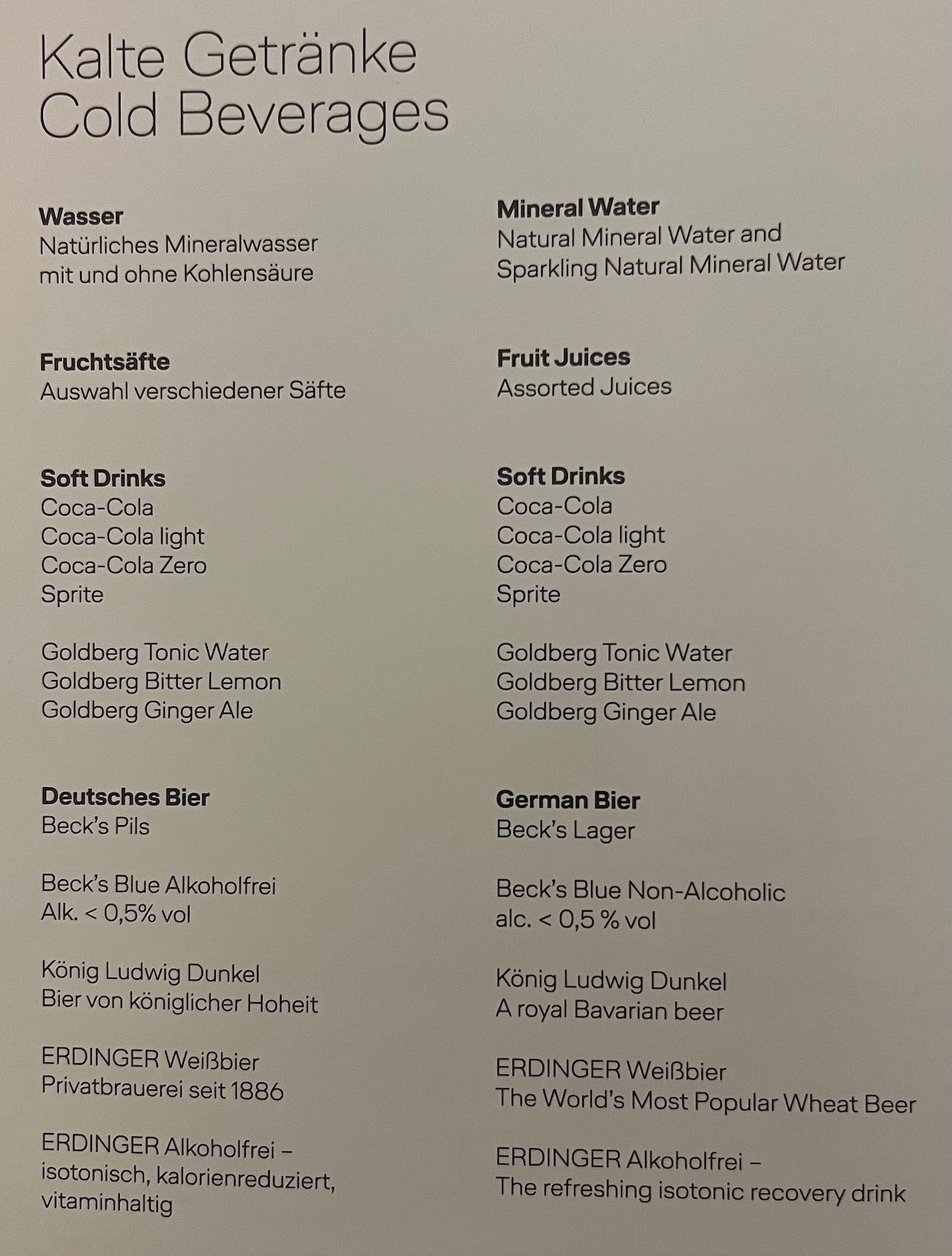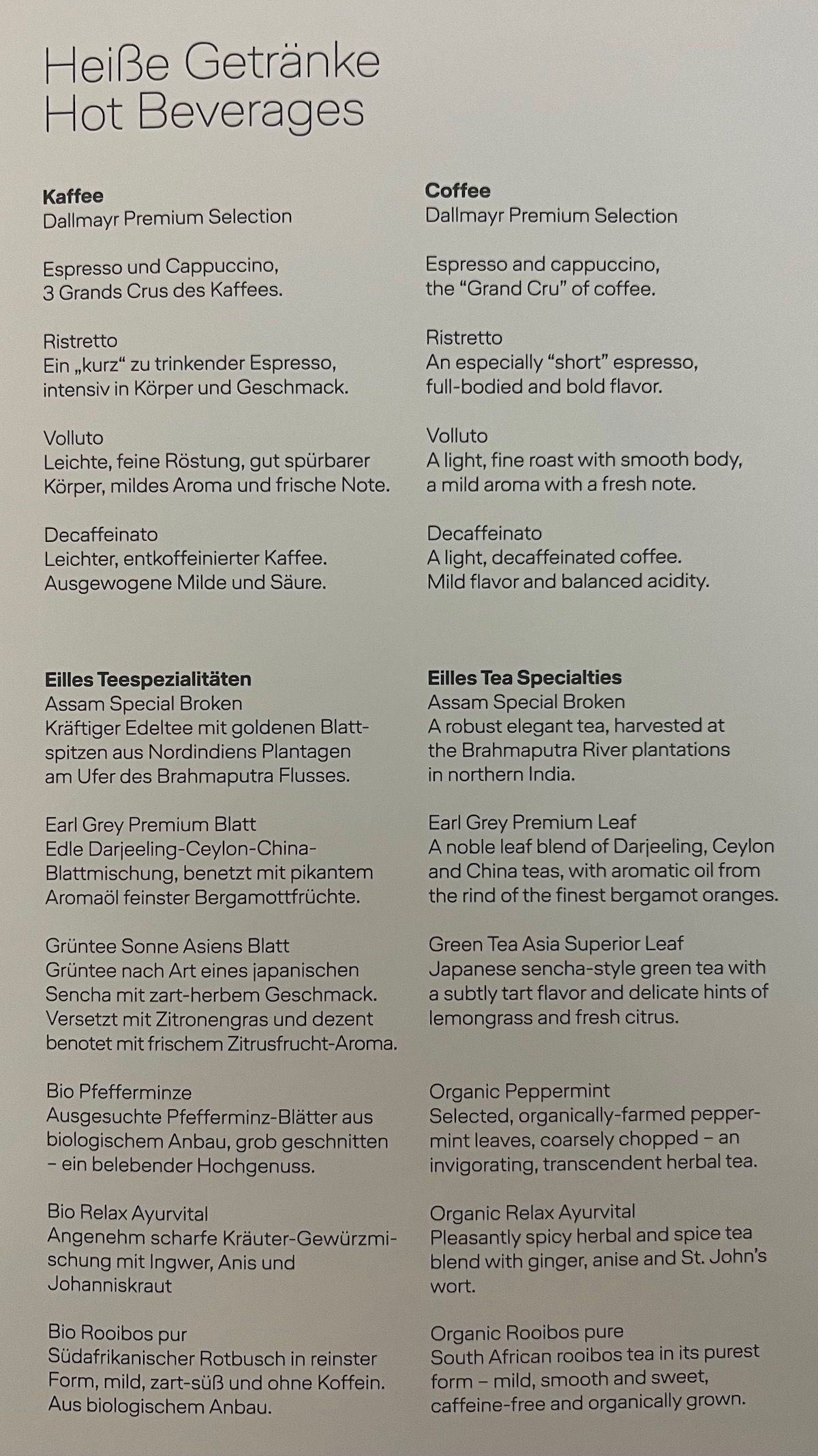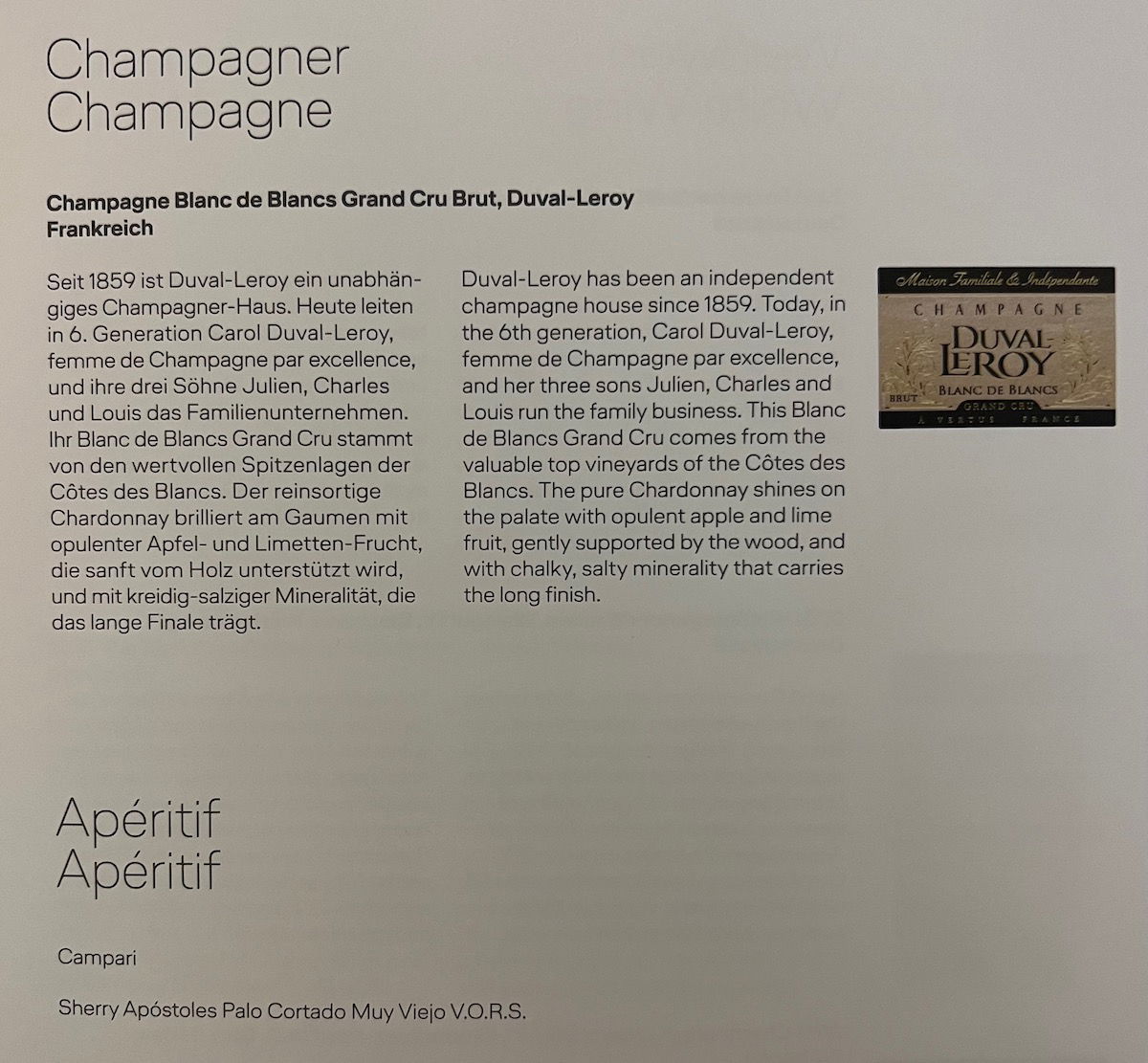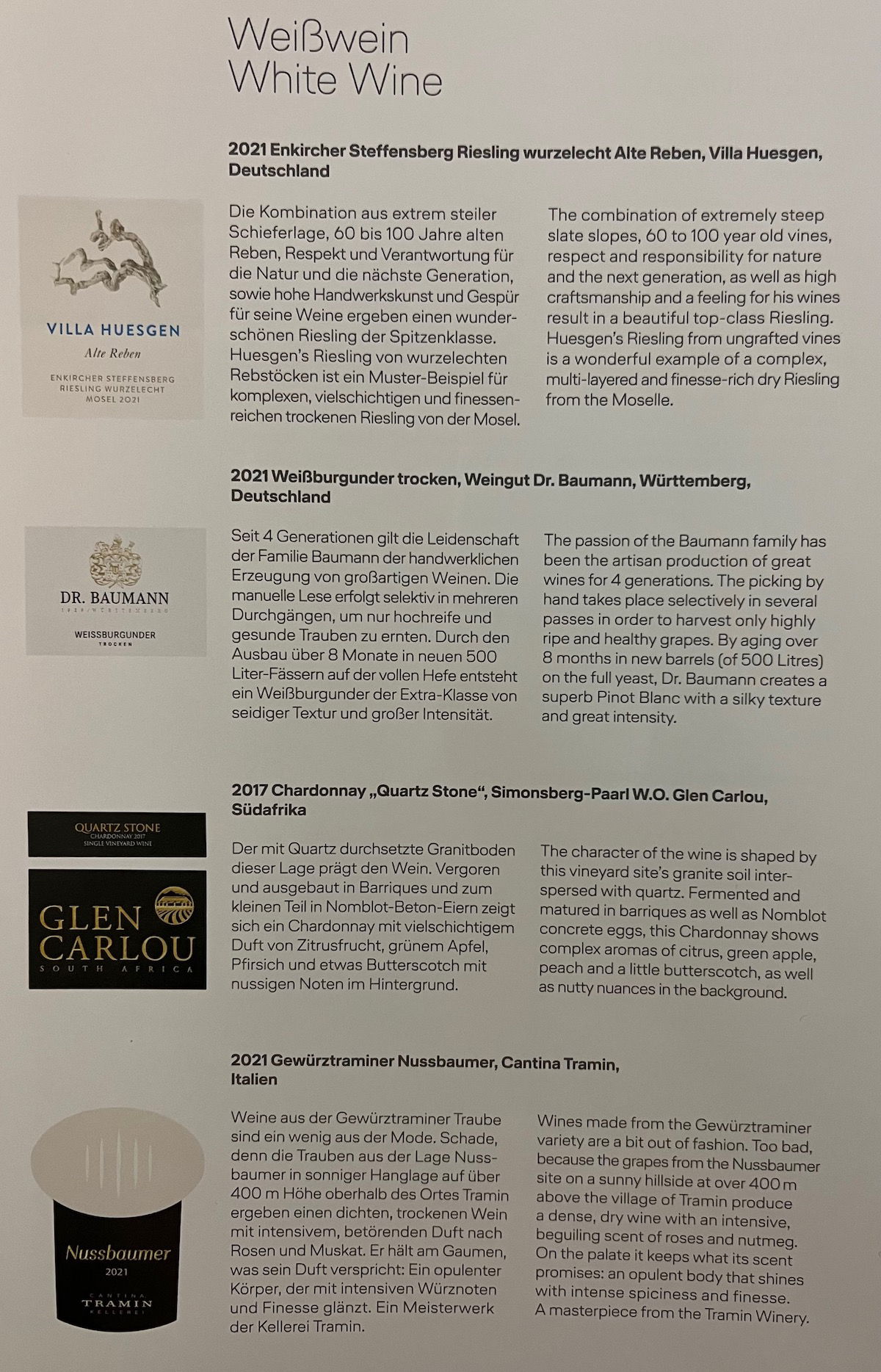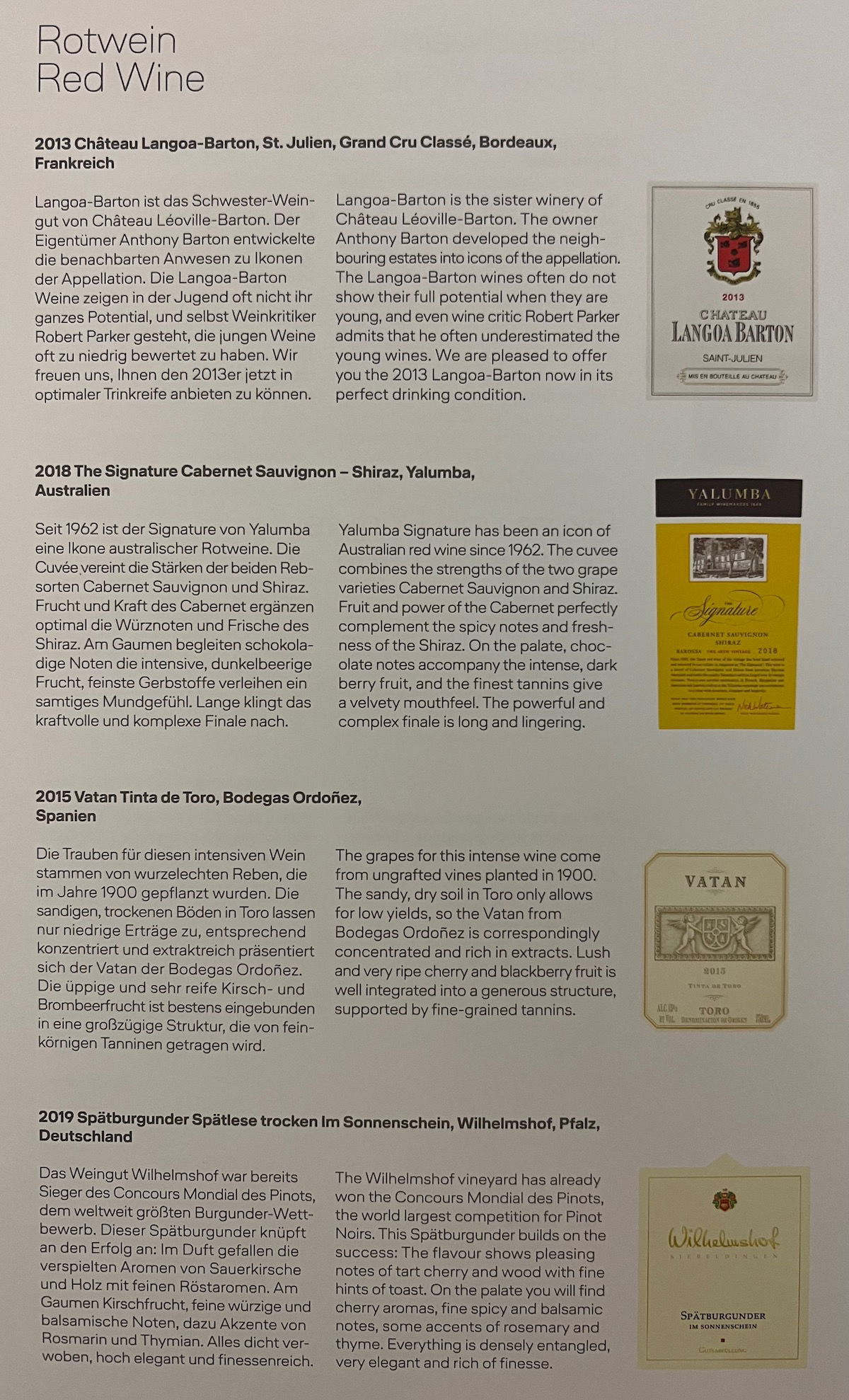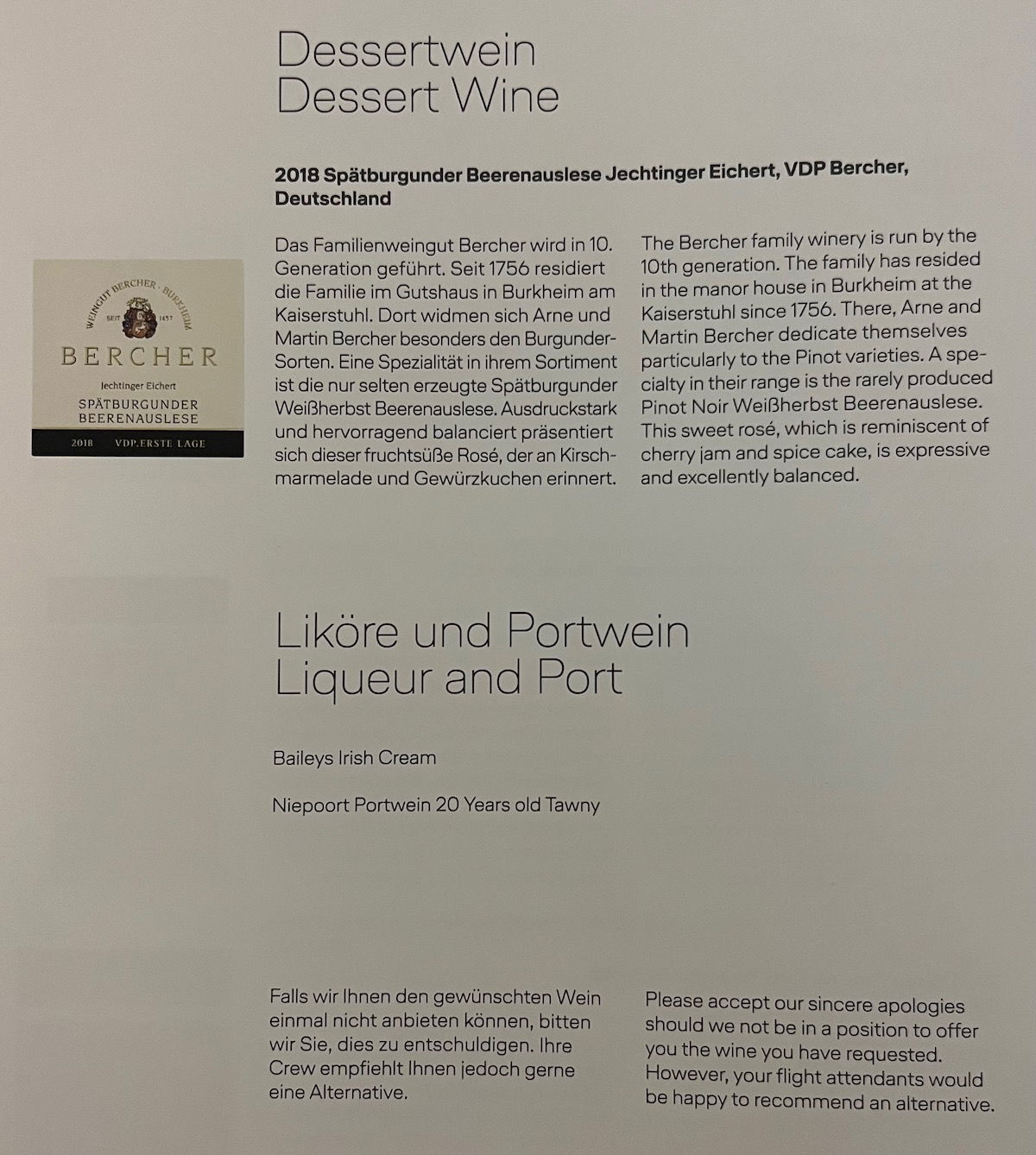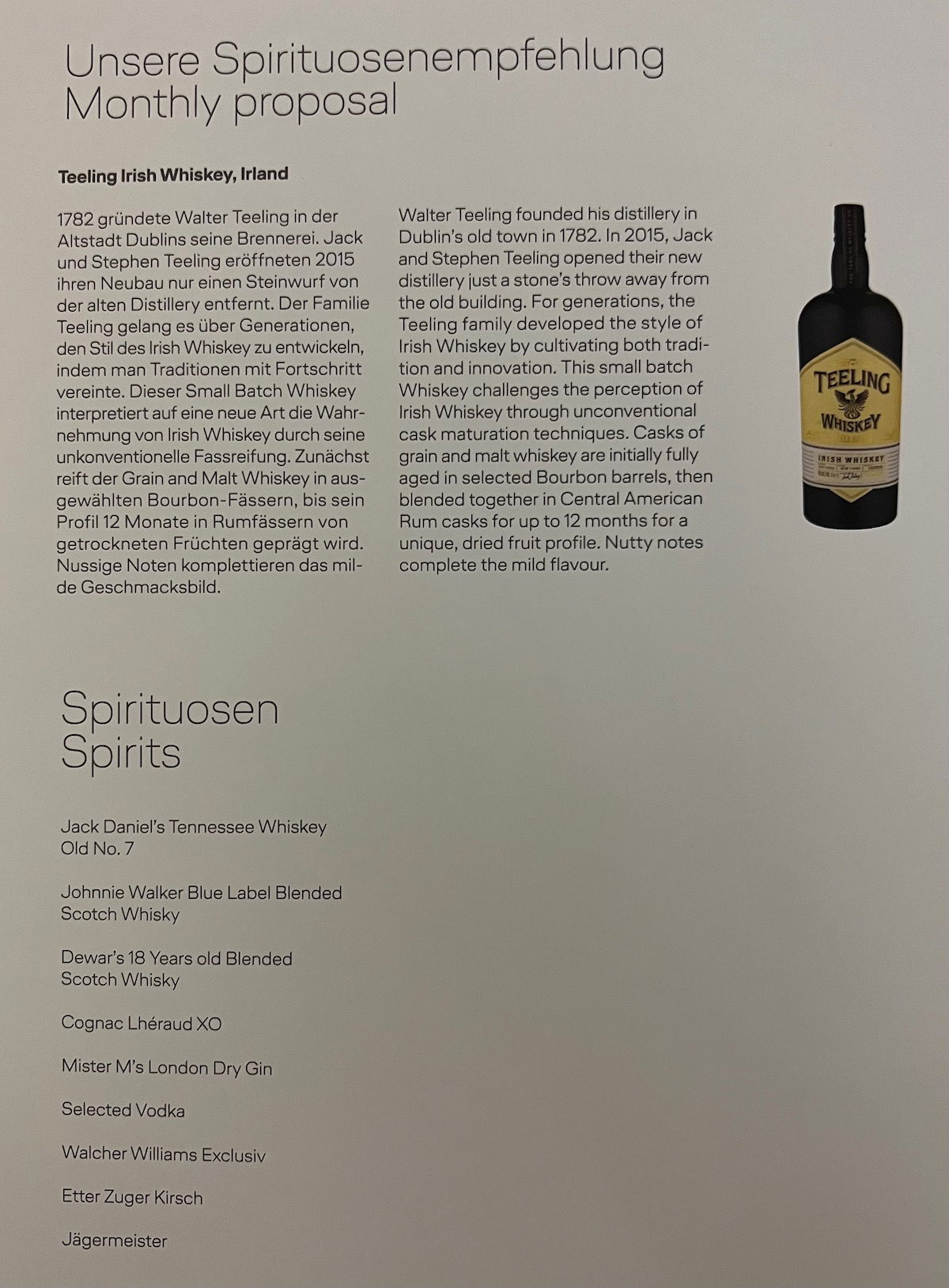 Service began with warm towels — while minor, I miss how Lufthansa no longer seems to put rose petals on these plates, as that always made Lufthansa's warm towels memorable.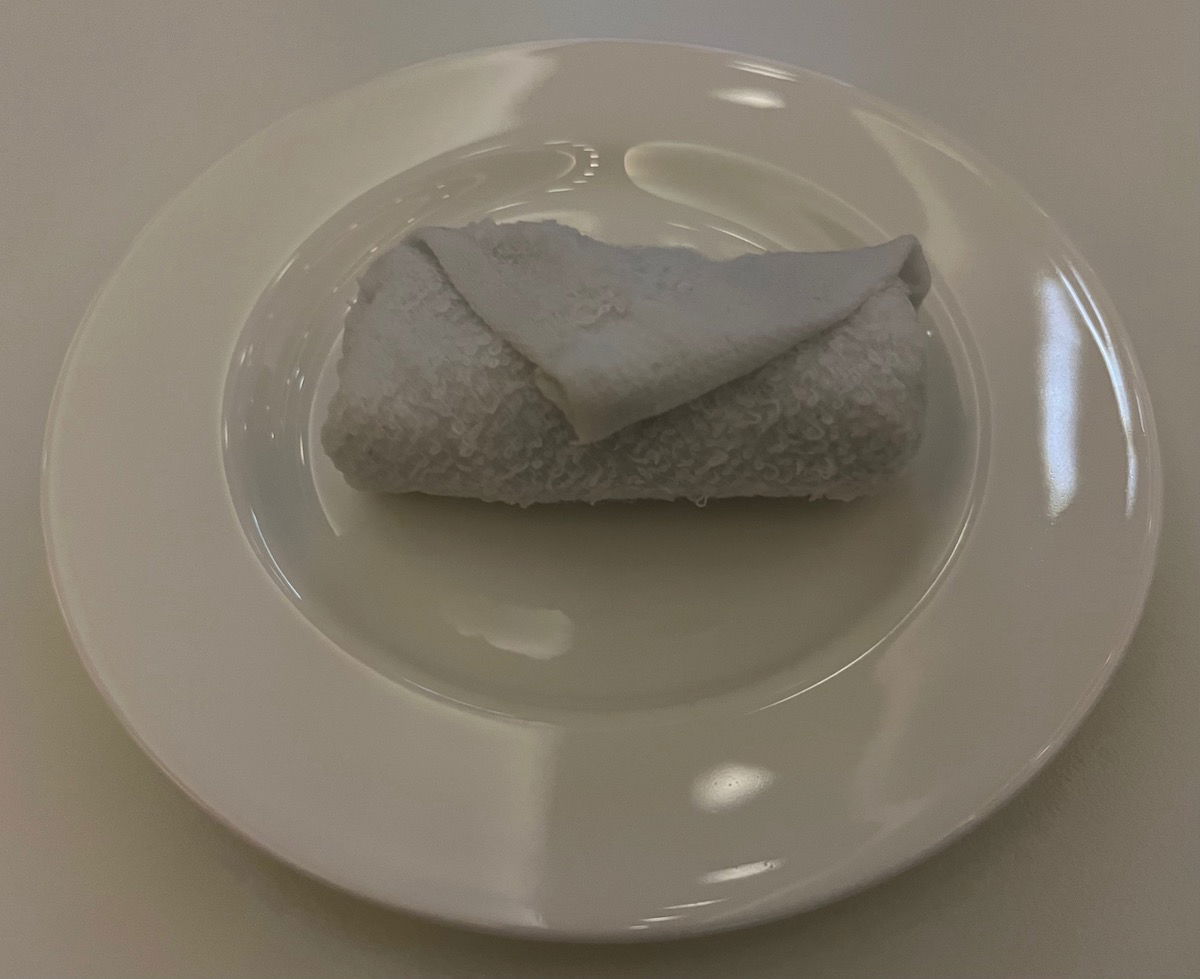 Next up, the purser personally served the first round of drinks. Since the champagne wasn't anything to get excited about, we decided to go with a white wine instead. We didn't like the first one we tried, so the purser kindly did a little wine tasting for us for all the options, and we ended up choosing the Italian one.
This was served with an amuse bouche, which was quite underwhelming. For one, it's exactly the same amuse bouche I was served in 2020. Beyond that, a fork worth of small chopped veggies doesn't offer much in the way of flavor. Never mind that it's kind of complicated to eat without making a mess.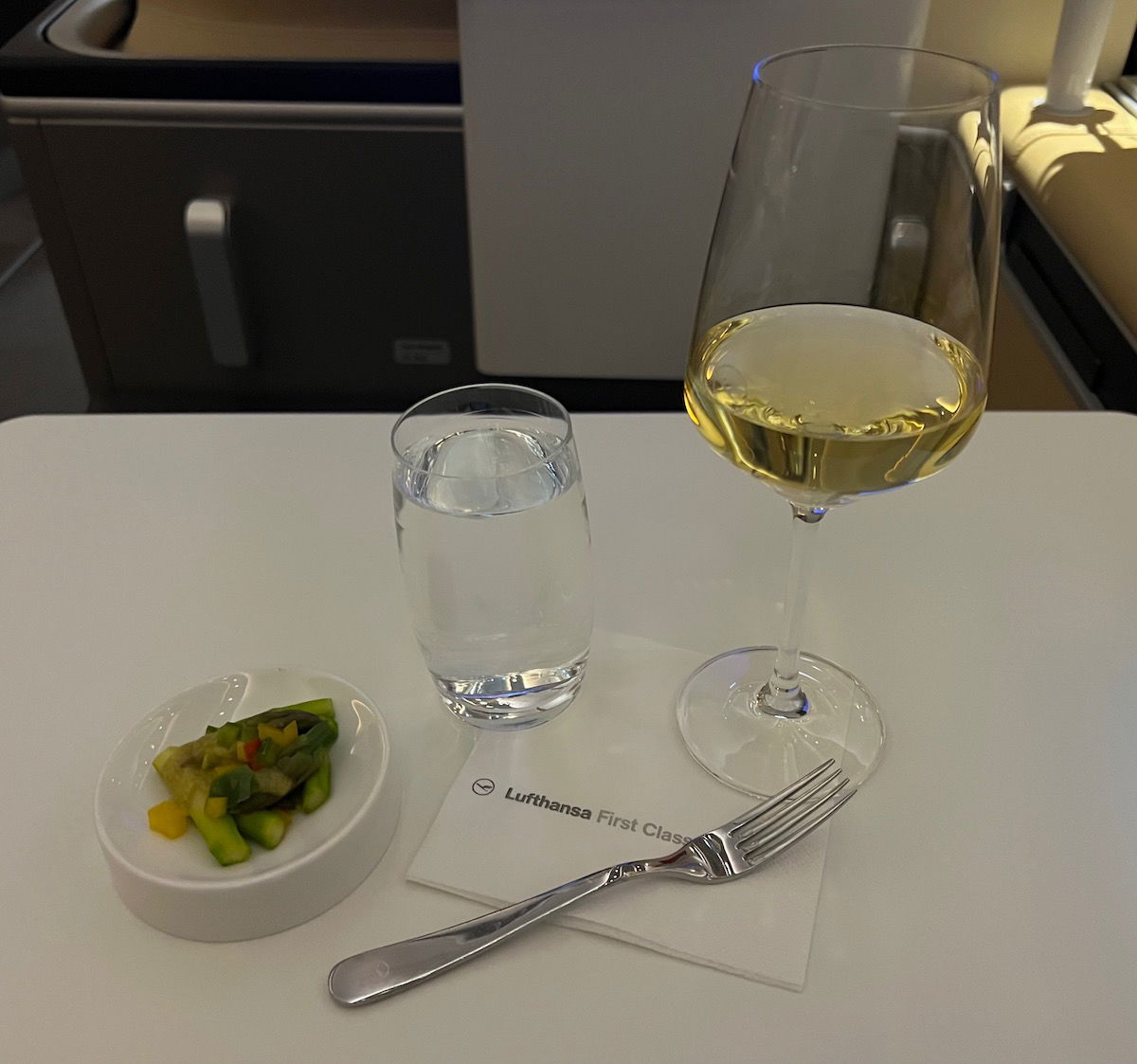 After the drink and amuse bouche service, tables were set for dinner, with a selection of bread offered (sadly there was no pretzel bread).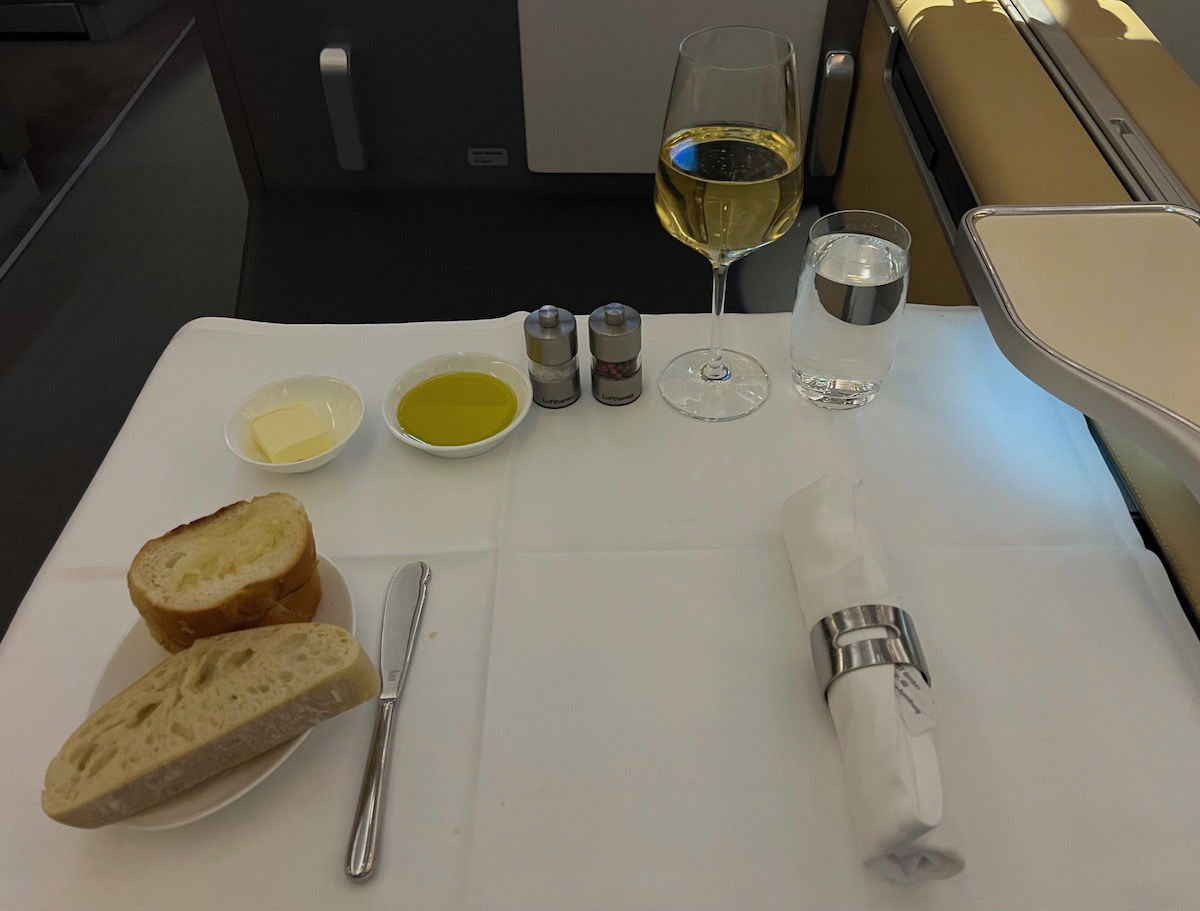 I've flown Lufthansa first class a countless number of times, and generally my take is that the caviar and appetizers are excellent, while the mains are just "meh."
So I went all-in with the appetizers. In addition to a generous serving of caviar with all the garnishes, I also had the three appetizers, plus a side salad. The three appetizers included ahi tuna poke with marinated cucumber and curled daikon radish, herb roasted beef with chilled polenta, feta, and dill, and a chilled ratatouille parcel, with artichoke escabeche.
This was all quite good, though I should mention that a couple of these dishes were served a couple of years ago as well, so it seems like Lufthansa really isn't mixing stuff up much anymore.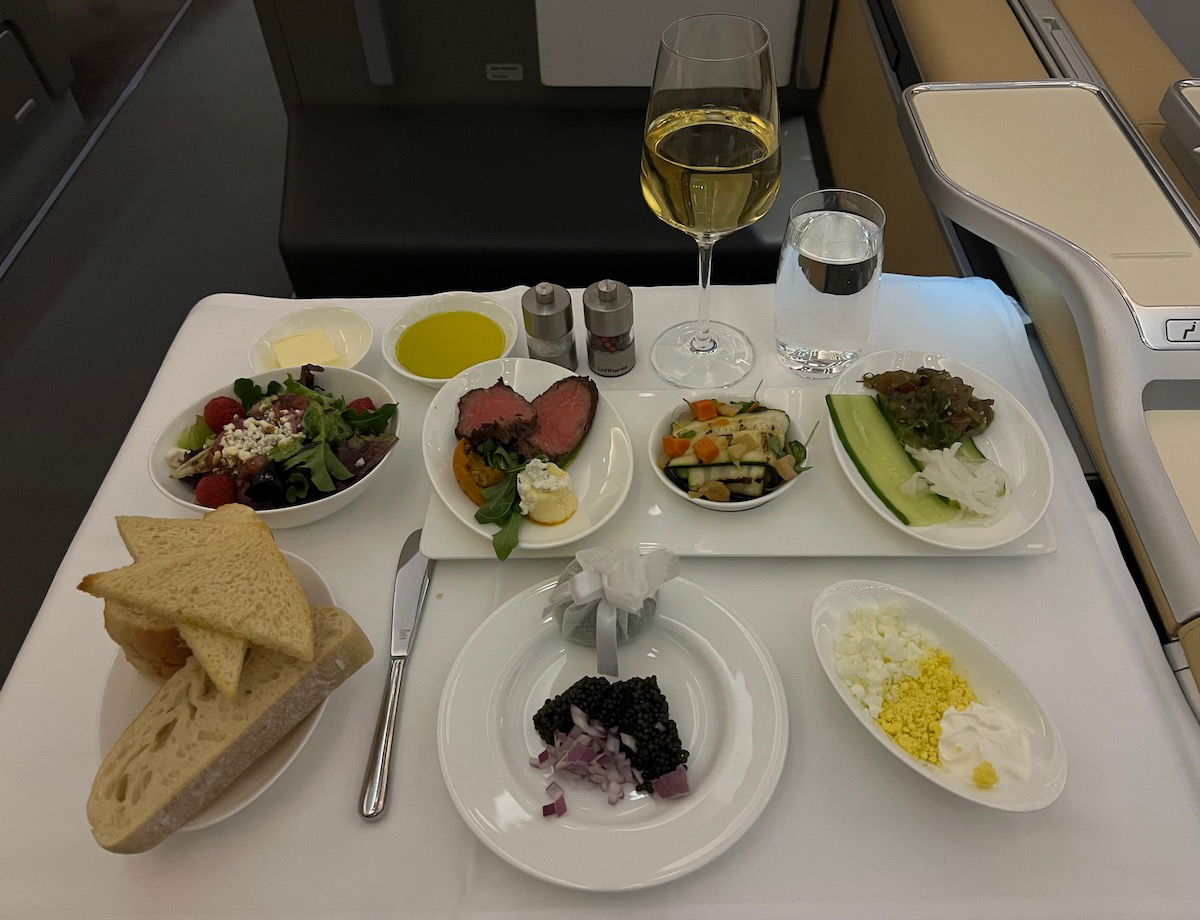 I was quite full from the caviar and appetizers, so I skipped a main course. The options didn't speak to me much, frankly. The main courses were identical to the ones I was recently offered in Lufthansa business class, except there was an additional option (pork loin).
I didn't say no to dessert, however, and selected the sea salt brownie with vanilla ice cream and raspberries.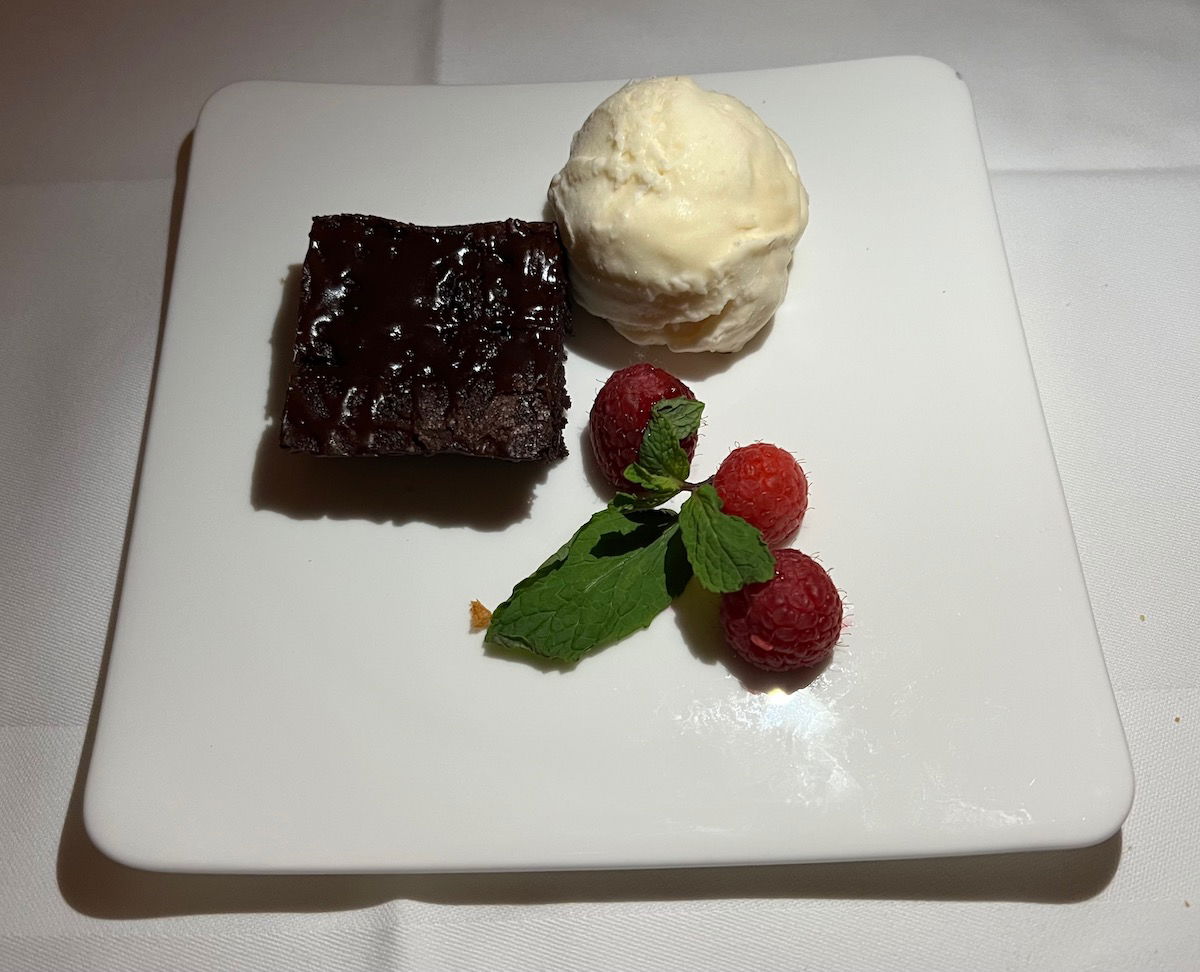 I was offered some chocolates at the conclusion of the meal, but was stuffed, so I didn't partake.
Look, I'm generally a fan of Lufthansa first class, but I have to say that the meal service could use a refresh. Appetizers are the same ones that were on offer years ago, the main courses are the same as in business class, and the wine selection is pretty cheap, compared to what it used to be.
Still, I enjoyed my meal, as the caviar and appetizers were very good.
Lufthansa A340 first class bed
The meal service was done around 90 minutes after takeoff, at which point we asked the crew to make our beds. That was promptly taken care of. While Lufthansa might not have the most spacious or private first class suites, I find Lufthansa's first class bed to be very comfortable, thanks to the plush bedding.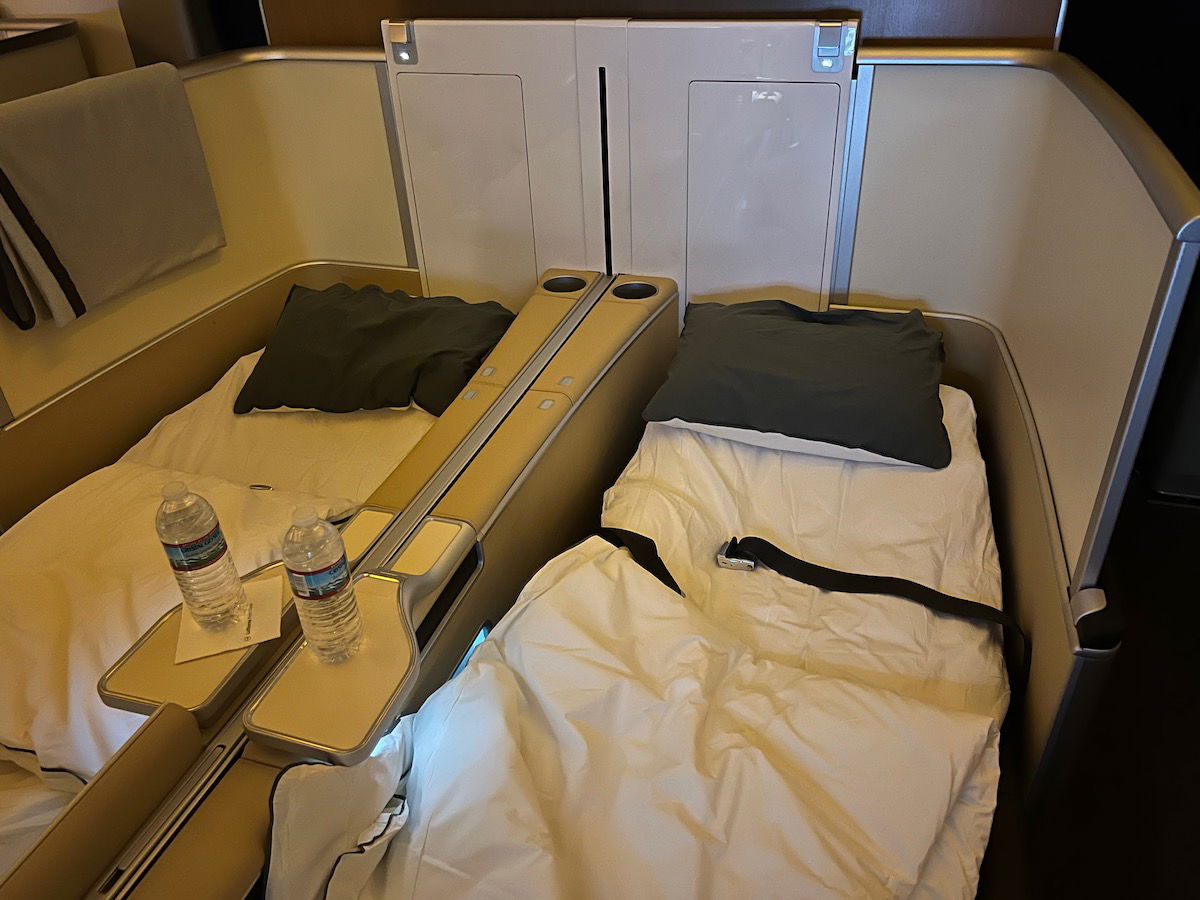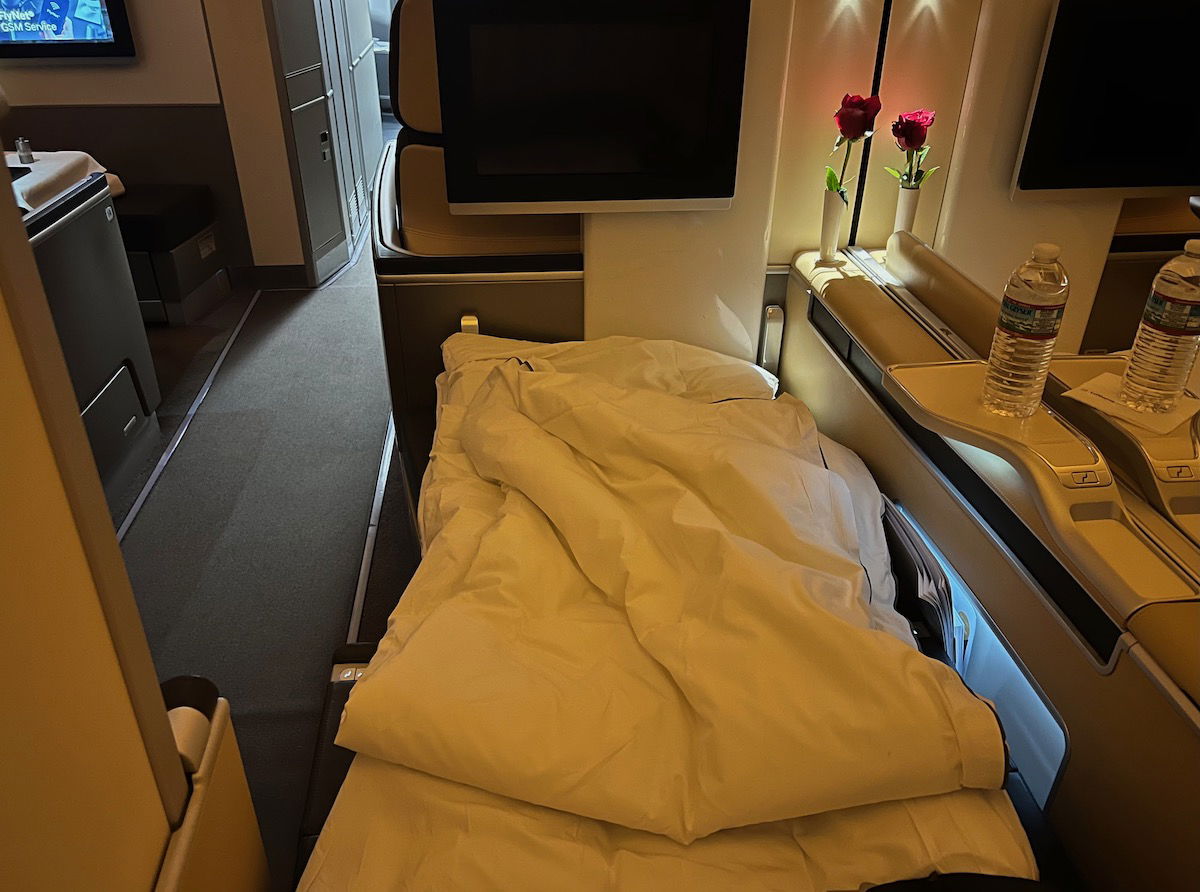 I fell asleep just over five hours before arrival in Munich…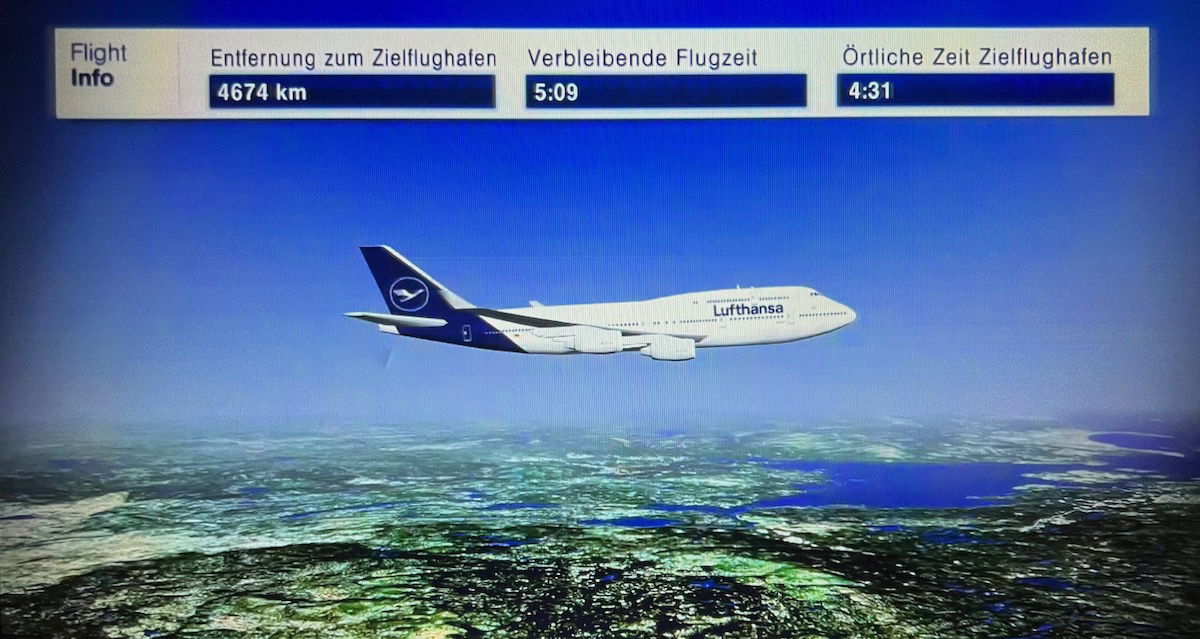 …and while I would have loved to sleep longer, I woke up around 90 minutes before landing, as I had asked to be woken up for breakfast. 3.5 hours of sleep on such a short flight is pretty good for me, especially since I'm not a good airplane sleeper.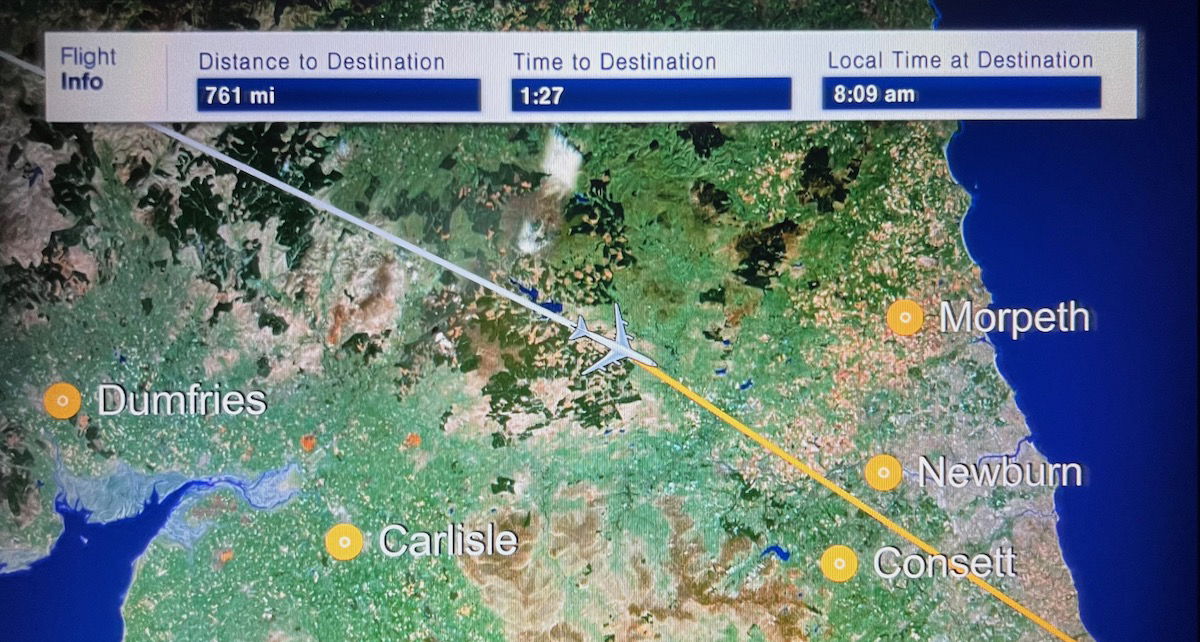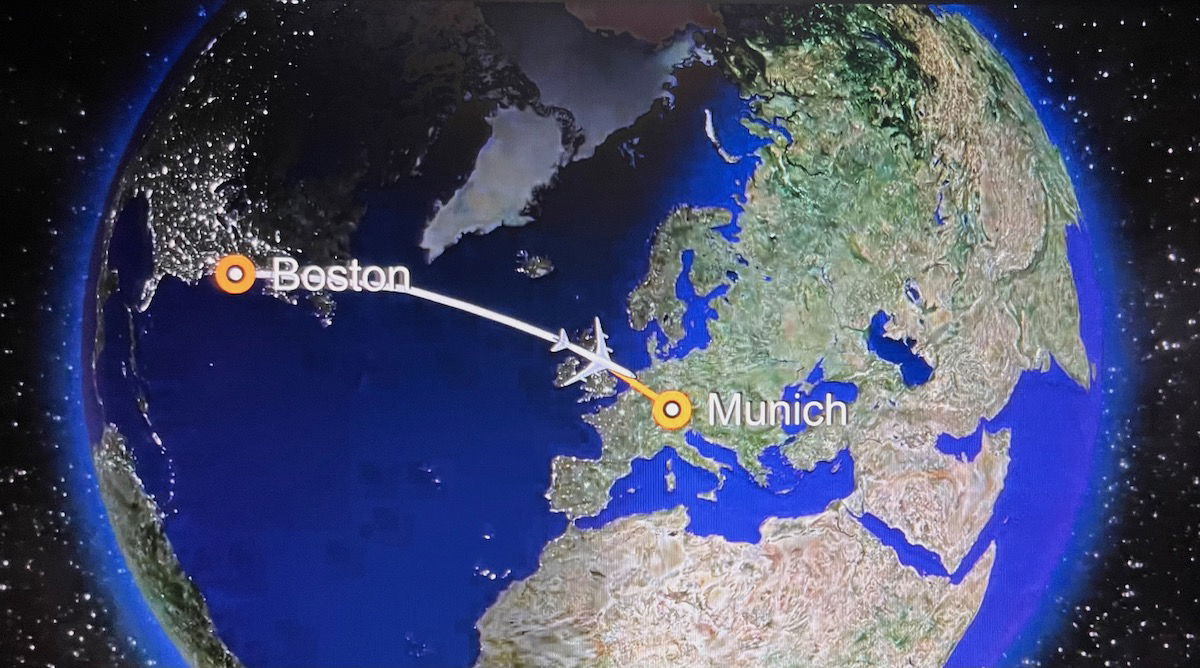 Lufthansa A340 first class lavatories
Lufthansa has two lavatories in first class on the A340-600, located immediately in front of the cabin. The lavatories are a decent size, and each have a window. I'm also a fan of how Lufthansa places a seat over the toilet.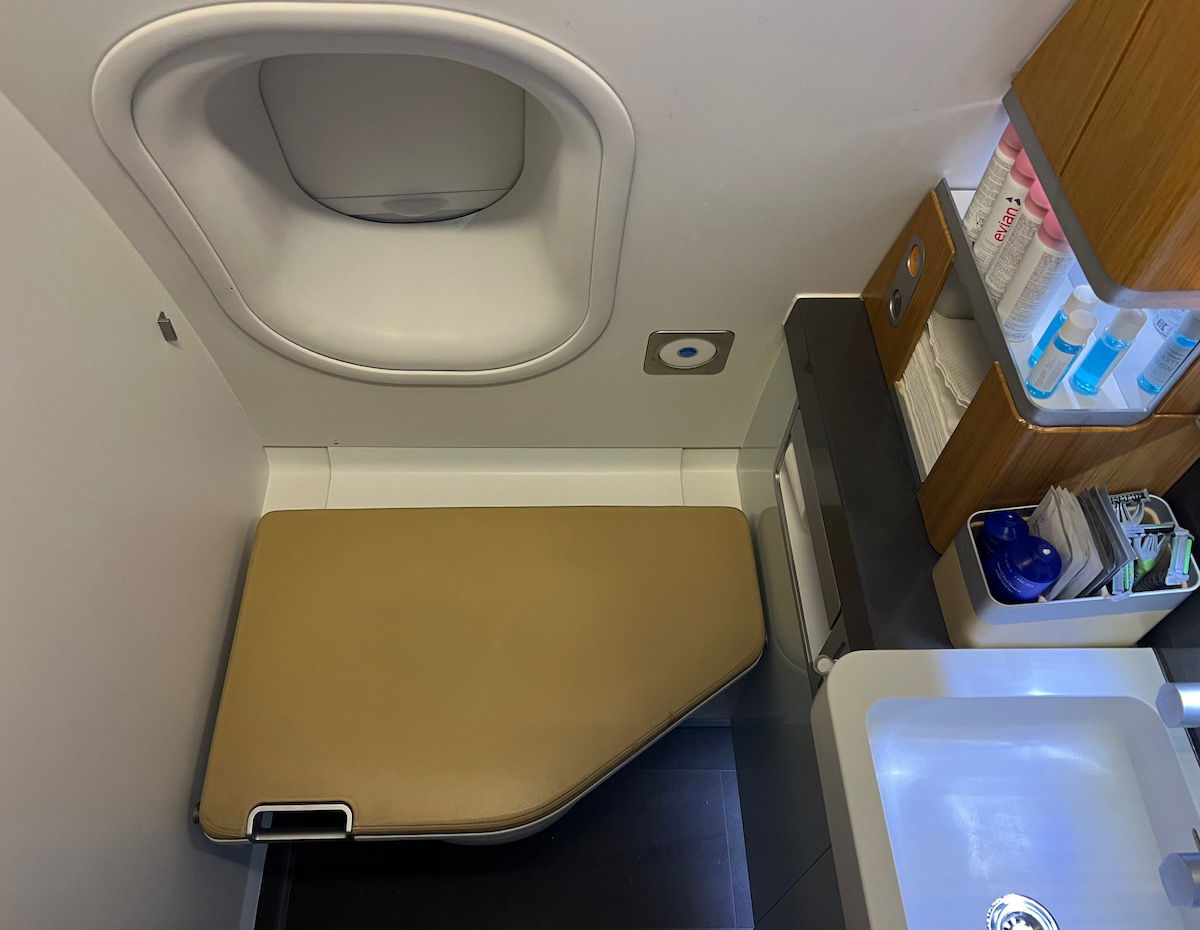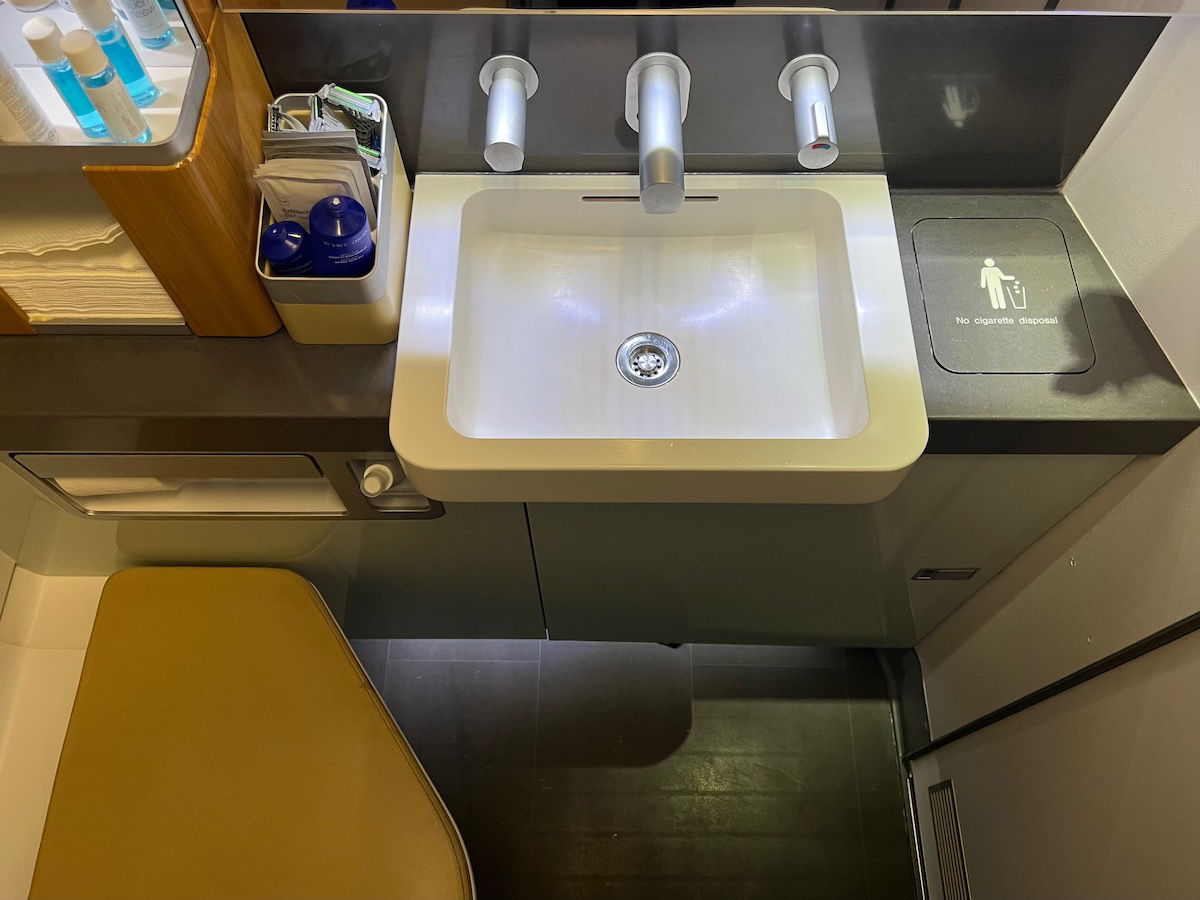 The lavatories were stocked with a variety of amenities, ranging from Evian facial mist, to mouthwash, to shaving kits.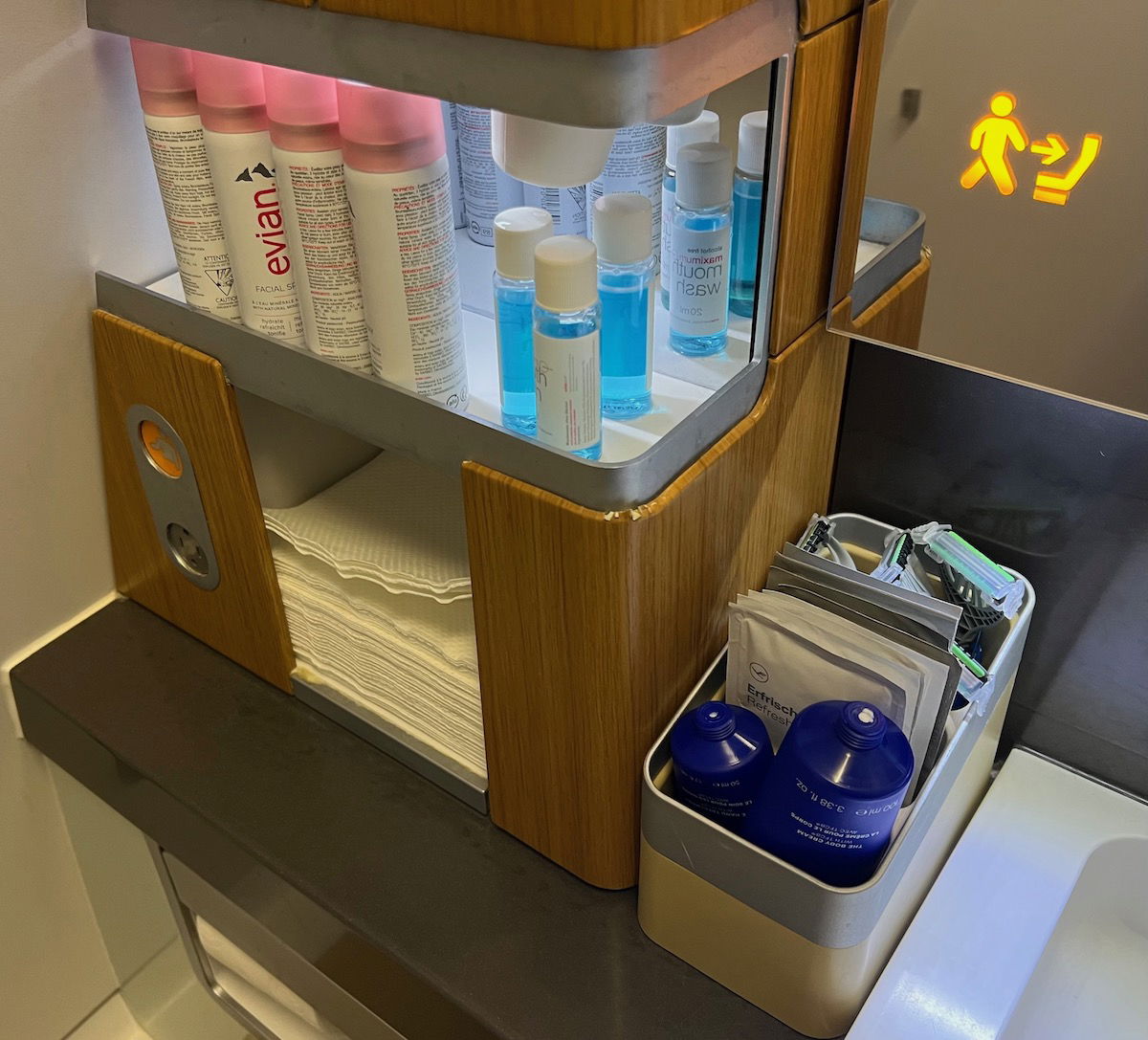 Lufthansa first class breakfast
While I wasn't at all hungry, I figured I had to take one for the team for review purposes, and take a look at the breakfast selection. Below you can find the breakfast menu.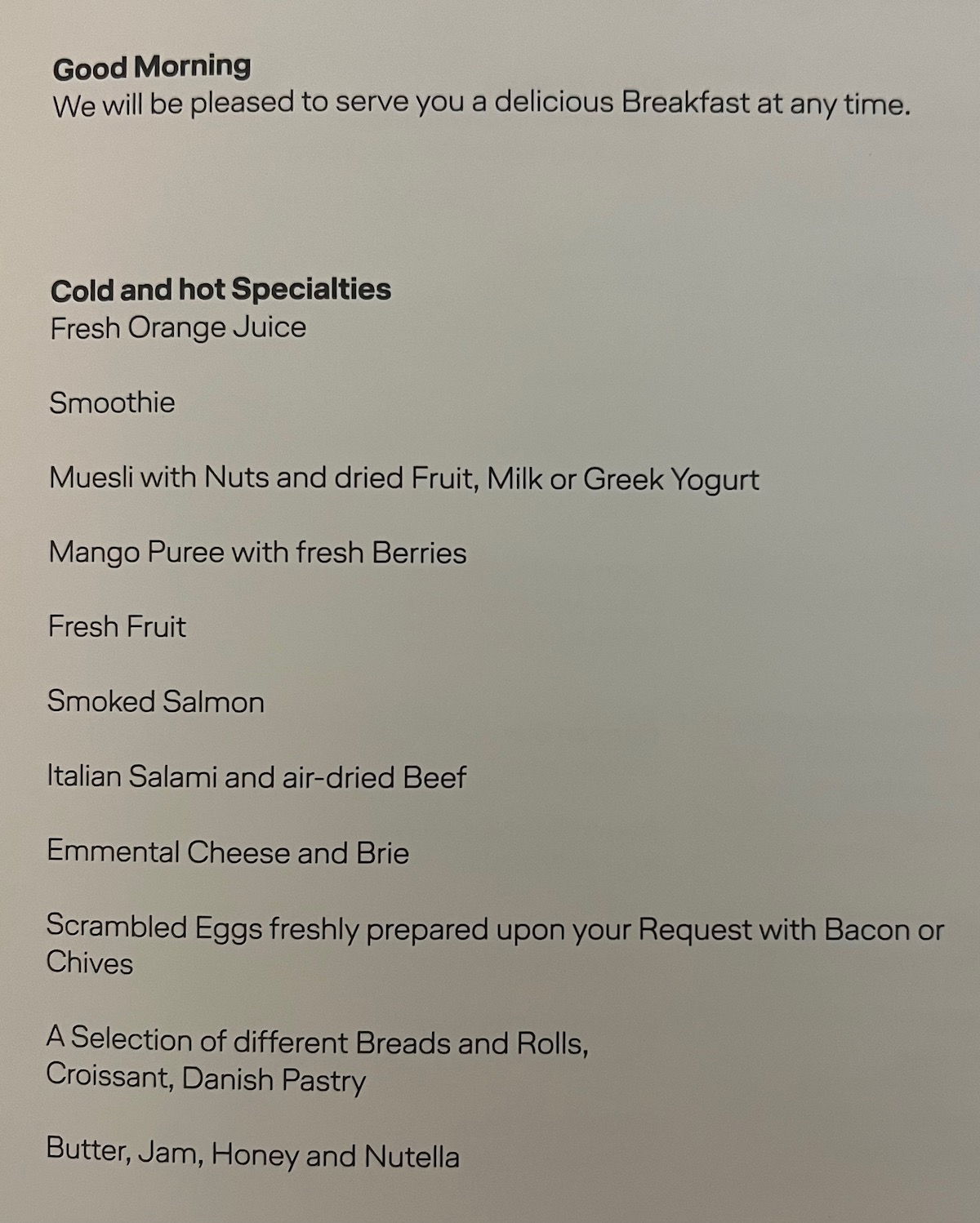 To start, I ordered a variety of fresh fruit, a cappuccino, and an orange juice. The fresh fruit included a plate with melon, strawberry, and kiwi, and then there was also a plate with mango puree and fresh berries. There were also several choices from the bread basket, including croissants and muffins.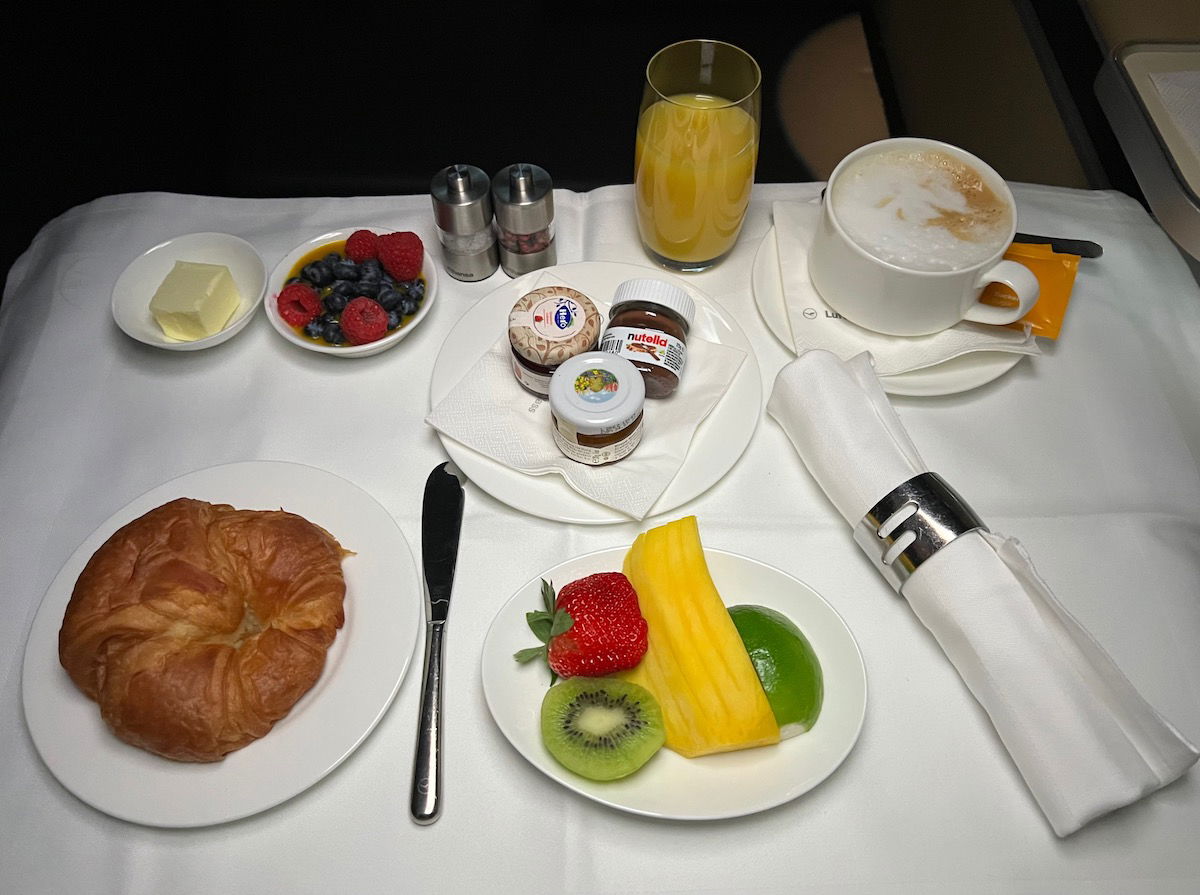 One thing that Lufthansa does exceptionally well in first class is eggs. That's because you can have scrambled eggs prepared to your liking, with chives and/or bacon. I had some scrambled eggs with chives.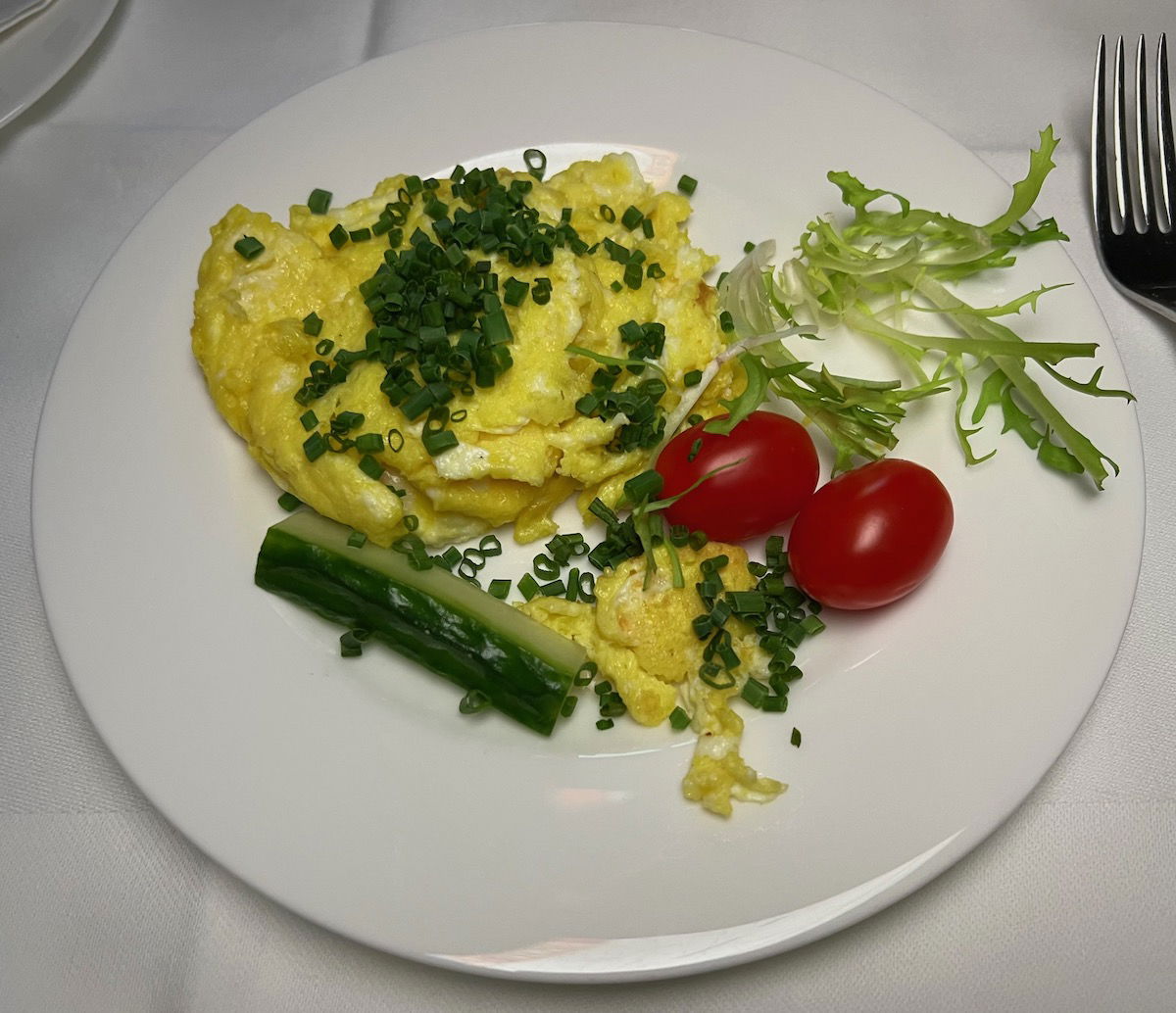 Lufthansa first class service
We were lucky in that we had a rockstar crew on this flight. The two flight attendants working first class were experienced and kind of quirky. They seemed to love their jobs, had a great sense of humor, and were seasoned professionals who knew exactly what they were doing.
On top of that, we also had a great purser, who was much more hands on than usual. He came around during boarding, served us drinks, and appeared again prior to the descent to see how the flight was.
I can only rave about this crew, and they were one of the best Lufthansa crews I've had in a long time. I'm happy to see flights to Munich once again offering first class service, because anecdotally I find Munich crews to be a bit more consistently professional than Frankfurt crews.
Lufthansa A340 arrival in Munich
At 9AM Munich time the captain made his pre-landing announcement, informing us that we'd be landing on runway 26R in 38 minutes (you've gotta love German precision!). A few minutes after that we began our descent, and I decided to move to seat 1K for the landing, as it was the only vacant window seat.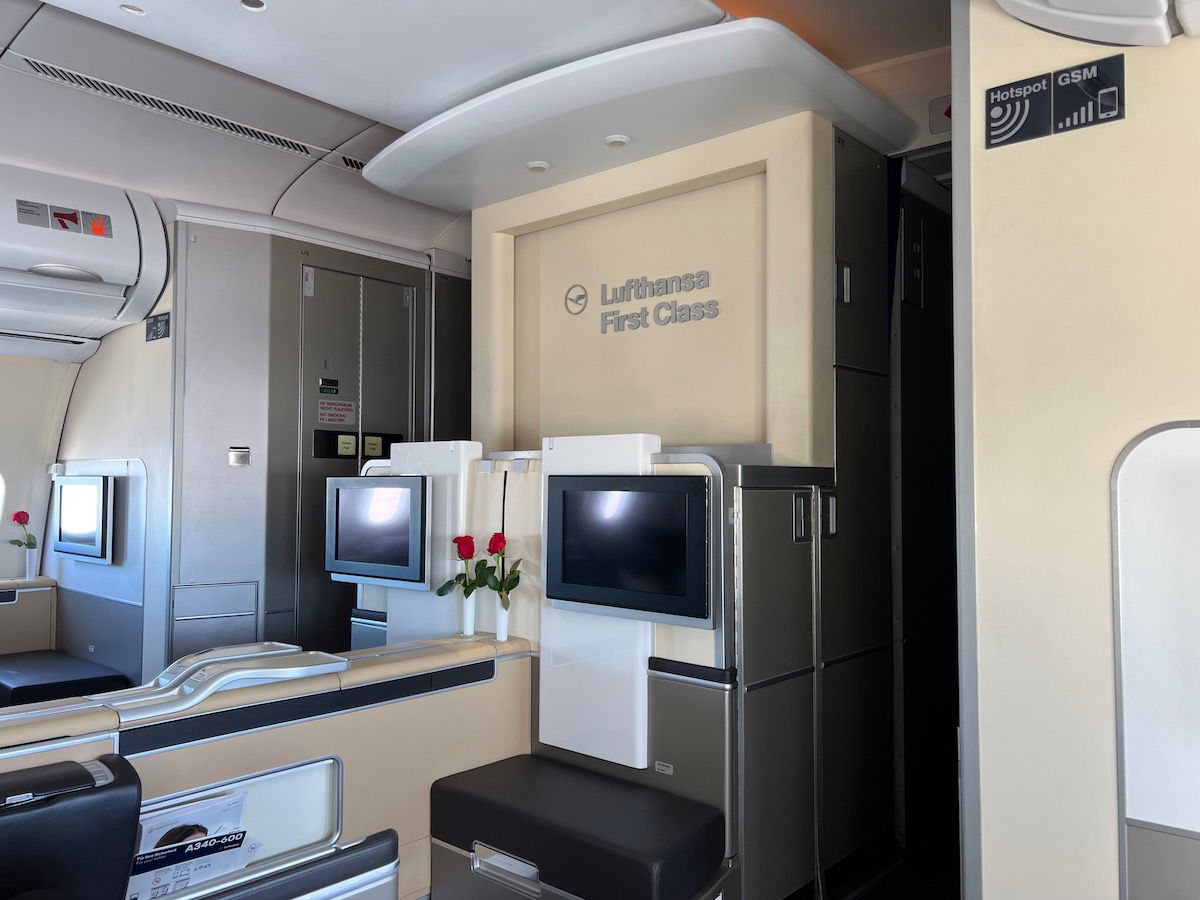 Our descent was smooth, and the seatbelt sign was turned on about 15 minutes before landing.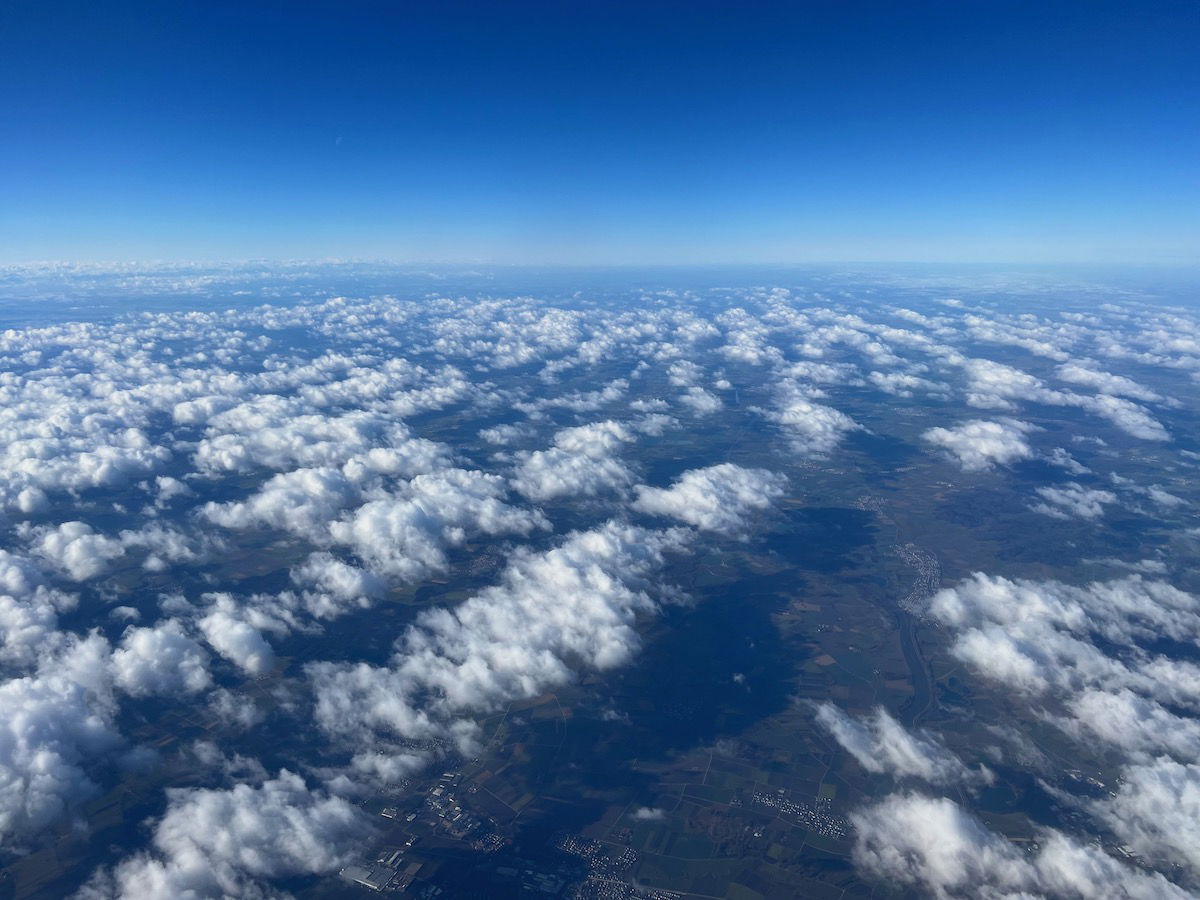 I always love the views of Bavaria when approaching Munich… so pretty!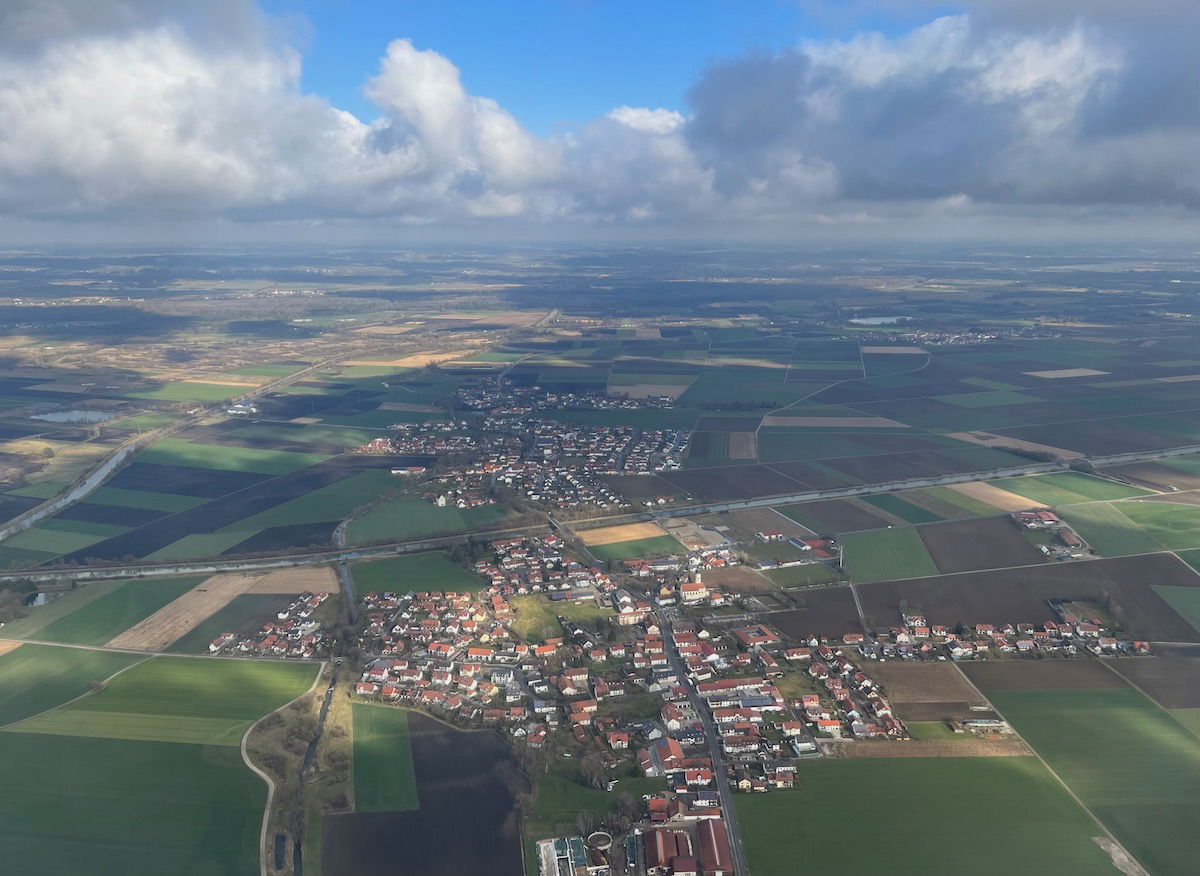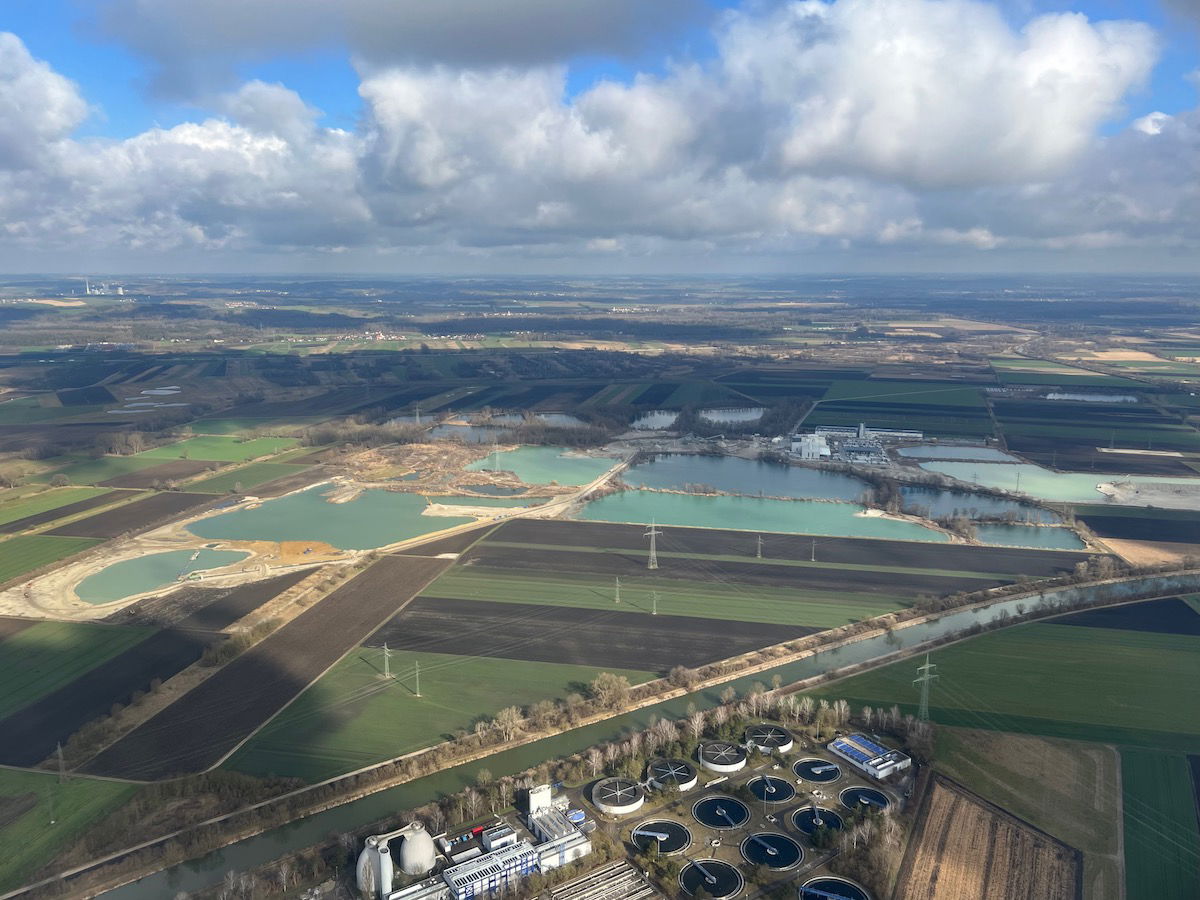 We had a gorgeously smooth touchdown in Munich at 9:37AM. From there we had a short taxi to our arrival gate, where we pulled in at 9:45AM.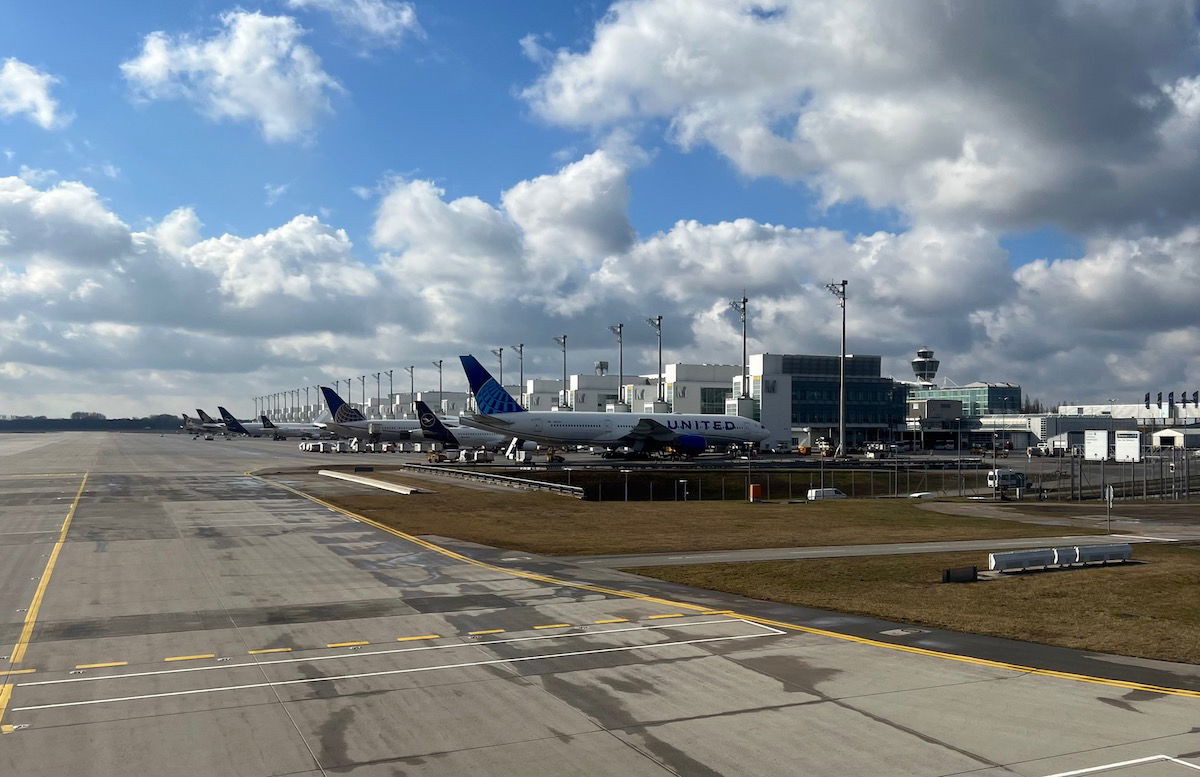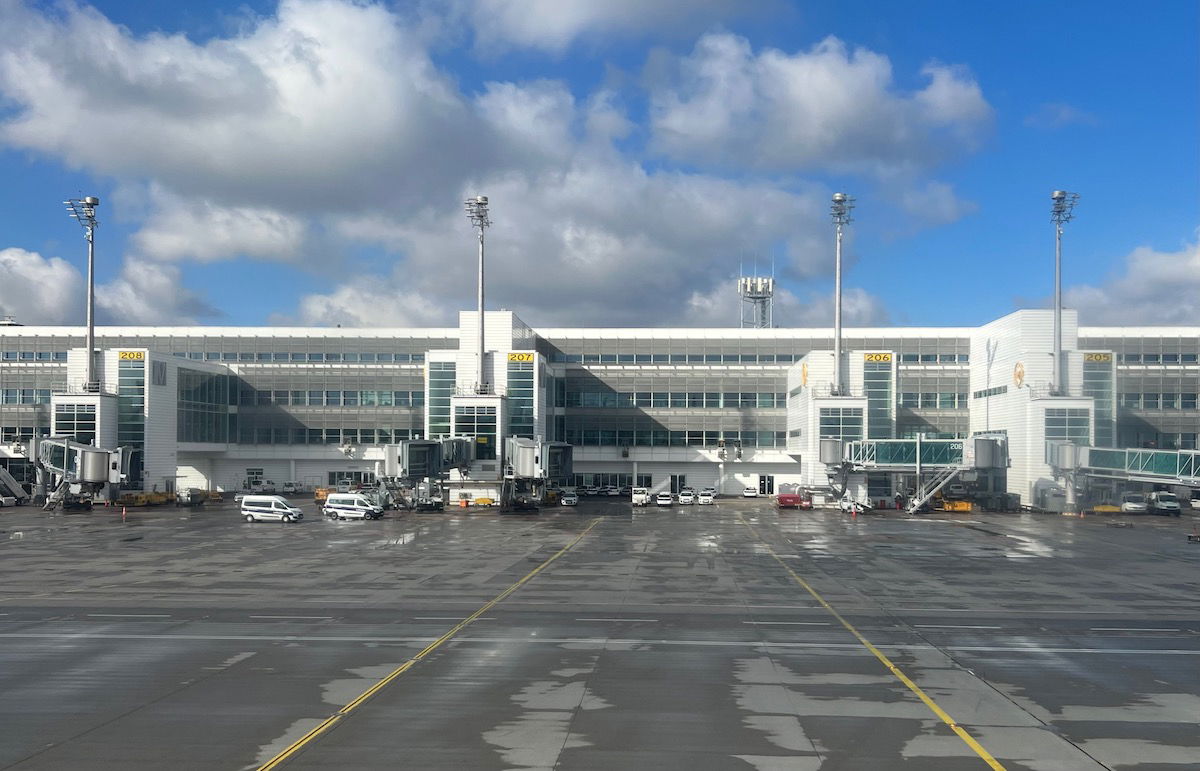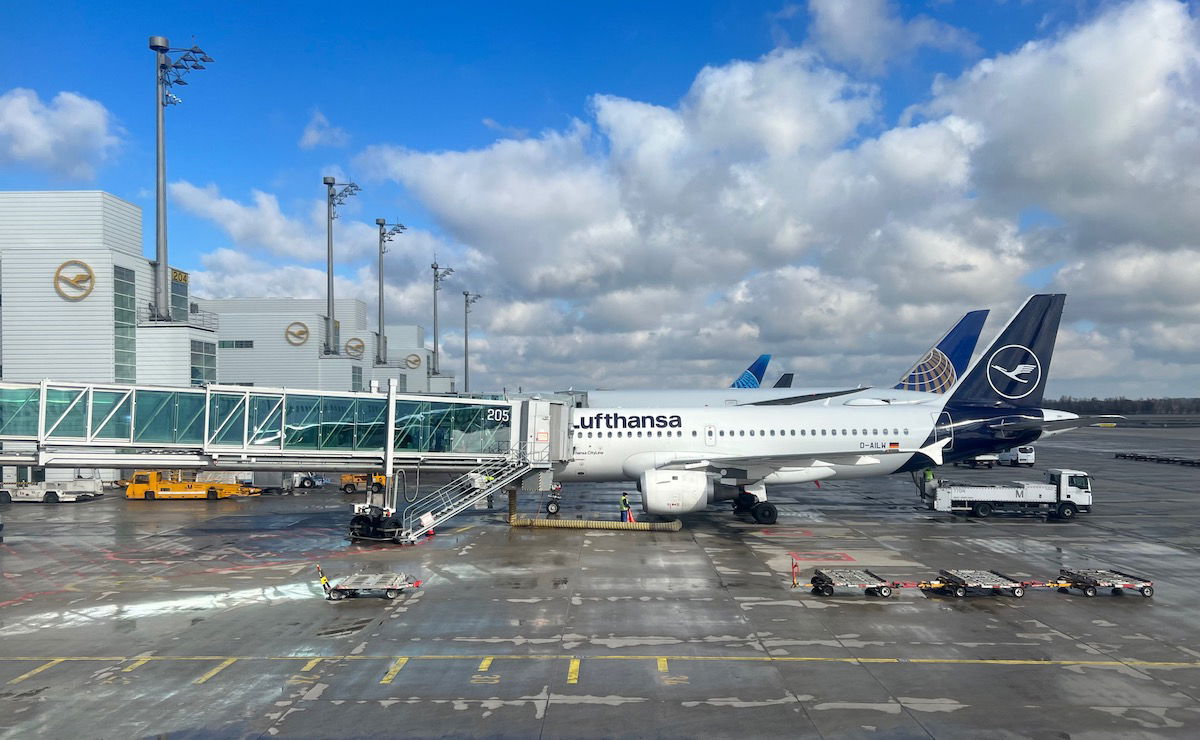 Upon bidding farewell to the crew we headed to the Lufthansa First Class Lounge, prior to our connecting Air Dolomiti flight to Geneva.
Bottom line
I've flown Lufthansa first class dozens of times, and generally I'm a huge fan of the carrier's first class product. However, I'm a bit conflicted.
On the one hand, I had a great flight, as the crew couldn't have been better, and I enjoyed my dinner and breakfast. I really appreciate that Lufthansa has brought back its A340s to add first class capacity in Munich. Furthermore, Lufthansa first class is the best first class product available across a large network that can regularly be booked across the Atlantic with miles, and even without fuel surcharges (Emirates first class is a bit better, but that's only available on two routes between the United States and Europe). So from the perspective of redeeming miles, I absolutely love this product.
On the other hand, Lufthansa's hard product obviously leaves quite a bit to be desired, but that will be addressed soon, with the introduction of Lufthansa's new first class seat. I'm probably a bit more forgiving of the current product on the 747 vs. the A340, given that sitting in the nose of the 747 is such a treat, so it adds to the experience.
My bigger issue is that I feel that Lufthansa's soft product in first class needs an overhaul. I can appreciate consistency, but basically everything I was served was either available in first class years ago, or was available in business class on a recent flight.
Here's to hoping that with the new first class hard product there's also an updated soft product.
What do you make of Lufthansa's A340 first class?