For the last segment of the trip to Germany with my parents, we crossed the Atlantic in Lufthansa's Airbus A380 first class. My goodness, this flight was such a treat.
For one, it was so fun to fly the Lufthansa A380 again, as it only recently reentered service, after having been grounded for years. But what was most special about this flight is that I managed to snag four award seats, so we had half of the cabin to ourselves. Add in an exceptionally friendly crew, and this was one of my best Lufthansa flights yet.
While Lufthansa's first class isn't at all cutting edge, it's a comfortable product, flying the A380 is always a treat, and it's also the best value for crossing the Atlantic in first class using miles. Let's get into the review.
How I booked my Lufthansa first class ticket
I booked myself the following itinerary in first class for 100,000 Air Canada Aeroplan points plus $124.90 in taxes and fees:
8/19 LH2367 Zurich to Munich departing 9:20AM arriving 10:10AM
8/19 LH424 Munich to Boston departing 3:35PM arriving 5:50PM
Then I booked my mom and her partner, as well as my dad, the following itinerary for 100,000 Air Canada Aeroplan points plus $191.25 in taxes and fees per person:
8/19 LH104 Frankfurt to Munich departing 12:15PM arriving 1:10PM
8/19 LH424 Munich to Boston departing 3:35PM arriving 5:50PM
For those wondering, I had booked all four first class seats about four days before departure. I saw that seven of the eight first class seats were still for sale a week out, so knew the odds of first class award space opening up was very good. See my guide to redeeming miles for Lufthansa first class.
Lufthansa first class lounge & boarding
I met up with my family at Munich Airport — the Lufthansa First Class Lounge Munich is very nice, and we had a great stay there. While the airline is best known for the Lufthansa First Class Terminal Frankfurt, in many ways I actually prefer the Munich location.
Lufthansa's inconsistent ground service when traveling in first class always seems like a bit of a missed opportunity. For example, when I arrived in business class from Zurich, I was picked up in this pretty epic Porsche.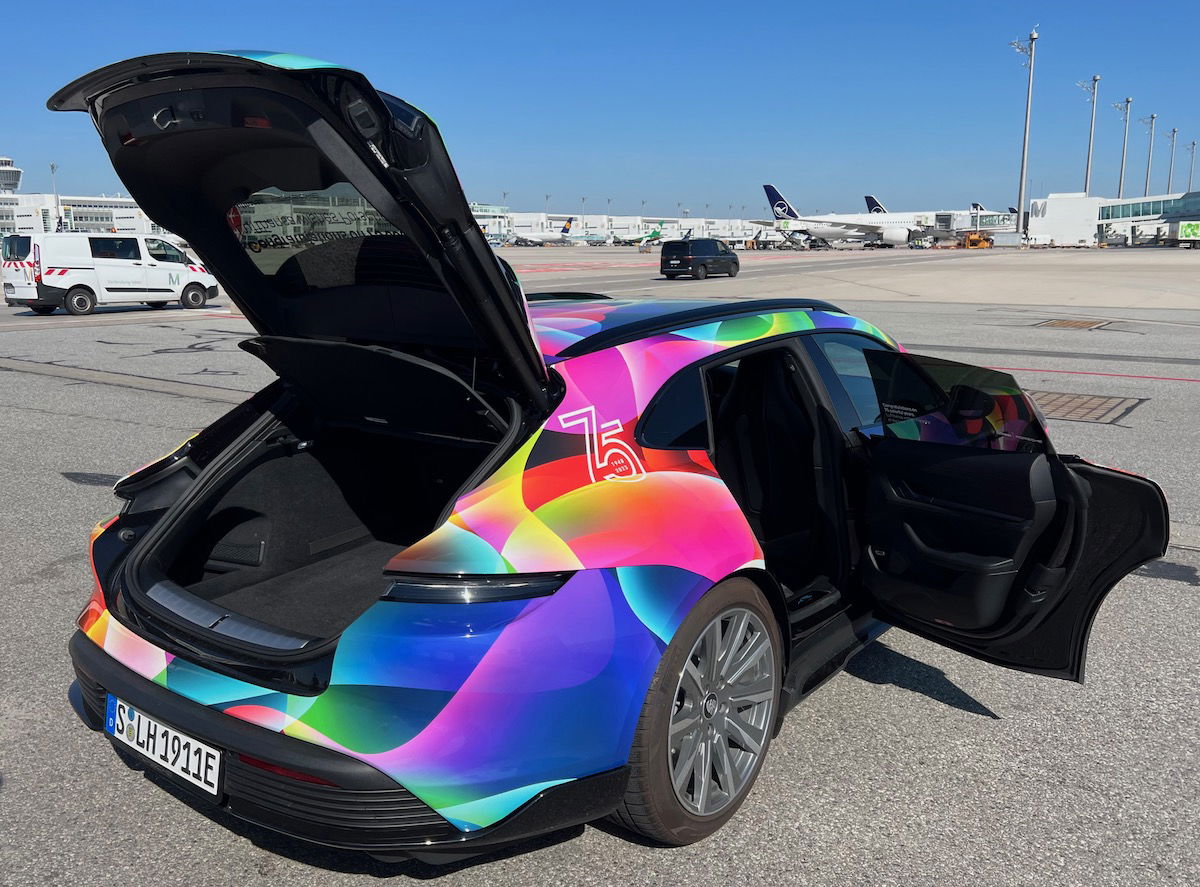 Meanwhile if you depart from a gate in the same concourse as the lounge, you're on your own. That's not an issue in terms of being able to walk to the gate, but there's the typical line where you're asked security questions for US-bound flights, and no priority is given to first class passengers over business class passengers. So we had to wait about 10-15 minutes to clear that check.
It's not a huge deal at all, but it just seems like an area where Lufthansa could make the first class ground service a bit more seamless, as a way of further differentiating it.
Anyway, at the far end of the concourse there were three Airbus A380s parked. While there was an A380 in the new livery…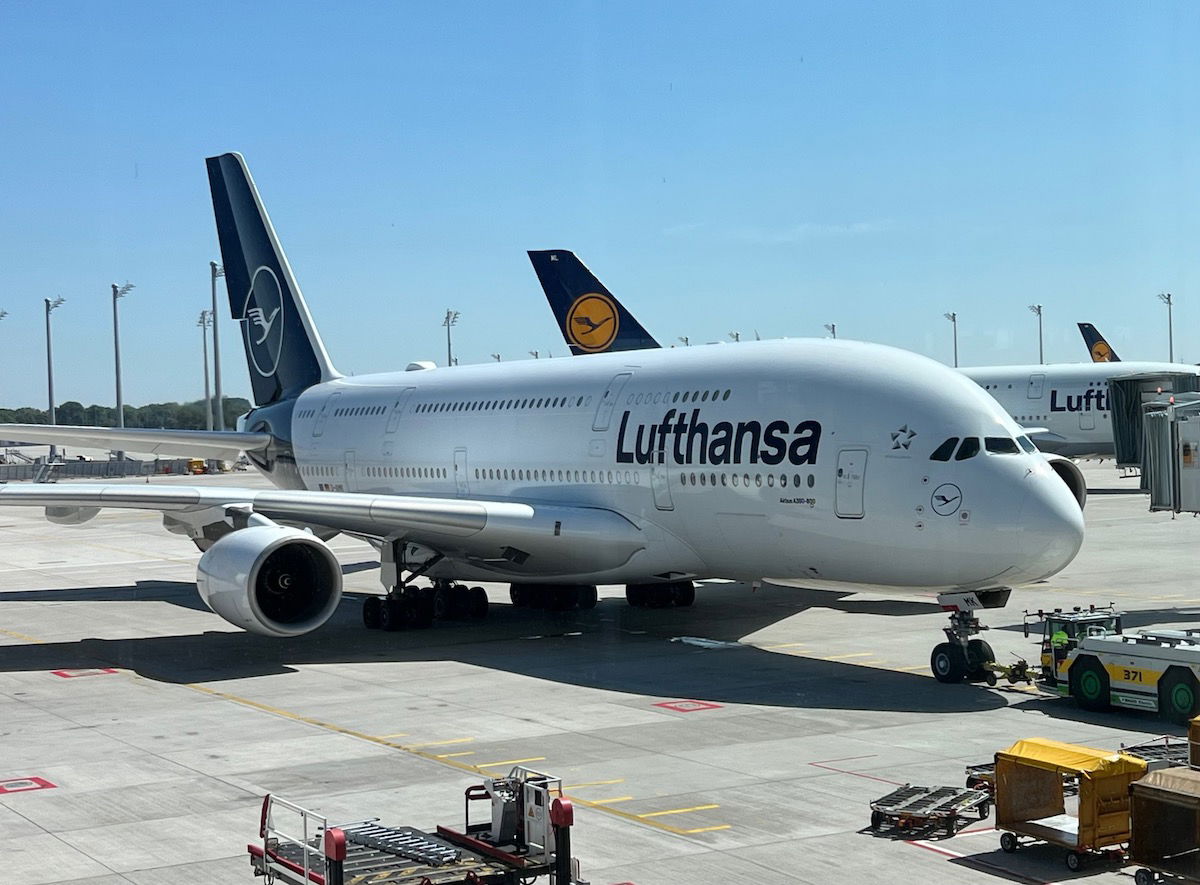 …we were flying on an Airbus A380 in the old livery. Specifically, we were on D-AIMM, a roughly eight year old jet that spent the past few years in storage.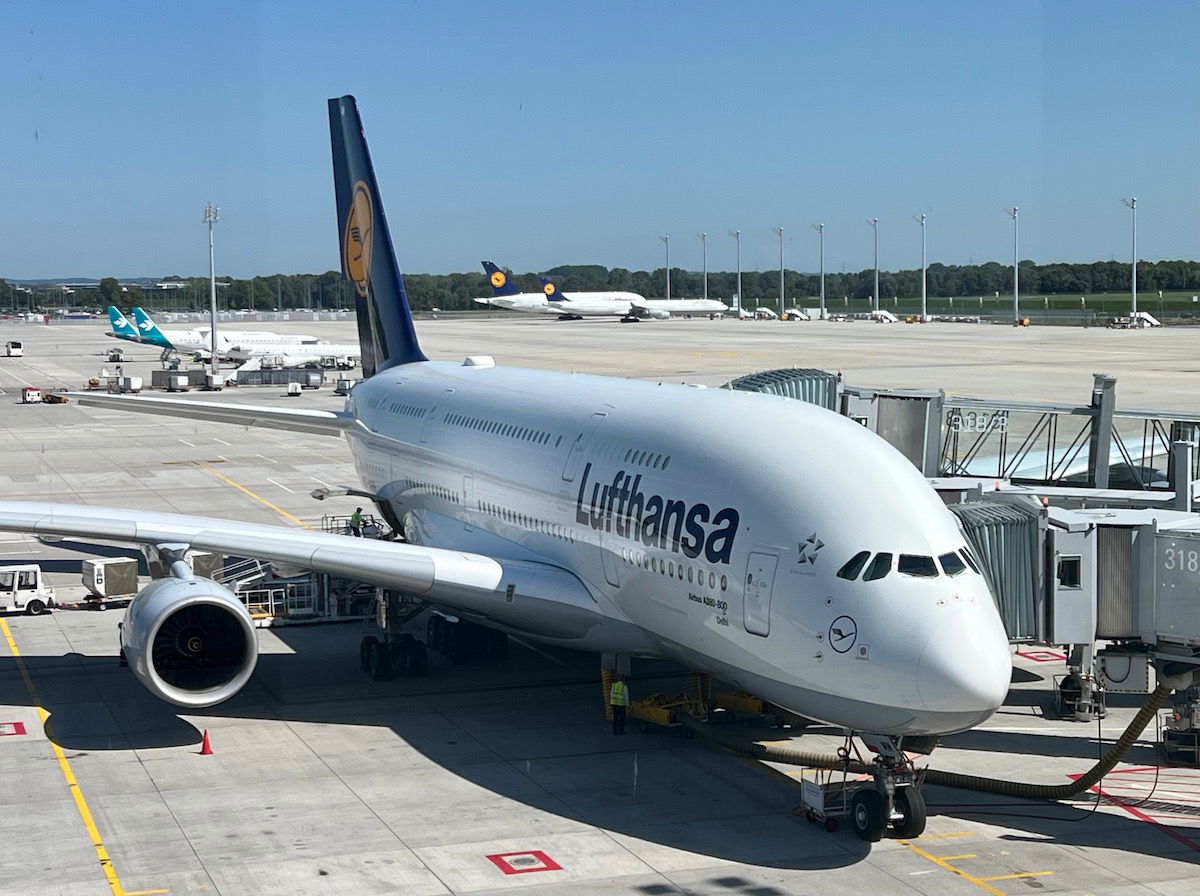 We were departing from gate L38, with boarding scheduled for 3:05PM, 30 minutes before departure. Sure enough, that's exactly when boarding started, with first class being invited to board first.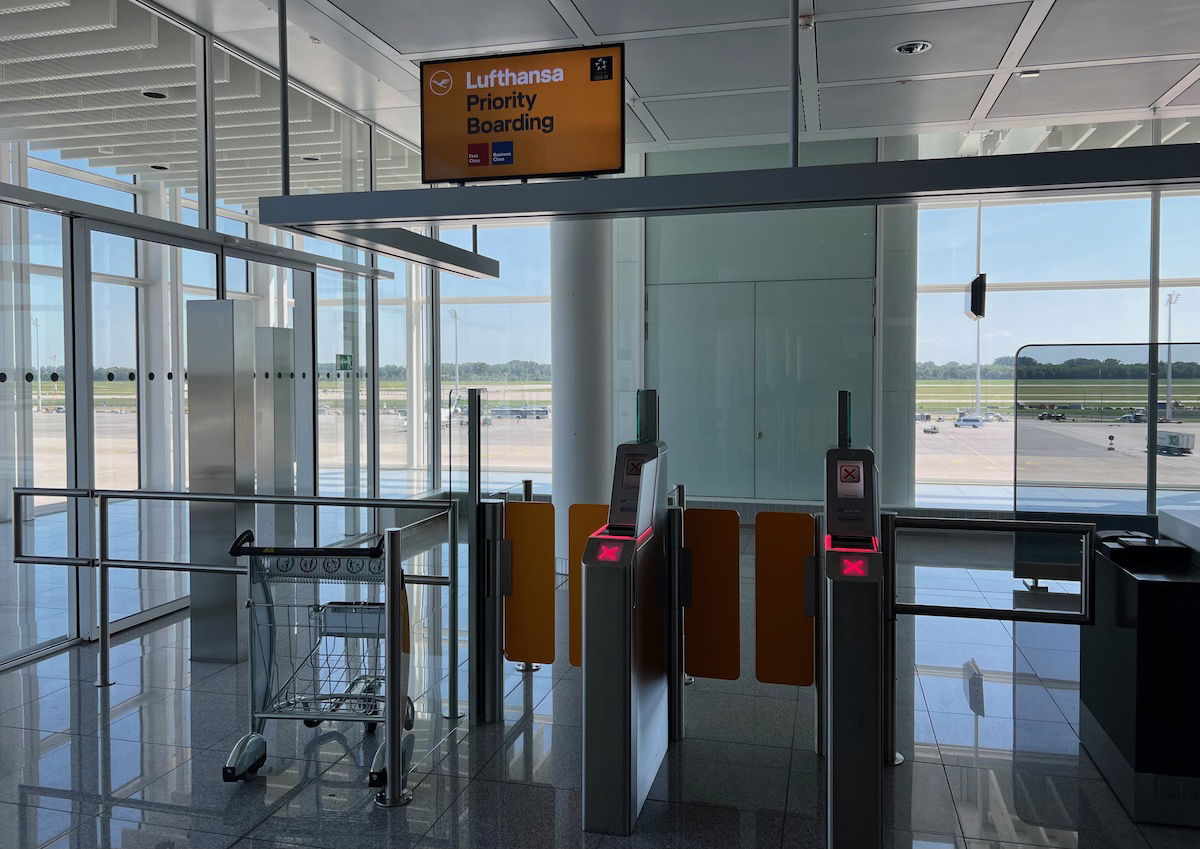 Lufthansa A380 first class cabin & seats
There's nothing quite like boarding the upper deck of the A380, where the jet bridge slopes up, rather than down. At the forward upper deck door we were greeted by the lovely crew, and pointed left into first class.
Lufthansa's Airbus A380 first class cabin consists of a total of eight seats, spread across two rows, in a 1-2-1 configuration. This is almost exactly the same layout you'll find in Lufthansa's A340-600 first class. It's also the same number of seats you'll find in Lufthansa's 747-8 first class, except the layout is different, given that the cabin is in the nose of the plane.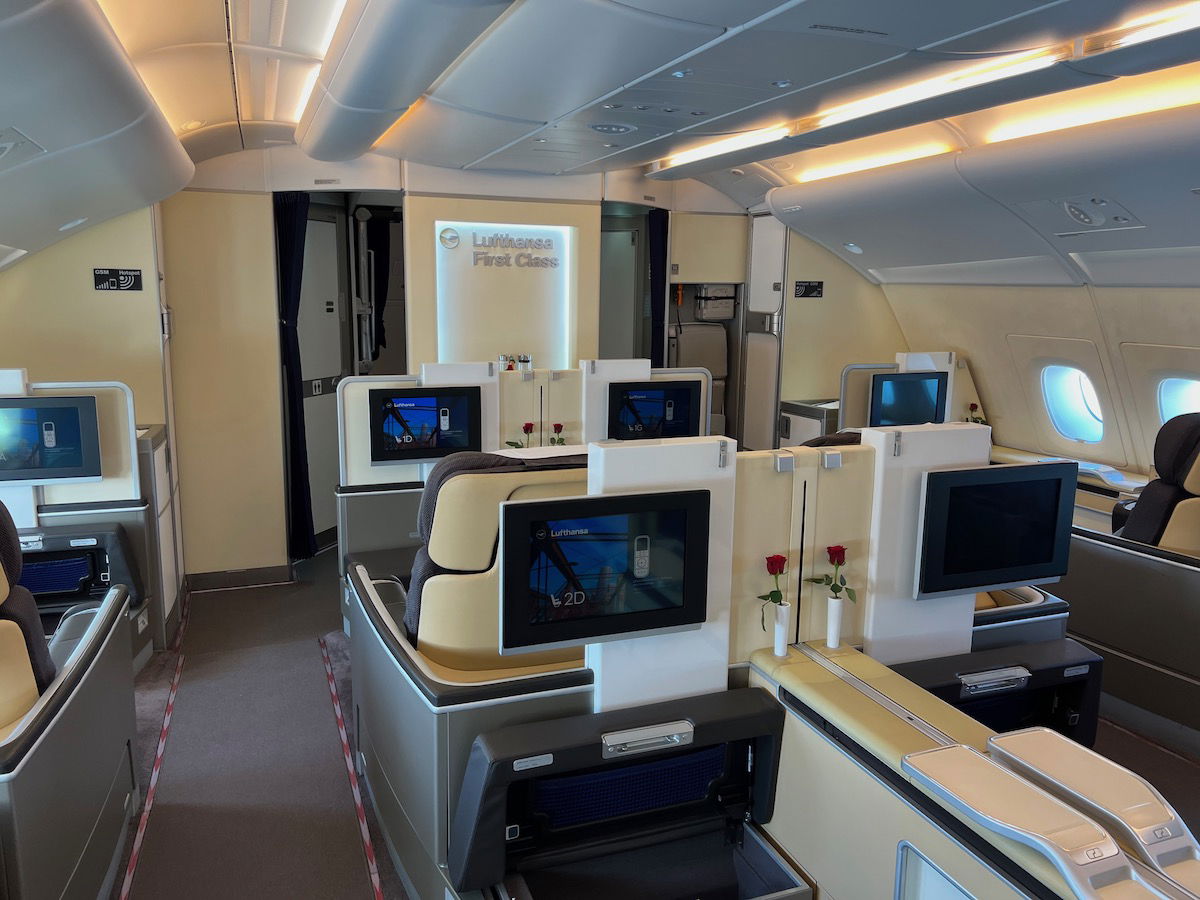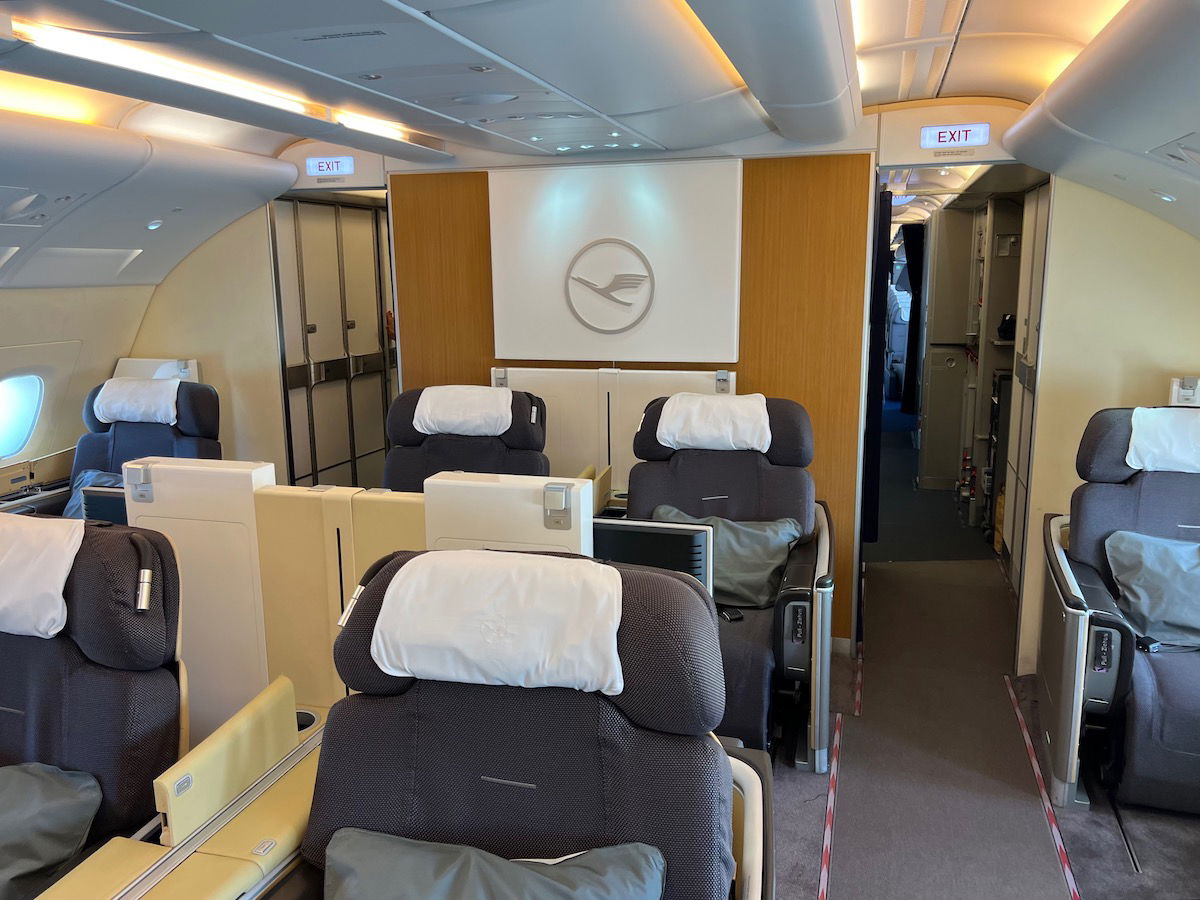 Make no mistake, this is about as outdated as first class hard products get. At the same time, there's a certain charm to the cabin, from the roses at each seat, to some of the details of the cabin finishes.
I had booked us in the second row of the cabin, so we had the entire second row to ourselves. There were two other people in first class, in the window seats in row one.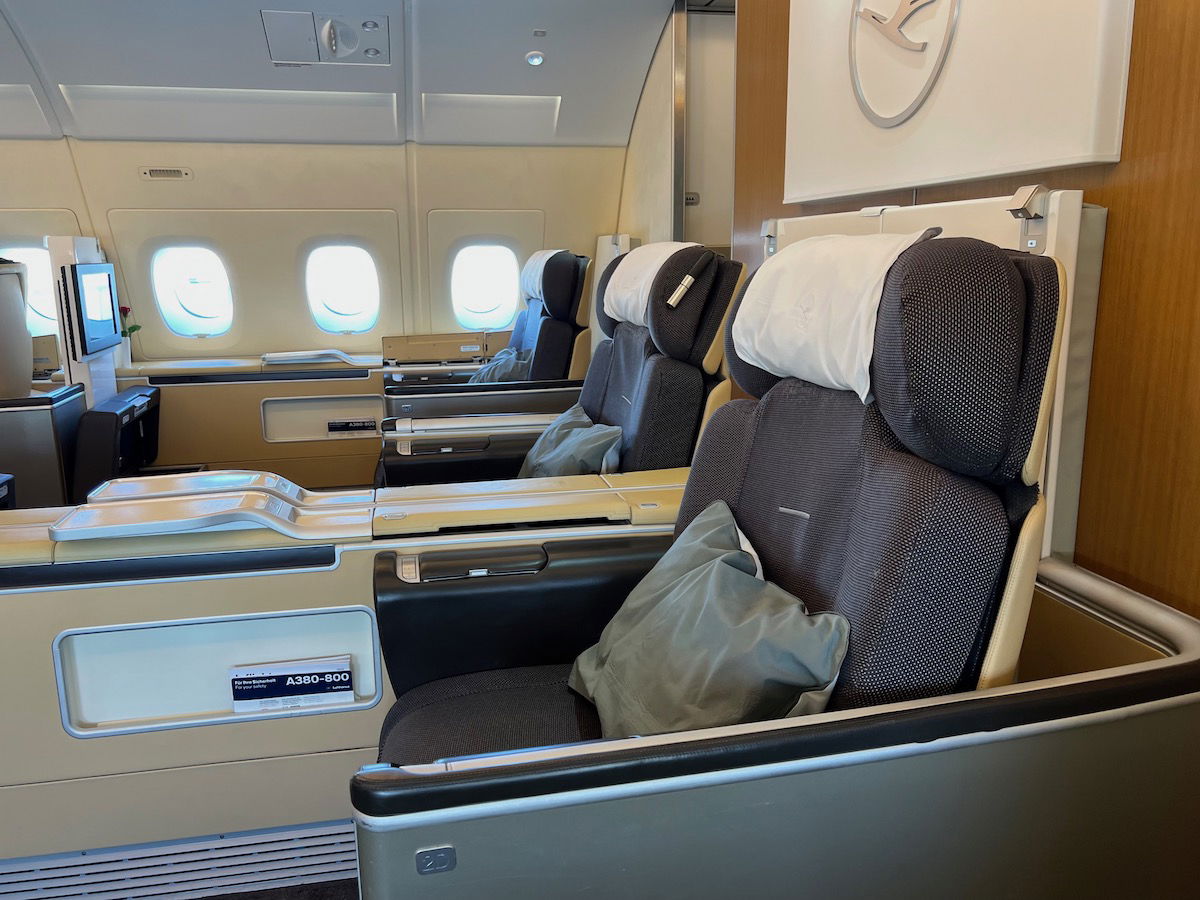 The center seats are great if you're traveling with someone, since you can really enjoy the flight together.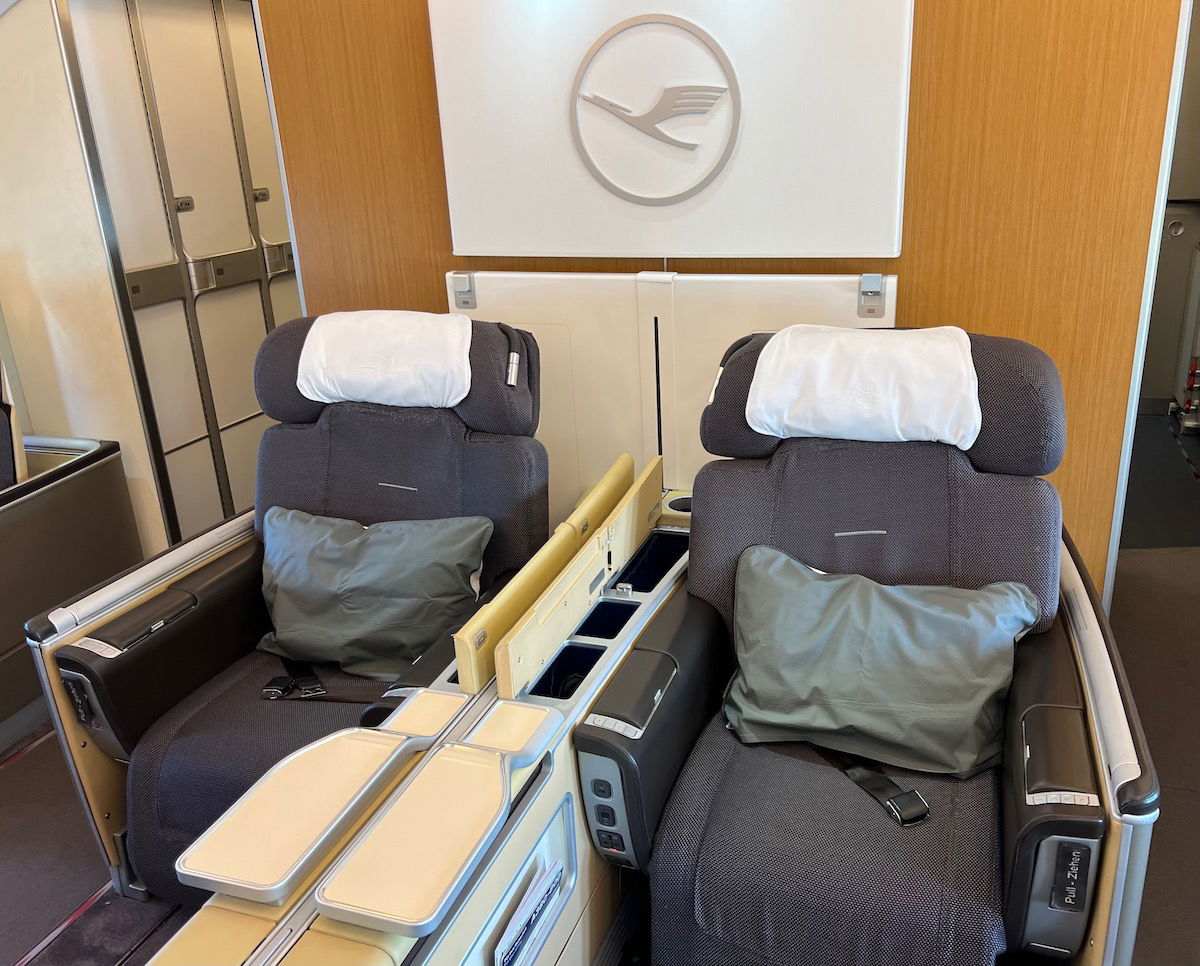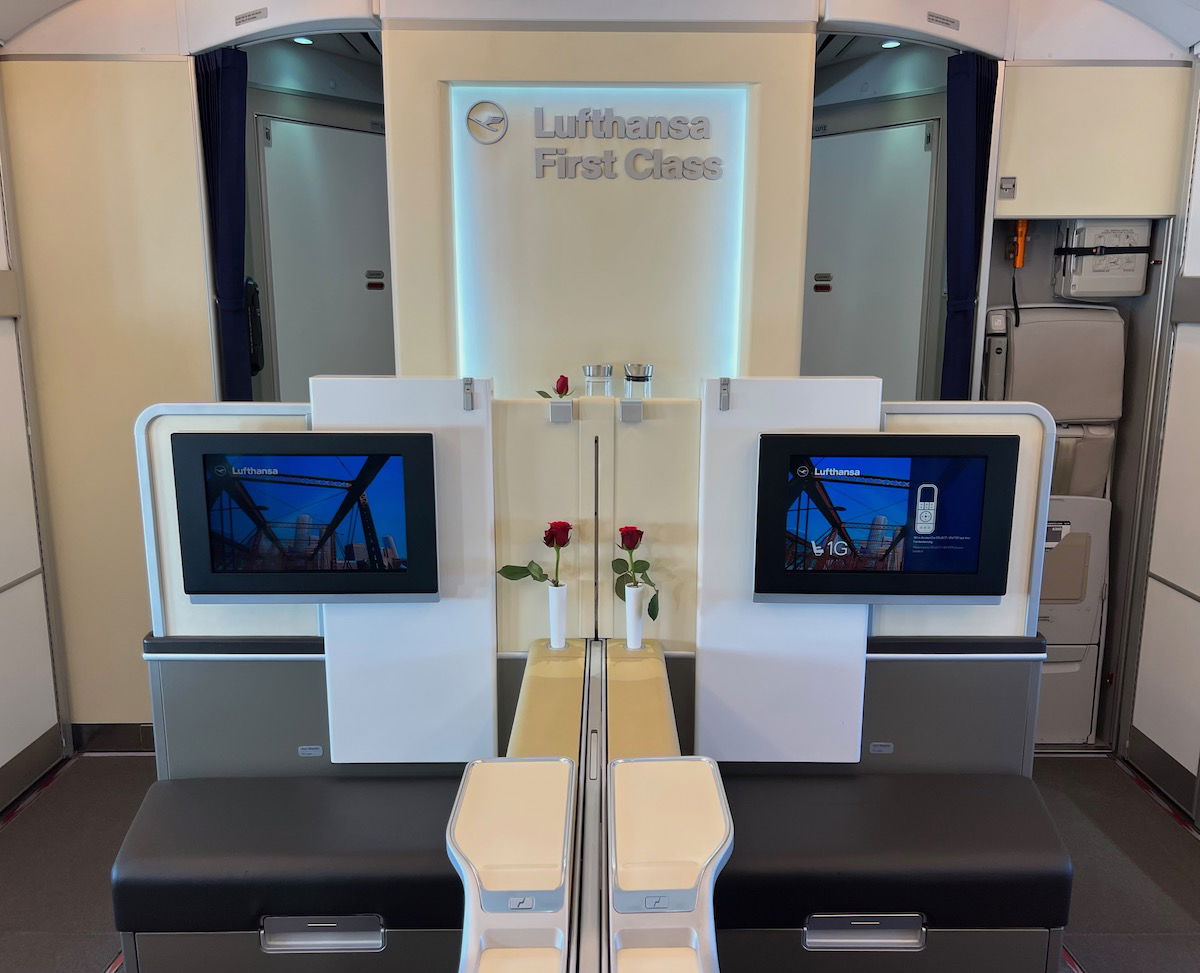 Meanwhile the window seats are best for solo travelers, since you get both a window and an aisle, and just generally have more privacy.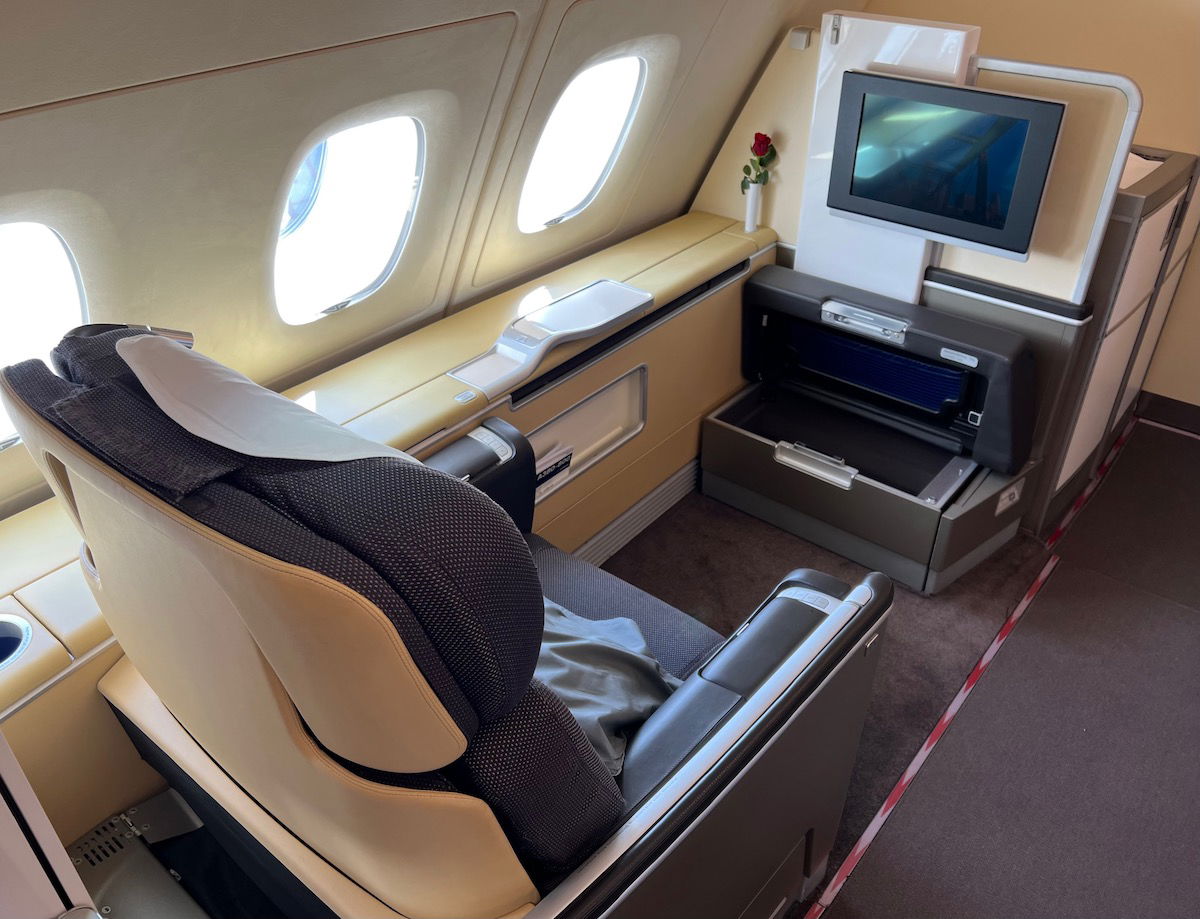 I was seated in 2A, the window seat on the left side in the second row.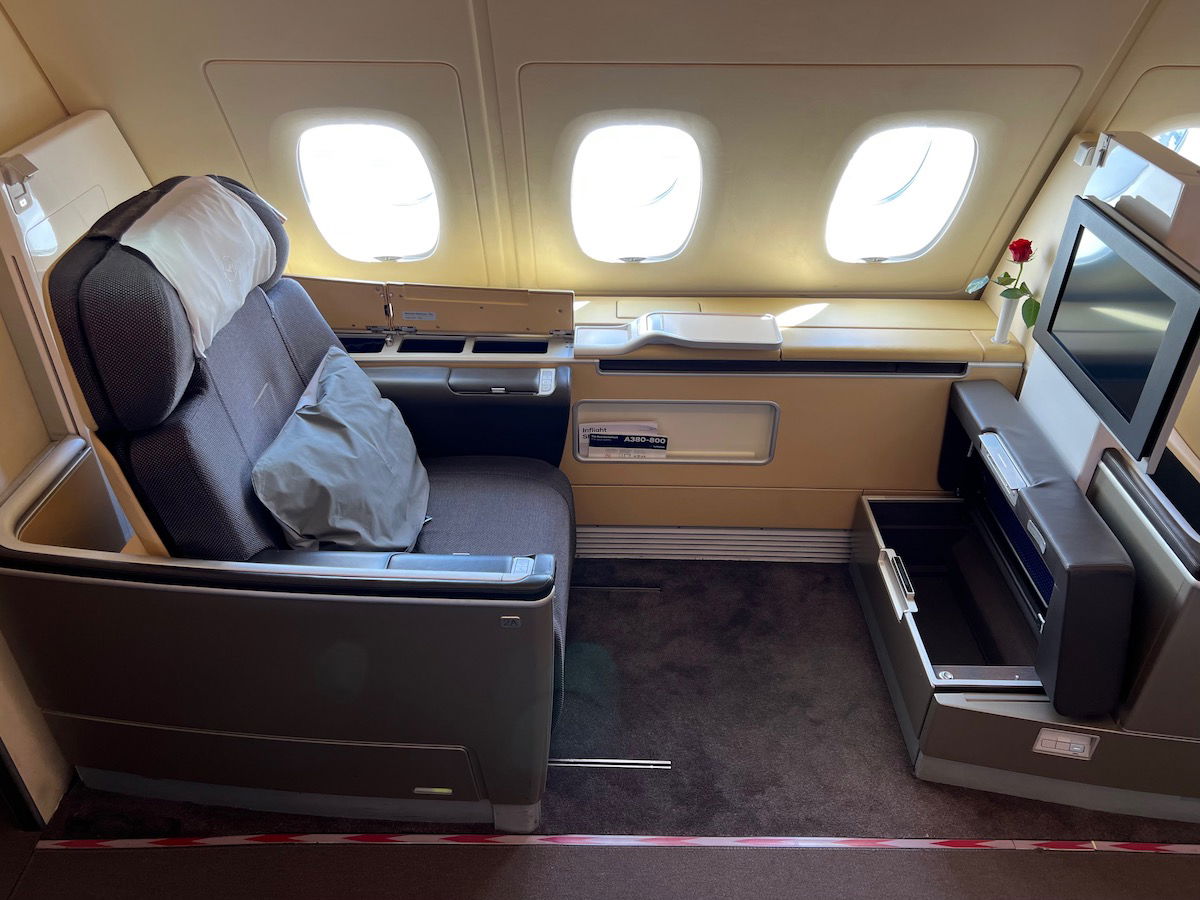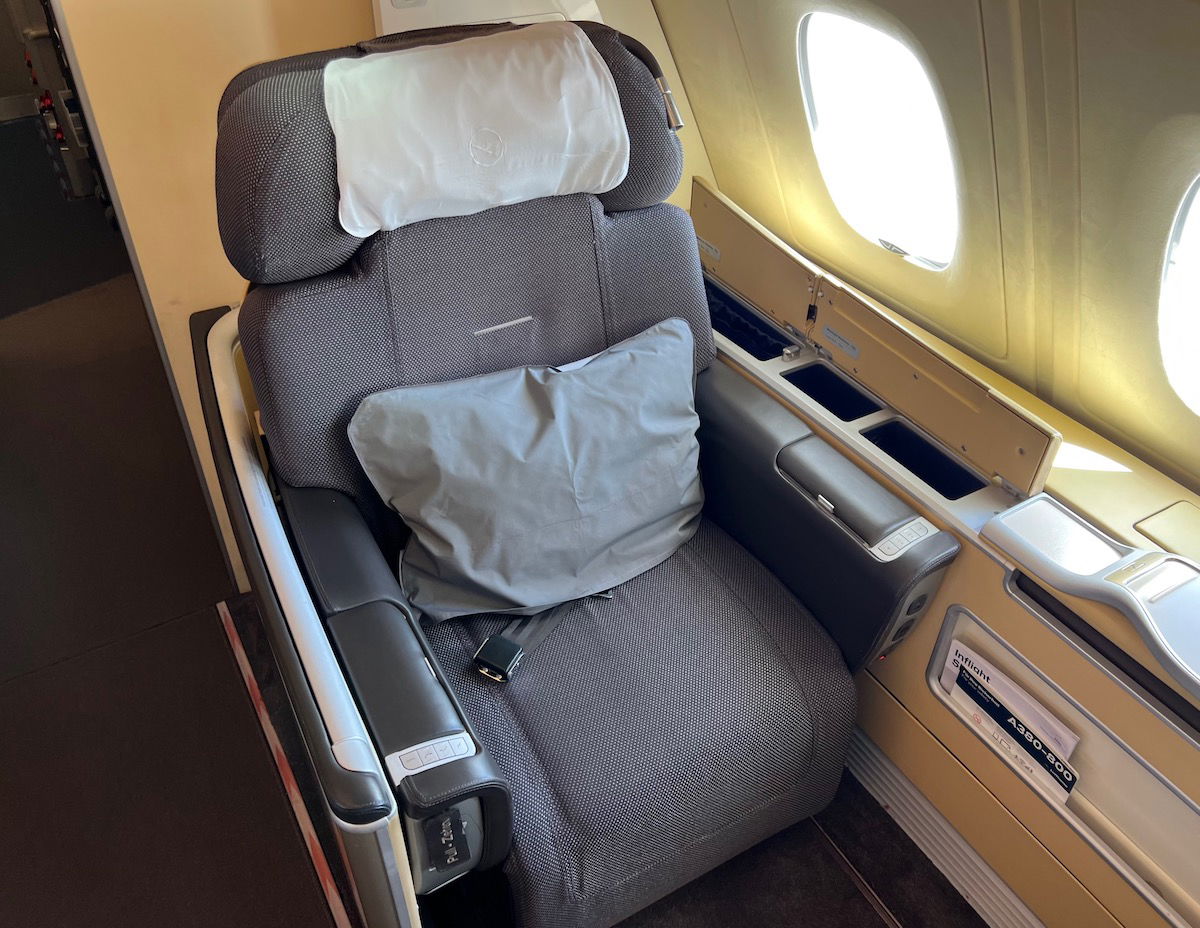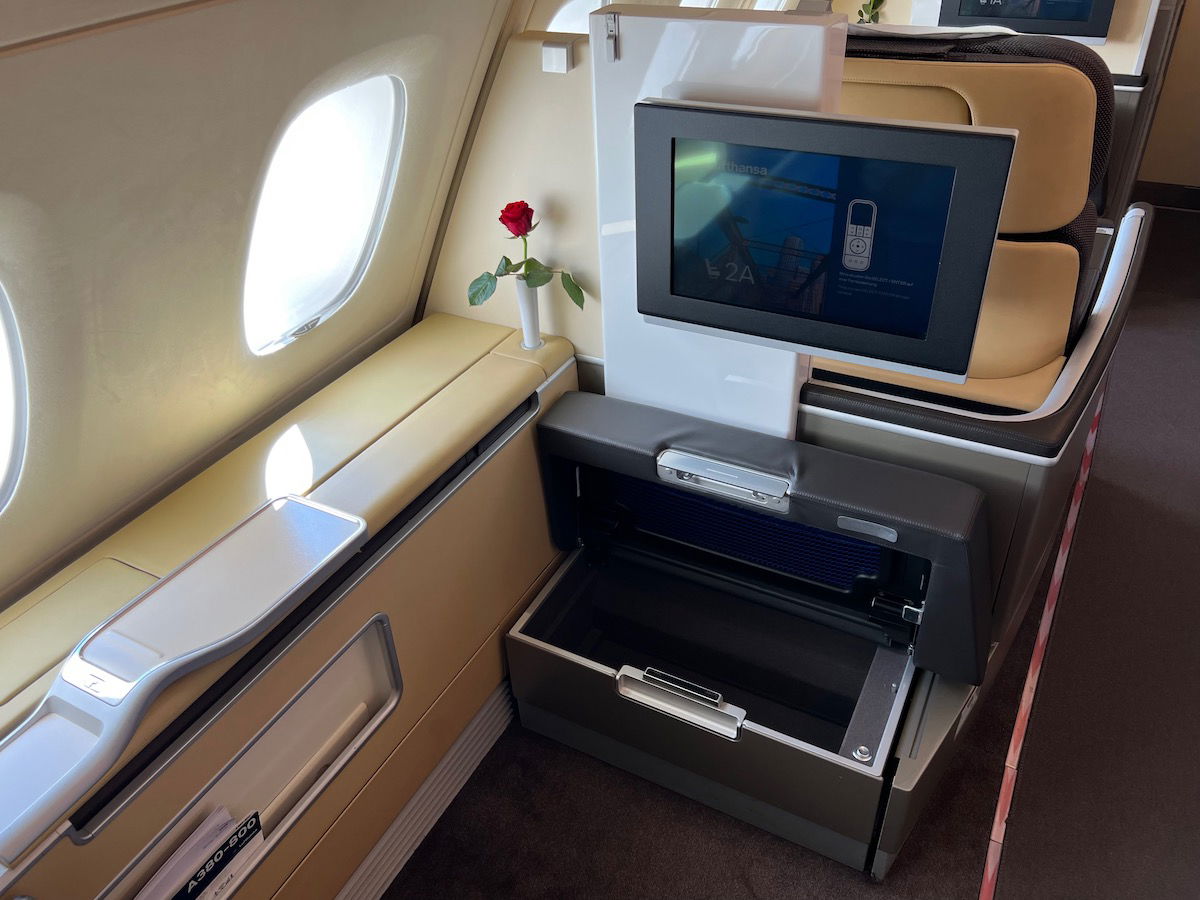 Lufthansa's first class seat does have some handy features. For example, there's a sliding ottoman that can also double as a buddy seat. This can be opened, to reveal a pretty substantial storage compartment.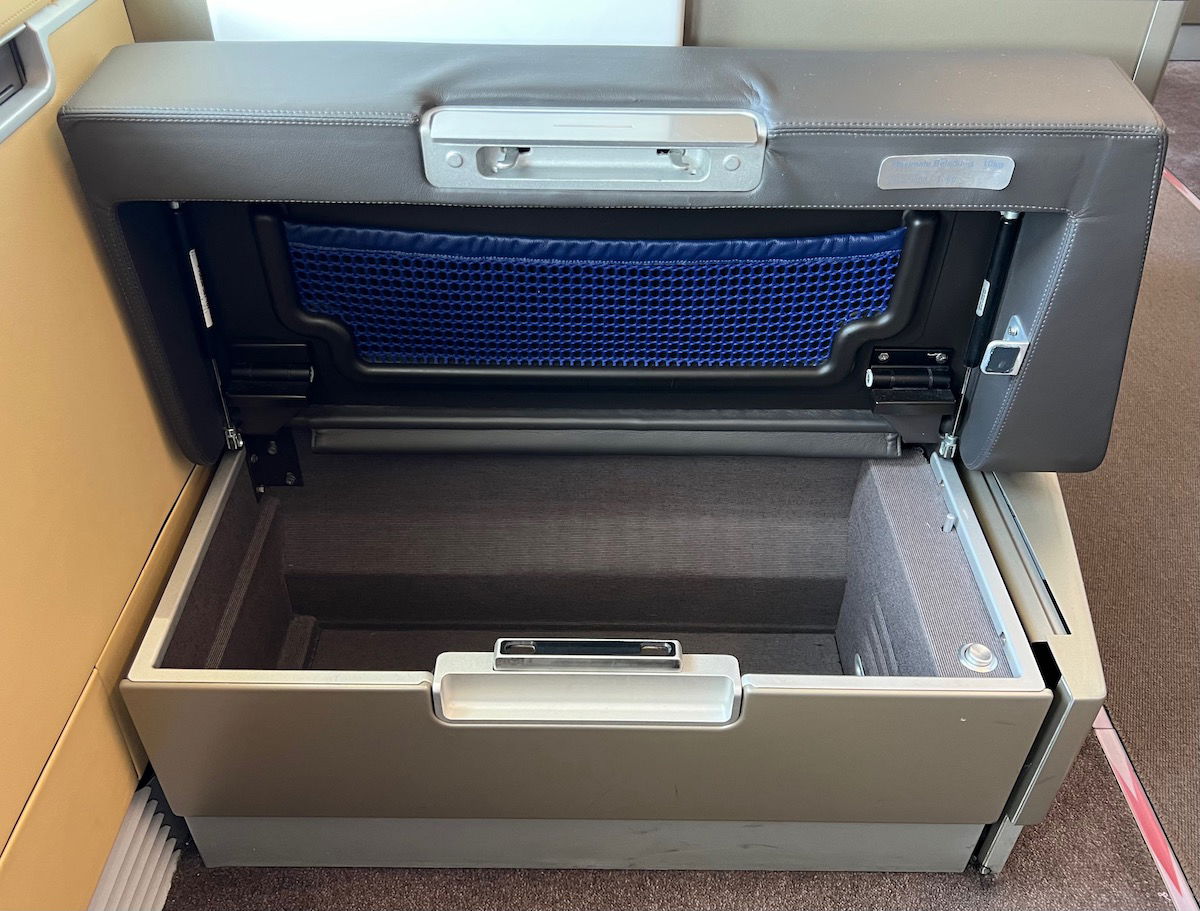 The seat also has a couple of storage compartments along the windows. They're not very big, but perfect for storing a phone, a pair of glasses, or a passport (though don't forget them at the end of the flight). One of these compartments also has the headphones, which can't be detached from the cord.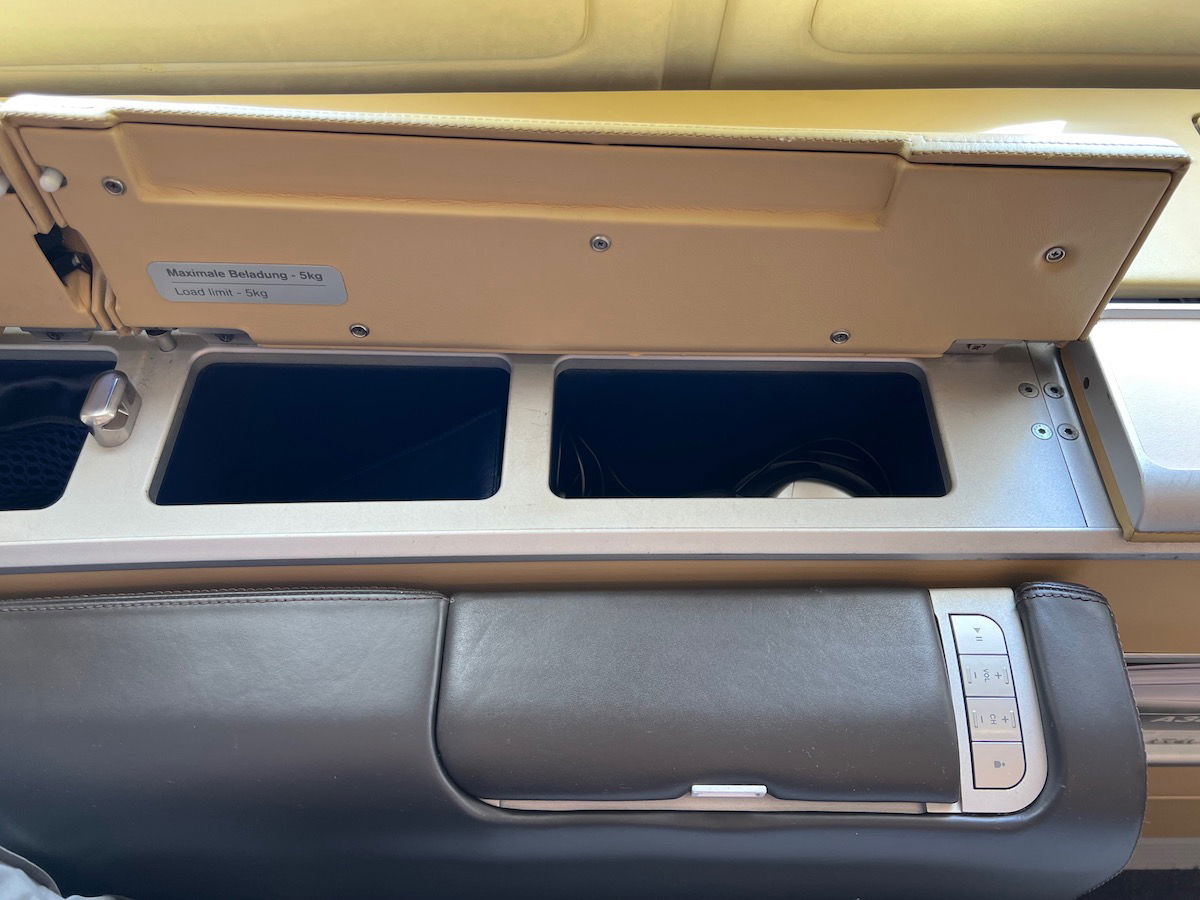 Underneath the left armrest are the power outlets, including a USB-A and two AC power outlets. This setup is quite frustrating, since it's common for items to just fall out of the AC power outlet, given the angle.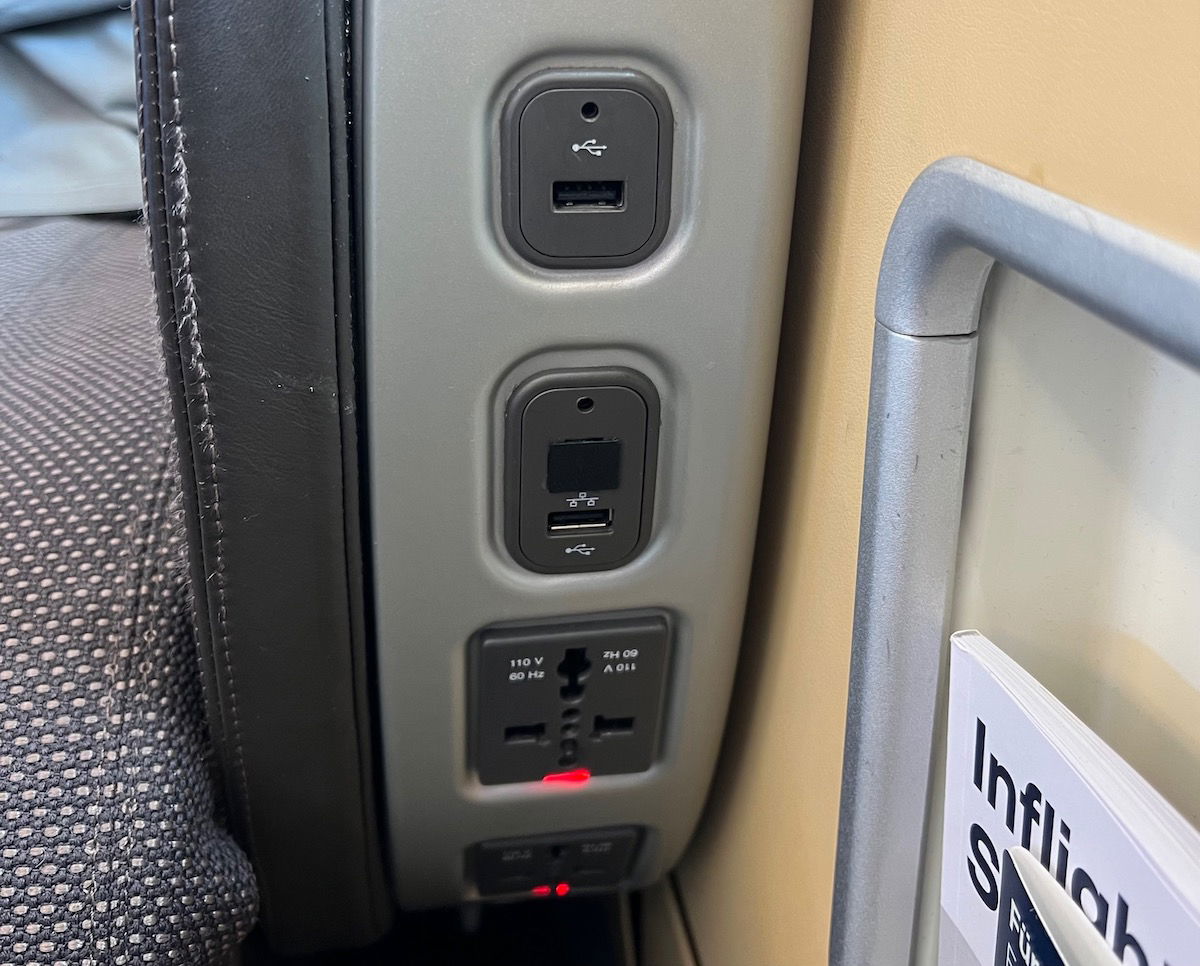 A huge tray table also extends from this side of the seat. It takes quite a bit of strength to take it out or store it again, though it then slides in both directions pretty easily.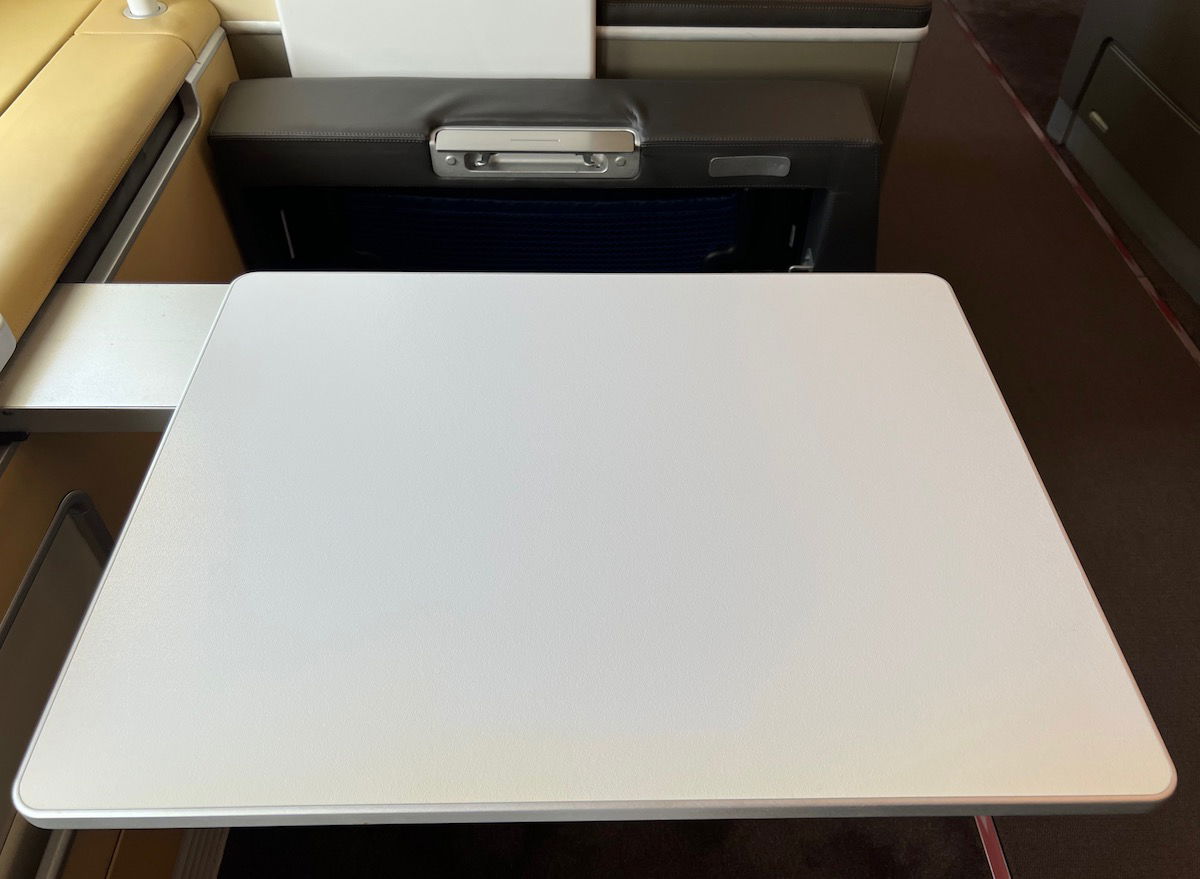 The entertainment controller is located at the left armrest, and is easy to use.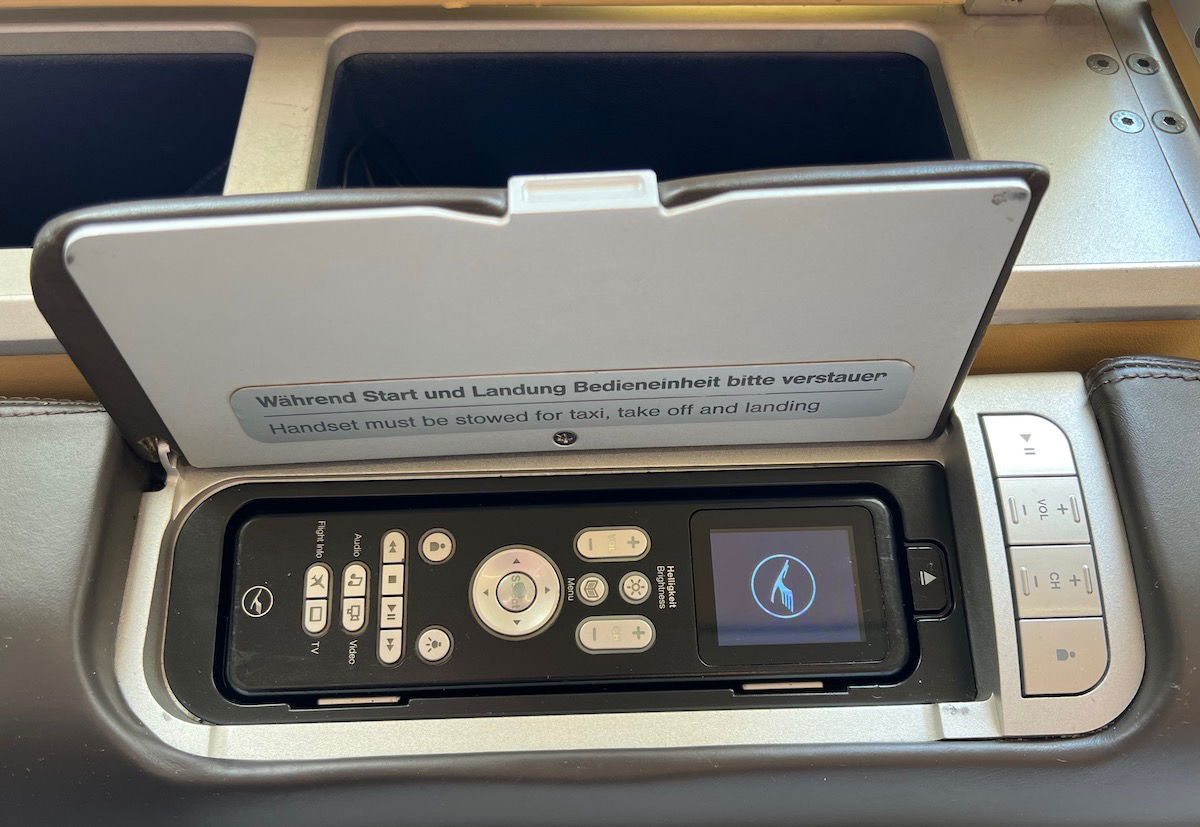 Then at the right armrest is the seat controls,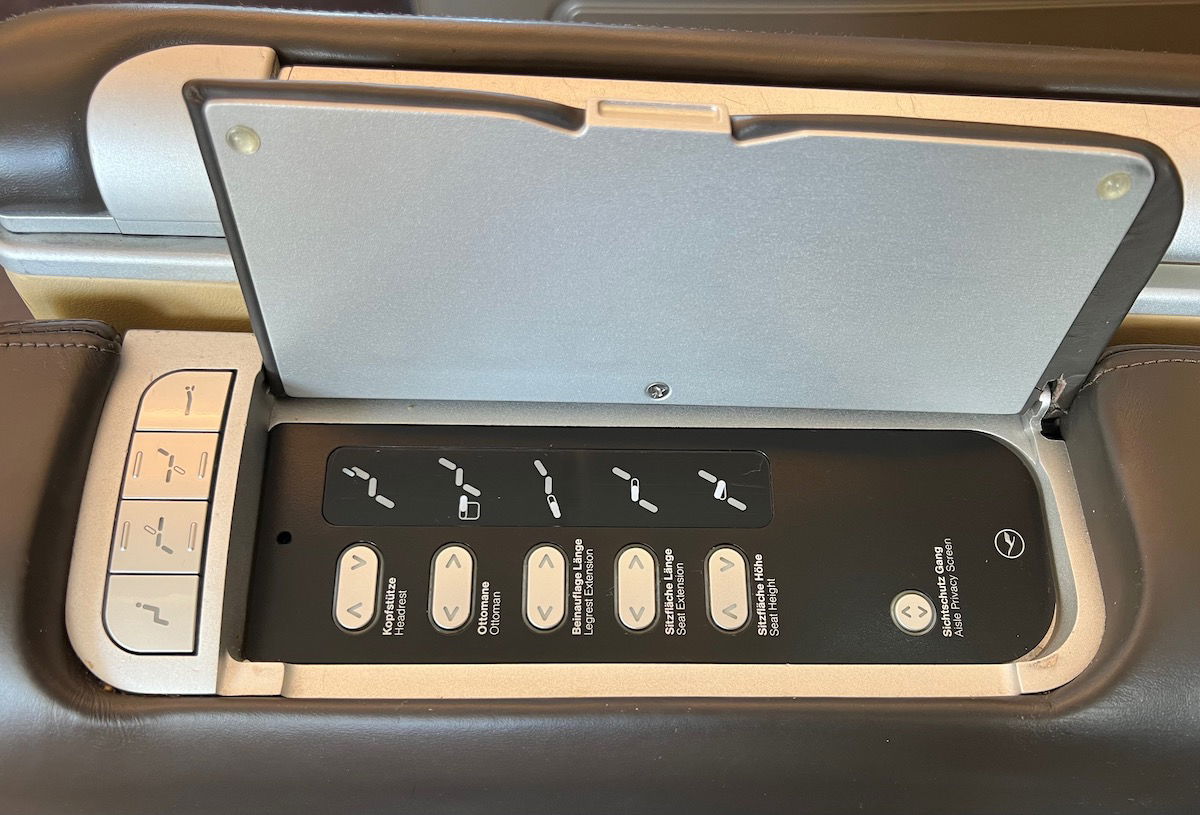 The seat controls can also be used to raise the privacy partition at the seat, which is much needed in this product, given that it otherwise lacks privacy.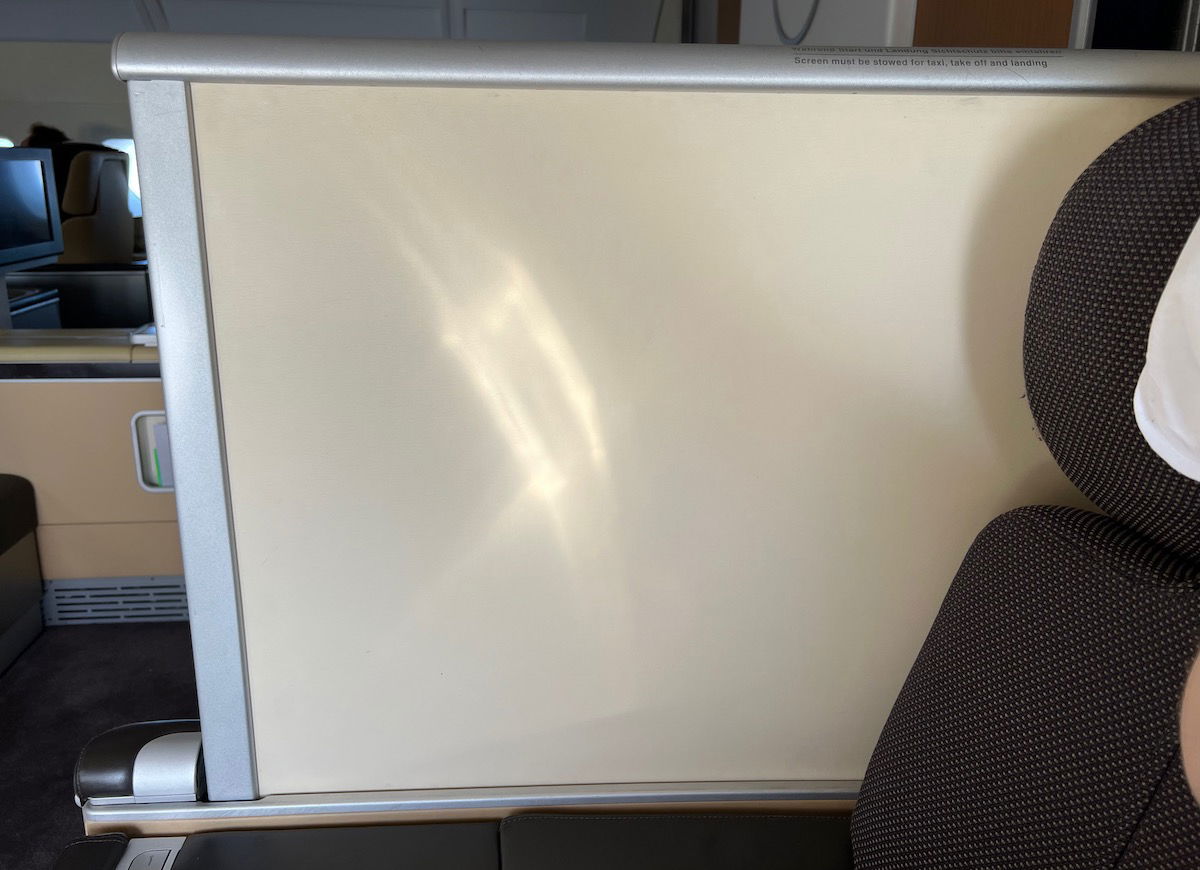 While the overhead console on the A380 has reading lights, unfortunately there are no individual air nozzles.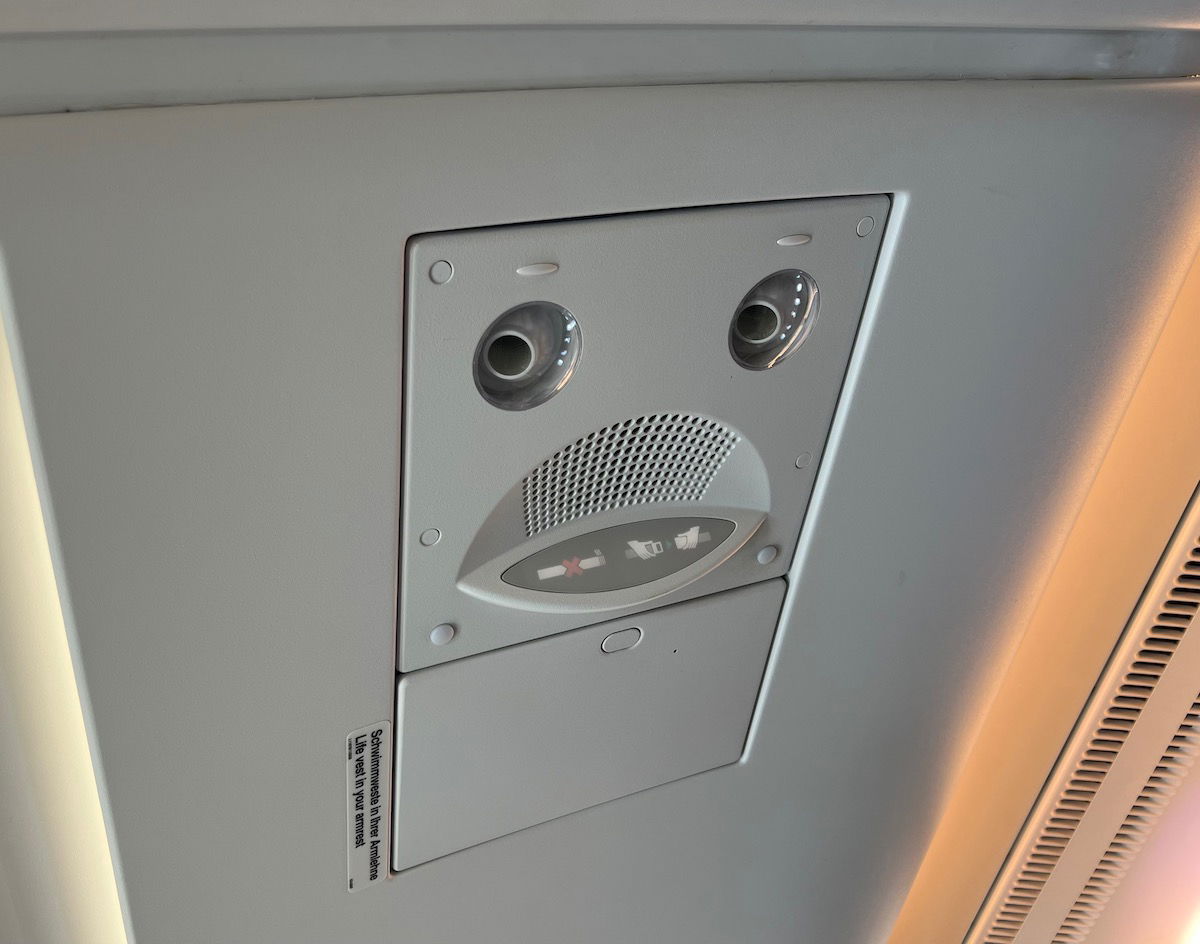 While I'm not sure it makes up for it, in first class there are some pretty elegant shades, whereby you can raise or lower the window shades with the push of a button.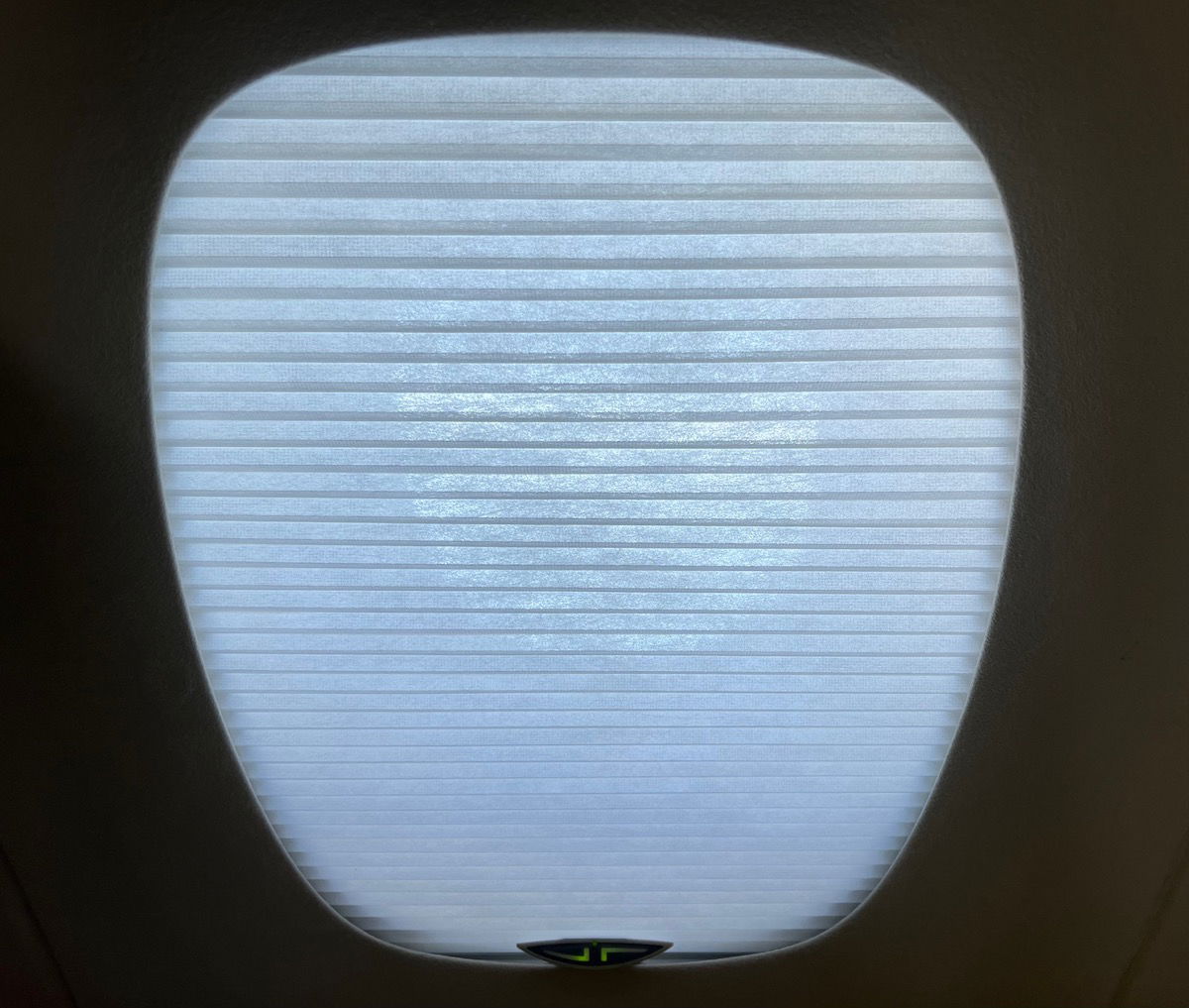 To give the first class cabin a more spacious feel, you'll notice that there are no overhead bins in the cabin. Instead, there are some storage lockers at the very back of the cabin, which are huge. There's one for each seat, and it'll easily fit your carry-on, personal item, and any clothes you want to hang up during the flight.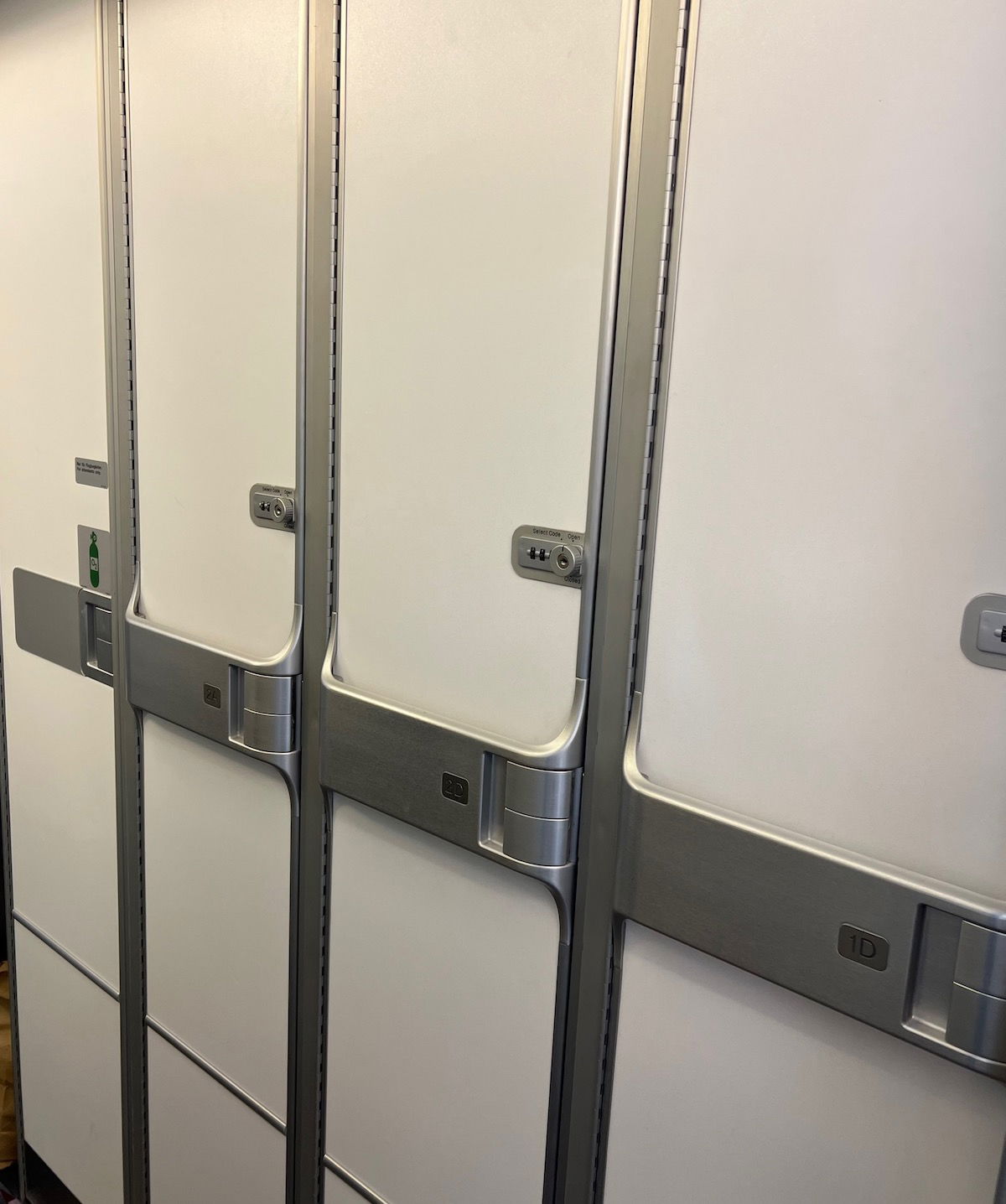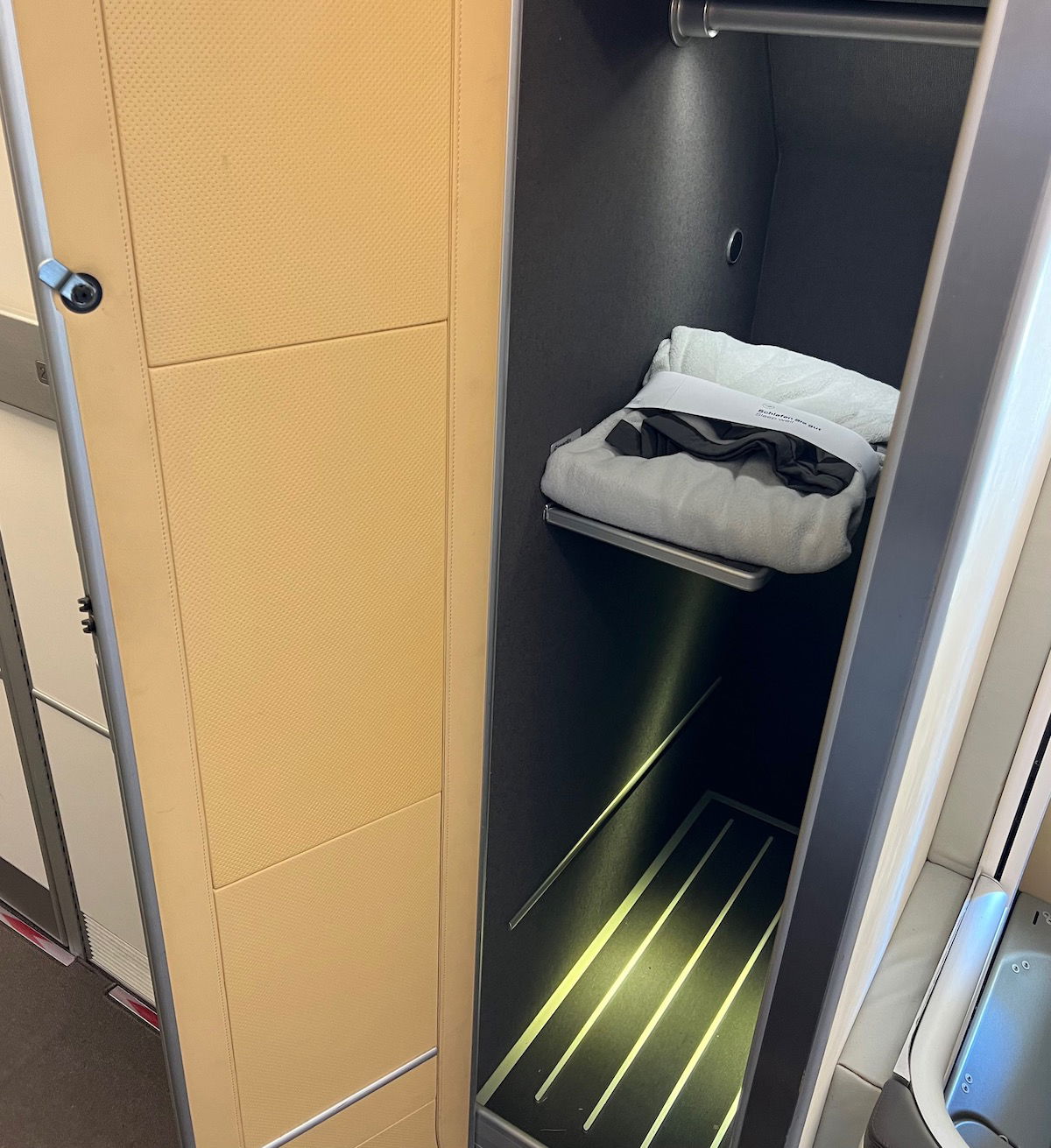 I also love the curtain that's used between the cabin and the galley. Rather than being your typical flimsy curtain, it's quite firm and also magnetic, so that it fully closes between the cabin and galley. This helps with managing noise and light.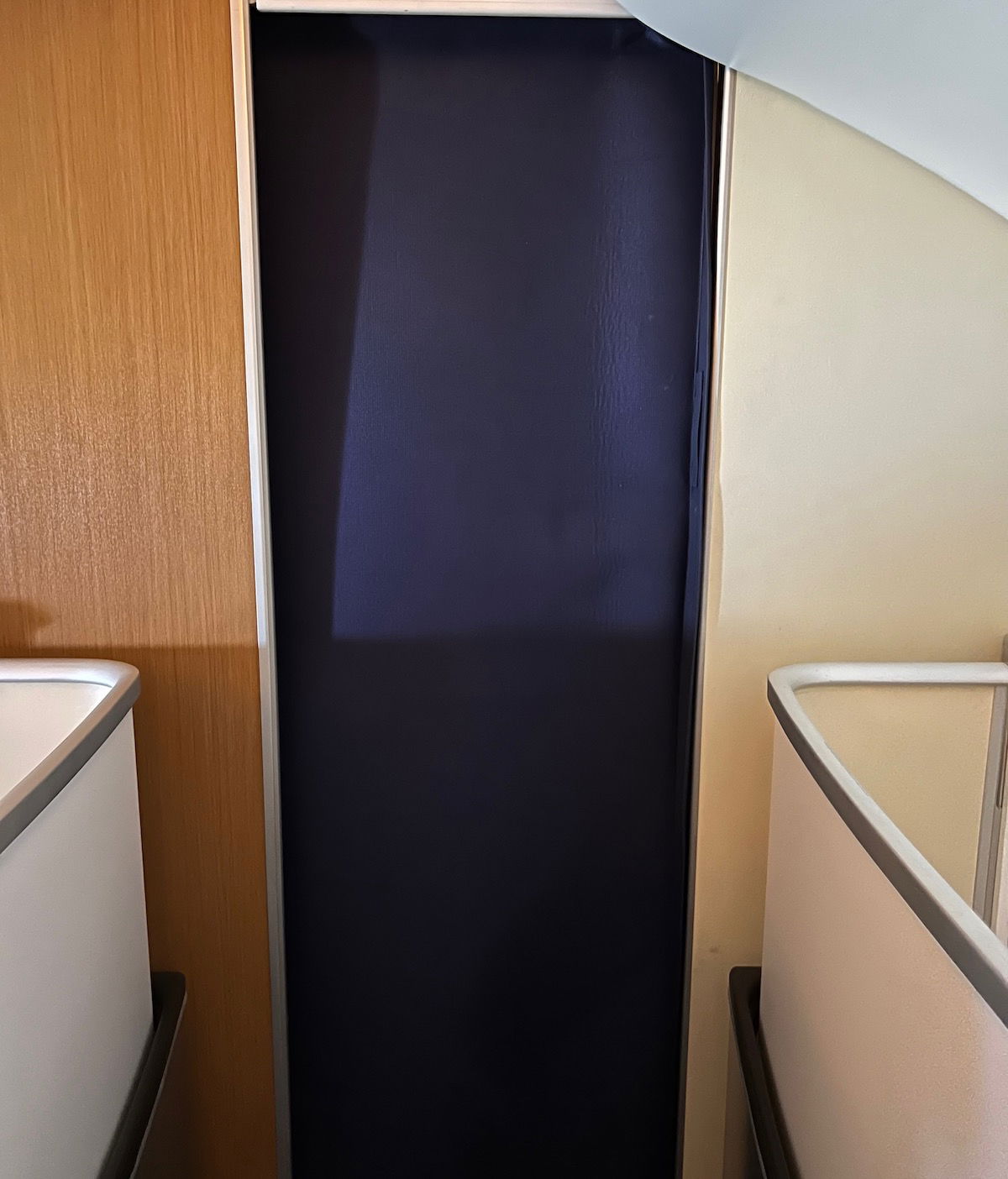 Lufthansa first class amenities
As soon as we settled in, the two lovely first class flight attendants introduced themselves to us, and offered us pre-departure drinks. We decided to have some rose champagne, and the absolutely fabulous Laurent-Perrier 2007 Grande Cuve Rose Alexandra was on offer. This was served with some macadamia nuts. Yum.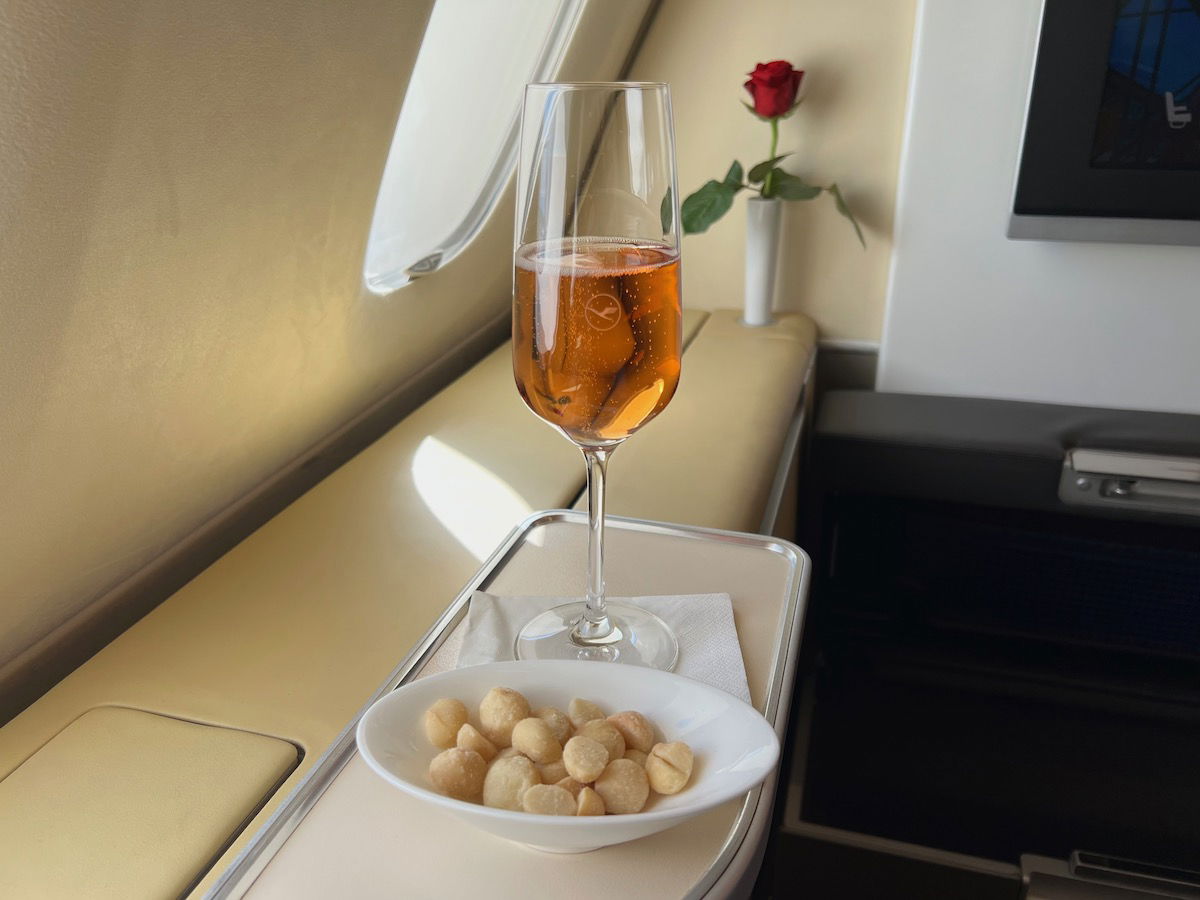 We were then offered the typical selection of first class amenities.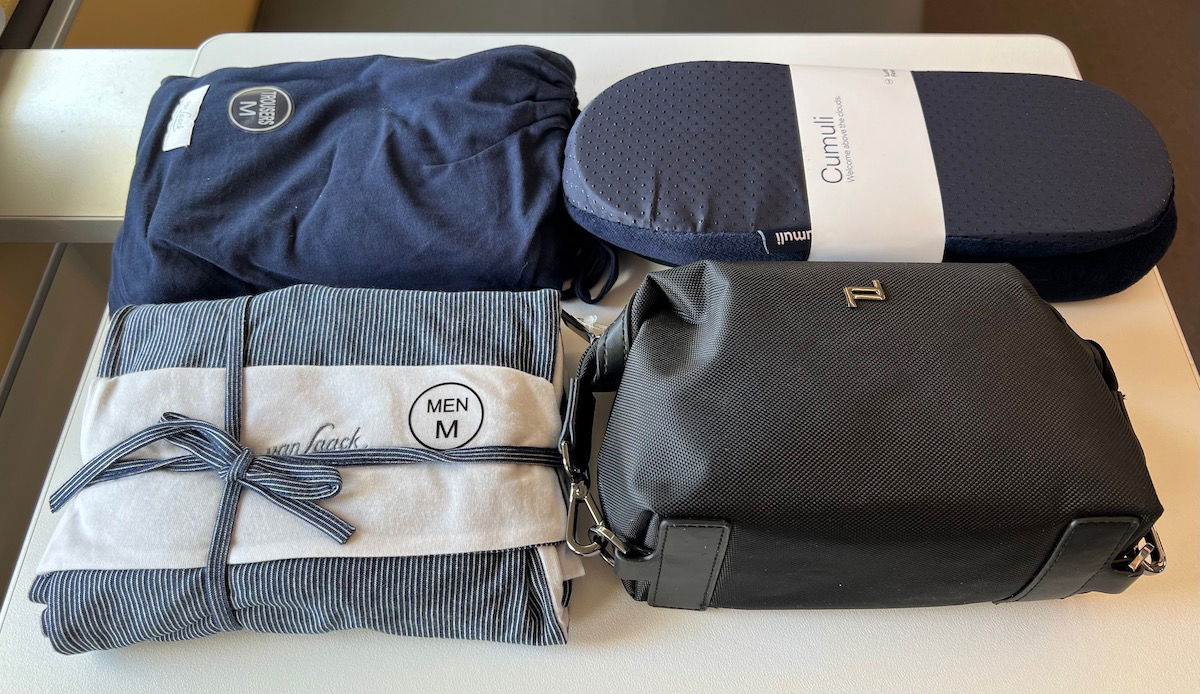 This included an amenity kit containing socks, eyeshades, a dental kit, earplugs, a comb, a shoe horn, and skincare products from Augustinus Bader.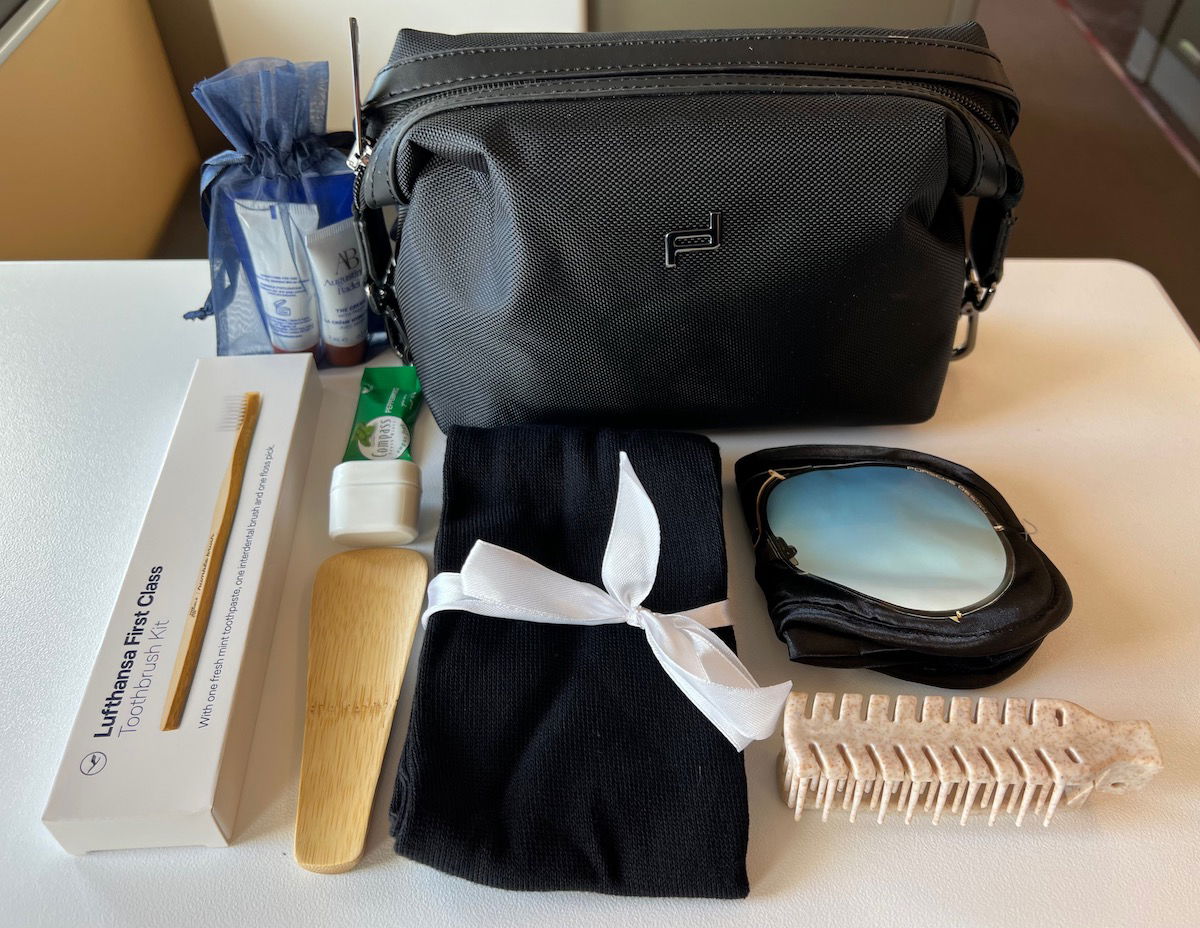 We were also offered slippers — Lufthansa's first class slippers are my absolute favorite, as they're thick and well padded.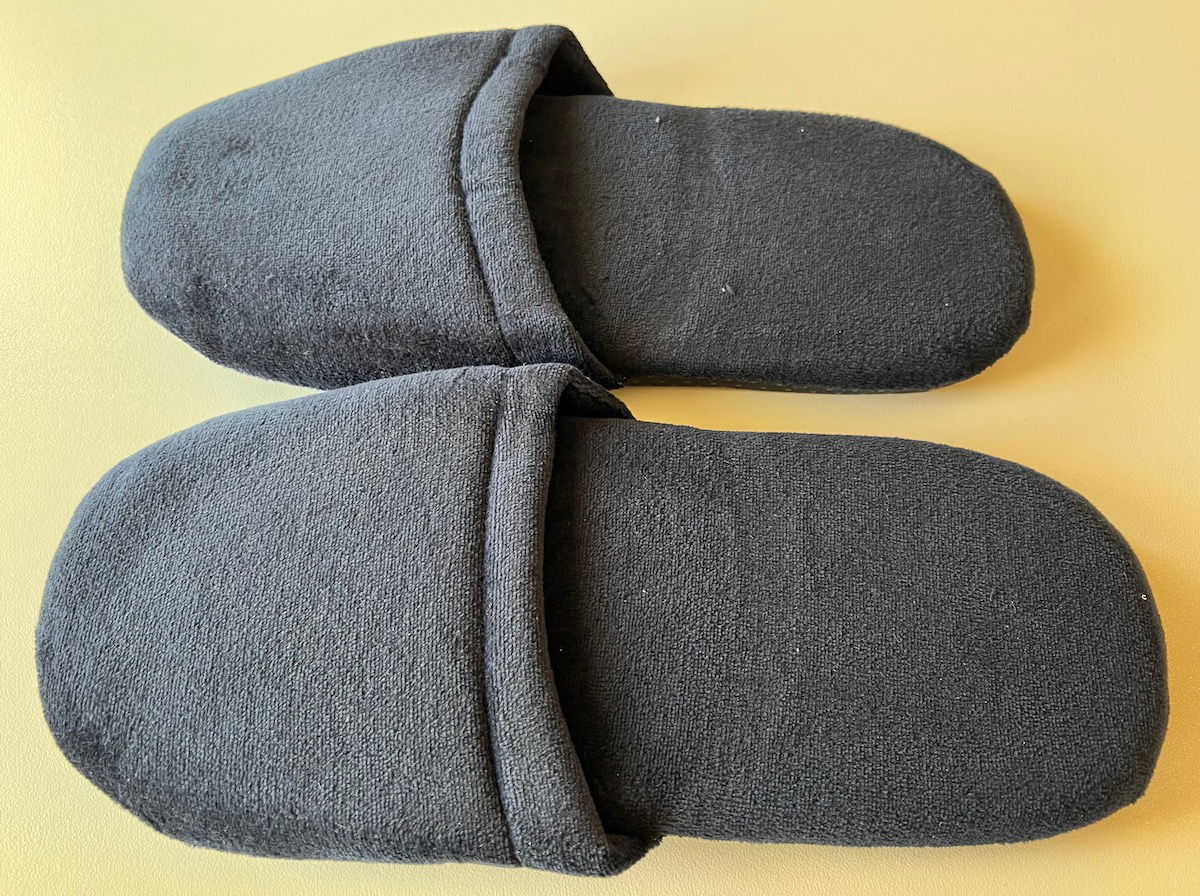 We were also offered van Laack pajamas, with solid dark blue pants and a striped top.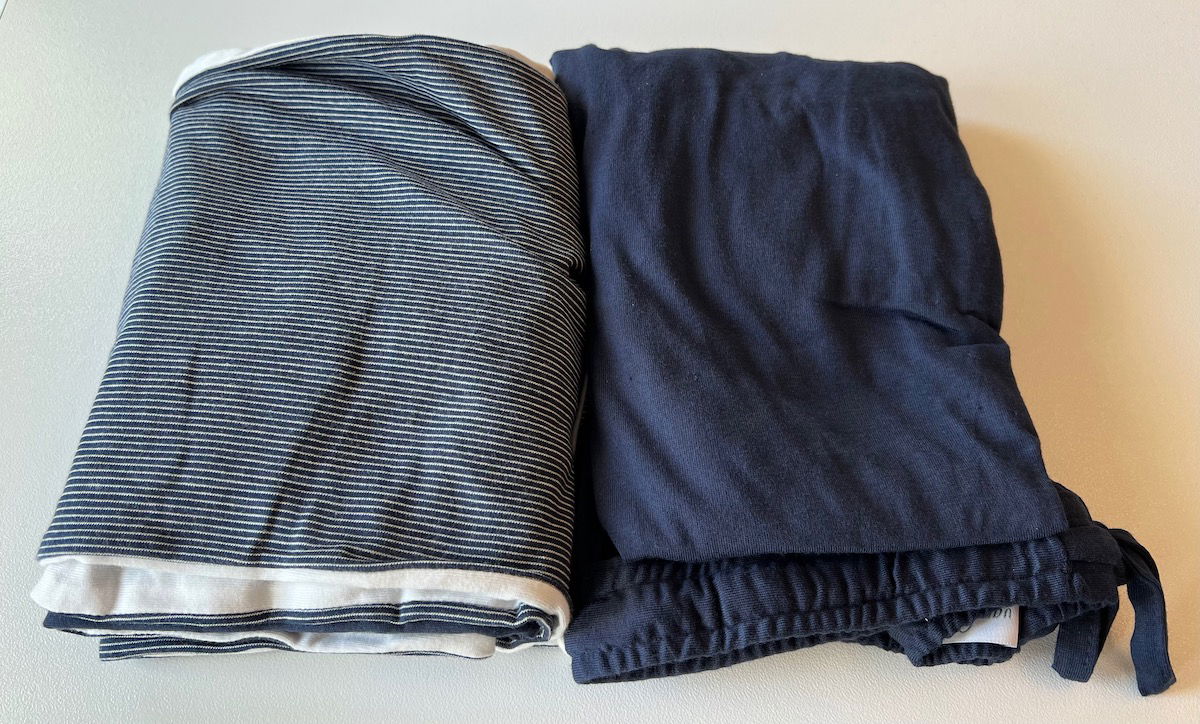 There was also a selection of basic bedding, including a pillow and a blanket. This is intended for lounging, as there's more substantial bedding when it's time to sleep.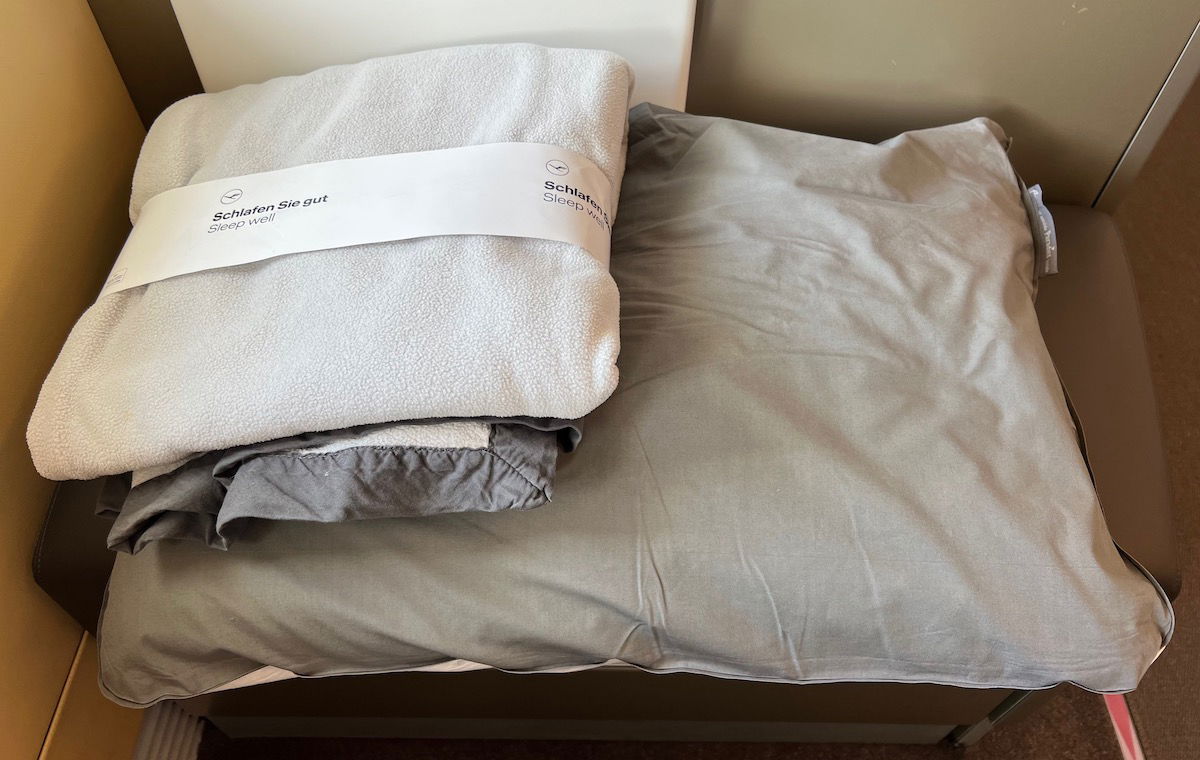 There were also a pair of Bose headphones each seat. They're wired into the storage compartment, so that they can't be removed. These are excellent headphones, as it seems like this is an area where a lot of airlines get cheap.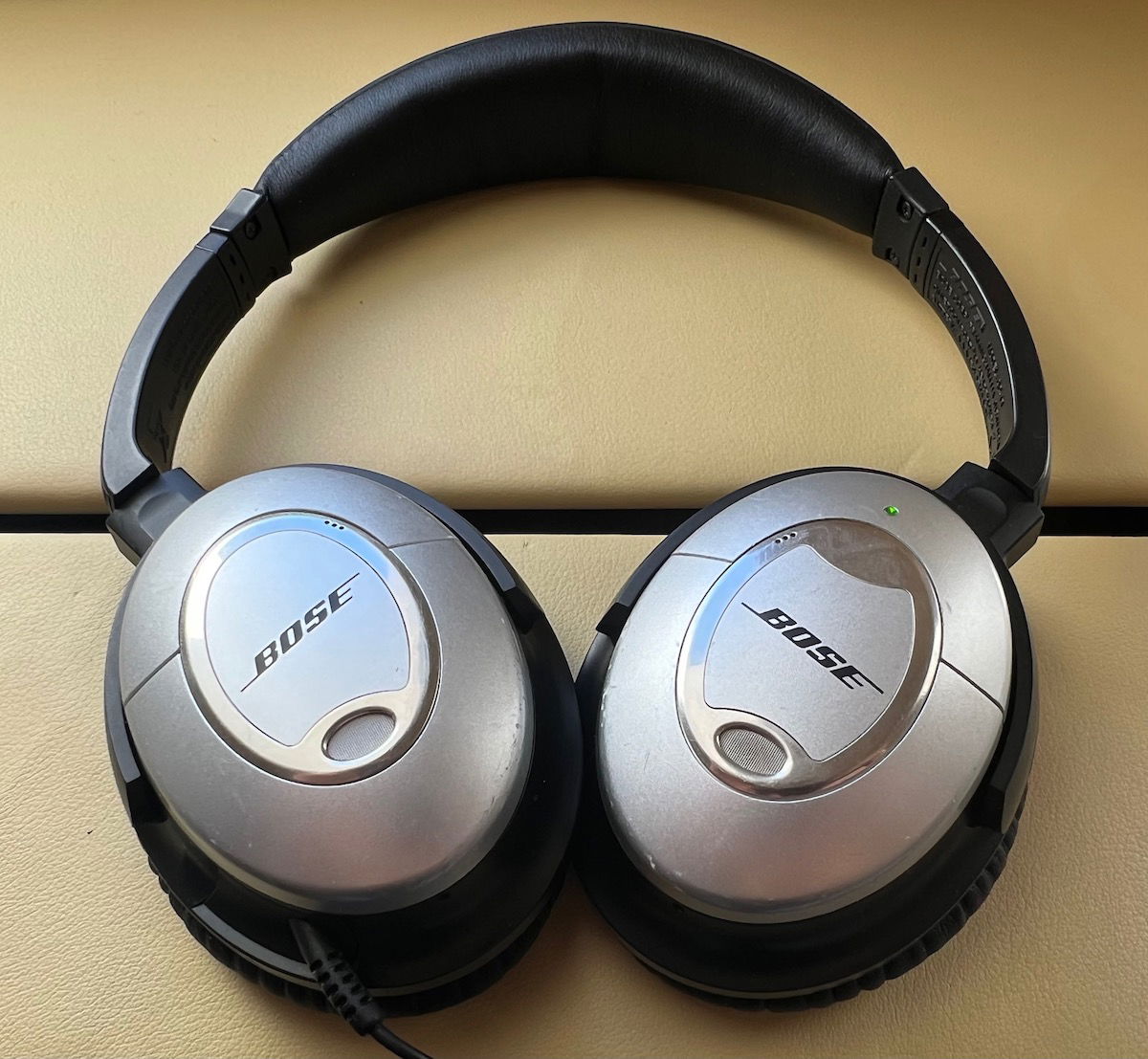 Toward the end of the boarding process, the purser came through the cabin to offer each first class passenger the menu and wine list, and also vouchers for free Wi-Fi.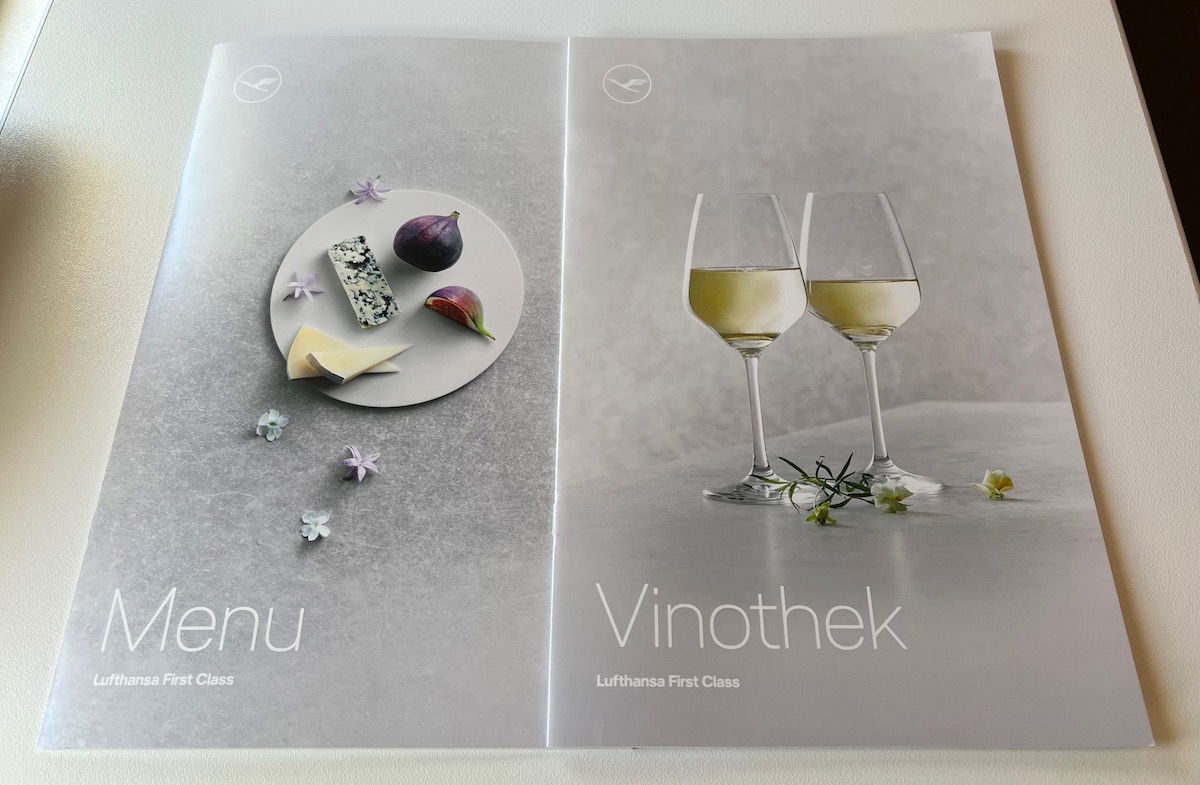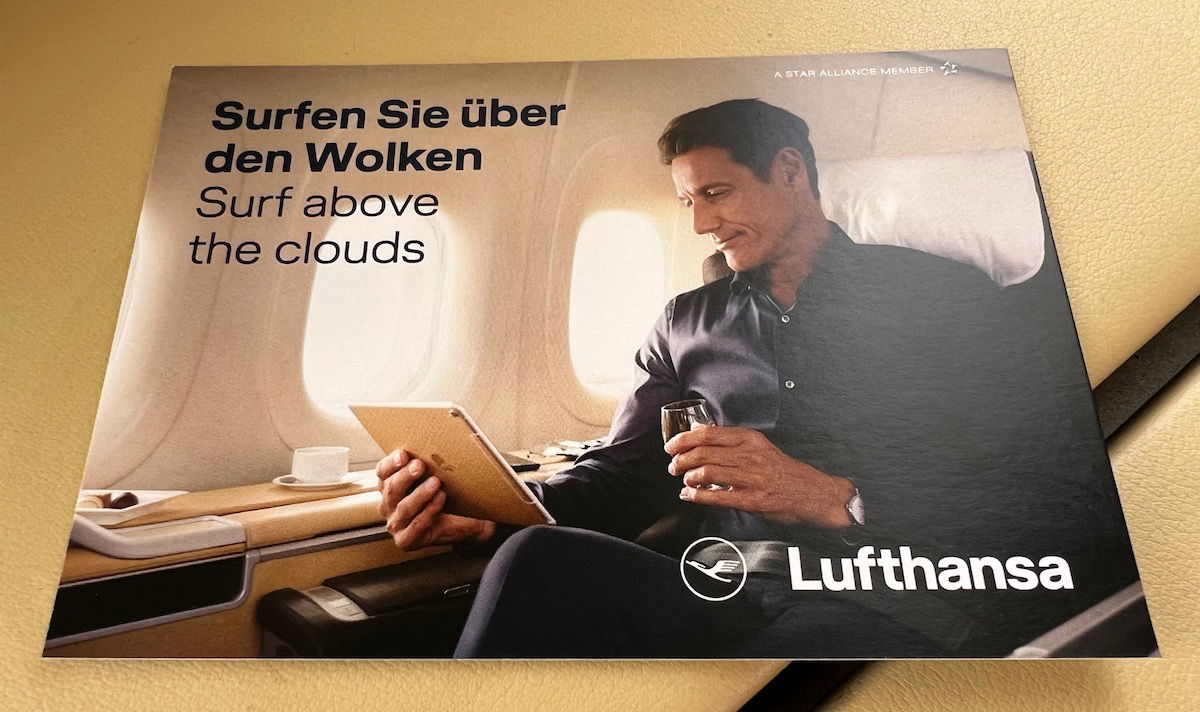 Lufthansa A380 first class entertainment & Wi-Fi
While Lufthansa's first class seats aren't cutting edge, the area where the product really lags is with inflight entertainment. Lufthansa's entertainment monitors are both small and incredibly low definition. It's like stepping back in time 20 years.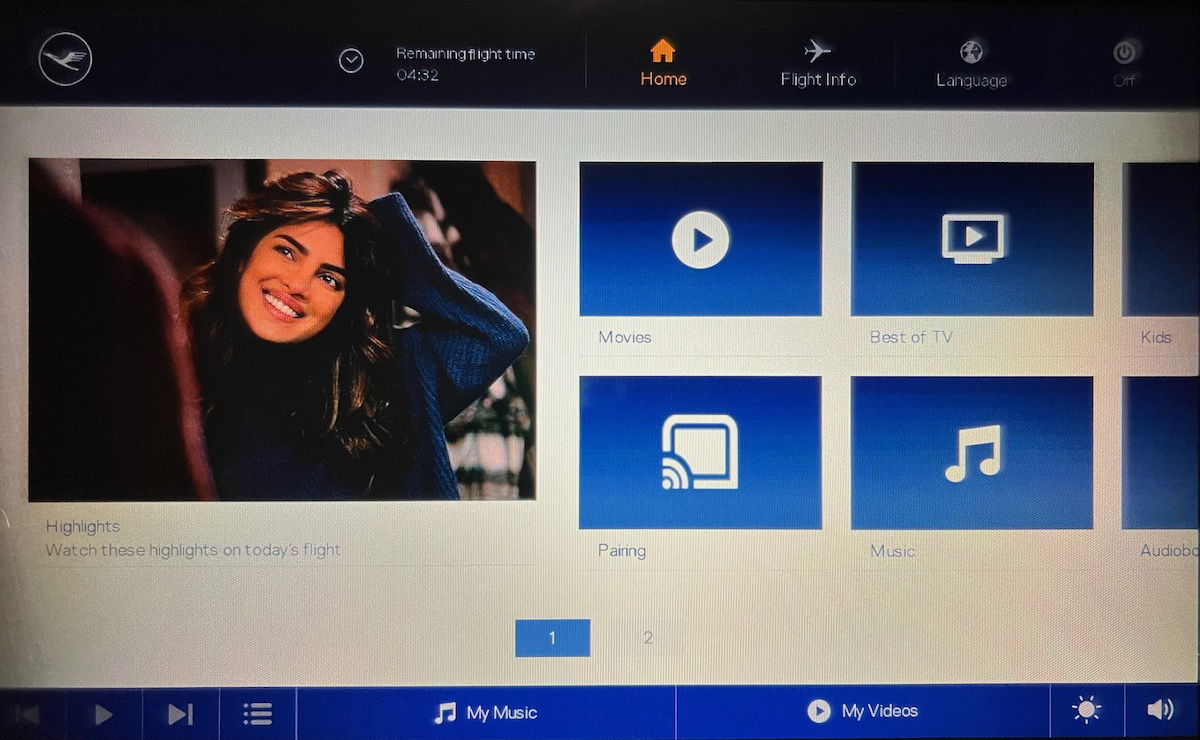 There's a selection of movies, TV, shows, audio, and games. The selection is reasonably extensive, with a few hundred movies and TV shows, but the quality of the monitors is really where this disappoints.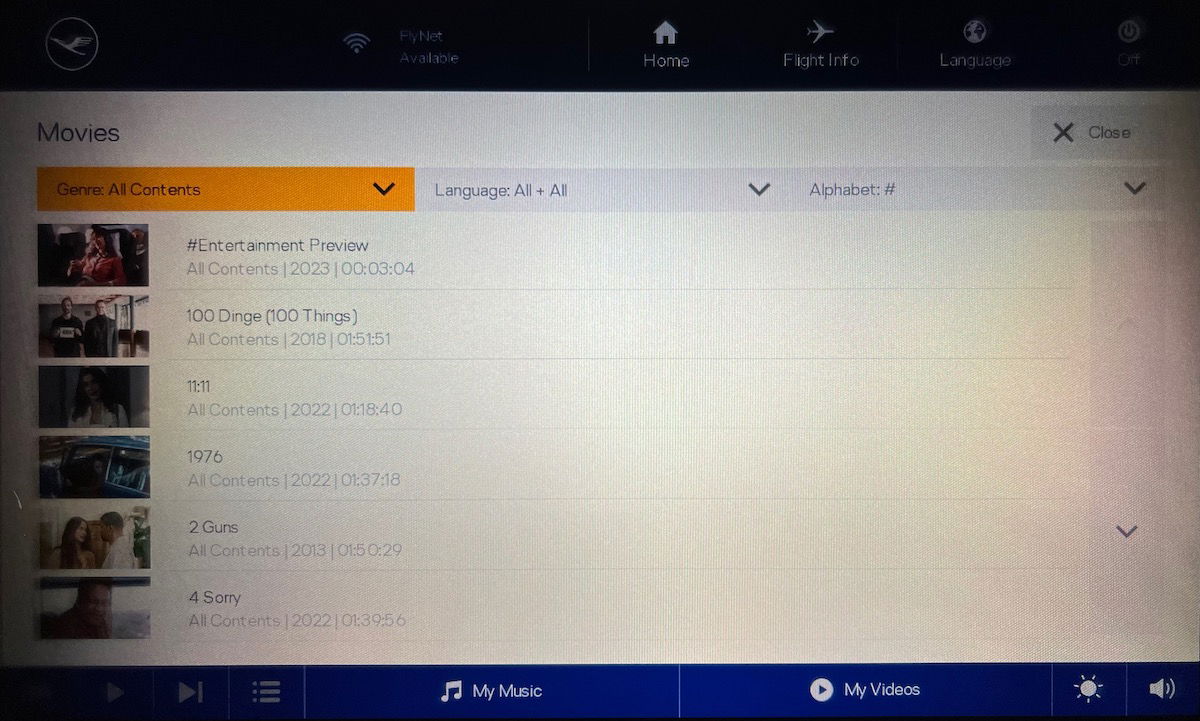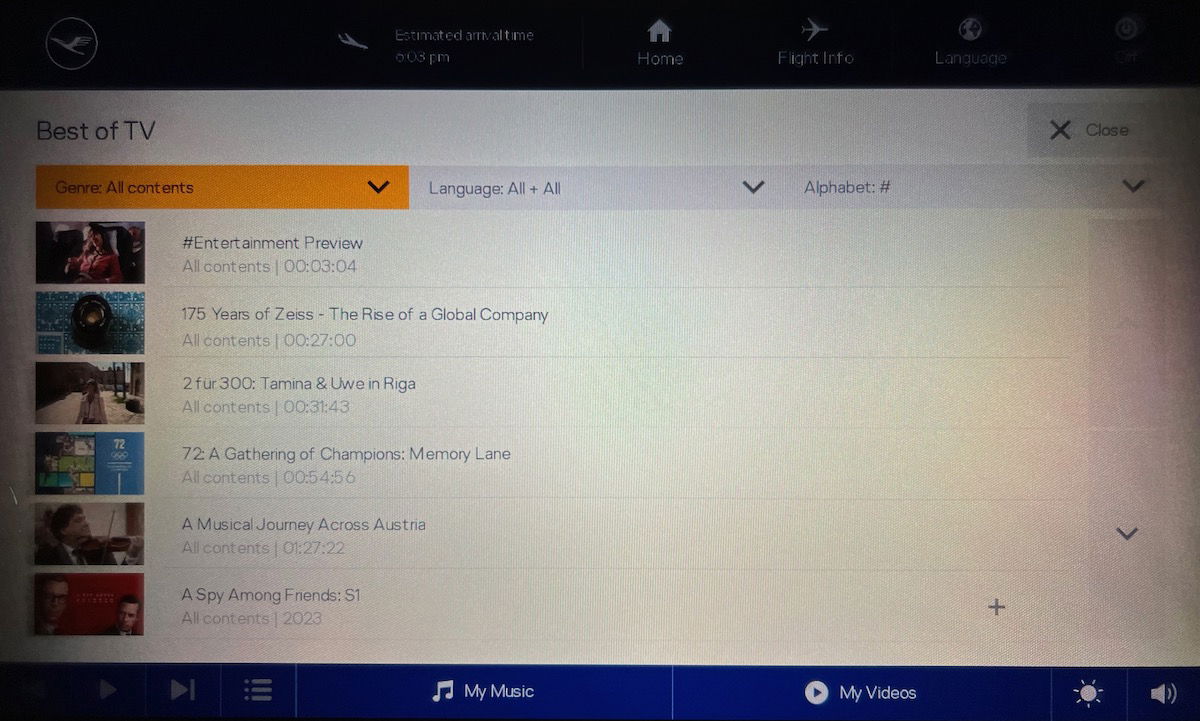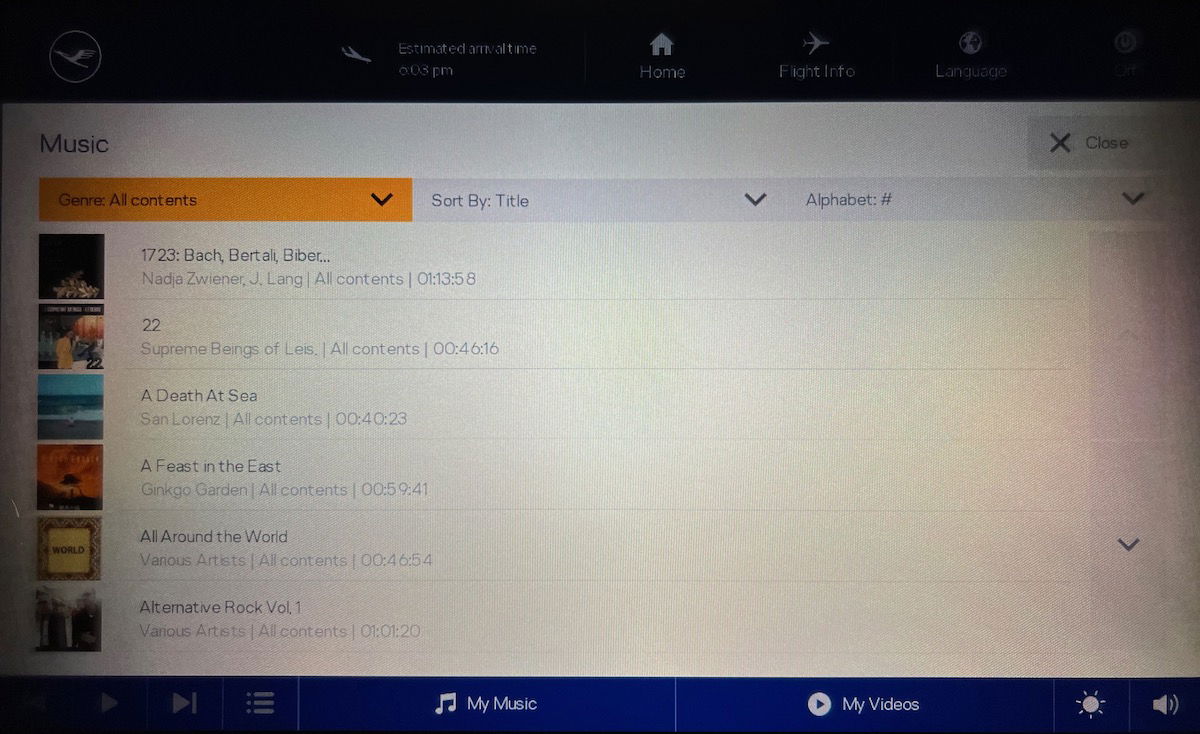 Personally I'm not a huge fan of watching movies and TV shows, so my go-to entertainment is the map feature, which I enjoyed keeping an eye on throughout the flight.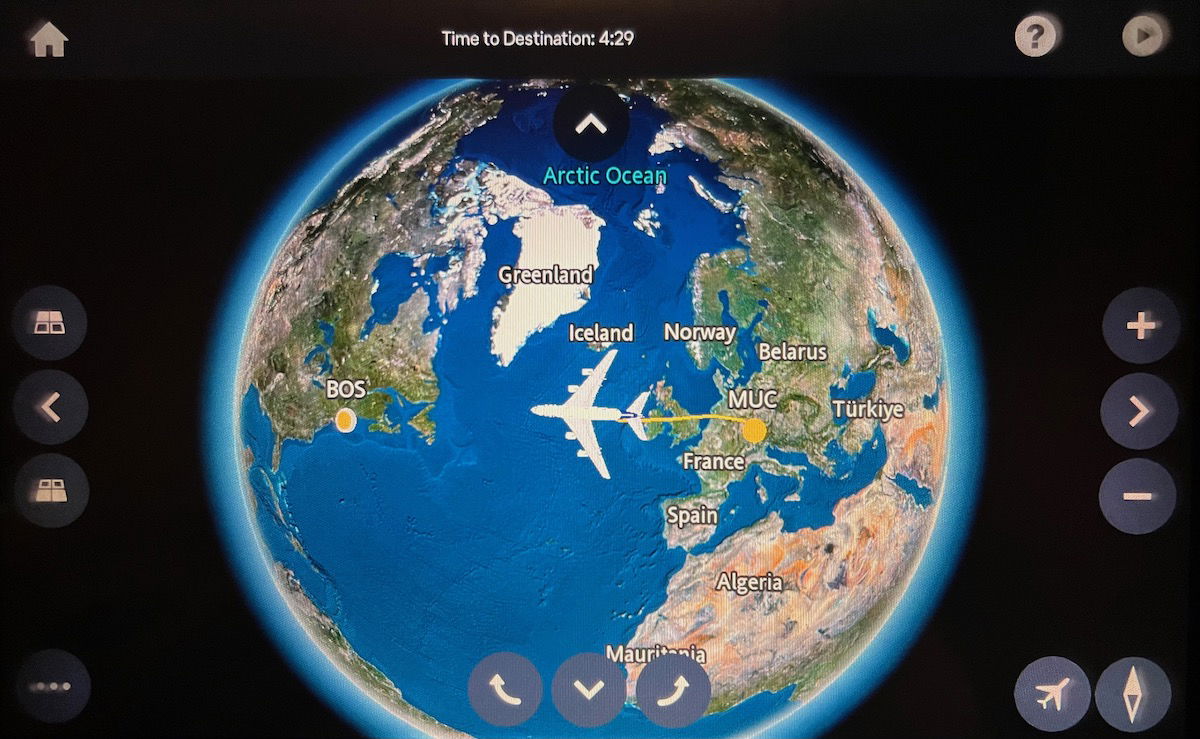 While Lufthansa doesn't have a great entertainment system, the airline does have Wi-Fi, which is free for first class passengers, with no data caps. To me that largely makes up for the otherwise lackluster entertainment.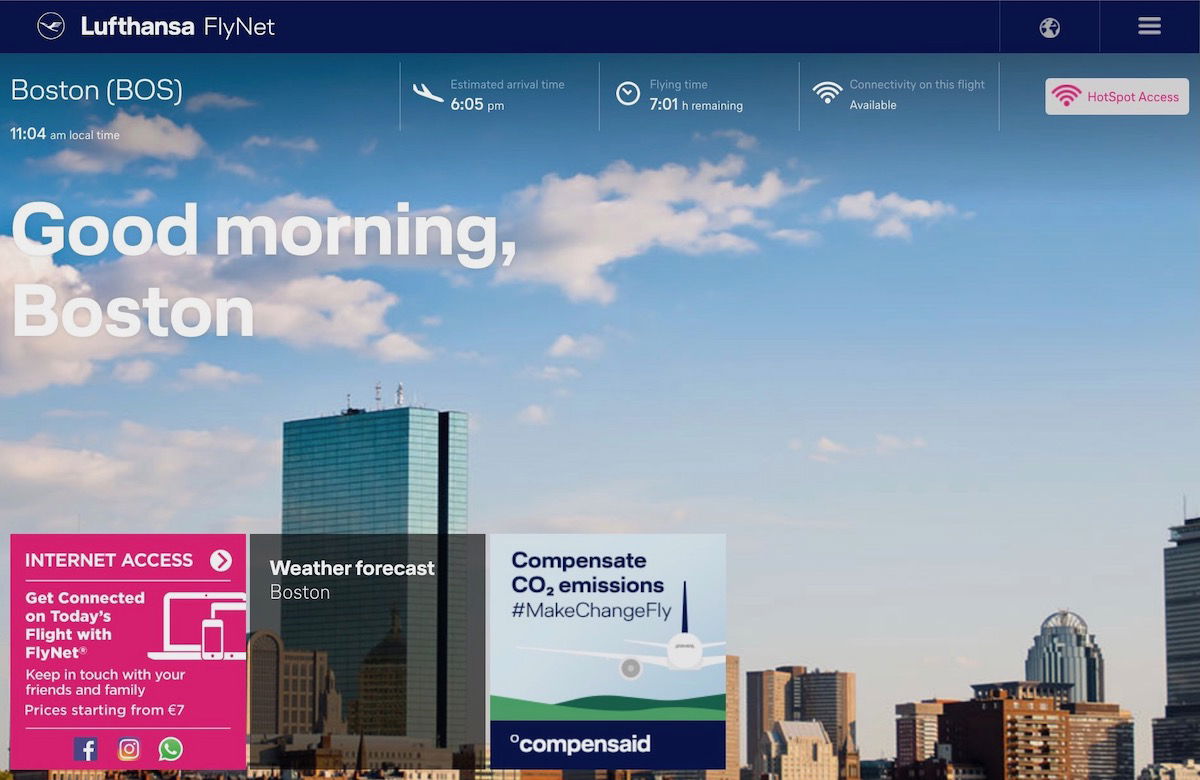 If you don't have free Wi-Fi, you can expect the cost on Lufthansa's A380s to be as follows:
For €9 you could purchase a messaging pass
For €19 you could purchase a two hour premium pass
For €29 you could purchase a full flight premium pass
That's definitely on the pricey side, but not awful when you consider the lack of data caps.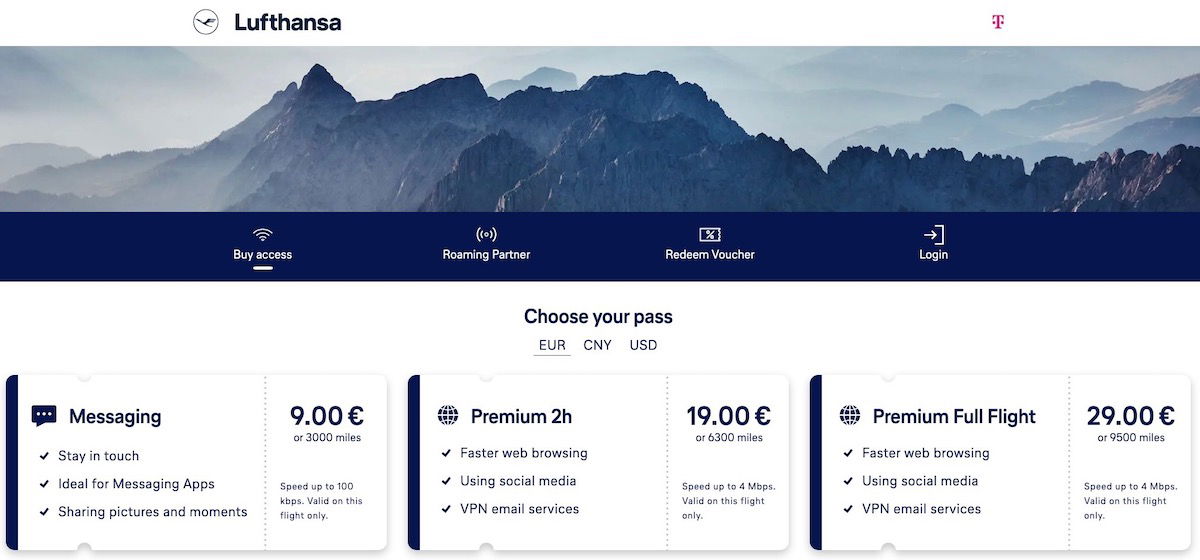 With the voucher code I had been given during boarding, I could log into the free Wi-Fi, under the "Redeem Voucher" section.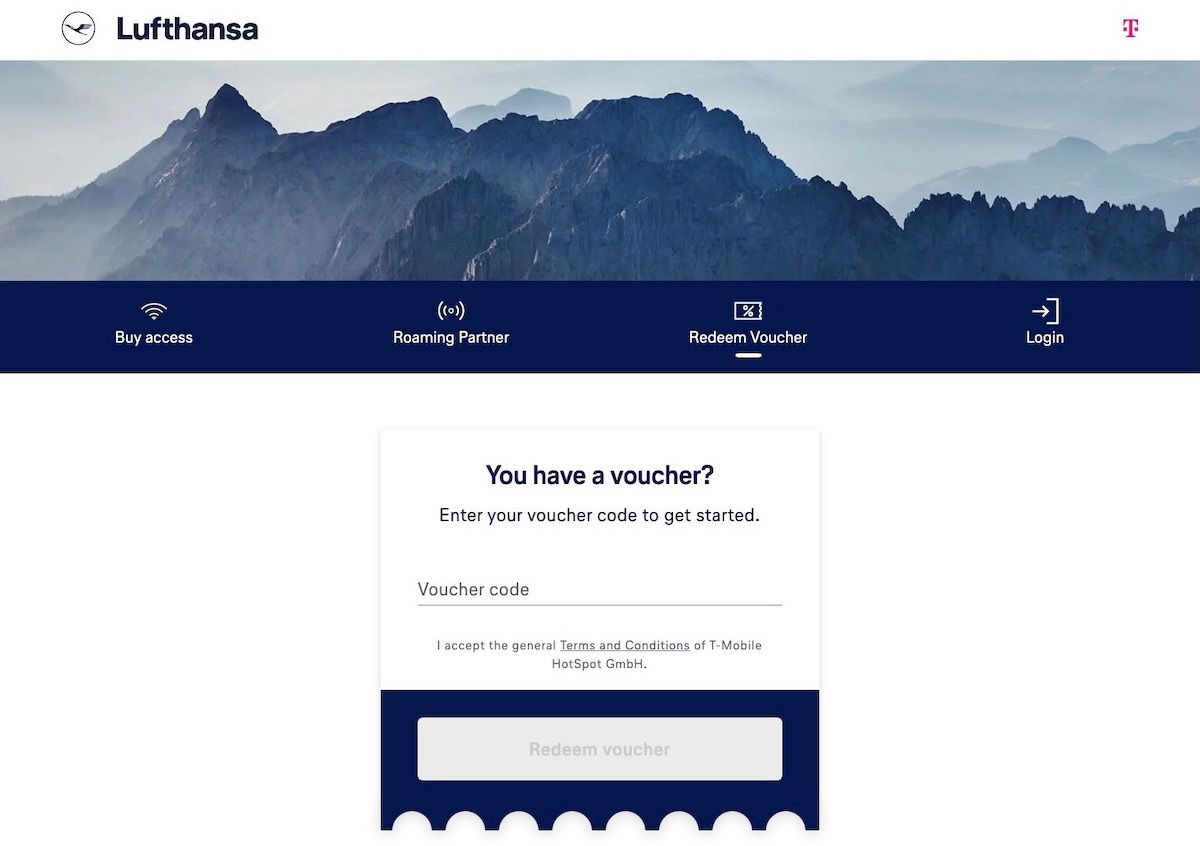 Lufthansa A380 departure from Munich
While boarding had started on time, we were a bit delayed on departure. Around 20 minutes after boarding, the captain came to the upper deck to personally greet each first class passenger. Another OMAAT reader mentioned a similar experience, so I suspect he does this on almost every flight. He was a super nice guy, and it was fun to ask him about his thoughts on the A380, etc.
He told us that our flight time would be 7hr30min, though warned us that we'd be a bit late departing, as we were waiting on some connecting passengers. However, since our flight time was a bit shorter than normal, he still anticipated a (nearly) on-time arrival.
Our delay ended up dragging on for quite some time. At 4PM it was announced that bags had been loaded for some passengers who didn't show up, so those needed to be offloaded. That ended up taking around 30 minutes.
Suffice it to say that we didn't mind the delay one bit, as we were having fun, and the crew kept our champagne topped off.
Finally at 4:30PM we began our pushback, at which point the safety video was screened. Lufthansa's A380s have a tail camera, which is a feature that I love, so it was a real treat to watch that throughout our departure. At 4:35PM we began our taxi, and 10 minutes later we were at the departure runway.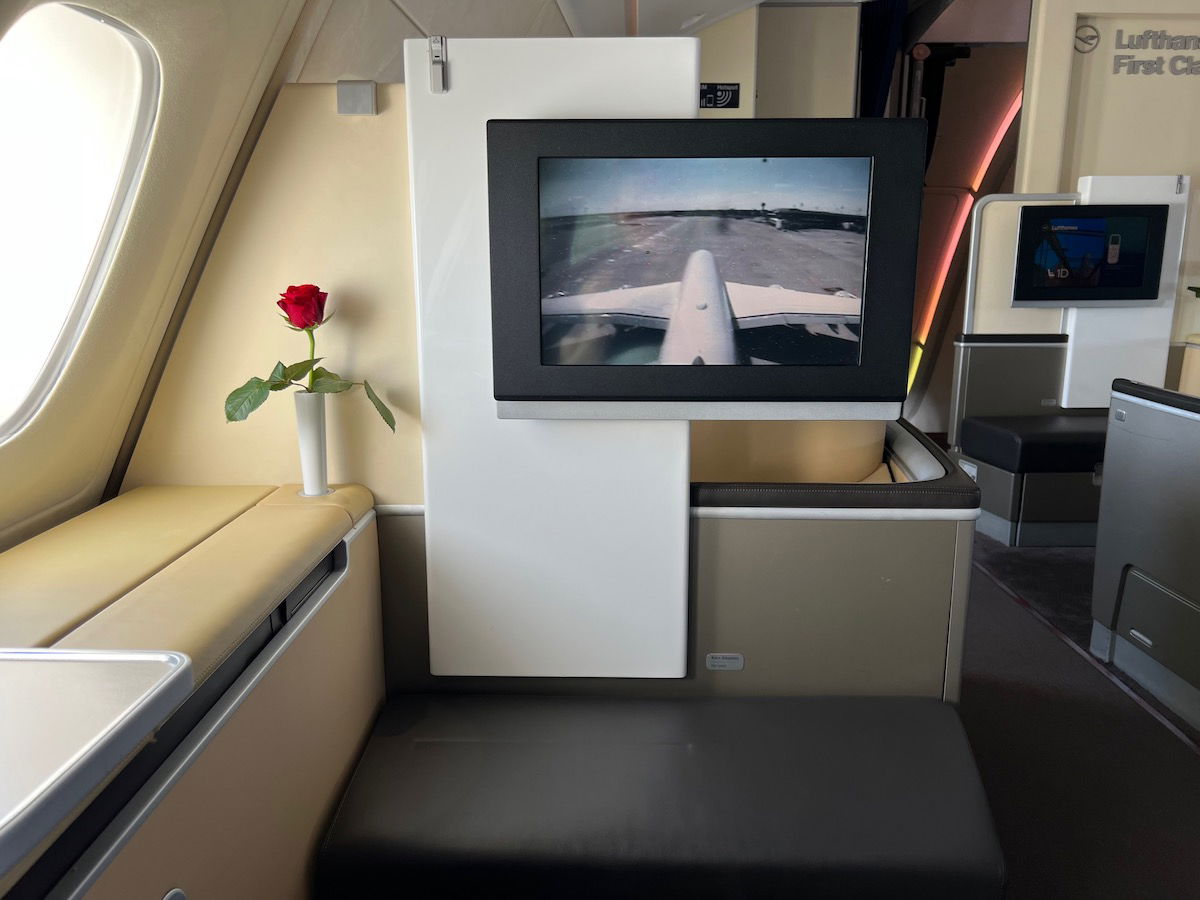 We were airborne at 4:45PM. Taking off in an A380 is just such a different experience than on any other plane, since you barely feel the movement.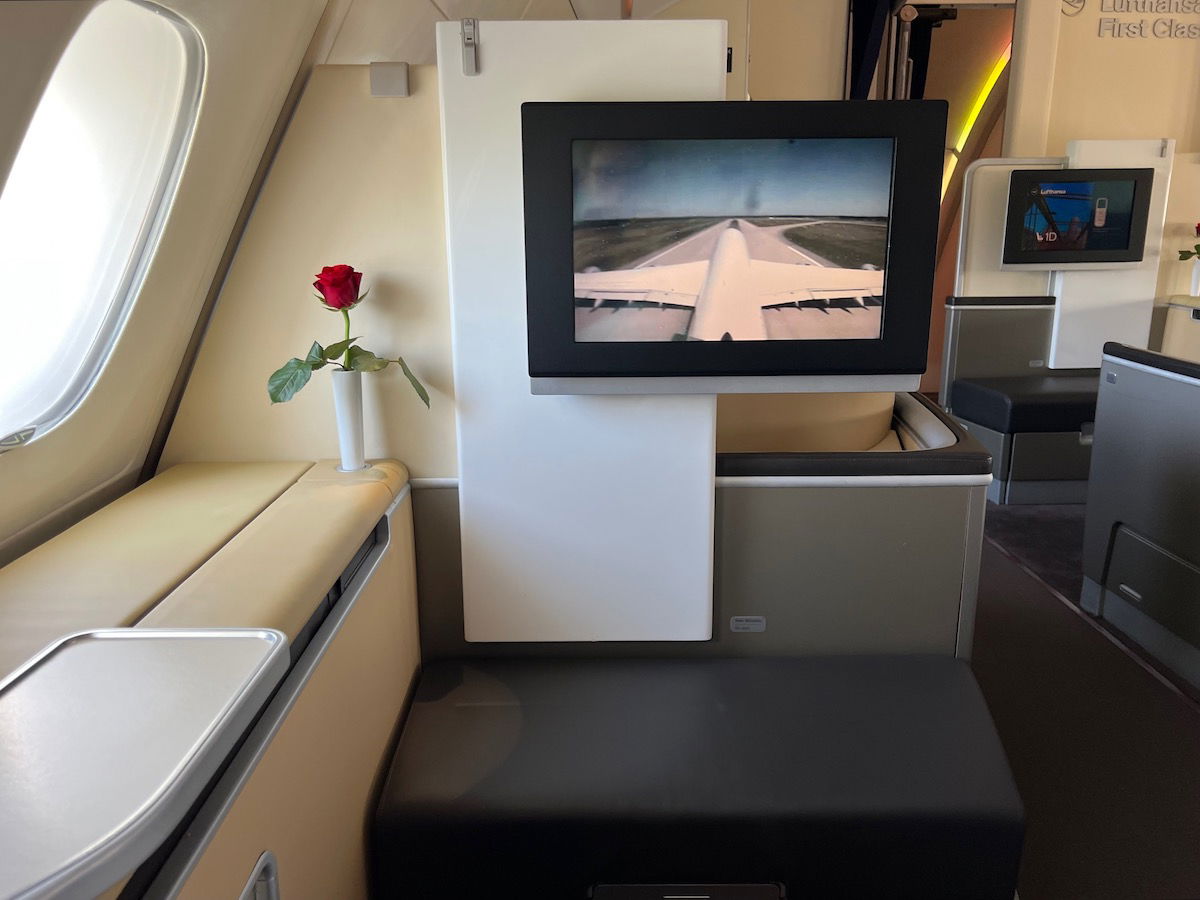 We had a smooth climb out, and the seatbelt sign was turned off about 10 minutes after takeoff.
Lufthansa first class lunch service
Once airborne, the crew came through the cabin to take drink and meal orders. You can find the first class menu below.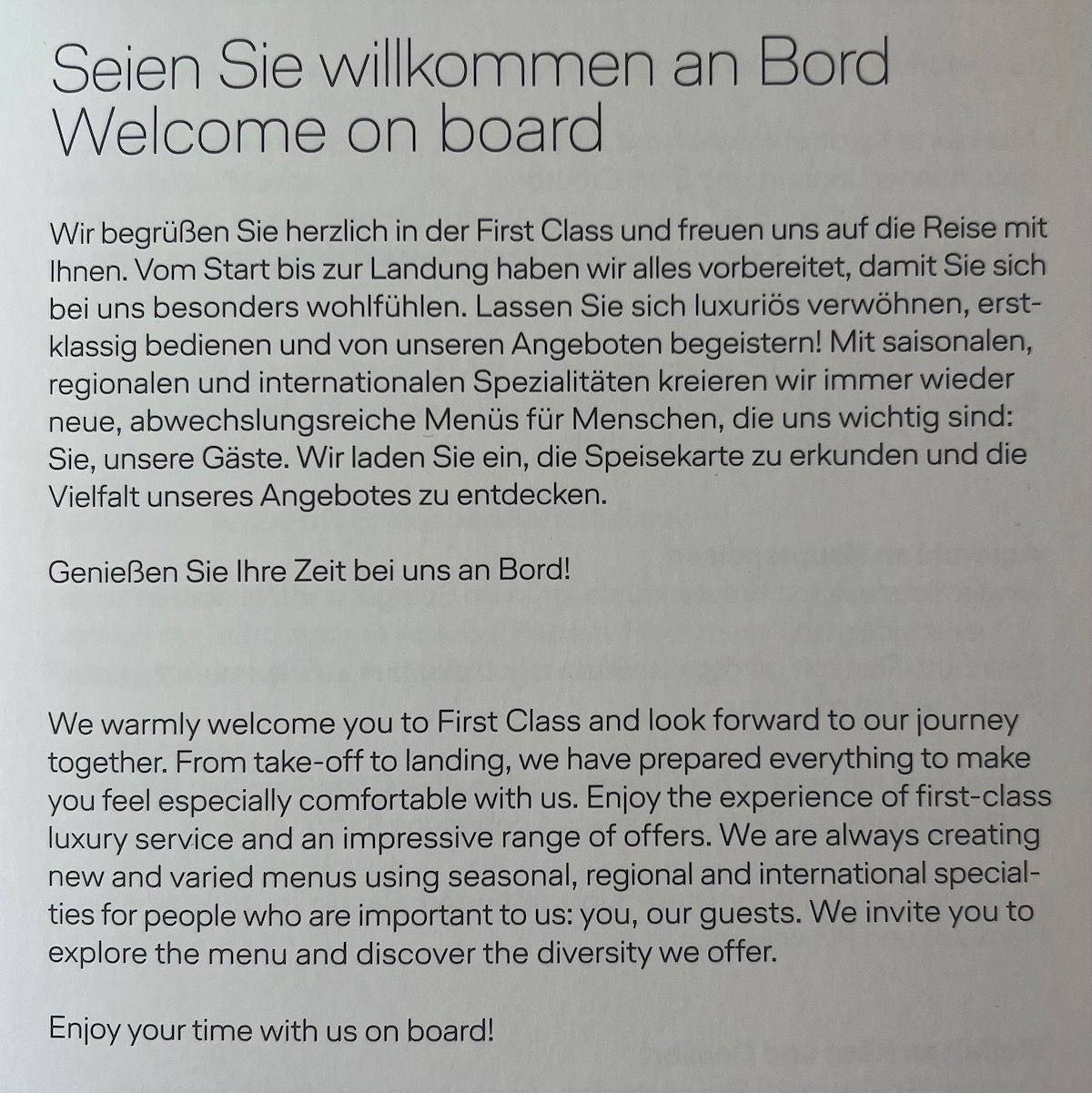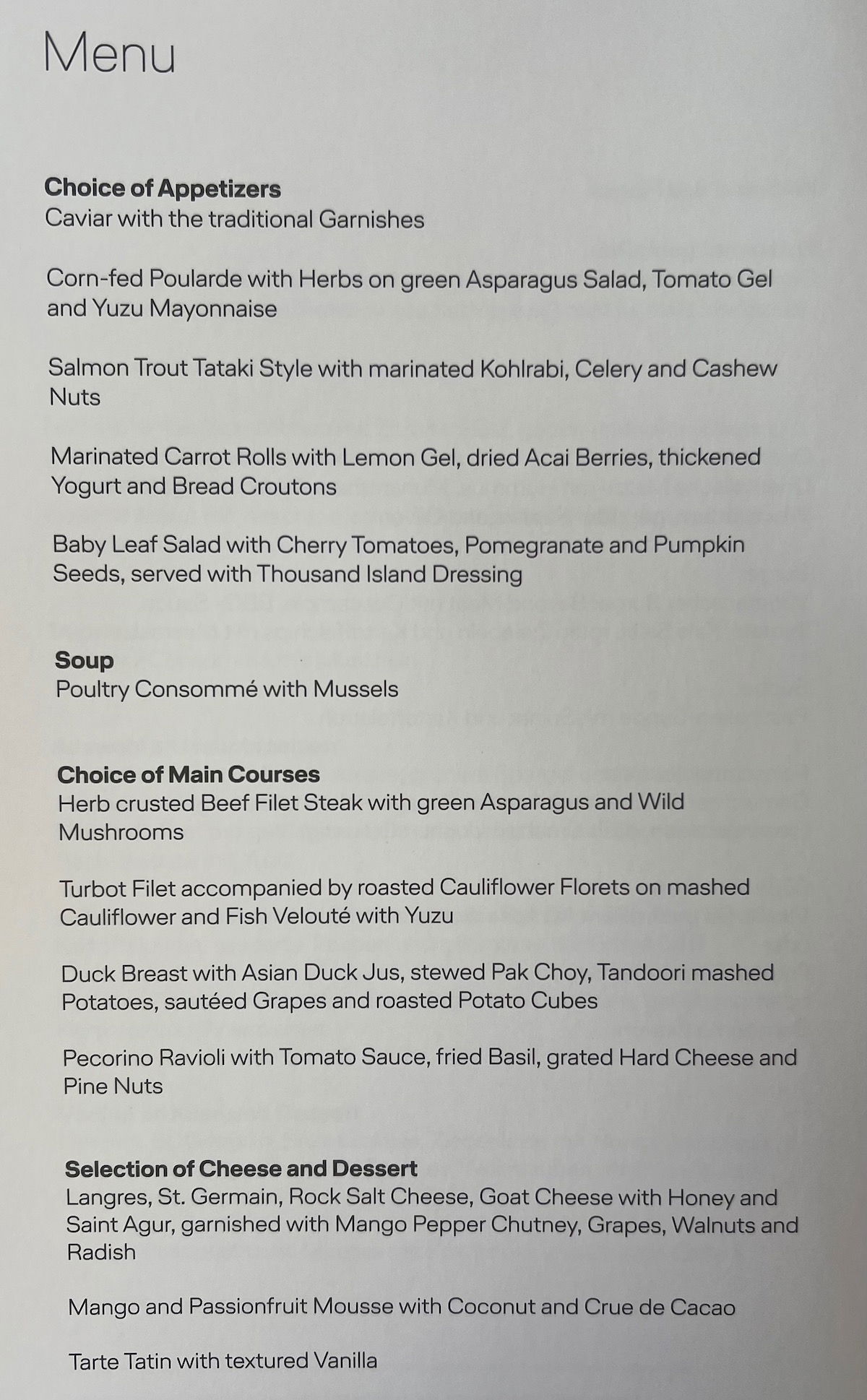 You can find the first class drink list below.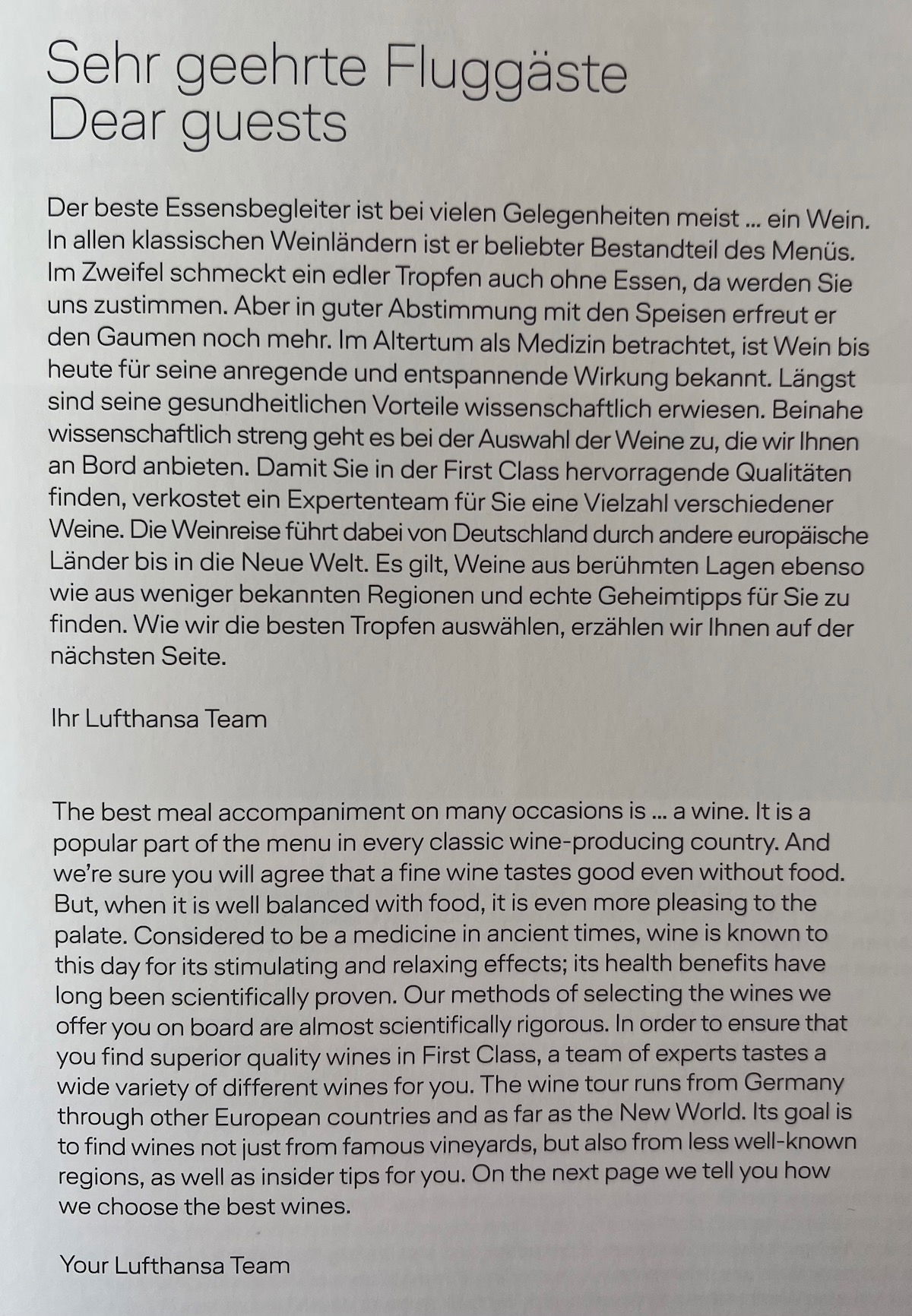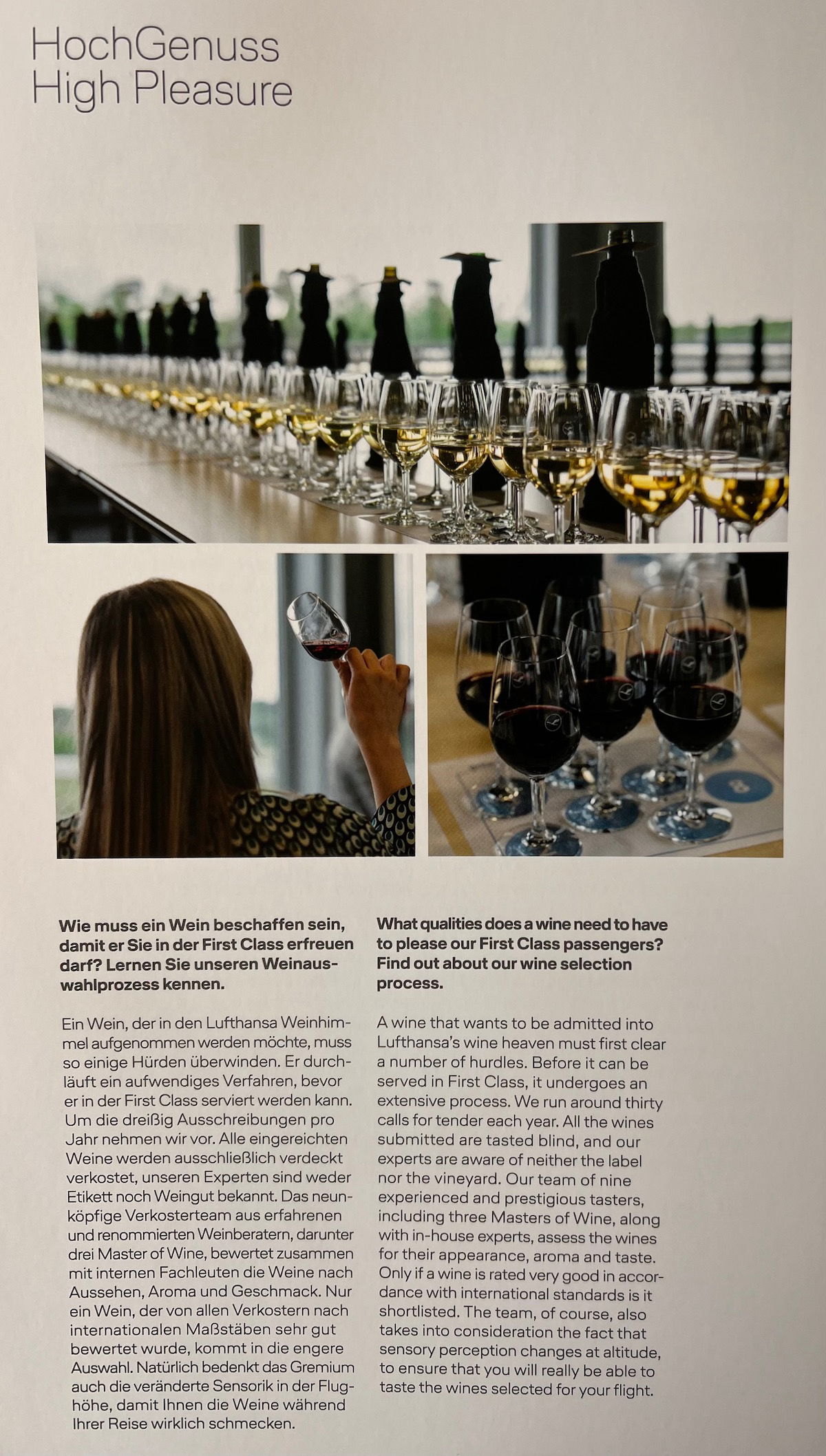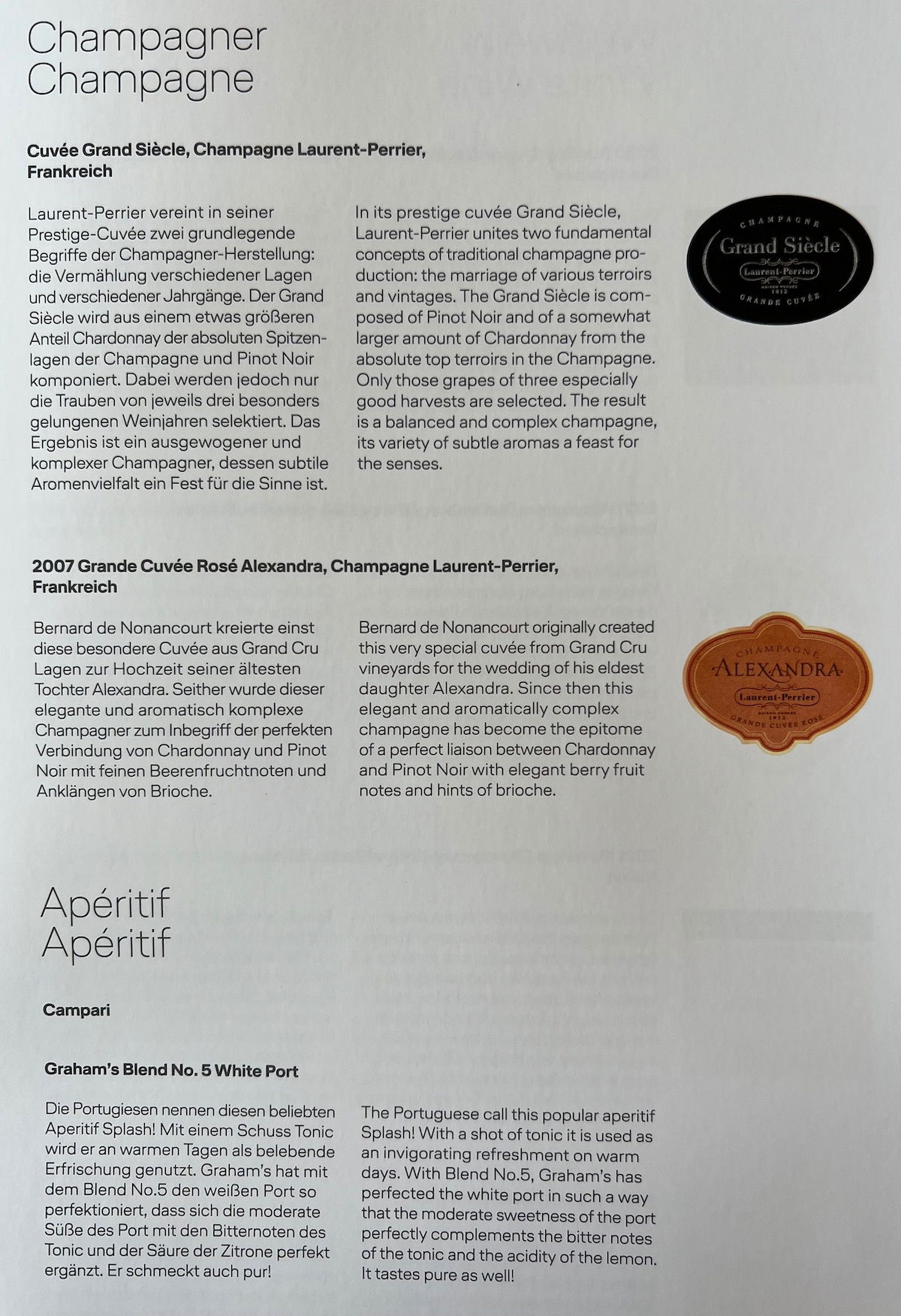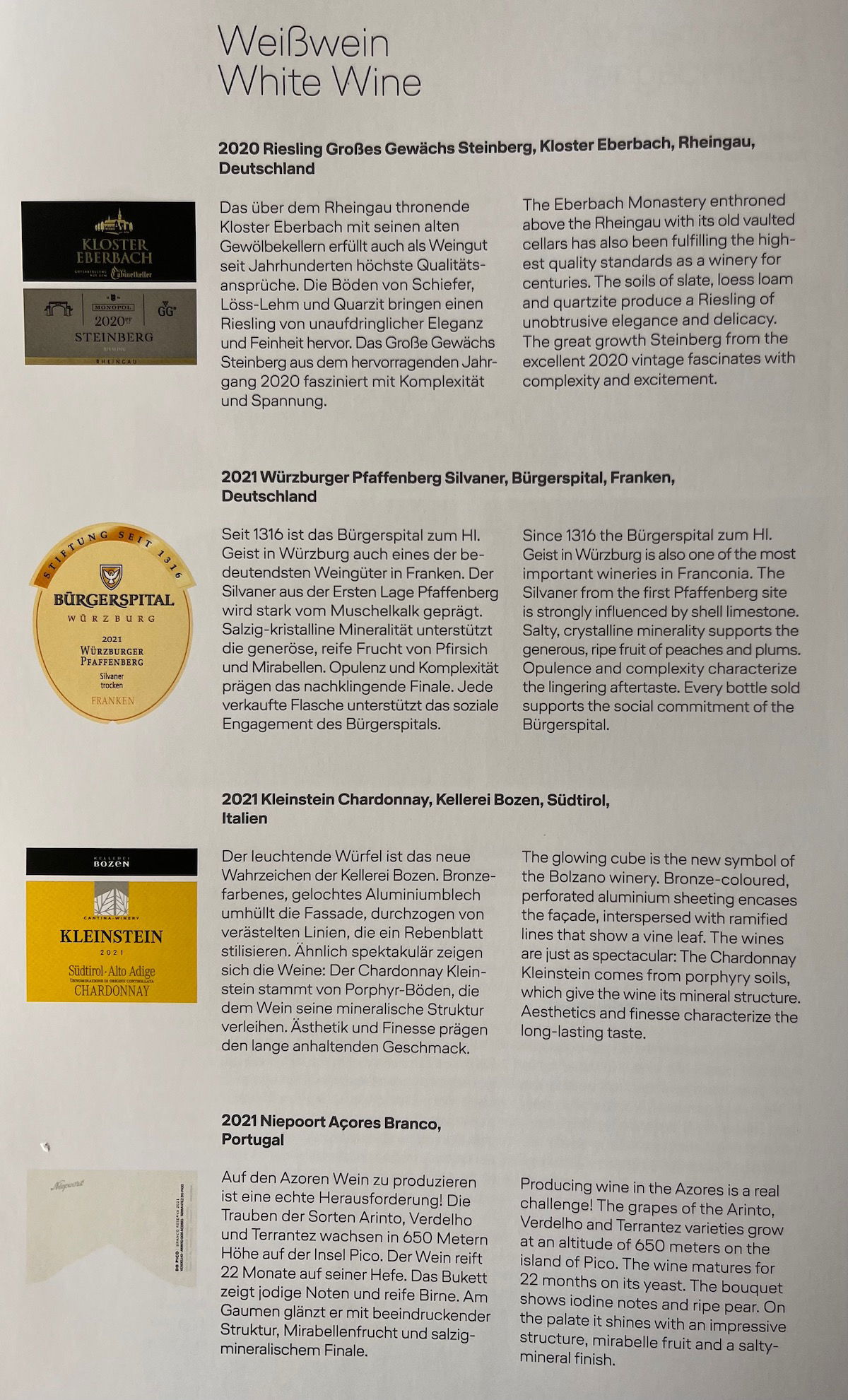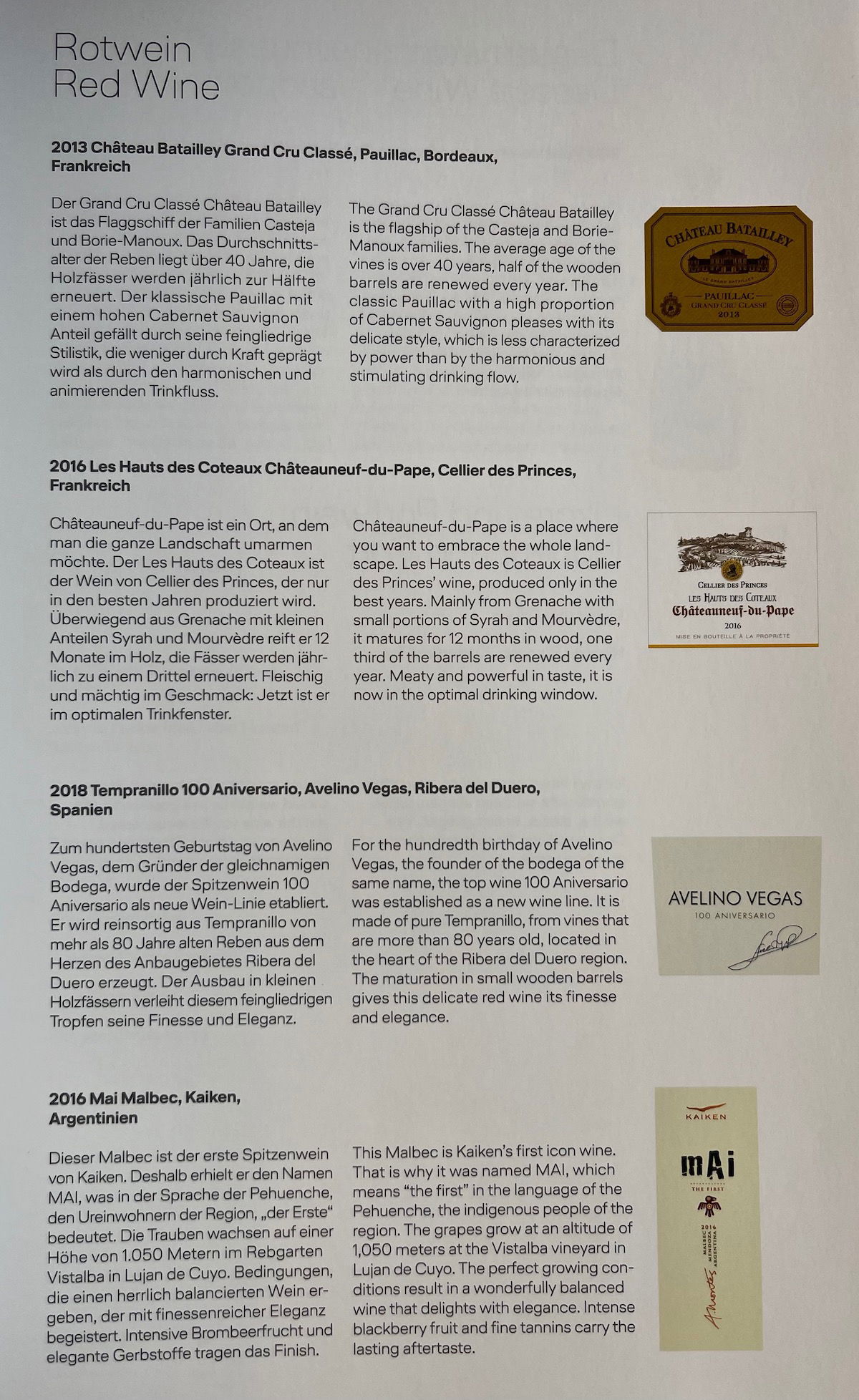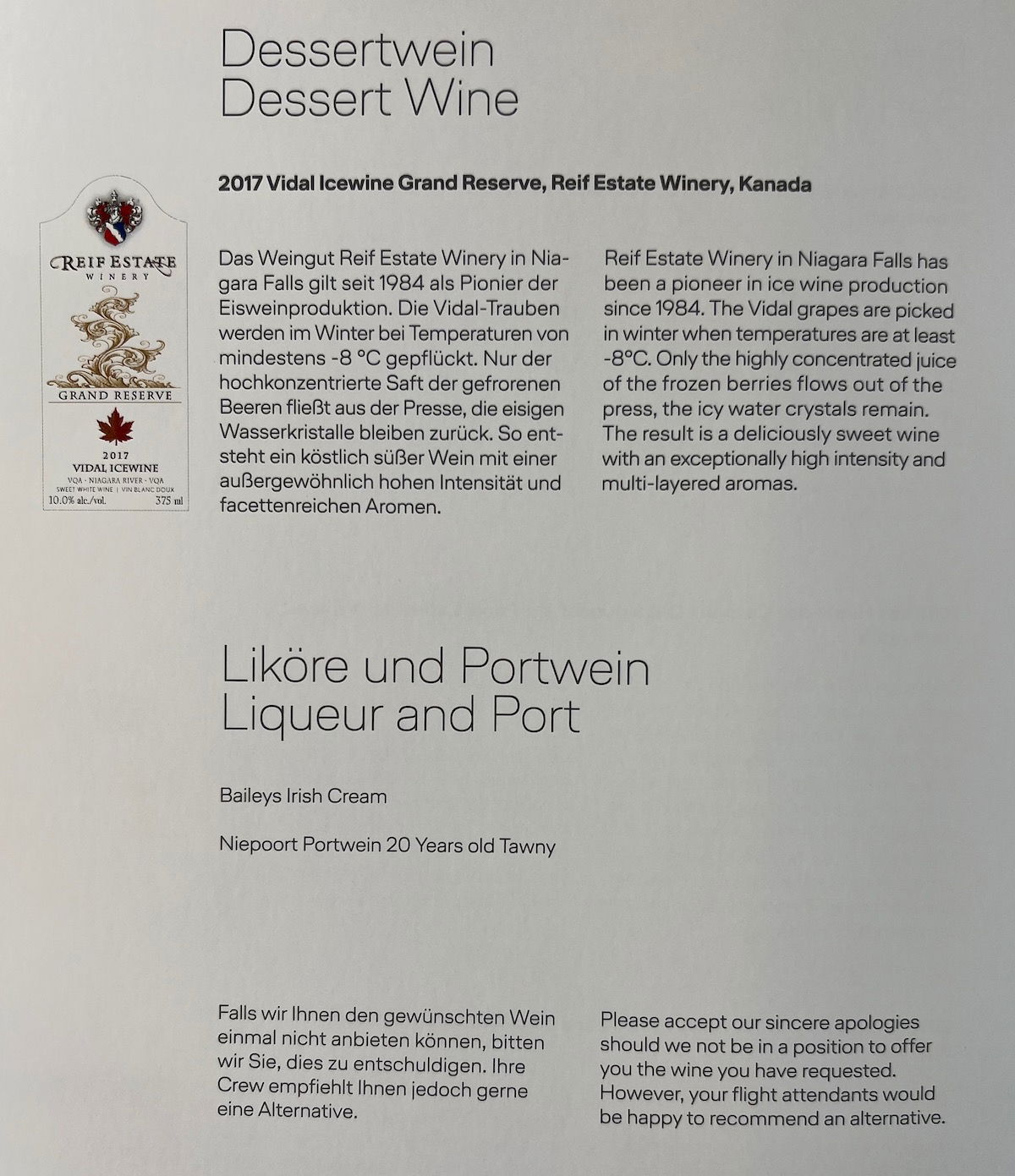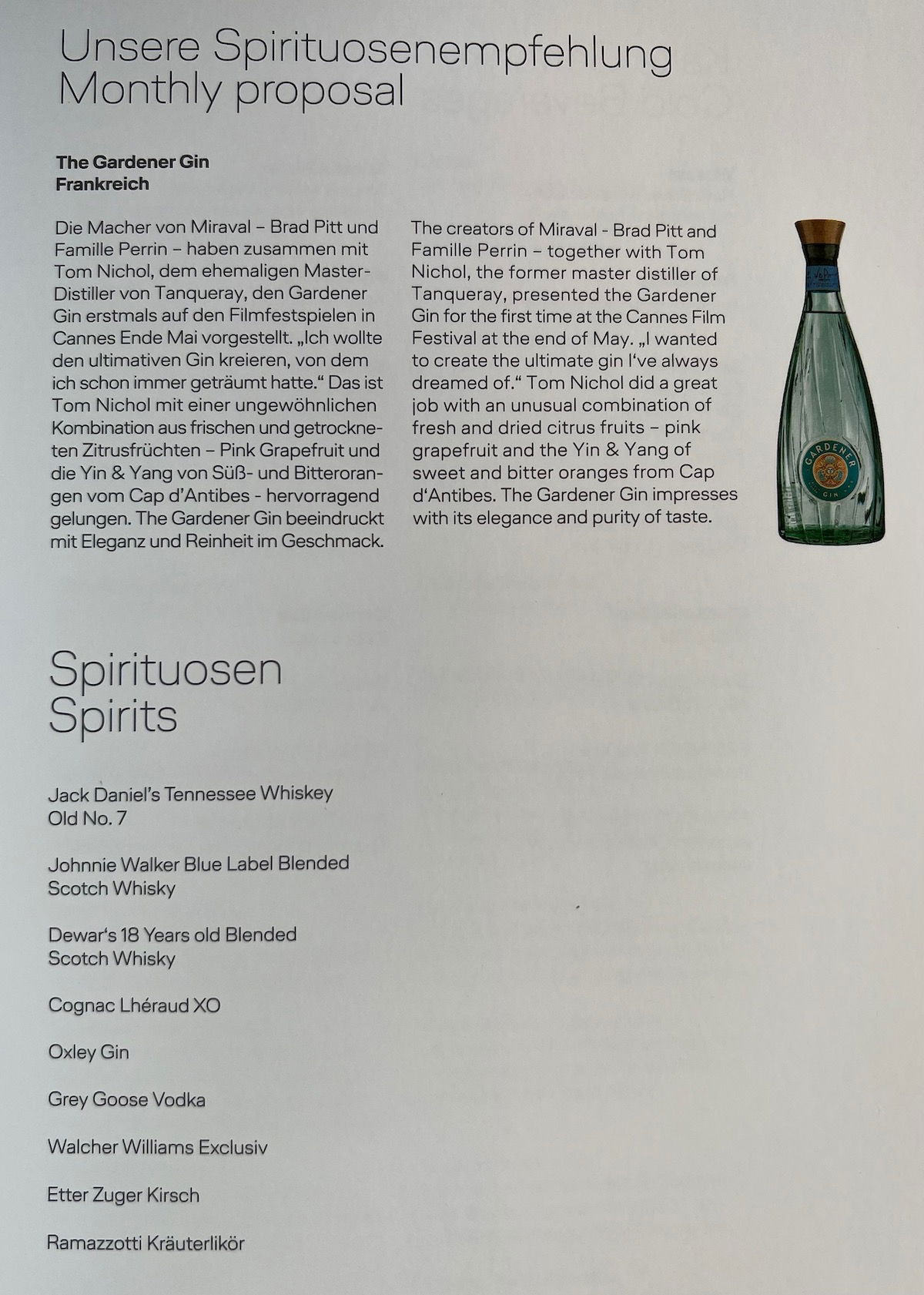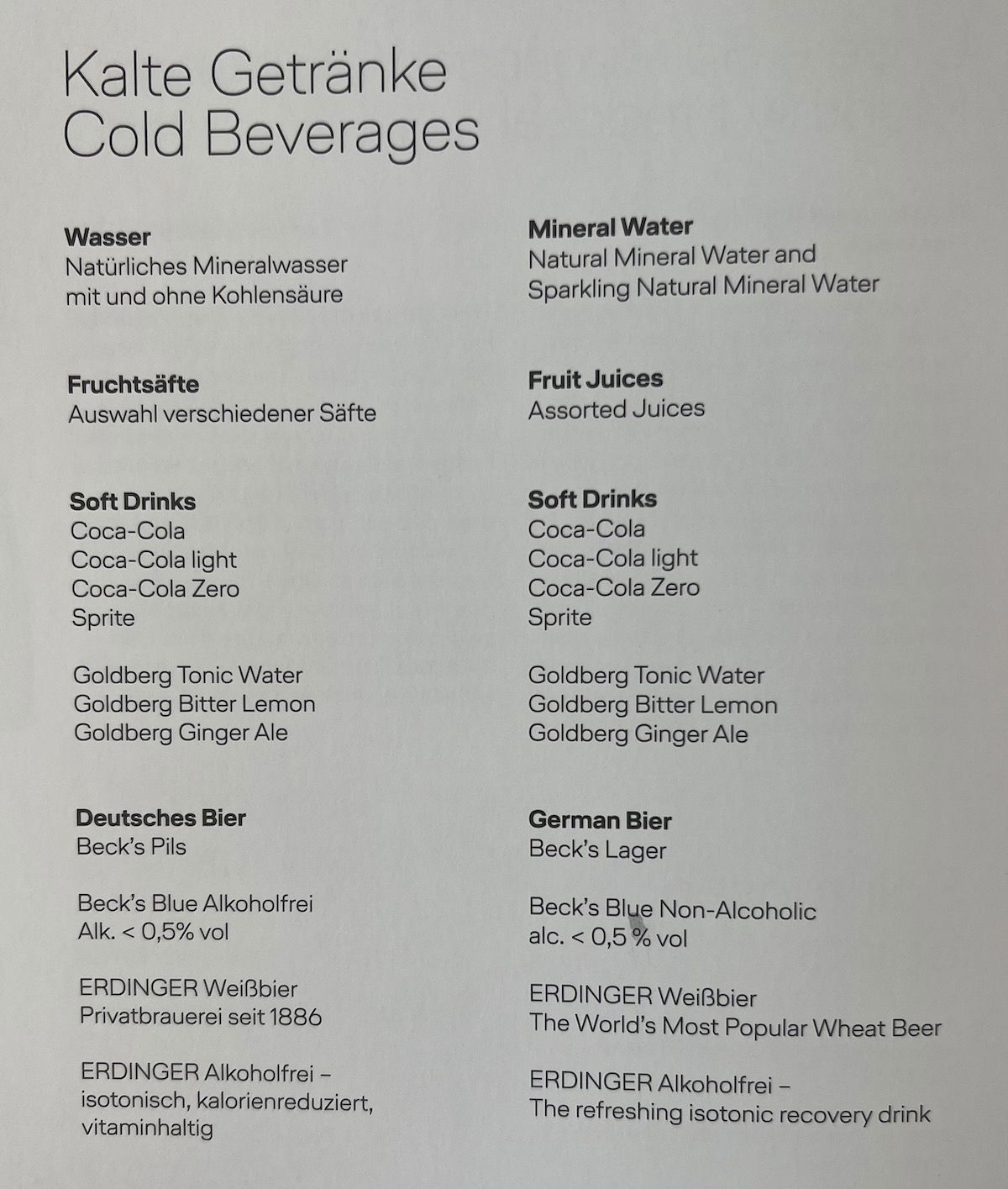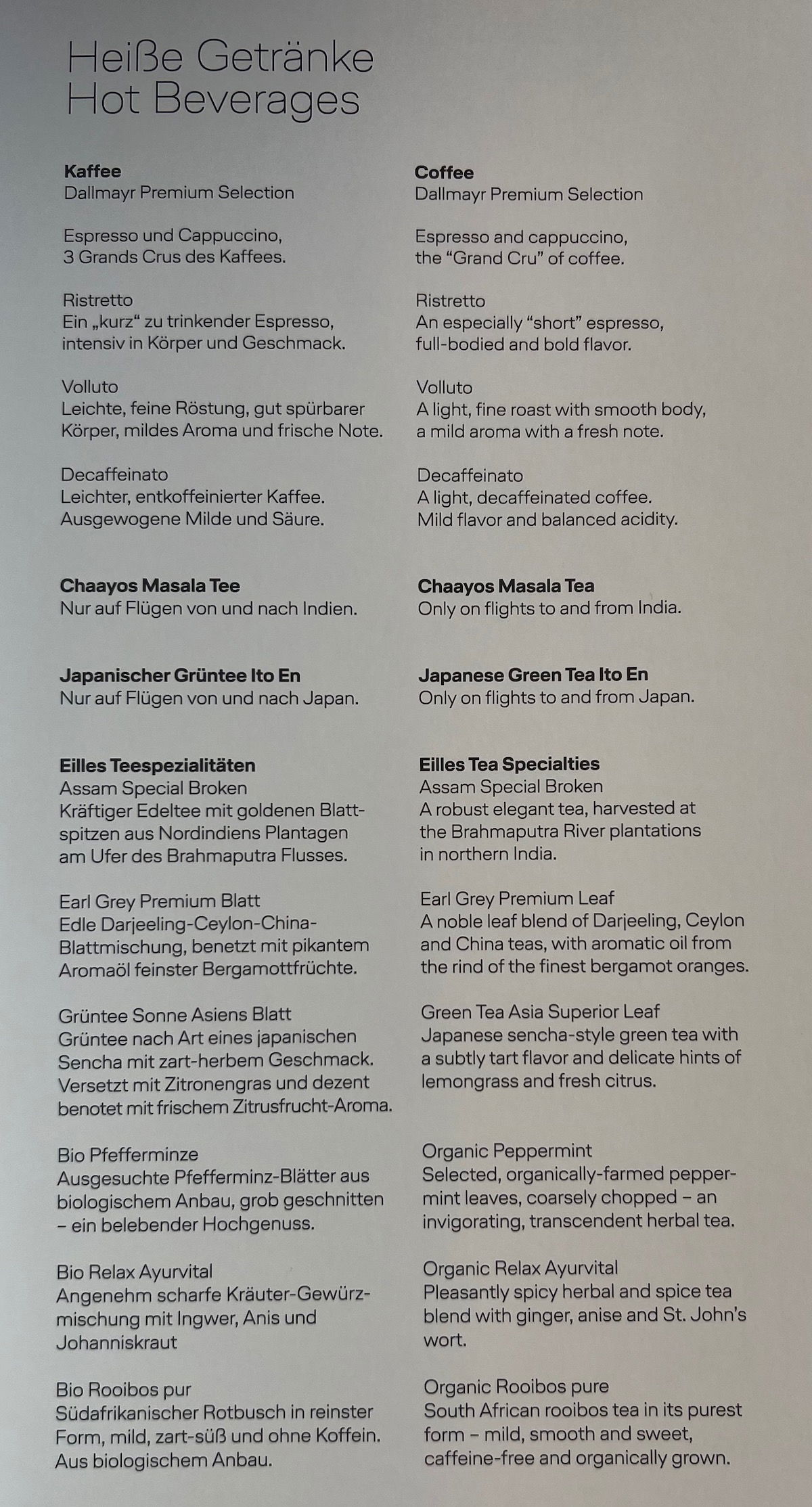 Once orders were taken, warm towels were distributed on little plates (though it seems that it's no longer presented with a rose petal).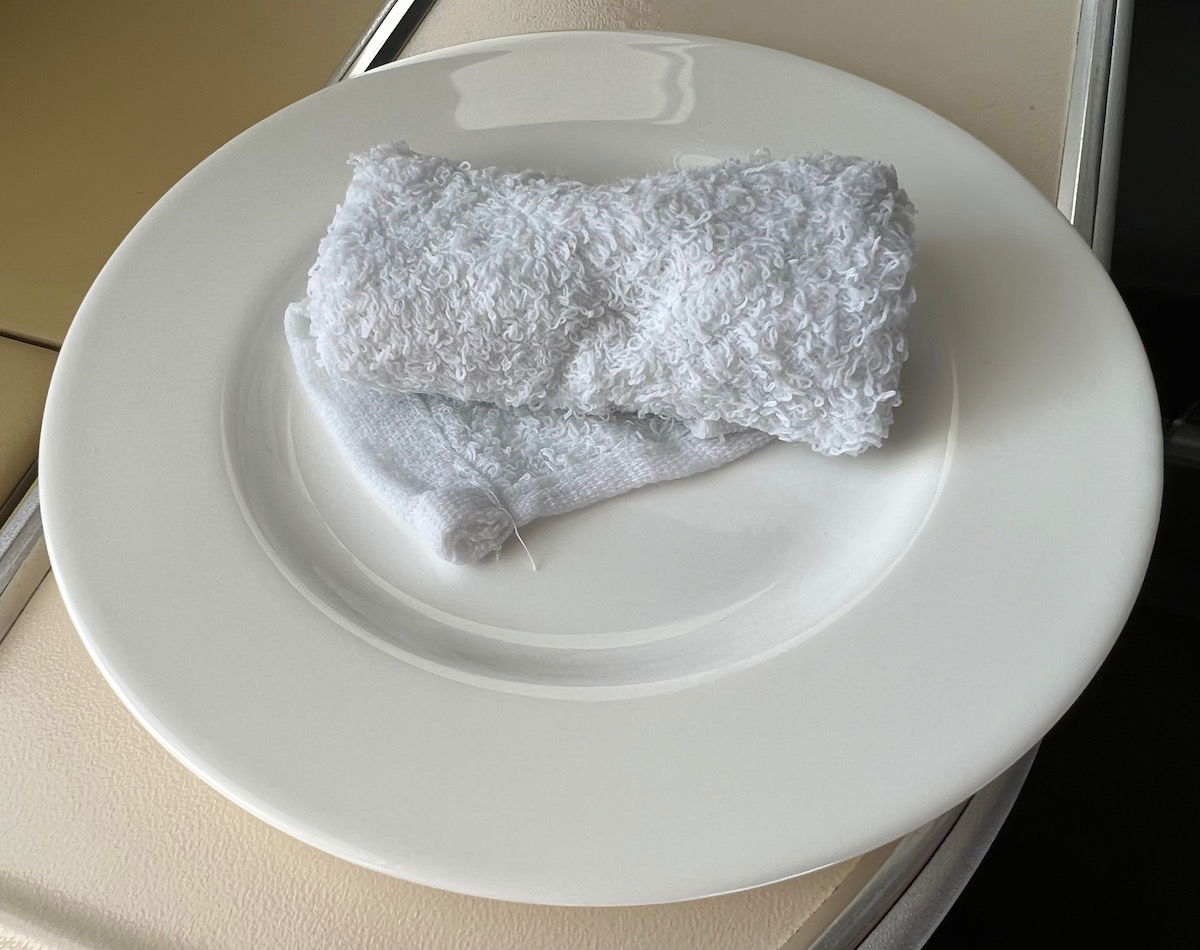 The first drink was served about 25 minutes after takeoff. We decided to switch to the white champagne, which was Laurent-Perrier Grand Siecle. It's rare that you get both an excellent white and rose champagne, so Lufthansa gets high marks for champagne at the moment (though keep in mind the selection is constantly rotating). And yes, I couldn't help but photograph my champagne with the ducks I managed to pick up this trip.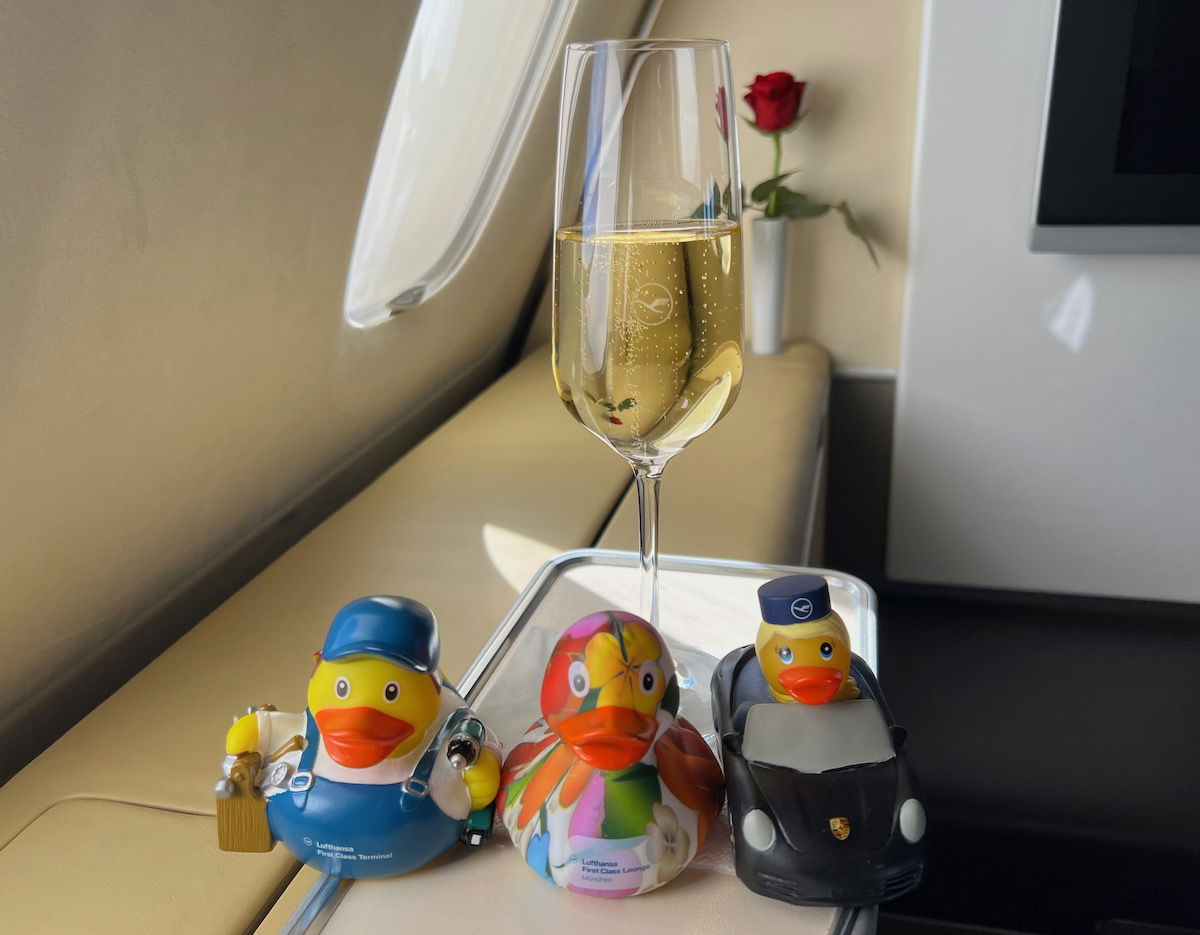 The tray table was then set about 40 minutes after takeoff. We were offered a selection of bread, plus the amuse bouche, which was duck breast with quinoa.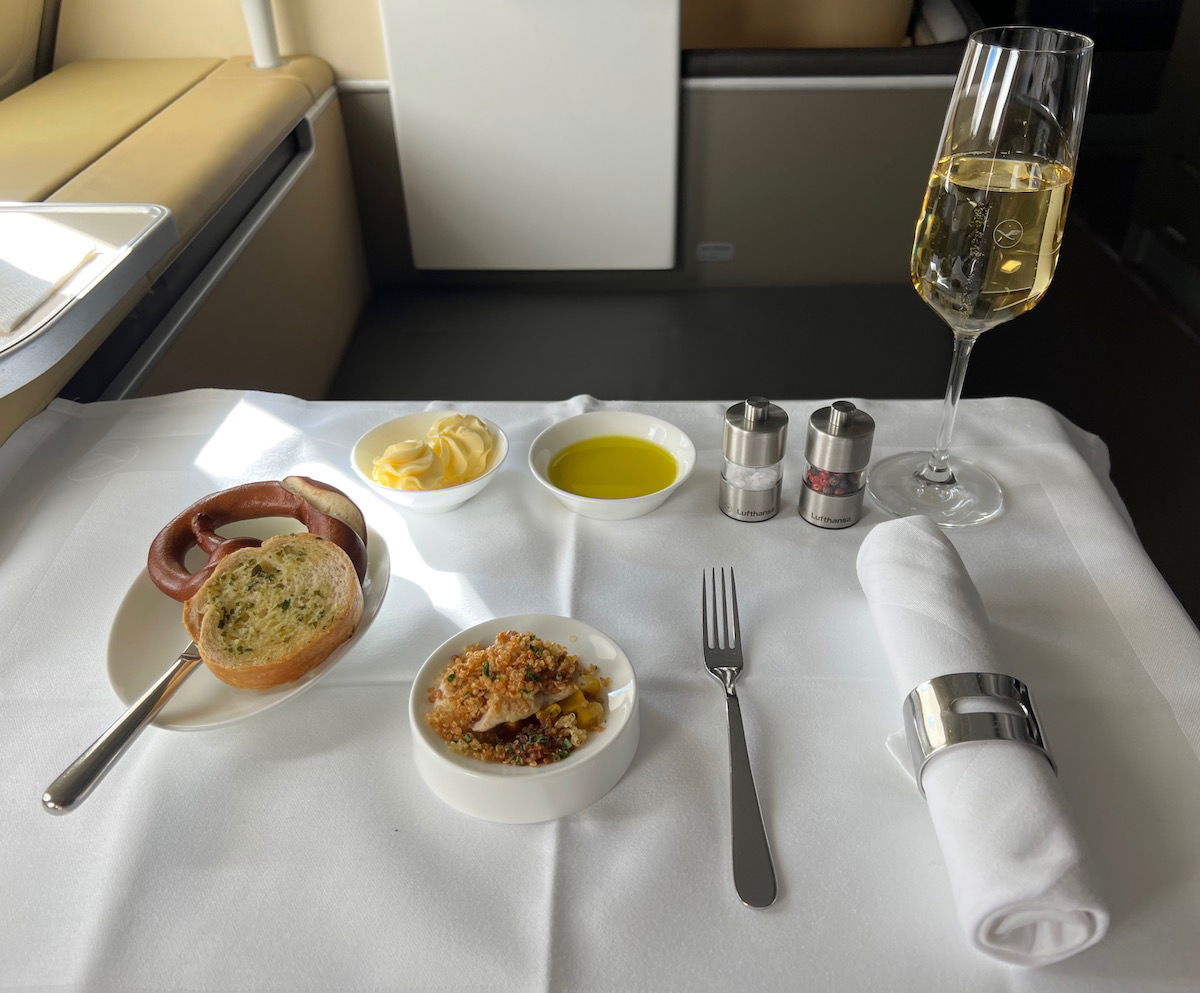 About 60 minutes after takeoff, a trolley was rolled down the aisle with a selection of three appetizers, salad, soup, and caviar. You can choose any or all of those, and there's even a tray display so that you can easily enjoy all three appetizers at once.
I ordered the three appetizers and caviar. The appetizers included:
Corn-fed poularde with herbs on green asparagus salad, tomato gel, and yuzu mayonnaise
Salmon trout tataki style with marinated kohlrabi, celery, and cashew nuts
Marinated carrot rolls with lemon gel, dried acai berries, thickened yogurt, and bread croutons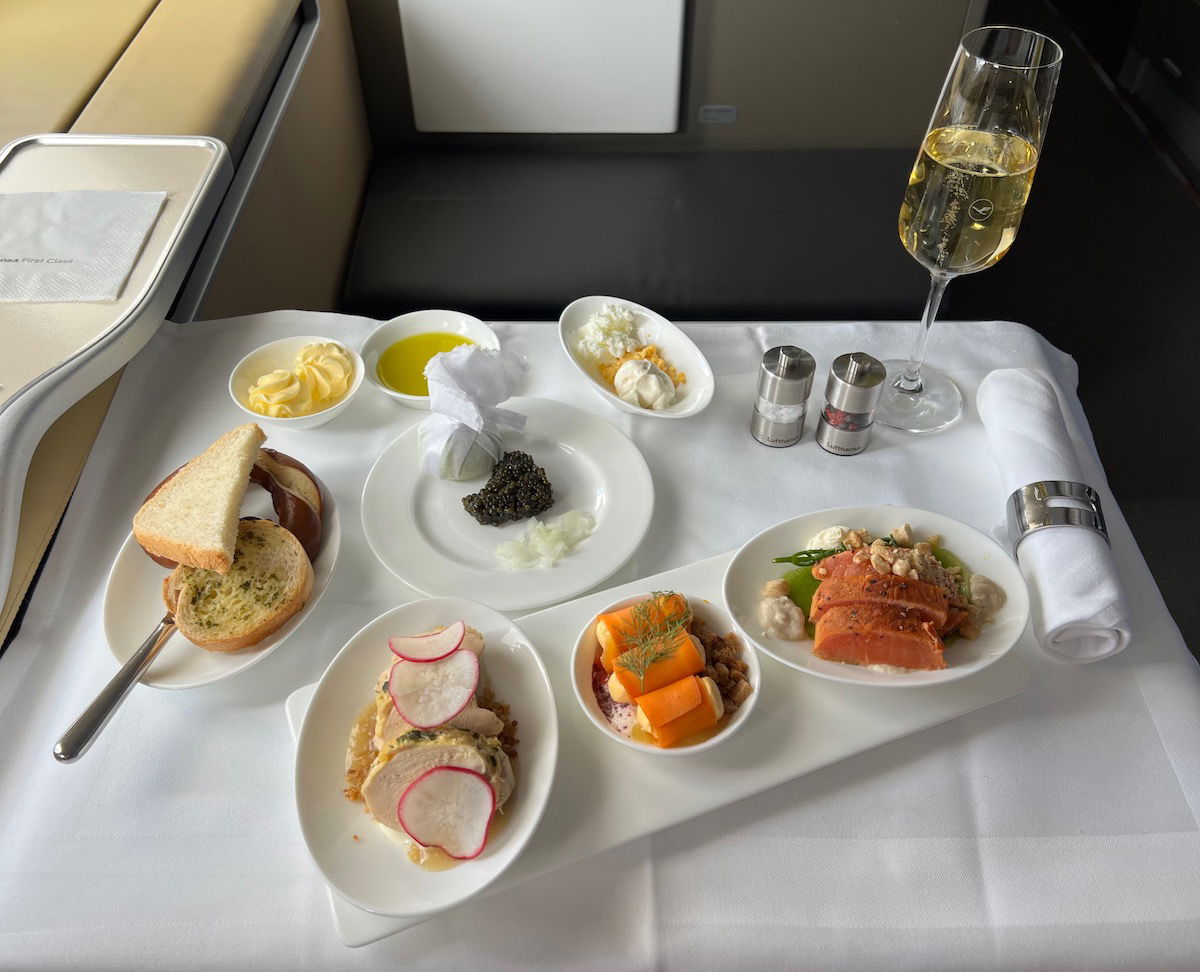 We were offered second helpings of caviar, which my mom was excited about.
Service was performed at a perfectly customized and leisurely pace, which we were especially appreciative of on a daytime flight. There were four different main course options. I decided to order the pecorino ravioli with tomato sauce, fried basil, grated cheese, and pine nuts. Real talk — this was one of the best pasta dishes I've had on a plane.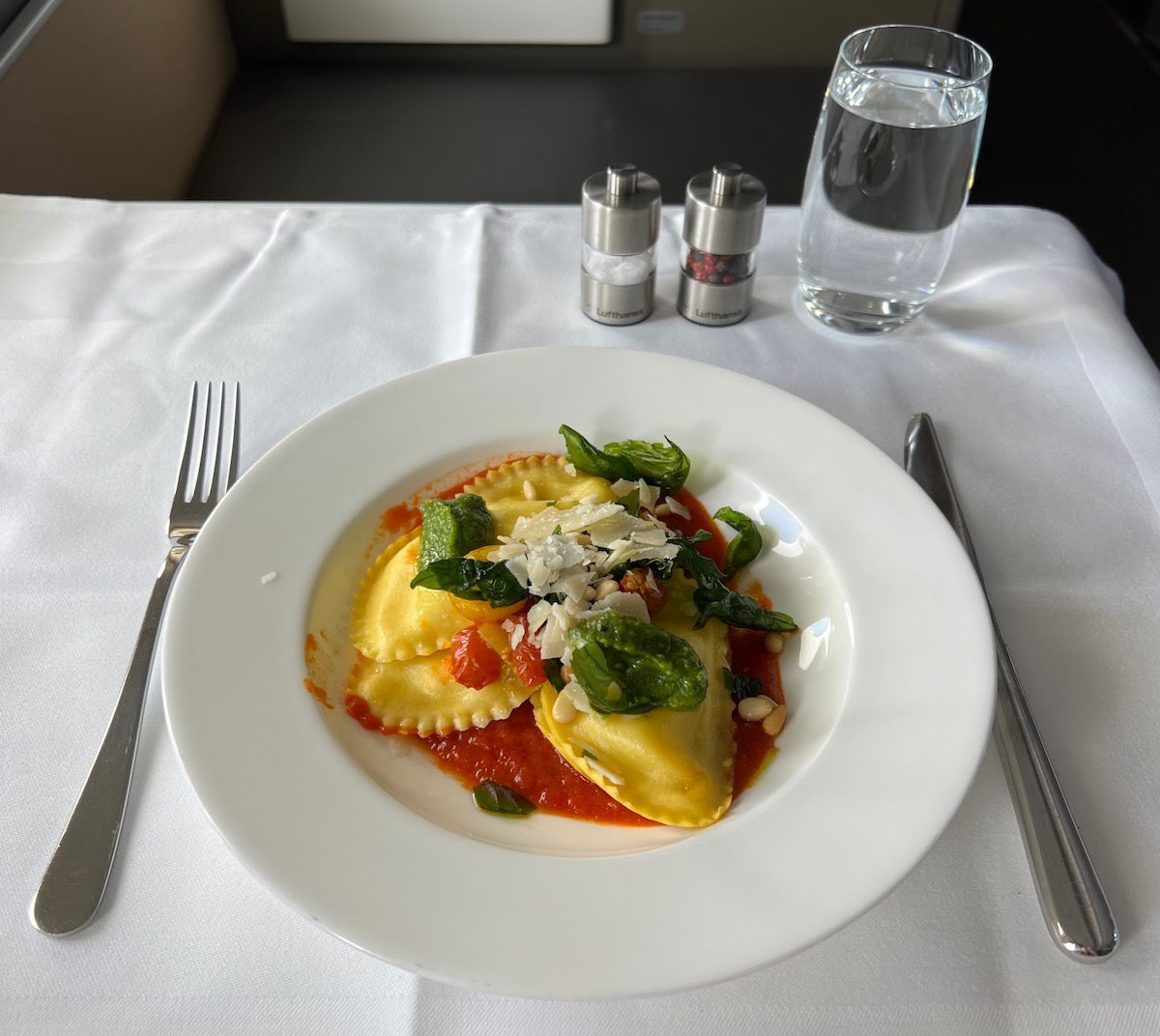 My dad decided to order the turbot filet accompanied by roasted cauliflower florets on mashed cauliflower and fish velouté with yuzu.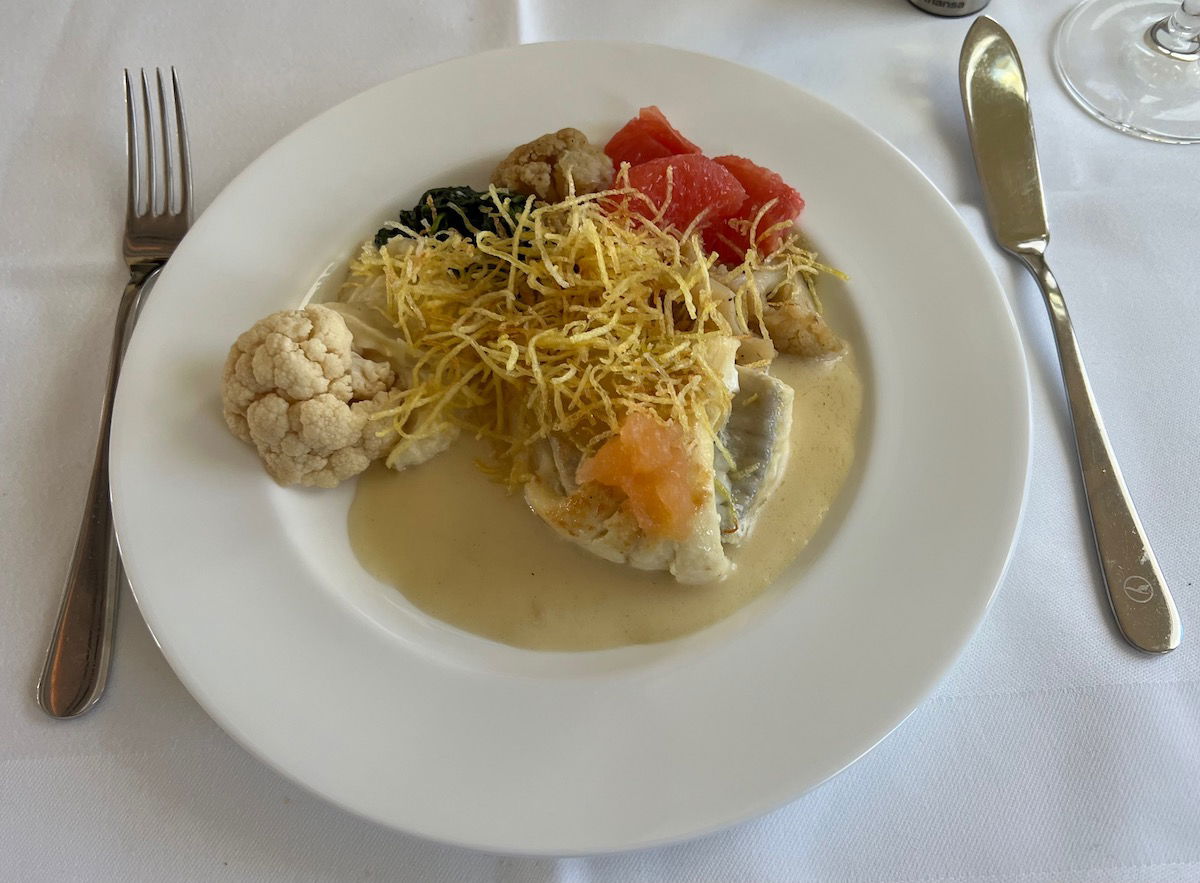 Meanwhile my mom's partner ordered the herb crusted beef filet steak with green asparagus and wild mushrooms.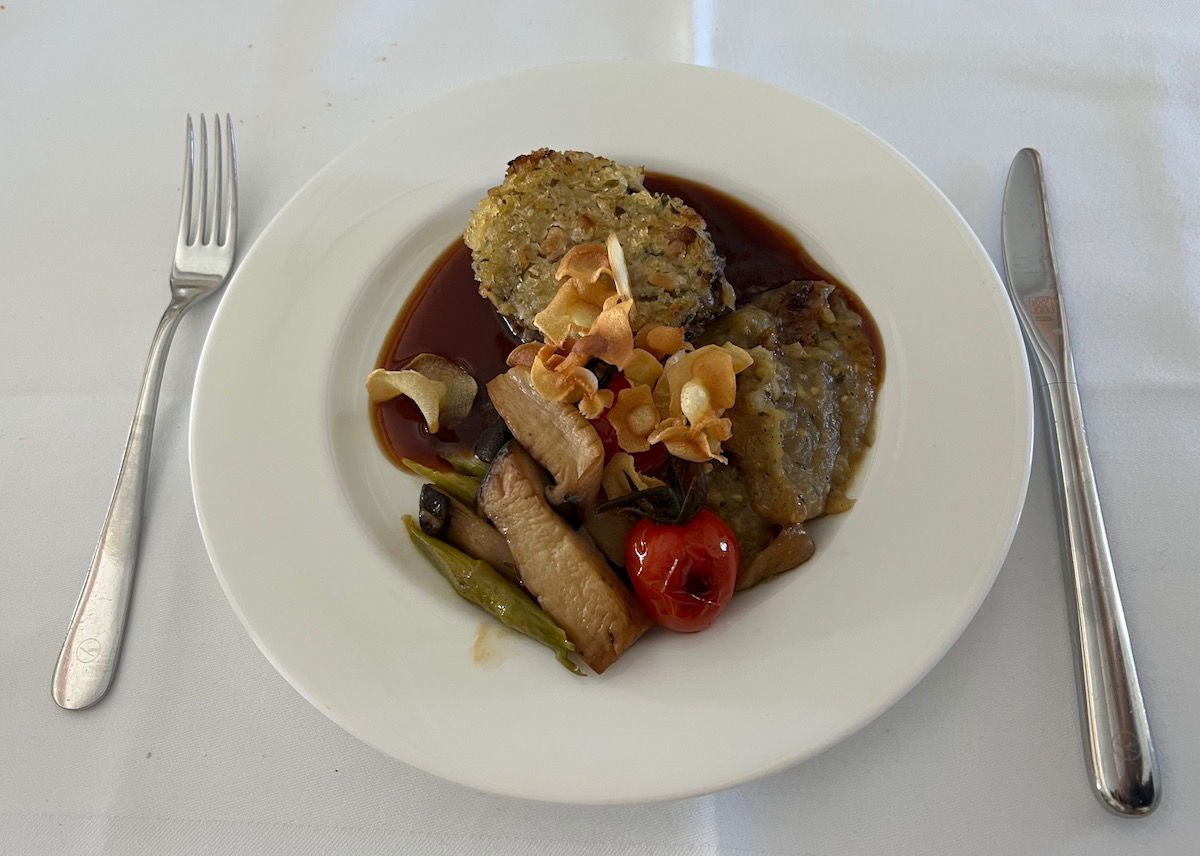 For dessert, I decided to have the tarte tatin with vanilla ice cream, which was scrumptious.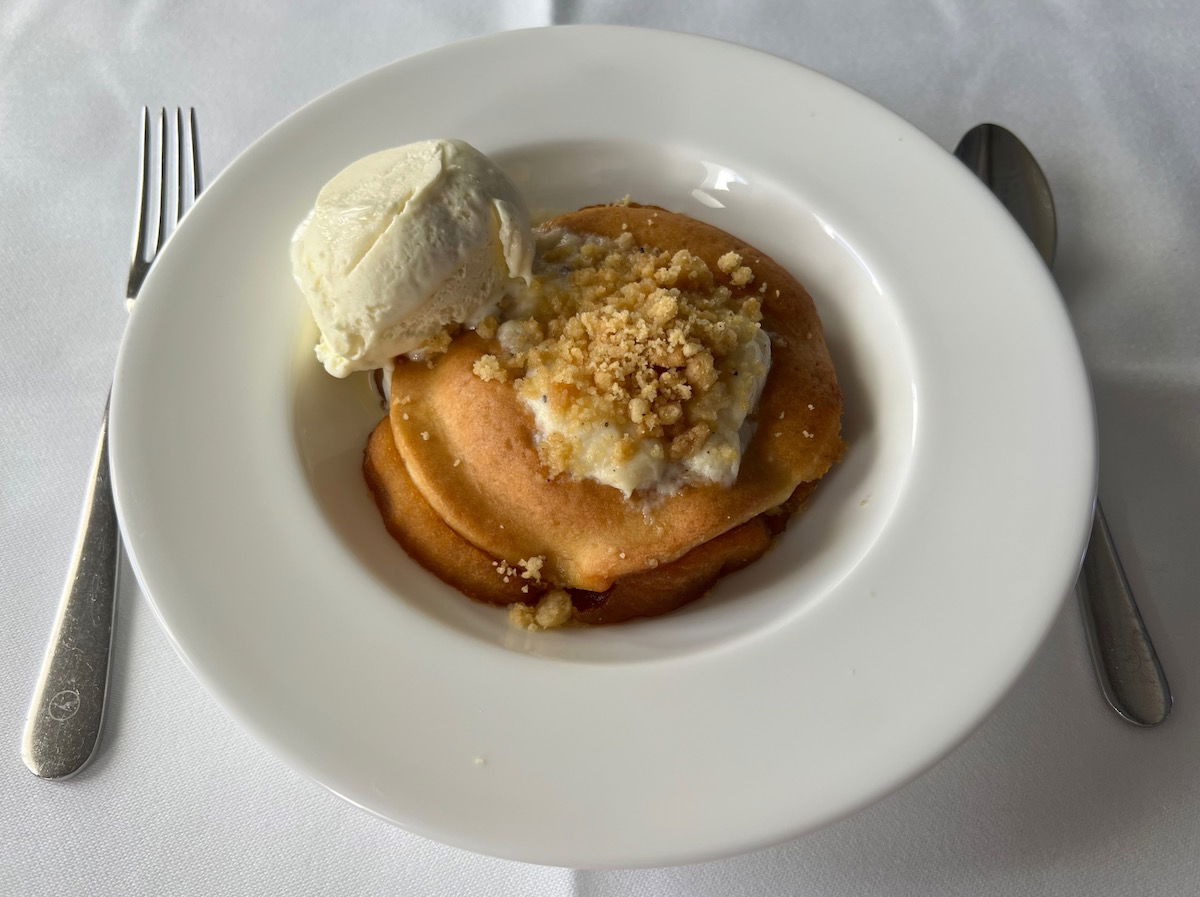 My dad had a cheese plate, which he enjoyed as well.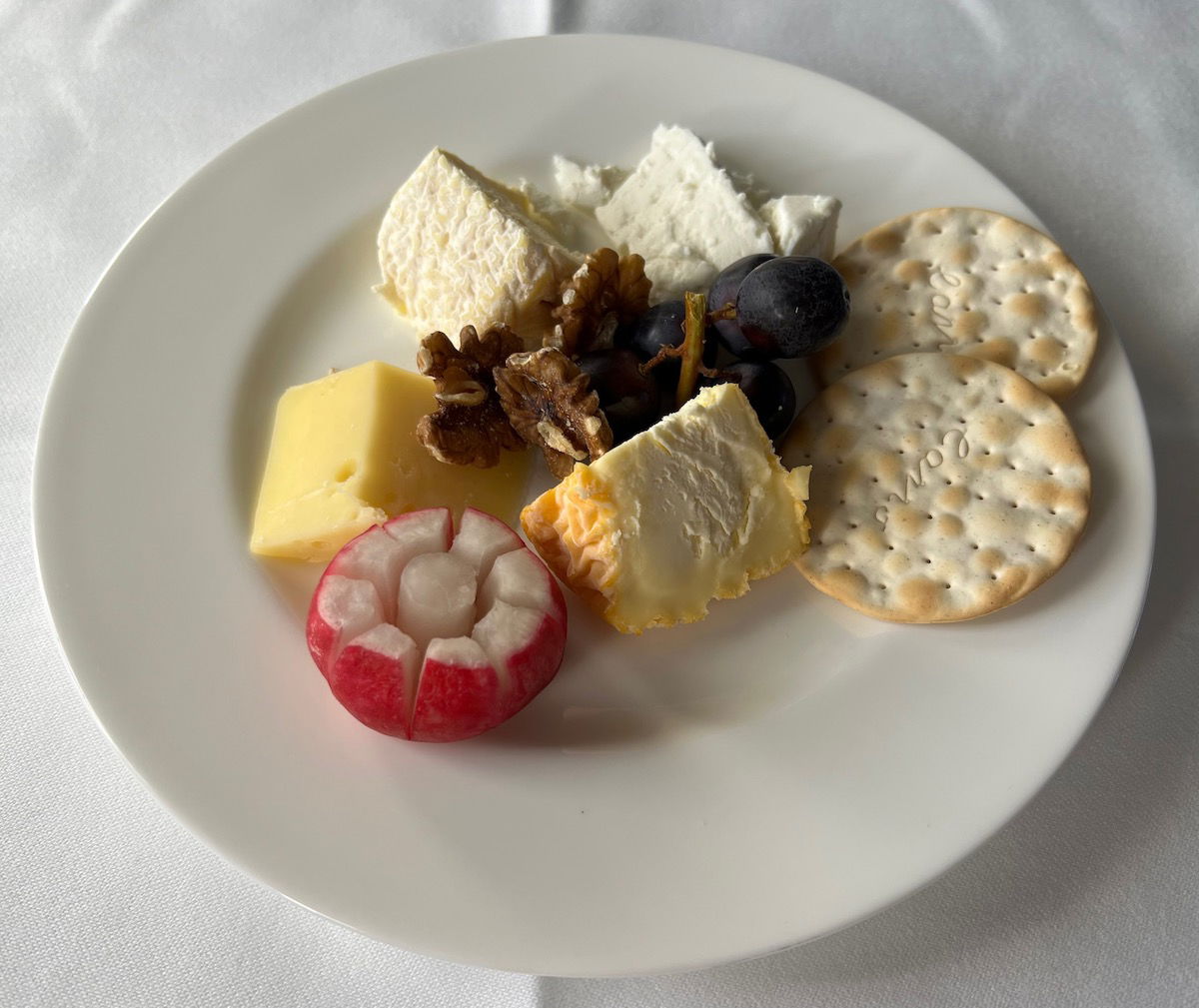 At the conclusion of the meal, the crew came around with a box of chocolates, and there was even a menu describing each option.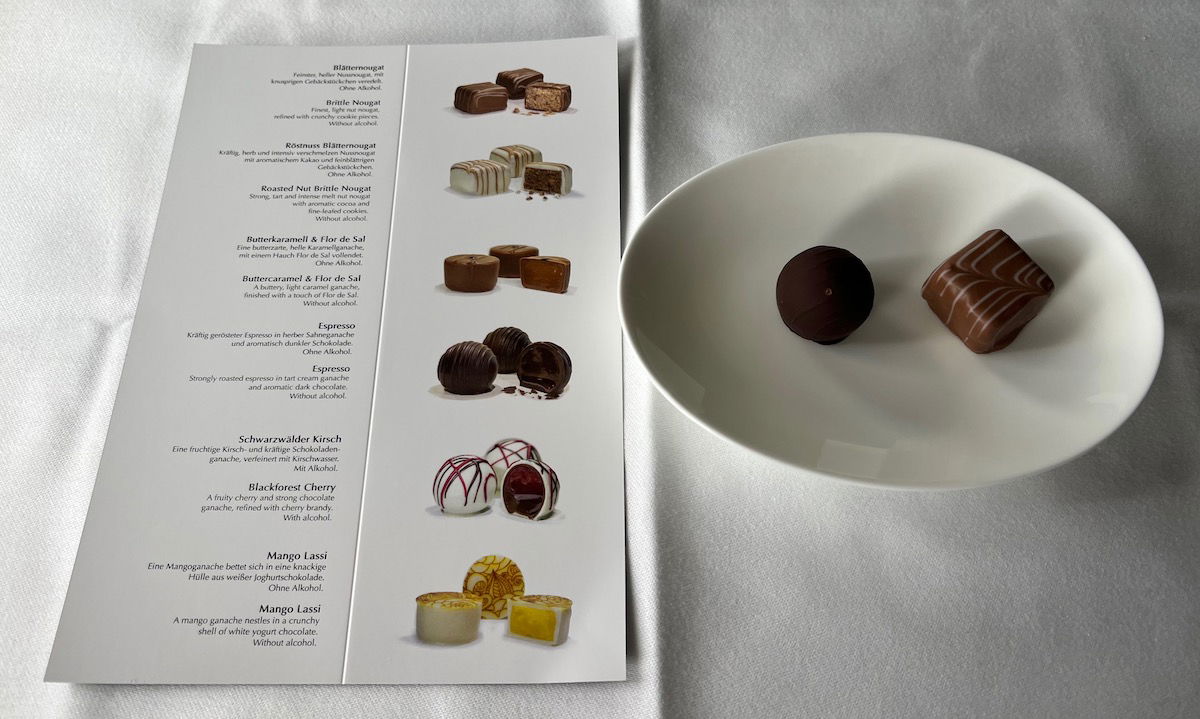 This was one of the better meals I've had in Lufthansa first class. Truth be told, Lufthansa's first class catering isn't particularly remarkable. Usually I just have caviar and some appetizers, and then skip the main. However, since we were all enjoying the flight, I figured I might as well indulge a bit.
Lufthansa A380 first class lavatories
One of the unique features of the Lufthansa Airbus A380 is its bathroom setup. The lavatories are located at the front of the upper deck, on each side of the staircase.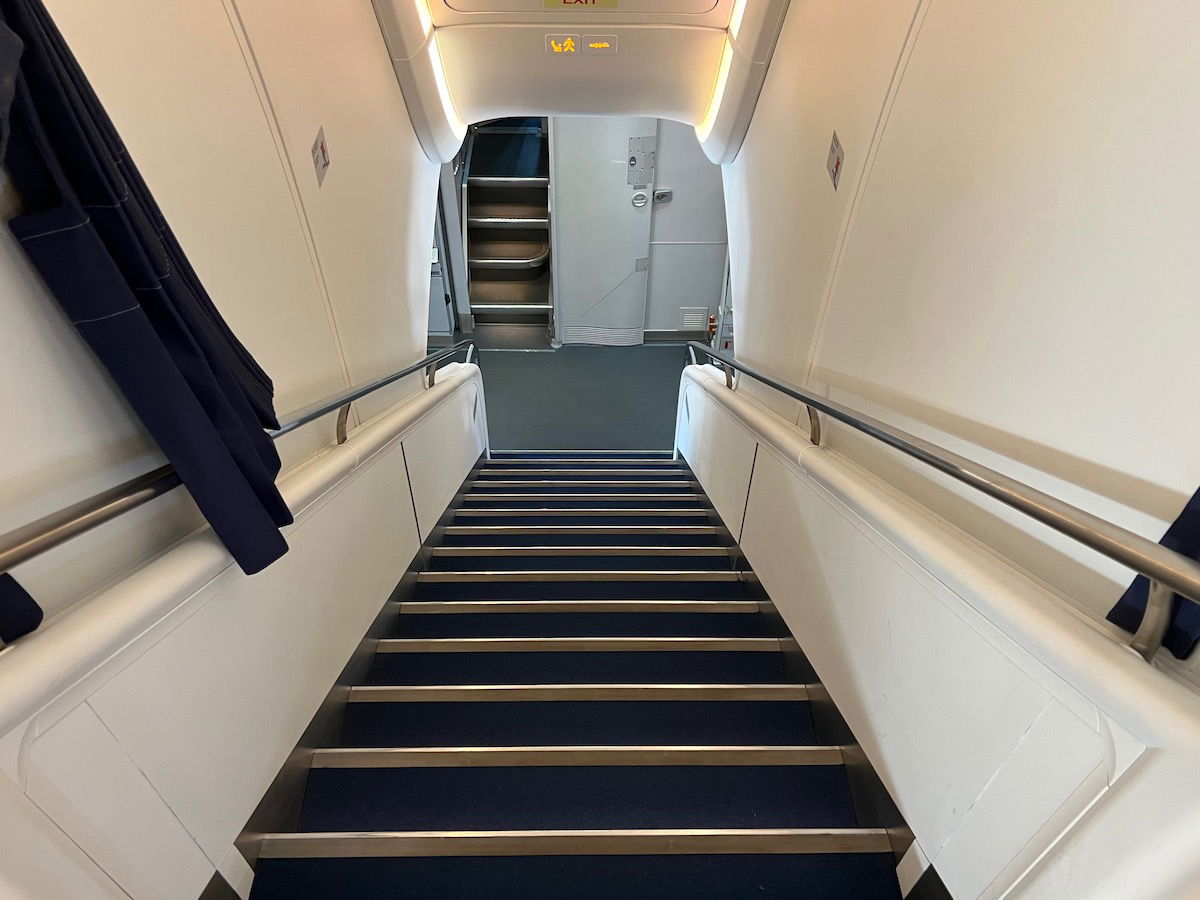 Speaking of the staircase, it's interesting how Lufthansa sets up a "gate" here during the flight. This probably makes sense, as I could picture someone not paying attention and then falling, which could lead to serious injury.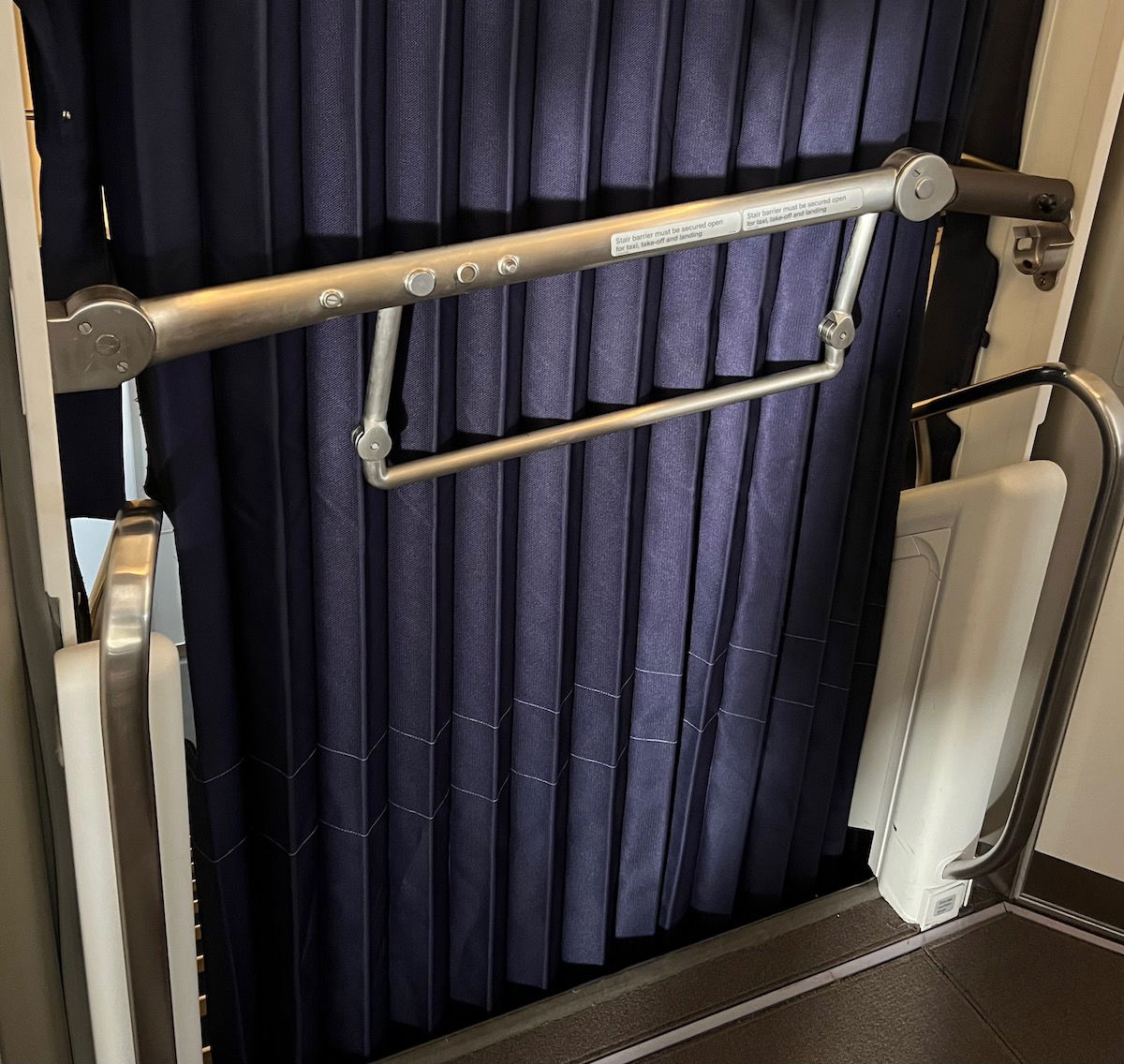 Lufthansa's two A380 first class lavatories are identical. While not to the level of the Emirates A380 shower suite, this is still a very spacious setup. The bathroom has a long bench that you can sit on, a toilet, and even a urinal, which you won't otherwise find on any other airline.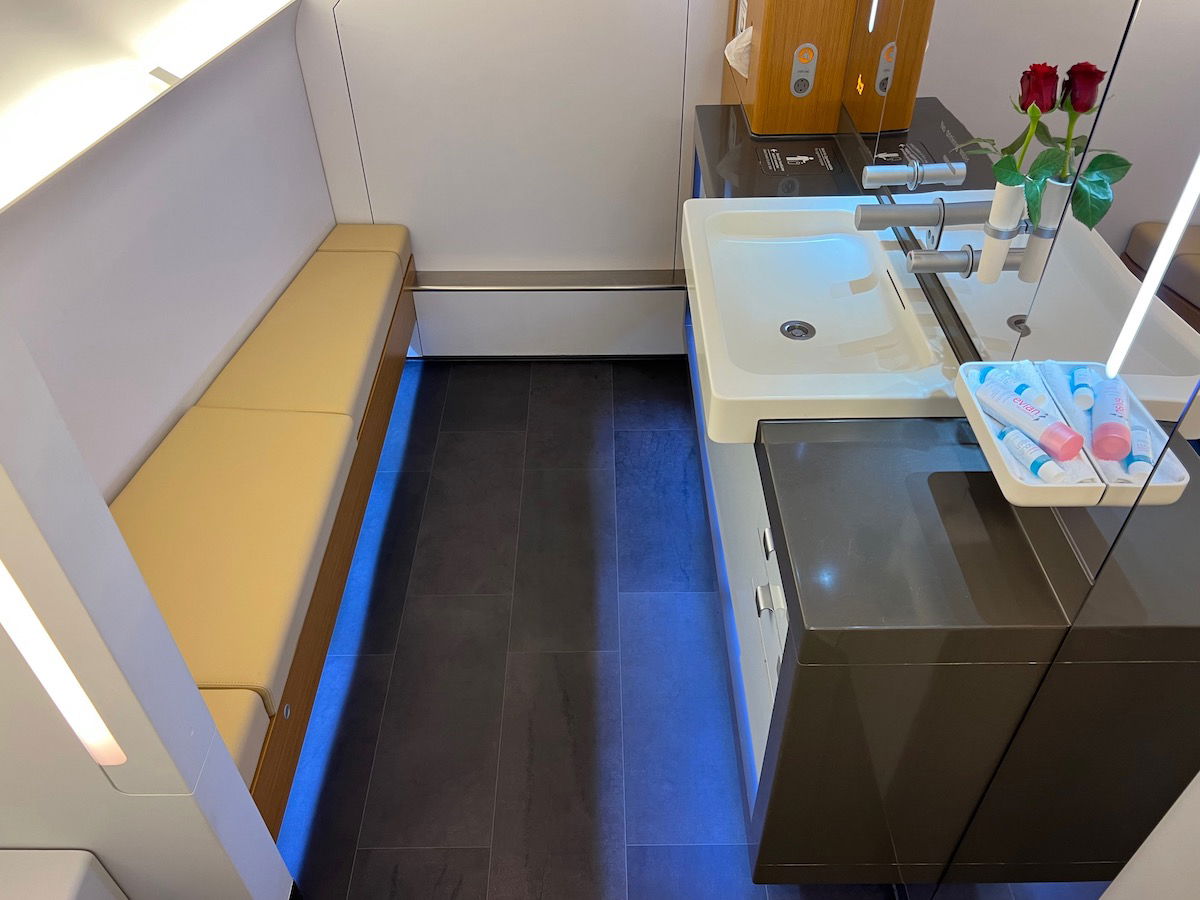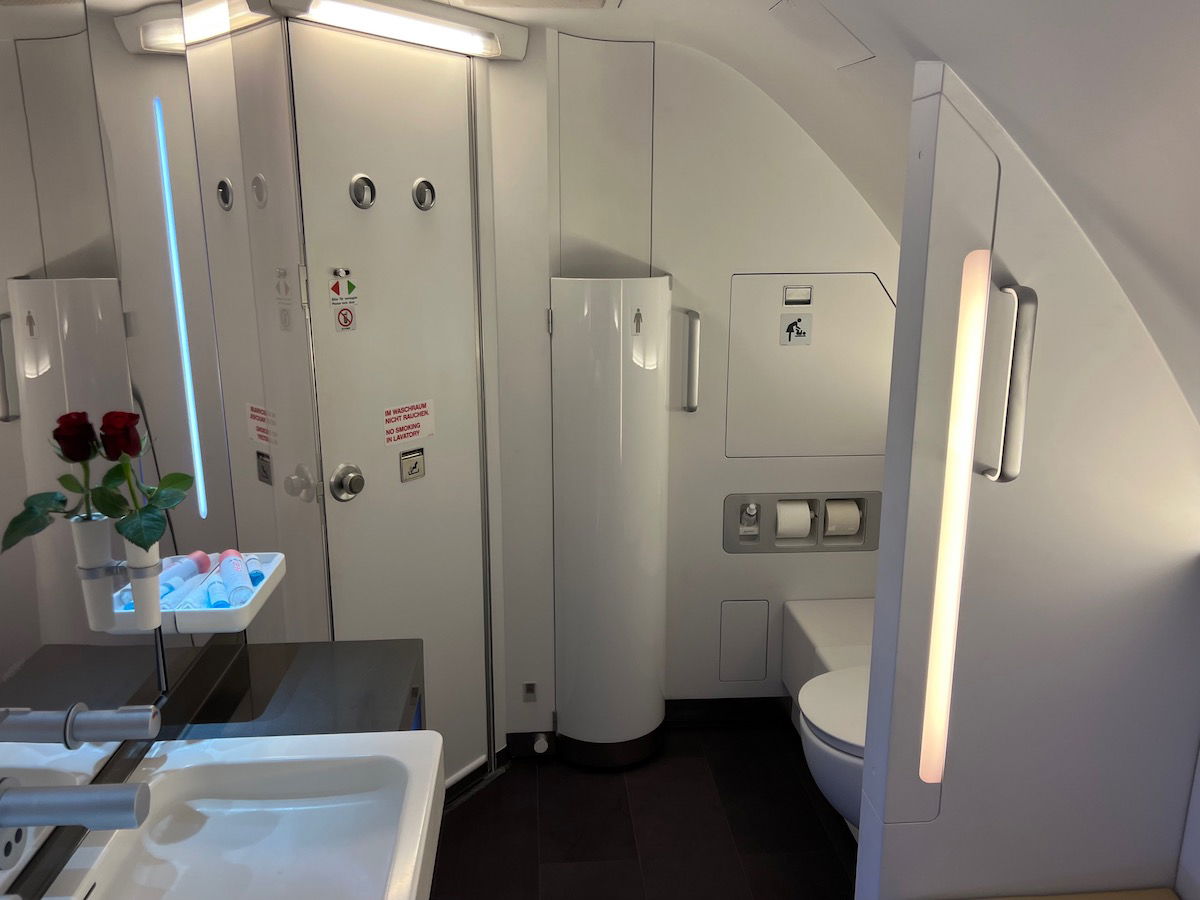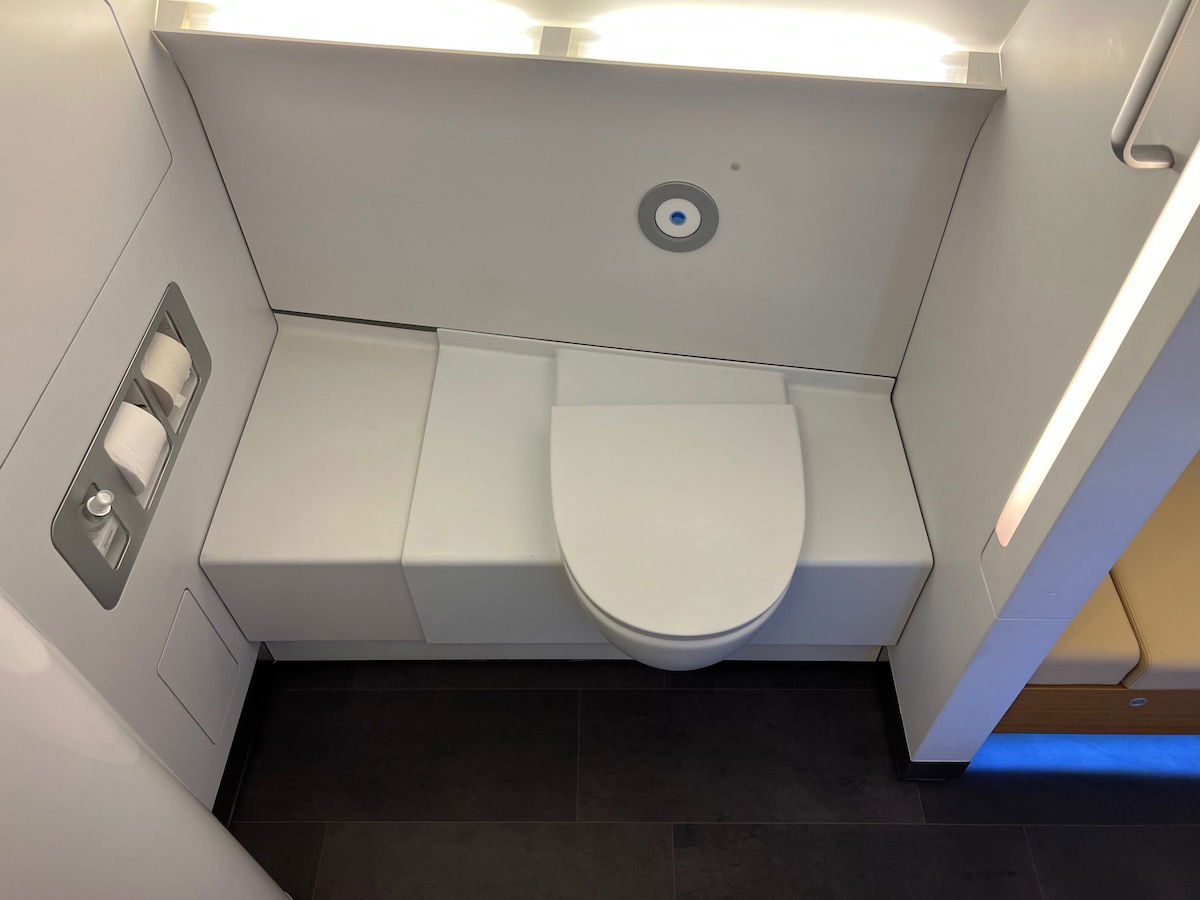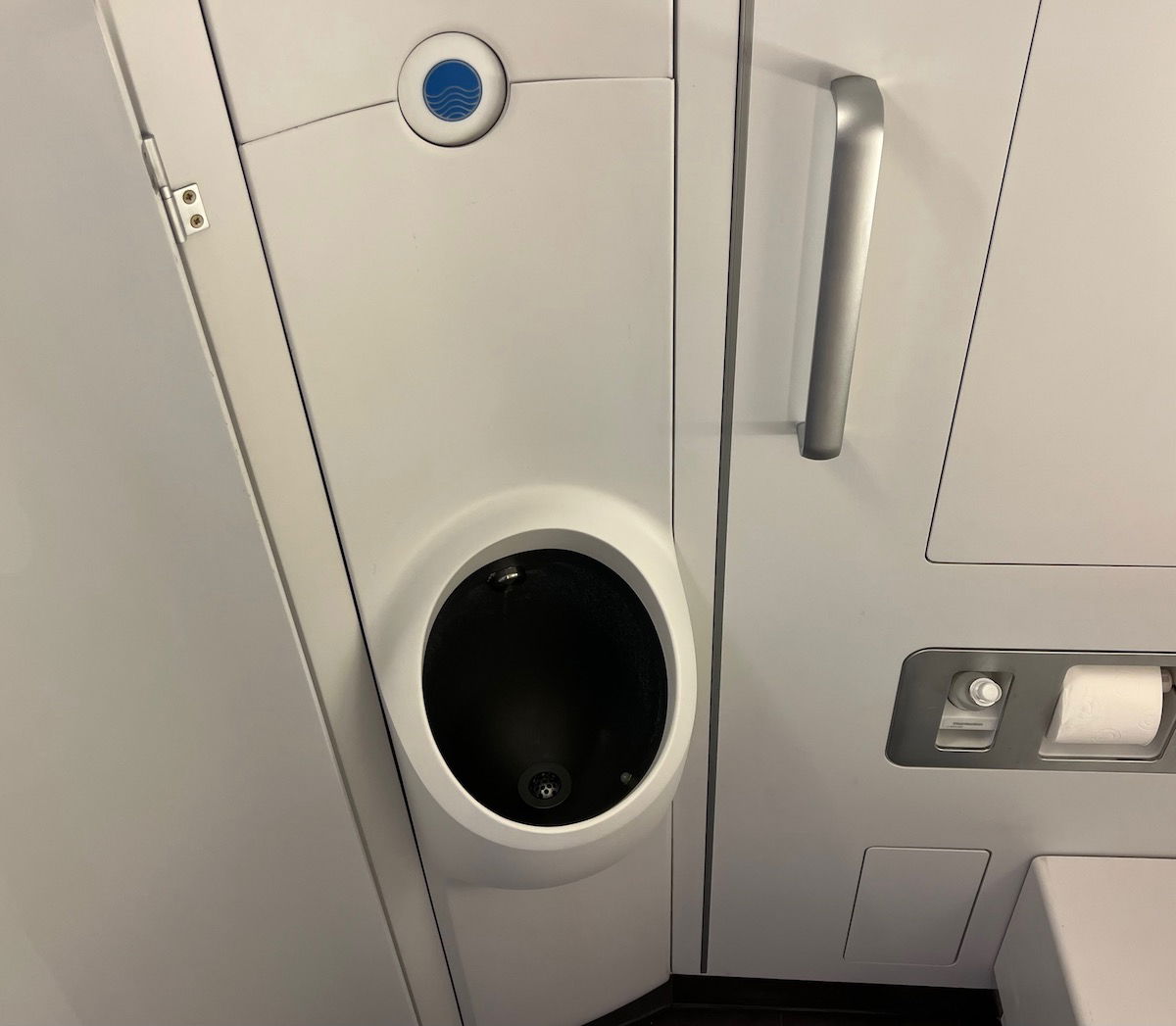 The lavatory is also stocked with a variety of amenities, ranging from facial spray, to refreshing towels, to combs, to shaving kits.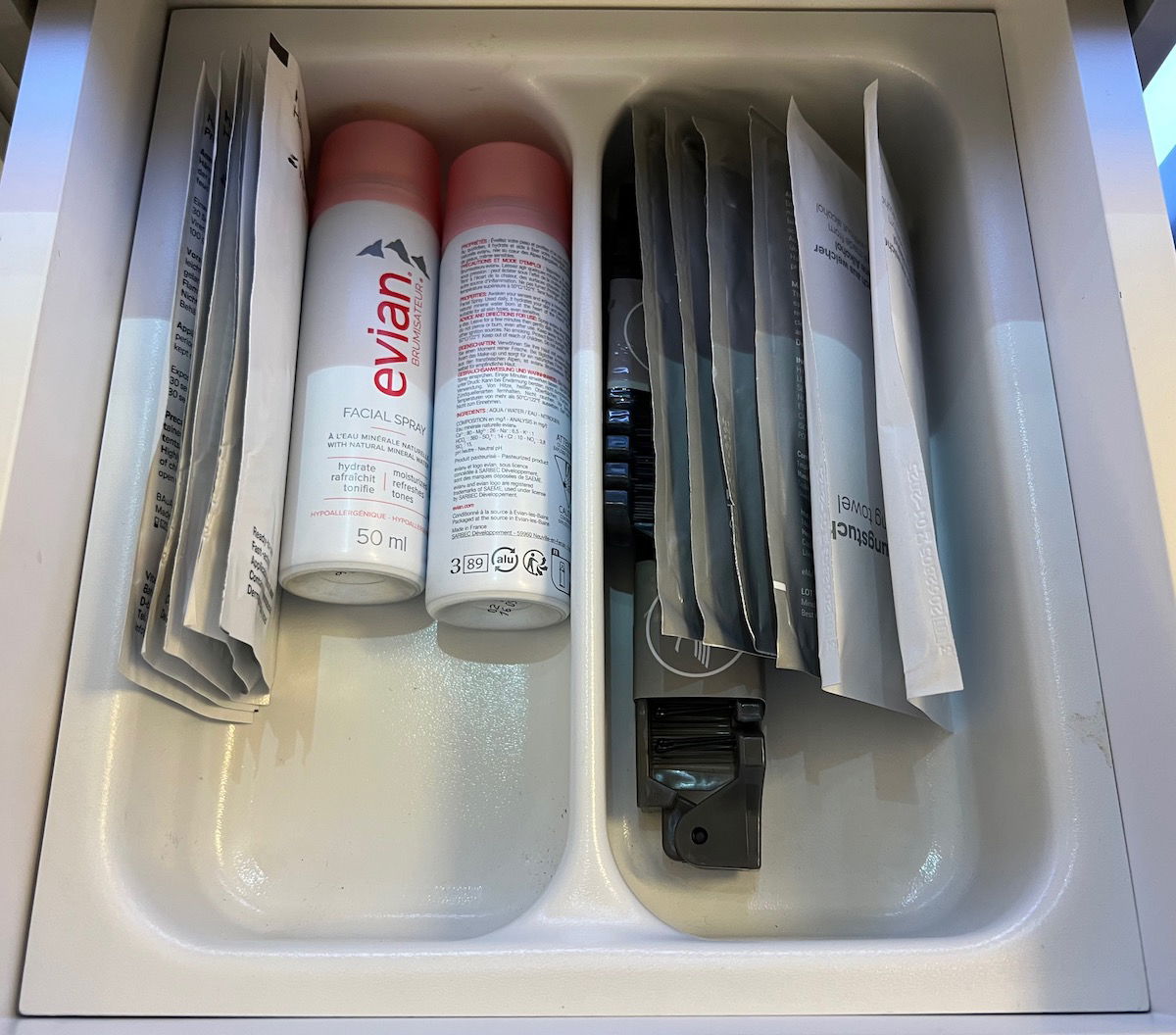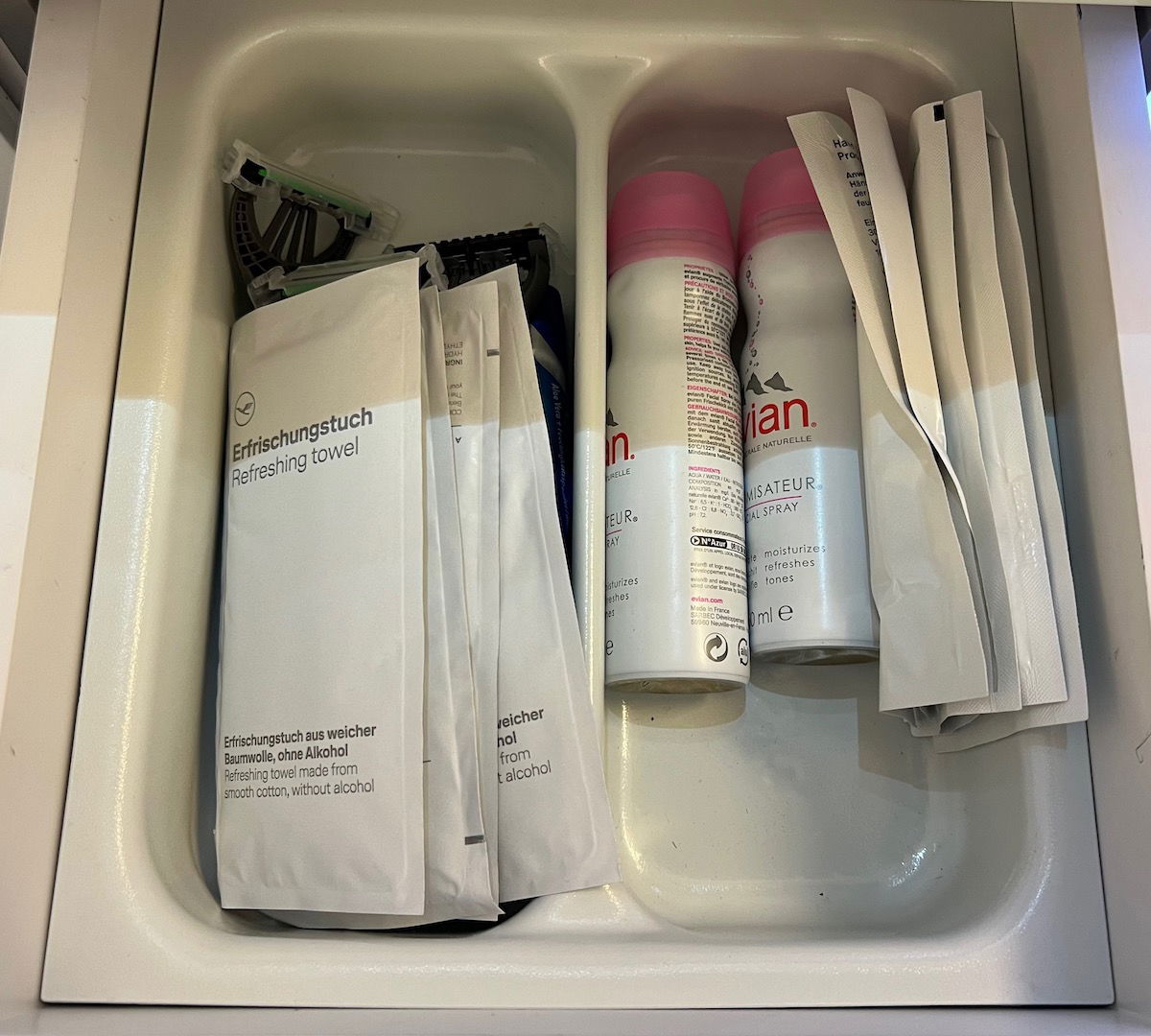 The lavatory also has proper towels, rather than just paper towels.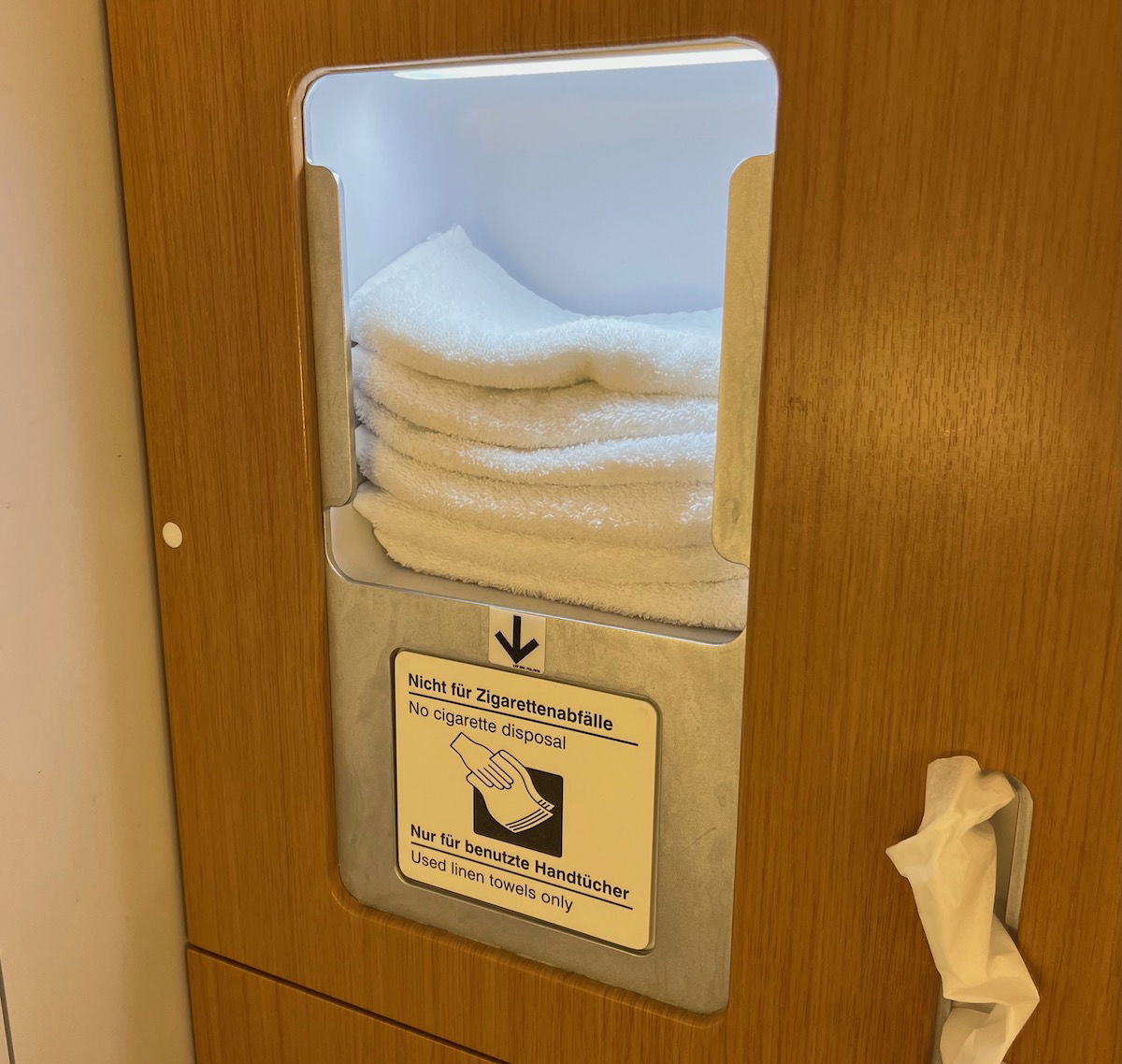 Lufthansa A380 first class bed
At the conclusion of the meal, we asked the crew to make all of our beds, which was promptly taken care of. For all of the shortcoming of Lufthansa's first class hard product, I find the beds to be extremely comfortable, especially thanks to the great mattress pad and duvet.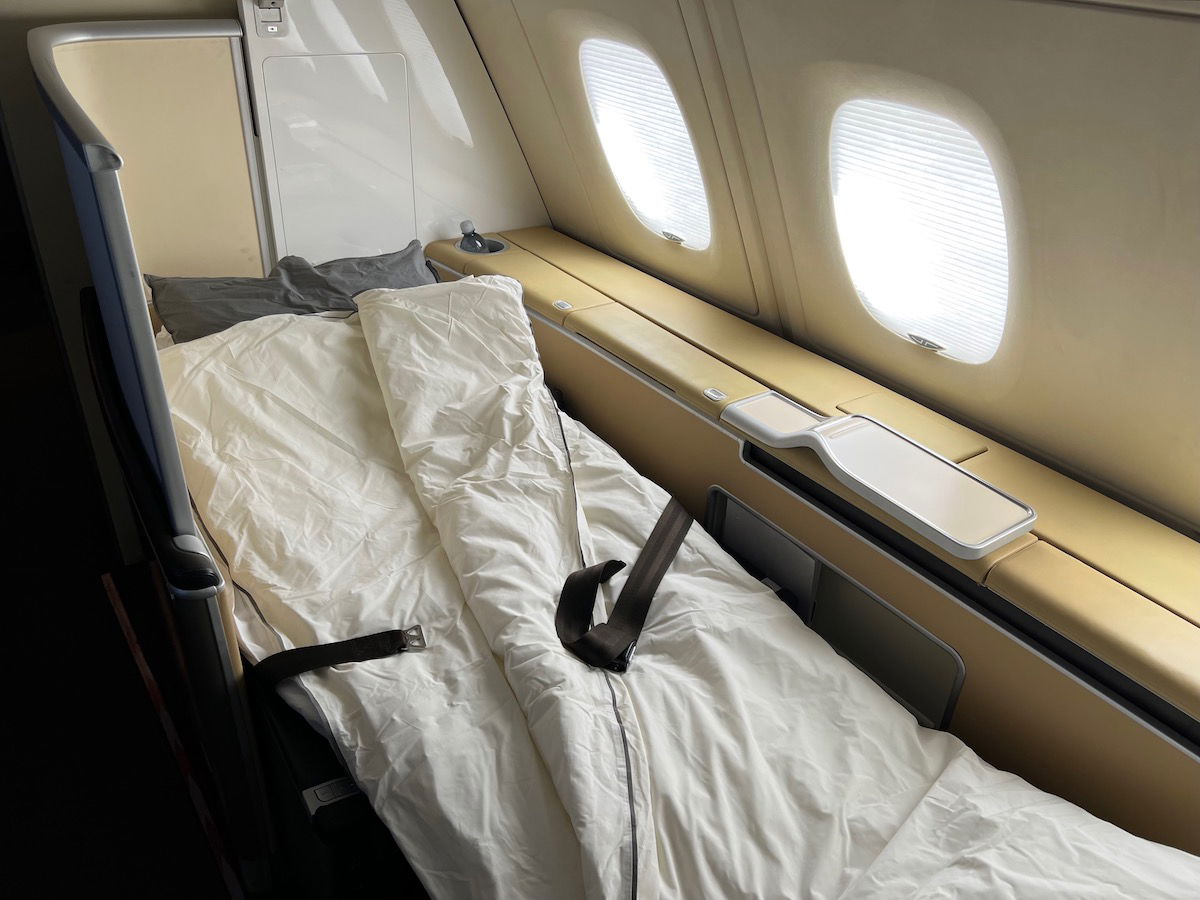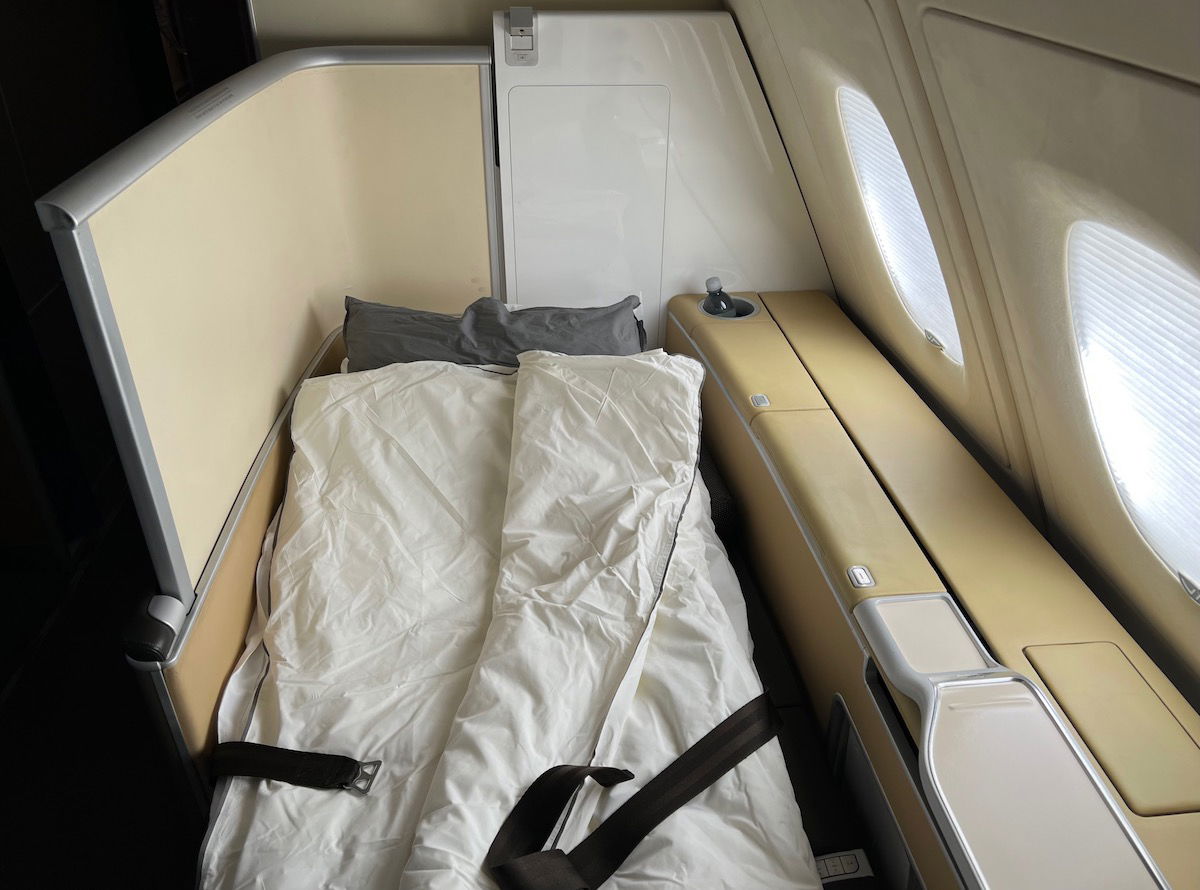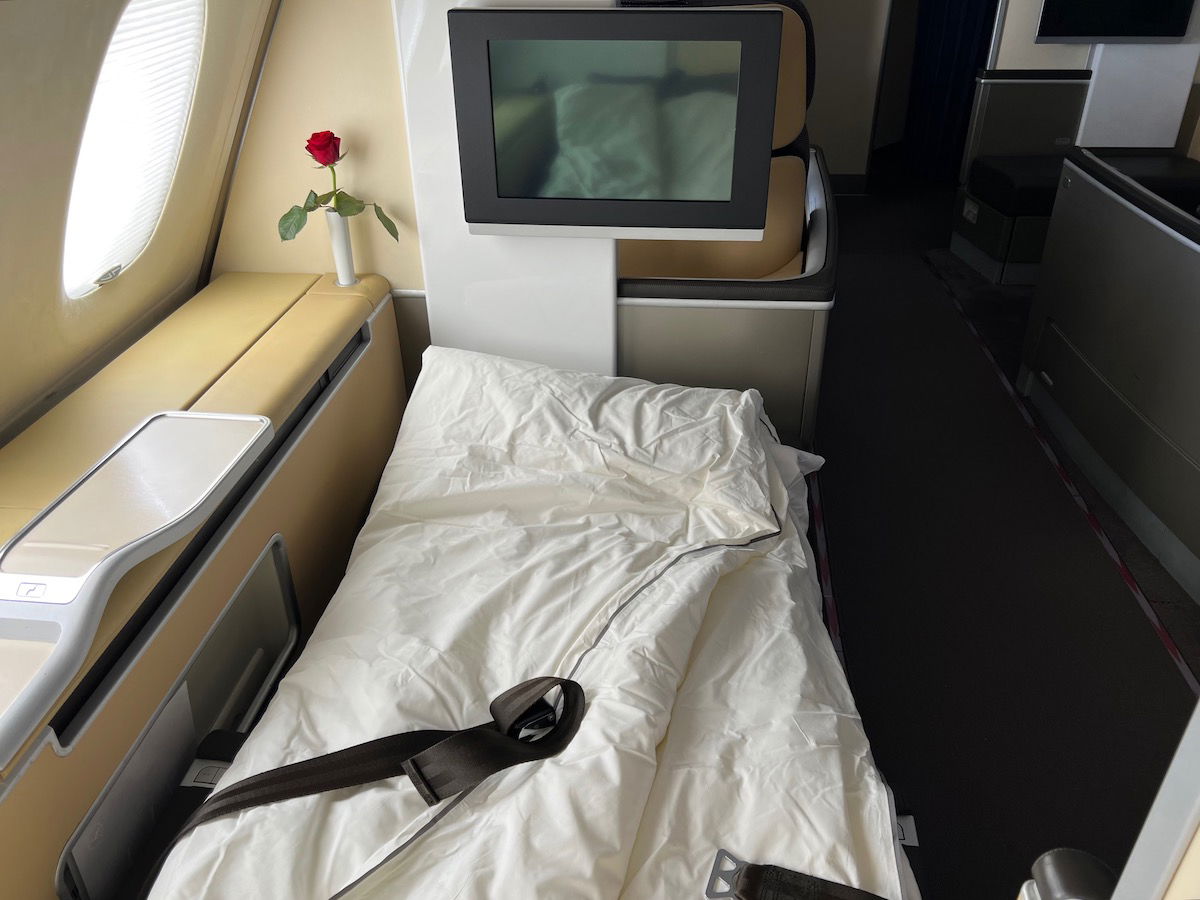 I ended up going to sleep with just under 4hr30min remaining to Boston…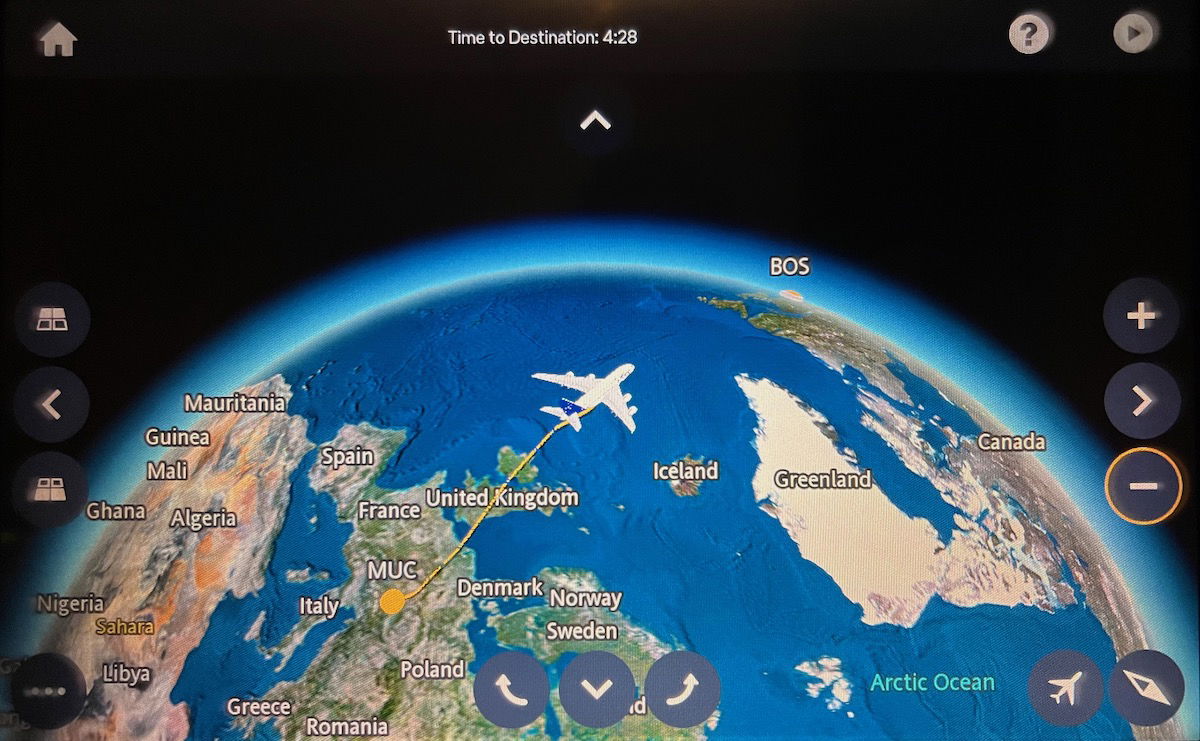 …and woke up with just over two hours remaining to Boston.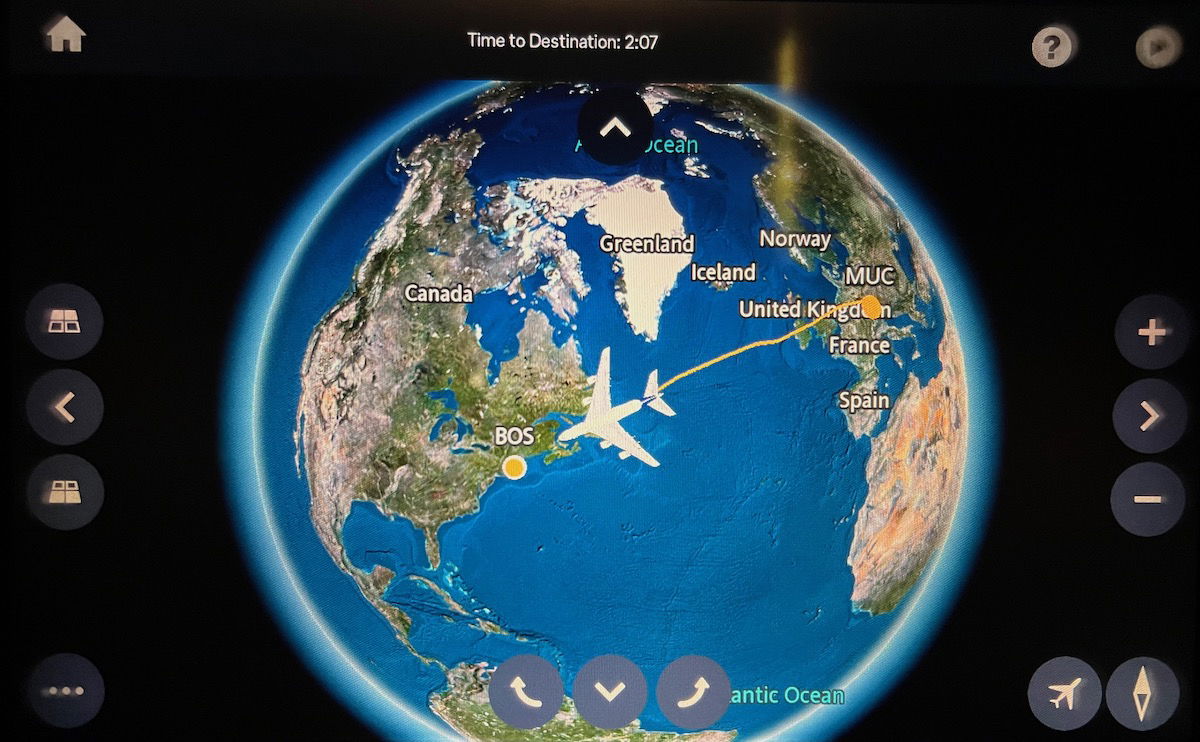 Lufthansa first class pre-arrival snack
After waking up, I needed some caffeine, so I asked the crew for a cappuccino, which was promptly served, along with a chocolate.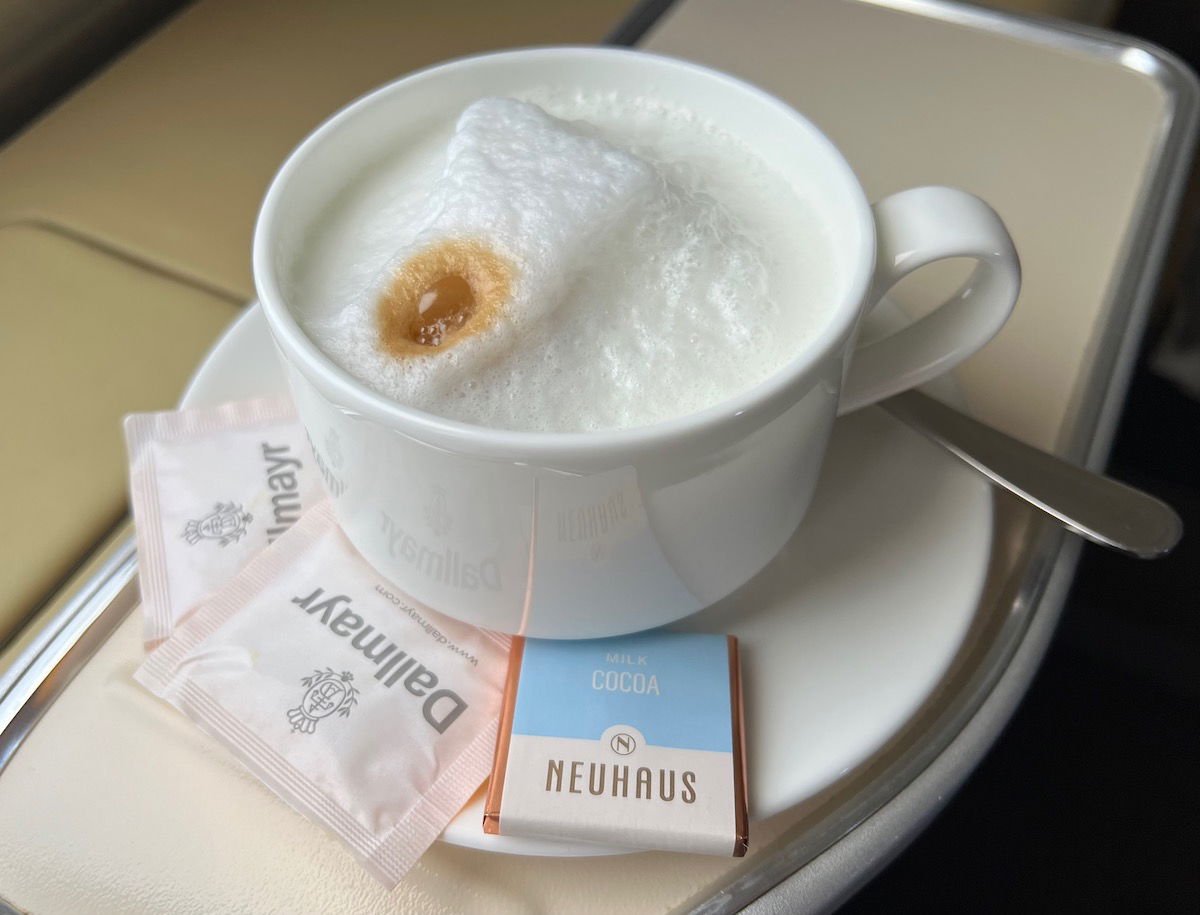 Lufthansa has a flexible pre-arrival snack concept in first class, so you can order this whenever you'd like. We ended up having our pre-landing snack around 90 minutes before landing. You can find the menu below.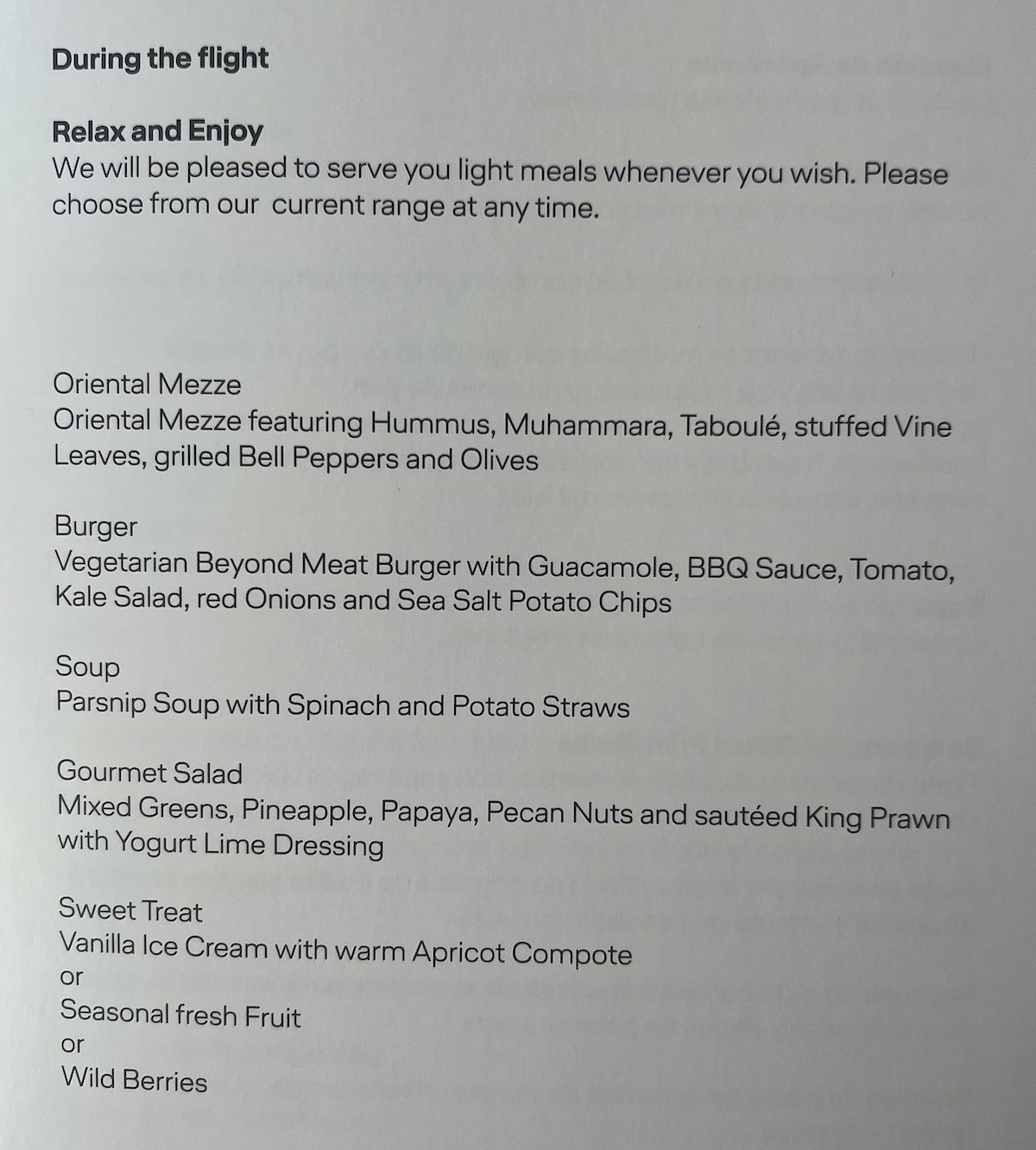 I decided to order the veggie burger, which was served with guacamole, barbecue sauce, tomato, red onions, kale, and potato chips. This dish was extremely well executed, since it's clear all the ingredients were plated onboard prior to being served. This was in a totally different league than United's underwhelming first class cheeseburger.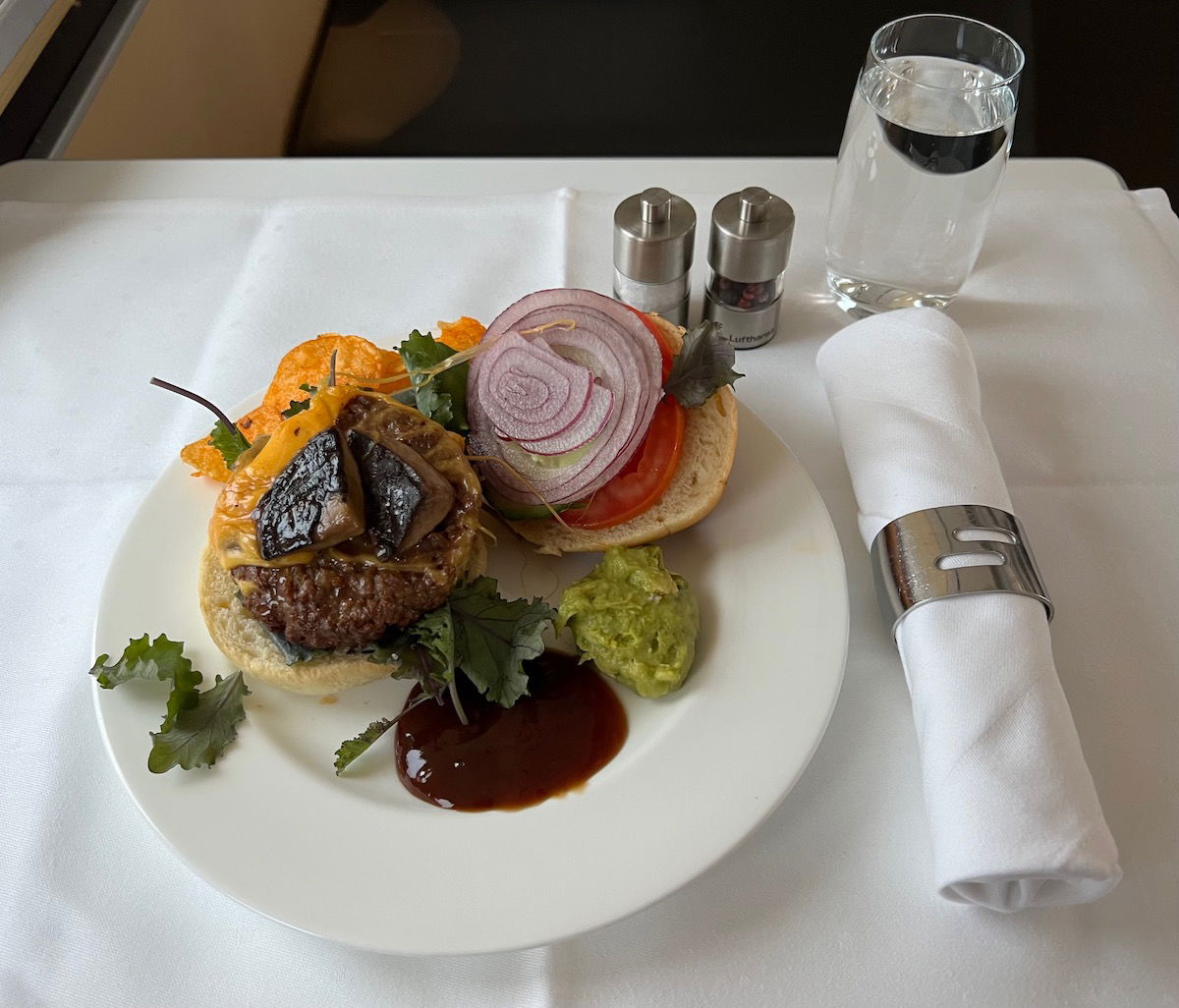 My mom decided to have the gourmet salad with mixed greens, pineapple, papaya, pecan nuts, and king prawns, with a yogurt lime dressing. She enjoyed this, and it was a nice, light option.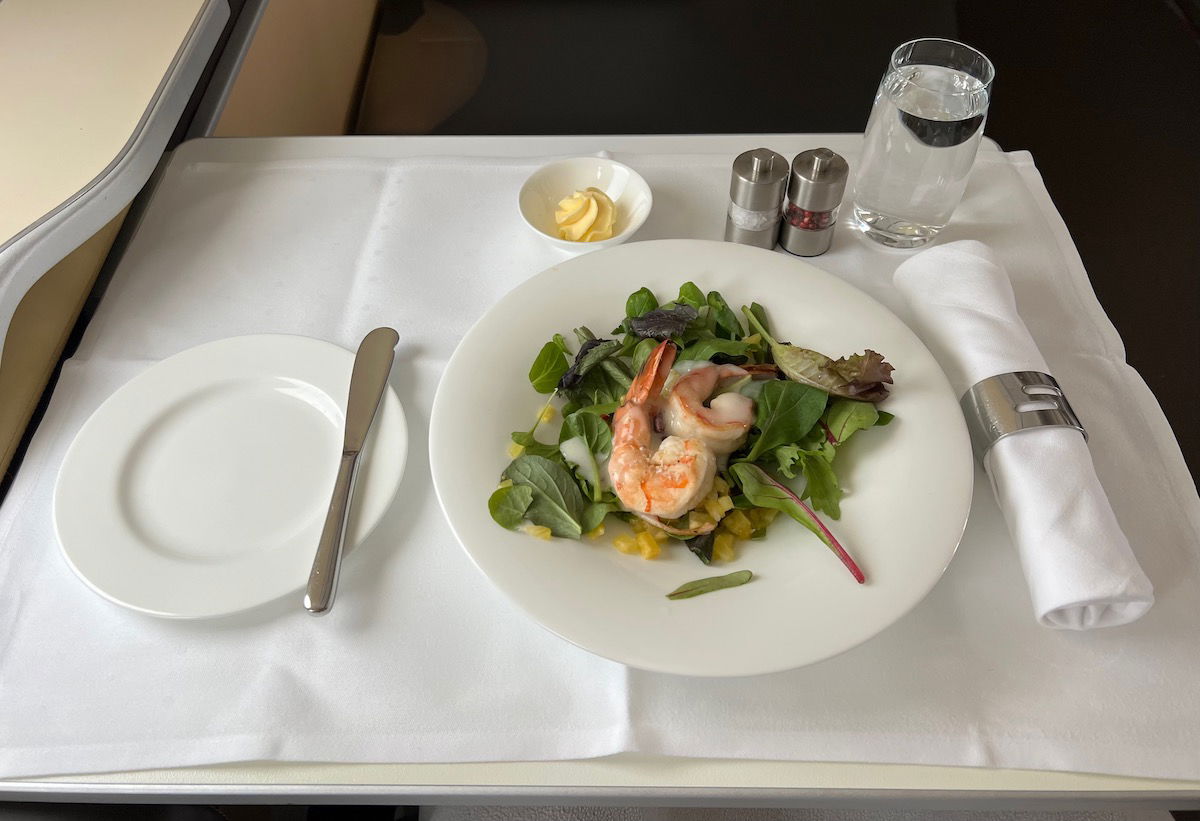 At the conclusion of the meal, I ordered a cup of drip coffee. I feel like almost nothing about the Lufthansa first class experience has changed in so long… except these mugs! They're new (as far as I know), and a huge improvement, since they can hold a decent amount of coffee without spilling.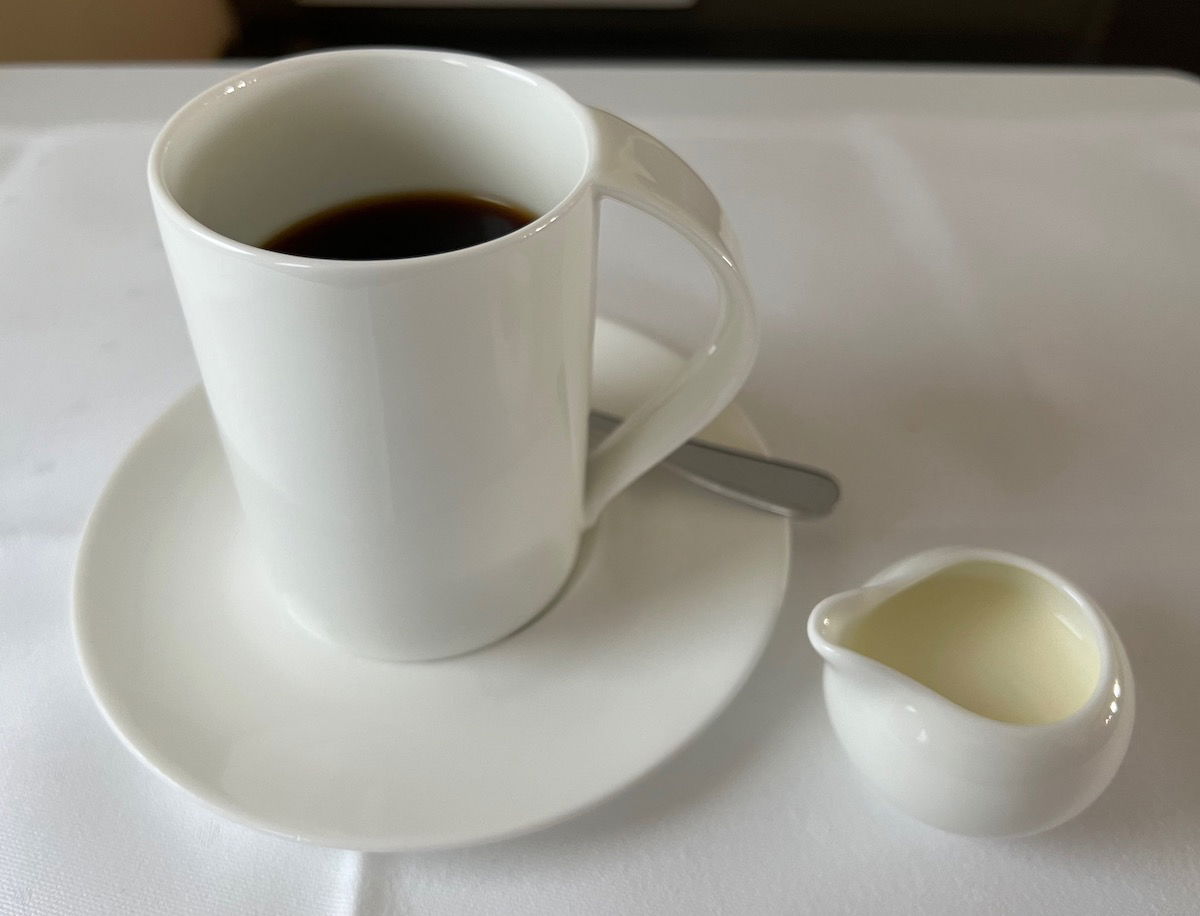 Lufthansa first class service
I find that service in Lufthansa first class can range from fine to exceptional. The crews are always professional and respectful, the question is just how engaging, attentive, and friendly they are. The two ladies working first class on this flight were total superstars, and I'm so grateful for how nice they made this flight for us.
On some level, I imagine they were feeding off of our energy. We were all having fun together and were obviously excited to all be traveling together, and the crew wanted to make that special for us. So huge shoutout to this exceptional crew, and I hope I get to fly with them again (though I can't imagine the next flight will be as fun as this one).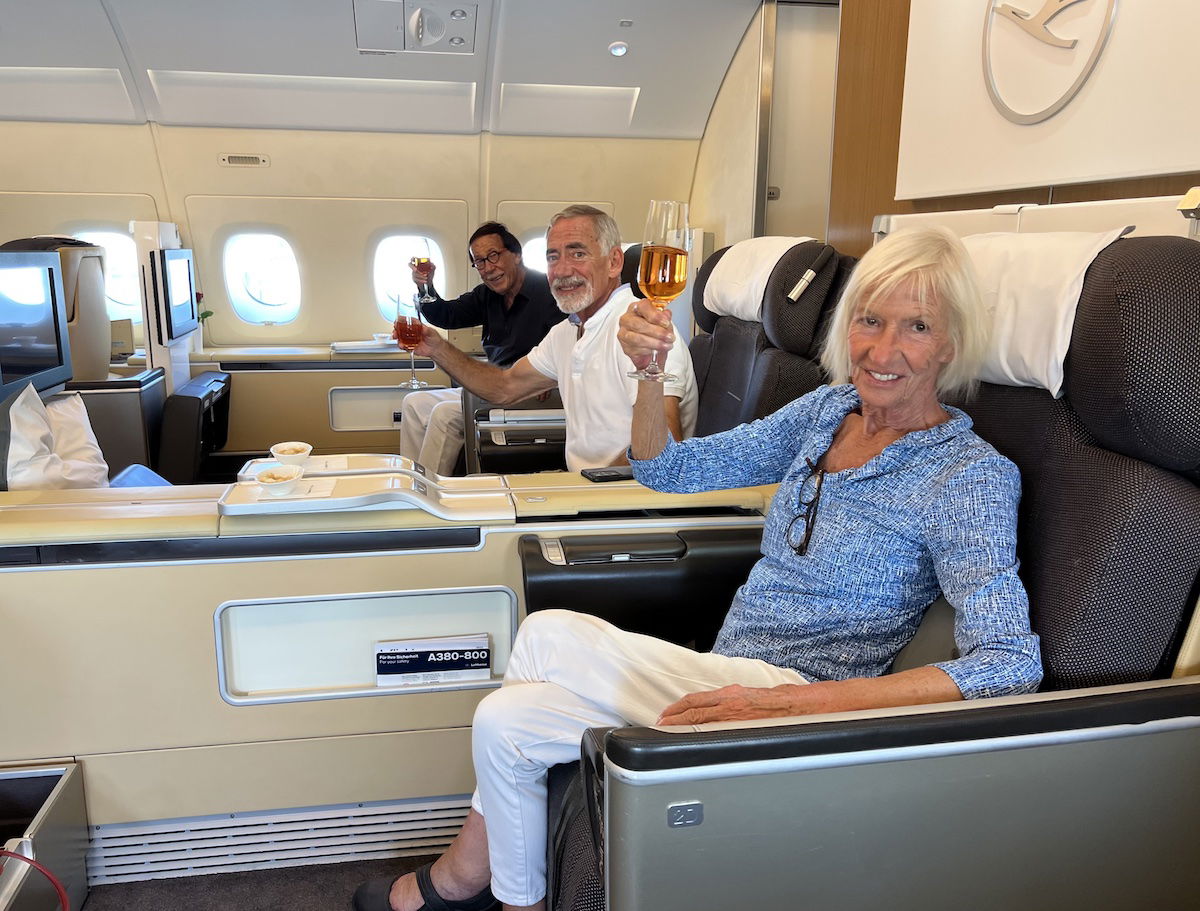 Lufthansa A380 arrival in Boston
At 5:25PM Boston time, the first officer announced that we'd be landing in about 40 minutes, and would be starting our descent soon. At this point I changed back into my regular clothes and stowed my bags, and watched the tail camera for the entire descent.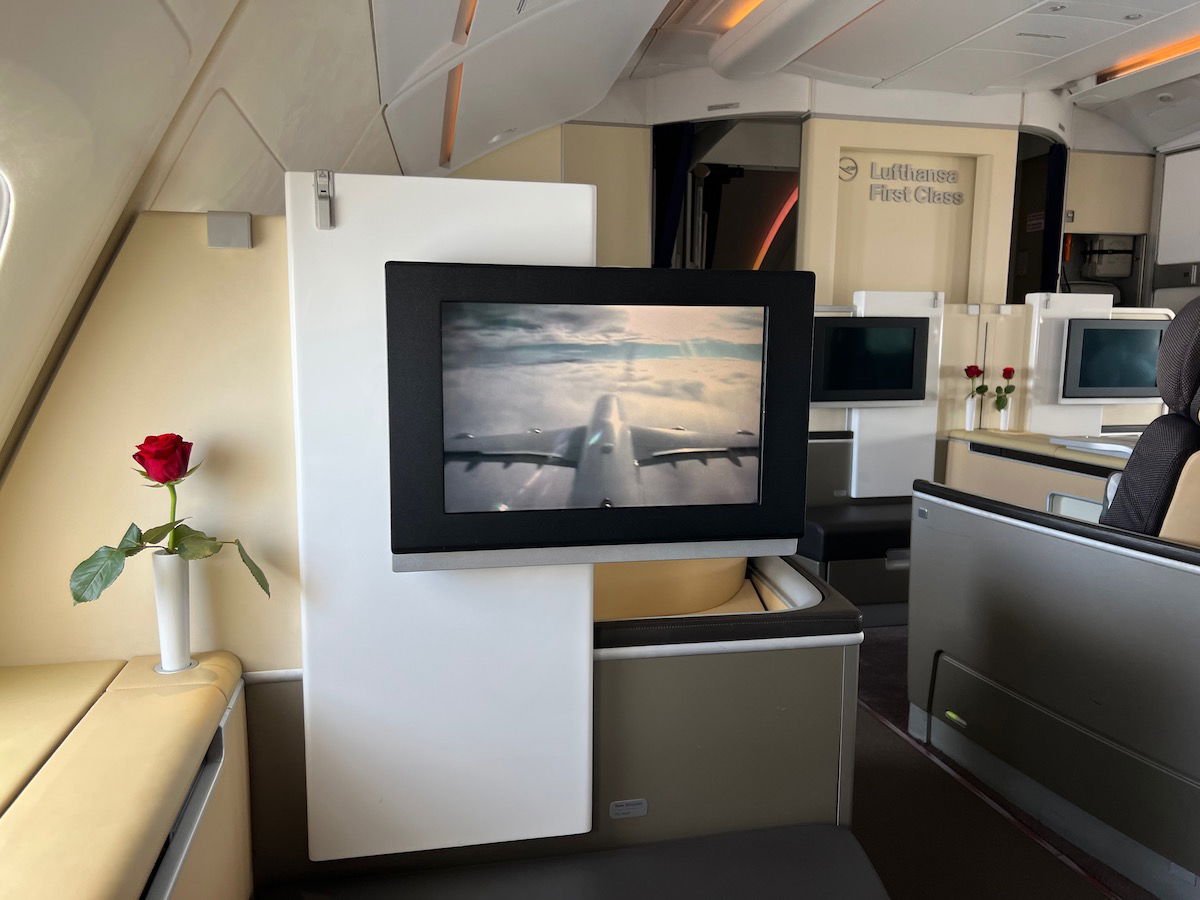 The seatbelt sign was turned on about 15 minutes before landing.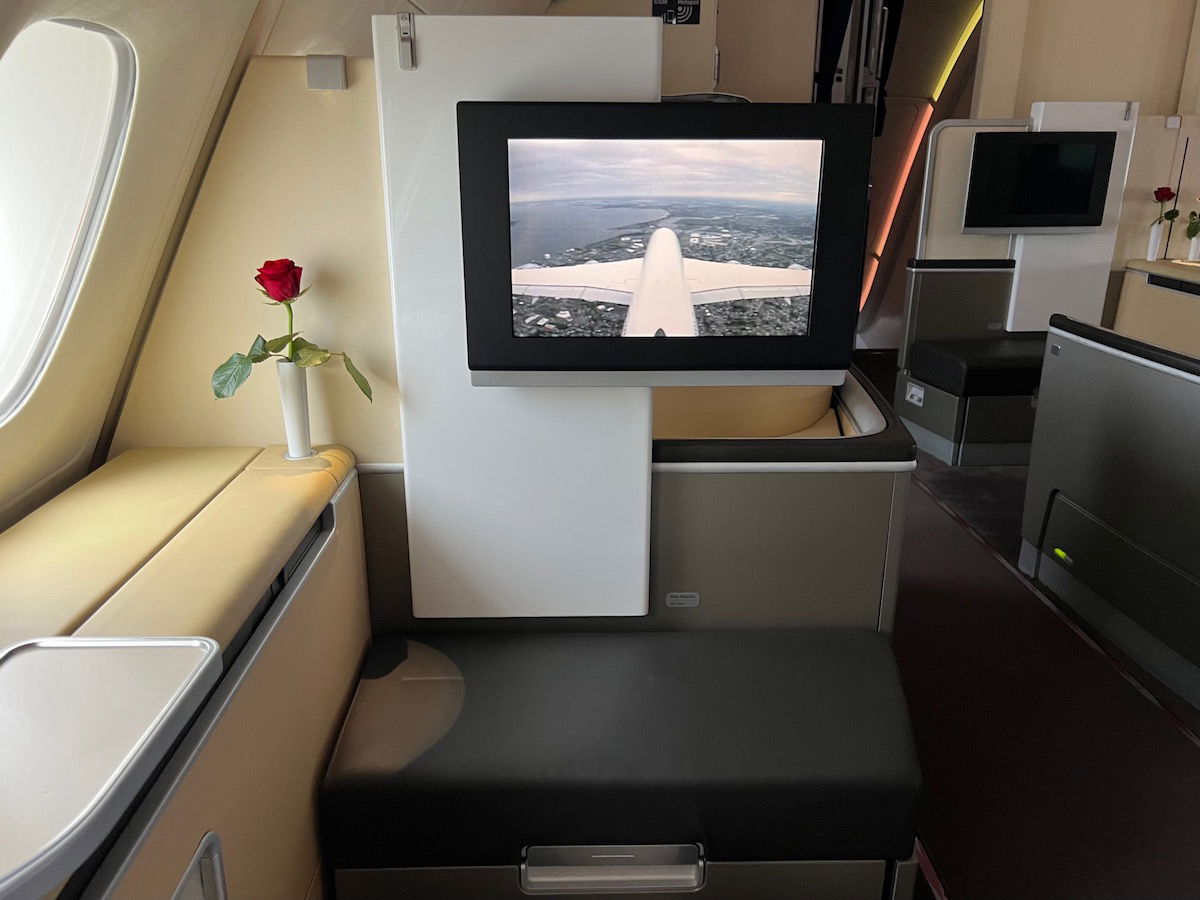 Despite some pretty cloudy and windy conditions, the pilots executed a perfectly smooth touchdown in Boston at 6:05PM.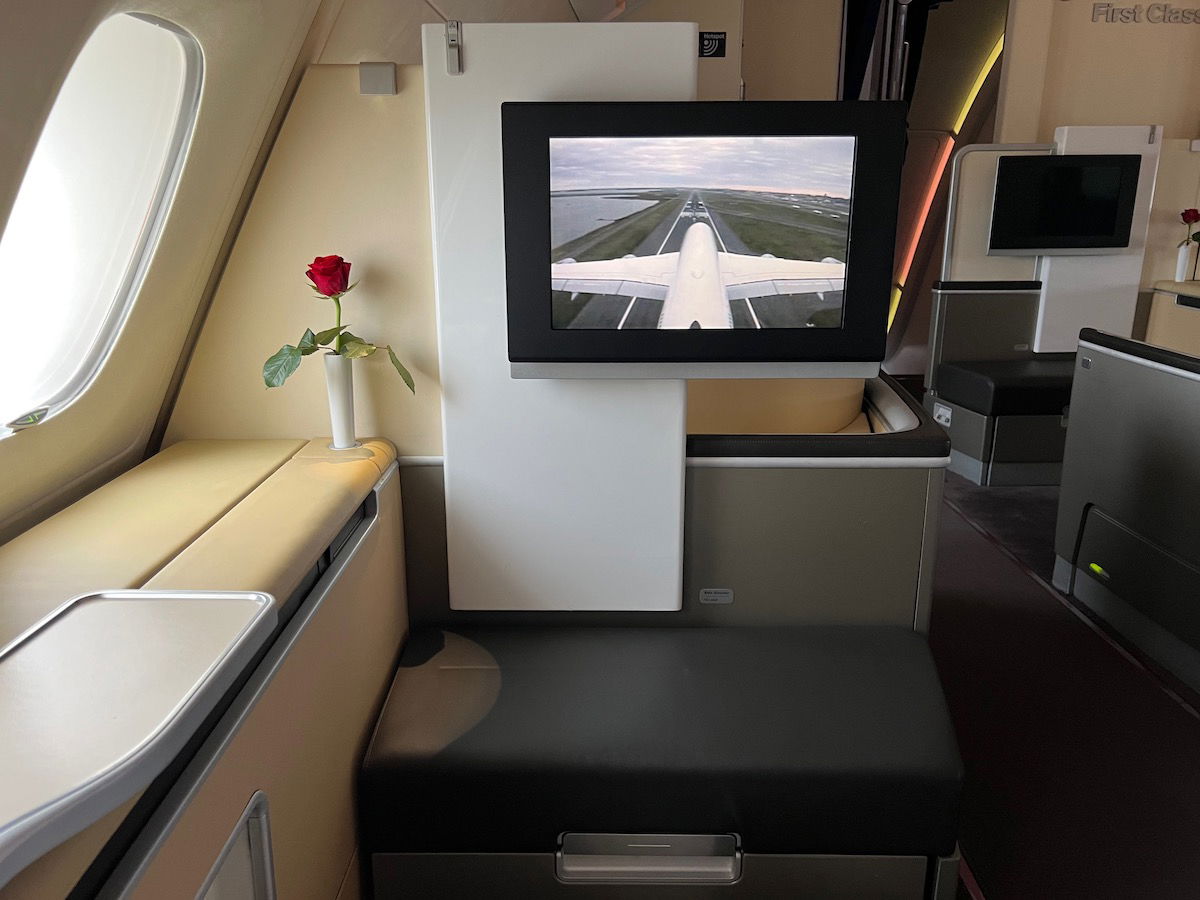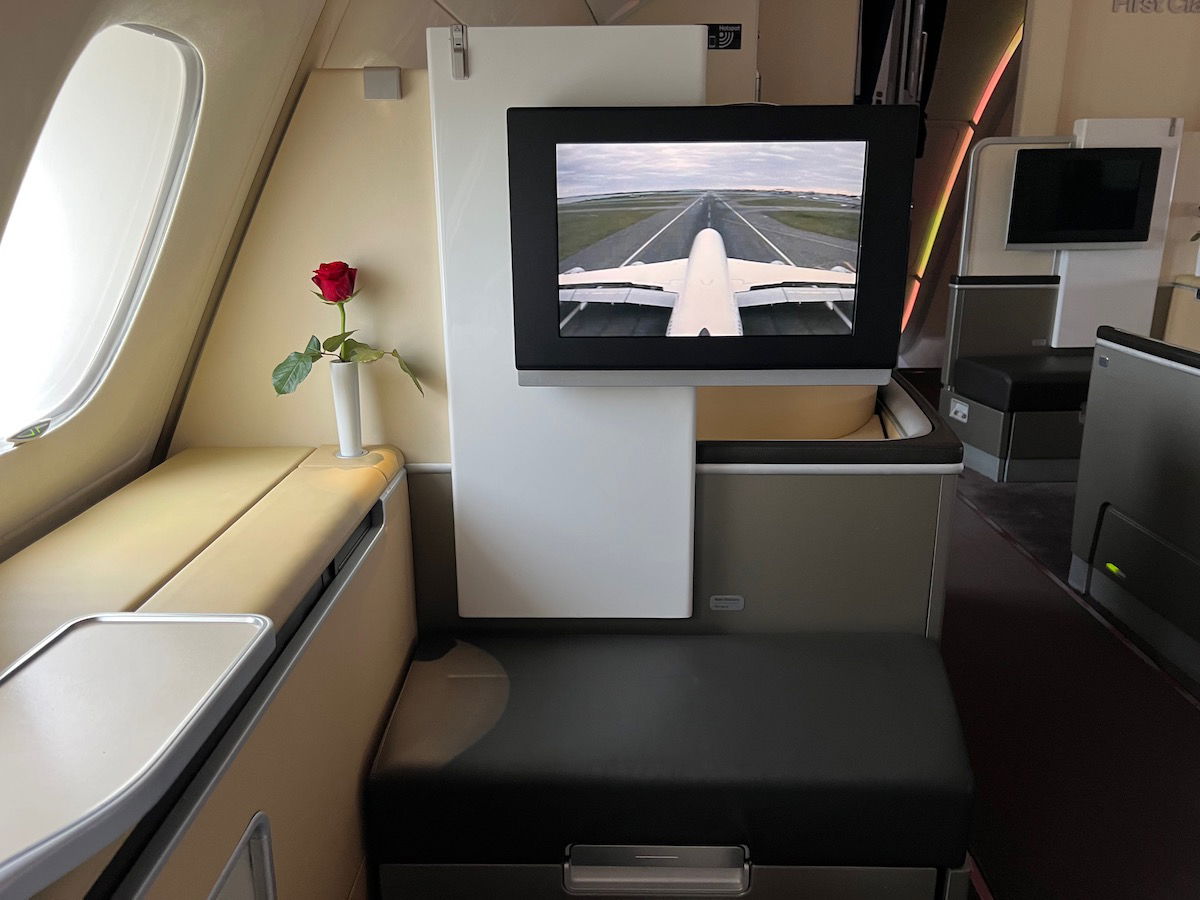 Due to construction at Boston Logan Airport, we had a considerable delay getting to the gate. The taxiways were basically like a parking lot. 10 minutes after landing, the captain came on the PA to explain that roughly 10 airplanes would have to get out of our way before we could get to the gate, and it would likely be another 20 minutes or so.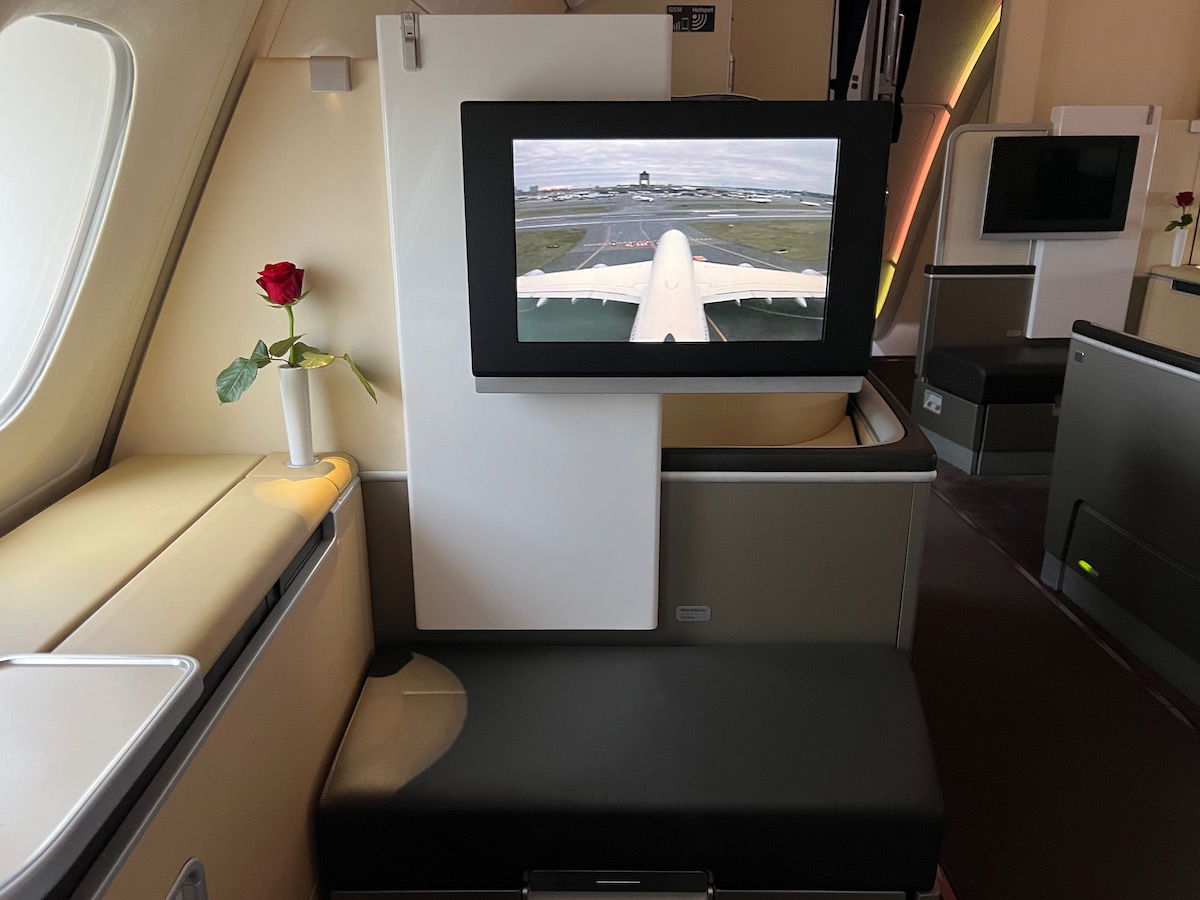 Finally at 6:35PM we arrived at our gate, about 45 minutes behind schedule.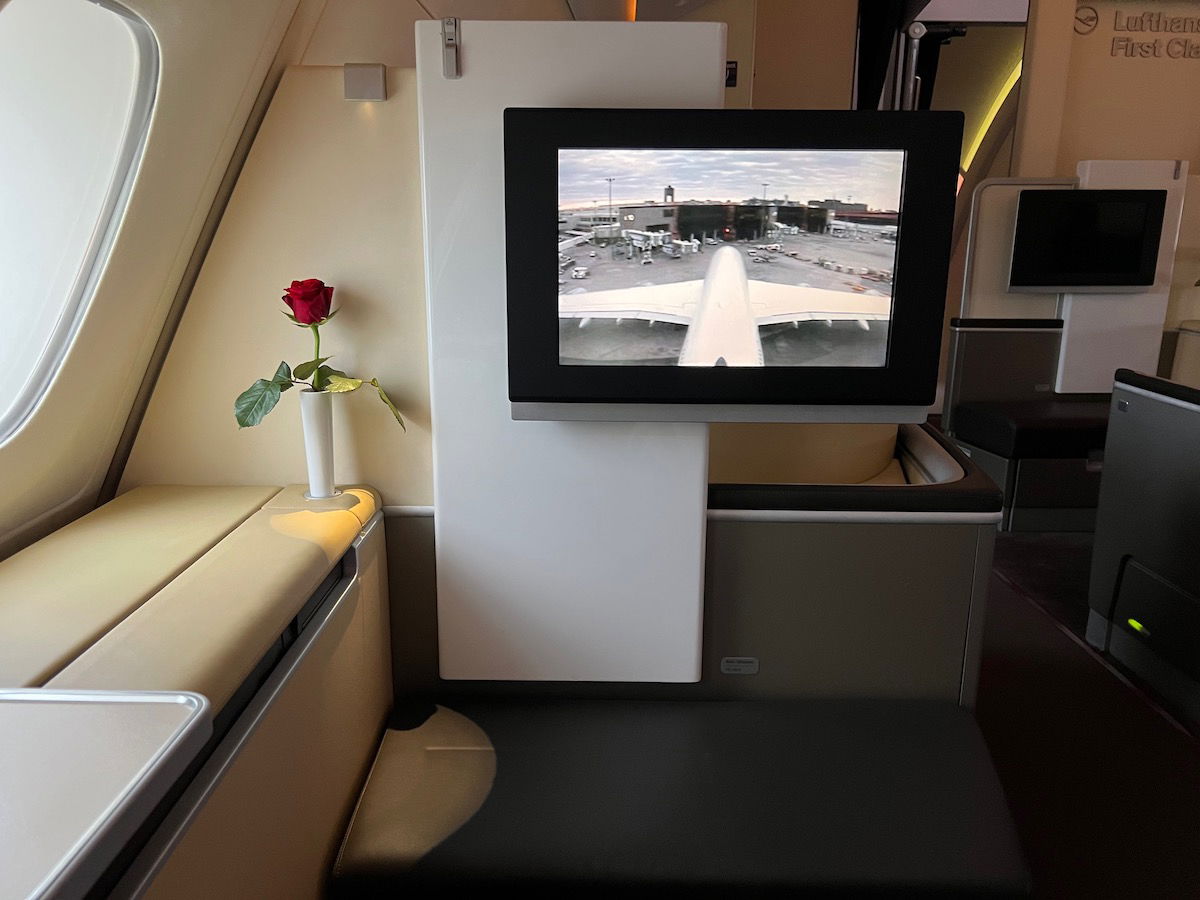 From there we headed to the Hyatt Regency Boston Harbor for the night. I was so sad to say goodbye to my family, and the next morning we took our respective flights back to Florida. Prior to my flight, I had the chance to check out the Chase Sapphire Lounge Boston and American Admirals Club Boston.
Bottom line
I'm so happy to see Lufthansa's Airbus A380s back in service. Not only does this represent an increase in Lufthansa's first class footprint, but the A380 is a pleasure to fly, thanks to the smooth ride, the tail camera, and the urinals (or something).
This was an excellent Lufthansa first class flight, with very friendly service, great champagne, and solid food. But ultimately what made this experience so special was being able to share it with my family. Snagging four first class award seats on one flight is one of those "pinch me" moments, and it's a memory I'll cherish for years to come.
What do you make of Lufthansa's A380 first class seat?