Air France recently unveiled its new business class product with doors, which will be debuting on select Boeing 777-300ERs as of later this year. The airline has now revealed that it will introduce a new first class product, though the details are fairly limited for now.
What we know about Air France's new first class
It has been announced that Air France will introduce an all new first class product (known as "La Premiere") in the winter 2023 & 2024 season. The new first class product is currently in the design phase, and this confirms the carrier's commitment to maintaining first class for years to come.
As it's described, this will be "the longest cabin" on the market, and there will be a seat, a sofa, and a fully flat bed:
The future cabin will be the longest on the market and will offer up to three modular configurations that can be fully privatized for an even more exceptional journey: a seat, a sofa and a fully flat bed. The new cabin will equip a larger number of aircraft than at present.
Here's how Air France-KLM CEO Benjamin Smith describes Air France's commitment to first class, including that demand for first class is currently higher than pre-pandemic:
"La Première represents the highest level of French excellence and is an intrinsic part of Air France's DNA. Even at the height of the Covid crisis, we could see the attractiveness of such an offer for our customers, particularly on the North Atlantic route, where load factors in the La Première cabin are currently higher than they were back in 2019. We look forward to unveiling this new cabin, which is set to meet the highest global standards."
This new cabin is part of Air France's continued effort to move upmarket, which otherwise includes fleet renewal, lounge renovations, better catering, and new premium cabins.
Air France first class is currently available on select Boeing 777-300ERs. The current first class product, which was introduced back in 2014, features curtains that offer full privacy. It's a phenomenal cabin, and personally I rank Air France as having the second best first class experience in the air, and the best first class experience on the ground.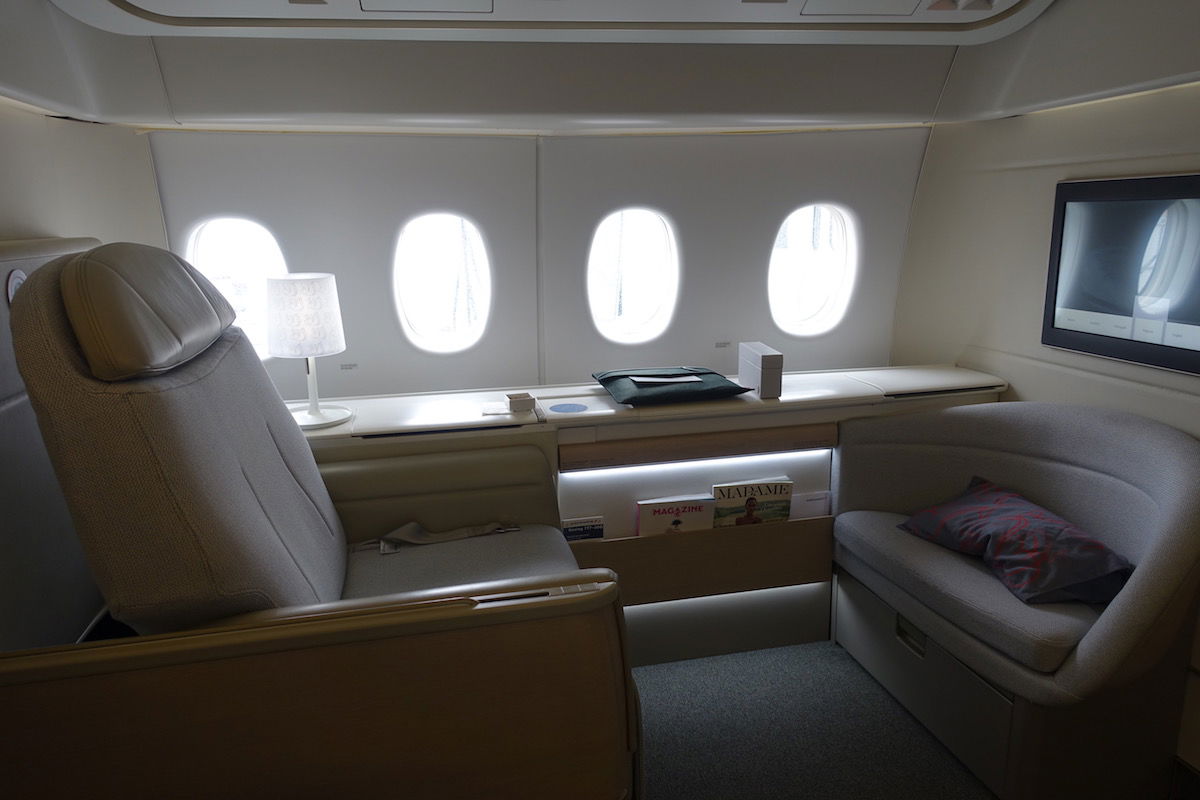 My initial take on Air France's new first class
We're still well over a year from Air France's new first class cabin even being revealed, so for now we'll largely have to speculate.
It has been rumored for quite some time that Air France plans to expand its first class footprint. Going back as far as September 2020, there was talk of how Air France plans to introduce first class on some of its upcoming Airbus A350 deliveries (just like Lufthansa). This makes sense when you consider that Air France's first class footprint was greatly reduced due to the retirement of the A380.
With this announcement, I think it's safe to assume that this is likely what's happening, though it also sounds like we should expect existing Boeing 777s to be reconfigured with the new first class as well. There are a couple of interesting clues of what we can expect:
It's claimed the new Air France first class will be the "longest" in the market, which is an interesting claim; it sounds like this will have the most pitch of any first class seat to date
It's claimed that there will be a seat, a sofa, and a fully flat bed, which is quite an impressive number of seating options to have in first class
I'm happy to see that Air France plans to continue to offer the option of full privacy in first class, meaning suites will somehow be fully enclosed, just as they are right now. That means there won't just be a privacy door that maybe goes up five feet or so.
There's already a major clue of what we can expect, as Air France has included a rendering of the new product in a presentation today. However, it's anyone's guess if this is what the airline has actually decided on, or if this is just a general idea of what Air France is going for.
The rendering shows something that looks somewhat similar to the current first class, in the sense that there appear to be curtains. However, there's essentially a sofa on one side of the suite, and then a seat on the other side of the suite, with a television on each end. A single suite also spans five windows in length.
I imagine Air France will want to be quite efficient with this new configuration, since the A350 and 777 aren't exactly huge planes, and the airline is looking to make a profit. I can't help but wonder if this cabin would be in a 1-1-1 configuration, or if the airline can make this happen while maintaining a 1-2-1 configuration.
If Air France does choose a 1-1-1 configuration, I'm curious if there would be one or two rows. Air France currently has one row of first class with just four seats, though I wouldn't be surprised to see the cabin expanded a bit.
Bottom line
It's fantastic to see that Air France is not only committed to maintaining first class, but to expanding the product. Air France intends to introduce a new first class in late 2023 or early 2024.
There's even a rendering of the new product, which looks pretty incredible. I suspect this will be installed on select Airbus A350s and Boeing 777s, and I can't wait to learn more!
What do you make of Air France's plans to expand and improve first class?