In October 2022, Lufthansa unveiled its biggest-ever investment in the premium cabin experience, as part of what's called the new "Allegris" product generation. In addition to new business class seats, this also includes a new first class product. The airline has today revealed more details about what we can expect, and there's a surprise most of us weren't anticipating.
Lufthansa's new first class suite
Lufthansa will be introducing suites in first class, offering ceiling-high walls and closable doors. As it's described, the seat will be almost one meter wide, and can be converted into a bed. All suites will be forward facing, and there will be just one row of first class seats on the A350 (this includes three suites that can seat up to four people).
Lufthansa's new first class suites will feature a variety of amenities, including:
A large dining table and buddy seat, so that passengers can dine together
Entertainment screens that extend across the full width of the suite
Bluetooth connectivity for wireless headphones
A personal wardrobe for storing your belongings
Individual temperature controls, similar to what you'll find in Emirates' new 777 first class
Below are renderings of the new first class.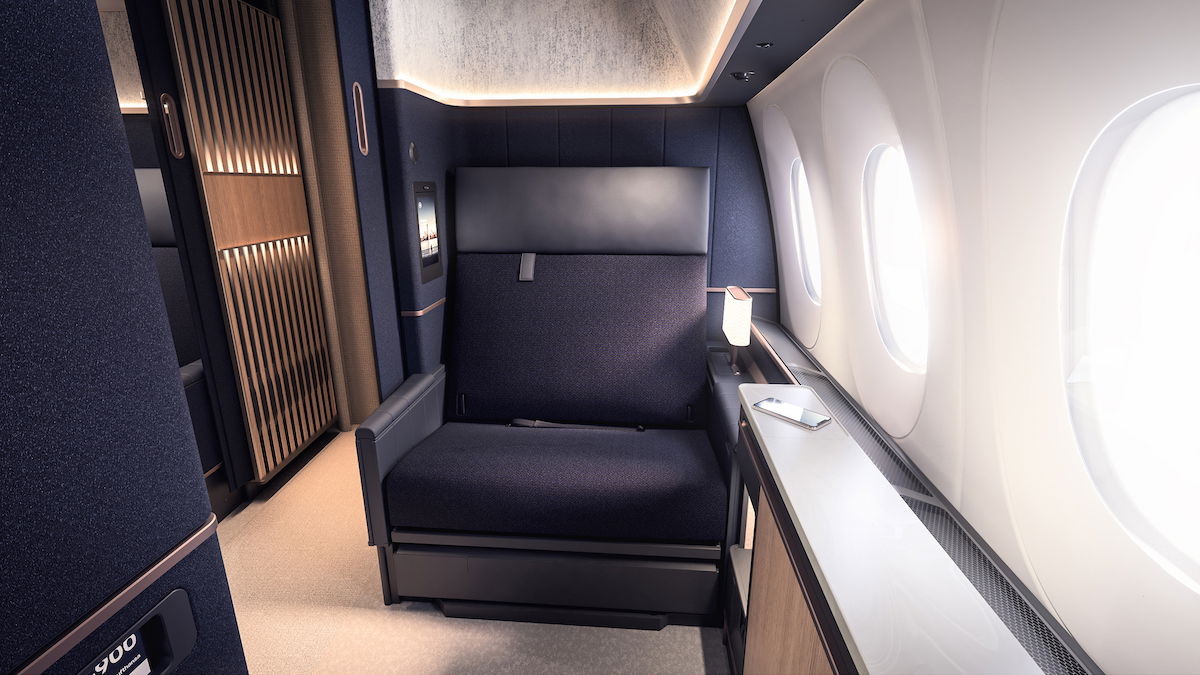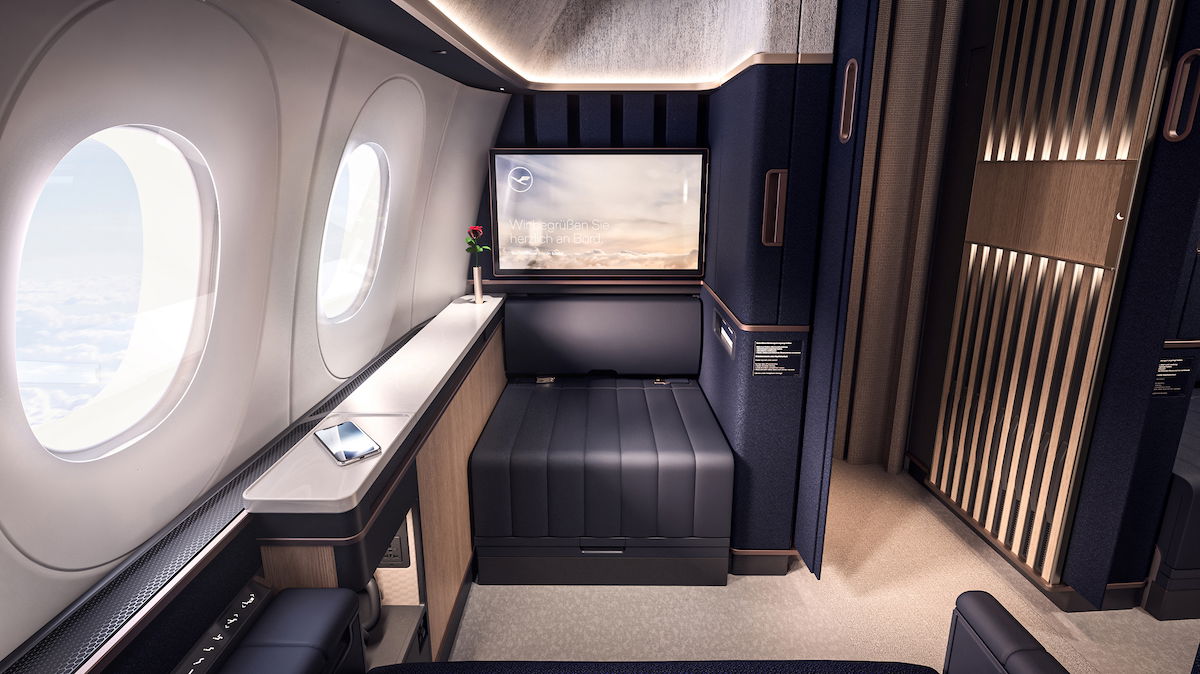 Below is a video Lufthansa has published about the general Allegris product improvements.
Lufthansa also introducing a double suite
Here's where things get even more interesting. Lufthansa isn't just introducing a new first class suite, but the airline actually has two products. Lufthansa will also have the "Suite Plus," which is a double seat in the center of the cabin. It has all the same amenities as the other suite, except it consists of two seats right next to one another (almost like a loveseat), and can be converted into a double bed. Furthermore, the seat will have a 42″ television.
This is super interesting. This isn't just two separate first class seats that can be converted into a double bed if a passenger wants. Rather this product will exclusively be available as a double cabin:
I'm curious how this will be priced; is this just a product you're able to select if you book two first class seats, or will it have fully separate pricing?
If all individual suites are sold out, will Lufthansa maybe last minute release this seat for sale at the "standard" first class price, or no?
Even if I were traveling with someone, I'm not sure I'd necessarily prefer this product; it seems there's just one shared entertainment screen, and the product looks a bit on the cozy side, especially if one person wishes to eat and the other person wishes to sleep, for example
Managing inventory is going to be especially tricky when you consider that the cabin has just three suites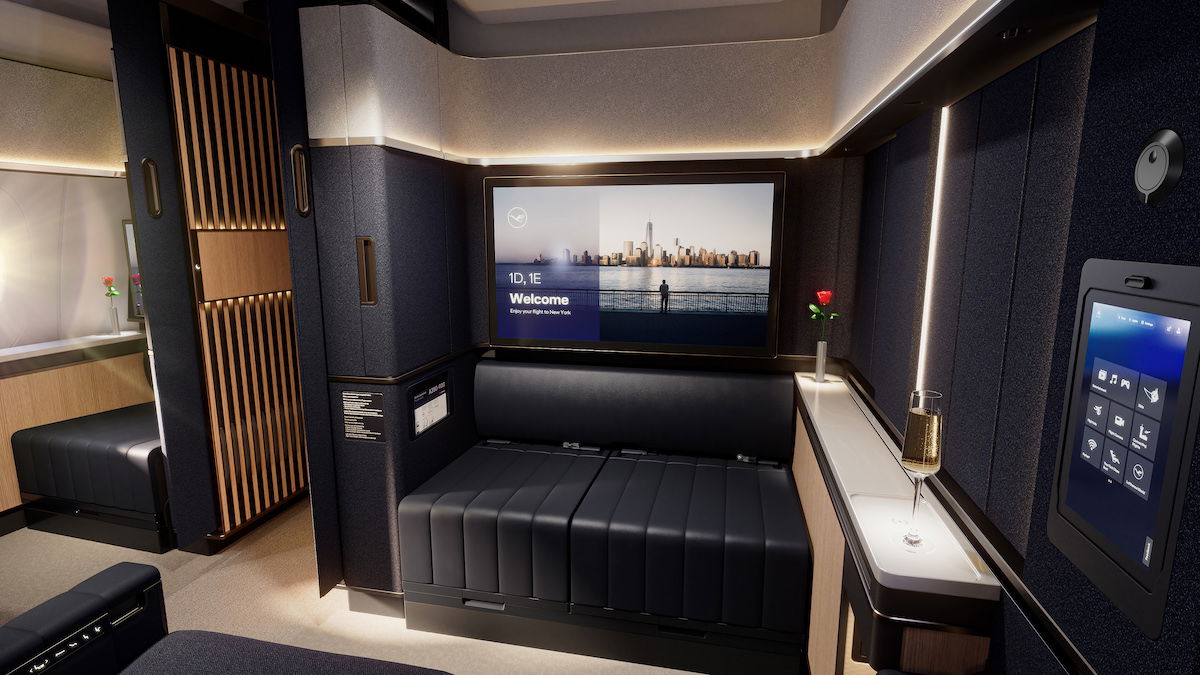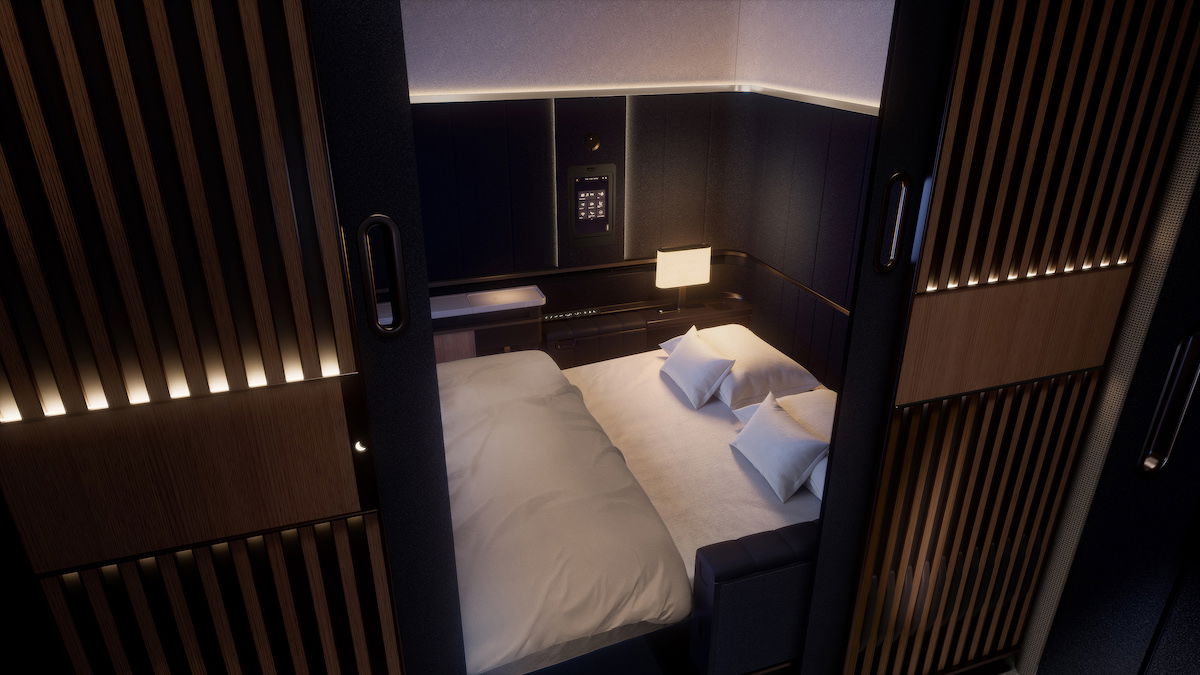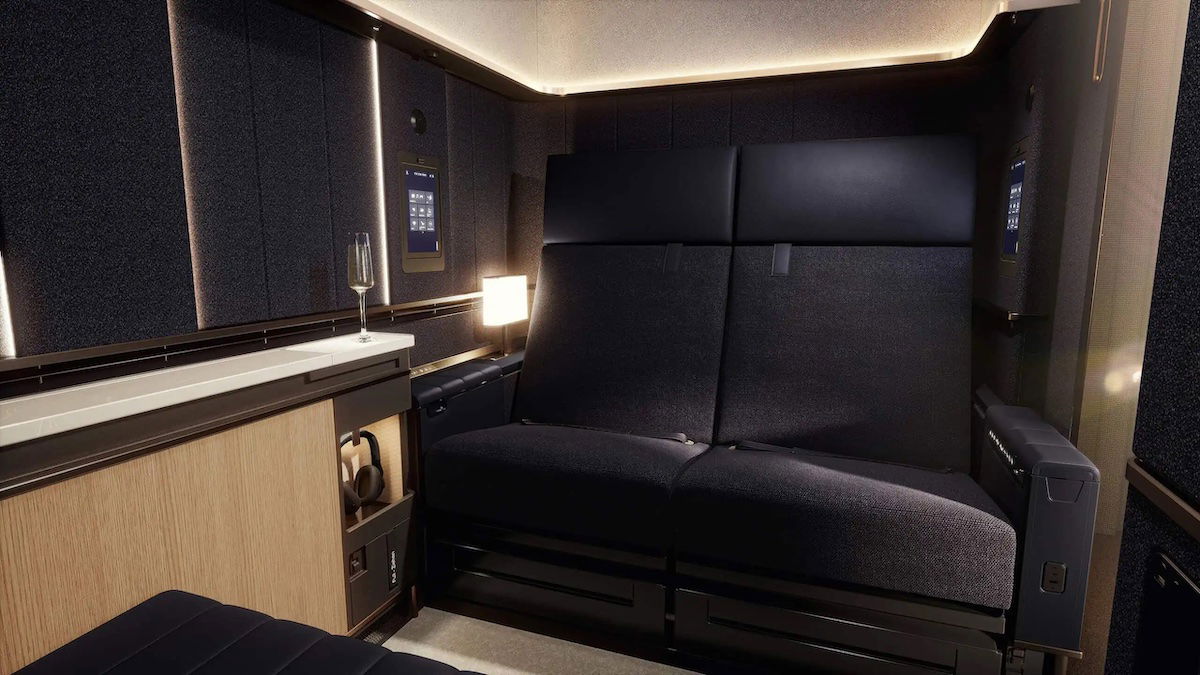 In some ways this almost looks to me like a much less spacious version of the Etihad Residence in terms of creating a space that can be shared by two people.
Below are some real life pictures of mockups of the new seats, which give you a better sense of how spacious this product is.
Then below is a picture from Lufthansa's marketing video, giving you a sense of the layout of the cabin.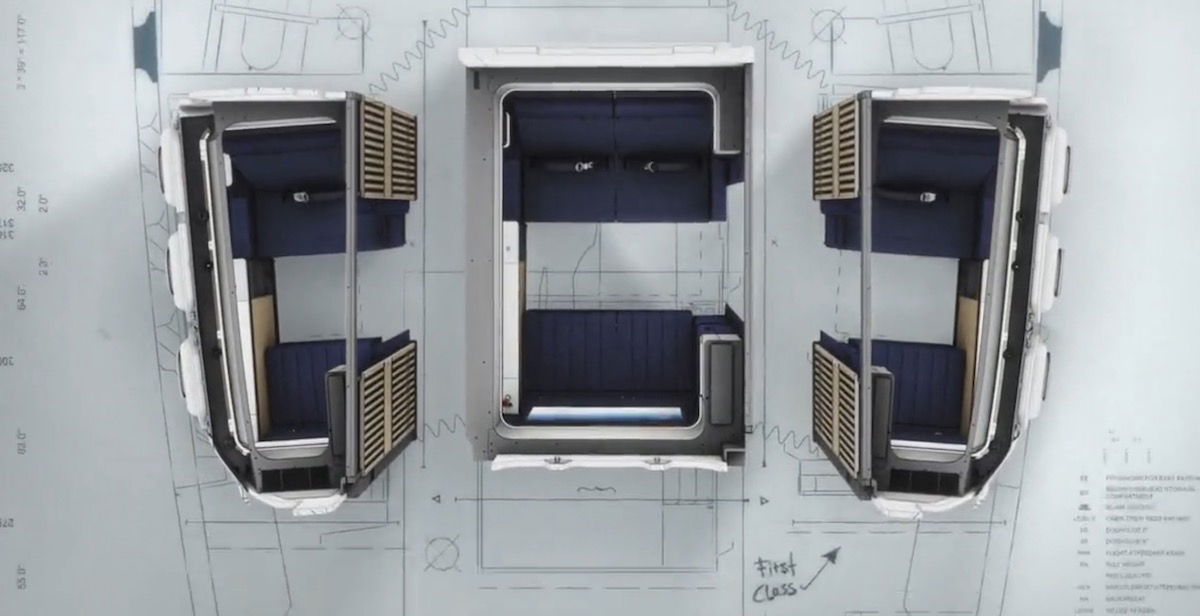 The new first class will debut on the A350
Lufthansa intends to introduce this new first class product on select Airbus A350-900s as of 2024. Specifically, at least 10 A350-900s will feature first class, and they'll be based in Munich. Until recently the plan was for this product to still be introduced in 2023, so it's a bit disappointing that we'll have to wait another year.
Lufthansa Group has also just placed an order for 10 Airbus A350-1000, and it has been revealed that they will also feature first class. However, we don't yet officially know which Lufthansa Group airline these jets will be going to.
As it stands, Lufthansa has first class on its 19 Boeing 747-8s, which are based in Frankfurt. On top of that, the airline has temporarily brought back some Airbus A340-600s, which are based in Munich. These were specifically brought back because they feature first class. Lufthansa will also temporarily reactive some Airbus A380s as of the summer of 2023, also to be based in Munich.
One big question has been whether Lufthansa's new first class would be in a 1-1-1 or 1-2-1 configuration. As you can see, the answer is somewhere in the middle, as it's 1-2-1, but in reality the double suite in the center isn't as wide as two suites would otherwise be. Suffice it to say that this will be an extremely exclusive cabin, with just one row of seats.
While there had been reports that Lufthansa plans to retrofit Boeing 747-8s with the new first class product, it's now my understanding that no final decision has been made regarding this.
For what it's worth, Lufthansa's four cabin Airbus A350s will feature just 279 seats, including up to four first class seats, 38 business class seats, 24 premium economy seats, and 201 economy seats.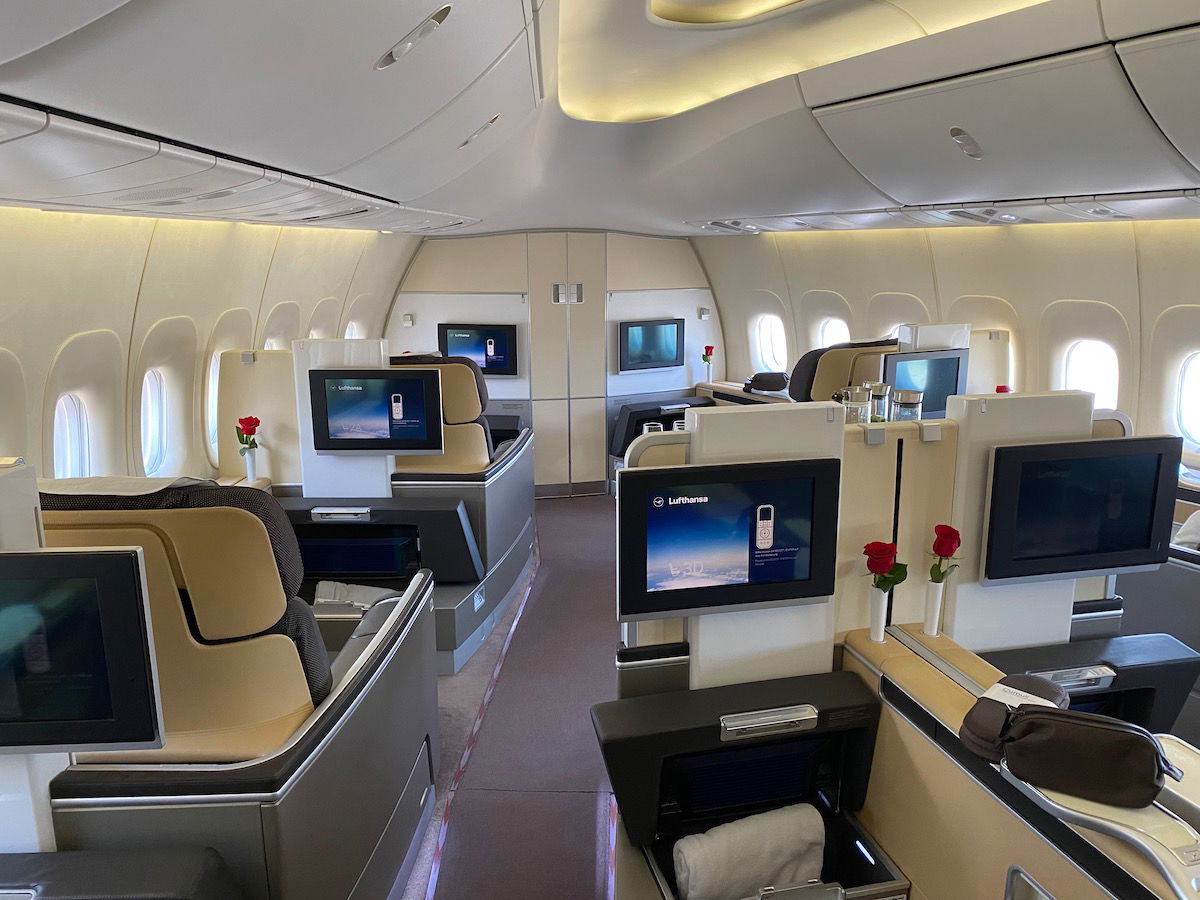 What are the implications for award tickets?
I can't help but wonder what this development means for Lufthansa first class award availability. First of all, with just three first class suites, I think it's safe to assume that first class awards will almost never be available. With so few seats, we'll almost certainly see them sell, and the airline would be unlikely to let people book with miles.
On top of that, keep in mind that Lufthansa makes first class award seats available to partner frequent flyer programs at most 15 days in advance.
SWISS is also part of the Lufthansa Group, yet SWISS first class is generally only bookable with miles by Lufthansa Miles & More Senator members and above, and isn't bookable with partner miles. Even beyond the capacity limitations, I worry that Lufthansa introducing a new first class might cause the airline to eliminate partner first class award availability altogether.
If that were the case, it would mean that Air France, Lufthansa, and SWISS awards are totally off limits for partner award redemptions. Add in American eliminating first class and British Airways greatly reducing its first class footprint, and transatlantic first class awards may more or less be a thing of the past.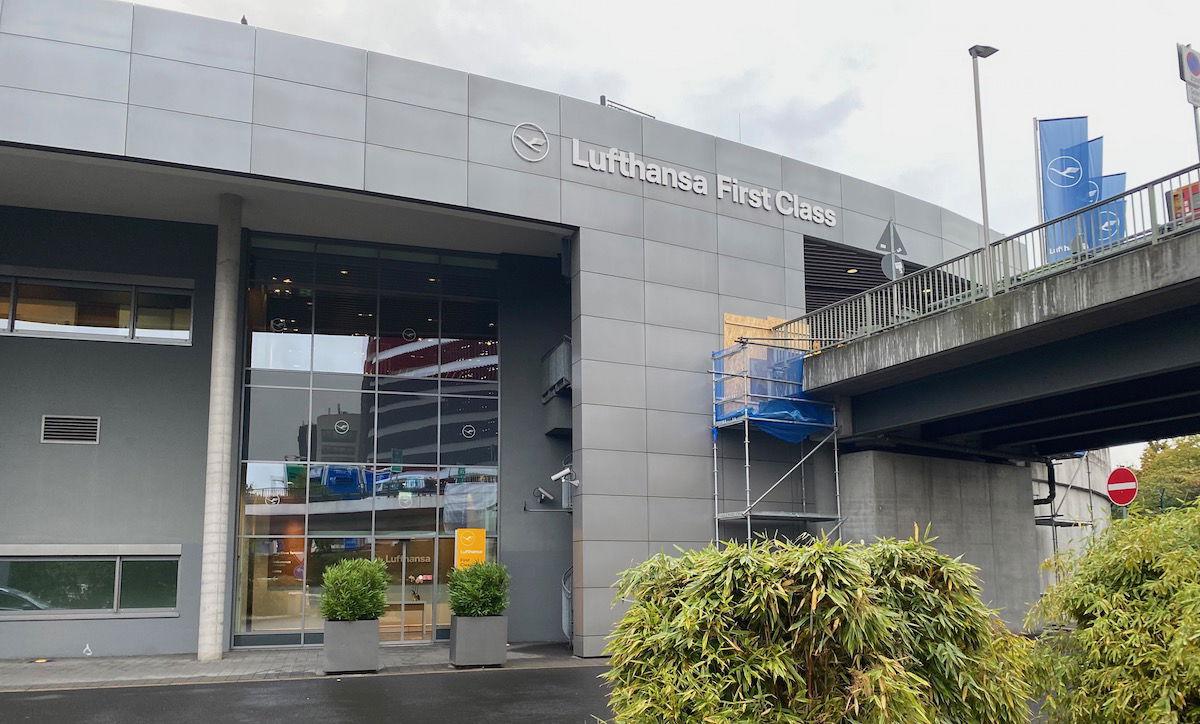 Bottom line
Lufthansa has unveiled its new first class product, which for the first time will consist of suites with doors. Not only that, but there will even be a double suite, so that two people can share a suite together. This looks like a massive improvement over Lufthansa's current first class product, so this is exciting.
This product will debut on the Airbus A350-900 as of 2024, though as of now there are no firm plans to reconfigure any jets with these new seats. The biggest downside to this product is that there will be just one row of first class suites. That means there will be only three first class suites, which can accommodate up to four passengers. That's not good news for award availability.
What do you make of Lufthansa's new first class?